New Age Islam News Bureau
21 October 2020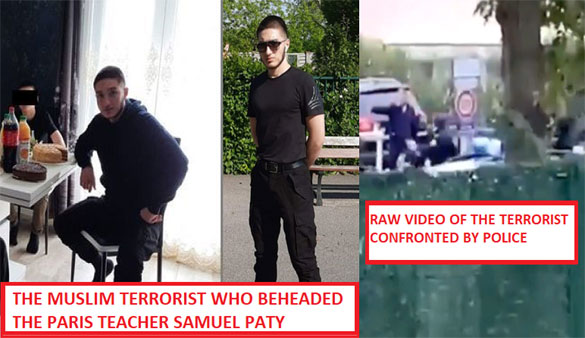 A week before a Chechen youth named Abullakh Anzorov beheaded a French teacher Samuel Paty, the Grand Mufti of Egypt Dr. Shawki Allam had claimed in an interview given in Sada al Balad TV (Egypt) that the Islamic centres thriving in Europe had been promoting radical and extremist ideology among the European Muslims. He also claimed that 50% of ISIS fighters were from Europe and many of them were new converts to Islam. He said, "There may be something wrong with the way the European Muslims themselves are behaving". He mentioned the Islamic centres in Europe who ultimately give Islam a bad name funded by various organisations from within the Muslim world.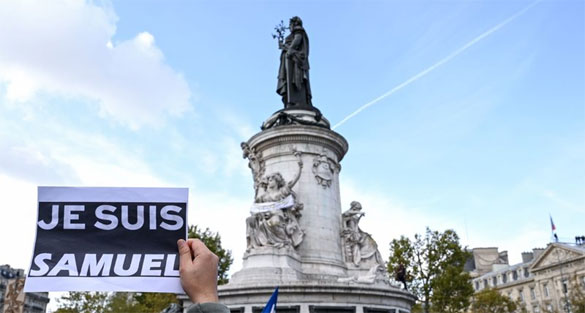 Demonstrators like the one shown here carried "I am Samuel" signs as they gathered on Place de la République in Paris on Sunday to pay tribute to slain history teacher Samuel Paty. Similar gatherings took place in several other cities as France reels from the attack.
Bertrand Guay/AFP via Getty Images
-----
His claim was not based merely on perception but on a study.
He said, "We conducted a conference. We studied the roots of the problem. We found that we need to reassess the people in charge of Islamic centres abroad ---- their scholarly training and their qualification. They are called religious teachers there. A religious teacher in any (Islamic) centre must be suitable for the task and he must present the true image of Islam. Unfortunately, when you study the structure of the Islamic centres in the world, you find that in most cases, ------- I don't want to make generalisations----- they follow certain agendas ---- that of the Muslim Brotherhood, and other agendas. A lot of money is invested in them."
Dr. Shawki Allam's claim seems to hold water. Recently, the imam of Colorado Muslim Community Centre, US, Abu Zaid said during his Friday Sermon on October 9, that if Emmnuel Macron allowed democracy and fair elections under his puppet governments in Muslim world, he would see that Islam prevailed there like the Muslim Brotherhood did in Egypt and Hamas in Gaza. He also predicted that Khilafat would soon return.
Earlier on October 2, the imam of Dar al Hijra Islamic Centre in Virginia, US Shaker ElSayed, had said in his Friday sermon, "Islam's enemies do not want Muslims to unite in a caliphate. But that is exactly what we should do. There is no strength in disunity." He further said, "Islam's enemies malign the term Caliphate and Caliph."
Dar al Hijra has been in controversy for its links to Al Qaida. Yemeni preacher Anwar al Awlaki who was associated with Al Qaida was the imam at Dar al Hijra from 2000 to 2002 and had to resign after 9/11.
Ahmad Omar Abu Ali convicted of providing material support to Al Qaida taught Islamic Studies at the mosque at Dar al Hijra. It can be understood what kind of Islam he would have taught American Muslims.
One of the founder members of Dar al Hijra, Muhammad Adam El Sheikh was a Hijra was a former member of Muslim Brotherhood in Sudan. He was the imam of the mosque from 2003 to 2005. Like Zakir Naik, he also supported suicide bombings in special circumstances.
Current imam of Dar al Hijra Shaker Elsayed is an Egyptian with links to Muslim Brotherhood. He had acknowledged that Dar al Hijra was founded by Muslim Brotherhood members. It was founded in 1982 and its current building was constructed in 1991 on 3.5-acre land costing then $5 million with financial help from Saudi Arabia.
The Centre was also linked to Muslim American Society, an organisation established by Muslim Brotherhood with the purpose of reforming the American society through the propagation of Islam and finally establishing Islamic rule (caliphate) in America.
It should be noted that no Islamic country today calls itself a Caliphate. The word caliph and caliphate is being used by terrorist organisation ISIS to win popular support of the Muslims.
There are other Islamic centres in the US such as Islamic Society of Colorado Springs, Islamic Centre of Boulder, Denver Islamic Centre etc.
In the light of the remark by Dr Shawki Allam the focus will now turn on these Islamic centres thriving in the US, France, Sweden and other European countries and they will be under public and government scanner.
France has already cracked down on mosques, Jihadis and Islamic centres on its soil. The mosque in Pantin linked to the beheading on last Friday has already been closed for six months. 356 locations have been closed and 50 associations are under surveillance. 16 persons have been arrested and 4111 Jihadis are under surveillance. 231 people with radical ideas will be deported.
For a long time extremist preachers associated with a political Islamic organisation were being appointed in these Islamic centres and mosques and they were propagating Al Qaida and ISIS ideology under the veil of teaching Islamic studies.
The incidents of violence being perpetrated by the ISIS extremists in France and other European countries will only promote Islamophobia and will compel liberal European governments to impose curbs on the religious freedom granted to the immigrant Muslims. The civil war and anarchy in the Islamic countries had driven Muslims from their own lands and the European countries had given them refuge and social, religious and economic security but Muslims could not leave their ideological and sectarian baggage behind and unleashed the same bloodshed and violence in their adopted land. Therefore, France based Islamic scholar Shaikh Bashir Hassan has rightly said,
"Muslims who view the West as oppressive should stay in their own countries; Europe provides Muslims with greater freedom than the Islamic countries.".
URL: https://www.newageislam.com/radical-islamism-and-jihad/new-age-islam-news-bureau/islamic-centres-in-europe-promoting-al-qaida-and-isis-ideology-among-european-muslims-claims-grand-mufti-of-egypt/d/123222
New Age Islam, Islam Online, Islamic Website, African Muslim News, Arab World News, South Asia News, Indian Muslim News, World Muslim News, Women in Islam, Islamic Feminism, Arab Women, Women In Arab, Islamophobia in America, Muslim Women in West, Islam Women and Feminism