The ever growing radicalisation of Muslim youth has reached alarming levels globally. Muslims today are exposed to the extremist contents through the internet and various media platforms and so they can form points of view on their own. Today they no longer depend on their madrasa or school teacher to form their views or do not depend on their text books alone to know about their religion. There are a number of websites, in thousands, belonging to different sects among Muslims, each one claiming that their own sect or ideology is the approved one by God and guarantees an exalted place in heaven. Some sects are moderate but most of them are violent, extremist and even jihadist.
In the present Muslim world, two issues have affected the Muslims so much that even their existence as a single religious community is at stake. One is the violent ideology of jihad and the other is the sectarian ideology. Both of them are equally damaging and suicidal for the Muslim community. Jihadism is damaging the Islam from outside as it is out to destroy the image of Islam as a peaceful and tolerant religion. The jihadist group that actually emerged as a reaction to the Russian occupation of Afghanistan and then the American hegemony soon turned sectarian and it assumed the responsibility of establishing a global caliphate of Sunni Islam, out to destroy Shias, democrats and all the other minorities. This group could not cause much damage to Russia or America but is causing much more damage to Muslims all over the world through their forceful implementation of Jihadi Shariah in the conflict ridden zones of Muslim countries.
Sectarianism is damaging Muslim countries of even peaceful countries where Muslims are not at war with either the governments or the non-Muslims. But in these apparently peaceful Muslim societies, a cold war is going on. This cold war of sectarianism between various sects of Muslims is rising in intensity and proportions by the day. Various sects and sub-sects and religious organisations exist in these societies with religious leaders at the helm. The sectarian outlook and behaviour of these religious leaders are the cause of the constant schism, conflict and confrontation between various sects and sub-sects of Muslims. Religious seminaries also aggravate the atmosphere by issuing Fatwas of Kufr against the leaders of the opposing sects. Pamphlets are distributed by the students of madrasas making inflammatory statements against Muslims of the opposing sects. Most of the youth are not aware of the true teachings of the Quran and the Hadith and rely mostly on the interpretations of their religious teachers and Ulema.
Recently, the head of anti-Ahmadiyya movement, Tahaffuz-e-Khatam-e-Nabuwwat Conference, Maulana Habib ur Rehman Sani Ludhianvi said that Muslims should abandon Sufism. Speaking against the need to root out Ahmadiyas he said that Muslim parents should prepare their children for jihad. It suggested that Muslim parents should prepare their children for the beheading of Ahmadiyas by carrying out suicide blasts in India as they were doing in Pakistan. That Such open invitation to Qital (killing of non-believers) can be given in a secular and non-Muslim majority country of India gives the hint that jihadist and extremist elements among Muslims are lurking in India as well and looking for an opportune time when they will themselves train and prepare Muslim children to carry out suicide bombings against Ahmadiyas, Shias, Hindus and Christians and also against those supporting democracy....
Such religious fanatics look at India's Muslim youth only as a fodder for their religious cause. They do not have any concern for their education, career and economic growth.
In this situation, there is a pressing need to chalk out a strategy to reign in the growing wave of sectarian ideology to save the Muslim youth from radicalisation on jihadist or sectarian lines.
The following measures could make a positive impact and create an atmosphere of sectarian harmony, tolerance and understanding.
Formation of a League of Moderate Ulema like the League of Sahel Ulema
In January this year religious leaders from Algeria, Mali, Niger and Mauritania met at Algiers formed The League of Ulema of the Sahel to discourage Sahelian youth from taking the path of Salafist radicalism. The Ulema planned to work with mosques and youth centres to educate youth about the dangers of extremism. A league of moderate Ulema should also be formed in India that will comprise the influential Ulema and Islamic scholars and teachers. This league will hold seminars; bring out publications in major Indian languages that will highlight the true teachings of the Quran and Hadith. It will also hold workshops on the understanding of the Quran, especially the Quranic teachings of tolerance, interfaith harmony, Huqooqul Ibad (rights of the citizens) and other social duties and responsibilities. The league will also hold extensive discussions and seminars to bring the various sects of Islam together and explore the areas of mutual understanding between them.
Sufism Should Be Included In School, College and University Curriculum
Sufism is the essence of Indian culture. Islam spread in India through the untiring efforts and selfless devotion of the Sufis. Sufism has harmonising effect on the society. Currently, Sufism studies have been included in some universities. But there is a need to introduce the subject in schools and colleges and all the universities should have a department on Sufism. This will make the new generation tolerant religiously and prevent radicalisation of the Muslim youth.
Publication and Free Distribution of Books on Islamic Teachings of Tolerance and Compassion
More and more books on religious tolerance and multicultural values of Islamic society should be published and distributed among the Muslims from the grass roots level. The Takfiri ideology (the policy of declaring others kafir) should be extensively fought ideologically through pamphlets, publications and public programmes. The government should implement the laws relating to incitement of hatred and violence on religious Ulema as well and bring to book those urging people to apply violence on another community and group.
Quran Study Circles to Be Set Up In Every Town
The major reason for the radicalisation of Muslim youth on communal and sectarian lines is the lack of knowledge and understanding of Quranic teachings. They mostly rely on the sectarian interpretation of the imams of the locality or of the Ulema. They cannot judge for themselves what is right or wrong according to the Quran. Therefore, these Quran study circles will hold study sessions for Muslim students and youth where they will read the translation of the Quran in their mother language and have an understanding of the true teachings and injunctions of the holy Quran on different issues.
Interfaith Dialogue
In this multicultural world where no community can live in isolation, Muslims need to live with different religious communities in harmony while keeping their religious values and identity intact. And to succeed in it, they have to practice the Quranic teachings on interfaith dealings and multicultural values. Quran enjoins on Muslims to live harmoniously, co-operate and do daily transactions with those non-Muslims who do not have an enmity with Muslims and do not conspire against them or fight against them in the best possible way. Therefore, interfaith meetings should be held in all towns, villages and cities of the country to promote the spirit of multiculturalism among the Muslims.
These are some of the steps the Muslims of India and other countries should take in order to prevent further division among the Muslims and radicalisation of Muslim youth.
------------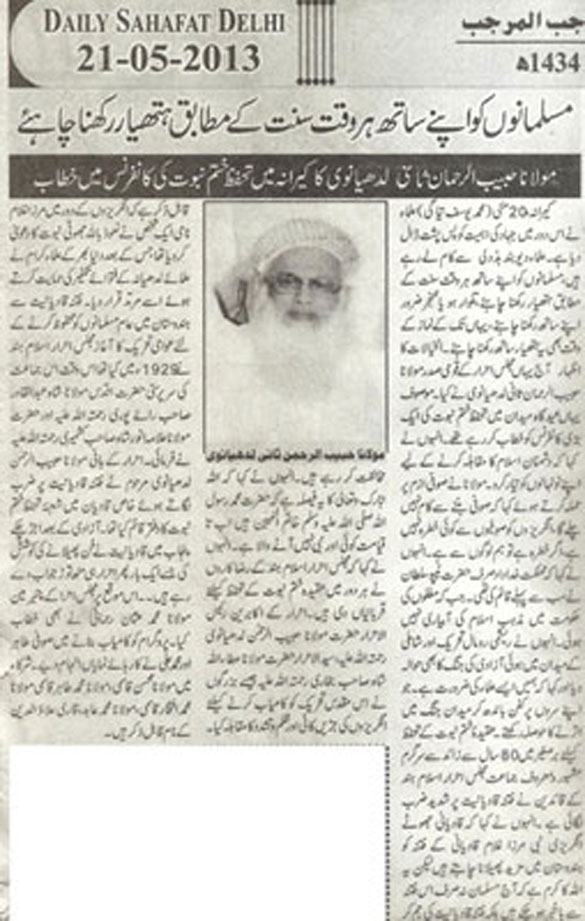 The Scanned Copy of The Urdu Daily Sahafat News Report

-------

English translation of the news report published in the Urdu daily Sahafat, May 21, 2013

Muslim Should Always Keep Weapons with Them According To Sunnah: Maulana Habib ur Rehman Sani Ludhianvi

May 21, 2013

Kairana: (Md Yousuf Tyagi): 'The Ulema have put the importance of jihad in the present day behind them. The Ulema of Deoband have become cowards. Muslims should always keep weapons with them according to the Sunnah. They should keep a sword or a dagger even at the time of Namaz'. These views were expressed by the national president of Majlis-e-Ahrar Maulana Habib ur Rehman Sani Ludhianvi here today. He was addressing a big audience at the Tahaffuz-e-Khatam-e-Nabuwwat Conference (Conference on the protection of finality of prophethood) at Eidgah Maidan here. He said to the audience, "Prepare your children to fight the enemies of Islam". Attacking Sufism, the Maulana said, "Becoming Sufi will not do you any good. Sufism does not pose any threat to the British. If there is any threat to them it is from people like us."

He said that the first Islamic state was established by Tipu Sultan whereas the religion of Islam did not flourish during the reign of the Mughals. Referring to the Reshmi Rumal Movement and the battle of freedom at Shyamli, he said that today we needed such Ulema who have the courage to fight. The leaders of the Majlis-e-Ahrar-e-Islam Hind have been wielding a severe blow to the mischief of Qadianism for the last 80 years. He said that the Qadianis want to spread the mischief of the false English prophet Mirza Ghulam Ahmad Qadiani but with the grace of God, the Muslims today are not only aware of this mischief but also fighting it with all force.

He said that it is the decision of God that Prophet Muhammad (pbuh) is the final prophet and no prophet will come after him till the Day of Judgment. He said that the activists of Majli-e-Ahrar-e-Islam have rendered sacrifices for the protection of the finality of Prophethood in every age. The great leaders of Ahrar, Maulana Habib ur Rehman Ludhianvi, Ataullah Shah Bukhari and others struck at the roots of the British and made this sacred movement a success and faced violence and persecution.

It should be recalled that a man called Mirza Ghulam Ahmad Qadiani had claimed false prophethood (perish the thought). Subsequently, the Ulema from all over the world supported the fatwa of Kufr issued by Maulana Habib ur Rehman against him and declared him apostate. To protect Muslims in India from the mischief of Qadianism, the Majlis-e-Ahrar had launched a public movement in 1929. During that time, Maulana Shah Abdul Qadir Raipuri and Maulana Anwar Shah Kashmiri patronised this group. Wielding a severe blow to the mischief of Qadianism, the founder of the organisation, Ahrar, Maulana Habib ur Rehmand Ludhianvi had opened its office of the department of 'Tahaffuz-e-Khatam-e-Nabuwwat' (protection of finality of prophethood) in Qadian. After the independence, Qadianism again tried to spread its tentacles in Punjab but the Ahrars have been giving them a tough fight once again.

The Chairman of Majlis-e- Ahrar, Maulana Md Usman Rehmani also addressed the conference. Sufi Tahir and Md Ali made all efforts to make the programme a success. Maulana Muhsin Qasmi, Maulana Muhammad Tahir Qasmi, Maulana Md Iftikhar Qasmi, Maulana Muhammad Abid and Qari Alauddin were among other participants.

Source: Sahafat, New Delhi, May 21, 2013

Related article: Muslims Should Always Keep Weapons with Them According To Sunnah, prepare your children for Jihad: Maulana Habib Ur Rehman Sani Ludhianvi

https://newageislam.com/radical-islamism-and-jihad/urdu-daily-sahafat,-tr-new-age-islam/muslims-should-always-keep-weapons-with-them-according-to-sunnah,-prepare-your-children-for-jihad--maulana-habib-ur-rehman-sani-ludhianvi/d/11868

URL: https://newageislam.com/radical-islamism-and-jihad/new-age-islam-edit-desk/prepare-muslim-youth-to-behead-ahmadis-through-suicide-bombing,-demand-radical-mullahs-in-punjab--preventing-radicalisation-of-muslim-youth-in-india-no-less-challenging-than-it-is-in-pakistan/d/11895