Compiled by New Age Islam Edit Bureau
21 July, 2014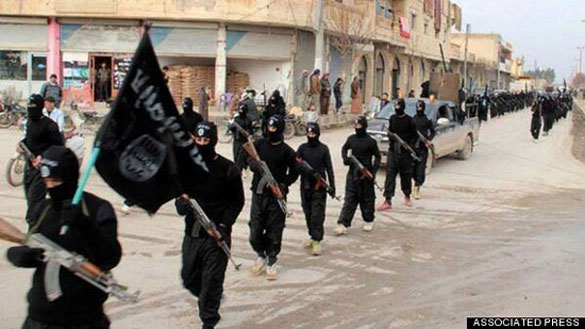 Fighters from the al-Qaida linked Islamic State of Iraq In Syria (ISIS) marching in Raqqa, Syria
---------
Articles:
• Najaf, Qom Take Different Approaches in Iraq
By Ali Mamouri
• Iraqi Crisis Highlights Need for Dialogue
By Mustafa Al-Kadhimi
• Jabhat Al-Nusra, IS Compete For Foreign Fighters
By Mohammed Al-Khatieb
• Why Islamic State's Caliphate Is Trouble for Egypt
By Mahmoud Salem
• Media and the Kurds in Iraq
By David Romano
• The Sunni Revolution in Iraq
By Tariq Al-Hashimi
• The Past, Present and Future of Mosul
By Cemil Ertem
• Reconciliation or Division: Iraq between Skyes-Picot And Biden
By Othman Ali
• Europe's Universalist Islam and Isis's European Fighters
By Ceyhan Boya
------
Najaf, Qom Take Different Approaches in Iraq
By Ali Mamouri
July 20, 2014
Najaf and Qom have taken two different approaches in dealing with general political affairs in Shiite communities since the introduction of the idea of Velayat-e Faqih. Although this idea was put forward for the first time in Najaf by the founder of the Islamic Republic of Iran, Ayatollah Ruhollah Khomeini, it has not been welcomed by the Shiite Hawza (seminary). Finally, Khomeini managed to attain his wish to implement Velayat-e Faqih on the ground after the victory of the Islamic Revolution in Iran, which made this idea widely popular within the Iranian seminary of Qom.
The period after 2003 was a great challenge for both Najaf and Qom, during which competition emerged between them on how to deal with the political affairs of Iraq. Qom tended to implement its religio-political vision in Iran on the situation in Iraq, while Najaf had a different perspective over the situation in Iraq — which has a wider religious and ethnic diversity than that of Iran — therefore considering it impossible to have a narrow Shiite perspective over Iraq.
Najaf thus opted for dealing positively with the change by building an inclusive civil state in Iraq that does not only take into consideration the Shiite majority. On the other hand, Qom only saw in Iraq an American threat to Iran's interests on the one hand and the Shiite majority on the other. According to it, the American threat must be eliminated and the Shiite authority must be in control.
The difference also appeared during the recent Iraqi crisis. Grand Ayatollah Ali al-Sistani contented himself with issuing a fatwa urging the support of the army in all of its religious and ethnic components against terrorists, while at the same time repeatedly emphasizing the need to completely ban militias and unofficial armed groups. He never mentioned the word Shiites, or anything else related to Shiism, in his statements and in the declarations made by his office and spokesman. He was very careful when confirming the need to protect the holy places since he did not mention any specific description portraying these sanctuaries as Shiite shrines. His statements were broad and mentioned Christian and Yazidi temples and others in the areas falling under the control of the Islamic State (IS) — formerly known as the Islamic State of Iraq and al-Sham (ISIS). Meanwhile, Qom authorities focused their attention on the subject of Shiites and the expansion of Shiism in Iraq. Their statements and denouncements made toward the various parties in this crisis were based on this sectarian ideological perspective.
Ayatollah Makarem Shirazi issued a fatwa for jihad on June 23. The fatwa contradicted Sistani's vision in the following aspects: Makarem linked the Iraqi situation to the Syrian situation to set a comprehensive fighting front based on the sectarian conflict; he adopted the style of the Iranian regime by throwing accusations against the United States and Arab countries blaming them for the crises in Iraq; he only referred to the Shiite holy sites; and he called for a general mobilization of all Shiites in the world urging them to form armed forces along with the Iraqi army, which implies the promotion of militias.
In a similar context, the provisional president of the Iranian Assembly of Experts, Mahmoud Hashemi Shahroudi — who immigrated from Najaf to Iran after the Islamic Revolution — issued a lengthy statement indicating that the Iraqi crisis has three axes: the United States and Israel; the Arab countries and others loyal to the United States, specifically Saudi Arabia, Qatar and Turkey; and the Kurdistan Regional Government of Iraq, whom he accused of dealing with IS to control the disputed territories. He also praised the work of Shiite militias such as the Badr Army, which managed to carry out military actions in conflict areas with the Sunni-armed groups. He also accused some Sunni politicians of supporting the terrorists.
It is worth mentioning that Shahroudi enjoys good relations with Supreme Leader Ayatollah Ali Khamenei — he presided over the judiciary in Iran for 10 years. Several preparations were previously undertaken for his transfer to Iraq as a pro-Iranian authority in Najaf, but this did not occur for undisclosed reasons; probably to avoid collisions with Sistani.
Shahroudi also has broad historic ties with the Islamic Dawa Party, which the Iraqi prime minister of the caretaker government, Nouri al-Maliki, is affiliated with. This implies that Shahroudi would enjoy political support in the event his name is put forward as a religious authority in Iraq.
It is expected that the issue of announcing Shahroudi as the religious authority in Iraq will be postponed until the post-Sistani period to ensure his success and eliminate any strong competitor. In this case, the Iranian guide would have a significant presence in Najaf and Najaf policy would shift from the civil state project sponsored by Sistani to the project of Shiite Islamist parties loyal to the idea of Velayat-e Faqih.
Source: http://www.al-monitor.com/pulse/originals/2014/07/iraq-crisis-najaf-qom-different-views.html#ixzz381ydDKcc
-----
Iraqi Crisis Highlights Need for Dialogue
By Mustafa Al-Kadhimi
July 20, 2014
After 10 years of difficulty in managing political and security crises, Iraq is in need of a new vision for the concept of political dialogue. The management of dialogue is not only carried out through official outlets, and it is surely not healthy to manage it through media outlets. The state has, in fact, the capacity to manage a dialogue even with its enemies.
This is not just a mere political rule but is the reasoning used in crises and even wars, and the reasoning for political relations at various levels.
Maybe it should be explicitly said that the Iraqi political establishment has failed to produce strong traditions capable of opening channels for dialogue outside the political and media crossfire. Thus, messages between political opponents in Iraq have always been made public through media outlets rather than official channels.
Given the dangerous security situation in Iraq — with the presence of dozens of armed forces and militias and in light of a social and economic environment prone to accept violence — it is imperative to always have undeclared communication channels outside the framework of the ongoing confrontations.
During the seven months of violence in Anbar and the protests that broke out in Sunni cities a year earlier, not to mention the many years during which various armed groups emerged while others disintegrated, the Iraqi state was very distant from this milieu and did not interfere. This paved the way for violence and led to the announcement of the Islamic State (IS, formerly known as the Islamic State of Iraq and al-Sham, or ISIS), allowing it and other extremist organizations to become entrenched in Iraqi territories.
The absence of parallel dialogue and communication channels in this environment, and the ongoing departure of influential figures from the country to play new roles abroad while severing all links with the state, was a direct cause of the unfolding situation.
It should be noted that the state has managed, despite all the criticism, to open secret dialogue and communication channels with various Shiite militias. The US has considered some of the channels a rapprochement happening under the banner of terrorism. However, these dialogues have, to a large extent, changed the way these groups are dealt with on a political level.
Politicians in the country have become estranged, refusing to sit for direct dialogue or to at least open undeclared channels to exchange ideas and solutions.
Moreover, relations have been severed even within the ranks of the main political components for long periods of time.
In light of the political and security turmoil in Iraq, the state remains absent and is not taking up its role as a sponsor of parallel dialogues and communication channels between individuals, groups and states. The state does not have the ability to start an initiative or try to produce solutions.
The truth of the matter is that any political or military solution ought to be prepared from outside the media framework and outside the scope of political meetings. This mission should be associated with the state's political and intelligence devices, which can provide various solutions.
Source: http://www.al-monitor.com/pulse/originals/2014/07/iraq-need-channel-of-communication-outside-confrontation.html#ixzz381z498CD
------
Jabhat Al-Nusra, IS Compete For Foreign Fighters
By Mohammed Al-Khatieb
July 18, 2014
Jabhat al-Nusra did not deny the authenticity of the audio recording attributed to its leader Abu Mohammad al-Golani, in which he announced that he is seeking to establish an Islamic emirate in the areas where his militants are deployed. However, a statement issued on July 12 by the Manara al-Bayda, Jabhat al-Nusra's media channel, implicitly affirmed the authenticity of the recording and announced clearly that Jabhat al-Nusra is "seeking to establish an Islamic emirate," adding, "We have yet to declare its establishment."
According to the Aleppo Media Centre, Jabhat al-Nusra's leadership and militants held a high-profile meeting to discuss the restructuring of the organization. During the meeting, the attendants were surprised to see Golani unveil his face and promise his soldiers that they would establish an Islamic emirate.
The statement ended all doubts about the authenticity of the audio recording. The similarities between the wording of the statement and Golani's speech were striking, with Golani saying, "We will not allow any person to reap the fruits of your jihad, whatever happens to us."
Jabhat al-Nusra is trying to pull the rug from under the feet of its jihadist rival, the Islamic State (IS, formerly known as the Islamic State of Iraq and al-Sham), especially following the great losses inflicted upon Jabhat al-Nusra in the last battles of Deir ez-Zor. Jabhat al-Nusra wants to attract "migrants" — or foreign militants who came to Syria for jihad — and put them to work under its leadership. IS' striking announcement of the establishment of an Islamic caliphate led by Abu Bakr al-Baghdadi on June 30 has galvanized foreign fighters and led them to join IS, which concerns Jabhat al-Nusra.
According to a source close to Jabhat al-Nusra, who spoke to Al-Monitor on the condition of anonymity, "The announcement of the caliphate differs largely from the announcement of the emirate." He continued, "[The] emirate is established in the areas where militants are deployed. The caliphate, however, is general."
An important point raised by the source was that the "[establishment of the] emirate does not compel the other factions on the ground to pledge allegiance to the emir. The caliphate state, however, requires all militants to work under the umbrella of the caliphate."
He continued, "Jabhat al-Nusra does not want to clash with the other opposition factions with which it shares control over the liberated areas in Syria, especially because it is only a single faction that doesn't seem to be the strongest among the scores of groups in Syria, such as the Islamic Front, the Mujahideen Army and Ajnad al-Sham. In addition, there are the large number of factions affiliated with the Free Syrian Army, such as the Hazem Movement, Syrian Revolutionaries Front and others. These are deployed along with Jabhat al-Nusra in Aleppo, north of Idlib, Daraa and south of the Rif Damascus governorate.
However, what was striking is that the Manara al-Bayda statement specified a period of 10 days to establish "a role for the judiciary, security stations and the provision of public services to replace the 'legitimate committees,' which Jabhat al-Nusra share with other factions to manage the affairs of the liberated areas." The announcement by Jabhat al-Nusra affirmed that it had withdrawn from the Sharia Council in the rebel-held areas of Aleppo on July 8.
In addition, Jabhat al-Nusra owns an independent services institution called the Public Management for Services. It has been operating since last December in the rebel-held areas in Aleppo, providing residents with water, electricity and other services. It also provides flour for bakeries and fixes the daily damage that befalls the electricity and water networks caused by the continued bombardment of barrel bombs that Aleppo has been suffering for seven months.
Although Jabhat al-Nusra is not accepted by many opposition currents, it nevertheless enjoys a significant popular base that has to an extent helped them to establish the emirate. The residents of Aleppo trust Jabhat al-Nusra because of its militants, who are known for being fierce and determined in their battles against the regime. Moreover, the way it held corrupt brigades accountable for its actions, including militias that rob, extort money and exploit the state of war and its chaos, has led many to support the organization.
Othman, a resident in the al-Mayssar neighborhood in Aleppo, said, "Jabhat al-Nusra sacrificed a lot in its war against the regime and Baghdadi's state. I think that it has the right to declare the Islamic emirate after hundreds of martyrs fell."
Safwan, who is still in college and works in the aid field, offered Al-Monitor another point of view, saying, "The fighters have no right to determine the shape of the state, and I don't think that the time is right to declare the establishment of states and emirates."
Safwan added, "All efforts should be concentrated on bringing this murderous regime down. When this has been accomplished, the shape of a new state will be determined through ballot boxes, while partisanship and the division of forces will only benefit [President] Bashar al-Assad."
Despite the poor sound quality, Golani's audio recording raises many important issues. Golani identified his enemies by saying, "This emirate, my brothers, will take exception with whomever wishes bad things for Muslims. These will be comprised of the regime, the exaggerators, the criminals and the [Kurdistan Workers Party]."
Jabhat al-Nusra is trying to compete with IS to attract jihadis from around the world by announcing its Islamic emirate after IS stole the spotlight with the announcement of the Islamic caliphate.
The possibility of clashes with the opposition factions seems low, especially since Jabhat al-Nusra has good ties with the majority of the factions.
A rebel leader, who wished to remain anonymous, told Al-Monitor that a clash with Jabhat al-Nusra was unlikely in the wake of the declaration of an emirate. According to him, Jabhat al-Nusra is part of Syrian society as the majority of its members and leaders are Syrian. He said, "We had already agreed to only fight Assad's regime and the corrupted."
He noted that the potential announcement of the Islamic emirate does not mean the establishment of a state for Jabhat al-Nusra, saying, "There is no region in Syria that Jabhat al-Nusra is controlling alone. Thus, I do not think that our relations will be affected by this announcement."
Source: http://www.al-monitor.com/pulse/originals/2014/07/jabhat-al-nusra-announce-islamic-emirate.html#ixzz381yllxDc
-------
Why Islamic State's Caliphate Is Trouble for Egypt
By Mahmoud Salem
July 18, 2014
Much has been written juxtaposing the rise of the Islamic State (IS, formerly the Islamic State of Iraq and al-Sham, or ISIS) to the rise of Egyptian President Abdel Fattah al-Sisi, with emphasis on how both are outdated and will eventually crumble as representations of two failed models — hyper nationalism and radical Islamism. The "modern" military-led nationalist Arab state model may be decayed and likely to fall eventually, but the IS model will survive far longer than anyone expects.
It has been less than two months since the rise to power of IS, which some cheekily refer to as SIC (State of the Islamic Caliphate), but its significance should not be ignored. The group's emergence and continued existence is an impressive feat in today's world order. IS now controls territory that stretches from the eastern edge of Aleppo, Syria, to Fallujah, in western Iraq, and the northern Iraqi city of Mosul? It has already established a judicial system, provides security, runs schools and offers social services.
Social media networks have shared pictures of vehicles with "Islamic Caliphate" license plates and the new state's passport. There are also reports of a newly established consumer protection authority for food standards in Raqqa. Much has also been written about IS' sophisticated media and PR operations. For all intents and purposes, IS has established a "functioning" state in — and I repeat for emphasis — less than two months.
While some analysts might refer to the Taliban and claim that there's nothing new here, such a comparison is flawed for one important reason: The Taliban's main prerogative was control of Afghanistan, a historically established and internationally recognized state with internationally recognized borders. IS, however, has no interest in controlling a state that has borders. On the contrary, its political philosophy is vehemently opposed to borders.
IS' impressiveness lies in its creation of a brand new state from territory it carved out by force from two countries with internationally recognized borders. Its media arm has even released a video that frames its creation as the inevitable end of Sykes-Picot and hails it as the beginning of one Islamic world devoid of borders, united under the leadership of the new caliph. It's an idea that for various Islamists and Islamic revivalists is incredibly seductive, and it shows by the number of foreign jihadists and fighters flocking to IS every day.
Given its danger, brutality and challenge to the status quo, one would expect that a number of forces would be aligning to crush IS, but this is not happening. Actually, no one seems even remotely interested in fighting it, which is amazing considering that it sports only a few thousand fighters, is surrounded by the Syrian and Iraqi militaries and threatens US allies, including Jordan. Here's the rub: No one is fighting it because its continued existence is to everybody's benefit, except maybe the people over whom it rules.
In Iraq, Prime Minister Nouri al-Malki seems more than fine with giving IS control over Sunni Arab areas to rid himself of responsibility for them, and thus allow him the freedom to cozy up even closer to Iran. The Iraqi Kurds see the situation as their chance to declare independence, since Iraq has already fragmented. Syria is no different. President Bashar al-Assad is happy with IS because it offers the stark and scary alternative to the end of his regime, and it cooperates with his military in crushing the Free Syrian Army (FSA), like they did in Deir ez-Zor, where after their joint victory over the poorly armed FSA fighters, they divided the spoils. The Syrian army gets to control the airport, while IS controls the suburbs, and neither attacks the other.
If one is conspiracy-minded, the creation of the so-called Islamic caliphate serves a huge purpose: It gives radical Islamists a "homeland" to which to migrate from all other countries that simply do not want them — an Israel for Islamists, if you will, and one with ambitions of expanding to include the entire region.
Conspiracies aside, however, IS' appeal does represent the failure of Arab states to foster a sense of citizenship for their people. Citizens of most Arab countries are treated by the state as mere residents without any real or established rights or even a future; hence their high rates of emigration.
Beyond IS' alternative model to the failed modern Arab state, its raison d'être alone should have Sisi shuddering. When employed by an Arab state, nationalism can win against local Islamist ideologies, but when it is positioned against the idea of being part of an existing Islamic empire — where borders do not exist and all Muslims are united — the rules suddenly change. It has been nothing short of fascinating to read the comments of Egyptian Islamists on IS' advances. They perceive it as proof of the mistake of previously having followed Western, secular democratic models and believe that the "caliphate by any means necessary" model is truly the path they should have taken. Whether this translates into their emigrating to the new caliphate or being pushed locally to join it by force remains to be seen, but both are on the table.
Meanwhile, the Egyptian government is too busy fighting secularists and atheists and arresting people who break the Ramadan fast, following in the steps of Hosni Mubarak's failed rule book of enforcing a "centrist" state that is neither Islamist nor secularist while working for and appealing to no one. The Muslim Brotherhood's failed rule should have jump-started Egypt on the route toward secularism and human rights, which are the only way the nationalistic model, can survive and challenge the Islamist model. Instead, the government is engaging in a battle of moderate versus extremist religious rhetoric that it not only cannot win, but also sways it toward extremist Islamic actions to prove its Islamic credentials. As the Mubarak years demonstrated, this only perpetuates the Islamist ideology. Thus, the inevitable and ironic conclusion that the Sisi regime's tactics will accomplish nothing except producing new recruits for IS.
The Egyptian state is old and decaying. It relies on time-worn oppressive tactics and discredited religious institutions to fight a war that at its core is a battle for the hearts and minds of Egyptians, and it is losing badly. IS is a new state bolstered by young immigrants from all over the world who share nothing but a common faith and purpose. If it manages to survive, IS will become the centre of allegiance for Egyptian Islamists throughout the nation against the Egyptian state. As for non-affiliated Egyptians, one should not be surprised if they begin immigrating to the Islamic State in a few years in search of jobs. In the end, their country offers them nothing but a bleak and unstable future, while the new caliphate is rife with possibilities. Therein lies the danger and the difference between IS and Sisi's Egypt.
Source: http://www.al-monitor.com/pulse/originals/2014/07/egypt-islamic-state-iraq-syria-islamism-nationalism-sisi.html#ixzz381ywcxhV
-----
Media and the Kurds in Iraq
By David Romano
17 July, 2014
As soon as Israel and Hamas began exchanging blows, Western media's news from Iraq seemed to move to the back of the line. Although I feel terrible for civilians caught in the crossfire in Gaza and Israel, the 200 dead Palestinians (and one Israeli), and the people on both sides spending their summer in bomb shelters, we have seen it before and will likely see it again.
I have trouble understanding how the déjà vu in Israel-Palestine is so much more newsworthy than a million displaced people since the fall of Mosul, a Kurdish state in the making, a regime in Baghdad that is getting both American and Iranian advisers at the same time, casualty levels that are truly startling and a pseudo-Islamic Caliphate straddling both Iraq and Syria. I am not saying there should be no news on Israel-Gaza or that news should always be in direct proportion to the death toll. What I am saying, however, is that by virtually any measure, what is happening in Iraq, in Syria and in Kurdistan right now is much more momentous, novel, large scale, geo-strategically important, bloody and frankly, interesting.
Yet somehow every news channel I turn to on television is giving me every little detail of the Israel-Hamas exchange, from size and numbers of rockets fired to how many telephone calls Israel makes before blowing up someone's house. In the meantime, it seems difficult to find out via mainstream media if Iraq still even exists, or what the Americans, the Europeans and regional powers plan on trying to do about it.
I know some people will say the discrepancy in media attention stems from the large number of Jews involved in the media industry. I do not accept this argument, however, as even in countries where you would be hard pressed to find a single Jewish person working in the media (or walking in the street, for that matter), the news has turned its focus to Israel-Gaza. Others will argue that "It's just more fashionable to complain about the Jews." That may be true for some media outlets and people, but surely not so many. Other explanations might include the fact that after Washington D.C., Jerusalem has the highest number of foreign journalists in the world – and these journalists tend to be of higher rank than their counterparts sent to Iraq or Syria. Or perhaps senior news editors think their audiences are just tired of hearing about Iraq and Syria, although why the same logic would not apply to Israel-Palestine seems unclear.
Even on social media, the latest in Israel-Palestine elicits more back and forth between people who are not from the region. Everyone seems to feel they are an authority on who is right and who is wrong in this conflict (either the long-suffering tragic underdog or the liberal democratic state fighting those who want to destroy it), and too many also believe they must share their easy solutions to the conflict with the rest of us. This, I think, gets to the heart of why a comparatively small happening in Israel-Palestine receives so much more play than truly momentous things occurring in Iraq: People have more trouble understanding what is happening in Iraq and hence choosing which side to cheer for.
Apart from supporting innocent civilians from every ethnic and religious group, the answer for most Westerners should be easy. I will provide the main options for popular Western sympathy in multiple choice format:
A) A regime in Baghdad that is very close to Iran, refuses to share power with anyone else in Iraq and keeps stealing so much oil money that the capital's electricity and army still doesn't even work;
B) An array of forces led by radical Islamists, members of the former vicious regime, and conservative tribes;
C) A few isolated, powerless, "nationally minded" and sometimes moderate politicians; or
D) A regional government of a traditionally oppressed group that enjoys widespread support from its people, takes in a million and a half refugees from all ethnic and religious groups, empowers women (including women fighters in its armed forces), supports a free market, has attacked no one, demonstrates its friendliness towards the West all the time, and seeks to safeguard its security and freedom.
I do not describe the choices here in a completely fair manner, of course, but these things seldom get described fairly in the media. If most Westerners have yet to think about this multiple choice exam, then the Kurdistan Regional Government needs to work harder on its public relations. Once the Western public understands, perhaps their leaders will as well.
David Romano has been a Rudaw columnist since August 2010. He is the Thomas G. Strong Professor of Middle East Politics at Missouri State University and author of The Kurdish Nationalist Movement (2006, Cambridge University Press) and co-editor (with Mehmet Gurses) of the forthcoming Conflict, Democratization and the Kurds in the Middle East (2014, Palgrave Macmillan).
-----
The Sunni Revolution in Iraq
By Tariq Al-Hashimi
11 July, 2014
Not trying to brag, but I must say that people who know me say that I have three qualities - righteousness, honesty and courage - which distinguish me from the rest of the Iraqi politicians. In terms of mentality and performance, I do not claim to be an extraordinary individual, I prefer to leave the judgement to others, but I also do know myself.
As such, I take pride in having been raised based on the aforementioned character traits and rejoice that they were influential in shaping my personality.
Such an introduction was necessary to address the subject upon which I would like to touch. As a matter of fact, many of my Turkish friends have encouraged me to explain to the public a thing or two. While some commentators used their articles to distort my position and statements, certain journalists and politicians did the same through their words. They went so far as to claim that I supported terrorist groups, especially the Islamic State of Iraq and al-Sham (ISIS), which was responsible for the raid on the Turkish consulate in Mosul and the kidnapping of consular personnel.
That the line between advocating a revolution by the Sunni population, which experienced persecution in various parts of the country, and supporting radical Islamic groups accused of terrorism such as ISIS, as well as the defamation campaign devoid of objectivity and full of prejudice, have left me heartbroken and disappointed.
In truth, the difference between the two attitudes is as obvious and clear as earth and sky. Yes, I revolted against persecution, tyranny and despotism. And I call for a genuine revolution to transform my country into a democratic and civil state. My agenda relates to a homeland committed to human beings. With the exception of self-defence, I shall remain a man of peace and keep my distance from violence.
I shall not revisit my position on peace and I will refuse to feel sympathy toward radical Islamists who misrepresent Islam to turn grace into persecution, and peace into violence. These groups deem permissible acts of murder, which Allah declared illicit. I denounce their notion of the faith and condemn the crimes they committed.
I strongly protest their capture of innocent Turkish truck drivers and the consular personnel in Mosul. This is obviously an unacceptable situation that everyone must condemn. Therefore, I wish to declare my brotherly sympathy to the people of Turkey and the families and loved ones of the hostages. And I pray to Allah for the release of all captives without further delay. Similarly, I call upon everyone to live up to their responsibilities with regard to freeing these individuals. I shall not relinquish my support for the Sunni Arab community in Iraq, since they are right.
Their revolution emerged as a reaction to the ethnic cleansing which they had to suffer. Their women were raped, there young people were arrested; their leaders and religious symbols were targeted. They were deprived of their identity as their mosques were taken from them and they endured all forms of pressure, including forced migration.
Iraq's demographic structure was altered. And so much more... Just like what the Serbs did to Muslims in Srebrenica, Bosnia-Herzegovina in the 1990s - perhaps even worse.
Here, we discuss two separate issues. Today, there is a legitimate revolution in Iraq with clear features and a national objective. We welcome those who offer their support in reaching our goals. Meanwhile, we tell those attempting to derail the revolution through extremism, bigotry, Takfeer and hatred that they are not welcome among us. However aggravated the pressures, the persecution and the discrimination that we experience may be, our faith commands us to be just, merciful and restrained whilst pursuing a compromise. It is this path which we follow.
Source: http://www.dailysabah.com/opinion/2014/07/11/the-sunni-revolution-in-iraq
-------
The Past, Present and Future of Mosul
By Cemil Ertem
9 July 2014
Ninety six years ago, on July 29, 1918, rear-admiral Edmond Slade, the prominent naval officer of the British Army got very enthusiastic when he finished the report on which he had been working for a long time. As well as consisting of some crucial arguments and proposals, this report, which was made a legal document on Jul. 29, had an attachment about the particulars of oil reservoirs in Mosul. For Slade, this attachment was of critical importance as these oil-rich fields in Mosul had been seized by Germans previously.
Slade compiled all this information by resorting to various reports of the German and Anglo-Persian Oil Company's specialists. He came to this conclusion: "There are rich oil spills on both sides of the Tigris; the area which covers the lands that begin from 65 miles northwest of Mosul and extend to al-Fatha, which is 50 miles south of Geyera district. This information was previously detected by the German and Anglo-Persian Oil companies that made onsite explorations in the region."
Sir Henry Wilson, the chief of staff of the British Army, read these lines over and over again. He stood up immediately and opened a Middle East map on the table. He looked at the map in a covetous manner and said, "It is too late, what do we have to do in the West? As the West is already ours, we have to occupy Mosul soon." These words constituted the starting point of the Mosul question for Turkey. For Wilson, the British invasion was necessary precisely to control the oil reservoirs and other natural resources in the region. The British Kingdom and then the whole West kept these resources under precise control in two ways: Firstly, they drilled these resources in small amounts that were sufficient for their own usage and for trading. Secondly, they never took out oil in big quantities that could create local wealth, which may leave their hands. The enrichment of the region meant a new middle stratum that would not be so easily controlled by Britain and the rest of the West. This posed a great danger; that is why Iraqi resources have so far been extracted by the West at will. Soon after Slade's report, the British Army entered Mosul on Oct. 30, 1918 by depending on the Armistice of Mudros. What came after this is a long story that encapsulates the treaties of Lausanne and Ankara that concerned Turkey's future status in the face of the Iraqi oil revenues.
I must say that although Britain offered to put the Mosul question and the border issue between Turkey and Iraq on the table during the Lausanne Treaty on Nov. 27, 1922, Ismet Inönü offered to exclude them from bilaterally discussing it at a later time.
During the Lausanne, Inönü asked Ankara's final decision on the matter. Ankara said that they were ready to hold a referendum without any oppression and were open to talks about managing oil trade. Ankara stipulated that if their offer was not responded to, Turkish delegates would return to Ankara. Inönü took into consideration that Russia would not take Turkey's side in the case of a potential war and the Entente Powers offered to exclude Mosul from the conference. He said to Ankara that they needed to come to terms with Britain on Mosul in order to reach peace. Ankara's approach changed accordingly and Mosul was kept of the conference agenda. Lord Curzon and Inönü came together in 1923 and they ultimately decided that if they could not find a solution within a year, the Mosul question would be assigned to the League of Nations.
Turkey gave what Britain wanted both in Lausanne and at later times. Succumbing to the stipulations of Britain, Ankara gave up the National Pact and undertook Baghdad province's debts. However, Turkey will not repeat the same mistake today. Today we have come to the same phase which was offered to Inönü in Lausanne, only to be given up later on. Along with the Kurds, the people of Mosul and Kirkuk are likely to hold a referendum to exercise their rights of secession. Thus, they will steer their own destiny and use their resources as they wish. Turkey supports this just demand. This, without any doubt, is a new period that came after a century. Middle Eastern societies look out for this wealth and everybody should respect this.
Source: http://www.dailysabah.com/columns/cemil_ertem/2014/07/19/the-past-present-and-future-of-mosul
-------
Reconciliation or Division: Iraq between Skyes-Picot And Biden
By Othman Ali
15 July, 2014
If Iraqi politicians manage to form a government of national unity to replace Maliki's, democratic forces will need to draw a two-pronged policy to address major obstacles in the way of peace and dislodge ISIS and other extremist militias from northern and central provinces. The success of this policy necessitates the cooperation of regional governments, especially Turkey, Saudi Arabia and Iran
Political observers and numerous statesmen have made statements to the effect that the fall of Mosul on June 10, 2014 to the Islamic State of Iraq and al-Sham (ISIS), signalled a new era in Iraq. The country is sliding toward a rapid disintegration and some have gone so far as to say that the recent events have sealed off the end of Iraq as a political entity.
Prime Minister Nouri al-Maliki's eight years of sectarian- based policies have the accumulative effects of marginalization and disenfranchisement of Sunnis in particular are to blame for exacerbating Iraq's sectarian violence and, subsequently, entrenching Iraq's centuries-old ethno-sectarian schisms as evidenced by ISIS's recent offensive, supported by Sunni tribes, in north-central and northern Iraq. The only way left for Shiites, Sunnis, and Kurds to co-exist peacefully is a loose federation scheme that was proposed in 2006 by then-Senator Joe Biden to partition Iraq into Sunni, Shiite and Kurdish states. When the scheme was announced, Arabs and Iraqis were outraged, and it was termed another Sykes-Picot Agreement - a Western design to divide Iraq. We maintain here that the ongoing Sunni uprising has opened a new chapter in Iraq's history that it will be either the end of Iraq, as a writer in the influential Time Magazine's June 20, 2014 issue argued, or the creation of a loose federal regime.
There is a probability that Iraq is going to face a destiny similar to that of the Socialist Federal Republic of Yugoslavia in the 1990s: a long, drawn-out and bloody civil war that led to the disintegration of the country into separate sectarian and ethnically based regimes.
The situation in Iraq is starting to resemble that in Yugoslavia in the early 1990s, though some people may disagree with this analogy. Pre-socialist Yugoslavia, an invention of European powers which was dictated by the Treaty of Versailles at the end of World War I, was very similar to Iraq. Iraq itself is a product of the Sykes-Picot Agreement that was also devised by Western powers in 1916 to arbitrarily create a multi-ethnic, multi-linguistic, and multi-religious/ sectarian regime. Forced together by European occupation forces following World War I, the ethnic, linguistic and national groups have never had any credible reason to believe that anything other than an authoritarian regime could or should bring them together and make them stay together. For eight decades Iraq was ruled by Sunni Arab elites. Other groups were marginalized and silenced by extreme violence.
Today, Maliki with the assistance of the U.S. and Iran has only reversed the situation in favor of Shiites. In the former Yugoslavia, as in Iraq, ethnic groups have clashed over the years, but they also have had long periods of peaceful coexistence - and not only under the heavy hand of a Tito. Croatians, Bosnians, Slovenians, Kosovars, Macedonians, Montenegrins and Serbs lived together for centuries under the relatively benign Ottoman and Habsburg empires and later under their own monarchy. So did Kurds, Shiites and Sunnis in Mesopotamia. In both cases, intermarriage rates were high, and there was no popular clamour for civil war. In more recent times, domestic strife has been fomented by megalomaniacs such as Slobodan Milosevic, Saddam Hussein, and Maliki who sought to profit from violence. As these groups committed atrocities, they fed demands for vengeance, leading to more death.
A partitioning of Iraq would be a very bad thing as it could be as bloody as the breakup of Yugoslavia, or maybe worse. Civil war and the breakup of Iraq may have far-reaching devastating spill over for Iraq's neighbours, Turkey in particular. If the wheels of division were to come into motion, Sunni, Shiite and Kurdish forces would scramble to seize control of mixed and disputed territories which would create circumstances conducive for ethnic cleansing in mixed cities like Baghdad, Kirkuk, Diyala, Babil and Mosul.
The entrance of Kurdish forces into Kirkuk and the fall of Talafar, a Turkmen town, created a lot of anxiety in Turkey and there were voices asking for intervention. Similarly, the threat by ISIS to march on Baghdad and Karbala forced even the timid Ayatollah Ali al-Sistani to decree a fatwa for jihad and the alarmed Iran is all but ready for full intervention to stem ISIS's advance on Baghdad.
In fact, in a January 2007 paper written by Daniel L. Byman and Kenneth M. Pollac for the influential Brookings Institute entitled "Things Fall Apart: Containing the Spill over from an Iraqi Civil War," the writers foresaw what is now happening in Iraq. They wrote: "Today, only the U.S. troop presence is preventing Iraq, already in the throes of a low-level civil war, from degenerating into an all-out conflict a la Yugoslavia." They have rightly maintained that civil war proves to have several destabilizing effects, and one in Iraq will not be an exception. There will be a massive exodus of refugees and a large grouping of embittered people who serve as an ideal recruiting pool for armed groups. They continued: "The problems created by these other forms of spill over often provoke neighbouring states to intervene - to stop terrorism as Israel tried repeatedly in Lebanon, to halt the flow of refugees as the Europeans tried in Yugoslavia, or to end (or respond to) the radicalization of their own population as Syria did in Lebanon ... The result is that many civil wars become regional wars."
Masoud Barzani, the head of the Kurdistan Regional Government (KRG), recently told U.S. Secretary of State John Kerry in Irbil that the fall of Mosul has created a "new reality on the ground that Kurds cannot ignore any more, and they will not be willing to re-enter a new cabinet with or without Maliki without real guarantees for Kurdish rights and full partnership between Irbil and Baghdad."
Qubad Talabani, deputy prime minister of the KRG and a leading figure in the Patriotic Union of Kurdistan said, "We did not leave Iraq, it is Iraq that is leaving us." Furthermore, there were numerous assertions by Kurds that their newly established control over disputed regions is final. A close look at the above statements points out that the Iraqi Kurdistan region, which has almost doubled its size recently with its newly acquired territories that include rich oilfields, has become a de-facto state and will not easily relinquish any of its newly gained power.
Equally, the Sunni Arabs , who have recently tasted the bitterness of Shiites domination over their region, emboldened by their recent gains, and fearing an Iranian and U.S. backed attempt to re-impose Shiite control, have made it very clear that they will settle for no less than an independent Sunni regional government and a real say in Baghdad.
Furthermore, Maliki's policies and the recent gains by ISIS and 16 other extremist Sunni groups, have rendered the Sunni Arab moderate voices of Muttahidoon (the Uniters of Reform Coalition) led by Usama al-Nujayfi, and Hiwar of Deputy Prime Minister Saleh al-Mutlaq ineffective. This new reality in the Sunni regions will not only complicate the U.S. and post-Maliki Baghdad government's task to find partners for peace, it has all the potential for creating a situation in Iraq similar to the ongoing civil war in Syria. Very soon ISIS and other extremist forces will be locked in very prolonged and bloody inter-Sunni wars. It is noteworthy that these Sunni extremist groups, who now control no less that 40 percent of Iraq, are trying to destroy the democratic process that followed the fall of Saddam's regime in 2003, and consider the constitution as illegitimate.
For these reasons, any formula leading out of the current crisis should take into account the new facts on the ground. Returning to our analogy, international intervention is necessary here as it was in case of Yugoslavia to put a swift end to the ongoing blood bath in Iraq. However, the 1995 Dayton Agreement has demonstrated, in the case of the former Yugoslavia, you cannot force unwilling people and different religious groups to live in peace in a failing nation state. Although the Dayton Agreement provided for a federal regime in the former province of Bosnia -Herzegovina, today, Bosnia and Herzegovina has three de facto mono-ethnic entities (Serbs, Bosnian Muslims, and Croatians), three separate armies, three separate police forces.
The national governments that were imposed on the warring groups by the Dayton Agreement exist mostly on paper and operate at the mercy of the different groups.
Should Iraqis mange to form a government of national unity to replace Maliki's, the democratic forces will need to draw a two pronged policy to address the major obstacles in the way of peace - the creation of a united front in which U.S., Kurdish and Iraqi forces along with pro-government tribal forces participate - is necessary to dislodge ISIS and other extremist militias from the northern and central provinces. The success of this policy necessitates the cooperation of regional governments, especially Turkey, Saudi Arabia and Iran. Secondly, efforts should be made to engage some armed groups already in control of Sunni regions to have them participate in the political process. Politically, the unmaking of the Maliki regime's exclusionary measures and the passing of the 2007 Iraq Oil Law to set clear legal ground for the administration of natural gas and oil resources between the center and regional governments are needed measures. The KRG should be convinced to settle the status of disputed regions according to Article 140. The U.S. and Iraqi regional governments need to have a say in this process to eliminate these explosive elements in Iraqi politics.
Due to the lack of trust between Iraqi political groups and the non-existence of a proper awareness about modern concepts of democracy and citizenship, it should be ruled, at least in the short term, that a loose federal system should be established with Baghdad left to have a special status and to house federal authorities. Otherwise, prolonged war will create a situation similar to that of Bosnia-Herzegovina, and this will not be in the interest of Iraqis or regional peace. In fact, as the crisis continues, more blood is shed, hatred accumulates, Iraqi communities will become more radicalized and the disintegration of Iraq will become irreversible.
Currently the parliament is paralyzed, Maliki and Iran are pushing for military solution, Kurds are threatening with a referendum of secession and ISIS and other extremist groups are increasing their power in the Sunni regions on a daily basis. All of this gives credit to the statement recently made by Special Representative of the United Nations Secretary-General for Iraq Nickolay Mladenov, that Iraq after the fall of Mosul is a different Iraq. It is for these reasons, some observers have stated, that the fall of Mosul has signalled the beginning of a new era, not only in Iraq, but the entirety of the Middle East, and this is the first crack in the Middle East's Sykes-Picot political arrangement.
Source: http://www.dailysabah.com/opinion/2014/07/15/reconciliation-or-division-iraq-between-skyespicot-and-biden
-----
Europe's Universalist Islam and Isis's European Fighters
By Ceyhan Boya
30 June, 2014
Last week some Turkish media organs showed a picture of ISIS fighters, next to whom were the flags of the numerous countries they came from, exposing the significant number of European nationals among its ranks. According to these reports, this was clear evidence that ISIS was indeed the pawn of foreign powers and that these young European men were agents of their states tasked with further destabilizing the region.
There is no denying that ISIS, and other violent organizations, are being used by a number of states, in what is referred to as the "regional balance of power" in international relations. The abundance of crude oil in the Middle East guarantees that the region will be a battlefield for rivalries between states, from West to East, all eager to protect and extend their own interests. In this global competition, we can safely assume that groups like ISIS are directly, and indirectly, funded and supported logistically by a range of countries, including Western ones. However, suggesting that its European fighters are agents of these states is a misreading of the situation and also neglects the developments relating to a number of second and third generation Muslims, including converts, in Europe.
The experience of Muslims in Europe differentiates itself from experiences in majority Muslim countries. The same can be said for countries such as the U.S., Canada and Australia. European Muslims originate from across the globe and are of different ethnicities. If Muslims, as an entire body, are considered a "minority," as is often done politically and in the media, this minority is a mosaic with many different pieces. The main thing gluing the different parts together is an overriding Muslim identity. Consequently, in the West, the milieu and the way in which Islam is experienced are also very different. Pakistanis, Algerians, Turks, Moroccans, Kurds, converts etc. find themselves living in the same neighborhoods, worshipping in the same mosques, joining the same Sufi fraternities, and sharing other religious and life experiences, discovering their cultural, even ritual commonalities and differences. This serves to valorize that which binds them together even more: Islam.
This shared experience creates a cosmopolitan, or universalist, form of Islam. Particular to Europe, it entails a number of new necessities for the growing Muslim community. With issues of language and new problems being encountered, immigrant elders can no longer cater to the religious and spiritual needs of these new cosmopolitan Muslims. As a result, a rich and diverse set of Muslim intellectuals, academics, community leaders, imams and religious organizations has emerged. Among the first group is Tariq Ramadan, who highlights the centrality of Muslims in Western Europe as the future of Islam in the world, English as key language for global Islam, Western Europe as a pilot project for global Islam and Western Europe as the "mirror" against which globalized Muslims construct identities as embodiments of this universalist Islam.
If that is the beautiful and promising side of the Muslim experience in Europe, there is also a negative one. Among the new organizations, groups defending literalist and simplistic understandings of religion, benefiting from major funding from countries such as Saudi Arabia, have managed to make gains on the back of this cosmopolitan approach to religion. Their preachers, able to offer easy answers to those seeking them, are able to attract some converts, but also second or third generation Muslims who, through this heightened sensitivity to the Islamic rather than the cultural, have found the Islam of their parents to be too folkloric or too "diluted" by culture. Also, in their simplistic rigidity, they find mainstream Sunni Islam to be too influenced by Sufism, a broadly accepted spiritual science which they reject. These "Salafi" groups open the door to new transnational networks, linking them to groups abroad.
As one may observe by watching any of ISIS's well-funded and well-directed promotional videos, as well as adhering to this simplified interpretation of Islam, ISIS advocates a united Muslim world beyond nationalistic borders. Such an aim is very much in line with the idealism that is produced by the European Muslim experience, which should be seen as religiously legitimate, and not a sign of extremism. However, through this lens, the struggles of the Muslim world also become universal, and consequently, European Muslim sympathy and militancy goes transnational. Highly mobile, children of immigrant families act both in avowed opposition to and alienation from their home country and government, and in avowed identification with a broader Islamic cause in the name of the global Muslim community.
ISIS's multi-ethnic transnational and violent militancy, despite being based in the Middle East, epitomizes, in its most radical form, the "de-territorialized" Islam of Europe. It is no surprise to see European, American and Australian fighters in their ranks, disproportionally represented, and even less surprising to know that English is one of the main languages of communication within the organization. Is it not ironic that here"jihad" is being exported from West to East? As the policies of many Western and Middle Eastern countries are seen to be increasingly aggressive and insensitive vis-à-vis Muslims and Islamists, and as Islamophobia increases in the West, there is broader resentment and reaction. In some contexts, Western Muslims, and even non-Muslims, become attracted to certain strains of Islamic discourse and practice, not for religious reasons but for its political appeal. Thus "Islam" emerges as a powerful signifier not only to challenge a failed status quo in the Muslim world but also racism and inequalities in the Western one.
The extent of the above should not be exaggerated. As highlighted, the experience of the vast majority of European Muslims is a fruitful and positive one. Recent events involving ISIS in Iraq and news relating to European Muslim fighters, especially in Turkey and the Middle-East, has largely failed to diagnose the causes of their involvement, revealing a gap in understanding in regard to the religious experience of their co-religionists in Europe. Thus, the individual involvement of European Muslim men is wrongly assigned to that of agents of the "bigger picture," that which rightfully sees the workings of various states battling for power and interest in the continued tragedy unfolding in Syria and Iraq.
Source: http://www.dailysabah.com/opinion/2014/06/30/europes-universalist-islam-and-isiss-european-fighters
URL: https://www.newageislam.com/radical-islamism-and-jihad/new-age-islam-edit-bureau/world-media-on-islamic-state-and-iraq/d/98221