By Mercedes Fichett
May 20, 2020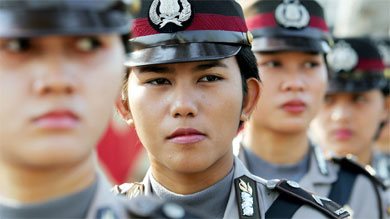 Indonesian police officers get ready for presidential election duties in Jakarta. REUTERS/BeawihartaBeawiharta
-----
In 2017, the Government of Indonesia (GOI) arrested three female citizens, disrupting a series of separate and highly organized potential suicide operations. In 2018, Indonesia suffered multiple and simultaneous suicide bombings perpetrated by entire families (parents and children) that targeted churches in Surabaya killing 28 and injuring more than 50. In a January 2019 suicide operation, an Indonesian couple killed approximately twenty-three and wounded over a hundred people in Jolo, Philippines. In October 2019, Indonesia arrested a couple for a near fatal knife attack against its Coordinating Minister for Politics, Law and Security and other officials. A GOI counterterrorism sweep thereafter included the arrest of thirty-six suspects of which two were policewomen. On November 13, 2019, a suicide bomber detonated a bomb in the Medan police headquarters. The bomber's wife, who frequently visited a female terrorist in prison, was arrested with several others. Based on the couple's digital trail, they were laying the groundwork for a significant terrorist attack in Bali.
This list of extremist activities by Indonesian women is by no means exhaustive. Throughout the waves of Islamist extremism in Indonesia, women have consistently played "hidden," behind the scenes roles, undertaking activities such as fundraising through the sale of handicraft products, planning and logistics support, strengthening kinship alliances through strategic marriages, and indoctrinating the next generation of extremists. With the rise of ISIS, Indonesian women 's participation has expanded to include more visible and operational roles such as conducting on-line recruitment, developing digital and social media content, planning and executing terrorist operations, and acting as suicide bombers.
Through field research in Indonesia, I observed that the GOI is still not effectively incorporating the female ISIS threat into its counterterrorism strategy – despite their obvious path of destruction. The female ISIS threat is even more complicated to address because of the concept of "Mehram." Practiced by conservative Muslims, "mahram" means that women cannot interact with men unless they are part of their close-knit family. Because ISIS supporters' practice "Mehram," the predominantly male Indonesian security, defense, and counterterrorism organizations are unable to carry out effective monitoring, surveillance, targeting, infiltration, and interrogations of female ISIS targets. This was confirmed to me by several female civil society members who described several instances where the GOI contacted them for the whereabouts and activities of female ISIS targets whom they had lost sight of.
To mitigate the counterterrorism challenges associate with "Mehram," the GOI should counter the female ISIS threat by mirroring it with the most valuable tool in its arsenal—the women of its defense, security and counterterrorism organizations. However, the GOI is constrained by the small number of women in these organizations which is further compounded by societal norms that inhibit women from fully participating in these professions. There are several steps that the GOI can undertake to increase the number and quality of women in these organizations.
First, the GOI should undertake robust public awareness that educates Indonesian society on the significant counterterrorism roles that women can play in these forces. This will enable society to normalize the role of women in defense and security, and will help to counter traditional barriers to women pursuing these careers. In fact, the GOI can profile several of its own retired and current female police and military generals and colonels who have participated in operational security missions. Using case studies of Indonesian women as U.N. Peacekeepers is especially significant because it highlights Indonesia's global leadership as a non-permanent member of the U.N. Security Council and as a top ten contributor to U.N. Peacekeeping Operations.
Second, the GOI should develop a compendium of the Tactics, Techniques and Procedures (TTPs) used by female ISIS operatives. With its detention and incarceration of several female ISIS operatives, the GOI has the ability to capture and document the various TTPs that these women used to advance the ISIS ideology, its network, and operations. This TTP compendium could then be used to develop countermeasures and effective interventions to mitigate the female ISIS threat. Civil society organizations have also developed important research to support the GOI's counterterrorism efforts. For example, the Institute for International Peacekeeping (YPP) created a documentary film called "The Bride" that looks specifically at the radicalization of female Indonesian migrant workers in Southeast Asia. Using the TTP compendium, documentary films, and other resources, the GOI could develop a robust training program, for its own forces as well as those from other countries, that addresses the full spectrum of women's hidden and visible roles in ISIS.
Third, the GOI should set a goal of recruiting several thousand women every year into its security, defense, and counterterrorism organizations, especially within its expansive domestic military territorial commands. With its world class training facilities at the Jakarta Center for Law Enforcement Cooperation (JCLEC) and the military's Indonesian Peace and Security Center, the GOI could train not only its own female forces, but also those from the regional ASEAN and other U.N. members on effectively addressing the female ISIS threat. For this expanded training, the GOI could partner with the U.N.'s multi-donor trust fund, the Elsie Initiative, which provides access to resources for governments that support and contribute to the deployment of trained and qualified uniformed women (military and police) to U.N. Peacekeeping. The GOI should then deploy its trained female forces to Indonesian provinces with known ISIS networks to monitor, track, surveil, and infiltrate these networks. This trained pipeline of female forces could also be qualified to participate in U.N. Peacekeeping, advancing a key GOI initiative to be a top ten contributor of peacekeeping troops.
Finally, it's important that the GOI assess the recruitment and entrance processing of women into its defense, security and counterterrorism organizations. In particular, the GOI's continued use of virginity and morality tests, which U.N. agencies have denounced as having no scientific or operational justification, raises an unnecessary gendered barrier. It alienates women from pursuing a professional career in defense, security, and counterterrorism, and denies the GOI access to a key demographic and talent base from which to recruit—women who aspire to protect and defend their country from all threats.
Indonesia is the largest Muslim democracy in the world, a non-permanent member of the U.N. Security Council, and a top ten contributor to U.N. Peacekeeping Operations. As such, Indonesia can play a leading role by implementing a comprehensive counterterrorism strategy that enables the development of a more resilient and capable defense, security and counterterrorism force—leveraging its most important asset, its women, to tackle the violent terrorist attacks supported and perpetrated by female ISIS operatives. Taken together, these recommendations will strengthen the GOI's capabilities to counter the threat from female ISIS supporters whether they are returnees, deportees, or homegrown, and will disrupt the development of the next generation of violent extremists.
Creative Commons: Some rights reserved.
Original Headline: Countering the Female ISIS Threat in Indonesia
Source: Council of Foreign Relations
URL: https://newageislam.com/radical-islamism-and-jihad/mercedes-fichett/female-isis-threat-is-more-complicated-to-address-because-of-the-concept-of-'mehram'-in-indonesia/d/121916
New Age Islam, Islam Online, Islamic Website, African Muslim News, Arab World News, South Asia News, Indian Muslim News, World Muslim News, Women in Islam, Islamic Feminism, Arab Women, Women In Arab, Islamophobia in America, Muslim Women in West, Islam Women and Feminism