By Kanishk Tharoor and Maryam Maruf
2 March 2016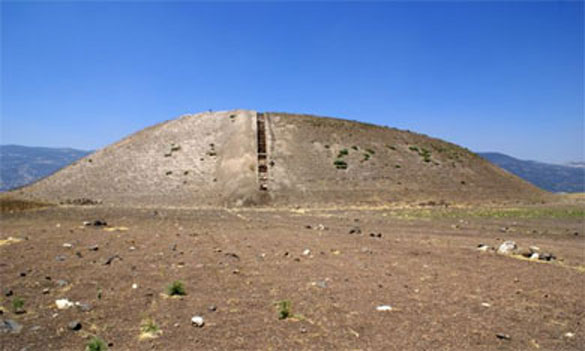 Tell from a distance.
---------
Many ancient objects destroyed or badly damaged in Iraq and Syria since 2003 are things of beauty - sculptures, tombs and temples, monasteries and minarets. Others may be less dazzling but hugely important as a source of knowledge about the ancient world. One of these is Tell Qarqur.
"To the uninitiated it looks a lot like a hill," says Jesse Casana, an archaeologist from Dartmouth College in the US who worked at Tell Qarqur for nearly 10 years before war broke out in Syria in 2011.
In fact it is a "large mound of collapsed cultural debris" he says, 30m high and occupying about 10 hectares (25 acres). It's also 10,000 years old.
"What we're doing is learning about human history - the long arc of everything that happened across 10,000 years," says Casana.
"We can see this gradual process of change from the very origins of agriculture up until today in one place, which is kind of remarkable."
Casana and his team dug a trench along one slope of the site, to help them peel back the layers of history.
Tell From a Distance
"What it contains is a sequence of occupations. At the top is the most recent and as you dig deeper you get earlier and earlier ones.
"The earliest evidence we have for people settling in this place dates all the way back to about 8,500 BC.
"The most recent one at the top dates to the Mamluk period, something like the 15th Century AD and we have more or less every archaeological period in between represented - so it's like no-one ever left."
Tell Qarqur occupies a strategic location - it's a prominent mound with a commanding view over the valley of the Orontes river. A great battle took place nearby in 853 BC, when the Assyrian forces of the King Shalmaneser III defeated an enemy alliance. So it was no surprise when five years ago, the tell became a modern battleground too.
But Casana was less worried about the tell, than about local Syrian families, who had worked on the excavations for years, and become friends.
"A lot of the reporting on this from archaeologists doesn't often reflect the very personal way we're a party to it. I was in Syria for a very long time and I knew a lot of people very well and the war for me is very personal," he says.
"It was pretty, pretty bizarre to see that happen so far away and yet to feel so close to it. I could see the village right next to the tanks and I could only imagine what was happening to the people who lived there."
Casana was close to the family of the head man, the Mukhtar, in the nearest village to the tell, which is also known as Qarqur. The Mukhtar's son drove the archaeologists' bus, while his daughter, a graduate of the University of Latakia, worked first as a translator then as director of one of the areas of excavation.
Qarqur Tell
"I had worked with these people every year for seven years and they would watch my kids while I was there and we'd have dinner at their house. I had many people from the village Qarqur and also from the town where we lived, who were old friends," Casana says.
Following the progress of the war from afar, he was alarmed when the town of Jisr al-Shughur, 5km (three miles) from the tell, got caught up in the violence.
"We would drive through Jisr on our way to the site and Jisr was where we bought groceries, so it was pretty shocking to me personally to see this town that I knew so well is suddenly the site of a major battle, where they fortified the old Roman bridge and then the Syrian military attacked it," Casana says.
Soon afterwards, he lost contact with his friends. Mobile phones stopped working, and email contact ceased.
At this point, the al-Qaeda affiliate Jabhat al-Nusra launched an attack on a Catholic Church in the village where the archaeologists had lived and kept their stores. It was impossible to find out what had happened to the priest and the other inhabitants.
Casana also has no idea what happened to one of his prize collections - a box of hundreds of ancient sheep teeth from different eras of the tell's 10,000-year history, which he hoped would tell a story of environmental change, and the evolution of pastoral practices.
Sheep's Teeth
"I was very excited about this study," he says. "It hadn't really been done before and there aren't very many places in the world where you would be able to do it, because you would need this very continuous sequence from one place."
To monitor the state of Syrian archaeological sites, Casana used satellite imagery. Having spent years in the ground - and under the ground - of Tell Qarqur, he was now tethered to the site from space.
What the images showed were tank emplacements and a military garrison.
"These images are quite high-resolution so what you can see when you zoom in close enough is my excavation areas… and then surrounding them the ground has been bulldozed to make a sort of U-shaped bunker into the side of the mound - and then in them you can see the tanks."
Troops inevitably damage open excavation trenches, he says, while the creation of bunkers leads to "massive bulldozing scars".
By November 2012, the Syrian army appeared to have left, in response to the increasing domination of rebel forces in the region. It is still, today, controlled by a variety of competing rebel groups and has recently been in the crosshairs of Russian airstrikes.
It's been a while since Jesse has seen fresh satellite imagery, but the last ones he indicated that the step trench is still there and maybe also one of the more beautiful finds - a mosaic showing a leaping gazelle and a horse.
"Actually the horse's head was cut off so we only had the horse's rear end, which was something we laughed about," Casana says.
Mosaic of Horse and Gazelle
Last summer, much to his relief, he received an email from the Mukhtar's daughter - followed up by a phone call from her brother, who apparently had to climb to the top of a mountain to get Turkish mobile phone coverage.
"The family had been forced out of the village after the Syrian military had occupied it, and since that time they had been internally displaced refugees," he says. "They said they were hiding, about 30 of them living in a one-room house somewhere near the Turkish border."
If the story of human occupation at Tell Qarqur begins in 8,500 BC - taking in ancient battles, Greeks, Romans, Crusaders and Mamluks - it continues now in the midst of modern war, in this one-room house somewhere to the north, where Qarqur's displaced inhabitants seek refuge.
The Museum of Lost Objects traces the stories of 10 antiquities or ancient sites that have been destroyed or looted in Iraq and Syria.
Source: bbc.com/news/magazine-35696798
URL: https://www.newageislam.com/radical-islamism-and-jihad/kanishk-tharoor-and-maryam-maruf/museum-of-lost-objects--tell-of-qarqur/d/106537