By Ehsan Popalzai and Laura Smith-Spark
January 27, 2018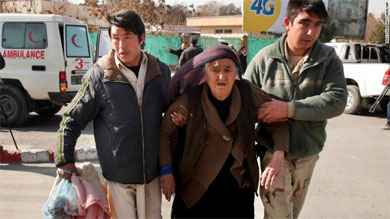 A wounded elderly woman is assisted at the site of the attack Saturday in Kabul.
-----
Kabul, Afghanistan (CNN)An attacker driving an ambulance packed with explosives detonated them Saturday in the Afghan capital of Kabul, leaving 95 people dead and 158 others injured, Afghan officials said.
Taliban spokesman Zabiullah Mojahid claimed responsibility for the attack, which comes a week after militants stormed a Kabul hotel.
The blast occurred around 12:45 p.m. local time after the vehicle passed through a security checkpoint, Interior Ministry spokesman Nasrat Rahimi told CNN.
Police identified the attacker at a second checkpoint, Rahimi said, but couldn't stop him before he detonated the explosives in a central area near the old Ministry of the Interior building, a large hospital and diplomatic buildings.
The injured have been taken to hospitals across the Afghan capital, said spokesman Wahid Majrooh of the Ministry of Public Health, who confirmed the casualties. He said the toll was likely to rise.
The attack, in the heart of what's meant to be the securest part of the city, is likely to fuel doubts over the Afghan authorities' ability to keep people safe.
An injured man is carried away from the site of a deadly suicide attack Saturday in the center of Kabul.
An injured man is carried away from the site of a deadly suicide attack Saturday in the center of Kabul.
'Insane, inhuman, heinous'
Afghanistan's Chief Executive, Abdullah Abdullah, condemned the attack, describing it as "insane, inhuman, heinous and a warcrime," via his official Twitter account.
He also called on the international community to "take further action" against "state-sponsored terrorism."
"Our priority and focus right now is to help those in need and provide the best treatment for those wounded," he wrote. "This is the moment when we all need to stand together and punch our enemy hard. This is enough!"
Dr. Abdullah
✔
@afgexecutive
We condemn this terrorist act and share the sorrows and loses of our people. Our priority and focus right now is to help those in need and provide the best treatment for those wounded. This is the moment when we all need to stand together and punch our enemy hard. This is enough!
4:48 PM - Jan 27, 2018
87 87 Replies 55 55 Retweets 186 186 likes
Twitter Ads info and privacy
The head of the United Nations mission in Afghanistan called the attack "nothing short of an atrocity" that targeted a civilian area of the city.
"While the Taliban claim suggested the purpose of the attack was to target police, a massive vehicle bomb in a densely populated area could not reasonably be expected to leave civilians unharmed," Tadamichi Yamamoto said in a statement.
"I am particularly disturbed by credible reports that the attackers used a vehicle painted to look like an ambulance, including bearing the distinctive medical emblem, in clear violation of international humanitarian law," he said.
US Ambassador to Afghanistan John Bass condemned what he called a "senseless and cowardly bombing" and those who perpetrated it.
"My government and I stand with the brave people of Afghanistan. Their work to create a peaceful, prosperous future for all the citizens of this country is the best response to terrorists and others who know only violence," Bass said in a statement.
The blast comes a week after gunmen attacked the Intercontinental Hotel in Kabul, killing at least 22 people during a 12-hour standoff with security forces.
Of those killed, 14 were foreign nationals -- including four Americans -- and eight were Afghans, according to the Ministry of Interior. Six gunmen were killed by Afghan security forces. The Taliban also claimed responsibility for that assault.
ISIS militants on Wednesday attacked the offices of British aid agency Save the Children in the eastern Afghan city of Jalalabad, killing at least four people and injuring dozens.
----
Attack Shows Strongholds Are Vulnerable
Saturday's bombing was not just another attack in the Afghan capital, CNN Senior International Correspondent Nick Paton Walsh said.
After Kabul hotel attack, is anywhere in Afghan capital safe?
After Kabul hotel attack, is anywhere in Afghan capital safe?
Every time the so-called ring of steel in the capital is penetrated, especially to such devastating effect, it undermines the government's ability to appear in control of even its most important sanctuaries, he said.
At a time when President Ashraf Ghani faces many internal enemies and is far from secure, the perception that even his inner enclaves are vulnerable is very damaging.
Secondly, the Taliban on Saturday swiftly claimed responsibility. That was a marked contrast to another attack last March on a key military hospital in Kabul, which killed at least 30 people, many of them doctors and injured soldiers, Paton Walsh said.
The Taliban back then denied it was behind the hospital attack, suggesting such targets were beyond the pale. ISIS eventually made a reasonably credible claim to that attack.
This time, the Taliban had no such qualms, Paton Walsh said. This could be interpreted as a sign the Taliban doesn't want to lose out to its younger, nastier competitor insurgency in the extremism stakes. A year ago, medical facilities were off-limits; now, an ambulance can be used as a bomb.
Thirdly, this is a seminal moment in the 16-year Afghanistan war. Last year, US and Afghan officials accepted that things had not gone well -- that territory was lost -- but noted the Taliban had lost people, too. This year, they insist, is the year the Taliban will begin to lose territory again. Attacks like this not only diminish morale but show strongholds as vulnerable, Paton Walsh said.
This year, too, hundreds more US troops are en route to the country to begin a much riskier mission: training Afghan troops outside the wire. There will be Americans on the front line who know that combat may be part of their mission and who may die in that effort, Paton Walsh said.
This is the one key foreign policy issue upon which US President Donald Trump has made a very specific policy pledge: to win.
At the same time, key indicators about how well the US and Afghan forces are doing -- such as how many Afghan soldiers or police are killed or injured -- are being classified, depriving the American public of simple ways of assessing their President's success, Paton Walsh said, noting that neither the Pentagon or this White House typically hide it when they are winning.
------
CNN's Ehsan Popalzai reported from Kabul, and Laura Smith-Spark wrote from London. CNN's Sara Mazloumsaki and Marilia Brocchetto contributed to this report.
Source: edition.cnn.com/2018/01/27/asia/afghanistan-kabul-blast-intl/index.html
-----
Deadly Blast Rocks Kabul, Taliban Claims Responsibility
27 January 2018
At least 95 people have been killed and 158 were wounded in a powerful suicide blast in the Afghan capital, Kabul.
The Taliban claimed responsibility for Saturday's assault, the third major attack in the past seven days. An interior ministry spokesman blamed the the Taliban-affiliated Haqqani network, which has been behind many of the biggest attacks on urban targets in Afghanistan.
Attackers blew up an explosives-packed ambulance near an interior ministry building on a busy and heavily-guarded street in Kabul's centre in the afternoon. The Jamhuriat hospital, government offices, businesses and a school are close to the site of the blast.
Ahmed Naweed, an eyewitness, told Al Jazeera the attack took place between two checkpoints.
"There were many dead bodies and blood everywhere," he said. "People were crying and screaming and running away."
Al Jazeera's Jennifer Glasse, reporting from Kabul, said Afghan officials were calling the attack a "massacre".
"In the immediate aftermath of the attack, we saw bodies scattered across the street," she said. "The hospitals are inundated with the wounded and officials fear the death toll may rise."
The driver passed through one checkpoint by telling police he was escorting a patient to the hospital, our correspondent said, and detonated the explosives at the second.
Huge plumes of dark smoke rose over the city following the attack, and vibrations of the explosion could be felt several kilometres away, according to witnesses.
Emergency vehicles rushed to the city centre, TOLO news reported.
United Nations Assistance Mission in Afghanistan said attackers must be brought to justice.
"Today's attack is nothing short of an atrocity, and those who have organised and enabled it must be brought to justice and held to account," Tadamichi Yamamoto, head of the UNAMA, said in a statement.
The incident comes a week after a Taliban-claimed attack on the Intercontinental Hotel in the city, which left more than 20 dead, and days after the Islamic State of Iraq and the Levant (ISIL, also known as ISIS) killed at least three people at the office of Save the Children in Jalalabad.
Commenting on Saturday's bomb blast, Dejan Panic, coordinator at a hospital run by the Emergency NGO, said: "It's a massacre."
The organisation tweeted a photo of a makeshift medical ward, where patients were being attended to on the floor.
At least seven people were dead on arrival, Emergency said.
EMERGENCY
✔
@emergency_ong
#Kabul. Over 70 wounded, 7 dead on arrival transferred at @emergency_ong hospital after the attack. "It's a massacre", said Dejan Panic, coordinator in@#Afghanistan.
3:12 PM - Jan 27, 2018
Abdullah Fahimi, a Kabul-based researcher, told Al Jazeera that the attack could be in response to the government's recent efforts to pound the Taliban in remote areas, in addition to recent US sanctions on its members.
Fahimi explained: "This is an impasse, neither side is winning. The [Taliban] group is not going to surrender or give up, they want to take more areas, territories."
On Friday, the administration of US President Donald Trump sanctioned four Taliban and two Haqqani network leaders "who have been involved in attacks on coalition troops, smuggling of individuals, or financing these terrorist groups", said Sigal Mandelker, under secretary for terrorism and financial intelligence, a position within the US treasury department.
Afzal Ashraf, visiting fellow at Nottingham University's Centre for Conflict, Security and Terrorism, said the Taliban's aim was to tell the international community that it "remains a force to be reckoned with".
The Trump administration's strategy of sending more troops to Afghanistan and increasing air strikes there was "clearly not working", he said.
"The solution has to be political," he said, adding: "And I'm afraid the same amount of effort hasn't been put into providing a political solution, while politicians tasked with delivering a more attractive form of government in Afghanistan than the Taliban haven't been able to provide that counterbalance.
"That is part of what has emboldened the Taliban."
-----
With reporting by Al Jazeera's Shereena Qazi:
Source: aljazeera.com/news/2018/01/huge-blast-rocks-afghanistan-kabul-180127084053950.html
URL: http://www.newageislam.com/radical-islamism-and-jihad/ehsan-popalzai-and-laura-smith-spark/taliban-attacker-driving-ambulance-packed-with-explosives-kills-95-in-kabul/d/114077