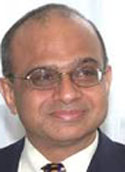 By Brahma Chellaney
May 27, 2017
Want evidence that money speaks louder than the international imperative to counter a rapidly metastasizing global jihadist threat, as symbolised by the latest attack in Manchester? Look no further that US President Donald Trump's recent visit to the world's chief ideological sponsor of Jihadism, Saudi Arabia. The trip yielded business and investment deals for the US valued at up to almost $400 billion, including a contract to sell $109.7 billion worth of arms to a country that Trump previously accused of being complicit in 9/11.
By exporting Wahhabism – the hyper-conservative strain of Islam that has instilled the spirit of martyrdom and become the source of modern Islamist terror – Saudi Arabia has been snuffing out the more liberal Islamic traditions in many countries. Wahhabism is just a variant of Salafism, and the House of Saud is the main backer of Salafis across the globe.
Indeed, Saudi Arabia's radicalism is the root from which Islamist terrorist organisations ranging from Islamic State (which claimed responsibility for the Manchester concert attack) to al-Qaida draw their ideological sustenance.
The Manchester attack, occurring close on the heels of Trump's Saudi visit, cast an unflattering light on his choice of a decadent theocracy for his first presidential visit overseas. The previous four US presidents made their first trips to neighbouring Mexico or Canada.
But Trump is not alone. In thrall to Saudi money, British Prime Minister Theresa May travelled to Riyadh six weeks before Trump. As if to signal that a post-Brexit Britain would increasingly cosy up to rich despotic states, May flew to Saudi Arabia just after triggering Article 50 to exit the EU. She has also stepped up her courting of China.
Salvaging the global war on terror demands a sustained information campaign to discredit the ideology of radical Islam. But as long as Saudi Arabia continues to shield its insidious role in aiding and abetting extremism by periodically doling out multibillion-dollar contracts to key powers, it will be difficult to bring the war on terror back on track.
Trump has yet to articulate a clear anti-terror strategy. After earlier saying "Islam hates us" and calling for a "total and complete shutdown" of Muslims entering the US, Trump described Islam as "one of the world's great faiths" and urged "tolerance and respect for each other" in a speech to leaders from across the Muslim world.
Despite his measured tone in the latter instance, it was odd that Trump spoke about the growing dangers of Islamic extremism from the stronghold of global Jihadism, Saudi Arabia. The new Global Centre for Combating Extremist Ideology that he opened in Riyadh seems to symbolise hope that the arsonists will turn into fire-fighters.
Trump's embrace of a country he excoriated for being "the world's biggest funders of terrorism" reflects the fact that Saudi Arabia is a cash cow for American defence, energy and manufacturing companies. Hyping the threat from Iran, even if it fuels the deep-seated Sunni-Shia rivalry, helps to bolster US alliances with the various oil sheikhdoms and win lucrative contracts.
In Saudi Arabia, Trump spoke of building a stronger alliance with Sunni countries, with US officials saying the defence arrangements could evolve into an 'Arab NATO'. However, the Sunni arc of nations is not only roiled by deep fissures, but also it is the incubator of transnational jihadists who have become a potent threat to secular, democratic states near and far. IS, al-Qaida, Taliban, Lashkar-e-Taiba, Jaish-e-Muhammed, Boko Haram and al-Shabaab are all Wahhabi-Salafi groups that blend hostility towards non-Sunnis and anti-modern romanticism into nihilistic rage.
In this light, Trump's Sunni-oriented approach could worsen the problems of Jihadism and sectarianism, undermining the anti-terror fight.
The murky economic and geopolitical considerations presently at play foreshadow a long and difficult international battle against the forces of terrorism. The key to battling violent Islamism is stemming the spread of the ideology that has fostered "jihad factories." There can be no success without closing the wellspring of terrorism – Wahhabi fanaticism. But who will have the courage to bell the cat?
Source: blogs.timesofindia.indiatimes.com/toi-edit-page/why-systematically-discrediting-the-ideology-behind-jihadist-terror-holds-the-key-to-counterterrorism-success/
URL: http://www.newageislam.com/radical-islamism-and-jihad/brahma-chellaney/why-systematically-discrediting-the-ideology-behind-jihadist-terror-holds-the-key-to-counterterrorism-success/d/111311