By Bethan McKernan
25 November 2017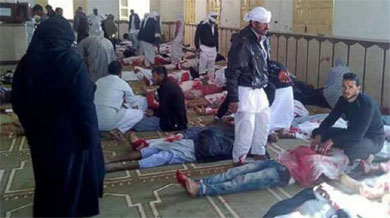 People sit next to bodies of worshipers killed in attack on mosque in the northern city of Arish, Sinai Peninsula, Egypt, Nov. 24, 2017.
At least 235 people have been killed after dozens of militants set off a suicide bomb and opened fire at a mosque in Egypt's restive northern Sinai province in the worst religious extremism attack the country has ever faced.
The attack on Friday targeted supporters of the security forces attending prayers there, two eyewitnesses and a security source said.
Four off-road vehicles arrived at the majority-Sufi Al Rawdah mosque in Bir al-Abed, near Arish city, during the sermon section of prayers. Survivors told local media that those who were not killed in the blast and tried to run away were gunned down and the gunmen set vehicles on fire to block access to the building.
"They were shooting at people as they left the mosque," a local man whose relatives were in the mosque during the attack told Reuters. "They were shooting at the ambulances too."
Unverified pictures on social media showed dozens of bodies, clothes soaked with blood, laid out on the mosque's floor. Others showed ambulances lining up at the mosque's entrance to take the wounded to nearby hospitals.
While no claim of responsibility has yet been made, Egypt has been fighting several extremist groups in the Sinai since 2014, including an Isis-affiliated insurgency. Extremism there has flourished amid the chaos that has engulfed the country since the 2011 revolution.
In comments on Friday evening Egyptian President Abdul Fattah al Sisi vowed the country would respond to the attack with "brute force".
Friday's incident comes after a September attack on a police convoy near the town, which killed 18 people. It was claimed by the Sinai Group, which pledged allegiance to Isis in 2014.
While the majority of the Sinai Group's operations primarily target the police, army and other security forces, the Isis affiliate has also carried out suicide bomb attacks and executions of Sufi Muslims, whose interpretation of Islam they consider heretical.
Outside of the Sinai, Egypt's 10 per cent Christian minority has been a frequent target for extremists, killing dozens of people in attacks on churches.
Condolences have poured in from around the world for the victims of the unprecedented attack. "Appalled by the sickening attack on a mosque in North Sinai. Condolences with all those in Egypt affected by this evil and cowardly act," UK Prime Minister Theresa May tweeted.
President Sisi convened an emergency security cabinet meeting in Cairo to discuss the situation and declared three days of national mourning.
There is growing public anger in Egypt at the government's seemingly inability to prevent suicide bombings and other terror attacks.
Source: http://www.independent.co.uk/news/world/africa/egypt-mosque-attack-bomb-gun-north-sinai-victims-dead-killed-north-sinai-province-latest-a8073406.html
-----
Militants Shoot Faithful Fleeing Bomb Blasts At Egypt Mosque
AP/El Arish (Egypt)
November 25, 2017
Militants attacked a crowded mosque during Friday prayers in the Sinai Peninsula, setting off explosives, spraying worshippers with gunfire and killing at least 235 people in the deadliest ever attack on Egyptian civilians by extremists.
The attack targeted a mosque frequented by Sufis in the north Sinai town of Bir Al Abd.
The militants opened fire from four off-road vehicles on worshippers inside the mosque during the sermon, blocking off escape routes from the area by blowing up cars and leaving the burning wrecks blocking the roads, three police officers on the scene said.
Victims including 130 wounded were rushed to local hospitals, they added, speaking on condition of anonymity.
No one claimed responsibility immediately following the attack, but Daesh has targeted Sufis several times in the area in the past, notably beheading a leading Sufi religious figure, the blind sheikh Suleiman Abu Heraz, last year and posting photos of the killing online.
Images circulating on social media showed dozens of bloodied bodies wrapped up in sheets laid across the mosque floor, while others revealed dozens of relatives queuing up outside the hospital as ambulances raced back and forth.
Resident Ashraf El Hefny said many of the victims were workers at a nearby salt firm who had come for Friday prayers at the mosque, which had contained some 300 worshipers.
"Local people brought the wounded to hospital on their own cars and trucks," he said by telephone.
Egypt's state news agency reported the casualty toll, citing "official sources", revising it upward several times following the officials' initial reports.
Mena reported that Egypt's presidency declared a three-day mourning period, as President Abdel Fattah El Sisi convened a high-level meeting of security officials.
Cairo's international airport boosted security following the attack, with more troopers and forces seen patrolling passenger halls, conducting searches and manning checkpoints at airport approaches.
Source: khaleejtimes.com/region/mena//militants-attack-mosque-in-egypts-sinai-casualties-reported-235
----
At Least 235 Killed In 'Horrific' Attack At Egypt Mosque
By Randa Alitara Fowler
Nov 24, 2017
At least 235 people were killed and 130 more injured in an attack at a mosque during Friday prayers in northern Sinai in Egypt, according to Egyptian state news agency MENA.
A Sinai-based reporter told ABC News that the casualties included children and elders.
An eyewitness described the perpetrators as having stationed themselves at the mosque's three exits and deliberately attacking those who tried to escape the building, as well as passing vehicles, after first shooting some who were "kneeling in prayer."
"The sight was horrific," the witness, Ibrahim Shetewy, told ABC News in Arabic, adding, "We carried whoever we found alive and took them in pickups and private cars until more ambulances could come and help."
Shetewy described the mosque in question as one frequented by travelers on their way in and out of the area. He said the building is "huge" and was lined with bodies and a large quantity of shell casings following the attack.
"There was a woman waiting outside for her husband and young child to finish praying; she came inside and found them dead next to each other," Shetewy said.
He added that people are lined up at a local hospital to donate blood.
An additional local resident present at the Beir El-Abd hospital, which received victims in the aftermath, described the wounded arriving at a rate beyond the capacity of the hospital, which is between 25 to 30 miles away from the targeted mosque. The resident added that urgent cases are being sent to another hospital in Ismailia, almost 75 miles away.
U.S. President Donald Trump commented on the attack via Twitter Friday morning, writing that it was a "horrible and cowardly terrorist attack on innocent and defenseless worshipers."
"The world cannot tolerate terrorism, we must defeat them militarily and discredit the extremist ideology that forms the basis of their existence!" he continued.
Donald J. Trump
✔
@realDonaldTrump
Horrible and cowardly terrorist attack on innocent and defenseless worshipers in Egypt. The world cannot tolerate terrorism; we must defeat them militarily and discredit the extremist ideology that forms the basis of their existence!
8:57 PM - Nov 24, 2017
13,998 Replies 27,357 Retweets 112,605 likes
Trump announced Friday afternoon that he planned to call Egyptian President Abdel Fattah el-Sisi to discuss the attack.
Two photographs taken after the attack each show more than a dozen bloodstained bodies lined up on the ground of a building as those who appear uninjured tend to them.
Source: abcnews.go.com/International/235-killed-blast-shooting-egypt-mosque/story?id=51359689
URL: http://www.newageislam.com/radical-islamism-and-jihad/bethan-mckernan-and-randa-alitara-fowler/egypt-mosque-attack---gunmen-on-4x4s-shoot-at-people-fleeing-bomb-blast--killing-at-least-235/d/113340