By Ashraf Al-Muraqab
27 August , 2012
Before he detonated himself in 2009, Khaled Abdullah Al-Dhaiani, an 18-year-old Al-Qaeda affiliate in Yemen, was living in a small house in the Nokom area of Sana'a. People in the neighborhood used to see him helping others and solving problems that arose in the neighborhood.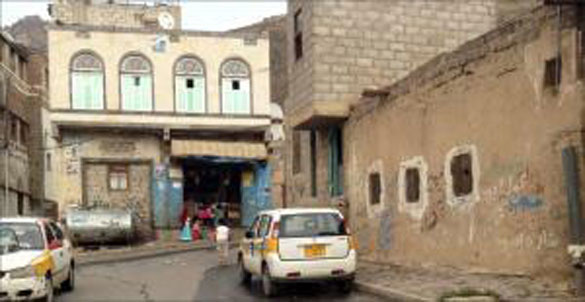 Mohammed Al-Haimi, a close friend of Al-Dhaiani, said teachers and classmates in school always made sarcastic comments about Al-Dhaiani because of his short white dress, associated with the uniform of the Taliban movement and with Ansar Al-Sharia—an extremist group linked to Al-Qaeda—in Abyan.
Al-Dhaiani was very poor and lived with his siblings in a difficult environment. His older brother left Yemen for Iraq during the war in 2001, and he joined Al-Qaeda without ever coming back to Yemen. Ali, another older brother, suffered from a psychological disorder and committed suicide inside his house, according to Al-Haimi.
"Al-Dhaiani's thoughts and beliefs began to change suddenly," Al-Haimi said. "He started to create problems, and barely a day passed without having a problem until people got used to it. Al-Dhaiani suffered from a psychological disorder and had several problems with his father, who used to beat him black and blue."
Al-Dhaiani worked many different jobs. When he was 14, he used to sit with his friends, go on trips and play group soccer.
He worked in a telecommunications center and was said to be honest and loyal. He liked to learn new things and often requested his friends to give him CDs to learn typing.
"When he was 15, Al-Dhaiani started to be aloof," Al-Haimi said. "He rarely met his friends and acquired new, weird behaviors. He was upset with the government and had sympathy for Al-Qaeda. He always criticized America and its policy toward Yemen and the Arab region."
Al-Dhaiani attempted to spread certain thoughts and behaviors among his friends and attempted to convince them to don the short white dresses and to stop shaving their faces. He used verses and Hadiths in order to be persuasive.
Al-Dhaiani wasn't the only one in his area to eventually join Al-Qaeda. There were many others, and some carried out bombings against the Yemeni Military. The most prominent of those young men was 20-year-old Basheer Al-Khaishani.
"Basheer was an unpleasant person who used to make trouble, establish gangs and block roads in his area in Nokom," Mohammed Al-Kawkabani, an area resident, said, "He dealt with people in his neighborhood with bad manners."
"When he was 20, Al-Khaishani steered clear from his friends and became aloof. He used to accompany religious men to mosques. He was attracted by the thoughts and ideas of Taliban and was always talking about America and its war on religious associations in Yemen," he added.
Al-Khaishani preferred to be alone in the mosque to recite the Quran, and he didn't like the ideas of those who managed the mosque.
Al-Kawkabani said what makes people go astray and join extremist groups is the religious speech of some religious people who pay no attention to the situation of those around them. He said their talk influence people to commit suicide in a fight fought in the name of religion.
Shawqi Al-Ba'dani, an Al-Qaeda leader, was a resident of Nokom and was beloved by people in his neighborhood.
Al-Ba'dani would perform the Azan (call to prayer) because of his nice voice. He attracted many people, but he used to disappear for months, and when he came back, people in his neighborhood welcomed him warmly and insisted he be the imam and perform the prayer.
Al-Ba'dani is today one of Al-Qaeda's leaders, and it is said he was in connection with Haitham Mufrih, who carried out the suicide bombing in Al-Sabeen Square in May in Sana'a, which caused deaths of more than one hundred soldiers.
Al-Ba'dani was charged with several duties in Abyan and recruited many people for Al-Qaeda. His father worked for the British Embassy for several years, but because of his family relationship with Al-Ba'dani, he was dismissed. Moreover, Al-Ba'dani attracted his younger brother Hisham, recruiting him to join Al-Qaeda, too.
"There is an organized attempt by Al-Qaeda to control the youth and change their directions to serve Al-Qaeda interests, taking advantage of poverty and absence of the role of the state," Al-Kawkabani said.
Abdu Al-Jaradi, a journalist interested in Al-Qaeda-related affairs, said, "Sana'a is one of the most important places for Al-Qaeda where they work to attract and recruit members for Al-Qaeda or Ansar Al-Sharia."
He said mosques, schools, colleges, friends and relatives are used as a means to attract new members.
"The hard political situation Yemen underwent last year helped the radical groups of Al-Qaeda to have power and to attract more people," he added. "Poverty and poor treatment of parents toward their children are two reasons that make them join Al-Qaeda."
Sa'wan and Nokom, located near the U.S. embassy in Sana'a, and other areas in Sana'a and other governorates are hotspots for attracting young men to join Al-Qaeda because of the poverty and unemployment among the young men living there.
Several families in Mosaik, located near Nokom, are still looking for their sons. Their sons are rumored to have joined Al-Qaeda, and the families don't know where they are.
Mosaik and Nokom areas are popular neighborhoods where the youth, who join Al-Qaeda, reside. These two areas are usually mentioned in local security reports because many Al-Qaeda members were born in these areas or lived in them.
Religious extremism in Mosaik became prominent in 2004, when Jar Allah Al-Sawani assassinated Jar Allah Omar, the General Secretary of the Yemeni Socialist Party. It was revealed that one of the members of Al-Sawani's group, a 19-year-old man, was born in Al-Haima and resided in Mosaik.
In March 18, 2008, a soldier and a female student died in an attack targeting the U.S. Embassy, and it was said those who carried out the operation later disappeared in Mosaik.
Moreover, on Sept. 17, 2008, 16 people died when two cars with explosives targeted the U.S. embassy. Reports suggest the two cars were loaded with bombs in Mosaik.
In the operation that targeted AlNahdain Mosque in the presidential palace last July, the person charged with performing the Azan was suspected of being involved. He disappeared, but his house in Mosaik was stormed and his family members, including his wife, were arrested.
On May 21, approximately 100 soldiers of the Central Security Forces died in a suicide bombing in Al-Sabeen Square. Haitham Mufrih, a resident in Mosaik, was the suicide bomber.
Mosaik is considered the starting point of bombing operations and attacks carried out by Al-Qaeda militants.
"After the attack that targeted the mosque in the presidential palace and caused injury to former president Ali Abdullah Saleh and death to many others, many young men disappeared from Mosaik," Amir Homdi, a resident in Mosaik, said. "Later, they called their families saying they were in Abyan."
Homdi said one of his relatives left home because of disagreements with his father. He kept going to a mosque in the area and then joined Ansar Al-Sharia in Abyan. He stayed for two months, but his mother contacted him via telephone and convinced him to come back.
Security forces in Al-Wahda Police Station in Sa'wan area declined to discuss this issue, and several families fear discussing it to avoid police investigation.
Source: http://www.yementimes.com/en/1602/report/1307/Breeding-extremism-youth-by-youth.htm
URL: https://www.newageislam.com/radical-islamism-and-jihad/ashraf-al-muraqab/breeding-extremism-youth-by-youth/d/8455