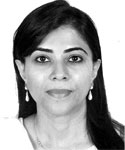 By Arifa Noor
April 09, 2019
ONCE again, as the state rolls up its sleeves to rid society of militancy, plans beyond the conventional security operations are under the spotlight. And this includes figuring out how to deal with militants.
In this regard, words such as 'deradicalisation' are being bandied about; but it is hard to figure out what the specific plans or strategies are. The information minister, Fawad Chaudhry, is one of the few to provide any details — he has said that it is to be a three-step strategy. The first will be to disarm the groups; the second to help them get jobs and interest-free loans; and the third will be to integrate them into society.
Other news reports quote unnamed officials as saying the militants could be accommodated in the paramilitary forces.
There has been criticism of this idea of integration, instead of punishment, as it is argued that militants should be punished for crimes, instead of being facilitated into society. But while this has its merits, punishment cannot be the only solution.
The problem in Pakistan is the absence of details about the government's deradicalisation plans.
Simply put, not every militant will be found guilty of such crimes that he can be given the death sentence or life imprisonment. There are many lower-level operatives who cannot be put away forever, even if they can be convicted.
And this is why the state has to think more broadly. It is in this context that deradicalisation has to be considered for those who are not beyond redemption. The 'strategy' has been adopted by a number of states, even though its success is far from evident. But the debate over the efficacy is for another time.
At the moment, the problem in Pakistan is the absence of details available about the government's deradicalisation plans.
If the deradicalisation programmes in other Muslim countries are to provide any hints of what the stakeholders in Pakistan may be considering, then such projects tend to focus on inmates or convicted criminals.
Be it Saudi Arabia or Indonesia, the programmes run by these governments aim to 'reform' or deradicalise imprisoned militants. Clerics or former militants are brought in to talk to them, mentor them in a bid to turn them away from extremist views and radical ideologies. At a later stage, they can be facilitated economically by being offered employment to help them integrate into their families and society.
For example, in Indonesia (which initiated such efforts after the Bali bombings), the programme is based on the idea that radicals will only listen to other radicals. As a result, reformed extremists were recruited to talk to and engage with convicted militants. And the second aspect was to offer them financial assistance — paying the school fees of their children; providing their wives with money to raise the family. Eventually, the released prisoners were provided with some money. (In fact, there were some who argued that the programme's ideological component was not too effective and that militants opted for it only because of the financial incentives.)
Despite the Indonesian authorities touting this as a success, not everyone agrees. However, other Southeast Asian states have implemented similar programmes.
Apart from Muslim countries, the European countries, too, have such programmes, though these tend to be divided into counter-radicalisation (which are preventive in nature) and deradicalisation categories.
An example of a deradicalisation programme was the Violence Prevention Network run in Germany which targeted prisoners from the far right as well as religious extremists. The prisoners were offered a programme in prison, followed by support for a year after being released. In addition, their families were provided financial help. But instead of the engagement being based on religion, the dialogue was more focused on delving into the perpetrators' sense of anger, their crimes and re-educating them about democracy and handling conflict.
On the other hand, the prevention programmes work entirely differently — they aim to identify those at risk or those who may be involved or engaged with extremist organisations and working to disengage them.
For instance, a programme in the Netherlands, which was run by the government in collaboration with the local authorities, reached out to young people in right-wing groups. These youths were offered support in withdrawing from groups; this support could be in the form of help in returning to school or getting a job and accommodation.
But Muslim states have tended to mostly focus on deradicalisation. The Saudi and Yemeni programmes and the deradicalisation centres in Swat — like the Indonesian efforts (and to some extent the German example) — have been aimed at convicted extremists.
To return now to Pakistan, one can assume, in the absence of details that the deradicalisation the government is now promising will be akin to the Indonesian model discussed here; especially as this is what the Swat centres also did.
If so, this means that only convicted prisoners will be targeted.
But this raises a few questions. How successful will this be in settled areas where without reforms the capacity of our judicial system to ensure convictions may remain rather limited?
Second, how will this work in the case of militants linked to organisations that so far have not carried out attacks on Pakistani soil? How will they be convicted or imprisoned and then made part of such programmes?
Third, will the deradicalisation programme, like the Indonesian model, aim to use former militants to engage with these convicted militants, or will it use traditional ulema (which the Indonesians did not use as they felt they were too discredited in the eyes of the militants)?
Fourth, is the government planning to set aside funds for the financial rehabilitation of these militants once they have served their sentence?
Raising these questions is not about questioning the government's sincerity. Instead, it is to highlight the absence of a debate on the various aspects of a policy before it is given final shape and implemented. Indeed, the government needs to hold a more open dialogue on the issue, which the opposition must also engage in, if the state is serious about putting an end to the militancy that plagues Pakistan and consequently also endangers its place in the international community.
Arifa Noor is a journalist.
Source: dawn.com/news/1474885/unpacking-deradicalisation
URL: http://www.newageislam.com/radical-islamism-and-jihad/arifa-noor/the-problem-in-pakistan-is-the-absence-of-details-about-the-government's-deradicalisation-plans/d/118270