By Ananta Yusuf
July 12, 2013
The sun is high up in the sky and Nasir Uddin an octogenarian, in all white, slowly comes down the stairs of Gazipur Hawker Market. As he reaches the footpath, he gets closer to see a journalist interview some ordinary citizens. He joins the conversation a little while later and expresses his anger about the political situation of the country. He says that though the city is new, its politicians are nothing but the same old faces, diligently producing the garbage that they do everywhere else in the country.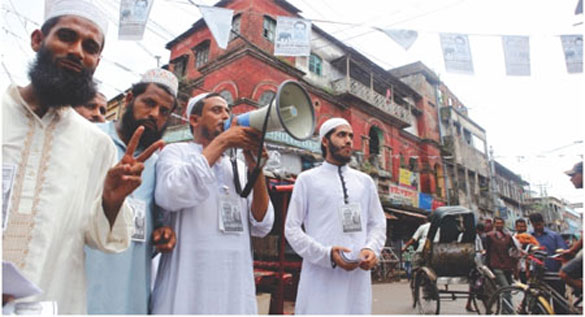 Hefazat-e-Islam leaders campaigning for the BNP backed candidates during the Khulna city corporation election. Photo: Rashed Shumon
-----------
Asked about what he feels about the political use of religion in the country, he says: "What I have learnt in all these years is that these politicians have little to do with Islam and everything to do with political power. Just before each and every election they use Islam; they abuse Islam and all of a sudden every politician has become a pious man only to get the throne. I saw a group of Jamaat e-e-Islam men with Hefazat leaders campaigning on the road for Bangladesh Nationalist Party (BNP) supported aspirant MA Mannan. They clasped a copy of holy Quran to their chest and pledged to defend their religion. They asked people not to vote for the atheists and to opt for believers, which is completely a violation of Quranic doctrine. Quran never permits people to use the holy book in dirty politics."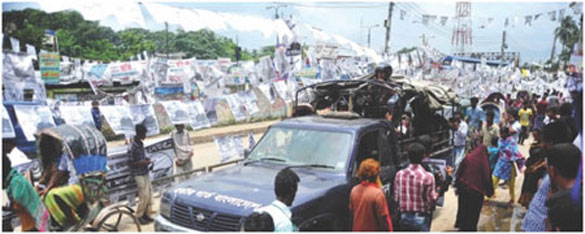 Photo: Firoz Ahmed
------------
As soon as he finishes his words, a distant shout starts to float in the air from all directions, Gazipur roundabout is about to be flooded with Alem, Olama (scholars) and Bangladesh Islamic Foundation members. The group of Olama gathered in Dhaka-Mymensingh road is about to begin an election campaign for Awami-league supported candidate Azmat Ullah Khan. We move into the crowd and see that School and Madrassa going students campaign for the AL-backed candidate, requesting people to be aware of Jamaat-Shibir and their dirty propaganda. A strange sight it has been for the AL-backed candidate in using religion to fight the political use of religion.
However, the Awami script has gone haywire and Mannan has clinched a resounding victory by a margin of 1.06 lakh votes in Gazipur City Corporation (GCC) election.
Even before the GCC election began, political use of religion gripped the city as it was getting ready for its maiden city election. The main contenders for power were AL supported Azmat Ullah Khan and BNP supported aspirant MA Mannan, allegation surfaced that both the parties used religion as a stairway to climb to the throne.
According to the political analysts, Awami supported aspirant's script failed at the beginning, since they were not aware about what actually people really wanted. Dr Nehal Karim, professor of sociology at Dhaka University believes that both the parties used religion as an instrument to get votes but Mannan who has read people's pulse better has won the game. He also adds, "Living in a third world country our social construction of class division, deprivation from social rights always prompt people to vote for the opponent instead of the ruling party. So besides political use of religion, this factor has played a crucial role in the Gazipur election.'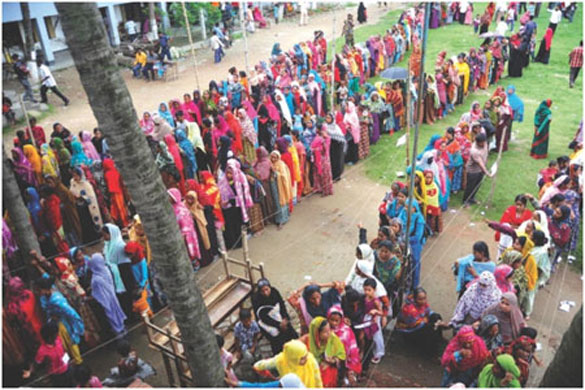 The Gazipur city corporation election had a high turnout of women voters.
--------
When the election campaign began in Gazipur in the middle of June, the AL supported Azmat Ullah Khan alleged that the BNP and its allies were using "Hefazat issue" to drum up support for its Mayor candidate. On the other hand, Mannan claimed that 'the genocide' committed by the government in Shapla Chattar on May 5 had made a deep impression on the minds of local people. "The May 5 genocide at Hefazat-e-Islam programme had left a deep impression on the people's mind. We are all Muslims, so it is my duty to inform the people what Awami League-led atheist government did to the innocents Alems," he tells the Star just a day before the election.
Badrul Alam, a tea vendor from Shib Bari, Gazipur says that Hefazat men came to him with a Quran and pleaded with him to make a vow to vote for Mannan, saying they were trying to establish the fact that the ballot is the best way to give a reply against the said genocide. Although Badrul was not convinced, they forced him to touch the holy book. He says, "I was completely surprised when they told me that they had brought some money folded inside the Quran and asked me to take it. And when I took the money they reminded me that I had vowed to vote for Mannan."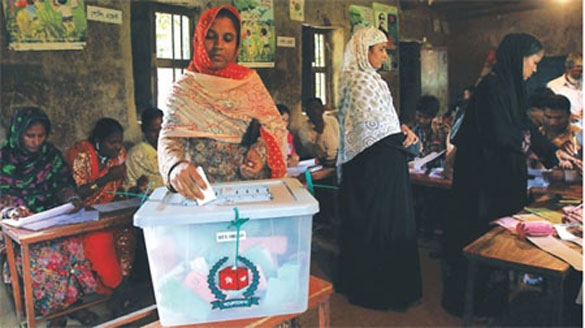 Photo: Palash Khan
-----------
According to Bangladesh Islamic Foundation, in Gazipur City Corporation alone there are 200 madrasas. So the Islamist group mainly made use of the madrasa students to persuade voters to vote for Mannan. The campaigners supporting Mannan had used mobile phone to show the May 5 rally and photos of police charging batons and throwing teargas shells on Hefazat-e-Islam supporters.
Two days before the poll, while addressing an election rally, Fazl ur Rahman, general secretary of Gazipur district Hefazat-e Islam, tells The Daily Star that election result will reflect the government's unprecedented killing of Muslims who were sleeping and offering prayers at Shapla Chattar. "We were informing people about the government-sponsored killing in Dhaka. During the May 5 mayhem, government had killed five Alems of Gazipur, so if people make any wrong decision on the Election Day, they would betray the blood of the martyrs. I hope by now people have made up their mind. On the instructions of our Ameer Allama Shah Ahmad Shafi, we have to help MA Mannan to win the election and we will do it to take revenge for the blood of our martyred brothers."
As per the constitution of Bangladesh, during any election a particular group cannot use governmental institutions. But the AL-backed candidate overlooked the constitutional obligations. Allegations found that on May 4, Gazipur Islamic Foundation advised 200 Imams from Kaliganj, Kapasia, Kaliakoyr, Tangail, Mymensing and its nearby areas to attend a teachers' conference at Gazipur Central Mosque. After joining the conference the guests found that they had been called to join the election campaign for the AL backed candidate. However, the organisers had to wrap up the programme when most of the imams refused to attend such a campaign. On condition of anonymity, a member of Gazipur Islamic Foundation denied such allegation and claimed that it was false news.
The mixing of religion and politics has become a common phenomenon mostly after the Shahbag movement and the rise of Hefazat-e-Islam. Antonio Gramsci writes that a social group legitimates its dominance in two ways- "Domination" and "Intellectual and Moral Leadership". According to him a social group could use "Domination" to subjugate its people by any means. On the other hand "Intellectual and Moral Leadership" reflects the quality of a leader who exercises leadership before he gains governmental power and people gave him the consent to do so, in other words it is called "hegemony". Dr Nehal Karim believes that in the absence of a hegemonic leadership, inferior politicians of two parties are using religion as a tool to secure votes.
Although Awami League calls itself secular, in the general elections of 1996 and 2008, it politically used religion, Islam in particular, to woo voters. Most importantly, after the Hefazat's May 5 Dhaka Siege, Awami League has suddenly started to portray itself as a guardian of Islam in Bangladesh. In the election of 1996, from the use of Islamic terms in speeches to Sheikh Hasina's religious headgear, the party used all it could to get the support of Muslim voters.
A Daily Star report says that when the electoral campaign began in Rajshahi, Khulna, Barisal and Sylhet city corporations towards the end of last month, local leaders and workers of Jamaat-e-Islam, Hefazat-e-Islam and some other Islamist parties and organisations started to openly use people's religious sentiments to gain political mileage in favour of candidates backed by the BNP-led 18-party alliance.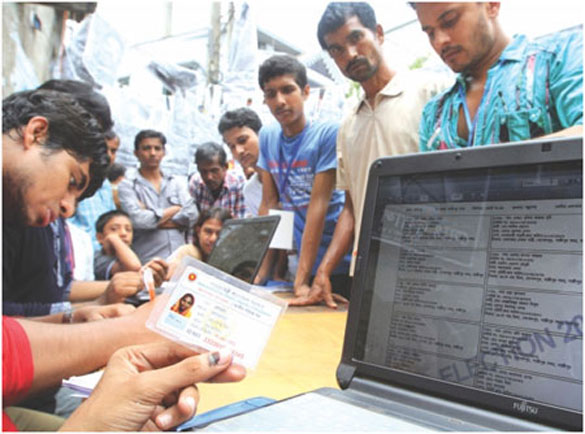 City corporation election, Gazipur. Photo: Palash Khan
-----------
The anti-atheist campaign was so strong in Sylhet that the Awami league backed mayoral aspirant Badar Uddin Ahmed Kamran had to add a part in his 20-point election manifesto which assured the development of Qawmi madrasas in Sylhet. In Barisal, Awami league backed candidate Shawkat Hossain Hiron made a local Hefazat leader Nurur Rahman Beg the spokesperson for Hiron in his campaign.
A social scientist Anis Pervez traces a long legacy of mixing of religion with politics. According to him after the brutal assassination of Bangabandhu Sheikh Mujibur Rahman, Ziaur Rahman sieged power and started to politically use Islam. During his military regime he amended the constitution to add "Bismilla hir Rahmanir Rahim"; his predecessor General Ershad went a little too far and amended the constitution to make Islam the country's state religion. He says, "If the trend continues, then it will not be long the nations democracy will be filled up with religious sentiments and the power will be entirely in the hands of the extremists.'
Source: http://www.thedailystar.net/beta2/news/mixing-religion-with-politics/
URL: https://www.newageislam.com/radical-islamism-and-jihad/ananta-yusuf/bangladesh--mixing-religion-with-politics/d/12661