By Alia Soliman
8 Sep 2014
Boko Haram has become a much stronger force over the past eight months, having seized towns and villages in northeast Nigeria's at a rate which has drawn comparisons to Islamic State militants' rapid gains in Iraq.
In fact, Boko Haram established an Islamic caliphate in August.
In April the international community showed outrage after Boko Haram abducted more than 200 teenage schoolgirls in northeast Nigeria, triggering a social media campaign that gave global prominence to the group.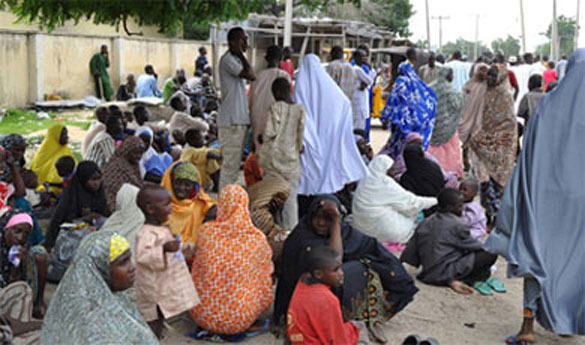 Civilians who fled their homes following an attacked by Islamist militants in Bama, take refuge at a School in Maiduguri, Nigeria, Wednesday, Sept. 3, 2014. (Photo:AP)
--------
The group's violent attacks in Sub-Saharan Africa have become a serious threat to Nigeria's security and alarmed the US and the international community to the intensity of the situation in the area.
Is Boko Haram capable of an Islamic caliphate?
The leader of Boko Haram, Abubakar Shekau, has proclaimed an Islamic caliphate in the north-eastern Nigerian town of Gwoza, which was seized by the Islamic militants earlier this month.
Fidelis Mbah, a Nigerian analyst and journalist told Ahram Online that Boko Haram has demonstrated in recent months that they are capable of anything and that the group's declaration of an Islamic caliphate is seen by some as "propaganda."
The Sunni jihadist movement, whose name means "western education is forbidden," has killed thousands since launching an uprising in 2009 to establish an Islamic state.
"No one predicted how soon they would take over some major towns in northern Nigeria but they have done so successfully; the Nigerian army is still confident it will push them out but it is still not clear how soon," Mbah says.
Nigeria's Islamic extremist group, Boko Haram, has seized more towns along Nigeria's northeastern border with Cameroon and is adopting a strategy of encouraging civilians to stay, witnesses said Sunday, as the militants pursue their new aim to carve out "Islamic caliphate" under their black and white flag, AP reported.
As AFP reported earlier the United States said it was concerned by Boko Haram's increasing violence and territorial gains in Nigeria, warning that the deteriorating situation threatened the African giant's future.
Boko Haram, which has been waging a violent insurgency that has claimed thousands of lives since 2009, has in recent weeks overrun and held swathes of territory in Nigeria's far northeast.
The militants on Monday reportedly took over Bama, 70 kilometres (45 miles) from the Borno state capital, Maiduguri, where 10,000 youths, former soldiers and police gathered on Thursday vowing to push back the advance.
Rosanwo Babatunde, researcher at the Institute of Philosophy and Sociology at the Polish Academy of Sciences, seemed to agree with Mbah. In a conversation with Ahram Online, Babatunde said he believes that Boko Haram is fully capable of declaring small areas as Islamic caliphates but the Nigerian army will address these concerns in due time.
Why did Nigeria fail to contain Boko Haram?
As Boko Haram launches new attacks in Africa to gain more territory, the Nigerian government led by President Goodluck Jonathan seems unable to contain the group.
Mbah told Ahram Online that the disunity in the Nigerian military is a major factor.
"There are fears that people from the government or the military are sabotaging efforts to contain Boko Haram," Mbah asserts.
As AFP reported, Nigeria's military on Friday said that increasing Boko Haram attacks were a "challenge to the country's sovereignty" but rejected claims it was in denial about the seriousness of the threat.
"It is not only the pride and reputation of the military that is at stake but that of the entire nation," said defence spokesman Chris Olukolade, calling for support for the armed forces.
"All steps are being taken to ensure the success of counter-insurgency operations, especially at this crucial time when our sovereignty is being challenged," he added.
Olukolade's comments come a day after the United States said it was concerned by the upsurge in violence and the Islamists' recent territorial gains in Nigeria's far northeast.
This explains why there have been reports of mutiny in the military; the Nigerian soldiers appear ill-equipped to fight the Boko Haram who is better armed.
Mbah added that Nigerian soldiers need to be motivated to be able to combat the Islamist group.
Babatunde says that there is no doubt the Nigerian army needs superior equipment and training to defeat Boko Haram.
Zainab Usman, researcher at Oxford department of international development within Sub-Saharan Africa told Ahram Online that although Nigeria is facing significant challenges in containing Boko Haram, she wouldn't say it has "failed" in that regard.
"There are two reasons. One, the major issue remains that there is no national consensus among Nigerians on what Boko Haram is, what it stands for, what threat it poses to Nigeria and how it can be obtained. An insurgency with social and ideological roots has been thoroughly politicised by the political elite who accuse each other falsely as "sponsors" of the insurgency. These accusations and counter-accusations dominate public discourse and the media, and have obscured the real situation," Usman explains.
"This leads to the second reason, which is that previous approaches by the government to contain the insurgency haven't been ideal. Due to misinformation, lack of proper understanding of the drivers of radicalism and of Boko Haram's goals and motivations and lack of capacity by the military and security agencies (outdated equipment and poor welfare), the government response has been as effective as should be," Usman concludes.
Source: http://english.ahram.org.eg/NewsContent/2/9/110207/World/International/Is-Boko-Harams-Islamic-caliphate-an-IS-replica.aspx
URL: https://www.newageislam.com/radical-islamism-and-jihad/alia-soliman/is-boko-haram-s-islamic-caliphate-an-is-replica?/d/99035