By Ahmed Ali Fayaz
30 June 2020
Separatist hardliner, 91-year-old Syed Ali Shah Geelani's, announcement of resignation from his conglomerate – the 'All Party Hurriyat Conference' (APHC) – on Tuesday, 29 June, has surprised many – from India to Pakistan and overseas – for a host of reasons. First, it betrays the fissures in Kashmir's separatist camp, and its timing is crucial.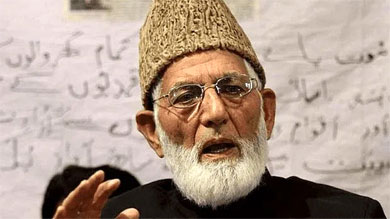 Syed Ali Shah Geelani
-----
Geelani is hanging up his boots at a time when the BJP government at the Centre has not only decimated formidable guerrilla groups on the counterinsurgency front, but also muted politics as a whole — separatist as well as mainstream — with the revocation of Jammu and Kashmir's special status, and its bifurcation into the two Union Territories (in 2019).
A sworn votary of Kashmir's accession to theocratic Pakistan, Geelani has changed his affiliations quite a few times in his 70-year-long political career. No pro-Indian politician in Jammu and Kashmir has contested as many elections as Geelani has — 5 Assembly and 3 Lok Sabha — when, in August 1989, he announced his resignation not only as a Member of Legislative Assembly, but also from the mainstream politics as a whole.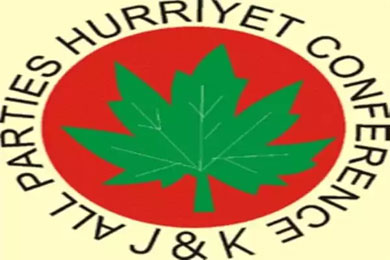 All Party Hurriyat Conference'
------
'Committed to Pakistan But Changing Colours'
After serving three terms in Assembly, and having taken so many oaths of upholding India's sovereignty and integrity, Geelani called Jammu and Kashmir a 'disputed territory', and pleaded for its solution – 'either through tripartite talks between India, Pakistan and the Kashmir, or through the implementation of the UN resolutions of 1948 and 1949'.
From 1993 to 2003, he served as the APHC's chairman more than once. His sustained criticism to the chairman Mirwaiz Umer Farooq's failure to take action against the late Abdul Gani Lone's Peoples Conference, for proxy participation in the Assembly elections of 2002, led to a split in the APHC.
While some 'moderate' groups chose Mirwaiz as the head of their faction of the Hurriyat, most of the pro-Pakistan constituents sided with Geelani. Groups like Jammu and Kashmir Liberation Front, High Court Bar Association and Jamaat-e-Islami (JEI), stood neutral.
Later, in August 2004, Geelani separated from JEI. Drawing cadre from JEI, he floated his own Jammu and Kashmir Tehreek-e-Hurriyat (JKTH).
Sehrai stood by Geelani when both joined JEI in the 1950s, and followed him when Geelani launched JKTH.
With the advantages of his age, oratory and JEI background — from 1953 to 2004 —Geelani held the key of Kashmir's faith-based, radicalised secessionist movement with unparalleled authority. But he also courted controversies for being 'soft' to Mufti Mohammad Sayeed's Peoples Democratic Party (PDP), which secured a considerable chunk of votes in several elections from the JEI strongholds despite boycott.
Geelani was publicly accused of hobnobbing with the PDP, when in the midst of his protracted shutdown calendars, the Mehbooba Mufti government's Department of Tourism picked his grandson among 200-odd candidates as a manager at Sher-e-Kashmir International Conference Centre (SKICC). Previously in 1998-99, he had faced hostile reactions when one of his sons was appointed in Sher-e-Kashmir University of Agriculture Sciences and Technology (SKUAST).
Syed Ali Shah Geelani Resigns from All Party Hurriyat Conference Syed Ali Shah Geelani Resigns from All Party Hurriyat Conference
Snapshot
Geelani is hanging up his boots at a time when BJP govt at the Centre has decimated formidable guerrilla groups on the counterinsurgency front, and muted politics as a whole, both separatist & mainstream, with the abrogation of Article 370 in J&K.
It Is Not for The First Time That Geelani Is 'Deserting' A Camp.
After serving three terms in Assembly, and having taken so many oaths of upholding India's sovereignty and integrity, Geelani called Jammu and Kashmir a 'disputed territory', and pleaded for a 'solution'.
Due to his failing health, Geelani had appointed his JEI confidante Mohammad Ashraf Sehrai as interim chairman of JKTH, but himself continued as chairman of Hurriyat (G) as of 19 March 2018.
In his detailed letter, Geelani has claimed to having received complaints against Hurriyat's PoK branch for long, particularly over the last two years.
Geelani has complained that his rebels from PoK to Srinagar "broke all records of ethical depravity and indiscipline."
A New 'Srinagar-Muzaffarabad-Islamabad' Axis
From JEI to JKTH, Sehrai has never grown beyond Geelani's shadow. But days after taking over as Geelani's interim successor in JKTH, Sehrai got a shot in the arm. His son Junaid went underground and surfaced as a top commander in JEI's traditional guerrilla arm, Hizbul Mujahideen. On 19 May 2020, Junaid was among the three militants killed in an encounter in Srinagar.
With this, Ashraf Sehrai got the distinction of becoming the first separatist leader whose own son was killed as a militant, since 1990.
If well-placed insiders are to be believed, infighting over grabbing Geelani's position had been underway since his health began deteriorating in 2018. Even the senior JEI functionary and Hizbul Mujahideen's 'Supreme Commander' Syed Salahuddin, based in Pakistan since 1994, is said to have been a contender.
Months ago, Geelani marginalised senior JEI leader Ghulam Mohammad Safi and instituted an enquiry against him. Geelani had received complaints of irregularities and financial bungling against Safi and his team. This resulted in a vertical split in Hurriyat (G).
In PoK and Pakistan, Safi was strongly supported by the establishment and influential sections of JEI Pakistan. He ridiculed Geelani's enquiry, and continued to assert himself as the convenor in PoK. Without Geelani's consent, one Mohammad Hassan Khateeb of Doda was installed as Hurriyat's chairman in PoK. In Srinagar, Sehrai called and presided over meetings, in coordination with Safi and Khateeb in PoK.
Asserting himself as chairman, Geelani removed Safi and appointed Syed Abdullah Geelani, brother of the former Delhi University professor Syed Abdul Rehman Geelani, as Hurriyat's convenor in PoK. He enjoys the support of a section of JEI PoK, Hizbul Mujahideen chief Salahuddin, PoK 'Prime Minister Raja Farooq Haider, and senior separatist leaders Ghulam Nabi Naushehri, Mehmood Ahmad Sagar and Faiz Naqashbandi.
'Safi Vs Geelani' Divides Pakistani Establishment
Interestingly, both pro-Geelani Abdullah Geelani and anti-Geelani Safi, happen to the residents of Kashmir's Baramulla town. With the outbreak of militancy in 1989, JEI Kashmir had deployed senior leaders GM Safi, Ghulam Nabi Naushehri, and a few others in PoK.
For years, Safi headed JEI as well as Hizb in PoK. Subsequently, he began taking interest in Pakistan's electoral politics. His son is a doctor, and his daughter is married to the son of the London-based Kashmiri separatist leader, the late Dr Ayub Thakur. Before shifting to PoK, Safi contested two Assembly elections on the JEI ticket in Baramulla. In 1987, he was the Muslim United Front candidate but lost to the National Conference leader Sheikh Mohammad Maqbool.
Once a militant with Hizbul Mujahideen, Abdullah Geelani too shifted from Baramulla to Muzaffarabad. He commands influence over most of the Hizbul Mujahideen militants who have been living in PoK and Pakistan for a long time now.
Many of them have been immobilised. However, they remain well-connected with the 40,000 Kashmiris who had deserted 28 villages on the LoC, and migrated as 'refugees.
The PoK Government pays them an honorarium of Rs 1,500 each, but most of them view Safi's supporters as 'elite', calling themselves 'underdogs'. "We live in pathetic conditions," said a Kupwara resident in Muzaffarabad. "Some of us go to Islamabad for begging. They are arrested by the Police and sent back to Muzaffarabad. Some indulge in drug trafficking."
Upset with the Safi-Khateeb-Sehrai trio, Geelani, according to sources, got his audio message recorded, and a two-page letter drafted and signed some three months ago in Srinagar. Both were surprisingly released by Abdullah Geelani from PoK on Monday morning. Sources close to Geelani's family insist that the audio as well as the letter are genuine. "But Geelani Sahab is now suffering from dementia and he is no more in a position to write a letter and record a message".
Geelani's Complaint: His Rebels 'Broke All Records of Ethical Depravity'
"In view of the current situation in the All Party Hurriyat Conference (APHC), I am announcing my total separation from this forum. All the constituents have been apprised of this decision by way of a detailed letter," Geelani says in his audio message.
In the detailed letter, Geelani has claimed to having received complaints against Hurriyat's PoK branch for long, particularly over the last two years. According to the complaints, the PoK leaders began indulging in government structures, gaining access to corridors of power for their kith and kin, swindling funds and promoting internecine conflicts. He has asserted that the PoK chapter was 'just an affiliate branch, not independently competent to take decisions, individually or collectively'.
Geelani says in the letter:
"On the basis of enquiry, some of the functionaries were removed. Enquiry was still going on against others. However, the incumbents there took it as contempt and began calling meetings independently. Thereupon the organisational structure was dissolved temporarily. Your representatives there resorted to non-cooperation and unleashed a propaganda campaign to escape accountability."
He has complained that the PoK-based leaders resorted to conspiracies against him and called a separate session of 'shoora' in Srinagar.
Geelani has further complained that his rebels from PoK to Srinagar "broke all records of ethical depravity and indiscipline." Further quoting health reasons, he has announced his permanent resignation from the Hurriyat but declared Abdullah Geelani "continuously as my representative in Azad Kashmir and foreign countries".
Silence from The Separatists – And What It Means
Complete silence from Srinagar to Muzaffarabad to Islamabad indicates an embarrassing situation for the supporters and sympathisers of the separatist movement. From Omar Abdullah to Mehbooba Mufti and Mirwaiz Umer, to Professor Abdul Gani, everybody has chosen to remain mute.
BJP's National General Secretary, Ram Madhav, was quick to 'celebrate', apparently attempting to 'appropriate' Geelani's exit. He broadcast Geelani's audio and letter on Twitter shortly after the resignation. "This man was singularly responsible for ruining the lives of thousands of Kashmiri youths n families; for pushing valley into terror n violence. Now resigns from Hurriyat without giving a reason. Does it absolve him of all d past sins?", wrote Ram Madhav.
Contrary to similar past resignations and factional feuds in Hurriyat, when everything was conveniently attributed to the Indian agencies and New Delhi, there was no such allegation on Monday, 29 June.
With Geelani's exit, which some sections view as 'escapism', the burden of the 30-year-long separatist movement has fallen straight on the shoulders of Mirwaiz Umer, who has been under house arrest since August 2019, but not jailed unlike his colleagues Yasin Malik and Shabir Shah.
With their fingers crossed, people in Kashmir are watching out for who could potentially be Geelani's successor among many contenders – from his own son Dr Nayeem, to Salahuddin and Sehrai to Safi. Two potential contenders, Mian Abdul Qayoom and Massarat Alam, have been in jail for a long time now, so they are out potentially out of the race.
Ahmed Ali Fayaz is a Srinagar-based journalist.
This is an opinion piece, and the views expressed are the author's own. New Age Islam neither endorses nor is responsible for them.
Original Headline: Is Geelani's Exit A Sign Of 'Escapism'? Who Will Fill His Shoes?
Source: The Quint
URL: https://newageislam.com/radical-islamism-and-jihad/ahmed-ali-fayaz/syed-ali-shah-geelani's-resignation--complete-silence-from-srinagar-to-muzaffarabad-to-islamabad-indicates-an-embarrassing-situation/d/122259
New Age Islam, Islam Online, Islamic Website, African Muslim News, Arab World News, South Asia News, Indian Muslim News, World Muslim News, Women in Islam, Islamic Feminism, Arab Women, Women In Arab, Islamophobia in America, Muslim Women in West, Islam Women and Feminism