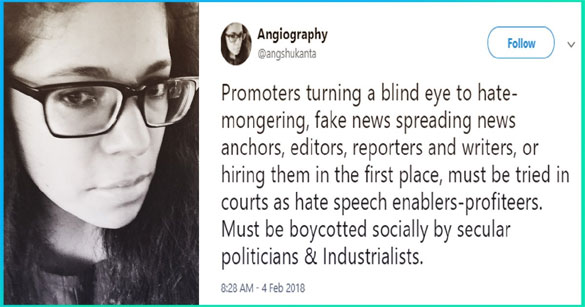 Courtesy: The Wire, Scroll, The Quint I Image Credit: Twitter
-----
New Age Islam Edit Bureau
23 January 2016
Dealing With Hate-Mongers
By Harun Yahya
Not Trump, We Need Grown Ups To Lead A World In Turmoil
By Fareed Zakaria
Saudi Art Council Promotes Saudi Artists As Catalysts For Progressive Expression
By Samar Fatany
Why Do We Fear Cinema In Saudi Arabia?
By Saad Al-Dosari
Davos: with the Saudis Absent, Zarif's Fairy Tales Prevailed
By Faisal J. Abbas
Playing On Public Fears
By Abdulrahman Al-Rashed
-----
Dealing With Hate-Mongers
By Harun Yahya
23 January 2016
Many factors have been involved in triggering wars down the ages. History, therefore, gives the impression of being a huge battleground in which terrible tragedies occurred. The number of wars between states in 1819-1949 has been estimated at 289. Even at times of no world wars, the number of people who lost their lives in local conflicts is known to exceed 100 million.
The 20th century was the scene of world wars fought to the bitter end between countries that had learned nothing from previous wars. As if the ghastly devastation of WWI were not enough, the great powers then started WWII, in which 53 million people, 60 percent of whom were civilians, lost their lives. Forty million had to abandon their homes and migrate. The total cost of the war has been estimated at $8 trillion, by 1996 values.
In the wake of that tragedy, states thought of solutions to prevent the same insanity happening again. The United Nations was an initiative on the part of states that grasped the illogicality of wars. New world wars were prevented, but states were still unable to prevent conflicts. The Swedish research institute SIPRI says that as many as103 armed conflicts occurred between 1989 and 1997. Six of these were between countries. The devastation wreaked in the 2000s has been even greater.
Despite their terrible experience, countries never tried any other means of resolving disputes. Past years have seen political speeches, official meetings, followed by harsh words and wars starting with invasions.
Later generations that never knew the ugly face of world wars once again sought to resolve disputes through conflict and war. Democracy offered a concept of freedom capable of preventing the logic of war. Yet for countries and people that were unfamiliar with democracy, very little changed. More was needed to tell them of that freedom and the concept of compromise. The world needed a system of ideas to eliminate the way of thinking that legitimized war, in other words, "hatred."
Everyone focused on the ideological and political reasons behind wars. They never considered that wars are in fact a consequence of the feelings of hatred. In the past, states fought other states they hated. In our age, peoples that hated one another were involved. The hatred that developed was so great that is exceeded even national sentiments. People came to have no qualms about killing their brothers, friends or neighbors.
This weakness, hatred in other words, became the prime card in the hand of those mafia-like secret forces within states that wished to keep the running of the world in their own hands. They deliberately stoked up a climate of turmoil for that purpose and shaped the course of orange revolutions accordingly. Their aim was to produce a fertile climate for revolutions and uprisings by inciting hatred between people. Once the seeds of hatred had been sown in a society it was always easy to muddy the waters in it. Divisions within society have always been used to that end. These secret forces sprinkled hatred around like petrol and then wreaked devastation on whole countries by setting fire to it. They produced communities that were easily led by propaganda and employed lovelessness as the most common tool for that propaganda.
When secret state apparatuses decided to bring a country down, they first made its people loveless and full of hate. The rest followed like night follows day. Middle Eastern countries that are now experiencing the wars of the 21st century need to be on their guard in that context. These countries have generally believed that they can put an end to disagreements and tensions by force. History shows many examples of this. Yet this historic error is the cause of the current upheaval in the Middle East. Force and violence have sown the seeds of hatred in these communities and given rise to unhappy societies.
If countries in this restless area known as the Middle East wish to put an end to the conflicts around them, then they must renounce the mentality of war. But they could not forget it; wars stem, not from political or ideological differences, but from the hatred that people, races, societies and communities feel for one another. The way that love has today been forgotten comes as quite normal to everyone. When the word "love" is mentioned they imagine the speaker is referring to a utopia. A single word on the social media can immediately cause people to hate. No motivation is needed to bring that about. Yet it is the most awful hard work to get anyone to say one word of love. It is easy to encourage this disposition to hatred in human nature, while inculcating love takes hard work. If countries wish to escape disagreements, grow, regenerate and live in peace, then they must first put in that work.
In order for love to appear, it is first essential to weaken the influence of the peddlers of hate. When it comes to the Middle East, the fanatic mindset has a huge capacity to disseminate hatred. The antidote to that lies in establishing the predominance of the true teachings of Islam.
When that happens, the ghastly objectives of the secret state apparatuses that have been laying plans for the past 100 years will fail. Because there will be no more population they can easily provoke. In order to bring that about, states must first believe that love is the solution to their problems.
Harun Yahya has authored more than 300 books translated into 73 languages on politics, religion and science.
Source: arabnews.com/columns/news/869101
------
Not Trump, We Need Grown Ups to Lead a World in Turmoil
By Fareed Zakaria
January 23, 2016
That sense of a "difficult world" is palpable. There is more anxiety in the air than any time since the global financial crisis.
Conversations here at the World Economic Forum might begin with the global economy, but sooner or later they turn to Donald Trump. The Republican primary contest has gotten everyone's attention. Some remain entertained, but many of the people I've spoken with are worried. As one European CEO said to me, "We're moving into a very difficult world. We need grown-ups in charge."
That sense of a "difficult world" is palpable. There is more anxiety in the air than any time since the global financial crisis.
The worry is reflected in the world's stock markets, which have collectively lost trillions of dollars since the start of the year. People still believe that the worst will not come to pass. China will not crash; America will not fall into a recession; Europe will not come apart. But in recent years, the conventional wisdom has been wrong on so many issues.
Roger Altman, former deputy treasury secretary, pointed out to me that few experts predicted oil and commodity prices would collapse or that growth would slump in China and crater in Brazil, South Africa and many other emerging markets. No one saw that, even as America achieved full employment, wages would not rise, inflation would stay stubbornly muted, and interest rates would remain low. And no one predicted the rise of Daesh or its ability to inspire terror attacks in countries far outside the Middle East.
Altman wonders whether we have finally arrived at the moment predicted in Alvin Toffler's 1970 book "Future Shock" when the global system is so complex and changing so fast that it outpaces any ability to analyze and understand it.
Many of the trends now afoot, interacting with each other, could move faster and further than people realize. As the stock market falls, businesses and consumers get worried and pull back, spending less and saving more. A fall in oil prices is generally good for all countries except the major producers of petroleum. But a fall this far, this fast could produce a credit crisis and a deflationary spiral.
And technological innovation is not quite a silver bullet to achieve broad-based prosperity. It is clear that dramatic improvements in technology, especially software, do not translate easily into wage increases for the average worker. We're even seeing high-tech products cannibalize each other.
The digital camera was the way of the future, destroying old-fashioned film. But now camera sales are collapsing as phones have more than enough camera power for most people.
I don't know where it all goes. But in periods like this, open systems like America's will do better than closed ones. The United States often looks like a dysfunctional country because all its problems are on display and debated daily. Everything - economic strategy, monetary policy, homeland security, police practices, and infrastructure - is out there and open for constant criticism.
But this transparency means that people have information, and it forces the country to look at its problems, grapple with them and react. While it's a messy, sometimes ugly process, the American system takes in a lot of diverse, contradictory information and responds. It seems dysfunctional but it is actually highly adaptive.
Closed Systems Often Look Much Better.
A country like China, with its tightly centralized decision-making, has been the envy of the world. People across the globe have marvelled at the government's ability to make decisions, plan for the future and build gleaming infrastructure.
And when China was growing, we all were amazed by the efficiency of the system. But now that growth has stalled, no one is sure why, what went wrong, who's to blame, or whether it is being fixed. A black box produces awe when things go well. But when they don't, that same opacity causes anxiety and fear.
The biggest question about the world economy right now is: What is going on inside China's black box? The country is, after all, the second-largest economy on the planet, and the engine powering global growth in recent years. Its remarkable opacity is not simply about economics but rather about politics and governance in general.
These days American politics is showcasing turmoil, rage and rebellion. But that's ultimately a strength in these fast-changing times. People are angry. The economy, the society and the country are being transformed. The fact that politics reflects these changes is a strength, not a weakness. It allows the nation to absorb, react, adapt - and then move on.
At least that's what I tell foreigners and myself - with fingers firmly crossed - as I watch the craziness on the campaign trail.
Fareed Zakaria is the host of the CNN show Fareed Zakaria GPS
Source: khaleejtimes.com/editorials-columns/not-trump-we-need-grown-ups-to-lead-a-world-in-turmoil
------
Saudi Art Council Promotes Saudi Artists As Catalysts For Progressive Expression
By Samar Fatany
Jan 23, 2016
Today, public art and cultural programs are a positive means not only to cultivate appreciation for beauty and fine taste but more importantly to educate society and provide the opportunity to strengthen creative ideas and inspire citizens with hope, influencing a more positive attitude toward life and community. Globally, pubic art initiatives are recognized as important measures that add a sense of pride and identity to developing societies.
In Saudi Arabia, the Saudi Art Council (SAC) is playing a leading role in engaging the public in the development of art and culture, encouraging artwork that reflects the history of Jeddah and supporting talented young artists and offering art education to school children and college students. The initiative pays tribute to the past and present history of Jeddah and has contributed to the transformation of Al-Balad district area into a lively arts and cultural district. The initiative has also introduced a dialogue between local artists and the rest of the world and promoted the city of Jeddah as a vibrant cultural base for local, regional and international artists expanding beyond the current borders of the Kingdom's cultural landscape.
SAC will be holding its third initiative under the theme "Earth and Ever After" from February to May 2016. The initiative this year invites us to reflect on humanity's relationship with our planet. The Council could not have picked a better theme to promote a more humane approach toward the Earth that remains under the threat of nuclear wars and global warming. Indeed our region is in dire need of a new approach that is more caring and more protective toward the Earth.
SAC member Mona Khazindar laments on how the "ecosystems have begun to disappear as a result of greed and omens that reveal how far we have strayed from our humanity". She said that despite our flaws, "the Earth is giving and remains a place of abundance, and above all, the Earth has bestowed upon us infinite beauty that can be seen everywhere."
This spiritual and noble perspective is very much needed to remind us about how wars continue to destroy the world around us and it prompts us to feel more responsible for protecting our environment and preserving the Earth. "This exhibition invites you to reflect on humanity's relationship with the Earth, to explore whether it is reconciled with their own personal bond and how an artist's environment is inextricably bound to his sense of identity and roots," Khazindar said. Hopefully, the public art initiative will enhance public responsibility and encourage Saudi artists to act as catalysts for creative thinking and progressive expression. Art can bring people together inspiring new ideas and intellectual exploration.
The public art initiative is more than just promoting art for art's sake but rather for energizing civic sense and raising public awareness.
Art today has become a global vehicle to energize intellectual thought, contrary to the early 19th century trend when the popular term "art for art's sake" promoted a different philosophy. Before, "the intrinsic value of art, and the only true art, was divorced from any didactic, moral or utilitarian function". Today, however, public art initiatives are means for energizing intellectual thought. Expressions of art are used to address discrimination and condemn injustice, violence, racism and extremism.
Works of art can be inspirational expressions and bold statements of empowerment. They can provide alternative ways of seeing things and highlighting different perceptions of common trends or prevalent ideas. Artists today relate to public interests and concerns and they reach out toward international connections and global concerns.
The message of art can be more powerful than words. Our message through art can certainly have a stronger impact in the global arena than any propaganda rhetoric. Art transcends boundaries. Picasso is as celebrated in China as in his own country. Mughal miniatures are objects of admiration in any art museum. Today, the works of many Saudi artists have achieved international acclaim. The role of Princess Jawaher Bint Majid, President of Al-Mansouria Foundation and Chairwoman of the Saudi Art Council, in promoting Saudi artists and investing in community-based arts and culture programs is a step in the right direction. More government funding and private sector investment in museums, art galleries and exhibitions as well as financial support for professional artists, arts specialists and connoisseurs of art are the need of the hour. It is time we empower a network of Saudi artists to exchange ideas, collaborate on projects and inspire artistic innovation and global outreach to confront major global issues of war and peace, anti-Muslim cartoons, Islamophobia and misconceptions about Islam.
The role of SAC in promoting art and culture in Jeddah should be recognized as a valuable national contribution toward nation building.
Samar Fatany is a radio broadcaster and writer.
Source: saudigazette.com.sa/opinion/sac-promotes-saudi-artists-as-catalysts-for-progressive-expression/
------
Why Do We Fear Cinema In Saudi Arabia?
By Saad Al-Dosari
Jan 23, 2016
The General Commission for Audiovisual Media recently denied claims that a Saudi investor and an official authority had entered into negotiations to open the Kingdom's first cinema. As usual, the denial made it look as if the news was real when this was not the case. Moreover, the Al-Ekhbariya Saudi TV channel earlier announced that it would give special coverage to the issue but later deleted the announcement from its social media handles.
Many people understand and appreciate the position of government agencies regarding the issue of cinemas. This is because these people believe that cinemas will be similar to the ones found and seen in Bahrain and the United Arab Emirates. So far, the agencies have not yet responded to the demands of those who call for cinemas in the Kingdom on the basis of encouraging culture and the arts. These individuals call for cinemas to be opened under the umbrella of a government agency which would regulate everything in terms of shows and attendance in a way that is properly suited to our culture.
Many people fear that cinemas will destroy our values and ethics, but this is baseless and unjustified. Look around and you will see one form of cinema or another inside most homes. Yet, the values and ethics of society have not deteriorated. To alleviate the fear of those opposed to cinemas, they can be introduced to the general public gradually.
For example, cinema shows can be run during certain cultural and art events, just like the theatre shows presented by the Riyadh Municipality during certain cultural events. If the results of such shows are positive, and I am sure they will be, we can start presenting more shows until we reach a time that the fear of those opposed disappears.
Source: saudigazette.com.sa/opinion/local-viewpoint/why-do-we-fear-cinema-in-saudi-arabia/
----
Davos: with the Saudis Absent, Zarif's Fairy Tales Prevailed
By Faisal J. Abbas
23 January 2016
Iranian Foreign Secretary Mohammad Javad Zarif certainly got a free ride at this year's World Economic Forum. His views on the region went completely unchallenged in the absence of a counter-argument, and due to the format of his session, members of the audience were not able to ask questions or intervene.
However, one must admit that Zarif's ability to twist facts is phenomenal! Indeed, had there been an award at Davos for "Spin Doctor of the Year," then he would have won it... hands down!
Iran's FM made it seem like Tehran was the region's cuddly teddy bear who has been desperately trying to reconcile with Saudi Arabia, which he naturally portrayed as the "big bad wolf."
Frankly, I wasn't sure if Zarif was being serious or joking when he stressed in front of the WEF audience of global movers and shakers that his country is a firm believer in diplomacy as a means of resolving conflicts.
If this is the case, then what on earth is the Iranian Quds Force (or paramilitary terrorist groups affiliated to it) doing in Iraq and Syria? In fact, this elite Revolutionary Guard Unit is so focused on destabilizing Iran's Arab neighbours that I honestly suggest it should be renamed the "Anywhere-but-Quds Brigade."
Iran's FM made it seem like Tehran was the region's cuddly teddy bear who has been desperately trying to reconcile with Saudi Arabia, which he naturally portrayed as the "big bad wolf."
Furthermore, if the Iranian regime is truly such a peace-loving dove, then perhaps it should consider withdrawing from the three UAE islands it still occupies, stop supporting the murderous Assad regime which has overseen the killing of 200 thousand people and stop backing Yemen's Houthi militias which staged a coup against the legitimate government of President Hadi.
Of course, none of these facts made its way to Zarif's speech. Instead, he kept on attacking Saudi Arabia and claiming that it has always been looking for an excuse to sever diplomatic ties.
Excuse me? How was Riyadh supposed to act when - on top of all the aggression mentioned above - the Iranian regime sat back and watched its thugs attack and set fire to the Saudi embassy in Tehran?
Zarif went on to stress that this attack was officially condemned and that the perpetrators will be prosecuted. However, he - unsurprisingly - didn't dwell much into how this attack was allowed to happen in the first place under a regime which otherwise wouldn't allow a mosquito to freely move without permission!
Naturally, not everyone in Davos bought the Iranian narrative, however almost everyone I met said one thing: "we wish the Saudis were here to be able to tell their side of the story."
Naturally, not everyone in Davos bought the Iranian narrative, however almost everyone I met said one thing: "we wish the Saudis were here."
Of course, this was a fair comment as the Saudi participation was indeed low key compared to size, prominence and change happening in the kingdom: a few ministers, government officials and prominent businessmen, as well as a number of princes and individuals coming in their personal capacity.
However, I understand that behind closed doors FM Zarif was taken to task on his country's shameful stance on Syria by a former senior Saudi official. Unfortunately, only a handful of people - and no media - saw that.
Now, the kingdom is not without its faults and certainly not above criticism. However, until it is fairly represented and publicly present at such important global events, this will only mean that Iran can continue getting away with spinning the truth and Zarif's politically incorrect fairy tales will prevail.
Faisal J. Abbas is the Editor-in-Chief of Al Arabiya English, he is a renowned blogger and an award-winning journalist. Faisal covered the Middle East extensively working for Future Television of Lebanon and both Al-Hayat and Asharq Al-Awsat pan-Arab dailies. He blogs for The Huffington Post since 2008, and is a recipient of many media awards and a member of the British Society of Authors, National Union of Journalists, the John Adams Society as well as an associate member of the Cambridge Union Society.
Source: english.alarabiya.net/en/views/2016/01/23/Davos-With-the-Saudis-absent-Zarif-s-fairy-tales-prevailed.html
-----
Playing On Public Fears
By Abdulrahman Al-Rashed
23 January 2016
US presidential candidate Donald Trump realizes that his popularity is partly due to playing on people's fears about Hispanic and Muslim immigrants. He has called for a ban on Muslims entering the country until the government can differentiate between good and bad ones.
Americans usually take pride in their immigrant origins, and say this is the reason for their country's success. This is true. Arabs and Muslims arrived 200 years ago and helped build the United States, so they have a share in this historical legacy.
Trump does not explain how his proposal will be implemented. There are a billion Muslims worldwide, and most countries do not include religious affiliations in passports, so how would he recognize them? There are Muslims with Chinese, Indian and western names. As with Christianity, there are different Muslim sects.
If Trump decides to limit the ban to Arab Muslims, there are more than 15 million Arab Christians. How will he recognize them? What will he do with the five million Muslim Americans, the ancestors of whom perhaps arrived in the United States before Trump's grandfather?
His main concern is to reach the White House. I do not believe that he means what he says against Muslims, because he has had business dealings and personal relationships with them for decades, and still does — more so than most Americans.
All those who have listened to the promises of former presidential candidates during the past decades know that they will always be subject to the laws of the country and its constitution, which is considered higher than the decisions of the president and Congress.
I do not think there is still something to be done that is legal and has not been applied by former presidents, whether about illegal immigration or surveillance of Muslims. Putting restrictions on terrorists and extremists benefits the Muslim majority affected by their actions. It is unfortunate that he, or any other politician, would breach the ethical norms and rules respected by most US presidential candidates, but we should not overstretch Trump's words.
Source: arabnews.com/columns/news/869116
URL: https://www.newageislam.com/middle-east-press/new-age-islam-edit-bureau/dealing-with-hate-mongers--new-age-islam-s-selection,-23-january-2016/d/106087