New Age Islam News Bureau
23 Oct 2017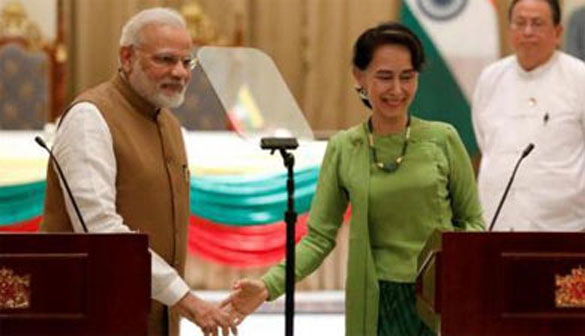 India's Prime Minister Narendra Modi and Myanmar's State Counselor Aung San Suu Kyi talk to reporters during their joint press conference in the Presidential Palace in Naypyitaw, Myanmar September 6, 2017. File photo: Reuters
-----
• Under Muslim Rule, India Was the Richest Country With 27% of World GDP: Shashi Tharoor
• PAS: Malaysia Must Defend Zakir Naik against Extradition Request
• Shock As Houthi Minister Proposes Closing Schools, Sending Children to War
• 'Why Destroy Bright Int'l Image, Modi Told Suu Kyi'
• Report Suggests Qatar Transferring ISIS Militants from Iraq and Syria to Libya
India
• Under Muslim Rule, India Was the Richest Country With 27% of World GDP: Shashi Tharoor
• Return of 'Displaced Persons' Can Restore Normalcy in Myanmar: External Affairs Minister
• Security Forces Increase Footprint in Terrorist Bastion Shopian
• UP Govt Mulling Merging Shia, Sunni Waqf Boards
• India Today Different From 1962; Won't Spare Anyone on Terrorism: Shivraj Chouhan In US
• J&K: UP man shot dead by militants in Arwani, say police
--------
Southeast Asia
• PAS: Malaysia Must Defend Zakir Naik against Extradition Request
• Indonesia Military Chief Barred From US
• Malay Muslims need to speak up against extremism
• Not meddling when non-Muslims speak up on Islam, forum told
--------
Mideast
• Shock As Houthi Minister Proposes Closing Schools, Sending Children to War
• Islamic Clerics against Normalization with Israel
• 8 killed in south Yemen attack on military base
• KRG Official Lauds General Soleimani for "Sincere" Behavior towards Iraqi Kurds
• Saudi foreign ministry denies any of their officials visited Israel
• Yemen FM slams Iran for threatening stability, spreading chaos
• Hamas says its rapprochement with Egypt has angered Qatar
• All procedures for US extradition of Gulen complete, Turkish justice minister says
--------
South Asia
• 'Why Destroy Bright Int'l Image, Modi Told Suu Kyi'
• Deadly Infighting among Taliban Leaves 50 Dead, Wounded In Herat
• US Airstrike Hit ISIS Suicide Training Camp In Afghanistan Leaving 40 Dead
• Radical Buddhists urge Myanmar not to take back Rohingyas
• Kabul seeks JUI-S chief's help as Taliban attacks kill over 200
• Taliban strikes on Afghan bases a 'show of strength' against Trump
• Bangladesh urges Turkey to build 100,000 more shelters for the Rohingya
--------
Africa
• Report Suggests Qatar Transferring ISIS Militants from Iraq and Syria to Libya
• Somalia to Declare 'State Of War' Against Al-Shabab
• Nigeria - Suicide Bombings Kill 13 in Maiduguri
• Gunmen kill 12 Niger gendarmes near Mali border
• UN ends month-long Libya talks in Tunisia without proposing new date
• Jordan's king endorses Palestinian reconciliation deal
--------
North America
• ISIS Fighters Are Not Flooding Back Home to Wreak Havoc as Feared
• Tillerson Woos Gulf Allies in Push to Undercut Iran
• Saudi Arabia not ready for talks with Qatar on Gulf crisis: Tillerson
• Go home, Tillerson tells Iranian-backed militias in Iraq
--------
Arab World
• Saudi Arabia Joins Islamic Finance Body, Could Boost Cross-Border Deals
• Iraqi Fighter Jets Kill 25 Daesh Militants near Syria Border
• At Its Peak, ISIS Was a $1 Billion Economy, Held Area the Size of Tamil Nadu
• Report: Saudi Minister's Visit to Raqqa Aimed at Saving ISIL Members
• Turkey to Establish Eight Military Bases in Northwestern Syria
• Gov't Forces Make Fresh Gains in War on ISIL in Eastern Syria
• Russian Forces Raise Flag above Major Kurdish Base in Northern Syria
• Tens of Terrorists Escape from ISIL's Main Stronghold in Southeastern Deir Ezzur
• Opposition calls on Iraqi Kurd leader to resign
• Egypt court sentences 11 people to death for 'terrorism'
• Barzani may be summoned by Iraq's judiciary, parliamentary sources say
--------
Europe
• UK Police Slammed for 'Propaganda' Video Promoting Islam
• UK police rule out terrorism in Nuneaton 'hostage situation'
• Foreigners who joined Islamic State face almost certain death in last stand in Raqqa
--------
Pakistan
• Al-Khidmat Foundation Celebrates Diwali across Sindh
• JUI-F Claims Struggling For Shariah Enforcement
• Nawaz to now return to Pakistan after stopover in Saudi Arabia
• Will expel thieves and those who plundered Pakistan: Musharraf
• Mafia has taken over country, says Siraj-ul-Haq
• Pakistan and Bangladesh's 'brotherhood' requires an honest reflection
Compiled by New Age Islam News Bureau
URL: https://www.newageislam.com/islamic-world-news/under-muslim-rule-india-richest/d/112989
--------
Under Muslim rule, India was the richest country with 27% of world GDP: Shashi Tharoor
October 22, 2017
NEW DELHI: India's pre-colonial economy considered as a golden age of prosperity under Mughal period, amounting to almost 27% of world GDP, said former union minister Shashi Tharoor on a recent visit to Australia for Melbourne Writers Festivals 2017.
The Congress MP appearing on national channel ABC's #QandA (Question and Answer) on September 04, 2017, described at length how India's textiles, dominated mostly by Muslims, were systematically destroyed by the British.
"The British came to one of the richest countries in the world when the GDP was almost 27% in the 17th century, 23% in the18th. But, over 200 years of exploitation, loot and destruction reduced India to a poster child for third world poverty", he said in reply to a question about the British rule in India.
"But when they left India in 1947, 90% of the population was living under below poverty level. Literacy rate was below 17% and growth rate from 1900 to 1947 was a meager 0.001%", he said.
"The fact is in the name of free trade the British came in and destroyed the free trade that had made India leading exporter of textiles.
"The British soldiers smashed looms so people couldn't practice their craft. They imposed punitive duties and taxes on the export of Indian textiles while lifting duties on import of British cloth", he said.
"Cities like Dhaka and Murshidabad were depopulated. In one notorious incident weavers' thumbs were cut so that they could not operate on looms.
"India's textile industry was systematically destroyed by the British", he added.
India's trade was in a healthy state and it became the largest economy by 1700, amounting to almost 27% of world GDP, until the mid-18th century, prior to British rule.
This is not the first time Tharoor praises for Muslim rulers. Earlier in August 2017, speaking at Mountain Echoes Literary Festival in Bhutan's capital Thimpu, Tharoor said that he did not regard Muslim rulers as foreigners.
"I am talking about the British who came and ruled us for the benefit of a country far away. For the Prime Minister, Muslim rulers who originally came to India to rule but stayed in India, assimilated and intermarried are also considered foreigners. To me they are not foreigners. If they stole and looted, they spent their loot here. They did not send it back to another country like the British," Tharoor is quoted as saying in a report by NDTV.
"To me they are not foreigners. If they stole and looted, they spent their loot here. They did not send it back to another country like the British," Tharoor said in a direct attack on Prime Minister Narendra Modi's repeated claim of "1,200 years of foreign rule".
https://www.siasat.com/news/muslim-rule-india-richest-country-27-world-gdp-shashi-tharoor-1245760/
--------
PAS: Malaysia must defend Zakir Naik against extradition request
October 23, 2017
KUALA LUMPUR, Oct 23 — PAS wants Malaysia to refuse India's request demanding the return of its citizen and controversial Muslim preacher Dr Zakir Naik who is being investigated by its authorities for alleged terror activities.
The Islamist Opposition party's information chief Nasrudin Hassan said Dr Zakir was a well-respected individual and that claims that the latter was radicalising or preaching terrorism was untrue.
"Malaysia does not need to abide to the request by the Indian government on Dr Zakir.
"PAS and Malaysians who stand by the truth will always defend Dr Zakir from being extradited to India," he said in a statement today.
India's National Investigation Agency (NIA) has submitted a charge-sheet on the fugitive preacher to the Ministry of Home Affairs in New Delhi.
According to news reports, the NIA has sought prosecution sanction from the ministry against Dr Zakir, who has fled India.
The news reports added that India will be sending a formal extradition request to Malaysia and to Saudi Arabia where he reportedly has gained citizenship.
Putrajaya has admitted awarding permanent residency to Dr Zakir five years ago.
He was also awarded the prestigious Tokoh Maal Hijrah in 2013 in recognition of his contributions to Islam.
http://www.themalaymailonline.com/malaysia/article/pas-malaysia-must-defend-zakir-naik-against-extradition-request#T62FjemYsX0lhzqz.97
--------
Shock As Houthi Minister Proposes Closing Schools, Sending Children to War
22 October 2017
Hassan Zaid, the minister of youth and sports in the Houthi government in Sanaa, called for closing schools and sending students to battle fronts.
The minister's proposal revealed the Houthis' intentions to mobilize efforts to recruit children and send them to war.
"Wouldn't we be able to reinforce the ranks with hundreds of thousands (of fighters) and win the battle?" Zaid wrote on Facebook.
His statements sparked outrage on social media. One user proposed leaving students at schools and sending ministers and their bodyguards to war instead.
https://english.alarabiya.net/en/News/gulf/2017/10/22/Shock-as-Houthi-minister-proposes-closing-schools-sending-children-to-war-.html
--------
'Why destroy bright int'l image, Modi told Suu Kyi'
October 22, 2017
Indian Prime Minister Narendra Modi on his recent visit to Myanmar told the country's de facto leader Aung San Suu Kyi that "she has a very bright international image and why should she destroy it".
Indian External Affairs Minister Sushma Swaraj said this during a meeting with Bangladesh Prime Minister Sheikh Hasina in Dhaka today.
Sushma said Modi told Aung San Suu Kyi that she has a very bright international image and she should not destroy it, PM's press secretary Ihsanul Karim briefed reporters after the meeting quoting the Indian minister, reports UNB.
Modi paid a two-day visit in Myanmar from September 6 amid renewed violence in Rakhine state that forced thousands of Rohingya Muslims to flee to neighbouring Bangladesh.
During his visit, Modi discussed Rohingya issue with Aung San Suu Kyi. After the meeting, Modi said that India shared Myanmar's concern about "extremist violence" in its Rakhine state, where a security force operation against Muslim rebels forced thousands of Rohingyas to flee to Bangladesh.
http://www.thedailystar.net/rohingya-crisis/why-destroy-bright-international-image-india-prime-minister-narendra-modi-told-myanmar-de-facto-leader-aung-san-suu-kyi-1480222
--------
Report suggests Qatar transferring ISIS militants from Iraq and Syria to Libya
23 October 2017
ISIS militants have allegedly begun to regroup in south Libya with Qatar's help after the Gulf state was accused of transferring hundreds of fighters from Syria and Iraq to Libya, a UAE-based newspaper reported on Saturday.
Military sources told Alittihad newspaper that the move is an effort to turn the south into a hotbed for extremists after ISIS took severe blows in Syria and Iraq,
According to Libyan military officials speaking to the newspaper, ISIS fighters began to leave fighting areas through Turkey and are headed to Libya.
The newspaper added that Doha, which is accused by the anti-terror quartet of supporting terrorist groups including groups in Libya that suffer from political divisions, is behind this activity.
https://english.alarabiya.net/en/News/gulf/2017/10/23/Report-suggests-Qatar-transferring-ISIS-militants-from-Iraq-Syria-to-Libya.html
--------
India
Return of 'Displaced Persons' Can Restore Normalcy in Myanmar: External Affairs Minister
October 23, 2017
India is "deeply concerned" at the spate of violence in Myanmar's Rakhine State where normalcy will be restored only with the return of "displaced persons", External Affairs Minister Sushma Swaraj today said here amidst the raging Rohingya refugee crisis. Nearly 600,000 minority Rohingya Muslims have fled to Bangladesh since late August to escape violence in Myanmar's Rakhine State where the army has launched a crackdown against militants. Myanmar doesn't recognise Rohingya as an ethnic group and insists that they are Bangladeshi migrants living illegally in the country.
Bangladesh has sought India's "sustained pressures" on Myanmar for its resolution. "India is deeply concerned at the spate of violence in Myanmar's Rakhine State," Swaraj said after talks with the Bangladeshi side as part of the fourth Joint Consultative Commission.
She, however, preferred not to use the word "Rohingya" and said "we have urged that the situation be handled with restraint, keeping in mind the welfare of the population". Swaraj is on a two-day visit to Bangladesh at the invitation of Foreign Minister Abul Hassan Mahmood Ali. "It is clear that normalcy will only be restored with the return of the displaced persons to Rakhine state. "The only long term solution to the situation in Rakhine State is rapid socio-economic and infrastructure development that would have a positive impact on all the communities living in the State," she said.
Ali said Dhaka was "happy to be reassured that India would continue to support the humanitarian cause related to Rohingyas in Bangladesh". "We further urged India to contribute towards exerting sustained pressure on Myanmar to find a peaceful solution to the including sustainable return of all Rohingyas to their motherland," he said.
India has committed to provide financial and technical assistance for identified projects to be undertaken in Rakhine State in conjunction with the local authorities, Swaraj said.
India has supported implementation of the recommendations contained in the Kofi Annan-led Special Advisory Commission report.
India and Bangladesh today discussed the common challenge of terrorism and resolved to fight the scourge together even as New Delhi reaffirmed its status as a reliable development partner of Dhaka.
This is Swaraj's second visit to Bangladesh and comes after the recent trip of Finance Minister Arun Jaitley during which India operationalised a USD 4.5 billion line of credit to Bangladesh to enable implementation of development projects in key areas, including power, railways, roads and shipping.
http://indianexpress.com/article/india/return-of-displaced-persons-can-restore-normalcy-in-myanmar-sushma-swaraj-on-rohingya-crisis-4902131/
--------
Security forces increase footprint in terrorist bastion Shopian
Oct 22, 2017
SRINAGAR: The security forces' footprint has considerably increased in Shopian district, considered the last bastion of terrorists operating in south Kashmir, with the Army establishing new camps and the CRPF pushing a reserve battalion into the area, officials said.
Once seen as the 'ground zero' for terrorists, who used to roam openly in the area, problems started after April this year with security forces facing resistance in entering Heff- Shirmal area in the district, they said.
Senior police, Army and the Central Reserve Police Force (CRPF) personnel started burning the midnight oil to overcome the crisis of controlling Shopian, which is located south of the Peer Panjal mountain range and can provide free access to terrorists to cross over to Doda, Kishtwar and Poonch area of Jammu, the officials said.
After the killing of Burhan Wani, the poster boy of Hizbul Mujahideen militant outfit, on July 8 last year, the district has accounted for the disappearance of over 37 youths, who are believed to have joined various militant outfits.
Officials said that after increasing the footprint, local intelligence has started flowing, resulting in encounters that saw top terrorist leadership, including the main recruiter for Hizbul Mujahideen Irfan Sheikh of Maldera and the group's financier Waseem Shah being eliminated.
CRPF has also moved in a reserve battalion comprising nearly 1,000 men into Shopian.
Victor Force, a counter-insurgency unit of the Army, headed by Major Gen B S Raju, and Deputy Inspector General of Jammu and Kashmir Police (South Kashmir) S P Pani along with CRPF officer brain stormed and started re-calibrating their plans for making Shopian a terrorist-free zone, they said.
Jammu and Kashmir police moved in a considerable number of its personnel to various parts of the district and its crack teams of special operation group got attached with teams of the Army and CRPF to engage in a quick operation, whenever needed, they said.
Army has established nearly five camps at Nagabal, Chillipura, Maitribugh, Zainpura and Larkipura besides increasing strength in existing camps in the area, the officials said.
The most important was the Army camp at Chillipura, which is located next to Heff-Shirmal area, as it provided a safe haven to terrorists with a natural cover being provided by the lush green forests and apple orchards.
Full report at:
https://timesofindia.indiatimes.com/india/security-forces-increase-footprint-in-terrorist-bastion-shopian/articleshow/61172813.cms
--------
UP govt mulling merging Shia, Sunni Waqf boards
Oct 22, 2017
LUCKNOW: The Uttar Pradesh government is mulling forming a "UP Muslim Waqf board" by merging the separate Sunni and Shia Waqf boards to prevent "wastage of money", minister of state for Waqf Mohsin Raza said.
He alleged that both Sunni and Shia Waqf boards are being charged with corruption, and the government will dissolve them soon.
Though things are still to be finalised, the minister said the UP Muslif Waqf board when constituted will have members of both Sunni and Shia communities and its chairman will be selected from among them.
"The government has got a number of letter and suggestions from various quarters regarding the merger of Sunni and Shia Waqf boards. After which, the government has sought a proposal in this regard from the department concerned.
"After Law department's review of the proposal, the government will consider it and form the UP Muslim Waqf board," Raza told PTI.
He also claimed that all states of the country except UP and Bihar have only one Waqf board.
According to Raza, having separate Waqf boards in the state is not "legal".
Quoting the Waqf Act 1995, he said Shia or Sunni should have at least 15 per cent share in total Waqf units for constitution of separate boards, which he said is not the case in UP where the Shias account for only 5,000 units of the total 24,000 Waqf units.
"There should be at least 15 per cent of share of Shia or Sunni among total Waqf units. In UP there are 24,000 waqf units, of which Shia waqf has only about 5,000 units, which is only 4-5 per cent. Legally it should not be like this," he said.
The minister further said that as per the Central Waqf council, there are only 3,000 units of Shia Waqf Board, and that there was no point in keeping a separate Shia Board.
"Separate chairman, CEO and other staff incure heavy expenses. It is a wastage of money," Mohsin Raza said.
Reacting to the development, Shia Waqf board Chairman Waseem Rizvi said there is no provision to separate Sunni and Shia boards which were constituted in 2015 for the the tenure of five years.
"There is no provision to dissolve the board. After the tenure ends, the government can inquire about number of Waqf units and their income to proceed further," Rizvi said.
Full report at:
https://timesofindia.indiatimes.com/india/up-govt-mulling-merging-shia-sunni-waqf-boards/articleshow/61172288.cms
--------
India Today Different From 1962; Won't Spare Anyone on Terrorism: Shivraj Chouhan In US
October 23, 2017
Madhya Pradesh Chief Minister Shivraj Singh Chouhan on Monday vehemently attacked Pakistan and China, saying India today is different from what it used to be in 1962 and affirmed that the country "would not spare" anyone on the issue of terrorism. Chouhan, who arrived in Washington on Sunday morning on a nearly week-long US visit, said India is no longer a country of 1962 and this was realised by none other than China whose troops had to withdraw from its intruded position in Doklam because of the determination shown by Indian soldiers and the emergence of a strong India under Prime Minister Narendra Modi.
"India today is not a country of 1962," Chouhan said amidst applause from the audience. He was addressing the Indian-American community at a reception organised by the Indian embassy Washington. His comment on China was an apparent reminder of the then defence minister Arun Jaitley's remarks during the standoff. "The situation in 1962 was different and India of 2017 is different," Jaitley said when asked about China's warning that the Indian Army should learn "historical lessons".
On August 28, India and China agreed to "expeditious disengagement" of border personnel at the face-off site in Doklam following diplomatic communications after over two months standoff. Chouhan said there would be "no compromise" on terrorism, in a veiled warning to neighbouring Pakistan, which is accused of harbouring terrorists on its soil.
"India would not spare anyone, if any (nation) tries to provoke us on the issue of terrorism," Chouhan said, adding that India is the greatest advocate of world peace and does not want to provoke others. He spoke in Hindi. The visiting chief minister described the India-US friendship under the current dispensation as a "golden age".
During his address, he also referred to the recent statements on India made by top American leadership, in particular, ones by US President Donald Trump and Secretary of State Rex Tillerson. The two largest democracies of the world are now working together not only to strengthen their relationship but also for the global good, he said.
In addition to visiting New York later this week, the Chief Minister would deliver key note address on integral humanism at the inaugural Pandit Deen Dayal Upadhyaya Forum at the US Capitol on Monday afternoon. While India has been a victim of terrorism for long, it
was only under Modi that it carried out surgical strikes against those giving shelter to terrorists, he said. Referring to the recent Doklam incident, the Chief Minister said the Chinese soldiers had to finally return because of the exemplary determination shown by Indian soldiers and the emergence of a "strong India" under Prime Minister Modi.
On the two major policy decisions –demonetisation and the Goods and Services Tax (GST) — Chouhan said only a Prime Minister of the caliber of Modi could take such courageous decisions. "A normal Prime Minister cannot take a decision on demonetisation," he said, adding that it can only be taken by one who has the determination to get rid of the black money and end corruption. It is the Modi government which took the decision on GST and implement it. Modi fulfilled the dream of one nation one tax, he said, adding that the country is marching ahead in every field.
After Modi became the Prime Minister, there has been acceleration in India's development, decisions are being taken at a fast pace and inflation is down. There is an all-round development of the country, he said, exhorting Indian-Americans in joining fellow Indians in the all-round development of the India. Indian Ambassador to the US Navtej Sarna said Chouhan is "one of the most progressive far thinking and visionary leaders" of India.
Full report at:
http://indianexpress.com/article/india/india-today-different-from-1962-wont-spare-anyone-on-terrorism-madhya-pradesh-chief-minister-shivraj-singh-chouhan-4902208/
--------
J&K: UP man shot dead by militants in Arwani, say police
October 22, 2017
Militants on Sunday night shot dead a man from Uttar Pradesh in Bijbehara in south Kashmir, police said. The deceased identified as Shakir, aged around 35, used to run a street food stall at Arwani in Bijbehara. He was shot twice in his chest and legs, they said. Shakir was rushed to a hospital where doctors declared him brought dead.
It was immediately not clear as to who was the behind the killing, but police blamed militant groups for the incident. Shakir had been running the food stall in the area for nine years. He is survived by his wife and two children, police said.
Full report at:
http://indianexpress.com/article/india/jk-up-man-shot-dead-by-militants-in-arwani-say-police/
--------
Southeast Asia
Indonesia military chief barred from US
Oct 23, 2017
JAKARTA - Indonesia said Sunday its military chief had been refused entry to the United States and asked Washington for an explanation. General Gatot Nurmantyo was due to attend a conference in Washington at the request of General Joseph F. Dunford, chairman of the US Joint Chiefs of Staff, but the military said he was unable to board his Emirates flight in Jakarta on Saturday.
Military spokesman Brigjen Wuryanto said the general was refused entry by the US Customs and Border Protection agency. Nurmantyo has decided not to attend the conference until the situation is explained, Wuryanto said. "Shortly before the departure the TNI (military) commander and his wife received a notification from the airline that they were not allowed to enter US territory," Wuryanto told a press conference.
The Indonesian embassy in Washington has sent a formal note to the State Department asking for clarification and Foreign Minister Retno Marsudi has sought an explanation from the embassy in Jakarta.
"The (US) ambassador is currently not in Jakarta so we have asked the deputy chief of mission in Jakarta to come into the ministry tomorrow for clarification," foreign affairs spokesperson Arrmanatha Nasir told AFP.
The US embassy said in a statement it had been in touch with the general's staff about the matter throughout the weekend and working to facilitate his travel. It said US ambassador Joseph Donovan has apologised to Marsudi for any inconvenience. "The US Embassy was, and remains, prepared to facilitate the General's travel to the United States," it said. "We remain committed to our Strategic Partnership with Indonesia as a way to deliver security and prosperity to both our nations and peoples."
http://nation.com.pk/international/23-Oct-2017/indonesia-military-chief-barred-from-us
--------
Malay Muslims need to speak up against extremism
22 Oct 2017
MORE Malay Muslims must speak out against religious extremism and curtails on intellectual freedom, say panelists at a forum on reason and faith in society today.
Citing the ongoing debate over the Muslim-only launderette as an example, social activist Marina Mahathir said it would have been akin to the beginning of apartheid.
"It's about dividing the Muslims and non-Muslims. It's the beginning of apartheid. Therefore we have a right to say stop," she said to a packed room at the University of Nottingham Malaysia teaching centre in Kuala Lumpur.
She added that the royal backlash against preacher Zamihan Mat Zin, who supported the establishment of Muslim-only launderette, was unusual.
"When it comes to religion, people are quite afraid to speak up because they have seen what happen to people who speak out like the late Kassim Ahmad.
"Not everyone agree with what's going on. It's a culture of fear. We need more people to speak up, not just us the usual lot (on the panel), to say enough is enough," said Marina.
Beside the culture of fear, Zaharom Nain from University of Nottingham Malaysia believes an insular siege mentality among Malay Muslims also restrict them from speaking their minds freely about religion.
"Some of the polls that have been done indicate that. Media like Utusan Malaysia, Berita Harian and TV3 that is the dominant media in rural areas provide a skewed picture of Malaysia," said Zaharom.
Universiti Malaya law lecturer Azmi Sharom added that few political parties with a Malay Muslim majority dared to speak up against the growing extremism.
"What we need are the people from Amanah and Bersatu to say no we cannot allow this to continue," he said.
He added that none of these political parties have been brave enough to openly oppose PAS president Hadi Awang's proposal to amend the Shariah Courts (Criminal Jurisdiction) Act to implement hudud.
"They think it's political suicide, that they will be accused of being a murtad if they don't support it," said Azmi.
He added that it is up to Malay Muslims on the ground to make intellectual freedom a political issue otherwise politicians will not care.
Azmi was referring to the recent ban on a book authored by a US-based Turkish journalist Mustafa Akyol and Mustafa's detention by Federal Territories Islamic Religious Department (Jawi).
Isham Pawan Ahmad from the International Islamic University Malaysia said Malay Muslims must be more discerning between man-made and divine ideas.
"It's your right to listen to different ideas and make a decision for yourself.
Full report at:
https://www.themalaysianinsight.com/s/19618/
--------
Not meddling when non-Muslims speak up on Islam, forum told
Sean Augustin
October 22, 2017
KUALA LUMPUR: Prominent social activist Marina Mahathir today defended the right of non-Muslims to speak up on issues dealing with Islam, in view of its greater role in the public sphere.
"If Islam is used as the source for law and public policy, which affects everyone, then everyone including non-Muslims have the right to question it," Marina told a forum organised by the Islamic Renaissance Front (IRF) today.
A non-Muslim participant at the forum had earlier related how she was accused of interfering in Muslim affairs whenever she spoke on Islamic topics.
In the past, leaders from PAS and Umno had warned non-Muslims against criticising PAS's private member's bill to introduce heavier punishments under the Syariah Courts (Criminal Jurisdiction) Act 1965, saying it amounted to meddling in Islamic affairs.
Meanwhile, Marina said she welcomed the statements by the sultans of Johor and Selangor over a recent controversy involving a Malaysian Islamic Development Department (Jakim) officer.
But she said political leaders should have taken a stand earlier.
"Does religion tell us to be bigots? Does Islam tell us to discriminate? Absolutely not.
"Political leaders should speak out. If they know their religion, they have an absolute solid basis to reject all this rubbish. There is no need to wait for anyone.," she told FMT.
Earlier this month, Jakim officer Zamihan Mat Zin criticised Sultan Ibrahim Sultan Iskandar for the Johor ruler's condemnation of a laundrette operator in Muar for refusing to serve non-Muslim customers.
In a speech at the Masjid Diraja Tengku Ampuan Jemaah in Shah Alam, Zamihan also made derogatory remarks about the hygiene of Chinese Malaysians.
Full report at:
http://www.freemalaysiatoday.com/category/nation/2017/10/22/not-meddling-when-non-muslims-speak-up-on-islam-forum-told/
--------
Mideast
Islamic clerics against normalization with Israel
22/10/17
The Conference of Scholars Against Normalization announced the formation of a committee that will discuss proposals by Muslim clerics relating to the formulation of a credo, to be published in the near future, for guiding the struggle against normalization with the "Zionist entity."
At the close of the religious scholars' meeting in Istanbul, participants announced that any form of normalization with the "entity" is prohibited by religious law and comprises a "crime," be it economic normalization or in the fields of communications, sport, or society.
The clerics stressed that all of "Palestine" and all the "occupied" land by the "robber entity" is Islamic land that must not be relinquished for any reason or by any pretext.
"Giving up Palestine and recognizing the right of the Zionist entity to establish its state on the land of Islam and the Muslims is a betrayal of Allah, His Messenger (Muhammad) and the rest of the believers," the concluding statement said.
http://www.israelnationalnews.com/News/News.aspx/237016
--------
8 killed in south Yemen attack on military base
23 October 2017
ADEN, Yemen: Three Yemeni soldiers and five assailants were killed in an attack on a military base in the southern province of Abyan on Monday, a security source said.
A car rigged with explosives carrying five men pulled up to a military base in the district of Mudiya in Abyan, the source told AFP on condition of anonymity.
Four men wearing explosive belts ran out of the car and toward the base, and were all shot dead.
The vehicle then exploded outside of the base, killing the driver and three soldiers from a UAE-backed contingent in the Yemeni army.
Yemen's southern provinces, including Abyan, are the site of a long-running US drone war against Al-Qaeda's Yemeni branch.
Al-Qaeda in the Arabian Peninsula has flourished in the chaos of Yemen's civil war, which pits the Saudi-backed government of President Abedrabbo Mansour Hadi against Shiite Houthi rebels.
The United States, the only government to operate drones over the impoverished country, considers AQAP to be the radical group's most dangerous branch and backs the UAE-trained contingent in southern Yemen.
The United Arab Emirates is a key component of a Saudi-led military coalition that intervened in the war to support Hadi's government in 2015.
Full report at:
http://www.arabnews.com/node/1182021/middle-east
--------
KRG Official Lauds General Soleimani for "Sincere" Behavior towards Iraqi Kurds
Oct 22, 2017
"Mr. Soleimani is the one who has really treated the Iraqi Kurds honestly and he had issued warnings about (consequences of) holding the referendum in the Iraqi Kurdistan region before it was held," Dabbagh said.
"It seems that the Islamic Republic of Iran seeks to resolve the problems between the Kurdistan region and the central government in Iraq based on the Iraqi constitution and we assess Iran's measures in this regard as positive," he said.
Meantime, a senior Kurdish Iraqi legislator praised General Soleimani for his mediatory role which led to the settlement of problems after the September 25 independence referendum in the Iraqi Kurdistan region.
"Recently, after holding the referendum, a 9-article agreement was signed between Hashd al-Shaabi (Iraqi Popular forces) Commander Hadi al-Ameri and Bafel Talabani, a commander of the Patriotic Union of Kurdistan (PUK) (and son of late Jalal Talabani), under the supervision of Iraqi Prime Minister Haider al-Abadi and mediated by Qassem Soleimani, the IRGC Quds Force commander, based on which the referendum results were called off until an unspecified time," Massoud Haider wrote on his facebook, Russian news agency Sputnik reported.
Other Kurdish lawmakers were also quoted by Reuters as saying that General Soleimani met leaders from the PUK, one of the two main Kurdish political parties in Iraq and an ally of Tehran, in the city of Sulaimania the day before Premier al-Abadi ordered his forces to advance on Kirkuk.
Reuters reported that General Soleimani told the Kurdish leaders that their Peshmerga forces would not be able to beat Abadi's troops, which had backing from the West and regional powers Iran and Turkey.
"Soleimani's visit...was to give a last-minute chance for the decision makers not to commit a fatal mistake," Reuters quoted one PUK lawmaker as saying.
Ala Talabani, a leading PUK official, said the Iranian General only provided what she described as "wise" counsel in his meetings with Kurdish leaders.
Full report at:
http://en.farsnews.com/newstext.aspx?nn=13960730000311
--------
Saudi foreign ministry denies any of their officials visited Israel
22 October 2017
Saudi Arabia's foreign ministry has issued a statement denying several media reports that suggested a high-ranking Saudi official visited Israel in recent weeks.
"A source from the Saudi foreign ministry said that reports of an official from Saudi Arabia visited Israel were complete false and had no basis in truth," a statement read. "The source also added that the kingdom of Saudi Arabia has always been transparent in terms of its movements and communications and has nothing to hide in this regards."
Full report at:
https://english.alarabiya.net/en/News/gulf/2017/10/22/Saudi-foreign-ministry-denies-any-of-their-officials-visited-Israel.html
--------
Yemen FM slams Iran for threatening stability, spreading chaos
22 October 2017
Yemen's foreign minister Abdulmalik Al-Mekhlafi reiterated accusations that Iran is threatening stability and spreading chaos in the entire region.
During his meeting with US Assistant Secretary of State David Satterfield in Riyadh, Mekhlafi said Tehran seeks to replace the state with sects and armies with militias in order for its project to sow chaos lives on.
https://english.alarabiya.net/en/News/gulf/2017/10/22/Yemen-FM-slams-Iran-for-threatening-stability-spreading-chaos.html
--------
Hamas says its rapprochement with Egypt has angered Qatar
22 October 2017
Hamas leader in Gaza Yahya Sinwar said on Friday that Qatar does not support the rapprochement between Hamas and Egypt particularly in terms of the efforts to reconcile between it and Fatah.
This comes after Doha's previous unsuccessful intervention in Palestinian reconciliation efforts.
Asked whether it's possible for Hamas to communicate with Qatar to pay the wages of its employees in Gaza until a judicial committee agreed on in Cairo is created, Sinwar said: "Qatar is dissatisfied with Hamas due to some of its moves."
Full report at:
https://english.alarabiya.net/en/News/gulf/2017/10/22/Hamas-says-its-rapprochement-with-Egypt-has-angered-Qatar-.html
--------
All procedures for US extradition of Gulen complete, Turkish justice minister says
Oct 22, 2017
Turkish Justice Minister Abdulhamit Gul says his country expects US officials to extradite Pennsylvania-based opposition cleric, Fethullah Gulen, whom the Ankara government accuses of having masterminded the failed July 2016 coup, stressing that all procedures have been completed in this regard.
Gul told reporters in the capital city of Ankara on Sunday that there were no missing documents or procedures left to hinder Gulen's extradition.
"For both parties, all conditions for an extradition have been fulfilled. We are now waiting for the extradition," he stated.
The Turkish justice minister further noted that Gulen's Turkish citizenship would be revoked, "through a demand from the Interior Ministry and by decision of the cabinet."
During the July 15 botched putsch last year, a faction of the Turkish military declared that it had seized control of the country and the government of President Recep Tayyip Erdogan was no more in charge. The attempt was, however, suppressed a few hours later.
Not only has Ankara accused Gulen of having orchestrated the failed coup, but the opposition figure is also accused of being behind a long-running campaign to topple the government via infiltrating the country's institutions, particularly the army, police and the judiciary.
Additionally, the Ankara government has outlawed his movement and has branded it as the Fethullah Terrorist Organization (FETO).
Gulen has denounced the "despicable putsch" and reiterated that he had no role in it.
"Accusations against me related to the coup attempt are baseless and politically motivated slanders," he said.
The 76-year-old cleric has also called on Ankara to end its "witch hunt" of his followers, a move he said was aimed at "weeding out anyone it deems disloyal to President Erdogan and his regime."
Turkish officials have frequently called on their US counterparts to extradite Gulen, but their demands have not been taken heed of.
Turkey, which remains in a state of emergency since the failed coup, has been engaged in suppressing the media and opposition groups suspected to have played a role in the botched coup.
Tens of thousands of people have been arrested in Turkey on suspicion of having links to Gulen and the failed coup. More than 110,000 others, including military staff, civil servants and journalists have been sacked or suspended from work over the same accusations.
Full report at:
http://www.presstv.com/Detail/2017/10/22/539508/All-procedures-for-US-extradition-of-Gulen-complete-Turkish-justice-minister-says
--------
South Asia
Deadly infighting among Taliban leaves 50 dead, wounded in Herat
Oct 22 2017
A new deadly infighting has erupted among the Taliban insurgents in western Herat province of Afghanistan, leaving nearly 50 people dead.
According to the local officials in Herat, the latest clashes took place between the supporters of Taliban supreme Mullah Hebatullah Akhundzada and dissident Taliban leader Mullah Mohammad Rasool.
Provincial governor's spokesman Jilani Farhad confirmed the latest clashes have left around 40 dead from both the sides.
He said militants under the command of Mullah Samad loyal to Mullah Hebatullah and Mullah Nangialai who is loyal to Mullah Rasool, clashed in Khaifan area of Shindand district.
The anti-government armed militant groups have not commented regarding the report so far.
Clashes between the supporters of Mullah Hebatullah and Mulllah Rasool have not been rare but numerous such incidents have taken place in the past well.
Mullah Rasool is a dissident Taliban leader who has been leading his own faction of the Taliban after the death of the group's founder and former supreme leader Mullah Mohammad Omar.
The supporters of Mullah Rasool have also clashed with the supporters of Mullah Akhtar Mansoor, the predecessor of Mullah Hebatullah.
http://www.khaama.com/deadly-infighting-among-taliban-leaves-50-dead-wounded-in-herat-03692
--------
US airstrike hit ISIS suicide training camp in Afghanistan leaving 40 dead
Oct 22 2017
A deadly US airstrike targeted a training camp for the suicide bombers in eastern Nangarhar province of Afghanistan.
According to the local security officials, the airstrike was carried out in Achin district of Nangarhar on Saturday.
The provincial police commandment in a statement said at least 40 people including two trainers of the terror group and several suicide bombers were killed in the airstrike.
The statement further added that the training camp was located in Pekha area of Achin.
The two ISIS trainers killed in the attack have been identified as Qari Quran and Qari Fida, the police commandment added.
Several weapons, ammunition, and explosives belonging to the terror group were also destroyed in the airstrike, the police commandment said.
The anti-government armed militant groups have not commented regarding the report so far.
The destruction of the training camp could play a vital role in restricting the activities of the terror group as they have carried out numerous deadly suicide attacks in Kabul city and other parts of the country during the past recent months.
Full report at:
http://www.khaama.com/us-airstrike-hit-isis-suicide-training-camp-in-afghanistan-leaving-40-dead-03691
--------
Radical Buddhists urge Myanmar not to take back Rohingyas
October 23, 2017
Hundreds of hard-line Buddhists protested yesterday to urge Myanmar's government not to repatriate the nearly 600,000 minority Rohingyas who have fled to Bangladesh since late August to escape violence in Myanmar's Rakhine state.
The protest took place in Sittwe, the state capital, where many Rohingya lived before an outbreak of inter-communal violence in 2012 forced them to flee their homes.
Aung Htay, a protest organizer, said any citizens would be welcome in the state. "But if these people don't have the right to be citizens ... the government's plan for a conflict-free zone will never be implemented," he said.
Myanmar doesn't recognise Rohingya as an ethnic group, instead insisting they are Bengali migrants from Bangladesh living illegally in the country. Rohingya are excluded from the official 135 ethnic groups in the country and denied citizenship.
More than 580,000 Rohingya from northern Rakhine have fled to Bangladesh since Aug 25, when Myanmar security forces began a scorched-earth campaign against Rohingya villages. Myanmar's government has said it was responding to attacks by Muslim insurgents, but the United Nations and others have said the response was disproportionate.
Myanmar de facto leader Aung San Suu Kyi's government said earlier this month that it was willing to take back Rohingya refugees who fled to southeastern Bangladesh. The government has agreed to form a joint working group to start the repatriation process.
Protesters, including some Buddhist monks, yesterday demanded that the government not take back the refugees.
Full report at:
http://www.thedailystar.net/backpage/buddhists-protest-urge-myanmar-not-take-back-rohingyas-1480336
--------
Kabul Seeks JUI-S Chief's Help as Taliban Attacks Kill over 200
Tahir Khan
OCTOBER 23, 2017
ISLAMABAD: Afghan ambassador to Pakistan Omar Zakhilwal Sunday sought JUI-S chief Maulana Sami ul Haq's help for peace in Afghanistan as a series of deadly attacks killed nearly 200 people and injured scores others in recent days.
Ambassador Zakhilwal, who is also special presidential envoy for Pakistan, travelled to Akora Khattak on Sunday to meet Maulana Sami ul Haq, who is often dubbed as 'Father of the Taliban' by West, and press him to play his role in persuading the Taliban to join the peace process. "Afghan ambassador told Maulana that the Afghan government is ready for peace negotiations and also to knock any door to achieve the goal of durable peace in Afghanistan," a statement issued by Darul Uloom Haqqania said.
It is believed that many Afghan Taliban leaders have studied at Darul Uloom Haqqania and that Maulana Sami ul Haq enjoys some influence on them.
It was ambassador Zakhilwal's third visit to the seminary in recent months. However, Maulana is yet to play any active role in Afghan peace and reconciliation process.
During a previous visit by the Afghan ambassador, President Ashraf Ghani had also spoken to the Maulana and also invited him to visit Kabul.
Series of Taliban attacks on army and police centres in a sudden surge in violence has posed a serious threat to the ongoing diplomatic efforts to find out a peaceful solution to the conflict.
In what is widely considered a naïve approach, Taliban spokesman Zabihullah Mujahid described surge in attacks as an 'angry reaction' to President Donald Trump's strategy for Afghanistan.
The Taliban attacks in Kabul, Kandahar, Paktia and Ghazni, the Daesh-claimed suicide bombing of Shia mosque in Kabul and an unclaimed attack at a Shia mosque in central Ghor province have claimed lives of over 200 security forces personnel and civilians.
The attacks took place after the recent meeting of the Quadrilateral Coordination Group (QCG) of Afghanistan, China, Pakistan and the US in Muscat, Oman, after a break of nearly one-and-half years.
Taliban defended all these attacks as 'revenge' of the US recent bombings in Afghanistan. President Ghani, however, described the Taliban attacks as 'political defeat' of the armed opponents of the government.
Taliban spokesman Zabihullah Mujahid told Daily Times that "policy of Donald Trump has angered the Taliban and attacks against the enemy can further increase."
"The Kabul administration was upbeat at the US new strategy and they thought everything would be fine. But they are mistaken," he said in response to questions posted on his official WhatsApp number.
When asked about killing of Afghans in Taliban attacks instead of foreigners, Mujahid said, "Servants of Kabul administration are engaged in the defence of the Americans."
To a question about the fate of political negotiations, he said there was no change in Taliban's stance about the talks.
Full report at:
https://dailytimes.com.pk/129146/kabul-seeks-jui-s-chiefs-help-taliban-attacks-kill-200/
--------
Taliban strikes on Afghan bases a 'show of strength' against Trump
Oct 23, 2017
KABUL - A spate of deadly Taliban attacks targeting Afghan forces this week was a show of strength against Donald Trump's new strategy, and signalled a push to strike security bases rather than cities, analysts said.
In three of the four ambushes since Tuesday, militants used bomb-laden Humvees to blast their way into targets, seeking to demoralise war-weary security forces, and steal weapons and vehicles to fuel their insurgency.
It marks a change in focus from recent years when the Taliban fought to control and hold provincial capitals, such as the northern city of Kunduz, which briefly fell to the militants twice in the past 24 months. "(The Taliban) want to be showing their potency after the summer unveiling of the Trump policy of staying on with larger forces," said Vanda Felbab-Brown, senior fellow at the Brookings Institution. "They haven't tried to hold provincial capitals... they are not wasting their assets on that."
Militants have launched several devastating assaults on security forces already this year, including an attack on a base in northern Mazar-i-Sharif in the spring in which at least 144 people were killed. But this week stands apart for the number of attacks on security forces in such a short time -- five in as many days with around 150 military, police and civilians killed -- and coming after the US and Afghan forces have stepped up their own offensives.
Two separate attacks on mosques -- one of which was claimed by the Islamic State group -- took the overall death toll to around 200 for the week. In August, Trump announced that American forces would stay in Afghanistan indefinitely, increasing attacks on insurgents and deploying more troops. Following his announcement the US has dramatically ramped up airstrikes, with more bombs and missiles dropped in September than in any month since October 2010.
A recent flurry of drone strikes in the lawless region near the border with Pakistan's tribal areas has also seen dozens of militants killed. This week's attacks are the Taliban's response, a spokesman told AFP, calling it "a clear message... The enemy who thought they had scared us with the new Trump strategy have now been given a lesson". The attacks also came after talks between Afghanistan, Pakistan, the United States and China at the start of the week seeking ways to end the Taliban's 16-year insurgency.
"I think the Taliban wanted to send a very strong message that it prefers to fight rather than talk and that it has the ability to fight very well," said analyst Michael Kugelman, of the Wilson Center in Washington.
LOSS OF MORALE
The message has proved devastating: hundreds killed and wounded over a bloody few days that left military bases and police headquarters destroyed or severely damaged.
The deadliest attack was on a police compound in the city of Gardez, where Taliban militants detonated three explosive-packed vehicles including a Humvee. At least 60 people were killed in the blasts and ensuing battle, officials said. The militants also attacked a police headquarters in Ghazni twice, and detonated a suicide bomb on Afghan police trainees in Kabul that killed 15.
Attacking security targets kills three birds with one stone: it allows the Taliban to deflect criticism over civilian casualties, devastate Afghan forces, and steal equipment.
The Taliban has acquired "dozens" of armoured Humvees and pickup trucks in recent years, defence ministry deputy spokesman Mohammad Radmanesh told AFP. "The Humvees and other military vehicles are stronger than ordinary ones and you can load a lot of explosives in it," General Abdul Wahid Taqat, a former intelligence chief, told AFP. "I would think that could be pretty demoralising for Afghan forces knowing that their own weaponry is being used against them by the enemy," Kugelman said.
Such erosion of morale can be lethal, as officials have previously pointed out. Afghan forces, already beset by desertions and corruption, have seen casualties soar to what a US watchdog has described as "shockingly high" levels since NATO forces officially ended their combat mission in 2014. Morale is further eroded by long-running fears the militants have insider help -- everything from insurgents in the ranks to corrupt Afghan forces selling equipment to the Taliban, said retired Afghan army general Atiqullah Amarkhail.
'OFFENSIVE MODE'
The question of how to ward off such guerilla attacks is one that officials have not yet been able to fully answer. One security source who spoke anonymously to AFP said Afghan forces should "come out of their bases and choose offensive mode", warning that areas patrolled by police at night are safer than places the army is deployed.
Felbab-Brown said strengthening checkpoints and improved information sharing would also help. For Kandahar's police chief General Abdul Raziq, more and faster airstrikes would put a quick end to hours-long assaults such as the one in Gardez this week. "The Afghan air force should be equipped as soon as possible," he said.
Full report at:
http://nation.com.pk/international/23-Oct-2017/taliban-strikes-on-afghan-bases-a-show-of-strength-against-trump
--------
Bangladesh urges Turkey to build 100,000 more shelters for the Rohingya
October 23, 2017
The government on Sunday urged Turkey to build an additional 100,000 shelters for the Rohingya refugees along with the previous 100,000 they had already ensured to build in Kutupalong of Cox's Bazar.
After concluding a meeting with Turkish Ambassador to Bangladesh Devrim Ozturk at the secretariat, Disaster Management and Relief Minister Mofazzal Hossain Chowdhury Maya said "We have proposed they (Turkey) build 100,000 more shelters for the Rohingya people as the number of refugees has already surpassed six 600,000 recently."
Talking to reporters at the secretariat, the minister said Turkey will later deliver their decision regarding the matter.
"Turkey sought 1200 acres of land in the Kutupalong camp to build a Turkish Zone for refugees while we asked them to build 20,000 latrines and set up 2, 000 deep tubewells for the refugees," he said.
Together with the ones who were already here, the latest influx has pushed the number of Rohingya living in Bangladesh to almost 1 million, causing havoc and suffering among the local Bangladeshi population, he added.
Full report at:
http://www.dhakatribune.com/bangladesh/foreign-affairs/2017/10/23/bangladesh-urges-turkey-build-100000-shelters-rohingya/
--------
Africa
Somalia to declare 'state of war' against al-Shabab
22 October 2017
Somalia's president is set to declare a "state of war" against the al-Shabab terror group, a military official said Friday.
President Mohamed Abdullahi Mohamed will soon announce the declaration against the group, which has been blamed for the country's deadliest attack, a Somali army official said on condition of anonymity because he was not authorized to speak to the press.
The official said the Somali government expects the U.S. to play a "supportive" role in a new offensive which the president is set to launch Saturday, according to the Associated Press.
Somali Army spokesman Capt. Abdullahi Iman said early Saturday that through the offensive, the government aims to eliminate fighters from al-Shabab's "fortresses" located in the Lower Shebelle and Central Shabelle regions of southern Somalia.
On Saturday, a massive truck bomb exploded in the Somali capital, Mogadishu, killing at least 358 people and injuring scores more.
http://www.worldbulletin.net/africa/195196/somalia-7-killed-in-landmine-blast
--------
Nigeria - Suicide Bombings Kill 13 in Maiduguri
23 OCTOBER 2017
Suicide bombings carried out by as many as three attackers have killed 13 people in Nigeria's northeastern city of Maiduguri. The attack follows army claims that Boko Haram insurgents are nearing defeat.
Three female suicide bombers carried out the attacks, according to a report by the news agency Agence France-Presse.
Residents buying their evening meal at a small restaurant were killed by the first female bomber late Sunday evening, local time, according to a military source quoted by AFP.
Two other bombers detonated their devices minutes later, leaving another 16 persons wounded, making the attacks the deadliest in over a month, according to police commissioner quoted by Reuters.
There were no immediate claims of responsibility.
Those accounts resemble an attack in August on a market near Maiduguri by assailants described as females.
AFP's report on Sunday's bombings said hours beforehand "a lot of Boko Haram members" had been sighted outside the city.
Desperate haven
Maiduguri, the capital of Nigeria's Borno state, is sheltering hundreds of thousands displaced by eight years of attacks by Boko Haram.
Its bid to set up a hard-line Islamist state in the mainly Muslim northeastern region near Lake Chad has claimed at least 20,000 lives since 2009.
Sustained counterinsurgency operations were begun in early 2015 by Nigeria's military, whose spokesman Brigadier General Sani Usman said last month that suggestions of a Boko Haram resurgence were "concocted."
A "victory over the Boko Haram" had been acknowledged worldwide, Usman claimed.
Boko Haram members 'sighted'
The United Nations agency UNICEF said last week that 450,000 of northeastern Nigeria's children were at high risk of starvation because of the ongoing crisis.
Read more: Nigeria: Fighting hunger and Boko Haram
OCHA, the UN humanitarian affairs coordination office, said 350,000 people were squatting in Maiduguri, without proper access to aid, because the UN lacked nearly $400 million (€339 million).
Full report at:
http://allafrica.com/stories/201710230002.html
--------
Gunmen kill 12 Niger gendarmes near Mali border
Oct 21, 2017
Gunmen mounted on pick-up trucks and motorcycles killed 12 gendarmes and wounded several in an attack on their base in western Niger, near the Mali border, on Saturday, two security sources said.
The village is a few dozen kilometers from where militants killed four US soldiers in an ambush on Oct. 4 that has thrown a spotlight on the US counter-terrorism mission in Niger, which straddles a large expanse of the Sahara.
The gunmen crossed over the border from Mali and drove up to the village of Ayorou, about 40 km (25 miles) inside, before springing their attack, the security sources said.
"They were heavily armed. They had rocket launchers and machine guns. They came in four vehicles each with about seven fighters," said a security source on the scene.
One of the attackers was killed in an exchange of fire, he added. A spokesman for Niger's military said he could not confirm any details of the attack.
Several extremist militant groups and well-armed ethnic militia are known to operate in the area near the border with Mali, and there have been at least 46 attacks recorded there since early last year.
Full report at:
http://www.presstv.com/Detail/2017/10/21/539386/Niger-gendarmes-Mali-border
--------
UN ends month-long Libya talks in Tunisia without proposing new date
22 October 2017
Month-long UN-backed talks aimed at bridging differences between rival Libyan factions ended on Saturday with no discernable progress towards stabilizing the country and paving the way for elections.
A month ago UN envoy Ghassan Salame, the latest in a series of Libya envoys since a 2011 NATO-backed uprising ended Muammar Qaddafi's 42-year rule, announced a one-year action plan for a transition toward presidential and parliamentary elections.
Since then the UN has hosted in Tunis delegations from rival parliaments from eastern Libya and Tripoli, which are meant to draw up amendments to a previous UN-mediated plan signed in December 2015.
But at the end of a second round of talks Salame said only that discussions would continue, without giving a new date.
"There are some area of consensus ... but there are parts which need discussions with the political leaderships inside Libya," Salame told reporters, without giving details.
Delegates will return to Libya on Sunday, the UN mission said in a statement. Salame will go to Tripoli next week to discuss how to move the talks forward, a UN source added.
The North African country has been in turmoil since Gaddafi's downfall gave space to Islamist militants and smuggling networks that have sent hundreds of thousands of migrants to Europe.
Political and military fractures have left the country mired in conflict and the OPEC member's economy in freefall. Rival parliaments and governments have vied for power.
The UN tried a similar approach in 2015 of hosting Libyans in luxury hotels abroad but the deal never won support from the power-brokers and factions aligned with military commander Khalifa Haftar that control eastern Libya.
Haftar is just one of many players in Libya controlled by armed groups divided among political, religious, regional and business lines.
A UN source said a major obstacle at the Tunis talks had been how to integrate Haftar, who is opposed by many in western Libya, in any deal and whether he would control a future national army.
Western states have tried to work with the UN-backed Government of National Accord (GNA) in Tripoli, but it has been hamstrung by internal splits and been unable to halt a slide in living standards or tame the power of armed groups.
Full report at:
https://english.alarabiya.net/en/News/north-africa/2017/10/22/UN-ends-month-long-Libya-talks-in-Tunisia-without-proposing-new-date.html
--------
Jordan's king endorses Palestinian reconciliation deal
23 October 2017
AMMAN: Jordan's king has endorsed a fledgling Palestinian reconciliation agreement that is meant to end a decade-old political and ideological split between rivals Hamas and Fatah.
King Abdallah II expressed support for the Egyptian-brokered deal after meeting Sunday with Palestinian President Mahmoud Abbas, who heads Fatah.
Hamas seized the Gaza Strip in 2007, leaving Abbas with autonomous enclaves in the Israeli-occupied West Bank.
The palace said that the king "affirmed Jordan's full support for this agreement" which it said would strengthen Palestinian unity. Jordan, which considers itself a key Mideast mediator, was not directly involved in reconciliation efforts.
Under an emerging deal, an Abbas-led government would run Gaza, but critical issues remain unresolved.
Following the deal, a top aide to US President Donald Trump said on that an emerging Palestinian unity government must recognize Israel and disarm Hamas, Washington's first detailed response to a landmark reconciliation deal signed last week.
A Hamas official immediately rejected the comments as "blatant interference" in Palestinian affairs, but did not say directly whether the group planned to comply with any of the demands.
Trump's special representative for international negotiations Jason Greenblatt, who has repeatedly visited the region to seek ways to restart peace talks, laid out a series of conditions.
"Any Palestinian government must unambiguously and explicitly commit to nonviolence, recognize the state of Israel, accept previous agreements and obligations between the parties — including to disarm terrorists — and commit to peaceful negotiations," Greenblatt said in a statement.
Senior Hamas official Bassem Naim condemned Greenblatt's statement and accused the US of adopting Israeli Prime Minister Benjamin Netanyahu's positions.
Full report at:
http://www.arabnews.com/node/1181751/middle-east
--------
North America
ISIS Fighters Are Not Flooding Back Home to Wreak Havoc as Feared
By ERIC SCHMITT
OCT. 22, 2017
THE HAGUE — As recently as a year ago, United States and other Western counterterrorism officials feared that a major surge of Islamic State fighters would return home to Europe and North Africa to commit mayhem after being driven out of their strongholds in Mosul, Iraq, and Raqqa, Syria.
Now, those cities have fallen to American-backed forces, but the number of combat-hardened returnees has been much smaller than anticipated, if still worrisome, counterterrorism officials say. That is in part because the Trump administration intensified its focus on preventing fighters from seeping out of those cities, and more militants fought to the death than expected. Hundreds also surrendered in Raqqa, and some probably escaped to new battlegrounds in Libya or the Philippines.
"We're not seeing a lot of flow out of the core caliphate because most of those people are dead now," Lt. Gen. Kenneth F. McKenzie Jr., the director of the Pentagon's Joint Staff, said last week. "Some of them are going to go to ground."
Some 40,000 fighters from more than 120 countries poured into the battles in Syria and Iraq over the past four years, American officials say. Of the more than 5,000 Europeans who joined those ranks, as many as 1,500 have returned home, including many women and children, and most of the rest are dead or still fighting, according to Gilles de Kerchove, the European Union's top counterterrorism official.
To be sure, the Islamic State, also known as ISIS or ISIL, still poses a threat to Western countries, perhaps chiefly in the form of militants who are inspired or enabled by the group to attack at home, as evidenced by the recent attacks in Britain and Barcelona, officials say.
But a combination of factors has suppressed the flow of militants returning from war zones. Many died after allied and local forces cut off most escape routes from Raqqa and Mosul. Since the terrorist attacks in Paris in 2015 and Brussels last year, European nations have tightened border security and increased surveillance. Others are believed to be bottled up in third countries like Turkey.
"I've been saying for a long time that there won't be a 'flood' of returnees, rather a steady trickle, and that's what we are seeing," said Peter Neumann, director of the International Center for the Study for Radicalization at King's College London. "Many of them are stuck in the Turkish border areas, where they are contemplating their next move."
As it becomes harder for the Islamic State to plan attacks from Iraq and Syria, some plotters may have also moved to the Philippines or to Libya. The bomber who killed 22 people at a pop concert in Manchester, England, in May had met in Libya with members of an Islamic State unit linked to the Paris attacks, according to current and retired intelligence officials.
"We're worried as the campaign in eastern Syria and Iraq winds down, we'll continue to see fighters move into" Libya and northern Africa, Mike Pompeo, the C.I.A. director, said at a security conference at the University of Texas this month.
Western counterterrorism and intelligence officials warn that even if the volume of fighters returning to the West has so far been relatively small, tracking them remains essential to preventing attacks.
"It only takes one or two fighters to slip through the cracks back to Europe — armed with militant knowledge or even instructions by their handlers — to wreak havoc and bring ISIS back to the TV screens," said Laith Alkhouri, a director at Flashpoint, a business risk intelligence company in New York that tracks militant threats and cyberthreats.
That cold reality is pressuring European politicians and policymakers to erect or strengthen the legal frameworks and institutions needed to identify, arrest, prosecute and imprison foreign fighters before they can build new networks or join existing ones, wherever they end up.
After much criticism prompted by the Paris and Brussels attacks that European intelligence and law enforcement agencies were not cooperating with each other, those organizations have made significant improvements — with considerable United States help — in identifying and tracking fighters who have returned, American and European officials say.
As for the attackers in France and Belgium, "that cell is largely gone, but there are still pieces to be found," Manuel Navarrete, chief of the European Counterterrorism Center, said in an interview here at the headquarters of Europol, an intelligence-sharing arm of the European Union.
European intelligence services, along with Interpol, have created major new databases of suspected foreign fighters; European spy agencies and Europol have also created counterterrorism hubs in the Netherlands for sharing information and mapping out strategy.
And a classified American military program in Jordan called Operation Gallant Phoenix is scooping up data collected in commando raids in Syria and Iraq and funneling it to law enforcement agencies in Europe and Southeast Asia. "That's our intelligence- and information-sharing architecture," Gen. Joseph F. Dunford Jr., the chairman of the Joint Chiefs of Staff, said in describing the program to Congress in June.
Despite these advances, homegrown or inspired jihadists who have never traveled to war zones remain perhaps the largest threat.
"The continuing efforts of ISIL followers in Europe to conduct attacks demonstrate the potential for ISIL to recruit and motivate followers in Europe," said a United Nations report in August. "Those attacks involved both individuals who were prevented from traveling to the conflict zones and individuals who had no prior intention to travel."
What you need to know to start your day, delivered to your inbox Monday through Friday.
Several American and European officials also voiced concern about Turkey, a country that has the trappings of a modern state but where the Islamic State has been allowed to operate almost unchecked, until recently.
In an aborted plot in Australia this summer, parts of a roadside bomb were sent through international air cargo from Turkey through Islamic State operatives in Syria to one of the suspects in Australia. The suspects planned to assemble the explosive device into a bomb to be placed on the plane, but the plot was disrupted.
Even as Turkish authorities have increased security along their border with Syria, the center of gravity of foreign fighters is shifting to Turkish cities like Sanliurfa and Gaziantep, where the Islamic State has carried out executions of Syrian activists and journalists with what appears to be impunity.
If the Islamic State fighters regroup in Turkey, they can return in small groups to Europe or elsewhere via the old refugee route, which is less fluid than it was but still penetrable. A Belgian was recently arrested in Turkey, suspected of plotting a terrorist attack there, after spending years in Syria.
Some fighters leaving conflict zones seem to have been briefed in detail on how to act when they encountered government authorities, in an apparent attempt to ensure that they would not be deported to countries where they may be arrested, the United Nations report noted. That might indicate a deliberate attempt by Islamic State leaders to establish a presence in different regions, the report concluded.
The report said people returning from these conflict zones fell into three broad categories: First, those who were disenchanted by their experiences in Iraq or Syria and were good candidates to be reintegrated into society.
Second, a much smaller group who return intending to conduct terrorist attacks. And third, individuals who have cut ties with the Islamic State and are disillusioned by the organization, but who remain radicalized and are ready to join another terrorist group should the opportunity arise.
"It is an incredibly difficult adversary," Mr. Pompeo said at a security conference in Washington last week. "They still have the capacity to control and influence citizens all around the world."
Rukmini Callimachi contributed reporting from New York.
Get politics and Washington news updates via Facebook, Twitter and the Morning Briefing newsletter.
https://www.nytimes.com/2017/10/22/us/politics/fewer-isis-fighters-returning-home.html?mtrref=www.google.co.in&gwh=46ACEA4C82AC771D0ADE93B9E8BD7BDE&gwt=pay
--------
Tillerson woos Gulf allies in push to undercut Iran
23 October 2017
Top US diplomat Rex Tillerson pursued efforts to curb Iran's influence in talks with Gulf allies Sunday, but there was scant hope of a breakthrough in attempts to reconcile Saudi Arabia and Qatar.
The meeting appears aimed at boosting Sunni-ruled Saudi Arabia's clout in Shiite-majority Iraq, part of a wider regional battle for influence that extends from Syria to Yemen.
Tillerson's visit comes just weeks after President Donald Trump refused to certify the Iran nuclear deal, leaving its fate to the US Congress, and laid out an aggressive new strategy against Tehran in a bellicose speech.
"This event highlights the strength and breadth as well as the great potential of the relations between your countries," Tillerson said at the first meeting of the joint Saudi-Iraqi coordination council in Riyadh.
Following years of tensions with Riyadh, Iraqi Prime Minister Haider al-Abadi hailed the meeting as an "important step toward enhancing relations", while King Salman warned of the dangers of "extremism, terrorism, as well as attempts to destabilise our countries."
The question of Iranian influence has also been at the heart of the diplomatic conflict between Saudi Arabia and Qatar, with Tillerson headed to Doha later Sunday for talks on defusing the crisis between two key US allies.
Saudi Arabia, Bahrain, the United Arab Emirates and Egypt cut ties with Qatar and imposed an embargo in June, accusing it of supporting terrorism and cosying up to Iran.
Doha denies the charges and has rejected their terms for a settlement.
Full report at:
http://www.worldbulletin.net/america-canada/195236/tillerson-woos-gulf-allies-in-push-to-undercut-iran
--------
Saudi Arabia not ready for talks with Qatar on Gulf crisis: Tillerson
Oct 22, 2017
Saudi Arabia is not yet ready to begin direct talks with Doha to resolve the nearly five-month diplomatic and trade cutoff affecting Qatar, U.S. Secretary of State Rex Tillerson said on Sunday.
"There is not a strong indication that the parties are ready to talk yet," Tillerson said of discussions he had earlier in the day in Riyadh with Saudi Crown Prince Mohammed bin Salman aimed at overcoming the row.
http://nation.com.pk/international/23-Oct-2017/saudi-arabia-not-ready-for-talks-with-qatar-on-gulf-crisis
--------
Go home, Tillerson tells Iranian-backed militias in Iraq
Oct 22, 2017
U.S. Secretary of State Rex Tillerson said on Sunday it was time for Iranian-backed militias and their Iranian advisers who helped Iraq defeat Islamic State to "go home", after a rare joint meeting with the leaders of Iraq and Saudi Arabia.
The United States is concerned that Iran, a Shi'ite regional power, will take advantage of gains against IS in Iraq and Syria to expand the influence it gained after the U.S. invasion in 2003, something Sunni Arab rivals such as Riyadh also oppose.
"Iranian militias that are in Iraq, now that the fight against Daesh and ISIS is coming to a close, those militias need to go home. The foreign fighters in Iraq need to go home and allow the Iraqi people to regain control," Tillerson said at a joint news conference with Saudi Foreign Minister Adel Jubeir.
Tens of thousands of Iraqis heeded a call to arms in 2014 after IS seized a third of the country's territory, forming the Popular Mobilization Forces (PMF), which receive funding and training from Tehran and have been declared part of the Iraqi security apparatus.
A senior U.S. official said Tillerson had been referring to the PMF and the Quds Force, the foreign paramilitary and espionage arm of the powerful Islamic Revolutionary Guard Corps (IRGC).
Iranian Foreign Minister Mohammad Javad Zarif berated Tillerson's remarks as influenced by Iran's oil-rich regional rival Saudi Arabia.
"Exactly what country is it that Iraqis who rose up to defend their homes against ISIS return to?," Zarif said in a tweet. "Shameful US FP (foreign policy), dictated by petrodollars."
Iraq's military, armed by the United States but supported by the PMF, ejected the ultra-hardline Sunni Muslim militant group from Mosul and other cities in northern Iraq this year. Several thousand U.S. troops are still in the country, mostly for training but also to carry out raids against IS.
The campaign to uproot the militants left whole cities in ruins and has hit Iraq's economy.
A new joint ministerial-level body between Iraq and Saudi Arabia convened its inaugural meeting earlier on Sunday to coordinate their fight against IS and on rebuilding Iraqi territory wrested from the group.
Jubeir emphasized historic ties between the two neighbors, which share a border, vast oil resources and many of the same tribes.
"The natural tendency of the two countries and people is to be very close to each other as they have been for centuries. It was interrupted for a number of decades. We're trying now to make up for lost ground," he said.
The rare senior meeting, signaling a thaw between states that have been at loggerheads for decades, was also attended by Saudi King Salman and Iraqi Prime Minister Haider al-Abadi.
WINNING THE PEACE
Tillerson said the council would contribute to reforms to build Iraq's private sector and encourage foreign investment.
"This will be critical to winning the peace that has been earned through the hard-fought military gains," he said.
State media said the council had expressed satisfaction with global oil markets' recovery as a result of a deal with other countries to boost prices by limiting production.
The council also agreed to reopen a Saudi Basic Industries Corp office in Iraq and grant Saudi agriculture company SALIC an investment license.
A second meeting will be held in Baghdad but no date was mentioned.
Saudi Commerce and Investment Minister Majid al-Qusaibi told Reuters his country seeks to boost exports and is eyeing investment opportunities in Iraq's agricultural and petrochemical sectors, among others.
He said backing from the highest levels of both governments would produce "quick results on the ground".
"Let's not cry over spilt milk. Whatever happened in the past has happened. The good news is we are all here toward building a prosperous and beneficial future for both countries," he said in a telephone interview.
Tillerson and Jubeir also discussed Washington's hawkish new policy towards Iran, including a possible withdrawal from the 2015 nuclear deal and new sanctions on the IRGC.
"Both our countries believe those who conduct business with the Iranian Revolutionary Guard, any of their entities, European companies or other companies around the world really do so at great risk," Tillerson said.
Relations between Riyadh and Baghdad were cut for 25 years, before recent rapprochement, after former Iraqi President Saddam Hussein invaded Kuwait in 1990. Saudi Arabia, along with the United Arab Emirates, is wooing Baghdad now in an effort to halt the growing regional influence of Iran.
Arriving in Doha later on Sunday for the next leg of a multi-country trip, Tillerson told a news conference that there was little chance of a swift breakthrough to resolve a blockade imposed on Qatar by Saudi Arabia and its Arab allies.
The kingdom, the United Arab Emirates, Egypt and Bahrain imposed trade and travel curbs on Doha in June for alleged support of terrorism and friendship with Iran - charges Qatar denies.
Full report at:
http://nation.com.pk/international/23-Oct-2017/go-home-tillerson-tells-iranian-backed-militias-in-iraq
--------
Arab World
Saudi Arabia joins Islamic finance body, could boost cross-border deals
October 23, 2017
Saudi Arabia's central bank has joined an international standard-setting body for Islamic finance, a move that could help standardise industry practices and ease cross-border transactions in the Kingdom. The Bahrain-based Accounting and Auditing Organization for Islamic Financial Institutions (AAOIFI) said in a statement late on Sunday it had admitted the Saudi Arabian Monetary Agency (SAMA) as an institutional member.
Islamic products represent around half of banking system assets in the Kingdom, but the regulator doesn't distinguish between Islamic or conventional banks and applies the same prudential standards to all of them.
Islamic finance follows religious principles such as bans on gambling and outright speculation, with interest-bearing products deemed off-limits. SAMA confirmed the move in a separate statement, without specifying whether it planned to make AAOIFI standards enforceable or if it would adopt all or some of them.
Saudi-based Islamic banks include Al Rajhi Bank and Alinma Bank, while National Commercial Bank is in the process of converting into a full-fledged Islamic lender. Saudi lenders remain domestically focused, but adopting AAOIFI standards could help them venture into other majority-Muslim countries. The Saudi government has also taken steps to tap into Islamic finance, issuing debut Islamic bonds earlier this year denominated in both riyals and U.S. dollars.
http://indianexpress.com/article/world/saudi-arabia-joins-islamic-finance-body-could-boost-cross-border-deals-4902114/
--------
Iraqi fighter jets kill 25 Daesh militants near Syria border
Oct 22, 2017
More than two dozen members of Daesh Takfiri terrorist group have been killed when Iraqi Air Force fighter jets bombarded their positions in the country's troubled western province of Anbar near the border with Syria.
The media bureau of the Iraqi Defense Ministry announced in a statement on Sunday that 25 Daesh militants were killed as Iraqi military aircraft launched precision strikes in the desert region of the province, English-language online newspaper Iraqi News reported.
The statement added that 13 vehicles used by the Takfiris were also destroyed in the aerial assaults.
On October 10, 17 Daesh militants were killed as Iraqi warplanes pounded a militant convoy travelling along a road linking the small town of Akashat to the militant-held town of al-Qa'im, located nearly 400 kilometers northwest of the capital Baghdad.
Brigadier General Saleh Ali said at the time that the airstrikes also destroyed a number of Daesh arms depots and vehicles in the surrounding areas.
On October 5, Prime Minister Haider al-Abadi said Iraqi armed forces had liberated Hawijah, driving Daesh Takfiris out of their last bastion in the oil-rich northern province of Kirkuk.
Abadi said on August 31 that the northwestern city of Tal Afar, located 200 kilometers northwest of Kirkuk, and the entire Nineveh province had been purged of Daesh Takfiri terrorist group.
The recapture of Tal Afar was made possible with the help of the Iraqi army, Federal Police, Counter-Terrorism Service (CTS) units, fighters from Popular Mobilization units – commonly known by their Arabic name, Hashd al-Sha'abi - and the Interior Ministry's elite rapid response forces, the Iraqi prime minister stated.
Full report at:
http://www.presstv.com/Detail/2017/10/22/539523/Iraqi-fighter-jets-kill-25-Daesh-militants-near-Syria-border
--------
At its peak, ISIS was a $1 billion economy, held area the size of Tamil Nadu
Oct 23, 2017
On June 29, 2014, Abu Bakr al Baghdadi in Mosul declared himself the leader of Islamic State in Iraq and Greater Syria, a theocratic state that was supposed to run according to Sharia law with al Baghdadi as the Caliph — the religious successor to Prophet Mohammad.
With the recent fall of Raqqa, the de facto capital of IS+ , it seems that the regime of terror that attracted jihadists from across the world is over. This victory against IS followed the battle of Mosul — the largest city under its control from where it was driven out in July this year.
How big was IS at its peak?
According to the US department of defence, at its peak of territorial influence IS held between 1.07 lakh to 1.11 lakh sq km of land — mostly in northern Syria and northern and central Iraq. According to Rand Corporation, a US thinktank, IS territories had a population of over 11 million. By 2017, the territorial control fell to 45,377 sq km, with roughly 2.5 million people. With the fall of Raqqa and Mosul, it is believed that today the group retains only 10% of its peak territorial control.
From where did IS generate money to fund its operations?
Unlike other terrorist organisations, IS functioned as a sort of nation state with control on population and natural resources and so it was often called the richest terror outfit. A big chunk of its revenue came from taxes and fees levied on the population under its control. Oil also contributed to the group's finances. Apart from these steady sources, it raised money from kidnapping for ransom, theft from government banks, sales of government equipment, etc. Naturally, with the loss of territory and population, IS's revenue sources got drained and are supposed to go down further.
Who were fighting for the IS?
In the early days, IS was a rather regional phenomenon with recruits mostly from Arab states, including Tunisia, Saudi Arabia, Jordan and so on. Later, it effectively used social media for its propaganda to attract fighters from across the world. Starting from social media, the group was able to maintain direct contacts to recruit people from more than 80 countries. The numbers, however, started declining after its loss of territorial control.
How did IS rule affect the people under its control?
Full report at:
https://timesofindia.indiatimes.com/world/middle-east/at-its-peak-isis-was-a-1-billion-economy-held-area-the-size-of-tamil-nadu/articleshow/61179982.cms
--------
Report: Saudi Minister's Visit to Raqqa Aimed at Saving ISIL Members
Oct 22, 2017
Informed sources in Raqqa were quoted as saying by the Arabic-language al-Arabi al-Jadid news website that al-Sabhan's visit coincided with a trip made by Brett McGurk, the top US envoy to the anti-ISIL coalition, to the region.
"Al-Sabhan's main objective was not helping the displaced people but it was saving nearly 30 Saudi ISIL members," the sources said.
They added that al-Sabhan vowed to help reconstruction efforts in Syria after extradition of the Saudi ISIL members.
Al-Sabhan is minister of state for Arab Affairs. He was previously the ambassador to Iraq.
Al-Sabhan recently caused controversy in Lebanon when he called for building a coalition to fight powerful Iran-backed Lebanese Hezbollah resistance group which is fighting alongside the Syrian army against the terrorist groups.
Full report at:
http://en.farsnews.com/newstext.aspx?nn=13960730001296
--------
Turkey to Establish Eight Military Bases in Northwestern Syria
Oct 22, 2017
The Turkish-language Yeni Safak daily reported that Ankara is to establish eight military base in Idlib province in line with its plan to launch military operations in the Northwestern province.
The paper added that based on intelligence, locations of four the bases have been specified, adding that the first base will be set up in strategic Jabal Barakat region that overlooks the town of Afrin and Idlib city.
It said that Taftnaz airbase in the Southeastern countryside of the town of Taftnaz and Abu Dhohour military airport are two other locations for the Turkish-run bases in Idlib province.
In the meantime, the Turkish army has gained control over regions near Wadi al-Zeif that can be a good choice for the forth base.
A Kurdish media outlet reported on Tuesday that the Al-Nusra Front (Tahrir al-Sham Hay'at or the Levant Liberation Board) handed over an airbase in Idlib province to the Turkish Army troops after arrival of Ankara forces and their allied militants in the province.
The Kurdish-language Hawar news quoted local sources as saying that the Al-Nusra Front has handed over Taftnaz military airport, known as one of the largest military helicopter bases in Northeastern Idlib, to the Turkish soldiers.
Hawar news further said that the Turkish army men entered the base without any clashes, announcing the base a Turkish military airport after deployment.
Full report at:
http://en.farsnews.com/newstext.aspx?nn=13960730000480
--------
Gov't Forces Make Fresh Gains in War on ISIL in Eastern Syria
Oct 22, 2017
The army men engaged in fierce clashes with ISIL in the town of al-Qouriyeh and captured several key positions.
In the meantime, the army soldiers clashed fiercely with ISIL near the town of al-Qarbiyeh and imposed control over several more positions North of the town.
The army's artillery units and aircraft, meantime, pounded ISIL's positions in the region.
Relevant reports said on Saturday that the army soldiers hit ISIL positions on the Eastern Bank of the Euphrates River in Deir Ezzur province, seizing control of a key town.
The army men won another battle with ISIL and pushed them back from the town of Khusham in the Eastern countryside of Deir Ezzur city, inflicting major losses on the terrorists.
http://en.farsnews.com/newstext.aspx?nn=13960730001145
--------
Russian Forces Raise Flag above Major Kurdish Base in Northern Syria
Oct 22, 2017
Video footage released by opposition media sources two days ago shows Russian forces raising the Russian flag above the Kurdish-held Menagh Air Base in Afrin region of Northern Aleppo province, the English-language Lebanon-based AMN reported.
In doing so, the Kurdish YPG flag which previously flew above the military airport was taken down.
The development came after Russian forces paid a visit to both Turkish and Kurdish authorities in Northern Aleppo.
The Russian, Turkish and Kurdish military heads are currently negotiating for the establishment of a de-escalation zone in the Afrin region that is aimed at ending hostilities between Turkey-led forces and the Kurdish People's Protection Units.
http://en.farsnews.com/newstext.aspx?nn=13960730001031
--------
Tens of Terrorists Escape from ISIL's Main Stronghold in Southeastern Deir Ezzur
Oct 22, 2017
The sources said that a sum of 50 Syrian terrorists left Albu Kamal along with their family members for regions out of ISIL control.
The army soldiers are advancing towards Albu Kamal after they captured the town of al-Mayadeen a couple of days ago.
Field sources confirmed on Saturday that the army men carried out heliborne operation in al-Amr oilfield in the Northeastern countryside of the newly-liberated town of al-Mayadeen and engaged in fierce clashes with the ISIL, capturing the oilfield ultimately.
Al-Amr is one of the largest oilfields in Syria with almost 30,000 barrels of daily crude production, a gas station and a power plant.
http://en.farsnews.com/newstext.aspx?nn=13960730000250
--------
Opposition calls on Iraqi Kurd leader to resign
23 October 2017
Iraqi Kurdistan's main opposition party called Sunday for the autonomous region's president to resign after Baghdad seized swathes of disputed territory from Kurdish forces in response to an independence vote.
Shoresh Haji of the Goran movement, which holds 24 out of 111 seats in the Iraqi Kurdistan parliament, said Massud Barzani and his deputy Kosrat Rasul should step down.
"The Kurdistan region's president and his deputy no longer have any legitimacy and should resign," he said.
He called for the creation of a "national salvation government" to prepare for dialogue with Baghdad and organise new elections.
Iraqi Kurds on September 25 voted overwhelmingly for independence in a poll set in motion by longtime regional leader Barzani and strongly opposed by Baghdad.
Central government forces last week swept into the oil-rich Kirkuk province, restoring it and Kurdish-held parts of Nineveh and Diyala provinces to Baghdad's control.
The rapid Kurdish retreat triggered recriminations among Kurdish politicians and prompted the regional parliament to postpone presidential and legislative polls set for November 1.
Goran on Sunday demanded the dissolution of a body set up after the referendum to "manage the consequences of the ballot".
Full report at:
https://english.alarabiya.net/en/News/middle-east/2017/10/23/Opposition-calls-on-Iraqi-Kurd-leader-to-resign-.html
--------
Egypt court sentences 11 people to death for 'terrorism'
22 October 2017
An Egyptian court sentenced 11 people to death Sunday on accusations they joined a "terrorist organization" and attempted to kill two police officers, a judicial official said.
The court sentenced 14 others to life in prison -- 25 years in Egypt -- and a juvenile to 10 years in prison, the official said.
They were accused of participating in "terrorist operations" and attempting to kill two officers in 2014, and of possession and manufacturing explosive material.
Of the defendants, 21 were in court, including seven of those sentenced to death. Five were sentenced in absentia: the juvenile and four of the defendants who were sentenced to death.
The defendants were accused of taking part in violence that followed the July 2013 military ouster of Islamist president Mohamed Morsi.
On August 14 that year security forces violently dispersed two protest camps in Cairo demanding Morsi be reinstated, leaving more than 700 people dead.
Egyptian courts have since sentenced hundreds of Morsi supporters to death, but many have appealed and won new trials.
Morsi and other top figures of his Muslim Brotherhood have also faced trial.
Full report at:
https://english.alarabiya.net/en/News/middle-east/2017/10/22/Egypt-court-sentences-11-people-to-death-for-terrorism-.html
--------
Barzani may be summoned by Iraq's judiciary, parliamentary sources say
22 October 2017
Sources at the Iraqi parliament said the judiciary intends to issue a summons against Iraq's Kurdistan Region Government (KRG) President Masoud Barzani following lawsuits filed against him regarding 55 alleged violations.
It is expected that the judicial summons will be issued on Sunday. The lawsuits cite affairs related to the referendum and to threatening Iraqi security and the illegal smuggling of oil, in addition to other administrative and legal violations.
On Thursday, a Baghdad court issued an arrest warrant for Kosrat Rasul, the vice president of Iraqi Kurdistan, on charges of "provocation" against Iraq's armed forces.
Full report at:
https://english.alarabiya.net/en/News/middle-east/2017/10/22/Barzani-may-be-summoned-by-Baghdad-judiciary-parliamentary-sources-say.html
--------
Europe
UK Police Slammed for 'Propaganda' Video Promoting Islam
22 Oct 2017
British police have been slammed for using public resources to produce a 12-minute video promoting Islam in the UK.
"Muslims have a long, shared history with Britain. It stretches back over a thousand years," claims Hafez Abdusammad Mulla of the Al-Imdaad Foundation at the opening of the "educational" film.
Released by Lincolnshire Police on YouTube for Hate Crime Awareness Week, the video is ostensibly designed to fight "hate crime" and seeks to show Islam and Islamic culture in an attractive light.
"Islam is all about virtues and values of charity, doing noble deeds, helping those less fortunate than you," claims Mac Chishty, a police commander for "community engagement" with London's Metropolitan Police.
Members of the public took to social media to question why the force is using taxpayers' money to proselytize for Islam, asking if police will also be promoting other religions and ideologies.
"Perhaps your officers could tour schools, telling pupils about the wonderful work that the Church does all year, every year, and how hard its members work for their communities? And then you can do the same for the Jews, the Sikhs, and everybody else," suggested Penny Bunn on Facebook.
"I'd like to know how much this propaganda piece cost to produce," added Nicholas Street.
"[The police are] always pleading poverty when it comes to actually policing the streets and reducing crime but seem to have money to promote Islam."
An Office for National Statistics (ONS) bulletin reported this week revealed a 13 per cent increase in recorded crime in the year ending June 2017, with the total number of offences surpassing five million for the first time a decade.
The Chief Constable of Lincolnshire Police, Bill Skelly, admitted on the same day as the video's release that they are facing a "serious challenge" over funding as figures show a double-digit rise in violent crimes in the area.
Reports in the Daily Mail this weekend suggest some UK forces are so short of cash that some Remembrance Day parades might be cancelled this year, because the police can't afford to meet health and safety standards.
Despite cutbacks and surging levels of crime, Lincolnshire Police defended the video and hit out its critics. Deputy Chief Constable Craig Naylor told the Lincolnite: "I am really disappointed in some of these comments.
"I am very committed to reducing hate crime and what we aimed to do, during hate crime awareness week, is to show a different side to Islam and tackle misconceptions and myths.
"A person who is Muslim can also be a British citizen, entitled to the same respect and protection of the law as everyone else.
"Our job is to engage with communities and this video is a method of overcoming barriers to getting information across."
http://www.breitbart.com/london/2017/10/22/uk-police-slammed-for-propaganda-video-promoting-islam/
--------
UK police rule out terrorism in Nuneaton 'hostage situation'
Oct 22, 2017
UK police have ruled out any terrorism connections in an ongoing "hostage situation" at a leisure center in Nuneaton, central England, where a gunman is said to have taken at least two hostages.
Warwickshire police urged people to steer clear from Bermuda Park on Sunday, after heavily armed security forces cordoned off the area to investigate reports of a gunman at a bowling alley there.
"Officers are currently dealing with an ongoing incident at Bermuda Park, #Nuneaton. Please avoid the area," the police department said in a tweet.
The local police gave no further details but British police later said the incident was not connected to "any terrorist activity."
People at the complex, which houses a cinema, a children's play center and a gym, reported seeing a man with a sawn-off shotgun in the bowling area of the complex, according to local media.
One witness said a police officer confirmed to her that the armed man was holding hostages.
"We got notification that someone had a shotgun inside the bowling alley," she told Sky News.
Full report at:
http://www.presstv.com/Detail/2017/10/22/539536/UK-terrorism-hostage-situation-Nuneaton
--------
Foreigners who joined Islamic State face almost certain death in last stand in Raqqa
Oct, 22 2017
Paris: The forces fighting the remnants of the Islamic State (IS) group in Syria have tacit instructions on dealing with the foreigners who joined the extremist group by the thousands: Kill them on the battlefield.
As they made their last stand in the northern Syrian city of Raqqa, an estimated 300 extremists holed up in and around a sports stadium and a hospital argued among themselves about whether to surrender, according to Kurdish commanders leading the forces that closed in.
The final days were brutal — 75 coalition airstrikes in 48 hours and a flurry of desperate IS car bombs that were easily spotted in the sliver of devastated landscape still under militant control.
No government publicly expressed concern about the fate of its citizens who left and joined the Islamic State fighters plotting attacks at home and abroad.
In France, which has suffered repeated violence claimed by the Islamic State — including the 13 November, 2015, attacks in Paris — defense minister Florence Parly was among the few to say it aloud.
"If the jihadis perish in this fight, I would say that's for the best," Parly told Europe 1 last week.
Those were the orders, according to the US.
"Our mission is to make sure that any foreign fighter who is here, who joined ISIS from a foreign country and came into Syria, they will die here in Syria," said Brett McGurk, the top US envoy for the anti-IS coalition, in an interview with Dubai-based Al-Aan television.
"So if they're in Raqqa, they're going to die in Raqqa," he said.
The coalition has given names and photos to the Kurdish fighters to identify the foreign jihadis, who are seen as a threat back home and a burden on their justice systems, according to a commander with the Kurdish-led Syrian Democratic Forces.
The commander said his US-backed fighters are checking for wanted men among the dead or the few foreigners among the captured.
An official with the powerful YPG, the backbone of the SDF that also runs the local security and intelligence branches, said foreigners who decided to fight until the end will be "eliminated."
For the few prisoners, the Kurds try to reach out to the home countries, "and we try to hand them in. But many would not want to take their (detainees)," he said. Both men spoke on condition of anonymity because they were not authorized to discuss the sensitive issue with reporters.
No country will admit to refusing to take back citizens who joined the Islamic State, including women and their children. But few are making much of an effort to recover them.
In Iraq, hundreds of Islamic State fighters have surrendered or have been taken into custody, and their families have been rounded up into detention camps. The men are put on trial and face the death penalty if convicted of terrorism charges — even if they are foreigners. One Russian fighter has already been hanged.
France, which routinely intervenes when citizens abroad face capital punishment, has said nothing about its jihadis in Iraq. More French joined the group, also known by its Arab acronym Daesh, than any other European country.
Foreigners captured by Kurdish forces are in a more precarious position because the SDF doesn't answer to Syria's government and has no state of its own.
A Syrian woman whose French husband surrendered to Kurdish authorities in June said she had no access to him and didn't know where he was 50 days after they separated. She denied her husband was an IS fighter.
The camps for displaced civilians from Raqqa contain only foreign women and children. As for the fate of any French citizens there, France's foreign ministry had a short response: "Our priority today is to achieve a complete victory over Daesh." German diplomats say all of the country's citizens are entitled to consular assistance.
As the final battle in Raqqa drew to a close, Parly estimated a few hundred French fighters were still in the war zone. For Germany, about 600 men were unaccounted for.
Britain has not said how many of its former citizens are believed still fighting, but at least one holdout posted a furious 72-minute monologue earlier this month from Raqqa as airstrikes and artillery fire boomed behind him. He said Muslims around the world should be outraged at the treatment of Islamic State's followers.
"This is not me being an extremist. I'm a very moderate, mild person, hamdullah (thanks to God), and I find Islamic State to be very moderate and mild," said the man, who called himself as Abu Adam al-Britani and was identified by British media as Yasser Iqbal, a Porsche-driving lawyer who defended Islamic State's brutal practices as ordained by God, including killing non-Muslims and dissenting Muslims.
He did not mention the group's routine public beheadings, enslavement of women or brainwashing of children to become hardened killers.
At its height, between 27,000 and 31,000 may have traveled to Syria and Iraq to join the Islamic State group, according to an analysis by the Soufan Group. Of those, about 6,000 were from Europe, with most from France, Germany and Britain.
A majority had immigrant backgrounds and was heavily targeted by the group's propaganda, which highlighted the injustices they faced at home.
One study found that fewer than 10 percent of the Western fighters were converts to Islam.
As many as a third of the Europeans may have returned home. Many are jailed immediately and awaiting trial in backlogged courts, but others are freed and under surveillance.
Raqqa's foreign holdouts are generally acknowledged to be midlevel IS recruits, and most are believed to have little information about the group's inner workings.
US colonel Ryan Dillon, a spokesman for the coalition, said he had no information about any "high-value targets" among approximately 350 fighters who surrendered in Raqqa in the last days, including a few foreigners.
But for their home countries, they pose a risk.
"The general sentiment in northern Europe is we don't want these people back, but I don't think anyone has thought about the alternatives," said Pieter Van Ostaeyen, an expert on the Belgian jihadis.
Among the complications are how to prosecute any returnees and how to track them if and when they leave custody.
"You can see why almost the preferred resolution is that they don't return," said Bruce Hoffman, head of Georgetown University's security studies program and author of Inside Terrorism.
"What worries me is I think it's wishful thinking that they're all going to be killed off," he added.
Wishful thinking or not, Parly said it's the best outcome.
Full report at:
http://www.firstpost.com/world/foreigners-battling-islamic-state-face-almost-certain-death-in-last-stand-in-raqqa-4165369.html
--------
Pakistan
Al-Khidmat foundation celebrates Diwali across Sindh
Oct 23, 2017
KARACHI: Setting a golden example of Muslim-Hindu fraternity, the Sindh Al-Khidmat Foundation celebrated Diwali across the province. On the occasion, the foundation organised gift-distribution ceremonies in a total of 6 mandirs in various areas, including Sukkur, Khairpur, Kashmore and Shikarpur districts.
Starting from October 17 to October 22, Diwali celebrations by Al-Khidmat Foundation were observed with great religious fervour and spirit of brotherhood.
Keeping up with the Diwali spirit, foundation's leadership distributed special gifts among the members of the Hindu community who were gathered in droves in Sukkur at the city's Shamshan Ghat (cremation ground), Thal Mahadev Mandir and Samadha Ashram. Similar Diwali gatherings were held at the Baba Ghareeb Das Mandir in Tehsil KindhKot of Kashmore district, at the Panchayat Hall in Khairpur, as well as at the Sacho Satram Das in Shikarpur city.
Given by Al-Khidmat as a token of love and respect, gifts consisted of water-coolers, hundreds of stitched clothing pieces and quilts that were given to the needy members of the Hindu community in particular.
In his speech of welcome Pakistan Al-Khidmat Foundation Senior Vice President Syed Ahsan Ullah Waqas said, "The Al-Khidmat Foundation is always in the forefront when it comes to celebrating the holy festivals of those who are commonly referred to as a minority."
He said that Hindus in Pakistan enjoy the same rights given to the Muslim majority, but a lot more is still required to bring minorities into the mainstream.
Among those who were present on the occasion were Sindh Al-Khidmat Foundation Minority Desk Member Dr Shankar Lal and the foundation's Sindh Disaster Management Programme Director Khair Mohammad Tino.
https://www.pakistantoday.com.pk/2017/10/22/al-khidmat-foundation-celebrates-diwali-across-sindh/
--------
JUI-F Claims Struggling For Shariah Enforcement
October 23, 2017
SADIQABAD-The Jamiat Ulema-e-Islam (JUI-F) has been struggling for the enforcement of Sharia in the country, said JUI-F Tehsil Amir Qari Shahid Mehmood.
Addressing a party meeting here, he said that the JUI-F wishes to change the corrupt political system though Parliament. He said that his party would go all-out for the protection of the ideology of Pakistan. He said Islam teaches peace and brotherhood. He urged people to unite at the JUI-F platform to struggle for Sharia enforcement in the country. He said JUI-F Amir Maulana Fazlur Rehman has been discharging his duties in a befitting way. He claimed JUI-F has an extensive network in Sadiqabad. The party's reorganisation at tehsil level is underway, he added. The party's senior workers would be given important responsibilities, he stated. The JUI-F would contest the next general election with full preparation, he declared. A JUI-F unit at Bigarh Garhi was formed on the occasion. Maulana Faqirullah was elected as chief patron, Qari Habibullah as amir, Abdul Sattar as naib amir, Hafiz Zahid as general secretary, Ashraf as joint secretary, Younus as treasurer and Nusratullah as secretary information of unit level.
Minority greeted
A PML-N delegation comprising representatives of Hindu minority called on Rahim Yar Khan Deputy Commissioner Sucrat Aman here the other day. The delegation was led by PML-N leader Vijay Kumar. The DC informed the delegation about the steps taken by the government and district administration for their festival Diwali.
He informed the delegation that bazaars have been established in RY Khan district on the occasion of Diwali where from people belonging to the minority can purchase daily-use items at subsidised rates.
Full report at:
http://nation.com.pk/national/23-Oct-2017/jui-f-claims-struggling-for-shariah-enforcement
--------
Nawaz to now return to Pakistan after stopover in Saudi Arabia
Murtaza Ali Shah
Oct 23 2017
LONDON: After a change in plans for the second time, former prime minister Nawaz Sharif reached Saudi Arabia from London today.
He will now return to Pakistan after a two-day stay in the kingdom, sources informed on Monday.
The change in plans came on Sunday when the former premier's visa arrived for his travel to Jeddah.
Sharif's mother is staying in Jeddah and sources revealed that he would take his mother along for performing Umrah with him.
The former prime minister will then leave for Islamabad, sources further said.
This is said to be a completely private visit, during which no other meetings are on the agenda, according to sources.
After his arrival in Jeddah, Nawaz was received by Saudi officials and members of the Pakistan Muslim League-Nawaz at the airport.
He then proceeded to his younger son Hussain's residence from where he will go to Mecca to perform Umrah with his mother.
As per earlier news, Nawaz had booked an air ticket for a return flight to Pakistan on October 21. He was to board Pakistan International Airline's flight PK-758 from London to Lahore.
However it emerged that according to the latest schedule, Nawaz would arrive in Pakistan from London on October 24 via PK-758, but that also did not happen.
Nawaz has been indicted in three corruption cases against him and his family.
The former prime minister missed three hearings of Supreme Court-directed corruption cases against him in an accountability court.
Nawaz had reached London on October 4 to spend time with his wife Kulsoom who is undergoing treatment for cancer.
Full report at:
https://www.geo.tv/latest/164012-nawaz-leaves-for-saudi-to-return-after-two-day-stopover
--------
Will expel thieves and those who plundered Pakistan: Musharraf
October 22, 2017
KARACHI: General (retd) Pervez Musharraf has said he will return to Pakistan before the general elections. The country needs a third force and we shall expel the thieves and those who plundered Pakistan from politics, the former military dictator and head of All Pakistan Muslim League said.
He said that honest leadership will win with the support of the people. "Meetings will be held in Karachi Central and other areas. Pakistan's future is bright," he added.
APML has demonstrated its political power in Karachi, Musharraf said while congratulating those who joined APML after leaving MQM, PSP, PPP, and other parties.
He was addressing in absentia the inauguration ceremony of the APML's office of Karachi Central in FC Area Liaquatabad. More than 1,000 workers of MQM, PSP, PPP, PTI, PML-F, and other parties announced that they were joining APML.
Throw corrupt politicians out of country, says ex-military ruler Musharraf
APML South Region President Ahmed Hussain inaugurated the office of the District Central. Aslam Minai, Imran Siddiqui, Muhammad Ali Sherwani, Syed Faraz Ali, Asif Khan, Tahir Khan, Salma Waheed Murad, and Najmi Meenai were also present.
Musharraf said that he was happy to see the inauguration of the office of Karachi Central. "This is a public rally in Liaquatabad, which had been a stronghold of MQM. He said APML is not only of Muhajirs. Sindhis, Pathans, Punjabis, Pakhtuns, Baloch, and people from all religions and nations are joining APML, which is not limited to one single province as it is a national party."
He said the party is starting its political journey in Karachi Central. "Though I am out of the country, soon I shall be among you. I want to tell that I have lived in Darusallam Building in Nazimabad-3 for years and it is very close to this office. I spent my childhood there," he added.
Hitting back: Face trial if you're brave enough, Zardari tells Musharraf
He said that unfortunately, the situation in Pakistan is not very good. "We shall face it together. The third political force will be organised on national and provincial levels. We have started moving ahead. We shall take fully-fledged part in the next elections and win," he claimed.
He advised the leaders of the APML to open offices in all districts and invite people to join the party. "Our slogans should be 'Pakistan First'. First of all, we are Pakistanis."
He urged the people to move forward and he will support them. He said that we shall run the electoral movement jointly. He congratulated the leadership of the party for organising a successful meeting.
Full report at:
https://tribune.com.pk/story/1538562/1-will-expel-thieves-plundered-pakistan-musharraf/
--------
Mafia has taken over country, says Siraj-ul-Haq
Sunday Oct 22 2017
LAHORE: Jamaat-e-Islami Amir Siraj-ul-Haq remarked on Sunday that mafia has taken over the country.
While addressing a workers' convention in Lahore, he said that even democracy and institutions have also been taken as a hostage by the mafia.
The ideology surrounding Pakistan and finality of Prophethood clause is in danger, he shared.
Punjab is being governed by the Sharif family, but the province is suffering from water shortage, he said while criticising the government of Pakistan Muslim League-Nawaz.
Sharif clan has governed Punjab much longer than Ranjit Singh, he said. "Even after ruling for such a long time, they have failed to provide people in Lahore with clean drinking water."
"Efforts are being made to turn Pakistan into a kingdom," he claimed, adding the politics no longer revolves around an ideology but people.
JI is the name of an ideology and a vision, he claimed. "We believe in ideology and don't enrol cruel rulers or landowners in our party. We just want an Islamic system in Pakistan."
Change can't come till we finish VIP culture from the country, he pointed out, adding that poor have no rights in the country.
"Instead of crying over your situation, I am providing you with an alternative to bring about a revolution," he said. "The current system has rendered our youth useless. A poor man's son has a degree but no job. In this country, corruption, nepotism and bribery are commonplace."
Until we change this system, people such as Nawaz Sharif and Asif Ali Zardari will keep coming in power, again and again, he remarked.
Siraj-ul-Haq reiterated his earlier demands and said that all the 436 people named in the Panama Papers case should be held accountable. "We all want accountability."
Full report at:
https://www.geo.tv/latest/163968-mafia-has-taken-over-country-says-siraj-ul-haq
--------
Pakistan and Bangladesh's 'brotherhood' requires an honest reflection
BY DILLY HUSSAIN
Oct 23, 2017
"We are happy our brothers won" – these were the words of Wasim Akram in the post match interview after Pakistan lost to Bangladesh in the 1999 ICC World Cup. Those warm words perceptively sum up the relationship between Pakistanis and Bangladeshis, which is one of brotherhood. Generally speaking, Pakistan assumes the role of bara bhai in this relationship, while Bangladesh has adopted the role of chota bhai – and this assumption is rhetorically justified by the age of both nations, the population of each country, and even subconscious racist stereotypes of Pakistanis being taller, fairer and more 'alpha' than their Bengali counterparts.
As a British born Bangladeshi, who was raised and has lived among Pakistanis from Jhelum and Azad Kashmir, I have gained firsthand experience of the racial and cultural dynamics which exist between these two groups from the perspective of their diasporas in Britain. I have family members that have harmoniously married into Pakistani households, and my most dearest childhood friends are also Pakistani, therefore, I feel relatively well positioned to proceed with presenting my observations.
First and foremost, the relationship between Bangladesh and Pakistan is sadly overshadowed by a single historical event – the 1971 War of Independence, and everything that led to up to it. Since the partitioning of India in 1947, East and West Pakistan was established as a homeland for Muslims. Naturally, West Pakistan became the powerhouse of the two wings, and it essentially represented the central government where the political, military and social elite resided.
Whilst West Pakistan flourished in comparison to its chota bhai in the East, a plethora of socioeconomic, political and cultural issues boiled up in East Pakistan, which eventually gave birth to the independence movement from which Bangladesh was born.
On 12 November 1970, a major cyclone struck East Pakistan's coastal areas, which caused the death of hundreds of thousands of Bengalis, while millions more were displaced. Bengalis were outraged and civil unrest began in the Eastern wing of Pakistan in response to what they considered a weak and ineffective response to the natural disaster from Islamabad.
Public opinion and political parties in East Pakistan blamed the central government for being intentionally negligent, whilst West Pakistani politicians attacked the Awami League for using the crisis for political mileage. The dissatisfaction led to divisions within the civil services, police and Pakistani Armed Forces.
During the general elections of December 1970, the Awami League led by Sheikh Mujibur Rahman won a massive majority in the provincial legislature, thus, forming a clear majority in the National Assembly. However, Zulfikar Ali Bhutto of Pakistan's People's Party (PPP) threatened to boycott the assembly and oppose the government if Sheikh Mujibur was invited by President Yahya Khan to form the next government.
Much of the Pakistani military and the Islamic political parties also opposed Sheikh Mujibur becoming Pakistan's prime minister. At the same time, neither Sheikh Mujibur nor the Awami League had explicitly advocated independence from West Pakistan. However, what followed in the months after the general elections was perhaps one of the bloodiest chapters of the Indian subcontinent's modern history.
Operation Searchlight was West Pakistan's last attempt at quelling any nationalist aspirations in East Pakistan. Between March and December 1971, East Pakistan fought their bara bhai with the assistance of India who opportunistically sought to neutralise a military threat on its eastern frontier by facilitating Bangladeshi independence. Hundreds of thousands of Bengalis were massacred with horrific accounts of genocide and mass rape committed by the Pakistani military.
Many will be wondering why a significant portion of my column was dedicated to recounting this historical event. The purpose was solely for historical context which I hope serves as a reminder to both Bangladeshis and Pakistanis why this 'bara bhai, chota bhai' relationship is in reality, marred with vitriolic nationalism and historical grievances.
For Pakistanis, this shameful period of history should serve as a reminder that their government and military were responsible for the massacre of thousands of their Bengali Muslim brethren, which will remain in the hearts and minds of millions of Bangladeshis for years to come. Additionally, West Pakistan's failure to maintain unity between them and their Eastern counterparts for longer than 24 years is an embarrassing example of political pragmatism based upon nationalism, while dressed up under the guise of 'Muslim unity'.
For Bangladeshis, this piece of history should serve as a reminder that their nationalist aspirations and alliance with India came at an unfortunate and bloody price, and that the Pakistanis of today should not be held responsible for the crimes of their forefathers.
In Bangladesh, the Liberation War of 1971 and Independence Day is religiously celebrated by millions. Within the educational curriculum, there is an emphasis of a cultural struggle against the 'colonial' Pakistanis which was centred on the preservation of Bengali tradition, heritage and language.
However in Pakistan, the deafening silence regarding the events of 1971 within academic and political discourse, one could argue, is indicative of the country's tacit admission of guilt. This is further exemplified by the propaganda spread by West Pakistan at the time that East Pakistanis were apostating and becoming Hindus while allying with India, which is still parroted by some to this day.
But in the context of how the above continues to influence the dynamics between British Pakistanis and Bangladeshis is glaringly obvious for me. It goes without saying that beneath the "machi paan" and "dhal roti" jokes, historical grievances and complexes still shape how these two groups perceive each other.
It is a common mindset among many Bangladeshis that Pakistanis are generally arrogant, untrustworthy, and prone to oppression and racism. Similarly, many Pakistanis perceive Bangladeshis as inferior, physically weak, and yes, usually short and dark skinned. And this poisonous distrust that many Bangladeshis have, and this arrogant superiority complex that many Pakistanis espouse was ultimately born out of one thing – nationalism, or asabiyya in Arabic – a disease which was unequivocally condemned and cursed by the same Prophet who is beloved to both groups.
In my humble opinion, and I will most likely be labelled a razakar (traitor) by many Bangladeshis for saying this, but there was only one real victor in the war on 1971 – and that was India. India successfully managed to eradicate a significant military threat on its eastern frontier by turning it into a proxy, whilst capitalising on West Pakistan's weakness in other fronts during that period. The nightmare of a united Pakistan on its eastern and western borders which could simultaneously carry out air and ground raids in the situation of total war gave India sleepless nights. Therefore, what better outcome could India have wished for than to turn a hostile East Pakistan to a subservient Bangladesh by successfully amputating one of Pakistan's limbs?
Full report at:
https://www.pakistantoday.com.pk/2017/10/23/pakistan-and-bangladeshs-brotherhood-requires-an-honest-reflection/
--------
URL: https://www.newageislam.com/islamic-world-news/under-muslim-rule-india-richest/d/112989
New Age Islam, Islam Online, Islamic Website, African Muslim News, Arab World News, South Asia News, Indian Muslim News, World Muslim News, Women in Islam, Islamic Feminism, Arab Women, Women In Arab, Islamophobia in America, Muslim Women in West, Islam Women and Feminism