New Age Islam News Bureau
20 Jan 2015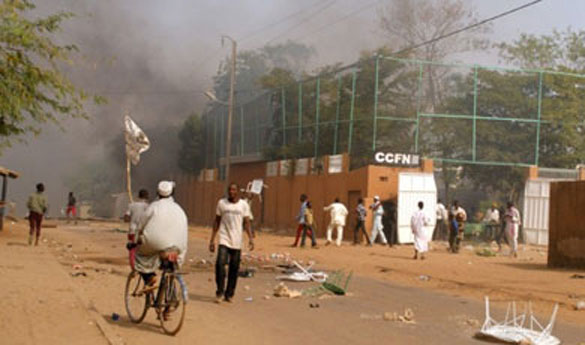 Smoke rises from the Franco-Nigerien Cultural Center (CCFN after it was burned down during demonstrations on January 16, 2014. PHOTO: AFP
---------
Mideast
• Turkish Islamic Cleric Advocates Marriage between Kids and Adults
• Iran: Hezbollah Will Give Crushing Response to Israel's Recent Aggression
• Pitched battles in Sanaa as crisis deepens in Yemen
Pakistan
• Pak Minister Accuses Saudi Govt of Destabilising Muslim World
• Survey Reveals Pakistanis See Problems with Blasphemy Law
• Three Soldiers, Seven Militants Killed In Bajaur Clash
• US drone strike kills four in North Waziristan
• Govt will cleanse Balochistan, KP and FATA of terrorists: Nawaz
• Army Going After Terrorists of All Hues: Asim Bajwa
• Third Pakistani this year beheaded in Saudi
• Freedom of expression should not be misused: Tasneem Aslam
• Peshawar schools start getting arms licences
Australia
• Hizb ut-Tahrir in Australia Calls for Army to Replace Government with 'Islamic Caliphate'
• Aussie Muslims Receive Death Threats
• Australia Raises Terror Threat Level to 'High' For Police
Arab World
• Sermons Flaying Terror Attacks To Be Distributed: Saudi Minister
• Army Repels Terrorists' Attack on Strategic Military Airport in Idlib
• ISIS Leader Baghdadi Wounded And Stays in Syria, Says Iraqi PM
• Islamic State Demands $200 Million for Lives of 2 Japanese Hostages
• Iraqi Shiite cleric calls for control over militias
• ISIL Terrorists Suffer Losses in Iraq's Tikrit
• Syrian Troops Gain Upper Hand over Militants in Homs, Daraa
• Syria Kurds battling ISIL capture strategic Kobane hilltop
• Syria starts razing chemical weapons sites: OPCW
• Egypt's Sisi says protests not priority under current circumstances
• Saudi border guards get shoot-on-sight orders
India
• US, UK ask Pakistan to hand over Lakhvi to India
• Hindu Outfits to Resume 'Ghar Wapsi' Without Media Glare
• Arson, fifth body, 'love' angle keep the pot simmering in Muzaffarpur
• UK warns India of possible ISIS attack
• RBI notice to PIA: Pak lodges protest with MEA
Africa
• Nigerians Face Killings, Hunger in Boko Haram's 'State'
• 45 Churches Torched In Niger Capital in Cartoon Demos: Police
• Libya formally recalls former general Haftar for army duty
• Militia chief held in Central African Republic
South Asia
• IS Planning High Visibility Attacks In Bangladesh
• Tokyo Vows Not to Give in to Isis's Demands
• Ban on Jamaat-e-Islami politics demanded
• Roadside Bomb Kills Eight Afghan Civilians
• S. Korean police find ISIS images on missing teen's computer
• Two Uighurs trying to enter Vietnam shot dead
• Some Maldivian police officers believe women to blame for domestic violence, says HRCM
North America
• Canada's Special Forces Clash with ISIS in Iraq
• Palestine Could 'Lose' Millions in Annual U.S. Aid
Europe
• German Anti-Islamic Movement, PEGIDA, Stages Rallies across Denmark
• EU Calls for Muslim World's Help against Militant Threat
• Britain First Party Launches 'Christian Patrols' to Oppose 'Muslim Gangs'
• Four to face possible charges over Paris attacks
• German police in fresh raids on suspect Islamist sites
• EU appeal to keep Hamas on terror list 'immoral'
• Merkel vows to uphold protest rights after threat halts anti-Islam demo
• UN Urges African Forces to Fight Boko Haram Terrorists
Southeast Asia
• 'Allah' Battle Continues As Catholic Church Returns To Court With Hope
• Abused Indonesian maid in Hong Kong was 'unpaid slave', prosecution says
• AirAsia crash: No evidence of terrorism so far
• Rise of Salafism cause of controversial fatwas, says sociologist
Compiled by New Age Islam News Bureau
URL: https://www.newageislam.com/islamic-world-news/new-age-islam-news-bureau/turkish-islamic-cleric-advocates-marriage-between-kids-and-adults/d/101126
-----------
Mideast
Turkish Islamic Cleric Advocates Marriage between Kids and Adults
20 Jan, 2015
A Turkish cleric supports marriages between children and adults – but others in the country slam such unions as child rape.
Nureddin Yildiz, 58, president of the Social Fabric Foundation, said Jan. 10 that Islam imposes no age restrictions for marriages, Central European News reported.
"Children can even marry before puberty," he said. "There can be marriages between children or between a child and an adult. For example, a marriage between a 7-year-old girl and a 25-year-old man, or a 7-year-old boy with a 25-year-old woman. There are no inconveniences preventing their marriage."
Yildiz's Islamic group in Istanbul primarily focuses on family and education issues.
"For Muslims who believe the Quran, there is nothing such as an age limit for marrying. There aren't any obstacles for marrying at 10, 7 or 6," he added.
His proposal was harshly rebuked by the main opposition Republican People's Party, or CHP.
"The statement made by that individual clearly incites child rape," said party lawmaker Nur Serter, CEN reported. "There is no other understanding. You cannot marry a 6-year-old child. You can only rape that child. I call on the foundation to remove that individual from his position."
Serter and another CHP lawmaker, Aylin Nazliaka, and other officials filed a criminal complaint in Ankara against the cleric, according to Today's Zaman, a Turkish news organization.
"We have seen many conservative and authoritarian initiatives with remarks such as 'pregnant women shouldn't walk in the streets,'" Nazliaka said, CEN reported. "Now Yildiz says women shouldn't work, there shouldn't be anchorwomen on TV screens, and 6-year-olds can marry. These individuals are trying to impose on society their psychopathic views by using religion."
Nazliaka said the Turkish Statistics Institute's statistics show that there have been 181,000 child marriages in Turkey in the last four years. In 2013, girls between the ages of 15 and 17 also gave birth to 20,374 babies.
After the backlash, Yildiz tweeted that he did not mean that 6-year-olds can consummate a marriage – only that their marriages can be arranged with their parents' approval, Today's Zaman reported.
http://nypost.com/2015/01/19/turkish-cleric-advocates-marriage-between-kids-and-adults/
-----------
Iran: Hezbollah Will Give Crushing Response to Israel's Recent Aggression
20 January 2015
Secretary of Iran's Supreme National Security Council (SNSC) Ali Shamkhani condemned the assassination of several members of the Lebanese Hezbollah resistance group by the Zionist regime, and said the resistance front will certainly give a crushing response to the attack.
"This action has no doubt been adopted in line with (Israel's) continued cooperation with the Takfiri terrorists and plays a complementary role for the approach of the Tel Aviv rulers to using this terrorism stream for creating a buffer zone at the forged orders of this fake regime," Shamkhani said in a meeting with Iraqi Interior Minister Mohammad Salem al-Ghabban in Tehran on Monday.
He described both the Israeli attack against Hezbollah members and the US aids to the terrorist groups by dropping weapons for them as the rings of the same chain of dishonesty in fighting terrorism.
"The experience of the past shows that the resistance current will give a crushing response to the Zionist regime's terrorist moves with revolutionary determination and in due time and place," Shamkhani underscored.
An Israeli helicopter strike on Syria's Golan Heights Sunday killed the son of slain Hezbollah top commander Imad Mughniyeh and 4 other fighters, a Lebanese security source said.
Jihad Mughniyeh and field commander Mohammad Issa who goes by the nom de guerre 'Abu Issa' were martyred in the attack, the source said. The strike entirely destroyed one Hezbollah vehicle and damaged another, he added.
Hezbollah issued a statement confirming the strike saying "a number of mujahedeens were martyred," during an inspection mission in the Syrian town of Quneitra.
http://english.farsnews.com/newstext.aspx?nn=13931029000806
---------
Pitched battles in Sanaa as crisis deepens in Yemen
20 January 2015
SANAA: Huthi militia in Yemen fought pitched battles with the army in the capital Sanaa for several hours on Monday in the biggest challenge yet to President Abdrabuh Mansur Hadi's rule.
The militia, known as Huthis, seized an army base near the presidential palace, took control of state media and fired on a convoy carrying the prime minister before officials said a ceasefire had taken effect.
A security official said the halt in fighting had been agreed during a meeting of the defence and interior ministers with a Huthi representative.
Residents in areas around the presidential palace confirmed the fighting had subsided.
The clashes raised international concern, with the Arab League and the British and US embassies calling for an immediate end to the fighting.
A medical source said at least two people were killed and the health ministry said 55 were wounded.
The Huthis seized control of Sanaa in September and strategically important Yemen — which borders Saudi Arabia and is on key Gulf shipping routes — has since been wracked by unrest.
The violence has raised fears that Hadi's US-backed government, which is a key ally in Washington's fight against Al Qaeda, will collapse and Yemen will become a failed state similar to Somalia.
The Huthis appeared to be tightening their hold on the capital on Monday, saying they had seized an army base on a hill overlooking the presidential palace.
In a worrying sign for the government, Information Minister Nadia Sakkaf said the Huthis had also taken total control of state television and the official news agency.
State TV, news agency seized: "Yemeni satellite channel is not under state control, nor is state news agency Saba. The Huthis have completely controlled them and are refusing to publish any government statements," she wrote on Twitter.
Sakkaf said Huthi fighters had also fired on Prime Minister Khalid Bahah's convoy as he left the presidential residence but that he was unharmed.
Witnesses said the fighting erupted early Monday after the militia deployed reinforcements near the presidential palace.
The military presidential guard sent troops onto the streets surrounding the palace and outside Hadi's residence.
A security official said the army intervened when the Huthis began to set up a new checkpoint near the presidential palace.
But a prominent Huthi chief, Ali al-Imad, accused the presidential guard of provoking the clashes.
"Hadi's guard is trying to blow up the situation on the security front to create confusion on the political front," he said on his Facebook page.
Tensions have been running high in Sanaa since the Huthis abducted Hadi's chief of staff, Ahmed Awad bin Mubarak, in an apparent bid to extract changes to a draft constitution that he is overseeing.
http://www.dawn.com/news/1158083/pitched-battles-in-sanaa-as-crisis-deepens-in-yemen
-----------
Pakistan
Pak Minister Accuses Saudi Govt of Destabilising Muslim World
20 January 2015
ISLAMABAD: Federal Minister for Inter-provincial Coordination (IPC) Riaz Hussain Pirzada has accused the Saudi government of creating instability across the Muslim world, including Pakistan, through distribution of money for promoting its ideology.
Addressing a two-day 'Ideas Conclave' organised by the "Jinnah Institute" think tank in Islamabad, the federal minister said 'the time has come to stop the influx of Saudi money into Pakistan'.
He also blasted his own government for approving military courts in the presence of an 'independent and vibrant judiciary' and said that military courts reflect 'weak and coward leadership'.
"Such cowardly leadership has no right to stay in power," Pirzada added.
In her opening remarks, Chairperson of Jinnah Institute Sherry Rehman said that the two-day conference would deliberate upon new ideas needed for a progressive and better Pakistan.
Pakistan Tehreek-i-Insaf (PTI) leader Shafqat Mehmood said the government has failed to address the problems being faced by the common man.
Awami National Party (ANP) leader Afrasiab Khan Khattak expressed regret over military courts and said their establishment 'has eroded democracy'. He called upon democratic elements to play their role in reversing the 21st constitutional amendment.
Muttahida Qaumi Movement (MQM) leader Farooq Sattar supported military courts and said there was no other option to deal with terrorists.
The Federal Minister for Commerce Khurram Dastgir while addressing the conference, said that for an elected government to deliver, they need at least a modicum of security that their leadership will exist tomorrow.
He said that lawmakers have little incentive to read legislation. They are judged by their constituents on how much patronage they can deliver.
"We are answerable to the people. No general would stand up here and take your criticism," said Dastgir.
He further added that there is no excuse for not holding local body elections.
http://www.dawn.com/news/1158244/federal-minister-accuses-saudi-govt-of-destabilising-muslim-world
-----------
Survey reveals Pakistanis see problems with blasphemy law
20 January 2015
ISLAMABAD: A survey conducted by a community-based development organisation reveals that non-Muslim Pakistanis face discrimination in almost all areas of life.
However, the discrimination faced by women, both Muslim and non-Muslim, within families and communities is similar.
Pattan Development Organisation conducted the survey in Multan, Faisalabad, Lahore and Islamabad during November-December 2014. Around 1,200 people participated in the focus group discussion on which the survey was based.
The respondents said that the constitution and law did not treat all citizens equally and a vast majority noted that there was a huge gap between the laws and their implementation.
Respondents noted that people in general believe their religion to be superior to that of others and the blasphemy law had aggravated the insecurities of non-Muslim Pakistanis.
The participants opined that the blasphemy law was being used for political and economic gains and no action is taken against those who commit blasphemy against religions other than Islam.
Full report at:
http://www.dawn.com/news/1158174/survey-reveals-pakistanis-see-problems-with-blasphemy-law
-----------
Three soldiers, seven militants killed in Bajaur clash
20 January 2015
KHAR BAJAUR: At least three soldiers and seven militants were killed on Monday in a clash in the northwestern tribal belt near the Afghan border, officials said.
Heavy exchange of fire took place during an operation to clear suspected militants from the mountainous Banda area of Salarzai town in Bajaur tribal district along the Afghan border, local and security officials said.
"Two soldiers and an army captain have been martyred while seven militants were also killed in the clash," a security official told AFP, adding that two soldiers were wounded.
Frontier Corps and local tribal police early Monday launched a house-to-house "search and cordon operation... to clear the area of militants", the official told AFP.
A group of militants attacked them in the afternoon triggering "a heavy exchange of fire which lasted for several hours", the official said, requesting anonymity as he was not authorised to talk to media.
The clearance operation is still ongoing with intermittent gun fire, the official added.
Bajaur is a part of Pakistan's seven tribal districts which are rife with insurgents as well as Taliban and Al-Qaeda operatives.
The mountainous Banda area is considered to be a particular stronghold of militant groups, a senior government official in the area said.
The government has strengthened its anti-terror strategy in the wake of a December 16 attack on an army-run school in Peshawar that killed 150 people, 134 of them children.
Pakistani soldiers have been engaged in a full-scale offensive against Taliban and other militants in North Waziristan and Khyber tribal districts since last year.
http://www.dawn.com/news/1158050/three-soldiers-seven-militants-killed-in-bajaur-clash
-----------
US drone strike kills four in North Waziristan
20 January 2015
DERA ISMAIL KHAN: A US. drone strike killed at least four suspected militants in northwest Pakistan on Monday, four intelligence officials said, the fourth such strike this year.
Two missiles hit a compound in the Shahi Khel area of Shawal Valley in North Waziristan, near the border with Afghanistan, the officials said. "Through our local sources and intercepts, (we know) a drone fired two missiles at a compound in the Shawal area and killed four militants. The number of dead may go up," an intelligence official told Reuters. The attack came a month after 134 school children were killed by Taliban insurgents, the worst single assault in the country's history. Pakistan often publicly denounces drone strikes as an infringements of its sovereignty. But many say the military has given its tacit acceptance, pointing to a six-month halt in strikes last year while the government tried to negotiate peace with the Taliban.
Full report at:
http://www.dailytimes.com.pk/national/20-Jan-2015/us-drone-strike-kills-four-in-north-waziristan
-----------
Govt will cleanse Balochistan, KP and FATA of terrorists: Nawaz
20 January 2015
ISLAMABAD: Prime Minister Nawaz Sharif on Monday said the government will cleanse Balochistan, Khyber Pakhtunkhwa and FATA of terrorists.
He said owing to neglect in the past, Balochistan lagged behind in socioeconomic development and stressed that both federal and provincial governments were now taking measures to ensure growth and peaceful environment in the province. Addressing the inaugural session of Balochistan Development Forum here, the prime minister said development of Balochistan was close to his heart, and despite constraints, the federal government provided substantial resources to supplement the efforts of the provincial government to address the needs of its people. The prime minister mentioned some already taken corrective measures in shape of 7th NFC Award, Aghaz-e-Haqooq-e-Balochistan, 18th Amendment and substantive allocations for development projects.
Full report at:
http://www.dailytimes.com.pk/national/20-Jan-2015/govt-will-cleanse-balochistan-kp-and-fata-of-terrorists-nawaz
---------
Third Pakistani this year beheaded in Saudi
20 January 2015
RIYADH: Saudi Arabia beheaded a convicted Pakistani heroin smuggler, the third person from his country executed for the crime this year.
Yassir Arafat Munir Ahmed was executed in the Muslim holy city of Mecca, the interior ministry said in a statement carried by the official Saudi Press Agency.
"Investigations led to his confession and after a trial he was sentenced to death," the ministry said.
Ahmed is the 11th person, and the third Pakistani, to be executed in the kingdom this year under a strict version of Islamic sharia law.
The interior ministry has said it is battling narcotics because of the "great harm" they do to society.
Full report at:
http://timesofindia.indiatimes.com/world/middle-east/Third-Pakistani-this-year-beheaded-in-Saudi/articleshow/45941361.cms
---------
Army going after terrorists of all hues: Asim Bajwa
20 January 2015
Director General Inter-Services Public Relations (ISPR) in an interview with CNN has said that the armed forces were going after terrorists "without any discrimination".
Answering a question about the armed forces' viewpoint of militant groups, the ISPR DG said: "There are no good terrorists.....We are going against all terrorists without any discrimination of hue and color."
Bajwa added that the army had cleared a major part of the North Waziristan tribal region during Operation Zarb-i-Azb except for a small belt near the Pak-Afghan border.
He further said that the operation against militant groups was underway with air and gunship helicopter strikes and these were being followed by ground operations.
"I think there is no confusion in our mind that we have to go against the phenomenon of terrorism, against all terrorists, and their abettors," he added.
When asked if the Pakistani army was doing enough in order to tackle the issue of militancy in the region, he said: "We're very clear and we are capable of dealing with them."
He also compared the performance and efficiency of Pakistan's military with that of the US and Isaf forces in Iraq and Afghanistan.
Full report at:
http://www.dawn.com/news/1158235/army-going-after-terrorists-of-all-hues-asim-bajwa
-----------
Freedom of expression should not be misused: Tasneem Aslam
20 January 2015
ISLAMABAD: Pakistan strongly condemns the blasphemous cartoons published in the French weekly magazine Charlie Hebdo, Foreign Office (FO) Spokesperson Tasneem Aslam said in a statement on Tuesday.
"Echoing the sentiments of the people of Pakistan, the president and the prime minister have strongly condemned the publication, which has caused great offence to Muslims by hurting their sentiments and religious sensibilities all over the world," said Aslam.
She further said that the National Assembly and the Senate's Foreign Relations Committee have passed resolutions condemning the cartoons which hurt the core belief of all Muslims.
"We believe that freedom of expression should not be misused as means to attack or hurt public sentiments or religious beliefs," she remarked.
Full report at:
http://www.dawn.com/news/1158253/freedom-of-expression-should-not-be-misused-tasneem-aslam
-----------
Peshawar schools start getting arms licences
20 January 2015
PESHAWAR: The district administration has started issuing licences of non-prohibited bore weapons to the educational institutions.
"The process of getting licence of non-prohibited bore weapons can be completed easily," Deputy Commissioner Zahirul Islam told Dawn. When asked how many licences could be issued to a school, he said that he would issue even 10 licences to the administration of a school if it required the same number of licences for its security guards.
Sources said that provincial home department issued instructions to the district administration to award licences of non-prohibited bore to the educational institutions immediately. "The process of awarding licences to the applicants has been made very simple and can be completed within in a day," sources said.
Normally it takes 15 to 20 days to get a computerised arms licence.
Institutions warned of legal action if security guidelines not followed
In the wake of massacre of 150 persons including 134 students in Army Public School and College on December 16, the provincial government instructed all public and private educational institutions to take measure for guarding their institutions.
Full report at:
http://www.dawn.com/news/1158178/peshawar-schools-start-getting-arms-licences
-----------
Australia
Hizb ut-Tahrir in Australia Calls For Army To Replace Government With 'Islamic Caliphate'
20 Jan, 2015
A radical Islamist group is calling for a Muslim army to impose Sharia law in Australia. Hizb ut-Tahrir announced that it is raising an army of followers in public at a community centre in Lakemba, western Sydney.
An estimated 250 people, including women and children, attended the public rally organised by the extremist group. Bilal Merhi, one of the group's members, told the crowd gathered at the centre that the Islamic Caliphate ruled by Sharia Law must take the place of Australia's democratic government, Seven News reported.
The Hizb ut-Tahrir told those in attendance to "come forward" to join an army "ready to defend the honour of Allah and his Messenger." Merhi also declared that Australians exploit the freedom of speech to mock Islam.
The radical Islamist organisation had previously called the Charlie Hebdo killings in Paris the "cure" in an event discussing the desire of the West to confront the "Islamist threat." Earlier reports in October had indicated that police investigated Merhi in connection with videos showing children as young as six years old being taught to chant extremist slogans.
Full report at:
http://au.ibtimes.com/articles/579683/20150120/hizb-ut-tahrir-australia-islamic-caliphate-radical.htm#.VL1zMtLF84U
-----------
Australia raises terror threat level to 'high' for police
20 January 2015
Australia's main domestic security agency on Tuesday raised the terrorist threat level against police from "medium" to "high" in response to recent international attacks targeting officers.
The threat against police as assessed by the Australian Security Intelligence Organisation now equals the threat to the wider Australian community, which was lifted to "high" in September 2014, Australian Federal Police said in a statement.
"Recent events in France, Canada and Australia serve as a sobering reminder of the risks associated with policing," the statement said.
The police statement said there are an increasing number of Australians inspired by groups such as Islamic State "with the intent and capability to conduct an attack against police."
http://www.thehindu.com/news/international/world/australia-raises-terror-threat-level-to-high-for-police/article6805292.ece
--------
Aussie Muslims Receive Death Threats
20 Jan, 2015
CAIRO – A series of hate mail threatening to kill Muslim women and children have terrified the religious minority in Brisbane, coming in the wake of Charlie Hebdo attacks which resulted in the worst Islamophobic attacks over the past years.
A Logan family received a note in their letterbox threatening to "kill your women and children fist (sic)", Courier-Mail reported on Sunday, January 18.
"She came back inside and showed my wife," 35-year-old man, who lives in the Woodridge house, said as he recalled how his mother-in-law discovered the note in the letterbox.
"They were both terrified. My wife is so distressed by it she's scared to go into our backyard now."
The same hate mail was received by his cousin, who lives close to the family.
"We pretty much keep to ourselves," he said, wondering why his family was targeted.
"I pray regularly at home but I don't really attend any of the local mosques or socialize with the rest of the Islamic community."
Full report at:
http://www.onislam.net/english/news/asia-pacific/482027-hate-mail-threatens-to-kill-muslim-women-kids.html
----------
Arab World
Sermons flaying terror attacks to be distributed: Saudi Minister
20 January 2015
The Minister of Islamic Affairs, Endowments, Call and Guidance Sulaiman Aba Al-Khail has ordered officials to distribute to students, academics and other parties all the Friday sermons delivered on Jan. 9 condemning the Arar terror attacks.
The Jan. 5 terror operation on the Saudi border with Iraq saw three soldiers and four suicide bombers killed.
The minister wants officials to classify and publish the sermons in book form before distributing them to the public. He said all the country's preachers have denounced the attacks as criminal acts that incite others to kill innocent people.
http://www.arabnews.com/saudi-arabia/news/692181
-----------
Army Repels Terrorists' Attack on Strategic Military Airport in Idlib
20 January 2015
The Syrian army continued its advances in different parts of Idlib province in the Northwestern parts of the country, and thwarted an attack by the Takfiri terrorists on Abu Zohour military airport.
The terrorists were pushed back from the surrounding areas of Abu Zohour military airport as they were trying to launch a fresh wave of offensive on army positions at the airport in the Eastern parts of the city of Saraqeb in Idlib countryside.
Abu Zohour Airport located in the Northern parts of Idlib countryside is Syria's second largest military airport which is located in an area of 8 square kilometers and can accomodate 22 helicopters and Mig fighter jets.
Abu Zohour Airport is located 50 kilometers to the East of the city of Idlib and 63 kilometers from Khan Sheikhoun and 40 kilometers from Ma'aret al-Nauman.
In early 2014, the Syrian army regained full control over the Abu Zohour airport by destroying the militants' positions in there and its surrounding areas.
Full report at:
http://english.farsnews.com/newstext.aspx?nn=13931030000375
-----------
ISIS leader Baghdadi wounded and stays in Syria, says Iraqi PM
20 January 2015
Abu Bakr al-Baghdadi, the self-proclaimed caliph of the Islamic State of Iraq and Syria, has been wounded in Al-Qa'im by an Iraqi airstrike along the border with Syria, Iraqi Prime Minister Haidar al-Abadi told the pan-Arab Al-Hayat newspaper on Tuesday.
"His survival was a miracle," said Abadi, adding that Baghdadi has since "moved to another location."
The ISIS leader is "sometimes present in Mosul, but most of the time he's in Syria, not Iraq," the prime minster said.
The threat posed by ISIS has led to some countries, particularly in the West, muting their demands to topple Syrian President Bashar al-Assad, Abadi said.
While ISIS is no longer a threat to Baghdad, a regular army will not be able to confront it if it manages to recruit thousands of youths, he said.
ISIS has turned its sights on Kurdistan after realizing that it could not reach southern Iraq, the prime minister added.
Full report at:
http://english.alarabiya.net/en/News/middle-east/2015/01/20/ISIS-leader-wounded-and-stays-mostly-in-Syria-says-Iraqi-PM.html
-----------
Islamic State demands $200 million for lives of 2 Japanese hostages
20 January 2015
An online video released on Tuesday purported to show the Islamic State militants threatening to kill two Japanese hostages unless they receive a $200 million ransom in the next 72 hours.
The video, identified as being made by the Islamic State group's al-Furqan media arm and posted on militant websites associated with the extremist group, mirrored other hostage threats it has made. The militant in it also directly addresses Japanese Prime Minister Shinzo Abe.
"To the Prime Minister of Japan - Although you are more than 8,000 and 500 kilometres from the Islamic State, you willingly have volunteered to take part in this crusade," says the knife-brandishing militant in the video. "You have proudly donated $100 million to kill our women and children, to destroy the homes of the Muslims."
The video shows two hostages in orange jumpsuits that the militants identify as Kenji Goto Jogo and Haruna Yukawa.
Full report at:
http://www.thehindu.com/news/international/islamic-state-threatens-to-kill-2-japanese-hostages/article6805161.ece
---------
Iraqi Shiite cleric calls for control over militias
20 January 2015
BAGHDAD: Senior Iraqi Shiite cleric Muqtada Al-Sadr says the country must rein in the powerful Shiite militias battling the Islamic State militant group and have them coordinate more directly with the country's official armed forces.
Speaking at a press conference Monday with Iraqi Defense Minister Khalid Al-Obeidi, Al-Sadr said his followers are now "at the disposal of the army," adding he will work "to supplement militias and other armed groups with the army."
A number of militias, including Al-Sadr's "Peace Brigades," answered calls last summer to fight alongside Iraq's beleaguered military, which virtually crumbled in the face of the militant onslaught. Many of those Shiite militias answer to different leaders, have been difficult to control and are accused of brutal tactics and discrimination against Sunnis.
http://www.arabnews.com/middle-east/news/692096
-----------
ISIL Terrorists Suffer Losses in Iraq's Tikrit
20 January 2015
At least 14 terrorists were killed in heavy fighting between the Iraqi army and ISIL Takfiri group in South of Tikrit.
The army troops inflicted major losses on ISIL terrorists in the area of Hoiash, killing more than 14 terrorists.
The Iraqi troops also captured three terrorists during the clashes.
Since June 2014, Northern, Western and Central provinces of Iraq have been the scene of insurgency posed by the ISIL terrorists who attacked army bases in summer and occupied vast areas in Nineveh, Anbar and Salahuddin provinces, including Mosul, Tikrit and Fallujah.
Army soldiers and populace forces, form both Shiite and Sunni tribes, as well as Kurdish Pishmarga decided to grow united against the new wave of militancy in the country.
Army officials had previously announced that insurgency in the country will be eradicated by the current yearend.
http://english.farsnews.com/newstext.aspx?nn=13931029001230
-----------
Syrian Troops Gain Upper Hand over Militants in Homs, Daraa
20 January 2015
The Syrian army expanded its offensive operations against the armed groups in nearby areas of Homs and Daraa provinces, leaving a large number of Takfiri militants dead and injured.
The army troops raided the hideouts of the rebels in the areas of al-Ken, al-Shaer, Jazel, Rahoum and al-Msheirfa in the city of al-Rastan in Homs, killing scores of them.
Also, the militants sustained a heavy toll in the Southern province of Daraa, as the Syrian army made more gains in the areas of al-Manshiyeh and al-Mzeirib.
Syria has been the scene of insurgency since 2011 when certain western powers and their regional allies voiced loudly that Syrian protests have no diplomatic solution and they started supplying the country's opposition groups with their arms and funds.
In 2014, specially after victory of President Bashar al-Assad in the country's presidential election, the army has gained upper hand in its anti-terrorism campaign, and has been partly successful in sealing borders with Turkey and Jordan.
http://english.farsnews.com/newstext.aspx?nn=13931030000947
-----------
Syria Kurds battling ISIL capture strategic Kobane hilltop
20 January 2015
Kurdish fighters battling the Islamic State ıf Iraq and the Levant (ISIL) in Syria's Kobane have captured a strategic hilltop, giving them line of fire over the town, a monitor said Jan. 19.
The Britain-based Syrian Observatory for Human Rights said the Kurdish People's Defense Units (YPG) had seized the Mishtenur hilltop after fierce clashes overnight.
"The military operation led to the deaths of at least 11 Islamic State fighters, and the seizure of large quantities of weapons and ammunition," the Observatory said.
Observatory director Rami Abdel Rahman said the advance was a key strategic victory for the YPG, putting ISIL resupply lines to Aleppo in the west and Raqa in the east within their line of fire.
ISIL has been battling to capture Kobane, on the Syrian-Turkish border, since mid-September, and at one point seemed poised to overrun the Kurdish town.
But Kurdish fighters backed by massive air raids by the US-led coalition against ISIL have gradually pushed back the jihadists, who now hold around 15 percent of the town.
http://www.hurriyetdailynews.com/syria-kurds-battling-isil-capture-strategic-kobane-hilltop.aspx?pageID=238&nID=77131&NewsCatID=352
-----------
Syria starts razing chemical weapons sites: OPCW
19 January 2015
Syria has begun destroying its remaining chemical weapons production sites, despite being hampered by bad weather and logistical problems, the world's chemical watchdog said Monday.
"Destruction operations commenced in December," Organization for the Prohibition of Chemical Weapons (OPCW) spokesman Peter Sawczak told AFP in The Hague, without elaborating.
Syria had said previously demolition of the 12 hangars and tunnels would begin in November, but work stalled when the contractor pulled out.
Two other Syrian companies were given the project but the firm tasked with destroying five tunnels had to wait for deliveries of explosives and equipment, Syria told the United Nations in November, after running months behind schedule.
The OPCW, which is overseeing the dismantling of Syria's chemical weapons programme, in July gave Damascus 60 days to finish demolishing the sites.
"The destruction has began. They are starting on the tunnels," confirmed a Hague-based source on Monday, asking not to be named.
Full report at:
http://english.alarabiya.net/en/News/middle-east/2015/01/19/Syria-starts-razing-chemical-weapons-sites-OPCW.html
-----------
Egypt's Sisi says protests not priority under current circumstances
20 January 2015
Egyptian President Abdel-Fattah El-Sisi has downplayed the importance of the right to protest, hinting that demonstrations are harmful to the country which has seen countless protests since the January 2011 revolution.
"Take care when you are demanding your rights, take care, don't lead us astray with you," he said on Tuesday in front of an audience of police officers at an early celebration of Police Day, repeating the final phrase three times.
El-Sisi – criticised by many observers for a security clampdown on political activity – claimed with confidence that he safeguards human rights more than most, but prioritises measures to alleviate the suffering of Egyptians, which he said could help 40 million of the 90 million strong population.
Full report at:
http://english.ahram.org.eg/NewsContent/1/64/120777/Egypt/Politics-/UPDATED-Egypts-Sisi-says-protests-not-priority-und.aspx
-----------
Saudi border guards get shoot-on-sight orders
20 January 2015
RIYADH; Saudi border guards have been given orders to shoot infiltrators on sight after three troopers were killed on the Iraqi frontier earlier this month, a spokesman said on Monday.
The orders apply to guards patrolling the southern border with Yemen as well as the northern frontier with Iraq, Major General Mohammed al-Ghamdi said.
Senior commander General Odah al-Balawi was among the three border guards killed in the Jan 5 clash with four Saudi infiltrators, two of whom blew themselves up. "After that, we will not negotiate with anyone," Ghamdi said.
"We will shoot them directly without any warning, without any negotiation." He said security officers on the Iraqi side had been told of the new orders.
No group has claimed responsibility for the border clash but Saudi Arabia is among Arab countries taking part in US-led air strikes against the Islamic State jihadist group in Syria, raising concerns about possible retaliation inside the kingdom.
http://www.dawn.com/news/1158091/saudi-border-guards-get-shoot-on-sight-orders
---------
India
US, UK ask Pakistan to hand over Lakhvi to India
20 January 2015
The US and the UK have asked Pakistan to hand over Zakiur Rehman Lakhvi, the mastermind of the 2008 Mumbai attacks, to India to improve bilateral ties, or to them for his "independent trial".
During Lakhvi's bail hearing in the Islamabad High Court on Monday, the prosecution informed that "two countries had demanded handing over of Lakhvi to India". The prosecution lawyer did not name the countries in the court.
However, an Interior Ministry source told PTI that the US and the UK had asked the Nawaz Sharif government to hand over 54-year-old Lakhvi either to India in order to "improve ties" with the neighbouring country, or to them for his "independent trial" as several nationals of different countries were killed in the Mumbai attacks.
The prosecution also requested the high court division bench headed by Justice Shaukat Aziz Siddiqui to expedite the case. "Shift the case to the military court if the government is in such a hurry," remarked Siddiqui.
Full report at:
http://indianexpress.com/article/world/neighbours/us-uk-ask-pakistan-to-hand-over-lakhvi-to-india/#sthash.XnJ5GnU4.dpuf
-----------
Hindu outfits to resume 'ghar wapsi' without media glare
MOHAMMAD ALI
20 January 2015
'Ghar wapsi', a reconversion drive, is back on the agenda of Hindutva groups working in western Uttar Pradesh but this time the strategy would be different.
Instead of much publicised attempt to convert the minority communities, the right-wing groups are planning to keep a low profile and start a fresh campaign mid-February onwards in western Uttar Pradesh. The areas on their radar are villages in Gorakhpur, Shahjahanpur, Hathras, Meerut, Aligarh, Bijnore, Agra districts.
According to reliable sources in the Sangh affiliates, there was a possibility that Rajeshwar Singh, RSS pointsman for conversion drive will be brought back albeit with a low profile.
The RSS-affiliated groups, especially the Dharam Jagaran Samanvay Samiti (DJSS) which is active in western UP, has been asked to maintain a low profile but spread its cadres in the interior rural areas of these district and identify families, mainly Christians and Muslims.
The renewed strategy comes after the RSS had to send Rajeshwar Singh of DJSS, on leave following his publicised conversion campaign in Aligarh on Christmas last year and his frequent controversial statements.
Full report at:
http://www.thehindu.com/news/national/hindu-outfits-to-resume-ghar-wapsi-without-media-glare/article6805016.ece
-----------
Arson, fifth body, 'love' angle keep the pot simmering in Muzaffarpur
20 January 2015
Communal tension continued to simmer on Monday in Bihar's Muzaffarpur with the discovery of a fifth body from a wheat field in Azizpur. The bodies of four others were found on Sunday when 37 houses of Muslims were set on fire in an alleged revenge attack by a mob from Bahilwara, barely two kilometres away, following the death of a Hindu boy from that village.
Police have identified the body discovered in the field as that of Akhtar who, they said, had been found with an "injury on the head caused by a blunt object". Of the four found dead on Sunday, three have been identified as Mohammed Altaf, Mohammed Akhtar and Mohammed Pyare —— all from Azizpur — while the fourth body was charred beyond recognition.
While Bihar Chief Minister Jitan Ram Manjhi cut short his trip to Maharashtra and returned to Patna to monitor the situation, his Cabinet ministers Ramai Ram, Mahachandra Prasad Singh and Vinay Bihari visited Azizpur and promised prompt action.
Full report at:
http://indianexpress.com/article/india/india-others/arson-fifth-body-love-angle-keep-the-pot-simmering-in-muzaffarpur/99/#sthash.CBoxaUTy.dpuf
-----------
UK warns India of possible ISIS attack
20 January 2015
Britain has warned India about a possible attack by ISIS and said all efforts must be taken to check the activities of the Middle-East terror group.
British officials have conveyed this to their Indian counterparts at the meeting of Indo-UK Counter Terrorism Joint Working Group held in London on January 15 and 16. Officials said during the meeting, India had asked Britain to impress upon Pakistan not to differentiate between "good" and "bad" terrorists in the wake of recent attack on a school in Peshawar and added that it must take a firm stand on why Pakistan had become a nursery of terrorists.
"We have asked Britain to be alert about possible attack by Lashkar-e-Toiba there. Britain in turn has warned us that an attack by ISIS could take place in India," an official said.
Full report at:
http://indianexpress.com/article/india/india-others/uk-warns-india-of-possible-isis-attack/#sthash.bcrwRHef.dpuf
--------
RBI notice to PIA: Pak lodges protest with MEA
Sachin Parashar,TNN | Jan 20, 2015
NEW DELHI: Pakistani deputy high commissioner Mansoor Khan on Tuesday lodged protest with MEA over RBI notice to PIA for alleged unlawful purchase of properties.
Pakistan had earlier alleged that its national carrier PIA is being harassed by Indian authorities for "illegal" purchase of properties in violation of RBI guidelines.
Islamabad had alleged that the move was meant to force PIA to shut its India operations and prevent people to people contacts.
The properties in question, 4 flats on Barakhamba Road, house the main PIA office in India.
After it was served a notice by both RBI and ED, PIA had replied saying that the flats, along with parking plots, were purchased in 2005 as per the Foreign Exchange Management (Acquisition and Transfer of Immovable Property in India) Regulations and that a declaration of the acquisition was filed with RBI within the stipulated 90 days.
http://timesofindia.indiatimes.com/india/RBI-notice-to-PIA-Pak-lodges-protest-with-MEA/articleshow/45951359.cms
-----------
Africa
Nigerians face killings, hunger in Boko Haram's 'state'
20 Jan, 2015
(Reuters) - Boko Haram says it is building an Islamic state that will revive the glory days of northern Nigeria's medieval Muslim empires, but for those in its territory life is a litany of killings, kidnappings, hunger and economic collapse.
The Islamist group's five-year-old campaign has become one of the deadliest in the world, with around 10,000 people killed last year, according to the Council on Foreign Relations. Hundreds, mostly women and children, have been kidnapped.
It remains the biggest threat to the stability of Africa's biggest economy ahead of a vote on Feb. 14 in which President Goodluck Jonathan will seek re-election.
But while it has matched Islamic State in Syria and Iraq in its brutality -- it beheads its enemies on camera -- it has seriously lagged in the more mundane business of state building.
"The Islamic state is a figment of their imagination. They are just going into your house and saying they have taken over," said Phineas Elisha, government spokesman for Adamawa state, one of three states under emergency rule to fight the insurgency.
Full report at:
http://in.reuters.com/article/2015/01/20/nigeria-boko-haram-idINL6N0UY3M420150120
-----------
45 churches torched in Niger capital in cartoon demos: police
20 January 2015
Forty-five churches were torched over the weekend in Niger's capital during deadly protests over the publication of a Prophet Mohammad cartoon by the French satirical weekly Charlie Hebdo, police said on Monday.
The protests, which left five people dead and 128 people injured in Niamey, also saw a Christian school and orphanage set alight, Adily Toro, a spokesman for the national police, told a press conference.
Similar unrest sparked by the French satirical weekly, which was targeted by a bloody Islamist raid on January 7, saw five people killed in the southern city of Zinder, where 45 were wounded.
Full report at:
http://english.alarabiya.net/en/News/africa/2015/01/19/45-churches-torched-in-Niger-capital-in-cartoon-demos-police-.html
----------
Libya formally recalls former general Haftar for army duty
20 January 2015
Libya's internationally-recognised government has recalled retired general Khalifa Haftar to army duty, officials said on Monday, cementing its alliance with him in a struggle against a rival administration claiming national authority.
The decision shows the increasing influence of military figures in the official government and parliament, which has been forced to operate from the east of the country since an armed group called Libya Dawn seized the capital Tripoli in summer.
Frustrated with the loss of Tripoli and lack of an efficient army or police, the elected parliament and its allied Prime Minister Abdullah al-Thinni have gradually built up a military alliance with Haftar.
Full report at:
http://english.ahram.org.eg/NewsContent/2/8/120739/World/Region/Libya-formally-recalls-former-general-Haftar-for-a.aspx
-----------
Militia chief held in Central African Republic
20 January 2015
BANGUI: A powerful vigilante leader in the Central African Republic, accused of masterminding a massacre of some 300 minority Muslims in December 2013, has been arrested, prosecutors said on Sunday.
UN peacekeepers arr­ested Rodrigue Nagibona, alias General Andjilo, who had been on the run for several months, on Saturday in the northwest of the impoverished country and took him into custody, the prosecutors said. A Cameroonian contingent of the UN force known by the acronym MINUSCA arrested Andjilo in the town of Bouca after a firefight with "his men", a judicial source said.
"General Andjilo is wanted for multiple alleged crimes including killings, rebellion, illegal possession of weapons of war, criminal association, rape and pillage," said Maurice Dibert-Dollet, Bangui's general prosecutor.
Violence between rival factions has plunged the deeply poor, landlocked country into an unprecedented political and security crisis.
Mostly Muslim Seleka fighters backed by armed Muslim civilians have battled the anti-balaka, who emerged in mainly Christian communities to avenge attacks and atrocities, but are themselves accused of serious abuses.
Anti-balaka means "anti-machete" in the local Sango language and refers to the weapon of choice wielded by the Seleka — but also taken up by the vigilantes.
http://www.dawn.com/news/1157939/militia-chief-held-in-central-african-republic
-----------
South Asia
IS planning high visibility attacks in Bangladesh
Jan 20 2015
Islamic State, the transnational jihadist movement that has established a state in parts of Syria and Iraq, was planning major attacks on important Bangladeshi establishments and personalities, the Detective Branch (DB) of police said yesterday.
The statement comes after the arrest early yesterday of four local IS members, including its chief coordinator in the country.
The arrestees have been identified as Sakhawatul Kabir, chief coordinator of the Bangladesh chapter of IS, Anwar Hossain, who was earlier convicted in an explosion case, Rabiul Islam, an information technology expert and Nazrul Alam, a financier of the outfit.
"Acting on a tip-off, DB police arrested the IS members in the capital's Khanbari intersection area under Jatrabari police station," Shaikh Nazmul Alam, deputy commissioner of DB police, said at a briefing at the Dhaka Metropolitan Police (DMP) Media and Community Centre.
Detectives seized a large cache of jihadist leaflets, three laptops, eight mobile phones, two CPUs, one keyboard, three laptop chargers, five RAMs, six modems, three CD-ROMs, eight software CDs, three pen drives, one passport, one card reader, two hard disks and a visa application form for Pakistan from their possession.
Full report at:
http://www.dhakatribune.com/bangladesh/2015/jan/20/db-planning-high-visibility-attacks-bangladesh#sthash.Gr3ZAbCD.dpuf
-----------
Tokyo vows not to give in to Isis's demands
20 January 2015
The Islamic State of Syria and Iraq threatened to kill two Japanese hostages unless it receives a US$200 million (RM721.5 million) ransom within 72 hours, but Tokyo vowed today it would not give in to "terrorism".
Isis has murdered five Western hostages since August last year, but it is the first time that the jihadist group, which has seized swathes of Syria and neighbouring Iraq, has threatened Japanese captives.
In footage posted on jihadist websites, a black-clad militant brandishing a knife addresses the camera in English, standing between two hostages wearing orange jumpsuits.
"You now have 72 hours to pressure your government into making a wise decision by paying the US$200 million to save the lives of your citizens," he says.
The militant says that the ransom demand is to compensate for non-military aid that Prime Minister Shinzo Abe pledged to support countries affected by the campaign against Isis during an ongoing Middle East tour that on Tuesday saw him in Jerusalem.
Full report at:
http://www.themalaysianinsider.com/world/article/tokyo-vows-not-to-give-in-to-is-demands#sthash.UuSdRg3D.dpuf
-----------
Roadside Bomb Kills Eight Afghan Civilians
20 January 2015
At least eight civilians including women and children were killed when their van struck a roadside bomb in Southern Afghanistan on Tuesday, officials said.
The incident occurred in the Jaghuri district of Ghazni province, Deputy Provincial Governor Mohammad Ali Ahmadi told AFP.
"Eight civilians, including one woman and a child, were killed in this morning roadside blast. One child and one woman were wounded," he said, adding that the injured child and woman were taken to the hospital in critical condition.
Asadullah Safi, the deputy police chief of the province told AFP that four of those killed belonged to one family.
No one has claimed responsibility for the attack but roadside bombs have been the Taliban's weapon of choice in their war against foreign and Afghan security forces, now in its fourteenth year.
http://english.farsnews.com/newstext.aspx?nn=13931030001131
-----------
S. Korean police find ISIS images on missing teen's computer
20 January 2015
A South Korean teenager who went missing in Turkey near the Syrian border had images of what appeared to be Islamic State of Iraq and Syria (ISIS) militants on his home computer, police said Monday, amid suspicions he may have joined the group.
The 18-year-old, identified only by his surname Kim, went missing Jan. 10 during a trip to the southern Turkish town of Kilis and was last seen leaving a hotel.
Turkish newspaper Milliyet reported earlier that he had exchanged e-mails with ISIS and probably crossed into Syria to join them.
But Seoul's foreign ministry said at the weekend it had seen no hard evidence that Kim had entered Syria or joined the group.
Full report at:
http://english.alarabiya.net/en/News/asia/2015/01/19/S-Korean-police-find-ISIS-images-on-missing-teen-s-computer-.html
-----------
Two Uighurs trying to enter Vietnam shot dead
20 January 2015
BEIJING: Police in southern China shot dead two Uighurs trying to cross the border into Vietnam, state media reported on Monday, with rights groups saying repression at home causes members of the ethnic minority to flee.
Officers discovered a group of Uighurs near a highway toll gate on Sunday evening and two who "assaulted" the officers with knives were shot dead, the government-run China News Service said.
Uighurs are a Turkic-speaking and mostly Muslim ethnic minority, whose resource-rich homeland Xinjiang has seen intensifying and increasingly sophisticated attacks, sometimes spreading beyond it.
Two more people were detained while police were still searching for a fifth in Pingxiang city in the southern region of Guangxi, the official Xinhua News Agency reported.
At least 200 people have been killed in a series of clashes over the past year linked to Xinjiang, with authorities blaming religious extremists and separatists in the far northwest region.
Full report at:
http://www.dawn.com/news/1158080/two-uighurs-trying-to-enter-vietnam-shot-dead
-----------
Ban on Jamaat-e-Islami politics demanded
Jan 20 2015
The Barisal unit of Ekatturer Ghatak Dalal Nirmul Committee yesterday demanded restoration of the original constitution of 1972 and banning of Jamaat-e-Islami without delay.
The demands were voiced at a human chain formed in front of Ashwini Kumar Hall in the city to mark the 23rd anniversary of the platform.
The programme was presided over by Akkas Hossain, noted cultural activist of the city.
Shanti Das, secretary of the Barisal unit of the organisation, Advocate AK Azad of CPB, Rabeya Khatun of Mahila Parishad, Nazrul Huq Nilu of Workers Party, and NGO organiser Anwar Zahid addressed the rally among others.
The speakers called for the full restoration of the constitution of 1972 and demanded speedier trial and punishment of war criminals.
Full report at:
http://www.dhakatribune.com/politics/2015/jan/20/ban-jamaat-e-islami-politics-demanded#sthash.WNkdgHJ7.dpuf
-----------
Some Maldivian police officers believe women to blame for domestic violence, says HRCM
Jan 20 2015
Some police officers believe violence against women is caused by women failing to fulfil their duty as submissive wives, the Human Rights Commission of the Maldives (HRCM) has said.
In a report to the UN Committee on Convention on Elimination of all Forms of Discrimination Against Women (CEDAW), the HRCM said that meetings held with police during monitoring visits in the atolls revealed some police officers' "initial belief is that the role of women is to raise children, take care of her family and be submissive to the husband".
"Also, they have the notion that violence against women is mostly the result of women not fulfilling their duty as submissive wives."
Reporting of violence against women is "proportionally low", the HRCM said, noting it had received only 16 such cases in the period between 2008 and 2013. The Family Protection Authority had meanwhile received 19 cases in 2013 and 154 cases in 2014.
"The lack of confidence in the system, fear of intimidation, inadequate information on protection measures, stigmatization by the community along with lack of opportunities for economic empowerment are some of the factors that hold the victim from reporting to authorities," the HRCM said.
Full report at:
http://minivannews.com/politics/some-police-officers-believe-women-to-blame-for-domestic-violence-says-hrcm-92233
---------
North America
Canada's special forces clash with ISIS in Iraq
20 January 2015
Canadian special forces exchanged gunfire with fighters belonging to the Islamic State of Iraq and Syria (ISIS) militant group in Iraq in recent days, in the first confirmed ground battles between Western troops and ISIS, a briefing heard Monday.
"My troops had completed a planning session with senior Iraqi leaders several kilometers behind the front lines," Canadian special forces commander Brig. Gen. Michael Rouleau said.
"When they moved forward to confirm the planning at the front lines in order to visualize what they had discussed over a map, they came under immediate and effective mortar and machine gunfire."
The general said the Canadians used sniper fire to "neutralize both threats" and there were no Canadian injuries.
He said the clash had taken place in the previous seven days and was "the first time we've taken fire and returned fire" in Iraq.
The United States has previously reported having launched an unsuccessful hostage-rescue operation against ISIS in Syria, but Western forces have not officially engaged in ground combat.
Canada has some 600 troops in the region participating in air strikes against ISIS. About 60 of them are special forces training and advising Iraqi troops on the ground but theoretically not in combat.
http://english.alarabiya.net/en/News/middle-east/2015/01/19/Canada-s-special-forces-clash-with-ISIS-militants-in-Iraq-.html
-----------
Palestine could 'lose' millions in annual U.S. aid
20 January 2015
The Palestinians could lose annual U.S. aid if they file a lawsuit against Israel at the International Criminal Court which they joined this month over American and Israeli protests, a senior U.S. Republican senator said on Monday.
Lindsey Graham, part of a seven-member delegation of senators visiting Israel, Saudi Arabia and Qatar, said existing U.S. legislation "would cut off aid to the Palestinians if they filed a complaint" against Israel.
At a news conference in Jerusalem, Graham called the Palestinian step "a bastardizing of the role of the ICC. I find it incredibly offensive."
"We will push back strongly to register our displeasure. It is already part of our law that would require us to stop funding if they actually bring a case," said Graham, of South Carolina.
U.S. President Barack Obama's Democratic administration has said it does not believe Palestine is a sovereign state and therefore does not qualify to be part of the ICC, but has not explicitly threatened to withhold aid.
Any cut in U.S. funds could make it hard for the Palestinian self-rule authority in the West Bank and Gaza to survive. The U.S. supplies more than $400 million annually to the Palestinian Authority. Israel has frozen a monthly transfer of some $120 million in tax revenues it collects for the Palestinians.
United Nations Secretary-General Ban Ki-moon has confirmed the Palestinians will formally become a member of the ICC on April 1, after applying earlier this month.
With jurisdiction dating back to June 13, 2014, the court's prosecutor could investigate the 50-day war between Israel and Hamas militants in the Gaza Strip in July and August 2014, during which more than 2,100 Palestinians, 67 Israeli soldiers and six civilians in Israel were killed.
Full report at:
http://english.alarabiya.net/en/News/middle-east/2015/01/20/Palestine-could-lose-millions-in-U-S-aid-senator-warns-.html
-----------
Europe
German Anti-Islamic Movement, PEGIDA, Stages Rallies across Denmark
20 Jan, 2015
The Danish wing of Germany's anti-Islamic movement Patriotic Europeans Against the Islamisation of the Occident (PEGIDA) staged its first rallies on Monday, drawing several hundred people in the capital and in other cities although marchers were outnumbered by counter-demonstrators.
Around 200 PEGIDA supporters turned out in Copenhagen, many carrying torches and signs saying "No to violence and racism".
Some also held up covers of French satirical weekly Charlie Hebdo, whose Paris offices were attacked on January 7 by Islamist gunmen claiming to avenge its cartoons depicting the Prophet Mohammed.
"Of course there is room for everyone, but when there is talk about women's rights being suppressed or people are killed for Allah... that's what I'm demonstrating against," demonstrator Elena said.
Full report at:
http://www.radioaustralia.net.au/international/2015-01-20/german-antiislamic-movement-patriotic-europeans-against-the-islamisation-of-the-occident-stages-rall/1408111
-----------
EU calls for Muslim world's help against militant threat
20 January 2015
BRUSSELS: EU foreign ministers called on Monday for an alliance with Muslim countries to fight the growing Islamist militant threat as anger over the Charlie Hebdo cartoons fed fresh protests and violence.
Foreign policy head Federica Mogherini met Arab League chief Nabil al Arabi to urge better cooperation in the wake of last week's deadly Paris attacks and anti-terrorism raids in Belgium.
On the other side of a widening divide, hundreds of thousands of people rallied in Russia's Chechnya while dozens of churches were torched in Niger during protests over the publication of the blasphemous caricatures.
In Brussels, where Belgian troops guarded the EU headquarters and other sensitive buildings, ministers were discussing how to prevent battle-hardened jihadis returning home from Syria and Iraq.
Full report at:
http://www.dawn.com/news/1158094/eu-calls-for-muslim-worlds-help-against-militant-threat
-----------
Britain First Party Launches 'Christian Patrols' to Oppose 'Muslim Gangs'
20 Jan, 2015
MOSCOW, January 20 (Sputnik) — UK nationalist political party and movement Britain First has launched "Christian patrols" across the country to oppose "Muslim gangs", the party's leader Paul Golding has said.
"We've received new information that Muslim gangs are trying to enforce certain parts of Sharia law, and, quite frankly, we're not having this. We've got activist teams out across the country tonight carrying out similar Christian patrols in heavily Muslim areas," Golding said in a video posted by the movement on its Facebook page on Monday.
Golding said that the Britain First activist teams across the United Kingdom were out on the streets ensuring that people were not "affected by Muslim gangs, trying to enforce Sharia law."
The video documents the movement members giving out leaflets in Brick Lane and Whitechapel in London.
"It has come to our attention that Muslim patrols are operating in this area, confiscating alcohol and harassing women. If you see anything, please report it to Britain First," the party's leaflets said.
The documented on film Britain First "Christian patrol" comes shortly after Eric Pickles, the UK Secretary of State for Communities and Local Government, issued a letter to the country's Muslim leaders, following the recent terror attacks in Paris, saying there was an opportunity to explain "how faith in Islam can be part of British identity."
A series of terror attacks took place in Paris from January 7 to 9, the biggest one being the attack on the office of the Paris-based satirical weekly Charlie Hebdo, which claimed the lives of 12 people.
http://sputniknews.com/europe/20150120/1017101540.html
-----------
Four to face possible charges over Paris attacks
20 January 2015
Four men will appear before a judge in France on Tuesday to face possible charges of providing support to one of the Paris Islamist attackers, the prosecutors' office said.
The four men, aged 22, 25, 26 and 28, were among 12 people detained in police raids on Friday, a week after the jihadist attacks that left 17 people dead in and around Paris over the space of three days.
Three of the women detained in the raids were freed on Saturday and five people were released overnight Tuesday, the Paris prosecutors' office said.
The remaining four will later on Tuesday face an anti-terrorist judge who will decide whether to charge them with providing logistical support to one of the Paris attackers, Amedy Coulibaly.
Coulibaly took hostages at a kosher supermarket in eastern Paris on January 9 in a raid that left four dead. He is also suspected of shooting dead a policewoman the previous day just outside southern Paris.
He claimed to have acted in concert with Cherif and Said Kouachi, brothers who began the three days of Paris attacks on January 7 when they burst into the offices of the Charlie Hebdo satirical weekly, mowing down 12 people in revenge for cartoons lampooning the Prophet Mohammed.
The Paris attacks deeply shocked the country, prompting several million to pour onto the streets for rallies, and sparked an outpouring of international support for France.
http://english.alarabiya.net/en/News/world/2015/01/20/Prosecutor-Four-to-face-possible-charges-over-Paris-attacks-.html
-----------
German police in fresh raids on suspect Islamist sites
JANUARY 20, 2015
BERLIN, Jan 20 — German police searched more than a dozen suspected Islamist sites early today, seeking associates of two men who have been detained for allegedly planning an attack in Syria, police said.
No one was detained in the raids, which saw more than 200 officers search 13 apartments in Berlin, a neighbouring region and in the east, said a police statement.
Police said they targeted people who were in close contact with two men who had been detained after raids in Berlin on Friday — an alleged leader of a Turkish and Russian group planning an attack in Syria, and the man in charge of financing the organisation.
http://www.themalaymailonline.com/world/article/german-police-in-fresh-raids-on-suspect-islamist-sites#sthash.9G7msYtf.dpuf
-----------
EU appeal to keep Hamas on terror list 'immoral'
20 January 2015
Gaza City: Palestinian movement Hamas slammed as "immoral" Monday an EU appeal to keep it on the bloc's terror blacklist, a month after a European court ordered its removal.
"The European Union's insistence on keeping Hamas on the list of terrorist organizations is an immoral step, and reflects the EU's total bias in favor of the Israeli occupation," Hamas spokesman Sami Abu Zuhri told AFP.
"It provides it (Israel) with the cover for its crimes against the Palestinian people," he added.
Foreign ministers from the 28 EU member states decided at a Monday meeting to appeal the decision taken by the General Court of the European Union on December 17, the bloc's foreign policy chief Federica Mogherini said.
The ruling by the EU's second highest court had said that the blacklisting of Hamas in 2001 was based not on sound legal judgments but on conclusions derived from the media and the Internet.
Hamas, which has dominated the Gaza Strip since 2007, had appealed against its inclusion on the blacklist on several grounds.
Israel's closest ally the United States has urged the EU to keep up its sanctions on Hamas, saying the US position had "not changed" and Hamas is still a "designated foreign terrorist organization."
Hamas was attacked during a 50-day war last summer in which the Jewish state pounded Gaza with thousands of its own strikes.
The war killed nearly 2,200 Palestinians, mostly civilians, and 73 on the Israel side, mostly soldiers.
The EU ministers were meeting in Brussels to discuss how to boost cooperation in the face of a growing militant threat following deadly Paris attacks and anti-terror raids in Belgium.
http://www.arabnews.com/middle-east/news/692101
-----------
Merkel vows to uphold protest rights after threat halts anti-Islam demo
20 January 2015
Chancellor Angela Merkel said on Monday she had a duty to protect the right to demonstrate in Germany, regardless of the issue, and offered federal security support after an anti-Islam march was cancelled because of a terrorist threat.
Police in the eastern city of Dresden banned all outdoor public gatherings on Monday, including one by the "Patriotic Europeans Against the Islamisation of the West" (PEGIDA), a group that attracted 25,000 people to its rally last week.
The weekly PEGIDA demonstrations began last October as a local protest against the building of new shelters for refugees, and have been growing in size. Prominent members of a rising right-wing party, Alternative for Germany (AfD), are considering associating the AfD with PEGIDA.
However, counter-marches have taken place across Germany, with far larger numbers, and Merkel has condemned the group in unusually strong language as racists "with hatred in their hearts".
Full report at:
http://english.ahram.org.eg/NewsContent/2/9/120728/World/International/Merkel-vows-to-uphold-protest-rights-after-threat-.aspx
-----------
UN Urges African Forces to Fight Boko Haram Terrorists
20 January 2015
The UN Security Council has urged central African countries to boost plans for a multinational force to fight Boko Haram Takfiri group, which has seized control over an alarming amount of territory in Nigeria and stepped up cross-border raids in neighboring Cameroon, media report said.
The council issued a 13-point statement on Monday strongly condemning attacks by Boko Haram terrorists, in particular those involving children used as suicide bombers, and demanded an end to the violence, Aljazeera reported.
On the eve of a key meeting in Niger of regional leaders, the 15-member council urged Nigeria's neighbors to advance planning for the deployment a multinational task force to drive out Boko Haram.
Chad is set to contribute a sizeable contingent to the force along with Cameroon, Niger, Nigeria and Benin.
http://english.farsnews.com/newstext.aspx?nn=13931030000355
---------
Southeast Asia
'Allah' battle continues as Catholic Church returns to court with hope
BY V. ANBALAGAN, ASSISTANT NEWS EDITOR
20 January 2015
The Catholic Church will walk the path that has led only a few to success when the battle to use the word Allah in its weekly newspaper, Herald, returns to the courtroom tomorrow.
So far, only a handful of applications have been allowed in a review of a Federal Court ruling.
Last June, the seven-member Federal Court panel chaired by Chief Justice Tun Arifin Zakaria, in a majority judgment, dismissed the Catholic Church's application for leave to appeal.
The church was seeking leave to appeal against the Court of Appeal's decision earlier which had allowed the government's application to overturn the 2009 High Court's decision that the Herald could use the word Allah.
Tomorrow, lead counsel for the church, Datuk Dr Cyrus Das, will argue that the Federal Court's majority judgment last June was decided on issues which were not raised by parties before.
Full report at:
http://www.themalaysianinsider.com/malaysia/article/allah-battle-continues-as-catholic-church-returns-to-court-with-hope#sthash.AvGBqAdZ.dpuf
-----------
Abused Indonesian maid in Hong Kong was 'unpaid slave', prosecution says
JANUARY 20, 2015
Employer accused of starving and beating her Indonesian maid treated the woman as an "unpaid slave", prosecutors said today on the last day of hearings in a case which has shocked the city.
In the course of the six-week trial, 23-year-old Erwiana Sulistyaningsih described in vivid detail how she was "tortured", living for months on nothing but bread and rice, sleeping only four hours a day and being so badly beaten by her then-employer Law Wan-tung that she was knocked unconscious.
Pictures of Sulistyaningsih, who was admitted to hospital in Indonesia last January emaciated and in critical condition, sparked widespread anger in her home country and even drew comment from the president.
In closing arguments prosecutors admitted it was "difficult to determine" when the injuries were inflicted but concluded that Sulistyaningsih was enslaved by Law, 44, who denies all charges of abuse.
Full report at:
http://www.themalaymailonline.com/world/article/abused-indonesian-maid-in-hong-kong-was-unpaid-slave-prosecution-says#sthash.SJsfgAx9.dpuf
-----------
AirAsia crash: No evidence of terrorism so far
20 January 2015
Indonesian investigators said on Monday they had found no evidence so far that terrorism played a part in the crash of an AirAsia passenger jet last month that killed all 162 people on board.
Andreas Hananto said that his team of 10 investigators at the National Transportation Safety Committee (NTSC) had found "no threats" in the cockpit voice recordings to indicate foul play during AirAsia Flight QZ8501.
When asked if there was any evidence from the recording that terrorism was involved, Mr. Hananto said: "No. Because if there were terrorism, there would have been a threat of some kind."
"In that critical situation, the recording indicates that the pilot was busy with the handling of the plane."
Investigators said they had listened to the whole of the recording but transcribed only about half.
"We didn't hear any voice of other persons other than the pilots," said Nurcahyo Utomo, another investigator. "We didn't hear any sounds of gunfire or explosions. For the time being, based on that, we can eliminate the possibility of terrorism."
Explosion also "unlikely"
Full report at:
http://www.thehindu.com/news/international/world/no-evidence-so-far-of-terrorism-in-airasia-flight-qz8501-crash/article6802086.ece
-------------
Rise of Salafism cause of controversial fatwas, says sociologist
20 January 2015
The rise of Salafism or Wahhabism in Malaysia has resulted in controversial edicts (fatwas) being issued, to the extent of interfering in the personal lives of Muslims, a sociologist told a forum today.
Dr Syed Farid Alatas, an associate professor at the Sociology Department, National University of Singapore, expressed disbelief over the recent proposal by Kelantan to impose jail term and fine on Muslim men who miss Friday prayers for three consecutive weeks.
"I read that the Kelantan state government intended to fine Muslim men RM1,000 and sentence them to a year's jail if they skipped Friday prayers three times in a row.
"While I agree that society needs rules and regulations, it is immoral and unethical to propose such drastic action on those who do not perform Friday prayers regularly.
"There is an imbalance here as respect for the sanctity of personal life has been completely disregarded. This is bordering on coercion without taking civil liberties into account," he said at a roundtable discussion on the threat of religious fundamentalism held in Kuala Lumpur.
Syed Farid said even if all Muslim men in Kelantan were driven to performing Friday prayers, the question is whether they were sincere in performing the prayers or doing it out of coercion.
Full report at:
http://www.themalaysianinsider.com/malaysia/article/rise-of-salafism-in-malaysia-cause-of-controversial-fatwas-says-sociologist#sthash.NdVcBHq2.dpuf
----------
URL: https://newageislam.com/islamic-world-news/turkish-islamic-cleric-advocates-marriage/d/101126