New Age Islam News Bureau
16 August 2022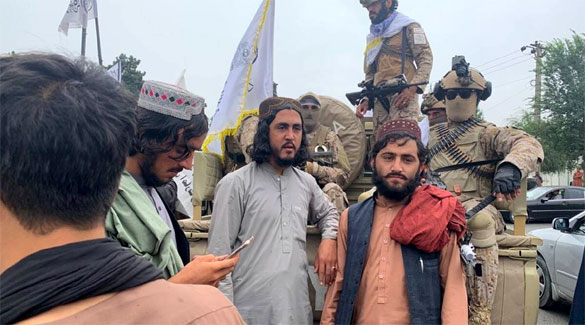 Taliban fighters gather in Kabul to mark a year since their takeover of Afghanistan, on Monday. (Express Photo by Nirupama Subramanian)
----
• Al-Qaeda and Islamic State Are On the Rise in Africa after Last French Troops Left Mali
• Salman Rushdie Attack Suspect, Hadi Matar, 'Changed' By Middle East Visit: Mother
• Hindus and Muslims Will All Walk Together: Yoga Guru Ramdev Hoists Tricolour at Haridwar Madrasas, Joined By Muslim Village Heads
• Ex-PM Imran Khan Admits Hindu Girls Being Forcefully Converted To Islam in Pakistan
South Asia
• Taliban Rejected Appeals to Create Inclusive Government, Says Afghan Diplomatic Missions
• Heavy rains set off flash floods, killing 31 in Afghanistan
• Taliban Delegation to Visit Turkey to Assess Situation of Afghan Refugees and Migrants
• Iranian Customs Officers Seize Afghan Tanker Truck Containing 100KG of Drugs
• How life has changed for Afghans since the Taliban takeover
• Afghan resistance group claims arrest of Taliban forces
--------
Africa
• Arrest Miyetti Allah leaders for killings in Benue – Group tasks security agencies
• Extremist group claims to have killed four Wagner mercenaries in central Mali
• Protests as Ruto declared winner of disputed Kenya vote
--------
North America
• Canada Urged To Bring In More Afghans Facing Risk of Death from Taliban
• Father and son linked to murders of Muslims in New Mexico
• US Spy Services in Afghanistan Continuing Destructive Actions
• The Albuquerque murders are a wake-up call for American Muslims about our own communities
• US acknowledges direct talks with Syrian regime over imprisoned journalist
--------
India
• India's 'Salaried Class' Shrank During Covid, Muslims Hit Hardest, Govt Data Suggests
• Ismailis lead the march of communities to celebrate 76th Independence Day
--------
Pakistan
• Nawaz to end exile, back in Pakistan this Sept: PML-N
• IHC to form larger bench to hear PTI's plea against prohibited funding verdict
• US, Pakistan discuss options for Gen Bajwa's visit to DC
• Imran distances himself from Gill's remarks, calls them 'wrong'
• Militant behind JUI-F leader's assassination killed in N. Waziristan: ISPR
• Sharif offers condolences over deaths in Egypt church fire
--------
Arab World
• Hamas Calls for Formation of United Front against Israel after Aggression on Syria
• Pro-Iran Shia Bloc Resume Efforts in Forming New Iraqi Cabinet
• Base housing US occupation troops, allied militants in SE Syria comes under drone attack
• Saudi Crown Prince leads washing ceremony of Holy Kaaba in Mecca
• Egypt's deadly church fire sparks global outpouring of sorrow and sympathy
• Rockets target military base housing Turkish forces in northern Iraq
• Hezbollah's precision strike missiles can hit any target across occupied territories: Nasrallah aide
--------
Mideast
• Top Islamic Jihad Official: We Are Preparing For the Next Round of Fighting Against Israel
• Iran to Inaugurate Major Water Desalination Project at Bushehr Power Plant
• Army Commander Reiterates Iran's Support for Diplomacy to Resolve Border Disputes with Taliban
• Iran responds to EU nuclear text, seeks US flexibility
• Israel army says found, blocked 'attack' tunnel from Gaza
--------
Europe
• UK Government under Fire over Treatment Of Afghan Refugees
• Bosnian court sentences former Serb police officer to 20 years in jail for war crimes
• Al-Qaeda affiliate claims it killed four Russian mercenaries in Mali
--------
Southeast Asia
• Police Arrest Man Suspected Of Uprooting Gravestones At Muslim Cemetery
• PBS factor in Warisan's decision on election seats
• Umno man hails Ismail's brave decisions in first year as PM
• Indonesia at 'pinnacle of global leadership': President Widodo
Compiled by New Age Islam News Bureau
URL: https://newageislam.com/islamic-world-news/taliban-civilians-women-afghan-emirate-/d/127723
--------
Taliban Celebrates One Year in Power with Few Civilians and No Women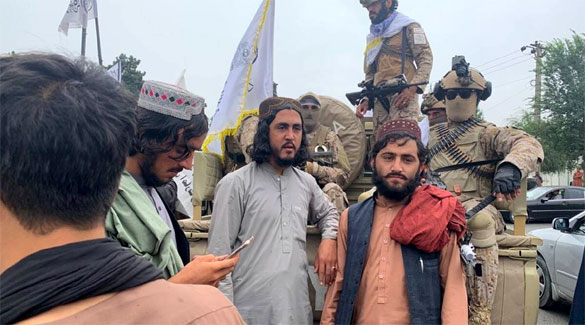 Taliban fighters gather in Kabul to mark a year since their takeover of Afghanistan, on Monday. (Express Photo by Nirupama Subramanian)
----
By Nirupama Subramanian
August 16, 2022
HUNDREDS OF Taliban fighters took to the streets of Kabul on Monday to celebrate the first anniversary of their takeover of Afghanistan, riding in open pick-up trucks, holding automatic guns and waving their group's white-and-black flags.
The Taliban regime marked the occasion with sedate victory speeches by senior leaders inside a state-media auditorium in the high-security Green Zone, close to the Indian Embassy. But few civilians, either on the streets or indoors, took part in the celebrations — and no women at all.
However, a small group of women reportedly met in secret at a house in Kabul to mark their protest, and pledged to continue their resistance against the Taliban. A statement by the group, RAWA (Revolutionary Association of the Women of Afghanistan), denounced the Taliban for being anti-women and blamed the US for the "planned" handover of power last year.
On the streets, fighters congregated through the day at a prominent roundabout in Kabul named after Ahmad Shah Massoud, whose Northern Alliance was the main resistance to the Taliban in the 1990s before he was killed by an Al Qaeda suicide bomber two days ahead of the 9/11 attacks in the US.
"We defeated America, and we won our independence. That is what we are celebrating here," said Abdul Qahar Agha Jan, from Laghman province, south of Kabul. He said he was working in the Ministry of Defence.
He said the decision to congregate at Massoud Circle, close to the US Embassy, was a message that the Taliban now rule Afghanistan. "We are in power. This place belongs to all Afghans. We also want to tell other Mujahideen and the family members of Ahmad Shah Massoud that they come here and live with us in peace," said Agha Jan.
Some of the fighters were holding posters of the Haqqani group patriarch, Jalaluddin Haqqani, who died in 2018. A middle-aged Talib delivered a speech denouncing the recent US drone strike in Kabul to kill Ayman Al Zawahiri, and declared that the Americans were "lying" that they had eliminated the Al Qaeda leader.
One group of Taliban in the back of a sand-coloured Toyota pick-up were dressed in US army uniforms with American military gear — night-vision equipment, goggles, sand-coloured face masks and M4 automatic carbines. As religious songs blared from portable public address systems, a Talib holding an M4 said the weapon had been left behind by the "Amreeki" while another held a Soviet-era gun, boasting that it "worked very well".
Across the roundabout was a huge concrete security wall around a government ministry, painted with slogans hailing the Taliban's victory last year. "Freedom is as beautiful as spring," one slogan proclaimed. "The people are our own, and we are from the people," another read.
Many Taliban fighters also gathered at the Wazir Mohammed Akbar Khan hill, a few kilometres from the roundabout, anticipating a formal flag-hoisting on top. With a song praising jihad in the background, they did the "atan" (a traditional Pashtun dance) around a flagpole on which the Afghan Republican flag gifted by India had flown until the collapse of the republic last year.
Asked why no women were participating, a Talib said, "they have their own work to do"; another said "it was not allowed under sharia"; and, a third assured that "you will see women next year".
In the afternoon, all roads led to the auditorium of state-owned Radio Television Afghanistan, where children sang a song in praise of Mullah Omar, the Taliban founder who died in 2013, with lines about how peace had returned to Afghanistan. VIPs spoke about the government's achievements. The road to the Green Zone was jammed with vehicles, including unmarked Toyota Prados ferrying Taliban leaders to the function. But the top leadership was not present, including Sirajuddin Haqqani.
Mullah Omar's son Mullah Yaqoub, who heads the defence ministry, said the Taliban had restored security in the country. "Those who are plotting rebellion will be punished, and their plans defeated," he said.
"We should evaluate our performance of the year and ask ourselves if it is enough or not," he said, adding that international recognition, sanctions and blacklists did not matter. "Our efforts should be directed to serve this country and make progress," he said.
Amir Khan Muttaqi, who is in charge of the foreign ministry, said Afghanistan wants good relations with all countries. He said the Taliban's foreign policy was geared towards maintaining a balance in the region. "We don't want to get into trouble with anyone. We have satisfied all countries that we will not allow the soil of Afghanistan to be used against anyone" he said.
Although the day had been declared an official holiday, most of Kabul's residents seemed to have decided not to step out, making this a Taliban-only celebration. At the secret protest by RAWA, the participants reportedly pledged that their voices would not be drowned by gunfire — a reference to the aerial firing that the Taliban resorted to on Saturday to disperse a protest by women demanding "work, bread and education".
In a statement, RAWA declared that the women of Afghanistan would continue to resist. "It was easily predictable that women and girls would be the prime victims of this barbaric rule and are facing devastating and inhumane suppression in all areas of life. However, the women of our country proved that no force could impose their reactionary ideologies or hold them captive inside their homes," it said.
"Afghan women made history by raising the flag of struggle against the Taliban and for freedom and justice. Since the first days of Taliban's takeover, these women have protested on the streets without any fear of guns or whiplashes; they were suppressed, threatened, and humiliated, but bravely continued their fight," RAWA said.
It said that "the inquisition-based government" was "so reactionary, abhorred, and brutal" that no country had officially recognised it, "not even their supporters and patrons". It denounced the US for "claims that they were surprised" by the fall of Kabul and the escape of President Ashraf Ghani — and for supporting the Taliban regime by giving it financial assistance.
"We have full faith in this great struggle and the extraordinary potential hidden in our Afghan women, and we warmly shake the hands of every justice-seeking force and individual in this crucial battle for Afghanistan and its people and to continue hoisting the banner of struggle against Taliban and Jihadi fundamentalism," the statement said.
Source: Indian Express
Please click the following URL to read the text of the original story:
https://indianexpress.com/article/world/in-kabul-taliban-celebrates-1-yr-in-power-but-few-civilians-no-women-8092267/
--------
Al-Qaeda and Islamic State Are On the Rise in Africa after Last French Troops Left Mali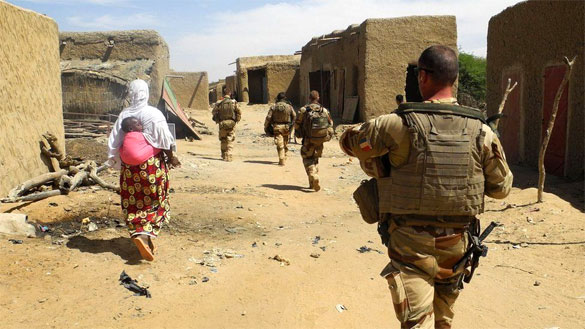 French troops have been part of Operation Barkhane against militants in the Sahel/ Getty Images
----
August 16, 2022
As the world remembered the chaos and tragedy that surrounded the U.S. and allied withdrawal from Afghanistan a year ago, a quieter exit took place Monday. The last French troops left Mali for neighbouring Niger, drawing to a formal close a near-decade-long mission in the sprawling West African nation of 21 million people. Their presence in Mali had begun in 2013 as part of an ambitious Paris-led effort to fight back an Islamist militant threat that was spreading across the vast region between desert and Savanna known as the Sahel.
But the mission ended incomplete despite billions of euros spent and thousands of Malian lives lost (as well as 59 French soldiers), leaving in its wake no shortage of geopolitical rancor and a worryingly deteriorating security situation. Militants from factions linked to both al-Qaeda and the Islamic State have entrenched themselves on a widening battlefield across the African continent.
The French departure from Mali had been telegraphed months in advance amid a rupture in relations between the government of French President Emmanuel Macron and a Malian junta that seized power in August 2020 and carried out "a coup within a coup" — as Macron himself put it — against civilian officials nine months later. Those overthrows were part of what U.N. Secretary General António Guterres lamented was "an epidemic of coups d'etats" in the region including in neighboring Burkina Faso and Guinea.
In Mali — not unlike what happened once the United States announced its drawdown in Afghanistan — attacks by Islamist insurgents have spiked in recent weeks as the French completed their exit. "The situation is worse than in 2013," said Alpha Alhadi Koina, a Bamako-based geopolitical analyst, to the New York Times. "The cancer has spread through Mali."
The scale of the violence shows how the central zone of Islamist-related violence has shifted away from the Middle East and South Asia. "In Mali nearly 2,700 people were killed in conflict in the first six months of this year, almost 40 percent more than in all of 2021," the Economist detailed last week. "Last month jihadists attacked a military checkpoint 60km from Bamako, the capital; a week later they hit the country's main military camp on its doorstep. In Niger, deaths in conflict have fallen slightly but will probably exceed 1,000 in 2022. In Burkina Faso in the first half of the year about 2,100 people have been killed."
An Islamic State offshoot has supplanted fundamentalist Islamist group Boko Haram in northern Nigeria. Further afield, Islamic State-affiliated militants are waging attacks across a swath of central and East Africa, from northern Mozambique to Uganda to the Democratic Republic of Congo. In Somalia, al-Shabab, an insurgent faction originally linked to al-Qaeda that is arguably more capable than its much-diminished parent organization, remains a powerful force — and a threat with such menace that it prompted President Biden to redeploy U.S. forces to the country earlier this year.
Last week, Martin Ewi, a South Africa-based analyst, briefed the U.N. Security Council on the scale of the threat, pointing to how the Islamic State was active in more than 20 African countries already, and warned that the continent may represent "the future of the caliphate."
The Islamic State's first supposed "caliphate" took root in Iraq and Syria amid the chaos of the latter's civil war. But a coalition of Western and local forces eventually smashed its forces, recaptured the cities it once controlled and forced its surviving fighters into captivity or hiding. Ewi told the assembled U.N. dignitaries that "no similar coalition was mounted to defeat [the Islamic State] in Africa … meaning that the continent was left to bear the consequences of those who are fleeing Syria and finding safe havens on the continent."
France's exit from Mali, though, underscores both how fraught the prevailing security situation is and how difficult it may be to address. After being initially welcomed when huge stretches of Mali were under Islamist militant control, France's presence turned unpopular over time, with incidents like a French airstrike last year in central Mali that killed 19 civilians souring attitudes against the old colonial ruler.
"French forces eliminated a significant number of jihadist fighters and leaders, operating under incredibly difficult circumstances and at high risk," Andrew Lebovich, a policy fellow at the European Council on Foreign Relations and an expert on the Sahel, told me. "At the same time, the French were ultimately not able to manage tensions with successive Malian governments."
The current junta in Mali appears to be seeking to replace France's help by enlisting mercenaries from notorious Russian firm Wagner Group — charges Mali's government denies. Forces linked to that organization, along with Malian troops, are believed to have carried out mass extrajudicial executions in a central Malian town in March. The political environment in Mali with the junta is so troubling that it compelled Germany to suspend its comparatively smaller role in supporting a U.N. mission in the country.
"The disruption of much of the security cooperation with French and partner forces has almost certainly contributed to the deterioration of the security situation, while the arrival of Wagner forces has contributed to a number of significant human rights abuses, while doing little to visibly improve security in the areas in which they most frequently operate," Lebovich said.
In recent years, he added, "the most active components" of both al-Qaeda and the Islamic State "have been in Africa, particularly in the Sahel and Lake Chad Basin," and remain deeply difficult to dislodge.
"Even where some regional interventions have been moderately more successful, these groups continue to operate and not only retain a strong presence, but in some cases expand their operations across quite vast spaces," Lebovich said.
Source: Washington Post
Please click the following URL to read the text of the original story:
https://www.washingtonpost.com/world/2022/08/16/africa-mali-france-al-qaeda-isis-insurgents/
--------
Salman Rushdie Attack Suspect, Hadi Matar, 'Changed' By Middle East Visit: Mother
Hadi Matar, 24, right, leaves an arraignment in the Chautauqua County Courthouse in Mayville, NY. on Saturday. AP
-----
Aug 16, 2022
LONDON: The accused attacker of British author Salman Rushdie was transformed by a trip to Lebanon in 2018, when he became more religious and less outgoing, his mother has said.
Lebanese-born Silvana Fardos, of Fairview, New Jersey, described her 24-year-old son Hadi Matar as "a moody introvert" increasingly fixated with Islam after the visit to see his estranged father.
"One time he argued with me asking why I encouraged him to get an education instead of focusing on religion," she told the website of Britain's Daily Mail newspaper.
"He was angry that I did not introduce him to Islam from a young age," she said in an interview published online late Sunday.
Matar was arrested at the scene of the attack on Rushdie, 75, at a literary event in upstate New York on Friday.
He pleaded not guilty the following day to attempted murder and assault with a weapon charges and is being held without bail.
Prosecutors have described a planned, premeditated assault on Rushdie, who was stabbed approximately 10 times.
Police have provided no information about the suspect's background or his possible motive.
Fardos said she was "shell shocked" to receive a call from one of her twin 14-year-old daughters telling her that the FBI were at the family's home and her son was allegedly responsible.
"I just cannot believe he was capable of doing something like this. He was very quiet, everyone loved him," she said.
Fardos said federal agents had removed Matar's computer, his PlayStation, books and other items including knives and a sharpener.
Her son "changed a lot" after his trip to Lebanon, she said.
"I was expecting him to come back motivated, to complete school, to get his degree and a job, but instead he locked himself in the basement," she said.
"I couldn't tell you much about his life after that because he has isolated me since 2018," and also said little to the rest of his family for months.
"He sleeps during the day and wakes and eats during the night," she said.
Fardos, a teaching assistant and translator, said she was born a Muslim, but is not religious and does not care about politics -- and had never even heard of Rushdie.
"I had no knowledge that my son ever read his book," she said.
Matar was born in the US and grew up in California. His parents divorced in 2004, his father Hassan Matar returning to Lebanon, while Fardos moved to New Jersey, according to the Mail.
Source: Times Of India
Please click the following URL to read the text of the original story:
https://timesofindia.indiatimes.com/world/uk/salman-rushdie-attack-suspect-changed-by-lebanon-visit-mother/articleshow/93582061.cms
--------
Hindus and Muslims Will All Walk Together: Yoga Guru Ramdev Hoists Tricolour at Haridwar Madrasas, Joined By Muslim Village Heads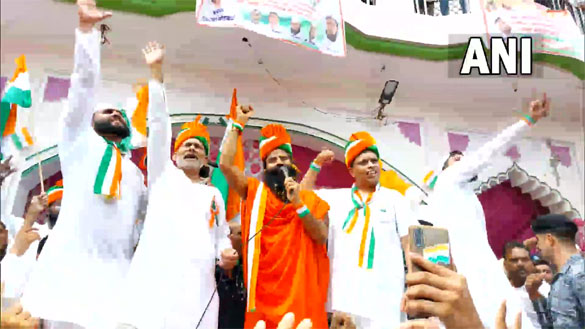 Yog Guru Ramdev hoisted the national flag in Madrasa Islamia Arabia in Bodaheri Mohiuddinpur village, Haridwar
-----
16 AUG 2022
Yoga guru Swami Ramdev organised a 'Tiranga Yatra' here on the occasion of the country's 76th Independence Day Monday which was attended by the Patanjali family and people from the Muslim community.
The march started at the Patanjali Yogpeeth and ended at Kasampur village via Budahedi. Swami Ramdev and his close associate Acharya Balkrishna hoisted the national flag at madrassas in both the villages.
Bodahedi village head Maulana Riyasat, his Kasampur counterpart Maulana Anees and social worker Qari Shamim Ahmed and a large number of people from the Muslim community participated in the yatra.
This Yatra would help bring together different faiths, religions, castes and sects, he said. "Hindus and Muslims will all walk together. We will keep alive the unity, mutual harmony, sovereignty and brotherhood of India," he said.
Balkrishna said the message of unity, integrity, sovereignty and brotherhood will be sent to the whole world through this tricolour yatra. Before the flag hoisting programme at the Madrassass, Ramdev also hoisted the national flag in Patanjali.
Source: Outlook India
Please click the following URL to read the text of the original story:
https://www.outlookindia.com/national/yoga-guru-ramdev-hoists-tricolour-at-haridwar-madarassas-joined-by-muslim-village-heads-news-216599
--------
Ex-PM Imran Khan Admits Hindu Girls Being Forcefully Converted To Islam In Pakistan
Imran Khan speaks on forced conversions Photograph:( Reuters )
------
Aug 13, 2022
Pakistan's former Prime Minister Imran Khan has admitted that forced conversions of young non-Muslim girls are carried out in the country.
While addressing a minority convention, the cricketer-turned-politician on Thursday condemned the forced conversions of Hindu girls to Islam in Sindh, reports Dawn.
"There is an ayat (verse) in the Holy Quran [that] there is no coercion in Islam. This is Allah's commandment. Whoever forcefully converts a non-Muslim is disobeying Allah," he was quoted as saying.
This is the first time that any politician has commented on the issue of forceful conversions in Pakistan.
Though there have been several reports of forced conversions, especially of minority Hindu girls, the governments and politicians in Pakistan have remained silent on the practice so far and have done little to address the issue.
In October last year, a parliamentary committee disallowed an anti-forced conversion bill to be taken up at the Parliament after the Ministry of Religious Affairs opposed the proposed law despite protests by legislators belonging to minority communities.
On November 26 last year, a report by the UK's All Party Parliamentary Group (APPG) for Pakistani Minorities, an informal, cross-party group formed by MPs and Members of the House of Lords, found that around 1,000 girls between the ages of 12-25 from minorities are forcibly converted to Islam in Pakistan every year and married to their abductors.
They had described the situation as a "human-rights catastrophe".
According to the 2017 census, Hindus make up around 2 per cent of Pakistan population, an overwhelming majority of them — close to 90 per cent — residing in Sindh province bordering Hindu-majority neighbour India.
Last year, the United States had placed Pakistan on the list of "countries of particular concern" for religious freedom violations.
In 2016, Sindh province passed a law declaring forced conversion a punishable offence, but the region's governor refused to ratify the legislation.
Source: WIO News
Please click the following URL to read the text of the original story:
https://www.wionews.com/south-asia/ex-pm-imran-khan-admits-hindu-girls-being-forcefully-converted-to-islam-in-pakistan-506413
--------
South Asia
Taliban rejected appeals to create inclusive government, says Afghan diplomatic missions
15.08.22
The Taliban have not only failed to deliver on their commitments but also "re-enacted draconian policies", including systematically erasing women from public life, Afghan diplomatic missions across the world said on Monday on the first anniversary of fall of the democratically-elected government in Kabul.
The Taliban seized power in Kabul on August 15 last year following withdrawal of American troops and collapse of the Ashraf Ghani government.
"Afghan citizens are deprived of basic services and face grave human rights abuses and violations, poverty, repression, and fear," the missions said in a statement.
"Almost overnight, the Taliban militant group rolled back hard-won gains achieved through the joint effort and sacrifice of the people of Afghanistan and the international community since 2001," they said.
Most of the diplomatic missions of Afghanistan, including in India, are still functioning independent of the Taliban dispensation.
They said the Taliban have rejected consistent national and international appeals for the creation of an inclusive and representative government, which is critical for political stability.
The statement was released to the media by an official of the Afghan embassy in Delhi.
The missions said that despite the "violent and illegitimate" nature of the Taliban takeover, they were offered the opportunity to deliver on commitments, including ensuring the fundamental rights of citizens and not allowing Afghanistan to become a safe haven for international terrorism.
The statement said that many countries and international organisations adopted a policy of dialogue and engagement with the group in the hope that such interaction would positively influence the Taliban's approach and actions toward the people's expectations.
"One year on, the Taliban have not only totally failed to deliver on all their commitments but re-enacted draconian policies and directives," the missions said.
"Among others, the group has banned girls from attending secondary education and systematically erased women and girls from public life by restricting their fundamental rights to work and play an active role in society," the statement said.
The missions said that preventing girls from education not only constitutes a "grave human rights violation" but also jeopardises the country's progress and future.
They alleged that "arbitrary detentions" including of women activists, forced disappearances and forced displacements, collective punishment, crackdown on media and extra judicial killings became normal practice under Taliban rule.
Source: Telegraph India
Please click the following URL to read the full text of the original story:
https://www.telegraphindia.com/world/taliban-rejected-appeals-to-create-inclusive-government-says-afghan-diplomatic-missions/cid/1880306
--------
Heavy rains set off flash floods, killing 31 in Afghanistan
Aug 15, 2022
ISLAMABAD: Heavy rains set off flash floods that killed at least 31 people and left dozens missing in northern Afghanistan, the Taliban's state-run news agency reported Monday.
The Bakhtar News Agency said the flooding took place on Sunday in northern Parwan province. The agency said that women and children were among the dead and 17 people were reported injured.
At least 100 people remained missing on Monday, the report said, and a search and rescue operation was underway.
The flash floods swept away dozens of homes in the three affected districts in Parwan. The province is ringed by mountainous and more often witnesses floods from heavy rains.
Source: Times Of India
Please click the following URL to read the full text of the original story:
https://timesofindia.indiatimes.com/world/pakistan/heavy-rains-set-off-flash-floods-killing-31-in-afghanistan/articleshow/93571041.cms
--------
Taliban Delegation to Visit Turkey to Assess Situation of Afghan Refugees and Migrants
By Saqalain Eqbal
15 Aug 2022
According to Taliban authorities, a delegation from the Ministry of Refugees and Repatriation of the Taliban government would visit Turkey to assess the situation of Afghan migrants and refugees as Turkey deported as many as 40,000 Afghan migrants to Afghanistan.
Mohammad Arsala Kharouti, the Taliban government's deputy minister for refugees and repatriation, was quoted by the Bakhtar news agency as saying that the Taliban officials were not satisfied with their talks and meetings with Turkish authorities regarding the situation of Afghan refugees and their return to Kabul.
Deputy Minister Kharouti announced that he along with a delegation will visit Turkey this week to examine the situation of Afghan refugees and their issues.
"We want this delegation to have extensive discussions regarding the refugees' repatriation, their issues, and challenges," he continued.
According to the Taliban government's deputy minister for refugees and repatriation, there are issues with the statistics, the deportation procedure, and assistance provided to Afghan refugees in Turkey.
According to Kharouti, the Taliban demands that Turkey provide the facilities for Afghan refugees in compliance with the rights granted to refugees by international law.
Source: Khaama Press
Please click the following URL to read the full text of the original story:
https://www.khaama.com/taliban-delegation-to-visit-turkey-to-assess-situation-of-afghan-refugees-and-migrants-473940/
--------
Iranian Customs Officers Seize Afghan Tanker Truck Containing 100KG of Drugs
By Saqalain Eqbal
15 Aug 2022
Iranian media citing the country's security officials reported that Iranian forces in Dogharun customs in Iran discovered and seized a tanker truck from Afghanistan containing 100 kilograms of drugs.
As soon as the customs officers at Dogharun Khorasan Razavi became suspicious of the Afghan tanker truck, they sent it to an x-ray unit where they conducted a comprehensive scanning and inspection.
Anti-drug enforcement officers discovered and dismantled a drug trafficking tanker truck that was attempting to deliver a sizable quantity of drugs to Iran's central provinces, according to Iranian media.
"After physical checks and cutting the appropriate spots of the tanker, 100 packages with a weight of roughly 100 kg of Sheesha narcotics were discovered," a monitoring official of Dogharun customs was quoted by the IRNA news agency.
Source: Khaama Press
Please click the following URL to read the full text of the original story:
https://www.khaama.com/iranian-customs-officers-seize-afghan-tanker-truck-containing-100kg-of-drugs-674985/
--------
How life has changed for Afghans since the Taliban takeover
15.08.22
The Taliban took the world by surprise when they captured Kabul on August 15 last year experiencing little or no resistance from former President Ashraf Ghani's forces. The Islamic fundamentalist group finally managed to return to power after the US overthrew their regime in a 2001 military invasion.
Experts say the downfall of Ghani's government was inevitable once NATO forces started withdrawing from the war-ravaged country in May 2021 as a result of Washington's deal with the Taliban in February 2020. But few expected the country to fall to the militants so quickly.
Apart from the geopolitical impact of the Taliban's return to power, life for ordinary Afghans has changed drastically since last year — mostly for the worse.
Progress reversed
Despite criticism against the US-backed governments in Afghanistan after the Taliban's ouster in 2001, Afghanistan had made progress on several fronts in the last two decades.
Independent media had flourished under former presidents Hamid Karzai and Ashraf Ghani, human rights had seen a substantial improvement, an increased number of girls had started going to school and universities, and Afghanistan's middle class had experienced relative prosperity during the same period.
Over the past twelve months, these achievements have been largely reversed.
The Taliban have not fulfilled most of their promises under the 2020 Doha agreement. They have been reluctant to form an inclusive government in the country, while girls above grade 6 are not allowed to go to school. Also, women are not permitted to work in most sectors, and they can visit public parks only on specific days.
Afghanistan's economy is now in freefall, with the UN warning of a humanitarian catastrophe unfolding in the country.
Since seizing power, the Taliban have been pressing the international community to recognize them as Afghanistan's legitimate rulers.
International recognition is crucial for the Taliban to avoid potential economic collapse. Millions of Afghans are jobless and their bank accounts are frozen. Many people are selling their possessions to buy food, with urban communities facing food insecurity on levels similar to rural areas for the first time.
In January, the United Nations made the "biggest-ever appeal" for humanitarian aid for a single country, saying it needed $4.4 billion (€3.9 billion) for Afghanistan to prevent the "world's most rapidly growing humanitarian crisis" from deteriorating further.
But the international community has been reluctant to hand over the funds directly to the Taliban, fearing they would use the money to buy weapons. For the same reason, Washington has refused to unfreeze Afghanistan's bank assets.
Deteriorating women's rights
According to the UN, Afghanistan is the only country in the world where girls are not allowed to attend high school.
A large number of women working in different positions in previous administrations — from the ministerial level to office clerks — were sent home by the Taliban in the first months of their rule.
Many Afghan women took to the streets to protest the Taliban's oppressive decisions. The hardline group used force to crush the protests, arresting many women's rights activists.
"Less than one year after the Taliban's takeover of Afghanistan, their draconian policies are depriving millions of women and girls of their right to lead safe, free, and fulfilling lives," Agnes Callamard, the secretary-general of Amnesty International, a global human rights watchdog, said in July.
Despite pressure from the Islamist rulers, many Afghan women are still trying to make their voices heard.
Several women protesters have left the country, but at least five women's rights groups are still active there. Some of them are raising their voice on social media against the Taliban's crackdown, arbitrary arrests, enforced disappearances, not to mention physical and psychological torture.
Zholia Parsi, a women's rights advocate, told DW that she chose to continue her protest to safeguard her children's future.
"One of my daughters should have been studying at university, while another should have been in grade 11. When I look at their psychological state, I have no choice but to protest. Until I get back our rights, I will not be silenced," she said.
Free media under threat
Independent media is seen as an enemy by the Taliban. The sector progressed in leaps and bounds between 2001 and 2020, but now thousands of Afghan journalists are either in exile or have lost their jobs.
According to Reporters Without Borders, 43% of Afghan media outlets have been shut down in the past three months. "Out of the 10,780 people working in Afghan newsrooms (8,290 men and 2,490 women) at the beginning of August 2021, only 4,360 were working in December (3,950 men and 410 women), or four out of ten journalists," according to the watchdog.
Mohammad Zia Bumia, head of the South Asian Free Media Association for Afghanistan, told DW that after the collapse of Ashraf Ghani's government, many Afghan media outlets closed their operations, which rendered hundreds of Afghan journalists jobless.
The Taliban crackdown and the worsening economic situation are also the reasons behind a deteriorating media landscape, he said.
"The Taliban have imposed strict censorship on media — on news as well as entertainment," he added.
Reporters Without Borders says that women journalists have suffered more since the Taliban takeover of Afghanistan.
"The Taliban tried to arrest me on many occasions. They visited our house several times. When they gave a warning to my family, I had no choice but to leave Afghanistan," Saleha Ainy, an Afghan journalist who fled to Iran, told DW.
Hujatullah Mujadidi, head of Afghanistan's Independent Journalists Association, has urged the international community to support Afghan journalists.
Dangers ahead
Despite the gravity of the situation, the Afghanistan crisis is receiving scant attention from the international community, as the Ukraine conflict and tensions over Taiwan dominate the global agenda.
Some observers say the current situation in Afghanistan is disturbingly similar to the geopolitical scenario in the late 1990s. The Taliban seized power in 1996, but the global community did not fully grasp the potential consequences of that development.
Away from the global spotlight — and amid a lack of interest in Afghan affairs — the country became a hub of local and international militant groups. The recent killing of al-Qaida chief, Ayman al-Zawahiri, in Kabul is just one example of the imminent danger.
Source: Telegraph India
Please click the following URL to read the full text of the original story:
https://www.telegraphindia.com/world/how-life-has-changed-for-afghans-since-the-taliban-takeover/cid/1880273
--------
Afghan resistance group claims arrest of Taliban forces
16th August 2022
Kabul: An Afghan armed resistance group claimed to have arrested dozens of Taliban forces, as the Islamists celebrated their first year in power and others called it a "dark day".
Five "Taliban occupiers" were killed and 40 captured in the Arezoo valley of Panjshir province, said the spokesman of the National Resistance Front (NRF), Sibghatullah Ahmadi, as he released pictures of alleged captives.
NRF is led by Ahmad Massoud, the son of famous anti-Soviet guerilla commander Ahmad Shah Massoud, and claims to be fighting for democratic values such as a equitable political representation of ethnic groups, protection of women's rights and fair elections.
The Taliban's government is yet to comment on the claim.
However, Defence Minister Mullah Yaqoob Mujahid said on Monday that their forces will suppress rebel groups under all circumstances.
To mark the first anniversary of the fall of Kabul, Taliban members paraded in the city with US military equipment and their leaders spoke at a televised gathering.
At the event, the Taliban's Foreign Minister Amir Khan Muttaqi called on the world to cooperate with their government.
On social media, many Afghans spoke of their ordeal and called it a "dark day" for the nation.
Source: Siasat Daily
Please click the following URL to read the full text of the original story:
https://www.siasat.com/afghan-resistance-group-claims-arrest-of-taliban-forces-2391199/
--------
Africa
Arrest Miyetti Allah leaders for killings in Benue – Group tasks security agencies
August 15, 2022
A group known as Benue Youth Forum, BYF is demanding security agencies to arrest and prosecute the leadership of Miyetti Allah Kautal Hore for perpetrating killings in Benue State.
The group also describes as "laughable, baseless and empty" a threat by Miyetti Allah Kautal Hore to drag Governor Samuel Ortom to the International Criminal Court of Justice at the Hague for allegedly seizing their cattle and arresting their members.
The Benue Youth Forum was reacting to threats by the Fulani socio-cultural group, Miyetti Allah Kautal Hore whose National Secretary, Alhassan Saleh was recently quoted to have said they would sue Governor Ortom to the ICC for "seizing 25,000 of their cows and arresting 400 of their members without any cause".
The President of the Benue Youth Forum, Terrence Kuanum who addressed a press conference Monday, August 15, 2022 in Makurdi stated that Miyetti Allah Kautal Hore are known to be responsible for incessant massacre of Benue people and demanded their arrest and prosecution.
Parts of the statement read:
"it has become imperative for us, the Benue Youth Forum, to react to recent threats by a Fulani socio-cultural group, Miyetti Allah Kautal Hore who are known to be responsible for incessant massacre of Benue people to drag Governor Samuel Ortom to the International Criminal Court of Justice at the Hague for allegedly seizing their cattle and arresting their members.
"The group which made the laughable threats in a press statement by its National Secretary, Alhassan Saleh raised lame allegations that Governor Ortom seized 25,000 of their cows and arrested 400 of their members without any cause.
"Granted that Governor Ortom had while unveiling the Benue Community Volunteer Guards, BVCGs in Makurdi, said the government had secured the conviction of over 400 Fulani herders who had besieged the state and had seized over 25,000 cows, we all know that it was done within the law.
"While we are not worried over the empty and baseless threats to drag the Governor the ICC, we are once again concerned that this group that has claimed responsibility for the massacre of Benue people and sacking of communities and creating a humanitarian crisis is reminding us that cows are more important than human lives.
"Even though the Miyetti Allah leadership further contradicted itself by saying in one breath that their members were not in Benue State, and claiming in another that they were being maltreated in the state, "thereby making the whole issue confusing and nor worthy of much attention, we have to put some records straight.
"It is common knowledge that there is a law prohibiting open grazing in Benue state. When the Open Grazing Prohibition and Ranches Establishment Law of the state was enacted in 2017, the leadership of Miyetti Allah addressed a press conference and threatened to resist the legislation violently."
The BYF further stated that "There were also several threats by a group known as Fulani Nationality Movement, FUNAM to ensure that there was no peace in Benue unless the law banning open grazing was repealed.
"We are all aware that the same Fulani Nationality Movement claimed responsibility for the attempted assassination of Governor Ortom in March 2021 and several other threats on his life by the group and Miyetti Allah.
"That they have resolved to make Benue a killing field as long as the people do not surrender their land for them to occupy is nothing new, except that little or nothing has been done by the Federal Government to tame them, despite repeated calls by Governor Ortom.
"The Ortom administration has persistently told the herdsmen that they are free to acquire land and establish ranches if they wanted to rear cattle in Benue, but they keep insisting that the land belongs to them and there were cattle routes in Benue hence they must keep grazing openly.
"These killer-herdsmen who bear sophisticated weapons and carry out nefarious activities are bent on continually destroying lives and property in our communities and there seems to be little concern from the federal government to call them to order.
"Even as we speak, the group that has been identified as one of the most dangerous terrorist organizations in the world is still unleashing terror on the people and has never stopped even for a moment, creating a huge humanitarian crisis in the state after killing over 5,000 people, destroying property worth billions of naira and displacing about two million people from their ancestral lands.
"Funnily enough, these same people who have the blood of innocent women, children and the elderly on their hands are the ones crying blue murder now. But one thing is certain; whichever way we look at the situation, these characters value the lives of animals more than human lives."
The statement added that "The Benue Youth Forum therefore wishes to tell the Miyetti Allah that they are embarking on an exercise in futility as their empty threats to seek justice at the ICC would remain what they are – futile efforts.
We also want them to know that the crimes they have committed against humanity in Benue state and other parts of the country shall not go unpunished.
"They may be enjoying the sympathy and protection of some powerful persons in authority now; but that will not be forever, as they shall be brought to justice sooner or later.
As the Governor and the entire Benue people have always reiterated, there is no land for open grazing in the state, so anyone who wants to rear cattle in the area should go through the normal procedure to acquire lands for ranching.
"We do not expect the Miyetti Allah Kautal Hore to pretend not to be aware that the Open Grazing Prohibition and Ranches Establishment Law of the State is not targeted at any group or tribe; but seeks to prevent incessant clashes between farmers and herders.
"The BYF also calls on security agencies to rise to the occasion as threats such as the one made by the Miyetti Allah always come with renewed momentum from the killer-herdsmen as they continue their desperation to kill, main, displace and occupy our lands.
Source: Daily Post Nigeria
Please click the following URL to read the full text of the original story:
https://dailypost.ng/2022/08/15/arrest-miyetti-allah-leaders-for-killings-in-benue-group-tasks-security-agencies/
--------
Extremist group claims to have killed four Wagner mercenaries in central Mali
16 August, 2022
An al-Qaeda-affiliated extremist group claimed to have killed four mercenaries from the Russian private security group Wagner in an ambush in central Mali, the SITE Intelligence monitoring group said Monday.
The Support Group for Islam and Muslims (GSIM), the main extremist alliance in the Sahel, said it ambushed a group of Wagner soldiers on Saturday as they rode motorcycles in the Bandiagara region from the village of Djallo toward the mountains, according to a statement by its propaganda arm authenticated by SITE.
Its fighters killed four of the group while the rest fled, the statement said.
Two local elected officials confirmed the incident to AFP, while a senior Malian army official refused to confirm or deny it.
"Four Russians were killed over the weekend by [extremists] near Bandiagara," one of the local officials, who requested anonymity, told AFP.
A hospital source in the region also confirmed the "death in combat of four Russians," adding that one had "passed through Mopti hospital."
Russia has become a close ally of Mali's ruling junta in its fight against a long-running extremist insurgency.
The regime has brought in Russian paramilitary fighters - described by Bamako as military instructors but by Western nations as mercenaries - to support the beleaguered armed forces.
Their deployment was a key factor in prompting France, Mali's former colonial power and traditional ally, to pull its military forces out of the country.
Source: Al Arabiya
Please click the following URL to read the full text of the original story:
https://english.alarabiya.net/News/world/2022/08/16/Extremist-group-claims-to-have-killed-four-Wagner-mercenaries-in-central-Mali
--------
Protests as Ruto declared winner of disputed Kenya vote
August 16, 2022
NAIROBI: William Ruto was declared the winner of Kenya's close-fought presidential poll on a day of high drama Monday, with violent protests in his defeated rival's strongholds, claims of rigging and a split in the commission that oversaw the vote.
As tensions ran high after his narrow victory in the August 9 race against Raila Odinga, the 55-year-old president-elect issued a conciliatory message, vowing to work with "all leaders."
"There is no room for vengeance," said Ruto, who will become Kenya's fifth president since independence from Britain in 1963. "I am acutely aware that our country is at a stage where we need all hands on deck."
The dispute will test Kenya's stability after previous elections in the East African political and economic powerhouse were blighted by claims of rigging and vicious bouts of deadly violence.
Ruto secured 50.49 percent of the vote in his first-ever attempt at the top job, just ahead of Odinga on 48.85 percent, Independent Electoral and Boundaries Commission head Wafula Chebukati said after an anxious days-long wait for results.
He will succeed his estranged boss President Uhuru Kenyatta, 60, the son of Kenya's first post-independence leader, who has served two terms and could not run again.
But it was yet another bruising defeat for 77-year-old Odinga, the veteran opposition leader who had hoped it would be fifth time lucky as he ran with the support of former foe Kenyatta and the weight of the ruling party machinery behind him.
Odinga was nowhere to be seen on Monday, but his party agent described the election as "shambolic," saying it had been marred by irregularities and mismanagement.
Odinga has accused his opponents of cheating him out of victory in the 2007, 2013 and 2017 presidential elections, and analysts say it is likely he will appeal to the Supreme Court over this year's results.
"It is not over till it is over," Odinga's running mate Martha Karua said on Twitter.
Chaos erupted at the IEBC's national tallying center in Nairobi before the results were announced, with chairs hurled and scuffles between party rivals.
Four of the IEBC's seven commissioners disowned the results, saying the process was "opaque" but without elaborating.
In Odinga's lakeside stronghold of Kisumu, angry supporters took to the streets, hurling stones, setting fire to tires and building roadblocks, with police responding with tear gas.
"We were cheated," Isaac Onyango, 24, said on a street sealed off by two large bonfires and broken rock.
Protests also erupted in slums in Nairobi where Odinga is popular, with police firing live rounds, although no casualties were reported.
Several African leaders offered their congratulations to Ruto, while the US embassy in Kenya reserved its plaudits instead for the people of Kenya and the IEBC.
It called on party leaders to urge their supporters to refrain from violence, and for any concerns about the election to be resolved through "existing dispute resolution mechanisms."
The row over the results is likely however to further dent the IEBC's reputation after it had faced stinging criticism over its handling of the 2017 election which was annulled by Kenya's top court in a historic first for Africa.
Chebukati, who was also in charge of the IEBC in 2017, insisted he had carried out his duties according to the law of the land despite facing "intimidation and harassment."
Despite a divisive campaign and swirling disinformation, polling day had passed off generally peacefully.
But turnout was historically low at around 65 percent of the 22 million registered voters, with disillusionment over corruption by power-hungry elites prompting many Kenyans to stay home.
Power transfers can be fraught in Kenya, and any challenge to the Supreme Court will leave the country of about 50 million people facing weeks of political uncertainty.
It is already struggling with soaring prices, a crippling drought, endemic corruption and growing disenchantment with the political elite.
Ruto, a shadowy rags-to-riches businessman, had characterised the vote as a battle between ordinary "hustlers" and the Kenyatta and Odinga "dynasties" who have dominated Kenyan politics since independence from Britain in 1963.
With memories of previous post-poll violence still fresh, Odinga and Ruto had pledged to accept the outcome of a free and fair election, and air their grievances in court rather than on the streets.
If there is no court petition, Ruto will take the oath of office in two weeks' time.
But no presidential ballot has gone uncontested in Kenya since 2002.
Any challenge must be made within seven days to the Supreme Court. The country's highest judicial body has a 14-day deadline to issue a ruling, and if it orders an annulment, a new vote must be held within 60 days.
In August 2017, the Supreme Court annulled the election after Odinga rejected the results that gave Kenyatta victory, with dozens of people killed by police in the protests that followed.
Kenyatta went on to win the re-run after an opposition boycott.
Source: Arab News
Please click the following URL to read the full text of the original story:
https://www.arabnews.com/node/2143556/world
--------
North America
Canada urged to bring in more Afghans facing risk of death from Taliban
Barry Ellsworth
15.08.2022
TRENTON, Canada
Canada came under criticism Monday for the slow pace in bringing Afghan refugees into the country as the Taliban marks one year since taking back control in the beleaguered nation.
The government has brought in 17,300 Afghans who helped the Canadian military in its battle against the authoritarian Taliban, but that is a far cry from the 40,000 promised, says the head of Aman Lara, a non-profit group of Canadian veterans and former interpreters working to bring Afghans to safety in Canada.
"When we were unable to get them out a year ago, it was devastating," said Brian Macdonald.
"These people that have helped Canada now have to stand up and go to an office that's controlled by the Taliban and give their name and address and the dates of birth of their children," he said. "It's a very dangerous thing to do."
But the Canadian government said it has added more staff to process applications and the country has one of the largest Afghan refugees programs in the world.
"We can hold our heads up high when we think about our response compared to that of our allies," Deputy Prime Minister Chrystia Freeland said Thursday, but she conceded "there is a lot more work to do" and that they "need to keep on working to bring more people from Afghanistan to Canada," saying: "That's exactly what we're doing."
Macdonald also noted that with lives in danger, Canada needs to pick up the pace and get those Afghans away from the Taliban's grasp and the risk of death.
"A year ago, we were panicking to get as many people out as possible," he said. "We all thought — as veterans and other interpreters — that that window had closed, that the people we didn't get out were stuck in Afghanistan.
Source: Anadolu Agency
Please click the following URL to read the full text of the original story:
https://www.aa.com.tr/en/americas/canada-urged-to-bring-in-more-afghans-facing-risk-of-death-from-taliban/2661849
--------
Father and son linked to murders of Muslims in New Mexico
August 15, 2022
NEW MEXICO: Police in New Mexico have found evidence that appears to tie a father and son to the killings of Muslim men in New Mexico, federal prosecutors said on Monday.
Both Muhammad Syed, 51, and his son Shaheen Syed were in the same area of Albuquerque shortly after an Aug. 5 murder took place, based on cellphone data, federal prosecutors said in court documents.
Agents believe Shaheen Syed observed Aug. 5 murder victim Naeem Hussain attending a funeral service that day for two other Muslim men who were murdered, based on FBI analysis of cell tower data.
Shaheen Syed then followed Hussain to the location where he was gunned down, prosecutors said in documents for a Monday detention hearing.
"Telephone calls between Muhammad Atif Syed and the defendant would be consistent with quick surveillance calls, both before and after the shooting," federal prosecutors said, citing an FBI analysis of cell tower data.
The reference to the defendant is Shaheen Syed, who was arrested last week on federal firearms charges for providing a false address.
An attorney representing Shaheen Syed described the latest allegations as "exceedingly thin and speculative."
In a court filing, lawyer John Anderson said federal prosecutors provided no evidence as to the size of the "general area" the father and son's phones were both in shortly after the Aug. 5 murder.
Muhammad Syed was formally charged with killing Aftab Hussein, 41, on July 26 and Muhammed Afzaal Hussain, 27, on Aug. 1.
Source: Arab News
Please click the following URL to read the full text of the original story:
https://www.arabnews.com/node/2143391/world
--------
US Spy Services in Afghanistan Continuing Destructive Actions
2022-August-15
Kazzemi Qomi made the remarks in a televised interview and in response to a question about the outcome of the American military forces' 20-year presence in Afghanistan for that nation.
The senior Iranian diplomat reiterated that the US espionage services are still active in Afghanistan after a year since the American military forces' escape from that country now, and said that they are continuing their destructive acts under various scenarios.
"The Americans occupied that country for 20 years and led it towards destruction and extinction of its infrastructures," he added.
Kazzemi Qomi pointed out that the Americans resorted to mass killing of civilians and brought to power an incompetent government, and said, "Besides financial corruption in that government, the Americans did not even permit a professional and strong army take shape in Afghanistan."
In relevant remarks in late June, Kazzemi Qomi underlined the necessity for the settlement of crises and problems in the region through collective cooperation among the regional states, and underlined that the US presence is not helpful.
The US presence and plans in the West and South Asia have resulted in nothing but destruction and displacement for the people of these regions, Kazzemi Qomi wrote on his twitter page.
The US does not seem to have learned lessons from Afghanistan yet, he added.
The US seeks to return to the region by making some promises to some countries in the region, Kazzemi Qomi said.
Source: Fars News Agency
Please click the following URL to read the full text of the original story:
https://www.farsnews.ir/en/news/14010524000279/US-Spy-Services-in-Afghanisan-Cnining-Desrcive-Acins
--------
The Albuquerque murders are a wake-up call for American Muslims about our own communities
Hafsa Lodi
"Is he Sunni or Shia?" It's one of the questions often asked to us Pakistani, Muslim women when we inform our elders of our boyfriends – or potential husbands-to-be. If he doesn't belong to the same sect that we do, it can be a dealbreaker for our families (though thankfully my own is more open-minded). Sometimes it's just the prospect of marriage that's killed off – but in extreme cases, actual, fellow Muslims are killed due to the extremity of these sectarian sentiments.
Such may have been the case with 51-year-old Albuquerque resident Muhammad Syed, who was arrested and charged with the murders of two Muslim men (and is suspected to have killed two others) last week in New Mexico. Bullet casings from the crime scenes of two of the murders were linked to a gun found at Syed's home, and police stated that "interpersonal conflict" may have been a motive behind the murders, though unofficial reports claim that he may have been driven by anti-Shia sentiments after his daughter married a Shia Muslim. (Syed's daughter admitted that he wasn't happy when she married her husband in 2018, but claims her father is innocent.)
As always, it's important to discuss Syed's case as an individual one, lest we risk painting all Muslims with a single stroke of extremism. Syed has denied involvement in the four killings, yet has a history of violence according to court records. In 2013, a boyfriend of one of his daughters claimed Syed, a Sunni, attacked him because he belonged to the Shia sect of Islam. He also allegedly beat his wife and son. None of these arrests led to charges being held against Syed: twice, the people involved declined to press charges, and the third time, Syed attended an intervention program.
While we await confirmation regarding the motives and police investigation, the curtain has nonetheless opened to reveal the undeniable disharmony that divides Muslims – not only in the Middle East and Asia, but also here on western soil.
Muslims are Muslims, you might think, naively. But as Egyptian-American scholar Leila Ahmed writes in Women and Gender in Islam, different interpretations of Islamic sources can yield "fundamentally different Islams". So much so that, as a Muslim journalist, I find the phrase "Muslim community" in the singular to be inaccurate and simplistic. Today, there is no sole, uniform community – or ummah – as much as Muslims would like to lay claim to one.
Muslim feminist scholar Amina Wadud elucidates this fact in her newly released book, Once in a Lifetime: "When people say the 'Muslim ummah' today, it is just romantic. We are far too diverse and divided for it to mean what it used to as a unified collective with a single interpretation of things; things are now far too complex for such uniformity."
No essay or news story can fully unwrap the history or complexities of the Sunni-Shia schism in Islam, but Islamic sects essentially developed after the death of the Prophet Muhammad, over disputes about his successors, or caliphs. There were no "Sunnis" or "Shias" during the lifetime of the Prophet, and later rulers' obsessions with locking in specific, standardized, government-sanctioned interpretations of Islam contrasted vastly with the pluralism and diversity of thought that defined the faith's early history.
Today, there are numerous sects and further groups and schools of thought within each of these sects. Sunnis remain the overwhelming majority, with an estimated 10 to 13 percent of the world's Muslims identifying as Shia, according to the Pew Research Center. I too was raised knowing that my family was categorized as Sunni – though I personally no longer identify with this label, finding our tendencies to associate with sectarian factions to be unnecessarily divisive and sometimes overly dogmatic.
I also can't help but feel like centuries-long feuds between Muslim sects are thoroughly counterproductive to proving that at its core, Islam is a religion of peace – a pursuit that drives many modern-day American Muslims like myself.
When Albuquerque, New Mexico first started making headlines for its string of Muslim murder victims, the initial assumption was that these were anti-Muslim hate crimes influenced by Islamophobia. Why else would anyone kill Muslims in America, a country to which many Muslims fled after experiencing religious persecution within their own countries? Iran, Afghanistan, Pakistan, Saudi Arabia – attacks, arrests and general mistreatment of minority sects take place unchecked in many of these Muslim-majority countries. But the US isn't a place we'd expect to see such intra-faith violence.
Oftentimes we view Islamophobia to be the main concern of Muslims in the west — but if you ask me, these sectarian animosities are more divisive, dangerous and destabilizing to our communities. Especially post-9/11, Muslims tend to collectively sweep the faults, issues and injustices within our communities under the rug, fed up with the scrutiny and surveillance we already face because of our hijabs, our beards, our dark skin and our countries of origin. Sharing and spreading news of a Muslim man's arrest for murders of fellow Muslims is the last thing we want to do when still in "damage control" mode from a terrorist attack that occurred more than two decades ago.
Yet, I'm thankful that Muslim social media accounts are highlighting the fact that the Albuquerque murders may have been instigated by anti-Shia motives. Accounts like @Muslim and @MuslimGirl are not shying away from publicizing this news, but are instead posting it online and encouraging dialogue among Muslims.
Yesterday was Pakistan's 75th Independence Day, and while I wore green with the rest of my family, I can't help but feel that there isn't much to celebrate about my country of origin, which is replete with religious extremism and targeted violence against religious minorities, particularly against Shia Hazara and Ahmadi communities. Every few days, local news stories detail attacks on these groups at the hands of fundamentalist factions. But we tend to become desensitized when violence occurs far away, "back home" in remote villages and districts with which we no longer have personal ties.
To celebrate Pakistan's Independence day, Pakistani blogger Naveen designed a T-shirt in collaboration with Seed Out, a charity that's raising funds for its interfaith campaign. The design features "Pakistan" written vertically as an Acrostic poem, with eight of its religions – Muslim sects like Shia, Sunni and Ismaili, along with Hindu, Christian, Sikh and Parsi, listed horizontally. In the same spirit of this T-shirt, it's up to my generation of Muslims to abandon age-old prejudices regarding sects, practice tolerance and embrace religious pluralism – including pluralistic interpretations of a single faith.
At the very least, the Albuquerque murders – the fact that the suspected perpetrator is Muslim, and that he may have been motivated by sectarian sentiments – should serve as a wakeup call for fellow Muslims, in America and beyond. It's time to urgently abandon the harmful prejudices, the classism and the chauvinistic attitudes that we might inherit from our families, even while living in the supposedly liberal "land of the free."
Source: Independent UK
Please click the following URL to read the full text of the original story:
https://www.independent.co.uk/voices/albuquerque-muslim-murders-sunni-shia-syed-muhammad-b2145450.html
--------
US acknowledges direct talks with Syrian regime over imprisoned journalist
Michael Hernandez
15.08.2022
WASHINGTON
The US has held direct talks with the Syrian regime in an effort to secure the release of detained American journalist Austin Tice, the State Department announced on Monday.
Tice has been held in captivity in Syria for 10 years, and State Department spokesman Ned Price said Washington has "directly engaged Syrian officials to seek to effect Austin's return home to his family."
Price declined to comment on the specifics of the US engagement, including at what levels the efforts have taken place, but said "we will pursue every opportunity to engage if we feel it has the potential to bring Austin home."
Tice was abducted near Damascus, Syria on Aug. 14, 2012 while covering the country's civil war as a freelance journalist for multiple US news organizations. A decade later, he has yet to be released and returned to his hometown of Houston, Texas.
On Sept. 26, 2012, nearly six weeks after his abduction, a video emerged showing Tice blindfolded and detained by a group of unidentified armed men. To this day, however, no one has claimed responsibility for his capture.
US President Joe Biden said on Aug. 10 that the US knows "with certainty" that Tice "has been held by the Syrian regime."
Source: Anadolu Agency
Please click the following URL to read the full text of the original story:
https://www.aa.com.tr/en/americas/us-acknowledges-direct-talks-with-syrian-regime-over-imprisoned-journalist/2661871
--------
India
India's 'salaried class' shrank during Covid, Muslims hit hardest, govt data suggests
NIKHIL RAMPAL
16 August, 2022
New Delhi: There's much to lament in India's post-Covid job market, where recovery has been painfully slow. However, government data suggests that when it comes to the salaried sector, the participation of religious minorities — Muslims, Sikhs, and Christians, in that order — has been most gravely affected.
The Ministry of Statistics and Programme Implementation's latest Periodic Labour Force Survey (PLFS) — covering the period from July 2020 to June 2021 and released earlier this year — at least partly captures the impact of lockdowns, and their immediate aftermath, on salaried jobs across sectors.
The survey defines "regular/salaried employees" as "persons who worked in others' farm or non-farm enterprises (both household and non-household)" and, in return, received salary or wages on a regular basis (i.e. not on the basis of daily or periodic renewal of work contracts). This category includes paid apprentices, both full-time and part-time.
According to the data, during 2020-21, the share of India's salaried class in the workforce shrank by almost 2 percentage points. In 2019-20, about 23 per cent of the workforce earned a regular salary or wage, but in 2020-21, only 21 per cent did.
But to get a better idea of the effect of lockdowns, older data is instructive.
Since the survey is conducted between July and June every year, the 2019-20 survey includes values from the April-June 2020 quarter, when the most severe lockdown was in force.
In the year prior to that, the share of the salaried class in India's labour force had actually risen by one percentage point, from 22.8 in 2017-18 to 23.8 in 2018-19. Hence, if we factor in all this data, it could be surmised that India's salaried class has shrunk by 2.7 percentage points during the years that the economy reeled under the pandemic.
A closer look at the data, however, suggests that some religious minorities were disproportionately affected, with Muslims being most so.
When gender is factored in, the picture grows even bleaker, with the data indicating that women's participation in the salaried sector has witnessed significant declines across religions.
"India's marginalised communities are most vulnerable to uncertainties — the pandemic has just proved that," Archana Prasad, a professor at Jawaharlal Nehru University's Centre for Informal Sector and Labour Studies, told ThePrint.
"Only those who had the opportunity to work from home and had access to the internet and other amenities survived the pandemic job crash. As a result, [people belonging to] marginalised communities were automatically pulled out from the formal sector and forced to look for work elsewhere to survive," she said, adding that "discrimination" as a factor was also likely.
Further, Prasad also believes that the PLFS numbers misrepresent the actual employment landscape because its definition of the "salaried class" includes jobs that don't offer social security (pension/ Provident Fund), paid leave, or written contracts. Many jobs that are counted as "salaried", she argued, could come under the informal sector, which employs the most vulnerable sections of society.
Muslims, women most affected
According to the survey, the share of Muslims who were earning a regular salary fell from 22.1 per cent in 2018-19 to 17.5 per cent in 2020-21— a drop of almost 5 percentage points. What this means is that for every 100 Muslims who were working, there were now five fewer among them doing a regular salary-paying job.
In the same period, the share of Sikhs employed in the salaried sector went down by 4.5 percentage points, from 28.5 per cent in 2018-19 to 24 per cent in 2020-21. For Christians, the drop was 3.2 percentage points, from 31.2 per cent to 28 per cent.
Compared to these minorities, Hindu workers in salaried jobs fared relatively better, with their share shrinking by 'only' 2.3 percentage points, from 23.7 in 2018-19 to 21.4 in 2020-21.
But the declining participation in the salaried sector is starkest among women, cutting across communities.
On average, the share of men in the salaried class dropped by about 1.7 percentage points (from 24.4 per cent in 2018-19 to 22.7 per cent in 2020-21), but the share of women fell by a much steeper 4.5 percentage points (from 21.9 per cent to 17.4 per cent).
This trend was pronounced among religious minorities, too.
The drop in the share of salaried Sikh men fell by 2.7 percentage points (from 26.8 per cent in 2018-19 to 24.1 percent in 2020-21), but for women it was by 12 percentage points (from 35.6 per cent to 23.7 per cent).
Among Muslims, the share of men earning a salary fell by 4 percentage points (from 22.4 per cent to 18.4 per cent), but for women, it was 8 percentage points (from 20.5 per cent to 12.5 per cent).
For Christians, the salaried class shrank by 1.7 percentage points for men (from 28.7 per cent to 27 percent) and by 6.2 percentage points for women (from 36.1 per cent to 29.9 per cent).
In 2018-19, about 21.3 per cent of the surveyed Hindu women had a salary/ wage-paying job, which dropped by four percentage points to 17.3 per cent by 2020-21. Hindu men, on the other hand, saw a mere 1.3 percentage point drop in the same period, from 24.5 per cent to 23.2 per cent.
Where did all the salaried workers go?
Many among those who left, or had no choice but to leave, salaried jobs became self-employed — either in their own enterprises or as "helpers in household enterprises", the report said
In 2018-19, about 52.1 per cent of employed Indians were self-employed, and by 2020-21 the share of this category of workers had swollen to 55.6 per cent.
It should be noted, though, that the term "self-employed" here does not necessarily translate to entrepreneurship. Much of the gain in this sector is down to greater numbers of "helpers", which the survey defines as those who work for a household enterprise but may not necessarily be given a wage (for instance, a son helping his father run a shop).
In 2018-19, the share of "own account workers" (self-employed workers who do not hire paid employees) formed 38.8 per cent of the employed workforce, falling slightly to 38.2 per cent by 2020-21. However, the helpers' category accounted for 17.3 per cent of the workforce in 2020-21, up from only 13.3 per cent in 2018-19.
What experts say about Muslims' employment
The shrinking of the salaried class among Muslims was the starkest across religius communities. While it is difficult to pinpoint why this is the case, some experts conjecture that this could be due to Muslims facing the first cut in an already stressed post-pandemic job market.
In an article for ThePrint in April 2020, Asim Ali, a researcher at the Centre for Policy Research, had argued that the pandemic worsened the well-documented economic marginalisation of Muslims in India — and especially so in the informal sector at a time when misinformation was being spread about how the community was supposedly perpetuating infections.
This year, too, there have also been a few calls for economic boycotts of Muslims, including a campaign targeting mango traders from the community, and another calling for a ban on them in temple fairs (both these instances were in Karnataka).
According to Prasad, it appears as if discriminatory attitudes towards Muslims have permeated most sectors. "This ideology is neither being countered by the political class nor by the business class. The discrimination in hiring has always been stark, but post pandemic, it has intensified," she claimed.
Source: The Print
Please click the following URL to read the full text of the original story:
https://theprint.in/india/indias-salaried-class-shrank-during-covid-muslims-hit-hardest-govt-data-suggests/1077850/
--------
Ismailis lead the march of communities to celebrate 76th Independence Day
Aug 15, 2022
Drumbeats resonated in their hearts even as their fingers flew on the bagpipes.
These children predominantly belong to the Ismaili (Khoja Muslim) community, registered with the Bharat Scouts and Guides musical band, which had organised a parade with members of diverse communities to commemorate the 75th Independence Day anniversary on Monday.
A lane in Hasnabad came alive as around 150 members from the community marched from Aga Khan 1 Hasan Ali Shah mausoleum at Mazgaon. They offered the first traditional "salami" to the national flag and the Bharat Scouts and Guides flag here.
The fervour on display inspired members of other communities to join in as well, as the scouts marched from Hasnabad to Maharana Chowk junction, where they saluted the statue of Maharana Pratap.
The Ismaili community has had a time-honoured tradition of enrolling kids as scouts and guides, who eventually play in a band. This, observed a member of the community, on condition of annonymity, is in keeping with the community's spirit of volunteerism. "It teaches them to go beyond themselves and work for others. With their sense of individualism riding high, the scouts and guides put others before themselves, which prepares them to face the world better," he said. He added that the kids are enrolled at three when they are taught different life skills.
"We instil discipline and confidence through camps, which helps dispel their stage fright. All these skills are a crucial part of the training and indeed become essential life lessons," he added.
The spirit of togetherness and brotherhood among communities was also on display in a rally organised by Vishwas Utagi and Jamat-e-Islami Hind, where over 1000 residents, predominantly Muslims, Buddhists, Sikhs, Jains, Hindus and Christians, joined in a solidarity march in Dadar (West).
Fr Frazer Mascarenhas, parish priest, at St Peter's church in Bandra who participated in the rally told HT, "We are celebrating 75 years of our independence but our freedom can never be taken for granted. So, it does look like we need to defend the constitution and secular values, and dignity for every Indian citizen." Fr Mascarenhas expressed concern towards the increasing polarisation of people in the country. "We are people from different religious backgrounds and we stand for the constitution and are ready to defend it," he added.
Fr Calistus Fernandes, of Our Lady of Salvation, commonly called the Portuguese church in Dadar added, "It isn't a religious festival. It is our country's festival today. We are experiencing a decay in the freedom we used to enjoy. We need to strive towards four goals of the UN -- freedom of speech, freedom from division, wants and fear. I would like to remind people through this rally that we need to protect this freedom and remain fearful."
Bhikshu Vidhaten Mather, president, Bhiku Sangh Mumbai, a Buddhist monk, too joined the rally along with other monks from his tribe to stress on various issues faced by the scheduled castes and tribes. They walked from Veer Kotwal Garden, near Plaza Theatre to Chaitya Bhoomi in Shivaji Park.
Shabbir Bhopalwalla, representative of Dawoodi Bohra community in the central PR department, who represented his community, said, "People from all faiths lived in harmony in the past and will continue to do so. The Bohra community firmly owes its allegiance to the country they live in. We consider it our duty. Bohras in Iran or other countries will remain loyal to the country they live in but we as Indians will always be loyal to India."
Santok Singh Rathore, who represented the Sikh community, expressed, that the objective of this march was to display a spirit of oneness among all religious groups.
Source: Hindustan Times
Please click the following URL to read the full text of the original story:
https://www.hindustantimes.com/cities/mumbai-news/ismailis-lead-the-march-of-communities-to-celebrate-76th-independence-day-101660581928978.html
--------
Pakistan
Nawaz to end exile, back in Pakistan this Sept: PML-N
Aug 16, 2022
ISLAMABAD: The Pakistan Muslim League-Nawaz (PML-N) claimed Monday that the party's chief and former three-time PM Nawaz Sharif would return to the country in September, ending a self-imposed exile in London on medical grounds.
Saying injustice was done to Nawaz, minister and party stalwart Javed Latif told reporters that PML-N that leads a coalition government in Pakistan would not let him to go back to jail upon his return. The government is considering relevant legislation to ease the party chief's return.
Nawaz was sentenced by an accountability court in 2018 to seven years in prison for corruption. The same year, he was also sentenced to a total of 11 years in prison and slapped an £8-million fine (Rs 1.3 billion) in the Avenfield properties reference.
In 2019, the Lahore high court suspended his sentence and allowed him to go abroad for medical treatment. Subsequently, he went to London in November 2019 and never returned to Pakistan since then.
Latif said a level playing field in Pakistani politics was impossible without the PML-N supremo's presence in the country. Criticising former PM Imran Khan, the minister asked whether those (army generals) who had removed Nawaz and facilitated Imran's rise to power had still not learned their lesson.
"Some people (a reference to top military officers), are still pulling his (Imran's) strings today. We know everything," the minister said.
Responding to a question, Latif said PML-N did not want friendship or enmity with those (military establishment) who "made and broke governments" and the party had a clear stand that it wanted all institutions, including politicians, to operate within their legal and constitutional limits.
Interior (home) minister Rana Sanaullah had said the coalition government might make certain amendments that would help repeal the life-time ban imposed by the Supreme Court on Nawaz in the Panama Papers case against him.
Source: Times Of India
Please click the following URL to read the full text of the original story:
https://timesofindia.indiatimes.com/world/pakistan/nawaz-to-end-exile-back-in-pakistan-this-sept-pml-n/articleshow/93578375.cms
--------
IHC to form larger bench to hear PTI's plea against prohibited funding verdict
Tahir Naseer
August 16, 2022
The Islamabad High Court (IHC) on Tuesday decided to form a larger bench to hear the PTI's plea against the Election Commission of Pakistan's (ECP) judgement in the prohibited funding case.
IHC Acting Chief Justice Aamer Farooq presided over today's hearing during which PTI's lawyer Anwar Mansoor was also present.
Mansoor said that the party had challenged the electoral watchdog's "fact- finding report" in the case.
He went on to argue that money was transferred from the main account to the provinces, saying that it was not necessary to disclose the details.
Mansoor urged the court to ensure that no action is taken as far as the notice to the party is concerned.
"A larger bench will take up the matter," Justice Farooq remarked. Subsequently, the court fixed the matter before a larger bench and adjourned the hearing for August 18 (Thursday).
Prohibited funding saga
Earlier this month, the ECP, in a unanimous verdict, had ruled that the party did receive millions of dollars of funds from 351 foreign companies and 34 foreign nationals, including a US-Indian businesswoman, and ordered the issuance of a notice to the PTI, seeking an explanation as to why the prohibited funds it received should not be forfeited.
A three-member ECP bench headed by Chief Election Commissioner Sikander (CEC) Sultan Raja announced the verdict in a case filed by PTI founding member Akbar S. Babar which had been pending since November 14, 2014.
Read: Who contributed to PTI's prohibited funds?
The ECP also said the party had only owned eight accounts before the commission and declared 13 accounts to be unknown. The commission noted that the party also failed to mention three accounts which were also being operated by the party's senior leadership.
The verdict also stated that the PTI chairman submitted Form-I for five years (between 2008-2013) which was found to be "grossly inaccurate on the basis of the financial statements obtained by this commission from SBP and other material available on record".
The PTI said the verdict vindicated its stance that it never received foreign funding, but could be a case of prohibited funding, while the government considered the decision a "charge sheet" against "crimes" of the party and its chief Imran Khan.
Last week, the party had moved the IHC against the ECP's judgement in the prohibited funding case against the party.
The main petition filed by the party stated that the Supreme Court had examined the matter and referred it back to the ECP for scrutiny of the accounts of all political parties, including the PTI. "Sadly, only PTI was targeted."
Filed by PTI Additional General Secretary Omar Ayub, the case against PTI pertains to an allegation of receiving "funds from prohibited source"
The petition said, "the party explained and reconciled each and every account through a financial expert, orally as also by submitting a written financial summary, reconciling each and every transaction and, exp­la­ining all amounts rece­ived with its reconciliation with the audited accounts. How­ever, in complete disregard to all the submissions and without giving any reasoning for such disregard the respondent [ECP] passed the impugned fact finding report".
The petition pointed out the ECP is not complete "in the absence of the total number of members as defined in the Constitution and deficient representation from all provinces? If so, does it not disenfranchise the provincial representation on the ECP as envisaged by the Constitution of Pakistan permitting manipulation and outside political interference in the work of the ECP?"
Ayub said ECP had not considered, not even rebutted, the information provided by PTI and "acted with sheer mala fide, without application of mind and has based its findings on fabricated facts, which were aimed to harm and tarnish the political image of the petitioner".
Source: Dawn
Please click the following URL to read the full text of the original story:
https://www.dawn.com/news/1705183/ihc-to-form-larger-bench-to-hear-ptis-plea-against-prohibited-funding-verdict
--------
US, Pakistan discuss options for Gen Bajwa's visit to DC
Anwar Iqbal
August 16, 2022
WASHINGTON: The United States and Pakistani officials are considering various options for Chief of Army Staff (COAS) Gen Qamar Bajwa to visit the United States in late August or early September, diplomatic sources told Dawn.
"A date will soon be finalized," a source said. Since the visit has not yet been officially confirmed, neither side has announced the agenda of the talks Gen Bajwa is likely to hold in Washington.
But diplomatic circles and think-tank experts point out that both sides have been trying to arrange such a visit for more than a year now. They also refer to various recent events and statements that might be discussed if and when Gen Bajwa visits Washington.
"We remain engaged with a range of stakeholders in Pakistan, (including) those currently in the government" and with "a broad array of others," the department's spokesperson Ned Price said.
Last month, Gen Bajwa reached out to Washington to request help in securing an early disbursement of funds from the IMF. He spoke with US Deputy Secretary of State Wendy Sherman and later a State Department official rejected media speculations that the call was linked to the current political situation in Pakistan.
Source: Dawn
Please click the following URL to read the full text of the original story:
https://www.dawn.com/news/1705147/us-pakistan-discuss-options-for-gen-bajwas-visit-to-dc
--------
Imran distances himself from Gill's remarks, calls them 'wrong'
August 15, 2022
PTI chairman and former prime minister Imran Khan has distanced himself from his chief of staff Shahbaz Gill's controversial remarks aired on ARY News earlier this month, admitting that they were "wrong" and should not have been uttered.
Gill was arrested last week at Banigala Chowk in the capital after a video clip of his controversial remarks, aired on ARY News, went viral on social media. Later in the day, he was booked on charges of sedition and inciting the public against the state institutions. He is currently incarcerated in Adiala Jail in Rawalpindi.
In an interview with journalist Fereeha M Idrees on GNN News today, Imran said: "He [Gill] shouldn't have said it because it falls under instigating the army [...] it is completely right [...] we want to see army as a strong institution."
However, the PTI chief contended that statements against the establishment were also passed by coalition government leaders Maulana Fazlur Rehman, Maryam Nawaz, Ayaz Sadiq, Nawaz Sharif and others in the past.
"But what happened with them?"
Imran said he was "extremely upset" with the treatment meted out at Gill in prison. "It is extremely painful. I didn't even know this [...] Our lawyers told us that his clothes were stripped off and he was beaten up.
"They are torturing and trying to mentally break him. And they are forcing him to give statements against Imran Khan," the ex-premier alleged, adding that if "Imran has to say something, he will say it himself [...] he doesn't need Shahbaz Gill for that".
He further revealed that Gill was asked about "Imran and Lieutenant General Faiz Hameed's meetings".
Propaganda campaign against PTI
Imran also claimed that everything that happened with Gill was a conspiracy to "scare PTI supporters" and "create an impression that PTI is against the army and martyrs".
"This propaganda campaign was created in the prime minister's cell," he alleged, adding that the closure of ARY News was also part of the conspiracy.
"This is all their plan to shut my supporters," the former prime minister pointed out, continuing that the same was being done with YouTubers who spoke up in support of him.
"Their aim is to make a treason case against us and create misunderstanding between the army and PTI because we are the only party that represents all of the provinces."
Gill's controversial comments
Earlier this week, the Pakistan Electronic Media Regulatory Authority (Pemra) issued a show-cause notice to ARY News for airing comments from Gill, that it said were "highly hateful and seditious" remarks tantamount to "incite armed forces towards revolt".
The notice stated that Gill was invited via a telephonic call for his comments and during his talk with the channel, Gill had alleged that the government was trying to provoke the lower and middle tier of the army against the PTI, saying the families of such "rank and file" support Imran Khan and his party "which is fuelling rage within the government".
He had also alleged that the "strategic media cell" of the ruling PML-N was spreading false information and fake news to create divisions between PTI chief Imran Khan and the armed forces.
Gill had said the government leaders, including Javed Latif, Defence Minister Khawaja Asif and former National Assembly speaker Ayaz Sadiq, had lambasted the army in the past "and they were at the government positions now".
"The statement made by the guest on ARY News is a violation of Article 19 of the Constitution as well as Pemra laws. Airing of such content on your news channel shows either weak editorial control on the content or the licensee is intentionally indulged in providing its platform to such individuals who intend to spread malice and hatred against state institutions for their vested interests," the watchdog stated.
Source: Dawn
Please click the following URL to read the full text of the original story:
https://www.dawn.com/news/1705037/imran-distances-himself-from-gills-remarks-calls-them-wrong
--------
Militant behind JUI-F leader's assassination killed in N. Waziristan: ISPR
August 15, 2022
ISLAMABAD: Pakistan Army Monday killed a militant who masterminded the assassination of a Jamiat Ulema-i-Islam-Fazl (JUI-F) leader in an intelligence-based operation (IBO) it conducted in Mir Ali town of North Waziristan District, said the Inter-Services Public Relations (ISPR).
Qari Sami-ud-Din and his colleague, Hafiz Numan Dawar, were on their way home in Eidek village in July when their car was ambushed on Bichi Road. Both died on the spot. At the time, relatives said Sami-ud-Din had no feud with anyone.
On Monday, the ISPR said that during the operation, an intense exchange of fire took place between the troops and a group of terrorists, following which the militant was shot dead.
Weapons and ammunition were also recovered from the dead terrorist, the statement said.
The slain man remained actively involved in plotting attacks against security forces and killing of civilians, the statement said.
Source: Pakistan Today
Please click the following URL to read the full text of the original story:
https://www.pakistantoday.com.pk/2022/08/15/militant-behind-jui-f-leaders-assassination-killed-in-n-waziristan-ispr/
--------
Sharif offers condolences over deaths in Egypt church fire
August 15, 2022
ISLAMABAD: Prime Minister Shehbaz Sharif expressed grief over the loss of lives after a fire ripped through a packed Coptic Orthodox church during morning services in Egypt's capital on Sunday, quickly filling it with thick black smoke and killing 41 worshippers.
The blaze started just before 9:00 am in the Abu Sifin church in the city of Giza where about up to 1,000 people had gathered.
The fire blocked an entrance to the church, causing the stampede, the two sources told Reuters, adding that most of those killed were children.
The prime minister, on behalf of the people of Pakistan, extended his condolences to Egypt's President Abdel Fattah El-Sisi and the families of the deceased, his office said on Monday.
Sharif also prayed for the speedy recovery of the wounded.
Electrical fires are not rare in Egypt. But Sunday's blaze was one of the worst fire tragedies in recent years in Egypt, where safety standards and fire regulations are poorly enforced.
Source: Pakistan Today
Please click the following URL to read the full text of the original story:
https://www.pakistantoday.com.pk/2022/08/15/sharif-offers-condolences-over-deaths-in-egypt-church-fire/
--------
Arab World
Hamas Calls for Formation of United Front Against Israel After Aggression on Syria
2022-August-15
Hazem Qassem, a spokesman for Hamas, said in a statement that the "terrorist Zionist occupation" is expanding its aggression against the Palestinian people following its latest wave of airstrikes in the Gaza Strip, the deliberate killing of civilians, assassination operations in the West Bank, and the incursions into Al-Aqsa Mosque, presstv reported.
"It has now committed a new act of aggression through the barbaric bombardment of the brotherly Arab Republic of Syria," Qassem said.
He underscored that the ongoing and extended Zionist terrorism in the Middle East region must be confronted by means of a unified stance from all forces within the Muslim world.
"Regional nations should stand up to the regime and end such crimes," Qassem said.
Syria's official news agency SANA said on Sunday that Israeli missile attacks took place at 8:50 pm local time (1750 GMT) and targeted "some points" in the countryside near the capital, Damascus, and the coastal province of Tartous.
Syrian air defense forces confronted the "aggressions" and downed some of the missiles, SANA reported, citing an unnamed military source.
"The aggression led to the death of three soldiers, the wounding of three others," it added.
The attacks on Damascus were carried out from the direction of Southeast Beirut, while the attacks on Tartous came from the Mediterranean Sea.
In addition to the deaths, the attacks caused some "material damage", the military source told SANA.
Syria has been in the grip of foreign-backed militancy since March 2011. The Syrian government says the Israeli regime and its Western and regional allies aid Takfiri terrorist groups that continue to wreak havoc in the country.
Israel frequently targets military positions inside Syria, especially those of the Lebanese resistance movement Hezbollah which has played a key role in helping the Syrian army in its fight against foreign-backed terrorists.
The Tel Aviv regime rarely comments on its cowardly attacks on Syrian territories, which many see as a knee-jerk reaction to the Syrian government's success in confronting and decimating terrorism.
Source: Fars News Agency
Please click the following URL to read the full text of the original story:
https://www.farsnews.ir/en/news/14010524000580/Hamas-Calls-fr-Frmain-f-Unied-Frn-Agains-Israel-Afer-Aggressin-n-Syria
--------
Pro-Iran Shia bloc resume efforts in forming new Iraqi cabinet
15 August, 2022
Pro-Iran Shia factions gathered under the banner of the Coordination Framework launched "a new initiative" toward Iraqi Sunnis and Kurds in a bid to form a new government after ten months of a political stalemate.
Shia politician and head of the Fatih Alliance, Hadi al-Amiri, has been authorised by the Coordination Framework to negotiate with all the Iraqi sides to accelerate establishing a new cabinet.
Al-Amiri visited the Iraqi Kurdistan region on Sunday, where he met with heads of several ruling and opposition Kurdish parties, including Masoud Barzani, head of the Kurdistan Democratic Party (KDP), in Erbil's Salahadin.
"Both sides emphasized that political parties should step forward to end the political deadlock and make efforts to end the political crisis," according to a statement from Barzani's office.
On the same day, Amiri also met with Bafel Jalal Talabani, head of the Patriotic Union of Kurdistan (PUK), another Kurdish ruling party.
"The meeting focused on unifying national efforts to find constitutional and legal frameworks to escape Iraq's unwanted situation. The two sides agreed to continue discussions and constructive dialogue to overcome the dispute," reads a statement by PUK's media platform.
"Amiri came with an initiative of starting a national dialogue among all the Iraqi political sides, the Kurds accepted that," Mohammed Hawrami, a Kurdish political observer told The New Arab.
"Barzani has told Amiri that his party is ready to attend future sessions of the parliament and participate in the upcoming Iraqi government, if KDP's rival, the Patriotic Union of Kurdistan (PUK), changes its formal candidate for Iraq's presidency," Hawrami added.
Barham Salih, Iraq's incumbent president is PUK's candidate for Iraq's presidency.
Amiri also met with the speaker of the Iraqi Parliament Mohammed al-Halbousi.
Ahmed Haji Rashid, a former Iraqi lawmaker from the Islamic Justice Group, told TNA that Sadr and his pro-Iran Shia rivals eventually will reach an agreement via a third party to establish a new cabinet if guarantees are given to Sadr that current officials from the Sadr Movement in Mustafa al-Kadhimi's caretaker government remain in their positions.
Iraq held its first-ever early election on 10 October 2021, in which Muqtada al-Sadr's bloc won a majority with 73 seats.
After 10 months, however, different Iraqi factions have yet to agree on naming a president and forming a government capable of making reforms.
Since the 2003 US-led invasion of Iraq, the country has been marred with a proportional (Muhasasa) ruling system, in which the Shia hold the PM, the Sunnis run the parliament speaker post and the Kurds run the presidency.
Failed to form a government free of Iran-backed parties that have dominated many state institutions for years, Sadr ordered all 74 of his lawmakers – around a quarter of the parliament – to resign in June.
Divisions between Sadr and the Iran-aligned groups and Kurds vying for the post of Iraqi president have already forced the country into its second-longest period without an elected government.
Early this month, supporters of Sadr stormed the Iraqi parliament in an attempt to hinder the Coordination Framework in appointing Mohammed Shia Al-Sudani for the prime minister's post.
Last week Sadr said that by the end of this week, the Iraqi judiciary should dissolve the parliament. However, the Supreme Judicial Council, Iraq's top court, said Sunday it does not have the authority to dissolve the country's parliament.
Salih Mohmmed al-Iraqi, a controversial personality on Twitter thought to be close to Sadr, called on supporters yesterday to organise a million-person rally on Saturday to ask for dissolving the parliament.
Source: The New Arab
Please click the following URL to read the full text of the original story:
https://english.alaraby.co.uk/news/pro-iran-shia-bloc-resume-efforts-form-new-iraqi-cabinet
--------
Base housing US occupation troops, allied militants in SE Syria comes under drone attack
15 August 2022
A military base in southeastern Syria near the borders with Jordan and Iraq, where US occupation troops and their allied Takfiri militants are stationed, has come under attack by armed unmanned aerial vehicles.
The US military said in a statement that the attack took place in the vicinity of al-Tanf base, adding that there were no reports of casualties or damage. There was also no claim of responsibility for the air raid.
The statement asserted that American forces in coordination with the US-backed and so-called Maghawir al-Thawra terrorists "responded to an attack by multiple unmanned aerial systems in the vicinity of al-Tanf Garrison" on Monday.
It said US troops engaged one of the drones preventing its impact while a second one detonated within the compound run by the Takfiri militants. The other attempted drone strikes were apparently not successful.
Last month, the US military purportedly armed allied Takfiri terrorists in southeastern Syria with the M142 High Mobility Artillery Rocket System (HIMARS).
Maghawir al-Thawra terrorists published a picture, showing the launch of HIMARS units during military exercises in the strategic al-Tanf region.
The militant group said that the launch showed its members' skills and capability to defend themselves against any potential attack, apparently referring to an earlier Russian raid that targeted them in al-Tanf region.
The development came a few days after anti-Damascus Takfiri militants conducted joint military exercises with American forces in al-Tanf region.
The drills purportedly included sniper training exercises, direct ground combat, strike operations with various types of missiles and rockets, in addition to training courses on raising awareness and drawing up military plans.
The M142 HIMARS system is a modernized, lighter and more agile wheel-mounted version of the track-mounted M270 MLRS developed in the 1970s for US and allied forces.
HIMARS units carry one preloaded pod of six 227mm guided missiles (the M270 carries two pods), or one large pod loaded with an Army Tactical Missile System (ATACMS) tactical missile.
Source: Press TV
Please click the following URL to read the full text of the original story:
https://www.presstv.ir/Detail/2022/08/15/687429/Base-housing-US-occupation-troops,-allied-militants-in-southeastern-Syria-comes-under-drone-attack
--------
Saudi Crown Prince leads washing ceremony of Holy Kaaba in Mecca
16 August, 2022
Saudi Arabia's Crown Prince Mohammed bin Salman Tuesday led the annual washing ceremony of the Holy Kaaba on behalf of Saudi King Salman bin Abdulaziz, the Saudi Press Agency reported.
The Crown Prince was accompanied by a number of dignitaries and carried out the ceremony, which is part of the tradition set by Prophet Mohammed, after performing prayers.
He was accompanied by Sports Minister Prince Abdulaziz bin Turki, Minister of Sports and was welcomed by the President of the General Presidency for the Affairs of the Two Holy Mosques Dr. Abdulrahman bin Abdulaziz al-Sudais, the SPA said in a statement.
In a video shared by SPA on Twitter, the Crown Prince was seen carrying a cloth and cleaning the inner walls.
"Following that, the Crown Prince performed two Rakaas as per the tradition of Prophet Mohammed," the statement added.
Maintaining the Holy Kaaba is an important and delicate ritual and cleaning is done based on traditions.
Source: Al Arabiya
Please click the following URL to read the full text of the original story:
https://english.alarabiya.net/News/gulf/2022/08/16/Saudi-Crown-Prince-leads-washing-ceremony-of-Holy-Kaaba-in-Mecca
--------
Egypt's deadly church fire sparks global outpouring of sorrow and sympathy
August 16, 2022
CAIRO: On Sunday, thick smoke and the sound of screams engulfed the Imbaba neighborhood of Cairo as fire broke out in the Abu Sifin church in the working-class district west of the Nile River.
Many of the 5,000 worshippers who had gathered for a peaceful mass at the Coptic church were forced to throw themselves from windows on to the street below.
By the time emergency services were able to respond and extinguish the blaze, 41 people, including 15 children, had died and 14 were left injured.
Later that day, hundreds gathered to pay their respects in and around two churches in the Giza governorate of greater Cairo, where clergymen prayed for the victims.
Pallbearers pushed through crowds of weeping mourners who reached out to touch the coffins, including that of a priest at the church, Father Abdel-Messih Bekhit.
In an earlier statement, the Coptic Orthodox Church said that the fire broke out during the divine liturgy at the building in the north of Giza, and that several worshippers were transferred to the Imbaba and Agouza hospitals.
The following morning, Egyptian President Abdel Fattah El-Sisi said that he had "mobilized all state services" in response and, later, that he had "presented his condolences by phone" to Pope Tawadros II, head of the Coptic Orthodox Church.
The Egyptian leader also directed the Armed Forces Engineering Authority to "take over the reconstruction and renovation" of the church, the presidency said in a statement.
Witnesses to the fire described people rushing into the multi-story church to save those trapped, but the rescuers were soon overwhelmed by heat and deadly smoke.
"Everyone was carrying kids out of the building," said Ahmed Reda Baioumy, who lives next to the church. "But the fire was getting bigger and you could only go in once or you would asphyxiate."
Another witness, Sayed Tawfik, told AFP news agency that "some threw themselves out of windows to escape the fire." He pointed to a car bearing dents "left by a person who is now lying in the hospital with a broken arm and back."
A statement from the public prosecutor's office suggested that the deaths were caused by asphyxiation, as there were "no visible injuries."
The Egyptian interior ministry said that "forensic evidence revealed that the blaze broke out in an air-conditioning unit on the second floor of the church building," which also houses social services.
Father Farid Fahmy, from a nearby church, said a short circuit caused the fire.
"The power was out and they were using a generator," he said. "When the power came back, it caused an overload."
Accidental fires are not uncommon in the sprawling city of Cairo, where millions live in informal settlements. Last year, at least 20 people died in a blaze in a clothing factory on the outskirts of the capital.
Following the Abu Sifin church fire, Giza's governor ordered "urgent aid of 50,000 pounds (around $2,600) for the families of the deceased and 10,000 pounds for the injured."
Prosecutor-General Hamada El-Sawy said that the public prosecution authority had completed its investigation into the fire and found that the victims died of smoke inhalation.
The interior ministry confirmed that the blaze was caused by an electrical fault in the air-conditioning system on the second floor of the church building, which includes a number of classrooms.
Mostafa Madbouly, Egypt's prime minister, directed the minister of social solidarity to pay compensation of EGP100,000 to victims' families and a maximum of EGP20,000 to those injured.
Copts are the largest Christian community in the Middle East, making up around 10 percent of Egypt's 107 million Muslim-majority population. They justifiably claim to be the original Egyptians, with their liturgical language descended directly from the language of the pharaohs. Many Copts can trace their heritage back to ancient Egypt.
For many, the fire brought back painful memories of deadly attacks by Islamist extremists, including a bombing at Cairo's largest Coptic cathedral that killed 25 people in 2016 and a gunman who killed nine worshippers at another church the following year.
Copts have lived through times of both harmony and adversity throughout much of Egypt's long history. In the 20th century, many were pushed out of political life. Others have deplored restrictive legislation for the construction and renovation of churches.
El-Sisi, who was elected in 2014, became the first Egyptian president to attend the Coptic Christmas mass every year. In February, he appointed the first-ever Coptic judge to head the Supreme Constitutional Court, the country's highest legal body.
Muslim religious officials in Egypt expressed their condolences to the grieving Coptic community.
Al-Azhar's Grand Imam Ahmed Al-Tayeb pledged to aid the families of the victims and is coordinating cash payouts with various NGOs. He also sent a message of support to Pope Tawadros II.
"Al-Azhar and its scholars and sheikhs all stand by their brothers in this tragic accident and extend their sincere condolences to the families of the victims," he said, and affirmed "the readiness of Al-Azhar hospitals to receive the injured."
The tragedy resulted in an outpouring of support from across Egypt and the world. In a statement, UN Secretary-General Antonio Guterres offered his "deepest condolences" to families of the victims.
King Salman and Crown Prince Mohammed bin Salman of Saudi Arabia offered their condolences to El-Sisi and the victims' families. They expressed "profound sorrow and sincere sympathy," and wished the injured a "quick recovery."
The UAE's leaders offered prayers for the victims' families and El-Sisi. President Sheikh Mohamed bin Zayed Al-Nahyan and Prime Minister Sheikh Mohammed bin Rashid Al-Maktoum wished the people who were injured in the blaze a steady recovery.
Prince Salman bin Hamad Al Khalifa, Bahrain's crown prince and prime minister, offered his condolences to El-Sisi and Madbouly.
Jordan's Prime Minister Bisher Khasawneh offered his "condolences and sympathy" to the Egyptian government, people and victims' families.
Tunisian President Kais Saied offered his condolences to his Egyptian counterpart, and wished the injured a speedy recovery in a phone call following the incident.
Hissein Brahim Taha, secretary-general of the Organization of Islamic Cooperation, expressed his sympathy.
Source: Arab News
Please click the following URL to read the full text of the original story:
https://www.arabnews.com/node/2143526/middle-east
--------
Rockets target military base housing Turkish forces in northern Iraq
15 August 2022
A number of rockets have reportedly targeted a military base in Iraq's northern province of Nineveh, which houses Turkish forces involved in ongoing military operations against purported positions of the Kurdistan Workers' Party (PKK) militant group in the semi-autonomous Kurdistan region.
Sabereen News, a Telegram news channel associated with Iraqi anti-terror Popular Mobilization Units – better known by the Arabic name Hashd al-Sha'abi – reported that a number of 122 mm rockets struck Zilkan base in northern Iraq's Bashiqa region at around 12 p.m. local time (0900 GMT) on Monday.
An Iraqi resistance group calling itself Taskeel Ahrar al-Iraq (Assembly of Free Iraqi Men) claimed responsibility for the attack, saying it targeted the base.
The Erbil-based Directorate General of Counter Terrorism (CTD) said in a statement on its Facebook page that the military base in Zilkan was targeted with two rockets.
"One rocket landed inside the base while the other landed in the vicinity of Gudad village without causing casualties or material damage," Kurdish-language Rudaw television news network cited the CTD as saying.
The rockets were believed to have been fired from near Gugjali neighborhood in Mosul city, the report added.
On July 20, Turkey carried out a strike against the Iraqi hill village of Parakh in the Zakho district in Dohuk province, killing at least nine tourists, including children and women, and wounding more than 20 others.
Authorities in Iraq insist that the attack was carried out by Turkish forces and that they are responsible for the deaths and injuries of Iraqi civilians, while Ankara says the country's forces did not attack civilians.
In an interview with Iraq's al-Sumaria television network later in the day, Iraqi Foreign Minister Fuad Hussein said, "If there is a problem between the Turkish government and the Kurdistan Workers' Party (PKK), this problem should not be dragged into the Iraqi territory."
"Some Iraqi military experts have proved that this attack was carried out by Turkey," he added.
However, Turkey's Foreign Minister Mevlut Cavusoglu said the following day that "according to the information we've received from the Turkish Air Force, we have not had any attacks on civilians [in Dohuk, Iraq]."
The Turkish Foreign Ministry also rejected claims by the Iraqi authorities in a statement, and attributed the attack to members of the PKK terrorist group.
Militants of the PKK — designated as a terrorist group by Turkey, the United States, and the European Union — regularly clash with Turkish forces in the Kurdish-dominated southeast of Turkey attached to northern Iraq.
In response, the Turkish military has occupied areas in northern Iraq, where it regularly conducts attacks against purported PKK positions without the Arab country's consent. Baghdad has repeatedly condemned Ankara's ongoing military operations in northern Iraq.
Source: Press TV
Please click the following URL to read the full text of the original story:
https://www.presstv.ir/Detail/2022/08/15/687444/Rockets-target-military-base-housing-Turkish-forces-in-northern-Iraq
--------
Hezbollah's precision strike missiles can hit any target across occupied territories: Nasrallah aide
15 August 2022
A senior aide to the secretary general of the Lebanese Hezbollah resistance movement says the precision strike missiles that the movement possesses are capable of hitting any Israeli target at sea or on land, stating that the Tel Aviv regime is well aware of such military prowess.
Mohammad Yaghi, the executive assistant of Sayyed Hassan Nasrallah, emphasized that the movement has an arsenal of precision-guided missiles that can strike all designated targets inside the occupied territories, the Arabic-language el-Siyasa news website reported on Sunday.
Yaghi went on to comment on the upshot of a potential military confrontation between Hezbollah and the Israeli military, saying, "I think the situation will be fully determined in the sea, on land and in the air within the initial hours."
He stated that the Israeli regime is well aware of the military capabilities of the Lebanese resistance movement.
"We (Hezbollah) really mean what we state. We will never back down and renege on our pledges. The entire Muslim Ummah will be victorious if we emerge triumphant. Every victory notched up by the resistance front will surely bear the hallmark of sacrifices made by fallen resistance fighters," Yaghi highlighted.
Commenting on indirect negotiations on the demarcation of Lebanon's southern maritime border with the occupying regime of Israel, the Hezbollah official said, "Protection of Lebanon's oil and gas resources is an absolute and bounden duty."
"We will not allow the Israeli enemy to extract even a single drop of crude oil or a cubic meter of natural gas if we are not able to do so following a sea demarcation agreement in September," Nasrallah's executive assistant pointed out.
"Israel knows that we are serious about what the Hezbollah secretary general has already announced. We don't have a problem with the breakout of a war as it will be decisive. We will achieve the lofty ideal of creating a robust economy once we start extracting oil and gas from our own energy resources," Yaghi concluded.
Earlier this month, a senior Hezbollah official commended his group's publication of a video showing Israeli vessels involved in offshore oil and gas industry at a disputed maritime area in the Mediterranean, stressing that Israeli officials will not sleep a wink if they find out about the actual extent of the Lebanese resistance movement's military capabilities.
"The video that Hezbollah's War Media Department released a few days ago relayed a clear message to the Israeli enemy that the resistance movement is fully prepared, and has aimed its missiles at the Karish [gas field is disputed territory] and areas beyond that," Sheikh Nabil Qaouk, deputy head of the executive council of Hezbollah, said at a ceremony in the southern Lebanese town of Bint Jbeil on August 3.
The high-ranking Hezbollah official underscored that Israeli authorities will be gripped by fear once they find out about his group's preemptive measures against the regime's strategic energy and military installations.
Hezbollah on July 31 published a video threatening the gas extraction infrastructure at the Karish offshore field, near a disputed maritime border between Lebanon and Israel.
The video footage, which also contains a rare glimpse of Hezbollah weaponry, was broadcast on Lebanon's Arabic-language al-Manar television station.
It was issued by Hezbollah's War Media Department, which the group uses to broadcast footage of military operations and battles, and contains images of ships involved in drilling for and extracting hydrocarbons, along with what appear to be their coordinates.
Source: Press TV
Please click the following URL to read the full text of the original story:
https://www.presstv.ir/Detail/2022/08/15/687419/Hezbollah%E2%80%99s-precision-strike-missiles-can-strike-any-target-across-occupied-territories--Senior-Nasrallah-aide
--------
Mideast
Top Islamic Jihad official: We are preparing for the next round of fighting against Israel
Dalit Halevi
Aug 16, 2022
Khaled al-Batsh, a member of the political bureau of the Islamic Jihad, on Monday warned Israel against eliminating other senior members of the terrorist organization.
In an interview with the Voice of Al-Quds radio station and quoted by the Palestinian Arab Quds Net agency, Batsh said that the military arm of the Islamic Jihad, the Al-Quds Brigades, "will not hesitate to respond to any assassination of any Palestinian leader."
Batsh noted that after each round of confrontation with Israel, the Islamic Jihad evaluates the situation and draws lessons, and on this basis "the effect of the military capabilities in pressuring the occupation and its encouragement to comply with our conditions could be seen."
"The campaign against the enemy is not carried out in a victorious blow and is not measured by the number of martyrs, but is rather a campaign for justice and it is tested by the degree of our ability to stand firm and keep our breath and protect the rights and adhere to them," said Batsh.
Source: Israel National News
Please click the following URL to read the full text of the original story:
https://www.israelnationalnews.com/news/358225
--------
Iran to Inaugurate Major Water Desalination Project at Bushehr Power Plant
2022-August-15
Mohammadizadeh stated on Sunday that works for Iran's first nuclear-powered desalination plant will start in late August concurrent with ceremonies to mark the Administration Week in the country.
"The Atomic Energy Organization of Iran (AEOI) will contribute to the construction of the desalination plant in Bushehr which will have a capacity of 70,000 cubic meters per day," he added.
"The nuclear power can solve the water crisis and this project has become final ... the execution phase will begin during the Administration Week and it will come on line based on the schedule," he was quoted as saying by the semi-official Fars news agency.
The governor added that nuclear reactors in the two planned power plant units in Bushehr will be used to operate two desalination projects with a combined capacity of 150,000 cubic meters per day.
Iran's first and only nuclear power plant in Bushehr is capable of producing nearly 1 gigawatt per hour of electricity.
Source: Fars News Agency
Please click the following URL to read the full text of the original story:
https://www.farsnews.ir/en/news/14010524000177/Iran-Inagrae-Majr-Waer-Desalinain-Prjec-a-Bshehr-Pwer-Plan
--------
Army Commander Reiterates Iran's Support for Diplomacy to Resolve Border Disputes with Taliban
2022-August-15
Maj. Gen. Mousavi stated that sporadic border skirmishes with Afghanistan's Taliban should be resolved diplomatically, adding that there is no need for involvement of armed forces.
"There is a small border dispute in a part of the border with Afghanistan; Due to the fact that on the other side of the border after the change in the government and the fact that the necessary order has not been restored there, sometimes these misunderstandings occur and small-scale skirmishes will follow, which end quickly," the army commander stressed
"The main reason for the recent border conflicts with Afghanistan is that the other side has not yet obtained favorable order and coordination. We hope that the political officials will resolve these differences as soon as possible," Mousavi underscored.
In response to the question of whether it is possible that the conspiracy and ill wishes on the part of the enemies who seek to destroy Iran-Afghanistan relations play a role in the spread of such misunderstandings, he answered, "Certainly, our enemies do not want normal relations between the two neighboring countries based on the independence and mutual respect. Our enemies are neither friendly with the Iranian nation nor with the Afghan nation, so they look for issues to create divisions between us, which we must be careful about."
Governor: No Casualties in Border Clashes Between Iranian Forces, Talibanhttps://t.co/GBW23xdNjr pic.twitter.com/GYPeJVZCN5
— Fars News Agency (@EnglishFars) July 31, 2022
Tehran has called for joint efforts with Kabul to secure the joint border areas amid intermittent clashes at Iran-Afghanistan border crossings in recent months.
In late June, Iranian President's Special Envoy for Afghanistan Hassan Kazzemi Qomi asked the Taliban to take serious action to identify culprits behind the recent border incident which led to the martyrdom of an Iranian border guard, and prevent repetition of such crimes.
"No insecurity on our borders is tolerable," Kazzemi Qomi wrote on his twitter page.
The Iranian border guard, identified as Mohammad Sayyad, was shot dead in the Southeastern province of Sistan and Balouchestan, when a gang of armed thugs entered the area from across the border.
The attackers fled the area immediately after the encounter, which occurred in the Milak area of the Hirmand county of Sistan and Balouchestan.
Tehran has not officially recognised the Taliban since the group quickly took control of neighbouring Afghanistan following the withdrawal of United States forces in August. Iranian officials have repeatedly said the recognition would hinge on the formation of an "inclusive" government in Afghanistan.
Source: Fars News Agency
Please click the following URL to read the full text of the original story:
https://www.farsnews.ir/en/news/14010524000749/Army-Cmmander-Reieraes-Iran%E2%80%99s-Sppr-fr-Diplmacy-Reslve-Brder-Dispes
--------
Iran responds to EU nuclear text, seeks US flexibility
15 August, 2022
Iran responded to the European Union's "final" draft text to save a 2015 nuclear deal on Monday, an EU official said, as the Iranian foreign minister called on the United States to show flexibility to resolve three remaining issues.
After 16 months of fitful, indirect US-Iranian talks, with the EU shuttling between the parties, a senior EU official said on Aug. 8 it had laid down a "final" offer and expected a response within a "very, very few weeks."
While Washington has said it is ready to quickly seal a deal to restore the 2015 accord on the basis of the EU proposals, Iranian negotiators said Tehran's "additional views and considerations" to the EU text would be conveyed later.
The EU official on Monday provided no details on Iran's response to the text.
"There are three issues that if resolved, we can reach an agreement in the coming days," Iranian Foreign Minister Hossein Amirabdollahian said earlier on Monday, suggesting Tehran's response would not be a final acceptance or rejection.
"We have told them that our red lines should be respected ... We have shown enough flexibility ... We do not want to reach a deal that after 40 days, two months or three months fails to be materialized on the ground."
The United States said the deal could only be revived if Iran dropped "extraneous" issues, an apparent reference to Tehran's demands the UN nuclear watchdog close a probe into unexplained uranium traces in Iran and that its Revolutionary Guards come off a US terrorism list.
Diplomats and officials told Reuters that whether or not Tehran and Washington accept the EU's "final" offer, neither is likely to declare the pact dead because keeping it alive serves both sides' interests.
Amirabdollahian said that "the coming days are very important" and "it would not be end of the world if they fail to show flexibility ... Then we will need more efforts and talks ... to resolve the remaining issues."
The stakes are high, since failure in the nuclear negotiations would carry the risk of a fresh regional war with Israel threatening military action against Iran if diplomacy fails to prevent Tehran from developing a nuclear weapons capability.
Iran, which has long denied having such ambition, has warned of a "crushing" response to any Israeli attack.
"Like Washington, we have our own plan B if the talks fail," Amirabdollahian said.
In 2018, then-President Donald Trump reneged on the deal reached before he took office, calling it too soft on Iran, and reimposed harsh US sanctions, spurring the Islamic Republic to begin breaching its limits on uranium enrichment.
The 2015 agreement appeared on the verge of revival in March after 11 months of indirect talks between Tehran and US President Joe Biden's administration in Vienna.
But talks broke down over obstacles including Tehran's demand that Washington provide guarantees that no US president would abandon the deal as Trump did.
Source: Al Arabiya
Please click the following URL to read the full text of the original story:
https://english.alarabiya.net/News/middle-east/2022/08/15/Iran-has-plan-B-if-nuclear-talks-fail-Foreign-minister
--------
Israel army says found, blocked 'attack' tunnel from Gaza
15 August, 2022
Israel's army said Monday it had discovered and blocked a tunnel leading out of the blockaded Gaza Strip dug by the Palestinian enclave's Hamas rulers.
Israel says the militant group aims to use so-called attack tunnels to infiltrate fighters and abduct Israeli soldiers or civilians as bargaining chips in prisoner exchanges.
The Israeli military said it had identified the tunnel "with two routes belonging to the Hamas terrorist organization, dug from the northern Gaza Strip."
The tunnel had "crossed into Israeli territory," said Brigadier General Nimrod Aloni, the outgoing commander of the Gaza division.
However, he said it stopped short of an underground concrete barrier and therefore "did not pose a threat to Israeli communities in the area near the Gaza Strip."
The army said the tunnel was "neutralized" but did not immediately reply to a query as to how, having previously destroyed or flooded such structures.
Hamas responded that "the Palestinian resistance has the right to use all means to enhance its capabilities against the arrogance and criminality" of Israel.
The news came just over a week after a three-day conflict between Israel and Islamic Jihad militants in Gaza ended with an Egyptian-brokered truce.
At least 49 Palestinians, including several Islamic Jihad fighters and 17 children, died in the violence, while in Israel shrapnel wounded three people.
Groups in Gaza, a densely populated coastal territory home to 2.3 million people, have used tunnels since 2007 when Israel imposed a crippling blockade in response to Hamas seizing power there.
Source: Al Arabiya
Please click the following URL to read the full text of the original story:
https://english.alarabiya.net/News/middle-east/2022/08/15/Israel-army-says-found-blocked-attack-tunnel-from-Gaza-
--------
Europe
UK government under fire over treatment of Afghan refugees
August 15, 2022
The UK government is facing criticism over its failure to safeguard Afghan refugees who worked with coalition forces during the war in Afghanistan, The Guardian reported on Monday.
About 6,200 people along with their families are eligible for relocation under the Afghan Relocations and Assistance Policy (ARAP).
The ARAP scheme has brought more than 10,000 Afghans to the UK, and the Afghan Citizens Resettlement Scheme (ACRS) will allow up to 20,000 to settle in the country.
However, as Western allies mark the one-year anniversary of NATO's withdrawal from Afghanistan, the UK faces accusations of abandoning many Afghans to persecution at the hands of Taliban.
Ret. Gen. Sir John McColl, who served as first head of NATO's International Security Assistance Force in Afghanistan, told BBC Radio 4's "World at One" that Defense Secretary Ben Wallace and other ministers should "hang their heads in shame."
McColl described the UK's evacuation of Afghans as "random," and at times prioritizing animals over people.
"The system was broken when we withdrew from Kabul last year and it remains broken. It was a source of shame then and it continues to be a source of shame," McColl said.
Those eligible for ARAP include people still in Afghanistan and those who have fled, most often to Pakistan, but also Iran, where strained relations between London and Tehran have hindered the scheme's ability to assist people.
Earlier this month, nine expert groups on Afghanistan criticized the government's resettlement schemes as "unjustifiably restrictive."
They also expressed deep concern over the government's failure to provide a safe route for Afghan women, girls and oppressed minority groups.
According to sources at the Ministry of Defense, about 1,050 people evacuated out of Afghanistan under ARAP are living in hotels in Pakistan while awaiting processing and transportation to the UK or another destination.
However, the ministry expressed frustration that many Afghans who are brought to the UK end up, as one highly placed source put it, "stuck in hotels."
The ministry source attributed this to the government's failure to put adequate plans in place.
With only 7,000 Afghans having been rehoused, the UK government is still providing hotel accommodation to 9,500 people who sought refuge in the UK, The Guardian reported.
The news outlet also said that thousands of Afghan refugees were told by the Home Office to search for housing on the websites Rightmove and Zoopla.
A Home Office spokesperson said that the UK intends to welcome up to 20,000 people in need via ACRS.
"Already we are proud this country has provided homes for more than 7,000 Afghan evacuees, but there is a shortage of local housing accommodation for all," they said.
"While hotels do not provide a long-term solution, they do offer safe, secure and clean accommodation. We will continue to bring down the number of people in bridging hotels, moving people into more sustainable accommodation as quickly as possible."
Source: Arab News
Please click the following URL to read the full text of the original story:
https://www.arabnews.com/node/2143366/world
--------
Bosnian court sentences former Serb police officer to 20 years in jail for war crimes
Talha Ozturk
15.08.2022
BELGRADE, Serbia
A court in Bosnia and Herzegovina sentenced a former Bosnian Serb police officer to 20 years in prison for crimes against Bosniak civilians during the 1990s Bosnian war.
Dusan Culibrk was accused of participating in the killing of 51 civilians from the area of Prijedor in the summer of 1992.
Culibrk has a right to appeal against the verdict.
In March 1992, when the war in Bosnia and Herzegovina had just begun, 1,775 Serbs from 13 police stations in Prijedor were armed in about a month.
Serbian troops seized the city of Prijedor on the night of April 29, when the majority of the population was then Bosniak. Serb troops with heavy weapons attacked villages around Prijedor on May 23.
During the attack and the massacre in and around Prijedor, 3,176 civilians died, including over 100 children.
About 30,000 civilians from Prijedor were also taken to concentration camps in Omarska, Keraterm, Kozarac, Trnopolje and Manjaca. Tens of thousands were deported from their own lands.
Concentration camps near Prijedor had been centers of torture, massacres, and rape in 1992 when the Bosnian War began.
About 6,000 people were held captive in the Omarska camp, established on May 26, 1992, and 700 of these were killed. Among the captives were 37 women and 28 children.
Source: Anadolu Agency
Please click the following URL to read the full text of the original story:
https://www.aa.com.tr/en/europe/bosnian-court-sentences-former-serb-police-officer-to-20-years-in-jail-for-war-crimes/2661820
--------
Al-Qaeda affiliate claims it killed four Russian mercenaries in Mali
August 16, 2022
BAMAKO: An Al-Qaeda-affiliated terrorist group claimed to have killed four mercenaries from the Russian private security group Wagner in an ambush in central Mali, the SITE Intelligence monitoring group said Monday.
The terrorist group (GSIM), the main militance alliance in the Sahel, said it ambushed a group of Wagner soldiers on Saturday as they rode motorcycles in the Bandiagara region from the village of Djallo toward the mountains, according to a statement by its propaganda arm authenticated by SITE.
Its fighters killed four of the group while the rest fled, the statement said.
Two local elected officials confirmed the incident to AFP, while a senior Malian army official refused to confirm or deny it.
"Four Russians were killed over the weekend by terrorists near Bandiagara," one of the local officials, who requested anonymity, told AFP.
A hospital source in the region also confirmed the "death in combat of four Russians," adding that one had "passed through Mopti hospital."
Russia has become a close ally of Mali's ruling junta in its fight against a long-running terrorist insurgency.
The regime has brought in Russian paramilitary fighters — described by Bamako as military instructors but by Western nations as mercenaries — to support the beleaguered armed forces.
Their deployment was a key factor in prompting France, Mali's former colonial power and traditional ally, to pull its military forces out of the country.
Source: Arab News
Please click the following URL to read the full text of the original story:
https://www.arabnews.com/node/2143561/world
--------
Southeast Asia
Police arrest man suspected of uprooting gravestones at Muslim cemetery
08- 16- 2022
SIBU: The police arrested a homeless man suspected of being involved in uprooting several gravestones at the Al-Qadim Muslim Cemetery here which had caused a stir among the Muslim community in the city.
The issue went viral on social media yesterday when some individuals claimed that the headstones on the graves of their family members had been uprooted after conducting inspections at the cemetery.
Sibu District Police chief ACP Zulkipli Suhaili said the police received a report at 1.21 pm today from a 39-year-old local man who informed that the headstone on his father's grave had been removed from its original position.
"Following a police investigation, at about 3 pm, a 49-year-old local man suspected of being involved in the incident was arrested," he told Bernama in a statement tonight.
Source: The Sun Daily
Please click the following URL to read the full text of the original story:
https://www.thesundaily.my/local/police-arrest-man-suspected-of-uprooting-gravestones-at-muslim-cemetery-DJ9597674
--------
PBS factor in Warisan's decision on election seats
Willie Jude
August 15, 2022
KOTA KINABALU: Parti Bersatu Sabah (PBS) will be a factor when Warisan discusses whether to contest all 25 Sabah parliamentary seats and one in Labuan at the coming general election.
Warisan president Shafie Apdal said: "We will study it thoroughly, and see if PBS will be part of it (the election plans). If they are there, then they are there," he said at a press conference today.
He refused to explain why he singled out PBS. However, he said that Warisan needed to strengthen itself.
His comment was the latest in an exchange of feelers between the two parties about electoral ties.
Shafie has repeatedly expressed interest in working with PBS, saying he considered the party's ideals to be in line with those of Warisan, while PBS president Maximus Ongkili has said the party was ready to work with any party, including Warisan, if it benefitted Sabahans.
The two Sabah-based parties have both had experience in running the state government. PBS, founded in 1985 by Joseph Pairin Kitingan, formed the state government in the 1980s and 1990s and has been in several governing coalitions since. Warisan won power in 2018 but was defeated in the 2020 state elections.
Shafie said Warisan has yet to hold any talks with other parties or coalitions as it was busy preparing for its annual meeting at the end of the month.
On a separate matter, Shafie said the party will amend its constitution to be in line with anti-hopping legislation recently passed by Parliament.
"I think Warisan is the first party to do this and I hope that the bill would also be passed at the state assembly."
Source: Free Malaysia Today
Please click the following URL to read the full text of the original story:
https://www.freemalaysiatoday.com/category/nation/2022/08/15/pbs-factor-in-warisans-decision-on-election-seats/
--------
Umno man hails Ismail's brave decisions in first year as PM
August 16, 2022
PETALING JAYA: An Umno leader, marking Ismail Sabri Yaakob's first year as prime minister, has hailed Ismail for making brave decisions and introducing radical changes in politics.
Umno vice-president Khaled Nordin said it was not easy for the government to set aside almost RM80 billion for subsidies on various commodities and necessities.
The huge sum, almost one-third of national revenue, meant that many development projects had to be sacrificed, he said.
"At times, it is easy to be cynical towards our leaders. But we should not come to the point where we are no longer objective and rational," he said in his tribute, posted on Facebook.
Khaled praised Ismail, a fellow Umno vice-president, for being brave in abolishing import permits (APs) for food "especially since the AP is perceived to be a curse that people avoid".
He said Ismail had implemented many radical changes since taking office, including seeing through the anti-hopping bill. "This is an amazing achievement as he has done it in a year," Khaled said.
The anti-hopping bill was one of the reforms demanded by Pakatan Harapan in return for keeping Ismail's government in office. The bill was passed by Parliament last month and awaits royal assent before it becomes law.
Khaled said the public should also recognise Ismail's commitment to declassifying a government investigation report on the troubled littoral combat ship programme to build six frigates for the navy.
Source: Free Malaysia Today
Please click the following URL to read the full text of the original story:
https://www.freemalaysiatoday.com/category/nation/2022/08/16/umno-man-hails-ismails-brave-decisions-in-first-year-as-pm/
--------
Indonesia at 'pinnacle of global leadership': President Widodo
16 August, 2022
Indonesian President Joko Widodo on Tuesday hailed his country's growing stature on the global stage and reiterated calls for the Southeast Asian nation to be a "bridge of peace" between Russia and Ukraine.
"In 2022, we hold the presidency of the G20, an international forum made up of the world's largest economies. Next year, we will assume the chairmanship of ASEAN," he said in an annual state of the nation speech a day before Indonesia celebrates 77 years of independence.
"It indicates that we [are at the] pinnacle of global leadership," he added.
As head of the G20 this year Jokowi, as the president is known, has taken an increasingly active role in foreign affairs.
In late June he travelled to Kyiv and Moscow to meet with his Ukrainian and Russian counterparts, Volodymyr Zelenskyy and Vladimir Putin, as part of diplomatic efforts to find a peaceful solution to the war and ease the global food crisis. He was the first Asian leader to do so.
Indonesia, he said, "has been accepted as a diplomatic bridge" between the two nations.
In the televised national address Jokowi also noted the country's economic fundamentals remain strong amid a volatile global economy, with inflation at 4.9 percent and economic growth reaching 5.4 percent in the second quarter of 2022.
As the pandemic eases, relatively low case numbers this year have allowed Jokowi to refocus on his priorities, including economic growth and infrastructure development in Southeast Asia's largest economy.
The parliament passed legislation earlier this year on relocating the country's capital to Indonesian Borneo, a cornerstone of the president's agenda.
Source: Al Arabiya
Please click the following URL to read the full text of the original story:
https://english.alarabiya.net/News/world/2022/08/16/Indonesia-at-pinnacle-of-global-leadership-President-Widodo
--------
URL: https://newageislam.com/islamic-world-news/taliban-civilians-women-afghan-emirate-/d/127723
New Age Islam, Islam Online, Islamic Website, African Muslim News, Arab World News, South Asia News, Indian Muslim News, World Muslim News, Women in Islam, Islamic Feminism, Arab Women, Women In Arab, Islamophobia in America, Muslim Women in West, Islam Women and Feminism