New Age Islam News Bureau
4 Apr 2012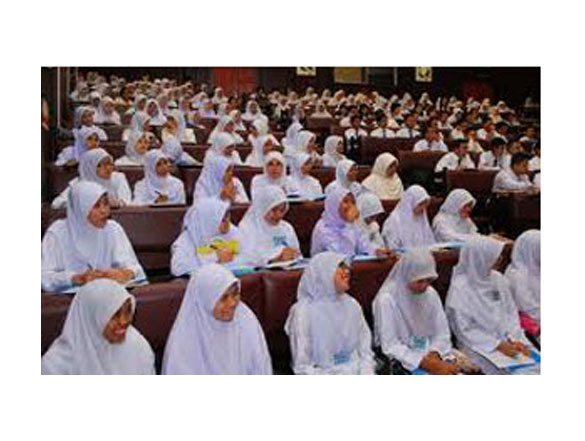 • Malaysia in religious row over 'threat of Christianity'
• Russia says kills five Islamists Rebels in Caucasus
• Kazakh Muslims angry at alleged vodka blasphemy
• JuD to challenge US bounty on Hafiz Saeed's head in international court: report
• Pak President's son asks SC to apologise for Zulfiqar Bhutto's 'judicial murder'
• Thirteen Islamists charged with terror offences in France
• Norway Killer: 'Insane' Diagnosis 'Worse Than Death'
• Text of Annan's Six-Point Peace Plan for Syria
• Al-Qaeda 'could target UK youths'
• Pakistan raises Hafiz Saeed's security after US announces bounty
• Pakistan questions US bounty on LeT founder: Rehman Malik
• Maldives' protagonists seek India's help
• Syria violence killed 80 people on Tuesday: Monitors
• Hafiz Saeed wants to destroy India: Ex-CIA officer
• Deoband issues fatwa against running beauty parlours
• Timbuktu: from city of myth to rebel stronghold
• Lashkar chief Hafiz Saeed thumbs nose at US bounty
• JuD Chief Hafiz Saeed says move will just fan anti-U.S. feelings
• Sectarian violence aftermath: Cellphone services jammed in Gilgit
• Memogate scandal: Haqqani excuses himself from appearing before commission
• Those engaged in terror acts should be brought to book: Indian PM
• UN urges Lebanon to investigate Ethiopian maid's death
• Six killed, several injured in van blast in Pakistan's restive tribal region
• Blast rocks Somalia theatre, several killed
• 14 dead in Pakistan violence
• Afghan militants poison, attack police; 6 killed
• 14 dead in Libya clashes
• Suicide bomber kills 12 in north Afghanistan: officials
• 5 Iraqis Killed by Car Bomb North of Baghdad
• US envoy in Pakistan for patch-up talks
• US hopeful of reopening NATO supply routes from Pak to Afghanistan
• Pak-Canadian jailed for 14 years for helping Sikh militant group
• Fake Indian currency haul in Kathmandu reveals new Pak modus operandi
• Success of Annan peace plan for Syria hinges on Russia
• Syria steps up assault as UN moves to send monitors
• NATO deaths in Afghanistan pass 100 for 2012
• UN ceasefire moves fail to deter Syria violence
• Turkey says UN "indirectly" backs Syria oppression
• Turkish generals go on trial, 32 years after coup
• Iran's labor minister faces impeachment
• Iran wants nuclear talks in Baghdad: Iraq
• Landmark trial of 1980 Turkish coup leaders opens in Ankara
• Taliban's straight bat on cricket
• Iran to give details of suspects in Delhi bomb attack
Complied by New Age Islam News Bureau
Photo: Malaysia - seminar in Johor sparks religious row
URL: https://newageislam.com/islamic-world-news/shiites,-sunnis-in-post-us-iraq--separate,-unequal/shiites,-sunnis-in-post-us-iraq--separate,-unequal/d/6988
-----------
Shiites, Sunnis in post-US Iraq: separate, unequal
By HAMZA HENDAWI
Apr 04 2012
BAGHDAD (AP) — Now that U.S. forces are gone, Iraq's ruling Shiites are moving quickly to keep the two Muslim sects separate — and unequal.
Sunnis are locked out of key jobs at universities and in government, their leaders banned from Cabinet meetings or even marked as fugitives. Sunnis cannot get help finding the body of loved ones killed in the war. And Shiite banners are everywhere in Baghdad.
With the Americans no longer here to play peacemakers and Sunni-ruled Gulf Arab nations moving to isolate Iraq, it's a development that could lead to an effective breakup of the country.
"The sectarian war has moved away from violence to a soft conflict fought in the state institutions, government ministries and on the street," said political analyst Hadi Jalo. "What was once an armed conflict has turned into territorial, institutionalized and psychological segregation."
Despite occasional large-scale bombings, March recorded the lowest monthly toll for violent deaths since the 2003 U.S.-invasion. A total of 112 Iraqis were killed last month, compared to 122 in November 2009, the previous lowest.
Prime Minister Nouri al-Maliki, a Shiite hard-liner in office for nearly six years, does not tire from telling anyone who cares to listen that it was he who defeated "terrorism," the word he uses to refer to the Sunni insurgency.
Critics charge that al-Maliki is suspicious of all Sunnis, even those who never joined the insurgency or later abandoned it, and is punishing a community that lost its protectors when the Americans left Iraq in December, ending eight years of occupation.
On Tuesday, U.S. President Barack Obama called al-Maliki to express Washington's "firm commitment to a unified, democratic Iraq as defined by Iraq's constitution." A White House statement also said that Obama stated his support for the prime minister's participation in a national dialogue hosted by President Jalal Talabani to reconcile Iraqi political blocs. The dialogue formally opens Thursday.
Al-Maliki has denied allegations that his government is harassing or discriminating against Sunnis. He even bragged to Arab leaders gathered for a summit meeting in Baghdad last week that "it is not an exaggeration to say that our success in national reconciliation can be an example to follow in Arab nations suffering from acts of violence and conflict."
But Vice President Tareq al-Hashemi, the administration's top Sunni official, is a fugitive wanted by prosecutors on terror charges. He fled to the self-ruled Kurdish region in northern Iraq to escape what he said would certainly be a politically motivated trial and left this week for Qatar, which has publicly criticized what the Gulf nation's prime minister called the marginalization of Sunnis.
Deputy Prime Minister Saleh al-Mutlaq, a Sunni, has been banned from attending Cabinet meetings because he called al-Maliki a dictator.
Ordinary Sunnis complain of discrimination in almost all aspects of life, including housing, education, employment and security.
Formerly mixed neighborhoods of Baghdad, such as Hurriyah, are now predominantly Shiite and protected by concrete barrier walls and checkpoints; with Shiite militias effectively policing many areas, hardly any Sunnis dare to return.
Baghdad now has the appearance of an exclusively Shiite city, with streets and bridges renamed after Shiite saints, Shiite green, black and red banners flying almost everywhere and giant posters of Shiite saints towering over all else on major squares.
Flaunting Shiite strength in Baghdad, a city of some seven million, is apparently a priority for the sect's clerical leadership.
"I always say that one Shiite from Baghdad is worth five Shiites like me from Najaf," Grand Ayatollah Ali al-Sistani, the nation's most revered Shiite cleric, was quoted as telling Shiites who visited him at his home in Najaf, a city south of Baghdad.
"You are the majority and your enemies are trying to reduce your numbers," al-Sistani said, according to one of the 30 men who attended the seven-minute meeting last November. "Go out and perform your rituals."
The men took al-Sistani's words to heart and swung into action when the next religious occasion arrived in January — the Arbaeen, which marks the passing of 40 days after the seventh century martyrdom of Imam Hussein, a much revered saint.
The district known for its well-to-do professionals and businessmen took on a religious ambiance of the kind found in Baghdad's poor Shiite areas or those hosting religious shrines.
Residents practiced the ritual of self-flagellation on the streets, hoisted hundreds of Shiite banners on trees and lamp posts and served meat and rice from tents pitched on street corners.
In the Baghdad district of Azamiyah, for years a bastion of Sunni resistance to Shiite domination, the government is ignoring repeated demands by Sunni residents to remove Ali al-Saadi, a Shiite who heads the local council. They also want to replace Hadi al-Jubouri, another Shiite who is the district's mayor. Both men were appointed by the U.S. military authorities in July 2003, when the Sunni insurgency against the American occupation was starting.
Among other perceived injustices, the Sunnis say Health Ministry officials stonewall them when they seek help locating the remains of loved ones killed during the sectarian violence of the last decade and that, unlike Shiites living in the district, they are not allowed to keep a firearm at home for self-defense.
Sunnis who apply for government jobs also complain of stalling tactics.
A young university graduate from Azamiyah who wanted to be identified as Umm Omar, or the mother of Omar, said she was among 150 candidates selected last year for jobs in the public affairs departments in Cabinet ministries. When she goes to the ministry to find out when she can start work, she is told to come back another time for an update.
"All the Shiites I know who applied with me started work," said Umm Omar, who did not want to identify herself or the ministry because she feared reprisals. "I think it is because I am a Sunni from Azamiyah, but I will not give up. Jobs must never be given based on sect."
Higher Education Minister Ali al-Adeeb, a close al-Maliki ally, is accused of implementing sectarian policies thinly concealed behind his goal of purging members of Saddam Hussein's now-outlawed Baath Party from academic institutions.
He has ordered candidates for senior positions in universities and the ministry to submit declarations on their possible links with the Baath Party or security agencies.
Those found out to have withheld such information are banned from assuming the positions for which they applied, according to an aide to the minister who agreed to talk about the subject only on condition of anonymity.
Sunnis have long maintained that Shiite authorities use Baath ties as an excuse to purge the civil service and academic institutions of members of their community.
Al-Adeeb has fired nearly 200 academic and administrative staff from the state university in the mainly Sunni Salaheddin province north of Baghdad, according to local tribal leaders and officials. The campus is in Tikrit, Saddam's hometown.
Most if not all university directors in Baghdad are Shiites, according to staff members.
"Sectarian discrimination has become more manifest since al-Adeeb took over the ministry. Several deans and heads of departments have been removed because they belong to the other sect," said university lecturer Ali Abu-Zeid, himself a Shiite. "Even enrollment for postgraduate studies is subtly decided on sectarian basis. We all know that," said Abu-Zeid, who declined to name the university that employs him because he feared reprisals.
Fed up with Shiite domination, the mainly Sunni provinces of Diyala, Salaheddin and al-Anbar have recently announced their intention to become semiautonomous regions, a move provided for by the constitution. Their plans have been stymied by al-Maliki, who argues that granting them autonomy would break up Iraq.
In Diyala, the provincial council voted Dec. 12 to establish a self-ruled region, with 18 members in favor and five against. The next day, protesters widely suspected to be Shiite militiamen loyal to al-Maliki attacked the offices of the provincial government as well as the home of Sunni governor Abdul-Naser al-Mahdawi, as police and army troops stood by and watched.
Fearing for their lives, al-Mahdawi and several council members fled the provincial capital, Baqouba, and found sanctuary in the mainly Kurdish town of Khanaqin to the north.
Last month, al-Maliki gave al-Mahdawi 72 hours to return to Baqouba or resign. He resigned.
___
AP writers Sameer N. Yacoub, Mazin Yahya, Sinan Salahedddin and Bushra Juhi in Baghdad and Anne Gearan in Washington contributed to this report.
(This version CORRECTS the March toll for violent deaths among Iraqis to 112, not 122.)
Copyright © 2012 The Associated Press.
-----------
Malaysia in religious row over 'threat of Christianity'
Apr 04 2012
Malaysian state religious and education officials have changed the title of a seminar on "the threat of Christianity" following outrage from non-Muslims in the multiethnic country, AFP reports.
Southern Johor state education officials faced criticism over the school teachers' seminar to be held Saturday that was titled: "Strengthening the faith, the dangers of liberalism and pluralism and the threat of Christianity towards Muslims."
The furore over the title follows allegations of Christian proselytisation in the Muslim-majority country after religious police raided a Methodist church event last August fearing Muslims were being converted.
State lawmaker Maulizan Bujang told the Bernama news agency the reference to Christianity would be removed from the title, saying: "The seminar aims to strengthen the faith of Muslims and it does not need to be politicised by any party that claims it (the seminar) is a threat to other religions."
But co-organisers from the state religious department said the seminar's content would remain the same.
"The seminar is part of the right of Muslims to defend the faith of its practitioners from any action which may lead to apostasy. It is our responsibility," an official told Bernama.
Opposition leaders say the ruling coalition, which is expected to announce national polls this year, is trying to woo back Malay support by using fear of other religions, after a swing vote saw the government lose control of a third of parliamentary seats and four states in 2008 polls.
Reverend Hermen Shastri, general secretary of the Council of Churches of Malaysia, said the government had to take a stand against the seminar.
"Of course we are disappointed, it derails the whole idea of harmony and mutual respect and understanding each other," he told AFP.
Malaysia has largely avoided overt religious conflict in recent decades but tensions have simmered since a court ruling in late 2009 lifted a government ban on the use of "Allah" as a translation for "God" in Malay-language bibles.
The ban had been in place for years but enforcement only began in 2008 out of fear the word could encourage Muslims to convert.
The 2009 ruling triggered a series of attacks on Christian places of worship using Molotov cocktails, rocks and paint.
Muslims make up 60 percent of the country's 28 million people, while Christians account for about nine percent, most of whom come from indigenous groups in the Borneo states of Sabah and Sarawak.
http://en.tengrinews.kz/religion/8750/
-----------
Russia says kills five Islamists Rebels in Caucasus
Apr 4, 2012
MOSCOW: Russian security forces killed five Islamist rebels suspected of plotting suicide attacks in the capital of the republic of Ingushetia on Tuesday, Russia's anti-terrorism committee (NAK) said in a statement.
The Kremlin is struggling to contain an Islamist insurgency in the North Caucasus and President Dmitry Medvedev has called the North Caucasus separatist movement Russia's top domestic security problem.
The NAK statement said the rebels opened fire on security forces after they attempted to stop their car. It said all five were killed in the shooting. It said two of the rebels had belts loaded with explosives, which are often used by suicide bombers.
More than a decade after federal troops toppled an Islamist government in Chechnya, security forces are fighting militants in a regionwide insurgency, fueled by anger at poverty, clan feuds and corruption.
http://arabnews.com/world/article604401.ece
-----------
Kazakh Muslims angry at alleged vodka blasphemy
April 4, 2012
ALMATY, Kazakhstan - (AP) -- Muslims in the Central Asian nation of Kazakhstan are up in arms at a vodka producer for including the word "Allah" on its liquor bottles.
Privately owned Channel 31 cited Bekzat Boranbaiuly, head imam at a mosque in the city of Semey, as saying the vodka maker should seek forgiveness for the blasphemous use of the sentence "The Power of Allah Suffices for All."
Islam strictly forbids drinking alcohol.
Channel 31 said in its report Tuesday evening the vodka brand is available in most shops in the northern Kazakhstan city of Semey at an average price of $4.40.
Ethnic Kazakhs are mainly Sunni Muslim, but religious attitudes are generally fairly relaxed. The country has a large Slavic minority and the consumption of alcohol is popular across the board.
Copyright 2012 The Associated Press. All rights reserved. This material may not be published, broadcast, rewritten or redistributed.
http://www.newsday.com/news/nation/kazakh-muslims-angry-at-alleged-vodka-blasphemy-1.3641961
-----------
JuD to challenge US bounty on Hafiz Saeed's head in international court: report
Apr 04 2012
Islamabad : The banned terror outfit Jamaat-ud-Dawa has expressed anger as India welcomed the US announcement of a $10 million reward on its chief Hafiz Saeed, and said that it would initiate legal consultations to determine if it can challenge the bounty in international courts.
"Our legal experts will soon meet to consider if it is possible, we will use this option, though we don't take this seriously," JuD Information Secretary Hafiz Muhammad Masood said.
Masood, however, did not explicitly say whether the JuD would also challenge the decision in an American court.
"We don't expect justice from them. For Americans, they consider a person innocent unless proven guilty, but for Muslims, they think of them as guilty unless proven innocent,'' The Express Tribune quoted Masood, as saying.
According to the report, law expert Ahmer Bilal Soofi said that the JuD would have to move an American court if it wants to challenge the decision.
Meanwhile, India welcomed the announcement, saying 'it reflects the commitment of India and the US to bringing the perpetrators of the Mumbai terrorist attack to justice.'
Full report at:
http://www.indianexpress.com/news/jud-to-challenge-us-bounty-on-hafiz-saeeds-head-i.../932461/
-----------
Pak President's son asks SC to apologise for Zulfiqar Bhutto's 'judicial murder'
Apr 04 2012
Islamabad : Launching a scathing attack on the Supreme Court, Pakistan's ruling PPP chief Bilawal Bhutto Zardari has asked it to apologise for the "role it played in the judicial murder" of Zulfiqar Ali Bhutto and to ensure there are no "double standards" in the contempt case against Premier Yousuf Raza Gilani.
23-year-old Bilawal, the nominal Chairman of PPP, made the remarks during a strongly-worded speech he delivered at an event at the Bhutto family's stronghold of Naudero in Sindh province late last night to mark the death anniversary of former President Zulfiqar Ali Bhutto.
He said the time had come for the PPP to "finally get the justice we deserve in the eyes of history."
Referring to a case filed by the PPP seeking a review of the death sentence given to the late President, he said: "I am confident the Supreme Court will not stand in the way... I expect the Supreme Court to finally provide us justice...
"Justice in the eyes of the people, the PPP and Shaheed Bhutto's family -- we expect the Supreme Court to apologise for the role it played in the judicial murder of Shaheed Zulfikar Ali Bhutto."
Full report at:
http://www.indianexpress.com/news/bilawal-asks-sc-to-apologise-for-zulfiqar-bhuttos-judicial-murder.../932484/
-----------
Thirteen Islamists charged with terror offences in France
Apr 04 2012
Paris : Thirteen suspected Islamists have been charged in France with "criminal conspiracy connected to a terrorist enterprise" and illegal possession and transportation of weapons, officials said today.
The 13, some of whom are members of a suspected extremist group called Forsane Alizza that was banned this year, were arrested on Friday in the wake of attacks by an Islamist gunman who killed seven people.
Nine of the suspects, including Forsane Alizza leader Mohamed Achamlane, were ordered to be remanded in custody as police investigate their alleged crimes which include a plan to kidnap a judge, officials said.
The charges against this batch of suspects came after French police caught more suspected radical Islamists in pre-dawn raids for the second time in less than a week today, arresting 10 people.
The latest raids were carried out in the southern port city of Marseille as well as Roubaix near the Belgian border, and in several other locations in the country's south and southwest.
Full report at:
http://www.indianexpress.com/story-print/932515/
------------
Norway Killer: 'Insane' Diagnosis 'Worse Than Death'
Apr 04 2012
OSLO (Reuters) - A far-right militant who killed 77 people in Norway last year will use his trial to challenge a diagnosis that he is criminally insane, something that would be "worse than death", excerpts of a letter he wrote showed on Wednesday.
The trial of Anders Behring Breivik, who gunned down 69 at a Labour Party youth camp after detonating a car bomb in central Oslo that killed eight, starts in Oslo on April 16.
In November two court-appointed psychiatrists deemed the 33-year-old was psychotic and paranoid schizophrenic at the time of the attacks, which would normally mean he could not be sentenced to prison.
In a 38-page letter he wrote in jail and sent to various Norwegian media - of which extracts were published in the daily VG on Wednesday - Breivik said that being deemed criminally insane was unbearable to him.
"I must admit this is the worst thing that could have happened to me as it is the ultimate humiliation," he wrote.
Full report at:
http://www.nytimes.com/reuters/2012/04/04/world/europe/04reuters-norway-breivik.html?ref=global-home
------------
Text of Annan's Six-Point Peace Plan for Syria
Apr 04 2012
BEIRUT (Reuters) - The 15-member United Nations Security Council is expected to endorse a deadline agreed to by Syria for a military withdrawal by April 10 and a comprehensive ceasefire no more than 48 hours later with rebel forces.
The ceasefire is the key part of special envoy Kofi Annan's six-point peace plan, which was presented to Syrian President Bashar al-Assad on March 10 and accepted by him on March 27.
Here is a text of the proposal which calls on the Syrian authorities to:
(1) commit to work with the Envoy in an inclusive Syrian-led political process to address the legitimate aspirations and concerns of the Syrian people, and, to this end, commit to appoint an empowered interlocutor when invited to do so by the Envoy.
(2) commit to stop the fighting and achieve urgently an effective United Nations-supervised cessation of armed violence in all its forms by all parties to protect civilians and stabilize the country.
Full report at:
http://www.nytimes.com/reuters/2012/04/04/world/middleeast/04reuters-syria-ceasefire.html?ref=global-home&pagewanted=print&gwh=760F47A2890B981B045B6228B85AA187
------------
Al-Qaeda 'could target UK youths'
Apr 04 2012
British youths from African communities could become radicalised as al-Qaeda looks to Africa to build its strength, the Rusi think tank has suggested.
It says such a development would pose new challenges for UK and other Western intelligence services.
It warns of potential for new or greater radicalisation among British youths from the Somali and other east and west African communities.
The government said it was tackling home-grown terrorist threats.
Radicalisation has already been seen during the past 15 years among some young members of the Pakistani, North African and Indian communities in Britain, the report published by the Royal United Services Institute suggests.
Full report at:
http://www.bbc.co.uk/news/uk-17606434
----------
Pakistan raises Hafiz Saeed's security after US announces bounty
Apr 4, 2012
LAHORE: Pakistan strengthened security at the residence of Jamaat-ud-Dawah chief Hafiz Mohammad Saeed in Lahore a day after the US announced a $10 million bounty for the man accused of masterminding the 2008 Mumbai attacks. Besides nine policemen from Punjab Police deployed at Saeed's two-storey home at E Block of Jouhar Town, the JuD posted more armed volunteers to ensure foolproof security.
JuD leaders said they had not sought extra security from law enforcement agencies to protect Saeed and his brother-in-law Abdul Rehman Makki, for whom the US offered a two million dollar reward.
A JuD spokesman claimed US bounty was "another attack by US government on Muslims and Islam."
The JuD volunteers set up three barricades about 200 to 300 meters from Saeed's house.
The nine policemen were guarding these barricades while the JuD volunteers, equipped with sophisticated weapons, were on duty inside the building.
http://timesofindia.indiatimes.com/world/pakistan/Pakistan-raises-Hafiz-Saeeds-security-after-US-announces-bounty/articleshow/12529989.cms
-----------
Pakistan questions US bounty on LeT founder: Rehman Malik
Apr 4, 2012
ISLAMABAD: Pakistan questioned Tuesday on what basis the United States slapped a $10 million bounty on the founder of a Pakistani militant group, saying it had not been officially informed of the decision.
"We have not received any official communication in this regard," Interior Minister Rehman Malik told the private Geo television.
The reward for Hafiz Mohammad Saeed, the founder of the Lashkar-e-Taiba (LeT) terror group blamed for the 2008 Mumbai attacks, was announced by US Undersecretary of State Wendy Sherman in India on Monday.
"I cannot comment on it until there is official verification. Let us say that if it is confirmed, then we can ask them on what basis the bounty has been announced," the Pakistani minister said.
Saeed lives openly in Pakistan and has spent recent months making a number of high-profile appearances at demonstrations calling on the government not to reopen NATO supply lines to Afghanistan, which have been closed since November.
His most recent appearance was at a rally outside parliament in the Pakistani capital Islamabad on March 27.
The bounty could complicate recent efforts made by Pakistan and the United States towards repairing their fragile war on terror alliance, which nearly ruptured over US air strikes that killed 24 Pakistani soldiers on November 24.
http://timesofindia.indiatimes.com/world/pakistan/Pakistan-questions-US-bounty-on-LeT-founder-Minister/articleshow/12522461.cms
-----------
Maldives' protagonists seek India's help
SANDEEP DIKSHIT
Foreign Minister says all parties welcome India's facilitation
With the Maldives impasse showing no sign of resolution, protagonists from both sides have now approached India for a helping hand. Some leaders of the Maldivian Democratic Party (MDP) are already in the country and the ousted President Mohd. Nasheed is expected to arrive after a fortnight for an audience with Prime Minister Manmohan Singh and other senior officials.
From the other side, Foreign Minister Abdul Samad Abdullah in a meeting with External Affairs Minister S.M. Krishna here on Tuesday said all parties in the Maldives welcomed Indian government's "facilitation."
Mr. Krishna said India would be happy to help the Maldives tide over its current difficulties but in a reference to some Maldives parties going back on their word in the past, emphasised that New Delhi expected all parties, "including those supporting the government," to contribute to its efforts to bringing about peace and stability in the Maldives.
At the same time, Mr. Krishna wanted the Maldives government to safeguard Indian commercial interests and maintain an investor friendly climate to continue attracting quality investments. Mr. Abdullah responded by assuring that the current government's investment policy was unchanged and all existing agreements would be honoured.
Full report at:
http://www.thehindu.com/news/national/article3278233.ece
-----------
Syria violence killed 80 people on Tuesday: Monitors
Apr 4, 2012
BEIRUT: At least 80 people, mostly civilians, were killed on Tuesday as Syrian forces pressed their crackdown on dissent despite a truce pledge, monitors said on Wednesday.
The Syrian Observatory for Human Rights said that a total of 58 civilians were killed, including 20 who died in military assaults and in fighting between troops and rebels in Taftanaz region of restive northwestern Idlib province.
Another 15 civilians were killed when the army pounded rebel holdouts in the central city of Homs, while the remainder died in other flashpoints across the country, the Britain-based Observatory said.
It added that 18 soldiers were killed in Homs, Idlib and the southern Daraa province, while four army deserters died in Idlib.
A previous toll by the Observatory said 44 people were killed across Syria on Tuesday, including 31 civilians.
Full report at:
http://timesofindia.indiatimes.com/world/middle-east/Syria-violence-killed-80-people-on-Tuesday-Monitors/articleshow/12530848.cms
-----------
Hafiz Saeed wants to destroy India: Ex-CIA officer
Apr 04 2012
Washington: Hafiz Saeed's vision is "destruction" of India, says US counter-terrorism expert Bruce Riedel, maintaining that the Pakistan-based Lashkar-e- Toiba founder is an al Qaeda ally who was in close touch with Osama bin Laden until his death in May 2011.
"Saeed, a very public figure in Pakistan and admired by its military, advocates a truly extreme vision: the restoration of the Mughal empire and the destruction of India," Bruce Riedel, a former CIA officer and now a senior fellow in the Seban Center at Brookings Institute, said.
America's decision to announce a bounty of $10 million on Saeed would further deteriorate its relationship with Pakistan, he wrote in 'The Daily Beast'. Saeed, he said, stayed in close contact with bin Laden until his death in May 2011 in a covert US raid, according to the material found in the al-Qaeda leader's hideout in Abbottabad, Pakistan.
Full report at:
http://www.indianexpress.com/news/destruction-of-india-vision-of-hafiz-saeed-expert/932512/
-----------
Deoband issues fatwa against running beauty parlours
Apr 04 2012
Muzaffarnagar (UP) : Islamic seminary Darul Ulum Deoband has issued a fatwa against beauty parlours saying running such a place is against the Shariat law.
The fatwa was issued in response to a question posed before the Darul Uloom asking whether the profession of running beauty parlours by Muslim women is justified by the law according to the Shariat.
The fatwa said Muslim women are not permitted to practice this profession under Shariat.
"Women are not allowed to run beauty parlours as it is against the norms of parda," Mufti Arif of Darul Ulum Deoband said.
http://www.indianexpress.com/news/deoband-issues-fatwa-against-running-beauty-parlours/932486/
-----------
Timbuktu: from city of myth to rebel stronghold
Apr 04 2012
* Tuareg insurgents now hold fabled Saharan trading town
* Al Qaeda kidnapping had already frightened off tourists
* "Mystic city" bewitched explorers, poets for centuries
* Hidden treasures in wisdom, learning of ancient texts
By Bate Felix and Pascal Fletcher
April 4 (Reuters) - When turban-swathed Tuareg rebels swept into Timbuktu on Sunday to plant the flag of their northern Mali homeland, they found very few tourists in the bars, hotels, museums, mosques and libraries of the fabled and ancient Saharan trading town.
Local guides say numbers of foreign visitors had already fallen off after a Dutchman, a South African and a Swede were seized by gunmen in the historic Malian city in November. A German citizen was killed in the abduction claimed by al Qaeda.
Full report at:
http://www.reuters.com/article/2012/04/04/mali-timbuktu-myth-idUSL2E8F40UR20120404
-----------
Lashkar chief Hafiz Saeed thumbs nose at US bounty
Apr 04 2012
Islamabad : A day after the US slapped a $10 million bounty on one of Pakistan's most notorious militant leaders, he responded by scheduling a press conference near army headquarters Wednesday in a sign of defiance that could anger Washington.
Analysts have said Pakistan is unlikely to arrest Hafiz Mohammad Saeed, founder of the militant group Lashkar-e-Taiba, because of his alleged links with the country's intelligence agency and the political danger of doing Washington's bidding in a country where anti-American sentiment is rampant.
Saeed, 61, has been accused of orchestrating the 2008 attacks in the Indian city of Mumbai that killed 166 people, including six American citizens. But he operates openly in Pakistan, giving public speeches and appearing on TV talk shows.
He has used his high-profile status in recent months to lead a protest movement against US drone strikes and the resumption of NATO supplies for troops in Afghanistan sent through Pakistan. The supplies were suspended in November in retaliation for American airstrikes that accidentally killed 24 Pakistani soldiers.
Full report at:
http://www.indianexpress.com/story-print/932505/
-----------
JuD Chief Hafiz Saeed says move will just fan anti-U.S. feelings
ANITA JOSHUA
Apr 4, 2012
Even as the Pakistan government was largely silent over the U.S. announcing a bounty of $10 million for the arrest and conviction of Jamaat-ud-Dawa (JuD) chief Hafiz Saeed, the organisation turned belligerent on Tuesday; warning that this "irresponsible" move would do him no harm and only add impetus to anti-American sentiments.
The only response from the government side came from Interior Minister Rehman Malik late in the evening. Talking to Geo News, Mr. Malik said: "I also learned from the media. There has been no official communication from the U.S. We have sought verification and cannot comment till then. Let's say if it is confirmed, then we can ask on what basis has this bounty been announced?"
When Geo pointed out that the announcement was on a U.S. government website, Mr. Malik again stalled for time. "It has to come through diplomatic channels or the Interpol. We should wait for official communication [before reacting]," he replied.
Saeed appears on TV
Meanwhile, the man in question appeared on the same programme and held forth for close to an hour. And, he was on other prime-time programmes also; underscoring the fact that he was not a fugitive and his activities were all out in the open.
Full report at:
http://www.thehindu.com/news/international/article3277236.ece
-----------
Sectarian violence aftermath: Cellphone services jammed in Gilgit
Apr 4, 2012
GILGIT: On the directives of Interior Minister Rehman Malik, mobile phone services were jammed in Gilgit on Wednesday, a day after sectarian violence claimed at least 16 lives and injured over 50 others in Gilgit and Chilas town.
"The step has been taken on the directives of Interior Minister Rehman Malik," a source said.
Communication has come to a standstill following jamming of the cellphone services and a strict curfew that has also been imposed to overcome the riots that broke out after unidentified men lobbed a hand grenade on the protest rally of Ahle Sunnat Waljamaat (ASWJ).
It could not be ascertained when the communication system will be restored and when the curfew will be lifted.
Currently, bullet proof vehicles of the army and other security forces are patrolling the deserted roads of Gilgit.
Full report at:
http://tribune.com.pk/story/359561/sectarian-violence-aftermath-cellphone-services-jammed-in-gilgit/
-----------
Memogate scandal: Haqqani excuses himself from appearing before commission
Apr 4, 2012
Husain Haqqani has excused himself from appearing before the judicial commission for the Memogate scandal hearing that was to be held on April 5, Express News reported on Wednesday.
Haqqani's lawyer, Zahid Bukhari filed a request claiming that his client had to undergo some tests in the US and would therefore be unable to appear before the commission.
Earlier, the judicial commission probing the Memogate scandal issued notices to respondents in the case to appear before the commission on April 5.
The commission had before that asked the Supreme Court to extend the deadline till March 31, so Haqqani could appear before the bench.
However, the court's deadline to decide whether Haqqani could appear before the commission via a video link passed, so it set a new date for Haqqani's appearance.
On March 29, the apex court extended the term of the judicial commission for another six weeks. It observed that though the commission's probe is of high importance, it should conclude soon.
http://tribune.com.pk/story/359582/memogate-scandal-haqqani-excuses-himself-from-appearing-before-commission/
-----------
Those engaged in terror acts should be brought to book: PM Manmohan Singh
Apr 04 2012
New Delhi : With the US announcing a $10 million bounty on Mumbai attack mastermind Hafiz Saeed, Prime Minister Manmohan Singh on Wednesday said those engaged in terror acts against India should be brought to book.
"All those who are engaged in terrorist acts against our country should be brought to book," PM said on the sidelines of a function to give away Padma awards at the Rashtrapati Bhawan.
PM was asked to comment on the US bounty on Saeed and whether he would take up the matter with Pakistan President Asif Ali Zardari during his India visit on Sunday.
The US State Department has announced a reward of upto $10 million for information leading to the arrest and conviction of Lashkar-e-Taiba founder Saeed and a reward of upto $2 million for information leading to the location of LeT's second-in-command Hafiz Abdul Rahman Makki.
LeT was designated by the US State Department as a Foreign Terrorist Organization on December 20, 2001.
Saeed was involved in the planning of the four-day terrorist attack on Mumbai in November 2008 that left 166 individuals dead, including six US citizens, the State Department said.
http://www.indianexpress.com/news/those-engaged-in-terror-acts-should-be-brought-to-book-pm/932476/
-----------
UN urges Lebanon to investigate Ethiopian maid's death
Apr 04 2012
The UN special rapporteur on slavery has urged the Lebanese government to carry out a full investigation into the death of an Ethiopian domestic worker.
Alem Dechasa, 33, killed herself on 14 March, a few days after she was filmed being beaten by men and dragged into a car in the Lebanese capital, Beirut.
Gulnara Shahinian said the "cruel" images reminded her of the many migrant workers she met in Lebanon last year.
She urged the country to uncover the truth about such rights violations.
Last month, eight civil society groups called on the Lebanese authorities to reform restrictive visa regulations and adopt a labour law on domestic work to address high levels of abuse and deaths among migrant workers.
'End impunity'
On 8 March, the Lebanese television network LBCI released a video filmed on 24 February by an anonymous bystander in which a man physically abuses Ms Alem outside the Ethiopian consulate in Beirut.
As she tries to resist, he and another man drag her into a car.
LBCI later identified the man beating her as the brother of the head of the recruiting agency that brought her to Lebanon.
Full report at:
http://www.bbc.co.uk/news/world-middle-east-17598437
------------
Six killed, several injured in van blast in Pakistan's restive tribal region
Apr 4, 2012
PESHAWAR: A bomb ripped through a passenger van in Pakistan's restive tribal belt on Wednesday, killing at least six people and wounding nine others, officials said.
The van was carrying 15 men from Khurrakai village to Jamrud, the main town in Khyber district when it was hit while passing through a ravine.
"The passengers were going to town for shopping. So far we can confirm the death of six people while nine others are injured," Shakeel Khan Umarzai, a senior administration official, told AFP.
"Three people are seriously injured. It is unclear that the blast was caused by an IED or a planted bomb in the van but explosives were used," he said.
A doctor at the local government hospital where the dead and the injured were taken also confirmed the casualties.
"We are treating six other passengers who were wounded while three seriously injured have been shifted to Peshawar," Mohammed Anas told AFP.
Khyber is one of seven districts in Pakistan's semi-autonomous tribal belt, where Taliban and al-Qaida-linked militants have carved out strongholds used to plot attacks on Pakistani, Afghan and Western targets.
Pakistani government troops are currently operating against militants loyal to local warlord Mangal Bagh.
The UN refugee agency announced last week that more than 100,000 people, mostly women and children, have fled the fighting in Khyber since January 20.
Washington has called the tribal belt the most dangerous place on Earth and the global headquarters of al-Qaida.
http://timesofindia.indiatimes.com/world/pakistan/Six-killed-several-injured-in-van-blast-in-Pakistans-restive-tribal-region/articleshow/12529156.cms
-----------
Blast rocks Somalia theatre, several killed
Apr 4, 2012
MOGADISHU, SOMALIA: A suicide blast during a ceremony at Somalia's newly reopened national theatre on Wednesday killed at least 10 people, including two of the country's top sports officials, officials said.
Ali Muse, the head of Mogadishu's ambulance service, said at least 10 people were killed and dozens wounded.
The dead included the president of Somalia's Olympic committee and the president of its soccer federation, according to Shafici Mohyadin, the federation's secretary.
A survivor of the blast said he feared few inside the theater escaped death or injury. The witness, Zakariye Osman, said he counted at least eight dead bodies. Osman's clothes were covered in blood as he spoke outside the theater.
Policeman Abdimalik Hassan said government officials and other dignitaries attended the ceremony. Muse said the wounded included the country's national planning minister.
The national theater reopened for the first time in 20 years on March 19 with a concert featuring musicians playing guitars and drums. Wednesday's ceremony was held to mark the first anniversary of the start of a national TV station.
Al-Shabab militants were largely pushed out of Mogadishu last year by African Union troops, and a period of relative peace has descended on Mogadishu, allowing sports leagues, restaurants and even a little night life to flourish.
Despite those advances, al-Shabab has continued to carry out suicide and roadside bomb attacks, sometimes with devastating effect. Last October militants detonated a truck loaded with fuel drums at a government ministry gate, killing more than 100 people.
http://timesofindia.indiatimes.com/world/rest-of-world/Blast-rocks-Somalia-theatre-several-killed/articleshow
-----------
14 dead in Pakistan violence
Apr 4, 2012
ISLAMABAD: At least 14 people were Tuesday killed in sectarian violence in Pakistan.
Ten bus passengers, believed to be Shia Muslims, were shot dead in Bonar Das area in Chilas city after being force to disembark. The gunmen then opened fire at them.
The attack came soon after clashes between Sunni Muslims and police in neighbouring Gilgit city early Tuesday left four people dead.
Activists of a Sunni group in Gilgit were protesting against the detention of their leader by police March 28.
He was accused of firing at a rally of Shia Muslims last month injuring three people, Urdu channel Dunya TV said.
Chilas also witnessed clashes between Sunni and Shia Muslims in which at least five buses were set on fire, Xinhua quoted Urdu channel AAJ TV as saying.
A curfew has been imposed in the area and the army has been called out.
http://timesofindia.indiatimes.com/world/pakistan/14-dead-in-Pakistan-violence/articleshow/12522026.cms
-----------
Afghan militants poison, attack police; 6 killed
Apr 4, 2012
Afghan authorities say insurgents have poisoned the food of policemen and then attacked their checkpoint in southern Afghanistan, leaving six people dead.
The Helmand province governor's office said Tuesday that militants poisoned the food at the police outpost in Nahri Sarraj district and then started a gun battle Monday night with police there.
Four policemen were killed and two wounded in the fighting. The bodies of two civilians were also found at the checkpoint.
Taliban spokesman Qari Yousef Ahmadi claimed responsibility, saying the insurgents poisoned the police and took their weapons.
A government delegation has been sent to the area to investigate.
http://www.thehindu.com/news/international/article3277069.ece
-----------
14 dead in Libya clashes
Apr 4, 2012
Clashes between ethnic Berbers and their Arab neighbours have killed at least 14 people and injured many more in Libya, officials say.
Fighting has continued for a third day around the predominantly Berber town of Zuwara in western Libya.
The National Transitional Council (NTC) has said it is sending forces to intervene and enforce a ceasefire.
It has been struggling to assert its authority over tribal groups following the ousting of Col Gaddafi last year.
There are reports of militiamen from inside Zuwara exchanging mortars and heavy fire with fighters in the nearby Arab areas of al-Jumail and Reghladin.
Interior Minister Fawzi Abdel A'al told reporters he was "asking the two sides to restrain themselves... because there will be no winner in this battle", Reuters news agency reports.
The fighting in Zuwara follows clashes between rival militias in the southern city of Sabha last week which left around 150 people dead.
The BBC's Jon Donnison, in Tripoli, says Libya's government lacks any real central authority, or even an army to dispatch.
Much of Libya is being policed by heavily-armed militias with long standing tribal and regional rivalries, making it difficult for the NTC to assert control over all of the country ahead of elections in two month's time.
http://www.thedailystar.net/newDesign/latest_news.php?nid=36865
-----------
Suicide bomber kills 12 in north Afghanistan: officials
Apr 4, 2012
MAZAR-I-SHARIF: A suicide bomber attacked foreign military forces in northern Afghanistan on Wednesday, killing up to 12 people, officials said, although the identities of the victims was unclear.
"A suicide bomber targeted a group of foreign friends" near a park in Maymana, the capital of Faryab province, provincial governor Abdul Haq Shafaq told AFP. "They were military.
"There are casualties, dead and wounded, but an exact death toll is not known yet. I don't know their nationalities."Faryab, which borders Turkmenistan, is far from centres of the Taliban-led insurgency in Afghanistan's south and east, although the Islamist militia is present in some areas of the province and it suffers sporadic attacks.
There were conflicting reports about the exact death toll and the identity of the victims.
Nato's US-led International Security Assistance Force (ISAF) said two service members died following an explosion in northern Afghanistan, but refused to confirm whether it was the same incident.
Most foreign troops in Faryab are Norwegian and Lieutenant Colonel John Espen Lien, a spokesman for Norway's armed forces, told AFP: "There are many dead and injured.
Full report at:
http://www.dawn.com/2012/04/04/suicide-blast-kills-at-least-12-in-afghanistan-norway-army.html
-----------
5 Iraqis Killed by Car Bomb North of Baghdad
2012-04-04
Five people were killed and ten wounded in a car bomb explosion in a town in Salahudin province north of Baghdad on Wednesday, a provincial police source told Xinhua.
The booby-trapped car went off when a team of police explosive experts were defusing a roadside bomb nearby in the town of al- Duluiyah, some 90 km north of Baghdad, the source from Salahudin's operations command said on condition of anonymity.
All the victims were civilians who gathered to watch the defusing of the roadside bomb, the source said.
The blast damaged several nearby civilian cars, shops and houses, the source added.
Salahudin province is a Sunni-dominated province. Its capital city of Tikrit, some 170 km north of Baghdad, is the hometown of former President Saddam Hussein.
New York Times
-----------
US envoy in Pakistan for patch-up talks
Apr 4, 2012
ISLAMABAD: A top US diplomat was in Pakistan for talks on Wednesday designed to help reset the troubled alliance but likely to be overshadowed by a US bounty on a Pakistani wanted over the 2008 Mumbai attacks.
Washington billed the visit by deputy secretary of State Tom Nides as the next step in re-engagement after the two countries' relationship suffered badly over US air strikes that killed 24 Pakistani soldiers in November.
Nides was due to hold talks with foreign minister Hina Rabbani Khar and finance minister Abdul Hafeez Shaikh. A United States official said joint statements would be issued but that no press conference was scheduled.
Pakistan has so far been tight-lipped since the United States on Monday slapped a $10 million bounty on Hafiz Saeed, the founder of the Lashkar-e-Taiba terror group blamed for the Mumbai attacks who lives openly in Pakistan.
The US official declined to comment on the precise agenda of Wednesday's talks. Asked about the timing of the bounty, he said: "It could be perceived as being unfortunate" but said it was the culmination of a process lasting months.
Pakistan's parliament is debating recommendations designed to reset the relationship with the United States following a series of crises, notably the US raid that killed Osama bin Laden in May and the November air strikes.
"As parliament approaches the conclusion of its policy review, given that parliament is still deliberating, we're prepared to discuss a full-range of issues," the US official said.
Full report at:
http://timesofindia.indiatimes.com/world/pakistan/US-envoy-in-Pakistan-for-patch-up-talks/articleshow/12530017.cms
-----------
US hopeful of reopening NATO supply routes from Pak to Afghanistan
Apr 4, 2012
WASHINGTON: Amid a crucial review of Pak-US ties by Pakistani lawmakers, the US on Tuesday expressed the hope that Islamabad would soon open the crucial supply NATO route to Afghanistan.
"With respect to the ground supply routes into Afghanistan, we remain hopeful that those routes will be reopened in the near future, and discussions with the Pakistanis continue on a range of issues," Pentagon press secretary George Little said.
The supply routes were closed last November after Pakistani soldiers were killed in a NATO cross border fire.
On the issue of two American generals who recently traveled to Islamabad to hold talks with their Pakistani counterparts, Little said they had "a very good session" and are looking forward to future discussions.
"The relationship with Pakistan remains very important to the United States and we're always looking for ways to explore further cooperation," Little told reporters at a Pentagon news conference.
He underlined that bilateral cooperation continues on a variety of fronts, including the issue of counterterrorism and coordination along the border with Afghanistan.
"We think that the relationship is settling and, even though we've been through a rocky period, we can get through it," Little said in response to a question.
http://timesofindia.indiatimes.com/world/south-asia/US-hopeful-of-reopening-NATO-supply-routes-from-Pak-to-Afghanistan/articleshow/12526447.cms
-----------
Pak-Canadian jailed for 14 years for helping Sikh militant group
Apr 4, 2012
NEW YORK: A 50-year-old Pakistani-Canadian has been sentenced to 14 years in jail for providing material support to the Sikh militant group Khalistan Commando Force, blamed for carrying out assassinations and bombings in India.
Khalid Awan was convicted in 2006 by a US federal jury in Brooklyn for providing financial aid to Khalistan Commando Force (KCF).
In 2007, Awan was given a 14 year prison sentence, which was vacated by the Second US Circuit Court of Appeals.
The appeals court had ordered a lower court to consider handing him a longer sentence for a "terrorism enhancement" after prosecutors filed an appeal.
Awan was re-sentenced on Tuesday to 14 years' imprisonment by federal judge Allyne Ross on the terrorism charges.
"During yesterday's sentencing proceeding, the district court found that all three of Awan's crimes intended to promote crimes of terrorism, and imposed a prison sentence of 14 years," the Justice Department said.
In a statement, the FBI said KCF comprises Sikh militants seeking a separate Sikh state in Punjab and has been responsible for thousands of deaths in India since it was founded in 1986.
Full report at:
http://timesofindia.indiatimes.com/india/Pak-Canadian-jailed-for-14-years-for-helping-Sikh-militant-group/articleshow/12529080.cms
-----------
Rs 98 lakh fake Indian currency notes haul in Kathmandu reveals new Pak modus operandi
Apr 4, 2012
NEW DELHI: Acting on the inputs provided by India, the Nepal Police on Tuesday arrested a Vietnamese woman with fake Indian currency notes (FICN), worth Rs 98 lakh, at Tribhuwan International Airport in Kathmandu. The consignment - neatly stuffed in high-end liquor bottles - was delivered to her at Vietnam by conduits working for Pakistani handlers.
The consignment brought in from Vietnam was so smartly concealed that it would have gone unnoticed had it not been for specific information provided by India.
The accused, whose name has been withheld by the agency as investigations are still on, had stuffed the currency notes in liquor bottles and packed them neatly in her check-in baggage. To avoid scrutiny she had paid legitimate duty on the liquor.
Sources in intelligence agencies here said the woman reached Kathmandu via Bangkok. Her arrest has not only revealed a new modus operandi, but also a new route (Pakistan to Nepal via Vietnam) of pumping FICN into India.
A senior intelligence official said, "Counterfeiters keep reinventing themselves. The racket had deliberately used a woman as a carrier to avoid suspicion. The accused had stuffed high-end liquor bottles with FICN and neatly packed them. She then paid the required duty on it which made it a legitimate consignment. That is why despite the consignment being in her check-in baggage no one in Vietnam or in Bangkok suspected anything amiss with her luggage."
The official added, "Recently we had busted a racket in which fake currency was concealed in cigarettes. The accused had removed tobacco and rolled notes into the empty space."
Full report at:
http://timesofindia.indiatimes.com/india/Rs-98-lakh-fake-Indian-currency-notes-haul-in-Kathmandu-reveals-new-Pak-modus-operandi/articleshow/12525288.cms
-----------
Success of Annan peace plan for Syria hinges on Russia
Apr 4, 2012
UNITED NATIONS: The success or failure of Kofi Annan's peace plan for Syria will depend largely on how willing Russia is to keep sustained pressure on a government that Moscow is determined to protect from Western calls for "regime change."
Even if, as expected, Syrian President Bashar al-Assad fails to comply fully with an April 10 deadline to halt military operations and pull its army out of population centers, UN diplomats say Annan will keep pushing Russia and China to help him pressure Damascus to end the year-long conflict.
The former UN secretary-general, now an envoy for the United Nations and the Arab League on Syria, told the 15-nation Security Council on Monday the Syrian government had agreed for the first time to a deadline to halt fighting by April 10, to be followed by an end of rebel operations within 48 hours. The council hopes to endorse the deadline formally soon.
Full report at:
http://timesofindia.indiatimes.com/world/middle-east/Success-of-Annan-peace-plan-for-Syria-hinges-on-Russia/articleshow/12530111.cms
-----------
Syria steps up assault as UN moves to send monitors
Apr 4, 2012
DAMASCUS: Fierce clashes erupted on Tuesday as Syria's regime sent reinforcements into rebel areas despite a truce pledge, and the UN said it was rushing a team to Damascus to pave the way for peace monitors.
The surge in violence killed at least 29 people, more than half of them civilians in north and central Syria, and included a string of arson attacks on homes, activists and monitors said.
It came a day after peace envoy Kofi Annan told the UN Security Council that President Bashar al-Assad had given assurances he would "immediately" start pulling back his forces and complete a military withdrawal from urban areas by April 10.
Foreign minister Walid Muallem on Tuesday pledged Syria would do its utmost to ensure the success of a Red Cross mission as he met the organisation's head, Jakob Kellenberger, who was in Damascus to seek a daily humanitarian ceasefire.
Monitors said heavy fighting engulfed opposition strongholds in the southern region of Daraa, the flashpoint city of Homs in central Syria, northwestern Idlib province and near the capital.
Full report at:
http://timesofindia.indiatimes.com/world/middle-east/Syria-steps-up-assault-as-UN-moves-to-send-monitors/articleshow/12524999.cms
-----------
Nato deaths in Afghanistan pass 100 for 2012
Apr 4, 2012
KABUL: The number of Nato troops killed in Afghanistan so far this year has passed 100, according to an AFP count on Wednesday based on the independent icasualties.org website.
The icasualties total for 2012 stood at 98 but the Nato-led International Security Assistance Force (ISAF) in Kabul has over the past two days announced four deaths, taking the total to over 100.
The latest battle-related fatalities included a service member killed by an improvised explosive device in the south, one by a similar blast in the east and one by an insurgent attack, again in the east.
The nationalities of the dead were not identified, in line with ISAF policy.
ISAF's international joint command declined to confirm the total figure.
"The longstanding policy of ISAF is not to confirm any consolidated number of
casualties over a given timeframe," said a spokesman.
The hardline Islamist Taliban has been fighting an insurgency against President Hamid Karzai's government and its Western allies since it was ousted from power in a US-led invasion following the September 11, 2001 attacks.
The war has cost the West hundreds of billions of dollars and almost 3,000 lives so far. The United States has suffered the most deaths at 1,924, according to icasualties, with Britain next on 407.
The 2012 fatality rate is slightly slower than last year, when 109 troops had been killed by the end of March, again according to icasualties.org.
ISAF currently has around 130,000 troops in Afghanistan, but responsibility for security across the country is due to be handed over to Afghan authorities and most foreign troops withdrawn by the end of 2014.
http://www.dawn.com/2012/04/04/nato-deaths-in-afghanistan-pass-100-for-2012.html
-----------
UN ceasefire moves fail to deter Syria violence
Apr 04 2012
At least 70 people were killed in intense fighting in Syria over the past 24 hours, activists said on Wednesday, despite the imminent arrival of a UN team to discuss a possible mission to monitor a ceasefire set for next week.
Western powers were seeking UN Security Council endorsement of envoy Kofi Annan's deal with Syrian President Bashar al-Assad for an April 10 withdrawal of military forces, to be followed within 48 hours by a ceasefire by rebel forces.
"Let me say that from the U.S. point of view, and I think the point of view of many member states, what we have seen since April 1 is not encouraging," U.S. ambassador to the United Nations Susan Rice said.
If Assad uses the next seven days to intensify the violence, Rice said, the Security Council would need to respond urgently and seriously. Human rights group Amnesty International said it had counted 232 deaths since Syria accepted Annan's proposals on March 27.
"The evidence shows that Assad's supposed agreement to the Annan plan is having no impact on the ground," it said.
Nevertheless, an advance party from the UN peacekeeping department was due in Syria shortly to discuss deploying a team of around 250 observers to monitor a ceasefire. It is headed by Norwegian General Robert Mood, Annan's spokesman said.
Full report at:
http://www.dnaindia.com/world/report_un-ceasefire-moves-fail-to-deter-syria-violence_1671498
-----------
Turkey says UN "indirectly" backs Syria oppression
Apr 4, 2012
ANKARA: Turkish Prime Minister Tayyip Erdogan accused the UN Security Council on Tuesday of indirectly supporting the "oppression" of the Syrian people by failing to adopt a united stance on Syria.
Once a friend of Damascus, Turkey has become a fierce critic of President Bashar Assad over his year-long crackdown on his opponents and has called for the Syrian leader to step down.
"In not taking a decision, the UN Security Council has indirectly supported the oppression. To stand by with your hands and arms tied while the Syrian people are dying every day is to support the oppression," Erdogan said.
In February, the Turkish prime minister described a veto by permanent Security Council members China and Russia of a UN resolution on Syria as a "fiasco for the civilized world."
Russia and China have vetoed two council resolutions condemning Assad for turning his army on civilians.
"We will not turn our backs on the Syrian people, we will not leave the Syrian people to their own fate," Erdogan told a meeting of his ruling AK Party on Tuesday.
On Monday UN-Arab League peace envoy Kofi Annan told the 15-nation Security Council that Damascus had agreed to an April 10 deadline to withdraw all military units from towns to pave the way for a cease-fire with rebels two days later.
But Annan also told the council there had been no reduction in violence so far and Western envoys have expressed skepticism about Damascus' intent to halt its assault on opponents.
Full report at:
http://arabnews.com/middleeast/article604212.ece
-----------
Turkish generals go on trial, 32 years after coup
Apr 4, 2012
ANKARA: Turkey`s 94-year-old former president Kenan Evren is due to go on trial on Wednesday to answer for his leading role in the country`s last coup, more than three decades after he seized power.
Evren and his co-conspirator Tahsin Sahinkaya, 86, will try to justify their decision to oust the civilian government on September 12, 1980, and establish a brutal military regime which was accused of widespread human rights abuses.
The pair are in poor health and they could end up being cross-examined in their hospital beds rather than appearing in the dock at an Ankara high court.
The military, which has long seen itself as the guarantor of secularism in Turkey, has staged three coups — in 1960, 1971 and 1980 — as well pressuring an Islamist-rooted government to relinquish power in 1997.
But the 1980 coup was the bloodiest of them all. Hundreds of thousands of people were arrested, about 250,000 were charged, 50 were executed, dozens more died of torture and tens of thousands were exiled.
Full report at:
http://www.dawn.com/2012/04/04/turkish-generals-go-on-trial-32-years-after-coup.html
-----------
Iran's labor minister faces impeachment
Apr 4, 2012
TEHRAN, Iran: Iranian lawmakers have approved a petition to impeach the country's labor minister over his controversial appointment of an official implicated in the deaths of prisoners in custody.
The development is part of a complicated power struggle between President Mahmoud Ahmadinejad and his conservative rivals in parliament.
The parliament on Wednesday acted on a petition signed by 20 lawmakers. The confidence vote for labor minister, Abdolreza Sheikholeslami, could take place within 10 days.
The lawmakers are angry over the minister's recent appointment of Saeed Mortazavi as head of Iran's social security organization.
A parliamentary probe in 2010 found Mortazavi, then chief Tehran prosecutor, responsible for the deaths by torture of at least three anti-government protesters.
http://timesofindia.indiatimes.com/world/middle-east/Irans-labor-minister-faces-impeachment/articleshow/12531536.cms
-----------
Iran wants nuclear talks in Baghdad: Iraq
Apr 4, 2012
BAGHDAD: Iran wants crucial nuclear talks with world powers to take place in Baghdad instead of Istanbul as had been mooted, according to a statement from Iraq welcoming the proposal.
An "Iranian delegation expressed the desire for Iraq to host the international meeting on the Iranian nuclear file of the five permanent members of the (UN) Security Council plus Germany" in Baghdad, said the statement posted on the foreign ministry's website late Tuesday.
US Secretary of State Hillary Clinton announced last weekend that the talks are due to take place April 13 and 14 in Istanbul.
But EU diplomats cautioned that the venue was still under discussion, and Russia said on Monday that "the date and the place of the meeting have not been definitively set."
The negotiations are seen as an important opportunity to lower tensions over Iran's nuclear programme that have been coloured by threats from Israel and the United States of military action.
The last round of talks between Iran and the so-called P5+1 group was held in Istanbul in January 2011 and ended in failure. Geneva hosted the round before that in late 2010.
Full report at:
http://timesofindia.indiatimes.com/world/rest-of-world/Iran-wants-nuclear-talks-in-Baghdad-Iraq/articleshow/12530568.cms
-----------
Landmark trial of 1980 Turkish coup leaders opens in Ankara
Apr 4, 2012
ANKARA: Turkey's landmark trial of the two surviving leaders of the 1980 military coup began on Wednesday at an Ankara court.
Turkey's 94-year-old former general Kenan Evren and his co-conspirator Tahsin Sahinkaya, 86, are charged with ousting the civilian government on September 12, 1980. The pair are absent from the trial due to their poor health.
Hundreds of demonstrators, mostly made up of left-wing political parties, staged a protest in front of the courthouse, chanting slogans demanding justice for the victims of the coup and brandishing banners.
Several parliamentarians also joined the protest.
The military, which has long seen itself as the guarantor of secularism in Turkey, staged three coups in 1960, 1971 and 1980 as well as pressuring an Islamist-rooted government to relinquish power in 1997.
Full report at:
http://timesofindia.indiatimes.com/world/rest-of-world/Landmark-trial-of-1980-Turkish-coup-leaders-opens-in-Ankara/articleshow/12530631.cms
-----------
Taliban's straight bat on cricket
By Lianne Gutcher
Apr 4, 2012
What questions would you like to ask the Taliban?
Why the organisation has decided to enter into negotiations with the US, perhaps, or whether the group will ban girls from attending school if it returns to power.
These are just a few of the questions fired at the Taliban spokesman, Zabihullah Mujahid, on a new Q&A webpage, with the Islamist insurgent group launching a concerted PR drive to try to convince Afghans they are not the music-hating, women-stoning extremists of the past.
Topping the most recent batch of questions was an inquiry about the Taliban's stance on cricket. Given the current success of the Afghan cricket team - it has just qualified for the Twenty20 World Cup for a second time - Abu Mohammad Ilyas Ahmadi wanted to know whether the Taliban would allow the game to be played if it returnsto power. "There will not be any problems," Mujahid said. "All sport that is not against religion we do not have a problem with."
Full report at:
http://www.nzherald.co.nz/world/news/article.cfm?c_id=2&objectid=10796535
-----------
Iran to give details of suspects in Delhi bomb attack
SANDEEP DIKSHIT
With that India can determine where the impetus for the hit came from
With Tehran likely to provide information this week about three Iranians suspected of being involved in the February 13 bombing of an Israeli diplomat's car, India would be close to determining whether the impetus for the attack came from a rogue Iranian cell or an official intelligence agency from Iran.
India has sought information about passport details and other information about Houshang Afshar Irani, Syed Ali Mahdiansadr, Mohammadreza Abolghasemi and Masoud Sedaghatzadeh. Barring Sedaghatzadeh who has been detained by the Malaysian police, Interpol lookout notices have been issued for the other three.
Tehran had informed the Ministry of External Affairs, which is handling this issue, that "both sides are interested in collaboration'' but information could not be provided immediately because Iran had gone into its Navroz (New Year) celebrations and is emerging out of it this week.
Information from Iran is likely to throw light on whether the hit was a set-up job by other intelligence agencies to frame Iran or retaliation by the Iranian intelligence agencies for similar assassinations of four of its scientists.
Iran's denial
Full report at:
http://www.thehindu.com/news/national/article3278242.ece
-------------
URL: https://newageislam.com/islamic-world-news/shiites,-sunnis-in-post-us-iraq--separate,-unequal/shiites,-sunnis-in-post-us-iraq--separate,-unequal/d/6988