New Age Islam News Bureau
22 Jan 2011
Saudi Grand Mufti condemns suicide attacks | News | Al Jazeera
------------
• After Vastanvi, Salim Raja creates controversy, prays for Indresh at Ajmer Dargah
• 'Maulana Arshad Madani and Maulana Vastanvi are relatives'
• Ajmer blast case: Rajasthan ATS arrest Swami Asimanand
• Fearful of militants, Tajikistan pursues bearded men
• Hang Musharraf, Pak lawyer appeals to SC
• Three Nato Tankers Torched In Pakistan: Officials
• Brother of Potter star jailed for attacking her for dating Hindu
• Preservation of Muslim historical sites stressed
• Shoura mulls law to simplify marriage rules
• Membership drive of Khudai Khidmatgar to commemorate Frontier Gandhi
• DPS hosts Hindi-Urdu poetry festival in Sharjah
• Pak Should Learn From India: PML
• Forces kill 4 terrorists in NWA
• RSS to counter anti-Sangh 'propaganda' in Gujarat
• Blair Arrives For New Grilling At Iraq Inquiry
• Kalam sought character certificates for Padma awardees
• Personal relations behind rivals silence on Vastanvis Modi praise
• Osama bin Laden: 'Pull out of Afghan or lose hostages'
• Iran rejects bilateral with US at nuclear talks Reuters
• BJP to go ahead with Ekta Yatra in Kashmir
• Islamophobia is the moral blind spot of modern Britain
• Dr Md Faisal Siddiquee conferred the Junior Scientist Award
• Very few travelogues have been written honestly: Justice Siddiquee
• Apex court to examine quota for Dalit Christians, Muslims
• 52% Americans think Islamic extremism rising
• Millions Join Bangladesh Muslim Festival
• Woman demands justice for infant tortured by husband
• 'Bruno' to star in film based on Saddam novel
• Istanbul talks in "positive atmosphere"
• Court rejects plea for Taseer's killer
• 'Our Army kept in loop on peace initiatives'
• Begin healing process in J&K, says U.N. Special Rapporteur
• Not more than 10 at mosque site
• Spotlight on young Pak talent
• Sovereign right to hoist flag in J&K
• I re-write the past as if it lives today
• Frontline state in war against terror Pak to shake off tag
• 'Pak polity is too fragile fortalks now'
• Failed artist's novels are about pictures
• From Pak to Ganga: Ashes of 128 arrive
• Husains back at Art Summit after government assurance
• Bomb kills 2 guards protecting Afghan official
• Saudi Al Qaeda suspect caught in Turkey
• Tunisia to pay abuse victims, hunt Ben Ali clan
• Former Iranian hostages reunite at West Point
• Two MQM activists gunned down
• 5,000 rally in Jordan 'bread and freedom' demo
• Al Jazeera TV makes waves with Tunisia coverage
• An enchanting memoir of illustrious Iraqi family
• Tunisia declares three days' mourning for fallen heroes
• Clinton opposes anti-Israel resolution
• Three killed in Orakzai bomb blast
Compiled by New Age Islam News Bureau
URL: https://newageislam.com/islamic-world-news/saudi-mufti-brands-suicide-protests/d/3977
----------
Saudi mufti brands suicide protests as 'great sin'
Jan 22, 2011
Saudi Grand Mufti condemns suicide attacks | News | Al Jazeera
----------------
RIYADH: Saudi Arabia's top Muslim authority branded the act of setting oneself on fire, a protest started in Tunisia and copied in other Arab states, a "great sin", Al-Hayat newspaper reported on Friday.
Islam "bans suicide even if living conditions are hard. To commit suicide by setting oneself on fire is a horrendous crime", said Grand Mufti Sheikh Abdul Aziz bin Abdullah al-Sheikh, quoted in the pan-Arab daily. "To immolate oneself and committing suicide are great sins," he said.
"This crime must not spread, and Muslims must not resort to such an act which is considered suicide and which tarnishes the image of Muslims," said Saudi Arabia's mufti. In December, Mohammed Bouazizi doused himself with fuel and set himself ablaze, in a protest that sparked Tunisia's uprising. His act of desperation has since been copied in other Arab countries, notably Egypt and Algeria.
Cairo's Al-Azhar, the highest seat of learning in Sunni Islam, said the Muslim religion bans suicide for whatever reason. http://www.dailytimes.com.pk/default.asp?page=2011\01\22\story_22-1-2011_pg7_31
----------
After Vastanvi, Salim Raja creates controversy, prays for Indresh at Ajmer Dargah
Jan 22, 2011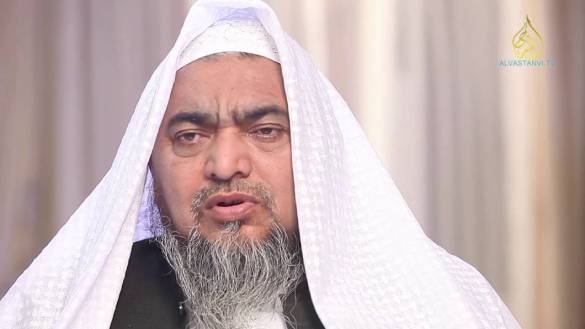 Maulana Ghulam Vastanvi
--------------
New Age Islam: It is another issue that the investigating agencies suspect RSS man Indresh in Ajmer dargah blasts, but recently chadar was presented at the mazar of Khwaja Moinuddin Chishti for the safety and long life of Mr Indresh by the President of the Chattisgarh Hajj Committee and Madrasa Board, Salim Raja on behalf of Rashtriya Muslim Manch. He was accompanied by the former Chairman of Wakf Board and BJP leader Salawat Khan and the state general secretary of Congress minority cell Naim Khan. As Salim Raja has the status of the state minister, he was escorted by the state police. Salim Raja prayed for the security and acquittal of Mr Indresh in the blast. Congress leader of Ajmer Mumtaz Masih had reportedly recommended that Salim Raja should be allowed to pay his homage to the mazar.Now the Congress leaders who had accompanied Salim Raja tried to hide their faces.
----------
'Maulana Arshad Madani and Maulana Vastanvi are relatives'
New Age islam News Bureau
Jan 22, 2011
New Delhi: As the controversy surrounding the appointment of Maulana Vastanvi' appointment as the Vice-Chancellor of the Darul Uloom Deoband thickens, new informations are come out. People and well wishers especially the Qasmi fraternity is trying to ascertain the forces and their motives who supported and voted in Maulana Vastanvi's favour. According to reliable sources, Maulana Arshad Madani and Maulana Vastanvi are relatives (Samdhis). Moreover, Assam heavyweight Maulana Badruddin Azmal has played an important role in his appointment as he wanted to settle scores with Maulana Arshad Madani.
----------
Ajmer blast case: Rajasthan ATS arrest Swami Asimanand
Kshitiz Gaur
Jan 22, 2011
AJMER: The Rajasthan Anti Terrorist Squad on Saturday produced Swami Asimanand in Ajmer court and formally arrested him in connection with the Ajmer dargah blast in 2007.
Asimanand was brought from Ambala (Haryana) jail on a production warrant issued by Ajmer court on January 18.
Asimamand, after his arrest by the CBI from Varanasi, was sent to judicial custody in Hyderabad and thereafter the National Investigation Agency arrested him in the Samjhota Express blast case. The NIA after interrogating \ him, sent him to judicial custody in Ambala jail from where the ATS arrested him on production warrant and today produced him in Ajmer court.
The ATS said hat Asimanand had emerged as main conspirator in the Ajmer blast probe. The court permitted Asimanand's arrest and asked the accused to engage a lawyer. Asimanand, however, said he did not want engage any lawyer saying "the government will provide him an advocate.
After the arrest the ATS has to produce Asimanand within twenty-four hours in the court and after that the court has to decide on the custody or remand or bail of the accused" said an advocate.
"The charges against Asimanand will be produced in a chargesheet which we will file soon in the court" said an ATS officer.
http://timesofindia.indiatimes.com/india/Ajmer-blast-case-Rajasthan-ATS-arrest-Swami-
----------
Fearful of militants, Tajikistan pursues bearded men
Jan 22, 2011
DUSHANBE: Sermons imposed on imams, the harassment of men with beards — anxious Tajikistan seems ready to try anything to curb the spread of Islam in this impoverished republic on the edge of Afghanistan.
With ethnic tensions still simmering from a 1990s civil war and the continued presence of the Taliban on the ex-Soviet state's southern border, the Tajik authorities have recently mounted their own campaign against believers.
With increasing alarm, they have been watching more and more young men attend mosques — and fewer and fewer of them sit around squares and restaurants sipping beer.
In an apparent bid to cut the growth of radicalism at its source, the government has decided to publish a collection of 52 sermons that must be preached during Friday prayers under threat of sanctions.
Five thousand copies of the sermon book have been printed and distributed to the country's 3,000 mosques, each one of them spelling out what may and may not be covered in sermons.
Full report at:
http://www.dawn.com/2011/01/22/fearful-of-militants-tajikistan-pursues-bearded-
----------
Hang Musharraf, Pak lawyer appeals to Supreme Court
Jan 22, 2011
Pakistan's former military ruler Pervez Musharraf should be 'hanged' for committing high treason and other unconstitutional acts like imposition of emergency in the country, a lawyer has asked the Supreme Court.
Abdul Basit, lawyer representing two Lahore High Court judges, in a contempt of court case involving judges who endorsed Musharraf's emergency rule, made the demand.
Appearing before a four-judge bench on Thursday, Basit said the Supreme Court had already held Musharraf responsible for the subversion of the Constitution and committing the offence of high treason in 2007. Asked by the bench as to what should be the punishment for this offence, Basit said: "The punishment for the offence of high treason under Article 6 (of the Constitution) is capital punishment. Hang Musharraf."
Full report at:
http://www.dailypioneer.com/312367/Hang-Musharraf-Pak-lawyer-appeals-to-SC.html
----------
Three Nato Tankers Torched In Pakistan: Officials
Jan 22, 2011
Gunmen set ablaze three tankers carrying fuel supplies for Nato troops in neighbouring Afghanistan, in two separate incidents in Southwestern Pakistan on Friday, officials said.
The first incident took place in Qalat town, 160 kilometres (100 miles) South of Quetta, the capital of restive oil and gas rich Baluchistan province which borders Iran and Afghanistan.
"Three men riding a motorcycle intercepted the three tankers, threw petrol and set them on fire," local police official Lal Jan told AFP.
In the second incident, two men torched another Nato oil tanker in Mastung district, 40 kilometres (25 miles) South of Quetta and fled, Jan added.
A senior provincial government official Saeed Umrani also confirmed the incident and said there was no loss of life in the two incidents.
Full report at:
http://www.asianage.com/international/three-nato-tankers-torched-pakistan-officials-388
----------
Brother of Potter star jailed for attacking her for dating Hindu
Jan 22, 2011
The brother of actress Afshan Azad, who starred in Harry Potter, was on Friday jailed for six months for a "prolonged and nasty" attack in which she was beaten and branded a "slag" for dating a Hindu man.
Azad,21,who played Padma Patil, aclassmate of the teenage wizard,in the block busterHollywood film series based on J K Rowling's children's books, feared for her life during the three-hourordeal,ManchesterCrownCourtheard.
She was punched, dragged around by her hair and strangled by her brother AshrafAzad,28,who threatened to kill her after he caught her talking on the phone to her Hindu boyfriend on May 21 last year, the court was told.
Full report at: Indian Express
----------
Preservation of Muslim historical sites stressed
Jan 22, 2011
ISLAMABAD: Two-day international conference on Islamic Archeology started on Friday to discuss the rich cultural heritage of Muslims and preservation of this heritage.
The National Institute of Historical and Cultural Research (NIHCR), a department of the Quaid-e-Azam University (QAU) with the collaboration of Research Centre for Islamic History Art and Culture (IRCICA), based in Istanbul (Turkey), has organised the conference to bring together the experts on Islamic Archeology from various countries.
Addressing the inaugural session of the conference, Federal Minister for Culture Pir Aftab Shah Jillani highlighted the progress and preservation of historical sites of Muslims as a rich part of Muslim civilisation.
Full report at:
http://www.dailytimes.com.pk/default.asp?page=2011\01\22\story_22-1-2011_pg11_8
----------
Shoura mulls law to simplify marriage rules
Jan 22, 2011
JEDDAH: The Shoura Council is currently considering a new draft law to ease marriages of Saudis to non-Saudis in part to help reduce the numbers of older, unmarried Saudi women.
"This step is aimed at reducing spinsterhood among Saudi women, and also at correcting other negative aspects, including the growing number of Saudi children abroad," said Shoura member Talal Bakri, chairman of the Social, Family and Youth Affairs Committee.
According to recent unofficial studies, there are now about 1.5 million single women in the Kingdom which might reach four million by the year 2015. A "spinster" in Saudi Arabia is defined as a woman who remains single beyond the age of 32. The study indicated that the main causes of older single women were unemployment, shortages in affordable accommodation and social traditions that favor marriage at a younger age.
"There are clear indications that both genders want inter-marriages to be allowed," said Bakri.
Full report at:
http://arabnews.com/saudiarabia/article239599.ece
----------
Membership drive of Khudai Khidmatgar to commemorate Frontier Gandhi
New Age Islam News Bureau
Jan 22, 2011
New Delhi: A membership drive has been launched by the Khudai Khidmatgar, the organization founded by the Frontier Gandhi, Khan Abdul Ghaffar Khan on his 23 death anniversary on January 20. The organization was revived in November 2008 and is headed by the grand daughter of Mahatma Gandhi, Tara Gandhi. The membership ceremony was held at Gandhi Smriti at Tees January Marg in which 50 aspirants were granted membership. Faisal khan on behalf of Khudai Khidmatgar talked about the idea behind the revival of Khudai khidmatgar. Moreover he talked how it was going to work in different parts of the country and called this program a major stepping stone towards its revival since November 2008. Prominent peace activist Prof. V.K.Tripathi of Sadbhav Mission from IIT Delhi read a beautiful poetry on Gandhi Ji, Tara Gandhi made some remarkable statements depicting history of the freedom struggle and stressed on the role of Badshah Khan and his organization Khudai Khidmatgar. Tara Gandhi strongly appreciated this step and complimented the efforts for its revival. She also expressed her pleasure on the program being held at Gandhi Smriti at Tees January Marg where Gandhiji was assassinated. Manimala ji, the prominent social activist and director of Gandhi Smriti concluded this program saying that the programme where 90 per cent of the participants were the youth reminded her of the J P Movement.
----------
DPS hosts Hindi-Urdu poetry festival in Sharjah
22 January 2011
SHARJAH - Delhi Private School (DPS), Sharjah recently hosted a Hindi-Urdu poetry festival as part of its efforts to develop language skills among school students.
Character, class and a sense of affection for Hindi and Urdu flowed through the packed DPS auditorium as hundreds of students enjoyed the poetic lines.
"It's just an effort to bring the students closer to their roots and make them realise the allure of their mother tongue which they are losing touch with. Through such festivals, we make an effort to create a sense of belonging to the country and the language," says Dinesh Kothari, pro vice-chairman, DPS Sharjah. Attending the festival, Munawwar Rana, one of the leading poets from India, provided the perfect start to the festival.
Full report at:
http://www.khaleejtimes.com/DisplayArticle08.asp?xfile=data/theuae/2011/January/theuae
----------
Pak Should Learn From India: PML
Jan 22, 2011
Islamabad, Jan. 21: The Pakistan Muslim League (Nawaz) has asked the Pakistan People's Party (PPP) led government to "learn lessons from India", where the Army Chief appeared before the Public Accounts Committee in connection with functioning of canteens.
"I think the government needs to learn some lessons from India where the Army Chief was summoned by the accounts committee and he appeared before it," PML-N's chairman of the Public Accounts Committee, Chaudhry Nisar Ali Khan, who is also the leader of the Opposition in the National Assembly, said.
"We should learn a lesson from the example of India where, on being summoned, the Army Chief appeared before the PAC although the case was about a minor charge," he said.
Pakistan has been directly ruled by the military for more than half of its age since 1947. Mr Khan was reacting to an audit of the defence ministry that related to the Defence Housing Authority, where defence secretary, Lt Gen. (Retd) Athar Ali, was criticised for not fixing cases of failure to attain targets.
http://www.asianage.com/international/pak-should-learn-india-pml-440
----------
Forces kill 4 terrorists in NWA
Jan 22, 2011
PESHAWAR: Terrorists on Friday attacked a security checkpost in North Waziristan Agency and in the ensuing gunbattle four terrorists were killed, a security official said. The terrorists attacked a security post in MiranShah, headquarters of North Waziristan Agency, and in the retaliatory firing four attackers were shot dead. Separately, the security forces conducted a search operation in Akora Khattak and arrested six terrorists, including two important commanders belonging to Mohmand Agency. app
http://www.dailytimes.com.pk/default.asp?page=2011\01\22\story_22-1-2011_pg7_24
----------
RSS to counter anti-Sangh 'propaganda' in Gujarat
Jan 22 2011
Ahmedabad : RSS today announced to launch a state-wide campaign from tomorrow against Centre's "pre-planned attack" on the organisation for "tarnishing" its reputation.
"There has been a pre-planned attack on the RSS by the Union government which is aimed at tarnishing the reputation of the organisation," Gujarat RSS chief Amrut Kadiwala told reporters here.
He said there was an attempt to get the RSS banned and efforts were also made from international quarters to weaken the Hindu strength in India.
Kadiwala alleged the Centre of using the politics of "misinformation" and implicating influential religious leaders in false cases. He cited Swami Aseemanand, Laxmanand and Shankaracharya of Kanchi as examples.
"It is to counter this false propaganda against the Sangh that this 15-day campaign, a part of the nation-wide programme, is being launched," he said.
Full report at:
http://www.indianexpress.com/news/rss-to-counter-antisangh-propaganda-in-
----------
Blair Arrives For New Grilling At Iraq Inquiry
Jan 22, 2011
Former Prime Minister Tony Blair arrived on Friday for his second appearance at Britain's inquiry into the 2003 Iraq war after being recalled to explain discrepancies in his earlier evidence.
Around 20 protesters holding up signs saying "Bliar" rallied outside the London conference centre where the inquiry is being held as the ex-Premier arrived amid heavy security and a large police presence.
Mr Blair is expected to be questioned on gaps in the the evidence he gave in his first appearance in January 2010 and on apparent discrepancies between his account and official documents and other witnesses' testimony.
Full report at:
http://www.asianage.com/international/blair-arrives-new-grilling-iraq-inquiry-402
----------
Kalam sought character certificates for Padma awardees
Vidya Subrahmaniam
Jan 22, 2011
New Delhi: With the Padma awards season hotting up, can revelations be far behind? In 2005, President Abdul Kalam had insisted that the government append statements of good conduct with each of the names finalised for the Padma awards. Mr. Kalam had also asked the Ministry of Home Affairs (MHA) to follow a calendar for deciding the awards to ensure transparency in procedure.
File notings released recently by the MHA in response to a Right to Information application show that Mr. Kalam, who sought a "calendar of action," imposed two pre-conditions. One, "all proposals for conferment of Padma awards should invariably contain a statement indicating that the character and antecedents of the proposed awardees have been duly verified and nothing adverse is reported against them." Two, the MHA should "necessarily indicate" if any of the awardees has declined to accept the award.
Full report at:
http://www.hindu.com/2011/01/22/stories/2011012263801700.htm
----------
Personal relations behind rivals silence on Vastanvis Modi praise
Abantika Ghosh
Jan 22, 2011
New Delhi: In the chorus of protests that greeted new Deoband vice-chancellor Maulana Vastanvis certificate to Gujarat CM Narendra Modi, the deafening silence of Maulana Arshad Madani the man who lost to Vastanvi is speaking louder than the loudest hoots.
Arshad Madani is leader of one of factions of the Jamiat-Ulama-i-Hind the clerical and political wing of the Deoband seminary is seen to be tied in personal bonds that prevent him from flaying Vastanvi as several Muslim leaders have. Community leaders say the reason for Madanis reticence lies in the Maulanas son Habibullah being married to Vastanvis daughter. The Maulana, who lost control over the Jamiat in a messy battle with his nephew and RS MP Maulana Mahmood Madani,has kept out of the controversy. It being debated whether the elections in which Vastanvi got eight votes, Arshad Madani four and Abdul Khaliq Madrasi,the third contender,two were actually fixed.
Full report at: Times of India
----------
Osama bin Laden: 'Pull out of Afghan or lose hostages'
Jan 22, 2011
AL-QAEDA leader Osama bin Laden said in an audio recording on Friday that the release of French hostages held in Niger depended on France's soldiers leaving Muslim lands.
"President Nicolas Sarkozy's refusal to remove his forces from Afghanistan is nothing but a green light for killing the French hostages," a speaker, who sounded like the al-Qaeda leader, said in an audio message broadcast on the pan Arab television station Al Jazeera. "But we will not do that at the time that he determines, to try and finish off with the repercussions of his position, which will cost him dearly within France and outside of it," he said.
Full report at:Indian Express
----------
Iran rejects bilateral with US at nuclear talks Reuters
22 January 2011
Iran has rejected a request to hold a bilateral meeting with the United States during ongoing talks in Istanbul with six world powers over its nuclear programme, an Iranian official said.
Abolfazl Zohrevand, an aide to Iran's chief negotiator Saeed Jalili, said the request had been made by European Union foreign policy chief Catherine Ashton, who has led talks for the big powers—the United States, Britain, France, Russia, China and Germany.
"But there is no need to hold such talks if it is not about the nuclear meeting in Istanbul," Zohrevand told Iran's Arabic-language Al Alam television news channel.
Since the fall of the US backed shah in 1979, any contacts between Iran and the United States have usually taken place behind the scenes, and were rarely confirmed by the Iranian side.
http://www.khaleejtimes.com/DisplayArticle09.asp?xfile=data/middleeast/2011/January/
----------
BJP to go ahead with Ekta Yatra in Kashmir
Naresh Kumar Sharma
Jan 22, 2011
DHARAMSALA: In an act of defiance against the J&K government, the BJP has decided to go ahead with its 'Ekta Yatra' and the plan to hoist Indian national flag at Lal Chowk in Srinagar on Republic Day.
The Jammu and Kashmir government on Thursday announced that it would not allow the BJP's Ekta Yatra programme. The 6000-km Ekta Yatra (National Integration rally) is being led by BJP's youth wing "Bhajumyo" national president and Lok Sabha MP Anurag Thakur.
Reacting to the J&K government's decision, Thakur said, "I have the constitutional right to unfurl the national flag in any part of my county." He added that the BJP was going ahead with its plans.
The political rally would be entering Una, Himachal Pradesh on Saturday afternoon after it started from Kolkata (West Bengal) on January 12. The BJP rally travelled through Jharkhand, Bihar, Uttar Pradesh, Maharashtra, Madhya Pradesh, Rajasthan, Punjab, Haryana and would culminate on January 26 with the unfurling of the national flag at Lal Chowk in Srinagar. About 15000 BJP workers from Himachal Pradesh are participating in this rally.
Full report at:
http://timesofindia.indiatimes.com/india/BJP-to-go-ahead-with-Ekta-Yatra-in-
----------
Islamophobia is the moral blind spot of modern Britain
Giles Fraser
22 January 2011
The dinner party bigot's attack on Islam as a creed can all too easily become an excuse for an attack upon an ethnic group
No one actually comes out and directly says "I hate Muslims" – at least, not on the liberal dinner party circuit that was the target of Lady Warsi's speech. Conversations generally begin with the sort of anxieties that many of us might reasonably share: it cannot be right for women to be denied access to education in some Islamic regimes; the use of the death penalty for apostasy is totally unacceptable; what about the treatment of homosexuals? The conversation then moves on to sharia law or jihad or the burqa, not all of it entirely well informed. Someone places their hands across their face and peers out between their fingers. Another guest giggles slightly. Someone inevitably mentions 9/11. Later, guests travel home on the tube and look nervously at the man in the beard sitting opposite.
Full report at:
http://www.guardian.co.uk/commentisfree/2011/jan/22/warsi-islamophobia-britain-moral-
----------
Dr Md Faisal Siddiquee conferred the Junior Scientist Award
Jan 22, 2011
New Delhi: A Professor in the Zoology Dapartment of Aligarh Muslim University Dr Md Faisal Siddiquee has been conferred the Junior Scientist Award for the year 2010 by the Environmental Science Academy for his important contributions in the field of Genetics. Dr Siddiquee has done some research work on Genetic Toxicology, Reproductive Toxicology, Neurotoxicology, Moleculer Genetics and some Bio-chemicals. He conducted a number of important experiments. Dr Siddiquee has attended a number of national and international level conferences. More than twenty abstracts by him have been published. He is also the life member of National Environmental Science Academy and Indian Academey of Neurosciences.
----------
Very few travelogues have been written honestly: Justice Siddiquee
Jan 22, 2011
New Delhi: Speaking in a programme held in the India Islamic Cultural Centre, the Chairman of NECMI, Justice M S A Siddiquee said that there are few travelogues that have been written honestly. He said that if the travel writer includes his own weaknesses as well in their travelogues and compile all the aspects of the civilisation, it would be the best travelogue. He termed Qudratullah Shahab's travelogue and ideal one. He appealed to the Saudi ambassador to assure availabality of material to Hajj travel writers. The Vice-Chairman of Urdu Academy, New Delhi, in his address said that the tradition of Hajj Travelogue writing was very old. He said that the travelogue of Abdul Haque Muhaddis Dehlvi's travelogue title Jazbul Quloob ila Dayarul Mahjoob is in the top league. The languages in which Hajj Namas have been written are Arabic, Urdu and Persian. Probably, there are more than 500 hundred Hajj Namas in Urdu. The Director of ICCR, Dr Syed Shahid Mehdi put great emphasis on cultural harmony between India and Arab. Dr P K Abdul Aziz said that in modern times less travelogues were being written and that was a point to ponder over.
----------
Apex court to examine quota for Dalit Christians, Muslims
Jan 22, 2011
New Delhi, Jan 21 (IANS) Is denial of the Scheduled Castes reservations to Dalit Christians and Muslims - as available to Hindus, Sikh, and Buddhists - violative of Article 14 of the constitution? The Supreme Court Friday said it will hold a hearing on the question.
The apex court bench of Chief Justice S.H. Kapadia, Justice K.S. Panicker Radhakrishnan and Justice Swatanter Kumar said the issue involved a very important question about the Constitution - whether the Scheduled Castes order of 1950 that gave reservation to Dalits belonging to Hindu, Sikh and Buddhist communities could exclude Dalit Christians and Muslims.
Thus the court would now look into the validity of the scheduled castes order, which initially provided for scheduled castes reservation for Hindu Dalits only but it was subsequently amended twice - in 1970 and 1995 - to include Dalits amongst Sikhs and Buddhists under the order.
Full report at:
http://www.sify.com/news/apex-court-to-examine-quota-for-dalit-christians-muslims-news-
----------
52% Americans think Islamic extremism rising
Jan 22, 2011
New York: More than half of Americans fear the rise of Islamic extremism, says a survey taken after the shooting at the Fort Hood Army base in Texas earlier this month.
In the worst-ever shooting at any US Army base, Major Nidal Malik Hassan, an Army psychiatrist, allegedly mowed down 12 fellow soldiers and a civilian when he fired on his comrades to protest his upcoming posting to the war zone.
The shooting by the Muslim soldier occurred just two months after two Muslims were arrested for bomb-making plot, raising fears of a backlash against the community in the US.
There are estimated to be more than five million Muslims in the US. According to the survey by the independent Pew Research Centre done after the November 5 shooting, 52 percent Americans think that Islamic extremism is rising in the US.
Full report at:
http://www.zeenews.com/news580584.html
----------
Millions Join Bangladesh Muslim Festival
Jan 22, 2011
At least two million Muslims attended prayers near the Bangladeshi capital as the second largest annual Islamic festival after the hajj began on Friday, officials said.
This year's World Muslim Congregation or Bishwa Ijtema in Tongi district is being held in two phases to accommodate an ever growing number of devotees, the district's chief government administrator, Kamal Uddin Chowdhury, told AFP.
"There are at least two million Muslims here on Friday, and hundreds more are joining the gathering every moment," Mr Chowdhury said.
In 2010, at least four million Muslims attended the festival.
The gathering, at which Muslims pray and listen to religious scholars, was first held in the 1960s on the banks of the Turag river.
It was launched by Tablig Jamaat, a non-political group that urges people to follow the tenets of Islam in their daily lives.
Full report at:
http://www.asianage.com/international/millions-join-bangladesh-muslim-festival-395
----------
Woman demands justice for infant tortured by husband
Jan 22, 2011
JEDDAH: The mother of a baby who was tortured by his father leaving him permanently disabled and quadriplegic has called on the authorities for justice.
The Jeddah branch of the Investigation and Public Prosecution Commission has completed its investigations into the father and referred the case to court for proceedings to begin, Al-Watan newspaper reported.
The father has admitted to torturing the child and his mother has filed for divorce. The baby, called Abdullah, was brought to a private hospital in Jeddah in April when he was six weeks old. He was found to have fractured legs and skull, and was bleeding from the head.
Asked about the injuries, the father said Abdullah had accidentally fallen. Subsequent medical checks, however, found that the injuries were consistent with abuse.
Abdullah was in a coma at the time suffering from cerebral hemorrhage. He also had serious injuries and bruises to his head, face, chest and shoulders. His head and left eye were swollen, and he underwent surgery to extract a piece of broken bone from his skull. He was then taken to King Abdulaziz Medical City for further treatment.
Full report at:
http://arabnews.com/saudiarabia/article237695.ece
----------
'Bruno' to star in film based on Saddam novel
Jan 22, 2011
LONDON: A love story penned by Iraqi dictator Saddam Hussein is set to get the Hollywood treatment.
Paramount Pictures are readying a film based on the book 'Zabibah And The King' and 'Bruno' star Sacha Baron Cohen is in talks to star in the film, reported Sun Online. 'The Dictator' , according to the studio will tell "the heroic story of a dictator who risked his life to ensure that democracy would never come to the country he so lovingly oppressed" .
The story of a powerful medieval ruler who falls in love with a commoner, was a bestseller in Iraq when it released in 2000 and is among the four books that Hussein wrote during his life, said the newspaper in it's report.
Though the works all appeared under the pseudonym 'the author' , they were widely understood to have been written by the former president , who ruled the Arab state for 24 years, between 1979 and 2003.
Full report at:
http://timesofindia.indiatimes.com/world/uk/Bruno-to-star-in-film-based-on-Saddam-
----------
Istanbul talks in "positive atmosphere"
Atul Aneja
Jan 22, 2011
DUBAI: With both sides downplaying expectations of a breakthrough, Iran has said that its first round of talks in Istanbul with the global powers on Friday morning had been held in a "positive atmosphere".
In a symbolic assertion, Saeed Jalili, the leader of the Iranian delegation and Turkish Foreign Minister Ahmet Davutoglu participated in the afternoon Friday prayers, Iran's state-run Press TV reported.
European Union foreign policy chief Catharine Ashton is leading a delegation, which has representatives from the United States, Russia, China, Britain France and Germany. The two-day talks are expected to end on Saturday. Earlier, U.S. State Department spokesman Mark Toner said Washington was "not expecting any big breakthroughs".
He said the objective was to launch a "constructive process" which would see Iran "engaging and addressing the international community's concerns about its nuclear programme".
Full report at:
http://www.hindu.com/2011/01/22/stories/2011012264392000.htm
----------
Court rejects plea for Taseer's killer
Anita Joshua
Jan 22, 2011
ISLAMABAD: Maintaining that no one can take the law into their own hands even if someone has committed blasphemy, a Pakistani court on Thursday dismissed a petition seeking annulment of the case against Punjab Governor Salman Taseer's assassin, Malik Mumtaz Qadri.
According to reports, the court observed that "although death sentence can be handed down to those who [have] committed blasphemy by a court of law after due procedure, nobody can be encouraged to kill others in violation of laws.''
The petitioner's claim was that Qadri had not committed any offence since the punishment for blasphemy is death. After gunning down Taseer on January 4 in Islamabad, Qadri claimed that he had killed the Governor for describing the blasphemy laws of the country as a "black law".
Meanwhile, President Asif Ali Zardari has asked Federal Minorities Minister Shahbaz Bhatti — who is himself under threat from some Muslim clerics for supporting changes in the blasphemy laws — to continue with his consultations with ulemas and religious scholars to evolve a consensus mechanism for protecting minorities from misuse of laws.
http://www.hindu.com/2011/01/22/stories/2011012264362000.htm
----------
'Our Army kept in loop on peace initiatives'
Jan 22, 2011
NEW DELHI: The former Foreign Minister of Pakistan, Khurshid Mahmud Kasuri, has emphasised that his country's Army was always kept in the loop on all initiatives to normalise ties with India.
In fact, during official and backchannel talks that were disrupted by the 2008 Mumbai attacks, the Pakistan Army's top brass, including present Chief of the Army Staff Gen. Ashfaq Parvez Kayani, were informed about the developments when they took place, Mr. Kasuri told The Hindu.
Although it is a popular notion in India that the Pakistan Army constantly created hurdles to peace, Mr. Kasuri used the recent Wikileaks revelations to point out that top-level commanders like Gen. Kayani (then ISI chief) were co-operating with the process of dialogue. He was emphatic in declaring that all stakeholders, including the Army, were fully behind the backchannel negotiations that took place in the past.
Full report at:
http://www.hindu.com/2011/01/22/stories/2011012260981400.htm
----------
Begin healing process in J&K, says U.N. Special Rapporteur
Jan 22, 2011
NEW DELHI: The United Nations Special Rapporteur on the situation of Human Rights Defenders, Margaret Sekaggya, on Friday advised India to keep politics with Pakistan on the Jammu and Kashmir situation aside and instead take up issues "about the people" and begin the "healing process" as they "have been suffering for many years."
She felt that the controversial Armed Forces Special Powers Act (AFSPA) and the Public Safety Act, which were arbitrarily applied at the national and State levels in J&K and in the Northeast India, should be repealed and application of other security laws which "adversely affect the work and safety of human rights defenders should be reviewed." Acknowledging the security challenges faced by the country, Ms. Sekaggya said that at the same time "people and their basic rights are also important."
Quoting reports about the rampant violation of human rights in J&K, Ms. Sekaggaya referred to an instance where a prisoner in the Valley had been kept "naked" in solitary confinement for seven years.
Full report at:
http://www.hindu.com/2011/01/22/stories/2011012260991400.htm
----------
Not more than 10 at mosque site
Jan 22, 2011
New Delhi: Reiterating its previous order,the Delhi High Court on Friday tossed out a plea by a charitable society seeking permission for more than 10 people to pray on Fridays at the site of an illegal mosque razed under HC orders.
The land does not belong to you.I have ordered status quo for a period of two months to facilitate the resolution of the issue.The prayer seeking waiver on the number of 'namazees'cannot be allowed at this stage, Justice G S Sistani said.
The Noor Charitable Society,which has staked a claim to the mosque that was demolished by DDA,had moved an application seeking court's intervention in waiving the condition that only 10 devotees can offer namaz five times a day at the site.
The mosque in Jangpura,illegally built on DDA land,was demolished by the agency on January 12,leading to violence in the area.However,prayers were held at the site later after government stepped in to defuse the tension.
Full report at: Times of India
----------
Spotlight on young Pak talent
Jan 22, 2011
New Delhi: Galleries from Spain to Seoul are showing their star names at the third edition of the India Art Summit but its a small booth from across the border thats cornering some of the spotlight.Grey Noise,the first Pakistani gallery to come to the art fair,is giving Indian art lovers a glimpse of Pakistans vibrant contemporary art scene.
Theres no politics here.No guns and no terror.Its not about the breath of violence but the breath of fresh air.Dont even expect colour for,the subcontinents colourful canvases are replaced here by subtle monochrome works that make even grey look intense.Umer Butt,the young art entrepreneur who has set up the gallery in Lahore,says he wanted the focus to shift from the miniature aesthetic.
Full report at: Times of India
----------
Sovereign right to hoist flag in J&K
Jan 22, 2011
BJP on Friday maintained hoisting the national flag at Lal Chowk in Srinagar on Republic Day was its sovereign right even as the party raised questions on the UPA governments stand on Jammu and Kashmir being an integral part of India.We are committed to Ekta Yatra and will go ahead with the plan, leader of opposition Arun Jaitley said. While BJP Yuva Morcha led by Anurag Thakur continues its march to Srinagar.On the ongoing Ekta Yatra and Omars appeal not to take it to Srinagar,Jaitley said,Omar has given it more publicity (by opposing it)... But he has only been talking to the BJP. T
Times of India
----------
I re-write the past as if it lives today
Jan 22, 2011
Jaipur: I believe in re-writing the past in such a way that it lives in the streets today, said Nobel laureate Orhan Pamuk on the first day of the Jaipur Literature Festival.Speaking before hacks and literary impresarios,Pamuk outlined his anxiety when he visited America as a youth. I saw their libraries,their museums and began to wonder,what is my culture
D e s c r i b i n g himself as a failed painter,Pamuk started searching for his past through writing. I explored classical,Sufi and Islamic culture in Turkish history, said the writer of novels like Snow and My Name is Red. Turkish modernizers favouring secularism considered this reactionary.But I believe exploring tradition can produce a new culture,drawing energy from religion and nationalism.The past is not something we should only preserve in museums.For us to understand ourselves,it needs to be presented as a living thing.
The debonair novelist touched on love. My book The Museum of Innocence won the hearts of feminists.It chronicled what men do to women when they fall in love and its not pretty. Full report at: Times of India
----------
Frontline state in war against terror Pak to shake off tag
Jan 22, 2011
Islamabad: Seeking an image makeover, the Pakistan government has decided to stop referring to the country as a frontline state in the war against terrorism as it does not want to be perceived as the epicentre of the menace, said a media report on Friday.
Descriptions like frontline state in war against terrorism overcast the countrys positivities. Therefore, we are doing away with this phrase, a senior security official was quoted as saying by the Dawn newspaper.
The phrase is misleading and creates an impression that the problem of terrorism is specific to this region, something which contradicts Pakistans position that it is a global phenomenon, the unnamed official said. We dont want to be seen as the epicentre of terrorism anymore, the official said.
Full report at: Times of India
----------
' Pak polity is too fragile fortalksnow'
Jan 22, 2011
HE PRIME Minister's special Af- Pak envoy, S. K Lambah, on Friday said the sense of cynicism about dialogue with Pakistan is understandable " especially when those responsible for 26/ 11 roam freely". A fresh round of Indo- Pak foreign secretary- level talks will be held at Thimphu next month.
This cynicism is likely higher in the backdrop of Punjab governor Salmaan Taseer's assassination, with Lambah stressing that Pakistan's polity is fragile and its interest in peace at this stage is uncertain.
Lambah pointed out that PM Manmohan Singh has taken measures to improve relations with Pakistan. " A lot of progress has been made; the ball is in Pakistan's court. We will be willing to pick up the threads," Lambah noted.
He said: " Not engaging a neighbour with 180 million people, strong antagonism towards India, a growing nuclear weapons arsenal and worsening instability is not a wise choice."
Mail Today
----------
FAILED ARTIST'S NOVELS ARE ABOUTPICTURES
By Neha Tara Mehta
Jan 22, 2011
"Depends on the penetration," Pamuk said, when asked if philosophical love was deeper than sexual love
IF THE opening lines of My Name Is Red (2001) startled you into reading on, Orhan Pamuk achieved what he set out do: making you, the reader, identify with the complex cultural mosaic of the 16th century through the story of miniature painters in Ottoman Turkey and Mughal India. At the inaugural session of the sixth Jaipur Literature Festival on Friday, Pamuk said to a riveted audience, "When I set out to write My Name Is Red, I thought, 'My God, what a scholarly subject! I don't want to be a scholar'. I wanted my story to be humane." Pamuk decided, as he puts it, to be "a radical in search of a lost culture daringly or shamelessly using forms of modernism or postmodernism." For a self-confessed "failed painter" who took pocket money from his father till age 31, and once found it almost impossible to get published in his mother-tongue, Turkish, Pamuk has come a long way. The 2006 Nobel laureate's unrealised dream of being a painter has found an outlet today through his novels teeming with visual imagery.
Full report at: Mail Today
----------
From Pak to Ganga: Ashes of 128 arrive
DEEPU SEBASTIAN EDMOND
Jan 22, 2011
IT TOOK almost 40 years for some, but 128 Hindus from Pakistan will, at long last, find their final resting place in a river that they always held sacred. Ramnath Mishra, mahant of Karachi's Panchmukhi Hanuman Mandir, reached the Old Delhi railway station in the early hours of Friday with the ashes of persons who wanted to have their remains immersed in the Ganga.
A Delhi-based NGO named Sri Devouthan Seva Samiti is organising the trip for the 15-member Karachi delegation. The Samiti deals with the immersion of unclaimed ashes from various crematoriums in the Capital in the Ganga at Hardwar.
A spokesperson for the Samiti said the delay was caused because the relatives, who wanted to make the trip across the border, were denied visas.
"Four years ago, we came to know that the ashes of 128 individuals were being kept at a library near the Hindu cremation ground in Karachi. The Samiti president, Anil Narendra, wrote to the mahant, who is also the chief administrator of the cremation ground," said Vijay Sharma, General Secretary. These 128 individuals had mentioned in their will that their ashes should be immersed in the Ganga.
Full report at: Indian Express
----------
Husains back at Art Summit after government assurance
Jan 22, 2011
A DAY after M F Husain's paintings were removed from the India Art Summit, they staged a comeback on Friday after an assurance came from the Ministry of Culture that sufficient security would be provided.
"We spoke to the Police Commissioner and he said that he had sufficient secu rity in place. We told the organisers, and they have put Husain's work back at the Summit," said Jawhar Sircar, secretary, Ministry of Culture, in a text message.
On Thursday evening, Ashish Anand, the director of the Delhi Art Gallery, had removed Husain's work from the summit after he received calls and emails, with threats of vandalism.
On day one, Husain's son Shamshad was at the summit, said Anand.
Indian Express
----------
Bomb kills 2 guards protecting Afghan official
Jan 22, 2011
KABUL: A remote-controlled bomb attached to a bicycle exploded on Friday as the vehicle of a provincial leader in southern Afghanistan drove by, killing two of his guards. Amanullah Hotak, the head of the provincial council in Uruzgan province said he escaped injury, but that two other bodyguards were injured in the blast as well.
http://www.dailypioneer.com/312355/Briefly.html
----------
Saudi Al Qaeda suspect caught in Turkey
22 January 2011
ISTANBUL — A Saudi national wanted for suspected links to the Al Qaeda extremist network has been arrested in southern Turkey, Anatolia news agency quoted police as saying Friday.
The suspect, identified only as W.B., was detained along with an alleged Turkish collaborator in Adana in an operation that followed a tip-off that an Al Qaeda militant was in the city planning an unspecified act of violence.
The Saudi, who held a fake passport, had been wanted on an international warrant for terror-related charges in his country, local police said, according to Anatolia.
A court in Adana ordered that the Saudi be kept in jail, while releasing the Turk, it said.
The Turkish police have regularly targetted suspected Al Qaeda supporters since two sets of twin suicide bombings hit Istanbul five days apart in November 2003.
Full report at: http://www.khaleejtimes.com/DisplayArticle08.asp?xfile=data/middleeast/2011/January/
----------
Tunisia to pay abuse victims, hunt Ben Ali clan
22 January 2011
TUNIS - Tunisia will pay compensation to the families of victims of human rights abuse under its ousted authoritarian leader and will send envoys to other Arab states to pursue him, its prime minister said on Friday.
Anti-government protesters again took to the streets as Tunisia began three days of mourning for the dozens of people killed during president Zine Al Abidine Ben Ali's overthrow.
The interim government, which took over after Ben Ali fled to Saudi Arabia last week in the face of widespread popular unrest, has faced continued protests by crowds angry that members of the old guard are still in the cabinet.
Mohamed Ghannouchi, Ben Ali's prime minister who has remained in office to lead an interim coalition cabinet, made an effort to distance himself from the ousted president in an emotional television interview.
Full report at: http://www.khaleejtimes.com/DisplayArticle08.asp?xfile=data/middleeast/2011/January/
----------
Former Iranian hostages reunite at West Point
22 January 2011
WEST POINT, New York — Former Iranian hostages reuniting 30 years after their release were greeted by a long line of cheering, clapping cadets Friday, echoing the rousing hostage reception here in 1981.
More than a dozen former hostages visiting the U.S. Military Academy for a weekend reunion kicked off the day with a short walk into a stiff, snowy wind past a cordon of 4,400 shouting cadets. Some of the hostages took time to shake hands with the camouflage-and-fleece-clad cadets, thanking them for the grand welcome.
"I can't describe it. It's a little too much. We're all overwhelmed," former hostage Bruce Laingen said with a big smile as he walked into the first of a series of private meetings with cadets and faculty.
Full report at: http://www.khaleejtimes.com/DisplayArticle08.asp?xfile=data/international/2011/January/
----------
Two MQM activists gunned down
Jan 22, 2011
KARACHI: Two activists of the Muttahida Qaumi Movement (MQM) were gunned down in an incident of target killing in Joria Bazaar, police said on Friday.
The incident took place near the Baba Samosa Shop situated at Joria Bazaar. 50-year-old Haji Fareed, son of Abdul Hafeez, and Saeed alias Gullo were sitting in the area when two men approached them on a motorcycle and fired at them, As a result, both were injured.
Police shifted them to the Civil Hospital Karachi (CHK) for medical treatment, where they breathed their last. Afterwards, scores of MQM workers and leaders gathered at the CHK, with all the surrounding shops and markets closing. SHO Faryad Bhatti said the target killing incident victim Haji Fareed was the father of five children and used to run a general store in the area and was a very prominent social worker.
http://www.dailytimes.com.pk/default.asp?page=2011\01\22\story_22-1-2011_pg7_22
----------
5,000 rally in Jordan 'bread and freedom' demo
Jan 22, 2011
AMMAN: More than 5,000 people rallied in Amman and other cities after weekly prayers on Friday against Jordan's economic policies, demanding "bread and freedom" and that the government resign.
"(Prime Minister Samir) Rifai, out, out! People of Jordan will not bow," protesters chanted as they marched from the Al-Hussein mosque in central Amman to the nearby municipality building. "Our demands are legitimate. We want bread and freedom."
Police handed out bottles of water and juice to the demonstrators, who carried banners reading, "We demand social justice and freedom", "No to oppression, yes to change" and, "We need a national salvation government."
Full report at: http://www.dailytimes.com.pk/default.asp?page=2011\01\22\story_22-1-
----------
Al Jazeera TV makes waves with Tunisia coverage
Jan 22, 2011
CAIRO: When street protests ousted the Tunisian president, 26-year-old Egyptian Sabah first heard about it in a call from a friend who told her: "Switch on Al Jazeera." The riots that overthrew Zine Al-Abidine Ben Ali and shocked the Arab world, were swiftly caught by the Qatar-based channel.
Before many others, it flooded bulletins with footage, streamed online and updated its Twitter, Facebook and blog sites.
"I'm not usually interested in politics but it's hard not to follow events like these when they are glaring at me in my living room," said Sabah, who quickly followed her friend's advice and turned to Al Jazeera when the news broke.
Al Jazeera's correspondents are barred from several Arab states and it often draws scorn from Western governments, but since its 1996 launch it has mesmerised Arab viewers who once had little choice but state TV that spoon-fed the official line.
Full report at: http://arabnews.com/middleeast/article239646.ece
----------
An enchanting memoir of illustrious Iraqi family
Jan 22, 2011
"Late for Tea at the Deer Palace: The Lost Dreams of My Iraqi Family" (Harper, $27.99), by Tamara Chalabi:
In this sweeping, enchanting memoir, Tamara Chalabi pieces together her illustrious family's history and exile from Iraq in an attempt to uncover her own, fractured identity.
The author's father, Ahmad Chalabi, is the character readers may be most curious to learn about; a key leader in the opposition to Saddam Hussein, he provided the US with intelligence on weapons of mass destruction leading up to the costly invasion of Iraq that proved to be faulty.
But the controversial Iraqi politician is not the protagonist of this tale. This is Tamara Chalabi's story; one of an inheritance of exile and a struggle to connect with a distant, troubled homeland.
Full report at: http://arabnews.com/middleeast/article239658.ece
----------
Tunisia declares three days' mourning for fallen heroes
Jan 22, 2011
TUNIS: Tunisians began three days of mourning Friday, lowering flags and broadcasting recitations of the Qur'an to mourn dozens who died in the protests that drove Zine El-Abidine Ben Ali from power.
About 1,000 demonstrators gathered in the courtyard of Prime Minister Mohamed Ghannouchi's offices, some climbing lampposts and hanging Tunisian flags and hand-lettered signs.
Central Tunis has seen near-daily protests in the past week by those who say the caretaker government is still too dominated by cronies of Ben Ali. The government has declared three days of national mourning as it struggles to restore calm in the North African country.
Friday's protest in Tunis started at the long-dreaded Interior Ministry then moved to Ghannouchi's offices. Police in some locations were joining ranks with protesters. Officers climbed atop their patrol cars with protesters, waving flags and chanting along with demonstrators outside the prime minister's office. One policeman was lifted onto the shoulders of demonstrators and was seen chanting pro-police slogans along with the crowd.
Full report at: http://arabnews.com/middleeast/article239615.ece
----------
Clinton opposes anti-Israel resolution
Jan 22, 2011
ASHINGTON: Secretary of State Hillary Clinton has underlined strong US opposition to Palestinian efforts to have the UN Security Council condemn Israeli settlements.
"The only way that there will be a resolution of the conflict... is through a negotiated settlement," Clinton said. "Therefore we don't see action at the UN or any other forum as being helpful in bringing about this desired outcome."
The Palestinian resolution against Israel's building in the occupied territories and East Jerusalem was formally put to the 15-member council late Tuesday with Lebanon, Brazil and South Africa as the council sponsors.
Palestinian Ambassador to the UN Ryad Mansour said the resolution would help revive long-stalled direct peace talks. Palestinians have refused to take part in talks since Israel ended a moratorium on settlements in late September.
Clinton, who did not make it clear whether Washington would veto the resolution, reiterated longstanding US opposition to Israeli settlement building.
Full report at: http://arabnews.com/middleeast/article239621.ece
----------
Three killed in Orakzai bomb blast
Jan 22, 2011
PESHAWAR: Three people, including two paramilitary soldiers, were killed in a roadside bomb blast in northwest Pakistan's Orakzai tribal region on Saturday, officials said.
An improvised explosive device planted by militants went off in the town of Ibrahimzai during a routine patrol by paramilitary soldiers, a security official said.
"Two soldiers and one civilian were killed in the blast," Abdul Qadir, a local administration official, told AFP.
Seven other people — one soldier and six civilians — were wounded in the explosion near the bazaar in Ibrahimzai, he said.
A military official in Peshawar confirmed the incident, saying the wounded had been taken to the local hospital.
Full report at: http://www.dawn.com/2011/01/22/three-killed-in-orakzai-bomb-blast.html
URL: https://newageislam.com/islamic-world-news/saudi-mufti-brands-suicide-protests/d/3977