New Age Islam News Bureau
09 June 2022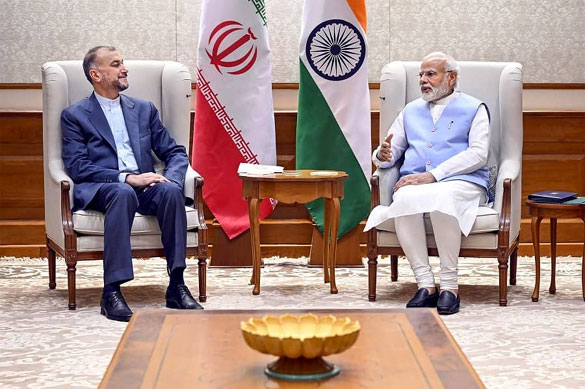 Prime Minister Narendra Modi interacts with Foreign Minister of Iran Hossein Amir-Abdollahian in New Delhi
PTI Picture
----
• Enact Law to Punish Those Who Target Symbols Of Islam to "Spread Hatred in the Country": Darul Uloom Deoband
• Intel Points at Pakistan Role As More Nations from Islamic World Join Protest over Prophet Remarks
• Sri Lankan Govt Allows Muslims to Perform Hajj If They Pay In Foreign Currency
• What Is At Risk for India with the Crisis in Its Relations with the Muslim World, Explains a Veteran Diplomat
India
• Demonise Muslims but Live off Muslim-Majority Countries; "BJP's Assumption that what's said In India Stays in India Is Turning Out To Be Wrong
• Delhi Police Registers FIR against Several People over Hate Messages on Social Media
• PM Modi's Photos Plastered on Dustbins in Muslim Countries, Thunders Maharashtra Chief Minister
• India Tightens Security After Terrorists Threaten Attacks Over Anti-Muslim Remarks
• 'Idgah Grounds' In Chamrajpet Is Ours, Have Records, Says Central Muslim Association
• Bengal Imam Body Calls for Stringent Legal Action against Nupur Sharma over Prophet Remarks
• Man held for misbehaving with Muslim vendor in Kanpur
• Remarks on Prophet: Naseeruddin Shah appeals PM to "stop the poison"
--------
Pakistan
• 'Biggest Protest in Pakistan's History' Within Next Few Days: Imran Khan
• Imran Khan re-elected Pakistan Tehreek-e-Insaf chairman
• Imran Khan Condemns Comments against Prophet, Urges Pakistan Govt To Cut Ties With India
• President Alvi appoints Ahad Cheema as adviser to the PM on establishment
• Gilani challenges Sanjrani's election as Senate chairman
• 150 Sikh pilgrims arrive from India to attend Jorr Mela
--------
South Asia
• India to Consider Reopening its Mission in Kabul without its Senior Diplomats
• Former Minister of Education aka Founder of "Ghost Schools" Returns to Afghanistan
• Iran Hands Over the Military Equipment of the Previous Government to the Taliban
• Former government officials return to Kabul at Taliban invitation
• Taliban Introducing New Uniform for Afghan Police
--------
Arab World
• Saudi Arabia welcomes IAEA's resolution on Iran
• YPG/PKK terrorists in Syria deploy US-made anti-tank TOW missiles
• Turkish forces 'neutralize' 7 PKK terrorists in northern Iraq
• Cybercriminals Selling UAE Personal Data on Dark Web, Making Millions: Study
• Explosive drone detonates in Iraq's northern city of Erbil
--------
Mideast
• Imam Khamenei: Zionism Is an Obvious Plague for World of Islam Which Should Be Exposed
• Iranian foreign minister's India visit overshadowed by row over anti-Islam remarks
• Iranian Envoy Blasts US for Targeting Ordinary People by Sanctions
• Senior MP: Possible IAEA Resolution to Affect Iran's Partnership in Vienna Talks
• Tajik PM: Horizon of Cooperation with Iran Broader than Ever
• Iran denounces 'political, unconstructive' IAEA resolution
• Houthis slammed for ignoring power cuts in Yemen's Hodeidah
--------
Africa
• Algeria Suspends Treaty of Friendship and Cooperation with Spain
• Owo Church Killers Want to Pit Christians against Muslims, Says ACF
• Sudan begins post-coup crisis talks without key civilian bloc
• Tunisia denies diplomatic talks with Israel
--------
North America
• US Warns Tehran against Turning off IAEA Cameras as Resolution to Censure Iran Passes
• US think tank Brookings puts retired general with links to Qatar on leave
• Iraq's parliament passes emergency food bill
• US has no plans to support normalization efforts with Syria's Assad: Diplomat
--------
Europe
• Türkiye, Montenegro Share Possibility for Intensive Regional Cooperation: Montenegrin President
• UN envoy arrives in Yemen for talks on besieged city
--------
Southeast Asia
• Malaysian Haj Pilgrims to Arrive In Mecca from Tomorrow
• Selangor Sultan decrees Bon Odori should go ahead after audience with Jais, Shah Alam City Council reps
• Umno's dilemma: when to call for GE15
• Let Bon Odori fest proceed, Selangor sultan tells Jais
• Selangor sultan calls on Idris to attend Bon Odori
Compiled by New Age Islam News Bureau
URL: https://newageislam.com/islamic-world-news/prophet-muhammad-nupur-muslims-nsa-iran/d/127208
--------
Prophet Remark: Iran Calls for Attention To Sensitivities Of Muslims; NSA Reaffirmed Offenders Will Be "Dealt With In Such A Way That Others Will Learn A Lesson"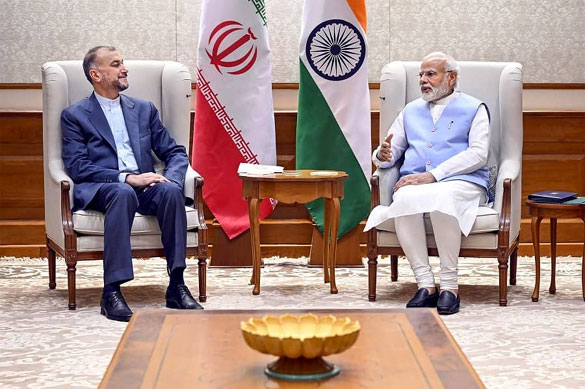 Prime Minister Narendra Modi interacts with Foreign Minister of Iran Hossein Amir-Abdollahian in New Delhi
PTI Picture
----
09.06.22
India and Iran on Wednesday held wide-ranging talks focusing on enhancing trade, connectivity and counter-terror cooperation even as Iranian Foreign Minister Hossein Amir-Abdollahian raised the issue of controversial remarks on Prophet Muhammad made by two former BJP spokespersons.
An Iranian readout of Abdollahian's talks with National Security Adviser Ajit Doval said the foreign minister hailed the Indian people and the government for their respect for Prophet Mohammad as well as for their religious tolerance and historical coexistence between various faiths.
It said Abdollahian announced that Iran prefers "no limits" for expansion of ties with India.
The Iranian foreign minister, who is on a three-day visit to India, also called on Prime Minister Narendra Modi.
The crisis in Ukraine and the situation in Afghanistan were among the key issues that figured in the talks Abdollahian had with External Affairs Minister S Jaishankar.
On Afghanistan, the two sides reaffirmed the importance of providing immediate humanitarian assistance to the Afghan people and reiterated the need for a representative and inclusive political system in support of a peaceful, secure and stable Afghanistan.
The two sides also signed an agreement on mutual legal assistance in civil and commercial matters.
The Iranian readout of Abdollahian's talks with Doval said the foreign minister raised the issue of the controversy triggered by the comments on Prophet.
It said the NSA reaffirmed the Indian government's respect for the founder of Prophet Mohammad, saying offenders will be "dealt with in such a way that others will learn a lesson".
"Abdollahian hailed the Indian people and government for their respect for the divine faiths, especially the Prophet Mohammad and also for the religious tolerance, historical coexistence and friendship among followers of various religions in the country," the readout said.
It stated the Iranian foreign minister called for attention to the sensitivities of Muslims, adding he said "Muslims are satisfied with the stance of Indian officials in dealing with the culprits."
The BJP on Sunday suspended its national spokesperson Nupur Sharma and expelled the party's Delhi unit media head Naveen Jindal for allegedly making derogatory comments.
Iran has been a key country for India in the Gulf region.
The two sides have been jointly focusing on improving connectivity between South East Asia and Central Asia.
At a connectivity conference in Tashkent last July, Jaishankar projected Iran's Chabahar Port as a key regional transit hub.
Located in the Sistan-Balochistan province on the energy-rich Iran's southern coast, the Chabahar port is being developed by India, Iran and Afghanistan to boost connectivity and trade ties.
India has been in touch with Iran over the developments in Afghanistan following its takeover by the Taliban on August 15.
The Ministry of External Affairs said both sides acknowledged the significance of bilateral cooperation in the field of regional connectivity and reviewed the progress made at the Shahid Beheshti terminal of the Chabahar port.
"The sides agreed that the Chabahar port has provided much needed sea-access to landlocked Afghanistan and has also emerged as a commercial transit hub for the region, including for Central Asia," it said.
"They reaffirmed their commitment to continue to cooperate on the development of Chabahar Port. Teams from both countries will be meeting soon to address operational aspects," it added.
The MEA said the two ministers also discussed international and regional issues, including Afghanistan and reaffirmed the importance of providing immediate humanitarian assistance to the people of Afghanistan.
It said they also reiterated the need for a representative and inclusive political system in support of a peaceful, secure and stable Afghanistan.
The MEA said Jaishankar appreciated the role of Iran in facilitating India's medical assistance to Afghanistan, including supply of COVID-19 vaccines to Afghan nationals residing in Iran.
The Iranian statement said Abdollahian described security and military ties between the two countries as "suitable" and pitched for further expansion of the cooperation including to fight terrorism at the bilateral and regional levels and also to help the people of Afghanistan.
The talks between Jaishankar and Abdollahian focused on overall bilateral ties.
"Wide ranging discussion with FM @Amirabdolahian of Iran. Reviewed our bilateral cooperation, including in trade, connectivity, health and people to people ties. Exchanged views on global and regional issues including JCPOA, Afghanistan and Ukraine," Jaishankar tweeted.
It is the first visit to India by a senior minister of a member nation of the Organisation of Islamic Cooperation after the controversial remarks triggered anguish in the Arab World.
Abdollahian's visit to India came days after Iran joined Kuwait and Qatar in summoning the Indian ambassadors over the remarks against Prophet Mohammad by Nupur Sharma and Naveen Jindal.
Since then, several countries including Saudi Arabia, United Arab Emirates (UAE), Indonesia, Pakistan, Afghanistan, Jordan, Bahrain, Maldives, Malaysia, Oman, Iraq and Libya denounced the comments.
The Iran nuclear deal also figured in the talks.
The Joint Comprehensive Plan of Action (JCPOA), commonly known as the Iran nuclear deal, was finalised in 2015 between Tehran and several world powers including the EU.
It was aimed at curbing Iran's nuclear ambitions. The US had withdrawn from the deal in May 2018 and reimposed sanctions on Iran. There have been fresh efforts now to restore the deal.
Source: Telegraph India
Please click the following URL to read the text of the original story:
https://www.telegraphindia.com/india/prophet-remark-iran-calls-for-attention-to-sensitivities-of-muslims/cid/1869072
--------
Enact Law to Punish Those Who Target Symbols Of Islam To "Spread Hatred In The Country": Darul Uloom Deoband
Photo: The Times of India
---
Jun 9, 2022
MUZAFFARNAGAR: Darul Uloom Deoband has demanded strict legal action against all those who made objectionable statements against symbols of Islam to "spread hatred in the country". This comes days after Jamiat-Ulema-i-Hind made a similar demand.
The move follows several Arab and Islamic countries condemning the controversial remarks made against Prophet Muhammad by former BJP spokesperson Nupur Sharma and the party's (now expelled) Delhi unit media head Naveen Jindal.
Darul Uloom VC, Maulana Mufti Abul Qasim Nomani, issued a statement on Wednesday saying, "I strongly condemn the insulting remarks on our beloved Prophet. Religious sentiments of the followers of any faith cannot be provoked in the name of freedom of expression. Insulting the Prophet will not be tolerated by Muslims, in India or abroad."
He urged the government to "frame a law to deal with cases where religious symbols of Muslims are targeted".
The Darul Uloom VC further said, "India is a secular country and people here have been living together for centuries. These communal and extremist elements are not only harming the country's social harmony but also disturbing the nation's secular fabric and ethos".
Source: Times Of India
Please click the following URL to read the text of the original story:
https://timesofindia.indiatimes.com/india/enact-law-to-punish-those-who-target-islam-darul/articleshow/92092575.cms
--------
Intel Points at Pakistan Role As More Nations from Islamic World Join Protest over Prophet Remarks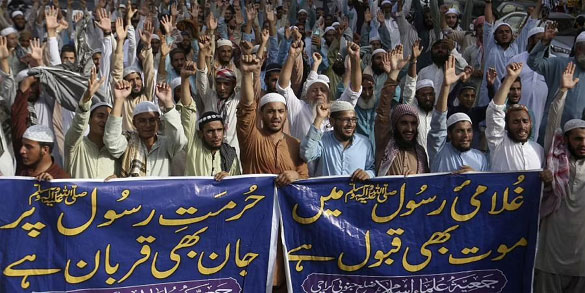 People chant anti-India slogans to condemn the derogatory references to Prophet Muhammad in Karachi, Pakistan, Monday.(Photo | AP)
----
08th June 2022
By Yeshi Seli
NEW DELHI: More Muslim countries have joined the chorus of protests against the derogatory statement a former spokesperson of BJP made on the Prophet recently.
The countries that have marked their protests now are Indonesia, Maldives, Iraq, Malaysia, Libya, Turkey and Egypt. A total of 15 countries have so far voiced their displeasure, besides the OIC and GCC.
It is learnt that the ruling party has now issued instructions to its members to avoid speaking against any religion.
Meanwhile, the government has upheld its views that it treats all religions with respect. This is the communication that has been sent to some of the nations who had not just expressed their displeasure but also summoned the Indian envoy posted in their respective country.
"It is one of those episodes where the backlash was far more than one would have imagined, but it will also help others in India refrain from making such comments," said an expert on Islamic politics.
In the midst of all these protests, a press note purportedly issued by terrorist organisation al-Qaida, has appeared in social media in which the organisation has threatened violent retaliation, including bombings, to avenge the insult to the Prophet.
Meanwhile, India's intelligence agencies have alleged Pakistan's role behind the anti-India hashtag on social media – that led to this furore. They have verified 750 unique bot accounts who have run these anti-India campaigns with the backing of Pakistan's PTI party.
While the day was full of events that ranged from more countries raising protests against the comment has emerged the voice of a supporter of the suspended BJP spokesperson, Nurpur Sharma.
Dutch politician, Geert Wilders, has gone ahead and extended his support to the suspended spokesperson. Wilders has termed the anger of the Islamic countries as 'ridiculous' and has gone ahead and said India should not have apologised.
Interestingly, amidst all this hullabaloo, Iran's foreign minister is in India at present to meet the External Affairs Minister, Dr S Jaishankar. This is the first visit of an OIC leader after the controversy around the comment began.
Source: New Indian Express
Please click the following URL to read the text of the original story:
https://www.newindianexpress.com/nation/2022/jun/08/intel-points-at-pakistan-role-as-more-nations-from-islamic-world-join-protest-over-prophet-remarks-2463306.html
--------
Sri Lankan Govt Allows Muslims To Perform Hajj If They Pay In Foreign Currency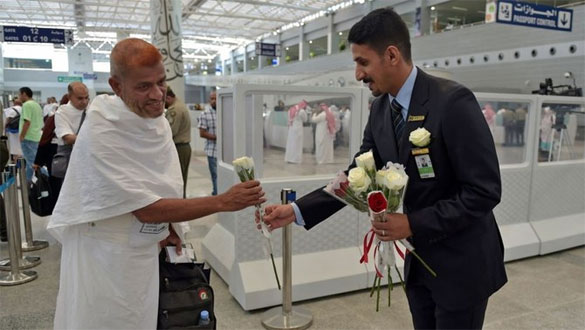 Muslim pilgrims arrive at King Abdulaziz International Airport in Saudi Arabia's Red Sea coastal city of Jeddah on June 5, 2022, prior to the annual Hajj pilgrimage in the holy city of Makkah. (AFP)
----
Mohammed Rasooldeen
June 08, 2022
COLOMBO: The Sri Lankan government has announced that Muslims would be allowed to perform Hajj this year provided they pay their travel costs in foreign currency, as the country faces its worst economic crisis in recent memory.
Last month, Sri Lanka's umbrella association of pilgrimage organizers said its members would suspend operations because the cost of sending worshippers to Makkah — estimated at $10 million — would be too high for the country to bear when it is struggling with the worst financial downturn since independence in 1948, and has already defaulted on its foreign debt repayments.
The suspension was conditionally lifted by Religious Affairs Minister Vidura Wickremanayake on Tuesday, following consultations with Muslim parliamentarians and Environment Minister Naseer Ahamed, who also oversees Middle Eastern affairs.
"At the request of the Muslim groups led by Minister Ahamed, we have decided to fulfil the quota of pilgrims by requesting them to pay for their Hajj package in foreign currencies, which will not affect our national economy," Wickremanayake told Arab News.
"I have requested the central bank to work out the modalities of working out this pilgrimage and they would help them find an easy passage to and from Makkah this year."
Muslims make up almost 10 percent of the country's population of 22 million, which is predominantly Buddhist.
This year, the country has been allocated a quota of 1,585 pilgrims to perform the Hajj, after Saudi Arabia announced it would allow 1 million foreign and domestic Muslims to travel to the holy sites in Makkah.
While it is unlikely that Sri Lanka would fill the entire quota, Ahamed, who discussed the issue with Wickremanayake, said that even sending a reduced number of pilgrims this year would help the country keep its allocation. This year's number is already lower than in 2019, before the coronavirus pandemic upended Hajj travel.
"Since the pilgrims have been asked to pay for their package in foreign currencies, we cannot expect to make use of the full quota this year. But it's good to take some pilgrims to keep Sri Lanka's quota intact for next year too when things would get eased," Ahamed told Arab News.
"Three years ago, we got a Hajj quota of nearly 4,000 and this year we do not want to miss this 1,585 quota for Lankan pilgrims."
One of Islam's five main pillars of faith, the Hajj was restricted over coronavirus fears to just 1,000 people residing in Saudi Arabia in 2020. Last year, the Kingdom allowed 60,000 domestic participants, compared with the pre-pandemic number of 2.5 million.
Prospective Sri Lankan pilgrims have to file their applications with the Ministry of Religious Affairs by Friday.
"I have asked those interested to make the necessary applications to the department of Muslim Religious and Cultural Affairs on or before June 10," said Ibrahim Sahib Ansar, director of the ministry's department overseeing the logistics.
"There are 86 Hajj travel operators and some 15 reputed agents will be selected from them and the operations will be streamlined through them," he added.
Source: Arab News
Please click the following URL to read the text of the original story:
https://www.arabnews.com/node/2099401/world
--------
What Is At Risk for India with the Crisis in Its Relations with the Muslim World, Explains a Veteran Diplomat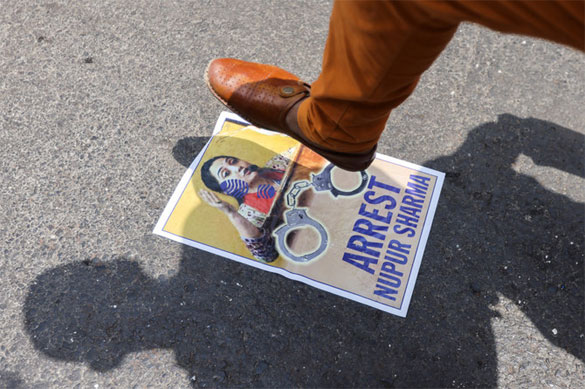 An angry activist stomps on a poster of Bharatiya Janata Party (BJP) official in Mumbai, India, on June 6, 2022, during a protest against her blasphemous comments on Prophet Mohammed. (REUTERS/Francis Mascarenhas)
-----
Nadia Al-Faour
June 09, 2022
DUBAI: The Indian government led by Narendra Modi is facing arguably its toughest diplomatic test in the nine years it has been power, as the Islamic world boils with anger and Muslim countries voice outrage over disparaging remarks made by a ruling BJP party official about the Prophet Muhammad during a recent TV debate.
With at least 16 Islamic-majority countries expressing their objections via tweets, official statements and summons to Indian diplomats, the BJP was forced to suspend Nupur Sharma, the party's national spokesperson, and expel another official for screenshot of her offensive comment in a tweet.
Earlier, protests in the northern Indian city of Kanpur against her comments left more than 40 people injured when the chief minister of Uttar Pradesh state, a Hindu nationalist hard-liner, came down heavily on the demonstrators.
Sharma's remarks, made on May 27 during a TV debate on a dispute being heard in court, gained currency when a clip of her outburst was shared on Twitter by a journalist and fact-checker.
After her sacking, she wrote that she was withdrawing her remarks "unconditionally" and that it was "never my intention to hurt anyone's religious feelings." But many saw her apology as too little too late.
A number of retired Indian diplomats have since spoken out on the incident, warning that the crisis in India's relations with the Islamic world is serious, and urging introspection by the Modi government instead of resorting to cosmetic measures.
The former diplomats say that the Modi government ought to realize that it cannot continue to do what it wishes at home with impunity and still enjoy good relations with Islamic or Western countries.
"On numerous occasions we have seen abuse of India's Muslim community and attempts to erase the country's Islamic heritage. There is a long tradition of other countries not interfering in the domestic affairs of another country, but when you get into abuse of the holy prophet, it is a no-go area," Talmiz Ahmad, a retired Indian diplomat, author and political commentator, told Arab News.
"At some point, people abroad will say: Enough is enough. I believe this time has come. You cannot persecute a certain community at home and also pretend you have a high moral stature abroad. It doesn't work like that."
India's foreign ministry has issued a statement saying that the offensive tweets and comments "did not, in any way, reflect the views of the government. These are the views of fringe elements."
The first task for the governing BJP is to defuse what the Indian opposition sees as a diplomatic crisis of its own making.
Calling for "respect for beliefs and religions," the Saudi Ministry of Foreign Affairs said it "reaffirms its permanent rejection of prejudice against the symbols of the Islamic religion, and refuses to prejudice all religious figures and symbols."
The ministry welcomed the action taken by the BJP to suspend Sharma from her job.
Qatar demanded that India apologize for the "Islamophobic" comments and summoned the Indian ambassador to the foreign ministry on the second day of an official visit by India's Vice president Venkaiah Naidu and a business delegation aimed at boosting trade.
Kuwait also summoned the Indian ambassador, while a supermarket in the Gulf state pulled Indian products from its shelves in protest at the comments. The UAE, Bahrain and Iran were among other Middle East countries traditionally friendly to India that made their objections known in various ways.
Egypt's Al-Azhar Mosque condemned Sharma's remarks as "a real terrorist action that helps to push the entire world to devastating crises and bloody wars," and urged the UN to take action to protect minority rights in India amid what it described as "intensifying hatred and abuse toward Islam in India and against Muslims."
Putting the official condemnations into context, Javed Ansari, a senior Indian political reporter and commentator, told Arab News: "Prophet Muhammad is Islam's most revered and most sacred figure. The religion owes its existence to him, spreading the word of Allah.
"Hence Muslims worldwide, including in India, refuse to tolerate any disparaging remarks about him.
"While they accept in principle the right to free speech, they believe that free speech does not give anybody the right to insult or make disparaging remarks about the prophet. They believe that their sentiments and beliefs must be respected."
For the Indian government, the danger of allowing the anger in the Muslim world to fester cannot be overstated. Annual trade between India and six Gulf Cooperation Council countries stands at $87 billion. Saudi Arabia is the second-largest exporter of oil to India, after Iraq, while Qatar supplies 40 percent of India's natural gas requirements.
At a macro level, according to Ahmad, remittances from the Indian community in the GCC countries bring in revenues that cover over a third of the Indian government's annual oil import bills. He describes India's ties with the bloc encompassing trade, logistics, energy and investment as substantial, adding that for New Delhi the real danger lies not in a boycott of Indian goods but a possible adverse impact on the recruitment of Indian workers.
An estimated 8.5 million Indians work in the GCC bloc, constituting the largest expatriate community in each member country. Every year they send roughly $35 billion in remittances that support 40 million family members in India. It is said that each employed Indian in the Gulf has at least four or five individuals relying on their earnings abroad.
Noting that the relationship between the Gulf and India go back 5,000 years, Ahmad said it is unlikely that the diplomatic backlash will inflict long-term damage to the ties that bind India with Arab Gulf and other Muslim-majority countries.
"Indians are the number one community in the GCC and the majority community in certain countries, and that is because we have adopted accommodation and moderation, and completely rejected any involvement in local politics. This is the community's strength," Ahmad said.
"I personally feel there will be a degree of course correction. Certain advice and warnings have been given. I believe course correction is well on the way and likely to work on both sides for mutual advantage."
Having said that, Ahmad, who served as India's ambassador to Saudi Arabia, Oman and the UAE during 2000-11, added: "In the Gulf, we have some of the most cherished friends of India. I wish that their senior leaders and diplomats had quietly counselled certain officials in India that there will be negative consequences for bilateral relations if continued abuse is directed at a certain community in the country."
For its part, he said, "India's ruling party should take a deep review of its domestic policies and convince India's friends (in the Muslim world) that corrective action is being taken. We need to go back to the scenario of India as a pluralistic, multi-cultural and moderate nation that is democratic and accommodative."
On the upside, Ahmad says, India is fortunate to have "a towering intellectual and a very well experienced diplomat who is highly respected globally and at home" like Dr. S Jaishankar as the foreign affairs minister.
"I am confident that he will be advising the powers that be that you cannot separate domestic from foreign policy. One impinges on the other," he said.
Looking to the future, Ahmad said: "Our foreign and domestic policies must be in sync. We must go back to the core principles of this nation, which are pluralism, multiculturalism, moderation and accommodativeness."
Source: Arab News
Please click the following URL to read the text of the original story:
https://www.arabnews.com/node/2099821/middle-east
--------
India
Demonise Muslims but Live off Muslim-Majority Countries; "BJP's Assumption that what's said In India Stays in India Is Turning Out To Be Wrong
Devadeep Purohit
09.06.22
Heading out to shop, Tanwir Alam, an Indian emigrant in Kuwait, ran into a heap of Indian rice, tea and spices at Al-Ardiya Co-operative Society on the outskirts of Kuwait City.
The goods had been taken off the shelves and covered with plastic sheets with printed signs in Arabic announcing the authorities' decision to remove Indian products at a time outrage has swept West Asia over now-axed BJP spokespersons' denigrating comments on Prophet Mohammed.
"This is my 23rd year here. I have never seen anything like this," said Alam, who grew up in Patna and studied management in Aligarh Muslim University before immigrating to the Gulf.
"India has always had a special place in this country.… The local people here trust Indians, irrespective of their religion, more than Pakistanis, Bangladeshis or for that matter Egyptians who speak the same Arabic language. Over the past few days, that trust seems to have been shaken and that's evident from the reaction of the government and people on the street," added Alam, now the general manager of Sama Al Kuwait Tours and Travels.
As many as 15 countries in the region and elsewhere have either summoned the Indian ambassador or issued statements denouncing the derogatory comments of Nupur Sharma and Navin Jindal.
The Narendra Modi government has been fighting the fire by citing the rare disciplinary action taken by the BJP and holding aloft a school composition-style statement from the party declaring its allegiance to the basic principles that any civilised group is expected to uphold.
The uncharacteristic scramble by the Modi government has drawn attention to the latent compulsions that forced its hand and invited the question whether the BJP is genuinely apologetic.
"The BJP is trying to woo capital from the Islamic world.… Already the Abu Dhabi-headquartered Lulu Group (the multinational conglomerate headed by Yusuffali M.A. from Kerala) has proposed a Rs 2,500-crore investment in Uttar Pradesh. The business linkages between some of the top business houses in India with sovereign wealth funds are growing. There is a corporate interest angle to India's reaction," said an academic who specialises in West Asia's economic ties with India.
But the academic, who did not want to be named so that he could speak freely, added that the BJP and the Centre should have taken stronger steps against the spokespersons if they wanted to convince others that they were sincere about the secular declarations made in the party's statement.
"Nupur Sharma has played by the BJP rule book of divisive politics and that's apparent from the reactions of its troll army on social media.... The (disciplinary) action seems, at least till now, to be intended to protect certain interests," the expert said.
While the Islamic world, especially the Gulf countries, is an important bloc because of the remittances that the expatriates send back home and India's dependence on these nations for its energy requirements, some analysts think larger concerns are also at play.
"The remittance story is known to everyone, but there is also a lesser-known fact — that the immigration pattern from India has changed over the last few years, with Uttar Pradesh and Bihar emerging as the new supply centres of emigrants who have so far come mostly from states like Kerala. The remittance from the Gulf to villages in Uttar Pradesh has increased manifold in the past few years," said another expert on migration and West Asian countries.
"Can the BJP government afford a backlash if the emigrants face the consequences of the controversial remarks?" he asked.
Several Indians living in the Gulf — the size of the Indian diaspora there is around 90 lakh, which is about 28 per cent of overseas Indians — told this correspondent that their local friends had been asking them tough questions about India's secular credentials after the derogatory comments of Sharma and Jindal went viral.
Kareem Irfan, three-time president of the Federation of Indian Muslim Association in Kuwait, cited instances of the contracts of low-skill immigrants from India being terminated or not renewed and imports from India being suddenly cancelled.
"From our end, we are trying to convince the local people that those who made the comments were punished by the party and later tendered apologies.… I have personally attended some post-dinner discussion sessions, a tradition in the Arab world, and tried to convince people. But my friends here want to hear from the top leadership of India, which has been silent till now," said Irfan, who has spent around four decades in Kuwait, a country that has over 1 million Indians.
According to Irfan, most of these Gulf countries follow a non-interfering foreign policy and that's why they have hardly commented on the reports about attacks on Muslims in India, treating them as an internal matter of the country.
"But an insult to Prophet Mohammed is something else and that's why you see this kind of reaction," said the emigrant from Hyderabad.
While most Indians living in the Gulf are praying for speedy closure of the matter, political observers think the controversy has exposed a side of India that the BJP doesn't want the world to see.
Source: Telegraph India
Please click the following URL to read the full text of the original story:
https://www.telegraphindia.com/india/no-shame-demonise-muslims-but-live-off-muslim-majority-countries/cid/1869046
--------
Delhi Police registers FIR against several people over hate messages on social media
09.06.22
The Delhi Police said on Wednesday that it has registered a case against some people who are allegedly spreading messages of hate, inciting various groups and creating situations which is detrimental for the maintenance of public tranquillity.
According to hindustantimes.com, suspended BJP spokesperson Nupur Sharma's name figures in the list. Others named in the FIR, registered by the Intelligence Fusion and Strategic Operation (IFSO) unit of the Special Cell, are Naveen Kumar Jindal, Shadab Chauhan, Saba Naqvi, Maulana Mufti Nadeem, Abdur Rehman and Gulzar Ansari, the police said.
The FIR is against several individuals cutting across religions, Deputy Commissioner of Police (IFSO) KPS Malhotra said.
Source: Telegraph India
Please click the following URL to read the full text of the original story:
https://www.telegraphindia.com/india/delhi-police-registers-fir-against-several-people-over-hate-messages-on-social-media/cid/1869069
--------
PM Modi's Photos Plastered on Dustbins in Muslim Countries, Thunders Maharashtra Chief Minister
June 8, 2022
Prime Minister Narendra Modi's photos are plastered on dustbins in some Arab countries and India has been subjected to great humiliation owing to the Bhartiya Janata Party's 'tinpot spokespersons', Maharashtra Chief Minister Uddhav Thackeray thundered here on Wednesday.
Taking strong umbrage at the discomfiture to the Indian Prime Minister, Thackeray said while the BJP and its spokespersons cannot be said to speak on behalf of India, they ended up bringing disgrace to the country.
"Why did they need to make comments on the Prophet Mohammed? Just as our gods are dear to us, they also revere their gods…. Why should you show hatred towards any other religions…. India is now facing protests in all Muslim countries and the PM's photos are stuck on garbage bins, bringing shame to the country," Thackeray roared.
Replying to the state Opposition BJP's barrage of criticism of the Maha Vikas Aghadi (MVA) government of Shiv Sena-Nationalist Congress Party-Congress, Thackeray said it was 'unfortunate'.
"Those whom we trusted and made them sit in our laps for 25-30 years are now our enemies…. Those against whom we fought for so many years are today our friends, they respect us and have joined hands strongly for the state's progress," Thackeray said, indirectly expressing his gratitude to the MVA allies.
Rebuffing the BJP's questions on his 'Hindutva', he countered by asking "who are they to question our Hindutva credentials?" at a mammoth rally in this tourism hub.
"Our Hindutva does not teach hatred for any religion…. Our Hindutva is like Ram in the heart and work in the hands…. Don't teach us Hindutva," Thackeray shot back.
Referring to the recent 'Jan Aakrosh rally' organised by the BJP in Aurangabad to highlight the water problems in this Marathwada hub, Thackeray said that "angst was not for water" but for losing power and directed at him personally.
"They have been deadlines after deadlines for the MVA government to collapse, but in the past two-and-half years it has not happened, nor will it happen. That 'aakrosh' (anger) is directed against me and my government which is working successfully on the path of development," said Thackeray.
It was because of this frustration at losing power in 2019 that the centre is targetting MVA leaders with central agencies like ED or CBI and dared the BJP to deploy these investigation arms in Jammu & Kashmir where the Kashmiri Pandits are being forced to leave their home again.
He also dared those wanting to recite Hanuman Chalisa outside his home to go to Kashmir and chant the Hindu prayers there.
On the much-anticipated issue of rechristening Aurangabad as 'Sambhajinagar', Thacekray said it was his father – the late Balasaheb Thackeray who had made the promise, and vowed to honour it soon.
"We are committed to change the name of Aurangabad to Sambhajinagar, but that will not solve the water problems or the bad roads here. It will be renamed when it befits the city and even Chhatrapati Sambhaji would find it ideal," Thackeray assured.
Source: The Statesman
Please click the following URL to read the full text of the original story:
https://www.thestatesman.com/world/pm-modis-photos-plastered-dustbins-muslim-countries-1503079359.html
--------
India tightens security after terrorists threaten attacks over anti-Muslim remarks
08 June, 2022
India tightened public security on Wednesday after the circulation of a letter warning of terrorist attacks to avenge derogatory remarks about the Prophet Mohammad by an official of the ruling Hindu nationalist party.
Several Indian media groups shared the June 6 letter attributed to al-Qaeda's branch in the Indian subcontinent (AQIS) in which threats were made to carry out suicide bombings in Indian states to defend, it said, the honor of the Prophet.
A federal home ministry official said intelligence agencies were checking the authenticity of the threats issued by AQIS.
"We have also ordered state police to ensure public gatherings or protests are not allowed as they could be targeted by the militant group," a senior home ministry official in New Delhi said.
The security threat surfaced days after a spokeswoman for Prime Minister Narendra Modi's Bharatiya Janata Party (BJP) made comments about Prophet Mohammad during a TV debate.
BJP spokeswoman Nupur Sharma's remarks sparked uproar among Muslims in India and triggered diplomatic protests from Gulf countries demanding an apology from the Indian government.
Sharma has been suspended from the party while another spokesman, Naveen Kumar Jindal, was expelled over comments he made about Islam on social media.
Police in northern India arrested a BJP youth leader for posting anti-Muslim comments on social media, along with 50 other people who took part in sporadic unrest among minority Muslims in parts of India last week over Sharma's remarks.
India's foreign ministry said on Monday the offensive tweets and comments did not in any way reflect the government's views.
Instructions have been issued to several senior members of the BJP to be "extremely cautious" when talking about religion on public platforms.
But domestic outrage gained fresh momentum after leaders from the Middle East including Qatar, Saudi Arabia, the United Arab Emirates, Oman, Indonesia, Malaysia, Pakistan, Iran and Afghanistan, who demanded apologies from New Delhi and summoned diplomats to protest against the remarks in the TV debate.
The influential 57-member Organisation of Islamic Cooperation (OIC) said in a statement that the insults came in the context of an increasingly intense atmosphere of hatred toward Islam in India and systematic harassment of Muslims.
India's minority Muslims have felt more pressure on everything from freedom of worship to hijab head scarves under BJP rule. There were Hindu-Muslim clashes during religious processions recently, following deadly riots in 2019-20.
The new controversy has become a diplomatic challenge for Modi who in recent years has cemented strong relations with Gulf nations.
Islamic rights groups in India said that it was the first time influential foreign leaders had spoken out against what they called humiliations experienced by the minority community.
Source: Al Arabiya
Please click the following URL to read the full text of the original story:
https://english.alarabiya.net/News/world/2022/06/08/India-tightens-security-after-terrorists-threaten-attacks-over-anti-Muslim-remarks
--------
'Idgah Grounds' In Chamrajpet Is Ours, Have Records, Says Central Muslim Association
09th June 2022
BENGALURU: The Central Muslim Association (CMA) on Wednesday claimed to have "all the documents" to prove that the 'Idgah Grounds' in Chamrajpet belonged to them and would provide the same to BBMP if and when asked for it. The BBMP on Monday claimed that the ground was a "BBMP Playground" which Muslims were allowed to use on two occasions in the year while the rest of the days it was up to the BBMP Joint Commissioner West who would accord permissions sought from parties seeking to use the grounds for their respective events. The claim reportedly followed some Hindu right wing organisations seeking clarifications from the BBMP as to whom the grounds belonged to, and why Muslims were given exclusive access to hold their festival events there.
The Zahiruddin Ahmed, General Secretary, CMA , told TNIE , "The land has been with CMA from 1871. The Corporation (now BBMP) claimed it as theirs in the Supreme Court as well in the High Court, but the verdict was in our favour. The land was originally 10.10 acres, including a burial ground. But as the area was developing, the burial ground was shifted and only two acres and a few guntas of land, on which the Idgah stands, is still with us. If anyone wants, we will show the documents."
Recently, the Hindu Janajagruthi Samithi, a Hindu right-wing outfit, contended that in 2006, in the proceedings of a committee comprising MLA BZ Zameer Ahmed Khan, BJP leader Premila Nesargi, MLA RV Devaraj, a DCP and an ACP, it was stated that the land could be used by others for the purpose of Ganesha festival, Dussera, Independence Day, among others, as well.
"Zameer Ahmed Khan had also signed the proceedings copy then, but now, the corporation is not giving permission for other events," said Mohan Gowda, President of the samithi, adding that if the land belonged to the Wakf Board or others, why was there a request to repair the Idgah wall to fix cracks from corporation? However, the CMA committee has rejected the 2006 committee meeting proceedings saying it could lead to confusion.
Source: New Indian Express
Please click the following URL to read the full text of the original story:
https://www.newindianexpress.com/cities/bengaluru/2022/jun/09/idgah-maidan-is-ours-have-records-says-muslim-body-2463419.html
--------
Bengal Imam body calls for stringent legal action against Nupur Sharma over Prophet remarks
Suryagni Roy
Kolkata
June 9, 2022
The Bengal Imam Association on Wednesday urged the Centre to charge former BJP spokesperson Nupur Sharma with the Unlawful Activities (Prevention) Act (UAPA) for her Prophet remarks.
"Nupur Sharma has no right to speak about our Prophet in the way she did. We urge the Indian government to take harsh legal action against her. We want UAPA imposed on her, and she should be arrested," said Md Yahya of the Bengal Imam Association.
The Imam Association also called on all mosques and imams to protest against Nupur's statement on Friday.
"We also request all mosques in the state to protest on Friday against her statement after the namaz," said Md Yahya.
THE NUPUR SHARMA CONTROVERSY
Former spokesperson of the BJP, Nupur Sharma, came into the line of fire after she commented on Prophet Muhammad during a TV news debate. The remarks stoked a massive row and multiple cases were registered against her for hurting religious sentiments.
Source: India Today
Please click the following URL to read the full text of the original story:
https://www.indiatoday.in/india/story/bengal-imam-body-calls-stringent-legal-action-against-nupur-sharma-prophet-remarks-1960136-2022-06-09
--------
Man held for misbehaving with Muslim vendor in Kanpur
Jun 9, 2022
Kanpur: The Kanpur Commissionerate have police arrested a man on the charges of misbehaving with a Muslim vendor in Govind Nagar area of the City on Wednesday. One Tushar Shukla has been arrested in connection with a viral video, wherein he could be heard hurling expletives and forcing him to remove his cloth shop from the footpath.
The incident came to light after a video of the same went viral on social media. In the video, an elderly man could be seen sitting on a footpath outside a closed shop and setting up his shop with garment boxes. In the meantime, a man arrives there and starts misbehaving with the elderly vendor asking him to remove the shop.
Source: Times Of India
Please click the following URL to read the full text of the original story:
https://timesofindia.indiatimes.com/city/kanpur/man-held-for-misbehaving-with-muslim-vendor/articleshow/92094652.cms
--------
Remarks on Prophet: Naseeruddin Shah appeals PM to "stop the poison"
9th June 2022
New Delhi: Amid global condemnation over BJP leaders comments on Prophet Mohammad, veteran actor Naseeruddin Shah on Wednesday said he hopes good sense prevails and the "hate wave" against Muslims dissipates even if that doesn't happen in his lifetime.
In an interview to a news channel, the multiple National Award winner also appealed to Prime Minister Narendra Modi to step in and "stop this poison from spreading".
"I would appeal to him (PM) to knock some good sense into these people. If he believes what was said at the 'Dharam Sansad' in Rishikesh, then he should say so. If he does not, then he should say so," he said.
The BJP on Sunday suspended its national spokesperson Nupur Sharma and expelled its Delhi media head Naveen Kumar Jindal after their controversial remarks against the Prophet.
Amid protests by Muslim groups over the remarks, the party also issued a statement aimed at assuaging the concerns of minorities and distancing itself from these members, asserting that it respects all religions and strongly denounces the insult of any religious personality.
The controversial remarks also sparked a Twitter trend in the Arab world calling for a boycott of Indian products.
"What the Indian government did was too little, too late. It was a week before they even opened their mouths and said anything condemning these kinds of statements.
"These kinds of statements in a country like Pakistan, Bangladesh or Afghanistan, which we hope to include in 'Akhand Bharat' some day, would result in a death sentence because it would be considered blasphemous. Here, there was not a sound from the top and absolutely no acknowledgement of the hurt caused to millions of believers," Shah told NDTV.
After her suspension from the ruling party, Sharma issued an "unconditional apology", something the senior actor dubbed "insincere".
"It's hardly meant to assuage hurt feelings. I wouldn't be surprised if such a hate speech occurs again. It's ironic you talk of peace and unity, you get locked up in jail for more than a year. You talk of genocide and you get a slap on the wrist. There are double standards working here. It's like the double-think of George Orwell's '1984'."
Shah said Sharma was not a "fringe element" as the BJP has claimed.
He also argued that it was "high time" that sensible Hindus spoke up against the hate towards the Muslim community.
Shah said he puts "complete responsibility" on TV news channels and social media for "propagating hate".
"It's a manufactured hate. It's a kind of venom that begins to spew when you are confronted with somebody with an opposite opinion… I wonder how long it is before the shivlings start to be searched under every church," Shah said in an apparent reference to the ongoing case of the Gyanvapi mosque complex in Varanasi.
He, however, condemned death threats against Sharma and her family, who are now under Delhi Police's protection.
"This route (threats) is wrong. That's why Pakistan and Afghanistan are in a mess. We do not want to emulate these countries but willy-nilly are we doing so. Not (for) just slaughtering a cow but on the suspicion of slaughtering a cow people are being lynched, untouchables who were skinning a dead cow are whipped in public. These are not the kinds of things that used to happen in India, but in barbaric Islamic countries."
Asked if the Khans – Shah Rukh, Salman and Saif – can open up about their thoughts today, Shah said he can't speak for these Bollywood stars.
"They would be risking too much but I don't know how they explain it to their conscience about it. I think they have too much to lose."
He also praised Shah Rukh, his co-star of many films such as "Chamatkar" and "Chaahat", for handling media scrutiny with grace last year when his son Aryan was arrested in connection with a drugs case.
He also noted that instead of being acknowledged for all the work done during the lockdown, Sonu Sood gets raided.
Asked to comment on how the film industry was cozying up to the government, Shah said they want to be on the winning side.
"It does look like the BJP is going to stay on the winning side for a while. It's nothing new…"
Calling "The Kashmir Files" an "almost fictionalised version of the suffering of the Kashmiri Hindus", the actor said the government is promoting it instead of ensuring the security and rehabilitation for the community.
"It is propaganda and people are willingly participating in it. I fear there will be more such pseudo-patriotic films (in future)."
Shah further said he doesn't feel marginalised as a Muslim in India as he comes from privilege as a senior actor with social capital.
"I'm certainly not disgruntled, or unhappy in the country. This has been the country I've been brought up in, taught to love, the country I've been told I belong to, and I feel I belong to. I'm luckily in a position where I can't be marginalised.
Source: Siasat Daily
Please click the following URL to read the full text of the original story:
https://www.siasat.com/remarks-on-prophet-naseeruddin-shah-appeals-pm-to-stop-the-poison-2344957/
--------
Pakistan
'Biggest protest in Pakistan's history' within next few days: Imran Khan
Jun 9, 2022
ISLAMABAD: Former Pakistan Prime Minister Imran Khan has said that he would within the next few days finalise the date for the "biggest protest in Pakistan's history".
"We have to go all-in for our campaign for true freedom in the next phase. I will give a date within the next few days," Dawn newspaper quoted Khan as saying.
Addressing the PTI's National Council meeting in Islamabad, Imran Khan said his party is consulting with its lawyers but called on party workers to be prepared. "It will be the biggest protest in the country's history. This is our right."
"I have told all party organisations to be prepared. We are waiting to get the all-clear from the Supreme Court. As soon as that is done, I will give the date," Khan said.
Following his ouster from power, Khan has been holding several rallies, reiterating the foreign conspiracy allegations and his rebuke of the "selected government" against the Shehbaz Sharif government.
During a recent rally, the beleaguered PTI chief even said Pakistan could "break up into three parts" if the establishment did not take the right decisions.
In an opinion piece for Dawn, Pakistan analyst Zahid Hussain said such reckless statements by a former prime minister raise serious concerns about his motives.
"He would prefer military intervention to the political process taking its own course. His destructive populist politics is extremely dangerous not only for democracy but also for national security," said Hussain.
On Wednesday, Pakistan Defense Minister Khwaja Asif said Wednesday that Imran Khan was attempting to reach out to the establishment to escape a difficult situation.
Source: Times Of India
Please click the following URL to read the full text of the original story:
https://timesofindia.indiatimes.com/world/pakistan/biggest-protest-in-pakistans-history-within-next-few-days-imran-khan/articleshow/92099899.cms
--------
Imran Khan re-elected Pakistan Tehreek-e-Insaf chairman
Jun 8, 2022
ISLAMABAD: Former prime minister Imran Khan was on Wednesday re-elected unopposed as the chairman of the Pakistan Tehreek-e-Insaf (PTI) after his challengers had withdrawn in his favour. The election of 69-year-old Khan was held during the meeting of the party's National Conference in Islamabad. The elections of the senior office bearers were held following a directive by the Election Commission of Pakistan (ECP) to hold intra-party polls by June 13.
Apart from Khan, Umar Sarfaraz Cheema and Naik Muhammad were the other two contenders who were running for the top post of chairman. However, both opted to withdraw in favour of the former premier, allowing him to become chairman of the party.
Among others, former foreign minister Shah Mahmood Qureshi was re-elected as the vice-chairman of the party, while former planning minister Asad Umar was one again elected as the secretary-general.
After the elections, Khan addressed the party workers and leaders at the party's National Council Meeting where he vehemently criticised the government, alleging that the incumbent rulers would "not do anything without the approval of the United States".
"They are afraid that if America is disgruntled with them, then they will suffer the same fate as the Russian oligarchs," he said, and alleged that his rivals had stashed billions of dollars in foreign bank accounts.
He also said to give within a few days a date for the "biggest protest" in the history of Pakistan. "We have to go all-in for our campaign for true freedom in the next phase. I will give a date within the next few days," he said.
He called on party workers to be prepared for the protest which he said was a "jihad for the nation."
Khan also castigated the current government for increasing the prices of petroleum and asked the government why it had not approached Russia to ink an agreement for supplying cheap oil. He said that his government had negotiated a deal for cheap oil.
Source: Times Of India
Please click the following URL to read the full text of the original story:
https://timesofindia.indiatimes.com/world/pakistan/imran-khan-re-elected-pakistan-tehreek-e-insaf-chairman/articleshow/92090177.cms
--------
Imran Khan Condemns Comments Against Prophet, Urges Pakistan Govt To Cut Ties With India
08 JUN 2022
Imran Khan has condemned the controversial remarks made by now-suspended and expelled BJP leaders against Prophet Mohammad and asked the Pakistan government to sever ties with India and take a harsh position on the issue.
The ousted prime minister, who is also the chairman of the Pakistan Tehreek-e-Insaf (PTI), made the demand on Tuesday while addressing the lawyers' convention in Islamabad.
He said the Pakistan government should follow the Arab countries and take a strong position against the Narendra Modi government.
"The government should sever ties with India," he said. "Indian products should be boycotted."
On Monday, Khan strongly condemned the "hateful attack by a BJP spokesperson" on the Prophet and accused the Modi government of "deliberately following a policy of provocation and hatred towards Muslims in India including inciting vigilante violence against them."
Prime Minister Shehbaz Sharif on Sunday condemned the "hurtful" remarks against the prophet of Islam.
The ties between India and Pakistan nose-dived after New Delhi abrogated the Article 370 of the Constitution to revoke the special status of Jammu and Kashmir on August 5, 2019. India's decision evoked strong reactions from Pakistan, which downgraded diplomatic ties and expelled the Indian envoy.
Over a dozen Muslim countries have condemned the controversial remarks made by now-suspended and expelled BJP leaders against the Prophet.
The BJP on Sunday suspended its national spokesperson Nupur Sharma and expelled its Delhi media head Naveen Kumar Jindal after their controversial remarks against the Prophet.
Amid protests by Muslim groups over the remarks, the party also issued a statement aimed at assuaging the concerns of minorities and distancing itself from these members, asserting that it respects all religions and strongly denounces the insult of any religious personality.
Source: Outlook India
Please click the following URL to read the full text of the original story:
https://www.outlookindia.com/international/imran-khan-condemns-comments-against-prophet-urges-pakistan-govt-to-cut-ties-with-india-news-201154
--------
President Alvi appoints Ahad Cheema as adviser to the PM on establishment
Tahir Sherani
June 9, 2022
President Arif Alvi on Thursday appointed Ahad Cheema, a former civil servant and senior bureaucrat, as Prime Minister Shehbaz Sharif's adviser on establishment.
Cheema's was the first high profile arrest in Punjab by the National Accountability Bureau (NAB) before the general elections of 2018. The bureau had arrested him on February 21, 2018, when he appeared before its investigation team in an inquiry about Ashiana-i-Iqbal Housing Scheme.
Later, the NAB also initiated inquiries regarding the LDA City scam and assets beyond means against him. He was granted bail in all three cases in April last year.
A notification issued by the Cabinet Division today, a copy of which is available with Dawn.com, states: "In exercise of the power conferred by clause (1) of Article 19 of the Constitution of the Islamic Republic of Pakistan, the president, on the advice of the prime minister, has been pleased to appoint Ahad Khan Cheema, as Adviser to the Prime Minister on Establishment, with the status of federal minister, with immediate effect."
The development comes days after Cheema resigned from the civil service while expressing his distrust of his employer, the government of Pakistan, for acting as a silent spectator when he was roped into a "politically motivated campaign spearheaded by the National Accountability Bureau (NAB) ahead of the 2018 general election and his ordeal all along".
The newly-appointed minister had served 38 months (Feb 2018 to April 2021) in jail while being under trial in different NAB references.
On June 4, the Prime Minister's Office accepted the resignation/ retirement from service.
Sources had told Dawn that the premier, who had placed Cheema on important projects with new standards of speed, quality and efficiency during his stint as Punjab chief minister, had tried to convince him to continue his service on a senior and important position, but he declined all offers over the maltreatment meted out to him.
Cheema had joined the Pakistan Administrative Service (erstwhile DMG) in 2001 and had served under the chief ministership of Chaudhry Parvez Elahi and Shehbaz Sharif and proved his mettle in executing many a public-interest project within the stipulated time frames. These projects included Bhikki coal-fired power plant and several projects in Lahore as Director-General Lahore Development Authority.
Source: Dawn
Please click the following URL to read the full text of the original story:
https://www.dawn.com/news/1693934/president-alvi-appoints-ahad-cheema-as-adviser-to-the-pm-on-establishment
--------
Gilani challenges Sanjrani's election as Senate chairman
Nasir Iqbal
June 9, 2022
ISLAMABAD: Former prime minister Yousuf Raza Gilani on Wednesday requested the Supreme Court to set aside the March 15, 2021 election to the office of Senate chairman in which Sadiq Sanjrani was declared successful.
In his petition, moved through his counsel Farooq H. Naek, Mr Gilani challenged the March 31, 2021 Islamabad High Court order rejecting a similar plea.
Backed by the Pakistan Democratic Movement (PDM), Mr Gilani had won the March 3, 2021 Senate election from Islamabad against Dr Hafeez Shaikh, a candidate of the then PTI government. The PDM later fielded Mr Gilani for the coveted post of Senate chairman.
President Dr Arif Alvi had on March 11 nominated Senator Syed Muzzafar Hussain Shah as the presiding officer to conduct the Senate chairman election, who according to the petition, had hostile attitude and bias towards the PPP for a long time.
The petition alleged seven votes were rejected unlawfully and as a result Mr Gilani secured 42 votes whereas Mr Sanjrani got 48. This showed that there was a difference of merely six votes between the two candidates and if the seven rejected votes were counted, Mr Gilani might emerge as the returned candidate, the petition argued.
On March 31, 2021, the IHC had rejected an intra-court appeal by holding that the ruling of the presiding officer was immune under the Constitution since it deals with the internal affairs of the Senate.
The petition contended that the high court had failed to appreciate that the voters were asked to put a stamp mark in the box of their candidate of choice and the petitioner's polling agent, at the outset during the count, had specifically taken the plea before the presiding officer that the voters had rightly stamped the mark within the box which was required under the rules/guidelines/instructions. But, it regretted, the presiding officer arbitrarily rejected seven votes with mala fide intention and for ulterior considerations.
The petition emphasised that the high court had failed to appreciate and consider the mala fide intent of the presiding officer floating on the surface of record prima facie showing that neither the process of poll was fair nor just or impartial.
It was tainted with malice and the presiding officer was hell-bent on facilitating the then ruling party by abusing the due process of law and his official authority/powers.
The petition argued that the high court had also failed to appreciate that "in a politically polarised environment, intervention by the courts and that too in disregard to constitutional provisions was likely to have profound ramifications in the context of the confidence of the people relating to impartiality of the judicial branch".
Source: Dawn
Please click the following URL to read the full text of the original story:
https://www.dawn.com/news/1693902/gilani-challenges-sanjranis-election-as-senate-chairman
--------
150 Sikh pilgrims arrive from India to attend Jorr Mela
June 9, 2022
LAHORE: Around 150 Sikh pilgrims on Wednesday arrived in the country from India to perform rituals of Jorr Mela at Gurdwara Punja Sahib at Hasanabdal.
The Sikhs from across the country and abroad gather at Gurdwara Punja Sahib, the third holiest site in the Sikh religion, to mark Shaheedi Jorr Mela, on the 416th death anniversary of their fifth guru, Guru Arjan Dev Ji.
Evacuate Trust Property Board (ETPB) Additional Secretary Rana Arshad, Deputy Secretary Imran Gondal, former Pardhan Sardar Bhushan Singh and others received the pilgrims at the Wagah border.
ETPB Chairman Habibur Rehman Gilani said that the Pakistan Sikh Gurdwara Parbandhak Committee would organise the religious rituals according to the schedule, while the government was responsible for the security of the pilgrims.
Sikh pilgrims' leader Sardar Sikhmandir Singh says Pakistan is their second home and no one can stop them from visiting the country.
"We come here to attend our religious ceremonies as it is the land of our Gurus," he says.
The pilgrims will leave for Hassanabdal by train to attend ceremonies at the Gurdwara Punja Sahib. They will visit Nankana Sahib on June 10 to visit Gurdwara Sacha Sauda.
They will return to Lahore on June 13 from Nankana Sahib and visit Gurdwara Darbar Sahib at Kartarpur on June 15.
Source: Dawn
Please click the following URL to read the full text of the original story:
https://www.dawn.com/news/1693831/150-sikh-pilgrims-arrive-from-india-to-attend-jorr-mela
--------
South Asia
India to Consider Reopening its Mission in Kabul Without its Senior Diplomats
By Saqalain Eqbal
08 Jun 2022
According to Indian media, Indian officials are evaluating the security situation in Afghanistan, and the possibility of reopening its mission. A few Indian diplomats may return to Kabul to resume consular services and monitor relief distribution.
As reported by the sources, the embassy's reopening plan does not include sending senior diplomats; instead, the embassy will likely function primarily with employees for liaison purposes, which could include consular services.
The Hindustan Times, one of India's most widely circulated daily newspaper, reported on June 8 that the decision did not imply engagement with or recognition of the Taliban, quoting Foreign Ministry officials.
Consistent with the Indian reports, during the delegation's meeting with Taliban Foreign Minister Amir Khan Muttaqi, the resumption of Indian consular activities in Kabul was discussed.
Christian Fair stated three days ago that the Taliban had not discontinued their long-standing ties with ISIS, Lashkar-e-Taiba, and Jaish-e-Muhammad, putting India's security at risk and rendering the Taliban unable to protect Indians in Afghanistan.
Source: Khaama Press
Please click the following URL to read the full text of the original story:
https://www.khaama.com/india-to-consider-reopening-its-mission-in-kabul-without-its-senior-diplomats-68677/
--------
Former Minister of Education aka Founder of "Ghost Schools" Returns to Afghanistan
By Saqalain Eqbal
08 Jun 2022
Farooq Wardak, the former Education Minister who was accused of establishing "ghost schools" in conflict areas, has been welcomed by the Taliban, after returning to the country.
Officials claimed a former Afghan minister who left when the Taliban took control of the country last year returned on Wednesday after receiving security assurances as part of the Islamist group's effort to bring back high-profile figures.
Farooq Wardak has returned to the country due to the efforts of the Taliban commission for Return and Communications with Former Afghan Officials and Political Figures, which was established to encourage officials to return to the country.
Wardak had returned from Turkey, according to Ahmad Wasiq, the Taliban commission for Return and Communications with Former Afghan Officials and Political Figures' spokesman.
"The majority of authorities are considering returning," the former Minister of Education said, adding that he felt respected and happy in his country, though he noted that a small group may not choose to return.
Farooq Wardak is well-known among former government ministers for embezzling international aid and funds to the Ministry of Education, widespread corruption, and budget deficits for nonexistent schools.
He was the Minister of Education for a long time, and the term "ghost schools" was coined to refer to the nonexistant schools for which he had siphoned millions of dollars from the ministry's budget, and it quickly spread in the media.
In fact, the phrase "ghost schools" was first introduced in a report by the US Special Inspector General for Afghanistan Reconstruction (SIGAR), which accused Farooq Wardak of establishing "non-existant schools in conflict zones".
According to SIGAR, the US Agency of International Development alone has provided about $770 million to the Afghan Ministry of Education since 2015, with the exclusion of the international community and international organizations.
Source: Khaama Press
Please click the following URL to read the full text of the original story:
https://www.khaama.com/former-minister-of-education-aka-founder-of-ghost-schools-returns-to-afghanistan-67459/
--------
Iran Hands Over the Military Equipment of the Previous Government to the Taliban
By Saqalain Eqbal
08 Jun 2022
According to the Taliban-controlled media, the Iranian government has handed over to local Taliban forces all the military equipment transferred to Iran during the fall of the previous Afghan government.
The equipment was returned to Taliban officials in the port of Islam Qala on Tuesday night, according to a report released by Bakhtar News Agency on Wednesday morning, June 8.
The Bakhtar report did not specify the quantity of equipment, but photographs provided show rangers, High Mobility Multipurpose Wheeled tanks, and trucks loaded with weapons.
During the intensification of the conflict and the fall of the republic, a significant number of security forces and jihadi commanders from Herat province entered Iran with military equipment.
Following the fall of the Afghan government, military equipment is said to have been smuggled out of Afghanistan and into neighboring countries, mostly Pakistan.
Recent allegations claim that US weapons used in Afghanistan were smuggled across Pakistan to Indian Kashmir. According to reports, Indian officials discovered the weaponry.
Source: Khaama Press
Please click the following URL to read the full text of the original story:
https://www.khaama.com/iran-hands-over-the-military-equipment-of-the-previous-government-to-the-taliban-57667/
--------
Former government officials return to Kabul at Taliban invitation
June 08, 2022
KABUL: Afghanistan's former education minister, who fled as the Taliban took over the country last year, returned to Kabul on Wednesday, following the return of other high-ranking officials this week, after security assurances from the new administration.
Tens of thousands of Afghans and most former government officials left the country after its Western-backed administration collapsed when the Taliban seized control in mid-August.
Ghulam Farooq Wardak is the latest returning official.
Others are Daulat Waziri, the former spokesperson for the Defense Ministry, and Amanullah Ghalib, the former head of Afghanistan's national power company, who arrived in Afghanistan during the past few days.
Bilal Karimi, the deputy spokesman for the Taliban administration, told Arab News after Wardak's arrival that a commission set up to negotiate the return of high-profile Afghans abroad was in touch with former officials and that authorities "hope all Afghans come back to their country."
"The situation has improved now, and Afghans can return to their country without any issue," he said. "Influential, clean, and committed personalities can live in the country and will enjoy all rights under the new government."
Wardak, who spoke to the media after landing at Kabul airport, said that a "large percentage" of those who left Afghanistan would like to come back and serve their country.
"I feel proud, dignified, and happy in my own country. I live here, and I will die here. I will be with the people of this country," he said. "A tiny percentage of Afghans who left the country may not wish to come back."
Waziri, who returned on Sunday, told reporters he expected the Taliban to "open their arms" to all Afghans as he thanked the Islamic Emirate of Afghanistan — the Taliban government — for inviting him to return.
"I thank the IEA leaders for contacting me as I wished to come back to Afghanistan. I am against war. I worked in all regimes," he said. "I hope for peace, unity, and working together to build the country."
Officials are returning to the country as Taliban authorities, unrecognized by foreign governments, have been under pressure to form an inclusive government to win international recognition.
In April, the chief Taliban spokesman, Zabihullah Mujahid, announced plans to convene a loya jirga — a large assembly of Afghan leaders that has traditionally been a forum to discuss and reach a consensus on important political issues.
Source: Arab News
Please click the following URL to read the full text of the original story:
https://www.arabnews.com/node/2099631/world
--------
Taliban Introducing New Uniform for Afghan Police
Ayaz Gul
June 08, 2022
ISLAMABAD —
Afghanistan's ruling Taliban group unveiled a new uniform for its national police force Wednesday, saying the move will lead to improved security in the conflict-torn country.
"In the first stage, 20,000 uniforms are being distributed [among police forces] in Kabul and Kandahar provinces. The number will reach up to 100,000 in the next two weeks," Interior Ministry spokesman Abdul Nafi Takor told a televised news conference in the Afghan capital, Kabul.
Since returning to power nearly 10 months ago, the Taliban have relied on their widely feared insurgent-turned-security force to handle law and order across Afghanistan amid persistent criticism that the absence of a police uniform and a lack of police training are encouraging the men to indulge in criminal activities or misuse of power.
"This special uniform that you are seeing today will help counter security spoilers and provide better safety to our fellow citizens," Deputy Interior Minister Noor Jalal Jalali told reporters, while some police officers wearing new uniforms lined up behind him.
The dark green uniform carries the Taliban's white flag with black Arabic lettering displaying Islam's main tenet on the sleeves It reads, "There is no God but Allah. Mohammad is the messenger of God."
The Islamist hardline group used the flag during its previous rule in Afghanistan from 1996 to 2001, when only Pakistan, Saudi Arabia and the United Arab Emirates recognized the Taliban government, amid widespread human rights abuses and the exclusion of women from public life.
The disbanded U.S.-trained and -funded Afghan police forces were using grey-blue uniform, with the traditional tri-colored republican flag on the sleeves.
The Taliban seized power last August as the then-Afghan government and its Western-backed national security forces collapsed in the face of Taliban battlefield advances just days before the final U.S.-led foreign troops withdrew from the country.
No country has yet recognized the new Taliban government, known as Islamic Emirate of Afghanistan, mainly because of human rights and terrorism concerns.
The all-male Taliban cabinet has rolled back many human rights Afghans enjoyed over the past 20 years, particularly those of women.
They have abolished the Ministry of Women's Affairs and replaced it with the Ministry of Vice and Virtue, tasked with interpreting and enforcing the group's version of Islam in the country.
The Islamist rulers have barred girls from resuming secondary school education across most of Afghanistan and female employees from returning to their jobs in some government departments. Afghan women have been ordered to cover up fully in public, including their faces, and not to travel long distances or leave Afghanistan unless accompanied be a close male relative.
Human rights defenders are urging the United States and other Western nations to press the Taliban to reverse their new rules for women if they want legitimacy, respect, financial assistance and relief from international sanctions.
Heather Barr with Human Rights Watch emphasized in a statement Tuesday that as long as "there are things the Taliban want, there is leverage" the international community can use to press the group to review its human rights-related polices.
"What is happening right now in Afghanistan is the most serious women's rights crisis in the world today, and the most serious women's rights crisis since 1996, when the Taliban took over the last time. There is no time to lose," Barr said.
Source: VOA News
Please click the following URL to read the full text of the original story:
https://www.voanews.com/a/taliban-introducing-new-uniform-for-afghan-police/6608513.html
--------
Arab World
Saudi Arabia welcomes IAEA's resolution on Iran
Omar Alothmani, Hamdi Yıldız
09.06.2022
Saudi Arabia's Foreign Ministry on Wednesday welcomed the UN nuclear watchdog's resolution criticizing Iran.
Riyadh called on Iran to cooperate with the International Atomic Energy Agency (IAEA) and resolve outstanding issues without delay, the state news agency SPA reported.
Iran "must" comply with its obligations under the safeguards deal, and the necessity to cooperate with the agency to resolve outstanding nuclear issues, the ministry said in a statement.
The IAEA adopted a resolution criticizing Iran for refusing to provide answers about traces of enriched uranium found at three undeclared sites.
The 35-member IAEA Board of Governors passed the resolution brought by the US, UK, Germany and France with 30 votes in favor. Russia and China voted against the resolution, while India, Libya and Pakistan abstained.
Iran's Foreign Ministry in a statement late Wednesday termed the adoption of the resolution at the UN nuclear watchdog's board of governors meeting in Vienna, Austria as "political, incorrect and unconstructive."
Earlier in the day, Iran's nuclear agency announced that it has turned off two cameras at one of its nuclear sites, saying they were operating beyond the safeguards agreement between Tehran and the IAEA.
Talks between Iran and world powers in Vienna to salvage the 2015 nuclear deal, known as the Joint Comprehensive Plan of Action (JCPOA), have been stalled amid key disagreements between Tehran and Washington.
Source: Anadolu Agency
Please click the following URL to read the full text of the original story:
https://www.aa.com.tr/en/middle-east/saudi-arabia-welcomes-iaeas-resolution-on-iran/2609237
--------
YPG/PKK terrorists in Syria deploy US-made anti-tank TOW missiles
Omer Koparan
08.06.2022
MANBIJ/AZAZ, Syria
The YPG/PKK terrorists in northern Syria's Manbij region which they have occupied have been seen in possession of US-made anti-tank TOW missiles, with their barrels aimed at Türkiye's Operation Euphrates Shield area.
According to the photos and videos obtained by Anadolu Agency, terrorists were seen observing the area towards Jarablus, which is controlled by the Turkish Armed Forces and the Syrian National Army.
Among some Russian- and US-made weapons, one of the YPG/PKK terrorists was spotted with the TOW missile, known as the most effective weapon against armored vehicles.
TOW, a US-made anti-tank missile, can be effective against armored vehicles on land in harsh environments or conditions.
The YPG/PKK terror group often mounts attacks on Jarabulus, Afrin, and Azaz from the Manbij and Tal Rifat areas in Syria.
The YPG/PKK terrorists often target Turkish security forces who provide security in the areas of Operation Euphrates Shield, Olive Branch, and Peace Spring, and try to infiltrate the positions of Syrian opposition fighters from regions that the terror group was supposed to withdraw from under the agreements with the US and Russia.
Since 2016, Ankara has launched a trio of successful anti-terror operations across its border in northern Syria to prevent the formation of a terror corridor and enable the peaceful settlement of residents: Euphrates Shield (2016), Olive Branch (2018), and Peace Spring (2019).
Source: Anadolu Agency
Please click the following URL to read the full text of the original story:
https://www.aa.com.tr/en/middle-east/ypg-pkk-terrorists-in-syria-deploy-us-made-anti-tank-tow-missiles/2608669
--------
Turkish forces 'neutralize' 7 PKK terrorists in northern Iraq
Jeyhun Aliyev
08.06.2022
Turkish security forces "neutralized" seven PKK terrorists in northern Iraq, the National Defense Ministry said on Wednesday.
The terrorists were targeted in the Operation Claw-Lock zone, the ministry said on Twitter.
Turkish authorities use the term "neutralize" to imply the terrorists in question surrendered or were killed or captured.
Türkiye launched Operation Claw-Lock in April to target PKK terror organization's hideouts in Iraq's northern Metina, Zap, and Avasin-Basyan regions.
It was preceded by Operations Claw-Tiger and Claw-Eagle, which were launched in 2020 to root out terrorists hiding in northern Iraq and plotting cross-border attacks in Türkiye.
Source: Anadolu Agency
Please click the following URL to read the full text of the original story:
https://www.aa.com.tr/en/middle-east/turkish-forces-neutralize-7-pkk-terrorists-in-northern-iraq/2608611
--------
Cybercriminals selling UAE personal data on dark web, making millions: Study
09 June, 2022
A new study by cybersecurity company NordVPN has analyzed one of the dark web markets that has illegally sold $17.3 million worth of personal data – with the research showing UAE's payment card data is the fifth most expensive globally, costing twice as much as the world's average.
Among the more than 720,000 items of data sold globally on the website, passports, personal IDs, driving licenses, email, payment card data, mobile phone numbers, online accounts, bank account logins, and crypto accounts are included as well as other personal data.
Once an individual's data are put up for sale on the dark web, it is incredibly difficult to get them removed. Most people have no idea that their data are being sold in this way until it's too late. This is why data breaches can be so dangerous, according to Adrianus Warmenhoven, a cybersecurity expert at NordVPN.
"This one market is just the tip of an iceberg," he said. "There are over 30,000 websites on the dark web at the moment. Keep in mind that only four percent of the entire internet belongs to the surface web that is available to any user online."
He added, "The market that was analyzed in our case study was chosen because it was used by some big hacker groups in the past."
The study was conducted in partnership with third-party cybersecurity researchers with an aim to warn users about the possible dangers of illegal activities people take part in on the dark web.
Average prices of found UAE items and data
It found payment card data from the UAE cost about $20, twice as much as the world's average ($10) and is the fifth most expensive in the world. UAE payment cards are so expensive because of the country's image as a financial center, said Warmenhoven.
Many hackers believe that if they can hack UAE cards - they can steal a lot of money, he said.
Other data that could be guessed were sold at much lower prices. United Arab Emirates mobile phones are sold at $10. Another easy way for hackers to steal a user's data or digital asset is credential stuffing (when the leaked password or email is used to get access to other platforms).
That is why online accounts come at a low price: a hacked Netflix account can be bought for a little over $10, an Uber account for about $12, and a Twitter account for as little as $2.
Crypto wallets and investment accounts cost more than payment processing accounts and even more than some of the bank accounts. For example, Qatar National Bank account can be bought for as little as $10. With an average price of $394, the most expensive crypto account data is from Binance, followed by Kraken ($383). Payment processing accounts (e.g., PayPal) have an average price of $100.
Some criminals also buy emails in batches and use them for phishing attacks or other malicious purposes.
"The broad scope of the data offered on these criminal markets shows the importance of taking charge of your security and privacy online," said Warmenhoven. "Your cybersecurity is in your hands."
He added, "If you know the risks and equip yourself with the right tools and information, you'll maximize your chances of keeping yourself and your family secure."
Stay vigilant
Warmenhoven also said hackers get lots of data by targeting the websites and services you share your data with.
If a site or a service asks you for sensitive data, ask tough questions about how the company secures it and what it will do if its data is breached.
Warmenhoven said resident should also educate themselves.
"You can do a lot individually to protect your data. This will depend vastly on where you spend your time online, but you can be proactive and research ways to stay safe on the devices and services you use."
One side of the coin is knowing how to protect your data, said Warmenhoven, and the other is knowing how to react quickly and effectively when your sensitive data is used without your permission.
Source: Al Arabiya
Please click the following URL to read the full text of the original story:
https://english.alarabiya.net/News/gulf/2022/06/09/Cybercriminals-selling-UAE-personal-data-on-dark-web-making-millions-Study
--------
Explosive drone detonates in Iraq's northern city of Erbil
09 June, 2022
A drone exploded in Iraq's northern city of Erbil on Wednesday injuring three people and damaging several cars, according to a statement by Kurdistan's counter-terrorism service.
The explosive drone detonated on Pirmam road in Erbil's outskirts at 9:35 p.m. Iraq time, the statement said.
Two security sources, speaking on condition of anonymity, said the drone was shot down.
There was no immediate claim of responsibility.
A security source said earlier that a drone attack targeted the US consulate but did not give further details.
Iraqi Prime Minister Mustafa al-Kadhimi told Kurdish Prime Minister Masoud Barzani in a phone call that Baghdad will cooperate with Erbil to hold the perpetrators accountable, according to a statement.
"Bomb-laden drone hit Erbil-Pirmam road, causing civilian injuries and damage," the UN Assistance Mission for Iraq said on Twitter. "Iraq does not need self-proclaimed armed arbiters. Asserting State authority is essential. If the perpetrators are known, call them out and hold them to account."
Last month, Iran Revolutionary Guards artillery fire hit an area north of Erbil, targeting what Iranian state television described as terrorist bases.
Also, in March the Guards attacked the capital of the Kurdish region with a dozen ballistic missiles in an unprecedented assault on the capital of the autonomous Iraqi Kurdish region that appeared to target the United States and its allies
Source: Al Arabiya
Please click the following URL to read the full text of the original story:
https://english.alarabiya.net/News/middle-east/2022/06/09/Explosive-drone-detonates-in-Iraq-s-northern-city-of-Erbil
--------
Mideast
Imam Khamenei: Zionism is an obvious plague for world of Islam which should be exposed
June 9, 2022
In a meeting with Hajj officials on June 8, 2022, Imam Khamenei said that Hajj is a pillar of human life. He said that it contains important messages and lessons for various aspects of human beings' individual and social life. The Leader of the Islamic Revolution, considered the Zionist Regime "an obvious plague for the world of Islam" which needs to be "exposed in any way possible".
The Leader described Hajj as being a divine, wise program, which has different aspects and dimensions from other religious programs. He explained, "The Holy Qur'an describes the wisdom of the Hajj pilgrimage in one short sentence that means 'the pillar of human life.' Hajj includes teachings and practices that teach human beings and the next generations how to select the pillars in their lives."
Imam Khamenei said that teaching "coexistence, a simple lifestyle and the avoidance of likely sins that require that one to be more vigilant" are important lessons to be learned from the Hajj pilgrimage. He advised all pilgrims and officials involved in this spiritual trip to appreciate this great blessing and be grateful for this pilgrimage. He said that this means carrying out their responsibilities with the intention of getting closer to God. He also said that the officials must conduct their actions firmly, with piety and innovatively.
He also urged Hajj pilgrims to become ready internally for this spiritual trip and to avoid unpleasant actions such as spending their time in the shops. He said, "The real souvenir of the Hajj pilgrimage is recitation of the Qur'an, saying one's prayers and circumambulating Masjid al-Haram. So the pilgrims should not waste their precious time doing useless deeds."
In referring to the fact that Hajj is a symbol of the unity of the Islamic nation, the Supreme Leader said, "Everyone should make all-out efforts to prevent the disruption of Muslim unity, because creating discord between the Shi'a and the Sunnis is one of the tricks used by the English."
The Leader of the Islamic Revolution said that promoting good, enlightening communications with pilgrims from other countries and using good Qur'anic recitations are among the areas where efforts can be made to enhance unity. He also emphasized that the Zionists are a blight that is currently affecting the world of Islam. He said, "Revealing the Zionists' conspiracies and plans during the Hajj pilgrimage is a great necessity. The Arab and non-Arab states, who have pursued normalization of ties with the Zionist regime in line with the United States' policies and in contradiction to the wishes of their own nations, should be aware that such meetings will bear no fruit except their being exploited by the Zionist regime."
Imam Khamenei also referred to the grave duties of the host government and the necessity of their working in such a way that is to the benefit of the Islamic nation. He said, "Ensuring the safety of all pilgrims, especially the Iranian pilgrims, and preventing the tragedy that took place in the past by increasing their spending, is one of the Islamic Republic's serious demands." At the end, he asked the Hajj officials to put the issue of reducing the number of days needed to carry out Hajj on their agenda and to find a solution to this problem.
Source: ABNA24
Please click the following URL to read the full text of the original story:
https://en.abna24.com/news//imam-khamenei-zionism-is-an-obvious-plague-for-world-of-islam-which-should-be-exposed_1265304.html
--------
Iranian foreign minister's India visit overshadowed by row over anti-Islam remarks
Syed Zafar Mehdi
09.06.2022
TEHRAN, Iran
Iran's foreign minister during his maiden state visit to India on Wednesday held wide-ranging talks with senior Indian officials, including Prime Minister Narendra Modi and Foreign Minister Subrahmanyam Jaishankar.
Hossein Amir-Abdollahian's visit came as New Delhi is facing a diplomatic storm over Islamophobic remarks made by spokespersons for India's ruling Bharatiya Janata Party (BJP).
Iran was one of the Muslim-majority countries that summoned Indian envoys to lodge an official protest over the matter.
In a tweet late Wednesday, Iran's top diplomat said he was "pleased" to "advance the bilateral strategic dialogue," adding the two sides agreed "on the need to respect divine religions, Islamic sanctities, and to avoid divisive statements."
According to a statement issued by Iran's Foreign Ministry, Amir-Abdollahian and his Indian counterpart Jaishankar discussed a wide range of strategic issues and the potential for expanding trade and economic cooperation between the two sides.
The two officials emphasized the need to "prepare a roadmap to advance comprehensive strategic relations" between the two countries.
They also discussed "closer regional cooperation" with a focus on peace and stability in Afghanistan and the need to help the crisis-stricken country overcome an economic quagmire, the statement noted.
The development of the strategic Chabahar Port in southeastern Sistan and Baluchestan province, transportation, and corridors also figured in their discussions.
Amir-Abdollahian also met with Prime Minister Modi on Wednesday. In the meeting, both enumerated various areas of cooperation between the two countries.
In a tweet later, Modi termed the talks "useful on the further development of centuries-old civilizational links between India and Iran."
Amir-Abdollahian's first meeting of the day was with Ajit Kumar Doval, India's national security adviser, during which both officials stressed developing ties in various areas.
Iran, Amir-Abdollahian said, has no barriers to expanding its relations with India, while drawing Doval's attention to the sensitivity of Muslims regarding their religious figures.
Doval, for his part, expressed regret over the recent controversy involving the senior BJP spokespersons and said the wrongdoers shall be dealt with strictly.
Amir-Abdollahian became the first high-ranking foreign official to visit New Delhi since the controversy erupted last week, which came as a big embarrassment to the Modi-led government in New Delhi.
While bilateral and regional issues figured prominently in discussions between the two sides, Amir-Abdollahian's visit was overshadowed by the controversy over the anti-Islam remarks.
Upon his arrival at New Delhi Airport on Wednesday, Iran's foreign minister said he expected to hear Indian leaders speaking about the peaceful coexistence of all religions and sects while referring to the derogatory remarks about Islam and Prophet Mohammad.
On the sidelines of his first official visit to New Delhi since assuming office late last year, Amir-Abdollahian also met with a group of senior clerics from the Shia and Sunni communities, in which he stressed the need to defeat conspiracies and threats through unity and coexistence, the Foreign Ministry's statement noted.
He said the recent controversy was "not worthy of India," which has been a "land of love and tolerance."
Source: Anadolu Agency
Please click the following URL to read the full text of the original story:
https://www.aa.com.tr/en/asia-pacific/iranian-foreign-minister-s-india-visit-overshadowed-by-row-over-anti-islam-remarks/2609233
--------
Iranian Envoy Blasts US for Targeting Ordinary People by Sanctions
2022-June-8
"The effects that these unlawful US actions have had on ordinary people of Iran are well known and well documented. For instance, although medicines and medical devices are technically not subject to sanctions, in practice humanitarian exemptions for medicine appear ineffective and nearly nonexistent due to the real or alleged fear of secondary sanctions, civil and criminal charges, the persistent fear among producers and suppliers and the restrictions in the processing of payments. This is the situation in an area that is technically not subject to sanctions but has been affected by US violation of its commitments. States, in particular E3 and EU member states who have repeatedly expressed their support for the JCPOA should also think to what extent they have practically materialized their support including through means and measures to actually mitigate these negative effects?" Qa'ebi said, addressing the International Atomic Energy Agency (IAEA) Board of Governors on Verification and Monitoring in the Islamic Republic of Iran in light of United Nations Security Council resolution 2231 (2015).
"One cannot genuinely express support for the JCPOA while implementing illegal US sanctions or holding Iranian funds frozen in its jurisdiction. That verbal support and this actions are simply self-contradictory," he added.
The full text of Qa'ebi's comments are as follows"
In previous meetings of the Board, my delegation has explained in detail, the root causes of the situation that we are facing now regarding the Joint Comprehensive Plan of Action (JCPOA). We reiterate that it is methodologically incorrect and logically imprudent, to expect a different outcome, when the same causes exist. I would like to elaborate more on this fact:
The report of the Director General, as contained in document GOV/2022/24, as stated in its first paragraph, is on the Islamic Republic of Iran's implementation of its nuclear-related commitments under the Joint Comprehensive Plan of Action (JCPOA) and on matters related to verification and monitoring in Iran in light of Security Council resolution 2231 (2015). These commitments are mainly reflected in the Annex I of Annex A of UNSCR 2231.
What is usually ignored is that there are reciprocal commitments for other JCPOA participants mainly the United States and EU/E3 predominantly introduced in Annex II of the same Resolution. Have we had an international agency to monitor proliferation of illegal sanctions, the report on violations of commitments by the US and EU/E3 in light of Security Council resolution 2231 (2015) would have been a long one.
I do encourage all colleagues who follow this issue to spare some time and read sections 3 and 7 of Annex II of Annex A of the UNSCR 2231. I do believe that this reading practice will be worthwhile in order to create a more balanced and realistic approach towards the current status of the JCPOA and will ultimately put the current report of the Director General into its appropriate context. The appropriate context in which the notions like "reciprocal commitments", "balance of obligations" and "available remedies" is also considered while taking note of the report of Director General on this matter.
Following its unprovoked unilateral and illegal withdrawal from the JCPOA, the US re-imposed sanctions against Iran. Its current unilateral sanction regime against Iran contains extra-territorial sanctions which prohibit non-US nationals and non-US companies from trading with and investing in Iran. Foreign legal and natural persons who do not comply with the US extra-territorial legislation are faced with a range of consequences, including access restrictions and penalties. Thus, these sanctions not only put pressure on operators worldwide but also interfere with the sovereign foreign policy choices of States and international organizations who support the JCPOA and trade with Iran. This extra-territorial application of unilateral sanctions is itself, violation of the international law, let alone violation of the US commitments under UNSC Res 2231.
Mr. Chairman,
The fact that these sanctions are in violation of the JCPOA is self-explanatory. To put it simply, the US had basically done whatever they have committed in the JCPOA not to do and had undone whatever they have committed in the Deal to do. But one might ask why these sanctions imposed by the US are violation of international law?
A brief response would be that they are imposed, not only without having any foundation in the UN Security Council Resolution 2231, but clearly to the contrary of it which instructs lifting of those sanctions. They also constitute unlawful economic coercion which is in violation of the principle of non-intervention. With these sanctions, the US coerces foreign natural and legal persons through the extra-territorial application of its domestic law and interferes with regulatory powers of other international actors but it thereby also aims to influence the policy choices of other sovereign states in line with its own foreign policy preferences.
One should not overlook the fact that, unlike Iran, which only after more than one year of strategic patience and prudence in continuing full implementation of its commitments, started to gradually resort to the only available remedy, which is withholding performance of the reciprocal commitments, as a general rule of law and as enshrined explicitly in paragraphs 26 and 36 of the JCPOA, the US withdrew from the JCPOA and violated all of its commitments while Iran was fully implementing its obligations confirmed by 15 consecutive reports of the IAEA Director General.
Therefore, the action of the US cannot be considered a lawful retorsion or countermeasure. They are merely "abuse of power" which violate norms of jus cogens and definitely undermine the UN Charter.
The effects that these unlawful US actions have had on ordinary people of Iran are well known and well documented. For instance, although medicines and medical devices are technically not subject to sanctions, in practice humanitarian exemptions for medicine appear ineffective and nearly nonexistent due to the real or alleged fear of secondary sanctions, civil and criminal charges, the persistent fear among producers and suppliers and the restrictions in the processing of payments. This is the situation in an area that is technically not subject to sanctions but has been affected by US violation of its commitments. States, in particular E3 and EU member states who have repeatedly expressed their support for the JCPOA should also think to what extent they have practically materialized their support including through means and measures to actually mitigate these negative effects?
One cannot genuinely express support for the JCPOA while implementing illegal US sanctions or holding Iranian funds frozen in its jurisdiction. That verbal support and this actions are simply self-contradictory.
Mr. Chairman,
On the content of the Report, I would like to re-emphasize that all the nuclear remedial actions taken by Iran are in line with our rights and obligations under the NPT. As it is mentioned in the report of the Director General, contained in document GOV/2022/24, and confirmed by DG in his recent press conference, the Agency has regular access to the nuclear facilities in Iran according to the Safeguards Agreement. The Agency continues to verify the status of construction of the Arak heavy water research reactor. The Agency also continues to verify the inventory of enriched uranium in Iran and monitors and verifies all activities related to nuclear fuel manufacturing in Iran. The details in the reports of the Director General are a strong manifestation of the unprecedented level of transparency in Iran's nuclear program and activities.
Furthermore, as a result of constructive consultations between the Director General and the Vice-President and Head of the Atomic Energy Organization of Iran (AEOI) on 15 December 2021, innovative terms were agreed in relation to the Agency's monitoring and surveillance equipment under the JCPOA. This agreement is very important because based on it, the surveillance data from all Agency cameras installed for activities in relation to the JCPOA, as well as its on-line enrichment monitors, electronic seals or installed measurement devices, will continue to be stored and made available to the Agency, as appropriate.
As transparency measures, Iran has continued to issue long-term visa for inspectors, has provided proper working space for the Agency at nuclear sites and facilitated the use of working space at locations near nuclear sites in Iran .
Mr. Chairman,
The JCPOA talks which were held here in Vienna provided a unique opportunity for the JCPOA participants and the US to prove their candid intention to get back to full implementation of their commitments through lifting all inhuman and illegal sanctions in an effective and verifiable manner. It is yet to be observed whether the current US administration is ready to abandon the infamous maximum pressure policy and its protracted addiction to use unilateral coercive measures, respect international law, implement its sanctions lifting commitments in a full, effective and verifiable manner and take all necessary decisions that this might entail.
The United States should realize that they need to address the concerns arising from their previous malpractice, the least of which is that the future performance of their commitments can be relied on.
Source: Fars News Agency
Please click the following URL to read the full text of the original story:
https://www.farsnews.ir/en/news/14010318000653/Iranian-Envy-Blass-US-fr-Targeing-Ordinary-Peple-by-Sancins
--------
Senior MP: Possible IAEA Resolution to Affect Iran's Partnership in Vienna Talks
2022-June-8
If the International Atomic Energy Agency (IAEA)'s Board of Governors approves a resolution against Iran, Tehran will reconsider participation in the Vienna talks with the G4+1 group, Jalalzadeh said.
He added that the Islamic Republic will definitely give a strong response to efforts that are aimed at pressuring the country through the IAEA's Board of Governors, noting that the recent visit of the IAEA chief to Israel has proved once again that the Agency is more a political body rather than a technical one.
Jalalzadeh also said the West has failed to force Iran to make concessions in talks and it is pressuring the country via the IAEA.
Iranian Foreign Ministry Spokesman Saeed Khatibzadeh had also warned earlier this week that any resolution against Iran at the International Atomic Energy Agency will negatively affect the country's cooperation with the IAEA.
Khatibzadeh said that Iran will respond proportionately to any action in the IAEA meeting, reiterating that any move against Iran will adversely affect Tehran's cooperation with the agency.
He said the IAEA director-general has unfortunately issued a hasty report on Iran that he had earlier given before the European parliament.
Khatibzadeh added that Iran declared at the same time that given the fact that the third round of bilateral talks was not over yet, the conclusion presented by IAEA chief Rafael Grossi was such that it had been decided in advance the report had to be biased.
"We have held three rounds of talks up until now and we once gave our views and reposes in writing," he said.
Grossoi's report is inaccurate and ignores Iran's moves and at the same time it seeks to insinuate an unlikely and weird narrative about Iran's plans, which is mostly based on claims that show footprints of the fake Zionist regime, Khatibzadeh said.
He added that Iran accepts neither the IAEA report nor the efforts by the European troika to push for an anti-Iran resolution at the board of governors.
Khatibzadeh also urged members of the board to be wary of the Zionist regime's ill-intentions.
"We wouldn't prejudge but we will give a proportionate response to any move," he underlined.
Iranian Foreign Minister Hossein Amir Abdollahian warned on Sunday that those who support or sponsor adoption of a resolution against Iran at the IAEA will account for its consequences.
"Those who push for anti-Iran resolution at IAEA will be responsible for all the consequences," Amir Abdollahian wrote on his twitter page.
"We welcome a good, strong and lasting agreement," he added.
"It's within reach if US/E3 (Washington and the European trio) are realistic," Amir Abdollahian said.
Iran has also repeatedly cautioned in the past that adoption of an anti-Iranian resolution was counterproductive to ongoing talks aimed at reviving a 2015 nuclear deal between Iran and world powers.
The remarks came a day before a meeting of the IAEA's Board of Governors. The event is reportedly set to adopt an anti-Iran resolution, drafted by Britain, France, Germany, and the US, to accuse the Islamic Republic of withholding cooperation with the agency.
The expected adoption of the resolution also comes following a trip by Grossi to the Israeli-occupied territories.
Iran has previously cautioned the IAEA against allowing the Israeli regime—which is leading a constant bid aimed at incriminating Iran's nuclear work—against allowing Tel Aviv to influence the agency's independent mandate and decision-making.
Source: Fars News Agency
Please click the following URL to read the full text of the original story:
https://www.farsnews.ir/en/news/14010318000466/Senir-MP-Pssible-IAEA-Reslin-Affec-Iran's-Parnership-in-Vienna-Talks
--------
Tajik PM: Horizon of Cooperation with Iran Broader than Ever
2022-June-8
During the meeting in Dushanbe on Tuesday, Rasulzoda said that the horizon of the two countries' cooperation is now broader than ever before.
He announced Dushanbe's readiness for unprecedented economic and business ties.
Rasulzoda also assured Mehrabian that he is well aware of the competence and high quality of the technical and engineering services of the Iranian companies at rational prices.
He appreciated Iran for hosting the ceremony in which 17 cooperation documents were signed, saying that those documents pave the way for a lot broader mutual cooperation.
Mehrabian, for his part, said that the Iranian companies are ready to implement technical and engineering projects in Tajikistan.
Mehrabian, who is also the Iranian head of the Joint Iran-Tajikistan Economic Cooperation said that Supreme Leader of the Islamic Revolution Ayatollah Seyed Ali Khamenei believes that the Iranian and Tajik nations are relatives, announcing the Iranians' readiness for assisting their Tajik brethren.
He announced the Iranian companies' conditions, their highly competing prices for offering services, and high quality products.
Also in a meeting with Tajikistan's Foreign Minister Sirojiddin Muhriddin on Tuesday, Mehrabian said that Iran is ready to cooperate with Tajikistan in modern technologies.
During the meeting, the two sides referred to the successful holding of an international conference entitled "water for sustainable development", and stressed that the agreements made during a recent visit to Iran by Tajikistan's President Emomali Rahmon is the base for promotion of trade relations between the two countries.
They also underlined the need for activating the private sectors of Iran and Tajikistan as the driving force of expansion of bilateral relations.
Iranian and Tajik officials signed several cooperation documents in different areas during President Emomali Rahmon's visit to Tehran last month.
17 cooperation documents were endorsed by the two countries' senior officials in the presence of Iranian President Seyed Ebrahim Rayeesi and Tajik President Emomali Rahmon.
The agreements are in the fields of politics, economy, trade, transportation, investment, new technologies, environment, sports, energy, judiciary, education and research, and tourism.
Source: Fars News Agency
Please click the following URL to read the full text of the original story:
https://www.farsnews.ir/en/news/14010318000491/Tajik-PM-Hrizn-f-Cperain-wih-Iran-Brader-han-Ever
--------
Iran denounces 'political, unconstructive' IAEA resolution
09 June, 2022
Iran denounced as "political" and "unconstructive" Thursday a resolution adopted by the UN nuclear watchdog censuring it for failing to cooperate.
"Iran condemns the adoption of the resolution presented by the United States, Britain, France, and Germany at the Board of Governors meeting of the International Atomic Energy Agency as a political, unconstructive and incorrect action," a foreign ministry statement said.
Iran already announced it had disconnected some IAEA cameras monitoring its nuclear sites in anticipation of the watchdog's adoption of the Western-drafted censure motion Wednesday.
The motion -- the first to criticize Iran since June 2020 -- was approved by 30 members of the IAEA board of governors, with only Russia and China voting against it.
The resolution came after the Vienna-based IAEA raised concerns about traces of enriched uranium previously found at three sites Tehran had not declared as having hosted nuclear activities.
"The adoption of the resolution, which is based on the hasty and unbalanced report of the director general of the IAEA and on false and fabricated information from the Zionist regime (Israel), will only weaken the process of cooperation and interaction between the Islamic Republic of Iran and the agency," the foreign ministry statement said.
"Iran has taken reciprocal practical steps due to the non-constructive approach of the agency and the adoption of the resolution, including the installation of advanced centrifuges and the deactivation of cameras."
In a statement on Wednesday, Iran's Atomic Energy Organisation stressed that it was continuing to abide by the safeguard agreement with the IAEA.
"More than 80 percent of the agency's existing cameras are operating according to the safeguard agreement and will continue to operate just as before," it said.
Foreign ministry spokesman Saeed Khatibzadeh condemned the resolution in a tweet, insisting Iran has "the world's most transparent peaceful nuclear programme."
"The initiators are responsible for the consequences. Iran's response is firm & proportionate," he said.
After the adoption of the resolution, the US, Britain, France and Germany urged Iran "to fulfil its legal obligations, and cooperate with the IAEA."
Iran struck a deal with major powers in 2015 setting limits to its nuclear activities in return for relief from international sanctions -- but the agreement has been in disarray since then US president Donald Trump abandoned the agreement three years later and reimposed sanctions.
In response, Iran began rolling back on its commitments under the deal from 2019.
Source: Al Arabiya
Please click the following URL to read the full text of the original story:
https://english.alarabiya.net/News/middle-east/2022/06/09/Iran-denounces-political-unconstructive-IAEA-resolution
--------
Houthis slammed for ignoring power cuts in Yemen's Hodeidah
SAEED AL-BATATI
June 08, 2022
AL-MUKALLA: Yemen human rights activists, government officials, and others have taken part in a social media campaign to draw international attention to the suffering of people in Houthi-held Hodeidah, which is experiencing long power outages and soaring temperatures.
Yemenis said the Houthis, who have generated billions of Yemeni riyals in revenue from oil tankers entering Hodeidah's port since April 2, were spending little to no money on addressing the intensifying power cuts or other basic services in the city.
Using the hashtags #Hodeidahisdying and #Hodeidah_is_ disaster_city, people posted images of half-dressed men and children sleeping outdoors or on the roofs of their houses to escape the heat.
"Our forgotten people in Hodeidah are the biggest victims of Houthi arrogance. Hunger, sickness and unfairness. They lack the most basic of their rights as the bounties of their land go to others," tweeted journalist Akram Tawfeek.
Muneir Mohammed, an activist who was detained in a Houthi-run prison in Hodeidah, recounted his days behind bars during the summer and said that this season in the city was "part of hell."
"I stayed in the prisons of the Houthi militia in Hodeidah for several months, and they were the worst days I ever lived. The heat (not) only burns the skins, but melts bones and guts," Mohammed said.
International aid organizations said at least 70 percent of the country's goods and 80 percent of humanitarian assistance to Yemen went through the city's ports.
In late 2018, the government and Houthis signed the UN-brokered Stockholm Agreement. Under the deal, the Houthis agreed to deposit revenues from fuel and goods ships into the central bank in Hodeidah.
The proceeds would be used for paying government employees in Houthi-controlled areas in exchange for the government stopping a military offensive on Hodeidah.
In July 2020, the government accused the Houthis of looting nearly $160 million from the central bank branch in Hodeidah and refusing to pay the salaries of government employees.
Residents in Hodeidah and officials said that looted money was transferred to Sanaa to fuel the Houthis' military operations, leaving people in Hodeidah battling long power cuts during the hot weather.
Waleed Al-Qudaimi, Hodeidah's deputy governor, said the Houthis had recently looted billions of Yemeni riyals from the Electricity Support Fund in Hodeidah and transferred the sums to Sanaa, adding that the proceeds were supposed to go toward maintaining the city's electricity grids or buying new ones to meet the demand for power during the summer. "Hodeidah and its people are facing death and pain due to the continued looting of their revenues," Al-Qudaimi said.
Residents said electricity was available for three hours a day and the widespread cuts had affected all sectors, including hospitals where patients were dying due to the lack of air conditioning.
"The situation in Hodeidah is very difficult. Patients are dying due to power cuts. We demand the UN and its envoy force the party that controls Hodeidah to address power outages," a Hodeidah journalist who is currently based in Aden told Arab News on condition of anonymity.
From the Houthi-controlled city, where protests are brutally suppressed, people protested anonymously online or relayed their ordeal to friends or relatives outside the country.
Source: Arab News
Please click the following URL to read the full text of the original story:
https://www.arabnews.com/node/2099606/middle-east
--------
Africa
Algeria suspends treaty of friendship and cooperation with Spain
08 June, 2022
Algeria has suspended its 20-year-old treaty of friendship, good neighborliness and cooperation with Spain, state media reported on Wednesday.
No reason was given for the decision, which was taken by Algeria's top security council.
But tensions are simmering between Algiers and Madrid over recent Spanish comments on Western Sahara as Spain has shifted closer to Morocco's position on the conflict there.
In April, the Algerian-backed Polisario Front, Western Sahara's independence movement, said it was severing ties with Spain after Madrid backed Morocco's plan giving autonomy to the former Spanish colony.
Algeria is a key gas supplier to Spain, and is expected to review prices for any new gas contract with Spanish firms, a source familiar with the matter told Reuters.
Source: Al Arabiya
Please click the following URL to read the full text of the original story:
https://english.alarabiya.net/News/north-africa/2022/06/08/Algeria-suspends-treaty-of-friendship-and-cooperation-with-Spain
--------
Owo church killers want to pit Christians against Muslims, says ACF
09 June 2022
Northern Christians deplore the failure to tame insecurity
Arewa Consultative Forum (ACF) has expressed shock over the killing of worshippers at St. Francis Xavier Catholic Church, Owo, Ondo State, urging the Federal Government to ensure the perpetrators are brought to book.
The Northern socio-cultural group, in a statement, yesterday, by its Secretary-General, Alhaji Murtala Aliyu, asserted that the perpetrators were on a mission to pit Christians against Muslims to plunge the country into crisis.
Lamenting that the level of security challenges in the country is heightening by the day, the ACF noted Christian and Muslim faithful as targets in their places of worship.
It stated: "ACF is shocked over what it considers the most barbaric and implacable human act, in recent times."
According to the Arewa leaders, the killing of innocent worshippers at St. Francis Xavier Catholic Church, on the first service week ushering in the month of June, could best be described as an unimaginable erosion of inhumanity enveloping the nation.
"The ACF frowns on such animalistic attack on a peace-loving community," it added.
IN the same vein, the Congress of Northern Nigeria Christians (CNNC) has observed the inability of the Federal Government to overcome killings, kidnappings and other criminal activities the country has emboldened terrorists to challenge Nigerians unabated.
In a statement, yesterday, CNNC Chairman, Steven Bangoji, alleged that the government imported bandits for the 2015 elections under an agreement it has not fulfilled its part of the bargain, adding that some government functionaries were beneficiaries of the ransom collected by bandits.
He also alleged that the government failed to give the criminals the agreed territories, by ejecting the indigenous people.
The statement alleged: "Government imported them for the 2015 election under an agreement which government has not fulfilled its part of the bargain. Some government functionaries are beneficiaries of the proceeds of the ransoms being collected.
"Nigerians have become used to hearing every day how many people have been killed or kidnapped and with the expected response from the government to apprehend and deal with the perpetrators. We are beginning to conclude that the government and the military are overwhelmed."
Source: Guardian Nigeria
Please click the following URL to read the full text of the original story:
https://guardian.ng/news/owo-church-killers-want-to-pit-christians-against-muslims-says-acf/
--------
Sudan begins post-coup crisis talks without key civilian bloc
08 June, 2022
Sudan on Wednesday began UN-facilitated direct talks between rival factions hoped to resolve a political crisis sparked by last year's coup, but with a critical civilian bloc refusing to participate.
"It is important to not let this moment slip," United Nations special representative Volker Perthes told reporters in Khartoum. "We are asking everybody to work with one another in good faith."
Sudan has been rocked by deepening unrest, near-weekly protests, a violent crackdown that has killed over 100 people and a tumbling economy since the October 25 power grab led by army chief Abdel Fattah al-Burhan.
The military takeover derailed a fragile transition to civilian rule that had been established following the 2019 ouster of president Omar al-Bashir.
The UN, African Union and regional bloc IGAD have since March been pushing for Sudanese-led talks to break the political stalemate.
On Tuesday, Burhan hailed the talks as a "historic opportunity" and called on political factions "to not stand as a stumbling block."
Burhan last month lifted the state of emergency imposed since the coup, and authorities have in recent weeks released multiple civilian leaders and pro-democracy activists.
Perthes welcomed the measures, but said "more can be done."
Wednesday's talks were attended by military officials, representatives from several political parties, and senior members from ex-rebel groups.
But Sudan's main civilian bloc, the Forces for Freedom and Change (FFC) – which was ousted from power in the coup – as well as the influential Umma party have refused to take part.
Members from the resistance committees, informal groups which emerged during the 2019 protests against Bashir and which have led calls for recent anti-coup rallies, were also absent.
The meeting "does not address the nature of the crisis" and any political process should work on "ending the coup and establishing a democratic civilian authority," the FFC said in a statement earlier this week.
Source: Al Arabiya
Please click the following URL to read the full text of the original story:
https://english.alarabiya.net/News/middle-east/2022/06/08/Sudan-begins-post-coup-crisis-talks-without-key-civilian-bloc
--------
Tunisia denies diplomatic talks with Israel
Adel al-Thabti
09.06.2022
TUNIS, Tunisia
Tunisia on Thursday shot down reports of diplomatic talks with Israel, blasting them as "rumors spread by sites affiliated with Israel."
In a statement, Tunisia's Foreign Ministry denied "what some websites affiliated with the occupying Israeli entity are promoting about false allegations about the existence of diplomatic talks with Tunisia."
"These websites have been spreading these rumors in repeated attempts to harm the image of our country and its firm position in support of the inalienable Palestinian right and the statute of limitations," it added.
"Tunisia is not interested in establishing diplomatic relations with an occupying entity ... as (Tunisia) supports the Palestinian brothers in their struggle until their legitimate rights are restored," the statement said.
On Wednesday, Arab media outlets, citing Israeli website Hayom, reported news of "diplomatic talks between Tunisia and Israel regarding a possible normalization rapprochement."
There was no official comment on the reports from the Israeli side.
Since September 2020, under a controversial initiative known as the Abraham Accords, the Arab states of the United Arab Emirates, Bahrain, Morocco, and Sudan have signed deals to normalize relations with Israel.
Source: Anadolu Agency
Please click the following URL to read the full text of the original story:
https://www.aa.com.tr/en/africa/tunisia-denies-diplomatic-talks-with-israel/2609408
--------
North America
US warns Tehran against turning off IAEA cameras as resolution to censure Iran passes
08 June, 2022
The UN watchdog agency approved a resolution put forth by the US and European allies on Wednesday calling for Iran to take action on an "urgent basis" to fulfill its legal obligations toward the International Atomic Energy Agency (IAEA), while Washington stressed it was not looking for any escalation.
The resolution to censure Iran was approved overwhelmingly. China and Russia were the only countries to vote against the move, which calls for Tehran to answer questions about traces of nuclear material found at three different sites across the country.
"It is essential that Iran provide the IAEA with all information and documents deemed necessary by the IAEA in order to clarify and resolve its questions," US Ambassador to the IAEA Laura Holgate said at the board of governors meeting earlier in the day.
"We are not taking this action to escalate a confrontation for political purposes. We seek no such escalation," she added.
The US had been holding off on such a move against Iran at the IAEA with the hopes that it would be able to convince Iran to revive the 2015 nuclear deal, which the US withdrew from under former US President Donald Trump.
But recent reports from the IAEA over the unexplained presence of uranium particles at three different sites in Iran have raised fears in Washington that Tehran is inching closer to being able to acquire a nuclear weapon.
Turquzabad, Varamin, and Marivan are the three different sites that the IAEA has raised questions over.
And in recent days, Iran has threatened to respond to any attempts to criticize it at the IAEA board of governors meeting. Now Iran says it will remove IAEA surveillance cameras inside Iran.
Holgate warned that if Iran reduced transparency in response to the latest resolution, it would be counterproductive to the diplomatic outcome the US was looking for. "Restricting IAEA access and attempts to paint the IAEA as politicized for simply doing its job will serve no purpose," she said.
Source: Al Arabiya
Please click the following URL to read the full text of the original story:
https://english.alarabiya.net/News/middle-east/2022/06/08/US-warns-Iran-against-turning-off-IAEA-cameras-but-seeks-no-escalation-
--------
US think tank Brookings puts retired general with links to Qatar on leave
09 June, 2022
The prestigious Brookings Institution placed its president, retired four-star Marine Gen. John Allen, on administrative leave Wednesday amid a federal investigation into Allen's foreign lobbying.
Brookings' announcement came a day after The Associated Press reported on new court filings that show the FBI recently seized Allen's electronic data as part of an investigation into his role in an illegal foreign lobbying campaign on behalf of the wealthy Gulf nation of Qatar.
An FBI agent said in an affidavit in support of a search warrant there was "substantial evidence" that Allen had knowingly broken a foreign lobbying law. Allen had made false statements and withheld "incriminating" documents, the FBI agent's affidavit said.
Allen has not been charged with any crimes and previously denied any wrongdoing.
Brookings told staffers Wednesday that the institute itself is not under federal investigation. The think tank's executive vice president, Ted Gayer, will serve as acting president.
"Brookings has strong policies in place to prohibit donors from directing research activities," the email said. "We have every confidence in the Brookings team's ability to remain focused on delivering quality, independence, and impact."
The federal investigation involving Allen has already ensnared Richard G. Olson, a former ambassador to the United Arab Emirates and Pakistan who pleaded guilty to federal charges last week, and Imaad Zuberi, a prolific political donor now serving a 12-year prison sentence on corruption charges. Several members of Congress have been interviewed as part of the investigation.
The new court filings detail Allen's behind-the scenes efforts to help Qatar influence US policy in 2017 when a diplomatic crisis erupted between the gas-rich Gulf monarchy and its neighbors.
Allen's alleged work for Qatar involved traveling to Qatar and met with the country's top officials to offer them advice on how to influence US policy, as well as promoting Qatar's point of view to top White House officials and members of Congress, the FBI's affidavit says.
Brookings is one of the most prestigious think thanks in the US.
Allen, who was a senior fellow at the Brookings Institution prior to becoming president in late 2017, used his official email account at the think tank for some of his Qatar-related communications, the affidavit says.
Source: Al Arabiya
Please click the following URL to read the full text of the original story:
https://english.alarabiya.net/News/middle-east/2022/06/09/US-think-tank-Brookings-puts-retired-general-with-links-to-Qatar-on-leave
--------
Iraq's parliament passes emergency food bill
08 June, 2022
Iraqi lawmakers on Wednesday passed an emergency bill that will allow the government to transfer public funds to meet urgent needs for food security as months of political deadlock have left the country without a budget.
The Emergency Law for Food Security and Development is meant to allocate 25 trillion Iraqi dinars ($17.14 billion) to the government to buy wheat, rice, gas and energy, pay salaries, among other things.
Political disagreement among parties have hindered the election of a president months after an October general election from which cleric Moqtada al-Sadr emerged the biggest winner, with his Shia, pro-Iran rivals receiving a hammering at the polls.
Source: Al Arabiya
Please click the following URL to read the full text of the original story:
https://english.alarabiya.net/News/middle-east/2022/06/08/Iraq-s-parliament-passes-emergency-food-bill
--------
US has no plans to support normalization efforts with Syria's Assad: Diplomat
08 June, 2022
The Biden administration has no plans to support efforts to normalize or rehabilitate Syrian President Bashar al-Assad or lift sanctions on the regime, the top US diplomat for the Middle East said Wednesday.
Assistant Secretary of State for Near Eastern Affairs Barbara Leaf told US lawmakers that Assad and "the coterie around him remain the single largest impediment" to a political solution in Syria.
"The ultimate responsibility for this continued tragedy rests with Bashar al-Assad, backed by Russia and Iran, who brought his country to this terrible state and remains intransigent, refusing to provide Syrians any hope for a better future," Leaf said in her testimony to the Senate Foreign Relations Committee.
While the Russian invasion of Ukraine has taken attention away from ongoing wars around the globe, including in Syria, Leaf said she planned to make Syria "a priority" within the State Department.
Leaf was recently confirmed to her position after the process had been blocked for one year due to political bickering between Republicans and Democrats on Capitol Hill.
The US diplomat said Washington would use all of its tools to press the Assad regime, including the Caesar Act sanctions.
Shocked that Assad was welcomed
Playing down any efforts to rehabilitate Assad, Leaf and two senior senators blasted countries that had welcomed the Syrian president.
Leaf said she was "shocked" to see Assad welcomed by the UAE in March. He made his first trip to an Arab country since the outbreak of the Syrian civil war.
The top Republican senator on the Foreign Relations Committee, Jim Risch, said the visit was "sickening."
Reports suggest that some Arab states believe that bringing Syria back into the Arab League could drive a wedge between Damascus and Iran.
Syria's membership in the Arab League has been suspended since the war started.
Source: Al Arabiya
Please click the following URL to read the full text of the original story:
https://english.alarabiya.net/News/middle-east/2022/06/08/US-has-no-plans-to-support-normalization-efforts-with-Syria-s-Assad-Diplomat
--------
Europe
Türkiye, Montenegro share possibility for intensive regional cooperation: Montenegrin president
Nazli Yuzbasioglu
08.06.2022
Türkiye and Montenegro as NATO partners share the possibility for intensive cooperation on regional initiatives, Montenegro's president told Anadolu Agency.
Noting that the two countries share "traditionally friendly relations," Milo Dukanovic said the bilateral ties between Ankara and Podgorica have gotten "increasingly richer" with each passing year.
He also drew attention to the support and intense cooperation opportunities that Türkiye and Montenegro have on other international platforms, especially the UN, and in multilateral treaties.
"I would say that we are using actually quite well the historical and cultural background that we have, and this has actually been used to lay the foundation for the new generations to work in the interest of our countries and to develop new friendships," said Dukanovic.
Russia-Ukraine war
Describing Russia's ongoing war on Ukraine as "a brutal aggression of Russia against an independent European country," Dukanovic said: "And what makes this mistake even bigger is the fact that this aggression is being committed by a country that is a permanent member of the UN Security Council, and the country that should be respecting the Charter of the UN and the international order."
He further said Montenegro had a "prior negative experience" with Russia's attempts to "control our future" back in 2016, when Montenegro was "just about to join NATO."
"And this was a time period when we had permanently on a daily basis high level political messages from Moscow that Montenegro should not be joining NATO, and that this would be bound to make our relations worse with Russia," he said.
Dukanovic recalled that Montenegro's "centuries-long tradition of interstate relations" with Russia should also be taken into account.
"Recently we celebrated three centuries of those relations. We do at the same time respect that tradition and approach it responsibly. But, of course, at the same time, we do not think that tradition should be a reason for us to renounce the rights to decide about our own future ourselves," he said.
The Balkan state leader stressed that Montenegro is an independent EU and NATO member country that adopts the European value system, adding that each country should "decide its own future."
"This is why we do not think it's proper or appropriate to decide on behalf of any other country about that country's future, which applies to Ukraine. We especially strongly oppose these methods that are being used by Russia in Ukraine, in an attempt to influence its future," he added.
'War can't resolve political misunderstandings'
"It is obvious that Russia has chosen the path of being destructive towards the West and towards the Europe specifically," he said, adding that Russia is trying to use focal points to implement that "aggressive or destructive policy."
"And for the implementation of its distracting doctrine for Europe, the Western Balkans seemed like a fertile soil for Russia," the president said.
Dukanovic underlined that the Western Balkan countries are "still not strong enough" and that there is a "strong pro-Russian sentiment" based on historical solid foundations in the population living in the region.
"So, Russia is trying to play with those sentiments, I would say, in a manner which is fully irresponsible."
He underlined that the situation will continue until a "more reasonable relationship" is established between the East and the West, and until the dialogue on the relationship between Russia and Europe is renewed.

Dukanovic said that Russia needs to meet "some preconditions" on Ukraine, such as "stopping aggression and killing of people," as well as reestablishing normal interstate relations between those two countries.
"Because everyone has to understand today that a war has no means for resolving political misunderstandings," he said, noting that the only possible way for resolving any misunderstanding is a political dialogue.
"The chaos in Ukraine today actually brings nothing but huge victims and suffering," he said.
Stressing the importance of taking urgent action regarding the situation in Ukraine for the future of Russia-Europe relations, Dukanovic said "this is the only thing that could guarantee that Russian destructive policy including towards the Western Balkans would stop."
NATO membership
Noting that the matter of a NATO membership is "vitally important" for his country, Dukanovic said: "Today it's clear to everyone that the war in Ukraine is not just against Ukraine, it's also the war against the European unity and European value system."

He also stressed that NATO proved to be a "very reliable, secure collective security system" for all the member states, as well as a "strong deterrent" against threats, and the "strong guarantor of peace for those countries that are still not NATO members but around it."
He said thanks to the NATO membership, Montenegro is perceived nowadays by its citizens, foreign investors and by the region as a "much more prosperous and secure place than it used to be a couple of years ago."
"Such perception is created by all the activities we have undertaken and implemented in the past years and one of them being the reforms we have undertaken to be able to join NATO."
Source: Anadolu Agency
Please click the following URL to read the full text of the original story:
https://www.aa.com.tr/en/europe/turkiye-montenegro-share-possibility-for-intensive-regional-cooperation-montenegrin-president/2608873
--------
UN envoy arrives in Yemen for talks on besieged city
08 June, 2022
The United Nations special envoy arrived in Yemen on Wednesday for talks on reopening routes to a Houthi-blockaded city that has proved the thorniest problem in implementing a fragile truce.
Swedish diplomat Hans Grundberg flew into the capital Sanaa, held by the Iran-backed Houthi militia since 2014, less than a week after the truce was renewed for a second period of two months.
Yemen, the Arab world's poorest country, is witnessing what the UN calls the world's worst humanitarian crisis.
Grundberg hailed the truce extension, calling it a "positive signal of the parties' seriousness to uphold and implement the truce."
"Yemenis have seen the truce's tangible benefits. We have witnessed a significant positive shift, and we have a responsibility to safeguard it and deliver on its potential for peace in Yemen," he told reporters.
Grundberg said he would meet the Houthi leadership to discuss proposals for reopening roads into Taiz, Yemen's third biggest city which has been largely cut off since 2015.
"I hope we will have constructive discussions on our proposal for reopening roads in Taiz and other governorates, as well as economic and humanitarian measures and the way forward," he said.
Holding talks on Taiz was one of the terms of the truce, along with resuming commercial flights out of Sanaa and allowing fuel ships into the lifeline port of Hodeida, which is also in the Houthis' hands.
Source: Al Arabiya
Please click the following URL to read the full text of the original story:
https://english.alarabiya.net/News/gulf/2022/06/08/UN-envoy-arrives-in-Yemen-for-talks-on-besieged-city
--------
Southeast Asia
Malaysian Haj pilgrims to arrive in Mecca from tomorrow
08 Jun 2022
MECCA, June 8 — Malaysian Haj pilgrims are scheduled to arrive in Mecca in stages from 8 pm local time, tomorrow.
Manager of Maktab 47, Roslan Jonet said they would receive about 295 pilgrims who departed from Madinah via seven buses before being taken to the Abraj Al-Janadriyyah building, here.
He said this was the first group of pilgrims who departed from Malaysia on June 4.
"There will be a small event to welcome the first group tomorrow before they perform their umrah. In terms of accommodation, pilgrims will be grouped according to their flight schedule and certain assessments including family ties," he told reporters after a briefing session on Lembaga Tabung Haji (TH) preparations today.
So far, a total of 1,940 Malaysian pilgrims have arrived in Madinah via seven flights.
The Abraj Al-Janadriyyah building houses two maktab (accommodation hostels), namely Maktab 46 and 47, while the Qasr Al-Janadriah building houses Maktab 49 and Land Premium, Maktab 48 and 50.
Roslan, who is also TH Melaka director, said 30 staff or six staff for each maktab would work round the clock to ensure the welfare and comfort of all pilgrims.
"Each accommodation building has various facilities including management office, pharmacies, health clinics, grocery stores and customer service counters," he added.
Source: Malay Mail
Please click the following URL to read the full text of the original story:
https://www.malaymail.com/news/malaysia/2022/06/08/malaysian-haj-pilgrims-to-arrive-in-mecca-from-tomorrow/11304
--------
Selangor Sultan decrees Bon Odori should go ahead after audience with Jais, Shah Alam City Council reps
By Radzi Razak
08 Jun 2022
KUALA LUMPUR, June 8 — The Selangor Islamic Religious Department (Jais) said the Selangor Sultan has decreed that the Bon Odori Festival slated for next month in the state capital should be allowed to proceed.
Its director Datuk Mohd Shahzihan Ahmad said Sultan Sharafuddin Idris Shah summoned officers from Jais and the Shah Alam City Council (MBSA) for an audience this afternoon, during which they were reminded that all decisions must take into consideration the diversity and beliefs of the state's residents.
"His Highness attended the event several years ago and did not find any elements that could erode Muslim beliefs, as it is just a social event involving Japanese businesses and their employees in Selangor," he said in a statement today.
Mohd Shahzihan said the Sultan also encouraged the Jais and MBSA officers to attend the event to experience it for themselves.
"His Highness is of the view that many cultures have links with religion, but not necessarily is religion part of a culture.
"His Highness also stressed that the act of worship is different from the act of observation," he said.
Yesterday, Penang Mufti Datuk Seri Wan Salim Wan Mohd Noor advised Muslims not to participate in the Bon Odori Festival for fear it could lead to "syirik" (polytheism) practices.
His comments echoed those of Minister in the Prime Minister's Department Datuk Idris Ahmad who said Muslims should not attend the Bon Odori Festival, planned for July 16 at the Shah Alam Sports Complex in Selangor, as it contains elements of other religions.
The PAS vice-president cited a study by the Malaysian Islamic Development Department (Jakim) that purportedly found religious elements in the Bon Odori Festival that were causing controversy online among Muslims.
Bon Odori simply means the "Bon dance", which is performed during Obon, an annual event when Japanese honour the spirits of their ancestors.
Malaysia is one of just a handful of countries where the festival is observed outside of Japan. The festival was first organised here by Japanese expatriates to introduce their country's culture, arts, and cuisine to Malaysians.
Source: Malay Mail
Please click the following URL to read the full text of the original story:
https://www.malaymail.com/news/malaysia/2022/06/08/selangor-sultan-decrees-bon-odori-should-go-ahead-after-audience-with-jais-shah-alam-city-council-reps/11306
--------
Umno's dilemma: when to call for GE15
Murray Hunter
June 7, 2022
In the wake of the extraordinary electoral performances of the Umno-led Barisan Nasional in the Melaka and Johor state elections, it would be prudent for them to call an immediate federal election.
Based on BN's recent electoral results, they are set to win with a landslide, allowing Umno to become the dominant electoral force if an election was held immediately.
However, here lies the dilemma. Umno is in the midst of a power struggle internally. On one side, Umno president Ahmad Zahid Hamidi has the power to select electoral candidates, and on the other side, Prime Minister Ismail Sabri Yaakob has the sole authority to request a dissolution of the Dewan Rakyat to pave the way for an election.
This stand-off is paralysing Umno's ability to reap the benefits of its current electoral popularity.
Malaysia is coming out of the Covid-19 pandemic, and four years of political turmoil with a number of economic problems on the horizon. The rakyat are now facing hard times, and worse is to be expected with rampant inflation, rising food prices and chronic shortages. There are signs of increasing homelessness, business shutdowns, bankruptcies and rising poverty.
Ismail Sabri's lacklustre persona
Symbolically, Ismail's return from the Washington Asean meeting was projected as returning to Malaysia empty-handed. Social media compared Ismail to Indonesian President Joko Widodo's meeting with billionaire entrepreneur Elon Musk, who pledged to consider investing in Indonesia. Recent social media remarks about Ismail's allegedly RM5,000 Burberry shirt added somewhat to the erosion of his public image.
These perceptions within the media are substantiated by the fact that Ismail has not introduced any new initiatives or policies that resonate with the public. The political appointments and cronyism under his watch are turning the public against him. The push for Malay as a regional and official language used by bureaucrats overseas makes Ismail look even more parochial.
Ismail's government appears to be surviving upon the MoU Pakatan Harapan signed with the hybrid administration. His administration is made up of his Umno supporters and those from PAS and Bersatu. PAS and Bersatu are seen by many grassroot Umno supporters as political enemies, where the next general election is seen as an opportunity to decimate them electorally.
The Najib steam train
Former prime minister Najib Razak, who has been convicted and sentenced to 12 years, which is currently suspended pending appeal, has reinvented himself into the "prime minister in waiting".
Najib is meeting heads of state and rubbing shoulders with the elite of the nation, including royalty. On Johor election night, Zahid gave Najib the centre of attention, even though it was Umno deputy president Mohamad Hasan and former Johor menteri besar Hasni Mohammad's roles that were most important in Umno's electoral win. Ismail was just left on the sidelines, as the crowds chanted "bubar Parlimen" (dissolve parliament).
Najib and Zahid have control of the Umno party machinery. A few weeks back, the extraordinary Umno general assembly allowed the party constitution to be changed, so no party elections need to be held until six months after an election. This means that Zahid will go into the next general election as Umno president.
At the recent Barisan Nasional convention, attended by 4,000 delegates from Umno, MCA, MIC and Parti Bersatu Rakyat Sabah, Najib and Zahid were all gung ho about holding an early election.
Najib said at the BN convention that it was risky to delay the dissolution of parliament, as he made that mistake back in 2018 by calling GE14, losing to Pakatan Harapan. He went on to criticise the PH government for lying, appointing incompetent ministers and calling them "cap ayam", with the vigour of someone on the campaign trial.
Najib has resurrected himself as an electoral asset within the Malay heartlands, the power base of Umno. This also flows onto a number of strategic mixed constituencies, where the "malu apa Bossku" persona invites interest. Najib, of late, has been also playing the role of unofficial opposition leader, taking up issues the official opposition has been largely silent on. This has made him detached from the current government's mistakes and mismanagement.
Zahid on the BN convention stage asked the crowd if there should be an election now, and received a standing ovation which some claim was orchestrated to browbeat his authority. Some of the upper hierarchy were seen remaining seated as Zahid enjoyed the moment, indicating a deep division within Umno.
Notwithstanding, Najib and Zahid are pushing for an early election for more than one reason. A resounding BN victory with Umno firmly in stewardship may guarantee that Najib will not face any jail time, and Zahid will not have his day in court.
As time goes on, unless Najib and Zahid both beat the system, jail time looks more likely. Thus, time is of the essence for the "court cluster", while running for a full-term ending September 2023 is in Ismail's personal best interests.
Ismail knows that even though the Umno Supreme Council has nominated him as their prime ministerial candidate for the next election, this does not guarantee him any claim to the tenure of office. Still fresh in everyone's mind is Hasni being quickly cast aside for Onn Hafiz Ghazi.
Ismail, and a number of his Cabinet supporters are talking down any early general election. Nazri Aziz, Annuar Musa, Khairy Jamaluddin and even Azalina Othman Said were quoted as talking about fixing inflation and solving the current plight the rakyat are facing before having an election.
With Ismail's support theoretically, although not actually declining, there is an opportunity for the anti-Ismail forces to stir things up and attempt the forcing of a parliamentary dissolution. This, of course, would be very risky, and bring the opposition into the key role of supporting the Ismail administration. This would also leave the fate of the government in the hands of the Yang di-Pertuan Agong to either appoint another prime minister or dissolve parliament.
It is in the interests of the opposition to support Ismail, as they themselves are in disarray and need time to reconfigure themselves. In addition, the longer time before an election is called, the better chance there is to woo those who deserted PH back to the fold, because of the economic hardship felt throughout the community.
As time goes on, plans to reconstitute policies like the goods and services tax (GST) are being leaked out, angering sections of the public. All sides are utilising social media to discredit the other side.
With the economy deteriorating quickly, Umno's expected electoral dominance may have an Achilles heel.
Those wary of this are now beginning to relook at PH in a rekindled enthusiasm, where even former prime minister Dr Mahathir Mohamad is talking about the philosophy of "anything but Umno" to unite the opposition.
Source: Free Malaysia Today
Please click the following URL to read the full text of the original story:
https://www.freemalaysiatoday.com/category/opinion/2022/06/07/umnos-dilemma-when-to-call-for-ge15/
--------
Let Bon Odori fest proceed, Selangor sultan tells Jais
June 8, 2022
PETALING JAYA: The Sultan of Selangor, Sultan Sharafuddin Idris Shah, has instructed the Selangor Islamic religious department (Jais) to allow the Bon Odori festival scheduled for next month to proceed.
In a statement, Jais said Sultan Sharafuddin also instructed Jais and Shah Alam City Council (MBSA) officers to attend Bon Odori to "see for themselves" what takes place at the festival.
Jais director Shahzihan Ahmad added that the sultan himself had attended the festival several years ago and did not find that it was detrimental to the practice of the Islamic faith.
This comes in the wake of religious affairs minister Idris Ahmad advising Muslims not to take part in the annual festival, claiming that the celebration is "influenced by elements of other religions", following research by Jakim, the Islamic development department.
However, yesterday, Selangor menteri besar Amirudin Shari said the festival would go on next month.
He also said the state government would be in touch with the Japanese embassy and researchers in relevant fields to get detailed information on the festival since the government had never received any objections over the last 30 years.
The annual Bon Odori festival, organised by the Japanese community in Malaysia, is making a return after a two-year hiatus because of Covid-19. It will be held in Shah Alam on July 16 and in Penang on July 30.
Source: Free Malaysia Today
Please click the following URL to read the full text of the original story:
https://www.freemalaysiatoday.com/category/nation/2022/06/08/let-bon-odori-fest-proceed-selangor-sultan-tells-jais/
--------
Selangor sultan calls on Idris to attend Bon Odori
June 9, 2022
PETALING JAYA: Selangor's Sultan Sharafuddin Idris Shah has called on religious affairs minister Idris Ahmad to attend the Bon Odori festival in Shah Alam to "understand the difference between religion and culture".
In a Facebook post today, Sultan Sharafuddin said he did not want the minister to use the Islamic development department (Jakim) to make "confusing and inaccurate statements which could negatively affect the image and reputation of the department".
Idris courted controversy on Tuesday when he told Muslims not to take part in the Japanese community's annual Bon Odori summer festival, claiming that the celebration is "influenced by elements of other religions".
The celebration, organised by the Japanese community in Malaysia, is making a return after a two-year hiatus because of Covid-19. It will be held in Shah Alam on July 16 and in Penang on July 30.
Sultan Sharafuddin reiterated that the festival had been held in the country for decades and encouraged unity between Malaysians and Japanese residents.
"His Highness attended such functions accompanied by the Japanese ambassador to Malaysia in 2016. In his observation, His Highness has never seen religious or ritualistic (syirik) performances (during the functions) that could distort the beliefs of those present," the statement read.
He said the Selangor Islamic department and the Shah Alam City Council had been ordered to attend the festival to get a clear picture and ensure that it did not go against Islam.
He also said all cultural forms practised by communities in the world were related to religion but had shed their religious elements over the years.
"His Highness does not want any quarters, especially politicians, to use religious sensitivities for personal and political gain.
Source: Free Malaysia Today
Please click the following URL to read the full text of the original story:
https://www.freemalaysiatoday.com/category/nation/2022/06/09/selangor-sultan-calls-on-idris-to-attend-bon-odori/
--------
URL: https://newageislam.com/islamic-world-news/prophet-muhammad-nupur-muslims-nsa-iran/d/127208
New Age Islam Islam Online, Islamic Website, African Muslim News, Arab World News, South Asia News, Indian Muslim News, World Muslim News, Women in Islam, Islamic Feminism, Arab Women, Women In Arab, Islamophobia in America, Muslim Women in West, Islam Women and Feminism