New Age Islam News Bureau
9 May 2013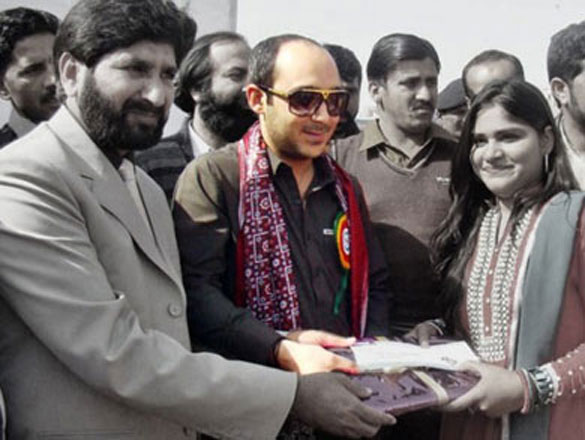 Yousuf Raza Gilani's son Ali Haider
----------
Gunmen Abduct Pakistan Ex-PM Gilani's Son at Rally
9 May 2013
Yousuf Raza Gilani blamed his political opponents for the abduction
Pakistan's former Prime Minister Yousuf Raza Gilani says his son has been kidnapped by unidentified gunmen during an election rally.
Mr Gilani told the BBC his son Ali Haider - a candidate for the Pakistan Peoples' Party (PPP) - was seized in the central city of Multan.
He accused his political opponents of being behind the attack, which came ahead of Saturday's elections.
One person was reportedly killed when the attackers opened fire at the rally.
No group has so far claimed responsibility for Thursday's attack.
Taliban threats
Eyewitnesses say the gunmen arrived at the gathering in a black Honda car and a motorbike.
"A couple of them started shooting," a teenager at the rally told Pakistan's Geo TV.
"A man standing in front of Gilani was hit and fell down. Then they grabbed Gilani, put him in the car and sped away."
Reports say the person who died in the shooting could have been Ali Haider Gilani's bodyguard or secretary.
Ali Haider - the youngest son of the ex-prime minister - is contesting a seat in the Punjab provincial assembly.
The run-up to the 11 May elections has been marred by a series of attacks across the country in which dozens of people have been killed.
The Pakistani Taliban have threatened to prevent the PPP, the Awami National Party (ANP) as well the MQM party, from conducting their election campaigns because they are considered by the militants to be too liberal.
Source: http://www.bbc.co.uk/news/world-asia-22462410
---------
Former Pak PM Gilani's Son Abducted From A Rally
PTI | May 9, 2013
ISLAMABAD: Former Prime Minister Yousuf Raza Gilani's son Ali Haider Gilani was on Thursday kidnapped in Pakistan's Punjab province by unidentified gunmen who shot dead his personal secretary and a bodyguard.
Haider was participating in a campaign meeting at Multan city this afternoon when the gunmen opened fire at his supporters.
His secretary Mohiyuddin and bodyguard were wounded and later succumbed to their injuries, TV news channels reported.
Five others were injured in the attack, news channels reported.
There was no official word on the development. No group claimed responsibility for the attack or the abduction.
Footage on television showed Ali Moosa Gilani, another of the former premier's sons, crying and trying to control irate workers of the Pakistan People's Party.
A witness told Geo News channel that the gunmen came to the spot in a car and fired indiscriminately at Haider Gilani's supporters.
He said he had seen the gunmen bundle Haider into a car and drive away. The gunmen kept firing as they drove away, the witness said.
The banned Tehrik-e-Taliban Pakistan has warned it will target secular parties like the Pakistan People's Party and Awami National Party ahead of the May 11 general election.
The threats have forced the parties to virtually stop campaigning for the polls.
Source: http://timesofindia.indiatimes.com/world/pakistan/Former-Pak-PM-Gilanis-son-abducted-from-a-rally-TV-reports/articleshow/19967744.cms
---------
Former Pak PM Yusuf Raza Gilani's Son Abducted From Poll Rally
AFP
Multan (Pakistan), May 09, 2013, Gunmen on Thursday kidnapped the son of a former Pakistani prime minister on the last day of campaigning for elections and shot dead one of the son's aides, police said. Ali Haider Gilani, a candidate for the Punjab provincial assembly, was seized in a hail of gunfire on the outskirts of the city of Multan in the province.
Former Prime Minister Yousuf Raza Gilani and his kin are one of the most powerful families in the area.
"People came on a motorbike. They also had a car with them and they opened fire and abducted Yousuf Raza Gilani's son Ali Haider in a black Honda," police officer Khurram Shakur told reporters.
"We have closed the entry-exit points and launched a search," he said.
Another police officer said that one of Haider's staff had been killed.
"Ali Haider's secretary Ghulam Mohiuddin was killed in the firing," said local police official Abdul Qayyum, adding that five other people including one of Haider's guards were injured.
The incident happened in the Matital area on the last day of official campaigning for Saturday's election, which will mark a landmark democratic transition in a country that has been ruled for half its life by the military.
Provincial elections are also being held and Ali Haider is a provincial assembly candidate for the secular Pakistan People's Party (PPP). He has two other brothers standing for the national assembly.
Gilani senior was disqualified after being sacked and indicted by the Supreme Court last year for refusing to reopen corruption cases against the president.
His elder son Ali Musa spoke to reporters in tear after the abduction.
"We want our brother back tonight. If we don't get him, we will not allow elections to be held in our area," he said.
The PPP has led the national government for the last five years but has run a lacklustre campaign, with its chairman, Bilawal Bhutto Zardari, too young to contest the vote and kept out of public view due to Taliban threats.
Source: http://www.hindustantimes.com/News-Feed/PakistanPolls2013/Former-Pak-PM-Yusuf-Raza-Gilani-s-son-abducted-from-poll-rally/Article1-1057366.aspx
----------
Gunmen Snatch Former Pakistani PM's Son At Rally
5:28 a.m. EDT May 9, 2013
ISLAMABAD (AP) — Pakistani officials say gunmen have attacked an election rally in the southern Punjab province and abducted the son of former Prime Minister Yousuf Raza Gilani.
A police official, Abdul Rehman, says gunmen stormed the rally in the town of Multan, opened fire and seized Ali Haider Gilani on Thursday.
A Punjab government official, Rao Iftikhar Ahmad, says one of Gilani's guards was killed and five people were wounded in the attack.
Thursday is the last day of campaigning for Pakistan's election scheduled this Saturday.
But the race has been marred by a string of violent attacks against candidates and election events.
Copyright 2012 The Associated Press. All rights reserved. This material may not be published, broadcast, rewritten or redistributed.
Source: http://www.usatoday.com/story/news/world/2013/05/09/former-pakistan-prime-minister-son-abducted/2146189/
-----------
URL: https://www.newageislam.com/islamic-world-news/new-age-islam-news-desk/gunmen-abduct-pakistan-ex-pm-gilani-s-son-at-rally--(different--reports)/d/11476