New Age Islam News Bureau
21 May 2013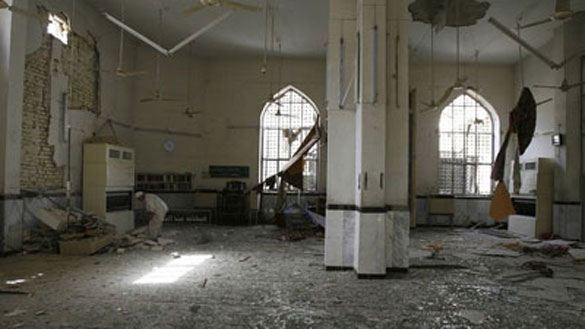 Photo: In one of the deadliest attacks, two bombs exploded near the Sunni Saria mosque in Baquba, north of Baghdad, after prayers on Friday. (Reuters File Photo)
----------
Arab World
• 'War on Mosques' Rages in Iraq
• Hezbollah's Role in Syria War Shakes the Lebanese
• Iraq crisis: Fresh bombings kill at least 13
• Attacks kill 95 in Iraq, hint of Syrian spillover
• 8 dead in Iraq bomb attack on Iran pilgrims: Officials
• Saudi Arabia executes, crucifies 5 Yemenis for murder: SPA
• Watchdog: Syrian opposition chief kidnapped
• Nasrallah 'killer of Syrian people' as tensions in Lebanon rise
• Iraqi ambassador to Jordan ignites fight over anti-Saddam remarks
• Saudi prince on way to Mt Everest
• Egyptian army kills militant in air raid: TV
• Saudi Arabia detains 10 more in Iran-linked spy case
India
• Anti-Muslim Bias in Terror Operations: Exposé
• Peace museum promoter bats for Indo-Pak entertainment hub at border
• FIR against Facebook for not discontinuing 'hate' page to "glorify" cow slaughter
• Indian support behind successful Pak polls
• Omar to take Delhi Police to task if Shah is innocent
• Hindustani Bazm-e-Urdu launches 'Urdu Toastmaster Club' in Riyadh
• India tries to fix passport fiasco in Jeddah
• Parkash Singh Badal embarrasses Hamid Karzai with heroin talk
• Low-intensity blasts may target Narendra Modi's rallies: Gujarat I&B
• '06 Malegaon blasts: NIA to name Aseemanand, others
Southeast Asia
• Minister Blocks Bomb-Making Websites in Indonesia
• Islamic Schools in Indonesia to Teach Job Skills
• Segregation happens in national schools in Malaysia
• Indonesia among least racially tolerant countries
• Ahmadiyah Board up Their Mosque in East Java
• Indonesia Minorities Slam President's Interfaith Award
Mideast
• Israel excavates near Al-Aqusa Complex
• Israel cancels UNESCO mission to Jerusalem: Official
• Palestinians hold off on U.N. agency membership
• Top global university courses to be available in Arabic for free
• Israel Returns Fire Following Shooting from Syria
• Middle East in spotlight amid escalating cyber attacks
Pakistan
• Imran Khan's party seek cleric help in Taliban peace talks
• Promoters of hate, violence responsible for killing: HRCP
• Incoming PM Nawaz Sharif calls for talks with Taleban
• Pakistani youth reminded of nation's ideology
• Pak asks civil servants to take off their socks
• New Pakistan govt may consider importing electricity from India
• Blasphemy trial: Home Dept okays jail trial of Sawan Masih
• PTI believes in politics of peace, says Qureshi
• Zardari blames 'national, international conspiracy' for PPP defeat
• Kayani praises nation for defying 'misguided minority'
• Council of Europe convention: Islamabad advised to ratify pact on prisoner exchange
• Pakistan Tehreek-e-Insaf vows to fight conspiracies
• Petition filed against Altaf Hussain in LHC
• Six JF-17's to escort Chinese PM into Pakistan
South Asia
• Myanmar Muslims Jailed for Killing Buddhist Monk
• 10 Afghan police killed in latest violence: officials
• Indian teachers in Maldives request transfer, quit posts after school attack
• Police escort Sheikh from Maafushi after accusation of "distorting religion"
• Pakistan army gunned down 11 on Alim's instruction
• 25 Jamaat-Shibir men sent to jail in Natore
Africa
• Tunisia arrests 200 in Salafist crackdown: PM
• South Sudan clashes kill 51during the week
• Al-Qaeda-linked operative surrenders in Mauritania
• Nigeria says it has retaken five Islamist strongholds
Europe
• Russia Says Two Rebels Killed in North Caucasus
• With end of Afghan war in sight, Europe pushes business
• Assad foes must come to Syria meeting without conditions: Russia
• Halal food production on rise in the crisis-hit Balkans
• Businessman Linked by U.S. to Hezbollah Is Arrested in Brazil in a Fraud Scheme
North America
• US raps global rise in anti-Muslim sentiment
• Jihad experts decry White House terror training guidelines
• Muslim leaders in U.S. facing challenges inside and outside the faith
• Obama calls Lebanese president over Hezbollah's role in Syria
• Obama Couples Praise for Burmese Leader With Warning Against Violence
• Pentagon requests nearly $80 bn for Afghanistan war
• Pentagon to take over some CIA drone operations: sources
• US says Pakistan curbing explosive fertilisers
• US concerned over defamation charges against Egyptian journalists
Compiled by New Age Islam News Bureau
URL: https://newageislam.com/islamic-world-news/new-age-islam-news-bureau/'war-on-mosques'-rages-in-iraq/d/11672
-------------
Arab World
'War on Mosques' Rages in Iraq
20 May 2013
A "war on mosques" -- deadly attacks by militants on Sunni mosques and Shiite places of worship called Husseiniyahs -- using weapons ranging from bombs to mortar rounds is raging in Iraq.
Dozens of attacks this year have stirred already-simmering sectarian tensions between Iraq's Sunni minority and Shiite majority, and led some would-be worshippers to stay away.
"There is an increase in the frequency of reciprocal attacks targeting Sunni and Shiite mosques," political analyst Ihsan al-Shammari told AFP.
"It is a war on mosques."
Iraqis have lived with near-daily violence since the 2003 US-led invasion of the country that toppled dictator Saddam Hussein, and militants still attack both security forces and civilians almost each day.
Now, they have set their sites on mosques as well.
In one of the deadliest attacks, two bombs exploded near the Sunni Saria mosque in Baquba, north of Baghdad, after prayers on Friday.
One device blew up as worshippers were leaving, and the second went off after people gathered at the scene of the first blast, killing a total of 41 people.
The attacks came after a suicide bomber detonated an explosives-rigged belt on Thursday at the entrance to Al-Zahraa Husseiniyahs, where family members were receiving condolences for victims of violence the day before.
That bombing killed 12 people. And there have been many more such attacks.
Sheikh Sami al-Massudi, deputy head of the Shiite endowment which manages Shiite religious sites in Iraq, said that more than 45 mosques and Husseiniyahs belonging to the endowment have been targeted this year.
And an official from the Sunni endowment said that more than 10 mosques had come under attack in the past month alone.
"We are threatened, to the point that we did not go to work last Monday after we received threats," the official said.
It is unclear which group or groups are behind the violence.
Sunni militants are almost certainly behind attacks on Shiite places of worship. But Sunni mosques may be attacked by either Shiite militants, or by Sunnis punishing worshippers for not adhering to a hard-line interpretation of Islam.
Whoever is behind the bombings, they have certainly had an effect on attendance.
"I stopped going to pray after the closure of the mosque near our house because of the attacks," said Ihsan Ahmed, a 25-year-old Sunni.
A bomb killed the muezzin, who calls worshippers to prayer, at the mosque about two weeks ago, Ahmed said.
"All this happened in front of my eyes. How can I go again? Even my wife and my children prevent me from going," he said.
Ali, a 29-year-old Shiite, said that some people have become afraid to go to Husseiniyahs for prayers as well.
"People have become reluctant to go to Husseiniyahs, but I did not stop," Ali said.
On Sunday, Prime Minister Nuri al-Maliki called for joint Shiite-Sunni prayers on Fridays in a major Baghdad mosque.
"Those who target mosques are enemies of Sunnis and Shiites alike, and are planning to ignite (sectarian) strife," he said in a statement.
Tensions are festering between the government of Maliki, a Shiite, and Sunnis who accuse authorities of marginalizing and targeting their community through wrongful detentions and accusations of involvement in terrorism.
Protests broke out in Sunni areas of Iraq almost five months ago.
While the government has made some concessions, freeing prisoners and raising the salaries of Sunni anti-Al-Qaeda fighters, the underlying issues have not been addressed.
On April 23, security forces moved against protesters near the town of Hawijah in Kirkuk province, sparking clashes that killed 53 people.
Dozens more died in subsequent unrest that included revenge attacks on security forces, raising fears of a return to the all-out sectarian conflict that ravaged the country between 2006 and 2008.
The violence has not let up in May, with more than 260 people killed in attacks so far this month.
United Nations envoy Martin Kobler has appealed for Iraqi leaders to bring a halt to the violence, including the attacks on mosques.
"It is the responsibility of all leaders to stop the bloodshed," Kobler said. "Small children are burned alive in cars. Worshippers are cut down outside their own mosques. This is beyond unacceptable."
http://english.alarabiya.net/en/perspective/features/2013/05/20/-War-on-mosques-rages-in-Iraq.html
-------------
Hezbollah's Role in Syria War Shakes the Lebanese
By ANNE BARNARD
May 21, 2013
NABI CHIT, Lebanon — At the entrance to this village in Hezbollah's Bekaa Valley heartland, under a sign welcoming visitors to "The Citadel of Resistance," workers on Monday hoisted a freshly printed banner honoring a young man described as one of Hezbollah's latest martyrs — killed in battle not with Israel, the foe the group's guerrillas train to fight, but with Syrian rebels.
Down the road, another dead fighter's uncle, Fayez Shukor, welcomed mourners under a tent overlooking the valley as the sun set on a day that had seen Hezbollah's death toll rise to unexpected heights as the group joined Syrian forces trying to storm the rebel-held Syrian city of Qusayr. His nephew, he had said earlier, died on Sunday alongside 11 other Hezbollah fighters killed in a single rebel attack.
Lebanon reeled Monday from the twin realizations that Hezbollah, the nation's most powerful military and political organization, was plunging deeper into a war the country has tried to stay out of, and that the group was taking unaccustomed losses. Mr. Shukor, a former government minister from Lebanon's Arab Socialist Baath Party, walked a careful line between supporting a declaration by Hezbollah that Syria's fight is its fight and acknowledging the contradiction of fighting fellow Arab Muslims instead of Israelis.
"I wish all this blood had been shed in the south, fighting Israel," Mr. Shukor said, but added that the rebels battling Hezbollah's ally, President Bashar al-Assad of Syria, were "infidels and garbage" serving Israel; the West, he said, should recognize that they are Al Qaeda-linked extremists and help wipe them out.
He then repeated the charge that extremists among the Sunni Muslim rebels have flung at Hezbollah's Shiites. "They are not Muslims," he said.
Lebanon and the region have been electrified by the fierce fighting in Qusayr and the role of Hezbollah. Fighters on both sides said rebels continued to hold the north of the city against Hezbollah, the Syrian Army and pro-government militias.
Ali, a Lebanese Shiite with ties to Hezbollah, said that a relative and other fighters, updating him by text message from the battlefield, were struck by the rebels' tenacity. One Hezbollah fighter, he said, told him that even after being shot, rebels "got up and attacked in a brutal way."
The growing stream of funerals suggests that in Qusayr, Hezbollah is asking followers for their deepest sacrifice in Syria yet, one that it has no choice but to embrace and explain. The exact toll is unclear, as Hezbollah does not always announce deaths right away or specify dates and locations.
At least 14 Hezbollah fighters were killed over the weekend, according to Hezbollah Web sites and relatives of fighters. Phillip C. Smyth, a University of Maryland researcher who studies Hezbollah, listed on the Jihadology Web site 20 fighters whose deaths were announced by official and unofficial Hezbollah sites, a number he said could grow. Syrian opposition activists, eager to claim an underdog victory, say more than 40 have died.
Either way, the numbers stand out. In its 34-day war with a stronger foe, Israel, in 2006, Hezbollah acknowledged losing 250 fighters, about 8 a day. (Outside estimates hover around 500 total.) Hezbollah supporters explain the toll in Syria by noting that Hezbollah trains to defend its own territory, not to attack opponents who are defending their own turf.
The scale of the fighting — among the most intense ground battles in Syria's war — has forced Lebanon to contend anew with a perennial problem. Hezbollah, stronger than the Lebanese Army, has the power to drag the country into war without a government decision, as in 2006, when it set off the war by capturing three Israeli soldiers.
Hezbollah's critics also complained that the Lebanese Army's seeming complicity in allowing a large Hezbollah force to cross the border could be viewed as Lebanon's entering the war — a charge that Hezbollah and Mr. Assad's supporters have leveled for the opposite reason, as Lebanese Sunnis flow into Syria to join the rebels.
An official with the March 14 movement, Hezbollah's main political rival, said that with Hezbollah's help Mr. Assad could probably take Qusayr, a crucial area because it lies near the border and links Damascus with the rebel-held north and the government-held coast. But, the official said, it could cost Hezbollah hundreds of fighters.
He questioned why Hezbollah would want to sink itself into "Dien Bien Phu," a barbed suggestion that the group would endure the fate of French troops defeated by the Vietnamese in 1954 in a decisive blow to French colonial power.
The Free Syrian Army, the loose-knit rebel umbrella group backed by the United States, issued a statement bound to fuel its frontal battle with Hezbollah, attacking the group's leader, Hassan Nasrallah. "We are today calling Nasrallah a killer of the Syrian people," a spokesman, Louay Mekdad, told the Al-Arabiya channel.
The battle also increasingly seemed to pit Hezbollah, the region's most battle-hardened Shiite force, head-on against Sunni jihadis, some accused of affiliation with Al Qaeda. Rebels flying the black banner often used by Al Nusra Front, the extremist rebel group — listed, like Hezbollah, as a terrorist group by the United States — filmed themselves attacking armored vehicles at close range with machine guns and taking deadly fire.
The heat of the fighting brought into sharp relief the danger of a regional nightmare, all-out war between Shiites and Sunnis. Some rebel supporters urged on the fighters against the "impurity" of Hezbollah, a phrase that resonates as a slur against Shiites.
Echoes of the fight rippled across Lebanon, divided between supporters and opponents of Mr. Assad roughly, though not entirely, along sectarian lines. In the northern city of Tripoli, which supplies Sunni fighters to rebel ranks, three Lebanese soldiers were killed Monday in clashes with rebels.
In Shiite areas, people prayed for relatives fighting with Hezbollah, and for victory in a battle the group has framed as both a proxy fight with Israel and an intervention to defend Lebanese and Syrian Shiites and other minorities from an uprising they view as driven by Sunni extremists.
In the Bekaa Valley, Hezbollah's normally airtight public-relations machine seemed momentarily off balance. The group has vowed never to "hide our martyrs," and Mr. Shukor proudly invited reporters to his nephew's funeral. But Hezbollah operatives politely barred them and escorted them out of town. They were allowed back only after Mr. Shukor raised a fuss.
Bouquets of roses lined the marble banisters leading to a terrace where a dirge played quietly for the fighter, Hassan Faisal Shukor, 23. Mr. Shukor said he was the son of his favorite sister, "like a son to me."
"This is a very deep loss for us," he said. "But it's an honor."
Hwaida Saad contributed reporting from Nabi Chit, and Hania Mourtada from Beirut, Lebanon.
http://www.nytimes.com/2013/05/21/world/middleeast/syria-developments.html?ref=middleeast&gwh=FBAFFDA94638699AF86155C9615F1071
-------------
Iraq crisis: Fresh bombings kill at least 13
21 May 2013
At least 13 people have been killed in new bomb attacks in Iraq, a day after a wave of bombings across the country left at least 70 people dead.
Two car bombs hit the northern town of Tuz Khurmato, a device went off in a cattle market in Kirkuk, and a suicide bomber struck in the town of Tarmiyah.
The spate of bombings has marked the period as one of the most violent in Iraq in recent months.
The attacks have been linked to growing political and sectarian tension.
In the latest attacks, three people were killed when the bombs went off simultaneously in Tuz Khurmato, a town populated mainly by ethnic Turkmen.
Tuz Khurmato is claimed by the government in Baghdad and ethnic Kurds, who inhabit a semi-autonomous region in the north.
Elsewhere, gunmen and a suicide bomber killed three people in an attack on an army patrol in a Sunni area of Tarmiyah, 50km (30 miles) north of Baghdad.
Further north, six people died when three bombs exploded in the cattle market in al-Aruba district in Kirkuk. The string of attacks also left dozens of people injured.
Iraq has been rocked by bombings since Monday, when attacks wreaked carnage across the country.
Prime Minister Nouri al-Maliki vowed to make immediate changes to Iraq's security strategy and pledged that militants "will not be able to return [Iraq] to the sectarian conflict".
No group has said it carried out Monday's attacks, but tension between the Shia Muslim majority, which leads the government, and minority Sunnis has been growing since last year.
Violence has surged over the past month since an army raid on a Sunni anti-government protest camp near the northern town of Hawija left 50 people dead.
The demonstrators accused the government of targeting the Sunni community, something the government denies.
There are fears the level of violence might return to the kind reached at its peak in 2006 and 2007.
http://www.bbc.co.uk/news/world-middle-east-22606848
---------
Attacks kill 95 in Iraq, hint of Syrian spillover
(AP) / 21 May 2013
Iraq's wave of bloodshed sharply escalated Monday with more than a dozen car bombings across the country, part of attacks that killed at least 95 people and brought echoes of past sectarian carnage and fears of a dangerous spillover from Syria's civil war next door.
The latest spiral of violence — which has claimed more than 240 lives in the past week — carries the hallmarks of the two sides that brought nearly nonstop chaos to Iraq for years: Sunni insurgents, including Al Qaeda's branch in Iraq, and Shia militias defending their newfound power after Saddam Hussein's fall.
But the widening shadow and regional brinksmanship from Syria's conflict now increasingly threaten to feed into Iraq's sectarian strife, heightening concerns that Iraq could be turning toward civil war.
The Shia-led government of Prime Minister Nouri Al Maliki must balance its close ties with Iran — the main regional ally of Syria's Bashar Assad — and its position among fellow Arab League members and neighboring Turkey, which strongly back Syria's mainly Sunni opposition.
Al-Maliki appears determined to boost security crackdowns to keep Iraq's minority Sunnis from taking a more high-profile role in the anti-Assad forces, which have received pledges of support from the longtime insurgent group Al Qaeda in Iraq.
There have been no claims of responsibility for the current flare-up of violence, capped by Monday's body count that was the highest death toll for a single day in 10 months. Yet some analysts believe it's difficult to separate Iraq's deep sectarian suspicions from the Shia-Sunni split over Assad, which has also led to clashes in Lebanon.
'Iraq now has moved into a bigger circle that covers Syria and Lebanon,' said Baghdad-based political affairs analyst Hadi Jalo.
Al-Maliki is not only worried about his Sunni rivals possibly deepening their involvement in the rebel cause in Syria, said Patrick Clawson, director of research at the Washington Institute for Near East Policy. Al Maliki's worries extend to Iraq's semiautonomous northern Kurdish region, which has close links to Assad foe Turkey.
'Al-Maliki believes this is the time to be tough and show he is in control of the country,' said Clawson. 'What we are seeing is the backlash to that.'
The US and its Western allies strongly support Syria's political opposition, but have been reluctant to significantly boost weapons flow to rebel fighters because of worries over militants who have joined the anti-Assad brigades. But the deepening refugee crisis in the region, along with concern over spillover violence, is often cited by Arab states and Turkey urging greater Western intervention.
Sectarian tensions have been worsening since Iraq's minority Sunnis began expanding protests over what they say is mistreatment at the hands of the Shia-led government. Many Sunnis contend that much of the country's current turmoil is rooted in the policies of Al Maliki's government, which they accuse of feeding sectarian tension by becoming more aggressive toward Sunnis after the US military withdrawal in December 2011.
Mass demonstrations by Sunnis, which began in December, have largely been peaceful. However, the number of attacks rose sharply after a deadly security crackdown on a Sunni protest camp in northern Iraq on April 23.
Hours after Monday's stunning blitz of attacks — stretching from north of Baghdad to the southern city of Basra — Al Maliki accused militant groups of trying to exploit Iraq's political instability and vowed to resist attempts to 'bring back the atmosphere of the sectarian war.'
He also blamed the recent spike in violence on the wider unrest in the region, particularly Syria.
'You cannot remove the Syrian element from what's happening in Iraq,' said Sami Al Faraj, director of the Kuwait Center for Strategic Studies. 'The outcome of the war in Syria has big consequences for both Iraq's Sunnis and Shias. What we see now is an extension of that in some respects.'
The worst of Monday's violence took place in Baghdad, where 10 car bombs ripped through open-air markets and other areas of Shia neighborhoods, killing at least 48 people and wounding more than 150, police officials said.
In Balad, about 50 miles (80 kilometers) north of Baghdad, a car bomb exploded next to a bus carrying Iranian pilgrims, killing 13 Iranians and one Iraqi, a police officer said, speaking on condition of anonymity because he was not authorized to brief the media.
Meanwhile, in the predominantly Shia city of Basra in southern Iraq, twin car bombings — outside a restaurant and at the city's main bus station — killed at least 13 people and wounded 40, according to provincial police spokesman Col. Abdul-Karim Al Zaidi and the head of the city's health directorate, Riadh Abdul-Amir.
'All of a sudden, a thunderous explosion lifted my car and put it back on the ground,' said Sami Saadon, a Basra taxi driver who suffered shrapnel injuries in his chest. 'I could barely open the door and I crawled outside the car, where smoke and dust were everywhere.'
A car bomb later struck Shia worshippers as they were leaving a mosque in the southern city of Hillah, killing nine and wounding 26, police and health officials said.
Monday's violence also struck Sunni areas.
A car bomb in Samarra, north of Baghdad, went off near a gathering of pro-government Sunni militia waiting outside a military base to receive salaries, killing three and wounding 13. In the western province of Anbar, the hub of Sunni power, gunmen ambushed two police patrols near the town of Haditha, killing eight policemen, officials said.
Also in Anbar, authorities found 13 bodies dumped in a remote desert area. The victims, who included eight policemen kidnapped by gunmen on Friday, had been killed by a gunshot to the head, officials said.
The officials spoke on condition of anonymity because they were not authorized to talk to the media.
The surge in bloodshed has exasperated Iraqis, who have lived for years with the fear and uncertainty bred of random violence.
'How long do we have to continue living like this, with all the lies from the government?' asked 23-year-old Baghdad resident Malik Ibrahim. 'Whenever they say they have reached a solution, the bombings come back stronger than before.'
http://www.khaleejtimes.com/kt-article-display-1.asp?section=middleeast&xfile=data/middleeast/2013/May/middleeast_May225.xml
------------
8 dead in Iraq bomb attack on Iran pilgrims: Officials
Bomb kills eight Iranian pilgrims on their way to a Shia shrine in Samarra, Iraq, officials say
20 May 2013
A car bomb exploded near a bus carrying Iranian pilgrims north of Baghdad on Monday, killing eight people, Iraqi police and a local official said.
The explosion also wounded at least 15 people, they said.
The pilgrims were on their way to a Shia shrine in Samarra, which was bombed in February 2006, unleashing a wave of sectarian bloodletting in which tens of thousands of people died.
Iraq is home to some of the holiest sites in Shia Islam and is visited by hundreds of thousands of foreign pilgrims per year, most of them from neighbouring Iran.
Sunni militants in Iraq, including those linked to Al-Qaeda, launch frequent attacks targeting Shias whom they regard as apostates.
http://english.ahram.org.eg/NewsContent/2/8/71907/World/Region/-dead-in-Iraq-bomb-attack-on-Iran-pilgrims-Officia.aspx
-------------
Saudi Arabia executes, crucifies 5 Yemenis for murder: SPA
AFP | May 21, 2013
RIYADH: Saudi Arabia on Tuesday executed and crucified five Yemenis convicted of murder and forming a gang which carried out robberies across several towns in the conservative Muslim kingdom, the interior ministry said.
The five were executed in the south-western town Jizan, it said, quoted by state news agency SPA, bringing the number of executions in Saudi Arabia this year to 46, according to an AFP tally.
http://timesofindia.indiatimes.com/world/middle-east/Saudi-Arabia-executes-crucifies-5-Yemenis-for-murder-SPA/articleshow/20169234.cms
----------
Watchdog: Syrian opposition chief kidnapped
20 May 2013
An opposition leader, rights activist and long-time dissident in Syria's rebel-held city of Raqa has been abducted, a watchdog said on Monday.
"The Syrian Observatory for Human Rights has learnt of the abduction by an armed group of lawyer, human rights activist and head of Raqa city's (opposition) local council Abdullah al-Khalil," the Britain-based group said.
It condemned the kidnapping and demanded "his immediate release".
Khalil was abducted as he left the local council's headquarters in Raqa on Sunday morning, added the watchdog, which relies on a broad network of activists, doctors and lawyers for its reports.
Full report at:
http://english.alarabiya.net/en/News/middle-east/2013/05/20/Watchdog-Syrian-opposition-chief-kidnapped.html
-------------
Nasrallah 'killer of Syrian people' as tensions in Lebanon rise
20 May 2013
The rebel Free Syrian Army (FSA) held Hezbollah chief Hassan Nasrallah personally responsible for the situation in the Syrian border town of Qusayr, as sectarian tension was on the rise in neighbouring Lebanon.
"We announced that Hassan Nasrallah will be held personally responsible for the current situation because he in person is meeting with all of [his fighters] before they head to Qusayr," FSA spokesperson Louay Almokdad told Al Arabiya English. "We are today calling Nasrallah a killer of the Syrian people."
Clashes between forces loyal to Syrian President Bashar al-Assad – along with Lebanese ally Hezbollah – and the rebels raged into a second day Monday in the strategic town of Qusayr, which is between Damascus and the coast.
Full report at:
http://english.alarabiya.net/en/News/middle-east/2013/05/20/Nasrallah-killer-of-Syrian-people-as-tensions-in-Lebanon-rise.html
-------------
Iraqi ambassador to Jordan ignites fight over anti-Saddam remarks
21 May 2013
A statement by the Iraqi ambassador to Jordan, which denounced the brutal regime of Saddam Hussein, ignited a fight between both supporters and opponents of the former Iraqi leader.
In a YouTube video published on Sunday, mostly Jordanian supporters of Saddam and Iraqi opponents physically kicked each other and threw chairs at one another during an event that had been organized by the Iraqi embassy in Amman.
Full report at:
http://english.alarabiya.net/en/News/middle-east/2013/05/20/Iraqi-ambassador-to-Jordan-ignites-fight-over-anti-Saddam-remarks.html
-------------
Saudi prince on way to Mt Everest
May 21 2013
Kathmandu : If all goes well, a prince from the United Arab Emirates will be atop the world's highest peak on Wednesday.
Sheikh M Abdulla Mohdal Thani, 31, who has hidden his identity on the trip, is currently camping at South Cole (8,000 metres), only 848 metres away from Mt Everest, his trekking agency in Kathmandu told The Indian Express Monday.
The prince is part of a 24-member group split into two, the first group having already scaled the summit Saturday. A part of the first group was Moharrak Raha Hassan, 27, who became the first Saudi woman to have scaled the peak.
Full report at:
http://www.indianexpress.com/news/saudi-prince-on-way-to-mt-everest/1118350/
------------
Egyptian army kills militant in air raid: TV
One militant killed and three arrested in military raid to free kidnapped soldiers in Sinai
21 May 2013
A militant was killed Tuesday in North Sinai in an air raid launched by the Egyptian army as part of an operation to liberate seven kidnapped soldiers, according to Nile News, a state-owned television channel.
The televised report added that three other militants were arrested and eight cars seized.
Seven Egyptian security personnel, including one member of the armed forces, four from port security, and two from state security, have been held by unidentified kidnappers in the Sinai Peninsula since Thursday.
http://english.ahram.org.eg/NewsContent/1/64/72009/Egypt/Politics-/Egyptian-army-kills-militant-in-air-raid-TV.aspx
-----------
Saudi Arabia detains 10 more in Iran-linked spy case
21 May 2013
Saudi authorities have detained 10 more suspects in an alleged Iranian spy ring it announced in March, an Interior Ministry spokesman said on Tuesday.
"Initial investigation carried out by the authorities led to the detention of 10 others for involvement in spying activities," state television news channel al-Ekhbariya reported, citing the Interior Ministry.
The suspects include eight Saudis, a Lebanese and a Turk, it said.
On March 19, the Interior Ministry said authorities had arrested 16 Saudis, an Iranian and a Lebanese in four regions including the Eastern Province.
While Iran has denied any involvement in the alleged spy ring, spokesman for the Saudi Interior Ministry, Mansour al-Turki, said in April that initial investigation has revealed direct involvement of those arrested with Iranian intelligence.
Meanwhile, Turki said that the Lebanese man held in March has been released.
All of the Saudis arrested in March were members of the kingdom's Shiite Muslim minority, Reuters reported leaders of the community as saying.
http://english.alarabiya.net/en/News/middle-east/2013/05/21/Saudi-Arabia-detains-10-more-in-Iran-linked-spy-case-.html
----------
India
Anti-Muslim Bias in Terror Operations: Exposé
Zia Haq
May 20, 2013
Waiting for legal proceedings to begin under police watch inside what looks like a busy court building, Tanveer Ahamed, a skullcap-wearing former doctor at Fauzia Nursing Home at Mumbai's Nagpada, says in a videotaped interview that police interrogators chided him for his Muslim faith.
"They said I had a bad mentality. I was educated, and yet read the Quran, kept a beard…why couldn't I be a liberal?" Ahamad says his interrogators told him. Ahamed is among 13 individuals, all Muslims, being tried for their alleged involvement in several terror bombings between 2006 and 2010.
To many Muslims, the war on terror has looked like a war on the community itself. A new exposé by the website gulail.com, founded by journalist Ashish Khetan, now claims to have damning evidence of how India's anti-terror police framed 13 innocent Muslims, trumping up charges and withholding crucial evidence from judges that could set them free.
Full report at:
http://www.hindustantimes.com/India-news/newdelhi/Anti-Muslim-bias-in-terror-operations-Expos/Article1-1063116.aspx
-------------
Peace museum promoter bats for Indo-Pak entertainment hub at border
Yudhvir Rana, TNN | May 21, 2013
AMRITSAR: Along with the setting up of Peace Museum close to India-Pakistan border, Amanbir Singh Jaspal, promoter of the museum, has urged the state government to establish a joint Indo-Pak entertainment and culture hub at Attari and Wagah.
"This is the most ideal location for a film city, 10 to 20km inside each side of the border and has the advantages which are non-existent in Mohali," said Amanbir.
Recently deputy chief minister Sukhbir Badal has announced to set up a film city in Mohali.
Aman said Attari was a more suitable place than Mohali for the film industry as it has the advantage of the border location and it could also have synergy with Lahore's film industry.
Full report at:
http://timesofindia.indiatimes.com/india/Peace-museum-promoter-bats-for-Indo-Pak-entertainment-hub-at-border/articleshow/20163843.cms
-------------
FIR against Facebook for not discontinuing 'hate' page to "glorify" cow slaughter
PTI | May 20, 2013
LUCKNOW: An FIR was registered on Monday against owners of social networking website Facebook for not removing an online community page created by some people who have been using it to "glorify" cow slaughter.
IPS officer Amitabh Thakur and his wife and social activist Nutan Thakur lodged the case in Gomti Nagar police station of the city, police said.
Full report at:
http://timesofindia.indiatimes.com/india/FIR-against-Facebook-for-not-discontinuing-hate-page/articleshow/20155520.cms
----------
Indian support behind successful Pak polls
May 20 2013
New Delhi: The Election Commissions of the two countries are sharing their experiences about preventing frauds and dealing with litigation
That the recent elections in Pakistan witnessed an unprecedented — at least since 1970 — voter turnout, with officials pegging the participation at almost 60 per cent, is a fact that is now well known. The high voter turnout was also remarkable because it came despite the threat of the Taliban to disrupt elections and the violence that continued during the bloody campaign. In 2008, only 44 per cent of the registered voters came out to cast their votes. Full report at:
http://www.indianexpress.com/news/indian-support-behind-successful-pak-polls/1118033/
---------
Omar to take Delhi Police to task if Shah is innocent
Suhas Munshi/ New Delhi
May 21, 2013
A DAY after Liyaqat Shah, claimed to be a militant by the Delhi Police, reached his home in Kashmir after being granted bail by a special NIA ( National Investigation Agency) court, Jammu and Kashmir Chief Minister Omar Abdullah said he will lodge a ' formal complaint' with the home ministry if the NIA investigations give him a clean chit.
Full report at: Mail Today
-------------
Hindustani Bazm-e-Urdu launches 'Urdu Toastmaster Club' in Riyadh
May 21, 2013
JEDDAH — A team of Urdu Toastmasters from Dammam organized an event recently to launch "Urdu Toastmaster Club" in Riyadh for Urdu speaking expatriates under the banner of "Hindustani Bazm-e-Urdu (HBU)" at a local restaurant.
President HBU MAR Saleem" said: "We observed many Urdu speaking expatriates who love Urdu language, so we then decided to start a 'Urdu Toastmaster Club' in Riyadh."
He said "Urdu Toastmaster Club" provides the perfect platform for those who want to upgrade their communication and public speaking skills.
Saleem said HBU, initiated in 1990, has organized more than 100 programs to promote Urdu language in the Kingdom, such as Mushaira, speech contest in various schools.
Full report at:
http://www.saudigazette.com.sa/index.cfm?method=home.regcon&contentid=20130521166595
-------------
India tries to fix passport fiasco in Jeddah
21 May 2013
The Indian Consulate in Jeddah is working through diplomatic channels to get Saudi passport authorities to accept newly designed Indian passports.
"The Indian Consulate is aware of the unexpected problem," said Consul Pranav Ganesh. "The matter has been taken up with the embassy in Riyadh that is coordinating with Saudi Foreign Ministry to officially intimate the change in passport design to Passport Department (Jawazat) authorities."
Full report at:
http://www.arabnews.com/news/452382
-------------
Parkash Singh Badal embarrasses Hamid Karzai with heroin talk
I P Singh, TNN | May 21, 2013
PHAGWARA: After Afghan President Hamid Karzai thanked India for help in rebuilding Afghanistan, Punjab chief minister Parkash Singh Badal embarrassed him by stating that heroin was coming from Afghanistan to Punjab and the state was fighting hard to deal with drug menace.
Badal, who was the guest of honour at the third convocation of the LPU along with Punjab governor Shivraj Patil, just after concluding his customary address raised the issue that too when Karzai had already delivered his speech.
Full report at:
http://timesofindia.indiatimes.com/india/Parkash-Singh-Badal-embarrasses-Hamid-Karzai-with-heroin-talk/articleshow/20163872.cms
-------------
Low-intensity blasts may target Narendra Modi's rallies: Gujarat intelligence bureau
TNN | May 21, 2013
AHMEDABAD: The state's intelligence bureau (IB) has alerted the Gujarat Police of possibility of low-intensity blasts during the coming byelections in the state and they are most likely to take place during chief minister Narendra Modi's rallies.
Police sources said that the IB input specifically mentioned that the blasts would be carried out by a saffron outfit and that too in the gathering during Modi's speeches. The intelligence officials have also intimated the security agencies that the retired army officials are engaged in the allegedly disruptive activity.
Full report at:
http://timesofindia.indiatimes.com/india/Low-intensity-blasts-may-target-Narendra-Modis-rallies-Gujarat-intelligence-bureau/articleshow/20163056.cms
-------------
'06 Malegaon blasts: NIA to name Aseemanand, others
May 21 2013
New Delhi : The NIA probe into the 2006 Malegaon bombings seems to have punctured the Maharashtra ATS investigation that had led to the arrest of nine Muslim youths in the case. In the coming days, the NIA is set to file a chargesheet based on evidence that point to the role of right-wing fundamentalists in the blasts that killed 37 people.
The chargesheet will name Swami Aseemanand, an accused in 2007 Samjhauta train bombings, Lokesh Sharma, Rajender Chaudhary and Dhan Singh. All four have been arrested and are in judicial custody.
Full report at:
http://www.indianexpress.com/news/-06-malegaon-blasts-nia-to-name-aseemanand-others/1118468/
---------
Southeast Asia
Minister Blocks Bomb-Making Websites in Indonesia
May 21, 2013
Websites with instructions on how to make bombs will be blocked in Indonesia, Minister of Communication and Information Technology Tifatul Sembiring said on Tuesday.
"Lessons on how to make bombs are also available in foreign books," Tifatul said. "I searched on the Internet and found many child toys such as smoke bombs and others [that won't be blocked]. But [websites teaching] how to make bomb will be blocked by us."
The minister added that not every site related to explosives would be blocked.
"Some of them have been blocked. But the scientific [websites], such as how to create nuclear bombs, nuclear reactors and weapons could not be banned. The ones that are banned are provocative websites, and many have [already] been banned," he said.
Full report at:
http://www.thejakartaglobe.com/news/tifatul-blocks-bomb-making-websites-in-indonesia/
-------------
Islamic Schools in Indonesia to Teach Job Skills
May 20, 2013.
Jusuf Kalla, the former vice president, has called on operators of Islamic boarding schools, known as pesantren, to introduce entrepreneurship to their students to increase their skills.
"Aside from knowledge about religion, Islamic boarding schools should also introduce [entrepreneurship]," said Kalla in Yogyakarta's Bantul district on Saturday.
He said that ideally, Islamic boarding schools should cooperate with the business sector to recruit their graduates, and said that in addition to teaching religion, they should also teach business studies.
Full report at:
http://www.thejakartaglobe.com/news/islamic-schools-to-teach-job-skills/
-------------
Segregation happens in national schools in Malaysia
May 21, 2013
MAY 21 — The air is toxic in our national schools. Not by design surely, but the schools do little to remove the spores of prejudice that the children bring into the schools from their homes. These absent outside influences spread quickly along the sweat-drenched hallways of ugly concrete and colour the minds of the pupils who spend the significant years of their lives trapped within those confines.
It would be unfair to solely lay the blame on the school teachers or its administrators. The teaching staff, overloaded with work as they are, is ill-equipped to stem the torrent of hate that pours every day through the school gates, replenished everyday in living rooms, mamaks and newspapers. That is, almost, the sole fixation of our race-aware minds — that is we may not feel racists ourselves, but we will find it very difficult to shift our way of thinking from a race-centric point of view.
Full report at:
http://www.themalaysianinsider.com/sideviews/article/segregation-happens-in-national-schools-too-lutfi-hakim/
--------
Indonesia among least racially tolerant countries
Nadya Natahadibrata
May 20 2013
Indonesia, a country that has been recognized for nurturing hostility against religious minorities, has now also been acknowledged for its low tolerance of people of different races.
A report released by the World Values Survey, a global study of social attitudes carried out by Swedish economists, shows that Indonesia is sceptical about diversity and is racially intolerant, as fewer people want to live in neighbourhoods with people from other races.
The report, which asked respondents from more than 80 different countries whom they would not like to have as neighbours, found that 34.7 percent of respondents in Indonesia in 2001 said they would not want "people of another race" as their neighbours. This percentage decreased slightly in 2006 with 30.7 percent of respondents saying they would not like to live next to people of a different race.
Full report at:
http://www.thejakartapost.com/news/2013/05/20/ri-among-least-racially-tolerant-countries.html
-------------
Ahmadiyah Board Up Their Mosque in East Java
By Camelia Pasandaran
May 21, 2013.
Police and residents in Tulungagung, East Java, allegedly forced a member of an Ahmadiyah community to board up his mosque in order to create the illusion of a voluntary closure, a local religious leader said on Tuesday.
Aminullah, who heads the Ahmadiyah Kediri branch overseeing the beleaguered Baitul Salam mosque in Gempolan village, told the Jakarta Globe on Tuesday that Japar, member of Ahmadiyah community, was pressured to put a sealing board in front of the only Ahmadiyah mosque in Tulungagung district on Monday.
Full report at:
http://www.thejakartaglobe.com/news/ahmadiyah-board-up-their-mosque-in-east-java/
-------------
Indonesia Minorities Slam President's Interfaith Award
May 20, 2013.
Indonesian religious minorities on Monday slammed a decision by a US interfaith group to honor President Susilo Bambang Yudhoyono at a time when attacks against minority faiths are on the increase.
The Appeal of Conscience Foundation, which campaigns against crimes committed in the name of religion, has named Yudhoyono its "World Statesman" of 2013, and he is due to collect the award at a ceremony later this month in New York.
But attacks against minorities in the world's most populous Muslim-majority country have been rising in recent years, and Yudhoyono has been repeatedly criticized for failing to take action.
Full report at:
http://www.thejakartaglobe.com/news/indonesia-minorities-slam-presidents-interfaith-award/
-------------
Mideast
Israel excavates near Al-Aqusa Complex
May 21, 2013
RAMALLAH – Israeli authorities on Monday began excavation near Al-Aqusa Mosque Complex and cancelled a visit by the United Nations Educational, Scientific and Cultural Organization (UNESCO) which was supposed to inspect preservation work in Jerusalem's Old City.
Sheikh Azzam Al-Khatib, the head of Islamic Waqf department in occupied Jerusalem, said that the Israeli authorities began the excavations in the Al-Buraq Plaza (the Western Wall Plaza) and in area of the Umayyad palaces adjacent to the southern wall of the Al-Aqsa Mosque.
Full report at:
http://www.saudigazette.com.sa/index.cfm?method=home.regcon&contentid=20130521166636
-------------
Israel cancels UNESCO mission to Jerusalem: Official
Israel cancelled a UN investigative mission into Jerusalem's Old City, citing the Palestinian 'politicization' of the mission
20 May 2013
Israel on Monday announced it was cancelling a United Nations delegation scheduled to begin an investigative mission in Jerusalem's Old City, due to Palestinian "politicisation" of the mission.
Full report at:
http://english.ahram.org.eg/NewsContent/2/8/71884/World/Region/Israel-cancels-UNESCO-mission-to-Jerusalem-Officia.aspx
-------------
Palestinians hold off on U.N. agency membership
21 May 2013
A top official says Palestinians have done all the legal work necessary to join 63 U.N. agencies, conventions and treaties, but haven't applied yet mainly to give the U.S. peace effort a chance to succeed.
Chief Palestinian peace negotiator Saeb Erekat said Monday that Palestinians have done "everything" to enable President Barack Obama and Secretary of State John Kerry to succeed, and "there is a good opportunity now."
Full report at:
http://english.alarabiya.net/en/News/middle-east/2013/05/21/Palestinians-hold-off-on-U-N-agency-membership.html
-------------
Top global university courses to be available in Arabic for free
20 May 2013
Taghreedat, the largest Arabic crowd-sourcing initiative in the Middle East and North Africa, has announced a partnership with Coursera, the world's leading Massive Open Online Course provider, to translate major international university courses across multiple disciplines for Arab students worldwide, for free.
Leading global universities, including Stanford, Yale, Columbia, Georgia, Duke, Northwestern, Pennsylvania, Princeton and Edinburgh, are offering a number of their courses for free on Coursera in English. With this partnership, some of the world's top university courses will be accessible for free for all Arabic-speaking users.
Full report at:
http://english.alarabiya.net/en/life-style/variety/2013/05/20/Top-global-university-courses-to-be-available-in-Arabic-for-free-.html
-------------
Israel Returns Fire Following Shooting From Syria
May 21, 2013
JERUSALEM — The Israeli military says gunfire from Syria hit an Israeli patrol on the Golan Heights overnight, damaging a vehicle and prompting the troops to fire back.
The military said on Tuesday that the Israeli troops reported a "direct hit" from the return fire but provided no further details.
Sporadic fire from Syria's civil war has occasionally hit the Israeli-controlled Golan Heights, a strategic plateau Israel captured in the 1967 war. Mortar shells have also struck orchards, spreading panic and sparking fires.
Full report at:
http://www.nytimes.com/aponline/2013/05/21/world/middleeast/ap-ml-israel-syria.html?ref=world
-------------
Middle East in spotlight amid escalating cyber attacks
May 21, 2013 9
DUBAI – The Middle East has become a hotspot for cyber attacks, experts warn, amid an escalation of computer-led warfare across the globe.
Dmitri Alperovitch, co-founder of Crowdstrike, a security technology specialist firm, told last week's Reuters Cybersecurity Summit in Washington that he is most concerned about cyber attacks linked to Iran, particularly if there is a spike in tensions in the Middle East.
He said that there is a worry that hackers from unspecified countries could destroy or modify crucial financial data in the United States, following attacks on more than a dozen US banks in the past nine months.
Full report at:
http://www.saudigazette.com.sa/index.cfm?method=home.regcon&contentid=20130521166596
---------
Pakistan
Imran Khan's party seek cleric help in Taliban peace talks
21 May 2013
Pakistani politician Imran Khan's party has sought the help of an elderly pro-Taliban cleric to initiate peace talks with the militants, party officials said Tuesday.
Khan's Pakistan Tehreek-e-Insaaf (PTI) party approached Sami ul-Haq, nicknamed the "Father of the Taliban," after emerging from elections as the largest party in the troubled northwestern province of Khyber Pakhtunkhwa.
Northwestern Pakistan is on the frontline of a nearly seven-year domestic Taliban insurgency and suffers near-daily bomb and shooting attacks blamed on militants.
Former cricket star Khan has called for an end to military operations and peace talks with the Taliban, making his party's victory in the northwest a significant development.
Khan has vowed to put together a provincial coalition government in Khyber Pakhtunkhwa and turn it into a "role model" for the rest of the country.
Full report at:
http://english.alarabiya.net/en/News/asia/2013/05/21/Imran-Khan-s-party-seek-cleric-help-in-Taliban-peace-talks.html
-----------
Promoters of hate, violence responsible for killing: HRCP
May 21, 2013
LAHORE: Human Rights Commission of Pakistan (HRCP) chairperson Zohra Yusuf has said blame for the ongoing killing does not lie with those alone, who pulled the trigger of guns but with all those who promoted hatred, violence and 'terrorism in politics.'
Zohra Yusuf, in a statement issued on Monday, expressed her fear over escalating confrontation and violence in Karachi and appealed to all sides to act in a rational manner and focus on resolving the litany of challenges facing the country.
Full report at:
http://dawn.com/2013/05/20/promoters-of-hate-violence-responsible-for-killing-hrcp/
-------------
Incoming PM Nawaz Sharif calls for talks with Taleban
21 May 2013
ISLAMABAD: Pakistan's presumptive prime minister called for peace talks with Taleban militants at war with the government yesterday, potentially charting a course that could put him at odds with the country's powerful army.
Nawaz Sharif said "terrorism" was one of the most serious problems plaguing the country and any offer by the Pakistani Taleban to talk "should be taken seriously."
"All options should be tried, and guns are not a solution to all problems," Sharif said in a speech to newly elected members of his party in the eastern city of Lahore. "Why shouldn't we sit and talk, engage in dialogue?" The Pakistani Taleban have been waging a bloody insurgency against the government for years that has killed thousands of people. The militants say they are fighting to enforce Islamic law in the country and end the government's alliance with the United States.
Full report at:
http://www.arabnews.com/news/452309
-------------
Pakistani youth reminded of nation's ideology
21 May 2013
In the memory of Alama Iqbal, a prominent Pakistani intellectual, an informative event was held on Sunday at the premises of the Pakistani International School, Aziziah (PISJ-Aziziah).
The Pakistan Studies Forum at the PISJ-Aziziah in cooperation with Nazariya-e-Pakistan (Ideology of Pakistan) Trust organized the program, which aimed to raise awareness among the student body about the importance of their country's founding ideology. The president of Nazariya-e-Pakistan Trust, Safiya Ishaq, emphasized the importance of teaching Pakistan's ideology to the youth in order for them to better understand the importance of the country's history, including its foundation and separation from India as a Muslim country.
Full report at:
http://www.arabnews.com/news/452372
-------------
Pak asks civil servants to take off their socks
Reuters
May 21, 2013
PAKISTAN has told civil servants not to wear socks as the country turns off air- conditioners amid a chronic power crisis and soaring temperatures.
The government has turned off all air- conditioning in its offices as the country endures blackouts of up to 20 hours a day in some places.
" There shall be no more use of air- conditioners in public offices till such time that substantial improvement in the energy situation takes place," a cabinet directive said.
As part of a new dress code, moccasins or sandals must be worn without socks.
Full report at: Mail Today
-------------
New Pakistan govt may consider importing electricity from India
PTI | May 21, 2013
ISLAMABAD: Pakistan's new government will seriously consider importing 1,000 MW of electricity from India as part of a short to medium-term strategy to end power outages, according to a media report today.
The import of electricity from India, Iran and Central Asian Republics was feasible, The News quoted its sources as saying.
Full report at:
http://timesofindia.indiatimes.com/world/pakistan/New-Pakistan-govt-may-consider-importing-electricity-from-India/articleshow/20170088.cms
-------------
Blasphemy trial: Home Dept okays jail trial of Sawan Masih
May 21, 2013
LAHORE: The Home Department has granted permission for Sawan Masih, a Christian accused of blasphemy, to be tried in jail.
Masih was accused of using derogatory language about Prophet Muhammad (peace be upon him) in March, following which a mob torched two churches and some 150 houses belonging to Christian residents of Joseph Colony.
Superintendent of Police (Headquarters) Hassan Mushtaq Sukhera had written to Additional District and Sessions Judge Chaudhry Ghulam Murtaza for the blasphemy case to be tried in jail, owing to the threat to Masih's life.
Full report at:
http://tribune.com.pk/story/552090/blasphemy-trial-home-dept-okays-jail-trial-of-sawan-masih/
-------------
PTI believes in politics of peace, says Qureshi
May 21, 2013
KARACHI: Vice-Chairman of Pakistan Tehrik-i- Insaf (PTI), Shah Mahmood Qureshi on Monday said that his party believes in politics of peace.
He was speaking at a meeting with regards to Karachi situation held at the residence of provincial chief of the party, Nadir Akmal Leghari, said a statement from PTI.
Qureshi demanded that killers of PTI leader Zahra Shahid Hussain be brought to book or else the protest would continue. "We will stop the hands of those who intend to harm our workers," he added.
He said Tehrik-i-Insaf was a peaceful political party and was against every sort of armed Full report at:
http://dawn.com/2013/05/21/pti-believes-in-politics-of-peace-says-qureshi/
-------------
Zardari blames 'national, international conspiracy' for PPP defeat
May 21, 2013
LAHORE: President Asif Ali Zardari, in a meeting with Pakistan People's Party's ticket-bearers from Punjab on Monday, held national and international institutions responsible for the party's defeat in the general elections.The meeting was held at Bilawal House in Lahore in which senior party leaders were also present.Following rigging allegations by various parties in the aftermath of May 11 polls, President Zardari also claimed that his party was defeated through planned rigging.
Full report at:
http://dawn.com/2013/05/20/zardari-blames-national-international-conspiracy-for-ppp-defeat/
-------------
Kayani praises nation for defying 'misguided minority'
May 21, 2013
ISLAMABAD: The Taliban had vowed to sabotage the parliamentary elections because they believe Western democracy is un-Islamic. However, they failed to disrupt the elections which saw an unprecedented turnout.
Army chief General Ashfaq Parvez Kayani said on Monday that the May 11 elections amply demonstrate that "as a nation we can withstand any challenge".
"In these elections, the people of Pakistan courageously withstood the threat of terrorism and defied the unfounded dictates of an insignificant and misguided minority," Gen Kayani said while addressing a day-long conference at the General Headquarters in Rawalpindi on Monday.
Full report at:
http://tribune.com.pk/story/552237/kayani-praises-nation-for-defying-misguided-minority/
-------------
Council of Europe convention: Islamabad advised to ratify pact on prisoner exchange
May 21, 2013
ISLAMABAD: Ministry of Law and Justice advised the upcoming government to ratify the Council of Europe convention relating to the transfer of convicted prisoners from the United States, The Express Tribune has learnt.
"In its recommendations, the law ministry advised Ministries of Foreign Affairs and Interior to ratify the European convention for the transfer of prisoners," said Caretaker Law Minister Ahmer Bilal Soofi.
The ratification of the treaty with Washington will enable Islamabad to seek repatriation of Pakistani citizens imprisoned in US as well as other countries which have ratified the agreement.
Full report at:
http://tribune.com.pk/story/552202/council-of-europe-convention-islamabad-advised-to-ratify-pact-on-prisoner-exchange/
-------------
Pakistan Tehreek-e-Insaf vows to fight conspiracies
May 21, 2013
KARACHI: Pakistan Tehreek-e-Insaf (PTI) Vice President Shah Mehmood Qureshi has said his party believes in politics of peace and will fight all conspiracies hatched against it. He expressed these views while discussing the political situation in Karachi at a party meeting, held at party Provincial President Nadir Akmal Laghari's residence on Monday. He was of the view that killers of Zahra Shahid Hussain should be brought to book at any cost. Qureshi said PTI was a peaceful political party and security of citizens was its first priority. Terming the assassination a cowardly act, he warned, "The PTI's peaceful demonstration should not be taken as its weakness. We know how to respond." Qureshi demanded of the government to bring the criminals in the court of law. Meanwhile, Aleema Khan, Imran Khan's sister, arrived in Karachi on Monday to attend the soyem of slain PTI leader. On the occasion, a large number of PTI workers and supporters were also present to offer their condolence and prayers.
http://www.dailytimes.com.pk/default.asp?page=2013\05\21\story_21-5-2013_pg12_4
-------------
Petition filed against Altaf Hussain in LHC
May 21, 2013
LAHORE: A petition was filed before the Lahore High Court seeking legal action against Muttahida Qaumi Movement (MQM) Chief Altaf Hussain and for cancellation of his party leadership for allegedly uttering words against the "ideology of Pakistan" in his speech on May 12.
Advocate Fayyaz Ahmed Mehr filed the petition stating that Altaf Hussain is a foreigner, claiming to be the chief of MQM and his demands are against the constitution of the Islamic Republic of Pakistan and also against the ideology of Pakistan.
Full report at:
http://tribune.com.pk/story/552363/petition-filed-against-altaf-hussain-in-lhc/
-----------
Six JF-17's to escort Chinese PM into Pakistan
May 21, 2013
ISLAMABAD: Six JF-17 Thunder fighters of the Pakistan Air Force will escort the aircraft of Chinese Premier Li Keqiang as it enters Pakistani air space on Wednesday, at the start of his two-day State visit.
The JF-17s — a symbol of deep Sino-Pakistan friendship – will guide the special Air China Boeing 747 aircraft of the Chinese dignitary to the Nur Khan Air Base, where a 21-gun salute will herald his arrival.
Full report at:
http://tribune.com.pk/story/552333/six-jf-17s-to-escort-chinese-pm-into-pakistan/
-----------
South Asia
Myanmar Muslims Jailed for Killing Buddhist Monk
May 21, 2013
MEIKHTILA, Myanmar — A court in Myanmar sentenced seven Muslims to terms ranging from life to two years in prison Tuesday for the killing of a Buddhist monk during sectarian violence that is posing a serious challenge to President Thein Sein's reformist government.
While the violence is contained for now, questions are arising over whether minority Muslims can find justice in overwhelmingly Buddhist Myanmar. No Buddhists have yet faced serious charges, despite atrocities carried out against the Muslim community.
The defendants were accused of involvement in Muslim-Buddhist conflicts that began March 20 in the town of Meikhtila.
Thein Than Oo, a lawyer defending the men, said one of his clients was given life in prison for murder. Myat Ko Ko was also sentenced to an additional two years for unlawful assembly and two for religious disrespect. One of the seven is a minor.
Full report at:
http://www.nytimes.com/aponline/2013/05/21/world/asia/ap-as-myanmar-.html?ref=world&gwh=92EA87816B3BE72E7CE4006D09B4225C
-------------
10 Afghan police killed in latest violence: officials
May 21, 2013
Ten police officers have been killed in Afghanistan, by a roadside bomb in the west of the country and during fighting in the south, officials said on Tuesday. The bomb killed six police guards in Herat province on Tuesday as they travelled to a hydroelectric dam that is under protection from insurgent attack.
The officers were from the Afghan Public Protection Force, a government-run force that provides security for international supply convoys, aid groups and foreign-funded reconstruction sites.
Full report at:
http://www.hindustantimes.com/world-news/afghanistan/10-Afghan-police-killed-in-latest-violence-officials/Article1-1063550.aspx
-----------
Indian teachers in Maldives request transfer, quit posts after school attack
By Neil Merrett | May 20th, 2013
Almost a dozen Indian teachers on Kumundhoo in Haa Dhaalu Atoll have either resigned from their posts or requested transfers to another island following the assault of a colleague on school premises last week, diplomatic officials have confirmed.
Diplomatic sources said Indian High Commissioner Rajeev Shahare was meanwhile in the process of arranging talks with Maldivian education authorities to discuss the issue of teacher safety.
Full report at:
http://minivannews.com/society/indian-teachers-request-transfer-quit-posts-after-kumundhoo-school-attack-58194
-------------
Police escort Sheikh from Maafushi after accusation of "distorting religion"
By Mariyath Mohamed | May 20th, 2013
Police have escorted a sheikh from the island of Maafushi in Kaafu Atoll on Sunday, after 300 protesters gathered outside his private Quran and Tawhid classroom and demanded that he leave the island.
Multiple sources from the island previously expressed concerns about a Sheikh Ibrahim Rasheed, originally from the island of Thulhaadhoo in Baa Atoll, who has been preaching in Maafushi for just over a year. He is alleged to have been "spreading hatred and strife on the pretext of preaching Islam".
Full report at:
http://minivannews.com/society/police-escort-sheikh-from-maafushi-after-protesters-accuse-him-of-distorting-religion-58191
-------------
Pakistan army gunned down 11 on Alim's instruction
May 21, 2013
Pakistan army gunned down 11 persons at the instruction of former BNP lawmaker Abdul Alim in Joypurhat Sadar upazila during the country's Liberation War in 1971, a witness told a war crimes tribunal in Dhaka on Tuesday.
"Five of them were buried under a lychee tree while the rest under a mango tree, on the southern part of a pond at Sakidarpara village in the upazila," Abdul Hamid Sakidar, a 57-year-old witness, said while testifying before International Crimes Tribunal-2.
Full report at:
http://www.thedailystar.net/beta2/news/11-murdered-on-alims-instruction/
-------------
25 Jamaat-Shibir men sent to jail in Natore
May 21, 2013
Twenty-five Jamaat-Shibir men, accused in the cases for killing a Jubo League leader and attacking policemen at Lalpur in the district on February 28, were sent to jail yesterday.
They appeared before the Senior Judicial Magistrate's Court, Natore, and sought bail. After hearing, Senior Judicial Magistrate Golam Mahfuz rejected their bail prayers and sent them to jail.
Full report at:
http://www.thedailystar.net/beta2/news/25-jamaat-shibir-men-sent-to-jail-in-natore/
-------------
Africa
Tunisia arrests 200 in Salafist crackdown: PM
200 Salafists are arrested in Tunisia in the aftermath of heavy fighting between policemen and Ansar al-Sharia, a hardline Islamist group
20 May 2013
Tunisian police arrested some 200 members of the hardline Islamist Ansar al-Sharia in weekend clashes that erupted after a ban on their congress, Prime Minister Ali Larayedh said in remarks published on Monday.
"Those who have been arrested number 200," Larayedh said at the Doha Forum in the Gulf state of Qatar, quoted by the Arabic daily Al-Hayat.
Full report at:
http://english.ahram.org.eg/NewsContent/2/8/71876/World/Region/Tunisia-arrests--in-Salafist-crackdown-PM.aspx
-------------
South Sudan clashes kill 51during the week
21 May 2013
JUBA, South Sudan: Twenty-four people died in a battle between South Sudan's military and rebel fighters the government believes to be supported by neighbouring Sudan, while a tribe-on-tribe cattle-raiding attack elsewhere in the country killed 27 people.
A battle in Jonglei state on Sunday killed 20 rebel fighters and four government troops, said Col. Philip Aguer. Aguer said the army recaptured the town of Boma, near the border with Ethiopia, from rebels led by David Yau Yau who took over the town earlier this month.
South Sudan's military "restored law and order to Boma and chased away the rebels to the hills outside town," he said.
http://www.arabnews.com/news/452314
---------
Al-Qaeda-linked operative surrenders in Mauritania
May 21, 2013
NOUAKCHOTT, Senegal — A senior operative in an Al-Qaeda-linked group in war-torn northern Mali has surrendered to Mauritania, a security source told AFP on Monday.
Ansar Dine spokesman Senda Ould Boumama "went to the Mauritanian armed forces on the border", near the southeastern town of Bassiknou, on Saturday evening, the source said without giving further details.
According to Mauritania's independent ANI news agency, Ould Boumama was transferred during the weekend to the capital Nouakchott, where he is being interrogated by police.
Full report at:
http://www.saudigazette.com.sa/index.cfm?method=home.regcon&contentid=20130521166671
-------------
Nigeria says it has retaken five Islamist strongholds
Nigerian military troops destroy all camps in five areas controlled by Boko Haram insurgents
20 May 2013
Nigeria's military said Monday it had re-established control in five remote areas of the northeast where Islamist insurgents had seized territory, as it pressed on with a sweeping offensive against Boko Haram militants.
The military has "secured the environs of New Marte, Hausari, Krenoa, Wulgo and Chikun Ngulalo after destroying all the terrorists' camps," a defence ministry statement said.
Full report at:
http://english.ahram.org.eg/NewsContent/2/9/71924/World/International/Nigeria-says-it-has-retaken-five-Islamist-strongho.aspx
-------------
Europe
Russia Says Two Rebels Killed in North Caucasus
May 21, 2013
MOSCOW — Russian security forces killed two suspected militants in the North Caucasus during a night-time sweep in the region plagued by an Islamist insurgency, investigators said on Tuesday.
A spokesman for local investigators said the men were killed in a gunbattle with officers after refusing to surrender during a raid on a house in a suburb of the capital of Ingushetia, a region to the west of Chechnya.
The wife and child of one of them left the house before the firefight, he told Reuters by telephone.
Full report at:
http://www.nytimes.com/reuters/2013/05/21/world/europe/21reuters-russia-caucasus-ingushetia.html?ref=europe&gwh=761EBDED9FB33BC4980A3B933228E90C
-------------
With end of Afghan war in sight, Europe pushes business
May 21, 2013
HERAT, Afghanistan — The European Union threw its weight behind developing Afghanistan's small but promising private sector this week, in the hope that business can usher in stability and peace once foreign troops leave by the end of next year.
In the largest ever EU visit outside the capital Kabul in 12 years of war, a 21-country delegation of envoys jetted to the western city of Herat on Sunday, whose flurry of business activity is largely seen as a rare success story in desperately poor, insurgency-plagued Afghanistan.
Full report at:
http://www.saudigazette.com.sa/index.cfm?method=home.regcon&contentid=20130521166680
-------------
Assad foes must come to Syria meeting without conditions: Russia
20 May 2013
Russian Foreign Minister Sergei Lavrov said on Monday that it is crucial for Syrian opposition representatives to take part in a peace conference without setting any preconditions, apparently referring to demands for President Bashar al-Assad's exit.
Lavrov also reiterated that Iran must be among nations invited to the conference that Russia and the United States are trying to organise to seek a resolution to the more than two-year-old conflict that has reportedly killed at least 80,000 people.
http://english.ahram.org.eg/NewsContent/2/8/71918/World/Region/Assad-foes-must-come-to-Syria-meeting-without-cond.aspx
-------------
Halal food production on rise in the crisis-hit Balkans
21 May 2013
Trying to fight back against the persistent economic crisis in the Balkans, food producers here have turned towards halal food, targeting rising demand from markets in Western and Muslim countries.
At a recent three-day halal food fair in the Bosnian capital, the first of its kind in the Balkans, some 30 producers from the region gathered to present their goods - meat products, cheese, sweets, pastry, oils and even halal cosmetics.
"The halal market represents more than one billion people across the globe. It is a young market with an important purchasing power," said Amel Kovacevic, one of the organizers of a halal food fair in Sarajevo.
Full report at:
http://english.alarabiya.net/en/perspective/features/2013/05/21/Halal-food-production-on-rise-in-the-crisis-hit-Balkans-.html
-------------
Businessman Linked by U.S. to Hezbollah Is Arrested in Brazil in a Fraud Scheme
By SIMON ROMERO
May 21, 2013
RIO DE JANEIRO — The Brazilian police have arrested a businessman listed by the United States as a member of Hezbollah, the powerful Lebanese militant group, under suspicion of operating a fraudulent scheme in the clothing industry — a far cry from the arms, drugs, explosives and counterfeit bills that American officials have suspected him of trafficking in during the past.
Full report at:
http://www.nytimes.com/2013/05/21/world/americas/man-linked-by-us-to-hezbollah-is-arrested-in-brazil.html?ref=middleeast&gwh=ABE5DB17FFFDB03FB2451B00E99E64FD
-------------
North America
US raps global rise in anti-Muslim sentiment
21 May 2013
The United States yesterday denounced a spike in anti-Islamic sentiment in Europe and Asia, pointing to restrictions and violence against Muslims. The State Department report, which covered 2012, said that "Anti-Muslim rhetoric and actions were clearly on the rise — particularly in Europe and Asia."
"Government restrictions, which often coincided with societal animosity, resulted in anti-Muslim actions that affected everyday life for numerous believers," it said.
The report sharply criticized the record of Myanmar, also known as Burma, on the same day that President Thein Sein was meeting with US President Barack Obama in a sign of US support for the former general's democratic reforms.
Full report at:
http://www.arabnews.com/news/452389
-------------
Jihad experts decry White House terror training guidelines
05/20/2013
Neil Munro
White House Correspondent
Experts on Islam and terrorism are decrying the Department of Homeland Security's recently revealed anti-terrorism training guidelines, which pressure cops to ignore Islamic beliefs when investigating terror crimes.
The Boston bombings demonstrated the impact of such training, Andrew McCarthy, a former New York prosecutor, told The Daily Caller.
"The Boston Marathon was bombed by a jihadist who had been investigated by the FBI … [and was confirmed in 2011 to be] an Islamist, which would have been hard not to do since he does not appear to have made any secret of it," said McCarthy, who persuaded a New York jury in 1995 to convict "Blind Sheikh" Omar Abdel-Rahman for his use of Islamic teaching to spur jihad attacks, including the 1993 attack against the Twin Towers.
Full report at:
http://dailycaller.com/2013/05/20/jihad-experts-decry-white-house-terror-training-guidelines/#ixzz2TtzYLAYI
-------------
Muslim leaders in U.S. facing challenges inside and outside the faith
By Matthew Brown, Deseret News
May 20 2013
Soon after two bombs exploded at the Boston Marathon on April 15, Muslim groups joined others in denouncing the deadly violence.
When the suspects were identified as Muslims, those same groups, along with family members of the two young men and other individuals, further decried the violence as a misrepresentation of Islam.
Their proclamations that Islam preaches peace and protection of the innocent haven't changed the perceptions of many Americans who believe Islam encourages violence.
A recent poll by the Pew Research Center, taken just after the Boston Marathon bombing, found that 42 percent of Americans said Islam was more likely than other faiths to encourage violence — nearly the same proportion as 10 years earlier, when 44 percent held the same view.
Full report at:
http://www.deseretnews.com/article/865580270/Muslim-leaders-in-US-facing-challenges-inside-and-outside-the-faith.html?pg=1
-------------
Obama calls Lebanese president over Hezbollah's role in Syria
20 May 2013
U.S. President Barack Obama on Monday expressed concern about the role of Hezbollah in Syria, in a telephone call with Lebanese President Michel Sleiman, AFP reported the White House as saying.
The call, which also dwelt on the danger of violence spilling over into Lebanon, took place after the Syrian government's assault on the rebel stronghold of Qusayr, which involved forces from Hezbollah.
Meanwhile, State Department deputy spokesman Patrick Ventrell condemned both the Syrian government's assault on Qusayr and Hezbollah's involvement in the attack.
"The United States strongly condemns the Assad regime's intense air and artillery strikes this weekend on the Syrian town of Qusayr along the Lebanese border," said.
Full report at:
http://english.alarabiya.net/en/News/middle-east/2013/05/20/Obama-calls-Lebanese-president-over-Hezbollah-s-role-in-Syria.html
-------------
Obama Couples Praise for Burmese Leader With Warning Against Violence
By PETER BAKER and STEVEN LEE MYERS
May 21, 2013
WASHINGTON — President Obama encouraged the wave of reform that has transformed the onetime pariah state of Myanmar into an emerging touchstone of change in Asia, but pointedly warned the country's visiting leader on Monday that violence against minority Muslims "needs to stop."
In welcoming President Thein Sein of Myanmar to the White House, the first leader of his country invited to the seat of American power in nearly a half-century, Mr. Obama hoped to nurse the impoverished nation's fragile political opening while forestalling any backsliding. He offered strong praise for Mr. Thein Sein while also nudging him to ease repression further.
Full report at:
http://www.nytimes.com/2013/05/21/world/asia/obama-couples-praise-for-burmese-leader-with-warning-against-violence.html?ref=asia&gwh=1FD8053F66E5A14A3461339FC20A1071
-------------
Pentagon requests nearly $80 bn for Afghanistan war
Defence Department asks US Congress for just shy of $80 billion to cover ostensible costs of ongoing war in Afghanistan
20 May 2013
The Pentagon has asked Congress for nearly $80 billion to cover the cost of the war in Afghanistan in 2014, a spokesman said Monday.
The request issued Friday for $79.4 billion in fiscal year 2014 is slightly lower than the war funding of $87.2 billion for the current fiscal year, Pentagon press secretary George Little told reporters.
The proposed funding for Afghanistan operations are in addition to a $526.6 billion budget that the Pentagon has already submitted to Congress.
Full report at:
http://english.ahram.org.eg/NewsContent/2/9/71926/World/International/Pentagon-requests-nearly--bn-for-Afghanistan-war.aspx
-------------
Pentagon to take over some CIA drone operations: sources
May 21, 2013
WASHINGTON: President Barack Obama's administration has decided to give the Pentagon control of some drone operations against terrorism suspects overseas that are currently run by the CIA, several US government sources said on Monday.
Obama has pledged more transparency on controversial counterterrorism programs, and giving the Pentagon the responsibility for part of the drone program could open it to greater congressional oversight.
Full report at:
http://beta.dawn.com/news/1012719/pentagon-to-take-over-some-cia-drone-operations-sources
-------------
US says Pakistan curbing explosive fertilisers
May 21, 2013
ISLAMABAD: Pakistan has taken a number of steps to prevent fertilisers made within its borders for agriculture from being used as explosives in roadside bombs that target American troops in Afghanistan, said a top US military officer Monday.
Brig. Gen. Robert P. Walters Jr., deputy director of the US military's Joint IED Defeat Organization, spoke in a conference arranged by the Pakistani military in the capital of Islamabad on ways to counter the bombs, often referred to as improvised explosive devices, that account for the vast majority of casualties in Afghanistan.
Full report at:
http://dawn.com/2013/05/20/us-says-pakistan-curbing-explosive-fertilisers/
-------------
US concerned over defamation charges against Egyptian journalists
Reuters | May 21, 2013
WASHINGTON: The United States on Monday expressed concern over defamation charges brought against two Egyptian journalists critical of President Mohamed Mursi and called on the government to condemn actions that stifle freedom of expression.
Public prosecutor Talaat Ibrahim, appointed by Mursi in November, ordered the criminal trial of Magdi El Galad, editor in chief of El-Watan newspaper, and Alaa El-Ghatrify, its managing editor, state newspaper Al-Ahram reported.
Full report at:
http://timesofindia.indiatimes.com/world/middle-east/US-concerned-over-defamation-charges-against-Egyptian-journalists/articleshow/20160900.cms
-------------
URL: https://newageislam.com/islamic-world-news/new-age-islam-news-bureau/'war-on-mosques'-rages-in-iraq/d/11672