New Age Islam News Bureau
11 Jul 2014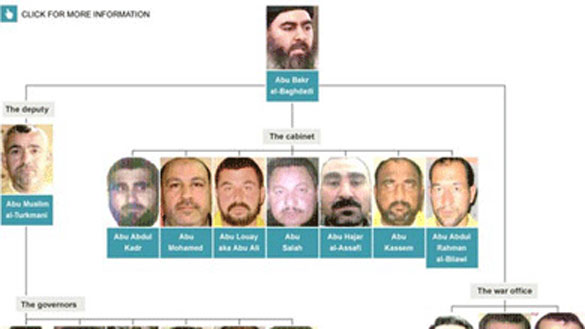 An infograph by The Telegraph newspaper explains the leadership arrangement under Baghdadi. (Courtesy: The Telegraph)
-------------
Mideast
• Zionist Entity Using Internationally-Banned Weapons in Gaza Assault
• Israeli air strikes kill six in Gaza: medics
• Israeli Casualties by Resistance Rockets as Gaza Offensive Death Toll Nears 100
• Bethlehem Christians fast Ramadan with Muslims
• Turkish Parliament adopts Kurdish reform bill
• Israel-Turkey ties will not normalize unless Gaza assault stops, says PM Erdoğan
• Jerusalem mayor: Rockets don't discriminate between Christians, Muslims and Jews
• Israel presses on with Gaza offensive
• Hamas Official Calls Palestinians to Self-Defense
Pakistan
• Crime Spree Helps Pakistani Taliban Squirrel Away Cash before Raids Begin
• Jamaat E Islami Condemns World Silence over Israel's Aggression
• US, NATO Bound To Be Defeated In the Region: Hafiz Saeed
• LeT founder Hafiz Saeed addresses seminar in Lahore high court
• Arsalan Iftikhar turns to religious scholars against Imran Khan
• Centre to lodge protest in UN against killings of Palestinians
• Qadri asks supporters to be ready for final call
• Those trying to derail democracy are Pakistan's enemy: CM Balochistan
• Six killed after Nawaz leaves Karachi
• Tribal people don't want terrorists' come back in NWA: Bajwa
Africa
• 'Top Politicians' ID Cards, Party Materials Found In Boko Haram Camp
• Libya prepares to move parliament to Benghazi
• Morocco ramps up security faced with 'serious terror threat'
• South Sudan military leaders face EU sanctions
• Central African Republic 'killers' named and shamed
Arab World
• Syria's Terrorists Commit Fresh Hama Massacre
• Sunni Insurgents enter military base northeast of Baghdad: Officials
• Jihadi fighters on the offensive against Kurds in northern Syria
• ISIS Unveils 'Cabinet' Line-Up: Report
• Bruised Iraqi army leans on Shiite militias, volunteers
• Clashes near Ramadi kill 11 Iraq police: Officer
• Syria war toll tops 170,000, one-third civilians
• Egypt hits out over Israeli 'mass punishment' in Gaza
• UAE pledges $25 million in aid to Gaza
• Syrian Army Hit Terrorists' Strongholds in Aleppo, Daraa
• OIC demands action against Israeli atrocities
• Haram security 'a red line no one can cross'
• Saudi Preachers Resort To Social Media to Spread Message
• Do not misuse Qunut supplications: Saudi Scholars
• Ancient Egyptian statue sells for £16 million in UK despite outcry
India
• Budget 2014: Madrasas Get 100-Crore Upgrade
• Sri Sri Ravi Shankar Holds Peace Dialogue With Iraqi Shia Religious Leaders
• Never accepted Kashmir's accession to India, Pakistan says
• India calls upon Israel, Palestine to exercise restraint, resume dialogue
South Asia
• Lankan Muslims slam attempts to link them to Al Qaeda
• Bangladesh bans marriages for Rohingya refugees
• China jails 32 in Xinjiang on terror charges
• Maldives acted under its own laws in Seleznyov expulsion, says US Embassy
• Karzai assures Kerry regarding transfer of power on 2nd August
• Facebook becomes outlet for religious anger in Myanmar
Europe
• British Combatants of a Different Religious War
• Stolen Islamic, Pharaonic Items Returned To Egypt from Denmark and France
• HRW calls upon govt to ensure aid reaches North Waziristan IDPs
• Amnesty International blames EU for Turkey's refugee burden
• Putin urges end to 'armed confrontation' in Netanyahu call
• ISIS concern: British Muslim leaders condemn extremist group
• More young Kazakhs fast during Ramadan
North America
• New NSA Bombshell Proves 'Muslim' Equals 'Suspicious' in America
• Gaza bloodshed spirals as US offers to broker ceasefire
• US blacklists Hezbollah agents buying drone components
• Kerry arrives in Afghanistan to help resolve election crisis
• White House Congratulates Indonesia after Election
• Pakistan not source of Iraqi nuclear material: US
• US confident of Pakistan's nuclear assets' safety
Southeast Asia
• Protecting rights of sexual minorities is against Islam, says Isma
• Indonesia deadlock: Court may decide new president
• Election Survey Network Targeted in Molotov Cocktail Attack
• 3 Thai Muslim police officers killed in ambush
• Australian jihad supporter arrested in Philippines
Compiled by New Age Islam News Bureau
URL: https://newageislam.com/islamic-world-news/new-age-islam-news-bureau/zionist-entity-using-internationally-banned-weapons-in-gaza-assault/d/98045
-----------
Mideast
Zionist Entity Using Internationally-Banned Weapons in Gaza Assault
Jul 11, 2014
The Zionist entity is using internationally-proscribed weapons in Gaza, Palestinian doctors and rights activists said.
They said that horrific images of the Palestinian victims of recent Israeli airstrikes on the besieged Strip prove that the occupation entity uses internationally-banned weapons.Flesh of a Palestinian martyr shows that Israel is using banned weapons
Palestinian Health Ministry spokesman Ashraf al-Qodra said the bodies of most victims had been incinerated, while others had been completely torn apart.
He said Israel was deploying weapons that destroy the bodies of their victims, noting that a preliminary survey of victims' bodies revealed the horrific nature of the weapons being used in Israel's ongoing onslaught on Gaza.
"Israel used internationally-banned weapons in its two previous wars on Gaza," al-Qodra told Anadolu Agency. "The same weapons are being used now."
He called on international rights organizations to bring Israel to account for what he called "its continual violations" against the Palestinian people.
Meanwhile, eyewitnesses have reported that Israeli airstrikes had incinerated the bodies of Palestinians who happened to be near targeted sites.
Israeli warplanes, they added, were using missiles that destroy their victims' bodies, often cutting them to pieces. Palestinian embryo martyred with his mother
Some activists posted photos of victims online, advising the fainthearted not to look at them.
Photos showed Palestinians whose limbs had been blown off and others whose bodies looked as if they had been subject to chemical attack.
http://www.almanar.com.lb/english/adetails.php?fromval=1&cid=23&frid=23&eid=160532
----------
Israeli air strikes kill six in Gaza: medics
Jul 11, 2014
GAZA CITY: Israeli air strikes on Friday killed six Palestinians, including one attack on the home of a militant, medical sources said.
Five Palestinians, including at least one woman, died when the militant's house in Rafah in southern Gaza was hit, and 15 other people were wounded, Gaza emergency services spokesman Ashraf al-Qudra said.
An air strike around an hour before killed Anas Abu al-Kass, 33, of Gaza City's Tel el-Hawa neighbourhood.
According to Qudra, around 95 Gazans have been killed since Israel launched Operation Protective Edge early on Tuesday to halt cross-border rocket fire by militant groups.
Since the start of the operation, Gaza militants have fired 407 mortars and rockets that struck Israel, while another 118 rockets were intercepted by the Iron Dome missile defence system, an army spokeswoman said Friday.
It is the deadliest violence since a November 2012 conflict in Gaza, and militants have been firing rockets at Jerusalem and Tel Aviv for the first time since then.
No Israelis have been killed from the rocket fire.
Israel has also authorised the call-up of 40,000 reservist troops, as it threatens a ground operation to stamp out rocket fire from Gaza militants.
http://www.dawn.com/news/1118564/israeli-air-strikes-kill-six-in-gaza-medics
-----------
Israeli Casualties by Resistance Rockets as Gaza Offensive Death Toll Nears 100
Jul 11, 2014
Seven Israelis were injured, one seriously, when rockets hit the occupied city of Ashdod. Meanwhile, the death toll of the brutal offensive waged by the Zionist entity against Gaza neared 100.A large fire was raging in a gas station in Ashdod after being hit by a Palestinian rocket
Israeli media reported that a massive fire took place when gas station in Ashdod suffered a direct hit from a rocket fired at it.
At around 8am, a gas station in Ashdod suffered a direct hit from a rocket fired at it, starting a massive fire. Firefighters were deployed to the scene, with seven people were receiving medical treatment on the scene, one of them severely wounded.
as resistance fighters in the besieged strip keep up the pace of the rockets launched at the occupied territories.
Meanwhile, Palestinian health ministry announced that the number of the martyrs since the start of the attack on Monday overnight reached 98.
The ministry added that the number of the injured passed 700, noting that among the martyrs were 20 children and 20 women.
http://www.almanar.com.lb/english/adetails.php?eid=160631&cid=23&fromval=1&frid=23&seccatid=23&s1=1
-----------
Bethlehem Christians fast Ramadan with Muslims
Jul 11, 2014
Christians in the West Bank city of Bethlehem, the birthplace of Jesus Christ, join the city's Muslim residents in fasting Ramadan in continuation of a centuries-old tradition of interfaith solidarity.
Mike Kanawati, a Christian resident of Bethlehem, who manages a souvenir and jewelry shop, fasts the days of Ramadan with his Muslim neighbors.
"My grandmother used to fast, both Christian and Muslim fasting, and we were raised this way to show respect for and solidarity with other religions," Kanawati said.
"Fasting, either the Christian or the Muslim way, makes one feel the suffering of those who do not have food," he added. Kanawati said he was proud "like many other Christians" of fasting the Muslim month of Ramadan and stressed that doing so in no way diminished his Christian faith.
He revealed that some of his Muslim friends in turn perform the Christian fasting, such as abstaining from eating cheese, meat and milk, in demonstration of solidarity with the Christians.
The tradition, Kanawati stressed, was preserved over generations of Muslims and Christians who coexisted in Bethlehem for hundreds of years.
Bethlehem has a Muslim majority, but is also home to one of the largest Palestinian Christian communities.
In a survey of Bethlehem's Christians conducted in 2006 by the Palestinian Center for Research and Cultural Dialogue, 90% reported having Muslim friends, 73.3% said that the Palestinian Authority respects Christian heritage in the city, and 78% reported that the emigration of Christians from Bethlehem was due to the Israeli travel restriction in the area.
http://www.saudigazette.com.sa/index.cfm?method=home.regcon&contentid=20140711211177
----------
Turkish Parliament adopts Kurdish reform bill
Jul 11, 2014
Parliament on July 10 adopted a bill of six articles on reforms to help find a peaceful solution to the Kurdish issue.
The bill will allow the government to take all measures it deems necessary to move the talks forward, including steps to grant amnesty to Kurdish militants who lay down arms.
Article 4 of the bill, which gives the government's peace process with the outlawed Kurdistan Workers' Party (PKK) a legal framework, had led to concerns as it grants broad and vague immunity to officials involved in negotiations with the PKK.
An amendment introduced by the AKP on July 9 during parliamentary debates aims to clarify that this immunity is limited to assignments defined in the bill.
Full report at:
http://www.hurriyetdailynews.com/turkish-parliament-adopts-kurdish-reform-bill.aspx?pageID=238&nID=68973&NewsCatID=338
-----------
Israel-Turkey ties will not normalize unless Gaza assault stops, says PM Erdoğan
Jul 11, 2014
Turkish Prime Minister Recep Tayyip Erdoğan said July 10 ties with Israel would not return to normal unless the Netanyahu government ceased its deadly offensive on the Gaza Strip.
"You will first stop this oppression. If not, it is not possible to realize normalization between Turkey and Israel," Erdoğan said in the central Anatolian city of Yozgat after a dinner breaking the daily Ramadan fast. Relations between once-regional allies Israel and Turkey hit an all-time low when 10 Turkish activists died in a 2010 maritime assault by Israeli commandos on Gaza-bound ship Mavi Marmara in international waters. The Israeli assault provoked a sharp response from Ankara, which expelled the Israeli ambassador, demanded a formal apology, compensation for the victims, and an end to the blockade on Gaza.
Full report at:
http://www.hurriyetdailynews.com/israel-turkey-ties-will-not-normalize-unless-gaza-assault-stops-says-pm-erdogan.aspx?pageID=238&nID=68980&NewsCatID=510
-----------
Jerusalem mayor: Rockets don't discriminate between Christians, Muslims and Jews
Jul 11, 2014
Nir Barkat addresses terrorist attacks on city as 6 rockets land near capital; "We're all in the exact same danger here," he says.
A few hours before six Hamas-launched rockets reached the capital Thursday evening, Jerusalem Mayor Nir Barkat assured city residents that if they follow the city's protocol when warning sirens go off, they should remain safe.
In an exclusive interview with The Jerusalem Post outside his office in Safra Square, Barkat discussed heightened tensions between Arabs and Jews in the city, while reassuring residents that Jerusalem remains one of the "safest cities in the world." "If you look at the statistics, no one in Israel has been hurt, so Israel knows how to very well defend itself," he said. "The reality is that generally, it is one of the safest places in the world. Naturally it doesn't look like that on television, but the reality is that our crime rate is one-tenth [per capita] compared to New York, Los Angeles and Chicago."
Full report at:
http://www.jpost.com/Operation-Protective-Edge/Jerusalem-mayor-addresses-terrorist-attacks-on-city-as-6-rockets-land-near-capital-362312
-----------
Israel presses on with Gaza offensive
11 July 2014
Israel pressed on for a fourth day on Friday with its Gaza offensive, striking the Hamas-dominated enclave from air and sea, as Palestinian militants kept up rocket attacks deep into the Jewish state.
At least 82 Palestinians, most of them civilians, have been killed in the offensive, which Israel says it launched to end persistent rocket attacks on its civilian population, some of which have reached Tel Aviv, Jerusalem and other cities.
Israeli leaders have appeared to hint at a possible invasion by ground forces and some 20,000 army reservists have been mobilized, giving them the means, if they choose, to mount a land offensive.
Full report at:
http://english.alarabiya.net/en/News/middle-east/2014/07/11/Israel-presses-on-with-Gaza-offensive.html
-----------
Hamas Official Calls Palestinians to Self-Defense
Jul 11, 2014
Palestine: head of Hamas political bureau, Khaled MeshaalHead of political bureau of the Palestinian resistance group Hamas, Kaled Meshaal, called on all Palestinian resistance groups to defend themselves as they face increasing pressure from Zionist airstrikes and a possible ground operation in the Gaza Strip.
Speaking from Doha, Qatar, where he is based, Meshaal told a TV channel that he was rejecting prospects of a ceasefire with the Zionist entity, blaming the occupation for starting the tit-for-tat rocket attacks.
Full report at:
http://www.almanar.com.lb/english/adetails.php?eid=160576&cid=23&fromval=1&frid=23&seccatid=23&s1=1
-----------
Pakistan
Crime Spree Helps Pakistani Taliban Squirrel Away Cash before Raids Begin
Jul 11, 2014
PESHAWAR: In the months before Pakistan jets began pounding Taliban hideouts in the lawless border region near Afghanistan, militants were busily conducting an unprecedented wave of kidnapping and extortion, stockpiling cash for the fight ahead.
Businessmen in some areas say extortion increased five-fold before the long-awaited military offensive began in the frontier region of North Waziristan on June 15. Militant-related kidnappings also spiked in the commercial capital, Karachi.
The crime wave means that, even if the military seizes control of remote and mountainous North Waziristan, the government still faces a well-armed and well-financed insurgency with roots dug deeply into Pakistan's big cities.
Their reach and their ability to carry out high-profile attacks was chillingly demonstrated by the June 8 assault on Karachi airport, which killed 34 people. Competition over money also helped fuel deadly intra-Taliban clashes earlier this year.
Full report at:
http://www.dawn.com/news/1118565/crime-spree-helps-pakistani-taliban-squirrel-away-cash-before-raids-begin
-----------
Jamaat e Islami condemns world silence over Israel's aggression
Jul 11, 2014
LAHORE-Ameer, Jamaat e Islami Sirajul Haq has strongly condemned the world community's criminal silence over Washington-backed Israel's bombings in Gaza resulting in large scale killings of Palestinians.
In a statement here on Thursday, he said that Israel was continuing the bloodshed of Palestinian women and children but the world leaders remain unmoved. The blood of the Muslims was being shed all around but the so called champions of human rights and peace had shut their eyes and ears to
that, he added.
The JI chief said that unless and until the Muslim Ummah stood united to face the enemy, the injustice and oppression against the Muslims would continue.
He urged the world community to take notice of Israel aggression and protect the helpless Palestinians. He also impressed upon the OIC and the Muslim rulers to sit together and work out a common strategy for the safety of the Muslims facing oppression all over the world especially the attack against Hamas and Palestinians by Israel.
Full report at:
http://www.nation.com.pk/national/10-Jul-2014/ji-condemns-world-silence-over-israel-s-aggression
-----------
US, NATO bound to be defeated in the region: Hafiz Saeed
July 11, 2014
LAHORE-Chief of Jamat-ud-Daawa (JuD) Hafiz Saeed has said that the Operation Zarb-e-Azb is an operation to win the hearts and minds of the Waziristan people. He paid rich tributes to the people of Waziristan for refusing American aid.
"I salute the people of Waziristan for refusing to receive any aid from the United States", he said. He praised the Pakistani Armed Forces for carrying out the operation against the terrorists in the North Waziristan Agency (NWA). He said that by standing by the Pakistani Army in this operation against the terrorists, the people of Waziristan have done a great service to the nation.
Hafiz Saeed was speaking on the occasion of Zarb-e-Azb Conference at the Karachi Shuhada Hall of Lahore High Court on Thursday. He remarked that it was not the right time for politics. He said that personal goals and ends can be achieved some other time. "Right now, we must all stand firm in support of the Pakistan Army", said JuD Chief.
Full report at:
http://www.nation.com.pk/national/11-Jul-2014/us-nato-bound-to-be-defeated-in-the-region-hafiz-saeed
-----------
LeT founder Hafiz Saeed addresses seminar in Lahore high court
PTI | Jul 11, 2014
LAHORE: Just days after his organisation was declared a terror outfit by the US, Jamaat-ud-Dawah chief Hafiz Saeed, who orchestrated the 2008 Mumbai terror attacks, addressed a seminar at the Lahore high court spewing venom on India and America.
This is the second time that Saeed, who is the founder of banned terror organisation Laskar-e-Taiba, has addressed lawyers and others within the court premises this year.
In May, Saeed, who roams around freely in Pakistan despite being a designated terrorist, was invited as chief guest at the Lahore High Court Bar Association, one of the premier bar associations in Pakistan.
At that time, the decision was opposed by a section of the lawyers.
Saeed addressed the seminar at the Lahore high court building organised by the Pakistan Justice Party.
Tightening its noose around the Lashkar-e-Taiba (LeT), the US had last month added its affiliates, including the JuD to its list of designated terror organisations and slapped sanctions against two Pakistan-based LeT leaders.
The US state department has amended Lashkar-e-Taiba's designations to add its aliases: Jamaat-ud-Dawa, Al-Anfal Trust, Tehrik-e-Hurmat-e-Rasool and Tehrik-e-Tahafuz Qibla Awwal, an official statement had said.
http://timesofindia.indiatimes.com/world/pakistan/LeT-founder-Hafiz-Saeed-addresses-seminar-in-Lahore-high-court/articleshow/38207582.cms
-----------
Arsalan Iftikhar turns to religious scholars against Imran Khan
Jul 11, 2014
ISLAMABAD- Arsalan Iftikhar, son of former Chief Justice Iftikhar Chaudhry, today pledged to contact the religious scholars against Pakistan Tehreek-e-Insaf (PTI) Chairman, Imran Khan. Claiming that
Imran was not righteous and honest (Sadiq and Amin), he demanded that the committee comprising Justice (R) Wajihuddin Ahmed should hand down a judgment against him.
According to reports, Arsalan Iftikhar will contact Maulana Siraj-ul-Haq, member of Khyber Pakhtunkhwa Assembly and Maulana Shirani of the Islamic Ideology Council to bring to the fore the issue of Imran Khan's alleged love child Tyrian White. The religious scholars will decide if a person like Imran Khan can be the member of Shura Council, said Arsalan Iftikhar. He has demanded a decision from Justice Wajihuddin on whether Imran Khan meets the criteria set out in the Article number 62 and 62 of the constitution.
Full report at:
http://www.nation.com.pk/national/10-Jul-2014/arsalan-iftikhar-turns-to-religious-scholars-against-imran-khan
-----------
Centre to lodge protest in UN against killings of Palestinians
July 11, 2014
Lahore-Opposition leader in the Punjab Assembly Mian Mehmood ur Rashid on Thursday submitted a resolution in the Punjab Assembly against the indiscriminate shelling and killings of innocent Palestinians by the forces of Israel.
In the resolution Mian Mehmood ur Rashid said demanded of the Federal government to lodge a strong protest in the United Nations Security Council against the indiscriminate killings of Palestinian children, aged men and women.
He said the world must take notice of the war crimes Israel is committing, especially in the Holy month of Ramadan. He said that Israel has created new records of barbarism and brutality by bombing innocent fasting Muslim children.
Full report at:
http://www.nation.com.pk/national/11-Jul-2014/centre-to-lodge-protest-in-un-against-killings-of-palestinians
----------
Qadri asks supporters to be ready for final call
Jul 11, 2014
LAHORE: Pakistan Awami Tehreek chief Dr Tahirul Qadri asks his followers to be ready for his final call for a revolution which, he says, may be made on time.
At a press conference here on Thursday, he said the constitutional and democratic mass revolution was the only path that could purge the country of terrorism and convert it into a land of peace and prosperity. Condemning a militant group for declaring caliphate in Iraq and Syria, he warned the rulers that any effort to counter the mass revolution he was leading could also lead to such a declaration by militants in Pakistan.
Full report at:
http://www.dawn.com/news/1118528/qadri-asks-supporters-to-be-ready-for-final-call
-----------
Those trying to derail democracy are Pakistan's enemy: CM Balochistan
July 11, 2014
Karachi- Chief Minister Balochistan Dr Abdul Malik says those trying to derail democracy are enemies of the country.
Talking to the media in Karachi on Friday, he said efforts are being made to improve law and order in Balochistan.
http://www.nation.com.pk/national/11-Jul-2014/those-trying-to-derail-democracy-are-pakistan-s-enemy-malik
-----------
Six killed after Nawaz leaves Karachi
July 11, 2014
Karachi- Moments after the end of Prime Minister Nawaz Sharif's Karachi visit, at least six people including a policeman were killed during last 24 hours in different violence and firing incidents in the metropolis.
A police, Zeeshan, was killed on Ijtimagah Road in Manghopir. Zeeshan was going back home after his duty was over. The number of police fatalities during the holy month of Ramadan, mounted to seven.
Full report at:
http://www.nation.com.pk/karachi/11-Jul-2014/six-killed-after-nawaz-leaves-karachi
-----------
Tribal people don't want terrorists' come back in NWA: Bajwa
July 11, 2014
RAWALPINDI-Director General (DG) Inter-Services Public Relations (ISPR) Asim Bajwa has said that tribal people don't want terrorists' comeback in North Waziristan Agency (NWA).
Briefing the media on operation Zarb-e-Azb on Thursday, Asim Bajwa said the operation extremist will continue till the last militant was killed. He claimed that eighty percent area of the agency had been cleared of terrorists, while the remaining twenty percent would be cleared soon.
Bajwa said that more terrorists were killed, while their hideouts were also destroyed. He told the media that Pak Army cordoned off the mountains where terrorists were hiding.
He said there was also presence of Al-Qaeda in Miranshah. They said eighty percent areas of Miranshah had been cleared of terrorists.
Full report at:
http://www.nation.com.pk/national/11-Jul-2014/tribal-people-don-t-want-terrorists-come-back-in-nwa-bajwa
-----------
Africa
'Top Politicians' ID Cards, Party Materials Found In Boko Haram Camp
Jul 11, 2014
The federal government yesterday revealed that identity cards belonging to some top politicians as well as party materials were found in the Boko Haram terrorists' base in Balmo Forest in the Darazo local government area of Bauchi State.
It said that the items recovered during the last operations carried out by security forces to dislodge terrorists from their forest bases had linked some politicians and political parties to terrorism.
The coordinator of the National Information Centre, Mr Mike Omeri, disclosed this while briefing journalists on government's efforts towards the rescue of the abducted Chibok girls.
Omeri, who was silent on the details of the development, however vowed that the federal government will reveal the names of the politicians and parties involved, as the matter is still under investigation.
Full report at:
http://allafrica.com/stories/201407100607.html
-----------
Libya prepares to move parliament to Benghazi
Jul 11, 2014
Libyan authorities signalled on Thursday they would press ahead with plans to move the country's parliament to the eastern port city of Benghazi despite a collapse in law and order there.
The plan to move the newly elected national assembly from the capital Tripoli to the country's second largest city is part of efforts to rebuild state authority in the underdeveloped east, neglected by Libyan governments for decades.
Justice Minister Saleh al-Merghani said the government had decided to allocate 25 million Libyan dinars ($20.83 million) to moving the new assembly, elected last month in a vote marred by a very low turnout and violence.
Full report at:
http://english.ahram.org.eg/NewsContent/2/8/105968/World/Region/Libya-prepares-to-move-parliament-to-Benghazi.aspx
----------
Morocco ramps up security faced with 'serious terror threat'
11 July 2014
Morocco announced on Thursday that it is tightening security measures in response to a "serious terrorist threat" linked to the growing number of its citizens joining jihadist groups in Syria and Iraq.
Interior Minister Mohamed Hassad said there was "a serious threat of a terrorist attack against the kingdom because of the growing number of Moroccans belonging to extremist organizations in Syria and Iraq."
"A certain number of these fighters rise to leading positions within such organizations and do not hide their intention of carrying out terrorist attacks in Morocco," he told a cabinet meeting in Rabat.
Full report at:
http://english.alarabiya.net/en/News/2014/07/11/Morocco-ramps-up-security-face-with-serious-terror-threat-.html
----------
South Sudan military leaders face EU sanctions
Jul 11, 2014
The European Union is imposing sanctions on two South Sudanese military leaders accused of obstructing the country's peace process.
They are also responsible for atrocities committed in the last six months, an EU statement said.
Their names are to be published shortly, when the travel ban and asset freeze will come into force.
Thousands of people have died in the fighting that erupted between different factions of South Sudan's ruling party.
More than a million people have fled their homes as a political dispute between President Salva Kiir and his former deputy Riek Machar escalated into ethnic violence.
'Unacceptable'
"Millions more face the risk of famine. Appalling human rights violations and crimes against humanity have taken place," the Council of the European Union said about the crisis in South Sudan.
Full report at:
http://www.bbc.co.uk/news/world-africa-28262592
-------------
Central African Republic 'killers' named and shamed
Jul 11, 2014
Amnesty International has identified those it believes are responsible for atrocities recently committed in the Central African Republic (CAR).
Several leaders from rebels and militia groups, as well as former Presidents Francois Bozize and Michel Djotodia, are named by the rights group.
The trouble in CAR began as Mr Djotodia's mainly Muslim rebels seized power in March last year.
The majority Christian state then descended into ethno-religious warfare.
Thousands of people have been killed and almost a quarter of the country's 4.6 million inhabitants have been forced from their homes.
The report - Central African Republic: Time for Accountability - says that most attacks have been conducted openly, with the perpetrators showing no fear of sanction.
Mr Djotodia stepped down under regional pressure in January, but the fighting has continued.
He has declined to comment on the allegations.
Full report at:
http://www.bbc.co.uk/news/world-africa-28252542
-----------
Arab World
Syria's Terrorists Commit Fresh Hama Massacre
Jul 11, 2014
Syria: Massacre in Hama; July 2014Three women of one family were cold-bloodedly slaughtered by an armed terrorist group who sneaked into their town in the southern countryside of Hama, state-run SANA news agency reported.
The killing, which took place in Taqsis town, came as another horrific massacre lay hours away which terrorists perpetrated against 14 civilians including women and children in Khattab village in northwestern countryside of the province.
SANA reporter quoted a Police Command source as saying that an armed terrorist group infiltrated Taqsis town from al-Rastan side and "slaughtered three women of one family, beheaded them and mutilated their bodies."
The terrorists also shot another woman, leaving her injured, and kidnapped a fourth member of the family, the source added.
Director of the General Commission of Hama National Hospital Salim Khallouf told SANA that the bodies of three women from Taqsis town arrived in the hospital showing signs of gunshot wounds, mutilation and decapitation.
Full report at:
http://www.almanar.com.lb/english/adetails.php?fromval=1&cid=23&frid=23&eid=160620
-----------
Sunni Insurgents enter military base northeast of Baghdad: Officials
Jul 11, 2014
Sunni insurgents battling forces loyal to Iraqi Prime Minister Nuri al-Maliki broke into a military base in Diyala province northeast of Baghdad on Thursday, a security source and a local official said.
They said militants fought their way into the base on the edge of Muqdadiya town, 80 km (50 miles) northeast of the capital. The northern side of the town was already under their control before Thursday's clashes.
The area around Muqdadiya has seen sustained fighting in recent weeks since fighters led by the hardline Islamic State, an offshoot of Al-Qaeda, seized the northern city of Mosul and swept south towards Baghdad.
Full report at:
http://english.ahram.org.eg/NewsContent/2/8/105955/World/Region/Insurgents-enter-military-base-northeast-of-Baghda.aspx
-----------
Jihadi fighters on the offensive against Kurds in northern Syria
Jul 11, 2014
BEIRUT — Activists say jihadi fighters using weapons they recently captured in neighboring Iraq are battling to take predominantly Kurdish areas in northern Syria.
Kurdish official Nawaf Khalil says members of the Islamic State group are trying to capture an area near the Turkish border to link with their positions east of the country.
He and other activists say Thursday's fighting is concentrating in the region of Kobani, also known as Ayn Arab.
Mustafa Osso, a Turkey-based Kurdish activist who has wide contacts in northern Syria. says the aim of the offensive is to take the entire Kobani area.
Osso says those standing against the Islamic State group are mostly members of the People's Protection Units, the armed wing of the Kurdish Democratic Union Party.
http://www.nydailynews.com/news/national/jihadi-fighters-offensive-kurds-northern-syria-article-1.1861555
-----------
ISIS Unveils 'Cabinet' Line-Up: Report
11 July 2014
Abu Bakr al-Baghdadi, the self-proclaimed leader of the Islamic State of Iraq and Syria (ISIS ), has reportedly formed a cabinet to be in charge of his newly established "caliphate."
Documents published by The Telegraph newspaper this week revealed for the first time in details the structure of the group, which has claimed universal authority throughout the Muslim world, declaring Baghdadi its caliph.
The British newspaper published an infograph that explains the leadership arrangement under Baghdadi, based on documents seized from an ISIS member's house following a raid by the Iraqi army.
According to the illustration, Baghdadi appointed a "deputy to the emir." Fadel Abdullah al-Hiyali, nicknamed Abu Muslim al-Turkmani, serves as Baghdadi's deputy and is in charge of overseeing Iraqi provinces under ISIS .
Full report at:
http://english.alarabiya.net/en/News/middle-east/2014/07/11/Check-out-Baghdadi-s-new-ISIS -cabinet.html
-----------
Bruised Iraqi army leans on Shiite militias, volunteers
11 July 2014
The Iraqi soldier says he abandoned the army last week in despair. And while he still plans to fight he will not rejoin the unit he deserted in the western city of Ramadi.
Instead, he wants to sign up as a volunteer, alongside tens of thousands of others, to help defend Shiite shrines against Sunni insurgents who have swept the country's north and west and who he believes now threaten his sect.
"The officers brought us to the point where a soldier could either die or flee," the 31-year-old said, asking his name be withheld to avoid punishment.
"I'll go fight as a volunteer. I won't go as a soldier. I'm not afraid," he said. "I have my faith."
The deserter's story illustrates a dynamic increasingly shaping a conflict that could tear Iraq apart: With the army's northern divisions hard hit by desertions as key Sunni cities fell in June, Prime Minister Nouri al-Maliki's Shiite-led government has leaned heavily on Shiite militias and volunteers motivated by a sense of religious duty.
Full report at:
http://english.alarabiya.net/en/perspective/2014/07/11/Bruised-Iraqi-army-leans-on-Shiite-militias-volunteers.html
-----------
Clashes near Ramadi kill 11 Iraq police: Officer
July 11, 2014
RAMADI: Clashes between militants and Iraqi security forces near Anbar provincial capital Ramadi killed 11 police and wounded 24, an officer and a doctor said on Friday.
The fighting near Ramadi, a city west of Baghdad where anti-government fighters have held shifting areas since the beginning of the year, began Thursday afternoon and continued into Friday.
http://tribune.com.pk/story/734166/clashes-near-ramadi-kill-11-iraq-police-officer/
-----------
Syria war toll tops 170,000, one-third civilians
July 11, 2014
BEIRUT : The death toll in Syria's three-year war has eclipsed 170,000 people, one-third of them civilians, a monitoring group said in a new toll released on Thursday.
"Ever since the first casualty of the Syrian revolution was registered on March 18, 2011 in Daraa province, the deaths of 171,509 people have been documented," said the Syrian Observatory for Human Rights. Among the dead were 56,495 civilians, including 9,092 children, according to the toll, which included casualties documented up to July 8 this year.
Another 65,803 were regime troops and pro-regime militiamen, while 46,301 were rebels seeking President Bashar al-Assad's ouster and members of the Islamic State (IS) jihadist group.
Full report at:
http://www.nation.com.pk/international/11-Jul-2014/syria-war-toll-tops-170-000-one-third-civilians
-----------
Egypt hits out over Israeli 'mass punishment' in Gaza
11 July 2014
Egypt hit out at Israel on Friday for killing civilians in Gaza with "oppressive policies of mass punishment", while urging the international community to act quickly to end the conflict.
Israel's aerial military campaign targeting rocket-firing Islamist militants in Gaza has killed around 95 Palestinians and wounded more than 500 since it was launched early Tuesday.
"Egypt rejects the irresponsible Israeli escalation in the occupied Palestinian territory, which comes in the form of excessive and unnecessary use of military force leading to the death of innocent civilians," the foreign ministry said.
Full report at:
http://english.alarabiya.net/en/News/middle-east/2014/07/11/Egypt-hits-out-over-Israeli-mass-punishment-in-Gaza-.html
-----------
UAE pledges $25 million in aid to Gaza
Jul 11, 2014
The United Arab Emirates pledged $25 million in humanitarian aid Thursday to "support the steadfastness" of Palestinians in Gaza where Israeli strikes have killed more than 70 people in three days.
The Emirati Red Crescent will supervise delivery of the aid, WAM state news agency said, adding that the aid organization will also set up a field hospital in Gaza "to help the victims of the Israeli aggression".
Israel launched Operation Protective Edge on Tuesday, aimed at halting cross-border rocket fire from the Hamas-controlled Gaza Strip.
http://english.alarabiya.net/en/News/middle-east/2014/07/10/UAE-pledges-25-million-in-aid-to-Gaza.html
-----------
Syrian Army Hit Terrorists' Strongholds in Aleppo, Daraa
Jul 11, 2014
Syrian Arab ArmySyrian army units eliminated Thursday a number of terrorists, inflicting heavy losses upon the armed terrorists groups in several areas, state-run SANA news agency reported.
In Aleppo and in its countryside, a military source said that army units targeted terrorists gatherings and hideouts in al-Atareb, Kwairis, Hasin, Daret Izza, Qibtan al-Jabal, to the north of the Industrial area, Tal Susin, al-Sheikh Said, Fakhour and Kafer Hamra, killing a number of terrorists, injuring others and destroying their vehicles.
The source added that an army unit thwarted an armed terrorist group's attempt to infiltrate from Ikthar al-Bithar area in Aleppo city towards the safe areas in the city, killing and injuring a number of its members.
Full report at:
http://www.almanar.com.lb/english/adetails.php?eid=160609&cid=23&fromval=1&frid=23&seccatid=20&s1=1
-----------
OIC demands action against Israeli atrocities
Jul 11, 2014
The world's largest Muslim bloc Thursday urged the UN Security Council to force a halt to Israel's air war on Gaza that has killed more than 80 Palestinians in three days.
The Organization of Islamic Cooperation, after a meeting of its executive committee in Jeddah, said it was forming a ministerial team to lobby the Security Council and international community "to halt the Israeli aggression."
The committee demanded that OIC ambassadors in Geneva call a meeting with the UN Human Rights Council to form an international commission to investigate Israel's crimes and violations.
OIC summit presidents, foreign ministers and members of the committee on Jerusalem must mobilize efforts as soon as possible and network with international actors, said a committee statement.
Full report at:
http://www.arabnews.com/news/600176
-----------
Haram security 'a red line no one can cross'
Jul 11, 2014
Security forces deployed at the Grand Mosque in Makkah and the surrounding areas are well-prepared to confront any situation, said commanders of various forces.
"The security of the Grand Mosque is a red line that nobody will be allowed to cross," said a high-ranking officer.
Maj. Gen. Abdul Aziz Al-Souli said a reserve force has been formed to support the existing security forces at the Grand Mosque for rapid deployment during emergency. "We have taken into consideration all situations and our forces are ready to confront any challenges."
Maj. Gen. Yahya Al-Zahrani said 750 cameras have been installed to monitor the movement of pilgrims and worshippers. Around 320 cameras will be installed in the newly expanded area. "All parts of the Grand Mosque and its courtyards are monitored via CCTV cameras."
Maj. Gen. Khaled Al-Harbi spoke about the security agencies' efforts to prevent crime before it takes place by making use of modern electronic devices.
"Our forces have a high sense of security and they are capable of facing any situation," he said.
http://www.arabnews.com/news/599671
-----------
Saudi Preachers Resort To Social Media to Spread Message
Jul 11, 2014
Several preachers here are using social media to spread information about Ramadan and Islam to young and old locally and worldwide.
Mohammed Nouh, the director of the Qur'an and Dawah department of a local relief organization, said recently they published on social media platforms various Ramadan-related sayings of the Prophet (peace be upon him) video clips and information on the importance of fasting.
"It's a good way to spread Islamic knowledge and awareness during Ramadan because more than 30 percent of people here use social media. We have more than a thousand likes and many people share our posts. We are looking forward to reaching many more Muslims worldwide."
Full report at:
http://www.arabnews.com/news/599991
-----------
Do not misuse Qunut supplications: Saudi Scholars
Jul 11, 2014
The word Qunut is generally used in reference to special supplications made in the standing position after getting up from Ruku in the last Rak'at of the voluntary Witr prayer. Some of these supplications that are offered by imams during the holy month of Ramadan deal with political issues that not at all concerned with worshippers and scholars have urged worshippers to avoid political issues and follow the Qur'an and Hadith while worshipping, Al-Riyadh daily reported.
Some imams unnecessarily prolong their supplications by bringing up irrelevant matters that only fatigue worshippers. In this context, a number of scholars and academics have warned against misusing Qunut prayers for political purposes or for anything that does not conform to the spiritual nature of the holy month. They emphasized that imams should focus mainly on prayers mentioned in the Holy Qur'an or in the Tradition (Hadith) of the Prophet (peace be upon him).
Full report at:
http://www.saudigazette.com.sa/index.cfm?method=home.regcon&contentid=20140711211167
-----------
Ancient Egyptian statue sells for £16 million in UK despite outcry
Jul 11, 2014
A 4,000-year-old Egyptian statue has been sold for just over £15 million at an auction at Christie's in London, despite the Egyptian government's outcry and strong criticism inside the UK.
The sculpture, which depicts Sekhemka, inspector of royal scribes, is being sold by Northampton Borough Council. It was originally acquired by the 2nd Marquess of Northampton during his travels in Egypt in 1849-50 and was given to Northampton Museum either by the 3rd or 4th Marquess of Northampton prior to 1880.
The auction was interrupted by some Egyptians who were trying to stop the controversial sale. During the bidding, the group started shouting inside the auction room.
"You are selling antiquities stolen from Egypt! You will not be allowed to go with it!" shouted one.
Northampton Borough Council, which claims absolute ownership of the statue, plans to use the money to help fund a £14 million extension to Northampton Museum and Art Gallery.
However, Arts Council England has warned that if the sale goes through, the museum could lose its accreditation status.
Full report at:
http://english.ahram.org.eg/NewsContent/9/40/105963/Heritage/Ancient-Egypt/Ancient-Egyptian-statue-sells-for-%C2%A3-million-in-UK-.aspx
-----------
India
Budget 2014: Madrasas get 100-crore upgrade
TNN | Jul 11, 2014
NEW DELHI: The Modi government's first budget earmarked a higher allocation of Rs 3,734.01 crore for the ministry of minority affairs while announcing schemes for skill upgrade of minorities and Rs 100 crore for modernization of madrasas.
The outlay for 2014-15 fiscal is 5.75% higher than the Rs 3,530.98 crore announced by the UPA government in the last budget. The revised budget for the ministry in 2013-14 was Rs 3,111 crore.
The focus of the BJP government is on upgrade of skills and imparting training in ancestral arts for development of minorities.
A scheme, 'Upgradation of Traditional Skills in Arts, Resources and Goods' will be launched to preserve traditional arts and craft. Assuring the minorities, the President's address to Parliament had said the new government was committed to making all minorities equal partners in India's progress.
Full report at:
http://timesofindia.indiatimes.com/budget-2014/student/Budget-2014-Madrasas-get-100-crore-upgrade/articleshow/38172453.cms
-----------
Sri Sri Ravi Shankar Holds Peace Dialogue With Iraqi Shia Religious Leaders
PTI | Jul 11, 2014
BOONE (North Carolina): Deeply perturbed by the ethnic violence in Iraq, Indian spiritual guru Sri Sri Ravi Shankar has met senior Iraqi religious leaders in the US and said that dialogue is the only way to establish long-term peace in the war-torn country.
At the 'Art of Living Retreat' at the scenic Blue Ridge Mountain in North Carolina, Ravi Shankar met two Iraqi Shia leaders.
He has plans to hold talks with Iraqi Sunni leaders too, initially through Skype and will travel to Europe next week to continue the dialogue process as part of his effort to impress upon Iraqi religious leaders to convince their followers against violence to achieve their goal.
"The way the killings are happening there (in Iraq), we are trying to push for the last chance...if there is any chance to bring them (Iraqi religious leaders) to negotiating table and have a dialogue," Ravi Shankar said.
" Full report at:
http://timesofindia.indiatimes.com/india/Sri-Sri-Ravi-Shankar-holds-peace-dialogue-with-Iraqi-religious-leaders/articleshow/38193598.cms
-----------
Never accepted Kashmir's accession to India, Pakistan says
Jul 11, 2014
ISLAMABAD: Upping its ante, Pakistan on Thursday asserted that it had never accepted Kashmir's accession to India saying that the UNSC mandate remains till the Kashmir issue is resolved.
Reacting to India's move asking the United Nations Military Observer Group in India and Pakistan (UNMOGIP) to vacate their office building in New Delhi, Pakistan's Foreign Office spokesperson Tasnim Aslam said such measures would not have any impact on the legal status of the Kashmir dispute.
"Asking the UN observers to move out of a building or payment of rent is inconsequential in the context of the status of Jammu & Kashmir. There is a reason why UNMOGIP is present in the first place. Asking them to move out of the building does not abolish the mandate which was given by the UN Security Council in 1951 under Resolution 91.
Full report at:
http://timesofindia.indiatimes.com/india/Never-accepted-Kashmirs-accession-to-India-Pakistan-says/articleshow/38144468.cms
-----------
India calls upon Israel, Palestine to exercise restraint, resume dialogue
MAHIM PRATAP SINGH
Jul 11, 2014
Expressing deep concern at the escalation of violence between Israel and Palestine, India has called upon both sides to exercise maximum restraint.
"India is deeply concerned at the steep escalation of violence between Israel and Palestine, particularly, heavy air strikes in Gaza, resulting in tragic loss of civilian lives and heavy damage to property. At the same time, India is alarmed at the cross-border provocations resulting from rocket attacks against targets in parts of Israel," Ministry of External Affairs spokesperson Syed Akbaruddin said in New Delhi on Thursday.
India urged both Israel and Palestine to "avoid taking actions that may further exacerbate the situation, and threaten the peace and security of the region".
India said it remained firmly convinced that dialogue was the only viable option that could effectively address the issues confronting the region and its people.
Full report at:
http://www.thehindu.com/news/national/india-calls-upon-israel-palestine-to-exercise-restraint-resume-dialogue/article6197677.ece
----------
South Asia
Lankan Muslims slam attempts to link them to Al Qaeda
Jul 11, 2014
COLOMBO: National Shura Council (NSC) – an alliance of national level Muslim organisations in Sri Lanka has urged those concerned about an Al Qaeda presence in the country to lodge complaints with police without demonising the Muslim community.
NSC President, Tariq Mahmud in a statement to the press has pointed out that although it is their belief that allegations of jihadist groups operating in Sri Lanka and of their involvement in the recent southern Muslim-Buddhist clashes are absolutely false, the claims have detrimentally impacted the Muslim community in the country. "The allegations are being made by those who have no defence or apology for the serial crimes unleashed by hate charged mobs on innocent Muslims on 15 and 16 June," he notes, referring to the riots in Southern Alutgama last month.
Full report at:
http://www.dawn.com/news/1118536/lankan-muslims-slam-attempts-to-link-them-to-al-qaeda
-----------
Bangladesh bans marriages for Rohingya refugees
Jul 11, 2014
DHAKA: Bangladesh said on Thursday it has barred official marriages between its nationals and Myanmar's Muslim Rohingya refugees, whom it claims are attempting to wed to gain citizenship.
Law minister Syed Anisul Haque said he has ordered marriage registrars not to officiate any unions between Bangladeshi nationals and Rohingyas and also between Rohingyas themselves, thousands of whom have fled to Bangladesh.
He said Rohingyas try to use the resulting wedding certificate to gain Bangladeshi passports and other documents, while Rohingyas who marry Bangladeshis could automatically qualify for citizenship.
Full report at:
http://www.dawn.com/news/1118540/bangladesh-bans-marriages-for-rohingya-refugees
-----------
China jails 32 in Xinjiang on terror charges
Jul 11, 2014
Courts in China's Xinjiang region have jailed 32 people on charges of spreading extremist content online and organising terror groups, media report.
Three of them were jailed for life while the others received sentences varying from four to 15 years, according to Xinhua.
Chinese officials have blamed militant Uighur groups for a growing number of violent attacks across the country.
China has seen several recent high-profile attacks on civilian targets.
In October last year a car ploughed into pedestrians in Tiananmen Square in Beijing, killing five people, and there have also been attacks at railway stations in Urumqi and Kunming.
The Xinjiang courts convicted the defendants on charges of using their mobile phones and social media to store, download and spread religious extremist and terror-related content.
The 32 people were also found guilty of organising and leading terror groups, constructing explosive devices, and "fanning ethnic hatred and prejudice".
Full report at:
http://www.bbc.co.uk/news/world-asia-china-28258983
------------
Maldives acted under its own laws in Seleznyov expulsion, says US Embassy
By Ahmed Rilwan | July 10th, 2014
The Maldives acted under its own laws in the expulsion of Russian national Roman Valerevich Seleznyov, the US Embassy in Colombo has said.
Seleznyov, 30 years, was reportedly about to board a flight to Moscow after holidaying in the Maldives when he was arrested from the Ibrahim Nasir International Airport (INIA).
He was then transported to Guam Island with the help of the US Secret Service. Seleznyov is the son of Russian parliamentarian Valery Seleznyov.
Russia has earlier called Seleznyov's arrest a "kidnapping" by the US Secret Service and described the actions of Maldivian authorities in the incident as "outraging."
A spokesperson with the US Embassy in Colombo said Seleznyov was detained by the Maldivian authorities "following the issuance of an Interpol Red Notice" in relation to indictments relating to bank and computer fraud that affected thousands of American citizens.
Full report at:
http://minivannews.com/politics/maldives-acted-under-its-own-laws-in-seleznyov-expulsion-says-us-embassy-88361
-----------
Karzai assures Kerry regarding transfer of power on 2nd August
Jul 11 2014
Afghan President Hamid Karzai has assured that the swearing-in ceremony for the next elected president of Afghanistan will be organized on 2nd August.
President Karzai met with the US Secretary of State of John Kerry on Friday morning, the ARG presidential palace said following a statement.
The statement further added that the two sides discussed election issues, UN proposal to resolve the election crISIS and views of the two presidential candidates regarding the election.
Full report at:
http://www.khaama.com/karzai-assures-kerry-regarding-transfer-of-power-on-2nd-august-6384
-----------
Facebook becomes outlet for religious anger in Myanmar
Jul 11, 2014
acebook is coming under scrutiny in Myanmar as an unwitting platform for a rising tide of hate speech following a new wave of Buddhist-Muslim bloodshed in the former junta-run country.
The social media site is hugely popular among netizens in the once-isolated nation, where it has become the prime means of sharing news and information for a small but growing Internet community.
But new freedoms under a quasi-civilian government have opened the flood gates for incendiary Internet comment.
A blog alleging the rape of a Buddhist woman by two Muslim men sparked an Internet firestorm last week that led to a riot in the second-largest city Mandalay – the clearest link yet between surging hate speech online and clashes on the streets.
The unrest, which left two dead, raised fears that anti-Muslim violence that had previously gripped more remote parts of the diverse country for two years could spread to other major cities, including Yangon.
Full report at:
http://www.themalaysianinsider.com/world/article/facebook-becomes-outlet-for-religious-anger-in-myanmar#sthash.Lv3GHTtZ.dpuf
-----------
Europe
British Combatants of a Different Religious War
Jul 11, 2014
LONDON — It was nine years ago on July 7, 2005, that four suicide bombers killed 52 people on the London transit system during the morning rush hour, introducing Britons to a kind of terrorism that Americans had confronted on Sept. 11, 2001.
This week, the memory conjured grief and defiance in uneven measures: In Hyde Park, just hours before survivors gathered on Monday to recall the bloodshed, the steel pillars that form a monument to the dead were defaced with stencilled slogans redolent of that era: Blair Lied, Thousands Died; 4 Innocent Muslims.
Britons probably did not need what one survivor called this "immature act" to grasp that Islamic militancy has not gone away, and may indeed have intensified, its focus widened to the highways and deserts and battered cities of Iraq and Syria, drawing ever more young Britons to the black banner of far-flung jihad.
Full report at:
http://www.nytimes.com/2014/07/11/world/europe/british-combatants-of-a-different-religious-war.html?_r=0
-----------
Stolen Islamic, Pharaonic Items Returned To Egypt from Denmark and France
Jul 11, 2014
Two shipments of stolen Egyptian artefacts spanning the eras of the pharaohs and the Mamluks have been returned to Egypt, thanks to efforts from diplomatic officials.
The first consists of eight Islamic wooden art decorations stolen in 2008 from the pulpit of Ghanim Al-Bahlawan Mosque in Al-Darb Al-Ahmar in Cairo's historic Islamic district.
Ghanim Al-Bahlawan Mosque, named after the Circassian Mamluk, was constructed in 1478 AD during the reign of Sultan Qait Bey. The decorative items depict geometrical patterns embellished with ivory.
Ali Ahmed, head of restoration at Egypt's antiquities ministry, told Ahram Online that the story started in 2012 when the Egyptian embassy in Copenhagen reported that Denmark's customs police had uncovered a package containing the stolen items, with investigations revealing that the package had been dispatched from the United States to Switzerland via Denmark.
Full report at:
http://english.ahram.org.eg/NewsContent/9/43/105941/Heritage/Islamic/Islamic,-pharaonic-items-returned-to-Egypt-from-De.aspx
-----------
HRW calls upon govt to ensure aid reaches North Waziristan IDPs
Jul 11, 2014
NEW YORK: The Human Rights Watch (HRW) has called upon the Pakistani government to address the health needs of thousands of people who have been displaced by the military operation in North Waziristan.
Earlier on July 9, the United Nations High Commissioner for Refugees Pakistan Country Representative had said that a lack of potable water, healthcare and sanitation facilities for the Internally Displaced Persons (IDPs) camp in the city of Bannu was compounding the danger of outbreaks of communicable disease.
HRW's deputy Asia director Phelim Kine said that the Pakistani government was responsible for addressing the fundamental needs of those displaced by the operation, adding that the warning from the UN should be a call to action to thwart a humanitarian disaster.
On June 15, the Pakistani army launched a comprehensive operation against local and foreign militants in North Waziristan, sealing it off and requesting the Afghan National Army to plug possible escape routes across the border.
Full report at:
http://www.dawn.com/news/1118572/hrw-calls-upon-govt-to-ensure-aid-reaches-north-waziristan-idps
-----------
Amnesty International blames EU for Turkey's refugee burden
Jul 11, 2014
The policies of the European Union and its member states are putting at risk the lives and rights of refugees in a number of countries, including Turkey, Amnesty International said in a fresh report, as figures indicate that the Aegean Sea has turned into sea of illegal migrants.
Figures from Turkish coast guard officials show that the number of refugees caught on the Aegean Sea was almost 7,000 last year, dramatically up from 2,531 in 2012.
The 2014 figure surpassed 3,600 in June, high above the same point in the past two years.
Turkey does not accept legal refugees from countries in its east, but reaching Europe from Turkey via Greek islands on the Aegean is a very common route for desperate migrants.
In a revealing indicator of relative priorities, the EU spent nearly 2 billion euros in protecting its external borders between 2007 and 2013, but only 700 million euros on improving the situation for asylum-seekers and refugees within the EU over the same period, said Amnesty International's report titled, "The human cost of Fortress Europe: Human rights violations against migrants and refugees at Europe's borders."
Full report at:
http://www.hurriyetdailynews.com/amnesty-international-blames-eu-for-turkeys-refugee-burden.aspx?pageID=238&nID=68967&NewsCatID=359
-----------
Putin urges end to 'armed confrontation' in Netanyahu call
Jul 11, 2014
Russian President Vladimir Putin called for an end to spiralling violence in Gaza during telephone talks with Israeli Prime Minster Benjamin Netanyahu.
"The Russian side stressed the necessity to as soon as possible stop armed confrontation, which leads to multiple victims among civilians," the Kremlin said after the call between the two leaders.
Putin and Netanyahu also discussed bilateral ties and "some other issues that are of mutual interest," the Kremlin said, without elaborating. The call took place at the initiative of the Israeli side, Putin's office added.
Full report at:
http://english.ahram.org.eg/NewsContent/2/8/105943/World/Region/Putin-urges-end-to-armed-confrontation-in-Netanyah.aspx
-----------
ISIS concern: British Muslim leaders condemn extremist group
Jul 11, 2014
Muslim leaders in Britain have condemned the extremist group Islamic State of Iraq and the Levant (ISIS ), expressing their "grave concern" at continued violence in its name.
Representatives from both the Sunni and Shia groups in the UK met at the Palace of Westminster and relayed their message that the militant group does not represent the majority of Muslims.
Maulana Shahid Raza, of Leicester Central Mosque told Sky News: "ISIS does not represent the main Sunni Muslims' ideology.
"They are involved in acts of terror and violence, they are involved in destructing and demolishing the Muslim shrines...We condemn it."
Shuja Shafi, of the Muslim Council of Great Britain, said: "Violence has no place in religion, violence has no religion.
Full report at:
http://www.independent.co.uk/news/uk/crime/ISIS -concern-british-muslim-leaders-condemn-extremist-group-9599273.html
-----------
More young Kazakhs fast during Ramadan
Jul 11, 2014
ALMATY – Like the other Central Asian countries, Kazakhstan is witnessing a resurgence of interest in Islam 23 years after the atheistic Soviet Union collapsed.
More than 70% of the population is Muslim. That figure exceeds 98% among ethnic Kazakhs, according to government data based on the 2009 census.
"Only 30% of believers attend mosques, and 60% of [those attending] are young people," Ongarkaji Omirbek, spokesman of the Spiritual Administration of Muslims of Kazakhstan (DUMK), told Central Asia Online. "Young people have begun to observe the fast more enthusiastically. According to our data, their number has increased by 30% in the last five years, and by 5% in this year alone."
Full report at:
http://centralasiaonline.com/en_GB/articles/caii/features/main/2014/07/09/feature-01
----------
North America
New NSA Bombshell Proves 'Muslim' Equals 'Suspicious' in America
Jul 11, 2014
The latest Snowden leak is big news, but old news: civil-rights leaders spied on because of who they are. But why didn't I make the list?
Sometimes I actually forget that simply because I'm Muslim, my own government might consider me suspicious. But then there are things that serve as jarring reminders, such as today's news that Muslim-American leaders were being spied on by the NSA and FBI.
Reporters Glenn Greenwald and Murtaza Hussain, based on information provided by Edward Snowden, have documented the FBI and NSA's covert surveillance of the email accounts of 202 American Muslims. The surveillance focused on visible Muslim-American leaders such as civil rights advocates, lawyers and a Republican political candidate during 2006-2008.
Let me be candid. My initial reaction to reading the articles headline, "Meet the Muslim-American leaders the FBI and NSA have been spying on," may surprise some. I wasn't angry as much as curious: Did I make the list? After all I'm pretty visible. Between 2006 and 2008, I had co-starred in the Comedy Central special "Axis of Evil," where I mocked George W. Bush and many aspects of the war on terror. I had even performed stand up across the Middle East, including in Egypt, Palestine, and Saudi Arabia. But it appears I didn't make the cut.
Full report at:
http://www.thedailybeast.com/articles/2014/07/09/glenn-greenwald-s-latest-proves-that-in-america-muslim-still-equals-suspicious.html
-----------
Gaza bloodshed spirals as US offers to broker ceasefire
Jul 11, 2014
Israeli warplanes kept up deadly raids on Gaza July 11 but failed to stop Palestinian militants firing rockets across the border, as the United States offered to help negotiate a truce.
With the violence growing worse, U.S. President Barack Obama in a phone call to Israeli Prime Minister Benjamin Netanyahu said his government was willing to broker a ceasefire.
Obama said he was concerned the fighting could escalate and "called for all sides to do everything they can to protect the lives of civilians", the White House said.
"The United States remains prepared to facilitate a cessation of hostilities, including a return to the November 2012 ceasefire agreement."
The 2012 deal, brokered by former secretary of state Hillary Clinton and Egypt, ended eight days of Israeli airstrikes on Hamas targets in a previous showdown.
Full report at:
http://www.hurriyetdailynews.com/gaza-bloodshed-spirals-as-us-offers-to-broker-ceasefire.aspx?pageID=238&nID=68977&NewsCatID=359
-----------
US blacklists Hezbollah agents buying drone components
July 11, 2014
WASHINGTON: The United States moved to blacklist a group of companies it claimed was covertly helping Lebanon's Hezbollah militia acquire components for surveillance drones.
The US Treasury placed sanctions on Beirut-based Stars Group Holding, which it said purchased electronics and other technology via offices in China and Dubai to support Hezbollah's military operations.
That included the development of unmanned aerial vehicles (UAVs) that the group had used in support of Syria's Assad regime against rebels, and were also used recently for surveillance over Israel, the Treasury said.
Full report at:
http://tribune.com.pk/story/734015/us-blacklists-hezbollah-agents-buying-drone-components/
-----------
Kerry arrives in Afghanistan to help resolve election crISIS
Jul 11 2014,
The US Secretary of State John has arrived in Afghanistan to meet with the Afghan officials and presidential candidates to help resolve the election crISIS .
State Department spokesman, Jeff Rathke said Kerry would meet with the Afghan president Hamid Karzi, presidential candidates Dr. Abdullah Abdullah and Dr. Ashraf Ghani Ahmadzai, and officials from the United Nations.
Rathke said Kerry will press for a thorough review "of all reasonable allegations of fraud," which would entail doing significant additional audits.
Full report at:
http://www.khaama.com/kerry-arrives-in-afghanistan-to-help-resolve-election-crISIS -6383
-----------
White House Congratulates Indonesia After Election
Jul 11, 2014
Jakarta. The White House has congratulated the people of Indonesia on a successful presidential election that saw strong public participation and high voter turnout on Wednesday.
"The high voter turnout, spirited campaign and strong participation by Indonesia's public, civil society and media underscore the strength and dynamism of Indonesia's maturing democracy," the office of the White House press secretary said on its website on Wednesday.
The office said that as the world's second- and third-largest democracies, the United States and Indonesia had many shared interests and values, "including a strong belief in the importance of respect for human rights, inclusive governance, and equal opportunities for all people."
Full report at:
http://www.thejakartaglobe.com/news/white-house-congratulates-indonesia-election/
-----------
Pakistan not source of Iraqi nuclear material: US
Jul 11, 2014
WASHINGTON: The United States said that it had no information to suggest that the nuclear materials seized in Iraq had come from Pakistan.
"We have no confirmation of who the source of the material was," US State Department Spokesperson Jen Psaki told a briefing in Washington.
"We have had a range of dialogue with Pakistan and I am not aware of any new concern on this case," she added.
Earlier this week, Iraq notified the United Nations that Sunni militants seized nuclear material from a university in the northern city of Mosul last month as they advanced toward Baghdad.
On Thursday, the UN nuclear regulatory body, the International Atomic Energy Agency, announced that it had received a letter from Iraq and that it experts had done some preliminary investigations as well.
Full report at:
http://www.dawn.com/news/1118459/pakistan-not--of-iraqi-nuclear-material-us
-----------
US confident of Pakistan's nuclear assets' safety
July 11, 2014
Washington- The United States has reaffirmed its confidence in safety of Pakistan's nuclear assets.
State Department spokesperson Jen Psaki in response to a question at the daily briefing in Washington said the United States is working closely with Pakistan on counter-terrorism and other issues.
The United States has once again expressed satisfaction over the security of nuclear assets of Pakistan. Spokesperson for the State Department, Jen Psaki said the US has no concerns over the security of Pakistan's nuke assets.
Replying to a question during a press briefing, Psaki said officials of both the countries used to talk over several issues, adding US works with Pakistan over anti-terrorism and other matters. Jen Psaki said she was not aware of any concern pertaining to security of nuclear assets of Pakistan.
http://www.nation.com.pk/national/11-Jul-2014/us-confident-of-pakistan-s-nuclear-assets-safety
-----------
Southeast Asia
Protecting rights of sexual minorities is against Islam, says Isma
Jul 11, 2014
Continuing its attacks on the proposed unity bills, Muslim rights group Ikatan Muslimeen Malaysia (Isma) said protecting the rights of the lesbian, gay, bisexual, and transgender (LGBT) community would mean that the country was giving the group "recognition".
Instead, Isma's Ulema council chairman Associate Professor Dr Aznan Hasan (pic) said, the LGBT community which "practises same-sex relationships" needed to be fought and punished.
Failure to do so would bring on the wrath of Allah and His retribution would be very heavy on Earth and in the afterlife, Aznan said.
He was commenting on a statement by the National Unity Consultative Council (NUCC) Law and Policy working committee chairman Datuk Mujahid Yusof Rawa, who had said that a person could not be discriminated because of his sexual orientation.
Mujahid and his committee had drafted three new bills – the Racial and Religious Hate Crimes Bill, the National Harmony and Reconciliation Bill and the National Harmony and Reconciliation Commission Bill – to replace the draconian Sedition Act.
Full report at:
http://www.themalaysianinsider.com/malaysia/article/protecting-rights-of-sexual-minorities-is-to-give-them-recognition-which-is#sthash.HRKL8gDC.dpuf
-----------
Indonesia deadlock: Court may decide new president
Jul 11, 2014
A day after Indonesia's presidential elections failed to produce a clear winner, Jakarta's police chief promised to prevent violence by cracking down on anyone celebrating prematurely. With both candidates continuing to claim victory, the next leader of the world's third-largest democracy could be decided in court.
Wednesday's third direct presidential vote went smoothly, but fears of unrest surfaced after Jakarta Gov. Joko Widodo and ex-army general Prabowo Subianto both declared a win after the quick count results were released.
The apparent deadlock has raised fears of political instability in the world's most populous Muslim nation and Southeast Asia's biggest economy. It could not only stymie the economic development but also stall the nation's young democracy, which has just begun to flourish after decades of authoritarian rule.
Full report at:
http://www.thehindu.com/news/international/indonesia-deadlock-court-may-decide-new-president/article6198962.ece
-----------
Election Survey Network Targeted in Molotov Cocktail Attack
Jul 11, 2014
Jakarta. An unknown assailant hurled a Molotov cocktail at the South Jakarta offices of the Indonesian Survey Network (JSI) on Friday morning.
The homemade bomb did not explode. Pancoran Police are looking into the incident.
"The was [an attack]," Pancoran Police crime division head Adj. Comr. Suroto said. "It was at the JSI office, and the [bomb] didn't ignite. We have checked the crime scene, looked for any witnesses and gathered evidence. There was a bottle as evidence."
Police did not say whether they considered the attack to be an act of terrorism.
"We're still developing the case," Suroto said. "The witnesses are still being questioned."
South Jakarta Police spokesman Comr. Aswin said that Imam Zakaria, 39, a security officer, discovered the Molotov cocktail at 12:40 a.m. when he heard it rolling across the floor.
"He checked and found an energy drink bottle with a fuse and gasoline inside it," Suroto said. "He believed it was thrown by a motorcycle rider."
Full report at:
http://www.thejakartaglobe.com/news/jakarta/election-survey-network-targeted-molotov-cocktail-attack/
----------
3 Thai Muslim police officers killed in ambush
AFP | Jul 11, 2014
BANGKOK: Three policemen were shot dead in an ambush by suspected Muslim militants in Thailand's insurgency-racked far south, an official said on Friday.
The three Muslim officers were returning from evening prayers when they were attacked on Thursday night in Krong Pinang district in Yala province, police said.
"It's the work of militants who want to incite further unrest," Yala deputy police commander Colonel Banlue Chuwet told AFP by telephone.
An imam was shot in the leg in the same attack, he added.
More than 6,000 people have been killed in near-daily bombings and shootings in the Muslim-majority region near Thailand's southern border with Malaysia since 2004.
Buddhist and Muslims alike fall victim to the shadowy militants, who target security forces, civilians and perceived representatives of state authority.
The rebels want a level of autonomy, accusing Thai authorities of disrespecting their Malay culture and language, and of carrying out human rights abuses.
Peace talks between some rebel factions and the Thai authorities stalled as a political crisis erupted in Bangkok last year, culminating in a military coup in May.
http://timesofindia.indiatimes.com/world/rest-of-world/3-Thai-Muslim-police-officers-killed-in-ambush/articleshow/38188124.cms
------------
Australian jihad supporter arrested in Philippines
Jul 11, 2014
A Muslim convert under investigation by police in Australian for supporting terrorism and fighters in Syria and Iraq was arrested in the Philippines on Friday, police said.
Robert Edward Cerantonio, also known as Sheik Musa, was apprehended for being an undocumented foreigner in the Philippines because his passport has been cancelled and his visa expired, Senior Superintendent Conrad Capa said.
Cerantonio is a "jihadist preacher" who has been using social media websites to call for jihad and encourages Muslim combatants to fight in Syria and Iraq, said Capa, a deputy regional director for operations.
http://voiceofrussia.com/news/2014_07_11/Australian-jihad-supporter-arrested-in-Philippines-6737/
-----------
URL: https://newageislam.com/islamic-world-news/new-age-islam-news-bureau/zionist-entity-using-internationally-banned-weapons-in-gaza-assault/d/98045