Age Islam News Bureau
20 May 2017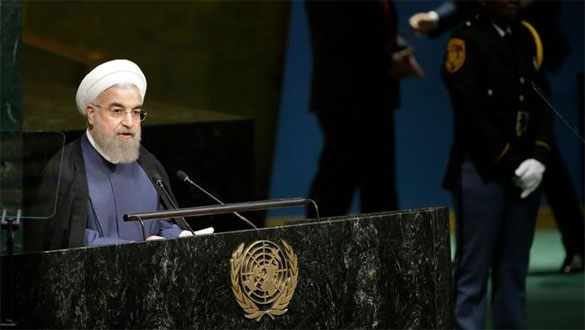 Rouhani first took office in 2013 promising to open Iran to the world [EPA]
-----
• Zakir Naik Granted Saudi Citizenship by King Salman: Reports
• Top Saudi Cleric Says Trump-Muslim Summit 'Blessed'
• Hassan Rouhani Wins Iran's Presidential Election
• As Muslim Split Deepens, Indonesia Creaks Under Weight of Intolerance
• Saudi Arabia Classifies Top Hezbollah Leader as Terrorist
India
• Zakir Naik Granted Saudi Citizenship by King Salman: Reports
• Alarmed At Probe, Hurriyat Says It Has No Terror Links to Lashkar
• NCERT Class 12 Textbooks Won't Describe 2002 Gujarat Riots as 'Anti-Muslim'
• Pervez Musharraf says Kulbhushan Jadhav is 'a bigger terrorist than Ajmal Kasab'
• Pakistan may be propping up new terror outfit in Kashmir, feel intel agencies
• NIA starts probing Geelani and others for receiving Pakistan funds
--------
North America
• Top Saudi Cleric Says Trump-Muslim Summit 'Blessed'
• Trump To Muslims On First Foreign Trip: Drive Out Terrorists
• Trump to avoid tough anti-Muslim language in Saudi Arabia: A.P
• Muslim Americans Have Some Advice For Trump On His Islam Speech
• US: Convoy hit by coalition likely Iran-directed
• US Muslim schools building bridges
• Speaking on Islam, will Trump hit reset with Muslims?
--------
Mideast
• Hassan Rouhani Wins Iran's Presidential Election
• Arab Coalition Destroys Militia Weapons Depot In Houthi-Strong Hold
• Yemenis fire ballistic missile at Riyadh ahead of Trump visit: Report
• Palestinians injured during clashes with Israeli forces in Gaza Strip, West Bank
• Turkey targets Opp daily suspecting links to coup bid
• 'Dozens hurt' as Palestinians clash with Israeli forces
--------
Southeast Asia
• As Muslim Split Deepens, Indonesia Creaks Under Weight of Intolerance
• Malaysia to Help Saudis Show Trump Peaceful Vision of Islam
• Indonesian VP Says Violent Extremism Results from Twisted Interpretation of Islam
• Riyadh Summit must stand ready to confront terror swiftly, decisively, says PM Najib
• Restructure State Islamic Councils to Drive Muslim Economy, Ex-MAS CEO Says
--------
Arab World
• Saudi Arabia Classifies Top Hezbollah Leader as Terrorist
• Car Bombings in Baghdad Kill 11 People, Says Officials
• President Donald Trump arrives in Saudi Arabia on historic visit
• Convoy Hit by Coalition in Syria Likely 'Iranian-Directed': Mattis
• Iraqi Army Bulldozer Takes on Bomb-Laden Daesh Car: Video
• Two suicide car bombs explode on highway near oilfields in southern Iraq
• Senior Syrian Official Terms US Air Attack on Army Convoy as State Terrorism
• ISIL Withdraws from More Lands in Eastern Aleppo
• Kurdish-Led SDF Cuts off Last Supply Line of ISIL to Raqqa City
• Syrian Army Reinforcements Pour into Desert despite US Airstrikes
• US: Coalition to encircle ISIS militants before starting military campaign
• Latest round of Syrian peace talks comes to an end
--------
Africa
• Nigeria: 'How Religious Intolerance Hinders Societal Growth'
• Suicide Bombers Hit Nigerian University
• UN Official Urges Muslim Leaders in Africa to Join Fight against Extremism
• Tribal Elder, 5 Others Killed by Car Bomb South of Libya's Benghazi
• Sudan's Bashir to skip Trump-Muslim summit
• Macron visits Mali's restive north
--------
South Asia
• NATO Allies and Partners Reaffirm Strong Support to Afghanistan
• 11 Civilians Killed In an Explosion in Logar Province of Afghanistan
• 5 Policemen Killed By A Comrade in East of Afghanistan
• 750 ISIS Militants Killed Since Early March in Afghanistan: USFOR-A
• Bangladesh authorities arrest 27 men on suspicion of being gay
• Gen. Dostum Reportedly Left for Turkey after Rival's Alleged Sexual Abuse
• 28 suspected homosexuals detained from Keraniganj
--------
Pakistan
• Fight Terrorism along Muslims, Not Against, Pak Senator Advises Trump
• PM Nawaz to Attend First US-Arab-Islamic Summit on Sunday
• No headway in probe into young Christian man's death
• Three labourers working on China 'Silk Road' project killed in Turbat
• 26 Baloch militants surrender to authorities
• At least 14 injured in five hand grenade attacks in Charsadda
• Roadside bomb kills 11 members of Afghan family
--------
Europe
• President Emmanuel Macron Vows to Step Up French Fight Against Islamists In Africa
• Muslims Persist After Far-Right Death Threats Shut Down Mosques and Public Prayer In Germany
• Muslims quietly pray in B.C. public schools, despite protests in Ontario
• Syria talks in Geneva end in failure
• Muslim leader calls for religious unity in Swindon
Compiled by New Age Islam News Bureau
URL: https://www.newageislam.com/islamic-world-news/zakir-naik-granted-saudi-citizenship/d/111225
--------
Zakir Naik granted Saudi citizenship by King Salman: reports
May 20, 2017
Indian Islamic preacher Dr Zakir Naik who is currently wanted by Indian authorities for alleged terrorist offences has reportedly been granted citizenship by Saudi Arabia, according to The Middle East Monitor.
Sources said King Salman had intervened to grant Naik citizenship in order to protect him from arrest by the International Police Organisation (Interpol).
The 51-year-old Islamic preacher founded the Islamic Research Foundation (IRF). He's believed to have been staying in Saudi Arabia to evade arrest in India after he was accused of playing a role in a terror-related case. Naik also has money laundering allegations against him. Some perpetrators of the Dhaka terror attack also claimed they were inspired by Naik.
Indian press reported enforcement officials in the country were planning to revoke his passport, after which Naik would be forced to return to India. However, they did not anticipate Saudi Arabia would grant him citizenship.
Naik has been booked for allegedly propagating enmity between different groups on the grounds of religion. His channel Peace TV has been banned in UK, Canada and Bangladesh. He was also denied entry to Canada and UK in 2012 after allegedly expressing support for al Qaeda, reported Star Online.
https://tribune.com.pk/story/1414561/zakir-naik-granted-saudi-citizenship-king-salman-reports/
--------
Top Saudi cleric says Trump-Muslim summit 'blessed'
May 20, 2017
A top Saudi cleric described the weekend Islamic summit as "blessed" in the capital Riyadh to be attended by Muslim leaders and US President Donald Trump. In his Friday sermon, the imam of the holy city of Mecca, Sheikh Saleh bin Hamdi, praised the "blessed meeting that will bring together brothers and friends".
He urged participants "to show realism… and to stress the negative impact of interferences in regional affairs", state news agency SPA reported him as saying. He appeared to be referring to the mainly Sunni kingdom's regional rival, Shiite-dominated Iran. The two countries have taken opposing sides in wars in Syria and Yemen.
The imam said interference in the Middle East has "exacerbated confessional, religious, nationalist and ethnic conflicts", and called on summit participants to act to "stem armed chaos provoked by terrorists and their sponsors". Trump, who will make Saudi Arabia the first overseas stop of his presidency on Saturday, is expected to give a speech about Islam to 50 leaders of Muslim countries at the summit.
In his sermon, the imam urged those attending the summit to work towards "constructive dialogue, cooperation and tolerance". "The world must know the nation of Islam is proud of its religion, its identity, its values and its culture", but also "believes in human and cultural diversity", he said.
"Relations between states and nations must be based on equality and mutual respect." The ultra-conservative kingdom, the cradle of the austere Sunni doctrine of Wahhabism, last year launched an ambitious programme of social and economic reforms dubbed Vision 2030.
http://indianexpress.com/article/world/top-saudi-cleric-says-donald-trump-muslim-summit-blessed-4664704/?utm_source=itrendsnow.com
--------
Hassan Rouhani wins Iran's presidential election
20 May 2017
Iran's reformist President Hassan Rouhani has decisively won the country's presidential election, according to official results, fending off a challenge by principlist rival, Ebrahim Raisi.
With all of votes in Friday's poll counted, Rouhani was re-elected with 57 percent, Interior Minister Abdolreza Rahmanifazli said on Saturday.
"Of some 41.2 million total votes cast, Rouhani got 23.5 ... and won the election," Rahmanifazli said in remarks carried live by state TV.
Raisi, Rouhani's closest rival, got 15.8 million votes, he added.
A big turnout on Friday led to the vote being extended by several hours to deal with long queues.
The election was seen by many as a verdict on Rouhani's policy of opening up Iran to the world and his efforts to rebuild its stagnant economy.
Rouhani swept into office four years ago on a promise to reduce Iran's international isolation.
Friday poll was the first since he negotiated a historic deal with world powers in 2015 to curb the country's nuclear programme in exchange for sanctions relief.
In the campaign trail, Rouhani sought to frame the vote as a choice between greater civil liberties and "extremism", criticising the continued arrest of reformist leaders and activists.
Raisi, for his part, accused Rouhani of mismanaging the economy and positioned himself as a defender of the poor and calling for a much tougher line with the West.
Political commentator Mostafa Khoshcheshm said that in contrast to the 2013 election campaign, when Rouhani spoke about the removal of sanctions and the improvement of the economy, this time his message was different.
"He resorted to other campaign slogans, like [calling for] social and political freedom, and he pushed the boundaries in order to gather public support, especially in large cities," Khoshcheshm told Al Jazeera.
"If he has secured this result, it's because of the large cities and the middle class society living there - they have voted for him and made him a president and they expect him to do his promises."
Obstacles ahead
Rouhani has vowed to work towards removing the remaining non-nuclear sanctions, but critics argue that will be hard with Donald Trump as US president - Trump has repeatedly described it as "one of the worst deals ever signed", although his administration re-authorised waivers from sanctions this week.
Rouhani is also expected to face the same restrictions that prevented him from delivering substantial social change in his first term.
Supreme Leader Ayatollah Ali Khamenei has veto power over all policies and ultimate control of the security forces. while Rouhani has been unable to secure the release of reformist leaders from house arrest.
Al Jazeera's Jonah Hull, reporting from Iran's capital, Tehran, said that Rouhani, during an "increasingly acrimonious election campaign, alienated a lot of Iran's significant state institutions who may be in no mood to cooperate with him going forward".
Slow pace of change
While the nuclear deal was at the forefront of the election, the campaign was dominated by the issues of poverty and unemployment.
Rouhani has brought inflation down from around 40 percent when he took over in 2013, but prices are still rising by over seven percent a year.
Oil sales have rebounded since the nuclear deal took effect in January 2016, but growth in the rest of the economy has been limited, leaving unemployment at 12.5 percent overall - close to 30 percent for the young - and many more are under-employed or struggling to get by.
"Rouhani now gets his second term, and will be able to continue the work that he started in his first four-year term trying to reform Iran," Hull said.
"And moving on, crucially, from the nuclear deal to try and bring much more economic progress to satisfy the people who have found themselves extremely disappointed with the very slow pace of change since that agreement was signed."
Source: http://www.aljazeera.com/news/2017/05/iran-election-president-hassan-rouhani-takes-lead-170520042625946.html
--------
As Muslim Split Deepens, Indonesia Creaks Under Weight Of Intolerance
BY DEASY SIMANDJUNTAK
20 MAY 2017
Indonesia has moved to disband the decades-old hardline group Hizb ut-Tahrir Indonesia (HTI).
In a speech on May 8, retired general Wiranto, now a government minster, listed three grounds: that HTI had not assumed a positive role in the country's efforts to achieve national goals; that its activities contradict the country's principles and constitution; and that it had caused conflict in society, which may threaten security.
Wiranto said the group's aim of establishing a caliphate was a threat to the nation state of Indonesia and that it would be disbanded legally.
What if Ahok's loss in the Jakarta election wasn't all about Islam and anti-Chinese feeling?
Rejecting the plan, the officially registered organisation maintained that for 20 years it has mainly proselytised and preached about Islam, which is not against the law.
HTI is the Indonesian branch of Hizb ut-Tahrir, an international, pan-Islamic, political organisation established in Palestine in 1953, aiming to unify all Muslim countries under an elected ruler, or caliph.
It began its activities in the 1980s, by proselytising and recruiting members at campuses.
In 2007, at a large meeting organised by HTI in Jakarta, tens of thousands expressed support for the caliphate.
In 2016, Indonesian police found that Bahrun Naim, the alleged planner of the Jakarta bombing that year, had previously studied with Hizb ut-Tahrir.
Aside from Indonesia, Hizb ut-Tahrir is banned in 16 other countries, 14 of them Muslim states.
The disbandment announcement came only two days before outgoing Jakarta governor Basuki "Ahok" Purnama, an ethnic Chinese Christian, was sentenced to two years in jail for blasphemy against Islam.
HTI, like many hardline groups, had supported the blasphemy charges.
Some Islamic organisations welcomed the move to disband HTI as a step toward curbing hardliners.
Even the Indonesian Ulema Council, the country's top Muslim clerical body, whose ruling went against Purnama in court, agreed that HTI should be banned.
The move against HTI would seem like a blow for hardliners, but Purnama's imprisonment still signals the growing presence of Islamist influence in the court.
Indonesian men sentenced to 85 strokes for gay sex
And other violent intolerant groups – such as the Islamic Defenders Front and National Movement of MUI Fatwa Defenders, the main supporters of the blasphemy charges – have not been banned.
Some speculate the Islamic Defenders Front still enjoys support from some elements in the military. Its leader Rizieq Shihab, himself under investigation for contradicting the nation's founding principles, now hides in Malaysia.
One of the dilemmas of democracy is that its protection of individual rights and emphasis on pluralism let fundamentalist groups exist freely, even when such groups advocate undemocratic values. But in the end the survival of a diverse nation such as Indonesia depends on the preservation of its initial consensus to respect and protect such diversity from intolerant elements.
As the polarisation between hardline and moderate Muslims grows, it is crucial for the government to stay firm in upholding these core values. ¦
http://www.scmp.com/week-asia/opinion/article/2094867/muslim-split-deepens-indonesia-creaks-under-weight-intolerance
--------
Saudi Arabia classifies top Hezbollah leader as terrorist
19 May 2017
Saudi Arabia, on Friday, classified as a terrorist Lebanese national Hashim Safi al-Din, head of the Executive Council of the Hezbollah militia and senior leader of the party, and a relative of Hezbollah Secretary General Sayyed Hasan, and placed him on the terrorism list.
Safi al-Din occupies the second position in the party hierarchy as he tracks the daily activity of the militia. He is Nasrallah's cousin, and was born in 1964 in the South Lebanon town of Deir Qanoun, Tyre city.
As executive chairman of the Shura Council, Safi al-Din is the leader of the Hezbollah militia.
The Saudi classification came as a consequence of his operational role in the so-called "Lebanese Hezbollah" throughout the Middle East, and providing advice for terrorist operations in support of the Assad regime.
According to the statement issued by Saudi Arabia, the Kingdom will continue to confront Hezbollah's terrorist activities, and counter it through all available legal tools.
The Kingdom will also continue to work with partners around the world to effectively curb the group's extremist activities, so that no country should tolerate the presence of Hezbollah militias and its extremist activities.
"Hezbollah has always been spreading chaos and instability, launching terrorist attacks, engaging in criminal and illegal activities around the world. Saudi Arabia will continue to classify Hezbollah activists, leaders and entities and impose sanctions on them as a result of the classification," the Saudi Press Agency said.
Safi al-Din has been classified as a terrorist as per the terrorist crimes, funding system through Royal Decree A / 44, which targets terrorists, their supporters and those working with or on their behalf.
Any assets belonging to these terrorists are frozen, as per the Kingdom's regulations, and Saudi citizens and residents are prohibited from dealing with them.
https://english.alarabiya.net/en/News/middle-east/2017/05/20/Saudi-Arabia-classifies-top-Hezbollah-leader-as-terrorist.html
--------
India
Alarmed at probe, Hurriyat says it has no terror links to Lashkar
M Saleem Pandit
May 20, 2017
SRINAGAR: The Hurriyat Conference reacted with anger and alarm to the Centre's announcement of the NIA's investigation into the source of its foreign funding.
The NIA stepped in after allegations made by Hurriyat official Nayeem Khan of the Geelani faction that separatists, including Syed Ali Shah Geelani, received funds from Pakistan-based terrorist organisation Lashkar-e-Taiba to carry out terror activities in the Kashmir Valley.
Nayeem was stung earlier this week by reporters of India Today in which he had made these alleged disclosures.
Hurriyat spokesman Ayaz Akbar, also of the Geelani faction, denied links to LeT, saying, "The agency has earlier harassed and questioned party officials, including Mohammad Ashraf Sehrai and Syed Geelani's son-in-law, but could not find anything. These are fabricated charges to pressure us, as authorities are unable to control clashes in Kashmir." JKLF chief Yasin Malik, who joined the Hurriyat in 2016, said, "They try to prove I'm receiving funds from Pakistan.
They've tried to do the same many times but failed to prove me politically corrupt." Sources said, "After completing the preliminary probe, NIA will question Geelani, Nayeem Khan, Gazi Javed Baba and Farooq Ahmed Dar alias Bitta Karate."
http://timesofindia.indiatimes.com/india/alarmed-at-probe-hurriyat-says-it-has-no-terror-links-to-lashkar/articleshow/58758031.cms
--------
NCERT Class 12 Textbooks Won't Describe 2002 Gujarat Riots as 'Anti-Muslim'
May 20, 2017
The 2002 Gujarat carnage will no longer be called "anti-Muslim riots" in NCERT textbooks and will be instead referred to as the "Gujarat riots" to describe one of the worst communal violence in India since Independence.
The decision was taken at a meeting of the course review committee that includes representatives of the Central Board of Secondary Education (CBSE) and the National Council of Educational Research And Training (NCERT), sources said.
The change will be made in a Class 12 textbook, published in 2007 during the Congress-led UPA government's tenure.
According to official estimates, nearly 800 Muslims and more than 250 Hindus were killed in the violence in February-March, 2002, and is considered one of the worst communal riots in the country since Independence. The violence was sparked by the death of 57 Hindu pilgrims who were burnt alive in a train compartment at a station in Godhra.
Full report at:
http://www.hindustantimes.com/education/ncert-class-12-textbooks-won-t-describe-2002-gujarat-riots-anti-muslim/story-js5sdRrNsohbw881zxnaUM.html
--------
Pervez Musharraf says Kulbhushan Jadhav is 'a bigger terrorist than Ajmal Kasab'
Shailaja Neelakantan
May 20, 2017
NEW DELHI: Former Pakistan military dictator Pervez Musharraf, who's accused of high treason in his country, believes that Indian national Kulbhushan Jadhav "is a bigger terrorist than Ajmal Kasab".
Musharraf told Pakistan's ARY News that Kasab, one of ten Pakistanis who carried out the Mumbai terror attacks in which 164 people were killed, was "just a pawn", while Jadhav, the Indian national Pakistan claims is a spy, "may have killed" people.
"Kasab was just a pawn but Jadhav was fueling terrorism and may have killed a number of people in sabotage activities," said the allegedly treasonous Musharraf to ARY news.
Pakistan is reeling after the International Court of Justice (ICJ) two days ago stayed the execution of Jadhav pending its decision in a case filed by India. A Pakistani military court had last month sentenced Jadhav to death for alleged espionage and terrorism.
Musharraf - who appointed himself Pakistan's president in 2001 - believes the country should not have even appeared at the ICJ, as the Jadhav case is "a matter of national security."
"None has the right to dictate us about our security," said Musharraf, who's facing treason charges in Pakistan for abrogating the constitution in November 2007.
Pakistan says it arrested Jadhav last year from Balochistan, while India says Pakistan kidnapped the former naval officer from Iran where he'd gone to conduct business. Last month, a military court sentenced Jadhav to death.
Kasab was tried in the Bombay high court, to whom he then appealed after it sentenced him to death. After the high court upheld the death sentence, Kasab then appealed to the Supreme Court which also upheld his sentence.
Full report at:
http://timesofindia.indiatimes.com/india/pervez-musharraf-says-kulbhushan-jadhav-is-a-bigger-terrorist-than-ajmal-kasab/articleshow/58760071.cms
--------
Pakistan may be propping up new terror outfit in Kashmir, feel intel agencies
Bharti Jain
May 20, 2017
NEW DELHI: The rising dissonance between Kashmiri separatists and terrorists based in the Valley on the one hand and Pakistan-based terrorist commanders and cadres in Kashmir on the other has led Indian agencies to suspect that terror masterminds across the border may be covertly planning a new terrorist organisation in J&K, with focus on ex-Hizbul Mujahideen commander Zakir Musa.
According to intelligence sources, multiple statements over the past two weeks by Musa, the self-styled successor of slain Hizbul leader Burhan Wani, Lashkar-e-Taiba, Kashmiri separatists and United Jehad Council chief Syed Salahuddin, coupled with images, videos and audio clips circulated on social media, point to "a widening conflict between key stakeholders of violence in the Valley".
Intelligence sources told TOI Pakistan may be attempting a repeat of its Kashmir strategy of the 1990s, when the only terror organisation — the Jammu & Kashmir Liberation Front (JKLF) — was supplanted and eventually replaced by many new outfits by 1993-94.
"The case for Pakistan encouraging a new terror organisation in Kashmir, with complete deniability for itself, is strong. Musa is speaking a new anti-separatist, anti-Hizb and anti-Pakistan line, targeted at the Kashmiri youth. He is advocating 'Islamist uprising for freedom of Kashmir', said an officer.
On May 3-4, photographs of nine masked militants with a black flag similar to that of terror group Islamic State were displayed on social media in J&K. However, unlike the IS flag, the one in the image only had Islamic Kalima inscribed with an AK-47 insignia below —the difference, agencies believe, reflecting the desire of local terrorists to remain distinct from the IS brand.
Read this story in Gujarati
Pakistan-based Lashkar-e-Taiba as well as PoK-based Hizbul supreme commander Salahuddin, in statements issued on May 10 and 12, respectively, denounced the images.
They claimed they had nothing to do with the IS and those waving IS flags and requested parents of Kashmiri youths as well as the youths themselves to avoid such influences.
On May 8, separatists Syed Ali Shah Geelani, Mirwaiz Umer Farooq and Yasin Malik came together to counter the impression that the Kashmir movement was going the IS way. Agencies suspect they are concerned about their declining relevance in Kashmir and are worried that their outreach to international institutions may suffer if they they get overtly linked to violence.
On May 12, Musa issued an audio message, threatening to behead separatist leaders at Srinagar's Lal Chowk for describing the movement as a freedom struggle. He claimed the movement was totally Islamic and based on "shariah and shahadat". Hizbul was quick to distance itself from Musa's views.
Full report at:
http://timesofindia.indiatimes.com/india/pakistan-may-be-propping-up-new-terror-outfit-in-kashmir-feel-intel-agencies/articleshow/58757891.cms
--------
NIA starts probing Geelani and others for receiving Pakistan funds
Neeraj Chauhan
May 19, 2017
NEW DELHI: Ten months after mass protests and stone pelting on security forces began in Kashmir valley following the encounter of Hizbul Mujahideen leader Burhan Wani, the National Investigation Agency has started a probe against hardline separatist leaders including Syed Ali Shah Geelani, Naeem Khan, Farooq Ahmed Dar (Chairman of JKLF), Gazi Javed Baba (leader of Tehreek-e-Hurriyat) and others for allegedly receiving funds from Lashkar-e-Taiba chief Hafiz Saeed, other Pakistan-based terror outfits and Pakistani agencies (hinting at ISI) and other "subversive activities".
Naming all of them in its preliminary enquiry, NIA has said funds were allegedly received by Hurriyat leaders for carrying stone pelting, burning schools and other government buildings, attacking security forces and damaging public property.
The government has already been keeping an eye on separatists for superimposing militancy over "civil resistance" in Jammu and Kashmir by radicalising youngsters with the help of Pakistan.
In its annual report for 2016-17, MHA, while talking about security situation in J&K, has stated that 2016 has seen a change in Pak tactics following strategy of superimposition of militancy over "civil resistance" through radicalisation by vested interest groups and social media.
MHA says that after Burhan Wani was neutralised on July 8, last year, "Hurriyat leaders were involved in fomenting the trouble in the shape of organizing protests and forcing the shopkeepers to shut their shops through their dictates of protest calendars."
MHA says that since the advent of militancy in J&K (in 1990), 13,936 civilians and 5,043 security forces personnel have lost their lives there.
Defence minister Arun Jaitley also said on Friday that the fact that Hurriyat leaders were taking money from Pakistan was already known in "informed circles", and called it a conspiracy against not just India but also the people of Jammu and Kashmir.
After registering a PE, an NIA team has already reached valley to begin its investigation and question Geelani and other Hurriyat leaders. The agency has also taken cognizance of a TV sting operation where some separatist leaders are taking about funding from across the border. Some of them can be heard bragging about how funds are routed including Dubai route or hawala to them in the sting operation.
Sources said that they will check the bank accounts of suspects, use of dummy companies for transfers from Pakistan or via a third country, hawala operators to ascertain the exact amount received from Hafiz Saeed and Pakistani agencies. Officials added that only when they get strong evidence on funding from Pakistan, they will turn the PE into a regular case.
Intelligence officials say that the amount received by separatists to keep active the turmoil in Kashmir from Pakistan in last one year could be in several hundred crores.
According to senior officials at the North Block, the funding from Pakistan, which is directly monitored by Pak's spy agency Inter-Services Intelligence (ISI), comes via gulf countries, Saudi Arabia and other places before it reaches to places like Anantnag, Pulwama, Kupwara and Srinagar etc.
The separatist leaders, who had recently called for boycotting elections in the Valley and have disrupted normal life for almost a year now, distribute the funds received from Pakistan to the stone-pelters for attacking security forces.
Officials say that these stone-pelters, who don't have any other sources of income, are paid Rs 500 to Rs 1000 every day for disrupting law and order arrangements or operations carried out by security forces against the terrorists or wave Pakistani flags. According to an estimate by Intelligence Bureau, there are around 250 terrorists active in Jammu and Kashmir presently, most of them local boys. A large number of them have joined Hizbul Mujahideen in past 10 months.
Full report at:
http://timesofindia.indiatimes.com/india/nia-starts-probing-geelani-and-others-for-receiving-pakistan-funds/articleshow/58753776.cms
--------
North America
Trump to Muslims on first foreign trip: Drive out terrorists
May 20, 2017
WASHINGTON: President Donald Trump will use his first visit to the Middle East to call for unity in the fight against radicalism in the Muslim world, casting the challenge as a "battle between good and evil" and urging Arab leaders to "drive out the terrorists from your places of worship," according to a draft of the speech obtained by The Associated Press.
Abandoning some of the harsh anti-Muslim rhetoric of his presidential campaign, the draft of the speech, slated to be delivered in Saudi Arabia on Sunday, envisions new partnerships with America's traditional allies in the Middle East. It notably refrains from mentioning democracy and human rights — topics Arab leaders often view as US moralizing — in favor of the more limited goals of peace and stability.
"We are not here to lecture — to tell other peoples how to live, what to do or who to be. We are here instead to offer partnership in building a better future for us all," the document said.
Trump left Washington Friday afternoon for Riyadh, the first stop on his maiden trip overseas trip as president. The marathon trip will also take him to Israel, the Vatican, Belgium and Italy. The trip is a key test of the president's diplomatic skills and a chance to add substance to a foreign policy he has described broadly as "America First."
Two different sources provided the AP with copies of the draft of his remarks, billed as a marquee speech of the trip. One version, obtained late Thursday, included edits with comments from an administration official, indicating it was still a work in progress.
The White House confirmed the draft was authentic, but cautioned the president had not yet signed off on the final product.
"The president has not seen this draft," White House spokesman Sean Spicer said. "This is one of five drafts that have been written by various people. He continues to take input and is writing a final version."
Trump's campaign was marked by his anti-Islamic rhetoric and his administration has twice tried to impose a travel ban on several Muslim-majority countries. "I think Islam hates us," he said at one point.
The draft of the speech includes no mention of "radical Islamic terrorism" — a phrase that candidate Trump regularly criticized opponent Hillary Clinton and President Barack Obama for shying away from. His speech calls terrorism a widespread problem plaguing everyone who loves peace.
He positions himself as an "emissary for the American people, to deliver a message of friendship and hope," according to the draft.
"This is not a battle between different faiths, different sects or different civilizations. This is a battle between those who seek to obliterate human life and those who seek to protect it," the text reads. "This is a battle between good and evil."
Trump may seem an unlikely messenger to deliver an olive branch to the Muslim world.
Only a week after taking office, he signed an executive order to ban immigrants from seven countries — Iraq, Iran, Syria, Sudan, Libya, Somalia, and Yemen — from entering the United States, a decision that sparked widespread protests at the nation's airports and demonstrations outside the White House. That ban was blocked in federal court, prompting the administration to sign a second one.
The second version, which dropped Iraq from the list, is also blocked in court, though Trump has said the measure is needed for the nation's security. As a campaigner, he called for a "total and complete shutdown" of the entry of Muslims to the United States "until our country's representatives can figure out what the hell is going on," insisting that a sizable segment of the Muslim population has "great hatred toward Americans."
His Saudi speech is aimed at the nations represented at an Arab and Muslim leaders' summit.
Trump intends to condemn Syria's President Bashar Assad for committing "unspeakable crimes against humanity" and Iran for contributing to spiraling violence in Syria.
"All nations of conscience in the Middle East must work together to roll back Iran's destabilizing influence, restore a more stable balance of power in the region, and pray for the day when the Iranian people have the just and responsible government they deserve," the draft reads.
Iran and Syria were not invited to the summit, and they are not part of a regional military alliance that Saudi Arabia is establishing to fight terrorism. The kingdom backs efforts to topple the Syrian government, which counts Iran and Russia as its closest allies.
White House officials have said they consider Trump's visit, and his keynote address, a counterweight to President Obama's debut speech to the Muslim world in 2009 in Cairo.
Obama called for understanding and acknowledged some of America's missteps in the region. That speech was denounced by many Republicans and criticized by a number of the United States' Middle East allies, including Israel, as being a sort of apology. Obama aides have continued to defend it.
Administration officials believe Trump's decision to begin his trip in Saudi Arabia sends a powerful message to the kingdom: the strained ties that marked US-Saudi relations under Obama are over.
Full report at:
http://timesofindia.indiatimes.com/world/us/trump-to-muslims-on-first-foreign-trip-drive-out-terrorists/articleshow/58760426.cms
--------
Trump to avoid tough anti-Muslim language in Saudi Arabia: A.P
May 20, 2017
U.S. President Donald Trump will call for unity in the fight against radicalism in the Islamic world when he speaks in Saudi Arabia on Sunday, characterizing the effort as a "battle between good and evil," the Associated Press reported on Friday, citing a draft of his speech.
Trump will avoid the tough anti-Muslim language from his presidential campaign as well as mentions of democracy and human rights, according to the draft speech, which remains subject to revision, the AP reported.
"We are not here to lecture — to tell other peoples how to live, what to do or who to be. We are here instead to offer partnership in building a better future for us all," the draft address reads, according to AP.
It also urges Arab and Muslim leaders to "drive out the terrorists from your places of worship," the AP reported.
There was no immediate response from the White House to a request for a copy of the speech, which is expected to be delivered in Riyadh, the initial stop on Trump's first international trip since taking office in January.
Full report at:
http://nation.com.pk/international/20-May-2017/trump-to-avoid-tough-anti-muslim-language-in-saudi-arabia-ap
--------
Muslim Americans Have Some Advice For Trump On His Islam Speech
05/19/2017
President Trump is making his first trip abroad with scheduled visits to Saudi Arabia, Israel, and the Vatican. Each of these locations have important diplomatic implications for America's standing in the world, as well as political relevance for Trump's waning popularity in America. Whether intentionally or not, this trip has huge interfaith significance as Trump makes a pilgrimage (of sorts) to the centers of Catholic, Jewish, and Muslim faiths.
Trump's international sojourn is making many nervous as it is one thing to provoke a nation state — say Mexico, with derogatory comments and threats — it is quite another to provoke a religion.
There are many ways Trump's trip could go wrong: Pope Francis and Trump have exchanged barbs via Twitter; and while Trump enjoys a love fest with Netanyahu and Israel's right, he has also (rightfully) criticized settlements in Palestine and (thankfully) refrained from moving the American embassy to Jerusalem.
But nothing reaches the level of potential disaster of Trump's visit to Saudi Arabia, where he is scheduled to give a speech about Islam to the Muslim world. This would be fraught for any politician or religious leader. Pope Benedict attempted an address to the Muslim world in 2006 at the University of Regensburg in Germany, and... let's just say... it was not well received. If the address of such a skilled theologian as Benedict resulted in riots and serious breaches between the Muslim and Catholic world, what might such an address by Trump produce?
The idea of a Trump speech to the Muslim world is made even worse by the consistent anti-Muslim message put forth by the Trump campaign during the 2016 campaign and the introduction of a ban on immigrants from Muslim countries in the first weeks of his presidency. One of the effects of the rise of Trump has been the enormous increase of anti-Muslim hate groups, as well as five Mosques being burned in America by arson. Trump's reaction: silence.
Imam Sohaib Sultan of Princeton University feels that Trump's negative rhetoric about Islam, up to this point, does not give him the credibility to speak to the Muslim world:
"President Trump is uniquely unqualified in speaking to Muslims about Muslim affairs given the record of his discriminating rhetoric and policy proposals against Muslims."
It is a sentiment that Dr. Debbie Almontaser, Board President of the Muslim Community Network, echos. Her recommendation is that Trump's Muslim outreach should begin at home:
"President Trump needs to exercise diplomacy at home first, with the diverse Muslim communities he has endangered with his campaign policies and rhetoric, as well as disregarding them as citizens of the United States. When he recognizes and respects their right to live with dignity and respect in the U.S., free of hate and fear, Muslim world leaders will give him the benefit of the doubt."
The most worrisome piece of all is that Trump's speech is being written, not by Muslim Americans who might help bridge and articulate the possibilities mutual benefits and thriving of Islam and America, but instead by Stephen Miller, the architect of the Muslim ban executive order. Linda Sarsour, a progressive Palestinian activist finds that inexcusable:
"My first concern is that Stephen Miller, a known Islamophobe and conspiracy theorist is writing his speech which raises many flags. Trump has said things like 'Islam hates us' during the campaign and we can not afford a speech that vilifies Islam in this tense political climate globally. He's a national security threat."
The framing of the address may be at the root of the problem. Trump's team has said this is a forthright speech about radical ideology in Islam and, according to National Security Adviser H.R. McMaster, will be "inspiring yet direct." Yet, this basic approach is the problem according to Imam Sultan:
"My concern is that President Trump's obsessive singular focus of seeing Muslims as a security threat will be highlighted in such an address to the Muslim World resulting in dividing walls rather than bridges."
All of these worries are combined with the irony of going to Saudi Arabia for a speech on Islam, given that Saudi Arabia has been exporting Wahhabism, a fundamentalist form of Islam, and that the majority of Muslims do not live in the Middle East, as Imam Sultan explains:
"Making such a speech in Saudi Arabia is exactly the wrong stage as the kingdom's vision of Islam and influence in the Muslim World needs to be contained rather than exaggerated."
The most complete response came from Wajahat Ali, attorney-turned-playwright and lead author of the investigative report "Fear Inc: The Roots of the Islamophobia Network in America." He had some seriously funny, yet extremely serious advice for the President:
"President Trump, allow me to give you sincere advice. I know how hard you work while golfing at Mar-a-Lago or obsessively watching cable news shows when you should be, you know, reading. Being President is hard. It carries burdens and responsibilities, such as being informed, not tweeting reckless lies, having a functional White House staff, not colluding with foreign enemies and so forth.
Full report at:
http://www.huffingtonpost.com/entry/muslim-americans-have-some-advice-for-trump-on-his-islam-speech_us_591f3549e4b03b485cb15e76
--------
US: Convoy hit by coalition likely Iran-directed
20 May 2017
A pro-regime convoy struck by the U.S.-led anti-ISIL coalition in Syria was likely directed by Iran, Defense Secretary James Mattis said Friday.
"It was necessitated," Mattis told reporters at the Pentagon, "by offensive movement with offensive capability of what we believe were Iranian-directed" forces.
The forces allied to Syrian President Bashar al-Assad "were advancing well inside" a previously established deconfliction area Thursday where U.S. forces are operating when they were struck northwest of the southeastern city of al-Tanf, the coalition said.
In its announcement of the strike, the coalition said it targeted "pro-regime forces". That is a broad category that could include Lebanese Hezbollah, Iranian forces and militia and irregular Syrian forces known as shabiha.
Prior to launching the strike, the coalition said in a statement it carried out an aerial "show of force", and fired warning shots, but failed to halt the advance.
The coalition said it carried out the strike after Russian attempts to halt the advance on the town apparently failed to stop the troops from advancing.
Full report at:
http://www.worldbulletin.net/america-canada/189773/us-convoy-hit-by-coalition-likely-iran-directed
--------
US Muslim schools building bridges
May 19, 2017
At a Roman Catholic high school in New York's Long Island suburbs, two dozen visiting Muslim students knelt and prayed while teens in uniform blazers from the host school looked on.
The trip's agenda was simple: give students whose schools are just 16 kilometres apart but culturally worlds away a chance to get to know each other.
It is also part of an ambitious initiative that will be adopted by nearly 80 US Islamic elementary, middle and high schools starting in the fall to give Americans a better picture of US Muslims at a time when many feel targeted by President Donald Trump's administration.
"Sometimes Muslims in today's society are afraid of other people judging them," Laiba Amjad, a 19-year-old senior at MDQ Academy Islamic school in Brentwood, New York, said during the visit to Saint Anthony's High School in nearby Huntington.
"Other people are also afraid," she said, referring to non-Muslims. "They're thinking, 'What if that person is an extremist?'"
'Put into one group'
Americans are more likely to view Muslims, who make up 1 per cent of the US population, as extremists if they do not know one personally, according to a February poll by the Pew Research Centre. The same survey found that 60 per cent of Americans who know a Muslim believe there is little or no support among them for extremism but only 48 per cent of those who do not know a Muslim believe that.
"I hadn't really interacted with many Muslims before this," 17-year-old Chris Beirne said while he and fellow Saint Anthony's seniors ate lunch with the visiting Muslim students.
"Muslims typically today are put into this one group with extremists," Beirne said.
"I think the solution to that problem would be having events like this." In an effort to overcome that perception, the Council of Islamic Schools in North America, the nation's only accrediting agency for Muslim schools, is changing its curriculum. It will ask its 78 accredited or member schools, located across 24 US states, to arrange meetings between their own students and those at other, non-Muslim schools.
"People in this country, they want to know about Muslims, they want to know what's going on inside Islamic schools," said CISNA Director Sufia Azmat.
The Council is asking its educators to launch more volunteer projects outside the Muslim community, attend local government meetings and create a database of alumni to track their graduates' success.
The move comes at a time when Muslims are under intense scrutiny, largely the result of extremist attacks carried out in the name of Islam in the United States and abroad.
'Be open to outsiders'
In the deadliest mass shooting in modern US history, an American-born gunman pledging allegiance to various hardline Islamist militant groups shot 49 people to death at a nightclub in Orlando, Florida, last June.
Mainstream Muslim religious leaders condemn the violence, saying their faith forbids it. Muslims are the second-most targeted religious group in the United States for hate crimes, behind Jews, according to the latest statistics from the Federal Bureau of Investigation.
A report by the Council on American-Islamic Relations released this month showed a 57 per cent spike in the number of anti-Muslim hate crimes recorded in the United States last year compared with 2015.
The details of the US Islamic schools' new curriculum are still being hammered out, but the purpose is clear, CISNA's Azmat said: "Be open to outsiders."
A recent study of about a third of the nation's Muslim high schools conducted by the Institute for Advanced Studies in Culture at the University of Virginia found that the students did not vary much from their non-Muslim peers in terms of interests and sense of being American.
"These are very, very typical kids in a lot of ways, but also see themselves as Muslims and objecting to some things in American society just as a lot of Evangelical [Christian] and Jewish kids would," said Charles Glenn, an education policy expert who led the study of Islamic schools.
Full report at:
http://gulfnews.com/news/americas/usa/us-muslim-schools-building-bridges-1.2029830
--------
Speaking on Islam, will Trump hit reset with Muslims?
By Jeremy Diamond
May 20, 2017
Riyadh, Saudi Arabia (CNN)A month after Donald Trump called for a "total and complete shutdown" of Muslims entering the US, a hijab-wearing American named Rose Hamid stood up in the grandstands a few rows behind the presidential candidate.
It was January 2016, a few weeks before Republican primary voters began to cast their votes. As Hamid stood up in silent protest, the supporters around her began to jeer and chant for her to "get out," until Trump campaign officials and police officers interceded to eject her from the arena. One person accused her of having a bomb.
"There is hatred against us that is unbelievable," Trump said as Hamid was ejected. "It's their hatred, it's not our hatred."
Now, as Trump lands here in Saudi Arabia on Saturday, he appears to be looking to reset relations with the Muslim world.
He is making his first stop abroad as President in the country that is home to the two holiest Muslim sites, in what his top aides have described as an overtly symbolic gesture. On Sunday, he will deliver a speech to leaders of 50 Muslim countries to outline his vision for US-Muslim relations.
But beneath the pageantry and symbolism remains the sting that billions of Muslims around the world felt after American voters elected Trump -- a candidate who called for a "total and complete shutdown of Muslims" entering the United States, floated the idea of surveilling US mosques and warned that Muslim refugees represented a national security threat.
Change the image
Senior administration officials have offered no indication that Trump intends to apologize for or walk back the campaign rhetoric and proposals that experts say have fueled anti-Muslim sentiment in the US.
Trump and his aides do, however, want to change that image as Trump looks to make headway on the true goal of his trip to Saudi Arabia: eradicating the threat that ISIS and other Islamist terrorist groups pose to the United States.
"We thought that was very important (to start the trip in Saudi Arabia) because obviously people have tried to portray the President in a certain way," a senior White House official said. "We thought that was a good place to start. And, look, I mean, one of the biggest problems that we face in the world today is radical extremism, and we have to combat that."
H.R. McMaster, the President's national security adviser, said the speech will be "inspiring, yet direct speech on the need to confront radical ideology and his hopes for a peaceful vision of Islam to dominate across the world."
A US official said the words "radical Islamic terror" aren't included in the current draft of Trump's speech set to be delivered in Saudi Arabia on Sunday. The speech, however, is not in its final form and could change before Trump delivers his remarks.
The US official confirmed to CNN the speech will urge Muslim leaders to "drive out the terrorists from your places of worship" and cast the fight against radicalism as a battle of "good and evil."
Trump has looked to ramp up the US' fight against ISIS in Iraq and Syria, but has done so while stressing the need for Muslim allies in the region to increase their efforts as well, emphasizing that point in White House meetings with leaders of 50 countries in the region. Trump has called on Arab countries in the region to accept more Syrian refugees and sought their help to create safe zones in Syria, among other appeals.
But his speech on Sunday will amount to his first public pitch on the issue and his first public appeal for Muslims around the world to view him as a partner -- and not an enemy.
"The one thing he absolutely needs to say is the United States is not anti-Muslim and is not pursuing a war against Islam," said Robert Ford, a senior fellow at the Middle East Institute and former US ambassador to Syria.
To do so, he will need to make a clean break with the rhetoric of his campaign that too often blurred the lines between Islam at large and "radical Islam" -- like when he said he believed "Islam hates us" in a CNN interview in March 2016.
Beyond his Muslim ban proposal and call to surveil US mosques, Trump also said he was open to creating a database of Muslims in the US -- none of which he has disavowed.
But Trump's outreach to the Muslim world comes as he is pursuing a policy that many have labeled as inherently anti-Muslim. As Trump speaks in Saudi Arabia, his administration is continuing to fight in court to reinstate the travel ban targeting seven Muslim-majority countries that Trump hoisted as a key component of his counterterrorism efforts.
"You cannot reconcile it. Period," said Nihad Awad, the executive director of the Council on American-Islamic Relations who stood beside President George W. Bush after the attacks of 9/11. "The Muslim world is watching what this administration is doing and so far, it is not very reassuring."
Awad said it is still possible for Trump to succeed in his outreach, but stressed that his campaign rhetoric will "not easily be erased" by one speech.
"Actual genuine policy shifts may do it. Other than that, it would be a futile effort," Awad said. "If using this anti-Muslim, anti-minority rhetoric has given him support to win the White House, to win the world he will need a different message and a different mindset."
Comparisons to Obama
Trump will be the second consecutive US president to address US-Muslim relations from a Muslim country in his first speech abroad.
Quoting the Koran and calling attention to Islam's contributions to the world, President Barack Obama in 2009 addressed thousands of young students at Cairo University in Egypt in an attempt to turn the page on the policies of his predecessor that saw tens of thousands of US troops deployed to Muslim countries.
"I have come here to seek a new beginning between the United States and Muslims around the world -- one based upon mutual interest and mutual respect, and one based upon the truth that America and Islam are not exclusive, and need not be in competition," Obama said in Cairo.
But Obama's presidency did not herald a sea change in US policy in the Middle East and the sharp increase in drone strikes that he oversaw also exacerbated antagonism toward the US in the region in some respects.
Trump will not stand before students and young activists as he takes his turn at improving US-Muslim relations. Instead, Trump will speak with the mostly autocratic cohort of leaders who represent billions of Muslims -- some of whom do so with hefty opposition and protest.
Those leaders are likely more willing -- even eager -- to accept Trump and forget his caustic campaign rhetoric.
Saudi officials told reporters ahead of the trip that they have been heartily encourage by the Trump administration's like-minded anti-Iran posture -- a break from the Obama administration efforts of outreach to Iran. It's a sentiment shared by Sunni-majority countries in the Gulf and throughout the Middle East.
And many of those countries are also welcoming Trump's lack of public statements condemning rampant human rights violations in their countries, with Trump officials saying that Trump instead prefers to raise those issues privately.
"We're not going to lecture anyone," a senior White House official said ahead of Trump's visit to Saudi Arabia.
Full report at:
http://edition.cnn.com/2017/05/20/politics/donald-trump-muslim-speech/
--------
Mideast
Arab coalition destroys militia weapons depot in Houthi-strong hold
20 May 2017
Arab coalition aircrafts raided on Friday night a large ammunition and missiles depot from which Houthi and ousted Saleh militias had fired a ballistic missile towards an uninhabited area south of Riyadh, north of Ar Rayyan province.
A coalition source told Al Arabiya that the location form which the ballistic missile was launced from a vehicle hidden inside a cave near the district of Majaz in Saada. The source added that the cave, which included a depot for missiles and ammunition, was destroyed.
Saudi Arabia's Air Defense Forces intercepted on Friday evening the ballistic missile in the north of Ar Rayyan.
Al Arabiya correspondent reported that the Air Defense Forces succeeded in intercepting the missile 100 Km before reaching Ar Rayyan. Its fragments fell in an uninhabited area.
The Air Defense Forces were also able to intercept on Saturday morning a ballistic missile in Najran provence that borders Yemen. The missile was also launched from inside a village in Saada province.
https://english.alarabiya.net/en/News/gulf/2017/05/20/Coalition-destroy-militia-weapons-depot-in-Houthi-strong-hold.html
--------
Yemenis fire ballistic missile at Riyadh ahead of Trump visit: Report
May 19, 2017
Yemen's Houthi Ansarullah fighters and their allies in the army have reportedly fired a long-range ballistic missile at the Saudi capital Riyadh, a few hours ahead of US President Donald Trump's visit to the Arab kingdom.
According to a report by Yemen's Arabic-language al-Masirah television network, the Yemeni forces, backed by allied fighters from Popular Committees, launched a Borkan-2 (Volcano-2) ballistic missile, a domestically modified rocket, aimed at the Saudi capital on Friday evening.
The report also carried a statement by the Yemeni army, saying the missile strike conveyed "a clear and important message that we are all ready to respond to the aggression."
The report, however, gave no further detail, including the exact impact location, the possible casualty toll and the extent of potential damage inflicted.
Meanwhile, the Saudi military announced that it had intercepted and destroyed a projectile some 200 kilometers west of Riyadh, without giving more details.
Back in March 18, the Yemeni army announced that another Borkan-2 missile accurately hit King Salman Air Base, located in the vicinity of Riyadh, in retaliation for the deadly Saudi war on Yemen.
On September 2, 2016, Yemeni forces also fired a similar missile against a stationary target in the Saudi city of Ta'if, located more than 700 kilometers southeast of the Saudi capital.
The Yemeni army says so far more than 100 ballistic missiles of various types have been fired at positions held by Saudi invaders inside and outside Yemen.
The Friday launch came just hours before Trump's arrival in Riyadh for a two-day visit to the Arab kingdom, his first foreign trip since he became president.
Trump has already departed for Saudi Arabia, where he is expected to finalize a $100-billion controversial arms deal with the kingdom. Riyadh has been importing tens of billions of dollars of arms from the US over the past years.
On the second day of his visit, Trump is scheduled to speak at a summit of Arab and Muslim leaders in Riyadh.
After concluding his visit to Saudi Arabia on Sunday, the US president will fly to Israel, another major Washington ally in the region.
Yemenis are particularly angry at Washington for being complicit in the Saudi crimes against the Yemeni nation by providing the Al Saud regime with conventional and banned weapons.
Since March 2015, Saudi warplanes have been heavily bombarding Yemen in an attempt to crush the popular Houthi Ansarullah movement and reinstate the resigned president, Abd Rabbuh Mansur Hadi.
Latest tallies show that the imposed war has so far killed over 12,000 Yemenis and wounded thousands more. The Saudi aggression has also taken a heavy toll on the country's facilities and infrastructure, destroying many hospitals, schools, and factories.
Full report at:
http://217.218.67.231/Detail/2017/05/19/522515/Yemen-Saudi-Arabia-ballistic-missile-Borkan2-Trump-Riyadh
--------
Palestinians injured during clashes with Israeli forces in Gaza Strip, West Bank
May 19, 2017
Israeli military forces have reportedly shot and wounded several Palestinians, including a woman, in the occupied West Bank and the blockaded Gaza Strip.
Gaza Health Ministry spokesman Ashraf al-Qidra said dozens of people had converged east of the city of Beit Lahia to express solidarity with hundreds of Palestinians, who have gone on hunger strike in Israeli jails in protest at the Tel Aviv regime's administrative detention policy and harsh prison conditions.
A 21-year-old demonstrator sustained grave injuries to his leg after Israeli forces hurled an explosive device at the crowd.
Israeli soldiers, stationed at watchtowers and tanks positioned in the vicinity of Kissufim military base, also fired shots at Palestinian protesters, leaving one injured, who was taken to Nasser Hospital in Khan Younis to receive medical treatment.
Four Palestinian civilians were also wounded after Israeli soldiers fired live bullets at them near the Nahal Oz border crossing. They were transferred to Shifa Hospital in western Gaza City.
Two others were wounded east of Jabalia refugee camp.
Elsewhere in the occupied West Bank city of Bethlehem, Israeli forces disguised as Palestinian protesters kidnapped six young Palestinian men after infiltrating a crowd of protesters.
Israeli forces fired teargas canisters and sound bombs at Palestinian marchers, causing many to suffer from severe teargas inhalation.
At least seven Palestinians were struck with live and rubber-coated steel bullets during clashes in the villages of Nilin and Abud, as well as Qalandiya military checkpoint.
Spokesman for the Palestine Red Crescent Society in Nablus, Ahmad Jibreel, also said a Palestinian man was hit in the thigh with a live bullet, while three others were injured with rubber-coated steel bullets during clashes in the northern West Bank town of Beita, located 13 kilometers southeast of Nablus.
The occupied Palestinian territories have witnessed new tensions ever since Israeli forces introduced restrictions on the entry of Palestinian worshipers into the al-Aqsa Mosque compound in East Jerusalem al-Quds in August 2015.
More than 300 Palestinians have lost their lives at the hands of Israeli forces in the ongoing tensions since the beginning of October 2015.
The Tel Aviv regime has tried to change the demographic makeup of Jerusalem al-Quds over the past decades by constructing settlements, destroying historical sites and expelling the local Palestinian population. Palestinians say the Israeli measures are aimed at paving the way for the Judaization of the city.
Full report at:
http://217.218.67.231/Detail/2017/05/19/522497/Israeli-forces-shooting-Palestinians-Gaza-Strip-West-Bank/
--------
Turkey targets Opp daily suspecting links to coup bid
May 20, 2017
ANKARA: Turkish authorities targeted Friday opposition daily Sozcu, seeking the arrest of the owner and detaining two employees as the crackdown on opposition media widened.
The owner, Burak Akbay, and three others, including the executive in charge of the website, Mediha Olgun, are accused of links to the movement led by Islamic preacher Fethullah Gulen blamed for last year's failed coup, Anadolu news agency reported.
The fiercely anti-government and ultra-secularist daily whose name means "spokesman" is one of the country's bestselling papers. Its slogan is: "If #Sozcu is silent, Turkey will be silent."
Istanbul prosecutors issued four arrest warrants including correspondent Gokmen Ulu and Yonca Kaleli, a finance executive, CNN Turk broadcaster said.
Ulu, who reports from the western city of Izmir, was later detained by police and officers searched his home, the state agency said, after Olgun had been taken into custody earlier in the day. The daily confirmed Olgun and Ulu's detention on its website Friday evening while CNN Turk said Akbay was in London.
"We have fought against terrorist organisations, FETO. As journalists, we have written the truth when they have committed large wrongs against this country," Ulu told reporters earlier in the day before he was taken into custody.
Istanbul prosecutor Irfan Fidan confirmed the operation into "Sozcu's executives", saying "there are warrants, there are detentions" without giving details.
Owner Akbay later said he was "being targeted because I produce right and honest journalism" in a statement on the daily's website.
Sozcu's lawyer Ismail Yilmaz denied arrest warrants had been issued, saying warrants had been issued to seize and search their belongings.
And Yilmaz suggested earlier Olgun's detention could be in connection with another investigation, the private Dogan news agency reported.
The four are accused of "committing crimes on behalf of an armed terror organisation", referring to the Gulen movement, CNN Turk reported.
Turkey refers to the movement as the "Fethullah Terrorist Organisation" (FETO), but Gulen vehemently denies ordering the coup and the movement denies any terror charges.
CNN Turk said the suspects were wanted in connection with an online article published on the same day as the attempted coup on July 15.
The accusations levelled at them include attempted "assassination and real attack of the president" and involvement in an "armed rebellion against the government", Anadolu said.
The article in question revealed details of where President Recep Tayyip Erdogan was on holiday in the upmarket Aegean resort of Marmaris, CNN Turk said, and had images of his hotel.
Sozcu is the second daily to be targeted after another leading opposition newspaper Cumhuriyet saw 20 staff members charged under the state of emergency imposed following the attempted putsch.
The daily is on occasion rabidly anti Erdogan and its angry front pages are regarded with some suspicion by some liberal Turks critical of the president.
Its sometimes lurid approach contrasts with the more moderate tone of Cumhuriyet, one of the country's oldest dailies.
Main opposition Republican People's Party (CHP) leader Kemal Kilicdaroglu said the "detention, arrest and pressure on journalists was something no democracy could accept" as he visited the paper's offices in Istanbul.
The warrants for Sozcu come as people commemorate modern Turkey's founder Mustafa Kemal Ataturk on "Ataturk, Youth and Sports Day".
Sozcu writer Ugur Dundar reacted to the news on Twitter, saying: "On a national holiday, there are detentions from Sozcu. I will go to my newspaper Sozcu. If Sozcu is FETO, everyone in Turkey is FETO!"
Sozcu's front page on Friday had a large image of Ataturk with the headline: "The biggest leader in 100 years" accompanied with the usual image of his eyes next to the paper's name.
Full report at:
http://nation.com.pk/international/20-May-2017/turkey-targets-opp-daily-suspecting-links-to-coup-bid
--------
'Dozens hurt' as Palestinians clash with Israeli forces
19 May 2017
Dozens of Palestinians were hurt on Friday in the occupied West Bank and Gaza during clashes with Israeli forces after marches backing hunger-striking prisoners, the Palestine Red Crescent Society said.
Both the Red Crescent and the health ministry in Gaza said protesters were injured by tear gas, rubber bullets and live fire.
Thousands of people demonstrated in various parts of the West Bank, occupied since 1967 by the Israeli army, and near the security barrier that seals off the Gaza Strip, AFP journalists said.
For more than 10 years, the coastal territory of Gaza has been under a rigorous Israeli blockade designed to contain the Hamas Islamist movement which controls it.
Gazans regularly challenge Israeli soldiers guarding the concrete and metal barrier that separates it from the Jewish state.
Hundreds of Gazans waving Palestinian flags approached the barrier on Friday and threw stones and burned tyres, photographers said.
The health authorities in the enclave said eight people were wounded by bullets and around 30 suffered the effects of tear gas inhalation.
In the southern West Bank, around 1,500 people protested in Hebron, and clashes were also reported in other towns and villages.
Full report at:
https://english.alarabiya.net/en/News/middle-east/2017/05/19/-Dozens-hurt-as-Palestinians-clash-with-Israeli-forces.html
--------
Southeast Asia
Malaysia to help Saudis show Trump peaceful vision of Islam
By ZURAIMI ABDULLAH
May 20, 2017
RIYADH: Malaysia is set to support Saudi Arabia-led efforts to show a peaceful vision of Islam to visiting United States US President Donald Trump amid wars against radicals, at a summit here tomorrow.
Najib was invited by Saudi ruler King Salman bin Abdulaziz Al-Saud to participate in the Arab Islamic American-US Summit this weekend as Trump, according to observers, looked to build bridges after allegations of Islamophobia against his administration and its effort to bar travellers from six Muslim-majority countries.
The summit, observers added, was also part of preparations for a new US strategy mobilising the Muslim world against the Islamic State, as well as against groups such as Lebanon-based Hizbollah.
Najib is one of the leaders scheduled to speak at the summit.
Leaders and representatives from of 54 other countries, from the Southeast Asian Sultanate of Brunei to Africa's Niger and heavyweights like including Turkey, had also been invited to for tomorrow's summit with Trump.
Najib is also scheduled to attend the inauguration of the Global Centre for Combating Extremist Ideology here, with Malaysia expected to play a major role in the centre's development.
This is a recognition not only by Saudi Arabia but also by the wider world of the active and important role that Malaysia plays in the global effort to combat terrorism, the Foreign Affairs Ministry said in a statement yesterday.
On the final day of his visit on Monday, Najib is expected to have an audience with King Salman, Crown Prince Mohammad bin Naif Al-Saud and Deputy Crown Prince Mohammed bin Salman Al-Saud.
The meetings will provide the opportunity for both sides to discuss bilateral and regional issues of common interest.
"Malaysia and Saudi Arabia are working closely to promote peace, stability and security in the Islamic world and beyond. It is expected that the prime minister's visit to Saudi Arabia will enhance these efforts as well as to further strengthen bilateral relations, which are already at an all-time high," the ministry said.
Najib is also also expected to have a bilateral meeting with Bangladesh Prime Minister Sheikh Hasina.
Najib is accompanied by Defence Minister Datuk Seri Hishammuddin Hussein, who is also the special functions minister, and Minister in the Prime Minister's Department Datuk Seri Jamil Khir Baharom, as well as senior government officials.
https://www.nst.com.my/news/nation/2017/05/240824/malaysia-help-saudis-show-trump-peaceful-vision-islam
--------
Indonesian VP Says Violent Extremism Results from Twisted Interpretation of Islam
May 20, 2017
Jakarta. Vice President Jusuf Kalla says religion is not a source of conflict and that recent incidents of extremism and terrorism across the globe are the result of an incorrect interpretation of Islam.
In a public lecture at the Oxford Center for Islamic Studies in England on Thursday (18/05), the vice president touched on a variety of issues, including wealth disparities, as the root causes of radicalism in Indonesia.
"There are many root causes of radicalism – from economic, political, social and cultural factors combined. These factors then, as a rule, are justified by a twisted interpretation of religious teachings," Kalla said in his address, as quoted in a press release issued by the Ministry of Foreign Affairs in Jakarta on Friday.
Kalla said the government is planning to establish an international Islamic university in Jakarta, which will become a center for teaching peace and tolerance.
He said Indonesia is contributing to regional and global peace efforts by empowering moderate Muslims, or ummatan wasatan. Despite rising religious tensions in the archipelago, Kalla said Indonesian Muslims belong in this category, because they are inclusive, tolerant and harmonious believers.
"Only by empowering moderate Muslims in Indonesia and the Islamic world can we reduce the influence of radicalism and political extremism," Kalla said.
He added that the government is doing its best to improve the welfare of Indonesians and to eradicate poverty.
"Only through such measures can we eliminate economic injustice, which is an ideal breeding ground for political extremism," Kalla said.
He also encouraged mosques in Indonesia to "continue to play a role in promoting tolerance and pluralism," as well as in creating prosperity, which he said can be achieved by them creating economic opportunities.
He concluded his speech by saying: "Diversity is a blessing, but unity must be earned."
Responding to a question related to the recent Jakarta gubernatorial election and the sentencing of incumbent Governor Basuki "Ahok" Tjahaja Purnama to a two-year prison term for blasphemy, Kalla emphasized that these events do not constitute discrimination but that it is proof of a democratic and lawful process, without government intervention.
BBC Indonesia meanwhile reported that Kalla likened Ahok's case with breaking lèse-majesté laws, or the crime of violating the dignity of a reigning sovereign, which exist in countries such as Thailand and the United Kingdom.
Full report at:
http://jakartaglobe.id/news/kalla-says-violent-extremism-results-from-twisted-interpretation-of-islam/
--------
Riyadh Summit must stand ready to confront terror swiftly, decisively, says PM Najib
May 19, 2017
RIYADH, May 19 — The forthcoming Riyadh Summit must stand ready to confront terror swiftly and decisively wherever and whenever it manifests itself, said Prime Minister Datuk Seri Najib Razak.
"We must ensure that the barbarism we see in Syria and Iraq is rooted out. We must show that we stand ready to confront terror swiftly and decisively wherever and whenever it manifests itself. We must never surrender," he said.
In the English version of his op-ed for Saudi Gazette and Arabic version for Al Riyadh newspapers to be published tomorrow, Najib said he believed that the Arab, Islamic and United States Summit represents an important attempt to bring ties between the Muslim world and the United States to new levels.
"With even greater mutual understanding, we can work together all the better to fight the ignorance, exclusion and sense of grievance that could fuel violent extremism.
"We know that President Donald Trump is committed to eradicating Daesh. Under my leadership, so will Malaysia be — as should all Muslim countries at this summit and beyond," Najib wrote.
Najib will join more than 50 Arab and Muslim nation leaders for the summit with Trump on Sunday.
He said it was up to all of them at this summit to forge this partnership and prove, once and for all, that there was no clash of civilisations, with Muslim world on one side and the West on the other.
"There is only a clash with civilisation, and on that we all — members of all religions — must stand united as one; firm, determined and ready to act," he said.
The prime minister also said that it was crucial for all Muslim countries and leaders to make it absolutely clear that there was nothing Islamic about terrorism.
"Authentic Islam is a religion of enlightenment, civilization and scholarship, not of destruction and death," he stated.
The prime minister said Kuala Lumpur was willing to share the country's experience and expertise in combating terrorism with all countries at the summit, including the success stories of its wasatiyyah (moderation) approach, deradicalisation programme, the Regional Counter-Messaging Centre.
Full report at:
http://www.themalaymailonline.com/malaysia/article/riyadh-summit-must-stand-ready-to-confront-terror-swiftly-decisively-says-p
--------
Restructure state Islamic councils to drive Muslim economy, ex-MAS CEO says
May 19, 2017
PUTRAJAYA, May 19 — State Islamic councils should be restructured by creating a special department to develop the economy of Muslims, suggested a retired and respected former corporate man.
Former chief executive officer of Malaysia Airlines, Tan Sri Abd Aziz Abd Rahman said state Islamic councils should not focus only on religion matters but should look after the economy of Muslims in this country.
The department concerned should be led by a Muslim economist of high calibre who report directly to the respective sultans and the Yang di-Pertuan Agong.
Abd Aziz said the department should manage funds and sources of finance such as tithe (zakat) and wakaf (endowment) to generate the economy of the Muslim community.
Full report at:
http://www.themalaymailonline.com/malaysia/article/restructure-state-islamic-councils-to-drive-muslim-economy-ex-mas-ceo-says
--------
Arab World
Car bombings in Baghdad kill 11 people, says officials
20 May 2017
Two car bombs in southwestern Baghdad killed 11 people, including four police officers, and wounded at least 20 late on Friday night, according to Iraqi police and hospital officials.
The first attack targeted a police checkpoint in the neighborhood and moments later, the second blast hit a nearby street crowded with civilians, the officials said, speaking on condition of anonymity because they were not authorized to talk to reporters. No group immediately claimed responsibility for the attack but it bore the hallmarks of the ISIS group, which has claimed similar bombings in the past.
Mosul offensive
The attack comes as Iraqi forces, backed by the US-led coalition, are slowly moving in on the last neighborhoods held by the ISIS in Mosul, Iraq's second-largest city.
ISIS now only holds a handful of neighborhoods in Mosul, including the Old City where the most intense battles of the operation are expected to play out.
Coalition officials say they believe a few hundred ISIS fighters remain in Mosul, holding hundreds of thousands of civilians as human shields.
Iraqi commanders have said they hope to fully liberate the city before the holy month of Ramadan, which is to begin at the end of next week.
ISIS overran Mosul nearly three years ago in a blitz that brought nearly a third of Iraqi territory under the Sunni militant group's control. Since then a massive influx of weapons and training from Iran as well as a US-led campaign of coalition airstrikes has clawed back more than half of the territory ISIS once held.
Iraqi and coalition officials have repeatedly warned that after Mosul, ISIS will likely return to its insurgent roots as it loses more territory in both Iraq and neighboring Syria.
https://english.alarabiya.net/en/News/middle-east/2017/05/20/Iraqi-officials-Car-bombings-in-Baghdad-kill-11-people.html
--------
President Donald Trump arrives in Saudi Arabia on historic visit
20 May 2017
Air Force One touched down in the Saudi capital of Riyadh on Saturday as US President Donald Trump visits the kingdom on a two-day trip.
The president is to be greeted by an airport welcome ceremony before having a brief coffee meeting with Saudi Arabia's King Salman.
Trump is set to attend three summits in Riyadh, including an Arab-Islamic-US Summit called for by King Salman, in what is his first foreign trip as president.
The first summit will be between Saudi Arabia and the United States, followed by the Gulf Cooperation Council and the US, in which historical relations will be discussed on the basis of partnership and tolerance, the Saudi Press Agency reported.
Full report at:
https://english.alarabiya.net/en/News/gulf/2017/05/20/US-president-leaves-America-for-Saudi-Arabia-.html
--------
Convoy hit by coalition in Syria likely 'Iranian-directed': Mattis
May 20, 2017
washington/DAMASCUS - A pro-regime convoy that was struck by US-led warplanes inside Syria this week likely was directed by Iran, Pentagon chief Jim Mattis said Friday.
The strike on the convoy heading toward a coalition garrison near the Jordanian border was "necessitated by offensive movement with offensive capability of what we believe were Iranian-directed forces," Mattis said, adding he was not sure if there were Iranians on the ground. Thursday's strike occurred inside an established "deconfliction zone" northwest of the At-Tanf garrison, where British and US commandos have been training and advising local forces fighting the Islamic State group.
Such zones are agreed upon between Russia and the coalition, and are designed to stop either side inadvertently striking the other's forces on the ground and in the air.
The Pentagon says coalition attempts to stop the convoy from proceeding had included a call to the Russians - who work with the Syrian regime - then a "show of force" in the skies above the vehicles, followed by warning shots. It appeared the convoy had moved into the area against the advice of the Russians, Mattis said.
"It looks like the Russians tried to dissuade them," he said. The Pentagon has stressed the attack did not signal broader US involvement in Syria's civil war, but Damascus on Friday condemned the strike on pro-government forces as a "brazen attack" and said it would "not be intimidated."
Russian Foreign Minister Sergei Lavrov called the strike a violation of Syrian sovereignty and said he was "unaware" that Russia had been given any warning ahead of the strike. An array of regular and irregular forces are battling alongside the government against rebels, including Russian and Iranian soldiers and militants from Iraq and Lebanon's Hezbollah group.
Thursday's strike comes in the context of growing tension over which forces will take on IS in Syria's east.
President Bashar al-Assad's army is trying to prevent US-backed forces from leading that fight.
Syria on Friday condemned a US-led coalition strike on pro-government forces as a "brazen attack" and said it would "not be intimidated" after the surprise assault.
Russia condemned the strike as "illegitimate" and said it could harm efforts to fight Islamic State group (IS) militants. US-led warplanes carried out Thursday's strike in the east of the country against a convoy of pro-government forces headed towards a remote coalition garrison near the border with Jordan.
"On Thursday at 16:30, the so-called international coalition attacked one of the Syrian Arab Army's positions on the Al-Tanf road in the Syrian Badia region, producing a number of martyrs and causing material damage," a military source told Syrian state media.
"This brazen attack by the so-called international coalition exposes the falseness of its claims to be fighting terrorism," it added. "The Syrian Arab Army is fighting terrorism on its territory, and no party has the right to determine the course of its operations," the source said. "The Syrian Arab Army will... not be intimidated by the attempts of the so-called coalition to stop it from performing its sacred duties."
Syrian ally Russia also denounced the US-led strike. "It is illegitimate, unlawful and yet another gross violation of Syria's sovereignty," Russian Foreign Minister Sergei Lavrov said in televised comments while on a trip to Cyprus. In a statement, the US-led coalition said it had struck "pro-regime forces... that posed a threat to US and partner forces."
The coalition said the strike came after unsuccessful "Russian attempts to dissuade Syrian pro-regime movement" as well as "a coalition aircraft show of force, and the firing of warning shots."
Lavrov said he was "unaware" that Russia had been given any warning of the strike, and said preliminary information suggested there were civilian casualties. "We are still confirming the details but according to some reports several dozen civilians died as a result of this strike," he was reported as saying by Russian media. Syrian state media gave no precise toll in the attack, but the Syrian Observatory for Human Rights, a Britain-based monitor, reported eight killed, "most of them non-Syrian".
A statement from Centcom, the US military command in the Middle East, said two strikes "destroyed two front-end loaders, a piece of construction equipment, a tactical vehicle and a tank". An array of regular and irregular forces are battling alongside the government against rebels, including Russian and Iranian soldiers and militants from Iraq and Lebanon's Hezbollah group. Thursday's strike comes in the context of growing tension over which forces will take on IS in Syria's east.
President Bashar al-Assad's army is trying to prevent US-backed forces from leading that fight.
Syria's warring sides entered a final day of UN-backed talks on Friday with little sign of progress towards ending the conflict and with negotiations overshadowed by swelling tensions on the ground. The sixth round of talks in Geneva was the latest effort to bring a political solution to the war, which has displaced millions and claimed more than 320,000 lives since 2011. But the sluggish negotiations have been eclipsed by US accusations of new regime atrocities at a prison and the bombing of a pro-government convoy by US-led coalition warplanes.
The international alliance - which usually strikes militants - for the first time hit regime-allied forces as they headed toward a remote coalition garrison near the southern border with Jordan, US officials said Thursday. The opposition High Negotiations Committee (HNC) spokesman Yehya al-Aridi meanwhile welcomed the strike, hailing "robust action against the foreign forces who have turned Syria into a killing field." The US-led coalition bombing the Islamic State group in Syria and Iraq said it had struck pro-regime forces in southern Syria "that posed a threat to US and partner forces."
Syrian state media gave no precise toll in the attack, but the Syrian Observatory for Human Rights, a Britain-based monitor, reported eight killed, "most of them non-Syrian." The event was not expected to ease de Mistura's task in Geneva, where years of diplomatic efforts have failed to produce any concrete momentum towards ending the devastating conflict. The HNC has continued to call for Syrian President Bashar al-Assad's ouster as part of a political transition - a demand the regime has brushed off as a non-starter. The current round of talks, which opened Tuesday, were expected to cover four separate topics: the constitution, governance, elections, and combatting "terrorism," but Jaafari said none of the subjects had been discussed.
Instead, the sole tangible product has been an agreement to set up technical committees to discuss constitutional issues with the United Nations. "This is the only result from this round," Jaafari said.
The HNC was expected at the UN Friday afternoon for its last session with de Mistura.
The umbrella group has struggled with deep divisions, which came to the fore late Thursday when several rebel groups suspended their participation in the delegation, citing dissatisfaction with its negotiation strategy. But by morning, the HNC said its delegation would be taking part in the meeting with the UN envoy "in full".
Syria's conflict erupted in March 2011 with widespread demonstrations against Assad, but has since evolved into a bloody war that has drawn in world powers on all sides.
Rebel forces have received backing from Gulf states, Turkey, and the West, while the Syrian army is bolstered by Russia, Iran, and fighters from neighbouring Lebanon and Iraq.
Russian deputy foreign minister Gennady Gatilov blasted the coalition strike on regime forces, saying it would take a toll on the political process in Geneva.
"Such actions that were carried out against the Syrian armed forces... this is completely unacceptable, this is a breach of Syrian sovereignty," he was quoted as saying by state-run RIA Novosti in Switzerland.
Full report at:
http://nation.com.pk/international/20-May-2017/convoy-hit-by-coalition-in-syria-likely-iranian-directed-mattis
--------
Iraqi army bulldozer takes on bomb-laden Daesh car: Video
May 20, 2017
Watch dramatic footage of a bulldozer, driven by an Iraqi soldier, taking on an explosive-laden Daesh car in Mosul.
In the recently surfaced footage, recorded by a camera mounted in the bulldozer's cabin, a car can be seen driving towards the vehicle, which uses its front bucket to push the speeding car bomb out of the way before it explodes.
"He came out from the side road. He did not know which way to go. We came face to face. He tried running away from my side. So I blocked him and he blew himself up," Reuters quoted the bulldozer's driver, identified as a member of Iraq's elite Counter-Terrorism Service, as saying on Friday.
"I sacrificed myself because my people were behind me. What? Let him pass to blow up my people?," he added.
Following around seven months of fighting between Iraqi forces and the Takfiri terrorists, Daesh militants have been removed from most of Mosul and are expected to make their last stand around the Grand al-Nuri Mosque. Daesh's leader, Abu Bakr Al-Baghdadi, announced the forming of the group's so-called caliphate from the mosque in 2014.
Iraqi army soldiers and volunteer fighters from the Popular Mobilization Units have made sweeping gains against the Takfiri elements since launching the Mosul operation.
Full report at:
http://217.218.67.231/Detail/2017/05/20/522522/iraq-footage-mosul-bulldozer-daesh/
--------
Two suicide car bombs explode on highway near oilfields in southern Iraq
May 20, 2017
Two suicide car bombers blew themselves up at checkpoints on a highway near oilfields in the southern Iraqi province of Basra on Friday, killing several people, police sources and an interior ministry spokesman said.
Iraq's South Oil Company said there was no disruption to operations but oil police were put on maximum alert in response to the attack, officials said.
Bomb attacks in southern Iraq, where the bulk of the country's oil is produced, are relatively rare.
The victims included two soldiers, a traffic policeman and an unknown number of civilians traveling in a bus.
Full report at:
http://nation.com.pk/international/19-May-2017/two-suicide-car-bombs-explode-on-highway-near-oilfields-in-southern-iraq
--------
Senior Syrian Official Terms US Air Attack on Army Convoy as State Terrorism
May 19, 2017
Bashar al-Jaafari said that the US-led coalition's airstrike on the Syrian Army convoy on Thursday was an act of state terrorism.
A Syrian military source said earlier today that the US-Led coalition warplanes' air raid on a convoy of Syrian Army forces in the Southern part of the country proved that the White House claims about the US seriousness in war on terrorism are nothing but sheer lies.
The source described the US-led coalition attack as "blatant", saying it uncovers the fake claims of the coalition about fighting terrorism and reveals the undoubted reality of the Israel-US project in the region.
"The attempt to justify this act of aggression by saying that the targeted forces failed to respond to the warning to stop advancing is completely rejected," the source stressed.
"The Syrian army," the source said, "is fighting terrorism on its territory, and no party whatsoever has the right to determine the course and destination of the army's operations against the terrorist organizations, mainly ISIL and al-Qaeda."
The source added that "those who claim to be fighting (terrorist organizations) should strike them and not the Syrian army, which is the only legitimate force that is fighting terrorism along with its allies and friends."
The source asserted that the army will continue performing its duty of fighting ISIL and Al-Nusra Front (also known as Fatah al-Sham Front or the Levant Liberation Board).
A US defense official disclosed earlier today that the US-led coalition struck the Syrian forces' positions near the border town of al-Tanf in a region of an established deconfliction zone with Russia.
The Russian Sputnik quoted a US-led coalition spokesperson as saying that the coalition forces in Southern Syria struck the Syrian army's positions.
The Sputnik added that the coalition strikes reportedly occurred near al-Tanf , where US' and British special forces have been training Syrian militants near the border with Iraq and Jordan.
Full report at:
http://en.farsnews.com/newstext.aspx?nn=13960229001202
--------
ISIL Withdraws from More Lands in Eastern Aleppo
May 19, 2017
The army soldiers engaged in tough battle with ISIL in Eastern Aleppo and managed to drive them out of the villages of al-Qawas and al-Hamra.
Field sources reported that the army men are still on the march in the area.
Earlier reports said that the army troops continued their anti-terrorism operation in Eastern Aleppo, kicking off a cleansing operation in over 10 newly-liberated towns and villages to restore sustainable security to the region and push towards last main ISIL stronghold in the province.
The army advanced towards the ISIL's stronghold in the town of Maskana, liberating several towns and villages in the Eastern territories of the Aleppo province, paving the way for their first advance into the Northern part of the Maskana Plain.
According to reports, the pro-government forces halted their military operations in order to secure the territory they captured from the Takfiri terrorists.
Full report at:
http://en.farsnews.com/newstext.aspx?nn=13960229001221
--------
Kurdish-Led SDF Cuts off Last Supply Line of ISIL to Raqqa City
May 19, 2017
The SDF engaged in fierce clashes with the ISIL East of Raqqa city and managed to seize control over the villages of Hamra Qanam, Hamra Ablu Yatiyeh and Madar.
Field sources confirmed that the last supply line of ISIL terrorists to Raqqa city was cut off after the SDF took control over the village of Hamra Qanam.
The ISIL lost a number of forces in the SDF advances.
Relevant reports said on Thursday that the SDF seized control of the village of Badr in the Eastern parts of Raqqa and the wheat silos near the village after two days of clashes with the ISIL terrorists.
Also in the Northwestern parts of Raqqa, the SDF forces could take control over the villages of al-Andules, Mazloum and Falaj after heavy clashes with the terrorists and killing tens of them.
Full report at:
http://en.farsnews.com/newstext.aspx?nn=13960229001091
--------
Syrian Army Reinforcements Pour into Desert despite US Airstrikes
May 19, 2017
The newly arrived reinforcements will spearhead a drive towards the al-Tanf border crossing with Iraq alongside the National Defense Forces (NDF), the Lebanese Hezbollah fighters, Imam Al-Ali Battalions (Iraqi paramilitary) and the Syrian Social Nationalist Party (Syrian paramilitary), AMN reported.
However, government forces must stiffen their salient East of Damascus and deploy anti-aircraft units if they are to avoid renewed attacks from US jets and US-trained Free Syrian Army (FSA) proxies lurking in the vast Syrian desert.
Meanwhile, the army units are also advancing against FSA militants in Eastern Sweida, capturing a large swath of rural territory on Thursday.
Full report at:
http://en.farsnews.com/newstext.aspx?nn=13960229000816
--------
US: Coalition to encircle ISIS militants before starting military campaign
19 May 2017
US Defense Secretary Jim Mattis said on Friday the U.S.-led coalition was now encircling ISIS fighters in their strongholds in a tactical shift before starting a military campaign to destroy them.
Also speaking at the Pentagon on Friday, the Chairman of the Joint Chiefs of Staff General Joseph Dunford, said strikes against Syrian government-backed fighters this week were a "force protection measure," and would not happen again if US forces are not threatened.
https://english.alarabiya.net/en/News/middle-east/2017/05/19/US-Coalition-to-encircle-ISIS-militants-before-starting-military-campaign.html
--------
Latest round of Syrian peace talks comes to an end
May 19, 2017
Syria's Ambassador to the UN Bashar al-Ja'afari has announced the end of the latest round of Syrian peace talks, while stressing that "state terrorism" is still being carried out against his country.
"We have just concluded the last session with the UN special envoy to Syria, Staffan de Mistura, within the framework of the current Geneva round, which we agreed to call it the 6th round of Geneva," Ja'affari said in the Swiss city on Friday.
"We would like to remind the attendees that state terrorism is being practiced against our country," he added in reference to a US airstrike that targeted anti-Daesh forces in Syria on Thursday.
"The important thing is that our political ambition is higher because we want to focus on fighting terrorism represented by armed groups and the state and government terrorism happening against our country. This includes the American aggression, French aggression and British aggression, whether on civilian or military targets," he added.
According to a Syrian government military source, the US strike killed several people and caused material damage.
The source said the attack hampered efforts by the Syrian army and its allies to fight Daesh terrorists who have been wreaking havoc in Iraq and Syria for years.
Meanwhile, De Mistura also confirmed that the latest round of talks has come to an end, noting that there had only been "incremental progress" with no major discussions held on topics on the main agenda.
He expressed hope that talks would recommence in June, without giving any specific date.
The sixth round of the Syria peace talks began under the auspices of the United Nations in Geneva on Tuesday.
Since March 2011, Syria has been gripped by militancy it blames on some Western states and their regional allies that have long pushed for the ouster of the Damascus government.
Several rounds of peace talks have been held in Geneva and the Kazakh capital Astana.
The Astana talks, brokered by Iran, Russia and Turkey, have most recently produced a memorandum of understanding on de-escalation zones in Syria, sharply reducing fighting in the country.
US strike against Syrian forces 'unlawful': Russia
Meanwhile, Russia condemned the US airstrike on pro-Syrian government forces in the Arab country as "illegal and unlawful."
"The American command explained the strike on pro-government Syrian forces, saying that these forces represented a threat to opposition which cooperates with the US-led coalition," said Russian Foreign Minister Sergei Lavrov.
"Whatever the reason for the US command to make this decision, this strike is illegitimate and unlawful. It's yet another harsh violation of Syria's sovereignty," he added.
Earlier, Russian Deputy Foreign Minister Gennady Gatilov described the attacks as "unacceptable," adding that they would not help efforts to achieve a political solution to the ongoing crisis in the war-torn country.
Different foreign-backed terrorist groups have been wreaking havoc in Syria since 2011.
Full report at:
http://217.218.67.231/Detail/2017/05/19/522517/syria-un-jafari-mistura/
--------
Africa
Nigeria: 'How Religious Intolerance Hinders Societal Growth'
19 MAY 2017
By Shakirah Adunola
The failure to tolerate one another religious beliefs and ethics has caused the nation its social peace and security with many innocent souls gruesomely murdered in the name of religious crisis.
The Deputy Governor of Lagos State, Dr. Idiat Oluranti Adebule, who disclosed this at the 101st yearly conference of the Anwar-ul Islam Movement of Nigeria, urged Muslims and non-Muslims to be tolerant, while warning them to desist from religious extremism.
Adebule, who was represented by Alhaja Fatimah Yewande Oyefeso, said religious intolerance ensued as a result of provocative statement. She, therefore, enjoined Nigerians to desist from such utterances.
"We should all have it in mind that any country engaging in religious intolerance cannot move forward. It creates set back and war in the country. So, everybody should be careful with their utterances".
She further urged Nigerians to tolerate one another because Nigeria is multi-religious country. "If we can tolerate each other the country will be peaceful. In the olden days there was nothing like religious intolerance, both Muslim and Christian relate together with one another in the family and there were no issues such as we are encountering now.
"We should all be careful of provocative language because it is a major trigger for religious intolerance. The country is on the edge, there is depression everywhere, it might just be a minor utterance that will instigate the fight. Islam is against extremism we have to be diplomatic in our dealing with each other. If we have proper understanding of the scripture, we will know that Islam condemns religious intolerance which I also believe is not in the bible because there is no religion that preach extremism," she said. Adebule reiterated the need to start religious education from home, stating that, "our children must have adequate knowledge of Islam."
The President, Anwar-ul-Islam Movement of Nigeria, Barr. Mubashir Ojelade said, so much of the anarchy and turmoil in several parts of the world arise from religious conflict triggered by religious intolerance.
"Since the 70's, Nigeria has had more than a fair share of religious conflicts. It occurred at the 1977/78 Constituents Assembly where there was a sharp division between the Muslims and the Christian on the Sharia. A similar debate re-occurred again recently when some Christian senators raised a bill in the senate for the establishment of ecclesiastical courts, which was strongly opposed by Muslims. The Muslims countered that the common law and the constitution in force in the country are largely Christian in spirit and content and threatened to demand that Friday be declared a work free day, if the demand for ecclesiastical courts is pushed further.
http://allafrica.com/stories/201705190317.html
--------
Suicide bombers hit Nigerian university
19 May 2017
Three suicide bombers on Friday detonated explosives inside a university campus in Nigeria's northeastern state.
The incident took place in Maiduguri city of Borno state.
"There were multiple suicide bombings at University Of Maiduguri where three male suicide bombers were killed," according to a short statement by the country's National Emergency Management Agency (NEMA).
Locals told Anadolu Agency that those injured included soldiers, members of the government-backed vigilante group and personnel of the varsity's security, without mentioning the specific number of people hurt in the incident.
The bombings were the second such attack in a week blamed on the Boko Haram militant group that has waged violent insurgency in the region since 2009.
Full report at:
http://www.worldbulletin.net/africa/189753/suicide-bombers-hit-nigerian-university
--------
UN official urges Muslim leaders in Africa to join fight against extremism
2017-05-20 05
by Ronald Ssekandi
KAMPALA, May 19 (Xinhua) -- A UN official has urged Muslim leaders in Africa to join the fight against violent extremism, warning that its continued growth on the continent will reverse the development gains.
Rosa Malango, the United Nation's Coordinator in Uganda, on May 15 said if the extremism is not addressed, it threatens to curtail Africa's development prospects for decades to come.
She was speaking to a meeting of Muslim leaders and scholars from eastern and southern Africa who had convened in Uganda to discuss countering, responding and preventing violent extremism.
The two-day meeting was organized by International Interfaith Peace Corps and the United Nations Development Programme (UNDP)'s Regional Service Centre for Africa.
Malango said Muslim religious leaders must get involved noting that fighting against violent extremism was a collective responsibility.
"The fact that violent extremism has been affecting Muslims and Muslim communities most, highlights the need for the engagement of Muslim religious leaders if we are to help communities that are vulnerable to the activities and operations of violent extremist groups," she said.
She said communities need to be empowered to be a vital part of the solution to the growth of violent extremism.
Sheikh Shaban Mubajje, the head of Muslims in Uganda said it is the responsibility of Muslims to stand up and educate the people about Islam and the fact that it does not promote violent extremism.
"Terrorism is the epitome of injustice because it takes innocent lives and the Koran calls all Muslims to act justly. Acts of terrorism are therefore 'Haram', forbidden in Islam," Mubajje said.
At the end of the meeting, the Muslim leaders and scholars agreed on a framework to enable them to work together to fight against all forms of extremist activities in the name of Islam.
They also reaffirmed a declaration made by Muslim leaders in West Africa against all forms of extremism in the name of Islam.
According to the UN, violent extremism has had a devastating social and economic impact across the Africa. Groups such as Boko Haram in Nigeria and Al-Shabaab in Somalia have forced hundreds of thousands of people from their homes, increasing instability in the region.
UNDP figures show that since 2011, more than 21,000 people have been killed in over 4,000 terrorist attacks in Africa. The operations of Boko Haram, for example, have internally displaced 1.2 million people and forced more than 200,000 Nigerians to flee to Cameroon, Chad and Niger.
In Kenya, Al-Shabaab activities have resulted in an estimated 25 percent drop in the tourism sector, a vital source of jobs and income for the country.
According to the global body, countries must address issues that drive youths away from productive lives and draw them to mayhem and destruction.
In late 2015, the UNDP launched a four-year program to help African countries prevent the growth of violent extremism.
Full report at:
http://news.xinhuanet.com/english/2017-05/20/c_136299436.htm
--------
Tribal elder, 5 others killed by car bomb south of Libya's Benghazi
19 May 2017
A car bomb killed a prominent tribal elder allied to eastern security forces and five other people outside a mosque in a town south of Benghazi as they were leaving afternoon prayers on Friday, a security official said.
There was no immediate claim of responsibility but rivals of the eastern-based Libyan National Army (LNA) have previously carried out similar attacks in Benghazi targeting figures associated with the LNA.
The blast in Suluq, 31 miles (50 km) south of Benghazi killed Ibrayk Al-Awati, an elder of the Al-Awaqir tribe, and 11 wounded 11 other people, the official said.
The LNA has been fighting a three-year campaign against Islamist militants and other opponents in Benghazi and other parts of eastern Libya.
Images shared on social media showed flames and plumes of black smoke rising from the shell of a car, with debris and blood on the ground nearby.
Full report at:
https://english.alarabiya.net/en/News/2017/05/19/Tribal-elder-5-others-killed-by-car-bomb-south-of-Libya-s-Benghazi.html
--------
Sudan's Bashir to skip Trump-Muslim summit
19th May 2017
KHARTOUM: Sudanese President Omar al-Bashir, who is wanted by the International Criminal Court, will not join an Islamic summit in Saudi Arabia with US President Donald Trump, his office said Friday.
"President Omar al-Bashir has apologised to King Salman of Saudi Arabia for being unable to attend the Riyadh summit," a statement from his office carried by the official SUNA news agency said.
It said he had been unable to accept the king's invitation for "personal reasons."
Bashir has evaded arrest since his indictment by the ICC for alleged genocide, war crimes and crimes against humanity related to the 14-year-old conflict in Darfur that has killed tens of thousands of people.
His planned attendance at Sunday's summit of Arab and Muslim leaders in Riyadh had drawn strong criticism from Washington.
Trump is scheduled to visit Saudi Arabia, home to Islam's holiest sites, from Saturday on his first foreign trip since taking office in January.
He will address the summit on his "hopes for a peaceful vision of Islam," the White House said on Tuesday.
Saudi Arabia is not a signatory to the Rome Statute under which the ICC was founded, while Sudan and the United States have not ratified the statute of the Hague-based court.
But the US embassy in Khartoum said on Wednesday that it opposed "invitations, facilitation or support for travel by any person subject to outstanding International Criminal Court (ICC) arrest warrants, including President Bashir".
South Africa, which is a signatory to the Rome Statute, is currently facing proceedings before the ICC for failing to arrest Bashir during a 2015 visit.
Last year, the ICC referred Chad, Djibouti and Uganda to the UN for also failing to arrest Bashir. So far no action has been taken against them.
Full report at:
http://www.newindianexpress.com/world/2017/may/19/sudans-bashir-to-skip-trump-muslim-summit-1606628.html
--------
Macron visits Mali's restive north
May 20, 2017
GAO, Mali - New French President Emmanuel Macron on Friday urged faster progress in a Mali peace accord signed in 2015 on his first official visit outside Europe, while reaffirming strong military cooperation with the United States in Africa.
At the end of his first week in office, Macron left Gao, a city in Mali's deeply-troubled north, after lunching with French troops and sitting for talks with Malian counterpart Ibrahim Boubacar Keita.
Macron was keen to display his defence and security credentials after promising to meet with some of the 1,700 French soldiers stationed in Gao at France's largest foreign base, part of the larger "Barkhane" counter-terror force operating across the Sahel region.
The operation comprises around 4,000 soldiers who are deployed in five countries - Mali, Mauritania, Niger, Chad and Burkina Faso - all of which are menaced by the jihadist threat across porous borders.
Reaffirming a commitment for France's troops to remain "until the day there is no more terrorism in the region and the full sovereignty of the Sahel is restored, not before", Macron also had warm words for American military cooperation in Africa.
He described an "exemplary" relationship with the United States on counter-terror efforts, adding that he "did not doubt" such cooperation with the Trump administration would be maintained.
The United States has carried out military training in Chad and Mauritania and has increased its special operations presence on the continent.
Macron also made clear his desire for greater action by the Malian government in implementing its 2015 peace deal, which has repeatedly faltered in the face of inaction and ongoing rivalries between the patchwork of armed groups operating in the north who signed the accord.
"My wish is for us to accelerate" the deal's implementation, Macron said at a news conference, describing the so-called Algiers Accord as the top priority to ensure Mali's security.
Macron is keen to promote economic development rather than military might, with hopes that improving young Malians' lives will dim the allure of joining jihadist groups.
Investing in infrastructure, education and health, Macron said, all of which have suffered badly from the Malian state's near absence in large swathes of its northern territory, was the "best antidote" to jihad.
To that end, France promised "constant" military, diplomatic and political support with the help of the French Development Agency (AFD), he said.
Macron's predecessor Francois Hollande said in January that France would boost the AFD's budget for Africa by 15 percent over the coming years to 23 billion euros ($25.7 billion).
Macron is travelling with Foreign Minister Jean-Yves Le Drian, who as the former defence minister knows Gao well, and his replacement in that job, Sylvie Goulard, as well as AFD chief Remy Rioux.
The French president said he would also attend a meeting of the G5 Sahel countries, the same nations where the Barkhane force has a presence, in the coming weeks.
Nineteen French soldiers have died serving in Mali since 2013 when Hollande launched an intervention to chase out jihadists linked to Al-Qaeda who had overtaken key northern cities, according to the latest defence ministry figures.
Jihadists continue to roam the country's north and centre, mounting attacks on civilians and the army, as well as French and UN forces still stationed there.
Macron emphasised the need for closer European cooperation in the fight against jihadists, especially with fellow EU heavyweight Germany.
"My desire in the framework of our military involvement in Africa is to do even more with Europe, more with Germany, but in a pragmatic manner," Macron told journalists.
Germany currently contributes 550 troops to the multi-national UN force in Mali, called MINUSMA, forming the largest European contingent.
The new president discussed the issue with German Chancellor Angela Merkel in Berlin on Monday during his first visit to a foreign leader since taking power.
Stationed in Mali since July 2013, MINUSMA has just over 12,000 military and police personnel working on what is considered the UN's most dangerous active peacekeeping deployment.
Full report at:
http://nation.com.pk/international/20-May-2017/macron-visits-mali-s-restive-north
--------
South Asia
NATO Allies and Partners reaffirm strong support to Afghanistan
May 20 2017
The North Atlantic Treaty Organization (NATO) allies and partners reaffirmed their Warsaw commitments to sustainable security in Afghanistan and to their strong partnership with Afghanistan.
According to a statement by the alliance "NATO Allies and operational partners contributing to the NATO-led Resolute Support Mission met today (19 May 2017), at NATO Headquarters, to review ongoing efforts in support to the Afghan National Defence and Security Forces (ANDSF) and long-term stability in Afghanistan."
The statement further added that the President of Afghanistan, His Excellency Ashraf Ghani Ahmadzai, the Commander of the Resolute Support Mission (General John W. Nicholson), and the NATO Senior Civilian Representative to Afghanistan (Ambassador Cornelius Zimmermann) attended via video conference.
"Attendants noted the continued progress made by the Afghan security forces and institutions, just over two years since assumption of full security responsibility by Afghanistan. They also underscored the importance to continue supporting the ANDSF through training, advising and assistance efforts by the Resolute Support Mission," the alliance added.
"The meeting marked the completion of a process of periodic review of Resolute Support. It reaffirmed the commitment undertaken at the NATO Summit in Warsaw last year to sustain the NATO-led mission as a conditions-based mission, and to keep its configuration under review," the statement said, adding that "NATO Allies and partners today reaffirmed the mission as conditions-based and through a flexible regional model. They also affirmed their support to the ongoing force generation process to ensure that the mission is properly resourced."
"Today's meeting provided also the opportunity to take stock of the continued efforts by Afghanistan's National Unity Government to boost internal reforms and maintain momentum on key areas for Afghanistan's stability, including good governance, the rule of law, regional cooperation, and the Afghan-led and Afghan-owned peace and reconciliation process," the statement said.
http://www.khaama.com/nato-allies-and-partners-reaffirm-strong-support-to-afghanistan-02782
--------
11 civilians killed in an explosion in Logar province of Afghanistan
May 19 2017
At least eleven civilians were killed in an explosion in central Logar province of Afghanistan.
According to the local government officials, the incident took place in Mohammad Agha district at around noon time today.
District administrative chief Nasir Amin confirmed the incident and said at least five children and five women were among those killed.
He said the incident took place after a civilian vehicle struck an Improvised Explosive Device (IED), leaving all those on board dead.
No group including the Taliban insurgents has so far claimed responsibility behind the incident.
The Taliban insurgents frequently use IEDs as the weapon of their choice to target the security forces and government officials but in majority of such incidents the ordinary civilians are targeted.
The United Nations Assistance Mission in Afghanistan (UANAMA) released its latest civilian casualties report last month, covering a period of three months since the start of 2017.
According to the report, the Anti-Government Elements caused 62 per cent of civilian casualties – 1,353 civilian casualties (447 dead and 906 injured), reflecting a five per cent increase compared to the same period in 2016.
Full report at:
http://www.khaama.com/11-civilians-killed-in-an-explosion-in-logar-province-of-afghanistan-02779
--------
5 policemen killed by a comrade in East of Afghanistan
May 19 2017
At least policemen were killed in an insider attack in eastern Nangarhar province of Afghanistan, local officials said Friday.
Provincial governor's spokesman Ataullah Khogyani confirmed the incident and said the policemen were killed by one of their comrades on Thursday night.
Khogyani further added that the attack was carried out late on Thursday night in a check post located in Marko Bazar.
According to Khogyani, the policemen were initially poisoned by their comrade and were later shot dead.
No group including the Taliban insurgents or any other terrorist group has so far claimed responsibility behind the incident.
In the meantime, Khogyani said an investigation is underway regarding the attack.
Nangarhar is among the relatively calm provinces in eastern Afghanistan but the security situation of some of its remote districts have started to deteriorate during the recent years.
Both the Taliban insurgents and ISIS loyalists are active in this province and often carry out insurgency activities.
Full report at:
http://www.khaama.com/5-policemen-killed-by-a-comrade-in-east-of-afghanistan-02778
--------
750 ISIS militants killed since early March in Afghanistan: USFOR-A
May 20 2017
At least 750 militants affiliated with the Islamic State of Iraq and Syria (ISIS) terrorist group's offshoot in Afghanistan, ISIS Khurasan, were killed in the past two and half months in Afghanistan.
The US Forces in Afghanistan in a statement said "Since early 2016, Afghan and US counter-terrorism forces have put relentless pressure on ISIS-Khurasan, their branch in Afghanistan. Their territory and fighting strength have been reduced two-thirds."
The statement further added "In the last nine months alone, Afghan and US counter-terrorism forces have killed the ISIS-K Emir Hafiz Sayed Khan and his replacement Abdul Hasib. They have also killed over a dozen of their top leadership. Since March, they have killed more than 750 ISIS-K fightres, recovering territory so that displaced Afghans have been able to return to their homes."
"As Afghan and US Special Forces make this progress, the full extent of ISIS-K barbarity is being revealed. Particularly heinous has been ISIS-K recruitment and training of child soldiers and kidnapping of young women who they force into marriage with their fighters. Some of the women forced into marriage have escaped as friendly operations progress," the statement added.
Full report at:
http://www.khaama.com/750-isis-militants-killed-since-early-march-in-afghanistan-usfor-a-02781
--------
Bangladesh authorities arrest 27 men on suspicion of being gay
May 20, 2017
Authorities in Bangladesh have arrested 27 men on suspicion of being gay, a criminal offence in the Muslim-majority country, and plan to charge them with drug possession, an official has said.
A commander of the Rapid Action Battalion, an elite police unit that made the arrests, said the suspects, mostly students aged 20-30 years, had traveled from across the country and were picked up in a raid on a community centre at Keraniganj, outside the nation's capital, early Friday.
Zahangir Hossain Matobbar said they recovered illegal drugs and condoms in their possession and plan to charge them with drug offenses and not homosexuality because they were detained before they engaged in sex.
The agency also arrested the owner of the community centre where the suspects used to gather every two months and stay overnight for partying.
Last year, suspected militants killed a leading LGBT activist and his friend in Dhaka.
The 35-year-old Xulhaz Mannan, a USAID official, was hacked to death in April last year at his home. He had founded the country's only LGBT magazine Roopbaan and was a leading organiser of gays, who are ostracised in Bangladesh.
Since then, many of the gays and lesbians have left the country after they received death threats. Many still live double lives to avoid reprisals.
Full report at:
http://www.independent.co.uk/news/world/asia/bangladesh-authorities-arrest-27-men-gay-homosexuality-muslim-country-islam-police-charge-a7744366.html
--------
Gen. Dostum reportedly left for Turkey after rival's alleged sexual abuse
May 19 2017
The First Vice President General Abdul Rashid Dostum has reportedly left to Turkey following months of tensions sparked due to the controversial allegations suggesting the Vice President and his security guards were involved in torture and sexual abuse of rival Ahmad Ishchi.
Sources close to Gen. Dostum have confirmed that the Vice President has left for Turkey due to health issues.
The sources further added that Gen. Dostum was forced by his close relatives to visit Turkey for medical check ups as the Vice President was refusing to leave the country.
This comes as the Attorney General of Afghanitan Farid Hamidi said Tuesday that the alleged sexual abuse of Ahmad Ishchi involving Vice President General Abdul Rashid Dostum is seriously being probed.
He said the Attorney General Office will take immediate steps regarding any case that is referred for prosecution.
The Attorney General further added that there will be no impunity for any individual or official in Afghanistan.
Full report at:
http://www.khaama.com/gen-dostum-reportedly-left-for-turkey-after-rivals-alleged-abuse-02780
--------
28 suspected homosexuals detained from Keraniganj
May 19, 2017
In Muslim-majority Bangladesh, homosexuality is a criminal offence and punishable by life imprisonment
Rapid Action Battalion (RAB) has detained 28 people from what it calls "a homosexual party" at a community centre in Dhaka's Keraniganj.
"Homosexuals from 20 districts gathered there. They usually get together once every two months," RAB 10 Commanding Officer Jahangir Hossain Matubbar told reporters on Friday.
He said they raided the place at Keraniganj's Ati Bazar around 3am and also recovered 45 contraband yaba tablets and 250 grams of marijuana from their possession.
Most of the detainees, all under the age of 30, are students. They used to keep in touch with each other on social media, the RAB officer claimed.
The RAB 10 CO also said locals have complained about this particular group for a long time. The detainees admitted to having gathered there to engage in homosexual activities. "They used to gather here every two months for the last two-and-a-half years."
The detainees were handed over to Keraniganj police in the afternoon.
However, in a bizarre twist of events, a narcotics case has been lodged against the detainees.
The Dhaka Tribune cannot confirm the authenticity of the claims independently.
Homosexuality is a criminal offence in Muslim-majority Bangladesh, where the highest punishment for "unnatural intercourse" is life imprisonment.
LGBT rights campaigners and their supporters have long been subjected to mockery and assault, sometimes fatal, by radical Islamists.
Xulhaz Mannan, editor of Bangladesh's only LGBT magazine Roopbaan, was hacked to death at his Dhaka home along with his friend Khandaker Mahbub Rabbi Tonoy, also a theatre activist, at the former's house on April 25, last year in an attack later claimed by militant group al-Qaeda's Bangladesh wing Ansar al-Islam.
Investigators have so far failed to make any apparent progress in cracking the case.
Full report at:
http://www.dhakatribune.com/bangladesh/dhaka/2017/05/19/29-suspected-homosexuals-detained-keraniganj/
--------
Pakistan
Fight Terrorism along Muslims, Not Against, Pak Senator Advises Trump
May 20, 2017
Senator Rehman Malik advised U.S President Donald Trump to fight along with Muslims in terrorism not against them.
Donald Trump before leaving for Saudi Arabia, his first foreign trip after being elected as the President of U.S, tweeted saying,
To which Pakistan's Senator and Pakistan Peoples Party representative Rehman Malik advised him on Twitter by saying,
In the next Tweet he talks about Muslims and tells him that all Muslims are not terrorists,
According to A.P, U.S President is to deliver his speech on Sunday in Saudi Arabia. According to the draft he will be calling for unity in the fight against radicalism in the Islamic world, characterizing the effort as a "battle between good and evil." It will also urge Arab and Muslim leaders to "drive out the terrorists from your places of worship."
Trump will avoid the tough anti-Muslim language from his presidential campaign as well as mentions of democracy and human rights, according to the draft speech, which remains subject to revision.
http://nation.com.pk/national/20-May-2017/fight-terrorism-along-muslims-not-against-rehman-malik-advises-trump
--------
PM Nawaz to attend first US-Arab-Islamic Summit on Sunday
20 May,2017
ISLAMABAD (Dunya News) - On the invitation of King Salman bin Abdul Aziz, Prime Minister Muhammad Nawaz Sharif will visit the Kingdom of Saudi Arabia (KSA) from 21-22 May 2017 to participate in the first trilateral US-Arab-Islamic Summit, to be held in Riyadh on 21 May 2017.
In addition to King Salman and US President Donald J. Trump, 55 Heads of State and Government from the Muslim world have been invited to participate in the Summit.
The Summit in Riyadh will provide an opportunity for the participating countries to discuss how to overcome the menace of terrorism and extremism across the world. It is expected to delink 'terrorism' from any particular religion, culture, civilization or region.
"In his address at the Summit, as well as during his interaction with world leaders, Prime Minister Muhammad Nawaz Sharif will focus on Islam's message of peace, tolerance and unity," the Foreign Office stated in a press release.
The Prime Minister will highlight the great sacrifices and major successes achieved by Pakistan in defeating the scourge of terrorism and extremism in the region.
Full report at:
http://dunyanews.tv/en/Pakistan/389201-PM-Nawaz-to-attend-first-USArabIslamic-Summit-on
--------
No headway in probe into young Christian man's death
IMTIAZ ALI
May 20, 2017
KARACHI: Police have failed to trace and arrest five young men nominated in the murder case of their friend, whose body was found inside a vacant apartment in Mehmoodabad on May 14, it emerged on Friday.
The family of 24-year-old Shalem approached the police as they suspected some foul play behind his death. A case was registered against six friends of the deceased, but only one of them was arrested for his alleged involvement in the murder.
On Friday, the last rites of the young victim were performed at a local church. His relatives and members of the Christian community attended the funeral rites.
The relatives told the media that Shalem, a resident of Cantonment Station, was allegedly killed by his friend who invited him to a party late on Saturday night in Mehmoodabad.
As the remaining five suspects are still at large, they alleged that the police were not taking "interest" in the case. They demanded that the Sindh chief minister and senior police authorities take notice of the incident.
However, police officer Mohammad Ashraf Ghumman rejected the allegation that the police were not taking interest in arresting the other suspects. He said efforts were under way to arrest the five absconders, who managed to escape.
He added that the police were also waiting for the report of a chemical examination to ascertain the exact cause of death.
Ghumman said that a case was registered under Sections 302 (premeditated murder) and 34 (common intention) of the Pakistan Penal Code on the complaint of the victim's father Pervez Kamran Masih.
He said that the family had expressed their suspicions that Shalem was allegedly poisoned by his friends as they had brought the body to a hospital several hours after his death.
The body was later shifted to the Civil Hospital Karachi for a post-mortem examination. Additional Police Surgeon Dr Qarar Ahmed Abbasi said doctors reserved samples of a chemical examination to determine the exact cause of death. He said apparently there were no injury marks.
He said that the report was expected in the next week.
Former Mehmoodabad SHO Anwar Ali Shaikh, who was recently removed from his post, identified the lone suspect arrested so far as Ahmed, who he said during initial investigations told the police they had arranged a "whisky party" at a house in Mehmoodabad on Saturday night.
However, the friend tasked with arranging the liquor could not bring it, Ahmed told the police, adding that Shalem reached the place after midnight and he was "already under the influence of alcohol".
He said the friend went to bed late at night. He woke up at about 3.30am because Shalem had vomited up his food. When he inquired, he asked Ahmed to let him sleep. However, when he woke up again at 6.30am he found Shalem dead.
He went on to say that all the friends were terrified over his death. One of them, identified as Osama, phoned his maternal uncle, who owned the place where the party was arranged, but he snubbed him over the phone since he had got him in trouble.
Ahmed told the police that he phoned his mother who along with his sister and her brother-in-law reached the place.
"It took them several hours to shift the body to the hospital," the police officer confirmed.
Full report at:
https://www.dawn.com/news/1334215/no-headway-in-probe-into-young-christian-mans-death
--------
Three labourers working on China 'Silk Road' project killed in Turbat
REUTERS | SYED ALI SHAH
May 20, 2017
Suspected militants on Friday gunned down three workers building a Chinese-funded "Silk Road" highway in Balochistan, just days after a similar attack killed 10 labourers, officials said.
The men killed on Friday were part of a team working on a major highway in the Hoshab area of Turbat, linking the port-city of Gwadar to Quetta, said Sarmad Saleem, a regional official.
"One laborer died on the spot and two others succumbed to their injuries in hospital," Saleem said.
They were making a trip to a marketplace in the small town of Hoshab, 280 km from Gwadar, to buy daily supplies, said an official of the paramilitary force overseeing security in Baluchistan.
The assailants managed to flee on a motorcycle.
Levies and frontier corps personnel reached the spot to initiate an investigation into the incident.
The officer said the labourers had been working on the construction of a road under the Frontier Works Organization (FWO). "The labourers belonged to the Khairpur area of Sindh province," he said.
Full report at:
https://www.dawn.com/news/1334123/three-labourers-working-on-china-silk-road-project-killed-in-turbat
--------
26 Baloch militants surrender to authorities
SYED ALI SHAH
May 20, 2017
As part of the ongoing reconciliation process, 26 militants belonging to various outlawed militant groups surrendered their weapons to authorities in Balochistan's Khuzdar district on Friday.
"More militants will surrender before the authorities in the days to come," Balochistan government spokesperson Anwarul Haq Kakar had said on April 21, when 434 militants submitted their weapons and surrendered to the authorities.
The militants surrendered at a ceremony organised at the Kalat Scouts campus in Khuzdar. PML-N Senator Niamatullah Khan Zehri, Commandant Kalat Scouts Colonel Rizwan Afzal and other officials participated in the weapons laying ceremony.
The militants laid down their weapons under the leadership of commander Omar Baloch, who belonged to an outlawed organisation.
"We are denouncing violence and will now work for the country and nation," Baloch said.
During the last two years, more than 1,600 militants have abandoned a bloody armed struggle against the state.
"We are civilian soldiers of Pakistan," Senator Zehri told the function. He said that enemies of Pakistan were bent upon hatching conspiracies and carrying out subversive activities inside Balochistan.
Col Rizwan welcomed the 'reformed' ex-militants and urged them to work for the peace and development of not just Balochistan but of greater Pakistan.
Full report at:
https://www.dawn.com/news/1334130/26-baloch-militants-surrender-to-authorities
--------
At least 14 injured in five hand grenade attacks in Charsadda
May 20, 2017
At least 14 injured in five hand grenade attacks in Shabqadar area of Charsadda, reported Waqt News.
According to details, three houses were targeted in three attacks while peon and child got injured in Zeb Kaur School in result of the explosion near gate.
No causality was reported in two blasts. Six children and five women are included in the injured, reported media.
The police and security forces have reached the site as search operation is underway. The injured have been rushed to nearby hospital. Seriously injured are expected to taken to Lady Reading Hospital, Peshawar.
http://nation.com.pk/national/20-May-2017/at-least-14-injured-in-five-hand-grenade-attacks-in-charsada
--------
Roadside bomb kills 11 members of Afghan family
May 20, 2017
KABUL:- Eleven members of an Afghan family, mostly women and children, were killed Friday when their vehicle hit a roadside bomb while they were travelling for an engagement ceremony in the country's volatile east. The attack occurred in the Mohammad Agha district of Laghman province but no militant group has so far claimed responsibility. "The bomb struck their Toyota sedan when they were going for an engagement ceremony," said Logar Governor Mohammad Halim Fidai. "The victims included five women and five children."–AFP
Provincial authorities blamed the Taliban, who launched their annual "spring offensive" last month, for the killings.
Full report at:
http://nation.com.pk/national/20-May-2017/roadside-bomb-kills-11-members-of-afghan-family
--------
Europe
President Emmanuel Macron vows to step up French fight against Islamists in Africa
May 20, 2017
France will step up the fight against resurgent Islamist militants in north and west Africa and will work more closely with Germany to help the tinderbox region, President Emmanuel Macron said on his first trip outside Europe on Friday. Visiting Mali days after taking office, Macron vowed to keep French troops in the Sahel region until there was "no more Islamist terrorism" there. He said operations would be escalated in response to signs that militant groups were regrouping and uniting.
"It is vital today that we speed up. Our armed forces are giving their all, but we must speed up" efforts to secure the Sahel, he told a news conference in Gao, Mali, where he held talks with President Ibrahim Boubacar Keita and spoke to some of the 1,600 French soldiers based there.
Spurring economic development in the impoverished Sahel is also part of his strategy, he said. "We must win the war and win the peace at the same time." Macron's early trip to Mali fulfilled a campaign promise, underlining the importance he places on combating militants in the Sahel whom he said could threaten Europe. France has been particularly hard hit by Islamist militant violence, with more than 230 people killed over the past two years.
The Sahel, a politically volatile, mainly desert expanse stretching from Mauritania in the west to Sudan in the east, hosts a variety of jihadist groups and is seen as a springboard for attacks on European targets.
MACRON WANTS EUROPEAN ALLIES TO PITCH IN
While France would continue to shoulder the military burden of fighting militants in north and west Africa, Macron said Germany and other European nations could do more to help with both military and development aid. He said he had discussed Mali with German Chancellor Angela Merkel in Berlin on Monday and the two decided to "strengthen our cooperation further to help the countries of the region.
"There is a need for the latest generation helicopters and armoured vehicles. It is in that framework that reinforced cooperation with Germany can make us all more effective." Macron said he would take part in the coming weeks in a meeting of the so-called G5 Sahel countries – Chad, Niger, Burkina Faso, Mali and Mauritania – all former French colonies. He told French soldiers: "I won't risk your lives for nothing … but my determination when in action will be total." Macron said later he had promised to give them the equipment they needed.
France intervened in 2013 to drive out al Qaeda-linked militants who seized northern Mali the year before. It has since deployed some 4,000 soldiers, known as the Barkhane force, across the region to hunt down Islamists. That operation paved the way for the United Nations to deploy its more than 10,000-strong MINUSMA peacekeeping force to the West African state.
In January, Germany's cabinet approved the deployment of eight helicopters and 350 extra soldiers to Mali as part of the UN peacekeeping mission, bringing total German strength there to around 1,000 soldiers.
However, MINUSMA has lacked equipment and resources, making a political settlement between Tuareg rebels and the government in Mali increasingly fragile and allowing Islamists and people traffickers to exploit a void in the north of the country.
http://indianexpress.com/article/world/president-emmanuel-macron-vows-to-step-up-french-fight-against-islamists-in-africa-4664722/
--------
Muslims Persist After Far-Right Death Threats Shut Down Mosques And Public Prayer In Germany
BY CHRIS RIOTTA
5/19/17
There is no longer a single operating mosque in central Munich as of Friday; the final closure occurred earlier this week when the center was unable to accommodate the massive numbers of Muslims seeking a refuge for prayer.
A dramatic rise in Islamophobia across the U.K. and unending threats of violence and terror have forced mosques and public prayers to shut down without notice. And yet, Islamic organizers in Germany continue to persist, telling Newsweek they can raise awareness for their plight with the help of other religious leaders and churches throughout the region.
Some of that interfaith assistance has already arrived, with a local church opening its doors in the midst of fear and hatred, inviting Muslims in for prayer and safety.
A coalition of young Muslim students and community activists organized a prayer in Munich's Marienplatz, a public square in the heart of the city, to bring attention to their lack of local spaces to practice their faith. The event was cancelled in its original form, however, after a bevy of violent threats from the German far right stated their intention to spur the same Islamophobic terror that's been seen across the U.K. more so than ever since 2015, when anti-Muslim abuse surged 326 percent in a single year, according to the monitoring group Tell MAMA.
Massi Popal, who spearheaded organizing the public prayer before ultimately deciding to cancel it, said he's found a new space where Muslims can pray in unity for the time being: a church in central Munich that invited the Islamic community to host a prayer session on its property Friday, May 26.
"We don't want to cause trouble or protest," Popal tells Newsweek. "We just want to inform our mayor and City Council in a very peaceful manner that there is no more place for us in central Munich."
"After right extremist groups said they want to attack us and protest our prayer, we decided that we won't give them the attention they want," Popal says. "That's when the church stepped in and gave us a safe and dignified space."
The church will host the Islamic community on the eve of Ramadan, a month-long fasting and holy tradition for Muslims globally. Islamic advocacy groups around the world are calling on religious activists to host interfaith community sessions throughout the month to allow for an exchange of dialogue and to create a deeper understanding on the Muslim religion.
"Along with the recent rise of Islamophobia and other forms of bigotry nationwide, we have seen a similar increase in support for the American Muslim community and for other targeted communities," Ibrahim Hooper, the communications director for the Council on American-Islamic Relations, tells Newsweek in a statement encouraging interfaith "iftars" in which Muslims can make a fasting exception to break bread with members of other religions. "Muslim communities have the opportunity to help unify our nation and move it forward on a path that respects long-standing American values, not the distortions of those values we see so often today."
In Germany, where even Chancellor Angela Merkel has catered to the right-wing political movement by calling for a ban on full veil burqas last year while announcing her re-election campaign, interfaith activists are taking the mission to unify religions a step further, sharing their prayer spaces with Muslims fighting back against such discrimination.
Full report at:
http://www.newsweek.com/muslims-safe-threats-right-islamic-extremism-munich-mosques-closed-interfaith-612811
--------
Muslims quietly pray in B.C. public schools, despite protests in Ontario
5.19.2017
The thorny issue of whether Muslim students should be allowed to pray in Canadian secular schools aroused a storm of protests this year in a large school district in Toronto.
But Muslim students have for years quietly been provided space to pray in private in Metro Vancouver public high schools, particularly in Burnaby and Surrey.
Metro Vancouver Muslim leader Aasim Rashid said it's essential that Muslim students be given a space to fulfil their "obligation" to pray five times each day — plus join a religious service every Friday afternoon.
"It's a religious obligation that is placed upon every Muslim from the time they reach puberty," said Rashid, a former mufti with the B.C. Muslim Association who heads an independent school in Surrey called the Al-Ihsan Educational Foundation.
Controversy over Muslim prayers triggered bursts of opposition this year in Toronto, where eight per cent of the population is Muslim.
The religious accommodation issue also appears to divide British Columbians, according to a Mainstreet Research poll, though it did not directly address the issue of private, voluntary prayers in schools.
In the large Peel school district of east Toronto, petitioners demanded the Muslim students' 20 minutes of Friday congregational prayers, called Jummah, be banned.
Critics argued at heated meetings that schools should be strictly secular and students should not segregate by religion. One demonstrator burned a copy of the Qur'an, the Muslim holy book.
But Surrey and Burnaby school district officials said this week that they have long accommodated the religious expectations of Muslim students and those of other faiths.
"These things are handled in a quiet way. We usually find a quiet room for the Muslims, and other students, to hold their prayers," said Surrey school board spokesman Douglas Strachan.
The Surrey school board has also for more than a decade allowed orthodox Sikh students to wear kirpans, or ceremonial daggers, in public schools "as long as they're hidden from view and kept sheathed," Strachan said.
"We believe in doing all we can to accommodate religious practices so that all students feel welcome."
When Burnaby school board officials were asked whether their district accommodates Muslim students who want to pray or hold Friday services, they initially said the issue had not arisen.
But after Burnaby communications manager Jodie Wilson contacted all eight of the district's high schools, she confirmed each had been doing so for years.
Metro Vancouver has about 90,000 Muslims, accounting for 3.5 per cent of the population, with many in Burnaby and Surrey.
When Rashid was asked if he believed Christian and First Nations students should, like Muslims, be allowed to hold their ceremonies and prayers in public schools, he said, "I would ask them whether it is religiously required."
Rashid wouldn't want to see students of non-Muslims faiths or cultures asking for empty rooms to pray in at lunch or after school just to prove they have the same religious rights as Muslim students. "To me, the obligation is the big thing."
Mandatory Christian prayers or ceremonies were banned decades ago in B.C. secular schools, after the courts clarified public educational officials cannot promote one religion over another.
John Stackhouse, a Canadian professor of culture and theology, says public school teachers should never expect students to take part in the spiritual practices of any religion or culture.
But religious students should have a right to voluntarily take part in their own practices on school property, he said.
Liberal Christians, Jews, Sikhs and Muslims, Stackhouse said, are generally prepared to let secular public schools be secular and not demand they provide a space even for voluntary prayers.
"But traditional Muslims, like traditional Jews and Christians, see prayer as properly practised both individually and corporately. Indeed, all three religions require corporate prayer," says Stackhouse, a Christian.
Full report at:
http://www.thestarphoenix.com/news/local+news/muslims+pray+public+schools+despite+signs+opposition/13381629/story.html
--------
Syria talks in Geneva end in failure
20 May 2017
The sixth round of Syria talks in Geneva Friday concluded in failure as there was no progress on any issue for a political solution to the Syrian crisis.
The latest round of talks was expected to focus on four topics: the constitution, governance, elections, and fight against terrorism.
Speaking at the end of talks in UN at Geneva, the head of delegation from the Bashar al-Assad regime, Bashar al-Jaafari told reporters that none of these topics were discussed.
UN Special Envoy for Syria Staffan de Mistura said in a news conference: "We did not have a time to go deeply into all four baskets.
De Mistura said the date of the next round of talks is likely to be announced in mid-June.
Full report at:
http://www.worldbulletin.net/europe/189766/syria-talks-in-geneva-end-in-failure
--------
Muslim leader calls for religious unity in Swindon
May 20, 2017
A POPULAR faith leader has called for religious groups in Swindon to unite to promote tolerance and mutual respect.
Shahid Aziz, who lives in Chiseldon, has for the past three years been president of Ahmadiyya Anjuman Ishaat Islam Lahore, an organisation, based in London, which seeks to promote the progressive face of Islam.
And with the backing of the town's myriad religious communities, Shahid is hoping to establish what he describes as "a sense of harmony among residents".
He said: "I am seeking support in establishing a forum in Swindon which will, if not eliminate, at least minimise extremism and intolerance in our beautiful town.
"The Ahmadiyya Association for the Propagation of Islam is a progressive Islamic association. We aim to bring different faith communities together by preaching that we should respect the founders and followers of all religions.
"We have always engaged in inter-faith dialogue ever since out organisation was founded in 1890 and we want this to continue and to expand."
The motto of Shahid's organisation is 'Islam stands for I Shall Love All Mankind', and it is this spirit he is hoping to cultivate in Swindon.
Following the Westminster terror attacks in March, Shahid condemned the attackers who he claimed possessed a "perverted understanding of Islam".
He said: "We, the Muslims of Britain, condemn all the cowardly and criminal acts wherever they are committed and whoever commits them.
"We will not be cowed and we shall fight such criminals to uphold values of Islam prevalent in the UK such as freedom of expression, rule of law, protection of the disadvantaged and our democratic institutions.
"Let these criminals not divide us and stand united to show these criminals that their evil plans will not succeed."
His call for unity has been supported by other faith leaders in the town.
Full report at:
http://www.swindonadvertiser.co.uk/news/15298179.Muslim_leader_calls_for_religious_unity_in_Swindon/
--------
URL: https://www.newageislam.com/islamic-world-news/zakir-naik-granted-saudi-citizenship/d/111225
New Age Islam, Islam Online, Islamic Website, African Muslim News, Arab World News, South Asia News, Indian Muslim News, World Muslim News, Women in Islam, Islamic Feminism, Arab Women, Women In Arab, Islamophobia in America, Muslim Women in West, Islam Women and Feminism