New Age Islam News Bureau
18 Nov 2016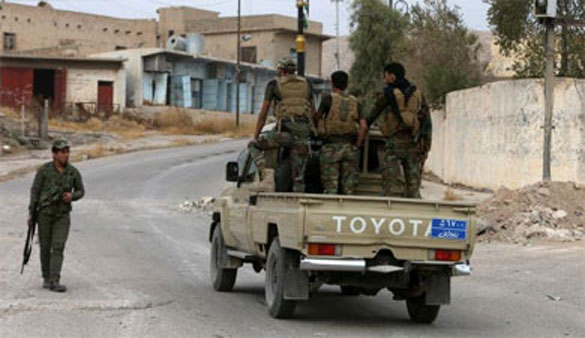 Peshmerga forces ride on the back of a vehicle in the town of Bashiqa, after it was recaptured from the Islamic State, east of Mosul, Iraq November 10, 2016. REUTERS/Alaa Al-Marjani
---------
• Zakir Naik Extolling Osama's Views, Proclaiming Every Muslim Should Be a Terrorist: MHA
• Under Siege in Mosul, Islamic State Turns To Executions and Paranoia
• Iraqi Informant: ISIS' Baghdadi Sleeps With A Suicide Belt
• Gulen's Group Threat as Serious as Al Qaeda, Daesh: Erdogan
India
• Zakir Naik Extolling Osama's Views, Proclaiming Every Muslim Should Be a Terrorist: MHA
• AIMPLB Convention to Formulate Strategy on Uniform Civil Code, Triple Talaq
• Pakistani MPs fear China-Pakistan Economic Corridor could benefit India
• India shoots off note to Pakistan over ceasefire violations
• Israel Commits India to Jointly Fight Menace of Terrorism
--------
Arab World
• Under Siege in Mosul, Islamic State Turns To Executions and Paranoia
• Iraqi Informant: ISIS' Baghdadi Sleeps With A Suicide Belt
• In Battered Town Seized From IS, Iraq's Yazidis Dream Of Return
• Regime bombardment kills 25 civilians in Aleppo
• Coalition targets Houthi posts in Saada, 22 killed
• Syrian Army Eliminates Over 2 Dozen ISIL Militants near Deir Ezzur Airport
• Local Sources: Terrorists in Eastern Aleppo Losing Trust in Commanders
• Suicide attack kills 16 at Iraq wedding
• Houthi attack on Makkah to be referred to UN
• Iraqi troops liberate eastern Mosul district from Daesh grip
• Hama: Terrorists' Attack Repelled, Tens of Militants Killed in Army Offensives
• Iraqi sheikh: ISIS suspects families placed in 'camps' in Anbar
• People Demanding Terrorists' Exit from Eastern Aleppo, Hold Up Bashar Assad's Pictures
• Coroner's Office: Body Organs of Over 15,000 Syrians Sold in 6 Years
• UN extends inquiry into toxic gas attacks in Syria
• Over dozen dead as bombing rips through wedding in western Iraq
• Russia says began contact with Trump's team on Syria
• Terrorists' Strategic Bastion Facing Collapse in Southwestern Aleppo
--------
Mideast
• Gulen's Group Threat as Serious as Al Qaeda, Daesh: Erdogan
• FETÖ A Threat to Islam and All Countries, Must Be Eliminated: President Erdoğan
• Arab lawmaker raises Azaan in Israeli parliament
• US, Iran clash over Tehran's testing of limit in nuclear deal
• Palestinians condemn Israeli bill to legalize settlements
• Saudi mercenaries kill 24 Yemenis in mortar attack on bazaar
• Turkey set to scrap PM position in new system: Minister
• Turkey detains pro-Kurdish mayor as crackdown widens
--------
South Asia
• Anti-Muslim Buddhist Monk in Myanmar: Trump 'Similar to Me'
• Taliban Shadow Governor among 11 Killed In North Of Afghanistan
• Bangladesh court orders Zia's arrest over 'fake birthday'
• 5 'JMB leaders' held
• USAID expands support for Afghan agricultural exports by $16 million
• Germany to keep 980 soldiers in Afghanistan until the end of 2017
• Pakistan says it strongly condemn attack on security forces in Kabul
• Draft Agreement Finalized to Link Afghanistan with Black, Mediterranean Sea
--------
Pakistan
• Pakistan, Turkey Urge World to Combat Islamophobia, Stereotyping Against Muslims
• CII Takes Up Plight of 'Wives of the Disappeared'
• PM urged to review decision about Turkish teachers
• Eight ISIS suspects arrested in Lahore: CTD
--------
Southeast Asia
• DPM: Don't Be Trapped By Islamophobia of the West
• Street protests against Islamic law, Jakim tells Muslims
• Malaysia condemns attack on Saudi Arabia by Yemen rebels
• Japan's Okayama seeks to attract Malaysians with Muslim-friendly tourism
• Calls Mount for Muslims to Avoid another Anti-Ahok Protest
--------
Africa
• Nigeria's Apex Muslim Body Criticizes Inheritance Bill
• Boko Haram Weakened As ISIL Extends Campaign Of Destruction
• Nigeria turns to Pakistan, Russia for arms
• In Rwanda, refugees realise dream of a university degree
• Muslim groups advocate insulation for Sultanate
• Kidnappers demand N60 million to free Islamic cleric
• Al-Shabaab launches attack on Amisom base
• Nigeria's Islamic Movement holds funeral for victims of govt. brutality
--------
North America
• Trump Camp's Talk of Registry and Japanese Internment Raises Muslim Fears
• US terms recent terror attacks in Balochistan 'devastating'
• Muslims in Trump's America: realities of Islamophobic presidency begin to sink in
--------
Europe
• UK Envoy Says Muslim States Have Vital Anti-Terror Role
• Quebec 'uproar' over proposed Muslim community
• Refugees feared drowned in Mediterranean Sea
• 'Belgium must face the facts and fight extremism'
• Military Expert: Russia's Air Force, Navy Operations in Idlib Prelude to Upcoming Attacks in Eastern Aleppo
Compiled by New Age Islam News Bureau
URL: https://www.newageislam.com/islamic-world-news/new-age-islam-news-bureau/zakir-naik-extolling-osama's-views,-proclaiming-every-muslim-should-be-a-terrorist--mha/d/109135
--------
Zakir Naik extolling Osama's views, proclaiming every Muslim should be a terrorist: MHA
November 17, 2016
Controversial Islamic preacher Zakir Naik has been extolling Osama Bin Laden, proclaiming that every Muslim should be a terrorist and claiming that if Islam had indeed wanted 80 per cent of Indians would not have remained Hindus, government said justifying the ban imposed on his NGO IRF. In a gazette notification, issued two days after the Union Cabinet decided to ban Islamic Research Foundation (IRF) under the Unlawful Activities Prevention Act, the Home Ministry said the IRF and its members, particularly, the founder and its President Zakir Naik, has been encouraging and aiding its followers to promote or attempt to promote, on grounds of religion, disharmony or feelings of enmity, hatred or ill-will between different religious communities.
"The central government has received information that the statements and speeches made by Zakir Naik, the President of IRF are objectionable and subversive in nature as he has been extolling the known terrorists like Osama Bin Laden, proclaiming that every Muslim should be a terrorist and claiming that if Islam had indeed wanted, 80 per cent of Indian population would not have remained Hindus as they could have been converted "if we wanted" by sword, justifying the suicide bombings, posting objectionable comments against Hindu Gods, claiming that Golden Temple may not be as sacred as Mecca and Medina and making other statements which are derogatory to other religions," the notification said.
The Home Ministry said through speeches and statements, Naik has been promoting enmity and hatred between different religious groups and inspiring Muslim youths and terrorists in India and abroad to commit terrorist acts.
It said such divisive ideology is against India's pluralistic and secular social fabric and it may be viewed as causing disaffection against India and thereby making it an unlawful activity.
India vs England Live score
"Statements of some terrorists arrested in the terrorist attack incidents or arrested ISIS sympathisers revealed that they were inspired by the fundamentalist statements of Naik, clearly indicating the subversive nature of his preachings and speeches," the notification issued by Joint Secretary in the Home Ministry Sudhir Kumar Saxena said.
The Central government is of the opinion that the aforesaid activities of the IRF and its President Zakir Naik are highly inflammatory in nature and prejudicial to the maintenance of harmony between various religious groups and communities, the Home Ministry notification said.
"…if urgent steps are not taken there is every possibility of many youth being motivated and radicalised to commit terrorist acts leading to promoting enmity between different religious groups.
"The Central government, having regard to the above circumstances, is of the firm opinion that it is necessary to declare the Islamic Research Foundation (IRF) as an unlawful association with immediate effect," it said.
http://indianexpress.com/article/india/india-news-india/zakir-naik-extolling-osamas-views-proclaiming-every-muslim-should-be-a-terrorist-mha-4380941/
--------
Under siege in Mosul, Islamic State turns to executions and paranoia
Nov 17, 2016
ERBIL, Iraq: A few weeks ago, a person inside Mosul began to send text messages to Iraqi military intelligence in Baghdad.
Abu Bakr al-Baghdadi, the leader of Islamic State+ , "has become intemperate," said the early November message, written by an informant inside the city who has contact with the group but is not a member of it.
"He has cut down on his movements and neglects his appearance," the message read. "He lives underground and has tunnels that stretch to different areas. He doesn't sleep without his suicide bomber vest so he can set it off if he's captured."
The text message, which Reuters has seen, was one of many describing what was happening inside Islamic State as Iraqi, Kurdish and American troops began their campaign to retake the group's northern Iraqi stronghold of Mosul.
The texts, along with interviews with senior Kurdish officials and recently captured Islamic State fighters, offer an unusually detailed picture of the extremist group and its leader's state of mind as they make what may be their last stand in Iraq. The messages describe a group and its leader that remain lethal, but that are also seized by growing suspicion and paranoia.
Defectors or informants were being regularly executed, the person texted. Baghdadi, who declared himself the caliph of a huge swathe of Iraq and Syria two years ago, had become especially suspicious of people close to him. "Sometimes he used to joke around," one text said. "But now he no longer does."
While Reuters has verified the identity of the informant who has been texting Iraqi military intelligence, the news agency couldn't independently confirm the information in the messages. But the picture that emerges fits with intelligence cited by two Kurdish officials - Masrour Barzani, head of the Kurdistan Regional Government's (KRG) Security Council, and Lahur Talabany, who is chief of counter-terrorism and director of the KRG intelligence agency.
Talabany and other intelligence chiefs said the military coalition is making slow but steady progress against Islamic State. The coalition has formidable assets inside Mosul, they said, including trained informers and residents who provide more basic surveillance by texting or phoning from the city's outskirts. Some of the informants have families in Kurdistan whom the KRG pays.
The Kurds believe that the military assault on Mosul, which began on October 17, is fueling Islamic State's sense of fear and mistrust. In the short term, they said, the group's obsession with rooting out anyone who might betray it may help rally fighters to defend Mosul+ . But the obsession also means the group has turned inwards right as it faces the most serious threat to its existence in Iraq since seizing around a third of the country's territory in the summer of 2014.
The number of executions is a clear sign Islamic State is beginning to hurt, said Karim Sinjari, interior minister and acting defense minister with the KRG, which controls the Kurdish area in northern Iraq.
As well, he said, many of the group's local Iraqi fighters lack the "strong belief in martyrdom that the jihadis have."
"Most of the die-hard Islamists who are fighting to the death are foreign fighters, but their numbers at the frontline are less than before because they are getting killed in battle and in suicide attacks," he said.
Barzani said the growing paranoia has pushed Baghdadi and his top lieutenants to move around a lot, further hurting the group's ability to defend the city. Baghdadi, Barzani said, "is using all the different tactics to hide and protect himself: changing positions, using different ways of traveling, living in different locations, using different communications."
If the military coalition does push Islamic State from Mosul, the Kurdish officials said, the group is likely to flee to Syria, from where it will pose a nagging threat to Iraq through regular suicide attacks and other guerilla tactics.
Dangers of a SIM card
Islamic State has always been paranoid. Its rule in Syria and Iraq has relied in large part on a vast intelligence network that uses everyone from children to battle-hardened former Baathists to spy on both subjects and its own officials.
That paranoia appears to have reached new levels as Islamic State's enemies advance. Suspicion grew in the weeks before government troops began to encircle Mosul+ in mid October.
Early last month, Islamic State leaders uncovered an internal plot against Baghdadi, according to Mosul residents and Iraqi security officials. Hatched by a leading Islamic State commander, the plot was foiled when an Islamic State security official found a telephone SIM card that contained the names of the plotters and showed their links to US and Kurdish intelligence officers.
Retribution was brutal. Islamic State killed 58 suspected plotters by placing them in cages and drowning them, according to residents and Iraqi officials.
Since then, Islamic State has executed another 42 people from local tribes, Iraqi intelligence officers said. Those people were also caught with SIM cards.
Possession of SIMs or any form of electronic communication now amounts to an automatic death sentence, according to residents in Islamic State areas. The group has set up checkpoints where its militants search people, and regularly mount raids on areas hit by US air strikes because Islamic State officials assume locals have helped to identify targets.
The informant texting from Mosul is aware of the dangers. "I am talking to you from the rooftop," began one recent message. "The planes are in the skies. Before I go back down I will delete the messages and hide the SIM card."
"The cubs of the Caliphate"
Islamic State relies on a network of child informers, the so called ashbal al khilafa or "cubs of the caliphate."
"These young boys eavesdrop and find out information from other kids about their fathers, brothers, and their activities", said Hisham al-Hashemi, an Iraq government adviser and Islamic State expert. "In every street there are one or two ashbal al khilafa who spy on the adults."
The huge network of informants also hurts Islamic State, according to Lahur Talabany, chief of counter-terrorism for the KRG. Overwhelmed by information, the group is devoting a lot of its energy to its own people rather than its enemies. That fuels further paranoia.
"There are regular (internal) plots against Baghdadi" Talabany told Reuters. "We see incidents like that on a weekly basis, and they take out their own guys."
Until a few months ago, Talabany said, he had a mole inside Baghdadi's inner circle: an Islamic State commander who had once belonged to al-Qaida.
"He was a Kurd born in Hawija", the Kurdish spy chief said, declining to name the man. "He was one of my detainees. I released him a year before Daesh (Islamic State) arrived."
After Islamic State seized Mosul, the commander-turned-agent infiltrated the group and was made a military officer. From that position, he began feeding the Kurds "valuable daily information."
The agent told Talabany that Baghdadi consulted closely with top aides, including Saudis who he said were experts on Sharia law. Saudi Arabia has said that there are Saudi nationals in Islamic State.
"He told me Baghdadi has got charisma, and has connections, but that he is a front. And that the committees around him take the main decisions, even on the military side," Talabany said.
The agent told Talabany he had met Baghdadi a few times and was plotting to kill the Islamic State leader. But before the commander could act, Islamic State discovered he was working as an agent. A few months ago, Talabany said, Islamic State publicly executed him.
Cutting throats
The group's brutal methods+ were recounted in a rare interview with two captured Islamic State fighters last week. Reuters met the fighters at a Kurdish counter-terrorism compound in the town of Sulaimaniya. A Kurdish intelligence official and an interrogator sat in on the interviews but did not interfere.
Ali Kahtan, 21, was captured after he killed five Kurdish fighters at a police station seized by Islamic State in the northern town of Hawija.
Kahtan's path to militancy began at the age of 13, he said. He became a member of al Qaida and then joined Islamic State when a friend took him for religious lessons and military training at a Hawija mosque. The training, he said, involved learning how to use a machine gun and pistol. Trainees were also shown how to cut someone's throat with the bayonet from an AK-47.
Kahtan said that a year ago, a local emir ordered him to cut the throats of five Kurdish fighters. The emir stood over him while he did it, he said.
"One after the other with a knife, a Kalashnikov blade, I did it. Really, I felt nothing." Afterwards, he said, he returned home. "I cleaned up and sat down to have dinner with my parents."
Kahtan said Islamic State fighters no longer talk about taking over Baghdad, but focus solely on Mosul, and how to recruit more fighters to protect it.
A second detainee, Bakr Salah Bakr, 21, who was caught as he prepared to carry out a suicide attack in Kurdistan, said Islamic State initially tried to recruit him through Facebook to join the fight in Mosul. They are desperate for Iraqi fighters, he indicated, because the influx of foreign fighters dried up after Turkey slowly closed its borders a year ago.
The battle
Iraqi intelligence officials say they believe Baghdadi is not in Mosul but in al-Ba'aj district, a bedouin town on the edge of Nineveh province, which borders Syria. Ba'aj has a population of about 20,000 and is dominated by extremists loyal to Islamic State.
The area is heavily fortified, with long tunnels that were built after the fall of Saddam when the town became a staging post for smuggling weapons and volunteers from Syria into Iraq.
Even if Mosul and Baghdadi fall, said Kurdish counter-terrorism chief Talabany, Islamic State is likely to persist. "They will go back to more asymmetric warfare, and we will be seeing suicide attacks inside KRG, inside Iraqi cities and elsewhere."
Security chief Barzani agreed. "The fight against IS is going to be a long fight," he said. "Not only militarily, but also economically, ideologically."
Barzani, who is the son of veteran Kurdish leader and KRG President Masoud Barzani, estimated there are around 10,000 Islamic State suicide bombers in Iraq and Syria. He said Islamic State had prepared waves of fighters it was now deploying to defend Mosul.
"You see the first group come to the frontline and they know they're going to be killed by the planes overhead, but they still come. And then the second group come to the same place where the others were hit," he said. "They see the limbs and the bodies all over and they know they will die, but they still do it. They see victory in dying for their own cause."
http://timesofindia.indiatimes.com/world/middle-east/Under-siege-in-Mosul-Islamic-State-turns-to-executions-and-paranoia/articleshow/55472088.cms
--------
Iraqi Informant: ISIS' Baghdadi Sleeps With a Suicide Belt
17 November 2016
A few weeks ago, one Mosul resident began sending text messages to Iraqi intelligence in Baghdad, saying that ISIS chief Abu Bakr al-Baghdadi has begun to crack under pressure.
The text messages, which started in the first week of November and obtained by Reuters News Agency, said Baghdadi "has become very temperamental" and that "he has even let go of himself in terms of his appearances."
"He used to care a lot about how he looks and portrays himself. Not much these days though," one text message read.
Mosul scenarios: Where can Baghdadi run to?
The informant said Baghdad currently lives underground, using tunnels that extend to wider parts of the city.
"He also goes to bed wearing a suicide belt. He is convinced that he will never be taken alive so he wears it in case he gets arrested," the informant said.
https://english.alarabiya.net/en/News/middle-east/2016/11/17/Informant-messages-shows-ISIS-Baghdadi-sleeps-with-a-suicide-belt-.html
--------
Gulen's Group Threat As Serious As Al Qaeda, Daesh: Erdogan
AMIR WASIM
Nov 18, 2016
ISLAMABAD: Warning that religious cleric Fethullah Gulen's organisation could harm Pakistan if the group was allowed to carry out its activities, Turkish President Recep Tayyip Erdogan on Thursday sought enhanced cooperation with Pakistan in the ongoing war against terrorism.
"I wholeheartedly believe that [Gulen's] organisation will be eliminated as soon as possible without harming brotherly Pakistan," said the Turkish president during his record third address to the joint sitting of parliament.
Mr Erdogan, who has previously addressed the Pakistani parliament twice when he was prime minister, expressed "deep concern" over increasing tensions between India and Pakistan over the Kashmir issue, saying "Turkey stands ready to make any effort possible to this end".
"We should eliminate these killers — who have no other skill than to shed Muslim blood — from the Islamic world and from all over the world, as soon as possible. Otherwise, neither Turkey, Pakistan, the world of Islam, nor humankind will attain peace," he warned.
Turkish president assures of support on Kashmir issue
"If we cannot overcome our problems hand-in-hand as believers of this holy religion, we cannot save Muslims from the pit of impunity that they have fallen into."
Describing the US-based cleric's group as Fethullah Gulen's Terrorist Organisation (Feto) and equating it with Al Qaeda and Daesh, Mr Erdogan declared that these terrorist organisations were "the agents of the war carried out against Islam, which are only and solely harming Muslims".
"I would like to state once again that Feto is a bloody terrorist organisation posing a threat not only to Turkey, but to all countries in which it operates," he said, claiming that the organisation was being operated from Pennsylvania — where Fethullah Gulen lives in exile — and has a network in 120 countries.
"I appreciate the recent decisions taken by the Pakistani government in this direction and I thank you for your strong support in our fight against Feto," Mr Erdogan said, referring to Pakistan's recent decision to expel the staff of Pak-Turk schools, which are run by elements allegedly linked to Gulen, who is considered the main architect of the failed military coup that shook Turkey in July.
Amidst desk-thumping by the parliamentarians, the Turkish president pointed out that Pakistan was the first country to stand with Turkey after the July 15 coup attempt.
Mr Erdogan was of the view that the terrorist organisations tried to find a basis for themselves by playing up divisions and differences among Muslims. "In order to save Muslims from this servile situation, we have to eradicate all means of exploitation; from sectarianism to ethnic discrimination," he said.
Terming relations between Turkey and Pakistan of an "exclusive nature far beyond diplomatic contacts", he called for strengthening cooperation in the fields of trade and investment.
The Turkish president thanked the Pakistani nation for their support and assistance during the War of Dardanelles and the 1999 earthquake in his country.
The Turkish president also stressed the need for better relations between Pakistan and Afghanistan, saying: "This cooperation is indispensable not only for the peace and security of the region, but also for the economic potential of this [area] and carrying out important infrastructure projects."
Talking about the Kashmir issue, he said the latest developments in Kashmir once again demonstrated the importance and the urgency of the solution of this problem.
"We are aware of the distress and suffering of our Kashmiri brothers and sisters. The international community should exert further efforts in order to solve this issue which has political and humanitarian dimensions, according to justice and law," he said.
"We wish that Pakistan and India take into consideration the demands of the Kashmiri people to find a solution to the Kashmir issue through direct dialogue."
Earlier, in his welcome speech, National Assembly Speaker Ayaz Sadiq declared Mr Erdogan "a most respected brother, a trusted friend, a visionary leader of the Muslim world, a statesman and the most popularly-elected president of Turkey."
"The credit goes to your inspiring leadership that the heroic people of Turkey, especially the brave speaker and the courageous members of the Grand National Assembly of Turkey, rose in one voice to protect and preserve their constitution and democracy," the speaker said.
Pakistan Tehreek-i-Insaaf (PTI) lawmakers boycotted the session to protest against Prime Minister Nawaz Sharif for his alleged corruption. Khyber Pakhtunkhwa Chief Minister Pervez Khattak was also not seen among the distinguished guests in the galleries where three governors — as the ailing Sindh governor was unable to attend — and three chief ministers were seen sitting besides the three services chiefs, including army chief Gen Raheel Sharif.
Joint press conference
Earlier, addressing a joint press conference with Prime Minister Nawaz Sharif, the visiting Turkish president thanked the Pakistan government for expelling Turkish teachers from Pak-Turk schools around the country.
He urged Turkey's other friends around the world to emulate the Pakistani example by acting against Gulen's institutions and organisations in their countries.
Mr Erdogan recalled that Turkey too was taking steps to curb the Gulen Network. The Turkish government has, since July, suspended, dismissed or detained at least 110,000 people, including soldiers, judges and teachers, who it believed to be supporting the botched coup. The country has also further closed more than 130 media outlets and detained journalists and opposition lawmakers.
Western countries have accused President Erdogan of using the coup as a pretext to stifle dissent at home.
On the occasion, PM Sharif hoped that that Turkey would continue to march towards peace, progress and prosperity.
The two leaders held one-on-one talks and also led their respective sides at delegation-level meetings before the press interaction.
Punjab Chief Minister Shahbaz Sharif, Finance Minister Ishaq Dar, Defence Minister Khwaja Asif, Petroleum Minister Shahid Khaqan Abbasi, State Minister for Health Saira Afzal Tarar and Foreign Secretary Aizaz Chaudhry attended the talks.
Published in Dawn, November 18th, 2016
http://www.dawn.com/news/1297072/gulens-group-threat-as-serious-as-al-qaeda-daesh-erdogan
--------
India
AIMPLB convention to formulate strategy on Uniform Civil Code, triple talaq
November 17, 2016
The All India Muslim Personal Law Board, which will start its three-day convention from tomorrow, said that the issues of uniform civil code and triple talaq were raised by the BJP and RSS to divert attention from their 'failures'.
AIMPLB general secretary Maluana Wali Rehman told reporters that the Modi government had failed to deliver on their promise to uplift the Muslim community. He said that the convention would devise a strategy to counter the "ill motives" behind the move.
"The BJP-RSS is trying to infringe on the personal and fundamental rights of the Muslims," Rehman said. The convention will end with a mass rally at Park Circus maidan on November 20.
The AIMPLB, which is the highest decision-making body on Muslim personal laws, usually sticks to only the personal laws broadly covering marriage, divorce (talaq), inheritance, succession and adoption-related issues.
http://indianexpress.com/article/india/india-news-india/aimplb-convention-to-formulate-strategy-on-uniform-civil-code-triple-talaq-4381016/
--------
Pakistani MPs fear China-Pakistan Economic Corridor could benefit India
Nov 18, 2016
ISLAMABAD: A group of Pakistani lawmakers has expressed concern that Beijing could eventually use the $46 billion China-Pakistan Economic Corridor+ (CPEC) to boost its trade with India. The 2442km corridor stretches from the Chinese border to Pakistan's Gwadar port+ on the Arabian Sea.
According to a report in Dawn, some members of Pakistan National Assembly , during a meeting of the senate standing committee on planning and development on Wednesday , said that China was investing in the CPEC project to explore new vistas of trade with different countries from India to Central Asian states as well as Europe.
Full report at:
http://timesofindia.indiatimes.com/india/Pakistani-MPs-fear-China-Pakistan-Economic-Corridor-could-benefit-India/articleshow/55487170.cms
--------
India shoots off note to Pakistan over ceasefire violations
Nov 18, 2016
NEW DELHI: Ahead of a possible bilateral engagement next month in Amritsar, the standoff between India and Pakistan continued with India issuing a demarche on continued ceasefire violations along LoC by the neighbouring country.
This is the third such note issued this month by the government, which said Pakistani forces had committed as many as 12 such violations between November 9 and 15.
The demarche was delivered to a senior diplomat of the Pakistan high commission on Wednesday. The diplomatic and military standoff continues even as India and Pakistan are presented with the possibility of a high-level engagement early December on the sidelines of the Afghanistan-related Heart of Asia conference. While Sartaj Aziz, the adviser to Pakistan PM Nawaz Sharif, had confirmed his participation for the event in an interview on Tuesday, India said it is yet to officially hear from Islamabad in this regard.
Full report at:
http://timesofindia.indiatimes.com/india/India-shoots-off-note-to-Pakistan-over-ceasefire-violations/articleshow/55486742.cms
--------
Israel Commits India to Jointly Fight Menace Of Terrorism
November 17, 2016
New Delhi: Asserting that both Israel and India are facing similar challenges in terms of terrorism and radicalism, Israel today expressed its commitment to jointly fight against the menace.
"We also face a common challenge in fighting terrorism and radicalism. I am here today to affirm our commitment to the fight against global terrorism. We are here today, to carry the great potential of this partnership into reality," Israeli President Reuven Rivlin said here at a function.
The President also recalled the positive and growing cooperation between the two nations in areas of defence and security.
Talking about the increasing menace of cyber warfare, he said it is no longer science fiction it is a strategic challenge.
"In all these areas, Israel, and Israeli industry is ready and committed to strengthening this cooperation to make a safer world. Of course we are very grateful to our Indian partners, for the way they work together with us in order to ensure a safe and secure world," he added.
Referring to issues concerning food security, he recalled the work done by experts in the field of agricultural, water treatment, food and environment and said they are the persons who plant seeds of tomorrow.
Full report at:
http://www.siasat.com/news/israel-commits-jointly-fight-menace-terrorism-1067710/
--------
Arab World
In battered town seized from IS, Iraq's Yazidis dream of return
November 17, 2016
BASHIQA: For the first time since Islamic State militants swept into Bashiqa two years ago forcing him to flee, 61-year-old Barakat has finally found work - on Sunday he will be coming back to help clear debris from the destruction wrought upon his home town.
He and others who have been living in exile gathered in the town on Wednesday, just over a week after Kurdish peshmerga forces drove the jihadists out.
Yazidi, Christian and Muslim former neighbors and old friends kissed and greeted each other. But it will be a long time before they can move back for good.
Homes have been flattened by bombardment, shopfronts and garages gutted, burnt and looted, and black patches from mortar explosions scorch the ground along the main road.
Bashiqa's residents fled in different directions and at different speeds when the militants took over in 2014 after sweeping into Iraq from Syria.
"We left immediately," said Bakarat, a Yazidi like most people from the town.
Islamic State has killed Muslims and non-Muslims alike, but has been particularly brutal with the Yazidi minority, whose beliefs combine elements of several religions. Thousands have been killed, captured and enslaved by the group in what the United Nations says is genocide.
Bakarat said some Muslim inhabitants had stayed on for a while, but Christians and Yazidis knew exactly what their fate would be if they did not get out straight away.
Those who were better off rented homes in other towns, and those without the means went to camps.
Bakarat and his family still live in the northern city of Duhok. With most of Bashiqa destroyed and no services or supplies, they expect it will be a long exile.
"We can begin to clean up this mess, but there's no point returning to live until there's electricity, water, and most importantly full security," he said on his first trip back, declining to give his full name in a sign of lingering concern.
"NOT SCARED ANYMORE"
A US-backed offensive to drive Islamic State out of Mosul, its last major stronghold in Iraq, has recaptured many towns and villages around the city since it began in earnest last month. The operation involves some 100,000 government troops, Kurdish security forces and Shi'ite militiamen.
Raghid Rashid, a local Yazidi policeman, returned this month and fought alongside the peshmerga to recapture the town, 7 miles northeast of Mosul.
"The fight to get Bashiqa back was tough. Daesh (Islamic State) used suicide bombers, tunnels, snipers. When we got here half the town was destroyed - including my home," he said, adding that Yazidi shrines had also been desecrated.
On the steel shutters of several local businesses, the words "Sunni Muslim" have been scrawled by Islamic State militants, to distinguish the owners from locals of other faiths, or from those they consider apostates - both punishable by death under their rule.
Rashid, Bakarat and other men had come to listen to an address by Masoud Barzani, President of the Kurdistan Regional Government (KRG) in northern Iraq.
Nominally under the jurisdiction of Baghdad, the area is controlled by the KRG and Barzani spoke only Kurdish.
Speaking from a podium and flanked by Kurdish flags and banners proclaiming religious and ethnic coexistence, he said the peshmerga, the KRG's armed forces, would not withdraw from areas they had seized from IS, and vowed to protect minorities living in areas under Kurdish control.
Kurdish fighters were recently accused by a human rights group of unlawfully destroying Arab homes in areas they captured from Islamic State between 2014 and May 2016, a charge the KRG denies.
It was not possible to stray too far from the main road to visit abandoned homes because the area was not yet fully cleared of IEDs and booby traps.
As Barzani spoke, two distant but large explosions were heard, apparently from the ongoing fight inside Mosul.
"Daesh is gone. But even if they came back I'd stay put, and I'd fight to the death if necessary," Rashid said, dressed in combat fatigues and a black cap.
"We know their tactics now and we're not scared anymore."
http://nation.com.pk/international/17-Nov-2016/in-battered-town-seized-from-is-iraq-s-yazidis-dream-of-return
--------
Regime bombardment kills 25 civilians in Aleppo
November 18, 2016
ALEPPO - Syrian air strikes and shelling killed 25 civilians in eastern districts of Aleppo on Thursday, a monitor said, on the third day of a wide-ranging regime assault on rebel-held areas.
The bombardment hit at least six rebel-held neighbourhoods, the Syrian Observatory for Human Rights monitoring group said.
At least 65 civilians have been killed in east Aleppo since the start of a regime offensive on Tuesday, the Observatory said. The renewed bombardment has shattered a month of relative calm in the devastated east of the divided northern city. An AFP correspondent in the eastern districts said explosions from barrel bombs dropped by aircraft had been heard since 10:00 am (0800 GMT).
One of the air strikes targeted a civil defence centre in the Bab al-Nayrab neighbourhood with no reported casualties, the correspondent said.
The Observatory said rebels responded with shelling of the city's government-controlled western neighbourhoods.
Once Syria's economic powerhouse, Aleppo has been roughly divided into a regime-controlled west and a rebel-held east since 2012.
No aid has entered the city's eastern neighbourhoods since government troops surrounded them in mid-July, and humanitarian organisations said this week food aid stockpiled there had all but run out.
The recent bombardment has ended a period of relative respite in east Aleppo, where regime ally Russia halted air strikes on October 18 ahead of a series of brief ceasefires.
Moscow said on Wednesday it had not carried out any raids on the city since that date.
But Russia said on Tuesday it was launching a major operation against the Islamic State militant group and former Al-Qaeda affiliate Fateh al-Sham Front, including in the northern province of Idlib.
The province is mostly controlled by a rebel alliance known as the Army of Conquest, which groups Islamist factions with militants of the Fateh al-Sham Front.
In Idlib, Russian strikes on Thursday killed six civilians from the same family including two children, the Observatory said.
The strikes were on the village of Kafr Jalis, the monitor said, where seven civilians including two children were also killed in Russian strikes on Tuesday.
Full report at:
http://nation.com.pk/international/18-Nov-2016/regime-bombardment-kills-25-civilians-in-aleppo
--------
Coalition targets Houthi posts in Saada, 22 killed
18 November 2016
Military sources in the Saudi-led coalition told Al-Arabiya that 22 members of the Revolutionary Guards were killed when the coalition targeted one of their caves in Saada. Sources said on Thursday that Moeen al-Harbi, Chief of the Baqim Directorate was also killed in the coalition's shelling of a cave in Saada. Harbi is the nephew of Abdulmalik al-Houthi, leader of the Houthi militias.
Houthi commander of the Rabuah front Ali Hussein al-Gheili was injured by shrapnel and suffered from serious bleeding and completely fainted, they added. Meanwhile, the city of Taiz is still suffering from the Houthi siege. Houthi militias and forces loyal to deposed president Ali Abdullah Saleh shelled the city's residents on Thursday evening.
Also read: Yemen army retake parts of eastern Taiz
Sources inside Taiz told Al-Arabiya that the militias randomly and violently shelled residential neighborhoods, particularly Al-Tahrir street in the city's downtown, using Katyusha rockets. According to local sources, dozens were killed and injured after shelling the popular market of Softil. Militias attacked the market from their posts near the international airport of Taiz in Al-Jund suburb, east of the city.
Violent battles were ongoing east of Taiz on Thursday particularly around the republican palace which is besieged by the national army and the resistance. Legitimate forces have intensified their shelling against Houthi snipers near the palace and covered the forces' advance towards al-Silal hill.
Full report at:
https://english.alarabiya.net/en/News/middle-east/2016/11/18/Coalition-targets-Houthi-posts-in-Saada-kills-22-rebels.html
--------
Syrian Army Eliminates Over 2 Dozen ISIL Militants near Deir Ezzur Airport
Nov 17, 2016
Syrian army units have also managed to knock the terrorist of ISIL out of a number neighboring areas and inflicted damage on militants' equipment, the sources said.
The attack by the Syrian Army on the terrorists' positions was carried out a day after the Syrian Air Force and Army's artillery units targeted two key positions of the ISIL terrorists near the Eastern city which resulted in a heavy death toll on the militants.
Syrian Army soldiers, backed up by fighter jets, targeted ISIL's gatherings near al-Tharda Mountain, leaving a number of militants dead and their positions destroyed.
Full report at:
http://en.farsnews.com/newstext.aspx?nn=13950827000894
--------
Local Sources: Terrorists in Eastern Aleppo Losing Trust in Commanders
Nov 17, 2016
"After militants experienced repeated defeats in different flanks of Aleppo and sustained heavy losses, they have lost their morale," the Arabic-language media outlets quoted a local source as saying on Thursday.
The source noted that the residents of Eastern Aleppo have revolted against the terrorists in street protests, condemning their atrocities.
The people of Eastern Aleppo say that they are frustrated with the presence of the terrorists in the residential areas of Eastern Aleppo, the source said.
Meantime, another local source disclosed that civilians are deprived of their rights to foodstuff and medical aid as terrorists only allow those people who fight alongside the militants to find access to food and drug.
The source noted that the terrorists beat up and arrest anyone, even the children and elderly people, who do not obey their orders.
He said that a large number of the residents of these regions feel that terrorists use them as human shield and are keeping them hungry as a pressure lever to win international support.
"The terrorists' mistreatment of people has resulted in street protests and attacking the main warehouses which are under the terrorists' control. The people of Eastern Aleppo say that the terrorists are hoarding foodstuff and medicine," he added.
On Wednesday, local sources reported that civilians in the Eastern districts of Aleppo city took to the streets to protest at Jeish al-Fatah's presence in their city, requesting the militants to leave Aleppo immediately.
"Unprecedented clashes between people and terrorists have pushed the Eastern neighborhoods of Aleppo city into a new wave of tensions," sources said, adding, "People have taken part in demonstrations across the districts of Bostan al-Qasr and al-Kelaseh, calling on the terrorists to leave the city now."
"People have also attacked terrorists' food stuff warehouses, fighting with the militants for looting their food stuff from their neighborhoods," the sources added.
The sources went on to say that terrorists have arrested a number of demonstrators, hitting them badly.
Civilians in militant-held districts of Aleppo are tired of terrorist groups' measures, including suppression of people and banning food and medicine for the families who prevent their young sons from joining the terrorist groups.
The Arab media reported on Tuesday that people in militant-held neighborhoods were about to engage in street clashes with terrorists to save their lives.
Full report at:
http://en.farsnews.com/newstext.aspx?nn=13950827000778
--------
Suicide attack kills 16 at Iraq wedding
November 18, 2016
RAMADI - A suicide bomber detonated an explosives-laden vehicle at a wedding gathering in a town west of the Iraqi capital on Thursday, killing at least 16 people, officials said.
The attack, which took place in Amriyat al-Fallujah, a town in Anbar province 40 kilometres (25 miles) from the capital, also left more than 30 people wounded.
There was no immediate claim of responsibility for the attack, but the Islamic State militant group frequently carries out suicide bombings targeting civilians in Iraq. The attack came three days after twin suicide bombings claimed by IS struck Fallujah, a city northwest of Amriyat al-Fallujah, killing at least 15 people.
Full report at:
http://nation.com.pk/international/18-Nov-2016/suicide-attack-kills-16-at-iraq-wedding
--------
Houthi attack on Makkah to be referred to UN
18 November 2016
Foreign ministers of the Organization of Islamic Cooperation Member States have agreed to refer the case of Houthis' attack against holy sites in Mecca to the United Nations.
During an emergency meeting held in Mecca, fifty-one representatives of Islamic states have decided to address a letter to the United Nations on behalf of OIC's executive committee.
They pointed out in their final statement, which was issued the day after the emergency meeting, held in Mecca, pursuant to the recommendation of the Executive Committee of holding an emergency meeting, at the ministerial level, to discuss the launch of a militia al-Huthi a ballistic missile toward Makkah.
The meeting condemned vicious attack by the al-Huthi and Saleh militiamen, who fired "ballistic missile towards the direction of Muslims and cradle of revelation on Thursday evening, 27th of October 2016."
The Arab coalition said in an earlier statement that the missile was downed 65 km from Mecca, with coalition jet fighters destroying the rocket launchers in Saada.
The Iranian government declined on Wednesday an official invitation to participate in the OIC emergency meeting (DETAILS HERE).
The meeting decided to adopt a statement issued by the Executive Committee meeting at the ministerial level held at the OIC headquarters in Jeddah on November 5, 2016, which called member states for a collective stance against this vicious attack, and those who stand behind it and consider those support the perpetrators by providing weapons to them, as a partner of a firm in the assault on the sanctities of the world Islamic and laying sectarian rift and essential support for terrorism.
Full report at:
https://english.alarabiya.net/en/News/middle-east/2016/11/18/Houthi-attack-on-Makkah-to-be-referred-to-UN-.html
--------
Iraqi troops liberate eastern Mosul district from Daesh grip
Nov 17, 2016
Iraqi forces have recaptured an eastern neighborhood in Mosul and raised the national flag on buildings as the army and allied fighters are tightening the noose around the Daesh-held city.
The commander of Nineveh Liberation Operation, Lieutenant General Abdul Amir Yarallah, announced the liberation of the al-Tahrir district on Thursday, the al-Sumaria news website reported.
Yarallah said that counterterrorism units had called on locals to stay indoors while the Iraqi troops are conducting mop-up operations in the liberated area.
In another development late on Wednesday, Iraq's Popular Mobilization Units (PMU), also known as Hashd al-Shaabi forces, wrested control of the Tal Afar airport in western Mosul.
The Iraqi soldiers are reported to be looking for booby traps inside the airport and advancing on the town of Tal Afar on Thursday. Iraqi forces are now moving up from the south, having the Mosul airport in their sights.
"Daesh has planted bombs in large parts of Tal Afar airport and operations are under way to clear it completely," the PMU said in a statement.
Retaking Tal Afar, situated some 50 kilometers from Mosul, would bring Iraqis closer to surrounding Daesh in its last bastion in the Middle Eastern country.
"By capturing the Tel Afar airbase, the Iraqi forces have cut off a main Daesh supply route between Syria and Mosul," Iraqi army officer, Hamid Saadi, said.
Secretary General of Iraq's Badr Organization Hadi al-Ameri also noted that Tal Afar will be "the starting point for the liberation of all of the areas [along] the Syrian border.
The Iraqi army, volunteer Shia and Sunni fighters as well as Kurdish Peshmerga forces have been engaged in the Mosul liberation operation since October 17.
The city, which is divided by Tigris River, fell to Daesh in 2014, the year the terror outfit began its campaign of death and destruction in northern and western Iraq.
Full report at:
http://www.presstv.ir/Detail/2016/11/17/494022/Iraq-Mosul-Daesh
--------
Hama: Terrorists' Attack Repelled, Tens of Militants Killed in Army Offensives
Nov 17, 2016
The Jeish al-Nasr terrorists attacked Beit Khalifa military posts to the South of al-Touteh and al-Hakwareh in Sahl al-Qab in Western Hama, but the Syrian army pushed them back after inflicting heavy losses on them.
Tens of terrorists were killed and their military hardware, including armored vehicles, were also destroyed in the tough battle.
The Syrian fighter jets also hit hard the gathering centers of the terrorists in al-Tamaneh, Kafar Zita and its Northern outskirts, Mourek, Tayyeba al-Imam and Ma'rkaba, killing tens of Jeish al-Nasr and Jeish al-Izza terrorists and destroying their military bases and equipment.
The Syrian air force also pounded the military bases and convoy of terrorists in Kafr Zita, Mourek, Khan Sheikhoun, Ariha, al-Tamaneh, al-Habit, Kafr Nabil and Ehsam in the Northern part of Hama and the Southern parts of Idlib.
The Syrian fighter jets also pounded and destroyed the terrorists' military positions in Mahambal, Ariha and Zijar in Southern Idlib, killing a large number of terrorists and destroying their military vehicles.
On Wednesday, the Syrian Air Force carried out several combat flights over two main gatherings of the terrorist groups in Southwestern Hama, inflicting major losses on the militants.
Full report at:
http://en.farsnews.com/newstext.aspx?nn=13950827000716
--------
Iraqi sheikh: ISIS suspects families placed in 'camps' in Anbar
17 November 2016
Families of ISIS "criminals" have been separated from those who fell victim of the militant group in the western Iraqi province of Anbar, by placing them in "separate camps," a sheikh has told Al Arabiya English.
"We need to separate families of ISIS criminals from the victim families, to avoid friction and confrontation between them," Sheikh Abdulwahab Sarhan al-Dulaimi, head of the Anbar Tribes Council Against Terrorism, said.
"This is to protect [ISIS suspects' families] their lives and to prevent revenge acts," he added, emphasizing "there is no vengeance taking place between tribes [in Anbar]."
In February 2016, Iraq announced Ramadi city, Anbar's capital, had been liberated from ISIS militants. ISIS captured Ramadi in May 2015 in the largest defeat for Iraq's military since the fall of Mosul in 2014.
Many observers were fearful that Anbaris, who supported ISIS, would be targeted by families who lost family members at the hands of the militant group.
But US-based Al-Hurra TV recently reported that tribesmen in Anbar were taking revenge against ISIS culprits and sympathizers by bombing their homes.
In an interview with Al-Hurra, Sheikh Omar Al-Alwani said if a home belongs to one of the ISIS criminals, "we take 10 signatures from tribal notables and destroy their homes."
Speaking to Al Arabiya English, Major-general Hadi Irzij, head of Anbar police, dismissed the claims.
"We do have cases of homes being blasted, but these residential places were already booby-trapped by ISIS, and sometimes animals enter these homes and the bombings take place," he said.
"Intentionally destroying homes by people is not happening," he added, describing local authorities as being "in control of the security situation."
Irzij also vowed to arrest take to trial would-be vigilantes, if they took the law into their own hands. "We cannot allow this to happen," he said.
He said the security apparatus had a data bank, which has a "a security indicator." "Those who have no security indicator will be allowed to return home."
Irziju said "there is a memorandum of understanding signed by sheikhs, which state those who committed a crime against innocent lives will not be allowed to enter at the moment," leaving them stuck at their camps.
Full report at:
https://english.alarabiya.net/en/News/middle-east/2016/11/17/Iraqi-sheikh-ISIS-suspects-families-placed-in-camps-in-Anbar.html
--------
People Demanding Terrorists' Exit from Eastern Aleppo, Hold Up Bashar Assad's Pictures
Nov 17, 2016
A video footage released on Thursday showed picture of President Assad put on the entrance gate of a mosque, several Arabic-language media outlets reported.
The video showed Bashar Assad's picture on the gate of Abu Bakr al-Sadiq mosque in Sakhor district.
FNA cannot verify or reject authenticity of the video independently.
According to reports on Thursday, militants that control the Eastern part of Aleppo are trying to suppress mass protests of local residents against their rule.
Meanwhile, Al Manar TV channel reported that dozens of people gathered in the Bustan al-Qasr district where one of the humanitarian corridors has been established by the army for civilians to leave the city.
Meantime, people are reportedly protesting at the militant groups' exclusive access to the international humanitarian aid.
Protesters tried to break into several food storage but militants opened fire, leaving many people injured.
Protests also took place in the districts of Jisr al Haj, al Kallas and al Marjah.
On Wednesday, local sources reported that civilians in the Eastern districts of Aleppo city took to the streets to protest at Jeish al-Fatah's presence in their city, requesting the militants to leave Aleppo immediately.
"Unprecedented clashes between people and terrorists have pushed the Eastern neighborhoods of Aleppo city into a new wave of tensions," sources said, adding, "People have taken part in demonstrations across the districts of Bostan al-Qasr and al-Kelaseh, calling on the terrorists to leave the city now."
"People have also attacked terrorists' food stuff warehouses, fighting with the militants for looting their food stuff from their neighborhoods," the sources added.
The sources went on to say that terrorists have arrested a number of demonstrators, hitting them badly.
Civilians in militant-held districts of Aleppo are tired of terrorist groups' measures, including suppression of people and banning food and medicine for the families who prevent their young sons from joining the terrorist groups.
The Arab media reported on Tuesday that people in militant-held neighborhoods were about to engage in street clashes with terrorists to save their lives.
The Arabic language al-Watan reported on Tuesday that the Syrian Army's deadline for the exit of terrorists from Eastern districts of Aleppo ended, but no militant or civilian left the city via the humanitarian corridors, including Bostan al-Qasr and Costello.
In addition to preventing militants' approach to the two specified corridors, Fatah al-Sham Front (the al-Qaeda-affiliated terrorist group previously known as the al-Nusra Front) threatened civilians with death if they approach the six humanitarian corridors that connect Eastern Aleppo to its Western part.
Reports from the city said terrorists blocked the exit of hundreds of residents in the Eastern districts of Aleppo, who had gathered near al-Kelaseh checkpoint, from approaching Bostan al-Qasr corridor.
Full report at:
http://en.farsnews.com/newstext.aspx?nn=13950827000814
--------
Coroner's Office: Body Organs of Over 15,000 Syrians Sold in 6 Years
Nov 17, 2016
"We have accurate information that over 25,000 surgical operations have been conducted in the refugee camps of the neighboring countries and in the terrorist-controlled areas in Syria since 2011 to take out the body organs of 15,000 Syrians and sell them in the international black markets," Dr. Noufel said.
He pointed to the high prices of human body organs in the black markets, and said, "A kidney is sold $10,000 in Turkey while the same kidney is sold for $1,000 in Iraq, but in Lebanon and Syria the price of each kidney is $3,000."
Dr. Noufel said that other human body organs such as spleen and cornea are also sold in the black markets.
According to latest reports, the children who have been rescued from the camps of Abdullah Muhammad al-Muhaysini, a senior al Qaeda-linked cleric and the religious leader of Jeish al-Fatah terrorist group, are now threatened with the danger of trafficking their body organs by the terrorists.
Local sources in Idlib province told al-Akhbar newspaper that during the past two weeks, 15 people have been kidnapped from different districts, most of them children.
Also, social media activists have released tens of messages and warned the Idlib residents of the possibility of abduction of their children and trafficking of their body organs by the terrorist groups, saying that most of the kidnapped children have been transferred to Turkey.
Local sources in several districts of Idlib have reported that over 10 children have been abducted in different parts of the province, including Kafarouma, Jidar Bekalfoun, Atma, Jisr al-Shaqour and al-Fayqa by the militants.
Also, a local source in Sarmada town North of Idlib said that "a number of militants driving a white van abducted a 10-year-old child but they faced the residents' resistance and were arrested but sources said that they were freed from Fatah al-Sham (formerly known as al-Nusra) prison the same day".
According to reports, the exacerbation of security situation in Idlib has forced the residents to flee to Hama province in fear of their children's lives.
Meantime, a media source said on Wednesday that the ISIL has set up a market in Turkey which sells human body organs stolen from the mutilated bodies of the Iraqi people who have been kidnapped by the terrorist groups.
A media source said that the ISIL transfers the frozen body organs from the Iraqi city of Mosul to Tal Afar in Nineveh and then to Raqqa in Syria. The cargo then is sold to the Turkish mafia.
According to the source, all types of body organ that could be transplanted are sold in the market, specially kidney and heart.
Based on the report, kidney is sold at a price of 5,000 Iraqi dinars (4,000 US dollars) while a heart is worth 6,000 dollars in the Turkish market.
Reports said earlier this month that the ISIL is mutilating and selling the body organs of Iraqi children to compensate for its financial loss and shortages.
Local sources reported that after starting the academic year in Iraq, 11 children were kidnapped in different parts of al-Qae'm town in the Western parts of al-Anbar province and their families then found their mutilated bodies with no heart, kidneys, eyes and other transplantable organs.
The sources added that none of the parents of these children dare to file a lawsuit against the ISIL or report the abduction of their child for the fear of the terrorist group's retaliatory measures.
Media reports also said in March that the ISIL terrorist group is using organ harvesting as a way to finance its operations and save the lives of injured members.
The Spanish daily El Mondo reported that facing the increased number of wounded members in the Syrian army and popular forces' attacks, the ISIL is using the body organs of its captives for transplantation.
Full report at:
http://en.farsnews.com/newstext.aspx?nn=13950827000373
--------
UN extends inquiry into toxic gas attacks in Syria
18 November 2016
The United Nations Security Council approved on Thursday a one-year extension of an international inquiry to determine blame for chemical weapons attacks in Syria, paving the way for a showdown over how to punish those responsible.
Russia had said it wanted the inquiry to be broadened to look more at the "terrorist chemical threat" within the region, and the resolution to renew the mandate included language to reflect that request. The 15-member council unanimously adopted the US-drafted resolution.
Also read: Russia accuses Syrian rebels of using chemical weapons
The inquiry by the United Nations and the Organization for the Prohibition of Chemical Weapons, or OPCW, set up by the council a year ago, has already found that Syrian government forces were responsible for three chlorine gas attacks and that ISIS militants had used mustard gas.
Full report at:
https://english.alarabiya.net/en/News/middle-east/2016/11/18/UN-council-extends-inquiry-into-Syria-toxic-gas-attacks.html
--------
Over dozen dead as bombing rips through wedding in western Iraq
Nov 17, 2016
Iraqi security and medical officials say more than a dozen people have lost their lives and scores of others have been injured when a bomb explosion struck a wedding ceremony in the beleaguered western province of Anbar.
Head of the Amiriyah Fallujah Council, Shaker Mahmoud, told Arabic-language al-Sumaria television network that the attack took place in the city, located about 30 kilometers south of Fallujah, on Thursday, when a bomber detonated an explosives-laden vehicle.
He added that 16 people were killed and 45 others injured in the act of terror, noting that there were a number of security personnel among those injured.
Mahmoud said the wounded victims were taken to nearby hospitals to receive medical treatment, while dead bodies were transferred to the city's department of forensic sciences.
No individual or group has claimed responsibility for the assault yet, but such incidents are usually blamed on the Takfiri Daesh terrorist group, which has been wreaking havoc in Iraq's northern and western parts since June 2014.
The terrorist attack came only three days after twin bombings left at least 15 people dead in Fallujah. Daesh later claimed it was behind the coordinated attack.
The United Nations Assistance Mission for Iraq (UNAMI) says a total of 1,792 Iraqis were killed and 1,358 others injured in acts of terrorism, violence and armed conflict in October.
According to the UN mission, the number of civilian fatalities stood at 1,120. Violence also claimed the lives of 672 members of the Iraqi security forces. A great portion of the fatalities was recorded in the capital province of Baghdad, where 268 civilians were killed.
Full report at:
http://www.presstv.ir/Detail/2016/11/17/494065/Iraq-bomb-attack-wedding-Amiriyah-Fallujah-Anbar-Daesh-Takfiri-militants
--------
Russia says began contact with Trump's team on Syria
Nov 17, 2016
A Russian deputy foreign minister says Moscow has started communicating with the team of US president-elect Donald Trump over the deadly conflict gripping Syria.
Mikhail Bogdanov expressed hope on Thursday that the new US government will adopt a new approach to help resolve the crisis in Syria, Russian news agencies reported.
Moscow welcomes any moves that will restart UN-backed intra-Syrian talks within a framework, which will enable the Syrian people to decide the future of their country, he said.
The Russian official further noted that the Middle East and North Africa are currently grappling with an unprecedented surge in extremism and terrorism fueled by the Western states.
"This situation has been largely prompted by the vicious practice of geopolitical engineering used by some Western countries and accompanied by the interference in the internal affairs of sovereign states," Bogdanov said.
Russia has repeatedly warned about the danger of provoking chaos and implementing projects to forcibly change governments, but Western countries do not share Moscow's position, he added.
Full report at:
http://www.presstv.ir/Detail/2016/11/17/494050/Russia-US-Syria-Mikhail-Bogdanov
--------
Terrorists' Strategic Bastion Facing Collapse in Southwestern Aleppo
Nov 17, 2016
The pro-government troops could bring the terrorists in al-Rashedeen region to verge of collapse after taking full control of Housing Project 1070 and al-Hikma school in the Southwestern part of Aleppo.
The Syrian government forces who have been trying to take back the towns of Rashedeen 4 and 5 started the new phase of their military operations on Thursday by hitting hard the terrorists' military positions in al-Rashedeen 4 and 5 towns with artillery shells.
The Syrian air force, for its part, pounded the terrorists' positions in al-Rashedeen 4 and 5 towns.
Some news media also reported the start of the Syrian army's new operations in Zahiya al-Assad and Jamiat al-Zahra to the West of Aleppo.
Also in Northwestern Aleppo, the missile and artillery units of the Syrian army hit the terrorists' positions in the towns of Andan, Kafr Hamra and Ma'aret al-Artiq as well as their surrounding areas.
Army sources disclosed on Wednesday that pro-government troops are making final coordination for a massive offensive on Jeish al-Fatah terrorists in the Eastern parts of Aleppo city.
"As the army's 24-hour ultimatum to the terrorists to leave the city came to an end and as relative calm has prevailed over the Western and Southwestern parts of Aleppo, the army, the Lebanese Hezbollah fighters and special forces are getting ready to start attacking militants' defense line from several Eastern and Southern flanks," an army officer said.
Meantime, he appreciated the Russian help, saying, "The Russian air and naval back up will speed up the Syrian army's advances in the operation."
"Government forces are about to start their operation against the terrorists in Aleppo any moment," he added.
Local sources disclosed earlier on Wednesday that civilians in the Eastern districts of Aleppo city took to the streets to oppose Jeish al-Fatah's rule in the city, calling on the militants to leave Aleppo immediately.
"Unprecedented clashes between people and terrorists have pushed the Eastern neighborhoods of Aleppo city into a new wave of tensions," sources said, adding, "People have taken part in demonstrations across the districts of Bostan al-Qasr and al-Kelaseh, calling on the terrorists to leave the city now."
"People have also attacked terrorists' food stuff warehouses, fighting with the militants for looting their food stuff from their neighborhoods," the sources added.
The sources went on to say that terrorists have arrested a number of demonstrators, hitting them badly.
Civilians in militant-held districts of Aleppo are tired of terrorist groups' measures, including suppression of people and banning food and medicine for the families who prevent their young sons from joining the terrorist groups.
Meantime, Tens of fighter jets launched airstrikes on terrorists' positions in Aleppo on Tuesday to herald the long-awaited ground operations to capture the Eastern parts of the city.
Tens of warplanes started massive air assaults on enemy targets in the Eastern parts of Aleppo on Tuesday after three weeks of lull and as Russia's Admiral Kuznetsov aircraft carrier launched combat operations in Syria, the Arabic-language al-Mayadeen news channel reported.
The airstrikes started after several humanitarian pauses declared by the Syrian army and Russia to give a chance to the civilian population as well as the militants to leave the Eastern parts of the city through 8 corridors. Thousands of civilians left the city in the first few days, but militants blocked their exist paths, threatening to kill anyone who dares to approach the passages opened by the army. The terrorists aim to use the civilian population as a human shield.
The last such pause was declared on Monday when the army gave a 24-hour lone ultimatum to the Jeish al-Fatah coalition of terrorist groups to leave the flash point city. The deadline was not met by the militants, though.
Defense experts believe that the blitzkrieg is the first part of the long-awaited army operations in Eastern Aleppo to take back the entire city. Aleppo is halved into the government-ruled West and militant-held East. The militants rejected a guaranteed exit to relocate to Idlib or other militant-ruled territories in the hope that over 30,000 fresh forces would penetrate the city through the Southwestern front to lift the army's several-month-long siege on Eastern Aleppo.
Jeish al-Fatah lost thousands of militants in over two weeks of bloody war in Southern and Southwestern Aleppo, but failed to open a corridor for entrapped friends in the East.
The massive airstrikes in Aleppo come as Russia's Admiral Kuznetsov aircraft-carrying cruiser began combat operations in Syria.
Russian Defense Minister Sergei Shoigu announced earlier that Russian frigate Admiral Grigorovich launched missiles on terrorist targets in Syria.
Full report at:
http://en.farsnews.com/newstext.aspx?nn=13950827000234
--------
Mideast
FETÖ a threat to Islam and all countries, must be eliminated: President Erdoğan
Nov 18, 2016
President Recep Tayyip Erdoğan said yesterday that the Gülenist Terror Group (FETÖ) is a grave threat to Islam and its presence should be immediately removed from all 170 countries it operates in.
President Erdoğan advised countries where FETÖ operates to take a stand against the group. He was speaking at a joint press conference with Pakistan's Prime Minister Nawaz Sharif following a one-on-one meeting and delegation-level talks.
In addition, Erdoğan delivered a speech at the Pakistan Senate where he reiterated some of his points and thanked the Pakistani government for hosting him.
The Turkish premier praised Pakistan's resolve to dismantle the FETÖ network in the country, stressing both countries' determination in the fight against terrorism.
"It is necessary to dismantle this evil network. This terrorist group is a threat to the security of Pakistan," Erdoğan added.
Pointing out that FETÖ operates in 170 countries across the world and the group's leader does it from the U.S. state of Pennsylvania, Erdoğan said, "He can establish an interfaith dialogue with the Vatican easily. How is this possible?"
He added, "I am thankful for the solidarity clearly demonstrated by the Pakistani administration on this matter and for their decisive stance against this organization. Turkey and Pakistan have always stood side by side."
On the terrorist threat, Erdoğan underlined that both countries were engaged and determined in fighting terrorism.
"We are not forsaking Pakistan; rather we remain supportive of it on the basis of our [shared] experiences. Without international cooperation we cannot reach a solution," he said.
Erdoğan was, however, critical of some Pakistani newspaper columnists' "naïve" comments on FETÖ, saying, "They were not welcome."
Talking about Turkey's fight against Daesh, Erdoğan stated that the Turkish military was fighting the terrorist group in both Iraq and Syria.
Drawing attention to the West's support to Daesh, Erdoğan added, "When we captured some of them [Daesh terrorists], we found that their weapons were of Western origin. This whole thing is being done against the Islamic world."
He called on Pakistan and other Islamic countries to take a common stance against any moves to harm the religion.
Touching upon the Kashmir question, Erdoğan said, "The issue of Kashmir needs a resolution based on dialogue between Pakistan and India in line with U.N. resolutions, where the demands of the Kashmiri people should be considered. As a president, and a term president of the Organization for Islamic Cooperation [OIC], we are determined to continue our support."
Pakistan's Prime Minister Sharif, for his part, said, "We have decided to form a strategic partnership on our special relations, prioritizing the economic side. We agreed to create solid bedrock for bilateral relations in trade, investment, and economy. In this regard, we have also agreed to implement the process for a free trade agreement before 2017."
Meanwhile, ahead of Erdogan's two-day visit, Pakistan moved to shutter a network of schools run by FETÖ and deport its foreign teachers, in a move welcomed by Ankara.
Pakistan on Tuesday asked some 108 teachers working in schools run by the Gülenist Terror Group to leave the country with their families by Nov. 20.
The decision includes the teachers working in 23 schools in different cities around Pakistan as well as their families, which make up a total of about 400 people.
Gülenists have an influential network in Pakistan in the form of PakTurk Schools, colleges, like-minded groups and big business companies.
There are 21 Pak-Turk Gülenist schools operating in all four provinces of Pakistan, in nearly every big city across the country, including the federal capital of Islamabad. There is also a Rumi forum, which was formed to lobby for the Gülen movement and increase his followers in Pakistan.
Led by U.S.-based Fetullah Gulen, FETÖ is accused of orchestrating the July 15 coup attempt in Turkey as well as being behind a long-running campaign to overthrow the state through the infiltration of Turkish institutions, particularly the military, police and judiciary.
The failed July 15 coup attempt left 247 people dead and some 2,200 others wounded.
http://www.dailysabah.com/politics/2016/11/17/feto-a-threat-to-islam-and-all-countries-must-be-eliminated-president-erdogan
--------
Arab lawmaker raises Azaan in Israeli parliament
November 18, 2016
Jerusalem - An Arab lawmaker has raised the Muslim call to prayer (Azaan) in the Knesset (Israel's parliament) in protest at a bill that would limit the prayer call.
Ahmed al-Tibi said his move was meant to protest the Israeli bill that aims to bar mosques from using loudspeakers for the call to prayer in East Jerusalem and Arab communities in Israel, Daily Sabah, a Turkish newspaper, reported the other day.
"This law reflects the fascism that grows inside the Israeli community," Tibi told Anadolu Agency in exclusive statements. He accused Israeli Prime Minister Benjamin Netanyahu of standing behind the controversial bill. Netanyahu on Sunday claimed that the bill enjoyed wide popular support, while Palestinians have roundly condemned the move as a blatant violation of Palestinians' freedom to worship.
Tibi called on Palestinians in East Jerusalem and Israel to stage disobedience against the bill. "Palestinians and Muslims around the world must work to thwart the Israeli decision to limit the call to prayer," he said.
On Saturday, the Israeli Ministerial Committee for Legislation approved the anti-Adhan bill before it goes to the Knesset, where it then must pass three rounds of voting before becoming law.
In a statement, Palestinian presidential spokesman Nabil Abu Rudeineh warned that the Israeli bill will drag the region into a disaster. "The Israeli actions are completely unacceptable," he said. "The Palestinian leadership will go to the UN Security Council and to all international institutions to stop the escalating Israeli measures," he said.
Meanwhile, the United States said Monday it is "deeply concerned" by a recent bill in Israel that could legitimize illegal settlements in the West Bank. In defiance of international law, Israeli ministers on Sunday voted in support of a bill that would allow Israeli settlers in the occupied West Bank to remain in homes built on privately owned Palestinian land.
"If this law were enacted, it could pave the way for the legalization of dozens of illegal outposts deep in the West Bank," State Department spokesman Elizabeth Trudeau told reporters. "This would represent an unprecedented and troubling step that's inconsistent with prior Israeli legal opinion and also break long-standing Israeli policy of not building on private Palestinian land."
Full report at:
http://nation.com.pk/international/18-Nov-2016/arab-lawmaker-raises-azaan-in-israeli-parliament
--------
US, Iran clash over Tehran's testing of limit in nuclear deal
November 18, 2016
VIENNA - The United States and Iran on Thursday clashed openly at the UN atomic watchdog for the first time since they signed a landmark nuclear deal last year, differing over Tehran's repeated testing of one of the deal's less strictly defined limits.
The International Atomic Energy Agency (IAEA), which is policing the deal, said Iran's overstepping of the limit on its stock of a sensitive material for the second time this year risked undermining countries' support for the agreement.
The victory of Donald Trump - a vocal critic of the deal - in the US presidential election also raised the question of whether his country would continue to support the accord, which restricts Iran's nuclear activities in exchange for the lifting of sanctions against the Islamic Republic.
"Iran must strictly adhere to all commitments and technical measures for their duration," US ambassador to the IAEA Laura Holgate said in a statement to the agency's quarterly Board of Governors meeting.The dispute centres on the part of the deal between Tehran and six major powers that limits Iran's stock of heavy water, a material used as a moderator in reactors like the unfinished one it has at Arak that has been put out of use. In contrast to strict limits elsewhere in the deal on materials including enriched uranium, the text says Iran should not have more heavy water than it needs, adding that those needs are estimated to be 130 tonnes. Western countries see it as a hard limit, and Iran argues it is not.
"We note with concern Iran's accumulation of heavy water in excess of the limit set forth in the JCPOA of 130 metric tonnes," Holgate said, using the abbreviation for the deal's full name, the Joint Comprehensive Plan of Action.
Full report at:
http://nation.com.pk/international/18-Nov-2016/us-iran-clash-over-tehran-s-testing-of-limit-in-nuclear-deal
--------
Palestinians condemn Israeli bill to legalize settlements
Nov 18, 2016
Palestinians have condemned the international community's inaction after Israel unveiled its most brazen plan in recent years, seeking to legalize settler units in the occupied West Bank.
The Palestinian Foreign Ministry on Thursday urged the international community to "uphold its legal and ethical responsibilities of providing security to the Palestinians," and "opposing the crimes, violations, and aggression driven by the Israeli occupation."
The call in a statement came a day after far-right members of Prime Minister Benjamin Netanyahu's ruling coalition passed its first reading of the bill in the Israeli parliament (Knesset).
The measure would apply to some 2,000 to 3,000 illegal settler units in the West Bank, including the Amona outpost that is under a court order to be demolished by December 25.
Over half a million Israelis live in more than 230 illegal settlements built since the 1967 Israeli occupation of the Palestinian territories of the West Bank, including East Jerusalem al-Quds.
Israeli officials "feed on the silence and the indifference of the international community to the enormous violations of international law, and all other signed agreements that protect against crimes against humanity," read the Palestinian statement.
The statement also censured the actions by Israeli settlers to evict Palestinians from their homes.
Secretary General of the Palestinian Liberation Organization (PLO) Saeb Erekat said all Israeli settlements in the occupied Palestinian territories are "illegal under international law."
Erekat further said that the new measure by the Israeli parliament threatens the chances of ending the conflict in the occupied territories and the creation of a future independent Palestinian state.
The measure reaffirms Israel's "will to bury the two-state solution, perpetuating the systematic denial of the inalienable rights of the Palestinian people," he said.
He appealed to the international community to take "concrete action" to protect Palestinians' rights.
Full report at:
http://www.presstv.ir/Detail/2016/11/18/494091/Palestine-Israel-settlement-bill-Erekat
--------
Saudi mercenaries kill 24 Yemenis in mortar attack on bazaar
Nov 18, 2016
At least two dozen people have lost their lives after Saud-backed militants loyal to the former Yemeni government launched a mortar attack on a bazaar in the southwestern province of Ta'izz.
The attack occurred on Thursday in the Suftail area of Hawban District, situated to the northeast of Ta'izz City, the provincial capital, Yemen's al-Masirah television network cited local health officials as saying.
Some 27 others were also injured as the projectiles hit the densely-populated bazaar.
Saudi Arabia has been a waging a destructive military campaign against Yemen since March 2015 in an attempt to restore Yemen's former president Abd Rabbuh Mansur Hadi, a close Riyadh ally, to power.
Riyadh's military has also been providing air cover to its mercenaries operating on the ground against Yemeni army forces and allied Houthi fighters.
Saudi, pro-Hadi militants trifling with truce
The Thursday bloodshed flew in the face of a ceasefire announced by the US, which was to take effect on Thursday.
On Wednesday, US Secretary of State John Kerry said that the Houthi Ansarullah movement, which has been defending Yemen against the war, and the Hadi side had agreed to a cessation of hostilities starting on November 17.
Kerry also said that Saudi Arabia and the United Arab Emirates, which is assisting Riyadh in its war on Yemen, "have both agreed to try to move forward with this. They believe it makes sense."
Later in the day, Ansarullah expressed readiness to end fighting and join a national unity government in the conflict-ridden country.
Full report at:
http://www.presstv.ir/Detail/2016/11/18/494089/Yemen-Saudi-Arabia-Taiz-Saada
--------
Turkey set to scrap PM position in new system: Minister
Nov 17, 2016
Turkey would no longer have a prime minister under constitutional reforms the Ankara government is seeking to usher in under a presidential system, a senior official says.
Forestry and Water Affairs Minister Veysel Eroglu told state-run news agency, Anadolu, in the capital Ankara on Thursday that one or more vice presidents would assist the president under the proposed system.
"There won't be prime ministry in the new system," Eroglu said, adding, "In general there is a president and next to him probably a vice president like in the United States. We might have more than one vice president."
The remarks come as senior Turkish government officials have already said that they want to submit proposals to parliament for constitutional changes that will bolster the powers of President Recep Tayyip Erdogan. They have stressed that the changes are needed to "eliminate confusion from the system."
The ruling Justice and Development Party (AKP), which currently has 317 seats in parliament, needs a majority of 330 out of the 550 seats to call a referendum.
Chances of such a majority increased last month, when Devlet Bahceli, the leader of the Nationalist Movement Party, also known as the MHP, whose party has 40 seats, gave his strongest signal yet that he could back such a referendum.
The support by the MHP, the fourth party in parliament by seats, would be enough to allow the referendum to go ahead even if it is opposed by the secular Republican People's Party (CHP) and the pro-Kurdish Peoples' Democratic Party (HDP).
Full report at:
http://www.presstv.ir/Detail/2016/11/17/494028/Turkey-Eroglu-Erdogan-MHP-constitution-reform-
--------
Turkey detains pro-Kurdish mayor as crackdown widens
Nov 18, 2016
ANKARA: Turkish police on Thursday detained the pro-Kurdish co-mayor of the south-eastern city of Van, expanding a crackdown on municipal chiefs throughout the region that has sparked international concern.
Bekir Kaya was taken into custody as part of a "terror investigation", the official news agency Anadolu reported, saying he was accused of links to the outlawed Kurdistan Workers' Party (PKK).
Four other municipal officials in the city, which has a mixed Kurdish and Turkish population, were also detained, Anadolu said.
The targeting of city heads follows the arrest of 10 MPs from the pro-Kurdish Peoples' Democratic Party (HDP), including its co-leaders, who are being held on charges of links to the PKK.
Kamuran Yuksek, co-chair of the pro-Kurdish Democratic Regions Party (DBP), a sister party to the HDP, was detained on Thursday. Kaya is also a DBP representative.
On Wednesday, mayors in the south-eastern city of Siirt and the eastern city of Tunceli were detained following similar accusations of links to the PKK, Anadolu said.
And last month the two mayors of the mainly Kurdish city of Diyarbakir, Gultan Kisanak and Firat Anli, were detained and charged with belonging to the PKK. All the mayors were elected in 2014 local elections.
EU visit cancelled
With tensions flaring in Van, police used tear gas and water cannon outside the municipality to disperse dozens of protesters backing the detained mayor, an AFP photographer said.
Turkey declared a state of emergency following a failed coup on July 15, arresting tens of thousands in a widespread crackdown which critics say has gone well beyond the alleged plotters to include anyone daring to criticise President Recep Tayyip Erdogan.
In a sign of the tensions with the West, top EU lawmakers on Wednesday cancelled a visit to Turkey in a dispute over the format of the trip.
Caretakers appointed
Government-appointed trustees have been named to replace all the detained mayors, the interior ministry said in a statement.
The move is controversial given that the mayors are all directly elected and only provincial governors are appointed by the government.
HDP spokesman Ayhan Bilgen condemned the appointments, saying that it demonstrated that the government "does not recognise the will of the local people".
He said that the HDP was being targeted because of its opposition to the presidential system. "On the way to a presidency, our party is to be sacrificed like a victim ... We will not allow this," he told reporters at HDP headquarters in Ankara.
Full report at:
http://www.dawn.com/news/1297041/turkey-detains-pro-kurdish-mayor-as-crackdown-widens
--------
South Asia
Anti-Muslim Buddhist Monk in Myanmar: Trump 'Similar to Me'
NOV. 17, 2016
MANDALAY, Myanmar — Shunned by Myanmar's new government and its Buddhist hierarchy, a nationalist monk blamed for whipping up at times bloody anti-Muslim fervor said he feels vindicated by U.S. voters who elected Donald Trump to be president.
Wirathu, a high-profile leader of the Myanmar Buddhist organization known as Ma Ba Tha, drew parallels between his views on Islam and those of the Republican president-elect. Trump's campaign was rife with anti-Muslim rhetoric and proposals that included banning Muslims from entering the country and heightening surveillance of mosques. The form his actual policies will take remains unclear.
"We were blamed by the world, but we are just protecting our people and country," Wirathu said. "... The world singled us out as narrow-minded. But as people from the country that is the grandfather of democracy and human rights elected Donald Trump, who is similar to me in prioritizing nationalism, there will be less finger-pointing from the international community."
He even floated the idea of cooperating with nationalist groups in the U.S.
"In America, there can be organizations like us who are protecting against the dangers of Islamization. Those organizations can come to organizations in Myanmar to get suggestions or discuss," he said in an interview at his monastery in Mandalay on Nov. 12.
"Myanmar doesn't really need to get suggestions from other countries. But they can get ideas from Myanmar."
Wirathu has been accused of inciting violence with hate-filled, anti-Islamic rhetoric in this Southeast Asian, Buddhist-majority country of about 55 million. Buddhist-led riots left more than 200 people dead in 2012 and forced hundreds of thousands more to flee their homes, most of them Muslim Rohingya in Rakhine state.
Anti-Rohingya sentiment remains high in Myanmar. Members of the ethnic group are widely considered to have immigrated illegally from nearby Bangladesh, though many Rohingya families have lived in Myanmar for generations.
At the same time, Wirathu's influence has weakened in the past year. He threw his support behind the military-backed government ahead of elections in November 2015, only to see the former ruling party fall to Aung San Suu Kyi's National League for Democracy in a landslide.
In July, a senior NLD official in Yangon said that Ma Ba Tha, also known as the Committee to Protect Race and Religion, was not needed. Calls for the official to be disciplined went unanswered. In the same month, the country's official Buddhist clergy publicly distanced itself from the group.
"Ma Ba Tha fades with barely a whimper," read a headline in the English-language Myanmar Times in August.
Wirathu said he has no plans of fading into obscurity.
"This government doesn't want our Ma Ba Tha," he said, seated behind a desk in a saffron robe as several aides took photos and video of his pronouncements. But the NLD's attempt to thwart the group will be "hard for them," he added, as Ma Ba Tha is not breaking any laws.
"Currently, we are waiting and looking at the situation as this government has only been here a short time and they don't know how to manage," he said. "So we are not doing anything like campaigning or protesting to impact the government. But we will hold meetings, issue statements, help in our role."
For example, he said, his members have been distributing food in northern Rakhine state.
Scores of Rohingya and some Myanmar troops have been killed in northern Rakhine since suspected militants attacked border posts last month, killing nine police officers. Rohingya activists say innocent villagers are being killed, but the government says it is only fighting "violent attackers." International media and aid groups have been kept away.
http://www.nytimes.com/aponline/2016/11/17/world/asia/ap-as-myanmar-nationalist-monk-trump.html?_r=0
--------
Taliban shadow governor among 11 killed in North of Afghanistan
Nov 18 2016
The shadow provincial governor of the Taliban group for northern Sar-e-Pul province was killed during an operation by the Afghan security forces.
"Last night, Afghan National Civil Order Police launched a special clearance operation to clear armed Taliban from Aadrang Barghali region, Sar-e-Pul city of Sar-ePul province," the Ministry of Interior (MoI) said on Wednesday afternoon.
MoI further added "As a result of this operation, 11 armed Taliban including Taliban's so-called governor for Sar-e-Pul province were killed."
According to MoI, the so-called governor Najibullah known as Ataullah was involved in many terrorist and destructive activities in Sar-e-Pul province.
"After eliminating this group the security situation in this province is expected to improve," MoI added.
Full report at:
http://www.khaama.com/taliban-shadow-governor-among-11-killed-in-north-of-afghanistan-02306
--------
Bangladesh court orders Zia's arrest over 'fake birthday'
Nov 18, 2016
DHAKA: A Bangladesh court on Thursday issued an arrest warrant for the country's opposition leader after she failed to appear for a hearing over the date of her birthday.
The bizarre controversy, which has been raging for more than a decade, centres on the fact that Khaleda Zia celebrates her birthday on Aug 15, the day Bangladesh's former leader Sheikh Mujibur Rahman was assassinated.
He was the father of current Prime Minister Sheikh Hasina, Zia's bitter political rival, whose supporters allege that the opposition leader uses a fake birth date.
Many Bangladeshis have no record of their birth dates and millions use fake dates to make them eligible for government jobs with age restrictions.
Magistrate Mazharul Islam delivered the arrest order in a Dhaka court after a pro-government journalist filed a case accusing the two-time prime minister of lying about her birth date.
"The court issued the arrest warrant after she failed to appear in the court over her fake birthday case," said the plaintiff's lawyer Dulal Mitra.
Full report at:
http://www.dawn.com/news/1297038/bangladesh-court-orders-zias-arrest-over-fake-birthday
--------
5 'JMB leaders' held
November 18, 2016
The Rapid Action Battalion yesterday claimed to have arrested five leaders of a JMB faction it called "Sarwar-Tamim group".
The five, arrested in the capital's Uttara and Adabor areas on Wednesday night, include a trainer, an explosives expert and a finance coordinator, according to Mufti Mahmud Khan, director of Rab's legal and media wing.
Interestingly, this is the first time Rab came up with statements about "Sarwar-Tamim group".
Earlier, both police and Rab told the media about "Neo JMB", a JMB offshoot inspired by ideologies of Islamic State (IS).
Asked why it is being called "Sarwar-Tamim group" instead of "Neo-JMB", Mufti Mahmud told this newspaper yesterday, "Because the group was led by Sarwar and Tamim."
Rab earlier said Sarwar, who jumped to death during a raid by the elite force members in Ashulia on October 8, was the chief of "Neo JMB".
Police, however, said he was a third-grade leader of the outfit.
"We do not believe that Sarwar was the chief of Neo JMB," a senior DMP official, wishing anonymity, told The Daily Star recently.
Tamim Ahmed Chowdhury, killed in a police raid in Narayanganj on August 27, was a key "Neo JMB" leader who masterminded the Gulshan café siege and Sholakia attack, DMP says.
During a briefing at the Rab media centre in Karwan Bazar, Mufti Mahmud said the five were trying to reorganise the operatives who went into hiding following the deaths of top leaders.
Of the arrestees, Maulana Abdul Hakim Faridi alias Sufian, 40, and Razibul Islam alias Razib, 29, were captured in Uttara.
Gazi Kamrus Salam Sohan alias Abdullah, 27, Sohel Rana alias Khadem alias Muazzin, 23, and Abu Saleh alias Liton alias Huraira, 42, were held in the city's Adabor.
Sohan, a former student of Mirzapur Cadet College, completed BSc in electrical and electronics engineering at Islamic University of Technology in Gazipur.
Razibul is a former student of economics department at Dhaka College.
All, except for Sohel, were leaders of Ansarullah Bangla Team before joining "Sarwar-Tamim group", according to Rab.
The elite force recovered a pistol, 20 bullets, 10 crude bombs and bomb-making materials from their possession.
Rab says the JMB faction got weakened as its top leaders were killed and many operatives went into hiding after the July 1 Gulshan café siege that left 20 hostages, including 17 foreigners, dead.
The Rab at a briefing on October 21 claimed that documents found in Sarwar's den and subsequent probe suggested that "Neo JMB" still had 21 of its members at large.
Replying to a query, Mufti said the five arrested on Wednesday were possibly not among the 21.
Shaykh Abdur Rahman established Jama'atul Mujahideen Bangladesh (JMB) in April 1998.
JMB operatives, who became inactive after Maulana Saidur Rahman took over as its chief following Abdur Rahman's execution in 2007, formed a group that law enforcers started calling "Neo JMB".
The offshoot is skilled in modern technology and equipped with sophisticated firearms, investigators say.
PROFILE OF THE FIVE
An official of an electric supply company, Sohan joined militancy in 2011, motivated by his university friend Mostafizur Rahman alias Sifat, an administrator of jihadi webpage At-tamkin.
Sifat was arrested by Rab on August 6 this year.
Sohan was also inspired to join terror activities by the sermon of Ansarullah's Bangla Team's spiritual leader Jasimuddin Rahmani, now detained and sentenced to five years in jail in blogger Rajib murder case.
Sifat first took Sohan to Sarwar.
Sohan received 11-day training on militancy in northern region. He also took training on use of small arms and bomb-making in Chittagong.
Full report at:
http://www.thedailystar.net/backpage/rab-arrests-five-jmb-operatives-1316560
--------
USAID expands support for Afghan agricultural exports by $16 million
Nov 18 201
The United States Agency for International Development (USAID) announced a three-year extension to its 2010-2016 Commercial Horticulture and Agricultural Marketing Program (CHAMP) to widen its geographic coverage in Afghanistan and reach more international markets; the extension added nearly $16 million to the project's previous budget, $46 million.
USAID Mission Director Herbert Smith noted that more than 80 percent of Afghans make their living in agriculture.
"Development of the agriculture sector is critical to the coordinated efforts of USAID and the Government of Afghanistan to increase economic growth and improve the lives of the Afghan people," Smith said.
Afghan Minister of Agriculture, Irrigation and Livestock Assadullah Zamir welcomed the project extension.
"USAID assistance for agricultural marketing and access to international markets is critical for strengthening the Afghan high-value horticultural value chains," Zamir said.
CHAMP, implemented by the non-profit organization Roots of Peace, has facilitated the export of $51 million of fruits and nuts by aggressively targeting new markets in India and the United Arab Emirates, cultivating new buyers and expanding awareness for Afghan produce, according to a statement by USAID.
The statement further added that under the extension, the program will focus on a wider variety of crops and develop new Central Asian markets. It also will undertake a grant program to establish or improve cold storage and packing facilities to enable Afghan food products to meet European import requirements.
Full report at:
http://www.khaama.com/usaid-expands-support-for-afghan-agricultural-exports-by-16-million-02307
--------
Germany to keep 980 soldiers in Afghanistan until the end of 2017
Nov 17 2016
The cabinet of Germany has approved to keep 980 soldiers in Afghanistan until the end of next year to support the Afghan forces as part of the NATO-led Resolute (RS) mission, it has been reported.
The decision by Chancellor Agela Merkel's cabinet comes days after a deadly attack hit the German consulate in Mazar-e-Sharif city, the provincial capital of northern Balkh province of Afghanistan.
"With up to 980 soldiers, the German army will in future advise, support and train Afghan security services," Reuters reported, citing a statement issued by the government of Germany.
Full report at:
https://www.youtube.com/watch?v=_LJQXrMbm9g
--------
Pakistan says it strongly condemn attack on security forces in Kabul
Nov 17 2016
Pakistan has condemned the attack in capital Kabul that left at least 4 people dead and 11 others wounded.
A spokesman for the Foreign Office of Pakistan Nafees Zakaria said "We strongly condemn terrorist attack on Afghan security officials. We offer condolences to Afghan government and people, sympathize with bereaved families."
The incident took place early on Wednesday after a suicide bomber targeted a vehicle carrying security personnel in Pul-e-Mahmood Khan area of the city.
The loyalists of the Islamic State of Iraq and Syria (ISIS) terrorist group claimed responsibility behind the attack.
Full report at:
http://www.khaama.com/pakistan-says-it-strongly-condemn-attack-on-security-forces-in-kabul-02304
--------
Draft Agreement Finalized to Link Afghanistan with Black, Mediterranean Sea
Nov 17 2016
The draft agreement for Lazuli route was finalized between Afghanistan, Turkmenistan, Azerbaijan, Georgia, and Turkey to link Afghanistan with Black and Mediterranean Sea.
The Ministry of Foreign Affairs (MoFA) said the draft agreement was finalized during a meeting at the ministry of transport of Azerbaijan.
MoFA further added that the Lazuli route is an initiative of the Afghan government that will link the country to Black Sea and Mediterranean.
According to MoFA, the transit route will bring a considerable reduction in time and cost of transportation besides opening transit route to South Asian Countries to have access to Central Asia, Caucasus, and European countries.
With the finalization of the draft agreement for Lazuli route, the top officials of the mentioned countries are now able to sign and execute the agreement, MoFA added.
This comes as a railway network was inaugurated in mid-October this year to help connect Afghanistan to European countries and China via Central Asia.
Full report at:
http://www.khaama.com/draft-agreement-finalized-to-link-afghanistan-with-black-mediterranean-sea-02303
--------
Pakistan
Pakistan, Turkey urge world to combat Islamophobia, stereotyping against Muslims
November 17, 2016
Pakistan and Turkey have firmly expressed resolve to continue their strong mutual support on issues of core national interest, and in defense of the peace and prosperity of the two nations.
A joint declaration issued after the meeting between Prime Minister Nawaz Sharif and Turkish President Recep Tayyip Erdogan in Islamabad states that the two sides expressed satisfaction over the progress achieved towards transforming this warm and cordial relationship into a strong strategic partnership.
Furthering their resolve to enhance bilateral cooperation in multiple fields including anti-terrorism, Pakistan and Turkey Thursday urged the international community to combat Islamophobia, religious discrimination and stereotyping against Muslims.
Also read: President Erdogan pays rich tribute to Pakistan
The two countries reiterated the need for making the United Nations Security Council more representative, democratic, transparent, and accountable through comprehensive United Nations Security Council reform process, based on widest possible consensus.
Accompanied by a high level delegation, Erdogan paid the visit to Pakistan on the invitation of President Mamnoon Hussain.
During the interaction at top leadership level, the two countries called for the implementation of relevant UN Security Council resolutions to resolve the long-standing disputes on the agenda of the Security Council, especially those pertaining to the Muslim Ummah.
The two sides committed to commencing joint initiatives in the context at the international fora, in particular at the United Nations and the Organization of Islamic Cooperation (OIC) agreeing that the assumption of Chair of OIC summit by Turkey presented a valuable opportunity in that regard.
Also explore: Pak-Turkey enjoy longstanding brotherly ties: Gen Raheel
During meeting with Prime Minister Nawaz Sharif, the two leaders exchanged views on the entire spectrum of Pakistan- Turkey bilateral relationship as well as issues of regional and international importance.
The two sides expressed satisfaction over the progress achieved towards transforming warm and cordial bilateral relationship into a strong strategic partnership, and reiterated their mutual resolve to explore new avenues for collaboration, to utilize untapped potential for the mutual benefit and prosperity of the peoples of the two countries.
They reiterated strong condemnation of the heinous coup attempt in Turkey on July 15, 2016 and paid tributes to the brave and resilient Turkish people who stood resolutely in defense of democracy against the forces of darkness.
Also read: PM urges Turkish entrepreneurs to benefit from business-friendly climate in Pakistan
Pakistan and Turkey expressed firm resolve to continue their strong mutual support to each other on issues of core national interest, and in defense of the peace and prosperity of the two nations. –APP
https://www.samaa.tv/pakistan/2016/11/pakistan-turkey-urge-world-to-combat-islamophobia-stereotyping-against-muslims/
--------
CII takes up plight of 'wives of the disappeared'
KALBE ALI
Nov 18, 2016
ISLAMABAD: The Council of Islamic Ideology (CII) on Thursday noted the need to give the wives of missing or disappeared individuals the option to remarry and directed its research cell to determine a solution that would be practical and in accordance with the tenets of Islam.
The last session of the council to be chaired by Maulana Mohammad Khan Sheerani before his retirement next month also witnessed serious discussion over the draft of their women protection bill and a draft child rights bill.
Both bills are being formulated by the CII and will be forwarded to the Ministry of Law and Justice.
Council members on Thursday thoroughly discussed clauses related to women's right to remarry in the draft bill and, anticipating the seriousness of the issue, Maulana Sheerani specially invited Allama Arif Wahidi – a Shia cleric – as an observer to give his opinion regarding the wives of disappeared or missing persons.
Council discusses remarriage options for women whose spouses had gone missing
Allama Wahidi was asked to attend as Allama Iftikhar Naqvi, the Shia representative on the CII, was not in the country.
The lone woman on the council, Dr Samia Raheel Qazi, called the wives of missing persons "half widows" and said that they faced severe psychological stress due to a lack of information regarding the whereabouts and condition of their spouses.
"This is a growing issue faced by Muslim women all over the world – in India-held Kashmir and even in Pakistan, the number of such women is quite high," she said, adding: "I have received several letters where the poor woman herself or her parents have asked for an Islamic solution."
Saying that there were serious issues in this regard, she narrated the case of a woman whose husband went missing without any information for several years, but as soon as she remarried, assuming her first husband to be dead – he returned.
"The basic query then is: whose wife is she?" Dr Qazi asked.
After through deliberations, it was noted that in this case, the woman could still be the legitimate wife of the first husband while having the option to choose to remain with her second husband.
Members also referred to a decision by 'Imam Malik', who held that if a husband was missing without any information, the appropriate waiting period for the wife was four years.
When asked to suggest a solution according to Shia ideology, Allama Arif Wahidi said there was no direct solution to this issue and that decisions were taken on a case-by-case basis.
"However, the four-year period is taken as the minimum benchmark and after several rounds of deliberation, it is the clerics who decide whether a woman can remarry or she has to wait longer," he said.
Talking to media after the council meeting, the CII chairman said this was a serious issue, since there were several cases of missing persons across the country that had been picked up by the agencies and presuming them dead would be premature.
"This issue has been taken up in many countries too; the [waiting period] is two to three years in Egypt and Syria, while four years is the waiting period in India. But we have not made any decision yet," Maulana Sheerani said. He said the council had noted several steps that should be taken before such a woman is allowed to remarry.
Full report at:
http://www.dawn.com/news/1297063/cii-takes-up-plight-of-wives-of-the-disappeared
--------
PM urged to review decision about Turkish teachers
Nov 18, 2016
PESHAWAR: Expressing their concern over the government's decision to deport Turkish teachers from Pakistan, the teachers, students and parents have urged Prime Minister Nawaz Sharif to review the decision.
Speaking at a joint press conference at Peshawar Press Club on Thursday, scores of people led by the students' parents said that the Turkish citizens employed in the Pak-Turk School in Peshawar had nothing to do with the conspiracy against the Turkish government and they were just doing their job in Pakistan.
They said that in the prevailing situation they feared their arrest by the Turkish authorities soon after entry into their country. The speakers demanded of the government to treat the Turkish teachers like Afghan refugees so they could take a decision about their future and evade any action by the government.
Some teachers, including Mr Ishrat and Waseem Iqbal, stressed the need that Prime Minister Nawaz Sharif should reconsider his decision about deporting the Turkish citizens as it was a matter of serious concern equally for the parents, teachers and students.
Parents of students say the teachers should be allowed to stay in Pakistan
They said that the teachers and other employees belonging to Turkey were very straightforward people and had no concern with the internal politics of their country.
"They should be allowed to stay in Pakistan or honourably sent back to their country at least to save image of our country at the international level," they said.
Referring to an announcement of the interior ministry that all the 450 Turkish nationals, including 108 teachers of the Pak-Turk International schools and colleges, would leave Pakistan, they said it was a one-sided decision proving that Pakistan had no solid foreign policy.
Full report at:
http://www.dawn.com/news/1297079/pm-urged-to-review-decision-about-turkish-teachers
--------
Eight ISIS suspects arrested in Lahore: CTD
November 17, 201
LAHORE: The Counter Terrorism Department (CTD) on Thursday claimed to have arrested eight militants affiliated with Islamic State.
According to a CTD spokesperson, the alleged militants were trained in Syria and Afghanistan.
"The terrorists were trying to return to Syria, Afghanistan and Iran," said the spokesperson.
The CTD had recorded their mobile phones for three months before their arrest, added the spokesperson.
Full report at:
http://nation.com.pk/national/17-Nov-2016/eight-isis-suspects-arrested-in-lahore-ctd
--------
Southeast Asia
DPM: Don't be trapped by Islamophobia of the West
November 18, 2016
MALACCA, Nov 18 ― Datuk Seri Dr Ahmad Zahid Hamidi yesterday reminded the people not to get trapped by the Islamophobia as drawn up by the West to the point the term made some to be contemptuous of their own race and religion.
The Deputy Prime Minister said the West wanted their mould of Islamophobia to be accepted and embedded in the minds of Muslims to the point it could make them self-destruct.
"They (the West) want us to join their 'Islamophobia' bandwagon, to paint a a picture that we Muslims give birth to violence.. this impression is given by them.
"In the end, we swallow it and and it is established in our minds to mock our own race, our religion," he said when opening the 17th Malay World Islamic World (DMDI) convention in Bandar Hilir here tonight.
Present were Melaka Yang DiPertua Negeri Tun Mohd Khalil Yaakob, Melaka Chief Minister Datuk Seri Idris Haron and DMDI president Tan Sri Mohd Ali Rustam and more than 1,000 delegates from 14 DMDI member nations.
The two-day convention themed "DMDI is Catalyst to Unity and Islamic Wellbeing" is due to highlight numerous achievements and also includes workshops and tabling of working papers.
Ahmad Zahid said for Malays and Islam to be the most progressive in the world, this had to be rooted on reality.
In addition, he said the future of the Y and Z generations must be relevantly planned to become supreme people, not only by being merely nostalgic on past tales.
"DMDI needs to implement these elements to uplift the Malays and Islam because with this combination we can endeavour to become renowned people," he said.
He said in the effort to uphold Islam and the Malay race, other religions and races should not be shunted aside but must be respected to protect national harmony.
Ahmad said the Malays must change their way of liking to ridicule their own race and language if they wanted to continue to progress.
"We want the Malay language to become the lingua franca at the United Nations (UN), we must boost bahasa Melayu as a tool of communication at the international level.
"A Malay speaking in English at the UN with a Malay accent is brushed off as not great..don't insult your own race, change your attitude if you want to be famous," he said.
He said other races would not appreciate the Malays if they themselves did not value what they had. ― Bernama
http://www.themalaymailonline.com/malaysia/article/dpm-dont-be-trapped-by-islamophobia-of-the-west
--------
Street protests against Islamic law, Jakim tells Muslims
November 18, 2016
KUALA LUMPUR, Nov 18 ― Religious authorities told Muslims today ahead of the Bersih 5 rally tomorrow that staging demonstrations would invite foreign intervention and runs contrary to Islamic laws.
In this week's Friday sermon prepared for mosques nationwide, the Department of Islamic Development Malaysia (Jakim) noted that there has been drastic changes in thinking and actions as time goes on and amid rapid progress.
"Recently, for some people, it seems whatever that causes dissatisfaction can be shown through demonstrations or protests as a way to carry out change and to change a government with something better.
"When actually without us realising it, it will only invite intervention from foreign powers in the administration and laws of the country and also incite chaos and create various issues and speculation that can hurt the country's image in the eyes of the global community," it said in its sermon text available online.
In the same sermon, Jakim instead highlighted the Islamic way of changing leaders' faults through advice, prayers and assisting leaders in virtuous matters.
It cited a hadith or teaching attributed to Prophet Muhammad, which stated that those wishing to advise rulers were told to do it privately instead of openly and would be considered to have discharged their responsibilities, regardless of whether the advice was accepted.
Full report at:
http://www.themalaymailonline.com/malaysia/article/street-protests-against-islamic-law-jakim-tells-muslims
--------
Malaysia condemns attack on Saudi Arabia by Yemen rebels
18 NOVEMBER 2016
KUALA LUMPUR: Malaysia has condemned the attacks on Saudi Arabia by Houthi rebels from Yemen, calling it a flagrant violation of the sovereignty of the kingdom. Foreign Minister Datuk Seri Anifah Aman said the attacks constitute a threat to regional and global peace and security, stressing that Malaysia stands firm with Saudi Arabia in this regard. He said this in his statement at the Council of Foreign Ministers' Emergency Meeting organised by the Organisation of Islamic Cooperation (OIC) in Makkah. The latest attack saw the Houthis launching a ballistic missile towards Makkah city on Oct 27. It was intercepted and destroyed by the Saudi ground forces. A similar attack was carried out by the same ground on a Saudi airbase in Taif on Oct 9. "Although there were no reported casualties from these attacks, they have sparked outrage among Muslim communities across the world." "Malaysia condemns the attacks in the strongest terms and hopes that the perpetrators will be brought to justice. "Makkah is the holiest and most sacred place for all Muslims. The acts of aggression are clearly an utter disrespect of the sanctity of the holy site. It is deplorable and contrary to Islamic teachings and principles." Earlier on July 5, an explosion erupted near the Nabawi Mosque in Madinah, the second holiest city for the Muslim ummah, causing the death of four security officers and injured five others.
Full report at:
http://www.nst.com.my/news/2016/11/189617/malaysia-condemns-attack-saudi-arabia-yemen-rebels
--------
Japan's Okayama seeks to attract Malaysians with Muslim-friendly tourism
November 18, 2016
KUALA LUMPUR, Nov 18 ― Japan's Okayama Prefecture is hoping to draw in hundreds of Malaysians with its Muslim-friendly facilities for tourists.
Masao Omori, the mayor of the prefecture's capital city Okayama, said a deal inked this Tuesday with a Kuala Lumpur-based travel agency is expected to help bring in 240 to 480 Muslim tourists to the Okayama Prefecture in 2017.
"With this project, we will make Okayama a more Muslim-friendly destination for travel, lifestyle and work," he was quoted saying in a report carried by Japan news site The Japan Times.
According to Omori, Okayama city has many Muslim-friendly facilities such as a mosque and prayer rooms in hotels, while Japan's very first halal bakery can be found in the nearby town of Kibichuo.
Naoko Tahara, a representative director of Aalam Japan Bakery, said there are currently around 700 to 800 Muslim residents in the Okayama Prefecture and noted that more Muslim-friendly facilities are required to cater to their needs.
According to the report, the deal on the "Okayama-Style Health Tourism Project" was signed by three municipalities of Okayama Prefecture ― Okayama city, Kibichuo town and Maniwa city ― with Malaysia's Corporate Information Travel Sdn Bhd.
The memorandum of understanding will see the Malaysian travel agency promoting tourism to both local Muslims and non-Muslims alike and will run from next January to March 2021.
The deal was signed during the Japanese officials' visit to Kuala Lumpur to promote tourism from their region.
Full report at:
http://www.themalaymailonline.com/malaysia/article/japans-okayama-seeks-to-attract-malaysians-with-muslim-friendly-tourism
--------
Calls Mount for Muslims to Avoid Another Anti-Ahok Protest
Nov 18, 2016
Jakarta. Calls are mounting for Indonesia's Muslims to avoid another massive protest against Jakarta governor Basuki "Ahok" Tjahaja Purnama after he was named a suspect in a religious blasphemy case which has seen Muslim hardliners grow restive in the last month.
Police finally charged the governor on Wednesday (16/11) under the religious blasphemy criminal code over recent remarks he made in a speech which allegedly insulted the Koran.
The police's decision to name Ahok a suspect in the case came amid reports that more massive anti-Ahok protests by Muslim hardliners are planned for next week.
Leaders of Indonesia's biggest Islamic organization, the Nahdlatul Ulama, called on their followers to remain calm on Thursday, two weeks after thousands of Muslims took to the streets of Jakarta in protest of the Christian and ethnic-Chinese governor.
"We call on all our followers not to stage more demonstrations against Ahok," NU chairman Said Aqil Siroj said. "We also call on other Muslim leaders to keep the peace."
Said's comment came a day after the country's second-largest Muslim group Muhammadiyah made a similar call, saying "there are no strong grounds for staging another protest, for now."
The police's move on Wednesday would likely see Ahok's case brought to court, as demanded by Muslims in a massive anti-Ahok protest on Nov. 4 that eventually turned violent.
Full report at:
http://jakartaglobe.id/news/calls-mount-muslims-avoid-another-anti-ahok-protest/
--------
Africa
Nigeria's Apex Muslim body criticizes inheritance bill
17 November 2016
Nigeria's apex Muslim body has called for parliament to strike down a bill seeking to make women inherit the same portion of their parents' estates as their male siblings, saying sections of the bill offend divine laws.
"While we recognize that in some parts of the country the female folk is treated unjustly and unfairly on the issue of inheritance, this should however not become a justification for the desecration of sacred laws and customs such as that of Islam that are dear to large segments of the Nigerian population," the Nigerian Supreme Council for Islamic Affairs (NSCIA) said Thursday in a memo to parliament.
"It is untrue to state that a woman's share of inheritance is always half of that of her male counterpart. Among the four instances in which the estates of a deceased individual could become due for distribution, it is only in one that the Almighty assigns double share to the male heir," the NSCIA added.
Full report at:
http://www.worldbulletin.net/world/180343/nigerias-apex-muslim-body-criticizes-inheritance-bill
--------
Boko Haram weakened as ISIL extends campaign of destruction
Nov 18, 2016
Boko Haram is no more the deadliest terrorist group in the world after a reduction in the number of people it killed in 2015 by 18 per cent.
The Nigerian terrorist group is responsible for the deaths of 5,478 people in 2015, a decline attributed to a weakened Boko Haram due to successful military operations by the Nigerian army.
According to the 2016 Global Terrorism Index released on Wednesday by the Institute for Economics and Peace, Islamic State of Iraq and the Levant (ISIL) is responsible for 6,141 deaths in 2015 surpassing Boko Haram as the deadliest terrorist group.
Globally, 2015 saw 29,376 deaths caused by terrorism, a drop of 10 percent being the first decline since 2010, yet the second deadliest year on record after 2014.
Despite the positive decline in the number of terrorism deaths, expanded activities by Boko Haram and ISIL are posing new threats in other parts of the world.
"Boko Haram has expanded into Niger, Cameroon and Chad, increasing the number of people they have killed through terrorism in these three countries by 157 per cent … Meanwhile ISIL and its affiliates were active in 15 new countries, bringing the total number of countries they were active in to 28," the report stated.
Full report at:
http://www.africanews.com/2016/11/17/boko-haram-loses-deadliest-terrorist-group-spot-to-isil-in-2015/
--------
Nigeria turns to Pakistan, Russia for arms
November 18, 2016
ABUJA - The Nigerian government has responded to the arms embargo imposed by the US turning to countries in the Eastern and Southern hemisphere, including Pakistan, Russia and Brazil, to acquire arms and military arsenal for the counter-terrorism operations in the North-Eastern part of the country.
According to the Chief of Air Staff (CAS), Air Marshal Sadique Abubakar, who spoke in Abuja, the Nigerian Air Force (NAF) has been given approval to acquire and induct at least 10 attack aircraft into its arsenal. Speaking at the NAF's operations seminar tagged: "Developing respective Air Power Responses to National Security Challenges in Nigeria," Abubakar gave the breakdown of the expected aircraft to include three JF-17 Thunder from Pakistan, four Mi-35m attack helicopters from Russia and three Super Tucano from Brazil. In addition, he said, another 10 Super Mushack primary trainer from Pakistan would also be inducted into the NAF service.
Full report at:
http://nation.com.pk/national/18-Nov-2016/nigeria-turns-to-pakistan-russia-for-arms
--------
In Rwanda, refugees realise dream of a university degree
18 November 2016
Inside a red-brick building with a tin roof in western Rwanda, a group of young people are hard at work studying for a US-accredited university degree.
But these are no ordinary students: they are Congolese refugees for whom such a qualification could spell an escape from stateless limbo.
Over the past year, a Rwandan charity called Kepler has been offering refugees in Kiziba camp the chance to take online degree courses from the Southern New Hampshire University in the United States.
Since the mid-1990s, Kiziba has housed thousands of refugees who have fled the conflict in neighbouring Democratic Republic of Congo. It is currently home to 17,000 people, some of whom were born and raised in the camp.
Until recently a university degree was an impossible dream with local fees at a Rwandan university costing up to $1,200 (1,100 euros) a year, well beyond the reach of young refugees.
And even if they did get the money, the country's main universities are all in the capital Kigali, which is a three-hour drive from this isolated hilltop camp.
But this year, a group of 25 refugees all in their 20s began studying communications and management.
"Before finishing high school, I had no hope of going to university but now I see it's possible!" enthuses Eugenie Manirafasha, who was just six months old when her family fled to Rwanda in 1996.
Now she is one step closer to realising her ambition of becoming a hospital director.
Education for freedom
The refugees follow an online version of the US course but at a less demanding pace, allowing them up to five years to complete the degree, with much of the first year devoted to getting their spoken and written English up to scratch.
Access to higher education "is very important for refugees all over the world," says Nina Weaver, who runs Kepler's educational programmes.
Even more so in Rwanda where refugees "have the right to work and to move around freely which is not the case in many other countries," she says.
Having a degree gives them "an opportunity to integrate better" into Rwandan society, as well as a way to "give back" to the country that has taken them in, Weaver explains.
A university education also offers them an escape route from dependence on charity handouts, says Mark Roeder of the UN refugee agency, UNHCR.
"Tertiary education is one way to make refugees independent," he told AFP. "It gives a boost to (the) refugee mentality and gives them hope they are not being forgotten by the international community."
Unique challenges
There are currently 74,000 Congolese refugees living in five camps in Rwanda. Most are Tutsis who have suffered during successive rounds of conflict over ethnicity, land ownership and regional influence in eastern Congo.
With some of them in Rwanda for more than two decades, few are eager to return to neighbouring Congo. And their studies offer them the chance of a better life in Rwanda, or elsewhere, Roeder says.
Full report at:
http://www.worldbulletin.net/africa/180358/in-rwanda-refugees-realise-dream-of-a-university-degree
--------
Muslim groups advocate insulation for Sultanate
18 November 2016
The transition, on Monday night, of the former Sultan of Sokoto, Alhaji Ibrahim Dasuki at the ripe age of 92 has reopened debate to tinker with certain clause in the laws of Sokoto State, which empowers the state governor to depose the Sultan.
The deceased who would have clocked 93 on December 31, 2016 ruled for just eight years as Sultan of Sokoto. He was crowned on December 6, 1988, but dethroned on April 20, 1996 during the military regime of the late General Sani Abacha.
The justification for the amendment of Section 6 CAP 21 of the Sokoto State Laws stems from the huge responsibility placed on the shoulders of the Sultan as the leader of Muslims in Nigeria.
Section 6 CAP 21 says inter alia: "The Governor after due enquiry and consultation with the persons concerned in the selection, may depose any chief or any head chief whether appointed before or after the commencement of this law …in the interest of peace or order or good government."
Sultan of Sokoto drives its power as the President-General of the Nigerian Supreme Council of Islamic Affairs (NSCIA), the umbrella body for all Muslims in Nigeria from Article 7 (a) of the 1973 NSCIA Constitution, which confers the headship of the organization on the Sokoto monarch.
The lacuna, as pointed out by the Muslim Rights Concern (MURIC) is the tendency for the state governor to activate the clause for political reasons, and thereby put the entire Nigerian Muslim community into "monumental embarrassment and unmitigated disaster."
While condoling the current Sultan of Sokoto and President-General of the Nigerian Supreme Council for Islamic Affairs (NSCIA), Alhaji Muhammadu Sa'ad Abubakar III, the Governor of Sokoto State, Alhaji Aminu Tambuwal and the people of Sokoto State over Dasuki's passage, MURIC insisted his deposition in 1996 was politically motivated.
"Although Islam has a fatalistic philosophy of death and the deceased was not even young at all, MURIC is devastated by the demise of ex-Sultan Dasuki because of the circumstances in which he died. He was deposed by the state military governor, Col. Yakubu Muazu, in 1996. He never regained the throne until his death a few hours ago.
"As the 18th Sultan of Sokoto, the ex-Sultan was also the President-General of the NSCIA which is the umbrella organization of all Islamic organizations in Nigeria. It is most unfortunate that a state governor would possess the power to remove the head of all Nigerian Muslims. This is sad, preposterous and unacceptable," the group said in statement signed by its Director, Professor Ishaq Akintola.
MURIC promised "to ensure that no Sultan will taste such bitter cup of disgrace in future," as the removal became monumental embarrassment and unmitigated disaster for Nigerian Muslims. "Of course we know that the deposition of ex-Sultan Dasuki was politically motivated. The state governor simply obeyed orders from Sani Abacha, the late military dictator and former head of state."
Noting that the NSCIA Constitution and the Sokoto State Laws are at cross purposes, the group premised its agitation for amendment on the need to prevent subjection of Nigerian Muslims "to serious embarrassment and constitutional confusion whenever the governor of Sokoto State chooses to invoke this obnoxious section. Their national leader can be removed by the governor just by snapping his finger.
"MURIC rejects this impunity. It is draconian, ridiculous and pernicious. It is a clog in the wheel of progress for Nigerian Muslims. The governor can have his way with any other traditional ruler in the state. The Sultan must be exempted unless the people of Sokoto State want to provoke Nigerian Muslims to call for a radical amendment of the NSCIA constitution. But we don't see any need for that because the ruling Sultan is a blessing for the Ummah."
The way out, according to MURIC is for the Speaker of the Sokoto State House of Assembly "to set the necessary machinery in motion to amend this obnoxious section. The current Sultan and his successors must be immune against deposition by the state governor.
"We suggest the insertion of the phrase 'except the Sultan of Sokoto' after the words 'or any head chief'. It is so simple. All we need is for one honourable member of the House to raise the motion for the amendment of Section 6 CAP 21 for the insertion to be effected. We appeal to all stakeholders in Sokoto State not to delay the amendment for the sake of posterity. The political climate in Sokoto (and Abuja too) is favourable today. It may not be so tomorrow."
The group also called on Nigerian Muslims to be alert and politically conscious, saying, "Freedom cannot be enjoyed by the naïve and the myopic in society. Eternal vigilance is the price of freedom."
In the same vein, the Secretary-General, Muslim Ummah of South West of Nigeria (MUSWEN), Prof. Dawud Noibi said any effort that will lead to the removal of the obnoxious clause would be welcome by the Muslims.
Full report at:
http://guardian.ng/features/muslim-groups-advocate-insulation-for-sultanate/
--------
Kidnappers demand N60 million to free Islamic cleric
November 17, 2016
The Jama'atu Nasril Islam (JNI) has said the kidnappers of Islamic cleric, Yusuf Abdulaziz, have demanded a N60million ransom for his release.
The Secretary General of the organization, Abubakar Aliyu, disclosed this on Thursday.
PREMIUM TIMES reported how the cleric was abducted on Wednesday evening on his way back to Jos from Kaduna State.
Mr. Abdulaziz, who is the administrative secretary of the Plateau State branch of JNI, was kidnapped alongside his driver on Wednesday evening on his way to Jos from Kaduna.
Mr. Aliyu described the development as unfortunate, adding that several members of the JNI had fallen prey to kidnappers in recent times.
"The unfortunate rise of kidnappings in Nigeria is very alarming, as this is the third in the series of kidnapping that has happened to the JNI", he said in a statement.
"The first was Sheikh Adam Abdullahi Idoko, JNI Vice President-General, South East, in September, 2015. The second was Engr. Muhammad Lawal Maidoki, Member JNI Central Publicity Committee, in September, 2016, and now Sheikh Abdul'Aziz Yusuf."
He urged members of the organization to pray for the safe release of the captives.
"We therefore, implore all Jumu'ah Imams to include the matter in their Khutbah for enlightenment and Du'a tomorrow Friday, 18th November, 2016 and pray fervently for the safe and unconditional release of Sheikh Abdul'Aziz Yusuf, who is over 80 years of age."
Full report at:
http://www.premiumtimesng.com/regional/north-central/215648-update-kidnappers-demand-n60-million-free-islamic-cleric.html
--------
Al-Shabaab launch attack on Amisom base
Nov 18, 2016
- Several soldiers are feared dead after al-Shabaab terror militants attacked an African Mission to Somalia (Amisom) base
Terror group al-Shabaab, has reportedly killed several Amisom soldiers, after it launched an attacked on its base in lower Shabelle region of Somalia.
According to reliable sources, al-Shabaab fighters armed with rocket propelled launchers and machine guns, stormed the Amisom base at Km-60 area on Thursday, November 17.
The militants then engaged the Amisom soldiers in a fierce gunfight that lasted for 40 minutes.
Full report at:
https://tuko.co.ke/222094-several-soldiers-feared-dead-al-shabaab-attack-amisom-base.html
--------
Nigeria's Islamic Movement holds funeral for victims of govt. brutality
Nov 17, 2016
The Islamic Movement in Nigeria (IMN) has held a funeral for Muslims recently killed by the country's armed forces in the northern city of Kano during a march held to mark 40 days after martyrdom anniversary of the third Shia Imam.
Media reports said the IMN had laid to rest the bodies of the victims, including a two-year-old girl, on Wednesday, saying that Nigerian police have taken away dozens of dead bodies after they were brought to a hospital morgue.
Nearly 100 IMN supporters were killed on Monday, after Nigerian forces fired live rounds and tear gas at mourners during a peaceful march held ahead of the upcoming Arba'een mourning rituals, which mark 40 days after the martyrdom anniversary of Imam Hussein (PBUH), the third Shia Imam and the grandson of the Prophet Muhammad (PBUH).
Fierce clashes broke out when police tried to disperse thousands of people, including women and children, who were marching from Kano to Kaduna for the mourning rituals.
Supporters of the Islamic Movement in Nigeria have been subjected to heavy-handed crackdown since last year, when the army attacked a religious ceremony in their stronghold city of Zaria in the north.
Last month, at least 20 people were killed and several others injured when Nigerian forces opened fire on Muslim mourners commemorating Ashura, the martyrdom anniversary of Imam Hussein.
Full report at:
http://www.presstv.ir/Detail/2016/11/17/494009/Nigeria-Islamic-Mocement-Kano-Arbaeen-Zakzaky
--------
North America
Trump Camp's Talk of Registry and Japanese Internment Raises Muslim Fears
By JONAH ENGEL BROMWICH
NOV. 17, 2016
A prominent supporter of Donald J. Trump drew concern and condemnation from advocates for Muslims' rights on Wednesday after he cited World War II-era Japanese-American internment camps as a "precedent" for an immigrant registry suggested by a member of the president-elect's transition team.
The supporter, Carl Higbie, a former spokesman for Great America PAC, an independent fund-raising committee, made the comments in an appearance on "The Kelly File" on Fox News.
He was referring to a suggestion by Kris Kobach, a member of Mr. Trump's transition team, that the new administration could reinstate a national registry for immigrants from countries where terrorist groups were active.
"We've done it based on race, we've done it based on religion, we've done it based on region," Mr. Higbie said. "We've done it with Iran back — back a while ago. We did it during World War II with Japanese."
"You're not proposing that we go back to the days of internment camps, I hope," said Megyn Kelly, the show's host.
Mr. Higbie, a former Navy SEAL who served two tours in Iraq, denied that, but said, "We need to protect America first."
He stood by his comments in a phone interview on Thursday morning, saying that he had been alluding to the fact that the Supreme Court had "upheld things as horrific as Japanese internment camps."
"There is historical, factual precedent to do things that are not politically popular and sometimes not right, in the interest of national security," he said, adding that he "fundamentally" disagreed with "the internment camp mantra and doing it at all."
He clarified that he was not a constitutional lawyer and was working from a layman's understanding of the 1944 Supreme Court ruling that the order for internment camps was constitutional. He said he hoped to be involved in the Trump administration but had engaged in no "formal conversations" with the president-elect's team.
On Thursday, spokeswoman for Mr. Trump did not reply to a request for comment. That night, a CNN reporter wrote on Twitter that Jason Miller, a spokesman for the Trump transition team, had issued the following statement: "President-elect Trump has never advocated for any registry or system that tracks individuals based on their religion, and to imply otherwise is completely false. The national registry of foreign visitors from countries with high terrorism activity that was in place during the Bush and Obama administrations gave intelligence and law enforcement communities additional tools to keep our country safe, but the President-elect plans on releasing his own vetting policies after he is sworn in."
A spokeswoman for Mr. Kobach declined to comment.
A spokesman for the Great America PAC said Mr. Higbie had stopped working for the fund-raising group on the day after the election.
Mr. Higbie's comments were met with furious criticism by civil rights activists, Muslim organizations and politicians.
Representative Mark Takano, a Japanese-American and Democrat from California whose parents and grandparents were imprisoned during World War II, said in a statement on Thursday that the comments reflected "an alarming resurgence of racism and xenophobia in our political discourse." He called on Mr. Trump to denounce them.
Robert S. McCaw, a spokesman for the Council on American-Islamic Relations, the nation's largest Muslim civil rights group, called the reference to internment camps as a precedent "absolutely deplorable" and said that it would "would return America to one of the darkest chapters of its history."
Mr. McCaw noted that Congress had formally apologized for the Japanese-American internment in a law signed by President Ronald Reagan.
"I can't see how it would now be right to do the same thing to Muslims," Mr. McCaw said.
Mr. Kobach, who is Kansas' secretary of state, was referring to the National Security Entry-Exit Registration System, which he helped create while working at the Justice Department. The program was first proposed in 2002, and significant portions of it were suspended nine years later. Mr. Kobach, who has degrees from Harvard, Oxford and Yale, had helped to create and carry out the system when he worked for Attorney General John Ashcroft.
The policy came under heavy criticism while it was in effect and afterward. In a 2012 report, the Center for Immigrants' Rights at the Pennsylvania State University's law school called it a "tool that allowed the government to systematically target Arabs, Middle Easterners, Muslims and South Asians" and a "clear example of discriminatory and arbitrary racial profiling."
"Within its first year of operation, the registration system resulted in the apprehension of numerous suspected terrorists," according to his Kansas government biography.
That program was not as broad or sweeping as the database of Muslim residents that Mr. Trump had said he would "certainly implement" during the Republican primaries. He later backed off the idea after criticism.
On social media, many non-Muslims have reacted to Mr. Kobach's comments by saying that they will simply "register as Muslim." The official Twitter account of the Anti-Defamation League posted a statement from its chief executive, Jonathan Greenblatt, saying that "if one day Muslims will be forced to register, that is the day that this proud Jew will register as a Muslim."
That seems unlikely to work; such a registry would apply only to visitors from certain countries.
Mr. McCaw, the spokesman for CAIR, said that the proposals advanced by Mr. Higbie and Mr. Kobach might seem to be different in degree, but that the two ideas — a database of names and internment camps based on religious or ethnic heritage — were inexorably linked.
"I really do feel as though the prospect of internment is always tied to registries of people," he said.
http://www.nytimes.com/2016/11/18/us/politics/japanese-internment-muslim-registry.html
--------
US terms recent terror attacks in Balochistan 'devastating'
November 17, 2016
WASHINGTON: The United States of America has termed recent terrorist attacks in Pakistan including suicide attack at the shrine of Shah Noorani Balochistan 'devastating', saying that US would continue to stay engaged on counter terrorism efforts in the region.
Speaking at daily press briefing in Washington Wednesday, State Department Spokesman John Kirby said, "Quetta police training centre and Shah Noorani attacks obviously are devastating and all the more evidence that we need to continue to take a cooperative, regional approach in dealing with the terrorism challenge."
Full report at:
http://nation.com.pk/international/17-Nov-2016/us-terms-recent-terror-attacks-in-balochistan-devastating
--------
Muslims in Trump's America: realities of Islamophobic presidency begin to sink in
17 November 2016
Fariha Nizam was sleepy and stressed last Thursday morning when she boarded the Q43 bus, which cuts through the affluent Queens neighborhood where Donald Trump was raised.
As a Muslim, she was concerned about the newly minted president-elect and his campaign promises that targeted Muslims, immigrants and women. But it wasn't until an older white couple began yelling at her, 10 minutes into her weekly commute to her internship, that the reality of Trump's America set in.
"Most of what they were saying was telling me I can't wear it [the hijab] anymore and telling me to take it off," Nizam, a Bengali American, said.
The 19-year-old student had heard some Islamophobic comments before, but hadn't experienced such aggressive harassment in New York City, where she, like Trump, was born and raised. But the stream of verbal abuse forced her to confront a reality she had been trying to avoid – that Trump had actually won.
"I didn't believe it until the moment this incident occurred," she said of Trump's victory. "I don't think I absorbed it and felt the reality of it, I didn't. I kept myself distracted all of Wednesday and then Thursday happened and then it hits me, this is actually what's going on and it was not OK."
Nizam is one of several Muslims around the country who have spoken to the Guardian about life since Trump's victory. Trump won the keys to the White House following an incendiary campaign where he proposed a ban on Muslims, said Muslims "hate" Americans and promised a Muslim registry. Kansas secretary of state Kris Kobach, reportedly a key member of Trump's transition team, said on Tuesday that the president-elect's advisers are already considering the Muslim registry.
According to the Southern Poverty Law Center (SPLC), the amount of hate crimes reported since election night has been unusually high – as of Tuesday, the civil rights organization had tallied 437 incidents nationwide.
This is the case even in seemingly Muslim-friendly places like New York City, and in Michigan, which has one of the largest concentrations of Muslims in the US. Civil rights groups there have reported an uptick in harassment – with one calling for a hate crime investigation after a Muslim woman in Ann Arbor was allegedly forced to remove her hijab by an unknown white man who, according to police, threatened to set her on fire with a lighter.
In another reported incident, two men shoved an 18-year-old woman wearing a hooded sweatshirt, commented on religion and asked her: "Do you know you're in America?"
In the traditionally liberal city of Ann Arbor, two alleged incidents of ethnic intimidation and religious bias in a week is unusual, said Detective Lt Matthew Lige of the Ann Arbor police department.
"Certainly Ann Arbor, as a community that prides itself on its diversity, in race, religion, national origin, ethnicity, all those type of things," he said. "So, for us to have two incidents that fit in this category is unusual and certainly [with] the political climate that we're in right now, it's concerning."
Michigan and New York are home to some of the largest concentrations of Muslims in the US. But it is impossible to say with certainty how many Muslims there are in the country as the Census Bureau does not ask questions about faith. Estimates vary from as few as 3 million to as many as 8 million. Within that overall demographic, there is huge diversity in terms of geography, religious identity and race-cum-ethnicity, which renders any generalizations about the "Muslim community" in America perilous.
Beyond the urban centers, which include Los Angeles and Detroit, Muslims are widely scattered in relatively small numbers across the nation. Added to that geographical splintering are two other important layers of diversity: of faith (some 65% identify with Sunni Islam, 11% with Shia; the other 24% don't identify with either group and includes some people who say they are "just Muslim") and race/ethnicity (about a quarter of US Muslims are African American; others are more recent immigrants from Arab countries, Iran and South Asia; and a further fifth are converts).
Akbar Ahmed, chair of Islamic studies at American University and author of Journey into America: The Challenge of Islam, said that such fragmentation now poses Muslims in the US with a crisis of leadership that is being felt particularly acutely given the surge of hostility. "The fact that the Muslims don't have a coherent platform and voice is a huge negative for them at this critical moment," said Ahmed, a former Pakistani ambassador to London who now lives in Maryland.
But André Carson, one of two Muslim members of the US Congress, said people were starting to get involved in politics in greater numbers than ever before. "Engagement is there. How we can use the leverage of our voting bloc in a post-9/11 world has become all the more critical after the election of Donald Trump," he said.
At a time of heightened anxiety, it was all the more important that Muslims came forward and ran for public office, he said. "All hope is not lost. But if we don't hold people to account they will be emboldened to do whatever they want," Carson said.
Top Democratic politicians including Massachusetts senator Elizabeth Warren, Vermont senator Bernie Sanders and Nevada senator Harry Reid have called on Trump to make amends for his campaign's hateful rhetoric, but the president-elect seems to be ignoring their calls.
The closest thing he made to a peace offering was on Sunday, when he said on 60 Minutes that he was "saddened to hear" Latinos and Muslims were being harassed following his victory. "And I say, stop it. If it – if it helps, I will say this, and I will say right to the cameras: stop it,'" Trump said.
These comments ring hollow in Minnesota's predominantly Muslim Somali communities, which stand at about 25,000, according to 2010 Census data. At a campaign rally the Sunday before the election, Trump said that community was a "disaster" for the state.
Lul Hershi, a Somali American activist from St Cloud, Minnesota, said Trump's victory feels like her "worst nightmare" after 24 years living in the US.
"The platform this guy was running on, most of it was against me, as a human being, as a Muslim, as a minority. I'm really worried and confused – I don't know who is who anymore. I'm looking over my shoulder whenever I go outside my house. I'm just scared."
Most of all, she's afraid for her children.
Full report at:
https://www.theguardian.com/us-news/2016/nov/17/muslim-americans-donald-trump-hate-crimes-surveillance
--------
Europe
UK envoy says Muslim states have vital anti-terror role
18 November 2016
Muslim states of the Organization of Islamic Cooperation (OIC) have a "valuable role" in preventing extremism, a British diplomat said Thursday.
Matthew Rycroft, the U.K.'s Permanent Representative to the United Nations, said the 57-country bloc was important "in building an even stronger consensus around the UN's work to prevent violent extremism".
Rycroft also said the U.K. was clear about tackling violent extremism in all its forms.
His remarks, carried in a statement, came at a speech at the UN Security Council in New York to mark the election of Yusuf al-Othaimeen as new OIC president.
"The OIC states are key partners in this fight, and I want to set out today three ways where our cooperation can help counter these ideologies," the ambassador added.
Underlining how OIC and UN states faced the "growing threat of extremist ideologies and violent extremism," the ambassador said some Muslim countries were more affected by this challenge than others:
"Sadly...this threat affects Muslim-majority states in a truly disproportionate way -- in Iraq, in Syria, in Libya, in so many places."
"The fact that these evil groups claim to represent Islam only makes this reality even more sickening," he added.
Rycroft emphasized the value of the role that OIC states played in building an even-stronger consensus around the UN's work to prevent violent extremism.
"Together we can make the UN system better at understanding and tackling the root causes of terrorism, including by addressing violent extremism narratives," he said.
The OIC elected Yusuf al-Othaimeen, a former Saudi minister of social affairs, as the OIC's new secretary-general Thursday.
http://www.worldbulletin.net/europe/180347/uk-envoy-says-muslim-states-have-vital-anti-terror-role
--------
Quebec 'uproar' over proposed Muslim community
Nov 17, 2016
A tax accountant from Montreal who came under fire for proposing to build a Muslim residential community has temporarily shelved the project.
Nabil Warda cancelled a planned community meeting on the project after it sparked a backlash in Quebec.
Quebec Premier Philippe Couillard even weighed in from Morocco, where he is attending a climate conference.
But Mr Warda says his idea has been woefully misunderstood.
His proposal touched a livewire debate around religious accommodation and cultural identity that has been raging in Quebec for years.
The issue caught fire earlier this week when the media got hold of a pitch letter Mr Warda, 68, sent to people he thought might be interested in his proposal to build a planned community on a lot of land near Montreal's south shore suburb of Brossard.
It was aimed at Muslim homeowners who did not want to take out traditional mortgages because interest is banned in Islam.
What is 'Islamic finance'?
Mr Warda saw a ripe niche market to propose an idea that he had been mulling for a while: an affordable community filed with like-minded souls where he could retire comfortably.
"I just went to where I thought I had the best chance to succeed," he said in an interview.
Non-Muslims would be welcome in the community if they shared the same values.
"In Canada, in Montreal, when there is a snowstorm, everyone becomes brothers. And I like this. When there is no snowstorm, nobody is my brother," he said, of the shared values.
He also supports modesty of dress.
"You want to wear shorts on the street? It's OK, sure. Wear shorts on the street. But why would you go live with people who are offended by the fact that you wear shorts on the street? Why provoke them?"
Quebec politicians of all stripes saw it differently.
On Tuesday, they passed a motion in the legislature asking the municipal affairs minister to send clear directives to towns and cities that developments should not be built based on religious or ethnic segregation.
"Discrimination can work in many ways, and inclusion can work in many ways,'' Premier Couillard said. "We are in favour of mixed housing for cultural communities as well as for religious groups. It's fundamental for us.''
Full report at:
http://www.bbc.com/news/world-us-canada-38019626
--------
Refugees feared drowned in Mediterranean Sea
18 November 2016
Nearly 100 refugees are feared to have drowned in the Mediterranean Sea after their boat capsized, an international aid organization said Thursday.
According to a tweet by the Italian branch of aid group Doctors Without Borders, at least 27 refugees were rescued by coast guards early Thursday morning.
The authorities retrieved seven bodies; at least 96 other people are still missing, the aid group added.
Migrants from North Africa were trying to reach Italy from Libya through Sicily.
Full report at:
http://www.worldbulletin.net/europe/180350/greeks-burn-us-flag-in-student-protest-anniversary
--------
'Belgium must face the facts and fight extremism'
17 November 2016
Presidential spokesman Ibrahim Kalin Thursday criticized the Belgian government for "denying the facts" and urged the country to take a firm stand against extremism.
"The Belgian government must adopt a sincere, decisive, and principled attitude towards the fight against extremism and take steps to rectify crucial mistakes without delay rather than denying the clear facts," Kalin said in a statement.
Mentioning President Recep Tayyip Erdogan's remarks about the Belgian government's support for both the PKK and Fetullah Terror Organization (FETO), Kalin said its support for the PKK, which is described as a extremist organization by the U.S. and the EU, is known by the international community.
"However," he continued, "according to Belgian press reports, Belgian Prime Minister Charles Michel argued that President Erdogan's statements were 'absurd, unfounded, and defamatory' and warned the Turkish government not to interfere with Belgium's internal affairs."
He added, "It is not possible to understand the reaction of the Belgian government, which has been following an unprincipled attitude towards the fight against extremism, in the face of the rightful criticism of our president."
Full report at:
http://www.worldbulletin.net/europe/180327/belgium-must-face-the-facts-and-fight-extremism
--------
Military Expert: Russia's Air Force, Navy Operations in Idlib Prelude to Upcoming Attacks in Eastern Aleppo
Nov 17, 2016
"Moscow is trying to force the Obama administration to distinguish between Al-Nusra (the al-Qaeda terrorist group now called Fatah al-Sham) and the so-called moderate militant groups," Salim Harba told FNA on Thursday.
He reiterated the beginning of large-scale naval and aerial military operations by the Russian army against the terrorists in the provinces of Idlib and Homs can be a prelude to massive military operations of the Syrian army and its allies from Hama or Lattakia towards Idlib and terrorists' bastions in al-Sakhaneh in Eastern Homs and from there to Eastern Aleppo.
"The attack on Idlib countryside can also be aimed at blocking aid to the terrorists (that are under siege) in Aleppo by the Syrian army," Harba added.
On Tuesday, Russian Admiral Kuznetsov aircraft-carrying cruiser began combat operations in Syria, Russian Defense Minister Sergei Shoigu said.
Shoigu said Russian frigate Admiral Grigorovich launched missiles on terrorist targets in Syria, Sputnik reported.
"Today, we started a major operation to launch massive strikes on ISIL and al-Nusra Front (also known as Fatah al-Sham Front) targets in the Idlib and Homs provinces in Syria," Shoigu said at a meeting with the ministry's leadership and defense enterprises.
"For the first time in history of Russian Navy, Admiral Kuznetsov aircraft-carrying cruiser has begun military operations," Shoigu said.
Russian naval task force in Syria is reliably protected by Bastion Coastal Defense Missile Systems and Pantsir systems, the minister said.
Also on Tuesday, Russian Admiral Grigorovich frigate targeted terrorists in Syria with Kalibr cruise missile strikes, Russian Defense Minister Sergei Shoigu said Tuesday.
Full report at:
http://en.farsnews.com/newstext.aspx?nn=13950827000843
--------
URL: https://www.newageislam.com/islamic-world-news/new-age-islam-news-bureau/zakir-naik-extolling-osama's-views,-proclaiming-every-muslim-should-be-a-terrorist--mha/d/109135
New Age Islam, Islam Online, Islamic Website, African Muslim News, Arab World News, South Asia News, Indian Muslim News, World Muslim News, Womens in Islam, Islamic Feminism, Arab Women, Womens In Arab, Islamphobia in America, Muslim Women in West, Islam Women and Feminism, Moderate Islam, Moderate Muslims, Progressive Islam, Progressive Muslims, Liberal Islam