New Age Islam News Bureau
24 February 2022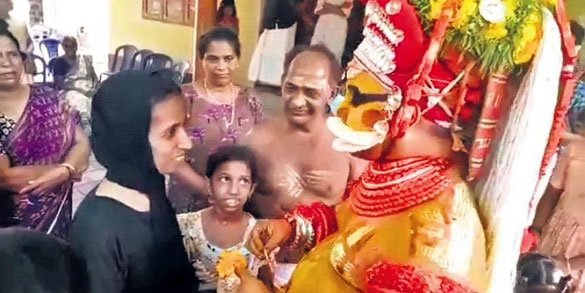 M T Ramlath interacting with the Muthappan Theyyam at Padna Kadappuram
----
• Pakistan Council of Islamic Ideology Declares Violence over Blasphemy Allegations against Principles of Islam
• China Walking In Footsteps of Taliban, Destroying Tibetan Culture: Expert
• Cambodian PM, Hun Sen, Wants To Appoint Cambodian Muslims to Higher Office to Promote Harmony
• US Forces Relocate Daesh Terrorist from Detention Camps in Syria's Dayr Al-Zawr to Hasakah
India
• 'New' Mosque Faces Opposition By Hindu Munnani In Vellore
• Video Shows Muslim Man Pleading To Spare Him before Being Beaten To Death In Bihar
• Hizbul terrorist arrested with grenade in Jammu
• AMU to not take part in common test for admissions to central universities
--------
Pakistan
• Pakistan: Sindh Forming Special Protection Force for Places of Worship of Minorities
• Pakistan PM Imran Khan arrives in Moscow on two-day visit amid Ukraine crisis
• Pakistan security forces kill 10 terrorists in Balochistan province
• Pakistan PM Imran Khan arrives in Moscow on a two-day historic trip
• 10 terrorists killed in Balochistan operation to apprehend 'externally sponsored enemies': ISPR
--------
South Asia
• Taliban publicly flogs man accused of adultery
• Differences continue to persist between Taliban, Pakistan over Durand Line
• Media: Islamic Emirate Spokespersons Not Providing Information
--------
Southeast Asia
• Don't Turn Conversion Case Into This Vs That Religion
• 41,500 Square Feet Mosque to Be Opened By Ramadan in Male, Maldives
• Payment Increase for 'Jurunikah', Witnesses in Penang from March 1, Says State Islamic Religious Affairs Dept
• Converting To Islam Not an Escape Route for Child Custody
• Attacks dampen hopes for peace talks in southern Thailand
• Malaysia's religious rhetoric still regressive, says academic
--------
Arab World
• Lebanon Says It Thwarted Islamic State Suicide Bomb Plot on Hezbollah Stronghold
• UAE designates 1 individual, 5 entities as terrorists for supporting Yemen's Houthis
• UAE FM stresses 'strength' of ties with Russia in phone call with Lavrov: Ministry
• Syria's al-Bab becomes safe haven for 400,000 civilians
• Israeli regime attacks Syria, kills three soldiers
• Israeli regime's termination only a matter of time: Nasrallah
--------
Mideast
• Iran Stresses Maintaining Peaceful N. Capability as Damocles Sword to Guarantee West's Commitment to Any Possible Deal
• Hamas: Mass arrests by Israel won't make Palestinians quit fighting
• Iran Warns Israel against "Slightest Mistake"
• Deputy Judiciary Chief Stresses Legal Cooperation with Russia, China
• NAM Urges UNSC to Evaluate Human Consequences of Unilateral Sanctions
• Yemen's Houthis detain another US Embassy staffer: Report
• Israeli army detains 23 Palestinians in West Bank raids
• Palestinians will have 'entity' instead of state: Israeli defence minister
• Rights group calls for pressure on Israel to lift Gaza siege
• Palestine urges UNSC to take practical steps against Israeli apartheid
--------
Europe
• Muslim Brotherhood Suspected To Be Behind Campaign Of Fake News On Child 'Kidnappings' In Sweden
• EU Spokesperson In Al-Quds: Israeli Violations, Settlers' Attacks In Contravention Of Intl. Law
• Turkey to support, guide citizens wanting to leave Ukraine: Foreign Ministry
• Turkish sailor injured by gunfire from Greek Coast Guard
--------
Africa
• Turkish, Senegalese defence chiefs sign Military Framework Agreement
• Algeria affirms support for Gulf security
• IMF reports 'good progress' in Tunisia talks
• Morocco creates new military zone near Algeria border
• 1 soldier killed, 2 hurt in attack on African Union forces in Somalia
--------
North America
• US Has Communicated To Pakistan Its Position on Russia's Further Invasion of Ukraine: State Dept
• US sanctions network funding Yemen's Houthis, IRGC-QF
• US-led NATO opposes any solution to Ukraine crisis, seeks absolute power: Iranian analyst
Compiled by New Age Islam News Bureau
URL: https://www.newageislam.com/islamic-world-news/muthappan-theyyam-religion-abaya-hijab-muslim/d/126442
--------
Your Religion Does Not Make You Different, You Are Not an Outsider, Come Here, Says Muthappan Theyyam to a Muslim Woman in a Black Abaya and Hijab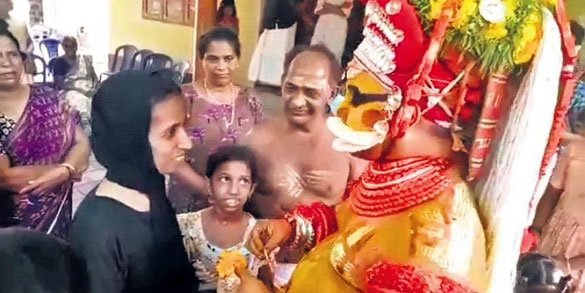 M T Ramlath interacting with the Muthappan Theyyam at Padna Kadappuram
----
24th February 2022
By George Poikayil
KASARAGOD: MT Ramlath, clutching a Rs 20 note in her sweaty hand, was hesitantly standing in a crowd of devotees before the Muthappan Theyyam. Balakrishnan PV, her next-door neighbour at Padna Kadappuram in Valiyaparamba Panchayat, organised the Theyyam ritual in his house as part of a commitment he made to the deity.
The homemaker, who barely made ends meet, just wanted to offer the Rs 20 to the deity and scoot. But seeing the woman in the black Abaya and hijab, the Muthappan Theyyam called her to the front. The next two-and-a-half minutes changed her life as the interaction between the Theyyam and the woman was recorded and shared on social media by KV Shaju, an electrician and relative of Balakrishnan. "I did not know that I was being recorded," said Ramlath.
Shaju said he shared the video because it showed the syncretic culture of his village. The Muthappan Theyyam, considered the personification of Lord Vishnu and Lord Shiva, is one of the most liberal deities in Malabar. His shrines, called Madappura, are open to people from all cultures and castes. In the Muthappan Madappura in Kannur's Parassinikadavu —the most important of all Muthappan shrines — one can see dogs lazing inside along with devotees.
When the Muthappan Theyyam at Balakrishnan's house saw Ramlath, he said: "You are not an outsider. Come here. Did you think you are different because of your religion or caste?" Ramlath can be seen shaking her head to say no. "Are you happy? What do you have to tell Muthappan?" Ramlath broke down while she whispered her troubles to the Theyyam. The empathetic Theyyam held her hands and asked her not to cry. "You must be wondering you pray five times a day and follow the tenets of Islam and yet why you are not getting lasting happiness in this world. Hold tight to your faith," said Theyyam.
Ramlath's husband Abdul Kareem lost his job as a cook in a restaurant in Mumbai two years ago. They have a son and two daughters in classes 9, 7, and 4. "After the video went viral, many people have come forward to help us. They also appreciate me. But a few narrow-minded people criticise me, too," she said. "But I am not bothered," she said.
Sani Peruvannan, a member of the Vannan Scheduled Caste community who incarnated as Muthappan Theyyam, said people from all faiths came to the deity. "But this is the first time my video was shot. And since then, my phone has not stopped ringing," he said. He used to teach drawing in Chinmaya Vidyalaya in Nileshwar before he followed in his father's footsteps to become a full-time theyyam artist.
Anil Kumar K, Nileshwar block Panchayat member from Valiyaparamba division, said festivals in the temples in his island Panchayat are organised and funded by both Muslims and Hindus. "For example, Muslims are part of the festival organising committee of Vishnumoorthy temple at Oriyakav in Mavilakarapuram," he said.
In February 2017, committee members of Sree Padna Mundya Temple razed a part of the temple's compound wall to make space for Jamaat-e-Islami Hind to organise its district meet. "The interaction between people of both faiths is high here and so is the trust between them," said Anil Kumar.
Source: New Indian Express
Please click the following URL to read the text of the original story:
https://www.newindianexpress.com/good-news/2022/feb/24/help-pours-in-for-kerala-muslim-woman-as-her-meet-with-muthappan-theyyam-goes-viral-2423044.html
--------
Pakistan Council of Islamic Ideology Declares Violence over Blasphemy Allegations against Principles of Islam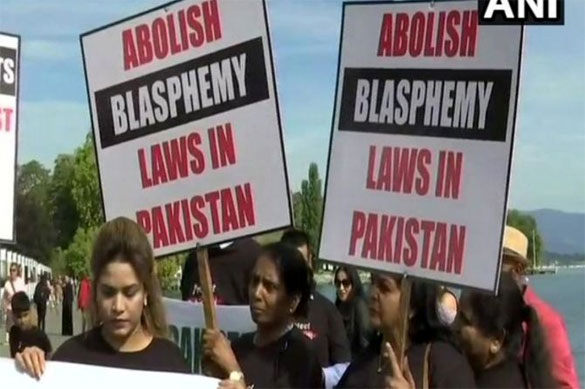 Image used for representational purpose only. Photograph: ANI Photo
-----
Javed Hussain
February 23, 2022
The Council of Islamic Ideology (CII) has declared violence against a person on allegations of blasphemy contrary to Shariah and Islamic principles, according to a statement issued by the forum, which has also suggested the constitution of a national commission that would make recommendations for preventing such incidents.
The statement was issued after a CII meeting presided over by the body's chairperson, Dr Qibla Ayaz.
It said the participants of today's meeting revisited the discussion of a CII meeting on December 20, 2021, which was called over the Sialkot lynching incident in which Sri Lankan factory manager Priyantha Kumara was tortured to death and his body set on fire by a mob over allegations of blasphemy.
The need for improving the judicial system to prevent the recurrence of Sialkot-like incidents was stressed in the December 20 meeting.
In today's meeting, CII members "again declared that subjecting any person to violence on allegations of dishonouring religion, desecration of the Holy Quran and Namoos-i-Risalat was against Shariah, inhumane and contrary to Islamic principles", the statement said.
Council members called for taking to task the elements involved in the Sialkot lynching at the earliest so that "the nation's confidence in the law and judicial system is restored". In this regard, they further pointed out that the "bigger issue is that of implementation of the law and uncertainty about [the suspects] being punished".
The participants also expressed concerns over similar incidents in the recent past, particularly referring to the Khanewal lynching as well as violence in Swabi and Kahror Pacca.
"This meeting once again staunchly condemns such incidents and expresses deep sorrow over them. Such brutal torture by a violent mob is neither logical nor in line with the injunctions of the religion," the statement read.
It added that CII members suggested that ahadith and verses of the Holy Quran pertaining to humanity and the protection of lives and properties be displayed with translation in mosques, imambargahs, monasteries and educational institutions.
They further recommended that timings be fixed for discussion on such verses and ahadith on media platforms, especially television programmes.
"This special meeting suggests to the government that a national commission be formed, with psychologists and experts of sociology, law and religion as its members, that will make short-term and long-term recommendations for the prevention of such incidents (that involve violence over blasphemy allegations) so as to end them," the statement said. "This commission will also make recommendations for improving the nation's behaviour."
The CII further called for measures to restore the traditional family system, that it said was on a decline due to various national and international factors.
The council also appreciated the inclusion of Paigham-i-Pakistan — a fatwa against terrorism — in parliament's agenda and said the provincial assemblies should follow suit.
After the meeting, Dr Ayaz addressed a press conference, where he reiterated the CII's suggestions and views shared by it members.
He said that delays in the punishments of actual culprits guilty of disrespecting the Prophet (Peace Be Upon Him) was giving rise to incidents that took place in Sialkot and Khanewal, and subjecting any person to violence over blasphemy allegations was against Shariah.
Dr Ayaz again stressed that culprits of the Sialkot incident be punished at the earliest.
Source: Dawn
Please click the following URL to read the text of the original story:
https://www.dawn.com/news/1676647/cii-declares-violence-over-blasphemy-allegations-against-principles-of-islam
--------
China Walking In Footsteps Of Taliban, Destroying Tibetan Culture: Expert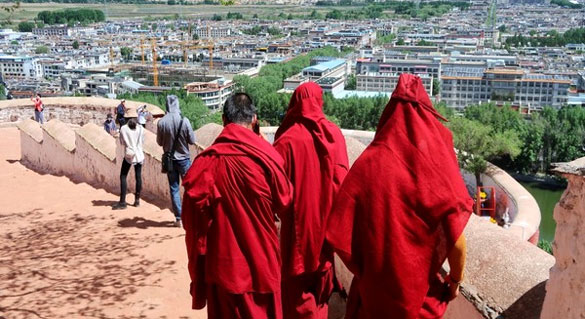 Representative Image
----
24 February, 2022
Beijing [China], February 24 (ANI): Brahma Chellaney, a strategic expert, says that China is walking in the footsteps of the Taliban saying that the destruction of two massive Buddha statues built in the sixth century by China is similar to the destruction of numerous religious artefacts in Afghanistan by Taliban.
China is putting efforts to do every bit to restrain Tibetans from exercising their rights. Chinese authorities have switched Tibetan language schools to Chinese. They are aiming to cut Tibetans off their ancient traditions, reported Tibet Press.
Recently, they demolished a 99-foot statue of Lord Buddha in the Tibetan region of Sichuan. Chellaney compared the unfortunate incident to the Taliban destroying the Bamiyan Buddhas in 2001.
Demolition of the two historic and giant 15th-century statues in Afghanistan had sent shock waves across the world, he said adding that China is walking in the footsteps of the Taliban.
Even after gross human rights violations, the International Olympic Committee has assented to let China host the Olympics following which the event has attracted widespread criticism and profound concerns by the global powers, reported Tibet Press.
Many activists fighting for human rights have blamed the IOC for supporting China, which is "committing atrocities against ethnic minorities".
"Despite well-documented evidence of systematic rights violations by China, the IOC chose to place profit over people," the Tibetan exile group stated. Tibetan spiritual leader the Dalai Lama has even equated Beijing's rule with "cultural genocide".
The human rights violations in the Xinjiang region have gained much global attention. Since 2014, nearly 1 million Uyghurs and other Turkic communities, which mainly practise Islam, have been placed in "re-education" centres. Many are deployed as forced labour in Xinjiang and other places. The last decade under Chinese leader Xi Jinping has been especially troublesome. (ANI)
Source: The Print
Please click the following URL to read the text of the original story:
https://theprint.in/world/china-walking-in-footsteps-of-taliban-destroying-tibetan-culture-expert/845077/
--------
Cambodian PM, Hun Sen, Wants To Appoint Cambodian Muslims To Higher Office To Promote Harmony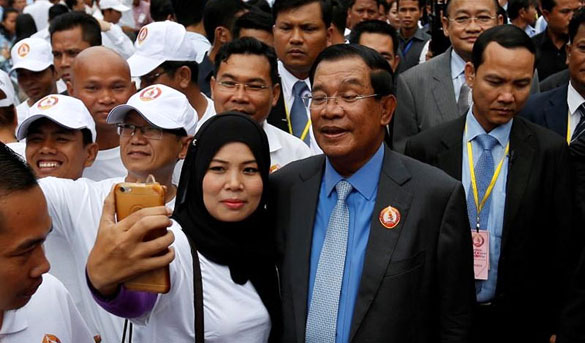 Reuters/ Hun Sen wishes peace for Ramadhan
-----
February 24, 2022
Cambodian Prime Minister Hun Sen wants to appoint at least one Khmer Muslim as a deputy governor for each province, city and district in order to coordinate and promote harmony among the country's ethnic groups.
Speaking at an annual meeting of the Ministry of Interior, Hun Sen also urged Muslim students and government officers to pursue high-ranking positions within his administration.
Muslims are largely under-represented in Cambodian political life, with most living along the Mekong River in six of the country's 24 provinces; Kampong Cham, Kratie, Kampong Thom, Pursat, Kampot and Phnom Penh.
Those provinces were singled out by Hun Sen as he spoke to hundreds of delegates from the Interior Ministry.
Relations between predominantly Buddhist Cambodians and its Muslim population have improved dramatically since the end of the 30-year civil war in 1998, with senior Islamic leaders providing a highly influential role in finding justice for Pol Pot's victims at the Khmer Rouge genocide tribunal.
The ultra-Maoists had singled out Muslims and ethnic Vietnamese for extermination under their brutal rule of Cambodia between 1975 and 1979 when two million people perished. Of them, about 100,000 were Khmer Muslims, also known as Muslim Chams.
Relations were again tested following the Sept. 11, 2001, strikes on New York and Washington by Osama bin Laden's al-Qaeda network, resulting in the 9/11 Wars fought against Islamic insurgencies across the Middle East and in Southeast Asia.
However, a counter-insurgency program succeeded in thwarting efforts by hardline jihadists, mainly from the Indonesian-based Jemaah Islamiyah, who had tried to infiltrate Cambodia's moderate Muslim population of around 400,000 during the early 2000s.
"A lack of political clout is the major issue currently confronting Cambodia's Muslims. Because they abstain from pork, Muslim Chams rely on fishing the Mekong River for their livelihoods," said one analyst, who declined to be named.
"But fish catches are dreadfully low. The Mekong is overfished and a four-year drought has resulted in many trying to find some kind of employment. Most are still impoverished."
Hun Sen has also sought to improve relations with predominantly Muslim countries such as Turkey in a bid to broaden Cambodia's foreign investment base amid strategic planning for a post-pandemic economic recovery.
In a separate announcement, officials from Turkey and Cambodia met this week, pledging to strengthen economic cooperation between the countries.
"The meeting was aimed to pave the way for Turkish investors and businessmen to explore investment opportunities in Cambodia in areas such as culture, tourism and trade," a government statement said.
"They also underlined the government's strategies to encourage more investors and visitors to the country through bilateral and multilateral free trade agreements and the tourism recovery framework, especially the country's reopening for Covid-19-vaccinated travelers."
Source: UCA News
Please click the following URL to read the text of the original story:
https://www.ucanews.com/news/hun-sen-wants-to-appoint-cambodian-muslims-to-higher-office/96241#
--------
US Forces Relocate Daesh Terrorist from Detention Camps in Syria's Dayr Al-Zawr To Hasakah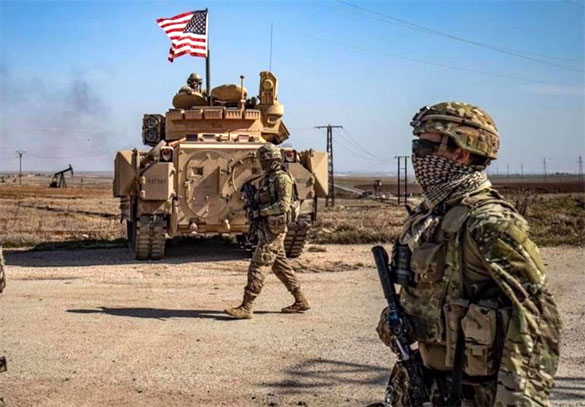 Representative Image
-----
23 February 2022
The US military has reportedly transferred dozens of Daesh Takfiri terrorists from detention camps in Syria's eastern province of Dayr al-Zawr, which are run by allied Kurdish militants of the so-called Syrian Democratic Forces (SDF), to facilities in the neighboring province of Hasakah.
Syria's official news agency, citing local sources speaking on condition of anonymity, reported that American forces relocated scores of the extremists on board heavy-duty inmate transports, and the vehicles were escorted by SDF militants.
The sources added that American occupation forces took strict security measures and closed the road between Dayr al-Zawr and Hasakah for several hours during the evacuation process.
A number of captured Daesh terrorists have already confessed to close cooperation with US military forces stationed at al-Tanf base in the central Syrian province of Homs on carrying out various acts of terror and sabotage.
During confessions broadcast on Syria's state-run television network in May 2020, several terrorists revealed that they were instructed by American forces to target Syrian government troops in and around the ancient city of Palmyra, the Tiyas Military Airbase – also known as the T-4 Airbase, the Shaer gas field as well as nearby oil wells.
"Once a close aide to our commander Hassan Alqam al-Jazrawi came to me and said he was in contact with the Americans at al-Tanf base. The man, whose name was Hassan al-Wali, added it was necessary to target Palmyra and T4 Airbase, and that US forces would provide us with rocket launchers and machine guns, besides financial support, cars and whatever we needed," one of the terrorists said at the time.
He added, "Americans would also launch reconnaissance aircraft to monitor the movements of Syrian army soldiers in Palmyra region, and inform us of their activities."
Syrian army forces block US troops in Hasakah, force them to retreat
Separately, Syrian government troops have intercepted a US military convoy in the country's northeastern province of Hasakah as the occupation forces were attempting to pass through a community in the energy-rich region.
Local sources, requesting anonymity, told SANA that Syrian army soldiers blocked the convoy of four armored vehicles as it was trying to enter the village of Khuwaylid, which lies northeast of the provincial capital city of Hasakah.
The American troops were subsequently forced to turn around and go back in the direction they came from. There were no reports of clashes or injuries.
The US military has stationed forces and equipment in eastern and northeastern Syria, with the Pentagon claiming that the deployment is aimed at preventing the oilfields in the area from falling into the hands of Daesh terrorists.
Damascus, however, says the unlawful deployment is meant to plunder the country's resources.
Former US president Donald Trump admitted on several occasions that American forces were in Syria for its oil.
After failing to oust the Syrian government with the help of its proxies and direct involvement in the conflict, the US government has now stepped up its economic war on the Arab country.
Source: Press TV
Please click the following URL to read the text of the original story:
https://www.presstv.ir/Detail/2022/02/23/677389/US-forces-relocate-Daesh-terrorist-from-detention-camps-in-Syria%E2%80%99s-Dayr-al-Zawr-to-Hasakah
--------
India
'New' mosque faces opposition by Hindu Munnani in Vellore
24th February 2022
VELLORE: Tension prevailed on Sarkar Mandi street on Gandhi road after a group of people in the area opposed the construction of a new mosque on Wednesday. They alleged that the mosque was built without proper permission, and by altering a house overnight. They claimed building a mosque in the area would create friction between people belonging to different religions in the future.
In a petition to the district collector, the Hindu Munnani has alleged that the street has three temples that are 10m and 100m apart from the mosque, and that Hindu festivals and processions happen at the place.
According to police sources, the land, which belongs to a juice bar owner of the Islamic faith, was being used as a storage facility. Recently, they renovated the house and put up the board for a mosque. The locals, mostly belonging to a Caste Hindu community, reportedly opposed this.
Vellore SP S Rajesh Kannan pacified both groups at the spot and hundreds of police personnel and striking force have been deployed on the street. "The place belongs to Muslims who have used it as a personal worshipping centre. Now they have kept the board allowing public worship. The Hindu groups allege the place doesn't have permission. The revenue department is looking at the records," Rajesh Kannan told TNIE.
Vellore RDO Vishnu Priya, too, visited the spot and urged the public to maintain restraint. The district administration has asked both sides to present their views in a meeting. Meanwhile, the Muslim religious leaders and political representatives met the RDO at the collectorate and explained their side.
Source: New Indian Express
Please click the following URL to read the full text of the original story:
https://www.newindianexpress.com/states/tamil-nadu/2022/feb/24/new-mosque-faces-opposition-by-hindu-munnaniin-vellore-2423086.html
--------
Hizbul terrorist arrested with grenade in Jammu
Feb 24, 2022
JAMMU: A Hizbul Mujahideen terrorist was arrested with a grenade during a raid in Jammu's Narwal area on Wednesday. The accused, identified as Shakir Ahmed Naiko, is from south Kashmir's Shopian district.
"Based on intelligence inputs about the movement of some Kashmir-based terrorists towards Jammu for carrying out specific terror activities, special checking was conducted in various areas of Jammu city. While patrolling near the Narwal area, cops spotted a suspect fleeing after seeing them. He was chased and apprehended," said a police spokesperson.
Source: Times Of India
Please click the following URL to read the full text of the original story:
https://timesofindia.indiatimes.com/india/hizbul-terrorist-arrested-with-grenade-in-jammu/articleshow/89783453.cms
--------
AMU to not take part in common test for admissions to central universities
Feb 24, 2022
By Fareeha Iftikhar
The Aligarh Muslim University (AMU) has decided to not to participate in the common entrance test for admission to central universities that will be conducted from the coming academic year, university officials said, asserting that it will maintain the status-quo on its admission policy as the case on its minority status is sub-judice.
The Ministry of Education has already announced that it will conduct a Central Universities Entrance Test (CUET) for admission to all undergraduate and postgraduate courses from academic session 2022-23. CUET, which is envisaged in the National Education Policy (NEP) 2020, was scheduled to start in the 2021-22 academic session, but the government put it on hold in view of the challenges posed by the Covid-19 pandemic.
Several universities, including Delhi University, and Jawaharlal Nehru University, have already decided that their admissions will be through CUET.
However, officials at AMU said that the university has decided not to do this. "We are pursuing a case in the Supreme Court against an Allahabad High Court judgement rejecting minority status to AMU. The Supreme Court granted status quo to AMU. The university will maintain the status quo on its admission policy as the case of minority status is sub-judice," University spokesperson Shafey Kidwai said.
Kidwai said that the proposal regarding CUET was placed before the University's academic council as well. "The council members decided to continue with the existing admission policy till the case is sub-judice. It means AMU will conduct its own admission test like previous years. Article 30 of the constitution grants us that right," he said.
Under Article 30 of the constitution, all minorities, whether based on religion or language, have the right to establish and administer educational institutions of their choice.
In 2005, the Allahabad High Court ruled that AMU was not a minority institution. The University appealed against the order of the single judge bench, but the appeal was also dismissed. In 2006, the Supreme Court granted status-quo to AMU. In January 2016, the NDA government reversed its earlier position and stated that AMU was not a minority institution as it was set up by an Act of Parliament. The case is pending in the Supreme Court.
Meanwhile, Jamia Millia Islamia, another University whose minority status is also sub-judice, is yet to take a decision regarding CUET. Nazim Hussain Jafri, Registrar at the University said, "Minority institutions like ours have some reserved seats and we don't know how they will get affected with the common entrance test. A committee has been constituted to take a decision in this regard. We will soon place the matter in our academic council."
Officials at the university, however, said that it might also skip the common entrance test this year. "There is still no consensus over the issue. So probably this year at least the University may not participate in the common entrance test," said a senior faculty member, requesting anonymity.
While Jamia reserves 50% of their seats for minority candidates, in AMU, it is reserved for internal candidates.
Source: Hindustan Times
Please click the following URL to read the full text of the original story:
https://www.hindustantimes.com/india-news/aligarh-muslim-university-to-not-take-part-in-common-test-for-admissions-to-central-universities-101645641533062.html
--------
Pakistan
Pakistan: Sindh forming special protection force for places of worship of minorities
Feb 23, 2022
AMRITSAR: Pakistan's Sindh province has begun setting up a dedicated security unit for the protection of religious places of minorities, following an increase in the incidents of vandalism and sacrilege in Hindu temples and Sikh gurdwaras in the recent days.
Lal Chand Malhi, a Member of National Assembly of ruling Pakistan Tehreek-e-Insaf said on Wednesday that the special protection force for minorities would look after the security of temples, gurdwaras, churches and places of worship of other minority communities in the Sindh province.
The decision is in line with a historic 2015 judgment by the former Chief Justice of Pakistan, directing all the provinces to form a special protection force for the sacred places of minority communities.
Malhi said that for the proposed force of 5,000 personnel, fresh recruitments were being made.
Hailing the formation of the special protection unit for the religious places of minorities, Ranjit Singh, a Member of Provincial Assembly representing Jamiat Ulema-i-Islam, said the force was being formed not only in Sindh but also in Khyber Pakhtunkhwa province. "Members of minority communities were also being inducted in the force since they knew the moral code of conduct for respective religions."
Reacting on the formation of the new force, general secretary of All Pakistan Hindu Panchayat, Ravi Dawani, said it would be fulfilment of a long awaited demand of the minority communities.
Source: Times Of India
Please click the following URL to read the full text of the original story:
https://timesofindia.indiatimes.com/world/pakistan/pakistan-sindh-forming-special-protection-force-for-places-of-worship-of-minorities/articleshow/89781053.cms
--------
Pakistan PM Imran Khan arrives in Moscow on two-day visit amid Ukraine crisis
Feb 24, 2022
MOSCOW: Pakistan prime minister Imran Khan landed in Moscow late on Wednesday on a two-day visit amid the ongoing crisis at the Ukraine-Russia border.
This comes as tension continues to escalate after Russia's recognition of eastern Ukrainian enclaves of Donetsk and Luhansk. As a response to Moscow's actions, several Western nations hit Russia with fresh sanctions for its military deployment into parts of eastern Ukraine.
Imran Khan's ill-timed visit, the first such trip by a Pakistani PM in 23 years, aims to push for the construction of a long-delayed, multi-billion-dollar gas pipeline to be built in collaboration with Russian companies.
The Pakistan Prime Minister is also scheduled to meet Russian President Vladimir Putin during his visit and discuss issues concerning economic cooperation.
Earlier, Pakistani media reports had said that Moscow and Islamabad were in talks to finalise a plan for Russian President Vladimir Putin's visit this year.
A Pakistani newspaper said Putin's visit was under discussion for the last two years but could not materialise because of several reasons, including the Covid-19 pandemic. Moscow also wants that there must be "big-ticket projects" that the Russian president would announce.
Before Imran Khan's departure, a Pakistani geopolitical analyst had pointed out that the visit did not come at a suitable time.
Analyst and Balochistan politician Jan Achakzai noted that Russia didn't seek Pakistan's support, nor did the US stop Pakistan from going to Moscow. He also said that Russia is not going to give Pakistan anything because Moscow losing India for the sake of Islamabad's support is not an option.
Source: Times Of India
Please click the following URL to read the full text of the original story:
https://timesofindia.indiatimes.com/world/pakistan/pakistan-pm-imran-khan-arrives-in-moscow-on-two-day-visit-amid-ukraine-crisis/articleshow/89788863.cms
--------
Pakistan security forces kill 10 terrorists in Balochistan province
Feb 23, 2022
KARACHI: At least 10 terrorists were killed on Wednesday in an operation by the security forces in Pakistan's remote region of southwestern Balochistan province, the Army said in a statement on Wednesday.
Based on information of the presence of terrorist camps and hideouts in the Hoshab area, security forces conducted an operation to apprehend externally sponsored enemies of peace in Balochistan.
"Once the troops started cordoning the area, Terrorists tried to flee their hideout and opened indiscriminate fire whereby, a heavy exchange of fire ensued," the Inter-Services Public Relations (ISPR) said in a statement.
The firing resulted in the killing of 10 terrorists, including one of their commanders.
These terrorists were involved in recent firing and attack on security forces incidents in Turbat and Pasni areas of the province, according to the Army, adding a huge cache of arms and ammunition was also recovered which was planned for use against security forces.
"Operations to eliminate perpetrators of terrorist acts will continue and they will not be allowed to sabotage peace, stability and progress of Balochistan," the statement said.
Balochistan has witnessed low-level insurgency for years. It is led by Baloch nationalists who accuse the federal government of stealing the mineral wealth of the province, a charge rejected by Islamabad.
Source: Times Of India
Please click the following URL to read the full text of the original story:
https://timesofindia.indiatimes.com/world/pakistan/pakistan-security-forces-kill-10-terrorists-in-balochistan-province/articleshow/89782440.cms
--------
Pakistan PM Imran Khan arrives in Moscow on a two-day historic trip
Feb 23, 2022
At the invitation of Russian President Vladimir Putin, Pakistani Prime Minister Imran Khan arrived in Russia on Wednesday for a two-day official visit.
Imran Khan is accompanied by a delegation that includes federal ministers Shah Mahmood Qureshi, Chaudhry Fawad Hussain, Asad Umar, Hammad Azhar, Abdur Razzak Dawood, Moeed Yusuf, and Amir Mahmood Kiani, as well as Commerce Adviser Abdur Razzak Dawood, National Security Adviser Moeed Yusuf, and Commerce Adviser Abdur Razza.
Igor Morgulov, Russia's Deputy Foreign Minister, and other high-ranking Russian officials greeted Prime Minister and the Pakistani delegation.
The visit will culminate with a bilateral summit.
According to the Foreign Office, the two leaders will discuss the whole range of bilateral relations, including energy cooperation, during the summit meeting.
The visit comes as Pakistan has grown closer to Beijing as the centrepiece of Chinese President Xi Jinping's Belt and Road Initiative.
Its historic connections with the United States, a vital ally during the Cold War, have cooled.
On the other side, Pakistan's prime minister warned that a conflict between Russia and the West led by the United States would be devastating for developing countries like Pakistan.
Khan and Putin will meet for the first time since former Prime Minister Nawaz Sharif visited Russia in 1999.
Source: WIO News
Please click the following URL to read the full text of the original story:
https://www.wionews.com/south-asia/pakistan-pm-imran-khan-arrives-in-moscow-on-a-two-day-historic-trip-455792
--------
10 terrorists killed in Balochistan operation to apprehend 'externally sponsored enemies': ISPR
Naveed Siddiqui
February 23, 2022
Ten terrorists were killed on Wednesday after security forces conducted an operation to "apprehend externally sponsored enemies of peace in Balochistan", the military's media affairs wing said.
Security forces conducted the operation based on information regarding the presence of the terrorists' camp and hideout in the province's Hoshab area, the Inter-Services Public Relations (ISPR) said.
"Once the troops started cordoning [off] the area, [the] terrorists tried to flee their hideout and opened indiscriminate fire whereby a heavy exchange of fire ensued," the statement said.
The military said that 10 terrorists, including Commander Master Asif alias Mukesh, were killed in the exchange of fire, adding that the militants were involved in recent firing incidents and attacks on security forces in Turbat and Pasni.
"In addition, a huge cache of arms and ammunition was also recovered which was planned for use against security forces," the ISPR said.
"Operations to eliminate perpetrators of terrorist acts will continue and they will not be allowed to sabotage peace, stability and [the] progress of Balochistan," the statement concluded.
Source: Dawn
Please click the following URL to read the full text of the original story:
https://www.dawn.com/news/1676659/10-terrorists-killed-in-balochistan-operation-to-apprehend-externally-sponsored-enemies-ispr
--------
South Asia
Taliban publicly flogs man accused of adultery
Feb 23 2022
New Delhi, Feb 23 (IANS): A man accused of adultery has been publicly whipped by the Taliban in Afghanistan's southern Uruzgan Province, RFE/RL reported.
Several residents of provincial capital Tarin Kowt said that the man was flogged in the city's central square on February 21 in the morning, the report said.
Tarin Kowt resident Noor Agha, who witnessed the public flogging, said that the Taliban brought a man to the town square in a military vehicle.
They later announced the man's name and location over loudspeakers, saying they had arrested him in the Chora district for allegedly having extramarital sexual relations with a woman, RFE/RL reported.
According to Agha, the Taliban said the "public punishment is meant as a lesson."
Sultan Muhammad, a 65-year-old eyewitness, told Radio Azadi about the humiliation of the victim.
"The accused was humiliated, and I do not think he would be able to live a dignified life like anyone else in society after this," Muhammad said.
Photos and videos obtained show hundreds of people attended the flogging.
Source: Daiji World
Please click the following URL to read the full text of the original story:
https://daijiworld.com/news/newsDisplay?newsID=929915
--------
Differences continue to persist between Taliban, Pakistan over Durand Line
23 February, 2022
Kabul [Afghanistan], February 23 (ANI): Differences between the Taliban and Pakistan continue to persist over the issue of the Durand Line.
In this context, Pakistan Consulate in Jalalabad (Nangarhar Province), while highlighting the situation at Ghulam Khan border crossing in Khost-North Waziristan area over the past few days, conveyed to the Pakistan Ministry of Foreign Affairs on Sunday that the Taliban had removed the Pakistani flag from a border post and deployed humvees and armed personnel on the zero line in contravention of the border conventions, as part of its "pressure tactics", reported local media.
In response, Pakistan issued warnings to the Taliban of possible counter-action and trade was suspended for a few days.
The issue was later resolved with the intervention of traders and tribal elders from both sides, said the local media.
However, bilateral relations between Pakistan and the Taliban are turning hostile over the issue of Durand Line and cross-border "terror activities" of groups like the Tehreek-e-Taliban Pakistan (TTP) against Islamabad.
Pakistan intends to bring the tribal areas near the Durand Line under its control and complete its Durand barbed wire fencing.
Following deadly attacks on Pakistani troops, the Pakistani military has launched an operation along the Durand Line near Afghanistan.
According to the Military analysts, Pakistan has not changed its bilateral policy and the country wants to get rid of international criticism, which has been accused of training and financing terrorism for years.
In the past two months, there have been clashes between Afghan and Pakistani forces along the Durand Line in Nangarhar, Kandahar, Nimroz, Kunar and Khost provinces over the construction of barbed wire fences, some of which have been fenced off by the Islamic Emirate of Afghanistan.
Source: The Print
Please click the following URL to read the full text of the original story:
https://theprint.in/world/differences-continue-to-persist-between-taliban-pakistan-over-durand-line/844165/
--------
Media: Islamic Emirate Spokespersons Not Providing Information
February 24, 2022
Journalists blamed the spokespersons of the Islamic Emirate for not providing information, saying that access to information has been restricted.
The journalists said that the spokespersons of the Islamic Emirate have not been cooperating with the media and providing access to information for the past two weeks.
"This makes obstacles for the media. The government should be responding to the media so that the people know about the situation," said journalist Jawad Etimad.
Media watchdogs also expressed concerns over the restriction of access to information, and urged the government to share the information with the media community.
"Based on an appropriate program, they should provide information to the media and put an end to the concerns of the people and media community over access to information which is very slow now," said Masror Lutfi, head of the Afghanistan National Journalists' Union.
However, the Islamic Emirate's Spokesman Zabiullah Mujahid earlier announced that the mass media law which was drafted by the previous Afghan governments is valid.
"The spokespersons are not ready to provide us with a clip. They make excuses that they are not available or sometimes they see the messages on WhatsApp but don't reply to it," said Sahib Deen Samim, a journalist.
Source: Tolo News
Please click the following URL to read the full text of the original story:
https://tolonews.com/afghanistan-176845
--------
Southeast Asia
Don't turn conversion case into this vs that religion
A. Kathirasen
February 24, 2022
It was nice to see a mother reunited with her three children again after so much heartache and pain. The picture carried by FMT of Loh Siew Hong and her children having lunch together at a restaurant for the first time after three years was heart-warming.
Those of us who have children will be able to sympathise or feel, to some extent, this moment of coming together again. For any parent, their children are the most precious of gifts.
To be separated from your child – and knowing that even though they are near you can't be with them – is probably the greatest agony in the world.
High Court judge Collin Lawrence Sequerah, in ordering the children's immediate release on Feb 21, also released a mother from her agony.
This issue, therefore, is a human issue. It is about a mother being separated from her children. It is not about any religion and it should not be seen as a contest between religions. It is also about how effective or unbiased law enforcers are and how much respect people have for the courts.
The court, in granting Loh's habeas corpus application seeking the release of her twin girls aged 14 and her son aged 10, noted that a High Court order of March 31, 2021 had given Loh sole custody, care and control of the three children.
"There was also an earlier interim ex-parte order dated Dec 20, 2019, granting sole custody, care and control of her children to the applicant.
"The court orders still stand and are still valid. The court orders are not to be treated with impunity in the face of contempt of court. By reason that the court orders still stand, I, therefore, allow the application of writ of habeas corpus," Sequerah said.
According to Loh, she had been separated from her children for three years after seeking shelter following domestic abuse. She obtained a divorce from her husband Nagashwaran Muniandy last year and was granted full custody of the three children.
She claimed her children had been left in the care of preacher Nazirah Nanthakumari Abdullah and that they had been converted to Islam without her knowledge. The children were sent to the Welfare Department's home pending the court decision on her writ of habeas corpus.
Among those who welcomed the court decision was the Women's Centre for Change (WCC) which had previously given shelter to Loh.
WCC executive director Loh Cheng Kooi was quoted in the media as saying it was unfortunate that Loh had to "go through so much delay and hassle to obtain what is rightfully hers, given that she had already been legally awarded full custody of her children".
Which is true. If the court's March 31, 2021 order, or the Dec 20, 2019 interim order, had been respected and the children handed over to the mother, there would have been no need for her to apply for a writ of habeas corpus or for the matter to become a religiously-tinted public issue.
Was it the failure of the police? Was it the failure of the Islamic religious authorities? Was it the failure of the home which had been taking care of the children? Or was it someone else's or some other agency's fault?
If the authorities can identify the source of this problem, they can prevent similar future incidents from causing further divisions among Malaysians.
People have been talking for some time now about a seeming reluctance on the part of the authorities to fully respect decisions of the court when these involve issues deemed to be "sensitive", and particularly so when it involves conversion cases.
I agree with the call by the G25 group of former top civil servants – one of the sanest groups in the nation – to the attorney-general to make a public statement calling on everyone to uphold the Federal Constitution and obey decisions of the Federal Court and the High Court.
At the very least, the AG should remind the police to act without fear or favour and to implement decisions of the courts. By doing this, the authorities can prevent issues turning poisonous.
G25 also said, as the Federal Court had ruled in 2018 that both parents must consent to the conversion of a child to any religion, there should not be any more debate about the definition or interpretation of the law on unilateral conversion.
"This makes any conversion of children without the consent of both parents unconstitutional and invalid," G25 said. "Invalid unilateral conversions of children must be revoked by the religious authority concerned."
Child commissioner Noor Aziah Awal of the Human Rights Commission of Malaysia, or Suhakam, in welcoming the court's decision, reminded the authorities that the separation of children from their parents violated the United Nations Convention on the Rights of the Child.
She appealed to all parties concerned to abide by the court's decision and allow the children to remain with their mother.
The respected Islamic intellectual, Syed Farid Alatas, a sociology professor at the National University of Singapore, told FMT: "Unilateral conversion is not just wrong because it goes against the Federal Constitution, but it's wrong by any universal standard of morality. It's unethical because children are not in a position where they can make such decisions."
He added that taking "children out of the religion that they were born into, without them having the age and the maturity to make decisions, is simply unethical".
I agree, and so would, I think, right-thinking Malaysians.
Perlis Mufti Asri Zainul Abdiin said after the court's decision that he was concerned Loh might reverse the unilateral conversion of her children.
I have noticed comments and video clips on social media that indicate some individuals and groups are seeing the issue as a contest between two religions. That's dangerous.
It is not about this versus that religion; it is not about my religion being bigger than yours; it is not about saving the "honour" of this or that religion. And no one should turn it into such.
This is a case of a mother being separated from her children – pure and simple. It is a case about the rights of an individual and that of minor children – pure and simple. It is a case of upholding justice – pure and simple.
Source: Free Malaysia Today
Please click the following URL to read the full text of the original story:
https://www.freemalaysiatoday.com/category/opinion/2022/02/24/dont-turn-conversion-case-into-this-vs-that-religion/
--------
41,500 Square Feet Mosque to Be Opened By Ramadan in Male, Maldives
February 24, 2022
The President's Office, Mabrook Azeez, has said that the King Salman Mosque constructed in the Maldives' capital, Male' City, will be opened for holy Ramadan this year.
A large percentage of the mosque's development was completed during former President Abdulla Yameen Abdul Gayyoom's administration. The current administration has given several tentative dates on which the mosque would be opened, but the mosque continues to remain closed.
Islamic Minister Dr. Ahmed Zahir had previously said the mosque could be opened by Ramadan if the budget required to arrange necessary equipment and resources is obtained.
The Finance Ministry has informed the Islamic Ministry that the budget had been allocated for the purpose. The Islamic Ministry has announced employment opportunities at the mosque.
The almost-complete mosque stands on the outskirts of Male' city overlooking the Sinamale' Bridge. Spread over a total area of 41500 square feet, the mosque can accommodate 10,000 people simultaneously.
Four elevators have been installed at the mosque for easy access. The ground, first and the second floor of the five-story building, are allocated for praying.
While the mosque's grounds can accommodate 6000 worshipers, 4000 people can simultaneously use the first and second floors of the mosque.
Source: ABNA24
Please click the following URL to read the full text of the original story:
https://en.abna24.com/news//41500-square-feet-mosque-to-be-opened-by-ramadan-in-male-maldives_1232823.html
--------
Payment increase for 'jurunikah', witnesses in Penang from March 1, says state Islamic Religious Affairs Dept
23 Feb 2022
GEORGE TOWN, Feb 23 — The Penang Islamic Religious Affairs Department (JHEAIPP) today confirmed the increase in the goodwill payment rate (kadar saguhati) for 'jurunikah' (person who solemnises the marriage) and two witnesses in the state starting March 1.
JHEAIPP director Datuk Mohd Zakuan Zakaria said the payment was increased from RM120 to RM250 overall for each marriage solemnisation, which is the new rate after 15 years.
"The increase from RM120 to RM250 involves jurunikah, which was previously RM100 for the jurunikah and RM10 each for the witnesses, and starting March 1, the new rate will be RM150 and RM100 (RM50 each) respectively.
He said the old rate has been used for 15 years which is too long, adding that the duties of the jurunikah and witnesses are not easy because they have a role and responsibility to ensure that the marriage ceremony runs smoothly and was shariah-compliant.
Source: Malay Mail
Please click the following URL to read the full text of the original story:
https://www.malaymail.com/news/malaysia/2022/02/23/payment-increase-for-jurunikah-witnesses-in-penang-from-march-1-says-state/2043430
--------
Converting to Islam not an escape route for child custody
February 23, 2022
Converting underage children to another religion should not be done unilaterally by their parents and this has been decided by the highest court in the country. The consent of both parents is needed.
In most cases, a parent will convert to Islam then unilaterally convert his or her children with the intention of having custody over them, to flee from his or her contractual knot, and in the case of men, to avoid paying alimony or maintenance to the deserted spouse.
They feel that they can seek refuge in the Shariah court to fulfil this purpose.
Social implications
Anecdotal evidence has shown that a man converts to Islam in this country for three reasons.
The first category involves those who are truly sincere and love the religion. Not many men, though, fall into this category.
The second category involves marriage. Love is blind and when a man falls in love with a Muslim girl, he converts to marry her. Most converts in this country fall under this category. Many stay in the religion for a lifetime but there have also been cases where they leave the religion if the marriage ends in divorce.
The children in this situation would become the victims – they may end up being a "social disgrace" by having parents professing different religions. This is quite a stigma in Malaysian society.
The third category is the most dramatic. It involves "play-acting". When the man finds that his marriage is no more compatible, he conveniently decides to convert to Islam. He may have three reasons to do so.
First, he would claim that he "loves" the religion. Only God knows his intention, though.
Second, he would want to have custody of the children and to accomplish this he quietly converts the children to Islam without their mother's knowledge. He probably senses that "Muslim law" would favour him in this situation.
Third, he wants to avoid paying alimony to his former wife and refuses to give her a designated portion of the matrimonial property. He believes that when he becomes a Muslim, he has no more responsibility towards his former wife, or perhaps in some cases, his children, too.
There is always a likelihood that a convert may leave the religion after accomplishing his needs. Many of these "actors" have in the past left the country and even left their newfound religion after seeking redress for their wanton desires by exploiting religion.
This sticky situation is indeed giving a bad name to Islam in the eyes of non-Muslims and women in general.
In the case of non-Muslim women who sense that they would lose their children, many were coaxed – surprisingly even by Muslim women and NGOs – to leave the country where they will have full custody of their children.
Malaysia probably is the only country in the world where some parents make use of religion to shirk responsibility over alimony to the deserted spouse and the children. And religion is abused to claim custody of children.
The aggrieved party who has no avenue to argue on this point of law or go through the tedious legal processes – at times with no financial resources – would simply take the drastic move to flee with the children and leave the country.
And in this case, court decisions end up becoming mere academic exercises. Money is wasted on lawyers and time is wasted on fiery arguments in a court of law, all in a fruitless effort.
It affects the children psychologically more than anything else.
Escaping responsibility
The custody of children cannot be solely based on religious grounds. The emotional bond between a child and the mother or father should also be of prime concern. For that matter, a mother's love for her child has no frontier.
A mother will battle to save her child from a lion's jaws. This strength of love is a divine attribute found in a mother. This impulse cannot be decoded by any man-made law.
Thus, separating a child from the mother is just inhuman. It is simply insane to separate a caring mother from her own child. It does not even happen in the animal kingdom.
In a multiracial country, there must be apposite decisions on converts and their matrimonial responsibilities.
The authorities should affirm a standard legal system fair to all – Muslims and non-Muslims – and educate the people to accept reality in life as much as having faith in God. Sectarian religious laws are not always consistent and may not suit this cause as they come with too many interpretations.
Arguably, abandoning the spouse and immediately converting to another religion can be interpreted in many ways.
Is the conversion due to incompatibility and disharmony or is it because of one's earnest desire to convert and faith in the newfound religion? Or is it a flimsy excuse to escape from one's marital problems and wriggle out of responsibilities?
When a parent who has marital problems or who is irresponsible towards his or her spouse seeks a way out of the mire by expediently converting to another religion to seek redress, this is synonymous with deceitfulness. To be conniving and devious is against the tenets of every religion.
Unfortunately, there are those in society who make use of religion to get away from their marital responsibilities. There are also a small number of "irrational" groups in society who condone this act – citing various superfluous and sentiment-driven reasons to justify their arguments. More often than not, these views are irrational and at times politically shaded.
From the Islamic point of view, however, there is no form of coercion to make a person convert to the religion. The elemental and unswerving intention to convert or seek faith in Islam should come from within oneself, when shown the path (hidayah) and not at all predisposed by ulterior motives or selfish benefits.
Coercion can be in the form of bad faith or intent. There is no coercion in Islam, though.
No parent should take refuge in a religion to escape the law. No parent should use religion to shirk their responsibilities towards their spouse and children. No parent should use religion as a pretext to gain custody of a child.
This should be the ideal legal framework in a multiracial and multi-religious society.
Again, politics in religion has cloaked and shammed the many issues of matrimonial disputes between Muslims and non-Muslims in this country.
Supreme legal system
The country's laws on the rights to convert the religion of a child are seen to be fair when this matter is resolved in the civil courts where there exists a consistent decision-making process.
A parent cannot unilaterally convert a child to another religion. It has to be with the consent of both mother and father of the child.
Since religious authorities do not seem to be consistent in their views on this issue, they need to respect and adhere to the existing supreme legal system of the country and the civil courts where matters of this nature can be resolved amicably.
To quote Syed Akbar Ali, a Quranist and prominent blogger, "This is a case of different religious interpretations. The interpretation of religion seems to be bound or defined by political jurisdiction – it may be different from one state to another state, from one country to another country. And there are certainly differences in interpreting the religion according to the sects.
Source: Free Malaysia Today
Please click the following URL to read the full text of the original story:
https://www.freemalaysiatoday.com/category/opinion/2022/02/23/converting-to-islam-not-an-escape-route-for-child-custody/
--------
Attacks dampen hopes for peace talks in southern Thailand
February 24, 2022
An explosive device placed by suspected separatists at a level crossing in the Muslim-majority Thai province of Yala injured two policemen in the latest terror attack in the restive region.
The bomb was detonated on Feb. 23 just as a police patrol unit comprising an armored pickup truck and two motorcycles passed by, causing two officers to suffer non-life-threatening injuries.
A defense volunteer in a village of Narathiwat, another one of the restive provinces, was shot dead on the same day as he was riding his motorbike.
No suspects have as yet been identified but defense volunteers are routinely targeted by suspected insurgents.
Bombings and other attacks by insurgents who seek to achieve independence from Thai rule for four Muslim-majority provinces bordering Malaysia have been common in recent weeks.
On just one day late last month, Jan. 28, insurgents set off 13 explosive devices in the town of Yala. Among the targeted locations were convenience stores, shops, a market, an animal hospital and a car repair shop, but there were no fatalities, according to police.
The next day police killed two suspected insurgents following a 20-hour siege in Narathiwat.
The continuing violence has dampened hopes for the success of ongoing peace negotiations, which are expected to resume next month in Malaysia between Thai officials and the representatives of Muslim separatist groups.
Hardline separatists have previously said that they would accept no political resolution short of full independence for four southernmost Muslim-majority provinces that were annexed in the early 20th century by what was then the Kingdom of Siam.
Despite a decades-long project by the Thai state to assimilate local Muslims, many ethnic Malays in the region have not reconciled themselves to being subjects of the Kingdom of Thailand.
Outright hostilities erupted in 2004 and violence has remained a feature of life ever since in the country's southernmost provinces, taking well over 7,000 lives and causing some 14,000 injuries.
Rights advocates have accused both insurgents and security forces of committing rights violations, the former by targeting civilians and the latter by engaging in extrajudicial killings, arbitrary arrests and torture.
In one prominent case, a court in the province of Songkhla is conducting an inquest into the death of a suspected insurgent while in police custody in 2019.
A military-appointed panel earlier cleared Thai army officials of any role in the 34-year-old man's death, saying an autopsy report found no signs of torture or foul play and attributed his death to pneumonia and septic shock.
Source: UCA News
Please click the following URL to read the full text of the original story:
https://www.ucanews.com/news/attacks-dampen-hopes-for-peace-talks-in-southern-thailand/96235
--------
Malaysia's religious rhetoric still regressive, says academic
Nicholas Chung
February 24, 2022
PETALING JAYA: The religious rhetoric in Malaysia remains more regressive than progressive, according to an academic who warned more than two years ago that the country was slipping towards extremist tendencies.
Syed Farid Alatas, a Malaysian who serves as professor of sociology at the National University of Singapore, said there had been no improvement in the situation since September 2019, when he alleged that Malaysia was on a slippery slope to extremism following several crackdowns on Shia Muslims by Johor and Selangor religious authorities.
He said then that there was an urgent need to educate the young because changes could take one or two generations before becoming tangible.
In the latest interview with FMT, Farid said the same religious institutions and personalities remained dominant.
"We haven't made any significant change in terms of religious education," he said. "There's no indication that change is on the horizon."
He said the topic of religion had not always been contentious, and blamed politicians for making it so, saying they tended to manipulate interest in religion to get political support.
"When religion becomes strong, politicians find it useful and expedient to use it as a tool. That's where the problem lies," he said.
"But I want to stress that it's not religion that's the problem. Any ideology or value system, if it's meaningful to the people, will be manipulated and abused by politicians."
Referring to the breakdown in ties between Umno and PAS, Farid said it was both a good and a bad thing.
It was good because it had put brakes on the Islamisation agenda, he said. "When I say the Islamisation agenda, I mean the more extremist agenda, because in principle, we're not against Islam but we're against the regressive understandings of Islam that they have."
He said the development was bad because it showed a lack of maturity in politics among dominant parties. He alleged that these parties were not capable of coming to an understanding and developing policies that were good for the nation.
"We would expect truly Islamic parties to be concerned about the welfare of the entire nation," he said.
"They should also be concerned with rooting out corruption and with the need for harmony between different religious communities and races.
"We see that neither side seems dedicated to dealing with those problems. So their inability to come together and deal with these problems in a progressive manner is very unfortunate, seeing that they're dominant parties."
He also said Malaysians needed to stop thinking along racial lines and start voting by class lines in order for Malaysia to progress.
Source: Free Malaysia Today
Please click the following URL to read the full text of the original story:
https://www.freemalaysiatoday.com/category/nation/2022/02/24/malaysias-religious-rhetoric-still-regressive-says-academic/
--------
Arab World
Lebanon says it thwarted Islamic State suicide bomb plot on Hezbollah stronghold
23 February 2022
BEIRUT — Lebanon has thwarted a plan by the Islamic State group to carry out three suicide bombings targeting Shiite religious compounds in Beirut's southern suburbs, the interior ministry said Wednesday.
Beirut's southern suburbs are a stronghold of the Shiite terror group Hezbollah.
"A terrorist group had recruited young Palestinian men in Lebanon to carry out major bombing attacks using explosive belts" and other munitions, Interior Minister Bassam Mawlawi told a press conference.
Mawlawi said that rocket-propelled grenades and guns were to be deployed during the attack, the Reuters news agency reported.
"Three separate targets were to be hit at the same time," the ministry said, in an operation Mawlawi said would have caused a large loss of life.
Lebanon's Internal Security Forces (ISF) said the instructions for the bomb plot came from an IS operative based in the Palestinian refugee camp of Ain al-Hilweh, who is in touch with fellow Sunni terrorists in Syria.
The instructions were passed to an undercover ISF agent who had successfully managed to infiltrate IS networks in Lebanon.
On February 7, the ISF agent was instructed to prepare attacks on a Shiite religious compound in the Al-Laylaki neighborhood, the Imam al-Kazem compound in Haret Hreik and the Al-Nasser mosque in Beirut's Ouzai suburb, the ISF said.
He was given three explosive vests and other weapons to conduct the attacks on February 16, the ISF added.
Source: Times Of Israel
Please click the following URL to read the full text of the original story:
https://www.timesofisrael.com/lebanon-says-it-thwarted-islamic-state-suicide-bomb-plot-on-hezbollah-stronghold/
--------
UAE designates 1 individual, 5 entities as terrorists for supporting Yemen's Houthis
23 February ,2022
The UAE designated one individual and five entities on its list of persons and organizations supporting terrorism for their role in supporting Yemen's Iran-backed Houthi militia, state news agency WAM reported on Wednesday.
"The companies and individual listed have been linked to supporting the terrorist Houthi militia, which uses these funds to target civilian facilities and civilians," WAM reported.
The designated individual was identified as Abdo Abdulla Dael Ahmed, and the entities are: Al Alamiyah Express Company for Exchange & Remittance, Al-Hadha Exchange Company, Moaz Abdulla Dael For Import and Export, the vessel: Three - Type: Bulk Carrier – IMO (9109550), and Peridot Shipping & Trading LLC.
"All regulatory authorities are ordered to monitor and identify all affiliated individuals or entities with any financial or commercial relationship with those listed, and take the necessary measures according to the laws in force in the country, including the freezing of all financial assets in less than 24 hours," WAM reported.
In January, the Houthis targeted the UAE with three cross border aerial attacks using cruise and ballistic missiles, as well as drones. All the attacks targeted civilian sites and infrastructures and led to the death of three civilians.
Source: Al Arabiya
Please click the following URL to read the full text of the original story:
https://english.alarabiya.net/News/gulf/2022/02/23/UAE-designates-1-individual-5-entities-as-terrorists-for-supporting-Yemen-s-Houthis
--------
UAE FM stresses 'strength' of ties with Russia in phone call with Lavrov: Ministry
23 February ,2022
UAE's Minister of Foreign Affairs stressed the "strength" of ties to Russia in a phone call with his Russian counterpart Sergey Lavrov in a phone call on Wednesday, the Emirati foreign ministry reported.
Sheikh Abdullah bin Zayed Al Nahyan discussed with Lavrov the friendship relations and strategic partnership between the two countries, the ministry said.
They also "reviewed a number of regional and international developments and issues of common interest."
"Sheikh Abdullah bin Zayed stressed the depth of friendship between the UAE and Russia, and the two countries' leadership, and highlighted the keenness to enhance the prospects of UAE-Russian cooperation across various fields for the higher good of their peoples," the ministry added.
Russia is currently facing international pressure over its actions towards Ukraine.
Russia's parliament approved on Tuesday President Vladimir Putin's request to use military force outside the country, formalizing the deployment of Russian troops to separatist regions in eastern Ukraine, a day after he recognized their independence.
Source: Al Arabiya
Please click the following URL to read the full text of the original story:
https://english.alarabiya.net/News/gulf/2022/02/23/UAE-FM-stresses-strength-of-ties-with-Russia-in-phone-call-with-Lavrov-Ministry
--------
Syria's al-Bab becomes safe haven for 400,000 civilians
Ömer Koparan, Ethem Emre Özcan
23.02.2022
AL-BAB, Syria
Syria's northwestern al-Bab city, cleared of the Daesh/ISIS terror group five years ago through Turkiye's Operation Euphrates Shield, became a safe haven for 400,000 civilians despite the mounting attacks of the YPG/PKK terror group.
In line with Article 51 of the UN Charter, Turkiye launched Operation Euphrates Shield in 2016 in al-Bab across its border in northern Syria to prevent the formation of a terror corridor and enable the peaceful settlement of residents.
Al-Bab was cleared of the Daesh/ISIS terror group in the sixth month of the operation.
Through projects carried out in the fields of education, health, infrastructure, and services, the population in the al-Bab city center and surrounding settlements reached around 400,000.
Turkiye, attaching great importance to the right to education of those living in the region, played a major role in the reconstruction of 150 schools in al-Bab, and currently, around 150,000 students receive education in the city center.
Also, Gaziantep University, located in Turkiye's southeastern Gaziantep province, established a faculty in the al-Bab city.
Health services prioritized in al-Bab
Turkiye's Health Ministry has also carried out its activities in the region to ease residents' life and provide health services as part of humanitarian and technical assistance.
While many health institutions were put into service of the people of the region, the ministry has been working to minimize the transfer of patients from Syria to Turkiye.
Al-Bab Hospital, established in the city center with the contributions of Turkiye's Health Ministry, has become one of the most important hospitals in northern Syria.
Turkiye Diyanet Foundation also restored many mosques in the area with the support of philanthropists.
The residents want the YPG/PKK terror group's mounting attack on al-Bab from Syria's Manbij and Tel Rifat areas which remain under its occupation, to come to end.
In its more than 35-year terror campaign against Turkiye, the PKK -- listed as a terrorist organization by Turkiye, the US, and EU -- has been responsible for the deaths of at least 40,000 people, including women, children, and infants. The YPG is the PKK's Syrian offshoot.
Speaking to Anadolu Agency on the occasion of the fifth anniversary of the liberation of al-Bab, Varda Shahabi, who works with aid organizations for women, said they were happy to be away from terrorism.
"We lived in fear during the Daesh/ISIS era. There was persecution. There was a fear of being arrested. We were very afraid of them. Now that fear has given way to the YPG/PKK's fear of attack.
"We used to live in fear under the Daesh/ISIS terror group. There was persecution and a fear of being arrested. We were very afraid of them," she said, adding: "Now that fear has given way to the fear of the YPG/PKK terror group's attack," he said.
YPG/PKK terrorists frequently mount attacks on liberated areas, Shahabi also said and noted: "All we want is to get rid of the YPG/PKK terrorists as soon as possible. If we get rid of the YPG/PKK (in Manbij and Tel Rifat), the joy of our liberation from Daesh will be complete."
"I settled here after al-Bab was cleared of Daesh. Thankfully, peace and security were achieved. Al-Bab has become my second home," Nasser Ahmad (23), who relocated to al-Bab after the Assad regime's attacks on Homs, told Anadolu Agency.
Ahmad, working as a cameraman in al-Bab, said: "My family also lives here in peace. I hope Assad goes and all Syria finds peace."
Al-Bab's local council head Mustafa Osman also said: "Life in the city returned to normal thanks to the services and projects offered by the local council."
"We are trying to solve the water shortage issue within the bounds of possibility. Electricity has supplied to our city. We repaired public buildings and roads," he added.
He underlined that there have been significant investments in the field of health such as the opening of a hospital in al-Bab and vaccination campaigns.
Source: Anadolu Agency
Please click the following URL to read the full text of the original story:
https://www.aa.com.tr/en/middle-east/syrias-al-bab-becomes-safe-haven-for-400-000-civilians/2511678
--------
Israeli regime attacks Syria, kills three soldiers
24 February 2022
The Israeli regime has carried out yet another attack on the Syrian capital Damascus' countryside, killing three soldiers.
Syria's state television carried the report early on Thursday, specifying the assault as a "missile attack."
Various media outlets had earlier reported that Syria's air defenses had confronted an Israeli airstrike around Damascus.
The official Syrian Arab News Agency (SANA) said a number of explosions had rung out over the skies of the capital and its outskirts.
This is the Israeli regime's fourth attack on the Syrian soil within the space of just two weeks.
Just a day earlier, the Arab country said the regime had launched a missile attack on various targets on the outskirts of Syria's southwestern city of Quneitra near Syria's Tel Aviv-occupied Golan Heights.
Last week, the occupying regime targeted areas surrounding Damascus and the western city of Homs.
Syria and the Israeli regime are technically at war due to the latter's continued occupation of the Golan.
The Israeli regime maintains a significant military presence in the territory, which it uses as one of its launchpads for attacks against the Syrian soil.
The regime frequently targets military positions inside Syria, especially those of the resistance movement Hezbollah, which has played a key role in helping the Syrian army in its fight against the foreign-backed terrorists.
Source: Press TV
Please click the following URL to read the full text of the original story:
https://www.presstv.ir/Detail/2022/02/24/677437/Israel-Syria-attack-
--------
Israeli regime's termination only a matter of time: Nasrallah
23 February 2022
The secretary-general of the Lebanese resistance movement of Hezbollah calls the Israeli regime a "temporary regime," whose termination is only a matter of time.
"The Zionist regime [of Israel] is moribund," Sayyed Hassan Nasrallah said on Wednesday during an interview with Lebanon's al-Manar television network.
The Hezbollah chief said he endorsed a campaign across the cyberspace that has proposed that the occupying regime be called a "temporary regime."
Nasrallah also asserted that Hezbollah "was completely prepared for battle," adding, "If the Israeli enemy happens to impose a war on Lebanon, it will [then] get to witness our bravery."
Lebanon fought off two Israeli wars in 2000 and 2006. On both occasions, battleground contribution by Hezbollah proved an indispensable asset, forcing the Israeli military into a retreat.
"When you choose silence and surrender your weapons, it is as if you are telling the enemy that 'I am wretched and weak.' [This is while] the enemy is arrogant and will render you weaker," Nasrallah noted.
Resistance stronger than ever
Nasrallah, meanwhile, asserted that the resistance had become stronger in all areas, including its military power and devotion, more than ever.
"There are no ceilings to this resistance," he said, affirming that "the resistance's supporters have grown larger in number."
The remarks came less than a week after a senior Hezbollah official said the Lebanese resistance movement was sure to emerge victorious from any war, citing the group's achievements, including its recent successful flying of a drone over the Israeli-occupied territories.
Source: Press TV
Please click the following URL to read the full text of the original story:
https://www.presstv.ir/Detail/2022/02/23/677428/Nasrallah-Israel-Lebanon-Hezbollah-
--------
Mideast
Iran Stresses Maintaining Peaceful N. Capability As Damocles Sword to Guarantee West's Commitment to Any Possible Deal
2022-February-23
"Peaceful capability of Iran's nuclear program must always remain like sword of Damocles above the heads of violators as a real guarantee for fulfillment of their obligations," Shamkhani wrote on his twitter page on Tuesday.
He added that after the US withdrawal from the Iran deal, officially known as the Joint Comprehensive Plan of Action (JCPOA), in 2018, "it was better to use such an inherent guarantee" in a more effective way.
Former US president Donald Trump left the JCPOA in 2018 and began to implement what was called the "maximum pressure" campaign of sanctions against the Islamic Republic, depriving the country of the economic benefits of the agreement, including the removal of sanctions, for which Iran had agreed to certain caps on its nuclear activities.
In the meantime, the other parties to the deal, in particular France, Britain and Germany, only paid lip service to safeguarding Iran's economic dividends as promised under the JCPOA, prompting Iran – after an entire year of "strategic patience" – to reduce its nuclear obligations in a legal move under the deal.
Iran and the remaining parties to the JCPOA -- Britain, France, Germany, Russia and China -- started talks in the Austrian capital of Vienna last April on the assumption that the US, under the Joe Biden administration, is willing to repeal the so-called maximum pressure policy.
Tehran says it will not settle for anything less than the removal of all US sanctions in a verifiable manner. It also wants guarantees that Washington would not abandon the agreement again.
As the eighth round of talks between Tehran and the G4+1 group of countries continues in Vienna on the JCPOA revival, Iran's lead negotiator Ali Baqeri Kani and European Union deputy foreign policy chief Enrique Mora, who also coordinates the negotiations, met on Tuesday.
Source: Fars News Agency
Please click the following URL to read the full text of the original story:
https://www.farsnews.ir/en/news/14001204000300/Iran-Sresses-Mainaining-Peacefl-N-Capabiliy-As-Damcles-Swrd-Garanee
--------
Hamas: Mass arrests by Israel won't make Palestinians quit fighting
23 February 2022
The Palestinian resistance movement Hamas has condemned mass arrests of Palestinians by Israeli forces, stressing that the trend will not make the Palestinians give up the fight against the occupying regime.
In a statement on Wednesday, Hamas denounced the arrest of dozens of Palestinians, newly-released inmates, and resistance activists, including Sheikh Abdul Ghani Dwaikat, in the occupied West Bank by Israeli forces.
"These arrests do not deter the Palestinian people and its activists in the West Bank from the Zionist occupiers from continuing to resist and intensify the fight against the occupying enemy," Hamas said.
In the early hours of Wednesday, Israeli forces arrested dozens of Palestinians in coordinated raids on several cities and towns in the occupied West Bank.
Hamas said these arrests were carried out in the context of the continuous aggression and organized repression of the Zionist occupiers against the Palestinian nation.
The resistance movement said these acts of aggression would not succeed in defeating the growing resistance of Palestinians and would not affect their determination to confront the occupiers.
Israeli prison authorities keep Palestinian inmates under deplorable conditions lacking proper hygienic standards. The prisoners have also been subjected to systematic torture, harassment and repression.
Source: Press TV
Please click the following URL to read the full text of the original story:
https://www.presstv.ir/Detail/2022/02/23/677416/Palestine-Israel-Hamas-arrests-West-Bank
--------
Iran Warns Israel against "Slightest Mistake"
2022-February-23
"We do not consider the Zionist regime to be in possession of such capability to cause insecurity for the Islamic Republic," General Shekarchi told MNA.
"Their (the Zionists) slightest strategic mistake will be met with our harshest response," the official cautioned.
The official also commented on the regime's struggles to forge regional alliances by establishing ties with the countries of the region.
Shekarchi interpreted the "détente" spree as a futile bid on the part of the regime to end its isolation.
He was referring to the US-mediated normalization agreements between Israel and some Arab governments, including the United Arab Emirates and Bahrain.
"The Zionist regime is trying to come out of isolation. Therefore, it clutches at everything…," General Shekarchi said.
"This is while a regime that is hated by all nations will, under no circumstances, become dear and turn into a secure regime and will stay in insecurity forever," he stated.
The official specified the Israeli regime as "homicidal, oppressive, and ferocious in disposition".
The Zionist regime's promoters are "pressuring their lackeys" in many countries such as the US, the UK, and France and elsewhere to provide it with a foothold there in order to prevent its disintegration, the spokesman said.
However, the countries that make room for the Israeli regime should be prepared to run into problems with their own people, "because these nations will not brook the presence of such an evil regime in their countries", General Shekarchi said.
Earlier this month, Iranian Foreign Minister Hossein Amir Abdollahian in a phone conversation with his UAE counterpart Sheikh Abdullah bin Zayed Al Nahyan warned against Israel's finding a foothold in the region, describing the regime's presence as a threat to regional security.
During the phone talks, Amir Abdollahian and Al Nahyan discussed the latest developments pertaining to mutual relations and regional issues.
Source: Fars News Agency
Please click the following URL to read the full text of the original story:
https://www.farsnews.ir/en/news/14001204000375/Iran-Warns-Israel-agains-%E2%80%9CSlighes-Misake%E2%80%9D
--------
Deputy Judiciary Chief Stresses Legal Cooperation with Russia, China
2022-February-23
Qaribabadi made the remarks in separate meetings with Russian Ambassador to Iran Levan Dzhagaryan and the Chinese Ambassador Chang Hua on Wednesday.
He said that Iran is against the instrumental use of human rights against countries.
Qaribabadi voiced opposition to the instrumentally use of human rights against countries, and emphasized the need to continue and develop joint consultations at the bilateral level and in international organizations in the field of human rights.
He also pointed to the widespread cooperation and interactions as well as strategic ties between Tehran, Moscow and China, and stressed the need for the expansion of cooperation in legal, judicial and human rights' fields.
Iran is ready to exchange specialized judicial delegations and also mutual experiences in this field, the official said.
The Russian envoy welcomed Qaribabadi's proposal, and emphasized the need for continued opposition to human rights resolutions imposed against Iran and also anti-Iranian moves taken in this regard.
The Chinese envoy also stated that political and international developments will never affect Beijing's political will to develop relations with Tehran, adding that Beijing condemns Western interference in Iran's internal affairs under the pretext of human rights violations.
Earlier this month, Qaribabadi had also blasted certain countries, specially the western states, for their double-standard and politically-tainted approach towards human rights.
Qaribabadi made the remarks in a meeting with the visiting director general of the Finnish Foreign Ministry's Department for Africa and the Middle East Sofie From-Emmesberger in Tehran.
Source: Fars News Agency
Please click the following URL to read the full text of the original story:
https://www.farsnews.ir/en/news/14001204000955/Depy-Jdiciary-Chief-Sresses-Legal-Cperain-wih-Rssia-China
--------
NAM Urges UNSC to Evaluate Human Consequences of Unilateral Sanctions
2022-February-23
Ershadi made the remarks on behalf of the Non-Aligned Movement on Tuesday, addressing the Sixth Committee of the UN General Assembly (UNGA) meeting entitled 'Report of Committee of the United Nations Charter'.
She added that NAM expresses its deep concern at the enforcement of laws and other forms of economic coercion against developing countries, including unilateral sanctions that violate the Charter of the United Nations and undermine international and World Trade Organization (WTO)'s law.
"The Non-Aligned Movement, while emphasizing the role and importance of the work of the UN Charter Committee and strengthening the role of this organization, believes that this Committee should play a key role in the current UN reform process according to UN Resolution 3499 dated December 15, 1975," Ershadi said.
"The NAM believes that the United Nations has a vital role to play in addressing issues related to international cooperation, economic development and social progress, peace and security, human rights and rule of law based on dialogue, cooperation and inter-governmental consensus."
NAM calls on all member states to strengthen their commitment to the Charter of the United Nations by respecting its principles, such as refraining from threatening or using force to respect its territorial integrity and peaceful settlement of disputes, Ershadi continued to say.
UN Security Council's Sanctions Committees are expected to provide more objective assessments of the method used to evaluate human consequences of sanctions and short- and long-term social, economic and humanitarian consequences of sanctions against countries, she underlined.
Source: Fars News Agency
Please click the following URL to read the full text of the original story:
https://www.farsnews.ir/en/news/14001204000569/NAM-Urges-UNSC-Evalae-Hman-Cnseences-f-Unilaeral-Sancins
--------
Yemen's Houthis detain another US Embassy staffer: Report
24 February ,2022
Yemen's Houthi militia have detained another official of the long-closed US Embassy there, bringing the number of local ex-US Embassy staffers in the group's custody to at least 11, according to accounts from Yemeni officials and others.
The Houthis, an Iran-backed group that controls the capital, Sanaa, and much of Yemen's north, took into custody a former press officer from the US Embassy last week, according to a rights lawyer in Sanaa, Abdel-Majeed Sabra, and a family member of a detainee. The family member spoke on condition of anonymity because of the fear of reprisals.
Sabra said the former embassy press officer was being held in the Houthi-run Security and Intelligence Authority facility. It's not known whether Houthis have charged the man or any other of the detainees from the US Embassy staff, he said.
Sabra said the latest staffer was detained a month after the militia group arrested his former deputy at the embassy.
Houthi militants brought the latest embassy staffer back to his home on Tuesday to search it and took him away again.
The State Department said in an email to The Associated Press this week that the US government was "unceasing" in efforts to secure the release of the local embassy staffers.
Washington shut down its embassy in Yemen, the Arabian Peninsula's poorest nation, in 2015, as conflict fractured the country.
Houthis had swept down from their base in the north the year before at a time of mounting political upheaval, seizing the capital and other territory.
UN and aid agencies call the overall situation in Yemen the world's worst humanitarian crisis, with millions of Yemenis vulnerable to famine.
Houthis have rebuffed repeated attempts by the Biden administration to get them into peace talks and accuse the US of supporting the Arab Coalition.
Houthis seized the headquarters of the US Embassy last October. They detained dozens of former staffers, many of whom were later released.
With the latest detention, at least 11 staffers from the closed embassy remain in Houthi custody, however, according to a security official and a family member of the detainees.
The official spoke on condition of anonymity because he was not authorized to speak publicly, and the family member for fear of reprisal.
UN agencies confirmed late last year that the Houthis also had arrested two of their employees in Sanaa in early November. UNESCO and the UN human rights office said no legal grounds were given for their detention.
Both sides in the war in the past have used detainees as leverage in negotiations, including prisoner swaps.
The new detention comes as the Biden administration is considering redesignating the Houthis or individual Houthi leaders as terrorists, a step that carries harsh US government penalties for those doing business with them.
That's after Houthis stepped up cross-border attacks by drone and missiles on the United Arab Emirates, in the wake of suffering heavy territorial loses in fighting.
Source: Al Arabiya
Please click the following URL to read the full text of the original story:
https://english.alarabiya.net/News/gulf/2022/02/24/Yemen-s-Houthis-seize-another-US-Embassy-staffer-Report
--------
Israeli army detains 23 Palestinians in West Bank raids
Awad al-Rajoub
23.02.2022
RAMALLAH, Palestine
Israeli army forces rounded up 23 Palestinians in overnight raids carried out across the occupied West Bank.
The arrests took place in the cities of Hebron, Salfit, Nablus, Jenin and Ramallah, the Palestinian state news agency Wafa reported.
Usually, arrests are made by storming the homes of detainees and taking them blindfolded and handcuffed to detention centers before they are transferred to the Israeli prisons or interrogation centers.
In a related context, the Commission of Detainees Affairs said detainees held under Israel's administrative detention policy continued to boycott court sessions for the 54th consecutive day, in protest of their detention.
Administrative detention is a jail term by a confidential file for a period of up to 6 months and can be renewed without a limit.
Source: Anadolu Agency
Please click the following URL to read the full text of the original story:
https://www.aa.com.tr/en/middle-east/israeli-army-detains-23-palestinians-in-west-bank-raids/2511007
--------
Palestinians will have 'entity' instead of state: Israeli defence minister
23.02.2022
JERUSALEM
Palestinians will have an entity in the future instead of a state, Israeli Defense Minister Benny Gantz said.
"Eventually we will find ourselves in a two-entity solution, in which we respect Palestinian sovereignty and governance, but we will be respected for our security needs," Gantz said at the Munich Security Conference this week.
Asked by moderators to clarify his choice of words by using "entity" instead of "state", Gantz said a "two-state solution takes us to a former framework. It's a phrase that gives the illusion of [a return to]1967 with the borderlines … things that cannot happen."
"This is why I said two-entity solution," Gantz said. "We would verify with one another how we can ensure Palestinian rights on one hand while safeguarding Israel's security needs on the other."
Source: Anadolu Agency
Please click the following URL to read the full text of the original story:
https://www.aa.com.tr/en/middle-east/palestinians-will-have-entity-instead-of-state-israeli-defense-minister/2511355
--------
Rights group calls for pressure on Israel to lift Gaza siege
Nour Abu Eisha
23.02.2022
GAZA CITY, Palestine
A Palestinian human rights group on Wednesday called on the international community to pressure Israel to end its 15-year long blockade on the Gaza Strip.
In a statement, Al-Mezan Center for Human Rights appealed to the international actors to help provide the needed financial support for the reconstruction of the Gaza infrastructure.
It said around 1,439 economic facilities were completely or partially damaged by the Israeli offensive on Gaza in May 2021, causing around 7,000 Palestinians to lose their jobs.
In a report on the economic and social conditions in Gaza, the NGO said the territory's poverty rate rose by 59% as a result of the Israeli offensive and the coronavirus pandemic.
"Around 64% of Gaza's households suffer food insecurity," it added.
The report showed that the demand for mental health care services in Gaza increased by 15% in 2021.
Gaza has been reeling under a tightened Israeli blockade since 2007, which has badly affected livelihood in the seaside enclave.
Source: Anadolu Agency
Please click the following URL to read the full text of the original story:
https://www.aa.com.tr/en/middle-east/rights-group-calls-for-pressure-on-israel-to-lift-gaza-siege/2511555
--------
Palestine urges UNSC to take practical steps against Israeli apartheid
February 24, 2022
Thursday, 24 February 2022Palestine's Ambassador to the United Nations Riyad Mansour has denounced the Israeli apartheid against his fellow countrymen, calling on the Security Council to take practical steps to stop the crime.
Speaking at a UNSC meeting on the so-called Middle East peace process on Wednesday, he described how the rights of Palestinians have been denied for 75 years, one generation after another, by the Tel Aviv regime.
Wearing a mask printed with phrase "End Apartheid," he complained that Palestinians are uprooted from their homes, displaced and unable to return.
The envoy also cited examples of "settler colonialism" and said the Palestinians see their houses demolished as Israeli settlements expand in the occupied lands.
While Israel proclaims the "right" to security, it denies Palestinian that very right, he continued. The regime's authorities are withholding hundreds of bodies of Palestinian victims and have designated human rights defenders in the occupied Palestinian territories as terrorists.
"Apartheid is real. Everyone was against apartheid once it was defeated in South Africa. But history will remember that Israel was the ally of South Africa's apartheid regime," Mansour added.
Stressing the need for support from the UN, he appealed to Security Council members to "translate words into action in efforts to end Israel's illegal occupation and apartheid."
He further took issue with the speech Israel's Ambassador to the UN Gilad Erdan delivered last month, in which he brought a stone brick into the Security Council to underscore the daily Palestinian attacks.
"I am terribly sorry, but the door of this chamber could not fit Israeli F-16s, tanks, warships, military jeeps, drones, bombs and missiles and all of their mighty military arsenal," Mansour said, noting that Israeli cries of anti-semitism are just a ploy to distract public attention from its apartheid practices.
The remarks came weeks after Amnesty International issued a 280-page report charging Israel with the crime of apartheid and in advance of a report by a UN Human Rights Council open-ended Commission of Inquiry, which is expected to focus on the question of Israeli apartheid.
The Amnesty report listed a range of Israeli abuses, including extensive seizures of Palestinian land and property, unlawful killings, forcible transfer, drastic movement restrictions, administrative detention and the denial of nationality and citizenship to Palestinians.
Source: Press TV
Please click the following URL to read the full text of the original story:
https://www.presstv.ir/Detail/2022/02/24/677443/Palestine-UN-Israel-apartheid
--------
Europe
Muslim Brotherhood suspected to be behind campaign of fake news on child 'kidnappings' in Sweden
February 23, 2022
LONDON: A politically motivated campaign accusing child-protection authorities in Sweden of "kidnapping" children has exposed the activities of an extremist Islamist website suspectedly tied to the Muslim Brotherhood, which is circulating fake news designed to whip up anger in minority Muslim communities around the world.
The Shuoun Islamiya (Islamic Affairs) website was set up in 2016, claiming to be "an awareness channel to spread Muslim issues and their news around the world and to confront campaigns that aim to distort the image of Islam."
In fact, the channel has consistently distorted the reality of treatment of immigrant Muslim communities around the world, in an apparent bid to promote sectarian strife in their adoptive countries.
In Sweden, Shuoun Islamiya has found itself an ally in a fringe political party called Nyans (Nuisance), which ahead of elections in September is claiming the state is unjustifiably taking children away from their parents.
According to research by the Washington Institute's Fikra Forum, set up to provide "on-the-ground perspectives and insight on the most pressing current events facing the Middle East," Nyans was founded in 2019 by Mikail Yüksel, a Swedish politician of Turkish origin and is "focused on issues that its founders view as affecting Muslims in Sweden."
Through its website and Twitter and Telegram channels, Shuoun Islamiya has kept up a steady stream of extreme content, including videos, accusing Sweden of being a fascist state where social services place Muslim children in Christian homes with paedophiles, or force them to drink alcohol and eat pork.
Unsurprisingly, Swedish government officials and social services have denied the allegations.
"We absolutely do not do that," Migration and Integration Minister Anders Ygeman told AFP.
The only goal was to support families, he added, and the campaign was being fueled in part by "frustrated parents who have failed in their parenting" and were projecting their anger at authorities.
But "there are also malevolent forces that want to exploit these parents' frustration to spread mistrust and division."
Shuoun Islamiya is one of those forces and, if its objective is to stir up unwarranted outrage among the Muslim community in Sweden and around the world, it is working. Radical imams in Sweden and abroad and Muslim online influencers with millions of followers have spread the stories, sparking street protests across Sweden.
The website's Twitter and Instagram accounts also push and promote Muslim Brotherhood salafists and loyalists, including detained Saudi extremist salafist Abdul Aziz Al-Turaife, among others.
It is unclear where Shuoun Islamiya is based. It may even be a one-man show. Its founder is listed as Mustafa Al-Sharqawi, who on his Telegram account (@MoustafaJournalist) describes himself as an "independent Muslim journalist." He is also associated with a Telegram channel called Arab Affairs TV, which has over 17,000 subscribers.
Arab Affairs TV's Twitter account (@Arabaffairstv) has been suspended for violating the platform's rules, which state that users may not "threaten or promote terrorism or violent extremism", "promote violence against, threaten, or harass other people on the basis of race, ethnicity (or) religious affiliation," and "may not deceptively share synthetic or manipulated media that are likely to cause harm."
However, Shuoun Islamiya's Twitter account (@Shuounislamiya) — which has 178,000 followers — remains active, despite a series of recent Tweets perpetuating the myth that Muslim children are being kidnapped by authorities in countries including Sweden, Japan and Germany.
It is clear that its activities are creating division between Swedish communities. One response earlier this month, apparently from a Swedish citizen and aimed at Muslims in the country, read: "Swedish social services do not act without good reason and more often than not it requires some quite extreme behavioral dysfunction before they do … try to raise your children to respect others, get an education and become a productive member of society who understands and is invested in the social contract."
The Muslim Brotherhood and its affiliates are using well-meaning liberals across Europe to cover for and further their own anti-democratic agenda, experts have warned.
At an event attended by Arab News and hosted by UAE think tank Trends Research and Advisory late last year, experts also cautioned that despite its relative decline in the past decade, the Brotherhood is adaptive and must be continually countered.
Dr. Lorenzo Vidino, director of the Program on Extremism at George Washington University, told participants that the Brotherhood was using "woke" language to "camouflage their true nature" as it takes hold in Europe.
"People experienced the ineffectiveness of the rule of the Brotherhood in 2012 and 2013," he said. "People have become disenchanted with the Brotherhood." But in the West, and particularly in Europe, the group's status was "a more complicated question," he added.
There, it is a "different Brotherhood, with different goals and priorities compared with Muslim countries."
There was a "coming-of-age of a second generation of activists who are European-born and are extremely well-versed in the European, Western political discourse," he added.
Meanwhile, in Sweden, they have taken to peddling fake news about children in danger to garner support. On Feb. 20, the Shuoun Islamiya Twitter account posted four photographs, taken on the same day, of what purported to be a group of children in Syria, captioned "Solidarity of Syrian children with children in Sweden, We ask Allah to grant relief to all Muslims around the world."
In the photographs the children are holding posters, written in Arabic, that read "Social kidnaps the children from their mothers", "Stop kidnapping our children, whoever has humanity save the Syrian children in Sweden," and "No happiness for the children except with their mothers."
In a video posted on Feb. 18, Shuoun Islamiya claimed that the two daughters of Swedish-based Muslim writer Seyed Issa Musavi "were kidnapped in Sweden" and that the judge in the family court hearing the case "ruled that his daughters should not return because of the books he writes about Sweden, and this is another proof of the lie of freedom of expression in Sweden." One of Musavi's books is called "Forced conversion of Muslim children in Sweden."
In one post in his own Twitter account, Musavi alleges that "Sweden Kidnapps Children (girls) move to remote areas, raped by Swedish OFFICIELS. This one, 8-years Child- girl."
Julia Agha, head of the Arabic-language news outlet Alkompis, based in Stockholm, told AFP that the campaign had its roots in protests by Muslim families whose children had been taken into care by social services.
"What's happened is that this campaign has ended up in the hands of forces abroad that have put a religious filter over it and are spreading disinformation, which now looks more like a hate campaign against Sweden and Swedish society."
Source: Arab News
Please click the following URL to read the full text of the original story:
https://www.arabnews.com/node/2030196/media
--------
EU spokesperson in al-Quds: Israeli violations, settlers' attacks in contravention of intl. law
23 February 2022
The spokesperson of the European Union in al-Quds, Shadi Othman, says the attacks committed by Israeli forces and settlers against Palestinians in the occupied West Bank violate the international law.
According to the Palestinian Information Center, Shadi Othman, said on Wednesday that Israel is an occupying power that is obliged, under international law, to fulfill its obligations "but what has been happening on the ground in the recent period directly contradicts these obligations."
He referred to the recent attack on Mohammed al-Ajlouni, an intellectually disabled young Palestinian man, and the killing of Mohammad Shehadeh.
On Monday, Israeli forces physically assaulted Mohammed al-Ajlouni, a young man suffering from Down syndrome, in the Sheikh Jarrah neighborhood of the occupied East al-Quds, and tried to arrest him. A film of the attack went viral and drew condemnation on social media.
A day later, Israeli forces gunned down a 14-year-old Palestinian in the south-central part of the West Bank for, what the regime has called, throwing stones at them.
Muhammed Shahadah was targeted with the forces' live fire in the town of al-Khader near Bethlehem late Tuesday.
Othman noted that the on-site visits made by the EU representatives that aim to document Israeli violations against the Palestinians constitute part of efforts to hold the Israeli regime accountable for those practices.
Israeli forces destroy four houses, displace 40 Palestinians in al-Khalil
Israeli forces on Wednesday destroyed four houses in the village of Sha'b al-Batm, east of Yatta City, in the West Bank city of al-Khalil.
The PIC cited the coordinator of the Protection and Steadfastness Committees in Masafer Yatta, Fouad al-Amour, as saying that the demolitions left 40 people homeless, adding that they were aimed at expanding a neighboring settlement.
He urged rights groups and international organizations to immediately interfere to put an end to the barbaric practices that are meant to evacuate Palestinians from their lands.
The Israeli regime carries out such demolitions on an almost daily basis. It alleges that the targeted structures have been built without the required "permit."
Source: Press TV
Please click the following URL to read the full text of the original story:
https://www.presstv.ir/Detail/2022/02/23/677415/EU-Israeli-violations-contradict-international-law
--------
Turkey to support, guide citizens wanting to leave Ukraine: Foreign Ministry
24 February ,2022
Turkish Foreign Ministry said on Thursday that it would provide necessary support and guidance to citizens wishing to leave Ukraine.
The ministry also advised Turkish citizens to stay at home or in a safe place and avoid traveling.
Source: Al Arabiya
Please click the following URL to read the full text of the original story:
https://english.alarabiya.net/News/world/2022/02/24/Turkey-to-support-guide-citizens-wanting-to-leave-Ukraine-Foreign-Ministry
--------
Turkish sailor injured by gunfire from Greek Coast Guard
Efsun Erbalaban Yılmaz
23.02.2022
A Turkish sailor was injured in international waters in of the Aegean Sea when Greek forces opened fire on two fishing boats, Turkiye's Coast Guard Command said on Wednesday in a statement.
A crew member on one of the two Turkish vessels was slightly injured in the leg while fishing between the Greek island of Chios (Sakiz) and the Karaburun district of Izmir province in western Turkiye on Tuesday night, the statement said.
The injured sailor was taken to a hospital in the Cesme district of Izmir, it added.
Source: Anadolu Agency
Please click the following URL to read the full text of the original story:
https://www.aa.com.tr/en/europe/turkish-sailor-injured-by-gunfire-from-greek-coast-guard/2510931
--------
Africa
Turkish, Senegalese defence chiefs sign Military Framework Agreement
Orhan Onur Gemici
23.02.2022
Turkish National Defense Minister Hulusi Akar and his Senegalese counterpart Sidiki Kaba signed the Military Framework Agreement on Wednesday.
According to a statement by Turkiye's National Defense Ministry, Akar, who was accompanying the Turkish president during his visit to Africa, met with Kaba and exchanged views on bilateral, regional defense, and security issues.
Source: Anadolu Agency
Please click the following URL to read the full text of the original story:
https://www.aa.com.tr/en/africa/turkish-senegalese-defense-chiefs-sign-military-framework-agreement/2510890
--------
Algeria affirms support for Gulf security
Abdelrazzak bin Abdullah
23.02.2022
ALGIERS, Algeria
Algerian President Abdelmadjid Tebboune said his country will not accept compromising the security of the Gulf states.
Tebboune met with members of the Algerian community in Kuwait Tuesday evening during the first day of his visit to the Gulf country coming from Qatar, the Algerian state news agency reported Wednesday.
"With regard to the Gulf, despite the geographical distance, we in the Maghreb [region] are trying to approach them and defend them," he said, affirming that Algeria will never accept undermining the security of Kuwait, Qatar or Saudi Arabia.
Tebboune, however, did not clarify the type of threats that affect these countries.
Algeria maintains good relations with Iran, which most of the Gulf Cooperation Council (GCC) countries accuse of threatening the security of the region, accusations that Tehran denies.
Source: Anadolu Agency
Please click the following URL to read the full text of the original story:
https://www.aa.com.tr/en/middle-east/algeria-affirms-support-for-gulf-security/2511155
--------
IMF reports 'good progress' in Tunisia talks
23 February ,2022
The International Monetary Fund said on Wednesday it had made "good progress" in talks with Tunisia ultimately aimed at a possible rescue package to avert what economists fear is a rapidly looming crisis in the country's public finances.
The fund on Tuesday completed a week of online meetings with Tunisian officials to hear details of proposed economic reforms that are required to secure assistance.
"We made good progress and will continue our discussions in the weeks ahead, to consider the prospect for possible financial support from the IMF," the fund said in a statement.
Diplomats have said they do not believe a rescue package is likely to be agreed until the summer, a time frame that could cause difficulty for the authorities.
"We have completed the talks with the fund team," said Finance Minister Sihem Boughiri on the sidelines of an economic seminar in Tunis. "They are technical discussions that precede the negotiations and the indicators are positive."
Tunisia is struggling to finance its 2022 budget and public debt repayments and talks with the fund have been delayed by a political crisis after President Kais Saied moved to one-man rule last summer after suspending parliament.
The central bank governor has warned that if Tunisia is unable to secure funds, it would face a scenario like those in Lebanon and Venezuela where public finances have imploded.
Western donors and Gulf states that have repeatedly bailed out Tunisia over recent years have said any further help will require an IMF deal.
The fund has previously said it wants to see reforms to reduce Tunisia's public sector wage bill, the amount it spends on subsidies and its support for some state-owned companies.
It has also said that if reforms are to be credible they will need broad support, widely seen as meaning both from the powerful UGTT labor union and President Saied.
Source: Al Arabiya
Please click the following URL to read the full text of the original story:
https://english.alarabiya.net/News/north-africa/2022/02/23/IMF-reports-good-progress-in-Tunisia-talks
--------
Morocco creates new military zone near Algeria border
Khaled Majdoub
23.02.2022
RABAT, Morocco
Morocco has built a new military zone near border with Algeria, according to a local military publication on Wednesday.
The Royal Armed Forces magazine said in its February edition that the military zone aims "to ensure consistency of the command, control and support among the Moroccan forces and to offer further flexibility and freedom of action when necessary."
Major General Mohammed Miqdad was appointed a commander of the new military zone, the magazine said.
The publication, however, did not provide further details about the military zone.
Morocco borders Algeria from the east and south with a border length of 1,559 kilometers.
In August, Algeria severed diplomatic relations with Morocco, accusing Rabat of having "hostile tendencies." Morocco dismissed the accusations.
Source: Anadolu Agency
Please click the following URL to read the full text of the original story:
https://www.aa.com.tr/en/africa/morocco-creates-new-military-zone-near-algeria-border/2511403
--------
1 soldier killed, 2 hurt in attack on African Union forces in Somalia
Mohammed Dhaysane
23.02.2022
MOGADISHU, Somalia
One Ethiopian soldier was killed and two others wounded in a bomb blast targeting peacekeeping forces of the African Union Mission in Somalia (AMISOM) on Wednesday.
A landmine was planted near a well in Wajid, a town in southwestern Somalia, used frequently by Ethiopian soldiers deployed in the area, according to Adan Isak, a security official who spoke to Anadolu Agency over the phone.
"The explosion killed one soldier on the spot. The two others injured have been taken to hospital," he said.
The Ethiopian military and AMISOM are yet to comment on the attack, which has been claimed by the al-Shabaab terrorist group.
The Somali military has recently ramped up operations against al-Shabaab, which is affiliated with the al-Qaeda terrorist network.
Source: Anadolu Agency
Please click the following URL to read the full text of the original story:
https://www.aa.com.tr/en/africa/1-soldier-killed-2-hurt-in-attack-on-african-union-forces-in-somalia/2511142
--------
North America
US has communicated to Pakistan its position on Russia's further invasion of Ukraine: State dept
Feb 24, 2022
WASHINGTON: The United States has communicated to Pakistan its position regarding Russia's further invasion of Ukraine, State Department spokesperson Ned Price said on Wednesday, as Pakistani Prime Minister Imran Khan heads to Moscow for talks with Russian President Vladimir Putin.
Source: Times Of India
Please click the following URL to read the full text of the original story:
https://timesofindia.indiatimes.com/world/us/us-has-communicated-to-pakistan-its-position-on-russias-further-invasion-of-ukraine-state-dept/articleshow/89784110.cms
--------
US sanctions network funding Yemen's Houthis, IRGC-QF
23 February ,2022
The US on Wednesday announced sanctions on an international network funding the Iran-backed Houthis, which the Treasury Department said was run by Iran's Islamic Revolutionary Guards Corps-Quds Force (IRGC-QF) and Houthi financier, Sa'id al-Jamal.
"Despite pleas to negotiate an end to this devastating conflict, Houthi leaders continue to launch missile and unmanned aerial vehicle attacks against Yemen's neighbors, killing innocent civilians, while millions of Yemeni civilians remain displaced and hungry," Under Secretary of the Treasury for Terrorism and Financial Intelligence Brian Nelson said.
"The United States continues to work with our regional allies to act decisively against those who would seek to prolong this war for their own ambitions. Houthi leaders must cease their campaign of violence and negotiate in good faith to end the conflict," Nelson said.
Secretary of State Antony Blinken also commented on the sanctions and blasted the Houthis for continuing their military offensive on Marib.
"The Houthis have also detained current and former Yemeni employees of the US Embassy in Sanaa without contact with their families for months," he said.
The Treasury Department said the latest move was made "in close coordination and collaboration with regional Gulf partners."
According to the Treasury Department, the network has transferred "tens of millions of dollars" to Yemen in support of the Houthis.
Source: Al Arabiya
Please click the following URL to read the full text of the original story:
https://english.alarabiya.net/News/gulf/2022/02/23/US-sanctions-network-funding-Yemen-s-Houthis-IRGC-QF
--------
US-led NATO opposes any solution to Ukraine crisis, seeks absolute power: Iranian analyst
23 February 2022
An Iranian academic and political analyst says the United States and other NATO countries have weaponized Ukraine against Russia while not allowing any solution to go into force as they seek absolute power.
In an interview with RT on Tuesday, Mohammad Marandi said if the United States had left Ukraine alone, the East-European country could have been a bridge between Russia and Western Europe.
"[Ukraine] could have been prosperous and it could have helped create greater prosperity for the whole area," Marandi said.
However, he continued, because NATO countries want absolute power, they cannot think in those terms.
"Unfortunately, the United States and NATO have weaponized Ukraine against Russia; they carried out a violent coup; they allowed protesters to be burned alive and nothing happened afterward; and they've been pushing NATO eastwards since the end of the Cold War despite numerous promises to do otherwise," he noted.
Marandi, a Tehran University professor, said the same desire for absolute power is also the case in the Middle East, citing Washington's support for the Israeli regime's ethnic cleansing in Palestine, the US invasion of Iraq and Afghanistan, and its policy of dividing Syria as examples.
If they are so upset about what's going on in Ukraine, he stated, they should look at their own actions in Latin America, in Venezuela, Cuba, and Nicaragua, where they subjugate the populations to sanctions to crush them in order to regain power.
Russia and the West are at odds over Ukraine. Western countries accuse Russia of preparing for an invasion of Ukraine by amassing 150,000 troops and armaments near the border with that country. Russia has rejected the claim, saying the military build-up is defensive in nature.
'Sanctions on Russia inevitable'
In his RT interview, Marandi said that when the Americans and the Europeans "create this horrific situation where they don't allow solutions to be used, then the whole equation changes."
It's unclear what will happen from now on, he said, but added that he does not believe that the US is going to start searching for solutions.
Hinting at NATO's interventions across the globe, the political commentator said as long as there is no change in the mentality of NATO regimes, there won't be any solution on the horizon for either Ukraine or any other part of the world.
He also pointed to US sanctions on Russia, saying, "I have no doubt that the US would have implemented sanctions against Russia anyway. And that is the problem that the United States has."
"[The US] uses sanctions as a weapon that targets ordinary people. And no matter what you do, you're going to be sanctioned," Marandi remarked.
"So when countries see that the United States is going to treat them like an enemy anyway, they have no incentive to respond differently towards the US," he added.
US President Joe Biden announced on Tuesday that Washington would sanction Russian sovereign debt and Russian elites as well as their family members.
A day earlier, Russian President Vladimir Putin recognized the Donetsk and Luhansk People's Republics as independent and afterward ordered troops into the Donbas region.
Biden called Russia's actions in Donetsk and Lugansk, collectively known as the Donbas, the "beginning of an invasion."
'US exceptionalism outwits adherents'
Also on Tuesday, Marandi responded to a question raised in a tweet by former US ambassador to Russia Michael McFaul, who had asked: "If Country X sends soldiers and tanks into Country Y without an invitation, what is that called?"
"You mean like in Syria, Iraq, Libya Afghanistan, Cuba, Yemen,...?" Marandi retorted.
The political analyst added, "He's a former US ambassador & an 'academic' at Stanford University. Eurocentrism & American Exceptionalism twist people's mind so much that they really don't seem to see their foolishness."
Source: Press TV
Please click the following URL to read the full text of the original story:
https://www.presstv.ir/Detail/2022/02/23/677385/US-led-NATO-weaponized-Ukraine-Russia-opposes-solution-Marandi
--------
URL: https://www.newageislam.com/islamic-world-news/muthappan-theyyam-religion-abaya-hijab-muslim/d/126442
New Age Islam, Islam Online, Islamic Website, African Muslim News, Arab World News, South Asia News, Indian Muslim News, World Muslim News, Women in Islam, Islamic Feminism, Arab Women, Women In Arab, Islamophobia in America, Muslim Women in West, Islam Women and Feminism