New Age Islam News Bureau
25 Jul 2019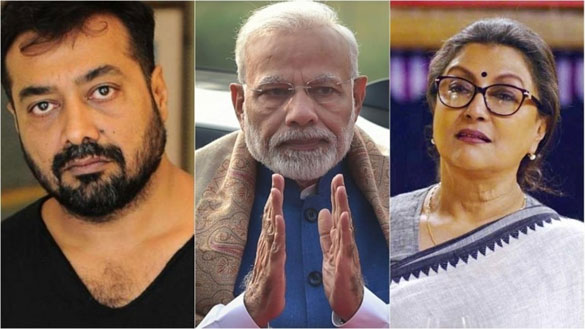 • You Must Stop the Name of Ram from Being Defiled: 49 Celebs Write To PM
• Man Claims NIA Targeting Muslims, Arrested For Social Media Post
• Imran Khan Admits Pakistan's Role in Kashmir Terrorism
• 'Compulsive Liar, an Advocate of Terrorists': Pakistan Opposition Slams PM Imran Khan over US Visit
• Bangladesh Islamic Scholars Back Agricultural Innovations as 'Halal'
• Sri Lanka Police Say No Evidence For Direct IS Link to Easter Attacks
• Foreign Terrorists in Mindanao Grooming Suicide Bombers
• Social Media Companies Are Failing To Stop the Spread of Terrorism Online
• Muslim World League, Patriarchate of Moscow Sign Cooperation Deal
• Haftar: We Will Raise the Banner Of Victory In The Heart Of Tripoli Soon
• Pakistan Premier's US Visit Resets Relations
India
• You Must Stop the Name of Ram from Being Defiled: 49 Celebs Write To PM
• Man Claims NIA Targeting Muslims, Arrested For Social Media Post
• Bandra's Anjuman-I-Islam Students Get A Lesson In Menstrual Hygiene
• No Pattern In Incidents Of Mob Lynching, Says Govt
• India Accuses 10 From Group Allegedly Inspired By Dr Zakir Naik Of Plotting Poison Massacre
• 126 terrorists neutralised, 75 security forces personnel martyred till July this year
• LeT terrorist carrying Rs 5 lakh reward arrested in J&K's Doda
• Gautam Navlakha, Naxalites were in contact with Hizbul, Kashmiri separatists: Pune police
--------
Pakistan
• Imran Khan Admits Pakistan's Role In Kashmir Terrorism
• 'Compulsive Liar, an Advocate of Terrorists': Pakistan Opposition Slams PM Imran Khan over US Visit
• Imran Khan comes clean on terrorism, blames previous Pak govts
• PTI to give thanks while opposition observes anniversary of 2018 elections as 'black day'
• Court extends Hafiz Saeed's judicial remand for 14 days
• Gen Bajwa discusses Afghan peace with Pompeo, US military leadership
• Taliban hint at Pakistan-brokered prisoners' swap
• Pakistan remands alleged mastermind of Mumbai attacks for 14 days
• Taliban 'will visit Pakistan if formally invited'
--------
South Asia
• Bangladesh Islamic Scholars Back Agricultural Innovations as 'Halal'
• Sri Lanka Police Say No Evidence For Direct IS Link to Easter Attacks
• Pakistan PM says Taliban may soon release 2 hostages
• Pakistan Prime Minister Khan says he will try to persuade Taliban to meet Afghan government
• At least 5 killed as multiple blasts rock Kabul: official
• Official: Rohingya repatriation likely in September
• U.S. airstrikes killed 8 Taliban militants, destroyed truck bomb in Ghazni: Thunder Corps
• Suicide attack targets ministry bus in Kabul leaving at least 15 dead, wounded
• Three bombs kill at least 12, wound dozens in Afghan capital
• Sri Lanka expands visa-free scheme halted after bombings
--------
Southeast Asia
• Foreign Terrorists in Mindanao Grooming Suicide Bombers
• China Says Xinjiang 'Inseparable' Despite Attempts To Distort History
• Malaysia Launches Muslim-Friendly Hotel Recognition
• Report: Tough Tactics against Indonesian Muslim Hardliners Could Backfire on Jokowi
• Indonesian Couple Carried Out Philippines Cathedral Bombing, Police Say
• Only Umno president can represent talks with other political parties, says Zahid
• NU, non-Muslim voters held 'key role' in Jokowi's win
--------
Europe
• Social Media Companies Are Failing To Stop the Spread of Terrorism Online
• Muslim World League, Patriarchate of Moscow Sign Cooperation Deal
• Russian Supreme Court Upholds Sentence For Ukrainian Convicted Of 'Promoting Terrorism'
• Australian IS supporters jailed for Shiite mosque arson
• PM Johnson names Raab as foreign minister, Javid as finance minister
• Australian ISIS supporters jailed for Shiite mosque arson
• British operator of Stena Impero says all crew 'okay,' cooperating with Iranians
• Turkey's Athens envoy: EU disqualified itself on Cyprus
• Turkey arrests 6,000 unregistered migrants in Istanbul crackdown
--------
Africa
• Haftar: We Will Raise the Banner Of Victory In The Heart Of Tripoli Soon
• Libyan Neighbor Fears Chaos Will Deepen West Africa Instability
• Africa: Where Will Boko Haram Go Next After Ten Years of Moving Around?
• Somalia: Al-Shabaab Clash with Somali and AU Troops in Central Somalia
• Hezbollah Agent Arrested in Uganda
• Libya says 38 migrants taken to bombed detention center
• Six killed in blast at Mogadishu Mayor's office
• Suicide attack kills 2 in Somali capital
--------
North America
• Pakistan Premier's US Visit Resets Relations
• Trump's Middle East Envoy Faces Resistance At UN Security Council Over Palestine And Israel
• FBI's Wray Says Most Domestic Terrorism Arrests This Year Involve White Supremacy
• US 'may have brought down' second Iranian drone in Strait of Hormuz
• Iran Warns Brazil over Stranded Ship Barred From Refueling
• Trump vetoes trio of congressional bills prohibiting Saudi arms sales
• Trump does not want to sanction Turkey: reports
--------
Arab World
• Syrian State TV Reports Israeli Attack in Southern Syria
• Iraqi forces clear farmland near Baghdad of ISIS militants
• Iraqi court sentences two men to death for joining Islamic State
• Iraqi security arrest 7 Islamic State members in Mosul
• Revealed: Qatari involvement in Somalia bombing
• Sisi: We Can Curb Terrorism, Defeat Hotbeds of Terrorism
• Syrian Sources: Tahrir Al-Sham Behind Attack on Idlib Market
• Lebanon accuses Israel of threatening civilian infrastructure
• Bahrain revokes citizenship of 334 activists since January: Rights group
--------
Mideast
• House Passes Bill That Calls to Sanction Palestinian Terror Groups
• Video Shows Houthi Militia Beating Corpse, Chanting 'Death to America'
• Israel: Iran smuggling dual-use items for Hezbollah arms by sea into Beirut port
• Hezbollah Operative Killed In Southern Syria Was Part Of Golan File
• Saudi MASAM Clears 77,000 Houthi Landmines in Yemen
• Trump's Mideast Envoy under Fire at UNSC for Attacking Intl. Law on Palestine Issue
• Iran warns against international naval coalition in the Gulf
• Yemen government condemns Houthi killing of tribal leader
• Iran Blasts Trump's Remarks on Afghanistan as Threat to Int'l Peace
• US, Turkey committed to accelerated progress on roadmap for Syria's Manbij
• Iran open to possible tanker swap, nuclear talks, hints Rouhani
• Guardian Council chairman: Recent events show Iran's enemies are 'weak'
Compiled by New Age Islam News Bureau
URL: https://www.newageislam.com/islamic-world-news/stop-name-ram-being-defiled/d/119296
--------
You must stop the name of Ram from being defiled: 49 celebs write to PM
July 24, 2019
49 artists, intellectual and civil society members have written an open letter to Prime Minister Narendra Modi demanding immediate action against perpetrators of hate crimes and human rights violations.
The signatories to the letter include Adoor Gopalakrishnan, Aparna Sen, Anurag Kashyap, Ashis Nandy, Binayak Sen, Ketan Mehta, Konkona Sen Sharma, Mani Ratnam, Revathy Asha, Ramchandra Guha, Ratnaboli Ray, Soumitra Chatterjee, Shyam Benegal, and many others.
The letter states statistics that show that Muslims, Dalits and various minorities have borne a disproportionate brunt of hate crimes, particularly lynchings and says, "The lynchings of Muslims, Dalits and other minorities must be stopped immediately." It goes on to ask, "You have criticized such lynchings in Parliament Mr Prime Minister, but that is not enough! What action has actually been taken against the perpetrators?"
The letter takes the rise of religious polarization head on and says, "Regrettably 'Jai Shree Ram' has become a provocative 'war-cry' today that leads to law and order problems, and many lynchings take place in its name." It goes on to state, "The name of Ram is sacred to many in the majority community of India. As the highest executive of this country, you must put a stop to the name of Ram being defiled in this manner."
https://www.sabrangindia.in/article/you-must-stop-name-ram-being-defiled-49-celebs-write-pm
--------
Man claims NIA targeting Muslims, arrested for social media post
July 24, 2019
Akshaya Nath
A 39-year-old man was arrested on Wednesday after he allegedly criticised recent raids by the National Investigation Agency (NIA) which had led to the arrest of 16 people.
The police arrested Thajudheen, 39, from Thiruvarur district in Tamil Nadu for posting a message on social media in which he claimed that Muslim youth were being targeted by the NIA.
In the same post, he also wondered if the Centre was behind the arrests and raids.
The police booked Thajudheen under Sections 153 and 153(A) (promoting enmity between different groups) of the Indian Penal Code.
16 ARRESTED BY NIA
Recently, the NIA took custody 16 people -- two from Tamil Nadu and 14 from UAE - for allegedly attempting to set up a terror outfit, "Ansarullah", and collecting funds to carry out attacks in the country.
They are even alleged to be connected with the serial bombings in Sri Lanka.
Moving a plea for their 10-day custody, the special pubic prosecutor (SPP) for the NIA had said the agency needed to take the accused to various places to verify the evidence collected against them during the probe.
"The interrogation of the accused is required to unearth the source of funds, their transmission and utilisation... the larger conspiracy," the NIA had submitted before Judge P Chenthoorpandi.
The counsels for the accused strongly opposed the NIA plea and said all the respondents, except two, Hasan Ali Yunus Maraicar and Harish Mohamed, were working in a foreign country and were suddenly deported to India and arrested thereafter. The probe officer had not mentioned any good grounds for seeking custody, they said.
"There is no necessity for custodial interrogation of the respondents. If police custody is granted they will be physically and mentally tortured by the NIA and there is a possibility of creating false evidence against the respondents," they contended.
The SPP said seven of the 16 accused were lodged in a prison in the UAE. They were deported to India on July 12 and arrested the next day.
"This is a case of serious nature, involving the safety and security of our country and this is a case which has not been investigated earlier by any police agency. Hence, taking the respondents into custody is inevitable for a proper probe," he had said. https://www.indiatoday.in/india/story/nia-target-muslims-arrest-social-media-post-tamil-nadu-1572920-2019-07-24
--------
Imran Khan admits Pakistan's role in Kashmir terrorism
Jul 24, 2019
ISLAMABAD: In a rare acknowledgement, Prime Minister Imran Khan on Tuesday admitted that Pakistan has been actively involved in cross-border terrorism in the Kashmir region of India. He blamed his predecessors for it.
At an event in the US Institute of Peace in Washington, Khan said Pakistan still has around 30,000 to 40,000 militants who fought and were trained in Afghanistan and Kashmir.
In 2014, he said, a unanimous decision was taken by the country's civilian and military leadership to eliminate all armed groups after an attack on a school by Pakistan Taliban in the northwestern city of Peshawar that had left about 150 kids dead. "There was reaction in Pakistan after the attack on Army Public School (APS) in Peshawar. Then all the political parties signed a paper called the National Action Plan (NAP). We all decided that we will not allow any militant group to operate inside Pakistan," the PM said.
"Until we came to power, the governments did not have the political will. When you talk about militant groups, they still have about 30,000-40,000 armed people who have been trained and fought in some part of Afghanistan or maybe Kashmir," Khan said, adding his government was the first that started disarming all the militant groups. "This is the first time it is happening. It is the first time we've decided there would be no armed militias in our country. We've taken over their institutes, their seminaries. We have administrators there," Khan said.
Khan's disclosure about militant groups is his second major revelation in Washington. Earlier he claimed that Pakistan's spy agency Inter-Services Intelligence (ISI) had provided information to the US that helped them to capture and kill Osama bin Laden in the garrison town of Abbottabad.
https://timesofindia.indiatimes.com/world/pakistan/imran-khan-admits-pakistans-role-in-kashmir-terrorism/articleshow/70367213.cms
--------
'Compulsive Liar, An Advocate of Terrorists': Pakistan Opposition Slams PM Imran Khan over US Visit
July 24, 2019
Lahore: Prime Minister Imran Khan is a "compulsive liar" and an advocate of terrorists, Pakistan's opposition parties said on Wednesday, asserting that he tried his best to mislead the international community during his visit to the United States.
Reacting to Khan's address to US think tanks, the Pakistan People's Party (PPP) secretary general Nafisa Shah said in a statement that Khan was regarded as "Taliban Khan without beard" by the victims of terror activities.
"Selected PM Imran Khan is not only corrupt but also an advocate of terrorists," she said. "Imran Khan should be awarded Goebbels Award for the lies he told with confidence. Lying with confidence comes with practice and Imran Khan has been doing this for decades."
Shah also said Khan tried to mislead the international community whereas the truth is that he has been a pawn in the conspiracies against democracy for the last over 20 years.
"Imran Khan has never been a democrat as he attacked Parliament from outside when he was in the opposition and now from inside when he is in government. Imran Khan lacks tolerance like Taliban. He cannot face any voice of dissent just like Taliban. In an effort to hide his incapacity he is victimising the Opposition," Shah said.
Another main Opposition party, the Pakistan Muslim League Nawaz (PML-N) president and opposition leader in National Assembly Shehbaz Sharif said Khan had exposed his "dictatorial mindset" by saying the media needed to be controlled in the country.
"In the US, Imran exposed his dictatorial thinking by saying the media needs to be controlled. He is lying saying the media is free under his government while media is suffering from worst kind of censorship," Shehbaz said.
He said Khan had wasted an important opportunity to send a message of unity in his speeches in America.
"Imran is unable to grow out of his obsession with Nawaz Sharif. He should have talked about Pakistan and challenges that lie ahead but instead he chose to make petty and personal attacks on Nawaz Sharif," he said.
Shehbaz said Khan had again proved that he was the "most unfit person" to hold the office of the prime minister as he was focusing more on gimmicks like riding on buses.
Khan, who is on a three-day official visit to the US, met President Donald Trump - the first face-to-face interaction between the two leaders - on Monday in the White House. He described the meeting as very successful, which has reset the bilateral relationship.
https://www.news18.com/news/world/compulsive-liar-an-advocate-of-terrorists-pakistan-opposition-slams-pm-imran-khan-2244525.html
--------
Bangladesh Islamic Scholars Back Agricultural Innovations As 'Halal'
July 25th, 2019
Muslim scholars discussed the importance of accessing agricultural innovation for sustainable food security, and agreed that this innovation keeps in line with Islamic Shariah, and beliefs
The agricultural innovations, which are approved by the Islamic Shariah as "Halal", are directed at bringing good to humanity to ensure food security of the country, Islamic scholars have said.
Muslim scholars discussed the importance of accessing agricultural innovation for sustainable food security, and agreed that this innovation keeps in line with Islamic Shariah, and beliefs.
The event titled "Agricultural Innovation and Agri-Biotechnology in Islamic Shariah" was organised by Farming Future Bangladesh (FFB), at Krishibid Institute Bangladesh in Dhaka on Tuesday.
Shaykh Ahmadullah, chairman of As-Sunnah Foundation, said: "Islamic Shariah approves all worldly acts aimed at human good, therefore agricultural innovations are considered Halal."
Speaking further, Islamic researcher Maulana Hedayetullah said: "The Islamic clerics have great support for the idea, and process of biotechnology, because it has a great impact for the wellbeing of mankind."
"Science and religion are not conflicting, and agricultural innovation should be emphasized to ensure more food for Bangladesh," said Mufti Saiful, Khatib of Masjid-Ut-Taqwa.
They also discussed the need to share fact-based scientific information to improve social awareness, and acceptance of modern agricultural innovation and agri-biotechnology, including GMOs.
Earlier, Mawlana Ali Hassan Toiyob presented the keynote paper. Muslim scholars, present at the program, learned about the success of modern innovation, and the potential of agri-biotechnology to overcome challenges.
https://www.dhakatribune.com/bangladesh/event/2019/07/25/islamic-scholars-back-agricultural-innovations-as-halal
--------
Sri Lanka police say no evidence for direct IS link to Easter attacks
Jul 24, 2019
COLOMBO: Sri Lankan police have not found enough evidence to prove that Islamic State (IS) militants were directly involved with the Easter Sunday bombings, the chief investigator said on Wednesday, even though the group had claimed responsibility.
The attacks on churches and hotels in Colombo and in the east killed more than 250 people, the worst suicide bombings since the civil war against Tamil separatist fighters ended in 2009.
"From the investigations conducted so far there is not enough evidence to say that there is a direct ISIS link to the Easter Sunday attacks," Ravi Seneviratne, the head of police criminal investigation department, told a parliament select committee probing the April 21 attacks.
Police have said members of two little-known local Islamist groups, the National Thawheedh Jamaath (NTJ) and Jamathei Millathu Ibrahim, carried out the bombings.
Some members of these groups may have had training from Islamic State in Syria, police have previously said.
https://timesofindia.indiatimes.com/world/south-asia/sri-lanka-police-say-no-evidence-for-direct-is-link-to-easter-attacks/articleshow/70364465.cms
--------
Foreign terrorists in Mindanao grooming suicide bombers
JUL 24, 2019
Philippine security officials yesterday confirmed that at least seven foreign terrorists were training local militants for suicide attacks in the country's restive south, and there could be dozens more.
"They are doing the usual. They are training bombers, grooming suicide bombers, as manifested by the recent incident. They are also training (Filipinos) on other terrorist actions," Lieutenant-General Cirilito Sobejana, head of the military's Western Mindanao Command, told reporters.
He said these foreign extremists were behind the first suicide attack carried out by a Filipino. On June 28, Norman Lasuca, 23, set off one of two bombs that exploded inside a temporary camp of a special army counter-terrorism unit in Indanan town, Sulu province. Three soldiers manning the camp's gate were killed, along with three civilians.
Lt-Gen Sobejana said the seven foreign terrorists were scattered across war-torn Mindanao Island, which is the size of South Korea.
They were with the small but brutal Abu Sayyaf group in the island provinces of Sulu and Basilan, 1,000km south of Manila, or the Bangsamoro Islamic Freedom Fighters in central Mindanao. Both groups have pledged allegiance to the Islamic State in Iraq and Syria (ISIS) terrorist group.
Lt-Gen Sobejana declined to reveal the terrorists' nationalities. But investigators have tagged two Indonesians to a suicide attack on a Roman Catholic cathedral in Sulu in January this year that killed 23 people and wounded at least 100.
Indonesian police yesterday identified the couple as Rullie Rian Zeke and Ulfah Handayani Saleh.
The police said they were members of Jamaah Ansharut Daulah, founded by jailed cleric Aman Abdurrahman who is on death row. The couple left Indonesia to join ISIS in March 2016 with their three children. But before they could reach Syria and Iraq, they were arrested in Turkey in January 2017 and deported to Indonesia.
In Indonesia, they went through a short rehabilitation programme and were then released. They apparently later decided to pursue their cause in Mindanao instead and took their children with them.
Investigators said their children are now with a faction of the Abu Sayyaf led by Hatib Hajan Sawadjaan which helped plot the attack on the Sulu cathedral.
In July last year, a Moroccan identified as Abu Kathir Al-Maghribi detonated bombs hidden inside a van that he drove to an army checkpoint on Basilan Island, near Jolo. The blast instantly killed a soldier, five paramilitaries, four civilians and the bomber.
Mr Rommel Banlaoi, head of the Philippine Institute for Peace, Violence and Terrorism Research, had earlier said an Egyptian couple, veterans of the fighting in Syria and Afghanistan, were also in Sulu to train a younger group of militants on suicide bombing.
He said: "They are here to carry out the instruction of (ISIS) to conduct intermittent bombing operations in the Philippines and to encourage the locals to conduct suicide bombings as their most effective weapons for (holy war)."
On June 30, security forces arrested a Kenyan, believed to be part of Al-Qaeda's East Africa wing Al Shabaab, in Zambales province, north of Manila.
Lt-Gen Sobejana said 42 other foreigners were on a watch list for possible links to terrorists.
"We can't confirm that yet. We still have many criteria to validate before we can consider them terrorists," he said.
https://www.straitstimes.com/asia/se-asia/foreign-terrorists-in-mindanao-grooming-suicide-bombers
--------
Social media companies are failing to stop the spread of terrorism online
07/23/19
The Christchurch terrorist exploited the extraordinary power of social media to broadcast his message of violence and hate across the world. As he brutally murdered 51 people and wounded 49 more in two mosques in New Zealand, his livestream on Facebook ran uninterrupted—and before it was ultimately pulled down from Facebook, it was quickly posted and shared millions of times across Twitter, Facebook, YouTube and other platforms.
This is the new age of terrorism, defined by the rise of extremist communities online and terrorists who carry out real-life violence inspired by virtual content. And every time a successful terrorist attack is broadcasted online, it risks inspiring copycats attempting to unleash similar terror in their own communities.
We as a nation need to adapt to this new reality. Which is why it is incumbent upon social media and tech companies to step up to the plate and take these threats seriously. Gone are the days of unicorns and The Next Big Thing—tech companies of today have become critical institutions in our society in the same way that banks, telecom and utilities matured in the last century.
Earlier this year, as chairman of the House Homeland Security's Subcommittee on Counterterrorism, I questioned Facebook, Google, Twitter, and Microsoft (which owns LinkedIn) about the resources they're devoting to counterterrorism—because budgets reflect values, and if they're spending more on lobbyists and catering than on combating terrorism, there should be hell to pay.
Unfortunately, the companies did not fully or promptly share this critical information. The little they did provide months later proved the companies are not doing enough. When Facebook, Google, and Twitter testified before Congress last month, I told them that their anemic response to the issue of online terror content is insulting. They oversell the capabilities of artificial intelligence, they undersell the nature of the challenge, and they obscure the amount of resources they're devoting to fighting online terror content.
They also point to a group that they created in 2017 to pool certain basic counterterrorism data that can be shared, called the Global Internet Forum to Counter Terrorism (GIFCT). The viral spread of the Christchurch video exposed the real limitations of GIFCT's skeletal consortium—a shoestring operation with no permanent staff, no shared location, and minimal technological and policy collaboration between the companies.
This initial effort, unsurprisingly, has not lived up to its promise. It's time to start thinking about a newer model for more robust self-regulation and industry-wide cooperation to deal with the metastasizing threat of terrorist content online.
This week, the big tech companies will be meeting in Silicon Valley to discuss the future of GIFCT. Ahead of that much-needed conversation, and after what I have seen in my oversight role in Congress this year, I am urging that GIFCT be transformed.
First, GIFCT must have permanent staff who serve as dedicated points of contact for the companies and law enforcement. Further, moving its operations into a shared physical location, as is done in the military and intelligence community, could help companies stay ahead of online terrorist activity. These are the wealthiest companies in the world. There's no reason they can't make serious investments in hiring more counterterrorism staff and build out an infrastructure for timely information sharing among the companies.
Second, GIFCT must develop industry standards on terrorist content removal. How long is too long for terrorist content to remain live online? What error rates are acceptable from machine learning tools targeted at taking down terrorist content? How quickly are users' reports of terrorist content handled? Having clear standards will not only help social media companies advance the ball together, but also enable lawmakers and the public understand how well the companies are handling terrorist content.
Third, GIFCT must explore opportunities for cooperation beyond simply maintaining a collective database of digital fingerprints that help the companies identify terrorist images and videos after they've already gone live. In order to build a truly robust operation, the companies must consider sharing terrorism-related artificial intelligence training data and other technologies between themselves and with smaller, less-resourced social media companies that must have a seat at the table as well.
Finally, GIFCT must foster a culture of transparency. Academics and other experts need appropriate access to removed terrorist content to study trends and better understand terrorist behavior. Outside experts must also have access to this information to audit the companies' claims of success against their own standards. And the public deserves transparency into the process of content moderation—particularly when issues of public safety and national security are so deeply implicated.
The leaders of GIFCT need to think big to face the uniquely 21st century challenge of preventing terrorist content from being spread online. The largest technology companies have the resources and brainpower to implement these very necessary changes. It is time for the social media companies to transform GIFCT into an organization positioned to address this pressing national security challenge. Lives are on the line.
https://thehill.com/blogs/congress-blog/technology/454342-social-media-companies-are-failing-to-stop-the-spread-of
--------
Muslim World League, Patriarchate of Moscow sign cooperation deal
July 25, 2019
MOSCOW: The Muslim World League (MWL) and the Patriarchate of Moscow and All Russia signed on Wednesday an agreement to promote interreligious and intercultural dialogue, as well as a culture of peace and constructive coexistence.
The agreement, which also rejects all forms of extremism and hatred, was co-signed in Moscow by the MWL's undersecretary of relations and communication, and the head of the Department for External Church Relations.
It was signed in the presence of MWL Secretary-General Dr. Mohammed bin Abdul Karim Al-Issa and Patriarch Kirill I.
The agreement reflects the two sides' belief in the importance of interreligious dialogue and the role of religious institutions in resolving international conflicts, as well as the desire of Muslims and Christians to promote peaceful and constructive coexistence.
Al-Issa and Kirill I held a historic summit on Wednesday at the Russian Orthodox Church in Moscow.
It is considered the largest independent Eastern Orthodox Church, with more than 250 million followers.
The summit, attended by senior religious leaders, included fruitful discussions on issues of mutual interest.
Kirill I said he was "very happy" with Al-Issa's visit to Russia, noting the significant and enlightened role of the MWL.
"You're helping many needy people in Asia and Africa, and this is the subject of our deep concern and appreciation," the patriarch added.
"Owing to your personal contribution to the MWL's activities, the league has become well-known in the Christian world, which appreciates these remarkable activities," he said.
"The Orthodox Church has a great network of relations with Islamic societies and communities, and there's communication with Muslims in our country. The history of Russia has never seen wars or conflicts with Muslims," Kirill I added.
"Since Orthodox Christians and Muslims belong to the Eastern civilization, we share many commonalities. My job … has made this fact very clear to me."
Kirill I underscored the Russian people's unity regardless of religion, sect or ethnicity. "Russia can serve as an example for countries and representatives of faiths and sects," he said.
Al-Issa said: "I'm happy to visit the Russian Orthodox Church and to meet with His Holiness Patriarch Kirill I, who is known for his outstanding efforts in promoting religious harmony and coexistence as well as love and tolerance."
Al-Issa added. "We in the MWL, and on behalf of all Muslim people, appreciate the humanitarian and moral efforts of the Orthodox Church, and value its fair feelings toward Islam."
He said: "We appreciate your describing terrorism as having no religion and stating that Islam … has nothing to do with terrorism."
He added: "I've met with a number of Muslims, especially Muslim scholars in Russia, and they hold great esteem for the Orthodox Church for its efforts to preserve religious harmony, which are appreciated historic efforts."
Al-Issa said: "The commonalities we share are many, especially the convergence of Eastern culture with its human and moral values."
He said: "There won't be a cultural shock between us because we belong to one Eastern culture and have several humanitarian goals."
Al-Issa said: "With your wisdom, we can promote religious and ethnic cooperation. We, in the Muslim world, believe in your great role and are sure of its importance and impact."
http://www.arabnews.com/node/1530471/saudi-arabia
--------
Haftar: We will raise the banner of victory in the heart of Tripoli soon
25 July 2019
Libyan National Army (LNA) commander Khalifa Haftar said on Wednesday that his forces were close to "raising the banner of victory" over Tripoli, where clashes have been ongoing for nearly four months.
"The banner of victory will soon rise in our capital ... We assure you that the victory date is approaching its target for which the Libyans offered convoys of both martyrs and wounded," said Haftar in a video speech broadcast on television.
"You are faced with an unprecedented brutal enemy in the land of tyranny, but you managed to cut his back and get close to the Nile after a long wait," he added.
He stressed that his forces "stand in the face of the terrorists," adding that the aim of the advance in Tripoli is "to complete the liberation of Libya from the east to the west and from the south to the north."
Since April 4, Haftar's forces have been attacking the Libyan been involved in fierce clashes in Tripoli against the UN-recognized Government of National Accord.
https://english.alarabiya.net/en/News/north-africa/2019/07/25/Haftar-We-will-raise-the-banner-of-victory-in-the-heart-of-Tripoli-soon.html
--------
Pakistan premier's US visit resets relations
Aamir Latif
24.07.2019
Pakistani Prime Minister Imran Khan's maiden visit to the U.S. has turned a new page in otherwise fraught relations between the two allies with a "greater understanding" on reconciliation in war-infested Afghanistan and President Donald Trump's offer to mediate in the lingering Kashmir dispute, say local analysts.
They warn, however, that the implementation of the understanding between the two leaders will be no walk in the park.
Accompanied by Pakistan's powerful army chief and other senior military leadership, Khan had a face-to-face meeting with Trump at the White House during his three-day visit, apart from meeting U.S. lawmakers and investors.
According to Foreign Minister Shah Mehmood Qureshi, who was also part of Khan's entourage, Trump accepted an invitation extended by the premier to visit Pakistan.
The cricketer-turned-politician also drew thousands of Pakistani-Americans to Washington's Capital One Arena, where his speech focused on criticizing his jailed political rivals, mainly three-time Prime Minister Nawaz Sharif.
"Mere visits do not turn out to be game-changers. And in case of Pakistan-U.S. relations, which are over 70 years old with ups and downs, we must not look for that," Shamshad Ahmad Khan, a former foreign secretary, told Anadolu Agency.
"But still, I view this visit as a great success as relations between the two sides were tense until a few months back," said Khan, who served as the foreign secretary from 1997 to 2000, citing Trump's repeated accusations against Pakistan for allegedly playing a "double game" in Afghanistan, and suspension of $300 million in military aid in September last year.
He gave credit to Trump, "who took the driving seat" and set the tone despite reluctance from the U.S. establishment.
"The U.S. establishment was not very keen or in a hurry for a change in Washington's attitude. But Trump knows that he has to go to the elections and to do something cogent vis-a-vis his manifesto in which he had promised to pull the U.S. out of wars," Khan said.
Ali Sarwar Naqvi, a former ambassador, agreed with Khan, saying the visit has gone "exceedingly well".
"This (visit) marks a positive turn in the Pak-U.S. relationship after a long period of strain," Naqvi told Anadolu Agency, referring to a lingering clash of interests between Washington and Islamabad in Afghanistan.
Kashmir mediation
Trump's mediation offer made headlines across the globe, particularly in Pakistani and Indian media, which highlighted the U.S. president's assertion that Indian Prime Minister Narendra Modi himself had asked him to mediate on Kashmir. New Delhi, however, rejected Trump's claim.
Khan, who was the architect of a composite dialogue between Pakistan and India in the late 1990s, did not view Trump's mediation offer as something new.
"The U.S. has offered to mediate between Islamabad and New Delhi several times in the past decades but it could not be materialized due to the continuous refusal of India," he said, recalling former U.S. President Barrack Obama, who in his election manifesto had also promised to work to resolve the Kashmir dispute.
Agreeing with Khan, Naqvi, who served as Pakistan's ambassador to Jordan, Belgium and Austria from 1970 to 2006, traced the U.S. mediation offer on Kashmir back to the era of slain President John F. Kennedy.
Both Naqvi and Khan, however, acknowledged that a mere mediation offer would not work.
Khan feared that any untoward incidents like the 2008 deadly terrorist attacks in Mumbai, India in which more than 150 people were killed might erase the word 'Kashmir' from Trump's dictionary for a long period as had happened during Obama's regime.
"Whether it's Clinton or Obama, whenever they offered mediation, something deadly and engineered occurred, whether it's the Mumbai attacks or killings of Sikhs in occupied Kashmir (before Clinton's visit to Pakistan in February 2000)," he contended.
Naqvi said: "This is true that Washington cannot twist New Delhi's arm to accept the mediation offer. Therefore, it's valid to question the practicality of Trump's offer."
"But one thing is for sure: that the emphasis on Kashmir during the Trump-Khan meeting has brought the issue under the international spotlight," he maintained.
Interests in Afghanistan
Abdul Khalique Ali, a Karachi-based political analyst, said the two sides had narrowed their differences on the Afghanistan issue, mainly regarding India's role in the reconciliation process and the future setup.
"There is no longer a major clash of interests between the two sides in Afghanistan," Ali said. "Both countries have not only agreed on a non-military solution to the conflict, but Washington in a practical manner has accepted Islamabad's demand for no Indian role in Afghanistan except for a developmental nature."
He said Pakistan had already done a lot for the U.S. by persuading the Taliban to enter direct talks with Washington, a move that has helped mend the icy relations between the two allies in the so-called war against terrorism.
"But we should not overestimate the development as the U.S. is still looking at us [Pakistan] through the prism of Afghanistan. Washington desperately needs Islamabad to help in giving a safe exit from Afghanistan."
Khan, the former foreign secretary, shared a similar view.
"There is a much better understanding between the two sides on the Afghanistan crisis. I see the will from both sides to resolve this longstanding conflict."
Seven rounds of direct talks with the Taliban, he said, had become possible just because of Pakistan.
"No other country could have done that."
Naqvi said: "America has come around to Pakistan's stance vis-à-vis a solution to the Afghan conflict, which is non-military."
He brushed aside a popular notion with regard to a Washington-backed Indian role in the war-stricken country, contending that former U.S. Defense Secretary James Mattis personally told him that his country wanted a developmental role from India in Afghanistan rather than a political one.
https://www.aa.com.tr/en/americas/pakistan-premiers-us-visit-resets-relations/1540137
--------
India
Bandra's Anjuman-I-Islam students get a lesson in menstrual hygiene
Sakshi Shivpuri
JULY 25, 2019
Girls of the Anjuman-I-Islam School in Bandra participated in a menstrual health awareness project conducted by the NGO, Indian Development Foundation (IDF), on Wednesday.
As a part of the project, practising doctors from AMSA India, a medical students' organisation, and Care and Ease, a health awareness programme, spoke to the students about menstrual hygiene, the menstrual cycle, and nutritional information required during menstruation.
Preeti Korgaonkar, project manager at IDF, said, "Through this project, we are attempting to spread awareness of menstrual hygiene, especially to those who might not have easy access to it. Most girls are uncomfortable with any conversation on this issue, so this project is targeted to cater to their needs. Before the sessions began, we had distributed questionnaires to assess their level of awareness."
The session was followed by distribution of 'dignity kits', which contained sanitary napkins, soap, towels and undergarments. "These dignity kits were distributed to girls to ensure that they follow the hygiene tips they learnt today," Ms. Korgaonkar said.
Rukhsana Parveen, supervisor of the school, termed the initiative very useful. She said, "Girls tend to be shy when it comes to menstruation but today, they were quite active and interacted with IDF."
The IDF project comprises a series of sessions organised at various places and targeted at menstruating women of all ages, Ms. Korgaonkar said. "We have a target of reaching 8,500 girls, and have, after this session, reached 5,000. This is the 25th school we have organised this session in," Ms. Korgaonkar said.
https://www.thehindu.com/news/cities/mumbai/anjuman-i-islam-students-get-a-lesson-in-menstrual-hygiene/article28703189.ece
--------
No pattern in incidents of mob lynching, says govt
Jul 25, 2019
NEW DELHI: The government on Wednesday rejected opposition's charge that incidents of mob lynching were targeted at Muslims and Dalits, and asserted that government's "zero tolerance" approach towards communal violence have led to decline in incidents of communal violence.
"Available data shows that there is no common pattern in mob lynching incidents. Such incidents have happened in different states ruled by different political parties. They have also taken place in West Bengal, Tripura and Kerala", junior home minister G Kishan Reddy told Rajya Sabha.
The minister's assertion sparked protests in the Upper House with opposition members alleging that an attempt was afoot to sharpen communal divide and government was seeking to hide facts.
Leader of the opposition Ghulam Nabi Azad (Congress) said that incidents of lynching and violence against minorities and Dalits have become quite common over the last five years. WhatsApp messages circulating around the country show minorities and Dalits were being thrashed and forced to chant slogans by members associated with a particular political party, he said.
Full report at:
https://timesofindia.indiatimes.com/india/no-pattern-in-incidents-of-mob-lynching-says-govt/articleshow/70371234.cms
--------
India accuses 10 from group allegedly inspired by Dr Zakir Naik of plotting poison massacre
25 July 2019
BY SOO WERN JUN
KUALA LUMPUR, July 25 ― Indian authorities have charged 10 men from a group with suspected ties to the Islamic State and inspired by Muslim preacher Dr Zakir Naik over an alleged plot to poison a temple offering that could have killed 40,000 devotees.
According to the charge sheet as reported by the Times of India, the Maharashta Anti-Terrorism Squad (ATS) alleged that the group influenced by Dr Zakir whom Indian authorities are attempting to extradite from Malaysia to face charges of money laundering there.
The Times of India further reported that the 10 men were arrested by the ATS after it discovered their alleged plans to poison the mahaprasad (a rice offering) at the 400-year-old Shree Mumbreshwar Temple in Mumbra.
One of the accused, Talha Potrik, allegedly planned the attempted poisoning of the mahaprasad during a festival at the temple in December last year when around 40,000 devotees had consumed the offering.
The ATS also identified one of the accused, Abu Hamza, as a leader of the group and stated in the charge sheet that he had conducted explosive trials in the hills near the Mumbra bypass.
The charge sheet also said several videos featuring Dr Zakir and his images were recovered from the social media profiles of the accused.
However, lawyer TW Pathan who is acting for the group has rejected the claims against his clients as baseless.
"The police have made the allegations without any evidence to back them," he was quoted saying.
A Malaysian permanent resident, Dr Zakir is believed to be sheltering here and refusing to return to India to stand trial without a formal guarantee that he will not be detained without a conviction.
India has formally applied to extradite him from Malaysia but Putrajaya previously said it would not send the preacher, now a Saudi citizen, back to his country of origin.
Full report at:
https://www.malaymail.com/news/malaysia/2019/07/25/india-accuses-10-from-group-allegedly-inspired-by-zakir-naik-with-plotting/1774676
--------
126 terrorists neutralised, 75 security forces personnel martyred till July this year
Jul 24, 2019
NEW DELHI: As many as 126 terrorists were neutralised in Jammu and Kashmir until July 14 this year, even though 75 security forces personnel were martyred in engagement with terrorists over the same period.
Minister of state for home G Kishan Reddy in reply to a written question in the Rajya Sabha said the security situation in J&K had witnessed an improvement in the first half of this year over the corresponding period of 2018. Net infiltration has reduced by 43% and local recruitment declined by 40%, he said. Terrorist initiated incidents fell by 28%, while actions initiated by the security forces witnessed an increase of 59% and resulted in 22% increase in neutralization of terrorists.
In reply to another question, Reddy informed the Elders 745 terrorists had been neutralised in J&K since 2016 and till June this year. Terrorist attacks and actions initiated by security forces against terrorists in the Valley state rose to 614 in 2018 from 342 in 2017 and 322 in 2016. Number of civilians killed were 39 in 2018, as compared to 40 in 2017 and 15 in 2016. Number of security forces martyred in 2018 was 91, up from 80 in 2017 and 82 in 2016.
https://timesofindia.indiatimes.com/india/126-terrorists-neutralised-75-security-forces-personnel-martyred-till-july-this-year-/articleshow/70368680.cms
--------
LeT terrorist carrying Rs 5 lakh reward arrested in J&K's Doda
Jul 24, 2019
JAMMU: A Lashkar-e-Taiba (LeT) terrorist was arrested during an anti-insurgency operation in Thathri area of J&K's Doda district on Tuesday. A native of Kishtwar district, Jamal Din Gujjar was carrying a reward of Rs 5 lakh, police said on Wednesday.
Based on intelligence inputs about the presence of terrorists in Thathri's Phagsoo forest area, a joint team of Doda district police and Army's 26RR launched a cordon-and-search operation in the region.
"During the search, LeT terrorist Jamal Din Gujjar — who had been operating in Kishtwar since last year — was arrested," said a police spokesperson. Security forces also recovered one AK rifle, one AK magazine, a pouch and other eatables from him.
Full report at:
https://timesofindia.indiatimes.com/india/let-terrorist-carrying-rs-5-lakh-reward-arrested-in-jks-doda/articleshow/70368604.cms
--------
Gautam Navlakha, Naxalites were in contact with Hizbul, Kashmiri separatists: Pune police
Jul 24, 2019
MUMBAI: Activist Gautam Navlakha and the Naxalite groups he was associated with were in touch with Hizbul Mujahideen and Kashmiri separatist leaders, Pune Police claimed before the Bombay high court on Wednesday.
A division bench of justices Ranjit More and Bharati Dangre, meanwhile, extended protection from arrested granted to Navlakha till further orders.
Navlakha, along with a few other activists, is facing a case for alleged links with Naxalites. He moved the court seeking quashing of the FIR against him.
Aruna Pai, the counsel for Pune police, said some of the documents recovered from the laptops of co-accused Rona Wilson and Surendra Gadling showed that Navlakha and various Naxalite groups he was associated with had conducted "bilateral talks" with Hizbul leaders.
"He (Navlakha) has been liaising with banned terrorist organisations including Hizbul Mujahideen since 2011," she claimed.
Pai further alleged that between 2011 and 2014, Navlakha was in touch with Kashmiri separatist leaders Syed Ali Shah Geelani and Shakil Bakshi.
Navlakha was booked under the Unlawful Activities (Prevention) Act and other offences. On July 5, the high court had granted him interim protection from arrest till July 23. On Wednesday, it was extended till further orders.
While Navlakha's lawyer Yug Chaudhary denied all the charges, Pai contended that protection from arrest was coming in the way of investigation.
Full report at:
https://timesofindia.indiatimes.com/india/gautam-navlakha-naxals-were-in-contact-with-hizbul-kashmiri-separatists-pune-police/articleshow/70368482.cms
--------
Pakistan
Imran Khan comes clean on terrorism, blames previous Pak govts
Jul 24, 2019
WASHINGTON: In a damning indictment of Pakistan, the country's Prime Minister Imran Khan came clean on its nurturing of terrorists, telling audiences in Washington DC that there were still 30,000-40,000 terrorists in the country and Islamabad had long deceived the United States on the issue. He blamed previous Pakistan government for lacking control.
"Until we came into power, the governments did not have the political will, because when you talk about militant groups, we still have about 30,000-40,000 armed people who have been trained and fought in some part of Afghanistan or Kashmir," said at a United States Institute of Peace event, blaming his predecessors for what has long been seen as a national policy crafted by the country military intelligence establishment.
The People's Party of Pakistan (PPP), the country principal opposition and formerly a ruling dispensation, immediately challenged Imran Khan, calling him a "compulsive liar" and saying he himself was an "advocate of terrorists."
"Imran Khan should be awarded Goebbels Award for the lies he told with confidence. Lying with confidence comes with practice and Imran Khan has been doing this for decades," PPP secretary general Nafisa Shah was quoted saying in the Pakistan media, dubbing the country's Prime Minister "Taliban Khan without a beard" because of his past vocal support for the Taliban and other extremists.
But in Washington, Khan presented himself as a moderate who was doing what previous Pakistani governments were not and could not – rolling up the terror network that was nurtured by the country's military-intelligence establishment to fight an irregular war with India using terrorists.
In doing so, Khan also laid to rest another popular canard in Pakistan that India was somehow responsible for the attack on the Army Public School that killed scores of school children, and which according to him, "was a watershed in Pakistani politics."
"In 2014, the Pakistani Taliban slaughtered 150 schoolchildren at Army Public School. All the political parties signed the National Action Plan and we all decided after that, that we will not allow any militant groups to operate inside Pakistan," he said at the US Institute of Peace in a questionable claim considering terror groups continued to operate in Pakistan right up to the weeks in which he headed out to the U.S to reset ties with Washington.
Asked about whether 26/11 mastermind Hafiz Saeed, who was taken into protective custody only in his run-up to the U.S visit, Khan first dodged the question, countering, "First we want an independent justice system and you want me to predict what the justice system would do?"
But, he added,"it is in the interest of Pakistan that we don't allow any armed militias in our country. We have suffered. The country has suffered sectarian attacks. We have had the worst situation, it has affected our investment. It has destabilised us." The Trump administration has said it is open to restoring normal ties and aid to Pakistan subject to the country establishing its bonafides in forsaking terrorism and helping its drawdown in Afghanistan.
In a separate event on Capitol Hill, Khan was alternately disarming and dissembling as he analyzed the situation that led to Pakistan becoming a pariah nation.
"We were fighting the US war on terror. Pakistan has nothing to do with 9/11. Al-Qaeda was in Afghanistan. There were no militant Taliban in Pakistan. But we joined the US war. Unfortunately, when things went wrong, where I blame my government, we did not tell the US exactly the truth on the ground," he told lawmakers.
Chroniclers of the era have written extensively on how Pakistan spawned the Taliban to capture power in Afghanistan so it could establish as "strategic depth" against India. The Pakistani proxies then sheltered Osama bin Laden and the perpetrators of 9/11, some of whom prepared for the attack while in Afghanistan and Pakistan.
However, Khan blamed previous dispensations and their lack of control for the free run terrorists had in Pakistan. "Part of the reason was, our governments were not in control. There were 40 different militant groups operating within Pakistan," he said.
https://timesofindia.indiatimes.com/world/pakistan/imran-khan-comes-clean-on-terrorism-blames-previous-pak-govts/articleshow/70367882.cms
--------
PTI to give thanks while opposition observes anniversary of 2018 elections as 'black day'
Aamir Yasin | Syed Irfan Raza
July 25, 2019
ISLAMABAD: While the PTI government celebrates the first anniversary of the 2018 general election today (Thursday), the joint opposition will observe it as a 'black day'.
The joint opposition will hold public meetings in all the provincial capitals — Karachi, Lahore, Peshawar and Quetta — while a demonstration will be held in Islamabad.
In a press release, PTI Central Secretary General Amir Mehmood Kiyani said that on July 25, the nation entrusted Mr Khan with the responsibility to lead them and after a year of public service, the PTI is looking forward to commemorating the day as 'Youm-i-Tashakkur' (thanksgiving day).
He said the day's celebrations would begin with "the historic welcome" of the prime minister upon his return from the United States.
PML-N leader Marriyum Aurangzeb told Dawn that the joint opposition will stage four public meetings across the country.
Lahore's public meeting will be presided over by PML-N President Shahbaz Sharif, while PML-N leader Maryam Nawaz will address the meeting in Quetta. PPP Chairman Bilawal Bhutto Zardari will lead the public meeting in Karachi alongside PML-N's Ayaz Sadiq and Jamiat Ulemia-i-Islam (JUI-F) chief Maulana Fazlur Rehman will lead the public meeting in Peshawar along with PML-N's Ahsan Iqbal.
Mr Rehman had convened a multi-party conference of opposition parties just last month and announced that July 25 would be observed as a black day.
He said in a statement that his party's main event will be held in Peshawar, where a public meeting and a 'million march' will take place.
He said the JUI-F would observe a black day throughout the country at the district level, adding: "The man roaming in the US has come into power as a result of fake elections."
In a press conference, Mr Iqbal said the joint opposition would observe a black day across the country to tell the world that the PTI government was not 'elected' but 'selected'.
He said the 'selected' prime minister's main target was removing a television set and a refrigerator from former prime minister Nawaz Sharif's room in prison.
Mr Iqbal added that Pakistanis living in America welcomed Mr Khan during his visit to the US because the income they send to Pakistan has increased in value, as the US dollar has appreciated against the Pakistani rupee from Rs115 to Rs160 to a dollar.
He said the prime minister always spoke about reforms without realising that reforms do not come through a political witch hunt but by taking all stakeholders into confidence.
Speaking about Chief of Army Staff Gen Qamar Javed Bajwa's remarks that the economy was on the right track, Mr Iqbal said he believed Gen Bajwa was not aware of the factual situation and should review his remarks.
He also accused the government of "paralysing" the China Pakistan Economic Corridor and said the railway track-II project known as ML-I has been stopped.
He said the opposition would not allow the government to strangle the media's freedom.
"Imran Khan, who locked down Islamabad for four months, is now imposing censorship on PML-N's political activities," he said.
No opposition plans in Rawalpindi
The main opposition parties, PPP and PML-N, will not hold any protests in Rawalpindi, but local leaders of both parties have been asked to attend the main gathering in Lahore.
Former PML-N MNA Malik Shakil Awan told Dawn: "We will not hold any protest rally or demonstration, as the party asked local leaders to reach Lahore where PML-N President Shahbaz Sharif will lead the protest demonstration."
He said the party's Islamabad chapter will protest outside the National Press Club.
A senior party leader who asked not to be named said that the PML-N lacked coordination and did not tell union council chairmen to gather in Lahore or in their respective areas to protest.
He said union council chairmen and cantonment board members tried to contact the local leadership for party guidelines, but the local leadership did not respond because they too were not aware of the party's policy.
He said the party was divided into three groups in the city because of the elevation of some local leaders to the provincial level
"Former MNA Hanif Abbasi, vice president of the PML-N Punjab chapter, and former mayor Sardar Naseem are not active in politics and other local leaders did not have information on the party's policy regarding the protest," he said.
"We had no plans to stage a protest demonstration in Rawalpindi as the party decided to participate in the PML-N rally in Lahore. Party workers were asked to go to Lahore to make the demonstration bigger," PPP Rawalpindi chapter spokesperson Nasir Mir said.
Full report at:
https://www.dawn.com/news/1496007/pti-to-give-thanks-while-opposition-observes-anniversary-of-2018-elections-as-black-day
--------
Court extends Hafiz Saeed's judicial remand for 14 days
July 25, 2019
GUJRANWALA: An anti-terrorism court (ATC) on Wednesday extended the judicial remand of incarcerated Jamaatud Dawa (JuD) chief Hafiz Saeed for 14 days.
Special ATC Judge Syed Ali Imran ordered the Counter-Terrorism Department (CTD) to complete its investigation and present a formal challan in court on August 7.
The court, then, ordered that Saeed should also be presented on Aug 7.
Hafiz Saeed was arrested on July 17 in connection with a terrorism financing case while he was on his way from Lahore to Gujranwala.
Following the arrest, he was sent to prison on judicial remand after he was presented before a Gujranwala anti-terrorism court (ATC).
Full report at:
https://www.pakistantoday.com.pk/2019/07/24/court-extends-hafiz-saeeds-judicial-remand-for-14-days/
--------
Gen Bajwa discusses Afghan peace with Pompeo, US military leadership
July 25, 2019
WASHINGTON: Chief of Army Staff (COAS) General Qamar Javed Bajwa visited the US State Department and met with Secretary of State Mike Pompeo, said Inter-Services Public Relations (ISPR) Director General Major General Asif Ghafoor.
According to the chief military spokesperson, during the meeting, the two leaders discussed regional security issues and the Afghan peace process.
In another tweet, the ISPR DG quoted the army chief as saying: "Pakistan attaches great importance to restoring a robust bilateral relationship based on mutual respect, trust and shared values."
The COAS also met the top US military leadership during his visit to Pentagon. Upon his arrival, the army chief was given a 21-gun salute.
During his series of meetings, the COAS also met with Senator Lindsay Graham and General (r) Jack Keane to talk about the security situation.
In the meeting, Senator Graham recalled his visit to Pakistan, appreciating the country's role in improving the security dynamics, stated General Ghafoor.
The army chief briefed about the improved security situation in the country, resulting in opportunities for foreign businesses to invest in Pakistan.
Full report at:
https://www.pakistantoday.com.pk/2019/07/24/bajwa-meets-us-state-secy-pompeo-military-leadership-in-washington/
--------
Taliban hint at Pakistan-brokered prisoners' swap
Tahir Khan
JULY 25, 2019
The Afghan Taliban on Wednesday said that they were involved in talks on a prisoners' swap deal and that they could release two professors, one American and one Australian.
Gunmen had kidnapped American Kevin King, 60, and Australian Timothy Weeks, 48, teachers with the American University of Afghanistan in Kabul, near the campus in August 2016.
"We will be giving you good news about the two hostages," Prime Minister Khan told US President Donald Trump in their meeting at the White House on Monday.
He later told Fox News that Pakistan is playing its part in the possible release of the hostages.
"And I think we're very close. We hope to give some good news in the next 48 hours," he said.
Taliban have released two videos of the hostages since they were kidnapped as proof of life of the abductees and to press for demands. The hostages had urged President Trump to negotiate their release with the Taliban.
The hostages had stated in a video released in June 2017 that Taliban demand release of their "soldiers" being held at Bagram air base and Afghanistan's infamous Pul-e-Charkhi jail in return for freeing the two western professor.
A Taliban official confirmed on Wednesday that negotiations are being held in Qatar for the exchange of the prisoners.
"Yes. Talks have held about the prisoners swap agreement with Pakistan's mediation," he told Daily Times. He did not want to be identified by name as the negotiations have entered in decisive phase.
When asked as to when the deal could be announced, he said, "it is possible in coming days."
It is unclear if Anas Haqqani, the brother of Taliban's deputy Chief, Siraj Haqqani, will be part in a possible prisoner exchange deal. However, Taliban have been demanding his release in meetings with the Americans.
Anas was captured by the American security officials after he visited Qatar in October 2014. He was accompanied by another Taliban leader, Hafiz Rashid, who had gone to Qatar to meet five Taliban leaders who had been freed from Guantanamo prison.
The two were arrested at Bahrain's airport and were later handed over to authorities in Afghanistan and were later handed over to the Afghan authorities.
American special envoy, Zalmay Khalilzad, who is leading American negotiators in peace talks with the Taliban in Qatar, has also called for the release of the two professors during the negotiations, according to Taliban officials privy to the discussions. In October 2017, Pakistani forces had rescued a US-Canadian couple and their three children from the Afghan Taliban in after five years as captives in Afghanistan. The army had stated in a statement that the family members were rescued in Kurram tribal district, when the captors were shifting them to another location.
Full report at:
https://dailytimes.com.pk/436444/taliban-hint-at-pakistan-brokered-prisoners-swap/
--------
Pakistan remands alleged mastermind of Mumbai attacks for 14 days
Jul 24, 2019
A court in Pakistan has remanded to custody a terror suspect accused of masterminding a four-day attack on India's financial capital, Mumbai, in 2008, his lawyer says.
Imran Fazal said on Wednesday that an anti-terrorism court in central Pakistan remanded Hafiz Saeed to custody for 14 days while counter-terrorism officials complete investigations.
This came after a hearing following his arrest last week on terrorism financing charges. Saeed was taken into custody in Punjab province on July 17 while he was traveling from eastern city of Lahore to the town of Gujranwala.
Reacting to the detention, Ujjwal Nikam, India's special public prosecutor in the 26/11 Mumbai terror attack case, had called Saeed's arrest "a drama."
"Pakistan is fooling the world that they have arrested him, we have to see how they produce evidence in courts and how efforts are made to convict him, otherwise it is a drama," he said.
An Indian government official, who has close knowledge of diplomatic issues with Pakistan, earlier told The Guardian newspaper that arresting Saeed was not enough and that he should be put on trial and convicted.
"We want real action, not these kinds of steps that are reversible. One court orders his arrest, another frees him," said the official.
Saeed is the founder of Lashkar-e-Taiba (LeT), the militant group blamed by India for the Mumbai attacks, which killed more than 160 people and injured hundreds of others.
Pakistan banned Saeed's charities earlier this year and detained him, along with several close aides. However, he has not been charged or put on trial so far.
In 2017, Saeed was put under house arrest by Pakistani authorities and subsequently released after being cleared of charges against him, drawing strong criticism from New Delhi.
LeT is known for attacking Indian security forces and government targets.
Saeed, however, has denied any involvement in the Mumbai attacks, saying he has no ties to militant groups.
Full report at:
https://www.presstv.com/Detail/2019/07/24/601744/Pakistan-Mumbai-Hafiz-Saeed--Imran-Khan--Donald-Trump-Ujjwal-Nikam
--------
Taliban 'will visit Pakistan if formally invited'
TAHIR KHAN
July 24, 2019
ISLAMABAD: The Afghan Taliban will visit Pakistan in the "coming weeks" if a formal invitation is extended, it said on Wednesday, after Pakistan's Prime Minister Imran Khan said he would meet Taliban leaders to persuade them to hold negotiations with the government in Kabul.
During an appearance at the US Institute of Peace on Tuesday, Khan said: "I will meet the Taliban and I will try my best to get them to talk to the Afghan government."
The US and the Taliban are getting closer to a deal expected to center on a US pledge to withdraw troops in exchange for a Taliban promise not to use its forces to interfere in US affairs. The group has refused so far to hold direct talks with the administration of President Ashraf Ghani, which it considers a "puppet" regime.
Earlier this month, three Afghan government officials joined a delegation of over 50 people at an intra-Afghan conference in Doha, also attended by Taliban political envoys to discuss the future of the war-ravaged country.
The Taliban insisted that the officials were only present in a personal capacity, and not as representatives of Ghani.
Taliban spokesman Suhail Shaheen said on Wednesday a visit to Pakistan could take place in the coming weeks.
"We travel to other countries in the world and hold meetings," he told Arab News via telephone from Doha.
"Pakistan is a neighboring Muslim country. Members of the political office of the Islamic Emirate will visit Pakistan if a formal invitation is extended to us. We will discuss the issue of refugees and other related issues."
There are now reports that Khan has discussed his plan to receive Taliban leaders in Pakistan with Afghan President Ashraf Ghani, who has given his go ahead, despite requesting Islamabad not meet with the group several months ago.
Taliban and US representatives are scheduled to resume talks in the coming days to remove differences on a timeframe for the withdrawal of foreign forces.
Full report at:
http://www.arabnews.com/node/1530421/world
--------
South Asia
Pakistan PM says Taliban may soon release 2 hostages
By Deb Riechmann
July 23, 2019
WASHINGTON — Pakistan Prime Minister Imran Khan says militants may soon release two Western hostages as negotiations on a peace deal for Afghanistan make progress with his country's help.
Khan, who was in the middle of a three-day U.S. visit Tuesday, has repeatedly said the men, an American and Australian, could be freed from the Taliban-linked militants who have held them for nearly three years.
"We will be giving you good news about the two hostages," Khan told President Donald Trump in their meeting Monday at the White House.
The prime minister did not mention them by name at the White House but in a later interview said he was referring to an American and an Australian kidnapped by the Taliban.
"Pakistan is playing its part," he told Fox News with Brett Baier. "And I think we're very close. We hope to give some good news in the next 48 hours."
In its ongoing negotiations with the Taliban, the U.S. has been pressing for the release of American Kevin King, 62, and Australian Timothy John Weeks, 50, of Sydney. It's unknown where King grew up in the United States, but the FBI said he speaks both English and Thai.
The men, both English teachers at the American University of Kabul, were abducted August 2016 as they returned to the campus in the Afghan capital.
The following January, the Taliban released a video in which the two professors asked Trump, who was then president-elect, to offer to exchange prisoners with the militants for their release.
In October 2017, Taliban spokesman Zabihullah Mujahid released a statement saying King was suffering from heart and kidney problems, and often loses consciousness. Mujahid said the Taliban would hold the U.S. government responsible if anything happened to King.
It is widely believed the two Westerners have been held by the Haqqani group, which has close ties to Pakistan's premier intelligence agency known as the ISI. In exchange for the two professors, the Haqqani group has long demanded the release of Anas Haqqani, a brother of Sirajuddin Haqqani, who was captured by Afghan intelligence agents in 2014.
The Haqqani network also held Sgt. Bowe Bergdahl, a U.S. soldier who was freed in 2014 in exchange for five Taliban prisoners who were held at the U.S. military prison at Guantánamo Bay, Cuba.
Trump told reporters before his meeting Monday with Khan that they would discuss hostages. Also missing is American Paul Overby, an author in his 70s who had traveled to the region several times but disappeared in eastern Afghanistan in mid-2014.
The U.S. is seeking the release of Dr. Shakil Afridi, a doctor who ran a fake vaccination campaign to help the U.S. confirm the whereabouts of Osama bin Laden before the May 2011 U.S. raid on his compound. The doctor is being held in a Pakistani prison.
Khan told Fox that Pakistan might consider swapping Afridi for Pakistani neuroscientist Aafia Siddiqui, who was sentenced in 2010 in U.S. federal court in New York to 86 years in prison for assaulting and trying to kill Americans serving in Afghanistan. She is being held at the Federal Medical Center Carswell in Fort Worth, Texas.
"Yes, we could negotiate some sort of swap," Khan told Fox.
https://www.washingtonpost.com/world/national-security/pakistan-pm-says-taliban-may-soon-release-2-hostages/2019/07/23/021a0bde-ad8e-11e9-9411-a608f9d0c2d3_story.html?noredirect=on&utm_term=.7edfa1a66a68
--------
Pakistan Prime Minister Khan says he will try to persuade Taliban to meet Afghan government
JULY 23, 2019
WASHINGTON (Reuters) - Pakistani Prime Minister Imran Khan on Tuesday said he would try meet with the Taliban in an effort to persuade the group to meet with the Afghan government, as the United States seeks to end the nearly 18-year old war.
"I will meet the Taliban and I will try my best to get them to talk to the Afghan government," Khan said during an appearance at the U.S. Institute of Peace in Washington.
Khan said a Taliban delegation had wanted to meet him a few months back but he did not because of opposition from the Afghan government.
The United States and the Taliban are getting closer to a deal that is expected to be centered on a U.S. pledge to withdraw troops in exchange for a Taliban promise not to let Afghanistan be used as a base for terrorism, officials say.
However, the Taliban have refused to negotiate with the government, denouncing it as a U.S puppet, but in an effort to foster Afghan reconciliation, a 60-strong delegation of citizens met the Taliban for two days of talks in Qatar from Sunday.
Pakistan's role in the peace negotiations is a delicate one.
Afghanistan accuses Pakistan of supporting the Taliban, a charge Pakistan denies, saying it has suffered heavily from the fighting.
The United States has also pressed Islamabad to do more to curb militant groups based in its territory.
Even as talks continue, the Taliban and the government have continued fighting.
Full report at:
https://www.reuters.com/article/us-usa-pakistan-khan/pakistan-prime-minister-says-he-will-try-to-persuade-taliban-to-meet-afghan-government-idUSKCN1UI20F
--------
At least 5 killed as multiple blasts rock Kabul: official
July 25, 2019
At least five people were killed on Thursday in a suicide bombing in Kabul, an official said, adding that two other blasts had also hit the Afghan capital.
The bombing comes amid an increase in violence in Kabul and around Afghanistan, where the war is taking a continued toll even amid a US-led effort to make a peace deal with the Taliban.
The first blast came around 8:10am Kabul time when a suicide bomber riding a motorcycle hit a bus in eastern Kabul, according to interior ministry spokesman Nasrat Rahimi.
He said the bus belonged to the ministry of mines and petroleum, and warned the death toll could change. Rahimi said two other blasts had occurred, including a car bomb, also in eastern Kabul.
No details were immediately available on the other two blasts, and no group immediately claimed responsibility.
The US is negotiating for a deal that would see foreign forces pull out of the country in return for various Taliban security guarantees, including a pledge that Afghanistan will not become a safe haven for terror groups.
Full report at:
https://www.dawn.com/news/1496134/at-least-5-killed-as-multiple-blasts-rock-kabul-official
--------
Official: Rohingya repatriation likely in September
SM Najmus Sakib
24.07.2019
DHAKA, Bangladesh
The longstanding impasse in repatriating Rohingya Muslims to their homeland in Myanmar may give way in September, according a senior Bangladeshi official said Wednesday.
Bangladesh's Foreign Minister AK Abdul Momen on Wednesday announced a possible schedule for the repatriation of Rohingya in Dhaka.
"I am expecting that repatriation will start from this September. After Prime Minister Sheikh Hasina's visit to China, things get moving faster," he told reporters at his office, local daily The Financial Express reported.
"I have a gut feeling about it. We are getting positive feedback from all our friendly countries who are engaged in this process," it added.
The minister, who recently concluded his visit to the UN chief and U.S. lawmakers this month, added that Myanmar would not expect global criticism over the issue during the UN General Assembly to be held in September.
The minister urged the international community to increase efforts in Rakhine state, Myanmar so repatriation could be conducted in a safe and conducive manner.
Nay San Lwin, campaign coordinator for the rights group Free Rohingya Coalition, expressed concern at the development.
"The world and the Bangladesh must make sure that the cycle of violence against Rohingyas not repeat again. Rohingyas can live back in their homeland as human beings," he told Anadolu Agency, underlining that the "genocide" of the Muslim group must end before repatriation may begin.
He added that More than a million Myanmar genocide survivors who took refuge in Bangladesh will go back to their homeland if protection, full citizenship, rights to return to their origin villages, rights to livelihood, access to education and access to healthcare are guaranteed.
"The genocide hasn't ended yet. It is ongoing. Until now there is no guarantee for anything," Lwin said.
- A persecuted people
The Rohingya, described by the UN as the world's most persecuted people, have faced heightened fears of attack since dozens were killed in communal violence in 2012.
According to Amnesty International, more than 750,000 Rohingya refugees, mostly women and children, have fled Myanmar and crossed into Bangladesh after Myanmar forces launched a crackdown on the minority Muslim community in August 2017, pushing the number of persecuted people in Bangladesh above 1.2 million.
Since Aug. 25, 2017, nearly 24,000 Rohingya Muslims have been killed by Myanmar's state forces, according to a report by the Ontario International Development Agency.
More than 34,000 Rohingya were also thrown into fires, while over 114,000 others were beaten, said the OIDA report, titled "Forced Migration of Rohingya: The Untold Experience."
Full report at:
https://www.aa.com.tr/en/asia-pacific/official-rohingya-repatriation-likely-in-september/1540657
--------
U.S. airstrikes killed 8 Taliban militants, destroyed truck bomb in Ghazni: Thunder Corps
25 Jul 2019
The 203rd Thunder Corps of the Afghan Military said Wednesday that U.S. airstrikes killed 8 Taliban militants and destroyed a truck bomb in Ghazni.
According to a statement released by 203rd Thunder Corps, the U.S. forces conducted the airstrikes in Ahad area of Geru and Bashi area of Andar district.
The statement further added that the airstrikes also destroyed a Ford Ranger type vehicle.
The local officials on Tuesday said an airstrike destroyed a truck bomb in Geru district of Ghazni.
The Governor's Office in Ghazni said in a statement that the security forces conducted an airstrike at around 8:40 pm local time.
The statement further added that the security forces conducted the airstrike in Mazar area of Geru district.
Full report at:
https://www.khaama.com/u-s-airstrikes-killed-8-taliban-militants-destroyed-truck-bomb-in-ghazni-thunder-corps-03439/
--------
Suicide attack targets ministry bus in Kabul leaving at least 15 dead, wounded
25 Jul 2019
A suicide attack targeted a governmental bus in Kabul city earlier today killing or wounding at least 15 civilians.
Nasrat Rahimi, a spokesman for the Ministry of Interior confirmed that the explosion took place in Millie Bus Square in 16th district of the city.
Rahimi further added that the explosion targeted a vehicle carrying the staff of the Ministry of Mines and Petroleum.
Full report at:
https://www.khaama.com/suicide-attack-targets-ministry-bus-in-kabul-leaving-at-least-15-dead-wounded-03437/
--------
Three bombs kill at least 12, wound dozens in Afghan capital
25 July 2019
Three bombs rocked the Afghan capital of Kabul on Thursday, with one hitting a bus carrying government employees, killing a total of at least 12 people, officials said.
Five employees of the ministry of mines and petroleum were killed and 10 wounded in the bus attack, the officials said, adding that seven people were killed and more than 20 wounded in the second explosion.
"First a magnetic bomb pasted to a minibus exploded, then a suicide bomber blew himself near the bus attack site and the third blast happened when a car was blown up by unknown militants," said Nasrat Rahimi, a spokesman of the interior ministry in Kabul. "The death toll could rise from all the three blasts," he said.
No militant group has claimed responsibility for the attacks that came as US Marine General Joseph Dunford, the chairman of the Joint Chiefs of Staff, was meeting top US and NATO officials in Kabul.
The United States is trying to negotiate a deal that would see foreign forces pull out of Afghanistan in return for various security guarantees by Taliban militants, including a pledge that the country will not become a safe haven for terror groups.
Full report at:
https://english.alarabiya.net/en/News/world/2019/07/25/At-least-five-killed-as-three-blasts-rock-Kabul-Official-.html
--------
Sri Lanka expands visa-free scheme halted after bombings
July 24, 2019
COLOMBO: Sri Lanka has re-introduced and expanded a visa-free entry scheme for visitors in a bid to revive its flagging tourism sector after the deadly Easter bombings, officials said Wednesday.
The concession for tourists from 39 nations was suspended after militants bombed three churches and three luxury hotels in Colombo on April 21 killing 258 people, including 45 foreigners.
"As the security situation has improved, the cabinet of ministers decided to revive the visa-free scheme and also extended it to seven more countries," the government said in a statement.
A tourism official said foreign governments have relaxed travel advisories for Sri Lanka since the attacks.
There has also been a lift in the number of arrivals, which nosedived soon after the bombings blamed on a home-grown militant group, the official said.
The new countries added to the expanded scheme — which already allows travelers from the European Union, Australia and the United States to enter Sri Lanka without a visa — include China and India.
Visitors still have to obtain a visa on arrival, but the government has waived the $35 fee from August 1.
Sri Lanka initially projected a 30 percent dip in the number of foreign holidaymakers after the attacks.
The following month the number of tourists plunged to 37,800, down from 166,975 in April, according to official figures.
But they improved last month with some 63,000 visitors, although numbers are still down from 146,828 in June 2018.
Full report at:
http://www.arabnews.com/node/1530121/world
--------
Southeast Asia
China says Xinjiang 'inseparable' despite attempts to distort history
July 22, 2019
SHANGHAI: The far northwestern region of Xinjiang is an "inseparable" part of China despite efforts by extremists to distort history and facts in a bid to split the country, the Chinese government said in a document published late on Sunday.
The government said in a white paper published by the State council information office it was wrong to suggest members of Xinjiang's minority Uighur Muslim community were descended from Turks, noting they had become the political tool of pan-Turkic and pan-Islamic groups.
The paper said "hostile forces in and outside China, especially separatists, religious extremists and terrorists, have tried to split China and break it apart by distorting history and facts".
Beijing has been accused of persecuting Uighurs, with at least a million believed to be detained in what China insists are vocational centres aimed at reducing the spread of Islamist extremism.
US secretary of state Mike Pompeo branded China's treatment of its Uighur minority as the "stain of the century" on Thursday.
The government white paper said Xinjiang has been a part of China since the Han dynasty in the third century and its people and ethnic cultures were formed by a long process of migration and integration.
It also said Islam was not the indigenous or sole belief system of the Uighurs but was imposed by the expansion of the Arab Empire, and that "theocracy" and "religious supremacism" were a betrayal that needed to be opposed.
"Hostile foreign forces and separatist, religious extremist and terrorist forces that have colluded to distort history … will be cast aside by history and the people," it said.
https://www.freemalaysiatoday.com/category/world/2019/07/22/china-says-xinjiang-inseparable-despite-attempts-to-distort-history/
--------
Malaysia launches Muslim-friendly hotel recognition
24 Jul 2019
PUTRAJAYA: Malaysia has introduced the "Muslim-Friendly Hotel Recognition" initiative, a form of accreditation which recognises syariah compliant accommodation for tourists.
Tourism, Arts and Culture Minister Datuk Mohamaddin Ketapi said the accreditation, implemented by the Islamic Tourist Centre (ITC) is the first of its kind in the world issued by a government agency.
"We are the first country in the world to have a government-backed initiative. Such standards or accreditation currently out in the market are all released by travel entities.
"The implementation of the Muslim Friendly Hotel Recognition is an important initiative to empower the tourism industry, especially the Islamic tourism segment to begin developing the industry towards its next phase.
Mohamaddin said Malaysia acknowledges the potential of the Islamic tourism sector as travellers from Muslim countries, especially the Middle East, are the biggest spenders in Malaysia's tourism industry.
"The Islamic tourism sector is a high potential market segment. Malaysia has been at the pole position for nine consecutive years in the Global Muslim Traveler Index which studies the patterns and trends of Islamic Tourism globally.
"In 2018, Malaysia recorded an estimated 5.2 million Muslim tourist arrivals. The enormous potential of 1.8 billion Muslims worldwide should be seen as an opportunity by all relevant tourism stakeholders."
"The index also estimates that there will be 160 million Muslim travellers by 2020. This figure is expected to increase by 230 million by 2026," he said.
Mohamaddin added that "non-Muslim countries" such as Japan, South Korea and Taiwan have also begun tapping into the Muslim traveller market.
ITC director-general Datuk Seri Abdul Khani Daud explained later at a press conference that the accreditation is developed with Sirim Berhad, adding that 12 hotels have already received Muslim-Friendly Hotel Recognition
There are three levels of accreditation; platinum, gold and silver, based on the level of compliance to the standards that have been set.
Full report at:
https://www.thestar.com.my/news/nation/2019/07/24/malaysia-launches-muslim-friendly-hotel-recognition/
--------
Report: Tough Tactics against Indonesian Muslim Hardliners Could Backfire on Jokowi
2019-07-24
As he begins his second term, Indonesia's president should be careful to not implement policies that could repress free speech and worsen political and religious divisions exposed by the April election and its aftermath, a Jakarta-based think-tank says in a new report.
President Joko "Jokowi" Widodo should refrain from using defamation laws to silence critics while addressing social grievances voiced by hardline Muslim groups, according to the report published by the Institute for Policy Analysis of Conflict (IPAC) on Tuesday.
"The challenge for President Jokowi in his second term is to ensure that policies aimed at undermining extremism do not exacerbate the political polarization that the election revealed," IPAC said.
An analyst with the think-tank expanded on this.
"The Jokowi government's decision to take a tougher line against extremism is welcome, but he needs to ensure that tactics used do not feed a new narrative of repression," IPAC analyst Nava Nuraniyah said in the report.
"He can do that by ensuring there are clear criteria for curbing hate speech, that defamation laws are not used to arrest individuals for casual criticism of public officials and that there is a clear distinction made between criminal incitement and legitimate dissent," she said.
IPAC said Jokowi should ensure that all Muslims in the country benefit from government policies, otherwise he could be seen as favoring only the moderate and Java-centric Nahdlatul Ulama (NU), the country's largest mass Muslim organization that backed his electoral campaign.
Jokowi won in Central and East Java, the stronghold for NU, as well as in provinces where non-Muslims are the majority, such as mainly Hindu Bali and predominantly Christian East Nusa Tenggara, while his challenger, Prabowo Subianto, dominated in staunchly Muslim West Java and most of Sumatra island.
"While being careful not to appease the intolerant religious right, the president can focus on ensuring that he is less vulnerable on the inequality charge by ensuring that his economic programs are not concentrated on Java and in NU-dominated areas but are spread evenly across different Islamic groups and regions," IPAC said.
Post-election unrest
In the aftermath of the election, police arrested two of Prabowo's prominent campaigners, Eggy Sudjana and Lieus Sungkarisma in May on charges of treason for allegedly threatening to mobilize masses over concerns the election was rigged. They have since been released from detention while charges have not been dropped.
A rally by Prabowo's supporters descended into chaos, beginning on May 21, when officers clashed with protesters. Nine people died and scores were injured over two nights of rioting.
The protesters had demanded that the Election Supervisory Agency take action in response to allegations by Prabowo's camp that the election was stolen.
Police have insisted that the rioting was not spontaneous but incited by third parties bent on creating chaos to destabilize the country.
In addition, national police spokesman Dedi Prasetyo denied that security personnel had acted repressively in dealing with pro-Prabowo supporters.
"We took action to prevent acts of terrorism which can endanger the nation," he told BenarNews.
"We don't want Indonesia to become another Syria, Iraq or Yemen. Security is very important for national development and our welfare as a nation," he said.
The May protests were much smaller than rallies organized by hardline Muslim groups in late 2016 and early 2017 against then-Jakarta Gov. Basuki "Ahok" Tjahaja Purnama over accusations that he had blasphemed Islam.
Ahok, a Christian of Chinese descent who had served as deputy to Jokowi when the latter served as Jakarta governor before running for president, was convicted of blasphemy and sentenced in 2017 to two years in prison. He was released in January.
Security threats
The IPAC report said police had come to see ultra-conservative Muslim groups as one of the biggest security threats facing Indonesia.
This translated into a greater reliance on repressive tactics, including arrests and intimidation, unusually tight enforcement of rally permits, stepped up scrutiny of social media, and an effort to portray political Muslims as being one step away from violent extremists, the report said.
A presidential spokeswoman defended the government's actions.
"Law enforcement officers take action based on valid evidence and the due process, and we have an impartial judicial system," Jaleswari Pramodhawardhani told BenarNews.
"In countering attempts by certain groups to undermine Pancasila (the state ideology), the government makes no compromises and has taken decisive steps including dissolving radical mass organizations through courts," she said. "In addition, the government continues to promote religious moderation by involving relevant stakeholders."
She said courts had the final say in these cases.
Full report at:
https://www.benarnews.org/english/news/indonesian/ipac-report-07242019162248.html
--------
Indonesian Couple Carried Out Philippines Cathedral Bombing, Police Say
By Richard C. Paddock and Jason Gutierrez
July 23, 2019
BANGKOK — A deadly cathedral bombing in the Philippines in January was a suicide attack carried out by an Indonesian couple who once tried to reach Islamic State territory and were deported from Turkey, the Indonesian police said on Tuesday.
The married couple, identified as Rullie Rian Zeke and Ulfah Handayani Saleh, went to Turkey in 2016 with hopes of crossing the border into Syria, the police said. Instead, they were arrested in January 2017 and sent back to Indonesia.
The bombing, consisting of two detonations, struck the Cathedral of Our Lady of Mount Carmel on the southern island of Jolo, where the government has long fought Muslim insurgents. At least 23 people were killed and more than 100 wounded in the assault, which took place just as worshipers gathered for Mass. Through various online bulletins, the Islamic State claimed responsibility.
Terrorism officials and independent experts have warned that Indonesia and other Southeast Asian nations face a serious threat from hundreds of returnees who traveled to Syria and Iraq to join the Islamic State. The attack in January showed that they must also be wary of those who were deported from other countries before they could reach their destination.
"This is the first suicide bombing we know of carried out by deportees," said Sidney Jones, director of the Institute for Policy Analysis of Conflict in Jakarta, the Indonesian capital. "A few others have been involved in terrorist activities, but nothing on this scale."
Jolo has been a hotbed of Islamic insurgency and the home of a violent separatist militia, Abu Sayyaf, that espouses an Islamist ideology. The Philippine authorities initially blamed Abu Sayyaf for the bombing, and the attackers may have had the group's help.
Mr. Rullie and Ms. Ulfah were identified during the interrogation of two suspects who were arrested in Malaysia in May, the Indonesian police said.
The Indonesian couple's role in the Philippine bombing demonstrates the regional nature of Islamist militants affiliated with the Islamic State who operate across borders as they pursue their goal of creating a Southeast Asia caliphate that would include Indonesia, Malaysia and the Philippines.
"This shows the need for each police force in the region to understand extremist networks in neighboring countries," said Ms. Jones, a leading expert on terrorism in the region.
Last a year, a couple led their four children on a suicide mission in Surabaya, Indonesia's second-largest city, with bombings at three churches on a Sunday morning that killed all six family members and 12 other people. The Islamic State claimed responsibility for the attacks.
In 2017, the authorities identified seven young Indonesian men who joined the Islamic State, but went to the southern Philippines instead of Syria or Iraq. They joined the battle against the Philippine government in the city of Marawi, which was eventually destroyed by the fighting.
The bombing of the Jolo cathedral will add to the debate over how countries should deal with citizens who were arrested in Islamic State territory and are being held in camps in Syria, Ms. Jones said.
"Some Indonesians and Malaysians have expressed a desire to come home, but there is no great enthusiasm for bringing them back and as of yet, no clear program for doing so," she said.
Mr. Rullie and Ms. Ulfah appear to have been stuck with their three children in Turkey for nearly a year before they were caught and deported. They attended a short rehabilitation program on their return to Indonesia and were allowed to go home. The whereabouts of the children were unknown, Ms. Jones said.
Full report at:
https://www.nytimes.com/2019/07/23/world/asia/philippines-bombing-deportees-isis.html
--------
Only Umno president can represent talks with other political parties, says Zahid
24 July 2019
BY IDA NADIRAH IBRAHIM
KUALA LUMPUR, July 24 — Umno members cannot represent the party in having talks with other political parties as only its president has been given the mandate to do so, says Datuk Seri Ahmad Zahid Hamidi.
Following the open invitations by other parties, particularly from Pakatan Harapan (PH), for Umno to join forces to form Malay unity, Zahid said the party remains adamant that it would not have any cooperation with any parties that are allies with DAP.
"Umno will not accept any negotiations with any parties, especially the component parties of PH, which have political ties with DAP.
"Only the president is allowed to represent Umno to engage in discussions with other parties, but no other party leader or members are given the mandate to do so," Zahid told a press conference after chairing the Umno Supreme Council meeting at the party headquarters here today.
Zahid said if any parties aside from Umno, PAS or Barisan Nasional (BN) invites either of the Malay-Muslim parties to discuss on any form of political cooperation, the Umno Supreme Council had agreed that Umno would not accept any negotiations, unless represented by the president.
"If it is only to discuss and hear the views [of others], we will listen. But we object 100 per cent in forming cooperation with other parties [especially linked with DAP]."
Earlier this month, Zahid had said that both Umno and BN would never accept the invitation to join Parti Pribumi Bersatu Malaysia as long as the Pakatan Harapan coalition party cooperates with DAP.
This was following Tun Dr Mahathir Mohamad's invitation to all Malay parties including Umno to join Bersatu in efforts to unite the Malays.
The Bersatu chairman said that he found more and more Malay parties were being formed, which reduced the potentials of the Malay parties to win the election.
Meanwhile, on the political cooperation between Umno and PAS, Zahid said the secretary-general of both parties will be announcing the date when the official agreement will be signed.
Earlier today, The Star reported that Umno secretary-general Tan Sri Annuar Musa said that the parties are finding suitable date and venue for the ceremony to launch and sign the Umno-PAS charter.
Full report at:
https://www.malaymail.com/news/malaysia/2019/07/24/only-umno-president-can-represent-talks-with-other-political-parties-says-z/1774456
--------
NU, non-Muslim voters held 'key role' in Jokowi's win
July 25 2019
The country's largest Muslim organization, Nahdlatul Ulama (NU), and non-Muslim communities played a crucial role in helping President Joko "Jokowi" Widodo and Vice President Ma'ruf Amin win the April 17 presidential election, analysts have said."One of the keys for Jokowi's and Ma'ruf's win was the non-Muslim factor — 97 percent of non-Muslim citizens voted for Jokowi," Indikator Politik Indonesia researcher Burhanuddin Muhtadi said during a discussion on Friday, quoting the results of an exit poll conducted by the pollster.However, Burhanuddin said it was NU's role in getting Muslims to vote that was crucial in Jokowi's reelection as, by appointing Ma'ruf, an NU leader, as his running mate, Jokowi had essentially cemented a permanent pact with the organization. "Of all the Muslim constituents who voted for Jokowi and Ma'ruf, most of them ...
Full report at:
https://www.thejakartapost.com/news/2019/07/25/nu-non-muslim-voters-held-key-role-jokowi-s-win.html
--------
Europe
Russian Supreme Court Upholds Sentence For Ukrainian Convicted Of 'Promoting Terrorism'
July 23, 2019
Russia's Supreme Court has upheld a six-year prison sentence given to 20-year-old Ukrainian national Pavlo Hryb.
The North Caucasus Regional Court on March 22 convicted Hryb of "promoting terrorism," a charge he contends was fabricated by the Federal Security Service (FSB).
Hryb's lawyers appealed the verdict, but in a ruling on July 23 the Supreme Court said it found no grounds to reverse the verdict.
Hryb's father, Ihor Hryb, condemned the March verdict as a "death sentence for Pavlo...who needs an urgent medical operation in order to live."
Ukraine denounced the verdict, calling it "unlawful," and Hryb announced a hunger strike to protest the ruling as well as his treatment in jail.
Hryb said he had been "denied medical treatment" while in custody.
The Ukrainian Foreign Ministry demanded the "immediate reversal of the unlawful sentence" and called for Hryb's "release and unimpeded return to Ukraine."
Hryb went missing in August 2017 after he traveled to Belarus to meet a woman he met online.
Relatives believe he walked into a trap set by the FSB, which later told Ukraine that Hryb was being held in a detention center in Russia on suspicion of promoting terrorism.
Seized In Belarus
Ihor Hryb said that his son was detained when he was returning from Belarus to Ukraine.
"When he was already walking with a ticket in his pocket to the railway station in order to leave [the Belarusian city of] Homel for Ukraine, he was seized by special service officers," Ihor Hryb told Current Time, the Russian-language network led by RFE/RL in cooperation with VOA.
"Either they were Belarusians, or it was the FSB. But in any case, it was done with the assistance of the Belarusian special services," he added.
Russian investigators accuse Hryb of using the Internet to try to convince a teenage girl in the Russian city of Sochi to set off a bomb at a high-school graduation ceremony.
Ihor Hryb has argued that Russia's case against his son was in retaliation for his Internet posts that were openly critical of Moscow's interference in Ukraine.
In his statement at the trial, Hryb also said that "nobody would have thought" that Belarus might be "in fact, a dangerous country for Ukrainians," where Russia's secret services could abduct them.
Russia took control of Crimea from Ukraine in March 2014, after sending in troops and staging a referendum dismissed as illegal by at least 100 countries.
Moscow backs separatists in a war against government forces that has killed some 13,000 people in eastern Ukraine since April 2014.
https://www.rferl.org/a/russian-supreme-court-upholds-prison-sentence-for-ukrainian-convicted-of-promoting-terrorism-/30071483.html
--------
Australian IS supporters jailed for Shiite mosque arson
July 24, 2019
Two men who set fire to a Melbourne mosque in an Islamic State-inspired attack intending to terrorise the Shiite Muslim community were jailed for 22 years on Wednesday.
A third man, who was recruited following an earlier failed attempt to burn down the same mosque, was sentenced to 16 years for the crime.
The men -- Ahmed Mohamed, 26, Abdullah Chaarani, 28 and Hatim Moukhaiber, 31 -- torched the Imam Ali Islamic Centre in December 2016 in the middle of the night before spray painting "The Islamic State" on one of the building's walls.
They were fund guilty of terror-related charges in May after the jury determined the crimes to be based on an extremist version of Sunni Islam inspired by the Islamic State group.
Judge Andrew Tinney said Wednesday the men were motivated by "hatred" and "intolerance".
"Your particular purposes were to advance what to most sensible people can only be seen as being a perverse ideology, and more particularly, to strike a blow against, and to intimidate and cause terror to, Shia Muslims," he said.
Full report at:
https://www.thejakartapost.com/news/2019/07/24/australian-is-supporters-jailed-for-shiite-mosque-arson.html
--------
PM Johnson names Raab as foreign minister, Javid as finance minister
24 July 2019
Newly-installed Prime Minister Boris Johnson on Wednesday named Brexit hardliner Dominic Raab to be Britain's foreign secretary, while he appointed former interior minister Sajid Javid to take over from Philip Hammond as finance minister.
Raab, 45, who was also named as Johnson's effective deputy, resigned as Brexit minister in Theresa May's government last year saying the divorce deal she struck with Brussels offered too many compromises.
Javid, a former banker from a modest background, was a contender for the premiership but endorsed Johnson when he failed to get enough support from fellow Conservative MPs.
The Conservative Party chose arch-Brexiteer Johnson as its leader and hence prime minister, and the new tenant of Number 10 insists that Britain will leave the EU on October 31 whether or not he has negotiated a new withdrawal agreement.
https://english.alarabiya.net/en/News/world/2019/07/24/PM-Johnson-names-Raab-as-foreign-minister-Sajid-Javid-as-finance-minister-.html
--------
Australian ISIS supporters jailed for Shiite mosque arson
24 July 2019
Two men who set fire to a Melbourne mosque in an ISIS-inspired attack intending to terrorize the Shiite Muslim community were jailed for 22 years on Wednesday.
A third man, who was recruited following an earlier failed attempt to burn down the same mosque, was sentenced to 16 years for the crime.
The men - Ahmed Mohamed, 26, Abdullah Chaarani, 28 and Hatim Moukhaiber, 31 - torched the Imam Ali Islamic Centre in December 2016 in the middle of the night before spray painting "The Islamic State" on one of the building's walls.
They were found guilty of terror-related charges in May after the jury determined the crimes to be based on an extremist version of Sunni Islam inspired by the ISIS.
Judge Andrew Tinney said Wednesday the men were motivated by "hatred" and "intolerance."
"Your particular purposes were to advance what to most sensible people can only be seen as being a perverse ideology, and more particularly, to strike a blow against, and to intimidate and cause terror to, Shiite Muslims," he said.
Full report at:
https://english.alarabiya.net/en/News/world/2019/07/24/Australian-ISIS-supporters-jailed-for-Shiite-mosque-arson-.html
--------
British operator of Stena Impero says all crew 'okay,' cooperating with Iranians
24 July 2019
Stena Bulk, the Swedish-based operator of a British-flagged tanker seized last week by Iran, has been in contact by telephone with the 23 crew members of the vessel, Stena Impero, a spokesman for the operator said on Wednesday.
"We had direct contact with the crew on board the vessel last night by telephone and they're all okay and in good health and they're getting good cooperation with the Iranians on board the vessel," spokesman Pat Adamson said.
"We see this as a first step and progress towards a resolution," he added.
https://english.alarabiya.net/en/News/world/2019/07/24/Stena-Bulk-Stena-Impero-crew-all-okay-cooperating-with-Iranians.html
--------
Turkey's Athens envoy: EU disqualified itself on Cyprus
Furkan Naci Top
24.07.2019
With its latest decision against Turkey, the European Union has disqualified itself from playing a positive role in solving the Cyprus issue, according to Turkey's envoy in Athens.
Speaking to Anadolu Agency in an exclusive interview, Ambassador Burak Ozugergin criticized the recent EU decisions against Turkey on the Eastern Mediterranean, including the continental shelf and drilling activities.
In a final declaration last week, the European Council said that in light of Turkey's "continued and new illegal drilling activities," it would suspend civil aviation negotiations and "agree not to hold the Association Council and further meetings of the EU-Turkey high-level dialogues for the time being."
Ozugergin called the decision a misstep.
"The EU, by losing its chance to play a positive role in solving the Cyprus problem, in a sense has disqualified itself," he said.
He said Turkey cannot be approached this way.
Turkey has consistently contested the Greek Cypriot administration's unilateral drilling in the Eastern Mediterranean, asserting that the Turkish Republic of Northern Cyprus (TRNC) also has rights to the resources in the area.
Since this spring, Ankara has sent two drilling vessels -- the Fatih and the Yavuz -- to the Eastern Mediterranean, asserting the right of Turkey and the TRNC to the resources of the region.
Turkey's first seismic vessel, the Barbaros Hayrettin Pasa, bought from Norway in 2013, has been conducting exploration in the Mediterranean since April 2017.
On any new negotiations starting on Cyprus, Ozugergin said no one can sit at the negotiating table before the demands of the Greek Cypriots become clear.
"So far there has been no positive signal," he added.
In 1974, following a coup aiming at Cyprus' annexation by Greece, Ankara had to intervene as a guarantor power. In 1983, the TRNC was founded.
The decades since have seen several attempts to resolve the Cyprus dispute, all ending in failure. The latest one, held with the participation of the guarantor countries -- Turkey, Greece, and the U.K. -- ended in 2017 in Switzerland.
Full report at:
https://www.aa.com.tr/en/europe/turkeys-athens-envoy-eu-disqualified-itself-on-cyprus/1540387
--------
Turkey arrests 6,000 unregistered migrants in Istanbul crackdown
July 24, 2019
A crackdown on unregistered migrants in Istanbul has led to more than 6,000 arrests in the past two weeks, Turkey's interior minister said on Wednesday.
There was concern in recent days about reports that hundreds of Syrian refugees – forced to sign consent forms in Turkish that they did not understand – had been sent back to their country.
Interior Minister Suleyman Soylu denied the claims and said some Syrians were choosing to go home "voluntarily" to areas where fighting has abated.
"We have been carrying out an operation since July 12... We have caught 6,122 people in Istanbul, including 2,600 Afghans," Mr Soylu told broadcaster NTV.
He said Syrians were part of the detained group but did not give a breakdown of the figure.
"When we catch Syrians who are not registered, we send them to refugee camps," he said, citing one such camp in the Turkish border province of Hatay.
Turkey has more than 3.5 million Syrian refugees – the highest number in the world.
Most have "temporary protection" permits but these restrict them to the province in which they were registered. The current crackdown is aimed at those who live in Istanbul without a permit to stay in the city.
On Monday, the authorities in Istanbul set a four-week deadline for Syrians there to return to the provinces where they are registered or be forcibly removed.
The crackdown followed two clashes in the city earlier this year when crowds attacked Syrian properties. The arrests were orchestrated by the Istanbul governor's office, which is controlled by the central government in Ankara.
Most Syrians live in southern Turkish provinces near the border but Istanbul has the largest Syrian population of any region in the country.
The arrests come after the recent defeat of President Recep Tayyip Erdogan's AKP party in the Istanbul mayoral election. Some had argued that the presence of refugees in the city hurt the ruling party's popularity.
The governor's office says there are 547,000 Syrians registered in Istanbul.
Full report at:
https://www.thenational.ae/world/mena/turkey-arrests-6-000-unregistered-migrants-in-istanbul-crackdown-1.890243
--------
Africa
Libyan Neighbor Fears Chaos Will Deepen West Africa Instability
By Katarina Hoije
July 24, 2019
The chaos in Libya, where strongman Khalifa Haftar has vowed to capture the capital from the internationally recognized government, is threatening to further destabilize its West African neighbors, Niger's interior minister said.
Several countries in the Sahel, a semi-arid region on the southern fringe of the Sahara desert, are already struggling to cope with Islamist militant violence and a surge in inter-communal conflict that's being stoked by the jihadists' presence. The conflict in Libya is "fuel on the fire," Niger Interior Minister Mohamed Bazoum said in an interview in the capital, Niamey.
https://www.bloomberg.com/news/articles/2019-07-24/libya-chaos-is-threat-to-west-africa-niger-minister-says
--------
Africa: Where Will Boko Haram Go Next After Ten Years of Moving Around?
23 JULY 2019
By Jacob Zenn
The August 2011 Boko Haram bombing outside the UN building in Nigeria's capital Abuja killed at least 21 people. Credit: Gbemiga Olamikan.
Ten years ago in July 2009, Nigeria's security forces cracked down on what was then a relatively little-known Islamic group in the north east of the country. At the time, that group's focus was preaching, although it believed al-Qaeda's path would bring Nigerian Muslims out of their abyss. The military operation led to the deaths of hundreds of its members, including the group's leader and cleric Muhammed Yusuf.
Following this deadly attack, few expected Boko Haram to rebuild. Even fewer could have predicted that a decade later, the group would have the capability to raid military barracks not just in Nigeria but across the Lake Chad region. In the past year alone, the Islamist militants have attacked bases in Baga, Nigeria, Darak, Cameroon, and Dangdalla, Chad, while attacks in Niger continue to escalate. In the ten years since the insurgency began, the death toll from the conflict is at least 30,000 people, though observers suggest the real total could be closer to 70,000.
Today, a decade since it was almost wiped out, Boko Haram has an estimated 6,000 fighters broken into two factions. The larger and more sophisticated group is affiliated with so-called Islamic State and known as Islamic State in West Africa Province (ISWAP). The smaller and cruder faction is led by the notorious Abubakar Shekau and is called Jama'at Ahl al-Sunnah li-l-Dawah wa-l-Jihad (JAS).
ISWAP and JAS combined control less territory now than in 2014 when Shekau declared an "Islamic state" in Nigeria. The factions also have less capacity to launch attacks across a wide area than in 2012 when the militants regularly targeted central and northern cities in Nigeria, including the capital Abuja and the northern commercial hub Kano.
But looks can be deceiving. ISWAP's territorial control around Lake Chad is more consolidated and its attacks fiercer than ever before. The same can be said of JAS in Borno state's Sambisa Forest.
As the following explains, the insurgency's ten-year evolution and geographical movements tell us a lot about the group's history and what could happen next.
Spreading out from a Yobe village: 2002-2009
In the early days of 2002-3, the group then called the "Nigerian Taliban" was made up of around 200 predominantly wealth and well-educated individuals with a small base in a village in Yobe State. There are still debates on whether group members intended to pursue a jihad in Nigeria but were too under-resourced or whether they were generally non-violent but sought to engage in hijra (migration to flee persecution) from the "impure" cities where "full sharia" was not practiced.
The group's main leader at the time, Muhammed Ali, was involved with al-Qaeda in Sudan, if not elsewhere, in the 1990s and recruited at universities. Other members were recruited from north-eastern Nigerian mosques, including the one where Yusuf preached in Maiduguri. Hence, Ali and Yusuf are often considered to be the group's first co-leaders.
Because of the group's austere Taliban-like interpretation of Islam and its killing of a security officer who came to inspect their camp, the government eventually took action. In December 2003, security forces destroyed the group's encampment and killed around twenty group members including Ali.
In the following years, the group rebounded under the sole leadership of Yusuf. He shifted the group's locus to Maiduguri, the capital of Borno state, while also establishing centres in Sokoto, Kano, and Bauchi states in Nigeria and Diffa region in Niger. In these areas, Yusuf and his deputies, including Shekau, preached their ideology calling for an Islamic state in Nigeria and opposing Western influences. The name "Boko Haram", meaning "Western education is blasphemous", emerged as a nickname used by outsiders to mock Yusuf's prohibitions on Western schools.
In July 2009, security forces once again attacked the group, seeing Yusuf's growing influence as a political threat. Members claim that the military killed around 200 of its members in the crackdown, including Yusuf.
Maiduguri and other major cities: 2009-2012
The government thought Yusuf's followers would never re-emerge after the crackdown, but under the leadership of Shekau, the group hit back. It conducted deadly attacks and by 2011, its area of operations had expanded to cover virtually everywhere Yusuf's preaching had reached. Most assaults, however, were still in Maiduguri where Shekau established a hideout. They tended to be assassinations, arsons, and small-scale bombings of government buildings.
From mid-2011, suicide bombings became commonplace with more than 30 reported by the end of 2012. These attacks and other bombings tended to be conducted further afield in cities such as Kaduna, Jos, Abuja and Kano as well as elsewhere in central Nigeria. This difference in attacks between Maiduguri and central regions can be explained by the fact that dozens of members trained with Al-Qaeda in the Islamic Maghreb (AQIM). These fighters tended to oppose Shekau's attacks on Muslims and instead targeted mostly Christians, media houses, and military barracks away from Shekau's main bases in Maiduguri.
Retreating to a rural force: 2013-2016
In 2013, Nigerian security forces managed to dismantle some of Boko Haram's lethal cells that specialised in bomb-making in central Nigeria.
One factor that aided this was that some AQIM-trained fighters left to form a splinter group known as Ansaru. Shekau responded by ordering loyalists to attack the new faction, beheading and assassinating its leaders and reportedly even tipping off security forces with information about Ansaru members' hideouts. This helped the military break up Ansaru's kidnapping cells in Kaduna, Sokoto, and Kano. At the same time, any sympathy Shekau's fighters had from locals withered after he ordered attacks causing hundreds of civilian casualties starting in January 2012.
From 2013 therefore, the group became more deep-seated in rural Borno. It reintegrated some Ansaru members, reportedly through a reconciliation brokered in Mali, and conquered parts of the state. This led to more attacks including the April 2014 kidnapping of more than 200 schoolgirls in Chibok. The group removed its fighters from Maiduguri, where it faced pressure from pro-government civilian vigilantes, and became almost completely rural-based.
In March 2015, Shekau pledged allegiance to Islamic State leader Abubakar al-Baghdadi and the group became ISWAP. Although Nigeria, its neighbours and South African contractors had already pushed the group out of most of its territories by this point, the new pledge may have further incentivised them to destroy the group.
In late-2015, however, ISWAP employed some effective strategies to reassert itself. It launched numerous attacks, especially female suicide bombings, in order to dissuade Nigeria's neighbours from intervening. In June 2016, it then raided Bosso military barracks to pilfer weapons. Also significant in August 2016 was that Islamic State demoted Shekau and named Abu Musab al-Barnawi as ISWAP's new leader. Al-Barnawi instituted a "hearts and minds" approach to the civilian population and concentrated on denying the Nigerian army access to rural areas in Yobe, Borno and around Lake Chad. Shekau left ISWAP and reinforced his main base in Sambisa Forest, Borno. His faction returned to its official name JAS.
ISWAP and JAS were now rivals, but have generally avoided clashing since August 2016. ISWAP has become a far superior force as seen in its increased barracks raids and professional Islamic State-integrated media apparatus. There also are reports of Islamic State sending delegations to Nigeria from Libya to train fighters and of ISWAP establishing taxation systems for basic commodities to raise money from local civilians. JAS, in contrast, remains fairly crude but still dangerous.
Where next?
ISWAP's successes since August 2016 have garnered significant attention among scholars, humanitarian organisations and governments. However, what is often forgotten with the focus on current battles near Lake Chad and in rural Borno is how the group was historically pervasive throughout northern Nigeria. In the past few years, the military has also scored victories against ISWAP and has contained JAS primarily in Sambisa. But if ISWAP is finally pushed out of its current bases near Lake Chad, the question remains whether this will be enough to end the insurgency.
The answer likely depends on whether ISWAP maintains the capability to operate elsewhere. Looking back over the past decade reminds us that neither ISWAP nor JAS has any grounding in its once main base of Maiduguri. At best they can only attack its periphery. It has also been nearly four years since the last assault anywhere outside of Nigeria's three north-eastern states. This suggests that once the jihadists are kicked out of an area, a combination of military force and resilient civilians can keep them out for good. If this trend continues, then if ISWAP is kicked out of Lake Chad, it may not return.
At the same time, however, ISWAP has also proven its ability to establish strongholds in new areas. This makes the group's current expansion in Niger particularly concerning. There are also reports of ISWAP and remnants of Ansaru attempting to establish new hideouts in forests of north-western Nigeria near Kaduna.
Finally, it should also be recalled that in the Islamic State organisational structure, ISWAP is now merged with Islamic State in Greater Sahara (ISGS), which operates in the Niger-Burkina Faso-Mali border axis and whose possible penetration of north-western Nigeria is cause for great concern in of itself. While there have not been significant exchanges between the two groups, the alliance indicates they would offer each other support in a worst case scenario.
Full report at:
https://allafrica.com/stories/201907240001.html
--------
Somalia: Al-Shabaab Clash With Somali and AU Troops in Central Somalia
23 JULY 2019
Heavy fighting reported between Somali troops backed by Djibouti peacekeepers and Al-Shabaab in Hiran region of central Somalia on Tuesday, residents, and officials said.
The battle erupted after the militants ambushed a military camp outside Bulo-Burde airstrip which is protected by Djibouti soldiers serving under AU mission in Somalia [AMISOM].
Al-Shabaab, the Al-Qaeda-linked militant group has claimed responsibility for the military base attack, saying it killed two government soldiers during the clash.
Full report at:
https://allafrica.com/stories/201907230611.html
--------
Hezbollah Agent Arrested in Uganda
24 July, 2019
Israel's Mossad intelligence agency has contributed to the arrest of a Lebanese Hezbollah agent in Uganda, Ugandan media reported this week.
Hussein Mahmood Yassine, an undercover agent working for the Iranian-backed group, was arrested on July 7 by a Ugandan security team at Entebbe International Airport before boarding a plane to Lebanon, the Kampala Post reported.
Yassine, who had worked in Uganda since 2010, was held incommunicado, the Post reported, according to Israeli media.
He was reportedly tracked for months before his arrest.
According to an intelligence source, Hezbollah instructed Yassine to identify potential US and Israeli targets for attacks in Uganda and to recruit other Lebanese nationals for the party.
The source also revealed that Yassine had already identified at least 100 Lebanese citizens living in the country for potential recruitment.
Full report at:
https://aawsat.com/english/home/article/1826976/hezbollah-agent-arrested-uganda
--------
Libya says 38 migrants taken to bombed detention center
25 July 2019
Libya's coast guard said on Wednesday it intercepted around three dozen Europe-bound migrants off its Mediterranean coast and took them to a detention center that was bombed earlier this month.
Spokesman Ayoub Gassim said a rubber boat carrying 38 migrants, mostly Egyptians, was stopped on Tuesday off the coast some 65 kilometers east of the capital, Tripoli. He said the migrants were transferred to the Tajoura detention center.
The United Nations expressed deep concern Wednesday that the new migrants were taken to Tajoura, where the UN refugee agency says over 200 refugees and migrants are thought to be detained. It is near the front lines of the latest fighting near Tripoli between rival Libyan factions.
UN deputy spokesman Farhan Haq said the Tajoura detention center had been fully evacuated as of July 10, following a July 2 airstrike that killed at least 53 refugees and migrants and injured at least 130 others.
"The humanitarian community calls on the Libyan authorities to fulfil their pledge to close the Tajoura detention center immediately," he said.
"At least 2,500 refugees and migrants are estimated to remain in detention centers exposed to or at risk of armed conflict in and around Tripoli, out of at least 5,600 refugees and migrants held in detention centers in Libya," Haq added.
The self-styled Libyan National Army led by Khalifa Hifter launched an offensive from eastern Libya on April 4 seeking to take Tripoli. Hifter's forces are battling militias loosely allied with a weak, UN-recognized government in the capital.
The UN said earlier this month that the battle for Tripoli has killed more than 1,000 people.
Civil war in Libya in 2011 toppled and later killed longtime dictator Muammar Qaddafi, and the chaos that followed resulted in a divided country, with the UN-aligned administration in Tripoli overseeing the country's west and a rival government in the east aligned with Hifter.
Full report at:
https://english.alarabiya.net/en/News/world/2019/07/25/Libya-says-38-migrants-taken-to-bombed-detention-center.html
--------
Six killed in blast at Mogadishu Mayor's office
24 July 2019
Six people were killed and the mayor of Mogadishu was among six wounded in a bomb attack targeting the mayoral offices in the Somali capital, the government said on Wednesday.
"Six people, including two district commissioners and three directors, were killed in the terrorist attack this afternoon, six others have been wounded among them the mayor of Mogadishu and other district commissioners who are now being treated by the medical team," Information Minister Mohamed Abdi Hayir Mareye told reporters.
The Al-Qaeda linked Al-Shabaab militant group claimed responsibility for the attack.
Earlier reports said that a heavy blast tore through the inside of Mogadishu government offices on Wednesday, leaving casualties in the building where the city's mayor is based, a security official said.
"The blast occurred inside but we are not sure what exactly caused it, some reports we are getting indicate it was caused by a suicide bomber... and there are casualties," said security official Mahdi Abdirahman.
"The blast was very heavy, and I saw people, fleeing some with shrapnel wounds outside the Banadir administration headquarters," said witness Mohamud Shariif, referring to the regional government offices.
Mogadishu is regularly hit by attacks by the Al-Qaeda linked Al-Shabaab Islamist group, which has fought for more than a decade to topple the Somali government.
Full report at:
https://english.alarabiya.net/en/News/world/2019/07/24/Blast-rocks-headquarters-of-Mogadishu-Mayor.html
--------
Suicide attack kills 2 in Somali capital
Mohammed Dhaysane
24.07.2019
MOGADISHU, Somalia
A female suicide bomber detonated herself in the office of the Mogadishu's mayor, killing two officials and badly wounding Mayor Abdirahman Omar Osman, local media reported on Wednesday.
"Sabah Abdullahi Mohamed, the commissioner of Abdulaziz district and her Waberi district counterpart are confirmed to be among the dead," GaroweOnline, an independent news website claimed.
Deputy Mayor Mohamed Abdullahi Tullah told state owned media that the mayor was wounded in the blast and he is currently being treated at the Raccep Tayyip Erdogan hospital.
"Some of the commissioners of Mogadishu district have also been wounded," he said.
A police officer, Mohamed Abdirahman, told Anadolu Agency over the phone that the attack took place inside the office of the mayor.
"I cannot confirm casualties. But what I have been told is that a female suicide bomber blew herself up inside the mayor's office in the municipality headquarters, in Mogadishu this Wednesday afternoon," he said.
An investigation regarding the attack is currently underway, he added
The attack came an hour after the mayor had received senior officials from the Somalia-based UN office, including the UN envoy to Somalia in his office, according to Mogadishu administration sources.
No group has yet claimed responsibility for the attack.
But officials have blamed al-Qaeda affiliated group al-Shabaab for conducting the attack.
Just two days ago, at least 17 people were killed and over 30 others wounded in a suicide car bomb blast in Somali capital Mogadishu. The insurgent group al-Shabaab had claimed responsibility for the attack.
Full report at:
https://www.aa.com.tr/en/africa/suicide-attack-kills-2-in-somali-capital/1540606
--------
North America
Trump's Middle East envoy faces resistance at UN Security Council over Palestine and Israel
July 24, 2019
A plan for peace between Palestinians and Israelis cannot rely on global consensus, inconclusive international law and unclear resolutions, the US Middle East envoy told the UN Security Council on Tuesday.
Jason Greenblatt and senior Trump adviser Jared Kushner have spent two years developing a plan, which they hope will lead to renewed talks between the Palestinians and Israelis.
Mr Greenblatt said Mr Trump hoped to decide soon whether to release the plan before or after Israeli elections in September.
The Security Council has long endorsed a two-state solution to the conflict, but Mr Kushner has hinted that his peace plan would take a different direction.
The Palestinians want a state in the West Bank, East Jerusalem and the Gaza Strip, all territory captured by Israel in 1967.
"If that were achievable, I think we'd already have peace. It's not achievable," Mr Greenblatt said after the session.
He said the plan "does not contain a one-state solution".
Mr Greenblatt told the 15-member Security Council that peace could not be achieved "by fiat of international law or by these heavily wordsmithed, unclear resolutions".
That triggered strong rebuttals from members including Germany, Russia, the UK, France and Indonesia.
"For us, international law is not menu à la carte," Germany's UN ambassador, Christoph Heusgen, told the council.
"There are other instances where US representatives here insist on international law, insist on the implementation of UN Security Council resolutions, for instance on North Korea."
France would support any peace effort "as long as this aligns with the approach that we have set out together", French UN ambassador Nicolas de Riviere said. "So long as this adheres to international law, specifically all resolutions of the Security Council."
The Russian ambassador, Vassily Nebenzia, said: "Security Council resolutions are international law; they merely need to be complied with."
Mr Greenblatt later said that he understood his remarks might have irritated some people.
"But there's nothing that I said that in our view wasn't truthful and I think that everything I said is a necessary step to eventually airing the plan and, if there's traction, getting to results," he said.
Mr Greenblatt, Mr Kushner and US Iran envoy Brian Hook will travel to the Middle East this month to promote a proposed $50 billion (Dh183.6bn) economic development plan for the Palestinians, Jordan, Egypt and Lebanon.
"We are trying to view this holistically," Mr Greenblatt said of Mr Hook taking part in the delegation.
"Even if I had a great peace plan, if we don't figure out how to make sure that Iran doesn't spoil it, how much success are we really going to have?"
In the Security Council, he called on the Palestinians "to put aside blanket rejections of a plan they have not even seen" and show a willingness to engage in talks with Israel.
Mr Greenblatt also urged the Security Council to encourage the parties back to the negotiating table.
Mr Nebenzia suggested a visit by the Security Council to the region was overdue and could be helpful.
The US has long objected to a council visit, which has to be agreed to by consensus, diplomats said.
https://www.thenational.ae/world/mena/trump-s-middle-east-envoy-faces-resistance-at-un-security-council-over-palestine-and-israel-1.889994
--------
FBI's Wray says most domestic terrorism arrests this year involve white supremacy
By Morgan Chalfant
07/23/19
FBI Director Christopher Wray said Tuesday that the agency has made about 100 domestic terrorism-related arrests since October, and the majority were tied to white supremacy.
"I will say that a majority of the domestic terrorism cases that we've investigated are motivated by some version of what you might call white supremacist violence, but it does include other things as well," Wray said at a Senate Judiciary Committee hearing, referring to cases in fiscal 2019, which began Oct. 1.
The FBI is "aggressively" investigating domestic terrorism and hate crimes, Wray said, noting that the bureau is focused on investigating the violence, not the ideology motivating the attacks.
Wray distinguished between what he termed homegrown violent extremism, wording he said the FBI uses to refer to people in United States who are inspired by global jihadists, and domestic extremism, which Wray described as broader to include racially motivated extremists, anarchists and others.
The number of domestic terrorism arrests are on par with the amount international terrorism cases, according to Wray.
"In terms of number of arrests, we have through the third quarter of this fiscal year had about give or take 100 arrests on the international terrorism side, which includes the homegrown violent extremism," Wray told Sen. Dick Durbin (D-Ill.) at the hearing. "We've also had just about the same number — again, don't quote me to the exact digit — on the domestic terrorism side."
Durbin used his time to zero in on the threat of white supremacist- and white nationalist-motivated violence. Several high-profile domestic crimes in recent years have been tied to white supremacists, including the death of a counterprotester at a white nationalist rally in Charlottesville, Va., in 2017.
Durbin also raised concerns that the Trump administration is not prioritizing the threat from white nationalists. President Trump has at times appeared to downplay the threat, saying earlier this year that he did not believe white nationalism was on the rise following two deadly attacks on mosques in New Zealand.
"There is a concern that this is not being taken as seriously as it should be as one of the real threats in our country," Durbin said while raising questions about the FBI's shift to using the new category of "racially-motivated violent extremism" to describe race-related crimes.
"We take domestic terrorism or hate crime — regardless of ideology — extremely seriously, I can assure you, and we are aggressively pursuing it using both counterterrorism resources and criminal investigative resources and partnering closely with our state and local partners," Wray said.
"Our focus is on the violence," Wray added. "We the FBI don't investigate the ideology, no matter how repugnant. We investigate violence. And any extremist ideology, when it turns to violence, we're all over it."
Full report at:
https://thehill.com/homenews/administration/454338-fbis-wray-says-majority-of-domestic-terrorism-arrests-this-year
--------
US 'may have brought down' second Iranian drone in Strait of Hormuz
By Mark Moore
July 23, 2019
A US military commander said a Navy ship may have downed a second Iranian drone last week in the Strait of Hormuz.
"As always it was a complex tactical picture, we believe two drones. We believe two drones were successfully — there may have been more that we are not aware of — those are the two that we engaged successfully," Marine Corps Gen. Kenneth McKenzie told CBS News on Tuesday.
Speaking aboard the USS Boxer, the ship that targeted the drones, McKenzie said they are "confident we brought down one drone, we may have brought down a second."
CBS said the incidents took place about an hour apart after the Navy believed the two aircraft were flying too close to the ship.
The USS Boxer was monitoring Iranian boats and helicopters in the region.
Iran claimed the US brought down its own drone, a notion that President Trump dismissed by saying during a White House event Monday that the US used "new technology that's actually quite amazing."
The development comes as Iran seized a British-flagged oil tanker in the Strait of Hormuz last Saturday and after Trump called off a military strike against Iran last month for shooting down an unmanned US surveillance drone.
Full report at:
https://nypost.com/2019/07/23/us-may-have-brought-down-second-iranian-drone-in-strait-of-hormuz/
--------
Iran Warns Brazil Over Stranded Ship Barred From Refueling
July 24, 2019
(Bloomberg) -- Iran has threatened to cut its imports from Brazil unless it allows the refueling of at least two Iranian ships stranded off the Brazilian coast, a sign of the global repercussions of U.S. sanctions on the Islamic republic.
Iran's ambassador in Brasilia, Seyed Ali Saghaeyan, told Brazilian officials on Tuesday that his country could easily find new suppliers of corn, soybeans and meat if the South American country refuses to permit the refueling of the vessels. Brazil exports around $2 billion to Iran a year, mostly commodities like corn, meat and sugar. Tehran buys one third of all Brazil's corn exports.
While corn shipments to Iran jumped over 30% last year compared to 2017, other agricultural exports items fell, according to Brazil's government data. Beef shipments to Iran declined 38% and sugar tumbled 84% in the same period.
"I told the Brazilians that they should solve the issue, not the Iranians," Saghaeyan said in a rare interview at the Iranian Embassy in Brasilia. "If it's not solved, maybe the authorities in Tehran may want to take some decision because this is a free market and other countries are available."
State-controlled oil company Petroleo Brasileiro SA refuses to supply the ships -- which have been floating for over a month off the port of Paranagua, about 450 kilometers (280 miles) south of Sao Paulo -- due to the risk of U.S. sanctions. Petrobras has said it was a business decision and other companies could sell fuel to the vessels. Without the fuel, the ships carrying Brazilian corn are unable to return to Iran. While Brazil has a long history of good relations with Tehran, President Jair Bolsonaro's commitment to ripping up the country's traditional foreign policy has put those ties in doubt.
As a strong supporter of U.S. President Donald Trump, Bolsonaro warned exporters of the risk of trading with Iran, adding that Brazil sides with the U.S. on its policy toward the Middle East country.
Full report at:
https://www.yahoo.com/news/iran-warns-brazil-over-stranded-232237307.html
--------
Trump vetoes trio of congressional bills prohibiting Saudi arms sales
Jul 25, 2019
US President Donald Trump has vetoed three congressional resolutions barring billions of dollars in weapons sales to Saudi Arabia and the United Arab Emirates, which have been committing war crimes in Yemen for over four years.
In veto messages to Congress released by the White House on Wednesday, Trump argued that the bills would "weaken America's global competitiveness and damage the important relationships we share with our allies and partners."
Back in May, the Trump administration invoked an emergency provision of the law governing arms sales to push for the sale of $8.1 billion worth of munitions in 22 pending transfers to Saudi Arabia and the UAE and Jordan without the typical 30-day congressional review period.
It claimed that the export was crucial to protect the region against what it called "the malign influence" of Iran.
However, the move infuriated American lawmakers, who slammed the Trump administration for attempting to bypass Congress.
Many members of Congress have grown alarmed by the brutal Saudi-led military aggression on Yemen, which has killed thousands of civilians since early 2015 and created the world's worst humanitarian crisis in the impoverished country.
They have also censured the Riyadh-sponsored killing of Saudi journalist Jamal Khashoggi in the kingdom's consulate in Istanbul, Turkey, last October, as well as Trump's inaction on the crime.
The three resolutions had been approved by the House of Representatives last week. They had previously passed the Senate in what was viewed as a bipartisan pushback to Trump's foreign policy.
In his veto messages, Trump claimed that the resolutions were an "ill-conceived and time-consuming" way to address concerns about the war on Yemen.
Representative Eliot Engel, a Democrat from New York who is the chairman of the House Committee on Foreign Affairs, denounced Trump's decision to veto the bills.
"The President's veto sends a grim message that America's foreign policy is no longer rooted in our core values — namely a respect for human rights — and that he views Congress not as a coequal branch of government, but an irritant to be avoided or ignored," he said.
"Worse still, this veto is going to cost innocent lives. These weapons are going to continue fueling a reckless and brutal campaign of violence and exacerbating the world's worst humanitarian catastrophe," he added.
Saudi Arabia is the United States' largest arms client, with over $129 billion in approved purchases.
UK gives green light to $800m in Saudi arms sales
In a separate development, a new analysis from the Campaign Against the Arms Trade (CAAT) revealed that the UK, which is — along the US — among the Riyadh regime's arms suppliers had approved over $800 million worth of arms license exports to Saudi Arabia between in October 2018 and March 2019.
The sales came despite a ruling by the Court of Appeal in June that states British arms sales to the Riyadh regime are unlawful.
Andrew Smith, of the Campaign Against the Arms Trade (CAAT), said, "At the same time as the Saudi regime was covering up his (Khashoggi's) murder ministers were approving hundreds of millions of pounds worth of arms."
Full report at:
https://www.presstv.com/Detail/2019/07/25/601788/Donald-Trump-Saudi-Arabia-arms-sales
--------
Trump does not want to sanction Turkey: reports
Michael Hernandez
24.07.2019
WASHINGTON
U.S. President Donald Trump informed Republican lawmakers during a closed-door White House meeting he does not want to sanction NATO ally Turkey over its purchase of the Russian S-400 anti-air system, according to multiple reports published Wednesday.
The position voiced Tuesday is at odds with that of several of Trump's closest Republican Senate allies who do not have "much appetite for that position," CNN reported citing an anonymous Republican source.
They insist the president must impose the penalties under the Countering America's Adversaries Through Sanctions Act, which establishes penalties for entities doing business with Russia's defense industry, and which Trump signed into law in 2017.
The meeting with 45 Republican senators, including Lindsey Graham, Ted Cruz, Mitch McConnell, Rand Paul, Marco Rubio and Todd Young in the State Dining Room lasted roughly 70 minutes.
Trump has repeatedly voiced reluctance to penalize Turkey for the S-400 system, doing so last week when announcing Ankara's suspension from the F-35 Joint Strike Fighter program.The Trump administration has maintained that the S-400 could expose the advanced fighter to possible Russian subterfuge, and is incompatible with NATO systems.
Turkey, however, maintains the S-400 would not be integrated into NATO systems and would not pose a threat to the alliance.
The expulsion is slated to be completed by the end of March 2020.
Trump blames the Obama administration for the current row over its refusal to ink a deal with Turkey to sell it Raytheon's Patriot Missile systems.
Analysts told CNN Trump has little room to avoid imposing sanctions under the 2017 law.
A Republican aide told the broadcast news network that Trump could have some room to maneuver given that the S-400 is slated to take months to be fully delivered.
The Washington Post newspaper separately reported that Trump was proposing negotiations with Turkey in lieu of the sanctions, a proposal at odds with the position held by Senate Foreign Relations Committee Chairman James Risch.
The disagreement marks a rare split between the two who are otherwise staunch allies.
Full report at:
https://www.aa.com.tr/en/americas/trump-does-not-want-to-sanction-turkey-reports/1540620
--------
Arab World
Syrian state TV reports Israeli attack in southern Syria
JULY 24, 2019
AMMAN (Reuters) - Syrian state television said on Wednesday that Israel struck a strategic area in southern Syria overlooking the Golan Heights where Western intelligence sources previously said Iranian-backed militias are known to be based.
The newsflash on state-owned Ikhbariyah did not give details, but said the strike was directed on Tel Haraa, which had long been an outpost for Russian forces but was later taken by Iranian-backed militias, according to Western intelligence sources.
State news agency SANA later said damages were only material and referred to the last Israeli attacks at the end of last month when it said its air defences repelled a major attack on some of its outposts on the outskirts of the capital and Homs province. Diplomatic sources familiar with Syria said at the time these overnight attacks outside Damascus on Iranian-backed forces, including bases of Lebanon's powerful Hezbollah group, were among the largest strikes attributed to Israel in recent years.
They came only days after the national security advisers of Israel, the United States and Russia met in Israel, with Washington and Jerusalem demanding that Moscow ensure the withdrawal of Iran's forces from the region, according to intelligence sources.
Israeli Prime Minister Benjamin Netanyahu vowed after the trilateral meeting to continue to act against Iranian entrenchment in Syria.
Tel Haraa is a strategically located area in southern Deraa province overlooking the Israeli-held Golan Heights. It was for many years a major Russian military radar outpost until rebels took it over in 2014 before it was again recaptured by the Syrian army last year.
The zone has been a target of Israeli raids against Tehran-backed militias which have become entrenched in southern Syria and the Golan Heights near the border with Israel.
Last month the Syrian army said it had shot down a number of Israeli missiles targeting the location.
In recent years, Israel has carried out hundreds of strikes in Syria that it says have targeted its regional archrival, Iran, as well as Lebanon's Hezbollah, which it calls the biggest threat to its borders.
https://www.reuters.com/article/us-syria-security-attacks/syrian-state-tv-reports-israeli-attack-in-southern-syria-idUSKCN1UI2UO
--------
Iraqi forces clear farmland near Baghdad of ISIS militants
July 23, 2019
TARMIYAH, Iraq — Iraqi security forces were sweeping villages and farmland north of Baghdad on Tuesday as part of an operation aimed at clearing remnants of Islamic State from around the capital.
A military helicopter soared overhead as troops searched for weapon caches and bombs in Tarmiyah and Iraqi river police combed the Tigris River. The area is about 30 miles north of Baghdad.
The dragnet is part of the operation dubbed "Will to Victory," which started two weeks ago along the border with Syria and was extended last week to areas north of Baghdad and in the Diyala, Salahuddin and Anbar provinces.
Iraq declared victory against ISIS in July 2017, but the extremists, who once controlled much of northern and western Iraq, have continued to carry out attacks, including ambushes and kidnappings.
Maj. Gen. Jalil al-Rubaie, commander of the Baghdad Operations Command, described it as a "well planned operation" and urged residents of Tarmiyah to cooperate with security forces. Much of the area is sparsely populated farmland, which militants have used to launch attacks on security forces.
Full report at:
https://www.stripes.com/news/middle-east/iraqi-forces-clear-farmland-near-baghdad-of-isis-militants-1.591523
--------
Iraqi court sentences two men to death for joining Islamic State
by Mohammed Ebraheem
Jul 23, 2019
Salahuddin (IraqiNews.com) – An Iraqi court has sentenced two men to death after finding them guilty of joining the Islamic State group, a judicial council said.
One of them was found implicated in terrorist attacks against security forces near the Baiji oil refinery and the University of Tikrit in the Sunni-majority province of Salahuddin, Baghdad Today website quoted the Supreme Judicial Council as saying in a press statement on Thursday.
The other convict confessed to running a workshop for booby-trapping Islamic State vehicles in 2014, the statement read.
The court rulings were issued pursuant to article no. ¼ of the anti-terrorism law, it added.
Iraq's anti-terrorism law empowers courts to convict people who are believed to have helped jihadists even if they are not accused of carrying out attacks.
The exact number of detained Islamic State militants is still unknown, however, it's estimated to be at thousands. It's also unclear how many members are likely to face death sentences.
Full report at:
https://www.iraqinews.com/iraq-war/iraqi-court-sentences-two-men-to-death-for-joining-islamic-state/
--------
Iraqi security arrest 7 Islamic State members in Mosul
by Mohamed Mostafa
Jul 23, 2019
Nineveh (IraqiNews.com) Iraqi security forces arrested seven Islamic State members in the group's formerly-declared capital, as authorities continue to hunt for the extremist group's vestiges across its former havens.
The Interior Ministry said in a statement that the seven were apprehended in three neighborhoods of Mosul. It explained that some of those arrested worked for the group's Hisbah (religious vigilantes) division, while the others worked as personnel officers.
Full report at:
https://www.iraqinews.com/iraq-war/iraqi-security-arrest-7-islamic-state-members-in-mosul/
--------
Revealed: Qatari involvement in Somalia bombing
July 23, 2019
New York : When a small car bomb exploded outside a courthouse in the bustling port city of Bosaso in northern Somalia, local news reports chalked it up to Islamist militants retaliating for US air strikes. At least eight people were wounded, and a local affiliate of Daesh claimed responsibility. Now, in an in-depth report, the New York Times has revealed that Qatar was behind the attack.
In an audio recording obtained by The New York Times of a cellphone call with the Qatari ambassador to Somalia, a businessman close to the emir of Qatar said the militants had carried out the bombing in Bosaso to advance Qatar's interests by trying to driving out UAE. DP World manages the port in Bosaso. "The bombings and killings, we know who are behind them," the businessman, Khalifa Kayed Al Muhanadi, said in the call May 18, about a week after the bombing.
The violence was "intended to make Dubai people run away from there," he said. "Let them kick out the Emiratis, so they don't renew the contracts with them, and I will bring the contract here to Doha."
Two years ago, the UAE, Saudi Arabia, Egypt and other allied states cut off commercial and diplomatic ties with Qatar for its support of militant groups in the region.
Asked by the New York Times about the cellphone conversation, neither Al Muhanadi nor the government of Qatar disputed the authenticity of the recording, but both said that he was speaking as a private citizen and was not a government official. However in the recording of the phone call, the ambassador expressed no protest or displeasure at the idea that Qataris had played a role in the bombings.
"So that's why they are having attacks there, to make them run away," the ambassador, Hassan Bin Hamza Hashem, replied.
"Our friends were behind the last bombings," Al Muhanadi, the businessman, assured the ambassador.
Al Muhanadi is known to be close to the emir, Qatar's ruler, Sheikh Tamim Bin Hamad Al Thani. There are photographs of the two of them together and, according to news reports and text messages provided by the intelligence agency, Al Muhanadi frequently travels with the emir.
In a brief telephone interview with The New York Times, the ambassador denied knowing Al Muhanadi and quickly hung up.
In a separate telephone interview, Al Muhanadi said that he was only a "school friend" of the ambassador's. "I am a retired man and a trader," he said. "I do not represent any government."
Asked why he had described the Bosaso attackers as "friends," Al Muhanadi said: "All Somalis are my friends."
If the Bosaso bombing was intended to drive away the UAE, it was not the first attack there directed at them.
In February, two assailants disguised as fishermen shot and killed the manager for DP World involved in running the port. Three other employees were wounded. Militant group Al Shabab claimed responsibility.
In the cellphone recording, Al Muhanadi refers to the government's contracts with DP World, which was hired by the government to manage ports in Bosaso and a city in breakaway Somaliland. He said a relative of the president "is with me" and will transfer the DP World contracts to Qatar. DP World said in 2017 that it had agreed to invest $336 million under a 30-year contract to expand and run the port in Bosaso. The company pledged $440 million the previous year to develop a port in Somaliland.
Al Shabab, an affiliate of Al Qaida, and Daesh in Somalia consider the Somali government their main enemy. The UAE has carried out military operations against both groups, but it is unclear why those groups would side with Qatar, which has also supported the Somali government. But US President Donald Trump has in the past accused Qatar of financing terrorist groups.
Full report at:
https://gulfnews.com/world/gulf/qatar/revealed-qatari-involvement-in-somalia-bombing-1.65388837
--------
Sisi: We Can Curb Terrorism, Defeat Hotbeds of Terrorism
23 July, 2019
Egyptian President Abdel Fattah el-Sisi said that the threat of terrorism was at the top of challenges faced by his country during the past years.
Sisi was addressing military graduates on the anniversary of the revolution of July 23rd, 1952.
"The threat of terrorism was at the forefront of the challenges we faced over the past years, but thanks to the sacrifices of the great Egyptian army and its valiant police, we were able to besiege it, destroy its infrastructure and defeat extremists' hotbeds," he said.
Egypt has been witnessing since the ousting of former President Mohamed Morsi, in 2013, terrorist attacks targeting mainly the army and police forces, killing hundreds of people. Most of these attacks are limited in the north of the Sinai Peninsula, but some have extended to Cairo and other cities.
Sisi said that the graduation ceremony came in conjunction with the anniversary of the July Revolution, "which represents the beginning of a new phase in the Egyptian history."
"It defended the nation's future… making a radical change in the history of modern Egypt," he stressed, referring to late President Gamal Abdel-Nasser's revolution.
The president also praised the Egyptian people for their steadfastness and commitment to preserve their country throughout all difficult stages.
Full report at:
https://aawsat.com/english/home/article/1825931/sisi-we-can-curb-terrorism-defeat-hotbeds-terrorism
--------
Syrian Sources: Tahrir Al-Sham Behind Attack on Idlib Market
Jul 24, 2019
The Arabic-language website of the Russian Sputnik news agency quoted local sources as disclosing that the recent missile attack on a trade market in the city of Ma'areh al-Numan was carried out by Tahrir al-Sham terrorists and by a missile from a farm in the town of Kafar Rumeh near a base of Tahrir al-Sham close to Ma'areh al-Numan.
The report said Tahrir al-Sham commanders had warned the White Helmets under their control of the missile attack 20 minutes before the attack.
It said Tahrir al-Sham meant to make use of the attack to accuse the Syrians and Russians of attacking the civilians, and also take revenge from civilians in Ma'areh al-Numan for blocking Tahrir al-Sham's entry into their city.
In a relevant development in mid-July, Russian envoy to the Organization for Prohibition of Chemical Weapons Alexander Shulgin said that a new chemical weapons provocation was being planned by militants in Syria's Idlib province.
"They repeatedly have said that Syrians have hidden stocks of chemical weapons and they access them when needed. But nobody seems to think about the military significance of chemical weapons use. We have noted that talk about chemical weapons begins whenever Syrian troops are successful. Why should they resort to chemical weapons use if they are practically in control in Douma or in other places already?" Shulgin told the media, Sputnik reported.
Shulgin added that such statements are being made to "divert attention...and start an international scandal".
"The Syrians here and in New York say they know that chemical munitions are being delivered [to Syria], they know from which countries, the names of the people responsible for preparing the provocations. For instance, a chemical provocation is being prepared in Idlib as we speak. Well, a fact-finding team will be sent there, but what will it find? They will say that the Syrians and the Russians who 'shield' them are again to blame. They simply refuse to consider alternative scenarios," Shulgin said.
Full report at:
https://en.farsnews.com/newstext.aspx?nn=13980502000784
--------
Lebanon accuses Israel of threatening civilian infrastructure
24 July 2019
Lebanon accused Israel on Tuesday of threatening its civilian infrastructure after Israel told the United Nations Security Council that Iran was exploiting the Port of Beirut to smuggle weapons to the Hezbollah movement.
Israel's UN ambassador, Danny Danon, said that in 2018 and 2019, "Israel found that Iran and the Quds Force have begun to advance the exploitation of the civilian maritime channels, and specifically the Port of Beirut."
"The Port of Beirut is now the Port of Hezbollah," Danon told the 15-member Security Council. Israel sees Hezbollah, against which it fought a month-long war in 2006, as the biggest threat on its borders.
Lebanese UN Ambassador Amal Mudallali said the Lebanese saw such accusations a "direct threats on their peace and civilian infrastructure." Hezbollah is part of Lebanon's government.
"If it is using them to prepare the ground and the international community for an attack on Lebanon's civilian ports and airport and its infrastructure - as they did in 2006 - this council should not stay silent," she said.
Full report at:
https://english.alarabiya.net/en/News/middle-east/2019/07/24/Lebanon-accuses-Israel-of-threatening-civilian-infrastructure.html
--------
Bahrain revokes citizenship of 334 activists since January: Rights group
Jul 24, 2019
An independent human rights group has expressed serious concern over the ruling Al Khalifah dynasty's "ongoing and increasingly severe" clampdown on human rights activists and pro-democracy campaigners in Bahrain, stating that Bahraini officials have revoked the citizenship of hundreds of people since the beginning of the current year.
The Bahrain Center for Human Rights (BCHR) announced in a statement that the Manama regime has stripped 334 people of their citizenship between early January and May 10, the Arabic-language Lualua television network reported.
The report added 261 Bahraini nationals were also arbitrarily detained during the period, including 23 minors.
The rights group further noted that it had recorded a further spike in instances of intimidation and reprisals against civil society in Bahrain throughout the first six months of this year.
Thousands of anti-regime protesters have held demonstrations in Bahrain on an almost daily basis ever since a popular uprising began in the country in mid-February 2011.
They are demanding that the Al Khalifah regime relinquish power and allow a just system representing all Bahrainis to be established. Manama has gone to great lengths to clamp down on any sign of dissent. On March 14, 2011, troops from Saudi Arabia and the United Arab Emirates were deployed to assist Bahrain in its crackdown.
On March 5, 2017, Bahrain's parliament approved the trial of civilians at military tribunals in a measure blasted by human rights campaigners as being tantamount to imposition of an undeclared martial law countrywide.
Full report at:
https://www.presstv.com/Detail/2019/07/24/601758/Bahrain-revokes-citizenship-of-334-activists-since-January-Rights-group
--------
Mideast
House Passes Bill That Calls To Sanction Palestinian Terror Groups
By Omri Nahmias
July 25, 2019
WASHINGTON – The House of Representatives approved a bill on Tuesday that calls for sanctioning Hamas and other Palestinian terrorist groups.
House Resolution 1850, the Palestinian International Terrorism Support Prevention Act, is asking "to impose sanctions with respect to foreign support for Palestinian terrorism, and for other purposes."
Sponsored by Rep. Brian Mast (R-Florida), the bill directs the president to submit an annual report to Congress, identifying "each foreign person or agency or instrumentality of a foreign state that... knowingly assists in, sponsors, or provides significant financial or material support" for "Hamas, Palestinian Islamic Jihad or any affiliate."
The legislation directs the president to impose at least two different financial sanctions on the people or agencies that are identified as assisting these terror groups.
The bill also requires the president to report to Congress on each government that provides support for acts of terrorism and provides material support to Hamas, Palestinian Islamic Jihad, or any affiliate organization.
A foreign government that supports the terrorist organizations could face foreign aid being cut off. The president could waive the obligation for imposing sanctions on a caseby-case basis.
Mast, who volunteered for the IDF after his US army service, said "radical Islamic terrorists, like Hamas and the Palestinian Islamic Jihad, have made it clear that they will stop at nothing to reign terror on innocent people around the world. Hamas is single-handedly responsible for the deaths of numerous Americans and Israelis. These sanctions send a strong message to anybody who supports these radicals preaching the destruction of Israel and death to everything we hold dear in the United States."
https://www.jpost.com/Arab-Israeli-Conflict/House-Passes-a-bill-that-calls-to-sanction-Palestinian-terror-groups-596620
--------
Video shows Houthi militia beating corpse, chanting 'death to America'
July 24, 2019
DUBAI: A video of purportedly recorded by Houthi militia was shared on social media this week, showing a corpse being beaten while men chant "Death to America! Death to Israel."
The footage showed a corpse being dragged on the ground by his left arm while the armed men chant the Houthi slogan: "Death to America! Death to Israel! Curse the Jews, and victory for Islam."
The video also showed the men kicking and stabbing the dead body.
The man, identified as Mojahed Al-Ghuli, was from the Amran province in northwest of Yemen and helped the militants in local battles. There were however people in the video who were shouting that he was a traitor.
"Houthis did not just kill him, they also mutilated his body and dragged it after they bombed his house," Yemen's Media Minister Moammar Al-Aryani said.
Due to the graphic nature of the video, Arab News has opted to not show it.
Such aggressions and violations are proof that Houthi militants could not be trusted as they did not follow moral rules and are bloodthirsty, he added.
Yemen's Deputy Minister of Information, Abdulbaset Al-Qaidi, said that the video showed that the Houthis are "more dangerous than Daesh."
"If this is how they deal with those who support them, how will they be with the rest of Yemeni people who are fed up with them," Al-Qaidi said.
Full report at:
http://www.arabnews.com/node/1530141/middle-east
--------
Israel: Iran smuggling dual-use items for Hezbollah arms by sea into Beirut port
23 July 2019
Israel's ambassador to the United Nations on Tuesday accused Iran of exploiting civilian companies and maritime channels to smuggle weapons manufacturing equipment to its Lebanese proxy group, Hezbollah.
In the quarterly meeting on the Middle East, Ambassador Danny Danon told the Security Council that Israeli intelligence has uncovered evidence showing Iran's Quds Force has been using the port of Beirut to ship items to the terror group since last year.
"In the years 2018-2019, Israel found that dual-use items are smuggled into Lebanon to advance Hezbollah's rocket and missile capabilities," he said.
"Iran and the Quds Force have begun to advance the exploitation of the civilian maritime channels, and specifically the Port of Beirut," Danon said. "The Port of Beirut has become the Port of Hezbollah."
In a statement, the Israeli mission said "Syrian agents" purchased the dual use items from foreign companies under false pretenses, and handed it over to the terrorist group after picking up the shipments from the port.
Danon presented the Security Council with a map of the Hezbollah transfer routes that included major hubs at the Damascus airport, Beirut's port and airport and the official border crossings between Syria and Lebanon, such as the Masnaa crossings.
He said the weapons transfers violated UN resolution 1701, which ended the 2006 Second Lebanon War between Hezbollah and Israel.
Danon did not detail what items were obtained by the terror group through these means or name the companies behind the shipments.
On Friday, several Hezbollah commanders told the Daily Beast that the Iran-backed group was deploying forces for a possible war with Israel, warning that the growing pressure from US sanctions on Tehran could trigger such a conflict sooner rather than later.
The officers said Hezbollah forces were setting up for war on both Lebanon's and Syria's border with Israel, and their fighters were better prepared to confront Israel than in 2006, after sending thousands to fight alongside the troops of President Bashar Assad in Syria.
In the years since the 2006 summer war, Israel has repeatedly accused Hezbollah of violating resolution 1701, which calls for all armed groups besides the Lebanese military to remain above the country's Litani River. Israel maintains that Hezbollah is in constant violation of this, keeping a significant percentage of its 100,000-strong arsenal of rockets and mortar shells in southern Lebanon, as well as conducting patrols and other military activities along the border.
In late 2018 and early 2019, Israel uncovered at least six cross-border attack tunnels dug by Hezbollah from southern Lebanon into Israel. According to the army, Hezbollah had planned to use the tunnels to kidnap or kill civilians or soldiers, and to seize a slice of Israeli territory in the event of any hostilities. The peacekeeping force UNIFIL confirmed these to be a violation of resolution 1701, but did not identify Hezbollah as the group responsible for their excavation.
In June, the head of the IDF Northern Command, Maj. Gen. Amir Baram, threatened overt and covert action against Hezbollah and Lebanon, in response to its efforts to build up terrorist infrastructure along the border.
Hezbollah, Baram said, was "building infrastructure in the villages right here across [the border] and trying to threaten us with attack forces."
The IDF Northern Command chief said that in a future war against the terror group the country of Lebanon was likely to "pay a heavy price" for allowing Hezbollah to take root there.
Since the Syrian civil war began in 2011, the Israel has acknowledged carrying out hundreds of airstrikes in Syria on targets linked to Iran and Hezbollah.
Israel has accused Iran of seeking to establish a military presence in Syria that could threaten Israeli security and attempting to transfer advanced weaponry to Hezbollah, which Jerusalem has vowed to prevent.
Last year, Prime Minister Benjamin Netanyahu told the UN General Assembly that Hezbollah was hiding precision missile production facilities underneath Beirut. He revealed satellite photos purporting to show the secret facilities, located within close proximity of Beirut's international airport.
Full report at:
https://www.timesofisrael.com/israel-iran-smuggling-dual-use-items-for-hezbollah-weaponry-via-beirut-port/
--------
Hezbollah Operative Killed In Southern Syria Was Part Of Golan File
By Anna Ahronheim
July 25, 2019
The Hezbollah operative killed in Syria on Monday was part of the group's clandestine "Golan File," which aims to establish and entrench a covert force on the Syrian Golan Heights that is designed to act against Israel when given the order.
Mashour Zidan, a resident of the Druze village of Khadr on the Syrian Golan Heights, was killed after a bomb planted in his car exploded as he was driving near the town of Sasa in southern Syria.
While Syria's official news agency SANA blamed his death on a bomb, Syrian opposition reports stated that he was killed in an airstrike by an Israeli unmanned aerial vehicle.
Israel, which does not comment on foreign reports, has remained mum on his death. Hezbollah has also remained quiet and has not blamed Israel for the assassination.
According to the Lebanese news site al-Modon, Zidan was believed to have been killed fighting in Syria's eastern Ghouta after he "mysteriously disappeared four months earlier." But according to the report, Zidan had been summoned to Lebanon before he returned to Syria with a new identity.
His "mysterious" disappearance came around the time Israel announced that it uncovered Hezbollah's Golan File network.
According to a report in Haaretz, Zidan was responsible for recruiting volunteers from villages near the border with Israel in order to gather intelligence about IDF movements and hide explosive devices, light weapons, machine guns and anti-tank missiles in their homes.
The Golan File has its headquarters in Damascus and Beirut, and there are dozens of operatives operating in the Syrian towns of Khadr, Quneitra and Erneh who collect intelligence on Israel and military movement on the Israeli Golan Heights.
According to the IDF, the Hezbollah terrorists involved in the clandestine network focus on familiarizing themselves with the Syrian Golan Heights and on gathering intelligence on Israel and the border area. They are also working to establish intelligence-gathering capabilities against Israel, operating from civilian observation posts and regime military positions near the border.
Senior intelligence officers in the IDF's Northern Command said that Hezbollah's Golan File began in the summer, following the reconquering of the Syrian Golan by regime troops. Operatives involved in the file have weaponry available from the civil war, and if needed, will receive additional weaponry from Lebanon or existing arsenals kept by Hezbollah and Iran.
The IDF believes that the next war on the northern border will not be limited to one front, but will be fought along the entire northern border with both Lebanon and Syria. The military also expects that during the next war, Hezbollah will try to bring the fight to the home front by infiltrating Israeli communities to inflict significant civilian and military casualties.
Hezbollah leader Hassan Nasrallah said in mid-July that the group had decreased the number of its fighters supporting the regime of Bashar Assad in Syria, and had redeployed the troops to southern Lebanon as well as the Syrian Golan Heights.
Full report at:
https://www.jpost.com/Middle-East/Hezbollah-operative-killed-in-southern-Syria-was-part-of-Golan-File-596650
--------
Saudi MASAM Clears 77,000 Houthi Landmines in Yemen
24 July, 2019
King Salman Humanitarian Aid and Relief Center's (KSrelief) project for clearing mines (MASAM) announced that it had removed 1,318 landmines planted by Houthi militias in the third week of July.
MASAM Program Manager Osama al-Gosaibi said that "the engineering teams had removed 599 anti-tank and three antipersonnel mines. The teams also removed 714 unexploded ordnance and 42 explosive devices."
Gosaibi pointed out that 3,014 mines and unexploded ordnance in total have been removed since the beginning of July.
The total number of mines, explosive devices and unexploded ordnance cleared since the launch of the project until July 18 reached 77,129, he stressed.
Further, scores of insurgents were killed and injured in clashes with the Yemeni National Army and Arab Coalition airstrikes on the fronts of Saada, which is the Houthi stronghold, and Maarib, east of Sanaa.
The army announced Monday that more than 30 insurgents were killed and injured in an ambush laid by the army at Sirwah, west of Maarib. On its September Net website, the army revealed that its forces lured Houthi fighters in Sirwah and attacked them, leaving more than 30 militia members dead and others fleeing.
Brigadier General Raddad al-Hashemi, commander of Kataf Brigade, called on all fighters to unite and focus on confronting Houthis that have destroyed Yemen and waged war and riot since the coup.
Moreover, the Human Rights Information and Training Center (HRITC), a civil community organization headquartered in Taiz, demanded the United Nations to denounce Houthi crimes committed against opponents and even former followers.
Full report at:
https://aawsat.com/english/home/article/1827051/saudi-masam-clears-77000-houthi-landmines-yemen
--------
Trump's Mideast envoy under fire at UNSC for attacking intl. law on Palestine issue
Jul 24, 2019
US President Donald Trump's Middle East envoy faces strong criticism from members of the UN Security Council, including Washington's own allies, after he downplayed the world body's resolutions on the Middle East conflict and said the Israeli-Palestinian issue cannot be resolved by relying on "fictions" of global consensus.
Addressing a UNSC meeting in New York on Tuesday, Jason Greenblatt dismissed the notion that international law and UN resolutions must serve as the foundation of any solution to the decades-long Israeli-Palestinian conflict.
Greenblatt said the issue will not be settled by references to international law, which he called "inconclusive."
"A comprehensive and lasting peace will not be created by fiat of international law or by these heavily wordsmithed, unclear resolutions," he said. "The vision for peace that we plan to present will not be ambiguous, unlike many resolutions that have passed in this chamber," referring to the so-called peace plan Washington had been developing without Palestine's consent to end the conflict.
Greenblatt also noted that the upcoming plan — which Trump himself calls the "deal of the century" — would not be based on "fictions of international consensus" as it is often "nothing more than a mask for inaction."
"So let's stop kidding ourselves. If a so-called international consensus had been able to resolve the Israeli-Palestinian conflict, it would have done so decades ago. It didn't," he added.
His controversial comments against international law triggered strong rebuttals from the UNSC's four other permanent members, namely France, Britain, Germany and Russia.
Security Council members, in response, underlined the need for respecting international law and UN resolutions in efforts to resolve the Palestine issue.
Germany's UN Ambassador Christoph Heusgen stressed that UNSC resolutions are binding under international law, saying, "For us, international law is not menu a la carte."
"For us, international law is relevant; international law is not futile," he said. "We believe in the force of international law; we do not believe in the force of the strongest."
British representative Karen Pierce also reminded all countries that they "have a responsibility" to implement UNSC resolutions.
Similarly, Russia's UN envoy challenged Greenblatt's assertions.
"This international consensus is international law, because Security Council resolutions are international law — they merely need to be complied with," Vassily Nebenzia said. "The matter lies not with a lack of international consensus; rather the matter has to do with the fact that there is utter disregard for this internationally-acknowledged consensus by the United States at present."
Moreover, French UN Ambassador Nicolas de Riviere emphasized that Paris would support any peace effort "so long as this aligns with the approach that we have set out together, so long as this adheres to international law, specifically all resolutions of the Security Council."
Greenblatt, has worked with Jared Kushner, Trump's son-in-law and senior adviser, on the US president's highly-contentious "peace" deal, which the Palestinians have already dismissed "the slap of the century."
The economic section of Trump's proposal was released during a Washington-sponsored conference in Manama, Bahrain, on June 25-26 despite a Palestinian boycott of the event.
Critics say Washington is offering financial rewards for Palestinians to accept the Israeli occupation. Palestine, similarly, called that a "humiliating blackmail."
Iran: US bullying UNSC
Speaking at Tuesday's meeting, Iran's Deputy Ambassador to the UN Es'haq Al-e Habib predicted that the US's initiative would definitively fail as it is based on "ill-intents" and "unrealistic approaches."
"The so-called deal of the century is based on wrong assumptions simply because it is aimed at buying all causes and aspirations, honor and dignity, property and territory, and inalienable rights of an entire nation," he said.
Al-e Habib also noted that the main objective of the US's plan is to consolidate the Tel Aviv regime's occupation of Palestine.
The US, which has proposed the deal, is a country "well-known for its biased policies rendering unconditional support for Israel as well as unjust practices towards the Palestinians," he added.
The Iranian envoy further called on the Security Council to "end the vicious cycle of being bullied by one of its permanent members who unlawfully and brazenly continue rendering this body inactive and ineffective regarding Israel."
He also complained that Washington's support for Israel has "emboldened the Zionist regime to continue, with total impunity, to commit all international crimes systematically."
Full report at:
https://www.presstv.com/Detail/2019/07/24/601711/Jason-Greenblatt-Donald-Trump-Israel-Palestine
--------
Iran warns against international naval coalition in the Gulf
24 Jul 2019
Senior Iranian officials have warned against any attempt to form an international coalition to protect shipping in the Gulf, with the Islamic republic's first vice president saying the move will only bring insecurity to the region.
The response comes after Italy, Denmark, the Netherlands and France on Tuesday backed the UK's proposal for a European naval force after Tehran seized a British-flagged tanker in the Strait of Hormuz.
Relations between the UK and Iran have been strained since British authorities detained an Iranian tanker earlier this month off the coast of Gibraltar on suspicion it was shipping oil to Syria in breach of EU sanctions.
Iran has accused the UK of acting at the behest of the US and demanded the immediate release of the ship.
On Tuesday, Iranian Foreign Minister Mohammad Javad Zarif congratulated Boris Johnson, who is set to take over as the next prime minister from Theresa May amid the diplomatic standoff between the two countries.
"Iran does not seek confrontation. But we have 1,500 miles of Persian Gulf coastline. These are our waters & we will protect them," he tweeted.
Act of 'state piracy'
Al Jazeera's Dorsa Jabbari, reporting from the Iranian capital, Tehran, said that Zarif's sentiments were shared by other high ranking officials.
"We have heard from Iran's first Vice President [Eshaq Jahangiri] who also said that the suggestion that international coalition forces will patrol the waters of Strait of Hormuz and guard the ships that pass through it is absolutely not necessary.
"And Iran is capable of providing security to the ships and it is up to Iran and the regional countries to ensure the safety of their waters."
Abbas Araqchi, Zarif's deputy, on Tuesday said Tehran would secure the Strait of Hormuz and not allow any disturbance in shipping in the key oil transport waterway, as regional rivals, particularly Saudi Arabia, have sought a Western military presence in the region.
Last week, the US deployed military personnel in Saudi Arabia to counter what they perceive as an Iranian threat. Washington also sent warships and a Patriot missile defence battery to the region.
The Iranian capture of the ship in the global oil trade's most important waterway was the latest escalation in three months of spiralling confrontation with the West that began when new, tighter US sanctions took effect at the start of May.
Iran maintains the seizure of the British-flagged Stena Impero tanker was due to failure "to respect international maritime rules".
The British foreign minister, Jeremy Hunt, has called it "an act of state piracy", but his Iranian counterpart Zarif denied the ship's seizure was a retaliatory act.
US-Iran tensions
Last month Trump cancelled a plan to strike Iran at the last minute following the downing of a US surveillance drone.
Iran and the US have been at the loggerheads since May 2018 when Trump withdrew from the 2015 nuclear deal that put a cap on Tehran's nuclear ambitions in exchange for sanctions relief.
But the European partners to the deal have struggled to help Iran in circumventing the US sanctions that have choked exports of Iranian oils.
The other signatories to the nuclear deal - China, Russia, the United Kingdom, France, Germany and the EU representatives - will meet on Sunday in Austria's capital, to discuss to what extent the agreement can be salvaged.
They will "examine issues linked to the implementation of the [2015 nuclear accord] in all its aspects", the EU statement said on Tuesday.
Full report at:
https://www.aljazeera.com/news/2019/07/iran-warns-international-naval-coalition-gulf-190724035515319.html
--------
Yemen government condemns Houthi killing of tribal leader
Mina Aldroubi
July 23, 2019
Yemen's internationally recognised government condemned on Tuesday the killing of a tribal leader by Iranian-backed Houthi rebels.
Fighting between two tribal groups loyal to the rebels resulted in the deaths of at least 10 people in the northwestern Amran province on Sunday.
Sheikh Mujahed Kashira, a tribal leader who once fought alongside the Houthis, was killed after being accused of defecting.
A video shared online showed gunmen attacking Kashira's lifeless body as they dragged it through a street.
"The assassination of Sheikh Mujahed Kashira and the abuse of his dead body is compared to ISIS and those extreme groups," Yemen's human rights minister, Mohamed Askar, said.
"How can the government deal with individuals who support such brutality? In order for peace efforts to develop, perpetrators must be held accountable, and until that is achieved then violence will continue," he continued.
Kashira joined the rebels in 2014 in capturing the capital, Sanaa, an act which triggered the country's brutal civil war.
There are internal conflicts between the Houthis and their tribal allies, pushing the rebels to get rid of some individuals, in order attract supporters, Baraa Shiban, a Yemeni human rights activist, told The National.
"Those tribal leaders were holding some influence over their followers which prompted Houthi leaders to compete with them," Mr Shiban said.
It is believed that the rebels have killed dozens of tribal leaders since April.
Baraa Shiban
✔
@BShtwtr
I couldn't share the horrific footage of the Houthis mutilating & dragging the body of Mujahed Qushairah
Today they looted and burned his house in Amran province
Qushairah was a tribal sheikh who assisted the Houthis during their takeover of Amran in 2014#Yemen
Embedded video
68
9:19 AM - Jul 23, 2019
Twitter Ads info and privacy
64 people are talking about this
"This is horrific and very new to Yemeni culture," Mr Shiban said.
Houthi rebels said that four of their forces were killed while trying to arrest Kashira.
Following his death, they reportedly arrested dozens of his supporters in the town of Rayda.
The clashes that followed have reportedly also wounded over 17 people, including Houthi leaders.
Since the civil war began, tens of thousands of people have been killed, according to the World Health Organisation.
Full report at:
https://www.thenational.ae/world/mena/yemen-government-condemns-houthi-killing-of-tribal-leader-1.889829
--------
Iran Blasts Trump's Remarks on Afghanistan as Threat to Int'l Peace
Jul 24, 2019
Foreign Ministry Spokesman Seyed Abbas Mousavi described Trump's remarks as a threat to international peace and security, saying that Iran will stand by resistant people of Afghanistan, Afghan government and its scholars.
His remarks came after Trump in a meeting with Pakistani Prime Minister Imran Khan in Washington said that "we're like policemen. We're not fighting a war. If we wanted to fight a war in Afghanistan and win it, I could win that war in a week. But I don't want to kill 10 million people. Afghanistan could be wiped off the face of the Earth. I don't want to go that route."
The US leader made several surprising statements Monday alongside Pakistan Prime Minister Imran Khan at the White House, including that he had plans for a quick end to the Afghan conflict, but which would wipe the country "off the face of the Earth".
Afghanistan "would be gone. It would be over in literally, in 10 days," Trump said, adding, "I don't want to go that route" and that he did not want to kill millions.
Afghan President Ashraf Ghani said Tuesday the US should clarify remarks Trump made about Afghanistan, including a claim he could easily win the war but did not "want to kill 10 million people".
Full report at:
https://en.farsnews.com/newstext.aspx?nn=13980502000271
--------
US, Turkey committed to accelerated progress on roadmap for Syria's Manbij
24 July 2019
The United States and Turkey are committed to accelerated and concrete progress on the roadmap agreed upon for the northern Syrian city of Manbij, the US Embassy in Ankara said on Wednesday.
James Jeffrey, the US special envoy for Syria, held talks in Ankara this week on the planned formation of a safe zone in northeast Syria and developments on the roadmap for Manbij, further west.
Earlier, Turkish Foreign Minister Mevlut Cavusoglu said Washington had failed to present its NATO ally with satisfactory proposals during the talks.
Full report at:
https://english.alarabiya.net/en/News/middle-east/2019/07/24/US-Turkey-committed-to-accelerated-progress-on-roadmap-for-Syria-s-Manbij.html
--------
Iran open to possible tanker swap, nuclear talks, hints Rouhani
24 July 2019
President Hassan Rouhani hinted on Wednesday that Iran is open to a possible tanker swap with Britain and indirect talks with the United States over its nuclear programme and sanctions.
"We don't want tensions with some European countries," Rouhani said in comments to a cabinet meeting posted on the official website of his government.
In a clear reference to the British, Rouhani said if they were to "cease the incorrect acts that they have done, including that of Gibraltar, Iran's response would be appropriate to their actions."
Iran and the United Kingdom are in the midst of a tense standoff over British authorities' seizure of an Iranian tanker off Gibraltar in early July and Iran's detention of a UK-flagged ship in Gulf waters last week.
Rouhani also said Iran would be open to talks should there be a "ceasefire" in US economic sanctions against the Islamic republic.
Hostilities between Iran and the United States have risen since last year when President Donald Trump withdrew the US from the 2015 nuclear deal aimed at limiting Tehran's nuclear program and began re-imposing sanctions.
"In this regard some countries are intermediaries, though they themselves say they are not mediators and are just expressing their own views," said Rouhani.
"There has been correspondence from both sides on this issue and we are continuing this," he added.
Japanese Prime Minister Shinzo Abe visited Tehran in June for talks aimed at defusing tensions between Iran and the United States.
Earlier this month French President Emmanuel Macron sent his top diplomatic adviser, Emmanuel Bonne, to Iran "to piece together a de-escalation" strategy.
Full report at:
https://english.alarabiya.net/en/News/middle-east/2019/07/24/Iran-hints-open-to-possible-tanker-swap-nuclear-talks-.html
--------
Guardian Council chairman: Recent events show Iran's enemies are 'weak'
24 July 2019
Iran's seizure of a British-flagged oil tanker last Saturday showed the weakness of Iran's "enemies," said the chairman of Iran's Guardian Council Ayatollah Ahmad Jannati on Wednesday, the semi-official Tasnim news agency reported.
"The current state of the Islamic Republic of Iran, in terms of power and dignity, is unheard of in West Asia, and recent events have shown how weak the enemies are in front of Iran," said Jannati.
Jannai was referring to the Islamic Revolutionary Guard Corps' (IRGC) downing of a US drone on June 20 and its seizure of the British-flagged oil tanker Stena Impero on Friday in the Arabian Gulf.
Known for his anti-US views and remarks, the 92-year-old cleric is a prominent personality in Iranian politics and is close to Supreme Leader Ayatollah Ali Khamenei.
Jannati, who was recently re-elected as the chairman of the powerful Guardian Council, has held the post since 1992.
Jannati also claimed tht the IRGC's reputation has only improved since the US decision to designate it as a foreign terrorist organisation in April this year.
Full report at:
https://english.alarabiya.net/en/News/middle-east/2019/07/24/Iran-s-Guardian-Council-chairman-Recent-events-show-Iran-s-enemies-are-weak-.html
--------
URL: https://www.newageislam.com/islamic-world-news/stop-name-ram-being-defiled/d/119296
New Age Islam, Islam Online, Islamic Website, African Muslim News, Arab World News, South Asia News, Indian Muslim News, World Muslim News, Women in Islam, Islamic Feminism, Arab Women, Women In Arab, Islamophobia in America, Muslim Women in West, Islam Women and Feminism