New Age Islam News Bureau
27 Jun 2018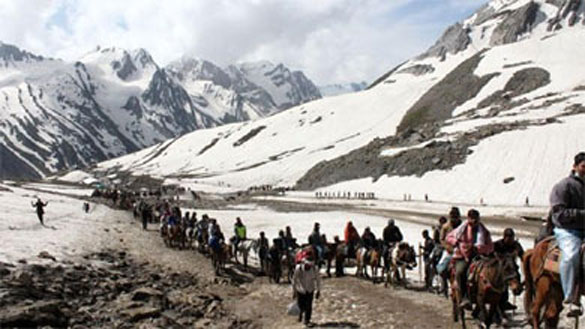 An audio message believed to be from Hizbul Mujahideen operational commander Riyaz Ahmad Naikoo sought to assure pilgrims that they could go on the Amarnat yatra this year even without security cover.
----
• 'You Don't Need Any Security As You Are Our Guests': Hizbul Welcomes Amarnath Pilgrims
• Taliban Calls Islamic Scholars Conferences a US Process, Urges Clerics to Reject the Gatherings
• Iran: Wahhabism Bedrock of Takfiri Terrorism
• Muslims, Advocates Saddened over US Supreme Court's Travel Ban Decision
• French Pupils Must Learn National Anthem in Drive against Islamism
• Pakistani Imam Treats Patients in Catholic Cathedral
India
• 'You Don't Need Any Security As You Are Our Guests': Hizbul Welcomes Amarnath Pilgrims
• Pakistan's Envoy to India Was Not Invited To Sushma Swaraj's Eid Celebration Yesterday: Report
• Mangalore Seer Forms Task Force to Save Hindutva And Prevent 'Love Jihad'
• Ace Shooter Gets Divorce In Jharkhand 'Love Jihad' Case
--------
South Asia
• Taliban Calls Islamic Scholars Conferences a US Process, Urges Clerics to Reject the Gatherings
• Myanmar Rejects Citizenship Reform at Private Rohingya Talks
• President Ghani invites Taliban to participate in peace negotiations
• Another deadly clash erupt among Taliban, ISIS-K militants in Kunar
• Taliban suffer heavy casualties in Imam Sahib District of Kunduz
• Amnesty accuses Burma's top military brass of Rohingya atrocities
• USFOR-A reject reports of civilian deaths in Nuristan drone strike
--------
Mideast
• Iran: Wahhabism Bedrock of Takfiri Terrorism
• Turkey Orders Detention of 132 People in Coup Probe
• 'UAE plotting to assassinate leaders of Yemen's Ansarullah, al-Islah movements'
• Palestinians rally in occupied West Bank in support of detainees
• Israel targets Gaza militant's car, Hamas launch rockets in response
• Dozens killed in Yemen as UAE demands rebel pullout
• Iran, Iraq standing up to Israel, US extremism: Velayati
• Iran says hike in attacks on civilians show Saudis frustration in Yemen
--------
North America
• Muslims, Advocates Saddened over US Supreme Court's Travel Ban Decision
• India-American Rights Bodies Resists Donald Trump's Travel Ban
• Muslim Americans on Trump's travel ban: 'We live as second-class citizens'
• US Muslim leaders happy with Turkish election results
• US sets Iran oil sanction deadline as protests continue in Tehran
--------
Europe
• French Pupils Must Learn National Anthem in Drive against Islamism
• Muslim Group Accuses Tories of Turning Blind Eye to Islamophobia Claims
• French Muslims on edge as police probe 'far-right plot'
• Birmingham man jailed for anti-Islam Twitter hate
• Turkey's EU accession talks deadlocked: EU
• France to host international humanitarian conference on Yemen
--------
Pakistan
• Pakistani Imam Treats Patients in Catholic Cathedral
• Go Beyond 'Half-Hearted' Efforts To Resolve Kashmir Dispute, Separatists Urge Islamabad
• Pakistani Taliban blames Musharraf for Bhutto's assassination
• SC asks FIA to take steps for bringing Haqqani back from US
• 'Most Wanted' In Benazir Assassination Resurfaces, Denies Involvement
• NAB tightening noose around Sharifs before polls
• Stamp out terror for more trade, Americans tell Pakistani delegation
• Afghan refugee killed in Lower Dir attack
• Imran Khan welcomes ECP's decision to scrutinise foreign funding of PPP, PML-N
--------
Southeast Asia
• Indonesian Election Season Is a Gauge of Rise of Political Islam
• Lawyer: Islamic Bodies Should Cater To Non-Muslims Too
• Umno needs to apologise to Malaysians, says Ku Li
• Malaysia mosque bans tourists after 'sexy dance' goes viral
• Bombs Seized from Suspected Thai Rebels Possibly Built in Malaysia: Authorities
--------
Arab World
• Two-State Solution Is Still a Possibility, Says Saudi Arabia
• Rifts Widening Among Terrorists over Peace with Syrian Army
• Syria troops launch assault on Daraa city amid civilian exodus
• Popular Uprising against Turkish Army Continues in Northern Syria
• Terrorists Fleeing after Syrian Army Captures Al-Lajah
• Syrian Army Seizes Terrorists' Key Base in Dara'a
• Iranian militia declares it would fight alongside Assad's army in Daraa
• Six hostages who appeared in ISIS video released in Iraq
• Over 45,000 civilians displaced following clashes in southwestern Syria: UN
• Nine people killed, nearly dozen injured as Saudi-led jets hit bus in Yemen
--------
Africa
• Walk or Die: Algeria Strands 13,000 Migrants in the Scorching Sahara
• Boko Haram Homeless Face Crisis As Rains Hit
• Libya govt says oil exports by rival administration 'illegal'
• At least 200 migrants rescued off Libya's coast
• Somalia: Al-Shabab kills AU soldiers in bomb attack
• Boko Haram: 4,000 displaced Nigerians sleep in open as rains hit Dikwa – Agency
Compiled by New Age Islam News Bureau
URL: https://www.newageislam.com/islamic-world-news/-dont-need-any-security/d/115659
--------
'You don't need any security as you are our guests': Hizbul welcomes Amarnath pilgrims
Jun 27, 2018
Two days ahead of the beginning of the annual Amarnath yatra, the Hizbul Mujahideen militant group in Kashmir has apparently said it has no plans to attack the pilgrimage.
An audio message believed to be from Hizbul Mujahideen operational commander Riyaz Ahmad Naikoo sought to assure pilgrims that they could go on the yatra this year even without security cover. "You don't need any security as you are our guests,'' Naikoo said in the 15-minute audio clip being circulated on social media.
It also stated Kashmiri Pandits who migrated from the Valley in the 1990s could return, but the group was opposed to the establishment of separate colonies for them.
'Recently J&K DGP SP Vaid said that the security of the Amarnath yatra has been beefed-up, as militants are planning to attack the yatra. This is not true. We don't have any plan to attack Amarnath yatra and will never attack them,'' the message said.
"They (yatris) are coming here to fulfill their religious obligations. We have never attacked the Amarnath yatra in the past as our fight is not with the yatris. Our fight is with those people who are committing atrocities on our people and those who forced us to pick up the gun,'' it added.
Hizbul's fight has never been against the people of India, said Naikoo, who is based in south Kashmir and high up on the most-wanted list of security forces.
On Thursday, the annual Amarnath yatra will begin from Pahalgam in South Kashmir and Baltal in central Kashmir amid tight security, Last year, eight pilgrims were killed when suspected militants attacked a bus in Anantnag town.
https://www.hindustantimes.com/india-news/you-don-t-need-any-security-as-you-are-our-guests-hizbul-message-to-amarnath-pilgrims/story-XTWyfcsY8TYJ4ZXCokFqJO.html
--------
Taliban Calls Islamic Scholars Conferences a US Process, Urges Clerics to Reject the Gatherings
Jun 27, 2018
KABUL: The Afghan Taliban on Tuesday denounced the so-called Islamic Scholars conferences in Asia and the Middle East as an "American process" and urged clerics to reject the gatherings.
The Taliban alleged in a statement that the US first gathered religious scholars for a conference in Indonesia in May, and has since organized similar conferences in Kabul, Islamabad, Pakistan and Saudi Arabia.
No date has been set for a conference in Saudi Arabia.
The Taliban said in the statement they consider the conferences to be anti-Islamic and led by the US It said the US is using them to seek justification for its "military occupation" of Afghanistan.
"The Islamic Emirate urges religious scholars to reject these conferences which are a scheme of the invaders," it said.
There was no immediate indication the US played a role in organizing the conferences, and the Taliban statement did not offer any evidence.
Earlier this month, a suicide bomber targeted the gathering of Afghanistan's top clerics, killing at least seven people and wounding 20 shortly after the religious leaders issued a decree against such attacks and called for peace talks.
The attack was claimed by the Islamic State group.
Around 2,000 members of the council had gathered for the meeting, which was held beneath a large, traditional tent. The bomber struck near the end of the meeting, as the participants were about to leave.
Shortly before the attack, the clerics had issued an Islamic ruling, or a fatwa, declaring that suicide attacks are "haram" — forbidden under Islamic law.
The fatwa also said that killing people by any means, including with bombs and suicide attacks, are sins in Islam.
The Taliban in April announced the start of its annual spring offensive, but in recent years, both the Taliban and the Islamic State affiliate have carried out near-daily attacks year-round. The Taliban have managed to seize control of several districts across the country and regularly target Kabul, the capital.
Both militant groups seek to overthrow the US-backed government and impose a harsh version of Islamic rule, but they are split over leadership, tactics and ideology. Their relentless assaults underscore the struggles that Afghan forces have faced since the United States and NATO concluded their combat mission in Afghanistan at the end of 2014.
Thousands of American troops remain in Afghanistan in counterterrorism and support roles. The Trump administration has sent additional troops to try to change the course of America's longest war.
"Once again we respectfully urge the religious scholars of Afghanistan and the Muslim world to cooperate and help the Muslim nation … instead of assisting and participating in the conferences of the secret service of the enemy," the Taliban said in the statement.
https://www.pakistantoday.com.pk/2018/06/26/taliban-calls-islamic-scholars-conferences-a-us-process/
--------
Iran: Wahhabism Bedrock of Takfiri Terrorism
Jun 26, 2018
"Wahhabism was the ideological bed for Takfiri terrorism and the ISIL was created based on Wahhabism, a plot hatched by certain world powers and the role played by a number of ignorant and contending regional states," Shamkhani said in a meeting with his Uzbek counterpart Viktor Makhmudov in Tehran on Tuesday.
He referred to the US attempts to misuse terrorism to its own benefits as well as regional concerns about the transfer of the ISIL terrorists to Afghanistan and Central Asia, and said, "The Islamic Republic of Iran is ready to share its bright and successful experiences in fighting terrorism with other regional countries."
Makhmudov, for his part, underscored the extensive exchangeable capacities of the two countries in the economic, transit and energy fields as well as mutual security cooperation, and said, "The two countries' constructive relations are not against any other country and they will not be affected by the third parties' measures."
In relevant remarks earlier this month, Iranian President Hassan Rouhani underlined his country's willingness to cooperate with the Shanghai Cooperation Organization (SCO) to fight against terrorist groups and drug trafficking.
"Terrorism, separatism and extremism have in recent years affected different parts of the world, specially the regions around us, including the Central Asia and West Asia," President Rouhani said, addressing the SCO summit in China.
He warned that the terrorists use the intelligence vacuum existing among the regional states to recruit new members, stressing the need for the countries in the region to increase exchange of intelligence to weaken the terrorist networks.
"The Islamic Republic of Iran has faced with the ominous phenomenon of terrorism in the past decades in and around the country and has valuable experiences in controlling and weakening this stream and our cooperation with the Iraqi and Syrian governments against ISIL is an instance," Rouhani said.
"The Islamic Republic of Iran is ready to render the necessary cooperation with the SCO in campaign against terrorism, extremism, separatism and drugs," he underscored.
http://en.farsnews.com/newstext.aspx?nn=13970405001061
--------
Muslims, advocates saddened over US Supreme Court's travel ban decision
June 27, 2018
DETROIT: Maryam Bahramipanah is torn between staying with her husband, who came to Michigan from their native Iran, and returning home to see her mother, who suffered a stroke.
With the US Supreme Court's decision Tuesday to uphold President Donald Trump's ban on travel from several mostly Muslim countries, she expects that she can't do both.
"I'm very sad," said Bahramipanah, who cried when she heard about the decision. "I don't know what to do. I really don't know. Now it's official and I don't know."
Muslim individuals and groups, as well as other religious and civil rights organizations, expressed outrage and disappointment at the high court's rejection of a challenge that claimed the policy discriminated against Muslims or exceeded the president's authority. Protesters voiced their dismay at rallies across the country.
At a protest in New York, Khulood Nasher held back tears as she spoke of her two sons stranded in Yemen. In 2014, she received asylum and her sons were approved to join her in the US But after the US embassy in Yemen was closed in 2015, their processing was delayed. The last year has been filled with starts and stops for the mother, but today felt like a death blow.
"Today, we were broken. I lost my heart to see my family," said Nasher, who works as a translator.
Not all reaction was negative, however. A nonprofit group that supports Trump's policies called the decision a "tremendous victory."
"Today's Supreme Court ruling is monumental," America First Policies spokeswoman Erin Montgomery said. "It states that deciding who can and cannot enter our country does indeed fall within the realm of executive responsibility. Note the word 'responsibility.'"
The travel ban has been fully in place since December, when the justices put the brakes on lower court decisions that had blocked part of it from being enforced. The policy applies to travelers from five countries with overwhelmingly Muslim populations: Iran, Libya, Somalia, Syria and Yemen. It also affects two non-Muslim countries, blocking travelers from North Korea and some Venezuelan government officials and their families.
In a statement emailed to The Associated Press, American Civil Liberties Union attorney Lee Gelernt said it's clear "that the president for political reasons chose to enact a Muslim ban despite national security experts, both Democrat and Republican" who counseled against it. Heidi Beirich of the Southern Poverty Law Center called the ban "hateful and discriminatory," and added that "immigration policy should never be decided based on race or religion."
Detroit-area immigration attorney Farah Al-Khersan expects chaos at border crossings and other points of entry.
"For anybody who has a nonimmigrant visa who is here — even someone with a green card — I would not recommend that they leave right now," she said. "Once you're outside of the country and you're trying to come in, that's going to be a problem."
For Afnan Salem, a Somali refugee living in Columbus, Ohio, the decision reinforces worries she may never reunite with her grandparents or father.
"We were hoping that at least the Supreme Court would rule at least for fair play and let us be reunited with our families," said Salem, who came to the US eight years ago and has since become a citizen. "But the decision that came out, our hearts are broken."
As Syrians face violence in their native country and a ban on entering the US, the executive director of the Syrian American Council says many are scared.
Suzanne Meriden, the council's executive director, choked up as she said, "It's sad on so many levels. I never cry. We're here to calm people, but I just get stressed out about it all. You try to hold yourself together, but sometimes it's too hard."
Meanwhile, the Federation for American Immigration Reform, a conservative group that supports tighter immigration policies, heralded the Supreme Court decision, calling it "a great victory for the security of the American people and the rule of law."
Bill O'Keefe, Catholic Relief Services' vice president for government relations, said in a statement many of the people seeking refuge in the US are victims of the same terrorists that Americans are trying to fight, and denying them entry won't make the nation safer.
Bahramipanah, the Iranian woman who lives in Ann Arbor, Michigan, had hoped the Supreme Court would end the ban for good this time so her mother would be able to come to the US to celebrate Bahramipanah's birthday next week.
"My mother told me, 'What do I buy you for your birthday?'" Bahramipanah said, choking back tears. "I said, 'Just pray that this ban does not hold forever.'"
http://www.arabnews.com/node/1328876/world
--------
French pupils must learn national anthem in drive against Islamism
Jun 27, 2018
French primary school children will be taught to sing the national anthem in public as part of a curriculum designed to turn them into both patriots and pro-Europeans.
Under the plans approved by Jean-Michel Blanquer, the education minister, pupils will be required to learn La Marseillaise, understand the meaning of liberty, equality and fraternity and explain the origins of the tricolour French flag (which features blue and red, the colours of the 1789 revolutionaries, on either side of the royal white).
In an attempt to guard France against the sort of Euroscepticism that led to Brexit, children will also be required to know the European flag and to recognise, although not necessarily to sing, Beethoven's Ode to Joy, the anthem of the EU.
https://www.thetimes.co.uk/article/french-pupils-must-learn-national-anthem-in-drive-against-islamism-qswm8vbzm
--------
Pakistani imam treats patients in Catholic cathedral
June 26, 2018
More than 100 parishioners of Lahore's Sacred Heart Cathedral were treated at a free medical camp organized by an imam.
Qari Abdul Qayyum Zaheer, a televangelist, and his team of four doctors offered full body check-ups and food supplements at the health camp at St. Victoria's Nursery in the cathedral compound on June 24. Awareness sessions on the health effects of extreme heat and climate change were also conducted.
"We only charged 350 rupees (US$2.88) for a test of body organs and vitamins. That's one third the cost of an ordinary medical test in a private hospital. Sunstroke, dehydration and gastrointestinal infections were common among the visitors," Zaheer told ucanews.com
The U.N. World Meteorological Organization has confirmed that the hottest April temperature ever witnessed on earth was recorded at Nawabshah, a southern district of Sindh province, where the mercury reached a scorching 50.2C (122.4F). Media reports say 65 people have died due to the heat wave in Karachi.
Zaheer, the national coordinator of Alliance in Motion, a nutritional and dietary supplement company, has conducted 15 medical camps in mosques and madrassas this year. A similar health camp was held in a Protestant church last month.
"Muslim organizations hold relief camps in Christian settlements only after disasters or mob attacks. We reached out to them in the spirit of humanity. Misconceptions about other communities are the main reason behind religious intolerance," Zaheer said.
Father Inayat Bernard, rector of the cathedral, thanked the cleric for extending support to worshippers.
"We always support interfaith initiatives. The poor need relief amid unscheduled power cuts and increasing temperatures. We are focusing on both medical assistance and healing prayers by visiting priests to serve the dedicated parishioners who continue coming to the church despite the heat wave," he said.
"The group was pleased by the good response. Another camp is scheduled in August during the monsoon season."
Father Bernard opened the health camp with prayers at the entrance of St. Victoria's Nursery. Qari Zaheer also recited verses from the Quran.
https://www.ucanews.com/news/pakistani-imam-treats-patients-in-catholic-cathedral/82658
--------
India
Pakistan's Envoy to India Was Not Invited To Sushma Swaraj's Eid Celebration Yesterday: Report
Jun 27, 2018
NEW DELHI: Pakistan's high commissioner to India Sohail Mahmood wasn't invited for the Eid celebration hosted yesterday by external affairs minister Sushma Swaraj at Pravasi Bhartiya Kendra, Pakistani sources told news agency ANI.
The snub, if it was one, follows the murder of Kashmiri journalist Shujaat Bukhari + on June 15, a day before Eid. Kashmir's senior journalist and his two personal security officers were shot dead in the heart of Srinagar even as a Ramzan ceasefire was in place in the troubled state.
Sources told TOI two days ago that Bukhari was likely killed as a result of the anger on the part of the anti-peace talks faction of the separatist Hurriyat as well as the Pakistani intelligence agency ISI. The journalist advocated engagement and refused to share their strong opposition of the "Ramzan ceasefire" initiative.
The separatist hardliners had wanted Bukhari to accept their rejection of any peace overtures, and pressure was mounted through an increasingly vitriolic campaign against the journalist, on social media, added well-placed sources at the Centre.
Pak bars Indian envoy from visiting Gurdwara; India lodges strong protest
Yesterday, at the Eid event hosted by Swaraj for all foreign envoys in India, Swaraj said the country will never allow "the forces of hatred and violence" to come anywhere near its people. She added that like any religious festival in India, whether Diwali or Christmas, Eid-ul-Fitr too brings together people of all faiths.
"India is home to one of the largest population of Muslims. Our celebrations of Eid are as diverse as our regions, languages, cuisine and traditions, as vibrant as our clothes and festivities, and as sweet as our traditional meethi sevaiyan and a host of savoury dishes," she said at the reception for Ambassadors and High Commissioners based in New Delhi.
"As long as we truly practice our faiths and, as the Holy Prophet himself said: 'None of you have faith until he loves for his brother, or for his neighbour, what he loves for himself.
Quoting the King of Jordan from his speech in April here, Swaraj said, "It was wisely said, the world is one family... Compassion, mercy, tolerance -- these values are shared by billions of Muslims and non-Muslims around the world. And these values require us, together, to act for our common future.
"Just as His Majesty referred to one global family, we too in India have grown up believing that the world is indeed one family. The concept of Vasudaiva Kutumbakam is ingrained in our ethos," Swaraj said.
https://timesofindia.indiatimes.com/india/pakistans-envoy-to-india-was-not-invited-to-sushma-swarajs-eid-celebration-yesterday-pakistani-sources/articleshow/64757664.cms
--------
Mangalore Seer Forms Task Force to Save Hindutva And Prevent 'Love Jihad'
Nagarjun Dwarakanath
June 26, 2018
Seer Rajashekharananda Swamiji of Vajradehi Mutt in Mengaluru has sparked another controversy after he announced formation of Hindu task force with aims to save Hindus, Hindutva and to prevent 'love jihad'.
Rajashekharananda said, "Hindu organisations and religious leaders are fed up of love jihad cases and his force will focus on stopping the conversions".
The task force will start functioning in Dakshina Kannada district and will also include 30 women, Rajashekharananda said. It will also involve doctors, psychiatrists, social workers and advocates.
Volunteers can register themselves on website (hindutaskforce.com).
Rajashekharananda plans to expand the task force all districts across the state.
UT Khader, the urban development minister said that if the fight is against jehadi terrorism, they will also join.
"For us safety of people living in India is prime concern. Muslims are ready to give up their lives for this nation and society. Nobody will support anti-national elements. This can't be done by few people and should fight unitedly," Khader said.
Khader said all communities successfully fought against British.
Full report at:
https://www.indiatoday.in/india/story/mangalore-seer-forms-task-force-to-save-hinduvata-and-prevent-love-jihad-1269722-2018-06-26
--------
Ace shooter gets divorce in Jharkhand 'love jihad' case
Sanjay Sahay
Jun 27, 2018
RANCHI: Ranchi family court on Tuesday granted divorce to national-level shooter Tara Shahdeo from her husband Ranjeet Singh Kohli alias Rakib ul Hassan on grounds of cruelty.
In her divorce petition filed in January 2017, Shahdeo alleged that Kohli had married her in July 2014 without informing that he was a Muslim. Post-marriage, he began torturing her to force her into embracing Islam.
The allegations had sparked a controversy with the Union home ministry seeking a report on the purported case of 'love jihad'. Then CM Hemant Soren later referred the case to the CBI on Shahdeo's request.
Shahdeo's lawyer argued that his client was made to believe that Kohli was a Hindu. "However, when she went to her in-law's house, she found the environment similar to that of a Muslim family. The next day, the family brought a Muslim religious head to the house to solemnize the marriage under Islamic traditions. When she protested, Tara was confined to a house and was subjected to cruelty," he said.
Full report at:
https://timesofindia.indiatimes.com/india/ace-shooter-gets-divorce-in-jharkhand-love-jihad-case/articleshow/64755636.cms
--------
South Asia
Myanmar rejects citizenship reform at private Rohingya talks
Jun 27, 2018
YANGON: A senior Myanmar official has told Western diplomats that a proposal to review a citizenship law that effectively renders most Rohingya Muslims stateless could not be implemented, five people present at the meeting in Denmark in early June told Reuters.
At a meeting in Copenhagen on June 8, Myanmar's Social Welfare Minister Win Myat Aye told a group of diplomats, analysts and members of a commission chaired by former United Nations Secretary-General Kofi Annan that eight of its recommendations - including one that asks authorities to take steps to amend the 1982 law - were problematic in the current political climate and could not be immediately fulfilled, the people present said.
"He made it very clear that citizenship reform was a non-starter," said one of the people at the meeting. The sources spoke on condition of anonymity because Myanmar had requested the talks be confidential.
Win Myat Aye and government spokesman Zaw Htay did not answer calls seeking comment.
Amending the law, which largely restricts citizenship to members of what it terms "national races" - the 135 ethnic groups deemed by the state to be indigenous - was a key recommendation of the Annan commission.
Buddhist-majority Myanmar does not recognise the Rohingya as an indigenous ethnic group and refers to them as "Bengalis", a term they reject as it implies they are interlopers from Bangladesh, despite a long history in the country.
The Annan commission was created by Myanmar leader Aung San Suu Kyi in 2016 to find long-term solutions to deep-seated ethnic and religious divisions in Rakhine. A day after the panel issued its report in August 2017, Rohingya insurgents launched attacks on security forces, provoking a military crackdown the UN has called a "textbook example of ethnic cleansing".
The admission by Win Myat Aye, who is overseeing plans for reconstruction in violence-ravaged Rakhine state, casts further doubt on plans to repatriate the roughly 700,000 Rohingya currently sheltering in crowded refugee camps in Bangladesh.
Many Rohingya refugee leaders say they won't return without guarantees of citizenship.
However, Myanmar's National Security Adviser Thaung Tun, who was also at the meeting in Denmark, told Reuters authorities were implementing the Annan commission's recommendations "to the fullest extent possible and as expeditiously as we can".
"Over 80 recommendations have been carried out in less than 10 months," he said in an email.
Referring to the recommendations that had not been implemented, he said they were "also being looked into".
Annan's spokesman referred questions to the Myanmar government.
Refugees have reported killings, burnings, looting and rape by members of the Myanmar security forces and Buddhist vigilantes in Rakhine. Myanmar has rejected accusations of ethnic cleansing, and dismissed most accounts of atrocities.
"PATH TO CITIZENSHIP"
In January, Myanmar and Bangladesh signed a deal to repatriate the refugees within two years, but disagreements have held up the implementation of the plan.
Many Rohingya refugees say they will not return unless the 1982 law is changed.
People who identified themselves as Rohingya were excluded from Myanmar's last nationwide census in 2014 and many had their identity documents taken or nullified, blocking them from voting in a landmark 2015 election.
Suu Kyi, who before coming to power said the government should have the "courage" to review the law, is now urging Rohingya to accept the National Verification Card, a residency document that falls short of full citizenship.
However, many Rohingya refuse to accept the document, which they say classifies life-long residents as new immigrants and does not allow them to travel freely.
The military, with whom Suu Kyi shares power, flatly rejects Rohingya calls for citizenship. In a speech in March, Senior General Min Aung Hlaing said Rohingya "do not have any characteristics or culture in common with the ethnicities of Myanmar" and that the current conflict had been "fuelled because the Bengalis demanded citizenship".
DIPLOMATIC DIFFICULTIES
At the Copenhagen meeting, diplomats were about to break for lunch when Win Myat Aye said Myanmar had begun implementing only 80 of the 88 recommendations made by the commission, due to political and practical differences with the remaining eight, one of those present said.
According to a second person present, Annan responded: "You said you're having difficulties with eight - which are those? Let's get back to this after the break."
Win Myat Aye then listed the recommendations he said Myanmar was struggling to implement. They included commitments to create an independent body to review complaints about citizenship verification, empower community leaders and civil society, and establish a mechanism for feedback on government performance.
"In diplo-speak when you say that something is difficult it tends to be a rejection," the second source said. "That is how I understood this."
https://timesofindia.indiatimes.com/world/rest-of-world/myanmar-rejects-citizenship-reform-at-private-rohingya-talks/articleshow/64757681.cms
--------
President Ghani invites Taliban to participate in peace negotiations
Jun 27 2018
President Mohammad Ashraf Ghani has invited the Taliban group to participate in negotiations if the leadership is prepared to hold talks regarding the reconciliation.
The Office of the President, ARG Palace, said President Mohammad Ashraf Ghani renewed the government's call for peace negotiations as he was speaking with the members of the Afghan High Peace council and the Afghan Ulema Council.
He said the prospect for reconciliation is positive and emphasized for more efforts as he noted that a consensus exists on national, regional, and international for peace process.
President Ghani also welcomed the administration of ceasefire in a better way and said the Afghan people have full confidence regarding the future.
According to President Ghani, the ceasefire was declared based on the Fatwa/decree of the religious scholars, calling the demands for ceasefire a spontaneous move by the nation and the relgious scholars of the country.
He said the declaration of ceasefire from the 27th of the holy month of Ramadan and during the Eid days brought happiness and hope among the people and the ceasefire declaration showed that the Afghan nation is still pride of their identity and religion.
President Ghani thanked the Afghan nation for welcoming the Taliban during the ceasefire period and sharing their happiness with them as he emphasized that the Afghan nation respects consultations and consensus based on the demands of the people.
Full report at:
https://www.khaama.com/president-ghani-invites-taliban-to-participate-in-peace-negotiations-05433/
--------
Another deadly clash erupt among Taliban, ISIS-K militants in Kunar
Jun 27 2018
Another deadly clash erupted among the Taliban and militants affiliated with the Islamic State of Iraq and Syria Khurasan (ISIS-K) in eastern Kunar province of Afghanistan.
The 201st Silab Corps of the Afghan Military in the East said the latest clash between the Taliban and ISIS-K militants took place in the vicinity of Chapara Dara district.
Silab Corps further added that the clash left at least four ISIS-K militants dead while at least nine others were detained by the Taliban insurgents.
According to the Silab Corps, at least two Taliban insurgents were also captured by ISIS-K militants during the clash.
This comes as a deadly clash took place among the local public uprising forces and militants affiliated with the Islamic State of Iraq and Syria Khurasan (ISIS-K) in eastern Nangarhar province of Afghanistan late on Sunday night in the vicinity of Nazian district, leaving several people dead from the two sides.
The provincial government media office in a statement said the clash erupted after the local public uprising forces stormed into the hideouts of the terror group in Morchal area.
The statement further added that the clash left at least eight ISIS-K militants dead while three others were arrested.
Full report at:
https://www.khaama.com/another-deadly-clash-erupt-among-taliban-isis-k-militants-in-kunar-05432/
--------
Taliban suffer heavy casualties in Imam Sahib District of Kunduz
Jun 26 2018
The Taliban militants have suffered heavy casualties during the clashes with the Afghan National Defense and Security Forces (ANDSF) in northern Kunduz province of Afghanistan.
According to the local security officials, the latest clash between the Afghan armed forces and the Taliban militants took place in Imam Sahib District late on Monday night.
Provincial security Chief Brigadier General Abdul Baqi told reporters that a large number of Taliban militants launched coordinated attacks on security posts in Imamuddin roundabout on Monday night.
He said the Afghan forces responded to the attack sparking heavy clashes which left at least 21 militants dead.
Gen. Baqi did not disclose further information regarding the casualties of the Afghan forces but added that the clashes also left at least twelve Taliban militants wounded.
The anti-government armed militant groups including Taliban militants have not commented regarding the report so far.
Full report at:
https://www.khaama.com/taliban-suffer-heavy-casualties-in-imam-sahib-district-of-kunduz-05441/
--------
Amnesty accuses Burma's top military brass of Rohingya atrocities
27 JUNE 2018
Human rights group Amnesty International has called for Burma's army chief and military top brass to face justice in a searing new report documenting alleged crimes against humanity that forced over 700,000 of the Rohingya Muslim minority to flee to Bangladesh last year.
The 190-page document – "We Will Destroy Everything": Military Responsibility for Crimes against Humanity in Rakhine State, Myanmar [Burma] - is based on a nine month investigation, involving more than 400 interviews and corroborating evidence including satellite images, photos and videos.
The group names 13 officials it alleges played a key role in the murder, rape and deportation of Rohingya, including accusing Senior General Min Aung Hlaing, the Burmese military Commander-in-Chief, of being implicated in ethnic cleansing during a brutal army crackdown that began on August 25.
"The explosion of violence - including murder, rape, torture, burning and forced starvation – perpetrated by Myanmar's security forces in villages across northern Rakhine State was not the action of rogue soldiers or units," said Amnesty senior crisis adviser, Matthew Wells.
"There is a mountain of evidence that this was part of a highly orchestrated, systematic attack on the Rohingya population."
Amnesty adds to calls for the situation in Burma to be referred to the International Criminal Court in the Hague for investigation and prosecution. A similar demand was made by the House of Commons International Development Select Committee in May.
Meanwhile, last week the court's judges gave Burma a July 27 deadline to respond to a request by prosecutor, Fatou Bensouda, that they consider hearing a case on the alleged deportation of Rohingya minorities to Bangladesh.
Among Amnesty's latest evidence, collected on both sides of the Burma-Bangladesh border, is an audio recording, which it believes to be a telephone call between a Rohingya resident of the village of Inn Din and a Burmese military officer.
In the recording, the officer says, in Burmese: "We got an order to burn down the entire village if there is any disturbance. If you villagers aren't living peacefully, we will destroy everything… We are starting the operation… If you just stay quiet, there will be no problems. If not, you will all be in danger."
Inn Din was the site of one of the worst known massacres during the 2017 army operation. In an earlier chilling report, Amnesty revealed that vigilantes and the military had looted and burned homes and shot people as they fled.
The army has consistently denied charges of ethnic cleansing, made among others by the United Nations, but in April it did sentence seven soldiers to ten years of hard labour for their role in the slaughter of ten Rohingya men at Inn Din.
The new Amnesty report, citing confidential military documents as evidence, accuses the very top of Burma's military command - the office of the commander-in-chief, or War Office - of having been actively engaged in overseeing operations during which crimes against humanity were committed.
"Senior officials from the War Office physically went to Rakhine State in the lead up to 25 August and in the weeks that followed. Among them was Senior General Min Aung Hlaing himself, who travelled to the region from 19-21 September 2017 to be briefed on the operations," alleges Amnesty.
It claims that senior officials would also have been involved in the deployment of air assets such as helicopters, which appear to be linked to serious crimes, and that some of the fiercest fighting battalions were deployed front and centre of the operation.
Senior military officials knew, or should have known, that crimes against humanity were being committed, yet failed to prevent it, claims the group.
Existing evidence warrants an investigation into whether some or all may have been directly involved in planning, ordering or committing murder, rape, torture and the burning of villages, it adds.
Among the atrocities detailed in the report are massacres and gangrapes in the villages of Chut Pyin, Min Gyi and Maung Nu.
One woman who was raped by soldiers in a school told Amnesty that when she emerged from the building she saw many dead bodies.
"Some had been shot, some had been cut. All of the dead bodies were bound [their hands tied with rope]. There were bullets on the ground everywhere…There was so much blood. The dead bodies were like stones in a field. I thought I would be sick. I was only stopped by my tears," she said.
Men and boys also told Amnesty investigators of how they had been tortured to the point of death by security forces.
"I was standing with my hands tied behind my head, then they pulled off my longyi (sarong) and put a [lit] candle under my penis," said one farmer. "They were saying, 'Tell the truth or you will die'."
The report also expands on alleged abuses by the armed insurgent group, the Arakan Rohingya Salvation Army (ARSA), which sparked the military crackdown by launching coordinated attacks on security posts.
Full report at:
https://www.telegraph.co.uk/news/2018/06/26/amnesty-accuses-burmas-top-military-brass-rohingya-atrocities/
--------
USFOR-A reject reports of civilian deaths in Nuristan drone strike
Jun 26 2018
The US Forces in Afghanistan rejected the reports suggesting that a drone strike in eastern Nuristan province has left at least eleven people dead, including six civilians.
Lt. Col. Martin O'Donnell, U.S. Forces-Afghanistan spokesman, said "U.S. forces did not conduct a strike in Nuristan province on Monday night. We have, however, received reports of insurgent-caused civilian casualties in two separate insurgent attacks in eastern Afghanistan, Monday – a mortar attack on a medical clinic in Andar district, Ghazni province that killed a pharmacist and injured clinic staff, and a suicide attack that targeted a gathering of local police and civilians in Sawkai (Chawkay) district, Kunar province, killing and injuring an unknown number of both. These deplorable acts by the enemies of Afghanistan further demonstrate their disregard for the Afghan people, whose calls for peace and an extension to the cease-fire were rejected yesterday by the Taliban."
This comes as provincial governor Hafiz Abdul Qayum had earlier told The Associated Press that the US forces in Afghanistan conducted an airstrike using unmanned aerial vehicles in Waygal district.
Qayum further added that the airstrike targeted a house where a number of Taliban militants and local residents had gathered to visit a Taliban group member who was wounded in a separate attack.
According to Qayum, at least six civilians and five Taliban insurgents were killed in the Monday night airstrike in Waygal district.
Full report at:
https://www.khaama.com/claims-of-taliban-and-civilian-deaths-emerge-from-nuristan-province-05442/
--------
Mideast
Turkey orders detention of 132 people in coup probe
26 June 2018
Turkish authorities have ordered the detention of 132 people in nationwide operations targeting suspected supporters of a US-based Muslim cleric accused of orchestrating a failed coup two years ago, the state-run Anadolu news agency said on Tuesday.
Early on Tuesday, authorities ordered the detention of 30 people in Turkey's coastguard and navy over their alleged links to Fethullah Gulen's network, Anadolu said.
In a separate series of operations, authorities ordered the detention of 102 others, including soldiers and security personnel, across 23 provinces, Anadolu said.
Authorities have regularly carried out such operations against alleged Gulen supporters since the July 2016 coup attempt under a state of emergency that limits certain freedoms and extends the detention time for questioning of suspects.
The latest operations came two days after presidential and parliamentary elections in Turkey. President Tayyip Erdogan won a further five years in power and his AK Party and its nationalist allies secured a majority in the new parliament.
Erdogan has also gained sweeping executive powers under a new constitution backed by a narrow majority of voters in a 2017 referendum that took effect after Sunday's elections.
Turkey has detained 160,000 people and dismissed nearly the same number of state employees since the abortive putsch, the United Nations said in March. Of that number, more than 50,000 have been formally charged and kept in jail during trial.
Turkey's Western allies and human rights groups have criticised the scale of the crackdown, and Erdogan's critics say Erdogan is using the coup as a pretext to quash dissent, a charge he denies.
Erdogan and his AK Party say the measures are necessary to combat threats to national security.
Gulen, a former Erdogan ally who has lived in self-imposed exile in Pennsylvania since 1999, denies involvement in the attempted coup, in which at least 240 people were killed.
https://english.alarabiya.net/en/News/middle-east/2018/06/26/Turkey-orders-detention-of-132-people-in-coup-probe.html
--------
'UAE plotting to assassinate leaders of Yemen's Ansarullah, al-Islah movements'
Jun 26, 2018
A captured commander of Saudi-sponsored militiamen loyal to resigned Yemeni president Abd Rabbuh Mansur Hadi says the United Arab Emirates (UAE) has hatched plots aimed at the assassination of the high-profile figures of Houthi Ansarullah and the Yemeni Congregation for Reform, frequently called al-Islah, in a bid to advance its policies in the Arab country.
Ali al-Azani, in confessions broadcast on Yemen's Arabic-language al-Masirah television network, said the UAE has set up numerous terror cells in conflict-plagued Yemen, which are led by a militant called Ammar Afash.
Azani went on to say all activities of the outfits are being organized at the al-Safwah Hotel in the western Yemeni coastal city of Hudaydah, located 150 kilometers southwest of the capital Sana'a.
"I was initially on a committee run by Anwar al-Amiri in the southern city of Aden, and then forged an alliance with top-brass militants, including Ayman Hajar and Adnan al-Zuqri, in Hudaydah," he pointed out.
Azani further noted that Zuqri was the head of assassination squads in Sana'a and the southwestern province of Ta'izz.
"He has recruited a large number of people and tasked them with gunning down leaders of al-Islah and Ansarullah movements. All these would-be assassins have to obey commands being issued by Afash," the captured militia commander disclosed.
The Associated Press reported last week that Emirati officers have tortured and sexually hundreds of detainees at their detention centers in Yemen.
The report highlighted that the inmates, who are held without charges, have been sodomized, raped, probed and stripped down in at least five prisons.
In one case, detainees suffered sexual abuse at Beir Ahmed prison in Aden on March 10, when fifteen Emirati officers ordered prisoners to undress and lie down for cavity checks, claiming they were looking for contraband cell phones.
Those prisoners who resisted were beaten until they bled, and threatened with barking dogs.
"They tortured me without even accusing me of anything. Sometimes I wish they would give me a charge so I can confess and end this pain," said a prisoner, who was detained last year and has been in three different jails.
"The worst thing about it is that I wish for death every day and I can't find it," he said.
The UAE is Saudi Arabia's key partner in its deadly war against Yemen.
The Yemeni Ministry of Human Rights announced in a statement on March 25 that the Saudi-led war had left 600,000 civilians dead and injured since March 2015.
The United Nations says a record 22.2 million Yemenis are in need of food aid, including 8.4 million threatened by severe hunger.
A high-ranking UN aid official recently warned against the "catastrophic" living conditions in Yemen, stating that there was a growing risk of famine and cholera there.
Full report at:
http://www.presstv.com/Detail/2018/06/26/566177/UAE-plotting-to-assassinate-leaders-of-Yemens-Ansarullah-alIslah-movements
--------
Palestinians rally in occupied West Bank in support of detainees
Jun 26, 2018
Hundreds of Palestinians have staged a rally in the central part of the occupied West Bank to express solidarity with detainees, who are languishing in Israeli prisons and detention centers.
The protesters took to the streets in the city of al-Bireh, located 15 kilometers (9.3 miles) north of Jerusalem al-Quds, on Tuesday, holding up pictures of their imprisoned loved ones and carrying banners calling for an end to Israeli violations against Palestinian inmates.
"Our message today is to show support for the detainees' struggle against Israeli crimes," Qadoura Fares, head of the Palestinian Prisoners Club, said.
He warned that conditions of Palestinian prisoners were going "from bad to worse" in Israeli prisons.
More than 7,000 Palestinians are reportedly held at Israeli jails. Hundreds of the inmates have apparently been incarcerated under the practice of administrative detention, a policy under which Palestinian inmates are kept in Israeli detention facilities without trial or charge.
Some Palestinian prisoners have been held in administrative detention for up to eleven years.
Palestinian inmates regularly stage hunger strikes in protest at the administrative detention policy and their harsh prison conditions in Israeli jails.
Full report at:
http://www.presstv.com/Detail/2018/06/26/566166/Palestinians-rally-in-occupied-West-Bank-in-support-of-detainees
--------
Israel targets Gaza militant's car, Hamas launch rockets in response
June 27, 2018
JERUSALEM: Israeli aircraft and a tank struck a vehicle belonging to an operative of the Hamas faction that dominates the Gaza Strip, as militants launched rockets into Israel, the Israeli military said on Wednesday.
Local residents in the Nusseirat refugee camp in the central Gaza Strip said nobody had been hurt when the car exploded in a ball of flames. A picture posted on social media showed a fireball in an alleyway said to be the car that had been hit.
A statement by the Israeli military said the car had belonged to a militant "heavily involved in launching arson and explosive balloons from the Gaza Strip into Israel." Two Hamas observation posts were also hit, it added.
In recent weeks, Palestinians have sent kites and helium-filled balloons dangling coal embers or burning rags across the Gaza border to set fire to arid farmland and forests, others have carried small explosive devices in a new tactic.
Hamas spokesman Fawzi Barhoum in Gaza said Israel's targeting of the car had "merited a quick response" in the firing of the rockets and showed armed factions were ready to "defend our people and protect their interests."
Israel's Iron Dome anti-missile interceptor was launched at three out of the 13 rockets that militants had fired, an army spokeswoman said.
No Israeli casualties and no damage were reported in Israel after air-raid sirens sounded in communities around the Gaza Strip in the pre-dawn hours of Wednesday.
The ratcheting up of tensions in the Gaza Strip and pledges by Israel and Palestinian militants to continue to respond to any attacks against them held the potential for broader conflict.
Israel has accused Hamas of stoking violence in an attempt to deflect domestic opinion from Gaza's energy shortages and faltering economy.
Israel maintains a naval blockade of Gaza and tight restrictions on the movement of people and goods at its land borders. Egypt has also kept its own Gaza frontier largely closed. Both countries cite security concerns for the measures, which have deepened economic hardship.
At least 130 Palestinians have been killed by Israeli troops during mass demonstrations along the Gaza border since March 30.
Protesters are demanding a right of return to what is now Israel for those who fled or were forced to flee their homes in the war around its creation in 1948, and for millions of their descendants. Israel rules that out as demographic suicide.
Israel's deadly tactics in confronting the weekly Friday protests have drawn international condemnation. But support has come from its main ally, the United States, which like Israel, has cast blame on Hamas.
Full report at:
http://www.arabnews.com/node/1328941/middle-east
--------
Dozens killed in Yemen as UAE demands rebel pullout
June 27, 2018
KHOKHA - Air strikes and artillery fire killed 55 people near Yemen's Hodeida, medical sources and residents said Tuesday, as the UAE insisted Huthi rebels pull out of the key port city.
Hodeida port has been held by the Iran-backed Huthis since 2014, when the rebels drove the government out of the capital and seized control of territory across northern Yemen and the Red Sea coastline.
On June 13, the UAE, Saudi Arabia and their allies in a pro-government regional coalition launched a major offensive to retake the port, through which nearly three quarters of Yemen's imports flow.
The coalition alleges the port has been used by the rebels as an entry point for weapons smuggled from Saudi Arabia's arch-foe Iran.
On Tuesday, medical sources and residents said an air strike killed eight people travelling on a bus on the road to Zabid in southern Hodeida province. Their identities could not immediately be confirmed.
A second strike outside Hodeida killed six Huthi rebels travelling in a military vehicle, according to the same sources.
The Saudi-led coalition, which usually conducts air raids in the area, could not immediately be reached for comment.
Exchanges of artillery fire south of Hodeida city also left 38 Huthi fighters and three pro-government troops dead in the past 24 hours, according to medical and local sources.
The UN envoy for Yemen, Martin Griffiths, is due in Yemen's southern city of Aden on Wednesday for talks with President Abedrabbo Mansour Hadi, whose forces have battled for weeks to regain control of Hodeida. The rebels have said they may be willing to share control of Hodeida's port with the United Nations but say their forces must remain in the docks and the rest of the Red Sea city.
The United Arab Emirates, which has US-trained troops deployed on the ground in western Yemen, is demanding the rebels withdraw from both the port and city to avoid a military assault on densely-populated Hodeida.
"We are hopeful and we believe in the political process," Reem al-Hashimi, the UAE minister of state for international cooperation, said Tuesday.
But "we cannot imagine a setup where the Huthis can be in the city" of Hodeida, she told reporters in Abu Dhabi.
Griffiths, who held a first round of meetings on the Hodeida crisis in rebel-held Sanaa earlier this month, is holding talks with both sides to "return rapidly to the negotiating table", his office said.
Nearly 10,000 people have died in the Yemen war since 2015 when Saudi Arabia and its allies joined the government's fight against the Huthis.
Full report at:
https://nation.com.pk/27-Jun-2018/dozens-killed-in-yemen-as-uae-demands-rebel-pullout
--------
Iran, Iraq standing up to Israel, US extremism: Velayati
Jun 26, 2018
A senior Iranian official says both Iran and Iraq are standing up to the Israeli regime and extremism of the US and some Western countries.
"The Americans are the common enemy of both the Iranian and Iraqi nations," Ali Akbar Velayati, the senior adviser to Leader of the Islamic Revolution Ayatollah Seyyed Ali Khamenei on international affairs, said in a meeting with a delegation of Iraqi intellectuals in Tehran on Tuesday.
He added that Tehran and Baghdad are pursuing common policies due to many reasons, including 1,200 kilometers of common borders, cultural and religious commonalities, great capacities and privileges, desire for strength and independence as well as different historical and natural factors.
The senior Iranian official emphasized that the two "democratic" countries have huge energy resources and enjoy deep-rooted culture and their nations have played a leading role in the formation of the Islamic civilization.
Iranian Foreign Ministry Spokesman Bahram Qassemi said in February that the Islamic Republic would continue to play a "supportive and constructive" role in Iraq's reconstruction and economic development.
Qassemi added that Iraq is a friendly and neighboring country to Iran and said the Islamic Republic does not hesitate in supporting the Iraqi nation and government and as it stood by them in the fight against terrorism, it would continue to support them.
On December 9, 2017, Iraq's Prime Minister Haider al-Abadi declared the end of military operations against Daesh in the Arab country.
In July that year, Abadi formally had declared victory over Daesh extremists in Mosul, which served as the terrorists' main urban stronghold in the conflict-ridden Arab country.
In the run-up to Mosul's liberation, Iraqi army soldiers and volunteer Hashd al-Sha'abi fighters had made sweeping gains against Daesh.
Full report at:
http://www.presstv.com/Detail/2018/06/26/566167/Velayati-Iraq-intellectuals-US-Israel
--------
Iran says hike in attacks on civilians show Saudis frustration in Yemen
Jun 27, 2018
Iran says the hike Saudi Arabia's bombardment of civilian targets in Yemen shows the coalition's frustration in falling short of the goals.
"The increased hike in Saudi Arabia's bombardment of residential areas such as Sa'ada and a refugee bus in Hudaydah shows their frustration in not being able to reach their goals in Yemen," said Iranian Foreign Ministry Spokesman Bahram Qassemi on Tuesday.
While slamming Saudi Arabia and its allies actions, Qassemi further called UN to halt the kingdom's atrocities in Yemen, especially the killing of women and children.
Earlier in the day, at least nine civilians have been killed and nearly a dozen others sustained injuries after warplanes belonging to a Saudi-led military coalition struck a bus carrying internally displaced persons (IDP) in war-battered Yemen's western province of Hudaydah.
Yemen's Arabic-language al-Masirah satellite television network, citing its correspondent in the area, reported on Tuesday that the deadly airstrike hit the bus on a road linking the two towns of Jarrahi and Zabid earlier in the day, adding that three of the dead had been torn to pieces beyond recognition.
Saudi coalition responsible for child deaths in Yemen: UN
Meanwhile, the UN's annual "Children and Armed Conflict" report has shown that a total 1,316 children killed and maimed in the Yemen in 2017.
It noted that out of the 552 children killed (398 boys, 154 girls), the majority were killed in result of action carried out by the coalition, which was also responsible for 300 child injuries.
Saudi Arabia and its allies launched a brutal war on Yemen in March 2015 to reinstall the Hadi regime and crush the popular Houthi Ansarullah movement.
The Yemeni Ministry of Human Rights announced in a statement on March 25 that the war had left 600,000 civilians dead and injured until then.
The Saudi aggression has also taken a heavy toll on the country's facilities and infrastructure, destroying many hospitals, schools, and factories.
Since 2016, the impoverished nation has also been grappling with a deadly cholera outbreak, which has already killed thousands of people.
Full report at:
http://www.presstv.com/Detail/2018/06/27/566202/saudi-arabia-yemen-iran
--------
North America
India-American rights bodies resists Donald Trump's travel ban
27th June 2018
WASHINGTON: Top Indian-American lawmaker and right bodies have described as "troubling" the US Supreme Court's decision to uphold President Donald Trump's controversial travel ban targeting several Muslim-majority countries and vowed to resist the "hatred".
In one of the biggest victories of Trump during his presidency, the US Supreme Court yesterday upheld the travel ban that restricted the entry of people from Iran, North Korea, Syria, Libya, Yemen, Somalia and Venezuela.
"This decision calls into question all Americans' basic rights.
It sets a standard that the president of the United States can target and discriminate against anyone, without consequences," Indian-American Congresswoman Pramila Jayapal said.
"We demand liberty and justice for all – no caveats.
Today's misguided decision strips that justice away and threatens religious liberty as we know it.
We will continue to resist this ban and this hatred with everything we've got," she said on the Supreme Court's order.
The Muslim Ban, she said, has already inflicted irreparable harm on Muslim families and communities.
Many families remained separated from loved ones while American businesses and research institutions were denied workers, she noted.
"Nearly 18 months ago, I rushed to SeaTac airport when Trump's Muslim Ban was abruptly imposed and created absolute chaos for lawful residents and visitors alike.
It was clear then, and it's been clear through every iteration of this ban, that this is part of a larger effort to ban Muslims from the United States," Jayapal said.
The Supreme Court's decision "is a troubling first in modern times" for the nation: one that openly codifies inequality before the law, said South Asian Americans Leading Together (SAALT).
"Greenlighting persecution of communities due to their appearance or how they pray is unacceptable and un-American, and cannot be the law of our land," said Suman Raghunathan, executive director of SAALT.
"Today's decision joins our nation's past shameful decisions on Korematsu and Dred Scott by upholding discrimination.
With this ruling, the highest court has turned its back on our communities who are already on the front-lines of state-sanctioned hate, violence and division," she said in a statement.
"This country was built on diversity and we have always been an amalgamation of immigrants from across the world.
We must continue to uphold high standards of diversity and inclusivity to ensure a brighter future for our children," said the Sikh American Legal Defence and Education Fund (SALDEF).
"We call upon Congress to act and pass legislation to rescind the Muslim Ban and rebuke any attempts to target Muslims, or anyone on the basis of national origin, faith or background," it said ruing that the decision to upheld the travel ban further advances the attack the Trump administration has on immigrant and minority communities.
"The hateful rhetoric and blanket statements that the administration has used when talking about specific groups of people will further create unnecessary bias against these communities," it said.
"It is important to push back on policies such as the Muslim Ban and the Zero Tolerance policy to ensure we live up to the ideals laid out in the US Constitution," SALDEF said.
South Asian Bar Association of North America (SABA) said it is not deterred by the Supreme Court majority's decision.
"We again call upon Congress to restore the vision of America as a place that welcomes, rather than denies immigrants," said SABA president Rishi Bagga.
SABA will continue to assist and support all impacted communities and take actions necessary to eliminate the targeting of religious and ethnic minorities by the Federal Government through recent executive actions, Bagga said.
"We are disappointed by the majority's willingness to rubber stamp this discriminatory policy without the more rigorous scrutiny of the context that was warranted," it said.
Trump had announced his first travel ban aimed at seven countries, just a week after he took office in January 2017, triggering a global uproar.
Lower American courts had deemed the ban unconstitutional, but the US top court reversed this decision in a 5-4 ruling announced yesterday.
The Supreme Court ruling marks the first major high court decision on a Trump administration policy.
It upholds the selective travel restrictions, which critics called a discriminatory "Muslim ban" but the administration argued was needed for security reasons.
http://www.newindianexpress.com/world/2018/jun/27/india-american-rights-bodies-resists-donald-trumps-travel-ban-1834397.html
--------
Muslim Americans on Trump's travel ban: 'We live as second-class citizens'
27 Jun 2018
Ali Alsubai got the news through a text alert. "Supreme court upholds Trump's travel ban," it said. The news filled him with sadness.
The 21-year-old had been among the thousands of Yemeni-New Yorkers to descend on Brooklyn's borough hall in the winter of last year and pray outside, dropping their work around the city to protest when Trump first announced his contentious and chaotic ban in January 2017.
Almost 18 months and several court battles later, Tuesday's supreme court ruling declared that Trump's third version of the order was lawful. Word of the decision landed in Bay Ridge with a dull thud. The suburb, with its large concentration of Yemenis, is one of Brooklyn's most diverse neighbourhoods and had reacted with fury and disbelief when the ban was first announced.
Alsubai, who works at the Yemen Cafe on the suburb's main street, admits he had not expected the supreme court ruling to go any other way and had grown somewhat confused by the ban's various incarnations over the past year.
"Some people just don't understand what's been going on. One day it's cancelled, one day it's not," he says, as customers tuck into baba ghanoush and flatbreads in his family's restaurant.
Despite the confusion, Trump's controversial order, which targets travellers from five Muslim-majority countries and was labelled Islamophobic by those who challenged it in court, has had an effect on everyone in the community, he says.
Alsubai, a US citizen who came to America when he was three months old, has a cousin whose mother is stranded in the Yemeni capital, Sana'a, as the country's bitter civil war continues and her visa application stalls.
"He's just trying to get his mom out of the war," he says. "It's awful to see what he's going through. But it's not just him affected. It's Muslims spread out over the US."
Just hours after the court's 5-4 ruling, which maintained the order that has been in effect since December 2017, Muslim Americans around the country spoke to the Guardian of their sadness and disappointment.
Abrar Omeish, a 23-year-old Libyan American from Fairfax, Virginia, had woken up nervously on Tuesday, expecting the ruling to come down in the morning.
"I felt a pit in my stomach as I heard it," she said.
Omeish, who has campaigned against the ban for months in the nation's capital, got married last weekend. Over a dozen members of her wife's close family, all living in Libya, were not able to attend the ceremony due to the ban. She was devastated.
"It's like we have to live as second-class citizens. We're not allowed to access our families just because we happen to be from a certain background, because we're Muslim," she said.
Following weeks of international outcry over the Trump administration's separation of families entering the US at the southern border, Omeish's story, like countless others around the country, is a reminder the administration has been separating families from the Muslim world for over half a year.
"You know," says Omeish, who is launching a career in local politics this year, "the supreme court has been wrong before, I have to remind myself on that. Both morally and on social justice and civil rights grounds. But, regardless, we have not reached a point in our country where we learn from our history, and where we can make the right decisions despite the fear and pressure that's out there."
In Hamtramck, Michigan, purportedly the first city in the US to elect a Muslim majority council, Muad Almogari was equally despondent.
The 32-year-old Yemeni American has an older sister languishing in the Yemeni province of Ibb. Her visa petition will probably be held in an indefinite limbo following Tuesday's ruling, and Almogari worries she and her five children could be killed in the interim.
He heard the news as he prepared to leave the US to visit her in Yemen. The journey will take him two full days and will cost the middle school teacher, who works a second job to make ends meet, thousands of dollars.
"I think the ruling is just going to make our life much harder than it was," he says. "I didn't know this country, which was originally based on equality and human rights, and justice for all, was about to be ruled by someone like Donald Trump, who is willing to throw all of that away to satisfy his ego."
He couldn't bring himself to tell his sister, Afriqiya, of the ruling over the phone, and feels it is only right to tell her face-to-face so he can explain its implications in full.
"When I get there, I can make her understand that this is only temporary, and things will change, hopefully, because the American people will not stand for this and will fight for justice," he says with cautious optimism. "We haven't lost hope in the American people. But we kind of have lost it with Washington DC and the administration."
In Bay Ridge, dozens of men descended on the suburb's Islamic centre for the Asr, the daily afternoon prayer. The centre is situated on the main street, surrounded by storefronts that demonstrate the multiculturalism that underpins life here - pizzerias and Irish bars sit alongside hookah lounges and halal supermarkets.
"This is not what America is about," says one worshiper who did not want to be named. "It's almost becoming like a dictatorship in the Middle East. Our country is unique because of its diversity. Head down to the subway and you'll see everyone: Irish, Yemeni, Puerto Rican.
Full report at:
https://www.theguardian.com/us-news/2018/jun/26/muslim-americans-trump-travel-ban
--------
US Muslim leaders happy with Turkish election results
27.06.2018
A group of Muslim American opinion leaders visiting Turkey expressed satisfaction at the results of Sunday's presidential and parliamentarian elections.
Under the auspices of Turkey's Directorate of Religious Affairs, a group of Muslim American opinion leaders and reverends paid a week-long visit to Turkey, starting on Sunday.
President Recep Tayyip Erdogan won an absolute majority in the presidential election with 52.5 percent of the vote, while his closest rival lagged behind at 30.6 percent.
"I believe that him [Erdogan] and his party coming to the power again will bring a better future for Turkey," Naiim Baig, director of Dar Al-Hijrah Islamic Center in Virginia, told Anadolu Agency.
Naig praised Erdogan's "courage" for adopting a leading stance on Muslim issues.
"There are, unfortunately, not many Muslim leaders who have the courage to take a stand for global Muslims and their issues," he added.
Horsed Noah from Ohio state said he danced and even shed tears of joy when the results were announced.
"The election was so important for us because Turkish government is the voice of the voiceless," Noah said, praising Turkey's humanitarian support for the Muslim world.
Noah, who is originally from Somalia, emphasized the Somalia's "emotional attachment" to Turkey, citing its support to the country in security and infrastructure, as well as in the fight against terrorists.
"And that is why the most common female name in Somalia is Istanbul," Noha said.
'People's opinion honoured'
Ieasha Prime, executive director of Barakah Inc. in Washington D.C., was happy to see "a cheerful spirit" on the capital's streets on the night of elections.
"I am just happy to see that Turks are united under the banner of progressing, under the banner of making sure that people are heard," Prime said.
"Very happy to see that the people's opinion was honoured," she added.
The turnout in Turkey's presidential and parliamentary elections was almost 90 percent.
Abdel Hafid Djemil, head of the Meclis-i Shura of a New York Islamic Leadership Council of several masjids in New York, also joined the world leaders in congratulating Erdogan and Turkish people for the "successful elections".
"This election showed that Turkish people are mature and are at the level of responsibility, at the level of being civilized to conduct an election with no incidents, that is one of the greatest things," Djemil said.
Full report at:
https://www.aa.com.tr/en/americas/us-muslim-leaders-happy-with-turkish-election-results/1188457
--------
US sets Iran oil sanction deadline as protests continue in Tehran
June 26, 2018
The United States warned countries that they must stop buying Iranian oil before Nov. 4 or face a renewed round of American sanctions.
The deadline was set as strikes and protests continued in Iran on Tuesday after the deteriorating economic situation sparked shopkeepers and traders to close down their businesses.
A senior State Department official said the US would not be "granting waivers" to any country and described tightening the noose on Tehran as "one of our top national security priorities."
The third day of demonstrations sparked President Hassan Rouhani to scramble to reassure Iranians that the country can withstand the financial pressures of new US sanctions.
Iran emerged from decades of crippling sanctions after signing the nuclear deal with world powers in 2015.
While the economic benefits hoped for by many failed to materialise, businesses fear a return to the dark days of full US sanctions that are expected after Donald Trump said last month that the US would pull out of the deal.
Fars news agency reported that parts of Tehran's Grand Bazaar were on strike for the second day, after traders massed outside parliament on Monday to complain about a sharp fall in the value of the national currency.
Video footage posted on social media showed protesters setting fire to garbage dumpsters in Tehran streets to block riot police from attacking them, Reuters reported.
Pictures also showed shopkeepers were on strike in other cities including Arak, Shiraz and Kermanshah.
On Monday, police patrolled the bazaar in Tehran following clashes with protesters angered by the rial's collapse, which is disrupting business by driving up the cost of imports.
Rouhani said on Tuesday the government would be able to handle the economic pressure of new US sanctions.
Defending his economic record, Rouhani said the government's income had not been affected in recent months, and the fall in the rial was the result of "foreign media propaganda."
"Even in the worst case, I promise that the basic needs of Iranians will be provided. We have enough sugar, wheat, and cooking oil. We have enough foreign currency to inject into the market," Rouhani said in a speech broadcast live on state television.
Iran's rulers are nervous about fresh unrest, particularly related to economic hardship.
In late December, large demonstrations about the lack of improvement in the economy spread to more than 80 Iranian cities and towns. At least 25 people died in the unrest, the biggest expression of public discontent in almost a decade.
Demonstrators initially vented their anger over high prices and alleged corruption, but the protests took on a rare political dimension, with a growing number calling on Supreme Leader Ayatollah Ali Khamenei to step down.
They also chanted against the excessive spending on Iran's foreign military operations in countries like Syria, while people at home struggled to make ends meet.
Theodore Karasik, a senior advisor to Gulf State Analytics, said the eruption of the new phase of Iranian rioting is now being seen throughout the Iran.
"The country is entering a phase of discontent with the existing regime," he told Arab news.
"The protests are getting louder and more violent and increasingly targeting the regime itself."
That the new protests are centred around the powerful traders in Iran's bazaars, is particularly significant Karasik said.
"The protests and the closures of bazaars throughout the country are at the heart of not only the 1979 revolution but also the Tobacco Protests against a British monopoly in 1891–92, and the Constitutional Revolution of 1905-1911."
Washington is to start reimposing economic penalties on Tehran in coming months after Trump quit the agreement, The nuclear deal lifted sanctions in return for curbs on Tehran's nuclear program.
This may cut Iran's hard currency earnings from oil exports, and the prospect is triggering a panicked flight of Iranians' savings from the rial into dollars, Reuters said.
Iran's judiciary chief warned on Tuesday that the "economic saboteurs," who he said were behind the fall of rial, would face severe punishment, including execution or 20 years in jail.
"The enemy is now trying to disrupt our economy through a psychological operation. In recent days some tried to shut down the Bazaar, but their plot was thwarted by the police," Ayatollah Sadeq Larijani was quoted as saying by Fars news agency.
Tehran's prosecutor Abbas Jafari-Dolatabadi said some protesters near the bazaar were arrested on Monday and would not be released before going to trial.
The Iranian government is implementing new plans to control rising prices, including banning imports of more than 1,300 products, preparing its economy to resist threatened US sanctions.
Rouhani, who is under pressure to change his economic team, said the fresh US sanctions were part of a "psychological, economic and political war", adding that Washington would pay a high price for its actions.
Full report at:
http://www.arabnews.com/node/1328216/middle-east
--------
Europe
Muslim group accuses Tories of turning blind eye to Islamophobia claims
26 Jun 2018
The Muslim Council of Britain has accused the Conservative party of hoping allegations of Islamophobia in its ranks will "magically go away" and complained that the party's chairman has not responded to its call for an internal inquiry.
Three weeks after it first raised the issue, the group wrote again to Brandon Lewis on Tuesday highlighting further allegations of anti-Muslim prejudice within Tory ranks. It said it was not acceptable to turn "a blind eye to legitimate concerns about bigotry".
The MCB said further examples of alleged Islamophobic abuse had emerged, including the former party chair Sayeeda Warsi saying she had been racially abused at meetings, and a pro-Tory Facebook group that contained a string of anti-Muslim threats.
The MCB letter, a copy of which has been seen by the Guardian, says: "Three weeks ago we wrote to you requesting an inquiry into Islamophobia within the Conservative party. Sadly we have neither received an acknowledgement nor a reply.
"We cannot have an approach where you are hoping that the issue would magically go away so that it could avoid a bruising inquiry into anti-Muslim prejudice."
The MCB also cited comments by a former parliamentary candidate, Shazia Awan, who said she had quit the party because it had "a notion that Islam is not compatible with British values".
Although Lewis did not respond directly to the MCB letter, he wrote an article for Conservative Home 10 days ago in which he said the party would work with the anti-racism group TellMama, would make diversity training available to party members and would remind local associations of the standards of behaviour expected.
"A single case of abuse is one too many, and since becoming chairman I have taken a zero-tolerance approach," he wrote.
The MCB said it welcomed "at least your willingness to talk about Islamophobia" but added that it had been approached by "other individuals [who] have shared with us their stories of experiencing Islamophobia" who did not want to be named because they were afraid of damaging their prospects in the party.
One Tory member had told it about a local party leader who said another member looked "too Muslim" and "wouldn't be accepted", and it had also heard of "five BME Tory members being seated on a single table at the back of a room at a Conservative association dinner".
Relations between the MCB and the Conservatives have been fractious ever since the group called for an internal inquiry at the end of May. The home secretary, Sajid Javid, said shortly afterwards that the MCB "does not represent Muslims in this country", prompting the MCB to accuse him of "shooting the messenger".
At the time the MCB asked why no action had been taken against Bob Blackman, the Harrow East MP, after he retweeted an anti-Islam message from the hard-right activist Tommy Robinson, and hosted a hardline Hindu nationalist, Tapan Ghosh, in parliament. Blackman said he had retweeted the Robinson post accidentally and had not known in advance that Ghosh was being invited to an event last October.
Harun Khan, the secretary general of the MCB, said: "We earnestly hope that the Conservative party addresses concerns of Islamophobia with the seriousness it deserves. The true extent of the problem can only be achieved via an independent inquiry."
The Conservative party declined to comment.
https://www.theguardian.com/politics/2018/jun/26/muslim-group-accuses-tories-of-turning-blind-eye-to-islamophobia-claims
--------
French Muslims on edge as police probe 'far-right plot'
June 26, 2018
PARIS: French police on Tuesday continued questioning 10 suspected far-right extremists over an alleged plot to attack Muslims that has fueled safety concerns in Europe's biggest Muslim community. Nine men and one woman aged 32 to 69 were arrested in raids across France on Saturday.
The suspects, whose detention was extended late Monday for a further 48 hours, had an "ill-defined plan to commit a violent act targeting people of the Muslim faith."
Police have linked the 10 to a little-known group called Action des Forces Operationnelles (Operational Forces Action), which urges French people to combat Muslims, or what it calls "the enemy within." Rifles, handguns and homemade grenades were found during searches in the Paris area, the Mediterranean island of Corsica and the western Charentes-Maritimes region.
http://www.arabnews.com/node/1328786/world
--------
Birmingham man jailed for anti-Islam Twitter hate
26 June 2018
A man who posted a string of Islamophobic tweets in the wake of the Manchester Arena attack has been jailed for stirring up racial hatred.
Rhodenne Chand, from Birmingham, posted 32 tweets over a few days after the bombing in May 2017, police said.
Supt Mat Shaer of West Midlands Police said the messages "left people fearing some of the threats could be carried out by him or his Twitter followers".
Chand, 31, was jailed for 20 months at Birmingham Crown Court on Monday.
He had admitted publishing threatening, abusive or insulting material intended to stir up racial hatred.
'Disgusted at himself'
Chand, of Luce Close, Castle Vale, was arrested on 17 June 2017 after a member of the public reported the tweets to police.
Some of the messages encouraged violence against Muslims and for mosques to be attacked, while in one Chand claimed he wanted to "slit a Muslim's throat".
Chand told officers he was "venting" in the aftermath of the Manchester and London Borough Market attacks and had stopped using Twitter, police said.
Officers said Chand admitted he "felt disgusted at himself for writing the posts".
Supt Shaer said: "This case saw the sustained release of offensive, threatening material aimed at Muslim and Pakistani communities − it left people fearing some of the threats could be carried out by him or his Twitter followers.
"The law is careful to try and not penalise expression of opinion, even in strong and possibly offensive terms.
Full report at:
https://www.bbc.com/news/uk-england-birmingham-44608876
--------
Turkey's EU accession talks deadlocked: EU
Jun 27, 2018
The European Union (EU) says talks with Turkey to potentially accept Ankara's accession to the bloc have reached a deadlock over alleged Turkish rights violations and judicial failures.
"The council (of ministers) notes that Turkey has been moving further away from the European Union," said a statement issued Tuesday following a meeting of EU European affairs ministers in Luxembourg.
"Turkey's accession negotiations have therefore effectively come to a standstill," the statement said, citing numerous human rights violations as well as the conduct of the country's judiciary system.
"The council is especially concerned about the continuing and deeply worrying backsliding on the rule of law and on fundamental rights, including the freedom of expression," it added.
The statement referred to mass arrests and dismissals "targeting journalists, academics, members of political parties including parliamentarians, human rights defenders, social media users and others exercising their fundamental rights and freedoms" as evidence of rights violations.
The development came just a couple of days after Turkish President Recep Tayyip Erdogan won re-election on Sunday. The EU issued only a short statement of congratulation.
The EU ministers said, however, that Ankara remained a "key partner" for the Western bloc on matters such as aiding to block the persisting stream of refugees and asylum seekers into Europe.
Full report at:
http://www.presstv.com/Detail/2018/06/27/566220/Turkey-EU-accession-talks-deadlock
--------
France to host international humanitarian conference on Yemen
27 June 2018
Paris will host an international humanitarian conference on Yemen on Wednesday to address the humanitarian situation in the country and find solutions for it.
A seminar in which relief organizations and researchers in the humanitarian situation in Yemeni cities that are suffering from military conflict was held on Tuesday on the humanitarian situation in Hodeidah and Taiz.
Participants at the seminar called for trying those involved in violating civilians' rights and they commended the coalition forces and the French support represented in sending humanitarian aid workers and 11 doctors.
Paris also intends to send a team specialized in removing mines to Hodeidah.
The upcoming conference on Wednesday comes following the major developments particularly in the port of Yemen. Among the participants are representatives of states and international agencies that operate in Yemen.
Full report at:
https://english.alarabiya.net/en/News/gulf/2018/06/27/France-to-host-international-humanitarian-conference-on-Yemen.html
--------
Pakistan
Go beyond 'half-hearted' efforts to resolve Kashmir dispute, separatists urge Islamabad
JUNE 27, 2018
The United Jihad Council (UJC), an alliance of over a dozen Kashmiri separatist groups, on Tuesday played down the recent imposition of governor's rule in India-held Kashmir as a "non-issue," noting that New Delhi had always run the occupied territory "through its stooges and puppet governments".
"For the sake of durable peace in the region, it is imperative that India read the writing on the wall, respect the wishes and aspirations of the Kashmiris and hold a free and fair plebiscite in accordance with the pledges made by its leadership after partition of the sub-continent," the UJC chief, Syed Salahuddin, was quoted as saying in a press release.
According to the press release, issued by the group, the UJC conglomerate held a high-level meeting with Salahuddin in the chair to discuss recent events in Held Kashmir.
During the meeting, the UJC chief warned against a major humanitarian disaster in the face of unrelenting atrocities and human rights violations at the hands of Indian forces in Held Kashmir.
Expressing serious concern over the "criminal silence" of the global institutions and powers, he said that Islamabad should go beyond its "traditional half-hearted" efforts and launch a forceful diplomatic initiative to draw the attention of the world community towards the agonising situation in the held territory.
"Imposition of governor's rule and termination of the so-called elected government is insignificant and a non-issue for the people of Jammu and Kashmir because every state government has always been a puppet and subservient to New Delhi," the UJC chief, who is also supreme commander of Hizbul Mujahideen – the largest and mainly indigenous constituent of the alliance, was quoted as saying.
He said the so called Ramazan ceasefire and talks offer by Indian government had been devoid of sincerity and seriousness.
He was referring to a May 16 announcement by India's Home Ministry that its forces would not launch any operations in Jammu and Kashmir during the month of Ramazan. Two weeks later, Indian Home Minister Rajnath Singh said that the government was ready to hold dialogue with the Hurriyet Conference leadership if it came forward for talks.
"I have already said that we are ready for dialogue with all stakeholders in Kashmir. If Hurriyet comes forward for talks, we don't mind talking to them. Whoever wants to talk with us, we are ready for talks," Singh had told a TV channel, according to India's PTI news agency.
However, Salahuddin said that both promises had turned out to be "hoax" as there had been no let up in the killing of Kashmiris during the month of fasting.
"Had there been some seriousness and good intention behind these offers, the militant leadership would certainly have given a positive response," he said.
Regarding the dialogue, he pointed out that "talks for the sake of talks" had miserably failed in the past and added that their fate in future could hardly be different.
The UJC chief emphasised that the dialogue process could not be made meaningful and result-oriented without acknowledging and realising the ground reality in Jammu and Kashmir and historical facts linked with the longstanding issue.
"The sooner this reality is realised the better it will be for the global peace," he maintained.
Salahuddin also warned that the Bharatiya Janata Party's outrage at the pro-freedom Kashmiri people and its plans and actions to suppress the freedom movement through use of brute force would prove detrimental to India itself.
He recalled that over the past 70 years, India had tried both coercion and money to subdue and lure the Kashmiris but to no avail, as each passing day had witnessed greater intensity in the resolve of Kashmiris.
The UJC also condemned the murder of celebrated journalist Dr Syed Shujaat Bukhari and criticised accusations in Indian media that those who disagreed with Bukhari's views or activities had been responsible for his killing.
The Indian media has carried reports blaming the UJC and Lashkar-e-Tayyeba for orchestrating the attack on the journalist, a charge both outfits have strongly denied.
Bukhari had reportedly been pro-dialogue and had supported an Indian government ceasefire in Kashmir during the month of Ramazan, which, as some Indian media outlets have alleged, had turned hardline separatists against him.
However, Salahuddin slammed the allegation, condemning Bukhari's murder as "a ghastly act of the highest degree" and adding that it was "condemnable to blame those who differed with his ideology or activities".
"Such a thought is illogical and unrealistic … It reflects a criminal approach," Salahuddin was quoted as saying.
"The killing of Shujaat Bukhari at a time when the UN Human Rights Commission released a report on the human rights abuses by Indian forces in Kashmir raises many questions," the newspaper Greater Kashmir had previously quoted Salahuddin as saying.
Salahuddin had also said they had a "firm belief that Indian agencies and their agents were behind the murder of Bukhari."
The separatist leader suggested that the Kashmir Bar Association and human rights watchdogs play a role in exposing the "elements or institutions" involved in Bukhari's killing.
https://dailytimes.com.pk/258576/go-beyond-half-hearted-efforts-to-resolve-kashmir-dispute-separatists-urge-islamabad/
--------
Pakistani Taliban blames Musharraf for Bhutto's assassination
Omer Farooq Khan
Jun 26, 2018
ISLAMABAD: A terrorist associated with the splinter group of banned Tehreek-e-Taliban-Pakistan (TTP), alleged to be part of the cell that assassinated former Pakistani PM Benazir Bhutto, has denied his involvement in the attack. In a video released by the group, the TTP has instead blamed Pakistan's former President General Pervez Musharraf for Bhutto's assassination.
Ikramullah was believed to have been a "back-up suicide bomber", and was allegedly tasked to detonate his explosive vest if the first attacker failed. According to investigators, he walked away after the first bomber blew himself up, killing Bhutto and at least 20 others at a rally in the garrison city of Rawalpindi in December 2007 at Liaquat Bagh, a venue where Pakistan's first PM Liaquat Ali Khan was also murdered on October 16, 1951.
The video in which Ikramullah made his first public statement on Bhutto's assassination was obtained by BBC. It is believed to have been filmed in eastern Afghanistan by TTP's splinter group. Sitting next to Sheharyar, the group's commander, Ikramullah repeatedly stated in the video that he was neither "involved" nor "aware of" the plot to kill Bhutto.
Sheharyar, however, claimed that the Pakistani Taliban were not involved in the attack, and blamed it on the country's then military ruler Pervez Musharraf and intelligence services. "Attempts to link Ikramullah to the killing of Benazir is the work of the infidel media and apostates," Sheharyar said.
Though Musharraf has been declared a proclaimed offender after being charged with "abetment and conspiracy to murder" in relation to Bhutto's death, he has not appeared in court. He is currently in self-imposed exile in Dubai and has denied any involvement in Bhutto's death or having deliberately not provided her with adequate security.
Former interior minister Rehman Malik told BBC that the militant was 'totally lying' as other suspects had named him in court as one of the bombers. Malik said that Ikramullah was 'the only living person' with inside information on the Bhutto case, as the majority of other militants linked to the case have since been killed. Ikramullah's denial, he said, could be motivated by fear of being detained in Afghanistan and handed over to Pakistan.
Earlier this year, a book published by the Pakistani Taliban on the history of the TTP acknowledged that despite earlier denials they had indeed carried out the attack, and again named Ikramullah as the second suicide bomber. The book, From British Raj to American Imperialism, was written by Mufti Noor Wali Mehsud, who was recently named as the new head of the TTP, following the death of the group's previous leader Mullah Fazlullah in a drone strike earlier this month. According to the book, Bhutto was targeted by the militants because she was planning "to target the mujahideen" and create a government sympathetic to "American interests".
Full report at:
https://timesofindia.indiatimes.com/world/pakistan/pakistani-taliban-blames-musharraf-for-bhuttos-assassination/articleshow/64752713.cms
--------
SC asks FIA to take steps for bringing Haqqani back from US
June 27, 2018
ISLAMABAD: The Supreme Court on Tuesday ordered the Federal Investigation Agency (FIA) to take measures for developing necessary rules and framework for bringing former ambassador to the United States Hussain Haqqani back home.
The directives were issued by a three-judge Supreme Court bench headed by Chief Justice Mian Saqib Nisar when senior counsel Ahmer Bilal Soofi, representing the FIA, told the court that without a proper mutual legal assistance (MLA), all efforts to bring Mr Haqqani back to Pakistan would not be fruitful. And in the absence of such regulations, the FIA did not have the enabling powers to extradite him from the US, he said.
On a suo motu, the apex court had taken up a case pertaining to steps being taken by the government for ensuring implementation of its earlier order of bringing Mr Haqqani to Pakistan.
Mr Haqqani was at the centre of a controversy for sending a memorandum allegedly to former US military chief Admiral Mike Mullen, seeking direct American intervention to avert a possible overthrow of the civilian government by the military against the backdrop of US raid at a compound in Abbottabad to kill Osama Bin Laden on May 2, 2011.
Know more: Memogate and the aftermath
Later, the Supreme Court constituted a judicial commission which had on June 12, 2012, held that Mr Haqqani was the originator and architect of the memo.
On Tuesday, the chief justice regretted that a person had submitted himself before the apex court earlier and was allowed to leave Pakistan after an undertaking that he would return whenever called after a prior notice. Now when the man was being asked to come he was not obeying.
But Advocate Soofi told the court that without MLA no evidence against Mr Haqqani could be collected by the FIA.
The chief justice, however, wondered why the agency failed to make the rules when the case had been heard for the last few months.
During the hearing, the counsel offered his assistance in framing rules without any charge for providing designated authority to the investigation agency.
Embezzlement of ERRA funds
Meanwhile, the same bench set up a commission headed by the district and sessions judge, Mansehra, to develop terms of reference (ToR) to conduct a thorough probe into misappropriation of funds and lack of development in Balakot and adjoining areas in the wake of the 2005 earthquake.
The commission will furnish ToR within a week and after the approval of which it will then embark upon a through inquiry. The time period to complete the probe will be decided by the court at the next hearing.
On a suo motu, the apex court had taken up an application of Shahzad Mehmood Qureshi of Mansehra who had invited its attention to alleged embezzlement of funds in the accounts of the Earthquake Recon­struction and Rehabilitation Authority (Erra).
In his application, Mr Mehmood had alleged that despite the passage of 13 years, the people of Balakot were still living in makeshift arrangements without water, while their children were studying in schools without any roof and not a single doctor was available for them.
The applicant also alleged that Rs55 billion was transferred to the Benazir Income Support Programme out of Erra funds, while Rs185bn was transferred to other government accounts.
At the insistence of the applicant, the chief justice had even paid a visit to Balakot on April 25 to get first-hand information about how the area people were living.
Non-performing loans
The Supreme Court on Tuesday came out with an option for 222 firms involved in the written-off non-performing loans worth billions of rupees from the commercial banks either to deposit three-fourth (75 per cent) of the principal amount they had borrowed or face trials before the banking tribunals.
The firms will have to come up with their response to the court's suggestion on Wednesday.
"Every penny will be recovered," observed the chief justice, adding that the recovered money could be used to repay the international debt for which every citizen owed about Rs170,000.
The court had taken a suo motu notice in 2008 on press reports that the State Bank of Pakistan (SBP) quietly allowed commercial banks to write off non-performing loans (NPLs) under a scheme introduced by former president Pervez Musharraf.
Soon after October 2002 elections, then finance minister Shaukat Aziz and his team at the SBP approved a loan write-off scheme.
Full report at:
https://www.dawn.com/news/1416356/sc-asks-fia-to-take-steps-for-bringing-haqqani-back-from-us
--------
'Most wanted' in Benazir assassination resurfaces, denies involvement
Jun 27, 2018
A suspected militant alleged to have been part of the cell that murdered former prime minister Benazir Bhutto has appeared in a Taliban video denying his involvement, reported BBC.
Ikramullah is believed to have been a back-up suicide bomber, who was meant to detonate his explosive vest if the first attacker did not succeed.
But officials say he walked away after the other bomber blew himself up, killing Bhutto and at least 20 others at a rally in Rawalpindi in 2007.
A senior Bhutto aide said he was lying.
In his first public statement on the case, Ikramullah appears in a video produced by a splinter group of the Pakistani Tehreek-e-Taliban (TTP) which was obtained by the BBC. It is believed to have been filmed in eastern Afghanistan, where the militants are based.
Described as a "senior figure" in his group, Ikramullah repeatedly states in the video he was neither "involved" nor "aware of" the plot to kill Bhutto. He is on a Pakistani list of most-wanted terror suspects and has been named in court as the second suicide bomber.
Senator Rehman Malik, a former interior minister who was a close friend of Bhutto's, told the BBC that he believed Ikramullah was "totally lying", and that other suspects had named him in court as the second bomber.
A source with knowledge of Pakistani militant groups told BBC that until recently Ikramullah was openly and proudly claiming his involvement. But last year he was attacked by other rival Islamists in Afghanistan, and his family received threats from the Pakistani security services. As a result, it is believed, he was advised by his group's leaders to make a video denying his involvement.
The source told the BBC: "The whole of the Pakistani Taliban and even young children from the tribal areas know he was involved."
Bhutto was elected as prime minister in 1988 and 1993. After a period in exile, she returned to Pakistan in 2007 to campaign for elections.
She survived an assassination attempt in October 2007 when suicide bombers targeted a parade welcoming her at Karachi airport. More than 150 people died.
Bhutto was killed two months later at a rally in Rawalpindi. Five alleged militants charged with involvement in the plot were last year acquitted, but remain in detention pending an appeal.
The leader of the Pakistani Taliban at the time, Baitullah Mehsud – who died in US strike in 2009 – denied that the group was responsible. However, many have speculated that this was prompted by the public backlash the attack received.
Pakistani intelligence officials said they had intercepted a phone conversation in which Baitullah Mehsud was told by an unnamed cleric that the attackers were "our men" and included Ikramullah, who was then about 16 years old.
Full report at:
https://www.pakistantoday.com.pk/2018/06/26/most-wanted-in-benazir-assassination-resurfaces-denies-involvement/
--------
NAB tightening noose around Sharifs before polls
June 27, 2018
LAHORE/ISLAMABAD: National Accountability Bureau (NAB) Chairman retired Justice Javed Iqbal has approved initiating the process of bringing back former prime minister Nawaz Sharif's sons Hasan and Hussain, former finance minister Ishaq Dar and PML-N president Shahbaz Sharif's son-in-law Ali Imran Yousaf from London through Interpol.
The NAB chairman gave the approval during a meeting with the bureau's officials in Lahore on Tuesday.
An accountability court has already declared Hasan and Hussain Nawaz and Ishaq Dar proclaimed offenders (POs) in corruption references against them. Mr Yousaf is wanted by NAB in the Saaf Pani Company scam.
According to a source, NAB has decided to go after them to meet legal requirements in the cases against them. "Since Hasan, Hussain and Ishaq Dar have been declared POs and Yousaf skipped three consecutive NAB hearings and is hiding in London, NAB has to initiate the process of bringing them back to complete the legal formalities," he said, adding that NAB was writing to the interior ministry to take up the matter of bringing the four accused back to the country with the help of Interpol.
Talking to reporters in London, Hussain Nawaz shrugged off the NAB move, saying "there is a rule of law in Britain and nothing can happen beyond the ambit of law".
Hasan and Hussain were declared POs last year after they consistently skipped the court's proceedings in three graft references pertaining to their Park Lane flats and the establishment of offshore companies.
Mr Dar, who is facing a corruption reference with regard to assets beyond known sources of income, left for London last year and extended his stay there on medical grounds.
Mr Yousaf left for London a couple of months ago after evidence emerged that he allegedly received Rs120 million and Rs28m from officials of the Punjab Power Development Company and Saaf Pani Company.
The NAB chairman also approved an inquiry into those matters referred to it by the Supreme Court. These included investigation into the affairs of Punjab Institute of Cardiology, appointment of Overseas Commissioner Afzaal Bhatti and Wapda officials' involvement in the Neelum-Jhelum power project affairs and probe against former chief executive officer of the Punjab Population Innovation Fund Jawad Qureshi, Punjab Health Management Company CEO Zahir Abbas, Urban Sector Planning and Management Company CEO Dr Nasir Jawad, Saaf Pani Company south CEO retired Capt Muhammad Usman, Punjab Health Facilities Management Company CEO Muhammad Ali Ammar and former vice president of the National Bank of Pakistan Usman Saeed.
Justice Iqbal also authorised inquiry against two private companies — Agri Tech Limited and Alizgard Nine — and Hammad Arshad of Globaco and DHA Lahore City.
He directed the NAB officials not to take into account the position of any suspect and go after them (suspects) in accordance with the law. "NAB has not only to recover looted money but also take culprits to task," he said, directing them to ensure 100 per cent transparency in investigation.
NAB Lahore Director Gen­eral Shahzad Saleem info­rm­ed the chairman that an amount of Rs18 billion had been recovered in different scams and distributed among the affected people.
According to a source in NAB, the anti-graft watchdog has also decided to bring back to Pakistan Saifur Rehman, a confidant of Nawaz Sharif and former chief of the now defunct Ehtesab Bureau, through Interpol.
Keeping in view media reports and possibilities that Nawaz Sharif might not return from the UK, NAB was also considering the same option to bring him back through Interpol, the source said, adding that the bureau also planned to place the name of former secretary to the prime minister Fawad Hassan Fawad on the Exit Control List (ECL).
He is allegedly involved in the Ashiyana Housing Scheme and Saaf Pani Company scams.
"The names of Fawad Hassan Fawad and Punjab health secretary Ali Jan and provincial secretary Najam Shah will be placed on the ECL," the source said, adding that recently arrested former CEO of Saaf Pani Company Wasim Ajmal had sought to become an approver in the case against Shahbaz Sharif after which NAB summoned the former Punjab chief minister next month to record his statement in the case.
Wasim Ajmal's decision to become the approver is believed to be a big blow to Shahbaz Sharif who is still in the country and kicked off his election campaign from Karachi on Tuesday.
NAB had arrested Wasim Ajmal and Qamarul Islam of Saaf Pani Company on Monday.
Qamarul Islam, a leader of the Pakistan Muslim League-Nawaz, has been given the party ticket to contest the election against Chaudhry Nisar Ali Khan from NA 59 (Rawalpindi).
The source said NAB had also prepared a reference against the former director general of Lahore Development Authority and others in the Saaf Pani Company scam and it would be filed in an accountability court on Wednesday (today).
Meanwhile, Khawaja Saad Rafique, a close aide to the Sharifs and former Railways minister, can also be in hot water as NAB has decided to challenge his affidavit submitted to an accountability court that he had no link with Paragon Housing Society in Lahore.
He is accused of being involved in an illegal land deal in the housing society.
Full report at:
https://www.dawn.com/news/1416318/nab-tightening-noose-around-sharifs-before-polls
--------
Stamp out terror for more trade, Americans tell Pakistani delegation
Anwar Iqbal
June 27, 2018
WASHINGTON: Now is the time to implement the "trade-not-aid" policy as establishing strong business ties is the best way to rebuild once close relationship with the United States, say the members of a Pakistani delegation visiting the US capital.
The delegation, which is the first to visit the United States since the new ambassador, Ali Jahangir Siddiqui, himself a businessman, came to Washington late last month. On Tuesday, they met senior US officials at the State Department and came back with the impressions that the Americans too want better trade relations with Pakistan.
But they told the delegation that "Pakistan must eradicate terrorism, in all its forms, to create a business-friendly environment," said Kamran Nasir, CEO, JS Global Capital Ltd.
"They believe that to encourage investors, particularly from the United States, Pakistan must improve the security situation," said Hubco's CEO Khalid Mansoor.
State Department officials also reminded Pakistan that the Paris-based Financial Action Task Force (FATF) was already considering a proposal to censure Pakistan over its alleged failure to stamp out terrorism finance and stressed the need for Pakistan to take immediate measures for overcoming this problem.
As the United States had played a key role in placing Pakistan on FATF's watchlist in February, the delegation felt after the meeting that Pakistan may be placed on the FATF grey list but would avoid getting blacklisted. Being placed on the blacklist could bring economic sanctions, which Pakistan wants to avoid.
"We are taking steps to stamp out terrorism financing," said Nasir, "but being placed on the grey list is not the end of the world. We were on this list from 2012 to 2015 and yet our economy improved rapidly during that period."
In their discussion with the Pakistani team, US officials also showed a keen interest in the China-Pakistan Economic Corridor (CPEC) and "we assured them that CPEC also creates a lot of opportunities for American businesses," said Ehsan A. Malik, Chief Executive Pakistan Business Council.
Irfan Siddiqui, CEO Meezan Bank, said that CPEC's focus was on building infrastructure, "which will create new investment incentives for all."
The delegation explained to US officials that CPEC had set aside $36 billion for power generation and most of these projects were using "state-of-the-art" American equipment, such as GE motors and generators.
"So, there's an enormous opportunity for US investments in CPEC-backed projects," said Nasir.
The Pakistani delegation also presented statistics, showing that the United States was one of Pakistan's a major trading partners. Statistics released by the US Census Bureau show that between January and April 2018, the US exported $1.077bn of goods to Pakistan while its imports amounted to $1.199bn. In 2017, US exported $2.8b worth of goods to Pakistani while imports accounted for $3.57bn.
The delegation explained to US officials that Pakistan was also a major victim of terrorism and that terrorism was not Pakistan's invention as it came to South Asia during the cold war.
They explained that Pakistan was so far the only country to successfully fight back terrorism, creating an environment that was already encouraging foreign companies to invest in the country. They pointed out that 35 companies, including some from the United States, had already invested in Pakistan while more were coming.
Later, some members of the Pakistani delegation told media representatives that they also noticed some positive changes in the US attitude. The Trump administration was making changes that would allow US companies also to invest in coal-based projects, they said, adding that some US companies were already providing equipment for coal-based projects in Thar.
Richard Morin, CEO, Pakistan Stock Exchange Ltd, pointed out that a prestigious international evaluator, MSCI, reclassified PSX from a Frontier to an Emerging Market in May 2017 because of its performance.
He said that now was the best time to invest in PSX because of uncertainty in other markets.
Full report at:
https://www.dawn.com/news/1416332/stamp-out-terror-for-more-trade-americans-tell-pakistani-delegation
--------
Afghan refugee killed in Lower Dir attack
June 27, 2018
TIMERGARA: An Afghan refugee identified as Abdul Karim was killed while six shopkeepers were injured when some people from the adjoining Bajaur area attacked them with daggers and sticks at the Munda Bazaar here on Tuesday. The injured were taken to the DHQ hospital Timergara.
Eyewitnesses told the Munda police that over a dozen persons from Kulala area of Bajaur attacked the president of Munda Bazaar traders' body, Aminullah. They said other shopkeepers rushed to save him from the attack, but the assailants used daggers and sticks and injured seven of them, including an Afghan refugee. They later escaped the scene despite the presence of policemen on the scene. They said the Afghan national succumbed to injuries in hospital.
The Munda police registered a case and started further investigations. It was stated that motive behind the attack was that a son of the traders' body president had quarreled with a man from Kulala Bajaur the other day.
Full report at:
https://www.dawn.com/news/1416308/afghan-refugee-killed-in-lower-dir-attack
--------
Imran Khan welcomes ECP's decision to scrutinise foreign funding of PPP, PML-N
Jun 27, 2018
ISLAMABAD: Pakistan Tehreek-i-Insaf (PTI) Chairman Imran Khan on Tuesday hailed the decision of Election Commission of Pakistan (ECP) to scrutinize foreign funding of Pakistan Peoples Party (PTI) and Pakistan Muslim League-Nawaz (PML-
Imran Khan, in a statement issued by the PTI Central Media Department here, said the PTI as a political party had been making its foreign funding public before ECP. "So we welcome the belated ECP decision to send PPP and PML-N foreign funding for audit probe before the committee," he said.
Full report at:
https://www.pakistantoday.com.pk/2018/06/26/imran-khan-welcomes-ecps-decision-to-scrutinise-foreign-funding-of-ppp-pml-n/
--------
Southeast Asia
Indonesian Election Season Is a Gauge Of Rise Of Political Islam
JUNE 26, 2018
JAKARTA (Reuters) - About 100 residents of a gritty commercial district of Indonesia's capital listen intently as a man roars into a microphone: "Are you ready to change our president? Are you ready for new leadership?"
But this is not a political rally. Dressed in white robes and a turban, Novel Bamukmin of the Jakarta chapter of the Islamic Defenders Front (FPI), a hardline Islamist group, addresses evening prayers in a mosque.
As a year of local and then national elections begins this week in the world's biggest Muslim-majority country, some Islamic leaders have emerged as the most vocal opponents of President Joko Widodo, who is expected to seek a second term next year.
They belong to a loose grouping of Islamists behind protests that culminated in the election defeat and jailing for blasphemy in 2017 of Jakarta's ethnic-Chinese and Christian governor, Basuki Tjahaja Purnama, a Widodo ally.
The case of Purnama, who had said political rivals were deceiving people by using a verse in the Koran to say Muslims should not be led by a non-Muslim, showed how Islam had crept into politics in the officially secular country.
Widodo has pledged to protect Indonesia's tradition of pluralism and moderate Islam, and he has banned Hizb ut-Tahrir, a hardline group with ambitions for an Islamic caliphate.
But a senior government official conceded there are limits to how much the government can control political messaging in mosques.
"Any action against this phenomenon is blasted as anti-Muslim so our actions are restricted," said the official, who declined to be identified because of the sensitivity of the issue.
'CHANGE THE PRESIDENT'
A former furniture maker and Indonesia's first president from outside the political and military elite, Widodo - known as Jokowi - has remained popular since he took office in 2014.
He is widely seen as an honest man of the people, rare for a leader in a country where the political class is scorned as corrupt and aloof, and his push for infrastructure and cutting red tape has burnished his image as a hands-on leader.
A recent opinion poll gave him a double-digit lead over the opposition Gerindra party's Prabowo Subianto, a retired general who is expected to run a second time against Widodo in 2019.
Opponents and hardline Muslim groups, including the FPI, accuse Widodo of failing to stem income inequality or deliver higher growth, but the most incendiary attacks have often been around religion and ethnicity.
False accusations have spread on social media that the president is not actually Muslim and is a descendant of ethnic Chinese communists.
Widodo has sought to strengthen his ties with moderate Islamic leaders and he recently appointed a controversial hardline cleric as a communications adviser.
"The only way for the opposition to win is to debunk the argument that Jokowi is one of the masses, and to attack his weakest spot, which is his shyness in showing his religion," said Achmad Sukarsono, a political analyst at Control Risks.
Ahead of local elections across much of the country on Wednesday, the anti-Widodo sentiment has crystallized into a movement called "#GantiPresiden2019" or "Change the president in 2019".
The movement's founder, Mardani Ali Sera, a member of parliament from a conservative Islamic party, says he has no connection with political messaging in mosques.
But he says the majority of those affiliated with his movement are from Islamic parties and the groups that opposed Jakarta's Christian governor.
"We don't use mosques but if the hashtag and the movement works for you, then go ahead and use it," Sera, who is active on social media, told Reuters.
The FPI's Bamukmin supports the #GantiPresiden2019 movement and said he and other preachers push that message in sermons.
"It is the duty of Muslims to try and replace the current president who has betrayed the country and his religion," he said, accusing Widodo of "selling the country to foreigners" and "empowering communists and deviant religious sects".
NO CAMPAIGNING ALLOWED
Indonesia's election laws prohibit political campaigning in places of worship ahead of polls.
Vice President Jusuf Kalla told media political discussion is allowed in mosques because they are places of education as well as worship, but campaigning is not.
The government can do little to stop such activity in mosques, said a spokesman for the religious affairs ministry.
"If there are clerics who use mosques for political interests, it's better that the public itself persuades them to stop. It is not in the ministry's capacity to identify or stop them," said Mastuki, who goes by one name.
Tens of millions of Indonesians will vote in 171 elections for mayors, regents, and governors on Wednesday, an important barometer ahead of presidential and parliamentary elections in 2019.
Opinion polls suggest candidates backed by parties supporting Widodo will win in many parts of Java, Indonesia's most populous island, but observers will be watching for signs of Islamist influence.
One man who attended FPI preacher Bamukmin's sermon in Jakarta this month, said even if clerics were becoming more political, their congregations were smart enough to decide for themselves.
"People just listen to the good points and ignore the rest," said Huda, 27.
https://www.reuters.com/article/us-indonesia-elections-mosques/indonesian-election-season-is-a-gauge-of-rise-of-political-islam-idUSKBN1JM0X6?il=0
--------
Lawyer: Islamic bodies should cater to non-Muslims too
Sheith Khidhir Bin Abu Bakar
June 27, 2018
PETALING JAYA: Activist-lawyer Nik Elin Rashid has urged Putrajaya to ensure that religious institutions include in their ambit of concern not only Muslims of all schools of thought but non-Muslims as well.
Speaking to FMT, she said the work of government Islamic agencies should reflect Malaysia's character as a multicultural country.
"This would promote understanding among Malaysians of all backgrounds regarding Islam," she said.
She was commenting on a report that Putrajaya's top advisory council had invited at least three muftis as well as independent Muslim scholars and activists to hear their views on the future of the administration of Islam under the Pakatan Harapan government.
Nik Elin said Putrajaya, in its bid to improve the work of Islamic agencies, should first of all be discerning in its choice of people to lead the institutions.
"They should not be political appointees and must be from highly respectable backgrounds," she added.
She also said the institutions should be prohibited from moral policing.
"Religion should remain a personal relationship with God and there should never be a self-appointed conduit to God," she said.
She criticised the Malaysian Islamic Development Department (Jakim), saying it currently promoted a single system of belief with no room for dissension.
"Muslims believe that Islam is a religion for all times," she said. "The doors of ijtihad did not close 1,430 years ago."
Tawfik Ismail, an ex-member of the G25 group of former civil servants and a frequent critic of Jakim, also weighed in on the issue, saying the new Malaysia that had emerged with the recent general election should not leave room for heavy-handed practices by religious institutions.
"It's unacceptable that the government of Malaysia Baru would allow this kind of behaviour from religious authorities," he told FMT.
Referring to the anti-khalwat law, he said raids on people suspected of flouting it were reminiscent of draconian laws of the past, such as the Internal Security Act.
"It's appalling that they arrest on hearsay," he added.
Calls for the reform of Islamic institutions have been renewed in the wake of the recent arrest of lawyer Siti Kasim after the mother of her client claimed that her daughter's faith was in question. It was reported that police forcibly took away the client from Siti's house.
Full report at:
http://www.freemalaysiatoday.com/category/nation/2018/06/27/lawyer-islamic-bodies-should-cater-to-non-muslims-too/
--------
Umno needs to apologise to Malaysians, says Ku Li
Melissa Darlyne Chow
June 27, 2018
BUTTERWORTH: Umno presidential candidate Tengku Razaleigh Hamzah today said the party, from its grassroots leaders to the top leadership, needed to apologise to Malaysians for the wrong it had done.
The Umno veteran said this was in line with Malaysian culture, and that Islam taught them to say sorry for any wrongs they had committed.
"If I can influence the party members, through a consensus, I would like to arrange for all branches and divisions to apologise to all Malaysians for the wrongs we have done, which caused them to be angry with us.
"We have been complacent, and we have shirked our responsibilities as leaders. This has angered Malaysians.
"We need to say sorry to them so that we can foster better relations with them," he said in his speech to Penang Umno delegates in Seberang Jaya, near here, today.
Tengku Razaleigh said he saw no reason why Umno could not apologise, and that he was of the view that Malaysians would forgive the party.
"We must do that. It is our duty to do so," he said.
The battle for the Umno presidency will see the Gua Musang MP going up against Khairy Jamaluddin and Ahmad Zahid Hamidi, among others. Party elections are set to take place this Saturday.
This will be the second time Tengku Razaleigh, who is better known as Ku Li, is contesting the presidency. He first did so in 1987, against then-Umno president and Prime Minister Dr Mahathir Mohamad.
Earlier in his speech, Tengku Razaleigh said Umno had lost badly in the 14th general election, demonstrating a clear rejection by the people, adding that the party was now looked down upon by some.
"The morale is down. Some have told me they have no more fire in them to meet people. Others said they do not want to get involved in politics.
"I feel sad. We did not suffer a small defeat. We lost badly. If previously we lost in Kelantan, we managed to gain Terengganu. But this time we lost power in the whole country except for Sarawak. We managed to retain the smallest state in the country (Perlis) and the biggest state in the peninsula (Pahang).
"For sure, the morale will be low."
The Gua Musang MP said there were still some who were in denial and refused to accept that the party had been rejected by the people.
"Some people think it is business as usual, that we still have power and we are still influential.
Full report at:
http://www.freemalaysiatoday.com/category/nation/2018/06/27/umno-needs-to-apologise-to-malaysians-says-ku-li/
--------
Malaysia mosque bans tourists after 'sexy dance' goes viral
June 26, 2018
A Malaysian mosque has banned tourists after a video of two female visitors in skimpy outfits dancing in front of the Muslim holy site went viral online.
The pair, of East Asian appearance and believed to be foreigners, were filmed doing the dance in skimpy shorts and tops exposing their midriffs on a wall outside the main mosque in the city of Kota Kinabalu, a popular site for visitors and tour groups.
Residents and local Muslim groups were incensed by the risque moves outside the holy site on Borneo island, which is renowned for its huge blue and gold dome and ornate minarets.
An outraged onlooker can be heard in the video saying: "Why don't they just fall off the wall?"
Mosque chairman Jamal Sakaran at the weekend slammed "the unacceptable behaviour by foreign tourists" and announced a temporary halt to any tourists visiting the mosque in Sabah state, adding the move was to preserve the sanctity of Islam.
The nationality of the women involved was not clear.
State Tourism Minister Christina Liew told The Star newspaper legal action would not be taken against the pair as they were likely unaware of the severity of their actions. But authorities wanted to track them down to explain "that something they deemed as 'fun' was actually disrespectful and not right in Sabah".
Large numbers of tourists -- both local and foreign -- visit the mosque, often during a brief stop in Kota Kinabalu before heading into the jungles of Sabah to see the jungle-clad state's abundance of wildlife.
Tourists can usually visit mosques in Muslim-majority Malaysia, where most practise a moderate form of Islam, but are advised to wear modest clothing.
It is not the first time that foreign visitors have landed in hot water for disrespecting local culture in Sabah.
Full report at:
http://www.thejakartapost.com/travel/2018/06/26/malaysia-mosque-bans-tourists-after-sexy-dance-goes-viral.html
--------
Bombs Seized from Suspected Thai Rebels Possibly Built in Malaysia: Authorities
2018-06-26
Malaysian police are increasing security along the Thai border, Malaysia's deputy police chief said Tuesday while conceding that insurgents from Thailand's Deep South may have made bombs just across the frontier in Kelantan state.
Meanwhile in Narathiwat, a neighboring province in Thailand where police recently arrested a suspect transporting 41 pipe bombs "from a neighboring country," the provincial police chief expressed frustration that his jurisdiction would be peaceful if Malaysia cracked down on suspected militants residing within its borders.
"There is a possibility that the southern insurgents sneaked into Malaysia and produced the bombs in Kelantan," Malaysian Deputy Police Inspector-General Noor Rashid Ibrahim told BenarNews.
"We are looking into that angle and we are probing it."
"So far there have been no arrests in Kelantan," he said. "The police are stepping up security in the area."
Noor Rashid was reacting to a report from the Malaysian state news agency Bernama that the homemade bombs seized from a suspected insurgent in the Thai Deep South five days earlier were assembled in Malaysia.
The news service quoted the Thai Army's Fourth Army Region commander, Lt. Gen. Piyawat Nakwanich, as saying that the bombs were meant for use in staging militant attacks after Ramadan, the Muslim month of fasting, which ended in mid-June
"From our investigations, we found that the bombs were smuggled in from Malaysia," Piyawat, Thai Army's highest-ranking officer in the Deep South, was quoted as saying.
The bombs were seized at a checkpoint when Thai police intercepted a suspected insurgent who was driving a pickup truck from Sungai Kolok town to Yi-ngor, a district in Narathiwat, officials said.
The 39-year-old suspect, identified as Zanuzi Yatae, was attempting to smuggle the pipe bombs into the inner areas of Narathiwat, police said, adding that an alleged accomplice, identified by Zanuzi as Abdulaziz Samoe, escaped.
Police found the metal tubes with explosives and timing devices, along with walkie-talkies and other devices that can be used to remotely detonate the bombs.
Maj. Manas Sikasamat, commander of Narathiwat provincial police, said many suspected supporters of Deep South insurgents are dual citizens.
"Some are couples or have relatives on both sides of the borders, very hard to control," he said. "But it would be easy if Malaysia could help tighten border-crossings and crack down on the accused who reside there."
Col. Pramote Prom-in, spokesman for the Thai military's ISOC Region 4, said he could not confirm that the pipe bombs were built in Malaysia.
"I cannot name the country of origin," he told BenarNews, citing lack of documents. "I am not sure about the report quoting the 4th Army Region as saying the bombs were from Malaysia. Initially, I don't see official reports saying so."
Pattani is one of the provinces of the Deep South, where nearly 7,000 people have died in violence since a separatist insurgency re-ignited in the predominantly Muslim and Malay-speaking region 14 years ago. On May 20, 16 bombs exploded within 50 minutes in four provinces in the insurgent-wracked region, police said.
Senior Assistant Commissioner Din Ahmad, the deputy police chief of Kelantan, told BenarNews that smuggling contraband was "not a new thing" for people living near the Sungai Golok River, which acts as a natural border between Malaysia and Thailand.
"The police can't be checking each car and vehicle entering Malaysia," he said. "But now since the bombs are believed to be made in Malaysia, the police are stepping up its investigation and tightening the border. Every car is searched thoroughly."
Malaysian officers are working closely with their Thai counterparts to get more information and are "on the hunt" to detain the perpetrators in the smuggling attempt, Din Ahmad said.
"Police are digging more information from Thai police and from the details they have," he said.
Full report at:
https://www.benarnews.org/english/news/malaysian/malaysia-militants-06262018154145.html
--------
Arab World
Two-state solution is still a possibility, says Saudi Arabia
June 26, 2018
JEDDAH: Saudi Arabia has affirmed that adherence to peace based on the two-state solution according to the Arab peace initiative is a way to find a solution to the Palestinian issue and to end the Arab-Israeli conflict.
This came in the Kingdom's speech on Tuesday before the UN Security Council session in the open debate on "The situation in the Middle East and North Africa" delivered by the deputy permanent representative of Saudi Arabia to the UN, Dr. Khalid Manzlawi.
"The Palestinian people have suffered a long period of unjust occupation, oppressive and racist policies of oppression and illegal settlement incursions," Manzlawi said, adding that Saudi Arabia is still in solidarity with the Palestinian cause. A donation of $50 million was provided by the Kingdom to the UN Relief and Works Agency for Palestine Refugees during the 29th Arab Summit (Jerusalem Summit) held in Dhahran.
Manzlawi said the Kingdom is working with its coalition partners to restore legitimacy in Yemen, a military operation aimed at saving the Yemeni people from the dark forces and restoring some areas from the grip of the Iranian-backed terrorist militias.
The military operation was undertaken at the request of the legitimate government of Yemen and in accordance with Security Council Resolution 2216, which calls for, among other things, the withdrawal of Houthi rebels from all cities, he added.
Iran continues to support the forces of rebellion and the coup of the Houthi militias in Yemen and supply them with weapons, including the missiles that attack Saudi Arabia from time to time, said Manzlawi, reporting that the number of rocket attacks on the Kingdom has reached 155.
Manzlawi said Saudi Arabia condemns the reckless planting of thousands of mines by the Houthis in Yemen in general and Hodeidah in particular. The Kingdom has launched a $40 million project for landmine clearance.
He said the Kingdom strongly condemns the attacks by the Houthi militias on UN aid organizations, agencies and workers since 2015 as they detained 19 aid vessels carrying 200,000 tons of oil derivatives. And he affirmed that the most human degradation is in the areas controlled by the Houthis.
On the Syrian issue, Manzlawi pointed out that the Kingdom has provided $100 million to alleviate the suffering of the Syrian people at the conference to support the future of Syria and the region, which was held in Brussels at the end of April this year, and provided Syrian brothers inside Syria and neighboring countries with about $1 billion.
Manzlawi concluded that the Kingdom reiterates the need to stop this tragedy against the Syrian people and to work toward a peaceful solution based on the principles of the Geneva Declaration 1 and UN Security Council Resolution 2254. He also stressed the importance of the international community's responsibilities to protect civilians in Syria.
http://www.arabnews.com/node/1328711/saudi-arabia
--------
Rifts Widening among Terrorists over Peace with Syrian Army
Jun 26, 2018
Terrorist groups in the Southern part of the country threatened civilians and prevented them from handing over the regions to the Syrian Army and implementing peace agreement.
In the meantime, local sources said that terrorist front in Dara'a and Sweida has collapsed following advances of the army in the region.
The sources said that the terrorists launched missile and artillery attacks on residential areas in Dara'a and Sweida, killing and wounding eight civilians in Southwestern Sweida.
On Monday, over 900 terrorists laid down arms and surrendered to the Syrian Army troops following rapid advances by the government forces in Eastern Dara'a.
The army men stormed terrorists' positions in Eastern Dara'a and captured the village of Hawsh Hamada.
The army forces further seized control over several key points and advanced towards the small town of al-Matla.
In the meantime, the army's artillery and missile units and aircraft pounded terrorists' movements and positions in the villages and towns in the Northern part of al-Lajah region and South-East of the town of al-Na'eimeh, inflicting major losses on the terrorists.
Local sources, meanwhile, said that the terrorist front collapsed after the army's advances in the town of Busra al-Harir.
Full report at:
http://en.farsnews.com/newstext.aspx?nn=13970405000587
--------
Syria troops launch assault on Daraa city amid civilian exodus
June 27, 2018
DARAA - Syria's army launched an assault on the flashpoint southern city of Daraa Tuesday, state media said, after a week of deadly bombardment on the nearby countryside caused mass displacement.
Government forces have set their sights on retaking the south of the country, a strategic area that borders Jordan and the Israeli-occupied Golan Heights.
The escalation against rebels in the past week is the latest in a Russian-backed campaign to retake territory lost since the start of the Syria's war in 2011.
For a week, they have ramped up their bombardment of countryside areas in the southern province of Daraa, which the United Nations says has forced 45,000 people to flee. But on Tuesday, state media said the army was launching an "operation" on the provincial capital itself, known widely as the cradle of Syria's seven-year uprising.
The Syrian Observatory for Human Rights, a Britain-based war monitor, said it was the first ground operation inside the city since the escalation began.
An AFP correspondent on the southern edge of Daraa city said he could see large columns of smoke along the city's skyline and two airplanes circling above amid the steady boom of air strikes and shelling.
State television reported: "Syria's army is carrying out targeted air strikes against terrorist positions and fortifications in Daraa."
Government news agency SANA said the strikes were a prelude "before military units advance into the southeastern quarter of the city." Rebel groups mainly hold the southern half of the city while loyalists control the north. Observatory head Rami Abdel Rahman said: "Russian and Syrian air strikes, as well as barrel bombs, targeted rebel areas in Daraa city."
Syria's army is pursuing a divide-and-conquer strategy against rebels in the south, aiming to chop up the horseshoe-shaped territory that the opposition holds.
"The regime is seeking to take control of a military base south of the city, which will allow it to cut the route between Daraa city and the Jordanian border, as well as further divide the rebel areas," said Abdel Rahman.
Overnight, regime forces had recaptured two villages in the east of Daraa province, which allowed them to cut off a rebel pocket, the Observatory said.
A military source cited by state media said the army had seized both Basr al-Harir and Mlehat al-Atash.
Troops then arrived on the edges of the nearby town of Al-Herak, SANA said.
Air strikes and barrel bombs on Tuesday caused "unparallelled destruction across the town and to its infrastructure", 48-year-old resident Khaleel al-Hariri told AFP.
Al-Herak's hospital had already been put out of service several days ago by bombardment. Raids on Tuesday also killed a rescue worker in the town of Basr al-Harir, the White Helmets rescue service said.
The UN humanitarian coordination office (OCHA) in Syria said at least 45,000 people had fled fighting in the area in recent days. "We haven't seen massive displacement in this scale in Daraa," spokeswoman Linda Tom said.
Meanwhile, two Israeli missiles struck targets near Damascus airport early Tuesday, Syrian state media said, while a monitoring group said they hit arms depots for Hezbollah. In a report in the early hours of Tuesday, Syria's state news agency Sana said "two Israeli missiles came down near Damascus international airport".
Displaced families on Tuesday could be seen streaming out of rebel-held areas in trucks piled high with mattresses, furniture, and blankets.
In the distance, air strikes left massive brown-grey clouds of smoke hanging above agricultural fields.
Rebels hold most of Daraa and the adjacent province of Quneitra, while the government holds a majority of Sweida to the east.
The army began escalating last week with intense bombardment of Daraa's eastern countryside, then started striking the rebel half of Daraa city as well.
On Tuesday, regime forces expanded the offensive even further.
"Russian and Syrian air strikes began hitting opposition positions in Daraa's western countryside near the Golan Heights, for the first time in a year," said Abdel Rahman, killing six civilians.
That brings to 38 the number of civilians killed in a week of regime bombardment. A total of 29 rebels and 24 pro-government fighters have been killed so far.
The United Nations had previously warned that fighting was putting 750,000 people in rebel-held areas of the south in harm's way.
More than five million people have fled abroad since the Syrian conflict erupted in 2011. Another six million are displaced inside the country.
Jordan said on Sunday it could not absorb a new wave of refugees across its border.
Front lines had been relatively quiet for nearly a year under a "de-escalation" deal agreed by Russia, the United States and Jordan in July 2017.
Full report at:
https://nation.com.pk/27-Jun-2018/syria-troops-launch-assault-on-daraa-city-amid-civilian-exodus
--------
Popular Uprising against Turkish Army Continues in Northern Syria
Jun 26, 2018
Hundreds of people took to the streets in al-Bab again and chanted slogan against Turkish army and its militant allies, calling for their expulsion.
Local sources said that the Ankara forces' brutalities, including burning farms and houses, looting their assets and infighting among the militants have angered people.
Al-Bab civilians' demonstration was the second in the current week.
In a similar development on Sunday, people in al-Bab took to the streets and called for exit of Syria's Tahrir Front affiliated to the Ankara-backed forces from their region and also called for release of civilians captured by the occupiers.
Full report at:
http://en.farsnews.com/newstext.aspx?nn=13970405000960
--------
Terrorists Fleeing after Syrian Army Captures Al-Lajah
Jun 26, 2018
The Syrian army men managed to complete cleansing operation in strategic al-Lajah region in Eastern Dara'a.
The army men further continued their operation and advanced towards the towns of Nahat and al-Harak.
Other units of the army arrived in regions near the town of Azra'a after imposing control over Maliheh Sharqi in Eastern Dara'a.
Meanwhile, field sources reported that a large number of terrorists have started fleeing the battlefield after the army's advances and losing dozens of fighters in battles.
Reports said earlier today that the army men engaged in fierce clashes with terrorists in Eastern Dara'a and Western Sweida, taking back control over the villages and small towns of Sakerah Baraq, al-Lotf, Haman, Khirbet Haman and al-Mojadada.
The army men imposed control over more than 130 sq/km of land after their recent advances in al-Lajah region in Eastern Dara'a and other regions in Western Sweida.
The army's operation inflicted major losses on Tahrir al-Sham Hay'at (the Levant Liberation Board or the Al-Nusra Front) and other terrorist groups in the region.
In the meantime, a local source said that the army restored security to the roads between Damascus and Dara'a and from Sweida to Damascus
Full report at:
http://en.farsnews.com/newstext.aspx?nn=13970405000854
--------
Syrian Army Seizes Terrorists' Key Base in Dara'a
Jun 26, 2018
The army men, backed up by artillery units and Air Force, stormed terrorists' strongholds in the town of Busra al-Harir in Eastern Dara'a and captured the town.
Also, the army men managed to gain control over the village of Maliha al-Atash after killing and wounding a large number of terrorists.
Local sources reported that terrorists' supply line between Northeastern Dara'a and Southeastern Dara'a have been cut off after the army advances.
The sources said that the army intends to advance in Azra'a region to reach other government forces in the region to lay siege on the terrorists.
On Monday, over 900 terrorists laid down arms and surrendered to the Syrian Army troops following rapid advances by the government forces in Eastern Dara'a.
The army men stormed terrorists' positions in Eastern Dara'a and captured the village of Hawsh Hamada.
The army forces further seized control over several key points and advanced towards the small town of al-Matla.
In the meantime, the army's artillery and missile units and aircraft pounded terrorists' movements and positions in the villages and towns in the Northern part of al-Lajah region and South-East of the town of al-Na'eimeh, inflicting major losses on the terrorists.
Local sources, meanwhile, said that the terrorist front collapsed after the army's advances in the town of Busra al-Harir.
Full report at:
http://en.farsnews.com/newstext.aspx?nn=13970405000670
--------
Iranian militia declares it would fight alongside Assad's army in Daraa
26 June 2018
One of the Iranian militias in Syria announced that it would fight with the president of the Syrian regime, Bashar al-Assad, in the latest battle he launched in the outskirts of Daraa city, in Busra al-Harir district.
On its Facebook account, the of "Zulfiqar Brigade" militia said on Tuesday that they, along with soldiers of the Syrian regime army, were now at "the center of Busra al-Harir, in the eastern countryside of Daraa".
The Iranian militia in Syria published several photos where some soldiers appeared but their identities were not clear.
Zulfiqar militias said in another news outlet on Tuesday that their secretary general had been subjected to an assassination attempt by Syrian opposition factions and published photos for him and his car, which seemed to have several hits due to heavy gunfire, as per what appears in the photos.
After Assad's regime announced its intention to target south of Syria cities; most of the Iranian militias avoided to talk about its presence in the region. Especially after Tehran announced that there are no Iranian militias in the South of Syria.
The "Zulfiqar" announcement that it entered Busra al-Harir, in the eastern countryside of Daraa came to negate all what the Iranian government had announced, that there are no Iranian forces in the Southern part of the country.
Zulfiqar militias are one of dozens of Iranian militias in Syria sent by Tehran to fight with Assad in Syria.
Full report at:
https://english.alarabiya.net/en/News/middle-east/2018/06/26/Iranian-militia-declares-it-would-fight-alongside-Assad-s-army-in-Daraa.html
--------
Six hostages who appeared in ISIS video released in Iraq
26 June 2018
Iraqi security forces liberated six men who were held captives by ISIS and detained the kidnappers two days after ISIS threatened to execute them.
ISIS made its threat via a video in which masked ISIS members threatened to kill all six men unless female ISIS members who are sentenced to life in prison and execution by the judiciary are released.
The Iraqi security center said on Monday night that all six hostages were freed during an operation by the counter-terrorism service and with the security forces in Kirkuk.
The center added that security forces liberated the men following clashes that lasted for hours.
Full report at:
https://english.alarabiya.net/en/News/middle-east/2018/06/26/Six-hostages-who-appeared-in-ISIS-video-released-in-Iraq.html
--------
Over 45,000 civilians displaced following clashes in southwestern Syria: UN
Jun 26, 2018
The UN says over 45,000 people have been displaced following the ongoing conflicts in Syria's southwestern province of Dara'a, warning that the number could double if clashes continue.
"We expect the number of displaced people could nearly double as violence escalates," Bettina Luescher, spokeswoman for the UN's World Food Programme (WFP), said at a briefing on Tuesday.
Spokesman for the UN Office for the Coordination of Humanitarian Affairs (OCHA) Jens Laerke said at the same briefing that civilians including children have lost their lives and been injured during the conflicts and a hospital has been put out of operation.
Earlier on the day, Media run by Lebanon's Hezbollah and the so-called Syrian Observatory for Human Rights said that the Syrian army troops had managed to push the Takfiri Hayat Tahrir al-Sham (HTS) terrorists out of the Laja area and the strategic town of Busra al-Harir in Dara'a Province.
On Saturday, Syrian government forces liberated the villages of al-Bustan and al-Shumariya in Dara'a's eastern countryside.
Syria's southwest region is strategically sensitive because of its proximity to the frontiers with both Jordan and the Israeli-occupied Golan Heights.
Full report at:
http://www.presstv.com/Detail/2018/06/26/566158/Syria-un-displace
--------
Nine people killed, nearly dozen injured as Saudi-led jets hit bus in Yemen
Jun 26, 2018
At least nine civilians have been killed and nearly a dozen others sustained injuries after warplanes belonging to a Saudi-led military coalition struck a bus carrying internally displaced persons (IDP) in war-battered Yemen's western province of Hudaydah.
Yemen's Arabic-language al-Masirah satellite television network, citing its correspondent in the area, reported on Tuesday that the deadly airstrike hit the bus on a road linking the two towns of Jarrahi and Zabid earlier in the day, adding that three of the dead had been torn to pieces beyond recognition.
The report further said that at least 11 other people onboard the ill-fated bus had been wounded in the aerial aggression.
Since June 13, the Saudi-led military coalition, coupled with the militia loyal to Yemen's former President Abd Rabbuh Mansur Hadi, have been breathing fire on Hudaydah port city, the provincial capital, a densely-populated city and the war-torn country's most vital port, which is the entry point for 70 percent of the impoverished country.
The invaders are trying to seize the vital port and its important international airport from fighters of the Houthi Ansarullah movement, which is a significant aid to the Yemeni army in defending Yemen against the invading forces and that has been running state affairs in the absence of an effective administration during the past three years.
The invasion of Hudaydah has already triggered fears of a fresh humanitarian crisis in a country where more than 22 million people are in need of aid, including 8.4 million who are at risk of starvation.
Saudi Arabia and its allies launched a brutal war on Yemen in March 2015 to reinstall the Hadi regime and crush the popular Houthi Ansarullah movement.
The Yemeni Ministry of Human Rights announced in a statement on March 25 that the war had left 600,000 civilians dead and injured until then.
The Saudi aggression has also taken a heavy toll on the country's facilities and infrastructure, destroying many hospitals, schools, and factories.
Since 2016, the impoverished nation has also been grappling with a deadly cholera outbreak, which has already killed thousands of people.
Full report at:
http://www.presstv.com/Detail/2018/06/26/566156/Yemen-Saudi-Arabia-Hudaydah-
--------
Africa
Walk or die: Algeria strands 13,000 migrants in the scorching Sahara
June 26, 2018
From this isolated frontier post deep in the sands of the Sahara, the expelled migrants can be seen coming over the horizon by the hundreds. They look like specks in the distance, trudging miserably across some of the world's most unforgiving terrain in the blistering sun.
They are the ones who made it out alive.
Here in the desert, Algeria has abandoned more than 13,000 people in the past 14 months, including pregnant women and children, stranding them without food or water and forcing them to walk, sometimes at gunpoint, under temperatures of up to 48 degrees Celsius (118 degrees Fahrenheit).
In Niger, where the majority head, the lucky ones limp across a desolate 15-kilometer (9-mile) no man's land to Assamaka, less a town than a collection of unsteady buildings sinking into drifts of sand. Others, disoriented and dehydrated, wander for days before a UN rescue squad can find them. Untold numbers perish along the way; nearly all the more than two dozen survivors interviewed by The Associated Press told of people in their groups who simply could not go on and vanished into the Sahara.
"Women were lying dead, men [...] other people got missing in the desert because they didn't know the way," said Janet Kamara, who was pregnant at the time. "Everybody was just on their own."
Her body still aches from the dead baby she gave birth to during the trek and left behind in the Sahara, buried in a shallow grave in the molten sand.
Blood streaked her legs for days afterward, and weeks later, her ankles are still swollen. Now in Arlit, Niger, she is reeling from the time she spent in what she calls "the wilderness," sleeping in the sand.
Quietly, in a voice almost devoid of feeling, she recalled at least two nights in the open before her group was finally rescued, but said she lost track of time.
"I lost my son, my child," said Kamara, a Liberian who ran her own home business selling drinks and food in Algeria and was expelled in May.
Another woman in her early twenties, who was expelled at the same time, also went into labor, she said. That baby didn't make it either.
Mass expulsions
Algeria's mass expulsions have picked up since October 2017, as the European Union renewed pressure on North African countries to head off migrants going north to Europe via the Mediterranean Sea or the barrier fences with Spain. These migrants from across sub-Saharan Africa — Mali, the Gambia, Guinea, Ivory Coast, Niger and more — are part of the mass migration toward Europe, some fleeing violence, others just hoping to make a living.
A European Union spokesperson said the EU was aware of what Algeria was doing, but that "sovereign countries" can expel migrants as long as they comply with international law. Unlike Niger, Algeria takes none of the EU money intended to help with the migration crisis, although it did receive $111.3 million in aid from Europe between 2014 and 2017.
Algeria provides no figures for the expulsions. But the number of people crossing on foot to Niger has been rising steadily since the International Organization for Migration (IOM) started counting in May 2017, when 135 people were dropped at the crossing, to as high as 2,888 in April 2018. In all, according to the IOM, a total of 11,276 men, women and children survived the march.
At least another 2,500 were forced on a similar trek this year through the Sahara into neighboring Mali, with an unknown number succumbing along the way.
The migrants the AP talked to described being rounded up hundreds at a time, crammed into open trucks headed southward for six to eight hours to what is known as Point Zero, then dropped in the desert and pointed in the direction of Niger. They are told to walk, sometimes at gunpoint. In early June, 217 men, women and children were dropped well before reaching Point Zero, fully 30 kilometers (18 miles) from the nearest source of water, according to the IOM.
Within seconds of setting foot on the sand, the heat pierces even the thickest shoes. Sweat dries upon the first touch of air, providing little relief from the beating sun overhead. Each inhalation is like breathing in an oven.
But there is no turning back.
"There were people who couldn't take it. They sat down and we left them. They were suffering too much," said Aliou Kande, an 18-year-old from Senegal.
Kande said nearly a dozen people simply gave up, collapsing in the sand. His group of 1,000 got lost and wandered from 8 am until 7 pm, he said. He never saw the missing people again. The word he returned to, over and over, was "suffering".
Kande said the Algerian police stole everything he had earned when he was first detained — 40,000 dinars ($340) and a Samsung cellphone.
"They tossed us into the desert, without our telephones, without money. I couldn't even describe it to you," he said, still livid at the memory.
The migrants' accounts are confirmed by multiple videos collected by the AP over months, which show hundreds of people stumbling away from lines of trucks and buses, spreading wider and wider through the desert.
Two migrants told the AP gendarmes fired on the groups to force them to walk, and multiple videos seen by the AP showed armed, uniformed men standing guard near the trucks.
"They bring you to the end of Algeria, to the end in the middle of the desert, and they show you that this is Niger," said Tamba Dennis, another Liberian who was in Algeria on an expired work visa. "If you can't bring water, some people die on the road." He said not everyone in his group made it, but couldn't say how many fell behind.
Ju Dennis, another Liberian who is not related to Tamba, filmed his deportation with a cellphone he kept hidden on his body. It shows people crammed on the floor of an open truck, vainly trying to shade their bodies from the sun and hide from the gendarmes. He narrated every step of the way in a hushed voice.
Even as he filmed, Ju Dennis knew what he wanted to tell the world what was happening.
"You're facing deportation in Algeria — there is no mercy," he said. "I want to expose them now [...] We are here, and we saw what they did. And we got proof."
Deaths and denial
Algerian authorities refused to comment on the allegations raised by the AP. Algeria has denied criticism from the IOM and other organisations that it is committing human rights abuses by abandoning migrants in the desert, calling the allegations a "malicious campaign" intended to inflame neighboring countries.
Along with the migrants who make their way from Algeria to Niger on foot, thousands more Nigerien migrants are expelled directly home in convoys of trucks and buses. That's because of a 2015 agreement between Niger and Algeria to deal with Nigeriens living illegally in their neighbor to the north.
Even then, there are reports of deaths, including one mother whose body was found inside the jammed bus at the end of the 450-kilometer (280-mile) journey from the border. Her two children, both sick with tuberculosis, were taken into custody, according to both the IOM and Ibrahim Diallo, a local journalist and activist.
The number of migrants sent home in convoys — nearly all of them Nigerien — has also shot up, to at least 14,446 since August 2017, compared with 9,290 for all of 2016.
The journey from Algeria to Niger is essentially the reverse of the path many in Africa took north — expecting work in Algeria or Libya or hoping to make it to Europe. They bumped across the desert in Toyota Hilux pickups, 15 to 20 in the flatbed, grasping gnarled sticks for balance and praying the jugs of water they sat upon would last the trip.
The number of migrants going to Algeria may be increasing as an unintended side effect of Europe's successful blocking of the Libyan crossing, said Camille Le Coz, an analyst at the Migration Policy Institute in Brussels.
But people die going both ways; the Sahara is a swift killer that leaves little evidence behind. The arid heat shrivels bodies, and blowing sand envelops the remains. The IOM has estimated that for every migrant known to have died crossing the Mediterranean, as many as two are lost in the desert — potentially upwards of 30,000 people since 2014.
The vast flow of migrants puts an enormous strain on all the points along the route. The first stop south is Assamaka, the only official border post in the 950-kilometer (590 mile) border Algeria shares with Niger.
Even in Assamaka, there are just two water wells — one that pumps only at night and the other, dating to French colonial times, that gives rusty water. The needs of each wave of expelled migrants overwhelm the village — food, water, medicine.
"They come by the thousands [...] I've never seen anything like it," said Alhoussan Adouwal, an IOM official who has taken up residence in the village to send out the alert when a new group arrives. He then tries to arrange rescue for those still in the desert. "It's a catastrophe."
In Assamaka, the migrants settle into a depression in the dunes behind the border post until the IOM can get enough buses to fetch them. The IOM offers them a choice: register with IOM to return eventually to their home countries or fend for themselves at the border.
Some decide to take their chances on another trip north, moving to The Dune, an otherworldly open-air market a few kilometers away, where macaroni and gasoline from Algeria are sold out of the back of pickups and donkey carts. From there, they will try again to return to Algeria, in hopes of regaining the lives and jobs they left behind. Trucks are leaving all the time, and they take their fare in Algerian dinars.
The rest will leave by bus for the town of Arlit, about 6 hours to the south through soft sand.
In Arlit, a sweltering transit center designed for a few hundred people lately has held upwards of 1,000 at a time for weeks on end.
"Our geographical position is such that today, we are directly in the path of all the expulsions of migrants," said Arlit Mayor Abdourahman Mawli.
Mawli said he had heard of deaths along the way from the migrants and also from the IOM. Others, he said, simply turned right round and tried to return to Algeria.
"So it becomes an endless cycle," he said wearily.
One man at the center with scars on his hands and arms was so traumatized that he never spoke and didn't leave.
The other migrants assumed he had endured the unspeakable in Algeria, a place where many said they had been robbed and beaten by authorities. Despite knowing nothing about him, they washed and dressed him tenderly in clean clothes, and laid out food so he could eat. He embarked on an endless loop of the yard in the midday sun.
With no name, no confirmed nationality and no one to claim him, the man had been in Arlit for more than a month. Nearly all of the rest would continue south mostly off-road to Agadez, the Nigerien city that has been a crossroads for African trade and migration for generations. Ultimately, they will return to their home countries on IOM-sponsored flights.
In Agadez, the IOM camps are also filling up with those expelled from Algeria. Both they and the mayor of Agadez are growing increasingly impatient with their fate.
"We want to keep our little bit of tranquility," said the mayor, Rhissa Feltou. "Our hospitality is a threat to us."
Even as these migrants move south, they cross paths with some who are making the trip north through Agadez.
Every Monday evening, dozens of pickup trucks filled with the hopeful pass through a military checkpoint at the edge of the city. They are fully loaded with water and people gripping sticks, their eyes firmly fixed on the future.
https://nation.com.pk/26-Jun-2018/walk-or-die-algeria-strands-13-000-migrants-in-the-scorching-sahara
--------
Boko Haram homeless face crisis as rains hit
June 26, 2018
LAGOS: Thousands of men, women and children made homeless by the Boko Haram insurgency risk disease because of lack of shelter as the rainy season hits northeast Nigeria, aid workers said Tuesday.
The Norwegian Refugee Council (NRC) said more than 4,000 people were having to sleep in the open in the town of Dikwa, where they have fled military operations against the jihadists.
Nigeria, which maintains the militants are virtually defeated, is encouraging internally displaced people (IDPs) to return to their homes, as troops wind up operations.
But humanitarian organizations say towns outside the Borno state capital, Maiduguri, do not yet have the minimum standards of basic services to cope with an influx of so many people.
NRC's Nigeria director Cheick Ba said they were "extremely concerned" by the situation in Dikwa, some 92 kilometers (57 miles) east of Maiduguri.
"Children are sleeping outside with nothing over their heads. With the rains now hitting the area, they risk becoming sick with malaria, diarrhea or typhoid," he said in a statement.
By the end of May, there were 1.7 million IDPs in Borno state and neighboring Yobe and Adamawa, the UN said last week.
But "large-scale displacements" were happening every week as a result of increased fighting this year. In May, 21,207 people arrived in five towns in Borno state, including Dikwa.
Resources were stretched and $41.7 million was needed to provide life-saving assistance to some 115,000 IDPs who are expected to move in the coming months, it added.
The NRC said aid agencies were "overwhelmed" and hundreds of IDPs had arrived in Dikwa since April because of fighting between the military and Boko Haram in surrounding areas.
More than 600 people awaiting military screening were staying in an unused petrol station which has no roof; 4,000 others who have been screened were at a reception center.
But the center was "full to the brink," forcing families to sleep in the open. Women were crammed into single rooms while men outside was a common sight, the agency added.
The need for emergency shelter was immediate, as IDPs had also taken over four local schools while the military was using another as a base.
There was no immediate response from Nigeria's defense spokesman when contacted by AFP but a local government official in Dikwa confirmed the situation.
"They sleep in the open and with the start of the rainy season, their situation is dire," he said on condition of anonymity as he was not authorized to speak to the media.
Among the 4,000 are some 1,500 people who were recently brought from Maiduguri after being rescued from Boko Haram. The remainder saw their tents destroyed by a windstorm last month.
"They need urgent support otherwise they will have to live in the open for as long as the rainy season lasts, which is three months at least," he added.
Full report at:
http://www.arabnews.com/node/1328746/world
--------
Libya govt says oil exports by rival administration 'illegal'
26 June 2018
Libya's UN-backed government warned Tuesday that any new attempt by a rival administration in the east to export oil independently will be stopped after the region's military strongman handed it control of key ports.
"Exports by parallel institutions are illegal and will fail as they have failed in the past," said the head of Libya's National Oil Corporation (NOC), Mustafa Sanalla.
The self-styled Libyan National Army of Field Marshal Khalifa Haftar announced on Monday that all future revenues from the eastern oil ports which it controls will be handed to the unrecognised administration in the east after it recaptured two of them in 10 days of deadly fighting with a rival militia.
The Benghazi-based authorities made a similar attempt to bypass the Tripoli government in April 2016 but their planned sale of 300,000 barrels of crude was stopped by the UN Security Council.
"UN Security Council resolutions are very clear -- oil facilities, production and exports must remain under the exclusive control of (Tripoli-based) NOC and the sole oversight of the (internationally- recognised) Government of National Accord," Sanalla said.
"We are confident that the GNA and our international partners will take the necessary steps to stop all exports in breach of international law."
The NOC warned it would sue any company that tried to buy oil from the eastern authorities and that no purchase contract signed with them would be honoured.
Full report at:
https://english.alarabiya.net/en/News/north-africa/2018/06/26/Libya-govt-says-oil-exports-by-rival-administration-Illegal-.html
--------
At least 200 migrants rescued off Libya's coast
27 June 2018
At least 200 undocumented migrants have been rescued off Libya's coast, the Libyan Navy said late Tuesday.
In a statement, navy forces affiliated with Libya's internationally recognized Government of National Accord said the migrants were rescued 25 miles off the coast of Al-Qaraboli city.
The migrants are Africans, the statement added.
Around 785 migrants have died in the Mediterranean Sea this year while trying to sail to Europe, according to the UN Migration Agency (IOM).
According to the Libyan Navy, 16,000 undocumented migrants were rescued in 2017.
Ever since the collapse of the central authority in Libya in 2011, the country's northwestern coast has become a hub for illegal migration to Italy and other countries in Europe.
Full report at:
http://www.worldbulletin.net/africa/203474/at-least-200-migrants-rescued-off-libyas-coast
--------
Somalia: Al-Shabab kills AU soldiers in bomb attack
26.06.2018
MOGADISHU, Somalia - Al-Shabab, the Al Qaeda-linked Islamist group, claimed it killed two Burundian peacekeepers and injured 15 others in an attack on a convoy in southern Somalia on Tuesday, Garowe Online reports.
The soldiers, serving with the AU Mission in Somalia [AMISOM] died after a vehicle they were travelling in ran over an improvised explosive device (IED) on the outskirt of Bal'ad city, about 30 kilometres north of Mogadishu.
The convoy was ferrying AMISOM reinforcement forces dispatched to the area to assist Somali military troops after encountering a bomb and gun attack by the extremists on Monday which left at least two soldiers dead.
The sources added that the Somali government forces engaged in a bitter gun battle with Al-Shabaab attackers, which inflicted heavy casualties on both sides. Local residents said they heard huge blast followed by gunfire.
The Burundian troops are in Somalia as part of 20,000 soldiers from Uganda, Kenya, Ethiopia and Djibouti who were deployed to help counter Al-Shabaab, which has been waging a rebellion for almost a decade in the country.
Earlier this month, Al-Shabaab has killed two members of HirShabelle parliament, their bodyguards and a local official in an ambush in the same vicinity on Bal'ad-Jowhar road in Middle Shabelle region in southern Somalia.
Full report at:
https://www.garoweonline.com/en/news/somalia/somalia-al-shabab-kills-au-soldiers-in-bomb-attack
--------
Boko Haram: 4,000 displaced Nigerians sleep in open as rains hit Dikwa – Agency
June 26, 2018
Over 4,000 displaced women, children and men in the North-eastern Nigerian town of Dikwa are sheltering in the open, while being screened by the Nigerian Army after fleeing military operations in the area.
"We're extremely concerned by the dire living conditions of families in Dikwa who've recently fled military operations. Children are sleeping outside with nothing over their heads. With the rains now hitting the area, they risk becoming sick with malaria, diarrhoea or typhoid," said Cheick Ba, Country Director, Norwegian Refugee Council.
Aid agencies are overwhelmed as hundreds of displaced people arrive to Dikwa every day, after fleeing Mallam Kari village in Bama and other neighbouring communities, due to hostilities between the Nigerian Army and armed opposition groups. Before being allowed to settle in new towns, the new arrivals undergo a screening conducted by the military.
Over 600 displaced people are currently being kept in an unused roofless gas station while waiting to be screened by the army. Some 4,000 others already screened are being held at a reception centre before being given temporary shelters. But the centre is full to the brink, forcing families to sleep outside. It is common to see up to 15 women cramped in a single room while the men sleep outdoors.
The military reports that it takes an average of two weeks to clear the displaced people. However, last year the same exercise took as long as one year in cases when the army claimed women were wives of Boko Haram insurgents.
In addition, the new arrivals have put pressure on the lives of the host community.
"Our schools have been turned into camps for displaced families and our children can't access education. This worries me a lot," says Kachalla Isa, the head of the community. Only three of the eight schools in Dikwa are functional. Four schools are housing displaced people, while the army is using one as a military base.
The NRC has so far built over 1,300 temporary homes for the new arrivals, and plans to build more shelters and toilet facilities in the coming weeks.
The population of Dikwa before was estimated at 105,000 pre-2014. It currently stands at about 120,000, with the arrival of displaced people.
An average of 100 displaced people has arrived in Dikwa every day since April, as they flee military operations in Ngala, Bama and villages surrounding Dikwa.
Full report at:
https://www.premiumtimesng.com/regional/north-central/273873-boko-haram-4000-displaced-nigerians-sleep-in-open-as-rains-hit-dikwa-agency.html
--------
URL: https://www.newageislam.com/islamic-world-news/-dont-need-any-security/d/115659
New Age Islam, Islam Online, Islamic Website, African Muslim News, Arab World News, South Asia News, Indian Muslim News, World Muslim News, Women in Islam, Islamic Feminism, Arab Women, Women In Arab, Islamophobia in America, Muslim Women in West, Islam Women and Feminism