New Age Islam News Bureau
13 Apr 2013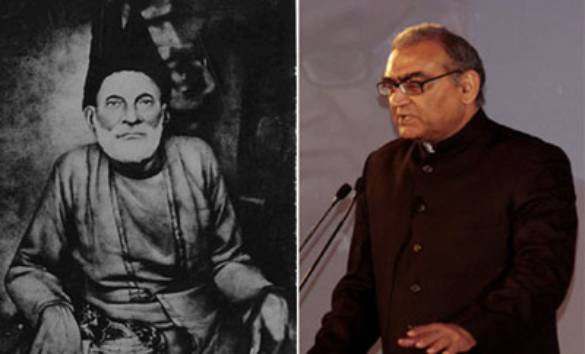 Photo: Classical Urdu and Persian poet Mirza Ghalib and PCI Chairman Justice Katju. (IE Archive)
---------
Southeast Asia
• Islamic Hard-Liners Attack Three Ahmadiya Mosques in West Java
• Ahmadiya and Bekasi Government Fail to Ink a Deal to Reopen Mosque
• Creative Economy Is West Java's Future: Ahmad
• Yogyakarta prison Attack 'Is a Human Rights Issue'
Arab World
• How Saudi Arabia's 'Plan B' Became a Game-Changer in Syria
• Child abuse cases swell as parents become merciless in Saudi Arabia
• Nusra pledge to Qaeda boosts Syria regime: analysts
• Syrian Troops Kill at Least 12 Rebels in Ambush
• Syrian Rebels Break With Group over Qaeda Wing Alliance
• '5,500 foreigners fighting in Syria'
• Egypt army denies torturing protesters
• Employers who let workers drift face SR 100,000 fine
• Qatar: Smuggler caught with 105 cocaine capsules in stomach
• Judge in Mubarak retrial withdraws, case adjourned
India
• Writer Fatah's Jamia Islamia talk muted by radicals
• Return of 18,000 Indians to top Ahamed's agenda in Libya
• Honour Ghalib with Bharat Ratna: Katju
• NIA team questions Liaquat's kin, friends
• Karnataka Deputy CM's Hate Speech: 'Love Jihad' in the times of polls
• Terror suspect Abu Jundal alleges torture by police
Europe
• Pardon of US officer involved in kidnap, torture of cleric by Italy sends wrong message
• Foreign and Domestic Causes of Unrest Ahead of Azerbaijan's Presidential Elections
• Britain has proof of chemical weapons use in Syria: Report
• Red Cross halts 'pointless' Uzbekistan prison visits
• UN concerned as more Syrians return home from Jordan
Pakistan
• Identity crisis for 2 million strong Bengali-speaking populations in Pakistan
• Sherry talks about surviving 'shocks' in Indo-Pak ties
• Pakistani witness identifies man who bought boats used by 26/11 terrorists
• Eight killed in bomb blast at market near Peshawar
• Militants blow up election office of an independent candidate in Pakistan: Official
• British govt allocated 1m Euro for better education in Sindh
• Hina Rabbani Khar not in PPP's final list of candidates
• TTP deny involvement in attacks on polio workers
• 'Objectionable' publication: Four held on blasphemy, terrorism charges
• Mush's posters torn down by Lal Masjid brigade
• Fazl concerned on deteriorating law, order situation
• Benazir Bhutto case: Pervez Musharraf fails to appear in court
South Asia
• Myanmar court jails Muslim shop owners after anti-Muslim riots
• Maldives ex-president's fair trial in "serious doubt", says BHRC
• Dutch pack up as exodus of Afghan allies gathers pace
• Before his assassination, there was an attempt on President Mujib's life
• Afghan concerns lend weight to India, China terror talks
• Opposition holding 3cr students hostage: Nahid
• Azima to remain engaged in Nexbis, GMR cases
• Our weakness strengthens outside influence, says Maldives President
• Sheikh Imran gives government six days to cancel GMR agreement
• It wasn't the Court houses which granted freedom to the nation- MDP
Africa
• 'Boko Haram Should Sheath Swords and Come to the Negotiation Table'
• 6 Islamist insurgents killed in raid, Nigerian army says
• President Bashir orders South Sudan border to be opened
• IMF recognizes Somalia government
• 'Two killed' in shelling of Sudan's South Kordofan capital
• Libya simmers over law targeting ex-Qaddafi officials
Mideast Asia
• Hamas arrests 'collaborators' after amnesty ends
• Palestinians blast Canada FM's visit to E. Jerusalem
North America
• Barack Obama asked to protect religious minorities in Bangladesh
• State Department suffering from Benghazi Syndrome in Afghan death reports
Compiled by New Age Islam News Bureau
URL: https://newageislam.com/islamic-world-news/new-age-islam-news-bureau/writer-fatah's-jamia-islamia-talk-muted-by-radicals/d/11131
--------------
Writer Fatah's Jamia Islamia talk muted by radicals
By Rohan Venkataramakrishnan in New Delhi
13 April 2013
YASSER Arafat died years ago but his name can still generate controversy, as Canadian author and broadcaster of Pakistani origin Tarek Fatah found out in New Delhi on Thursday.
A talk at Jamia Millia Islamia's Yasser Arafat Hall featuring Fatah was cancelled on Thursday after, according to the writer, "Muslim radicals" objected to his plan to speak about why a hall is named after the late Palestinian leader but not for a syncretist like Dara Shikoh.
"Some of these guys, who had researched me, planned to drop by this event and do something. So the vice- chancellor, out of a gesture of goodwill, decided that I should not be subjected to this," Fatah told MAIL TODAY. The university later sent out a release that the interactive session with Fatah had been cancelled due to "unavoidable reasons". " I would have loved to take on these twits. I'm not allowed to speak in Pakistan and the sad thing is there is a mini- Pakistan growing in Delhi itself, at Jamia," Fatah said. "It's not a war of religions, but a war of ideas. The only people who can destroy Islamofascism are Indian Muslims. Only in India can they get up and say we live in a secular country. Yet it doesn't happen." Fatah is no stranger to controversy, primarily because of his strident anti- Islamism and his calls for a new form of secular Islam — through his books chasing a Mirage: The Tragic Illusion of an Islamic State and The Jew Is Not My Enemy as well as his broadcast work. Fatah said a strain of racism is spreading through India's Hindu communities, particularly in its rejection of Bangladeshi immigrants.
"This country was formed on 5,000 years of illegal immigration, whether it is Muslims or Parsis," he said. "And today, Maharashtrians are expelling Biharis. Is that what the Vedas say? If you're a Hindu, you should live up to that high level of spiritual depth that is the envy of this world."
Mail Today
--------------
Islamic Hard-Liners Attack Three Ahmadiyah Mosques in West Java
Camelia Pasandaran | April 13, 2013
Three Ahmadiyah mosques in Cianjur, West Java, were shut down and damaged by a group of Islamic hard-liners and local residents on Friday, the latest act of intolerance in the province.
Firdaus Mubarik, a spokesman from the Indonesian Ahmadiyah Congregation (JAI), told the Jakarta Globe on Saturday that police officers and soliders witnessed all three incidents but did nothing to stop members of the Islamic Defenders Front (FPI) from attacking the mosques that were located in three different subdistricts in Cianjur — Campaka, Ciparay and Neglasari.
"Three mosques, located close to each other, were sealed and damaged in less than three hours yesterday," Firdaus explained. "They also shut down our mosque in Ciparay. Some of them threw stones at the windows, door and the roof tiles. The police were there, but did nothing to stop them. A police officer named Dedi from the Campaka Police even was the one that placed an announcement stating that activities of the mosque should be terminated."
Prior to the attacks, an Ahmadiyah member, Jamal, was summoned to the Campaka subdistrict's office to explain why his shop had been built without a permit. Jamal reportedly could not afford a permit as a local official had allegedly asked him to pay Rp 4 million.
But when Jamal arrived at the office, hundreds of FPI members were waiting. While the issue was originally about Jamal not holding a valid permit to operate his shop, some 300 FPI members decided to march from the office to the Ahmadiyah mosque in the Campaka subdistrict to shut down the place of worship. The FPI members placed a plank of wood on the door to prevent people from entering the mosque.
Firdaus explained that after members of the FPI shut down the mosque in Ciparay, they continued to Neglasari to shut down another mosque. He claimed that Adj. Sr. Comr. Lanjar Guntoro, the intelligent head of the Cianjur Police, witnessed the attack but did nothing.
Firdaus added that when they told the hard-liners that they had no legal right to close down the mosques, an FPI member told the Ahmadis that they were simply just helping the police.
Meanwhile, the government and police officers said that they were only on-site to prevent any big clashes between the Ahmadiyah and the FPI.
In 2005, all three mosques were attacked by hard-liners and more than 60 houses belonging to Ahmadis were destroyed. More houses owned by Ahmadis in Cianjur were set on fire several years later, however the perpetrators remain unknown.
Firdaus said that in 2011, the government placed an announcement in front of all Ahmadiyah mosques forbidding members from spreading the Ahmadiyah teachings.
"The announcement increases awareness of people that the mosques were belong to Ahmadiyah," he explained, adding that he was concerned that Friday's incident could pave the way for a bigger attack.
Bonar Tigor Naipospos, the deputy director of human rights group Setara Institute, said on Saturday that the FPI might have taken justice into their own hands because of their alleged closeness with West Java Governor Ahmad Heryawan.
"I believe it is related to the memorandum of understanding between the FPI and Ahmad Heryawan when he was campaigning as a governor candidate," Bonar said. "The FPI told him that they would support Ahmad only if he agreed to stop all Ahmadiyah activities in West Java."
While Ahmad once denied that he had signed such an agreement, he did not deny that he was in a meeting with FPI members during the campaign.
Bonar said that even if the police did shut down the mosque, it was still illegal as the gubernatorial regulation only banned the spread of Ahmadiyah teachings, not activities.
"This is insane, why ban people from praying," Bonar said, adding that his organization had not decided whether to provide legal support to the Ahmadiyah or not. "They tend to be passive, and they use civilized way in handling the pressure."
http://www.thejakartaglobe.com/home/islamic-hard-liners-attack-three-ahmadiyah-mosques-in-cianjur/585445
--------------
Arab World
How Saudi Arabia's 'Plan B' Became a Game-Changer in Syria
Friday, 12 April 2013
Saudi Arabia has always been renowned for its signature "silent treatment" on most affairs. Rarely confrontational by nature, and always extra-cautious, Saudi officials often repeat that the Kingdom's policy is not to interfere in the affairs of other countries.
Rather, things usually happen behind closed doors in Saudi Arabia. Most of the time, issues are resolved through negotiations, and the Saudis usually have the means to make them fruitful. However, striking deals is not always attainable, and there have been instances in the past where Saudi Arabia had to resort to alternatives which secured a quicker remedy.
Recent unconfirmed reports suggest that Saudi patience with Syrian President Bashar al-Assad has been exhausted and estimates that there could be a possible end to the Syrian regime "within months."
Over a series of interviews, the source, which has opted to remain anonymous, reveals that Saudi Arabia has managed to secure wide international – albeit unannounced - support for its initiative to end the Syrian crisis. The Saudi efforts are reportedly spearheaded by the Kingdom's recently appointed intelligence chief, Prince Bandar bin Sultan.
Ever since, the Free Syrian Army (FSA) has been able to operate in a more effective manner and has enjoyed a significant upgrade in its arsenal; this is mostly due to better international coordination and management of the situation.
A proven track-record?
Despite a reputation for being laidback, inconsistent and ideologically restricted, Saudi Arabia has previously proven that it can be an extremely influential player when it chooses to intervene in global events.
Its role was paramount in ending the Soviet occupation of Afghanistan, and the Iraqi invasion of Kuwait. In addition, the Saudis have been an important – if not the most important – player in the global fight against terrorism falsely conducted in the name of Islam.
The common factor among those three examples of extraordinary Saudi ability is the fact that they all involved very close cooperation with the United States. More importantly, they all required very precise 'casting' on behalf of the Saudis to get the right man, or men, for the job.
When it came to the current Syrian crisis, the kingdom chose earlier on to break its silence. Since it became evident that the Assad regime had decided to make a bloody massacre of the peaceful protests that started in March 2011, Saudi Arabia has made its concerns vocal. King Abdullah bin Abdulaziz recalled his ambassador from Damascus, and made very strong statements criticizing Assad.
However, when it came to logistical and military support for the Syrian opposition, most of the work was being done by the kingdom's small neighbour Qatar. "The truth was that the Saudis and Qataris had reached an agreement, whereby Saudi Arabia outsources the logistical and military support tasks to Qatar, and confines itself to just paying the bills," the source told Al Arabiya.
By March 2012, a year after the outbreak of the crisis, the Saudi-Qatari arrangement had achieved very little on the ground. The death toll stood at over 50,000, while hundreds of thousands of innocent Syrians became displaced and sought refuge in neighboring countries.
Both the Saudis and the Qataris understand that if the situation is not contained more rapidly, then not only will there be very few Syrians left to save, but Iran will be a major step closer to achieving regional hegemony.
The issue with Iran
Unlike how some orientalists prefer to analyze the situation, the efforts to curb Iranian enthusiasm for regional domination are not due to it being a Shiite state and Saudi Arabia being Sunni.
There is also a widely-believed thought that Saudi Arabia is now acting against Assad because the latter happens to hail from the Alawite minority, while Syria is predominantly Sunni. This is laughable because the same regime has been ruling Syria for 42 years, so anyone who actually believes this is insinuating that it took the Saudis four decades to find out the Assad family's religious background.
The Saudis and the Assads go back a long way. However, the relation was much better when the late Hafez al-Assad was alive.
"Hafiz rarely said yes, but when he did say yes, he meant it. On the other hand, Bashar always says yes, but he never means it," the Saudi source told Al Arabiya.
"Bashar is politically immature and a pathological liar. He had full Saudi support when he first assumed office, but the support quickly began to vaporize until none was left at all following the assassination of (former) Lebanese Prime Minister Rafic Hariri in 2005."
Hariri was a moderate Sunni leader whom Saudi Arabia nurtured and supported. His rise to power came as a result of the Saudi-brokered Taif Accord of 1989, which effectively ended 15 years of Lebanese civil war. Syria was responsible for Lebanon's security as per the Taif Accord, which is why upon the assassination; fingers were quickly pointed at Damascus and its ally, the Iranian-backed Hezbollah.
Albeit a purely Shiite group, Hezbollah enjoyed wide support across various Lebanese sects – including Hariri's – when it was regarded as a resistance movement fighting the Israeli occupation of southern Lebanon. Today, it is labelled a terrorist organization, and reportedly continues to receive weapons from Iran through Syria.
Upon the Israeli withdrawal from Lebanon in 2000, Hezbollah began consolidating power internally. It forced Lebanon into a war with Israel in 2006, and in 2008 it used its arsenal against its own people to occupy Beirut.
The crisis ended after a political agreement was reached, but there is nothing to stop Hezbollah taking over Beirut (or attacking Israel) again. As such, the group continues to be a double-edged bargaining chip for both the Iranians and the Syrians.
Just this week, Bahraini lawmakers voted to label Hezbollah a terrorist organization. The group, along with Iran, have been accused of stirring trouble and promoting sectarian strife between the Sunni and Shiite populations of Bahrain.
As such, it could be argued that the true face of the Saudi-Iranian confrontation is not a Sunni-Shiite one, but an Arab-Persian one, whereby the oil-rich successor to the Persian Empire is using its allies in Syria and Hezbollah to destabilize and control Arab nations. Needless to say, what did not help limit Iran's regional ambitions was the miserable American failure in handling post-Saddam Iraq.
Following a swift and successful military operation that toppled the long-standing regime of Saddam Hussein in less than a month in 2003, the U.S. administration at the time adopted a series of extremely ill-advised strategies that did nothing except give Tehran more influence over its partly-Shiite neighbor.
With all of this in mind, when it became clear that - due to Iranian and Russian support - Assad was winning the war he is waging against his own people, the Saudis decided they needed a plan B.
B is for Bandar
Throughout 2012, there were many rumors that contrary to the previous arrangement of outsourcing logistics and military support to Qatar, the Saudis were involved in arming the Free Syrian Army, but nothing was ever officially confirmed. In fact, by the end of the year, some senior FSA members were actually predicting that due to a certain "game-changer," Assad's fall was only a few months away.
Many analysts argued that what helped change the situation was that the American elections were finally over, and the road was now clear for President Barack Obama to act without restraints. Others said it was likely due to a change in the hitherto extremely pro-Assad Russian position.
Whilst both those reasons were to a certain extent true, the Saudi factor did not emerge as a publically-known reality until the annual meeting of the World Economic Forum in Davos in January this year.
"I'm not in government, so I don't have to be diplomatic. I assume we're sending weapons, and if we're not sending weapons, it would be a terrible mistake on our part," said Prince Turki al-Faisal, a former intelligence chief himself and a former ambassador to both London and the United States as well.
Prince Turki's statement came as part of a special panel on Syria, which was moderated by Al Arabiya News Channel at the WEF. Unsurprisingly, the statement was all over the international news wires within hours. Of course, it was significant enough that such a statement (albeit carefully worded) came from a senior figure in the Saudi royal family, but the timing of the statement was of particular importance as well.
Only six months prior to the WEF event in Davos, Prince Turki's brother-in-law Prince Bandar bin Sultan was appointed head of the Saudi Intelligence Agency (al-Istikhbarat).
As in the United States - where the FBI focuses on domestic security, while the CIA is responsible for international intelligence-gathering - in Saudi Arabia, the Istikhbarat handles international threats and operations, whilst another body called the Mabaheth - whose head reports to the Ministry of Interior - handles domestic security.
Despite the fact that his "official" role has long been Saudi ambassador to the United States, Prince Bandar – especially under the late King Fahd – has always served as his country's international man of difficult tasks.
During the Lebanese civil war, he was a personal envoy of the late king, mediating between rivals and negotiating with the Syrians. As ambassador, he brokered what was at the time the largest U.S. arms deal in history, to deliver AWACS surveillance planes to Saudi Arabia despite Israeli opposition. Furthermore, he played a significant role in assisting the end of the Soviet occupation of Afghanistan.
Following his tenure as ambassador, he was appointed secretary general of the Saudi National Security Agency. Prince Bandar is believed to be in his mid-60s. In recent years, he was a victim of rumors that raised questions about his health, his loyalty to the Saudi throne and suggested that he was assassinated by the Syrians, all of which turned out to be untrue!
"When Syria started looking like it's going to be mission impossible, the Saudis turned to Prince Bandar to manage the situation. Knowing him, he would never agree for anyone else to be behind the steering wheel, so Qatar was asked to take a back seat," Al Arabiya's source said.
"Prince Bandar toured the world, gathering support for his mission to end the crisis in Syria. Many countries in Asia and Europe offered their support, and began actively arming the FSA with lethal and advanced weapons, although they might deny this publically."
The source confirmed recent stories in Western media that the weapons were being shipped to the FSA through Syria and Jordan from countries such as Croatia. These weapons have been reaching FSA fighters since December 2012. "The Jordanians' help has been crucial. They know that if the Syrian crisis is further prolonged, then the spillover across their border will be inevitable," the source added.
According to unconfirmed reports, Jordan is supposed to be hosting an advanced joint-operation centre, where the situation is monitored. Throughout the crisis, and especially since the beginning of Plan B, the Americans have been indirectly supplying its allies with highly-sensitive and accurate information about the situation within Syria.
"Jordan has to play its cards very carefully. We're in a very delicate situation, given our proximity to Syria. Bashar can cause trouble in Amman within hours. This is probably why we haven't expelled the Syrian regime's ambassador yet," a veteran Jordanian journalist told Al Arabiya during a meeting in Amman in March.
So why has Plan B not worked so far? And what happened to the optimism, towards the end of 2012, that gave Assad only a few months before he would be taken down?
"There are a number of factors as to why we haven't succeeded yet. Unfortunately, we (the opposition) are partly one of them," a leading Syrian opposition figure told Al Arabiya in a private meeting in the Saudi city of Jeddah last month.
"Can you believe that (the head of the opposition Syrian National Coalition) Sheikh Moaz (al-Khatib) declined to meet (American Secretary of State John) Kerry and senior U.S. military figures? What was he thinking? The Americans were ready to listen to us and to help us early on in the year. We're still immature politically as an opposition group," he added.
In the meantime, Al Arabiya sources say Assad's fall is imminent. How long will it take? "A couple of months, and if it doesn't happen within a couple of months, then I'm afraid it might be a very long time," said the source with access to a prominent Saudi official.
*Faisal J. Abbas is the editor-in-chief of Al Arabiya English. He can be reached on @FaisalJAbbas on Twitter.
http://english.alarabiya.net/en/perspective/analysis/2013/04/12/How-Saudi-Arabia-s-Plan-B-became-a-game-changer-in-Syria-.html
----------
Child abuse cases swell as parents become merciless in Saudi Arabia
April 12, 2013
ABHA — The number of domestic violence cases has reportedly been on the increase recently. Every now and then newspapers report cases where children have been mistreated at the hands of none other than their parents.
A man said his nephews have suffered a lot because their abusive father got angry after their mother filed for divorce.
The father is hooked on drugs and still abuses his children who live with him.
A woman said she had to bear all forms of torture at the hands of her husband just for the sake of her children.
She stayed silent for quite some time. However, when things got worse, she filed for divorce.
When the father started abusing their children, the woman was compelled to report him to the security authorities.
A child was tortured by his father and stepmother so much so that he was suffering from urine retention and had to be operated on.
The National Society for Human Rights (NSHR) has handled many of these painful and heartrending stories.
One of them involved an expatriate woman who said her husband used to abuse their son physically and sexually.
She saw this happening to her son but could not talk for fear that her husband would seek revenge against her and her son.
But one day she plucked up courage and reported him to the authorities.
According to a local study, 21 percent of children suffer from constant abusive treatment while 45 percent suffer from some form of abuse at least once every day.
Psychological or mental abuse was the most prevalent type of abuse at 33.6 percent, followed by physical abuse (25.3 percent) and neglect (23.9 percent).
Forms of psychological abuse include threatening to beat up children, using abusive language with them, leaving them alone at home and punishing them by not giving them daily allowances.
Forms of physical abuse include beating up children, slapping them on their faces, throwing stuff at them, using dangerous tools to beat them and smoking cigarettes in the same room with them.
Forms of neglect include carelessness on the part of parents regarding what happens to their children in school, for example.
The same statistical study showed elementary students accounted for the highest percentage of psychological abuse at 36.4 percent followed by intermediate students at 30 percent.
The highest percentage of physical abuse has been registered against high school students at 28.4 percent followed by intermediate students at 25.3 percent.
This means that students between the ages of 15 to 16 are more susceptible to physical abuse than other students.
Seventy percent of orphans suffer from psychological abuse while 58 percent who come from broken families (i.e. divorced parents) suffer from physical abuse. Another 23.6 percent of children who has lost a parent to death suffer from physical abuse while 23.6 percent of motherless children suffer from this form of abuse.
The study noted that children whose mothers have a college degree suffer more from physical abuse because they are often left in the care of housemaids or relatives.
Saeed Al-Naqeer, Asir Health Affairs spokesman, said most domestic violence cases admitted in Asir hospitals were victims of violence and torture.
Most of them come from broken families, he said.
A number of schoolteachers said teachers no longer use corporal punishment against students.
They said the Ministry of Education does not let such practices go unpunished and cited some examples where teachers were expelled from schools for using force to discipline students.
Ayed Asiri, student counselor at Asir's department of education, said most parents who abuse their children have themselves been victims of abuse when they were very young.
He added that parents who take drugs or alcohol are more likely to abuse their children physically and psychologically.
Muhammad Al-Amri, psychologist, called on concerned authorities to conduct more studies about domestic violence cases.
He said many children fall victim to domestic violence without even being aware of it.
A source in the Ministry of Education revealed a project where the ministry will conduct a study to get more statistics about students who have been victims of violence.
A number of religious scholars attributed the increase in domestic violence cases to parents who do not have strong religious values and have not followed the teachings of Prophet Muhammad (peace be upon him).
http://www.saudigazette.com.sa/index.cfm?method=home.regcon&contentid=20130413161077
----------
Nusra pledge to Qaeda boosts Syria regime: analysts
April 13, 2013
BEIRUT — The public pledge of allegiance to Al-Qaeda by Syria's fiercest rebel group, Al-Nusra Front, serves the interests of President Bashar Al-Assad's regime, analysts say.
"It's a point in the regime's favor because it reinforces the official narrative that claims (the army faces) terrorist groups backed by foreign forces," said Damascus Centre for Strategic Studies head Bassam Abu Abdallah.
"The opposition's stance is weakened before Syrian and international public opinion," he said.
Al-Nusra Front's chief Abu Mohammed Al-Jawlani pledged allegiance on Wednesday to Al-Qaeda head Ayman Al-Zawahiri, who is calling for an Islamic state in Syria and the "restoration of an Islamic caliphate."
"The Syrian opposition cannot justify to the Europeans the jihadist presence in Syria. What will it do after this announcement? It's embarrassing for the West which is calling for democratic change in Syria," said Abu Abdallah.
The insurgency is composed of four main elements:
The mainstream Free Syrian Army, which says it is fighting to establish a democratic state, the Syrian Islamic Liberation Front, the more hardline Syrian Islamic Front, and Al-Nusra Front.
Experts say the Free Syrian Army comprises some 140,000 fighters, while Islamists number around 8,000. But the Islamists are better equipped and have impressed the population.
Al-Nusra's pledge to Zawahiri, and claims of ties between the group and Al-Qaeda's Iraqi branch the Islamic State of Iraq, were not well-received by some rebel brigades.
"Liwa Al-Islam's command believes that this announcement will be an excuse for the tyrant Bashar Al-Assad and his cronies... to commit more massacres against Syrians, under the pretext of fighting Al-Qaeda," the group said in a statement.
After Al-Nusra's pledge of allegiance, Abu Abdallah believes the regime will now go all-out on the battlefield. "It's a green light for the authorities," he said.
"The situation has become clearer. We are going to see major change on the ground, and intensified military operations to finish this group off," he added.
In combat zones across Syria, troops and rebels appear to have reached a stalemate, except in the south where insurgents are advancing.
The regime still holds the coastal areas and major cities — barring Raqa in the north and large parts of Aleppo — while insurgents control large swathes of northern and eastern Syria.
But Al-Nusra's pledge is mainly seen as damaging to international public opinion.
"It certainly puts Western states who oppose Assad's rule in a sticky situation," said Charles Lister, an analyst at IHS Jane's Terrorism and Insurgency Center.
"The West has suspected... Al-Nusra of having Al-Qaeda ties for a long time, and that may well be a key reason for not wanting to arm any rebel group."
Despite the difficulties, rebels may have a tough time cutting Al-Nusra out of the picture.
"Al-Nusra fighters have acquired a reputation inside the wider insurgency for military prowess and impressive bravery. They've been involved in nearly every single major rebel success in Syria since August or September last year," Lister added.
For Thomas Pierret, an Islamic expert, "all one needs to do is look at the Western media frenzy" to realize the resonance of Al-Nusra's announcement.
"Assad can logically conclude that his opponents' ideological excesses are more worrying to the West than the tons of explosives he is pouring each day on his population," said Pierrot, a lecturer at the University of Edinburgh.
Rather than embarrass the West, the announcement has only given it "a new, comfortable pretext to justify their inaction. Despite what they say, somewhat unconvincingly, they don't really want to help the opposition," he said. — AFP
http://www.saudigazette.com.sa/index.cfm?method=home.regcon&contentid=20130413161211
-----------
Syrian Troops Kill at Least 12 Rebels in Ambush
By THE ASSOCIATED PRESS
13 April 2013
BEIRUT (AP) — Syrian government troops trying to relieve a besieged military base in the country's northwest ambushed a rebel checkpoint Saturday, killing at least 12 opposition fighters, activists said.
The Britain-based Syrian Observatory for Human Rights said the government forces surprised the rebel fighters on the outskirts of the village of Baboulein in Idlib province. The Observatory, which relies on a network of local activists on the ground, said many opposition fighters were also wounded in the attack.
Rebels have wrested much of the countryside of Idlib and other provinces in northern Syria from regime forces, although government troops still control many military bases in the region from which they launch attacks on opposition-held areas.
Full report at:
http://www.nytimes.com/aponline/2013/04/13/world/middleeast/ap-ml-
--------------
Syrian Rebels Break With Group Over Qaeda Wing Alliance
By HANIA MOURTADA and RICK GLADSTONE
13 April 2013
BEIRUT, Lebanon — A leading coalition of Syrian Islamist insurgents broke with a more radical group on Friday, sharply criticizing its announced alliance with Al Qaeda's Iraq branch as a moral and political mistake that would benefit only their common enemy, President Bashar al-Assad.
"The relentless pursuit of power should not be one of our goals," said a statement by the coalition, the Syrian Islamic Liberation Front, referring to the alliance between Syria's Nusra Front and the Qaeda branch. "This is not the right time to declare states, or to unify a state with another state."
Full report at:
http://www.nytimes.com/2013/04/13/world/middleeast/syrian-rebels-break-with-radical-
--------------
'5,500 foreigners fighting in Syria'
Kounteya Sinha, TNN | Apr 13, 2013
LONDON: Nearly 600 Europeans have gone to Syria since early 2011, representing 7-11% of the foreign fighters there in total.
A day after G8 confirmed that Syria had become the hotbed for foreign terrorists, the international centre for the study of radicalization has pinpointed the exact numbers. The centre, which is part of King's College, London has found more than 450 martyrdom notices that have been posted in jihadist online forums around Syria.
Full report at:
http://timesofindia.indiatimes.com/world/middle-east/5500-foreigners-fighting-in-Syria/articleshow/19520800.cms
--------------
Egypt army denies torturing protesters
13 April 2013
Egypt's defence minister has denied claims that the armed forces were involved in killing and torturing protesters during Egypt's revolution.
Minister Abdel Fatah al-Sissi's remarks follow a report leaked to a British newspaper which implicates the army in serious human rights abuses.
He called the claims a "betrayal".
Over 800 people were killed in violence during and after Egypt's 2011 uprising, but the deaths were widely blamed on the police rather than the army.
A document leaked to the Guardian newspaper which was reportedly presented to President Mohammed Morsi late last year clearly implicates the armed forces in abuses during the 18-day revolution.
Full report at:
http://www.bbc.co.uk/news/world-middle-east-22127636
--------------
Employers who let workers drift face SR 100,000 fine
13 April 2013
Employers face fines of up to SR 100,000 if they employ expatriates who are not under their sponsorship.
Abdul Rahman Al-Zamil, director of the Riyadh Chamber of Commerce and Industry, said the list compiled by the Ministry of Labour will include an article in the new labour law stating that all employees hiring expatriates other than those under their sponsorship will face SR 100,000 fine for each worker. This is in addition to other financial penalties on employers who give their employees permission to work somewhere else.
Full report at:
http://www.arabnews.com/news/447992
--------------
Qatar: Smuggler caught with 105 cocaine capsules in stomach
Qatar court jails drug mule to 15 years in prison and fines him $55,000
By Habib Toumi
April 8, 2013
Manama: A drug mule who had 105 capsules in his stomach as he transited through Doha's airport has been sentenced to 15 years in jail.
The Malian national on his way from Brazil to Mali was also ordered to pay a 200,000 Qatari riyal (Dh201,960) fine for the 2.8 kilos of cocaine in the capsules.
Police apprehended the smuggler as he showed signs of unease while he was waiting for his flight home and took him to the country's main hospital where an X-ray of his abdomen revealed the capsules, Qatari Arabic daily Al Raya reported on Monday.
Full report at:
http://gulfnews.com/news/gulf/qatar/qatar-smuggler-caught-with-cocaine-capsules-in-stomach-1.1167964
--------------
Judge in Mubarak retrial withdraws, case adjourned
Reuters | Apr 13, 2013
CAIRO: The presiding judge in the retrial of former Egyptian president Hosni Mubarak referred the case to another court on Saturday, leading to an indefinite adjournment of the proceedings.
Judge Mustafa Hassan Abdullah announced his decision at the start of the retrial at a police academy on the outskirts of Cairo, where the 84-year old former president had earlier been flown in by a helicopter.
The judge said he had decided to refer the case to the Cairo appeals court as he felt "unease" in reviewing the case.
Mubarak is facing retrial on charges of complicity in the murder of protesters killed in the uprising that unseated him.
http://timesofindia.indiatimes.com/world/middle-east/Judge-in-Mubarak-retrial-withdraws-case-adjourned/articleshow/19526695.cms
--------------
Southeast Asia
Islamic Hard-Liners Attack Three Ahmadiya Mosques in West Java
Camelia Pasandaran | April 13, 2013
Three Ahmadiya mosques in Cianjur, West Java, were shut down and damaged by a group of Islamic hard-liners and local residents on Friday, the latest act of intolerance in the province.
Firdaus Mubarik, a spokesman from the Indonesian Ahmadiya Congregation (JAI), told the Jakarta Globe on Saturday that police officers and soliders witnessed all three incidents but did nothing to stop members of the Islamic Defenders Front (FPI) from attacking the mosques that were located in three different sub districts in Cianjur — Campaka, Ciparay and Neglasari.
"Three mosques, located close to each other, were sealed and damaged in less than three hours yesterday," Firdaus explained. "They also shut down our mosque in Ciparay. Some of them threw stones at the windows, door and the roof tiles. The police were there, but did nothing to stop them. A police officer named Dedi from the Campaka Police even was the one that placed an announcement stating that activities of the mosque should be terminated."
Prior to the attacks, an Ahmadiya member, Jamal, was summoned to the Campaka sub district's office to explain why his shop had been built without a permit. Jamal reportedly could not afford a permit as a local official had allegedly asked him to pay Rp 4 million.
Full report at:
http://www.thejakartaglobe.com/home/islamic-hard-liners-attack-three-ahmadiyah-mosques-in-cianjur/585445
--------------
Ahmadiyah and Bekasi Government Fail to Ink a Deal to Reopen Mosque
Camelia Pasandaran | April 12, 2013
The Bekasi administration says they will only open the sealed Ahmadiyah mosque in Pondok Gede if the congregation agrees to let the local government select an Imam and preacher for the mosque's Friday prayers.
Firdaus Mubarik, a spokesman from the Indonesian Ahmadiyah Congregation (JAI), told the Jakarta Globe that they refused to accept the request during a discussion on Thursday between the Bekasi government and members of the beleaguered Ahmadiyah sect.
"Of course we don't buy it, it is the same as giving away our faith," Firdaus said on Friday.
But Firdaus said that they would not object if the Bekasi government wanted to educate them on religion.
Full report at:
http://www.thejakartaglobe.com/home/ahmadiyah-and-bekasi-government-fail-to-ink-a-deal-to-reopen-mosque/585256
--------------
Creative Economy Is West Java's Future: Ahmad
Yuli Krisna | April 13, 2013
Bandung. With vast human capital, sound infrastructure and a new deputy at his disposal, newly re-elected West Java Governor Ahmad Heryawan said making his province the country's creative hub and exploiting its tourism potential was the focus of his second term.
"I value [Deputy Governor] Deddy Mizwar's capacity as a cultural expert. I have faith he will create economic progress through culture and art," he told the Jakarta Globe in an exclusive interview on Thursday.
Full report at:
http://www.thejakartaglobe.com/home/creative-economy-is-west-javas-future-ahmad/585341
--------------
Yogyakarta prison Attack 'Is a Human Rights Issue'
Markus Junianto Sihaloho | April 13, 2013
The attack that killed four detainees at a Yogyakarta prison last month was an extrajudicial killing and a human rights violation for which the government should be held accountable, the national human rights body said on Friday.
"This is clearly a human rights violation. The attack at the Cebongan Prison in Sleman and the killing of four detainees is an attack on the supremacy of the law and can therefore not be justified for any reason," said Siti Noor Laila, chairwoman of the National Commission for Human Rights (Komnas HAM).
Full report at:
http://www.thejakartaglobe.com/news/sleman-attack-is-a-human-rights-issue/585388
--------------
India
Return of 18,000 Indians to top Ahamed's agenda in Libya
SANDEEP DIKSHIT
13 April 2013
On India's first high-level ministerial visit to that country, post-democratic system
The world's largest and newest democracies will meet when Minister of State for External Affairs E. Ahamed arrives in Tripoli on Saturday for the first high-level ministerial visit from India to Libya after the emergence of the democratic system.
During his visit, the Minister has a full agenda to discuss, but the one on top of his mind will be to seek the return of 18,000 Indians who had fled after NATO began aerial bombing of the country while rebels fought against former dictator Muammar Qadhafi's forces on the ground.
Many of the Indians were doctors and paramedics and while their return will need some cajoling, the tougher aspect will be to convince Tripoli to restore the property and assets of the 2,000 Indians who were into business and trading.
Full report at:
http://www.thehindu.com/news/national/return-of-18000-indians-to-top-ahameds-agenda-in-libya/article4611271.ece
--------------
Honour Ghalib with Bharat Ratna: Katju
PTI | Apr 13, 2013
NEW DELHI: Classical Urdu and Persian poet Mirza Ghalib should be honoured with the country's highest civilian award Bharat Ratna, PCI chairman Markandey Katju has said.
"There has been injustice with Urdu in the country. People associate a particular religion with this language. This is a 'divide and rule' policy. Few people know that Prime Minister Manmohan Singh writes his speech in Urdu.
"I believe Mirza Ghalib should be given Bharat Ratna posthumously. If Sardar Vallabhai Patel and B R Ambedkar can be given awards after their deaths, why cant Ghalib be given?" Katju said at the 15th edition of 'Jashn-e-Bahar', an Urdu poetry symposium attended by poets from India, Pakistan, the US and other countries, last night.
Union minister Kapil Sibal, known for his penchant for poetry, read out two of his poems at the event.
Full report at:
http://timesofindia.indiatimes.com/india/Honour-Ghalib-with-Bharat-Ratna-Katju/articleshow/19527072.cms
--------------
NIA team questions Liaquat's kin, friends
AHMED ALI FAYYAZ
13 April 2013
Wives have stated they had applied under J&K's rehabilitation policy: team
The investigation team from the National Investigation Agency (NIA) on Friday questioned family members, friends and acquaintances of the detained former militant Liaquat Shah of Kupwara over his activities and return to India through Nepal last month.
Deputy Inspector General (DIG) Anurag Tankha and Superintendent of Police Anoop Kuruvila, who is an IPS officer of the Kerala cadre, interacted with over a dozen persons at the Gazetted Officers' Mess of Jammu and Kashmir Police at Humhama, near Srinagar Airport, and later at Joint Interrogation Centre, the Counter-Intelligence wing of the J&K Police at Gupkar Road. Two deputy SPs and other officials helped them interrogate Mr. Shah's family members and other contacts.
Full report at:
http://www.thehindu.com/news/national/nia-team-questions-liaquats-kin-friends/article4611290.ece
--------------
Karnataka Deputy CM's Hate Speech: 'Love Jihad' in the times of polls
April 13, 2013
Bangalore, April 13: In poll bound Karnataka, politicians have started making provocative statements to woo voters. In fact, Karnataka Deputy Chief Minister KS Eshwarappa has courted trouble for his alleged "hate speech" in the run up to the elections. Karnataka Assembly Elections 2013 are slated on May 5. At a public function in Shimoga on Sunday, April 7, Eshwarappa had allegedly said that a number of young Hindu girls had become victims of "love jihad", wherein Muslim youth allegedly lure Hindu women and dump them after exploiting them. A criminal case has been filed against him in his home town Shimoga, 280 km north of Bangalore, for a speech that allegedly provokes hatred between communities, a police spokesperson told reporters on Friday. The case against Eshwarappa followed a complaint by Shimoga district Congress leaders that the deputy chief minister's speech was aimed at instigating one community against the other and violated model code of conduct in force for the May 5 assembly polls. The Election Commission has issued notices to Karnataka Deputy Chief Minister and Maharashtra Home Minister RR Patil for allegedly making provocative speeches in poll-bound Karnataka in violation of the election code of conduct. The ministers have time till 5 pm today to file their replies.
http://news.oneindia.in/2013/04/13/eshwarappa-love-jihad-in-the-times-of-polls-1192872.html
---------
Terror suspect Abu Jundal alleges torture by police
PTI | Apr 13, 2013
NASHIK, MAHARASHTRA: Sayed Zabiuddin Ansari alias Abu Jundal, a 26/11 mastermind and prime accused in a conspiracy case of attack on Maharashtra Police Academy here, has complained to a local court that he was tortured with electric shocks by police, a charge denied by the prosecution.
Jundal, who was produced before a special court here yesterday along with two others, filed an application alleging that after being deported from Saudi Arabia, he was tortured mentally and physically by Delhi Police, Mumbai Police, Crime branch police and ATS.
Full report at:
http://timesofindia.indiatimes.com/india/Terror-suspect-Abu-Jundal-alleges-torture-by-police/articleshow/19528143.cms
--------------
Europe
Pardon of US officer involved in kidnap, torture of cleric by Italy sends wrong message
Paul Muir
Apr 13, 2013
Italy's decision to pardon a US air force officer who helped the CIA kidnap a Muslim cleric and transfer him to Egypt to be tortured may, according to a recent report, undermine efforts to restore transparency and the rule of law after years of human rights abuses conducted under the banner of counterterrorism.
Colonel Joseph Romano was one of 22 Americans who were convicted in absentia of carrying out the "extraordinary rendition" of the terror suspect Hassan Mustafa Osama Nasr, an Egyptian who is also known as Abu Omar, in Milan in 2003.
A report by the US-based Open Society Justice Initiative (OSJI), a US-based foundation established by the billionaire philanthropist George Soros that aims to "build vibrant and tolerant democracies whose governments are accountable to their citizens", revealed that 54 countries participated in the rendition of at least 136 suspects since a decree signed by Bill Clinton in 1995 authorised the practice.
Full report at:
http://www.thenational.ae/thenationalconversation/news-comment/pardon-of-officer-involved-in-kidnap-torture-of-cleric-sends-wrong-message#ixzz2QJv1y1cy
--------------
Foreign and Domestic Causes of Unrest Ahead of Azerbaijan's Presidential Elections
Jacob Zenn
13 April 2013
In 2013, two waves of popular discontent rolled over Azerbaijan. The first wave, starting in January and continuing through March, was related to the abuse of soldiers in the military (Hurriyet Daily News, March 11). The second wave, beginning on March 31, was related to the arrest of a pro-Iranian and anti-government cleric, Taleh Bagirzadeh (a.k.a. Bagirov), on charges of heroin possession (Caucasian Knot, April 1). Other Islamic political party members and clerics like Bagirzadeh who were suspected of receiving funding from Iran have also been arrested on drug charges in recent years (trend.az, March 30, 2011; Hurriyet Daily News, August 12, 2011).
Full report at: Jamestown Foundation
--------------
Britain has proof of chemical weapons use in Syria: Report
AFP | Apr 13, 2013
LONDON: British military scientists have found forensic evidence that chemical weapons have been used in the conflict in Syria, UK's Times newspaper reported on Saturday.
A soil sample thought to have been taken from an area close to Damascus and smuggled back to Britain has provided proof that "some kind of chemical weapon" had been fired, it quoted defence sources as saying.
Full report at:
http://timesofindia.indiatimes.com/world/middle-east/Britain-has-proof-of-chemical-weapons-use-in-Syria-Report/articleshow/19522752.cms
--------------
Red Cross halts 'pointless' Uzbekistan prison visits
13 April 2013
The International Committee of the Red Cross is stopping all jail visits in Uzbekistan owing to what it calls the authorities' "unconstructive attitude".
ICRC Director-General Yves Daccord said it was essential to speak to detainees in private without witnesses.
This was not happening in Uzbekistan, so the visits were pointless, he said.
Uzbekistan's human rights record under President Islam Karimov has repeatedly been criticised by Western campaign groups.
Full report at:
http://www.bbc.co.uk/news/world-asia-22128663
---------
UN concerned as more Syrians return home from Jordan
UN expresses deep concern as around 300 Syrian refugees in Jordan return home on daily basis despite shortages of food, fuel and electricity
12 Apr 2013
More Syrian refugees are opting to return home from Jordan, with around 300 now crossing back into the war-ravaged country each day, the UN's refugee agency said Friday, voicing deep concern for their safety.
UNHCR said it had seen an increase in the past 10 days in the number of people crossing from Jordan into Syria, although it stressed that a far larger number of Syrians continued to flood across the border in the opposite direction.
Full report at:
http://english.ahram.org.eg/NewsContent/2/8/69088/World/Region/UN-concerned-as-more-Syrians-return-home-from-Jord.aspx
---------
Pakistan
Identity crisis for 2 million strong Bengali-speaking populations in Pakistan
April 13, 2013
KARACHI: "I am 23 years old. This means I am eligible to vote. But I can't because I don't have a Pakistani NIC," says Saifullah, a resident of Mehran Town. Born to Bengali-origin parents who migrated to Pakistan before the 1971 war, Saifullah considers himself a Pakistani, but the law states otherwise.
According to the Pakistan Immigration Act, 1951 (which was later amended to make provisions for Kashmir and East Pakistan), any Pakistani citizens residing in East Pakistan would lose their citizenship if they were not present within the territories of West Pakistan on 16th December 1971, unless granted a certificate by the Federal government stating otherwise. Therefore, according to the law, Saifullah and thousands like him are foreigners who are required to apply to the Interior Ministry for a Pakistani citizenship.
Full report at:
http://tribune.com.pk/story/534968/identity-crisis-i-was-born-here-live-here-and-work-here-why-cant-i-vote/
--------------
Sherry talks about surviving 'shocks' in Indo-Pak ties
13 April 2013
WASHINGTON: Pakistan's Ambassador to the United States Sherry Rehman believes that trade and people-to-people interactions between India and Pakistan can contain the fall-out of "flare-ups" like the recent killing and beheading of two Indian soldiers near the Line of Control in Kashmir.
She made the comment in the question and answer session that followed her remarks on rebuilding the US-Pakistan partnership at the Atlantic Council in Washington DC. When asked how the US could encourage endeavours like businesspeople in Mumbai and Karachi seeking to trade with one another, Rehman said, "Business leadership in both our countries – in India and Pakistan – has been long endeavouring to build bridges of trade and business opportunities together." "But it is not just the business community," she said, and noted, "I would say even the health practitioner community, the medical community, also schools. And there has been a great cultural outreach the minute we relaxed the visa requirements." Rehman said, "The recent flare-ups on the Line of Control with Kashmir, the index of a strong relationship, of a dialogue, of a commitment to peace, really is how a bilateral relationship survives shocks like that."
Full report at:
http://www.dailytimes.com.pk/default.asp?page=2013\04\13\story_13-4-2013_pg7_10
--------------
Pakistani witness identifies man who bought boats used by 26/11 terrorists
PTI | Apr 13, 2013
ISLAMABAD: A witness on Saturday identified one of seven Pakistani men charged with involvement in the 2008 Mumbai attacks as the person who had bought inflatable boats used by the terrorists involved in the assault on India's financial hub.
Prosecutors said the witness, whom they did not name for security reasons, had identified accused Shahid Jamil Riaz during proceedings conducted behind closed doors at Adiala Jail in Rawalpindi by anti-terrorism court judge Chaudhry Habib-ur-Rehman.
The witness told the judge that Riaz and 10 other people had bought 11 inflatable boats, saying they were to be used for fishing. The witness further told the judge he had never seen these persons returning from sea with any fish.
Full report at:
http://timesofindia.indiatimes.com/world/pakistan/Pakistani-witness-identifies-man-who-bought-boats-used-by-26/11-terrorists/articleshow/19528469.cms
--------------
Eight killed in bomb blast at market near Peshawar
13 April 2013
Eight persons were killed and 10 others injured when a powerful blast ripped through a minibus on the outskirts of Peshawar city in northwest Pakistan on Saturday, police and witnesses said.
Police officials said a bomb planted inside the minibus exploded as the vehicle was passing through a market in the suburb of Mattani this afternoon.
A woman was among those killed instantly by the blast, they said.
Ten injured people, including two women and a child, were taken to a nearby hospital, officials said.
Full report at:
http://www.thehindu.com/news/international/south-asia/eight-killed-in-bomb-blast-at-market-near-peshawar/article4614184.ece
--------------
Militants blow up election office of an independent candidate in Pakistan: Official
AFP | Apr 13, 2013
MIRANSHAH, Pakistan: Militants blew up the election office of an independent candidate in northwest Pakistan on Saturday, adding to security fears ahead of historic national polls next month.
No one was hurt in the bombing in Miranshah, which is the main town in North Waziristan and a known hub of Taliban and al-Qaida-linked militants, bordering Afghanistan.
But the bombing is likely to fuel concerns that violence will mar the national and regional elections on May 11, which will mark the country's first democratic transition of power after a civilian government has served a full term in office.
Full report at:
http://timesofindia.indiatimes.com/world/pakistan/Militants-blow-up-election-office-in-Pakistan-Official/articleshow/19526613.cms
--------------
British govt allocated 1m Euro for better education in Sindh
13 April 2013
KARACHI: Sindh Caretaker Chief Minister Justice (Retd) Zahid Kurban Alavi has said that due to the high density of population, the city faces many problems, and the provincial government is striving hard to face these challenges. He said this while talking to British Deputy High Commissioner (DHC) Frances Campbel and Russian Federation Consul General Andray V Demidov, who called on him at CM House on Friday. Additional Deputy Head of Mission Shahyar Khan Niazi was also present on the occasion. He informed the DHC that Sindh IG Police and DG Rangers have been directed to arrange foolproof security for peaceful conduct of general elections. The CM further stressed upon the British diplomat to extend cooperation and assistance in the promotion of education. British DHC said that British government has allocated funds of one million Euro to provide better education facilities and enrolment across the province.
http://www.dailytimes.com.pk/default.asp?page=2013\04\13\story_13-4-2013_pg12_9
--------------
Hina Rabbani Khar not in PPP's final list of candidates
Apr 12 2013
Lahore : Former Foreign Minister Hina Rabbani Khar is not in the Pakistan People's Party's final list of candidates from Punjab province for the upcoming general election.
The PPP today issued its list of candidates for National Assembly seats in southern Punjab.
Khar's father, Ghulam Rabbani Khar, will be the PPP's candidate for parliamentary seat no 177 in Muzaffargarh district, which was earlier held by her.
Khar had filed her nomination papers for parliamentary seat no 177, from which she was elected in 2008.
Full report at:
http://www.indianexpress.com/news/hina-rabbani-khar-not-in-ppps-final-list-of-candidates/1101594/
--------------
TTP deny involvement in attacks on polio workers
April 13, 2013
ISLAMABAD / MIRAMSHAH: The Tehreek-e-Taliban Pakistan (TTP) on Friday denied any involvement in attacks on polio workers, which have killed 21 people since December, but confirmed it opposed the vaccination as 'un-Islamic.'
The outlawed militant group last year banned polio vaccinations in the tribal region of Waziristan, alleging the campaign was a cover for espionage.
"We have no link with the attacks on polio teams," TTP spokesperson Ehsanullah Ehsan said.
"We have very strong reservations against anti-polio vaccines because they are un-Islamic and bad for health," he said.
Full report at:
http://tribune.com.pk/story/534997/going-viral-ttp-deny-involvement-in-attacks-on-polio-workers/
--------------
'Objectionable' publication: Four held on blasphemy, terrorism charges
April 13, 2013
LAHORE: Islampura police on Friday registered a case against six Ahmedis on blasphemy and terrorism charges and arrested four of them including a hawker and editor and printer of an Ahmedi publication, The Express Tribune has learnt.
Police registered the FIR under Section 295-B (defiling, etc of copy of holy Quran) and 298-C (person of Qadiani group, etc calling himself Muslim or propagating his faith) of the Pakistan Penal Code and 11-W of the Anti-Terrorism Act (ATA) on the complaint of a member of the Khatm-i-Nabuwwat Lawyers Forum. The complainant accused the Ahmedis of printing and distributing Jamaat-i-Ahmedia's community newspaper Al-Fazal, which he said carried blasphemous content. The complainant, Muhammad Hassan Muavia, sought action against them under Sections 295-A, B and C, 298-B and C of the PPC, Section 24 of Registration of Printing Press Ordinance and 11-W of ATA. However, the police dropped four of the sections.
Full report at:
http://tribune.com.pk/story/534913/objectionable-publication-four-held-on-blasphemy-terrorism-charges/
--------------
Mush's posters torn down by Lal Masjid brigade
April 13, 2013
ISLAMABAD: A group of men and women allegedly from Lal Masjid ripped apart the election posters of former president Pervez Musharraf's party candidate in the federal capital late on Friday.
Sheikh Sajid, a supporter of Musharraf's All Pakistan Muslim League (APML), said around 20 burqa-clad women and 10 bearded men took off the party's posters from lampposts in Aabpara Market and ripped them up.
Sajid, who was sitting at the election office of APML candidate Dr Muhammad Amjad, which is also in the market, said the men and women arrived there at around 8:45pm in a pickup truck and a sedan.
Full report at:
http://tribune.com.pk/story/534823/return-of-the-vigilantes-mushs-posters-torn-down-by-lal-masjid-brigade/
--------------
Fazl concerned on deteriorating law, order situation
13 April 2013
DERA ISMAIL KHAN: The chief of JUI-F, Maulana Fazlur Rehman, while condemning the killing of election candidates, has expressed serious concern deteriorating law and situation across the country.
Addressing a public gathering during his election campaign at Mariali, he said talks were underway with political parties regarding seat adjustments. "Time has come that the rulers and masses should sacrifice their personal interests over broader national interests," he urged, reasoning that a new journey had to be undertaken.
Full report at:
http://www.dailytimes.com.pk/default.asp?page=2013\04\13\story_13-4-2013_pg7_12
--------------
Benazir Bhutto case: Pervez Musharraf fails to appear in court
Apr 13 2013
Islamabad : Ex-President Pervez Musharraf today failed to appear before a Pakistani anti- terrorism court conducting the trial of suspects charged with involvement in the 2007 assassination of former premier Benazir Bhutto and was subsequently summoned for the next hearing on April 23.
During proceedings held behind closed doors at Adiala Jail in Rawalpindi, Judge Chaudhry Habib-ur-Rehman summoned all the accused, including former military ruler Musharraf, for the next hearing.
Full report at:
http://www.indianexpress.com/news/benazir-bhutto-case-pervez-musharraf-fails-to-appear-in-court/1101952/
--------
South Asia
Myanmar court jails Muslim shop owners after anti-Muslim riots
13 April 2013
YANGON: A Muslim businessman, his wife and an employee have been sentenced to prison after an altercation at their gold shop led to anti-Muslim riots in which at least 43 people were killed in Myanmar last month.
Shop owner Tun Tun Oo, his wife Myint Myint Aye and an employee, Nyi Nyi, were each jailed for 14 years on Thursday for assault and theft after an argument with a customer turned violent, according to the state-run Kyemon newspaper.
"That incident led to the outbreak of riots in Meikhtila," the newspaper said on Friday.
Sectarian violence threatens to derail political and economic reforms in Myanmar, which was ruled for decades by military regimes that brutally suppressed dissent.
Lifting restrictions on freedom of speech has allowed political dialogue but has also unleashed anti-Muslim rhetoric by radical Buddhist monks, delivered in speeches and then distributed through DVDs.
Full report at:
http://www.dailytimes.com.pk/default.asp?page=2013\04\13\story_13-4-2013_pg14_2
--------------
Maldives ex-president's fair trial in "serious doubt", says BHRC
Mohamed Visham, Haveeru Online
Apr 13, 2013
The criticisms concerning the lack of impartiality and independence of the judiciary from political influence in the Maldives raise serious doubts as to whether former President Mohamed Nasheed can be guaranteed a fair trial, the United Kingdom's Bar Human Rights Committee (BHRC) report said.
The BHRC report compiled after conducting several independent trial observations of proceedings in the trial against Nasheed who has been charged with the unconstitutional arrest and subsequent detention of Chief Criminal Judge Abdulla Mohamed, also highlighted the inadequate separation of powers continue to undermine fair trial guarantees and the effective rule of law in the Maldives.
Full report at:
http://www.haveeru.com.mv/news/48440
--------------
Dutch pack up as exodus of Afghan allies gathers pace
13 April 2013
On an Afghan parade ground, Dutch soldiers stand to attention at a graduation ceremony for local police officers, one of many such scenes which will soon fade into the past.
The international military effort in Afghanistan since 2001 has seen scores of nations take up a variety of roles in the US-led campaign to defeat the Taliban insurgency and strengthen the nation's army and police.
But a decade later, budget cuts and war fatigue in Western capitals mean the 100,000 soldiers left serving in NATO's International Security Assistance Force are packing up and taking off as the mission prepares to close next year.
Full report at:
http://www.dailytimes.com.pk/default.asp?page=2013\04\13\story_13-4-2013_pg14_7
--------------
Before his assassination, there was an attempt on President Mujib's life
R. K. RADHAKRISHNAN
13 April 2013
An attempt was made to kill Bangladesh President Sheikh Mujibur Rahman a few months before he was assassinated on August 15, 1975.
The bid on Mujib's life has come to light in a U.S Embassy cable from Dhaka to Washington, part of the Kissinger cables obtained and recently published by WikiLeaks.
According to the cable, the Bangladeshi press was under government orders not to report it.
"We have received two reports that President Mujibur Rahman was target of assassination attempt on evening of May 21," the cable, sent on May 23, 1975, (1975dacca02535_b, confidential) noted.
Full report at:
http://www.thehindu.com/news/national/before-his-assassination-there-was-an-attempt-on-mujibs-life/article4611312.ece
--------------
Afghan concerns lend weight to India, China terror talks
ANANTH KRISHNAN
13 April 2013
Chinese analysts acknowledge that the routine counterterrorism consultations between India and China — held for almost a decade now — have achieved little in the way of results, with the talks increasingly seen by some as more a formality rather than a dialogue aiming for concrete outcomes.
The sixth such dialogue held here on Thursday has, however, assumed particular importance, analysts say, in the wake of increasing concerns in both countries over the security situation in Afghanistan following the NATO withdrawal in 2014.
"In the past, I don't think this mechanism played a very important role," said Zhao Gancheng, a South Asia scholar at the Shanghai Institute for International Studies.
Full report at:
http://www.thehindu.com/news/international/world/afghan-concerns-lend-weight-to-india-china-terror-talks/article4610722.ece
--------------
Opposition holding 3cr students hostage: Nahid
13 April 2013
The opposition parties were holding the future of the country's three crore students hostage and ruining the education system by enforcing frequent hartals, alleged Education Minister Nurul Islam Nahid yesterday.
"The opposition parties and anti-liberation forces want to throw the new generation into darkness. They do not want our children to grow up as efficient citizens and that is why they are enforcing hartals one after another," he said.
Full report at:
http://www.thedailystar.net/beta2/news/opposition-holding-3cr-students-hostage-nahid/
--------------
Azima to remain engaged in Nexbis, GMR cases
Ahmed Hamdhoon, Haveeru Online
Apr 13, 2013
Former Attorney General (AG) Aishath Azima Shakoor who was reappointed as the new Gender Minister last week will continue to offer her legal expertise to the government until the cases with India's GMR Group and Malaysia's Nexbis Limited are completed, she said Saturday.
"I will continue to play a role in the cases until they are completed. I'm a part of the State's team of lawyers. So I will be part of the team that assesses the cases with GMR and Nexbis until the arbitration is completed. I will lead the international arbitration," Azima told Haveeru.
Full report at:
http://www.haveeru.com.mv/news/48441
--------------
Our weakness strengthens outside influence, says Maldives President
Apr 12, 2013
Weakening faith creates the opportunity for foreign powers to influence the Maldives' affairs, President Dr Mohamed Waheed Hassan Manik said Thursday.
President made the statement while speaking to the people of Alifushi Island, as part of his current tour of some islands in the North Maalhosmadulu Atoll.
In his speech the President noted that foreign powers would always try to influence us every time there is conflict and instability within the society, and in turn worsen the country's social harmony.
Full report at:
http://www.haveeru.com.mv/news/48423
--------------
Sheikh Imran gives government six days to cancel GMR agreement
13 April 2013
It was announced at the gathering at Artificial Beach , that the government has been given a deadline of six days to reclaim the airport from GMR.
The deadline was announced by President of Adhaalath Party Sheikh Imran Abdullah.
At the rally, protesters called to reclaim the airport from GMR before 15 November.
http://themaldiveschronicle.com/overnment-given-cancel-gmr-airport-agreement/
--------------
It wasn't the Court houses which granted freedom to the nation- MDP
13 April 2013
Opposition Maldivian Democratic Party (MDP) Spokesperson, Maafannu dhekunu MP Imthiyaz Fahmy (Inthi) has said that the court houses did not grant freedom to the Maldivian nation.
Speaking at the Headline news of RaajjeTV, MDP spokesperson Inthi said that it was the people of Maldives who sacrificed and shed sweat and blood to grant freedom to Maldives. He said that the court houses did not play any role in it.
Inthi said that freedom of speech was granted to the people by MDP in a time when that right was violated by the then government. He said that the court did not do anything to stop the transgression and oppression of the then regime.
Full report at:
http://themaldiveschronicle.com/it-wasnt-the-court-houses-which-granted-freedom-to-the-nation-inthi/
---------
Africa
'Boko Haram Should Sheath Swords And Come To The Negotiation Table'
13 APRIL 2013
Eze Eberechi N. Dick (JP), the Eze Udo 1 of Mgboko Ngwa Amaise Autonomous Community in Obingwa Council of Abia State, 2nd Deputy Chairman of the state Traditional Rulers' Council and member of Abia State University teaching Hospital (ABSUTH), Aba reviewed the state of governance in Abia, leadership crisis in Igbo land and the role of traditional rulers in the ongoing constitutional review.
WHAT is your view on the state of insecurity in the country and what roles can traditional institutions play in to redress the situation?
From the point of a traditional ruler, our roles are fairly clear to all of us. First, our political leaders should look beyond ethnic, religious and other tribal and selfish interests and try to build bridges amongst ourselves.
Doing so will help us to stay in touch with one another, visit one another, work with one another and exchange culture, tradition and inter-marrying, etc.
If we build an efficient and effective mutual cooperation among ourselves, our subjects will equally be positively influenced to behave better.
Full report at:
http://www.ngrguardiannews.com/index.php?option=com_content&view=article&id=118670:
---------
6 Islamist insurgents killed in raid, Nigerian army says
Nigerian army kills six suspected Islamist insurgents in Friday raid in main northern city of Kano, according to military sources
12 Apr 2013
Nigerian soldiers killed six suspected Islamist insurgents during a raid on a house in the main northern city of Kano on Friday but lost one soldier in the gunbattle, the military said.
Radical sect Boko Haram and other Islamist groups have become the main threat to stability in Africa's top oil-producer and a growing menace to neighbours like Cameroon.
Boko Haram has killed many hundreds in gun and bomb attacks, including 25 in Kano last month, since it intensified an insurgency two years ago, with the aim of carving an Islamic state out of religiously mixed Nigeria.
Full report at:
http://english.ahram.org.eg/NewsContent/2/9/69094/World/International/-Islamist-insurgents-killed-in-raid,-Nigerian-army.aspx
-----------
President Bashir orders South Sudan border to be opened
13 April 2013
President Omar al-Bashir of Sudan has ordered the border with South Sudan to be opened.
He announced the move on a first visit to the South since its independence.
Speaking alongside his southern counterpart, Salva Kiir, Mr Bashir also called for peace and normal relations.
Tensions between the two countries, strained after they came to the brink of war last year, have eased recently.
But oil and land disputes continue.
"I have instructed Sudan's authorities and civil society to open up to their brothers in the Republic of South Sudan," Mr Bashir said in a speech in the southern capital, Juba.
Sudan's president invited Mr Kiir to Khartoum for further talks and he also addressed worshippers at a mosque in Juba.
Full report at:
http://www.bbc.co.uk/news/world-africa-22119556
--------------
IMF recognizes Somalia government
AP | Apr 13, 2013
WASHINGTON: The International Monetary Fund announced on Friday that it is recognizing Somalia's new government after a 22-year break in relations with the once-chaotic country, part of a general push by the United States, United Nations and the West toward encouraging rehabilitation there.
The US formally recognized the African nation's new government in January — the first time the US had recognized a Somali government since 1991, when warlords overthrew longtime dictator Siad Barre and then turned on one another.
Full report at:
http://timesofindia.indiatimes.com/world/rest-of-world/IMF-recognizes-Somalia-government/articleshow/19524216.cms
--------------
'Two killed' in shelling of Sudan's South Kordofan capital
13 April 2013
HARTOUM: Two people were killed and eight wounded as suspected rebels shelled the capital of Sudan's war-torn South Kordofan state on Friday, residents said.
The attack struck the east of Kadugli town at about 1:30 pm (1030 GMT), they said.
"Two shells hit an open area and three struck houses which burned to the ground. Two people were killed and eight injured," said one resident, who witnessed the attack across from his own home.
Full report at:
http://dawn.com/2013/04/12/two-killed-in-shelling-of-sudans-south-kordofan-capital/
--------------
Libya simmers over law targeting ex-Qaddafi officials
Saturday, 13 April 2013
A bill banning associates of former dictator Muammar Qaddafi from politics risks inflaming tensions in Libya and could see top officials including the premier and the assembly chief removed from their posts.
The bill, first proposed in December, will target those who worked in 36 job categories during Qaddafi's four decades in power.
The current draft could remove many of Libya's new leaders from their current post, including the president of the General National Congress (GNC), Libya's highest political authority, and his deputy Jumaa Attiga along with Prime Minister Ali Zeidan.
Observers said the bill moved one step closer to ratification on Wednesday, when the assembly made a change to the interim constitutional declaration making it impossible to appeal the law before it passed.
Full report at:
http://english.alarabiya.net/en/News/middle-east/2013/04/13/Libya-simmers-over-law-targeting-ex-Qaddafi-officials-.html
------------
Mideast Asia
Hamas arrests 'collaborators' after amnesty ends
Hamas police announces they began arresting suspected spy collaborators with Tel Aviv
13 Apr 2013
Security forces in the Hamas-ruled Gaza Strip have started arresting suspected "collaborators" with Israel after a month-long amnesty ended, a Hamas official said on Saturday.
"Since yesterday (Friday), we arrested several collaborators with the Israeli occupation," interior ministry spokesman Islam Shahwan told AFP, declining to give a number.
On March 12, Hamas announced a month-long grace period for collaborators to turn themselves in in return for leniency.
Shahwan said that some people had surrendered during the amnesty but did not give details on their likely treatment.
Under Palestinian law, collaboration with Israel is punishable by death.
All executions must be approved by the Palestinian president before they can be carried out, but Hamas no longer recognises the legitimacy of incumbent Mahmud Abbas, whose four-year term ended in 2009.
Full report at:
http://english.ahram.org.eg/NewsContent/2/8/69136/World/Region/Hamas-arrests-collaborators-after-amnesty-ends.aspx
-----------
Palestinians blast Canada FM's visit to E. Jerusalem
Palestinian officials say Canadian Canadian Foreign Minister John Baird's visit to East Jerusalem is seen as a recognition of Israel's annexation of the capital, and undermines Canadian-Arab relations
13 Apr 2013
Canadian Foreign Minister John Baird's meeting with an Israeli minister in annexed Arab East Jerusalem this week was a "slap in the face" to Palestinians, a Palestinian official said Friday.
Baird met Justice Minister Tzipi Livni, lead peace negotiator in Israel's cabinet, at her office in east Jerusalem on Tuesday, in a move normally avoided by visiting diplomats because it could be seen as legitimizing Israel's controversial annexation.
Full report at:
http://english.ahram.org.eg/NewsContent/2/8/69111/World/Region/Palestinians-blast-Canada-FMs-visit-to-E-Jerusalem.aspx
-----------
North America
Barack Obama asked to protect religious minorities in Bangladesh
Apr 11, 2013
WASHINGTON: Protesting against the rise in violence against minorities in Bangladesh, Hindus of Bangladeshi-origin have gathered outside the White House here, asking US President Barack Obama to protect them and enlist radical Jamat-e-Islami as a foreign terrorist group.
Raising slogans like "We do not want Talibanisation of Bangladesh" and "Save Hindus", Bangladeshi American Hindus in a memorandum asked Obama to save the religious minorities of Bangladesh and enlist " Jamat-e-Islami, Bangladesh" as a foreign terrorist organisation.
"We are urging everyone to be united in outrage and by humanity and do all you can to save the endangered minorities of Bangladesh," the memorandum said as the protestors demanded enactment of hate crime laws by the Bangladeshi Government.
Full report at:
http://articles.economictimes.indiatimes.com/2013-04-11/news/38463348_1_foreign-terrorist-organisation-minorities-human-rights
-----------
State Department suffering from Benghazi Syndrome in Afghan death reports
Thomas Lifson
13 April 2013
Why can't the State Department tell us the truth the first time when its diplomats are assassinated in Islamic countries? Is there a malady we can call the Benghazi Syndrome at work? Mere incompetence may be the parsimonious explanation, but it doesn't account for the deliberate obfuscation we still experience over the Benghazi massacre, and it is too early to tell what really went down in Afghanistan when photogenic 25 year old junior diplomat Anne Smedinghoff and four other Americans less photogenic and less female perhaps but equally important though ignored by the major media, were assassinated.
Full report at:
http://www.americanthinker.com/blog/2013/04/state_department_suffering_from_benghazi_syndrome_in_afghan_death_reports.html
-----------
URL: https://newageislam.com/islamic-world-news/new-age-islam-news-bureau/writer-fatah's-jamia-islamia-talk-muted-by-radicals/d/11131