New Age Islam News Bureau
1 May 2018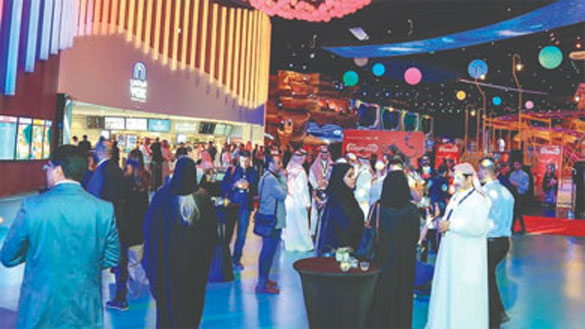 Movie-lovers at the opening of the VOX cinema in Riyadh on Monday. (AN photo by Bashear Saleh)
----
• World Ulema-Muslim Scholars` Summit to Produce "Bogor Message" on Wasatiyyat al-Islam
• Study Reveals Saudi Society Open to Integration with Other Religions, Cultures
• Kerala Will Be Islamic State in 10 Years: Filmmaker Sudipto Sen
• Israel Accelerates Excavations in Al-Aqsa Mosque to Judaize Quds
• The Muttahida Majlis-i-Amal to Give Blueprint of a New System On May 13
Southeast Asia
• World Ulema-Muslim Scholars` Summit to produce "Bogor Message" on Wasatiyyat al-Islam
• Muslim Politician Leads Easter Celebration in Medan
• Gradual recognition of traditional faiths in Indonesia
--------
Arab World
• Study Reveals Saudi Society Open to Integration with Other Religions, Cultures
• Saudi Capital Riyadh Welcomes Opening Of Its Second Cinema
• Syrian Army Tightens Noose around Palestinian Camp Held by ISIS
• KSA starts trial of 2 Mossad agents for plot to attack Haj
• Missile strikes on Syria kill 26, mostly Iranian forces
• Over 150 Terrorists Surrender to Army in Homs Province
• Al Khalifah forces raze recently reconstructed Shia mosque to ground
• Syrian jets bomb militant positions in southern Damascus neighbourhood
• Iraq to continue pounding Daesh positions inside Syria
--------
India
• Kerala Will Be Islamic State in 10 Years: Filmmaker Sudipto Sen
• Gurgaon Outfits Demand: Allow Namaz Only In Areas with Over 50% Muslims
• At Workshop for Muslim Youth, Stress On Becoming Job Givers Instead Of Job Seekers
• Shab e Barat 2018: All You Need To Know About the Muslim Festival
• Sino-Indian project in Afghanistan signals cooperation, message to Pakistan
• BJP MP Sees Red over Jinnah Portrait in Aligarh Muslim University, Writes to V-C
• Two Hizbul Mujahideen terrorists killed in Pulwama
• Extremists cannot terrorise Kashmir's youths: Amit Shah
• Militants kill 3 youths in Baramulla: cops
• Saudi DNA tests confirm 2016 Jeddah bomber was Indian
--------
Mideast
• Israel Accelerates Excavations in Al-Aqsa Mosque to Judaize Quds
• Ankara to Give Afrin's Control to Al-Nusra Militants
• Turkish Official Urges World to Recognize Palestine
• Netanyahu says has proof of Iran nuclear weapons program
• Abbas: Palestinians Cannot Accept US 'Peace' Plan, Mediation
• Israel repeals Jerusalem al-Quds residency of Palestinian lawmakers, ex-minister
• US says Israel's files on Iran nuclear program are 'new and authentic'
• Washington 'fully supportive' of Israeli soldiers against Palestinians in Gaza: Pompeo
• Coalition raids target Houthi operations room in Yemen's Al-Baydah
--------
Pakistan
• The Muttahida Majlis-i-Amal to Give Blueprint of a New System On May 13
• Hazaras on Hunger Strike in Quetta Want Assurance of Security, Justice from Gen Bajwa
• Mainstreaming of Fata must for its development: PM
• Swat minorities seek worship, burial places
• Political parties should also vow to protect human rights: Farhatullah Babar
• JUI-S in talks with PTI for seat adjustment
--------
South Asia
• 'SCB Plans To Bring More Islamic Liquidity to Bangladesh'
• 10 Journalists among 37 Killed In Afghan Attacks
• UN Security Council Meet Suu Kyi over Rohingya
• Bangladesh PM urges UNSC to press Myanmar on Rohingya repatriation
• SIGAR reports 11 percent drop in Afghan armed forces numbers
• Afghan and US forces suffer casualties in East of Afghanistan
--------
Africa
• Muslims Call for Joint Protest with Christians over Incessant Killings
• Libya's Haftar Visits Derna Ahead of Plans to Liberate Town
• KDF troops rescue 13 al Shabaab recruits in Somalia
• Boko Haram: Group demands apology from UNICEF
• Boko Haram now collecting taxes from Nigerians in Borno, Yobe — Report
--------
North America
• 'There's No Reason to Apologize' for Muslim Ban Remarks, Trump Says
• Trump Calls On Nigerian President to Stop Violence against Christians
• Self-radicalised Sydney man stabbed neighbour to avenge US bombings, court told
• Pompeo insists on Gulf unity in face of Qatar to confront Iran
• US weighing Libyan disarmament model for North Korea: Bolton
• Trump, Netanyahu discuss Iran over phone
--------
Europe
• Who Is Sajid Javid, The UK's New Home Secretary?
• Thousands of Students in Germany Attend Class of Islamic Education
• Russian Orthodox Patriarch on first visit to Muslim-majority Albania
Compiled by New Age Islam News Bureau
URL: https://www.newageislam.com/islamic-world-news/world-ulema-muslim-scholars-summit/d/115109
--------
World Ulema-Muslim Scholars` Summit to produce "Bogor Message" on Wasatiyyat al-Islam
May 01, 2018
Jakarta (ANTARA News) - The High-Level Consultation of World Muslim Scholars to discuss the Wasatiyyat al-Islam, scheduled to be held from May 1 to 3 in West Java`s Bogor city, will produce a "Bogor Message" that offers Islam middle path concept as a solution to the world`s problems.
"The goal is for the Islamic world to revitalize the insights of Islamic Wasatiyyat," Indonesian president`s special envoy for Inter-religious and Civilization Cooperation, Din Syamsuddin, stated at the Merdeka Palace, Jakarta, on Monday.
Syamsuddin accompanied President Joko Widodo during a meeting with Egypt`s Al-Azhar Grand Sheikh Ahmad Muhammad al-Tayyeb, who arrived in Jakarta on Sunday (April 29) to attend the summit.
According to him, both the president and the Grand Sheikh agreed that moderate Islamic values are solutions to various problems of the world civilization.
Therefore, one of the outcomes from the consultation is a message to all Muslims to not avoid the Islamic Wasatiyyat concept.
"Let us not get caught up in radicalism, fundamentalism, and extremism, but let us understand the central insight into Islam," he explained.
The high-level consultation summit will bring together some 50 Ulema and Muslim scholars from various countries to discuss moderate Islam.
The other guests who will attend the three-day meeting include Imam of Holy Grand Mosque Sheikh, Saleh bin Abdullah bin Hamid; Imam of Al-Aqsa Mosque, Sheikh Muhammad Ahmad Husein; and Lebanon`s Mufti, Sheikh Abdulatif Daryan.
Also present will be Canada`s Muslim scholar, Jamal Badawi; Secretary General of the European Muslim Conference, Muhammad Bechari, of France; Secretary General of the Muslim World League, Muhammad Abdul Karim Al Isa; Iranian ulema, Sheikh Ayatullah Ali Taskhiri; Russian Mufti, Sheikh Ravil Ismagiloviich; and Chief of Japanese Muslims, Amin K. Tokomasu.
https://en.antaranews.com/news/115546/world-ulemas-muslim-scholars-summit-to-produce-bogor-message
--------
Study Reveals Saudi Society Open to Integration with Other Religions, Cultures
30 April 2018
A recent field study on societal coexistence in Saudi Arabia has revealed that Saudis are welcoming to the idea of religious diversity in society.
The study was conducted by the Department of Studies and Research at the King Abdul Aziz Center for National Dialogue under the title: "Coexistence in Saudi society." It targeted four geographical regions: The Eastern region (Dammam, Hofuf, Al-Mubarraz, and Khobar) Medina, Makkah and Najran.
The sample size was 3,140 males and females over 18 years. The percentage of males was 77 percent, compared to 23 percent for women. The survey included 114 field researchers who conducted interviews in 59 residential neighbourhoods.
The main findings of the study are:
95 percent wish good for all, regardless of their religion or sect
95 percent respect others who have different doctrines.
88 percent treat others positively no matter if they have different point of view.
90 percent try to stay away from everything that would raise grudges between them and those who have different doctrine.
84 percent accept co-workers who have different doctrine.
82 percent believe that everyone is free to choose the doctrine they want without being forced
61 percent do not mind that there would be places of worship for those with different doctrine.
77 percent do not mind to live in the same building where their neighbor follow a different doctrine.
55 percent refuse to become in-laws with someone with different doctrine
91 percent seek to spread a culture of tolerance with others
84 percent appreciate relations with others on the basis of citizenship and civil peace
76 percent are ready to talk and exchange views with those of a different religion
Concerning doctrinal beliefs, 81 percent asserted that they consider others' beliefs as a cultural privacy
72 percent respects other's doctrine and do not mind his right to pray in public places
78 percent believes that media shows had contributed a lot in arousing strife between different doctrines
86 percent cooperate and do business with others who follow different doctrines
While 77 percent do not mind hiring people of other religions in their own companies.
https://english.alarabiya.net/en/features/2018/04/30/Study-reveals-Saudi-society-open-to-integration-with-other-religions-cultures.html
--------
Kerala will be Islamic state in 10 years: Filmmaker Sudipto Sen
Apr 30, 2018
NEW DELHI: Kerala will turn into an Islamic state in 10 years, said documentary filmmaker Sudipto Sen on Monday whose film on religious conversion was opposed at JNU by a section of students.
Sen's "In Name of Love" was screened last week amid protests led by the left-wing students union of the Jawaharlal Nehru University. It led to a violence between the union members and the organisers, many of whom belonged to the right-wing Rashtriya Swayamsevak Sangh (RSS).
His entire movie, Sen said, was based on an interview given by former Kerala Chief Minister V.S. Achuthanandan in 2010 in which the Marxist leader, as shown in the film, spoke about the issue of conversion.
"The issue in Kerala is not one of 'love jihad'. It is of the largest conspiracy being hatched against the country of India... I am only supporting what Achuthanandan said.
"After 10 years of what he had said, we did an evaluation, and in that evaluation we found such hair raising facts... We can say that in 10 years from now, Kerala will be converted into an Islamic state," Sen told the media here.
Asked whether he was open to conversation with the left-wing students who opposed his movie's screening, he said his film was his "language" and that he was not averse to opposition provided people watched his movie first.
"I personally do not believe in 'love jihad'. Our film is based on the issue of conversion, it is based on the statistics of 33,000 girls who were either converted to Islam or trafficked to Middle East."
https://timesofindia.indiatimes.com/india/kerala-will-be-islamic-state-in-10-years-filmmaker-sudipto-sen/articleshow/63976654.cms
--------
Israel Accelerates Excavations in Al-Aqsa Mosque to Judaize Quds
Apr 30, 2018
The Arabic-language Lebanese al-Ahd news website reported on Monday that the excavation operations are being carried out to change the Islamic identity of the al-Aqsa mosque to a sacred Jewish sanctuary.
According to the report, the Israelis are now excavating in Bab al-Rahmah yard in al-Aqsa mosque.
The report came after a UNESCO resolution passed last October denounced Israeli violations in the occupied territory, mainly focusing on policies around al-Aqsa, which the agency said increase tensions between Palestinian worshipers and Jewish visitors, while sparking fears among Palestinians that Israel could further deny their right to access al-Aqsa.
The resolution notably expressed "deep concern" regarding the illegal demolitions of Umayyad, Ottoman and Mamluk remains, as well as other intrusive works and excavations in and around the compound, and called upon Israel to halt the measures according to the state's obligations as an occupying power.
http://en.farsnews.com/newstext.aspx?nn=13970210000759
--------
The Muttahida Majlis-i-Amal to Give Blueprint of a New System On May 13
April 30, 2018
LAHORE - The Muttahida Majlis-i-Amal would present to the nation on May 13 the blueprint of a system that would replace the existing feudal, capitalistic and hypocritical one and open the corridors of power for the poor, says Senator Sirajul Haq, amir of the Jamaat-i-Islami, a constituent of the five-party coalition of religious parties.
On May 13, the MMA is scheduled to hold a public meeting at Minar-i-Pakistan, Lahore, which served as venue for the PTI's rally yesterday.
Addressing a convention of the JI Punjab, Sirajul Haq said that the status quo politics had deprived the masses of respect. In this system, the task of the poor was to send the elite to the assemblies with their vote and pay utilities bills and taxes to enable the rulers to enjoy luxuries of life. He said this drama had been going on for the last seventy years and it was time that the doors of the assemblies were opened to the poor and middle classes as well.
The JI chief said that the elections were nearing and political passengers had started changing their parties. He said "these orphans are so lucky that every party is ready to bring them up".
He said these people had defamed politics in the country and suggested that the political parties should not encourage such elements. Instead, he said, the political parties should perform the "ultrasound" of such people to know what role these people had played in their previous party and whether they could play any positive role in the new one.
Sirajul Haq said that those coming into power on the basis of ill-gotten wealth could not have any ideology or an agenda for the betterment of the country. He said there were some families which had their members in different parties and added that no revolution could be brought about with such people.
Replying to a question from the newsmen about Nawaz Sharif's future on the occasion, the JI chief asked the questioner to ask him about the future of the common citizen of the country. However, he said, he would advise the ousted Prime Minister to seek forgiveness from Allah and get ready to meet the Almighty. He further said that Nawaz Sharif himself had said that the Adyala jail was being readied for him, therefore, he won't make any comment in this regard.
Sirajul Haq said that in the forthcoming elections, the MMA and the JI would not issue tickets to anyone who was corrupt, was wanted by NAB or had plundered public money and transferred it abroad. Instead, tickets would be issued to neat and clean people who were men of integrity and also competent to hold public offices, he added.
https://nation.com.pk/30-Apr-2018/mma-to-give-blueprint-of-a-new-system-on-may-13
--------
Southeast Asia
Muslim politician leads Easter celebration in Medan
April 30, 2018
The 2018 national Easter celebration at Lake Toba in North Sumatra got a warm welcome from the public as it was led by a female Muslim.
Led by North Sumatra Deputy Governor Nurhajizah Marpaung, the national Easter celebration proceeded smoothly with a wide array of events, including a torch relay across 15 provinces of three main islands of Indonesia.
The Easter torch relay started on Tondano Island in North Sulawesi and ended at Lake Toba on Saturday. It was the first torch relay held as part of the national Easter celebration, which has been conducted 14 times.
Nurhajizah said that, as a Muslim, she was very happy that she could make the 2018 national Easter celebration successful. The deputy governor admitted that, initially, a number of Protestant church leaders had rejected her appointment to lead the Easter celebration this year. She chose to ignore their rejection, however.
Nurhajizah said her involvement in the Easter celebration was purely motivated by a sense of brotherhood among human beings.
"We can be different from one another. I'm wearing a headscarf; other women wear hair buns. Some men wear clergy robes, while others wear the kopiah. Just go ahead, because it is all related to our faiths and beliefs. However, let's maintain our brotherhood," said Nurhajizah in her remarks during the closing ceremony at Si Singamangaraja Square, Balige, on Saturday.
Nurhajizah called on church congregations to use the Easter celebration as a moment to revive the culture of the Batak people that was rich with precious life values and principles but had started to fade away.
"Let's search together our victory as a diverse society that has begun to disappear," said Nurhajizah. (ebf)
http://www.thejakartapost.com/news/2018/04/30/muslim-politician-leads-easter-celebration-in-medan.html
--------
Gradual recognition of traditional faiths in Indonesia
May 1, 2018
Saraswati, a follower of an little-known religion called Kapribaden, felt like the government had finally started to recognize her as a true Indonesian citizen when it recently decided to distribute special identity cards to traditional faith followers beginning from July 1.
The woman from Depok, West Java has long sought government recognition of traditional faiths including Kapribaden, a Javanese spiritual practice aimed at obtaining self-understanding before knowing God.
The religion section on her identity card has been left blank since she obtained it five years ago because of a 2013 law stipulating the section be left blank for those whose faiths are not recognized by the constitution.
There are six recognized religions in Indonesia: Buddhism, Catholicism, Confucianism, Hinduism, Islam and Protestantism.
Yet, the country has up to 187 traditional faiths with about 12 million followers, according to government figures.
The country has a total population of 261.1 million. Muslims comprise 225.9 million, while Protestants, Catholics, Hindus, Buddhists and Confucians comprise 20.1 million, 8.2 million, 4.7 million, Buddhists 2.1 million and Confucians 67,580, respectively.
"I have faced discrimination because of my faith," Saraswati, 22, told ucanews.com.
At school, she had to choose a recognized religion in order to do religious studies, an obligatory subject in Indonesia.
When she filled out an online enrollment application for a university in Jakarta, she was unable to find a section where she could state her religion.
"The government's recent decision means gradual recognition even though I still can see some discrimination in it," she said.
Others who follow traditional beliefs have said they have faced discrimination when going for jobs based on the fact that the religion section on ID cards have been left blank.
The government move came after the Constitutional Court ruled in November last year that the 2013 law was unconstitutional.
The ruling came off the back of a petition filed a year before by traditional faith followers challenging the law.
After consultations with various religious leaders, the government decided that the "religion" section on identity cards for traditional faith followers would be replaced with a "traditional faith column" without listing the faith's specific name. Instead it would have the phrase "Kepercayaan terhadap Tuhan Yang Maha Esa" (trust in God Almighty).
Lambok Manurung, a 49-year-old Parmalim — a term used to describe adherents of the Batak indigenous faith Ugamo Malim — from Medan, North Sumatra, was an expert witness at the court hearings.
"We've waited a long time for the court's ruling," he said.
Still, he and other Parmalims will continue to fight.
"We want the word Parmalim to be written on our identity cards," he said.
Binding ruling
Two opinions had emerged during the consultations. Religious leaders said traditional faiths could not be defined as religions, while representative of traditional faith followers stated that their faiths were religions.
The government's decision therefore served as a solution.
"It's an administrative issue. Indonesia must surely protect its citizen. The most important thing is the trust in God Almighty," Home Affairs Minister Tjahjo Kumolo told reporters on April 4.
A week later, Zudan Arif Fakrulloh, director-general of the ministry's population and civil registration division, said the distribution of the special identity cards will start in July after local elections.
Earlier, President Joko Widodo said the court's ruling was "final and binding" and "therefore, the government was obliged to implement the ruling."
The Communion of Churches in Indonesia backed the court's ruling, saying it showed an effort to pursue equal rights for all citizens.
However, the Muslim Indonesian Ulema Council (MUI) disagreed, saying the ruling made religions equal to traditional faiths.
"The court's ruling creates a legal consequence and has an impact on social order," the group said in a statement issued in January.
Dewi Kanti Setianingsih, a Sunda Wiwitan follower, questioned why the government felt it had to compromise.
Sunda Wiwitan, which venerates the power of nature and the spirits of ancestors, is the native faith of Sundanese people from the west of Java, which has been followed since before Hinduism arrived on the archipelago around the first century AD.
"Why is there a definition distinction?" she asked.
"Before Indonesia gained its independence, we were the ones who loved this nation," she said.
There was also a claim that the government's decision was based on the demands of majority groups following the objections of the MUI.
"We reject it as there is still the potential for discrimination," said Engkus Ruswana, spokesperson of the Indonesian Native Faiths Council.
"The government has failed to take a firm stance," he said.
Akhol Firdaus, coordinator of the Task Force for Freedom of Religion and Beliefs in East Java, called the government's decision "a setback."
"It doesn't show the spirit of anti-discrimination," he said.
Full report at:
https://www.ucanews.com/news/gradual-recognition-of-traditional-faiths-in-indonesia/82137
--------
Arab World
Saudi capital Riyadh welcomes opening of its second cinema
May 01, 2018
RIYADH: Film fans in the Saudi capital witnessed the opening of its second cinema on Monday night.
The opening saw yet another player entering Saudi Arabia's fast-growing entertainment landscape. This time it is VOX Cinemas, which now rivals AMC Cinemas in the Kingdom.
VOX Cinema promises lower prices and a much more practical location, inside a beautifully constructed mall. The new shopping center, Riyadh Park, is surrounded by natural light during the day and has many shops that have yet to open. It is convenient for moviegoers. Ticket prices at the VOX cinema, which has Imax 3D, start at SR50 ($13.3). They will go on sale online or through the VOX app, starting in three days' time.
The first four-screen multiplex in the Kingdom was opened under the patronage of Minister of Culture and Information Awwad Al-Awwad. Also in attendance was Reda Haidar, director general of the General Commission of Audiovisual Media.The movie screened was "Avengers: Infinity War."
The cinema is located on the first floor of the mall and surrounded by restaurants and an entertainment center. Its four theaters can accommodate a large number of moviegoers and a variety of movies can be screened simultaneously.
VOX Cinemas is a subsidiary of Majid Al-Futtaim (MAF) and is the largest cinema operator in the MENA region.
Cinema returned to Saudi Arabia on April 18 with the first major movie screening in 35 years in a spectacular new theater in King Abdullah Financial District in Riyadh. The gala screening of the Hollywood blockbuster "Black Panther" was attended by hundreds of invited guests in the sleek and chic complex — described by AMC cinema chain bosses as "the most beautiful movie theater in the world."
Saudi Arabia plans to open 350 cinemas across the country by 2030, which will include 2,500 screens, which are expected to contribute around $25 billion to the economy.
http://www.arabnews.com/node/1294291/saudi-arabia
--------
Syrian army tightens noose around Palestinian camp held by ISIS
30 April 2018
Syrian troops tightened the noose on Sunday around a Palestinian refugee camp held by ISIS militants in southern Damascus where hundreds of civilians face an uncertain future, state media, witnesses and residents said.
Nearly two weeks into a campaign to capture the last area near the capital outside government control that has left many parts of the once-teeming Yarmouk camp in ruins, state media said that the al Qadm neighborhood next to the camp was retaken.
Opposition sources said the army was now engaged in fierce fighting with militants on the outskirts of Yarmouk camp where an estimated 1,500 to 2,000 militants are encircled.
The militants who are besieged in an ever-shrinking area have repelled successive raids to enter their heavily defended stronghold.
State television and the official SANA news agency said a deal had reportedly been reached between the army and "terrorist groups" in the camp to allow them safe passage to the rebel-held northwestern province of Idlib in return for the evacuation of civilians in two besieged Shi'ite villages in the province.
It said the deal's implementation would begin on Monday with buses arriving at the entrance of the camp.
It did not say which rebel groups were included, but a rebel source said the deal was with the militant Tahrir al Sham, spearheaded by Syria's former al Qaeda offshoot, which has about 200 fighters in the camp.
Although Islamic State jihadists, the main insurgent group in the camp, have vowed to continue to fight, the surrender of their comrades in arms could hasten a similar deal, two opposition sources said.
The Yarmouk campaign is part of a wider Russian-backed offensive to regain the last pocket in opposition hands around the capital after retaking eastern Ghouta this month.
Full report at:
https://english.alarabiya.net/en/News/middle-east/2018/04/30/Syrian-army-tightens-noose-around-Palestinian-camp-held-by-ISIS.html
--------
KSA starts trial of 2 Mossad agents for plot to attack Haj
May 01, 2018
RIYADH - The Saudi court has started a trial of two Israelis of Arab roots spying for the Israeli intelligence agency of Mossad to gather information about Saudi Arabia, Okaz local news reported on Monday.
The two suspects are accused of plotting a terrorist act in the Haj season for Islamic State (IS) militant group. The Saudi Public Prosecution accused them of 11 charges including expressing support to IS and demanded the toughest punishment against them. Saudi Arabia doesn't recognise Israel and it promises to do so if Israel recognises Palestine as a state with Jerusalem as its capital.
The Saudi King Salman bin Abdulaziz Al Saud said in the Arab League (AL) Summit held in April in Riyadh that East Jerusalem has been and will always be the capital of Palestine, condemning US President Donald Trump's recognising Jerusalem as the capital of Israel as a breach of the international law.
Full report at:
https://nation.com.pk/01-May-2018/ksa-starts-trial-of-2-mossad-agents-for-plot-to-attack-haj
--------
Missile strikes on Syria kill 26, mostly Iranian forces
May 01, 2018
BEIRUT - Missile strikes on central Syria killed 26 pro-regime fighters, most of them Iranians, a monitor said Monday, in a raid that bore the hallmarks of Tehran's archfoe Israel.
The Syrian regime, which denounced a "fresh aggression" after the strikes, meanwhile continued to flush out armed groups from the capital with more deals to transfer fighters to the country's north.
According to the Syrian Observatory for Human Rights monitoring group, missile strikes hit two military targets in Aleppo and Hama provinces late Sunday.
The strike on Hama province hit a base known as the 47th Brigade where pro-regime fighters are stationed. Both hits destroyed surface-to-surface missiles, the monitor said.
"At least 26 fighters were killed, including four Syrians," in the Hama strike, said Rami Abdel Rahman, who heads the Britain-based monitoring group.
"The others are foreign fighters, a vast majority of them Iranians," he told AFP. "Given the nature of the target, it is likely to have been an Israeli strike."
Israeli Intelligence Minister Yisrael Katz told army radio on Monday morning that he was "not aware" of the latest strikes. But, he said, "all the violence and instability in Syria is the result of Iran's attempts to establish a military presence there. Israel will not allow the opening of a northern front in Syria."
Israeli Prime Minister Benjamin Netanyahu was due to speak later Monday about a "significant development" on the Iran nuclear deal, his office said.
His main US ally, which led an unprecedented wave of missile strikes on Syria's chemical weapons infrastructure on April, is considering pulling out of the landmark deal.
Syria President Bashar al-Assad, whose main allies are Russia and Iran did not explicitly mention the overnight strikes but said that "hostile countries have shifted to a stage of direct aggression".
Quoted by the official SANA news agency after meeting an official Iranian delegation, Assad said "escalating aggression on Syria will enhance Syrians' resolve to eliminate terrorism".
Syria remains technically at war with neighbouring Israel, which is concerned at the growing presence of Iranian forces and those of Tehran's Lebanese ally Hezbollah on Syrian territory.
Israeli Defence Minister Avigdor Lieberman vowed in an interview Thursday to strike at any attempt by Iran to establish a "military foothold" in Syria.
Iran has forces deployed in Syria to support Assad's regime, as well as supervising the involvement of several Shiite militia groups it sponsors, some of them from other countries such as Iraq or Afghanistan.
There was no immediate comment from Tehran on the Sunday strikes, but the reformist-linked ILNA news agency quoted a security official who did not deny the strike and said any reports on the military situation in Syria should come from Damascus.
"The Syrians must announce the statistics as they are responsible. We are present in this country at the request of the government of Syria," said Hossein Naghavi Hosseini, spokesman for parliamentary national security and foreign policy commission.
The Syrian government has focused its efforts in 2018 on securing the capital Damascus, the heart of which was spared the worst of the seven-year-old conflict but was long surrounded by rebel-held pockets.
Backed by massive Russian military support, the regime took full control of the Eastern Ghouta enclave earlier this month.
The sprawling semi-rural area east of Damascus had been home to thousands of armed Islamist and jihadist fighters, who were besieged for years but sporadically fired rockets and mortar rounds on the capital.
Pro-regime forces are now battling jihadists from the Islamic State group and other armed factions in southern neighbourhoods of Damascus.
After days of air strikes and heavy fighting, state media reported late Sunday that those areas would be evacuated under deals similar to those that emptied other enclaves around Damascus in recent weeks.
Buses started arriving Monday near Yarmuk, a neighbourhood once home to a Palestinian refugee camp and the main hub of IS forces in southern Damascus, state media reported.
Full report at:
https://nation.com.pk/01-May-2018/missile-strikes-on-syria-kill-26-mostly-iranian-forces
--------
Over 150 Terrorists Surrender to Army in Homs Province
Apr 30, 2018
A sum of 156 terrorists laid down their arms in the towns of Talbiseh and al-Rastan and surrendered to the army to apply for government amnesty, field sources reported.
In the meantime, the Syrian air force pounded and destroyed the terrorists' positions in the farms near Talbiseh and Ezzeddin as well as the surrounding areas of al-Amerieh in Northern Homs.
In relevant remarks on Saturday, the Syrian army smashed the strongholds of Tahrir al-Sham Hay'at (the Levant Liberation Board or the Al-Nusra Front) in Homs province, killing one of its top commanders, military sources said, adding that the army is preparing to cleanse the Northern parts of the province of militants.
The sources said that a large number of special army forces have been sent to Northeastern Homs along with a large number of military equipment, adding that they are missioned with purging all terrorists of al-Rastan region in Northern Homs.
Meantime, the air force, artillery and missile units of the Syrian army attacked the terrorists' positions and moves in Northern Homs and Southern Hama, inflicting damage on the militants.
Full report at:
http://en.farsnews.com/newstext.aspx?nn=13970210000631
--------
Al Khalifah forces raze recently reconstructed Shia mosque to ground
Apr 30, 2018
The Bahraini regime has razed to the ground a recently reconstructed Shia mosque without any prior warning as part of a heavy-handed crackdown on dissent in the tiny Persian Gulf kingdom.
Bulldozers accompanied by security forces from the Al Khalifah regime on Sunday destroyed Imam Hassan al-Askari mosque in Hamad town, southwest of the capital Manama.
The destruction of the Shia mosque came after it had been painstakingly rebuilt by local residents.
The structure was among dozens of Shia religious gathering places that were initially demolished during the onset of Bahrain's uprising in 2011.
The widespread destruction was part of the regime's crackdown against dissent and pro-democracy activists within the country's Shia community.
Thousands of anti-regime protesters have held demonstrations in Bahrain on an almost daily basis ever since a popular uprising began in the country in mid-February 2011. They are demanding that the Al Khalifah regime relinquish power and allow a just system representing all Bahrainis to be established.
Manama has gone to great lengths to clamp down on any sign of dissent. On March 14, 2011, troops from Saudi Arabia and the United Arab Emirates were deployed to assist Bahrain in its crackdown.
Scores of people have lost their lives and hundreds of others sustained injuries or got arrested as a result of the Al Khalifah regime's crackdown.
Full report at:
http://www.presstv.com/Detail/2018/04/30/560206/Bahrain-Shia-mosque-Hamad-town
--------
Syrian jets bomb militant positions in southern Damascus neighbourhood
Apr 30, 2018
The Syrian Army has carried out a series of precision and intensive airstrikes against hideouts of Takfiri militants in a neighborhood of southern Damascus as government soldiers press ahead with a counter-terrorism military campaign in the region.
Syria's official news agency SANA reported that terrorists suffered heavy casualties and their weapons and equipment were destroyed after fighter jets bombed terrorists' positions in al-Hajar al-Aswad district on Monday.
The aerial operation also resulted in isolating and cutting supply routes for militants, it added.
The report further noted that the Syrian army's campaign would continue until the eradication of terrorists and liberation of all southern Damascus neighborhoods from the grip of terrorist groups.
This comes as Syrian forces have been carrying out complicated operations to dismantle and cut off the supply and communication lines between terrorists in the Damascus suburban area.
Takfiri militants have lost much of the territory they once held in Syria amid sweeping gains by government forces on the ground.
Syrian forces managed to retake Eastern Ghouta and Eastern Qalamoun regions near Damascus this month.
For years, the areas had served as a launch pad for deadly terror attacks against civilians in Damascus.
Evacuation deal underway as more buses enter besieged towns of al-Foua, Kefraya
Meanwhile, under a deal, dozens of buses have left to evacuate residents from militant-besieged Shia-majority towns of Kefraya and al-Foua in northwestern Idlib province.
The convoys of buses are now waiting in both villages for the evacuation process to begin.
According SANA, the buses will transport 1500 people from the besieged towns after which they will be taken to a temporary housing center on the eastern outskirts of Aleppo city.
The process will be implemented in parallel with the exit of buses carrying terrorists from the Palestinian refugee camp of Yarmuk towards IdlIb.
On Sunday, the Syrian government and militants holed up in the capital's southern suburbs, including Yarmuk, reached the evacuation deal, according to which members of terror outfits are allowed to either hand over their weapons and ammunition to army troops and remain in the areas or leave with their families.
An agreement had been reached between the Syrian government and terrorist groups "in southern Damascus, in the areas of Yalda, Babila and Beit Sahem."
The evacuation accord is the latest in a string of such agreements that have seen the Syrian government retake areas near Damascus after the withdrawal of militants.
During the past few days, the Syrian army has recaptured large parts of the district of Qadam on Yarmuk's western flank.
Full report at:
http://www.presstv.com/Detail/2018/04/30/560197/Syria-Damascus-Daesh-Foua-Kefraya
--------
Iraq to continue pounding Daesh positions inside Syria
Apr 30, 2018
Iraqi Prime Minister Haider al-Abadi has pledged to continue airstrikes on the positions and headquarters of the Daesh Takfiri terrorist group inside neighboring Syria, stressing that Baghdad will not meddle in the political affairs of the Damascus government.
"Iraq will continue air strikes in Syria and will do more to eliminate Daesh group. It will neither allow Daesh militants to come back, nor a similar terrorist organization to appear, but Iraq doesn't mean to interfere in internal affairs of Syria," Abadi stated on Tuesday.
Lieutenant General Anwar Hama Amin, the commanding officer of the Iraqi Air Force, also noted that Iraqi military aircraft will press ahead with their aerial attacks against Daesh strongholds in Syria.
"All the countries in the world are fighting against the terrorist organization. Today we have a Joint Operations Command in Iraq and we have a commander-in-chief. When they issue orders of strikes, we will implement them without hesitation," he commented.
Iraqi authorities have on occasions stated that they work closely with the Syrian government to monitor and target terrorist targets based on the efforts of intelligence and information departments of the security coordination committee formed between Baghdad, Damascus, Tehran and Moscow years ago, as well as coordination with the so-called US-led anti-Daesh coalition.
"If we perform a strike, we will coordinate with the international coalition, the joint security center and all the relevant parties. As we work together, we follow the principle of partnership to ensure safety and harmony between allies," Iraqi Ministry of Defense spokesman Tahseen al-Khafaji said on Tuesday.
On April 23, intelligence sources, speaking on condition of anonymity, told Arabic-language Shafaaq news agency that Daesh second-in-command had been killed during an Iraqi airstrike inside the Syrian territory.
The top-ranked extremist, identified by the nom de guerre Abu Luqman al-Suri, was killed in the attack. He was the deputy of purported Daesh leader Ibrahim al-Samarrai aka Abu Bakr al-Baghdadi.
The sources added that Suri was "in charge of recruiting attackers and dispatching them to Iraq to carry out bomb attacks there."
On December 9, 2017, Iraq's Prime Minister Haider al-Abadi declared the end of military operations against the Daesh terrorist group in the Arab country.
"Our forces are in complete control of the Iraqi-Syrian border and I therefore announce the end of the war against Daesh," Abadi told a conference in Baghdad then.
The Iraqi prime minister said on August 31 that Tal Afar and the entire Nineveh province had been purged of the Daesh Takfiri terrorist group.
The recapture of Tal Afar was made possible with the help of the Iraqi army, Federal Police, Counter-Terrorism Service units, pro-government fighters from the Popular Mobilization Units, commonly known by the Arabic name Hashd al-Sha'abi, and the Interior Ministry's elite rapid response forces, Abadi stated.
On July 10, Abadi formally declared victory over Daesh extremists in Mosul, which served as the terrorists' main urban stronghold in the conflict-ridden Arab country.
In the run-up to Mosul's liberation, Iraqi army soldiers and volunteer Hashd al-Sha'abi fighters had made sweeping gains against Daesh.
Full report at:
http://www.presstv.com/Detail/2018/04/30/560189/Iraq-to-continue-pounding-Daesh-positions-inside-Syria
--------
India
Gurgaon outfits demand: Allow namaz only in areas with over 50% Muslims
by Sakshi Dayal
May 1, 2018
Several outfits, under the ambit of the Sanyukt Hindu Sangharsh Samiti, staged a demonstration in Gurgaon on Monday morning, demanding that a case registered against six men for disrupting namaz be withdrawn, and a city-wide ban be implemented on reading namaz in the open.
The six men had disrupted the namaz, being read in a vacant plot in Sector 53, on April 20.
Office bearers and workers of the outfits also threatened to take to the streets on Friday to ensure prayers are no longer held in the open. In the morning, around 50 protesters gathered at Kamla Nehru Park around 10.30 am, and marched to the Mini Secretariat, where a letter, addressed to Chief Minister Manohar Lal Khattar, was submitted to deputy commissioner Vinay Pratap Singh.
In the letter, protesters alleged that the Friday prayers in Sector 53 were being used as a pretext to occupy land illegally. They further alleged that worshippers chant anti-India and pro-Pakistan slogans at the spot.
"For the last one-and-a-half months, a group of men have been reading namaz on the land of Wazirabad, Gurgaon, with the intention of occupying it illegally. The environment there is being ruined by chanting slogans of 'Pakistan zindabad' and "Hindustan murdabad'," the outfits alleged in the letter.
"When some patriotic youth stopped them from doing this, police conducted a one-sided investigation. Does chanting 'Vande Matram' and 'Jai Shri Ram' come in the ambit of offence that the youth were arrested?" they said in the letter.
Those who have been gathering at the spot to read the namaz each Friday for the last 10 years denied the allegations. "We don't even talk to each other when reading the namaz; chanting slogans is out of the question. These are just false allegations," said Wajid Khan, who heads the Nehru Yuva Sangathan Welfare Society Charitable Trust, and was the complainant in the case.
The letter goes on to state: "Rohingyas and Bangladeshis residing in Gurgaon should also be identified and marked. Permission should not be given to read namaz in Hindu colonies, sectors and neighbourhoods. Permission should only be given in those places where the strength of this population is more than 50 per cent, otherwise there will continue to be a possibility of peace being obstructed."
On April 20, a group of men had arrived at the vacant plot minutes before prayers began. A video of the incident, which had surfaced on social media, captured them chanting "Jai Shri Ram" and "Radhe Radhe", as they directed people to leave.
A case had been registered last week. The accused were identified as Arun, Manish, Deepak, Rohit, Ravinder, and Monu — all residents of Wazirabad and Kanhai villages. They had been granted bail on Sunday.
"We requested the district administration to declare a ban on reading namaz in the open. However, we intend to form teams and keep an eye on the city this Friday to ensure worshippers are not allowed to offer prayers in the open, on government land, illegally," said Abhishek Gaur, district president of the Bajrang Dal, one of the protesting outfits.
The deputy commissioner did not respond to calls and messages seeking a comment.
http://indianexpress.com/article/india/gurgaon-outfits-demand-allow-namaz-only-in-areas-with-over-50-muslims-5157790/
--------
At Workshop for Muslim Youth, Stress On Becoming Job Givers Instead Of Job Seekers
May 1, 2018
At a workshop for minorities and underprivileged sections of the society, leaders from the field of politics, finance and education exhorted Muslim students to choose entrepreneurship over seeking jobs. The entrepreneurship workshop — Taleem-o-Tarbiyat— was organised by 'The Indus Entrepreneurs' at IIT-Gandhinagar.
Speaking at the event, Maulana Azad National Urdu University Zafar Sareshwala stressed on engaging with the government and "benefiting from its various welfare schemes", while State Bank of India Managing Praveen K Gupta said in today's time it has become more important to start own business instead of seeking jobs.
"Artificial intelligence, machine learning, robotics, automatic process all this has resulted in less jobs being created in services and manufacturing sector today, and the existing jobs are being replaced due to this automisation. India's tradition of micro, small and medium enterprises (MSME) business is very good. Maximum employment generation is also through the MSME sector. To start a business of your own, it is not necessary at all to start with a big venture," Gupta told the participants at the workshop.
"For instance in SBI, five-six years ago there were 2.20 lakh employees. In this period, the bank's business has increased by more than double, but the number of employees has declined due to digitisation, mobile banking. So it becomes all more important in today's time that instead of seeking jobs, we should start our own business," he added.
Referring to the Employees' Provident Fund Organisation (EPFO) data, Gupta said, "The latest data announced from September to March shows that in last six months 34 lakh jobs were created….The reality is that a lot of jobs are being created in the country, and particularly if someone starts his own business, which is not being reported… If more such people can work to start their own businesses, it will be beneficial to the country in a great deal."
CMD of National Stock Exchange (NSE) Vikram Limaye, who also spoke at the event, urged the youths to be more confident. "According to a survey, at any given point of time, more than 80 per cent youth is thinking about setting up his or her own business. Lack of confidence and half-hearted efforts often leads to failure," he said.
BJP spokesperson Sambit Patra also asked Muslim youths to choose the path of entrepreneurship. Stating that today's education has become all about salary packages, he said, "There was a time when a child wanted to become only a doctor or engineer. But we have crores of avenues today… Combination of knowledge and innovation can help youth of today become job givers rather than job seekers, and they can take help of government assistance to convert their dreams into reality."
He then added, "For Muslims, I would say that they are very skilled in specific art forms…Even the government encourages this through special provisions. We should take benefit of achhe din when your own Prime Minister wants to take you forward holding your hand, why should you worry?"
On discrimination towards Muslims, columnist and journalist Saba Naqvi said, "Today, there is a problem for Muslims. They do not get jobs at some places. You are being left behind. At some places, jobs are not given due to prejudice. There was a time when Muslims would not get loans from banks, bank accounts would disappear. Gujarat has passed from this era. I would say that we should take all possible help."
Full report at:
http://indianexpress.com/article/cities/city-others/at-workshop-for-muslim-youth-stress-on-becoming-job-givers-instead-of-job-seekers-5157948/
--------
Shab e Barat 2018: All You Need To Know About The Muslim Festival
May 1, 2018
Shab e-Barat, also known as Mid-Sha'ban or Bara'at Night, is a Muslim holiday which is observed all over the world on the evening between the 14th and the 15th Sha'ban, the eighth month of the Islamic calendar. In Islam, Shab-E-Barat means the night of forgiveness or Day of Atonement. According to information on Wikipedia, the word 'Barat' means 'the quality of being guileless', or 'without guile or deception'. This year, the month began on April 18, which means the festival this year takes place from dusk on Tuesday, May 1 until dawn the following day. In the Arab world, the festival is referred to as Laylat al-Bara'at. The festival falls in the run-up to Ramadan and is considered the night when God forgives sinners.
The holy Shab-e-Barat will be observed tonight across the country with due religious fervour and devotion. It is regarded as the evening when all of the men's fortunes for the upcoming year are decided and also the time when Allah may forgive those who have sinned. In some Muslim countries, it is also a night to honour those ancestors who have come before you. Muslim devotees will spend the night at mosques and homes offering prayers, reciting from the holy Quran and seeking blessings of Allah for long life, peace, progress and happiness for themselves, their families, relatives and friends.
Muslims believe that on this night Almighty Allah decides the fate of all human beings fixing their "rizq" (livelihood) for the next year. The devotees visit the graves of their loved ones at night and will pray for their eternal peace. Many will also visit shrines of saints. Many families will prepare traditional foods like rice bread and halua (a kind of dessert made usually from semolina, carrot, chickpea or papaya).
In Bangladesh, many people will fast on the day after the Shab e-Barat night and in South Asia individuals hand out food and aid to their neighbours and the poor. The date of Shab e Barat is also celebrated as the birthday of Muhammad al-Mahdi, who is commemorated by Twelver Shia Muslims as being the saviour of mankind.
Full report at:
http://www.india.com/festivals-events/shab-e-barat-2018-importance-celebration-on-may-1-and-everything-you-need-to-know-about-muslim-festival-3029331/
--------
Sino-Indian project in Afghanistan signals cooperation, message to Pakistan
May 01, 2018
A ground-breaking joint Sino-Indian economic project in Afghanistan will send the signal that cooperation can prevail over competition and a message to Pakistan that China recognises India's legitimate role in Afghanistan, say strategic experts.
During the two-day informal summit between Prime Minister Narendra Modi and President Xi Jinping in Wuhan which concluded on April 28, India and China agreed for the first time to implement a joint economic project in war-torn Afghanistan. Indian and Chinese officials will identify the project and work out the modalities of cooperation.
The two Asian powers had earlier discussed possible cooperation in third countries and as early as in 2010 when officials from the two countries exchanged views on possible infrastructure projects in Afghanistan. But the discussions which were subsequently sidelined got a major boost at the summit where Modi and Xi talked cooperation in a third country.
"There will be more China-India projects in the region in the pipeline, some of which will involve a third party," Vice Foreign Minister Kong Xuanyou told a media briefing at the end of the summit. Separately, an Indian official said the project will be in Afghanistan.
The decision will have a bearing on the region and on Afghanistan's role as a "roundabout" of cooperation in Asia, said Barnett Rubin, Senior Fellow at Center on International Cooperation and former advisor to US State Department and Afghanistan UN mission.
"This agreement constitutes recognition of Afghanistan's efforts to become a "roundabout" of Asian cooperation — it is exactly what the government has been working for. It also constitutes an implicit rebuke to both the U.S. and Pakistan," Rubin said.
He added: "The Trump administration has tried to portray Asia as the scene of a new cold war between China with the Belt and Road Initiative and the so-called 'Indo-Pacific' led by the US and India. This agreement showcases the Chinese position that cooperation should prevail over competition, while the
Trump National Security Strategy emphasises the primacy of competition," Rubin said.
Chinese academics agreed, saying it opens up opportunities for India and China to engage in other countries.
"It is a good start. More joint projects should be in their shared neighborhood such as Nepal, Sri Lanka, Myanmar and other ASEAN countries. Africa is also a region of full of possibilities," said Lili, south Asian scholar at the Institute for International Relations at Beijing's Tsinghua University.
"It is worthwhile to have such kind of cooperation in Afghanistan. There are so many areas we can cooperate like in infrastructure and mining," said Hu Shisheng, director of the Institute of South and Southeast Asian and Oceania Studies in Beijing.
The Sino-Indian agreement is expected to rile Pakistan which has consistently tried to exclude India from a region it considers as its strategic area of influence.
Although the Chinese scholars were reluctant to comment on how Pakistan will react to the Modi-Xi decision, Rubin was clear about the message it has sent out.
Full report at:
https://www.hindustantimes.com/india-news/sino-indian-project-in-afghanistan-signals-cooperation-message-to-pakistan/story-PWe0Ovcx4AHk9EVOKzlldK.html
--------
BJP MP Sees Red Over Jinnah Portrait in Aligarh Muslim University, Writes to V-C
May 1, 2018
New Delhi: Objecting to a portrait of Muhammad Ali Jinnah in the Students' Union Office at Aligarh Muslim University, BJP MP Satish Gautam has written to the Vice-Chancellor demanding that the portrait be taken down.
"It is fine if Jinnah has been revered in Pakistan after Partition. But his portrait should not be put up here in India," said Aligarh MP Gautam, who also plans to speak to V-C Tariq Mansoor about it. "The university should instead celebrate the contributions of Raja Mahendra Pratap and Sir Syyed Ahmed who played a crucial role in establishing the university," he added.
The portrait was installed in 1938 before Partition, at the peak of Muslim League campaign for a separate nation for the Muslims of India.
AMU Students' Union, however, claims that Jinnah, like many other pre-Partition leaders, were conferred honorary membership of the university and as such their portraits have been installed in the campus since 1920.
"Jinnah's portrait was installed when he was conferred life membership (of the Students' Union) in 1938. AMU has many things from the pre-Partition era like the Victoria Gate. Should that be brought down as well?" asked former AMU Students' Union president Faizul Hasan.
AMU administration also maintains that AMU Students' Union is an autonomous body.
Full report at:
https://www.news18.com/news/india/bjp-mp-sees-red-over-jinnah-portrait-in-aligarh-muslim-university-writes-to-v-c-1734557.html
--------
Two Hizbul Mujahideen terrorists killed in Pulwama
M Saleem Pandit
Apr 30, 2018
SRINAGAR: Security forces gunned down two Hizbul Mujahideen terrorists on Monday morning in an encounter at Drabgam in Pulwama district of south Kashmir. A teenager, among the stone-pelting mob that tried to rescue the terrorists, was also killed in the firing.
The slain terrorists were identified as Sameer Ahmad Bhat of Drubgam and Aqib Ahmad Khan of Rajpora. Bhat, locally known as Sameer Tiger was one of the most wanted terrorists in Kashmir. He was a stone-pelter before he joined the terror group Hizbul Mujahideen. He was allowed entry in the outfit after he snatched a service rifle from a police constable few years ago, police sources said.
As soon as the news about the counter-insurgency operation spread, villagers of Drubgam and Rajpora reached the site of the gunfight and started pelting stones on the forces to scare them away. The police and paramilitary forces used tear smoke shells, pellet guns and fired some aerial shots to disperse them.
The clashes resulted in the killing of one of the stone-pelters, Shahid Ashraf Dar of Arihal village while eight others sustained injuries. Hit by a bullet, 18-year-old Shahid was shifted to district hospital where doctors declared him dead on arrival. Medical Superintendent Pulwama hospital, Abdul Rashid Parra said the youth had received serious firearm injury.
An army major and a soldier of 44 RR were injured in the initial exchange of fire with the holed-up terrorists. The injured were shifted to 92 base military hospital in Badami Bagh Srinagar, SSP Pulwama Aslam Chaudhary said. The house in which the terrorists were hiding was also damaged in the encounter.
Full report at:
https://timesofindia.indiatimes.com/india/two-hizbul-mujahideen-terrorists-killed-in-pulwama/articleshow/63978025.cms
--------
Extremists cannot terrorise Kashmir's youths: Amit Shah
Apr 30, 2018
NEW DELHI: BJP chief Amit Shah on Monday voiced anguish over an attack on party worker Zubair Ahmad Parray in Srinagar and asserted that extremists cannot terrorise Kashmir's youth with such brutality.
"Anguished to learn about the attack on Zubair Ahmad Parray, our mandal vice-president, in Batmaloo, Srinagar by terrorists. I along with crores of BJP karyakaratas pray for his early recovery," Shah said in a tweet.
"These extremists can not terrorise the youth of valley with such brutality. Each and every karyakarta of the BJP stands with the Jammu and Kashmir BJP to ensure lasting peace in the valley," he added.
Full report at:
https://timesofindia.indiatimes.com/india/extremists-cannot-terrorise-kashmirs-youths-amit-shah/articleshow/63977639.cms
--------
Militants kill 3 youths in Baramulla: cops
by Mir Ehsan
May 1, 2018
Unidentified gunmen shot dead three youths in old town Baramulla on Monday. Police blamed militants for the killings.
Locals said the three youths were sitting outside a shop at Iqbal Market in Kaker Hamam locality when three gunmen shot them at point-blank range. The police identified the three youths as Asif Ahmad Sheikh, Haseeb Ahmad Khan and Mohmmad Asgar, all residents of Kakar Hamam.
Baramulla SSP Imtiyaz Hussain said that attack was carried out by militants active in the town. "As per our reports, two local militants and a Pakistani militant were responsible for these killings. We have taken up investigation," he said.
He said preliminary investigation reveal that the militants belong to Lashkar-e-Taiba.
Soon after the attack, the Army and police launched a cordon-and-search operation in the area.
Abdul Qayoom, a local resident, said, "The youths who were killed were from our locality. We don't know why they were killed."
National Conference leader Omar Abdullah tweeted, "3 civilians have been murdered by terrorists in Baramulla just now. I'd like to see the separatist leaders issue the sort of condemnation they usually reserve for when civilians are killed by security forces."
Full report at:
http://indianexpress.com/article/india/militants-kill-3-youths-in-baramulla-cops-5157874/
--------
Saudi DNA tests confirm 2016 Jeddah bomber was Indian
by Rashmi Rajput
May 1, 2018
Saudi Arabia has confirmed on the basis of DNA tests that the bomber who blew himself up outside the US Consulate in the western Saudi coastal city of Jeddah two years ago in a foiled suicide attack was Fayaz Kagzi, an Indian national and alleged operative of the Lashkar-e-Toiba, a senior security official told The Indian Express.
"We have received confirmation from Saudi Arabian authorities that the DNA samples of Kagzi sent by us last year have matched those of the Jeddah bomber," said the official.
The Jeddah blast on July 4, 2016, which injured two security officers, was the first of three attacks to hit the kingdom that day. The other two were also in the form of blasts near a Shia mosque in Qatif and outside the Masjid-i-Nabvi in Medina.
According to sources, the National Investigation Agency has informed an NIA special court in Delhi that Kagzi, who is wanted in terror-linked cases, is dead.
Investigators believe that Kagzi, from Beed in Maharashtra, was the "mastermind" and "financier" of two blasts in Pune — at the German Bakery in 2010 and on J M Road in 2012.
Sources said Kagzi was also a "wanted accused" in the 2006 Aurangabad arms haul case in which the alleged handler of the 26/11 Mumbai attacks, Zabiuddin Ansari alias Abu Jundal, is facing trial. Kagzi is also on the CBI's wanted list with Interpol.
Kagzi was not an accused in the 26/11 case but is believed by investigators to have taught Hindi to the ten terrorists who carried out the attack, including executed Pakistani national, Ajmal Kasab.
After photographs of the Jeddah bomber bearing a close resemblance to Kagzi were released by Saudi Arabia, Maharashtra's Anti Terrorism Squad (ATS) and NIA sought to verify if he was the man on their radar. Kagzi's DNA profile was sent to Saudi Arabia last August.
According to security officers, Kagzi fled to Pakistan via Bangladesh in 2006 along with Jundal and shifted his base to Saudi Arabia to oversee the recruitment of Indian nationals to LeT. He is believed to have returned to Pakistan briefly before going back to Saudi Arabia.
Full report at:
http://indianexpress.com/article/india/saudi-dna-tests-confirm-2016-jeddah-bomber-was-indian-fayaz-kagzi-medina-blasts-lashkar-e-toiba-5157858/
--------
Mideast
Ankara to Give Afrin's Control to Al-Nusra Militants
Apr 30, 2018
The Turkish officials have held several meetings with commanders of the Al-Nusra-affiliated Faylaq al-Rahman on Afrin region in the past 10 days to hand over the police command of the region to Faylaq al-Rahman militants, the London-based pro-opposition Syrian Observatory for Human Rights (SOHR) reported.
It noted that the Turkish officials have accurate intelligence about those who have entered Afrin, specially from Eastern Ghouta.
This is while Ankara has sent over 700 family members of Faylaq al-Rahman together with tens of their commanders who had left Eastern Ghouta to settle in Afrin after. The Ankara's move came after it forced hundreds of civilians to leave Afrin.
In a relevant development on Sunday, the Turkish army and Ankara-backed militants in Afrin region in Aleppo province detained a large number of civilians and asked for a large amount of money to free them.
The Kurdish-language Hawar news reported on Sunday that the Turkish forces have detained 20 civilians, most of them Izadis, in the village of Qatmeh in Shara region in Afrin.
It added that they also tortured the detainees and loot their properties.
Hawar news reported that the Turkish army and militants have asked $2,500 to $5,000 to free any of their hostages.
In a relevant development, the London-based pro-opposition Syrian Observatory for Human Rights (SOHR) reported on Monday that the Ankara-backed Free Syrian Army (FSA) had started blackmailing civilians and looting their assets in Afrin region in Northwestern Aleppo amid reports on the Turkish Army's move in replacing locals in Afrin with Eastern Ghouta terrorists.
The SOHR said that the FSA militants have started stealing and looting properties and assets of local people that are still in Afrin region, adding that the FSA also is seizing assets of people that have left the region after the start of Operation Olive Branch.
The SOHR further said that the FSA has also embarked on accusing young people and men of fake crimes to detain and torture them.
It went on to say that the FSA later called for a hefty amount of money as ransom to free the detainees.
The FSA has also embarked on expelling several families in Shera region in Northeastern Afrin, accusing them of affiliation with Kurdish fighters, the SOHR said, adding that the FSA is settling Eastern Ghouta terrorists in Afrin region after expelling the locals.
http://en.farsnews.com/newstext.aspx?nn=13970210001523
--------
Turkish official urges world to recognize Palestine
30.04.2018
Turkey is ready to do its part to resolve the ongoing question of Palestine, according to Ahmet Aydin, deputy speaker of Turkey's parliament.
Speaking in Ramallah, where the Palestine National Council resumed its activities Monday, Aydin described U.S. President Donald Trump's decision to recognize Jerusalem as Israel's capital as a "violation of both international law and the global conscience".
He also accused the U.S. administration of harboring a "pro-Israel" bias and failing to represent a neutral mediator.
"We must insist on establishing a free, sovereign Palestinian state based on 1967 borders with Jerusalem as its capital -- this is the only viable way to achieve peace," Aydin asserted.
Citing recent proposals by Palestinian President Mahmoud Abbas to establish an "international platform" for promoting the Middle East peace process, he added: "Turkey is ready to do its part."
A total of 137 countries had recognized Palestine so far, Aydin said, "but this isn't enough".
"I ask those countries that have yet to recognize Palestine: 'If not now, when?' It's time the Palestinian state was acknowledged," he said.
Referring to recent reductions of U.S. aid to the Palestinian Authority, Aydin insisted that Turkey would continue to provide the Palestinians with financial support.
According to Aydin, Turkey plans to contribute $10 million to the United Nations Relief and Works Agency for Palestine Refugees (UNRWA) while Turkish President Recep Tayyip Erdogan will soon receive the UNRWA commissioner-general to discuss means of stepping up Turkish assistance to Palestine.
He also noted that East Jerusalem had been recognized as the Palestinian capital during a recent summit of the Organization of Islamic Cooperation held in Istanbul.
Jerusalem remains at the heart of the decades-long Middle East conflict, with Palestinians hoping that East Jerusalem -- occupied by Israel since 1967 -- might eventually serve as capital of an independent Palestinian state.
Full report at:
https://aa.com.tr/en/todays-headlines/turkish-official-urges-world-to-recognize-palestine/1131798
--------
Netanyahu says has proof of Iran nuclear weapons program
30 April 2018
Prime Minister Benjamin Netanyahu said Monday he had new "proof" of a secret Iranian nuclear weapons programme, as the US considers whether to quit a landmark atomic accord that Israel opposes.
The Israeli premier, who has repeatedly called for the accord between world powers and his country's main enemy Iran to either be altered or scrapped, gave a presentation live on television including videos and slides allegedly exposing Iran's nuclear dossier.
He said Israel had obtained tens of thousands of files "a few weeks ago in a great intelligence achievement".
"Tonight we're going to reveal new and conclusive proof of the secret nuclear weapons programme that Iran has been hiding for years from the international community in its secret atomic archive," Netanyahu said.
"We're going to show you Iran's secret nuclear files."
Netanyahu alleged Iran's leaders repeatedly lied about their nuclear ambitions.
He claims the 2015 Iran nuclear agreement does not prevent Tehran from eventually obtaining nuclear weapons and says the lifting of sanctions has increased Tehran's ability to finance proxy militants in the Middle East.
Netanyahu also wants to see curbs on Iran's missile programme.
US President Donald Trump has a May 12 deadline to decide on whether or not to walk away from the deal, which he has derided as "insane" partly because its restrictions on Iran's nuclear activities begin expiring in 2025.
Full report at:
https://english.alarabiya.net/en/News/middle-east/2018/04/30/Netanyahu-says-has-proof-of-Iran-nuclear-weapons-program.html
--------
Abbas: Palestinians cannot accept US 'peace' plan, mediation
May 1, 2018
The Palestinian president has once again rejected the so-called peace plan to be unveiled by US President Donald Trump on the conflict with Israel, saying Palestinians will not accept anything other than a state with Jerusalem al-Quds as its capital.
Addressing the opening session of the four-day meeting of the Palestinian National Council (PNC) in Ramallah on Monday, Mahmoud Abbas censured Trump's recognition of Jerusalem al-Quds as Israel's "capital" and said Palestinians believe the US can no longer be the sole mediator in the decades-long conflict with Israel due to its pro-Tel Aviv bias.
Trump's plan, the Palestinian leader added, is "an end to the peace process in the Middle East."
Abbas reiterated that there will be no peace between Israelis and Palestinians without Jerusalem al-Quds as the capital of the future State of Palestine.
"If Washington wants to provide something, it must say it is with the choice of the two-state solution and [that] East Jerusalem [al-Quds] is the capital of the independent State of Palestine. Anything different from this, we won't accept," Abbas said.
He further said "there will be no Palestinian state without the Gaza Strip and there will be no state in Gaza only."
Abbas also ruled out any project to establish a Palestinian state with temporary borders, saying it was a "liquidation" of the Palestinian cause.
On December 6, Trump announced that Washington recognizes Jerusalem al-Quds as the "capital" of Israel and would relocate the US embassy in Israel from Tel Aviv to the occupied city.
The dramatic shift in Washington's policy vis-à-vis the city triggered demonstrations in the occupied Palestinian territories and elsewhere in the world.
Following Trump's announcement, Abbas declared that the US could no longer serve as a peace broker, and has since been working to create an international mechanism to guide the so-called Middle East peace process.
Abbas also said back then that what Trump calls the "deal of the century" insults Palestinians and has in fact turned into the "slap of the century."
On December 21, the United Nations General Assembly also voiced support for Palestinians and overwhelmingly voted in favor of a resolution that calls on the US to withdraw its controversial declaration on Jerusalem al-Quds.
The last round of Israeli-Palestinian talks collapsed in 2014. Among the major sticking points in those negotiations was Israel's continued settlement expansion on occupied Palestinian territories.
Multiple White House officials have recently said the Trump administration is finalizing his proposal to resolve the Israeli-Palestinian conflict.
Israel occupied East Jerusalem al-Quds during the Six-Day War in 1967 and later annexed it in a move not recognized by the international community.
Elsewhere in his remarks, Abbas stressed that Palestinians would continue their efforts to join international agencies and treaties and to obtain full membership at the United Nations in a bid to gain international protection for the nation.
In November 2012, the UN General Assembly voted to upgrade Palestine's status from "non-member observer entity" to "non-member observer state" despite strong opposition from Israel.
Palestine's flag was also hoisted for the first time at the UN Headquarters in New York in September 2015.
The Palestinian president further slammed Israel's illegal settlement activities in the occupied territories, calling for an end to the occupation of Israel in accordance with the Arab Peace Initiative, which envisions a two-state solution to the conflict.
Full report at:
http://www.presstv.com/Detail/2018/05/01/560245/Palestine-President-Mahmoud-Abbas-US-President-Trump-Israel-Jerusalem-alQuds
--------
Israel repeals Jerusalem al-Quds residency of Palestinian lawmakers, ex-minister
Apr 30, 2018
Israeli authorities have revoked the permanent residency status of residencies of three members of the Palestinian Legislative Council and a former Palestinian minister in the occupied Jerusalem al-Quds.
Khaled Abu Arafa, former Minister of Jerusalem Affairs, said on Monday that his lawyer had been informed by officials from Israel's Interior Ministry that his residency permit had been repealed along with those of Palestinian legislators Mohamed Abu-Teir, Ahmad Attoun and Mohamed Totah over affiliation to the Islamic resistance movement, Hamas.
On March 7, the Israeli Knesset (parliament) passed a law that enables Interior Minister Aryeh Deri to revoke the permanent residency status of any Palestinian in Jerusalem al-Quds on grounds of "breach of loyalty" to the Tel Aviv regime.
Hanan Ashrawi, a member of the Palestine Liberation Organization (PLO)'s Executive Committee slammed the law at the time and described it as "extremely racist piece of legislation."
"By unethically stripping the residency of Palestinians from Jerusalem al-Quds and depriving the rights of those Palestinians to remain in their own city, the Israeli regime is acting in defiance of international law and is violating international human rights and humanitarian laws," she commented.
The Palestinian rights group Adalah stressed that the law is illegal under international humanitarian law.
"East Jerusalem is considered occupied territory under international humanitarian law (IHL) - like all other areas of the West Bank and the Gaza Strip - and its Palestinian residents are a protected civilian population. It is therefore illegal under IHL to impose upon them an obligation of loyalty to the occupying power, let alone to deny them the permanent residency status on this basis," the group said in a statement.
Full report at:
http://www.presstv.com/Detail/2018/04/30/560215/Israel-repeals-Jerusalem-alQuds-residency-of-Palestinian-lawmakers-exminister
--------
US says Israel's files on Iran nuclear program are 'new and authentic'
1 May 2018
US Secretary of State Mike Pompeo, until last week director of the CIA, said Monday that Israel's newly released package of intelligence on an Iranian nuclear weapons program was authentic and much of it was new to US experts.
Pompeo met Israel's Prime Minister Benjamin Netanyahu on Sunday at Israeli military headquarters and was briefed on the material, which was released as Washington's new top diplomat flew home.
"We've known about this material for a while and we certainly discussed this material yesterday when we were together," Pompeo told reporters on his plane.
"It's been something that's been in the works for a while. I know that there are people talking about these documents not being authentic. I can confirm with you, for you, that these documents are real, they are authentic."
Asked whether the United States had been aware for many years that Iran had a secret nuclear weapons program -- dubbed Project Amad -- before 2004, Pompeo said: "That's partly true. The existence of the Amad program ended roughly in December 2003, January 2004.
"It's accurate to say that the knowledge of that, the fact of that, has been known for quite some time, but there are thousands of new documents and new information," the top US diplomat added.
"We're still going through it, there's still a lot of work to do to figure out the scope and scale of it, but it is the case that there is new information about that program."
Supporters of the 2015 Iran nuclear deal, which President Donald Trump is expected to pull the US out from on May 12, have argued that Netanyahu's intelligence release deals simply with a historic Iranian program and does not prove they are in breach of the 2015 accord.
But Pompeo argued that it has some value in the current debate.
"This will, I think, spell out the scope and scale of the program that they undertook there, and I think that it makes clear that at the very least the Iranians have continued to lie to their own people," he told reporters.
"The Iranians have consistently taken the position that they've never had a program like this. This will belie any notion that there wasn't a program."
Full report at:
https://english.alarabiya.net/en/News/middle-east/2018/05/01/Israel-s-files-on-Iran-nuclear-program-are-real-Pompeo-says.html
--------
Washington 'fully supportive' of Israeli soldiers against Palestinians in Gaza: Pompeo
Apr 30, 2018
US Secretary of State Mike Pompeo claims that the Israeli regime has the "right to defend" itself against Palestinian protesters, as dozens of Palestinian demonstrators have so far lost their lives in the besieged Gaza Strip in recent weeks, stressing that Washington is "fully supportive" of what Tel Aviv does against the people of Palestine.
"We do believe the Israelis have the right to defend themselves, and we're fully supportive of that," said the newly-appointed American top diplomat in a joint press conference with his Jordanian counterpart Ayman Safadi in capital Amman on Monday, as he wrapped up his four-day, four-nation tour through the Middle East.
Pompeo, the former CIA director who headed overseas almost immediately after he was sworn in on Thursday, even declined to make a slight criticism against the Israeli military for its use of live fire against Palestinian protesters in the blockaded sliver in the past few weeks.
Protesting rallies along the Gaza border since March 30 have led to clashes with Israeli forces in which some 50 Palestinians have so far been killed by the Israeli gunfire and hundreds of others sustained injuries.
The Palestinian rally will last until May 15, which coincides with the 70th anniversary of Nakba Day (Day of Catastrophe) on which Israel was created.
Every year on May 15, Palestinians all over the world hold rallies to commemorate Nakba Day, which also marks the anniversary of the forcible eviction of hundreds of thousands of Palestinians from their homeland by the occupying regime in 1948.
Since 1948, the Israeli regime has denied Palestinian refugees the right to return, despite UN resolutions and international law that upholds people's right to return to their homelands.
Elsewhere in his remarks, Pompeo even refused to fully support the two-state solution for the Israeli-Palestinian conflict, the longtime policy of the White House before the US President Donald Trump's administration.
"With respect to the two-state solution, the parties will ultimately make the decision about what the right resolution is," he said, adding, "We're certainly open to a two-party solution as a likely outcome. We certainly believe the Israelis and Palestinians need to have political engagement. We urge the Palestinians to return to that political dialogue."
Pompeo's comments came just a day after he met with the Israeli Prime Minister Benjamin Netanyahu in Israel. The American top diplomat, however, did not meet Palestinian leaders or representatives, who have cut off political contact with the Trump administration over the relocation of the US Embassy in the occupied territories.
Back in December last year, Trump announced that Washington was recognizing Jerusalem al-Quds, both its eastern and western part, as Israel's "capital." The announcement was a major shift by Washington that overturns decades of US foreign policy. His decision was mostly aimed at pleasing his main supporters - Republican conservatives and evangelical Christian Zionists who comprise an important share of his voter base.
The highly controversial decision also infuriated Palestinians, who regards the East Jerusalem al-Quds, which hosts the third holiest Muslim site, as the capital of a future state.
Pompeo made his Middle East tour just two weeks prior the planned May 14 opening of the new US Embassy in Jerusalem al-Quds, which certainly draws massive Palestinian demonstrations.
Israel occupied the West Bank, East Jerusalem al-Quds and parts of Syria's Golan Heights during the Six-Day War in 1967. It later annexed East Jerusalem al-Quds in a move not recognized by the international community.
Full report at:
http://www.presstv.com/Detail/2018/04/30/560195/Palestine-US-Israel-Pompeo-Gaza-embassy-Jordan-Trump-Netanyahu
--------
Coalition raids target Houthi operations room in Yemen's Al-Baydah
May 01, 2018
DUBAI: Arab coalition fighters launched air strikes against Iran-backed Houthi militia positions in Yemen's central province of Al-Baydah, Saudi state-news channel Al-Ekhbariya reported.
The sources confirmed in a statement on the Yemeni Ministry of Defense's official site "September 26", that the coalition fighters launched two air raids on Tuesday, targeting the Houthi leadership positions in the region.
The sources confirmed the site was the militia's operations room where it manages the movement of militants.
http://www.arabnews.com/node/1294491/middle-east
--------
Pakistan
Hazaras on hunger strike in Quetta want assurance of security, justice from Gen Bajwa
April 30, 2018
The hunger strike being carried out by the members of persecuted Hazara community in Quetta to bring attention towards the killing of Hazaras in the city entered its third day on Monday.
Lawyer and activist Jalila Haider, who is leading the hunger strike camp set up outside Quetta press club, said on Monday that she will continue the strike until the army chief visits the city and details concrete steps to bring the killers to justice and protect the religious minority.
Haider says Gen Qamar Bajwa should come and console the thousands of widows and orphaned children left by the killing of Hazaras in Pakistan over the past two decades.
In recent months, at least 30 Hazaras have been gunned down in Quetta, however, police have still not arrested any suspect.
Know more: The exodus of Quetta's Hazaras
The protest against the unabated killings of Hazaras started on Saturday following the targetted killing of two members of their community.
The protesters have repeatedly criticised law enforcement and security agencies for their inaction and failure in preventing Hazaras from being murdered with impunity.
Sectarian terrorism in Balochistan has disproportionately targeted people from the predominantly Shia Hazara community, easily identifiable because of their distinct physical attributes.
A report by the National Commission of Human Rights (NCHR) released last month stated that 509 Hazaras were killed in various incidents of terrorism in Quetta in the last five years.
Narrating heartbreaking details about the plight of Hazara community, NCHR official Fazeela Alyani said, "All these precious lives were lost only in Quetta city."
However, the regional head of Hazara Democratic Party (HDP) places the figure much higher than what was being quoted by NCHR.
"More than 200 Hazaras were killed only in two suicide attacks in this period," Bostan Ali Kishmand said.
Targeted killings, suicide attacks, and bomb blasts have inflicted harm to daily life, education, and business activities of ethnic Hazara community members in Quetta, read the NCHR report.
https://www.dawn.com/news/1404828/hazaras-on-hunger-strike-in-quetta-want-assurance-of-security-justice-from-gen-bajwa
--------
Mainstreaming of Fata must for its development: PM
May 01, 2018
MIRAMSHAH: Terming the mainstreaming of the Federally Administered Tribal Areas (Fata) a must for its long-term progress and prosperity, Prime Minister Shahid Khaqan Abbasi said on Monday that the government was working to achieve the task in line with the aspirations of tribal people.
Mr Abbasi along with Chief of the Army Staff Gen Qamar Javed Bajwa visited Miramshah and Ghulam Khan areas of North Waziristan Agency.
Addressing a tribal jirga in Miramshah, the prime minister said that the government and all political parties were serious about mainstreaming of the tribal areas and in this regard the process was under way.
After his arrival in Miramshah, the prime minister laid a wreath at the Shuhada monument and offered Fateha for those who sacrificed their lives for the restoration of peace and stability to tribal areas.
Before Mr Abbasi, former prime minister Mian Nawaz Sharif had twice visited North Waziristan during his stint as prime minister after the 2013 general elections.
PM Abbasi inaugurated the newly constructed Miramshah Market Complex. Built by Pakistan Army engineers the market has 1,344 shops, parks, car parking area, solar lights, driveways and water supply network.
The prime minister also inaugurated Ghulam Khan Trade Ter­minal, North Waziristan Agency, as part of Central Trade Corridor.
The new trade terminal and communication infrastructure in tribal areas will connect this market complex with the China-Pakistan Economic Corridor.
The prime minister told the jirga that Miramshah was gateway to Central Asia and had great significance as far as trade is concerned. He said that people of this area should also have resources like people enjoying in Lahore and other developed parts of the country.
Mr Abbasi said that these socio-economic projects were just beginning and many more such projects for Fata were in the pipeline.
He said the rehabilitation of displaced people and socio-economic uplift of Fata was priority of the government.
He lauded tribesmen for their unwavering support in the fight against terrorism.
On the occasion, elders of Utmanzai Wazir tribe requested the prime minister to fulfil commitments the government made with the tribal people affected due to Zarb-i-Azb military operation.
They said compensation should be paid to affected shopkeepers, traders and people whose houses were damaged during the operation.
Full report at:
https://www.dawn.com/news/1404831/mainstreaming-of-fata-must-for-its-development-pm
--------
Swat minorities seek worship, burial places
May 01, 2018
MINGORA: The members of minority communities here on Monday demanded of the government to provide worship and burial places to them.
The members of Sikh, Hindu and Christian communities told local journalists during a meeting that they faced difficulties in worship and it was responsibility of the government to issue funds for provision of worship and burial places to them.
The meeting was organised by Journalists for Democracy and Human Rights (JDHR).
"Luckily, we live a good and content life in Swat with Muslims. We have never realised any type of mistreatment but we face some issues regarding food and worship when we go out of our town," said Prof Radi Sham, a member of Sikh community in Mingora.
He said that they also faced problems in worship as they could not find any gurdwara.
"There must be a chapter about Sikh religion in the textbooks," he added.
Prof Radi Sham said that religious scholars should educate people about the rights of minorities in Islam during the Friday's prayers for religious harmony.
"Our children also face problems in wearing traditional dresses and eating foods during celebrations and functions in schools. I want the education department to find solution to the issue," said Dasonti Ram, a resident of Mingora. He said that more than 300 Sikh families were living in Swat.
Chandar Subash, another member of the Sikh community, who is also a councillor, said that equal funds should be provided to the representatives of minorities.
"Minorities must be included in Benazir Income Support Programme and also issue Sehat Insaf cards to them. The government should construct community halls for the non-Muslim communities," he said.
The members of Christian community also demanded of the government to provide them with churches in Swat.
"Over 70 Christian families live here but they do not have church. I have personally talked to several officials and elected representatives in this regard but nobody paid heed," said Father Samuel Gill, who lives in Mingora.
He said that there was no graveyard for Christians in Swat and they took the bodies of their relatives to Peshawar, Rawalpindi and other cities for burial. He appealed to the government to allot a piece of land to them for a graveyard.
JDHR executive director Khalid Jamil asked the local journalists to promote religious harmony, tolerance and brotherhood through their reporting.
Assistant Commissioner Hamid Khan Buneri said that Muslim and non-Muslim communities in Swat should be engaged in social activities to promote interfaith harmony.
Full report at:
https://www.dawn.com/news/1404943/swat-minorities-seek-worship-burial-places
--------
Political parties should also vow to protect human rights: Farhatullah Babar
MAY 1, 2018
ISLAMABAD: As the elections near and parties make commitments in their manifestos, they should also evolve an agreed common charter of human rights underlying protection of most basic fundamental rights where freedom of expression should be the foremost in it.
Until now, freedom of expression had come under attack from visible state and non-state actors but now it has come under attack from invisible and secret manipulators. This was stated by former Senator Farhatullah Babar while speaking at a consultation organised by the Human Rights Commission of Pakistan in Islamabad.
Freedom of expression is fundamental as without it, the entire regime of human rights be it the right to life, right to fair trial, right to information and right of association is threatened and gravely undermined, he said. These invisible manipulators were stifling freedom of expression by arm twisting media outlets, black out of dissenting voices like that of Pashtun Tahafuz Movement (PTM) and proscribing media content without recourse to law and bypassing the legal mechanisms provided for the purpose under the law, he said adding, "this unlawful manipulation of media content is the most serious and potent threat to freedom of expression".
He said that the appearance of media freedom was an optical illusion that was sustained by the politicians fighting among themselves before full view of the public while any meaningful discussion on state narratives was not allowed.
Elaborating, he said that the media refrained from showing footage of Mullah Mansoor Akhtar droned in Balochistan which was available until after former US President Barack Obama and the Taliban announced it.
No meaningful discussion takes place in the media on the Guantanamo Bay like prisons in tribal areas officially known as internment centres, or missing persons, negotiations with Khadim Hussain Rizvi leading to surrender by the civilian government society, the voice raised by the PTM and the like. Even discussions in the parliament have been stifled, he said.
When the reported allotment of 90 acres of land to a former Army chief was raised in the parliament, an Inter Servies Public Relations press release warned against what it described as maligning the Army and creating misunderstandings between state institution. The matter has never been discussed in talk shows
There is no discussion on the mainstreaming of militant outfits, the emergence of Milli Muslim League, the declaration by Jamatud Dawa to enter into electoral politics and parading on media, Taliban spokesman Ehsanullah Ehsan the self confessed murderer of APS Peshawar as a sort of white washed hero.
He said that the civil society could play a crucial role in defending human rights only if there was freedom of expression, of association and of peaceful assembly. However their space and that of human rights defenders was shrinking.
He said that political parties may identify human rights issues and also make promises to address them. It will be hard to implement as long as there was a de-facto state overriding the de-jure state.
Full report at:
https://dailytimes.com.pk/234426/political-parties-should-also-vow-to-protect-human-rights-farhatullah-babar/
--------
JUI-S in talks with PTI for seat adjustment
May 01, 2018
MULTAN-Central leader of JUI-S Maulana Ajmal Qadri disclosed on Monday that talks are underway between his party and PTI for seat to seat adjustment.
Talking to the media here, he said that his party would do seat adjustment with the PTI across the country. He asserted that it is writing on the wall that Imran Khan would come to power. "Even if the establishment desires or not, he is coming," he asserted. He said that the 11 points presented by Imran Khan before the nation during his Minar-e-Pakistan procession are the same presented by the leaders of JUI-S in 1970.
He criticized Nawaz Sharif and said that he did not give any importance to the parliament. "If he had given importance to the parliament, he would not have been saying today as to why "he was expelled," he maintained. He said that those giving projection to Nawaz Sharif could not be the representatives of religious powers. He said that the JUI-S is not in favour of taking politics out of approach of the common man. He said that Imran Khan spent billions of rupees on public meetings and processions while the country needs the politics of balance.
He said that today entire nation is in a state of confusion that whether or not elections would take place on time. "We are making efforts to get the elections held on time. No power can keep itself away from elections. Those who blame establishment are, in fact, responsible for today's political situation," he stressed. He said that establishment did not want to make Bhutto or Benazir Prime Ministers but they became PMs. "Now whether the establishment wants or not, it is writing on the wall that Imran Khan is coming," he anticipated.
He supported idea of good relations with neighbours, saying "we need to improve our relations with India for trade and peace. He said that we had to make decisions and do trade while setting aside CPEC. He said that the nation would get good results if it makes good decisions. He also stressed the need for improving affairs with Afghanistan.
Commenting on revival of MMA, he said that although he could not call it Muttahidda Majlis-e-Bad Amal, yet he does not expect any good deeds from this alliance. He said that the JUI-S respected Imran Khan and hopes that he would give much better results than MMA. Answering a question on creation of Janoobi Punjab Sooba Mahaaz and defections from PML-N, he said that people would always leave sinking ships, adding that the PML-N is a big collection of disqualified people.
CALL FOR SHARING RESEARCH
WITH PUBLIC
The speakers at a seminar stressed on Monday the need for sharing the results of latest research with the general public, saying failure in doing so was tantamount to wasting resources spent on research.
The seminar was jointly organized by ORIC Bahauddin Zakariya University and Pakistan Technological and Scientific Information Centre Islamabad on "Communicating Science to Society" here at the campus.
Speaking on this occasion, Dr Wahid Naseem said that the motive behind scientific research was to transfer its benefits to the masses. He said that sharing the research and its results could make the people aware of scientific advancements in different fields besides presenting solutions to different problems being faced by the society.
Full report at:
https://nation.com.pk/01-May-2018/jui-s-in-talks-with-pti-for-seat-adjustment
--------
South Asia
'SCB plans to bring more Islamic liquidity to Bangladesh'
April 30, 2018
Standard Chartered Bank (SCB) wants to bring more Islamic liquidity into the market as the demand is increasing in Bangladesh as well as in the global markets, Rehan M Shaikh, CEO of Standard Chartered Saadiq, the global Islamic banking business of SCB, tells the Dhaka Tribune's Ibrahim Hossain Ovi in an interview
Why does SCB want to focus on Islamic banking in Bangladesh?
Islamic financing is growing alongside conventional banking. The growth has been quite encouraging in almost all key markets, which are in Asia Pacific and the Middle East. We are always encouraged by how the government and regulators are supporting the promotion of Islamic banking globally.
Why the focus on Islamic banking?
Because of the need. There are 1.8 billion Muslims around the world. The core markets we operate in are mostly Muslim-majority countries. So we realize that these markets are looking for Islamic financing opportunities and alternate products, rather than the conventional products.
We started the business because our customers in the core markets needed these products. Taking on that from the UAE, Dubai, Malaysia, Pakistan, and Bangladesh, we have seen that the demands for such products are increasing and the growth of these products all across these four markets has increased.
Similarly, a customer who walks into a branch feels that the bank is offering Islamic banking products which are on par with conventions but also satisfy their personal beliefs. So that is driving the Islamic banking.
The market also expanded from basic products on the retail side to sophisticated products in commercial and corporate banking and the financial market side.
Bangladesh is one of the key markets where the growth will continue to happen as banks like us and others are expanding in this area.
What are the challenges for Islamic banking in Bangladesh as well as in the global markets?
Bangladesh is no exception to the challenges we have globally. Human capital is one of the biggest challenges because the market is expanding in a way that not enough Islamic bankers are available. We are encouraged by fact that the universities have programmes and certification for Islamic experts.
The second challenge is standardization in terms of accounting standards and shariah standards, because there are different scholars working in different markets. They could be diverse in opinion.
As the industry is evolving, transactions are getting done, and products are being made, standardization is a very important aspect that needs to be addressed.
The third one I would say is liquidity. Liquidity management is an important aspect globally. It is important how Islamic liquidity gets attractive, how we invest it, and what the regulatory framework is. Another is awareness about the Islamic financing system.
Why would Bangladeshis choose Standard Chartered Bank over local banks?
We bring lots of commitment and credibility to our customers. The SCB is providing international standard products and services. In ensuring quality services, control and governance are very important. We are regulated by the global key entities around the world. It is very important how we conduct our business in the country. As an international bank, we have lots of experience.
Is Islamic banking only for Muslims?
Our products are for everybody. A customer has multiple needs and is not restricted by religious beliefs or ethnicity. It is open for everybody. A customer who wants to have Islamic facilities could come from any background.
I know someone who carries both a conventional credit card as well as our Saadiq credit card. He is a non-Muslim and he uses it as he feels it is much more convenient.
What is key to the success in Islamic banking?
One of the fundamental principles of Islamic banking is that it is not in any kind of speculation business. We do not do things that are speculative in nature. That is why uncertainty is not a part of our DNA for Islamic finance. The structure is less prone to adverse market conditions. Islamic banking typically on the corporate side is based on mostly assets based structure. So, you are financing the real economy.
Is SCB Shariah compliant?
The SCB has a global shariah board and we have three levels of boards. Experts of these shariah boards actually formulate policies and procedures for our products. All the products and services have to be compliant with these boards.
When it comes to Bangladesh, the regulator is still evolving its policies and procedures and also learning from other markets.
We work with the regulator and share our experience with them. Already, the regulator has done a fantastic job, that is why we are seeing lots of Islamic banks flourish.
What is your forecast about Islamic banking in Bangladesh?
I am encouraged by the commitment and how the market has evolved here. But future growth will depend on how the local banking sector and the economy channels this into more productive uses, as well as the level of support from the regulator.
The market is evolving and there is no reason why Islamic banking cannot be one of the shining stars.
Do you think people are choosing Islamic banking only due to religious beliefs?
Religious belief is an important part. But over the years the system and the products have become on par with conventional offerings, so now it is an alternate way of doing business or making profits.
There is Islamic liquidity out there. So lots of entities look for diversifying their borrowings and their banking needs. In this way the Islamic liquidity is coming into the system.
Since there is shortage of human resources in Islamic financing, do you have plans to train people here?
There is a natural training process happening in retailing. We do not sell products without educating our people adequately. They are fully trained in Islamic banking procedures.
But as a community responsibility, we go to schools and colleges to give orientations on Islamic banking not to professionals but to students.
What is the current market size of Islamic banking and the growth rate in Bangladesh?
Islamic banking has expanded three times from 2007 to 2017 in Bangladesh, with a Compound Annual Growth Rate (CAGR) of 11.6%. The Takaful sector has grown five times with a CAGR of 19.34% during this period.
Less than two to three percent of total banking is Islamic banking. The global market size is about $2 trillion and projected to grow to $3 trillion by 2020.
What about major Islamic investment in Bangladesh?
SCB has arranged a $32 million Diminishing Musharakah Facility for Noman Terry Towel Mills and Ismail Spinning Mills, two concerns of Noman Group.
This is the first Islamic syndication arranged by SCB Bangladesh. The facility will finance the company's capital expenditures and support its export growth.
https://www.dhakatribune.com/business/2018/04/30/scb-plans-bring-islamic-liquidity-bangladesh/
--------
10 journalists among 37 killed in Afghan attacks
May 01, 2018
KABUL: Ten journalists and 27 others were killed in attacks across Afghanistan on Monday, the deadliest day for the country's media since 2001.
A double suicide blast in Kabul killed 25 people, including nine journalists, in what Reporters Without Borders (RWB) said was the most lethal single attack on the media since the fall of the Taliban.
Editorial: Kabul bombing
The attack, claimed by the militant Islamic State (IS) group, was condemned by Pakistan, the United Nations and the European Union, and spurred an outpouring of grief among Afghan journalists, many of whom took to Twitter to post tributes to colleagues and friends.
Kabul police spokesman Hashmat Stanikzai said the second explosion came minutes after the first and targeted reporters at the scene.
"The bomber disguised himself as a journalist and detonated himself among the crowd," he said.
The interior ministry confirmed the number of deaths and said 49 people had been wounded amid fears the toll could rise.
AFP's (Agence France-Presse) chief photographer in Kabul, Shah Marai, was among the journalists killed.
BBC confirmed that one of its reporters, 29-year-old Ahmad Shah, was shot dead in a separate attack in eastern Khost province, near the border with Pakistan. The broadcaster did not immediately give further details.
Pakistan strongly condemned the twin suicide attacks in Kabul.
"We are distressed and grieved at the loss of precious lives in this dreadful terrorist attacks," the Foreign Office said in a statement.
"We express our deepest sympathies and heartfelt condolences to the families and friends of those who have lost their loved ones," it added.
The government and people of Pakistan expressed their support and solidarity with their Afghan brethren in this hour of grief, it said.
Pakistan reiterates its condemnation of terrorism in all its forms and manifestations and resolved to fight this menace till its elimination, the statement said.
"We are confident that the resolve of brave Afghan people to defeat terrorism cannot be weakened by such cowardly attacks," it added.
Kandahar bombing
In an attack in the southern province of Kandahar 11 children were killed and 16 people wounded, including foreign and Afghan security force members, when a suicide attacker exploded his car near a convoy, officials said.
There was no immediate claim of responsibility for that attack, which brought the total number of people killed across the country to 37.
The attacks highlight the dangers journalists face in the war-torn country, where violence is increasing as the resurgent Taliban step up their campaign while the IS makes inroads.
Journalists from Radio Free Europe and Afghan broadcasters ToloNews and 1TV, as well as others, were among those killed in Kabul, the RWB said.
"This tragedy reminds us of the danger that our teams continually face on the ground and the essential role journalists play for democracy," said Fabrice Fries, CEO of AFP.
Bloody summer
The IS, which has dramatically stepped up its attacks in Kabul in recent months, claimed responsibility via its propaganda agency Amaq.
The attacks come days after the Taliban began their spring offensive in an apparent rejection of calls for the militants to take up the Afghan government's offer of peace talks.
Reporters Without Borders said that since 2016 it has recorded the killings of 34 journalists in Afghanistan, which it ranks at 118 out of 180 countries on the Press Freedom Index.
Prior to Monday's blasts, the deadliest attack on the media in recent years was in 2016, when seven employees of popular TV channel Tolo were killed in a Taliban suicide bombing.
In November last year broadcaster Shamshad TV was stormed by gunmen who killed one person. The defiant station was back on the air within hours, a newscaster with bandaged hands reporting on the attack as its director vowed: "They cannot silence us".
"I've seen them work and trust me, the colleagues of the dead will be back to cover the next horrendous attack #pressfreedom", tweeted journalist Sune Engel Rasmussen on Monday, who formerly reported for the Guardian newspaper in Kabul, in response to Monday's blasts.
President Ashraf Ghani's government is under pressure on multiple fronts this year as it prepares to hold long-delayed legislative elections in October.
Full report at:
https://www.dawn.com/news/1404836/10-journalists-among-37-killed-in-afghan-attacks
--------
UN Security Council meet Suu Kyi over Rohingya
May 01, 2018
NAYPYIDAW - Myanmar's Aung San Suu Kyi received a UN Security Council delegation Monday in the highest-level diplomatic visit since the start of the Rohingya crisis, which will include a brief tour of violence-hit Rakhine state.
Suu Kyi , the de facto leader of mainly Buddhist Myanmar, has been pilloried overseas for her failure to speak up for the Muslim Rohingya or publicly condemn the army for driving them out of the country.
On Monday afternoon she chaired a meeting of 15 UN delegates, according to a Ministry of Information photograph, as the UN tries to put more pressure on Myanmar to allow refugees to return safely.
The UN delegates will travel by helicopter Tuesday over the scarred landscape of northern Rakhine state, the scene of an army campaign starting last August that drove around 700,000 of the minority into neighbouring Bangladesh. Their visit to Myanmar comes after an emotionally-charged stay in Bangladesh where Rohingya refugees told delegates of their trauma. As they left Bangladesh, delegates said they would press Myanmar to ensure the safe return of those who fled.
"This is a humanitarian crisis and a human rights issue," Kuwait's ambassador to the UN, Mansour al-Otaibi, told reporters before flying to Myanmar's capital Naypyidaw. The Rohingya fled after Myanmar's army carried out "clearance operations" which it says targeted militants. But civilians have given consistent testimony of mass murder, rape and arson after fleeing an army that burned hundreds of their villages to the ground. The envoys met Bangladesh Prime Minister Sheikh Hasina on Monday morning before leaving for Myanmar.
However, deputy Russian ambassador Dmitry Polyanskiy, whose country has supported Myanmar, warned on Sunday that the council did not have a "magic stick" solution.
"We are not looking away from this crisis, we are not closing our eyes," he said.
Bangladesh and Myanmar signed a repatriation agreement in November but no refugees have returned so far.
"We want restoration of our citizenship under Rohingya ethnicity. We want security and return of our confiscated land and properties," said Rohingya leader Mohibullah.
The Rohingya have been persecuted for decades in Myanmar, where they are widely regarded as illegal immigrants from Bangladesh and denied ctizenship.
Myanmar's military has kept Rakhine in a lockdown since August, blocking access to independent observers, journalists and many aid groups except on tightly-controlled chaperoned trips.
The UN Security Council has called for the safe return of the Rohingya and an end to discrimination against them but has not been able to access northern Rakhine until now.
Yangon-based independent analyst David Mathieson described the visit as "symbolically quite important" but doused hopes of any immediate diplomatic breakthrough.
Full report at:
https://nation.com.pk/01-May-2018/un-security-council-meet-suu-kyi-over-rohingya
--------
Bangladesh PM urges UNSC to press Myanmar on Rohingya repatriation
May 01, 2018
Bangladesh Prime Minister Sheikh Hasina asked the UN Security Council on Monday to press Myanmar to take back hundreds of thousands of Rohingya Muslims who fled a military crackdown to take refuge in her country. Security Council envoys visited Hasina in the Bangladeshi capital, Dhaka, before travelling to Myanmar for meetings with its government leader, Aung San Suu Kyi, and military Commander-in-Chief Min Aung Hlaing later on Monday.
"They should put more pressure on the Myanmar government so that they take their citizens back to their country. That's what we want," Hasina told reporters. The visit by the Security Council envoys, to see the aftermath of a military operation in Myanmar's western Rakhine State, puts a global spotlight on the crisis which the United Nations and others have denounced as ethnic cleansing of Rohingya Muslims. Myanmar denies the accusation, saying the military was engaged in a legitimate counter-insurgency operation. Rohingya insurgent attacks on security posts in Rakhine State in August last year sparked the crackdown that, according to the U.N. and rights groups, sent nearly 700,000 Rohingya fleeing to camps in neighbouring Bangladesh.
Hasina said the refugees should return "under U.N. supervision where security and safety should be ensured". "They want to go back to their own country. So the Security Council can play a very pivotal role," she added.When asked if U.N. supervision meant the deployment of peacekeepers, Hasina said: "Not exactly, well, that the U.N. will decide". Myanmar government spokesman Zaw Htay did not immediately respond to requests for comment. Social Welfare Minister Win Myat Aye, who is leading rehabilitation efforts in Rakhine, declined to comment.
Kuwait's U.N. Ambassador Mansour al-Otaibi, one of the envoys, told Hasina the Security Council wanted to "send a clear strong message ... that we're determined to end this humanitarian crisis". The envoys visited camps on Sunday, where distraught refugees pleaded for help ahead of the coming monsoon season. Many live in bamboo-and-plastic structures perched on hills in the southeast Bangladesh district of Cox's Bazar.
'DIFFICULTIES'
Myanmar and Bangladesh agreed in January to complete the voluntary repatriation of the refugees within two years but differences between the two sides remain and implementation of the plan has been slow. "We know there are difficulties in the talks between Bangladesh and Myanmar on the return of the refugees but it is important ... to create the appropriate conditions for the refugees to go back freely and voluntarily to their home of origin," said al-Otaibi. The envoys are due to travel to Rakhine State on Tuesday.
The Security Council asked Myanmar in November to ensure no "further excessive use of military force" and to allow "freedom of movement, equal access to basic services, and equal access to full citizenship for all". They will seek to push the Myanmar government to implement those requests, diplomats said. Hasina also called on Myanmar to implement the recommendations of a commission headed by former U.N. Secretary-General Kofi Annan, which was appointed by Suu Kyi in 2016 to investigate how to solve Rakhine's long-standing tensions.Among the commission's recommendations was a review of a Myanmar law that links citizenship and ethnicity and leaves most Rohingya stateless.
Buddhist-majority Myanmar has for years denied Rohingya citizenship, freedom of movement and access to basic services such as healthcare. Many in Myanmar regard Rohingya as illegal immigrants from mostly Muslim Bangladesh.
http://www.dnaindia.com/world/report-bangladesh-pm-urges-unsc-to-press-myanmar-on-rohingya-repatriation-2610108
Discrimination, intolerance against Muslims on the decline but general situation worrisome: OIC report
For quite some time, Islamophobia has been growing strongly in the West and has continued to take root through intensive campaigns and public discourses disseminating the fear of Islam, and through a significant number of incidents targeting Muslims, mosques, Islamic centers, Islamic attire, and Islam's sacred symbols. Reports and evidence reveal that negative sentiments toward Islam and Muslims keep expanding in the minds of mainstream Westerners, through mistrust toward Islam and its adherents. Particularly during the last few years, Islamophobia has reached an intractable point as it continues to grow, despite up-and-down indicators from time to time.
However, the 11th Islamophobia Observatory Report of the Organization of Islamic Cooperation (OIC), which covers the period from July 2017 to April 2018, describes a decreasing trend of Islamophobia, indicated by the number of incidents, which was much lower compared to those at the last trimester of 2016, or at the first trimester of 2017.
The report will be presented at the 45th Council of Foreign Ministers Conference in Dhaka, Bangladesh on May 5-6, 2018. The report highlights the trends influencing the decline of Islamophobia, intolerance, and discrimination against Muslims in the U.S. and Europe, which were always at the top of the Hotspot List— but are now moving towards significant improvement despite the remaining 'worrisome' overall situation.
This positive trend was assessed by the Observatory to have been driven mostly by four factors, namely: the failure of racist policy in the United States and the break-apart of Trump's far-right inner circle; the consensus and unilateral settlement of the 'Immigrant Issue' in Europe; the defeat of far-right political parties at European elections, and the growing trend of inter-faith Dialogue in Europe and the U.S.
The report also reveals manifestations of Islamophobia around the world, and describes a general trend of fear against Islam and its "attire", which is not necessarily regional or geographical in terms of character with particular focus on Islamophobic gestures and policies against veils, the hijab and burqa.
The 11th Observatory report equally highlights some 'Positive Developments' in terms of actions, attitudes, sentiments, initiatives as well as other steps and positions taken by governments or by non-Muslim individuals against Islamophobes.
The report also presents a set of recommendations that proposes some steps and actions to be taken by the OIC as well as by the relevant stakeholders including member states.
Full report at:
https://www.dailysabah.com/islamophobia/2018/04/30/discrimination-intolerance-against-muslims-on-the-decline-but-general-situation-worrisome-oic-report
--------
SIGAR reports 11 percent drop in Afghan armed forces numbers
May 01 2018
The United States Special Inspector General for Afghanistan Reconstruction (SIGAR) has reported a drop of at least 11 percent in the numbers of the Afghan National Defense and Security Forces.
The head of SIGAR John Sopko informed regarding the drop in the numbers while releasing the latest report regarding the ongoing efforts to rebuild the Afghan armed forces.
According to the latest SIGAR report, at least 296,400 security personnel are currently serving in the ranks of the Afghan National Defense and Security Forces.
The report further adds that the personnel of the Afghan Air Force are also included in the estimated number of the armed forces.
SIGAR says the latest estimate shows that the numbers of the armed forces have dropped by 10.6 percent as compared to the previous year.
"Building up the Afghan forces is a top priority for the U.S. and our international allies, so it is worrisome to see Afghan force strength decreasing," Sopko was quoted as saying in a report by Reuters.
The Afghan government and security institutions have not commented regarding the latest report of SIGAR so far.
The latest report by SIGAR regarding the reduction of the armed forces numbers came as the security situation has sharply deteriorated across the country during the recent months.
Full report at:
https://www.khaama.com/sigar-reports-11-percent-drop-in-afghan-armed-forces-numbers-05037/
--------
Afghan and US forces suffer casualties in East of Afghanistan
May 01 2018
At least one US soldier and several Afghan security personnel lost their lives during the clashes with the militants in East of Afghanistan.
The NATO-led Resolute Support Mission in a statement said one U.S. service member was killed and another U.S. service member was wounded during a combat operation in eastern Afghanistan, April 30.
The statement further adds that in addition, several Afghan security force members were killed or wounded.
"My thoughts and those of U.S. Forces-Afghanistan are with the families and friends of our fallen and wounded service members," said Gen. John Nicholson, U.S. Forces-Afghanistan (USFOR-A) commander. "Their valiancy in battle, and that of the brave Afghan partners they fought alongside, will endure in our hearts and history."
The wounded service member, who is in stable condition, was taken to Bagram Airfield's hospital for treatment, the alliance added.
No further details were given regarding the exact location where the clash took place but the Afghan and US forces are mostly in engaged in counter-terrorism operations in eastern Nangarhar province of Afghanistan against the ISIS and Taliban insurgents.
Full report at:
https://www.khaama.com/afghan-and-us-forces-suffer-casualties-in-east-of-afghanistan-05036/
--------
Africa
Muslims call for joint protest with Christians over incessant killings
April 30, 2018
By Amos Tauna
The Muslim Rights Concern, MURIC, has suggested that a joint protest by Christians and Muslims against the incessant killings going on in parts of the country be organized.
While commending the Christian Association of Nigeria, CAN, over the peaceful nature of protests held over killings in the country, MURIC said that the bloodshed was not limited to only Christians.
A statement made available on Monday and signed by its Director, Professor Ishaq Akintola, suggested that a joint protest by both faiths would have been more appropriate.
"The Muslim Rights Concern, MURIC, acknowledges the rights of groups to express themselves in a democratic setting. We also commend the Christian protesters for conducting themselves peacefully. We affirm clearly, categorically and unequivocally that life is sacred and no Nigerian citizen, whether Christian or Muslim, deserves to be killed.
"However, we reaffirm our earlier position that Christians have not been the only victims of the killings around the country. Muslims are losing hundreds of faithful on a monthly basis in the North East as Boko Haram unleashes terror on the predominantly Muslim populace. 36 Muslims were killed in Birane Village in Zurmi Local Council, Zamfara State on February 16, 2018. Six Muslims were killed in Jidari Polo area of Maiduguri on April 26, 2018," the statement explained.
The group argued that just on Sunday, some Muslims lost their lives.
"Even yesterday, Sunday 29th April, 2018, another 15 Muslims were killed in Bawon-Daji village, in Anka District of Zamfara.
"Again, more than 12 Muslims were waylaid and killed in Makurdi, the Benue State capital, when the corpses of the two priests killed in the Benue church attack were brought to the city. These are verifiable attacks by those free of the 'lazymania' virus.
"So the question arises: why kill innocent Muslim travellers when peaceful protests were already being planned? The pointable point is that we are all victims. Both Christians and Muslims have lost their members to criminals and blood-thirsty elements of our country.
"Meaningful impact could have been made if both Christians and Muslims held a joint protest against the failure of government to stem the tide of killings.
"That would make it impossible for observers to read meanings into yesterday's protest. It would stop questions like, Why are they demonstrating now? Is it because Buhari is a Muslim? Why didn't they protest when Jonathan was in power? Were there no killings in Jonathan's time? Do they want to bring Buhari's government down?
"Who is doing the killings? Who are the culprits? Boko Haram insurgents, infiltrators from Libya, ISIS, local militiamen and certain disgruntled and unpatriotic elements who are keen on causing instability and discrediting this administration are top on our list of suspects.
"Before we are accused of academic escapism in a season of 'lazymania', a little research will reveal that no matter how much this administration tries, it cannot overcome all the security challenges facing the country at the moment, particularly if it continues to rely on the resources presently at its disposal. Any politician promising something else is deceiving Nigerians.
"The truth of the matter is that Nigeria as at today lacks the wherewithal to fight insecurity of this dimension. The United Nations recommends at least one policeman to every 499 persons. Yet with a population of 193 million people, Nigeria has just 317,000 policemen, about 100,000 soldiers and approximately 33,000 men of the Department of Secret Services (DSS). This is far below expectation.
"It explains why the army had to deploy thousands of its men from the troubled North East to the South East when the Biafra debacle erupted about a year ago. Then came crisis in Plateau State, followed by the herdsmen saga in Taraba and the armed militia imbroglio in Benue. Zamfara was on fire. Kaduna was burning and the same military had to draft its men there. It puts the few soldiers we have under pressure and it also explains why Boko Haram insurgents have not been totally wiped out. All these crises have caused expensive distractions," MURIC asserted.
It suggested that the way forward was for all patriotic citizens to join hands with the government in its quest for a peaceful society.
The statement explained, "Let us allow peace to reign in other parts of the country so that the military can concentrate on Boko Haram. This is the time for religious leaders to eschew acrobatic religiosity. It is the time for the citizenry to abandon gymnastic ethnicity. We must announce a ceasefire across Nigeria and embrace one another.
"Still on the panacea to insecurity in our dear country, MURIC supports peaceful protests to pressurize government to employ more security operatives. Si vis pacem para bellum (i.e. if you want peace, prepare for war), at least an additional 200,000 policemen, 50,000 soldiers and 15,000 men of the secret police must be recruited in the next few months if the Federal Government is serious about overcoming the present security challenges.
"In addition, sophisticated weapons and modern communication gadgets must be procured for our security agents so that they can be better prepared to face the battle ahead."
Recalled that the president of the Christian Association of Nigeria, CAN, on Wednesday, 25th April, 2018, called on its members across the country to hold demonstrations after church service on Sunday over killings across the country, especially in the Middle Belt region.
As a result of the call, Christians in Lagos, Akure, Osogbo and Ado-Ekiti and other parts of the country held peaceful protests on Sunday, 29th May, 2018.
http://dailypost.ng/2018/04/30/muslims-call-joint-protest-christians-incessant-killings/
--------
Libya's Haftar visits Derna ahead of plans to liberate town
30 April 2018
Libyan military strongman Khalifa Haftar, who returned last week to the eastern city of Benghazi after a long absence, visited the main operation room in al-Abraq air base, west of Derna, to monitor final preparations to liberate the town.
Militias known as the Shura Council of Mujahideen have controlled Derna since they forced out ISIS in 2015. It is the last eastern town out of the Libyan National Army's control.
Haftar met with top commanders and reiterated his instructions to protect civilians and guarantee their safety if Derna is raided to purge it from terror groups.
Haftar has been away from Libya for some time raising many questions about his health condition. His return however put an end to the rumors, while his visit to Derna confirmed the Libyan army's intention to resume its battle against extremist groups.
Haftar's forces have encircled Derna, a coastal city, for more than a year but intermittent battles have not led to a full-scale assault.
https://english.alarabiya.net/en/News/north-africa/2018/04/30/Libya-s-Haftar-visits-Derna-ahead-of-plans-to-liberate-town-.html
--------
KDF troops rescue 13 al Shabaab recruits in Somalia
Apr. 30, 2018
Kenya Defence Forces (KDF) on Sunday rescued thirteen people who were recruited form Magarini in Kilifi county to fight for al Shabaab in Somalia.
The returnees, aged between 18 to 38 years, were reportedly lured by one Mohamed Ali - a resident of Marereni, that there was a job in the neighbouring country.
Two among the lot are reportedly from Bargoni in Lamu county while the remaining 11 are from Msumarini, Gongoni, and Marereni in Magarini sub-county.
They were flown from Kiunga where they were being held by KDF personnel. They were received by Malindi OCPD Matawa Muchangi on Monday.
A senior security officer said after being recruited, Ali handed the unsuspecting youths to Abdlalla Shekue - a boat owner in Kiunga, who took them to Somalia.
The official said the returnees were recruited on March 26 and KDF managed to rescue them on April 29 after some reported to their families.
"Shekue handed over them to Yusuf Ali on the pretext that they were going to engage in fishing in Somalia."
"During their one month stay in Somalia, the boys moved from Mdoa to Bula Haji with the intention to be recruited to fight for al Shabaab," the official said.
The security officer said Mdoa and Bula Haji are al Shabaab bases.
He said the KDF personnel in Somalia rescued the men at Ras Kamboni and handed them over to the Kenya Police to facilitate their reunion with their families.
They are currently being held at the Malindi police station and will be reunited with their families on Tuesday.
"They will be with the police for profiling to known exactly what they went through and whether they require trauma counseling or medical assistance," the officer said.
The officer urged people to report any cases of people trying to promise them jobs and not accept such offers without verifying with the relevant authorities such as the Labour and Interior ministries.
"Parents should take much interest in their children lack of guidance makes them to loose sight and join illegal groupings," he said.
Full report at:
https://www.the-star.co.ke/news/2018/04/30/kdf-troops-rescue-13-al-shabaab-recruits-in-somalia_c1752029
--------
Boko Haram: Group demands apology from UNICEF
April 30, 2018
By Ameh Comrade Godwin
A civil society organisation, Coalition Against Terrorism and Extremism, CATE, has demanded explanation from the United Nations International Children's Fund (UNICEF) over its actions towards the activities of the Boko Haram sect in Nigeria.
The group is demanding the UNICEF to urgently apologise to Nigeria following its various allegations against the Nigerian military, which it said had been confirmed to be false and targeted at escalating terror activities in the country.
UNICEF had alleged recently that the Nigerian military has raped over 20 girls in IDP Camps in Borno State.
The development forced the Nigerian Army to declare three persons working for the agency persona non-grata in the North East, Nigeria.
The three persons were: Priscillia Hoveyda, Maher Farea and Milen Kidane.
CATE, while briefing newsmen on Monday in Jos, the Plateau State capital, called on the agency to come clean on the alleged nature of support they have been offering Boko Haram, which it said it had revealed countless times before now but authorities failed to act.
Onoja Gabriel, national president of CATE, who addressed the press, urged the Nigerian Government to set up monitoring committee to keep an eye on what groups like UNICEF are doing in the country
His statement reads in full.
"Our decision to hold this event was informed that several days after these troubling reports first surfaced UNICEF has not satisfactorily cleared itself of the grievous revelations that it has joined the organizations that are working for the destruction of Nigeria.
"As a refresher, we invite you to recall how our organization, the Coalition Against Terrorism and Extremism (CATE) had risen up against groups that previously hid under the guise of being International Non-Governmental Organizations (NGOs) wreak havoc on our collective psyche and to compromise our lives by overt and covert support for terrorism. We alerted Nigerians in those dark days to how certain organizations always timed their reports to coincide with when the military was on the verge of dealing decisive blows against Boko Haram Terrorists. Such reports succeeded in several instances until Nigerians became wise to this devilish antic.
"For the avoidance of doubts, the strategy was to periodically release reports that threaten individual troop and commander with the prospect of keeping a date with the "International Criminal Court (ICC) for daring to fight for the security of their country. At institutional level, the reports destroy the reputation of the military services while on the national level is damages the ability of Nigeria to partner with allies thereby denying the entire country of the support needed to defeat terrorism conclusively. In the time it takes to repair the damage so done, Boko Haram terrorists would have exploited the lag to regroup, re-arm and again become deadly even when it had previously suffered defining defeats.
"Nigerians, who realized the threat posed to their existence and that of their dear fatherland, rose up to challenge this international fraud. The Coalition Against Terrorism and Extremism (CATE) was at the forefront of that struggle to liberate Nigeria from the claws of these modern-day imperialists hiding under NGOs. Let us quickly point out that we were called names for standing up to the oppressors at that time but we are encouraged by the renewed focus the military had to fight terrorism once we successfully beat the bullies out our land.
"Unfortunately, gentlemen of the press, the news we have for you today is distressing because a new entity, UNICEF has emerged as the latest replacement of all the evil contraptions that were earlier deployed in the attempt to incapacitate the Nigerian Military and strengthen terrorists. The irony of this development is sickening considering the noble role that this organization is ordinarily meant to be playing.
"We have since learnt that people working for UNICEF have in different countries and at different times usually lend themselves and the name of the organization to be deployed in undermining the countries on behalf of certain international clients and client-nations. We however do not want to conclude at this stage that UNICEF personnel behind this latest attack on Nigeria do so without the knowledge of the organization, for they would have been openly sanctioned if this were the case.
Our sense of alarm was further heightened when we learnt that this same group trickily rendered thousands of women barren in Kenya using the lifesaving vaccination programme to commit the crime. An organization that can exploit the sanctity of vaccines to do evil cannot be trusted under any condition and we do not even know what other damages they have done to vulnerable people in our population that they have worked with.
"The Coalition Against Terrorism and Extremism (CATE) therefore demand an explanation over its role in the escalated efforts to wrongly indict the Nigerian Military and government for violating the Child Protection Act by cooking up its Global Horizontal Notes (GHN) in a manner that will deny the country of international support. We demand to know why the atrocities committed by terrorists are being attributed to government. They must come clean of the nature of support they have been offering Boko Haram and at whose behest.
"We warn in the strongest terms possible that CATE has the wherewithal and network to mobilize the Nigerian civil society to force UNICEF out of the north east if they fail to offer plausible explanation. Our coalition will ensure this happens except Nigerians can be convinced that UNICEF did not commit the acts credited to it. The situation in the north east is too fragile to have questionable people playing international cowboys with our collective safety in Nigeria.
Full report at:
http://dailypost.ng/2018/04/30/boko-haram-group-demands-apology-unicef/
--------
Boko Haram now collecting taxes from Nigerians in Borno, Yobe — Report
April 30, 2018
Insurgent groups in Borno, Yobe and other settlements around Lake Chad are currently running quasi-administrative policies that include imposition of taxes on civilians in the territories they control, a new report by Reuters has found.
The news agency reported on Sunday that Islamic State in West Africa (ISWA), a faction of Boko Haram, currently controls swathes of land that stretch over 160 kilometres (100 miles) into Borno and Yobe States, two states at the centre of the insurgency in the North-east.
The report quoted Nigerian livestock farmers around the territories controlled by insurgents as saying that they are being taxed N2,500 per cow and N1,500 for smaller animals.
The terrorists also run slaughterhouses for the cattle, taking a cut for each animal, as well as from other activities like gathering firewood, Reuters gathered.
"If you are a herder, driver or trader, they won't touch you – just follow their rules and regulations governing the territory," a herder told Reuters under anonymity. "They don't touch civilians, just security personnel."
The Defence Headquarters did not categorically deny the claims that terrorists are levying taxes on Nigerians, but rejected the claim that they are holding territories.
"They are putting people under pressure wherever they can get them, I don't think that is new,' Defence spokesperson, John Agim, told PREMIUM TIMES in a telephone conversation Monday morning. "Boko Haram has been making life difficult for people wherever they pass through, but that does not mean they are holding territories."
"We're putting measures in place to correct that," he added.
The report comes a week after the Nigerian Army launched an operation it said would "totally destroy Boko Haram" within the next four months.
Reports of Boko Haram seizing territories in Nigeria and other countries around the Lake Chad region are not new. In 2014, the insurgents were said to have cut off huge swathes of Nigerian territory. The tactics appeared similar to the operation of Islamic State of Iraq and Syria (ISIS) which had been widely reported as relying on seizing territories and collecting taxes from residents to sustain its violent campaign.
However, President Muhammadu Buhari said he had been able to take back all the lands and proclaimed victory over the insurgency in December 2015.
Since then, however, the terrorists of different factions have carried out scores of devastating attacks while also holding settlements difficult to reach by the Nigerian security agencies.
As at late 2016, Boko Haram controlled areas occupied by over two million Nigerians, according to the United Nations.
No one could say for sure how the Nigerian military deals with individual groups. When PREMIUM TIMES asked what the military knew about emerging Boko Haram factions, Mr Agim said affiliations are immaterial in the overall military counter-terrorism strategy.
"When we're fighting with Boko Haram, we're not interested," in the faction, he said. "These are criminals, so we fight them as Boko Haram."
"You want to know about the faction, you do that for research purposes, for academic purposes," he said.
But if the time was auspicious, the military could use internal squabbles within the terrorists ranks to inflict maximum damage on them.
Full report at:
https://www.premiumtimesng.com/news/headlines/266636-boko-haram-now-collecting-taxes-from-nigerians-in-borno-yobe-report.html
--------
North America
'There's No Reason to Apologize' for Muslim Ban Remarks, Trump Says
By Adam Liptak
April 30, 2018
WASHINGTON — President Trump said on Monday that he would not apologize for campaign statements calling for a "Muslim ban," appearing to undercut an assertion at a Supreme Court argument last week from Solicitor General Noel J. Francisco. In defending Mr. Trump's efforts to restrict travel from several predominantly Muslim countries, Mr. Francisco said that the president had already disavowed the statements.
Mr. Francisco's own assertion contained a mistake, a Justice Department spokeswoman said on Monday. "The president has made crystal clear on Sept. 25 that he had no intention of imposing the Muslim ban," Mr. Francisco said during the argument. But he got the date wrong by eight months, and critics said the statement he referred to was less than crystal clear.
Mr. Trump's comment and the Justice Department's clarification arose from an exchange at Wednesday's argument.
Chief Justice John G. Roberts Jr. asked whether Mr. Trump could immunize his order from constitutional challenge by disavowing his campaign statements.
A lawyer for the challengers, Neal K. Katyal, said yes, but he added that Mr. Trump and his advisers had never repudiated the campaign statements. "Instead they embraced them," he said.
On Monday, Mr. Trump appeared to do so again. Told by a reporter that "the lawyers for the opponents said that if you would simply apologize for some of your rhetoric during the campaign, the whole case would go away," Mr. Trump was skeptical and unrepentant.
"I don't think it would, No. 1," he said. "And there's no reason to apologize. Our immigration laws in this country are a total disaster. They're laughed at all over the world — they're laughed at for their stupidity, and we have to have strong immigration laws. So I think if I apologize, it wouldn't make 10 cents' worth of difference to them. There's nothing to apologize for."
At the argument, Mr. Francisco's reference to a Sept. 25 statement from Mr. Trump confused many observers. That was the day after Mr. Trump issued his latest travel ban, and such a statement would have shed timely light on what he had intended it to accomplish. But Mr. Francisco misspoke. He had meant to refer to an interview Mr. Trump gave on Jan. 25, 2017, not long before he issued his original travel ban, the first of three.
"It's not the Muslim ban," Mr. Trump said in the interview. "But it's countries that have tremendous terror."
Critics of the administration said the interview was not the "crystal clear" statement Mr. Francisco had described.
Leah Litman, a law professor at the University of California, Irvine, wrote on Take Care, a legal blog, that the interview included no disavowal of or apology for Mr. Trump's campaign pledge to impose a "Muslim ban."
https://www.nytimes.com/2018/04/30/us/politics/trump-supreme-court-muslim-ban.html
--------
Trump calls on Nigerian president to stop violence against Christians
April 30, 2018
President Trump raised the issue of persecution of Christians in Nigeria Monday in an Oval Office meeting with Nigerian President Muhammadu Buhari, whose ancestral group is responsible for atrocities.
"We've had very serious problems with Christians who have been murdered, killed in Nigeria," Mr. Trump told reporters, with Mr. Buhari seated next to him. "We're going to be … working on that problem very, very hard because we can't allow that to happen." While the Muslim extremist group Boko Haram has received most of the attention in Nigeria, little notice has been paid to militant herdsmen of the Fulani people who have been responsible for killing Christians and others. Earlier this month, 19 Christians were killed in an attack.
In the past year, there have reportedly been more than 600 deaths due to Fulani unrest, including the burning of churches and homes, rapes and kidnappings.
The two leaders also discussed efforts to fight the Islamic State terrorist organization in Nigeria.
Full report at:
https://www.washingtontimes.com/news/2018/apr/30/trump-end-violence-against-christians-nigeria/
--------
Self-radicalised Sydney man stabbed neighbour to avenge US bombings, court told
30 Apr 2018
A self-radicalised Sydney man stabbed his neighbour in an Islamic State-inspired attack to avenge US bombings of his "brothers and sisters in Iraq", a court has been told.
Ihsas Khan pleaded not guilty on Monday to committing a terrorist act and wounding with intent to murder in 2016.
Khan, 24, who had been taking anti-psychotic medication at the time, pleaded not guilty due to mental illness as his supreme court trial got under way in Parramatta.
The prosecutor, Peter Neil SC, told the jury Khan repeatedly yelled "Allahu Akbar" as he attacked the then 57-year-old without warning on Saturday 10 September.
The court heard that Khan had originally planned to attack a stranger on 11 September to mark the anniversary of the 2001 al-Qaida attack on the World Trade Center in New York.
But a day earlier, Khan spotted his victim wearing a T-shirt with an American motif and decided to enact "revenge for what he regarded as injustices for Muslims in the Middle East", Neil said.
Khan allegedly said Americans had killed his "brothers and sisters in Iraq" and yelled out: "You rape our women, you rape our children, you bomb our country."
"He was a self-radicalised extremist Muslim and Islamic State supporter," Neil said in his opening address. "The accused wanted to become a martyr."
Khan used a large hunting knife to inflict life-threatening injuries on his victim's arms, hands and body, the court heard.
"Mr Greenhalgh ran for his life, he was bleeding profusely," the prosecutor said.
When police arrived at the scene, Khan tried to stab an officer through a car window and said: "Kill me, I am here to die."
Police tasered Khan several times before he was arrested. Neil said he had later asked one detective: "What does it take to get shot by cops?"
The prosecutor said Khan considered himself to be "discharging his obligation to jihad".
Neil said the "intelligent" university student had been motivated by a religious, political or ideological cause and had sought to either influence the Australian government or intimidate the public.
The defence barrister, Mark Ierace SC, told the jurors many of the facts of the stabbing would not be disputed owing to Khan admitting to the attack.
But he said Khan suffered schizophrenia and severe obsessive-compulsive disorder at the time and a central issue the trial would examine was his mental state.
Full report at:
https://www.theguardian.com/australia-news/2018/apr/30/self-radicalised-sydney-man-stabbed-neighbour-to-avenge-us-bombings-court-told
--------
Pompeo insists on Gulf unity in face of Qatar to confront Iran
30 April 2018
New US Secretary of State Mike Pompeo on Sunday called for unity among the Gulf countries, deeply divided over Qatar, in order to face the challenge posed by Iran.
"Gulf unity is necessary and we need to achieve it," Pompeo said in a joint press conference with his Saudi counterpart Adel al-Jubeir in Riyadh.
On the plane that took him from Saudi Arabia to Israel, Pompeo came back on the subject, saying that the Gulf countries would find ways to reconcile.
"They will find a solution, and I think they will all agree that it is in the interest of all that the Gulf States find a way to be together," he said.
"We have a common challenge, which is Iran, and I think they all recognize it, and we hope they will resolve their dispute in their own way," said Pompeo.
Full report at:
https://english.alarabiya.net/en/News/world/2018/04/30/Pompeo-insists-on-Gulf-unity-in-face-of-Qatar-to-confront-Iran.html
--------
US weighing Libyan disarmament model for North Korea: Bolton
Apr 30, 2018
US President Donald Trump's new national security adviser, John Bolton, says he is considering a "Libya model" to denuclearize North Korea, a model that Pyongyang has singled out in the past as a source of its distrust for Washington.
Speaking to Fox News on Sunday, Bolton said he was thinking of employing a similar plan to what the US and its allies did by dismantling Libya's weapons of mass destruction starting in 2003.
The White House has "very much in mind the Libya model from 2003, 2004," he said, a process that saw former Libyan dictator Muammar Qaddafi's make a full disclosure about the weapons programs his country was running, information that were later on verified by American officials.
Like they did in Libya, the Americans would seek to destroy any nuclear, chemical, and biological weapons program that North Korea might be running, he added.
But Bolton, an architect of the 2003 US invasion of Iraq, refused to acknowledge Libya's fate after it gave up its weapons.
The former US envoy to the UN said the Trump administration needed to seeks hard evidence that Pyongyang was moving toward denuclearization.
"In the case of Libya, for example—and it's a different situation in some respects—those negotiations were carried out in private. They were not known publicly," Bolton said in a separate interview with CBS News.
"But one thing that Libya did that that led us to overcome our skepticism was that they allowed American and British observers into all their nuclear-related sites. So, it wasn't a question of relying on international mechanisms. We saw them in ways we have never seen before."
Soon after the disarmament, various political groups in Libya declared war against each other and the country became so destabilized that, in 2011, the US and its allies decided to intervened militarily and oust Gaddafi. This ultimately led to Gaddafi's capture, beating, and death at the hands of rebels.
The chaos took a turn for the worse once Daesh and other Takfiri terror groups rose to power in parts of Libya. The country has never been able to recover from the crisis.
North Korea has on several occasions pointed to Libya model as a cautionary tale for any country that accepts Western offers for disarmament.
"It has been shown to the corners of the earth that Libya's giving up its nuclear arms was used as an invasion tactic to disarm the country by sugarcoating it with words like 'the guaranteeing of security' and the 'bettering of relations,'" a spokesman for North Korean leader Kim Jong-un said in 2011.
Today, however, it seems like Pyongyang has warmed up to the idea of disarmament after months of tension with the US and the West over its ballistic missiles and nuclear program.
Full report at:
http://www.presstv.com/Detail/2018/04/30/560171/US-Bolton-North-Korea-Libya-disarmament-Trump-Kim
--------
Trump, Netanyahu discuss Iran over phone
Apr 30, 2018
US President Donald Trump and Israeli Prime Minister Benjamin Netanyahu have discussed a range of Iran-related issues over the phone, the White House says, amid growing speculation that Washington will pull out from the 2015 landmark nuclear deal with Iran.
The conversation took place on Statuary and the two allies discussed "threats and challenges facing the Middle East region, especially the problems posed by the Iranian regime's destabilizing activities," the White House said Sunday.
Trump is a few weeks away from making a decision on the future of the 2015 nuclear deal between Iran and the six world powers, known as the Joint Comprehensive Plan of Action (JCPOA).
Iran agreed under the deal with the US, the UK, France, Russia, China and Germany to limit parts of its peaceful nuclear program in exchange for removal of all nuclear-related sanctions against the Islamic Republic.
However, Trump thinks that the JCPOA, achieved under his predecessor Barack Obama, is flawed and needs to be "fixed" or otherwise scrapped in its entirety. This is a viewpoint that he shares with Netanyahu.
Trump wants the deal to guarantee unlimited access to Iran's military sites for the International Atomic Energy Agency (IAEA)'s inspectors.
The American head of state also wants certain mechanisms to be included in the deal in order to limit Iran's development and testing of ballistic missiles.
His most important demand, however, is probably addressing Iran's growing influence in the Middle East which has stirred concern in Israel and Saudi Arabia, America's two closest regional allies.
The Tel Aviv regime has always been unsettled by Iran's military might, and specially its ability to target the occupied Palestinian lands.
However, what has really made the Israeli leaders anxious is Tehran's undeniable influence in curbing the kind of militancy and terrorism that Riyadh and Tel Aviv hoped would help them form a more united front against Iran by taking out popular governments in Iraq and Syria.
Last week, French President Emmanuel Macron told Trump at a White House meeting that he was leading a trilateral effort with Britain and Germany to find the "fixes" that he wants so the deal can be preserved.
Iran, meanwhile, has made it clear that it would not sit down for a renegotiation of the JCPOA.
Full report at:
http://www.presstv.com/Detail/2018/04/30/560149/US-Israel-Trump-Netanyahu-Iran-nuclear-deal
--------
Europe
Who Is Sajid Javid, The UK's New Home Secretary?
30 Apr 2018
The new home secretary, Sajid Javid, the first BAME holder of one of the great offices of state, will find an inbox brimming not just with the backlash over the Windrush scandal, but with arguments to come over policing cuts and rising knife crime as well as a difficult counter-terror climate.
Born in Rochdale in 1969, the former investment banker and Margaret Thatcher devotee is on the right of the Conservative party. His appointment will give him a voice on the powerful cabinet subcommittee on Brexit and will keep the balance of EU leavers and remainers in the top offices, but he can only be categorised as a remainer in the most technical sense.
Javid backed remain in the referendum, probably under pressure from David Cameron, saying it was with a "heavy heart and no enthusiasm". He has since swung firmly behind leavers in the cabinet.
His instincts were always Eurosceptic. His university friend and Tory colleague Robert Halfon recalled him being thrown out of the party conference as a young activist for handing out anti-European exchange rate mechanism leaflets.
Javid would want to make his mark in the Home Office, he said. "He is utterly decent, a high-flyer who has not forgotten his roots," Halfon said.
"He will have his own vision for the Home Office. It's a counter-intuitive appointment in some ways but it is a very important symbol because of his background, his humble origins and as the first Muslim home secretary."
Just last week, he tweeted a hard line on the customs union, saying: "British people gave politicians clear instructions through EU referendum … includes leaving the customs union, an intrinsic part of the EU. Britain must leave [customs union] and be able to negotiate and sign own trade deals."
Like the mayor of London, Sadiq Khan, he is a Muslim son of a bus driver who has risen to the top of British politics. His parents were born in India, but fled to Pakistan while small children. His father arrived in Britain in the 1960s – Javid has said he came with £1 in his pocket.
His other hero apart from Thatcher is Ayn Rand – he recounted once that he regularly rereads the courtroom scene from her novel The Fountainhead, telling the Spectator he admired its description of "the power of the individual … sticking up for your beliefs, against popular opinion".
Javid came into politics having been the former head of credit trading at Deutsche Bank, which the Evening Standard once estimated had required him to take a 98% pay cut.
The job put him at the heart of the credit trading business that precipitated the financial crash, and it was in 2009 he made the leap from banking to politics, which he once quipped was "another unpopular profession".
Elected in 2010, the MP for Bromsgrove rose quickly, coached as parliamentary private secretary to George Osborne before continuing as a protege of the former chancellor in junior roles at the Treasury.
He got his first cabinet job in just his fourth year in parliament when he was appointed culture secretary in 2014, and then business secretary after the 2015 election, where he authored the biggest crackdown on trade union rights for 30 years.
After an abortive attempt with his friend Stephen Crabb to mount a bid for the leadership, where he would have been chancellor, he took the communities brief under May, with the explicit task of overseeing the prime minister's pledge to tackle the housing crisis.
Their relationship has not been close – he has been more than forthright about the failures of the 2017 election campaign and the conduct of advisers in No 10.
"In private, he was perhaps the most vocally critical of how that campaign was run and who was running it, of anyone round that cabinet table. He didn't hold back. They certainly did not see eye-to-eye last summer," one friend said.
On housing, he has clashed with the chancellor, Philip Hammond, who rejected Javid's demand for a £50bn cash injection to fund a massive housebuilding drive.
His housing white paper admitted the market was "broken" and laid the blame almost entirely on low rates of housebuilding, but Labour said the proposals were feeble with limited proposals to help renters.
His biggest challenge in the brief, however, has been the Grenfell Tower disaster, where the government has faced mounting criticism for stalling on promises to the victims' families. He admitted just weeks ago the government was likely to break its promise to permanently rehouse within a year all those made homeless.
The focus will be on how Javid responds to concerns about the ripple effects of the Home Office's "hostile environment", a policy that May has underlined in recent weeks that she sees no reason to halt, despite its devastating impact on Windrush-era migrants pursued unjustly for their paperwork.
It is an issue that is personal for Javid. He was the first Tory cabinet minister to break ranks as anger over the Windrush scandal mounted, tweeting he was "deeply concerned" about the treatment of people detailed in the Guardian.
In an article this weekend, he told the Sunday Telegraph: "I thought that could be my mum … my dad … my uncle … it could be me."
However, should Javid intend to stamp a new culture on the Home Office, it could put him on a collision course with his boss, who made it clear in her letter to Rudd that illegal migrants "should expect to feel the full force of the law and know that they will be removed".
Like many in the cabinet, he is thought to be privately sceptical of the pledge to reduce migration to the tens of thousands. Speaking in the Commons seven hours into the job, Javid said he did have concerns about the rhetoric. He would not be using the phrase "hostile environment," he said, calling it "unhelpful, it doesn't represent our values as a country".
The phrase was used extensively by May in the Home Office, a hint Javid is prepared to break with the prime minister. Asked by Tory MP Nick Boles if he would "retire some legacy policies", Javid replied he was "certainly putting on my own stamp".
However, there is little hard evidence that he is preparing to dismantle May's strategy in principle, saying previously there is "nothing racist about managed migration". In parliament, he has consistently backed the government's policies to enforce tighter restrictions on immigration.
On migration, his main interest is integration, a subject on which he oversaw a government green paper at the former Department for Communities and Local Government.
He described his own experience as a "six-year-old interpreter" for his Pakistani mother and pledged to expand English-language learning, though the strategy was criticised for its paltry £50m pledge of funding over two years.
https://www.theguardian.com/politics/2018/apr/30/for-sajid-javid-the-hostile-environment-is-political-and-personal
--------
Thousands of Students in Germany Attend Class of Islamic Education
1 May, 2018
Around 55,000 students attend the class of Islamic education in Germany. A recent German survey conducted by the media association concerned in providing information on immigration asylum, and integration, and engaging the ministries of education in 16 federal states, showed that more than 800 schools provide these classes. The German News Agency received a copy of this survey.
The survey showed that a number of boys and girls who attend the class of Islamic education has grown in the two past years.
According to an evaluation provided by the states' education ministers at the time, over 42,000 children and teenagers were attending these religious classes in 2016.
A previous study conducted by the German Islam Conference revealed that the demand on these classes has not been covered yet, as 76 percent of Muslims above 16 years old hoped to attend a class of Islamic education in public schools in 2008.
A German citizen has the right to decide his religious belonging once he completes his 14 years.
An instructor of Turkish studies in the German city of Eisen said: "From the Islamic religious perspective, there is no need to wear hijab before puberty."
The German instructor, who has Turkish roots as well, and works as a researcher of immigration and integration affairs, , explained that devoted parents who send their little daughters to school and sometimes to the nurseries wearing hijab, could be doing this for a disclosed reason which is "when a little girl wears hijab from a very small age, she considers it a part of her public habits, so she don't ask about it later in her adolescence years," adding that this is how religion becomes "a second layer of skin" that cannot be removed.
The German researcher added that the increase in the number of fathers encouraging their daughters to wear hijab today is not only due to the growing number of refugees flowing from Muslim countries, noting that the enhanced self confidence among the refugee communities is another important reason.
Full report at:
https://aawsat.com/english/home/article/1254561/thousands-students-germany-attend-class-islamic-education
--------
Russian Orthodox Patriarch on first visit to Muslim-majority Albania
30.04.2018
Russian Orthodox Patriarch Kirill celebrated mass in Tirana on Sunday, the highlight of his first visit to the mainly Muslim Albania.
"We, Orthodox Christians living in various countries, share the same values, and we must follow them," Kirill told hundreds of faithful in Tirana's Orthodox cathedral.
In a country of 2.9 million known for its religious tolerance, Orthodox Christians make up seven percent of the population, behind the 10 percent who are Catholic and the majority Muslims who account for 56 percent, according to the 2011 census.
Kirill, 71, is the spiritual leader of more than half of the world's 250 million Orthodox Christians.
Kirill hailed the Albanian church's "resistance" during a half-century of communist rule, when more than 100 members of the clergy including seven bishops died in detention or were executed for their religious conviction. More than 1,800 churches were destroyed between 1945 and 1985.
Kirill also praised the "renaissance of faith" the country has seen since the fall of communism in the early 1990s.
"Our Church is marked by the spirit of peaceful coexistence among all religious communities and the visit by Patriarch Kirill is an affirmation of these values," said Archbishop Anastasios of Tirana, the head of the Albanian Orthodox Church.
Full report at:
https://en.qantara.de/content/russian-orthodox-patriarch-on-first-visit-to-muslim-majority-albania
--------
URL: https://www.newageislam.com/islamic-world-news/world-ulema-muslim-scholars-summit/d/115109
New Age Islam, Islam Online, Islamic Website, African Muslim News, Arab World News, South Asia News, Indian Muslim News, World Muslim News, Women in Islam, Islamic Feminism, Arab Women, Women In Arab, Islamophobia in America, Muslim Women in West, Islam Women and Feminism