New Age Islam News Bureau
27 Apr 2012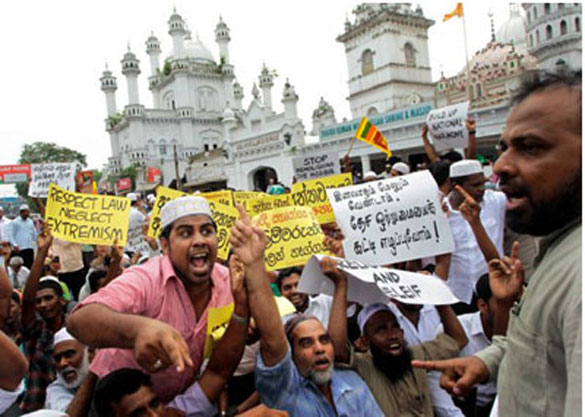 • Sri Lankan Muslims Protest Demolition of Mosque
• American Slain by Man Wearing an Afghan Army Uniform
• Osama bin Laden's three widows and children deported from Pakistan
• Norwegians sing song that Breivik hates
• Lawmaker questions US decision to spend $30 mn on Pak farmers
• Pakistan, Afghanistan, US consider safe passage for Taliban militants
• Saudi Arabia: Elections may not send qualified members to Shoura
• Bomb explosions kill 10; wound 18 in Iraq's Diyala
• J&K: Geelani booked for 'provoking' stone- pelters
• Sri Lanka: Muslims sore over Mosque relocation
• Norway survivors of Breivik massacre tell of pain
• US ignoring Pak calls to stop drone strikes
• Pak seeks to acquire 100 locos from India
• Bangladesh peacekeepers sent home $1bn in three years
• Taliban Website Hacked as Afghan Cyber War Heats Up
• Palestinian Government Cracks Down on Critics
• Obama to be challenged over human cost of CIA drone strikes
• American Judge denies request to release bin Laden photos
• Six PKK militants killed in eastern Turkey clashes
• ANP activist among two killed in Karachi violence
• Seven dead, 20 wounded in Damascus suicide bomb
• Blasts injure 27 in east Ukraine city
• Pak marine opens fire at Indian fishermen, 1 injured
• Blast hits court house in east Libya
• Nawaz, Imran ask Gilani to step down
• Commission rejects Haqqani's plea for testimony via VideoLink
• Pak PM is a winner all the way
• Gilani dares Opposition to move trust vote against him
• PIA flight makes emergency landing after hijack threat
• Afghanistan, Iran agree to prisoner swap
• Panetta hopes Israeli general 'correct' on Iran
• Bible translator criticized by critics
• US 'expands Yemen drone strikes policy'
• Likud would be largest party in election now: Israeli poll
• Panetta memo records Obama order to 'get Bin Laden'
• US on guard ahead of bin Laden anniversary
• Osama planned major attacks in Pak before being killed: Report
• Malaysia: An apology for human rights abuses will not be enough
• French-led push for tougher stand on Syria
• 500 British troops to be withdrawn from Afghanistan
• Israeli leaders say it is time for Syria's Assad to step down
• US relaxes drone rules in Yemen
• Arab League calls on UN to protect Syrians
• Intel shows Iran nuclear threat not imminent
• Oppression pushing Baloch towards self determination
• Bomb threats to Egyptian TV station
• More Palestinian prisoners join hunger strike
• Egypt Islamic body backs Brotherhood candidate
• US 'gate crasher' to run for governor's post
• Modi must reflect upon visa denial: Indian Law Minister
Complied by New Age Islam News Bureau
Photo: Sri Lankan Muslims protestafter Friday prayers outside a mosque
URL: https://newageislam.com/islamic-world-news/'-attacked-this-day-newspaper'/d/7156
------------
'Why We Attacked This Day Newspaper': Boko Haram Threatens Media in Nigeria
27 APRIL 2012
The Jama'atu Ahlis Sunna Lidda'awati Wal — Jihad, popularly known as Boko Haram, said yesterday that it attacked Thisday newspaper's offices in Abuja and Kaduna to send a strong message to the media that it would no longer condone reports misrepresenting it in the press, or blaming it for acts it knows nothing about.
Abul Qaqa, spokesperson for the sect told Premium Times, in an exclusive interview, that his organisation was fed up with the deliberate misinformation being peddled about it in the Nigerian and foreign media.
"We have repeatedly cautioned reporters and media houses to be professional and objective in their reports. This is a war between us and the Government of Nigeria; unfortunately the media have not been objective and fair in their report of the ongoing war, they chose to take side," Mr. Qaqa said.
He identified three instances where he claimed his group was deliberately misrepresented by the media. The first, according to him, was the rumour of his capture by the Nigerian intelligence agencies.
"Some reporters are aware that I am Abul Qaqa, they know my voice through our long interactions and they also know the role of Abu Darda who heads the enlightenment committee and sometimes facilitates interviews; yet they (media) go by the unsubstantiated view of government that Abul Qaqa is in custody and I am the new spokesman or number two," he said.
Premium Times had continuously reported that Abul Qaqa was not arrested contrary to reports and that it was Abu Darda, another member, that was arrested.
The second misrepresentation, according to Mr. Qaqa, was the reporting on the kidnappings of foreigners in the Northern part of Nigeria.
"Another issue was the recent kidnappings in the north; we were clear with our position as a group during a teleconference with reporters but we were shocked the next day when newspaper headlines added a lot of things which I never said during that interview."
The third example, Mr. Abul Qaqa said, is the mistranslation of the video the group posted recently.
"Another example is the recent video posted on YouTube by our Imam; I challenge every Nigerian to watch that video again. There is no place our imam either said he will crush President Jonathan or issued an ultimatum to the government in Nigeria; but nearly all papers carried very wrong and mischievous headlines."
When asked why ThisDay appeared specifically chosen for the attack, Mr. Qaqa said ThisDay's "sins" are more grievous.
"It is not only THISDAY that has been engaged in negative media campaign, fictional stories and constantly promoting fake stories by the JTF to give an impression that they are making headway against us yet there is no time the media investigated further as an objective and responsible bystander in this war.
"But the sins of THISDAY are more," he said.
"They once insulted the Prophet Mohammed in 2001 and we have not forgotten. They recently said our Imam executed me which is false. Here I am speaking to you, I am alive and healthy."
Expect more media attacks
The group's spokesman further warned of more attacks on the media.
"We have just started this new campaign against the media and we will not stop here, we will hit the media hard since they have refused to listen to our plea for them to be fair in their reportage," he said.
Mr. Abul Qaqa also said his group would give further information on biases by the media.
"In the coming days we will give details and instances where the media have not been fair to us and why we are going to attack them as well."
Media should be neutral
"The media in Nigeria are not a problem to us if they will do their job professionally without taking sides," Mr. Abul Qaqa said.
"But each time we say something, it is either changed or downplayed. But when our enemy says something even without logical proof, it is blown out of proportion."
"We have repeatedly asked some reporters to retract some stories or even give us the right of reply but none of these requests were given to us."
http://allafrica.com/stories/201204270091.html
------------
Sri Lankan Muslims Protest Demolition of Mosque
Apr 27, 2012
COLOMBO, Sri Lanka (AP) — Muslims in Sri Lanka have gathered to protest a government decision to demolish a mosque that sits inside a Buddhist sacred area.
Sri Lankan officials announced Monday that a mosque and a Hindu temple would be demolished and relocated under pressure from Buddhist monks who demanded their removal from a Buddhist sacred area in the central town of Dambulla.
Thousands of Buddhist monks and lay supporters stormed the mosque last week, saying it was constructed illegally.
On Friday, hundreds of Muslims gathered in front of the Davatagaha mosque in the capital, Colombo, and staged a protest, shouting slogans and displaying placards. They demanded that authorities arrest those who attacked the Dambulla mosque last week.
http://www.nytimes.com/aponline/2012/04/27/world/asia/ap-as-sri-lanka-religious-protest.html?ref=global-home
------------
American Slain by Man Wearing an Afghan Army Uniform
Apr 27, 2012
A man wearing an Afghan Army uniform fatally shot an American service member in southern Afghanistan, officials said Thursday. It was the latest in a string of attacks against American and other coalition forces by their Afghan partners or insurgents in disguise. Since the beginning of the year, there have been at least 16 such attacks against United States and other international troops. The attack took place late Wednesday when the gunman turned his weapon on coalition troops and opened fire, the United States military said in a statement. Coalition forces returned fire, killing the attacker, the statement said, without providing further details. It is possible the man was an insurgent disguised in an Afghan Army uniform. Such uniforms are easily available in markets in Afghanistan, and the Taliban have used them to mount previous attacks on international or Afghan military installations.
http://www.nytimes.com/2012/04/27/world/asia/american-slain-by-man-wearing-an-afghan-army-uniform.html?ref=asia&gwh=5374EE60CB2EA9C0D460F26968B07766
------------
Osama bin Laden's three widows and children deported from Pakistan
David Batty
04/27/2012
A statement from the interior ministry said that 14 members of the family had been sent to Saudi Arabia
Osama bin Laden's three widows and his children have been deported from Pakistan and were en route to Saudi Arabia on Thursday night.
The three widows, who are believed to have 11 children, left their villa in Islamabad in a minivan amid tight security.
A statement from the Pakistani interior ministry said 14 members of the Bin Laden family had been deported to the "country of their choice, Saudi Arabia".
Their departure comes less than a week before the anniversary of the raid in which the al-Qaida leader was killed by US special forces in the north-west Pakistani city of Abbottabad.
The US commandos took Bin Laden's body, which they later buried at sea, but left his family behind. His wives and children were detained by Pakistani authorities immediately after the pre-dawn raid on 2 May 2011.
Intelligence experts believe that once outside Pakistan, the wives may be willing to share any information they have about how Bin Laden managed to evade capture in the country for nearly a decade following the 9/11 terror attacks.
Two of the widows are from Saudi Arabia, and the third is from Yemen.
They were interrogated by Pakistani intelligence agents and eventually charged last month with illegally entering and living in the country. The three wives and two adult daughters were convicted and sentenced to 45 days in prison.
The Yemeni wife, Amal Ahmed Abdel-Fatah al-Sada, told Pakistani police that the al-Qaida chief lived in five houses while on the run in Pakistan for nine years and fathered four children, two of whom were born in Pakistani government hospitals.
Saudi officials have given little information about the family and the plan to deport them.
http://www.guardian.co.uk/world/2012/apr/26/osama-bin-laden-family-deported
------------
Norwegians sing song that Breivik hates
Apr 27, 2012
OSLO: Tens of thousands of rose-waving Norwegians gathered in rain-drenched Oslo on Thursday to deride mass murderer Anders Behring Breivik by singing a song he hates, viewing it as Marxist indoctrination.
Some 40,000 people, according to police, massed in the rain at a square near the courthouse where Breivik is on trial for his July 22 attacks that killed 77 people, to sing "Children of the Rainbow" by Norwegian folk singer Lillebjoern Nilsen. Inside the court, the 33-year-old accused rightwing extremist sat listening without showing emotion to powerful testimony from survivors of his bloodbath on the ninth day of his trial.
http://timesofindia.indiatimes.com/world/europe/Norwegians-sing-song-that-Breivik-hates/articleshow/12889788.cms
------------
Lawmaker questions US decision to spend $30 mn on Pak farmers
Apr 27 2012
Washington : A New York Congressman has questioned the decision of the Obama Administration to spend USD 30 million on mango farmers of Pakistan to help them export the king of fruits to the US, terming it "egregious" and "wasteful" government spending.
"This is ridiculous," Congressman Tom Reed said in a statement asserting that the USD 30 million spent to help Pakistani Mango farmers is the latest example of "egregious and wasteful government spending" by the Obama Administration.
"While domestic fruit farmers struggle to get by, we aid Pakistani farmers?" Reed said adding that the USD 30 million is part of a USD 90 million programme funded by the US Agency for International Development (USAID).
"Our national debt stands at more than USD 15,300,000,000,000," Reed continued.
"Yet we borrow money that our children and grandchildren will have to pay back in order to boost Pakistani mangoes," he said.
"This just demonstrates how dysfunctional our government has become when USD 30 million can be wasted without anyone stopping the expense," said the Republican lawmaker from New York.
This is the second time that Reed has cited money for Pakistan as an example of egregious spending.
He previously highlighted USD 20 million of taxpayer money used for a Pakistani version of Sesame Street as an example of misuse.
http://www.indianexpress.com/story-print/942282/
------------
Pakistan, Afghanistan, US consider safe passage for Taliban militants
Apr 27, 2012
ISLAMABAD: Pakistan, Afghanistan and the United States said they would explore ways to arrange safe passage for Afghan Taliban militants who wish to engage in peace talks, officials from the three countries said on Friday.
While not yet making an iron-clad guarantee, officials told a news conference in Islamabad they would form a group of experts to consider the proposal.
"We need to be able to find them, those who are willing to talk wherever they are," Afghan deputy foreign minister Jawed Luddin said. "We need to provide … a safe passage and an environment where they feel safe and confident that they can engage in peace talks without any consequence."
Representatives from Afghanistan, Pakistan and the United States were meeting in Islamabad for two days as part of an initiative to revive stalled peace talks with the Afghan Taliban and to smooth relations between Washington and Islamabad.
Washington's Special Representative Marc Grossman led the US delegation. He was the highest-level American official to visit Pakistan since a Nov 26 cross-border attack by Nato forces left 24 Pakistani soldiers dead and the US-Pakistan relationship in tatters.
The United States has been working for more than a year to revive stalled peace talks with the Afghan Taliban as it prepares for the withdrawal of most foreign combat troops by the end of 2014.
That campaign has become central to US strategy as officials conclude the Afghan war will not end on the battlefield alone.
Full report at:
http://dawn.com/2012/04/27/pakistan-afghanistan-us-consider-safe-passage-for-taliban-militants/
----------
Saudi Arabia: Elections may not send qualified members to Shoura
Apr 27, 2012
Dr. Abdullah Omar Naseef, former deputy chairman of the Shoura Council, has supported the present system of appointing qualified members to the Saudi consultative body.
"Shoura is an important system and it needs people of experience and wisdom to run the show. I think people who call for elections have not taken this important point into consideration," he said.
In an exclusive interview with Arab News at his office in Jeddah, Naseef said the Shoura Council is equal to any parliament in the world. "Our Shoura members are highly qualified academics and technocrats and the Shoura decisions are based on the Qur'an and Sunnah. This makes our Shoura Council different from other parliaments," he pointed out.
Dr. Naseef described Custodian of the Two Holy Mosques King Abdullah as a charismatic leader who is loved not only by Saudis but also by foreigners.
Following is the full text of the interview:
Full report at:
http://arabnews.com/saudiarabia/article618701.ece
--------
Bomb explosions kill 10, wound 18 in Iraq's Diyala: Sources
Apr 27, 2012
BAGHDAD: Ten people were killed and 18 others wounded when two explosions struck a popular coffee shop in the restive Iraqi province of Diyala, security sources said on Thursday.
Diyala province, a fertile agricultural area, has long been one of the most volatile regions in Iraq, inhabited by a mix of Sunnis, Shi'ites and Kurds.
The attacks took place in a mainly Sunni village on the outskirts of Baquba, 65 km (40 miles) northeast of Baghdad, a policeman in the village and a source in Diyala operations command said.
The sources said the first explosion, set off by a suicide car bomber, killed 10 people and wounded 15 others. The policeman said a second bomb planted inside the coffee shop wounded three more people. "We received 10 bodies and 18 wounded," Abdul-Razaq Hussein, a doctor in Baquba hospital, told Reuters, adding that the toll was final.
Tensions between Shi'ites, Sunnis and Kurds in Iraq's coalition government have been high since U.S. forces withdrew in December, raising fears of a return to the sectarian violence that almost drove the country to the edge of civil war a few years ago.
Although violence in Iraq has dropped sharply from the height of sectarian fighting in 2006-07, bombings and killings still occur on a daily basis.
Five civilians were killed and 27 others wounded earlier on Thursday when a roadside bomb and a car bomb exploded in Baghdad.
Last Thursday, more than 20 bombs hit cities and towns across Iraq, killing at least 36 people and wounding almost 150.
http://timesofindia.indiatimes.com/world/middle-east/Bomb-explosions-kill-10-wound-18-in-Iraqs-Diyala-Sources/articleshow/12886115.cms
------------
Hurriyat Conference leader Geelani booked for 'provoking' stone- pelters
Mail Today/ Srinagar Geelani
Apr 27, 2012
THE Jammu and Kashmir (J& K) Police have registered a case against Hurriyat Conference leader Syed Ali Shah Geelani, charging him with attempt to murder and stone- pelting.
Geelani had gone to north Kashmir on April 6 and after offering Friday prayers, addressed a gathering, where the police allege, he made inciteful remarks such as: " Indian occupation of J& K is illegal... we will continue to struggle for freedom." " He has been booked under Section 307 for an attempt to murder a policeman and Section 336 for involvement in stone- pelting," a police spokesperson said.
Hurriyat spokesman Ayaz Akbar described the FIR against Geelani as hilarious. " We are asking them whom did he attempt to murder.
And on whom did he pelt stones with?" he asked.
The police said his speech caused hatred among masses against the state.
Interestingly, for the past several years, Geelani has been urging the youth to refrain from stone- pelting.
Mail Today
------------
Sri Lanka: Muslims sore over Mosque relocation
R. K. RADHAKRISHNAN
Apr 27, 2012
Salat al juma (Friday prayers) in Sri Lanka will attract attention from afar and near: today's prayers and the sermons that follow, will determine which direction the country's Muslim minority will take to salvage its rights. It was last Friday that a mob, comprising of Buddhist radicals, wanted a mosque demolished, because it was built in a place considered sacred by Buddhists.
Trouble is brewing in the Muslim majority areas of Sri Lanka, following the attempts to desecrate a mosque built in an area sacred to Buddhists in Dambulla, a town about 150 km north east of Colombo, and the shockingly insensitive approach of the Sri Lankan government to the issue.
Last Friday, some people in the attire of Buddhist monks, and a mob tried to force its way into a mosque that Muslim leaders say, has been in existence for over half a century. They said that it was built on sacred ground and had to be demolished. There could be no compromise on this, a section of Monks, belonging to the Jathika Hela Urumaya, a political party led by Buddhist monks, announced to the press later.
Full report at:
http://www.thehindu.com/news/international/article3359461.ece
------------
Norway survivors of Breivik massacre tell of pain
27 April, 2012
A Norwegian civil servant who had to have his leg amputated after a bomb planted by far right fanatic Anders Behring Breivik tore through his body spoke on Friday of the moment his life changed forever.
"Suddenly something hits me, a very strong pressure wave that lifts me up and throws me far away," Tore Raasok, a 56-year-old transport ministry worker, told judges trying Breivik for the murder last summer of 77 people in cold blood.
Raasok is one of eight survivors of Breivik's July 22 bombing of government offices due to take the witness stand on Friday to describe the effect his crimes had on their life.
Survivors of Breivik's other atrocity - a shooting rampage on a Labour party island camp - will appear before the court at a later date.
Approaching the stand slowly on crutches, Raasok said he had just left the transport ministry in Oslo to get a haircut when Breivik's fertilizer bomb blew up half a block away.
Formerly an avid skier, Raasok said the blast had sent glass shards flying into both his eyes, and that both his legs had been crushed. The left one later had to be amputated, and the transport ministry employee said he had undergone 10 operations and had lost the use of his left arm.
"Things have gone pretty well with my eyes," the bespectacled civil servant said, as Breivik watched intently just a few meters away. "I see as poorly as I did before the event," he added with black humor.
"All this is very tough to hear," prosecutor Svein Holden told Reuters. "But these cases are part of the indictment, so the victims have to shed light on the consequences of what happened."
COMA
Full report at:
http://www.reuters.com/article/2012/04/27/us-norway-attackstrial-idUSBRE83Q0IT20120427
------------
US ignoring Pak calls to stop drone strikes: Hina Rabbani Khar
Apr 27, 2012
ISLAMABAD: Pakistan has spelt out in no uncertain terms that US drone aircraft strikes against militants inside its territory must stop, but Washington is not listening, the country's foreign minister said.
"On drones, the language is clear: a clear cessation of drone strikes," Hina Rabbani Khar said.
"I maintain the position that we'd told them categorically before. But they did not listen. I hope their listening will improve," she said.
Khar said other methods should be used to take out militants in the border region between Afghanistan and Pakistan. "We have to look at effective tools which are mutually acceptable. The cost of using tools not mutually acceptable is far, too high. We're looking at alternatives," she said.
http://timesofindia.indiatimes.com/world/pakistan/US-ignoring-Pak-calls-to-stop-drone-strikes-Hina/articleshow/12889755.cms
------------
Pak seeks to acquire 100 locos from India
Apr 27, 2012
NEW DELHI: Pakistan has shown interest to acquire diesel locomotive engines from India to resume its 'crippled' train services.
A Pakistani team that held talks with their Indian counterpart, Railway Infrastructure Technical and Economic Services (RITES), on Thursday has put forth their acquisition plan, a source in the railway ministry said.
Faced with an acute locomotive crunch, Pakistan plans to buy or take on lease about 100 railway engines from India to get its state-run transport system back on track. RITES officials have promised to look into the demands of the visiting team of Pakistan Railways Advisory and Consultancy Services Limited (PRACS). The Pakistani team is here till Friday to hold another round of talks with the railway officials. Sources said that in case they get lukewarm response from RITES, they would take the diplomatic route to get the assistance from New Delhi.
Media reports from across the border suggest that Pakistani railway minister Haji Ghulam Ahmed Bilour had admitted a month ago that the shortage of the locomotives was crippling the rail services.
http://timesofindia.indiatimes.com/india/Pak-seeks-to-acquire-100-locos-from-India/articleshow/12888058.cms
------------
Bangladesh peacekeepers sent home $1bn in three years
Apr 27, 2012
* Bangladesh biggest contributor to UN peacekeeping forces
* More than 10,000 soldiers serving in 45 out of 65 missions across the world
DHAKA: Bangladeshi soldiers serving as United Nations (UN) peacekeepers have sent home nearly $1 billion during the past three years, the country's envoy to the UN said on Thursday.
Bangladesh is the biggest contributor to United Nations (UN) peacekeeping forces with more than 10,000 soldiers serving in 45 out of the global body's 65 missions across the world.
Over the past three years, Bangladeshi peacekeepers sent home 75 billion taka ($917 million) to their families, said the country's UN representative, Abdul Momen, according to a statement released in Dhaka. Impoverished Bangladesh relies on remittances to help pay for its surging imports.
In 2010-11, the country's seven-million-plus overseas workers sent home $11.6 billion — representing over 10 percent of Bangladesh's gross domestic product. Lucrative peacekeeping duties are hugely popular with Bangladesh's armed forces, giving those who take up such jobs a chance to buy homes and save for retirement.
Experts say the possibility of landing UN peacekeeping postings are one of the key reasons why mid-ranking officers in Bangladesh's powerful armed forces have lost the appetite for staging coups in recent decades.
Bangladesh has been hit by around 20 failed and successful coups since its independence in 1971, but most occurred in the 1970s and early 1980s when local soldiers did not have access to UN peacekeeping jobs. In 2010, the Muslim-majority nation sent its first female peacekeepers — a 110-strong battalion of policewomen — to Haiti, and the UN envoy said the country could send more women to serve in UN missions.
http://www.dailytimes.com.pk/default.asp?page=2012\04\27\story_27-4-2012_pg14_2
------------
Taliban Website Hacked as Afghan Cyber War Heats Up
Apr 27, 2012
KABUL (Reuters) - Hackers have for the third time in less than a year crippled the main website of the Afghan Taliban, with a Taliban spokesman on Friday blaming Western intelligence agencies amid an intensifying cyber war with the insurgents.
The unidentified hackers broke into the Taliban's El Emara website twice on Thursday, replacing usual insurgent victory messages with images of executions and support for the Afghan government and security forces in English, Arabic and Pashto.
Some of the photographs showed women being shot in the head or hanged by former Taliban executioners, while another showed two women in head-to-toe burkas being beaten.
"Violence is wrong in all its forms, especially the encouragement by the Taliban of cowardly betrayal and the senseless murder of innocent civilians," a screenshot from Afghan Pajhwok News showed the message as saying in English.
"The Afghan Security Forces are accountable to Allah and the Afghan people, and seek to restore peace as the foreigners leave the land," it said.
Taliban spokesman Zabihullah Mujahid told Reuters that the website was hacked around 12:30 am on Thursday and fixed in three hours, before being breached again at midday and put out of commission again. It was still being repaired on Friday
Full report at:
http://www.nytimes.com/reuters/2012/04/27/world/asia/27reuters-afghanistan-taliban-hacking.html?ref=global-home&gwh=2B5F1DD658198E76F7BC928F49E9393B
------------
Palestinian Government Cracks Down on Critics
Apr 27, 2012
JERUSALEM (AP) — The government of Palestinian President Mahmoud Abbas has moved to silence critics, raising new concerns about freedom of expression in the West Bank.
Abbas' communications minister, Mashour Abu Daqa, said late on Thursday that the attorney general's office ordered several websites shut down over the past six months. The sites belong to an Abbas rival, former Gaza strongman Mohammed Dahlan.
Security forces have also arrested four journalists and an anti-corruption activist known for reports critical of Abbas and other Palestinian officials.
Abbas' government has sued two of the journalists and the activist on charges they defamed the president and other senior officials.
The moves have provoked complaints from Palestinian human rights groups. Washington also criticized the crackdown.
http://www.nytimes.com/aponline/2012/04/27/world/middleeast/ap-ml-palestinians-stifling-dissent.html?ref=world&gwh=92347AF6F4ACCE28C0ABFCA647EFD424
------------
Obama to be challenged over human cost of CIA drone strikes
04/27/2012
Campaigners to meet in Washington to highlight how CIA is operating in seceret and inflicting civilian casualties abroad
The human cost of the US government's clandestine drone strikes strategy, including the deaths of young children in Pakistan and Yemen, will be highlighted this weekend as campaigners attempt to challenge domestic support for the Obama administration's controversial policy.
A conference in Washington, at which new video testimony will be shown from the relatives of victims, is the first step in a collaborative campaign to challenge Barack Obama's claim in February that the strikes, aimed at terror suspects, were kept on a "tight leash" and had not inflicted huge civilian casualties.
The summit's organisers – the Center for Constitutional Rights, Reprieve and the peace group Code Pink – hope it will increase awareness of how the CIA-controlled programme is operating in secret, without a clear legal framework and without any accountability to Congress.
Earlier this month, the US government announced it was expanding its controversial use of drone aircraft to kill suspected terrorists in Yemen.
Chris Woods, a journalist at the British-based Bureau of Investigative Journalism, who exposed CIA drone attacks on rescuers and funeralgoers in Pakistan, described the summit as an "extraordinary heavyweight gathering". He said: "Washington has not seen anything like this before."
Woods criticised the US media for not widely reporting civilian casualties of US drone strikes abroad, which he said give a "warped understanding of what is taking place."
Full report at:
http://www.guardian.co.uk/world/2012/apr/26/obama-drone-strikes-human-cost
------------
American Judge denies request to release bin Laden photos
Apr 27, 2012
WASHINGTON: A federal judge on Thursday denied a request to release photos and video taken of Osama bin Laden during and after a raid in which the terrorist leader was killed by US commandos last year.
In court papers, the Justice Department had said that the images of the deceased bin Laden are classified and are being withheld from the public to avoid inciting violence against Americans overseas and compromising secret systems and techniques used by the CIA and the military.
"The court declines plaintiff's invitation to substitute its own judgment about the national-security risks inherent in releasing these records for that of the executive-branch officials who determined that they should be classified," wrote US District Judge James E. Boasberg in rejecting a lawsuit filed by Judicial Watch, a conservative watchdog group.
The group, which had sought the records under the Freedom of Information Act, filed an appeal on Thursday.
Judge Boasberg said that the Defence Department didn't turn up anything responsive to the FOIA, while the CIA found 52 responsive records. The agency withheld all of them, citing exemptions for classified materials and information specifically exempted by other laws.
Full report at:
http://timesofindia.indiatimes.com/world/us/Judge-denies-request-to-release-bin-Laden-photos/articleshow/12891091.cms
------------
Six PKK militants killed in eastern Turkey clashes
Apr 27, 2012
DIYARBAKIR, Turkey: Six Kurdish militants were killed during clashes in eastern Turkey on Thursday, the local governor's office said, adding to a recent upsurge in conflict between the Turkish armed forces and separatist guerrillas.
Two Turkish soldiers also were reported killed on Wednesday in the fighting between the outlawed Kurdistan Workers Party (PKK) and security forces in the Genc district of eastern Bingol province, according to a PKK website.
The Bingol governor's office said in a statement that one militant was captured alive.
Three Turkish soldiers and three PKK militants were killed in clashes on Tuesday. The arrival of milder spring weather typically fuels conflict in the region.
Talks between Turkey and the PKK to end the violence broke down and scores of militants, soldiers and civilians have been killed since then. Hundreds have been arrested on charges of secretly supporting the PKK.
Earlier this month, PKK militants killed two soldiers and wounded three along the Iraqi border. In March, Turkish security forces killed 15 female Kurdish militants in southeastern Bitlis province while rebels killed five special forces police officers in Sirnak province the same month.
More than 40,000 people have been killed in the fighting since the PKK took up arms in 1984.
The PKK is considered a terrorist organization by Turkey, the United states and the European Union.
http://arabnews.com/middleeast/article618377.ece
------------
ANP activist among two killed in Karachi violence
Apr 27, 2012
KARACHI: Two people, including Awami National Party (ANP) activist, were killed in separate acts of target killing within the metropolis on Thursday.
An activist of the Awami National Party (ANP) was shot dead near Babar Market within the limits of Landhi police station. The incident took place at Landhi Babar Market where 30-year-old Gul Shan Khan alias Rambo was shot twice by two armed motorcyclists. Khan, who received both bullets in his head, succumbed to the injuries on the spot while the culprits managed to flee. His body was shifted to the Jinnah Postgraduate Medical Centre for medico-legal formalities. SHO Mazhar Iqbal Awan said the victim was an active worker of ANP and a resident of Moindabad No 1, Landhi. He used to run a rent-a-motorcycle shop in Landhi area. Tension engulfed Qauidabad and Landhi areas after Khan's murder where all major shops and markets were closed. Separately, police found a youngster's body from Darya Abad, Lyari, within the remit of Kalri police station.
The identity of the victim was yet to be ascertained. Police found his body abandoned near Tayyab General Store, Darya Abad, Lyari. They said the victim had received two bullets, besides severe torture. Police said unidentified men kidnapped him from an unknown place and abandoned his body after the murder. They said he appeared to be of Baloch descent. The body was shifted to CHK for post-mortem and later moved to the Edhi Morgue for identification. Police have registered a case against unidentified men on the complaint of state and initiated a probe.
http://www.dailytimes.com.pk/default.asp?page=2012\04\27\story_27-4-2012_pg7_20
------------
Seven dead, 20 wounded in Damascus suicide bomb
27 April, 2012
Seven people were killed and 20 wounded, including members of the security forces, in a suicide bombing in the central Damascus district of Midan on Friday, Syria's state news agency SANA said.
Opposition activists said the explosion occurred as worshippers were coming out of the Zeen al-Abadeen mosque.
"About 30 minutes ago, I heard a really heavy blast. It felt like I was shaking and I think everyone in Damascus must have heard it," said Mar Ram, an activist living in Midan, a focus of regular protests against President Bashar al-Assad.
"We've been hearing a lot of blasts in Damascus recently, action is picking up and it seems the (rebels) and Assad's forces are starting to battle it out in Damascus as well."
Full report at:
http://www.reuters.com/article/2012/04/27/us-syria-blast-idUSBRE83Q0IQ20120427
------------
Blasts injure 27 in east Ukraine city
Apr 27, 2012
At least four explosions have rocked the city of Dnipropetrovsk in eastern Ukraine, injuring at least 27 people.
The first two blasts happened at a busy central tram stop and near a local cinema, officials said. No suspects have been identified yet.
One device was planted in a rubbish bin and injured five. The next explosion, 30 minutes later, injured seven.
http://www.bbc.co.uk/news/world-17869249
------------
Pak marine opens fire at Indian fishermen, 1 injured
Apr 27 2012
Jamnagar (Gujarat) : Pakistani marine personnel opened indiscriminate fire on Indian fishermen leaving one of them injured near the international border in Arabian sea off Jakhau coast last night, officials said today.
"One of the six fishermen on board, Daya Bhai, sustained bullet injuries when Pakistan Marine Security Agency personnel opened indiscriminate fire on them late last night as they were fishing in international sea," Marine police officials said today.
The vessel 'Sagar Bhuja' belongs to Porbandar and had gone for fishing, they said, adding the injured fisherman has been admitted to a hospital in Okha.
A case has been registered in this regard with the Marine Police station in Okha.
http://www.indianexpress.com/story-print/942401/
--------
Blast hits court house in east Libya
Apr 27, 2012
BENGHAZI: A bomb exploded at a courthouse in the Libyan city of Benghazi on Friday, wounding one person and damaging surrounding buildings in a fresh challenge to the post-Gaddafi government's struggle to restore stability.
A security official said three packages of explosives were planted by unknown suspects at a wall of the court. The blasts shattered windows of a nearby hospital, injuring one person inside.
The eastern city of Benghazi, the cradle of the county's revolution, has simmered with dissatisfaction since Muammar Gaddafi was ousted last August. Residents complain they have been all but forgotten by the new leadership in Tripoli.
In late January, protesters stormed the local headquarters of the ruling National Transitional Council (NTC), smashing its windows with stones and metal bars. On April 10, a home-made bomb was thrown at a convoy carrying the head of the United Nations mission to Libya but no one was hurt.
Hampered by the lack of an effective national army or internal security force, the NTC is grappling to disband dozens of powerful militias that effectively control various parts of the country.
Militia chiefs have resisted attempts to integrate their personnel into the official military and police police forces.
http://dawn.com/2012/04/27/blast-hits-court-house-in-east-libya/
------------
Nawaz, Imran ask Gilani to step down
By Amjad Mahmood and Ahmad Hassan
Apr 27, 2012
LAHORE / ISLAMABAD: PML-N president Nawaz Sharif and PTI chairman Imran Khan have demanded that Prime Minister Yousuf Raza Gilani should step down in the wake of his conviction by the Supreme Court and fresh polls should be held immediately to steer the country out of the 'crisis' it is in.
According to analysts, the conviction of the prime minister in the contempt case on Thursday has been taken with a heavy heart by many, including Mr Sharif and rights activists, while the PPP appears to have benefited from it, at least in the short run, and it won on Thursday a seat in Multan by-polls which everyone was sure would be bagged by the PML-N.
"The prime minister should immediately step down without prolonging the crisis, dissolve the national and provincial assemblies and hold fresh polls," Mr Sharif said while talking to a couple of TV channels.
He suggested appointment for a 'neutral' and 'unanimous' prime minister who would write to the Swiss authorities the Supreme Court wanted to be written and lead the country to general election.
The PML-N chief made an offer of talks with the government if it agreed to form a caretaker set-up.
Full report at:
http://dawn.com/2012/04/27/nawaz-imran-ask-gilani-to-step-down/
------------
Commission rejects Haqqani's plea for testimony via VideoLink
Apr 27, 2012
ISLAMABAD: The judicial commission probing the memo scandal on Thursday rejected a plea by former ambassador Husain Haqqani for recording his statement via video link from abroad.
The commission, headed by Balochistan High Court Chief Justice Qazi Faez Isa, and consisting of Islamabad High Court (IHC) Chief Justice Iqbal Hameedur Rehman and Sindh High Court Chief Justice Musheer Alam, conducted the proceedings of the case at IHC.
All respondents would argue on the available record and evidence that has been gathered so far, the commission ordered.
Advocate Zahid Bukhari, the counsel for Haqqani, gave arguments in favour of his client recording statement by video link. He also submitted details of Haqqani's assets before the commission.
The lawyer said that Haqqani was getting death threats and his life was in danger in Pakistan.
The commission, however, rejected his application and directed Haqqani to submit the record of secret funds he had used in 2011 as an ambassador.
It also barred the former ambassador from using Twitter, a popular social networking site.
The commission issued directives against using such gadgets during proceedings of sub judice matters.
Full report at:
http://www.dailytimes.com.pk/default.asp?page=2012\04\27\story_27-4-2012_pg7_3
------------
PAK PM IS A WINNER ALLTHE WAY
by Manoj Joshi
Apr 27, 2012
PAKISTAN Supreme Court's decision to find PM Yousaf Raza Gilani guilty of contempt of court may have set the cat among the pigeons in the political circles of the country, but here it is being viewed with a sense of relief.
In a Solomonic verdict, the court found him guilty, but at the same time only punished him with imprisonment till the rising the court. He can be technically disqualified from the parliament for acting in a manner which defames or brings into ridicule the judiciary" according Pakistan's Constitution.
However it is unlikely that the Speaker, who is empowered to remove him, will indeed do so.
The case is important because the contempt he is accused of is refusal to write to the Swiss authorities and ask them to reopen graft cases against President Asif Ali Zardari.
The long- serving Gilani has proved to be a reliable and successful interlocutor for Pakistan
vis- à- vis India. It may be recalled that in 2009 in Sharm el Sheikh, he persuaded PM Manmohan Singh to overlook the Mumbai attack and restore the India- Pakistan composite dialogue.
Full report at: Mail Today
------------
Gilani dares Opposition to move trust vote against him
27 April, 2012
A day after his conviction for contempt by Pakistan's Supreme Court, a defiant Prime Minister Yousuf Raza Gilani on Friday dared the opposition to move a vote of no-confidence against him and said only the Speaker could disqualify him.
"There is a custom that nobody but the Speaker can disqualify me. It cannot happen, there is no law or anything in the Constitution. Today if you (the Speaker) denotify me, I will leave right away. That is up to the custodian of the House," Mr. Gilani said in the National Assembly or lower house of Parliament.
Mr. Gilani challenged main opposition PML-N, which has sought his resignation, to bring a vote of no-confidence against him.
He contended the "ultimate authority is the Parliament because every institution derives powers from the Parliament."
The apex court yesterday convicted Mr. Gilani for contempt for refusing to act on orders to reopen graft cases against President Asif Ali Zardari and gave him a symbolic sentence of less than a minute. The government has said it will appeal the verdict while the Cabinet insisted there was no need for Gilani to resign on moral grounds.
Mr. Gilani said that he had not been convicted for "financial corruption or moral turpitude," but for acting to protect the Constitution, which provides immunity to the President.
Besides, he pointed out, the matter related to his conviction was not closed as the government intended to appeal the court's ruling.
There were several other steps related to his possible disqualification that would have to be taken by the Speaker and the Election Commission, he said.
"I'm the elected Prime Minister of 18 crore people. How can you just throw somebody out?" he said.
http://www.thehindu.com/news/international/article3360217.ece
------------
PIA flight makes emergency landing after hijack threat
Apr 27 2012
Karachi : A Pakistan International Airlines flight today made an emergency landing at the Karachi airport after a passenger allegedly threatened to hijack the aircraft.
PIA flight PK-586, which was flying from Karachi to Bahawalpur in Punjab province, turned back to the port city after an air hostess alerted the captain about the passenger's threat, TV news channels reported.
The passenger who made the alleged threat was arrested by commandos of the Airport Security Force at the Jinnah International Airport.
The aircraft was searched by security forces after being evacuated.
Following his arrest, the passenger claimed he had made the alleged threat after a quarrel with the air hostess and that he had no intention of hijacking the aircraft.
The number of passengers on the flight could not immediately be ascertained.
Pakistan's aviation industry has been hit by a string of problems in recent years.
A total of 127 people were killed when a Boeing 737 of the private Bhoja Air crashed near Islamabad on April 20.
This was the second major air disaster in the vicinity of the Pakistani capital since July 28, 2010, when an Air Blue airliner slammed into the Margalla Hills in cloudy weather, killing all 152 people on board.
State-run PIA, which is the country's largest airline, is grappling with a funds crunch and an ageing fleet.
http://www.indianexpress.com/story-print/942364/
------------
Afghanistan, Iran agree to prisoner swap
Apr 27, 2012
KABUL: Afghanistan and Iran have agreed to a prisoner exchange, the Foreign Ministry in Kabul said on Thursday, a sign of warming relations between the two neighbours ahead of the planned withdrawal of foreign combat forces from Afghanistan in 2014.
Thousands of Afghan prisoners are held in Iranian jails, some awaiting the death penalty for narcotics trafficking, and their incarceration caused tension between the two countries last year. "Signed on Tuesday by Iranian President (Mahmoud Ahmadinejad) it is effective immediately," Janan Musazai, a foreign ministry spokesman, told Reuters, adding that Iran is holding around 3,000 Afghans in its prisons.
Full report at:
http://www.dailytimes.com.pk/default.asp?page=2012\04\27\story_27-4-2012_pg14_6
------------
Panetta hopes Israeli general 'correct' on Iran
Apr 27, 2012
SANTIAGO: US Secretary of Defense Leon Panetta said Thursday he hopes that statements from Israel's military chief describing Iran's leadership as rational were "correct."
Israeli Lieutenant General Benny Gantz told the Haaretz newspaper on Wednesday that the Iranian leadership "is composed of very rational people,"and that while Tehran was reaching the point at which it could decide to build a nuclear bomb, the leaders had not yet decided whether to proceed.
"I would hope he's correct and he knows something more that I do," Panetta said during a visit to Chile.
"I do not have any specific information that indicates (the Iranians) have made any decision one way or another" on whether to build a nuclear weapon, Panetta told reporters after meeting his Chilean counterpart Andres Allamand.
Neither Israel nor the United States currently believe that Tehran has actually taken the decision to develop a nuclear bomb, a decision that would require the ability to quickly produce weapons-grade uranium.
"I would like to hope… that because of the leadership of the United States, the international community and the leadership of Israel, they can make the right decision," Panetta said.
Israel and much of the West suspect Iran is using its civilian nuclear program as a cover for a weapons drive, a charge Tehran denies. Israeli officials have refused to rule out a pre-emptive strike on its chief foe's nuclear facilities.
Panetta began his first Latin America tour Monday in Colombia, and then visited Brazil in a bid to boost military cooperation and regional security ties.
http://dawn.com/2012/04/27/panetta-hopes-israeli-general-correct-on-iran/
------------
Bible translator criticized by critics
Apr 27, 2012
Critics said language in some translations intended for Muslim countries missed the essential Christian idea of the Trinity: the father, son and the Holy Spirit.
One of the world's largest Bible translators faces an independent review after critics said language in some translations intended for Muslim countries missed the essential Christian idea of the Trinity: the father, son and the holy spirit or ghost.
Wycliffe Bible Translators, which is involved in more than 1,500 Bible translation programs in roughly 90 countries, says the translations have never been about avoiding controversy. It says some concepts relating God to family members don't make sense in some cultures, so the language needs to reflect that.
"People are saying we're trying to do translation work that's not offensive to Muslims, and that's just not true," Wycliffe CEO Bob Creson said. "We are committed to the accurate translation of God's word. That is our highest value."
Disputes over biblical language date from the early centuries of Christianity, then the original Hebrew and Greek texts were brought to new countries. More recent disputes concerned making the Shakespearean language of the King James Version more understandable to modern readers.
Full report at:
http://timesofindia.indiatimes.com/world/rest-of-world/Bible-translator-criticized-over-word-substitution-in-editions-for-Muslim-countries/articleshow/12884368.cms
------------
US 'expands Yemen drone strikes policy'
27 Apr 2012
CIA and Pentagon given right to launch attacks even when identity of those in harm's way is not known, reports say.
Barack Obama has approved a new policy shift which allows the Central Intelligence Agency and the US military to launch drone attacks in Yemen when the identity of those who could be killed is not known, according to US media reports.
The Washington Post, quoting administration officials, said on Thursday that the US president approved the use of "signature" strikes this month.
It also said that the killing of an alleged al-Qaeda fighter earlier this week near the border to Yemen's Marib province was among the first attacks carried out under the new authority.
The shift in policy is said to mark a significant expansion of the drone war against what the US alleges to be a group affiliated with al-Qaeda which is located in Yemen.
The Wall Street Journal quotes US officials as saying that the amended policy includes targeting fighters whose names are not known but who are deemed to be "high-value terrorism targets, or threats to the US".
Some congressional officials have expressed concern over the use of such signature strikes, stating that they raise the likelihood of killing fighters who may not be involved in plots either to do with attacks against the US, or affiliated with al-Qaeda, potentially angering the local population and pushing them to join in the struggle against the US.
Full report at:
All officials spoke on condition of anonymity to discuss sensitive strategic matters.
http://www.aljazeera.com/news/middleeast/2012/04/201242665054283749.html
------------
Likud would be largest party in election now: Israeli poll
Apr 27, 2012
JERUSALEM: An Israeli poll published on Friday, amid fresh talk of possible early elections, showed Prime Minister Benjamin Netanyahu's Likud party winning twice as much support as any rival.
But the Smith Research survey carried by Jerusalem Post newspaper said Likud would still fall far short of a parliamentary majority and once again be forced into a coalition.
The poll of 500 Jewish and Arab Israelis said that if Netanyahu brought forward a general election scheduled for October 2013, Likud would take 31 seats in the 120-seat legislature.
The tally would be well ahead of Labour and the ultra-nationalist Yisrael Beitenu -- a current coalition partner -- which would have 15 each.
The centrist opposition Kadima, currently the largest party by a hair, with 28 seats to Likud's 27 would shrink to 13 in early elections,it said.
Netanyahu has stated repeatedly that he does not intend to bring forward the election date, but speculation is rife and has been rising ahead of parliament's return next week from its spring break.
"I believe that Israel is in an election year and that the Knesset's summer session, which will open on Monday, will be the last session of the 18th Knesset," speaker Reuven Rivlin told the top-selling daily Yediot Aharonot.
Full report at:
http://timesofindia.indiatimes.com/world/middle-east/Likud-would-be-largest-party-in-election-now-Israeli-poll/articleshow/12894559.cms
------------
Panetta memo records Obama order to 'get Bin Laden'
Apr 27 2012
New York : A hand-written memo in which US President Barack Obama authorised the Navy SEALs team to "go in and get (Osama) bin Laden" at his hideout in Pakistan one year ago has been made public.
Obama's orders to the Navy SEALs team had been to "go in and get bin Laden" and to "get out" if the Al Qaeda leader was not in the Abbottabad compound, according to the secret memo handwritten and signed by the then CIA chief Leon Panetta made public by Time magazine.
In the April 29 memo, Panetta, now Secretary of Defence, wrote that he received a phone call from National Security Adviser Tom Donilon who told him the president had "made a decision with regard to AC1 [Abbottabad Compound 1]."
"The decision is to proceed with the assault... The direction is to go in and get Bin Laden and if he is not there, to get out," the memo published by Time magazine ahead of the first anniversary of the May 2 killing of bin Laden, said.
Panetta further wrote in the memo that the timing, operational decision making and control of the raid was in the hands of Admiral William McRaven, in charge of the hunt for Bin Laden as commander of the Joint Special Operations Command.
"The approval is provided on the risk profile presented to the president. Any additional risks are to be brought back to the president for his consideration... Those instructions were conveyed to Admiral McRaven at approximately 10:45 am," he wrote in the memo.
Full report at:
http://www.indianexpress.com/story-print/942353/
------------
US on guard ahead of bin Laden anniversary
27 April 2012
President Barack Obama has reviewed potential threats to the United States before next week's anniversary of the killing of Osama bin Laden, but there is no concrete evidence al Qaeda is plotting any revenge attacks, the White House said on Thursday.
US Navy SEALs shot bin Laden last year in a raid on the al Qaeda leader's compound in Pakistan before dawn on May 2 local time, which was May 1 in the United States. The killing is touted by the Obama administration as one of its top national security accomplishments.
"At this time, we have no credible information that terrorist organizations, including al Qaeda, are plotting attacks in the United States to coincide with the anniversary of bin Laden's death," White House press secretary Jay Carney said on Thursday.
That assessment was echoed in an FBI and Department of Homeland Security intelligence bulletin issued on Wednesday to state and local law enforcement agencies.
Full report at:
http://www.khaleejtimes.com/kt-article-display-1.asp?xfile=/data/international/2012/April/international_April758.xml&section=international
------------
Osama planned major attacks in Pak before being killed: Report
Apr 27, 2012
ISLAMABAD: Al-Qaida chief Osama bin Laden had planned to mount indiscriminate attacks on Pakistani soil before his killing in a covert US raid in Abbottabad, the documents seized by the Americans from the slain terrorist's compound in the Pakistani garrison city have suggested.
The CIA shared intelligence about possible al-Qaida attacks inside Pakistan when officials of the two countries met to explore the way forward in resetting bilateral ties, the Dawn newspaper reported quoting its sources.
The information was "based on documents seized by US Navy SEALs during the raid on Osama bin Laden's compound" in the garrison town of Abbottabad in May last year. Some details of the intelligence "revealed that before being killed in the May 2 raid, bin Laden, along with Ayman Al-Zawahiri... and other senior leaders of the terror outfit had planned to mount indiscriminate attacks on Pakistani soil," the daily reported.
The report further said there were "conflicting reports about the shared intelligence." One unnamed participant of a meeting said CIA Deputy Director Michael Morrell had presented a dossier to Pakistani officials while another claimed the US had provided "just a tip about what al-Qaida had been planning to do in Pakistan" without related details that could help put the jigsaw together.
The report said it was not clear whether the CIA intended to identify bin Laden's "support network within Pakistan with the help of shared intelligence or wanted to rebuild the much-needed mutual trust for moving forward."
The US embassy yesterday issued a special message that said American diplomats and citizens in Pakistan had been asked to be on alert in the run-up to the first death anniversary of bin Laden on May 2.
http://timesofindia.indiatimes.com/world/pakistan/Osama-planned-major-attacks-in-Pak-before-being-killed-Report/articleshow/12894331.cms
------------
Malaysia: An apology for human rights abuses will not be enough
Rabby Pramudatama
04/27/2012
Several victims and their families are skeptical about President Susilo Bambang Yudhoyono's plan to apologize for previous human rights abuses.
Saying sorry was not enough, according to Maria Catarina Sumarsih, 60, the mother of Bernandus Realino Norma Irmawan, a student who was killed in the 1998 Semanggi shooting incident.
"What concerns us is that no concrete actions will be taken as a follow-up to the public apology," she told The Jakarta Post on Thursday.
Sumarsih said that it was important for the government to first acknowledge the gross human rights violations that happened in the past.
"This step is possible through the National Commission on Human Rights [Komnas HAM], which could work as an institution that could launch an investigation. It can also decide whether crimes from the past can be categorized as gross human rights violations," she said.
Full report at:
http://www.thejakartapost.com/news/2012/04/27/an-apology-rights-abuses-will-not-be-enough-families-say.html
------------
French-led push for tougher stand on Syria
04/27/2012
France insists it will wait no longer than 5 May before seeking a resolution demanding an end to the Syrian regime's campaign
A French-led push for a tougher stand on Syria is gathering momentum as regime forces continue to pound the country's fourth city, Hama, in defiance of an ailing UN-sponsored ceasefire.
France has adopted a forward position on the crisis by insisting that it will wait no longer than 5 May before moving to seek a resolution under Chapter 7 of the UN charter to demand the Syrian regime stop its campaign against dissent. Such a move could mean seeking the use of force though it is more likely to demand non-military punitive measures.
Western diplomats have admitted privately however that there is no chance of the UN security council taking action against president Bashar al-Assad as long as he enjoys the support of Russia and China, which have used their vetoes to defend him against sanctions.
Full report at:
http://www.guardian.co.uk/world/2012/apr/26/syria-france-un-resolution-hama
------------
500 British troops to be withdrawn from Afghanistan, says defence secretary
04/27/2012
Philip Hammond tells MPs that Afghan forces are now strong enough to allow 500 British combat troops to return home
The first details of the UK's long march out of Afghanistan were revealed on Thursday when the defence secretary, Philip Hammond, announced Afghan forces were now strong enough to allow 500 British combat troops to return home.
In a statement to the House of Commons, Hammond said 36 checkpoints and patrol bases in Helmand province had been handed over to the Afghan police and army over the last six months, and that two of the UK's satellite headquarters would be merged into one. However, he insisted the UK would still have combat troops in Afghanistan until the end of 2014, the date set for full transition of security from Nato to local forces.
Full report at:
http://www.guardian.co.uk/uk/2012/apr/26/troops-afghanistan-withdraw-defence-secretary
------------
Israeli leaders say it is time for Syria's Assad to step down
04/27/2012
JERUSALEM — Israeli officials have become increasingly outspoken in their belief that Syria's President Bashar Assad should relinquish power after a 13-month uprising that has killed thousands of his citizens — a surprising turnaround that risks backfiring and potentially strengthening the embattled Syrian leader.
These calls mark an important shift in Israel, where leaders initially reacted to the uprising with barely disguised concern and alarm. As the Arab Spring remakes the fabric of the Middle East, Israel has been torn between support for democratic change and a surprising comfort with the established order.
This early dominant thinking was that while Assad was no friend of Israel, he remained a known quantity whose family had kept the shared border quiet for nearly four decades and occasionally pursued peace talks with Israel. With Islamic parties on the rise throughout the region, there was no telling who might replace him.
Full report at:
http://www.washingtonpost.com/world/middle_east/in-shift-israeli-leaders-say-it-is-time-for-syrias-assad-to-step-down/2012/04/27/gIQAiw0bkT_story.html
------------
US relaxes drone rules in Yemen
Apr 27, 2012
LAHORE: The Obama administration has given the Central Intelligence Agency and US military greater leeway to target suspected al Qaeda terrorists in Yemen with drones, responding to worries a new haven is being established from which to mount attacks on the West, the Wall Street Journal (WSJ) reported on Thursday.
The policy shift, as described by senior US officials, includes targeting fighters whose names aren't known but who are deemed to be high-value terrorism targets or threats to the US, according to the Journal.
The White House stopped short of authorising attacks on groups of lower-level foot soldiers who are battling the Yemeni government, the officials told WSJ.
The US has already authorised drone strikes in Pakistan against those suspected of terrorist activities but who haven't necessarily been identified by name.
The expansion of the drone campaign in Yemen, to which the administration agreed earlier this month, underlines the difficulty the White House faces in balancing concerns about al Qaeda's apparently growing foothold in southern Yemen against fears that greater CIA and military involvement could propel the US into another regional conflict, the Journal reported.
Some military and intelligence officials privately complain that the White House is being too cautious. They argue that more-aggressive US action is necessary to combat the growing threat from al Qaeda in the Arabian Peninsula, or AQAP, and to help the Yemeni government regain control of southern provinces where the group and its allies hold sway.
Full report at:
http://www.dailytimes.com.pk/default.asp?page=2012\04\27\story_27-4-2012_pg7_9
------------
Arab League calls on UN to protect Syrians
Apr 27, 2012
CAIRO: The Arab League plans to call on the UN Security Council to take immediate action to protect Syrian civilians, it said in a statement released after an Arab League meeting.
"The Arab League will assign its Arab representatives in the UN Security Council in the meeting set to take place May 5 to ask the Security Council to protect Syrian civilians immediately," a final statement said.
The final statement dropped a reference included in an earlier draft seen by Reuters to Chapter 7 of the Security Council charter, which allows it to authorise actions ranging from diplomatic and economic sanctions to military intervention.
http://dawn.com/2012/04/27/arab-league-calls-on-un-to-protect-syrians/
------------
Intel shows Iran nuclear threat not imminent
April 27, 2012
The US, European allies and even Israel generally agree on three things about Iran's nuclear program: Tehran does not have a bomb, has not decided to build one, and is probably years away from having a deliverable nuclear warhead.
Those conclusions, drawn from extensive interviews with current and former U.S. and European officials with access to intelligence on Iran, contrast starkly with the heated debate surrounding a possible Israeli strike on Tehran's nuclear facilities.
A report on this can be viewed here.
http://tribune.com.pk/story/370783/intel-shows-iran-nuclear-threat-not-imminent/
------------
Oppression pushing Baloch towards self determination
Apr 27 2012
Washington : Alleging that Pakistan has increased the persecution of the people of Balochistan, a key US lawmaker has said that human rights violation and oppression is forcing the restive province towards self-determination.
"Should the government of Pakistan continue to not only neglect but persecute the Baloch people, it is hard to argue with Balochs who demand self-determination," Congressman Ted Poe said.
"In the end, a government is only legitimate as long as it has the support of its people. The government of Pakistan is dangerously close to that line," Poe said.
Speaking on the floor of the US House of Representatives, the Congressman urged Islamabad to give the Baloch people a voice in how they will be governed.
They should not only listen to their complaints, but answer them with positive steps, he said.
Full report at:
http://www.indianexpress.com/story-print/942281/
------------
Bomb threats to Egyptian TV station
April 27th, 2012
A group of extremist, who call themselves "the Jihad Group to Purify the Land", have sent a bomb threat letter to the Egyptian television station ON TV, and vowed to kidnap its presenters Yusri Foudah and Reem Al Majid. Head of the station made a complaint to a Cairo police that a letter was received from "the Jihad Group to Purify the Land" threatening to bomb the channel's studios and building.
The group also threatened to kidnap its presenters and demanded a ransom of 20 million Egyptian pounds or the presenters will be killed. It was added that the advertising company working with the station was also threatened if they resumed their cooperation.
The group claimed that the channel encourages chaos and corruption and is manipulated by an American and Israel agenda. The letter said that the channel airs poison into people's minds through its presenters.
According to the internet website MBC.net, the demands in the letter were as follows:
Full report at:
http://www.albawaba.com/entertainment/bomb-threats-egyptian-tv-station-422714
------------
More Palestinian prisoners join hunger strike
04/27/2012
Human rights groups say 2,000 are on hunger strike against indefinite detention without charge and alleged ill-treatment
The number of Palestinian prisoners on hunger strike in Israeli jails has grown to 2,000, with more preparing to join the protest next week, according to human rights groups in the West Bank.
The Israeli prison service is taking punitive measures against hunger strikers, including solitary confinement, the confiscation of personal belongings, transfers and denial of family visits, say Palestinian organisations.
Seven prisoners have been transferred to a prison medical centre, including Tha'er Halahleh, 34, and Bilal Diab, 27, who by Thursday had been on hunger strike for 58 days. Their appeals against imprisonment without charge – known as administrative detention – were dismissed by a military court earlier this week.
The men's condition is rapidly deteriorating, according to Addameer, a prisoners' rights group. It expressed "grave concern that these hunger strikers are not receiving adequate healthcare … and that independent doctors are still being denied visits to them".
Full report at:
http://www.guardian.co.uk/world/2012/apr/26/palestinian-prisoners-join-hunger-strike
------------
Egypt Islamic body backs Brotherhood candidate
Apr 27, 2012
Cairo: A panel of fundamentalist Islamic clerics has endorsed the candidate of the Muslim Brotherhood for president of Egypt, an attempt to prevent a split among conservative Muslim voters. The panel that represents ultraconservative Salafi Muslims and others put its weight behind Mohammed Morsi, a senior Brotherhood official. He faces competition from a moderate Islamist, Abdel-Moneim Abolfotoh, who broke ranks with the Brotherhood, as well as statesman Amr Moussa.
http://www.dailypioneer.com/world.html
------------
US 'gate crasher' to run for governor's post
Apr 27, 2012
WASHINGTON: More than two years after he gate crashed into the White House state dinner hosted for visiting Indian Prime Minister Manmohan Singh, Tareq Salahi has announced his intent to run for governor of Virginia.
"It's not part of reality TV. It's not a stunt. It's real," Salahi told The Washington Post.
Salahi told the daily that he will run, as a Republican, to avenge a recent lawsuit brought against him by another GOP gubernatorial hopeful - Virginia attorney general Ken Cuccinelli II. According to the daily, Salahi feels the lawsuit made him realize just how much taxpayer money politicians waste. So he decided someone else should run for the state's top job. "I woke up thinking 'someone should do this'," Salahi said. "And I thought 'Wait a minute. I'm someone!', he said. Salahi and his wife Michaele created a major security breach in Nov 2009 when they managed to enter White House and attend the state dinner hosted by US president Obama.
http://timesofindia.indiatimes.com/world/us/US-gate-crasher-to-run-for-governors-post/articleshow/12889768.cms
------------
Modi must reflect upon visa denial: Indian Law Minister
Apr 27, 2012
WASHINGTON/NEW DELHI: Union law minister and Congress leader Salman Khurshid took a swipe at Narendra Modi on Thursday, saying he needed to reflect on why the US continued to deny him visa.
"Not for us to comment on US policy but it is a matter of serious concern that there is this kind of serious question mark on the personality of somebody who leads a major state in our country," Khurshid said in Delhi. "I hope the person concerned will reflect upon this and think about why the world thinks so poorly of him."
The US State Department reiterated its policy denying visa to Modi in response to questions on Congressman Joe Walsh's letter to secretary of state Hillary Clinton seeking a review of the 2005 decision. In a statement, the Indian American Muslim community demanded that the US stick to the 2005 policy on Modi's visa.
Walsh had argued that "ten years have passed since the violence in Gujarat and much progress has been made. Modi has been recognized across the world for establishing Gujarat as the most business-friendly state in India." He added that the BJP leader was "widely believed to be a serious contender for the 2014 election for Indian PM " and it was time the State Department reconsidered its visa policy.
http://timesofindia.indiatimes.com/india/Modi-must-reflect-upon-visa-denial-Khurshid/articleshow/12888844.cms
------------
URL: https://newageislam.com/islamic-world-news/'-attacked-this-day-newspaper'/d/7156