New Age Islam News Bureau
18 Jun 2020
• How Religions and Religious Leaders Can Help to Combat The COVID-19 Pandemic: Indonesia's Experience
• Bangladesh Police Introduce Yoga Course for Officials To Help Relieve Stress And Boost Immunity
• US Sanctions Dozens Under Caesar Act, Including Syrian President Al-Assad, Wife
• Integration Report Reveals Significant Scepticism Towards Islam In Norway
• Lebanon Warned Not to Overlook US Caesar Act
• Pakistan Provincial Court Orders Release Of 200 Prisoners Convicted by Military Courts of Terrorism
• Iran, Russia, China Denounce US Sanctions Targeting War-Ravaged Syrian Economy
• Iran Urges Respect for Libya's Integrity, Right To Decide Own Political Fate
India
• Why Only Muslims Booked for Violating Curbs, Look at US Crisis: Telangana High Court to Hyderabad Cops
• Encounter breaks out between security forces and terrorists in J-K's Pulwama
• Terrorist killed in encounter in Jammu and Kashmir's Awantipora, operation underway
• Babri Masjid trial: Uma Bharti on list of accused appearing in court on Thursday
• Ahmedabad: Afghan student 'hangs himself' outside hostel
--------
Southeast Asia
• How Religions and Religious Leaders Can Help to Combat The COVID-19 Pandemic: Indonesia's Experience
• Selangor Sultan: State to resume Friday prayers at mosques from tomorrow, larger congregation allowed
--------
South Asia
• Bangladesh Police Introduce Yoga Course for Officials To Help Relieve Stress And Boost Immunity
• Motive behind Haibatullah's decision to appoint Mullah Yaqoob as Taliban military chief
• At least 18 Afghan forces killed in Taliban attacks
• Babunagari relieved from duty, AllamaShafi's successor will be Sheikh Ahmed
--------
North America
• US Sanctions Dozens Under Caesar Act, Including Syrian President Al-Assad, Wife
• Asma al-Assad should be sanctioned on her own, not just as Bashar's wife: Jeffrey
• Muslim World League fires back at Al Jazeera host's mocking of interfaith efforts
• Trump backed Xi over concentration camps for Uighur Muslims, ex-aide Bolton claims
• Trump signs bill to punish China with sanctions over Uighur Muslim treatment
• Caesar Act has domestic, international support: US envoy for Syria
• UN taps Turkish diplomat for General Assembly chief
--------
Europe
• Integration Report Reveals Significant Scepticism Towards Islam In Norway
• Germany's Sea Watch rescues 100 migrants off Libya
• London mayor Sadiq Khan takes pay cut over coronavirus funding cut fears
• France: Syrian Assad relative found guilty of fraud
• Police detain PKK/YPG terror sympathizer who jumped on PM Johnson's car
--------
Arab World
• Lebanon Warned Not to Overlook US Caesar Act
• Arts and culture jobs in Saudi Arabia get official status in national first
• UAE says Turkish and Iranian military interventions violate Iraqi sovereignty
• Syrian President al-Assad's uncle found guilty of money laundering
• Rockets hit heavily fortified Green Zone in Iraqi capital Baghdad
• More witnesses added to lawsuit detailing Qatari Sheikh's murderous lifestyle
--------
Pakistan
• Pakistan Provincial Court Orders Release Of 200 Prisoners Convicted by Military Courts of Terrorism
• Centre only wants to remove anomalies from 18th Amendment, PM says
• Coronavirus cases in Pak cross 1,50,000-mark; death toll reaches 2,975
• Justice Isa turns up at SC as wife's emissary
• PPP calls for JIT to probe prime minister's 'assets' in Britain
• Two 'missing' workers of MQM-L, JSQM found shot dead
• PTI Sindh lawmakers urge PM Imran to improve ties with PPP govt
--------
Mideast
• Iran, Russia, China Denounce US Sanctions Targeting War-Ravaged Syrian Economy
• CBI Governor: Iran to Use Assets in Iraq to Buy Basic Commodities
• Iran Stresses Necessity for IAEA to Respect Confidentiality of Info
• Spokesman: S. Arabia, US Mocking Int'l Mechanisms
• Israel's Netanyahu mulls two-phase West Bank annexation: Reports
• Arab Coalition releases footage refuting Houthi claims of killing civilians in Yemen
• Yemen coalition welcomes removal from UN child war zone list
• Kurdish militant attack kills four in southeast Turkey
--------
Africa
• Iran Urges Respect for Libya's Integrity, Right To Decide Own Political Fate
• South Sudan leaders reach key deal on control of states
• 'Turkey-Russia talks on Libya based on principles'
• Nigeria welcomes COVID-19 fund for mid-income countries
• 1 killed, 3 children injured by Haftar's mines in Libya
• Top-level Turkish delegation meets Libyan premier
• Libya says efforts underway to probe Haftar violations
• Egypt returns 23 men allegedly tortured by Libya's GNA militia
Compiled by New Age Islam News Bureau
URL: https://www.newageislam.com/islamic-world-news/only-muslims-booked-violating-curbs/d/122156
--------
Why Only Muslims Booked For Violating Curbs, Look At US Crisis: Telangana High Court To Hyderabad Cops
Jun 18, 2020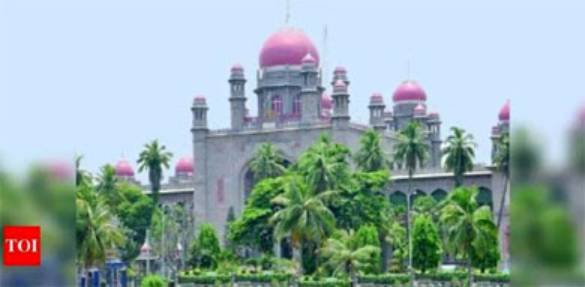 Telangana High Court
-----
HYDERABAD: Telangana high court on Wednesday asked Hyderabad police officials why it had booked a disproportionally high number of Muslims for violating lockdown rules. "Does it mean that there are no violators from other communities?" a bench of Chief Justice Raghavendra Singh Chauhan and Justice B Vijaysen Reddy asked while hearing a PIL on alleged police excesses during the national lockdown.
The judges also said, "Look at what is happening in the US where an African-American was killed by the cops and the entire country is now burning." The bench felt that the approach of the police towards minorities was high-handed.
Social activist Sheela Sarah Mathews, who filed the PIL, narrated a series of incidents where the police have been accused of treating Muslims badly which resulted in severe injuries.
Her counsel DipakMisra cited the case of Junaid, who had to undergo got 35 stitches on his face after cops beat him up. Junaid was supplying food to migrant workers and some cops when he was stopped by a constable.
The bench rejected the police counter saying it did not contain a single statement of the victims.
In another case, Mohammed Asgar, who went to fetch groceries, fell from the top of a building and both his legs were broken. This was because people ran to a nearby under-construction building after police began lathicharge.
"Why are the victims in all these cases are Muslims?" the bench wondered. Asking the DGP to take action, it said: "Deal with delinquent cops in a stern manner and file a fresh affidavit by June 29."
https://timesofindia.indiatimes.com/city/hyderabad/why-only-muslims-booked-for-violating-curbs-look-at-us-crisis-hc-to-hyd-cops/articleshow/76435381.cms
--------
How religions and religious leaders can help to combat the COVID-19 pandemic: Indonesia's experience
JUNE 17, 2020
Many have attacked religions as a part of the problems during the COVID-19 pandemic.
It was initially in South Korea where nearly 5,000 confirmed cases of COVID-19 were traced back to "patient 31", an infected individual who worshipped in Shincheonji Church of Jesus in Daegu.
In the US, a California megachurch of a Slavic congregation was an epicentre of the virus after public health officials connected it with 71 cases.
In Malaysia, 513 people tested positive with COVID-19 after attending a religious gathering, pushing the country to a lockdown.
However, with the intense and durable role of religions in modern society, we argue that science and religion should not be separated amid our struggle with the pandemic. Religion and religious leaders may make the best out of this pandemic by becoming part of the solution to curb the spread of the virus.
What can religions and religious leaders do?
Classical theories of modernisation claim that secular values in modern society have massively replaced traditional and religious values.
However, rather than declining, religion is growing and becoming more durable worldwide.
Although churches are indeed empty in Western Europe and church buildings even go on sale, 70% of the population in North America identifies as Christian. Islam is growing rapidly in Russia. The latest global research shows 84% of adults say religion is important.
During the pandemic, religions have also played important roles in helping to contain the spread of the coronavirus.
Muslims have quoted the hadist (the speech and practices) of Prophet Muhammad to promote quarantine and travel bans during the pandemic. Prophet Muhammad said: "If you hear of an outbreak of plague in a land, do not enter it; and if the plague breaks out in a place while you are in it, do not leave that place."
In Taiwan, religious leaders are collaborating with the government's epidemic command centre to respond quickly to the health crisis and protect the people. Taiwan is lauded as a leading example of a country with good COVID-19 management.
The Vatican has changed its liturgies online and provided guidelines for new prayers to deal with the pandemic.
In Bangladesh, religions have responded to the health crisis by offering both spiritual and material relief.
The roles of religions in Indonesia
Indonesia hosts the world's largest Muslim population and religiosity is the heart beat of its citizens' life. Religious leaders are the dearest and most respected leaders in the society.
The government has acknowledged other religions: Protestant and Catholic Christianity, Hinduism, Buddhism and Confucianism.
The country has shown religions can be used as realistic means to help combat the spread of COVID-19.
In March 2020, during the very early spread of COVID-19 in Indonesia, Hindus modified the rituals of Nyepi (Day of Silence). They celebrated the ritual without the Ogoh-Ogoh Carnival, which used to be part of the festivities. As the virus is highly contagious, religious leaders decided to cancel the carnival to avoid large gatherings.
Protestants and Catholics modified their Easter celebrations, the greatest Christian ritual, in April. Most churches have resorted to virtual services to convey religious messages to their adherents since then.
Indonesian Muslim organisations have issued a fatwa (religious order) to substitute the mass Friday prayer, which should be held in a mosque and is mandatory for male Muslims, with the midday prayer (Dzuhur) at home.
During the fasting month of Ramadan, Muslims were also asked to pray at home, instead of communal worship in the mosque or yard.
But huge challenges persist.
To prevent coronavirus from spreading, the Indonesian government had banned the religious ritual of "mudik" an annual ritual of reconnecting, remembering and recharging, during which Muslims return to their ancestral and family homes to celebrate the end of fasting month.
But, many have not listened, increasing the risks of other people contracting the virus.
By now, we know the spread of the virus follows the pattern of movements of people, goods and services. It's not only cross-border mobility but people's movement at any level that spreads the virus.
Religion has a role here in persuading people that preventing the loss of tens of thousands of lives realistically requires more efforts than just prayers.
As the vaccine is still a long way from becoming available, it is realistic to demand religious leaders use the language of religion to warn people of the risks they face during this devastating global pandemic.
Science and faith may not be separated amid this pandemic.
This crisis should be the time for religions as well as religious leaders to get involved in explaining and supporting rational scientific findings to save human lives.
https://medicalxpress.com/news/2020-06-religions-religious-leaders-combat-covid-.html
--------
Bangladesh police introduce yoga course for officials to help relieve stress and boost immunity
17 JUNE 2020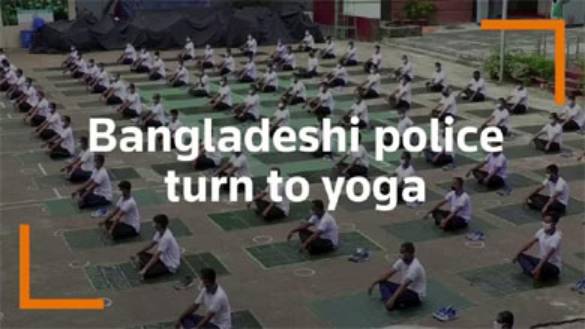 Bangladesh Police turns to yoga
------
By Anisur Rahman
Dhaka, Jun 17 (PTI) Bangladesh police have introduced yoga course for its officials to help them relieve stress and boost immunity against the coronavirus that has claimed the lives of 24 security personnel and infected 7,000 others.
As many as 300 members of the Dhaka Metropolitan Police''s (DMP) Diplomatic Security Division have already undergone yoga training in four courses, chancery division deputy commissioner Ashraful Islam said.
"We launched the yoga training programme for the unit personnel on June 7," he said.
Islam said the initiative to introduce yoga for police personnel was taken to boost their spirit, moral and stamina and to help them relieve stress during the COVID-19 crisis, the state-run news agency Bangladesh Sangbad Sangstha (BSS) reported.
The initiative is aimed at imparting yoga training to all the 1,000 police personnel of DMP, he said.
The officials, Islam said, took the training as an indoor sport, which yielded encouraging results to boost their mental health alongside physical fitness.
Until the introduction of the yoga course, a number of policemen were suffering from insomnia and aversion to food amid fears that the COVID-19 could infect them or their family members. This affected their life in the barrack as well as personal and professional lives, he said.
"The yoga sessions encouraged them to do their jobs in a cheerful mind with extra stamina," the deputy commissioner said.
According to police headquarters spokesperson A K M Kamrul Ahsan, the coronavirus has so far killed 27 policemen and infected 7,000 others in Bangladesh.
As many as 4,000 police personnel were also recovered and most of them have rejoined their duty, he said.
Leading medicine expert and Prime Minister Sheikh Hasina''s personal physician Dr A B M Abdullah appreciated the initiative, saying that motivational exercises like yoga could develop one''s immune system boosting the mental strength, which is crucial to prevent coronavirus infections as well.
"The mental strength is very important for all at the moment. The whole world is now facing a tough situation while awaiting a vaccine to prevent the coronavirus," he said.
Bangladesh has reported 98,489 coronavirus cases and 1,305 deaths due to the disease.
The International Yoga Day will be celebrated across the globe on June 21. PTI AR SCY SCY
https://www.outlookindia.com/newsscroll/bangladesh-police-introduce-yoga-course-for-officials-to-help-relieve-stress-and-boost-immunity/1868805
--------
US sanctions dozens under Caesar Act, including Syrian President al-Assad, wife
17 June 2020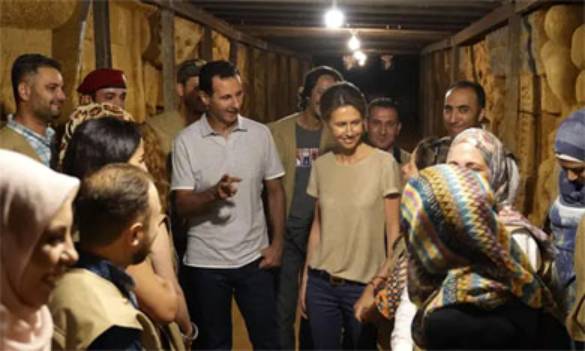 Syria's president, Bashar al-Assad, and his wife, Asma, during a visit in 2018 to a tunnel dug by rebels in Jobar, near Damascus. Photograph: AP
-----
The United States on Wednesday imposed its toughest sanctions ever targeting Syrian President Bashar al-Assad to choke off revenue for his government in a bid to force it back to United Nations-led negotiations and broker an end to the country's nearly decade-long war.
For all the latest headlines follow our Google News channel online or via the app
The fresh round of penalties on Syria, which designate Assad and his wife Asma personally, come at a time when Assad is grappling with a deepening economic crisis after a decade of war and amid a rare outbreak of protests in government-held areas.
In a statement announcing the designations imposed under the Caesar Syria Civilian Protection Act - signed by President Donald Trump in December - US Secretary of State Mike Pompeosaid 'many more' sanctions should be expected in the coming weeks and months.
"We will not stop until Assad and his regime stop their needless, brutal war against the Syrian people and the Syrian government agrees to a political solution to the conflict," Pompeo said.
He said the 39 designated individuals and companies have played a key role in obstructing a peaceful political solution to the conflict, and singled out Asma al-Assad.
"I will make special note of the designation for the first time of Asma al-Assad, the wife of Bashar al-Assad, who with the support of her husband and members of her Akhras family has become one of Syria's most notorious war profiteers," he said.
Syrian authorities blame Western sanctions for widespread hardship among ordinary residents, where the currency collapse has led to soaring prices and people struggling to afford food and basic supplies.
https://english.alarabiya.net/en/News/middle-east/2020/06/17/US-sanctions-dozens-under-Caesar-Act-including-Syrian-President-al-Assad-wife.html
--------
Integration Report Reveals Significant Scepticism Towards Islam In Norway
17 Jun, 2020
A recent survey conducted in Norway found that the majority of respondents were skeptical of Islam and immigration, with many blaming immigrants themselves for a lack of integration into Norwegian society.
The 2020 Integration Barometer, commissioned by the Norwegian Integration and Diversity Directorate (IMDI), recently published the results from its ninth survey since 2005 and they make for unsettling reading for immigration advocates.
Only one fifth of respondents said that immigration worked 'very' or 'quite' well, while 79 percent of Norwegians argued any shortcomings of integration are due to lack of effort from immigrants themselves.
Some 52 percent believe the values of Islam are incompatible with Norwegian society, with 56 percent are skeptical of having a Muslim son-in-law or daughter-in-law, 45 percent are skeptical of Muslims overall, while 70 percent were skeptical of those with a "strong Muslim faith."
However, many also expressed wariness towards those with strong Christian beliefs (54 percent) which was a higher degree of reticence than towards those of a "moderate Muslim faith" (34 percent).
"We thus see that skepticism about religious beliefs is not just about specific religions, but also about how strong the beliefs are perceived," the report said.
According to the survey, over 80 percent of Norwegians are skeptical of people wearing the face-covering niqab in any circumstance, be it on the street, in education or the workplace. The survey is based on a sample size of 2,968, out of Norway's population of 5.36 million people.
Norway maintained a largely homogenous population (98 percent ethnically Norwegian) until the late 1970s, when a period of more widespread immigration began. Immigrants now account for roughly 18 percent of the country's total population, and the majority of them are from Poland, Sweden, Somalia, Lithuania, Pakistan, and Iraq.
Interestingly, respondents were more positive about welcoming refugees than welcoming other immigrant groups.
https://www.rt.com/news/492128-norwegian-government-significant-skepticism-islam/
--------
Lebanon warned not to overlook US Caesar Act
June 17, 2020
BEIRUT: The US Ambassador to Lebanon Dorothy Shea met Lebanese Foreign Minister NassifHitti on Wednesday, as the country weighed the implications of the US Government's Caesar Act, targeting people and businesses doing business with the regime of Syrian President Bashar Assad, for Lebanese companies operating in Syria.
Rumors have circulated in Lebanon regarding an appendix in the Caesar Act holding a list of Lebanese entities set to be penalized for cooperating with the Syrian regime.
It is unclear how the act will affect coordination between the Lebanese and Syrian militaries, as the two states share a border extending to nearly 375 kilometers. The future role of the Lebanese-Syrian Supreme Council, which coordinates relations between the governments of the two countries, is also unclear.
Hezbollah leader Hassan Nasrallah had called on the Lebanese people "not to submit to this act that aims to starve Lebanon and Syria." In a speech, he said: "The Caesar Act harms Lebanon perhaps more than it harms Syria. Syria is (our) only passage toward the world, and what the Americans are trying to imply is that our only inland passage is Israel."
Nasrallah added: "To those who will make us choose between killing with weapons or starvation, we will hold our weapons in our hands, we will not starve, and we will kill them."
A Lebanese legal expert told Arab News that the act needed to be more closely examined to know for certain the effect it would have on Lebanon, but added that it did mean the US could impose sanctions. "The issue of sovereignty is not on the table and the decision-maker is the implementer. We have to look at this matter in real terms," the expert said on condition of anonymity.
The programs director at the PeaceTech Lab in the US, NizarZakka, who worked on the Caesar Act, told Arab News that it protected Lebanon. "The Act will not include penalties for Lebanese personalities as rumored," he said. "It is true that (the) Caesar Act is not an international law, but if we take a look at the sanctions against Iran, which are American and not international, we can sense the extent of the damage that Lebanon may know, if the act is overlooked."
Zakka, who was arrested in 2015 by Iran on charges of espionage and not released until 2019, stressed: "The Caesar Act stands against crimes against humanity, (the sort) only witnessed during World War II and in Syria. This issue is sensitive. The act penalizes anyone who deals with the government because it considers it the government's partner. We, in Lebanon, have never benefited from any deal that was carried out by the Syrian regime. They are one-way deals, but now the Lebanese people will benefit from the Caesar Act and one-way deals will stop.
"Smuggling from Lebanon to Syria does not benefit the Syrian people, but rather the Syrian regime. They want us to remain their hostages, at a time when the law liberates us and frees all who do not wish to cooperate with the Syrian regime, and I have worked to alter a large part of the Caesar Act in the interest of Lebanon. I have been wronged by Iran where I have been held hostage for four years, and I do not want any Lebanese to be wronged. This is my mission," he added.
Zakka pointed out that the act would "not stand in the way of the security cooperation, nor drawing electricity from Syria, but any deal between a Lebanese person and the Syrian regime will not pass. There is a difference between the country and the regime. In Lebanon, they are trying to market that the act targets Syria. This is a mistake; it is targeting the Syrian (Assad) regime. The distortion of the act is prohibited."
President Michel Aoun said on Wednesday: "The security services and customs have taken additional measures to stop all smuggling operations and at all levels, whether at land or sea crossings."
Lebanon faces large-scale smuggling of various commodities from Lebanon to Syria, the most dangerous of which are dollars and subsidized materials from the Lebanese government, such as flour and diesel, at a time when Lebanon is facing a financial and economic crisis that puts it on the verge of bankruptcy.
Money exchange shops which are authorized to trade dollars from the Lebanese Central Bank were crowded, for the second day in a row, by citizens wishing to buy them, after the central bank sent cash to a restricted group of shops. It is not known whether these bills, that were purchased at a low price from the exchanges, were later on sold on the black market at a higher rate, or whether they were moved to Syria.
Economic analyst VioletteBalaa warned in an interview with Arab News that: "The government's policy of asking the Lebanese (people) to pump dollar bills into the market is not wise. The central bank's reserves are being depleted in vain, with the continued transfer of dollar bills to Syria."
Balaa called on the judiciary system "to act quickly, control the black market, and close the illegal crossings to stop the smuggling of funds." She also warned "the repercussions of the Caesar Act will be costly to Lebanon's economy and its liabilities. The policy of neutrality is required today more than ever to reduce the effects of this act, just as Jordan did when sanctions were imposed on Iraq."
https://www.arabnews.com/node/1691371/middle-east
--------
Pakistan provincial court orders release of 200 prisoners convicted by military courts of terrorism
Jun 17, 2020
PESHAWAR: A provincial high court in northwest Pakistan has ordered the release of 200 prisoners convicted by the controversial military courts on different charges of terrorism.
A two-member bench of the Peshawar High Court headed by Chief Justice Waqar Seth and Justice Naeem Anwar declared null and void the sentences given to the 200 accused and ordered their release.
The convicts were handed down death sentences, life imprisonments and ten-year jail terms by the military courts.
The bench in a short judgement stated that the sentences were given on confessional statements and no opportunity of fair trial was extended to the accused.
The court also sought record of 100 more prisoners convicted by the military courts.
The counsels for prosecution maintained that their clients were not given a fair opportunity to defend their cases in the military courts and were kept for five to ten years in illegal confinement.
They said there was no solid evidence against their clients and the military courts had no jurisdiction to give sentences to the accused.
The controversial military courts were set up in Pakistan in January 2015 after a Taliban attack on an army school killed 150 people, mostly children.
The court's tenure, initially set up for two years, expired on January 7, 2017.
After that, the Pakistani government was trying to convince the opposition for another two years term for the speedy trial of hardcore terrorists as they played an extremely important role to combat extremism.
The new laws provide that a militant on trial can hire a lawyer of choice and also appeal to the high courts against the decision of military tribunals.
Rights bodies and legal fraternity have criticised the military courts as violation of fundamental rights of the people.
Proponents say the courts act as an "effective deterrent" for those considering violent acts.
The court are run by the military officers and operate in secrecy due to fear of backlash by militants.
https://timesofindia.indiatimes.com/world/pakistan/pakistan-provincial-court-orders-release-of-200-prisoners-convicted-by-military-courts-of-terrorism/articleshow/76422873.cms
--------
Iran, Russia, China denounce US sanctions targeting war-ravaged Syrian economy
17 June 2020
Iran, Russia and China have censured the US for imposing sweeping economic sanctions against Syria, which Washington says are designed to put more pressure on the war-ravage country's economy and prevent Damascus from achieving victory in the fight against foreign-backed militants.
Speaking at a Security Council meeting on Tuesday, US Ambassador to the UN Kelly Craft said that the new restrictive measures would be slapped on Syria under the so-called Caesar Syria Civilian Protection Act.
The document — signed by US President Donald Trump last December — sanctions almost all Syrian economic and trade activities, as well as the country's government officials.
The sanctions came into force on Wednesday.
Washington would implement the measures to "prevent the Assad regime from securing a military victory," she said. "Our aim is to deprive the Assad regime of the revenue."
Reacting to her comments at the same meeting, Russia's US Representative VasilyNebenzia — whose country is an ally of Damascus in its counter-terrorism battles —slammed Washington for openly confirming that "that the purpose of these measures is to overthrow the legitimate authorities of Syria."
The US sanctions and those of the European Union, which were extended in May, not only cripple the Arab country's economy but also hinder humanitarian assistance, he added.
In turn, China's UN Ambassador Zhang Jun highlighted the inhumane nature of the bans targeting Syria's economy, which is already severely weakened by years of foreign-sponsored militancy.
"As vulnerable countries like Syria are struggling with the (coronavirus) pandemic, imposing more sanctions is simply inhumane and may cause additional catastrophes," the senior diplomat added.
Syria: Sanctions are other face of terror
Addressing the meeting via a video link, Syria's UN Ambassador Bashar al-Ja'afari likewise said blockade and sanctions are part of "the western blind traditional polices and the other face of terrorism that shed the blood of the Syrians."
Targeting the Syrian currency, livelihood, medicine and putting obstructions in front of the state institutions' capability to meet their basic needs refute western claims of commitment to humanitarian principles, he noted.
US statements, he said, stress once again that the Washington administration "looks at the region through Israeli eyes."
"When the United States steals 200 thousand barrels of oil from the Syrian oil fields daily, and 400 thousand tons of cotton, and sets fire to thousands of hectares of wheat fields, and boasts of dividing Syria and deliberately weakening the value of the Syrian pound, and when it imposes coercive economic measures…the legitimate question here is that: Are these the symptoms of political schizophrenia? Does that indicate an acute disease?" he asked.
Meanwhile, UN Special Envoy for Syria Geir Pedersen warned of an economic crisis unfolding in Syria under sanctions.
He did not directly criticize the US and its allies for the economic pressure, but said it is easy to understand the "new level of alarm at the dramatic collapse in economic conditions."
Sanctions target government-affiliated individuals and entities "and also restrict activity in the financial, banking, oil and gas and military sectors as well as exports and multilateral lending to and investments in Syria," he said.
Iran pledges support for Syrian economy
In an interview with Russia's Sputnik news agency earlier on Tuesday, Iranian Foreign Minister Mohammad JavadZarif also raised the alarm at Washington's attempts to step up its economic pressure on Syria, saying the Americans are doing their best to destabilize region.
"We are concerned about certain political, economic developments in Syria, the attempts by the United States to impose further pressure, economic pressure … on Syria. It is taking toll on the Syrian people. We should make sure that the United States, [which] has done everything to destabilize our region and Syria, would not achieve its objectives," Zarif said.
The top Iranian diplomat highlighted Tehran's strong economic relations with Damascus, pledging that Iran and its friends will work to further broaden economic cooperation with Syria.
At the request of Damascus, Iran has been offering advisory military assistance to the Syrian government. Russia, too, has military advisers in the Arab state, besides carrying out aerial bombardments against militants.
Thanks to that support, the Damascus government has managed to win back control of almost all regions from Takfiri elements.
The government gains in Syria have enraged the US, which has long been collaborating with anti-Damascus militants and stealing Syria's crude resources.
https://www.presstv.com/Detail/2020/06/17/627633/Russia-Iran-Syria-US-sanctions-
--------
Iran urges respect for Libya's integrity, right to decide own political fate
18 June 2020
Iran has underlined the need for respecting Libya's territorial integrity amid increasing foreign intervention there, saying the conflict gripping the North African country has no military solution and should be settled through intra-Libyan dialog.
"The Islamic Republic has always emphasized the need for respecting Libyan people's right to determine their own political fate free from foreign interference," Iran's Foreign Ministry Spokesman Abbas Mousavi said on Wednesday.
He further said "Iran believes there is no military solution to the crisis in the country, and that the only way to achieve stability and calm in Libya is for all countries regional and international players having an influence in the developments there to support the political process and the launch of intra-Libyan talks with the participation of all [Libyan] warring sides."
Mousavi also expressed support for international efforts to end the political turmoil in Libya, underscoring the necessity of keeping up the diplomatic process.
Libya has been in chaos since 2011, when a popular uprising and a NATO intervention led to the ouster of long-time dictator Muammar Gaddafi.
Since 2014, two rival seats of power have emerged, namely the internationally-recognized Libyan government headed by Prime Minister Fayez al-Sarraj in Tripoli, and another group based in the eastern city of Tobruk under the command of renegade General KhalifaHaftar.
The country has, over the past year, turned into a new scene of rivalry since April 2019, when Haftar's rebel forces launched an offensive to seize the capital and unseat the Sarraj government, triggering some of the most intense fighting in the country.
Foreign players — mainly Turkey, Qatar, the UAE and Russia — are increasingly involved in this chapter of the conflict, sparking fears of a proxy war in the oil-rich North African state.
Recently, Germany and Egypt put forward peace initiative for Libya, but failed to bring the conflicting parties to the negotiating table.
https://www.presstv.com/Detail/2020/06/18/627700/Iran-Libya-Mousavi
--------
India
Encounter breaks out between security forces and terrorists in J-K's Pulwama
Jun 18, 2020
SRINAGAR: An encounter broke out between security forces and militants in Pulwama district of Jammu and Kashmir on Thursday, police said.
A cordon-and-search operation was launched in the morning by the forces at Meej in the Pampori area of south Kashmir's Pulwama after receiving specific information about the presence of militants, a police official said.
He said the operation turned into an encounter after the militants fired upon a search party of the forces.
A gunfight is underway and further details are awaited, the official said.
https://timesofindia.indiatimes.com/india/encounter-breaks-out-between-security-forces-and-terrorists-in-j-ks-pulwama/articleshow/76436495.cms
--------
Terrorist killed in encounter in Jammu and Kashmir's Awantipora, operation underway
Jun 18, 2020
AWANTIPORA: An unidentified terrorist has been eliminated in an ongoing encounter at Meej in Pampore area of Awantipora, said Kashmir Zone Police on Thursday.
"MeejPampore encounter- So far one unidentified terrorist killed; operation on," Kashmir Zone Police tweeted.
#MeejPamporeEncounterUpdate: So far one #unidentified #terrorist killed. #Operation going on. Further details shall… https://t.co/Yj7PL5PUoT
— Kashmir Zone Police (@KashmirPolice) 1592451333000
The encounter between security forces and terrorists broke out in the early hours of Thursday.Further details are awaited.
On June 16, three unidentified terrorists were eliminated in an encounter that started at the Turkwangam area of Shopian, police said.
https://timesofindia.indiatimes.com/india/terrorist-killed-in-encounter-in-jammu-and-kashmirs-awantipora-operation-underway/articleshow/76437419.cms
--------
Babri Masjid trial: Uma Bharti on list of accused appearing in court on Thursday
Jun 17, 2020
LUCKNOW: BJP leader Uma Bharti is among the accused asked to appear in person Thursday before a special court hearing the Babri Masjid demolition case.
The lawyers for BJP veterans L K Advani, MurliManohar Joshi and Kalyan Singh indicated to the CBI court on Wednesday that they prefer to appear in court through video conferencing.
Special Judge S K Yadav had recently given this option to the accused who are yet to record their statements, asking them to provide their addresses so that arrangements can be made for video conferencing.
The court here is in the process of recording the statements of the 32 accused under section 313 of the CrPC, a stage in the trial which follows the completion of examination of prosecution witnesses.
On Wednesday, BJP MP SakshiMaharaj appeared in the court, categorically denying that he conspired in the demolition of the mosque in Ayodhya.
The court issued a non-bailable warrant against an accused Om Prakash Pandey after his lawyer informed that the Azamgarh resident's present whereabouts were not known to him now.
The lawyers for Advani, M M Joshi, Kalyan Singh, MahantNrityaGopal Das, Jai BhagwanGoel, Amar NathGoel, SudhirKakkad, Acharya DharmendraDev, Dharmendra Singh Gujjar and R N Srivastava provided their addresses to the court.
Judge Yadav said it appeared that the remaining accused wanted to appear in person.
"Hence, the accused who have not submitted their addresses and have also not appeared in court so far for recording their statement are directed to appear before it on June 18," the judge said.
The judge said he will continue to record the statements of the remaining accused till the National Informatics Centre makes arrangements for video conferencing.
The court has been conducting day-to-day proceedings in order to conclude the trial by August 31, as directed by the Supreme Court.
The Babri Masjid was demolished in December 1992 by "karsevaks" who claimed that the mosque was built on the site of an ancient Ram temple.
https://timesofindia.indiatimes.com/india/babri-masjid-trial-uma-bharti-on-list-of-accused-appearing-in-court-on-thursday/articleshow/76431456.cms
--------
Ahmedabad: Afghan student 'hangs himself' outside hostel
June 18, 2020
A 24-year-old student from Afghanistan who was pursuing Bachelor of Business Administration (BBA) at the Som-Lalit Institute of Business Administration (SLIBA) allegedly hanged himself from a tree outside the Gujarat University hostel on Wednesday.
Ahmed FakirjatShekib from Kabul was an Indian Council of Cultural Relations (ICCR) scholar from 2015-18 as a part of Gujarat University's Study Abroad Programme (SAP) under Indian Council of Cultural Relations (ICCR) and Educational Consultants India Limited (EdCIL) scholarships.
His body was found hanging from an Ashoka tree nearly 100 metres outside the hostel's main gate. His friends and other foreign students from Afghanistan told The Indian Express that he took the extreme step under "academic stress" as he was preparing for second semester Mathematics exam, which he failed to clear earlier.
Dr JigarInamdar, director ICCR Gujarat, said, "In October 2019, he came on tourist visa and took the exam but could not clear it. So, this time he again came on tourist visa for the exam and was staying at a private accommodation in Paldi. We do not have any ICCR record of him as his scholarship was over."
Raj Majumdar, a student from Bangladesh, who stayed in the same hostel, told The Indian Express, "I was woken up around 6.15 am by Dhruvo Islam of another room. He had got up to use the toilet when he saw a body hanging with a tree outside the hostel. First he thought he was hallucinating after seeing social media posts on the suicide of Bollywood actor Sushant Singh Rajput."
But when he saw the body again while returning to the room after using the toilet, he went to Raj's room to wake him up. "We went closer to find that there was a body hanging from the tree with a toppled wooden chair beneath. Since the person was facing the other side, we couldn't recognise him immediately… So we called some other students who identified the body," added Raj, a final year BBA student. The students then informed the police and ICCR officials.
"He returned to Ahmedabad in March for the exam that was scheduled in April. But it was postponed due to the lockdown. He kept worrying about his exam and degree saying that it has been five years but he has not got his BBA degree," one of the students from Kabul who was close to him said. "He used to visit his friends staying in a paying guest accommodation in Paldi area, where he also stayed for a year during his course," another student said on condition of anonymity.
Police said preliminary investigations suggested that the student ended his life. "No note was found and we are probing the reason… The body has been sent for postmortem. We have informed the Foreigners Regional Registration Officer (FRRO) office in Ahmedabad…," said JM Vyas, incharge officer, Gujarat University police station.
Denying that Shekib was under academic stress, Inamdar said, "He was said to be fine till yesterday when all the Afghan students gathered for a condolence meet at the hostel following a student's mother's death."
"We have informed the Afghan Embassy. They will depute someone tomorrow to take the body and send it to Afghanistan," Inamdar said. "ICCR supports for one attempt other than the usual exams but beyond that the students are on their own to take and clear the exams. So we did not even know that he was here," said NeerjaArun, co-ordinator Study Abroad Programme (SAP), Gujarat University.
"I held a meeting of all security staff at the University campus, including hostels, today morning… will inform university authorities about need to have CCTV cameras," Arun said.
https://indianexpress.com/article/cities/ahmedabad/ahmedabad-afghan-student-hangs-himself-outside-hostel-6464204/
--------
Southeast Asia
Selangor Sultan: State to resume Friday prayers at mosques from tomorrow, larger congregation allowed
18 Jun 2020
BY KENNETH TEE
KUALA LUMPUR, June 18 — The Sultan of Selangor, Sultan SharafuddinIdris Shah has today announced the resumption of Friday prayers and congregational prayers for the state starting tomorrow during the recovery movement control order (RMCO) period.
Private secretary to the Sultan, DatukMohamadMunirBani, in a statement today said His Majesty made the decision after taking into account the latest developments on the Covid-19 outbreak.
"For Friday prayers, the number of individuals allowed in the state mosque of Masjid Sultan Salahuddin Abdul Aziz Shah will be increased from 40 to 250 people, excluding officers and mosque committee members.
"As for the number of individuals allowed for Friday prayers in 38 other mosques previously permitted to host such prayers, this will also be increased from 40 to 150 people, excluding officers and mosque committee members," he said in a statement here.
Previously, the Selangor Sultan extended a ban on Friday prayers being held in Selangor mosques by one month from June 1 to June 30 as part of measures to contain the spread of the Covid-19 virus, except for 38 selected mosques previously allowed to host such prayers with a limited number of individuals.
MohamadMunir also said the number of attendees for congregational fardhu prayers performed in 38 mosques previously permitted to host religious activities will be limited to 150 people excluding officers and mosque committee members.
As for the number of attendees performing similar rites and Friday prayers in mosques situated within Covid-19 green zones, the number is limited to 40 people excluding officers and mosque committee members.
"In regard to the latest decision, His Majesty also said all Muslim devotees must comply with the standard operating procedure (SOP) set by the state religious department including performing ablution at home, bringing their own prayer mats, donning face masks and maintain social distancing," he added.
MohamadMunir also announced that the Selangor Sultan has decided to allow 'ibadahkorban' (ritual of sacrifice) to be conducted in selected mosques and not suraus.
"Ibadahkorban can only be performed within the compound of the state mosque, 38 mosques previously permitted to host Friday prayers and mosques within Covid-19 green zones," he said.
https://www.malaymail.com/news/malaysia/2020/06/18/selangor-sultan-state-to-resume-friday-prayers-at-mosques-from-tomorrow-lar/1876609
--------
South Asia
Motive behind Haibatullah's decision to appoint Mullah Yaqoob as Taliban military chief
18 Jun 2020
The Taliban supreme leader Mullah HibatullahAkhundzada has appointed mullah Yaqqoob, the elder son of Mullah, as the military chief of the group, with an aim to further strengths his hold on all affairs ahead of the key negotiations with the Afghan leaders, it has been reported.
A senior Taliban leader confirmed the this during an interview with the Daily Times of Pakistan.
The Taliban leader said members of the powerful "RehbariShura" or leadership council is also discussing a suggestion to form a new team for the intra-Afghan dialogue.
The Taliban leader who wished to remain anonymous said "There was a proposal to constitute a new negotiation team comprised members of the 'rehbarishura' that will be under the direct supervision of the 'amir-ul-mineen' (commander of the faithful) Sheikh HibatullahAkhundzada."
"No final decision has yet been taken and the proposal is expected to be discussed in a meeting in the coming days," he added.
This comes as reports emerged earlier last month suggesting that Mullah Yaqoob has been appointed as the military chief of the group following a reshuffle in the top leadership of the Taliban.
The report emerged amid speculations that the senior leaders of the group including Akhundzada have contracted the novel coronavirus (COVID-19) and that the Taliban supreme leader Akhundzada has died of the virus.
https://www.khaama.com/motive-behind-haibatullahs-decision-to-appoint-mullah-yaqoob-as-taliban-military-chief-08904/
--------
At least 18 Afghan forces killed in Taliban attacks
17 June 2020
At least 18 Afghan security personnel have been killed in two attacks by Taliban militants on checkpoints in northern Afghanistan, officials say.
MaroofAzar, spokesman for the governor of Jawezjan, told AFP that Taliban stormed a checkpoint in the northern province in the early hours of Wednesday, killing 12 Afghan security force members.
According to the spokesman, the militants also captured four security personnel during the pre-dawn raid, while five militants were killed in the fighting.
The ministry of defense confirmed the raid and said six of its soldiers were among those killed.
But Taliban spokesman ZabihullahMujahid gave a higher toll.
The militants also conducted another raid on an army outpost in the northern province of Kunduz.
AminullahIddin, a member of the provincial council, said six soldiers were killed in the fighting that lasted about five hours.
Army spokesman Hadi Jamal said four Taliban militants were also killed in the fighting.
The militant group has not commented on that assault.
The latest attacks come as the government and Taliban agreed to hold their first high-level meeting in a long-awaited peace process in Qatar.
No date has been announced for the meeting, but it is expected to take place once the two sides complete an ongoing prisoner exchange.
The exchange of prisoners kicked off under a deal between the Taliban and the United States, which was signed in the Qatari capital, Doha, on February 29.
Under the deal, the Taliban agreed to halt their attacks on international forces in return for the US military's phased withdrawal from Afghanistan and the prisoner exchange with the government in Kabul.
The Afghan government, which was not a signatory to the accord, was required to release up to 5,000 Taliban prisoners. The militants, for their part, were obliged to free 1,000 government captives.
Kabul has already released 3,000 prisoners under the agreement signed between the United States and the Taliban.
https://www.presstv.com/Detail/2020/06/17/627675/Afghan-forces-killed-Taliban-attacks
--------
Babunagari relieved from duty, AllamaShafi's successor will be Sheikh Ahmed
June 17th, 2020
The decision was taken at a meeting of the Shura committee held on Wednesday
Hathazari Madrasa's shura committee (advisory committee) has decided to keep Hefazat-e-Islam's Amir Allama Ahmad Shafi as the rector of the Madrasa till his death.
The decision was taken at a meeting of the Shura committee held on Wednesday.
Wishing to remain anonymous, a Hefazat-e-Islam's leader said, at the same meeting the current assistant director of the madrasa, AllamaJunaidBabungari, also the secretary-general of Hefazat-e-Islam, was relieved from all responsibilities of the madrasa.
In his place, Maulana Sheikh Ahmed, a senior teacher of the madrasa, was given the responsibility of the associate director.
After the death of Hefazat-e-Islam Chief Shafi, Sheikh Ahmed will be the rector of the madrasa.
Earlier, the meeting of the shura committee began at 10:15am in Al-JamiatulAhliaDarulUlumMoinul Islam, popularly known as Hathazari Madrasa.
JunaidBabungari was not present at the beginning of the meeting which lasted till 3pm.
2020/06/honor-the-hero-paper-ads-04-1591699750066.png
Seeking anonymity, a Hefazat-e-Islam leader said Babungari is not a member of the Shura committee, so he was not present at the beginning of the meeting.
However, another source of the madrasa said that AllamaJunaidBabungari was made a member of the Shura committee in a meeting held in 2017. At that time he was made the assistant director of the madrasa.
However, in a recent video message, the rector of the madrasa, Hefazat-e-Islam Bangladesh Amir Allama Shah Ahmad Shafi, said, "No one has been given the post of the acting rector or assistant director."
According to madrasa sources, the Shura committee had met for the second time since 2017.
Although no one spoke directly about the meeting, the source said that Hefazat Amir Allama Shah Ahmad Shafi is suffering from various ailments including geriatric illness.
Therefore, this meeting has been called to select the next rector in a systematic manner.
Almost all the members of the shura committee were present at the meeting except for the deceased members, sources said.
https://www.dhakatribune.com/bangladesh/politics/2020/06/17/babunagari-relieved-from-duty-allama-shafi-s-successor-will-be-sheikh-ahmed
--------
North America
Asma al-Assad should be sanctioned on her own, not just as Bashar's wife: Jeffrey
17 June 2020
US sanctions under the Caesar Act, announced Wednesday, targeted Syrian President Bashar al-Assad's wife, Asma, for the first time.
US Secretary of State Mike Pompeo made a special note of her designation, who he said had become one of Syria's most notorious war profiteers.
Pompeo said that with the support of "her husband and members of her Akhras family has become one of Syria's most notorious war profiteers. Now anyone doing business with any of these persons or entities is at risk of sanctions."
Separately, a senior US official said that sanctions, in general, target family members because they are often used to move financial and other resources of sanctioned individuals.
"But I have to say that Asma al-Assad contributes personally in enough ways to the horrors that are today's Syria to merit being sanctioned in her own right, not just as the wife of President Assad," US Special Envoy for Syria James Jeffrey said in a phone briefing.
For all the latest headlines follow our Google News channel online or via the app.
Alongside Asma, the Syrian president's younger brother, Maher, and his wife were also sanctioned. Several individuals from the Hamsho family were sanctioned as well. Mohammed Hamsho, a Syrian business tycoon, is reported to be close to Bashar al-Assad's younger brother, Maher.
https://english.alarabiya.net/en/News/middle-east/2020/06/17/Asma-al-Assad-deserves-to-be-sanctioned-on-her-own-not-just-as-Bashar-s-wife-Jeffrey.html
--------
Muslim World League fires back at Al Jazeera host's mocking of interfaith efforts
17 June 2020
The Muslim World League (MWL) is firing back after an Al Jazeera host mocked the organization's interfaith efforts, calling the criticism "lamentable" and divisive.
On Monday Al Jazeera television host Ahmed Mansour tweeted a clip of MWL Secretary General Dr. Mohammed Al-Issa emphasizing interreligious solidarity and accused the Muslim leader of calling for a new merged religion between the faiths.
MWL told Al Arabiya English it is "lamentable that certain political actors insist on injecting politics into basic acts of humanity between people of different faiths, beliefs or philosophies."
"At a time of so much distrust and discord, all those who are interested in peace, coexistence and tolerance must stand together. And we must reject those who wish to divide us through hatred or mockery," said MWL spokesperson AbdulwahabAlshehri in an interview with Al Arabiya English.
Last week Al-Issa received the first ever Combat Anti-Semitism Award from the American Sephardi Federation and during the virtual ceremony he pledged to fight "the scourge" of Islamophobia and anti-Semitism.
"In the Muslim League we are proud to stand shoulder to shoulder with our Jewish and Christian brothers and sisters to build understanding, respect, love, and interreligious harmony," said Al-Issa in the ceremony on June 9.
Days later, Al Jazeera television host Ahmed Mansour tweeted the clip of remarks, accusing Al-Issa of calling for a new merged religion between the faiths.
"The Secretary-General of the Jewish-Muslim World League calls for a new religion?!" Mansour tweeted on Monday.
American Jewish Rabbi Marc Schneier, who has paired up with Al-Issa and the MWL for a global Muslim-Jewish program, called the critique of MWL "foolish and outright dumb."
"No one is looking to merge religions. Interfaith harmony doesn't mean we have to merge religions. That's ridiculous," said Schneier in an interview with Al Arabiya English.
"Dr. Al-Issa has been working with several Jewish based organizations for 18 months in terms of advancing and strengthening Muslim-Jewish relations," he added.
MWL joined forces with Schneier's Foundation for Ethnic Understanding (FFEU) for the "Season of Twinning Program," which recently brought together rabbis and imams in over 50 events in 35 countries to focus on interreligious dialogue.
The Muslim World League is an international non-governmental Islamic organization based in Mecca, Saudi Arabia. Founded in 1962 by Crown Prince Faisal Bin Abdul-Aziz, MWL represents the 50 states of the Islamic world.
The Kingdom of Saudi Arabia is the leading contributor member of the Muslim countries funding MWL.
https://english.alarabiya.net/en/News/world/2020/06/17/Muslim-World-League-fires-back-at-Al-Jazeera-host-s-mocking-of-interfaith-efforts.html
--------
Trump backed Xi over concentration camps for Uighur Muslims, ex-aide Bolton claims
June 18, 2020
Donald Trump told the Chinese president Xi Jinping that building concentration camps to "re-educate" Uighur Muslims in Xinjiang was the right thing to do, according to sensational claims in a new book by John Bolton, the former US national security adviser.
The White House has tried to block the release of The Room Where It Happened: A White House Memoir. But an advance copy obtained by The Washington Post reports Mr Bolton's claim that Mr Trump backed the controversial camps during a conversation with Mr Xi at a G20 meeting in Osaka, Japan, in 2019.
It is also claimed that the US president asked his Chinese counterpart to help him win the 2020 election by purchasing more agricultural products from the United States.
The alleged incident echoes Mr Trump's July 2019 request to Ukraine's VolodymyrZelensky to "do us a favour" by announcing investigations into Joe Biden, the likely Democratic challenger in November's election.
Mr Trump was impeached over the incident but was acquitted by his Republican allies in the Senate – which had voted not to hear more evidence from Mr Bolton who had made clear he had relevant information.
During the G20 meeting, Mr Bolton wrote that Mr Xi defended China's construction of camps housing up to 1 million Uighur Muslims and that Mr Trump signalled his approval.
"According to our interpreter," Mr Bolton writes, "Trump said that Xi should go ahead with building the camps, which Trump thought was exactly the right thing to do."
Mr Bolton said that the conversation occurred during an opening dinner, attended only by translators, when Mr Xi explained "why he was basically building concentration camps" in the province where the Chinese Communist Party had been interning the ethnic minority.
While the account of the dinner came through the US interpreter, Mr Bolton writes that he was also told by another National Security Council official, Matt Pottinger, that Mr Trump said something similar during a 2017 trip to China.
The episode was part of what Mr Bolton describes as Mr Trump's callous lack of concern about human rights, with securing a second term the one goal that loomed above all else.
"I am hard pressed to identify any significant Trump decision during my tenure that wasn't driven by reelection calculations," Mr Bolton writes.
The claims came to light on the same day that Mr Trump signed into legislation the ability to sanction Chinese officials responsible for oppressing Uighur Muslims.
Mr Trump said in a statement on Wednesday that the Uighur Human Rights Policy Act of 2020 holds "accountable perpetrators of human rights violations and abuses".
"Such as the systematic use of indoctrination camps, forced labour, and intrusive surveillance to eradicate the ethnic identity and religious beliefs of Uighurs and other minorities in China," Mr Trump said.
The US State Department believes Uighurs, ethnic Kazakhs, Kyrgyz, and members of other Muslim minority groups are held in the Chinese camps, and that they are reportedly subjected to torture, cruel and inhumane treatment such as physical and sexual abuse, forced labour and death.
https://www.independent.co.uk/news/world/americas/us-politics/trump-uighur-muslims-concentration-camps-xi-china-john-bolton-book-a9571921.html
--------
Trump signs bill to punish China with sanctions over Uighur Muslim treatment
June 17, 2020
U.S. President Donald Trump signed legislation on Wednesday calling for sanctions against those responsible for repression of Uighur Muslims in China's Xinjiang province, the White House said in a statement.
The bill, which passed the U.S. Congress nearly unanimously, was intended to send China a strong message on human rights by mandating sanctions against those responsible for oppression of members of China's Muslim minority.
The United Nations estimates that more than a million Muslims have been detained in camps in Xinjiang.
Trump issued a "signing statement" saying that some of the bill's sanctions requirements might limit his constitutional authority as president to conduct diplomacy so he would regard them as advisory, not mandatory.
Trump did not hold a ceremony to mark his signing the bill into law, which came as U.S. newspapers published excerpts from a new book by his former national security adviser, John Bolton.
Among other allegations in the book, Bolton said Trump sought Chinese President Xi Jinping's help to win re-election during a closed-door 2019 meeting and that Trump said Xi should go ahead with building the camps in Xinjiang.
https://globalnews.ca/news/7077969/trump-china-sanctions-uighur-muslims/
--------
Caesar Act has domestic, international support: US envoy for Syria
17 June 2020
There is widespread domestic and international support for the economic sanctions issued by the United States against the Syrian regime and its allies, a senior US diplomat said Wednesday.
After overwhelming support from Republicans and Democrats, US President Donald Trump signed the Caesar Syria Civilian Protection Act, also referred to as the Caesar Act, six months ago. The legislation, which went into effect Wednesday, looks to cut off all forms of revenue from reaching Syrian President Bashar al-Assad's regime and its allies.
It also threatens to impose sanctions on anyone who does business with the Assad regime.
"This act has the highest level of bipartisan support [in Congress and Senate], supported by the president and the entire administration. Washington is fully united," US Special Envoy for Syria James Jeffrey said in a phone briefing with reporters.
For all the latest headlines follow our Google News channel online or via the app.
Jeffrey's remarks followed multiple statements by the US government and administration. He said that the Caesar Act was part of the US policy to use all possible means to compel Assad to support peaceful change in its policies toward the yearslong conflict.
Asked about international support for the new law, Jeffrey said feedback from European countries has been "very strong." He added that whether or not countries comply with US requests for information depends on their own laws and policy positions.
The only state that sanctions were levied upon was the Syrian government. "We have ways to make it difficult for those people to have access to their money," Jeffrey said, citing denial of access to the US banking system and a block on trips to the US for those sanctioned.
Jeffrey also touched on the United Arab Emirates' policy towards Syria and its decision to reopen its embassy in Damascus.
"The UAE knows that we are absolutely opposed" to it taking these diplomatic steps, Jeffrey said, but noted the UAE has sovereignty to do what it wanted.
The US official said that anyone doing business with the Assad regime – regardless of their nationality – if they met criteria to be sanctioned, would be targeted. "We won't get into who will or won't be" designated, he said.
https://english.alarabiya.net/en/News/world/2020/06/17/Caesar-Act-has-domestic-international-support-US-envoy-for-Syria.html
--------
UN taps Turkish diplomat for General Assembly chief
Michael Hernandez
17.06.2020
WASHINGTON
The UN General Assembly elected Wednesday former Turkish Ambassador VolkanBozkir to be its president ahead of the 75th General Debate in September.
In a secret ballot vote Bozkir, who was unopposed for the post, received 178 ballots in support as 11 nations abstained.
"I am thankful to all UN member states, for electing me with an overwhelming majority, as the President of the 75th UN General Assembly," Bozkir said on Twitter. "As we mark the 75th anniversary of the UN, I will guide the efforts to contribute to international peace, in the challenging times we live in."
Bozkir is currently a Justice and Development (AK) Party lawmaker from Istanbul and head of the Turkish Parliament's Foreign Affairs Committee.
Volkan BOZKIR
✔
@volkan_bozkir
1) I am thankful to all UN member states, for electing me with an overwhelming majority,as the President of the 75th UN General Assembly. As we mark the 75th anniversary of the UN, I will guide the efforts to contribute to international peace, in the challenging times we live in.
View image on TwitterView image on TwitterView image on TwitterView image on Twitter
3,663
2:12 AM - Jun 18, 2020
Twitter Ads info and privacy
750 people are talking about this
He was elected to the Turkish legislature in 2011 following nearly 40 years in the foreign service that included posts in Stuttgart, Germany; Baghdad; New York and Bucharest, Romania.
He also served as Turkey's Minister of European Affairs and Chief Negotiator.
Bozkir is the first Turkish national to head the General Assembly. He will take office in September and hold the post for one year.
Turkish President RecepTayyipErdogan formally declared Ambassador Bozkir's candidacy in his address to the UN General Assembly on Sept. 17.
This year he will lead the annual forum as its prepares to convene in some virtual form for the first time in the UN's 75-year history due to the coronavirus pandemic.
World leaders are usually accompanied by large delegations as they convene in New York for the annual meetings, a rare opportunity to rub shoulders with fellow leaders from nations worldwide.
This year was supposed to be a particularly special gathering with the international body celebrating its 75th anniversary, but with the virus continuing to persist worldwide alternative measures are being adopted.
Current General Assembly President Tijjani Muhammad-Bande told reporters last Monday, "World leaders cannot come to New York because they cannot come simply as individuals," referring to the large entourages that accompany them.
Muhammad-Bande said he hopes to clarify in the next two weeks how the General Debate will take place.
https://www.aa.com.tr/en/americas/un-taps-turkish-diplomat-for-general-assembly-chief/1880832
--------
Europe
Germany's Sea Watch rescues 100 migrants off Libya
June 17, 2020
ROME: The German NGO Sea Watch rescued around 100 migrants off of Libya on Wednesday, saying the Libyan coast guard would have turned them back to shore if the humanitarian group had not intervened.
The dinghy was found 29 nautical miles off Zawyia, 40 kilometers (25 miles) west of Tripoli, Sea Watch said on Twitter, adding that several of the migrants, who included women and children, were given immediate medical attention.
Left-wing Italian humanitarian group Mediterranea, which also patrols the region in the Mare Jonio, said the Libyan coast guard "captured" another migrant boat earlier Wednesday near Tripoli.
"We had to watch powerless as Libyan militiamen intervened... violating all international conventions by pushing dozens of refugees toward the bombs and the torture they were trying to escape," Mediterranea said in a statement.
The coast guard vessel sped past the Mare Jonio to reach "a boat that was nearly immobile and therefore in obvious difficulty," it said.
When the Italian ship reached the dinghy, it was "empty... damaged and deflated, and as usual the engine was already gone."
The German and Italian rescue ships were allowed to resume operations in the central Mediterranean at the beginning of June after the Italian authorities held them at port for two months citing "technical reasons."
Warmer weather and better sailing conditions are expected to lead to a surge in attempts by migrants to reach Italy from Libya.
https://www.arabnews.com/node/1691336/world
--------
London mayor Sadiq Khan takes pay cut over coronavirus funding cut fears
June 17, 2020
LONDON: London's mayor announced Wednesday he will take a 10 percent pay cut due to a budget crisis caused by the coronavirus outbreak, as he urged the government to help Britain's stretched local authorities.
Sadiq Khan said the capital faces a budget shortfall of nearly $628 million over the next two years because of an "unprecedented" income loss from the crisis.
The Labour mayor warned he could make cuts to police, fire and transport services without additional funding from the government, which he accused of risking "a new era of austerity."
"COVID-19 has had a devastating impact on London's public finances," he said in a statement, warning many local authorities across the country were in a similar position.
"I will do everything in my power to persuade ministers not to force another era of austerity on local and regional government.
"It's only right that I should volunteer for an immediate pay cut in these extremely difficult circumstances."
As well as taking a cut on his £152,734-a-year salary, Khan said he would freeze the wages of his 15 direct appointments given the £493-million budget shortfall forecast.
Like most local authorities, the directly elected London mayor — created in 2000 as part of local governance reforms — is funded through government grants and income from sources such as transport fares.
Funding for them from the British government has fallen dramatically over the last decade under the so-called austerity policies of the ruling Conservatives brought in after the 2008 global financial crash.
Prime Minister Boris Johnson's government says it has boosted their finances during the pandemic, but is facing its own mounting bill for various emergency virus response policies for workers.
Meanwhile, the government is facing unprecedented falls in revenues due to the nationwide lockdown introduced in late March and now being gradually eased.
Britain's economy has crashed spectacularly, shrinking by one-fifth in size during April as unemployment has surged and it heads into recession.
The Organization for Economic Cooperation and Development last week predicted the UK economy was on course to shrink by more than 11 percent in 2020 because of COVID-19.
Amid the grim economic picture, other regional and local leaders have echoed Khan's call for extra funding to cope.
The devolved government in Scotland, which was given tax-raising powers when it was created in the late 1990s, warned this month of a possible "return to austerity."
It wants increased borrowing powers, allowing it to take on debt, to fund its COVID-19 response.
https://www.arabnews.com/node/1691151/world
--------
France: Syrian Assad relative found guilty of fraud
Cindi Cook
17.06.2020
PARIS
A French court on Wednesday found Rifaat al-Assad, an uncle of Syria's Bashar al-Assad, guilty of property fraud and sentenced him to four years in prison.
The ruling states that the 82-year-old former military commander acquired real estate worth millions of euros in France and central Europe using money funneled from Syrian public funds, according to local media reports.
The embezzlement occurred between 1996 and 2016, it said.
The sentence requires the seizing of Assad's portfolio of properties in France – estimated at €90 million ($101 million), as well as one property in London, worth €29 million ($33 million).
The French properties include 40 apartments and two mansions in Paris, a castle, and stud farms in the Val-d'Oise area north of the capital.
Rifaat al-Assad was not present at Wednesday's hearing trial, due to "medical reasons," and was represented by his lawyers.
His lawyers have said they will immediately appeal the decision.
Brother to former Syrian ruler Hafez al-Assad, the retired commander is known as the "Butcher of Hama" for killing around 40,000 Syrians in the 1982 Hama massacre.
Rifaat al-Assad, who is said to be at odds with his nephew, was forced into exile after a failed 1984 coup against his brother.
He first went to Switzerland and then France, where he started building a vast real estate fortune throughout central Europe and the UK.
https://www.aa.com.tr/en/europe/france-syrian-assad-relative-found-guilty-of-fraud/1880491
--------
Police detain PKK/YPG terror sympathizer who jumped on PM Johnson's car
AhmetGurhanKartal
17.06.2020
LONDON
British police on Wednesday detained a sympathizer of the terrorist YPG/PKK after he allegedly tried to jump on Prime Minister Boris Johnson's car in front of parliament.
The man is thought to be among a small group of protesters who carried symbols of the YPG/PKK in Parliament Square.
According to eyewitnesses, the man jumped on the prime minister's car while Johnson was leaving the House of Commons after Prime Minister's Questions - a weekly session where lawmakers ask the government questions.
A security vehicle hit Johnson's car when it had to break suddenly due to the incident, but there are no reports of injuries, according to a statement by Downing Street.
Police surrounded the scene in seconds and detained the man despite resistance from the rest of the terrorist group sympathizers.
He was later taken into parliament by the police.
In its more than 30-year terror campaign against Turkey, the PKK – listed as a terrorist organization by Turkey, the US, and EU – has been responsible for the deaths of 40,000 people, including women, children, and infants. The YPG is the PKK's branch in Syria, south of Turkey's border.
Despite the terror group largely being banned in Europe, Turkey has complained that European governments still let it operate with impunity.
https://www.aa.com.tr/en/europe/police-detain-pkk-ypg-terror-sympathizer-who-jumped-on-pm-johnsons-car/1880412
--------
Arab World
Arts and culture jobs in Saudi Arabia get official status in national first
June 18, 2020
RABAT: More than 80 jobs in the arts and culture sector are to be given official occupational status in the Kingdom for the first time, a government minister has said.
The announcement from Saudi Minister of Culture Prince Badr bin Abdullah bin Farhan coincided with a virtual conference held on Wednesday by the Islamic Educational, Scientific and Cultural Organization, the Saudi Press Agency reported.
It is the first time in the Kingdom's history that such jobs have been included in the Unified Saudi Occupational Classification.
The inclusion came at the request of the Ministry of Culture to the Ministry of Human Resources, based on efforts and cooperation between government agencies. The occupations were added after studying the reality of Saudi Arabia's culture industry, and based on the International Standard Classification of Occupations.
More than 80 cultural occupations were approved for inclusion in the first stage such as theater producer, film director, lighting designer, documents and manuscripts restoration specialist, exhibitions designer, textile designer, curator and other basic cultural occupations in which Saudi creatives are active.
The occupations include all cultural sectors: Heritage, language, books and publications, libraries, fashion, theater and performing arts, culinary arts, movies, museums, visual arts, festivals and cultural events, and architecture and design arts, as well as occupations in the educational development of the cultural sector and multimedia design.
Listing the cultural occupations under the Unified Saudi Occupational Classification will help give Saudis official recognition at state agencies and private sector institutions. It will also be a first step toward professional licensing, as well as enhancing artists' significance and value in society under a clear and recognized professional title.
The Ministry of Culture's keenness and endeavors to include cultural occupations comes from its belief in the value of Saudi creatives and the need to obtain the value that they deserve professionally and socially.
The ministerial move is also considered to be an essential step to elevate Saudi creatives from 'hobby level' to a professional one, which is seen as a major requirement to advance the Kingdom's culture sector and make it an influential, productive and effective industry socially, economically, and culturally, and at a level that meets the goals of the country's Vision 2030 reform plan.
Prince Badr used his conference speech to highlight the impact of culture, awareness and solidarity in mitigating the effects of the coronavirus pandemic, and shed light on the proactive preventive measures taken by the Kingdom that he said reflected the true meaning of "humans first" and the principles of Islam.
He said all sectors had been affected by this pandemic, including the cultural sector but that "thanks to the decisions of the Saudi leadership, we were able to promote the cultural presence in the society through an innovative flair, as we are aware and certain that the culture is renewable and able to adapt to the changing reality."
Prince Badr hoped that the conference would be an opportunity for participation and cooperation to overcome challenges and take culture to a safe harbor where it could achieve the desired development goals.
The event was held under the theme of "the sustainability of cultural work in addressing crises (COVID-19)" to discuss the current challenges. Other ministers of culture and heritage from Muslim countries were also in attendance.
https://www.arabnews.com/node/1691486/saudi-arabia
--------
UAE says Turkish and Iranian military interventions violate Iraqi sovereignty
17 June 2020
The United Arab Emirates said on Wednesday that Turkish and Iranian military interventions in Iraq violated the sovereignty of a sisterly Arab country.
"UAE denounced the Turkish and Iranian military interventions in brotherly Iraq, through their bombing of areas in northern Iraq, which constituted a violation of the sovereignty of a sisterly Arab country and led to intimidation and the spread of terror among innocent civilians," a foreign ministry statement said.
For all the latest headlines follow our Google News channel online or via the app.
Early on Wednesday, Turkey's Defense Ministry said its warplanes had struck Kurdish forces in northern Iraq's Haftanin region.
It was the second strike against the Kurdistan Workers' Party (PKK) in northern Iraq in the space of three days.
On Tuesday, Baghdad handed a formal letter of protest to the Turkish ambassador after summoning him over airstrikes perpetrated by Ankara against Kurdish militant targets in northern Iraq.
https://english.alarabiya.net/en/News/middle-east/2020/06/17/UAE-says-Turkish-and-Iranian-military-interventions-violate-Iraqi-sovereignty.html
--------
Syrian President al-Assad's uncle found guilty of money laundering
17 June 2020
The exiled uncle of Syrian President Bashar al-Assad was found guilty on Wednesday of acquiring millions of euros worth of French property using funds diverted from the Syrian state, and sentenced to four years in prison.
The French court ordered the seizure of all of Rifaat al-Assad's property in France – which judicial sources estimate are worth 100 million euros ($113 million) – as well as a property worth 29 million euros in London.
For all the latest headlines follow our Google News channel online or via the app
Rifaat al-Assad, 82, has lived in exile, mostly in France, since the mid-1980s, after being accused of trying to seize power from his brother, then-President Hafez al-Assad, Bashar's father. He previously commanded troops accused of killing thousands of people to crush an Islamist uprising in 1982.
French judicial authorities suspected him of having unduly acquired real estate in several countries between 1984 and 2016 with funds from Syria. He repeatedly denied the allegations and said he acquired his wealth as a gift from the Saudi King.
The French court also ordered him to pay 30,000 euros to the anti-corruption organizations Sherpa and Transparency International France, which first filed a legal complaint against him in 2013.
"This ruling shows that nobody escapes justice and there is no impunity," Sherpa's lawyer Vincent Brengarth told reporters.
Among the properties that will be seized is a mansion on the prestigious Avenue Foch in Paris.
"It's an extremely harsh decision that seems unjustified," Assad's lawyer Benjamin Grundler told reporters, adding that he would appeal. "There are no funds of Syrian origin in this case. All funds are legitimate."
He will not be sent to prison pending the appeal.
In 2017, Spanish authorities seized more than 500 Spanish properties from him, worth about 700 million euros, as part of a Franco-Spanish money-laundering operation.
https://english.alarabiya.net/en/News/middle-east/2020/06/17/Syrian-President-al-Assad-s-uncle-found-guilty-of-money-laundering-.html
--------
Rockets hit heavily fortified Green Zone in Iraqi capital Baghdad
18 June 2020
Rockets have struck an area at the heavily fortified Green Zone in the Iraqi capital city of Baghdad, which houses some of the main government offices and foreign diplomatic missions, including the US Embassy.
Security sources inside the high-security district, speaking on condition of anonymity, told AFP that the projectiles landed in the area early on Thursday.
AFP journalists heard at least three explosions, which consequently triggered security sirens at the US Embassy compound. There were no immediate reports of casualties or damage.
The development took place a week after Iraq's military said at least two rockets had hit inside Baghdad's Green Zone.
The two projectiles struck near the Baghdad Operations Command, which coordinates Iraq's police and military forces, the military statement said at the time.
The command center is a few hundred meters away from the US Embassy, which is a regular target of rocket attacks.
An Iraqi security official, who requested not to be named, said back then there were no casualties.
The attacks come as anti-US sentiment has been running high in Iraq following the assassination of Lieutenant General QassemSoleimani, the commander of the Quds Force of Iran's Islamic Revolution Guards Corps, along with Abu Mahdi al-Muhandis, the deputy head of Iraq's Popular Mobilization Units (PMU), and their companions in a US assassination drone airstrike authorized by President Donald Trump near Baghdad International Airport on January 3.
Iraqi lawmakers unanimously approved a bill two days later, demanding the withdrawal of all foreign military forces led by the United States from the country.
The US responded to the move by threatening crippling sanctions against the Arab country and, according to some reports, a huge bombing spree against the Iraqi groups it blames for attacks on site.
The troop withdrawal was put to talks between Baghdad and Washington earlier this month, with the US promising to reduce the number of its troops there in the coming month.
Washington also claimed in a statement following the talks "it does not seek nor request permanent bases or a permanent military presence in Iraq."
https://www.presstv.com/Detail/2020/06/18/627701/Rockets-hit-heavily-fortified-Green-Zone-in-Iraqi-capital-Baghdad
--------
More witnesses added to lawsuit detailing Qatari Sheikh's murderous lifestyle
June 17, 2020
CHICAGO: Four additional witnesses have been added to a lawsuit accusing Qatari Sheikh Khaled bin Hamad Al-Thani of overseeing an ongoing conspiracy of violence that includes the murder of employee assigned to his wife, and plots to murder six other rivals.
In the lawsuit, six former employees of Sheikh Khaled, the brother of Qatar's Emir Tamim bin Hamad Al-Thani, provide frightening testimony into the violent underworld of the playboy race driver's life of drugs, sexual perversions and violence.
The six former employees are demanding unpaid wages, emotional distress, punitive damages, attorney fees and sanctions to prohibit retaliation and harassment.They are suing under the US Fair Labor Standards Act and the Federal RICO (Racketeer Influenced and Corruption Organization Act), which is usually used to target mobsters and street gangs.
One of the new plaintiffs, Terry Hope, said he witnessed Sheikh Khaled beat to death an Indian national who was employed as his wife's driver because the victim was late in picking her up after a Doha shopping spree.
The alleged killing took place near the wife's residence in a desert area near Doha reserved for the Al-Thani royal family's private compounds.
The unnamed Indian male was buried in the desert behind the home with assistance from Qatar's Royal Amiri Guard, according to the lawsuit.
Florida Attorney Rebecca Castaneda, who filed the lawsuit, said Sheikh Khaled "created an environment of hostility, falsely imprisoned employees, caused personal injury, assaulted and battered employees, inflicted emotional distress, engaged in retaliation, and intentionally interfered in business relationships."
The original lawsuit was filed on July 23, 2019, on behalf of two employees, Matthew Pittard and Matthew Allende.
But Sheikh Khaled, a bigshot in the American race car industry, avoided being served, a requirement in US law.
On Jan. 2, 2020, Al-Anabi Racing USA LLC lawyers filed a motion on behalf of Sheikh Khaled, the owner, to dismiss the lawsuit, claiming that it was filed in the wrong federal jurisdiction, Florida, where Pittard lives.
Castaneda withdrew the lawsuit on Jan. 27 but refiled an expanded one in Boston's Federal District Court, where Al-Anabi Racing and other racing subsidiaries owned by Sheikh Khaled are registered.
In addition to Pittard, Allende and Hope, the lawsuit includes testimony from former employees Robert Von Smith, Jason Mollenbrink and RamezTohme. All are American citizens.
In addition to naming Sheikh Khaled and 16 of his aliases, the lawsuit names 29 subsidiaries or "alter egos" of Al-Anabi Racing, and its President and CEO Donald Greenbaum, as defendants.
Greenbaum began working with the Al-Thani royal family providing export and import services. In 2007, the lawsuit states, he supervised the creation of Sheikh Khaled's racing empire, organized racing teams and supervised racing in competitions that include the National Hot Rod Association.
According to the lawsuit, Sheikh Khaled and Al-Anabi Racing used monies controlled by the Qatar Olympic Committee and Ministry of Sports to pay for their growing stable of drivers and employees, and to purchase personal high-price vehicles including a Bugatti Veyron. The spending was allegedly approved by the Qatari government.
Al-Anabi Racing quickly expanded to compete in the Pro Modified Division in Dubai, the American Drag Racing League in Virginia and the Shakedown in Etown racing competition in New Jersey, winning several races but spending more than $10 million in its first three years.
The lawsuit says problems began when Sheikh Khaled got greedy, refusing to pay his employees unless they committed criminal acts.
He ordered local police to arrest and jail Tohme for disobeying his orders. Tohme spent a night in jail but was released when an unnamed Qatari magistrate judge told him: "Ramez, don't worry. We are all aware of Sheikh Khaled's actions and the things he does. I will release you, but I don't want to hear anything bad about my country."
The lawsuit says Sheikh Khaled ordered Hope and Pittard to execute "eight separate murder for hire plots" as a condition of employment. Hope was told to kill the head of an American racing circuit and his wife "to prove his loyalty."
The sheikh also allegedly ordered the killing of a Bahraini royal family member who raced in the same competitions.
In another case, Castaneda said he ordered Allende and Pittard to murder a Moroccan woman who was a friend of the sheikh's wife.
Castaneda said Sheikh Khaled feared that the woman was feeding embarrassing information to a Saudi national at a time when his brother the emir and Qatar were in a row with Saudi Arabia and three other Arab countries.
In February 2011 and 2012, the lawsuit alleges, Sheikh Khaled tried to rig the outcome of the Arabian Drag Racing Leagues' Battle of the Belts Championship, hoping to boost his company's international rankings.
Castaneda says she believes Sheikh Khaled also ordered the brutal beating and rape of Allende's girlfriend in her home in Pasadena, California, in February 2020, after the original lawsuit was withdrawn.
The lawsuit hints at Al-Thani family problems, detailing how Sheikh Khaled suspected his brother the emir of secretly bugging his racing offices.
Sheikh Khaled allegedly ordered employees to hack the email accounts of several family members including his brother, the deputy emir of Qatar, and the accounts of a Bahraini race driver, a member of the Dubai royal family and a deputy emir in Dubai.
Sources told Arab News that Sheikh Khaled has been ordered to maintain a low profile due to publicity over the lawsuit, and he is restricted to a royal family beach house in Qatar.
https://www.arabnews.com/node/1691156/middle-east
--------
Pakistan
Centre only wants to remove anomalies from 18th Amendment, PM says
June 18, 2020
KARACHI: Prime Minister Imran Khan on Wednesday said that the federal government did not have any disagreement with provinces, but rather it wanted to remove "anomalies" from the 18th Amendment to the Constitution of Pakistan.
Speaking to senior journalists, the prime minister said that some federal subjects were wrongly devolved to the provinces under the constitutional amendment, which should be returned back to the Centre and for this purpose, all provinces would be consulted.
Speaking about the coronavirus outbreak in the country, he said that the National Coordination Committee (NCC) meets regularly to take decisions on measures for containing the virus in consensus with the provinces and autonomous areas.
He said that he was against the imposition of a strict lockdown since day one as he was worried about the labourers and daily wagers. "The government has two simultaneous responsibilities," he said. "It has to contain the spread of the virus and protect the poor segments of the society from financial challenges."
The premier said that the federal government opted for smart lockdowns and eased restrictions for many sectors of the national economy. He added that the decision proved to be fruitful as the smart lockdown strategy helped slow down the virus transmission and also saved the economy from a major crisis.
He also said that the government has now decided to strictly enforce the implementation of the standard operating procedures (SOPs) while smart lockdowns would be imposed in virus hotspots across the country.
The prime minister said that he was disappointed at the way some elements were politicising the coronavirus outbreak. He added that the federal government did not discriminate between provinces.
Talking about the local government system, he said that the Pakistan Tehreek-e-Insaf (PTI) was the only political party that believed in the devolution of powers to the local level and it had practically executed the plan in Khyber Pakhtunkhwa (KP) back in 2013.
He also said that the local government system was important for resolving the problems of the public. "Under the new system, the mayors of the cities would be directly elected by the citizens and this would help address the issues of the people of Karachi," he said.
Responding to a question about the locust attack, PM Imran said that the federal government had declared an emergency back in January 31 to deal with the issue and was making all-out efforts to eliminate swarms of locusts.
He said that the federal government was constantly in contact with neighbouring countries, including Iran and India, and it had also taken the provinces on board to devise a joint strategy for dealing with this issue.
Speaking on the occasion, Special Assistant to Prime Minister on Social Protection and Poverty Alleviation Dr SaniaNishtar said that a major chunk of the Rs60 billion earmarked for Sindh under the Ehsaas Emergency Cash Programme had been distributed among the needy families. Some five million deserving families of Sindh would benefit from the cash assistance programme, she added.
She said that the prime minister had issued special instructions to ensure indiscriminate distribution of cash. "We had decided to distribute cash on the basis of 2013 census data, according to which, Sindh's share was 22 per cent, but we raised it to 31 per cent on the instructions of the prime minister and the extra amount would be borrowed from PM's Corona Relief Fund," she added.
Sindh Governor Imran Ismail, Opposition Leader in Sindh Assembly FirdousShamim Naqvi and PTI MPA HaleemAdil Sheikh were also present during the meeting.
https://www.pakistantoday.com.pk/2020/06/17/imran-says-centre-only-wants-to-remove-anomalies-from-18th-amendment/
--------
Coronavirus cases in Pak cross 1,50,000-mark; death toll reaches 2,975
Jun 17, 2020
ISLAMABAD: The coronavirus cases in Pakistan crossed the 1,50,000-mark, while 136 more people succumbed to the disease, taking the death toll to 2,975, the health ministry said on Wednesday.
A total of 950,782 Covid-19 tests, including 28,117 in the last 24 hours, were conducted so far in the country.
As many as 5,839 new coronavirus infections were detected in the last 24 hours, taking the total tally to 154,760, the ministry said.
The country also registered a record number of 136 Covid-19 fatalities overnight, pushing the death toll to 2,975, it said.
Punjab recorded the maximum number of 58,239 coronavirus cases, followed by 57,868 in Sindh, 19,107 in Khyber-Pakhtunkhwa, 9,242 in Islamabad, 8,437 in Balochistan, 1,164 in Gilgit-Baltistan and 703 in Pakistan-occupied Kashmir (PoK).
According to the health ministry, 58,437 patients have recovered so far.
Meanwhile, Prime Minister Imran Khan visited Karachi to take a stock of the steps taken by the Sindh province to control the spread of the virus.
https://timesofindia.indiatimes.com/world/pakistan/coronavirus-cases-in-pak-cross-150000-mark-death-toll-reaches-2975/articleshow/76418999.cms
--------
Justice Isa turns up at SC as wife's emissary
Nasir Iqbal
June 18, 2020
ISLAMABAD: Attired in a grey suit, Justice QaziFaez Isa on Wednesday wrote history when he entered the Courtroom No 1 as a messenger of his wife to seek an audience for her via video link and satisfy the Supreme Court's 10-judge full court about the source of three-offshore properties in her and children's name.
However, the bench reminded the petitioner judge that they had complete respect for him and it was not appropriate for him to appear when the message could have been conveyed through his counsel Muneer A. Malik, as the former might overcome with emotions.
When Justice Isa came, Dr FaroghNasim, the counsel for the federal government, was occupying the rostrum to justify the filing of the presidential reference against Justice Isa.
Justice Isa's appearance is being dissected by legal observers against the backdrop of Tuesday's proposal by the Supreme Court that the government could pursue the reference before the Supreme Judicial Council after first exhausting tax proceedings at the Federal Board of Revenue.
The government side, which had taken a day to respond, acceded to the SC suggestion, as Dr Nasim explained that he met Prime Minister Imran Khan whohad no objection to the proposal provided the judge and his wife assured the tax commissioner of their cooperation.
The counsel said the prime minister also denied of having any properties in the UK and said he was ready to resign and the properties should be confiscated if proved that they belonged to him. Former PM's aide FirdousAshiqAwan took the same position, he said apparently in response to Justice Isa's recent application about their undisclosed offshore properties along with those allegedly belonging to Assets Recovery Unity (ARU) chairman Shahzad Akbar.
Justice Bandial observed that both sides played to the galleries instead of showing patience. Sitting at the Karachi Registry of the Supreme Court, Mr Malik said he was reaching Islamabad on Thursday to re-consult his client.
The appearance of the judge, however, sparked a raging debate in the courtroom during a short break when the court retired for consultation on Justice Isa's request seeking an audience for his wife via video link.
On Wednesday, Justice Isa began his assertion before the full court by stating that for the first time he understood the real meaning of the Quranic verse that persecution was worse than death, also beseeching the court to initiate contempt of court proceedings after the assertion made by former Attorney General for Pakistan Anwar Mansoor Khan that one of the lords on the bench assisted and drafted the petition.
Justice Isa said it was not because of the respect of any individual but for the respect of the institution that his wife wanted to share details of the properties not to anybody but to the court since the matter was in the public domain. So far, he said, the government had failed to answer why she had not been inquired about the properties when she was in Islamabad. Not even the Supreme Judicial Council called her, he added.
She had painfully suffered since her father was suffering from brain cancer yet she wanted to share details of the properties not with anybody else but with the court, because when she went to the Federal Board of Revenue (FBR) without any protocol or guard she was "ridiculed", Justice Isa recalled.
Justice Umar Ata Bandial, who was heading the full court, described the offer as a big development, adding it was very noble and honourable of the wife to address the court but the court would respond after pondering over it.
Dr Nasim then said he had no personal animosity with the judge and his family and it would be the end of the matter if some reasonable explanation was given. He also claimed he had complete respect for Justice Isa's wife and that he never intended to hurl insults at or mock the judge.
The court took a break for a few minutes and when reassembled said it had considered the request as it was a crucial evidence for the resolution of the controversy. The court then asked Justice Isa to request his wife to furnish a written application stating her position along with relevant documents. But Justice Isa contended that she wanted to address the court during which the court could ask thousands of questions about the properties. He insisted that justice not only must be done but it must also be seen to be done.
He said neither she was a lawyer or assisted by any counsel nor being a judge he could advise her. "I don't know in what way she will write the application and if she attach something like a bank document etc, they will get hold of my account and may deposit five million pounds to accuse me of taking bribe and to make it the basis of a second reference," Justice Isa feared.
The petitioner judge said they (the government) had the audacity to appear on TV screens on a daily basis, even the President holding the highest office arranged three TV interviews in the presidency, discussed the reference against him. Also Assets Recovery Unit (ARU) chairman MirzaShahzad Akbar himself spoke about the reference while the former AG called the former law minister liar and vice versa. He said: "FaroghNasim may continue with his puffing, but I am no hypocrite."
Justice Bandial asked Justice Isa to take a seat and said that his wife's convenience could not dictate the court.
The petitioner judge again emphasised that despite her statement, he would still press the petition, as he had heard the government side saying the "FBR did not take any action because they got scared". Justice Isa said: "Tomorrow they will say that no one can go against the wife of the judge."
"Don't go on apprehensions," Justice Bandial observed, adding that the court would like to inquire from his counsel Muneer A. Malik as the petitioner judge was emotionally involved in the matter.
At the conclusion of Wednesday's proceedings, Mr Malik explained to the court that when he signed the case, it was not for an individual but for the independence of the judiciary as he believed that the paragon of the principles of the judiciary was stained. The last instructions from his client was that the case should be decided on merit, because the petitioner judge did not want to sit on the court with a sullied reputation, the counsel said, while regretting about the smear campaign against the judiciary.
He said he would come back to Islamabad on Thursday to re-consult his client. The court, however, said it would pass an order in this regard on Thursday.
Earlier during the hearing, Justice MaqboolBaqar regretted that we did not have a history to be proud of since it was a known fact how the executive had intervened to trample the constitution and paralyse institutions including the judiciary.
"Please let us make our effort because we do not want to be on the wrong side of history," Justice Baqar observed. He also was critical about roping of a judge through mere roving inquiry.
Justice Bandial observed that to retain the confidence of the public and to maintain the majesty of the laws, this court could not allow anyone to challenge the integrity of the judge to bring the institution into disrepute.
https://www.dawn.com/news/1564269/justice-isa-turns-up-at-sc-as-wifes-emissary
--------
PPP calls for JIT to probe prime minister's 'assets' in Britain
Syed IrfanRaza
June 18, 2020
ISLAMABAD: The Pakistan Peoples Party (PPP) on Wednesday called for investigation against Prime Minister Imran Khan and his advisers for reportedly owning properties in the UK.
Senator Mustafa Nawaz Khokhar, the spokesman for Pakistan Peoples Party chairman Bilawal Bhutto-Zardari, demanded the constitution of a Joint Investigation Team (JIT) on the document presented by Justice QaziFaez Isa to the Supreme Court. The document claimed Prime Minister Khan and his advisers owned properties in the United Kingdom.
Addressing a press conference at the PPP media office in Islamabad with NazirDhoki, Senator Khokhar said that a similar JIT was formed in the cases against ex-prime minister Nawaz Sharif, former president Asif Ali Zardari and Mr Bhutto-Zardari.
The senator said the PPP would also approach the Election Commission of Pakistan (ECC) for action against the prime minister despite the fact that the ECP had not yet decided foreign funding case against Imran Khan and for this reason there was no hope with the ECP.
"The attack on Justice QaziFaez Isa is an attack on the entire Pakistani nation," he said, condemning the way the Supreme Court judge was treated.
Justice Isa, while presenting the document before the Supreme Court, had said the document regarding properties of the prime minister and his cronies was acquired from the same source from which detail of his (Qazi Isa's) properties were acquired.
"The document is an important piece of information and the PPP asks for the same treatment given in the cases of PML-N and PPP leaders," he said. "The law should be applied equally. This document is presented in the Supreme Court by no other than a judge of the apex court," he added.
https://www.dawn.com/news/1564249/ppp-calls-for-jit-to-probe-prime-ministers-assets-in-britain
--------
Two 'missing' workers of MQM-L, JSQM found shot dead
June 18, 2020
KARACHI: Two men stated to be "missing" workers of the MuttahidaQaumi Movement-London and the Jeay Sindh QaumiMahaz (Arisar group) were found shot dead in the city, police, the parties and relatives of the dead said on Wednesday.
Their bodies bearing bullet marks were found at deserted places on the outskirts of the metropolis on Tuesday.
Sachal SHO SafdarAbbasi said the body of a man was found in bushes off the Superhighway near Jamali Bridge. The victim was identified as Asif Husain Siddiqui, 50. He had received two bullets in the head. However, no spent bullet casing was found at the crime scene, added the SHO.
The police registered the murder case against unknown suspects on a complaint of the victim's brother, Atif. The officer said that the complainant in his application before the police did not say that his brother had been missing.
The MQM-L in a statement alleged that Asif, alias Pasha, was a senior worker of the party's Defence/Clifton sector who was allegedly taken away by law enforcers on Feb 22, 2019. The party termed it an act of "extrajudicial killing".
A section of the electronic media reported that Asif Siddiqui was allegedly wanted by law enforcers in terrorism and murder cases. He was also allegedly involved in a deadly armed attack on a Pak Sarzameen Party office in Nazimabad.
Separately, the body of a man identified as NiazLashari, 32, with a bullet wound in the head was found near Samandari Baba mazaar, off a road linking the Superhighway with the National Highway.
AtharLashari told the media that his brother had become a victim of "enforced disappearances" twice. He was allegedly taken away by plain clothes men from his residence in the Pipri area of Malir on April 16, 2018. The brother recalled that the Hyderabad police had shown arrest of Niaz in terrorism cases. He had allegedly been missing after attending an antiterrorism court hearing in Hyderabad on Jan 10, 2019.
The victim's mother had also filed a petition before the Sindh High Court bench in Hyderabad, which was pending.
The deceased was associated with the recently banned JSQM (Arisar).
Man shot dead
A 30-year-old man, Abdul Latif, was shot dead in the Manghopir area on Wednesday, police said.
They added that he was killed inside his home in MastaniMohalla, allegedly by a relative, Habibullah, over some personal enmity.
The suspect escaped after committing the crime.
The body was taken to the AbbasiShaheed Hospital to fulfil legal formalities.
Infant electrocuted
A two-year-old girl died when she suffered electric shock inside a home in Shanti Nagar area of Ittehad Town on Wednesday, the Edhi Foundation spokesperson said.
https://www.dawn.com/news/1564178/two-missing-workers-of-mqm-l-jsqm-found-shot-dead
--------
PTI Sindh lawmakers urge PM Imran to improve ties with PPP govt
June 18, 2020
KARACHI: Lawmakers of the Sindh Assembly belonging to the Pakistan Tehreek-e-Insaf (PTI) on Wednesday urged Prime Minister Imran Khan to strengthen relations between the Centre and the provincial government led by the Pakistan People's Party (PPP) so that they are able to resolve public issues in their respective constituencies more efficiently.
The prime minister met with the MPAs at the Governor House during his two-day visit here.
The delegation praised the premier's suggestions in the new finance bill and decisions that were taken by the government to curb the spread of coronavirus. They also commended the PM on reaching out to the poor segment of the society through the Ehsaas Programme.
"Public service is the first mission of the PTI government," PM Imran said, urging the PTI lawmakers to be more proactive in resolving public issues.
Sindh Governor Imran Ismail, Minister for Maritime Affairs Syed Ali Zaidi and Special Assistant Dr SaniaNishtar were also present in the meeting.
Among the MPAs were Omar Amari, Dr Syed Imran Ali Shah, ArsalanTajHussain, Bilal Ahmed, Syed FirdousShamim Naqvi, HaleemAdil Sheikh, Jamaluddin Siddiqui and others.
The Grand Democratic Alliance (GDA) delegation was also present during the meeting.
According to reports, the delegation demanded Sindh's share in the NFC award and discussed the privatisation of steel mills and eradication of locusts from agricultural fields in the province.
The GDA delegation included Sardar Abdul Hakim, Dr ArbabGhulam Rahim, Arif Mustafa Khan Jatoi and IrfanullahMarwat.
https://www.pakistantoday.com.pk/2020/06/17/pti-sindh-lawmakers-urge-pm-imran-to-improve-ties-with-ppp-govt/
--------
Mideast
CBI Governor: Iran to Use Assets in Iraq to Buy Basic Commodities
Jun 17, 2020
During the meeting in Baghdad, Hemmati urged a joint mechanism to be used by both countries to provide Iran with access to basic commodities.
Referring to the already signed agreements between the two countries, he said that Iran aims to make use of its resources and assets in Iraq for purchasing basic commodities which are not banned under the sanctions imposed on Tehran.
Hemmati noted that the two sides also reached good agreements during this visit, and said that the timetable for implementing the agreements is of special importance.
Al-Alaq, for his part, said that a document signed a year ago between the central banks of Iran and Iraq clearly defines the banking and financial relations between the two countries and the way to use the resources of the Central Bank of Iran.
Today the two sides agreed to act based on the same agreement, he said.
Economic relations between Iran and Iraq have expanded and the volume of trade has increased in recent years.
Iranian Ambassador to Iraq IrajMasjedi and Baghdad's new Finance Minister Ali Abdul Ameer Allawi in a meeting earlier this month discussed various ways to bolster economic and trade relations between the two countries.
During the meeting with the Iraqi minister, congratulated on the Iraqi minister's appointment to the post and handed over to him and an invitation from Iranian Minister of Economic Affairs and Finance FarhadDejpasand to pay a visit to Iran.
Allawi, meantime, thanked his Iranian counterpart for the invitation and expressed the hope that he would pay a visit to the Islamic Republic of Iran in the near future at the head of a trade and economic delegation.
https://en.farsnews.ir/newstext.aspx?nn=13990328000535
--------
Iran Stresses Necessity for IAEA to Respect Confidentiality of Info
Jun 17, 2020
Qaribabadi made the remarks on Tuesday while explaining about the positions of the Islamic Republic of Iran in a video conference held on the subject of reviewing the IAEA Director General's report on the verification of JCPOA's implementation in Iran.
He first expressed the Islamic Republic of Iran's serious concern about the possibility of the secrecy of the IAEA Board of Governors' meeting being compromised, noting that technical experts have warned that holding a meeting in this format will no doubt have any control over who is currently listening, recording, and disclosing confidential information.
The Iranian ambassador added that if such a thing happens, the secretariat will be held accountable for the consequences of non-compliance with the principles of confidentiality. At the same time, the responsibility of member states, especially given that such confidential information has been leaked to the media and even published by some institutions, should not be ignored.
The envoy went on to say that it is essential that the IAEA take appropriate measures to ensure the protection of the confidentiality of information, including when such information is made available to the Member States.
Qaribabadi also stated that despite the fact that JCPOA faces serious challenges to survive, the Director General's report is a good testament to the level of cooperation between Iran and the IAEA.
"As of January 16, 2016, the IAEA is reviewing and verifying Iran's compliance with its nuclear obligations," the report said.
He noted this report also shows that the IAEA is even able to really verify and monitor the actions that Iran has halted in fulfilling some of its obligations under the JCPOA. The report also described Iran's level of cooperation with the IAEA at the time of the Corona outbreak as "exceptional".
The ambassador of highlighted that with regard to the implementation of JCPOA, it must be acknowledged that not only has there been no significant positive progress, but the situation has worsened. On May 27, 2020, the United States announced that it would unilaterally sanction all nuclear projects left over from the JCPOA - the Arak Reactor, the supply of enriched uranium for Tehran's research reactor, and the export of Iran's research reactor's fuel. These US sanctions and malicious policies have prevented the implementation of the relevant nuclear provisions of Security Council Resolution 2231 (2015) by member states, including the Islamic Republic of Iran.
He added that in fact, with the continuation of the irresponsible behavior of the United States, the situation around this agreement is darker than before.
"In a letter to the Director General of the Agency on June 9, 2020, I have reflected the position of the Islamic Republic of Iran in this regard, which has also been published as an agency document," the envoy added.
In relevant remarks on Tuesday, Iranian Foreign Minister Mohammad JavadZarif blasted the US and its allies' attempts against Iran at the International Atomic Energy Agency, saying that Tehran will not allow them to make an instrumental use of the IAEA.
"We will not allow an Iran investigations based on documents that rise from espionage claims. We thought that the Agency values its credibility. We still believe in transparency. We welcome the Russian government's initiatives to strengthen Iran-IAEA relations and we will not allow the Agency to turn into an instrument for those who want to annihilate the nuclear deal and all international undertakings," Zarif told reporters in a joint press conference with his Russian counterpart Sergey Lavrov in Moscow.
"We do not allow a country whose policy is withdrawal from international agreements to use international organizations to pressure Iran," he added.
Zarif said that the US is directly annihilating international laws by pressuring the secretariats of international organizations, adding that 15 reports by the IAEA have shown that Iran has fully cooperated with the UN nuclear watchdog.
https://en.farsnews.ir/newstext.aspx?nn=13990328000358
--------
Spokesman: S. Arabia, US Mocking Int'l Mechanisms
Jun 17, 2020
"Just days after leveling baseless accusations against Iran, UN secretariat gives a free pass to Saudi-led coalition in Yemen, despite admitting 100s of Yemeni children were killed by the coalition," Mousavi wrote on his Twitter page on Wednesday.
"Saudi Arabia (with dollars) and US (with bulling) are mocking international mechanisms," he added.
The Saudi-led coalition's exclusion from the UN's blacklist of child killers prompted immediate protests from human rights groups worldwide.
Jo Becker, the advocacy director of the children's rights division at Human Rights Watch, argued that Guterres "is adding a new level of shame to his 'list of shame' by removing the Saudi-led coalition and ignoring the UN's own evidence of continued grave violations against children."
Adrianne Lapar, director of Watchlist on Children and Armed Conflict, also said by removing the Saudi-led coalition "the secretary-general sends the message that powerful actors can get away with killing children."
Saudi Arabia and a number of its regional allies launched a devastating campaign against Yemen in March 2015, with the goal of bringing the government of former president AbdRabbuh Mansour Hadi back to power and crushing the Ansarallah movement.
The US-based Armed Conflict Location and Event Data Project (ACLED), a nonprofit conflict-research organization, estimates that the war has claimed more than 100,000 lives over the past five years.
The UN says over 24 million Yemenis are in dire need of humanitarian aid, including 10 million suffering from extreme levels of hunger.
https://en.farsnews.ir/newstext.aspx?nn=13990328000377
--------
Israel's Netanyahu mulls two-phase West Bank annexation: Reports
17 June 2020
Prime Minister Benjamin Netanyahu is weighing a limited initial annexation in the occupied West Bank, hoping to quell international opposition to his pledge of wide territorial moves, an Israeli newspaper said on Wednesday.
Netanyahu has said a US peace plan, which envisages Israel retaining its settlements in the West Bank, provides an "historic opportunity" to extend Israeli sovereignty to them and to the Jordan Valley area.
Israel captured the West Bank, along with East Jerusalem and the Gaza Strip, in a 1967 war.
Palestinians hope to establish a state in those areas and say the peace blueprint announced by President Donald Trump in January kills that prospect.
For all the latest headlines follow our Google News channel online or via the app.
Israel Hayom, a pro-Netanyahu daily widely seen as reflecting his views, said the right-wing leader was now looking at the possibility of annexation in two phases.
It said Netanyahu, who has set July 1 for the start of a cabinet debate on the issue, was considering annexing only small settlements in phase one and, after renewing calls to Palestinians for peace talks, then annexing the remaining ones.
Netanyahu's annexation pledges have raised stiff opposition from the Palestinians, Arab countries and European nations, and Israeli officials say Washington has yet to agree to the move.
Wasel Abu Youssef, a member of the Executive Committee of the Palestine Liberation Organization, said potential phasing of annexation made no difference. "Netanyahu is trying to confuse the international position which rejects annexation and the world will not be fooled by such a proposition," he said.
The newspaper said Netanyahu does not anticipate a strong punitive response from Europe for annexation, despite vocal opposition, nor does he see it as substantially damaging Israel's ties with the Arab world.
Nonetheless, by limiting annexation initially, he hopes to signal that Israel is attentive to international criticism, Israel Hayom said.
It attributed its report to sources that have held discussions with Netanyahu in the last few days, but did not identify them. Netanyahu's office declined to comment.
Most countries view Israeli settlements in occupied territory as illegal. Israel rejects this.
https://english.alarabiya.net/en/News/middle-east/2020/06/17/Israel-s-Netanyahu-mulls-two-phase-West-Bank-annexation-Reports.html
--------
Arab Coalition releases footage refuting Houthi claims of killing civilians in Yemen
17 June 2020
The Arab Coalition supporting Yemen's legitimate government released footage on Wednesday showing its forces targeting the Iran-backed Houthi militia, refuting the Houthi claim of targeting a civilian vehicle that led to the killing of 13 people, including a woman and four children in Saada.
"The video highlights the reality and circumstances of the targeting conducted on [June 15 2020], in which a group of Houthi armed militants are shown carrying weapons in a military logistics operation," said the Arab Coalition statement.
It added that the incident occurred "within the area of operations in close proximity to the Saudi-Yemeni border. Rendering the Houthi allegation that they were civilians, including a woman and children, false and unfounded."
For all the latest headlines follow our Google News channel online or via the app.
The Coalition said that the recording proves that "the Houthi militia is continuing to falsify facts in its media disinformation campaigns, and exploit the conditions under which its terrorist elements and armed militants are killed, claiming that they were women and children."
On Monday, UN Secretary-General Antonio Guterres removed the Arab-led military coalition from a United Nations blacklist, several years after it was first listed.
https://english.alarabiya.net/en/News/gulf/2020/06/17/Coalition-releases-footage-refuting-Houthis-claims-of-killing-civilians-in-Yemen-s-Sa.html
--------
Yemen coalition welcomes removal from UN child war zone list
June 17, 2020
RIYADH: The Arab coalition in Yemen has welcomed a decision by the UN secretary-general to remove the alliance from a list in an annual report on children in war zones.
The coalition, which includes Saudi Arabia, also asked the UN to share with it details of any allegations of violations against civilians and children in Yemen.
"The members of the Coalition to Support Legitimacy in Yemen welcome the decision by the secretary-general to remove the coalition from the annexes of his report on children and armed conflict," the coalition said.
"The long-due decision recognizes the coalition's unwavering commitment to protecting all civilians in armed conflict — especially children — and the preventative and protective measures the coalition has taken to strengthen the protection of children in Yemen."
The statement said the coalition had set up a child protection unit and helped reunite with their families child soldiers recruited by the Houthi militia.
The coalition intervened in the Yemen conflict in 2015 in support of the internationally recognized government, which had been driven from the capital Sanaa by the Iran backed Houthis.
https://www.arabnews.com/node/1691321/middle-east
--------
Kurdish militant attack kills four in southeast Turkey
June 18, 2020
DIYARBAKIR: Four workers were killed when Kurdish militants detonated a roadside bomb that struck the laborers' pick-up truck as it passed by in southeast Turkey on Wednesday, the local governor's office said.
The blast occurred in the Silopi district, near the borders with Iraq and Syria, while the vehicle was carrying fuel to be used by workers involved in road construction, the Sirnak governor's office said in a statement.
It said the explosives were planted and detonated by Kurdistan Workers Party (PKK) militants.
The PKK, designated a terrorist group by Turkey, the United States and European Union, took up arms against the Turkish state in 1984. More than 40,000 people have been killed in the conflict, focused in southeast Turkey.
Ankara regularly targets PKK militants, both in its mainly Kurdish southeast and in northern Iraq, where the group is based. On Tuesday, Turkey launched a new operation against PKK targets in northern Iraq, as warplanes carried out air strikes on militant positions.
https://www.arabnews.com/node/1691536/middle-east
--------
Africa
South Sudan leaders reach key deal on control of states
17 June 2020
South Sudan's main rivals on Wednesday sealed a deal on control of the country's 10 internal states, an issue seen as the biggest threat to peace since a unity government was formed in February.
President SalvaKiir and former rebel leader and now vice president RiekMachar, whose 2013 fallout sparked a civil war, had been at loggerheads over the allocation of states, especially those producing oil, the country's main earner.
Last week the governments of Britain, Norway and the United States issued a statement urging them to agree on the appointment of governments as violence soared in recent weeks in the "vacuum created by the lack of governance".
Minister in the Office of President Nhial Deng Nhial told journalists that Kiir's camp had been allocated six states, including the oil-rich Unity State and Central Equatoria, which includes the capital Juba.
Machar will take three states, including the largest oil-producing area, the Upper Nile state, while a third signatory to the peace deal, the South Sudan Opposition Alliance, will take Jonglei state.
"With this development a fresh impetus has been given for the process for the implementation of the agreement," said Nhial.
"We are very hopeful that with this development, the road is now paved to further positive developments that we hope will be carried out expeditiously."
South Sudan plunged into war in 2013 after President SalvaKiir accused his former vice president RiekMachar of plotting a coup.
In September 2018 the warring parties signed an agreement to form a unity government, which would see Machar return to government as vice president, after previous attempts at ruling together only led to disaster.
In their statement last week, the three western countries said increased violence was putting South Sudan's hard-won peace at risk.
"In Jonglei, the vacuum created by the lack of governance has exacerbated cycles of intercommunal violence," said the statement, while in Central Equatoria a ceasefire between the government and rebels who did not sign the peace deal broke down and fresh fighting erupted.
During the first three months of 2020, 658 people were killed in intercommunal violence in the country, while 452 were injured, the UN rights office said last month.
https://www.presstv.com/Detail/2020/06/17/627667/South-Sudan-Riek-Machar-Salva-Kiir--Nhial-Deng-Nhial
--------
'Turkey-Russia talks on Libya based on principles'
Mahmoud Mohamed Barakat
18.06.2020
TRIPOLI
The president of Libya's High Council of State on Wednesday said that the ongoing negotiations between Turkey and Russia on Libya are based on recognized principles.
In a statement over a visit by a top-level Turkish delegation to Libya, Khalid al-Mishri said talks are underway on the principles recognized by the council and the Government of National Accord (GNA).
He went on to say "the talks between the Turks and the Russians are still ongoing and the door has not been closed yet, but we have clarified our constants that in no way will there be any role for KhalifaHaftar [in the future of Libya]."
Responding to a question regarding the military operation to liberate Sirte, al-Mishri said: "We want to place all of Libyan soil under the authority of the GNA, this matter must be clear."
On the other hand, he asserted that the Turkish-Libyan partnership is based not only on providing military assistance, but also on three parallel paths, which are helping extend the state's control over the entire country, building and unifying the institutions of the Libyan state, and implementing development projects.
He said that his discussions with Turkish President RecepTayyipErdogan in Ankara dealt with these topics, adding: "Turkish and Libyan discussions today dealt with the same topics."
He stressed the visit of the Turkish delegation will not be the last and there will be mutual visits by high-level delegations between the two countries in order to implement the aforementioned projects.
Earlier Wednesday, Libyan Prime Minister Fayez al-Sarraj welcomed Turkish Foreign Minister MevlutCavusoglu, Treasury and Finance Minister BeratAlbayrak, and National Intelligence Organization head HakanFidan.
Last November, Turkey and Libya signed landmark pacts on military cooperation as well as boundaries in the Mediterranean.
Under the deal, Turkey has sent advisors to help the Libyan Army defeat the militias of warlord KhalifaHaftar.
The Libyan Army recently inflicted heavy blows on Haftar and liberated Tripoli and Tarhuna, in addition to other strategic locations, including Al-Watiya airbase, from his militias.
The internationally recognized government has been under attack by Haftar's forces since April 2019, with more than 1,000 killed in the violence.
https://www.aa.com.tr/en/africa/turkey-russia-talks-on-libya-based-on-principles/1880912
--------
Nigeria welcomes COVID-19 fund for mid-income countries
Felix Tih
17.06.2020
The Nigerian head of state on Wednesday hailed the UN secretary general for launching a COVID-19 fund for low and middle-income countries to help tackle the health emergency.
President MuhammaduBuhari was speaking at a virtual China- Africa Extraordinary Summit on Solidarity Against COVID-19 Pandemic.
The virtual summit was presided by Chinese President Xi Jinping, co-hosted by the Forum for China-Africa Cooperation (FOCAC) and the African Union.
Buhari also said the fight against a global pandemic requires enhanced cooperation and worldwide solidarity.
''I, therefore, commend the UN Secretary General, H.E. Antonio Guterres, for launching a COVID-19 Response and Recovery Fund for low and middle-income countries to tackle the health emergency, address social and economic consequences of the crisis and, strengthen the recovery efforts of most vulnerable countries.
The UN COVID-19 Response and Recovery Fund is a UN inter-agency fund mechanism to support low- and middle-income program countries to respond to the coronavirus pandemic and its impacts.
''I also commend the World Health Organization and its leadership from whose advise Nigeria was able to take measures and enlighten its people on steps to take to avoid contracting and spreading the virus,'' he added.
Buhari reiterated the need for leaders to put humanity at the center of ''our vision for common prosperity.''
Africa has so far recorded 252,544 coronavirus cases, 6,779 deaths, and 114,897 recoveries, according to the Africa Centres for Disease Control and Prevention.
https://www.aa.com.tr/en/africa/nigeria-welcomes-covid-19-fund-for-mid-income-countries/1880638
--------
1 killed, 3 children injured by Haftar's mines in Libya
Diana Shalhoub
17.06.2020
TRIPOLI
One person died and three children suffered injuries on Wednesday due to mines planted by Libyan warlord KhalifaHaftar's militia in eastern Libya.
Brig. Gen. Abdul-Hadi Dara, spokesman for the Sirte and al-Jafra operation, said that a shepherd died from a landmine explosion in the Um al-Khanfas area, east of Sirte, while three children sustained injuries from a mine explosion in the al-Za'faran area.
Earlier today, Libyan officials told a press conference that Haftar's militia and Russian mercenaries planted improvised explosive devices in residential areas in the central city of Sirte.
On Tuesday, the Libyan Center for Mine Clearance and War Remnants said that landmines planted by Haftar's militia had killed 39 civilians and injured 71 others south of the capital Tripoli.
The Libyan Army recently inflicted heavy blows on Haftar and liberated Tripoli and Tarhuna, in addition to other strategic locations, including Al-Watiya airbase, from his militia.
The internationally recognized government has been under attack by Haftar's forces since April 2019, with more than 1,000 killed in the violence.
https://www.aa.com.tr/en/africa/1-killed-3-children-injured-by-haftars-mines-in-libya/1880555
--------
Top-level Turkish delegation meets Libyan premier
Omer Tugrul Cam
17.06.2020
A delegation of senior Turkish officials met with Libya's premier on Wednesday.
In the capital Tripoli, Libyan Prime Minister Fayez al-Sarraj welcomed Foreign Minister MevlutCavusoglu, Treasury and Finance Minister BeratAlbayrak, and National Intelligence Organization head HakanFidan.
Last November, Turkey and Libya signed landmark pacts on military cooperation as well as boundaries in the Mediterranean.
Under the deal, Turkey has sent advisors to help the Libyan Army defeat the militias of warlord KhalifaHaftar.
The Libyan Army recently inflicted heavy blows on Haftar and liberated Tripoli and Tarhuna, in addition to other strategic locations, including Al-Watiya airbase, from his militias.
The internationally recognized government has been under attack by Haftar's forces since April 2019, with more than 1,000 killed in the violence.
https://www.aa.com.tr/en/africa/top-level-turkish-delegation-meets-libyan-premier/1880441
--------
Libya says efforts underway to probe Haftar violations
17.06.2020
A Libyan official said Wednesday international efforts were underway to form a fact-finding commission to probe violations committed by warlord KhalifaHaftar's militia.
"Libyan authorities continue to document these violations in order to bring perpetrators to justice," NaserGheita, an adviser to the Libyan Justice Ministry, told a press conference in Tripoli.
He said some countries -- without naming them -- are working to form a neutral fact-finding mission to look into Haftar's violations in southern Tripoli and the city of Tarhuna.
Libyan military sources earlier said Haftar's forces and Russian mercenaries have planted improvised devices in residential areas in the central city of Sirte.
According to the Libyan Center for Mine Clearance and War Remnants, landmines planted by Haftar's militia have killed 39 civilians and injured 71 others south of Tripoli.
The Libyan army recently inflicted heavy blows to Haftar and liberated Tripoli and Tarhuna, in addition to other strategic locations, including Al-Watiya airbase, from his militia.
The internationally recognized government has been under attack by Haftar's forces since April 2019, with more than 1,000 killed in the violence.
https://www.aa.com.tr/en/africa/libya-says-efforts-underway-to-probe-haftar-violations/1880006
--------
Egypt returns 23 men allegedly tortured by Libya's GNA militia
17 June 2020
Egypt repatriated 23 laborers early Thursday from western Libya after allegations that forces allied to the UN-recognized government had detained and abused them, private television channel CBC Extra and a security source said.
The 23 workers arrived at MarsaMatrouh, a Mediterranean resort town in northwest Egypt, the security source told AFP.
Prominent TV host Ahmed Moussa broadcast pictures of the men on their arrival draped in Egyptian flags and donning protective masks.
Earlier in the week, a video widely circulated on social media allegedly showing the laborers forced to stand on one leg with their bare feet on sand as they raised their hands.
The detained men in the footage, filmed in daylight, appeared to be repeating at the command of an unidentified man expletives against Egyptian President Abdel Fattah al-Sisi and Libya's self-styled leader KhalifaHaftar.
The video immediately drew swift condemnation from senior Egyptian officials.
It "will not pass lightly and the Egyptian state does not allow assault on its citizens abroad," immigration minister Nabila Makram was quoted as saying in local media.
Libya's UN-recognized Government of National Accord announced Wednesday the arrest of suspects in the alleged abuse after the outcry.
Police had "apprehended the people involved" and were preparing to present them to the prosecutor, the GNA's interior ministry said in a statement.
Ahmed al-Mesmari, a spokesman for Haftar's forces, told a private Egyptian TV channel that the workers were being held by a "militia" aligned with the GNA.
The United Nations on Tuesday urged authorities in Tripoli to conduct a prompt investigation.
Libya has been mired in a protracted conflict since the 2011 uprising that toppled and later killed longtime dictator Muammar Qaddafi.
It is currently split between rival administrations in the east and west.
Egypt, along with the United Arab Emirates and Russia, backs Haftar's forces, while the GNA is most prominently supported by Turkey militarily.
https://english.alarabiya.net/en/News/north-africa/2020/06/18/Egypt-returns-23-men-allegedly-tortured-by-Libya-s-GNA-militia.html
--------
URL: https://www.newageislam.com/islamic-world-news/only-muslims-booked-violating-curbs/d/122156
New Age Islam, Islam Online, Islamic Website, African Muslim News, Arab World News, South Asia News, Indian Muslim News, World Muslim News, Women in Islam, Islamic Feminism, Arab Women, Women In Arab, Islamophobia in America, Muslim Women in West, Islam Women and Feminism