New Age Islam News Bureau
24 June 2022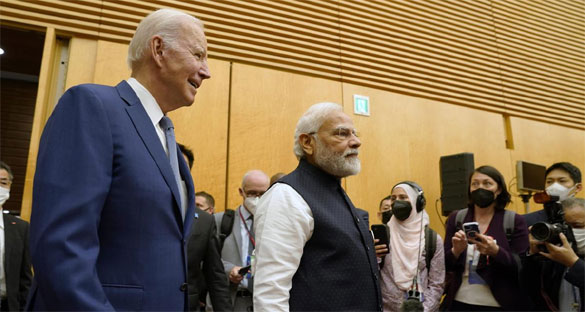 U.S. President Joe Biden and Indian Prime Minister Narendra Modi. File. | Photo Credit: AP
----
• That Daesh Killed More Muslims Than Others Is Rarely Noticed, Says Turkish Official
• Thailand Sheikh ul Islam Office's Fatwa: New Laws on Cannabis, Liquor, Same-Sex Marriage 'Go against Islam'
• Taliban Chief of Staff Heads to Northern Afghanistan; Clash between the Taliban and Mawlawi Mujahid Possible at "Any Moment"
• Pakistan's Military Leadership Apprised Of Taliban Facilitating Talks With TTP Militant Group
North America
• Congresswoman Praised By Indian-American Muslim Group for Resolution against India
• US: Indian Americans to protest against Islamophobia, calls for Muslim genocide in India
• US not waiting for Taliban request to help Afghan quake victims
• Over 20 senators tell Biden to get US 'directly involved' in Shireen Abu Akleh probe
• US envoy to combat anti-Semitism to make first trip to Saudi Arabia, UAE, Israel
• UN says dialogue with Taliban 'only way forward' for Afghans, international security
--------
Mideast
• Islamic Jihad ramps up the threats toward Israel in West Bank
• 119 extremist Jewish settlers defile Aqsa Mosque under police guard
• Iranian Court Finds US Admin Guilty, Orders Payment of $4.3bln in Compensation
• Iran, Russia Discuss Expansion of Economic Ties to Stand against US Sanctions
• Iran demands US pay $4 bln for slain nuclear scientists: State media
• Suriname turns back decision to open embassy in Jerusalem
--------
Southeast Asia
• Chinese FM reveals meeting with Taliban-affiliated Afghan Chargé d'affaires for first time
• No problem with early GE15, says Hadi
• MoUs may be new norm in paving way for reforms, says Bersih
• Ethis Group and Gobi Partners to debut Shariah-compliant US$20mln Seed Fund
--------
South Asia
• US Hands over Afghan Guantanamo Detainee to Taliban
• Taliban's isolation hampers Afghan quake response
• Heavy Snowfall in North-East Afghanistan Kills Twelve Children
• Pakistan's Consigned Convoy of Relief Assistance Reaches the Quake-Hit in South-East Afghanistan
• Second Consignment of Relief Items Reaches Kabul, Taliban Thanks India for Aid
• Talking to the Taliban 'only way forward' in Afghanistan: UN official
• UN Says Taliban Interfering with Aid, Resisting Cash Plan
• Rights group demands Taliban release 2 Afghan journalists, investigate assault
• Afghanistan ends search for survivors of earthquake that killed 1,000
--------
Pakistan
• Pakistan will have to see tough times to end economic crisis, warns PM Shehbaz Sharif
• Pakistani leaders mourn death of Turkish scholar Sheikh Mahmud Effendi
• PM Shehbaz announces 10pc 'super tax' on large-scale industries
• 43pc foreign-funded projects found to be 'problematic'
--------
India
• In Over a Year, Indo-Islamic Cultural Foundation Receives Just Rs 25 Lakh in Donations for Building Ayodhya Mosque
• Hyderabad's First Muslim Matrimony Conclave Is Helping Prospective Brides, Grooms
• Staunch Hindutva Group Kranti Sena Demands To Sterilise Muslims to Curb 'Rapidly Growing Population'
• Kanpur Muslim Group, Association of Muslim Professionals, Seeks Help from Clerics to Exhort Youths to Follow Agnipath
• UP Bypolls: 'Crowd Control,' Say Cops After Muslim Voters Allege Police Stopped Them from Voting
• Hijab row: Two Muslim girl students get NOC, one takes TC
• 2002 Gujarat Riots: SC Dismisses Zakia Jafri's Plea Challenging SIT's Clean Chit To 64 People, Including Then CM Narendra Modi
• Sufi fair held in J&K after two years without Pak participation
• Muslim Sarpanch Builds Ramalayam in Khammam
--------
Europe
• Muslim Paramedic Helps Team Rescue Holocaust Survivor from Ukraine
• Sweden warns citizens against travel to Iran after trial of Iranian official ends
• Unity, solidarity against common threats key for NATO, Türkiye tells US
• Sweden's state TV interviews terror leader amid membership bid to NATO
• British Doctor with 15 Hajj Trips Shares Top Tips
• The EU Allocates €1 Million for the Victims of Earthquake in Afghanistan
--------
Africa
• More People Fleeing Their Homes as Sudan's Darfur Violence Surge
• Tunisian police arrest former PM Jebali on suspicion of money laundering
• UN to broker Libya talks amid political stalemate
• Moroccan man's heroic sacrifice 'breaks the stereotype' some want to promote against immigrants
• Libya's Presidential Council launches strategy for national reconciliation
--------
Arab World
• Islamic State Kills 9 Pro-Regime Fighters in Eastern Syria: Monitor
• 'Venice and the Arts of Islam' exhibition in Sharjah offers enthralling closing
• With Turkey's northern Syria operation, will the Islamic State rise again?
• Three arrested in Egypt over Mosque desecration
• Lebanon's Najib Mikati named PM, faces tough path to cabinet
• UAE's Dubai urges use of smart apps to order Eid sacrifices
Compiled by New Age Islam News Bureau
URL: https://newageislam.com/islamic-world-news/white-house-biden-modi-muslims-human/d/127317
--------
White House Won't Confirm If Joe Biden Will 'Press' PM Modi on Rights of Muslims But says, 'President Had "No Problem" Talking Human Rights with Foreign Leaders'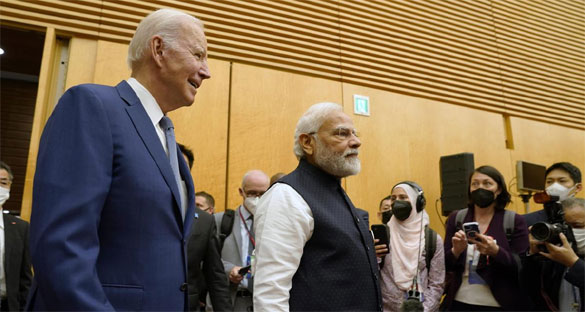 U.S. President Joe Biden and Indian Prime Minister Narendra Modi. File. | Photo Credit: AP
----
Sriram Lakshman
WASHINGTON DC
JUNE 23, 2022
White House Press Secretary Karine Jean-Pierre won't confirm if Joe Biden will 'press' PM Modi on rights of Muslims
Asked whether U.S. President Joe Biden would press Prime Minister Narendra Modi "to protect" India's Muslims, when the two meet virtually in July at a summit, White House Press Secretary Karine Jean-Pierre did not say he would, but said that President had "no problem" talking human rights with foreign leaders.
"He [Mr. Biden] has no problem talking to leaders about humanitarian rights, about freedoms, about the importance of democracy. This is something that the President has done in the past. I can't speak to, specifically, what's going to be on the agenda and what their conversation is going to be," Ms. Jean-Pierre said, at the White House briefing on Wednesday.
She also said that Mr. Biden was a "straight shooter" and speaks "very frankly".
"And when it comes to humanitarian rights, has no problem having those direct conversations — leader-leader conversations," she said.
Ms. Pierre was also asked if the White House had a comment on Indian authorities demolishing the houses of those protesting against comments made against the Prophet. She did not answer the question.
Properties of individuals allegedly involved in protests have been bulldozed, including in BJP-ruled States like Madhya Pradesh and Uttar Pradesh, as well as in Delhi, without the permission of courts. Mr. Modi has not, so far, publicly commented on the incidents. The U.P. government told the Supreme Court on Wednesday that the bulldozers were used on illegally constructed sites and not in retaliation for participation in protests.
The Prime Minister and President Biden are expected to meet virtually during Mr. Biden's July 13-16 trip to West Asia. The leaders will meet at a virtual 'I2U2' summit - a four country group comprised of India, Israel, the U.S. and the United Arab Emirates (UAE). Mr. Modi is also attending the Group of Seven (G7) meeting in Schloss Elmau, Germany, on June 26-27, where Mr. Biden will also be present.
Source: The Hindu
Please click the following URL to read the text of the original story:
https://www.thehindu.com/news/international/white-house-wont-confirm-if-joe-biden-will-press-pm-modi-on-rights-of-muslims/article65558126.ece
--------
That Daesh Killed More Muslims Than Others Is Rarely Noticed, Says Turkish Official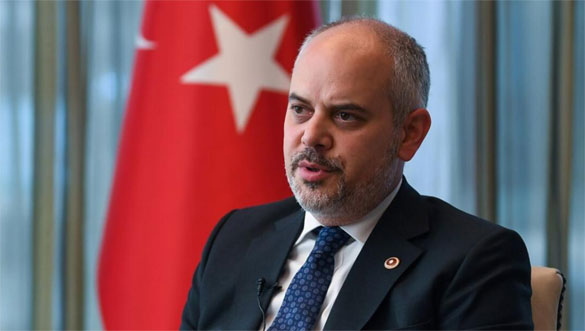 Akif Çağatay Kılıç, Chairman of the Foreign Affairs Committee of the Turkish Grand National Assembly/ Photo: Wamy
------
23 Jun 2022
It is often ignored that terrorists mostly eliminate people of their own faith or community; therefore, all countries should come together in the fight against terrorism, a top Turkish official said.
"In our region, it is important to be together against terrorism. There's Daesh [ISIS], which has its reign of terror that has been put forward in the world and mostly Muslims have lost their lives in their attacks," said Akif Çağatay Kılıç, Chairman of the Foreign Affairs Committee of the Turkish Grand National Assembly, who is on official visit to the UAE.
In an interview in Abu Dhabi on Tuesday evening, he added that although most of Daesh's victims are Muslims, people in some other parts of the world do not understand this fact.
Terrorism not linked with region or religion
"The swamp of terrorism is being fed not only from one region. We have to fight against this together and there has to be a unanimous understanding in the fight against terrorism," Kılıç asserted.
He alleged that some people condone terrorist activities that do not threaten their interests. "This is not acceptable."
The official emphasised that "we have to stand together and show the world that the labelling of terrorism with the name of a religion is unacceptable and is wrong."
The top parliamentarian expressed his strong disagreement with connecting Daesh to Islam. "The name of Islam cannot be used in connection with any kind of terrorism or terrorist activity or any kind of killing of innocent people. This is not acceptable, and this is not our belief and that is something that we are saying to the world."
Parliamentary cooperation
The Turkish Grand National Assembly and the UAE's Federal National Assembly as representative of their people can raise their voice against the injustice around the world and against extremism and terrorism, the official suggested.
"We have to put forward a united front. Therefore, it is important to have good and strong relations with our brothers and sisters in the United Arab Emirates. And that's one part of it. That's why we're here," said Kılıç who met senior officials of the Federal National Council (FNC) during the visit.
In bilateral meetings, parliamentarians discuss not only bilateral relations but international relations as well, he pointed out, adding that there are many opportunities for cooperation in multilateral forums such as Inter-Parliamentary Union (IPU), the global organisation of national parliaments.
In the Turkish parliamentary system, all international agreements that the government signs must pass through parliament and the first step begins at the foreign relations committee. Therefore, the foreign relation committee chairman mentioned that interactions with members of other parliaments are crucial. "It is important to have a first-hand experience and knowledge of the country that you are having relations with," he explained.
Cooperation in regional, global issues
Turkey and the UAE as strategic partners can together address a lot of regional and international issues, the top parliamentarian said.
International trade has been affected by Covid-19; currently the world is facing a food and energy security crises, and people also have a hard time because of global inflation, he pointed out.
"And this is of course something that we can address together. And there is also an opportunity to have joint investments in Turkey, in the UAE and also in third countries," Kılıç suggested, underscoring the potential of bilateral cooperation.
Source: Khaleej Times
Please click the following URL to read the text of the original story:
https://www.khaleejtimes.com/uae/video-that-daesh-killed-more-muslims-than-others-is-rarely-noticed-says-turkish-official
--------
Thailand Sheikh ul Islam Office's Fatwa: New Laws on Cannabis, Liquor, Same-Sex Marriage 'Go against Islam'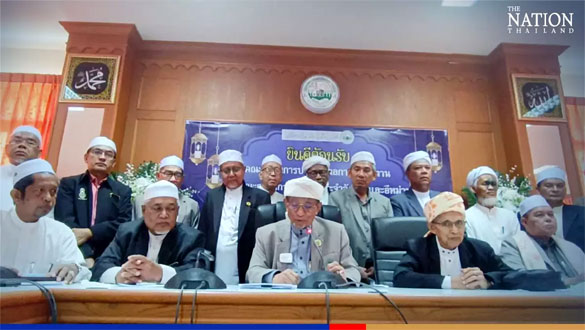 Photo: The Nation Thailand
----
Jun 24, 2022
Representatives of the Islamic councils in Pattani, Yala, Narathiwat, Songkhla and Satun met in Pattani on Thursday to discuss the three laws and decide on their standpoint. The council said practising Muslims cannot follow these laws as they go against Islam's principles.
Waedueramae Mamingji, the council's chairman, said the matter has been widely discussed on social media and may cause some misunderstandings among Muslims, hence the council needs to take this step to clarify points.
"Our organisation is the pillar for citizens. We must reveal our standpoint to society clearly. According to the Sheikh ul Islam Office's Fatwa, we will not support these laws because they are haram [forbidden] in Islam," Waedueramae said.
The new acts legalise the use and cultivation of cannabis and hemp, liberalisation of the liquor industry and same-sex marriage.
Drugs, alcohol, sex before marriage and homosexuality are all taboo in Islam.
Anantachai Thaiprathan, a medical academic who is also a practising Muslim, said cannabis is being allowed to use for medical purposes, but it cannot actually treat any diseases. He also pointed out that only two states in the US allow the use of cannabis for recreation, while the World Health Organisation views it as dangerous, and specifies that it must only be used for medical purposes and research.
Hence, he said, he was against the legalisation of cannabis and hemp because it will end up damaging the youth.
Source: Nation Thailand
Please click the following URL to read the text of the original story:
https://www.nationthailand.com/in-focus/40016987
--------
Taliban Chief of Staff Heads to Northern Afghanistan; Clash between the Taliban and Mawlawi Mujahid Possible at "Any Moment"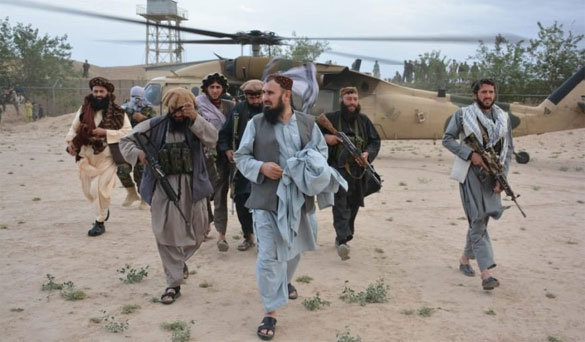 Photo: Khaama Press
----
By Saqalain Eqbal
24 Jun 2022
Qari Fasihuddin Fitrat, the Chief of Staff of the armed forces of the Islamic Emirate of Afghanistan, headed a high-ranking delegation to Sar-e-Pol province, in the north of Afghanistan, according to the state-run Bakhtar News Agency.
A senior military mission to Sar-e-Pol province was led by Taliban's highest-ranking army officer Fasihuddin Fitrat, according to the state-run Bakhtar news agency. The Taliban government's Al-Fatah North Corps and Al-Farooq Herat Corps commanders are accompanying him.
Fitrat reportedly stated that his travel to Sar-e-Pol was intended to assess security issues and inspect Taliban units stationed in the region, according to Bakhtar.
People close to Mawlavi Mahdi Mujahid aka Mawlawi Mujahid, the Islamic Emirate's disgruntled Hazara commander, however, told the BBC that the situation in Balkhab, where they are stationed, was not good and that a confrontation may happen at "any moment."
The opening of a "serious clash" between the Taliban and Mawlawi Mahdi Mujahid's forces was reported this morning, Thursday, by the local media.
To attack Mawlawi Mujahid, Taliban forces have dispatched forces from different locations, according to the sources.
In Qom Kotel and Balkhab districts of Sar-e-Pol province, Mawlawi Mahdi's troops claim to have thwarted two Taliban attacks yesterday evening and this morning. They also say to have inflicted casualties on the Taliban.
According to some media outlets, the final rounds of negotiations between Mawlawi Mahdi Mujahid and officials of the Taliban ended since no agreement was reached.
When the local Taliban commander openly challenged the group's policies, the dispute between the Taliban and Mawlawi Mahdi came to light and was revealed.
Due to the absence of Hazaras and Shiites in the Taliban group, Mawlawi Mahdi was the only Hazara Taliban commander to quit.
Mahdi Mujahid, also known as Mawlawi Mujahid, the sole recognized Hazara Shiite Islamic Emirate commander, recently severed ties with the Taliban leadership and moved in, taking control of the Balkhab district in Sar-e-Pol province.
Source: Khaama Press
Please click the following URL to read the text of the original story:
https://www.khaama.com/talibans-highest-ranking-army-officer-heads-to-northern-afghanistan-clash-between-the-taliban-and-mawlawi-mujahid-possible-at-any-moment-44732/
--------
Pakistan's Military Leadership Apprised Of Taliban Facilitating Talks With TTP Militant Group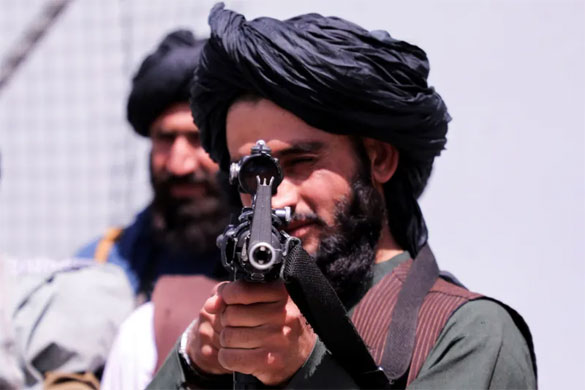 Taliban forces in Kabul, September 2021
----
Sajjad Hussain
23 June, 2022
Islamabad, June 22 (PTI): Pakistan's top civil and military leadership were on Wednesday apprised the Afghan Taliban were facilitating talks with the banned Tehreek-e-Taliban militant group and that any settlement with the rebels would be contingent on the approval by the parliament.
A high-level meeting of national security, presided by Prime Minister Shehbaz Sharif and attended by the top military leadership, was held in the parliament house where lawmakers were briefed about different issues related to national security.
According to a statement issued after the meeting, the institutions "responsible for national security" briefed the committee on the overall security situation of the country.
It said that the meeting was apprised of internal and external threats and the measures being taken by the agencies to handle the security situation.
The meeting was informed that talks were underway with the TTP, facilitated by the government of Afghanistan, in which a government-led committee comprising civil and military representatives was negotiating within the framework of the Constitution of Pakistan.
"The decision in this regard will be made in the light of the Constitution, and with the approval of parliament, which will also provide guidance for the future and strike a consensus on the matter," the meeting was told.
Briefing the media after the meeting, Interior Minister Rana Sanaullah said the meeting decided that talks with the TTP would be held only under the framework of the Constitution.
"The talks [with the TTP] will be taken forward under the guidance of parliament," he added.
The talks with the TTP began last year, resulting in a temporary ceasefire, but no solid headway was made and clashes resumed between the security forces and the rebels.
However, after several behind-the-scenes meetings, including some attended by the former ISI chief and current Corps Commander Peshawar, Lt Gen Faiz Hameed, progress was reported and the TTP on June 2 announced an "indefinite ceasefire".
There are serious concerns about the talks as the TTP was involved in several incidents of carnage like the Peshawar school attack and the killing of former premier Benazir Bhutto.
The national security meeting also briefed the participants on the administrative matters regarding the Pakistan-Afghanistan border, according to the statement.
The participants were informed that Pakistan had played a very responsible and positive role in peace and stability in the neighbouring country.
"Pakistan will continue its constructive role for peace and stability in Afghanistan. It is hoped that the territory of Afghanistan would not be allowed to be used against Pakistan," the statement added.
It was stated in the meeting that Pakistan's efforts and sacrifices in the war against terrorism were recognised by the world and the unparalleled sacrifices of the Pakistani nation and the armed forces helped bring normalcy back to the country. "There is no structure of organised terrorism in any part of Pakistan." According to the statement, the political leadership expressed satisfaction over the strategy and progress made in dealing with the issue. PTI SH PY PY
Source: The Print
Please click the following URL to read the text of the original story:
https://theprint.in/world/pakistans-military-leadership-apprised-of-taliban-facilitating-talks-with-ttp-militant-group/1008163/
--------
North America
Congresswoman Praised By Indian-American Muslim Group For Resolution Against India
24 JUN 2022
An Indian-American Muslim body on Thursday praised Congresswoman Ilhan Omar for introducing a resolution in the US House of Representative that condemns India for the alleged human rights violation against the minorities in particular the Muslims.
Co-sponsored by lawmakers Rashida Talib and Juan Vargas, the resolution urges the State Department to act on the recommendations of the US Commission on International Religious Freedom (USCIRF) and designate India as a Country of Particular Concern (CPC) under the International Religious Freedom Act.
The USCIRF's recommendations are not binding on the State Department and for the past several years successive American administrations have ignored its recommendations in this regard.
In a statement, Indian American Muslim Council (IAMC) commended Omar and two of her Congressional colleagues to introduce the resolution in this regard in the House early this week.
"It is indeed sad to see the country that we love and adore, discriminate and criminalize its most vulnerable citizens and head down the path of bigotry, intolerance and authoritarianism," said Syed Afzal Ali, president of IAMC.
However, the rsolution like this is very unlikely to see the light of the day, given the vindictive approach being adopted by Congresswoman Omar. She has openly sided with Pakistani officials on the issue of India.
Omar, who visited Pakistan in last April and met top Pakistani leaders, including former Prime Minister Imran Khan, and travelled to Pakistan-occupied Kashmir (PoK), is yet to disclose the nature, including the funding, of the visit.
India had condemned the US Congresswoman's visit to PoK, saying her travel to the region violated the country's sovereignty and it reflected her "narrow-minded" politics.
"If such a politician wishes to practice her narrow-minded politics at home, that may be her business. But violating our territorial integrity and sovereignty in its pursuit makes it ours. This visit is condemnable," External Affairs Ministry Spokesperson Arindam Bagchi had said.
During several Congressional hearings related to India, Omar has repeatedly shown her bias against India.
The news about the resolution was first reported, in advance, by a senior official from Imran Khan's Pakistan Tehreek-e-Insaf (PTI) party, which also slammed a senior State Department official.
Omar's resolution condemns alleged human rights violations and violations of international religious freedom in India, including those "targeting" Muslims, Christians, Sikhs, Dalits, Adivasis, and other religious and cultural minorities. It expressed grave concern about the "worsening treatment" of religious minorities in India.
India had rejected the criticism against it in the US State Department report on religious freedom, saying it is unfortunate that "vote bank politics" is being practised in international relations.
External Affairs Ministry Spokesperson Arindam Bagchi had said the observation on India in the report is based on "motivated inputs and biased views".
"It is unfortunate that vote bank politics is being practised in international relations. We would urge that assessments based on motivated inputs and biased views be avoided.
"As a naturally pluralistic society, India values religious freedom and human rights. In our discussions with the US, we have regularly highlighted issues of concern there, including racially and ethnically motivated attacks, hate crimes and gun violence," he said.
Source: Outlook India
Please click the following URL to read the full text of the original story:
https://www.outlookindia.com/international/congresswoman-praised-by-indian-american-muslim-group-for-resolution-against-india-news-204309
--------
US: Indian Americans to protest against Islamophobia, calls for Muslim genocide in India
24th June 2022
A coalition of six organizations will hold a peaceful protest and rally in response to the 'blasphemous attacks' on Prophet Muhammad and the persecution of 200 million Muslims in India, illegal arrests, and unlawful demolition of Muslim houses in India, a press note from the Indian American Muslim Council (IAMC) informed.
The protest is scheduled to be held at the Consulate General of India in Houston, United States from 3:00 to 6:00 PM.
"The condition of Muslims in India has become alarming. Aided by the police and judiciary, the Indian government continues its brutal crackdown against its own Muslim citizens. In just the past month, Muslims in India have been killed, arbitrarily detained, and had their houses unlawfully demolished, while members of the ruling party BJP have insulted Prophet Muhammed (PBUH) on public television," a press note from IAMC said.
The organisation further said that Muslim journalists are also at risk of being imprisoned for exposing hate against Muslims through their journalism.
"Fahad Shah, the founder of The Kashmir Walla, has been arrested. Mohammad Zubair, co-founder of AltNews has had multiple charges filed against him. On June 10, two teenage Muslim boys were shot dead by police in the state of Jharkhand for peacefully protesting against the disparaging remarks against Prophet Muhammad (PBUH). On June 11, family members of prominent Muslim activist Afreen Fatima were illegally arrested, and their home was unlawfully demolished." IAMC said.
IAMC further informed that the Indian American communities in Dallas and California held protests for the same cause.
Source: Siasat Daily
Please click the following URL to read the full text of the original story:
https://www.siasat.com/us-indian-americans-to-protest-against-islamophobia-calls-for-muslim-genocide-in-india-2355800/
--------
US not waiting for Taliban request to help Afghan quake victims
Anwar Iqbal
June 24, 2022
WASHINGTON: The United States has started sending humanitarian assistance to Afghanistan after Wednesday's earthquake without waiting for a formal request from its Taliban rulers, the State Department said.
A powerful earthquake hit Afghanistan on Wednesday morning, killing more than a thousand people, and causing injuries to many more.
"US humanitarian partners are already responding, including by sending medical teams to help people affected, and we are assessing other response options," US Secretary of State Antony J. Blinken said in a statement issued by his office on Wednesday evening.
The Taliban government has not yet asked Washington for help, but it did call for "the generous support of all countries, international organisations, individuals and foundations" for dealing with this crisis.
Watchdog accuses State Department, USAID of withholding information about Afghanistan
Secretary Blinken said the people of Afghanistan had undergone extraordinary hardship, "and this natural disaster compounds an already dire humanitarian situation."
Meanwhile, a congressional watchdog has accused the State Department and US Agency for International Development (USAID) of illegally withholding information from it about the US withdrawal from Afghanistan and about their dealings with the country's Taliban rulers.
The Special Inspector General for Afghanistan Reconstruction (SIGAR) registered its complaints in a June 22 letter it sent to the secretary of State and USAID administrator.
The US media reported that the watchdog also shared this "blistering letter" with the US Congress, which gave SIGAR the mandate to audit US military and economic assistance to Afghanistan.
SIGAR chief John Sopko copied the letter to White House Chief of Staff Ron Klain and Director of the Office of Management and Budget Shalanda Young. In Congress, the letter was distributed among the chairs and ranking members of the House and Senate armed services and foreign affairs committees.
When asked for comments at a State Department news briefing, Spokesperson Ned Price did not deny SIGAR's allegation. Instead, he referred to a report the watchdog published last month, detailing how the US-backed Afghan National Defence and Security Forces (ANDSF) collapsed under Taliban pressure.
"Our view is that the report does not reflect the consensus view of the State Department or of the US government," Mr Price said. "Many parts of the US government, including the State Department, have unique insights into developments in Afghanistan last year that were not captured in the report."
Source: Dawn
Please click the following URL to read the full text of the original story:
https://www.dawn.com/news/1696418/us-not-waiting-for-taliban-request-to-help-afghan-quake-victims
--------
Over 20 senators tell Biden to get US 'directly involved' in Shireen Abu Akleh probe
23 June, 2022
Over 20 US senators sent a letter to President Joe Biden on Thursday calling for Washington to be "directly involved" in investigating the killing of Palestinian-American journalist Shireen Abu Akleh, who was shot and killed over a month ago while covering Israeli military raids in the occupied West Bank.
"Since that time, there has been no significant progress toward the establishment of an independent, thorough, and transparent investigation into her killing," read the letter, obtained by Al Arabiya English, signed by 24 Democrat senators.
The US has repeatedly said that Israel was capable of carrying out a thorough, independent investigation and has refused to get involved. Washington has also called on Palestinian and Israeli officials to work on the investigation together.
Palestinian officials have rebuffed Israeli offers for a joint investigation and refuse to hand over the bullet believed to have killed Abu Akleh.
"In order to protect freedom of the press, a thorough and transparent investigation under US auspices must be conducted to get to the truth and provide accountability for the killing of this American citizen and journalist," read the letter, led by Senator Chris Van Hollen.
Abu Akleh, a reporter for Al Jazeera, was shot and killed while reporting on the Israeli military raid in Jenin with Palestine and her outlet accusing the Israeli military of killing her. Video footage showed Abu Akleh, 51, wearing a flak jacket with "Press" clearly visible. Israel has rejected responsibility.
As her casket was being carried the next day, hundreds of Palestinians were seen hoisting the Palestinian flag and chanting. Shortly after, Israeli forces rushed at the mourners, attacking them with batons, including the pallbearers and leading to the coffin dropping.
On Thursday, the US lawmakers told Biden that the American government had an obligation to ensure an impartial and open investigation into her killing. "It is clear that neither of the parties on the ground trust the other to conduct a credible and independent investigation," the letter read, referring to Palestinians and Israelis.
"Therefore, at this point, we believe the only way to achieve that goal is for the United States to be directly involved in investigating Ms. Abu Akleh's death," the senators said.
This letter comes after a similar letter from over 50 members of Congress demanded the State Department and FBI launch their own investigation into Abu Akleh's killing.
Thursday's letter said the senators "join in that request," especially after "new information that has emerged in recent weeks."
Source: Al Arabiya
Please click the following URL to read the full text of the original story:
https://english.alarabiya.net/News/middle-east/2022/06/23/Over-20-senators-tell-Biden-to-get-US-directly-invovled-in-Shireen-Abu-Akleh-probe
--------
US envoy to combat anti-Semitism to make first trip to Saudi Arabia, UAE, Israel
23 June, 2022
The US special envoy to combat antisemitism will visit Saudi Arabia, the UAE and Israel for an 11-day trip, the State Department announced Thursday.
Deborah Lipstadt, the special envoy to monitor and combat antisemitism, is making her first international trip since taking on the role in April.
She is set to meet with senior governmental and civil society interlocutors to "discuss important changes underway in the Middle East," the State Department said. "Her engagements will emphasize promoting interfaith understanding, as well as combating intolerance and anti-Jewish sentiment."
Lipstadt, who leaves for the region on June 26, will make the trip just weeks before President Joe Biden visits Saudi Arabia, Israel and the West Bank for the first time since taking office.
The Abraham Accords, brokered by former President Donald Trump, saw historic peace deals signed between the UAE and Bahrain with Israel. Jordan and Egypt are the only other two Arab countries to have normalized ties with Israel.
While the Biden administration initially hesitated to use the term "Abraham Accords" when referring to the peace deals, they have since backtracked on this policy, which seemed to be a directive at the start, and embraced the normalization treaties. They have also publicly stated their ambition to expand the number of countries that have signed peace deals with Israel.
Source: Al Arabiya
Please click the following URL to read the full text of the original story:
https://english.alarabiya.net/News/middle-east/2022/06/23/US-envoy-to-combat-antisemitism-to-make-first-trip-to-Saudi-Arabia-UAE-Israel
--------
UN says dialogue with Taliban 'only way forward' for Afghans, international security
Servet Gunerigok
23.06.2022
WASHINGTON
UN Special Representative for Afghanistan Ramiz Alakbarov said Thursday that dialogue with Taliban authorities is key in the conflict-hit nation, as the situation regarding human rights and the economy remains precarious.
Alakbarov said at a UN Security Council meeting that basic human rights, freedom of expression and freedoms for Afghan women and girls are increasingly being restricted by the Taliban government.
The Afghan population faces an economic crisis and humanitarian emergency, said the envoy, who is in charge of the UN mission in Afghanistan, UNAMA. He noted that there is a need for continued engagement with the de facto authorities.
"We firmly continue to believe that a strategy of continued engagement and dialogue remains the only way forward for the sake of the Afghan people, as well as for regional and international security," said Alakbarov.
He said the UN mission is engaging with the Taliban to increase predictability in its relationship and is seeking to promote political consultation and inclusion.
The Afghan economy has contracted 30% - 40% since August and unemployment might reach 40% this year, according to the envoy. Poverty could climb to 97%.
Source: Anadolu Agency
Please click the following URL to read the full text of the original story:
https://www.aa.com.tr/en/americas/un-says-dialogue-with-taliban-only-way-forward-for-afghans-international-security/2621210
--------
Mideast
Islamic Jihad ramps up the threats toward Israel in West Bank
June 23, 2022
GAZA CITY, Gaza Strip — The Israeli newspaper Israel Hayom reported June 13 that the Palestinian Islamic Jihad movement is gearing up for a military escalation in response to the ongoing Israeli operations in the northern West Bank, especially in Jenin.
The report comes at a time when the Islamic Jihad is seeking to unify the Palestinian factions in the Gaza Strip to respond to the Israeli violations in the West Bank, a possible escalation for the first time since May 2021.
According to Palestinian sources quoted by the Israeli newspaper, the Islamic Jihad is convinced that Israel is slowly working toward eroding the movement's cells in the northern West Bank, especially Jenin. The sources also said that the Islamic Jihad seeks to avenge those killed by Israel.
Speaking at a press conference in Gaza following an urgent meeting of Palestinian factions on June 13, Islamic Jihad political bureau member Khaled al-Batsh reiterated the factions' support for the Palestinian prisoners held in Israeli jails, especially hunger strikers, and held Israel fully responsible for their lives.
Batsh said that the Palestinian forces and factions are "following up on the settlements, Judaization, land confiscation, field executions and cold-blooded killings taking place in Jerusalem, the West Bank and the Jordan Valley."
The meeting came a day after Islamic Jihad Secretary-General Ziad al-Nakhala warned Israel in a press statement on June 12 against continued violations. Nakhala pointed out, "We, in the Islamic Jihad in Palestine, take very seriously these major attacks on Palestinians in the West Bank and Jerusalem and on prisoners in Israeli prisons. ... We will not allow this humiliation to linger."
As of late May, 4,700 Palestinian prisoners are detained in Israeli prisons, including more than 640 administrative detainees, as per the Palestinian Prisoners' Club. Administrative detainees are held without trial for a period of up to six months, subject to extension.
One of the most prominent prisoners currently on hunger strike is Islamic Jihad member Khalil al-Awawdeh, who has been on a hunger strike for 103 days.
The Israeli operation dubbed "Wave Breaker" continues to act aggressively in the West Bank, namely in Jenin, where the Israeli forces killed three Islamic Jihad militants on June 17. Palestinian factions in Gaza, led by the Islamic Jihad, said, "This crime shall not be forgiven."
In a press release issued on June 17, the Islamic Jihad added that "these crimes will backfire on Israel."
The Israel Army Radio (Galatz) reported that the army had decided to liquidate the Jenin Brigade of Al-Quds Brigades, the military wing of Islamic Jihad, which is leading the action against Israel in the West Bank. According to Israeli security sources, the Israeli army will not allow the Jenin model to be transferred to other cities in the West Bank no matter the scale of clashes or even tension with Gaza.
Daoud Shehab, the Islamic Jihad leader in Gaza, told Al-Monitor, "Israel bears the consequences of the crimes it commits in the West Bank, and the increasing violations monitored by the movement over the past weeks in Gaza, from shooting at fishermen in the middle of the sea or at farmers on the eastern border."
Shehab pointed out that "that majority of the people in Gaza are struggling to survive because of the Israeli army's attacks, and we will not allow economic incentives, including the work permits issued by Israel, to prevent a decisive response from the factions. We will not barter human rights for political rights."
"We are ready to respond because we can no longer bear further aggression and pressure, and we are fully capable of engaging in successive and long rounds [of confrontation] within a national consensus," Shehab said.
Shehab indicated that Egypt was mediating to avoid a military confrontation. "Some parties that are mediating between the Palestinian factions and Israel, namely in the prisoners file, have asked Israel to consider ending the suffering of the prisoners on hunger strike. But the problem lies in Israel's lack of commitment. So the situation might explode at any time," he said.
Hassan Abdo, a political analyst close to the Islamic Jihad, believes that the meeting of the Palestinian factions on June 13 was aimed at "garnering legitimacy and unanimous approval for the next response to Israeli violations. The response may come from Gaza, or from other geographical sides."
On June 17, an Israeli army observation balloon fell inside the Gaza border and was collected by Palestinian factions. Israel had fired warning shots to prevent Palestinians from taking the equipment inside of it. Surveillance balloons equipped with modern 360-degree cameras are deployed along the border with Gaza to monitor any suspicious movements on the border with Israel.
The incident was followed June 18 by the launch of a rocket from Gaza by unknown militants toward southern Israel.
Mustafa al-Sawaf, a political analyst close to Hamas, told Al-Monitor that Israel's reaction to the spy balloon "is a serious event, in addition to the developments in Jenin, which may indicate that a military confrontation is drawing near."
As part of preparations for a potential upcoming battle, Islamic Jihad began military drills on June 18 under the name Azm al-Sadiqin (Arabic for the "Will of the Honest") in which missile, land and sea artillery units took part.
Source: Al Monitor
Please click the following URL to read the full text of the original story:
https://www.al-monitor.com/originals/2022/06/islamic-jihad-ramps-threats-toward-israel-west-bank
--------
119 extremist Jewish settlers defile Aqsa Mosque under police guard
June 23, 2022
Dozens of extremist Jewish settlers desecrated the Aqsa Mosque in Occupied al-Quds under tight police protection on Wednesday.
At least 119 settlers entered the Mosque in different groups through its Maghariba Gate and toured its courtyards under police guard, according to al-Qastal News website.
During their tours at the Islamic holy site, the settlers received lectures from rabbis about the alleged temple mount and a number of them provocatively performed Talmudic prayers.
Meanwhile, the Israeli occupation police imposed movement restrictions on Muslim worshipers at the Aqsa Mosque's entrances and gates.
Source: ABNA24
Please click the following URL to read the full text of the original story:
https://en.abna24.com/news//119-extremist-jewish-settlers-defile-aqsa-mosque-under-police-guard_1269173.html
--------
Iranian Court Finds US Admin Guilty, Orders Payment of $4.3bln in Compensation
2022-June-23
The court found the US administration and dozens of American institutions and officials guilty of supporting the Israeli regime's targeted assassinations of Iranian nuclear scientists, ordering Washington to pay $4.3bln in compensation.
Families of three martyred nuclear scientists, along with a wounded nuclear scientist and wives of three nuclear scientists who sustained injuries themselves in terror attacks on their husbands had filed a lawsuit with a Tehran court against the US government, institutions and authorities that were in office at the time of Israeli terror acts.
The crimes in question inflicted physical, psychological and financial damages on the families of the victims.
The US was ordered by the court to pay $4.3bln in total compensation, including fines.
The lawsuit, the court said, was aimed at countering violations of international obligations and instances of hostile behavior on the international stage through supporting Israel's acts of terrorism.
Those convicted are 37 American natural and legal persons, including former presidents Barack Obama and Donald Trump, former Secretary of State Mike Pompeo, former Iran envoy Brian Hook and former Defense Secretary Ashton Carter.
The verdict cited evidence of Israeli involvement in the assassinations and the US financial and military support for the regime, saying Washington has had an "effective" role in establishing and supporting Israel as a terrorist regime.
The US Congress has also passed several laws in support of Israel, it added.
Several US courts have in the past fined the Iranian government under various pretexts, authorizing the government to pay damages to American plaintiffs from Iran's seized assets.
Over the past years, Iranian nuclear scientists have been the target of the western and Israeli spy agencies' assassination attempts.
Between 2010 and 2012, four Iranian nuclear scientists — namely Masoud Alimohammadi, Majid Shahriari, Darioush Rezaeinejad and Ahmadi Roshan — were assassinated, while another, Fereydoon Abbasi, was wounded in an attempted murder.
Mohsen Fakhrizadeh, who headed the Iranian Defense Ministry's Organization of Defensive Innovation and Research, was assassinated on November 27, 2020.
Source: Fars News Agency
Please click the following URL to read the full text of the original story:
https://www.farsnews.ir/en/news/14010402000447/Iranian-Cr-Finds-US-Admin-Gily-Orders-Paymen-f-$43bln-in-Cmpensain
--------
Iran, Russia Discuss Expansion of Economic Ties to Stand against US Sanctions
2022-June-23
President Rayeesi made the remarks in a meeting with visiting Russian Foreign Minister Sergei Lavrov in Tehran on Wednesday.
He noted that constant meetings and talks between Iranian and Russian officials indicate the two countries' firm determination to open a new chapter of fruitful and strategic cooperation, particularly in the economic sector.
"Strengthening cooperation and coordination is an effective way to counter US sanctions and economic unilateralism against independent nations," the Iranian president said.
Tehran and Moscow both have huge oil and gas reserves but are constrained by sanctions that limit their ability to export their output.
Russia was slapped with sanctions following its operation in neighboring Ukraine, while Iran's economy has been under draconian sanctions re-imposed by the US in 2018, following Washington's withdrawal from the 2015 accord with Tehran.
Rayeesi also stressed the importance of cooperation among the Caspian Sea littoral states, and said foreign powers are not allowed to have a military presence in this region.
Elsewhere, he warned against attempts to expand the North Atlantic Treaty Organization (NATO)'s influence in different parts of the world, blaming the provocative acts of the US and the military alliance that it leads as the root cause of the ongoing conflict in Ukraine.
"There is no doubt that the US and NATO provocations have been the factor behind these conflicts [in Ukraine], and therefore it is necessary to be active in the face of attempts to expand NATO's influence in any part of the world, including in West Asia, the Caucasus and Central Asia," Rayeesi said.
He stressed the importance of ending the war in Ukraine as soon as possible, and expressed the Islamic Republic's readiness to help find a diplomatic solution to the crisis.
Lavrov, for his part, said Russia is keen to elevate cooperation with Iran to a strategic level.
Pointing to the significance of Iran's membership in the Shanghai Cooperation Organization, the Russian foreign minister added that his country supports Tehran's role in regional and international organizations.
Russia launched a military operation in Ukraine in late February, following Kiev's failure to implement the terms of the Minsk agreements and Moscow's recognition of the breakaway regions of Donetsk and Luhansk.
At the time, Russian President Vladimir Putin said the goals of what he called a "special military operation" were to address Russia's security concerns and to "de-Nazify" Ukraine.
Source: Fars News Agency
Please click the following URL to read the full text of the original story:
https://www.farsnews.ir/en/news/14010402000156/Iran-Rssia-Discss-Expansin-f-Ecnmic-Ties-Sand-agains-US-Sancins
--------
Iran demands US pay $4 bln for slain nuclear scientists: State media
23 June, 2022
An Iranian court on Thursday ruled that Washington should pay over $4 billion in compensation to the families of nuclear scientists who were assassinated in recent years, state media reported.
Iran has accused the United States, Israel, or both of a series of killings targeting key figures, including the November 2020 assassination of top nuclear scientist Mohsen Fakhrizadeh.
The Iranian court on Thursday said, based on the criminal investigations and comments by Israeli officials, "it is clear that the Zionist regime carried out the crimes" of killing the Iranian scientists, according to a copy of the verdict published by state news agency IRNA.
Washington supports Israel "directly and indirectly" and so "the US is responsible for all actions, including assisting, supporting and carrying out terrorist acts against Iranian scientists," the verdict added.
The accused include the US government, former presidents Barack Obama and Donald Trump, as well as other high-ranking American officials.
In November 2020, Mohsen Fakhrizadeh was killed in an attack on his car outside Tehran that the Islamic republic has blamed on Israel.
Two other nuclear scientists, Majid Shahriari and Fereydoon Abbasi-Davani, were killed and wounded respectively during simultaneous attacks in 2010.
Thursday's verdict risks exacerbating tensions between Tehran and the West as negotiations to restore the 2015 nuclear deal between Iran and world powers have hit an impasse.
The talks have been stalled since March amid key differences between the US and Iran, including Tehran's demand that Washington remove the Revolutionary Guards, the ideological arm of Iran's military, from a terrorism blacklist.
The 2015 deal gave Iran sanctions relief in exchange for curbs on its nuclear program to guarantee that Tehran could not develop a nuclear weapon – something it has always denied wanting to do.
Source: Al Arabiya
Please click the following URL to read the full text of the original story:
https://english.alarabiya.net/News/middle-east/2022/06/23/Iran-demands-US-pay-4-bln-for-slain-nuclear-scientists-State-media
--------
Suriname turns back decision to open embassy in Jerusalem
Abdelraouf Arna'out
24.06.2022
JERUSALEM
Suriname said it canceled its decision to open its embassy in Jerusalem, Israeli media reported on Friday.
According to Israel's Channel 12, Suriname's President Chan Santokhi referred the decision to the lack of funds to build an embassy.
The South American country has no embassy in Israel, but last month, Suriname's Foreign Minister Albert Camdin visited Israel and met with his Israeli counterpart Yair Lapid, who said it will open its embassy in Jerusalem soon.
So far, four countries have moved their embassies to Jerusalem, including Honduras, Guatemala, Kosovo, and the US, while many other countries opposed the decisions.
Source: Anadolu Agency
Please click the following URL to read the full text of the original story:
https://www.aa.com.tr/en/middle-east/suriname-turns-back-decision-to-open-embassy-in-jerusalem/2621585
--------
Southeast Asia
Chinese FM reveals meeting with Taliban-affiliated Afghan Chargé d'affaires for first time
Jun 23, 2022
Chen Song, deputy director-general of the Department of Asian Affairs of the Ministry of Foreign Affairs of China, met with Afghan Embassy Chargé d'affaires in Beijing Sayed Mohiuddin Sadat on Wednesday, with Sadat thanking China for the sincere sympathy over the deadly earthquake.
Global Times has learned that Sadat serves as the Charge d'affaires of the Afghan Taliban government's embassy in China, and this is the first time that the Chinese Foreign Ministry publicly released information about meeting with Sadat.
Zhu Yongbiao, executive director of Research Center for the Belt and Road and director of Center for Afghanistan Studies, Lanzhou University, told the Global Time on Thursday that at a time when the Afghan Taliban government is plagued by a lack of international recognition, China is gradually making public the fact that the Taliban government's Charge d'affaires is already working in China.
Information of the meeting was first released on the official WeChat account of the Department of Asian Affairs of the Ministry of Foreign Affairs of China.
Chen said China has always been concerned about the difficulties faced by the Afghan people. Since August 2021, China has provided a large amount of humanitarian assistance to Afghanistan to help the people tide over the most difficult times.
China is ready to work with Afghanistan to accelerate the implementation of the consensus reached at the high-level meeting by the two sides and make good use of the current mechanisms on humanitarian assistance and economic reconstruction connecting both sides, Chen said.
The Afghan official thanked China for its immediate, sincere condolences over the casualties caused by the earthquake, and thanked China for its long-term support to the Afghan people.
"Due to the urgency of earthquake relief, it is necessary to further expand assistance to Afghanistan," Zhu said, "The Chinese government has no way to bypass the Taliban, and their cooperation and support are needed in reality, so that relief assistance can be more efficient and the Afghan people can receive assistance more quickly."
China on Wednesday expressed readiness to provide emergency humanitarian assistance to Afghanistan in light of its needs, and Kabul expressed its appreciation to China, Chinese Foreign Ministry spokesperson Wang Wenbin said on Thursday.
A deadly earthquake struck eastern Afghanistan early Wednesday, and killed at least 1,100 people and injured 1,650, according to media reports.
The aid includes assistance such as guidance and advice on disaster resistance, providing medicine, food, tents and blankets, as well as long-term aid to help Afghan people enhance their own ability to prevent and resist disasters such as establishing and training professional rescue and expert teams, Zhu said.
Some Chinese reached by the Global Times said they were safe during the earthquake. "Chinese people here are all safe, and their property and work were not affected, and rescue is being carried out in an orderly manner," Yu Minghui, a local Chinese businessman in Kabul, capital of Afghanistan, told the Global Times on Thursday afternoon.
A Chinese surnamed Gao who works in Kabul told the Global Times on Thursday that the earthquake lasted about a minute and a half, which was felt in Chinatown in Kabul.
"It was about one o'clock in the morning and I was awakened. I felt scared and quickly ran out of my room, seeing police standing in the streets," said Gao. She said that there was a slight earthquake in Kabul two to three days ago, but this one was so strong that can be easily felt.
On noon Wednesday, it started to hail in Kabul, said Gao. "Local Chinese communities have not been affected by this earthquake so far," she said.
China is in close contact with relevant parties on the heavy casualties and property loss in the powerful earthquake in eastern Afghanistan near the Pakistani border, and is willing to provide emergency relief assistance, the China International Development Cooperation Agency (CIDCA) said on Wednesday.
Source: Global Times
Please click the following URL to read the full text of the original story:
https://www.globaltimes.cn/page/202206/1268924.shtml
--------
No problem with early GE15, says Hadi
June 24, 2022
PETALING JAYA: PAS president Abdul Hadi Awang is open to the idea of the next general election (GE15) being held soon.
While PAS agreed in principle that GE15 should be held at the end of the current Parliament's term in July next year, he said, it could be carried out sooner if a stronger government was needed.
"We need to be prepared. There cannot be an election if there are no preparations," he told reporters after his weekly sermon at Masjid Rusila in Marang, Terengganu.
Hadi was asked to comment on former prime minister Dr Mahathir Mohamad's view that the best time to hold GE15 would be July 2023.
Last month, Hadi had said PAS was opposed to the idea of an early general election and wanted the current Parliament to run until its full term expired.
In a Sinar Harian report today, Hadi also said the government led by Ismail Sabri Yaakob should be allowed to carry on for another year.
He said the people were tired of politics while the nation was still recovering from the Covid-19 pandemic and its economic impact.
Source: Free Malaysia Today
Please click the following URL to read the full text of the original story:
https://www.freemalaysiatoday.com/category/nation/2022/06/24/no-problem-with-early-ge15-says-hadi/
--------
MoUs may be new norm in paving way for reforms, says Bersih
Esther Yap
June 23, 2022
PETALING JAYA: Memorandums of understanding (MoUs) could become the new norm in paving the way for reforms, according to Bersih chairman Thomas Fann.
He said this was achievable especially when ruling parties were not in a dominant position as they could be persuaded to concede and accede to reforms.
"Let's say Umno or BN comes to power in the next general election and they are not in a dominant position … in fact, their position can be similar to what it is right now. Then we have to start looking at MoUs or confidence and supply agreements as a new norm for politics in this country," he said at a conference on political financing.
Fann said ruling parties may need to negotiate with opposition parties through these MoUs or confidence and supply agreements to remain in power and form a stable and functioning government.
"In such a situation, even a party like Umno could be persuaded to concede and accede to this particular funding reform," he said.
He was referring to Bersih's recommendation for public funding to be based on voter-share with a minimum of 2% threshold.
The recommendation was part of three recommendations published in a commissioned report by Bersih last year.
Source: Free Malaysia Today
Please click the following URL to read the full text of the original story:
https://www.freemalaysiatoday.com/category/nation/2022/06/23/mous-may-be-new-norm-in-paving-way-for-reforms-says-bersih/
--------
Ethis Group and Gobi Partners to debut Shariah-compliant US$20mln Seed Fund
June 23, 2022
KUALA LUMPUR – Ethical investment and social finance platform operator, Ethis Group, having launched EthisX as part of its global expansion plan, continues to trail blaze by collaborating with pan-Asian venture capital firm, Gobi Partners, to structure and set up a US$20 million Shariah-compliant seed fund.
The Fund, which is targeted to have its first closing by the end of this year, is notable for being Ethis Group's first move into the venture fund space as well as Gobi Partners' first-ever fully Shariah-compliant fund.
This collaboration combines the venture guiding acumen of Gobi Partners which currently has US$1.5 billion of assets under management across North Asia, South Asia and ASEAN, with Ethis Group's growing group of fintech investment and crowdfunding platforms in Indonesia, Malaysia and most recently Oman. The Fund will benefit from the network of start-ups and scale-ups accessible by Gobi Partners, a prominent name in Asia, and Ethis with its deep relationships in the Halal economy and impact-investment space.
The partnership is aimed at capturing the growth of startups in the Halal economy where startups adhere to Shariah law, and thus their products are built to serve a large Muslim community. The geographic presence of Gobi and Ethis in markets with large Muslim populations bode well for the joint fund to invest in these startups. Furthermore, the fund's focus on the broader ethical investment agenda resonates well with the post-pandemic emphasis on Environmental, Social, Governance and sustainable investments that also stretch beyond the Muslim community.
"The establishment of this joint fund will allow us to channel investments into tech startups driving change and making an impact. Venture capital is in high demand and suitable for ethical investment," said Mohamed Shehzad Bin Mohamed Islam, Chief Executive Officer of Ethis Investment Platform LLC (EIP).
Founded in 2002, Gobi Partners which is now headquartered in Kuala Lumpur and Hong Kong, supports entrepreneurs from the early to growth stages and focuses on emerging and underserved markets. Gobi has raised 15 funds to date, invested in over 320 startups and nurtured nine unicorns. The latter includes Malaysia's first unicorn, car e-commerce marketplace Carsome, and British-Hong Kong biotech startup Prenetics.
In 2016, Gobi launched its TaqwaTech vertical which focuses on investments in Islamic ventures and the global Muslim economy. Most notable of its TaqwaTech investments is Dubai-based Umrahme, which is now the global market leader in online Umrah pilgrimage bookings with over 3.5 million pilgrims since its inception in 2019.
"We are excited to partner with Ethis Group in creating this new Shariah-compliant Fund, which is very much in line with our existing TaqwaTech focus. Muslim consumers represent a US$2.2 trillion market opportunity, and the Muslim community is anticipated to make up more than 31% of the world's population by 2060, however, the Muslim community's digital needs are largely unmet or underserved. Through this partnership with Ethis and the creation of this dedicated Fund, we will now be able to fund, nurture and support even more Muslim entrepreneurs," said Gobi cofounder, Thomas Tsao.
Once launched, the joint Fund will invest in Shariah-compliant startups globally with an initial geographic focus in the MENA as well as the ASEAN regions. EthisX's presence in the Sultanate of Oman in particular is timely as it can have direct access to the growing investment opportunities supported by the Oman Vision 2040 which emphasised the diversification of its economy, development of the fintech industry and digitisation efforts by the authorities.
About Ethis Group
Ethis Group operates crowd-investment platforms approved by regulators in Indonesia, Malaysia and Oman.
Our platforms serve ordinary people, high-net-worth individuals, corporate, and government entities. Ethis built our initial track record from 2016 to 2020 in social housing in Indonesia where our global community of investors from more than 50 countries funded development projects to build close to 10,000 homes. Most recently, we launched EthisX, the cross-border Ethical Private Capital Market Platform.
Since the onset of COVID-19, we have launched popular new investment products, including short-term, high-yield supply-chain financing projects in Indonesia and equity investment in 'future tech' startups in Malaysia. Our social finance marketplace GlobalSadaqah plays a vital role in matching donors and Islamic economy players to better distribute social finance and zakat to NGOs and social enterprises. EthisX aims to address the lack of availability of Shariah-compliant and ethical alternative funding and financing in emerging and developed non-Muslim countries with sizeable enough Muslim populations.
Source: Zawya
Please click the following URL to read the full text of the original story:
https://www.zawya.com/en/press-release/companies-news/ethis-group-and-gobi-partners-to-debut-shariah-compliant-us20mln-seed-fund-pdy6oxjd
--------
South Asia
US hands over Afghan Guantanamo detainee to Taliban
June 24, 2022
The United States has released an Afghan national, Assadullah Haroon, detained in the Guantanamo prison and handed him over to the Taliban government in Kabul, said a statement by Zabihullah Mujahid on Friday.
Mujahid, an official spokesperson of the Taliban regime, said the detainee was released as a result of the "efforts of the Islamic Emirate of Afghanistan [IEA] and its direct and positive interaction with the United States".
"IEA considers this as its duty to release Afghans detained in other countries and strives to ensure that no Afghan remains oppressed in any country of the world," the statement said, adding, "We are currently in contact with some of the countries where Afghans have been detained and efforts are underway to release them soon."
The Taliban spokesperson thanked Qatar for "paving the ground" in the release of the prisoner.
"As a result of IEA's efforts, today, we are witnessing the release of Assadullah Haroon from Guantanamo prison and his reunion with his family years later," it added.
The prison has drawn worldwide condemnation for holding large numbers of prisoners without charging them or holding trials. Its population peaked at about 800 inmates, then declined sharply during the 2009-2017 Obama administration. At least 37 detainees remained at Guantanamo Bay, as per a statement by the US Defence Department in April.
Of those, 18 were eligible for transfer, seven are eligible for a Periodic Review Board, 10 were involved in the military commissions process, and two detainees had been convicted in military commissions.
Last month, Taliban Interior Minister Sirajuddin Haqqani said the Taliban regime wanted good ties with Washington but Kabul had reservations about the intentions of the US based on its conduct.
The Taliban leader made these remarks during an interview on CNN. In response to a question on whether the Afghan government considered the US an enemy, he had said the Taliban did not consider the US as an "enemy" and they were committed to the Doha accord.
Source: Tribune Pakistan
Please click the following URL to read the full text of the original story:
https://tribune.com.pk/story/2363073/us-hands-over-afghan-guantanamo-detainee-to-taliban
--------
Taliban's isolation hampers Afghan quake response
June 24, 2022
KABUL: A devastating earthquake in eastern Afghanistan, which killed at least 1,000 people and flattened homes in remote villages close to the Pakistani border, poses the biggest challenge yet for the Taliban since they seized power nearly a year ago.
The hardline group is governing an impoverished country beset by severe drought, widespread hunger and economic crisis and where the effects of decades of conflict are still keenly felt.
Now the earthquake risks exposing the limitations of an administration largely isolated from the outside world and desperately short of cash and resources.
While humanitarian assistance continues to flow, aid needed for longer-term development in Afghanistan was halted when the Taliban stormed Kabul last August. Further angering the Taliban, billions of dollars in Afghan reserves also remain frozen overseas as the West pushes for concessions on human rights, particularly for girls and women.
Shehbaz expresses solidarity with Akhund
"The sanctions imposed after the Taliban takeover ... and the economic collapse will make it incredibly difficult to respond with necessary medical and food aid, and to support reconstruction," said Ashley Jackson, co-director of the Centre on Armed Groups and an expert on the relationship between the Taliban and civilians.
So far, a handful of ageing helicopters have been flying to and from some of the worst-affected areas, carrying the injured out and ferrying in supplies of food and medicine.
"The question is, will this disaster make the international community question the harmful costs that its policies are having on ordinary Afghans?" said Jackson.
Adnan Junaid, International Rescue Committee's vice president for Asia, added: "The international community must ... establish a roadmap that sets out strategies to resume development assistance, provide technical support to the central bank, and ultimately release Afghanistan's foreign exchange reserves."
The Taliban have appealed to the international community and several countries have promised humanitarian aid, some of which is already arriving. International aid agencies are also providing support on the ground.
Technical assistance, however, including specialist search and rescue teams that could fly in quickly from overseas, had yet to be deployed as of Thursday.
According to two UN officials and a Pakistani source speaking on Wednesday, teams from Turkey and Pakistan were on standby.
Syed Irfan Raza adds from Islamabad: Prime Minister Shehbaz Sharif on Thursday telephoned acting Prime Minister of the interim government of Afghanistan, Mullah Muhammad Hassan Akhund, and conveyed Pakistan's solidarity with the Afghan people in the wake of the devastating earthquake.
According to the Prime Minister Office, Mr Sharif offered prayers for the departed souls and wished speedy recovery to the injured.
He also shared with Mullah Akhund details of the relief efforts mounted by Pakistan to provide emergency assistance to Afghanistan, including the dispatch of emergency medicine, tents, tarpaulins, and blankets.
He said the border crossing points of Ghulam Khan and Angoor Adda had been opened for the transportation of seriously injured Afghans to Pakistani hospitals for treatment.
Source: Dawn
Please click the following URL to read the full text of the original story:
https://www.dawn.com/news/1696426/talibans-isolation-hampers-afghan-quake-response
--------
Heavy Snowfall in North-East Afghanistan Kills Twelve Children
By Saqalain Eqbal
23 Jun 2022
Twelve children and hundreds of livestock were killed on Wednesday night due to a heavy snowfall in the north-eastern province of Afghanistan, Kunar, according to the local Taliban officials.
In order to assist those in need, officials claim that emergency and medical teams have been sent to the site, according to Bakhtar state news agency.
The incident has happened in the Dara-e-Gul district of Kunar province, on Wednesday night, when the northern provinces of Afghanistan experienced a heavy snowfall, in summer.
According to Qari Khair Mohammad Ghazi, the provincial Director of Disaster Management in the Laghman province, rescue teams have been dispatched to the area to save people who are trapped in the snow.
Eight family members were killed and three others injured, according to local sources in Kunar province, when a roof collapsed as a result of heavy snowfall.
Further information regarding the incident is not provided by Taliban officials or the state news agency Bakhtar.
Previously, locals in the Bamyan province of central Afghanistan expressed concern that heavy snowfall at this time of year would endanger livestock and harm crop yields.
Source: Khaama Press
Please click the following URL to read the full text of the original story:
https://www.khaama.com/heavy-snowfall-in-north-east-afghanistan-kills-twelve-children-67483/
--------
Pakistan's Consigned Convoy of Relief Assistance Reaches the Quake-Hit in South-East Afghanistan
By Saqalain Eqbal
23 Jun 2022
The Taliban officials announce the arrival of Pakistani humanitarian aid for the victims of the catastrophic earthquake in south-eastern provinces of Afghanistan.
Zabihullah Mujahid, the spokesperson for the Islamic Emirate of Afghanistan, has announced the arrival of the consigned convoy of relief aid from Pakistan on his twitter handle, today, 23rd June.
On the special directives of Pakistani Prime Minister Shahbaz Sharif, approximately eight assistance trucks were dispatched for the Afghan victims of the earthquake in south-eastern provinces of Afghanistan.
Among the supplies of the humanitarian help are food, medicines, tarpaulins, blankets, and residential camps.
As Afghanistan cope with the unpleasant effects of a devastating 6.1 magnitude earthquake, the Taliban have asked for foreign assistance.
At least 1,500 people have been injured, and there have been over 1,000 fatalities. Under the rubble of destroyed houses, usually mud-brick structures, there are unknown numbers of bodies buried.
The Pakistani Prime Minister Sharif, yesterday, pledged that Pakistan would offer the Afghan people whatever assistance possible. He said, "In this difficult time, we are with our Afghan brothers and sisters."
With the aid from Iran dispatched in two planes and a planeload of aid from the government of Qatar, the consignment of humanitarian aid from Pakistan arrives in Afghanistan, received by the Taliban officials.
Source: Khaama Press
Please click the following URL to read the full text of the original story:
https://www.khaama.com/pakistans-consigned-convoy-of-relief-assistance-reaches-the-quake-hit-in-south-east-afghanistan-68593/
--------
Second Consignment Of Relief Items Reaches Kabul, Taliban Thanks India For Aid
JUNE 24, 2022
The second consignment of relief items sent by India in the aftermath of the deadly earthquake reached Afghanistan on Friday morning, the Union ministry of external affairs announced via a tweet.
"Second consignment of India's earthquake relief assistance for the people of Afghanistan reaches Kabul," MEA spokesperson Arindam Bagchi said via a tweet.
India earlier sent another consignment of relief items which reached Afghanistan earlier on Thursday evening. The MEA also shared pictures of the consignment being prepared to be delivered to those affected by the earthquake.
India has dispatched 27 tons of emergency relief assistance to Afghanistan.
An earthquake of 6.1 magnitude on the Richter scale hit Afghanistan's Paktika province killing more than 1,000 people and injuring more than 1,500. The crisis is exacerbated as following Taliban-takeover of Afghanistan sanctions have driven the country towards near economic collapse as its citizens suffer from a food crisis.
The relief items sent to Afghanistan include family ridge tents, sleeping bags, blankets, sleeping mats among others. The items will be handed over to the United Nations Office for Coordination of Humanitarian Affairs (UNOCHA) and Afghan Red Crescent Society (ARCS) in Kabul.
India reiterated that in this moment of crisis it will stand beside Afghanistan in this moment of crisis. "India stands in solidarity with the people of Afghanistan, with whom we share centuries old ties, and remains firmly committed to provide immediate relief assistance for the Afghan people," the MEA said.
However, India deployed two technical teams to ensure effective delivery of humanitarian assistance. The team reached Kabul on Thursday and has stationed itself in the embassy.
Ahead of the team's visit to Kabul, a separate team also visited Afghanistan to conduct an assessment of the security situation.
The Taliban leadership in Afghanistan thanked India for its support and welcomed the initiative to bring back diplomats and technical teams to its embassy in Kabul.
"The Islamic Emirate Of Afghanistan welcomes the decision by India to return diplomats and technical team to their embassy in Kabul to continue their relations with the Afghan people & their humanitarian assistance. The return of Indian diplomats to Afghanistan and reopening of the embassy demonstrates that security is established in the country, and all political and diplomatic rights are respected," the Taliban leadership said in a statement.
However, concerns remain despite the above statement following the deadly attack on the Karte Parwan gurdwara, which led to two deaths and raised questions regarding the supposed security the Taliban leaders were expected to provide to the religious minorities.
The Taliban added to their above statement and invited other countries to reopen their embassies saying that they will provide security to the compounds.
However, nations are likely to respond to the crisis affecting thousands of Afghans currently affected by the earthquake and deliberate on reopening their embassies later.
Source: News18
Please click the following URL to read the full text of the original story:
https://www.news18.com/news/world/afghanistan-earthquake-second-consignment-of-relief-items-delivered-afghan-leadership-thanks-india-for-support-5431915.html
--------
Talking to the Taliban 'only way forward' in Afghanistan: UN official
June 24, 2022
The devastating earthquake this week is just one of several emergencies facing Afghanistan, and continued dialogue with the Taliban remains the only way to address ongoing challenges in the country, the top UN official said on Thursday.
Ramiz Alakbarov, Acting Special Representative at the UN's Mission in Afghanistan, UNAMA, provided an update on the earthquake, citing figures which revealed nearly 800 confirmed deaths and more than 1,400 injured.
He said despite difficulties, "we firmly continue to believe that a strategy of continued engagement and dialogue remains to be the only way forward for the sake of the Afghan people, as well as for the sake of regional and international security." Alakbarov reported that the human rights situation in Afghanistan remains precarious.
Despite the adoption of a general amnesty, and repeated assurances by Taliban leaders that it is being respected, UNAMA continues to receive credible allegations of killings, ill-treatment and other violations targeting individuals associated with the former government.
Credible allegations of violations against persons accused of affiliation with the National Resistance Front and the ISIL-KP terrorist organisation have also been reported.
"The de facto authorities have increasingly restricted the exercise of basic human rights, such as freedom of peaceful assembly, freedom of opinion and expression, quelling dissent and restricting civic space in the country," he said.
The UN official noted that restrictions particularly target women and girls, such as the ban on secondary schooling for girls, and the decree ordering women to wear face coverings.
"The costs to the economy of these policies is immense," he said. "The psychosocial costs of being denied education, for example, are incalculable, and women are collectively being written out of society in a way that is unique in the world."
The economic crisis is perhaps the single most important issue in Afghanistan, and a potential driver of conflict and misery. It is estimated the economy contracted by up to 40 per cent since August.
"If the economy is not able to recover and grow meaningfully and sustainably, then the Afghan people will face repeated humanitarian crises; potentially spurring mass migration and making conditions ripe for radicalization and renewed armed conflict," he warned.
Afghanistan also remains highly vulnerable to future climate and geopolitical shocks. Drought, floods, disease outbreaks affecting both people and livestock, as well as natural disasters like the earthquake, are further deepening vulnerabilities.
Alakbarov said the need to prioritize rural areas, with focus on agricultural and food systems to prevent hunger. This will also help to reduce child labour, improve health outcomes, and create an environment that will enable social development and change.
"It will also pave the way for substitution agriculture to replace the poppy cultivation, allowing us to capitalize on the de facto authority's recent ban on poppy and narcotic cultivation," he said.
"While doing so we need to continue to provide adequate attention to clearance of widely unexploded ordnance of war. This bottom-up approach to economic recovery is shared by the de facto authorities and would help the most vulnerable."
Addressing humanitarian response, Alakbarov highlighted how aid partners have reached some 20 million Afghans between January and April this year alone, including nearly 250,000 returnees and some 95,000 people affected by floods and weather-related events.
Source: Business Standard
Please click the following URL to read the full text of the original story:
https://www.business-standard.com/article/international/talking-to-the-taliban-only-way-forward-in-afghanistan-un-official-122062400192_1.html
--------
UN Says Taliban Interfering with Aid, Resisting Cash Plan
JUNE 24, 2022
Afghanistan's ruling Taliban are resisting efforts by the United Nations to help get humanitarian funding into the country and are interfering in the delivery of aid, U.N. aid chief Martin Griffiths told the Security Council on Thursday.
Since the hardline Islamist Taliban took over in August as U.S.-led forces withdrew after two decades of war, international banks are wary of testing U.N. and U.S. sanctions, leaving the United Nations and aid groups struggling to deliver enough cash to run operations.
"The formal banking system continues to block transfers due to excessive de-risking, impacting payment channels and causing breakdowns in supply chains," Griffiths told the 15-member Security Council.
The United Nations has been trying to kickstart a system – described as a Humanitarian Exchange Facility (HEF) – to swap millions of aid dollars for Afghan currency in a plan to stem aid and economic crises and bypass Taliban leaders who are under sanctions.
"We have seen limited progress because of resistance by the de-facto authorities. This is an issue that is not going to fix itself," said Griffiths, adding that until Afghanistan's formal banking system could operate properly again, the United Nations needed to get Humanitarian Exchange Facility up and running.
He said about half the aid groups recently surveyed by the United Nations reported difficulty transferring funds into Afghanistan, down from 87% in October, adding: "The direction of travel is positive, but the figure remains alarming."
Griffiths said two-thirds of the aid groups cited a lack of available cash in Afghanistan as impeding their programs.
Taliban authorities are also increasingly interfering with the delivery of humanitarian aid, despite a pledge to U.N. officials in September that they would not, Griffiths said.
"National and local authorities are increasingly seeking to play a role in the selection of beneficiaries and channeling assistance to people on their own priority lists, citing an almost universal level of need," he said.
"We are also seeing more demands by the Taliban for data and information with regards to budget and staffing contracts," he said, adding that aid groups "face continued difficulties as they try to hire Afghan women in certain functions."
The Taliban could not be immediately reached for comment on Griffiths remarks.
Griffiths said the United Nations had only received one-third of the $4.4 billion it needed to meet humanitarian needs in Afghanistan in 2022. "We simply do not have enough funding," he said.
Source: News18
Please click the following URL to read the full text of the original story:
https://www.news18.com/news/world/un-says-taliban-interfering-with-aid-resisting-cash-plan-5429815.html
--------
Rights group demands Taliban release 2 Afghan journalists, investigate assault
June 23, 2022
LONDON: The Committee to Protect Journalists urged the Taliban on Wednesday to immediately release two detained Afghan journalists and investigate the violent assault of another.
"The Taliban must take immediate measures to halt repeated arbitrary detentions and abuse of journalists in Afghanistan," said Steven Butler, CPJ's Asia program coordinator.
"The Taliban must immediately release journalists Abdul Hannan Mohammadi and Khan Mohammad Sial, and investigate the assault of Mohammad Ikram Esmati."
Sial, a broadcast manager for the independent Paiwaston TV station, was detained in early May by Taliban police in Trinkot, and has since been held in the central prison of Uruzgan Province.
According to reports, Taliban members beat Sial and told him to confess that his outlet was funded by foreign entities, and was both morally and financially corrupt. Taliban members also reportedly told Sial that he would be released if he confessed.
In mid-June, Taliban intelligence agents detained Mohammadi, a reporter for Pajhwok news agency in northern Kapisa Province. Mohammadi was on his way to an assignment, but the Taliban agents relocated him to an undisclosed location.
The reason for his detention is not immediately clear.
On the same day in a separate incident, the Taliban stopped Esmati, a former journalist for the independent Kabul News TV station, and questioned him about his work.
According to Esmati, three Taliban members then bundled him in a vehicle, drove him to a remote area, and beat him with guns and fists until he was knocked unconscious.
Since the Taliban takeover of Afghanistan last August, the Taliban have cracked down on media freedom in the country, prompting watchdogs to voice concerns about the safety of Afghan journalists, reporters and media workers.
According to Reporters without Borders, at least 12 journalists were arbitrarily arrested in Afghanistan in May despite the Taliban announcement of a new system to protect media workers.
Source: Arab News
Please click the following URL to read the full text of the original story:
https://www.arabnews.com/node/2109721/world
--------
Afghanistan ends search for survivors of earthquake that killed 1,000
June 24, 2022
KABUL: Authorities in Afghanistan have ended the search for survivors of an earthquake that killed 1,000 people, a senior official said on Friday, adding that supplies of medicine and other critical aid were inadequate.
About 2,000 people were injured and 10,000 houses were partially or completely destroyed in Wednesday's earthquake in a remote area near the border with Pakistan, Mohammad Nassim Haqqani, a spokesperson for the disaster ministry, told Reuters.
"The search operation has finished, 1,000 are dead and the injured are around 2,000, both serious and superficial injuries," Haqqani said.
He did not elaborate on why the search for survivors was being called off after some 48 hours. Survivors have been pulled from the rubble of other earthquakes after considerably more time.
The 6.1 magnitude earthquake struck about 160 km (100 miles) southeast of Kabul, in a region of arid mountains dotted with small settlements that has often been at the center of Afghanistan's decades of war.
Poor communications and a lack of proper roads have hampered relief efforts in a country already grappling with a humanitarian crisis that has deteriorated since the Taliban took over last August.
Haqqani said Afghanistan did not have enough critical supplies to treat the wounded.
"The health ministry does not have enough drugs, we need medical aid and other necessities because it's a big disaster," he said.
The rescue operation will be a major test for the hard-line extremist Taliban, who took over as US-led international forces withdrew after 20 years of war.
The country has since been largely isolated, cut off from much direct international assistance because of sanctions.
Japan, South Korea, Taiwan and the United Arab Emirates all said on Thursday they plan to send aid. Supplies from neighbor Pakistan have already crossed the border.
India, which has a strained relationship with the Taliban, said it had sent 27 tons of supplies on two flights to be handed over to international aid agencies.
Large parts of South Asia are seismically active because a tectonic plate known as the Indian plate is pushing north into the Eurasian plate.
Source: Arab News
Please click the following URL to read the full text of the original story:
https://www.arabnews.com/node/2109976/world
--------
Pakistan
Pakistan will have to see tough times to end economic crisis, warns PM Shehbaz Sharif
Jun 24, 2022
ISLAMABAD: Pakistan's Prime Minister Shehbaz Sharif on Thursday warned that the country may witness more difficult times to steer itself out of the current economic crisis, a day after Islamabad finalized a deal with the IMF to revive a stalled $6 billion assistance package.
The incumbent government has recently taken some tough decisions, including a massive increase in petroleum prices, in a bid to convince the IMF to restore its programme.
Addressing a meeting of his party's senators, Sharif said the IMF is not ready to trust his government because of the actions of the previous government.
"The IMF was adamant on us fulfilling all the conditions of the agreement. It was a difficult stage and I want to say that the country will face difficult times going forward," the PM said.
Sharif criticized former PM Imran Khan for pushing the economy to the brink of bankruptcy and said his government had signed an agreement with the international lender to increase the levy on fuel prices, but refused to abide by the agreement.
The global lender will release funds to Pakistan next month after a deal was finalized between the two sides late on Tuesday night at a staff-level meeting. Following this, the local currency appreciated by Rs 4.7 against the US dollar from Wednesday's close of Rs 211.93.
The agreement with IMF would also pave the way for funds from the World Bank, the Asian Development Bank, the Islamic countries, and other money lending institutions.
A day earlier, finance minister Miftah Ismail said that Chinese banks had signed an agreement for a loan of $2.3 billion, which would flow into Pakistan's account within a couple of days.
Source: Times Of India
Please click the following URL to read the full text of the original story:
https://timesofindia.indiatimes.com/world/pakistan/pakistan-will-have-to-see-tough-times-to-end-economic-crisis-warns-pm-shehbaz-sharif/articleshow/92423335.cms
--------
Pakistani leaders mourn death of Turkish scholar Sheikh Mahmud Effendi
By Fahad Ahmed
Jun 24, 2022
Sheikh Mahmud Effendi,93-year-old, who passed away on Thursday, was one of Turkey's most influential Islamic scholars and teachers.
Pakistani leaders Jamiat Ulama-e-Islam Pakistan (JUIF) Maulana Fazl-ur-Rehman and Pakistan Tehreek-e-Insaf (PTI) Chairman Imran Khan expressed their condolences on the sad demise of the Turkish Islamic scholar.
https://twitter.com/MoulanaOfficial/status/1539918725457010689
https://twitter.com/ImranKhanPTI/status/1539983674636124163
Sheikh Effendi was hospitalized for two weeks to get treated for an infection before he died in Istanbul on Thursday.
Fatih Mosque in Istanbul will hold a funeral prayer after Friday's Jumu'ah prayer today.
Who was Sheikh Mahmud Effendi?
Effendi was born in Trabzon, a northern province of Turkey. After becoming a hafiz by the age of ten, he studied Arabic and Persian, and studied Islamic Sciences, obtaining his madrassah ijazah at 16.
Ahiskali Ali Haydar Efendi became his murshid after meeting Ahiskali Ali Haydar Efendi in 1952. Upon Ali Haydar Efendi's appointment, he became the imam of the Smailaia Mosque in 1954. Following his mentor's death in 1960, he assumed leadership of the tariqa.
Three weeks per year were dedicated to teaching in Turkey, and he made several educational and missionary tours to Uzbekistan, India, Germany, and the U.S. He has written a Qur'an commentary in Turkish called Ruhu'l Furkan.
https://en.baaghitv.com/india-protests-erupted-over-a-new-military-recruitment-system/
The Sheikh Effendi has millions of followers and established many charitable, social, and religious organizations, including the Marifet Association, the Federation of Marifet Associations, and the Ahle Sunnah Wal Jamaah Confederation. Based on sincerity, he stressed service to humanity.
Source: Baaghi TV
Please click the following URL to read the full text of the original story:
https://en.baaghitv.com/pakistani-leaders-mourn-death-of-turkish-scholar-sheikh-mahmud-effendi/
--------
PM Shehbaz announces 10pc 'super tax' on large-scale industries
June 24, 2022
Prime Minister Shehbaz Sharif on Friday announced that the government will be imposing a 10 per cent "super tax" on large-scale industries in a bid to shore up revenues for supporting the country's poor amid rising inflation.
Industries to be taxed
cement
steel
sugar
oil and gas
fertilisers
LNG terminals
textile
banking
automobile
cigarettes
beverages
chemicals
High net worth individuals will also be subject to a "poverty alleviation tax".
Those whose annual income exceeds Rs150 million will be subject to 1pc tax; for Rs200 million, 2pc; Rs250 million, 3pc; and Rs300 million will be taxed 4pc of their income.
His speech triggered a nosedive at the Pakistan Stock Exchange, as its benchmark KSE-100 index saw a sharp 2,053-point drop before trading was halted. As of 12:00pm, it stood at 40,663.62, down 4.81 per cent.
In the address today, the premier took the nation into confidence over what he described as "tough" budget decisions. He said that the coalition government made "courageous" decisions to protect the country from "serious dangers".
He recalled that the government had two options when it first came to power: call fresh elections or take tough decisions and tackle the sinking economy. "It would have been very easy to leave the public in crisis and become silent spectators like others."
And despite the challenges, the prime minister pointed out, the government chose the latter.
He said history had witnessed that in difficult times, it was the poor who always made sacrifices. "Today, it is time for the affluent citizens to do their part. It is their turn to show selflessness. And I am confident that they will contribute fully to play their part."
He said the institutions whose job was to collect taxes should take from the rich and give to the poor. He, however, lamented that the "big ones" evade paying taxes.
The prime minister said it was the collective responsibility of the state — including the PM — that tax money went to the national treasury. "We have been unsuccessful in this so far," he added.
PM Shehbaz said: "It is never too late. Right after the budget [is passed], teams have been formed to go all out to collect taxes. Assistance will be sought from all constitutional institutions and we will employ modern technology and digital tools [for the purpose].
'The rich will have to do their part'
PM Shehbaz said the steps taken in the budget were designed to ease the burden on the poor. "As for the classes who are blessed, today, this nation is demanding of them to also work hard, to come forward and to make Pakistan prosperous and progressive," he added.
The premier called on the wealthy to "distribute" some of their wealth and "relive the memory of Ansar-i-Madina". "This is your responsibility, and the nation demands it of you," he said.
He said it was his belief that the steps that were taken now would not only add to Pakistan's treasury but would also bring ease to the poor and make Pakistan economically self-reliant.
Another appeal for 'grand national dialogue'
The prime minister said by taking from those "who Allah has blessed", education, health, roads, IT development could be buttressed. "To further nurture the nation, resources are needed," PM Shehbaz added.
He added that if the amount was not collected for the country's needs, "we will have to take loans".
Referring to his predecessor Imran Khan's "shackles of slavery" remarks, PM Shehbaz said economic stability and economic freedom were the only true ways the "shackles of slavery would be broken".
"This is what we call self-reliance, without which no nation can have independence," he added. He lamented that the country was a nuclear power but economically "we are still infirm and weak".
PM Shehbaz made another appeal for a "grand national dialogue" and his charter of economy. He said if the country did not bicker among themselves and "fight to end poverty, to end a life of debt, to stabilise Pakistan's economy, the country wouldn't be in the position it is in.
"But it is never too late. Today we have to demolish the walls of poverty, unemployment and hatred. We have to give birth to flowers of love and end thorns. This is only possible through a grand national dialogue and charter of economy.
Source: Dawn
Please click the following URL to read the full text of the original story:
https://www.dawn.com/news/1696468/pm-shehbaz-announces-10pc-super-tax-on-large-scale-industries
--------
43pc foreign-funded projects found to be 'problematic'
Khaleeq Kiani
June 24, 2022
ISLAMABAD: The Ministry of Economic Affairs said on Thursday that 43 per cent of about $35 billion worth of foreign-funded projects were problematic — either not progressing well or unable to deliver the desired outcomes.
At a review meeting of the National Coordination Committee on foreign-funded projects, the ministry reported that it was managing an ongoing portfolio of $34.8bn such projects of various sectors of the economy. "Out of the total portfolio, $15bn (43pc) is considered as problematic," it added.
On top of that, the meeting was informed that the "share of federal energy projects is about $3.3bn, of which $2.3bn (or almost 70pc) is rated as problematic", an official statement said.
No wonder then, the energy sector is emerging as a challenge to the country's stability, an official said, referring to over 17pc losses and 10pc short recoveries in the power sector and 10-17pc system losses in the gas sector.
Minister for Economic Affairs Sardar Ayaz Sadiq presided over the meeting which was also attended by the relevant ministers and representatives of provincial governments, besides the heads of implementing agencies.
The minister deplored the prevailing situation of energy sector projects given their importance and impact on overall economy and the public at large. He said energy was arguably one of the most important inputs for economic growth to sustain industrial and commercial activities, but it was emerging as a challenge.
The minister stressed the need for addressing the issue of problematic projects on an urgent basis, especially those facing chronic delays so as to pace up disbursements and progress.
The meeting decided to set milestones and deliverables with timelines by the focal ministries and implementing agencies for better monitoring and preventing time and cost overruns.
Source: Dawn
Please click the following URL to read the full text of the original story:
https://www.dawn.com/news/1696430/43pc-foreign-funded-projects-found-to-be-problematic
--------

India
In Over a Year, Indo-Islamic Cultural Foundation Receives Just Rs 25 Lakh in Donations for Building Ayodhya Mosque
by Asad Rehman | Lucknow
June 23, 2022
The Indo-Islamic Cultural Foundation (IICF), set up by the Uttar Pradesh Sunni Waqf Board for building a mosque in Ayodhya's Dhannipur village following the Supreme Court's verdict in the Ram Janmabhoomi-Babri Masjid title suit, has received only Rs 25 lakh in donations in over a year.
The Foundation was set up in July 2020 to facilitate the construction of the mosque on the 5-acre land allotted by the government. In May last year, the IICF was granted tax exemption for donors by the Income Tax department under Section 80G of the I-T Act and donations were opened to the public. According to the Foundation, the entire project is likely to cost around Rs 110 crores, including Rs 100 crores for a hospital. Speaking to The Indian Express, IICF chief financial officer Iqramullah on Wednesday said, "This amount of Rs 25 lakh has been collected from people within India. We are still waiting for formalities under the Foreign Contribution Regulation Act (FCRA) to be completed. We were given clearance under Section 80-G of the I-T Act, but for FCRA, we need to file the income tax return (ITR) for three years."
In October 2020, the first donation of Rs 21,000 was received from a person named Rohit Srivastava (37), an employee at Lucknow University's Faculty of Law.
The IICF is supposed to build the mosque and community facilities, including a hospital, a community kitchen and an Indo-Islamic cultural research centre which will include an archive/museum at the 5-acre plot at Dhannipur.
IICF secretary Athar Hussain said the Dhannipur project should not be compared to the Ram Temple being built in Ayodhya. "The temple is an issue of faith and it has been part of the country's ideology since the 1990s. There is no comparison. Our project started after the Supreme Court judgment and before that, no one knew that a mosque will
be built on an alternative site," said Hussain.
"Is there a Muslim organisation set up around the same time in 2020 which has raised more funds?… Our project isnot just about a mosque, but also for a hospital, a community kitchen and a museum," Hussain added.
The IICF is awaiting donations from some people who have pledged to make contributions, he said, adding that the map for the mosque complex has also not been passed by the administration yet.
In May last year, the IICF submitted the drawings of the maps of the proposed mosque to the Ayodhya Development Authority for approval.
Zufar Ahmad Farooqui, president and chief trustee of the IICF, said, "The reason why the amount is not much is that we haven't made any appeals to people, so far. One has to travel to seek funds for donations. But this could not be started due to the Covid-19 pandemic. These donations were made by some people on their own. We will start the campaign next month and we hope to get more donations."
Source: Indian Express
Please click the following URL to read the full text of the original story:
https://indianexpress.com/article/cities/lucknow/in-over-a-year-iicf-receives-just-rs-25-lakh-in-donations-for-building-ayodhya-mosque-7985567/
--------
Hyderabad's first Muslim matrimony conclave is helping prospective brides, grooms
Sameer
24th June 2022
Hyderabad: Finalizing matrimonial alliances has become easier than ever before after the launch of the SiasatMatri Conclave.
It was launched on Sunday, June 19. The first one-to-one meeting was conducted at the Siasat Office, Abids.
During the conclave, many families of bride and grooms who were invited to the meeting attended and finalized the alliances.
Invite-only Muslim matrimonial conclave
Before inviting family members of the prospective brides and grooms, Siasat Matri had analyzed the expectations specified by them while registering on the website.
Based on the expectations, the one-to-one meeting was arranged under the supervision of the Siasat Matri team.
In the next conclave too, the parents of the prospective brides and grooms will be invited after careful analysis of the profiles.
As the expectations are being analyzed before inviting them to the conclave, the rate of success has increased significantly.
So, what are you waiting for, register on the website (click here) and then select one of the Membership Plans (click here to know membership plans).
Even parents who are non-tech savvy can register online as they will no longer have to bother about searching profiles online. They have to simply register profiles of their sons, or daughters with Siasat Matri and then become members of the best Muslim matrimonial service in Hyderabad.
The rest of the task will be taken care of by the Siasat Matri team (Only in case of user opt for assisted service).
Video matrimonial series
Apart from Siasat Matri's conclave, the profiles will be showcased (Only after taking consent) in the episode of the video matrimonial series.
Following is the recently released episode of the series.
Siasat Matri's video matrimonial series and conclave are ensuring that the prospective brides and grooms find their life partners easily.
All services can be availed on mobile by downloading the Android Application of 'Siasat Matri' from the Google Play store (Download Now) & iOS App for Apple (Download Now).
Source: Siasat Daily
Please click the following URL to read the full text of the original story:
https://www.siasat.com/hyderabads-first-muslim-matrimony-conclave-is-helping-prospective-brides-grooms-2355973/
--------
Staunch Hindutva Group Kranti Sena Demands To Sterilise Muslims to Curb 'Rapidly Growing Population'
23rd June 2022
Staunch Hindutva group Kranti Sena held its first activist convention on June 1 in Muzaffarnagar, in Uttar Pradesh where speeches involving hate towards Muslims ruled the event.
According to a report by The Caravan, speeches as far as "sterilisation system to curb the explosively growing Muslim population in the country," were called for.
Rajesh Kashyap, the district general secretary of Kranti Sena's Muzaffarnagar claimed that if Hindus don't produce more children, they will be in danger in the coming years. "Now we are safe because all are Hindus in administrative services. But tomorrow, when our population decreases and if the number of Muslims increases, we will not be safe," he said adding, "A population control law should be enacted."
The event was attended by nearly 500 people of which one-fourth were reported to be women participants.
Another speaker, Sajeev Shankar, who is a priest from Rajasthan and heads a sect of worshippers of the Hindu deity Ghatushyam, emphasised the importance of protecting Hindu temples. "Today, even when so many Hindutvadi organisations are active, our temples are being demolished but no one speaks up. And not speaking is becoming fatal for us," he said.
When they were not speaking about Indian Muslims, the focus shifted to Muslims who took refuge in the country. Referring to the Rohingya Muslims and their motive to stay in India, the event described them as "infiltrators and illegal people who are a threat to India's internal and external security of India."
They demanded that the government should "drive out these infiltrators" from the country.
They also asked for rehabilitation of Kashmiri Pandits who have been driven away from the Valley. They demanded that the country be declared a "Hindu Rashtra immediately."
Apart from that, the leaders who spoke at the convention demanded that every young Hindu should be provided with a trishul in order to "protect their religion from the Muslims."
Kranti Sena was established in 2020. Its president, Lalit Mohan Sharma, was initially with the Shiv Sena and was in charge of the western Uttar Pradesh committee.
But when the Shiv Sena formed alliances with the Congress and the Nationalist Congress Party (NCP) in 2019, it did not go well with Lalit Mohan Sharma and he parted ways.
He then formed the Kranti Sena with like-minded people like Basant Kashyap, who is the Muzaffarnagar vice-president of Kranti Sena. Basant had known Lalit Mohan Sharma for years and coaxed him to join the Kranti Sena.
"Shiv Sena is a Hindu fundamentalist organisation, how can it have an alliance with these parties? We didn't like it. We are staunch Hindus, so we together formed the Kranti Sena," Basant said.
Basant Kashyap comes from a politically active family. His father once contested on a BSP (Bahujan Samajwadi Party) ticket.
The Kranti Sena came into the limelight when in 2021, it had patrolled its workers during the Hindu festivals such as Teej and Karva Chauth and threatened those who would employ Muslim Mehendi artists. They demanded that no Muslim should apply Mehendi on a Hindu woman's hand.
According to them. it is the start of 'Love Jihad". According to Basant, they were able to shut the business of nearly 19 Muslim Mehendi artists.
"One day we will have to flee the only country that belongs to Hindus," Lalit Mohan said. "The Hindutva people have to be strong. Hindu organisations have to be united for the sake of Hindu interests. Wherever Hindus are attacked, religious places are attacked, wherever cows are slaughtered—not the BJP, but Hindu organisations will be present," he said.
Source: Siasat Daily
Please click the following URL to read the full text of the original story:
https://www.siasat.com/kranti-sena-demands-to-sterilise-muslims-to-curb-rapidly-growing-population-2355435/
--------
Kanpur Muslim Group, Association of Muslim Professionals, Seeks Help from Clerics to Exhort Youths to Follow Agnipath
Jun 24, 2022
KANPUR: A group of Muslim intellectuals in the city under the banner of Association of Muslim Professionals (AMP) has come up with an initiative to dispel rumours about the newly launched Agnipath scheme and has urged clerics and imams of mosques to appeal to youths coming for Friday prayers to utilize the opportunity and serve the country by joining the defence forces. At a time when widespread violent protests by youths against the Agnipath scheme have subsided notably, AMP members have sought help from noted Muslim clerics and imams of mosques in the city and urged them to appeal to youngsters to apply for jobs in defence forces under Agnipath scheme.
The initiative will start from Friday ahead of the prayers. The Association of Muslim Professionals (AMP) has been diligently working to promote education for Muslim children.
"We support the Central government's Agnipath scheme also like other ones. Our message will be passed on to eligible Muslim youths by noted clerics and Imams of the mosques in the city. A special appeal will be made for this by them in the Friday prayers tomorrow," said AMP patron Shahid Kamran.
Source: Times Of India
Please click the following URL to read the full text of the original story:
https://timesofindia.indiatimes.com/city/kanpur/kanpur-muslim-group-seeks-help-from-clerics-to-exhort-youths-to-follow-agnipath/articleshow/92422774.cms
--------
UP Bypolls: 'Crowd Control,' Say Cops After Muslim Voters Allege Police Stopped Them From Voting
Sumedha Pal
Jun 24, 2022
New Delhi: Social media users from pockets of Rampur in Uttar Pradesh have claimed that Muslim voters are allegedly not being allowed inside booths where by-polls are taking place to elect a Lok Sabha MP. Police have acknowledged these complaints but told The Wire that it was part of "crowd control" and there was no "bias." Locals and police have both said that the situation is calm now.
In a video that was purportedly uploaded from the Dariyal area of the Suar assembly constituency – close to the State Inter College polling booth – a man can be heard saying that he was prevented from reaching the booth and slapped by police.
The news outlet Millat Times has tweeted the video, also tweeting that the person who uploaded it has been taken into police custody. The Wire has not been able to independently confirm this.
Similar claims have been made from the Kotwali Tanda area of the Suar assembly constituency, from near the State Inter College booth.
Suar MLA Abdullah Azam Khan has shared multiple videos showing Muslims claiming that they were denied entry into polling booths. One man is heard saying police beat up someone.
In another video accessed by The Wire, Samajwadi Party candidate Aseem Raza is seen having a tiff with the police. He is heard stating that those coming in to cast votes should be allowed into booths and that no one should be stopped.
The Wire reached out to the office of the Superintendent of Police in Rampur. Inspector Sharad, the Public Relations Officer, confirmed that such complaints have been made. He said that all "these complaints are being resolved."
"There is no bias," he stated.
Speaking about the videos on social media he stated that the police was merely "controlling the crowds."
The inspector also confirmed that police knew of the videos that are surfacing online with claims of police bias. However, he did not comment on whether police had taken anyone posting those videos into custody.
He also denied claims of any physical force being used to stop people.
By-polls are taking place across two crucial seats of Azamgarh and Rampur. The bypoll in Azamgarh is necessitated by Akhilesh Yadav vacating his Lok Sabha seat for an assembly seat. The Rampur seat was vacated by senior Samajwadi Party leader Azam Khan, also for a state assembly seat. Both Azamgarh and Rampur Lok Sabha seats are considered bastions of the SP.
From Rampur, the BJP has fielded Ghanshyam Singh Lodhi, who recently joined the party, while the SP has fielded Asim Raja, The Mayawati-led BSP is not contesting from Rampur.
Over 35 lakh people are estimated to cast their votes in the polls today.
In the Lok Sabha polls in 2019 too, an allegation was made by the SP that Muslims were being prevented from casting their votes in the Rampur constituency.
At the time, SP MP Azam Khan had said, "Several people were deprived of their voting rights. Police had beaten people of one community by entering their houses, even females were thrashed."
Source: The Wire
Please click the following URL to read the full text of the original story:
https://thewire.in/government/up-bypolls-crowd-control-say-cops-after-muslim-voters-allege-police-stopped-them-from-voting
--------
Hijab row: Two Muslim girl students get NOC, one takes TC
23rd June 2022
MANGALURU: Two Muslim girl students, who protested against the prohibition of hijab at the university college in the city, have taken no-objection certificates (NOC) from the college to join other colleges, while one was issued a transfer certificate (TC).
Of the three girl students, two had held a press meet and questioned the decision of the university to strictly implement the uniform rule inside the campus.
Another girl, who joined the press conference, has written a letter of apology to the college authorities and is attending online classes, college principal Anasuya Rai said.
A M.Sc (chemistry) Muslim student hailing from Kerala has also taken a transfer certificate citing ill health, Rai said.
The NOC will enable the students join other undergraduate colleges.
They will be issued a TC when any other college approves their admission.
Mangalore University vice-chancellor P S Yadapadithaya had announced that the university will make special arrangements for Muslim girl students if they are not willing to adhere to uniform rules and want to join other colleges which do not have the restriction.
In March last, the Karnataka High Court had dismissed pleas seeking permission to wear hijab inside the classroom, saying the hijab is not a part of the essential religious practice in Islamic faith.
Source: New Indian Express
Please click the following URL to read the full text of the original story:
https://www.newindianexpress.com/states/karnataka/2022/jun/23/hijab-row-two-muslim-girl-students-get-noc-one-takes-tc-2468863.html
--------
2002 Gujarat riots: SC dismisses Zakia Jafri's plea challenging SIT's clean chit to 64 people, including then CM Narendra Modi
Jun 24, 2022
NEW DELHI: The Supreme Court on Friday dismissed the plea filed by Zakia Jafri, widow of former Congress MP Ehsan Jafri, challenging the clean chit given to the then chief minister Narendra Modi in the 2002 Gujarat riots by Special Investigation Team (SIT).
A bench headed by Justice A M Khanwilkar upheld the Special Metropolitan Magistrate's order rejecting Jafri's protest petition against the closure report filed by the SIT.
The top court upheld the Gujarat high court order and said Jafri's plea is devoid of merit.
Ehsan Jafri was among 69 people killed during the violence at the Gulberg Society in Ahmedabad on February 28, 2002. Zakia Jafri has challenged the SIT's clean chit to 64 people including Narendra Modi.
Jafri had approached the apex court after the SIT headed by former CBI chief R Raghavan had found that there was no prosecutable evidence against the Gujarat CM. The SIT had conducted the probe under the direction of the apex court.
On December 9, 2021, Zakia Jafri filed a plea asking for an investigation into a bigger conspiracy behind the Gujarat riots.
She had contended that SIT did not conduct a thorough probe of all the pieces of evidence which suggested a larger conspiracy but the apex court bench of Justices A M Khanwilkar, Dinesh Maheshwari and C T Ravikumar did not substance in the allegations and dismissed her plea.
For several days, senior attorney Kapil Sibal led the arguments in opposition to the Gujarat High Court's decision on behalf of Zakia Jafri. Senior Attorney Mukul Rohatgi requested the rejection of Jafri's petition while defending the SIT investigation.
SIT has opposed the plea of Jafri saying there is a sinister plot behind the complaint to probe the "larger conspiracy" behind the 2002 Gujarat riots and the original complaint by Jafri was directed by social activist Teesta Setalvad, who levelled allegations just to keep the pot boiling.
Setalvad had also challenged an October 2017 order of the Gujarat High Court refusing to reopen the closure report of the SIT.
The SIT, appointed by the apex court, had conducted the investigation into the case and gave a clean chit to Modi, and other top politicians and bureaucrats. The clean chit was given citing a lack of "prosecutable evidence" against them.
Challenging the Gujarat High Court's order dated October 5, 2017, that upheld SIT's clean chit, Zakia had approached the Supreme Court alleging a "larger conspiracy" in the riots.
The Gujarat high court had upheld the magisterial court's order, accepting the SIT's closure report.
Earlier, Zakia had approached the Gujarat high court in 2014 after the magisterial court rejected the petition challenging the SIT report.
Source: Times Of India
Please click the following URL to read the full text of the original story:
https://timesofindia.indiatimes.com/india/sc-dismisses-plea-filed-by-zakia-jafri-challenging-clean-chit-given-to-cm-narendra-modi-in-2002-gujarat-riots-by-sit/articleshow/92426065.cms
--------
Sufi fair held in J&K after two years without Pak participation
Jun 24, 2022
JAMMU: The centuries-old Baba Chamliyal's fair was held at Dagg village in Ramgarh sector of Samba district on the Indo-Pak international border in absence of participation from Pakistan, which did not send a 'chadder' for the tomb, as has been the tradition.
Hundreds of people thronged the fair to pay obeisance at the tomb of Baba Dalip Singh Manhas, popularly known as 'Baba Chamliyal', about 42 kms from Jammu. The annual fair at the Sufi shrine could not be held for two years due to covid restrictions.
However, Pakistani Rangers who earlier used to visit the shrine to offer 'chadder' and take back 'shakker' and 'sharbat' from the shrine did not participate. Pakistan Rangers had stopped visiting the shrine in 2018 after four BSF personnel were killed in alleged ceasefire violation by Pakistan in Chamliyal sector on June 13 that year ahead of the annual fair. Troops from both sides of the borders had exchanged sacred tokens on the occasion but participation of Pakistan was cancelled and later covid restrictions were imposed. The fair is also held across the border in Chamliyal area of Pakistan.
BSF DIG Surjit Singh said that Baba Chamliyal's shrine is a place of faith and belief which unites people of every community and spreads the message of peace and compassion. "Devout followers of every religion gather at the shrine of Baba Chamliyal to seek divine blessings," he added.
Source: Times Of India
Please click the following URL to read the full text of the original story:
https://timesofindia.indiatimes.com/india/sufi-fair-held-in-jk-after-two-years-without-pak-participation/articleshow/92423378.cms
--------
Muslim sarpanch builds Ramalayam in Khammam
21st June 2022
KHAMMAM: The story of a Muslim man building a Lord Rama temple by spending Rs 25 lakh at his village is winning hearts. Shaik Meera Saheb, the sarpanch of Budidampadu village in Raghunadapalam mandal of Khammam district, managed to collect Rs 25 lakh from donations and he himself contributed Rs 25 lakh towards the temple construction. The total cost of the temple was reportedly Rs 50 lakh.
Shaik Meera decided to take the initiative to construct the Ramalayam after failed attempts by several bigwigs. Three tribal brothers K Bicha, Nanda and Konya donated 1000 Sq yards of land for the construction of the temple. Speaking to Express, Shaik Meera said that he visits temples and churches to offer prayers. "We can't take anything with us when we die, but our work will be remembered forever," he said.
"Many temples in the State were built by Muslims. For instance, the Bhadrachalam Ramalayam was constructed by Nizam. A Muslim had constructed a church spending Rs 20 crore at Dornakal in Mahaboobabad district during the British regime," he said. Shaik Meera was elected as the sarpanch for the second time.
Source: New Indian Express
Please click the following URL to read the full text of the original story:
https://www.newindianexpress.com/states/telangana/2022/jun/21/muslim-sarpanch-builds-ramalayam-in-khammam-2468013.html
--------
Europe
Muslim paramedic helps team rescue Holocaust survivor from Ukraine
JUNE 23, 2022
On Tuesday two Ukrainian refugees began the final leg of their journey to their new home in Israel, assisted by a number of organizations, including United Hatazalah. Among them was Khaled Hardan, a Muslim paramedic from Wadi Ara.
In a collaborative operation run by the American Jewish Joint Distribution Committee (JDC), The Jewish Agency, and United Hatzalah, the two refugees — each suffering from severe medical conditions — were brought to Israel to receive medical care.
The JDC helped the refugees out of Ukraine and The Jewish Agency arranged for housing for them in Warsaw, Poland.
The journey from Warsaw to Israel
United Hatzalah volunteers Hardan, and Russian-speaking EMT Vicki Tiferet from Moshav Yuval, made sure the patients were in stable condition and able to fly. They then assisted them with medical coverage on the flight, which carried hundreds of other refugees by virtue of the Jewish Agency's efforts.
When the refugees arrived in Israel on Wednesday morning, they were met by United Hatzalah ambulance teams who took them directly from the airport to medical facilities in Israel to continue their treatments and receive the proper care that they required.
What are their stories?
One of the refugees, a woman named Donia, is a Holocaust survivor. Donia was born in 1935 and lost both her sister and mother to the Nazis in 1942. She survived World War II and moved to Ukraine, where she eventually married and lived in Odesa. Her daughter and granddaughter live in Israel, while her grandson — who accompanied her to the airport in Warsaw — remains in Ukraine.
The other refugee, a man named Gutnikov, arrived in Poland from Mariupol a month ago with his wife and three children. He had no severe medical history but suffered health complications during his stay in Poland.
"Members of the Jewish Agency were worried that he wouldn't be able to fly due to his recent medical complication," said Vicki.
"He required monitoring to make sure that his situation didn't deteriorate any further, and as soon as he landed we had an ambulance waiting to take him to the hospital for immediate care. This family had waited a long time to immigrate to Israel, they suffered through bombings and watched the destruction of their city. We merited to help them come home thanks to the partnership with the JDC and the Jewish Agency."
Source: J Post
Please click the following URL to read the full text of the original story:
https://www.jpost.com/j-spot/article-710169
--------
Sweden warns citizens against travel to Iran after trial of Iranian official ends
23 June, 2022
Sweden advised its citizens against travelling to Iran ahead of the verdict of the trial of a former Iranian official, the foreign ministry said on Thursday.
"Due to the security situation, the Ministry of Foreign Affairs advises against all travel to Iran," the ministry said in a statement.
"In recent times, expressions of dissatisfaction with Sweden and other European countries have increased. Iran has in various ways expressed its dissatisfaction with an ongoing trial against an Iranian citizen in Sweden," the foreign ministry said according to Swedish news agency TT.
Tensions between the two countries heightened after Sweden put on trial a former Iranian official accused of war crimes. He was tried for the mass execution and torture of political prisoners at an Iranian prison in the 1980s.
The trial's verdict is due on July 14.
In May, Iran announced that Swedish-Iranian disaster medicine researcher, Ahmadreza Djalali, will be executed after being arrested on the accusation of spying for Israel.
Source: Al Arabiya
Please click the following URL to read the full text of the original story:
https://english.alarabiya.net/News/middle-east/2022/06/23/Sweden-warns-citizens-against-travel-to-Iran-after-trial-of-Iranian-official-ends
--------
Unity, solidarity against common threats key for NATO, Türkiye tells US
Mehmet Tosun
23.06.2022
There must be unity, harmony and solidarity among NATO allies against common security and terrorist threats, Türkiye's Presidential spokesperson Ibrahim Kalin said in a phone call with US National Security Adviser Jake Sullivan on Thursday.
Along with bilateral political and economic ties, the officials held discussions on Türkiye's role in NATO and contributions to the alliance, the upcoming NATO Madrid summit, Sweden and Finland's NATO bids, grain shipments through the Black Sea and other regional issues, according to a statement from the Turkish presidential spokesperson.
They exchanged views on issues on the agenda for next week's NATO summit, including its new Strategic Concept, the Ukraine war, the fight against terrorism, the global food crisis and other security issues, the statement said.
Kalin emphasized that NATO allies must have a unified stance against common security and terrorist threats, reiterating that Sweden and Finland must fulfill Türkiye's demands and expectations in the fight against terrorism.
Since Sweden and Finland formally applied to join NATO last month, Türkiye, a longstanding member of the alliance, has repeatedly voiced objections over the countries' tolerance, and even support, for terrorist groups, particularly the PKK terrorist organization.
Kalin stressed that no progress could be made on the matter until Sweden and Finland take concrete steps.
He underlined that it was unacceptable that PKK/PYD/YPG supporters are disseminating propaganda in Stockholm and through the media while Ankara remains engaged in talks with the two Nordic countries.
He also conveyed that Türkiye is continuing negotiations with Ukraine and Russia on creating a safe corridor for grain shipments through the Black Sea.
Source: Anadolu Agency
Please click the following URL to read the full text of the original story:
https://www.aa.com.tr/en/europe/unity-solidarity-against-common-threats-key-for-nato-turkiye-tells-us/2621180
--------
Sweden's state TV interviews terror leader amid membership bid to NATO
Atila Altuntas
23.06.2022
STOCKHOLM, Sweden
Despite Türkiye's repeated calls on Sweden to cut off its links with terror groups, Stockholm continues abetting PKK/YPG terrorists, as the country's state-run broadcaster recently posted an interview with a terrorist ringleader.
Swedish public broadcaster SVT aired an interview with Ferhat Abdi Sahin, code-named "Mazlum Abdi", who is one of the ringleaders of the YPG/PKK terror group, at a time when the Scandinavian nation has been holding negotiations with Türkiye on its NATO bid.
Speaking to SVT from his so-called office where he has been hiding, Sahin said they would respond to a possible operation by Türkiye aimed at clearing some areas in northern Syria near the Turkish border of terrorists.
Sahin claimed that Türkiye was putting pressure on NATO countries for its possible operation in northern Syria.
He also urged Sweden to continue its support.
On May 25, when Sweden and Finland sent a delegation for talks with the Turkish delegation, SVT interviewed Salih Muslim, another ringleader of the YPG/PKK terror group, at the US military base where he was hiding in northern Syria.
Slamming the interview, Turkish President Recep Tayyip Erdogan said: "It is quite interesting. On the day of the meeting, they are interviewing Salih Muslim on Swedish state TV in the evening."
Sweden and Finland formally applied to join NATO last month, a decision spurred by Russia's war on Ukraine, which began on Feb. 24.
But Türkiye, a longstanding member of the alliance, has voiced objections to the membership bids, criticizing the countries for tolerating and even supporting terrorist groups, particularly the PKK terror group.
Source: Anadolu Agency
Please click the following URL to read the full text of the original story:
https://www.aa.com.tr/en/europe/swedens-state-tv-interviews-terror-leader-amid-membership-bid-to-nato/2620691
--------
British doctor with 15 Hajj trips shares top tips
ZAYNAB KHOJJI
June 24, 2022
LONDON: A British Muslim doctor on Thursday shared his tried and tested tips with pilgrims who are about to participate in the first post-pandemic Hajj open to foreigners, which includes preparing for the intense summer heat, and carrying important medicines.
Dr. Imran Zia, clinical director for emergency medicine at Barts Health NHS Trust, has accompanied British groups on Hajj as both a medical expert and a guide at least 15 times.
During a webinar hosted by the Council of British Hajjis, the veteran health worker explained how pilgrims should prepare for summer temperatures of over 40 degrees Celsius.
"Umbrellas are very useful, especially in the heat and the temperature at the moment is likely to be between 40 and 45 degrees. We are not used to such high temperatures in the UK and I would encourage you to wear light colors and use sunscreen. Avoid going out in the afternoon if you can," Zia said.
As the Hajj involves a lot of walking between the holy sites in the scorching heat, Zia advised pilgrims to break-in the footwear they plan to use.
"Please walk in the sandals that you are going to take with you. Every year we see people buying a new pair of sandals, taking them to Saudi Arabia, and then getting blisters. You need to wear in those sandals now.
"If you feel that the soles of your feet are going to give you problems, then I'd encourage you to buy good quality insoles, and glue them to the inside of your sandal. You'll find that that will give you an immense amount of relief. It's like you're walking on air.
"If you're diabetic, I would discourage you from taking flip-flops as they encourage infections, skin breakages, sweatiness, and will likely give you problems. So it's better to get sandals with straps that you can secure," the medical professional said.
Zia also addressed the notorious Hajj cough that many pilgrims get due to the dry and dusty environment and the fact that people from all over the world have gathered in one place.
"With the Hajj cough, which unfortunately many people get, the onset is pretty rapid. It comes on very suddenly and your temperature will go up and down. You will have a pronounced headache and it's really quite severe. Having a sore throat is very common. It's a dry cough and you'll feel really achy, like you've been hit by a bus," Zia said.
"Unfortunately, there is no medicinal tablet I can recommend that you take other than using simple measures such as paracetamol to keep the temperature down, lozenges to help with the sore throat, gargling with saltwater, and having a rest."
He said the best way to prevent getting the Hajj cough is to wear a face mask, keep one's mouth covered, and practice good hygiene.
"If you see someone coughing, keep your distance," the doctor said.
He also highlighted the importance of pilgrims taking a sufficient amount of medicine for those who have existing health conditions.
"Take plenty of medication. One thing I will say about medication is that you should take it in your hand luggage. Also pack some in your hold luggage. And if it's really important medication that you do not want to get lost, pack it with the person who's accompanying you as well, with a covering letter," Zia said.
"Some medications, especially for cancer or diabetes are just not available. Take a repeat prescription with you so that if you do become ill, people know what medication you're on. If you have a serious condition, I will always encourage you to take the name of your hospital consultant, the hospital consultant's contact number or the secretary of their department, and your hospital number with you."
Source: Arab News
Please click the following URL to read the full text of the original story:
https://www.arabnews.com/node/2110051/world
--------
The EU Allocates €1 Million for the Victims of Earthquake in Afghanistan
By Saqalain Eqbal
23 Jun 2022
The European Commission is allocating €1 million in humanitarian assistance in response to the devastating earthquake that struck southern Afghanistan early on June 22. This funding will be used to meet the most urgent needs of those impacted.
As its allies from the West withdrew from Afghanistan in August 2021, the Islamist group of Taliban, who now controls the country, has appealed for international assistance.
According to a statement released by the European Commission's humanitarian aid division on Thursday, the EU assistance will be implemented by humanitarian organizations operating in the country, including non-governmental organizations and the United Nations.
Janez Lenarčič, European Commissioner for Crisis Management, said: "In Afghanistan, an already devastating humanitarian crisis has been now further aggravated by a deadly earthquake."
"Our trusted humanitarian partners will deliver the aid to those most affected. The EU stands ready to provide further assistance,", he added.
The European Commission, on June 23, also stated on its Twitter handle that it "stand[s] ready to provide further assistance."
Source: Khaama Press
Please click the following URL to read the full text of the original story:
https://www.khaama.com/the-eu-allocates-1-million-for-the-victims-of-earthquake-in-afghanistan-57459/
--------
Africa
More people fleeing their homes as Sudan's Darfur violence surge
23 June, 2022
Violence in western Sudan this month alone has displaced more than 84,000 people, doubling the number of those driven from their homes so far this year, according to UN reports.
The numbers are the highest since January 2021. Last year, at least 440,500 were displaced, five times more than in 2020, according to UN data.
Aid workers fear a displacement crisis akin to the one triggered by the conflict in Darfur in the early 2000s.
Violence escalated there after 2003 as Sudan's government allied with so-called Janjaweed fighters moved to put down a rebellion by armed groups. At least 2.5 million people were displaced and 300,000 were killed.
A peace-keeping force mandated by a 2020 peace agreement has yet to be deployed widely. Finance Minister and armed group leader Jibril Ibrahim said raising money to implement the agreement has been difficult.
June violence includes fighting in the Kulbus locality in West Darfur, where 125 people were killed and 50,000 displaced when the fighters attacked villages belonging to the Gimir tribe.
"Before we finish responding to one emergency or major attack, another two have already happened," said Will Carter of Norwegian Refugee Council. "So far, nothing is averting this from becoming a new large-scale displacement emergency."
In South Kordofan state, home to a separate long-term civil conflict, fighting this month between the Hawazma and Kenana tribes in Abu Jubayhah killed 19 and displaced 15,150 after more than 4,000 homes were burned, said UNOCHA.
In a statement on Wednesday, Human Rights Watch said Sudan's transitional government and military rulers who seized power in October failed to provide adequate protection after the 2021 exit of international peace-keepers or to address underlying causes of the conflict, including land and resource disputes.
Source: Al Arabiya
Please click the following URL to read the full text of the original story:
https://english.alarabiya.net/News/middle-east/2022/06/23/More-people-fleeing-their-homes-as-Sudan-s-Darfur-violence-surge
--------
Tunisian police arrest former PM Jebali on suspicion of money laundering
24 June, 2022
Tunisian police on Thursday arrested former Prime Minister Hamadi Jebali, who is also a former senior member in the Ennahda Islamist party, on suspicion of money laundering, his lawyer told Reuters.
Police in the city of Sousse seized Jebali's phone and his wife's phone and took him to an unknown location, according to a statement by his family on Facebook.
The Interior Ministry declined to comment on Jebali's arrest. The ministry called a press conference for Friday, without giving any details.
Jebali's defense team said they met him at his detention center of the investigation into terrorism crimes.
"Jebali told us he will not answer the investigators' questions and he entered into a hunger strike as the issue has a political motivation and nothing to do with money laundering," Jebali's lawyer Mokhtar Jemai said.
Ennahda was the biggest party in Tunisia's parliament before President Kais Saied dissolved the assembly and seized executive powers last year, a move the party and other critics condemned as a coup. Saied said the move was temporary and was needed to save Tunisia from what he saw as a corrupt, self-serving elite.
"The president is personally responsible for Jebali's physical and psychological well-being," his family said in the Facebook post, and called on civil society and human rights organizations "to stand up against these repressive practices."
Jebali was prime minister in 2012 and resigned in 2013 following a political crisis.
Source: Al Arabiya
Please click the following URL to read the full text of the original story:
https://english.alarabiya.net/News/north-africa/2022/06/24/Tunisian-police-arrest-former-PM-Jebali-on-suspicion-of-money-laundering
--------
UN to broker Libya talks amid political stalemate
23 June, 2022
The United Nations said Thursday it will broker new talks between rival institutions from war-torn Libya next week to try to break a deadlock on the rules for long-awaited elections.
"(Parliament speaker) Aguila Saleh and President of the High Council of State Khaled Al-Mishri have accepted my invitation to meet at the UN Office at Geneva 28-29 June to discuss the draft constitutional framework for elections," the UN's top Libya official Stephanie Williams tweeted.
"I commend the heads of the two chambers for committing to seek consensus on the remaining issues after last week's Joint Committee meeting in Cairo."
For the latest headlines, follow our Google News channel online or via the app.
Presidential and parliamentary elections, originally set for December last year, were meant to cap a UN-led peace process following the end of the last major round of violence in 2020.
But the vote never took place due to several contentious candidacies and deep disagreements over the polls' legal basis between rival power centers in the east and west of the country.
A week of talks between the Tripoli-based council and Saleh's eastern-based House of Representatives (HoR), aimed at agreeing on a constitutional basis for a vote, ended on Monday without a deal.
The prospect of elections appears as distant as ever since the HoR, elected in 2014, appointed a rival government to replace that of interim prime minister Abdulhamid Dbeibah, arguing that his mandate has expired.
After failing to enter Tripoli in an armed standoff in May, the rival administration has taken up office further east in Sirte - hometown of late president Muammar Gaddafi whose overthrow in a NATO-backed revolt in 2011 plunged the country into years of often violent chaos.
HoR-backed premier Fathi Bashagha said Wednesday in a letter to UN chief Antonio Guterres that he would "now be leading all efforts to bring elections to Libya at the earliest possible opportunity."
Source: Al Arabiya
Please click the following URL to read the full text of the original story:
https://english.alarabiya.net/News/north-africa/2022/06/23/UN-to-broker-Libya-talks-amid-political-stalemate
--------
Moroccan man's heroic sacrifice 'breaks the stereotype' some want to promote against immigrants
Khalid Mejdoup
24.06.2022
RABAT, Morocco
Rahhal Amarri, a Moroccan immigrant who had been living in the municipality of Caserta in southern Italy for many years, became the focus of local media attention earlier this month after his heroic act of saving two children from certain death at sea.
The rescue operation, which brought joy to everyone, became a source of sadness when Amarri, 42, died as a result of swallowing a large amount of seawater.
What Amarri did two weeks ago was a message to the countries that host immigrants that they pay dearly for the values of solidarity, despite the high indicators of racism and Islamophobia.
The incident
According to media reports in Morocco and Italy, Amarri had been working for about 20 years as a lifeguard at the Lido dei Gabbiani, a public beach in the commune of Castel Volturno, before he became its manager.
Amarri reportedly heard the parents of two children screaming because their six and seven-year-old sons had been swept away with the current and were crying out for help, so he intervened and quickly rescued the first child and then returned to the second child and succeeded in rescuing him.
But as soon as he reached the shore, he fainted and died, leaving behind his wife and two young children, who are living in Morocco.
A sense of solidarity
Commenting on this, Mohammed Zouak, director of the Moroccan website Ya Biladi, which specializes in immigration and expatriate issues, described the incident as "heroic."
"The incident highlights the extent to which immigrants are linked to the issues of the host countries and their repeated attempts to prove their humanity and solidarity, despite what is being promoted against them," he said in an interview with Anadolu Agency.
"Amarri's story is similar to other stories in which immigrants played a heroic role, whether in saving lives or extending a helping hand."
He pointed out that "during the (coronavirus) pandemic, the solidarity of Moroccan immigrants and other nationalities rose."
"The expatriate's sense of solidarity comes at a time when a wave of racism is rising and negative messages are being promoted around them from a number of media outlets and some belonging to the extreme right.
"What Amarri did…breaks the stereotype that some parties want to promote against immigrants," he added.
Tribute to the late immigrant
For its part, the Italian Embassy in Rabat offered its condolences over the death of Amarri, while activists on social media platforms launched the hashtag #Goodbye_Rahhal in gratitude for the sacrifice he made.
Under this hashtag, Moroccan citizen Taj al-Din al-Sharif described the incident as a tragedy, praising on Facebook what the late immigrant had done "as he gave his life as a price to save two children."
"Amarri died after heroic behavior in saving two children from drowning after they were swept away by the sea waves.
"There are still many condolence statements about the loss of the hero Rahhal, praising his heroic behavior and regretting what happened to him," he added.
Moroccan Umm Dahdouj al-Madani praised Amarri's heroic work, saying on Facebook that "Amarri is a Moroccan immigrant who hails from the town of Kalaat Sraghna."
Immigrant values
Abdel-Fattah Zein, a Moroccan expert on immigration issues, told Anadolu Agency that what Amarri had done "reflects his saturation with a number of values and morals."
"Moroccan immigrants or immigrants from other countries have values such as doing good, altruism and helping others, unlike a number of other societies that are dominated by capitalism and governed by political cards."
He pointed out that when immigrants move to other countries, they do not come from a vacuum but from an environment governed by morality and solidarity.
Zein criticized a number of Western countries that put up barriers to migrants and do not address the whole issue of migration "as these countries work, for example, to prevent migrants from reaching them so that they do not benefit from the rights under international conventions."
He drew attention to "the danger of using the migrant card in drawing the political map of a number of European countries and not paying them attention despite the sacrifices they make."
Heroes
Amarri's sacrifice was not the first of its kind, as there have been many situations in which immigrants demonstrated altruism and a spirit unparalleled in the receiving countries.
In May this year, Moroccan Salaheddine El Kharraz, 25, rescued an Italian 13-year-old child from certain death after he was trapped in an apartment that caught fire.
According to Italian newspapers, the accident occurred in one of the apartments in Andorno Micca, located in Biella province, where the young Moroccan intervened after hearing calls of distress from the child's mother, who jumped from the unit to escape the flames.
El Kharraz managed to save the child before firefighters arrived to put out the fire, which consumed the entire apartment.
In May 2018, Malian immigrant Mamadou Gassama saved a boy who was dangling from a balcony on the fourth floor of a residential building in Paris.
Source: Anadolu Agency
Please click the following URL to read the full text of the original story:
https://www.aa.com.tr/en/middle-east/moroccan-man-s-heroic-sacrifice-breaks-the-stereotype-some-want-to-promote-against-immigrants/2621430
--------
Libya's Presidential Council launches strategy for national reconciliation
Walid Abdullah
23.06.2022
TRIPOLI, Libya
Libya's Presidential Council on Thursday launched a strategy for national reconciliation amid a deep political crisis in the country.
"Libya needs national efforts to draw it away from foreign interference" Mohamed al-Menfi, head of the council, said in a speech during a ceremony held in the capital Tripoli.
"It is time for Libyans to reconcile," he added.
A number of foreign ambassadors were present at the ceremony, which was also attended by al-Menfi's two deputies.
"Many countries have suffered from division and rift, but they triumphed by will and determination," al-Menfi added.
Libya has been plagued by turmoil and divisions since the 2011 ouster of strongman Muammar Gaddafi.
A last round of UN-sponsored talks was held in Egypt last week, in an effort to reach a consensus on the constitutional framework to hold Libya's long-awaited elections.
Source: Anadolu Agency
Please click the following URL to read the full text of the original story:
https://www.aa.com.tr/en/africa/libya-s-presidential-council-launches-strategy-for-national-reconciliation/2620916
--------
Arab World
Islamic State kills 9 pro-regime fighters in eastern Syria: monitor
June 23, 2022
BEIRUT,— The Islamic State group has killed nine pro-regime fighters in one day in eastern Syria, a war monitor said Thursday, the latest in a spate of attacks in the area.
According to the Syrian Observatory for Human Rights, a UK-based monitoring organisation with a wide network of sources on the ground, the nine were among 30 Syrian soldiers and allied fighters killed in IS attacks this week alone.
The "fierce clashes" since Wednesday between regime forces and IS in a remote area of Raqa province, in the country's east, also killed seven jihadist fighters, the Observatory said.
The fighting followed an ambush, claimed by IS, against a bus carrying fighters from the regular army and allied militia on the desert road linking the cities of Raqa and Homs.
Monday's attack, one of the deadliest of its kind this year, left at least 15 dead according to the Observatory.
The monitor also said that on Wednesday, another four soldiers were killed in an IS ambush near Dumayr military airport, east of the capital Damascus, and that two more were killed earlier this week in the Raqa region.
IS's once sprawling self-proclaimed "caliphate" straddling Iraq and Syria was defeated in March 2019 by US-backed Kurdish forces of Syrian Kurdistan (Rojava). It has not held fixed positions since then.
But it has continued to carry out guerrilla-style attacks against regime and Kurdish-led forces in eastern Syria, as well as against government and allied troops in Iraq.
The Kurdish Democratic Union Party PYD and its powerful military wing YPG/YPJ, considered the most effective fighting force against IS in Syria and U.S. has provided them with arms. The YPG, which is the backbone of the Syrian Democratic Forces SDF forces, has seized swathes of Syria from Islamic State.
The Kurdish forces expelled the Islamic State from its last patch of territory in the eastern Syrian village of Baghouz in March 2019. An estimated 12,000 suspected IS members are still held in Kurdish prisons since 2019.
Source: E Kurd
Please click the following URL to read the full text of the original story:
https://ekurd.net/islamic-state-kills-pro-regime-2022-06-23
--------
'Venice and the Arts of Islam' exhibition in Sharjah offers enthralling closing
23 June, 2022
A unique exhibition by Sharjah Museums Authority and Fondazione Musei Civici di Venezia that brings focus to the strong bonds between the Islamic Civilization and Venice, continues to attract crowds of visitors from inside and outside the country.
The exhibition, which comprises three main chapters "Encounters, Dialogues, and Inspiration," showcases a wide range of artworks that shed light on the Islamic Civilization's impact on the cultural scenes across different countries in the world.
It highlights how the Islamic Civilization stimulated a global scientific, artistic and intellectual development and encouraged a positive exchange between cultures that is evident by the rich Venetian art production.
The exhibition was rolled out to also highlight the importance of international cooperation in the process of preserving global cultural heritage.
Held at the Sharjah Museum of Islamic Civilization, the event continues to attract visitors and provide them with a number of accompanying programs.
The closing ceremony of the exhibition offers the visitors a lineup of programs that include The "Italian Landscape" and the "Movie Night" which will take place on Saturday, June 25, to provide differently enabled youngsters aged between 6-17 years and their families with an opportunity to enjoy the Italian landscapes and watch 'Luca,' an animated movie inspired by ancient Italian myths in the Riviera region.
Source: Al Arabiya
Please click the following URL to read the full text of the original story:
https://english.alarabiya.net/life-style/art-and-culture/2022/06/23/-Venice-and-the-Arts-of-Islam-exhibition-in-Sharjah-offers-enthralling-closing
--------
With Turkey's northern Syria operation, will the Islamic State rise again?
By Walid Al Nofal
PARIS — Responding to official Turkish statements regarding an upcoming military operation against the Syrian Democratic Forces (SDF) in northern Syria earlier this month, SDF General Commander Mazloum Abdi cautioned on social media that any escalation poses a "high risk [to] northern Syria" and would "negatively affect our campaign" against the Islamic State (IS).
On May 23, an SDF statement called Ankara's moves "an attempt to undermine stability" and "revitalize IS remnants."
In May, Turkish President Recep Tayyip Erdoğan announced a military operation in northern Syria to expand a 30km "safe zone" along the Syrian border, in what would be the fourth cross-border operation since 2016.
The Syrian Democratic Council (MSD), the political arm of the SDF, accused Turkey's ruling Justice and Development Party (AKP) on May 26 of aiming to "establish a jihadist emirate that includes the extremists and their leaders." The 30km zone Turkey seeks to create includes areas where prisons and camps holding IS members and their families are located, the MSD said.
The spokesperson for the SDF-affiliated Northern Democratic Brigade, Mahmoud Habib, accused Ankara of trying to "scatter our forces on two dangerous fronts: first, against its anticipated operation, and the other against IS," telling Syria Direct that the operation would require "bringing more forces to support the fronts, at the expense of securing IS prisons" where more than 12,000 fighters are held.
Although weeks have passed since Ankara first stated its intention to launch a military operation along its southern border, prompting denunciations and warnings by the SDF, an operation has yet to begin. There is also no clear change in IS activity in northeastern Syria.
But in the event of a Turkish operation, IS could take advantage of Ankara and the SDF's preoccupation with it to increase activity or attack prisons where its members are held. On the other hand, the SDF could also use the threat of IS to pressure the United States-led anti-IS coalition to stop Turkey's operation, or limit its impact.
The IS card
SDF warnings about a return of IS in northeastern Syria in the event of a Turkish operation on the fact that its cells are still active in areas of SDF control. More than three years after the SDF, with the support of the US-led international coalition, announced the defeat of IS, SDF control over some remote areas in the northeast wanes in favor of IS when the sun sets.
The Ghweiran prison attack in January, in which IS tried to take control of the SDF-controlled facility in Hasakah city and break detainees out, illustrates the threat posed by the group and the possibility of an increase in its activities.
"The more Syria is chopped up into small parts and the weaker the main actors get, the more difficult it will be to prevent groups like the Islamic State from extending their influence," Aron Lund, a researcher at the Swedish Defense Research Agency (FOI) and a fellow at the US-based Century Foundation, told Syria Direct.
For his part, al-Farouq Abu Bakr, a member of the leadership council of Hayat Thaeroon for Liberation, a Turkish-backed Syrian National Army (SNA) military formation which would participate in an upcoming Turkish operation, accused the SDF of using IS as a "pretext to survive and ensure that international support continues to reach it to implement its separatist project."
In Abu Bakr's view, the SDF aims to "frighten the international community, [saying] that our military operation will undermine its counterterrorism efforts," he told Syria Direct. "IS has faded away irreversibly, regardless of some media movements it carries out in the Syrian desert."
The "Free Syrian Army and the SNA were the first to fight IS in the Euphrates Shield battle in northern Aleppo," Abu Bakr said, accusing the SDF of standing "with IS in that battle."
Euphrates Shield, in 2016, was Turkey's first major cross-border operation in northern Syria. In the operation, Turkish and Syrian opposition forces captured Jarablus and al-Bab from IS, thereby also preventing efforts by the SDF to connect their territory farther east with then-SDF-held Afrin. During the operation, the SDF clashed with Turkish-backed forces multiple times.
For his part, SDF Northern Democratic Brigade spokesperson Habib said "there is a cooperative aspect between IS and Turkey," citing the Ghweiran prison attack and claiming "we have confirmed this."
Impact of Turkey's operation on 'an IS comeback'
Habib warned that any "Turkish attack would weaken security control, and could cause resistance inside the prisons, or prison breaks." With the SDF preoccupied with a new confrontation with Turkey, "operations to pursue and catch any IS cell east of the Euphrates will weaken," he said.
Military conditions could "reduce pressure on the Islamic State's remaining networks, facilitating their reorganization," researcher Lund said, though fighting between the SDF and Turkey "won't necessarily result in any immediate consequences." However, SDF threats of being forced to withdraw forces from the perimeter of detention facilities to repel Turkey's operation is likely "partly propaganda," he said.
Hassan Abu Haniya, a Jordanian expert on Islamist groups, said the impact of Turkey's operation on IS activity depends on "the scale and extent of Ankara's expansion in its operation, and how the SDF deals with it." In any event, "the SDF will be depleted," he said.
Abu Haniya cited the Ghweiran prison attack, saying that IS launched an attack with a group of between 13 and 30 fighters—according to its statement—and the SDF was not able to "repel the operation, except for after US ground and air intervention." The attack "revealed the truth of the SDF, despite its large number of forces—120,000," he said. The results of Turkey's operation are "decided, and it has its costs."
SNA commander Abu Bakr thought it unlikely that Turkey's operation would impact SDF-controlled areas, saying "IS only has influence in some areas of the desert." He suggested any activity against the SDF outside these areas could be "fabricated, to serve SDF interests."
Locations most vulnerable to IS
According to Erdoğan's statements, Ankara's military operation targets the SDF-held cities of Tal Rifaat and Manbij in the Aleppo countryside. But SNA movements and the reported repositioning of US and Russian forces in the region appear to indicate that other areas may be in Turkey's crosshairs.
Turkey can rely on SNA factions to maintain control over Tal Rifaat and Manbij, which "are not necessarily where IS would benefit," according to Lund. But the group could "benefit in other areas," as a weakened SDF or heightened level of conflict "may produce tensions as far away as in Deir e-Zor and help take pressure of IS networks there."
But "the real strength of the Islamic State in Syria is uncertain," Lund said. "The group's activities in Iraq—its original home turf, where most of its leaders are from—have clearly declined and become confined to increasingly rural and peripheral regions. We see something similar in Syria, but there, the uncertainties are much greater."
Northern Democratic Brigade spokesperson Habib said IS threatens all parts of northern and eastern Syria, "from city centers, towns and international roads, to prisons and camps." This means "the area is in real danger," he said, and "IS prisons are the most likely targets for attacks."
IS could also be "reconstituting active cells in places far from intelligence and military oversight, with the task of taking control of some remote areas," Habib said.
"IS does not take action arbitrarily," Abu Haniya said. "All its movements—Soldiers' Harvest [a year-long campaign by IS against Iraqi security forces from June 2013-June 2014] or others—are planned." While "it may exploit some events, it adheres to previously drawn plans."
As Abu Haniya sees it, "IS will not launch a major attack, but rather some experimental attacks, as happened in Ghweiran." It may "take advantage of the chaos to get its fighters out of prison, and make use of tens of thousands of women and children who have grown up in the prisons and camps."
'IS resurrection'
Regardless of its investment in any immediate event, IS is proceeding "according to a larger plan, and it has a patient and gradual strategy that deals with changes," Abu Haniya said. The group's strategic plan "consists of preserving the structure at present, and then expanding depending on changing geopolitical conflicts between regional countries."
IS "is betting on the Americans withdrawing from Syria in the end," as happened in Iraq, as no more than a year went by before "IS took control of areas of Iraq and Syria," Abu Haniya explained. "The general IS policy is to position itself between disputes and competition between countries."
Given regional and international developments such as "intensifying competition between the US and China and US interest directed towards the South China Sea and Asia, while Russia is preoccupied with Ukraine," Abu Haniya said, a US "withdrawal from northeastern Syria, which could happen if Turkey enters the region, would leave everything up in the air." In that case, "IS would reorganize itself, and the region would reignite with all forces, including IS, which is one of the actors and has experience and precise knowledge of the region."
"Some argue that the group may be hiding some of its activity by not assuming responsibility for all attacks," Lund said, in order to "conceal a quiet rebuilding of networks and in the hope that U.S. support for the Syrian Democratic Forces would decrease." Weakening the SDF and Internal Security Forces (Asayish), alongside increased chaos overall, will in the long run "create more space for the Islamic State to operate in," he said.
Should Turkey and its Syrian allies launch such an operation, they, the Americans and the SDF, the Syrian government and Russia, and other parties interested in preventing an IS resurgence should be aware of the long-term risks and prepare for them," he added.
Source: Syria Direct
Please click the following URL to read the full text of the original story:
https://syriadirect.org/with-turkeys-northern-syria-operation-will-the-islamic-state-rise-again/
--------
Three arrested in Egypt over Mosque desecration
June 23, 2022
Three people have been arrested in Egypt over singing and dancing in a mosque in Al-Marg district.
Earlier this Month, the Monitoring and Analysis Unit affiliated with the Attorney General's Office monitored the circulation of a short video on social media showing a man inside a mosque singing using its microphone and performing dance moves.
In conjunction with the circulation video, the Public Prosecution received a report regarding the findings of the police investigations, which included the identification of three defendants in the incident, where one of them filmed the second singing and dancing inside the mosque, and the third broadcast the video on social media, intending to provoke the ire of citizens.
Accordingly, the Public Prosecution ordered the arrest of the three accused men.
And by questioning the three defendants, one of them confirmed that he was the one who appeared in the video. He confirmed that he had asked another one to film him while he was singing on the microphone in the mosque and performing dance moves, and that his intention was only to have fun, claiming that one of the other two defendants had obtained this video surreptitiously from his phone without his knowledge, and then broadcast it on a social media.
Source: ABNA24
Please click the following URL to read the full text of the original story:
https://en.abna24.com/news//three-arrested-in-egypt-over-mosque-desecration_1269180.html
--------
Lebanon's Najib Mikati named PM, faces tough path to cabinet
23 June, 2022
Lebanese caretaker Prime Minister Najib Mikati was designated on Thursday to form a new government, but faces a politically difficult path to agree a new cabinet as the country's devastating financial crisis festers.
The Sunni Muslim billionaire was nominated premier for a fourth time after securing the support of 54 of parliament's 128 lawmakers, including the Iran-backed Shia Muslim party Hezbollah, in consultations convened by President Michel Aoun.
For the latest headlines, follow our Google News channel online or via the app.
But with splits running deep among Lebanon's ruling elite, it is widely believed Mikati will struggle to form a government, spelling political paralysis that could hamper reforms agreed with the IMF to unlock aid.
Now in its third year, the financial meltdown has sunk the currency by more than 90 percent, spread poverty, paralyzed the financial system and frozen depositors out of their savings, in Lebanon's most destabilizing crisis since the 1975-90 civil war.
Mikati, who has already served as prime minister three times, continues in a caretaker role until a government is formed, a process that typically goes on for months as political factions divvy up roles in cabinet and beyond.
Analysts and politicians expect this cabinet formation process to be further complicated by a looming struggle over who will replace Aoun, the Hezbollah-aligned Maronite Christian head of state, when his term ends on Oct. 31.
Parliament - which elects the new president - emerged highly fractured from a general election last month. The heavily armed Hezbollah and its allies lost their majority, reform-minded newcomers made a strong showing and the Christian Lebanese Forces party gained seats.
Reflecting the new landscape, Mikati, who hails from the northern city of Tripoli, secured around 20 fewer votes than when he was last designated prime minister in September.
Forty-six lawmakers named no one for the post, while 25 voted for Nawaf Salam, a former Lebanese ambassador to the United Nations and now a judge at the International Court of Justice.
Mikati's cabinet secured a draft IMF funding deal worth $3 billion in April, contingent on the implementation of reforms which Lebanon's ruling factions have long obstructed.
Source: Al Arabiya
Please click the following URL to read the full text of the original story:
https://english.alarabiya.net/News/middle-east/2022/06/23/Lebanon-s-Najib-Mikati-named-PM-faces-tough-path-to-cabinet
--------
UAE's Dubai urges use of smart apps to order Eid sacrifices
23 June, 2022
Veterinarians are called in to inspect the sheep at an abattoir ahead of one of Islam's major holidays in Dubai, where the municipality is encouraging residents to use smart apps to order the sacrificial animals.
Muslims during Eid Al-Adha, which falls in July this year to mark the end of the hajj pilgrimage season, traditionally buy a whole sheep to be slaughtered and distributed among friends, family and the poor.
For the latest headlines, follow our Google News channel online or via the app.
Demand, however, is all-year round in the Muslim emirate, with mask-clad workers at the abattoir in al-Qouz industrial area – one of many in Dubai – seen slicing and cleaning the meat for delivery or pick-up.
To avoid overcrowding at the facility during the Eid, Dubai officials have urged people to use smart apps to make their orders, as the emirate witnesses a new wave of coronavirus infections.
Through the apps, residents can put in their orders for slaughter, have it delivered or even distributed to local charities.
While such apps are not widely available in Muslim countries, they have been used in some countries such as Pakistan.
Dubai, one of the seven members of the United Arab Emirates, has seven apps, said officials.
Ali al-Hamadi, director of public health services at Dubai municipality, said deliveries through the apps are made "within one or two hours, saving people time and energy."
"In the past two years, due to COVID-19, many have resorted to using smart apps, as precautionary measures are still needed, and we have to take that into consideration," he told AFP.
Fayez al-Badr, in charge of one of Dubai's smart apps, said customers can "order the type of slaughter, its age, and can, through the app, pay and have it delivered in a refrigerated van."
The UAE warned earlier this month that people must follow its anti-COVID measures including wearing masks indoors or face heavy fines, after cases more than doubled in a week.
Muslims mark Eid by buying sheep and goats to kill in the annual ritual that stems from the story of the prophet Abraham, commanded by God to slaughter his beloved son Ishmael as a test of his faith.
Source: Al Arabiya
Please click the following URL to read the full text of the original story:
https://english.alarabiya.net/News/gulf/2022/06/23/UAE-s-Dubai-urges-use-of-smart-apps-to-order-Eid-sacrifices
--------
URL: https://newageislam.com/islamic-world-news/white-house-biden-modi-muslims-human/d/127317
New Age Islam Islam Online, Islamic Website, African Muslim News, Arab World News, South Asia News, Indian Muslim News, World Muslim News, Women in Islam, Islamic Feminism, Arab Women, Women In Arab, Islamophobia in America, Muslim Women in West, Islam Women and Feminism