New Age Islam News Bureau
15 May 2014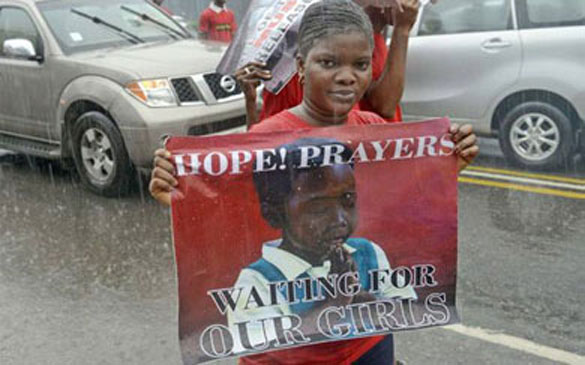 Nigeria: Locals have taken matters into their own hands because they felt the military was not doing enough to stem attacks by the Islamic militants
-----------
North America
• White House: Boko Haram Is an Education Problem, Not a Jihad
• CAIR: Remove 'Islamist Extremism,' 'Jihadism' From 9/11 Museum Video
• Appeals Court Says 'Islamisation' Trademark is Too Offensive
• Jihad is as Canadian as Maple Syrup'
• Social media a key element for terror groups: study
• Hillary Clinton touts Iran achievements as her own in speech to American Jews
• Kerry tells Israel, Palestinians that 'door remains open to peace'
Africa
• 'Scores' Of Boko Haram Killed After Villagers Launch Vigilante Ambush
• Nigerian Militant Chief, Abubakar Shekau, Is 'High On Drugs'
• Linking Boko Haram to Nigeria's 2015 election is 'counterproductive'
• Africa: The new battleground against Islamic extremism
• Nigeria 'open to broad talks' with rebels
• Libyans weigh in on Ansar al-Sharia
• Extremists threaten Libya history
• PM: Tunisia cannabis law too harsh
• S Sudan faces 'catastrophic levels of hunger'
Arab World
• Egypt's Sisi Asks For U.S. Help In Fighting Terrorism
• Air strikes kill more than 40 in northern Syria
• Car bomb blast kills 17 near Syria-Turkey border: monitor
• Car bomb, suicide attack in Baghdad kills 9 people
• Radical Islamic Jihad group (El-Zomor) condemns abduction of Nigerian schoolgirls
• Syrian recruits are 'ticking time bomb,' study says
• Activists accusing Brotherhood members of torture say trial is politicised
• Egyptian expats kick off presidential vote
• Thirty-Four People in Damascus Countryside Turn Themselves in to Authorities
• Syria war forces a family to flee every minute: Study
Europe
• Spain Replays Muslim-Christian Wars - For Fun
• Holocaust Survivor, Tells Story of Being Saved By a Muslim Family in Albania
• European jihadists use Turkey as transit country
• World's most pathetic Bosnia Islamist forgery ever
• Foreign Office must challenge wannabe jihadis on Twitter, says Qulliam foundation
• Leader of the Erk and NDU Party against Uzbek Participation in the Syrian War
• Torture remains "endemic" in Egypt: Amnesty
Pakistan
• NCSW terms religious extremism, discrimination biggest challenge
• Panjgur protests attacks on 'English schools', slogans against Tanzeem-ul-Islam-ul-Furqan
• National Assembly requests govt to protect minorities, all religious places
'• Musharraf consulted all governors before declaring emergency'
• Humanitarian needs growing in Pakistan: UN aid chief
• PPP calls attention to torture, circular debt
• Hamid Mir is my favorite anchor: Imran Khan
• PM puts up unity show for Karachi peace
South Asia
• Interfaith Couple Tests Limits of Buddhist Tolerance in Myanmar
• War Crimes Verdicts: Bangladesh Home Ministry Issued Letters to Thwart Violence
• Maldives: State wage bill sent back to Majlis for the third time
• Afghan election results confirm Abdullah-Ghani run-off
Mideast
• Khamenei: Israel the 'Most Wicked Terrorists' in the World
• Iran: 'Zionist' Whatsapp OK, But Group Says Viber Now Banned
• Palestinians clash with Israeli forces on Nakba Day
• Majority of Turks have 'anti-Semitic attitudes'
• Islamic Jihad cautious on Palestinian reconciliation deal
• Iranian Film on Prophet Muhammad to Premiere in 5 Months
Southeast Asia
• PM Najib says 'human rightism, humanism, secularism' new religion threatening Islam
• Deputy Minister: Like Hudud, Malaysians need to learn about GST to accept it
• Sarawak suspends 'Anak Angkat' programme after complaints of covert conversions
India
• Expulsion of journalists by Pak a retrograde step: India
• Uneasy calm in riot-hit parts of Hyderabad
Compiled by New Age Islam News Bureau
URL: https://www.newageislam.com/islamic-world-news/new-age-islam-news-bureau/white-house--boko-haram-is-an-education-problem,-not-a-jihad/d/77035
-----------
North America
White House: Boko Haram Is an Education Problem, Not a Jihad
15 May, 2014
White House officials are openly trying to portray the Boko Haram jihad movement as a symbolic obstacle to girls' educational progress, instead of another murderous Islamist group that could be fought by U.S. forces.
The straight-faced effort to change the subject from jihad to education policy is a reach even for the White House's media team, partly because the Jihadi group has a decade-long history of bombing Christian churches and schools, and killing thousands of Africans.
On May 12, for example, the group paraded more than 100 kidnapped girls who have converted to Islam to escape rape.
The first lady and President Barack Obama are "deeply concerned… about the fate of these girls and broadly concerned about what these girls represent in terms of the power and importance of making sure that girls around the world are educated," White House spokesman Jay Carney said May. 12.
The roughly 276 girls "are suffering specifically and individually, but they are also suffering on behalf of a broader proposition, which is that whether you're a girl or a boy, you should have all the rights to education that can be attained in the country in which you live," he said.
"And I think that's a principle that obviously the president and first lady support, and it's a principle that most Americans, I think — I would daresay all Americans support," he said.
In Nigeria, however, the parents aren't complaining about their dip in their girls' grade point averages, a disruption to their class schedules, or a loss in study time since the mid-April kidnapping.
"There are widespread fears that the girls are being forcibly married off, exacerbated by a video released last week in which the group's apparent leader called them slaves and threatened to 'sell them in the market' and 'marry them out,'" according to a May 11 article by a New York Times reporter who visited the town where the 276 symbols of educational progress were taken into slavery by the Islamic terrorists.
Once sold or "married out," the children's future will likely be rural slavery among a foreign tribe, with little or no hope of seeing family or home ever again.
When the Muslim governor visited the girls' home town, "the women surged forward, anguish creasing their faces. Many were crying. A collective wail went up, but the officials traveling with the visiting local dignitary pushed them back, shushing them so he could speak," the Times reports.
"We are deeply in sorrow," said Mary Dawa, the mother of a 16-year-old symbol of educational progress named Hawa Isha. "Every day, I am in deep sorrow. I don't even feel like eating," the Times said.
But Carney didn't mention the murders and rapes, the jihad, the bombings and the radical Islamic devastation of northern Nigeria.
Instead, he repeatedly downplayed U.S. involvement or even aid to the ramshackle Nigerian government, which is split by tribe and religion, and has resisted past U.S. offers. "I don't have a specific reaction beyond noting how heinous this abduction is and noting that we are working with the Nigerian government by providing advice and assistance in the effort to find and recover those girls," he said, adding that Obama has dispatched a small team of advisers to the capital of Nigeria. Manned U.S. spy planes have also been dispatched.
Carney's spin comes 21 months after he and his P.R. team successfully camouflaged the September 2012 Jihadi attack on the U.S diplomatic site in Benghazi, saying the attack was caused by a video that criticized Islam.
"We wish to reiterate that our [jihad] is not for personal gain; it is meant to ensure the establishment of an Islamic state by liberating all Muslims from the excesses of the infidels," the Boko Haram spokesman Abu Qaqa said in 2012, according to a recent study.
http://dailycaller.com/2014/05/13/white-house-boko-haram-is-an-education-problem-not-a-jihad/
---------
CAIR: Remove 'Islamist Extremism,' 'Jihadism' From 9/11 Museum Video
15 May, 2014
(CNSNews.com) – Days before the National September 11 Memorial Museum opens in New York, the Council on American-Islamic Relations (CAIR) is stepping up its campaign to urge organizers to edit a video presentation on al-Qaeda, to remove terms such as "Islamist extremism" and "jihadism."
An earlier CAIR initiative – a letter last month co-signed by several other Muslim and Arab-American organizations, complaining to museum directors about what they called "academically controversial terminology" – met with no success.
On Monday CAIR's New York chapter began asking "all Americans" to lobby national and New York leaders on the issue.
A "click and send" letter made available by the chapter calls for the short video entitled "The Rise of Al-Qaeda" to be edited to remove "anti-Islamic terminology," before the museum opens to the public next Wednesday.
The appeal is addressed to President Obama, Vice President Joe Biden, New York Senators Kirsten Gillibrand and Charles Schumer, Mayor Bill de Blasio, and City Councilwoman Margaret Chin, who represents lower Manhattan.
CAIR said in a statement that the use in the video of terms like "Islamist extremism" and "jihadism" – and the "generalizing" way in which they are used – "conflate Islam and terrorism and carry the risk of misinforming museum visitors, particularly those unfamiliar with Islam."
"After repeated requests to correct misrepresentations, the film ignorantly implies a religion, rather than a group of criminals, was to blame for the September 11 attacks," said CAIR-NY board member Zead Ramadan. "Instead of unifying all Americans against evil-doers, this film continues to offensively cast suspicion on faith rather address the terrorist act."
The New York Times reported last month that the museum's interfaith advisory group, after viewing the seven minute-long video, pressed for it to be edited, to no avail.
It quoted the president of the foundation overseeing the memorial and museum, Joseph C. Daniels, as saying, "From the very beginning, we had a very heavy responsibility to be true to the facts, to be objective, and in no way smear an entire religion when we are talking about a terrorist group."
In a letter to museum directors dated April 21, members of the advisory group reiterated their earlier expressed concerns that "given the content of the video, museum visitors who do not have a very sophisticated understanding of the issues could easily come away equating al-Qaeda with Islam generally."
The group's members asked again for the video to be edited. If that was not possible, they asked for a disclaimer or statement to be included at the beginning of the film, or displayed prominently at the site of the presentation in the museum.
They suggested that it say something like: "This video in no way intends to imply that the vast majority of Muslims agree with or support the attacks perpetrated by the members of al-Qaeda. Most Muslim leaders and Muslim organizations worldwide have disavowed the ideology and actions of Al Qaeda. The Museum's documentation of Al-Qaeda-inspired terrorism should not be mistaken for any implicit or explicit justification for racial, religious or ethnic profiling."
On Thursday the museum and memorial will begin a six-day "dedication period," open to 9/11 families and survivors, 9/11 rescue and recovery workers, active duty first responders from agencies that lost members in the 9/11 attacks, and lower Manhattan residents and business owners. It then opens to the general public on May 21.
The museum's website includes a question-and-answer section.
An entry entitled, "What is an Islamist extremist?" states: "'Islamists' see Islam as a guiding ideology for politics and the organization of society. That is, they believe that strict adherence to religious law should be the sole basis for a country's law, as well as its cultural and social life. While some Muslims believe this, many do not. Islamist extremists believe violence is acceptable to achieve these ends. al-Qaeda is one of many Islamist extremist groups."
http://www.cnsnews.com/news/article/patrick-goodenough/cair-remove-islamist-extremism-jihadism-911-museum-video
---------
Appeals Court Says 'Islamisation' Trademark is Too Offensive
15 May, 2014
A federal appeals court has rejected a controversial blogger's attempt to trademark the name of a group she founded called "Stop Islamisation of America," ruling that the name is too offensive to Muslims to qualify for protection.
Pamela Geller has stirred controversy across the globe with her portrayal of Islam as a religion hijacked by violent radicals bent on imposing Islamic rule over America. She's probably most identified as a leader of protests in 2010 against the construction of a mosque near the ground zero site in New York.
The case decided Tuesday was yet another dispute pitting Ms. Geller against a government agency making claims that her zealous critique of political Islam crosses the line into hate speech.
The case before the U.S. Court of Appeals for the Federal Circuit concerned a federal law allowing the government to refuse to register a trademark that disparages a "substantial composite" of a group.
A three-judge panel ruled that her group "Stop Islamisation of America" isn't eligible for a federal trademark because it said the name suggests an association between "peaceful political Islamisation" and terrorism that many Muslims would find offensive.
It affirmed an earlier ruling by the Trademark Trial and Appeal Board, which hears and decides trademark disputes.
Ms. Geller isn't the first trademark applicant to push the envelope and hit a brick wall. In previous cases, the trademark board objected to an applicant who wanted to register "Khoran" as a trademark for wine. It also turned down an attempt by Heeb Magazine, a publication marketed to young urban Jews, to register "Heeb" for clothing and entertainment services.
The Federal Circuit, in the Tuesday decision, gave special attention to how the term Islamisation was specifically used by Ms. Geller and her supporters.
The court cited articles posted on her website that it said opposed the construction of mosques in the U.S. The court also highlighted another ad campaign she sponsored in Detroit that offered resources to Muslims considering abandoning their faith.
Her lawyer, David Yerushalmi, said the trademark board distorted her positions, telling the court that his client merely opposes "Islamist Muslim Brotherhood groups" that "use mosque-building as a political tool to accomplish Islamisation." Ms. Geller believes 80% of mosques in the country are controlled by radicals.
Mr. Yerushalmi told Law Blog that he thought the court "simply ignored the facts and the record. . . in order to bend over backwards to protect what the court perceived to be Muslim sensitivities."
A spokesman for the U.S. trademark office declined to comment.
http://stream.wsj.com/story/latest-headlines/SS-2-63399/SS-2-531313/
---------
'Jihad is as Canadian as Maple Syrup'
15 May, 2014
Jihad has become "as Canadian as maple syrup", at least according to a Canadian foreign fighter in Syria who was quoted by the National Post.
The man, Abu Dujana al-Muhajir, last week taunted what he called the "evil, despotic and Zionist Harper government", claiming in a blog post it was losing the battle against extremism.
Al-Muhajir is part of a small circle of youths from the city of Calgary who left for Syria to join armed extremist groups, according to the National Post. In the same blog post, he said "so-called radical Islamists" were gaining in popularity and the number of Canadian jihadists was growing.
He lavished praise upon Canadians Damian Clairmont and Andre Poulin, both troubled youths who converted to Islam, became radicalized and died soon after arriving in Syria.
Quoting pro-Al-Qaeda ideologue Anwar Al Awlaki saying that jihad was becoming as American as apple pie and as British as afternoon tea, Abu Dujana wrote it was "high time that we add to his statement 'and as Canadian as maple syrup.'"
Clairmont, according to the National Post, had been introduced to the lectures of Al Awlaki, who was killed in Yemen by a U.S. drone. Abu Dujana and Clairmont later started a prayer group at the Downtown 8th & 8th Musallah, a Calgary Islamic Center, according to the newspaper.
Abu Dujana also claimed that most members of the group "have already made it to various fronts of jihad by the grace of Allah and some have even been awarded with martyrdom like the brother Mustafa [Clairmont] while the rest of us are waiting for that honor."
The Syrian civil war has attracted not only locals but also foreign nationals, and Canada is only one country which has experienced this phenomenon.
In fact, according to statistics from February, over 75,000 foreign nationals have been fighting in the Syrian civil war. While the majority are from Muslim countries, there are also including Russians, Germans and French citizens taking part in the fighting.
British citizens have also been taking part in the fighting, and Britain's Information Minister has said that the "security concern" for the UK posed by individuals who have trained and fought in Syria is "a big problem" for MI5 and the police.
In December it was reported that Britain has been revoking the citizenship of its nationals who join the Syrian civil war, in an attempt to prevent its nationals from returning home and bringing fundamentalist Islam with them.
http://www.israelnationalnews.com/News/News.aspx/180635#.U3UgD4FdU4U
---------
Social media a key element for terror groups: study
May 15, 2014
WASHINGTON: Al Qaeda and other terrorist groups have expanded their online presence with increased use of social media, creating new challenges for thwarting attacks, said a study released on Wednesday.
The study released by the Woodrow Wilson Centre's DC Commons Lab found terrorist groups have moved their online presence to outlets such as YouTube, Twitter, Facebook and Instagram. "All terrorist organisations are online using many platforms," said Gabriel Weimann, a University of Haifa professor of communication and author of the report.
"From the point of view of a terrorist, (social media) provides an important advantage: anonymity," Weimann told a forum at the Wilson Centre where the study was released. Weimann said these social media have become important tools for recruitment, propaganda, fundraising and even for training — such as how to build a bomb.
Full report at:
http://www.dawn.com/news/1106443/social-media-a-key-element-for-terror-groups-study
-----------
Hillary Clinton touts Iran achievements as her own in speech to American Jews
May 15, 2014
WASHINGTON – Former secretary of state Hillary Clinton chronicled her efforts to bring Iran to the negotiating table on Wednesday, personally taking credit for the sanctions that harshly punished the Islamic Republic for its continued nuclear work.
Addressing the American Jewish Committee in Washington, Clinton attempted to brandish her accomplishments as chief diplomat responsible for handling the world's hotbed of conflict, just as she considers a run for the presidency.
Clinton began with a chronology of events that brought Iran to the negotiating table in earnest. Those talks under way in Vienna are aimed at ending international concerns over Iran's expansive nuclear program, dating back more than a decade.
Full report at:
http://www.jpost.com/Diplomacy-and-Politics/Hillary-Clinton-touts-Iran-achievements-as-her-own-in-speech-to-American-Jews-352277
-----------
Kerry tells Israel, Palestinians that 'door remains open to peace'
May 15, 2014
US Secretary of State John Kerry held a two-hour discussion with Palestinian Authority President Mahmoud Abbas in London late on Wednesday in their first meeting since US efforts to broker an Israeli-Palestinian peace deal collapsed last month.
During the meeting Kerry emphasized that the "door remains open to peace" talks although made clear it was up to the Israelis and Palestinians to take the necessary steps to resume talks, a senior State Department official said.
he official said Kerry urged both the Palestinians and Israelis to "refrain from unhelpful steps."
Abbas also updated Kerry on Palestinian political developments, the official said, referring to plans announced by Abbas last month to reconcile Palestinian factions Fatah and Hamas into a unity government.
Full report at:
http://www.jpost.com/Diplomacy-and-Politics/Kerry-tells-Israel-Palestinians-that-door-remains-open-to-peace-352331
-----------
Africa
'Scores' of Boko Haram killed after villagers launch vigilante ambush
May 15, 2014
Villagers in an area of Nigeria where Boko Haram operates have killed and detained scores of the extremist Islamic militants behind the kidnapping of more than 270 schoolgirls.
Residents in northern states have been forming vigilante groups to resist the militants who have held the girls captive since last month.
In Kalabalge, a village 155 miles from the Borno state capital of Maiduguri, residents said they were taking matters into their own hands because the military was not doing enough to stem Boko Haram attacks.
On Tuesday morning, after learning about an impending attack by militants, locals ambushed two trucks with gunmen, a security official said. At least 10 militants were detained, and scores were reportedly killed. It was not immediately clear where the militants were being held.
The news emerged amid reports that a British-born suspected member of Boko Haram had been arrested in Sudan. Named as Aminu Sadiq Ogwuche, Nigerian officials said they had issued an international arrest warrant for Mr Ogwuche, as well as another man, Rufai Abubakar Tsiga, who they suspect of plotting two recent bombings in the capital, Abuja, that killed dozens.
Full report at:
http://www.independent.co.uk/news/world/africa/nigeria-schoolgirls-kidnap-scores-of-boko-haram-killed-after-villagers-launch-vigilante-ambush-9372119.html
-----------
Nigerian Militant Chief, Abubakar Shekau, Is 'High On Drugs'
May 15, 2014
BAUCHI: LAGOS: Nigerian Nobel laureate Wole Soyinka has described Boko Haram's leader as an "obscenity" who is likely to be incapable of dialogue, as the government considers opening talks with the rebels over the more than 200 abducted schoolgirls.
The winner of the 1986 Nobel Prize for Literature told AFP by phone from Los Angeles that Boko Haram Chief Abubakar Shekau was "high on drugs."
"For me, we are dealing with a sub-human species. How do you dialogue with that kind of obscenity?" she asked.
Meanwhile, villagers in an area of Nigeria where Boko Haram operates have killed and detained scores of the militants who were suspected of planning a fresh attack, the residents and a security official said.
Full report at:
http://www.arabnews.com/news/570971
-----------
Linking Boko Haram to Nigeria's 2015 election is 'counterproductive'
15 May, 2014
Attempts to link Nigeria's difficulties in dealing with the militant group Boko Haram to the 2015 elections are a major reason why the problem has become so intractable, political scientist Garba Umar Kari tells DW.
Deutsche Welle: The Islamist militia Boko Haram has been launching attacks throughout the country, and the government and military have not been able to stop them so far. What is there to say about rumors that parts of the military even support or cooperate with Boko Haram terrorists?
Garba Umar Kari: Well, you say "rumor" and I also still believe that these are rumors. I fervently pray that they are rumors, because if they are true, then we have a very serious problem. I know about the issue of corruption, I know about the issue of neglect, and I know of the inability to arm [troops]. But I am not sure that there are elements within the Nigerian military who are with the Boko Haram people, even though there are suggestions to that effect. To me, there is nothing on the ground that would really convince me.
Full report at:
http://www.dw.de/kari-linking-boko-haram-to-nigerias-2015-election-is-counterproductive/a-17630703
---------
Africa: The new battleground against Islamic extremism
15 May, 2014
The brutal and ruthless kidnapping of more than 200 Nigerian schoolgirls has shocked the world, leading to condemnation from global leaders including former Prime Minister Tony Blair. But the incident is the latest in a much wider problem of Islamic extremism that is engulfing many African countries.
The continent has long been plagued by challenges of poverty and war, with several countries sharply divided between Christianity and Islam, some moderate and some extreme. I have spent a great deal of time in both East and West Africa and witnessed first-hand varying degrees to which these two religions co-exist. Unfortunately, I have also witnessed worrying examples of the perversion of both religions.
Full report at:
http://www.thecommentator.com/article/4938/africa_the_new_battleground_against_islamic_extremism
---------
Nigeria 'open to broad talks' with rebels
Reuters
15 May, 2014
Maiduguri - Nigeria's president has rejected an offer from Islamist rebel group Boko Haram to exchange schoolgirls it abducted for imprisoned militants, but the government is open to broader talks with the rebels, a visiting British minister said.
President Goodluck Jonathan is under pressure to crush the rebels who have killed thousands in their campaign for an Islamist state and to free the girls whose abduction a month ago has sparked global outrage.
Government officials initially said they were exploring all options with respect to the swap proposal and later said they were willing to negotiate with Boko Haram without specifying whether any putative talks might include an exchange for the girls.
Full report at:
http://www.iol.co.za/news/africa/nigeria-open-to-broad-talks-with-rebels-1.1688309#.U3Uk8YFdU4U
---------
Libyans weigh in on Ansar al-Sharia
15 May, 2014
Libyan authorities say Ansar al-Sharia is responsible for the wave of violence gripping Benghazi. Citizens are also voicing outrage that the group is committing violence in the name of Islam.
Following the slaughter of nine soldiers on May 2nd, the interim government blamed "the so-called Ansar al-Sharia and other terrorist groups".
To gauge public opinion on the extremist organisation, Magharebia took to the streets of Benghazi.
"I don't trust Ansar al Sharia, and I hope that they will leave Libyans alone," said Yasmine Mansouri, a 21-year-old student at the University of Benghazi.
Teacher Fathi Jehani, 43, said, "I'm not with this group because they carry out an extremist ideology; secondly they do not belong to the nation, and thirdly they are fanatics and extremists, and there are non-Libyans among them."
Full report at:
http://magharebia.com/en_GB/articles/awi/features/2014/05/13/feature-01
---------
Extremists threaten Libya history
15 May, 2014
Libyan antiquities are falling prey to extremists.
In the most recent attack, vandals demolished the marble pillars of an ancient church in Shahat. Along with nearby Cyrene (which lent its name to today's Cyrenaica region), the city is home to many Greek and Roman artefacts.
Activists concerned with preserving Libya's patrimony shared news of the incident on social networking websites and blamed local authorities for failing to prevent the destruction.
Many Cyrenaica citizens were angered by yet another assault on their cultural heritage.
"Why should we demolish these places when we can benefit from them in tourism?" Benghazi librarian Nozha Saad asked.
Full report at:
http://magharebia.com/en_GB/articles/awi/features/2014/05/14/feature-01
-----------
PM: Tunisia cannabis law too harsh
15 May 2014
Tunisia's prime minister has backed a reform of the country's harsh penalties for cannabis possession, calling it "out of sync" with current times.
In a press conference late Wednesday, Mehdi Jomaa promised to "amend the law to adapt it to the new reality" in society. The current law gives prison sentences of up to five years for possession of cannabis.
Jomaa was responding to a question over the situation of prominent blogger Aziz Hamami, arrested Monday for cannabis use.
Hamami's outspoken blog gained widespread attention during the 2011 revolution against Tunisia's former dictator. Activists accuse the police of using harsh drug laws to target those they disagree with. Supporters for Hamami demonstrated for his release on Tuesday.
http://english.alarabiya.net/en/News/middle-east/2014/05/15/PM-Tunisia-cannabis-law-too-harsh.html
-----------
S Sudan faces 'catastrophic levels of hunger'
May 15, 2014
War-torn South Sudan faces a catastrophic "tipping point" amid famine and genocide warnings, an aid agency has stated, as the conflict entered its fifth month with no sign of the bloodshed ending.
"We either act now or millions will pay the price," Oxfam chief executive Mark Goldring said on Thursday.
"We face a mammoth task of getting massive levels of aid to people at the worst time of the year, when rains make many areas hard to reach and turn roads into rivers of mud," Goldring said in a statement.
Full report at:
http://www.aljazeera.com/news/africa/2014/05/s-sudan-faces-catastrophic-levels-hunger-201451511159244853.html
-----------
Arab World
Egypt's Sisi asks for U.S. help in fighting terrorism
May 15, 2014
In an Exclusive interview for Reuters, Abdel Fattah El-Sisi, the former army chief who is set to become Egypt's next head of state, called on the United States to help fight Jihadi terrorism to avoid the creation of new Afghanistan in the Middle East.
In his first interview with an international news organisation in the run-up to the May 26-27 vote, El-Sisi called for the resumption of U.S. military aid, worth $1.3 billion a year, which was partially frozen after a crackdown on the Muslim Brotherhood.
Asked what message he has for U.S. President Barack Obama, El-Sisi said: "We are fighting a war against terrorism."
"The Egyptian army is undertaking major operations in the Sinai so it is not transformed into a base for terrorism that will threaten its neighbours and make Egypt unstable. If Egypt is unstable then the entire region is unstable," said a quietly spoken Sisi, wearing a dark civilian suit.
Full report at:
http://english.ahram.org.eg/NewsContent/1/64/101349/Egypt/Politics-/Egypts-Sisi-asks-for-US-help-in-fighting-terrorism.aspx
------------
Air strikes kill more than 40 in northern Syria
15 May 2014
More than 40 people, many of them civilians, were killed by air strikes across northern Syria, a monitoring group said on Thursday.
More than three years into a revolt against President Bashar al-Assad, rebels are struggling to counter government warplanes which routinely bomb military and civilian targets.
On Wednesday, 15 people were killed, including three from an emergency medical team, during five air raids in Atarib in the northern Aleppo province, the Britain-based Syrian Observatory for Human Rights said early on Thursday.
Four rebel fighters were killed by air strikes in the same area, while 21 people, including women, were killed in air strikes on the Sarmada area in northwestern Idlib province, the anti-Assad monitoring group said.
Full report at:
http://english.alarabiya.net/en/News/middle-east/2014/05/15/Air-strikes-kill-more-than-40-in-northern-Syria-.html
----------
Car bomb blast kills 17 near Syria-Turkey border: monitor
May 15, 2014
At least 17 people were killed and dozens wounded Thursday in a car bomb blast on the Syrian side of the Bab al-Salam border crossing with Turkey, a monitor said.
The Syrian Observatory for Human Rights said the explosion hit an area being used as a parking lot, adding that women and children were among the dead.
Those wounded in the blast have been taken to the nearby Kilis State Hospital.
Security measures have reportedly been escalated in the region.
http://www.hurriyetdailynews.com/car-bomb-blast-kills-17-near-syria-turkey-border-monitor.aspx?pageID=238&nID=66511&NewsCatID=352
----------
Car bomb, suicide attack in Baghdad kill 9 people
15 May 2014
A car bomb and a suicide bomber struck on Thursday in a bustling area in downtown Baghdad, killing at least nine people and wounding 19, officials said.
The first explosion was from an explosives-laden car left in a parking lot in the Karrada neighborhood, a police officer said. The area is a busy commercial district where also some government offices are located, including courts and a hospital.
Three civilians and three policemen were killed in that attack, added the officer.
A few minutes later, a suicide bomber with an explosives belt blew himself up at the main gate of an office affiliated with the Higher Education Ministry, killing two policemen and one civilian, the police officer also said. Six other people were wounded in that blast.
A medical official confirmed the causality figures. Both officials spoke on condition of anonymity because they were not authorized to talk to media.
Full report at:
http://www.tasnimnews.com/English/Home/Single/370168
---------
Radical Islamic Jihad group (El-Zomor) condemns abduction of Nigerian schoolgirls
15 May, 2014
Tarek El-Zomor, leader of the Construction and Development Party, has denounced the abduction of the Nigerian schoolgirls by the Islamist Boko Haram group.
El-Zomor, who belonged to the radical Islamic Jihad group, was convicted in 1984 for his role in the assassination of Egypt's former president Anwar Sadat. After spending 27 years in jail, he was released in 2011 following the 25 January revolution, but then fled to Qatar when his assets were frozen in 2013.
El-Zomor mentioned Wednesday on his Facebook page that, although he condemns the excesses of the Nigerian government in dealing with Islamist movements, he cannot accept the abduction of the schoolgirls.
Full report at:
http://english.ahram.org.eg/NewsContent/1/64/101255/Egypt/Politics-/ElZomor-condemns-abduction-of-Nigerian-schoolgirls.aspx
---------
Syrian recruits are 'ticking time bomb,' study says
15 May, 2014
Experts: Foreign militia forming global jihad networks back home; when in Syria, foreign Arab fighters mostly join the al-Qaida-linked group and its jihadi rival.
The approximately 5,000 Arab foreign insurgents fighting in rebel Syrian ranks are a collective "ticking bomb for their countries of origin," a new study by Israeli security experts said Tuesday.
Many of the volunteers pose a risk when they return, due to the likelihood of them setting up local jihad nodes, joining domestic networks, or forming local branches of transnational Syria-based terror networks, the authors said.
Full report at:
http://www.jpost.com/International/Syrian-recruits-are-ticking-time-bomb-study-says-352210
----------
Activists accusing Brotherhood members of torture say trial is politicised
May 15, 2014
Two leftist activists who filed a legal complaint against Muslim Brotherhood members on charges of torture released a statement Wednesday claiming the trial is politicised.
Ola Shahba and Ramy Sabry, both members of "Freedom for the Brave" campaign aimed at the release of political prisoners, accused last December members of the Muslim Brotherhood of detaining them and torturing them during protests opposing now ousted president Mohamed Morsi at the presidential palace.
The two, however, complain that the trial now underway after the ouster of Morsi has ignored their complaints accusing the interior minister and police of overseeing their torture by Brotherhood members. An Al-Wasat Party lawyer who they also accused of supervising the torture was not put on trial, according to their statement, but only summoned as a witness.
Full report at:
http://english.ahram.org.eg/NewsContent/1/64/101319/Egypt/Politics-/Activists-accusing-Brotherhood-members-of-torture-.aspx
----------
Egyptian expats kick off presidential vote
15 May 2014
Egyptian expats will kick off the country's presidential election as more than 140 overseas polling stations open on Thursday.
The country's Presidential Election Committee urged Egyptians abroad to participate in the vote, which sees former army chief Abdel Fattah al-Sisi and Leftist leader Hamdeen Sabahi run for Cairo's top post.
The commission said in a televised statement on Wednesday that additional polling stations were opened in countries with more Egyptian expatriates.
Nearly 6-8 million Egyptians live abroad, according to estimated official figures. But only 600,000 expats have registered to vote in the presidential elections.
The largest expat Egyptian community is based in Saudi Arabia, news website Ahram Online reported.
Full report at:
http://english.alarabiya.net/en/News/middle-east/2014/05/15/Egyptian-expats-kick-off-presidential-vote.html
----------
Thirty-Four People in Damascus Countryside Turn Themselves in to Authorities
May 15, 2014
Thirty-Four people in Damascus countryside turned themselves in to Syrian authorities.
Last week, 26 gunmen from the villages of Zakiyeh and Kiswa turned themselves in to authorities.
During last April, 310 gunmen have turned themselves in to authorities in many areas in Damascus Countryside. More than 500 gunmen did so during last March.
http://english.farsnews.com/newstext.aspx?nn=13930225000135
----------
Syria war forces a family to flee every minute: Study
May 15, 2014
GENEVA – The war in Syria is driving one family from their home every minute, pushing the number of people internally displaced by conflict to record highs globally, a report said Wednesday.
The study by the Internal Displacement Monitoring Centre (IDMC) said that 33.3 million people were displaced by violence in their own nations last year.
The report showed that just five countries accounted for two-thirds of the tally: Syria, Colombia, Nigeria, the Democratic Republic of Congo and Sudan.
Internally displaced people (IDPs) are those who flee their homes but do not leave their country, as opposed to those who cross a border and are counted as refugees. While the bulk of the 33.3 million were people who had already fled before 2013 — including some displaced over a decade ago — the total of new IDPs reached 8.2 million by the end of the year, the report said.
Full report at:
http://www.saudigazette.com.sa/index.cfm?method=home.regcon&contentid=20140515205184
----------
Europe
Spain Replays Muslim-Christian Wars - For Fun
May 15, 2014
Madrid, Spain - Although less well-known abroad than other folk festivals in Spain, like the bull-running in Pamplona, far more people flock to see dozens of picturesque towns and villages re-enact the eight-centuries-long struggle for control of the country, between followers of Christianity and Islam.
To the revellers thronging swaths of Spain every summer, the Moors and Christians events are simply an annual highlight, a way to have fun while taking pride in the country's rich history. The Muslim community is resigned to what they see as an uncomfortable reminder of how non-Christians were once persecuted.
In Petrer, 40km inland from the Mediterranean port of Alicante, elaborate period costumes costing thousands of Euros are already on display in shop windows, ready for the 400th anniversary edition of the festivities which will take place between May 15 and 19.
Full report at:
http://www.aljazeera.com/indepth/features/2014/05/spain-replays-muslim-christian-wars-fun-2014513111616636589.html
-----------
Holocaust Survivor, Tells Story of Being Saved By a Muslim Family in Albania
15 May, 2014
Johanna Neumann was nine years old when her family escaped from Nazi Germany to seek refuge in Albania. They spent six years there and survived the war thanks to a number of Muslim families who sheltered them along the way.
Neumann's is one of many stories that demonstrate Albania's often forgotten efforts to shelter Jews during the Holocaust and which inspired the new documentary, Besa: The Promise.
For Neumann, who was raised Jewish, the predominantly Muslim Albania was a culture shock. She describes the experience in the documentary:
"We heard the muezzin call the faithful to prayer, five times a day, and that sound is so familiar to me that when in this day and age I hear the same it's very heartening to hear it again. When we went to the mosque, it was interesting how they do things similar to the way Jews do it in Islam."
Full report at:
http://www.huffingtonpost.com/2014/05/14/holocaust-survivor-saved-by-muslim_n_5316603.html
---------
European jihadists use Turkey as transit country
15 May, 2014
For years now, European fighters traveling to Syria have been a concern for the EU. Turkey has become the preferred transit route for jihadists heading to the Middle East, a circumstance the EU hopes to change.
Since the beginning of the civil war in Syria, neighboring Turkey has been a shelter for but also an important transit country for young Islamists on their way to fight "Holy War". It is estimated that between 2,000 and 5,500 European jihadists are fighting in Syria and Turkey has been criticized for not doing enough to prevent them from traveling to Syria.
In a report from October 2013 the human rights organization Human Rights Watch accused Turkish authorities of allowing fighters to enter northern Syria to join the fight against Syrian President Bashar al-Assad. In addition, the report stated that fighters had received medical care in Turkey and that Turkey had delivered money and weapons to the fighters.
Full report at:
http://www.dw.de/european-jihadists-use-turkey-as-transit-country/a-17632725
---------
World's most pathetic Bosnia Islamist forgery ever
15 May, 2014
Rummaging around in my website I found this magnificent Islamist forgery that has been doing the global rounds for many years: a letter supposedly from Prime Minister John Major to FCO Minister of State Douglas Hogg urging him to be horrid to the Bosnian Muslims (aka Bosniacs).
Here it is:
Once again I want you all to pay careful attention as I show the planet just what a rubbish effort it is.
Sitting up straight? Let's start.
First, layout. No 10 letters are not scrunched up clumsily on to a single page like this one is (no doubt to save the forger added paper). The substance of a letter does not start on the line immediately below the 'Dear X' line.
Full report at:
http://www.thecommentator.com/article/4935/world_s_most_pathetic_bosnia_islamist_forgery_ever
---------
Foreign Office must challenge wannabe jihadis on Twitter, says Qulliam foundation
15 May, 2014
The authors of a far-reaching report on the Internet and Islamic extremism have called on the Foreign Office to take a more active role in Twitter debates and challenge views which encourage young Britons to participate in jihad.
Quilliam, the counter-extremist organisation, also called for schoolchildren to be given lessons in "digital literacy and critical consumption" so that they can better appraise the information they receive via social media.
In its report, Jihad Trending: A Comprehensive Analysis of Online Extremism and How to Counter It, Quilliam criticised the British government's "counterproductive" policy of tackling the problem by simply shutting down websites.
Full report at:
http://www.independent.co.uk/news/uk/politics/foreign-office-must-challenge-wannabe-jihadis-on-twitter-says-qulliam-foundation-9364661.html
---------
Leader of the Erk and NDU Party against Uzbek Participation in the Syrian War
15 May, 2014
The leader of the Erk party and the People's Movement of Uzbekistan (NDU) has confirmed organizing a day of commemoration of the Andijan tragedy in Turkey, but distanced himself from calls made for Jihad in Syria.
Speaking to Uznews.net today Mukhammad Salikh outlined NDU's participation alongside other organizations in organizing the May 11 conference in Istanbul.
About 300 people took part in this event in part thanks to other event organizers, such as Unity of Turkestan and Unity of Uzbeks.
Speaking at a conference was a person who has lived in Syria for the past five years.
Echoing the style of radical Islamic preachers he called from the podium on Uzbeks and Muslims of the world to start Jihad with infidels as well as support mujahideens in Syria, who have been fighting for the past three years against President Bashar Asad's regime.
Unidentified person from Syria
Full report at:
http://www.uznews.net/en/politics/26296-muhammad-salih-against-uzbek-participation-in-the-syrian-war
---------
Torture remains "endemic" in Egypt: Amnesty
May 15, 2014
In its annual report on the use of torture worldwide, the human rights group Amnesty International said that torture was "endemic" in Egypt.
The report from 2014 – surveying torture in 141 countries across every global region – said that if an anti-terrorism law currently being drafted by Egyptian interim authorities should pass, it would "erode the existing safeguards against torture and other ill-treatment."
The aforementioned law was drafted by Egypt's justice ministry and approved by the cabinet in early October.
Full report at:
http://english.ahram.org.eg/NewsContent/1/64/101258/Egypt/Politics-/Torture-remains-endemic-in-Egypt-Amnesty.aspx
-----------
Pakistan
NCSW terms religious extremism, discrimination biggest challenge
By Waqas Naeem
May 15, 2014
ISLAMABAD: As women in Muslim countries face a three-headed monster of religious discrimination, rising violence and lack of opportunities, the women's movement in Pakistan is also simultaneously witnessing a reduction in its allies.
"The biggest challenge is religious discrimination," Khawar Mumtaz, the Chairperson of the National Commission on the Status of Women (NCSW), said as she spoke about her personal and professional life at the Sustainable Development Policy of Institute (SDPI) on Wednesday.
She identified multiple challenges to women and a possible solution to counter them.
Dr Maleeha Aslam, head of SDPI's Gender and Human Security division, was in conversation with Mumtaz as part of SDPI's "Inspiring Change: Women of Substance" series.
The series invites eminent Pakistani women for a public interview to rediscover their lives and work and pay homage to their contributions.
Full report at:
http://tribune.com.pk/story/708545/inspiring-change-khawar-terms-religious-extremism-discrimination-biggest-challenge/
----------
Panjgur protests attacks on 'English schools', slogans against Tanzeem-ul-Islam-ul-Furqan
May 15, 2014
QUETTA: A procession was taken out in Panjgur on Wednesday to protest against the attacks private English-medium schools have come under for offering co-education.
Around 2,000 people, including women and children, marched through different streets of the city and chanted slogans against Tanzeem-ul-Islam-ul-Furqan — an organisation which has been distributing threatening pamphlets across Panjgur. The procession culminated in a sit-in in front of the deputy commissioner's office.
The ruling National Party (NP) and opposition Balochistan National Party-Mengal (BNP-M) and Balochistan National Party-Awami (BNP-A) supported the protest and demanded that the government immediately book the culprits who have been threatening private schools. A group of armed men torched the vehicle of a teacher a day earlier. The armed men harassed the teacher, who has been promoting co-education in Panjgur for years.
Full report at:
http://tribune.com.pk/story/708594/growing-concerns-panjgur-protests-attacks-on-english-schools/
----------
National Assembly requests govt to protect minorities, all religious places
May 15, 2014
ISLAMABAD – Lawmakers in the National Assembly showed a united front on Thursday when they unanimously passed a resolution requesting the government to take measures on priority basis to protect all religious places of minorities.
The resolution also urges the government to deploy special security personnel at worship places of minorities. The multi-party backed resolution was moved by Dr Ramesh Kumar Vankwani from the ruling Pakistan Muslim League-N and was supported by everyone present in the house.
Full report at:
http://www.dailytimes.com.pk/national/15-May-2014/na-requests-govt-to-protect-minorities-worship-places
----------
'Musharraf consulted all governors before declaring emergency'
May 15, 2014
KARACHI - In his statement to Federal Investigation Agency (FIA), Sindh Governor Dr Ishrat-ul-Ibad has said that former president Pervez Mushraff had consulted all the provincial governors before declaring emergency on Novermber 3, 2007 in Pakistan.
He told FIA that Musharraf called all governors and told that nothing will happen without consultation. The governor also maintained that Musharraf always consulted all the governors on important national issues but Ibad did not see the notification for November 3rd emergency and neither did he advise anything to the former president regarding emergency back then.
http://www.dailytimes.com.pk/national/15-May-2014/musharraf-consulted-all-governors-before-declaring-emergency
----------
Humanitarian needs growing in Pakistan: UN aid chief
May 15, 2014
LAHORE: A top UN humanitarian envoy says that there are ongoing needs both in Afghanistan and Pakistan that call for the continued attention and assistance from the international community.
UN Deputy Humanitarian Chief Kyung-wha Kang, who recently visited the vulnerable communities in both Afghanistan and Pakistan, told Voice of America that she was trying to focus global attention on the situation in both countries.
The envoy said the international community was very grateful for the generosity of the Pakistani people and government for hosting a huge population of Afghan refugees over the years.
Full report at:
http://www.dailytimes.com.pk/national/15-May-2014/humanitarian-needs-growing-in-pakistan-un-aid-chief
----------
PPP calls attention to torture, circular debt
May 15, 2014
ISLAMABAD: The Pakistan People's Party (PPP) on Wednesday submitted a calling attention notice and adjournment motion against the growing incidences of torture and rising circular debt. The calling attention notice is related to the incidents of violence and torture in the country, and it was moved by Shazia Atta Marri, Imran Zafar Leghari, Dr Nafisa Shah, Mir Aijaz Hussain Jakhrani, and Shahida Rehmani. It drew the attention of the House towards the latest Amnesty International report, which declares Pakistan among the countries with endemic torture. According to the report, incidences of torture on activists, lawyers, journalists and people under detention are rampant in Pakistan.
The calling attention notice states, "As this matter is of urgent public importance with serious humanitarian and global implications, therefore it should be discussed on the floor of the House."
http://www.dailytimes.com.pk/national/15-May-2014/ppp-calls-attention-to-torture-circular-debt
---------
Hamid Mir is my favorite anchor: Imran Khan
May 15, 2014
Islamabad- Chairman Pakistan Tehreek-e-Insaf (PTI) Imran Khan today said that he was not against common journalists of Geo channel but vowed to continue his struggle against its owner Mir Shakil.
Speaking to media persons after visiting Hamid Mir, Khan said that Hamid Mir and other hundreds journalists working with Geo News had given great sacrifices for freedom of media and for the democracy in the country. PTI chief said Hamid Mir is his most favorite anchor and he wishes him fast recovery. He further said, Hamid Mir has played great role for awareness of democracy in Pakistan and demanded that culprits of attack on Mir should be brought to justice.
Full report at:
http://www.nation.com.pk/national/15-May-2014/hamid-mir-is-my-favorite-anchor-imran-khan
----------
PM puts up unity show for Karachi peace
May 15, 2014
KARACHI - Prime Minister Nawaz Sharif has ordered issuance of red warrants against criminals who have fled the country and immediate closure of illegal mobile SIMs.
Chairing a high-level law and order meeting on Wednesday here at the Governor's House, he said that military and political leadership would together supervise the targeted operation in Karachi, and that no political pressure would be tolerated.
This was the first time that Chief of Army Staff General Raheel Sharif attended such a high-level meeting with civilian leadership on the issue of Karachi unrest. The meeting was briefed by army chief, the heads of Pakistan's intelligence agencies, Karachi Corps Commander, Rangers director general and the Inspector General of Sindh Police.
Full report at:
http://www.nation.com.pk/national/15-May-2014/pm-puts-up-unity-show-for-karachi-peace
----------
South Asia
Interfaith Couple Tests Limits of Buddhist Tolerance in Myanmar
15 May, 2014
Mohammed Saed is a man with two names and two identities.
On one side of a checkpoint, he is a Muslim living in a wretched refugee camp. On the other side, he belongs to the majority Buddhist community in north-western Myanmar's Rakhine State. The checkpoint separates Buddhists and Muslims in a region that erupted in sectarian violence in June 2012, forcing more than 70,000 internally displaced Rohingya Muslims into camps.
When Mr. Saed passes the checkpoint and goes to the market to buy food and goods for his family and his Muslim neighbours, he goes by the name on his Myanmar ID card: Aung Lay Tun. He risks being beaten and possibly killed if Rakhine extremists discover that he is a Buddhist who converted to Islam.
Full report at:
http://www.alaskadispatch.com/article/20140513/interfaith-couple-tests-limits-buddhist-tolerance-myanmar
------------
War Crimes Verdicts: Bangladesh Home Ministry Issued Letters to Thwart Violence
May 15, 2014
Ahead of possible verdicts of Jamaat-e-Islami leaders Motiur Rahman Nizami and Delawar Hossain Sayedee in war crimes cases, the Home Ministry has suggested the administration and the law enforcement agencies to keep the ruling Awami League members and the pro-liberation people on alert to evade any untoward situation.
Analysing an intelligence report, the ministry assumed that the members of Jamaat and its student body Islami Chhatra Shibir men could carry out violent attacks like in the past if the verdict went against their party leaders.
The ministry also called for increasing security of ministers, lawmakers and important establishments. A red alert may also be declared, if needed, across the country including the capital city.
Full report at:
http://www.dhakatribune.com/law-rights/2014/may/15/home-ministry-issued-letters-thwart-violence#sthash.oEM8DwMX.dpuf
-----------
State wage bill sent back to Majlis for the third time
By Ahmed Rilwan | May 14th, 2014
President Abdulla Yameen has returned the state wage policy bill back to the People's Majlis for reconsideration after expressing concern over the inclusion of some public companies and parliamentary oversight.
President's Office Spokesperson Ibrahim Muaz said that the inclusion of public companies with more than fifty percent shares would create difficulties as these are separate legal entities which would subsequently have an outside authority setting wages.
The other key issue related Article 18 of the bill which states that all decisions of the pay commission regarding the setting of wages and formulating wage policies must be approved by parliament.
Full report at:
http://minivannews.com/politics/state-wage-bill-sent-back-to-majlis-for-the-third-time-84811
-----------
Afghan election results confirm Abdullah-Ghani run-off
May 15, 2014
KABUL: Afghanistan's presidential election will go to a second-round vote on June 14 between former foreign minister Abdullah Abdullah and ex-World Bank economist Ashraf Ghani, final results showed Thursday.
The head-to-head election will choose a successor to President Hamid Karzai in Afghanistan's first democratic transfer of power.
Whoever wins will have to oversee the fight against a resilient Taliban insurgency as 51,000 US-led troops depart this year, as well as try to strengthen an economy that relies on declining aid money.
"After a thorough review, it is clear that no candidate has been able to win more than 50 per cent and the election goes to a second round," Ahmad Yusuf Nuristani, head of the Independent Election Commission (IEC), said.
Full report at:
http://www.dawn.com/news/1106478/afghan-election-results-confirm-abdullah-ghani-run-off
-----------
Mideast
Khamenei: Israel the 'Most Wicked Terrorists' in the World
15 May, 2014
Iran's Supreme Leader, Ayatollah Ali Khamenei, on Wednesday once again launched an attack on Israel and accused its government of being "wicked terrorists".
Khamenei's latest attack on the Jewish state came in a series of tweets on the occasion of Nakba Day, on which Arabs mark what they see as a the "catastrophe" of Israel's establishment.
"#Israel was initially established thru oppression, massacre & lie; an invader aided by UK expelled #Palestinians out of their homes," read one tweet.
"Palestinians' homes & land were given by force to ppl [sic] from Europe, US etc. & they fabricated a fake nation in #Palestine," read another one.
"During the over half a century since the existence of #fake Israeli state, suppression, lies & deception have been central to Israel's survival," Khamenei wrote, adding, "Then the US president shamelessly says that: to prevent terrorism we cooperate with Israel!"
"Which terrorists?! The Palestinian who's been driven out of his homeland?! No! The most wicked #terrorists of the world is fake Israeli govt [sic]," read yet another tweet by the Supreme Leader.
Full report at:
http://www.israelnationalnews.com/News/News.aspx/180638#.U3UjJ4FdU4U
---------
Iran: 'Zionist' Whatsapp OK, But Group Says Viber Now Banned
15 May, 2014
Iran announced Wednesday that it was planning to loosen restrictions on Internet use, and that it was OK to use Whatsapp, which had been reportedly been banned in the country because of its "Zionist" provenance. Meanwhile, an Iranian opposition group said that the government had now banned another "Zionist" communication app – Viber.
According to Iranian Communications Minister Mahmoud Vaezi, the government will implement what he called a "smart filtering" system to ensure that Iranian web users do not reach "immoral" sites. "We have signed agreements with three universities and research institutes to develop smart filtering to block only depraved and immoral sites, but allowing access to other pages," he said, without specifying the organizations.
Full report at:
http://www.israelnationalnews.com/News/News.aspx/180642#.U3UjNoFdU4U
-----------
Palestinians clash with Israeli forces on Nakba Day
May 15, 2014
Palestinians in the West Bank clashed with Israeli forces Thursday, the 66th anniversary of the Nakba or "catastrophe" of the Jewish state's creation when 760,000 Palestinians fled their homes.
About 150 people demanding the release of thousands of Palestinians held by Israel protested near Ofer prison, outside Ramallah, and border policemen shot one in the chest.
Palestinian medics said the wounded man was undergoing surgery in a Ramallah hospital.
At the Qalandiya checkpoint between Jerusalem and Ramallah, protestors set fire to tyres and hurled stones at border police who responded with "riot dispersal means," an army spokesman told AFP, using the term usually applied to the use of rubber bullets or tear gas.
In the Gaza Strip, hundreds of people, some carrying Palestinian flags or banners calling for refugees to be allowed to return to their former homes, marched near the Erez crossing with Israel.
Full report at:
http://english.ahram.org.eg/NewsContent/2/8/101371/World/Region/Palestinians-clash-with-Israeli-forces-on-Nakba-Da.aspx
-----------
Majority of Turks have 'anti-Semitic attitudes'
May 15, 2014
A majority of Turkish people have anti-Semitic attitudes, according to a new study released by the Anti-Defamation League (ADL) on how widespread anti-Semitism is globally.
The report also found that anti-Semitism remains prevalent around the world with one-in-four adults surveyed expressing anti-Jewish sentiment.
The ADL Global 100 Index found someone to be anti-Semitic if they answered "probably" or "definitely" true to six or more of 11 stereotypes about Jews offered on the survey. The survey, which the ADL called "the broadest survey of anti-Jewish attitudes ever conducted," covers 53,100 adults in 102 countries.
Full report at:
http://www.hurriyetdailynews.com/majority-of-turks-have-anti-semitic-attitudes.aspx?pageID=238&nID=66485&NewsCatID=359
-----------
Islamic Jihad cautious on Palestinian reconciliation deal
May 15, 2014
GAZA CITY, Gaza Strip — Palestinian Islamic Jihad has given a mixed response to the April 23 reconciliation deal between Hamas and Fatah. Islamic Jihad's leadership reiterated the necessity of achieving Palestinian unity and restoring cohesion, to confront what the group's leaders told Al-Monitor was "the risks facing the Palestinian cause, the division of Palestinians and the Israeli occupation." However, some of its leaders still have concerns about the reconciliation deal, particularly concerning its weapons, as well as the future of Hamas-Islamic Jihad relations.
Khodor Habib, a leading Islamic Jihad member, relayed his impressions to Al-Monitor. He said the Palestinian reconciliation was the perfect option for Palestinians to organize internal affairs and end the division that had taken a toll on all Palestinians.
Full report at:
http://www.al-monitor.com/pulse/originals/2014/05/gaza-islamic-jihad-cautious-reconciliation-hamas-fatah.html#ixzz31pi5M5ZL
-----------
Iranian Film on Prophet Muhammad to Premiere in 5 Months
15 May, 2014
TEHRAN (Tasnim) - Oscar-nominated Iranian filmmaker Majid Majidi said his religious blockbuster Prophet Muhammad (PBUH) will be ready for release within the next 4 or 5 months.
Speaking in a special cultural ceremony held in Tehran on Tuesday, Majidi said he will tell reporters untold stories of his latest cinematic project once it is screened in the coming months.
The big-budget movie is now in its post-production phase, as the work on the special effects and music composition are also underway with the utmost care, so that, as described by the director, it would have the merit of a movie about the great prophet of Islam.
In the meantime, Academy Award-winning music composer Allah-Rakha Rahman has embarked on writing music for Majidi's latest movie.
Full report at:
http://www.tasnimnews.com/English/Home/Single/370214
---------
Southeast Asia
PM Najib says 'human rightism, humanism, secularism' new religion threatening Islam
15 May, 2014
Prime Minister Datuk Seri Najib Tun Razak said Islam and its followers are now being tested by new threats under the guise of humanism, secularism, liberalism and human rights.
He said this mindset appeared to be becoming a new form of religion which was fast expanding locally and abroad.
"They call it human rightism, where the core beliefs are based on humanism and secularism as well as liberalism.
"It's deviationist in that it glorifies the desires of man alone and rejects any value system that encompasses religious norms and etiquettes. They do this on the premise of championing human rights," he said.
Najib said this when opening the 57th national-level Quran Recital Assembly at the Dewan Jubli Perak Sultan Ahmad Shah here tonight.
Also present were his wife Datin Seri Rosmah Mansor, Pahang Mentri Besar Datuk Seri Adnan Yaakob and Minister in the Prime Minister's Department Datuk Seri Jamil Khir Baharom.
He said there were efforts to spread the deviant thinking by relating it to the sanctity of Islam and this was the most dangerous threat to the Islamic faith.
Full report at:
http://www.themalaymailonline.com/malaysia/article/pm-says-human-rightism-humanism-secularism-new-religion-threatening-islam#sthash.af4QApHd.dpuf
---------
Deputy Minister: Like hudud, Malaysians need to learn about GST to accept it
MAY 15, 2014
KUALA LUMPUR, May 15 — Malaysians will have to go the extra mile to learn about the controversial Goods and Services Tax (GST) in order to understand it better, Datuk Ahmad Maslan said today, even comparing the unpopular tax system to hudud.
The deputy finance minister acknowledged the widespread criticism faced by the PAS-led Kelantan government in its push to introduce hudud, and said Putrajaya is in a similar predicament with the GST.
He said the PAS government has been pushing to implement the Islamic penal code since the 1990s but is still facing difficulties more than two decades later.
Full report at:
http://www.themalaymailonline.com/malaysia/article/like-hudud-malaysians-need-to-learn-about-gst-to-accept-it-deputy-minister#sthash.qbPxo042.dpuf
------------
Sarawak suspends 'Anak Angkat' programme after complaints of covert conversions
May 15, 2014
Sarawak's education department today suspended the controversial "Anak Angkat" (adoption) programme in schools in the state following protests from parents that the event was a covert attempt to convert Christian students to Islam.
Assistant Minister in the Chief Minister's Department Datuk Daud Abdul Rahman (pic), who ordered the suspension of the programme, however, said the entire issue was a misunderstanding.
He said it was a sanctioned motivational programme funded by the Rural and Regional Development Ministry, aimed at students from poor families.
He said the programme was run by an NGO called the Organisation of Graduates and Educational Institutions Malaysia, or better known as Haluan, which is based in Bangi, Selangor.
Full report at:
http://www.themalaysianinsider.com/malaysia/article/sarawak-suspends-anak-angkat-programme-after-complaints-of-covert-conversio
------------
India
Expulsion of journalists by Pak a retrograde step: India
May 15, 2014
In a strong reaction, India on Wednesday termed as "regrettable and unfortunate" expulsion of the two Indian correspondents in Pakistan and said not allowing independent journalists to function was a "retrograde step".
Asserting that free flow of information between India and Pakistan has long been recognised as an important confidence building measure, the External Affairs Ministry Spokesperson said this CBM should be safeguarded by all concerned.
In an abrupt action, Pakistan has expelled the two Indian journalists -Press Trust of India's (PTI) Snehesh Alex Philip and Hindu newspaper's Meena Menon- posted there and asked them late last night to leave within seven days without assigning any reason.
Full report at:
http://indianexpress.com/article/india/india-others/expulsion-of-journalists-by-pak-a-retrograde-step-india/
-----------
Uneasy calm in riot-hit parts of Hyderabad
IANS | May 15, 2014
HYDERABAD: An uneasy calm prevailed in riot-hit areas of Hyderabad on Thursday, a day after paramilitary troopers opened fire killing three people following communal clashes that left scores injured.
An indefinite curfew continued in Kishan Bangh, Sikh Chowni and Arsh Mahal areas of the Cyberabad police commissionerate.
Police said the situation remained peaceful. No untoward incident was reported since Wednesday morning when Border Security Force (BSF) personnel opened fire on a mob.
A large number of policemen and paramilitary forces maintained a tight vigil in the areas, which were rocked by clashes early Wednesday after a religious flag was allegedly found burnt.
Full report at:
http://timesofindia.indiatimes.com/india/Uneasy-calm-in-riot-hit-parts-of-Hyderabad/articleshow/35149591.cms
---------
URL: https://www.newageislam.com/islamic-world-news/new-age-islam-news-bureau/white-house--boko-haram-is-an-education-problem,-not-a-jihad/d/77035