New Age Islam News Bureau
15 Dec 2019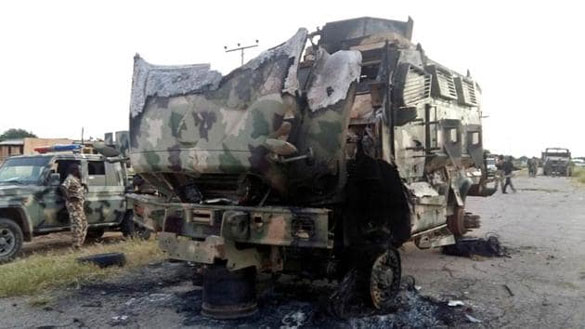 A damaged military vehicle is pictured in the northeast town of Gudumbali, after an attack by members of Islamic State in West Africa (ISWA), Nigeria.(REUTERS)
------
• West Africa Turning into Islamic State's New Breeding Ground
• CAN to CJN: More Sharia Contents in Constitution, Provocative, Unacceptable
• Myanmar Has Othered Rohingya Just Because They Are Muslims: Meghnad Desai
• Anti-Muslim Legislation: Do Not Go To India, UK, US Tell Citizens
• Muslim Tourists Face Challenges in South Korea Even As Country Focuses Efforts On Attracting Them
• Court Adjourns Hearing of Terror Financing Case Against Hafiz Saeed Till December 16 Due To Lawyers' Strike
• British Muslims, Minorities Fearful For Their Future After Tory Victory
• Turkish Deputy Invites Trump To Monument Dedicated To Muslim Victims Of Armenian Massacres
Africa
• Former Sudan president Bashir sentenced to two years in detention for corruption
• Buhari returning Nigeria to military era, says Okogie
• Foreign airlines won't be allowed to treat Nigerians with disdain —Sirika
------
South Asia
• Rohingya Muslims: The Name That Aung San Suu Kyi Did Not Want To Say
• Supporters throng streets as Myanmar leader Suu Kyi returns from The Hague
• Airstrikes kill 18 Taliban militants in Ghor, Uruzgan and Kandahar provinces
• Khalilzad meets top Pakistani military, civilians officials after pausing talks with Taliban
• Trump administration intends to withdraw more than 4,000 troops from Afghanistan
------
India
• From Moradabad to Hyderabad, Muslims Worry About the Impact of New Citizenship Law
• Several Twitter users change identities to claim to be Muslims who support citizenship law
• Secularism, Federalism Cornerstones Of SAD; Muslims Should Be Under Citizenship Law: Sukhbir Badal
• Pooja Bhatt talks playing her grandmother in Zakhm: 'A Muslim woman who took me to Siddhivinayak temple'
• Will tweak Citizenship (Amendment) Act if needed, says Amit Shah
• 15-year residency to be must for owning land in J&K, Ladakh?
------
Southeast Asia
• China Destroying Documents After Leaks about Uighur Muslims
• Shadow of Muslim brotherhood hovers over Malaysia summit
• U.S. sanctions on Iran violate international law: Malaysian PM
• KL Summit 2019 to share views on current situation faced by Muslims - Dr Mahathir
• 'Travel agent' ran off with RM56,000, claims woman
------
Pakistan
• Jirga seeks reopening of mosque in Orakzai
• In Pakistan, Islamic banks' deposits dip due to overregulation
• PM, Saudi crown prince discuss regional situation
• Arms smuggled from Afghanistan seized
------
Europe
• The Muslim Pantomime raising money for a good cause
• Holy Books Desecrated In Mosque In Germany's Ulm
• UK PM Johnson must accept another Scottish independence vote: Nicola Sturgeon
------
North America
• US welcomes assurance to help reduce violence in Afghanistan
• Leaked Document Shows Finland Preparing to Fly Back Islamic State Extremists
• FBI: Pensacola Navy base shooting suspect posted 'countdown has started' to social media on 9/11
• Sweden: Far-right groups spew anti-Muslim hate online
------
Arab World
• Custodian of Two Holy Mosques Congratulates Boris Johnson on His Party's Victory in General Elections of Great Britain and Northern Ireland
• SISCO's Red Sea gets approval to develop Jeddah Islamic Port
• Home-cooked food in Iraqi square brings protesters together
• 100,000 homes planned for Saudi citizens by 2020
• Six winners in Riyadh falcon beauty contest swoop on $800,000 prize
• Saudi ministry of health wins innovation award
------
Mideast
• Israel Eyes Dubai Expo as 'Portal' To Arab World
• 54 Injured As Lebanese Security Forces And Hezbollah Supporters Clash In Central Beirut
• Iran says it's defused 2nd cyberattack in less than a week
• Turkey seeks more EU funds for refugees' upkeep
• Untiring protesters come up against elite in Algeria
------
New Zealand
• Mosque Victim's Brother Wins Top Student Architecture Accolade
-------
Compiled By New Age Islam News Bureau
URL: https://www.newageislam.com/islamic-world-news/west-africa-turning-islamic-states/d/120529
-----
West Africa turning into Islamic State's new breeding ground
Dec 14, 2019
The killing of 71 soldiers in Niger, which had been spared the surge in major militant attacks that have destabilized Mali and Burkina Faso, shows that Islamic State is expanding at breakneck speed across West Africa.
The raid on the Inates base, less than 200 kilometers (124 miles) from the capital, Niamey, is the deadliest-ever on Niger's army and follows a spate of attacks on military outposts in neighboring Mali that left more than 100 troops dead last month. It also came days before leaders of five West African nations were due to convene in France on Dec. 16 to discuss security and the French military deployment in the region as anti-French sentiment escalates. French President Emmanuel Macron on Thursday postponed the summit to January because of the attack.
"If we look at what's been happening of late, Islamic State has increased its mobility, its power and its access to resources," Former Malian Prime Minister Soumeylou Boubeye Maiga told Radio France Internationale on Friday. Maiga and his government resigned in April after about 160 villagers in Mali's center died in inter-communal fighting, one of the country's worst massacres to date.
Militant violence has engulfed the Sahel, an arid area on the southern fringe of the Sahara, since the 2011 ousting of Libyan strongman Moammar Qaddafi. Mali was almost overrun by al-Qaeda affiliated militants the following year and Burkina Faso is facing its worst humanitarian crisis due to near-daily hit-and-run attacks in its northeast. Partly due to huge spending on defense, which accounts for almost a fifth of its annual budget, Niger has largely remained stable in recent years, after successfully combating Boko Haram Islamist fighters from Nigeria.
Still, militant attacks, including abduction, arson and pillaging, have jumped roughly four-fold this year compared to 2018, according to the Armed Conflict Location & Event Data Project. The group recorded 210 assaults in 2019, compared to 56 last year.
Illicit Activities
Analysts this week raised the alarm about what's known as the Liptako-Gourma region, which straddles the borders of Mali, Burkina Faso and Niger. Armed groups are benefiting from the smuggling of goods, ranging from charcoal to fuel and motorcycles. They're also involved in managing small-scale gold mines, according to a report from the South Africa-based Institute for Security Studies.
"Illicit activities are essential to the establishment, expansion and ultimate survival of extremist groups," said William Assanvo, one of the authors of the report.
Niger is key to the international effort to fight Islamist insurgencies in the Sahel. The U.S. built a $110 million drone base in the northern city of Agadez, while France operates a base for some of its 4,500 forces in the Sahel. The government also receives European Union funding to stop migrants who try to cross its northern borders on their way to the Mediterranean.
But after the Inates raid, civil-society groups want to know how the militants were able to enter from Mali and kill so many soldiers in a single attack. President Mahamadou Issoufou cut short a trip to Egypt to deal with the fallout.
According to local media and intelligence reports, poor mobile phone connections were at least partly to blame for the high death toll. Several hundred militants -- estimates range to as many as 500 -- on motorbikes and in pick-up trucks overran a base that had been isolated since July, when assailants sabotaged its communications and largely cut off the camp. That meant that soldiers in Inates couldn't immediately call in reinforcements when they came under fire.
"The Niamey government is very concerned about the security situation and attacks getting closer to Niamey," Judd Devermont, director of the Africa program of the Center for Strategic and International Studies, said in an interview in Lagos."One of the advantages of the militants is that they've been able to integrate in communities, exploit, and sometimes even create conflict, to then offer protection and recruit to increase their ranks," he said.
https://www.hindustantimes.com/world-news/west-africa-could-be-next-hotbed-for-islamic-state/story-CsPLh1wyTGQWiWZoOV1vJN.html
------
CAN to CJN: More Sharia Contents in Constitution, Provocative, Unacceptable
December 15, 2019
Onyebuchi Ezigbo in Abuja
The leadership of the Christian Association of Nigeria (CAN) has described as provocative and unacceptable, the recent advocacy for more sharia contents in the constitution by the Chief Justice of Nigeria (CJN), Justice Ibrahim Tanko Muhammed.
CAN, which immediately demanded Muhammed's removal, because he was religiously compromised and no longer trustworthy in the dispensation of justice, also pointed out that the president's tilted appointment in favour of a certain religion was indicative of alleged Islamisation agenda of the administration.
A statement by the CAN President, His Eminence, Rev Dr. Samson Ayokunle, issued by Pastor Adebayo Oladeji, Special Assistant (Media & Communications) to the CAN President, stated that it was eagerly awaiting the rebuttal of the CJN on "the unfortunate and unguarded utterances that can provoke a religious crisis in the country".
The statement read in part: "Our attention has been drawn to the advocacy of the Chief Justice of Nigeria, Justice Ibrahim Tanko Muhammed for the amendment of the Constitution with a view to adding more Sharia contents.
"Justice Muhammed reportedly made the call while declaring open the 20th Annual Judges Conference at the Ahmadu Bello University (ABU), Zaria Faculty of Law's Moot Court.
"We have not seen the full text of the paper presented and we learnt the Chief Justice was represented at the event. So, it is difficult to know if the speech was that of the Chief Justice or his representative.
"We don't believe that such a reckless and provocative statement could be made by the number one judicial officer in the country. How could the CJN say 'We as Muslims have the numbers to amend the constitution'? It is not possible. It is either he was misquoted outright or quoted out of context."
Speaking more pungently, CAN stated: "Asking for constitutional amendment with a view to adding more to the Sharia contents is ill-timed, provocative and unacceptable. Was the Chief Justice of Nigeria put there deliberately for the promotion of Islamic matters or to be unbiased and fair judge for all irrespective of religion? It appears from this statement (if he made it) that he was put there for Islamisation agenda.
"Those in government are warned not to use the cheap popularity or acceptance they seek to set two religious practitioners against each other.
"This type of statement, if true, is enough for the President of the country to initiate the removal of this Chief Justice from office. He is religiously biased and partisan. We have no more confidence in him. And we once again reiterate our advocacy for religious balanced in the appointments that are being made by the President.
"Lopsided appointments are direct contradictions to some portions of the 1999 Constitution (as amended). These include but not limited to Sections 10, 13 (3-4), 15 (2) (d) and (4). It is widely believed that no country survives two civil wars. Our leaders should be mindful of the complexities of the people they are leading.
"There have been Presidents, who are Christians. During their time, there was never a time they promoted their religion at the expense of others. Our leaders should stop paying lip service to the unity and peace of the country," the statement noted.
CAN, therefore, warned against anything that could drag the country into another incident similar to the 1966 conflagration, adding that both the government and the governed must rise up to the challenges.
Wondering what would be the fate of Christians at the CJN court if he could be so openly partisan and parochial, CAN expressed reservations over the apparent silence by both the leadership of the presidency and the National Assembly on the CJN outburst.
"Do we take it that what he said is the official position of this regime on inter-faith relations? Why has no one in leadership, either, the Executive or Legislative arm of government taken him up on it? The Christian Association of Nigeria (CAN) is eagerly awaiting the rebuttal of the Chief Justice of Nigeria on the unfortunate and unguarded utterances that can provoke a religious crisis in the country."
According to CAN, its leaders had previously met with President Buhari, where they made it clear that the lopsided appointments of his government in favour of a religion and a section of the country was unacceptable.
It said although President Buhari promised to look into the observation with a view to addressing it, what is being witnessed now, it maintained, showed that not much has been done to correct the imbalance.
CAN further said the statement credited to the Chief Justice appeared to confirm fears that "appointments are done towards a religious end of Islamisation."
https://www.thisdaylive.com/index.php/2019/12/15/can-to-cjn-more-sharia-contents-in-constitution-provocative-unacceptable/
------
Myanmar Has Othered Rohingya Just Because They Are Muslims: Meghnad Desai
December 15, 2019
By: Meghnad Desai
Suu Kyi, the granddaughter of former Burmese prime minister Aung San, suffered house arrest for many years as she fought the military rulers of Burma, and won the battle for restoration of democracy in the country
When he was in London in 1931, Mahatma Gandhi was asked what he thought of the European civilisation. Being a master of the English language, he replied, "It would be a good idea". The expression 'would be' was to denote the current absence of, but hoping for better in the future. He was to be proved horribly right as, within his lifetime, the horrors of the Holocaust were revealed. Germany, an old European nation, the cradle of Martin Luther, Goethe and Einstein, inflicted the most uncivilised murder upon six million Jews and left many more damaged forever.
This week, in the Dutch city of The Hague, Asia is on trial. Aung San Suu Kyi, the State Counsellor (de facto Prime Minister) of Myanmar and previous winner of the Nobel Peace Prize, is the head of a Burmese delegation facing trial at the International Court of Justice. The charges relate to genocide of the Rohingya. The tragedy of the Rohingya has been unfolding before our eyes for years now. They have been hounded out of Myanmar. They have flooded into Bangladesh and India and farther away.
Suu Kyi, the granddaughter of former Burmese prime minister Aung San, suffered house arrest for many years as she fought the military rulers of Burma, and won the battle for restoration of democracy in the country. She regained her legacy as a member of a ruling dynasty. But that was a quarrel among the Buddhist Burmese. When it came to othering Muslims, Suu Kyi has proved as seasoned a politician as the worst military general.
There is a huge tragedy here of Asian culture and Asian politics. How is it that a Buddhist country long known (perhaps wrongly?) for its peace-loving people has conducted one of the world's worst genocides? The Khmer Rouge of Cambodia made a virtue of slaughtering all 'intellectuals' — everyone who wore spectacles or was educated — to build a one-class paradise where only peasantry had the right to live. They killed one-seventh of the total population. They were othering their own. But they were not Buddhists; just Maoists.
Myanmar and Suu Kyi have 'othered' the Rohingya who have lived in Myanmar for centuries, just because they are Muslims. Of course, the Myanmarese defence is that Rohingya are terrorists. The word terrorist has become almost synonymous with Muslims across the world since 9/11, regardless of evidence. The idea seems to be that only Buddhist Burmese are authentic citizens.
The astonishing thing is that the case has been brought by Gambia. Not by any neighbouring Asian nation. Not Malaysia nor Indonesia nor Pakistan. It says something about Asian solidarity or humanism that no country in Asia has cast a critical eye towards Myanmar. Of course, the reason is China, which is a strong ally of Myanmar and a country no other Asian nation wants to displease. China has its own Uighur problem which has brought no protests on any street in any Asian country. Only the American Congress seems to be fighting for human rights these days. Though not the American President!
During Gandhiji's lifetime, Burma was a part of India. In 1935, it was separated. Then, in 1947, Partition made Pakistan a different country. In 1971, Bangladesh separated from Pakistan. From one, we have four. How many more?
Get live Stock Prices from BSE and NSE and latest NAV, portfolio of Mutual Funds, calculate your tax by Income Tax Calculator, know market's Top Gainers, Top Losers & Best Equity Funds. Like us on Facebook and follow us on Twitter.
https://www.financialexpress.com/opinion/myanmar-has-othered-rohingya-just-because-they-are-muslims-meghnad-desai/1794110/
------
Anti-Muslim legislation: Do not go to India, UK, US tell citizens
December 15, 2019
GUWAHATI, India: Protests against a divisive new citizenship law raged on Saturday as Washington, London and Paris issued travel warnings for northeast India following days of violent clashes that have left two people dead.
Many in the far-flung, resource-rich northeast fear the new legislation will grant citizenship to a large number of immigrants from neighbouring Bangladesh, who they accuse of stealing jobs and diluting the region's cultural identity. Several thousand protesters rallied in the capital New Delhi on Saturday evening, urging Prime Minister Narendra Modi´s government to revoke the law, some holding signs reading: "Stop Dividing India". "People are not gathered here as Hindus, or Muslims, people are gathered here as citizens of India. We reject this bill that has been brought by the Modi government and we want equal treatment as enshrined in our constitution," said protester Amit Baruah, 55, a journalist.
The protests turned violent in the West Bengal state, a hotbed of political unrest, with at least 20 buses and parts of two railway stations set on fire as demonstrators blocked roads and set fire to tyres. No injuries were reported. Tensions also simmered in Guwahati in Assamstate, the epicentre of the unrest, where medical staff said two people were shot dead and 26 hospitalised late Thursday after security forces fired live rounds.
On Friday, a funeral procession of 18-year-old Sam Stafford, who was killed in the firing, was attended by hundreds of angry and distraught mourners who shouted, "long live Assam". "We were watching news all day on TV about the protests when my nephew left home in the evening. We asked him not to go out but he went with his friends," the student's aunt Julie Stafford told AFP. Anticipating further unrest, authorities extended an internet ban across Assam till Monday. Most of the shops were shut and anxious residents stocked up supplies on Saturday when the curfew was relaxed during the day.
The Citizenship Amendment Act allows for the fast-tracking of applications from religious minorities including Hindus and Sikhs from Pakistan, Afghanistan and Bangladesh, but not Muslims. Samujjal Bhattacharya from the All Assam Students Union, which has been at the forefront of the protests, told AFP the group would continue its fight against the new law "in the streets and in the court".
Modi and Japanese counterpart Shinzo Abe postponed a summit that was reportedly due to be held in Guwahati from today (Sunday), and the United States and Britain warned their nationals to "exercise caution" if travelling to the wider northeast region. The Islamic groups, the opposition and rights organisations say the law is a part of Modi´s Hindu nationalist agenda to marginalise India´s 200 million Muslims. He denies this and says that Muslims from the three countries are not covered by the legislation because they have no need of India´s protection. Modi´s right-hand man Amit Shah on Saturday sought to reassure the northeastern states, saying the government would protect their "culture, social identity, language and political rights".
Assam has long been a hotbed of ethnic tensions. In 1983 some 2,000 people, mainly Bengali Muslims, were butchered in what became known as the Nellie massacre. This year a citizenship registry left off 1.9 million people -- many of them Muslims -- unable to prove that they or their forebears were in Assam before 1971, leaving them to face possible statelessness. "There has been this agitation (against) illegal migration from Bangladesh over many years," Sanjoy Hazarika, a professor at Delhi´s Jamia Millia Islamia University, told AFP. "They feel that their rights to land, to jobs, and the entire social fabric education, existing social services and so on will be impacted by this."
On Friday university students in Delhi clashed with police, who used batons and tear gas shells to quell the protests. Rahul Gandhi of the opposition Congress party has called the law "an attempt to ethnically cleanse the northeast".
So far, France, Israel, US and the UK have issued travel advisories for nationals travelling to India in view of the ongoing protests against the Citizenship Amendment Bill. In a statement issued by the Foreign and Commonwealth Office, the United Kingdom has urged visitors to the northeast to avoid "all but essential" travel and "monitor local media" for the latest information about the circumstances around them. The UK also asked citizens to avoid all travel to Kashmir, Ladakh and all areas (except Wagah) near the border with Pakistan. The US also asked citizens to "exercise caution" in the context of protests and violence against the passing of the Citizenship Amendment Bill (CAB). "The US government has temporarily suspended official travel to Assam," the US has announced. The French and Israeli governments have also urged their citizens to stay alert while travelling in India. The advisories were issued after the office of the High Commissioner of UN Human Rights body expressed concern saying that the CAB was "fundamentally discriminatory in nature".
Meanwhile Amnesty International said the CAB passed by the Indian Parliament legitimises discrimination on the basis of religion and stands in clear violation of both the constitution of India and international human rights law. The bill amends the Citizenship Act of 1955 to enable irregular migrants to acquire Indian citizenship through naturalisation and registration. However, it restricts the eligibility to only Hindus, Sikhs, Buddhists, Jains, Parsis and Christians from Afghanistan, Bangladesh and Pakistan who entered India on or before 31 December, 2014. The bill also reduces the requirement of residence in India for citizenship by naturalisation from 11 years to five years for these particular communities. Besides adversely impacting the refugees and asylum seekers, the amendments also impact the human rights of Indian citizens - particularly Muslims.
Avinash Kumar, Executive Director of Amnesty India, said: "The Government of India denies any form of discrimination, but the amendments clearly weaponise the NRC process against Muslims. "It is difficult to view the Citizenship (Amendment) Bill in isolation and not look at the larger picture where both the amendments and the NRC may deprive minorities of their citizenship in India. The amendments also set a dangerous shift in the way citizenship will be determined in India. Worryingly, they also stand to create the biggest statelessness crisis of the world causing immense human suffering," said Kumar, adding: "Welcoming asylum seekers is a positive step, but in a secular country like India, slamming the door on persecuted Muslims and other communities merely for their faith reeks of fear-mongering and bigotry."
Meanwhile, a Muslim lawmaker from the southern Indian city of Hyderabad, Asaduddin Owaisi, on Saturday filed a petition in the country's Supreme Court against the CAB. Owaisi, the head of All India Majlis-e-Ittehadul Muslimeen (AIMIM), vociferously opposed the bill in the lower house of parliament during the debate and even tore its pages on the floor of the house. "AIMIM leader Asaduddin Owaisi has filed a petition before the Supreme Court challenging the Citizenship Amendment Act," a local news gathering agency quoted Owaisi's lawyer Nizam Pasha as having said. Owaisi alleged the bill was aimed at making Muslims "stateless" and warned it would lead to another partition in India.
https://www.thenews.com.pk/print/583741-anti-muslim-legislation-do-not-go-to-india-uk-us-tell-citizens
------
Muslim tourists face challenges in South Korea even as country focuses efforts on attracting them
By Jalelah Abu Baker
15 Dec 2019
SINGAPORE: South Korea is regarded as a food haven by many, but Indonesian tourist Rati was starving past lunch time as she walked around a park in the country's second-largest city Busan.
Ms Rati and two of her fellow Muslim travel buddies had had trouble finding Halal-certified food earlier in the day.
While there was halal-certified food near Yongdusan Park in the Nampodong area which they were visiting, it was not food she and her friends were interested in.
"There is halal food that's Indian, but we want to have halal Korean food," lamented her friend Meri, 30.
They had a solution though - eating the seafood the port city is famed for, which they said is considered "safe to eat".
According to the Islamic Religious Council in Singapore, animals which live in water and cannot survive outside it, such as fish, except those that are poisonous, intoxicating or hazardous to health are "halal".
Finding a space to pray however, proved more difficult for the travelers. They wanted to go to the only mosque in Busan, but found that it was inconveniently located, about an hour away from the tourist spots they were visiting.
Having also visited the country's capital Seoul, they said that they found it more difficult to travel in Busan, compared to in Seoul.
"In Seoul, all the halal food is in the same area in Itaewon so we can go there," Ms Meri said.
Despite the relative ease in Seoul, Ms Wan Rusnee Wangsoh faced difficulties, as she could not find Muslim-friendly food in tourist areas like Hongdae.
Visiting the South Korean capital for the second time in two years, the 20-year-old Thai made sure to book an apartment that came with a kitchen so she and her younger sister could cook simple meals to bring along with them.
SOUTH KOREA TRIES TO ATTRACT MUSLIM TOURISTS
Such challenges faced by Muslim tourists come despite South Korea's push to attract them.
According to the Korean Tourism Organisation (KTO) website, Muslim tourists from Asia and Oceania are a "focus area". The website also has a page dedicated to information for Muslims, which lists Muslim-friendly restaurants and prayer rooms, acknowledging that "it is not easy for Muslim travelers to find appropriate food or prayer rooms in a non-Islamic country".
The KTO also said it is doing its best to make the country a Muslim-friendly destination.
South Korea's designated representative media Yonhap News Agency reported in September this year that the number of Muslim tourists to the country is set to top 1 million if travel trends continue.
Yonhap quoted the KTO in reporting that more than 500,000 Muslim tourists visited the nation in the first half of this year, a 9.8 per cent increase compared to the same period last year.
BECOMING MORE MUSLIM-FRIENDLY
Imam at Seoul's Korea Muslim Federation Abdul Rahman Lee told CNA that although it is still a challenge for Muslim tourists to get halal food, many changes have taken place in the last four to years to make Seoul more Muslim-friendly.
Prayer rooms are available at shopping malls like Lotte Department Store, Everland, a theme park and popular tourist destination Nami Island.
Airports also have prayer rooms, with the latest in Jeju which opened last year, Mr Lee said. Fueling the demand are also direct flights from Islamic countries, he said.
He acknowledged that halal Korean food is "very limited"- fewer than 10- compared to halal food that is Indian or Malay.
However, he said that tourists are increasingly learning about the ingredients in them, so they know whether they in fact only contain seafood and vegetables.
The federation also started holding seminars on how to be Muslim-friendly every two months about five years ago, he said.
"We started the classes because we found out that companies are producing halal food, halal materials, halal items but they don't understand what is halal," he said.
The room where the classes are held can accommodate a maximum of 60 people, and they have seen full attendance from the start, he said.
"The demand is increasing, but when the class is full, we ask them to sign up for the next class," he said.
DIFFICULTIES WORTH IT FOR SOME
While it is not easy keeping to the requirements of her faith in South Korea, Ms Rusnee said she enjoys traveling there, especially to buy merchandise from her favourite K-Pop band NCT.
It is the band which inspired her to make the trip. Like Rusnee, Meri and Rati travelled to the country, attracted by its television dramas and music.
Ms Lailatul Husna, a Malaysian studying in Korea said that restaurants in Seoul are becoming more aware of Muslims.
"Some restaurants serve halal meat even though they are not halal-certified," she said.
Ms Husna earned a scholarship to read chemical engineering in the Korean language at Dongyang Mirae University, and learnt Korean in her home country for a year before embarking on her degree. She has been studying there for two years.
Ms Meri holds hope that the country will become more Muslim-friendly.
"I'd like to see more restaurants getting Halal-certified, and labels to show which snacks we can have," she said.
https://www.channelnewsasia.com/news/asia/muslim-tourists-south-korea-halal-food-12156204
------
Court adjourns hearing of terror financing case against Hafiz Saeed till December 16 due to lawyers' strike
Dec 14, 2019
LAHORE: After his indictment, the trial against Mumbai attack mastermind Hafiz Saeed in the terror financing case could not be kicked off for the third consecutive day on Saturday because of a country-wide strike by lawyers.
Saeed, who has been indicted along with three close aides in terror financing case, could not be produced before the Anti-terrorism Court here on Saturday because of the lawyers' strike. The lawyers are protesting for the last three days against the arrest of their colleagues in a case of hooliganism at a hospital in Lahore.
The ATC Lahore adjourned the hearing of the terror financing case against Saeed and others till December 16.
"Except the arrested lawyers no other suspect or witness in any other case were presented before the ATC due to the lawyers strike during the last three days," a court official told PTI on Saturday.
He said the prosecution which was to present witnesses against Saeed and others also could not bring them to the court.
The ATC court on Wednesday indicted Jamaat-ud-Dawah (JuD) chief and his aides Hafiz Abdul Salam bin Muhammad, Muhammad Ashraf and Zafar Iqbal in the terror financing case and directed the prosecution to produce witnesses.
The ATC on Wednesday framed the terror financing charges on the four suspects in their presence. Deputy Prosecutor General Punjab Abdur Rauf had told the court that founder of terror group Lashkar-e-Taiba and others were involved in terror financing case and the Counter Terrorism Department of Punjab police had 'solid evidence' in this regard.
The CTD had registered 23 FIRs against Saeed and his accomplices on the charges of "terror financing" in different cities of Punjab province and arrested Saeed on July 17. He is detained at the Kot Lakhpat jail in Lahore.
The cases have been registered in Lahore, Gujranwala and Multan for collection of funds for terrorism financing through assets/properties made and held in the names of Trusts/Non Profit Organisations (NPO) including Al-Anfaal Trust, Dawatul Irshad Trust, Muaz Bin Jabal Trust, etc.
According to the CTD, investigation launched into financing matters of proscribed organisations -- Jammat-ud-Dawah (JuD) and Lashkar-e-Taiba (LeT) -- in connection with implementation of UN sanctions against these designated entities and persons as directed by NSC (National Security Committee) in its Meeting of January 1, 2019 chaired by Prime Minister Imran Khan for implementing the National Action Plan.
"These suspects made assets from funds of terrorism financing. They held and used these assets to raise more funds for further terrorism financing. Hence, they committed multiple offences of terrorism financing and money laundering under Anti Terrorism Act 1997. They will be prosecuted in ATCs (Anti Terrorism Courts) for commission of these offences," the CTD said.
The US Department of the Treasury has designated Saeed as a Specially Designated Global Terrorist, and the US, since 2012, has offered a US $10 million reward for information that brings Saeed to justice.
Saeed-led JuD is believed to be the front organisation for the LeT which is responsible for carrying out the 2008 Mumbai attacks that killed 166 people.
https://timesofindia.indiatimes.com/world/pakistan/court-adjourns-hearing-of-terror-financing-case-against-hafiz-saeed-till-december-16-due-to-lawyers-strike/articleshow/72606576.cms
------
British Muslims, minorities fearful for their future after Tory victory
Murtaza Ali Shah
December 15, 2019
LONDON: A group of British Muslims and a leading voice on ethnic culture have expressed fears for the future of Muslims and ethnic minorities in Britain under Boris Johnson's Conservative Party, following its crushing win in the general election.
After the election results were finalised, the Muslim Council of Britain (MCB) calls on the Prime Minister to reassure British Muslims of their place in our country and former Cabinet Minister and Tory Party's Chairperson Sayeeda Warsi said that her party "must start healing its relationship with British Muslims" in reference to widespread racism and Islamophobia in Tory party and entrenched anti-immigration and anti-Muslim views within the party.
Grime rapper Stormzy, a vocal backer of the Labour leader Jeremy Corbyn, said that the future looks disturbing for minorities in the United Kingdom after results of the general election 2019 gave clear majority to Boris Johnson.
Harun Khan, Secretary General of the Muslim Council of Britain said: "Mr Johnson commands a majority, but there is a palpable sense of fear amongst Muslim communities around the country. We entered the election campaign period with long standing concerns about bigotry in our politics and our governing party. Now we worry that Islamophobia is 'oven-ready' for government. Johnson has been entrusted with huge power, and we pray it is exercised responsibly for all Britons."
Harun Khan added: "We understand that the Prime Minister insists that he is a One Nation Tory. We earnestly hope that is the case and urge him to lead from the centre and engage with all communities." In a tweet, Sayeeda Warsi added: "Endorsements from #TommyRobinson & KatieHopkins & colleagues retweeting both is deeply disturbing. Independent Inquiry into Islamophobia is a must first step. The battle to root out racism must now intensify". Stormzy, 26, who earlier had urged his followers to vote Labour, took to twitter to retweet a message penned by British journalist Mehdi Hasan shortly after the exit poll result was revealed.
The message he shared with his 1.3 million followers, that made reference to Conservative leader Boris Johnson, read: "Dark day for minorities in the UK. Especially for British Muslims who watched as a man who said "Islam was the problem," mocked veiled Muslim women, and also turned a blind eye to massive anti-Muslim hatred in his party, was just given a landslide majority by their fellow Britons."
The artist posted a tweet written by another social media user that said: "Whatever happens tonight, @jeremycorbyn has been a fantastic Labour leader. "He has provided genuine hope for the youth of this country and enabled us to imagine better conditions for ourselves. He boldly spoke out against injustice and inequality. I will always respect him."
He has also previously described Boris Johnson as a "sinister man with a long record of lying and policies that have absolutely no regard for the people that our government should be committed to helping". Meanwhile, the Labour Against Antisemitism group said the election result – which saw the Conservatives record their best figures since 1987 and Labour their worst since 1935 – was a "damning verdict" on Jeremy Corbyn's leadership of what they called an "institutionally racist" party.
The group added in a statement: "The overwhelming reaction of our members to this election result is one of relief. Underlying that emotion, however, runs anger that the British Jewish community has been brought close to serious threat by the complete failure of the Labour movement to deal with the poison of anti-Semitism." During the election campaign Johnson came under fire for his past description of Muslim women wearing niqabs as looking like "letterboxes", and was accused of personally contributing to rampant racism in Britain. He countered by saying he was "mounting a strong liberal defence of the right of women in this country to wear what they choose". Writer and political commentator Owen Jones, who had campaigned for Labour, said: "It's a catastrophic result for the country and for everything that the Labour party exists to fight for. The people it was founded to champion, to represent.
"And I'm so sorry to people watching this who are full of dismay, horror and who are scared."
https://www.thenews.com.pk/print/583851-british-muslims-minorities-fearful-for-their-future-after-tory-victory
------
Turkish deputy invites Trump to monument dedicated to Muslim victims of Armenian massacres
December 14, 2019
A ruling Justice and Development (AK) Party deputy asked U.S. President Donald Trump to visit the Zeve Martyrs Monument in Turkey's eastern province of Van where Armenian groups killed nearly 2,500 Muslims during World War I, calling on him to confront historical facts over the U.S. Senate unanimously passing a resolution that recognizes the so-called Armenian genocide.
Condemning the resolution that formally recognized Armenian claims of 1915 events, Abdulahat Arvas said that the Zeve Martyrs Monument is the greatest proof of atrocities carried out by Armenians in Turkey.
"The Zeve Martyrs Monument that is built to commemorate 2,500 Muslims massacred by Armenian gangs in Van during World War I is the greatest proof of Armenian atrocities. There's overwhelming evidence of massacres carried out by Armenians in Turkey, not only in Van but also in many areas across Anatolia, especially in cities such as Bitlis, Erzurum, Erzincan, Iğdır and Sivas" Arvas said during his speech at the Grand National Assembly of Turkey.
He voiced Turkey's strong criticism of the resolution, saying it lacked legal basis.
Armenian gangs killed thousands of Muslim civilians, including women and children during World War I in eastern Anatolia.
The U.S. Senate unanimously passed Thursday a resolution recognizing Armenian claims on the 1915 events.
Turkey's Foreign Minister slammed a U.S. resolution Thursday recognizing Armenian claims of 1915 events, saying it is a political show.
"Senate Resolution is nothing more than a political show. It is not legally binding and it has no validity whatsoever," Mevlüt Çavuşoğlu said on Twitter.
Çavuşoğlu said those who use history for political purposes are cowards who do not want to face the truth.
Turkey's Foreign Ministry also issued a statement condemning the U.S. move, saying the U.S. resolution was one of the shameful examples of how history can be politicized.
Turkey's position on the events of 1915 is that the deaths of Armenians in eastern Anatolia took place when some sided with invading Russians and revolted against Ottoman forces. A subsequent relocation of Armenians resulted in numerous casualties.
Turkey objects to the presentation of the incidents as "genocide" but describes the events as a tragedy in which both sides suffered casualties.
Ankara has repeatedly proposed the creation of a joint commission of historians from Turkey and Armenia plus international experts to examine the issue.
https://www.yenisafak.com/en/news/turkishdeputy-invites-trump-to-monument-dedicated-to-muslim-victims-ofarmenian-massacres-3507433
------
Africa
Former Sudan president Bashir sentenced to two years in detention for corruption
December 14, 2019
A Sudanese court on Saturday convicted former president Omar al-Bashir on charges of corruption and illicit possession of foreign currency and sentenced him to two years of detention in a reform facility.
The presiding judge said Bashir, 75, who was ousted in April following months of street protests against his three-decade rule, was being sent to the reform facility, rather than a prison, on account of his age.
He also ordered the confiscation of millions of euros and Sudanese pounds found in Bashir's residence when he was toppled.
Bashir is also wanted by the International Criminal Court, which issued arrest warrants against him in 2009 and 2010 on charges of war crimes, crimes against humanity, and genocide in Sudan's Darfur region.
Dressed in traditional white robes and a turban, Bashir watched silently from inside a metal defendant's cage while the judge read out the verdict on Saturday.
Several other judicial cases have been launched in Sudan against the former president.
In May he was charged with incitement and involvement in the killing of protesters, and this week was summoned for questioning over his role in the 1989 military coup that brought him to power.
https://indianexpress.com/article/world/former-sudan-president-bashir-sentenced-to-two-years-in-detention-for-corruption-6166852/
------
Buhari returning Nigeria to military era, says Okogie
December 14, 2019
Leke Baiyewu, Abuja
Former President of the Christian Association of Nigeria, Cardinal Anthony Olubunmi-Okogie, has said Nigeria is gradually returning to the era of military dictatorship where there is disobedience to the rule of law.
Okogie, a former Catholic Archbishop of Lagos, decried the frequent disobedience to court orders by the regime led by the President, Major General Muhammadu Buhari (retd.).
Okogie's comments are contained in a statement he sent to Saturday PUNCH on Friday titled, 'Corruption and Repression.'
He said, "The painful and sad reality we face is that we live in a country where leaders are very distant from the led. We need leaders who are neither blind to the suffering of the people nor deaf to their cries; leaders who listen to the people, leaders who have the courage to be humble, and who are therefore ready to admit that they are wrong when they are wrong.
"In a democracy, those who govern are chosen by the people to represent the people. And if they are to represent the people, they must listen to the people. Not only do true democrats listen, they also are not afraid of dissenting opinions. They do not arrogate to themselves the power to accuse, arrest, prosecute and convict. But can we candidly say we have democrats at the helm of affairs in this country at this point in time?
"How can we claim to live in a democracy when presidential spokespersons tell us the presidency is always right? It is important to remind our political leaders at the federal, state and local levels of government that they cannot enforce laws if they cannot obey the law."
He added, "If the executive disobeys court rulings, and if it intimidates and humiliates the judiciary, then we are back to the era when a military junta made laws and interpreted them without any regard for fundamental human rights. We have returned to a sinful past when citizens could be abducted and locked up in detention without trial under the pretext of acting in the interest of national security."
According to the retired bishop, repression of dissenting opinions was a major factor that led to the end of the First Republic.
"But Nigerians do not want military rule anymore. Having experienced two painful bouts of military dictatorship, two periods in Nigeria's history when men in uniform, trained and paid to protect the land and its people, visited untold brutality on the civilian population, we all must resolve to be responsible for protecting democracy in this country," he stated.
The Cardinal also recalled that it was during the military rule that Nigeria was plunged into an avoidable civil war. He said the war could have been avoided if political actors had adhered faithfully to democratic principles.
He added that their failure to do so provided opportunistic elements in the Nigerian military with an excuse for mass murder.
"Innocent lives were lost before and during that war. A month to the 50th anniversary of the end of that war, factors that led to the war are being reawakened. Our democracy is in danger because of corruption and dictatorship," he said.
https://punchng.com/buhari-returning-nigeria-to-military-era-says-okogie/
------
Foreign airlines won't be allowed to treat Nigerians with disdain —Sirika
December 14, 2019
The Minister of Aviation, Mr Hadi Sirika, has said that no foreign airline operator will henceforth be allowed to treat Nigerian travellers with disdain.
Sirika made the declaration on Saturday in Abuja in a statement signed by Mr James Odaudu, the Director of Public Affairs in the ministry.
The minister further warned other airline operators to take a cue from the recent Turkish Airlines' experience.
"Following the threat by the nation's aviation regulators to ban its operations in Nigeria, Turkish Airlines last night flew into Abuja with a bigger aircraft A330 as against the usual smaller B737.
"Officials of the airline, alarmed by the prospect of losing their Nigerian market, had rushed into a meeting with the Nigerian authorities to pledge total commitment," he said.
The minister also noted that the organisation had tried to comply with the conditions given to it in order to continue its operations in Nigeria,
According to him, Turkish airlines has been notorious for the shabby treatment of Nigerian travellers over time.
He added that such behaviours by the airline had always given rise to security issues at the airports with protests by affected passengers.
The minister, however, said the airline had now shown commitment to improving its treatment of Nigerian travellers by operating a bigger and more comfortable aircraft.
Sirika promised Nigerians better flying experiences as the nation's aviation industry was set to undergo major developments in the coming years with the implementation of the stakeholder-developed roadmap.
https://punchng.com/foreign-airlines-wont-be-allowed-to-treat-nigerians-with-disdain-sirika/
------
South Asia
Rohingya Muslims: The Name That Aung San Suu Kyi Did Not Want To Say
Dec 14, 2019
Ewelina U. Ochab
On December 10, 2019, the International Court of Justice (the ICJ), the principal judicial organ of the United Nations, begun a hearing in the case of the alleged genocidal atrocities in Myanmar. The hearing was focused on provisional measures only, as requested by the Gambia, including measures within the Burmese government's power to "prevent all acts that amount to or contribute to the crime of genocide" and "not destroy or render inaccessible any evidence related to the events."
The case was initiated by The Gambia on November 11, 2019, a few days after The Gambia made the promise at the UN General Assembly. The Gambia's application alleges that the Government of Myanmar has been complicit in atrocities committed against the Rohingya Muslims, including "killing, causing serious bodily and mental harm, inflicting conditions that are calculated to bring about physical destruction, imposing measures to prevent births, and forcible transfers, are genocidal in character because they are intended to destroy the Rohingya group in whole or in part" in violation of the UN Convention on the Prevention and Punishment of the Crime of Genocide (Genocide Convention).
With the ICJ listening to submissions from both sides, one issue became very clear, the Burmese government, including Aung San Suu Kyi, acting as Agent of Myanmar, despite facing severe accusations, still refuse to recognize the identity of the Rohingya Muslims.
Aung San Suu Kyi, who made a statement before the ICJ on December 11, suggested that: "The situation in Rakhine is complex and not easy to fathom. But one thing surely touches all of us equally: the sufferings of the many innocent people whose lives were torn apart as a consequence of the armed conflicts of 2016 and 2017, in particular those who have had to flee their homes and are now living in camps in Cox's Bazar." While the intervention tries to project some compassion, it is noteworthy that throughout her entire intervention, Aung San Suu Kyi does not refer to the identity of those targeted, the Rohingyas, the Rohingya Muslims, an ethnic and religious minority group.
The fact that Aung San Suu Kyi refused to call the targeted group by its identity is not a matter of semantics only. It is a clear denial of their identity. Myanmar would not want to have an agent for the state clearly recognizing the identity of the Rohingya Muslims before the ICJ. This would not have been beneficial for the future proceedings before the ICJ. Indeed, after the provisional measures hearing, and after the ICJ makes a decision on the measures, the parties would need to meet again for a further hearing where the question of genocide would be explored.
Genocide has a precise legal definition found at Article II of the Genocide Convention. The specific targeting of an ethic or religious group for annihilation is the cornerstone of that definition. Aung San Suu Kyi intervention distracts from the ethno-religious identity of the group and is a calculated tactic to build a foundation for the proceedings that will follow. Let's not be fooled by this. The denial of their identity in her intervention speaks volumes and reflects the denial of the Rohingya Muslims identity in Myanmar. Indeed, as Professor Gregory Stanton explains, the last stage of genocide is not the annihilation of the targeted groups but denial.
Aung San Suu Kyi also emphasized that the recent work carried out by the Burmese government was aimed at assisting the affected communities. Efforts apparently include "striving to ensure that all communities enjoy the same fundamental rights", "to expedite citizenship verification and application", "all children born in Rakhine, regardless of religious background, are issued with birth certificates", "arrangements have been made to enable more Muslim youth to attend classes at universities across Myanmar", "scholarships will also be made available to students from all communities living in Rakhine", "the Government has started a social cohesion model project in Maungdaw Township, to promote social harmony among all communities", "interfaith fora have been encouraged", "these are some of the steps taken to improve livelihoods, security, access to education and to health, citizenship, and social cohesion for all communities in Rakhine." With these arguments she challenged the accusations that a genocide had occurred. She asked "how can there be an ongoing genocide or genocidal intent when these concrete steps are being taken in Rakhine?"
However, it is noteworthy that Aung San Suu Kyi refers to very recent developments. This does not change the fact that the alleged atrocities of 2016 and 2017 amounted to genocide or were conducted with genocidal intent. It only means that the Burmese government has learned lesson, that they are now more careful. Furthermore, the wording she used is very weak, suggesting that these policies are not achieved. It is highly likely that they are not being pro-actively implemented.
Aung San Suu Kyi made a case that the ICJ should leave Myanmar alone and that the issue of justice in Myanmar is for the Burmese domestic mechanisms. Of everything that Aung San Suu Kyi said in her intervention, one statement made me very fearful. In her closing remarks, Aung San Suu Kyi said that "We pray the [ICJ] to refrain from taking any action that might aggravate the ongoing armed conflict and peace and security in Rakhine." It is clear that the provisional measures cannot aggravate the conflict. However, the warning is received. The worst may be yet to come.
https://www.forbes.com/sites/ewelinaochab/2019/12/14/rohingya-muslims-the-name-that-aung-san-suu-kyi-did-not-want-to-say/#6cbd9ca8732d
------
Supporters throng streets as Myanmar leader Suu Kyi returns from The Hague
Dec 14, 2019
NAYPYITAW: Thousands of supporters of Myanmar leader Aung San Suu Kyi thronged the streets of the capital Naypyitaw on Saturday to celebrate her arrival back from The Hague, where she defended the country against genocide charges.
The Nobel laureate waved as her black car drove slowly past crowds who waved flags, held up pictures of her face and shouted jubilant greetings.
"Mother Suu went to the court on behalf of the country," local farmer Khin Maung Shwe told Reuters. "Actually the accusation was against the army. But she took the first step of responsibility as a leader of the nation."
Gambia has accused Myanmar of violating the 1948 Genocide Convention over a military campaign that drove more than 730,000 Rohingya Muslims from Myanmar. It has asked the International Court of Justice to order "provisional measures" to prevent more harm.
Suu Kyi led a team to the Netherlands for three days of hearings, during which she denied genocide and argued the UN court should not have jurisdiction.
"Myanmar requests the court to remove the case from its list," Suu Kyi said on the final day of hearings on Thursday. "In the alternative (the court should) reject the request for provisional measures submitted by the Gambia."
The Nobel Peace Prize laureate's surprise decision to attend the hearings in person has dealt a further blow to her tarnished international reputation.
Suu Kyi was long feted in the West as a champion of human rights and democracy, and was a high-profile political prisoner during 15 years of house arrest for her opposition to Myanmar's then ruling military junta.
But her stance on the Rohingya issue has seen her stripped of many awards, calls for the Nobel committee to revoke her peace prize and strong criticism from former celebrity supporters and other organizations.
At home however, Suu Kyi, the daughter of Myanmar's founding father Aung San, is still revered by many.
The proceedings in the Hague have galvanized supporters, who have staged rallies across the country chanting "Stand with Suu Kyi" and waving flags.
https://timesofindia.indiatimes.com/world/south-asia/supporters-throng-streets-as-myanmar-leader-suu-kyi-returns-from-the-hague/articleshow/72604036.cms
------
Airstrikes kill 18 Taliban militants in Ghor, Uruzgan and Kandahar provinces
Sunday, 15 Dec 2019
A series of airstrikes killed at least 18 Taliban militants in Ghor, Uruzan and Kandahar provinces, the informed military officials said Sunday.
The officials further added that the security forces conducted the airstrikes in the past 24 hours in the three provinces.
Elaborating further, the officials said an airstrike killed 12 militants in Dowlatyar district of Ghor province in the central parts of the country.
Another airstrike in Shaid-e Hasad district of Uruzgan killed 3 Taliban militants, the officials said, adding that a similar airstrike killed 3 more Taliban militants in Khakrez district of Kandahar.
The Taliban group has not commented regarding the airstrikes so far.
https://www.khaama.com/airstrikes-kill-18-taliban-militants-in-ghor-uruzgan-and-kandahar-provinces-04421/
------
Khalilzad meets top Pakistani military, civilians officials after pausing talks with Taliban
Sunday, 15 Dec 2019
The U.S. envoy for Afghanistan Reconciliation Ambassador Zalmay Khalilzad met with top military and civilian officials of Pakistan after pausing talks with Taliban political leaders.
The Embassy of the United States in Islamabad said in a statement that Ambassador Khalilzad met with Foreign Minister Shah Mahmood Qureshi, Chief of Army staff General Qamar Javed Bajwa and other government officials in Islamabad on Friday.
The statement further added "In his meetings with Foreign Minister Shah Mahmood Qureshi, Chief of Army Staff General Qamar Javed Bajwa, and other government officials, Ambassador Khalilzad discussed the current status of U.S.-Taliban talks."
"He welcomed Pakistan's support for a reduction in violence, ceasefire, and a successful conclusion of intra-Afghan negotiations as well as regional support for these goals. He also underscored the economic and security benefits peace can bring to the region," the statement added.
Ambassador Khalilzad on Thursday announced a brief pause in peace talks with Taliban leaders, a day after Taliban claimed attack near Bagram airfield which killed 2 civilians and wounded at least 70 others.
"When I met the Talibs today, I expressed outrage about yesterday's attack on Bagram, which recklessly killed two and wounded dozens of civilians. #Taliban must show they are willing & able to respond to Afghan desire for peace," Ambassador Khalilzad said in a Twitter post.
He also added "We're taking a brief pause for them to consult their leadership on this essential topic."
https://www.khaama.com/khalilzad-meets-top-pakistani-military-civilians-officials-after-pausing-talks-with-taliban-04420/
------
Trump administration intends to withdraw more than 4,000 troops from Afghanistan
Sunday, 15 Dec 2019
The administration of President Donald Trump intends to announce the withdrawal of more than 4,000 U.S. troops from Afghanistan, it has been reported.
The former and current U.S. officials privy of the development have told NBC News that the Trump administration intends to announce the draw down as early as next week.
The officials further added that the withdrawal would leave between 8 to 9 thousand troops in Afghanistan.
According to reports, the United States has between 12,000 to 13,000 troops in Afghanistan.
This comes as the U.S. Special Envoy for Afghanistan Reconciliation Ambassador Khalilzad on Thursday announced a brief pause in talks with the Taliban political leaders, days after resuming peace talks with the group which stalled in September.
Meanwhile, a U.S. Forces-Afghanistan has said "U.S. Forces-Afghanistan has not received orders to reduce troop levels in Afghanistan. We remain fully committed to the Resolute Support mission and our Afghan partners, and focused on our key objective: ensuring Afghanistan is never again used as a safe haven for terrorists who threaten the United States, our allies or our interests."
Ambassador Khalilzad announced the 'brief pause' following a coordinated attack near Bagram airfield on Wednesday which killed 2 civilians and wounded at least 70 others.
https://www.khaama.com/trump-administration-intends-to-withdraw-more-than-4000-troops-from-afghanistan-04419/
------
India
From Moradabad to Hyderabad, Muslims worry about the impact of new citizenship law
By
Prerna Katiyar
Dec 15, 2019
Moradabad & Hyderabad: Every Friday, Mohammed Yameen shuts his brassware shop in Moradabad's Peerzada area — and keeps the day for his friends, family and God, not necessarily in that order. On December 13, the 50-year-old did not even go to the mosque for namaz. It was the Friday after the Citizenship (Amendment) Bill was passed by Parliament — the Lok Sabha passed it on December 9 and the Rajya Sabha on December 11.
"After the bill was passed, I decided to do nothing else on Friday but find the papers that show this house was bought by my grandfather, who was born in Moradabad in undivided India," says Yameen. His other worry is to secure papers that show his grandfather, Abdul Farid, was indeed his grandfather.
Union Home Minister Amit Shah has said Indian Muslims have nothing to fear from the Citizenship (Amendment) Act or CAA, but Muslims in Uttar Pradesh — where they are 18% of the population, according to the 2011 Census — are worried.
The CAA fast-tracks citizenship for five non-Muslim communities in Pakistan, Afghanistan and Bangladesh, but the concern is in what it signals — making citizenship a matter of faith — and the kind of effect it will have on the ground for people who find themselves excluded from the National Register of Citizens (NRC). The law will throw a lifeline for non-Muslims, while the Muslims out of NRCNSE 2.22 % would be incarcerated or relegated to non-citizens.
Mohammed Shameen, a civil contractor in Rampur, says there is a growing feeling that Muslims are getting a step-motherly treatment from the powers that be. "Our ancestors have given their lives for this country. When the Constitution promises equality and no discrimination based on religion, why do we have this law? Why make us feel that we are not the same as others? And why now?" he asks.
It is no different in Hyderabad."Earlier, I thought NRC was only for border states that had problems of illegal migrants.
I am now worried, hearing that it will be implemented in other parts of the country, including Hyderabad," says Mohammed Arif, a 23-year-old salesman at a mobile accessories store in Ameerpet. "I was born and brought up here. My family has been here for generations.
We have Aadhaar, voter ID card and ration card. But going by the experience of Muslims in Assam, we are worried about what will happen to us. What if they say these papers are not enough?" he asks.
Hyderabad has seen this before when "foreigners" were picked up after the Police Action on September 17, 1948.
Mir Ali, a 79-year-old from Golconda, says, "I heard from my father that several thousand people, including those living here for generations, were identified as aliens and pushed into detention camps.
They included Muslim families who migrated to Hyderabad generations ago from Saudi Arabia, Afghanistan and Iran and served in the Nizam's army." He adds, "Of course, most of the Muslims who were suspected as illegal migrants and confined in detention camps were later found to be born in British India and freed."
Historian Taylor C Sherman, associate professor in the Department of International History at the London School of Economics and Political Science, has, in her research paper, traced the "fate of Arabs, Afghans and other Muslim migrants after the forcible integration of the princely state of Hyderabad into the Indian Union in 1948".
Explaining how about 21,000 people identified as foreigners were kept in detention camps pending deportation, she said only a couple of hundreds could be finally deported. She said that people of Hyderabad did not automatically become Indian citizens and had to wait till the Citizenship Act of 1955, which formally made persons belonging to the princely states citizens of India.
Political parties are split down the middle on the new citizenship law.
The Lok Sabha MP from Moradabad, ST Hasan of the Samajwadi Party, says the law goes against the spirit of the Constitution. He feels the bill will communalise the nation like never before. "Now the Centre will bring in a nationwide NRC and make matters worse for the community. Muslim are mostly poor and illiterate here. They do not maintain files or records.
How will they give proof of their lineage? This is an attempt to declare Muslims as ghuspethiya (illegal immigrants)," he says.
The BJP contends this. Mohsin Raza — the lone Muslim minister in the Yogi Adityanath government — says the law is not anti-Muslim.
"It is samman ka law (a law that bestows honour to migrants). Anyone, including Muslims, who seeks Indian citizenship will be rightfully given a hearing. Look at Hindus in Pakistan.
Are they secure there? Had our neighbours taken care of their Hindu minorities, there would have been no need for this law in the first place," he says.
Rohingya in Hyderabad
In the Old City of Hyderabad, there are about 6,000 refugees, mostly Rohingya Muslims, living in 15 settlements. They fall outside the citizenship law.
Mazher Hussain, executive director of the civil society body Confederation of Voluntary Associations, which works as a partner of the United Nations High Commissioner for Refugees (UNHCR), says there has been a spurt in refugees from Myanmar to Hyderabad since 2012 owing to rising conflicts there.
Rakesh Reddy Anugula, spokesperson of the BJP in Telangana, says there is there is an immediate need to implement NRC in sensitive areas like Hyderabad, Mumbai and certain parts of Uttar Pradesh which have illegal migrants.
Hyderabad-based political analyst Manchala Srinivasa Rao argues that CAA and NRC do not discriminate against Indian Muslims, whose citizenship wouldn't be questioned. "Of course, there are concerns after the shoddy implementation of NRC in Assam. These need to be addressed before it is implemented across the country to allay the apprehensions of Muslims," he says.
Amjed Ullah Khan, spokesperson of Majlis Bachao Tehreek, a Muslim political outfit in Telangana, doesn't agree.
He says the BJP government has opened the gates to ethnic conflicts. Terming CAA as unconstitutional, he said political and social outfits working for the protection of the rights of Muslims will challenge the law in the apex court. "We hope the Supreme Court will strike down the anti-constitutional legislation that discriminates against Muslims," he says.
Most of the Muslims that ET Magazine spoke to in Telangana aired concerns about the likely harassment by the authorities during a nationwide NRC. While those who are employed and have properties are relatively confident of producing documents to prove their citizenship, those who are self-employed and without properties expressed fears that they didn't possess enough documents and title deeds.
"Muslim-Mukt Bharat?"
"Are all Muslims terrorists?" asks Iqbal Hussain, a councillor in Moradabad, Uttar Pradesh. "There may be some bad elements in every community. But by bringing a law in its current form, the BJP has shown that they want a Muslim-mukt Bharat. People have a lot of anger and resentment and we are contemplating how to deal with this."
Abdullah Khan, first-time MP from Rampur's Suar assembly seat and son of SP MP from Rampur Azam Khan, points to the futility of protesting against the bill and of airing one's fears. "Who will hear us? None of the amendments proposed by the Opposition got a proper hearing. The Centre is turning Kashmir into jail and Assam into Kashmir."
Many others like BSP Lok Sabha MP from Amroha, Danish Ali, says the law is not just against the basic tenets of the Constitution but also pushes the two-nation theory supported by VD Savarkar and Muhammed Ali Jinnah.
"What was the need to bring in a legislation for the first time on the basis of religion? Is this not divide and rule? If the Central government stands for equality, they must include Muslims in the law as well as people from Sri Lanka, Nepal, Bhutan and Myanmar. But it won't.
Because its motive is to polarise voters into Hindus and Muslims and divert attention from a failing economy," says Ali.
Yunus Mohammad, a 42-year-old engineer working with a private firm in Hyderabad, says his fears have only exacerbated. "Ever since the BJP government came to power for the second time with absolute majority and started going ahead with its agenda of targeting Muslims by legislative amendments to triple talaq, Article 370 and now CAA, there has been panic among my family and relatives about growing religious polarisation and sense of alienation."
He says "we never expected a day will come in our lives when we would feel uncertain about our future and worry about our safety in India and even think of migrating to safer countries on PR (permanent residency) visas".
In Moradabad, its MP Hasan Moradabad recites a couplet by the poet Muzaffar Razmi. "Ye jabr bhi dekha hai taarikh ki nazron ne/ Lamhon ne khata ki thi sadiyon ne sazaa payi (History is witness to such compulsions/ Mistakes were made in a few minutes but its price had to be paid for centuries)."
https://economictimes.indiatimes.com/news/politics-and-nation/from-moradabad-to-hyderabad-muslims-worry-about-the-impact-of-new-citizenship-law/articleshow/72656173.cms
------
Several Twitter users change identities to claim to be Muslims who support citizenship law
Several Twitter users claiming to be Muslim took to Twitter this week to share an identical piece of text announcing their support for Citizenship Amendment Bill, which was signed into law by President Ramnath Kovind on Thursday.
"I'm a Muslim. I support #CABBill," their messages claimed. "I strongly denounce the protests launched by my muslim brothers across the nation. They either didn't understand the bill and have been manipulated or they're knowingly targeting the govt as a political move. But I'm very proud of it. Jai Hind."
The Act has sparked protests around India. It offers citizenship to refugees from all South Asian religions, except Muslims, fleeing oppression from India's neighbouring countries of Afghanistan, Bangladesh and Pakistan. Critics say the legislation is discriminatory on religious grounds.
When Alt News examined the Twitter profiles and previous messages of some of the people declaring support for the Act, it found that several among them used to identify as Hindus. The sudden shift to Muslim identities occurred after the citizenship legislation was introduced in Parliament earlier this month.Example 1
Twitter handle @thegirl_youhate posted a tweet on March 10 saying,
"I'm hindu bruh."This handle has identified itself as Arti Pal on multiple occasions.
Exhibit 2
In August, when another user used a communal slur. Twitter handle @ambersariyaaaa replied, "Bhai mai hindu hu" – brother, I'm Hindu. At the time of writing this article, a tweet where the handle claimed to be a Muslim who supports the citizenship legislation had garnered close to 500 retweets.
Example 3
On April 26, a Twitter user who goes by the handle @NeecheSetopper tweeted, "i am hindu."
Example 4
"Power of hindu. Proud to be a hindu," posted Twitter handle @NamanJa82028342 in August. The handle has declared support to citizenship leglislation as a Muslim.
Example 5
A Twitter user with the name BaashaBhai posted a message on April 16 where he said, "I am a Hindu have never looked at anyone as Hindu , Muslim or a Christian but there are many who show up their hatred for Hindus / Hinduism openly!"
Example 6
"I am a hindu, and I will not step back again. I am a hindu and this will be hindu rashtra again," tweeted a user named Dehati Intellectual who also supported legislation by posting the identical text as the users above on December 14.
Example 7
Twitter user "Khadija" also tweeted the text and expressed her support as a Muslim. However, in a separate tweet, she had identified herself by the very Hindu name of Arpita Gouttam.
https://scroll.in/article/946876/several-twitter-users-change-identities-to-claim-to-be-muslims-who-support-citizenship-law
------
Secularism, federalism cornerstones of SAD; Muslims should be under citizenship law: Sukhbir Badal
Written by Kamaldeep Singh Brar
December 15, 2019
Shiromani Akali Dal (SAD) president Sukhbir Singh Badal focused on secularism and federalism while delivering his speech at Amritsar's Teja Singh Samundri Hall, on the 99th foundation day of the party, after he was re-elected for the third time Saturday.
Speaking from the headquarters of the Shiromani Gurdwara Parbandhak Committee, the former deputy chief minister said genuine federalism and secularism were the cornerstones of SAD.
The Ferozepur MP said that under which the rights of minorities should be safeguarded. He said it was with this in mind that he had earlier stated that Muslims should be brought under the purview of the Citizen Amendment Bill.
The party also passed a resolution to "rededicate itself to the setting up of a genuinely secular and federal India based on the principles of peace, communal harmony and equal rights and respect for all citizens, regardless of their religion, caste, creed , language, state or region.'.
"SAD stands for greater fiscal and political autonomy to all states as strong states mean a strong country," said a resolution passed at the delegates' session.
Badal said that from the first day when the party raised the demand for a federal state in 1962 to today, it was steadfast in its belief that more powers needed to be given to the states to charter their own course.
"India will develop if states will be given equal opportunity to grow and have more rights under federal structure. Now states can't do anything. They don't have resources. States are all dependent on Centre. The US is an example of federal structure. Every state in US has powers of finance. But here we have to seek permission from the Centre even to set up a power plant. It is an old agenda of SAD and now every political party is same," said Badal.
He added, "The second biggest agenda is secularism. There was a debate on Citizenship Amendment Bill. I made it clear that secularism is our vision. Parkash Singh Badal used to celebrate holy days of all religions when he was CM. People of all religions had a sense of security. There would be no such example all over India where any CM like Parkash Singh Badal had showered crores of rupees on all religious places."
"I also said that the Sikhs were religiously prosecuted in Pakistan and Afghanistan. Taliban had made it impossible for Sikhs to live in Afganistan. But I still insisted that the Muslim community must be mentioned in Citizenship Amendment Bill. Because the Preamble of this country is secular and this country is secular. We pray for 'Sarbat Da Bhla'. We never said only 'Sikhan da Bhla'," said the SAD chief, and party workers responded with 'Bole So Nihal'.
"Our Guru Teg Bahadur sacrificed his life for the other religion. Can there be any other such example of secularism? Secularism is our main principle. We believe in federalism. Minority protection must be there. Sikhs are majority in Punjab. But we never made feel minorities unsafe. I said in Parliament that there has been communal violence all over India but there is not a single such example in Punjab of communal violence," said Sukhbir.
https://indianexpress.com/article/india/secularism-federalism-cornerstones-of-sad-muslims-should-be-under-citizenship-law-sukhbir-badal-6167702/
------
Pooja Bhatt talks playing her grandmother in Zakhm: 'A Muslim woman who took me to Siddhivinayak temple'
Dec 15, 2019
Actor Pooja Bhatt has shared a warm post about playing her grandmother in her dad's 1998 hit film, Zakhm. Talking about the 'true spirit of India,' Pooja mentioned how her grandmother was a Muslim woman who would take her to temples and churches.
"15th December 1998 is when our film #zakhm got censored. A film where I had the privilege of playing my grandmother, Shirin Nanabhai Bhatt-a Muslim woman who took me to Siddhivinayak temple every Tuesday & to church every Wednesday & Friday.That is the true spirit of India," she wrote in a tweet. Pooja played a young Kunal Kemmu's mother in the film. The character was played by Ajay Devgn as a grown up.
Zakhm was a big critical and commercial success and a semi-autobiographical story of Mahesh Bhatt and his relationship with his mother. Shirin's father was a Hindu while her mother was a Muslim. Mahesh's father was a film producer Nanabhai Bhatt. Talking about his parents, Mahesh had called himself the 'bastard-child of a single Muslim mother'.
"I remember asking my mother what the meaning of my name was. She said, I'll ask your father, he's the one who named you. So, I waited until the next time he came around and said that Mahesh meant 'Maha-Eesh' the God of gods. But as a child I didn't like this angry God who beheaded his own son. I'd have much preferred to be named after Ganesha. I used to sleep with a little Ganesha under my pillow as a child, he was my favourite deity. Just like Ganesha's father, my father was a stranger to me. He was absent," he said in an interview to screenwriter and author Kausar Munir.
Zakhm was based on the Bombay riots of 1992 and starred Ajay with Sonali Bendre and Nagarjuna. It won Ajay his first National Award for Best Actor.
Pooja has worked with her father again in upcoming film Sadak 2. Her half sister and actor Alia Bhatt plays the lead in the film. Actors Sanjay Dutt and Aditya Roy Kapoor are also a part of the cast. Sadak 2 is the sequel of 1991 film directed by Mahesh and starring Pooja and Sanjay as leads.
https://www.hindustantimes.com/bollywood/pooja-bhatt-talks-playing-her-grandmother-in-zakhm-a-muslim-woman-who-took-me-to-siddhivinayak-temple/story-ewUikGyaazzJAtkXkb959K.html
------
Will tweak Citizenship (Amendment) Act if needed, says Amit Shah
Dec 15, 2019
DHANBAD/RANCHI: In his first public rally after the Citizenship (Amendment) Act cleared the Parliament+ hurdle, Union home minister Amit Shah on Saturday hinted that "some changes" could be made in the law's provisions to address the concerns of the northeastern states.
"Conrad Sangma (Meghalaya chief minister) and his ministers met me on Friday and informed me about the problems they are facing... I tried to make them understand that there is no issue. When they insisted some changes need to be made to the law, I asked them to meet me after Christmas. I have assured them we will hold constructive discussions on the matter and come up with solutions to Meghalaya's problems," Shah said at a rally in Giridih.
https://timesofindia.indiatimes.com/india/will-tweak-citizenship-amendment-act-if-needed-says-amit-shah/articleshow/72642452.cms
------
15-year residency to be must for owning land in J&K, Ladakh?
Dec 15, 2019
NEW DELHI: The government has denied any move to offer special status to the Union Territory of Jammu & Kashmir and UT of Ladakh under Article 371 of the Constitution, while indicating a move to notify domicile rules for the two newly-created UTs.
Union minister of state for PMO Jitendra Singh on Saturday told TOI: "These rumours (about special provisions for UTs of J&K and Ladakh under Article 371) are part of a conspiracy by Congress and National Conference, both of which were prime beneficiaries of now scrapped Article 370, to plant stories in the media and create misgivings. There is no such move to bring back special status for J&K through the back door. I must also clarify that there is no correlation between Article 370 and Article 371, with the latter meant to only protect the unique cultural identity and traditions of a particular area or state."
While there is no review of scrapping of "special status" for J&K, sources indicated that domicile policy for the two Union territories will be notified soon. The policy will specify a domicile cut-off period for residents. A proposal on the table is to make 15 years of residency in the Union Territory a mandatory requirement for domicile status, though a final decision is yet to be taken.
Domicile status would be a requirement for land ownership and rights in UTs of J&K and Ladakh. Domiciled residents shall also get preference in civil services as well as admissions to higher educational institutions. However, as per the government's plan, domicile restrictions would not apply to industrialists and businessmen wishing to set up factories/business establishments in the UTs of J&K and Ladakh. "They will be offered land right away not only to set up industry or business unit but also for establishment of an ancillary colony," said a government functionary.
While the domicile cut-off will apply to all ordinary residents, some exceptions are being considered for civil servants and their children. "As per the pattern among many states, civil servants and their children are considered domicile of their cadre state. However, considering that all future officers will be allotted to AGMUT and not J&K cadre, we need to take a considered view before extending J&K/Ladakh domicile in case of AGMUT cadre officers," said an official.
https://timesofindia.indiatimes.com/india/15-year-residency-to-be-must-for-owning-land-in-jk-ladakh/articleshow/72647620.cms
------
Southeast Asia
China destroying documents after leaks about Uighur Muslims
The Xinjiang regional government in China's far west is deleting data, destroying documents and tightening controls on information, AP scoops.
Why it matters: That's in response to leaks of classified papers on mass detention camps for Uighurs and other predominantly Muslim minorities.
Crisis meetings began after the N.Y. Times last month published "The Xinjiang Papers," a cache of internal speeches by top leaders, including Xi Jinping.
They continued after the International Consortium of Investigative Journalists published secret guidelines for operating detention centers, and instructions on how to use technology to target people.
"The China Cables" was written by Bethany Allen-Ebrahimian, now Axios' China reporter.
Xinjiang had mandated stricter controls on information before the news reports, then pressure rose, according to Uighurs outside Xinjiang.
State offices were told to throw away computers, and put camp information in databases disconnected from the internet, in restricted-access rooms.
Some university teachers were ordered to clean out sensitive data on their computers, phones and cloud storage, and delete work-related social media groups.
In some cases, the state appears to be confiscating evidence of detentions.
One Uighur, who had been detained in Xinjiang years before, said his ex-wife called him two weeks ago and begged him to send his release papers to her.
She said eight officers had come to her home to search for the papers, and threatened she'd be jailed for life if she couldn't produce them.
https://www.axios.com/china-destroy-documents-uighur-muslims-a0fe39ce-4099-4bf9-a539-9b1c63dd1ac5.html
------
Shadow of Muslim brotherhood hovers over Malaysia summit
Sunday 15/12/2019
CAIRO - Malaysia is to host an Islamic summit but it will not include six of the most prominent Muslim countries, raising questions about the political vision of the organisation.
Malaysian Prime Minister Mahathir bin Mohamad said a mini-Islamic summit in Kuala Lumpur would include Malaysia, Qatar, Indonesia, Turkey and Pakistan but exclude Saudi Arabia, the United Arab Emirates, Egypt, Bahrain, Syria and Jordan.
"The five countries will be pioneering the beginning of broader Islamic cooperation that includes several fields facing the Islamic world," Mahathir said.
The gathering, scheduled for December 18-21, will focus on sovereignty, integrity and good governance, culture and identity, justice and freedom, security and defence, trade and investment and technology and internet governance.
Mahathir said the meeting would develop strategies to confront violations against the Islamic world, including Israel's aggression against Palestinians.
Mahathir said 52 other Islamic countries would attend but would not have the same status as the five "central" actors. "Obviously, we need to have Muslims supporting this initiative but, to begin, we need to keep the group small," he said. So "we (the summit) select a small number of countries that will have the time and effort to find solutions," he added.
"Search for the Turkish, Qatari and Muslim Brotherhood influence," Abdel Rahim Abdel Wahed, an Egyptian researcher on Malaysian political issues, said when asked for reasons behind Malaysia's decision not to invite Egypt, Saudi Arabia, the United Arab Emirates, Bahrain, Syria and Jordan.
He said Turkey and Qatar, which are major supporters of the Muslim Brotherhood, including in Malaysia, were pressuring Mahathir's economic and legislative reform plans through their allies in the Brother-affiliated Malaysian Islamic Party.
The party gained influence after allying with the United Malay National Organisation, the oldest and largest Malaysian Islamist party, in September. The alliance seeks to gain a majority in parliament and control of the government after elections in 2023.
Mahathir is thought to be using the event to build stronger ties with Turkey and Qatar.
When asked if the summit would be an alternative to the Organisation of Islamic Cooperation (OIC), Mahathir said: "OIC is a very big organisation. It is very difficult for us to have such a big organisation to the conference. That is why we started with five countries and we do hope over time the other members of OIC will join in."
Mahmoud Zahran, a researcher specialised in Turkish affairs, said the meeting had nothing to do with policy differences with the OIC concerning the plight of Palestinians. "OIC's policies concerning the Palestinian issue are matching Turkish, Qatari and Malaysian policies on many aspects, for example on visiting Jerusalem," he said.
OIC humanitarian delegations are visiting areas of occupied Jerusalem in coordination with its permanent office.
The OIC, in conjunction with the Turkish, Qatari and Malaysian governments, has urged Muslims to visit Jerusalem to provide humanitarian aid. Many Arab regimes and prominent Arab institutions have stayed away from Jerusalem because of the complex visa procedures imposed by Israeli authorities, whose presence there is unrecognised by many Arabs.
Zahran said the Malaysian mini-summit is part of an effort to establish an alternative to the OIC that has more Turkish and Qatari influence, while using Malaysia's strong ties with the Islamic world to bolster its reputation.
"The OIC, as a development partner, is closer to Egypt and Gulf compared to Turkey and Qatar, especially under the presidency of Saudi Yusuf bin Ahmed al-Uthaymeen," he said.
Before Uthaymeen took over, the OIC was led by Saudi Iyad bin Amin Madani and relations with Egypt were weaker and strained, which may have been satisfying Turkey and Qatar. Madani was pressured by Riyadh to resign in November 2016 after he mocked a speech delivered by Egyptian President Abdel Fattah al-Sisi.
Madani also was believed to be behind a 2015 decision by the Islamic Development Bank, which is affiliated with the OIC, to halt the delivery of aid and loan programmes to Egypt.
https://thearabweekly.com/shadow-muslim-brotherhood-hovers-over-malaysia-summit
------
U.S. sanctions on Iran violate international law: Malaysian PM
December 14, 201
AhlulBayt News Agency (ABNA): The American sanctions imposed on Iran violate the United Nations charter and international law, Malaysian Prime Minister Mahathir Mohamad told a conference in Qatar on Saturday.
''Malaysia does not support the reimposition of the unilateral sanctions by the US against Iran,'' he told the Doha Forum, also attended by Qatar Emir Tamim bin Hamad Al-Thani.
Malaysia and other countries have lost a ''a big market'' because of the sanctions on Iran, he said.
''Such sanctions clearly violate the United Nations charter and international law; sanctions can only be applied by the United Nations in accordance with the charter,'' he added.
https://en.abna24.com/news//u-s-sanctions-on-iran-violate-international-law-malaysian-pm_993736.html
------
KL Summit 2019 to share views on current situation faced by Muslims - Dr Mahathir
14/12/2019
KUALA LUMPUR, Dec 14 -- The upcoming Kuala Lumpur Lumpur (KL) Summit 2019 will be a significant forum for Muslim leaders to discuss the current situation faced by Muslim community around the world, Prime Minister Tun Dr Mahathir said.
He said it has come to the stage where Muslims anywhere and everywhere are being oppressed.
"The Muslims are labelled as terrorists, and there is now a feeling of fear of Islam. It is quite obvious to everybody that the situation is getting worse.
"On the other hand, that oppression does not seem to worry anyone," he said in a video message posted on official KL Summit 2019 Twitter account, today.
The summit will be held at the Kuala Lumpur Convention Centre from Dec 18 to 21.
"Welcome to Malaysia at the KL Summit 2019," said Dr Mahathir who is the chairman of KL Summit 2019.
The Emir of Qatar Sheikh Tamim Hamad Al Thani; Turkish President Recep Tayyip Erdogan; Prime Minister of Pakistan Imran Khan and Iranian President Hassan Rouhani are among the notable Islamic leaders expected to join the summit.
http://www.bernama.com/en/general/news.php?id=1799580
------
'Travel agent' ran off with RM56,000, claims woman
December 15, 2019
KUANTAN: A woman has alleged that she was cheated of RM56,360 by a "travel agent" who asked her to collect the money from a group of people for a China tour.
The 37-year-old woman lodged a police report in Maran, near here, yesterday after the so-called travel agent admitted he could not fulfil his side of the bargain, Pahang Commercial Crime Investigation Department chief Mohd Wazir Mohd Yusof said.
She now fears the 29 people whom she had collected the money from might come after her if she could not give them a refund, Wazir told reporters today.
The woman told police she had not been able to contact the individual since Dec 9 after he left a message in a WhatsApp group saying the tour, scheduled to begin last Thursday, had been cancelled, he said.
"She claimed she had taken on the role of a tour leader and gathered several friends to buy a tour package to China costing between RM1,650 and RM1,990 each.
"Those who signed up paid the money in instalments between last year and early this month to the woman, who banked it into the account of the agent," he said.
Wazir said the woman claimed the "travel agent" later admitted he had mismanaged the money but promised to return it over three months.
https://www.freemalaysiatoday.com/category/nation/2019/12/15/travel-agent-ran-off-with-rm56000-claims-woman/
------
Pakistan
Jirga seeks reopening of mosque in Orakzai
December 15, 2019
KALAYA: The elders of Orakzai tribal district on Saturday asked the corps commander Peshawar and district administration to reopen a mosque in Dabori area in upper Orakzai district.
A grand jirga of the tribal elders to this effect was held at Dabori and was attended by the Orakzai Youth president Nawaz Khan, Misal Khan, Najeebullah, Abdur Rehman of PTI, Maulana Zeenatullah and others. Speaking on the occasion, they said that the Dabori mosque had been closed for the last 12 years.
They said that the people of Alikhel and Malakhel tribes were willing to repair the mosque but due to unknown reasons they were not being permitted. They said they were facing hardships while praying under the open sky in winter, summer and snowfall.
https://www.thenews.com.pk/print/583704-jirga-seeks-reopening-of-mosque-in-orakzai
------
In Pakistan, Islamic banks' deposits dip due to overregulation
By Salman Siddiqui
December 15, 2019
KARACHI: The Islamic banks are in hot water in Pakistan. They are working in a challenging situation as they have ample cash in surplus, which is of no use due to the alleged overregulation of the full-fledged Shariah-compliant banks.
The situation has not only led them to stop accepting fresh deposits, but some of the banks have returned a notable amount of cash to depositors, a well-informed industry source told The Express Tribune.
"We have stopped marketing to take fresh deposits. An (Islamic) bank has returned around Rs1 billion to depositors," he reported.
The State Bank of Pakistan (SBP) reported on Friday that the Islamic banks' deposits dropped Rs8 billion in three months to Rs2,407 billion on September 30, 2019 compared to Rs2,415 billion on June 30, 2019.
The source said the liquidity with the banks is spilling over since an existing regulation does not allow them to lend the money to industries, agriculturists and others in the private-sector. "We are having Rs600 billion in surplus, but we cannot use it to finance the private sector since our financing limit to the private sector has hit the ceiling in relation to the capital adequacy ratio (CAR)," he said.
There are countries across the world, including Turkey and Bahrain, which treat depositors' cash as CAR since they deposit the cash on the basis of fully sharing the profit and loss under the Shariah-compliant regulations. "The central bank has been considering doing the same in Pakistan for quite a long time," he said.
CAR is actually the equity pumped by bank owners. A portion of CAR is blocked against financing to mitigate risk factors. Almost all the full-fledged Islamic banks have fully utilised CAR these days.
"CAR is currently set at 10.5%… and will be gradually increased to 12.5% by December 31, 2019," according to the SBP's website.
Besides, the banks lack Shariah-compliant sovereign investment products to park the excess liquidity as of these days. There was a time when some 50-60% of the depositors' cash was invested in the government offered Shariah-compliant instrument; Sukuk. However, it has decreased the offer of Sukuk over the past two-three years.
"There was a time when Islamic banks invested Rs380-400 billion in Sukuk against their total deposit base of Rs600-800 billion years ago," he said.
"Today, Islamic banks have deposits of Rs2,407 billion, but our investment in government Sukuk stands at a meagre Rs71 billion."
The SBP reported in its Islamic Banking Bulletin September 2019, "Lack of Shariah-compliant investment avenues can be one of the major reasons for decline in investments of the Islamic banking industry during the period under review."
Investments (net) of Islamic banking industry were recorded at Rs595 billion by end September, 2019 compared to Rs606 billion in the previous quarter. During the period under review, investments (net) of five full-fledged Islamic banks declined by around Rs13 billion while that of Islamic banks braches (IBBs) operated by 17 conventional banks increased by Rs2 billion, the central bank said.
To recall, conventional banks continue to invest trillion of rupees in treasury-bills of 3-12 months maturity and long-term Pakistan Investment Bonds (PIBs). Islamic banks, however, do not invest in the instrument since they remain non-Shariah compliant.
The SBP latest Islamic Banking Bulletin September 2019 clearly showed that the full-fledged Islamic banks (IBs) recorded negative growth on several key indicators including assets, investment, finance and assets and deposits. In comparison to this, the Islamic banks branches (IBBs) operated by conventional banks recorded positive growth on three out of the four indicators, excluding deposits.
"IBBs grew on indicators in comparison to IBs as conventional banks due to different accounting model of the two," the industry source said.
https://tribune.com.pk/story/2117941/2-pakistan-islamic-banks-deposits-dip-due-overregulation/
------
PM, Saudi crown prince discuss regional situation
December 15, 2019
ISLAMABAD: In a major outreach to the Arab countries, Prime Minister Imran Khan on Saturday visited Saudi Arabia, while Chief of the Army Staff Gen Qamar Bajwa travelled to Abu Dhabi.
Emirati Foreign Minister Sheikh Abdullah bin Zayed bin Sultan Al Nahyan was, according to a diplomatic source, in Pakistan on an unannounced trip.
Prime Minister Khan held wide-ranging consultations with Crown Prince Mohammad bin Salman covering bilateral matters and developments in the regional context, according to a PM Office press release.
PM Khan emphasised the strategic importance of Pakistan-Saudi Arabia relationship and termed it a pivotal partnership for peace, progress and prosperity.
The two leaders expressed satisfaction at the ongoing bilateral cooperation between the two countries. It was noted that the establishment of the Saudi-Pakistan Supreme Coordination Council (SPSCC) had provided a firm institutional mechanism to advance bilateral cooperation in diverse fields in a robust manner. The two sides hoped to further advance this process during the second meeting of the SPSCC expected to take place early next year.
Riyadh offers to help develop tourism sector; COAS visits Abu Dhabi after Emirati FM's unannounced trip to Pakistan
The prime minister apprised the crown prince of the latest situation in India-held Kashmir, marked by continuous lockdown and other restrictions since Aug 5. This was accompanied by India's belligerent rhetoric and actions along the Line of Control.
PM Khan thanked Saudi Arabia for its traditional support to the Kashmir cause, including its active role in the OIC Contact Group on Jammu & Kashmir. The two sides discussed ways of further advancing the Kashmir cause through the OIC and other means.
In the context of the Middle East, the prime minister reiterated Pakistan's perspective that disputes and differences be resolved through political and diplomatic means. Pakistan would continue to facilitate all efforts in that direction with a view to precluding conflict, defusing tensions and preserving peace for the benefit of the region and the world.
The Saudi side offered all possible support in the development of tourism sector in Pakistan. In this context, it was agreed that Saudi team would undertake a visit to Pakistan soon.
Prime Minister Khan extended warm felicitations on Saudi Arabia's assumption of G20 presidency. He said this was a reflection of the kingdom's leadership role and stature in the international community. Pakistan wished Saudi Arabia a highly successful G20 presidency.
Mr Khan underscored the unique strength of Pakistan-Saudi Arabia relations, based on mutual trust and understanding.
He noted that high-level visits were the hallmark of the relationship and the crown prince's visit to Pakistan in February had ushered in a new era of deeper engagement across the economic, investment, energy, security and defence and people-to-people domains.
As a special gesture, the crown prince came along with Prime Minister Khan after the bilateral meeting to see him off at Riyadh International Airport.
The PM earlier visited Madina for pilgrimage to the shrine of Holy Prophet Muhammad (Peace be upon him). Mr Khan was accompanied by Foreign Secretary Sohail Mahmood.
The visit comes ahead of the upcoming Kuala Lumpur Summit being hosted by Malaysia from Dec 19-21. The summit is a brainchild of Malaysian Prime Minister Mahathir Mohamad. The plan for the summit was finalised during a trilateral meeting involving Turkey, Pakistan and Malaysia in September in New York on the sidelines of the UN General Assembly session.
PM Khan has confirmed his participation in the summit that is also being attended by leaders of Turkey, Qatar and Iran in addition to hosts Malaysia. Around 450 leaders, scholars, clerics, and thinkers from 52 countries are expected to attend the event.
KL Summit is being seen as an attempt to create a new bloc in the Muslim world that could become an alternative to the dysfunctional Organisation of Islamic Cooperation led by the Saudis. This development has upset the Saudis, who are taking it as a challenge to their dominance in the politics of the Muslim world.
Military exchanges with Iran have also been a matter of concern to the Saudis. Last month, Army Chief Gen Bajwa visited Iran, while Iranian Naval Chief Rear Admiral Dr Hossein Khanzadi was in Pakistan earlier this week.
PM Khan is believed to have undertaken the trip to Saudi Arabia to assuage the reservations of the kingdom about Pakistan's engagement with Iran and participation in the KL Summit.
Foreign Minister Shah Mehmood Qureshi also visited Riyadh earlier this week. He had met his counterpart Prince Faisal bin Farhan bin Abdullah. According to the Saudi Press Agency, the two ministers, besides talking on the bilateral agenda, also "discussed the latest developments at regional and international arenas".
Inter-Services Intelligence chief Lt Gen Faiz Hameed was also in Saudi Arabia this week.
Army Chief Gen Qamar Javed Bajwa pictured during a meeting with Crown Prince of Abu Dhabi and Deputy Supreme Commander of the UAE Armed Forces Sheikh Mohamed bin Zayed Al Nahyan on Saturday.—INP
Meanwhile, COAS Gen Bajwa called on Crown Prince of Abu Dhabi and Deputy Supreme Commander of the UAE Armed Forces Sheikh Mohamed bin Zayed Al Nahyan in Abu Dhabi.
The Inter-Services Public Relations said the two discussed "regional security environment and matters of mutual interest."
Meanwhile, UAE's official news wire Emirates News Agency, known by its Arabic acronym WAM, reported that the UAE leader and Gen Bajwa discussed ways to enhance cooperation and coordination between the two countries in defence and military affairs.
They further exchanged views on "the latest regional and international developments as well as a number of issues of mutual concern", the newswire added.
WAM said that both leaders agreed to further enhancing cooperation and collaboration for promoting friendly ties and supporting regional and international peace and security efforts.
https://www.dawn.com/news/1522337/pm-saudi-crown-prince-discuss-regional-situation
------
Arms smuggled from Afghanistan seized
Iftikhar A. Khan
December 15, 2019
ISLAMABAD: The Customs Preventive, Peshawar, has seized a huge cache of arms smuggled from Afghanistan.
Official sources told Dawn that during inspection at Torkham customs station of an empty truck coming from Afghanistan it was suspected to have some secret cavities. A thorough search led to the recovery of over 200 sophisticated guns of different specifications and magazines.
The weapons have been seized and a case under the Customs Act, 1969 is being registered and further investigations are under way. Although the smugglers managed to flee, a passport apparently belonging to the driver had been found from the dashboard of the truck.
The sources said the recovered guns included Tomahawk, Maverick, KRAL (A-12) and Zirve.
An official said the counterterrorism department would also be taken on board so that it could hold a probe with its own angle. He said such a sophisticated way of concealment indicated that some organised racket might be behind it.
He said the weapons could be used for terrorism and other criminal activities in Pakistan. He said earlier this week, the Customs Preventive, Peshawar, foiled an attempt to smuggle 3.5 million Saudi riyals to Afghanistan.
The official said on the directive of Prime Minister Imran Khan a drive against smuggling was in full swing.
In July this year, the government had decided to start a nationwide crackdown against illegal trade and use of smuggled items in the country.
A meeting presided over by Prime Minister Imran Khan decided to constitute a committee headed by the interior minister to curb smuggling from Iran and systematise the Pak-Afghan transit trade.
Chief of the Army Staff Gen Qamar Javed Bajwa and Director General of the Inter-Services Intelligence Lt Gen Faiz Hameed also attended the meeting.
https://www.dawn.com/news/1522342/arms-smuggled-from-afghanistan-seized
------
Europe
The Muslim Pantomime raising money for a good cause
14 December 2019
The UK's only Muslim pantomime is in Manchester this evening.
The Great Muslim Pantomime's Super Souls show has been put together by a cast of seven family members, and is touring the country this month.
And as Adam McClean reports, it's all for a good cause.
https://www.itv.com/news/granada/2019-12-14/the-muslim-pantomime-raising-money-for-a-good-cause/
------
Holy books desecrated in mosque in Germany's Ulm
14.12.2019
Unidentified assailants desecrated several Qurans – the Islamic holy book – by tearing them apart and turning the pages into a sticky mush and pasting them all over a mosque in Germany's Ulm, the German nongovernmental organization, Brandeilig, said on Friday. Brandeilig is an organization listing all attacks on mosques that occur in Germany.
The attack happened on Tuesday in the Osman Gazi Mosque and was reported to the police. An investigation was launched.
The chief of the mosque Murat Karadeniz told the German Islamic magazine IslamiQ that the mosque was often damaged by unknown attackers. "We keep finding anti-Islamic slogans and racists symbols such as swastikas on the walls or doors of our premises," Karadeniz said stressing that the community begins to get worried. After the attacks – such as an arson attack in March 2018 – the prayers did not get as much participation as it used to, he added.
Karadeniz pointed out that the most recent attack was probably carried out the evening before it was discovered on Tuesday and pointed out that the security cameras were coincidentally turned off at the attack's time.
The mosque belongs to the Islamic Community National View (IGMG), one of Germany's largest Muslim-Turkish associations.
Germany has witnessed growing Islamophobia and hatred of migrants in recent years triggered by the far-right parties, which have exploited fears over the refugee crisis and terrorism.
Police recorded more than 900 hate crimes against Muslims last year. At least 54 Muslims were injured in the attacks, which were carried out mostly by far-right extremists.
Germany, a country of over 81 million people, has the second-largest Muslim population in Western Europe after France. Among the country's nearly 4.7 million Muslims, 3 million are of Turkish origin.
https://www.dailysabah.com/turkey/2019/12/14/holy-books-desecrated-in-mosque-in-germanys-ulm
------
UK PM Johnson must accept another Scottish independence vote: Nicola Sturgeon
Dec 14, 2019
LONDON: British Prime Minister Boris Johnson needs to "focus on reality" and recognise that the Scottish National Party (SNP) has been given a mandate for a second independence referendum, Scottish first minister Nicola Sturgeon said on Saturday.
The SNP won 48 of Scotland's 59 seats in the UK parliament in Thursday's national election, prompting Sturgeon to step up her demands for another independence referendum.
However, Johnson, boosted by his own Conservative Party winning an 80 seat parliamentary majority in the election, told Sturgeon by phone on Friday that he opposed another independence vote.
"I was firm with him that I have a mandate to offer people a choice. He reiterated his opposition to that," Sturgeon told Skynews after visiting supporters in Dundee on Saturday.
"But you know, let's focus on reality here - the election this week was a watershed moment for Scotland," she said.
Scots voted in an independence referendum in 2014 to remain in the United Kingdom, but they also voted in the 2016 Brexit referendum to stay in the European Union, while a majority of English and Welsh voters supported leaving the bloc.
Since then Sturgeon has argued that Scotland deserves another vote on becoming an independent nation because it is being taken out of the EU against its will.
Sturgeon said on Friday her semi-autonomous government in Edinburgh would next week publish a detailed case for a transfer of power from London that would allow her to hold a second independence referendum.
"Scotland very clearly wants a different future to the one that's been chosen by much of the rest of the UK, and Scotland wants to have the right to choose its own future," she said on Saturday.
https://timesofindia.indiatimes.com/world/uk/uk-pm-johnson-must-accept-another-scottish-independence-vote-nicola-sturgeon/articleshow/72616739.cms
------
North America
US welcomes assurance to help reduce violence in Afghanistan
Anwar Iqbal
December 15, 2019
WASHINGTON: The United States welcomes Pakistan's offer to help facilitate a reduction of violence in Afghanistan and to secure a ceasefire in the war-ravaged country, says US peace envoy Zalmay Khalilzad.
Mr Khalilzad visited Islamabad on Friday and "discussed the current status of US-Taliban talks" with Foreign Minister Shah Mehmood Qureshi and Chief of Army Staff General Qamar Javed Bajwa, said an official US statement issued after the visit.
In a separate tweet on Friday evening, Mr Khalilzad said he "updated" the Pakistani leaders and other officials "on the status of talks and welcomed Pakistan's help to facilitate a reduction of violence and ceasefire in Afghanistan, so we can pivot to intra-Afghan negotiations".
As special representative for Afghanistan reconciliation, Mr Khalilzad leads the US team in the talks with the Taliban and engages with other states involved in the peace process.
Statement says Khalilzad and Pakistani leaders and officials also talked about a successful conclusion of intra-Afghan talks
The US envoy visited Islamabad a day after the United States "paused" the resurrected peace talks with Taliban in Doha over a deadly attack on Bagram airbase in Afghanistan.
A spokesman for the Pakistan Army said Gen Bajwa and Mr Khalilzad discussed the "regional security situation with particular reference to [the] ongoing Afghan reconciliation process".
The official US statement said Ambas­sador Khalilzad and Pakistani officials also talked about "a successful conclusion of intra-Afghan negotiations as well as regional support for these goals".
The US envoy "also underscored the economic and security benefits peace can bring to the region", the statement added.
The ongoing "pause" is the latest interruption in the US-Taliban negotiations. The dialogue had resumed last Saturday after remaining suspended for almost three months.
President Donald Trump had declared the process dead and ended all contacts with Taliban in September when an American soldier was killed in an attack claimed by the insurgent group.
Apparently, the United States believes that Pakistan has enough influence on the Taliban to persuade them to stop attacking US and Afghan positions in Afghanistan for at least as long as the peace talks continue.
The Americans also believe that Pakistan can convince the Taliban to conclude a peace agreement with the United States and the US-backed Afghan government in Kabul. They want Pakistan to use this influence to help end the war in Afghanistan.
https://www.dawn.com/news/1522333/us-welcomes-assurance-to-help-reduce-violence-in-afghanistan
------
Leaked Document Shows Finland Preparing to Fly Back Islamic State Extremists
CHRIS TOMLINSON
14 Dec 2019
The document is dated from last month and states that the ministry has set up a group to look into chartering flights for Islamic State members currently in Syria's al-Hol prison camp, flying them to Iraq and then to Helsinki-Vantaa Airport, Yle reports.
According to the document's timetable, the chartered flights were supposed to take place this week and were aimed primarily at importing children of Islamic State members — but the plan also states that "all persons who agree to return" could be included in the operation.
The document states that the operation will be led by the Ministry of Foreign Affairs and will end once the returnees are back in Finnish territory. Any police action taken towards the returning fighters listed in the document is to be planned separately.
The document is also signed by Seppo Kolehmainen, Chief of Police, despite his earlier denials that he had seen any plans to return Islamic State members to Finland.
Whether or not the plan will be or has been enacted under the new millennial generation, female-led government remains unclear, although the Minister of Foreign Affairs Pekka Haavisto has remained in position following the changes.
The new government, headed by leftist Social Democrat Prime Minister Sanna Marin, is expected to take the country in a leftward direction.
Countries across Scandinavia have taken far different approaches to Islamic State members wanting to return to Europe. Denmark has recently begun stripping some Islamic State members of their Danish citizenship after passing a law allowing the government to do so earlier in the year.
Sweden, meanwhile, has had a much longer policy of allowing Islamic State members to return — even allowing a fighter to return to the country for medical treatment and then leave again for the Middle East to resume fighting.
https://www.breitbart.com/europe/2019/12/14/leaked-document-shows-finland-preparing-take-back-islamic-state-members/
------
FBI: Pensacola Navy base shooting suspect posted 'countdown has started' to social media on 9/11
PENSACOLA, Fla. -- Investigators found that the suspected Florida naval base shooter posted the phrase "the countdown has started" to his social media accounts on Sept. 11, 2019, and referred to non-Muslims as "infidels," according to a Joint Intelligence Bulletin obtained by ABC News.
The document details what investigators have learned since Mohammed Alshamrani allegedly carried out the Dec. 6 attack at Naval Air Station Pensacola that left four people dead and multiple people wounded.
Aside from his ominous Sept. 11 post and references to "infidels," 21-year-old Saudi national also defended jihad on social media, according to the report.
"The things that he talks about are references, are textbook references of people who commit terrorist acts," said Brad Garrett, a former FBI agent and ABC News contributor.
The document also includes details related to how Alshamrani allegedly carried out the shooting, which lasted about 15 minutes.
During the rampage, he fired 180 rounds of ammo from his legally purchased handgun with an extended magazine. Some of those shots were fired directly at pictures of President Trump and a former president, who was not named, according to the report.
A witness also told investigators the shooter made statements critical of U.S. military action overseas.
"He basically is saying the same thing that many terrorists before him has said, that the U.S. is the enemy because they attack Muslims overseas or they help other countries attack Muslims overseas," Garrett said. "And that's their justification to attack us."
While the suspect was previously identified as an aviation officer in the Saudi Air Force, the report said he was studying weapons operating systems at NAS Pensacola.
Alshamrani began his training in August 2017, and it was scheduled to last until August 2020. His program included English language training, basic aviation, and initial pilot training.
Officials stressed that the investigation is ongoing and that the FBI continues to work with the presumption that this was an act of terrorism.
At the moment, they're trying to determine if the shooter acted alone or if anyone assisted, provided support for, or had knowledge of his attack in advance.
The attack left three dead: 21-year-old Airmen Apprentice Cameron Walters, 19-year-old Airman Mohammed Sameh Haitham and 23-year-old Ensign Joshua, all students at the naval aviation school.
Eight others were wounded in the gunfire, including two deputies who killed Alshamrani after a chase.
https://abc13.com/fbi-navy-base-shooting-suspect-called-non-muslims-infidels/5754705/
------
Sweden: Far-right groups spew anti-Muslim hate online
Atila Altuntas
14.12.2019
STOCKHOLM
Far-right groups in Sweden are spewing hatred online by asking people to set mosques on fire and slaughter Muslims, according to a report by Expo magazine.
The magazine managed to document the correspondence of 11 different closed groups used by far right groups which were followed by 44,000 people -- and even included comments by members of the Sweden Democrats party known for its anti-migration rhetoric.
According to the report, the main target of the group was Muslims followed by migrants, black people and some Swedish leftists politicians.
The posts in these groups mostly called for killing Muslims in Sweden, torching mosques and spraying worshippers inside with bullets.
Prime Minister Stefan Lofven, head of Sweden's Social Democratic Party, was addressed in the groups as a traitor who should be killed.
Psychologist Katie Cohen said the language used in these groups resembled the rhetoric used by the Nazis during World War II and perpetrators of the Rwanda Genocide.
Cohen said such comments could radicalize some people into committing acts of violence, however, it did not necessarily mean that all members of these groups would turn violent.
Mikail Yuksel, a Turkish-born politician who founded the Party of Different Colors in Sweden, said the report was concerning and said racists have started to be more organized through internet.
Referring to the Christchurch attacks in New Zealand where over 50 Muslims were shot dead by a white-supremacist and mosque attacks in the Norwegian capital Oslo, Yuksel said assailants were influenced by the provocative social media posts and started to view Muslims as a target that must be eliminated.
https://www.aa.com.tr/en/europe/sweden-far-right-groups-spew-anti-muslim-hate-online/1673753
------
Arab World
Custodian of Two Holy Mosques Congratulates Boris Johnson on His Party's Victory in General Elections of Great Britain and Northern Ireland
2019/12/14
Riyadh, Dec. 14, 2019, SPA -- Custodian of the Two Holy Mosques King Salman bin Abdulaziz Al Saud sent a message of congratulations to Prime Minister of the United Kingdom of Great Britain and Northern Ireland Boris Johnson on the occasion of his party's victory in the general elections in the United Kingdom of Great Britain and Northern Ireland.
In his name and in the name of the people and the government of the Kingdom of Saudi Arabia, the King expressed his best congratulations and wishes of success to His Excellency, and further progress and prosperity to the friendly people of the United Kingdom of Great Britain and Northern Ireland.
https://www.spa.gov.sa/viewfullstory.php?lang=en&newsid=2010940
------
SISCO's Red Sea gets approval to develop Jeddah Islamic Port
15/12/2019
Red Sea Gateway Terminal Limited (RSGT), a 60.6%-owned subsidiary of Saudi Industrial Services Co. (SISCO), received the approval of the Supervisory Committee of Privatization in the transportation sector to sign an agreement for developing and operating Jeddah Islamic Port (JIP).
The new build, operate, and transfer (BOT) agreement will be concluded in December to develop and operate the whole northern section of JIP, SISCO said in a bourse statement.
The agreement term is for 30 years starting from 2020, replacing RSGT's existing agreement.
Under the new deal, RSGT will upgrade the infrastructure and add new berths and equipment to enable JIP to become a pioneer in global container trade shipping between the East and West, the statement noted, adding that it comes in line with one of the main objectives of the Saudi Vision 2030 to make the Kingdom a global logistics hub.
RSGT has already invested SAR 2.5 billion in the current concession since the container terminal project started in 2007.
"The planned signing of the concession marks a significant step-change for RSGT towards its strategic growth and it is part of the recent positive developments across the SISCO Group which demonstrates the company's commitment to supporting the privatization initiatives under Vision 2030," SISCO stated.
SISCO will announce further updates and the agreement's financial impact in due course, the statement concluded.
In January, RSGT and the Saudi Ports Authority (Mawani) signed an MoU to develop a comprehensive long-term plan for the development of JIP.
https://www.argaam.com/en/article/articledetail/id/1335429
------
Home-cooked food in Iraqi square brings protesters together
Dec 15, 2019
BAGHDAD: In Baghdad's Tahrir Square, there are the anti-government protesters demonstrating for a better future for Iraq, and there are the volunteers who feed them.
From stuffed lamb and fish, to the giant pots of soups and rice, to the plates of lentils and other beans, there is no shortage of food to go around. Volunteers from the capital and southern provinces cook traditional dishes that reflect the country's rich cuisine and bring protesters together.
Tahrir Square has been the focal point for the protests that have continued to roil Iraq since October 1.
The spontaneous, leaderless demonstrations were organized on social media over long-standing grievances including government corruption, unemployment and a lack of basic services. For many, the square in central Baghdad has become a miniature model for the kind of state they dream of, where factional and sectarian politics play no part and public services exist.
Services, including the near-constant supply of food, have been integral to keeping people in the square, but volunteers are eyeing a gradual drop in donations with concern.
Iraqis are used to communal meals and many volunteer food. Every year, during the annual Shiite religious commemoration known as Arbaeen, volunteers prepare food for pilgrims making their way to their sects' holy shrines in the city of Karbala. Shortly after the protests started Oct. 1, volunteers began setting up similar tents to cook and distribute traditional Iraqi dishes for the protesters in and around Tahrir Square.
"We make it for the hungry people, and people in need here in Tahrir Square," said a woman who gave her name as Um Ammar, which means "Ammar's mother."
She is from the southern province of Missan and was cooking Seyah, a thick mixture of rice flour and water fried on a hot plate. Other popular dishes are lentils and beans; Tepsy, a traditional Iraqi casserole; Dolma, consisting of stuffed cabbage and grape leaves, onions and aubergines cooked in tomato sauce; and Makhlama, a mixture of potato, tomatoes, onion and egg all fried together and put in bread. It is a favorite breakfast for people in Baghdad.
"It is an old Baghdadi (dish). It is common in the morning. All the Iraqi people, but specifically the people of Baghdad, love this food," said Muhsin Salman, a cook from the capital who was making Makhlama.
Arouk bread — a tandoor bread made of dough mixed with celery and spices — is another favorite.
And there are the popular sweets: Hareesa is boiled whole wheat sweetened with sugar and cinnamon. Cherek is baked wheat flour bread stuffed with dates. And there's also the fried dough balls called Awamah.
On any given day, people can be seen lining up to fill plastic dishes with food. Protesters say the free food is important to help sustain the protest movement, especially for those who cannot afford to eat meat on a regular basis. But it's not the main attraction, they say.
Hashem al-Jabouri said that after more than two months of protests, he's worried that support for the movement is dwindling. Speaking as he fried falafel in a huge pot, he said support was not as strong as it was in the beginning. "There's a lot of pressure and threats targeting the volunteers," he said.
At least 400 people have been killed at the hands of security forces and unidentified assailants firing live ammunition and tear gas to disperse the demonstrations since the protests erupted in October. A string of targeted assassinations, forced disappearances and arrests of civil activists and journalists have also fostered fear among protesters.
Some said they will not be intimidated.
"I distribute food to my protester brothers. We will not retreat even if they kill or threaten us. We don't care," said Um Mohammed, who was cooking rice and beans on a recent day. Her husband was killed in Iraq's sectarian conflict in 2006.
"I am a martyr's wife, but it is OK," said the mother of four. "I am not retreating and will not leave the square. My house is here now, until they give me my rights."
https://timesofindia.indiatimes.com/world/middle-east/home-cooked-food-in-iraqi-square-brings-protesters-together/articleshow/72668511.cms
------
100,000 homes planned for Saudi citizens by 2020
FATIMA MUHAMMAD
December 15, 2019
JEDDAH: Real estate professionals have praised the efforts of the Saudi Ministry of Housing after it announced the launch of several housing units in the Kingdom.
Abdullah Al-Ahmari, head of the committee for evaluating real estate, and experts in construction at the Jeddah Chamber of Commerce and Industry (JCCI) said that the ministry was working fast to establish housing units in cooperation with local developers. The aim is to provide different options for people who need housing support and to achieve the ministry's 2020 goals.
The question Al-Ahmari asked is: "Do these housing projects satisfy the needs and aspiration of citizens?" He added that they should provide facilities and services such as education, health and infrastructure. Al-Ahmari said that there should be a balance in the real estate market so that the value of housing units provided by the ministry should not be less than that of those preferred by local banks due to long installment times.
Ahmed Al-Bar, from the Al-Bar Group for Real Estate Development, and a former member of the real state committee at JCCI, said: "The minister of housing has proven successful, but I hope that the Ministry of Housing will ensure that planning for housing units include services that people need, including hospitals, schools, parks, malls and nurseries."
There were housing projects in Egypt, Ethiopia and China that could be considered as models for the Kingdom. "We hope that cooperation is achieved between planners, contractors and supervisors to develop projects that best serve residents, and models that provide services side by side with housing units," he said.
The ministry has announced its goals for 2020, including providing 100,000 new housing units in partnership with real estate developers at a total value of SR65 billion.
Its "Sakani" program continues to deliver housing units, and 19 projects in nine regions of the Kingdom have been announced — 40 projects are providing 14,000 "villa" housing units. These projects are characterized by infrastructure such as sidewalks, lighting, electricity and water services, in addition to green areas, public parks and children's playgrounds and mosques.
Saif Al-Suwailem, spokesperson for the Ministry of Housing, affirmed the department's keenness to deliver units to citizens as soon as they are completed. The ministry ensured the housing units met all quality standards and specifications. The aim was to achieve the goals of the housing program — to increase local ownership to reach 70 percent as part of Saudi 2030 Vision goals, he said.
Free land
The ministry allocated 12,642 plots for residential property building during November, according to official figures.
Makkah received the largest issue of free land under the ministry's "Sakani" program at 2,383, with Qassim second on 2,079 and Najran on 1,660.
A statement from program officials said that the figures for land distribution in preparation for the construction of housing units were made possible by electronic streamlining of the application process.
Other parts of the Kingdom to receive land allocations were Riyadh (1,611), the Eastern Region (1,362), Madinah (998), Al-Jouf (513), Northern Borders (319), Hail (651), Asir (504), Tabuk (255), Al-Baha (221) and Jazan (86).
Free land is one of the options provided by the program. Beneficiaries may also apply for villas, buy an under-construction residential unit in partnership with the private sector, buy a finished housing unit off the market or acquire a 100 percent subsidized profit mortgage for landowners.
https://www.arabnews.com/node/1598956/saudi-arabia
------
Six winners in Riyadh falcon beauty contest swoop on $800,000 prize
December 15, 2019
RIYADH: Six winners were crowned in a falcon beauty pageant at the King Abdul Aziz Falconry Festival at Malham, north of Riyadh.
The beauty pageant, or Mazayen competition, was part of the festival's second edition and was judged in two categories — Farkh (birds under 12 months of age) and Qurnass (older than 12 months).
Falconer Khaled Nasser Al-Hajjri won three first places in the Farkh category with his falcons Hasheem, Merheb and Tamam scoring 92 percent, 85 percent and 75 percent, respectively.
In the Qurnass category, Salem Nasser Al-Hajjri's falcon Zandan won first place with 92 percent, Sultan Fahd Al-Damer's falcon Nyoom second place with 81 percent, and Dahy Ali Al-Mansoury's Al-Qayed third place with 72 percent.
The Saudi Falcons Club had specified seven criteria for winners in the beauty competition, including head and shoulders, upper part of the chest, back, leg and claw, and color. The falcon with the highest score out of 100 was awarded first place in each category. Prize money in the Mazayen competition totaled SR3 million ($800,000) with the winner in each round receiving SR300,000, second place SR200,000 and third place SR100,000.
As part of the beauty contest, the festival will include a final round for the Qurnass category. Competition in the 400-meter Milwah event will continue until Monday.
https://www.arabnews.com/node/1598976/saudi-arabia
------
Saudi ministry of health wins innovation award
December 14, 2019
RIYADH: Saudi Arabia's Ministry of Health has won the innovative team award for project management, as part of the Hamdan bin Mohammed Award for Innovation.
The award was received by Fahad bin Saleh Al-Azzam, assistant undersecretary of the Ministry of Health for empowerment, who is also the team leader, during a ceremony in Dubai in the presence of Sheikh Hamdan bin Mohammed bin Rashid Al-Maktoum, crown prince of Dubai.
The ministry team has established the institutional project management office, in accordance with internationally recognized best practices, designed to fit work requirements at the Ministry of Health.
This system is characterized by a strong base that enables the effective management and follow-up of projects and initiatives, linking 20 regional administrations in all regions of the Kingdom, with the main center in Riyadh.
The team was able to accomplish the project in an innovative way through the use of design thinking methodology.
https://www.arabnews.com/node/1598906/saudi-arabia
------
Mideast
Israel eyes Dubai expo as 'portal' to Arab world
Dec 15, 2019
TEL AVIV: With the world's largest trade fair opening in an Arab country for the first time next year, Israel is stepping up preparations, hoping to boost nascent ties with regional neighbours.
The Dubai Expo 2020 trade fair will gather nearly 200 countries vying for the attention of a projected 25 million visitors over nearly six months from October.
Like most Arab countries, the United Arab Emirates has no diplomatic relations with Israel.
But the Jewish state has been quietly moving closer to Gulf Arab countries on the basis of shared security interests and a common enemy -- Iran.
An Israeli pavilion at an Arab-hosted expo presents a unique opportunity to speed up the "normalisation" of relations and reach out to Arab peoples, officials say.
"To us, the added value is in the Arab and Muslim visitor," said Elazar Cohen, the Israeli foreign ministry's pointman for the expo, which is organised by the Paris-based Bureau International des Expositions (BIE).
So far public overtures between Israel and Arab nations have been cautious, but notable, with Israeli athletes and officials increasingly allowed into Gulf countries.
The expo is "a unique meeting between cultures and languages and people who don't routinely meet", said David Knafo, the Tel Aviv-based architect behind the design of Israel's pavilion.
Designed to reflect Israel's sense of belonging to the region as well as the openness the Jewish state seeks to broadcast to its Arab neighbours, "the pavilion is therefore an open space -- a living room to host the expo visitors." Concept videos of the pavilion reveal stairs leading up a representation of a sand dune.
Described as a "pavilion with no walls and no borders," the stairs are arched by large LED screens showing images of different aspects of Israeli society.
The aim, Knafo said, is to symbolise Israel's transformation of its deserts through culture and technology, hinting at the possibility that other desert lands could do the same.
An auditorium below the pavilion will offer visitors an interactive multimedia experience, the foreign ministry's director general Yuval Rotem told AFP.
It aims to showcase "the Israeli spirit and culture" in innovations and developments from fields such as water, medicine and information technology, he said.
Prime Minister Benjamin Netanyahu has described the Israeli expo pavilion as part of "the continued progress of normalisation with the Arab states".
Past Israeli leaders saw peace with the Palestinians as the gateway to ties with the broader Arab and Muslim world.
But with the peace process frozen for years now, Netanyahu argues instead that building relations with Arab countries will push the Palestinians toward a peace deal with Israel.
The Israeli presence in Dubai "will create a buzz", said Cohen, noting that the lack of a peace agreement, or even process, with the Palestinians is still liable to draw the attention of at least some Arab visitors at the expo.
The pavilion's display won't touch on politics, he added, instead "focusing on what Israel has to offer".
Dore Gold, former director-general of the Israeli foreign ministry, said the "quasi-diplomatic presence" of the pavilion is one of several developments with "a cumulative effect".
He cited sporting competitions and the 2015 opening in Abu Dhabi of an Israeli mission to the International Renewable Energy Agency, which is based there. "It's not normalisation, but it's an enhanced presence," he said.
While the Gulf Arab states have not lost interest in the Palestinian issue, "these countries are looking after themselves", Dore said, including enhancing security cooperation with Israel against Iran.
Gold, who heads the Jerusalem Center for Public Affairs think-tank, said the expo was part of attempts to slowly publicise aspects of relations in the region not pertaining to security.
"The name of the game is how to find joint interests that don't create a big stir," he said.
"In any case, if you did public opinion surveys, you'd find that throughout most of the Gulf there's a kind of understanding that Israel's part of the region."
Diplomat Cohen and architect Knafo both noted the warm welcome they have received in the Gulf state, as work on the pavilion entered advanced stages and their visits to Dubai became more frequent.
"The attitude of the hosts is excellent," Cohen said. "I didn't expect anything else but when you encounter it, it's heartwarming."
The expo could be "a portal to a world that was blocked to us, and our pavilion is a portal to the Israeli experience at all its levels -- scientific, cultural, human," said Knafo.
https://timesofindia.indiatimes.com/world/middle-east/israel-eyes-dubai-expo-as-portal-to-arab-world/articleshow/72660444.cms
------
54 injured as Lebanese security forces and Hezbollah supporters clash in central Beirut
NAJIA HOUSSARI
December 14, 2019
BEIRUT: Security forces fired tear gas and rubber bullets at Lebanese protesters in central Beirut on Saturday in clashes that went on into the night and wounded dozens of people.
Among the badly injured were policeman after Hezbollah and Amal Movement supporters clashed with anti-government protesters, less than 32 hours before a key parliamentary meeting to nominate a new Lebanese leader.
Attackers threw stones and firecrackers at security forces, who responded by firing tear gas and rubber bullets.
State news agency NNA said the tear gas made several people faint. The Lebanese Civil Defense said it treated 54 people for injuries, taking more than half to hospital.
The Internal Security Forces said at least 20 police were wounded.
Riot police took more than 90 minutes to contain the attackers in areas surrounding Riad El-Solh and Martyrs squares, forcing them to retreat to the Khandak El-Ghamik and Zqaq El-Blat neighborhoods, where Hezbollah and the Amal Movement have strong support.
Clashes have become more frequent in recent weeks, with supporters of Hezbollah and Amal attacking protest camps in several cities amid counter-demonstrations.
The renewed attacks on protesters came a day after Hezbollah leader Hassan Nasrallah claimed that both the militant group and Amal "are exercising control over their supporters and that attackers do not belong to them."
Khandak El-Ghamik residents told reporters that the attackers are not from the area.
"We do not know who they are," one resident said.
The counter-protests have taken place in the capital and other Lebanese cities in recent weeks, prompting the leader of Hezbollah on Friday to urge his supporters — and those of Amal — to stay calm.
Following the violence, a local sheikh went to the minaret of a neighborhood mosque and called on the attackers to "go back to their homes."
Abu Ali, an elder of the region, said that the attackers came from areas outside Beirut and infiltrated Khandak El-Ghamik before launching attacks on protesters in Riad El-Solh and Martyrs squares.
Activist Mahmoud Fakih told Arab News: "The attackers were chanting slogans showing their political affiliations. These attacks are repeated after every speech by Nasrallah. They want to spread fear in our ranks."
The attacks coincided with plans by protesters to stage a sit-in in Nejmeh Square, near the Parliament. Activists said they wanted "to rescue the Parliament from corrupt authority."
Security forces blocked the square to prevent protesters getting close to Parliament.
Hundreds of people had been marching in the capital as part of a historic wave of protests that has swept Lebanon since Oct. 17, furious at a ruling elite that steered the country toward its worst economic crisis in decades.
Since the protests pushed Saad Al-Hariri to resign as prime minister, talks between the main parties have been deadlocked for weeks over forming a new cabinet.
Lebanon urgently needs a new government to pull it out of the crisis. Foreign donors say they will only help after the country gets a cabinet that can enact reforms.
The unrest erupted in October from a build-up of anger at the rising cost of living, new tax plans and the record of sectarian leaders dominating the country since its 1975-90 civil war. Protesters accuse the political class of milking the state for their own benefit through networks of patronage.
Lebanon's economic crisis, long in the making, has now come to a head: Pressure has piled on the pegged Lebanese pound. A hard currency crunch has left many importers unable to bring in goods, and banks have restricted dollar withdrawals.
(With Reuters)
https://www.arabnews
------
Iran says it's defused 2nd cyberattack in less than a week
Dec 15, 2019
TEHRAN: Iran's telecommunications minister announced on Sunday that the country has defused a second cyberattack in less than a week, this time "aimed at spying on government intelligence."
Mohammad Javad Azari Jahromi said in a short Twitter post that the alleged attack was "identified and defused by a cybersecurity shield," and that the "spying servers were identified and the hackers were also tracked." He did not elaborate.
Last Wednesday, Jahromi told the official IRNA news agency that a "massive" and "governmental" cyberattack also targeted Iran's electronic infrastructure. He provided no specifics on the purported attack except to say it was also defused and that a report would be released.
On Tuesday, the minister dismissed reports of hacking operations targeting Iranian banks, including local media reports that accounts of millions of customers of Iranian banks were hacked.
This is not the first time Iran says it has defused a cyberattack, though it has disconnected much of its infrastructure from the internet after the Stuxnet computer virus, widely believed to be a joint U.S.-Israeli creation, disrupted thousands of Iranian centrifuges in the country's nuclear sites in the late 2000s.
In June, Washington officials said that US military cyber forces launched a strike against Iranian military computer systems as President Donald Trump backed away from plans for a more conventional military strike in response to Iran's downing of a US surveillance drone in the strategic Persian Gulf.
Tensions have escalated between the U.S. and Iran ever since President Donald Trump withdrew America last year from the 2015 nuclear deal with Tehran and began a policy of "maximum pressure." Iran has since been hit by multiple rounds of sanctions.
https://timesofindia.indiatimes.com/world/middle-east/iran-says-its-defused-2nd-cyberattack-in-less-than-a-week/articleshow/72665029.cms
------
Turkey seeks more EU funds for refugees' upkeep
December 15, 2019
ISTANBUL: The EU should spend more than the €6 billion ($6.6 billion) already allotted to fund Syrian refugees in Turkey, and speed up the flow of that money, the Turkish Foreign Ministry's EU point person said on Saturday.
EU funds support the roughly 3.5 million Syrian refugees in Turkey, after Syria's more-than eight-year war killed hundreds of thousands and pushed millions from their homes. In turn, Turkey has agreed to halt further immigration to Europe.
"The flow of funds should be sped up and the amount of funding should be increased," said Faruk Kaymakci, a deputy Turkish minister of foreign affairs.
"As long as the crisis is there we have to work together. The €6 billion will not solve the problem when it is finally all spent," Kaymakci told reporters in Istanbul.
The EU, which set up the funding in 2015, says more than €5.6 billion have been allocated, more than 3.5 billion contracted and more than 2.4 billion disbursed.
Kaymakci said hosting the refugees costs Turkey some $40 billion in total.
Europe's relations with Turkey are strained on several fronts including disagreement over a Turkish military incursion in October against a Kurdish militia in northeast Syria.
Turkey in late October threatened to "open the gates" to allow refugees into Europe unless Europeans back its plan to resettle them in northeast Syria.
https://www.arabnews.com/node/1598946/middle-east
------
Untiring protesters come up against elite in Algeria
December 15, 2019
PARIS: Algeria's unpopular presidential election was meant to reset the country's politics after months of crisis, but it exposed a rigid system determined to perpetuate itself, analysts say.
"You get the impression of two parallel Algerias: A ruling class which congratulates itself on organizing elections and a populace that holds protests," said Maghreb expert and historian Karima Direche.The North African country plunged into crisis in February when veteran President Abdelaziz Bouteflika announced he would seek a fifth term, sparking mass demonstrations.
Bouteflika quit under popular pressure in April, but the Hirak protest movement has kept up the pressure with weekly mass rallies to demand sweeping reforms.
Thursday's presidential vote was bitterly opposed by Hirak, which saw it as an establishment ploy to cling to power.
Anti-election rallies rocked major cities and in the Berber-dominated region of Kabylie, protesters ransacked polling stations and clashed with police.
Fewer than four out of 10 Algerian voters cast their ballots on Thursday, according to election officials. Direche suspects the real figure may be less than half that.
Officials "stuff the ballot boxes, they fix the numbers. They don't even make the effort" to hide their manipulations, she said.
On Friday, vast crowds descended onto the streets of Algiers to reject newly elected president Abdelmadjid Tebboune, a longtime government insider and former premier under Bouteflika.
But the opposition to the poll "matters little to a regime committed to a sham election intended to prolong its tenure," said Anthony Skinner, regional director at risk analysis firm Verisk Maplecroft.
Algeria's elite, dominated by army chief Ahmed Gaid Salah, sees the turnout as "enough to bestow what it sees as legitimacy on the next president," he said.
"Gaid Salah will probably still treat the election as a success."
Yet with the protest movement showing no sign of abating, that calculus may be wrong, said Jean-Pierre Filiu, a professor at Sciences Po university in Paris.
"Gaid Salah failed in his bid to stifle popular protest through imposing this election," said Filiu.
The protesters on the other hand "succeeded in making participation the only real issue in this poll, rather than the identity of the future president," he said.
"By sticking to a non-violent approach ... the Hirak is continuing to erode military decision-makers' stranglehold on the country. There will be no going back" to the status quo.
For Direche, the poll was "a new humiliation for the Algerian people," compounding the February decision to allow Bouteflika, 82 and partially paralyzed by a stroke, to attempt to extend his two-decade rule.
Direche said the Hirak may now change its strategy from one of peaceful Friday parades that pose little danger to the Algerian economy, to one of mass strikes and civil disobedience campaigns.
The amorphous movement may have to reconsider its strategy of having no leadership, given that the country's political elite is "running the shop" without any limits on its power, she said.
But Direche said the Hirak has already created a shift in Algerian political life by retaking public space and encouraging citizens to take part in politics.
"It's no longer the same Algerian society or the same country — but it's still the same political system," she said.
"Everything moves, but nothing changes" at the top of the state apparatus.
Algeria's "political software" is "completely obsolete," she added.
"While authoritarian regimes from time to time give some ground so the machine doesn't get stuck, in Algeria, it has already completely broken down."
https://www.arabnews.com/node/1598936/middle-east
------
New Zealand
Mosque victim's brother wins top student architecture accolade
Dec 15 2019
The brother of a Christchurch mosque shootings victim has won an architecture award for his pathway of tolerance and respect through a national park.
Christchurch student Abdallah Alayan's design for the pathway though Fiordland National Park this month co-won the Student Design Awards, which is contested by final-year architecture school students.
In his proposal, Faith in Fiordland, The University of Auckland student from Hornby designed four non-denominational pilgrimage structures for the trail from Te Anau to Milford Sound.
Alayan's brother, Atta Elayyan, 33, was among the Deans Ave mosque shooting victims on March 15. Elayyan was heavily involved in the New Zealand futsal community, playing for the Canterbury and New Zealand teams, and coaching many of the young players.
Jeremy Priest's proposal for a modern learning environment for architectural students was the co-winner.
In their feedback, judges Courtney Kitchen and Amelia Borg said Alayan's work exhibited a "profound understanding and sympathy for the human condition" and the structures were designed for an age in which most people had no allegiance to a particular religion, but "retained the capacity to be awe-struck by nature".
Alayan's designs were mostly abstract structures, using geometric lines and natural materials to blend into the landscape.
The designs were "accomplished pieces of work" that illustrated architecture's ability to respond to social and political conditions, identify issues and offer solutions, Melville said.
The jury admired Alayan's resilience in completing a quality and optimistic project after such a difficult year.
Twelve fifth-year architecture students were selected to enter the competition, four from each of The University of Auckland, Unitec and Victoria University of Wellington.
Other ideas included a series of inebriation stations on Auckland's Queen St to address New Zealand's binge-drinking culture, a series of memorial buildings for a site in Central Otago ravaged by strip mining and creating better learning environments for high school students.
Both first-place winners received a $5000 prize and $1500 travel grant.
https://www.stuff.co.nz/business/better-business/118174913/mosque-victims-brother-wins-top-student-architecture-accolade
-------
URL: https://www.newageislam.com/islamic-world-news/west-africa-turning-islamic-states/d/120529
New Age Islam, Islam Online, Islamic Website, African Muslim News, Arab World News, South Asia News, Indian Muslim News, World Muslim News, Women in Islam, Islamic Feminism, Arab Women, Women In Arab, Islamophobia in America, Muslim Women in West, Islam Women and Feminism