New Age Islam News Bureau
11 Nov 2013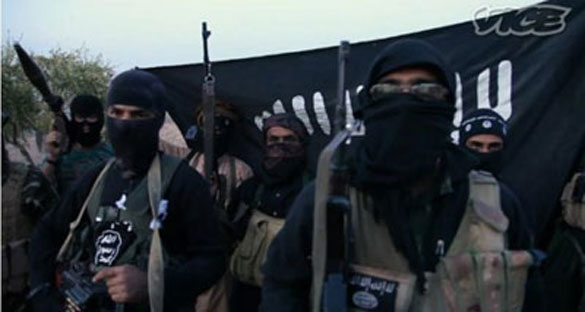 British jihadis in Syria say they want to take the fight to the United States and Britain (Screenshot: Vice News via YouTube)
----------------
Europe
• 'We Will Bleed You to Death': British Jihadis Describe Their Aims for America after Syria Fight
• Putin calls Saudi king to discuss regional, international issues
• Spanish police arrest 25 in 'Nigeria sex-trafficking ring'
South Asia
• Gunmen Shoot Dead Prayers Leader in Southern Afghanistan
• Five Bangladesh war heroes killed on Jamaat-e-Islami leader AKM Yusuf Order
• International community obliged to delegitimise President Waheed: Nasheed
• Maldives Speaker advises state institutions that Waheed no longer in power
• China, Canada concerned over violence in Bangladesh
• Bangladesh FM to discuss Land Boundary Agreement with Indian counterpart
• Zia will face arrest if vandalism continues: Bangladesh govt
• Bangladesh cabinet quits allowing all-party govt for polls
Pakistan
• Sindh Assembly passes resolution against Jamaat-e-Islami chief
• Pak army doesn't have right to interfere in politics: Jamaat
• Army takes exception to calling terrorists martyrs
• Senior Haqqani network commander killed in Islamabad: Taliban sources
• Balochistan CM appeals to Ulema to support efforts for sectarian harmony
• Clerics ask Mullah Umar to help stop attacks
• Peshawar operation: 32 suspects arrested
• Nomination forms: Religious groups critical of change
• Carve it up: 'K-P Assembly to adopt Hazara resolution'
• Pakistan wants settlement of issues with India: FO
Southeast Asia
• Former Indonesian VP bemoans mosques' sound systems, again
• PM tells 'silent majority' to drown out extremists
• 121 Million Indonesian Kids Exposed to Smoking, Activists Claim
• RI promotes Muslim-friendly spots to lure holidaymakers
• Public blames Yudhoyono for rising religious intolerance
Arab World
• Five killed in Iraq attacks, two dead bodies found
• Syrian National Coalition agrees to attend Geneva peace talks
• Kidnapped Syrian MP executed by jihadists: NGO
• Attacks concentrated in north Iraq kill seven
• Mortar round kills 5 in suburb of Syrian capital
• Sectarian rhetoric escalates in Tripoli, as Sunni Sheikhs calls for justice
• Lebanon's Shia mourn martyrs amid sectarian tension over Syria
• Arab Tawhid leader confident of Syria victory
Mideast
• Gunman kills Iranian deputy minister Safdar Rahmatabadi: Report
• Salafis declare Jihad on Yemeni Shiites
• Five killed in violence across Yemen
• Sunni, Shiite rift main worry in Mideast: FM
• Arab Spring shows value of Atatürk's move for republic
• Qaeda suspects on trial for plot to kill Yemeni leader
• Easing Iran sanctions like 'putting hole in tire': Netanyahu
North America
• US built 'powerful organs of state terrorism' in Iraq
• US 'not blind, stupid' in nuclear talks with Iran, John Kerry says
• Scammers targeting Muslim community
• Obama's 'impossible' retreat from the Middle East
• Chinese flocking to Malaysia for bargain homes: Wall Street Journal
India
• Islamic bonds and the lessons India can learn from UK
• Will give Pak 'benefit of doubt' to pursue peace: Khurshid
• Days after Beijing attack, China talks cooperation on terrorism with India and Russia
• Terror funds: Bihar police name woman from Mangalore
• Charles visits Muslim saint's tomb
Africa
• Somali refugee returns from Kenya must be voluntary: UN
• Libyan separatists take over oil exports as PM warns of foreign intervention
• One million facing food shortage in Niger: PM
Compiled by New Age Islam News Bureau
URL: https://newageislam.com/islamic-world-news/'we-bleed-death'-british-jihadis/d/24377
----------
Europe
'We Will Bleed You to Death': British Jihadis Describe Their Aims for America after Syria Fight
November 11, 2013
British men fighting alongside Al Qaeda-linked groups in Syria have said that after Syria, they aim to take the battle to the United States and Britain.
Vice News posted video with interviews of British men who traveled to the combat zone to pair up with the Jihadi groups Jabhat al-Nusra (Nusra Front) and the Islamic State of Iraq and Syria (ISIS).
"I say to United States that your time will come and we will bleed you to death and, Insha Allah [Allah willing], will raise the flag in the White House," a 26-year-old Briton told the Vice News interviewer.
"My feeling is great, Alhamdulillah (thank Allah), I'm happy I'm here. And I'm here to please Allah… and I'm not here to please anyone else but Allah," he added, describing his aim as contributing to jihad on behalf of Muslims.
During the entire video, all of the men were masked, revealing only their eyes, and none provided their names.
A second British citizen blamed his government and prime minister for perpetrating "crimes" against Muslims. He tied his objectives with those of the killers of Lee Rigby, the British soldier who was hacked to death in the London neighborhood of Woolwich in May. The perpetrators – both Muslim converts – described their motives as revenge for the killing of Muslims by British forces serving in the Middle East.
"Like the guy in Woolwich, he explained that [Prime Minister] David Cameron would never walk on the street, and he'll never get shot in the face, whereas you guys who are soldiers, or just normal folk, will take the blame for the crimes that are committed worldwide by Britain itself so we have to fight. It's part of our obligation…to protect our honor, to protect our women," the Syrian rebel from the UK said.
After Syria, the aim is "to bring back the honor of Islam from Filastine [Palestine] to Al Aqsa to all over the Muslim world, and Britain will be next," said one of the British jihadis.
"From this land we will march toward the Al Aqsa mosque [in Jerusalem] in the name of Allah. Allahu Akbar! [Allah is the greatest]," said another.
The Vice News crew visited Syrian rebel outposts just over the Turkish border where fighters were focused on battling Kurdish nationalists, not the Assad regime.
Rebels from both the Nusra Front and ISIS made a show for the cameras of hugging, despite recent reports of a rift between them.
With so many volunteers from overseas, key members of the fighting units are the interpreters. One fighter explained that they have Dutch, English, French and Russian interpreters on hand.
One rebel strongly denied reports in the Arabic and Western media about the practice of so-called "sex jihad," in which devout Muslim women allegedly have traveled to the Syrian frontlines for the pleasure of the radical fighters. He blamed Shi'ites for coming up with the idea.
The head of domestic intelligence for Britain's MI5 intelligence agency, Andrew Parker, last week estimated that the number of British Al Qaeda sympathizers in Syria at in the "low hundreds."
Speaking to the British parliament last week Parker said this was a "very important strand of the threat" the UK faced, the BBC reported.
The British broadcaster further reported that one in 10 foreign fighters in Syria is from Europe and according to Center for the Study of Radicalization at London's King's College, most of the British volunteers are in their 20s and are university-educated Muslims.
"We've seen low hundreds of people from this country go to Syria for periods and come back – some large numbers are still there – and get involved in fighting," Parker said.
"This is partly because of the proximity of Syria and the ease of travel there, but also because it is attractive as what they would see as a Jihadi cause," he added.
According to a Daily Beast report last month, U.S. intelligence estimates vary about the number of Americans who have gone on jihad in Syria, ranging from 10 to 60.
House Intelligence Committee Chairman Rep. Mike Rogers has called the Syrian civil war a "jihadist magnet." He told the Daily Beast in September, "At some point all of these people from Europe are going home. All the folks there from all over the world, including the United States, will be coming home if they do not meet their end on the battlefield."
http://www.theblaze.com/stories/2013/11/10/we-will-bleed-you-to-death-british-jihadis-describe-their-aims-for-america-after-syria-fight/
-----------
Putin calls Saudi king to discuss regional, international issues
November 11, 2013
Saudi King Abdullah has received a telephone call from Russian President Vladimir Putin to discuss the latest regional and international issues, the official Saudi Press Agency (SPA) reported on Sunday.
"During the telephone conversation, they reviewed bilateral relations between the two countries in addition to the latest developments at regional and international arenas," SPA reported.
Meanwhile, Agence France-Presse quoted the Kremlin saying that the two leaders "expressed a mutual interest in furthering (their) cooperation and maintaining contacts at various levels" aimed at helping resolve world disputes.
In October, Saudi Arabia has rejected a much coveted U.N. Security Council seat.
Riyadh cited the Security Council's failure to resolve the Israeli-Palestinian dispute, inability to end the 32-month Syrian conflict, and halt nuclear proliferation in the region.
Saudi Arabia's frustration was mainly directed at Russia and China, whose stances on Syria were seen as pro-President Bashar al-Assad's regime.
Saudi Arabia and Russia witnessed strained relations also due to Moscow's decision to complete the construction of Iran's first nuclear power plant.
Riyadh supports the rebels fighting Assad's regime and suspects that Tehran is developing an atomic bomb.
http://english.alarabiya.net/en/News/middle-east/2013/11/10/Putin-calls-Saudi-king-to-discuss-regional-international-issues-.html
----------
Spanish police arrest 25 in 'Nigeria sex-trafficking ring'
November 11, 2013
Spanish police say they have arrested 25 people in a sex-trafficking ring that brought women from Nigeria to work as prostitutes.
The women, allegedly lured with the promise of good jobs in Europe, were first flown to Mexico or Brazil, travelling on false identity documents.
From there, they were flown to Paris, then smuggled into Spain to work in the sex trade, police say.
Five women who were victims of the sex ring were freed in the raids.
Police found one member of the gang performing an abortion on one of the five women, reports the BBC's Madrid correspondent, Tom Burridge.
Hidden goods
Arrests were made across Spain - in Madrid, Toledo, Cantabria and Palma de Mallorca.
Map of Spain showing Madrid and Valencia
More than 100 vans concealing luxury goods were also seized.
The gang used the vans to launder their profits and send them back to Lagos, police say.
The vans, with dark-tinted windows and welded doors, were stocked full of beer but had luxury items hidden deeper inside.
Goods worth an estimated 5m euros (£4.1m; $6.6m) were found in 94 vans seized in Madrid and another 26 in the port of Valencia, including high-end televisions and cases of alcohol.
Police say the gang was formed more than 20 years ago in Nigerian universities and was also known for sending so-called Nigerian letters by email, asking recipients to send money.
Eight of the 25 people arrested were in Spain illegally, they say.
http://www.bbc.co.uk/news/world-europe-24890952
----------
South Asia
Gunmen Shoot Dead Prayers Leader in Southern Afghanistan
November 11, 2013
TEHRAN (FNA)- A prayer leader was killed Monday morning in a shooting in Kandahar city, the provincial capital of Southern Afghan province of Kandahar, a source said.
"Unknown armed men using handguns shot dead the leader named Mulawi Atta Mohammad in Topkhana area of 1st police district at around 8:00 am (local time). The victim died on the spot," the provincial government spokesman Jawid Faisal told Xinhua.
He said the attackers fled the scene shortly after the attack and police launched a pursuit operation against the fleeing men.
No group has claimed the responsibility for the incident so far. Kandahar is notorious for growing poppy and is a known Taliban hotbed.
Recently, Afghan officials and pro-government figures have been repeatedly targeted by the militants as the Taliban insurgents intensified activities against government interest across the country.
The UN Assistance Mission in Afghanistan has recently said that more than 1,300 civilians were killed and over 2,500 others injured in Afghanistan from January to June this year.
Out of total casualties in the first half of the year, up to 312 civilians were killed and 131 were wounded in targeted killings across the county.
The civilians perceived to be supporting government, civilian government employees, religious leaders, tribal elders and persons involved in peace and reconciliation efforts came under attack in targeted killings in the central Asian country.
http://english.farsnews.com/newstext.aspx?nn=13920820000768
-----------
Five Bangladesh war heroes killed on Jamaat-e-Islami leader's Order
November 11, 2013
A freedom fighter yesterday testified that Razakars had killed at least five freedom fighters in Sarankhola upazila of Bagerhat during the 1971 Liberation War on the orders of Jamaat-e-Islami leader AKM Yusuf.
Razakar Bahini, an auxiliary force of the Pakistan army, was formed under the leadership of Yusuf, the then chief of Khulna Jamaat-e-Islami, and the force established two camps at Sarankhola, said Yusuf Ali Sikder, fourth prosecution witness in the war crimes case against AKM Yusuf.
On the night of June 6, 1971, freedom fighters attempted to attack one of the Razakar camps at Rayenda Bazar but Razakars got the information beforehand, said Sikder, who had been a group commander of freedom fighters.
Some Razakar men began firing at freedom fighters when they reached Rayenda. Sikder said he had heard that AKM Yusuf along with other Razakars had reached there at that time.
At one stage, the freedom fighters retreated as they were running out of arms and ammunition and went into hiding, said the 76-year-old witness.
Later, they learnt from others that co-fighters Captain Anwar, Asmat Ali Munshia and Ismail were held hostage inside a girl's school, Sikder said. The hostages were tortured and then killed around 11:30am the following day as per "Moulana Saheb's" [AKM Yusuf] instructions.
After Razakars left the spot, Sikder along with others went there and buried the bodies.
"There is a tomb there," the witness said.
On June 9, 1971, Razakar men led by Yusuf detained freedom fighters Zainul Fakir and Basarat Kha from Tafalbari village and shot them dead.
"I heard it from people of the [village] market, who had witnessed the incident," Sikder said.
The Razakars also shot dead freedom fighter Salam Khan while he was going to Rayenda Bazar on July 19 of that year.
In the last part of his testimony, Sikder identified Yusuf, who had been produced in the dock. Yusuf is facing 13 charges of crimes against humanity and genocide committed in greater Khulna district during the war.
The tribunal adjourned the case proceedings until tomorrow.
http://www.thedailystar.net/beta2/news/5-war-heroes-killed-on-yusufs-order/
----------
International community obliged to delegitimise President Waheed: Nasheed
By Zaheena Rasheed | November 10th, 2013
Maldivian Democratic Party (MDP) presidential candidate and former President Mohamed Nasheed has called on the international community not to recognise President Dr Mohamed Waheed Hassan should he stay in power beyond the end of the current presidential term at midnight tonight.
The Supreme Court in a ruling yesterday said Waheed's presidency continues until a president elect is determined, invalidating a People's Majlis resolution authorizing the speaker to assume the presidency in the absence of a president-elect.
Full report at:
http://minivannews.com/politics/international-community-obliged-to-delegitimise-president-waheed-nasheed-71355
----------
Maldives Speaker advises state institutions that Waheed no longer in power
By JJ Robinson | November 11th, 2013
Speaker of Parliament Abdulla Shahid has sent a letter to President Dr Mohamed Waheed informing him that his term as president expired at midnight, and informing him that he was no longer in command of the country.
Waheed yesterday declared that he would remain in power until the run-off vote scheduled for November 16, before boarding a speedboat off Male with his wife as violent protests and a police crackdown began to shake the capital.
Full report at:
http://minivannews.com/politics/speaker-advises-state-institutions-that-waheed-no-longer-in-power-71384
----------
China, Canada concerned over violence in Bangladesh
November 11, 2013
China and Canada have expressed their concerns over the recent political unrest and violence in Bangladesh and stressed the need for dialogues to resolve issues between political parties.
In a statement today, Heather Cruden, Canadian high commissioner in Bangladesh, expressed concern over the "mounting and deadly" political violence.
She also stressed the need for constructive dialogue between the government and the opposition for holding free, fair and credible elections. "Unfortunately, neither hartals [labour strikes] nor arrests are conducive to dialogue," she said.
Full report at:
http://www.thedailystar.net/beta2/news/china-canada-concerned-over-political-turmoil-in-bangladesh/
----------
Bangladesh FM to discuss Land Boundary Agreement with Indian counterpart
November 11, 2013
Foreign Minister Dipu Moni is scheduled to meet her Indian counterpart Salman Khurshid today at the sideline of Asia Europe Meeting to discuss bilateral issues and political situation in Bangladesh.
The minister left Dhaka for New Delhi yesterday to attend the two-day ASEM ministerial that will begin today.
"Political issues along with Land Boundary Agreement, Teesta agreement, border killings will be discussed in the meeting," said an official of the Foreign Ministry. India assured Bangladesh that the Land Boundary Agreement (LBA) between Bangladesh and India would be placed in the upcoming winter session of Rajyshaba and Dhaka would press for it again to move forward the relationship between the countries, he said.
Full report at:
http://www.dhakatribune.com/politics/2013/nov/11/dipu-moni-discuss-land-boundary-agreement-indian-counterpart#sthash.QDUyh4ve.dpuf
----------
Zia will face arrest if vandalism continues: Bangladesh govt
Nov 11 2013
Dhaka : The Bangladesh government Sunday warned Opposition Leader Khaleda Zia that she may also face arrest like other top BNP leaders if her party continues "vandalism and terrorist activities" amid a four-day nationwide shutdown.
"If the BNP continues vandalism and terrorist activities, then BNP's top leaders including Khaleda Zia will have to face the same fate like the detained leaders," said State Minister for Law Qamrul Islam.
Full report at:
http://www.indianexpress.com/news/zia-will-face-arrest-if-vandalism-continues-bangladesh-govt/1193327/
----------
Bangladesh cabinet quits to allow all-party govt for polls
PTI | Nov 11, 2013
DHAKA: Bangladesh's cabinet ministers today tendered their resignations to pave the way for an all-party government to oversee general elections, with the BNP-led opposition adamant on the demand for a neutral non-party government amid a violent political standoff.
"The ministers and state ministers present at today's (regular) cabinet meeting have submitted their resignation letters to Prime Minister Sheikh Hasina," Prime Minister's press secretary Abul Kalam Azad told PTI.
He could not confirm if resignations of all the ministers were already received but previous media reports said at least 20 influential ministers handed over their resignation letters to the premier earlier.
Full report at:
http://timesofindia.indiatimes.com/world/south-asia/Bangladesh-cabinet-quits-to-allow-all-party-govt-for-polls/articleshow/25589150.cms
----------
Pakistan
Sindh Assembly passes resolution against Jamaat-e-Islami chief
November 11, 2013
KARACHI: Sindh Assembly has passed a resolution against the controversial remarks made by the Jamaat-e-Islami (JI) Ameer Syed Munawar Hassan on Monday, Express News reported.
Various political parties including the Pakistan Muslim League-Nawaz (PML-N), Pakistan People's Party (PPP) and Muttahida Qaumi Movement (MQM) presented the resolution in the Assembly.
Full report at:
http://tribune.com.pk/story/630366/sindh-assembly-passes-resolution-against-ji-chief-hassan/
----------
Pak army doesn't have right to interfere in politics: Jamaat
PTI | Nov 11, 2013
ISLAMABAD: Unfazed by criticism from Pakistan's powerful military for referring to the slain Taliban chief as a martyr, the ultra-right Jamaat-e-Islami on Monday took on the army by contending that it did not have the right to interfere in politics.
Jamaat general secretary Liaquat Baloch said the army's media wing ISPR had issued a political press release which was unbecoming of a military force.
Angered by Jamaat head Munawar Hasan?s remarks describing slain Pakistani Taliban chief Hakimullah Mehsud as a martyr, ISPR had on Sunday demanded that he should tender an unconditional apology.
Full report at:
http://timesofindia.indiatimes.com/world/pakistan/Pak-army-doesnt-have-right-to-interfere-in-politics-Jamaat/articleshow/25597507.cms
-----------
Army takes exception to calling terrorists martyrs
November 11, 2013
ISLAMABAD - Attempting to bring an end to the apparently trivial debate over calling the hardcore terrorists as 'martyrs', Pakistan Army has slammed a religious hardliner for "insulting the shahadat (martyrdoms) of thousands of innocent Pakistanis".
Pakistan Armed Forces' mouthpiece Inter Services Public Relations (ISPR) issued an extraordinary statement on Sunday, demanding an unconditional apology from Ameer Jama'at-e-Islami Syed Munawar Hasan over his declaring the dead terrorists "martyrs" and saying his remarks were "irresponsible and misleading".
Full report at:
http://www.nation.com.pk/pakistan-news-newspaper-daily-english-online/national/11-Nov-2013/army-takes-exception-to-calling-terrorists-martyrs
----------
Senior Haqqani network commander killed in Islamabad: Taliban sources
November 11, 2013
A senior member of the Haqqani militant network, seen as one of the biggest threats to US-led forces in Afghanistan, has been shot dead in Islamabad, Taliban sources said Monday.
Unknown gunmen attacked Nasiruddin Haqqani, the son of the group's founder, on the edge of the Pakistani capital on Sunday evening.
http://english.ahram.org.eg/NewsContent/2/9/86154/World/International/Senior-Haqqani-network-commander-killed-in-Islamab.aspx
-----------
Balochistan CM appeals to Ulema to support efforts for sectarian harmony
2013-11-11
QUETTA, Nov 10: Balochistan Chief Minister Dr Abdul Malik Baloch has stressed the need for joint efforts to ensure peace during Muharram and urged ulema of different schools of thought to support the government in this regard.
Mr Malik said the government was ready to introduce laws, if needed, to ensure harmony among different sects. He was speaking at a meeting held here on Sunday to review law and order situation in Quetta and other parts of the province.
Full report at:
http://www.dawn.com/news/1055575/malik-appeals-to-ulema-to-support-efforts-for-sectarian-harmony
----------
Clerics ask Mullah Umar to help stop attacks
2013-11-11
LAHORE: Over 100 clerics associated with the Sunni Ittehad Council have sought Afghan Taliban supremo Mullah Umar's help to stop TTP's terrorist activities in Pakistan.
"We appeal to Mullah Umar to use his influence and order Pakistani Taliban to stop terrorism activities in the country besides making them agree to accept the constitution of an Islamic state," the clerics said in a joint statement issued by the Council on Sunday.
They said since Pakistan supported Afghan people at all crucial stages and had recognised the Taliban government in Afghanistan, it was now Mullah Umar's duty to play his role for bringing peace to Pakistan by forcing the Tehreek-i-Taliban Pakistan to surrender and accept the authority and writ of the state.
Full report at:
http://www.dawn.com/news/1055531/clerics-ask-mullah-umar-to-help-stop-attacks
----------
Peshawar operation: 32 suspects arrested
2013-11-11
PESHAWAR: At least 32 suspects were arrested during a search operation in different areas of Peshawar on Monday, DawnNews reported.
Mathra, Khazana and Daudzai police conducted the operation in different areas of Peshawar and arrested 32 suspects. During the raids, 1 Kalashnikov, 30 calibres, 30 rifles, one 7mm rifle and a huge quantity of bullets were recovered from the suspects.
Full report at:
http://www.dawn.com/news/1055632/peshawar-operation-32-suspects-arrested
----------
Nomination forms: Religious groups critical of change
November 11, 2013
LAHORE: The omission of a mandatory affidavit on Khatme Nabuwat (finality of prophethood) from nomination forms of the local government elections has drawn criticism of several religious groups.
The affidavit was included in the nomination forms for May 11 general elections and is also a part of nomination forms for local government elections in other provinces.
In a statement issued on Sunday, Jamaat-i-Islami Punjab chief Dr Sayed Waseem Akhtar said the omission was "alarming." He said the rulers were apparently trying to turn Pakistan into a secular state.
Full report at:
http://tribune.com.pk/story/630153/nomination-forms-religious-groups-critical-of-change/
----------
Carve it up: 'K-P Assembly to adopt Hazara resolution'
November 11, 2013
ABBOTABAD: Chief Minister (CM) Pervez Khattak announced on Sunday his party would honour its promise of getting the Hazara province resolution passed from the provincial assembly during the next session.
Speaking at a public meeting in Namli Mera village in Nathiagali, Khattak said his party had promised to carve out a new province and the time had come for PTI to honour its word.
"We are not bothered by any pressure we face from the federal government in the matter. We will adopt this resolution and send it to the national assembly for further approval." Full report at:
http://tribune.com.pk/story/630195/carve-it-up-k-p-assembly-to-adopt-hazara-resolution/
----------
Pakistan wants settlement of issues with India: FO
November 11, 2013
Pakistan says it believes in negotiated settlement of all outstanding issues with India including Kashmir.
This has been stated by Foreign Office Spokesman Aizaz Ahmed Chaudhry while speaking in Radio Pakistan's News and Current Affairs a programme.
He said Adviser on Foreign Affairs Sartaj Aziz is in New Delhi to attend Asia-Europe Foreign Full report at:
http://www.nation.com.pk/pakistan-news-newspaper-daily-english-online/national/11-Nov-2013/pakistan-wants-settlement-of-issues-with-india-fo
----------
Southeast Asia
Former Indonesian VP bemoans mosques' sound systems, again
November 11 2013
Former vice president Jusuf Kalla said half of the country's mosques were equipped with poor quality sound systems and that such subpar sound meant they caused noise pollution.
"Mosques must have high quality sound systems: This must be fixed," said Kalla, who is also chairman of the Indonesian Mosque Council (DMI).
Kalla said as a result of the bad sound quality worshippers could barely hear the sermons delivered by Muslim preachers.
"However noble the message may be, if the sound system is bad, people will doze off and miss the message," he said as quoted by tribunnews.com.
Full report at:
http://www.thejakartapost.com/news/2013/11/11/jk-bemoans-mosques-sound-systems-again.html
----------
PM tells 'silent majority' to drown out extremists
November 11, 2013
PUTRAJAYA, Nov 11 — As the seams holding Malaysia's racial and religious fabric together threaten to rip apart, Prime Minister Datuk Seri Najib Razak today called on the country's "silent majority" to drown out the voices of extremism, but without specifically naming groups.
He said diversity should be celebrated and the right to co-exist should be defended.
"We cannot afford to allow voices of extremism to dominate the political discourse.
"It is time for the silent majority to drown out the calls to violence, to reject extremism.
"We should not be cowed or held to ransom by elements that prefer to pursue their political goals and grievances outside the accepted norms of civilised society," he said during his keynote address at the Asian Peace and Reconciliation Council/ ISIS Malaysia: Dialogue on Diversity, Diplomacy and Peace here at the Marriott Hotel.
Full report at:
http://www.themalaymailonline.com/malaysia/article/pm-tells-silent-majority-to-drown-out-extremists#sthash.KCOO8VVj.dpuf
----------
121 Million Indonesian Kids Exposed to Smoking, Activists Claim
November 11, 2013
An estimated 121 million Indonesian children are at risk of developing a smoking-related illness because one or both parents smoke at home, activists have warned, amid opposition by tobacco growers to attempts by the government to sign up to an international convention on more stringent tobacco control.
Dr. Nastiti N. Rahajoe, a pediatrician, said at a discussion in Jakarta that the figure was extrapolated from data from the University of Indonesia's Institute of Demographics and the National Commission for Child Protection (Komnas Anak).
Full report at:
http://www.thejakartaglobe.com/news/121-million-kids-exposed-to-smoking-activists-claim/
----------
RI promotes Muslim-friendly spots to lure holidaymakers
November 11 2013
The government is developing a sharia tourism concept to lure the world's growing number of Muslim travelers, especially from the Middle East, to visit Indonesia.
Tourism and Creative Economy Minister Mari Elka Pangestu said that the government recently launched an initiative to develop sharia tourism and promote Indonesia as a Muslim-friendly tourism destination.
Full report at:
http://www.thejakartapost.com/news/2013/11/11/ri-promotes-muslim-friendly-spots-lure-holidaymakers.html
----------
Public blames Yudhoyono for rising religious intolerance
November 11 2013
A public opinion poll conducted by the Indonesian Voters Institute (LPI) has found that President Susilo Bambang Yudhoyono is considered the most lenient government official when it came to dealing with vigilante groups in Indonesia.
The Jakarta-based pollster found that in public perceptions about which officials stood up for pluralism, Yudhoyono came in last, with a score of 2.57 out of 10.
Joining Yudhoyono at the bottom of the list were Home Minister Gamawan Fauzi with 2.60 points, Coordinating Political, Legal and Security Affairs Minister Djoko Suyanto with 2.75 points and Coordinating Minister for the Economy Hatta Rajasa with 2.83 points.
Full report at:
http://www.thejakartapost.com/news/2013/11/11/public-blames-yudhoyono-rising-religious-intolerance.html
----------
Arab World
Five killed in Iraq attacks, two dead bodies found
Nov 11, 2013
Attacks north of Baghdad killed five people on Monday, officials said, while police found two corpses bearing signs of torture, a scene reminiscent of the country's all-out sectarian war.
The violence comes ahead of annual Shia Muslim religious commemorations, when Sunni militants often mount attacks, and as Iraq grapples with continuing bloodshed despite wide-ranging operations targeting insurgents and tightened security.
The spike in unrest has spurred Prime Minister Nuri al-Maliki to appeal for greater cooperation with the United States in combatting militancy, and on Sunday Turkey offered to help as well.
In the northern city of Mosul, three separate shootings killed one soldier, wounded another and left two civilians dead, police and medical officials said.
Full report at:
http://english.ahram.org.eg/NewsContent/2/8/86164/World/Region/Five-killed-in-Iraq-attacks,-two-dead-bodies-found.aspx
---------
Syrian National Coalition agrees to attend Geneva peace talks
November 11, 2013
The Syrian National Coalition agreed on Monday to participate in peace talks in Geneva which are aimed at bringing together the opposition and the regime of Syrian President Bashar al-Assad to create a transition government and end Syria's two-year conflict
But the Syrian oppostion's statement outlined conditions that must be met before the talks, Reuters reported.
This is the first time the group as a whole has committed to the proposed conference, while making stipulations.
The coaltion's statement said there must be a guarantee that relief agencies would be allowed access to besieged areas, the release of political prisoners and any political conference should result in a political transition, the statement said, according to Reuters.
Full report at:
http://english.alarabiya.net/en/News/middle-east/2013/11/11/Syrian-opposition-agrees-to-attend-Geneva-peace-talks.html
----------
Kidnapped Syrian MP executed by jihadists: NGO
November 11, 2013
BEIRUT : A Syrian lawmaker kidnapped by opposition jihadist fighters earlier this year was executed last week, the Syrian Observatory for Human Rights said on Sunday.
A parliamentary source in Damascus, on condition of anonymity, confirmed that Mujhem al-Sahu from Deir Ezzor province in eastern Syria had been executed, without specifying who was responsible. The source said 50-year-old Sahu was killed in Deir Ezzor but gave no additional details.
Full report at:
http://www.nation.com.pk/pakistan-news-newspaper-daily-english-online/international/11-Nov-2013/kidnapped-syrian-mp-executed-by-jihadists-ngo
----------
Attacks concentrated in north Iraq kill seven
November 11, 2013
AFP, Baghdad
Attacks across Iraq, the deadliest of which struck the main northern city of Mosul, left seven people dead and 50 wounded Sunday, the latest in a months-long surge in bloodletting.
The violence comes ahead of annual Shiite commemoration ceremonies, when Sunni militants often mount attacks more frequently, and as Iraq grapples with continuing bloodshed despite wide-ranging operations targeting insurgents and tightened security measures.
The spike in unrest has spurred Prime Minister Nuri al-Maliki to appeal for greater cooperation with the United States in combatting militancy, while Turkey on Sunday offered to help as well.
Full report at:
http://english.alarabiya.net/en/News/middle-east/2013/11/10/Attacks-concentrated-in-north-Iraq-kill-seven-.html
----------
Mortar round kills 5 in suburb of Syrian capital
November 11, 2013
BEIRUT: Syrian activists say a mortar round has hit a Damascus suburb, killing a man and his four children.
The British-Based Syrian Observatory for Human Rights said Monday that the round landed on the man's car in the residential area of Jaramana. The Observatory said many more were wounded, including the children's mother.
Full report at:
http://www.dailystar.com.lb/News/Middle-East/2013/Nov-11/237490-mortar-round-kills-5-in-suburb-of-syrian-capital.ashx#ixzz2kOPM0rxo
----------
Sectarian rhetoric escalates in Tripoli, as Sunni Sheikhs calls for justice
Tripoli gathering calls for justice, Eid threatens police
November 11, 2013
TRIPOLI, Lebanon: Sectarian rhetoric escalated in Tripoli over the weekend, as senior Sunni sheikhs called for justice for the victims of August's twin car bombings, one day after the leader of a pro-Assad party warned that Alawites would fight back if targeted.
Around 3,000 people, many carrying black flags bearing the declaration "there is no God but God," gathered for a rally dubbed "Achieving Justice" at the Rachid Karami Expo in Tripoli to demand that the perpetrators of the car bombings be punished.
"The Sunnis will no longer be silent over the blood of their martyrs," said Salem al-Rafei, the head of the Muslim Ulema Commission and the imam of Al-Taqwa Mosque, adding that failure to apprehend those responsible for the bombings would threaten the "disintegration" of Lebanon.
Full report at:
http://www.dailystar.com.lb/News/Lebanon-News/2013/Nov-11/237463-tripoli-gathering-calls-for-justice-eid-threatens-police.ashx#ixzz2kOOqamGe
----------
Lebanon's Shia mourn martyrs amid sectarian tension over Syria
November 11, 2013
High quality global journalism requires investment. Please share this article with others using the link below, do not cut & paste the article. See our Ts&Cs and Copyright Policy for more detail. Email ftsales.support@ft.com to buy additional rights. http://www.ft.com/cms/s/0/91dc1b32-485d-11e3-a3ef-00144feabdc0.html#ixzz2kN5BEHFr
In Beirut's southern suburbs, people gather to hear stories of suffering. Dotted along the area's thoroughfares are images of a blood-streaked white horse belonging to the Prophet Mohammed's grandson Hussein, whose death at the battle of Karbala 13 centuries ago is mourned by Shia Muslims each year in rituals culminating in Ashura this week.
Full report at:
http://www.ft.com/intl/cms/s/0/91dc1b32-485d-11e3-a3ef-00144feabdc0.html#axzz2kN3ydvl5
----------
Arab Tawhid leader confident of Syria victory
November 11, 2013
BEIRUT: Wiam Wahhab, head of Lebanon's pro-Assad Arab Tawhid Party, said Sunday that Syria would emerge victorious from the ongoing war against "tyrants, infidels and mercenaries."
He spoke in Syria after prayers were held for the souls of four party members killed in fighting with Syrian rebels last week.
The ceremony to honor the four was held in the village of Arna, a predominantly Druze Syrian area of Mount Hermon.
Full report at:
http://www.dailystar.com.lb/News/Lebanon-News/2013/Nov-11/237432-arab-tawhid-leader-confident-of-syria-victory.ashx#ixzz2kOP0ukjH
----------
Mideast
Gunman kills Iranian deputy minister Safdar Rahmatabadi: Report
AP | Nov 11, 2013
TEHRAN: Iran's official news agency is reporting that a gunman has shot and killed a deputy industry minister.
The report yesterday by IRNA said Safdar Rahmatabadi was shot twice in head and chest that night in an eastern neighborhood of Tehran.
The report quoted police as saying they believed the deputy minister was shot by someone travelling with him in his car.
Full report at:
http://timesofindia.indiatimes.com/world/middle-east/Gunman-kills-Iranian-deputy-minister-Safdar-Rahmatabadi-Report/articleshow/25572009.cms
----------
Salafis declare Jihad on Yemeni Shiites
November 11, 2013
In Yemen highlands, the Houthis -- Shiite group whose stronghold is based in the northern Province of Sa'ada and which is led by Sheikh Abdel Malek al-Houthi -- have come face to face with their sworn enemies, the Salafis, as the latter have launched an open war on Shiite Islam to destroy the vestige of Yemen's oldest Islamic tradition and claim Yemen's rich highlands for their own.
For the past couple of weeks, the clouds of war have darkened the skies of Dammaj, the epicenter of a religious reckoning. The repercussions of such a conflict could tear apart the Arabian Peninsula and to an extent the Islamic world, due to its very pernicious sectarian nature.
Full report at:
http://www.presstv.ir/detail/2013/11/09/333869/salafis-declare-jihad-on-yemeni-shiites/
----------
Five killed in violence across Yemen
World Bulletin / News Desk
Nov 11, 2013
At least five people were killed and 10 wounded in violent acts across Yemen, where millions of firearms are in civilian hands since the 2011 revolution.
According to information leaked from police stations, two people were wounded in a blast on a military base, for which nobody has claimed responsibility.
Four people died and seven were wounded in Damar city after an unknown person threw a hand grenade in a local market. Authorities have not provided any information on whether the attack was a terrorist act.
Full report at:
http://www.worldbulletin.net/?aType=haber&ArticleID=122636
-----------
Sunni, Shiite rift main worry in Mideast: FM
November 11, 2013
A Sunni-Shiite rift is a worrying trend in the Middle East but recent developments in Turkey's ties with Iraq and Iran could prevent the threat of a sectarian war, Foreign Minister Ahmet Davutoglu said yesterday as he visited Baghdad in the latest sign of a thaw in bilateral relations.
The two-day visit, which follows a similar trip by Davutoglu's counterpart, Hoshyar Zebari, last month, included talks with Prime Minister Nouri al-Maliki and Zebari, as well as several other officials and political leaders in Baghdad and the Shiite holy cities of Najaf and Karbala. The foreign minister and the delegation accompanying him were also scheduled to visit al-Kadhimiya and al-Azamiyah areas of Baghdad. He is also expected to meet influential Shiite cleric Ayatollah Ali al-Sistani today.
Full report at:
http://www.hurriyetdailynews.com/sunni-shiite-rift-main-worry-in-mideast-fm-.aspx?pageID=238&nID=57705&NewsCatID=352
----------
Arab Spring shows value of Atatürk's move for republic
November 11, 2013
The present chaos in the Middle East highlights the unparalleled importance of modern Turkey's founder, Mustafa Kemal Atatürk, and his legacy, according to a historian of the republican era.
"Turkey became a country that decided on its own to endorse democracy [thanks to Atatürk's reforms]," said Professor Tülay Baran of Istanbul's Yeditepe University.
The process for women to become real citizens also started with the republic, said Baran, who is the deputy director of the Institute of Atatürk Principles and Revolutionary History at the same university.
Full report at:
http://www.hurriyetdailynews.com/arab-spring-shows-value-of-ataturks-move-for-republic.aspx?pageID=238&nID=57675&NewsCatID=338
----------
Qaeda suspects on trial for plot to kill Yemeni leader
November 11, 2013
The trial of nine al-Qaeda suspects accused of plotting to assassinate Yemeni President Abdrabuh Mansur Hadi by placing a roadside bomb on his motorcade route in Sanaa began Sunday.
The defendants are charged with "being part of an armed group belonging to al-Qaeda to carry out criminal acts targeting members of the public authorities and foreigners."
Six of the defendants had placed an "explosive device on the Sittin road through which the president's convoy regularly passes... aiming to kill the president and his companions," according to charges published by the official Saba news agency.
Full report at:
http://english.alarabiya.net/en/News/middle-east/2013/11/10/Qaeda-suspects-on-trial-for-plot-to-kill-Yemen-leader-.html
----------
Easing Iran sanctions like 'putting hole in tire': Netanyahu
November 11, 2013
Israeli Prime Minister Benjamin Netanyahu, in a fresh salvo on talks in Geneva to curtail Tehran's nuclear program, said Sunday that easing sanctions on Iran would be "like putting a hole in your tire."
Even amid news that negotiations among leading world nations have failed so far to produce an agreement on curbing Iran's atomic activities, Netanyahu kept up recent criticisms, calling the talks "a very bad deal" for everyone except Iran.
"Iran gives practically nothing and it gets a hell of a lot," Netanyahu told CBS television's "Face the Nation" program.
Full report at:
http://english.ahram.org.eg/NewsContent/2/8/86109/World/Region/Easing-Iran-sanctions-like-putting-hole-in-tire-Ne.aspx
---------
North America
US built 'powerful organs of state terrorism' in Iraq
November 11, 2013
Iraq is still suffering from the US invasion because the apparatus of state oppression and terror is still in place, killing people every day. But few in the US seem to realize the scale of the war crimes committed in Iraq, an expert author told RT.
In an exclusive interview with RT, Nicolas J.S. Davies, author of "Blood On Our Hands: The American Invasion and Destruction of Iraq," said that the world should learn the lessons from US invasions, such as respect for international law and the futility of military force.
For more on this topic, see RT's Special Report dedicated to unprecedented raise of violence in Iraq in 2013.
Full report at:
http://rt.com/op-edge/us-iraq-state-terrorism-473/
----------
US 'not blind, stupid' in nuclear talks with Iran, John Kerry says
November 11, 2013
WASHINGTON: The United States is "not blind, and I don't think we're stupid" in nuclear talks with Iran, secretary of state John Kerry said in a US television interview that aired on Sunday.
The top US diplomat also insisted there is "zero gap" between the Obama administration and its commitment to Israel, with diplomatic relations between the two allies under strain over the Iran nuclear talks.
Kerry made his remarks in an interview with NBC's "Meet the Press" program after talks with world powers in Geneva failed to produce a deal to curb Iran's nuclear activities in exchange for sanctions relief
Full report at:
http://timesofindia.indiatimes.com/world/middle-east/US-not-blind-stupid-in-nuclear-talks-with-Iran-John-Kerry-says/articleshow/25563792.cms
----------
Scammers targeting Muslim community
November 11, 2013
Three Oklahoma Muslims have been targeted in what appears to be a phone scam, said Adam Soltani, executive director of the Oklahoma office of the Council on American-Islamic Relations.
The three, all immigrants who live in the Oklahoma City area, received calls Thursday or Friday from someone claiming to be with the "Federal Bureau of Criminal Investigation," Soltani said, an apparent attempt to convey that they were with the FBI.
Full report at:
http://www.tulsaworld.com/news/religion/scammers-targeting-muslim-community/article_ddcf95a6-48b1-11e3-9e0f-001a4bcf6878.html
-----------
Obama's 'impossible' retreat from the Middle East
November 11, 2013
The Middle East policy review outlined by National Security adviser Susan E. Rice and her team cannot be described as a new U.S. strategy.
The report, published in The New York Times, essentially provides a theoretical cover to a bevy of practical measures that the Obama administration has laid out over the last months. They are based on the sole principle of "distancing itself" from most of the Middle East issues by reducing U.S. commitments in the region and shifting focus from the Middle East to the Asia-Pacific.
Full report at:
http://www.dailystar.com.lb/News/Middle-East/2013/Nov-11/237446-obamas-impossible-retreat-from-the-middle-east.ashx#ixzz2kOPYHBoe
----------
Chinese flocking to Malaysia for bargain homes: Wall Street Journal
November 11, 2013
KUALA LUMPUR, Nov 11 — Malaysia has emerged as the new preferred destination for the Chinese investor looking for a bargain deal in real estate, the Wall Street Journal (WSJ) has reported.
According to the report, Chinese property investors who have grown comfortable buying abroad are now seeking greener pastures by trying their luck in "second-tier" markets such as Edinburgh, Miami and Malaysia.
Full report at:
http://www.themalaymailonline.com/malaysia/article/chinese-flocking-to-malaysia-for-bargain-homes#sthash.xkbRUdQQ.dpuf
----------
India
Islamic bonds and the lessons India can learn from UK
Nov 9, 2013
S Murlidharan
Britain will soon have the distinction of being the first non-Islamic country to issue Islamic Bonds aka Sukuks. But before doing that it has launched its own version of Islamic index perhaps realizing that it has been rather late in worming into the hearts of puritanical Muslim investors. India did this in 2010 with the BSE launching an Islamic share index initially comprising 50 scrips, which later in due course swelled to 500. The Dow Jones Islamic Market Index (DJIM), launched in 1999 in Bahrain, was the first index created for investors seeking investments in compliance with Muslim Sharia law. The first level of DJIM screening removes companies involved in such products as alcohol, pork-related products, conventional financial services businesses such as banking and insurance, entertainment (e.g. hotels, casinos, gambling etc.), tobacco and weapons all frowned upon by Sharia. A second level of DJIM screening based on financial ratios is intended to remove companies thriving on debt and interest income. Stocks of companies that pass muster before both sets of screens are included in the DJIM.
Full report at:
http://www.firstpost.com/economy/islamic-bonds-and-the-lessons-india-can-learn-from-uk-1219973.html?utm_source=ref_article
----------
Will give Pak 'benefit of doubt' to pursue peace: Khurshid
November 11, 2013
India is ready to give Pakistan "the benefit of the doubt" as the two neighbours pursue peace amid a series of ceasefire violations along the LoC, external affairs minister Salman Khurshid has said.
"When (Pakistan's Prime Minister) Nawaz Sharif says he wants peace and good relations with India, we take him at his word," Khurshid said.
But Khurshid said he cannot reconcile that word with the repeated ceasefire violations on the Line of Control (LoC) in recent weeks.
"We talk to Pakistan periodically and in terms of personal gestures we receive great warmth," he said in an interview to The Australian newspaper.
"But the on-the-ground reality and the results of our meetings are very disappointing. Pakistan has a lot of very, very difficult issues to deal with at home. Our view is that we should give them time - not at our cost, of course, but that we should give them the benefit of the doubt."
Full report at:
http://www.hindustantimes.com/india-news/will-give-pak-benefit-of-doubt-to-pursue-peace-khurshid/article1-1149778.aspx
-----------
Days after Beijing attack, China talks cooperation on terrorism with India and Russia
Nov 11 2013
New Delhi: Days after a terrorist attack at the historic Tiananmen Square in the heart of Beijing, China for the first time expressed strong support for "counter-terrorism" cooperation with India and Russia at a meeting here Sunday.
Sources told The Indian Express that Chinese Foreign Minister Wang Yi "red-flagged" the issue on his own as he held talks with External Affairs Minister Salman Khurshid
and Russian Foreign Minister Sergei Lavrov at the 12th Russia-India-China (RIC) trilateral meeting.
Full report at:
http://www.indianexpress.com/news/days-after-beijing-attack-china-talks-cooperation-on-terrorism/1193344/
----------
Terror funds: Bihar police name woman from Mangalore
Nov 11 2013
Patna : The Lakhisarai police that arrested four local youths for alleged ISI links and is questioning over half a dozen others on tip-offs by intelligence agencies, has said that the men may have been getting instructions from one Ibrahim of Pakistan and Ayesha Bano of Mangalore, Karnataka, to manage funds in 50 bank accounts.
According to sources, this is the first clear lead regarding the transfer of illegal funds to terror suspects linked to the Indian Mujahideen.
The modus operandi was to withdraw a certain amount from a bank account through ATM and deposit it into another account, about which information was given over the phone allegedly by Mangalore-based 'head' Ayesha Bano or Pakistan 'boss' Ibrahim. A hawala link is also being examined.
Full report at:
http://www.indianexpress.com/news/terror-funds-bihar-police-name-woman-from-mangalore/1193363/
----------
Charles visits Muslim saint's tomb
November 11, 2013
Charles, who has a deep interest in Islamic art and culture, visited the last resting place of revered 15th century figure Haji Ali.
The saint's body lies in an ornately decorated mausoleum built within a complex called a Dargah, which includes a mosque and lies a few hundred metres off the shore at Mumbai.
It is reached by a causeway and the Prince made the five-minute walk to the impressive white marble-clad building featuring the domed tomb.
After removing his shoes, Charles helped the Dargah's Imam make a "chadar" - an offering to the saint where a cloth is draped over the tomb and prayers are said for peace.
The Prince first touched the shrine and then his chest, and helped lay a blue velvet cloth covered in sequins over the tomb.
Full report at:
http://www.expressandstar.com/news/uk-news/2013/11/11/mosque-visit-for-charles/
-----------
Africa
Somali refugee returns from Kenya must be voluntary: UN
November 11, 2013
NAIROBI: Somali refugees in Kenya must only return home voluntarily, the United Nations said Monday, after signing a deal easing fears of possible forced returns of over half a million refugees.
"Returns should be conducted in safety and dignity," said Raouf Mazou, Kenya representative of the UN refugee agency (UNHCR), adding that it would support organised repatriations only when "conditions are right".
The joint deal -- inked on Sunday by Kenya, Somalia and UNHCR -- comes amid refugee fear of retaliatory attacks following a deadly attack by Somalia's Shebab extremists on Nairobi's Westgate shopping mall in September.
Full report at:
http://www.dailystar.com.lb/News/Middle-East/2013/Nov-11/237500-somali-refugee-returns-from-kenya-must-be-voluntary-un.ashx#ixzz2kOPrBG7I
----------
Libyan separatists take over oil exports as PM warns of foreign intervention
November 11, 2013
A separatist Libyan region has announced an establishment of an independent oil company after taking over several commercial sea ports. As Tripoli struggles to regain control, the PM has warned of foreign intervention unless central govt rule restored.
"The international community cannot tolerate a state in the middle of the Mediterranean that is a source of violence, terrorism and murder," Libya's Prime Minister Ali Zeidan said on Sunday. Citing the Iraq experience, he warned Libyans of a possible "intervention of foreign occupation forces" in order to protect civilians under Chapter VII of the UN Charter.
Full report at:
http://rt.com/news/libya-separatist-oil-company-514/
----------
One million facing food shortage in Niger: PM
November 10, 2013
NIAMEY: About one million people in Niger, one of the world's poorest nations, are facing severe food shortages due to poor harvests after a drought and flooding, Prime Minister Brigi Rafini said.
"This season was not what we expected," Rafini said during a parliamentary debate Saturday according to a television report on Sunday. "We can write off this year."
Rafini said that according to a first evaluation "about one million are at risk and must be assisted".
Full report at:
http://www.dailystar.com.lb/News/International/2013/Nov-10/237396-one-million-facing-food-shortage-in-niger-pm.ashx#ixzz2kOPetMeM
----------
URL: https://newageislam.com/islamic-world-news/'we-bleed-death'-british-jihadis/d/24377