New Age Islam News Bureau
31 Dec 2015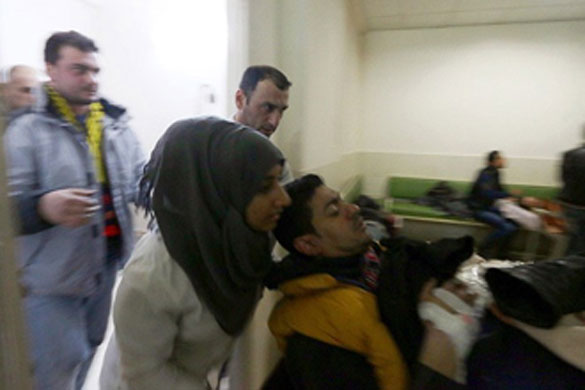 Photo: A medic moves an injured man into a hospital in Qamishli, Syria December 31, 2015-Reuters
----------
Arab World
• 'We Have Better Things to Do Than Joining ISIS': Muslims Troll ISIS on Twitter
• 16 Dead, 30 Wounded In Three Blasts in Northeast Syria
• Iraq Threatens To Use Military Option against Turkey If Forced
• Syrian Air Raids Claim Lots of Lives in Terrorists' Camps in Hama
• Al-Azhar for Asharq Al-Awsat: Islamic Military Coalition Unites the Nation
• Suicide blasts hit Kurdish-controlled city in Syria
• Syria: Over 150 Wanted Militants Surrender in Homs
• Syrian Army Takes Full Control of Several Areas in Northern Lattakia
• Saudi says Syria rebel chief killing doesn't serve peace
• Iraqi warplanes, choppers bombard Daesh positions in Kirkuk
• Thousands of homes destroyed in Ramadi
• Iraq risks losing generation due to lack of schools, healthcare: report
• Syria releases prominent opposition figures
-----------
Southeast Asia
• Banda Aceh Bans New Year Celebrations, Claiming It Haram
• RI Struggles To Promote Pluralism, Tolerance
• Minors Converted To Islam Can Seek Redress After Turning 18, Shariah Lawyer Says
• Filipino worker beheaded in Saudi Arabia for failing to pay "blood money"
• Aceh Islamic guerrilla leader Din Minimi surrenders
-----------
Mideast
• Hamas Bans Gaza New Year's Eve Parties
• Iran Felicitates Iraq, Syria on Astonishing Victories against Terrorists
• IRGC Denies US Claims of Firing Missiles in Strait of Hormuz
• Turkey detains two IS suspects over New Year attack plot
• Emergency measures as Tehran records 18th day of bad air
• Israel approves economic plan for Arab minority
• Saudi jets pound Sana'a international airport
• Iran condemns bomb attack in Pakistan
-----------
South Asia
• 25 Daesh Militants Killed In Nangarhar Air Strikes
• ISIS Photo Purports to Show Captured Taliban Fighters in Afghanistan
• Including 20 % Afghans, over 1 million people used sea to reach to Europe in 2015
-----------
India
• LeT Planning New Year Attack to Avenge Abu Qasim's Death: Intelligence
• ISI Luring Military Veterans via Fake 'Welfare Agencies'
• Fact-Finding Team Visit Sambhal; Alleges Police Implicate Zafar and Asif in False Terror Case
• Nawaz Sharif Thanks PM Modi for Lahore Visit, Says 'High Time India, Pakistan Set Aside Their Hostilities'
• Bengal Muslim Literacy Rate Up 11% in a Decade
• India's Gender Ratio Is Worsening regardless Of whether you're Hindu, Muslim or Christian
• Siasat Daily shakes MWD & Waqf Board out of slumber
-----------
North America
• Man Charged With Setting Houston Mosque Fire Says He Was a Devout Attendee
• US-Trained Commandos in Philippines Kill 10 Militants: Army
• Obama spied on Netanyahu during Iran deal negotiations, says paper
• US general likely to seek more troops for Afghanistan
• U.S. govt says San Bernardino shooter's visa file raised no red flags
• Religious rights of US Christians most valued
-----------
Europe
• ISIS Claims Deadly Shooting In Russia's Caucasus
• Terror Threat Overshadows New Year Celebrations
• Russia approves updated sanctions against Turkey
• US exceptionalism hinders fight on terrorism: Lavrov
• Christian convert from Islam gets two years in prison for stirring religious hatred
• Russia denies killing civilians in Syria
-----------
Pakistan
• ISIS Surfaces In Johar Town, Lahore
• 4-Nation Group to Discuss Revival of Kabul-Taliban Talks in Jan
• Pakistan, Afghanistan Set up Military Hotline
• Qaim fails to convince Sharif about clipping Rangers' powers
• Man jailed for 14 years in Saudi consulate attack case
-----------
Africa
• Mali Extends State Of Emergency until End Of March
• Rwanda jails ex-pastor for life for genocide killings
• Nigeria: What Makes a Shiite or Sunni Muslim!
Compiled by New Age Islam News Bureau
URL: https://www.newageislam.com/islamic-world-news/new-age-islam-news-bureau/we-better-things-than-joining-isis-muslims-troll-isis-twitter/d/105814
-----------
Arab World
'We have better things to do than joining ISIS': Muslims troll ISIS on Twitter
December 31, 2015
Muslims from around the world trolled the audio recording of the leader, Abu Bakr al-Baghdadi, released last week, a call for Muslims worldwide to join ISIS for an international caliphate.
Prominent human rights activist, Iyad El-Baghdadi was caught up in the Twitter frenzy himself after he was mistaken as an ISIS follower and translated portions of the speech.
"Perhaps the funniest/weirdest response was when ISIS supporters (I mean real ISIS supporters) were actually offended that I was mistaken for their great leader," said El-Baghdadi.
The 24-minute audio statement on December 26 including one quote from al-Baghdadi reading: "ISIS leaders: We urgently call upon every Muslim to join the fight, especially those in the land of the two shrines (Saudi Arabia), rise."
http://www.siasat.com/news/better-things-joining-isis-muslims-troll-isis-twitter-894586/
-----------
16 dead, 30 wounded in three blasts in northeast Syria
Dec 31, 2015
QAMISHLI: At least 16 people were killed and 30 wounded by explosions in three restaurants in the northeast of Syria on Wednesday, a monitoring group said, in attacks claimed by the militant Islamic State (IS) group.
At least one of the blasts in the city of Qamishli was caused by a suicide bomber, the Britain-based Syrian Observatory for Human Rights told AFP.
An AFP correspondent in the city said the suicide attack took place in a restaurant in a Christian neighbourhood.
"Three explosions, one by a suicide bomber inside a restaurant, hit Qamishli city in Hasakeh province," the Observatory's director Rami Abdel Rahman told AFP.
News agency Amaq, which supports IS extremists, said the group had claimed responsibility for the attacks on the city, which lies near the border with Turkey and close to Iraq.
"Dozens of dead and wounded in the bombings by the fighters of the Islamic State in different parts of Qamishli city," it said.
Qamishli is under the shared control of the Syrian regime and Kurdish authorities, who have declared zones of "autonomous administration" across parts of north and northeast Syria.
Syrian troops and Kurdish fighters have coordinated on security in Hasakeh province where IS militants have tried to advance.
According to the Observatory, all three of the restaurant explosions happened in a zone controlled by regime forces.
More than 250,000 people have been killed in Syria's war, which began in 2011 with anti-government protests but spiralled into a bloody conflict.
http://www.dawn.com/news/1229839/16-dead-30-wounded-in-three-blasts-in-northeast-syria
-----------
Iraq Threatens To Use Military Option against Turkey If Forced
Dec 31, 2015
BAGHDAD: Iraq's foreign minister said on Wednesday it could resort to military means if forced to defend itself from what it says is an intrusion of Turkish forces into part of its north.
Turkey said it had deployed a force protection unit earlier this month to the area due to heightened security risks near a camp where its troops were training an Iraqi militia to fight Islamic State insurgents. Ankara acknowledged that there had been a "miscommunication" with Baghdad over the deployment.
Iraqi security forces have had only a limited presence in Nineveh province where the camp is located since collapsing in June 2014 in the face of a lightning advance by Islamic State.
Foreign Minister Ibrahim al-Jaafari said Iraq was committed to exhausting peaceful diplomatic avenues to avoid a crisis with its northern neighbour Turkey, but insisted that all options remained open.
"If there is no other solution but this (military), then we will adopt this solution. If we are forced to fight and defend our sovereignty and riches, we will be forced to fight," he told reporters in Baghdad.
Turkey's deployment of around 150 troops this month to the Bashiqa military base in northern Iraq prompted Baghdad to accuse Ankara of violating its sovereignty and lodge a formal complaint at the UN Security Council.
Turkey later withdrew some troops to another base inside the nearby autonomous Kurdistan region and said it would continue to pull out of Nineveh province, where Bashiqa is located. It did not say how many troops would be moved or where to.
After the diplomatic dispute flared, the base came under fire from Islamic State when militants fired rockets in an attack on Kurdish Peshmerga forces in the area. The Turkish military said its soldiers returned fire and four had been lightly wounded in the incident.
Baghdad's forces have regrouped and retrained with US help since the debacle at the hands of Islamic State 18 months ago and on Sunday retook the western provincial capital of Ramadi, their first big victory against the militants.
http://www.dawn.com/news/1229646/iraq-threatens-to-use-military-option-against-turkey-if-forced
-----------
Syrian Air Raids Claim Lots of Lives in Terrorists' Camps in Hama
Dec 31, 2015
Field sources said on Thursday that the Syrian warplanes bombed militants' positions and movements in Kafr Zita, Morek, Tloul al-Homr and al-Lataminah in Hama.
The Syrian airstrikes also hit ISIL positions and vehicles in Jena al-Elbawi and Jeb al-Rayan in Hama on Wednesday.
The Syrian army also fired artillery shells at militants' positions in the villages of al-Sharia, al-Qahera and al-Mansoura.
There are no more details available.
On Tuesday, the Syrian warplanes destroyed terrorists' positions in the town of Morek , 30km North of Hama city. All the militants' weapons and ammunition which were inside the positions were also destroyed.
The Syrian air raids also damaged a number of Takfiri terrorists' vehicles and destroyed a rocket launcher in the village of Marakabeh in the same province, killing at least 3 militants.
Meanwhile, at least 7 Takfiri militants were killed as the Syrian army fired artillery shells and rockets at positions of terrorists from al-Nusra Front and "al-Izza Battalions and Brigades Coalition" in al-Lataminah town.
Abdel-Qader al-She, Abdel Razaq al-Elaiwi aka al-Ankar were among the dead terrorists.
http://en.farsnews.com/newstext.aspx?nn=13941010000302
-----------
Al-Azhar for Asharq Al-Awsat: Islamic Military Coalition Unites the Nation
Waleed Abdul Rahman
30 Dec, 2015
Scholars of jurisprudence, interpretation and Hadith at Al-Azhar University in Egypt provided an Islamic guide to face the terrorist organization, ISIS, intellectually.
The scholars specified outlines for this guide including the direct intervention of Arab and Islamic governments to allow the scholars to respond to ISIS's perversity in international and local media. The outlines also included requests not to broadcast any perverted comic ideas or opinions, stressing that the Islamic military coalition infuses reunion into the nation, and was primarily established on the basis that believers should take care of each other, which is affirmed in Islamic law.
The scholars' guide also included legislating laws to monitor Facebook and Twitter accounts that aim at inciting hatred against countries and people and enlightening the Islamic ordinances, especially those related to Jihad.
Saudi Arabia has launched an Islamic Military Coalition including 35 Arab and Islamic countries to fight terrorism, and one of the main and most important articles in this coalition was combating terrorist organizations intellectually. The scholars confirmed that this coalition calls for uniting against the fascist terrorism and it falls within the rules approved by Islam on Muslims working together to solve their crises.
Full report at:
http://english.aawsat.com/2015/12/article55346082/al-azhar-for-asharq-al-awsat-islamic-military-coalition-unites-the-nation
-----------
Suicide blasts hit Kurdish-controlled city in Syria
31 December 2015
Several suicide bomb blasts hit two restaurants in a Kurdish-controlled city in northeastern Syria on Wednesday, killing or wounding dozens of people.
Kurdish officials and a group monitoring claimed there had been two bombings, while sources on social media said there had been three.
The explosions took place in Qamishli, near the Turkish border, the Kurdish YPG militia's Redur Xelil told Reuters.
He said it had most likely been carried out by the Islamic State of Iraq and Syria (ISIS) which the YPG is fighting in Syria's northeast, and that dozens were believed to have been killed or wounded.
Full report at:
https://english.alarabiya.net/en/News/middle-east/2015/12/31/Twin-suicide-bombs-in-northeast-Syria-kill-or-wound-dozens.html
-----------
Syria: Over 150 Wanted Militants Surrender in Homs
Dec 31, 2015
Some 117 wanted persons from Homs surrendered on Wednesday to be pardoned.
Meanwhile, 40 wanted persons from the provinces of Damascus and Hama also turned themselves in to the authorities.
On Saturday, 86 wanted persons from Damascus province and Aleppo also gave up fight.
City officials also announced on December 22 that at least 15 militants laid down arms and surrendered to the competent authorities in Aleppo after the army and the country's popular forces' victories across the province.
Until last year, most surrendering cases happened in Homs and Damascus provinces, but now a growing number of militants lay down arms across the country. As the army scores more wins across Syria more militants lay down arms to save their lives.
Some 116 Takfiri militants turned themselves in to the Syrian army in Homs province on December 20.
Full report at:
http://en.farsnews.com/newstext.aspx?nn=13941010000191
-----------
Syrian Army Takes Full Control of Several Areas in Northern Lattakia
Dec 30, 2015
The army and NDF seized Shir al-Masira hilltops, Ravisa al-Qora'a and Ravisa al-Naba'a from Jeish al-Fateh terrorists in Northern Lattakia.
The Syrian forces also purged terrorists from Beit Fares village, Beit Fares mountains and also Al-Qasb and Borj al-Qasb villages.
Earlier today, the Syrian troops and their popular allies continued to advance against the militant groups in the mountainous regions of Lattakia and recaptured another strategic village near the border with Turkey, the army announced Wednesday.
"The Syrian army and the National Defense Forces struck al-Nusra and the Free Syrian Army (FSA) again; this time at the nearby village of Beit Fares, which is situated directly West of Qassab and East of Jabal al-Zweik (Al-Zweik Mountains)," the army said.
"Following the initial assault, the Syrian army troops and their allies pushed back the militant group and retook full control over Beit Fares village, killing over 20 enemy combatants and seizing several assault rifles," the army added.
Military analysts believe that the eye-catching victories of the pro-government forces against the militant groups in the mountainous regions of Lattakia in winter time are indebted to the strong will of the Syrian soldiers, the National Defense Forces and Hezbollah fighters to route out militancy and terrorism in the country.
On Tuesday, the Syrian army and the NDF captured a new strategic height near the border with Turkey.
Full report at:
http://en.farsnews.com/newstext.aspx?nn=13941009001376
-----------
Saudi says Syria rebel chief killing doesn't serve peace
30 December 2015
The killing of a Syrian rebel chief in an air raid last week does not serve the peace process in the war-ravaged country, Saudi Foreign Minister Adel al-Jubeir said Tuesday.
Zahran Alloush, the head of the Saudi-backed Jaish al-Islam, the foremost rebel group in Damascus province, was killed on Friday in a strike claimed by Syria's government.
"Attempts to assassinate leaderships fighting Daesh do not serve the peace process and (efforts) to achieve a political solution in Syria," Jubeir said, using the Arabic acronym for the Islamic State of Iraq and Syria (ISIS) group.
"I don't know what the Russians have in mind," he told reporters, in reference to the killing.
The minister was speaking at a joint news conference in Riyadh with his Turkish counterpart Mevlut Cavusoglu.
Jaish al-Islam has fought off both Syrian government forces and ISIS militants in its Eastern Ghouta bastion, east of Damascus.
It even agreed to eventual peace talks with the regime of Bashar al-Assad, during an unprecedented meeting in Riyadh this month of various Syrian opposition groups.
Analysts have warned that Alloush's killing could also thwart potential peace talks between the regime and the opposition, which the U.N. announced could begin next month.
Saudi Arabia is a key backer of Syrian rebel groups battling Assad's regime, and Jubeir reiterated previous demands that Assad be removed from power.
Cavusoglu echoed his counterpart's calls.
"Our views on Syria match. We cannot reach a solution with Assad's presence," he said.
Separately, he said the majority of Russia's air strikes on Syria are not targeting ISIS.
"If you are really willing to confront IS, then let us agree and eliminate it," he said, addressing Russia which he accused of having "goals other than eliminating ISIS."
A bitter diplomatic row flared between Moscow and Ankara, which back different sides in Syria's war, after Turkey shot down a Russian fighter jet on its border with Syria at the end of November.
Full report at:
https://english.alarabiya.net/en/News/middle-east/2015/12/30/Saudi-says-Syria-rebel-chief-killing-doesn-t-serve-peace.html
-----------
Iraqi warplanes, choppers bombard Daesh positions in Kirkuk
Dec 31, 2015
The Iraqi Air Force has pounded positions held by the Daesh Takfiri terrorist group around the city of Hawija in the northern province of Kirkuk.
On Wednesday, Iraqi warplanes and helicopters carried out the airstrikes, which were aimed at paving the way for the liberation of the city. The Kurdish Peshmerga ground fighters also assisted the army in its aerial operation.
The Iraqi military is advancing toward the city and is tightening the noose on Takfiris after it successfully recaptured Ramadi, the capital of Anbar province, earlier this week. Ramadi's liberation is one of the most significant victories for Iraqi forces so far and Iraqi Prime Minister Haider al-Abadi has vowed to rid the entire country of Daesh in 2016.
Meanwhile, a group of Daesh terrorists, disguised as Iraqi soldiers, executed 40 civilians, including women and children, in an area called al-Sharka in eastern Ramadi, the Iraqi News online newspaper reported.
Full report at:
http://www.presstv.ir/Detail/2015/12/31/443887/Iraq-Daesh-Hawija-Kirkuk-Ramadi-Anbar-Abadi/
-----------
Thousands of homes destroyed in Ramadi
Dec 31, 2015
BAGHDAD: Months of fighting in Ramadi have caused extensive destruction, officials said on Wednesday, warning that it was too soon for civilians to return to the Iraqi city after its recapture from militants.
Iraqi forces declared victory on Sunday night in the Ramadi battle after wresting back control of the city's central government complex from the Islamic State group.
Some militants have yet to be flushed out, mostly on the eastern edge of the city, and many reconquered areas have yet to be fully cleared of roadside bombs and booby traps.
"There is extensive destruction in the city as a result of terrorist activity and military operations," said Ibrahim al-Osej, a member of the Ramadi district council.
IS fighters had laid thousands of explosive devices across Ramadi as part of their defence against an offensive that was launched on Dec 22 by elite federal forces.
Full report at:
http://www.dawn.com/news/1229796/thousands-of-homes-destroyed-in-ramadi
-----------
Iraq risks losing generation due to lack of schools, healthcare: report
Dec 31, 2015
LONDON: Preventing violence from depriving millions of children in Iraq of education and decent healthcare is a key humanitarian priority for the country in 2016, a senior UN official said on Wednesday.
More than 2 million children in Iraq are out of school, up to 3 million more have had their education disrupted by the war, and nearly one in five schools have been damaged, destroyed or used for other purposes, the UN children's fund Unicef says.
Of the schools that are still in use, classes are often overcrowded and lessons taught in shifts.
Also read: Millions of children out of school in Middle East, says UN
"We're at risk of losing a generation through the lack of education, health and protection," Peter Hawkins, Unicef's Representative in Iraq, told the Thomson Reuters Foundation during a brief trip to Britain.
"Schools, clinics, water facilities etc are deteriorating further and further which makes the life of children very difficult. We're seeing increasing signs of stunting. Nutrition is becoming a problem," he said.
Nearly 14,000 teachers have fled northern Iraq where large swathes of land are held by Islamic State (IS) militants, who swept across the Syrian border in mid-2014, declaring a "caliphate" to rule over all Muslims.
Hawkins said gaining greater access to Iraqis living in areas held by Islamic State was another top concern for 2016.
Full report at:
http://www.dawn.com/news/1229777/iraq-risks-losing-generation-due-to-lack-of-schools-healthcare-report
-----------
Syria releases prominent opposition figures
31 December 2015
Syrian authorities have released two prominent members of the domestic opposition who were arrested on Wednesday as they travelled to Riyadh to meet other regime opponents, their party said.
Ahmad al-Asrawi and Munir al-Bitar, members of the National Coordination Committee for Democratic Change (NCCDC), were stopped at Syria's border with Lebanon, said the body's secretary general, Yahya Aziz.
Both Asrawi and Bitar were headed to Saudi Arabia to join fellow members of the opposition's "supreme committee for negotiations," Aziz told AFP.
The "supreme committee" is a 33-member group formed in December at a landmark meeting of Syria's armed and political opposition in Riyadh.
The committee is set to choose at least part of an opposition delegation for peace talks with Syrian President Bashar al-Assad's government next month.
Aziz said Asrawi and Bitar were taken "to an unknown location," adding: "Those who want a political solution would not do this."
The NCCDC later on its Facebook page announced "the release of our colleagues Ahmad al-Asrawi and Munir al-Bitar", calling for "freedom for all prisoners and detainees."
Earlier the group said their arrest contradicted "international efforts to reach a just political solution" to the conflict in Syria.
Full report at:
https://english.alarabiya.net/en/News/middle-east/2015/12/31/Syria-releases-opposition-figures-held-on-way-to-Riyadh-.html
-----------
Southeast Asia
Banda Aceh Bans New Year Celebrations, Claiming It Haram
December 31 2015
Online, Dec. 28
The Banda Aceh administration has banned its residents from celebrating New Year's Eve, claiming that such celebrations were Haram, an official said on Monday.
Banda Aceh deputy mayor Zainal Arifin said that celebrating New Year's Eve was not a part of Islamic culture, while the majority of Banda Aceh citizens were Muslims. He added that the administration in cooperation with the local consultative forum (Muspida) had issued a regulation banning New Year's Eve celebrations this Thursday.
"It is Haram for Muslims to celebrate New Year, so the administration has banned everyone from celebrating it," he said as quoted by Antara news agency on Monday.
The Banda Aceh administration also prohibited Muslims from joining Christmas celebrations last week.
"The city administration will continue to urge Banda Aceh citizens, who are mostly Muslim, to not celebrate Christmas and the New Year as it is haram," he said.
Your comments:
The Aceh nightmare, over and over, is an ongoing advertisement against Islam.
Shame on them and shame on the Indonesian government that allows it. Will President Joko "Jokowi" Widodo celebrate Idul Fitri in Aceh next year, as he did this year?
Papsjik
The government needs to do something about Aceh; this is not in accordance with the national ideology of Pancasila. Civil liberties like freedom of religion and equality before the law for all are principles we must guard.
When the government insists that Aceh remains an integral part of Indonesia, it also has the responsibility to ensure those principles are implemented across this nation — without exception, everywhere!
Cisero
And yet the government gave them the right to moderate all matters of religion with the law on governing Aceh, which you can read publicly online. Was it wise to do so? No, not really... but then again...
Pancasila itself is problematic, what with its requirement to believe in only one God. This is a legal framework by which blasphemy laws remain in place not only in Aceh, but all of Indonesia.
Don't pat yourself on the back too much; this problem goes well beyond Aceh.
I think Indonesia should look inwardly first. The Alexander Aan case demonstrates clearly that there's no freedom from religion or equality before the law.
Aceh should be a separate country. For the Acehnese this won't make much difference; independence would be a lateral move, but it would be a move that would please them. It would also have a negligible effect on Indonesia's bottom line, but it would certainly encourage all the other separatist movements out there.
Indonesia keeps Aceh around because it fears a chain reaction.
Danina
The only reason they can do this is because they got so much money from tsunami aid. I hope that everyone who put money toward the aid effort realizes what their money has been used for.
I agree 100 percent that Aceh should be annexed from Indonesia.
Phew
That would be somewhat difficult at this stage, as due to abject poverty and further indoctrination by radical Islam what will eventuate is a stronger, more violent Free Aceh Movement (GAM). The best moment to bring that area back to Indonesia with no sharia would have been after the tsunami.
Full report at:
http://www.thejakartapost.com/news/2015/12/31/issue-day-banda-aceh-bans-new-year-celebrations.html
-----------
RI struggles to promote pluralism, tolerance
December 31 2015
Indonesia, the world's largest Muslim-majority nation, is still finding it hard to promote a culture of tolerance among its citizens, with a number of major cases of religious intolerance and violence against minorities emerging throughout the year.
In Yogyakarta, which has long been known as one of the country's cultural melting pots, at least 12 cases of religious intolerance occurred in 2015, according to the National Alliance for Unity in Diversity's (ANBTI) Yogyakarta chapter.
Branch coordinator Agnes Dwi Rusjiati said the cases included six attempts to forcefully close houses of worship, three cases of threats against religious activities, threats against a house of worship, a religious hatred campaign and the eviction of people believed to be Shia followers.
Of the 12 recorded cases, Agnes considered the attempt to burn down the allegedly unlicensed Indonesian Baptist Church (GBI) building in Saman hamlet, Bantul regency, on July 20 as the worst incident as the church had been operating in the area for years. "Violence against religious minorities and violations of human rights in the province are serious problems that have not yet settled down," Agnes told The Jakarta Post recently.
The Jakarta-based Wahid Institute recorded 55 cases of intolerance in Yogyakarta last year, making it the second most intolerant region after West Java.
Despite the declining number of major intolerance cases, however, Yogyakarta is still struggling with seeds of intolerance that can be felt at both the elite and grassroots levels.
The Yogyakarta provincial administration, for example, is the only administration in the country that applies a discriminative land-ownership policy, which bans Indonesians of Chinese descent from owning a plot of land in the province.
Meanwhile, a Christian family in Sambisari, Sleman regency, recently claimed that they had been banned by local officials from worshipping at their house.
"The ban came from a subdistrict administration apparatus," Andreas Pamungkas, a newcomer in the subdistrict, said.
Full report at:
http://www.thejakartapost.com/news/2015/12/31/ri-struggles-promote-pluralism-tolerance.html
-----------
Minors converted to Islam can seek redress after turning 18, Shariah lawyer says
BY IDA LIM
December 31, 2015
KUALA LUMPUR, Dec 31 ― Children who have been unilaterally converted to Islam will have to wait until age 18 to ask the Shariah courts to recognise them as non-Muslims, lawyer Musa Awang has confirmed.
The president of the Malaysian Shariah Lawyers Association (PGSM) was commenting on the high-profile case of Hindu mother M. Indira Gandhi's legal challenge to reverse the unilateral religious conversion of her three children by her former husband after he embraced Islam, after losing in a 2-1 decision at the Court of Appeal yesterday.
Musa said that while a non-Muslim parent cannot initiate a lawsuit in the Shariah courts on behalf of their children under existing laws, the converted children could do so after reaching the age of maturity.
"Yes, when they are 18, they [can] apply to the Shariah court to declare that they are no longer Muslims," he told Malay Mail Online when contacted yesterday.
He added that there are many such cases in the Islamic courts.
For those who have yet to turn 18 however, Musa said they will have to rely on a Muslim family member or Muslim friend who knows of their situation to file a lawsuit on their behalf in the Shariah courts.
He clarified that a Shariah lawyer would not be able to initiate legal proceedings on behalf of children who are still considered minors.
Last July, Malay Mail Online published an interview with the Department of Syariah Judiciary Malaysia (JKSM), which had said that children ― born in a marriage between two non-Muslims but are later converted by a Muslim convert parent ― may seek to restore their religious status when they turn 18.
In Malaysia, those who reach the age of 18 may determine their own religion.
Musa also said that while non-Muslim parents like Indira cannot be a party to their converted children's legal proceedings in the Shariah courts, they can still file applications there and ask to present their statement to support their children's bid to be recognised as non-Muslims.
Following the civil court's deferment to the Shariah court yesterday on child conversions, the Malaysian Consultative Council of Buddhism, Christianity, Hinduism, Sikhism and Taoism (MCCBCHST) questioned the likelihood of non-Muslims being served justice by an Islamic court when the law prohibits their appearance there.
But Musa disputed the non-Muslim interfaith panel's argument.
"Because I feel that the Shariah courts never refused any application to give statements. You look at the case of Nyonya Tahir in Malacca, the non-Muslim family came to court and gave statement. Before the court gave its judgement, they called all the family members, but they are non-Muslims," he said, referring to the 2006 landmark case.
"Not true to say no justice for non-Muslims," he added.
The case of Nyonya Tahir is seen as significant because the Negri Sembilan Shariah Court had declared the woman of Chinese-Malay descent born Wong Ah Kiu to be non-Muslim at the time of her death aged 89 as she had been raised a Buddhist and had practised Buddhism her whole life.
Full report at:
http://www.themalaymailonline.com/malaysia/article/minors-converted-to-islam-can-seek-redress-after-turning-18-shariah-lawyer
-----------
Filipino worker beheaded in Saudi Arabia for failing to pay "blood money"
Dec 30, 2015
Manila (AsiaNews/Agencies) – Joselito Lidasan Zapanta was publicly beheaded in Saudi Arabia on Tuesday after failing to pay US$ 1 million in blood money.
The Riyadh Grand Court had sentenced the 35-year-old tile-setter to death following a robbery in April 2010 in which he killed his Sudanese landlord, allegedly in self-defence.
The victim's family had demanded the equivalent of P48 million in "blood money" in exchange for Zapanta's freedom, setting a two-week deadline earlier this month for payment.
After his family and the Filipino government raised only 23 million pesos, the execution was carried out.
"We continue to pray, hope and work for the welfare of our OFWs*, that they be safe always," said Bishop Ruperto Santos of Balanga, who heads the Church's migrants ministry.
"We are with the family in this moment of grief and tragic loss of life," he added. "We lift to God's mercy and forgiving love for the soul of our OFW".
According to the prelate, Zapanta's execution, again shows the "travails and perils" faced by Filipino migrant workers. "This has always been a great pastoral challenge for us — to help our OFWs be better prepared and equipped to deal with new cultures and way of life in a foreign land," the bishop explained.
Full report at:
http://www.asianews.it/news-en/Filipino-worker-beheaded-in-Saudi-Arabia-for-failing-to-pay-blood-money-36282.html
-----------
Aceh Islamic guerrilla leader Din Minimi surrenders
Dec 30, 2015
Banda Aceh (AsiaNews) –Din Minimi, a former fighter of the Free Aceh Movement (GAM) and most sought after man in Aceh, has surrendered to the Indonesian authorities, it was announced yesterday by the intelligence chief Sutiyoso.
The former general held a brief press conference in Lhokseumawe (east Aceh): "Negotiations with Din Minimi began two months ago and the result is that he and his armed group have decided to abandon their shelters, lay down their weapons and surrender. "
Aceh is located north of the island of Sumatra, and is the only province where shariah is law.
According Sutiyoso, at least 120 militants have deposited their AK-47 automatic assault rifles and a large container full of ammunition. The former governor of Jakarta guarantees "having spent the night in discussions with Din Minimum" and that all fighters will surrender.
News of the surrender of the infamous outlaw was celebrated across the country. Din Minimi, nom de guerre of Nurdin Bin Ismail Amat, has been among the ranks of Gam (Islamic separatist group) in the war for the independence of Aceh from Jakarta.
Staunchly opposed to the agreement reached with the government in 2005, which put an end to a thirty-year war, Minimi left the group with several hundred followers. Disappointed by the rise to power of the leaders of the GAM (one of them is now governor of the province), he lived for years hidden in the forests east of Aceh, continuing his separatist fight with terrorist attacks and killings.
Full report at:
http://www.asianews.it/news-en/Aceh-Islamic-guerrilla-leader-Din-Minimi-surrenders-36277.html
-----------
Mideast
Hamas bans Gaza New Year's Eve parties
December 31, 2015
GAZA CITY - Islamist group Hamas has banned public New Year's Eve parties in the Gaza Strip because they offend the territory's "values and religious traditions", police said on Wednesday.
"The interior ministry and police department did not give permits to any restaurants, hotels or halls for end-of-year parties" after several venues requested permission, police spokesman Ayman al-Batinji told AFP.
He said New Year's Eve celebrations were "incompatible with our customs, traditions, values and the teachings of our religion".
Parties had also been curtailed in "solidarity with the families of the martyrs of the Jerusalem intifada," Batinji said, referring to violence that has swept the city and parts of the West Bank in recent months. Since October 1, 136 Palestinians and 20 Israelis have died in a wave of attacks and clashes across Israel and the Palestinian territories — including some in Gaza.
The majority of the Palestinians were killed while carrying out attacks, leading some to dub the unrest a third Palestinian "intifada", or uprising.
In previous years restaurants, hotels and cafes in Gaza were allowed to host closed events to celebrate New Year's Eve.
Full report at:
http://nation.com.pk/international/31-Dec-2015/hamas-bans-gaza-new-year-s-eve-parties
-----------
Iran Felicitates Iraq, Syria on Astonishing Victories against Terrorists
Dec 31, 2015
Iranian Deputy Foreign Minister for Arab and African Affairs Hossein Amir Abdollahian made the remarks on Wednesday after the Iraqi and Syrian armies and popular forces regained many occupied territories from the terrorists.
He also warned those countries that are violating their obligations under the UN Security Council resolution by continuing their financial and oil transactions with the ISIL terrorist group, and said, "Be watchful of the repercussions of your actions. Serious fighting against terrorism will benefit all regional countries."
"Independence and national solidarity of Iraq and Syria are secured by anti-terrorism fights of the armed forces and people in both countries," Amir Abdollahian added.
The Iranian diplomat also stressed that Tehran will seriously continue its support to the countries threatened by terrorist threats.
In relevant remarks on Monday, Chief of Staff of the Iranian Armed Forces Major General Hassan Firouzabadi congratulated the Iraqi people and government on taking back the strategic city of Ramadi from the ISIL terrorist group.
Iraqi security forces regained full control over the city of Ramadi on Sunday, scoring a major victory against ISIL terrorists.
Full report at:
http://en.farsnews.com/newstext.aspx?nn=13941010000264
-----------
IRGC Denies US Claims of Firing Missiles in Strait of Hormuz
Dec 31, 2015
"The IRGC Navy has staged no drills in the Strait of Hormuz in the current week and the time claimed by the Americans and hasn't fired any missile or rocket," IRGC Public Relations Chief General Ramezan Sharif said on Thursday.
"Releasing such fake news under the current conditions is more like a psychological warefare and should be given thought," he added.
Stressing that establishment of security and tranquility in the strategic region of the Persian Gulf is one of Iran's serious strategies, Sharif said, "The IRGC will stage its drills based on the timetables of its units in specified time and dates to enhance the necessary preparedness in this field."
Full report at:
http://en.farsnews.com/newstext.aspx?nn=13941010000294
-----------
Turkey detains two IS suspects over New Year attack plot
December 31, 2015
ANKARA - Turkish police on Wednesday detained two Islamic State suspects accused of plotting a suicide bomb attack on New Year's Eve celebrations in the capital Ankara.
The arrests come with European countries on high alert for possible attacks over the New Year, with Belgium detaining two suspected Islamists and Moscow closing off its iconic Red Square.
Turkish officials said the pair, whose nationality was not disclosed, were planning to strike an area in the centre of the city that is expected to be packed with revellers on the night of December 31.
"They are suspected of being affiliated with the Islamic State and were planning an attack on the New Year in Ankara," a Turkish official told AFP, asking not to be named.
Turkey has been on high security alert since October 10 when two suicide bombers ripped through a crowd of peace activists in Ankara, killing 103 people in the worst attack in modern Turkey's history.
According to the private NTV television, counter-terrorism police arrested the pair in the Mamak district, on the outskirts of the capital, which is home to more than five million people.
The two were planning to stage an attack in Ankara's main Kizilay square, the Anatolia news agency reported, citing the prosecutor's office. The two men, identified as M.C. and A.Y., had already carried out surveillance on potential targets, according to the Ankara governor's office.
They had planned to strike two separate spots in Kizilay — one outside a big shopping mall and the second in a street packed with pubs. Police also confiscated one suicide bomb vest, one bomb mechanism with ball bearings and one rucksack with bomb-making materials, the governor's office said. The October attack in Ankara was blamed on IS militants, like two other deadly strikes in the country's Kurdish-dominated southeast earlier in the summer. In June, four people were killed in an attack on a rally of the main pro-Kurdish party in Diyarbakir while in July, 33 people were killed in a suicide bombing against activists in the town of Suruc on the Syrian border.
Turkish authorities have over the past few months cracked down on the Islamic State group's so-called "sleeper cells" throughout the country.k
"Turkey is a target of terror because it is on the frontline in the fight against IS," the Turkish official told AFP.
Earlier this month, police arrested an alleged member of the IS group suspected of planning a suicide attack on the US consulate in Istanbul.
The Syrian national was detained at the bus station in the southern city of Kahramanmaras and then taken into custody.
Long criticised by its allies for taking too soft a line against militants, Turkey is taking firmer action against the IS group on the border with Syria after being shaken by attacks on its soil and the Paris assaults in November.
Full report at:
http://nation.com.pk/international/31-Dec-2015/turkey-detains-two-is-suspects-over-new-year-attack-plot
-----------
Emergency measures as Tehran records 18th day of bad air
30 December 2015
More than two weeks of heavy pollution led Iranian officials to ban all outdoor sport and impose new traffic restrictions on Wednesday as persistent cold weather exacerbated Tehran's air quality problems.
In the worst concerted period of pollution for three years, primary schools and nurseries were closed and new car exclusion zones imposed in the capital.
Tehran's air quality index averaged 159 on Wednesday, up two from the previous day, and more than three times the World Health Organization's maximum advised level of between zero and 50.
One area in northeastern Tehran peaked at 238.
The official IRNA news agency reported that it was the 18th straight day of dangerously bad air while newspapers quoted officials casting blame on each other for the problem and failure to tackle it.
"Our preference was to close all schools but the education ministry insisted on keeping high schools open because of final term exams," said Mohammad Heydarzadeh, secretary of Tehran's emergency air pollution committee.
The cold weather is causing climate inversion - where emissions from car exhausts hang in the air rather than rising into the atmosphere above.
A decade-long central restriction zone based on car number plates was in place across the city on Wednesday, traffic police announced.
Vehicles with plates ending in an odd number can't go out on Saturday, Monday and Wednesday, while cars with even numbered plates are banned on Sunday, Tuesday and Thursday.
Sand and cement factories around the capital are banned from operating until Friday, the end of the Iranian week, Heydarzadeh said.
All outdoor sport activities are banned, he added, including professional football league matches.
Full report at:
https://english.alarabiya.net/en/News/middle-east/2015/12/30/Emergency-measures-as-Tehran-records-18th-day-of-bad-air.html
-----------
Israel approves economic plan for Arab minority
31 December 2015
The Israeli government on Wednesday approved a plan worth several billion dollars to improve the economic situation of the Arab minority, officials said.
Details on how the money will be spent were not immediately available.
But a statement from Prime Minister Benjamin Netanyahu's office said the program would apply to areas including education, transportation, employment, infrastructures, culture and sports.
"The plan ensures that minorities in Israel - Muslims, Druze, Christians, Circassians - will get fitting budgets to implement various development plans in their sectors," Netanyahu said.
A government official told AFP on condition of anonymity that the five-year plan would cost 10-15 billion shekels ($2.56-3.84 billion, 2.35-3.52 billion euros).
Ayman Odeh, who heads the Joint List that groups the main Arab parties in parliament, cautiously welcomed the plan, which he called "the result of a long public struggle, yet to have ended."
"The plan was constructed in close coordination between the Joint List and the Arab heads of local authorities," he said in a statement.
"The fact that the plan includes a significant budget addition, alongside a change in the fund-allocating mechanisms of the ministries, could be a first step to reducing the economic and social gaps of the state's Arab citizens," Odeh said.
According to Amir Levy, head of budgets at the finance ministry, the plan entails "fundamental corrections in the governmental allocation mechanisms" which will "help realize the Arab sector's economic potential."
Social Equality Minister Gila Gamliel described it as "an important and historic step on the way to reducing gaps and advancing social equality in Israel."
Netanyahu noted that the plan will also "strengthen law enforcement in the minority sector, with emphasis on illegal construction."
Israeli Arabs are Palestinians and their descendants who remained after the creation of Israel in 1948 and account for more than 17 percent of the country's population.
They often complain of discrimination in various fields, including building permits, infrastructure and education.
Full report at:
https://english.alarabiya.net/en/News/middle-east/2015/12/31/Israel-approves-broad-economic-plan-for-Arab-minority-.html
-----------
Saudi jets pound Sana'a international airport
Dec 31, 2015
Saudi warplanes have bombarded the international airport in Yemen's capital, Sana'a, as Riyadh continues its deadly campaign against the impoverished southern neighbor.
Yemen's al-Masirah news channel said on Thursday Saudi warplanes pounded the capital city airport three times. The bomber aircraft also targeted a military base in the Yemeni province of Omran.
On Wednesday, dozens of Saudi military forces were killed or injured in retaliatory missile attacks by Yemeni forces in the al-Amri district of Yemen's southwestern province of Ta'izz.
In another development, Yemeni forces launched retaliatory missile attacks on the positions of Saudi-backed militants loyal to fugitive former Yemeni president Abd Rabbuh Mansour Hadi in the central province of Ma'rib, killing scores of them.
The Yemeni army also fired a Qaher 1 ballistic missile at the international airport of southwestern Saudi city of Abha, located in the Asir region. No reports on the possible casualties and damage were immediately available.
Full report at:
http://www.presstv.ir/Detail/2015/12/31/443909/Saudi-Arabia-airport-Yemen-Sanaa-Taizz/
-----------
Iran condemns bomb attack in Pakistan
Dec 30, 2015
Iran has condemned a bomb attack in northwestern Pakistan, saying the act of terror was carried out as a ploy to serve the interests of the enemies of Islam.
"The Islamic Republic of Iran views such terrorist acts in line with realizing the evil objectives of enemies of the Pakistani nation and the Islamic world," said Iranian Foreign Ministry Spokesman Hossein Jaberi Ansari on Wednesday.
On Tuesday, nearly two dozen people were killed in a bombing outside a government building in the town of Mardan, located about 50 kilometers (30 miles) northwest of Peshawar, the capital of Khyber Pakhtunkhwa Province, near the country's border with Afghanistan. Pakistani officials said some 70 others were wounded in the attack which targeted the regional office of the National Database and Registration Authority.
In his statement, Jaberi Ansari offered condolences to the bereaved and the government of the "friendly and brotherly nation" of Pakistan.
Full report at:
http://www.presstv.ir/Detail/2015/12/30/443864/Iran-Pakistan-Peshawar-Mardan-bombing/
-----------
South Asia
25 Daesh militants killed in Nangarhar air strikes
Dec 31 2015
25 militants belonging to the Islamic State (IS) or Daesh group have been killed and 31 others wounded in two air strikes in eastern Nangarhar province.
According to a statement released by the Ministry of Defense (MoD) on Thursday, the precise strikes were carried out in past 24 hours based on the coordinates of Afghan National Army's 201st Silab Corps.
The press release further states that two gatherings of Daesh belonging to the group's commanders Abdul Khaliq and Sayed Amarati were targeted in these attacks in Qala-e-Shikhan area of Deh Bala District leaving 25 killed and 31 others wounded.
"Sayed Amarti is believed to be among those killed," the statement adds.
Several different types of heavy and light weapons of Daesh were also destroyed during the air strikes.
Full report at:
http://www.khaama.com/25-daesh-militants-killed-in-nangarhar-air-strikes-4448
-----------
ISIS photo purports to show captured Taliban fighters in Afghanistan
Dec 31 2015
The loyalists of the Islamic State of Iraq and Syria (ISIS) terrorist group have released a photograph which purportedly shows a group of Taliban fighters captured apparently during a clash in eastern Nangarhar province of Afghanistan.
The photograph was shared by the affiliates of the terror group in social media earlier on Thursday.
Although the authenticity of the photograph could not be verified, however the photograph carries a subtitle in Arabic language, saying the fighters were captured from Nazian district of Nangarhar province.
The affiliates of ISIS terror group and the Taliban militants have engaged in bloody clashes during the recent months and with the emergence of ISIS loyalists particularly in Nangarhar.
The Russian special presidential envoy on Afghanistan Zamir Kabulov said earlier that the loyalists of ISIS terror group demonstrates a hostile position toward the Taliban leaders, calling it a concern for the Taliban group as ISIS loyalists continue insurgency with an intention to 'swallow' other extremist groups, draw militants of all kinds into its ranks, in particular Taliban fighters themselves, redistribute sources of income, including such lucrative sources as drug trafficking.
Kabulov further added that confrontations between Taliban and ISIS terror group has flared up between Taliban groups and Taliban-ISIS loyalists following the announcement of Taliban group founder and supreme leader Mullah Mohammad Omar's death in July this year and the appointment of new Taliban supreme leader Mullah Akhtar Mansoor.
This comes as the US Secretary of Defense Ashton Carter warned regarding the emergent threat of the terror group during a surprise visit to Afghanistan on Friday, however he said the threat posed by the terror group is being tracked very closely as they have started creating 'little nests' in Afghanistan.
Full report at:
http://www.khaama.com/isis-photo-purports-to-show-captured-taliban-fighters-in-afghanistan-1900
-----------
Including 20 % Afghans, over 1 million people used sea to reach to Europe in 2015
Dec 31 2015
Escaping war and poverty in their respective countries, including 20 percent Afghans, over one million refugees and migrants have fled to Europe by sea this year, many on board dangerously inadequate vessels run by people smugglers.
The latest figures released by UNHCR shows that some 1,000,573 used the Mediterranean Sea to reach out to Europe, mainly to Greece and Italy, in 2015, out of which 3,735 have gone missing, believed drowned.
"Over one million people have landed on Europe's shores, fleeing war and persecution, seeking a better life for their families," said Vincent Cochetel, UNHCR Director of the Bureau for Europe. "Tragically, over 3,700 other children, women and men did not survive the perilous journey by sea and their hope for a fresh start died with them."
"If there were more legal avenues for refugees to reach Europe, perhaps some of those who died at sea could have found peace and safety instead. For the refugees who risked everything and have now safely reached Europe, we hope they will be received in the context of the European values of dignity, solidarity, and human rights, so that they may find their new beginning," Cochetel added.
According to the UN Refugee Agency, in addition to the sea crossings, recent figures also estimated that a further 34,000 have crossed from Turkey into Bulgaria and Greece by land.
The number of people displaced by war and conflict is currently the highest seen in Western and Central Europe since the Balkan crises of the 1990s, when several conflicts broke out in the former Yugoslavia.
One-in-every-two of those crossing the Mediterranean this year – half a million people – were Syrians escaping the war in their country. Afghans accounted for 20 per cent and Iraqis for seven per cent.
"As anti-foreigner sentiments escalate in some quarters, it is important to recognize the positive contributions that refugees and migrants make to the societies in which they live and also honour core European values: protecting lives, upholding human rights and promoting tolerance and diversity," said UN High Commissioner for Refugees António Guterres.
Despite strong winds and choppy waves, on December 30 dozens of families continued to land on the Greek island of Lesvos in overstuffed inflatable boats designed to carry just eight people. One boat arrived carrying 69 refugees from Afghanistan.
Full report at:
http://www.khaama.com/including-20-afghans-over-1-million-people-used-sea-to-reach-to-europe-in-2005-4449
-----------
India
LeT Planning New Year Attack to Avenge Abu Qasim's Death: Intelligence
December 31, 2015
New Delhi: Operatives of the Pakistan-based Lashkar-e-Taiba (LeT) are planning to avenge the death of its senior commander Abu Qasim by carrying out a series of bombings or attacks on "prominent Indian personalities, public and tourist places in eight Indian cities" on or around the New Year, according to intelligence officials.
To carry out the attacks, four senior LeT commanders had already infiltrated into India, the officials told IANS on condition of anonymity.
Qasim, accused of masterminding an ambush in Udhampur on August 5 that left two Border Security Force (BSF) personnel dead and 10 injured, was killed in a gun fight with security forces in Kulgam district of Jammu and Kashmir on October 29.
Qasim, who hailed from Bahawalpur in Punjab province was trained in Pakistan.
Officials said Delhi and Jammu and Kashmir were the prime targets for the LeT operatives while Punjab, Uttar Pradesh, Jaipur, Bengaluru, Goa and Kolkata were also on their radar.
"Intelligence Bureau (IB) officials have sent an alert to all state police departments and state intelligence agencies to hunt the commanders and look for persons who may help them," an official said.
He said some prominent leaders, including the prime minister, are on the LeT's radar for attack.
Qasim was also the handler of Pakistani militant Naveed, who was captured by villagers following the ambush of BSF personnel. Naveed's accomplice Noman was killed in a gun battle. Qasim, who had a bounty of Rs.20 Lakh on his head, had allegedly arranged transportation and accommodation for Naveed and his accomplice.
Naveed told security officials that Qasim had briefed them and given them money for expenses prior to the attack.
The official said intelligence units had been tracking all the regular communication methods used by the infiltrators, including emails, mobile phones, landline phones and Voice Over Internet Protocol (VoIP) calls.
Full report at:
http://www.siasat.com/news/let-planning-new-year-attack-avenge-abu-qasims-death-intelligence-894557/
-----------
ISI luring military veterans via fake 'welfare agencies'
Bharti Jain
Dec 31, 2015
NEW DELHI: With several ISI-linked spy rings being exposed in recent weeks, it has come to light that Pakistan's infamous intelligence agency is floating fake ex-servicemen organisations to lure former forces personnel to ferret "authentic" information about serving officers and troop movements.
The former soldiers are being drawn to these fronts by offers like jobs and other rehabilitation measures purportedly intended to further their welfare with gullible, mostly low ranking ex-servicemen falling for the ploy.
According to intelligence sources, ex-servicemen are being "trapped" by ISI agents posing as representatives of organizations working for welfare and rehabilitation of retired personnel and seeking "reference" information.
"This is a common modus operandi of ISI noticed in north Indian states, particularly Punjab, with agents reaching out to ex-service personnel looking for jobs and other benefits. The latter are asked to enrol themselves, and subtly asked to provide details like names and phone numbers of serving commanders, deployment details and, where possible, information on troop movement," said a senior intelligence source.
The former Army personnel are persuaded to part with information on the pretext that it is "routinely needed to fill up the forms before finding them suitable recruitment," said the source who said that though much of the details were fairly harmless, the risk could not be ignored.
"Success in such operations may just embolden ISI to get further entrenched in the system, expand spying activities and get more crucial details as the net grows wider," warned the officer.
Intelligence agencies had alerted the ministry of defence to this modus operandi of ISI around six months back. As many as 36 persons, including 13 serving and retired armed forces personnel and one serving BSF personnel, have been arrested over the past three years on charges of spying for ISI.
As per statistics furnished by the home ministry in reply to a Rajya Sabha question during the just-concluded winter session, 20 civilians and two foreigners, including a Sri Lankan and a Pakistani, were placed under arrest between 2013 and 2015 for passing on information to the ISI.
Full report at:
http://timesofindia.indiatimes.com/india/ISI-luring-military-veterans-via-fake-welfare-agencies/articleshow/50388204.cms
-----------
Fact-finding team visit Sambhal; alleges police implicate Zafar and Asif in false terror case
December 31, 2015
Lucknow / Sambhal: Raising suspicions over the intelligence agencies' version on arrest of Muslim youths from Sambhal town In Uttar Pradesh, a fact-finding team poses nine questions to Delhi Police Special cell and alleged that security agencies are hatching a plot to defame Sambhal as it did with Azamgarh in the past. It also contested claim of security agencies that many youth were disappeared from Sambhal.
Full report at:
http://www.siasat.com/news/fact-finding-team-visit-sambhal-alleges-police-implicate-zafar-asif-false-terror-case-894473/
-----------
Nawaz Sharif thanks PM Modi for Lahore visit, says 'high time India, Pakistan set aside their hostilities'
Dec 30, 2015
KARACHI: Prime Minister Nawaz Sharif on Wednesday said it is "high time" India and Pakistan set aside their hostilities even as he expressed confidence that the spirit of goodwill generated by his Indian counterpart Narendra Modi's visit to Lahore will persist.
"The Indian Prime Minister came to Lahore and gave us his few hours. It is high time the countries put aside their hostilities," Sharif said.
"Goodwill gestures are the solution to many an ill," he told reporters at Zhob airport in Balochistan.
Full report at:
http://timesofindia.indiatimes.com/india/Nawaz-Sharif-thanks-PM-Modi-for-Lahore-visit-says-high-time-India-Pakistan-set-aside-their-hostilities/articleshow/50385638.cms
-----------
Bengal Muslim literacy rate up 11% in a decade
Dec 31, 2015
KOLKATA: Literacy rate among Muslims in Bengal has moved past the days of the Sachar Committee review and risen 11.27% in the past decade. It is also marginally ahead of the national rate.
According to the 2011 census data released on Wednesday, Muslim literacy rate in the state has risen to 68.74% from 57.47% recorded in the 2001 census. The national Muslim literacy rate stands at 68.53%.
The comparable figures for Hindu literacy rate in the 2011 Census stands at 79.13% -- a shade above the state figure of 77.08%.
According to the census, Bengal has 6.15 crore literates (leaving out the 1.05 crore in the 0-6 age group). Around 66.66% or 4.5 crore of them are Hindus; the remaining 23.42% are Muslims. Among the 2.9 crore illiterates in the state, 1.86 crore are Hindus and 1.02 crore Muslims.
The figure appears stark when one considers that only 27.01% of the state's 9.12 crore population are Muslims. This means, a whopping 41.5% of the state's Muslim population are do not know how to read or write.
"The incremental increase is encouraging. Anything less would have been alarming given the fact that literacy is the very basic indicator. Between 2001-2011, a lot of impetus was provided by various Central schemes to arrest school dropout rates. I believe, this has an impact. The challenge now is to transfer this growth to higher education," said Dr Amzed Hossain, English professor in the Aliya University.
The Muslim literacy debate in Bengal is not without its political underpinnings. The latest progress was achieved during the Left Front regime. Figures during the Mamata Banerjee rule are yet to be recorded. The Sachar Committee findings were based on the 2001 census report. The committee had argued that 50% Muslim children attend school at the primary level, 26% remain in middle school and only 12% complete matriculation against 54%, 30% and 13% respectively for SC/STs and 80%, 58% and 38% for others. Disputing the figures, the state had claimed that in the three years (2007-08, 2008-09 and 2009-10), respectively 28.13, 28.28 and 32.30 of every 100 primary school children in West Bengal were Muslims, when 25.25% of the state's population are Muslims.
Full report at:
http://timesofindia.indiatimes.com/city/kolkata/Bengal-Muslim-literacy-rate-up-11-in-a-decade/articleshow/50387020.cms
-----------
India's gender ratio is worsening regardless of whether you're Hindu, Muslim or Christian
Dec 31, 2015
India's gender ratio is one of the worst in the world, with only 918 girls for every 1,000 boys. And, according to the most recently released data, this skewed ratio is common across all religions.
Among Hindus, the largest religious group in the country, the sex ratio declined from 925 girls in 2001 to 913 girls in 2011 per 1,000 boys, the census data showed.
Child sex ratio is the number of girls aged between zero and six years for every 1,000 boys in the same age group. An unbalanced gender ratio is a manifestation of the country's preference of sons over daughters.
Apart from Sikhs and Jains, all other religious groups saw a dip in the child sex ratio in favour of male children.
Full report at:
http://qz.com/584387/indias-gender-ratio-is-worsening-regardless-of-whether-youre-hindu-muslim-or-christian/
-----------
Siasat Daily shakes MWD & Waqf Board out of slumber
December 31, 2015
The publication of report in media, regarding the allotment of 3 acre Waqf land of Dargah Hazrat Husain Shah Vali located in Manikonda to the Sikh Gurudwara Sahibji of South India, has shaken Minority Welfare Department out of slumber. After the issue of notification by Deputy Collector and Tahsildar, Rajendra Nagar Mandal On November 20, the Revenue Department secretly made preparation to allot the Waqf land to Gurudwara. It is said that on the notice of Deputy Collector no objection was received on which he recommended in favour of the allotment and sent the file to District Collector Rangareddy.
The matter was in the phase of allotment, when Siasat Daily exposed the dealing, which shook Minority Welfare Department and Waqf Board out of slumber and representation was made to District Collector and Chief Commissioner Land Survey.
It is said that the District Collector has put the proposal regarding allotment of land on hold, while authorities of Sikh Gurudwara, in order to prevent any controversies in future, have withdrawn their claim on the land.
Full report at:
http://www.siasat.com/news/siasat-daily-shakes-mwd-waqf-board-slumber-894587/
-----------
North America
Man charged with setting Houston mosque fire says he was a devout attendee
December 30, 2015
A Houston man has been arrested in connection with a suspected arson at a mosque on Christmas Day, but the motive for the crime remains a mystery, with the suspect maintaining he was a regular at the mosque.
A spokeswoman for the federal Bureau of Alcohol, Tobacco, Firearms and Explosives confirmed that the suspect, 37-year-old Gary Nathaniel Moore of Houston, was arrested early Wednesday. Moore appeared in court at 7 a.m., spokeswoman Nicole Strong said, and bond was set at $100,000.
According to a charging instrument released by the Harris County District Clerk, Moore told investigators at the scene that he has attended the storefront mosque for five years, coming five times per day to pray seven days per week.
Moore said he had been at the mosque earlier on Dec. 25 to pray, and had left at about 2 p.m. to go home, according to authorities and court papers. Moore said he was the last person to leave the mosque and saw no smoke or other signs of fire when he departed, authorities said. He maintained he had returned to the scene after hearing about the fire from a friend.
MJ Khan, president of the Islamic Society of Greater Houston, which operates the mosque, said he was unfamiliar with Moore. "We are just looking into it ourselves," he said Wednesday morning after learning of the arrest.
"We are really very surprised and saddened by this whole thing," said Khan.
Using surveillance video from multiple businesses nearby, investigators were able to identify Moore, according to records. A search warrant of his home was conducted, and investigators recovered a backpack and clothing similar to that which was seen in surveillance footage, as well as half of a two-pack of charcoal lighter-fluid bottles that seemed to match another lighter fluid bottle found inside the mosque.
A team of 30 investigators worked around the clock investigating the cause of the fire, which was found to have multiple points of origin. Moore was even interviewed by investigators at the mosque the day of the fire. He had attended services there earlier that day, according to Ruben Hernandez, chief arson investigator with the city's fire department.
After collecting evidence, reviewing surveillance video and executing a search warrant, the fire department's arson bureau and the ATF made a joint arrest around 1:30 am Wednesday at Moore's house, where he lives with his wife and kids, according to Hernandez. Moore was charged with first-degree arson, a felony. A motive has not been determined.
"We view arson as a violent crime," said Robert Elder, special agent with the Houston field division of the ATF, adding that arson is not just an attack on a building but "an attack on the community."
Full report at:
http://www.chron.com/houston/article/Federal-officials-arrest-man-in-connection-with-6727623.php
-----------
US-trained commandos in Philippines kill 10 militants: Army
Dec 31, 2015
US-trained army commandos in the Philippines killed 10 al Qaeda-linked militants in a clash on a southern island, a military spokesman said on Thursday, as security forces intensify a search for foreign hostages.
A lieutenant was among eight Philippine soldiers killed or wounded in a clash with about 300 members of the Abu Sayyaf militant group on Jolo island late on Wednesday, spokesman Major Filemon Tan told reporters.
"Our troops are pursuing the Abu Sayyaf who broke into small groups and withdrew to the interior of the island," Tan said, adding that 15 militants had also been wounded in the fighting.
"This is part of our focused military operation to free foreign hostages held by the Abu Sayyaf."
Tan said the Abu Sayyaf group is holding two Canadians, along with a Dutch citizen, a Norwegian and a Japanese.
Last month, they beheaded a Malaysian captive, prompting President Benigno Aquino to order intensified operations against the rebels. Tan said US-trained scout rangers had assaulted a rebel lair, triggering a three-hour battle. Troops later fired artillery at the fleeing rebels. There were no indications any of the hostages were in the area, he said.
The small but violent Abu Sayyaf, known for kidnappings, beheadings and bombings, is one of the most hardline Muslim rebel factions in the Muslim south of the largely Christian Philippines.
Full report at:
http://indianexpress.com/article/world/world-news/us-trained-commandos-in-philippines-kill-10-militants-army/
-----------
Obama spied on Netanyahu during Iran deal negotiations, says paper
ANWAR IQBAL
Dec 31, 2015
WASHINGTON: US President Barack Obama ordered his agencies to spy on Israeli Prime Minister Benjamin Netanyahu while he was negotiating a nuclear deal with Iran, the Wall Street Journal reported on Wednesday.
Under his instructions, the US National Security Agency monitored phone conversations between top Israeli officials and US lawmakers and American-Jewish groups.
The newspaper quoted current and former US officials as telling its correspondents that President Obama had ordered the eavesdropping on the grounds it served a "compelling national security purpose".
The agency particularly focused on information that could be valuable to counter Mr Netanyahu's campaign against the nuclear deal, which the US and five other world powers signed with Iran in July this year.
On Tuesday, US Secretary of State John Kerry announced the completion of a critical phase of the deal, removal of enrich nuclear material from Iran, and said that the two sides were now moving towards removing international sanctions on Tehran.
Mr Netanyahu, however, opposed the deal on the ground that allowing Iran to keep any nuclear capability was a threat to Israel's security and that Iran would not implement the deal even if it was signed.
The NSA eavesdropping revealed to the White House how Mr Netanyahu and his advisers had leaked details of the US- Iran negotiations, which they learned through Israeli spying operations, the newspaper reported.
The reports allowed the Obama administration to peer inside Israeli efforts to turn Congress against the deal.
Last summer, Congress invited Mr Netanyahu to address a joint session on the proposed deal without informing the White House.
During the eavesdropping, the agency learned Israel's ambassador to the United States, Ron Dermer, was coaching unnamed Jewish-American groups on lines of argument to use with US lawmakers, and Israeli officials were pressing lawmakers to oppose the deal, WSJ reported.
Asked for comment on the report, a White House National Security Council spokesman said: "We do not conduct any foreign intelligence surveillance activities unless there is a specific and validated national security purpose. This applies to ordinary citizens and world leaders alike."
Full report at:
http://www.dawn.com/news/1229766/obama-spied-on-netanyahu-during-iran-deal-negotiations-says-paper
-----------
US general likely to seek more troops for Afghanistan
Dec 31, 2015
WASHINGTON: The commander of US forces in Afghanistan has said he may ask President Barack Obama to send more American troops to help the beleaguered Afghan forces.
In a separate statement, a US State Department official said the United States would not support lifting sanctions imposed on the Taliban until they showed their sincerity to the Afghan reconciliation process.
"My intent would be to keep as much as I could, for as long as I could," Gen John Campbell told the USA Today newspaper. In the interview he also said he would visit Washington soon to brief security chiefs about his proposals.
"Some of them will not go over well with people," he said. "Some of them will get approved."
The general said that as commander of the US and Nato troops in Afghanistan, his job was to "continually make assessments" of the situation on the ground and send his findings to Washington.
"Every time I've gone to the president and said, 'I need X,' I've been very, very fortunate that he's provided that. He has been very flexible."
He said that maintaining the current force of 9,800 US troops in Afghanistan was vital to train Afghan forces and to conduct counter-terrorism operations. The scheduled reduction to 5,500 troops by Jan 1, 2017 should be put-off for as long as possible.
Gen Campbell said he would not only request maintaining the current force but would not hesitate to ask for more troops if necessary.
In recent congressional hearings, US diplomats and military officials have acknowledged that the security situation in Afghanistan had deteriorated, with an increase in militant attacks and higher casualties among both Taliban and Afghan forces.
During a briefing at the State Department, spokesman Mark Toner welcomed reports that Afghan officials and Taliban militants would hold the second round of reconciliation talks next week. The first round was held in Murree this summer.
Officials of the United States, Pakistan and China will attend the talks as observers.
"The United States clearly continues to support an Afghan-led and Afghan-owned peace process as the surest way to end the ongoing violence and ensure lasting stability in Afghanistan and the region," he said.
Full report at:
http://www.dawn.com/news/1229806/us-general-likely-to-seek-more-troops-for-afghanistan
-----------
U.S. govt says San Bernardino shooter's visa file raised no red flags
31 December 2015
State Department visa officers conducted all required security checks on Tashfeen Malik, one of two shooters in the San Bernardino massacre early this month, but found no "derogatory" information before granting her a visa to enter the United States in 2013, a person familiar with the documentation said.
The standard security inquiries include interagency counter-terrorism screening, fingerprint checks, facial recognition analysis and checks against worldwide U.S. consular records, a State Department source said.
Because there was no derogatory information in Malik's application, visa officers had no grounds for ordering deeper investigations into her background, let alone blocking her entry when she arrived in the U.S. in December 2013, officials have said.
The latest disclosures will likely strengthen calls in Congress to toughen the procedure for issuing visas in order to spot militants applying to enter the U.S.
Pakistan-born Malik came to the United States under a K-1 "fiancee" visa. She was engaged at the time to Syed Farook, a U.S.-born citizen who together with Malik carried out the Dec. 2 shooting that killed 14 people.
Consular officers ran Malik's name through U.S. government consular and intelligence data bases, the source familiar with the documentation said. State Department sources declined to enumerate all the tests conducted before Malik's application was approved. The State Department source said the department was legally unable to discuss the contents of any individual's file.
An individual's application file contains records of which security checks were carried out and the results. None of the documents in Malik's State Department file show any negative information was discovered during State Department security checks, the source familiar with the documentation said.
The State Department's consular corps has come under criticism for allowing Malik entry, especially because a copy of her visa application file released earlier this month by the House of Representatives Judiciary Committee raised questions about whether she and Farook actually met in Makkah, Saudi Arabia, before coming to the U.S., as claimed on the application.
Full report at:
https://english.alarabiya.net/en/News/middle-east/2015/12/31/U-S-government-says-San-Bernardino-shooter-s-visa-file-raised-no-red-flags.html
-----------
Religious rights of US Christians most valued
31 December 2015
Eight in 10 of all respondents said it was very or extremely important for people like themselves to be allowed to practice their religion freely.
However in stark contrast, only just four in 10 rate the government's performance as good on protecting the right to equal protection under the law, freedom from unreasonable search and seizure, or the right to bear arms.
Americans overwhelmingly support in the safeguarding of religious liberties for Christian believers, but showed far less interest on protecting Muslims' religious liberties, a new national survey found.
According to the new poll, 56 percent of Americans favor and 28 percent oppose the ability of the government to conduct surveillance on Internet communications without needing to get a warrant.
Full report at:
http://www.worldbulletin.net/america-canada/167960/religious-rights-of-us-christians-most-valued
-----------
Europe
ISIS claims deadly shooting in Russia's Caucasus
31 December 2015
The Islamic State of Iraq and Syria (ISIS) has claimed responsibility for a shooting at an ancient citadel in Russia's volatile North Caucasus region of Dagestan that killed one and injured 11, the SITE Intelligence Group said.
Full report at:
https://english.alarabiya.net/en/News/world/2015/12/31/ISIS-claims-deadly-shooting-in-Russia-s-Caucasus.html
-----------
Terror threat overshadows New Year celebrations
Dec 31, 2015
New Year festivities and fireworks have been canceled in the Belgian capital of Brussels amid fears of attacks by Takfiri terrorists.
Authorities said celebrations would not be held after a plot to attack Brussels by militants during the holiday was disclosed.
"Unfortunately we have been forced to cancel the fireworks and all that was planned for tomorrow (Thursday) evening," said Mayor Yvan Mayeur, adding, "It's better not to take any risks."
Belgium's federal prosecutor's office said on Tuesday that two people were arrested on suspicion of plotting attacks in the capital during New Year festivities.
It said, there was the threat of "serious attacks that would target several emblematic places in Brussels and be committed during the end-of-year holidays."
Other European countries have also taken precautionary measures.
The annual fireworks display in Paris has been called off while Moscow's Red Square, where people usually gather to celebrate the New Year, would be closed on December 31.
Security has been heightened in other countries across the world including Austria, Australia, Thailand, Indonesia, India, Japan, the Philippines, the US and Kenya over terror threats ahead of the celebrations.
Full report at:
http://www.presstv.ir/Detail/2015/12/31/443904/Belgium-Brussels-Ankara-Daesh-New-Year---/
-----------
Russia approves updated sanctions against Turkey
Dec 31, 2015
The Russian government has ratified a set of updated sanctions against Turkey amid a row between the two countries that started after the downing of a Russian jet by the Turkish military.
According to the updated list of Moscow's sanctions against Ankara on the Kremlin's website, Turkish companies will be banned from constructing buildings or working in the architecture and design sector in Russia. The ban also precludes Turks from working in the travel or hotel business, and Turkish companies will not be able to participate in forestry and timber processing.
"As you know, special economic measures with respect to the Republic of Turkey have been approved," said Russian Prime Minister Dmitry Medvedev at the government meeting on Wednesday. "The import of certain food products and agricultural produce has been banned. Starting January 1, 2016, the visa-free regime for Turkish citizens holding ordinary passports will be suspended. Moreover, also starting next year, Russian employers will not be allowed to hire any more Turkish nationals."
The website added that the bans by the Russian government do not apply to those contracts in place or coming into effect before the approved date of January 1, 2016.
It said the sanctions exclude the 53 Turkish companies now operating in Russia and engaged in construction, the auto industry, the production of construction materials, polymeric tubes, fittings, plumbing equipment and flooring.
Full report at:
http://www.presstv.ir/Detail/2015/12/31/443900/Russia-Turkey-Kremlin-sanctions-Dmitry-Medvedev-/
-----------
US exceptionalism hinders fight on terrorism: Lavrov
Dec 31, 2015
Russian Foreign Minister Sergey Lavrov says the United States' belief in being an "exceptional" country is an impediment to the fight against terrorism.
"The factor which is not helping the matter is the American comprehension of being an exceptional nation," Lavrov said in a Wednesday interview with Russia's Zvezda TV channel.
"It sets a stamp upon how they decide to fight terrorism: in depth, in width and against individuals," he added.
The Russian minister also criticized US double standards in countering terrorism, saying the US-led coalition purportedly fighting the Takfiri Daesh terrorist group treats Iraq in a different way from Syria.
Since September 2014, the US along with some of its allies has been conducting airstrikes against what are said to be Daesh terrorists inside Syria without any authorization from Damascus or the United Nations.
The air raids in Syria are an extension of the US-led aerial campaign against purported Daesh positions in Iraq, which started in August 2014. Many have criticized the raids as being largely ineffective.
Moscow, itself, launched airstrikes against Daesh and other terrorist groups in Syria on September 30 upon a request from the Damascus government.
Elsewhere in his remarks, Lavrov said a political settlement in Syria must not depend on the future of President Bashar al-Assad, criticizing certain countries that demand guarantees for Assad's departure before finding any solution to the conflict.
He said Moscow cannot yield to anyone's whims regarding the future of Assad.
The Russian official further said Turkey impudently mimicked the "arrogant" conduct of the US-led coalition by deploying forces into Iraq.
"Hadn't there been such arrogant approach on part of the US-led coalition toward bombing terrorists in Syria without the authorization of the country's government, Turkey would not dare to behave in such an impudent way toward Iraq," Lavrov noted.
On December 4, Turkey deployed some 150 soldiers, equipped with heavy weapons and backed by 20 to 25 tanks, to the outskirts of the city of Mosul, the capital of Iraq's Nineveh Province.
Full report at:
http://www.presstv.ir/Detail/2015/12/31/443897/Russia-Lavrov-US-Daesh-terrorism/
-----------
Christian convert from Islam gets two years in prison for stirring religious hatred
12/30/2015
Astana (AsiaNews) – A Kazakh court yesterday sentenced Seventh-day Adventist Yklas Kabduakasov to two years' imprisonment in a labour camp on specious charges of inciting religious hatred. In November, a lower court had given the 54-year-old father of eight a seven-year sentence of restricted freedom at home.
Forum 18 reported that Mr Kabduakasov was prosecuted on allegations of inciting religious hatred. This was done by talking to others about his faith. He and his fellow Church members reject the charges as baseless.
Local sources said that Kazakhstan's secret police, the National Security Committee (KNB), tracked Kabduakasov's movements and taped his discussions, especially on matters of faith. After a year, he was arrested on 14 August, and convicted on 9 November.
The KNB apparently rented a flat where four university students invited the accused for religious discussions, secretly taped the meetings and then used the evidence in the prosecution case.
A lower court sentenced him to seven years' restricted freedom, and ordered the destruction of nine Christian books that had been confiscated at his house. The Prosecutor had sought seven years' imprisonment in place of the restricted freedom sentence.
A court heard the appeal on 22 and 25 December, before imposing two years in a labour camp on 28 December.
Full report at:
http://www.asianews.it/news-en/Christian-convert-from-Islam-gets-two-years-in-prison-for-stirring-religious-hatred-36278.html
-----------
Russia denies killing civilians in Syria
30 December 2015
Russia on Wednesday slammed as "absurd" accusations by the United States that Russian air strikes in Syria are killing hundreds of civilians.
Russia has come under growing criticism from the West as well as human rights groups and Syrian rebels for inflicting civilian casualties in its two-month bombing campaign in the war-torn country.
The U.S. State Department said Tuesday that the Russian strikes had killed hundreds of civilians" and hit "medical facilities, schools and markets".
Full report at:
http://www.worldbulletin.net/europe/167947/obama-to-visit-germany-in-early-2016
-----------
Pakistan
ISIS surfaces in Johar Town, Lahore
December 31, 2015
The presence of militants pledging affiliation with the Islamic State (IS), known varyingly as ISIS or Daesh, has been unveiled in Johar Town, Lahore, Waqt News reported. "Mehar Hamid has been arrested by the intelligence agencies," media reported.
According to intelligence agencies, Hamid has accepted that he sent 11 people to Syria to fight along with ISIS.
Full report at:
http://nation.com.pk/national/31-Dec-2015/isis-surfaces-in-johar-town-lahore
-----------
4-nation group to discuss revival of Kabul-Taliban talks in Jan
BAQIR SAJJAD SYED
Dec 31, 2015
ISLAMABAD: Senior officials from Pakistan, Afghanistan, the United States and China will meet here in the first half of next month for reviving the reconciliation dialogue between the Afghan government and the Taliban.
"A meeting of the quadrilateral group will be held in Islamabad sometime between Jan 10 and 15," Foreign Affairs Adviser Sartaj Aziz told Dawn.
The four countries had agreed this month on devising the mechanism to work together for resuming the reconciliation process that will be overseen by a steering committee.
Mr Aziz said the Afghan government wanted the reconciliation process to begin and violence in the country to decline.
Violence in Afghanistan has gone up since the Afghan security forces took over full responsibility from Nato forces after their combat mission ended last December.
Participants at the coming meeting will decide the modalities for resumption of the Afghan peace dialogue that has been suspended since July 30.
They are also likely to take a decision about the roles that the countries will be expected to play at various stages of the reconciliation process which will be led by the Afghan government.
"All the four countries have their own contacts (with the warring sides). The meeting will look at who has influence with whom and how the dialogue can be started and taken forward," Mr Aziz said while talking to reporters at a ceremony.
Chief of Army Staff Gen Raheel Sharif stressed during his meetings with Afghan President Ashraf Ghani and Chief Executive Abdullah Abdullah in Kabul on Sunday that the resumption and success of the reconciliation process was a "shared responsibility of all stakeholders".
There has been an agreement on formulating a policy through consensus on dealing with the irreconcilable elements.
Full report at:
http://www.dawn.com/news/1229797/4-nation-group-to-discuss-revival-of-kabul-taliban-talks-in-jan
-----------
Pakistan, Afghanistan set up military hotline
December 31, 2015
ISLAMABAD - Pakistan and Afghanistan yesterday established a hotline between director generals of military operations (DGMOs) to enhance military to military relations between the two countries aimed at stepping up their fight against terrorism, Inter-Services Public Relations (ISPR) said in a statement.
ISPR Director General Lt-Gen Asim Bajwa said on Twitter that the direct line between the military commanders of the two countries was agreed during a visit to Kabul Sunday by Army Chief General Raheel Sharif.
The statement said that DGMOs of the two countries made their first contact on Wednesday and discussed military to military issues, modalities, schedules of meetings of their corps commanders.
They also discussed measures to enhance coordination along the Pak-Afghan border.
The Pakistan army chief's visit to Kabul follows talks between Afghan President Ashraf Ghani and Pakistani Prime Minister Nawaz Sharif over recent weeks that sought to pave the way for an Islamabad-brokered peace process between Taliban and Afghan government.
AFP adds: Afghanistan sees Pakistan's support as vital to bring the Taliban to the negotiating table.
Full report at:
http://nation.com.pk/national/31-Dec-2015/pakistan-afghanistan-set-up-military-hotline
-----------
Qaim fails to convince Sharif about clipping Rangers' powers
KHAWAR GHUMMAN
Dec 31, 2015
ISLAMABAD: Sindh Chief Minister Qaim Ali Shah came to the federal capital on Wednesday with the hope of receiving the centre's support for his efforts to curtail the Rangers' powers in the province, but got only a patient hearing from Prime Minister Nawaz Sharif.
Accompanied by provincial Home Minister Sohail Anwar Siyyal and Finance Minister Murad Ali Shah, the chief minister, according to sources privy to the meeting held at the Prime Minister Office, apparently came fully prepared to present his government's case over powers for the paramilitary outfit.
But the prime minister, who was assisted by Interior Minister Chaudhry Nisar Ali Khan and Finance Minister Ishaq Dar, only agreed to hold more talks on issues raised by Mr Shah.
Premier says Karachi operation will continue in its present form
"The prime minister, in a nutshell, told the chief minister that the Karachi operation will continue with its present contours for which the federal government has already issued a notification. But at the same time, he assured the CM that where possible the federal government will address his concerns," a government functionary told Dawn.
That nothing came out of the hour-long meeting could also be gauged from the fact that the media wing of the PM Office only released a picture of the sitting. Both the prime minister and the chief minister have been shown co-chairing the huddle, with their ministers sitting face to face.
Mr Shah argued that the federal government must respect the resolution adopted by the Sindh Assembly to restrict Rangers' policing powers. He asked the prime minister to rein in the Federal Investigating Agency (FIA) and the National Accountability Bureau (NAB) which were more active in Sindh than elsewhere in the country.
Mr Shah also sought the centre's help in cases against Dr Asim Hussain because, according to him, there was no evidence against him.
According to a government official, the prime minister said it was in the best interest of both the federal and provincial governments not to cast aspersions on the Karachi operation "because by doing so only the PML-N and the PPP will be targeted by other political parties, especially PTI".
He repeatedly reminded the chief minister that "both of us" would be blamed if there was a little mismanagement of the operation at this stage, so let's not touch it.
On the issue of NAB and FIA, Mr Sharif took the stand that the two agencies were also investigating a number of cases against his own party members and it was a wrong perception that the federal government was influencing their running.
Full report at:
http://www.dawn.com/news/1229799/qaim-fails-to-convince-sharif-about-clipping-rangers-powers
-----------
Man jailed for 14 years in Saudi consulate attack case
ISHAQ TANOLI
Dec 31, 2015
KARACHI: An antiterrorism court sentenced on Wednesday a man to 14 years in prison in a case pertaining to a grenade attack on the consulate of Saudi Arabia.
Zaki Kazmi was found guilty of carrying out the attack with his now dead accomplice at the consulate in the Defence Housing Authority in May 2011.
ATC-VI judge Abdul Naeem Memon, who conducted the trial inside the central prison, read out the conviction order after recording evidence of witnesses and concluding arguments from both sides. The court also ordered confiscation of the convict's property. According to the prosecution, two grenades were hurled at the Saudi consulate on May 11, 2011, which damaged some windowpanes of a mosque inside the consulate, but did not cause any causality.
Full report at:
http://www.dawn.com/news/1229760/man-jailed-for-14-years-in-saudi-consulate-attack-case
-----------
Africa
Mali extends state of emergency until end of March
Dec 31, 2015
Authorities in the West African country of Mali have extended a state of emergency declared after a deadly militant attack on a hotel in the capital city last month.
Officials said a nationwide state of emergency is agreed to go on for three more months.
The decision came after the government submitted a bill on Monday allowing the fresh extension to March 31 "because of serious threats to the security of persons and their property," an official statement said.
Mali's National Assembly approved the bill unanimously in a Tuesday vote.
On November 20, gunmen laid a siege at the Radisson Blu hotel in Bamako, which claimed the lives of 20 people, including 14 foreigners.
Full report at:
http://www.presstv.ir/Detail/2015/12/31/443910/Mali-state-of-emergency-Radisson-Blu-hotel-Bamako/
-----------
Rwanda jails ex-pastor for life for genocide killings
31 December 2015
A Rwandan court sentenced has sentenced a former pentecostal pastor to life in prison for leading a massacre of people sheltering in his church during the 1994 genocide, reports said Thursday.
Jean Uwinkindi, 64, was found guilty in Kigali's High Court of "genocide and extermination as a crime against humanity" during the 100-day massacre that began in April 1994 and left 800,000 dead.
"The court rules that Uwinkindi is guilty of murder as a crime of genocide, and extermination as a crime against humanity, he must therefore be punished with life imprisonment," Judge Timothee Kanyegeri said in his ruling on Wednesday, according to Kigali's New Times newspaper.
Uwinkindi, who was transferred back to Rwanda to be put on trial from a UN-backed court in Tanzania, pleaded not guilty and said he will appeal the verdict.
"I want it recorded that I appeal," he said.
Full report at:
http://www.worldbulletin.net/africa/167963/rwanda-jails-ex-pastor-for-life-for-genocide-killings
-----------
Nigeria: What Makes a Shiite or Sunni Muslim!
27 DECEMBER 2015
By Chris Irekamba
'Sunnis And Shiites Split Into Two Over Succession'
(Imam Rahman Bello, Lagos)
IN the name of Allah, Most Gracious, Most Merciful. May His Peace and Blessings be upon Prophet Muhammad (SAW), his Household and his Companions, Aameen. Allah says in the Holy Qur'an: "And hold fast, all of you together, to the rope of Allah (Qur'an) and be not divided among yourselves... " (Q3v103)
"Verily those who split up their religion and became sects, you have no concern in them in the least. Their affair is only with Allah, Who then will tell them what they used to do.' (Q6v159)
"(Do not fall in idol worship) like those who divide their religion into sects, each party rejoicing with what they have."(Q30v32).
"Ironically, they broke up into sects only after the knowledge had come to them, due to jealousy and resentment among themselves. If it were not for a predetermined decision from your Lord to respite them for a definite interim, they would have been judged immediately." Indeed, the generations who inherited the scripture are full of doubts." (Q42v14). The above reference quotations from the Holy Qur'an clearly reveal that Allah warned Muslims about splitting into sects 1437 years ago.
Besides, it has been narrated in the Books of Hadith (At-Tirmidhi, Ibn Majah and Abu Dawud) that the Prophet (SAW) said: "The Jews and the Christians will be divided into 71 or 72 religious sects and this nation (Muslims) will be divided into 73 religious sects... all in Hell, except one, and that one is: on which I and my Companions are today i.e. following the Qur'an and the Prophet's Sunnah (legal ways, orders, acts of worship, statements). Who are the Shiites and who are the Sunnis? The word "Shi'ah" in Arabic means a group or supportive party of people. The term is shortened from the original "Shiat Ali" meaning "Party of Ali." They are also known as followers of "Ahl al-Bayt"- People of the Household of Prophet Muhammad (SAW).
The word "Sunni" in Arabic connotes one who follows the traditions of the Prophet, Muhammad (SAW). They are the orthodox Muslims. The split of Muslims into these two branches of Sunnis and Shiites dates back to a 7th Century disagreement over succession after the death of Prophet Muhammad (SAW). After the Prophet's demise, the group now known as Sunnis chose Abu Bakr, the Prophet's adviser to become the first Caliph (Successor) to lead the Muslim State. The Shiites favoured the Prophet's cousin and son-in-law, Ali bin Abi Talib. The latter believes that, following the death of the Prophet, leadership should have passed directly to his cousin/son-in-law and subsequent successors should have been through his lineage through his wife, Fatimah, the only surviving daughter of the Prophet.
The Sunnis were in majority and so they had Abu Bakr elected as the first successor.
It should be well noted here that the choice of Abu Bakr had received the Prophet's approval even before he died. This was evident in the Prophet's appointment of Abu Bakr to lead the Muslims during the period of the Prophet's illness before he died.
Thus, the succession began with Abu Bakr, then Umar bin Khattab, then Uthman bin Affan and Ali bin Abu Talib thereafter became the fourth Caliph. The separation occurred after the assassination of Ali. Consequently, throughout history, Shiites have not recognised the authority of elected Muslim leaders. Instead, they chose to follow Imams from the lineage of Ali bin Abu Talib.
The Sunnis contend that there is no basis in Islam for a hereditary privileged class of spiritual leaders and certainly no basis for the veneration or intercession of Saints. They submit that leadership of the community is not a birthright, but a trust that is earned and which may be given or taken away by the people themselves.
The Holy Qur'an corroborates this position of the Sunnis in Q2v124, when Allah made Ibrahim (Abraham) an Imam (a leader) for mankind and he requested that the privilege be extended to his offspring. Allah said, the Convenant will not include the Zaalimuun (polytheists and wrong doers among them)
Although, both the Sunnis and Shiite Muslims share the most fundamental Islamic tenets and article of faith, they differ in some areas. The difference between the two sub-groups initially stemmed from political differences and not from spiritual differences. Over the centuries, however, the political differences have spawned a number of varying practices and positions, which have come to carry a spiritual significance.
The Shiites follow senior clerics of their own choosing, shaping their practices and behaviours around particular Imam's Edicts. In contrast, the Sunni clerics are more concerned with scholarly consensus around new interpretations of Quranic laws and principles. Furthermore, the Shiites are on intimate terms with their saints, holding feast days as commemoration and making pilgrimage to their shrines. For the Sunnis, pilgrimage is reserved for Mecca and Madinah and they frown at Shiites' over-preoccupation with Islamic figures besides Prophet Muhammad (SAW). In fact, the Sunnis most orthodox strain, the Wahabbism, considers images of religious figures and indeed representations of human and animal form as idolatry. This is why in Saudi Arabia and some other places, figurative painting and sculpture are banned from public life.
Furthermore, because of the Shiites' animosity towards some of the Companions of the Prophet- Abu Bakr, Umar, Aishah - on their positions and actions during the early years of discord about leadership in the community, the Ahaadith (Prophet's Traditions) narrated by them about the Prophet's life and spiritual practice are rejected by the sect and never used as basis for their religious testimonies. This naturally gives rise to some differences in religious practices between the two groups
In Nigeria, Shiite Muslims are more pronounced in the North. They are less noticed in the Southern part of the country. The Nigeria Supreme Council for Islamic Affairs (NSCIA) remains the umbrella body for the Muslim faithful in the country. The NSCIA needs to work hard and be more proactive in stemming the sect's over zealousness. The security apparatus - Military, Police and Para-military bodies should work hand-in-hand with NSCIA to checkmate security challenges that may be posed by any sect.
Regular dialogue revolving around peaceful co-existence among all religious groups and of course among all Nigerians cannot be over emphasised. More importantly is the need for members of the Muslim Community to be well and appropriately educated about Islam, do away with vested interest in all ramifications and hold on to the Qur'an and Sunnah of the Prophet (SAW).
'Sunni Muslims Are Strict Followers Of Islam, The Shiites Are Loyalists To 'Ali (RA), The Fourth Caliph'
(Arc. Wunmi Agbaje, National President, Jamatul Islamiyya of Nigeria & Overseas)
YES, Islam is and will forever remain a religion of peace. It is not only the Islamic scholars that can attest to this, but also every objective, non-bias, rational and understanding individuals as well. Whoever cares to know more about Islam can explore the Qur'an and will come to understand that it's a complete way of life.
Sectarianism has no room in Islam. There was none during the life of Prophet Muhammad (SAW) nor did he encourage the formation of such after his departure. The emergence of Shiite and Sunni sects is politically oriented and not religiously motivated. The Sunnis are regarded as the strict followers of the tenets/teachings of Islam as laid down by the Qur'an, practised and taught by the Prophet (SAW). They also accept and believe in the rightly guided Caliphs and support them always as leaders in Islam.
On the other hand, the Shiites came into existence as a sect after the death of the Prophet (SAW) in 632AD, when the issue of his succession came up. Essentially, they are the loyalties of 'Ali (RA), the fourth Caliph. Their belief is that only the 'Ahlul-Bayt' (the household of the Prophet) should be solely entitled to his succession. The only platform where any one can be cautioned when advocating anything contrary to the ideals of Islamic principles is by educating the followers of the right principles and acceptable practices.
As we all know, anything that has to do with religion is always very sensitive, which as such, needs cautious handling.
In most cases, people with adulterated beliefs are always after destabilising the rightly established principles, as they are mostly sponsored. That is the case of the Shiites in most places where they are found apart from Arabian region particularly Iran and Iraq among others.
On what the Muslim community can do to foster peace and unity among their members to ensure they adhere to the principles as enshrined in the Quran, I would say it is very simple. The only avenue that is open for the encouragement of the Muslim faithful to remain committed, consistent and formidable is by constantly educating them via a series of lectures, seminars, workshops, and symposia as well as during Friday sermons (admonitions).
'I'm Not Interested In Any Group That Disobeys Teachings Of The Holy Book'
(Ustaz Taofeek Yusuf Eniafe, Chief Imam of Anu Oluwapo, Orile, Oshodi, Lagos)
THESE days, there are a lot of factions in Islam with different groups coming up and anybody can claim to be so and so. But if they are not depending on the Holy Book, which is the Qur'an and are not following the teachings of the Holy Book, or practising the teachings of the Holy Prophet (SAW), then they need to be questioned. That is one of the major questions they need to ask themselves.
You cannot propagate Islam by fighting your fellow Muslim brothers and sisters, who are in the same religion with you, and even those who are not Muslims. That is not the way to propagate Islam.
I, personally, will not believe in any group that does not believe in the teachings of the Holy Prophet (SAW), or drop the teachings of the Holy Book or belief in the Almighty Allah. Because the teachings in the Holy Book are very clear, that "thou shalt not kill."
Particularly, I don't want to know any group that drops the teachings of the Holy Book. Whatever name they call themselves, if their belief is not based on the Holy Qur'an, and their belief is not in the Holy Prophet (SAW), definitely, they are not Muslims. Because the teachings of Islam, especially the five pillars of Islam dictate differently from what they are doing. The first pillar teaches us the oneness of Allah, that is, 'I swear and believe in the oneness of Allah and that Mohammed is his messenger.'
This is followed by Salat, Zakat, Ramadan and then Hajj. Therefore, you cannot by pass the first pillar. What that means is that you must obey the first pillar before you begin to think of others. And so, if, for instance, you want to fast or obey other pillars, without first obeying the first pillar, you are not obeying what is in the Qur'an.
If you want to worship Allah and you don't believe in the totality of the five pillars of Islam, then you are on your own.
Full report at:
http://allafrica.com/stories/201512290442.html
URL: https://www.newageislam.com/islamic-world-news/new-age-islam-news-bureau/we-better-things-than-joining-isis-muslims-troll-isis-twitter/d/105814
New Age Islam, Islam Online, Islamic Website, African Muslim News, Arab World News, South Asia News, Indian Muslim News, World Muslim News, Womens in Islam, Islamic Feminism, Arab Women, Womens In Arab, Islamphobia in America, Muslim Women in West, Islam Women and Feminism