New Age Islam News Bureau
02 July 2022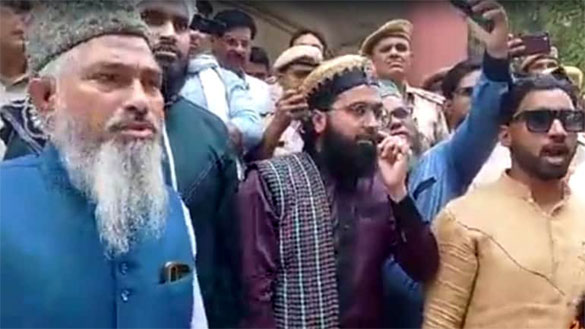 Rajasthan: Muslim cleric arrested for threatening violence over Prophet remarks (Photo: Screengrab)
-----
• Samsung Pakistan Blasphemy Row: Mob Alleges 'WiFi Device' Insulted Prophet, 27 Employees Held
• Muslim Organizations Based in Malaysia Launch Campaign to Combat Islamophobia
• Hibatullah Akhundzada, Taliban Chief Slams Foreign 'Interference' in His 'Islamic' Governance
• 'Nupur Sharma Should Never Apologise, She Is Not Responsible for Udaipur': Geert Wilders after India's SC Remark
India
• Supreme Court: "Nupur Sharma Faces A Security Threat Or Has Become A Threat To The Security Of The Nation?
• Amarnath Yatra: Kashmiri Muslim, Ghulam Nabi Malik Recalls The Bond His Family Shares With The Holy Cave
• After SC's rebuke to Nupur Sharma, Delhi Police says she was questioned on June 18
• Govt asks social media firms to remove all content that justify Udaipur killing
• Udaipur killing: Case filed against organisers of Gurugram rally for raising hate slogans
• Udaipur murder accused filmed act for ISIS, NIA to seek custodial remand
• Indian police arrest 'masterminds' behind murder of Hindu tailor: Officials
• 'This Taliban incident' was not reaction, but result of a belief system: RSS
• NIA court sentences 5 SIMI members to 3-7 years' RI in 2014 Bijnor blast case
--------
Pakistan
• Udaipur Killing: Dawat-e-Islami, Pakistan's Sunni-Barelvi Muslim Organisation, Not Linked To Any 'Act of Terror'
• Sidhu Moosewala's photo appears on election hoardings in Pakistan
• Outrage after reports of attack on senior journalist Ayaz Amir in Lahore
• CTD inspector martyred in attack on checkpoint in South Waziristan
--------
Southeast Asia
• Special Taskforce on Jihad against Inflation to Encourage Sales Campaigns
• Tajuddin just wants to embarrass Umno, says Puad
• Indonesia and United Arab Emirates reach trade pact
--------
South Asia
• 'Homelessness' threatens thousands of Afghans amid cruel Taliban regime
• 'Taliban's re-emergence not reactionary; country needs to be watchful'
• Taliban chief pardons members of former administration in rare public appearance
• Pakistan-backed war criminal gets death in Bangladesh
• Taliban hikes price of coal that Pakistan wants to import, shows who pulls the strings
--------
Europe
• Berlin mosque flies rainbow flag in support of LGBTQ community
• Berlin-based news website reveals real face of YPG/PKK terror group
• Sweden '100% behind' NATO accession agreement with Türkiye: Premier
• Daesh 'Beatle' tells victim's daughter her father asked executioners to make his death 'quick'
--------
Arab World
• Extreme Sixth Century Droughts in Arabia Linked To Rise of Islam, Report Says
• Over 30 governments gather to discuss Hezbollah's 'ongoing global terrorist' plots
• Wings clipped for Lebanon's soaring emigration as passport renewal process slows
• Syria not part of consultative meeting in Lebanon, says Arab League chief
• Bahrain's Al Khalifah regime bans Shia visits to Iraq, Syria
• Syrian army checkpoint intercepts US military convoy in oil-rich Hasakah
• Islamic State group militants seize SDF weapons depot in northern Syria
--------
Mideast
• UN Envoy: Iran Calls for Multilateral Diplomacy to Remove Unlawful Sanctions
• FM: Iran Supports Political Solution to Ukraine Crisis
• FM Asks for Iraq's Further Cooperation to Facilitate Iranian Hajj Pilgrims
• Five killed at strong earthquake rocks Iran: Media
• Iran nuclear talks likely to resume after Biden's Gulf trip
• Turkey can re-export Black Sea grains to states in need: Erdogan
• Erdogan says no meeting until Greek PM 'pulls himself together': Report
--------
Africa
• Muslim MPs, Leaders Condemn Sale of Pork near Muslim Burials
• Nigeria: Quran translated to Igbo language
• Nigeria Islamic court sentences three to death by stoning for raping boys
• Sudan security forces skirmish with demonstrators after protest deaths
• Protesters break into Libya's parliament building in Tobruk: Witnesses
• President Muhammadu Buhari vows to obliterate terrorists after 43 people killed in north central Nigeria
--------
North America
• Biden To Honour Khizr Khan, Who Lashed Out At Trump's 'Muslim Ban'
• Palestinians pin scant hope on President Biden visit after setbacks under Trump
• Arab Americans losing major benefits from US Census' 'discriminatory' exclusion
• Turkey blocks access to Deutsche Welle and Voice of America
• UN report highlights crippling impact of 15 years of Israel's Gaza siege
Compiled by New Age Islam News Bureau
URL: https://newageislam.com/islamic-world-news/tolerate-blasphemy-nabi-muslim-cleric-violence/d/127388
--------
We Can Tolerate Anything but a Word against Nabi: Rajasthan Muslim Cleric Arrested For Threatening Violence over Prophet Remarks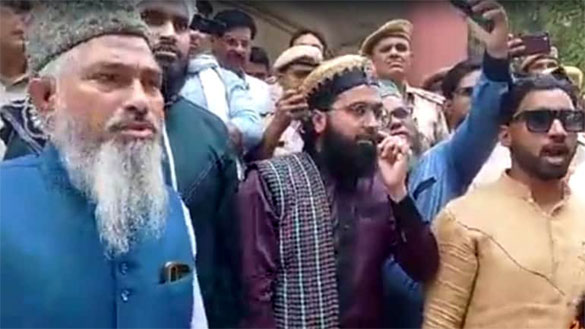 Rajasthan: Muslim cleric arrested for threatening violence over Prophet remarks (Photo: Screengrab)
-----
July 1, 2022
A Muslim cleric from Rajasthan's Bundi, who threatened to gouge out eyes of those who insult Prophet Muhammad, has been arrested by a team of the Bundi Kotwali police station.
Heavy police force has been deployed in the Kotwali police station premises following Muslim cleric, Maulana Mufti Nadeem, arrest.
Earlier, Maulana Mufti Nadeem said, "You can abuse me, I will tolerate. You can abuse my father, I will tolerate it. You can abuse my family, I will tolerate it. But if you speak even a word against my Nabi, your tongue will be cut."
He continued saying that "If you raise your hands, they will be chopped. If you raise your finger, it will be chopped. Even if you raise your eyes, we will gouge the eyes and throw them away. After that, you can throw us in jail or do a lathi-charge, we will tolerate it. But we cannot tolerate a word against Nabi."
Prophet Remarks Controversy:
Towards the end of May, Nupur Sharma, then a spokesperson for the ruling BJP, commented on Prophet Muhammad during a TV debate, sparking a massive outrage globally. As the clip from the debate went viral, at least 14 nations, including Qatar, Pakistan, and Afghanistan, slammed India over the comments.
The BJP, in an attempt to control the damage, had suspended Nupur Sharma and Naveen Jindal from the party.
Source: India Today
Please click the following URL to read the text of the original story:
https://www.indiatoday.in/india/story/rajasthan-muslim-cleric-arrested-threatening-violence-prophet-remarks-1969111-2022-07-01
--------
Samsung Pakistan Blasphemy Row: Mob Alleges 'WiFi Device' Insulted Prophet, 27 Employees Held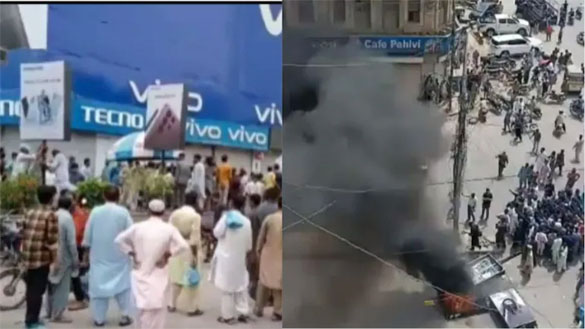 Protests erupted in Karachi against Samsung on Friday. (Photo: Screengrab)
----
JULY 02, 2022
There was unrest reported outside Star City Mall in Pakistan's Karachi after a violent mob alleged that 'WiFi devices' inside the mall allegedly played comments against the companions of Islamic religious figure Prophet Muhammad.
The mob then targeted global telecommunications giant Samsung, accusing it of blasphemy and then proceeded to vandalize its billboards. The police also detained at least 27 employees of a mobile phone company.
"Samsung Electronics has reiterated its firm stance that it endeavors to maintain objectivity on all matters of religious significance. With reference to the recent developments in Karachi, Samsung Electronics stands firm on its stance that the company has the utmost respect for all religious sentiments and beliefs and holds the religion of Islam in utmost respect," Samsung said in a statement released shortly.
It also announced an internal probe into the matter.
Blasphemy is a sensitive issue in Pakistan, Afghanistan and other West Asian as well as Muslim-majority nations across the globe.
Certain sections of European Muslims as well as Muslim migrants living in Europe and the US have also held violent protests alleging blasphemy and demanding death to blasphemists in accordance with the Sharia law.
Pakistan, however, has seen quick mob justice being meted out to people accused of blasphemy.
Earlier in 2021, Priyantha Kumara Diyawadana, a Sri Lankan worker was lynched to death by a mob consisting of hundreds of miscreants who claimed that Priyantha insulted the religious figure Prophet Muhammad.
The mob beat Priyantha and according to the post-mortem report broke every possible bone in his body.
They then hurled burning tires on his body and charred him to death to the point that he was unidentifiable. The fanatics also spoke to the media and clicked selfies while the Sri Lankan's body burnt in the background.
Pakistan also turned a blind eye to the vandalism of the temple in Bhong, a town in eastern Punjab province in Multan, after an eight-year-old child, accused of alleged blasphemy, was granted bail.
The Pakistan supreme court then forced the local authorities to take steps to repair the temple after which it was reopened for worship.
Minorities in Pakistan have alleged the government turns a blind eye towards Islamists indulging in violence against them.
Source: News18
Please click the following URL to read the text of the original story:
https://www.news18.com/news/world/samsung-pakistan-blasphemy-row-mob-alleges-wifi-device-blared-insults-at-prophet-27-held-5478973.html
--------
Muslim Organizations Based in Malaysia Launch Campaign to Combat Islamophobia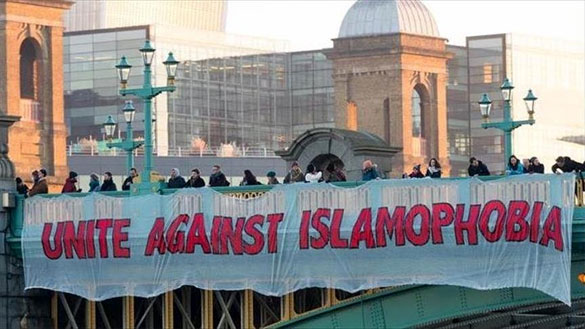 A number of Muslim organizations based in Malaysia have initiated a campaign to combat Islamophobia in the world.
-----
July 02, 2022
TEHRAN (IQNA) – A number of Muslim organizations based in Malaysia have initiated a campaign to combat Islamophobia in the world.
The Malaysia Consultative Council of Islamic Organizations, Alliance of World Masjid in Defence of Islam, and Secretariat for Ulama Assembly of Asia, in a joint letter announced the launch of the campaign.
The text of the letter is as follows:
"Today, we are launching an initiative to address the issue of Islamophobia.
The aim of the campaign is to address the trend of a subtle and overt effort by certain quarters to spread and promote hate crimes and micro-aggressions against Muslims globally.
We are deeply concerned that Islam and Muslims have been targeted in certain countries leading to communal clashes and prolonged conflicts.
The prejudices towards Islam and Muslims are pervasive even by certain governments, which tend to embrace an attitude of suspicion towards Islam.
We recognize the danger of a deliberate campaign, especially by the West, to create a negative narration against Islam and Muslims.
In 2015, Islamophobia reportedly increased by 200 per cent in the United Kingdom, and anti-Muslim attacks in the United States grew by 78 per cent.
Islamophobia is defined as "unfounded hostility towards Islam". This includes "unfair discrimination against Muslim individuals and communities" and the exclusion of Muslims from political and social affairs.
Islamophobia is gaining ground. The accusation of Islam as a threat is profoundly exercised in countries that perceive Islam to be a formidable challenge to modern Western civilization.
While non-Western countries like China, Myanmar, India and Sri Lanka are entrapped by the ideology of religious non-co-existence and non-harmonious relations with Islam, extremist nationalist groups are tapping on the premise that rejecting the presence of Islam equates to safeguarding national interests.
Islamophobia and xenophobia take centre stage and hate crimes against Muslims prevail.
The recognition of the Islamophobic menace is reflected in the United Nations General Assembly, which passed a resolution proclaiming March 15 as the International Day to Combat Islamophobia. It was unanimously adopted by the UNGA.
We salute the effort by Pakistan, which has introduced a resolution calling for the establishment of an International Day to Combat Islamophobia.
We express deep concerns about Islamophobia, which has emerged as a new form of racism, including discriminatory travel bans, hate speech and the targeting of vulnerable Muslim girls and women for the way they dress.
The growing tensions mean that many ethnic and religious minority communities are increasingly experiencing racism in their everyday lives.
In the article, "Eight Ways Islamophobia Operates" in the "Conversation", Professor Peter Hopkins looked at how Islamophobia affected everyday life. He said: "Not only Muslims are targeted by Islamophobic racism. A diverse range of people from different ethnic and religious minorities also encounter it on a daily basis, mostly as a result of people assuming that they are Muslims.
"Sikhs, Hindus, other south Asians, those with African heritages and even some central and eastern European migrants are all lumped into one category. This can make other religious and ethnic minorities insecure in public spaces, and in their everyday encounters with others."
In 2002, an array of hate crimes was reported against Muslims across the US, including the burning of mosques, bomb threats, physical and verbal assaults, and discrimination in employment.
We fully support the need to design an effective strategy to counter with appropriate measures and policies to address Islamophobia and its negative trends.
There is an urgent need to implement a global action to counter increasing acts of violence against Muslims and Muslim communities around the world.
We take cognizance of Islamophobia's deep historical roots in the West dating back to the era of the Crusades. The Western consciousness is still infested with the image of Muslims and Islam as a threat.
Even now, some countries are embracing Islamophobia as a policy with suppressive and discriminatory legislation. The promoters of Islamophobia have even advanced into cultural and identity genocide.
Of particular concern is the rising hate campaign against Islam and Muslims in India as a consequence of an indirect inclination of the ruling Bhartiya Janata Party (BJP) to condone the targeting of Muslims by the right-wing nationalist Rashtriya Swayamsevak Sangh.
We condemn the pervasive assaults against Muslims in India that violated human rights, international law and even the Indian constitution. Not only acts of terrorism against Muslims are blatant, Islamophobia is clearly pronounced by Hindu religious leaders in calling for attacks against Muslims.
Through the aggressive hate campaign, India has turned into the most dangerous country in which to reside for Muslims. Violence against Islam has become so pervasive that physical attacks on Muslims are happening on a daily basis.
BJP politicians recently made a blasphemous remark about the Prophet and his wife, Aishah. This was deliberate and intentional to instigate and provoke outrage among Muslims. The Islamophobia campaign in India is to scare the masses about the presence of Islam and efforts to reduce every historical mark of Islam in India are becoming more aggressive.
The growing Muslim presence in the world has been perceived as a danger and under the pretext of freedom of speech and allegations of Islamic extremism, Muslims are targeted by the governments and the media too.
We call on all Muslim leaders at every level (politicians, intellectuals and scholars, professionals and journalists) to combat this long-standing fear and contempt. This is a global challenge and needs a global movement to address it.
We call for the government of Malaysia to seriously look into the Islamophobic trend that is fuelling negative prejudices and perceptions towards Islam.
Malaysia should join hands with Pakistan in combating the prevailing false and provocative statements against Islam. With the numerous Islamic agencies in Malaysia, we call for a coordinated and collective effort to deal with misinformation and misunderstanding of Islam.
We will organize high-impact campaigns by mobilizing non-governmental organizations, scholars, media and governmental agencies to reach out to the masses in correcting the Islamophobic influences.
Source: IQNA
Please click the following URL to read the text of the original story:
https://iqna.ir/en/news/3479533/muslim-organizations-launch-campaign-to-combat-islamophobia
--------
Hibatullah Akhundzada, Taliban Chief Slams Foreign 'Interference' in His 'Islamic' Governance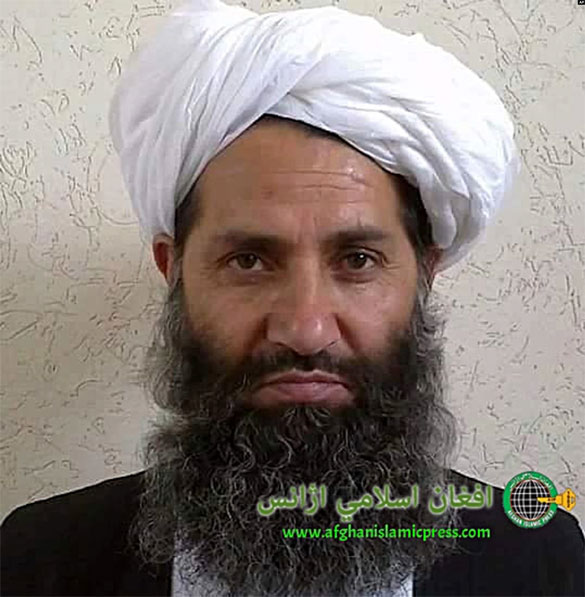 Hibatullah Akhundzada, Taliban Chief
-----
July 01, 2022 4:42 PM
Ayaz Gul
ISLAMABAD —
The Taliban's reclusive supreme leader Friday ruled out any talks or compromise on his "Islamic system" of governance in Afghanistan in an apparent rebuke to international calls for his hardline ruling group to ease restrictions on women's rights to work and education.
"I am not here to fulfil your [foreigners'] wishes, nor are they acceptable to me. I cannot compromise on Shariah [Islamic law] to work with you or even move a step forward," Hibatullah Akhundzada told a men-only closed-door gathering of around 3,500 mostly religious clerics in Kabul.
He made the rare public appearance and speech amid tight security. Audio of his speech was aired live by Afghan state-run social media.
Akhundzada hailed last year's Taliban takeover of war-shattered, impoverished Afghanistan and the subsequent enforcement of the "Islamic system" there.
The insurgent-turned-ruling group seized power in August, when the United States and NATO partners withdrew their final troops from Afghanistan after almost two decades of military intervention.
"The success of the Afghan jihad is not only a source of pride for Afghans but also for Muslims all over the world," Akhundzada told the audience.
"Mujahedeen [holy warriors] have established peace and order throughout Afghanistan in the last 10 months. It is a great achievement but its survival depends on us all being united," he said.
Men only
The Taliban have installed a men-only administration, restricting women's access to public life and preventing most teenage girls from returning to secondary school education. Women have been ordered to wear face coverings in public and have been barred from traveling beyond 70 kilometers without a close male relative.
The harsh treatment of women and girls and a lack of political inclusivity in governance have kept the global community from granting diplomatic recognition to Taliban rule.
Akhundzada, in an apparent response to the criticism, said that Afghanistan "is now a sovereign" country and did not need orders or interference in its affairs.
"They want to run Afghanistan on their whims," the Taliban chief told the clerics. "They say, 'Why don't you do this? Why don't you do that?' Why do you even interfere in my work, my country and my principles?
"You have used the mother of all bombs and you are welcome to use even the atomic bomb against us because nothing can scare us into taking any step that is against Islam or Shariah," the Taliban chief added.
Akhundzada referred to the U.S. dropping what was described as the "mother of all bombs," or the most powerful conventional bomb in the American arsenal, in 2017 on an Islamic State terror base in eastern Afghanistan.
First such session since takeover
The three-day Kabul huddle began Thursday under tight security in and around the venue in the wake of a recent wave of deadly Islamic State attacks.
The meeting is the first of its kind since the Taliban takeover of the country. Critics saw the event as an attempt by the hardline group to demonstrate its hold on power and domestic legitimacy.
Taliban spokesman Zabihullah Mujahid told reporters after the inaugural session of the three-day Kabul meeting that women were not invited to the event because it was organized at the request of independent participating scholars and that the government had nothing to do with attendees nor the agenda.
Critics questioned the effectiveness and legitimacy of the grand scholars' meeting in the absence of women, almost 50% of the country's estimated 40 million population.
The Taliban takeover prompted Washington and other Western countries to immediately cut financial assistance to largely aid-dependent Afghanistan, seize its foreign assets worth billions of dollars, mostly held by the U.S., and isolate the Afghan banking system.
The action and long-running terrorism-related sanctions on senior Taliban leaders have thrown the cash-strapped country into a severe economic upheaval, worsening an already bad humanitarian crisis blamed on years of war and persistent drought.
Taliban and U.S. officials concluded a two-day meeting Wednesday in Doha, Qatar, where the issue of unlocking the frozen Afghan funds also came under discussion. The talks were the first in person since March, when the Taliban abruptly decided against allowing teenage Afghan girls to resume secondary school education, prompting Washington to suspend the dialogue.
Source: VOA News
Please click the following URL to read the text of the original story:
https://www.voanews.com/a/taliban-chief-slams-foreign-interference-in-his-islamic-governance/6641859.html
--------
'Nupur Sharma Should Never Apologise, She Is Not Responsible for Udaipur': Geert Wilders after India's SC Remark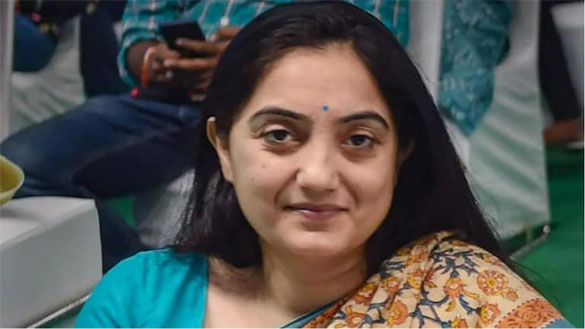 Nupur Sharma | PTI
----
Jul 02, 2022
Netherlands far-right politician Geert Wilders, known for his Islamophobic comments, said BJP former spokesperson Nupur Sharma should never apologise and she is not responsible for Udaipur. Geert Wilders extended his support to Nupur Sharma and her comments on the Prophet when her comments met global outrage. As the Supreme Court on Friday chastised the former BJP functionary and said that she is "single-handedly responsible" for what is happening in the country, including the beheading of a Hindu tailor in Udaipur, the Dutch MP said not Nupur Sharma but radical intolerant jihadi Muslims are responsible for the Udaipur incident. "I thought India had no sharia courts," Geert Wilders tweeted. Also Read | Prophet row: Comments taken out of context, says Nupur Sharma in statement to cops
The Supreme Court on Friday said Nupur Sharma should have apologised in front of the country on television where in the first place she made those comments on teh prophet. While several Muslim nations raised the issue with New Delhi, protests broke out across the country last month -- in a repercussion of her comments. On Tuesday, Kanhaiya Lal, a Hindu tailor, was hacked to death for supporting Nupur Sharma on social media.
The rap from the top court came as the Delhi Police investigate the case. Nupur Sharma said her comment was "according to the information in the Muslim holy book" and that his comments went viral on social media "without context".
Nupur Sharma had approached the Supreme Court with a plea to club all FIRs against her. Following the top court's comments, she withdrew the plea.
While opposition political parties welcomed the remarks made by the top court, Vishva Hindu Parishad said the court should have allowed the clubbing of the FIRs. "Whether Nupur Sharma committed an offence under law or not was not the issue before the Supreme Court. It will be decided by a magistrate (court) after recording deposition of witnesses and hearing arguments of the parties involved in the case," VHP working president Alok Kumar said, as quoted by PTI.
Filmmaker Vivek Agnihotri also criticised the Supreme Court's comment on social media and tweeted, "Today's Judiciary has taken away our right to life."
"India had a great opportunity to take a principled stand on FOE and secularism when Islamic nations objected but we surrendered. Law & order had great opportunity when 'SarTanSeJuda' was called for but we ignored it. Judiciary had a great opportunity to set a precedence but…," he tweeted.
Source: Hindustan Times
Please click the following URL to read the text of the original story:
https://www.hindustantimes.com/india-news/nupur-sharma-not-responsible-for-dutch-mp-geert-wilders-after-sc-remark-101656729266955.html
--------
India
Supreme Court: "Nupur Sharma Faces A Security Threat Or Has Become A Threat To The Security Of The Nation?
Jul 2, 2022
NEW DELHI: Former BJP spokesperson Nupur Sharma's plea to club FIRs against her, saying it would not be safe for her to travel to various states drew a torrent of caustic observations from the Supreme Court on Friday.
"She faces a security threat or has become a threat to the security of the nation? And what has the Delhi Police done? Please don't compel us to open our mouths. When she makes a complaint, the person is arrested. But even when there is an FIR against her, she is not touched. Nobody dares to touch you. That is the clout you enjoy," a bench of Justices Surya Kant and JB Pardiwala said. Sharma's counsel Maninder Singh had pleaded for clubbing the FIRs, saying, "She is not running away from probes. She wants the FIRs to be clubbed at Delhi for probe. She has already joined the probe in Delhi."
On her allegedly blasphemous comments during a TV debate, the bench said, "The way she has ignited the whole country... Still she has the cheek and courage to come to this court to ask for relief instead of approaching the respective high courts and trial courts. This lady is single-handedly responsible for setting fire across the country."
While disapproving TV debates on a sub judice matter (like the Gyanvapi mosque case where the Shivling was ridiculed by many Muslims with impunity), the bench said, "It is so disturbing. The outcome is what unfortunately happened in Udaipur. It is for you to decide whether you want to withdraw and go before the HCs concerned. Even if a principle is laid down in Arnab Goswami case, it is a fit case for declining relief. Our conscience is not satisfied."
Justices Kant and Pardiwala said in the TV debate, where the allegedly blasphemous comments were made, "the anchor mischievously incited her and another gentleman, who was a religious leader. And this lady irresponsibly made loose-tongue remarks and now she claims to be a lawyer with ten years standing to seek relief".
On her counsel's repeated pleas that she had withdrawn her comments the very next day and tendered apology, the bench said, "It was too late in the day to withdraw. But that withdrawal is also conditional — our so and so was insulted and disrespected continuously. These are the people who are not religious at all. They have no respect for any religion. A person who is religious will have respect for other religions also. It is all to gain cheap popularity and just to advance some political or nefarious agenda that such statements are made."
Singh argued that even if the FIRs are taken at face value, there is no offence made out as what she said is already said by the community's religious preachers. The bench said, "The petitioner also shows her obstinate character and her arrogance that the courts are too small for her to go and appear."
The cloudburst of observations continued. "If you are a spokesperson, it is not a licence to make such kind of statements. Sometimes power goes into the head."
Source: Times Of India
Please click the following URL to read the full text of the original story:
https://timesofindia.indiatimes.com/india/does-nupur-face-threat-or-has-she-become-a-national-threat-supreme-court/articleshow/92606226.cms
--------
Amarnath Yatra: Kashmiri Muslim, Ghulam Nabi Malik Recalls The Bond His Family Shares With The Holy Cave
July 02, 2022
Jammu and Kashmir: As Amarnath Yatra resumes after a two-year gap, 95-year-old Ghulam Nabi Malik recalls the bond his family shares with the holy cave that his great-grandfather Bota Malik is said to have discovered.
At Batakote village in Pahalgam, Ghulam Nabi Malik recited prayers he used to at the Amarnath holy cave while helping yatris to perform darshan at the cave shrine.
Mr Malik, considered a living legend, has undertaken the yatra for about 60 years. He recalls his family's association with the cave and how it strengthened the bond between Hindus and Muslims.
The discovery of the cave dates back to 1850 when Bota Malik, a Muslim shepherd is said to have found it with naturally formed ice stalagmite inside it. Since then, Mr Malik's family conducted the yatra till 2005, when the Amarnath Shrine Board put an end to the age-old practice.
Mr Malik said that he first visited the cave over 70 years ago. He remained part of pilgrimage and began helping people perform the yatra and puja at the cave shrine.
He rues dissociation of family with the cave shrine and blames politics for it. Due to old age, Mr Malik has not been able to visit the cave for many years now but he still recites the puja mantras he used at the cave.
For yatris, the Maliks were always like priests at the cave. The 95-year-old said, "No one would mind if we were Muslims or Hindus."
His fondest memory involves him accompanying Maharaja Hari Singh's wife Tara Devi to the cave in 1947. He was gifted a souvenir by Tara Devi as well.
"I first helped people perform yatra at the cave over 70 years ago. I went with Rani (Tara Devi). We held a puja there. Rani gave me a majma, which is a copper tray filled with dates," he said.
For the Malik family, Bota Malik still remains a revered figure. They said that many yatris consider their journey incomplete unless they visit the family.
However, due to strict security regulations for yatris, no one visits them anymore.
"A spring has sprouted right next to Bota Malik's grave and we have been collecting drinking water from the same spring for ages now," Mr Malik said.
His relative Mohammad Akram Malik said yatris who knew the origin of the pilgrimage would visit them to find out more about the Amarnath yatra, about how Bota Malik discovered the cave and the family's contributions to conduct the yatra.
"Once a group of yatris returned from Shishnag after they heard that the Maliks are living here. They began looking for us. At that time, we were in the hutments in Pahalgam. They said that they had to meet the Maliks before performing darshan," he said.
This year, stringent security measures have been put in place by the government which has caused hardship to both locals and tourists.
Besides a massive security structure already operating in the Valley, 350 additional companies of the paramilitary have been brought in to guard the yatra.
Source: ND TV
Please click the following URL to read the full text of the original story:
https://www.ndtv.com/india-news/kashmiri-muslim-95-speaks-of-familys-special-bond-with-amarnath-yatra-3120550
--------
After SC's rebuke to Nupur Sharma, Delhi Police says she was questioned on June 18
Jul 1, 2022
NEW DELHI: The Delhi Police Friday said it had issued a notice to suspended BJP leader Nupur Sharma on June 18 and questioned her the same day for allegedly hurting religious sentiments, hours after the Supreme Court rebuked her for her controversial comments against the Prophet.
She was booked over her controversial remarks on the Prophet during a TV debate that triggered protests across the country and drew sharp reactions from many Gulf countries. The BJP subsequently suspended her from the party.
Deputy Commissioner of Police (Intelligence Fusion and Strategic Operations) KPS Malhotra Friday said a notice under section 41A CrPC (notice of appearance before police officer) was served on Sharma on June 18.
She joined the investigation and her statement was recorded the same day, he said.
The Supreme Court on Friday came down heavily on Sharma for her controversial comments, saying her "loose tongue" has "set the entire country on fire" and that she is "single-handedly responsible for what is happening in the country".
Refusing to entertain Sharma's plea for clubbing of FIRs lodged in various states against her for the remark, the bench held that the comment was made either for cheap publicity, political agenda or some nefarious activities.
Source: Times Of India
Please click the following URL to read the full text of the original story:
https://timesofindia.indiatimes.com/india/after-scs-rebuke-to-nupur-sharma-delhi-police-says-she-was-questioned-on-june-18/articleshow/92604210.cms
--------
Govt asks social media firms to remove all content that justify Udaipur killing
by Soumyarendra Barik
July 2, 2022
THE MINISTRY of Electronics and Information Technology (MeitY) has directed all social media companies to "proactively and immediately" remove all content that encourages, glorifies or justifies the recent murder in Udaipur, in order to prevent "any incitement and disruption of public order and to restore public peace and harmony".
In a missive sent to social media platforms, the ministry said that apart from the videos of the murder that were uploaded online, several instances have come to its notice where social media handles glorified or justified the killing. The MeitY said social media companies should remove such content as part of their obligation of being intermediaries.
"Through this notice, you are directed to forthwith ensure that as part of your obligation of due diligence, safety and trust, you proactively and immediately remove any and all content (either in the form of a text message, audio, video, photo or any other form) that seem to encourage/glorify/justify this murder and killing with a view to prevent any incitement and disruption of public order and to restore public peace and harmony," the ministry said in its notice to social media companies.
The notice, which was sent on Wednesday, was made public on Friday.
The MeitY's notice comes days after Kanhaiya Lal, a tailor in Udaipur, was hacked to death by two men, Mohammad Riyaz and Ghouse Mohammad, for allegedly sharing remarks made by BJP's Nupur Sharma on the Prophet. The two uploaded a video of the murder online and in a separate video boasted about the "beheading" — and issued death threats to Prime Minister Narendra Modi and Sharma.
In response to queries by The Indian Express, a spokesperson for Facebook and Instagram parent Meta said, "We have designated the incident as violating and are removing any content associated with it as per our community standards."
It is learnt that when Meta marks an event as "violating", it typically means that it will remove any account belonging to the perpetrators, or content that praises, supports or represents the attack and the identified perpetrators.
Twitter and Koo did not respond to an immediate request for comment on whether they have complied with the government's missive.
Social media companies have legal immunity from third party content hosted on their platform by virtue of being classified as 'intermediaries'. This legal immunity is conditional and subject to the companies complying with certain due diligence requirements which includes taking down content flagged by the government under Section 69(A) of the Information Technology Act, 2000. However, the MeitY's notice to take down the content in question is not issued under Section 69(A) of the IT Act.
"This is a unilateral advisory issued by the ministry because the content related to the killing is extremely disturbing and provocative. The volume of content that glorifies or justifies the murder can be large due to which issuing take-down orders under Section 69(A) would take some time, so the ministry issued this notice to social media companies because this type of content should not be allowed to be on their platforms," a government official said.
Source: Indian Express
Please click the following URL to read the full text of the original story:
https://indianexpress.com/article/india/govt-asks-social-media-firms-remove-content-justify-udaipur-killing-8003854/
--------
Udaipur killing: Case filed against organisers of Gurugram rally for raising hate slogans
Jul 1, 2022
NEW DELHI: The Gurugram police have booked the organisers of a rally that was taken out in the city on June 29 to demand stringent punishment for the accused in Kanhaiya Lal's gruesome murder in Udaipur. The police said that the participants -- members of the Bajrang Dal and Vishwa Hindu Parishad -- had raised abusive slogans promoting enmity.
Objectionable #slogans were raised during a rally taken out on June 29 in Gurugram in protest against the murder in… https://t.co/2x2sCF8ISJ
— Gurugram Police (@gurgaonpolice) 1656688123000
"Objectionable slogans were raised during a rally taken out on June 29 in Gurugram in protest against the murder in Udaipur. An FIR was registered on June 30 by Gurugram Police in the matter," the police tweeted.
Videos of abusive slogans being raised during the rally went viral on social media.
Dozens of people had assembled at a park around 5 pm on June 29 and marched in the city. They also burned an effigy of 'Islamic Jihad terrorism' and raised provocative slogans against a single community, said the police. The participant also demanded the hanging of the accused and compensation of Rs. 1 crore for the dependents of Kanhaiya Lal.
Police said they took suo moto cognizance after viewing the viral videos. "The FIR was registered on the basis of videos shared on social media and some Youtube channels. We are verifying the facts, and action will be taken as per the law," said Deepak Saharan, DCP (West).
The Gurugram Police issued an official statement saying the case was lodged under IPC sections 116, 153A, 295A, 34 and 504.
Source: Times Of India
Please click the following URL to read the full text of the original story:
https://timesofindia.indiatimes.com/india/udaipur-killing-case-filed-against-organisers-of-gurgaon-rally-for-raising-hate-slogans/articleshow/92603962.cms
--------
Udaipur murder accused filmed act for ISIS, NIA to seek custodial remand
2nd July 2022
New Delhi: Riaz Akhtari and Ghouse Mohammad, who allegedly hacked tailor Kanhaiya Lal to death in Udaipur, will be produced before a special NIA court on Saturday.
According to sources, the accused will be produced before a special NIA court which is likely to seek their custodial remand for 14 days.
A Pakistani national had sent Ghouse Mohammad a message saying "Kuch kar ke dikhao", which meant now execute the killing, they said.
Both the accused were also in touch with Islamic State of Iraq and Syria (ISIS).
"Ghouse was in touch with nine Pakistani nationals having terrorist background. He received a number of calls from Pakistan during the murder. His Pakistani handler had given him more terrorist task to accomplish. He was also asked to kill a businessman in sector 11 of Udaipur. Two persons — Mohsin and Asif — were asked to conduct a recee of all the targets," said the sources.
In 2014, Ghouse had gone to Karachi where he came in contact with the Dawat-e-Islami organisation. Since then he was in touch with them. He took training in terrorism there.
The gruesome act was recorded at the behest of a Pakistani handler claiming it to be a revenge for insulting Islam. Later, they posted the video on social media to enable terrorist organisations across the world access it.
In the viral video, one of the two accused could be heard saying: "I will make the video viral when I accomplish my goal to teach a lesson to the accused who has shown disrespect to our God."
Source: Siasat Daily
Please click the following URL to read the full text of the original story:
https://www.siasat.com/udaipur-murder-accused-filmed-act-for-isis-nia-to-seek-custodial-remand-2361674/
--------
Indian police arrest 'masterminds' behind murder of Hindu tailor: Officials
02 July, 2022
Indian police made fresh arrests in the case of the execution of a Hindu tailor in Rajasthan, a murder that stoked unease between the Hindu majority and Muslim minority, leading to a clampdown on protests and the internet to prevent tensions escalating.
Three senior police officials said on Saturday that two Muslim men based in the northwestern state were held for planning the tailor's murder last week in his shop in Udaipur, a popular tourist destination dotted with lakes and palace hotels.
"We have now arrested the two masterminds and previously we had arrested two men who committed the heinous crime," said Prafulla Kumar, a senior police official based in Udaipur.
Kumar said internet services was being gradually restored and security forces continued to be on alert following the murder, carried out by two Muslim men now under arrest who filmed the act and posted it online.
The perpetrators said the act was in response to victim's support for a politician's derogatory remarks about Prophet Mohammad.
The victim, Kanhaiya Lal Teli, had allegedly put up a social media post supporting a former spokesperson for Prime Minister Narendra Modi's party who made anti-Islam comments in May.
On Friday, judges from the Supreme Court of India stated the ex-spokesperson, Nupur Sharma, must apologize to the whole nation after the remarks intensified religious fault lines in India, angered Muslim nations and triggered diplomatic strains.
In India, at least two demonstrators were killed in police fire during protests against Sharma's comments.
Police in New Delhi arrested journalist Mohammed Zubair, a vocal critic of the Modi government, who had helped draw attention to Sharma's remarks through his fact-checking website Alt News and on social media.
The National Investigative Agency (NIA) - India's top anti-terrorism agency - said they were carrying out a probe in the Hindu tailor's killing.
A senior NIA official in New Delhi said they were questioning Muslims linked with the four accused in Udaipur to identify whether they had links with militant networks.
Muslims living about 3 kilometers from the tailor's shop where the victim was killed said they felt nervous and feared a social and economic boycott by powerful Hindus residing in Udaipur.
"I know what has been done is barbaric but the community should not be held responsible for the deed of two people," said Mohammad Farukh, a medical representative living in a Muslim-dominated area of the city.
Source: Al Arabiya
Please click the following URL to read the full text of the original story:
https://english.alarabiya.net/News/world/2022/07/02/Indian-police-arrest-masterminds-behind-murder-of-Hindu-tailor-Officials
--------
'This Taliban incident' was not reaction, but result of a belief system: RSS
July 2, 2022
On a day the Supreme Court came down heavily on suspended BJP spokesperson Nupur Sharma saying she "is single-handedly responsible for what is happening in the country", the RSS suggested that "this Taliban incident" was not a reaction to provocation but the result of a mentality and a belief system.
"You see, this Taliban incident is not a reaction. It is not a reaction to some provocation. It has been happening across the world without any provocation. Somewhere there is Hamas, Islamic State, Taliban… In our country, we have SIMI and PFI. This is not a result of provocation. Anyone who believes so needs to study more. It is important to understand the mentality and belief system behind this Taliban incident," RSS publicity chief Sunil Ambekar said on Friday.
RSS sources said Ambekar's reference was to the June 28 incident where two Muslim men hacked to death a Hindu tailor in Udaipur for allegedly supporting Sharma's controversial comments on Prophet Mohammed on social media.
"Our imagination of India is one that uses its strength to help others. A good person has to also be strong enough to help another good person and stop those who are trying to disrupt peace. …There are constitutional ways to deal with issues. Anyone who has a problem must use the constitutional ways," Ambekar said.
Ambekar was speaking at an event organised by Prabhat Prakashan to launch two books by Arun Anand–The Taliban: War and Religion in Afghanistan and The Forgotten History of India.
The RSS publicity chief emphasised the need for people to understand the Taliban as they were a neighbourhood phenomenon. "A nation that has suffered Partition in the name of religious fundamentalism cannot ignore it. It is important to ascertain whether any threads from there are getting connected to India or such elements are entering the country. Are some incidents happening in the country connected with them? Are such elements who support such fundamentalist ideology for political or selfish interests connected with them? What is treason? It must be ascertained," Ambekar said.
He said that people from across the country had struggled for freedom but not all of them were talked about.
"We were not told about the INA. The contribution of the RSS was completely suppressed after whatever happened following Independence. On July 12, 1922, Dr Hedgewar was released from jail after one year. A function was organised at Nagpur to welcome him. At that time, Motilal Nahru and C Rajagopalachari came and delivered speeches at the event. The nation must be exposed to this information," he said.
Ambekar said people must know about V D Savarkar, Netaji Subhash Bose, tribal leader Birsa Munda and the Manipur king who was jailed in Andaman and Nicobar.
"Only then will people realise that India was one even before 1947 and it was not the British who organised us into a nation. That is why it is important to revisit the pages of history. How did socialism and secularism enter the Constitution? The new generation must be made aware of this," he said.
Source: Indian Express
Please click the following URL to read the full text of the original story:
https://indianexpress.com/article/india/taliban-incident-not-reaction-but-result-of-belief-system-rss-8004020/
--------
NIA court sentences 5 SIMI members to 3-7 years' RI in 2014 Bijnor blast case
Jul 1, 2022
NEW DELHI: A special NIA court in Lucknow has convicted five members of banned SIMI and sentenced them to a period ranging from three to over seven years of rigorous imprisonment in the 2014 Bijnor blast case, officials said Friday.
In its judgement delivered on Thursday, the National Investigation Agency court sentenced Husna, Abdulla, Raees Ahmad, Nadeem and Furkan from three years to a maximum seven years 10 months for various offences including stringent anti-terror law Unlawful Activities (Prevention) Act in which they were booked, they said.
All five had confessed to their crimes on Thursday after which they were sentenced by the court.
"The case relates to an explosion that had taken place in the house of Leelo Devi at Jatan Mohalla, Bijnor on September 12, 2014 and the criminal conspiracy hatched by members of banned organization SIMI to commit terrorist acts," an NIA spokesperson said in a statement on Friday.
The case was earlier probed by Bijnor police which had registered multiple FIRs in the case before the NIA took over the cases on April 30, 2015 and November 12, 2015, they said.
Source: Times Of India
Please click the following URL to read the full text of the original story:
https://timesofindia.indiatimes.com/india/nia-court-sentences-5-simi-members-to-3-7-years-ri-in-2014-bijnor-blast-case/articleshow/92602785.cms
--------
Pakistan
Udaipur Killing: Dawat-e-Islami, Pakistan's Sunni-Barelvi Muslim Organisation, Not Linked To Any 'Act Of Terror'
Jul 02, 2022
The Dawat-e-Islami, one of Pakistan's largest Sunni-Barelvi Muslim organisations, which has been in the news after the brutal killing of a tailor in India, on Friday rejected links to "any acts of terrorism," saying it is purely an educational, missionary and charity institution which preaches peace.
The organisation, with its headquarters in Pakistan's commercial capital Karachi, has been under the spotlight after it emerged that one of the two men who carried out a deadly attack in Udaipur, Rajasthan, was inspired by the Dawat-e-Islami and visited Karachi in 2014.
Two men, identified as Riaz Akhtari and Ghouse Mohammad, allegedly hacked tailor Kanhaiya Lal to death with a cleaver at his shop in Udaipur on Tuesday and posted videos online saying they are avenging an insult to Islam.
Distancing the Dawat-e-Islami from the gruesome murder in Udaipur, Maulana Mahmood Qadri, a senior figure in the organisation's headquarters (Faizan-e-Madina) in Karachi's Gulshan-e-Iqbal area rejected his organisation's links to any act of terrorism.
"Dawat-e-Islami has nothing to do with any act of terrorism. We are purely an educational, missionary and charity institution and globally preach peace in our lives," Mahmood told PTI in an interview.
He said that thousands of students from all over the world visit the organisation's headquarters for Islamic studies that does not preach or promote extremism or radicalism.
"We are also apolitical," he emphasised.
One can easily spot the followers of Dawat-e-Islami in Karachi as they wear green turbans and go about their work.
Dawat-e-Islami has branches across the world, Mahmood said, adding that the organisation operates a television channel – Madni channel - and has a proper website with all details of the group.
"Since the Dawat-e-Islami was founded in 1981, there has not been a single incident where any of our students, followers or teachers has been named or been involved in any violent activities," he said.
Mahmood expressed surprise at the Indian media reports linking the organisation with the Udaipur murder, insisting that their teachings would never inspire a student to take someone's life.
Unlike other religious organisations in Pakistan, the Dawat-e-Islami has never been associated with any violence or violent act, he said.
Mahmood said that one must always respect each other as human beings and also respect each other's religions.
"Any Muslim, no matter which sect he belongs to, would never tolerate any blasphemous comments about the Prophet Mohammad. What happened was bad and it caused hurt, pain to every Muslim where-ever he lives," he said, referring to the remarks by a now-expelled BJP leader.
Mahmood said one just had to listen to the preachings of their leader, Maulana Muhammad Ilyas Attar Qadri, to understand the philosophy behind the movement which is to reform oneself and the world through character building and charitable work.
"He only talks about purifying and reforming society from what we view as moral decay."Every week he holds a gathering and it is live on our channel and he talks only about peace, Mahmood said, citing it as a reason for increasing numbers of the followers of his organisation all over the world.
"Even if I am assassinated, my followers need not take law into their hands and seek registration of an FIR (against the assailants). I don't want a Fitna (mischief) among Muslims. I want peace being alive and I want the same after death," Dawat-e-Islami chief Ilyas Attar Qadri says in a video message.
Qadri openly condemns killing(s) to avenge insults to Prophet Mohammad. "We spread the message of peace. Those who insult the Prophet should be handed over to police for legal action," he says.
Talking to PTI, the Dawat-e-Islami leaders refused to own those involved in killings in the name of religion.
"Ours is an organisation that is totally non-violent one. Name any of our religious gatherings here and abroad (and) you find one message from our leaders and that is peace," Ali Ahmad Malik Attari, a Lahore leader of Dawat-e-Islami, told PTI.
He also emphasised that Dawat-e-Islami was in no way related to Sunni Tehreek or Tehreek-i-Labbaik Pakistan (TLP), a far-right Islamic extremist political party in Pakistan, and his organisation should not be confused with any such radical group.
"Listen to any of our leadership's video on YouTube or in our Madni Channel, it is found spreading Sunnah (life style) of the Prophet and message of peace and forgiving each other," Attari said as he challenged to produce a single clip of its leaders that is promoting violence.
Currently there are some 4,000 seminaries called Madrassat-ul Madina the group is running across Pakistan. It has 700 higher education institutions called Jamiaat-e-Madina.
Another Dawat-e-Islami leader from Rawalpindi Arsalan Qadri, who is associated with its higher education institution, says none of its students is involved in any violent activity."We have zero tolerance against religious extremism. Any one found involved in promoting violence is shown the door," he said.
When asked about the visit of one of the accused in the Udaipur killing to Dawat-e-Islami headquarters in Karachi in 2014, Qadri said: "Many link Mumtaz Qadri, assassin of Punjab province governor Salman Taseer, with Dawat-e-Islami but that doesn't establish that we promote violence."He said that usually Tehreek-i-Labbaik Pakistan (TLP) raises a slogan of "sending a blasphemer to hell"."So both (Ghouse Mohammad and Mumtaz Qadri) can be inspired by the ideology of TLP but not Dawat-e-Islami," he said and cited the statement of the All India Ulema and Mashaikh Board in which it strongly condemned the killing of the tailor.
"Killing one person amounts to killing the whole of humanity," he said, citing a verse from the Quran.
The Dawat-e-Islami website lists that it has more than 500,000 male and female volunteers, over 32,000 employees and their European headquarters is Faizan-e-Madina in Bradford from where they run three seminaries.They also run affiliated seminaries and institutions in other parts of Europe and in Chicago, Texas and California in the US.
"We have affiliations with leading religious institutions in India also but they are all renowned for producing Islamic scholars and their publications. We are producing thousands of Huffaz, Qaris, Imams, preachers, teachers, scholars and Muftis from our seminaries for men and women and none of them is preaching about extremism," Mahmood said.
The root of the Dawat-e-Islami can be traced to Islamic scholars, Allama Arshadul Qadri and Shah Ahmed Noorani who headed the once powerful political religious Jamiat Ulema-e-Pakistan (JUP).
Source: Hindustan Times
Please click the following URL to read the full text of the original story:
https://www.hindustantimes.com/india-news/udaipur-killing-not-linked-to-any-act-of-terror-says-pakistan-outfit-101656702275725.html
--------
Sidhu Moosewala's photo appears on election hoardings in Pakistan
Jul 1, 2022
ISLAMABAD: Photos of slain Indian singer-songwriter Sidhu Moosewala with a reference to his chartbuster song '295' have found their way up on election hoardings in Pakistan, apparently to cash in on his popularity in the upcoming by-elections in the country's Punjab province.
With by-elections being held on PP 217 seat located in Multan region in Pakistan's Punjab province, Moosewala's photo was used on the hoarding of former Pakistan Prime Minister Imran Khan's party Tehreek-e-Insaf, alongside Zain Qureshi, who is incidentally the son of former Foreign Minister Shah Mehmood Qureshi, according to the News International newspaper.
Shubhdeep Singh Sidhu, 28, also known as Sidhu Moosewala, was shot dead in Mansa district in India's Punjab state on May 29, a day after the state government trimmed the security cover of the singer and 423 people temporarily.
The election posters showed Moosewala's picture with the numbers '295' inscribed on it, in an apparent reference to the singer's popular number, the report said.
The song is a commentary on the section of the Indian Penal Code that deals with hurting religious sentiments.
The by-elections are slated to be held on July 17.
When Zain Qureshi was asked about Moosewala's photo on the election hoarding, he pleaded ignorance.
"I would like to thank everyone who has printed a picture of Sidhu Moosewala on the poster as this poster has gone very viral because of his picture. None of our posters had gone so viral before," he told BBC Urdu.
The leader added: "they are trying to find out who printed the picture on the poster and the reason behind it".
Moosewala enjoys a loyal fan base in Pakistan, which explains why his photo was used for the by-elections.
Last month, a 30-year-old artist named Shahzad Bhatti from Pakistan's Punjab province painted a huge portrait of Moosewala on a truck to pay tribute to the popular singer-songwriter.
Source: Times Of India
Please click the following URL to read the full text of the original story:
https://timesofindia.indiatimes.com/world/pakistan/sidhu-moosewalas-photo-appears-on-election-hoardings-in-pakistan/articleshow/92602078.cms
--------
Outrage after reports of attack on senior journalist Ayaz Amir in Lahore
Imran Gabol
July 1, 2022
Senior journalist Ayaz Amir was assaulted by "unidentified men" in Lahore on Friday night, he said in a statement to Dunya News.
A visibly distressed Amir, with bruises on his face, said his car was intercepted by a vehicle as he left his office after recording his television show for Dunya News, where he works as a senior analyst.
"A man wearing a face mask emerged from the vehicle and collared my driver.
"As I questioned the man, a couple of other men also arrived by my side, opened the door of my car and unleashed blows to my face, and dragged me out of the vehicle," Amir said.
He said the men also assaulted him on the road. Since it was a crowded road, people began gathering, he said, adding that the attackers then made off with his mobile phone and wallet.
Pictures circulating on Twitter showed the journalist sitting in a car with his shirt torn.
The incident comes just a day after Amir delivered a speech at a seminar, which was also attended by PTI Chairman Imran Khan, organised by the Islamabad High Court Bar Association on the topic 'Regime Change and its Fallout on Pakistan'.
In his speech, parts of which went viral on social media and were widely shared by senior journalists as well, Amir criticised the role of the country's military establishment while also pointing out issues with Imran Khan's reign as the country's prime minister.
Immediately after reports of the attack on Amir were shared on Twitter, Imran strongly condemned the "violence" against the senior journalist.
"Pakistan is descending into the worst kind of fascism with violence and fake FIRs against journalists, opposition politicians and citizens. When the state loses all moral authority it resorts to violence," the PTI chairman said in a tweet.
Punjab Chief Minister Hamza Shehbaz took notice of the assault and sought a report from the inspector general of the Punjab police.
In a statement, he said the attackers would be arrested and dealt with soon.
"The incident is highly condemnable. The dispensation of justice in the case will be ensured," the chief minister added.
State-run APP, meanwhile, reported that Prime Minister Shehbaz Sharif "strongly condemned" the attack. He instructed the Punjab chief minister to hold a high-level investigation into the incident and bring the culprits to justice.
"The PM expressed sympathy with Ayaz Amir and directed that protection of the journalists should be ensured."
Condemnations and calls for immediate action
Journalists, lawyers, activists, politicians and members of civil society strongly condemned the attack on Amir.
PTI's Andleeb Abbas said the assault was "truly a pathetic attempt to crush the truth."
Without naming anyone, she said, "It's absolutely obvious that neutrality is desperate and would go to any lengths."
Veteran journalist Mazhar Abbas also called out the attack on Amir, saying "this is unacceptable".
Senior journalist Kamran Khan said it was "better to ban freedom of speech through a state decree than beating into silence those exercising the right to free speech enshrined in the constitution of Pakistan."
He said the attack on Amir was "utterly reprehensible".
Terming the incident "highly condemnable", journalist Mansoor Ali Khan said arresting the attackers should be the highest priority of this government.
"Shameful how voices are being silenced in this era," he added.
Source: Dawn
Please click the following URL to read the full text of the original story:
https://www.dawn.com/news/1697668/outrage-after-reports-of-attack-on-senior-journalist-ayaz-amir-in-lahore
--------
CTD inspector martyred in attack on checkpoint in South Waziristan
Dilawar Wazir
July 2, 2022
SOUTH WAZIRISTAN: An official of the Counter Ter­­rorism Department (CTD) of police was martyred and another was inju­red when terrorists attacked a checkpoint in Azam Warsak area of South Waziristan district on Thursday night, police said.
One of the attackers, later identified as TTP militant Bilal, was killed and another was inju­red in the encounter.
Azam Warsak police SHO Zabihullah told the media on Friday a search party of police had set up a checkpoint. When Inspector Moosa Sulemankhel signalled two gunmen riding motorcycles to stop, one of them opened fire, killing the inspector on the spot.
Source: Dawn
Please click the following URL to read the full text of the original story:
https://www.dawn.com/news/1697759/ctd-inspector-martyred-in-attack-on-checkpoint-in-south-waziristan
--------
Southeast Asia
Special Taskforce on Jihad Against Inflation to encourage sales campaigns
07- 01- 2022
KUALA LUMPUR: The Special Taskforce on Jihad Against Inflation will have discussions next week to encourage all outlets, grocery stores and shopping malls to hold cheap sales campaigns, Communications and Multimedia Minister Tan Sri Annuar Musa said.
As chairman of the taskforce, he said if all parties launched mass sales campaigns, it would help consumers manage their expenditure better.
"So if the sales campaigns can be held if traders are not too greedy or concerned about their self-interests as they are capable of conducting these campaigns. So it doesn't have to wait till the end of the year," he said after checking out the prices of food at the International Islamic University of Malaysia in Gombak today.
He said the taskforce was planning for the sales to begin in August or September and would negotiate with many more parties to conduct sales to help consumers offset the rising prices of products.
"So this way the government can bear a little, consumers can bear a little because the hike is controlled, sellers can bear a little. This is the spirit of Keluarga Malaysia to tackle inflation. Of we can do this, overall we can control inflation," he said.
He had earlier also checked the price of food at Universiti Malaya here together with Domestic Trade and Consumer Affairs Minister Datuk Seri Alexander Nanta Linggi.
Meanwhile, Annuar said overall the taskforce would continue to urge producers and traders not to raise their prices indiscriminately.
In the instance of chicken prices, he said he understood why prices were rising due to costs but it should not be too high as it was a controlled item that was borne by the government.
"So it is hoped that traders can cooperate with consumers to not deliberately hike prices too high, which can cause inflation.
"I don't deny production costs at all levels, like vegetables, meat and fish have risen but costs that are passed on to consumers are not commensurate with the rising costs. So if we do not raise prices on purpose, we are helping to reduce the inflation rate, that's what I mean," he said.
On allegations that food prices at eateries at universities have risen, Annuar said he found it did occur but not at such a high rate, but he was of the view that traders need to make an effort not to raise prices.
He said he congratulated the Higher Education Ministry for taking the initiative to launch the Foodbank programme that was still ongoing but a large part of foodbanks were distributing dry goods.
"Of this Foodbank, the goods, we provided them to cafeteria operators for instance, they can cook it and provide food at low and cheap prices, so that might be a way we can reduce students' expenditure instead of distributing dry goods.
"Secondly, we will negotiate with the Higher Education Minister (Datuk Seri Dr Noraini Ahmad) and she will review how far and if we can provide incentives to cafeteria operators," he said.
Source: The Sun Daily
Please click the following URL to read the full text of the original story:
https://www.thesundaily.my/local/special-taskforce-on-jihad-against-inflation-to-encourage-sales-campaigns-DC9400959
--------
Tajuddin just wants to embarrass Umno, says Puad
July 1, 2022
PETALING JAYA: Umno Supreme Council member Puad Zarkashi has accused Tajuddin Abdul Rahman of seeking to embarrass the party by making claims about support for opposition leader Anwar Ibrahim.
Puad said Tajuddin's claims were untrue and irrelevant. "He just wants to embarrass Umno," Puad said in an online posting.
The only reason Tajuddin had admitted to signing a statutory declaration supporting Anwar to be prime minister in 2020 was that Tajuddin was impatient for a change of government so that he could become a minister, Puad said.
"But Umno has not changed its stance on Anwar and DAP. Don't trust what Tajuddin says," he said, referring to the party's stand last year that it would not support the PKR president or DAP in any political arrangement.
Puad also questioned why Tajuddin, who is Pasir Salak MP, had supported the memorandum of understanding between Ismail Sabri Yaakob's government and Pakatan Harapan, considering that it only benefitted PKR and DAP.
As for Umno president Ahmad Zahid Hamidi meeting Anwar, Puad said it was not unusual at all. "They were trying to build a big tent. But Umno remains and BN will go solo in the coming elections as it did during the Johor and Melaka elections," he said.
Source: Free Malaysia Today
Please click the following URL to read the full text of the original story:
https://www.freemalaysiatoday.com/category/nation/2022/07/01/tajuddin-just-wants-to-embarrass-umno-says-puad/
--------
Indonesia and United Arab Emirates reach trade pact
July 1, 2022
By Alexander Cornwell
ABU DHABI, July 1 (Reuters) - Indonesia and the United Arab Emirates on Friday signed a free trade agreement, strengthening economic ties between Southeast Asia's largest economy and the major oil producing Gulf state.
The accord, reached during a visit by Indonesian President Joko Widodo to Abu Dhabi, will remove or sharply reduce duties on most goods traded between the Muslim countries.
The UAE economy ministry said Indonesian palm oil, food products, fashion wear and Emirati petrochemicals, rubber products, plastics and steel would benefit from reduced or eliminated tariffs.
The accord includes chapters on services, investments, intellectual property rights and mutual recognition of each others' halal certification, Indonesia's trade ministry said.
The text of the agreement was not released and still needs to be ratified by both countries, which is largely procedural in autocratic UAE but could take months in democratic Indonesia.
Indonesia's main exports to the UAE are palm oil, jewelry and precious metals, while Emirati exports to Indonesia are mostly petroleum gases and non-crude oils, iron and non-alloy steel, according to the Observatory of Economic Complexity.
Oil rich UAE has forged closer trade ties with Indonesia as part of an ambition to double its own economy to $816 billion by the end of the decade, in part by signing free trade agreements.
It has signed similar deals with India and Israel this year.
Emirati Economy Minister Abdullah bin Touq told reporters the deal with Indonesia could increase bilateral non-oil trade to $10 billion within five years, up from around $3 billion last year.
Indonesian Trade Minister Zulkifli Hasan said that Jakarta expects more UAE investment in Indonesia following the pact, which he said would boost exports to the Middle East and elsewhere.
The UAE, a country of about 10 million people, is a major trade hub for the Middle East and parts of Africa, Asia and Europe.
The UAE will benefit from greater access to the Indonesian market of over 270 million people at time when it is diversifying its trade links and seeking to create jobs for its 1 million citizens.
Emirati Minister of State for Foreign Trade Thani Al Zeyoudi told Reuters the government estimated the trade pact would create 55,000 highly skilled jobs in the UAE by 2030.
"It's going to add about $4.6 billion to our GDP by 2030. It's going to increase the exports by $3.2 billion and increase the imports by $2.6 billion by 2030," he said in an interview.
The UAE is in bilateral free trade talks with at least a dozen other countries, including Australia and South Korea.
Source: Reuters
Please click the following URL to read the full text of the original story:
https://www.reuters.com/markets/commodities/indonesia-united-arab-emirates-reach-trade-pact-2022-07-01/
--------
South Asia
'Homelessness' threatens thousands of Afghans amid cruel Taliban regime
2 July, 2022
Kabul [Afghanistan], July 2 (ANI): Due to the displacement of Afghans back to the country by the Taliban, up to 500,000 families in Afghanistan are on the verge of homelessness, the Norwegian Refugee Council (NRC) stated.
"Nearly 4,000 individuals have been evicted from their improvised homes just in and around Kabul," said Neil Turner, Country Director for NRC in Afghanistan in a statement, adding if a similar approach continued, tens of thousands of people will be on the move once again, and humanitarian organizations will not be able to respond to another massive wave of displaced people, Khaama Press reported.
The Afghans have been displaced from the Afghan soil due to decades of war, political instability and subsequent economic meltdown that gripped the country since the Taliban took control in August last year.
As a result, several of them settled in enclaves outside of bigger towns that over time developed into informal settlements, reported Khaama Press.
NRC, in a statement also called out the Taliban to focus on long-term solutions for displaced Afghans and urged for the settlement closures in Afghanistan to come to an end.
Moreover, people are alleged to have been driven from the outskirts of Kabul, Mazar-e-Sharif, and provinces, such as Daikundi by the Taliban, Khaama Press stated, citing sources.
As per the Norwegian Refugee Council (NRC), up to 500,000 families in Afghanistan may soon become homeless as a result of mounting pressure from the government to send internally displaced people back to their regions of origin.
The Norwegian Refugee Council's country director stated that "Unless good alternatives are secured; the closure of informal settlements puts people who are already struggling to survive at greater risk," said the NRC's country director in a statement.
Since the Taliban took over in mid-August last year, Afghanistan has not only seen a mass exodus but also the illegal crossings of Afghans into neighbouring countries like Iran via Nimroz province and Turkey.
More than 653,000 Afghan refugees have returned or been deported to Afghanistan mainly from neighbouring countries since August 2021, according to official figures from the Ministry of Refugees and Repatriation.
Although the fighting in the country has ended, Afghanistan's situation has been deteriorating as serious human rights violations continue unabated.
Source: The Print
Please click the following URL to read the full text of the original story:
https://theprint.in/world/homelessness-threatens-thousands-of-afghans-amid-cruel-taliban-regime/1021476/
--------
'Taliban's re-emergence not reactionary; country needs to be watchful'
Jul 02 2022
New Delhi, Jul 2 (IANS): Akhil Bharatiya Prachar Pramukh of Rashtriya Swayamsevak Sangh (RSS), Sunil Ambekar on Friday said the re-emergence of Taliban in Afghanistan is not a reactionary incident, adding no one has triggered them that led to their re-emergence.
Ambekar said this while speaking at a book launch event here. Two books -- 'The Taliban - War and Religion in Afghanistan' and 'The Forgotten History of India' -- penned by senior journalist Arun Anand were launched at the Constitution Club here.
He said that such incidents are happening in many countries in the form of organisations like Hamas, ISIS or like PFI in India.
"These incidents have not been triggered by anyone, if anyone thinks so, there is a need to think again," he said.
"Everyone needs to know the episodes of emergence of Taliban, their mentality and the ideology should be known to everyone," Ambekar underlined.
He said it is important to understand the issues related to Taliban "because it is happening in our neighbourhood".
Such incidents cannot be termed only political, he said.
"The nation that faced the trauma of partition just after getting independence and its citizens can never ignore the re-emergence of Taliban. There is a need to go to the origin to find out whether is there any link connected to our country," said Ambekar.
"We need to know whether the incidents happening across the country these days are linked with such ideology... are such ideologies entering our country or any organisations who are supporting such incidents are connected with that ideology? We all need to know," he said.
"We will get nothing just covering up this. We can't afford it," he said.
Talking about the freedom struggle, he said those who see the freedom movement as per their own ideology and for political purpose is just an insult to the freedom fighters. "Nothing much has been told about INA in the history, even RSS does not find much attention in post independence era, but history cannot be repressed," he said.
Source: Daiji World
Please click the following URL to read the full text of the original story:
https://daijiworld.com/news/newsDisplay?newsID=974848
--------
Taliban chief pardons members of former administration in rare public appearance
July 01, 2022
KABUL: The reclusive Taliban chief on Friday pardoned members of Afghanistan's former Western-backed administration during a rare public appearance and joined thousands of religious and tribal leaders gathered in Kabul from throughout the country.
Some 3,500 representatives, including members of minorities, arrived in the Afghan capital on Thursday for the first loya jirga since the Taliban takeover of Afghanistan last year, a grand assembly traditionally held by Afghans to reach a consensus on important political issues.
The conference took place after a number of former administration officials returned to Kabul following months of exile abroad and declared readiness to serve the country.
In Friday's speech at the meeting's venue, the Loya Jirga Tent at Kabul's Polytechnic University, Taliban Supreme Leader Mullah Hibatullah Akhundzada said he had pardoned them but did not see their future in the country's administration.
"I don't hold them accountable for their past actions," he told the loya jirga participants, the state-run Bakhtar News Agency reported.
"But amnesty doesn't mean including them in the government."
Most high-ranking officials left the country after its Western-backed government collapsed when the Taliban seized power in August, following the withdrawal of US-led forces after two decades of war.
Akhundzada has been the Taliban ultimate authority since 2016. Rarely seen in public, he has long kept a low profile. His last public appearance was in Kandahar city during Eid prayers in May, but the congregation could not see him and only heard his voice.
His direct appearance before the loya jirga participants was confirmed by government spokesmen and Abdul Wahid Rayan, the chief of Bakhtar News Agency.
"He sat on the stage facing the audience and gave his speech," Rayan told Arab News.
During the Kabul gathering, Akhundzada called on investors to return to the country and gave them security assurances, saying that dependence on foreign aid could not revive the country's economy.
Afghanistan has been facing an economic and humanitarian disaster since the Taliban takeover, which prompted the US and other donor states to cut off financial assistance, freeze the country's $10 billion assets, and isolate it from the global banking system.
"I ask businessmen to come to Afghanistan without any fear and invest in making factories, because foreign aid will not help boost our economy," Akhundzada said.
The loya jirga was called by the Taliban to forge national unity, as unacknowledged by foreign governments they have been under mounting pressure to form an inclusive government to win international recognition.
Prof. Naseer Ahmad Nawidy, political science lecturer at Salam University in Kabul, said Akhundzada's speech had delivered, "clear messages about tolerance, unity, obedience, and solidarity to members of the Taliban while acknowledging their sacrifices."
He told Arab News: "This is promising and will boost the confidence of the Taliban about their leadership."
Source: Arab News
Please click the following URL to read the full text of the original story:
https://www.arabnews.com/node/2114891/world
--------
Pakistan-backed war criminal gets death in Bangladesh
2 July, 2022
Dhaka [Bangladesh], July 2 (ANI): Bangladesh International Crimes Tribuna-1 on Thursday sentenced Pakistan-backed war criminal Md Shafi Uddin Moulana to death for crimes during the country's Liberation War in Lakhai Upazila of Habiganj.
Shafi, who is v since the case started, was the central committee secretary of East Pakistan Nezam-e-Islam, a wing of Jamaat-e-Islami. He participated in the provincial assembly elections as its candidate, according to Asian Lite International citing case records.
Along with Shafi, Tajul Islam alias Fokan, Md Jahed Miah alias Jahid Miah and Saleque Miah were awarded imprisonment till death on the same charges.
The three-member tribunal, headed by Justice Md Shahinur Islam, found the other accused guilty of the charges brought against them for committing genocide, murders, rapes, abductions and tortures during the 1971 Liberation War in Lakhai Upazila in Habiganj.
The special court, however, acquitted another accused, Sabbir Ahmed, of war crime charges.
According to the court verdict, the Tribunal withdraw the case of the arrest warrant against Sabbir, which they had issued earlier.
According to the publication, in 1971, Shafi took the stance against the Independence of Bangladesh and worked as a close associate and collaborator for the Pakistani Occupation Army.
Shafi was also known as a leader of the peace committee and Razakar Bahini of Lakhai and worked as the auxiliary force of the Pakistan Army, who committed genocide, rapes and killings.
The tribunal's investigating agency released the final report on March 21, 2016, against the five accused persons, reported Asian Lite International.
The trial in the case began on February 8, 2019, with the framing of charges against the accused.
During the 1971 Genocide in Bangladesh, the Pakistan military deliberately harmed hundreds of thousands of Bangladeshi citizens. Rights group says the horrors of 1971 are considered one of the worst mass atrocities in history.
Source: The Print
Please click the following URL to read the full text of the original story:
https://theprint.in/world/pakistan-backed-war-criminal-gets-death-in-bangladesh/1021276/
--------
Taliban hikes price of coal that Pakistan wants to import, shows who pulls the strings
RAGHAV BIKHCHANDANI
1 July, 2022
New Delhi: Facing allegations that it's becoming a 'puppet' of Pakistan, Afghanistan's Taliban regime has raised the price of coal. This comes hours after Pakistan Prime Minister Shehbaz Sharif decided to approve 'critical quality' coal imports from Afghanistan, in rupees, to save on foreign exchange and wean off reliance on South African coal.
While this was Sharif's attempt to bring electricity to Pakistanis as cheaply and quickly as possible amid a domestic financial crisis and a challenging global market, the Taliban increased the rate from $90 per tonne to $200 per tonne, and set custom duties at 30 per cent, according to data news aggregator South Asia Index.
"The prime minister was informed that import of coal from Afghanistan, initially required only for Sahiwal and Hub power plants, would save more than $2.2 billion annually in the import bill," the Express Tribune reported on Monday.
The battle for coal
The developments are an extension of the Taliban's coal export increases to Pakistan reported in late May. Since it took over Afghanistan last year and the subsequent economic crisis, the Taliban government has been attempting to rely on natural resources for revenue as an answer to the country's economic crisis.
But now, members of the regime are seeking to alter the image of the Taliban's relationship with the Pakistani government. On Wednesday, the spokesperson for Afghanistan's Ministry of Petroleum and Minerals, Mufti Ismatullah Burhan, told The Independent Urdu that no coal trade agreement exists between the two countries, and that the Taliban will use coal as a "pressure point" for Pakistan.
"We sell the coal to local industrialists and the same coal is exported to Pakistan by local industrialists…The need for Pakistan and their coal is not important to us but our local traders are important to us and we are providing relief to them. Local traders can send coal to any country they want but we have imposed duties to export coal abroad," Burhan said, insisting that Pakistan's economy is in such dire state that coal from Afghanistan would not improve it much.
Afghan newspaper Hasht e Shubh Daily also quoted warnings from expert Mirahmad Shakib that the real damage of any accelerated coal imports would not be to either country's economies but to the environment in Afghanistan. "Pakistan is plundering Afghanistan's resources in the absence of a responsible national government," Shakib said.
Weakening ties
Burhan's remarks and the instant price hike also cast questions over the current state of relations between the Taliban regime and the Pakistani government under PM Sharif, especially now that India has been reported as a more involved player in Afghanistan.
As previously reported by ThePrint on 23 June, India reopened its Kabul embassy and sent a "technical team" to "closely monitor and coordinate" humanitarian relief work.
Lahore-based correspondent for The Diplomat, Umair Jamal has further reported on how fractures have developed between Afghanistan and Pakistan, with the Taliban "openly" attempting to block Pakistan's border fencing plans and offering sanctuary to Tehreek-e-Taliban Pakistan (TTP) terrorists to increase instability in Pakistan's tribal areas.
Source: The Print
Please click the following URL to read the full text of the original story:
https://theprint.in/go-to-pakistan/taliban-hikes-price-of-coal-that-pakistan-wants-to-import-shows-who-pulls-the-strings/1020444/
--------
Europe
Berlin mosque flies rainbow flag in support of LGBTQ community
01.07.2022
The Ibn Rushd-Goethe mosque in Berlin said on Friday it was the first German mosque to fly the rainbow flag, a symbol of pride and diversity of the lesbian, gay, bisexual, transgender and queer (LGBTQ) community.
Located in the central Moabit neighborhood of the German capital, the mosque unfurled its flag in front of a small group of people, including Berlin's Culture Senator Klaus Lederer.
Attendees wore stickers saying "Love is Halal" ahead of a series of LGBTQ events scheduled to take place in the city in July.
Mo el-Ketab, one of the mosque's six imams, said the space was intended to be a "safe place for people who are different, so they too can experience the spiritual side of their lives."
"I hope that many other mosques will also show the flag in this way or set other positive signs for the LGBT community," he added.
The flag will remain up until the end of July, the LGBTQ website Queer.de reported.
Berlin's pride month just beginning
While most of the world celebrates pride month in June, the German capital will hold two major LGBTQ events in July.
One is the Lesbian and Gay Festival on July 16 and 17, while the other is Christopher Street Day (CSD) on July 23.
According to Berlin-based newspaper Der Tagesspiegel, organizers have planned four weeks of events running from the anniversary of the Stonewall protests on June 28 to Christopher Street Day.
CSD board member Marc-Eric Lehmann said the rainbow flag at the Ibn Rushd-Goethe mosque sent "an incredibly strong sign" and it was "really important" to find a place for religion in LGBTQ communities.
"Queer people can also be religious and believe in God," he said. "We should not just be talking about safe spaces in bars and clubs in Berlin, we also have to talk about safe spaces in the places of worship."
Source: DW
Please click the following URL to read the full text of the original story:
https://www.dw.com/en/berlin-mosque-flies-rainbow-flag-in-support-of-lgbtq-community/a-62333570
--------
Berlin-based news website reveals real face of YPG/PKK terror group
Cuneyt Karadag
02.07.2022
BERLIN
One of Germany's leading news websites has published a story featuring the inner face of the YPG/PKK terror organization.
The opinions of Turcologist Walter Posch, who is a member of the Institute for Peace Support and Conflict Management at the Austrian National Defence Academy, was given space in Deutschlandfunk on June 22 under the title, "PKK, Turkey and Kurdish terror."
"The fact that foreign forces focus on the YPG as they do not have their own troops in Syria is a disaster with multiple consequences," said Posch.
Posch accused Western countries of legitimizing the PKK terror group.
Underlining that he examined the so-called charter of the terror group, Posch said Westerners are deceived by the PKK's rhetoric of a "democratic society."
Contrary to what is believed, what the PKK wants and aims at is a communist society, he said.
Posch drew attention to the fact that the PKK wants to legitimize its power against all Kurdish people rather than wanting cultural coexistence of various Kurdish groups.
Source: Anadolu Agency
Please click the following URL to read the full text of the original story:
https://www.aa.com.tr/en/europe/berlin-based-news-website-reveals-real-face-of-ypg-pkk-terror-group/2628462
--------
Sweden '100% behind' NATO accession agreement with Türkiye: Premier
Atilla Altuntas
01.07.2022
STOCKHOLM
Sweden fully supports the NATO accession agreement reached with Türkiye, the country's prime minister said on Thursday.
"We are 100% behind the agreement," Magdalena Andersson told Swedish daily SVD.
Sweden and Finland formally applied to join the alliance last month, a decision spurred by Russia's war on Ukraine.
But Türkiye, a longstanding member of the alliance, voiced objections to the membership bids, criticizing the countries for tolerating, and even supporting terrorist groups.
After talks between Türkiye's President Recep Tayyip Erdogan and leaders of the two Nordic countries and NATO in Madrid, a trilateral memorandum was signed on Tuesday to open the path for the alliance to officially invite Finland and Sweden to join its ranks.
The two countries have pledged to address Türkiye's terrorism concerns and lift an arms embargo on Ankara.
It also states that Finland and Sweden will work closely with Türkiye on issues related to exchange of information, extradition and, in general, the fight against terrorism.
On the issue of extradition, Andersson said Türkiye has made extradition requests in the past "and we have dealt with them."
Sometimes people have been deported, but most of the time they have not, she said.
At a press conference in Madrid earlier on Thursday, Erdogan hailed the memorandum as a "diplomatic victory" for Türkiye.
Source: Anadolu Agency
Please click the following URL to read the full text of the original story:
https://www.aa.com.tr/en/europe/sweden-100-behind-nato-accession-agreement-with-turkiye-premier/2627470
--------
Daesh 'Beatle' tells victim's daughter her father asked executioners to make his death 'quick'
July 01, 2022
LONDON: A British aid worker murdered by Daesh asked his executioners to "make it quick" before they killed him in 2014.
Alexanda Kotey, 37, one of the terror group's so-called "Beatles" cell, told Bethany Haines, daughter of David Haines — a former Royal Air Force worker from Scotland — that her father had made the request before he was beheaded by fellow terrorist Mohammed Emwazi in 2014.
The revelation came during a meeting between Bethany Haines and Kotey in the US, where the British-born militant is serving a life sentence for his activities with the group.
"He told me that Jihadi John (Emwazi) had been away to execute my father and my father knew what was coming, closed his eyes, and said, 'Can you make it quick?' I can picture him saying that, in his orange jumpsuit, with his eyes closed," Haines said. "I can picture him saying, 'Please make it quick.'"
Kotey also told her that he had followed David for several days before abducting him in 2013, and that the murder had been delayed so that Daesh could film it from multiple angles to use for propaganda purposed, she added.
"I asked for an apology," Haines said. "I pressed on with it and eventually he did say, 'I am sorry for' — he just used my words for it — 'abducting and hurting your dad.' Did he mean it? No."
Kotey was sentenced to life in prison by a court in Virginia in April, having pleaded guilty to charges of kidnap, torture and executing hostages. Presiding Judge TS Ellis described Kotey as "egregious, violent and inhuman."
During his trial, Haines confronted him in the dock, saying he should "rot in hell."
Co-defendant and fellow "Beatle" El Shafee Elsheikh will be sentenced in August. The duo were stripped of their UK citizenship when they were captured in Syria in 2018, and extradited to the US.
Emwazi, meanwhile, was killed in a drone strike in 2015. The fourth "Beatle," Aine Davis, was recently freed from a prison in Turkey after serving a seven-and-a-half year sentence, and is set to be deported to the UK on July 9.
Between them, the four are thought to have taken part in the torture and murder of 27 people.
Reg Henning, brother of David Henning, another British aid worker murdered by Daesh, said the UK should deny Davis entry over fears that he may be released on arrival.
Davis was subject to an Interpol red notice at the behest of British police after his wife, Amal El-Wahabi, was jailed in the UK for 28 months for trying to send him €20,000 ($20,868), which could see him charged with preparing acts of terrorism abroad.
"He's British when it suits him," said Henning. "He left to join Islamic State, but is thinking, 'I'll go back to Britain because they're nice and soft.'"
Dr Alan Mendoza, executive director of counter-terrorism think tank the Henry Jackson Society, told the Daily Mail: "A dangerous jihadist is heading back to the UK after a career of extreme violence and we can do nothing about it except spend vast sums to monitor him.
"We need urgent reform of legislation to ensure national security threats like this are dealt with far from these shores."
Source: Arab News
Please click the following URL to read the full text of the original story:
https://www.arabnews.com/node/2114751/world
--------
Arab World
Extreme Sixth Century Droughts In Arabia Linked To Rise Of Islam, Report Says
1 July 2022
Extreme droughts in the 6th century in the Arabian Peninsula may have played a partial role in the rise and spread of Islam, according to a recently published research paper.
The authors of the paper, published by the University of Basel in Switzerland and the University of Massachusetts Amherst, investigated the climate conditions in the decades leading up to the birth of Islam in the 7th century.
Using a combination of climate, historical, and Archaeological records, the study notes that at the same time that the Himyarite Kingdom in early sixth century Arabia was facing decline, there was an ongoing extreme drought in the area.
Historians have long debated the socio-economic conditions that could have led to the decline of the Himyarite Kingdom.
Using stalagmite samples found in al-Hoota Cave in northern present-day Oman, Dominik Fleitmann, a professor of environmental sciences at the University of Basel and lead author of the study, found that there was a significant fluctuation in the formation of these stalagmites around 520 to 532 CE.
"Even with the naked eye you can see from the stalagmite that there must have been a very dry period lasting several decades," Fleitmann said.
Fletimann and a team of researchers spent the last two decades looking into the droughts that took place in the Arabian Peninsula more than a millennia ago. Other sources, including historical data on water levels of the Dead Sea, further confirm a particularly severe and lengthy regional drought.
The study is careful to emphasise that while there is a correlation between the climate conditions of the time and the decline of the Himyarite Kingdom, the drought did not directly cause its fall nor was it a cause for the eventual rise of Islam in the area.
"However, drought was an important factor in the context of the upheavals in the Arabian world of the sixth century," said Fleitmann, lead author of the paper.
The Himyarite Kingdom was formally established in the third century in what is now known as Yemen and flourished for the next hundred or so years.
By the mid-sixth century, however, the kingdom was plagued by declining trade, internal conflict and interventions from outside forces, including the Byzantine and Sasanian Empires.
A primarily Jewish population, Himyar was also besieged by the Christian kingdom of Aksum, neighbours from present-day Ethiopia, who would eventually conquer the kingdom.
The power vacuum left by the fall of the Himyarite kingdom produced societal changes in the region, and the study suggests that it may have primed the area for the rise of Islam in the seventh century.
The idea of climatic change contributing to the social environment in which Islam was birthed is not new. Muslim medieval scholars had alluded to the idea that climate played a role in shaping Islam, according to Omar Sayfo, a researcher at the Avicenna Institute of Middle Eastern Studies.
Even the word sharia, used to denote Islam's code of conduct and legalistic traditions, can be derived from an archaic Arabic word meaning, "the path to water", a sign of the arid conditions of the time.
Source: Middle East Eye
Please click the following URL to read the full text of the original story:
https://www.middleeasteye.net/news/extreme-sixth-century-droughts-arabia-linked-rise-islam-report-says
--------
Over 30 governments gather to discuss Hezbollah's 'ongoing global terrorist' plots
01 July, 2022
A group of over 30 governments met this week to discuss the global terrorist threat posed by Lebanon's Iran-backed Hezbollah, the State Department said on Friday.
"Participants discussed Hezbollah's ongoing global terrorist plotting, weapons procurement, and financial schemes, and outlined how Hezbollah may adapt in the future to evade law enforcement detection," according to a statement.
The Law Enforcement Coordination Group (LECG) also looked at ways to disrupt "Hezbollah terrorist and criminal activities, and associated networks."
"LECG participants noted that these actions demonstrate the growing recognition among our partners about the need to cooperate on our efforts to counter Hezbollah's global terrorist networks," the statement read.
This was the group's ninth meeting, which gathered countries from the Middle East, South America, Central America, Africa, Indo-Pacific and North America. Europol was also present at the meeting in Europe, but the State Department did not specify where it was held.
Several countries have designated Hezbollah as a terror group in recent years, following Washington's lead.
Others have banned or limited Hezbollah's activities in their respective countries, including participating in pro-Hezbollah parades.
The US designated the group as a terrorist organization in its entirety in 1997. But French refusal to blacklist the group in its entirety has hindered international efforts to pressure Hezbollah and get them to disarm. They were the only group allowed to keep their weapons following the 1975-90 Civil War in Lebanon.
Source: Al Arabiya
Please click the following URL to read the full text of the original story:
https://english.alarabiya.net/News/middle-east/2022/07/01/Over-30-governments-gather-to-discuss-Hezbollah-s-ongoing-global-terrorist-plots
--------
Wings clipped for Lebanon's soaring emigration as passport renewal process slows
01 July, 2022
As Lebanon's crises continue to deepen, many members of the population are seeking to leave their home country in search of better prospects abroad. Still, many are being held back by restrictions imposed on their inability to apply for or renew their passports.
The collapse of the Lebanese lira over the last two years has led to an exponential increase in the cost of living, down to necessities like food, fuel, and power. Over ninety percent of the population lives below the poverty line, and nearly one-in-three Lebanese are unemployed.
Not being able to travel means missing out on job opportunities outside the country and the more reliable salaries paid in fresh foreign currency on which many families in Lebanon now depend.
"My passport expires in 2023," said Siham Sulaiman, a Beirut resident. "I'm hoping to renew as soon as possible – to avoid complications – [but] I don't have an appointment."
"When it comes to delays and issues, nothing is off the table," she continued.
"They could postpone [your appointment] without giving any reasonable time, or the first possible appointment could be months – if not a year – later."
Obtaining official documents in Lebanon is often difficult, frustrating, and protracted due to a lack of standardized practices and poor record keeping. Costs have also increased significantly since the onset of the financial crisis.
"I've known for a while that official papers and documents were not available, so it was a matter of time before it hits our passports," said Lea Aouad, another Lebanese citizen. "The fees to renew were becoming crazy, so – even if passports were available – not many people are able to renew because they cannot afford it."
"I have a US passport [but for] the numerous cousins I have in Lebanon, my sister-in-law, and my friends, their experience has been horrid," said Elias Nader, a Lebanese-American living in California. "There is no complete information on what to do. They are waiting and waiting and cannot get a response back from anyone."
Renewing a passport also requires a physical appointment, which people can only obtain through an online booking service. It excludes those without internet access or who cannot travel to their official meeting place at the appointed time. It consists of a rapidly expanding proportion of the Lebanese population.
In April, the problem peaked as the demand for passports exceeded the physical stocks held in reserve by the Lebanese General Directorate of the General Security. It followed a dispute over payments to its French supplier company. Despite suspending its website for several months, the GDGS insists that it never stopped issuing or renewing passports.
"Although obtaining a passport is a constitutional right, the unaccounted rise in the number of passport renewals depleted the limited inventory," a GDGS spokesperson told Al Arabiya English. "The passport reservation platform was stopped, and the total number of daily applicants was limited to cope with the unexpected rise in demand."
According to the GDGS, nearly 70 percent of citizens who renewed their passports between 2020 and 2021 have not yet used them. It has prompted the government body to appeal for restraint on the part of citizens in the hope of avoiding further unnecessary delays, allowing those with genuine, urgent requirements to be processed faster.
"[We ask] citizens who do not urgently need a passport not to hurry to book appointments, to enable those who desperately need to get a passport," the GDGS said in an official statement. "These passports will be secured to those who claim them as their right and a construction of laws that guard this right."
Despite this, within days of reopening the booking system, appointments for passport renewals were already fully booked until April 2023. It has left some citizens concerned that the GDGS will suspend the renewal if the new physical stocks fail to meet the enormous demand.
"I feel insecure being in a country going through such a situation without the option of leaving," said Aouad. "I feel trapped, anxious, and disconnected from the world. [It is a] horrible feeling, especially when you [are going] through blackouts and fuel shortages."
Some citizens believe that the government is using the passport crisis to indirectly restrict the flow of emigrants – particularly students and young professionals – out of the country, to prevent a feared 'brain drain' that threatens Lebanon's economic recovery.
Others take a dimmer view, regarding the move as simply another opportunity for the wealthy political elite to enrich themselves at the expense of ordinary citizens or obstruct Lebanese expatriates from voting in the recent parliamentary elections.
"[They] wanted to prevent expats with a Lebanese passport from traveling back to Lebanon to vote," said Nader. "Many expats who wanted their passports renewed could not get them [and] their local embassies could not tell them why. Also, they want to prevent the current exodus of doctors, nurses, and professionals due to the economic disaster that has engulfed the country."
Source: Al Arabiya
Please click the following URL to read the full text of the original story:
https://english.alarabiya.net/News/middle-east/2022/07/01/Wings-clipped-for-Lebanon-s-soaring-emigration-as-passport-renewal-process-slows
--------
Syria not part of consultative meeting in Lebanon, says Arab League chief
Wassim Samih Seifeddine
01.07.2022
BEIRUT
Syria will not join the consultative meeting of Arab foreign ministers in Lebanon tomorrow, the head of the Arab League said on Friday.
"All Arab countries will participate in the consultative meeting of the Arab foreign ministers on Saturday, except Syria whose membership is frozen," Ahmed Aboul Gheit said after arriving in Beirut.
About the agenda of the meeting, he said every minister will propose issues for discussion on behalf of their countries.
The Arab League, formally known as the League of Arab States, is expected to hold its first annual summit in three years in Algeria this November.
Syria's Arab League membership was suspended in 2011 after the regime's brutal crackdown on mass protests.
Source: Anadolu Agency
Please click the following URL to read the full text of the original story:
https://www.aa.com.tr/en/middle-east/syria-not-part-of-consultative-meeting-in-lebanon-says-arab-league-chief/2628111
--------
Bahrain's Al Khalifah regime bans Shia visits to Iraq, Syria
02 July 2022
In yet another indication of entrenched hostilities against Shia Muslims in Bahrain, the Al Khalifah regime has banned visits by the kingdom's Shias to Syria and Iraq.
The Bahraini Shias, who are already banned from visiting the holy shrine of Imam Reza and other religious places in Iran, can no longer travel to Iraq and Syria neither by land nor by air.
"Over the past weeks, after pilgrims returned from Iraq and Syria, they were questioned about the reasons for their trip, and the Shias were put under a lot of pressure. But now the government of Bahrain has entirely banned pilgrimage to Syria and Iraq, and no Bahraini pilgrims has the opportunity to visit the holy shrines in Iraq and Syria," Iran's Fars News Agency said saturday.
According to reports, a group of Iraqi Shias gathered in protest against the Al Khalifah regime's decision and demanded the lifting of restrictions for Bahraini Shias.
More than 100,000 Bahrainis visit Iraq's holy shrines every year, apart from those in Arbaeen, which marks the 40th day after Ashura, commemorating the seventh-century martyrdom of Prophet Mohammad's grandson Imam Hossein.
The regime has long been criticized by global rights groups for its abysmal human rights record, and brutal suppression and killing of pro-democracy activists.
The country has seen regular demonstrations since the popular uprising began in mid-February 2011.
The majority of the population in Bahrain are in favor of the Al Khalifah regime relinquishing power and allowing the establishment of a just and broad-based system representing all Bahrainis.
Manama, however, has gone to great lengths to clamp down on any sign of dissent.
In June 2016, the Bahraini regime revoked the citizenship of Ayatollah Sheikh Isa Qassim, a leading pro-democracy Bahraini cleric, prompting protests and sit-ins across the country.'
Source: Press TV
Please click the following URL to read the full text of the original story:
https://www.presstv.ir/Detail/2022/07/02/684897/Bahrain-Shia-Muslims-Al-Khalifah-regime-ban-visit-Iraq-Syria
--------
Syrian army checkpoint intercepts US military convoy in oil-rich Hasakah
01 July 2022
A Syrian army checkpoint has blocked a US military convoy that was attempting to pass through the northeastern province of Hasakah, forcing it to retreat.
Local sources, speaking on condition of anonymity, told Syria's official news agency SANA that a US convoy consisting of five vehicles was forced to make a U-turn after the checkpoint personnel intercepted it at the village of Qabr al-Gharajeneh in Qamishli city in Hasakah on Friday.
Hasakah has been the scene of several incidents of US military convoys being forced to change route or retreat.
People in Hasakah have blocked roads in a show of seething resentment over the presence of American troops in their region.
On March 21, local residents of several neighboring villages in the oil-rich province of Hasakah joined forces with government troops to block a US military convoy attempting to pass through the community.
The US convoy, consisting of six armored vehicles, was forced to turn around and head back in the direction it came from after locals of the villages of Qabr al-Saghir and Qabr al-Gharajeneh as well as government troops blocked the road and prevented its movement. No injuries were reported.
Similarly, a US military convoy was forced to retreat from an area in the same province on Wednesday.
The US military has stationed forces and equipment in northeastern Syria. The Pentagon claims the deployment is aimed at preventing the oilfields in the area from falling into the hands of Daesh terrorists. Damascus says the deployment is meant to plunder Syria's rich mineral resources.
Former US President Donald Trump admitted on more than one occasion that American forces were in Syria for its oil.
After failing to oust the Syrian government through militant proxies and direct involvement in the conflict, Washington stepped up its economic war on the Arab country.
'Disgusting hypocrisy'
Meanwhile, Abdulhameed Dashti, the president of the International Council for Supporting Fair Trial and Human Rights (ICSFT), has condemned the "hypocrisy" of countries that continue aggression against Syria.
In a speech at the UN Human Rights Council (UNHRC) on Friday, Dashti said the "disgusting hypocrisy" practiced by those and their hostile recommendations against the people of the Arab country harm the credibility of international law.
He also praised the Syrian government for its tremendous efforts to ensure a decent livelihood for its citizens despite the high costs of the war and the impact of the unilateral economic sanctions.
Dashti said the report submitted by the Syrian delegation to the UNHRC confirms the Syrian government's work to ensure a decent life for its citizens after it has restored security and basic services to all liberated provinces despite the challenges it is facing. The Syrian government has performed its duty to protect its sovereignty and independence, in addition to confronting terrorist groups and seeking to liberate its entire territory from the Turkish, Israeli, and US occupation forces, he added.
Dashti said the United States, Israel, and Turkey presented politically motivated allegations against Syria. He also called for facilitating the return of all Syrian refugees to their homeland.
Syria and the Israeli regime are technically at war due to the latter's 1967-present occupation of Syria's Golan Heights. The regime's attacks on Syria have grown significantly in scale and frequency after 2011 when Syria found itself in the grip of foreign-backed terrorism.
Turkey has also been conducting several incursions against neighboring Syria's northern parts since 2016 to fight back against Kurdish militants known as the People's Protection Units (YPG).
Ankara associates the YPG with the Kurdistan Workers' Party (PKK) terrorist group, which has been fighting a deadly separatist war against Turkey for decades.
Source: Press TV
Please click the following URL to read the full text of the original story:
https://www.presstv.ir/Detail/2022/07/01/684874/Syria-US-military-convoy-Hasakah-checkpoint-block-aggression-Turkey-Israel
--------
Islamic State group militants seize SDF weapons depot in northern Syria
01 July, 2022
Islamic State group militants grabbed weapons belonging to the Syrian Democratic Forces (SDF) from a depot in northern Syria's Al-Hasakah province, The New Arab's Arabic-language service Al-Araby Al-Jadeed reported.
IS cells seized the arms dump after carrying out an attack on the SDF military point in the Al-Bawardi area in the eastern countryside of Al-Hol town at dawn on Thursday, informed sources told Al-Araby Al-Jadeed.
The extremist group managed to snatch ammunition and individual weapons from the US-backed forces' depot before withdrawing.
"Groups affiliated with ISIS were able to seize a small arms depot... the cells withdrew from the point after seizing some weapons and ammunition," a source said.
On the same day, the Asayish forces - the police force of the Kurdish-controlled region in north and east Syria - arrested around six foreign women related to IS members, following an increase in arrests within the woman's department of the Al-Hol camp.
The camp - in the eastern countryside of al-Hasaka - is home to around 56,000 people, mostly women and children related to IS fighters, or refugees fleeing atrocities the extremist group committed when it controlled parts of Syria and Iraq.
The SDF - the military branch of the Kurdish-led Autonomous Administration of North and East Syria - played a major role in the territorial defeat of the IS group in Syria.
Over a decade of conflict in the war-torn country has left it deeply fractured, with various foreign armies and militias in control of different regions.
Source: The New Arab
Please click the following URL to read the full text of the original story:
https://english.alaraby.co.uk/news/islamic-state-group-seize-sdf-weapons-depot-syria
--------
Mideast
UN Envoy: Iran Calls for Multilateral Diplomacy to Remove Unlawful Sanctions
2022-July-1
"We believe that JCPOA is a hard-won multilateral diplomatic achievement that remains the best option with no alternatives," Takht Ravanchi said before the United Nations Security Council on Non-Proliferation: implementation of UN Security Council resolution 2231 (2015).
He emphasized that that any multilateral agreement should guarantee and verify the removal of unlawful sanctions imposed against Iran.
The following is the full text of Takht Ravanchi's speech at the UNSC's meeting:
Mr. President,
I thank you for convening this meeting and I also thank the USG and Ambassador of Irelands and the EU for their briefings.
Almost seven years after JCPOA's conclusion and adoption of Resolution 2231, today the Council members once again reaffirmed their support for the restoration and full implementation of JCPOA.
We believe that JCPOA is a hard-won multilateral diplomatic achievement that remains the best option with no alternatives.
Mr. President,
I feel compelled to refresh our memories about the reasons behind the current situation. Unfortunately, certain Council members that have disregarded their own obligations with regard to JCPOA and Resolution 2231, continue to ignore the underlying causes of the current situation and present a spurious narrative as to why we are here, attributing certain falsehoods and fabrications to my country.
The commitments under the deal, which have been carefully worded and explained in JCPOA and Resolution 2231, are explicit and unambiguous.
While Iran's nuclear commitments were connected to the effective lifting of all sanctions and normalization of Iran's trade and economic relations, the sheer fact is that sanctions are still in place and Iran is not enjoying the economic dividends as promised in the deal.
In accordance with JCPOA, other parties are committed, and I quote, "to ensure Iran's access in areas of trade, technology, finance and energy", end of quote. Specifically, the United States, in addition to its obligation to lift sanctions against Iran, is explicitly committed to, and I quote, "make best efforts in good faith to sustain this JCPOA and to prevent interference with the realization of the full benefit by Iran of the sanctions lifting", end of quote.
Despite these explicit commitments, Iran has been denied its rights and benefits for the past four years.
Let me remind ourselves that in defiance of Resolution 2231 and in flagrant violation of international law and the UN Charter, the United States withdrew from the agreement on May 8, 2018, and re-imposed unilateral sanctions that had previously been lifted, putting unparalleled pressure on other countries to either disregard their obligations under Resolution 2231 or face punishment. This is unprecedented in the history of the Security Council.
Despite the enormous difficulties we faced as a result of the sanctions, Iran decided to continue honoring its commitments, validated by the IAEA for 15 times, after being promised and assured by the European participants of JCPOA that they would compensate the losses Iran suffered after the U.S. withdrew from JCPOA.
Unfortunately, the E3 disregarded their obligations and promises, leaving Iran with no choice but to utilize its rights under paragraphs 26 and 36 of JCPOA to partially suspend its commitments on May 8, 2019.
In this context, Iran has taken certain remedial measures in accordance with JCPOA to re-establish some balance in the reciprocal commitments and benefits under the accord, however, these certain States refer, with much fanfare, to Iran's remedial measures in a manner as if it was Iran that withdrew from JCPOA and re-imposed or introduced countless inhumane sanctions with the publicly declared objective of starving an entire nation.
While the former U.S. administration recklessly sacrificed a well-established tenet of international law and withdrew from the deal and re-imposed sanctions, the present administration is following in its predecessor's footsteps as it continues to adopt the notorious maximum pressure policy and impose sanctions on Iran. There is no doubt that such a policy is advanced as a leverage in the negotiations.
Against this backdrop, I would like to address a few points that clarify our position on the current situation as well as the ongoing talks.
Iran is committed to multilateral diplomacy, the outcome of which should assure the effective and verifiable lifting of all unlawful sanctions.
Iran has demanded verifiable and objective guarantees from the U.S. that JCPOA will not be torpedoed again, that the U.S. will not violate its obligations again, and that sanctions will not be re-imposed under other pretexts or designations - as occurred during the previous U.S. administration - and that JCPOA mechanisms will not be abused. In fact, these are the minimum requirements for determining the deal's long-term viability.
In the course of Vienna talks, we exercised maximum flexibility and showed good faith in order to reach an agreement acceptable to all and even introduced innovative solutions to the remaining issues with the hope to break the impasse.
However, the United States' unrealistic and rigid approach has led to the current stalemate.
Mr. President,
We are continuing our remedial measures because other parties' non-performance of commitments continues, sanctions remain in full force, the maximum pressure policy is still being pursued, and our people's sufferings continue.
Nonetheless, as soon as other parties fulfill all of their obligations in a complete, effective, and verifiable manner, Iran will immediately reverse all of its steps. However, the sufferings of our people as a result of other parties failing to perform their commitments are nearly completely irreversible.
Our patients, particularly those with rare diseases, have been suffering from inhumane sanctions which include even medicine and medical equipment. How can the deaths and sufferings of these innocent patients be reversed? This injustice cannot be erased from the Iranian people's memory.
Mr. President,
With regard to our cooperation with IAEA, as well as our peaceful nuclear activities, I would like to stress that all of our peaceful nuclear activities are entirely consistent with our rights and obligations under the NPT, as well as the Agency's safeguards agreement.
As a responsible member of the NPT, the Islamic Republic of Iran is committed to the principle of collaboration with the Agency and has fulfilled all of its obligations under the NPT and Comprehensive Safeguards Agreement, as the Agency continues its activities in Iran without hindrance.
Our peaceful nuclear program has been under the most robust and intrusive nuclear verification, monitoring, and transparency measures ever conducted in a country during the history of non-proliferation.
Iran also provided the Agency with the necessary information concerning the alleged locations on March 20, 2022, in compliance with the Joint Statement agreed upon on 5 March 2022 and within the timetable established.
Despite this unprecedented, strong, and proactive cooperation with the IAEA, the Agency's response was neither appropriate nor productive. Iran was surprised by the Agency's latest report on the issue because we have gone to great lengths to explain and clarify the remaining questions. We have responded to all of the Agency's questions in a thorough, constructive, and cooperative manner. We believe that the Agency's recent claims are based solely on erroneous and fabricated information provided by the Israeli regime who has done all in its power to kill the JCPOA.
Despite Iran's constructive cooperation with the Agency, the US and the E3 pushed for the adoption of a resolution at the recent IAEA Board of Governors' meeting. And their mere motive was to build up their negotiated position in the current talks.
We believe that the IAEA's resolution is politically driven and that it will have negative effects on the ongoing talks, the consequences of which will be the responsibility of the resolution's authors. This childish game must end.
As a result, in line with our Parliament's resolution, we have decided to suspend certain measures that were not covered by the safeguards agreement. However, Iran is willing to continue engaging with the IAEA to address concerns and misunderstandings as long as the issues are technical and nonpolitical. The Agency needs to respect the principles of independence, impartiality, and professionalism in its work.
Mr. President,
During our intensive consultations with the EU High Representative for Foreign Affairs and Security Policy, Mr. Joseph Borrell, in Tehran last week, Iran once more emphasized its willingness to provide creative solutions to the remaining issues in the hope of ending the deadlock. We agreed to hold indirect talks with the U.S. through the EU in order to overcome the last hurdles in the talks. We were sincere in the Doha talks that were serious and positive. As in the past, we will be in touch with the EU Coordinator for the next stage of the talks.
Our negotiating team is ready to engage constructively again to conclude and reach a deal. The ball is in US's court and If the U.S. acts realistically and shows its serious intention to implement its obligations, the agreement is not out of reach.
Finally, with regard to the Secretary-General's report on Resolution 2231, our observations are contained in my letter dated 27 June 2022 to the Secretary-General (S/2022/518), covering our views on issues that I did not address in my remarks today.
However, we believe that the report should have addressed the root causes of the current situation around JCPOA, and focused on the United States' violations of UN Security Council Resolution 2231 (2015), which includes sanctions-lifting commitments.
According to certain paragraphs of the report, the Secretariat has continued to engage in unauthorized travel and verification visits as well as measures "to-examine" the allegations regarding the implementation of annex B to the resolution.
The Note by the President of the Security Council (S/2016/44) has elaborated the Secretariat's mandate on the implementation of resolution 2231 which is confined to "administrative support" for the Security Council. As a result, such ultra vires activities by the Secretariat are unacceptable and should be avoided. Similarly, any possible findings or assessments made by the Secretariat are rendered null and void. In this regard, any allegation that may be attributed to the Islamic Republic of Iran is hereby rejected.
In Conclusion, Mr. President, allow me to say a few words about the region.
First, we categorically reject baseless accusations and unfounded allegations made against my country at this meeting.
As a responsible State, Iran is committed to its international obligations and has never engaged in any activity that breaches its obligations including under Resolution 2231.
Our space and missile programs, fall outside the purview or competence of the Security Council resolution 2231 (2015) and its annexes and are not subject for negotiations.
Iran's foreign policy is based on the full respect for international law, mutual respect, good neighborliness, cooperation, and dialogue, as well as maintaining regional peace and security through active participation of all regional States.
We are determined to pursue this policy in good faith. Our constructive engagement and efforts with the UN to assist and support the truce and its extension in Yemen stem from our firm belief that regional countries should work together to work toward a peaceful settlement of disputes.
The massive U.S. military build-up and export of sophisticated weaponry to the region, as well as certain European countries' supply of lethal weapons to regional countries, have transformed this region into the world's biggest concentration of foreign military installations, making it a ticking time bomb.
Another key source of regional insecurity is the Israeli regime's destabilizing, malicious, and terrorist activities in the region, which have always been accompanied by persistent US support.
The Israeli regime has used every opportunity to threaten and destroy the JCPOA as well as undermine the implementation of resolution 2231 by the UN Member States.
This regime has committed covert operations, subversive and disruptive measures against Iran's peaceful nuclear program as well as the cowardly and abhorrent assassination of innocent Iranian scientists to further its sinister objectives in the region.
Source: Fars News Agency
Please click the following URL to read the full text of the original story:
https://www.farsnews.ir/en/news/14010410000191/UN-Envy-Iran-Calls-fr-Mlilaeral-Diplmacy-Remve-Unlawfl-Sancins
--------
FM: Iran Supports Political Solution to Ukraine Crisis
2022-July-1
"Iran does not consider war as a suitable solution to solve problem between Russia and Ukraine," Amir Abdollahian said in his phone talk with Kuleba on Thursday night.
The Iranian foreign minister said that the Islamic Republic of Iran is ready to pursue a diplomatic solution and make good efforts to end the crisis in Ukraine.
"We have announced from the very beginning that while considering the root cause of the crisis, we are opposed to resorting to war and do not think war is a suitable solution to problems," he added.
The top Iranian diplomat also said Iran's relations with Ukraine have always been based on friendship, respect and mutual interests over the past three decades.
He pointed out that Tehran is ready to participate in an agreement for the opening of a corridor for transportation of cereals in the Black Sea.
The Iranian foreign minister also invited his Ukrainian counterpart to visit Tehran.
Ukraine's foreign minister, for his part, thanked Iran for its opposition to war, and said that Ukraine is ready to receive any political assistance or support to end the crisis in his country.
Kuleba also announced Ukraine's readiness for all-out expansion of ties with Iran, including in the field of agriculture and cereals.
He described the continuation of talks between Tehran and Kiev for expanding ties as constructive.
Kuleba outlined the latest conflict situation in his country and thanked Iran's valuable efforts to end the war.
He also invited Amir Abdollahian to pay an official visit to Ukraine.
In relevant development in early March, Iranian President Seyed Ebrahim Rayeesi announced his country's preparedness to help diplomatic efforts to end the war in Ukraine.
"The Islamic Republic of Iran supports any effort that would lead to peaceful settlement of the [ongoing] conflict in Ukraine and is ready to play a role to help restore peace in any possible manner," Rayeesi said.
"Based on the fundamental principles of its foreign policy, the Islamic Republic of Iran opposes both hegemony and submission to hegemony, and gives its backing to the right to all nations to self-determination," he said.
Rayeesi underlined the need to protect territorial integrity and the national sovereignty of all countries, and said, "The Islamic Republic of Iran understands security concerns arising from several decades of NATO's expansionism."
"We strongly believe that diplomacy and sincere adherence to international obligations by all parties provide the sole lasting and just way out of the current situation."
Source: Fars News Agency
Please click the following URL to read the full text of the original story:
https://www.farsnews.ir/en/news/14010410000116/FM-Iran-Spprs-Pliical-Slin-Ukraine-Crisis
--------
FM Asks for Iraq's Further Cooperation to Facilitate Iranian Hajj Pilgrims
2022-July-1
The Iranian foreign minister made ther remarks in a telephone conversation with his Iraqi counterpart Fuad Hossein on Thursday evening.
During the phone talk, Amir Abdollahian urged the Iraqi government to help further facilitate Iranian Hajj pilgrims' affairs.
The two sides discussed expansion of bilateral relations and also the latest developments in the region.
They also exchanged their views on two countries' cooperation in Hajj and Karbala and Najaf pilgrimage affairs.
The Iraqi foreign minister, for his part, said that the Iraqi government will definitely keep on facilitating the Iranian Hajj pilgrims' affairs.
Hussein, meantime, announced Baghdad's readiness to host another round of Iran-Saudi talks in Baghdad.
In a relevant development in early June, Supreme Leader of the Islamic Revolution Ayatollah Seyed Ali Khamenei said that revelation of the Zionist regime's plots is a definite responsibility for the Muslim pilgrims in Hajj.
"Exposing the Zionists' plots and conspiracies is one of the essential duties in Hajj," Ayatollah Khamenei said, addressing the Iranian officials in charge of organizing Hajj, the annual Islamic pilgrimage to Mecca.
"The Arab and non-Arab governments that moved toward normalizing their relations with the Zionist regime, against the will of their nations and for the will of the United States, must know that these interactions will bring them nothing but exploitation at the hands of the Zionist regime," he added.
Source: Fars News Agency
Please click the following URL to read the full text of the original story:
https://www.farsnews.ir/en/news/14010410000211/FM-Asks-fr-Ira's-Frher-Cperain-Faciliae-Iranian-Hajj-Pilgrims
--------
Five killed at strong earthquake rocks Iran: Media
02 July, 2022
At least five people were killed and 19 injured when a strong earthquake shook southern Iran early Saturday, the state news agency IRNA reported.
The 6.0 magnitude quake hit 100 kilometres (60 miles) southwest of the port city of Bandar Abbas in Hormozgan province, the US Geological Survey said. The quake struck just a minute after a 5.7 tremor.
Hormozgan governor Mahdi Dosti said the quakes killed five people and injured 19 others, IRNA reported.
Dosti said most of the damage occurred in the village of Sayeh Khost, close to the epicentre.
One person was killed in November last year when Hormozgan province was hit by twin 6.4 and 6.3 magnitude quakes.
Situated on the edge of several tectonic plates and crossing various fault lines, Iran is an area of strong seismic activity.
Source: Al Arabiya
Please click the following URL to read the full text of the original story:
https://english.alarabiya.net/News/middle-east/2022/07/02/Five-killed-at-strong-earthquake-rocks-Iran-Media-
--------
Iran nuclear talks likely to resume after Biden's Gulf trip
01 July, 2022
European-brokered efforts to revive the Iran nuclear deal are likely to resume following US President Joe Biden's visit to the region this month, after an intense round of talks in Doha failed to overcome differences.
Two European diplomats with direct knowledge of this week's negotiations said that, while talks didn't progress, efforts to resurrect the accord were expected to continue beyond the July deadline suggested by the UN nuclear watchdog.
A third person familiar with the talks said efforts could resume in the Qatari capital following Biden's trip.
One source briefed on the negotiations said the Doha talks had focused on oil sanctions, adding that other areas actively under discussion are Iran's access to funds blocked in South Korea, sanctions on airlines and the removal of penalties on the business operations of the Islamic Revolutionary Guard Corps.
The latter is very unlikely to be agreed but the others were achievable, the source said, speaking on condition of anonymity because of the sensitivity of the matter.
Narrow window
The 2015 agreement offered Iran sanctions relief, including on oil exports, in return for curbs to its enrichment activities and intrusive International Atomic Energy Agency inspections.
Former US President Donald Trump pulled out of the deal in 2018 and reimposed sanctions. President Joe Biden has sought for more than a year to revive the deal but Iran has rapidly expanded its nuclear work while steadily dialing down international oversight during the course of negotiations.
The IAEA said at its last meeting on June 9 that its inspectors would no longer be able to verify Iranian nuclear activities permitted under the accord if a diplomatic compromise wasn't reached within a month, setting the clock ticking on talks.
US officials have repeatedly said that the window for a deal is narrow as the accelerated pace of Iran's nuclear work threatens to make the terms of the original deal obsolete.
Tehran's negotiating team also reiterated grievances over an IAEA censure issued over Iran's lack of cooperation with monitors, according to one of the European diplomats.
While IAEA investigators can report with a high degree of certainty that Iran isn't diverting any of its declared nuclear material, there's less conviction about what's been happening inside the country's centrifuge workshops, said the other European diplomat. Some monitors are concerned that Iran could hedge against a diplomatic stalemate by stashing uranium-enrichment capacity at an undeclared location.
The search for a compromise will probably be given until at least the third quarter, after which the US will hold Congressional elections that could weaken Biden's hand.
NPT threat
A key meeting of the nuclear Non-Proliferation Treaty members convenes next month in New York. Iran has threatened to leave that bedrock bargain -- which limits the spread of nuclear weapons, in return for access to atomic technologies -- should talks fail, resulting in the country being referred back to the United Nations Security Council for more sanctions.
Iranian Minister of Foreign Affairs Hossein Amirabdollahian said in a statement Thursday his country remains determined to continue negotiations "until an agreement that's based on realism is reached."
While western officials at the talks dismissed Iran's words as grandstanding, they aren't ready to slam the door on talks quite yet. Gulf nations are being encouraged to play a more active role as the EU's role as mediator reaches its limit, according to the European diplomats.
"The US also must outline a strategy for Middle Eastern stability that is not merely based on containment and confrontation with Iran or securing a short-term reduction in oil prices," Iran researchers Vali Nasr and Maria Fantappie wrote Friday in the US journal of Foreign Affairs.
Source: Al Arabiya
Please click the following URL to read the full text of the original story:
https://english.alarabiya.net/News/middle-east/2022/07/01/Iran-nuclear-talks-likely-to-resume-after-Biden-s-Gulf-trip
--------
Turkey can re-export Black Sea grains to states in need: Erdogan
01 July, 2022
Turkey can re-export grain products like wheat, oat, and barley from the Black Sea to countries in need after talks with Russia and Ukraine, President Recep Tayyip Erdogan said on Friday, adding he would discuss the matter with both countries in coming days.
Ukraine is one of the top global wheat suppliers, but shipments have been halted by Russia's invasion, causing global food shortages. The United Nations has appealed to both sides, as well as maritime neighbor Turkey, to agree to a corridor.
Speaking after Friday prayers in Istanbul, Erdogan said his office was working with Kyiv and Moscow to set up calls with his counterparts and that 20 Turkish vessels were ready to take part in the potential shipments.
Source: Al Arabiya
Please click the following URL to read the full text of the original story:
https://english.alarabiya.net/News/middle-east/2022/07/01/Turkey-can-re-export-Black-Sea-grains-to-states-in-need-Erdogan
--------
Erdogan says no meeting until Greek PM 'pulls himself together': Report
01 July, 2022
Turkish President Recep Tayyip Erdogan said it was impossible to meet Greek Prime Minister Kyriakos Mitsotakis until the Greek leader "pulls himself together," broadcaster NTV said on Friday, amid renewed tensions between the NATO members and neighbors.
Historic rivals, Turkey and Greece have been at odds over issues ranging from overflights and the status of Aegean islands, maritime boundaries and hydrocarbon resources in the Mediterranean, and ethnically-split Cyprus.
Tensions flared again recently over airspace and the status of demilitarized islands in the Aegean. Erdogan has said Mitsotakis "no longer exists for him" after the Greek premier lobbied for the United States not to sell Turkey F-16 fighter jets during a speech at the US Congress.
"Let him pull himself together. As long as he doesn't pull himself together, it is not possible for us to meet," Erdogan told reporters on a return flight from a NATO summit in Madrid.
Speaking to reporters in Madrid on Thursday, Mitsotakis said EU member Greece was open to dialogue with Turkey, and repeated he would not engage in a "dialogue of personal confrontations" with Erdogan.
"I'll keep insisting that Greece's door to a dialogue within the framework we have identified, this door is always open. And at the same time, our country will continue, whenever it has the opportunity, to raise the issues of Turkish aggression within the European Union, bilaterally to our partners," he said.
Mitsotakis added Greece was "forming its own alliances" and that it wanted support from allies on national issues, but also sought Turkey as an interlocutor.
Source: Al Arabiya
Please click the following URL to read the full text of the original story:
https://english.alarabiya.net/News/middle-east/2022/07/01/Erdogan-says-will-not-meet-Greek-PM-until-he-pulls-himself-together-Report
--------
Africa
Muslim MPs, leaders condemn sale of pork near Muslim burials
Godfrey Olukya
02.07.2022
KAMPALA, Uganda
The Ugandan Muslim Supreme Council (UMSC), Muslim members of parliament and Muslim leaders condemned those on Friday who sell pork near Islamic burial sites.
MPs and Muslim leaders said those who roast pork do not care if they bring their businesses near burial sites even if funeral ceremonies are for Muslims.
UMSC spokesman Ashraf Muvawala told Anadolu Agency that the action may lead to Muslims being annoyed and attacks against those who engage in the process.
''What they are doing is bad and might lead to religious wars. The Ugandan Joint Religious Council, which has members from all religions, sat and resolved that Ugandans should respect each other's religion. So those selling pork near us should stop provoking us because they may end up being beaten up by angry Muslims," said Muvawala.
A leader in the Muslim community, Imam Hassan Kiberu, told Anadolu Agency that in Ugandan communities if someone dies in a village, all the villagers and relatives, near and far, irrespective of religion, attend the burial ceremony.
"Those who sell roasted pork target the hundreds of people who turn up for the burial. They place their charcoal or firewood stoves a small distance from the homes where the burial is taking place and start roasting and selling pork to people," he said.
Muslim members of parliament said the act is an abuse of religion and should be immediately stopped.
"It is very bad. There is a need for all Ugandans to respect each other's religion. It is not good for someone dealing in pork to sell it in a place where there are Muslims," MP for Busongora, Sowedi Kitanya, in the Kasese district told the Turkish news agency.
He said it is uncivilized – akin to throwing a bible in a mosque and there is a need to change the mindset of those involved.
Muhammad Kato, MP from the Mbirizzi district, said: "Local leaders in Uganda and the leaders of all the religions in the country should educate people to respect each other's faith and avoid antagonizing one another."
He said selling pork at burials used to take place in his constituency but he called all those involved and told them that even if they wanted to make ends meet by selling pork to mourners, they should never sell it in places where people of different religions are gathered.
"I condemn that habit of selling pork at burial places. it should be stopped immediately," chairman of the Buikwe district, Jimmy Kanabi, told the media.
Buikwe district chief qadi, or judge, sheikh Sadat Badhola, said selling pork where Muslims are gathered with other members of the public is an abuse of rights and urged authorities to pass a bylaw on the sale of pork in public places.
Source: Anadolu Agency
Please click the following URL to read the full text of the original story:
https://www.aa.com.tr/en/africa/muslim-mps-leaders-condemn-sale-of-pork-near-muslim-burials/2628492
--------
Nigeria: Quran translated to Igbo language
01 July, 2022
July 2, 2022A group of Muslims from the South Eastern part of Nigeria have successfully produced copies of the Holy Qur'an translated to Igbo language.
The group under the aegis of Igbo Muslims Da'wah Group, launched on Friday, July 1st launch the translated text.
Representatives of the group led by Mal. Muhammed Muritala Chukwuemeka made this known during a courtesy call to Daily Trust in Abuja on Tuesday.
He said the team's mission is to spread Allah's message to his Igbo brothers through the translated Qur'an.
Mal. Chukwuemeka, a native of Orlu Local Government Area of Imo State, revealed that it took him five good years to complete the translation.
The launching ceremony took place after Juma'at prayer at Ansar-ud-deen mosque, Maitama in the Federal Capital Territory.
Source: ABNA24
Please click the following URL to read the full text of the original story:
https://en.abna24.com/news//nigeria-quran-translated-to-igbo-language_1271654.html
--------
Nigeria Islamic court sentences three to death by stoning for raping boys
01 July, 2022
An Islamic court in northern Nigeria's Bauchi state has sentenced three men to death by stoning for raping two boys, an official said Friday.
Bauchi is among a dozen states in predominantly Muslim northern Nigeria where Sharia law is in operation alongside common criminal justice.
The court in the town of Ningi handed down the sentences on the trio on Wednesday, Sharia Hisbah (police) official Adamu Dankafi told AFP.
They were accused of raping two boys after drugging them, he said.
Raping minors is punishable by death under Nigeria's Sharia law, although like most other death sentences it has never been enforced. In this case, the men were charged under a law related to homosexual acts.
"The Upper Sharia Court One in Ningi handed down the death sentence on the three men for committing homosexual acts with two brothers aged 10 and 12," Dankafi said.
"The three are to be stoned to death as prescribed by the Bauchi state Sharia penal code based on their confessions during interrogation by our men and before the court," he said.
He said the men were arrested in Gwada village in May following complaints by parents of the two boys who said they had been drugged before the act.
Dankafi said the men aged between 20 and 70, were not represented by a lawyer during the one-day trial, adding that they have one month to appeal the sentence.
Source: The New Arab
Please click the following URL to read the full text of the original story:
https://english.alaraby.co.uk/news/nigeria-islamic-court-sentences-3-death-raping-boys
--------
Sudan security forces skirmish with demonstrators after protest deaths
01 July, 2022
Sudanese security forces fired tear gas at protesters on Friday near the presidential palace in Khartoum, a day after nine people were reported killed during the largest anti-military rallies for months.
Protest groups demanding a return to democratic rule have said they will organize an open-ended campaign of sit-ins and other peaceful actions in response to the deaths.
Medics aligned with the protesters said the nine people were mostly killed by gunfire from security forces in Khartoum and the adjoining cities of Omdurman and Bahri. Sudan's ruling council did not immediately respond to a request for comment.
"The sit-in can develop but we must fortify it properly," Al-Reda al-Rasheed told Reuters as he stood with other protesters drinking tea and writing out slogans in central Khartoum on Friday.
"Those who have come from Omdurman can join our sit-in and others from surrounding areas as well can join."
Thursday's rallies came after more than eight months of demonstrations against military leaders who staged a coup last October, ending a power-sharing arrangement with civilians agreed following the 2019 overthrow of Omar al-Bashir.
Khartoum State police said in a statement they had used tear gas and water cannon and made arrests on Thursday after protesters equipped with stones and metal bars moved against their positions.
Dozens of members of the security forces had been injured, some of them seriously, the statement said. The police said they had received no reports on six deaths - an apparent reference to an earlier estimated death toll from Thursday.
The medics group - the Central Committee of Sudanese Doctors - said on Friday that another protester beaten during demonstrations in the capital a week earlier had died of his injuries, bringing the number of protester deaths since the coup to 113.
Rights lawyers said at least 150 protesters had been detained on Thursday. The military-led government has not released its own estimates of arrests or deaths.
The United Nations, the African Union and the Intergovernmental Authority on Development (IGAD), which are trying to mediate, said they condemned "in the strongest terms possible the use of excessive force by security forces" on Thursday.
Source: Al Arabiya
Please click the following URL to read the full text of the original story:
https://english.alarabiya.net/News/middle-east/2022/07/01/Sudan-security-forces-skirmish-with-demonstrators-after-protest-deaths
--------
Protesters break into Libya's parliament building in Tobruk: Witnesses
01 July, 2022
Protesters broke into Libya's parliament in Tobruk on Friday evening and set a fire in front of the building to express their anger towards Libya's warring political parties, witnesses told Reuters.
Security forces protecting the parliament withdrew from the site, the witnesses added.
Demonstrations took place on Friday in Tobruk, Benghazi and some smaller towns over a failure of government.
Libya has been in chaos since the 2011 NATO-backed uprising that ousted Muammar Gaddafi. In 2014, it split between warring eastern and western factions before a peace process beginning in 2020 tried to knit the country back together.
Source: Al Arabiya
Please click the following URL to read the full text of the original story:
https://english.alarabiya.net/News/north-africa/2022/07/01/Protesters-break-into-Libya-s-parliament-building-in-Tobruk-Report
--------
President Muhammadu Buhari vows to obliterate terrorists after 43 people killed in north central Nigeria
Ibrahim Garba Shuaibu
02.07.2022
KANO, Nigeria
Nigerian President Muhammadu Buhari said Friday that the fight against terrorism continues following a deadly attack in the northcentral town of Shiroro in Niger State.
"We honour our security forces, and particularly those brave souls who have given their lives fighting against the evil that is terrorism. They constitute the best that Nigeria has to offer and we remember each of them," Buhari said through his Senior Special Assistant on Media and Publicity, Garba Shehu. "We say it again that we have reduced Boko Haram to a shell of its former self. But terrorists are parasites. They thrive when the world is suffering."
Terrorists kidnapped four Chinese nationals Thursday and killed 43 people, including soldiers.
Source: Anadolu Agency
Please click the following URL to read the full text of the original story:
https://www.aa.com.tr/en/africa/president-muhammadu-buhari-vows-to-obliterate-terrorists-after-43-people-killed-in-northcentral-nigeria/2628481
--------
North America
Biden to honour Khizr Khan, who lashed out at Trump's 'Muslim ban'
Holly Aguirre
Washington
Jul 02, 2022
President Joe Biden will present the top civilian honour to Khizr Khan, the Pakistani-American father of a veteran killed in action who criticised Donald Trump over his proposed "Muslim ban".
He is one of 17 people Mr Biden announced would receive the Medal of Freedom, presented to Americans who have made exemplary contributions to the "prosperity, values, or security of the United States" or other significant endeavours, the White House announced.
Mr Khan's son, US Army Capt Humayun Khan, was killed in Iraq in 2004 while defending his squad from a car bomb attack.
The elder Khan famously appeared at the Democratic National Convention in 2016 alongside his wife, Ghazala Khan, blasting Mr Trump — a candidate for the presidency at the time — over his proposal to limit immigration from Muslim-majority countries.
"Go look at the graves of brave patriots who died defending the United States of America," Mr Khan said to Mr Trump.
"You will see all faiths, genders and ethnicities. You have sacrificed nothing and no one."
When asked about his own sacrifices, Mr Trump later said he works "very, very hard" and "created thousands and thousands of jobs".
In its citation, the White House said Mr Khan is a founder of the Constitution Literacy and National Unity Centre and is "a prominent advocate for the rule of law and religious freedom".
He also served on the US Commission on International Religious Freedom under Mr Biden.
Created by president John F Kennedy in 1963, the Medal of Freedom is the civilian equivalent of the military's Medal of Honour.
Among the other recipients announced on Friday are actor Denzel Washington, gymnast Simone Biles and the late John McCain, the Arizona Republican with whom Mr Biden served in the US Senate.
"They have overcome significant obstacles to achieve impressive accomplishments in the arts and sciences, dedicated their lives to advocating for the most vulnerable among us and acted with bravery to drive change in their communities — and across the world — while blazing trails for generations to come," the White House said of the honourees.
The awards will be presented at the White House on July 7, 2022.
Mr Biden himself is a medal recipient. Former president Barack Obama honoured Mr Biden's public service as a long-time US senator and vice president a week before they left office.
Biles is the most decorated US gymnast in history, winning 32 Olympic and World Championship medals.
McCain, who died of brain cancer in 2018, spent more than five years in captivity in Vietnam while serving in the US Navy.
Washington is a double Oscar-winning actor, director and producer. He is a long-time spokesman for the Boys & Girls Clubs of America.
Other recipients will include former congresswoman Gabby Giffords of Arizona, who was shot in the head in January 2011 during a constituent event in Tucson and has since become a strong advocate for gun control.
Steve Jobs, the co-founder, chief executive and chair of Apple and the son of a Syrian immigrant will receive the honour posthumously. He died in 2011.
Megan Rapinoe, an Olympic gold medallist, two-time Women's World Cup football champion and advocate for gender pay equality and racial justice, is another athlete that will be honoured.
Source: The National News
Please click the following URL to read the full text of the original story:
https://www.thenationalnews.com/world/us-news/2022/07/01/biden-to-honour-khizr-khan-who-lashed-out-at-trumps-muslim-ban/
--------
Palestinians pin scant hope on President Biden visit after setbacks under Trump
01 July, 2022
As the United States strives to boost defense ties between Israel and Arab states, Palestinians await with increasing gloom the first visit of President Joe Biden after what they see as a string of broken promises by Washington.
Requests for the reopening of the US consulate in East Jerusalem, closed by former President Donald Trump, or lifting the classification of the Palestine Liberation Organization as a terrorist organization have gone unheard, Palestinians say.
"We have no illusions that the visit will achieve a political breakthrough. We will be listening to more pledges and promises," a senior Palestinian official said.
Biden will visit Israel and the West Bank, meeting Israeli leaders and Abbas, as well as Saudi Arabia from July 13-16.
A spokesperson for the US Office of Palestinian Affairs said Washington believed a two-state solution was the best way for both Israel and the Palestinians to resolve their generations-long conflict.
It was also committed to reopening the consulate, seen by Palestinians as an implicit recognition of East Jerusalem's status as capital of a future Palestinian state on territory occupied by Israel in the 1967 Middle East war.
In a call with US Secretary of State Antony Blinken on Thursday, Abbas urged the administration to put pressure on Israel to preserve the historic status quo in East Jerusalem and the Al-Aqsa mosque compound there. Israel rejects allegations that it has tried to change the status quo.
Palestinians also say Israel's continued settlement activities in the occupied West Bank dim any prospect for a viable Palestinian state co-existing alongside Israel.
"Abbas told Blinken the situation can't continue like this," the official said.
Focus on Israeli-Arab ties
US officials reject the assertion that the Biden administration has broken its pledges to the Palestinians and point to changes after the breakdown of relations under the administration of former President Donald Trump.
They say reopening the consulate would require Israeli cooperation and they that removing the PLO's terrorist designation would require the Palestinian Authority to take steps it has so far failed to do.
Despite Palestinian disappointment, they say Biden has restarted aid and reopened lines of communication. The administration has also criticized Israeli settlement expansion as inconsistent with peace prospects, after the Trump administration signaled acceptance of such activities.
"Recall that we walked into a situation in which our ties with the Palestinians were totally severed (by the Trump administration). So we turned back on the funding, rebuilt relationships …. And there will be more to come," a senior Biden administration official said.
But the intense focus on boosting security cooperation between Israel and US-aligned Arab countries to confront a potential threat from Iran means that any move towards a wider resolution of the Palestinian issue remains far off, according to Talal Okal, a political analyst in Gaza.
"Biden will do nothing to change the existing reality," he said. "There is no horizon for the Palestinian-Israel conflict."
The Biden visit comes amid increasing speculation over the future of Abbas, an 86-year-old chain smoker with a history of health problems who has ruled by decree since 2005, when the last Palestinian election was held.
The Palestinian Authority, which exercises limited self-rule in parts of the West Bank, received a boost last month when the European Union agreed to restore funding frozen by a dispute over school textbooks.
There has also been increased pressure on Israel, including from the Biden administration, for action on the fatal shooting of Al Jazeera journalist Shireen Abu Akleh as she was covering an Israeli army raid in the West Bank town of Jenin.
But further progress has been complicated by the turmoil that saw Israeli Prime Minister Naftali Bennett's coalition government collapse, with an election now scheduled for Nov. 1.
With an uncertain political road ahead, there is little likelihood of anything more than a minimum of US economic aid for Palestinians, said political analyst Hani Al-Masri.
Source: Al Arabiya
Please click the following URL to read the full text of the original story:
https://english.alarabiya.net/News/middle-east/2022/07/01/Palestinians-pin-scant-hope-on-President-Biden-visit-after-setbacks-under-Trump
--------
Arab Americans losing major benefits from US Census' 'discriminatory' exclusion
RAY HANANIA
July 01, 2022
CHICAGO: The continued exclusion of Arab Americans from being counted in the decennial US Census is "another form of discrimination," resulting in the loss of financial benefits and critical data needed for healthcare and other programs, according to Samer Khalaf, national president of the American Arab Anti-Discrimination Committee.
During an interview on The Ray Hanania Show on the US Arab Radio Network and sponsored by Arab News, the ADC leader said that while he favors using the term "Arab" on the census, the community consensus to use MENA, or Middle East and North African, has the support of the Biden administration and cuts through the many divisions in the community.
Being excluded in the census, Khalaf said, has resulted in Arab Americans losing benefits — from receiving federal grants to being included in congressional political empowerment programs.
"It's not just that we lost things. We never got anything that we were entitled to get. It's not just a financial aspect. There hasn't been a National Institute Health Study on the Arab community, ever. And the reason why is because there are no reliable data that can be used in the study because we are not counted. We have become the invisible minority," Khalaf told Arab News.
"So, there are things other than financial that we are not getting. We don't know what our COVID infection rates are. We don't know what the percentage of our community is vaccinated because that data is simply not collected. It is beyond just financial detriment to our community. We have lost a lot of stuff … we don't even realize."
Khalaf emphasized: "It (the census exclusion) is discrimination because it is basically keeping us out of a lot of the programs that we think we are entitled to. Moreover, it is treating us as if we don't exist. Literally as we don't exist at all in this country and that is the biggest problem that we have."
Khalaf said that over the years the diversity of the Arab world and Middle East has actually played against the US government embracing the term "Arab" as the possible designation on a future census, possibly in 2030. That's why the emphasis has been on "MENA."
"The ADC's always number one preference is 'Arab.' That's always been the case. We use the term and will use the term, and continue to use the term in the future. Our biggest (concern), again, what we thought the big picture was, is that as long as we were counted as a separate and distinct group, Arab (or) MENA, we just need to be counted," Khalaf said.
"We want the issue to be transformed away from what (term is) to be used, to be that we are counted. Let's step aside (from) the issue and what terms we are going to use and at least get the issue of being counted done and out of the way. That's why we, as an organization, said fine. If it is going to be MENA, as long as we are counted, we are okay with that."
Khalaf said that the Arab community has failed to receive its share of federal government support which ranges from funding to political recognition, and support for cultural and health programs.
One example of how Arabs have been marginalized, Khalaf said, is in the government's response to the COVID-19 pandemic and the pandemic's impact on Arab Americans. He said that the government has instead asked the Arab community to gather the necessary community data that is needed to qualify Arab families and businesses for COVID-19 relief.
"One of the pushbacks we are getting from the federal government is … that there are no statistics, or there are no numbers as to how many Arab American businesses are there. Where are they located? Are they successful? They want to know from us do we have issues getting loans. Are our interest rates higher than others because of discrimination? That information is not available," Khalaf said.
"They went to us and charged us to collect that information. So the ADC right now is doing a study. We are trying to collect data. We are asking Arab American business owners all over the country to fill out a questionnaire that we have on our website which is on ADCRI.org.
"Business owners can go there and fill out a questionnaire. It will be anonymous so nobody knows who they are. But at least we can now get the data and take that data to the government and say hey look, here is the data we have for you. Now give us the minority business designation."
"It changed and transformed the landscape. So we did see issues regarding our own businesses. We saw other problems develop because of COVID. And a lot of that had to do more or less with our community unable to sort of fully tap all the benefits that the federal government and state government are offering to the individuals.
"And some of that was because of our own lack of knowledge. Some of it was because of the barrier to our language, language barriers. And some of it was the fact that as a community, we are not recognized. We are still classified as White. So we were (by) definition not even able to get some of those benefits."
Khalaf said that exclusion from the census as "Arab" or "MENA" "holds us back," and Arabs have become an "underserved community" when it comes to providing resources to address challenges that face all communities, including family services, domestic violence, disability, mental health and healthcare.
"We are denied the resources for us to know how these issues impact our community and how serious they are," he said.
Khalaf said that the Arab community came close to being fully included in the census during the administration of President Barack Obama, but noted that former president Donald Trump blocked it. President Joe Biden, he said, is "reviewing it."
"Chances are it is going to happen. It is a matter of time. But we need to be vigilant," Khalaf said.
"We need to hold the census and OMB — and don't forget that the OMB is an important player in all of this, the Office of Management and Budget. OMB is the one that defines the classification, and we need to hold their feet to the fire and say this was a done deal and you were about to do it if not for the former administration."
Source: Arab News
Please click the following URL to read the full text of the original story:
https://www.arabnews.com/node/2114851/world
--------
Turkey blocks access to Deutsche Welle and Voice of America
July 01, 2022
ISTANBUL: Turkey's media watchdog has banned access to the Turkish services of US public service broadcaster Voice of America and German broadcaster Deutsche Welle, prompting complaints of censorship.
The Supreme Board of Radio and Television enforced a February warning to the two companies which air Turkish-language television content online to apply for a broadcast license or be blocked. An Ankara court ruled to restrict access to their websites late Thursday.
Neither website was available in Turkey on Friday. Deutsche Welle is German taxpayer-funded and Voice of America is funded by the US government through the US Agency for Global Media.
In a statement, Deutsche Welle said it did not comply with the licensing requirement because it "would have allowed the Turkish government to censor editorial content."
Director general Peter Limbourg said this was explained in detail to the Turkish radio and TV board, abbreviated as RTUK.
"For example, media licensed in Turkey are required to delete online content that RTUK interprets as inappropriate. This is simply unacceptable for an independent broadcaster. DW will take legal action against the blocking that has now taken place," Limbourg said.
The German government said it took note of the reports "with regret."
"Our concern about the state of freedom of opinion and the press in Turkey continues," government spokesman Steffen Hebestreit said, adding that Germany is in a "regular, critical exchange" with Turkey on the issue.
Asked whether the German government can intervene in this case, Hebestreit noted that Deutsche Welle has said it plans to take legal action "and we have to wait for that."
RTUK dismissed any criticism in a statement on its website Friday, saying that "no one needs to have uncertainties on the freedom of expression or press, worry unnecessarily or incriminate our Supreme Board that is doing its duties based on legal grounds."
The RTUK statement added that had the media organizations "acted in line with regulations," there wouldn't have been access bans. It also promised to request from the court that the restrictions be revoked if the websites launch companies in Turkey and get licensed.
But Ilhan Tasci, a RTUK member from Turkey's main opposition Republican People's Party, said he opposed the move to block the two foreign broadcasters. "Here is press freedom and advanced democracy," he tweeted sarcastically.
The RTUK board is dominated by Turkish President Recep Tayyip Erdogan's ruling party and its nationalist allies, and regularly fines critical broadcasters.
Thursday's move is based on an August 2019 regulation that says the RTUK would give 72-hour advance notice to unlicensed online media regarding when they had to apply and pay three months of licensing fees. Failure to do so could result in legal action against a media organization's executives and access restrictions.
In February, RTUK said it identified three websites without broadcast licenses, which also included the Turkish services of Euronews. But Euronews said it argued that it did not broadcast live in Turkish or air visual bulletins and was therefore exempt from the licensing requirements.
The Journalists' Union of Turkey called the decision censorship. "Give up on trying to ban everything you don't like, this society wants freedom," it tweeted.
Voice of America noted in February that while licensing for TV and radio broadcasts is a norm because broadcast airwaves are finite resources, the Internet does not have limited bandwidth. "The only possible purpose of a licensing requirement for Internet distribution is enabling censorship," VOA said in a statement then.
State Department spokesman Ned Price tweeted when the licensing regulation emerged in February that the US was concerned with RTUK's "decision to expand government control over free press outlets."
In response, Turkish Foreign Ministry spokesman Tanju Bilgic noted that the US required Turkey's state English-language broadcaster, TRT World, to register as a foreign agent under a law intended for lobbyists and public relations firms working for foreign governments. TRT said it was newsgathering and reporting like any other international media but had to register as a foreign agent in 2020.
"TRT abides by relevant regulations for its activities in the US Is that censorship? We expect the same from @VoATurkish and others," Bilgic tweeted.
Turkey was rated "Not Free" for 2021 on the Freedom of the Net index by Freedom House. Hundreds of thousands of domains and web addresses have been blocked.
Source: Arab News
Please click the following URL to read the full text of the original story:
https://www.arabnews.com/node/2114811/media
--------
UN report highlights crippling impact of 15 years of Israel's Gaza siege
01 July 2022
Marking the 15th anniversary of the Israeli regime's crippling siege of the Gaza Strip, a United Nations report highlights the monumental toll the blockade has taken on the coastal enclave's population.
The report was released by the United Nations' Office for the Coordination of Humanitarian Affairs (OCHA) on Thursday.
The deadly blockade imposed on Gaza 15 years ago for electing the popular resistance movement Hamas turned the enclave into an open-air prison.
The occupying regime brought the entire enclave under the land, aerial, and naval blockade in June 2007. The blockade has over the years turned worse.
Access to outside world
About 2.1 million Palestinians in the besieged enclave are 'locked in,' with vast majority of them unable to access the remainder of the OPT (Occupied Palestinian Territories) and the outside world, the UN report states.
So far in 2022, the Israeli authorities have approved only 64 percent of patients' requests to exit Gaza mainly for specialized treatment in the nearby Palestinian territory of the West Bank, OCHA said.
"In previous years, patients have died while awaiting a response to their application," it added.
Gaza's Rafah border crossing with Egypt, the sliver's only way of accessing the outside world, "was open for 95 days out of 151 in the first five months of 2022."
"The volume of truckloads entering Gaza in the first five months of 2022, around 8,000 per month, was about 30% below the monthly average for the first half of 2007, before the blockade. Since then, the population has grown by more than 50%," OCHA stated.
Limitations imposed on border with OPT
The Israeli regime has also largely restricted access to areas within 300 meters of the Gaza side of the perimeter fence with the occupied territories, the report said, adding that areas lying several hundred meters beyond are deemed not safe, preventing, or discouraging, agricultural activities.
Israeli forces have also restricted access off Gaza's coast, currently only allowing fishermen to access 50 percent of the fishing waters allocated for this purpose under the Oslo Accords with the Israeli regime.
Unemployment, food insecurity
As a result of the siege, unemployment levels in Gaza are among the highest in the world, the report said, noting that "the Q1 jobless rate in 2022 was 46.6%, compared with an average of 34.8% in 2006."
As many as 1.3 million out of the 2.1 million Palestinians in Gaza (62 percent) require food assistance, OCHA stated.
"Longstanding access restrictions imposed by the Israeli authorities have undermined Gaza's economy, resulting in high unemployment, food insecurity and aid dependency," the report reads, citing restrictions on the marketing of goods in the West Bank and Israel, on the entry of certain goods to Gaza, and on the access of people to agricultural land and fishing waters in Gaza itself.
Electricity, water crisis
At its current operating capacity, the Gaza Power Plant can only produce up to 80 megawatts (MW), supplemented by 120 MW purchased from the Israeli regime, meeting about 50 percent of the electricity demand in Gaza (400-450 MW), the UN report notes.
In 2021, rolling power cuts averaged 11 hours per day, it adds.
Also, up to 78 percent of piped water in Gaza is unfit for human consumption, the report states further.
It concluded that the blockade on Gaza should be "fully lifted in line with [the UN] Security Council Resolution 1860", while adding that "improvements can still be made within the framework of the blockade regarding easing the restrictions on the entry and exit of people and goods."
West Bank clashes
Meanwhile, Israeli forces on Friday attacked anti-occupation protests in the village of Kafr Qaddum near the city of Qalqilya, which is located in the northwestern part of the occupied West Bank.
According to the Palestinian Red Crescent Society, at least 92 Palestinians were injured in the attack, which saw Israeli forces cracking down on demonstrators with rubber-coated bullets and teargas canisters, according to reports.
For many years, people from Kafr Qaddum and other neighboring villages have been holding weekly protests every Friday against Israeli settlement construction, demanding an end to the regime's settler-colonialism project.
In a separate development on Friday, Israeli forces attacked a Palestinian woman's funeral in the town of Beit Ummar, in the southern West Bank province of Hebron, Palestinian media citing sources as saying.
According to Shehab News Agency, the occupying soldiers attacked the coffin of the deceased Palestinian woman as well as the pallbearers as the funeral passed through the main entrance to the town.
Source: Press TV
Please click the following URL to read the full text of the original story:
https://www.presstv.ir/Detail/2022/07/01/684882/Israel-siege-Gaza-Strip-United-Nations-report
--------
URL: https://newageislam.com/islamic-world-news/tolerate-blasphemy-nabi-muslim-cleric-violence/d/127388
New Age Islam Islam Online, Islamic Website, African Muslim News, Arab World News, South Asia News, Indian Muslim News, World Muslim News, Women in Islam, Islamic Feminism, Arab Women, Women In Arab, Islamophobia in America, Muslim Women in West, Islam Women and Feminism