New Age Islam News Bureau
20 May 2013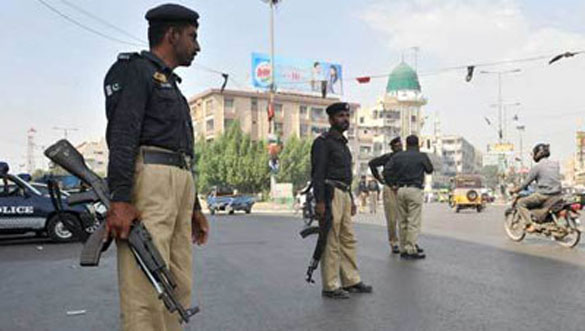 Karachi Police – File Photo by AFP
---------
Arab World
• Wave of Attacks Kills At Least 57 in Iraq
• At Least 40 Hezbollah Fighters Killed In Qusayr as Troops Fight Rebels
• Drug Use on the Rise among Saudi Students
• Egypt faces social pressure to end alcohol sales
• Iraq PM says to overhaul security strategy after attacks
• GCC rails at Iranian threats to Bahrain
• Gunmen storm Egyptian security post in lawless Sinai Peninsula
• Saudi Arabia world's 2nd most Twitter-happy nation
• Bahrain Poll boycott 'to sabotage democracy'
• Illegals can return on new visas: Deputy Minister
Southeast Asia
• Twenty Ahmadis Convert to Sunni Islam in West Java
• Police Terminate Investigation into Attack on Ahmadiya in E. Java
• Malaysia court orders release of 3 terror suspects
• Najib's 100-day programme to woo national, party critics
Mideast
• Islamic Jihad Urges Muslim Confrontation with Israeli Aggressions
• Hindu temples, Bollywood and a Yemeni city's India ties
• U.S. drone strike kills two 'al-Qaeda militants' in Yemen
• Israel is world's largest exporter of drones: Report
• Iran Electoral Watchdog Hints at Rafsanjani Rejection
• Fresh Israeli Face Plays Down Dimming of Political Star
• Iran says it is producing new air defense missiles
• French TV report of Palestinian child's death baseless, Israel says
• Finders, keepers: Yemeni man on a mission to 'save the Quran'
Pakistan
• Killing of Pakistani Politician Shakes New Voting Round
• Karachi violence claims eight lives
• Imran made Karachi a battlefield: MQM leader
• Police unsure about motive behind killing of PTI leader
• Imran Khan's party wins revote in Karachi, protests expected
• I warned Britain, says Imran Khan after deputy shot
• Kayani suggests regional forum to counter IED menace
• Musharraf granted bail in Benazir Bhutto assassination case
• Pakistan: Gunmen attack polio team, kill policeman
• I should have quit presidency to lead PPP in polls: Zardari
• President felicitates first Pakistani woman to scale Mount Everest
Africa
• 17 killed in offensive against insurgents, Nigeria military says
• One dead in Tunisia showdown with Islamists
• South Sudan Army Says Retakes Town from Rebels in East
Europe
• Car Bombs Kill Eight in Russia's Dagestan: Investigators
• Dagestan's Bitter Shadow War, Fought by 'Many Tsarnaevs'
• M23 rebels attack DR Congo army as UN force deploys
• Abu Qatada: Cleric appeals for family time
South Asia
• Suicide attack in northern Afghanistan kills at least 14
• Maldives parents pull students from preschool over "differences in religious views"
• China manoeuvres to create space for itself in Afghanistan
• Col Abu Taher execution an outright murder: Dhaka HC
• Hold referendum on a caretaker govt for elections in Bangladesh, if dialogue fails
India
• New Indian passports 'rejected' by local authorities in Saudi Arabia
• UP seeks CBI probe in death of HuJI terror accused
• Conservationists demand restoration of Dara Shikoh's library
• Indian embassy starts delivering exit papers in Saudi Arabia
• Mirwaiz Umer Farooq placed under house arrest in Srinagar
• Four ISI agents held near Army base in Sukna
• Pawar slams Modi over Ishrat Jahan's killing
• LeT operative held on militant's tip-off
• NIA has exposed Delhi Police drama, says Liaquat Shah
• Muslim leaders raise heat on SP govt
• In Lalu's Muslim anxiety, Nitish holds the edge
• Nitish invites Nawaz Sharif to Bihar
• India and China bhai-bhai not at cost of Pakistan'
North America
• Hindu immigrants to U.S. doubled in last decade, reveals survey
• Obama to discuss counterterrorism strategy
Compiled by New Age Islam News Bureau
URL: https://newageislam.com/islamic-world-news/new-age-islam-news-bureau/wave-of-attacks-kills-at-least-57-in-iraq/d/11652
-----------
Arab world
Wave of attacks kills at least 57 in Iraq
May 20, 2013
A string of car bombs and shootings tore through Shiite and Sunni areas of Iraq on Monday, killing at least 57 people and escalating fears of a return of widespread sectarian bloodletting, officials said
The attacks, some of which hit market places and crowded bus stops during the busy morning hours, are the latest in a recent spike in violence in Iraq that has targeted both Sunni and Shiite civilians and pushed the death toll over the past week to more than 200 people. The scenes have been reminiscent of the retaliatory attacks between the two groups that pushed the country to the brink of civil war in 2006-2007.
Tensions have been worsening since Iraq's minority Sunnis began protesting what they term as 'abuse' at the hands of the Shiite-led government. The mass demonstrations, which began in December, have largely been peaceful, but the number of attacks rose sharply after a deadly security crackdown on a Sunni protest camp in northern Iraq on April 23.
Iraq's Shiite majority, which was oppressed under Saddam Hussein, now controls the levers of power in the country. Wishing to rebuild the nation rather than revert to open warfare, they have largely restrained their militias over the past five years or so as Sunni extremist groups such as al-Qaida have targeted them with occasional large-scale attacks.
But the renewed violence in both Shiite and Sunni areas since late last month has fuelled concerns of a return to sectarian warfare.
The worst of Monday's violence took place in Baghdad, where nine car bombs ripped through open-air markets and other areas of Shiite neighbourhoods, killing at least 33 people and wounding nearly 130, police officials said.
The surge in bloodshed has exasperated Iraqis, who have lived for years with the fear and uncertainty bred of random violence.
"How long do we have to continue living like this, with all the lies from the government?" asked 23-year-old Baghdad resident Malik Ibrahim. "Whenever they say they have reached a solution, the bombings come back stronger than before."
"We're fed up with them and we can't tolerate this anymore," he added.
The predominantly Shiite city of Basra in southern Iraq was also hit on Monday, with two car bombs there, one outside a restaurant and another at the city's main bus terminus killing at least 13 and wounded 40, according to provincial police spokesman Col. Abdul Karim Al-Zaidi and the head of city's health directorate, Riadh Abdul Amir.
There was no immediate claim of responsibility for the attacks, but such large-scale bombings bear the hallmarks of al-Qaida in Iraq.
The violence also struck Sunni areas, hitting the city of Samarra, north of Baghdad and the western province of Anbar, a Sunni stronghold.
A parked car bomb in Samarra went off near a gathering of pro-government Sunni militia who were waiting outside a military base to receive salaries, killing three and wounding 13, while in Anbar, gunmen ambushed two police patrols near the town of Haditha, killing eight policemen, police and army officials said.
Also in Anbar, authorities found 13 dead bodies in a remote desert area, officials said. The bodies, which included eight policemen who were kidnapped by gunmen on Friday, had been killed with a gunshot to the head.
http://www.thehindu.com/news/international/world/wave-of-attacks-kills-at-least-57-in-iraq/article4732700.ece
-----------
At least 40 Hezbollah fighters killed in Qusayr as troops fight rebels
20 May 2013
At least 40 Hezbollah fighters have been reportedly killed in the Syrian town of Qusayr late on Sunday, sources told Al Arabiya, and following clashes between Syrian rebels and regime forces who attempted to enter the town earlier in the day.
Sources also told Al Arabiya that tens of Hezbollah members were wounded during the fight and had been taken to hospitals in Beirut, Lebanon for treatment.
The assault on Qusayr appeared to be part of a campaign by President Bashar al-Assad's forces to consolidate their grip on Damascus and secure links between the capital and the government strongholds on the coast via the contested central city of Homs.
State news agency SANA said the army had "restored security and stability to most Qusayr neighbourhoods" and was "chasing the remnants of the terrorists in the northern district".
Meanwhile, sources said that Hezbollah official Fady al-Jazzar was reportedly among those killed. Al-Jazzar is considered to be a high ranking Hezbollah officer and was imprisoned in Israel until he returned to Lebanon in a prisoner-exchange deal.
News on his death came after contact was lost with the group that was under his command, Al Arabiya said.
Hezbollah denies taking part in Syria's two-year conflict – which has killed at least 80,000 people, according to the U.N. However, the group – an ally of the Syrian regime – has held regular funerals of Hezbollah fighters, who – it said – were killed serving their "jihadi duties."
Earlier in the day, Syrian State TV reported that Syrian troops had entered the center of the rebel stronghold of Qusayr, seizing the town's main square and its municipality building.
However, Hadi Abdullah, a Syrian activist speaking from Qusayr, denied to Al Arabiya that the town had fallen into the hands of regime forces. The activist added that with support from Hezbollah militias, the Syrian regime is heavily shelling Qusayr, leveling civilian homes.
Syrian activists told Al Arabiya on Sunday that regime airstrikes and heavy shelling of the strategic town, near the Lebanese border killed at least 58 people and left hundreds wounded, including opposition fighters.
Qusayr is home to about 20,000 residents and has been besieged for weeks by government troops.
Earlier in May, spokesperson of the rebel Free Syrian Army (FSA) Louay Almokdad told Al Arabiya that Hezbollah was using artillery shells containing fatal Mustard Gas in the area.
The town is strategically important because it links Damascus with the coast, where regime loyalists are concentrated.
The Syrian Revolution General Commission, a network of activists on the ground, also reported intense bombardment of Qusayr.
http://english.alarabiya.net/en/News/middle-east/2013/05/19/Watchdog-Syria-military-pounds-rebel-town-killing-13.html
---------
Drug use on the rise among Saudi students
20 May 2013
High school students are increasingly using illegal drugs such as Captagon, an anti-narcotics official said.
Abdul-Ilah Al-Sharif, the assistant director general of Drug Enforcement (Preventive Affairs), said there has been a significant increase in the use of Captagon by students.
Al-Sharif said the National Preventive Program, which begins next year, will help to eliminate drugs usage among students.
Al-Sharif said that his organization has seized 123 million Captagon pills over the last two years.
While examining the samples of the pills, the central laboratories of the directorate found a variety of ingredients high in lead and anaesthetic compounds that destroy brain cells.
Al-Sharif said youngsters should not fall prey to drug dealers and reject their claims that such pills can help students keep awake and study much longer. He said 65 percent of the psychiatric patients at Al-Amal hospitals are Captagon pill consumers.
Al-Sharif said the directorate was working with the Ministry of Education to create awareness at schools and universities about the dangers of using such narcotics.
Experts said that drug dealers may use the end-of-year examinations to target young people with these drugs.
Dr. Mohammed Al-Zahrani, director of Al-Amal Mental Health Complex in Dammam, said students are vulnerable to drugs especially during examinations period. Pupils are under psychological and physical pressure during examinations, making them prone to fatigue and exhaustion. They are also under pressure from families and parents to get high grades.
Under these circumstances, some students start using drugs, he said, believing that the substances can help them focus on their studies. Ahmed Al-Matrafi, a student adviser, warned that drug dealers would be hanging around schools as the examinations period begins.
Teacher Mohammed Hakamy said: "Parents have to watch their children constantly. Families should create a friendly environment in their house. They should prevent their children from studying outside the home. Parents should also follow their academic progress keenly."
Khaled Dgriri, another teacher, said different ways can be adopted to fight drugs. Media must play its role to educate youngsters and highlight the damage caused by drugs.
He said schools should incorporate lessons about drug addiction in their curricula.
In addition, religious values should be instilled in youngsters from an early age and sports centres should be set up so that young people can use their spare time properly.
Teacher Ahmed Nasser said that students in middle and secondary schools are the most susceptible to being influenced by older students. This can affect the younger students' education.
Saeed Saleh and Ali Kamel, parents, said drugs such as Captagon can harm young minds, ultimately leading to major mental and health disorders.
http://www.arabnews.com/news/452189
-----------
Egypt faces social pressure to end alcohol sales
May 20, 2013
CAIRO: Egypt's liquor stores are under growing pressure to stop selling alcohol, they say, not from the country's Islamist government, but from society itself.
The shelves of Amir Aziz's central Cairo premises are stacked with beer, wine and spirits, but they are invisible from the street. Aziz has covered the window with metal sheets to avoid angering conservative Cairo residents.
Like many liquor store owners in Egypt, Aziz says the mood has changed drastically since the 2011 uprising that toppled Hosni Mubarak and brought Islamists to power.
"There are no restrictions from the government on the sale of alcohol," Aziz told AFP. "It's the people who are giving us trouble."
Since the fall of Mubarak, Islamists long-suppressed by his regime have set up political parties and gained a voice in the media. In June, Mohamed Morsi, a member of the Muslim Brotherhood, was elected Egypt's first civilian president.
Full report at:
http://beta.dawn.com/news/1012512/egypt-faces-social-pressure-to-end-alcohol-sales
-----------
Iraq PM says to overhaul security strategy after attacks
May 20, 2013
BAGHDAD: Iraqi Prime Minister Nuri al-Maliki said on Monday that he will overhaul the country's security strategy and personnel, as a wave of unrest killed more than 300 people so far this month.
"We are about to make changes in the high and middle positions of those responsible for security, and the security strategy," Maliki said at a news conference.
Full report at:
http://dawn.com/2013/05/20/iraq-pm-says-to-overhaul-security-strategy-after-attacks/
-----------
GCC rails at Iranian threats to Bahrain
20 May 2013
The Gulf Cooperation Council yesterday condemned Iranian threats to Bahrain as un-Islamic and asked Tehran to reconsider its approach to Arabian Gulf countries.
GCC Secretary-General Abdullatif bin Rashid Al-Zayani criticized comments by Iranian Deputy Foreign Minister Hossein Amir-Abdollahian.
The Iranian minister had warned the Bahraini leadership "not to pass the red line of the Muslim community".
Al-Zayani said the Iranian remarks were unacceptable and a disgraceful intervention in the internal affairs of Bahrain and its citizens.
Full report at:
http://www.arabnews.com/news/452225
-----------
Gunmen storm Egyptian security post in lawless Sinai Peninsula
Reuters | May 20, 2013
ISMAILIA: Gunmen stormed an Egyptian security forces base in the Sinai Peninsula at dawn on Monday and exchanged gunfire with forces inside the base before retreating, security sources said.
The gunmen attacked the base in the Al-Ahrash area in North Sinai from a truck and fired automatic weapons, but the attack did not result in any casualties.
The identity of the attackers was not immediately clear, but security sources said they were likely to be Islamist militants.
Hardline Islamist groups in North Sinai were emboldened by the overthrow of former President Hosni Mubarak in 2011. They have exploited the ensuing collapse of state authority and attacked targets in North Sinai and across the border in Israel.
Full report at:
http://timesofindia.indiatimes.com/world/middle-east/Gunmen-storm-Egyptian-security-post-in-lawless-Sinai-Peninsula/articleshow/20148068.cms
-----------
Saudi Arabia world's 2nd most Twitter-happy nation
20 May 2013
Saudi Arabia currently ranks second among the world's fastest growing countries on Twitter, with a 42-percent increase in the number of account holders after Indonesia, which rose to 44 percent, according to GlobalWebIndex's 'Stream Social: Quarterly Social Platforms Update.'
"Twitter appeals to the Saudi user. He just wants to say what is on his mind, float an idea, debate and discuss it and jump onto a new subject," said Bilal Hallab, social business strategist and general manager at the Social Clinic, a social media and business consultancy firm based in Jeddah.
Full report at:
http://www.arabnews.com/news/452204
-----------
Bahrain Poll boycott 'to sabotage democracy'
By Basma Mohammed
May 19, 2013
AN OPPOSITION society has been accused of trying to sabotage democracy after threatening to boycott next year's parliament elections.
Al Wefaq National Islamic Society secretary-general Shaikh Ali Salman made the announcement during a sermon at Samaheej Mosque.
He also revealed plans to hold mass protests with the aim of crippling polling day.
But MPs and human rights activists criticised the decision, saying it was unfair on voters.
Independent Bloc MP Dr Mahmood Al Mahmood said such announcements were simply made to grab attention.
Full report at:
http://www.gulf-daily-news.com/NewsDetails.aspx?storyid=353526
-----------
Illegals can return on new visas: Deputy Minister
20 May 2013
Expats who leave the Kingdom on an exit visa will be able to return the moment they get a new work visa, said Deputy Minister of Labour Mufarrej bin Saad Al-Haqbani.
In an exclusive interview yesterday, he stressed that his ministry has urged companies to recruit those who are in the process of rectifying their status.
"One of the goals of the recent campaign to rectify the status of visa overstayers and those who are violating labour laws is to allow companies to hire them locally instead of bringing in new people from outside the Kingdom."
He added that this situation is also ideal for companies since it will reduce their expenses and help them appoint employees who are familiar with Saudi laws.
Full report at:
http://www.arabnews.com/news/452213
-----------
Southeast Asia
Twenty Ahmadis Convert to Sunni Islam in West Java
May 20, 2013.
About 20 members of the beleaguered Ahmadiyah sect in Tasikmalaya, West Java, supposedly embraced Sunni Islam on Monday and declared their devotion to Indonesia's most popular religious sect during a ceremony at a mosque.
"They pledged allegiance to their [new] faith three times. [The event] was witnessed by the Minister of Religious Affairs and the Tasikmalaya district head," Nurul Mubin, the head of the Islamic Defender's Front (FPI) in Tasikmalaya, said on Monday, as quoted by Detik.com.
In addition, the Ahmadis were required to recite the syahadat — an affirmation that there is only one god and that Muhammad was his last prophet.
Religious Affairs Minister Suryadharma Ali said that he was so proud that he "began to cry when they recited the syahadat."
The minister also promised to provide school scholarships for the children of the newly-converted Ahmadis.
Full report at:
http://www.thejakartaglobe.com/news/twenty-ahmadis-convert-to-sunni-islam-in-west-java/
-----------
Police Terminate Investigation Into Attack on Ahmadiyah in E. Java
By Camelia Pasandaran
May 20, 2013
Police have halted an investigation into last week's attack on an Ahmadiyah mosque in Tulungagung, East Java, citing an agreement by the victims to stop worshipping in their mosque.
"The victims have promised not to file a lawsuit," Tulungagung Police chief of detectives Adj. Comr. Lahuri told Tempo.
Lahuri said that Ahmadiyah congregation members also agreed to stop worshipping in their mosque, located in Gempolan village.
A mob of more than 100 people, mostly youths from Gempolan village and neighboring areas, damaged the Baitul Salam mosque on Thursday. The mosque, built in 2007, had its windows and entrance door destroyed after the mob threw stones and bricks at the structure.
Full report at:
http://www.thejakartaglobe.com/news/police-terminate-investigation-into-attack-on-ahmadiyah-in-east-java/
-----------
Malaysia court orders release of 3 terror suspects
The Associated Press
May 20 2013
A Malaysian court has ordered the release of an al-Qaida-linked former army captain and two other suspects charged with inciting terrorist acts.
The verdict underlines the legal limits of a security law introduced last year to replace legislation that allowed indefinite detention without trial.
Authorities invoked the law for the first time in February to arrest three Malaysians suspected of leading efforts to recruit militants who might participate in violence in Syria.
The Kuala Lumpur High Court ruled Monday that the use of the law against the three was unconstitutional because the allegations did not involve a domestic threat.
The suspects include Yazid Sufaat, who previously spent seven years in detention without trial until 2008 after being accused of working on a weapons program for al-Qaida in Afghanistan.
http://www.thejakartapost.com/news/2013/05/20/malaysia-court-orders-release-3-terror-suspects.html
-----------
Najib's 100-day programme to woo national, party critics
20 May 2013
KUALA LUMPUR, May 20 — Datuk Seri Najib Razak is expected to roll out a 100-day programme within days to win over doubters and persuade Umno that he is the best to lead the party and the country, say sources.
The Malaysian Insider understands that borrowing some ideas from the Abdullah administration, the Najib government will also work to improve the public delivery system, cut crime and corruption, enhance transparency and strengthen inter-ethnic harmony.
"Najib wants a quick start, he is already meeting advisers on this," a source told The Malaysian Insider.
Full report at:
http://www.themalaysianinsider.com/malaysia/article/najibs-100-day-programme-to-woo-national-party-critics/
-------------
Mideast
Islamic Jihad Urges Muslim Confrontation with Israeli Aggressions
2013-05-19
TEHRAN (FNA)- Representative of the Palestinian Islamic Jihad Movement to Tehran Nasser Abusharif strongly condemned the recent Israeli air raid on Syria, and called on all Islamic states to confront the Zionist regime's aggressive moves to prevent similar events in future.
Speaking to FNA on Sunday, Abusharif said the recent Israeli airstrike on Syria was "a blatant violation of an independent state."
"We in the Islamic Jihad Movement condemn the attack and, of course, this opposition should not be limited to criticism and condemnation in words. Rather, we want confrontation with this occupying enemy because we blame a major part of the regional problems on this occupying regime and the western plots which are hatched and exercised in support of this regime."
"Arab and Islamic nations could counter this Zionist enemy through unity and solidarity and prevent it from repeating its aggressions against Muslim territories," the Palestinian figure stated.
Full report at:
http://english.farsnews.com/newstext.php?nn=9202242130
-----------
Hindu temples, Bollywood and a Yemeni city's India ties
May 19, 2013
Hamdi Al-hosami, IANS
Sanaa: A Hindu temple that dates back over 150 years, a market that sports an Indian name and love for Bollywood reflect the India connect of the Yemeni city of Aden.
The famous Hindu temples include the Shri Tarichmerga Temple that was built in 1862, the Shri Ram Ji Temple that was built in 1875 and the Hanuman Temple that was built in 1882.
It is estimated that Indians in Aden numbered 8,563 in 1856 and gradually increased to 15,817 in 1955. Now an estimated 100,000 people of Indian origin are concentrated in southern Yemen around Aden, Mukalla, Shihr, Lahaj, Mokha and Hodeidah. Many of them have acquired Yemeni citizenship and become part of the country's fabric. They, however, still retain ties with their families in India.
Full report at:
http://ummid.com/news/2013/May/19.05.2013/india_yemen_ties.html#sthash.vtekFYTC.dpuf
-----------
U.S. drone strike kills two 'al-Qaeda militants' in Yemen
20 May 2013
An apparent U.S. drone strike killed two suspected al-Qaeda militants in central Yemen on Monday, a local official said.
The attack took place in the Khobza area of the central province of Baida, the official said on condition of anonymity, adding that an American drone launched the attack.
Yemen's defense ministry said on its news website 26sep.net that the raid targeted "two members of Al-Qaeda as they as they left a farm on a motorbike," in Khobza.
It named the two killed as Abd Rabbo Mokbal Mohammed Jarallah al-Zouba and Abbad Mossad Abbad Khobzi.
Full report at:
http://english.alarabiya.net/en/News/middle-east/2013/05/20/U-S-drone-strike-kills-two-al-Qaeda-militants-in-Yemen-.html
-----------
Israel is world's largest exporter of drones: Report
PTI | May 20, 2013
JERUSALEM: Israel is the world's largest exporter of unmanned aerial vehicles (UAVs) in terms of number of systems sold, earning a whopping USD 4.6 billion in sales during the last eight years, excluding a major deal with India for the upgrade of unmanned aircrafts, according to a study by a business consulting firm.
Frost & Sullivan business consulting firm in a study have noted that UAVs, or drones, sales constitute nearly 10 per cent of Israel's total military exports, Haaretz reported.
Unmanned equipment exports are a relatively volatile market, the report said.
Israel had USD 150 million in UAV exports in 2008, a figure which increased substantially in 2009 to USD 650 million.
Full report at:
http://timesofindia.indiatimes.com/world/middle-east/Israel-is-worlds-largest-exporter-of-drones-Report/articleshow/20147004.cms
-----------
Iran Electoral Watchdog Hints at Rafsanjani Rejection
May 20, 2013
DUBAI — Iran's electoral watchdog said on Monday it would bar physically feeble candidates from running for president, in an apparent hint that it could disqualify 78-year-old former President Akbar Hashemi Rafsanjani from the race.
Rafsanjani, if he is allowed to run, would be a significant challenge to conservative hardliners who are ultra-loyal to Supreme Leader Ayatollah Ali Khamenei and who otherwise dominate the field for the June 14 presidential election.
Full report at:
http://www.nytimes.com/reuters/2013/05/20/world/middleeast/20reuters-iran-election.html?ref=middleeast&gwh=9F02B0F78194EAEAD06187B9DF263B99
-----------
Fresh Israeli Face Plays Down Dimming of Political Star
By JODI RUDOREN
May 20, 2013
TEL AVIV — To say Yair Lapid has been on a roller coaster would be an understatement. One recent headline blared about his "meteoric rise and fall," another said he had gone from "political darling to national whipping boy."
Mr. Lapid, a popular television host with no political experience, stunned Israel in January by galvanizing the secular middle class around kitchen-table concerns to make his new Yesh Atid Party the second largest in Parliament. He was immediately crowned a kingmaker, and talked openly about quickly replacing Prime Minister Benjamin Netanyahu.
Full report at:
http://www.nytimes.com/2013/05/20/world/middleeast/fresh-israeli-face-plays-down-political-decline.html?ref=middleeast&_r=0&gwh=EDE225CF255EBBB92FBF1B209EF7880E
----------
Iran says it is producing new air defence missiles
Associated Press
May 20 2013
Tehran: Iran says it has started mass producing a new sophisticated air defense missile system capable of engaging low-altitude aircraft.
The Monday report by state TV quotes Defence Minister Gen. Ahmad Vahidi as saying the new system, dubbed Herz-9 or Talisman-9 in Farsi, is capable of operating at night.
He said the system was mobile and could automatically identify and target flying objects at ``low altitude.'' The TV showed the system, involving double missiles mounted on a truck. Full report at:
http://www.indianexpress.com/news/iran-says-it-is-producing-new-air-defense-missiles/1118191/
-----------
French TV report of Palestinian child's death baseless, Israel says
May 20, 2013
ISRAEL says a France 2 television report seen worldwide on the death of a Palestinian child in 2000 was "baseless", following an analysis of the raw footage.
The report, bolstering the Israeli political and military stance on the Mohammed al-Dura affair, comes ahead of a ruling in Paris on a defamation case between France 2 reporter Charles Enderlin and Philippe Karsenty, director of watchdog group Media Ratings.
Enderlin's reportage shows the death of 12-year-old Mohammed in the arms of his father Jamal al-Dura on September 30, 2000 after being caught in crossfire between Israeli soldiers and Palestinian militants at the start of the second intifada, or uprising.
Full report at:
http://www.theaustralian.com.au/news/world/french-tv-report-of-palestinian-childs-death-baseless-israel-says/story-e6frg6so-1226646455168
-----------
Finders, keepers: Yemeni man on a mission to 'save the Quran'
20 May 2013
A Yemeni man on a mission to "save the Quran" has perhaps up more than he bargained for, after finding more than 3,000 discarded copies of the Islamic holy book over the past five years, piling them up at his home.
Every day, Qanaf Badi sorts through trash cans in the Yemeni capital Sana'a to find abandoned copies of the holy Quran and other materials that carry the name of Allah, or God in Arabic.
Full report at:
http://english.alarabiya.net/en/News/middle-east/2013/05/20/Finders-keepers-Yemeni-man-on-a-mission-to-save-the-Quran-.html
-----------
Pakistan
Killing of Pakistani Politician Shakes New Voting Round
By SALMAN MASOOD
May 20, 2013
ISLAMABAD, Pakistan — Voters in an upscale district of Karachi turned out in low numbers on Sunday for a repeat of the parliamentary election there, a day after a prominent official in a major political party was gunned down in the area, officials said.
The district was a focus for accusations of election fraud during national voting on May 11, and voting there was suspended early that day after reports of violent intimidation. In particular, Pakistan Tehreek-e-Insaf — the party led by the former cricket star Imran Khan, which has made inroads among affluent Karachi voters — blamed the dominant party in the city, the Muttahida Qaumi Movement, of trying to prevent his supporters from reaching the polls.
Full report at:
http://www.nytimes.com/2013/05/20/world/asia/assassination-shakes-new-round-of-voting-in-pakistan.html?ref=world&gwh=E6CD952CB1A595D86BAF6CA8E37E99A8
----------
Karachi violence claims eight lives
May 20, 2013
KARACHI: At least eight people were killed in separate firing incidents in Karachi on Monday, DawnNews reported.
A member of a political party was killed in a gun firing incident in Karachi's Gulistan-e-Johar area, whereas a policeman was also injured in the attack. Panic and fear spread in the area and markets and shops were closed down in the vicinity.
Two persons were gunned down in separate incidents near Abbasi Shaheed Hospital and the airport.
Full report at:
http://dawn.com/2013/05/20/karachi-violence-claims-eight-lives/
-----------
Imran made Karachi a battlefield: MQM leader
May 20, 2013
Post-May 11 elections, Pakistan Tehreek-e-Insaf chairman Imran Khan made Karachi a battlefield, accused Muttahida Qaumi Movement (MQM) leader Waseem Aftab on Monday.
Aftab was addressing a protest gathering outside the Karachi Press Club.
He further said that the PTI chairman offended MQM supporters by accusing their leader of killing.
PTI leadership had earlier held MQM chief Altaf Hussain responsible for the murder of PTI central vice president Zehra Shahid Hussain in Karachi.
"I hold (MQM leader) Altaf Hussain directly responsible for the murder as he openly threatened PTI workers and leaders through public broadcasts," Imran Khan had said in a tweet.
Full report at:
http://tribune.com.pk/story/551850/mqm-pti-to-protest-against-each-other/
-----------
Police unsure about motive behind killing of PTI leader
May 20, 2013
KARACHI: Police officials have yet to determine whether Zahra Shahid Hussain's death on Saturday was a targeted killing or she was a victim of an attempted robbery.
Zahra, a senior vice-president of Pakistan Tehreek-e-Insaf's Sindh chapter, was shot at the doorstep of her residence in Phase IV, DHA, on Saturday. She succumbed to her injuries at the National Medical Centre shortly after.
Police officials have found an empty casing of the bullet from the crime scene. The shell has been sent to the forensic division to verify whether it matches with the pistols used in crimes committed recently.
Full report at:
http://tribune.com.pk/story/551672/police-unsure-about-motive-behind-killing-of-pti-leader/
-----------
Imran Khan's party wins revote in Karachi, protests expected
Reuters | May 20, 2013
ISLAMABAD: Cricket hero Imran Khan's Pakistan Tehrik-i-Insaf party won a revote in an upmarket constituency of Karachi on Sunday, unofficial results showed, a day after gunmen killed a party leader, setting the stage for protests and counter-protests.
Khan blamed the killing of Zara Shahid Hussain on the Muttahida Quami Movement (MQM) party, which has a stranglehold on the city. Furious MQM leaders denied responsibility, condemned the killing and demanded a retraction from Khan.
Full report at:
http://timesofindia.indiatimes.com/world/pakistan/Imran-Khans-party-wins-revote-in-Karachi-protests-expected/articleshow/20147284.cms
-----------
I warned Britain, says Imran Khan after deputy shot
May 20, 2013
GUNMEN have killed a Pakistani politician from Imran Khan's party on the eve of a partial re-run of the May 11 polls that were marred by more than 150 killings.
Zahra Shahid Hussain, 59, vice-president of the women's wing of Pakistan Tehreek-e-Insaf in the province of Sindh, was shot by three gunmen on a motorcycle outside her home in an upmarket part of the city yesterday.
Full report at:
http://www.theaustralian.com.au/news/world/i-warned-british-says-imran-khan-after-deputy-shot/story-e6frg6so-1226646265904
-----------
Kayani suggests regional forum to counter IED menace
May 20, 2013
RAWALPINDI: Addressing a symposium at the Army's General Headquarters (GHQ) in Rawalpindi, Chief of Army Staff Gen Pervez Kayani suggested the establishment of a regional forum to counter Improvised Explosive Device (IED) attacks in the country while appreciating the public participation in the recently held historic polls in the country, DawnNews reported.
General Kayani said in his address that by participating in the recently held polls the nation had proved that it was capable of facing any challenge adding that Pakistanis were moderate, resilient and extraordinarily hardworking.
Full report at:
http://dawn.com/2013/05/20/kayani-suggests-regional-forum-to-counter-ied/
-----------
Musharraf granted bail in Benazir Bhutto assassination case
May 20, 2013
Pakistani anti-terrorism court on Monday granted bail to former military ruler Pervez Musharraf over the assassination of ex-Prime Minister Benazir Bhutto in 2007.
Judge Chaudhry Habib-ur-Rehman of the anti-terrorism court in Rawalpindi granted bail to Mr. Musharraf against two surety bonds of Rs. 10 lakh each.
During the arguments, Mr. Musharraf's lawyer Salman Safdar said there was no solid evidence or witness against his client.
Full report at:
http://www.thehindu.com/news/international/south-asia/musharraf-granted-bail-in-benazir-bhutto-assassination-case/article4732893.ece
-----------
Pakistan: Gunmen attack polio team, kill policeman
PTI | May 20, 2013
ISLAMABAD: Militants on Monday attacked a team of polio vaccinators in the restive Bajaur tribal region of northwest Pakistan, killing a security personnel.
The members of the polio vaccination team were unharmed, officials were quoted as saying by TV news channels.
The attackers gunned down a paramilitary personnel protecting the vaccinators.
Pakistan is one of only three countries where the polio virus is endemic.
Taliban factions in the country's northwest have banned polio vaccination campaigns over the past two years.
Full report at:
http://timesofindia.indiatimes.com/world/pakistan/Pakistan-Gunmen-attack-polio-team-kill-policeman/articleshow/20148828.cms
-----------
I should have quit presidency to lead PPP in polls: Zardari
PTI | May 20, 2013
ISLAMABAD: President Asif Zardari has said that he should have quit his position and led the Pakistan People's Party's campaign in order to ensure a better performance in the just concluded general election.
Zardari made the remarks while interacting with a delegation of the South Asian Free Media Association at his private residence in Lahore last night.
The PPP, which led the government at the centre for the past five years, was routed in the May 11 polls by the PML-N.
Full report at:
http://timesofindia.indiatimes.com/world/pakistan/I-should-have-quit-presidency-to-lead-PPP-in-polls-Zardari/articleshow/20148125.cms
-----------
President felicitates first Pakistani woman to scale Mount Everest
May 20, 2013
ISLAMABAD: President Asif Ali Zardari congratulated Pakistani woman mountaineer Samina Baig and her brother Mirza Ali on climbing the world's highest peak at Mount Everest.
In a message of felicitation, the President lauded the will and determination of Samina Baig and said that she has made the nation proud. According to President Zardari, Samina Baig has earned laurels for the country by becoming the first Pakistani women to scale Mount Everest, the world's highest mountain with a peak at 8,848 meters.
Full report at:
http://tribune.com.pk/story/551884/president-felicitates-samina-baig-for-becoming-the-first-pakistani-women-to-scale-mount-everest/
-----------
Africa
17 killed in offensive against insurgents, Nigeria military says
AP | May 20, 2013
ABUJA: Nigeria's military says its offensive against insurgents in the country's restive northeast has killed at least 14 suspected Islamic extremists and three soldiers.
Brig. Gen. Chris Olukolade, a military spokesman, said in a statement that one soldier also was missing as "forces have been engaging a large number of heavily armed terrorists" for the last two days. He did not say exactly where the fighting occurred but that about 20 people were arrested.
Full report at:
http://timesofindia.indiatimes.com/world/rest-of-world/17-killed-in-offensive-against-insurgents-Nigeria-military-says/articleshow/20142391.cms
-----------
One dead in Tunisia showdown with Islamists
AFP | May 20, 2013
TUNIS: Security forces and hardline Islamists fought street battles in Tunis on Sunday, with one protester killed and 15 policemen wounded, after the authorities banned the Salafists from staging their annual congress.
The confrontations infuriated moderate Islamist Prime Minister Ali Larayedh, who for the first time linked the Salafist Ansar al-Sharia group which is considered close to Al-Qaeda to "terrorism".
"Ansar al-Sharia is an illegal organisation which defies and provokes state authority," Larayedh told Tunisian state television during a visit to Qatar.
Full report at:
http://timesofindia.indiatimes.com/world/rest-of-world/One-dead-in-Tunisia-showdown-with-Islamists/articleshow/20143991.cms
-----------
South Sudan Army Says Retakes Town From Rebels in East
May 20, 2013
JUBA — South Sudan's army has retaken an eastern town captured by rebels two weeks ago, a military spokesman said on Monday, in a conflict that has uprooted thousands of people and hampered government plans to explore for oil.
Army spokesman Philip Aguer said four soldiers and a dozen rebels were killed during a brief battle on Sunday to recapture Boma town in Jonglei state, where the government wants to search for oil with the help of France's Total.
Full report at:
http://www.nytimes.com/reuters/2013/05/20/world/africa/20reuters-southsudan-fighting.html?ref=africa&gwh=034F06AFB1EBF12D13404DCD7BC43E23
-----------
Europe
Car Bombs Kill Eight in Russia's Dagestan: Investigators
May 20, 2013
MAKHACHKALA, Russia — Two car bombs exploded in Dagestan on Monday, killing at least eight people and wounding about 20 others, investigators said, one of the deadliest attacks this year in a region plagued with violence linked to an Islamist insurgency.
The blasts occurred in swift succession outside the headquarters of the court bailiffs' service in the provincial capital, Makhachkala.
Car bombs, suicide bombings and firefights are routine in Dagestan, center of an Islamist insurgency rooted in two post-Soviet wars against separatist rebels in neighboring Chechnya.
Full report at:
http://www.nytimes.com/reuters/2013/05/20/world/europe/20reuters-russia-blasts-dagestan.html?ref=europe&gwh=B77507BC58B26E8275B10B040CB65540
-----------
Dagestan's Bitter Shadow War, Fought by 'Many Tsarnaevs'
By ELLEN BARRY
May 20, 2013
KHASAVYURT, Russia — The slender man of 22, a former guerrilla fighter, was making another hangdog, penitent appearance at the behest of city officials here. It was brainwashing that led him to take up arms against the state and "go to the forest," he said, and his sincere desire was to forget that it had ever happened.
Most of the time, people like this young man, Dzhabrail Altysultanov, do not come back alive, the deputy mayor of Khasavyurt, a city near the Chechen border, acknowledged matter-of-factly, as a waitress brought a steaming platter of roasted meat. If Mr. Altysultanov had not surrendered, the official said, "they would have had to gather him up in pieces." The younger man looked down at his plate.
Full report at:
http://www.nytimes.com/2013/05/20/world/europe/bomb-suspects-trip-sheds-light-on-caucasus-war.html?ref=world&_r=0
-----------
M23 rebels attack DR Congo army as UN force deploys
May 20, 2013
Heavy fighting has taken place between government and rebel forces in eastern Democratic Republic of Congo.
This was the first clash between the two sides since the UN began deploying an attack force to the area last week.
Meanwhile, Rwandan President Paul Kagame told the BBC that UN troops had "in some cases" made the situation in DR Congo worse.
The UN has nearly 20,000 peacekeepers in eastern DR Congo, where armed groups have wreaked havoc for two decades.
Full report at:
http://www.bbc.co.uk/news/world-africa-22596761
-----------
Abu Qatada: Cleric appeals for family time
May 20, 2013
Abu Qatada wants to spend time with his family before leaving the UK, an immigration tribunal has heard.
His lawyer Daniel Friedman QC is requesting the release of the radical cleric, who has been in Belmarsh prison since March when his bail was revoked.
He said his client had been "deprived of his liberty more than any other non-convicted person in British history".
Previously his lawyers said Abu Qatada would return to Jordan voluntarily if a fair trial treaty was ratified.
Full report at:
http://www.bbc.co.uk/news/uk-22593258
-----------
South Asia
Suicide attack in northern Afghanistan kills at least 14
20 May 2013
A suicide bomber struck outside government buildings in northern Afghanistan on Monday, killing at least 14 people including a senior local politician, officials said.
Emergency services rushed to the scene and took the wounded to hospital after the bomber, who was wearing a police uniform, blew himself up in the center of Pul-e-Khumri, the capital of Baghlan province.
"I collected information from different hospitals and the death toll is 14. Another nine people are wounded," Zubair Akbary, the provincial public health director, told AFP.
Police said that the bomber, who was on foot, had targeted Rasoul Mohseni, head of Baghlan's provincial council, an elected body in each of Afghanistan's 34 provinces that liaises between residents and the local government.
Full report at:
http://english.alarabiya.net/en/News/asia/2013/05/20/Suicide-attack-in-northern-Afghanistan-kills-at-least-14.html
-----------
Maldives parents pull students from preschool over "differences in religious views"
By Mariyath Mohamed | May 19th, 2013
A preschool on the island of Maafushi in Kaafu Atoll has alleged a number of parents have stopped students from attending school, claiming "differences in religious views."
Parents have so far pulled six students from the preschool, while two more have been officially expelled on parental request. Parents of two older students attending the Maafushi School have also submitted letters informing the school management that their children will no longer be attending classes.
Full report at:
http://minivannews.com/society/maafushi-parents-pull-students-from-preschool-over-playing-of-nursery-rhymes-lack-of-gender-segregation-58120
------------
China manoeuvres to create space for itself in Afghanistan
Bharti Jain, TNN | May 20, 2013
NEW DELHI: As the 2014 deadline for withdrawal of western forces from Afghanistan draws near, China has stepped up engagement with Pakistan and others on the reconciliation process that will follow in the war-ravaged country.
Beijing, as part of an Afghan policy that suits its strategic and business interests, has been interacting with various Afghan lobbies, discreetly reaching out to Northern Alliance leaders as well as the Taliban, while also coordinating with Pakistan to create space for itself in possible political deliberations on the future of Afghanistan.
Full report at:
http://timesofindia.indiatimes.com/world/south-asia/China-manoeuvres-to-create-space-for-itself-in-Afghanistan/articleshow/20143032.cms
-----------
Col Abu Taher execution an outright murder: Dhaka HC
May 20, 2013
The High Court has termed the execution of Col Abu Taher through a military tribunal order in 1976 as an "outright murder".
The full text of an HC verdict, which was released on Monday, also termed the military tribunal judgement as "illegal".
Explaining their terming the execution as a "cold blooded assassination", the judges who passed the verdict said Gen Ziaur Rahman, the then chief martial law administrator, had decided to execute Taher much before the formation of the so-called tribunal.
It also directed the government to try those who were involved with the so-called trial, if any of them are still alive.
Full report at:
http://www.thedailystar.net/beta2/news/col-taher-execution-an-absolute-killing-hc/
-----------
Hold referendum on a caretaker govt for elections in Bangladesh, if dialogue fails
May 20, 2013
Dr Akbar Ali Khan, a former adviser to a caretaker government, on Monday proposed holding a referendum to decide the polls-time government, if political parties fail to reach a consensus through dialogue.
"The referendum should be organised to protect the country's democracy," he said while addressing a mock debate at Bashundhara City around 11:00am.
Full report at:
http://www.thedailystar.net/beta2/news/hold-referendum-if-dialogue-fails-dr-akbar/
-----------
India
New Indian passports 'rejected' by local authorities in Saudi Arabia
20 May 2013
Several hundreds of Indian expatriates are facing problems with newly issued passports by Indian diplomatic missions in Saudi Arabia.
Saudi authorities are not accepting the newly designed passport, saying they have not received any official information on modification.
Passport holders are legal residents of the Kingdom with valid residency permits who have approached Passport Department (Jawazat) to transfer data from their old passports to their new ones, commonly known as "naql maalumat."
In the old passport, the passport holder's photo was placed on the second page, whereas the newly issued passports have photos placed on the third page.
Full report at:
http://www.arabnews.com/news/452226
-----------
UP seeks CBI probe in death of HuJI terror accused
May 19, 2013
A day after terror suspect Khalid Mujahid, 30, died mysteriously while being escorted to Lucknow jail following a court hearing, the Uttar Pradesh government sought a Central Bureau of Investigation (CBI) probe into the incident.
"The state government has written to the central government requesting a CBI investigation into Mujahid's death. His family members have demanded a CBI probe," RM Srivastava, principal secretary (home), said on Sunday. The government also sounded a statewide alert.
Mujahid's uncle Mohammad Zahir Falahi lodged an FIR against 42 police officials including former DGP Vikram Singh at Barabanki police station, accusing them of involvement in his "murder".
Full report at:
http://www.hindustantimes.com/India-news/lucknow/UP-seeks-CBI-probe-in-death-of-HuJI-terror-accused/Article1-1062528.aspx
-----------
Conservationists demand restoration of Dara Shikoh's library
May 15, 2013
Brij Khandelwal, IANS
Agra: Conservationists here have demanded the restoration and reopening of Dara Shikoh' library that is lying in shambles in the heart of the Taj city.
"People may have forgotten about its existence but during (Mughal emperor) Shah Jahan's reign, it was a centre of scholarship and excellence," said historian Raj Kishore Raje. "Sufi saints and scholars regularly met and discussed mysticism and theology with Dara Shikoh himself initiating the discussions," he added.
Dara Shikoh (1615-1659) was Shah Jahan's eldest son and would have succeeded him but for being defeated in battle and subsequently assassinated at the instance of his brother Aurangzeb. This was during an intense power struggle following Shah Jahan's illness and culminated in his being deposed in 1658.
Full report at:
http://ummid.com/news/2013/May/15.05.2013/dara_shikoh_library.html#sthash.rB698c02.dpuf
-----------
Indian embassy starts delivering exit papers in Saudi Arabia
PTI | May 20, 2013
DUBAI: India on Monday started verification and issuance of emergency certificates allowing its citizens to leave Saudi Arabia following concerns over a new labour policy in the Gulf Kingdom.
The schedule currently announced is for the delivery of the first batch of 12,000 emergency certificate applications received at Indian embassy in Riyadh and nearly 3,000 in Saudi's Eastern Province.
The schedule for verification and delivery of subsequent batches for all Indian nationals who have applied at other collection centres in Saudi Arabia will be announced soon, the Indian embassy in Riyadh said in a statement.
Full report at:
http://timesofindia.indiatimes.com/india/Indian-embassy-starts-delivering-exit-papers-in-Saudi-Arabia/articleshow/20150220.cms
-----------
Mirwaiz Umer Farooq placed under house arrest in Srinagar
IANS | May 20, 2013
SRINAGAR: Mirwaiz Umer Farooq, chairperson of the moderate faction of Jammu and Kashmir's separatist Hurriyat Conference, was placed under house arrest on Monday, a day before the group has called for a march to the Eidgah here.
The Mirwaiz's movements have been restricted to maintain law and order, a police official said.
Full report at:
http://timesofindia.indiatimes.com/india/Mirwaiz-Umer-Farooq-placed-under-house-arrest-in-Srinagar/articleshow/20149410.cms
-----------
Four ISI agents held near Army base in Sukna
Deep Gazmer, TNN | May 20, 2013
KURSEONG: Darjeeling police on Sunday arrested four ISI operatives who had been siphoning information from the Sukna cantonment for the past five years.
One of them is a sacked Army driver and another a Gorkha Janmukti Morcha leader. Three others, including an army clerk, have been detained for interrogation.
Sunday's breakthrough — one of the biggest busts of an ISI module — followed from the arrest of Army clerk B K Sinha in Jaipur on Wednesday.
Full report at:
http://timesofindia.indiatimes.com/india/Four-ISI-agents-held-near-Army-base-in-Sukna/articleshow/20143999.cms
-----------
Pawar slams Modi over Ishrat Jahan's killing
PTI | May 20, 2013
THANE: Targeting Narendra Modi over the alleged fake encounter of Mumbra resident Ishrat Jahan in 2004, Union agriculture minister Sharad Pawar said that the chief minister and Gujarat police had killed an innocent college girl by branding her as a terrorist.
"Modi had then announced that he was proud of his police force for gunning down terrorists. He boasted that the encounter was a feather in the cap of the Gujarat police, while the Mumbai police had failed to do their duty," Pawar said on his visit to Mumbra yesterday.
"Ishrat was innocent but she was projected as a terrorist. Now, the incident is haunting Gujarat government. It was MLA Jitendra Awhad who took up the cause and fought a long legal battle to prove her innocence and expose the Gujarat police," he said.
Full report at:
http://timesofindia.indiatimes.com/india/Pawar-slams-Modi-over-Ishrat-Jahans-killing/articleshow/20148635.cms
-----------
LeT operative held on militant's tip-off
May 19, 2013
Police on Sunday claimed to have arrested the financial manager of Lashkar-e-Taiba in northern town of Sopore.
A police spokesman said they nabbed Mudasir Ahmad Dar, an LeT operative who was managing finances for the militant outfit in and around Sopore.
"He had been working for the banned terrorist organisation since long and using code name Muviya," the police spokesman said.
Full report at:
http://www.hindustantimes.com/India-news/srinagar/LeT-operative-held-on-militant-s-tip-off/Article1-1062598.aspx
-----------
NIA has exposed Delhi Police drama, says Liaquat Shah
AHMED ALI FAYYAZ
May 20, 2013
Recalls ordeal since arrest on March 20 on India-Nepal border
Former militant Liaquat Shah on Sunday alleged that the Delhi Police Special Cell (DPSC) had attempted to kill him in a fake encounter after his arrest on March 20 this year.
They "dragged me out from custody and forced me to board a special police vehicle. They kicked me hard and hid me under the seat. Some officers including Inspectors Sanjay Dutt and Rahul, and Dharmindar sat on me. It was about 11.30 p.m. They drove to a deserted place and stopped their vehicle. Then they loaded their guns. I realised that I was being bumped off," Liaquat told a group of journalists on his arrival at Dardpora in Kupwara district. Full report at:
http://www.thehindu.com/news/national/nia-has-exposed-delhi-police-drama-says-liaquat-shah/article4730638.ece
-----------
Muslim leaders raise heat on SP govt
Faisal Fareed
May 20 2013
LUCKNOW : Bukhari wants Akhilesh govt to make Nimesh Committee report public; chief of Rashtriya Ulema Council calls it a cold blooded murder
The ruling SP's plan to woo the Muslim community seems to have gone awry with the death of Khalid Mujahid, an accused in the 2007 serial blasts, on Saturday. Muslim clerics are now mounting pressure on Chief Minister Akhilesh Yadav to make the Nimesh Commission report public.
Shahi Imam of Delhi's Jama Masjid Syed Ahmed Bukhari met SP chief Mulayam Singh Yadav and Akhilesh on Sunday and demanded compensation and a government job for Khalid's family. "The Nimesh Commission report should be tabled. Effective steps should be taken for the release of other Muslim youths from jail. CBI enquiry is not sufficient as the agency is under political pressure. The probe should be by some independent agency," Bukhari said.
The country's largest Islamic seminary, Darul Uloom Deoband, condemned the incident. "Khalid's death is a stigma on Akhilesh's government. Not only the Muslim community but all secular people want to know under what circumstances did he die," Mufti Abul Qasmi Nomani, Rector, Darul Uloom Deoband, stated. Ashraf Usmani, a faculty and official spokesperson of the seminary, said, "There were reports, as per the Nimesh Commission, that 42 policemen were accused of falsely implicating Khalid and Tariq Qasmi. We cannot deny that this incident happened to save those policemen."
Full report at:
http://www.indianexpress.com/news/muslim-leaders-raise-heat-on-sp-govt/1118051/
-----------
In Lalu's Muslim anxiety, Nitish holds the edge
Santosh Singh
May 20 2013
NALANDA : This week, at his biggest show of strength since losing power in Bihar nearly eight years ago, Lalu Prasad exhorted Muslims never to allow "divisive forces" to come to power in Delhi, and derided Nitish Kumar as a "parrot of the BJP and the RSS".
A cross-section of Muslim opinion in the state, however, appeared reluctant to agree with him — or to readily abandon a chief minister who is widely seen to have delivered for the community.
"Lalu and Nitish are both like dear sons. But Nitish has proved to be a worthy son and Lalu an unworthy one. It is always safer to trust and invest in a worthy son," said Mohammed Nasim, a businessman in the Muslim-dominated Andhanna village in Noorsarai, Nalanda.
Full report at:
http://www.indianexpress.com/news/in-lalu-s-muslim-anxiety-nitish-holds-the-edge/1117948/
-----------
Nitish invites Nawaz Sharif to Bihar
May 20, 2013
PATNA: Chief minister Nitish Kumar has congratulated Pakistan Prime Minister-designate Nawaz Sharif on his decisive electoral victory and invited him to visit Bihar.
"Let me extend to you my warmest congratulations on your decisive electoral victory even in these trying times," Kumar, who met Sharif during his visit to Pakistan last year, said in a letter dated May 13 and made available to the press today.
Full report at:
http://timesofindia.indiatimes.com/india/Nitish-invites-Nawaz-Sharif-to-Bihar/articleshow/20154832.cms
-----------
India and China bhai-bhai not at cost of Pakistan'
Sutirtho Patranobis, Hindustan Times
May 19, 2013
There is every chance that a border face-off might happen again but China is looking to engage India in a way it has not done before – looking at New Delhi as an important neighbour and ally, possibly in the league of Moscow.
The next decade will be crucial for China-India relation with the new dispensation in Beijing attempting to strike a new strategic balance with New Delhi.Balance will be an important verb in the new mould of relation that China and India are rattempting to create.
Full report at:
http://www.hindustantimes.com/worldsectionpage/chunk-ht-ui-indiasectionpage-liinindia/India-and-China-bhai-bhai-not-at-cost-of-Pakistan/Article1-1062581.aspx
-----------
North America
Hindu immigrants to U.S. doubled in last decade, reveals survey
NARAYAN LAKSHMAN
May 20, 2013
Pew results food for thought to lawmakers on overhaul of rules
A survey by the Pew Forum on Religion and Public Life has unearthed surprising trends in the religious identities of immigrants who received permanent residence in the U.S., particularly the fact that the footprint of Hindu migrants increased from three per cent in 1992 to seven in 2012.
The rise of minority religions in the U.S. immigrant profile appeared to come at the cost of Christian immigrants, the survey suggested. While Christians still comprised the majority, their estimated share among legal permanent residents dropped from 68 to 61 per cent over the period.
Full report at:
http://www.thehindu.com/news/international/world/hindu-immigrants-to-us-doubled-in-last-decade-reveals-survey/article4730499.ece
-----------
Obama to discuss counterterrorism strategy
AFP | May 20, 2013
WASHINGTON: President Barack Obama will discuss his counterterrorism strategy on Thursday, revealing to the American public his plans for unmanned drones and Guantanamo Bay, the White House said on Sunday.
During his speech at the National Defence University in Washington, the president will discuss "our broad counter-terrorism policy, including our military, diplomatic, intelligence and legal efforts," a White House official said.
"He will review the state of the threats we face, particularly as al-Qaida core has weakened but new dangers have emerged."
The speech will come a little more than a month after the deadly twin bombings in Boston blamed on two ethnic Chechen brothers who lived in the United States for several years.
Full report at:
http://timesofindia.indiatimes.com/world/us/Obama-to-discuss-counterterrorism-strategy/articleshow/20144174.cms
-----------
URL: https://newageislam.com/islamic-world-news/new-age-islam-news-bureau/wave-of-attacks-kills-at-least-57-in-iraq/d/11652