Age Islam News Bureau
17 Jul 2018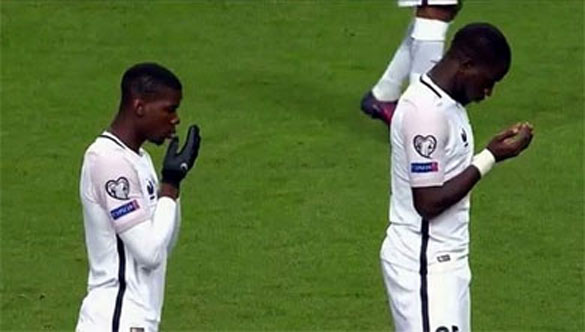 Paul Pogba seen praying before a match against the Netherlands. SCREENGRAB: DAILYMOTION
-----
• Wanted Islamic Terrorist Who Threatened Jews and Christians Campaigns Openly in Pakistan Election
• Social Boycott Fatwa Issued Against Anti-Triple Talaq Activist Nida Khan
• France Lifts the World Cup after 20 Years, Thanks To These Muslim Players
• How Israel's Mossad Stole Iranian Nuclear Files from Secret Warehouse
• G25: Make Child Marriage Federal Crime, Not Fatwa
Pakistan
• Wanted Islamic Terrorist Who Threatened Jews and Christians Campaigns Openly in Pakistan Election
• MMA Vows To Make Pakistan Islamic Welfare State
• Bilawal says nation will defeat terrorism with determination
• Senators irked by 'permission' to extremist ideologies to permeate society
• Pakistan, Iran vow to improve military ties
• Bilawal concerned over allowing banned parties to contest polls
• Four 'militants' killed in Awaran operation
--------
India
• Social Boycott Fatwa Issued Against Anti-Triple Talaq Activist Nida Khan
• Afghan Embassy Holds Memorial Service for Sikhs, Hindus Killed In Jalalabad
• Kulbhushan Jadhav case: Pakistan to file 2nd counter to India in ICJ today - and it's '400 pages long'
• J&K: Cop killed, another injured in Pulwama terror attack
--------
Europe
• France Lifts the World Cup after 20 Years, Thanks To These Muslim Players
• 'After Day with Christians, Muslim Teens Wash In Mosque': Study Charts Rise Of Salafism In Sweden
• Belgium's efforts to manage the rapidly growing Islamic scene in Brussels
• 35k families displaced by Saudi attacks on Hudaydah: UN
--------
Mideast
• How Israel's Mossad Stole Iranian Nuclear Files from Secret Warehouse
• Yemeni Tribes Back Houthi Forces; Vow to Defeat Saudi, Allies in Hudaydah
• Saada Tribesmen: We Hope To Remove Houthi 'Nightmare' From Our Lives
• Hamas warns of consequences as Israel tightens Gaza siege, halts fuel transfer
• New Syrian refugees not welcomed in Turkey, says Human Rights Watch
• Turkish journalist acquitted over exposing Ankara's arms aid to Syria militants
--------
Southeast Asia
• G25: Make Child Marriage Federal Crime, Not Fatwa
• Jokowi's Soft Diplomacy: Global Islamic Network of Moderation
• Malaysia's Mahathir, Philippines' Duterte Discuss Islamic State, Security Ties
• Jakim to be tolerant in handling of Islamic-related matters
• Don't discriminate against LGBT at work, Islamic affairs minister says
--------
Arab World
• Syrian Army Frees Four More Regions in Death Triangle
• Syria: Fresh Clashes among Terrorist Groups Reported in Hama
• Strikes blamed on Israel killed 9 pro-regime fighters in Syria
• Prince Khalid bin Salman: Yemeni people united over expelling Iranian influence
• Syrian army captures strategic hill overlooking Israeli-occupied Golan Heights
• Remains of US, ISIL Victims Found in Mass Graves in Northeastern Syria
• 500 Regions in Idlib Join Gov't Peace Plan
• Several Syrian Civilians Killed in US Air Raids in Deir Ezzur
• Several US-Backed Militias Killed in Bomb Blasts, Gunfire in Northeastern Syria
• Last Group of Kurdish Militias Evacuate Manbij
• Security alert as Qatari ex-minister linked to terror reappears in public
--------
South Asia
• Taliban Say Awaiting Formal US Offer For Direct Talks
• NATO Rejects Remarks Attributed To Gen. Nicholson Regarding Direct Talks with Taliban
• Taliban shares demand ahead of direct talks with the US
• One year on, basic healthcare remains major challenge for Rohingya refugees
--------
North America
• US Muslim Candidates Run in Record Numbers but Face Backlash
• Trump Says Iran In Turmoil Since US Withdrew From Nuke Deal
• Trump administration to seek direct peace talks with Taliban: NYT
• Turkey gradually moving away from dictates of US: Analyst
--------
Africa
• Uganda Beefs Up Security to Avert Al-Shabaab Possible Attack
• Casualties feared after Boko Haram attack military base
• Somalia: Turkey Condemns Deadly Al-Shabaab Attack near Presidential Palace
Compiled by New Age Islam News Bureau
URL: https://www.newageislam.com/islamic-world-news/wanted-islamic-terrorist-threatened-jews/d/115859
--------
Wanted Islamic Terrorist Who Threatened Jews and Christians Campaigns Openly in Pakistan Election
07-16-2018
Millions of people in the world's second-largest Muslim nation are preparing to head to the polls next week for national parliamentary elections.
A record number of 11,855 candidates are vying for 849 seats in Pakistan's general elections. More than a hundred political parties are taking part in the 2018 elections. Among them, an unprecedented number of Islamic extremists and sectarian groups, some with ties to Al Qaeda and terror-related violence.
One of the most prominent individuals on the campaign trail is Hafiz Mohammed Saeed, the accused mastermind behind the 2008 Mumbai terrorist attacks. The United Nations declared him a terrorist and the US has a $10 million bounty for him.
Though he's not running himself, Saeed's political party the Milli Muslim League (MML), is fielding more than a dozen candidates. In April, the US State Department placed MML on its list of foreign terrorist groups, calling it a front for the Islamic terror group Lashkar-e-Taiba (LeT), which was co-founded by Saeed.
"Formed in the 1980s, LeT was responsible for the November 2008 terrorist attacks in Mumbai, India that killed 166 people, including six Americans, and has killed dozens of Indian security forces and civilians in recent years," the State Department said. "LeT continues to operate freely within Pakistan, holding public rallies, raising funds, and plotting and training for terrorist attacks."
Saeed's son, Talha Saeed, a designated terrorist under the US Treasury Department, is among 265 extremist candidates running in Pakistan's elections next week. Many of them have espoused radical Islamic sentiments and have expressed a desire to make Pakistan a "citadel of Islam."
Experts say there's no evidence that these militant candidates are prepared to shed their dangerous views.
"Their objectives are very clear, they may be sectarian in their nature, many actors they still believe in militancy and they haven't compromised or even they haven't given any indication that they are going to shun the violence," worries Mohammed Amir Rana, an analyst who tracks radical groups in the region for Pakistan's Institute of Peace Studies. "What we have seen is that they are expanding their outreach, and this election process somehow has provided them the breathing space."
At a recent campaign rally in Faisalabad, Hafiz Mohammad Saeed made it clear to the crowd his view of Christians and Jews.
"Our war against Crusaders, Hindus, and Jews will continue, they are all infidels," Saeed declared during his speech. "America says about us, 'don't let them get into mainstream politics, don't let them run in elections'. America understands that if we are in politics, the door to its intervention will be shut down."
Analysts warn the participation of these many radical groups could lead to the further radicalization and mainstreaming of terrorists in this largely conservative Muslim majority nation.
Farahnaz Ispahani, a former member of Pakistan's National Assembly, says next week's election is a "brutal mockery" and that any government formed after election day "would be the first to lack credibility from its very first day."
"This is an unusual election because restrictions are in place on all moderate political parties previously preferred by voters, while extremists identified as terrorists by local and global authorities are free to participate," Ispahani wrote.
Michael Kugelman of the Washington-based Wilson Center told the Associated Press that the involvement of the radical groups "in the election is highly significant, not because of their ability to sweep into power, which won't happen, but because of how they can use the political process to legitimize themselves and their extremist ideologies."
On Monday night, a coalition of five Islamic parties held a large rally in Karachi. Thousands attended the gathering where the alliance sought support for the implementation of strict Islamic laws known as Sharia. Leaders of the meeting accused the rulers of Pakistan of not doing enough to make the country more Islamic.
"MMA alliance is an ideological alliance. If we win the government for even one day, we will bring back the caliphate," said Maulana Sirajul Haq, leader of Jamaat-e-Islami party. "Our first revolution will be economic. Votes shall be respected only if respect is given to Islam, Shariah, the Holy Quran and mosques."
Pakistan is overwhelmingly Muslim. Roughly two percent of the population is Christian, and they are often targets of numerous Islamic attacks.
"Much of the Christian persecution in Pakistan comes from radical Islamic groups that flourish and expand under the favor of political parties, the army, and the government," said Open Doors, which has listed Pakistan in the top ten of worst places in the world to be Christian.
Experts say giving political space and freedom to these Islamic groups makes combating extremism all the more challenging.
"By bringing the often-toxic views of these groups into the political mainstream, Pakistan's already-enabling environment for extremism risks becoming all the more permissive," added Kugelman.
Pakistan has been in the midst of a political crisis since last July when the Supreme Court removed the sitting prime minister Nawaz Sharif from office over corruption charges.
During his tenure, Sharif was critical of Pakistan's powerful military establishment and attempted to limit their powers from civilian affairs. He also criticized the military for not doing enough to combat Islamic extremism within the society.
Experts say many of the radical extremist groups cannot operate or function without the backing or permission of Pakistan's military and intelligence agency.
"The military establishment uses these radical extremist groups when it sees fit," a Pakistani-born analyst told CBN News. "These groups cannot exist without the hand of protection of the military; They feed them, nurture them and use them when necessary."
Some believe the military establishment needs these radical extremist groups now to prevent Sharif's party, the Pakistan Muslim League, from winning the majority of seats in parliament.
"The military derives benefits from having these hard-line outfits in the state of electoral play," Kugelman told AP. "They have the potential to attract votes from some of the more conservative supporters" of the Pakistan Muslim League.
Nawaz Sharif returned to Pakistan from London last Friday and was immediately arrested. He faces a 10-year jail term for corruption charges. He is appealing the sentence.
"The military is not at all comfortable with the prospect of the PML-N (Pakistan Muslim League) winning another term," Kugelman told German newspaper Deutsche Welle. "It clashed repeatedly with the PML-N over the last five years, so the military will have a strong motivation to use its influence behind the scenes to undercut the PML-N's electoral prospects."
In the meantime, keeping the country safe ahead of next week's election is a big concern. 149 people were killed last week when a suicide bomber hit a campaign rally in the southwestern part of the country. ISIS claimed responsibility for the attack.
Pakistan says it will deploy some 350,000 security personnel outside as well as inside polling stations on election day.
http://www1.cbn.com/cbnnews/world/2018/july/wanted-islamic-terrorist-who-threatened-jews-and-christians-campaigns-openly-in-pakistan-election
--------
Social boycott fatwa issued against anti-triple talaq activist Nida Khan
17 Jul 2018
BAREILLY: A local cleric has issued a fatwa against a Muslim woman, who had allegedly taken up issues like triple talaq and Nikah Halala. At a press conference here, Shahar Imam Mufti Khurshid Alam said a fatwa has been issued against Nida Khan for speaking against Islam and its practices.
Reacting to the development, Khan said those issuing fatwa "should go to Pakistan". "India is a democratic country. No one can ostracise me from Islam. Only Allah can decide who is guilty," she added.
As per the fatwa, similar action will be taken against those helping and supporting Khan, Alam said.
"No medicines will be provided if she falls ill. If she dies, no one is allowed to offer 'namaz' on her 'zanaja' (funeral procession). She cannot be buried in kabristan (graveyard) after her death," Alam said quoting the fatwa.
The fatwa said nobody should talk or greet her and people should stop eating with her.
Making a controversial statement, the cleric had last week said Nida Khan along with Farhat Naqvi, sister of Union Minister Mukhtar Abbas Naqvi, will be ostracized from Islam. Reacting to it, an undeterred Nida had hit out at the Alam saying where was he when Muslim women were victimised in the name of triple talaq, nikah halala and polygamy.
Maintaining that she is not afraid of such threats, Nida had said she will continue her fight for the justice and Muslim women.
"Islam prohibits both, committing oppression and tolerating the crime. Now thousands of Nidas have emerged and their voice cannot be suppressed," she had said.
Nida had said the All India Muslim Personal Law Board was created under the British rule and it should not be authorised to pass rulings on Muslims.
"We don't accept the AIMPLB but Islam, which came to us 1400 years ago. We will continue fighting for our daughters. These people have always subjugated women but now the time has changed," she had said, adding that none has the copyright over Islam.
Nida was married to Usman Raza Khan alias Anzu Miyan of Ala Hazrat family here in 2015 but was given talaq in 2016.
Since then, she has been fighting for rights of Muslim women.
Slamming the Aala Hazrat family for threatening her, Nida had said the family has 14 cases of triple talaq.
https://www.abplive.in/india-news/uttar-pradesh-social-boycott-fatwa-issued-against-anti-triple-talaq-activist-nida-khan-726101
--------
France lifts the world cup after 20 years, thanks to these muslim players
July 16, 2018
France lifted its second World Cup after winning the 2018 Fifa World Cup Final against Croatia, All thanks to goals by migrants and a Muslim, Of the four goals France scored against Croatia, two were scored by the sons of African immigrants – Paul Pogba, whose parents immigrated from Guinea, and Kylian Mbappe whose mother is Algerian and father is Cameroonian.
With France passing all these laws against Islamic practices, let's not forget it's these same Muslims players who helped win the 2018 World Cup. Pogba is a practicing Muslim, along with six of his teammates including starting midfielder N'Golo Kante.
Samuel Umtiti was born in Cameroon, Steve Mandanda in the Democratic Republic of Congo. Paul Pogba's parents are from Guinea, N'Golo Kante's from Mali. Blaise Matuidi's parents are from Angola and came to France via DR Congo. Kylian Mbappe has an Algerian mother and a Cameroonian father. Presnel Kimpembe and Steven Nzonzi's fathers are Congolese. Corentin Tolisso's father is from Togo and the list goes on.
The country has more than 4.7 million Muslims, representing around 7.5 percent of its total population, and the minority's integration remains a crucial national issue. France didn't seem to mind when it came to good footballers, stocking 78.3 percent of its team with immigrants, a third of whom are Muslim. That was the highest percentage among any qualifying team in this year's World Cup. Immigrants make up 6.8 of France's overall population.
France is often in the headlines for its xenophobic and Islamophobic social policies, like banning on face-covering passed by the Senate of France in September 2010, and today it is illegal to wear a face-covering veil in France.
Another incident which reflects islamophobia was in 2011 when some ministers from the government protested against the offering of prayers on the corner of the street. "They will not have prayers on the street, we will prevent street praying," Interior Minister Gerard Collomb," said.
During the war of Algerian independence (1954-1962), numerous atrocities, including acts of torture, were committed by French soldiers. An estimated 300,000 Algerians died, in contrast to about 25,000 French soldiers.
Its high time for France to put an end to its "hypocrisy" and acknowledge the foundational, positive role immigrants and Muslims play in developing its society. And France should recognize this victory as a much-needed wake-up call for the country to adopt policies upholding the rights and dignity of migrants and Muslims.
https://www.siasat.com/news/france-lifts-world-cup-after-20-years-thanks-these-muslim-players-1381361/
--------
How Israel's Mossad Stole Iranian Nuclear Files from Secret Warehouse
16 July 2018
Israel's night-time mission earlier this year to steal nuclear secrets from an Iranian warehouse has been detailed by Israeli officials speaking to the New York Times, in an article published on Sunday.
The mission resulted in Israel obtaining documents suggesting Iran defied the spirit of its 2015 accord on its nuclear program with the United States, European powers, Russia and China.
The six-and-a-half-hour mission included two dozen spies, sophisticated alarm systems, metal safes and high-powered gadgets that targeted a warehouse in Tehran, according to the report.
Mossad agents reportedly knew that the warehouse had a trove of damning data and monitored the location for a year, learning how they could crack the best part of 32 Iranian-built safes.
At 10.30 p.m. on Jan. 31, a team of two dozen Mossad agents – mostly Iranian double spies – breached the warehouse by tampering with the alarm system to make it appear functional even as they had their run of the place.
As there were no guards stationed outside the warehouse at night, "to keep the site's profile low," the agents were able to tear through the safes with special torches that reached 3,600 degrees.
They managed to leave with about 50,000 pages and 163 compact discs' worth of intelligence and pulled out at 5 a.m., before the warehouse guards resumed their posts at 7.a.m.
In April, Israeli Prime Minister Benjamin Netanyahu presented the findings after Israel had combed through the documents.
Netanyahu said that the intelligence proved Iran had been holding onto information from its ostensibly defunct nuclear research program, signalling its aspiration to resume its research.
Iranians have since claimed that the Israeli haul is fabricated, but US and British officials validated it. Another report, from the Washington Post, said that Iran was on the verge of acquiring "key bomb making technologies" when the program, code-named Project Amad, was halted some 15 years ago.
https://english.alarabiya.net/en/features/2018/07/16/REVEALED-How-the-Mossad-stole-Iranian-nuclear-files-from-secret-warehouse.html
--------
G25: Make child marriage federal crime, not fatwa
July 16, 2018
KUALA LUMPUR: The G25 group of former prominent civil servants today called on the government to make the "medieval practice" of child marriage a federal crime.
This would mean, it said in a statement, that the law would apply equally to all Malaysians, without exception.
G25 expressed disappointment that instead of taking the lead, Deputy Prime Minister Dr Wan Azizah Wan Ismail was "passing the buck" to the National Fatwa Council to issue a fatwa so that state authorities could enact, under shariah, legislation to make child marriage illegal.
The group said there was no assurance that every state would agree to follow the National Fatwa Council's directive as Islam was a state matter.
"In the absence of a national ban on child marriage, which includes Muslims, some states where the Islamic religious authorities are conservative, will insist that Muslim men must have the right to marry underaged girls if the shariah court allows it.
"They will claim that as religion is a state matter, the national fatwa is not binding on the states that prefer to continue with the traditional Islamic recognition of a man's right to marry according to his sexual desire and fantasies.
"G25 proposes that to circumvent the reluctance of some states in conforming to the standards of decency for girls to marry when they have reached adulthood, namely the age of 18 or above, and to ensure that all states comply with the ban on underage marriage, this medieval practice should be made a federal crime so that the law can be made applicable to all Malaysians, without any exception by reason of race or religion."
It said specific provisions should be made to criminalise child marriage under federal law either in the Child Act, 2001 ( Act 611 ), the Sexual Offences Against Children Act, 2017 ( Act 792 ) or the Penal Code.
"When Parliament makes it a federal law, no state can issue its own shariah law to permit child marriage for Muslims.
"We call on the Rulers to openly agree that child marriage be made a crime under federal law."
G25 said Malaysia was under scrutiny under the UN conventions for its lacklustre attitude in upholding international standards on human rights, women's rights and the rights of children, especially girls, from exploitation and sexual slavery.
It called on Foreign Minister Saifuddin Abdullah to take the lead in making the government introduce the necessary reforms and to implement its obligations under CEDAW (Committee on the Elimination of Discrimination Against Women) and the United Nations Convention on the Rights of the Child.
This, it added, would enhance Malaysia's international standing as a progressive country which upheld human rights, especially the rights of women and girls against all forms of discrimination and exploitation, including sexual harassment and forced marriages.
Recently, many Malaysians were aghast when a 41-year-old Malaysian married an 11-year-old girl in Narathiwat, Thailand. A video of his second wife venting her frustration over social media went viral, putting the spotlight again on child marriage.
Subsequently, the Gua Musang Shariah Court let off the man with a RM1,800 fine after he pleaded guilty to marrying a minor without prior consent from the Shariah Court and for engaging in polygamy without permission from his spouse.
http://www.freemalaysiatoday.com/category/nation/2018/07/16/g25-make-child-marriage-federal-crime-not-fatwa/
--------
Pakistan
MMA vows to make Pakistan Islamic welfare state
July 17, 2018
KARACHI - Muttahida Majlis-e-Amal President Maulana Fazlur Rehman said that he would not tolerate any intervention from the America or Jewish, saying that now only the system of Quran and Sunnah will rule in the country.
Addressing a public gathering of the MMA at Bagh-e-Jinnah here Sunday night, Fazl said the rulers had tried to bring West's lobby in Pakistan but clerics of all sects denied the same. The people should admire of religious scholars and clerics who have been fighting against anti-Islamic forces.
The MMA supermo was of the view that past governments had made every citizen of the country slave of the IMF and World Bank. He said that Pakistan's external debts have increased big times due to poor decisions of the past governments.
Lambasting the Pakistan Tehreek-e-Insaf government in Khyber Pakhtunkwa, Fazl said that it had increased the debts of the province to Rs 350 billion. When we left the power in 2008, the province's debt was Rs 80 billion and that too was 'returnable'.
"Karachi had been hub of massacre as the people were divided on ethnic and sect basis here. It is the basic responsibility of the state to protect life and property of the people," he added. The MMA's second-in-command and the Jamaat-e-Islami chief Senator Sirajul Huq once again vowed to make Pakistan an Islamic and welfare as per the vision of Quaid-e-Azam Muhammad Ali Jinnah. "This is the alliance of Islamic ideology, saying that would struggle till their last breath for implementing Islamic system in the country.
Siraj was of the view that Pakistan needed an honest leadership that can resolve its issues sincerely and without taking any dictation from America. The solution of every problem of the country including corruption lies in the message of Quran.
He said that after coming into the power, the MMA would implement uniformed education system for all where the children would be educated in real manner. "Our electoral symbol is book and we want the same in the hands all children. We would spend biggest amount of our budget on education as per our vision."
Taking a jab at the PTI, Siraj said they claim of bringing change in the country by including former members of the Paksitan Peoples Party and Pakistan Muslim League Nawaz in their ranks. How would they bring change now as they had failed to do anything in their old parties?
Siraj also criticized other parties for coming to Karachi during elections, asking them where were they at the time when Karachi was bleeding, referring towards the deteriorating law and order of the city. It was religious parties that stand still against evil forces in Karachi as the city belongs to Islamists.
"Only the MMA could bring revolution in the country and once again make Karachi the city of lights'
Owais Shah Noorani of the Jamiat Ulema Pakistan-Noorani group said they would change this system through 'ballet' not with 'bullet', reminding that thousands of people were killed in the city's massacres in last three decades. Noorani said that those who were getting the city's mandate through 'rigging' had done nothing for its betterment and gave a culture of packed-sacks, target killing and extortion. "They have become millionaire through selling the city's water and destroying Karachi Development Authority for their own interest,"
Moulana Rahsid Soomro of the JUI-F said that the situation is not different in interior part of the province where he maintained the corruption is on the rise. "The PPP government had plundered 1500 billion rupees during its tenure," He said that the people are being provided sewerage-mixed water.
Allama Arif Wahidi, Moulana Ghafoor Hyderi and others also spoke on the occasion.
https://nation.com.pk/17-Jul-2018/mma-vows-to-make-pakistan-islamic-welfare-state
--------
Bilawal says nation will defeat terrorism with determination
July 17, 2018
QUETTA: Pakistan People's Party (PPP) Chairman Bilawal Bhutto Zardari on Monday said that Pakistan is a courageous nation and it will defeat terrorism. He said when elections could be conducted in Iraq and Afghanistan in wave of terrorism, then Pakistan could also do that.
Bilawal Bhutto arrived at Saravan House and expressed his condolence with the family of Siraj Raisani on his martyrdom.
Bilawal also went to Combined Military Hospital (CMH) and Civil Hospital for the hospitality of injured of the Mustang incident. While talking to media outside hospital he said security of the people should be our top priority and the terrorism must be countered.
He said that elections are going to be held on time. Bilawal also addressed a general meeting at Loralai through the hologram and said that he would try his best to do away with the deprival of the people of Balochistan after coming into power.
He further said that Pakistan Muslim League-Nawaz (PML-N) being in power for five years has added to the joblessness. He said that China-Pakistan Economic Corridor (CPEC) is seen well in Punjab but it is not seen anywhere in Balochistan.
He said that he knows about the concern of the educated youth of Balochistan over their future and promised to do away with the paucity.
Full report at:
https://www.pakistantoday.com.pk/2018/07/17/bilawal-says-nation-will-defeat-terrorism-with-determination/
--------
Senators irked by 'permission' to extremist ideologies to permeate society
July 17, 2018
ISLAMABAD: Members of the Senate on Monday lashed out at state authorities over their alleged failure to protect candidates and the public ahead of the July 25 elections, while taking aim at policies they said have "allowed" extremist ideologies to permeate society.
After the discussions concluded, the upper house prorogued its regular proceedings in view of the Mastung terrorist attack, in which over 145 people were killed.
In a scathing speech, ex-chairman Senate and incumbent Pakistan People's Party (PPP) Senator Raza Rabbani said the duty to protect citizens was the state's while pointing out that the caretaker set-up was the existing state.
He also regretted that while the country's economy and visa policy had been discussed in the last three meetings of the National Security Committee (NSC), the subject of law and order was never made part of the conversation.
"The interim prime minister and military leadership must have been aware of the National Counter Terrorism Authority's (NACTA) report that stated that leaders of all political parties face security threats," he noted while wondering why the provinces were merely sent letters regarding the security situation.
He also criticised the absence of the caretaker interior minister from the session and wondered whether the law minister would instead answer the house's questions regarding the Mastung attack.
"Will the interior minister again say that those who were attacked were not on the list of those facing security threats?" he wondered.
Rabbani also complained that while orders to arrest political workers were "being implemented swiftly", there was silence on the Mastung incident.
Referring to the participation of alleged members of banned outfits in the forthcoming elections, Rabbani said a new phenomenon was emerging on the model of the Islami Jamhoori Ittehad (IJI) and Muttahida Majlis-e-Amal (MMA).
"The interior minister should reveal how [members of] banned organisations were allowed to contest the elections," he said.
"How were the names of [members of] banned outfits removed from the Fourth Schedule?"
In a reference to the Tehreek-e-Labbaik Pakistan (TLP), Rabbani observed that 150 members of the "party that staged the sit-in at Faizabad" are candidates for National Assembly seats. Members of Allahu Akbar Tehreek are also contesting, he noted.
"What will the atmosphere of the parliament look like if even 25 of such people are elected?" he questioned.
Rabbani also lamented that the state was still continuing on its past course, and warned that "engineered elections are ringing the alarm for the federation".
He complained that the PPP leadership is being hindered from campaigning.
"The Election Commission of Pakistan (ECP) is sleeping," he said, asking why no action was being taken even though the PPP had named the persons pressurising its candidates to switch allegiances.
'NEED TO CHANGE PRIORITIES':
Pakistan Muslim League-Nawaz (PML-N) Senator Pervaiz Rasheed expressed similar concerns, saying candidates could not be expected to run peaceful election campaigns when "people from the Fourth Schedule are being allowed to contest the poll".
"Be afraid of the day when those people will be present in this house" he warned.
Rasheed claimed that while 10,000 policemen were deployed for the arrest of Nawaz Sharif — "the man who had come to surrender with his daughter voluntarily" — those responsible for the Peshawar and Mastung attacks "are roaming freely".
He claimed that 16,000 political workers were arrested during the crackdown ahead of Sharif's arrival, 99 per cent of whom belong to the PML-N.
"What are the state's priorities?" he asked, adding that the state has decided whom to suppress and whom to support.
"There is a need to change these priorities," he warned.
"Where do our enemies find the person willing to wear a suicide jacket?" Rasheed asked. "Who has fostered this narrative? Was it Nawaz Sharif or Benazir Bhutto who made policies to bring such people into parliament?"
Addressing the state, he said enough blood has been spilled in the country and there was a need to "change your philosophy".
"No citizen can claim to be safe even in their home. Perhaps the state's priorities are somewhere and the people's interests lie elsewhere."
Senator Dr Ashok Kumar meanwhile criticised the interior minister and his ability to coordinate between the federal government and provinces.
"I have never seen the interior minister going to any of the provinces or meeting any of the provincial chief secretaries," he claimed, adding that the minister is probably not even aware of who the home ministers of the provinces are.
"How will such an interior minister protect us?" he wondered.
'WHY ARE THE SUICIDE BOMBERS NOT CAUGHT?':
Senator Kabeer Shahi in his remarks termed the Mastung attack the worst incident in Pakistan's history.
Apparently criticising the lack of coverage given to it, he complained that the media in the country had been "sold off" to various parties.
Shahi also divulged that reports had been received of four suicide bombers who had entered Balochistan's Kalat and Khuzdar areas.
Full report at:
https://www.pakistantoday.com.pk/2018/07/16/senators-irked-by-permission-to-extremist-ideologies-to-permeate-society/
--------
Pakistan, Iran vow to improve military ties
Baqir Sajjad Syed
July 17, 2018
ISLAMABAD: Pakistan and Iran on Monday pledged to further deepen their military cooperation.
This was the upshot of Iranian Chief of General Staff Maj Gen Mohammad Bagheri's visit to Pakistan.
The top Iranian commander's three-day trip is being attached great importance because bilateral military exchanges between Pakistan and Iran have been very rare due to their mutual mistrust that kept them divided till recently.
Gen Bagheri visited caretaker Foreign Minister Abdullah Hussain Haroon at the foreign ministry and then went to the General Headquarters (GHQ) for a meeting with army chief Gen Qamar Bajwa.
The public affairs division of Pakistan military said Gen Bajwa underscored the need for intensification of military-to-military cooperation and noted that such cooperation would have a "positive impact on peace and security in the region".
Reciprocating Gen Bajwa's offer, the visiting Iranian commander "pled­ged to keep working for better relations between the two brotherly countries", said the Inter-Services Public Relations (ISPR).
Gen Bajwa is believed to be the architect of improvement in Pakistan-Iran ties particularly the military relations. Last year he had made an unprecedented visit to Iran setting the stage for improved cooperation. Later, Chief of the General Staff Lt Gen Bilal Akbar visited the country in June.
As the improvement in military relations was predicated on the basis of border security cooperation, discussion on border management was also on top of agenda during Gen Bagheri's meeting with Gen Bajwa. Another key issue on the agenda of their meeting was regional security.
The journey towards improvement in military ties had not been free of irritants and problems but both the countries worked together to overcome those challenges and prevented nascent cooperation from falling apart, a diplomatic source said.
Recently the Iranian spymaster was in Islamabad to attend a rare meeting of the spy chiefs of the regional countries that involved Pakistan, Russia and China. The meeting reportedly focused on the threat posed by the growing footprint of the militant Islamic State group in Afghanistan.
Mr Haroon during his meeting with the Iranian commander expressed Pak­istan's desire for strengthening cooperation with Iran for the benefit of both countries and ensuring peace and stability in the region. He also appreciated the Iranian leadership's strong and consistent support on the issue of Kashmir.
Ghani condoles deaths in terror attacks
Meanwhile, Afghan Pre­sident Ashraf Ghani assured Pakistan of heightened security along the Pak-Afghan border during the July 25 general elections.
President Ghani exten­ded the assurance during a telephonic conversation with Gen Bajwa on Monday.
He also called caretaker Prime Minister Nasirul Mulk to condole the deaths in recent attacks on election rallies in Peshawar, Bannu, and Mastung.
President Ghani "assured COAS of enhanced border security measures on Afghan side as assistance to Pak security forces during election period," military spokesman Maj Gen Asif Ghafoor tweeted.
Gen Bajwa thanked Mr Ghani for his concern, according to the ISPR.
Pakistan has long alleged that terrorists having sanctuaries in Afghanistan have been carrying out terrorist attacks in Pakistan.
Although Mastung attack was claimed by the militant Islamic State, Daesh, and its local affiliate Lashkar-i-Jhangvi, other attacks are believed to have been carried out by Afghanistan-based TTP and Jamaat-ul-Ahrar. It is feared that the two terrorist groups were planning further attacks.
Earlier during the 2014 presidential elections in Afghanistan, Pakistan Army had also undertaken special border security arrangements for smooth conduct of polling process. On the elections day, Pakistan had increased patrols along the border areas, besides stepping up aerial surveillance.
In his conversation with caretaker PM Mulk, President Ghani "expressed deep sorrow and sympathy on the tragic loss of precious lives", the PM Office said in a statement.
The two countries agreed to work together to defeat the common enemies for peace and security in the region, the statement added.
Full report at:
https://www.dawn.com/news/1420539/pakistan-iran-vow-to-improve-military-ties
--------
Bilawal concerned over allowing banned parties to contest polls
Saleem Shahid
July 17, 2018
QUETTA: Pakistan Peoples Party (PPP) chairman Bilawal Bhutto-Zardari on Monday expressed concern over allowing candidates of banned organisations to contest the coming elections and said certain forces were again trying to form an Islami Jamhoori Ittehad-like alliance in the country.
He was addressing a press conference at a hotel after visiting Sarawan House to condole the death of Siraj Raisani in Friday's Mastung suicide attack.
"Unfortunately, by allowing candidates of banned organisations to take part in the election, extremists have been given space," the PPP leader said, adding that the move would harm the entire political process and would undermine parliament, democracy and the country's position in the world.
He recalled that after the massacre of students and teachers in the terrorist attack at Army Public School, all political parties had agreed on a 20-point National Action Plan but that plan was not implemented by the PML-N government which caused difficulties in curbing acts of terrorism across the country.
"From day one, the PPP has been demanding the implementation of the National Action Plan in letter and spirit," Mr Bhutto-Zardari said. "Thousands of civilians and security personnel have lost their lives in acts of terrorism and these precious lives could have been saved had the National Action Plan been implemented."
Referring to the possibility of delay in the polls, he said if elections could be held in Afghanistan and Iraq where the situation was worse then why they cannot be held in Pakistan.
"Despite the recent spate of violence and terrorist attacks, elections must be held on time," he said.
He said PPP would launch public welfare programmes after coming to power and dispelled the impression that the party had lost its support in Punjab.
Full report at:
https://www.dawn.com/news/1420608/bilawal-concerned-over-allowing-banned-parties-to-contest-polls
--------
Four 'militants' killed in Awaran operation
July 17, 2018
QUETTA: Four suspected terrorists were killed in a gun battle with security forces during an operation in the Nallah Ziarat area of Awaran district.
According to the Inter-Services Public Relations (ISPR), the security forces launched the operation on information about the presence of militants in the area.
When the security forces reached the area, the armed militants opened fire on the personnel from their hideouts. A heavy exchange of fire resulted in the death of four militants. Arms and ammunition were also seized from the hideouts. The bodies were shifted to a local hospital.
Meanwhile, security forces foiled a terror attempt and seized a large quantity of arms and ammunition from the mountainous area during intelligence-based operations in Quetta and Sibi.
Full report at:
https://www.dawn.com/news/1420577/four-militants-killed-in-awaran-operation
--------
India
Afghan embassy holds memorial service for Sikhs, Hindus killed in Jalalabad
Jul 17, 2018
WASHINGTON: Contrary to the general impression, Hindus and Sikhs are original residents of Afghanistan, the Afghan ambassador to the US has said, as his embassy here held a memorial service for the members of the minority communities killed recently in a terrorist attack in Jalalabad.
At least 19 people were killed on July 1 when a suicide bomber targeted a convoy of Sikhs and Hindus on their way to meet Afghanistan's president in Jalalabad. 18 Hindus and Sikhs were killed in the attack claimed by the Islamic State.
"This occasion is one that brings us together to recognise a community that has deep roots in Afghanistan," Afghanistan Ambassador to the US Hamdullah Mohib said at the memorial service held at his embassy in Washington DC on Sunday.
"For many, they often think of the minority Hindus and Sikhs as migrants from India. But in reality, the Hindus and Sikhs of Afghanistan are the original residents of this country," the top Afghan diplomat here said.
Sena Lund, president of the New York-based Afghan Hindu association, read out the names of the 18 slain leaders.
Asha Kapoor of the local Asamai Hindu Mandir recited a speech in Dari, the official language of Afghanistan, to commemorate the victims.
In his brief remarks, Puneet Kundal, the deputy chief of mission at the Indian embassy here, condoled of the loss of lives in the "dreadful violence".
"The very fact that you are organising this event here today is a representation of the sentiments that the government of Afghanistan feels for these communities," Kundal said.
Tulsi Gabbard, the first Hindu lawmaker in the US Congress, in a statement read on the occasion said that this brutal attack was yet another example of the fear, bigotry and hatred that sadly exists in the world.
"During the Taliban regime, Hindus and Sikhs were forced to wear yellow patches to identify themselves in public, furthering extreme prejudice, and eventually forcing many to seek asylum in India," she said.
"These fear tactics and attacks attempt to divide us, but we cannot give into this hate. We must confront hatred with love, fear with understanding and darkness with light. We must continue to stand up to bigotry and hatred in Afghanistan, here at home and around the world," Gabbard said.
Ambassador-at-Large for International Religious Freedom Sam Brownback said the loss of these community leaders was a terrible blow, not only to Afghanistan, but also to the international community.
"The Sikh and Hindu communities have a long and distinguished heritage and this horrific attack will not diminish that. Our office will continue to monitor the conditions faced by religious minorities in Afghanistan. I stand with you and will work toward an Afghanistan that is peaceful and secure for all its people," he said.
Sounds of sacred traditional Sikh hymns, sung by leaders of the local Washington gurdwara and National Sikh Campaign, as well as verses from the Bhagavad Gita, recited by Pandit Ram Kumar Shastri of Silver Spring, Maryland's Asamai Mandir, filled the air.
A packed hall of mourners from the Hindu and Sikh communities sat alongside officials from the Afghan embassy, Indian embassy, and US State Department facing a mural depicting the ancient relics of the Buddhas of Bamiyan.
"We at the Hindu American Foundation pledge to be with you every step of the way as Hindus and Sikhs seek full enfranchisement in Afghan society," said Jay Kansara of the Hindu American Foundation, which helped organise the event by the Afghan Hindu Association.
https://timesofindia.indiatimes.com/india/afghan-embassy-holds-memorial-service-for-sikhs-hindus-killed-in-jalalabad/articleshow/65019491.cms
--------
Kulbhushan Jadhav case: Pakistan to file 2nd counter to India in ICJ today - and it's '400 pages long'
Jul 17, 2018
NEW DELHI: Pakistan is on tuesday set to file its second written reply+ to India's arguments in the International Court of Justice (ICJ) in the Kulbhushan Jadhav case - and it's said to be 400 pages long, as reported by Pakistani media.
Pakistan's reply - a rejoinder to India's last reply on April 17 - has been prepared by a team of experts led by the country's attorney general Khalid Javed Khan, sources told The News International.
Jadhav is an Indian national on death row in Pakistan for alleged espionage and terror acts. The former Navy officer was tried by a military court+ and sentenced to death.
on March 3, 2016. And it's in connection with this violation of the Geneva Convention that India filed a case in the ICJ last year May 8. A 10-member bench of the ICJ on May 18 restrained Pakistan from executing Jadhav till the case was adjudicated on.
In an attempt to sway world opinion in its favour, Pakistan had last Christmas decided to allow Jadhav to meet his wife and mother, but the whole exercise made the country look worse than before as his kin faced harassment and ill-treatment. Jadhav, meanwhile, looked gaunt and ill. And to top it all, Pakistan's then foreign minister tried to spin the fact that India's deputy high commissioner would be at Jadhav's meeting, as "consular access" when it was anything but that. After India refuted this claim, Pakistan backtracked and admitted it wasn't consular access.
Tuesday's reply by Pakistan in the ICJ will be submitted by the country's foreign office India director Fareha Bugti, who is already the The Hague, reported Geo TV. Bugtis submitted Pakistan's counter-pleading in December last year as well.
In its written pleadings, India last September has accused Pakistan of violating the Vienna Convention by not giving consular access to Jadhav. India argued that the Convention didn't say such access would not be available to an individual arrested on charges of spying.
Pakistan in its December 13 reply to India in the ICJ said that the Vienna Convention on Consular Relations 1963 applied only to legitimate visitors and did not cover clandestine operations.
"Giving false identity to Kulbhushan, sending him for espionage and funding of terrorists' activities are all some of the reasons which disentitle India from invoking the jurisdiction of the ICJ," Pakistan had said.
Full report at:
https://timesofindia.indiatimes.com/india/kulbhushan-jadhav-case-pakistan-to-file-2nd-counter-to-india-in-icj-today-and-its-400-pages-long/articleshow/65018358.cms
--------
J&K: Cop killed, another injured in Pulwama terror attack
Jul 16, 2018
SRINAGAR: A policeman was killed and another injured in a terror attack targeted at the convoy of National Conference (NC) leader Ghulam Mohi-ud-din Mir in south Kashmir's Pulwama district on Monday.
Sources said terrorists attacked the police vehicle escorting Mir at Muran chowk. Two cops suffered injuries and were taken to the hospital, where one of them was declared dead on arrival. The deceased cop was identified as constable Mudasir Ahmad.
The NC leader escaped unhurt in the attack.
The terrorists fired indiscriminately at the police vehicle and later fled with the service rifles of both policemen. Pulwama SSP Aslam Choudhary confirmed the attack.
Full report at:
https://timesofindia.indiatimes.com/india/jk-cop-killed-another-injured-in-pulwama-terror-attack/articleshow/65014632.cms
--------
Europe
'After day with Christians, Muslim teens wash in mosque': Study charts rise of Salafism in Sweden
16 Jul, 2018
The largest-ever report on the fundamentalist branch of Islam shows Salafist preachers in Sweden are cooperating to push their message across Muslim communities – and disturbing everyday behavior is now common even in children.
"Not all Salafists are jihadists, but all jihadists are Salafists," says the 265-page study of a movement that advocates a return to 'pure' Islam, commissioned by the Swedish Civil Contingencies Agency, a government department.
Swedish authorities declared last year that the number of militant Islamists in the country had risen from 200 to 2000 in a decade. Through 70 interviews with police, social workers and community representatives, the study attempted to understand how religious belief leads to terrorism. What it found was a well-organized ideology consciously pushing for the Muslim minority to divorce itself from the cultural surroundings of mainstream Sweden, creating a deep social rift from which terrorists and jihadist recruits can emerge.
"Salafists advocate gender segregation, demand that women veil themselves to limit 'sexual temptation,' restrict women's role in the public sphere and strongly oppose listening to music and some sports activities," writes the author, prominent extremism researcher Magnus Ranstorp.
Believers are to refrain from making non-Muslim friends, whom, according to one preacher, they should "hate" for not following Islam and should encourage to "love Allah." They must not join in any wider communities or groups, and should resist adapting their appearance, language and mannerisms to fall in line with those of the host culture.
Across Sweden, which is home to 800,000 people born outside of Europe, primarily in Syria and Iraq, and hundreds of thousands more second and third-generation migrants, these teachings have taken root.
In the municipality of Boras, officials report that some children will refuse to drink "Christian" water from the taps, and will wash themselves off in the mosque after spending a day in contact with non-Muslims.
In Vasteras, teenage criminals have been known to justify stealing from shops with non-veiled cashiers, shouting out "kufir" (non-believer) and "Swedish whore" as they raid a store, while groups of Muslims have harassed immigrant shop owners, demanding to know if they follow Allah, and abusing them otherwise.
In Gothenburg, which has supplied more recruits from Sweden to Islamic State (IS, formerly ISIS) than any other city, Salafists informed their followers that voting in secular Swedish elections was "haram" – forbidden.
The religious movement appears to be highly-coordinated. "It is interesting that the Salafist preachers, on whom the study focuses, appear to be more in cooperation with each other, rather than rivals. Instead, these preachers seem to divide their da'wa (mission) into different geographical areas," writes Ranstorp.
"Swedes have no idea how much influence political Islam has in the suburb. Swedish laws are not applied there," one subject tells the interviewer, referring particularly to the use of religion to form business connections, and the under-reporting of certain crimes, such as domestic abuse.
The study concludes by urging Sweden, which has partially acknowledged the growth of parallel societies, to be more open to understanding and exposing the explicit links between radical Islam and terrorism.
"When the then-National Coordinator Against Violent Extremism said that the question of why so many people chose to travel to IS from Sweden was 'a million dollar question,' it is an illustration of the overall inability of Swedish authorities (with the exception of police and security police) to see that this problem has not emerged from a vacuum," says the study.
https://www.rt.com/news/433386-salafism-sweden-terrorism-islam/
--------
Belgium's efforts to manage the rapidly growing Islamic scene in Brussels
July 17, 2018
Belgium is struggling to manage the rapidly growing Islamic scene in Brussels, preventing radicalism and responding to Muslim factions in its society, indicated The Economist in an article published Saturday, 14th of July.
For the British Magazine, Brussels is divided into two main parts, with people of Catholic heritage and others of a Muslim community that accounts for a quarter of the city's population. The Muslim community in the Belgian capital includes a majority of Moroccans and Turks.
To explain the growing trends related to Islam, The Economist stated that pupils opting for Catholic instructions in state-run elementary schools in Brussels moved from 23% to 16%. On the other hand, the proportion of those who prefer to have Muslim lessons grew from 43% to 51%.
Meanwhile, trends show that only 20 major churches (represent fifth of the total) are redundant and only seven Catholic priests were ordained in the last years.
While numbers related to Catholic Christianity are declining, authorities in Belgium have been trying to encourage moderate Islam, especially after the 2016 bombings.
Earlier this year, the Belgian government announced that Saudi Arabia is not the official manager of the Great Mosque, the oldest mosque in Brussels and the seat of the Islamic and Cultural Centre of Belgium.
Full report at:
https://en.yabiladi.com/articles/details/67105/belgium-s-efforts-manage-rapidly-growing.html
--------
35k families displaced by Saudi attacks on Hudaydah: UN
Jul 16, 2018
Saudi Arabia's ground and air attacks on Yemen's Hudaydah have displaced some 35,000 families so far, says the UN.
"As of 13 July, approximately 35,000 displaced households have been verified, and 20,000 of them have received RRM assistance," said the UN Office for the Coordination of Humanitarian Affairs (OCHA) on Monday.
It added that the Saudi coalition's continued airstrikes and artillery attacks in the Tuhayata and Zabid districts are still displacing families and disrupting basic services.
OCHA noted that the situation in the port city has slightly improved and that some people have returned to their homes.
"More civilians are moving within the city compared to previous weeks; shops and bakeries have reopened and water supply has improved following repairs to the main water pipeline," it said.
"However, roads leading to airport, sea port and the Sana'a– Hudaydah road remain blocked by sand and concrete barriers," it added.
The UN health agency has also warned over the "critical" conditions of civilians in Hudaydah, stressing that military operations in the key port city threaten over 70 percent of the population who are in need of relief aid.
Earlier in the day, local tribes have gathered in the capital Sana'a to voice their support for the Yemeni army and allied fighters from the Houthi movement in their fight for Hudaydah.
Cars, loaded with ammunition, on Sunday carried fighters to Sana'a where tribal heads pledged to take their battle to Hudaydah to confront the Saudi push for the Red Sea port, a lifeline for the majority of Yemen's population.
Backed by Saudi-led airstrikes, Emirati forces and militants loyal to Yemen's former president, Abd Rabbuh Mansur Hadi, launched the Hudaydah offensive on June 13 despite international warnings that it would compound the impoverished nation's humanitarian crisis.
The Saudi-led coalition, which has been waging a war against Yemen since early 2015, claims that the Houthis are using Hudaydah for weapons delivery, an allegation rejected by the fighters.
Full report at:
https://www.presstv.com/Detail/2018/07/16/568333/saudi-arabia-hudaydah-ocha
--------
Mideast
Yemeni Tribes Back Houthi Forces; Vow to Defeat Saudi, Allies in Hudaydah
Jul 16, 2018
Local tribes have gathered in the capital Sana'a to voice their support for the Yemeni army and allied fighters from the Houthi movement in their fight for Hudaydah, which has been under Saudi-led attacks for weeks.
Cars, loaded with ammunition, on Sunday carried fighters to Sana'a where tribal heads pledged to take their battle to Hudaydah to confront the Saudi push for the Red Sea port, a lifeline for the majority of Yemen's population.
"The representatives will gather by the coastal area so as to defeat the Saudi and American enemies, and all of their mercenary and hypocrite allies," Mohamed al-Sanhani, a tribesman, said.
"Today, we tell the enemies that there are men headed to the coast. We are ready for the battle [of Hudaydah] on all battle fronts. We are ready for the enemies, more than they can ever imagine," another participant in the gathering said.
Backed by Saudi-led airstrikes, Emirati forces and militants loyal to Yemen's former president, Abd Rabbuh Mansur Hadi, launched the Hudaydah offensive on June 13 despite international warnings that it would compound the impoverished nation's humanitarian crisis.
The Saudi-led coalition, which has been waging a war against Yemen since early 2015, claims that the Houthis are using Hudaydah for weapons delivery, an allegation rejected by the fighters.
The coalition of aggressors has, however, failed to make any major gains in the face of stiff resistance from Houthi fighters and their allied forces.
Meanwhile, the UN health agency warned about the "critical" conditions of civilians in Hudaydah, saying military operations in the key port city threaten over 70 percent of the population who are in need of relief aid.
Saudi jets bomb more Yemeni areas
According to Yemen's al-Masirah television network, the Saudi-led coalition has conducted five airstrikes on Salif district and the island of Kamaran of Hudaydah Province on Monday.
Saudi warplanes have also bombed Baqim district in the northern Province of Sa'ada but there were no immediate reports of possible casualties.
The Yemeni Ministry of Human Rights announced in a statement on March 25 that the Saudi war had left 600,000 civilians dead and injured until then. The conflict and the accompanying Saudi-led blockade have also caused famine across Yemen.
The aggression has taken a heavy toll on the country's infrastructure, destroying many hospitals, schools, and factories. The United Nations says a record 22.2 million Yemenis are in need of food aid, including 8.4 million threatened by severe hunger.
Several Western countries, the United States and Britain in particular, are accused of being complicit in the ongoing aggression as they supply the Riyadh regime with advanced weapons and military equipment as well as logistical and intelligence assistance.
https://www.presstv.com/Detail/2018/07/16/568268/Yemen-Sanaa-tribes-Saudi-Hudaydah
--------
Saada tribesmen: We hope to remove Houthi 'nightmare' from our lives
16 July 2018
A number of tribal elders of Saada said that they hoped for the end of their "Houthi nightmare" while stressing that their province is not represented by the militias, but solely through its own people.
Their statement on Monday came during a press conference held by the Spokesman of Coalition Forces Colonel Turki al-Maliki at the Armed Forces Club in Riyadh.
Maliki said that the Saada tribal leaders called on their government and the coalition to continue their efforts in liberating their province.
For his part, Sheikh Abdulkhaliq Bishr said that despite the passage of more than a decade and a half of the conflict with the Iranian militias, the people of Saada province are still presenting all kinds of sacrifices, pointing out that Saada is resisting to maintain its Arabism and rejecting the Iranian interference.
Sheikh Bishr also paid tribute to the heroes of the Yemeni National Army and the supporting forces of the Coalition Forces for their sacrifices, urging the legitimate elected government represented by President Abed Rabbo Mansour Hadi as well as the Coalition supporting the legitimacy to continue the battle to liberate Saada province in particular and Yemen in general.
Full report at:
https://english.alarabiya.net/en/News/gulf/2018/07/16/Saada-tribesmen-We-hope-to-remove-Houthi-nightmare-from-our-lives.html
--------
Hamas warns of consequences as Israel tightens Gaza siege, halts fuel transfer
Jul 17, 2018
The Palestinian Hamas resistance movement has warned Israel of "dangerous consequences" as the regime tightens its inhumane siege on the Gaza Strip by blocking fuel shipment into the coastal enclave.
On July 9, Israel imposed sanctions on Gaza in what it described as a crackdown against Hamas. The regime closed the Kerem Shalom crossing, Gaza's main conduit for trade, to most merchandise, except to fuel, food and medicine.
The Israeli military said the closure would continue as long as Palestinian protesters send kites and balloons loaded with flammable material into the occupied lands.
On Monday night, Israeli minister of military affairs' office announced in a statement that Avigdor Lieberman had decided to halt fuel transfer into Gaza from Tuesday morning until Sunday in response to what it called "terror attempts" by Hamas, which runs Gaza.
"Lieberman, in consultation with the chief of staff, has decided to close the Kerem Shalom crossing to imports of oil and gas until this Sunday," the statement read. "The crossing will continue to transfer food and medicine [shipments] that are individually approved."
The statement also noted that Israel had reduced the area where Gaza fishermen were allowed to fish, from six nautical miles to three.
In response, Hamas spokesman Fawzi Barhoum condemned Israel's closure of the Kerem Shalom crossing as a crime against the Palestinian people.
"The Israeli occupation's closure of the Kerem Shalom crossing and depriving Gaza from the most simple necessities of life is a crime against humanity that will be added to its list of crimes at the expense of the Palestinian people including those living in the Strip," he said in a statement.
"These vengeful measures reflect the degree of the oppression and the ugliness of the crime that Gaza is facing, that will have dangerous consequences for which the occupation will bear full responsibility," he added.
According to latest reports, the number of trucks, which carried food into the Gaza Strip last week, was the lowest in recent months.
Separately on Monday, Egyptian officials manning the Rafah border crossing with Gaza said it would not be operating Tuesday in both directions, without providing reasons. The crossing has been open since late May.
This is while the Tel Aviv regime has stepped up its airstrikes against Gaza. On Monday, the Israeli air force hit two alleged Hamas positions in northern Gaza.
The Israeli strikes came two days into a fragile ceasefire between Israel and Hamas amid a major flare-up in Gaza over the weekend.
Israel says it has lost at least 2,500 acres of farmland, nature reserves and forests because of the fires caused by flaming kites and balloons.
Israel carries out regular air raids on Palestinians in Gaza under the pretext of hitting Hamas targets. The Gaza Strip has also been under an inhumane Israeli siege since 2007 and witnessed three wars since 2008.
Tensions have been running high near the Gaza fence since March 30, which marked the start of a series of protests, dubbed "The Great March of Return," demanding the right to return for those driven out of their homeland.
Full report at:
https://www.presstv.com/Detail/2018/07/17/568353/Israel-Gaza-Hamas
--------
New Syrian refugees not welcomed in Turkey, says Human Rights Watch
Jul 16, 2018
Human Rights Watch has accused Turkish authorities of practically blocking new refugee arrivals from Syria, saying the registration process for refugees has almost fully stopped in nine provinces on or near the Syrian border as well as in Istanbul.
The HRW said Monday that Syrian refugees had been subject to "unlawful deportations, coerced returns to Syria, and the denial of health care and education" as a result of Turkey's refusal to register all but a "handful" of them.
The rights group, which is based in the US, said the suspension of registration was the latest effort by Turkey to "deny new asylum seekers protection," adding that the border between Syria and Turkey was effectively "sealed-off."
Turkey is hosting some 3.5 million refugees from war-torn Syria. However, the Turks seem no longer generous enough to accept new arrivals, with reports suggesting refugees are being returned to areas in northern Syria where Turkey has a military presence. According to the HRW, "Only registered Syrians who obtain a special travel permit have been allowed to travel within Turkey" since August 2015.
A Turkish official denied HRW's description of the new situation of refugees, saying Syrians have always been welcomed in Turkey.
"We still welcome them ... people who are in Turkey have access to all the services they need," said the official, adding, "Some Syrians are choosing to go back to areas liberated by Turkey ... We never deport to Syria."
HRW's associate refugee program director Gerry Simpson also blamed the European Union for the suspension of refugees' registration in Turkey, saying the Europeans were clearly keen to limit the refugee flow to Europe based on an agreement they reached with Turkey in March 2015.
Full report at:
https://www.presstv.com/Detail/2018/07/16/568297/Turkey-Syria-refugees-registration-deportation
--------
Turkish journalist acquitted over exposing Ankara's arms aid to Syria militants
Jul 16, 2018
A court in Turkey has acquitted a journalist of the center-left and opposition daily newspaper Cumhuriyet, who was being tried for espionage in a case about revealing state secrets by publishing footage of a video showing weapons shipment to pockets of Syria held by foreign-backed terrorists.
On Monday, Istanbul's 14th Heavy Penal Court dropped charges against Erdem Gul, who used to serve as the paper's Ankara representative.
In May 2016, the 14th High Criminal Court in Istanbul convicted former editor-in-chief of Cumhuriyet daily Can Dundar and Gul following the publication of the video.
The two defendants were arrested and held in prison until Turkey's Constitutional Court ruled that their rights had been violated and ordered their release.
Earlier this year, Turkey's Supreme Court of Appeals overturned the Istanbul court's previous ruling on the case, and ordered Gul's acquittal over lack of evidence.
Back in May 2015, Cumhuriyet daily posted on its website footage showing Turkish security forces in early 2014 intercepting a convoy of trucks carrying arms for the militants in Syria.
The paper said the trucks were carrying some 1,000 mortar shells, hundreds of grenade launchers and more than 80,000 rounds of ammunition for light and heavy weapons.
Ankara denied the allegation and claimed that the trucks had been carrying humanitarian aid to Syria. However, lawmaker from the opposition Republican People's Party Enis Berberoglu defended the video, saying it was genuine.
Turkey stands accused of supporting militant groups fighting to topple the Damascus government since March 2011.
Syria has been gripped by foreign-backed militancy since March 2011. The Syrian government says the Israeli regime and its Western and regional allies are aiding Takfiri terrorist groups wreaking havoc in the country.
Russia has been helping Syrian forces in an ongoing battle in the province of Dayr al-Zawr as Daesh struggles to keep its last positions in eastern Syria.
The Russian military assistance, which began in September 2015 at the official request of the Syrian government, has proved effective as the Syrians continue to recapture key areas from Daesh and other terrorist groups across the country with the backing of Russia's air cover.
On May 21, the General Command of the Syrian Army and Armed Forces announced in a statement that complete security was restored to Damascus and its countryside after al-Hajar al-Aswad district and al-Yarmouk camp had been totally purged of Daesh terrorists.
Full report at:
https://www.presstv.com/Detail/2018/07/16/568295/Turkish-journalist-acquitted-over-exposing-Ankaras-arms-aid-to-Syria-militants
--------
Southeast Asia
Jokowi's Soft Diplomacy: Global Islamic Network Of Moderation
July 17, 2018
In the face of rising conservatism, President Jokowi recently launched a new endeavour to promote "moderation in Islam" both domestically and internationally. Can Indonesia be a power house for promoting 'smiling' Islam internationally?
By Andar Nubowo*
A few days before Ramadhan 2018, the extremists of Jamaah Ansharut Tauhid (JAT) and Jamaah Ansharud Daulah (JAD) launched suicide bombing attacks in Depok, West Java and Surabaya, East Java, respectively on 8 and 13 May. Terrorist attacks such as these are detrimental to the Islamic philosophy of wassatiyat (middle path) that can create a peaceful and safer world.
Such an idea has long been advocated by Nahdlatul Ulama (NU) and Muhammadiyah, Indonesia's two largest Islamic organisations. Both have recently co-sponsored The Bogor Message, a high-level consultation of 100 World Muslim Scholars on Wassatiyyat Islam. The consultation was inaugurated by President Joko "Jokowi" Widodo in Bogor, on 1-3 May 2018.
The Bogor Message & Jokowi's "Middle Way"
The Bogor Message emphasises seven characters of moderation in Islam; namely, tawassut, (middle of the road position); i'tidal (fairness with responsibility); tasamuh (recognition and respect for differences); shura (consultation and consensus in problem-solving); islah (reform); qudwah ( exemplary behaviour); and muwathanah (recognition of the nation state).
President Jokowi advances his foreign policy and diplomacy by emphasising the growing significance of moderation in Islam as a reflection of his international and domestic policy towards Islam. In international forums, he seems to continue former President Susilo Bambang Yudhoyono's public diplomacy to promote harmony between "Islam, democracy and modernity".
Compared to his predecessor, Jokowi's soft power diplomacy based on "moderate Islam" intends for Indonesia to have broader bilateral and multilateral roles. To counter extremism and to promote peace in South and Central Asia, Jokowi organised the High Consultation of 100 World Muslim Scholars on Wasattiyah Islam and the Afghan Peace Talks, consecutively held in Bogor on 1-3 May and 11 May 2018.
The Bogor Talks, which involved Pakistani, Afghan and Indonesian clerics, were perceived as a concrete diplomatic endeavour to promote peace in Central and South Asia.
Indonesia under Jokowi also shows its concern and commitment on resolving the Rohingya issue in Rakhine State, Myanmar through "Sarong Diplomacy" ̶ borrowing Vice President Jusuf Kalla's term. Indonesia offers a comprehensive, sustainable solution: humanitarian aid and peace talks involving all conflicting elements.
Partnering with moderate Islamic philanthropic institutions such as Muhammadiyah's Board of Philanthropy (Lazismu) and Nahdlatul Ulama (NU)'s Board of Philanthropy (Lazisnu), Jokowi sent humanitarian relief and aid to Rohingya refugees in Cox's Bazar, Bangladesh. This humanitarian initiative elevates Indonesia's credibility on the world stage.
Strengthening Moderation
Jokowi tries to promote these initiatives amid popular perception of his lack of Islamic credentials and rising Islamic conservatism. He has appointed some moderate figures to join his administration such as Din Syamsuddin and Ahmad Syafi'i Maarif from Muhammadiyah; alongside Said Aqil Siradj and Ma'ruf Amin from NU.
Jokowi's support for Islamic moderation is his response to his opponents who are more conservative in their ideological positions – by declaring himself a "moderate Muslim" who supports moderation as a national character and identity.
In practice, Jokowi vigorously assured the need for moderation-inclined religious networks including those favouring Pancasila and the Unitary State of Republic of Indonesia (NKRI). To this end he dissolved Hizbut Tahrir Indonesia (HTI) in July 2017, an organisation which opposes Pancasila and wants to replace NKRI with a transnational Islamic caliphate.
Jokowi believes only moderate Islam can eradicate the ideology and network of extremism-radicalism. He believes moderate Islam shares the same national goal of developing a safe, peaceful, prosperous and just Indonesia. NU's "Islam Nusantara" emphasises the tradition of openness and tolerance in the archipelago, whereas Muhammadiyah's "Islam Berkemajuan" is oriented towards progressiveness in education and socio-economic development.
It is worth noting that the two movements – Muhammadiyah and NU – have also been actively crafting people-to-people contacts with their counterparts. Being actively engaged in global interreligious and inter-civilisational dialogue such as the World Peace Forum (WPF) and World Conference on Religions for Peace (WCRP), the two organisations are Jokowi's best partners to promote Indonesia's multi-track and soft power diplomacy. It is aimed to promote dialogue and cooperation between various religions and civilisations based on the principles of Islamic moderation.
Opportunities and Challenges
Jokowi is very committed to develop a global network of moderate Islamic scholars and organisations. His state visit to Bangladesh, Pakistan and Afghanistan in early 2018, not only aims to further develop economic and political ties with these countries, but also to build a global Islamic network of moderation.
The Afghan Peace Talks of 11 May 2018 in Bogor is a follow-up to Indonesia's soft diplomacy for peace in the region. This shows that Indonesia's leadership among Muslim-majority nations is relevant, amid the weakness of the Organisation of Islamic Cooperation (OIC) and the Middle East-North Africa (MENA) countries which are currently plagued by sociopolitical conflicts.
Nonetheless, periodic acts of violent extremism still make Indonesia – the largest predominantly Muslim country in the world ̶ to be perceived as a 'hotbed' of terrorism. In this vein, Wassatiyat Islam can be a counter-narrative against any negative reputation on Indonesia due to the acts of the violent extremists.
To that end, the domestic and international network of Islamic moderation needs to be complemented by a consultative institution – either permanent or semi-permanent, in which state and non-state actors can come together to formulate strategies to disseminate Islamic moderation.
Cooperation across actors and sectors will strengthen the growth and expansion of the global Islamic network of moderation, especially to pool funding for sustainable programmes to expand moderate Islamic ideology.
Full report at:
https://www.eurasiareview.com/17072018-jokowis-soft-diplomacy-global-islamic-network-of-moderation-analysis/
--------
Malaysia's Mahathir, Philippines' Duterte Discuss Islamic State, Security Ties
2018-07-16
Malaysian Prime Minister Mahathir Mohamad and Philippine President Rodrigo Duterte agreed to bolster bilateral security ties Monday as they talked about the Islamic State (IS) and pledged to curb the spread of extremism and terrorism in the Southeast Asian region, sources and official statements said.
Mahathir received Duterte at his office in Putrajaya, the nation's administrative capital, after the 93-year-old Malaysian leader participated in oath-taking with fellow members of the parliament.
"Both leaders were pleased with the commitment shown by both countries to curb the spread of extremism and terrorism in the region," according to a statement from Mahathir's office. "Malaysia also expressed support toward peace and development in Mindanao, Southern Philippines."
In a short text message, a Mahathir aide told BenarNews that the two leaders talked about Islamic State (IS) terror group during their private meeting.
"Yes, they did talk about IS among other issues," the source said, without elaborating.
Duterte was on a private visit to Malaysia – his first with Mahathir. He met his Malaysian counterpart Saturday night during the fight between the Philippines Manny "Pacman" Pacquiao and Argentinian Lucas Matthysse – billed as the biggest boxing match in the country since the 1975 heavyweight clash between Muhammad Ali and Australian Joe Bugner.
Mahathir arrived at the venue during the sixth round, giving him only one round to watch the Filipino icon deliver his seventh-round knockout.
A statement from Duterte's office in Manila released after Monday's meeting, said the Philippine leader "pointed out the need to address terrorism and violent extremism, as well as transnational crimes, such as piracy and armed robbery at sea along with illegal drug trade.
"President Duterte expressed appreciation for Malaysia's sustained support for the quest for just and lasting peace and development in Mindanao," the statement said, referring to the southern Philippine island where pro-IS militants operate.
Last year, militants led by acknowledged IS regional leader Isnilon Hapilon laid siege to the city of Marawi in Mindanao. Security forces effectively ended the Marawi siege by killing Hapilon after five months of gun battles that also killed about 1,200 people, most of them militants.
Hapilon's force was backed by Southeast Asian militants and other foreign fighters, including Indonesians and Malaysians, in a plot that caught the Philippine government by surprise.
Two Malaysians who had allegedly helped plan the Marawi siege, Mahmud Ahmad and Amin Baco, were believed to have been killed as the Philippine military closed in on the militants. Their bodies have not been found and authorities in the nearby eastern Malaysian state of Sabah recently included their names on a list of wanted militants.
IS-linked Malaysian fighters, along with some Indonesians, pose serious threats to Philippine security as they are believed to have settled in areas near Marawi, security analysts and military officials previously told BenarNewss.
Reputations
Mahathir had been known as a strongman because of his reputation on handling human rights when he governed Muslim-majority Malaysia for 22 years beginning in 1981. But analysts believe he has softened his strongman image since his opposition bloc demolished the ruling party in the May 9 general election.
Meanwhile, Duterte remains the focus of international criticisms as rights groups have said that as many as 12,000 people have been killed in the drug war under his administration. Official figures reflect only about 4,000 deaths and authorities said those occurred in shootouts with police officers.
The statement from Manila said Duterte and Mahathir "renewed and reaffirmed the long-standing brotherhood and friendship between the Philippines and Malaysia."
Both sides offered few details on what transpired during the talks. A BenarNews source in Mahathir's office said Manila had requested keeping details of the meeting private.
Before the meeting, Duterte spokesman Harry Roque said the Philippine leader was planning to talk about insurgency and IS.
Piracy against ships in the region remains an issue for Southeast Asia, which in recent years has become a hotbed for IS-linked militants, according to analysts.
Malaysia aids in peace process
In 2016, Malaysia brokered the peace negotiations between the Philippine government and Muslim rebels on the southern island of Mindanao. Malaysian participation has evolved to include monitoring of an interim ceasefire pact forged by the two parties about two decades ago.
The peace process involved the drafting the Bangsamoro Basic Law, a legislative bill that will allow for the establishment of the Muslim-majority Bangsamoro Autonomous Region in Mindanao as a political entity in the predominantly Catholic Philippines.
The BBL spells out the proposed autonomous region in the south, its scope and powers. Its passage is expected to bring peace Mindanao, the country's mineral-rich southern third where many areas remain mired in poverty because of the insurgency.
The 12,000-member Moro Islamic Liberation Front dropped its bid for self-rule to settle for an expanded autonomy when it signed a peace deal with Manila four years ago.
Full report at:
https://www.benarnews.org/english/news/malaysian/leaders-meet-07162018160058.html
--------
Jakim to be tolerant in handling of Islamic-related matters
16 July 2018
PUTRAJAYA, July 16 — The Islamic Development Department Malaysia (Jakim) will be more tolerant in its handling of Islamic-related matters in the country, said its director-general, Datuk Mohamad Nordin Ibrahim.
He said Islam should not be seen as a harsh and punitive religion, but a religion that brought blessings for all.
"Those who have 'slipped' from the religious path, should be approached, advised and guided, while enforcement should be made a last resort," he told reporters after opening a seminar on prevention of Shariah crime here today.
The seminar is attended by 650 participants from the state Islamic religious department, state syariah prosecutors office, Shariah judicial department, non-governmental organisations and university students.
Mohamad Nordin said that during a meeting with Prime Minister Tun Dr Mahathir Mohamad recently, the premier had expressed the need for Jakim to promote Islam as a religion of progress and development that benefited all quarters.
Full report at:
https://www.malaymail.com/s/1652928/jakim-to-be-tolerant-in-handling-of-islamic-related-matters
--------
Don't discriminate against LGBT at work, Islamic affairs minister says
17 July 2018
KUALA LUMPUR, July 17 ― Islamic Affairs Minister Datuk Mujahid Yusof Rawa stood up for the Lesbian, Gay, Bisexual and Transgender (LGBT) community today, saying there should be no discrimination against anyone at work based on their sexual orientation.
His remarks follow uproar from the community over the resignation of Numan Afifi, who was an interim aide to Youth and Sports Minister Syed Saddiq Abdul Rahman.
"Any citizen cannot be discriminated in terms of their workplace. Justice cannot be deprived," he told reporters at the Parliament lobby here.
But Mujahid also said there has been no evidence to show Numan, an LGBT activist, was forced to resign from his position because of his personal interests as alleged by his supporters.
"If there was any pressure, he has to prove that he was being pressured," Mujahid said.
Full report at:
https://www.malaymail.com/s/1653094/dont-discriminate-against-lgbt-at-work-islamic-affairs-minister-says
--------
Arab World
Syrian Army Frees Four More Regions in Death Triangle
Jul 16, 2018
The army men stormed terrorists in Northwestern Dara'a and imposed control over Khirbet al-Maliheh along the road between the villages of Kafr Shams and Aqraba.
The army men further continued to advance and freed the village of Kafr Shams.
In the meantime, the army men entered the village of Aqraba and the town of al-Harra after the militants agreed to hand over their positions to the army soldiers.
Field sources, meantime, reported that tough battles are underway between the army and terrorists in al-Mall, Tal al-Mall and Tal al-Harra in the Death Triangle.
The sources further said that the army's artillery units have been pounding terrorists' positions in Tal al-Harra and al-Harash in Northwestern Dara'a.
Reports said earlier today that the army men continued to storm terrorists' positions Southwest of the village of Kafr Shams and captured the town of Um al-Awsaj after liberating the township of Zamrin in Northern Dara'a.
In the meantime, the army men captured the town of Qabaqib in Northern Dara'a after repeated popular uprisings forces the militants to hand over the region to the army men.
A well-informed source, meantime, said only a few villages and hills are still under terrorists' control in Dara'a and the army has already established rule over 90 percent of Dara'a province.
Hawz al-Yarmouk region is also under ISIL terrorists' control.
http://en.farsnews.com/newstext.aspx?nn=13970425000843
--------
Syria: Fresh Clashes among Terrorist Groups Reported in Hama
Jul 16, 2018
Local sources in Western Hama reported that commanders of Jeish al-Nasr affiliated to the National Liberation Front and gunmen of Syria's Tahrir Front engaged in bloody clashes in Jabal Shah'shabou region.
The sources further said that the clashes came after Syria's Tahrir Front embarked on arresting commanders of Jeish al-Nasr and inflicted a number of casualties on both sides and claimed the lives of a number of civilians as well.
The sources went on to say that Commander of Jeish al-Nasr Abu al-Mahdi, whose relatives had been captured by the rival militants, ordered his forces to take members of the Eastern Court affiliated to Syria's Tahrir Front in Tarmala region in Southern Idlib.
Fierce clashes are still underway between the two rival terrorist groups, the sources said, adding that gunmen of Maqawir al-Shamal affiliated to Syria's Tahrir Front have started mediation to end clashes with Jeish al-Nasr.
In the meantime, a number of terrorists were killed or wounded after a bomb-laden vehicle went off near a service building in Idlib city.
Also, an unspecified number of Jeish al-Ahrar members lost their lives in an attack by unidentified gunmen in Khan Sheikhoun region in Southern Idlib.
In a relevant development on Sunday, Abu Harira Somali, a notorious non-Syrian commander of Tahrir al-Sham Hay'at (the Levant Liberation Board or the Al-Nusra Front), was killed by unknown gunmen in the Northeastern province of Idlib.
Abu Harira Somali, a Somalian commander of Tahrir al-Sham, was gunned down by unidentified assailants on the Idlib-Saraqib road.
The sources further pointed to the intensified assassination attempts on the lives of terrorist commanders and tensions among militants, adding that at least four terrorist commanders have been assassinated in the region only in the last few days.
Full report at:
http://en.farsnews.com/newstext.aspx?nn=13970425000443
--------
Strikes blamed on Israel killed 9 pro-regime fighters in Syria
16 July 2018
At least nine pro-regime fighters died in an overnight strike in northern Syria blamed on Israel, a monitor said Monday.
Syrian state media had accused Israel of bombing a military position in Aleppo province late Sunday, in what would be a rare Israeli attack so far north in the war-ravaged country.
The Syrian Observatory for Human Rights, a Britain-based war monitor, said that those killed included at least six Syrians and that Iranian fighters were also stationed at the base.
State news agency SANA on Sunday reported a missile strike near a strategic air base but said there were no casualties.
"The Zionist enemy... targeted with its missiles one of our military positions north of the Neirab military airport, but the damage was only material," it said, citing a military source.
There was no immediate comment from the Israeli military, which very rarely confirms strikes on targets in Syria.
Israel has repeatedly warned it will not tolerate an entrenched presence of its archfoe Iran in the neighbouring country.
The Observatory, which relies on a network of sources inside the country, said it had recorded a wave of blasts around Neirab on Sunday night.
It said that a suspected Israeli missile strike had targeted "positions held by Syria's regime and its allies at the Neirab airport" and its surroundings.
Suspected Israeli air strikes have hit Syrian army positions near Damascus and in the central provinces of Homs and Hama in the past but they rarely occur as far north as Aleppo.
Full report at:
https://english.alarabiya.net/en/News/middle-east/2018/07/16/Strikes-blamed-on-Israel-killed-9-pro-regime-fighters-in-Syria.html
--------
Prince Khalid bin Salman: Yemeni people united over expelling Iranian influence
17 July 2018
Yemeni people are "more than ever united" over restoring peace in their country and pushing out Iranian influence from Yemen following the advancement of Yemeni army forces on multiple fronts, Saudi Arabia's ambassador to the US Prince Khalid bin Salman said on Tuesday.
In a series of tweets, the ambassador added that the tribe leaders of Saada called for the continuation of efforts to liberate the Houthi-controlled governorate.
This comes following Saada tribe elders issuing a statement on Monday that came during a press conference held by the Spokesman of Coalition Forces Colonel Turki al-Maliki at the Armed Forces Club in Riyadh.
Maliki said that the Saada tribal leaders called on their government and the coalition to continue their efforts in liberating their province.
The ambassador continued by saying that this was a "significant development" and is evidence of the effectiveness of continued pressure on the Houthis.
Full report at:
https://english.alarabiya.net/en/News/gulf/2018/07/17/Prince-Khalid-bin-Salman-Yemeni-people-united-over-expelling-Iranian-influence.html
--------
Syrian army captures strategic hill overlooking Israeli-occupied Golan Heights
Jul 16, 2018
The Syrian army has taken control of a strategic hill that overlooks the Israeli-occupied Golan Heights, as Damascus government forces score fresh gains against remnants of terrorist groups in the country's troubled southwest.
Syria's state television said on Monday that the army had taken control of al-Harah hill in the second day of a major offensive to seize the remaining militant-held parts of southwestern provinces.
Syrian official news agency SANA, citing a military source, also said the army had captured a string of villages, including al-Tiha and Zimrin.
The so-called Syrian Observatory for Human Rights (SOHR) also confirmed that Damascus government units had made a "quick advance" against militants in the western part of Dara'a.
"Syrian … forces captured the town of al-Harah, as well as Samlin, al-Tiha and Zimrin," media outlets quoted observatory chief Rami Abdel Rahman as saying.
He said the government troops had ousted militants from al-Tiha in a military advance, while armed groups in al-Harah had agreed to a surrender deal.
He added that militants in a nearby town, Nawa, were in talks for a similar agreement.
The surrender deals were reportedly mediated by Russia. In a bid to minimize civilian casualties, both Damascus and Moscow have been initiating talks with militants to make them hand back the areas they control to the government without fighting. The militants have handed over their heavy weapons.
According to the SOHR, pro-Damascus forces are now holding more than 80 percent of Dara'a province.
Now that Dara'a is under the Syrian government's control again, the much reported collaboration between anti-Damascus militants and the Israeli regime would effectively be disrupted. Israel has beefed up its military presence in the Golan Heights in recent days. The Israeli regime has also been providing weapons to anti-Damascus militants as well as medical treatment to Takfiri elements wounded in Syria.
Since June 19, the Syrian army has been conducting a liberation operation in Dara'a, which borders Jordan and the Golan Heights.
Dara'a was the birthplace of sedition that was born in March 2011 before morphing into a foreign-backed militancy that continues to this day.
A series of latest gains in the strategic southwestern province of Quneitra, which borders Jordan, Lebanon and the Golan Heights, have also put foreign-backed militancy under pressure across the region.
Israel has been on high alert in recent days as Syrian government forces advance against foreign-backed terrorists near the Golan Heights.
Full report at:
https://www.presstv.com/Detail/2018/07/16/568303/Syria-alHaara-Daraa-Golan-Israel
--------
Remains of US, ISIL Victims Found in Mass Graves in Northeastern Syria
Jul 16, 2018
The sources said that forces affiliated to the Civil Council have found two more mass graves in al-Bado neighborhood in Raqqa city that contained 150 bodies.
They stressed that the victims found in the mass graves had been killed in the attacks on Raqqa in US airstrikes on the region, the US-backed Syrian Democratic Forces and ISIL terrorists.
Meantime, 17 bodies of the victims that belonged to the civilians have been unearthed from the mass grave in Raqqa's zoo that had been discovered earlier.
Well-informed sources in Raqqa were quoted by the Arabic-language al-Manar news channel as saying earlier this month that a mass-grave was discovered near al-Forat sport club which contained a large number of bodies of the civilians killed in the US airstrikes when Raqqa was under ISIL control.
Full report at:
http://en.farsnews.com/newstext.aspx?nn=13970425000657
--------
500 Regions in Idlib Join Gov't Peace Plan
Jul 16, 2018
The Arabic-language website of Sputnik news agency quoted Sheikh Saud al-Mobarak, a member of Idlib's peace committee, as saying that 500 villages and towns have joined the national peace plan in coordination with the Syrian government and supervision of the Russian delegation and after continued talks and contacts with the residents of different towns in Idlib province.
He added that the process of peace negotiations had started 1.5 years ago in several regions of Idlib, saying that residents of several villages and towns in Idlib have held protest rallies against the presence of the terrorists, specially the foreigners who have looted their properties and lands.
Sheikh Saud said that implementation of the peace plan in the province is aimed at preventing clashes and protecting the residents of the two towns of Fua'a and Kafrya which have repeatedly been targeted by terrorists in the past few years.
The Syrian army has earned control over a sum of 90% of Dara'a province and started military operations in Quneitra.
Commanders of the terrorist groups in Northern Syria are showing clear signs of concerns over the growing number of the militants who are demanding endorsement of peace with the Damascus government.
Abdullah Muhammad al-Muhaysini, the former commander of Tahrir al-Sham Hay'at (the Levant Liberation Board or the Al-Nusra Front), cautioned on Wednesday against the growing number of the militants asking for the endorsement of the peace plan in Northern Syria, calling for their trial and punishment.
Also, Abdolrazaq al-Mahdi, the Mufti (religious leader) of another terrorist group in Northern Syria, warned of the dire situation in Northern Syria, calling on the militants to unite to stand against the Syrian army's imminent operations in the region.
Full report at:
http://en.farsnews.com/newstext.aspx?nn=13970425000882
--------
Several Syrian Civilians Killed in US Air Raids in Deir Ezzur
Jul 16, 2018
The warplanes bombed several times the township of al-Souseh in Southeastern Deir Ezzur, killing eight civilians, including women and children, and wounding at least a dozen others.
Local sources said that some of the injured are in critical conditions, adding that the township's infrastructures and residential units have sustained major damage in the attacks.
In a similar development on Friday, the warplanes conducted several raids on Albaquz and al-Souseh townships on the Eastern bank of the Euphrates River near the town of Albu Kamal, killing over 30 civilians and wounding tens more, including several women and children.
Full report at:
http://en.farsnews.com/newstext.aspx?nn=13970425000862
--------
Several US-Backed Militias Killed in Bomb Blasts, Gunfire in Northeastern Syria
Jul 16, 2018
The sources said that five SDF militias were killed after a bomb, planted by the unknown parties on their vehicles, went off near the village of Jadida Kahit East of the township of al-Karama in Eastern Raqqa.
In the meantime, a bomb went off near al-Taj Hotel in Raqqa city, killing and wounding a number of SDF militias, the sources said.
They further said that another SDF fighter was also killed after unidentified assailants opened fire at the militias in al-Nour street in the Central part of Raqqa city.
The SDF has launched vast arrest operations in al-Karama after a number of its fighters defected the militant group.
Field sources said on Sunday that tens of women gathered in al-Sawameh square in Raqqa city and called for release of inmates captured by the SDF under the accusations that they had cooperated with the rival terrorists of Liwa Thowar al-Raqqa.
The sources further said that the SDF beat protesting women and arrested over 25 of them that enraged other residents in the city.
Full report at:
http://en.farsnews.com/newstext.aspx?nn=13970425000794
--------
Last Group of Kurdish Militias Evacuate Manbij
Jul 16, 2018
Kurdish-language Hawar news quoted one of the commanders of Manbij Military Council affiliated to the US-backed Syrian Democratic Forces (SDF) as saying that the last group of military advisors of the People's Protection Units (YPG) withdrew from Manbij on Sunday.
Hawar news further said that the YPG military advisors left Manbij after ending their mission that included training, preparing and providing backup for the members of Manbuj Military Council.
The Turkish and American forces had previously agreed on a Road Map for the exit of Kurdish militias from the region.
Media sources affiliated to the dissidents in Syria reported on Thursday that representatives of the Syrian government and a number of officials of the Manbij military council held a meeting on the future of the town.
Full report at:
http://en.farsnews.com/newstext.aspx?nn=13970425000327
--------
Security alert as Qatari ex-minister linked to terror reappears in public
July 16, 2018
JEDDAH: The re-emergence in public of a former Qatari interior minister linked to financing and promoting terrorism has rung alarm bells in the security community.
Abdullah bin Khalid Al-Thani was photographed in Doha recently autographing a wall portrait of Qatari Emir Sheikh Tamim bin Hamad Al-Thani.
The Anti-Terror Quartet — Saudi Arabia, the UAE, Bahrain and Egypt — placed Abdullah Al-Thani on a list of 59 terrorists being sheltered by Qatar. He has been accused of financing several terror operations and of accommodating terrorists, including those involved in the planning and execution of the 9/11 attacks, at his farmhouse in Qatar.
Al-Qaeda operative Khalid Sheikh Mohammed, the principal architect of those attacks, moved to Qatar "at the suggestion of Abdullah Al-Thani," according to the US Department of Defense.
In 1995, Abdullah Al-Thani is believed to have provided funding to Khalid Sheikh Mohammed to support him in combat in the Bosnian war. While the US pushed for Khalid Sheikh Mohammed's arrest, Abdullah Al-Thani told Khalid Sheikh Mohammed about the growing pressure for his detention, leading to him leaving the country with a Qatar-provided passport on a government executive jet. When he returned, Abdullah Al-Thani was briefly confined to house arrest.
"This man is a big supporter of terrorism and of Al-Qaeda and there is no doubt that he enjoys the patronage of the Qatari regime. His re-appearance confirms all our worst fears that Qatar is a hotbed of terrorists and anti-Arab plotters," said Saudi scholar and international affairs expert Dr. Hamdan Al-Shehri.
"We had no problem with the United States. We were great allies. But Qatar wanted to drive a wedge between our good ties and so, in league with Iran, they supported and facilitated Al-Qaeda's 9/11 operation."
Al-Shehri said it was not a coincidence that 15 Saudis were selected by Al-Qaeda, Iran and Qatar for the 9/11 operation. "Their primary purpose was to finish our relationship with the United States. With time and painstaking work by other countries it soon became obvious who was pulling the strings of those terrorists, and why."
"I think it's the right time to put all international pressure on the Qatari regime," said Salman Al-Ansari, head of the Saudi American Public Relation Affairs Committee (SAPRAC).
Abdullah Al-Thani was among the key links, Al-Shehri said. "When Doha realized it was being exposed it sent Abdullah Al-Thani out of the public eye. But it now seems emboldened enough to bring him back into the public glare. This proves once again that Qatar is the biggest promoter and supporter of terrorism, and that the Arabs, led by Saudi Arabia, have been absolutely justified in snapping ties with Qatar."
After Saudi Arabia and three other states severed relations with Qatar in June 2017, Al-Qaeda operatives and ideologues came out instantly in support of Qatar. Egyptian Mohammed Shawqi Islambouli, a US-designated terrorist, described Qatar as "the pride of the Arabs." Abdalrahman bin Omeir Al-Nuaymi, who the US sanctioned in December 2013 for "providing financial support to Al-Qaeda, Asbat Al-Ansar, Al-Qaeda in Iraq, and Al-Shabaab," was also among those who rallied in support of Qatar.
On June 4, Al-Nuaymi posted on Twitter: "The latest developments in our region have proven that a state that sows destruction (Saudi Arabia) is inciting the West to sanction states (Qatar) and individuals."
Al-Nuaymi is a Qatar University professor and former president of the Qatar Football Association. He was also a founding member of a prominent charity — the Sheikh Eid bin Mohammad Al-Thani Charitable Foundation, named after a member of the country's ruling family. The Telegraph newspaper described him as "one of the world's most prolific terrorist financiers."
Among the list of 59 individuals and 12 organizations that the ATQ blamed for supporting terror are several who are also sanctioned by international organizations, including the UN.
Sa'd bin Sa'd Muhammad Shariyan Al-Ka'bi, a Qatari national openly living in Qatar, was designated by the UN in 2015 as a known facilitator and fundraiser for the Nusra Front. Al-Ka'bi's activities in Qatar, including the arranging of funding and transferring funds are well known and documented, yet the Qatari government has done nothing to stop his actions.
Abd Al-Latif bin Abdallah Salih Mohammed Al-Kawari is a known fundraiser for terrorist groups dating back to the early 2000s. At that time Al-Kawari was associated with Ibrahim Isa Haji Mohammed Al-Bakr, himself a designated terrorist by the UN and US. The two were working in Qatar to raise funds for Al-Qaeda organizations based in Pakistan and Al- Kawari was directly connected to the transfer of funds from Qatar to Pakistan. Al-Kawari has also been associated with fundraising and the transfer of funders to the Al-Qaeda offshoot, the Nusra Front.
Full report at:
http://www.arabnews.com/node/1339956/middle-east
--------
South Asia
Taliban say awaiting formal US offer for direct talks
Tahir Khan
JULY 17, 2018
ISLAMABAD: Afghan Taliban said on Monday that their political envoys in Qatar were awaiting the United States official communication about direct negotiations to find out a political solution to the conflict.
The Taliban comments came following New York Times report that the Trump administration had told its top diplomats to seek direct talks with the Taliban to end the 17-year war.
Taliban have long been demanding direct talks with Americans as they insist the US is the major party to the conflict and that they want an end to the foreign invasion.
On its part the US would press the Taliban to sit face-to-face with Afghan government. But the US new approach is seen as a major shift in its policy as its military option has failed to defeat the Taliban, who now control more areas since the US and its NATO allies invaded the Islamic country in 2001.
"We have seen reports about the US intention to hold direct talks with us. We still await a formal offer for the direct negotiations. We have not yet received anything officially," a Taliban official at the Qatar political office told Daily Times when he was approached for the Taliban reaction.
"We want names of our leaders removed from the United Nations sanctions list as a confidence building measure ahead of the talks," said the Taliban political envoy, who did not want to be identified as they had not yet received formal offer for the talks. He also demanded reopening of the Taliban office in Qatar.
The office was closed down days after it was opened in 2013 after then Afghan President Hamid Karzai criticizsd the Taliban white flag and plaque of the "Islamic Emirate" displayed at the office. Taliban would use white flag and Islamic Emirate during their rule of Afghanistan (1996-2001).
"We will start official talks with the US about the withdrawal of foreign forces and their concerns," the Taliban representative said.
"We want direct negotiations with the US to find out a solution to the problem. We want talks on the withdrawal of the foreign troops first and then we will work for peace," he further said.
He said Taliban would be having good relations with the world community and neighbours when the issue of the foreign forces is resolved. "We will actively take part in rehabilitation."
When asked if the Taliban have any plan for the format of the negotiations and that who will attend and any guarantor, he said: "We have a plan for the talks but will not reveal its details at the moment."
Taliban officials had earlier said their political envoys in Qatar would start preliminary talks and the leadership council could form another high-level team for formal talks.
"The Islamic Emirate will press for its longstanding call to remove names of the Taliban leaders from the UN sanctions list so they could take part in talks," he said.
Although Pakistan insists peace process in Afghanistan is a shared responsibility of all stakeholders, it has been pushing the Taliban to join peace process and has also backed President Ashraf Ghani's dialogue offer to the Taliban in February.
Taliban political envoys had visited Pakistan in January to discuss Pakistan's prospects for reconciliation but later they told Pakistan that they would not hold talks with the Kabul administration but would always be ready for talks with the US.
Taliban supreme leader Maulvi Haibtullah had also reiterated the same stance in his Eid message in June.
The US also showed flexibility in its position and Secretary of State Mike Pompeo had said on June 16, "The United States stands ready to work with the Afghan government, the Taliban, and all the people of Afghanistan to reach a peace agreement and political settlement that brings a permanent end to this war."
On his part, President Ashraf Ghani also hinted at discussion on the presence of foreign troops in an apparent response to Taliban's calls for withdrawal of foreign forces.
"We're ready for comprehensive negotiations… all those issues and demands that have been put forth. The Afghan government is ready to discuss issues of mutual concern with neighbouring countries and presence of foreign forces," Ghani had written on Twitter last month.
https://dailytimes.com.pk/268895/taliban-say-awaiting-formal-us-offer-for-direct-talks/
--------
NATO rejects remarks attributed to Gen. Nicholson regarding direct talks with Taliban
Jul 17 2018
The NATO-led Resolute Mission has rejected remarks attributed to US Forces and Resolute Support Mission Commander General John Nicholson regarding the direct US talks with the Taliban group.
"The United States is not a substitute for the Afghan people or the Afghan government," said U.S. Army Gen. John Nicholson, Resolute Support commander.
He said "My reaffirmation of Secretary Pompeo's statement in which he said peace talks would include a discussion of international forces and that the United States is ready to work with the Taliban, the Afghan government and the Afghan people towards lasting peace was mischaracterized."
According to Resolute Support Mission, the U.S. Secretary of State Mike Pompeo issued his statement, June 16, days after the Government of the Islamic Republic of Afghanistan's unilateral cease-fire with the Taliban was announced by H.E. Afghan President Ashraf Ghani and began, June 12.
"As President Ghani emphasized in his statement to the Afghan people, peace talks by necessity would include a discussion of the role of international actors and forces," said Pompeo in his statement. "The United States is prepared to support, facilitate, and participate in these discussions."
Full report at:
https://www.khaama.com/nato-rejects-remarks-attributed-to-gen-nicholson-regarding-direct-talks-with-taliban-05603/
--------
Taliban shares demand ahead of direct talks with the US
Jul 17 2018
The Taliban militants have said they are waiting to receive a formal offer from the United States for direct talks to find a solution to the ongoing conflict in Afghanistan.
The group also shared a demand ahead of the talks with the United States, saying "We want names of our leaders removed from the United Nations sanctions list as a confidence building measure ahead of the talks," according to Daily Times.
"We will start official talks with the US about the withdrawal of foreign forces and their concerns," the Taliban representative told the Pakistan-based paper.
"We want direct negotiations with the US to find out a solution to the problem. We want talks on the withdrawal of the foreign troops first and then we will work for peace," he further said.
This comes as reports emerged on Monday suggesting that the Administration of President Donald Trump has reportedly ordered its top diplomat to seek direct talks with the Taliban group in Afghanistan in a bid to help kick start Afghan negotiations.
Sources privy of the development in U.S. and Afghanistan have told The New York Times that the Trump administration is considering a strategy shift to help the launch of a broader, formal negotiations to end the long war.
Full report at:
https://www.khaama.com/taliban-shares-demand-ahead-of-direct-talks-with-the-us-05602/
--------
One year on, basic healthcare remains major challenge for Rohingya refugees
16 July 2018
Almost one year ago, an unprecedented number of Rohingya refugees began fleeing Myanmar for neighboring Bangladesh.
This exodus has created the world's largest refugee camp (in Cox's Bazar, Bangladesh), brought several medical issues to light, and raised questions about the future of the Rohingya in Myanmar, or indeed Bangladesh.
While the number of refugees who have fled Myanmar in the past year is enormous (702,000 since 25 August, 2017), this isn't the first time Rohingya refugees have fled Myanmar. The Rohingya have been fleeing successive bouts of targeted violence and human rights abuses for decades.
Some had returned to Myanmar, while others have remained outside the country, either as refugees, or undocumented workers. Rohingya in Myanmar have effectively been denied citizenship and have thus had limited access to healthcare, including vaccinations. Médecins Sans Frontières (MSF) has been providing healthcare for Rohingya refugees in Bangladesh since 1993. However, as of August 2017, MSF's operations have scaled up significantly in response to the needs – there are now more than 2,000 MSF staff in Cox's Bazar.
Our priorities since the beginning of this latest crisis have not changed – our major goals are the provision of essential healthcare and clean water.
Health posts
MSF has created ten health posts, three primary health centers and five inpatient health facilities with a total capacity of 354 beds. One example of these health facilities is a hospital, which is built as a semi-permanent structure with 100 beds.
This hospital is comprised of an emergency room, intensive care unit, pediatric ward, adult ward, maternity ward, isolation ward and a laboratory.
Many of the most common medical issues faced by Rohingya refugees right now are caused by their living conditions. Many suffer from respiratory conditions, diarrhoea and skin diseases.
People of all ages have fled to Bangladesh, including the elderly; and we see patients who are in need of ongoing care for non-communicable diseases such as diabetes hypertension, and chronic obstructive pulmonary diseases.
In terms of medical care, our teams have also dealt with the immediate medical issues stemming from violence in Myanmar – including sexual and gender-based violence (SGBV); MSF has treated 377 people for SGBV, with patients ranging from nine to 50 years old.
However, the real number of people who have experienced SGBV is impossible to determine, as we believe many cases go unreported due to shame and associated stigma.
MSF is intensifying its mother-and-child and reproductive healthcare activities. Only a fraction of expected deliveries currently occur in a health facility, while home deliveries often happen in unsafe and unhygienic conditions.
Psychological care
Psychological care is a priority for MSF in treating those who have witnessed or experienced extreme violence, and to help people cope with the intense stress that comes with forced displacement and the living conditions of a refugee camp.
In addition to the medical needs borne of recent violence, there are also different medical issues that indicate the Rohingya have had little to no access to regular healthcare. There have been outbreaks of measles and diphtheria in the camps, both of these are diseases children are routinely vaccinated for in other nations.
Between September and the end of April, MSF saw 4,680 cases of measles across all the MSF health facilities in Cox's Bazar. Cases are on the decline, although the outbreak is far from over. All children under five are now vaccinated upon arrival.
Providing clean water is the other focus of our operations in Cox's Bazar as this is key in preventing the spread of disease. To date, MSF has drilled 25 deep boreholes to a depth of up to 200 metres to ensure the water they provide is clean.
They supply MSF health facilities and piped networks that reach between 5,000 and 30,000 people each. MSF teams have also distributed more than 1000 aqua filters to Rohingya families which give them clean water in their shelters.
The monsoon season has been a specter of fear since this crisis began in August, and now it is here. Some 200,000 people are estimated to be at direct risk from landslides or flooding, which can contaminate drinking water and cause toilets to overflow, leading to the spread of disease.
Trauma injuries
While the rains have not begun in earnest, people have already been treated for trauma injuries after the rain and mud caused structures to collapse and people to fall. Just two weeks ago, six children were buried in a landslide – they have since been treated and are well, but it's a worrying sign of things to come.
Beyond the uncertainty of the weather conditions, Rohingya refugees in Bangladesh are in limbo. While a process of repatriation has been under discussion for a while, no significant movement has been noted so far.
Reports from the camps suggest that the majority of refugees face the prospect of returning to Myanmar with fear, believing they will continue to live without citizenship or rights, and be vulnerable to attack if they return.
With regard to a possible proposal of repatriation, MSF's position has not changed: any return or repatriation of Rohingya refugees to Myanmar can only take place if it is voluntary, their safety is guaranteed and the root causes of the violence have been addressed.
Full report at:
https://english.alarabiya.net/en/features/2018/07/16/One-year-on-healthcare-for-Rohingya-refugees-continues-to-be-a-challenge.html
--------
North America
US Muslim Candidates Run in Record Numbers But Face Backlash
July 16, 2018
SPRINGFIELD, MASSACHUSETTS —
A liberal woman of color with zero name recognition and little funding takes down a powerful, long serving congressman from her own political party.
When Tahirah Amatul-Wadud heard about Alexandria Ocasio-Cortez's stunning upset over U.S. Rep. Joe Crowley in New York's Democratic primary last month, the first-time candidate saw parallels with her own longshot campaign for Congress in western Massachusetts.
The 44-year-old Muslim, African-American civil rights lawyer, who is taking on a 30-year congressman and ranking Democrat on the influential House Ways and Means Committee, said she wasn't alone, as encouragement, volunteers and donations started pouring in.
"We could barely stay on top of the residual love,'' said Amatul-Wadud, U.S. Rep. Richard Neal's lone challenger in the state's Sept. 4 Democratic primary. "It sent a message to all of our volunteers, voters and supporters that winning is very possible.'' From Congress to state legislatures and school boards, Muslim Americans spurred to action by the anti-Muslim policies and rhetoric of President Donald Trump and his supporters are running for elected offices in numbers not seen since before the terrorist attacks of Sept. 11, 2001, say Muslim groups and political observers.
Many, like Amatul-Wadud, hope to ride the surge of progressive activism within the Democratic Party that delivered Ocasio-Cortez's unlikely win and could help propel the Democrats back to power in November.
Still, the path to victory can be tougher for a Muslim American. Some promising campaigns already have fizzled out while many more face strong anti-Muslim backlash.
In Michigan, Democrat candidate for governor Abdul El-Sayed continues to face unfounded claims from a GOP rival that he has ties to the controversial Muslim Brotherhood, even though Republican and Democratic politicians alike have denounced the accusations as "conspiracy theories.''
In Rochester, Minnesota, mayoral candidate Regina Mustafa has notified authorities of at least two instances where anti-Muslim threats were posted on her social media accounts.
And in Arizona, U.S. Senate candidate Deedra Abboud received a torrent of Islamophobic attacks on Facebook last July that prompted outgoing U.S. Sen. Jeff Flake, the Republican lawmaker Abboud is hoping to replace, to come to her defense on Twitter.
"I'm a strong believer that we have to face this rhetoric,'' said Abboud, who has also had right-wing militant groups the Fraternal Order of Alt-Knights and the Proud Boys stage armed protests her campaign events. "We can't ignore it or pretend like it's a fringe element anymore. We have to let the ugly face show so that we can decide if that is us.''
There were as many as 90 Muslim-Americans running for national or statewide offices this election cycle, a number that Muslim groups say was unprecedented, at least in the post-9/11 era.
But recent primaries have whittled the field down to around 50, a number that still far exceeds the dozen or so that ran in 2016, said Shaun Kennedy, co-founder of Jetpac, a Massachusetts nonprofit that helps train Muslim-American candidates.
Among the candidates to fall short were California physician Asif Mahmood, who placed third in last month's primary for state insurance commissioner, despite raising more than $1 million. And in Texas, wealthy businessman Tahir Javed finished a distant second in his Democratic primary for Congress, despite an endorsement from Senate Minority Leader Chuck Schumer of New York.
Nine candidates for Congress are still in the running, according to Jetpac's tally. At least 18 others are campaigning for state legislature and 10 more seek major statewide and local offices, such as governor, mayor and city council. Even more are running for more modest offices like local planning board and school committee.
The next critical stretch of primaries is in August.
In Michigan, at least seven Muslim Americans are on the Aug. 7 ballot, including El-Sayed, who could become the nation's first Muslim governor.
In Minnesota, the decision by Keith Ellison, the nation's first Muslim congressman, to run for state attorney general has set off a political frenzy for his congressional seat that includes two Muslim candidates, both Democrats: Ilhan Omar, the country's first Somali-American state lawmaker, and Jamal Abdulahi, a Somali-American activist.
But historic wins in those and other races are far from assured, cautions Geoffrey Skelley, an associate editor at Sabato's Crystal Ball, a nonpartisan political analysis website run by the University of Virginia's Center for Politics.
Omar's chances of emerging from a field of five Democratic candidates in Minnesota's Aug. 14 primary was bolstered by a recent endorsement from the state Democratic Party, but El-Sayed is an underdog in his gubernatorial race, he said.
Other Muslim-American candidates might fare better in Michigan, which has one of the nation's largest Arab-American populations, Skelley added.
There, former state Rep. Rashida Tlaib has raised more money than her Democratic rivals in the race to succeed Democratic Rep. John Conyers, who resigned last year amid allegations of sexual misconduct. Former Obama administration official Fayrouz Saad is also running as a Democrat in the wide open race to succeed Republican Rep. David Trott, who isn't seeking re-election.
Either could become the first Muslim woman elected to Congress, which has only ever had two Muslim members: outgoing Ellison and Rep. Andre Carson, an Indiana Democrat seeking re-election.
Saad, who served most recently as director of Detroit's Office of Immigrant Affairs, recognizes the importance of representing her community in an era of rising Islamophobia.
The 35-year-old broke from the conservative Republican politics of her Lebanese immigrant parents following the 9/11 attacks because she felt Arabs and Muslims were unfairly targeted.
"I felt the way to push back against that was to be at the table,'' said Saad, adding that her parents' political leanings have also since moved to the left. "We have to step up and be voices for our communities and not wait for others to speak on behalf of us.''
But not all Muslim candidates feel that way.
In San Diego, California, 37-year-old Republican congressional candidate Omar Qudrat declined to comment on how Islamophobia has impacted his campaign, including instances when his faith have been called into question by members of his own political party.
Instead, the political newcomer, who is one of at least three Muslim Republicans running nationwide this year, provided a statement touting his main campaign issues as faces Democratic U.S. Rep. Scott Peters in November: addressing San Diego's high number of homeless military veterans, improving public education and expanding economic opportunities for city residents.
"Running for public office is about advancing the interests of your constituents and the American people,'' Qudrat's statement reads. "Nothing else.''
https://www.voanews.com/a/us-muslim-in-elections/4485763.html
--------
Trump says Iran in turmoil since US withdrew from nuke deal
17 July 2018
US President Donald Trump asserted Monday that Iran was being roiled by nationwide riots since he pulled out of an international nuclear deal and that Washington supports the protesters.
Trump, interviewed after his summit in Helsinki with President Vladimir Putin, said that Russia still supported the nuclear accord because it does business with the regime in Tehran, so the deal is in Moscow's interest.
"It is not good for us or for the world, but they have riots in all their cities," Trump told Fox News.
"The inflation is rampant, going through the roof. And not that you want to hurt anybody, but that regime wouldn't let the people know that we are behind them 100 percent.
"They are having big protests all over the country, probably as big as they have ever had before. And battles happened since I terminated that deal, so we will see," he added.
Over the objections of allies, Trump in May pulled the United States from the nuclear deal signed between Tehran and world powers in 2015.
He re-imposed US sanctions that had been suspended in return for controls on Tehran's nuclear program, effectively barring many multinational firms from doing business in Iran.
Iran has been defiant in the face of the US move, saying it has left the Trump administration internationally isolated.
"The illegal logic of the United States is not supported by any of the international organizations," President Hassan Rouhani said at the weekend.
Iran has faced mounting economic woes since Trump's withdrawal announcement, with inflation rising sharply.
Its currency has plunged almost 50 percent in value in the past six months against the US dollar, prompting a rare strike earlier this month by traders in Tehran's Grand Bazaar.
Full report at:
https://english.alarabiya.net/en/News/world/2018/07/17/Trump-says-Iran-in-turmoil-since-US-withdrew-from-nuke-deal-.html
--------
Trump administration to seek direct peace talks with Taliban: NYT
July 17, 2018
NEW YORK - The Trump administration has told American envoys to seek direct talks with the Taliban to end the United States' longest-ever war, in a major shift after years of the country's diplomatic policy on the conflict, The New York Times reported on Monday.
The change in White House stance rolls back a long-held position that any talks must be led and controlled by the Afghan government. The White House has now told diplomats to seek initial talks with the militant insurgent movement to try to kick start a wider peace process to end the 17-year-long conflict, the newspaper said in a report from Kabul. The shift marks a significant concession to Taliban demands and comes amid frustration in the White House that Trump's decision last year to ramp up the war has so far yielded few results.
Taliban leaders have long said they will not talk with the Kabul government, which they see as a puppet regime and will instead only talk with America, which ousted the movement from power in 2001.
In a statement last month the Taliban said, the invading American party must realize and understand the reality of the situation, stop pointless stubbornness, sit directly for dialogue with the Islamic Emirate to find a solution for the ongoing imbroglio and withdraw their occupying forces from Afghanistan.
While no date for any talks has been set, the dispatch said, adding that the effort could still be derailed, the willingness of the United States to pursue direct talks is an indication of the sense of urgency in the administration to break the stalemate in Afghanistan.
Not long after he took office, President Donald Trump agreed to provide more resources to his field commanders fighting the Taliban, adding a few thousand troops to bring the American total to about 15,000. But a year later the insurgent group continues to threaten Afghan districts and cities and inflict heavy casualties on the country's security forces, it was pointed out.
The government controls or influences 229 of Afghanistan's 407 districts, and the Taliban 59, the report said. The remaining 119 districts are contested, it said citing the Office of the Special Inspector General for Afghanistan Reconstruction, which was created by Congress to monitor progress in the country.
Providing more authority to American diplomats, a move that was decided on last month by Trump's national security aides, is seen as part of a wider push to inject new momentum into efforts to end the war. "Those efforts", according to the Times, "include a rare cease-fire last month, increased American pressure on Pakistan to stop providing sanctuary to Taliban leaders and a rallying of Islamic nations against the insurgency's ideology. Grassroots peace movements in the region have also increased pressure on all sides. (Pakistan has firmly and repeatedly denied the existence of any sanctuaries on its soil.)
Over the past few weeks senior American officials have flown to Afghanistan and Pakistan to lay the groundwork for direct United States-Taliban talks. Secretary of State Mike Pompeo briefly visited Kabul last week, and Alice G. Wells, the top diplomat for the region, spent several days holding talks with major players in Afghanistan and Pakistan.
Efforts have particularly focused on trying to persuade the Afghan leadership that such talks are not a replacement for negotiations with the country's coalition government, but are meant to break the ice and pave the way for those, the dispatch said. Because the previous Afghan government felt left out of peace efforts during the Obama administration, it resisted direct talks, which was one reason peace efforts at that time collapsed.
Neither the State Department nor a Taliban spokesman would comment on the shift of policy toward engaging the Taliban directly, according to the newspaper.
Ms. Wells, during her trip to Kabul, reported a new energy and impulse for everyone to renew their efforts to find a negotiated settlement, largely as a result of the cease-fire. Days earlier, Pompeo, in a statement, said that there would be no precondition for talks and that everything, including the presence of American and NATO troops in Afghanistan, was up for discussion.
I think Secretary Pompeo was very clear, we are prepared to facilitate, to support, to participate in so there is nothing that precludes us from engaging with the Taliban in that fashion, Ms. Wells said. What we are not prepared to do is at the exclusion of the Afghan government that is the critical difference.
We are doing everything we can, she added, to ensure that our actions help the Taliban and the Afghan government to the same table.
President Ashraf Ghani of Afghanistan said last month at a news conference that the peace process would be a complicated, layered effort rolled out in phases that were still in the preparatory stage.
He left open the possibility of a more direct American role in the early efforts.
Various ideas, creative ideas are floating on how to break this logjam and get started, Ghani said.
Afghan officials and political leaders, according to the Times, said direct American talks with the Taliban would probably then grow into negotiations that would include the Taliban, the Afghan government, the United States and Pakistan.
"If we look backwards, the Bonn process is a pretty good paradigm for what ultimately a peace process is going to look like, Ms. Wells said, referring to the 2001 talks in the German city that established the post-Taliban government in Afghanistan. You are going to start off the Afghans speaking to one another, but obviously the United States and Pakistan were critical in that inner core, and then you build out.
The Times said, "A near-consensus has grown among American and Afghan officials involved in earlier and current efforts to fire up a peace process that the only way out of the war is for the United States to take a more direct role in negotiations.
Full report at:
https://nation.com.pk/17-Jul-2018/trump-administration-to-seek-direct-peace-talks-with-taliban-nyt
--------
Turkey gradually moving away from dictates of US: Analyst
Jul 16, 2018
Turkey's plans to buy the Russian S-400 missile defense system and the United States' threats to slap sanctions on the country for its purchase underscores the rising tensions between the two NATO allies, says an American political analyst.
"This may be another step of the gradual moving away from the dictates from Washington by some of our nominal allies," said James Jatras, a former US Senate foreign policy analyst.
"At this point, Turkey is so estranged from the rest of the NATO alliance, it's hard to see that the US will be in a position to change Turkey's mind on this," Jatras told Press TV on Sunday.
"The S-400 is a very capable system by all accounts and I could understand why there would be concerns about the capabilities," he added.
The top US Air Force general in Europe said Sunday that Turkey's plans to buy the Russian S-400 missile defense system would give a weapon used by "known foes" of NATO deep insight into the radar-evading F-35 fighter jets arriving in growing numbers in Europe.
"Anything that an S-400 can do that affords it the ability to better understand a capability like the F-35 is certainly not to the advantage of the coalition," said General Tod Wolters, who is also the NATO Allied Air Commander, on Sunday.
In late June, US Assistant Secretary of State for European and Eurasian Affairs Wess Mitchell warned that Washington would impose sanctions on Ankara if it proceeded with the purchase of the S-400s, including withholding the sale of the F-35 stealth jets, citing national security concerns.
Washington and its NATO allies have strived to prevent the sophisticated Russian-built anti-aircraft weapon system from collecting information about the US-made all-weather stealth multirole warplanes, technically known as the Lockheed Martin F-35 fighters, just as they are gaining a foothold in Europe.
Turkish President Recep Tayyip Erdogan and his Russian counterpart Vladimir Putin said in the Turkish capital, Ankara, on April 3 that they had agreed to expedite the delivery of S-400 missile systems. The delivery is expected to start between late 2019 and early 2020.
Ankara's ties with its Western allies in NATO have been strained over a range of issues. Erdogan has been critical of Washington for supporting Kurdish groups in Syria that he says are responsible for terror attacks inside Turkey.
Full report at:
https://www.presstv.com/Detail/2018/07/16/568298/US-NATO-Turkey-Russia-S-400-James-jatras
--------
Africa
Uganda Beefs Up Security to Avert Al-Shabaab Possible Attack
15 JULY 2018
Ugandan police and military have enhanced security ahead of the Sunday World Cup final match to avoid the repeat of the July 2010 twin bombings that left over 76 football fans dead and dozens injured, a police spokesperson said.
Patrick Onyango, Uganda's deputy police spokesperson told Xinhua in an interview that the counter-terrorism police, bomb squad, the military are on foot and motorized patrols in the capital Kampala and other major towns to prevent any possible terror attack.
"We have deployed extra troops on the ground so that we are visible everywhere to deter any possible terror threats. We also have enhanced intelligence and sharing information with sister security agencies," Onyango said.
"Places and venues that don't have access control measures will not be allowed to show the World Cup final," he added.
Hosted in Russia, the World Cup final between France and Croatia is expected to draw massive crowds to the country's entertainment venues and streets in the capital and major towns.
Somali militant group Al Shabaab on July 11, 2010, carried out twin bombings at Kyadondo Rugby Club and Ethiopian Village Restaurant in the capital Kampala, killing at least 76 people watching the World Cup final and leaving dozens injured.
Uganda remains on high alert amid fears of possible terror attacks by Al Shabaab in revenge of the country's deployment of peacekeeping troops in Somalia. Uganda provides the bulk of the African Union peacekeeping troops in Somalia.
https://allafrica.com/stories/201807160494.html
--------
Casualties feared after Boko Haram attack military base
JULY 17, 2018
Dozens of soldiers were feared dead after a Boko Haram attack on a military base in remote northeast Nigeria, security sources said on Monday, as search parties were sent into the bush to locate missing troops.
Jihadists overran the base in Jilli village, in the Geidam area of Yobe state, on Saturday evening, a day after a separate attack on troops in neighbouring Borno state.
The army conceded the base was attacked but said "troops reorganised and successfully repelled the attack and normalcy has since returned to the area".
But one military source told AFP earlier: "So far we have lost 31 soldiers, including three officers.
"Two vigilantes were also killed in the attack," he said, adding that 24 soldiers were injured and were being treated in hospital.
A civilian militia source in the Borno state capital, Maiduguri, added: "I don't have an exact toll of those killed.
"But yesterday (Sunday) the dead casualties were brought in three trucks to Maimalari military barracks here in Maiduguri. This means the casualty toll is high."
– Operational mistake –
The militia member said Boko Haram fighters in military uniform and driving vehicles painted in army colours were allowed into the base.
"The soldiers mistook them for their colleagues from Gubio and opened the gates to the base. This was what led to all this loss," he added.
More than 700 soldiers were at the base at the time and hundreds of them were unaccounted for as of Sunday.
But army spokesman Brigadier General Texas Chukwu said reports that 600 soldiers were missing were "untrue".
"All the troops in the base were accounted for," he added in a statement.
The military source, who asked to remain anonymous because he was not authorised to talk to the media, said "a number of the missing soldiers have showed up".
He did not specify a figure.
Reinforcements have now been sent to the base while commanders have sent search parties into the bush to locate any soldiers killed, missing or wounded in action.
The attack is suspected to have been carried out by fighters loyal to factional leader Abu Mus'ab al-Barnawi, who is backed by the Islamic State group.
The group has previously attacked government and military targets.
In the latest strike, the military base commander had to crawl to safety after troops tried to fight back but were overwhelmed.
A number of army vehicles were burnt or taken away, while the insurgents also stole arms and ammunition, burnt down food and uniform stores and a church worship centre.
There was no exact figure on Boko Haram casualties but many were said to have been killed.
– Ambush –
Meanwhile, a search and rescue operation was understood to be ongoing in the Bama area of Borno state for 18 soldiers and five officers missing since Friday's attack.
Local security operatives said seasonal rains were hampering the search.
Chukwu again dismissed reports of missing troops and said the attack was "successfully repelled". Twenty-two jihadists were killed and one soldier was injured, he added.
At least 20,000 people have been killed in Boko Haram violence and more than two million others made homeless in northeast Nigeria since 2009.
The government and military have repeatedly maintained Boko Haram is now a spent force and either weakened to the point of defeat or even defeated.
President Muhammadu Buhari indicated last week the conflict was over and northeast Nigeria was now in a "post-conflict stabilisation phase".
But raids on military bases, attacks on security checkpoints and suicide attacks continue, with troops, militia and civilians still vulnerable.
Full report at:
https://dailytimes.com.pk/269079/casualties-feared-after-boko-haram-attack-military-base/
--------
Somalia: Turkey Condemns Deadly Al-Shabaab Attack Near Presidential Palace
15 JULY 2018
Turkey condemned Saturday's deadly terror attack that killed at least three people in Somalia's capital of Mogadishu. In a statement, the Foreign Ministry said: "We strongly condemn the terrorist attacks that have taken place today in the capital of Somalia, Mogadishu... "
"The timing of the terror attacks -- prior to the Somalia Partnership Forum to be held on July 16-17 in Brussels, where recent reforms in the country will be evaluated -- aims at undermining the efforts of the Somalia Federal Government and the international community in bringing stability to Somalia," it added.
Turkey will continue "extending its full support to brotherly Somalia, as it has done up until now, in order to attain an environment of peace, tranquillity and development in the country," the Foreign Ministry said.
At least three people were killed -- including two al-Shabaab attackers -- and several others wounded when a double car bomb blast rocked Mogadishu.
The Somali-based insurgent group al-Shabaab claimed responsibility for the attack, saying that its militants had attacked the presidential palace and SYL Hotel.
Full report at:
https://allafrica.com/stories/201807160493.html
--------
URL: https://www.newageislam.com/islamic-world-news/wanted-islamic-terrorist-threatened-jews/d/115859
New Age Islam, Islam Online, Islamic Website, African Muslim News, Arab World News, South Asia News, Indian Muslim News, World Muslim News, Women in Islam, Islamic Feminism, Arab Women, Women In Arab, Islamophobia in America, Muslim Women in West, Islam Women and Feminism