New Age Islam News Bureau
26 Jun 2013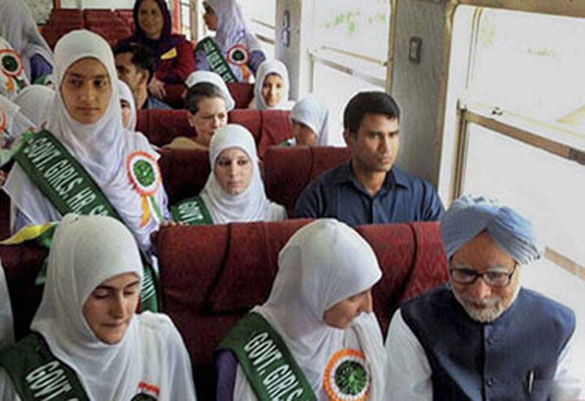 Prime Minister Manmohan Singh and UPA Chairperson Sonia Gandhi travelling along with school girls in a train after the flag off ceremony for the inauguration of the rail-link. (PTI photo)
------------
Europe
• Wahhabism Expansion In Russia Leads To Growth Of Islamophobia
• IED threat to Britain as fanatic Anjem Choudary recruits vigilante squads
• France arrests 3 more suspected radical Islamists
South Asia
• Riots in China's Uighur region leaves 27 dead
• Maldives Parliament rejects bill proposing death penalty by hanging
• Taliban carries out audacious strike on Kabul's high-security zone
• Maldives given final chance to avoid tier 3 in human trafficking report, face possible sanctions
• MDP expresses concern with President Waheed's appointee to JSC
• Bangladeshis throng Saudi embassy
India
• PM: Centre ready to talk to anyone shunning violence, but will not yield to terror
• 'Muslim marriage circular based on non-existent law'
• Hizb ul Mujahideen collaborating with other outfits to target security forces in J&K
• Social activist shot dead by militants in J&K
• Pak Couple Crosses Border for Love's Sake, But Turned Away
• Liyaqat arrest: NIA to get CD analysed from Electronics Corporation of India
• Rescued Iranian, Pak crew thank India for saving them
Pakistan
• Pakistan bombs kills 10, wounds top judge: Officials
• One security person killed, three injured in Quetta blast
• Nawaz assures US envoy of "Pakistan's highest stakes" in Afghan peace
• Peace committee chief, son, nephew killed in Bannu
• MQM Chief sees 'international conspiracy' attempting to break his determination
• TTP under attack from rival groups near Pak-Afghan border
• 'Superstitious' Zardari delays diplomatic formalities
• TTP claims responsibility of attack on Justice Maqbool in Karachi
North America
• Al-Qaida said to be changing its ways after Snowden's leaks
• A fragile peace with Taliban if school attacks escalate
• Jihad: Report shows extremist groups flocking to Twitter
• Snowden's motive is to 'injure' U.S. security: White House
• Pakistan has greatest influence on Taliban, says Af-Pak envoy
• Obama, Karzai back Taliban talks in Qatar: White House
• U.S. fines 'Hezbollah' bank $102m for laundering
• US McDonald's drop Halal food
Africa
• Libyan political party officials could face death penalty over election posters
• Islamists Deliver Ultimatum in Northern Nigerian Town
• Nigeria: 'Boko Haram Leader Is From Niger Republic'
• Six Libyan soldiers killed in Sirte ambush
• Tunisia army chief who sided with revolution quits
• Libya assembly elects Berber Nouri Abusahmen as head
• Terror financing fears stop transfers to Somalia
Mideast
• Hamas: Stopping Assad priority over 'jihad in Palestine'
• Harsh Turkish Political Language Getting the Red Card in Europe
• Iran joins condemnation of Egyptian Shiite village killings
• Netanyahu Warns Syrian Combatants Not to Attack Israel
Arab World
• Attacks against Saudis in Jordan 'increasing'
• Qatar succession: Seven minutes in which power changed hands
• Beirut: President dismisses calls for jihad against Lebanese Army
• Jordan king warns of regional conflict over Syria
• More than 100,000 killed in Syria uprising: NGO
• Kuwaitis campaign privately to arm Syrian rebels
• KSA slams Iran, Hezbollah intervention in Syria
• Egypt jails Shiite leader for weapons possession
• Saudi Arabia jails rights campaigner Abdulkarim al-Khader
• Bashar al-Assad's uncle sells Paris mansion for 70 million euros
Southeast Asia
• Thailand rejects rebel demand for troops' return to bases during Ramadan
• Malaysia mosque members to pray for rain to fight smog
• Students don't know Malaysia's history, education conference told
Compiled by New Age Islam News Bureau
URL: https://newageislam.com/islamic-world-news/new-age-islam-news-bureau/wahhabism-expansion-in-russia-leads-to-growth-of-islamophobia/d/12295
-----------
Europe
Wahhabism expansion in Russia leads to growth of Islamophobia
June 26, 2013
Pyatigorsk, June 25, Interfax - The fear of Islam amid the expansion of Wahhabism is typical in some parts of Russian society, representative of the National Anti-Terrorist Committee Nikolay Sintsov said.
"The expansion of Wahhabism with its preaching of religious intolerance, jihad and religion-motivated terrorism - all this has led to the growth of Islamophobia and xenophobia aimed against people who practice Islam," Sintsov said on Tuesday at a conference in Pyatigorsk.
"Namely the fear of Muslims, the fear of Islam has become typical of some parts of Russian society and this leads to corresponding consequences, opposition included," Sintsov said.
That is why Russian Muslims should be oriented in Russian religious centres such as Kazan, Ufa and Grozny, Sintsov said. "The experience shows that foreign religious influence does not offer anything good for Muslims in Russia," he said.
http://www.interfax-religion.com/?act=news&div=10577
------------
IED threat to Britain as fanatic Anjem Choudary recruits vigilante squads
Jun 26, 2013
HATE preacher Anjem Choudary is backing a Muslim group that stood accused last night of stoking vigilante violence on Britain's streets.
The fanatical cleric is urging his followers to sign up as recruits to the newly-launched Islamic Emergency Defence — which vows to create a network of "task forces" to redress wrongs and mete out instant justice.
And last night the group was accused of mocking Britain's war dead — just by its initials.
The Islamic Emergency Defence's name shortens to IED, which also stands for Improvised Explosive Device — the kind of deadly bomb used to kill and injure soldiers in Afghanistan and Iraq.
Backers of the group, which is further accused of risking vigilante violence, claimed it was "pure coincidence".
But ex-Scotland Yard commander and terrorism expert John O'Connor fumed: "This is mocking Servicemen killed by IEDs. It shows their warped state of mind."
And Julie Siddiqi of the Islamic Society of Britain called it "inflammatory".
The group's launch comes just a month after Army drummer Lee Rigby was hacked to death in Woolwich, south-east London.
Its website gives an "emergency hotline" mobile number for Muslims to report attacks rather than calling the police.
It offers a link to set up "task forces" and says issues will be "dealt with in a swift and Islamic manner".
The website is headed by a militaristic lion surrounded by the slogan, "Defending the Muslim community".
Hate cleric Choudary greeted the IED's arrival by tweeting "Good news with the launch", and saying that it had "risen to the challenge".
The London-based cleric, who admitted having an "advisory role" in the group, urged followers to sign up.
Asked if it was encouraging violence, he said: "People can look at it as a vigilante group but to protect and defend yourself is not illegal."
Organisers, who "clarified" on Twitter that Choudary did not run the group, admitted their hotline had quickly been swamped by abusive calls.
Shadow justice secretary Sadiq Khan said: "What is hoped to be achieved by this except offence and tension?"
Labour MP Rushanara Ali said: "When groups encourage people to take the law into their own hands it needs to be stopped."
The Home Office vowed to keep IED "under review".
A POSTMAN associate of Anjem Choudary was behind bars last night after he was convicted of downloading bomb manuals.
Mohammed Benares — Benny to sorting office pals — had 53 al-Qaeda magazines and seven "Jihad" documents.
They detailed how to make a bomb "in the kitchen of your Mom" and how to use an AK-47.
Records showed he had texted Choudary, London's Southwark Crown Court heard.
Benares, 44, of Birmingham, denied possessing terror information, saying he was only curious to read extreme views.
Judge Nicholas Loraine-Smith QC said jail was inevitable. He will be sentenced next month.
http://www.thesun.co.uk/sol/homepage/news/4982438/anjem-choudary-muslim-vigiliante-islamic-emergency-defence.html#ixzz2XMWdudYE
-----------
France arrests 3 more suspected radical Islamists
Jun 26, 2013
CANNES-ECLUSE, France — French intelligence agents arrested three suspected members of a terror cell on Tuesday, Interior Minister Manuel Valls said, a day after six others were held in an anti-terror swoop. The latest arrests in the south of the country targeted "three individuals known for their jihadism who were being tracked," Valls said. A source close to the investigation said they included a couple and a man. They were suspected of involvement in financing a network that sent militants abroad. Valls said the six people arrested on Monday in the Paris region "were particularly dangerous and probably involved in a hold-up." The suspects, aged between 22 and 38, include one man from Benin, another from the Comoros and four French nationals, a source close to the case said. The source added investigators believe "they were planning to commit terrorist acts targeting well-known figures in France." — AFP http://www.saudigazette.com.sa/index.cfm?method=home.regcon&contentid=20130626171295
-----------
South Asia
Riots in China's Uighur region leaves 27 dead
Associated Press
Jun 26, 2013
BEIJING // Knife-wielding assailants attacked police and other people at a remote town in China's far western region yesterday in clashes that killed 27 people.
The attack was one of the bloodiest incidents since unrest in the regional capital killed nearly 200 in 2009.
The early-morning violence - described by state media as riots - also left at least three people injured in the Turkic-speaking Xinjiang region, the Xinhua News Agency reported. Police stations, a government building and a construction site were targeted in the attacks.
Xinhua reported 17 people were killed, including nine policemen, before police shot and killed 10 of the assailants in Lukqun, a township in Turpan prefecture.
Xinjiang is home to a large population of minority Muslim Uighurs but is ruled by China's Han ethnic majority. The region borders Central Asia, Afghanistan and Pakistan and has been the scene of numerous violent incidents in recent years, including the ethnic riots four years ago in Urumqi, the regional capital.
Xinhua did not provide details about the cause of the unrest and it was impossible to independently confirm the report. Information is tightly controlled in the region, which the Chinese government regards as highly sensitive and where it has imposed a heavy security presence to quell unrest. However, forces are spread thin across the vast territory and the response from authorities is often slow.
An official reached by phone at the press office of the Xinjiang Public Security Bureau, the region's police, said she had only seen news of the violence on the internet and had no information. Other officials at the county's information department and police said they also had no details. Calls to the region's government spokeswoman, Hou Hanmin, rang unanswered.
Though it remained unclear what caused the violence, police stations, government offices and other symbols of Han Chinese authority have been targets of attacks in the past. The attack occurred at 6am, when most residents would still be asleep.
The report said three assailants were arrested, and that police pursued fleeing suspects, though it did not say how many. It said three people were injured by the unrest and were being treated.
An overseas Uighur activist said the conflict was triggered by the Chinese government's "sustained repression and provocation" of the Uighur community. Dilxat Raxit, spokesman for the Germany-based World Uyghur Congress, urged the international community to pressure China to "stop imposing policies in Xinjiang that cause turmoil".
China often accuses overseas Uighur activists of orchestrating violent incidents and obscure militant groups sometimes take responsibility, with little or no evidence to prove claims on either side.
http://www.thenational.ae/news/world/asia-pacific/riots-in-chinas-uighur-region-leaves-27-dead#ixzz2XMkChaUI
-----------
Maldives Parliament rejects bill proposing death penalty by hanging
By Ahmed Naish | June 25th, 2013
Parliament on Monday rejected 26-18 with no abstentions a bill proposed by government-aligned Dhivehi Qaumee Party (DQP) MP Riyaz Rasheed to implement the death penalty by hanging.
The death penalty legislation was put to a vote to decide whether or not to proceed with the bill at committee stage.
Presenting the bill at a sitting earlier this month, the MP for Vilufushi said the legislation proposed implementing the death penalty by hanging if the Supreme Court upheld a death sentence passed by a lower court.
Full report at:
http://minivannews.com/politics/parliament-rejects-bill-proposing-enforcement-of-death-penalty-by-hanging-60211
-----------
Taliban carries out audacious strike on Kabul's high-security zone
ATUL ANEJA
Jun 26, 2013
CIA headquarters primary target, says the militant group
Within days of the failure to hold talks in Doha, Taliban has carried out an audacious strike in Kabul's high-security zone, sending a clear message to the U.S. and the Afghan governments that it has indicated its willingness for a dialogue from a position of strength.
The attack began in the early hours on Tuesday when at least two vehicles, both Toyota Land Cruisers, approached the entrance to the zone, which housed the presidential palace, the Ariana hotel which is the CIA headquarters in Afghanistan, the Defence Ministry and headquarters of the multinational International Security Assistance Force (ISAF).
The first vehicle bearing an ISAF emblem, and whose occupants wore uniforms and badges of the international troops, managed to pass. However, the second car was stopped at the barrier, as suspicion mounted among the guards that its entry pass was fake.
Full report at:
http://www.thehindu.com/news/international/south-asia/taliban-carries-out-audacious-strike-on-kabuls-highsecurity-zone/article4848912.ece
----------
Maldives given final chance to avoid tier 3 in human trafficking report, face possible sanctions
By JJ Robinson | June 25th, 2013
The Maldives has been placed on the US State Department's Tier Two Watch List for Human Trafficking for the fourth consecutive year.
As with last year's report, the country avoided a downgrade to the lowest tier "because [the] government has a written plan that, if implemented, would constitute making significant efforts to meet the minimum standards for the elimination of trafficking."
However US Ambassador-at-large for the Office to Monitor and Combat Trafficking in Persons, Luis CdeBaca, noted during the release of the report that the six countries again spared a downgrade would not be eligible next year – including Afghanistan, Barbados, Chad, Malaysia, Thailand and the Maldives.
Full report at:
http://minivannews.com/society/maldives-given-final-chance-to-avoid-tier-3-in-human-trafficking-report-face-possible-sanctions-60261
-----------
MDP expresses concern with President Waheed's appointee to JSC
By Ahmed Naish | June 25th, 2013
The Maldivian Democratic Party (MDP) has expressed concern over President Dr Mohamed Waheed's appointment yesterday of former Department of Judicial Administration (DJA) Spokesperson Latheefa Gasim to the Judicial Service Commission (JSC), alleging the appointee had ties with the Jumhoree Party (JP).
In a press release yesterday (June 24), the party characterised Latheefa Gasim's appointment as an attempt to "increase the political and other forms of influence of a particular group and promote their self-interest" through the judicial oversight commission.
Full report at:
http://minivannews.com/politics/mdp-expresses-concern-with-president-waheeds-appointee-to-jsc-60236
-----------
Bangladeshis throng Saudi embassy
Jun 26, 2013
Bangladeshi workers seeking consular services to enjoy facilities of general amnesty declared by Saudi Arabia have thronged the embassy and consulate offices ahead of the July 3 deadline.
"More than two lakh Bangladeshis have already received consular services from Riyadh and Jeddah. The figure will increase by the deadline," said Emdadul Haque, counsellor of Bangladesh Embassy in Riyadh.
He said despite the increased manpower at the embassy and consulate offices, it might be difficult to bring the seekers under the process within the deadline.
Declared on May 10, the amnesty allows irregular foreign workers to have their job status legalised or return home without being penalised.
http://www.thedailystar.net/beta2/news/bangladeshis-throng-saudi-embassy/
-----------
India
PM: Centre ready to talk to anyone shunning violence, but will not yield to terror
PTI | Jun 25, 2013
SRINAGAR: On a visit to Jammu and Kashmir, Prime Minister Manmohan Singh on Tuesday expressed government's readiness to talk to anyone who shuns violence but made it clear that it would not succumb to terrorists efforts to destabilise the state.
"I have always said that those who shun violence, we are ready to talk to them," he said in a brief interaction with select journalists. The Prime Minister was replying to a question whether the government was willing to consider holding talks with separatists Hurriyat Conference and others. Singh said Monday's terror attack in Srinagar that had claimed the lives of eight soldiers was "most unfortunate".
Full report at:
http://timesofindia.indiatimes.com/india/Manmohan-in-Srinagar-says-Centre-ready-to-talk-to-anyone-shunning-violence-but-will-not-yield-to-terror/articleshow/20765184.cms
-----------
'Muslim marriage circular based on non-existent law'
K. S. SUDHI
Jun 26, 2013
Adding a new twist to the controversy over the government order on registration of marriage of Muslim boys and girls, a legal view has emerged that the order was issued based on a "non-existing provision in a non-existing law." Legal commentator Kaleeswaram Raj has said that the controversial order was based on a law that was never enacted in India and was liable to be recalled and cancelled.
The circular stated that "as per the Muslim Marriage Act, 1957, it is not stipulated that a Muslim girl should attain the age of 18 years or a Muslim boy should attain the age of 21 years at the time of marriage". However, there is no law titled the 'Muslim Marriage Act, 1957" in the country and as such, there is no such legal stipulation either, he said. The government was wrongly advised in the matter. The author of the circular, the Principal Secretary to government, relied on a law prevailing in the country of Jamaica. In India, the age with respect to Muslim marriage is determined by the principles of Mohammedan law which are not codified. There is a reference to marriage of girls below 15 years in the Dissolution of Muslim Marriages Act, 1939, vide S.2 (vii) thereof. The Indian Parliament has not passed any law stating that minors can contract marriage if they belong to the Muslim community, he pointed out.
Full report at:
http://www.thehindu.com/news/national/kerala/muslim-marriage-circular-based-on-nonexistent-law/article4850597.ece
-----------
Hizbul Mujahideen collaborating with other terror outfits to target security forces in J&K
Bharti Jain, TNN | Jun 26, 2013
NEW DELHI: The Centre sees the targeted attacks on the police and security forces in Jammu and Kashmir as an outcome of increased collaboration between the cadres of various terror outfits like Hizbul Mujahideen, Jaish-e-Mohammed, Lashkar-e-Taiba and Al Badr to carry out big-impact strikes.
With limited resources reportedly at its disposal, HuM is coordinating with other outfits to target the security forces, while leaving the locals unharmed to retain ground support. According to latest intelligence reports, around 350 militants/terrorists are holed up in hideouts across the Valley, and another 2,500 are deployed at launch pads across the border in PoK.
Full report at:
http://timesofindia.indiatimes.com/india/Hizbul-Mujahideen-collaborating-with-other-terror-outfits-to-target-security-forces-in-JK/articleshow/20770891.cms
-----------
Social activist shot dead by militants in J&K
PTI | Jun 26, 2013
SRINAGAR: A prominent social activist was shot dead by militants in Sopore township of north Kashmir's Baramulla district on Wednesday, police said.
Kifayat Hussain (45), was called out by the militants from his home in Shankar Gund area of Sopore. He was later fired from point-blank range on his head killing him on the spot, they said.
Hussain, who was famous in the area for working for welfare of the people, had been on the hit-list of militants and was provided two personal security officers (PSOs) by the local police, they said.
He was also running a Himayat Centre in the area. No militant outfit has so far claimed responsibility for the attack.
http://timesofindia.indiatimes.com/india/Social-activist-shot-dead-by-militants-in-JK/articleshow/20775616.cms
----------
Pak couple crosses border for love's sake, but turned away
June 25, 2013
No matter the boundaries we draw, love sure finds its way. This love story too, made its way across the border but didn't really see the ending it hoped for.
A young Pakistani couple who crossed into India this month with hopes in their eyes have been handed back to the Pakistani Rangers.
Akbar Ali and Zarina had crossed over in the second week of this month, hand in hand, through one of the gaps in the fence near Border Outpost 1106.
In the Rann of Kutch, the border outposts aren't known by a name because there is no habitation on the Indian side of the border. No one lives here except the BSF.
"They didn't try to sneak in but were shouting at the top of their voice to catch the attention of the Border Security Force guards," a BSF Jawan recalled. The BSF took them in but a few hours of questioning convinced them, and the other intelligence agencies, that this was just a love story gone wrong, not an espionage case.
Full report at:
http://www.hindustantimes.com/India-news/gujarat/Pak-couple-crosses-border-for-love-s-sake-but-turned-away/Article1-1082418.aspx
-----------
Liyaqat arrest: NIA to get CD analysed from Electronics Corporation of India
June 26, 2013
The National Investigation Agency will get CCTV footage discs related to arrest of suspected militant Liyaqat Ali Shah analysed from Electronics Corporation of India Ltd as the discs seized by Delhi Police were found to be damaged.
Sources in NIA said the CD was seized by Delhi Police during searches carried out in a guest house in the old Delhi area from where it has seized arms, ammunitions and other material, claiming that Shah's cronies had brought them.
Police has seized computer hard disks and CDs of the cameras installed in the area.
When NIA took over the case, it sent them for a forensic analysis at the Central Forensic Science Laboratory which said that condition of the disks was so bad that it was difficult to retrieve any data from them.
Full report at:
http://www.hindustantimes.com/India-news/newdelhi/Liyaqat-arrest-NIA-to-get-CD-analysed-from-Electronics-Corporation-of-India/Article1-1082799.aspx
-----------
Rescued Iranian, Pak crew thank India for saving them
PTI | Jun 25, 2013
KOCHI: Back to the shores after being rescued by the Coast Guard, the 16 Iranian and Pakistan crew of a fishing boat, which was adrift near Lakshadweep after the Somali pirates abandoned it, profusely thanked India for saving their lives.
'We salute the Indian government and Indian Coast Guard for saving our lives and helping us', was how Mohammed Kadar Baksh, hailing from Karachi in Pakistan, told reporters in an emotion choked voice on board the Coast Guard vessel 'Varuna', which brought them here on Tuesday.
The crew, all looking tired and haggard, said they were happy to have been rescued.
The crew, 13 Iranians and three Pakistanis - were rescued from the boat 'al-Husaini' which was captured by Somali pirates off Socotra, a small archipelago of four islands and islets in the Indian Ocean about 240 km east of Somalia on May 16 and abandoned on June 10 after taking away food and fuel.
'We were at the mercy of Allah', Baksh said as he narrated how they were captured by the 14-odd Somali pirates soon after they set off from Konarak, Chahabar in Iran on May 16 for the Somalian waters for fishing, estimating 30-40 days of voyage.
Full report at:
http://timesofindia.indiatimes.com/india/Rescued-Iranian-Pak-crew-thank-India-for-saving-them/articleshow/20764076.cms
-----------
Pakistan
Pakistan bombs kills 10, wounds top judge: Officials
AFP | Jun 26, 2013
KARACHI: Bomb attacks in Pakistan killed 10 people and wounded nine others on Wednesday, including a senior judge who was critically injured following a blast in the business capital Karachi, officials said.
The first bomb targeted Maqbool Baqir, a judge at the high court in southern province Sindh in the port city of Karachi, killing at least seven people on a busy street during the morning rush hour.
The bomb, planted on a motorbike, exploded as Baqir drove past with his security detail in Burns Road in the centre of the city.
"According to initial information, seven people have been killed," Sindh information minister Sharjeel Memon told reporters.
He said one officer from the Rangers paramilitary force was among the dead. Rangers and police were accompanying Baqir, the minister said.
Police said Baqir was in hospital with critical injuries and that his driver was killed.
Memon asked reporters to "please pray" for the judge's recovery.
"I can confirm that Justice Maqbool Baqir is critically injured," police official Salman Syed told AFP.
"Nine people are injured. The bomb was planted on a motorbike and it was detonated by remote control," he added.
Full report at:
http://timesofindia.indiatimes.com/world/pakistan/Pakistan-bombs-kills-10-wounds-top-judge-Officials/articleshow/20776922.cms
-----------
One security person killed, three injured in Quetta blast
SYED ALI SHAH
2013-06-26
QUETTA: At least one security man was killed and three others were injured in a remote-controlled blast in the Awaran district of Balochistan on Wednesday.
Security officials told Dawn.com that a Frontier Corps (FC) convoy was on routine patrol when it was targeted with a roadside bomb planted by militants in the Mashkay area of Awaran district.
The vehicle of security forces was also destroyed in the attack.
Meanwhile, the casualties were rushed to Quetta by helicopter for treatment.
http://dawn.com/news/1020901/one-security-person-killed-three-injured-in-quetta-blast
-----------
Nawaz assures US envoy of "Pakistan's highest stakes" in Afghan peace
Jun 26, 2013
ISLAMABAD: US envoy James Dobbins arrived in Islamabad on Tuesday for talks with Prime Minster Nawaz Sharif and other senior officials on efforts to open peace talks with Afghan Taliban, the premier's office said.
Dobbins, who flew in from Kabul, met Sharif and briefed him on developments relating to Afghanistan, prime minister's office said in a statement.
"The prime minister conveyed to Ambassador Dobbins that Pakistan had the highest stakes in the return of peace and stability to Afghanistan," it said.
"He assured Mr Dobbins of Pakistan's full commitment to an Afghan-led and Afghan-owned peace process and highlighted various steps Pakistan had taken in the regard," it said.
Full report at:
http://beta.dawn.com/news/1020685/nawaz-assures-us-envoy-of-pakistans-highest-stakes-in-afghan-peace
-----------
Peace committee chief, son, nephew killed in Bannu
ZAHIR SHAH SHERAZI
Jun 26, 2013
PESHAWAR: The chief of a peace committee was killed in a bomb blast along with his son and nephew on Wednesday in the Jani Khel area of Khyber Pakhtunkhwa's Bannu region, officials said.
According to the officials, the vehicle carrying peace committee chief Malik Hashim Khan was targeted in the Zindi Falak Sher area of Bannu's Jani Khel and was completely destroyed in the attack.
Police confirmed the blast was carried out with a remote controlled device. The bodies were shifted to the local hospital in Zindi Falak Sher.
The incident took place in the jurisdiction of Hewad police station. The area was cordoned off by the security forces and a search operation was launched.
http://dawn.com/news/1020900/peace-committee-chief-son-nephew-killed-in-bannu
-----------
MQM Chief sees 'international conspiracy' attempting to break his determination
Jun 26, 2013
KARACHI: In an apparent reference to the ongoing probe of London police regarding Dr Imran Farooq's murder, Muttahida Qaumi Movement (MQM) chief Altaf Hussain Tuesday blamed an 'international conspiracy' designed to leave him anguished, DawnNews reported.
Speaking simultaneously to party workers in London and Karachi via telephone, he said that an attempt has been made to terrify the MQM activists.
Full report at:
http://beta.dawn.com/news/1020703/altaf-sees-international-conspiracy-attempting-to-break-his-determination
-----------
TTP under attack from rival groups near Pak-Afghan border
ZAHIR SHAH SHERAZI
Jun 26, 2013
PESHAWAR: Clashes between the Tehrik-i-Taliban Pakistan (TTP) and other militant groups erupted in the Pakistan-Afghanistan border region as hundreds of fighters attacked TTP bases situated in Kunar and Nangarhar province of Afghanistan.
Taliban sources said hundreds of armed fighters comprising Lashkar-i-Taiba, Ansarul Islam (AI), 'Mohmand force' and other local militias (lashkars) were part of a joint attack on Pakistani Taliban positions in Afghanistan.
Earlier, reports had said that the Afghan Taliban were also backing the attacking groups but later the TTP requested Afghan Taliban chief Mullah Omar to intervene and as a result the clash was averted. Rival groups have now initiated another attack of which the Afghan Taliban are not a part, said TTP commander.
Full report at:
http://dawn.com/news/1020911/ttp-under-attack-from-rival-groups-near-pak-afghan-border
-----------
'Superstitious' Zardari delays diplomatic formalities
SHAHZAD RAZA
2013-06-25
For President Asif Ali Zardari acting upon the advice of his Pir (spiritual mentor) is more important than receiving foreign ambassadors. At least, it seems so in the backdrop of recent events.
Sources told Dawn.com that President Zardari's travel plans twice delayed the ceremony where eight ambassadors were supposed to present their credentials.
The ambassadors of China, Brunei, Lebanon, Uruguay and four other countries have been waiting for more than two weeks to present their credentials.
Under diplomatic norms, the envoys cannot commence their formal diplomatic activities unless they present their credentials to head of the state.
Sources said the presidency issued the schedule for the ceremony three weeks ago that was supposed to take place in Islamabad. Meanwhile, the president had left for Karachi forcing the protocol staff to cancel the ceremony.
Full report at:
http://dawn.com/news/1020705/superstitious-zardari-delays-diplomatic-formalities
-----------
TTP claims responsibility of attack on Justice Maqbool in Karachi
June 26, 2013
KARACHI: The Pakistani Taliban Wednesday claimed responsibility for the bomb attack on Sindh High Court Justice Baqar Maqbool's convoy in Karachi which killed eight security men and injured the judge.
The Tehreek-e-Taliban Pakistan (TTP) spokesman Ehsanullah Ehsan said that the Taliban also carried out attacks on the local peace council chief in Bannu and a police officer in Peshawar.
"We claim responsibility for the attack on the Sindh High Court judge as he had delivered verdicts against Muslims and particularly the Mujahideen," the TTP spokesman told The Express Tribune via phone.
Full report at:
http://tribune.com.pk/story/568528/5-killed-12-injured-in-karachi-blast/
-----------
North America
Al-Qaida said to be changing its ways after Snowden's leaks
AP | Jun 26, 2013
WASHINGTON: US intelligence agencies are scrambling to salvage their surveillance of al-Qaida and other terrorists who are working frantically to change how they communicate after a National Security Agency contractor leaked details of two NSA spying programs. It's an electronic game of cat-and-mouse that could have deadly consequences if a plot is missed or a terrorist operative manages to drop out of sight.
Two US intelligence officials say members of virtually every terrorist group, including core al-Qaida, are attempting to change how they communicate, based on what they are reading in the media, to hide from US surveillance - the first time intelligence officials have described which groups are reacting to the leaks. The officials spoke anonymously because they were not authorized to speak about the intelligence matters publicly.
Full report at:
http://timesofindia.indiatimes.com/world/us/Al-Qaida-said-to-be-changing-its-ways-after-Snowdens-leaks/articleshow/20777034.cms
-----------
A fragile peace with Taliban if school attacks escalate
By Gordon Brown
Jun 26, 2013
In the week in which America opened the door for negotiations with the Taliban, three bloody massacres of school children - shot down simply because they wanted to go to school - raise grave questions about what kind of peace the Taliban offer.
Within days of the initiative for talks, the Taliban shot to death nine foreign tourists encamped on the peak of Nanga Parbat in northern Pakistan, saying the murders were in retaliation for a drone attack that killed one of their leaders. But what kind of justification can possibly be offered for the firebombing of a college bus carrying forty girls from their Quetta campus in Pakistan? Fourteen defenceless girls died in the bombing; eight more people died when the terrorists ambushed the hospital.
Full report at:
http://www.dailytimes.com.pk/default.asp?page=2013%5C06%5C26%5Cstory_26-6-2013_pg7_8
-----------
Jihad: Report shows extremist groups flocking to Twitter
By Catherine Herridge
June 24, 2013
Twitter is the new frontier for jihadist propaganda, according to an extensive review of more than 75,000 tweets in a leading counterterrorism journal exclusively reviewed in advance of publication by Fox News.
The article, called "Tweeting for the Caliphate," was authored by independent academic investigators Nico Prucha and Ali Fisher. It will be available on Tuesday in the CTC Sentinel, a journal published by the Combating Terrorism Center at West Point. It explored the Syrian opposition group Jabhat al-Nusra and its established links to Al Qaeda as a case study (in Syria, the Assad regime is said to allow social media activity, in part so that government officials can monitor the traffic).
Full report at:
http://www.foxnews.com/politics/2013/06/24/jihad-report-shows-extremist-groups-flocking-to-twitter/#ixzz2XMWL1huf
-----------
Snowden's motive is to 'injure' U.S. security: White House
Jun 26, 2013
Refusing to buy the argument that former CIA contractor Edward Snowden is a political dissident, the U.S. has demanded that the American national wanted on felony charges be returned.
The White House denied reports that the U.S. has threatened or is considering any physical threat to Snowden (29), who is currently in Russia and has sought asylum in Ecuador, said to be his final destination from Moscow.
"Of course not," White House Press Secretary Jay Carney, told reporters when asked about allegations from the Wikileaks founder Julian Assange in this regard.
"The distinctions [between a political dissident and Snowden], are pretty evident if you look at them clearly," Mr. Carney said when a Russian journalist during the daily White House news conference claimed that the U.S. has been supporting people like Mr. Snowden since the Soviet days.
Full report at:
http://www.thehindu.com/news/international/world/snowdens-motive-is-to-injure-us-security-white-house/article4850599.ece
-----------
Pakistan has greatest influence on Taliban, says Af-Pak envoy
June 26, 2013
ISLAMABAD: Acknowledging Pakistan's "supportive role", the US special envoy to Pakistan and Afghanistan James Dobbins said on Tuesday that Pakistan does wield significant influence over the Taliban.
Speaking at the US embassy after talks with the Pakistan leadership during the day, including Prime Minister Nawaz Sharif and the Army Chief Ashfaq Pervez Kayani, the ambassador said that Pakistan had expressed its commitment to continue its support and to use its influence in the Afghan peace process.
"I don't think anybody controls the Taliban, but I think Pakistan probably has the greatest influence."
Dobbins though clarified he said he believes Pakistan does not have a controlling influence on the Taliban, but does enjoy more influence than others.
Full report at:
http://tribune.com.pk/story/568441/afghan-endgame-pakistan-has-greatest-influence-on-taliban-says-af-pak-envoy/
-----------
Obama, Karzai back Taliban talks in Qatar: White House
June 26, 2013
WASHINGTON: President Barack Obama and Afghan leader Hamid Karzai support the idea of holding talks with the Taliban in its Qatar office, the White House said Tuesday, reviving hopes for a peace process.
The announcement came despite a brazen Taliban assault on the Afghan presidential palace in the heart of Kabul Tuesday, in which three security guards and all five assailants were killed in an hour-long gunbattle.
In a video call, the two leaders agreed that "an Afghan-led and Afghan-owned peace and reconciliation process is the surest way to end violence and ensure lasting stability in Afghanistan and the region," the White House said.
Full report at:
http://tribune.com.pk/story/568571/obama-karzai-back-taliban-talks-in-qatar-white-house/
---------
U.S. fines 'Hezbollah' bank $102m for laundering
26 June 2013
A Lebanese bank accused of laundering money from drugs and other operations for clients tied to Hezbollah militants agreed Tuesday to pay U.S. authorities $102 million to settle the charges.
Beirut-based Lebanese Canadian Bank (LCB) was singled out in February 2011 for allegedly moving hundreds of millions of dollars for criminal groups and traffickers operating in Latin America, West Africa and the Middle East.
Some of the customers it served were closely linked to Hezbollah, which Washington has blacklisted as a "terrorist organization."
Full report at:
http://english.alarabiya.net/en/business/banking-and-finance/2013/06/26/U-S-fines-Hezbollah-bank-102m-for-laundering.html
-----------
US McDonald's drop halal food
BY:JEFF KAROUB
AAP June 25, 2013
THE only two McDonald's restaurants in the United States that were serving food prepared according to Islamic law have stopped several weeks after a $US700,000 ($A763,192) settlement over a lawsuit that alleged the items weren't consistently halal.
The fast-food giant, in a statement Monday, said the locations in the Detroit suburb of Dearborn, which has a large Muslim population, are no longer offering a halal McChicken sandwich or Chicken McNuggets in order "to focus on our national core menu".
The corporation added it takes into account "local and dietary preferences," and supports its franchisees in Dearborn.
Full report at:
http://www.theaustralian.com.au/business/breaking-news/us-mcdonalds-drop-halal-food/story-e6frg90f-1226669311074
---------
Africa
Libyan political party officials could face death penalty over election posters
Human Rights Watch
25 June 2013
Libyan judicial authorities should immediately drop all criminal charges that violate freedom of speech over election poster cartoons against two Libyan National Party officials, Human Rights Watch said today. Under the laws being applied in this case, the men could face the death penalty over posters their party displayed during the 2012 election campaign for the General National Congress.
Authorities charged Ali Tekbali, who, as the party's policy manager, is responsible for election campaigns; and Fathi Sager, the secretary general, under four sections of the penal code, two of which could carry the death penalty. The charges include insulting Islam and "instigating division." Human Rights Watch attended the second session of the trial, on June 16, 2013, in Tripoli.
Full report at:
http://www.ifex.org/libya/2013/06/25/blasphemy_charges/
-------------
Islamists Deliver Ultimatum in Northern Nigerian Town
BY MOHAMMAD
25 JUNE 2013
Boko Haram insurgents in Nigeria's Borno State have ordered civil servants and Christians to leave two towns. The government vacillates between crackdown and dialogue.
Hundreds of residents have fled the towns of Bama and Gwoza in Borno State following attacks and threats by suspected members of the Islamist militant sect Boko Haram
The insurgents were moving from house to house, issuing threatening letters saying that civil servants and Christians must leave Bama within seven days or risk being killed, according to one Bama resident speaking to the media on arrival in Maiduguri.
Borno State, of which Maiduguri is the capital, is located in the mainly Muslim north of Nigeria. Southern Nigeria is predominantly Christian.
Full report at:
http://allafrica.com/stories/201306260434.html?aa_source=mf-hdlns
-----------
Nigeria: 'Boko Haram Leader Is From Niger Republic'
BY TURAKI A. HASSAN, 26 JUNE 2013
Leader of the Boko Haram sect Imam Abubakar Shekau hails from Niger Republic, according to the report of a Senate joint committee that investigated the deadly violence in Baga town of Borno State in April.
Shekau is widely believed to be from Shekau village of Yobe State, but the Senate committee in its report submitted yesterday said Borno State Governor Kashim Shettima told visiting senators that the man was actually from the neighbouring Republic of Niger.
The report, a copy obtained by Daily Trust, said senators were told that "although the Boko Haram sect members have some Chadians and Cameroonians within their midst about 80 per cent of them are of Kanuri tribe, adding that the leader of the sect Abubakar Shekau is a Kanuri from Niger Republic."
Full report at:
http://allafrica.com/stories/201306260430.html?viewall=1
-----------
Six Libyan soldiers killed in Sirte ambush
Jun 26, 2013
TRIPOLI — Unknown gunmen launched a dawn attack Tuesday on a Libyan army checkpoint south of Sirte, the home town of former leader Muammar Gaddafi, killing six soldiers, a military officer said. "An attack at dawn Tuesday against a checkpoint of the army in the town of Khuchum Al-Kheil, south of Sirte, killed six soldiers who were on guard duty," local military officer Khaled Al-Akari was quoted as saying by Lana news agency. "Two vehicles were burned in the attack," said the officer, adding that the "area was cordoned off and a search was on to find the attackers". Sirte, the last bastion of Gaddafi to fall into rebel hands in the 2011 uprising, has been largely untouched by the wave of violence shaking the country since the former ruler's regime fell. — AFP
http://www.saudigazette.com.sa/index.cfm?method=home.regcon&contentid=20130626171255
-----------
Tunisia army chief who sided with revolution quits
Jun 26, 2013
TUNIS — Tunisia's army Gen. Rachid Ammar, who refused orders to crush the 2011 uprising that toppled Zine El Abidine Ben Ali, has announced he is stepping down.
"I have asked to exercise my right to retire, because I have easily reached the age limit," said the 67-year-old general in comments broadcast Tuesday by Tunisian radio.
Ammar, who first made the surprise announcement Monday evening on private TV channel Ettounsiya, said he had presented his request to President Moncef Marzouki who accepted it.
His decision comes at a time of heightened security concerns in Tunisia following the discovery of Al-Qaeda-linked groups along the border with Algeria. There has been growing criticism of the army's failure to root out dozens of militants it has been pursuing in the Mount Chaambi region since December.
Full report at:
http://www.saudigazette.com.sa/index.cfm?method=home.regcon&contentid=20130626171252
-----------
Libya assembly elects Berber Nouri Abusahmen as head
Jun 26, 2013
Libya's national assembly has elected a man of Berber origin, Nouri Abusahmen, as its president.
He won 96 votes out of the 184 cast in the second round of polling.
His heritage is significant, says the BBC's Rana Jawad in Tripoli, as Berber rights were denied during Col Muammar Gaddafi's rule.
The previous assembly president, Muhammad al-Magarief, resigned in May because he had held a senior post under Col Gaddafi.
Dr Magarief was Libya's ambassador to India for two years in the 1980s before breaking away from the Gaddafi government.
A new law bans from public office anyone who worked with Col Gaddafi, including ambassadors.
Full report at:
http://www.bbc.co.uk/news/world-africa-23054267
-----------
Terror financing fears stop transfers to Somalia
Jun 26, 2013
When a bank transfers money to Somalia, can it be sure it's not sending money to terrorists? This question is forcing one of Britain's largest banks, Barclays, to cut ties with the largest cash transfer bank in Somalia, Dahabshil, a company that brings in the majority of the country's $ 1.2 billion in yearly remittances.
Many in Somalia are in desperate need of money. Payments from family and friends overseas are how many get by, and that's why more than 100 aid workers and Somalia experts signed a letter this week pleading with the British government to find a solution.
A financial power-house in Somalia, Dahabshil describes itself as "the most trusted money transfer company for many immigrants willing to support their families and friends". But anti-terror laws hold banks like Barclays responsible if they transfer money to criminal or terror elements. As a result, fewer are willing to send money into Somalia.
Full report at:
http://www.thehindu.com/news/international/world/terror-financing-fears-stop-transfers-to-somalia/article4850007.ece
----------
Mideast
Hamas: Stopping Assad priority over 'jihad in Palestine'
By KHALED ABU TOAMEH
Jun 26, 2013
A senior Hamas official in the West Bank is facing sharp criticism for stating that toppling the regime of Syrian President Bashar Assad is more urgent than "jihad in Palestine."
Abdel Aziz Dweik, speaker of the Hamas-dominated Palestinian Legislative Council, told the Arabic newspaper Echorouk that the PLC fully supported the Syrian opposition in its efforts to "stop the bloodshed, which is a priority over anything else, including Jihad in Palestine." Keeping Assad's regime in power, he continued, was tantamount to "a stab in the heart and chest," arguing that removing the Syrian dictatorship would pave the way for boosting the Palestinian cause.
Dweik, who is Hamas's top political representative in the West Bank, said that although the Palestinian issue remains at the top of the agenda of Muslim scholars, halting the bloodshed in Syria has become a top and urgent priority for Muslims.
Full report at:
http://www.jpost.com/Diplomacy-and-Politics/Hamas-official-Stopping-Assad-priority-over-jihad-in-Palestine-317570
-----------
Harsh Turkish Political Language Getting the Red Card in Europe
By: Ilnur Cevik
Jun 26, 2013
Turkish politicians are learning the hard way that the harsh language they generally use at home is not only unacceptable in European forums but it is also hurting Turkey's political standing in the international scene.
Turkish leaders have progressively been using harsh language against their opponents, both in their parliamentary speeches and in the rally squares to keep the domestic political scene simmering. However, in recent months they have started to adopt this attitude at European forums or in their dealings with other European governments, and they have been strongly rebuffed.
Full report at:
http://www.al-monitor.com/pulse/originals/2013/06/turkish-populist-language-europe-red-card.html#ixzz2XMdwfP4O
-----------
Iran joins condemnation of Egyptian Shiite village killings
Bloomberg
Jun 26, 2013
CAIRO // Iran has blamed unidentified foreign enemies for the killing of an Egyptian Shiite Muslim leader amid rising domestic and international criticism of the Egyptian president, Mohammed Morsi, ahead of rallies to call for his resignation.
Eight people were arrested in connection with the murders of Shiite leader Hassan Shehata, two of his brothers and a fourth person in a village in Giza district on Sunday, according to a statement from the Giza Security directorate yesterday.
Villagers surrounded Mr Shehata's home, threatening to set it ablaze if the 70 Shiites inside did not leave the village, the state-run Al Ahram newspaper reported today. When they refused to leave, villagers stormed the house and dragged several people out along the ground before beating the four to death.
Full report at:
http://www.thenational.ae/news/world/middle-east/iran-joins-condemnation-of-egyptian-shiite-village-killings#ixzz2XMl4OBMW
----------
Netanyahu Warns Syrian Combatants Not to Attack Israel
By REUTERS
June 26, 2013
JERUSALEM — Prime Minister Benjamin Netanyahu, viewing an Israeli military exercise on the occupied Golan Heights on Wednesday, cautioned warring parties in Syria against any attacks on Israel.
"We are not seeking to challenge anyone, but no one will harm the State of Israel without a response - a strong and resolute response," he told soldiers who took part in a Golani infantry brigade exercise.
Israel captured the Golan Heights from Syria in the 1967 Middle East war, and stray mortar bombs and gunfire from the Syrian civil war have occasionally struck inside Israeli lines on the plateau, raising concern the conflict could widen.
Full report at:
http://www.nytimes.com/reuters/2013/06/26/world/middleeast/26reuters-syria-crisis-israel.html?ref=middleeast
-----------
Arab World
Attacks against Saudis in Jordan 'increasing'
Jun 26, 2013
JEDDAH — Attacks against Saudis visiting neighboring Jordan have been increasing, according to press reports.
Two Saudi families were subjected to armed assault at their residence in the sixth such attacks against Saudis in Jordan in less than two weeks, Al-Madinah newspaper reported.
The two families, who are related, had rented a house in Ajloon governorate, 80 km north of the Jordanian capital Amman.
Mohammad Al-Enezi, the head of one family, said their house was bombarded by stones, and when he went out to investigate, the stone thrower asked him whether he was a Saudi. When he said yes, the assailant attacked his relative with a knife, inflicting a deep wound in his neck.
Then, a group of eight people came to the house, armed with knives and chains, and began verbally assaulting the two families. The group then attempted to attack the house, but was thwarted by the family members.
Full report at:
http://www.saudigazette.com.sa/index.cfm?method=home.regcon&contentid=20130626171285
-----------
Qatar succession: Seven minutes in which power changed hands
Elizabeth Dickinson
Jun 26, 2013
DOHA // Sheikh Tamim bin Hamad Al Thani is the new emir of Qatar, after his father abdicated the throne yesterday morning.
In a seven-minute speech, the outgoing emir, Sheikh Hamad bin Khalifa Al Thani, said he was passing power to his son and to Qatar's next generation, which he described as "the munitions of this homeland".
"Time has come to turn a new leaf in the history of our nation, where a new generation steps forward to shoulder the responsibility with their dynamic potential and creative thoughts," the 61-year old emir said, seated in his diwan.
Full report at:
http://www.thenational.ae/news/world/middle-east/qatar-succession-seven-minutes-in-which-power-changed-hands#ixzz2XMk3rlxI
-----------
Beirut: President dismisses calls for jihad against Lebanese Army
June 25, 2013
BEIRUT: President Michel Sleiman dismissed Tuesday a call made by Salafist Sheikh Ahmad Assir urging Sunnis to wage holy war against the Lebanese Army over its alleged bias toward Hezbollah.
"Calls for jihad against the Army won't do any good and won't be heard," Sleiman said in a statement.
After launching a bloody battle in Sidon against the military, Assir urged supporters to desert the Army and join his fight.
Full report at:
http://www.dailystar.com.lb/News/Politics/2013/Jun-25/221517-sleiman-dismisses-calls-for-jihad-against-lebanese-army.ashx#ixzz2XMVynNLZ
-----------
Jordan king warns of regional conflict over Syria
June 26, 2013
DUBAI — Jordan's King Abdullah said Syria's war could ignite a regional sectarian conflict unless global powers helped to convene peace talks soon, a pan-Arab newspaper reported on Wednesday.
King Abdullah also said Palestinians could launch an Arab Spring-style revolt if they felt prospects for a peaceful settlement of their conflict with Israel had reached a dead end, the London-based Asharq Al-Awsat newspaper said.
Situated near Syria and next door to Israel and the occupied West Bank, US-allied Jordan is affected by instability in the region. Jordan has taken in more than 500,000 Syrians out of a total 1.5 million who have fled the war, UN officials say.
"It has become clear to all that the Syrian crisis may extend from being a civil war to a regional and sectarian conflict...the extent of which is unknown," King Abdullah said in an interview.
Full report at:
http://www.saudigazette.com.sa/index.cfm?method=home.regcon&contentid=20130626171325
-----------
More than 100,000 killed in Syria uprising: NGO
AFP
Jun 26, 2013
BEIRUT: More than 100,000 people have been killed in Syria since the beginning of the country's uprising in March 2011, the Syrian Observatory for Human Rights watchdog said in a new toll on Wednesday.
The Observatory said the toll was now 100,191 people, with at least 36,661 civilians killed, along with 25,000 regime troops and 18,072 rebel fighters.
The remainder comprise pro-regime militiamen, unidentified victims and Hezbollah fighters.
http://beta.dawn.com/news/1020909/more-than-100000-killed-in-syria-uprising-ngo
-----------
Kuwaitis campaign privately to arm Syrian rebels
26 June 2013
Reuters, Kuwait
At a traditional evening meeting known as a "diwaniya", Kuwaiti men drop banknotes into a box, opening a campaign to arm up to 12,000 anti-government fighters in Syria. A new Mercedes is parked outside to be auctioned off for cash.
They are Sunni Muslim and mainly Islamist like many Syrian rebels who have been trying for two years to overthrow President Bashar al-Assad, a member of the minority Alawite sect, a branch of Shi'ite Islam. Shi'ites are also a minority in Kuwait.
"The world has abandoned the Syrian people and the Syrian revolution so it is normal that people start to give money to people who are fighting," said Falah al-Sawagh, a former opposition member of Kuwait's parliament, surrounded by friends drinking sweet tea and eating cakes.
Full report at:
http://english.alarabiya.net/en/News/middle-east/2013/06/26/Kuwaitis-campaign-privately-to-arm-Syrian-rebels.html
------------
KSA slams Iran, Hezbollah intervention in Syria
25 June 2013
Saudi Arabia on Tuesday said the involvement of Iran and the Lebanese militant group Hezbollah in Syria is "dangerous" because it threatens to destabilize the region.
"Syria can only be described now as an occupied country," said Foreign Minister Prince Saud Al-Faisal at a news conference with US Secretary of State John Kerry in Jeddah.
Prince Saud said the Kingdom "cannot be silent" at the recent decision by Hezbollah to send fighters into Syria.
"The most dangerous development is the foreign participation, represented by Hezbollah and other militias supported by the forces of the Iranian Revolutionary Guard," the prince said, repeating a call for the rebels to be armed.
Full report at:
http://www.arabnews.com/news/456134
-----------
Egypt jails Shiite leader for weapons possession
By Ramadan Al Sherbini
June 26, 2013
Cairo: Egyptian authorities on Wednesday detained a Shiite Muslim leader on charges of possessing illegal weapons, legal sources said, days after four Shiite Egyptians were dragged to death in a mob attack.
Prosecutors ordered that Mohammad Al Dereeni, the head of Egypt's Shiite community, be kept in police custody for four days pending further questioning for possessing two unlicensed guns.
Al Dereeni told investigators he had obtained the weapons for self defence after receiving death threats, the sources said.
Full report at:
http://gulfnews.com/news/region/egypt/egypt-jails-shiite-leader-for-weapons-possession-1.1202142
-----------
Saudi Arabia jails rights campaigner Abdulkarim al-Khader
Jun 26, 2013
A founding member of Saudi Arabia's leading human rights organisation has been sentenced to eight years in jail on charges of inciting sedition.
Abdulkarim al-Khader had taken over as head of the Saudi Political and Civil Rights Association after two colleagues were jailed in March.
The association had also been disbanded as part of the March ruling.
The association was set up in 2009 by a group of lawyers and academics to reform the country's legal system.
Since then, it has been cracked down on by the authorities, with travel bans imposed on leading members of the association.
Five years of Khader's sentence are to be suspended providing he does not resume his activities on his release.
In March, association members Mohammed al-Qahtani and Mohammed al-Hamid were jailed, Qahtani for 10 years, while Hamid had an earlier sentence of six years upheld and a further five-year term added.
Full report at:
http://www.bbc.co.uk/news/world-middle-east-23059335
---------
Bashar al-Assad's uncle sells Paris mansion for 70 million euros
By Henry Samuel
25 Jun 2013
Rifaat al-Assad, who allegedly has the blood of at least 25,000 people on his hands, sold the seven-storey home on one of Paris's most desirable stretches of real estate overlooking the Arc de Triomphe.
Avenue Foch has been dubbed "the avenue of ill-gotten gains" by French media since police seized another mansion two doors down belonging to the son of President Teodoro Obiang Nguema of Equatorial Guinea, as part of an ongoing investigation into allegations of misuse of public funds by foreign leaders and their families.
Mr Assad owns a string of properties elsewhere in Paris and other cities abroad, including a £10 million Georgian mansion in Mayfair, London.
The Syrian former vice president, once head of the feared Defense Companies paramilitary unit, has lived in exile since he unsuccessfully tried to seize power from his brother, Hafez, in 1983.
Full report at:
http://www.telegraph.co.uk/news/worldnews/europe/france/10141461/Bashar-al-Assads-uncle-sells-Paris-mansion-for-70-million-euros.html
-----------
Southeast Asia
Thailand rejects rebel demand for troops' return to bases during Ramadan
June 26, 2013
BANGKOK, Thailand – The government rejected Tuesday (June 25th) insurgent demands that army personnel return to their bases during the upcoming holy month of Ramadan in exchange for a ceasefire, AFP reported.
Hassan Taib, a leader of the militant group Barisan Revolusi Nasional (BRN), with whom Thailand has been holding peace talks since late March, said the insurgents would stop operations if Thailand meets demands, including the pullback of security forces from villages.
In a video posted on YouTube, he also called for a suspension of "ambushes, road blocks or arrests" in the provinces of Yala, Narathiwat and Pattani.
Full report at:
http://khabarsoutheastasia.com/en_GB/articles/apwi/articles/newsbriefs/2013/06/26/newsbrief-05
-----------
Malaysia mosque members to pray for rain to fight smog
June 26, 2013
KUALA LUMPUR, Malaysia – A member of the Malaysian government asked mosque members across the country to pray for rain Tuesday (June 25th) in hopes of dispersing the smog and haze coming from forest fires in Indonesia, media reported.
Minister in charge of Islamic Affairs Jamil Khir Baharom urged all mosques to recite the Istisqa (prayer of rain), Kuwait News Agency reported. He said the rain prayer would be recited at the National Mosque following afternoon prayers.
Full report at:
http://khabarsoutheastasia.com/en_GB/articles/apwi/articles/newsbriefs/2013/06/26/newsbrief-07
-----------
Students don't know Malaysia's history, education conference told
Jun 26, 2013
Many students have poor knowledge of the country's history despite being able to score 'A' in examinations because they merely memorise essays, said historian, Professor Emeritus Tan Sri Dr Khoo Kay Kim.
The renowned academician noted that students today studied history by memorising and not learning by understanding. "In those days, it was difficult to even get 70 marks in history, but now they can score 90 plus.
"Many schoolchildren just memorise essays because they can more or less spot the topics that will come out (in the examinations)," he said in his presentation at the Second Education Nation Conference, in Kuala Lumpur yesterday.
Full report at:
http://www.themalaysianinsider.com/malaysia/article/students-dont-know-malaysias-history-education-conference-told/
-----------
URL: https://newageislam.com/islamic-world-news/new-age-islam-news-bureau/wahhabism-expansion-in-russia-leads-to-growth-of-islamophobia/d/12295