New Age Islam News Bureau
2 Feb 2018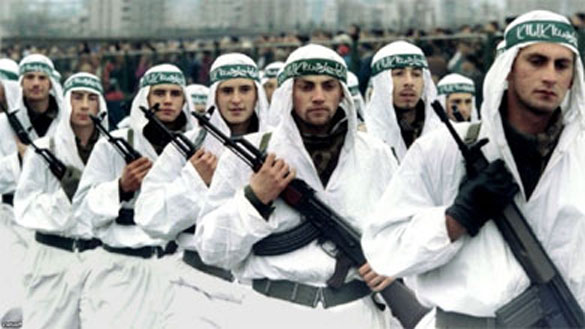 Since the Yugoslav war of the 1990s, Europe and the United States have openly supported the Bosnian Muslims. The Americans were the first to choose them as their new "our sons of bitches."
------
• Wahhabi Settlements and Terrorism as the Reality of 'European Bosnia'
• Muslim Board to Add No Triple Talaq Clause in Nikahnama
• No Party Can Remove Constitutional Provision Linked With Islam, Pak SC Told
• Afghanistan Publishes 'Undeniable' Proof Islamic State, Taliban Jihadis Trained in Pakistan
• Complex Islamic Issues Involved In Conversion of Minors, Says Scholar
Europe
• Wahhabi Settlements and Terrorism as the Reality of 'European Bosnia'
• Man Who Drove Van into Muslims in London Convicted Of Murder
• Morocco arrests seven Islamic State suspects - ministry
• Muslim detainees 'made to pray by toilet'
• Germany to not move embassy to Jerusalem
--------
India
• Muslim Board to Add No Triple Talaq Clause in Nikahnama
• Land That Doesn't Exist Used To Fund Hurriyat: NIA Probe
• Jammu and Kashmir: Army foils infiltration bid by Pak militants along LoC
--------
Pakistan
• No Party Can Remove Constitutional Provision Linked With Islam, Pak SC Told
• Jamiat Ulema-I-Islam-Sami for Anti-Child Abuse Laws As Per CII Recommendations
• Pakistani Court Disqualifies Lawmaker for Threatening Judges
• Humanitarian assistance to continue to Pakistan for hosting refugees: US official
• Pakistan to purchase more weapons from Russia, China after Trump aid cut
• TTA goes through major reshuffle after surge in terror attacks
• Gen Bajwa holds talks with Saudi crown prince
--------
South Asia
• Afghanistan Publishes 'Undeniable' Proof Islamic State, Taliban Jihadis Trained in Pakistan
• UN Official Says Rohingya Crisis Has 'Hallmarks of Genocide'
• Afghanistan Home to 7,000 Islamic State Fighters, Russian Diplomat Says
• PM Hasina: Spread Bangladeshi art, culture, literature beyond boundary
• Balkh issue to be resolved within the framework of Afghan constitution: Ghani
--------
Southeast Asia
• Complex Islamic Issues Involved In Conversion of Minors, Says Scholar
• Maldives Top Court Orders Release of Former President Mohamed Nasheed, Opposition Leaders
• After Indira Ruling, PAS Wants Shariah Courts Open To Non-Muslims
• Report: Spanish Terror Suspect Sought To Meet Malaysian Jihadist
• US Judge Blocks Deportation of Indonesian Christians
--------
Arab World
• Syrian Government Slams Turkish Offensive in Afrin as 'Occupation'
• US May Use Force after Syria Found To Have Developed New Chemical Weapon
• Several Civilians Killed in US Airstrikes in Deir Ezzur
• Militant shelling kills 7 civilians in Damascus district
• Syrian Army Units Win Back Over 65sq/km of Idlib
• Tens of Ankara-Backed Forces, Militants Killed in Afrin
• Syrian Democratic Forces: 15 Turkish troops killed in attack north of Afrin
• Syrian opposition to work with Sochi proposal 'under UN auspices'
--------
Mideast
• Kurdish Pastor: Turkey Bigger Threat to Israel than Iran
• Turkish Army Occupies Several Regions in Afrin
• Arab Coalition says they have no self-interest in Yemen, sole aim is stability
• Yemeni retaliatory attacks leave five Saudi soldiers dead
• Arab League Calls For UN-Backed 'Multilateral' Push For Peace In Palestine
• Turkey says France 'cannot give lessons' over Syria
• Lebanon will pay for Iran ties in next Israel war: Lieberman
--------
North America
• American 'Islamic State Fighter' Case Challenges Trump
• Rise in Hate Crimes against S Asia, Arab Communities in US
• Heritage committee calls for day of action on Islamophobia
• M-103 report makes few recommendations about Islamophobia
• US raises concern over Iran-backed militia getting involved in Iraqi politics
--------
Africa
• Boko Haram Kills Five Loggers in North-Eastern Nigeria
• Multiple Blasts Kill 4, Injure 44 in Northeast Nigeria
• Muslim group insists CAN inciting Christians against Buhari, warns its leaders
• Kenya court orders government to lift ban on three TV stations
Compiled by New Age Islam News Bureau
URL: https://www.newageislam.com/islamic-world-news/wahhabi-settlements-terrorism-reality-european/d/114146
--------
Wahhabi Settlements and Terrorism as the Reality of 'European Bosnia'
January 30th, 2018
Since the Yugoslav war of the 1990s, Europe and the United States have openly supported the Bosnian Muslims. The Americans were the first to choose them as their new "our sons of bitches." The Europeans first focused on the Croatians but later preferred the Bosnians. While western mass media told sad stories about poor Bosnians suffering from Serbia's "armed aggression," NATO planes dispatched to their country bloodthirsty hoodlums from North Africa, the Middle East and Iran. The western "peacekeepers" spared no arms for the Bosnian Muslims and no diplomacy to support those "martyrs" when they massacred whole Serbian villages and to pressure their "enemies" with sanctions and bombings when they tried to complain.
And now that after the closure of the International Criminal Tribunal for the former Yugoslavia, the Serbs have just one weapon left against the western world order - the obstinacy of Miroslav Dodik, President of Republika Srpska – Europe has suddenly realized what a genie they have let out of the bottle in order to protect the peaceful Bosnian Muslims. All of a sudden, they in the West have expressed their deepest concern that Bosnia and Herzegovina, a state they have liberated from bloody Serbian dominance, has turned into a European enclave of different Islamist organizations – from ISIL to Al Qaeda. Such concern has been expressed by both Federal Chancellor of Austria Sebastian Kurz and President of the Czech Republic Milos Zeman. The European newspapers were surprised to know that in Bosnia and Herzegovina, there were over 60 Muslim communities that refused to obey to the central authorities, respected only the Sharia law and practiced polygamy and female circumcision and that in their villages – once mostly Serbian – they had kept hoisted black banners with the Shahada and removed them only after a series of scandals in the European press and an urgent request by the Bosnian police. The Europeans were stunned when told that Sarajevo's Emperor's Mosque had nearly been captured by Wahhabis, who had beaten the local moderate Imam, Sadrudin Iseric.
And they were really shocked with the news that at least 600 Bosnian Muslims were fighting for Islamic terrorists in Iraq and Syria. But that revelation has changed nothing in Bosnia and Herzegovina, where Alija Izetbegovic, the first Bosnian President and the father of the Bosniak member of the tripartite Presidency of Bosnia and Herzegovina Bakir Izetbegovic, once said that there could be no peace between Islam and secular authorities, where the El Mujahid detachment was engaged in torturing and beheading Serbian POWs and civilians, where the worthy son of Alija, Bakir, has allotted the lands taken from runaway Sarajevo Serbs for Saudi-sponsored mosques and has let former El Mijahid fighters to settle down in Sarajevo's suburbs.
For quite a long time, they in the West kept their eyes closed to all this as the cruel bearded Bosnian men were a good reminder to the Bosnian Serbs who was the boss in Bosnia. But they were forced to open them once Europe and the United States suffered a series of terrorist attacks.
And their look was so severe that Bakir Izetbegovic was called to account. At the recent conference "The Future of Islam and Muslims in Europe on the Axis of Andalusia and Bosnia-Herzegovina", he was the key speaker – simply because his Muslim Bosnia is a reality unlike once Muslim Andalusia.
Izetbegovic was very eloquent. He made a retrospective journey into the history of "European Islam" and its brightest embodiments, the Golden Horde, the Kazan, Astrakhan and Crimean khanates and the Ottoman Empire. But the greater part of his speech was recommendations for the present-day Europeans. "Islam has lived in Europe for already thirteen centuries and in some areas, it had been dominant long before the arrival of Christianity. Those who regard Europe as a purely Christian civilization are ignorant… None of the great monotheistic religions were born in Europe. Their birthplace is the Middle East. So, instead of closing itself to the Muslim world, Europe should be its close ally as only in alliance, can we crush the deviant ideology of Takfir (when a Muslim (it is practiced among radicals) excommunicates another Muslim calling him an infidel - note by EADaily)," Izetbegovic said.
He noted that after the war, the radical ideology of Islamism was left on the fringes of the Bosnian society and put under the state's control.
We would love to believe Izetbegovic, were it not for his personal background and the abovementioned 600 Bosnian radicals fighting in Syria and Iraq. Before the 1990s, Yugoslavia's Muslims were quite secular: you could see them both reading the Quran and drinking beer, both giving their girls Muslim names and letting them wear miniskirts and jeans. And it was exactly the Izetbegovic clan that used Radical Islam as an ideology for mobilizing those people. As a result, today the Bosnians identify themselves basically as Muslims, unlike the Kosovo Albanians, whose self-identification is based on ethnicity.
Well aware that his western partners are angry with him, Izetbegovic tried to sound very peaceful when speaking about Islam in Europe. But the true symbol of the present-day Bosnia and Herzegovina is the recent photo from Zenica picturing a mother and a little boy, who has something in his hand. No, not a toy. But a flag of ISIL.
https://eadaily.com/en/news/2018/01/30/wahhabi-settlements-and-terrorism-as-the-reality-of-european-bosnia
--------
Muslim Board to Add No Triple Talaq Clause in Nikahnama
Feb 2, 2018
Lucknow: The All-India Muslim Personal Law Board (AIMPLB) is planning to include a clause in its model "nikaahnama" in which the groom will have to give an undertaking that he will not resort to the practice of triple talaq. The Board is expected to take up this issue in its meeting, scheduled to be held in Hyderabad on February 9.
The Board, it may be recalled, has been opposed to the practice of triple talaq but has also opposed government interference in Shariat laws.
"Much before the government came in, the Board has been opposed to triple talaq but we do not appreciate any government interference in religious matters. We are planning to include a clause in the 'nikaahnama' in which the groom will have to promise that he will not practice triple talaq," said Maulana Khalilullah Sajjad Nomani, the Board's spokesperson.
The Board is not in favour of a ban on triple talaq. The spokesperson said that, in certain circumstances, triple talaq actually worked in favour of the wife.
"We had kept the interest of the woman and the family in mind while drafting him model 'nikaahnama' and including other clauses in the document. We stated that if talaq was inevitable, the husband should give it one at a time so that he gets time to see reason," said another senior Board member.
The All-India Muslim Women Personal Law Board had earlier supported the ban on triple talaq and had even criticised the AIMPLB for opposing the government's move to bring a bill banning triple talaq, now seems to have had a change of heart.
http://www.asianage.com/india/all-india/020218/muslim-board-to-add-no-triple-talaq-clause-in-nikaahnama.html
--------
No Party Can Remove Constitutional Provision Linked With Islam, Pak SC Told
February 02, 2018
ISLAMABAD: A senior counsel told the Supreme Court on Thursday that no political party was currently in a position to muster strength and remove any provision from the Constitution that had a slight link with Islamic injunctions.
"The situation in the country today is such that it is not easy to remove from the Constitution any clause driven from the Islamic concept because of religious extremism in our society," argued Sardar Mohammad Aslam on behalf of Khan Mohammad Khan Jatoi who was also disqualified.
The counsel was arguing before a five-judge bench, headed by Chief Justice Mian Saqib Nisar, hearing a set of 17 appeals and review petitions to determine the length of the disqualification handed down under Article 62 (1)(f) of the Constitution.
But Justice Ijaz-ul-Ahsan, a member of the bench, reminded the counsel that a bipartisan committee of parliament had considered all provisions of the Constitution and decided to retain the conditions under Articles 62 and 63 while adopting the 18th Amendment.
Since the provisions were retained by parliament, it had to give purpose, the chief justice observed and wondered whether the counsel was alluding to the fact that people's representatives were fearful and, therefore, they decided to retain these provisions.
"I have seen the sit-in at the Faizabad intersection and the language they used and many other incidents like that," the counsel said and, while citing Surah-i-Maida from the Holy Quran, recalled how Hazrat Umar Farooq had suspended the punishment of amputation of hands on allegations of theft at the time of famine.
"Instead of living in an idealistic world we should live in reality," the counsel said, adding that he believed in the concept of repentance and, therefore, the court should fix some time period for the disqualification handed down under Article 62(1)(f) of the Constitution.
He said if a man who committed some crime and was later disqualified was not a matter between God and himself and should be forgiven for showing repentance rather he had committed offence with his electorate and society.
"Are you saying that the doctrine of necessity is available," the chief justice said.
Justice Ahsan asked if the counsel was trying to say there was a moral famine in the country these days.
The chief justice observed that bona fide or mala fide of a person was a state of mind which could only be manifested with his conduct only.
Earlier, Barrister Syed Ali Zafar as amicus curiae argued that to answer whether a person had been declared to be not sagacious, not righteous, not non-profligate, not honest or not ameen had to answer by embarking upon the journey of discovering the silence of the Constitution.
According to him, this journey is extremely important because the answer to this question depends not just on former prime minister Nawaz Sharif and Jahangir Tareen, who had been disqualified by the Supreme Court on the basis of Article 62(1)(f), but the fate of many parliamentarians, present or future, was also at stake.
Relying on A.K. Brohi's "Fundamental Law of Pakistan", he stated that the Constitution set forth the principles of legal character of the state which included parliament and hence every word and the concepts of Articles 62 and 63 were important as they determined the legal character of one essential part of the state — a sovereign parliament.
The second principle relied upon by the amicus curiae was that the interpretation of the Constitution is very different from the interpretation of an ordinary law and, therefore, the methods and tools used by the courts for interpreting the Constitution are also potentially different, although similar in many respects because the Constitution was given by the people and is a living document.
The hearing was adjourned till next Wednesday.
https://www.dawn.com/news/1386829/no-party-can-remove-constitutional-provision-linked-with-islam-sc-told
--------
Afghanistan Publishes 'Undeniable' Proof Islamic State, Taliban Jihadis Trained in Pakistan
1 Feb 2018
Afghanistan has provided what it claims to be proof to Islamabad that the Islamic State (ISIS/ISIL) and Taliban attackers who killed about 200 people on Afghan soil over the last month trained and planned the assaults in Pakistan.
The Associated Press (AP) reports:
The Afghan officials said some of the latest evidence came from confessions by captured militants. They said they told the Pakistani side that some of the militants had been trained at Islamic seminaries in the Pakistani border town of Chaman.
Earlier in the week, Afghanistan's U.N. envoy Mahmoud Saikal tweeted that the father of one of the insurgents involved in the bloody Jan. 20 assault on Kabul's Intercontinental Hotel "conceded his son was trained in Chaman" by Pakistan's InterServices Intelligence [ISI].
Echoing the Pentagon, Wais Ahmed Barmak, the interior minister in Afghanistan, also unveiled evidence, including confessions, that purportedly show Pakistan allows Taliban leaders to "roam freely" on its territory, notes AP.
On Thursday, Barmak and Afghanistan's spy chief Masoom Stanekzai spoke to reporters, saying Afghanistan handed "undeniable" evidence to Pakistan showing that the recent spate of attacks was planned on Pakistani soil, reports the Agence France-Presse (AFP) news agency.
The attacks, which reportedly killed about 200 people, were apparently "planned from across the border," declared Stanekzai, adding, "We asked Pakistan to hand over the culprits of the attacks in Afghanistan, and we shared undeniable evidence that the attacks were planned there."
Afghanistan's interior minister told reporters Kabul presented evidence to Pakistan during a meeting in Islamabad on Wednesday.
The Pakistani embassy in Kabul said the evidence provided by Afghan spy chief Stanekzai was "being examined for its authenticity."
"Pakistan has not given any commitment to give [a] reply to the information received from the NDS [National Directorate of Security] Chief Mohammad Masoom Stanekzai," the embassy said in a statement, reports TOLO News.
Islamabad has reportedly condemned the recent deadly attacks in Afghanistan.
During a visit to the Islamabad-based Afghan embassy, Pakistani Foreign Minister Khawaja Asif said his country "strongly condemns terrorism in all forms and manifestations," points out AFP.
He added that, during Wednesday's bilateral meeting, the two countries "agreed to work together to strengthen mutual trust and bilateral engagement."
The revelations that the recent attackers planned the deadly assaults in Afghanistan from Pakistan come as the U.S.-NATO mission recently conceded that the Taliban continues to expand its influence in Afghanistan where it now controls or contests about 45 percent of the country.
Late last year, the United Nations also reported that the Taliban's rival—the Islamic State branch in Afghanistan known as the Khorasan province (ISIS-K)—is growing and has extended its jihadi tentacles to seven provinces in recent months.
"Nearly 200 people have been killed over the past month in attacks claimed by the Taliban and a rival Islamic State [IS] affiliate," reports AP.
U.S. President Donald Trump's administration is expected to suspend about $2 billion in security aid to Islamabad over Pakistan's reluctance to take decisive action against jihadists who operate on its soil and are fighting against American troops and their allies in Afghanistan, namely the Afghan Taliban and its al-Qaeda-linked ally, the Haqqani Network.
In its most recent assessment of the more than 16-year-old Afghanistan war issued in December, the Pentagon notes that Pakistan remains a "sanctuary" for terrorists, adding:
The Afghanistan-Pakistan border region remains a sanctuary for various groups, including al- Qa'ida, al-Qa'ida in the Indian Subcontinent (AQIS), the Haqqani Network, Lashkar-e- Tayyiba, Tehrik-e-Taliban Pakistan (TTP), ISIS-K, and the Islamic Movement of Uzbekistan.
Sanctuary on the Pakistani side and presence on the Afghan side remain security challenges for both countries and pose a threat to regional security and stability.
The Pentagon considers the Haqqani Network, blamed for at least one of the recent deadly attacks in Afghanistan, to be the primary threat facing U.S. troops and their allies.
Islamabad has repeatedly denied that it harbors jihadist, but it has acknowledged that it holds some influence over the Afghan Taliban.
Afghanistan and Pakistan have long accused one another of supporting terrorists.
The Afghanistan-Pakistan region is home to "the highest regional concentration of terrorist groups in the world," the Pentagon report noted.
According to its latest quarterly report to Congress, the U.S. Special Inspector General for Afghanistan Reconstruction (SIGAR), the Trump administration's record number of airstrikes have failed to increase Kabul's control over Afghan territory.
http://www.breitbart.com/national-security/2018/02/01/afghanistan-claims-undeniable-proof-shows-recent-islamic-state-taliban-attackers-trained-in-pakistan/
--------
Complex Islamic issues involved in conversion of minors, says scholar
Sheith Khidhir Bin Abu Bakar
February 2, 2018
PETALING JAYA: US-based scholar Nader Hashemi has acknowledged that the conversion of minors to Islam involves complex theological issues.
He noted that while traditional interpreters gave preference to the father in determining the religion of children, there was also an established Islamic principle against coercion.
"Unless one willfully and without coercion takes the shahada (profession of faith), one cannot be considered Muslim in the eyes of God," he told FMT.
He said there was also the general principle that the welfare of children should be of the highest priority. "This includes their psychological and mental welfare, not just their material and physical safety or well being."
Hashemi, an expert on Islamic politics currently attached to the University of Denver, was asked to comment on the case involving M Indira Gandhi and the conversion of her three children by her ex-husband Muhammad Riduan Abdullah.
"The example that you cite of a father reverting to Islam is unique. I'm unaware of any Islamic norm or consensus on this matter among scholars, but there is a clear and unambiguous Islamic norm that there should be no compulsion in religion," he said, citing a verse in the Quran.
"Islam recognises the moral autonomy of individuals. Each person is responsible for his own moral conduct and behaviour, not those of other individuals.
"In the context of the family, generally the parents determine the religion of the children. Traditional Islamic interpretations give preference to the father in determining the religion of the children.
"When the children reach the age of maturity, they are responsible for their own choices. The parents no longer have jurisdiction."
The Federal Court last Monday set aside the conversion of Indira's three children to Islam by her ex-husband. It ruled that any conversion of non-Muslim children must get the consent of both parents.
In the landmark ruling, the court also decreed that only the civil court could decide on such matters.
It also ruled that the word "parent" in Article 12(4) of the Federal Constitution should be read as "parents".
The court's decision put an end to the interfaith custody battle that followed Riduan's conversion of their three children without Indira's knowledge in 2009.
http://www.freemalaysiatoday.com/category/nation/2018/02/02/complex-islamic-issues-involved-in-conversion-of-minors-says-scholar/
--------
Europe
Man who drove van into Muslims in London convicted of murder
By Jill Lawless 
February 1, 2018
LONDON — A man who steeped himself in far-right, anti-Muslim ideas before driving a van into a crowd of worshippers near a north London mosque was convicted Thursday of murder and attempted murder.
A jury at London's Woolwich Crown Court deliberated for just an hour before finding 48-year-old Darren Osborne guilty of the June 2017 attack in the city's Finsbury Park neighborhood.
A 51-year-old man, Makram Ali, was killed and 15 people were injured when a rented van plowed into worshippers gathering after evening prayers during Ramadan.
Prosecutors said Osborne was motivated by extreme Islamophobia and saw Muslims as extremists or rapists in pedophile gangs.
Several men who witnessed the attack pinned Osborne to the ground until police arrived. He was heard to say "I want to kill more Muslims," prosecutor Jonathan Rees told the jury during the 10-day trial.
FILE - In this file photo dated Monday, June 19, 2017, forensic officers move the van which struck pedestrians near a Mosque at Finsbury Park in north London. A Crown Court on Thursday Feb. 1, 2018, found Darren Osborne guilty of murder and attempted murder in the June 2017 attack in the city's Finsbury Park neighborhood. (Frank Augstein, FILE/Associated Press)
Another witness reported Osborne saying, "I've done my job, you can kill me now."
Osborne, of Cardiff, Wales, had pleaded not guilty. He claimed a man named Dave was driving the van when it struck the crowd. Prosecutors argued that Dave did not exist, and no witnesses or video evidence were produced to indicate a second person in the van.
Prosecutors said Osborne was radicalized over just a few weeks, in part through online far-right propaganda. Searches for prominent extreme-right figures — including English Defense League founder Tommy Robinson and Britain First leader Paul Golding — were found on his computer.
Osborne's partner, Sarah Andrews, told prosecutors he had become "brainwashed" and was a "ticking time bomb."
Prosecutors said they classified the crime as terrorism because Osborne acted to advance a political purpose.
A note found in the van and Osborne's comments to police mentioned a case in which a group of Muslim men were convicted of sexually exploiting women and girls in England, as well as the deadly Manchester Arena and London Bridge attacks carried out by Islamic radicals just weeks earlier.
Commander Dean Haydon, a senior counterterrorism officer with London's Metropolitan Police, said the case showed how "individuals can become radicalized really, really quickly" online.
"To be honest, some individuals could look at material today and decide to go and do an attack later on this evening," Haydon said.
Although he denied the murder charges, Osborne did not hide his aim to kill.
Giving evidence, he said he drove to London hoping to attack a pro-Palestinian march where his intended victims would have included Jeremy Corbyn, the left-wing leader of Britain's opposition Labour Party.
When he could not reach the march because roads were closed, Osborne went looking for a mosque instead.
Sue Hemming, head of counterterrorism at the Crown Prosecution Service, said Osborne "planned and carried out this attack because of his hatred of Muslims."
"We have been clear throughout that this was a terrorist attack, and he must now face the consequences of his actions," Hemming said.
Harun Khan, secretary general of the Muslim Council of Britain, welcomed the verdict but said "we cannot be complacent and regard this as a one-off terrorist incident." He said Islamophobia was "not only prevalent in far-right circles, but also made acceptable in our mainstream."
Most of the arrests and attacks classified as terrorism in Britain in recent years have been motivated by Islamic extremism, but police say there is a growing threat from the far right. In 2016 Labour lawmaker Jo Cox was shot and stabbed to death by an attacker with extreme right-wing views.
Cox's widower Brendan Cox called for action to curb right-wing radicalization.
"When islamists commit acts of terror we rightly hunt down the hate preachers who inspired them," he tweeted. "We should do the same for the far right."
Judge Bobbie Cheema-Grubb said she would sentence Osborne on Friday.
Copyright 2018 The Associated Press. All rights reserved. This material may not be published, broadcast, rewritten or redistributed.
https://www.washingtonpost.com/?utm_term=.e3187092c75a
--------
Morocco arrests seven Islamic State suspects - ministry
01 Feb 2018
RABAT: Moroccan authorities have arrested seven suspected Islamic State militants who had been planning attacks, the interior ministry said on Thursday.
The suspects had been active in a cell in the northern city of Tanger and northeastern city if Meknes and planned attacks, the ministry said in a statement, adding that arms and electronic devices had been seized.
No further details were immediately available.
Moroccan authorities say they have dismantled dozens of jihadist cells since 2002, including about 50 with alleged links to Islamic State.
https://www.channelnewsasia.com/news/world/morocco-arrests-seven-islamic-state-suspects---ministry-9917610
--------
Muslim detainees 'made to pray by toilet'
Feb 2, 2018
A High Court judge has criticised the home secretary after hearing Muslim men were forced to pray next to a toilet at an immigration removal centre.
Mr Justice Holman said Amber Rudd had failed to provide any justification for the practice at the Brook House facility, near Gatwick Airport - operated by the private company, G4S.
As a result, he said the two detainees' rights had been breached.
The Home Office said it would consider the judgement "carefully."
The judge also ruled Ms Rudd had acted unlawfully in allowing smoking in rooms at the centre.
Regulations permitting exemptions to the smoking ban in public places do not extend to immigration removal centres, said Mr Justice Holman, but could be amended if the government wished to do so.
The ruling means the home secretary will either have to phase out smoking from most areas of UK immigration removal centres or get the Health Secretary Jeremy Hunt to agree to introduce new rules allowing it.
The case against Ms Rudd was brought by two asylum seekers - Mohammed Hussein, originally from Ethiopia, and Muhammad Rahman, from Bangladesh.
They were both detained at Brook House for several months last year before being released.
The pair, who said they were devout Muslims, argued that the conditions and regime at the centre breached their right to religious observance.
They said they were each locked in a room - measuring 4m x 3m - for 11 hours at night with two other detainees, and their evening and early morning prayers were conducted 3m from an "exposed and open lavatory pan".
One of the men described the room as "smelly and dirty", saying it distracted him from his prayers.
The other detainee called the conditions "disgusting".
'Discriminatory conditions'
Mr Justice Holman said the evidence "clearly established" that being forced to worship in such a confined space with an internal lavatory contravened the men's right to worship under Article 9 of the European Convention on Human Rights.
He said the conditions were also discriminatory because they affected Muslims more than people of other religions, due to their prayer requirements.
The court heard that the home secretary had "conceded" that she had not paid "due regard" to the need to eliminate discrimination as she was obliged to do under the Equality Act.
The judge ordered her to address the issue within a "reasonable time" and demonstrate that she had done so.
Centres 'fully equipped'
A Home Office spokeswoman said the department respected the rights of detainees to practise their religious faith.
"Immigration Removal Centres are equipped with mosques and multi faith rooms for detainees to use for prayer, study and reflection," she said.
"Communal prayers are available in all centres as well as facilities for prayer in the detainees' rooms such as access to prayer mats."
But she added: "We will consider today's judgement carefully."
Duncan Lewis Solicitors, who represented the detainees, said they hoped the government would take immediate steps to improve conditions.
Raza Halim, the pair's barrister, said: "Today's judgement clearly exposes discriminatory and unlawful practices of the Home Office and G4S.
"Immigration detainees continue to have their liberty curtailed, in conditions that are degrading. This litigation has helped shine light of such conditions."
The BBC has contacted G4S for a response.
Past controversies
Brook House became the subject of a BBC Panorama undercover investigation last year that revealed detainees were "mocked and abused".
The programme said it had seen "widespread self-harm and attempted suicides" in the centre, and that drug use was "rife".
Full report at:
http://www.bbc.com/news/uk-42910751
--------
Germany to not move embassy to Jerusalem
01 February 2018
Germany will keep its embassy in Israel's Tel Aviv until a two-state solution between Israelis and Palestinians is found, Foreign Minister Sigmar Gabriel said Wednesday.
Addressing an international conference at the Institute for National Security Studies in Tel Aviv, Gabriel underlined that moving Germany's embassy to Jerusalem would only come after a negotiated solution.
"Germany is looking forward to the day when it will be able to move its embassy in Israel to Jerusalem. But let me add: in two states with Jerusalem as their capital. There is no shortcut here," he said.
Gabriel underlined that both parties had "legitimate aspirations with regard to Jerusalem", and a solution could only be found in negotiations.
"We believe this move must come in support of the implementation of a negotiated two-state solution based on the '67 line. Until then we will follow international law regarding the status of the occupied territories," he said.
U.S. President Donald Trump announced in December 2017, despite widespread international opposition, to formally recognize Jerusalem as Israel's capital.
Full report at:
http://www.worldbulletin.net/europe/198398/three-jailed-catalan-leaders-appeal-to-un-panel
--------
India
Land that doesn't exist used to fund Hurriyat: NIA probe
by Rahul Tripathi
February 1, 2018
To cover up the financing of the Hurriyat's activities in Jammu and Kashmir, a plot of land that doesn't exist was leased out to a businessman in the United Arab Emirates (UAE) for Rs five crore, an National Investigation Agency (NIA) probe into the funding of terrorism in J&K has found.
The NIA has identified the UAE businessman who signed an agreement with Kashmiri business Zahoor Ahmad Watali, who is in judicial custody, to lease the land for Rs five crore in 2014.
It is learnt that the UAE businessman transferred the money – in more than 20 installments — between 2014 and 2016. Sources said the land for which the deal was made never existed, according to balance sheet records of Watali's firm, Trison Farms. A government official alleged that the contract between Watali and Kapoor was full of legal loopholes that proved it was a cover-up to bring foreign remittances to India.
Watali, officials alleged not only acted as a hawala operator but also aided Hurriyat leaders with other logistical support. In 2011, Watali's firm raised over Rs 2.5 crore in unsecured loans in the names of his wife and three sons. The loan was used to repay another secured loan of nearly Rs 3 crore from J&K banks.
"He has not been able to explain the source of this money so far," the official said and added that the NIA has seized a list of the names of Pakistan's Inter Service Intelligence (ISI) officials during raids at Watali's residence which is part of the NIA chargesheet.
After a six-month investigation, the NIA filed a chargesheet against Watali, Jamaat-ud-Dawa (JuD) head Hafeez Saeed and Hizbul Mujahideen (HM) chief Syed Salahuddin and nine others under sections of the Unlawful Activities (Prevention) Act and Indian Penal Code. A Delhi court is likely to take the cognizance of the chargesheet Thursday.
Watali (65) started his own business at a very young age and owned a bandsaw machine business by the time he was 22. He later set up an oil mill and manufacturing units used to construct window and doors, sources said. According to officials, Watali ventured into real estate and developed flats and plots under Trison Farms. He was also a broker in Dubai and ferried cargo flights between Dubai and Russia.
Investigators also claimed to have unearthed links between Kashmiri students studying in Pakistan — after being granted visas by the Pakistan High Commission in India — and Hurriyat leaders. Sources said several students were given visas on the recommendation of various Hurriyat leaders, it is alleged.
"This is a three way nexus where militants, Pakistani/ISI officials and the Hurriyat patronize Kashmiri students which may help them prepare a section of citizens who are engineers, doctors and technocrats in Kashmir and will always have affection towards Pakistan. The NIA has found several such documents where it has been found that the medical students studying in Pakistan on the recommendations of Hurriyat leaders were either linked to an active militant or a former militant." an official said.
http://indianexpress.com/article/india/land-that-doesnt-exist-used-to-fund-hurriyat-nia-probe-5046812/
--------
Jammu and Kashmir: Army foils infiltration bid by Pak militants along LoC
February 1, 2018
The Army on Thursday claimed to have foiled an infiltration bid by Pakistani militants along the Line of Control (LoC) in the Tangdhar sector of Jammu and Kashmir. "An infiltration bid was successfully repulsed by the alert Army troops in the Tangdhar sector in north Kashmir during the early hours of 31 January, 2018," the army said in a statement.
According to Army, four terrorists attempted to infiltrate under the cover of darkness and thick forest in the mountainous terrain in the general area of Kalban in Tangdhar, but were spotted by the troops.
Facing a heavy firing from the Army personnel, the terrorists were seen running away into the thick forest towards the LoC, the statement said.
Full report at:
http://indianexpress.com/article/india/jammu-kashmir-indian-army-infiltration-pakistan-militants-loc-5047975/
--------
Pakistan
Jamiat Ulema-I-Islam-Sami for Anti-Child Abuse Laws As Per CII Recommendations
February 02, 2018
PESHAWAR - Stressing the need for making legislation to stop sexual exploitation of children and their killings, Jamiat Ulema-i-Islam-Sami Chief Maulana Sami ul Haq on Thursday called for presenting the recommendations of the Council of Islamic Ideology in the Parliament for enacting such laws .
To prevent killing and sexual abuse of the children in the country, the CII's recommendations must be presented in the Parliament for making legislation in this regard, he said this while addressing party's provincial shura meeting held at Akora Khattak, central headquarter of the party in district Nowshera.
The JUI-S provincial shura meeting was held with the party's Provincial Chief Maulana Yousaf Shah in the chair.
Attended by its members from across the province, the participants of the meeting discussed a number of important matters including the reorganization of the party in the province, its electoral alliance with the ruling PTI and preparations for the upcoming polls.
Regarding alliance with the PTI, Sami said, "This electoral alliance is aimed at to make Pakistan welfare Islamic state in a true sense." The JUI-S would fully participate in the forthcoming elections, he added.
Pakistan's ideological identity, independence, sovereignty, and solidarity would be protected at all cost, he vowed, adding that his party is actually the name of a belief, an ideology and its motto is the enforcement of Islamic Shariah in the country for which the party has been striving wholeheartedly since long. The country, he said, was already facing numerous challenges and this was the right time to ensure its sovereignty by having an independent foreign policy.
On this occasion, the JUI-S provincial shura also approved a scheduled for holding province-wide public meetings to activate workers and supporters ahead of the upcoming elections, according to which, the party's first public gathering will be held in Malakand on February 8, to be followed by February 9 in Buner district, February 11 Mardan and Swabi.
Likewise, the JUI-S will also convene a public meeting in district Nowshera on February 15, Peshawar February 17, Charsadda 18, Haripur 19, Hangu 21, Kohat and Karak 22, Bannu and Lakki Marwat 23, DI Khan and Tank 24 respectively.
Moreover, the JUI-S would also hold 'Nizam-e-Shariat Conference' in Peshawar on March 8. Apart from that, a meeting of the party's Executive Council was also convened in Peshawar on February 7.
The JUI-S provincial shura also expressed concern over the poor law and order situation in the country and condemned the hike in the prices of petroleum products. The participants of the meeting also called for making the report of Raja Zafrul Haq's committee public immediately. They also demanded an end to the practice of fake police encounters across the country.
https://nation.com.pk/02-Feb-2018/sami-for-anti-child-abuse-laws-as-per-cii-recommendations
--------
Pakistani Court Disqualifies Lawmaker for Threatening Judges
February 01, 2018
ISLAMABAD —
Pakistan's Supreme Court has disqualified a lawmaker from the ruling party for five years after finding him guilty of threatening judges in a speech last year.
In Thursday's decision, the court also sentenced Nehal Hashmi, of the Pakistan Muslim League, to one month in prison.
The decision came a day after Hashmi apologized over his May 2017 speech, in which he threatened judges for ordering a corruption probe against former Prime Minister Nawaz Sharif. In the speech, he said once the judges retire, "we will make your life and (the lives of) your family members miserable.''
In July 2017, the Supreme Court disqualified Sharif from office for concealing assets.
Full report at:
https://www.voanews.com/a/pakistan-politics/4234232.html
--------
Humanitarian assistance to continue to Pakistan for hosting refugees: US official
Feb 2, 2018
ISLAMABAD: US Deputy Assistant Secretary for Population, Refugees and Migration Nancy Izzo Jackson Thursday said that the United States (US) would continue to provide humanitarian assistance to all refugee-hosting countries, including Pakistan.
Besides that, it would also make sincere efforts to create an environment in Afghanistan conducive to voluntary repatriation of Afghan refugees, she told a select gathering of journalists here at the US embassy while expressing her inability to give any timeframe for their honourable and safe return.
She said that Pakistan would not be left alone in its efforts to provide security, food and shelter to the Afghan refugees. She added that America had asked the World Bank to create a new facility to be participated by other countries to meet the requirements of the refugees.
Pakistan is eligible to avail this facility, she said.
The official also said that some $2.9 billion had been provided to Pakistan by her government as humanitarian assistance for the refugees since 2002, and $214 million was spent under that head in 2017.
During her ongoing visit to Pakistan, Nancy Jackson held discussions with Federal Minister for States and Frontier Regions (SAFRON) Lieutenant General (retd) Abdul Qadir Baloch, Chief of General Staff General Bilal Akbar Bajwa and other senior officials at the ministries of foreign affairs and interior, and the United Nations High Commissioner for Refugees (UNHCR).
She also met Afghan Ambassador to Pakistan Dr Omar Zakhilwal.
She recognised Pakistan's generosity for hosting one of the largest, most-protracted refugee populations in the world for nearly 40 years. She encouraged the Pakistani government to work with UNHCR and the Afghan government on a plan that supported voluntary, sustainable, and dignified repatriation of Afghan refugees.
Nancy, a career member of the senior executive service, scheduled to leave for Afghanistan on Saturday, said that she had earlier visited Pakistan from May 31 to June 3 last year.
Responding to a query, she said that hosting refugees for four decades was quite a long period but refugees should not be considered a security threat. She was of the view that all the refugees should not be punished for the misdeeds of a few.
She also said that Pakistan was eager to repatriate the Afghan refugees and she was happy to note that Pakistan's cabinet had extended tenure of the proof of registration cards for another two months.
The US is keen to have stability in Afghanistan and is making sincere efforts to carry out development there to help the safe and voluntary return of the refugees, she added.
To a question about the financial immigration, she said that every country had to deal with the immigration laws and controls but the children of the refugees who were born in Pakistan and doing businesses were by default refugees. Their parents could get them registered on their cards, she added.
"We share Pakistan's hope that all refugees will return to their country honourably, safely and with dignity," Nancy said, adding, "We are trying to create an environment that is conducive for their repatriation."
Responding to a question, the official said that the Afghan government was cooperating with Pakistan in the process of registration of the refugees. She also pointed out that despite the unfavourable conditions in Afghanistan, refugees had been returning throughout the yesteryear.
Full report at:
https://www.pakistantoday.com.pk/2018/02/01/humanitarian-assistance-to-continue-to-pakistan-for-hosting-refugees-us-official/
--------
Pakistan to purchase more weapons from Russia, China after Trump aid cut
Feb 2, 2018
ISLAMABAD: In light of the US decision to cut nearly all American security aid to Pakistan, the country's defence minister has announced that Islamabad will begin purchasing more weapons from China, Russia and other Eastern European countries.
"We have a long relationship with the US and we want to keep it," Khurram Dastgir Khan assured Bloomberg in an interview, before adding that his country would, nonetheless, increasingly acquire weapons from countries other than the US.
Relations between Pakistan and the US have deteriorated rapidly since August when Trump began accusing Pakistan of taking aid while simultaneously supporting armed groups that attack US forces and allies in Afghanistan. The tension reached a high point in early January when Trump began accusing Pakistan of accepting billions in US aid without giving anything in return.
Foreign Affairs Minister Khawaja Asif accused Trump of lying about the amount of aid the US gives Pakistan. Days later, the Trump administration announced that it would cut all security funding until Pakistan begins cracking down on the activities of the Taliban on its territory and in Afghanistan.
Meanwhile, Pakistan has been increasingly turning to China for military aid. Beijing is now building an offshore naval base near a strategic Pakistani port.
Experts say it is typical for Pakistan to turn to other world powers when its relationship with the US sours, but Trump's harsh rhetoric towards Pakistan is out of the ordinary.
Full report at:
https://www.pakistantoday.com.pk/2018/02/01/pakistan-to-purchase-more-weapons-from-russia-china-after-trump-aid-cut/
--------
TTA goes through major reshuffle after surge in terror attacks
Feb 2, 2018
PESHAWAR: The leadership of Tehreek-e-Taliban Afghanistan (TTA) has announced wide range reshuffling in its administrative and military set up amidst the growing US pressure for normalising the increasingly hostile situation which erupted after the deadly terrorist attacks in Afghanistan recently.
TTA leader Mullah Haibatullah Akhunzada made the decision regarding the reshuffling couple of days back and had made it public through media inside Afghanistan on Thursday.
According to reports, the purpose of such reshuffling is to frame a new strategy before the commencing of 2018 spring military (terror) operations, likely to start along with new Afghan year called Nauroz.
The latest reshuffling includes key replacement of Mullah Sherin Akhund by Mullah Hamidullah Akhund as chief of the intelligence network. Mullah Hamidullah Akhund is considered close to Taliban leader Haibatullah Akhunzada whereas Sherin Akhund is close to Taliban's military wing chief Sadar Ibrahim.
Besides replacing Mullah Sherin Akhund, another aide of Sadar Ibrahim namely Lala Agha Nusrat, deputy of the intelligence network, was also replaced by another one as deputy chief.
Taliban's former intelligence chief Mullah Sherin Akhund was appointed as shadow governor of most sensitive Qandahar province of Afghanistan. Sherin is counted amongst the highly respectable and credible Taliban leaders and he was also considered as the most confidential aide of Taliban former leader Mullah Muhammad Omar.
Similarly, another active Taliban leader Mullah Muhammad Zahid Akhund was posted as shadow governor of Urozgan province, the native province of former president Hamid Karzai. Mullah Haji Yousaf was named as shadow governor of Ghazni province and Abdullah Malakhel as governor of Zabul province, touching Pakistan's tribal region of South Waziristan.
Beside Central and Eastern regions of Afghanistan, Mullah Haibatullah has also made important appointments in Northern areas. Haji Nusrat Lala was made shadow governor of Daikund, Maulvi Muneeb of Herrat and Qari Muhammad Ayub as governor of Badghis.
Along with the governor, the Taliban chief has also reshuffled other departments and organs.
Maulvi Abdul Rehman was named as head of the prison's committee, Maulvi Hamidullah Akhunzada of intelligence commission and ex-justice minister Mullah Haji Najib was made deputy head of intelligence for the Southern region.
During the Taliban regime, Maulvi Najib had served as consul general in Peshawar whereas Hamidullah Akhunzada is considered to be close to Haibatullah.
Full report at:
https://www.pakistantoday.com.pk/2018/02/01/tta-goes-through-major-reshuffle-after-surge-in-terror-attacks/
--------
Gen Bajwa holds talks with Saudi crown prince
February 02, 2018
Riyadh - Saudi Arabia's Crown Prince Mohammed bin Salman bin Abdulaziz, Vice President of the Council of Ministers and Minister of Defence, met Pakistani Army Chief Qamar Javed Bajwa in Riyadh on Thursday, reported Saudi news agency SPA.
During the meeting, the two discussed bilateral military relations as well as a number of issues of common interest.
https://nation.com.pk/02-Feb-2018/gen-bajwa-holds-talks-with-saudi-crown-prince
--------
South Asia
UN official says Rohingya crisis has 'hallmarks of genocide'
February 1, 2018
The UN special envoy on human rights in Myanmar said on Thursday that the Myanmar military's violent operations against Rohingya Muslims bear "the hallmarks of a genocide." Yanghee Lee told reporters in Seoul, where she is based, that she couldn't make a definitive declaration about genocide until a credible international tribunal or court had weighed the evidence, but "we are seeing signs and it is building up to that."
Her briefing described her recent visit to refugee camps in Bangladesh and other areas in the region to discuss the Rohingya, a percecuted Muslim minority in Myanmar. Nearly 700,000 Rohingya have fled their villages into Bangladesh since the Myanmar military's crackdown following Aug 25 attacks by Rohingya insurgents. The government of Myanmar has refused her entrance to the country, reports AP.
Responding to a question about an Associated Press report Thursday that details a massacre and at least five mass graves in the Myanmar village of Gu Dar Pyin, Lee said that while she didn't have specific details on the village, "you can see it's a pattern" that has emerged with the Rohingya. She said such reports must be investigated, "and this is why we've called for a fact finding mission … and access for international media to" the areas in northern Rakhine state where the Rohingya live.
Lee said that Myanmar's actions were "amounting to crimes against humanity." "These are part of the hallmarks of a genocide," she said.
"I think Myanmar needs to get rid of this baggage of 'did you or did you not,' and if proven that they did, then there has to be responsibility and accountability. No stones must be left unturned because the people, the victims, the families of the victims definitely deserve an answer," she said.
http://indianexpress.com/article/world/un-official-rohingya-crisis-myanmar-army-bangladesh-5047623/
--------
Afghanistan home to 7,000 Islamic State fighters, Russian diplomat says
February 01, 17
MOSCOW, February 1. /TASS/. Some 7,000 fighters and thousands of reservists of the Islamic State terror group (outlawed in Russia) currently reside in Afghanistan, Russian special presidential envoy and director of the Russian Foreign Ministry's Second Asia Department Zamir Kabulov said on Thursday.
"We have been carefully monitoring the genesis of the Afghan wing of ISIL (former name of the IS group) over the past three years…The IS has nearly 7,000 active fighters, without taking into account several thousand of reservists," Kabulov told the Rossiya-24 TV channel. The Taliban fighters' number in Afghanistan currently stands at around 60,000 or 70,000, he noted.
The Afghan government and the foreign troops stay idle on detecting the IS reservists, the diplomat said.
Full report at:
http://tass.com/world/988120
--------
PM Hasina: Spread Bangladeshi art, culture, literature beyond boundary
February 01, 2018
'If we can't respect and enrich our own culture, language, art and literature, we can never develop ourselves as a nation in the global arena'
Noting that a nation cannot develop without respecting and enriching its own culture, language, art and literature, Prime Minister Sheikh Hasina on Thursday underscored the need for spreading Bangladesh's art, culture and literature across the world.
"If we can't respect and enrich our own culture, language, art and literature, we can never develop ourselves as a nation in the global arena," she said while inaugurating the month-long 'Amar Ekushey Book Fair 2018' and 'International Literature Conference' on the Bangla Academy premises in the city.
The prime minister further said: "We want our art, literature and culture to spread not only throughout the country but also the entire world."
She said her government sincerely tries to uphold the culture and heritage of the nation whenever it comes to power.
Sheikh Hasina said those who come to power illegally never know how to exercise culture and language. "Their mentality is actually different to some extent."
Noting that the Bangalee nation received a lot of admiration and recognition in the international arena, she stressed the need for continuation of the trend.
She said her government wants to build the country with the Liberation War spirit. "Bangladesh will be a non-communal and peaceful country where people, irrespective of their religions and creed, will perform their respective religious rituals independently.
The Prime Minister said the Amar Ekusher Book Fair is not only a place to sell and buy books. "It's rather a place to increase the number of readers and writers, and enhance the practice of literature."
She said this fair creates an opportunity for fresh writers to publish and publicise their books. "It also creates a scope for many readers to explore unknown knowledge. It opens the door to knowledge."
Cultural Affairs Minister Asaduzzaman Noor attended the opening ceremony as a special guest while Bangla Academy Director General Shamsuzzaman delivered the welcome speech with its President Emeritus Professor Anisuzzaman in the chair.
UK poet Agnes Meadows, Cameroonian poet Dr Joyce Ashuntantang, Egyptian writer and journalist Ibrahim El Masry, and Swedish poet and critic Orne Johnson spoke on the occasion as distinguished foreign guests.
Prime Minister Sheikh Hasina distributed the Bangla Academy Shahitya Puraskar while Bangla Academy presented two books titled 'Alokchitre Bangla Academir Ithihash' and Banghabandhur Sath e Marcher Bhashon: Bohumtrik Bishleshon' to the Prime Minister at the opening ceremony.
Twelve personalities received the Bangla Academy Award. They are – Mohammad Sadik and Maruful Islam (poetry), Mamun Hossain (fiction), Prof Mahbubul Haque (essay), Prof Rafiqullah Khan (research), Aminur Rahman Bhuiyan (translation), Kamrul Hasan Bhuiyan and Surma Jahid (literature on Liberation War), Shakur Majid (biography and travelogue), Maloy Bhoumik (drama), Moshtak Ahmed (science, technology and environment) and Jhrana Dash Purokhayshto (juvenile literature).
Later, the Prime Minister visited different stalls of the book fair.
Bangla Academy will organise the two-day International Literature Conference on February 22-23 to build a good bonding among the local and foreign writers, poets, novelists as well as to create a platform to exchange their literary works.
The authorities allotted a total of 719 units — 136 at the Bangla Academy ground to 92 organisatons and 583 at the Suhrawardy Udyan to 363 organisations.
Full report at:
http://www.dhakatribune.com/bangladesh/dhaka/2018/02/01/pm-hasina-spread-bangladeshi-art-culture-literature-beyond-boundary/
--------
Balkh issue to be resolved within the framework of Afghan constitution: Ghani
Feb 01 2018
President Mohammad Ashraf Ghani says the issue of the Balkh political leadership will be resolved within the frameworks of the constitution of Afghanistan.
Speaking to elders and residents of northern Balkh province in ARG Palace on Wednesday, President Ghani said all steps regarding Balkh political leadership have been taken in accordance with the constitution of Afghanistan and the issue will be resolved within the framework of the constitution of the country.
He vowed to bolster the system by strengthening the rule of law and justice, insisting that no one has the right to stand against the national interests of the country and the decisions should be taken based on democratic values and approaches.
This comes as a deadlock still persists between Noor and the government over the controversies surrounding his dismissal from the Balkh government.
The Office of the President, ARG Palace, announced more than a month ago that President Ghani has approved the resignation of the Balkh governor Ata Mohammad Noor.
Noor admits had submitted his resignation as a guarantee to the government that he will step down if the demands of Jamiat-e-Islami are met by the government.
Full report at:
https://www.khaama.com/balkh-issue-to-be-resolved-within-the-framework-of-afghan-constitution-ghani-04402
--------
Southeast Asia
Maldives Top Court Orders Release of Former President Mohamed Nasheed, Opposition Leaders
February 2, 2018
The Supreme Court of the Maldives on Thursday ordered the immediate release of former president Mohamed Nasheed and eight other opposition leaders, saying their trials had violated the constitution and international law – but it also ordered new trials. The country has been mired in political unrest since Nasheed, its first democratically elected leader, was ousted in 2012. He was later sentenced to 13 years in jail on terrorism charges after a trial denounced as hasty and unfair by the United Nations human rights chief.
In its ruling on Thursday, the Supreme Court said it found that prosecutors and judges had been unduly influenced "to conduct politically motivated investigations" into the allegations levelled at Nasheed, former vice president Ahmed Adeeb and the other opposition leaders who had challenged President Abdulla Yameen. It ordered fresh investigations and trials to be held.
It also nullified a ruling in which 12 legislators lost their parliamentary seats for defecting last July from Yameen's ruling party. Yameen lost his majority in the 85-member legislature after the defections. Ibrahim Hussain Shihab, a spokesman for the President's Office, said in a statement that the government had questions about the ruling but would comply with it.
"The Administration will work to engage, and consult with, the Supreme Court in order to comply with the ruling in line with proper procedure and the rule of law." Attorney General Mohamed Anil said however that Yameen had dismissed the chief of police following the ruling after he had been unable to reach him to ensure law and order. After the ruling, hundreds of opposition supporters cheered and waved national flags outside the main opposition Maldivian Democratic Party (MDP) campaign centre. Islamic prayers were also recited at the opposition rally, and people chanted: "The government is over."
Maldives police said their commissioner – prior to his sacking by Yameen – and deputy commissioner had decided to enforce the ruling after seeking legal advice. "Police have started work to enforce the ruling," they said on Twitter. President Yameen's official website said the defence minister had called on the Maldivian people to put on a united front and work together to maintain peace and stability. U.S. Ambassador for Maldives Atul Keshap welcomed the Supreme Court decision. "I urge the government and security services to respect this ruling, which bolsters democracy and rule of law all Maldivians," Keshap tweeted.
Nasheed, who has been in exile in the United Kingdom but wants to contest a presidential poll this year, had sought U.N. help to restore his political rights. The joint opposition in a statement welcomed the rulings and called for the immediate resignation of President Yameen. "The Supreme Court's verdict effectively ends President Yameen's authoritarian rule," it said in a statement.
Source: indianexpress.com/article/world/maldives-supreme-court-orders-release-for-former-president-mohamed-nasheed-5048290/
-----
After Indira ruling, PAS wants Shariah courts open to non-Muslims
February 1, 2018
KUALA LUMPUR, Feb 1 ― Shariah Courts should be opened for non-Muslims as well so that they can claim their right according to Islamic guidelines, PAS' legal and human rights bureau chief Datuk Mohamed Fadzli Hassan said today.
The Kelantan state executive councillor said that Islamic law has been proven to excel over the ages and will be "beneficial" for non-Muslims as well.
"We believe the time has come to open Shariah Courts for non-Muslims as well so that they can claim their rights according to Islamic guidelines," he said in a statement.
Currently, Shariah courts nationwide have no jurisdiction over non-Muslims.
Mohamed Fadzli's remarks follows a landmark judgment earlier this week in which a five-judge panel at the Federal Court unanimously ruled that unilateral conversions are unlawful.
The same panel of judges also ruled that matters heard in the Shariah courts are not beyond the jurisdiction of the civil courts.
Mohamed Fadzli said that the apex court ruling that also annulled the unilateral conversion of Hindu mother M. Indira Gandhi's three children to Islam, is a "wake-up call" to strengthen the Shariah courts in the country.
"This ruling can be seen positively as a wake-up call to strengthen relevant Shariah enactments," he said, referring to the legality with which the Federal Court nullified the conversions due to a lack of safeguards in the Perak Shariah enactments regarding the conversion of minors.
"Religious authorities in every state should update their enactments so they can protect the interest of Muslims while protecting non-Muslims at the same time," he added.
He also said that the court might have reached a different verdict if another similar case were to be taken to court in future, and as such, proposed a special mechanism to hear such cases while protecting national harmony.
Full report at:
http://www.themalaymailonline.com/malaysia/article/after-indira-ruling-pas-wants-shariah-courts-open-to-non-muslims#i9V6RAmouguJM3OL.97
--------
Report: Spanish terror suspect sought to meet Malaysian jihadist
February 2, 2018
PETALING JAYA, Feb 2 — Suspected Spanish terrorist Abdelhakim Labidi Adib was trying to link up with Malaysian extremist Amin Bacho before the former's arrest by the Philippine army according to The Star.
Citing an anonymous intelligence source, the newspaper reported that Abdelhakim was hoping to learn bomb-making techniques from Amin.
"We believe the Spaniard could not meet Amin, who has been constantly on the move after escaping from Marawi City siege late last year," said the source, who also believed Abdelhakim wished to enlist with the militants group responsible for the siege of Marawi City.
Amin is believed to be alternating between the Abu Sayyaf stronghold on Basilan island and Jolo island in the southern Philippines.
The Sabah native is a member of the Darul Islam Sabah militant group seeking to establish an Islamic caliphate in Southern Philippines.
Because of the group's shared belief with Abu Sayyaf, both joined forces and subsequently pledge allegiance to the Islamic State.
Abdelhakim, a Spanish citizen of Tunisian descent, was caught by the Philippines army in a roadside checkpoint on January 24 on Basilan island.
Full report at:
http://www.themalaymailonline.com/malaysia/article/report-spanish-terror-suspect-sought-to-meet-malaysian-jihadist#HyUA75trTYzc8OFP.97
--------
US Judge Blocks Deportation of Indonesian Christians
February 01, 2018
A federal judge has again blocked the Trump administration from deporting about 50 illegal Indonesian Christian immigrants who say they could face violence if sent back to Muslim-majority Indonesia.
In Boston Thursday, Judge Patti Saris ruled the Indonesians need more time to make their cases.
She said under U.S. immigration rules, they could be deported even before their cases are heard.
"Under this Kafkaesque procedure, they would be removed back to the very country where they fear persecution and torture while awaiting a decision on whether they should be subject to removal because of their fears of persecution and torture," Saris wrote.
Saris issued an injuction in November allowing them to stay.
The Indonesians are living in New Hampshire. Some have been in the United States for more than 20 years.
Immigration authorities have always allowed them to stay as long as they reported regularly to Immigration and Customs Enforcement agents.
Full report at:
https://www.voanews.com/a/us-judge-blocks-deportation-of-indonesian-christians/4235854.html
--------
Arab World
Syrian government slams Turkish offensive in Afrin as 'occupation'
1 February 2018
The Syrian government described on Thursday a Turkish offensive in Syria's Afrin region as an illegal "aggression" and said it would deal with it accordingly.
"The Turkish military operation in northern Syria is a blatant aggression," said a foreign ministry statement circulated on state media. The unauthorized presence of foreign forces represents "occupation and will be dealt with on this basis", it said.
Turkey launched an air and ground offensive last month against Kurdish fighters who control the northwest Syrian region of Afrin on the Turkish border, opening a new front in Syria's multi-sided war.
https://english.alarabiya.net/en/News/middle-east/2018/02/01/Syrian-government-slams-Turkish-offensive-in-Afrin-as-occupation-.html
--------
US may use force after Syria found to have developed new chemical weapon
1 February 2018
The Trump administration says that they reserve right to take military action against the Syrian government if needed to prevent or deter use of chemical weapons.
Senior officials said that the recent chemical attacks in Syria suggest Assad's forces may be developing new weapons
The characteristics of recent alleged attacks suggest Syria is producing chemical weapons despite a 2013 deal to destroy its program.
The officials say it's "highly likely" that Syria kept a stockpile of weapons.
The officials also say Syria may be making new kinds of weapons, either to improve their military capability or to escape international accountability.
The officials also say the Islamic State group keeps using chemical weapons such as sulfur mustard and chlorine. The officials say the militants are using shells or improvised explosive devices to deliver the chemicals.
Full report at:
https://english.alarabiya.net/en/News/middle-east/2018/02/01/US-may-use-force-after-Syria-found-to-have-developed-new-chemical-weapons-.html
--------
Several Civilians Killed in US Airstrikes in Deir Ezzur
Feb 01, 2018
Local sources in Southeastern Deir Ezzur confirmed on Thursday that the coalition airstrikes targeted the town of Hajin, killing 2 civilians and wounding 12 others.
The sources in Southeastern Deir Ezzur had also reported on Wednesday that a number of civilians were killed or wounded in the US-led collation airstrikes.
The sources said that the US fighter jets conducted heavy bombardment on the village of al-Bahara in Eastern Deir Ezzur, killing three civilians and wounding several more.
Field reports said that some of the injured are in critical condition.
http://en.farsnews.com/newstext.aspx?nn=13961112000553
--------
Militant shelling kills 7 civilians in Damascus district
Feb 1, 2018
At least seven civilians have been killed and 13 others wounded in militant shelling on a neighborhood of the Syrian capital, Damascus.
A source at Damascus Police Command told Syria's official SANA news agency that the casualties came on Thursday when militants fired rockets at the Damascus district of Esh al-Warwar district.
Earlier on Thursday, the armed groups in Syria's Eastern Ghouta region near the capital fired 17 rocket shells on the Harasta residential suburb, causing damage to civilian properties.
The Syrian army forces launched a retaliatory attack and destroyed the militants' rocket launchers.
Damascus has seen a spike in terrorist attacks in recent weeks from nearby regions held by anti-Damascus elements. The increased attacks come as government forces have intensified their campaign to regain control of those areas.
On January 22, nine people lost their lives and 21 others were injured when mortar shells fired by militants positioned in the Eastern Ghouta region struck the Damascus' predominantly Christian neighborhood of Bab Touma.
Four hurt in Syria retaliatory attack
Separately on Thursday, four Turkish people sustained injuries in rocket attacks apparently launched by Kurdish militants in Syria in retaliation for Turkey's recent military campaign on the Arab country.
Mehmet Tekinarslan, the governor of Turkey's southern Kilis Province, said two rockets hit a restaurant and a house in the center of Kilis.
Turkish security forces cordoned off the area and ambulances arrived on the scene to evacuate those wounded in the incident.
Full report at:
http://www.presstv.com/Detail/2018/02/01/550955/Syria-Damascus-Eastern-Ghouta
--------
Syrian Army Units Win Back Over 65sq/km of Idlib
Feb 01, 2018
The army soldiers engaged in clashes with al-Nusra Front (Tahrir al-Sham Hay'at or the Levant Liberation Board) terrorists in the North of Abu al-Dhohour airbase on Thursday, taking back control of al-Tawim farms, al-Waqoud hills, the strategic al-Sultan hill, Tal Kalbeh regions and the village of Abu Khashriyeh in Eastern Idlib.
Meantime, the Syrian air force launched heavy airstrikes against the terrorists' positions and moves in the areas of clashes, killing a number of terrorists.
A field source also confirmed the Syrian army's control over more than 15 regions, adding that they have won back areas covering over 65sq/km of land.
In a relevant development on Wednesday, the Syrian army troops captured more regions near the newly-freed Abu al-Dhohour airbase in Southeastern Idlib after heavy fighting with Al-Nusra Front.
The army men stormed the positions of Al-Nusra positions West of Abu al-Dhohour airbase and imposed control over the villages of Albaraqisi, al-Zahbiyeh, al-Salehiyeh, Tawil al-Halib, Tal Khatra, Maqara Mazra'a and al-Sukariyah.
The army soldiers further advanced and won back the Air-defense Unit Base near Abu al-Dhohour airbase West of Tawil al-Halib.
Full report at:
http://en.farsnews.com/newstext.aspx?nn=13961112000615
--------
Tens of Ankara-Backed Forces, Militants Killed in Afrin
Feb 01, 2018
The Kurdish-language Hawar news reported on Thursday that the Kurds launched operations against the Turkish army and its affiliated militants in areas near the villages of Boukeh and Ali Kari in Bolboleh region on the 12th day of the Afrin battle, killing 15 Turkish army forces and its supported militants and wounding a number of others.
The news outlet also confirmed that 3 Turkey-backed militants and army men were killed during the Kurdish forces' operations in the village of Khalil in Shiyeh region.
Meantime, 3 Turkish army military vehicles were destroyed in the Kurdish operation in the village of Shangal in Rajou region. All soldiers in the vehicles have reportedly been killed.
Turkish Defense Minister Nurettin Canikli said on Wednesday that nearly 30 Turkish soldiers were killed in Ankara's Operation Olive Branch against Kurdish militias in Afrin region in Northwestern Aleppo.
The Arabic-language website of Sputnik quoted Canikli as saying that 29 Turkish army forces have been killed in Operation Olive Branch against the Kurds in Afrin region.
Full report at:
http://en.farsnews.com/newstext.aspx?nn=13961112000459
--------
Syrian Democratic Forces: 15 Turkish troops killed in attack north of Afrin
1 February 2018
The Syrian Democratic Forces' media center said its members carried out an attack against Turkish troops in the town of Buki, north of Afrin, and killed 15 soldiers and injured others.
It added that they launched another attack on the town of Khalil and killed at least three Turkish soldiers and destroyed two vehicles loaded with explosives.
Neither Turkey nor any other Syrian opposition group confirmed these reports. Meanwhile, Turkish fighters shelled the People's Protection Units in Dermak Mountain in Afrin, the Anadolu Agency reported.
Full report at:
https://english.alarabiya.net/en/News/middle-east/2018/02/01/Syrian-Democratic-Forces-15-Turkish-troops-killed-in-attack-north-of-Afrin.html
--------
Syrian opposition to work with Sochi proposal 'under UN auspices'
2 February 2018
JEDDAH: The Syrian opposition's High Negotiations Committee (HNC) said on Thursday it is ready to back a Russian-brokered constitutional reform initiative for Syria, so long as it is led by the UN.
Yahya Al-Aridi, opposition spokesman, told Arab News: "Russia can't be trusted. We had a horrible experience with Russia in Astana. Promises were given and broken. But Russia cannot run away from UN Security Council resolutions, however it tries. These resolutions need to be implemented. And there is international legality that Russia should abide by."
Nasr Al-Hariri, who heads the committee that represents the Syrian opposition in UN talks with the regime, said any constitutional committee must be formed at the UN, and include representation from his group.
Al-Aridi said the issue of representation should be entrusted in the hands of Staffan de Mistura, UN special envoy for Syria, "who is supervised by UN resolutions, in addition to the participation of the parties concerned and mentioned in UN Resolution 2254."
Al-Hariri spoke in Istanbul at a press conference on Thursday, two days after Russia convened its Syria Congress for National Dialogue in Sochi. The HNC boycotted the congress, saying it would not lead to peace. Russia is a key ally of the Syrian regime.
Syrian state media, a mouthpiece of President Bashar Assad, said the regime will have two-thirds of the representation on the committee.
Al-Aridi said: "The regime doesn't want two-thirds. Even if it were to be given the whole representation, it is not ready to get into this." But, said Al-Aridi, the power of the UN Security Council would ensure the regime complies.
Al-Hariri said the HNC would not accept having a committee appointed at Sochi.
Al-Aridi said the opposition had no doubt that "the regime would continue to play games and to try as hard as it can to detach itself from the political process."
However, when it was in the hands of the UN and its special envoy, there were certain guarantees, he said. "The UN envoy has, as we understand, got the consent of the Russians who came out of the negotiations in Vienna and Sochi."
Meanwhile, the UN humanitarian adviser said a humanitarian task force has been unable to make deliveries to desperate Syrians for the past two months as the Assad regime has withheld approval for UN aid convoys.
Before they can move into besieged areas or across front lines, the convoys require letters from the regime and security guarantees from armed groups.
"It's an all-time low in giving us the facilitation letters," adviser Jan Egeland told reporters after meeting senior diplomats in Geneva.
Insurgents fighting Assad's forces were also creating obstacles, contributing to the worst situation since 2015, he said.
Egeland called on Russia, Turkey and Iran to de-escalate the fighting in Idlib governorate, which he said was "screaming for a cease-fire."
In another development, Syria has complained to the UN about the Turkish offensive on a Kurdish enclave in its northwestern region, calling it a "blatant aggression" and a violation of the international organization's charter.
In a letter to the UN published on Thursday, Syria's Foreign Ministry said any foreign troops' presence on its land without its approval is "an aggression and an occupation that will be treated accordingly." It didn't elaborate.
Full report at:
http://www.arabnews.com/node/1237921/middle-east
--------
Mideast
Kurdish Pastor: Turkey Bigger Threat to Israel than Iran
02-01-2018
JERUSALEM, Israel – A Kurdish pastor is issuing a wake-up call to Israel and the West: Turkey, not Iran, is Israel's biggest threat, and Turkey is aiming to take over Kurdish controlled areas of Iraq.
In a letter to CBN News detailing the Turkish-led siege on the Kurds in northern Syria, Pastor Majeed Mohammed, formerly with the Kurdsman Church in Erbil, says while Iran has not hidden its agenda against Israel, Turkey's Islamist President Recep Tayyip Erdogan is the bigger enemy.
Erdogan is preparing the way for the rebirth of the Islamic caliphate by rallying the 'Islamic brotherhood' to surround the Jewish state and destroy it. That eventuality would be pleasing to the Muslim world, Erdogan says.
Majeed, who is now living abroad, says there are many Christians in Afrin who are crying out for help.
The West, he pleads, must wake up to the Turkish siege against Afrin and other Kurdish cities in Syria and Iraq before he succeeds in extending the Shiite crescent along northern Iraq to the Mediterranean Sea.
Erdogan has mobilized radical Islamic militias to attack the Kurdish population in northern Syria. He is using Russian-manufactured tanks, airstrikes, and cluster bombs against civilians.
Majeed says thousands of mosques in and out of Turkey have joined Erdogan's call to wipe out the Kurds, while the West and the US have been largely silent.
Turkey's Islamist president has armed, trained and equipped these militias inside Syria, he writes, listing several by name and a description.
• The Sultan Murad Brigade, which gets its full financial, logistical and military support from Turkey and is training fighters there and in Syria
• The Hamza Squad, also trained in Turkey, which conquered Jarablus – a Syrian city on the western bank of the Euphrates River – last year
• The al-Sham Legion, established in Syria in 2014, made up of 19 Islamic terror groups, including Suqoor al-Jabal Brigade
• The Noor-aldeen movement, one of the most dangerous jihadist groups in Syria, was the first to begin slaughtering children
In the weekly sermons on Fridays – the Muslim day of prayer – mosques in Turkey, Sudan, Libya, Kuwait, Qatar, Egypt, Syria, and Lebanon, among others, have been asking Allah to prosper their new Sultan, Erdogan, and the caliphate he will head. According to Majeed, their prayer is based on a portion in the Koran.
Pastor Majeed says the facts on the ground prove two realities:
• Erdogan envisions himself as head of the "last caliphate of Islam" and is bent on redrawing the map of the Middle East. He's against stabilization in the region and sees his role as using jihadists to prove he is "the only one who understands, feels, acts, initiates and supports" the Middle East – not Russia, the United States or the international community.
• Majeed believes Erdogan's lack of success (through NATO) of being a "European member" has refocused him on extending his power throughout the Middle East. The Kurds are the only "stumbling stone" to achieving his goal. By accusing them of being infidels and attacking them, he's justifying his own aggression and providing a path to mobilize Islamic militias everywhere to unite against the Kurds. The fact that some of these militias have been trained by international allies and are members of the international coalition complicates the situation even further, he explains.
"How does the United States permit such violence against an ally who stood and fought beside US soldiers shoulder to shoulder and respected what the Americans suggested on the ground in Syria?" he asks.
Middle East expert Jonathan Spyer agrees that the implications of a Turkish takeover in Afrin "are quite grave."
"The Kurds are fighting very hard, but probably in the course of the coming days and weeks, the Turks will push forward and the implications of it are quite grave," Spyer told CBN News.
"I mean there's a large Kurdish population in there. The Turks are operating with some pretty dangerous Salafi jihadi Islamist fighters, Syrian rebel fighters on the ground in cooperation with them. There's been aerial bombings on civilians, there's been a number of civilians killed," Spyer said.
"The implications are bad from a humanitarian point of view. From a political point of view they're quite grave as well," he said.
"Let's remember that the Syrian Kurds are currently partners of the United States in Syria. You know they're the people who fought ISIS together with US air power, special forces over the last two years successfully. And there are towns further east where US personnel are present in cooperation with them. And the Turks have named those towns as places they want to conquer too and have warned the Americans to get their forces out of those areas," he added.
"So the potential for at least a clash of words and maybe even something worse between the US and its so-called NATO ally, the Republic of Turkey, are becoming more and more real by the day," Spyer concluded.
Majeed says the silence of the free world has spurred Erdogan on to try every way to conquer Afrin. They have barbarically murdered anyone they've captured, bombed hospitals and schools, while snipers target the innocent – old and young alike, shouting Allahu Akbar (Allah is greater than all).
"Erdogan is that man who must be stopped and judged for his tremendous crimes against humanity in [and] outside Turkey as soon as possible," he concludes.
https://www1.cbn.com/cbnnews/israel/2018/february/kurdish-pastor-turkey-bigger-threat-to-israel-than-iran
--------
Turkish Army Occupies Several Regions in Afrin
Feb 01, 2018
Field sources affiliated to the militants backed by Ankara reported that they have taken control of the villages of Korni and Shangal and the adjacent hills during clashes against Kurds in Rajou front in Afrin.
They also claimed control over the village of Bak Ubasi near Shangal.
Meantime, the Kurdish forces said that the Turkish army and its affiliated militants' attack on the village of Hamam in Jandariseh region has been foiled and they were forced to withdraw.
In a relevant development on Wednesday, the Turkish army troops and their allied militants continued Operation Olive Branch against Kurds in Afrin region in Northwestern Aleppo and captured three more villages.
Dissident-affiliated sources reported that forces of the Operation Olive Branch managed to capture the villages of Sati Yushaqin East of Syriatel hill in Rajou region after heavy fighting with the Kurdish fighters.
The sources further claimed that the Turkish soldiers and allied militants pushed the Kurds away from the villages of al-Khalil and al-Hanah (Zaten).
Full report at:
http://en.farsnews.com/newstext.aspx?nn=13961112000378
--------
Arab Coalition says they have no self-interest in Yemen, sole aim is stability
1 February 2018
A high-ranking military delegation from Saudi Arabia and the UAE arrived in Aden to enforce the Arab Coalition's calls for a ceasefire between the warring sides.
The delegation's leaders met with concerned parties, reiterating the importance of maintaining the ceasefire and peace in Aden, and to focus on ridding Yemen of the Iran-backed Houthi militia.
In a joint statement, the delegation stressed that Saudi Arabia and the UAE have no personal interest in Yemen, and that the main objective is the political and social stability of the country. This is why putting a halt to the fighting is important as the current situation is a disservice to the coalition's mission of liberating Yemen.
They added that the UAE and Saudi Arabia are a united front and have the same goal which is for Yemen to remain a stable, peaceful and legitimate country, able to develop and flourish.
Full report at:
https://english.alarabiya.net/en/News/gulf/2018/02/01/Saudi-Emirati-military-delegation-arrives-in-Aden-to-reinforce-ceasefire.html
--------
Yemeni retaliatory attacks leave five Saudi soldiers dead
Feb 1, 2018
At least five Saudi soldiers have been killed when Yemeni army soldiers and fighters from allied Popular Committees launched separate attacks in Saudi Arabia's southwestern border region of Jizan as they continue their retaliatory raids against the Riyadh regime's aerial bombardment campaign.
A Yemeni military source, speaking on condition of anonymity, told Arabic-language al-Masirah television network that Yemeni forces and their allies fatally shot the soldiers in Hamezah village, al-Farizeh military base, and near another village called Quwa on Thursday evening.
The source added that Yemeni sources also sprayed a Saudi military vehicle with machine gun fire in Hamezah village.
Yemeni army soldiers and Popular Committees fighters also fired a salvo of artillery rounds at a gathering of Saudi forces in Qais Mountain and al-Haskoul base in Jizan. There were no immediate reports on the number of possible causalities and the extent of damage caused.
Separately, Yemeni artillery units targeted a Saudi battle tank in al-Sadis military base of the kingdom's Najran region, located 844 kilometers (524 miles) south of the capital Riyadh.
Moreover, Saudi military aircraft carried out four airstrikes against Harf Sufyan district of Yemen's northwestern province of Amran, with no reports of casualties immediately available.
Saudi fighter jets also launched two aerial attacks against Haydan and Saqayn districts in the northwestern Yemeni province of Sa'ada, though no casualties have so far been reported.
At least 13,600 people have been killed since the onset of Saudi Arabia's military campaign against Yemen in 2015. Much of the country's infrastructure, including hospitals, schools and factories, has been reduced to rubble due to the war.
The Saudi-led war has also triggered a deadly cholera epidemic across Yemen.
According to the World Health Organization's latest tally, the cholera outbreak has killed 2,167 people since the end of April 2017 and is suspected to have infected 841,906.
In November 2017, the United Nations children's agency, UNICEF, said more than 11 million children in Yemen were in acute need of aid, stressing that it was estimated that every 10 minutes a child died of a preventable disease there.
Additionally, the UN has described the current level of hunger in Yemen as "unprecedented," emphasizing that 17 million people were food insecure in the country.
Full report at:
http://www.presstv.com/Detail/2018/02/01/550964/Yemen-attacks-Saudi-soldiers-dead
--------
Arab League calls for UN-backed 'multilateral' push for peace in Palestine
Feb 1, 2018
The Arab League has called for the US-brokered efforts to resolve the Israeli-Palestinian conflict to be replaced by a "multilateral mechanism" that is also backed by the United Nations, after US President Donald Trump undermined the process by recognizing Jerusalem al-Quds as Israel's capital.
In a statement at the end of their two-day session in the Egyptian capital Cairo to discuss Trump's declaration, Arab foreign ministers said Thursday that it was time for the "creation of an international and multilateral mechanism under the aegis of the United Nations to sponsor the peace process."
Ahmed Aboul Gheit, the head of the organization, told a media briefing that the peace process should no longer remain "within the hands" of only one faction.
Palestinians hope the eastern parts of Jerusalem al-Quds would become the capital of a fully sovereign and independent Palestine.
Ever since Trump's announcement in early December, Palestine has frozen ties with his administration. Palestinian President Mahmoud Abbas has said that his side would no longer accept Washington as a mediator.
Doubling down on that position, Palestinian Foreign Minister Riyad al-Maliki told reporters following the Thursday session that the "old mechanism has ceased to exist and is history."
"It will not bother us should the United States be part of the (new) mechanism," the diplomat added.
US aid cut
Earlier, the Arab officials slammed a decision by Trump to cut US funding for UNRWA, a UN agency that helps Palestinian refugees and is funded almost entirely by voluntary contributions from UN member states.
Days after his controversial decision, Trump said he would withhold some $65 million of the $125 million in aid Washington had earmarked for the new year unless the Palestinian Authority agreed to continue the so-called peace talks with Israel.
"It is no secret that this trend poses a threat to the refugee issue... as well as the negative consequences that will not only affect the receiving countries of refugees, but also the stability and security of the region," Aboul Gheit said.
Full report at:
http://www.presstv.com/Detail/2018/02/01/550966/Arab-League-Cairo-Palestine-Trump-Quds-Gheit-Riyad-Maliki
--------
Turkey says France 'cannot give lessons' over Syria
February 02, 2018
ISTANBUL - Turkey on Thursday told France to stop lecturing it over its campaign in Syria, where Ankara is pressing a fierce offensive against a Kurdish militia.
The warning from Foreign Minister Mevlut Cavusoglu came a day after French President Emmanuel Macron told Ankara it would be a "real problem" if its intervention turned into an outright "invasion".
"France cannot give us lessons on this issue," Cavusoglu told reporters in televised comments.
"We are not France , which occupied Africa," he said referring to France 's colonial past.
Turkey launched an offensive on January 20 against the Kurdish People's Protection Units (YPG) and last week President Recep Tayyip Erdogan threatened to expand the operation, hiking tensions with its NATO allies. Turkey says the YPG is a terror organisation allied to the outlawed Kurdistan Workers' Party (PKK). But Washington has backed the YPG as a key secular ally in the fight against the Islamic State group.
Cavusoglu said European leaders had initially expressed support for Turkey 's campaign in Syria during talks with Ankara, but that they appeared to have changed their stance in public comments.
"Unfortunately Europeans are two-faced," he remarked. Reacting to Macron's remarks, Turkish Prime Minister Binali Yildirim said that any suggestion that Ankara had broader designs in Syria, beyond pushing the YPG back from the border, was "totally wrong". "The whole world knows, or should know, that Turkey is not engaged in an invasion," he said on Wednesday. Earlier in the week, Macron had also angered Ankara by pledging to observe a "Day of Remembrance of the (Armenian) genocide" in talks with Armenian groups in France .
Many historians and Western nations consider the World War I-era mass killings and deportation of up to 1.5 million Armenians under the Ottoman Empire a genocide - a term forcefully rejected by Turkey .
Three Turkish soldiers killed in
PKK attacks in Iraq, Turkey
Three Turkish soldiers were killed on Thursday in two separate attacks by Kurdish militants in northern Iraq and in southeastern Turkey , the military said.
Two other soldiers were wounded after the attack by the "separatist terrorist organisation" - Turkey 's official term for the outlawed Kurdistan Workers' Party (PKK) in northern Iraq, the army said in a statement.
The PKK is blacklisted as a terror organisation by Ankara and its Western allies.
Meanwhile, in an earlier attack, one soldier was killed and five were wounded after an attack near a military base in the Cukurca district of Hakkari province.
Earlier Turkish media reported two Turkish soldiers were killed in an attack in Hakkari's Semdinli district - which appeared to be a separate incident - blamed on the PKK launching a missile from northern Iraq. But the army did not refer to this attack in its statements. The deaths come a day after the army said one Turkish soldier was killed in an attack in the eastern province of Agri.
Strikes kill 20 civilians in north
At least 20 civilians were killed Thursday in Syrian government air strikes on rebel-held territory in the country's north, a war monitor said.
Elsewhere three children were reported killed in artillery strikes on rebel-held Eastern Ghouta, while state news agency SANA said seven people died in apparent retaliatory shelling of nearby government-held Damascus.
The aerial bombardments in the north pounded several areas in the provinces of Aleppo and Idlib, where government troops are waging a Russian-backed assault against rebels and jihadists.
"Regime raids hit two villages in the south of Aleppo province, killing 15 civilians," said Rami Abdel Rahman, head of Syrian Observatory for Human Rights.
In the neighbouring province of Idlib, government air strikes killed five civilians in the town of Saraqeb, said the Observatory, a Britain-based war monitor.
That broad region is held by Hayat Tahrir al-Sham (HTS), which is dominated by Al-Qaeda's one-time affiliate in Syria.
Syrian government troops launched a ferocious offensive in late December to retake parts of Idlib and secure a key road leading from Aleppo south to the capital.
Regime forces have made key gains, recapturing the Abu Duhur military airport and dozens of nearby villages.
Since it erupted in 2011, Syria's conflict has morphed from a protest movement into a brutal and complex war that has left 340,000 people dead.
In an attempt to bring an end to the fighting, backers of opposing sides last year agreed to four "de-escalation" zones in the country.
Idlib makes up part of one zone. The other three are in Syria's south, the central province of Homs, and the area of Eastern Ghouta, an opposition enclave near Damascus.
The area has been besieged by government troops since 2013 and is home to around 400,000 people living a humanitarian nightmare.
US not ruling out military strikes after new chemical attacks
The United States is not ruling out fresh military action against the Syrian regime as Washington dials up pressure in a bid to stop sustained chemical weapons attacks, senior administration officials said Thursday.
In the wake of suspected sarin and chlorine attacks - including one unconfirmed attack in the rebel-held town of Douma on Thursday - Washington said it wants to send a message to Bashar al-Assad's regime and its Russian backers that enough is enough.
"The Assad regime and ISIS continue to use chemical weapons," one senior official said. "They just continue to commit really unspeakable atrocities."
A second official told AFP that military options against Damascus similar to those launched in April 2017 were always on the table and "always feasible."
Full report at:
https://nation.com.pk/02-Feb-2018/turkey-says-france-cannot-give-lessons-over-syria
--------
Lebanon will pay for Iran ties in next Israel war: Lieberman
Feb 1, 2018
The Israeli minister of military affairs has renewed the threat of a new war against Lebanon, saying Beirut would "pay the full price" for its ties with Tehran in such a military offensive.
Speaking at an event on Wednesday, Avider Lieberman accused Lebanon and the resistance movement Hezbollah of "subjugating fully to Iran," warning that as a result, all of Lebanon will be fair game in a future war.
"Lebanon's army and Hezbollah are the same — they will all pay the full price in the event of an escalation," Lieberman said, adding that "If a conflict does break out in the north, 'boots on the ground' remains an option."
"If people in Tel Aviv will be in bomb shelters, all of Beirut will be in bomb shelters," Lieberman said, referring to the 2006 Israeli war against Lebanon, during which dozens of Israelis were killed in retaliatory attacks along the northern border with Lebanon.
Hezbollah is Lebanon's de facto military power, and has been fighting off, alongside the national army, recurrent acts of Israeli aggression against the homeland.
Lebanon has repeatedly praised Hezbollah's key role in the war against terrorism, with President Michel Aoun defending the resistance movement's possession of arms as essential to Lebanon's security.
Over the past months, Israeli officials have threatened another war on Lebanon.
The resistance movement has repeatedly warned that any Israeli act of aggression would be met with a crushing response.
Hezbollah has also been helping Syria's national army in its fight against terrorists to prevent the spillover of the crisis in the neighboring country into Lebanon.
Takfiri groups such as Daesh and al-Nusra have never attacked Israel despite operating close to Syria's borders with the occupied Palestinian territories over the past three years.
In April, Israel's former minister of military affairs, Moshe Ya'alon, admitted to a tacit alliance with Daesh, saying the Takfiri group had "immediately apologized" to Tel Aviv after firing "once" into Israel.
In September 2016, Israeli lawmaker Akram Hasson criticized Israel for supporting terrorists in Syria, saying that the Fateh al-Sham terrorist group was operating with "unprecedented logistical and medical" support from Tel Aviv.
Israeli media reported in December that senior US and Israeli officials had secretly met in Washington to hammer out a deal on confronting Iran on several fronts.
The two sides reportedly agreed on forming joint teams to combat Iran in the Middle East region.
According to the report, one of the teams would try to curb Iran's influence in Syria and work to block Tehran's support for Hezbollah.
Recent reports also say Israel also mulls a similar anti-Iran alliance with Saudi Arabia. To that effect, the two sides are even working behind the scenes to make their covert ties public and establish formal relations.
In November 2017, Hezbollah Secretary General Sayyed Hassan Nasrallah said Saudi Arabia has appealed to the Israeli regime to launch a military onslaught against Lebanon in the name of fighting Hezbollah, and is ready to spend billions of dollars to attain this objective.
"Saudi wants to destroy Lebanon under the pretext of combating Hezbollah. It was the main architect of Israel's war on Lebanon in the summer of 2006," he pointed out.
He made the comments in response to an attempt by the regime in Riyadh to coerce Lebanese Prime Minister Saad Hariri into stepping down over his refusal to take a confrontational approach against Hezbollah and Iran.
Last November, Hariri declared his surprise resignation from a location in Riyadh, fueling strong beliefs at home and abroad that he had been forced to quit by the Riyadh regime in an attempt to pressure Hezbollah.
Full report at:
http://www.presstv.com/Detail/2018/02/01/550913/Israel-Liberman-Lebanon-war-Hezbollah-Iran
--------
North America
American 'Islamic State Fighter' Case Challenges Trump
2018-02-01
Washington – The first and only US citizen caught on the battlefield allegedly fighting for the Islamic State is in a legal limbo, held in Iraq without rights as Washington grapples with his fate.
Identified in court papers as "John Doe", the man has been held for nearly five months, the military allowing him access to legal advice only after being forced to do so by a federal judge in Washington DC.
He was born in the United States but also has Saudi nationality, and the government has maintained the right to transfer him to another country, presumably Saudi Arabia.
It would be one way – highly illegal according to rights lawyers – to handle a fundamental dilemma for US President Donald Trump, a test case challenging his pledge to be tough on any captured Islamic State supporters and his commitment to US law.
Between 100 to 200 US nationals travelled to Syria and Iraq after 2010 to work and fight in their ranks, according to various estimates.
A handful are known killed, but the number isn't clear: The US has not provided any data.
'Enemy fighter'
John Doe is the only one known captured alive. On September 14 the Pentagon confirmed that they were holding a US citizen who had been fighting for the Islamic State group and surrendered to the allied Syrian Democratic Forces in Syria days earlier.
He was moved to Iraq where he has been interrogated by military and FBI investigators.
US forces allowed the International Committee of the Red Cross to meet him, but since then have fought to prevent him from gaining legal representation and a hearing in US courts.
The American Civil Liberties Union filed suit to get access to the prisoner. The government refused to provide any information about him – his name, age, or origins.
They termed him an enemy fighter and claimed he showed no desire for legal representation.
Hearings on his status between September and January were surreal: Government lawyers argued he had never expressed the desire for legal representation, though they would not say if he had been asked; that the ACLU had no standing to represent him because they had not been requested; and that the ACLU could not represent the man because they did not know his identity.
In January the judge, Tanya Chutkan, rejected government arguments and ordered them to grant the ACLU access.
ACLU attorney Jonathan Hafetz said that since then they have had several video conferences, and are waiting for a full ruling on a habeas petition.
But meanwhile the government maintains it has an option to transfer him to another country, though never explaining why.
Fundamental rights
"He deserves the basic right of American citizens not to be rendered by their government to a foreign country in the dead of night without judicial review of the basis for their transfer," Hafetz told AFP in an interview.
"They cannot lawlessly transfer an American citizen to another government potentially as a way of defeating the habeas petition."
Hafetz said they now know his identity, but do not want to reveal it, since he has not been formally charged and the government has yet to provide any evidence that he had enlisted in the Islamic State cause.
"The label of enemy combatant is a terrible label, a stigmatizing label, and the government hasn't made any case that he's an enemy combatant."
It's not clear why the government refuses to hand him over to the US justice system, as other Americans accused of terror have been.
But analysts think the Trump administration wants to avoid the fundamental question of whether an American caught fighting for Islamic State has any rights.
They speculate Trump might want to send him to the Guantanamo prison for foreign "war on terror" detainees. On Tuesday Trump reversed an order by his predecessor Barack Obama to shut down Guantanamo, which still has 41 inmates.
Asked what their stance is, the Justice Department declined to answer.
"Our view is that if they want to detain an American citizen, there's only one option: they can charge him with a crime or they can release him," Hafetz said.
https://www.news24.com/World/News/american-islamic-state-fighter-case-challenges-trump-20180201
--------
Rise in hate crimes against S Asia, Arab communities in US
February 2, 2018
Washington, Feb 1 (PTI) A year after President Donald Trump won the election, there has been a substantial increase in hate violence against South Asian, Muslim, Sikh, Hindu, Middle Eastern, and Arab communities in the US, a report said today.
Between November 9, 2016 and November 7, 2017, the not- for-profit group South Asian Americans Living Together (SAALT) said in a report that it recorded 302 incidents of hate violence and xenophobic political rhetoric aimed at these communities.
This is an over 45 per cent increase from its previous analysis in just a year, SAALT said adding that this has not been seen since the year after the attacks of September 11, 2001.
This breaks down further into 213 incidents of hate violence and 89 instances of xenophobic political rhetoric ? of which 248, or an astounding 82 per cent, were motivated by anti-Muslim sentiment, it said.
One in five perpetrators of hate violence incidents referenced President Trump, a Trump policy, or a Trump campaign slogan, underlining a strong link between the presidents anti-Muslim agenda and hate violence post- election, SAALT said.
Suman Raghunathan, executive director of SAALT alleged that through its policies and rhetoric, the Trump administrations incessant demonisation of Islam has created an environment of hate and fear-mongering for Muslims and those perceived to be Muslim.
"Deadly shootings, torched mosques, vandalised homes and businesses, and young people harassed at school have animated an acutely violent post-election year. This administration must break eye contact with white supremacy if our nation is to live up to its highest ideals of religious freedom," Raghunathan said.
The report, among other things, underlines the way intersectionality informs hate - both the identities of victims targeted and the systems that criminalise communities.
Women who identify or are perceived as South Asian, Muslim, Sikh, Hindu, Middle Eastern, or Arab were the targets of attack in 28 per cent of the 213 documented hate incidents post-election, it said.
Of the 213 incidents of hate violence documented, one in five perpetrators invoked Trumps name, his administrations policies, or his campaign slogans during attacks, it claims.
Women who wear hijab or head scarves are particularly vulnerable, accounting for 63 per cent of the documented hate incidents targeting women.
The report discusses the intersection of immigration, racial profiling, surveillance, and criminal justice policies that compound against communities.
Full report at:
https://www.indiatoday.in/pti-feed/story/rise-in-hate-crimes-against-s-asia-arab-communities-in-us-1159981-2018-02-02
--------
Heritage committee calls for day of action on Islamophobia
Feb 01, 2018
A House of Commons committee wants Jan. 29 — the anniversary of a deadly mosque shooting in Quebec — declared a national day of remembrance and action on religious discrimination, including "Islamophobia."
The idea is the last of 30 recommendations being made by the Commons heritage committee in its report on tackling systemic racism and religious discrimination in Canada.
Other recommendations include creating national standards for reporting hate crimes, developing policy and research on racism, and boosting government support for cross-cultural programs.
The report stems from a controversial Liberal motion passed last year that called on the government to condemn Islamophobia and undertake the study.
The motion, known as M-103, sparked heated debate over the definition of Islamophobia — a term some equate with discrimination, but which others say is often used to silence legitimate criticism of Islam.
The Opposition Conservatives issued their own dissenting recommendations - one of which calls on the government to stop using the word entirely.
Prime Minister Justin Trudeau used it as recently as Monday, the one-year anniversary of the mosque shooting that left six people dead and 19 injured.
"We owe it to (the victims) to speak up and stand tall and explicitly against Islamophobia and discrimination in all its forms," Trudeau said in the House of Commons.
Day of remembrance
The committee's call to dedicate Jan. 29 as a day of remembrance and action on Islamophobia follows a similar pitch by the National Council of Canadian Muslims.
Quebec Premier Philippe Couillard has opposed the idea, but Trudeau has yet to explicitly rule it out.
In its report, the committee said all levels of government need to act to address issues of racism and religious discrimination.
"Systemic racism and religious discrimination affect Canadians in different ways. For a country as diverse as Canada, it became apparent that there cannot be a one-size-fits-all solution to these issues," the report concluded.
Full report at:
http://www.cbc.ca/news/politics/islamophobia-m103-heritage-committee-1.4515184
--------
M-103 report makes few recommendations about Islamophobia
February 1, 2018
OTTAWA — The report arising from the Liberals' anti-Islamophobia motion, M-103, was made public on Thursday, and calls for a national action plan on racism and religious discrimination, better data collection on hate crimes and cultural sensitivity training for law enforcement.
But the report, titled "Taking Action Against Systemic Racism and Religious Discrimination Including Islamophobia," makes almost no recommendations that specifically target Islamophobia, despite months of controversy over the use of the term in the motion tabled by Liberal MP Iqra Khalid in December 2016.
The report does recommend that Jan. 29 "be designated as a National Day of Remembrance and Action on Islamophobia, and other forms of religious discrimination," in response to requests from Muslim groups after six Muslim worshippers were killed in a Quebec City mosque shooting on Jan. 29, 2017. On the one-year anniversary of the attack, Prime Minister Justin Trudeau made a statement about the shooting and the importance of fighting Islamophobia, but did not declare the day a national day of action. Last week, the heritage department told the Post the government "has received and noted the proposal" from the National Council of Canadian Muslims.
Of the 30 recommendations, only one other specifically mentions Islamophobia, and only to say that the government should "actively condemn systemic racism and religious discrimination including Islamophobia."
The report does not recommend the creation of any new laws. M-103 itself is a motion, not a law.
The original motion, which called on the government to conduct a study and come up with an approach to eliminate racism and religious discrimination "including Islamophobia," generated a firestorm of controversy last year. Conservatives claimed the motion would restrict free speech because, they felt, the term Islamophobia is poorly defined. During committee hearings, several witnesses expressed concern that the motion would effectively stifle criticism of Islam.
But the recommendations outlined in the M-103 report target racism and religious discrimination in much broader terms. The report suggests the government should update the Canadian Action Plan Against Racism, published in 2005, and broaden it to include religious discrimination. Other recommendations call for the government to establish uniform guidelines and a national database for the collection of hate-crime data.
The report also recommends that federal, provincial and territorial governments take a closer look at the comparability of education and credentials obtained outside Canada, to combat employment barriers. Other recommendations call for more funding for research and for law enforcement to investigate Internet hate speech.
The report notes that the committee heard "differing views on the use of the term Islamophobia," but does not offer an accepted definition of the term.
In a dissenting report, the Conservatives cast doubt on the premise of the whole exercise, calling into question whether Canadians are actually living in an "increasing public climate of hate and fear," as the motion states. Their report suggests the per capita rate of hate crimes has declined since 2009.
The Conservatives also listed 26 different definitions of the term Islamophobia provided by different witnesses who appeared before the committee. "The concerns raised, regarding the dangers of an over-broad definition, or of attempting to condemn 'Islamophobia' without defining which thoughts and actions are thereby also being condemned, were widespread," reads the Conservative report.
In their own list of recommendations, the Conservatives called on the government to "cease using the term 'Islamophobia,'" and reiterate its support for freedom of speech and religion.
In an interview, Conservative MP David Anderson said communities and faith groups want to tackle issues of discrimination themselves, without government interference. "We don't need the government to be overseeing every part of Canadian life," he said. But he said the Conservatives agree with some of the report's recommendations, including the need for better data collection. "No one is denying that (discrimination) exists."
In a supplementary report, the New Democrats accused both Liberals and Conservatives of "political posturing" that diminished the committee's work to tackle racism and religious discrimination. The report argues the government should have been more open to changing the language of the motion to include "an agreed-upon definition" of Islamophobia, but that "partisan politicking" got in the way.
"People wanted to know, in the context of the motion, what the term Islamophobia meant and what was the intent behind it," NDP MP Jenny Kwan told the Post. "We could have all worked together to dampen the fear and the misinformation."
Kwan said it made sense to include the term Islamophobia in the motion, because of the documented rise in hate crimes against Muslims. She believes the parties could have come up with a definition of the term that would have let all parliamentarians agree unanimously to the motion. But in an attempt from Liberals and Conservatives to appear to be on opposite sides of the issue, she said, that didn't happen.
M-103 was passed by the Liberal majority last March, in the wake of the Quebec City mosque shooting. Throughout the hearings last fall, Liberal committee members frequently expressed frustration at the focus of some witnesses on the wording of the motion, and tried to steer the focus away from Islamophobia and onto racism and religious discrimination more broadly.
Full report at:
http://nationalpost.com/news/politics/m-103-report-makes-few-recommendations-about-islamophobia
--------
US raises concern over Iran-backed militia getting involved in Iraqi politics
1 February 2018
After Iraq's Prime Minister Haider al-Abadi unexpectedly announced a political alliance with one of the Popular Mobilization Forces' (PMF) militia leaders, Hadi al-Amiri, the US has raised concerns as the two sides were always seen as political enemies.
According to Foreign Policy magazine, just days earlier, both sides were exchanging heated accusations.
Although the proposed coalition dissolved soon after the announcement, the US still raised concerns at the possibility of PMF militia such as the Badr Organization getting involved in Iraq's politics, saying that they intend on destabilizing the central government, the magazine reported.
Many of the militia under the umbrella of PMF are Iran-backed which increased international fears of a growing Iranian influence in Iraq.
"I tend to see this through the lens of what I assume to be Iran's grand strategy for the region," Foreign Policy reported Ryan Crocker, the former US ambassador to Iraq saying. "You create, fund, organize, and train non-state actors that will follow your direction and not that of those ostensibly running the country."
Full report at:
https://english.alarabiya.net/en/News/world/2018/02/01/US-concerns-over-Iran-backed-militia-getting-involved-in-Iraqi-politics-elections.html
--------
Africa
Boko Haram Kills Five Loggers in North-Eastern Nigeria
Feb 1, 2018
Takfiri militants from the Boko Haram terrorist group have killed at least five loggers and injured some others in northeast Nigeria, local civilian militia says.
Ibrahim Liman, from the Civilian Joint Task Force (CJTF), said on Thursday that the attack took place on Tuesday in Ajeri village, which is located east of Maiduguri, the capital of Borno state.
"They came across nine Boko Haram gunmen in twos on three motorcycles who opened fire, killing five of the loggers," Liman said.
A second CJTF leader, Babakura Kolo, said that troops were attracted by the sound of gunfire, but the attackers fled before soldiers arrived on the scene. "The soldiers evacuated the five dead and the injured back to Dikwa along with 18 others who survived the attack."
News of the attack was slow to emerge, as nearly nine years of Boko Haram's insurgency has destroyed telecoms infrastructure in the remote region.
Loggers have been increasingly targeted in Borno state over the past years. Boko Haram suspects them of passing information to the military and the CJTF, which assists troops with security.
This is one of the latest attacks against civilians in the violence-hit region.
On Wednesday evening, two female bombers detonated their explosives in Mandarari village, near the Borno town of Konduga, 36 kilometers southeast of Maiduguri.
The explosion happened shortly after another bomber killed four and injured over 40 at a displaced persons' camp in Dalori, 22 kilometers away on the same road to Maiduguri.
A fourth bomber also detonated her explosives outside the camp.
Ahmed Satomi, the head of the Borno state emergency management agency, said both attacks were "clearly the work of Boko Haram."
"They are trying to hit back as a result of the pressure the military has exerted on them in the current military operations against them in Sambisa forest," he said.
In late 2016, Nigeria's military announced that it had cleared the militants' Sambisa Forest stronghold, but they are said to have since returned.
According to reports, Boko Haram killed at least 967 people in 150 attacks in Nigeria, Cameroon, Chad and Niger in 2017, up on 2016 when 910 deaths were reported in 127 attacks.
More than 20,000 people have been killed since Boko Haram started its deadly campaign in northeastern Nigeria in 2009. The violence has claimed many lives in the neighboring countries.
http://www.presstv.com/Detail/2018/02/01/550947/Nigeria-Boko-Haram-Maiduguri-Borno-state
--------
Multiple blasts kill 4, injure 44 in northeast Nigeria
01 February 2018
At least four people, including two suicide bombers, have been killed and 44 others injured in multiple bomb attacks on a refugee camp in Nigeria northeast Maiduguri city, an official said.
Two suicide bombers sneaked into Dalori 1 camp for displaced victims of Boko Haram insurgency at about 9.30 p.m. local time (2030GMT) on Wednesday, Bashir Idris Garga, an official of National Emergency Management Agency (NEMA) in the region said in a statement.
Two other explosions occurred outside the camp at about 9.45 p.m. local time (2045GMT), Garga said.
"Four persons including the suicide bombers have been killed, while 44 injured persons have been rushed to hospitals for treatment," Garga said.
Confirmation of the blasts did not come early either from the police or emergency agency until late Wednesday night. Emergency officials said they were engaged in rescue of the victims till midnight.
The Dalori refugee camp, which provides temporary shelter to about 3, 000 displaced persons, is located at the outskirts of the city.
No group has claimed responsibility for the attack but residents blamed Boko Haram, the militia that has been responsible for most of the attacks in the region.
Full report at:
http://www.worldbulletin.net/africa/198393/multiple-blasts-kill-4-injure-44-in-northeast-nigeria
--------
Muslim group insists CAN inciting Christians against Buhari, warns its leaders
February 1, 2018
By Wale Odunsi
The Muslim Rights Concern (MURIC) has insisted that the Christian Association of Nigeria (CAN) was instigating Christians to vote against President Buhari or any Muslim presidential candidate in 2019.
MURIC, in a statement Thursday, said it stood by its earlier position that CAN also advised Christians against voting for politicians practising Islam.
Its Director, Prof. Ishaq Akintola, warned CAN leaders not to set Nigeria on fire through its "hate speeches".
He said: "We are not convinced by CAN's denial though its denial did not surprise us. It is only natural. Yet in spite of the denial, Nigerians know that CAN's body language speaks volumes. Its hate speeches are legend. Its bitter expressions underline its frustration. CAN is desperate to install a Christian president in Nigeria.
"Can CAN deny calling on all churches to pray for Christian victory in the wake of the Benue killings? Nigerian churches were told to spend the whole of Sunday January 7, 2019 praying for victory for Christians. The directive was issued by CAN in its January 5 press statement.
"That directive naturally caught our attention and we monitored the manner the prayers were offered in some Nigerian cities. We heard more curses than prayers in some noisy churches. While some prayed for victory for Christians, most churches rained abuses, invectives and curses on the Buhari administration. It was more of hysteria than the atmosphere of serenity required in places of worship. CAN has stirred up emotions in Nigerian churches.
"Can CAN also deny that it has openly directed Christians all over the country to go into politics? CAN openly gave that instruction on 19th January, 2018. What assurance do we have that there was no hidden message in that directive? What assurance do we have that there were no other secret messages sent round after the public directive? Who is a fool?
"If religion is a private affair, why is CAN always interfering in the privacies of its followers. Why must they be directed in a matter unrelated to religion? Religion is a private matter when it pleases CAN but it is a public affair when it suits the umbrella Christian body. As far as CAN is concerned, Christians are free to organize themselves publicly but Muslims must never be allowed to come together publicly to organize their affairs. Such double standard is, to say the least, disgusting.
"Can CAN also disown a certain John B. Damuna who calls himself the Assistant Coordinator of the Christian Youth Organization of Nigeria Northern chapter? John Damuna in a document in our possession warns Christians that it would be a disaster if a Christian did not emerge president in 2019. He claims to be carrying out the directive of CAN. We are going to be silent about what he said concerning herdsmen and almajiris in the same document so that we do not stir another crisis.
"CAN should stop deceiving us. It is more honourable to admit one's actions and statements. It is no longer religion when we say one thing and pretend we never did. Let us leave such antics to politicians. The alternative is to derobe and don the toga of politics.
"The last time we checked, ex-Presidents Mathew Okikiola Obasanjo and Goodluck Ebele Jonathan were still Christians. If it is true that Obasanjo ruled Nigeria for eight good years (1999 – 2007) and former President Goodluck Ebele Jonathan was in power for six years (2010 – 2015), CAN cannot rationalize its present craving for a Christian president. On what ground? Of the nineteen (19) years of civil rule which began in 1999, Muslims have only been in power for five (5) years while Christians have ruled for fourteen (14) years. So what is the rush all about? Turn by turn, remember?
Full report at:
http://dailypost.ng/2018/02/01/muslim-group-insists-can-inciting-christians-buhari-warns-leaders/
--------
Kenya court orders government to lift ban on three TV stations
Feb 1, 2018
Kenya's High Court has suspended a government blackout imposed on three private television broadcasters over a live coverage of an opposition rally in the capital Nairobi.
Judge Chacha Mwita ordered Thursday that the shutdown imposed on the private stations, namely Kenya Television Network, Citizen Television and Nation Television News, would be suspended for two weeks so that the court could hear a petition by activist Okiya Omtatah Okoiti against the ban.
The administration of President Uhuru Kenyatta ordered a shutdown of the TV stations on Tuesday morning after they ran a live coverage of a mock swearing-in ceremony for opposition leader Raila Odinga.
Okoiti described the gag as "grossly arbitrary, disproportionate, oppressive, and unreasonable."
Kenyatta had reportedly warned heads of the TV stations last Friday that they will be cut off the air if they broadcast the event.
Odinga was sworn in as Kenya's "people's president" at a park in Nairobi to the cheers of thousands of supporters. The mock ceremony came in response to Kenyatta's taking of office for a second time, which the opposition believes was the result of rigged votes.
Odinga refused to accept the results of an initial presidential election last August. He then boycotted a re-run ordered by Kenya's Supreme Court, claiming irregularities that existed in the first round still persisted. Official government tallies show that around 100 have been killed since the start of vote-related unrest in the Horn of Africa country.
An investigation has been launched into the Tuesday mock swearing-in ceremony which had no sign of violence.
Full report at:
http://www.presstv.com/Detail/2018/02/01/550954/Kenya-opposition-media-shutdown
--------
URL: https://www.newageislam.com/islamic-world-news/wahhabi-settlements-terrorism-reality-european/d/114146
New Age Islam, Islam Online, Islamic Website, African Muslim News, Arab World News, South Asia News, Indian Muslim News, World Muslim News, Women in Islam, Islamic Feminism, Arab Women, Women In Arab, Islamophobia in America, Muslim Women in West, Islam Women and Feminism