New Age Islam News Bureau
3 Feb 2019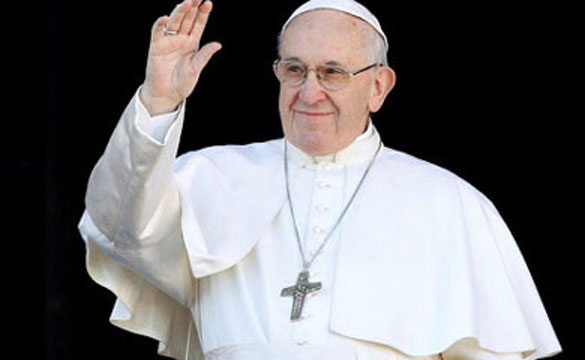 Pope Francis's visit comes appropriately enough at the start of the UAE's Year of Tolerance
------
• 'Visit My Mosque': How Three Words Conquer Prejudice in India
• With "As-Salamu Alaikum", Pope Francis Hailed Muslim Ruled UAE
• Taliban, Afghan Leaders to Discuss Peace, Future Set-Up At Moscow Moot
• Battered In the Middle East, Islamic State Eyes South-East Asia As Next Terrorism Hotspot
• Saudi Arabia, Egypt 'Safety Valve of Arab, Islamic Nation': Egyptian President's Adviser
• Turkey Accused of Stealing Syrian Olives To Finance FSA Militants
• 'US Worried As Saudi Turns Eastwards To Develop Missiles: Experts
India
• 'Visit My Mosque': How Three Words Conquer Prejudice in India
• Spouses Of Former Kashmiri Militants Demand Travel Documents To Return To Pakistan
• Agra mayor calls Aligarh Muslim University hub of terrorists
• Muslim techie killing: Dhananjay Desai promises to shun HRS activities
• Muslims To Decide Political Fortunes In Uttar Pradesh?
• Sidhu wants Pakistan dolphins for Beas, will offer Imran Khan Punjab gharials
• FIR lodged against Azam Khan for 'defaming' Muslim cleric in 2014
--------
Europe
• With "As-Salamu Alaikum", Pope Francis Hailed Muslim Ruled UAE
• Swedish Imam Threatens Journo Over Muslim School Probe – Report
• France split over repatriation of jihadists held in Syria
• French official: Three charged with terrorism in Strasbourg attack probe
• U.K's troubled anti-terror strategy
--------
South Asia
• Taliban, Afghan Leaders to Discuss Peace, Future Set-Up At Moscow Moot
• Terror-Financer Qatar Patronizing Jamaat and ARSA
• 6 Taliban, ISIS-K militants killed in coalition airstrikes
• Key Taliban leader Qazi Qari Abdul Qadir among 25 killed, wounded in Farah operations
• Bangladesh: Security forces arrest four suspected terrorists
• Conference on Rohingya to be held in New York next week
• Afghanistan reshuffles security leadership in the Ministry of Interior
• Afghan forces not to accept transient peace: Ghani
--------
Southeast Asia
• Battered In the Middle East, Islamic State Eyes South-East Asia As Next Terrorism Hotspot
• Eight dead as Philippine soldiers clash with Abu Sayyaf militants
• Philippine troops battle Muslim militants after church blast
• Teens publically whipped in Indonesia's Aceh for cuddling
• Defeat in Semenyih will be the deathblow for PPBM, says Umno leader
• That was awkward—at Jokowi event, senior cleric mistakenly prays for Prabowo
--------
Arab World
• Saudi Arabia, Egypt 'Safety Valve of Arab, Islamic Nation': Egyptian President's Adviser
• Pope's Visit Generating Hope for a New Era of Tolerance in the Gulf
• Sikhs in UAE hail country's year of 'respect, inclusion'
• Egypt lawmakers to submit motion to amend constitution
• SDF, Ankara-Backed Militants Resume Clashes in Aleppo
• Homs: Several ISIL Terrorists Killed in Failed Attack on Syrian Army Near Palmyra
• Large Cache of US, Israeli, Saudi Arms Discovered by Syrian Army Near Damascus
• Terrorists Sustain Heavy Losses in Failed Attacks on Syrian Army Positions in Hama, Idlib
• Hashd al-Sha'abi fighters stop US military patrol in Iraq's Mosul
• Egypt army says kills 8 militants in desert air strikes
--------
Mideast
• Turkey Accused Of Stealing Syrian Olives To Finance FSA Militants
• Yemeni Army Liberates Several Areas From Houthi Militia, 7,183 Mines Cleared
• Turkey jails two Kurdish former parliamentarians
• Turkey captures ISIS suspects on Syria border
• Bahrain's senior cleric Sheikh Isa Qassim visits Iran's Mashhad
• Terrorist attack kills IRGC member in southeastern Iran
• UN-appointed Yemen ceasefire team to meet aboard ship
• Countries rap Israel for expelling group protecting al-Khalil
• Turkey captures four Daesh suspects near border with Syria
--------
North America
• 'US Worried As Saudi Turns Eastwards To Develop Missiles: Experts
• Muslim Charity Distributes Food To Homeless Struck By Chicago's Cold Snap
• Democrats and Their Media Pretend Muslim Terrorism Is Manufactured
• Two ISIS 'Beatles' to face US trial in summer
• As USAID ends all assistance to Palestinians, the situation will get worse
--------
Pakistan
• 39 TLP Workers Booked For 'Violent' Protest In Karachi
• India's hydel projects' inspection successful: Pakistan
• 'Deal with PML-N, PPP': Rashid asks PM to take nation into confidence
• Sahiwal incident: PM Imran to meet Punjab CM Buzdar to discuss JIT proceedings
• PTI committed to treating rich and poor equally: Fawad
• Zardari seeks media's support to 'overthrow govt'
• PTI MPA submits resolution in PA against construction in Kartarpur
--------
Africa
• Somalia: US Airstrike Kills 13 Al-Shabaab Militants
• Thousands protest in Sudan as death toll mounts
• Iraq and Jordan reopen border crossing, boosting relations
• Sudanese teacher dies in detention following protests
• Jordan to host Yemen talks focusing on prisoner swap deal
• At least four Ethiopian soldiers die in al-Shabaab blast
Compiled by New Age Islam News Bureau
URL: https://www.newageislam.com/islamic-world-news/visit-mosque-how-three-words/d/117632
--------
'Visit My Mosque': How Three Words Conquer Prejudice in India
Feb 3, 2019
'Chalta kya hai masjid ke andar?" It was a question 28-year-old Vikas Gavali had thought of often, but never ended up asking even his closest Muslim friends. "There was always a fear. What if they felt bad," he says. In December last year, Gavali confronted this apprehension of the unknown, when he visited a mosque for the first time in Pune's Azam Campus locality. He asked questions about Islam, and wandered through the white corridors and long halls covered in blue carpets.
Gavali was among the 350 people who visited the mosque in a programme helmed by the Pune Islamic Information Centre (PIIC). For the first time in many years, the mosque at Azam Campus, an educational hub, opened its doors to men and women from other communities. The idea was to allay doubts and dispel misconceptions around the religion and its practices.
It is an initiative that is slowly gathering strength across the country. Apart from the Pune mosque, Al-Fukran in Mumbra (Mumbai), Masjid Umar Bin Khattab in Ahmedabad and three mosques in Hyderabad including the well-known Spanish Mosque have opened their doors for anyone interested in paying a visit.
The trend started abroad. Mosques in the UK have been holding open days for decades, but a concerted effort started in February 2015 when as part of #VisitMyMosque, 20 mosques held an open house on the same day. Since then, 200 mosques have joined the UK initiative. Similar campaigns are running in Canada and the US.
Karimuddin Sheikh of PIIC, who helped organise the weekend open house, knows the challenge he is up against. It is a toxic atmosphere stoked by fake social media forwards that allege mosques spread violence and hatred, and madrassas breed terrorists. The organisers tackled rumours spread through social media head-on with placards depicting the consequences of spreading unverified news.
Sheikh, who owns a sportswear manufacturing business, noticed the change in people's attitude some years earlier when he went looking for a home to rent and was refused repeatedly. "Over the last six years we have organised inter-faith dialogues and seminars on festive occasions hoping to begin conversations. But the hatred spewed by social media has just taken over young people's minds," he says. People would ask him, "Why aren't mosques open for everyone? What are you hiding?" "We felt that we had to take a more drastic step," he says.
Moinuddin Nasrullah, trustee of the Umar Bin Khattab mosque in Ahmedabad, has encountered the ugly face of prejudice often. He recounts how an elderly man walked away from him at a book fair saying, "Tum logon se jitni doori banai jaye utni achchi hai (It's best to keep a distance from people like you)." The comment stung but also left Nasrullah reflecting about what to do. It took a year but the mosque hosted its 'Visit My Mosque' programme last month.
This is not all. Nasrullah is also trying to bring his community closer to the people. The mosque is active on Facebook and Twitter, using these to post pictures and videos of the open house and teachings of the Quran. Nasrullah hopes to inspire other mosques to use social media and increase public interaction.
"It was an eye-opener,'' says Jignesh Dhanak, a 35-year-old cloth merchant who lives in Ahmedabad and visited the masjid with some friends. Many who had never been inside a mosque or read about Islam were surprised to find that namaz was read facing a wall and not in front of an idol. Arabic teacher Kubra Naik says that despite living together for so many years, awareness levels are still low. "People don't really know each other. When I tell people my name or they see me in a hijab, I know they have reservations about what I am going to say. But when I speak about how it is important for us to live in peacetheir attitude changes," she says.
Naik is a volunteer with the NGO A Little Kindness Trust, that has so far conducted open days in three Hyderabad mosques.
The most successful gathering was at the Spanish Mosque in August 2018, when over 2,000 people turned up.
Harsh Mander, who started the Karvaan-e-Mohabbat project as an outreach for Muslim victims of lynchings and riots, says the effort is touching but it must be the majority community that reaches out to others. "The worrying part is that the present climate has legitimised bigotry. The more educated, more privileged Indians are far more prejudiced than those who are less educated," he says.
However small, the organisers are hoping their efforts will have an impact. Pune's Karimuddin has plans to hold another open house in February while Nasrullah has been getting calls from other mosques in Gujarat for advice. "Mahol ko badalna hoga, aur humme hi kuch karna hoga (Things have to change and we have to take the initiative)," Nasrullah says
https://timesofindia.indiatimes.com/home/sunday-times/visit-my-mosque-how-three-words-conquer-prejudice/articleshow/67810673.cms
--------
With "As-Salamu Alaikum", Pope Francis hailed Muslim ruled UAE
Feb 03, 2019
VATICAN CITY: As Pope Francis visit to UAE begins on Sunday February 3, he has extended his warm greetings to the leadership and people of the UAE.
The video posted in Italian by The Vatican on YouTube, on Thursday began with the Pope Francis's Islamic greeting "As-Salamu Alaikum" (peace be upon you all) before saying he is "happy to be able to visit a "country which strives to be a model for co-existence and human fraternity, and a meeting point of different civilisations and cultures".
In the three-minute clip, Pope Francis praises the Muslim ruled state and also describes the UAE as somewhere "where many find a safe place to work and live freely, while respecting diversity'. He said he was "delighted to be meeting with a people who live out their present and look forward to the future".
Quoting the late Sheikh Zayed bin Sultan Al Nahyan, founder of the UAE, the Pope said: "True wealth lies not just in material possibilities. The real wealth of a nation is the individuals who hear the sound of their future."
While Pope Francis speaks in Italian, the video has been given English subtitles, and you can see the full message here:
He is also later seen thanking Sheikh Mohamed bin Zayed, Crown Prince of Abu Dhabi and Deputy Supreme Commander of the Armed Forces as well as the extended UAE authorities for the "excellent collaboration" and "generous hospitality".
"I am glad for the opportunity that God has given me, here in your land, where a new page of historic interfaith relationships will be written, that emphasises we are brothers despite our differences," Pope Francis said in the video.
The video concludes warmly with "Thank you so much and see you soon" message by the Pope
Pope Francisis the first papal visit to the Arabian Peninsula. He will arrive in the UAE capital, Abu Dhabi, late Sunday night for his landmark three-day visit – from February 3 to 5.
The theme of the papal visit is, 'Make Me a Channel of Your Peace' will culminate in a public Mass for 135,000 people at Zayed Sports City.
The UAE prides itself on its religious tolerance and cultural diversity, and most Gulf Arab states have long allowed Christians to worship in churches.
Nearly 80 percent of the population of the UAE is Muslim, while Christians constitute around nine percent, according to the Catholic News Agency.
Many of the Catholics are workers from Africa, Bangladesh, India, Pakistan and the Philippines, though some are locals.
https://www.siasat.com/news/salamu-alaikum-pope-francis-hailed-muslim-ruled-uae-1463232/
--------
Taliban, Afghan leaders to discuss peace, future set-up at Moscow moot
Tahir Khan
FEBRUARY 3, 2019
Though Afghan Taliban rule out any negotiations with President Ashraf Ghani-led government, they will be meeting Afghan political leaders in Moscow, the capital of Russia, on Feb 5-6 to discuss the peace process.
The High Peace Council (HPC), mandated to pursue peace negotiations with the armed opponents, has also been invited to the Russian capital but its secretary Umer Daudzai told BBC Pashto radio that the HPC may not send representatives as they have not been given enough time to discuss whether or not their participation in the process will be useful.
HPC members had attended a conference of regional countries and other stakeholders in Russia in November last year.
Taliban political spokesman Suhail Shaheen has confirmed that the Taliban political envoys will participate in the meeting. Speaking to Daily Times from Qatar, where the Taliban have political headquarters, Shaheen described the Moscow meeting as an 'intra-Afghan dialogue'. "I think it is intra-Afghan dialogue to see how to cope with current situation and pave the way for sustainable peace after foreign troops' withdrawal," he said.
A section of Afghan media has reported that former president Hamid Karzai is also among the invitees, and it would be the first time when he meets senior Taliban leaders. Hizb-e-Islami (Hekmatyar) has also been invited as the Russian ambassador in Kabul met Hekmatyar this week to deliver the invitation. Hekmatyar's son Habib-ur-Rehman has confirmed his party will attend. Former Taliban ambassador to Pakistan Mullah Abdul Salam Zaeef, who is now based in Kabul and runs a religious school, former deputy foreign minister Hekmat Karzai, Hizb-e-Wahdat chief Muhammad Muhaqiq, former defence minister Shah Nawaz Tanai, former governors Atta Noor and Ismail Khan are prominent among those invited to Moscow. The Russian government has reportedly involved Moscow-based Afghans in the process. Afghan political leaders are gathering in Moscow days after President Ghani expressed reservations over direct Taliban-US talks in Qatar as he feels left out of the process so far. Political leaders including Hulbaddin Hekmatyar and Hanif Atmar have been critical at what they claim non-serious approach of the National Unity Government towards the peace process. Speaking at a TV interview this week, Hekmatyar even backed the Taliban stance not to talk to the Ghani administration and supported formation of an interim government for dialogue with the Taliban.
The Moscow conference is likely to throw weight behind the US-Taliban talks as political parties are trying to establish a relationship with the Taliban. Daily Times has learnt that several political leaders in Afghanistan have approached the Taliban leadership. Member of Russia's Afghan community and one of the event organizers Akhtar Safi said all parties in Afghanistan interested in the peace process, including the Taliban and the Afghan government, have been invited to the moot. Another organizer, Nadir Shah, said the conference will also involve delegates from the Afghan communities in CIS member states and European countries as well as representatives from Iran and Pakistan.
https://dailytimes.com.pk/350774/taliban-afghan-leaders-to-discuss-peace-future-set-up-at-moscow-moot/
--------
Battered in the Middle East, Islamic State eyes South-east Asia as next terrorism hotspot
02 February 2019
SINGAPORE, Feb 2 — The terrorist group Islamic State of Iraq and Syria (IS) is today a shadow of its once-formidable self in the Middle East, with its army in tatters and its territories reduced to a sliver of turf.
But the IS ideology — which includes the setting up of a caliphate — is far from dead and buried.
And its supporters, including those who have returned home after fighting wars in Iraq and Syria, have now set their sights on turning South-east Asia into the next terrorism hotspot.
For IS, the region has all the ingredients needed to become its next cauldron of violence: Porous borders, existence of logistical bases, weak regimes, poor enforcement measures and disenchantment among marginalised Muslims.
"South-east Asia has been dubbed as the second front for IS," said Professor Mohd Kamarulnizam Abdullah, who researches on terrorism and religious violence at Universiti Utara Malaysia.
The region already has had a taste of IS-style terror in recent years. In 2016, IS-linked militants launched a gun and bomb assault in the centre of Jakarta, killing several people.
Last Sunday (January 27), a Roman Catholic cathedral on the island of Jolo in southern Philippines was bombed as worshippers gathered for mass. IS claimed responsibility for it.
Although Singapore has been fortunate enough not to have experienced any violent attack, it will become increasingly harder to keep the country secure from the threat as the web of terror closes in on the island.
While the Singapore Government has repeatedly stressed that a terror attack here is not a matter of if but when, there remains a sense of complacency among Singaporeans.
A recent report by the Ministry of Home Affairs (MHA) showed that only 20 per cent of Singaporeans felt that the terrorist threat was imminent.
The MHA's Singapore Terrorism Threat Assessment Report 2019 also said that the Republic's "most pressing threat" comes from IS.
In 2016, an IS-inspired plot to attack Marina Bay Sands from the Indonesian island of Batam — a 40-minute boat ride from Singapore — was foiled.
Mr Joseph Franco, a research fellow at the S Rajaratnam School of International Studies (RSIS), said: "Even if you're strong security-wise but exist in a bad neighbourhood, you can't help but always look over your shoulders."
The region: A second wave of terrorism
The first wave of terrorism crashed into South-east Asia in 2002, starting with the devastating bombings in Bali that year. It lasted till 2008, according to last year's Global Terrorism Index, with terrorist groups the Philippines' Moro Islamic Liberation Front (MILF) and Indonesia's Jemaah Islamiyah (JI) — which has ties to Al Qaeda — being responsible for 301 and 274 deaths respectively.
The second wave came in 2016, amid IS' rise. As a result, South-east Asia saw a 36 per cent increase in deaths due to terrorism from 2016 to 2017.
In 2017, militant and insurgent groups championing separatist causes, which later forged alliances or became affiliated to IS, committed 348 terror acts which resulted in 292 deaths. They came from countries including Bangladesh, Indonesia, Malaysia, Myanmar, the Philippines and Thailand.
Research fellow Muhd Faizal Abdul Rahman from RSIS' Centre of Excellence for National Security pointed out that "partnerships" between militant groups are not new.
They existed back in the days when Al Qaeda was at its zenith, forming ties with JI. The latter group sent its members to Afghanistan to train and gain combat skills under Al Qaeda and learn its doctrine.
Similarly, aligning themselves with IS "facilitates the exchange of talent, skills and material resources" with local and regional groups, said Faizal.
Smaller militant or terrorist groups would also attain a higher level of legitimacy and support if they associate themselves with IS' ideology, which seeks to establish a caliphate through a final battle between good (Muslims) and evil (non-believers).
"It is more important to sustain the will to fight even when the means to fight is suppressed by security forces," said Faizal.
Counterterrorism analysts also pointed out that by working together, the different groups can eliminate their common enemies — Western forces and governments that they claim to have exploited and marginalised Muslim communities — on multiple fronts.
Such collaboration was exemplified during the Marawi siege in southern Philippines in 2017.
Pledging allegiance to IS, a number of militant groups banded together to attack and take control parts of the city, before they were defeated by government forces after months of battle.
Although the militants lost, the siege underscored IS' reach in the region, said analysts.
The Global Terrorism Index report said that the battle of Marawi was a "defining moment" in Islamist terrorism in the Philippines. Following that, IS' online propaganda has urged foreign fighters to travel to the Philippines and other South-east Asian outposts.
Franco said that even after the Marawi siege, there continues to be militant groups — whether aligned to IS or not — operating in the Mindanao region.
"With access to illegal firearms, they continue to pose a threat," he said.
About 18 years after the Sept 11 attacks in the United States — which were carried out by the Al Qaeda — the terrorism threat has evolved and possibly become more potent, said analysts.
Dr Mohamed Ali, an RSIS expert in religious extremism, pointed out that previously, the definition of a terrorist was clear-cut: He or she had to pledge an oath and be a member of a terrorist group.
Now, however, individuals can just carry out attacks in their homelands without having to go through military training.
"They can be anyone and can strike alone and out of the blue," he added. "That makes them more dangerous."
The rising exclusivist sentiment in the region, namely in Indonesia and Malaysia, has also added fuel to fire.
Last December, thousands of Muslim Indonesians took to the streets to commemorate the series of rallies held in 2016 that targeted a former Jakarta governor, who is a Christian.
Days after, Malaysians rallied in the capital city of Kuala Lumpur to call on the government to preserve Islam as the country's national religion and protect the rights of the Malays.
Faizal stressed that exclusivism "forms the pathway to terrorism".
"A person goes through the cognitive process of exclusivism before he is further radicalised into a terrorist. Exclusivism conditions an individual's mind and values into believing that others are less human, less moral and deserves to be harmed," he added.
Dr Mohamed Ali warned that the harm caused by exclusivist ideas could be more damaging than the effects of terror attacks. It leads to different racial and religious communities alienating one another and breeding suspicion. The result: A weakening of the country's unity and social fabric, he added.
Indonesia: Changing faces of terror
Last May, an Indonesian family of six were involved in back-to-back attacks on three churches in the country's second-largest city of Surabaya.
The incident drove home the point that the terrorism threat in Indonesia had evolved in two areas: The people conducting the attacks and the weapons used.
Indonesian counterterrorism expert Dr Noor Huda Ismail noted that terrorist operations have morphed from group operations to lone wolves, and later involving women as well as the entire family unit.
It is part of the IS doctrine to involve the entire family as part of efforts to establish a caliphate, he pointed out. In its propaganda magazines Rumiyah and Dabiq, it has been stated that the role of women is to breed the next generation of terrorists. Another reason why terror attacks now involve women and the entire family is because Indonesian authorities have successfully destroyed many terrorist networks in the country.
"So, IS supporters have to change their tactics," added Dr Noor Huda, who founded the Institute for International Peace Building to rehabilitate and reintegrate former terrorists into the society.
Using household items as weapons to inflict damage is also the new norm. No longer is it necessary to make or smuggle in traditional bombs or firearms to carry out an attack, said Dr Najib Azca, the director of the Centre for Security and Peace Studies at Indonesia's Gadjah Mada University.
IS has indoctrinated its followers to believe that if they cannot join its fight in Syria and Iraq, they can carry out attacks in their homelands as part of the jihad (armed struggle), he said.
To do that, they can use vehicles to ram into crowds, or simply use household items like a kitchen knife to stab as many people as they can, said Dr Najib.
He cited the case of an Indonesian woman Dian Yulia Novi, who planned to use a pressure-cooker bomb to attack the Presidential Palace in 2016, but was arrested before she could do so.
"Those (household items) are also equally effective in killing people," he added.
In Indonesia, the authorities also have to deal with another conundrum: Radicalisation taking place behind bars, partly due to the lack of capacity in the prisons.
The country's 477 prisons are meant to house 125,000 inmates, but have ended up being crammed with more than 254,000 prisoners.
This has resulted in arrested jihadists being placed in the same cells as offenders of other crimes. "That's where they influence the others," said Dr Noor Huda.
In some parts of the country such as Solo, he noted that jihadists sit at the top of the moral hierarchy in prisons as they are regarded as "pure and enlightened".
"So, what happens is that other prisoners will go to them for Islamic teaching, and they too get radicalised. For the jihadists conducting the teachings, they become more hardcore."
The Indonesian authorities also have to grapple with the return of citizens who had taken part in foreign wars.
A study by the US-based non-profit organisation Soufan Center and the Global Strategy Network released last year tracked 5,600 fighters who had returned to their home countries.
Among them were 50 Indonesians.
Dr Noor Huda said that in areas such as the Indonesian city of Medan, the returning fighters would be welcomed as "mujahideen", a title given to those who had engaged in jihad. They could then pass on their experience and the teaching they had received.
The release of extremists from prisons and back into society poses yet another threat.
Last week, the government of President Joko Widodo faced a backlash after it announced that the JI's spiritual leader and mastermind of the Bali bombings, Abu Bakar Bashir, would be released early from prison on medical grounds. The Indonesian government later said it will review the issue.
There were concerns over the move as the 80-year-old ailing cleric is still regarded as influential, and could continue to inspire others to wage jihad.
Dr Najib said the announcement of Abu Bakar's release comes at a politically sensitive time, as the Muslim-majority nation is preparing to elect its next president in April.
"But it could come at a cost, because those individuals could influence others to be radicalised," he added.
"For Indonesia, the battle against terrorism is still ongoing and there are always new elements that we have to deal with."
https://www.malaymail.com/news/malaysia/2019/02/02/battered-in-the-middle-east-islamic-state-eyes-south-east-asia-as-next-terr/1719268
--------
Saudi Arabia, Egypt 'Safety Valve Of Arab, Islamic Nation': Egyptian President's Adviser
February 02, 2019
JEDDAH: Dr. Osama Al-Azhari, the Egyptian president's adviser on religious affairs, on Saturday visited the Saudi pavilion at the Cairo International Book Fair.
Al-Azhari praised the pavilion for attracting visitors and diverse participants, and for highlighting the Kingdom's scientific and cultural heritage.
"Egypt and Saudi Arabia are the safety valve of the Arab and Islamic nation," he said. "Egypt is the country of Al-Azhar Mosque, and the Kingdom is the land of the Two Holy Mosques. The combined efforts of the two countries are a pillar of safety for the entire nation."
During his tour of the pavilion, Al-Azhari was accompanied by Saudi Cultural Attache Dr. Khalid bin Abdullah Al-Nami.
Virtual reality
The pavilion inaugurated a virtual reality (VR) exhibition of the Two Holy Mosques, allocating its special corner to the General Presidency for the Affairs of the Two Holy Mosques. Besides the use of VR equipment at the exhibit, it was also launched as a smartphone app.
Visitors expressed happiness at being "transported" to the holy sites, and said every year the Saudi pavilion provides great and popular experiences that reflect the progress and prosperity that the Kingdom is undergoing.
Islamic history
Another corner of the pavilion is allocated to the Ministry of Islamic Affairs. The corner has distributed more than 10,000 copies of the Holy Qur'an, and the ministry's publications.
This initiative is part of the ministry's efforts to serve Islam and Muslims worldwide, promote the religion, and highlight its positive impacts on its followers. Supervisors said the ministry's corner has attracted many visitors of different ages.
Seminars
The pavilion also organized a seminar on Saudi efforts to serve the Two Holy Mosques. It was presented by the director general of the Prophet's Mosque Academy, Dr. Omar bin Amer Al-Kharmani.
He stressed the Saudi leadership's interest in helping pilgrims easily and safely perform their rites at the Two Holy Mosques. He received a commemorative gift from Al-Nami.
During the pavilion's seminar on the Grand Mosque's library, its director, Dr. Abdulrahman bin Saad Al-Shahri, said it is "one of the Kingdom's leading libraries in terms of ancient Saudi writings, and a reference for those wishing to learn about Saudi history and heritage."
The library, which has 13 floors, is "being developed and is welcomes guests from inside and outside the Kingdom," he added.
The pavilion contains many prominent Saudi publications, as well as a visual arts exhibition highlighting the Kingdom's heritage.
The Saudi Justice Ministry is also exhibiting more than 125 publications that shed light on the Kingdom's judicial system.
The Cairo International Book Fair was inaugurated on Jan. 23 by Egyptian President Abdel Fattah El-Sisi at the Egypt International Exhibition Center. The Saudi pavilion was inaugurated by the Kingdom's ambassador to Egypt, Osama Nugali.
http://www.arabnews.com/node/1446041/saudi-arabia
--------
'US worried as Saudi turns eastwards to develop missiles: Experts
Feb 2, 2019
American defense experts say Saudi Arabia has been pursuing a missile program with the help of China and Pakistan, in a potential divergence from the US and policy shift towards the East that may raise concerns in Washington.
Last week, The Washington Post reported that Saudi Arabia has started building its first known ballistic missile production factory.
Satellite images taken last November by US company Planet Labs Inc and analyzed by the Middlebury Institute of International Studies in Monterey revealed that the factory is situated at an existing missile base near the central Saudi town of al-Watah.
US defense experts told CNBC that the development indicates a growing desire by Riyadh, Washington's longtime ally, to take offensive measures without the approval of its main weapons sponsor.
"There's an arms race underway," said Michael Rubin, a former Pentagon official and Arab affairs expert at the American Enterprise Institute. "Whiplash policy changes in Washington have had their impact on Riyadh: Saudi authorities are no longer going to be constrained by White House whispers. The Saudis are demonstrating that they can take matters into their own hands."
Missile expert Jeffrey Lewis also stressed that heavy investment in missiles often correlates with an interest in nuclear weapons, adding, "I would be a little worried that we're underestimating the Saudis' ambitions here."
Moreover, Bruce Riedel, a CIA veteran and expert on Persian Gulf affairs, said that the timing of the Saudi missile factory construction "underscores a willingness to ignore Washington's interests and policies" from the beginning of Saudi Crown Prince Mohammed bin Salman's rise to power.
Riyadh started its missile program, which is overseen by the kingdom's secretive Strategic Rocket Forces (SRF), with the purchase of Chinese D3-F Silkworm ballistic missiles back in 1988.
Speaking on condition of anonymity, a former Pentagon official said the SRF likely "operates with Chinese input," noting that "given that Pakistan has close ties with both China and with the Kingdom and has numerous advisers working with Saudi security agencies, I wouldn't be surprised if there were some Pakistani assistance as well."
Chinese Foreign Ministry spokeswoman Hua Chunying, however, rejected Beijing's assistance to Riyadh to build a missile base.
Meanwhile, analysts believe that revelations about Saudi Arabia's missile program could further complicate the kingdom's relations with the US, given the already increased anger over Riyadh's deadly war on Yemen and the assassination of dissident Saudi journalist Jamal Khashoggi in October 2018.
In addition to the missiles activities, the Saudis are also pursuing a nuclear energy program.
Bin Salman laid the foundation stone for the kingdom's first nuclear research reactor during his visit to King Abdulaziz City for Science and Technology in Riyadh last November.
https://www.presstv.com/Detail/2019/02/02/587430/Saudi-Arabia-missile-Pentagon
--------
India
Spouses Of Former Kashmiri Militants Demand Travel Documents To Return To Pakistan
February 3, 2019
A group of Pakistani spouses of former Kashmiri militants, who returned to the valley under the government's' rehabilitation policy in 2010, protested in Srinagar on Saturday, demanding travel documents to return home.
Appealing to Prime Minister Narendra Modi and his Pakistani counterpart Imran Khan, the women said that they couldn't travel to Pakistan, because the government is not providing them promised permanent residence certificates.
In 2010, the then government announced a surrender and rehabilitation policy for J&K youths who had crossed the Line of Control (LoC) for arms training. The policy was for those who had renounced militancy and wanted to return home.
"We came with families after Omar Sahib( then J&K chief minister Omar Abdullah) had announced the policy. But, here we feel cheated and now no one is here to listen us," says Asia Hassan Baba, one of the protestors, who came to Kashmir under the policy.
"We were invited here and we did not intrude. At present, we don't have a single document, through which we can travel to our homes. For the last 10 years, we haven't seen faces of our brothers, sisters and parents in Pakistan."
There are more than 500 women from Pakistan who are facing a difficult time in Kashmir, she added.
Another woman said that the family has been striving for a state subject for her and her children. "In 2012, we(my husband and children) returned here though Nepal. One of my close relatives recently passed away in Muzaffarabad and I couldn't travel because I don't have any document," she said.
The protesting women were carrying a banner, which read, "Hum Pakistani hai, humein wapas bhejdo".
https://indianexpress.com/article/india/spouses-of-former-militants-demand-travel-documents-to-return-to-pakistan-5566512/
--------
Agra mayor calls Aligarh Muslim University hub of terrorists
Siraj Qureshi
February 2, 2019
Agra Mayor Naveen Jain has raised a storm in the teacup by calling the Aligarh Muslim University (AMU) a "hub of terrorists".
Speaking to India Today on Saturday, Jain, who has been a BJP leader since decades and also served as the deputy mayor of Agra previously, said that the AMU has been encouraging anti-national thoughts amongst the students by not acting on sedition and communally-coloured incidents taking place at the campus.
Jain made these remarks following the announcement made by a former office bearer of the AMU student council for holding a protest at the university campus and burning the saffron flag. Jain said that anti-national activities have been dominating the AMU and it is becoming a hub of terrorists. There had been incidents when AMU students went the anti-national way and even joined terrorist organisations.
The BJP leader was clear that the AMU needs to change its name as no university in India has a religious name. He said that the Banaras Hindu University (BHU) is also not based on religion and there was no proof that the university had claimed a Hindu status.
In fact, Jain said the BHU was established on the Hindu tradition and the name befits that tradition, whereas Aligarh Muslim University was not only established on Islamic lines, but also claimed to have a minority status, which could not be allowed.
Full report at:
https://www.indiatoday.in/india/story/agra-mayor-calls-aligarh-muslim-university-hub-of-terrorists-1445553-2019-02-02
--------
Muslim techie killing: Dhananjay Desai promises to shun HRS activities
Vidya
February 2, 2019
Dhananjay Desai will not take part in the activities of Hindu Rashtra Sena till the trial of a case in which he is an accused.
An FIR was registered in Pune against Desai in which he is accused of inciting violence which led to the murder of techie Mohsin Shaikh.
Desai signed an undertaking before the jailor of Yerwada Prison on January 24. The undertaking states that Desai "shall not in any manner whatsoever involve in any public/political activities related to or organised at the behest of Hindu Rashtra Sena" and "shall not participate or deliver any public speeches in any manner whatsoever and shall not work with any other organisation till the conclusion of trial".
Keeping in mind the technological advances in communication, he has even specified, "I undertake not to publish/broadcast any speeches or interviews or bytes on any social media namely WhatsApp, Facebook, Instagram, Twitter, etc in any manner whatsoever organisation till the conclusion of trial."
He will have to even restrain in every manner his party workers, activists and followers from publishing any hoardings/banner depicting his pictures/posters or for that matter any activity pertaining to his organisation namely Hindu Rashtra Sena organisation till the conclusion of the trial.
Shaikh, an IT professional, was killed in Pune in 2014 following an alleged provocative speech made by Desai.
Desai got bail from the Bombay High Court on January 17. The prosecution had strongly opposed his bail plea and pointed out that Desai had 17 criminal cases against him.
Desai's lawyer Abhijit Desai argued that his client was not present when the crime took place.
Justice Sadhana Jadhav, while granting bail to Desai, said in her order that Desai, who is accused of "provoking the public to wage a war against Muslims", deserved to be granted bail as he was willing to furnish the undertaking.
Full report at:
https://www.indiatoday.in/india/story/muslim-techie-killing-dhananjau-desai-shun-hrs-activites-1445541-2019-02-02
--------
Muslims To Decide Political Fortunes In Uttar Pradesh?
02nd February
By Namita Bajpai
LUCKNOW: As the bustle over the union interim budget settles down, the focus returns to the political script being readied by parties and alliances to outshine the ruling BJP in upcoming Lok Sabha elections.
With Congress making it clear to play on front foot and SP-BSP alliance looking for a socio-political
engineering to turn the tide in their favour, parties can't overlook UP's Muslims – largest in the country, playing a key role in deciding the fates.
"This time around, the so-called secular forces will be vying for the Muslim votes as an oar to sail through," says Ashutosh Mishra, a senior political scientist.
Of 22 crore population of Uttar Pradesh, Muslims constitute crucial 19.23 per cent. Of 80 Lok Sabha seats, around 20 seats are such with over 20 per cent Muslim population playing a decisive role in making or marring the electoral fortunes of candidates in the fray.
In 2014, not even a single muslim candidate could reach the Lok Sabha largely due to the multi-cornered fights and division of muslim votes among non-BJP parties including Congress-RLD, SP, BSP and a few smaller religious outfits like Peace Party and Rashtriya Ulema Council.
It simply facilitated the BJP and allies sweeping UP with humoungous mandate and walking away with 73 0f 80 seats.
As per the 2011 census, UP has over two dozen parliamentary constituencies where Muslim community is over 20% of the total population. Even more, over a dozen of these constituencies, including Rampur (50.57 %), Moradabad (47.12%), Saharanpur (41.95%), Bijnore (43.04%), Muzaffarnagar (41.30%) and Amroha (40.78%), Balrampur (37.51%), Azamgarh (36%), Bareilly (34.54%), Meerut (34.43%), Bahraich (33.53%), Gonda (33%), and Shrawasti (30.79%) have very strong over presence of Muslims which stands out to be over 30 per cent.
In fact, the Muzaffarnagar riots of 2013, when jat and Muslim clashed leading to a huge exodus of populations, both communities deserted the RLD.
While Muslim votes divided among SP and BSP, jats got polarised in favour of the BJP.
In 2009, when Muslims were annoyed with the Samajwadi Party for siding with the then BJP rebel Kalyan Singh and voted tactically in favour of candidates who were capable of defeating the saffron forces. As a result, the non-BJP parties got nearly equal numbers of 80. Congress had fared well with 21, SP 22, BSP 21 and RLD also won 5 of eight seats it fought on in alliance with the BJP which had won just 10.
This time around, Muslims have two options – the SP-BSP-RLD alliance and the Congress post- Priyanka Gandhi's entry in political arena.
Now the fear of division of Muslim votes once again looms large over non-BJP parties. Before Priyanka Gandhi's entry, the Muslims were clear about backing the SP-BSP-RLD alliance in the state but now
with an assertive Congress on the horizon, they may a ray of hope has been reignited among the Muslim voters they may express confidence in grand old party despite their annoyance over Babri demolition in 1992 under Congress rule at Centre.
Full report at:
http://www.newindianexpress.com/nation/2019/feb/02/muslims-to-decide-political-fortunes-in-uttar-pradesh-1933418.html
--------
Sidhu wants Pakistan dolphins for Beas, will offer Imran Khan Punjab gharials
by Kamaldeep Singh Brar
February 3, 2019
Punjab tourism and cultural affairs minister Navjot Singh Sidhu Saturday said he will soon write to Pakistan Prime Minister Imran Khan with a proposal to exchange gharials at Chhatbir zoo in Chandigarh with Indus River dolphins of the neighbouring country.
This comes a day after Punjab Chief Minister Amarinder Singh gave nod to declare the endangered Indus River dolphin, found only in the Beas River in the country, as the state aquatic animal. "We have gharials and Pakistan has Indus River dolphins in abundance. They don't have gharials and we have very few dolphins in the Beas River. We can give them gharials in exchange of dolphins," Sidhu said.
He was at Harike wetlands to celebrate World Wetland Day on Saturday. As per a survey conducted in December last year, Beas River has only 8 to 10 dolphins. "We will create a better habitat for the dolphins in Beas by removing the invasive catfish. Then we can bring 30 to 60 dolphins from Pakistan. This has been suggested by officials at Chhatbir zoo and I will write to Prime Minister of Pakistan to make this exchange happen," said Sidhu.
He said, "There is huge potential for tourism at Harike wetlands. We receive around 1.25 lakh birds annually at Harike while only 16,000 go to Kharagpur wetlands, which has been tagged as number one wetland of India. This has happened because no one ever gave any attention to Harike wetland. But now we have a concrete plan".
Sidhu said, "Rs1200 cr were being spent with the assistance of the Asian Development Bank (ADB) on promoting Brand Punjab as the most favoured tourist destination. Out of this, Rs 150 crore will be spent on harnessing the immense potential of Harike wetlands." "We will follow Ramsar Convention guidelines for wetland and habitat conservation and create suitable habitat for breeding of waterfowl. Catfish and other invasive species will be removed. Local flora and indigenous species will be reintroduced. A drone survey of the entire 4,100 hectares will be conducted to identify weak habitat zones and bolster the indigenous species therein, and augment breeding habitats," said Sidhu.
Infrastructure development activities being undertaken by the department of tourism shall be completed by April 30 this year, he said adding, "Rs 10 crore has been spent on construction of an interpretation centre, bird watch towers, observation tower, canteen, parking" and public conveniences. "Very soon, tourists will be able to avail the facilities such as e-rickshaw, bicycles, binoculars etc. Boating facilities will also be provided here".
Full report at:
https://indianexpress.com/article/india/sidhu-wants-pakistan-dolphins-for-beas-will-offer-imran-khan-punjab-gharials-5566733/
--------
FIR lodged against Azam Khan for 'defaming' Muslim cleric in 2014
February 3, 2019
An FIR has been registered against Samajwadi Party (SP) leader Azam Khan for allegedly making derogatory comments against prominent Shia Muslim cleric Maulana Syed Kalbe Jawad Naqvi and defaming him through several press notes issued under his official letterhead in 2014.
The FIR was registered on Friday at the Hazratganj police station of Lucknow on the complaint of Allama Zameer Naqvi, president of Lucknow-based social organisation, All India Muslim's Council.
Station house officer (SHO) of Hazratganj, Radharaman Singh said that the FIR was registered after Zameer Naqvi filed a complaint on Friday. Azam Khan has been booked under IPC sections 500 (defamation), 505 (statements conducing public mischief). "We are probing the matter," he added.
"In August 2014, Azam Khan issued several press notes to the media in which he called Maulana Kalbe Jawad an agent of RSS and BJP. In addition to this, Azam had also said that he is a blot on the name of a dharamguru and also Islam. Azam called him an international terrorist. In his press notes, Khan had claimed that the Maulana organised his daughter's wedding on the anniversary of Babri Masjid demolition (December 6) and to make BJP and RSS masters happy, he indulged in cheap celebrations. Khan also said that Kalbe Jawad performed hawan-poojan and gave Rs 15 lakh for the Ram Mandir in Ayodhya," Zameer Naqvi told The Sunday Express Saturday.
He also claimed that he was trying to get an FIR registered in this regard since 2014, but it was only in December last year that the UP commission for Minorities directed Lucknow SSP to get an FIR registered against Azam Khan. The Indian Express has a copy of the alleged press notes and the minority commission directive.
Full report at:
https://indianexpress.com/article/cities/lucknow/fir-lodged-against-azam-khan-for-defaming-muslim-cleric-5566501/
--------
Europe
Swedish Imam Threatens Journo Over Muslim School Probe – Report
02.02.2019
The proportion of Muslims in Sweden is currently estimated at about 8.1 percent of the country's population of 10 million, making it the most numerous in Scandinavia.
A reporter from the Swedish newspaper Gefle Dagblad was threatened by an imam over the journalist's investigation into a Muslim school thought to be linked to a local mosque in the city of Gavle, Expressen reports.
The incident took place during a recent meeting between the reporter and the school's manager, who admitted a link between the school and the Gavle mosque.
The meeting was also attended by an imam from the mosque who had rejected Gefle Dagblad's requests for an interview over the past four years, which had prompted the reporter to seize the opportunity.
The situation dramatically escalated after a "third man" started to film the interview; following the encounter, the imam became furious and ordered the reporter to delete the video.
Commenting on the incident, Gefle Dagblad's editor-in-chief Anders Ingvarsson said that "when a reporter, under threats, insults and waving fists, is forced to erase images, one has passed a border where one threatens our democracy and freedom of the press".
The incident comes amid reports that Islamic radicalisation-related problems have been on the rise in Sweden for the past few years.
According to a survey by the Swedish Defence College, within less than a decade, Sweden's extreme Islamist community has grown from 200 members to 2,000, with Salafism playing a vital role in the spread of violent Islamism in a number of Swedish cities, including Gothenburg.
Peder Hyllengren of the Swedish Defence College, for his part, claimed that Sweden had already turned into an international hub for extremists.
The exact number of Muslims in Sweden is a matter for debate due to the absence of religion-based statistics. A 2017 report by Pew Research Center estimated that 8.1 percent of Sweden's population of 10 million was Muslim, the highest percentage in Scandinavia and one of the highest in the EU.
https://sputniknews.com/europe/201902021072058958-sweden-reporter-imam-threats/
--------
France split over repatriation of jihadists held in Syria
February 3 2019
After a string of unhappy love affairs, Emilie König, a French convert to Islam, set off for Syria, hoping to find a "real man" among the jihadists fighting to establish an Islamic state.
Just over six years later, the former barmaid and mother of five — described by US intelligence as a recruiter for the Islamists — is among as many as 130 captive French citizens in northern Syria expected to be sent home to face justice in a move that is dividing France.
Successive governments have tried to wash their hands of French nationals captured in Syria. However, President Emmanuel Macron appears obliged to take them back because of plans by the American president Donald Trump to pull US forces out of Syria, casting…
https://www.thetimes.co.uk/edition/world/france-split-over-repatriation-of-jihadists-held-in-syria-n0dx2rtg6
--------
French official: Three charged with terrorism in Strasbourg attack probe
2 February 2019
PARIS — Three people detained over an investigation into a Christmas market attack in Strasbourg that left five dead have been handed preliminary terrorism charges, a French judicial official said Saturday.
The judicial official, who wasn't authorized to speak publicly about the investigation, wouldn't name the three, who were arrested on Tuesday in Alsace, along with another two suspects who were freed without being charged the next day.
The judicial official on Saturday wouldn't confirm French media reports that they are suspected of helping the gunman obtain the weapon he used to carry out the December 2018 assault.
The alleged killer, Cherif Chekatt, had pledged allegiance to the Islamic State group. He died in a shootout with police two days after the December 11 attack.
Full report at:
https://www.timesofisrael.com/french-official-three-charged-with-terrorism-in-strasbourg-attack-probe/
--------
U.K's troubled anti-terror strategy
FEBRUARY 02, 2019
Late last month, as attention was focussed on Britain's unending Brexit saga, the Home Office (the department which Theresa May led for six years till becoming Prime Minister) made a major climbdown. It agreed to an independent review of its anti-radicalisation strategy, 'Prevent', a demand which human rights and community groups had long raised.
'Prevent' predates the current Conservative government and was initially developed in the environment of the post-September 11 and post-July 7, 2005 (the London attacks) anti-terror programmes rolled out across Western nations. It was refined over the years as part of a four-plank strategy to "prevent", "pursue", "protect" and "prepare".
However, from its early days, Prevent — intended to focus on preventing the radicalisation of individuals through obligations placed on a host of public sector institutions, from schools and universities to health services — has faced criticism. It has been accused of being a domestic spying programme, targeting Muslims, and reinforcing the caricaturisation, stigmatisation and alienation of Muslims, underpinning Islamophobia.
Last year, a group of human rights groups warned that the strategy was often pursued without evidence and involving a vague and expansive definition of terrorism that left it open to abuse and misinterpretation. Two years earlier, the union representing British teachers — on whom the strategy had placed onerous responsibilities — called for the programme to be scrapped, arguing that it had failed to support them properly, rending it an ineffective system.
Indeed, campaigners have pointed to a series of concerning instances that highlighted the problematic nature of the strategy. In one such case, a two-year-old boy with learning disabilities was referred to social services for "concerning behaviour" and in another, two college students were reported merely for the way they had "made way for two female students, and out of respect, lowered their gaze". Such instances were too common to be dismissed as mistakes due to a lack of training, the Muslim Council of Britain warned in a 2016 report.
Tackling homegrown terror
The question of tackling homegrown terrorism in the U.K. has become all the more important given the wave of terrorist attacks in the past couple of years across Europe, by those who have identified themselves with the Islamic State (IS) terror group.
These include the attacks in Westminster, London Bridge and the Manchester Arena in 2017 that killed 34 people. The 2016 assassination of the Labour MP Jo Cox by a far-right extremist and the 2017 terrorist attack outside a mosque in central London highlighted the multi-ideological nature of the threat against the U.K.
Last month, Britain's counterterrorism chief Neil Basu warned of the threat of far-right extremism, as far-right groups exploited the tense atmosphere over Brexit to gain a foothold. He noted that of 18 terror plots foiled since 2017, four had been from the far right.
Full report at:
https://www.thehindu.com/news/international/uks-troubled-anti-terror-strategy/article26162515.ece
--------
South Asia
Terror-financer Qatar patronizing Jamaat and ARSA
February 3, 2019
Anita Mathur
Qatar gradually is emerging as one of the top-most patrons of radical Islam and militancy. While it is known to everyone – Qatar has been providing millions of dollars to the mega-terrorist outfit Hamas, surely with the hidden desire of putting Israel under continuous terrorist threats, now the oil-rich nation has started playing another card in turning Jamaat e Islami Bangladesh (JIB) and Myanmar-based Arakan Rohingya Salvation Army (ARSA) as deadly threats to regional as well as global security.
Qatar, bordered by Saudi Arabia and the Persian Gulf, has been accused of allowing terror financiers to operate within its borders. The country has been called "the Club Med for Terrorists" by Ron Prosor, an Israeli diplomat and "most two-faced nation in the world, backing the U.S.-led coalition against the militants of the Islamic State while providing a permissive environment", in the words of one top American official, "for terrorist financiers to operate with impunity". Accusations come from a wide variety of sources including intelligence reports, government officials, and journalists. At the official level, the Qatari government has been accused of supporting Hamas, the Palestinian group regarded as a foreign terrorist organization by the United States, Israel, Egypt, the UAE, Saudi Arabia, and Canada. It also is accused of financing Muslim Brotherhood and Al Qaeda.
In 2003, the U.S. Congress was made aware that a plethora of charities based in Qatar were supporting al-Qaeda's activities by helping move and launder funds for the terrorist group. In December 2013, the United States designated a Qatari, Abd Al-Rahman al-Nuaimi, as a Specially Designated Global Terrorist (SDGT). The U.S. Treasury Department placed sanctions on Nuaymi and declared him a "Qatar-based terrorist financier and facilitator who has provided money and material support and conveyed communications to al-Qa'ida and its affiliates in Syria, Iraq, Somalia and Yemen for more than a decade."
Furthermore, in an August 2014 op-ed published in the New York Times entitled "Club Med for Terrorists", Ron Prosor alleged that Qatar sought to improve its global image by funding prominent foreign universities in Doha and hosting the 2022 World Cup while simultaneously supporting Hamas, al-Qaeda, and the Muslim Brotherhood. In December 2014, Congressman Brad Sherman (D-CA) and Congressman Peter Roskam (R-IL) requested that the U.S. government, in a letter to the Secretary of the Treasury, impose sanctions on Qatar. The two congressmen asked for a full report on activities within Qatar from individuals, charities and organizations that fund Hamas, ISIS, Al-Qaeda, and the al-Nusra Front. The State Department responded to the lawmakers' letters by stating that the US has a "productive relationship with Qatar", pointing out that Qatar has improved its counter-terrorism efforts in past years, although it conceded that Qatar's monitoring and prosecution of terrorist financiers and charities has remained "inconsistent".
In December 2014, 24 members of the House Foreign Affairs Committee signed a letter suggesting that Qatar and Turkey be subject to U.S. sanctions if their governments keep turning a blind eye to terror finance.
Let us not forget, Qataris are masters of hedging. We see Doha's caution most clearly in the face of the Saudi and Emirati-led blockade, to which Qatari leaders have responded by both focusing on better relations with Iran and Turkey. Hedging is not only confined to Qatar's geo-political plays; it also guides Doha's relationships and influence with Muslim communities abroad, Islamist movements, and terrorist groups.
Let us note, Qatar is one of the two countries in the world that subscribes to the Wahhabi current within Islam. Doha does not, however, only support Wahhabi Muslims; it is also a prominent backer of Muslim Brotherhood networks and other Salafi movements around the world. It also has special affection for anti-Semitic forces such as Hamas, Jamaat e Islami etc., while as part of its ambition of emerging as the leader of the Muslim world, Qatar has started providing millions of dollars to militancy outfits such as Arakan Rohingya Salvation Army (ARSA) as well as Jamaat e Islami. Such huge fund is being generated from the state-controlled charity, such as Qatar Charity and Sheikh Eid al-Thani Charitable Association, also known as the Eid Charity. It should be mentioned here, both Qatar Charity and the Eid Charity are very active across Asia, Africa and Europe. For its European operations, Qatar Charity set up its own organization in London in March 2012. Qatar Charity UK (QCUK) listed its first board members as Yousef al-Kuwari, the CEO of the Qatar Charity in Doha, along with the American-educated Yousef al-Hammadi, an executive at Qatari Diar – part of the Qatar Sovereign Wealth Fund structure.
According to Ronald Sandee is co-founder of Blue Water Intelligence and a former counter-terrorism analyst for the Dutch government, after establishing an office in London, the Qatar Charity quickly expanded its activities to other parts of Europe, including France, Belgium and Italy. It began to support Muslim Brotherhood organizations in Europe that were members of the Federation of Islamic Organisations in Europe (FIOE), the Muslim Brotherhood umbrella organization. Recently, Qatar Charity UK also started operations in the United States, where it is funding the building of the Memphis Islamic Centre in Tennessee, which is led by the prominent American Salafi cleric Yasir Qadhi.
As QCUK embraced larger projects – particularly the financing of the building of Islamic Centers in European countries – scrutiny of its activities grew. Consequently, boardmembers were replaced, possibly to give the organization less of a Qatari feel. Its name was even changed in 2017 to Nectar Trust Ltd.
The parent organization in Doha works closely with the spiritual leader of the Muslim Brotherhood, Sheikh Youssef al-Qaradawi, and his various Doha-based organizations. The Qatar Charity also works with outspoken critics of the Saudi government. The Saudi Islamist cleric and scholar Salman al-Awda, for example, not only served as a member of Qaradawi's International Union of Muslim Scholars (IUMS) but was also appointed to manage a prominent Qatar Charity project.
Qatar's Eid Charity, which is mostly been active in Asia and Africa, and in the recently in Europe as well was The charity was founded by Abd al-Rahman al-Nuaimi, who in 2013 was designated as a Specially Designated Global Terrorist (SDGT) for funding al-Qaeda in both Iraq and Syria.
In Europe, the Eid Charity cooperates closely with Salafi organizations in Sweden, Germany, the Netherlands and Kosovo; and in recent years, it has started its own projects in Kosovo, Albania, Germany and the Netherlands – spreading its radical, Islamist message throughout Europe.
Al-Qaeda operatives have also directly enjoyed support from prominent Qatari figures. There is evidence that a former Qatari minister of the interior invited the leading Al Qaeda operative Khalid Sheikh Mohammed (KSM) in the mid-1990s to move from Bosnia, where KSM was fighting, to come live in Qatar. KSM accepted this offer, moved to Qatar and lived there a couple of years before he was tipped off by the Qataris that the Americans were seeking his arrest. KSM left the country on a Qatari passport to Pakistan.
Today, the family of Osama bin Laden live in Qatar. The 'Bin Laden Villa' in Doha houses most of the women and children of the deceased al-Qaeda founder.
Jamaat e Islami in the eyes of American policymakers:
In the eyes of American policymakers and security agencies, Jamaat e Islami (JI) is seen as the American front for South Asian Islamist movement.
Romance between Al Jazeera and Jamaat e Islami:
Laila Al-Arian, daughter of Palestinian Islamic Jihad (PIJ) board member Sami Al-Arian, is an influential producer at the Qatari-owned Al Jazeera news network. She has vociferously defended her father as simply an "activist" and a victim of the "pro-Israel lobby" even though the presiding judge in his 2005 trial concluded that Sami Al-Arian was indeed a leader of the terrorist PIJ. Laila also is a great defender of Hamas and Jamaat e Islami and shows special enthusiasm particularly in helping Jamaat e Islami in establishing "Allah's rule" in Bangladesh as well as South Asia.
Jamaat e Islami in Qatar:
Militancy-linked Jamaat e Islami has its existence in Qatar. It is operating under the umbrella of 'Indian Islamic Association' (IIA), located at Mansoora, Ibn Katheer Street, Behind Holiday Villa Hotel-Doha, website: www.iiaqatar.org.
In July 2017, Bangladeshi intelligence services and the Bangladesh Financial Intelligence Unit (BFIU) investigated 17 national and international NGOs on suspicion of financing terrorism. The NGOs include the Bangladesh Krishi Kalyan Samity, Muslim Aid Bangladesh, Rabeta Al-Alam al-Islami, Qatar Charitable Society, Islamic Relief Agency, Al-Furkan Foundation, Kuwait Joint Relief Committee, International Islamic Relief Organization (IRO), Hayatul Ighachha, Revival of Islamic Heritage Society, Tawhidi Noor, and Al-Muntada al-Islami.
According to the BFIU 2014 annual report, there were 619 such suspicious transactions in Bangladesh, up from 420 a year before, and 175 in 2011-2012.
Qatar financing Jamaat e Islami and ARSA:
Being known as a terror-patron nation, Qatar has recently started funding Jamaat e Islami as well as Myanmar-based Arakan Rohingya Salvation Army (ARMY). This relations between the Islamist groups and Qatar pose grave threat to regional and global security.
https://www.weeklyblitz.net/news/terror-financer-qatar-patronizing-jamaat-and-arsa/
--------
6 Taliban, ISIS-K militants killed in coalition airstrikes
03 Feb 2019
At least six militants of the Taliban group and ISIS Khurasan were killed during separate airstrikes conducted in southern and eastern provinces of Afghanistan.
According to the informed military sources, a coalition air strike killed 3 ISIS-K fighters in Khugyani district of Nangarhar province.
The sources further added that another coalition air strike killed 1 Taliban fighter in Tarin Kot district of Uruzgan province.
The coalition forces also carried out an airstrike I Nahr-e-Saraj district of Helmand province leaving 2 Taliban militants dead, the sources added.
The anti-government armed militant groups including Taliban have not commented in this regard so far.
https://www.khaama.com/6-taliban-isis-k-militants-killed-in-coalition-airstrikes-03225/
--------
Key Taliban leader Qazi Qari Abdul Qadir among 25 killed, wounded in Farah operations
02 Feb 2019
At least 25 Taliban militants including a key leader of the group identified as Qazi Qari Abdul Qadir were killed or wounded during the operations in western Farah province of Afghanistan.
The Ministry of Interior (MoI) in a statement said the Afghan National Defense and Security Forces conducted operations against the terrorist groups in Khak-e-Safid district of the province which resulted into the killings of 7 Taliban militants.
The statement further added that a key local leader of the group identified as Qazi Qari Abdul Qadir was among those killed and 8 others were arrested.
At least 5 Taliban militants were killed during a separate airstrike conducted in Posht-e-Koh district of the province, the Ministry of Interior said.
Full report at:
https://www.khaama.com/key-taliban-leader-qazi-qari-abdul-qadir-among-25-killed-wounded-in-farah-operations-03223/
--------
Bangladesh: Security forces arrest four suspected terrorists
02 Feb 2019
Dhaka, Feb 2 (IBNS): Bangladesh security forces said they have arrested four suspected terrorists who were planning to murder a newspaper editor, media reports said.
The suspected members of banned Ansarullah Bangla Team were caught by the elite police unit during a raid at the suburb area on early Friday, reported bdnews24.
As per the news portal report, the suspects have been identified as Md Shahriar Nafis aka Ammar Hossain, 20, Rasel aka Sajedul Islam Gifari, 24, Md Rabiul Islam aka Nurul Islam, 28 and Md Abdul Malek, 31.
Bangladesh's security force Rapid Action Battalion said the arrested people were planning to kill the editor of a national daily, which published a criticism of hadith, or Islamic tradition, on marriage.
The article was published on the newspaper on Jul 28 last year, for which the militants blamed the editor, whose name was left out in the briefing, reported the news portal.
The RAB operation foiled the plans, Mohammad Mufti Mahmud Khan, director of the elite force's media wing, was quoted as saying by the news portal.
Ansarullah Bangla Team:
The terrorist group grabbed attention in 2013 when blogger Ahmed Rajib Haider was murdered.
Mufti Jasim Uddin Rahmani is the head of the group and he has been in prison since he was convicted in the in the murder of the blogger.
The Bangladesh government banned the outfit in 2015.
As per bdnews24 report, the detectives also believe that former army major Syed Mohammad Ziaul Haque, one of the main suspects behind a foiled coup in 2012, may be involved with the organisation.
Full report at:
https://www.indiablooms.com/world-details/SA/18506/bangladesh-security-forces-arrest-four-suspected-terrorists.html
--------
Conference on Rohingya to be held in New York next week
03.02.2019
The Free Rohingya Coalition (FRC) will host an international conference at Barnard College, Columbia University in New York City on Feb. 8 and 9.
The two-day conference, with the participation of world renowned scholars, UN envoys, activists and refugees, will call for accountability and protection for national minorities in Burma, also known as Myanmar, the FRC said in a statement on Friday.
"This is a rare convergence of academics and activists hailing from and with expertise on Burma [Myanmar], with humanitarians and international criminal law practitioners," it added.
The FRC is a leading global activist group led by and for the Rohingya people, according to the statement.
The Rohingya, described by the UN as the world's most persecuted people, have faced heightened fears of attack since dozens were killed in communal violence in 2012.
Since Aug. 25, 2017, nearly 24,000 Rohingya Muslims have been killed by Myanmar's state forces, according to a report by the Ontario International Development Agency (OIDA).
More than 34,000 Rohingya were also thrown into fires, while over 114,000 others were beaten, said the OIDA report, titled "Forced Migration of Rohingya: The Untold Experience."
Some 18,000 Rohingya women and girls were raped by Myanmar's army and police and over 115,000 Rohingya homes were burned down and 113,000 others vandalized, it added.
According to Amnesty International, more than 750,000 Rohingya refugees, mostly children, and women, fled Myanmar and crossed into neighboring Bangladesh after Myanmar forces launched a crackdown on the minority Muslim community in August 2017.
Full report at:
https://www.aa.com.tr/en/americas/conference-on-rohingya-to-be-held-in-new-york-next-week/1382156
--------
Afghanistan reshuffles security leadership in the Ministry of Interior
02 Feb 2019
The government has reshuffled security leadership in the ministry of interior, sources privy of the development said Saturday.
The sources further added that the first deputy minister of interior Gen. Janan Barekzia has replaced by Abdul Saboor Qani while deputy minister of interior for security Gen. Akhtar Ibrahimi has been replaced by Khushal Sadat.
In the meantime, the director of the counter-terrorism department of the ministry Gen. Najeeb Aman has been replaced by Mahir Yaqoubi, the sources added.
The main reason behind the reshuffle has not been announced so far.
Full report at:
https://www.khaama.com/afghanistan-reshuffles-security-leadership-in-the-ministry-of-interior-03222/
--------
Afghan forces not to accept transient peace: Ghani
03 Feb 2019
President Mohammad Ashraf Ghani has said the Afghan National Defense and Security Forces would not accept transient peace.
He made the remarks during a ceremony which was organized in ARG Palace late on Saturday to confer medals on some Afghan soldiers who had participated in an operation that resulted into the release of 38 people from a Taliban prison.
According to President Ghani, the Afghan security forces are moving towards self-sufficiency and would not accept a transient peace until a single a drop of blood remains in their body, emphasizing that a peace deal which does not guarantee the role of security forces would not be able be acceptable.
He assured that peace would based on a deal which should clearly outline the role of the national defense and security forces.
President Ghani also emphasized that the Afghan forces are prepared for generations, not for a day, for a year, a decade or one generation.
Full report at:
https://www.khaama.com/afghan-forces-not-to-accept-transient-peace-ghani-03226/
--------
Southeast Asia
Eight dead as Philippine soldiers clash with Abu Sayyaf militants
2 February 2019
Philippine troops killed three suspected Abu Sayyaf militants and suffered five fatalities during a firefight on a remote southern island, the military said on Saturday.
The clash with more than 100 members of the Abu Sayyaf group broke out in the town of Patikul in the Sulu province at 11:30 a.m. as troops pursued those behind a church attack on Sunday, Colonel Gerry Besana, spokesman for the military's Western Mindanao Command said.
The church bombing in Sulu, which killed 22 people and wounded more than 100 including civilians and soldiers, was a suicide attack carried out by an Indonesian couple, with help of the Abu Sayyaf group, Interior Minister Eduardo Año said on Friday.
Abu Sayyaf is a militant organization notorious for kidnappings and extremist factions and has pledged allegiance to ISIS. Sulu province, in the country's Mindanao region, is a known stronghold of the group.
The encounter in Patikul lasted nearly two hours, Besana said, with five soldiers and 15 militants also wounded.
Martial law has been in place in Mindanao since domestic and foreign fighters dressed in black outfits overran Marawi City in 2017 and clung on through five months of air strikes and street battles reminiscent of scenes in Syria and Iraq.
https://english.alarabiya.net/en/News/world/2019/02/02/Eight-dead-as-Philippine-soldiers-clash-with-Abu-Sayyaf-militants.html
--------
Philippine troops battle Muslim militants after church blast
By Jim Gomez
3 February 2019
Manila: Philippine troops clashed with Abu Sayyaf gunmen in fierce jungle fighting that left five soldiers and three militants dead, as the military pushed forward with a fresh offensive following a deadly church bombing last weekend.
President Rodrigo Duterte has ordered government forces to destroy the Abu Sayyaf after the bombing last Sunday of Our Lady of Mount Carmel Cathedral in the Sulu provincial capital of Jolo that killed 22 people and wounded more than 100. The attack has renewed terrorism fears across the Philippines, where the national police went on full alert and security has been strengthened in churches, shopping malls and other public areas.
Regional military spokesman Colonel Gerry Besana said another five soldiers and 15 militants were wounded in nearly two hours of fighting Saturday between the army and about 150 Islamic State group-linked fighters in the jungles near Patikul town.
The militants were led by Abu Sayyaf commander Hatib Hajan Sawadjaan, who is suspected of helping plot the bombing. The Abu Sayyaf, which has about 300 to 400 armed fighters, has been blacklisted by the United States and the Philippines as a terrorist organisation because of years of bombings, kidnappings and beheadings in the predominantly Roman Catholic nation.
Government forces have over the years pressed on sporadic offensives to crush the group, including in Jolo, a poverty-wracked island of more than 700,000 people where Muslims are the majority. A few thousand Catholics live mostly in the provincial capital.
Since the church attack, the air force has launched airstrikes on suspected militant bases near Patikul and police killed a suspected militant on a raid in the city.
Duterte told reporters earlier this week that the church bombing was a suicide attack carried out by a militant couple.
Interior Secretary Eduardo Ano said on Friday that an Indonesian couple was responsible for the bombing aimed at fomenting sectarian conflict in the south. The Indonesian man reportedly used the nom de guerre Abu Huda and Philippine authorities said they would coordinate with their Indonesian counterparts to try to validate the identities of the two.
Indonesian Foreign Ministry spokesman Arrmanatha Nasir said the government had not been able to confirm the involvement of Indonesian nationals in the attack.
There has been speculation that the bombing may be a diversionary move by Muslim militants after troops recently carried out an offensive that killed a number of IS-linked extremists in an encampment in the hinterlands of Lanao del Sur province, also in the south. The area is near Marawi, a Muslim city that was besieged for five months in 2017 by hundreds of IS-aligned militants, including foreign fighters.
Troops quelled the insurrection, which left more 1100 people dead, mostly militants, and the heart of the mosque-studded city in ruins.
Full report at:
https://www.smh.com.au/world/asia/philippine-troops-battle-muslim-militants-after-church-blast-20190203-p50vdf.html
--------
Teens publically whipped in Indonesia's Aceh for cuddling
January 31, 2019
BANDA ACEH, Indonesia: Two teenagers were whipped in Indonesia's Aceh province on Thursday after they were caught cuddling in public – a crime under the conservative region's Islamic law.
Flogging is used as punishment for a range of offences in the region at the tip of Sumatra island, including gambling, drinking alcohol, and having gay sex or relations outside of marriage.
Hundreds of spectators watched as a female university student and her boyfriend, both 18, were whipped 17 times each outside a mosque in the provincial capital Banda Aceh.
A 35-year-old man was also flogged with a rattan cane for being intimate with a woman – aged 40 – in a local grocery store.
All four had served several months in prison before the punishment.
On Thursday, the 40-year-old woman pleaded to be caned in an apparent attempt to get out of jail immediately, but a medical team postponed her flogging after they deemed her physically unfit.
Aceh is the only province in the world's biggest Muslim majority country that imposes Islamic law.
"People outside of Aceh who think Islamic Sharia (law) is cruel can now see that it is actually very tolerant and humane," Banda Aceh deputy mayor Zainal Arifin told reporters.
In December, two men caught having sex with underage girls were whipped 100 times each.
Rights groups slam public caning as cruel, and Indonesia's President Joko Widodo has called for it to end.
But the practice has wide support among Aceh's mostly Muslim population – around 98 per cent of its five million residents practise Islam.
Earlier this year, Aceh said that flogging would be carried out behind prison walls in future, but some local governments have continued public whippings.
Full report at:
https://www.nst.com.my/world/2019/01/456270/teens-publically-whipped-indonesias-aceh-cuddling
--------
Defeat in Semenyih will be the deathblow for PPBM, says Umno leader
02 February 2019
By Syed Jaymal Zahiid
KUALA LUMPUR, Feb 2 — Umno secretary-general Tan Sri Annuar Musa has expressed confidence that his party will spring an upset in the Semenyih state seat by-election following its convincing triumph in the Cameron Highlands poll.
He claimed Umno's victory against incumbent Parti Pribumi Bersatu Malaysia (PPBM) will deliver the fatal blow and force a power transition that would see PKR take over as de facto leader of Pakatan Harapan (PH), a statement likely alluding to the purported rift between the two parties.
"Even with a reduced majority, let alone losing to a fettered Umno-Barisan Nasional will be the deathblow for PPBM," he wrote on Facebook last night.
"It would likely become the catalyst to a transition of power to DSAI/DSAA," he added, referring to abbreviations used for PKR president Datuk Seri Anwar Ibrahim and his deputy Datuk Seri Azmin Ali.
Rumours that PPBM leaders want Anwar blocked from becoming prime minister had set alight a proxy war between his camp and Tun Dr Mahathir Mohamad, who first promised to hand over the post in two years but later hinted that he could stay on longer.
Annuar's claim about the power transition is likely a textbook psywar strategy to tap the uncertainties surrounding the matter.
In his Facebook posting, the Umno leader claimed PH is currently led by a PPBM-DAP alliance, an allegation seemingly aimed at both unnerving other members of the coalition.
The allegation that PPBM and DAP were close allies was also aimed at tapping Malay distrust of the minority-led party, an effective strategy in Cameron Highlands.
Annuar said the Semenyih by-election will be a platform for Malay voters to voice their opposition to a PPBM-DAP led government.
"The Semenyih by-election will carry a strong message..that it is a referendum on the performance of the conduct and performance of the government, especially of Bersatu/PPBM," he said.
"Semenyih is an opportunity for a referendum to prove the rakyat is disappointed..to show if the party they trust to uphold Islam and the Malays are Umno-PAS or PPBM-DAP."
Buoyed by increased Malay support in Cameron Highlands, Annuar said the by-election marked the turning point for a party that was almost crippled by its internal dissension.
Now, he added, Umno is reinvigorated.
"Now not only Umno and BN are being reinvented, but the entire Opposition Coalition will be better and fresher with more members like PAS, especially, and other NGOs," he said.
On the opposite end, PH leaders said they are prepared to face the Umno-PAS alliance in Semenyih knowing fully that the Opposition would play up racial-religious sentiments to win votes. They said they have their own strategy to keep the seat come March 2.
The Semenyih by-election was called following the death of assemblyman Bakhtiar Mohd Nor, 57, of PPBM, of a heart attack on January 11.
Full report at:
https://www.malaymail.com/news/malaysia/2019/02/02/defeat-in-semenyih-will-be-the-deathblow-for-ppbm-says-umno-leader/1719216
--------
That was awkward—at Jokowi event, senior cleric mistakenly prays for Prabowo
February 2, 2019
A respected Muslim cleric is in the spotlight after a video of him mistakenly praying for Prabowo Subianto to become "a leader" during an event attended by President Joko "Jokowi" Widodo went viral on the web.
The incident took place at Al-Anwar Islamic Boarding School in Rembang, Central Java, on Friday. The Islamic school was holding an event called Sarang Berdzikir untuk Indonesia Maju (chanting for Indonesia's advancement) after Jokowi's campaign platform title.
The cleric, Kyai Maimun Zubair, was sitting next to the President, who is seeking greater support from Muslim voters, when he was closing the event with the prayer, in which he mistakenly prayed for Prabowo.
Maimun, who reportedly backed Prabowo in the 2014 presidential election, was reading the prayer from a yellow sheet of paper, tempo.co reported. The prayer was in Arabic, but one line that sparked the whole fracas could be translated to, "Dear God, this is a leader, this is a leader Prabowo, please let him be, dear God."
Prabowo's name was mentioned three minutes into the video. In the version that The Jakarta Post watched, Maimun mentioned Prabowo's name at the 3 minute 50 second mark.
After the prayer, the event's host announced that Jokowi and the first lady, Iriana Widodo, were about to leave the room, which is when Maimun said another prayer in Arabic, this time mentioning Jokowi's name, in an apparent effort to correct the blunder. "I am an old person. I'm 90 years old," said Maimun after the short prayer, "But with this, I am hoping for the one who sits beside me, Pak Jokowi."
The statement was met with applause. The Islamic scholar then left the stage, helped by Jokowi.
On Saturday, United Development Party (PPP) deputy chairman Arwani Thomafi asked people to see the whole video, as there is a short version of the video which only shows the part where Maimun mentions Prabowo's name.
In a written statement, Arwani argued that Maimun prayed for Jokowi to be president for the second time.
Full report at:
https://www.thejakartapost.com/news/2019/02/02/that-was-awkwardat-jokowi-event-senior-cleric-mistakenly-prays-for-prabowo.html
--------
Arab World
Pope's visit generating hope for a new era of tolerance in the Gulf
February 03, 2019
DUBAI: Pope Francis's unprecedented three-day visit to the UAE will not only mark the first official papal trip to the GCC, but also carry hopes with it of a new era of religious tolerance in the Gulf.
Bishop Paul Hinder, of the Apostolic Vicariate for Southern Arabia, based at St. Joseph's Cathedral in Abu Dhabi, said that there was no person better placed to deliver the message of peace and mutual understanding than the 82-year-old pontiff.
"This visit is centered on the 'human fraternity for inter-religious dialogue,' and I would say Pope Francis is truly the right person to stress this point — to show how it works, to show how to bypass borders and approach each other without fear," Hinder told Arab News. "That is something important and, for this, I would say the pope is extraordinary.
"He is not afraid to meet people of completely different cultures and faiths."
Hinder said that he hoped the pope's visit would give fresh impetus to the "policy of tolerance," which he felt some needed to adhere to more than others.
The pope was invited to the UAE by Sheikh Mohammed bin Zayed Al-Nahyan, crown prince of Abu Dhabi, during his visit to the Vatican City in 2016. The pope's visit coincides with the UAE's celebration of the Year of Tolerance, declared by UAE President Sheikh Khalifa bin Zayed Al-Nahyan in December last year.
"Tolerance can be something passive, but I think the goal has to be more, it has to be a mutual understanding and an approach which accepts the different faiths and mentalities of other human beings," said Hinder. The pope had a "unique" way of reading a person's suffering and helping them regardless of race, religion, culture or faith, he added.
"He is someone who has a pastoral approach; he doesn't look at, as I would say, 'the book,' he looks at the person. That gives him an inner freedom which many others do not have, to have an approach which looks first at the human being … Pope Francis approaches people as Jesus did."
The pontiff will make a private visit to St. Joseph's Cathedral on Tuesday, the last day of his tour, where he will meet with 300 members of the congregation, many families with children with special needs, as well as the sick and elderly.
Hinder will be part of the official delegation appointed to the pope during his stay in the UAE.
More than 1 million Christians live and work in the UAE, most of them Catholics. While formal relations between the UAE and the Vatican were established in 2007, Catholics have enjoyed the freedom to worship there since before the country was formed, with St. Joseph's Cathedral being established in 1962.
"The relationship has been good (with the UAE) since the beginning, since we were first here — and that has developed," said Hinder. "I always enjoy the relationship and, as the bishop, I have great respect for the authorities and their concerns for the church and for me as head of the Catholic church in the region.
"I have great admiration for the policy of this country regarding tolerance. I can see the UAE's interest in showing itself to the world as a country open to other people and, in a certain sense, as a model of society that teaches people of different cultures and different faiths how they can live together in peace and harmony."
Ahead of the pope arriving in Abu Dhabi, choristers have been busy rehearsing hymns, organizers have been making last-minute preparations, and the excitement of the Christian population has reached fever pitch.
Theresa Dorado, 40, from the Philippines, is one of an estimated 135,000 people who will attend a papal Mass at Zayed Sports City on Tuesday.
Speaking outside St. Joseph's Cathedral, where thousands of Catholics attend Mass every week, she said: "I got a message by mail saying I had got a ticket. I was over the moon. I am excited because it will be the first time that I have seen the pope. It will be a memorable occasion for Abu Dhabi."
Filipino Chaberyl Celoso, a nurse with the Abu Dhabi Health Services Co. (SEHA), has been selected to assist with medical support at the stadium during the event.
"I am so excited to be involved. This is the first time the GCC has had someone from the Vatican City here, and it couldn't be a more high-ranking individual. The whole community is very excited. I don't mind if I get a glimpse of the pope or not. I just want to hear his voice and what he has to say to the people."
Ese Aazagbaesuweli, from Nigeria, is also looking forward to the visit. "It will be an experience of a lifetime. I didn't manage to get a ticket, but I will be glued to my TV.
"We are in a Muslim country, and I am so impressed he is coming here, especially now, in the Year of Tolerance.
"We are all the same; Muslims, Catholics, Christians, Buddhists, we believe in the same thing — peace. And I believe no region teaches violence, all religions teach peace, and I hope this visit will remind people of that."
Myra Esguerra, 50, from the Philippines, was still waiting to hear if she had managed to get a ticket for the Mass. "Even if I don't get one, I will somehow hopefully get to see him (the pope) pass by," she said.
Vanessa Unigo, who moved from the Philippines four months ago to work as a nanny in Abu Dhabi, hopes it will be the second time she sees a sitting pope. Almost 24 years ago, Unigo met Pope John Paul II during World Youth Day in Manila.
Maria Joshy, 13, from Kerala, in India, will be attending the public Mass with her family. She said: "I have been to (the Vatican) in Rome but never seen a pope."
Friends Baltazar Dano and Sedfreygian Fernandez, also from the Philippines, are hoping to catch a glimpse of the pontiff. "We are very happy because it is the first time he has visited here," said Dano. "Around the UAE, all Catholics are excited."
Pope memorabilia, including T-shirts and baseball caps, has been selling fast at stalls outside St. Joseph's Cathedral.
The congregation, led by Father Gandolf Wild, were told to pray for the "safe and successful" visit of the pope. "The pope's visit will launch this Year of Tolerance, and there will be many other initiatives to spread the spirit of tolerance … and the inclusion of all regardless of health and ability," said Wild.
"We encourage all to work together in peace and harmony and we know that Pope Francis has the ability to reach out to people and touch their hearts."
http://www.arabnews.com/node/1446086/middle-east
--------
Sikhs in UAE hail country's year of 'respect, inclusion'
January 30, 2019
Since the Sikh Gurudwara in the UAE was opened, Sikhs in the country have become more "self-assured of their identity.
When it was announced that 2019 would be the Year of Tolerance in the UAE, the Sikh community in the country felt the palpable "respect and recognition for their faith", said the leader of the country's first Gurudwara.
"Proclaiming the Year of Tolerance even goes beyond recognising faith groups, it also signifies inclusion - by encouraging everyone to observe the value of tolerance towards other religious beliefs, cultures and traditions," said Surender Singh Kandhari, chairman of the Guru Nanak Darbar Sikh Temple in Dubai, the first Sikh Gurudwara in the region.
In the country, tolerance is not just a concept people talk about - it is a virtue that the UAE has institutionalised, especially with the establishment of the Ministry of Tolerance a few years ago, Kandhari said.
"This means that programmes are planned, executed, monitored and evaluated. Structuring efforts in nurturing tolerance can have measurable and tangible results - which makes all the dialogues and activities progressive and continuously developed."
He said Pope Francis' upcoming visit to Abu Dhabi alone cements the status of the UAE as a global champion of tolerance.
"Countering hatred and violence by embracing and promoting respect and tolerance is a great example that the global community can learn from," Kandhari said. "To see the pope in the UAE will have a resounding effect to all people, young and old. I am certain that this event will bring encouragement and send a message that everyone has the right and freedom to choose and practice their religion.
"For non-Catholics, to see the Pope in a Muslim country perpetuates positive acceptance."
Region's first Gurudwara
It was on January 17, 2012 that Kandhari achieved a life-long dream - he established the region's first official Sikh Gurudwara (temple) in Jebel Ali Village, Dubai.
Freedom of religion and expression is a cornerstone of the Sikh faith. Kandhari said that since the Sikh Gurudwara in the UAE was opened, Sikhs in the country have become more "self-assured of their identity". They have also been more understanding of different perspectives and practices, he said.
Sikhism was founded on the teachings of Guru Nanak and the nine successive Sikh Gurus in 15th-century Punjab. It is the fifth-largest organised religion in the world.
This system of religious philosophy and expression has been traditionally known as the Gurmat (literally, the counsel of the gurus) or the Sikh Dharma. In 1958, the Sikh community comprised just 1,000 people. Now, there are over 50,000 Sikhs in the UAE and majority of them are blue-collar workers.
The Gurudwara serves free food from 6am to 9pm every day to all who come to the temple. Everybody - regardless of their faith - is welcome to enjoy a spiritual experience, along with a tasty vegetarian meal, at the temple.
"We distribute approximately 1,500 meals per day. On special days and weekends, we distribute over 55,000 free meals to everyone," Kandhari said.
550 years
This year is significant for the Sikhs as it marks Guru Nanak Dev's 550th birth anniversary.
"Guru Nanak Dev Ji has been an advocate of inter-faith harmony as evidenced by having a Hindu and Muslim constant companion throughout his lifetime," Kandhari said.
Full report at:
https://www.khaleejtimes.com/year-of-tolerance/sikhs-in-uae-hail-countrys-year-of-respect-inclusion
--------
Egypt lawmakers to submit motion to amend constitution
3 February 2019
A coalition of Egyptian parliamentarians will submit a request for constitutional amendments providing for a second chamber of parliament and the appointment of one or more deputy presidents, state news agency MENA reported on Saturday.
The move follows a separate attempt by a group of ordinary Egyptians to change presidential term limits in the constitution, which was adopted in 2014 after the military overthrew President Mohamed Morsi following protests against his rule.
Speculation has been rife that the authorities will seek changes to the constitution, which limits a president to two four-year terms in office, since President Abdel Fattah al-Sisi's re-election in March in a vote against a marginal opponent.
The lawmakers' proposed amendments will be presented to parliament speaker Ali Abdelaal on Sunday. Any changes need approval by two thirds of parliament members, followed by a referendum.
MENA said the lawmakers' proposed changes include restoring the Shura Council, an upper chamber that operated alongside the current 596-member House of Representatives, previously known as the People's Assembly, until it was cancelled in 2014, and the appointment of one deputy or more for the president.
The proposed amendments also include a quota guaranteeing at least 25 percent of parliament seats for women, as well as "adequate representation" for youth, farmers, workers and the country's Christian minority.
There was no word on any proposed changes to the limit on presidential terms, but the head of the "Support Egypt" coalition, which is spearheading the amendments, Abdel-Hadi al-Qassabi, said that parliament members were entitled to present a request to amend any article in the constitution.
Qassabi said that article 226 of the constitution allows the president and a fifth of parliament members to propose an amendment to any article of the constitution.
MENA said in December that an Egyptian court had scheduled hearings of a petition by a number of ordinary Egyptians demanding that the parliament speaker take steps to introduce constitutional changes that would allow Sisi to seek re-election after his second term in office expires.
Full report at:
https://english.alarabiya.net/en/News/middle-east/2019/02/03/Egypt-lawmakers-to-submit-motion-to-amend-constitution.html
--------
SDF, Ankara-Backed Militants Resume Clashes in Aleppo
Feb 02, 2019
The Turkey-backed Euphrates Shield militants engaged in heavy clashes with the SDF fighters in al-Bab region in Northeastern Aleppo, the battlefield sources in Aleppo said.
The sources pointed to the clashes between the two sides in Abaleh region, and said that several fighters have been killed and wounded from both sides in the clashes.
Meantime, the Ankara-backed sources also pointed to an attack by the SDF on their positions in Northeastern Aleppo, and said that they have fended off the attack after sending fresh forces to the battlefronts.
In a relevant development on Friday, the Turkish Army dispatched a large number of Special Forces to Afrin region in Northwestern Aleppo concurrent with intensified infighting among Ankara-backed militants in the region.
The Kurdish-language Hawar News reported that a sum of 200 of Special Forces of the Turkish Army arrived in Afrin region in Northwestern Aleppo as some of them have been stationed in Afrin and some others in the villages of Shirva and Jandariseh regions.
The Kurdish media pointed to the rising infighting among Ankara-backed terrorists over their share of assets and properties stolen from the citizens, and said that fierce clashes have erupted between Jeish al-Islam and Ahrar al-Sharqieh militants in the center of Afrin and its surrounding areas over their share of war booties.
In a relevant development on Wednesday, several Turkish Army soldiers and their allied militants were killed in two military operations by the Kurdish forces in Afrin in Western Aleppo, media reports said.
The Hawar News reported that military vehicles, carrying Turkish Army soldiers and Ankara-backed terrorists, was destroyed in the village of Koubeleh in the Center of Afrin during the Syrian Democratic Forces' military operations against the Turkish Army and Ankara-backed militants.
It noted that two Turkish soldiers were killed and four others were wounded while a military vehicle and military equipment were also destroyed.
Full report at:
http://en.farsnews.com/newstext.aspx?nn=13971113000602
--------
Homs: Several ISIL Terrorists Killed in Failed Attack on Syrian Army Near Palmyra
Feb 02, 2019
The Syrian Army in an ambush operation engaged in heavy clashes with the ISIL terrorists who had penetrated into Wadi al-Sahil region Southeast of al-Sukhna near Palmyra in Eastern Homs.
A battlefield source, meantime, said that the Syrian troops killed all the terrorists after destroying their vehicles and military equipment.
In a relevant development in late January, the Syrian Army heavily pounded the terrorists' movements and positions in Badiya (desert) region, including Avirez Dam, Humeimem and along the border regions with Deir Ezzur province in Eastern Homs.
Field sources also reported that the Syrian Army destroyed several terrorists' targets, killing and wounding a large number of them.
The sources also said that the Syrian Army engaged in heavy clashes with the ISIL terrorists in the Northeastern part of Jabal al-Gharb in Eastern desert of Palmyra, killing and wounding a number of militants as well as destroying their military equipment.
Also last month, the Syrian Army in a ambush operation foiled an attempt by the Washington-backed terrorists stationed in Al-Tanf region near the border with Iraq on secure positions around Palmyra in Homs province, killing a number of them.
The Syrian Army's military units in Eastern Homs, conducted an ambush and managed to foil an attempt by a group of terrorists supported by the US who intended to penetrate into secure regions in Southern Palmyra through al-Hableh Desert from al-Tanf region.
The Syrian Army troops in their military operations destroyed the military vehicles belonging to the terrorists, killing all the militants and seizing a large volume of weapons and military equipment.
In Eastern Palmyra, the Syrian Army units also warded off an attack by another terrorist group on al-Talileh region 20 kilometers from Palmyra, arresting three terrorists and seizing their military equipment.
Meantime, the terrorist groups carried out several attacks on Syrian Army's military positions in desert regions of Homs province from al-Tanf region which is under the occupation of the US-backed militants.
The Syrian Army destroyed several terrorists' targets, killing and wounding a large number of them.
Full report at:
http://en.farsnews.com/newstext.aspx?nn=13971113000825
--------
Large Cache of US, Israeli, Saudi Arms Discovered by Syrian Army Near Damascus
Feb 02, 2019
The engineering units of the Syrian army found the large cache of weapons and military equipment, including anti-tank missiles, machine-guns, RPGs and US-made TOW missiles during its mop-up operations in the towns of Jabata al-Khashab and al-Rafid in Southwestern Damascus and Quneitra.
The report came as the Syrian Army troops also discovered engineering and drilling equipment made in the US as well as medicine and medical equipment made by Israel, Saudi Arabia and Turkey.
Meantime, a battlefield source said that the Syrian Army units has seized a truckload of arms and military equipment smuggled from the occupied Palestinian territories to the regions in Quneitra.
The Syrian Army discovers large number of arms and military equipment made by the sponsors of terrorists, including the US, Israel and certain regional countries on a daily basis.
Last week, the Syrian army found a large number of weapons and ammunition, including Israeli and western arms, during cleansing operations in the former bases of terrorists near Damascus.
The engineering units of the Syrian army discovered weapons and military equipment, including different types of mortars, artilleries, RPGs and over 200,000 rounds of machine-guns and guns, in operations to purge terrorists from the towns near Damascus.
Full report at:
http://en.farsnews.com/newstext.aspx?nn=13971113000520
--------
Terrorists Sustain Heavy Losses in Failed Attacks on Syrian Army Positions in Hama, Idlib
Feb 02, 2019
The Syrian Army units engaged in heavy clashes with a group of terrorists who were trying to penetrate into the government forces' military positions in the outskirts of Mahradeh region in Northern Hama from areas near the Tal al-Sokhr village, and inflicted heavy losses and casualties on the terrorists after warding off their attack.
The Syrian Army's artillery units also heavily pounded the terrorists' movements from the villages of al-Arbaeen, al-Hoviz, Bab al-Taqeh and al-Sharia in Northern and Western Hama, destroying several of their military positions and military equipment as well as killing and injuring a number of terrorists.
In Southern Idlib, the Syrian Army targeted terrorists in the town of al-Hobait, also.
In a relevant development on Thursday, the Syrian Army destroyed the movements and headquarters of the terrorists in Northern Hama and Southern Idlib as government troops continue to repel attacks by the militants in the same region.
The Syrian Army's missile and artillery units heavily pounded the military positions of Tahrir al-Sham al-Hay'at terrorists in the outskirts of al-Hobait town in Southern Idlib, destroying several positions as well as killing and injuring a number of militants.
In Northern Hama, the army's artillery and missile units hit the terrorists' positions near Qaleh al-Maziq town, killing several terrorists and destroying their military equipment and hardware.
The army troops also annihilated the military positions and movements of the terrorists in al-Jisat town in Northern Hama in response to the militants' attacks on the government troops' military positions there.
Full report at:
http://en.farsnews.com/newstext.aspx?nn=13971113000353
--------
Hashd al-Sha'abi fighters stop US military patrol in Iraq's Mosul
Feb 2, 2019
Members of Iraqi pro-government Popular Mobilization Units (PMU), known in Arabic as Hashd al-Sha'abi, have stopped a US military patrol in the city of Mosul, according to a new report.
Rezvan al-Anzi, Hashd's deputy commander, confirmed the news on Saturday, saying the American troops were scared and requested air cover.
"We consider this act by the US forces deliberate provocations, hence we acted directly, closed roads and warned them," al-Anzi said in a statement, according to Iraqi al-Sumaria television network.
The Iraqi commander accused American troops stationed in Iraq of engaging in futile operations in order to cover up their defeats and create insecurity in recently-liberated areas from Daesh Takfiri terrorists.
This is not the first time Hashd forces stop US troops from performing a "suspicion reconnaissance mission" that it argues are aimed at collecting critical information about the movements and positions of the voluntary forces in Iraq.
Commander of the volunteer forces in western Anbar, Qassim Mosleh, told al-Sumaria last month that Hashd had blocked another US patrol mission.
The patrol, he said, violated Iraq's sovereignty and could have seriously endangered Iraqi troops on the Syrian border by exposing their deployments and arms depots to terrorist groups.
Mosleh said then that Hashd al-Sha'abi fighters had forced American troops to return to their base, and not approach them.
Iraqi lawmakers have also long called on American forces to leave their country. In December, US President Donlad Trump announced plans to end US military presence in Syria and Afghanistan but said he had no similar plans for Iraq.
The US first deployed forces to Iraq under the banner of war on terror in 2003, two years after invading Afghanistan under the same pretext. The deployment was followed by rampant violence and chaos, which set the stage for the emergence of Daesh in 2014. Washington then mobilized its allies in another mission to allegedly root out the terrorists. The US-led coalition, however, was suspiciously slow in progress, while its airstrikes against purported terrorist positions led to heavy civilian casualties and damage to Iraqi infrastructure.
Full report at:
https://www.presstv.com/Detail/2019/02/02/587458/Iraq-PMU-US-forces-Mosul
--------
Egypt army says kills 8 militants in desert air strikes
February 02, 2019
CAIRO: Egypt's military said Saturday it had killed eight militants in air strikes in the Western Desert, as it leads a major campaign against Daesh.
"The air force targeted the terrorist base... the completed operation has killed eight very dangerous terrorists", the military said in a statement.
The military said "other people" had been arrested during the operation, but did not give details.
"The terrorist cell .... planned hostile actions that aimed to destabilise the country's security and stability", the army said, without elaborating.
Egypt launched an operation dubbed "Sinai 2018" a year ago, in a bid to dislodge Daesh from the northeastern Sinai Peninsula and other parts of the country, including the Western Desert bordering Libya.
The security forces regularly announce that alleged extremists have been killed, but rarely identify the deceased, the groups they support, or the operations they were purportedly planning.
It is impossible to verify information on military operations through independent sources.
Groups including Human Rights Watch have denounced extra judicial killings, particularly in the Sinai peninsula.
Full report at:
http://www.arabnews.com/node/1445981/middle-east
--------
Mideast
Yemeni army liberates several areas from Houthi militia, 7,183 mines cleared
February 03, 2019
DUBAI: Arab coalition-backed Yemeni forces liberated several areas from the Iran-backed Houthi militia in the Khab directorate, north of Al-Jawf province, Saudi state-news channel Al-Ekhbariya reported.
"The fighting resulted in the deaths of several militants, while the army found weapons caches that the militia had looted from the army camps," said Brig. Gen. Haykal Hantaf.
The official Yemeni Press Agency, in a separate report, also quoted Hantaf saying that "the liberation of the center of the Directorate of Khab from the Houthis will cut off the supply lines to their militants stationed in the other areas of the districts of Barat."
7,183 mines cleared
The King Salman Center for Humanitarian Relief and Humanitarian Action cleared a total of 7,183 land mines planted by the Houthi militia in Yemen during the fourth week of January. It recovered 89 antipersonnel mines, 2,322 antivehicle mines, 284 explosive devices and 4,487 unexploded ordnances.
According to the center, a total of 38,817 mines have been cleared since the beginning of the project in areas with schools and civilian homes across Yemen.
http://www.arabnews.com/node/1446166/middle-east
--------
Turkey jails two Kurdish former parliamentarians
2 February 2019
A Turkish court has sentenced two Kurdish politicians to lengthy jail terms on charges of belonging to a terrorist organization and disseminating terrorist propaganda, Demiroren News Agency (DHA) reported.
It said former parliamentarian Gultan Kisanak, who was arrested in 2016 when she was the joint mayor of Diyarbakir city in southeast Turkey, was jailed for 14 years and three months.
Sebahat Tuncel, who had also served in parliament, was jailed for 15 years, the agency said. She has been on hunger strike for three weeks and did not attend the court hearing.
Kisanak rejected the charges in court and said she had been held for two years before Friday's sentencing.
"I do what I do because it is true, legal, legitimate, humanitarian," Demiroren quoted her as saying. "Everything I do is in the frame of democratic politics."
Kisanak was arrested in October 2016 and accused of making speeches in support of the Kurdistan Workers Party (PKK), which has waged an insurgency in the mainly Kurdish southeast of Turkey since the 1980s. More than 40,000 people have been killed in the violence.
Turkey, the European Union and the United States have all designated the PKK a terrorist organization.
Full report at:
https://english.alarabiya.net/en/News/middle-east/2019/02/02/Turkey-jails-two-Kurdish-former-parliamentarians.html
--------
Turkey captures ISIS suspects on Syria border
2 February 2019
Troops captured four ISIS suspects in a Turkish town on the Syrian border while they were attempting to cross the frontier illegally, state-run Anadolu news agency reported Saturday.
Border units from the Turkish armed forces captured the suspects on Friday in the Akcakale district of Sanliurfa in southeast Turkey, Anadolu said.
One of the suspects, identified as Feride Samur, was being sought with a red notice arrest warrant, it added.
ISIS extremists are blamed in Turkey for a spate of terror attacks including a 2015 bombing on a peace rally in the capital Ankara's train station that claimed 100 lives.
Full report at:
https://english.alarabiya.net/en/News/middle-east/2019/02/02/Turkey-captures-ISIS-suspects-on-Syria-border-.html
--------
Bahrain's senior cleric Sheikh Isa Qassim visits Iran's Mashhad
Feb 2, 2019
Bahrain's most prominent Shia cleric Ayatollah Sheikh Isa Qassim has arrived in the Iranian holy city of Mashhad after visiting the revered Iraqi city of Najaf.
According to Almuqawim, the institute for preserving and publishing works by the senior cleric, Sheikh Qassim arrived in Mashhad, which serves as the spiritual capital of Iran, on Saturday.
Late in December, the top cleric traveled from the UK to Najaf, where he visited the holy shrine of Imam Ali (peace be upon him), the first Shia imam, after nearly half a century since his last visit.
He also met with Iraq's top Shia cleric Grand Ayatollah Ali al-Sistani and Chairman of the Islamic Supreme Council of Iraq (ISCI) Ammar Hakim.
Under house arrest since May 2017, the Bahraini cleric was flown to Britain in July 2018 for medical treatment.
Bahrain Foreign Minister Khalid Al Khalifah wrote on Twitter at the time that King Hamad bin Isa Al Khalifa had allowed Sheikh Isa Qassim to travel to the United Kingdom for medical care.
The online newspaper Rai al-Youm had quoted informed medical sources in London as saying that the top cleric is suffering from cancer, adding that the disease is in an early stage.
Late in 2017, Sheikh Qassim was taken to a private hospital in critical condition and underwent surgery in February.
The Al Khalifah regime seeks to silence the opposition and put its leaders in jail, send them into exile or revoke their citizenship.
On May 21 last year, a Bahraini court convicted Sheikh Qassim of illegal collection of funds and money laundering, and sentenced him to one year in jail suspended for three years. It also ordered him to pay $265,266 in fines in a ruling which sparked widespread demonstrations across the kingdom.
Bahraini authorities stripped the cleric of his citizenship on June 20, 2016. They later dissolved the Islamic Enlightenment Institution founded by Sheikh Qassim as well as the opposition al-Risala Islamic Association.
Anti-regime protesters have held demonstrations in Bahrain regularly since February 2011.
They are demanding that the Al Khalifah dynasty relinquish power and allow a just system representing all Bahrainis to be established.
Manama has gone to great lengths to clamp down on any sign of dissent. On March 14, 2011, troops from Saudi Arabia and the United Arab Emirates were deployed to assist Bahrain in its crackdown.
Full report at:
https://www.presstv.com/Detail/2019/02/02/587491/Bahraini-cleric-Sheikh-Isa-Qassim-Mashhad
--------
Terrorist attack kills IRGC member in southeastern Iran
Feb 2, 2019
A terrorist attack on a military unit in Iran's southeastern province of Sistan and Baluchestan has killed one member of the Islamic Revolution Guards Corps (IRGC).
The attack, carried out on a base of Basij volunteer forces in Nikshahr on Saturday, also left five injured, two of them in critical condition, the IRGC said in a statement.
The so-called Jaish ul-Adl terrorist group claimed responsibility for the attack. The terrorist outfit, which is funded by Saudi Arabia, also claimed a bombing which injured at least four police officers in the same province last Wednesday.
Saudi Arabia, the US and Israel have consistently supported terrorist organizations that have a long history of carrying out attacks against civilians in Iran.
The Saudi-backed al-Ahvaziya terror group claimed a deadly attack on a military parade in Iran's southern city of Ahvaz in September. As many as 25 people, including a four-year-old child, lost their lives in the assault.
Jaish ul-Adl terrorist group also kidnapped 12 Iranian border guards near the town of Mirjaveh in Sistan and Baluchestan province last October and took them into neighboring Pakistan. Five of the captives were later freed and efforts are underway to secure the release of the remaining guards.
Sistan and Baluchestan, which borders Pakistan, has suffered several terror attacks targeting both civilians and security forces over the past years.
Full report at:
https://www.presstv.com/Detail/2019/02/02/587445/Iran-terrorist-attack-Nikshahr-IRGC
--------
UN-appointed Yemen ceasefire team to meet aboard ship
Feb 3, 2019
A United Nations-appointed committee tasked with monitoring a ceasefire in the Yemeni city of Hudaydah is to hold its next meeting aboard a ship anchored off the key port city because representatives of forces running Yemen have refused to enter areas controlled by Saudi-led aggressor forces.
The Redeployment Coordination Committee (RCC), which is chaired by retired Dutch General Patrick Cammaert, gathers members of Yemen's former regime and the country's popular Houthi Ansarullah movement.
According to a UN statement, Cammaert boarded the vessel on Saturday and picked up representatives of the former regime at a rendezvous in the Red Sea before returning to Hudaydah to await Houthi envoys, who were to arrive on Sunday, the statement added.
RCC meetings have so far been held on Houthi-held territory in Yemen. The latest meeting, which is the third, is now being held on the vessel because the Houthis have refused to attend any gathering on territory controlled by Saudi-led forces, who have invaded Yemen in support of the former regime.
Saudi Arabia and some of its vassal states invaded Yemen four years ago to restore a Riyadh-aligned regime that had resigned and fled the country. The Houthis and their allies — who have since been running state affairs — have been defending the country against the Saudi-led invasion.
The onslaught has killed tens of thousands of people and driven the entire Yemen close to the edge of famine.
The RCC was formed on the back of an agreement reached under the auspices of the UN in Sweden last December.
The breakthrough deal calls for a ceasefire in Hudaydah — which has been under a Saudi-led siege — the withdrawal of both Saudi-backed forces and the Yemeni defense units from the city, and the deployment of UN observers there.
Full report at:
https://www.presstv.com/Detail/2019/02/03/587522/Yemen-alHudaydah-ceasefire-meeting-ship-Houthis
--------
Countries rap Israel for expelling group protecting al-Khalil
Feb 3, 2019
Countries contributing to an international observer group tasked with safeguarding Palestinians in the flashpoint city of al-Khalil (Hebron) in the West Bank have denounced Israel's unilateral decision not to renew the mandate of the task force.
On Monday, Israeli Prime Minister Benjamin Netanyahu announced that the mandate of the Temporary International Presence in Hebron (TIPH) would not be extended, claiming that the monitoring mission "acts against" the Tel Aviv regime.
In a joint statement released on Friday, the foreign ministers of the countries that provide observers to the TIPH — Norway, Denmark, Sweden, Switzerland, Italy, and Turkey — stressed that Netanyahu's move "undermines one of the few established mechanisms for conflict resolution between Israelis and Palestinians and may therefore have a negative impact on the situation."
"We regret the unilateral decision," they said. "The Israeli decision to withdraw from the agreement with the PLO and thereby terminate the TIPH constitutes a departure from the Oslo II Accord of 1995," referring to the Palestine Liberation Organization.
The mission was established following an agreement reached between the Tel Aviv regime and the PLO in 1994, when an Israeli settler killed 29 Palestinian worshipers at the Ibrahimi Mosque in al-Khalil.
The group did not start its work in the city until 1998, after the Israeli military refused to leave al-Khalil following the establishment of an illegal Israeli settlement at the heart of the city.
TIPH's mandate is renewed every six months. Its latest mandate ended on January 31.
In their statement, the countries also stressed that the TIPH had "diligently fulfilled its mandate as requested by both parties, and thus contributed to preventing violence and promoting a feeling of security for the population in Hebron."
Rejecting Netanyahu's claim
They rejected "any claim that the TIPH has acted against Israel," saying that such accusations were "unacceptable and ungrounded."
UN urges protection of Palestinians
On Saturday, the United Nations' Secretary-General Antonio Guterres expressed hope that an agreement could be reached to protect Palestinians in the occupied West Bank after Israel's expulsion of international monitors from al-Khalil.
UN spokesperson Stephane Dujarric said Guterres was "grateful" to the countries that had contributed to conflict prevention under the TIPH for the past 22 years.
Similarly, the European Union issued a statement opposing Israel's al-Khalil move, saying it risked "further deteriorating the already fragile situation on the ground."
Full report at:
https://www.presstv.com/Detail/2019/02/03/587520/Israel-Palestine-al-Khalil-TIPH
--------
Turkey captures four Daesh suspects near border with Syria
Feb 2, 2019
Soldiers have detained at least four suspected members of the Daesh Takfiri terrorist group in a Turkish town on the Syrian border while they were trying to cross the frontier illegally.
The Turkish Defense Ministry on its official Twitter account on Saturday said that border units from Turkish armed forces captured the four "Daesh terrorists" on Friday in the Akcakale district of Sanliurfa province in the country's southeast.
The state-run Anadolu news agency reported that one of the suspects, identified as Feride Samur, was being sought with a red notice arrest warrant.
In recent years, Daesh terrorists have carried out a series of gun and bomb attacks in Turkey.
Back in October 2015, twin bombings targeted a pro-Kurdish peace rally in the capital Ankara, killing 103 people and injuring more than 500. The government put the blame on Daesh terrorists.
Turkey has stepped up anti-terror operations against Daesh's network inside the country in the last couple of years, arresting many suspected terrorists and busting several terror cells across the country.
In July last year, Turkish security forces arrested dozens of people suspected to be foreign members of Daesh in an array of counter-terrorism operations across Istanbul.
Daesh, which once held large swaths in Syria and Iraq, has not lost all of its urban bastions in both Arab countries, thanks to constant counter-terror operations carried out by the Syrian and Iraqi armies. However, remnants of Daesh conduct sporadic attacks against government troops and civilians alike in the war-torn countries.
Full report at:
https://www.presstv.com/Detail/2019/02/02/587479/Syria-Turkey--Akcakale-district-of-Sanliurfa-Daesh
--------
North America
Muslim charity distributes food to homeless struck by Chicago's cold snap
February 2, 2019
On a frigid night in Chicago, Illinois, with the temperature hovering around - 40F (-40C), a Muslim charity stepped out on the streets to help the homeless.
Halil Demir, executive director of the Zakat Foundation of America, along with 20 staff distributed bags to hundreds of homeless people on the city's South Side.
The bags contained a sandwich, beverage and a granola bar.
"I am so glad that you guys are here. Thank you, thank you for coming," said Demir in a video that went viral on social media.
Blankets, coats, gloves, socks, hats and adult diapers were also among the aid handed out to the needy on the streets.
Demir said the foundation delivered food to 10 police stations as well as homeless shelters in the brutal weather when many shops were closed.
"We have no worldly expectations. It is the duty of a Muslim to help hungry and homeless people, regardless of their views or religion," he told Anadolu Agency.
Demir, originally from Şanlıurfa province in southeastern Turkey, has been living in the United States for 20 years.
"In this country, where Muslims are a minority and anti-Islamism is increasing, such activities are becoming more important," he said.
Demir described a heart-warming experience when he and his staff were on their way to the foundation's Chicago headquarters and made an unplanned stop at a library.
The moment he stepped in, Demir said he saw a lady librarian scanning a list of phone numbers on her table.
"She was overjoyed," said Demir when he told her they were from an aid organization and asked whether she needed anything.
The lady, named Alvira, was searching for an institution to help a dozen homeless people who were sheltering in the library before it was time to close. She said there wasn't even food to offer them.
"God sent you. I know God sent you for us," said Alvira, according to Demir, who said he was "indescribably moved" by the experience.
Demir and his friends brought them to the foundation's headquarters and are providing them accommodation and meeting all their needs until the weather warms up.
Founded in 2001, the Zakat Foundation of America is a Muslim-run charity organization and helps needy communities at home and abroad.
https://www.dailysabah.com/americas/2019/02/02/muslim-charity-distributes-food-to-homeless-struck-by-chicagos-cold-snap
--------
Democrats and Their Media Pretend Muslim Terrorism Is Manufactured
By Rich Logis
February 2, 2019
Ask your friends, family, and neighbors if they're aware that the FBI recently thwarted a Muslim terrorist who allegedly wanted to blow up and shoot up the White House, the Washington Monument, the Lincoln Memorial, and a synagogue.
Chances are, they haven't heard about Hasher Jallal Taheb, a 21-year-old native-born American from the Atlanta, Ga. metropolitan area who was arrested after a months-long undercover investigation. If those you inquire with heard about Taheb, ask them if they know he was a jihadist who changed his name and believed that jihad is an obligation and pathway to martyrdom.
You want to talk about a national emergency? How about the frequency with which so many Democrats, as well as the DMIC (Democrat Media Industrial Complex), cover up radical Islamic terrorism?
Democrat-Defined Terrorism
To paraphrase Orwell's Animal Farm, all terrorists are created equal, but some are created more equal than others. Over the last few years, with the unfortunate rise in white supremacy-related violence and murders, Democrats and the DMIC have moved the goal posts on who's a terrorist and who isn't. Actually, I don't mind their expansion of the term, as I can now claim as terrorists some members of Black Lives Matter, protesters who block active-duty ambulances, and pro-fascists who identify themselves as "Antifa."
The terrorist cartel Americans are most at risk of dying and suffering injuries from is radical Islam.
Let's inspect how major media covered the Taheb arrest.
"The Truth Is Hard" The New York Times made zero mention of Taheb's ideological adherence in its headline (Taheb was called just "man") and zero mention of jihad.
"Democracy Dies in Darkness" The Washington Post wrote barely a blurb, parroted "man" in its headline, and whiffed on the jihad fact. Same for MSNBC. Interesting, wouldn't you say, how coordinated the headlines seemed to be? I'm sure it was coincidental.
Fox and Breitbart made mention of jihad, as did The Atlanta Journal-Constitution and, shockingly, CNN.
If Taheb had been a blonde-haired, blue-eyed Caucasian who was one of the U.S.'s 14 neo-Nazis whose social media posts showed him wearing a MAGA hat, and his target had been Nancy Pelosi, how would the DMIC have covered the story?
When MAGA hats are involved, such as the incident in January between high school students and an American Indian activist, the DMIC always makes mention of that fact, as evidenced here, here, and here.
The story was a non-story, but MAGA hat mentions are too good to pass up. When youths harassed a senior citizen during U.S. Supreme Court justice Brett Kavanaugh's confirmation hearing, nary a peep from Democrats and the DMIC did we hear.
MAGA hats bad; jihadi good.
Media Is about Narratives, Not News
When Omar Mateen shot to death 49 patrons of the Pulse nightclub in Orlando, Fla. three years ago, his act of terror resulted in the second highest casualty count of Islamic terrorism in American history, behind only the September 11, 2001 attacks. Yes, the DMIC did make mention of his radicalization, but the immediate – and prevailing – narrative was centered on gun violence and gun control, which is analogous to calling 9/11 airplane violence.
Democrats and the DMIC have written Mateen's Islamic radicalization out of his life story. You wouldn't have known that Mateen pledged his life to ISIS from the originally released 911 call transcript from Obama's Department of Justice, which omitted the ISIS reference so as not to give the terror group additional publicity. The DOJ did eventually release an unedited transcript.
When President Obama delivered a statement after Pulse, he did mention Mateen's terrorist beliefs but stressed that they were homegrown, because...homegrown Islamic radicalization has nothing to do with the thousands of years of Middle Eastern Islamic terrorism and its propaganda that is so readily available in the U.S.? Obama also emphasized that Mateen, as well as the San Bernardino, Calif. Islamic terrorists who killed 14 were "lone wolves," an excuse Democrats and the DMIC are fond of – unless it's a white male murdering with an AR-15.
So how did all those DMIC journalists, many Ivy League-educated, miss that crucial jihad detail in the FBI's 13-page report on Taheb? I suspect they didn't miss it at all; their ad infinitum Islamic terrorism apology tour will soon be coming to a city near you. Joining them will be new Minnesota U.S. rep. Ilhan Omar, a Muslim who is public in her anti-Semitism and homophobia. The DMIC isn't too concerned, though; it's been busy touting how "historic" her win was. Omar won her race by 56 percentage points, and her district has been represented only by Democrats for the last 20,000 consecutive days. One's sex and religion aren't skills, qualifications, achievements, or accomplishments, and her win was hardly "historic."
How Serious Is the Islamic Terrorist Threat?
Democrat and DMIC agitprop claiming that white men are America's gravest threat is so bold a lie that Goebbels would blush at its brazenness.
The University of Maryland has been tracking domestic and international terrorism for several years. My assessment of their data is that they are without much bias. Islamic terrorism is categorized into jihadi-inspired extremism.
Between 2010 and 2016, jihadi-motivated and Islamic extremists accounted for 29 attacks, totaling 78 deaths. All other combined attacks totaled 84 attacks, for 45 deaths, including seven white supremacist attacks, totaling 18 deaths.
Globally, over 99 percent of terrorism – resulting in death or injury – has been perpetrated by radical Muslims. The U.S. spends billions annually monitoring and fighting Islamic terrorism, not white male terrorism.
Additionally, foreign-born constitute the majority of terrorist arrests. There is a caveat: dozens were arrested overseas and extradited to the U.S. to stand trial. Those who scream Islamophobia in response to this caveat likely wouldn't be screaming whitemanophobia if those extradited were white males.
You know that border crisis Chuck and Nancy claim is "manufactured"? Turns out ISIS has a presence in Central America.
Full report at:
https://www.americanthinker.com/articles/2019/01/democrats_and_their_media_pretend_muslim_terrorism_is_manufactured.html
--------
Two ISIS 'Beatles' to face US trial in summer
February 3, 2019
Two Londoners alleged to be members of the ISIS-affiliated "Beatles" group may face trial in the US as early as this summer, British media reported.
Alexanda Kotey and El Shafee Elsheikh, who are currently being held by western-backed Kurdish forces in the north of Syria, are expected to soon be transferred to US custody.
As US President Donald Trump prepares to withdraw American troops from Syria, there are growing concerns that the men could be broken out of jail by ISIS supporters or set free by their overstretched captors.
The men, who have been stripped of their British citizenship, are deemed to be members of a four-member execution cell led by a fighter dubbed "Jihadi John", identified as Mohammed Emwazi.
Among the 27 beheaded western hostages who fell victim to the group were US journalists James Foley and Steven Sotloff and British aid workers David Haines and Alan Henning.
Mr Kotey and Mr Elsheikh were captured by the Syrian Democratic Forces in January last year. FBI agents were given permission the following month to visit Britain to review evidence against the men on an "information-sharing basis only".
Britain wants the US to prosecute the men because it maintains there would be "insufficient evidence" to do so in the UK.
In October 2015, however, it asked for an assurance that the evidence it provided would not be used to seek the death penalty against the suspects.
Full report at:
https://www.thenational.ae/world/mena/two-isis-beatles-to-face-us-trial-in-summer-1.820928
--------
As USAID ends all assistance to Palestinians, the situation will get worse
February 2, 2019
Friday marked the end of all assistance from the US agency for development to Palestinians in the West Bank and Gaza Strip.
The halt was requested by the Palestinian Authority fearing the impact of new American legislation but is certain to bring further hardship to people in the already deprived territories.
The deadline also sees the end of about $60 million in US aid for the Palestinian security forces, whose cooperation with Israeli forces helps maintain relative quiet in the West Bank. Israel has called for assistance to the force to continue.
The decision was linked to a January 31 deadline set by new US law under which foreign aid recipients would be more exposed to anti-terrorism lawsuits.
The Anti-Terrorism Clarification Act (ATCA) empowers Americans to sue foreign aid recipients in US courts over alleged complicity in "acts of war".
President Donald Trump's Middle East envoy, Jason Greenblatt, said the aid was cut at the request of the Palestinian Authority.
"This aid was cut (not just suspended) at the PA's request because they didn't want to be subject to US courts which would require them to pay US citizens killed by Palestinian terrorists when the PA was found guilty," he said in a tweet.
The Palestinian Authority declined further US funding over worries about its potential legal exposure, although it denies Israeli accusations that it encourages militant attacks.
"At the request of the Palestinian Authority, we have wound down certain projects and programs funded with assistance under the authorities specified in ATCA in the West Bank and Gaza, a US official said on Friday.
"All USAID assistance in the West Bank and Gaza has ceased."
The official said no steps were currently being taken to close the USAID mission in the Palestinian territories, and no decision had been made about future staffing at the USAID mission in the US Embassy in Jerusalem, although there was no indication how long the cessation would last.
USAID is the main agency administering US foreign assistance in the Palestinian territories. According to its website, the agency spent $268 million on public projects in the West Bank and Gaza as well as Palestinian private sector debt repayment in 2017, but there were significant cuts to all new funding through the end of June 2018.
Nabil Abu Rudeineh, a spokesman for Palestinian President Mahmoud Abbas, said: "The suspension of aid to our people, which included critical sectors such as health and education, will have a negative impact on all, create a negative atmosphere, and increase instability."
Mr Greenblatt called Mr Rudeineh's statement disingenuous.
"Palestinians are too smart to continue to live as victims and recipients of foreign aid. Until a political solution is found (maybe it will be our peace plan?), the PA must focus on helping Palestinians lead better lives," he tweeted.
The Palestinian Authority is an interim self-government body set up following the 1993 Oslo peace accords. The peace process, aimed at finding a two-state solution to the Israeli-Palestinian conflict, has been stalled since 2014. West Bank residents continue to live under significant Israeli regulation and do not even have free movement in much of the area. Gaza continues to struggle under a crippling siege imposed by Israel with the help of Egypt.
In the enclave of Gaza, ruling Hamas party spokesman Ismail Rudwan condemned the cuts, deploring what he called "politicised money".
The announcement comes after humanitarian officials in the West Bank and Gaza said they were already facing a cutback from donors worldwide.
Last year, Washington cut hundreds of millions of dollars of aid to the Palestinians, which included funding to humanitarian groups supported by USAID.
The US cuts were widely seen as a means of pressuring the Palestinian leadership to resume the peace talks with Israel and to engage with the Trump administration ahead of its long-awaited Middle East peace plan. Despite several promises of an imminent arrival, no peace plan has yet been unveiled.
As a result, dozens of NGO employees have been laid off, programmes shut down, and infrastructure projects halted.
In Gaza, Mohammad Ashour said he once earned $600 a month providing psychological support to people with chronic diseases such as high blood pressure, diabetes and cancer.
The project was run by the Palestinian Center for Democracy and Conflict Resolution. But, Mr Ashour said, he lost his job last summer because the program was funded with the help of USAID money.
"I have no clue how am I going to pursue my life," he said from Bureij refugee camp.
"I have no job and I am in debt, maybe tomorrow the police will come and take me to jail. An educated man ends in jail, I am wrecked."
In August, Washington announced an end to all US funding for the UN agency that assists Palestinian refugees. The agency received $364 million from the United States in 2017.
In January the World Food Programme cut food aid to about 190,000 Palestinians due to a shortage of funds.
Diplomatic sources said Palestinian, US and Israeli officials were trying to find ways to keep the money flowing to Abbas's security forces.
Full report at:
https://www.thenational.ae/world/mena/as-usaid-ends-all-assistance-to-palestinians-the-situation-will-get-worse-1.820905
--------
Pakistan
39 TLP workers booked for 'violent' protest in Karachi
FEBRUARY 3, 2019
Karachi police on Saturday registered a case against 39 detained workers of Tehreek-i-Labbaik Pakistan (TLP) under terrorism and other charges for allegedly clashing with the law enforcement agencies while holding a protest demonstration against acquittal of Asia Bibi by Supreme Court in a high-profile blasphemy case, a private TV channel reported.
"New Town police has registered a first information report (FIR) against 39 leaders and workers of TLP under Section 7 of the Anti-Terrorism Act, 1997," DIG East Amir Farooqi said. The case against TLP workers has been registered on behalf of the State, with police officer Mohammed Mithal of New Town police serving as the complainant.
The police have invoked sections 147 (punishment for rioting), 148 (rioting, armed with deadly weapon), 149 (every member of unlawful assembly guilty of offence committed in prosecution of common object, 341 (punishment for wrongful restraint), 427 (mischief causing damage to the amount of Rs 50), 186 (obstructing public servant in discharge of public functions), 353 (assault or criminal force to woman with intent to outrage her modesty) and 337-A (i) (punishment of shajjah) of the Pakistan Penal Code against the workers.
According to the FIR, around 300-350 workers of the TLP came out from Bahar-i-Shariat Mosque located on Alamgir Road in Bahadurabad soon after Friday prayers and started protesting at Sharafabad traffic signal. "They blocked the main road and tried to damage private and public vehicles," the FIR states. On-duty police officers, the FIR adds, tried to prevent the angry mob from causing property damage but they did not desist from doing so. "The angry mob attacked the police party by impeding them from performing their duty and pelted stones on the policemen," according to the FIR.
"The policemen retreated to save themselves but the angry mob still attacked the official automobile of the Tipu Sultan SHO with sticks and stones, resulting in significant damage to the vehicle. The protesters also allegedly attacked two policemen, Amjad and Asif, with sticks and injured them. In response to the violence, the police resorted to baton-charge and tear-gas shelling, and eventually made the arrests," the FIR concludes.
https://dailytimes.com.pk/350771/39-tlp-workers-booked-for-violent-protest-in-karachi/
--------
India's hydel projects' inspection successful: Pakistan
Feb 2, 2019
ISLAMABA: A three-member team of Pakistani experts that visited India to inspect various hydropower projects, including the Baglihar Dam at Chenab basin under the Indus Water Treaty, called their visit very successful upon their return to Pakistan.
"Our visit remained successful, as we inspected four hydropower projects at Chenab basin in India, including 1,000MW Pakal Dul, 48MW Lower Kalnai, 850MW Ratlay and 900MW Baglihar dam," Pakistan's commissioner for Indus waters Syed Mehr Ali Shah, who led the delegation, told Dawn.
The Pakistani experts returned on Friday after spending six days in India. They were invited by the office of the Indian commissioner for Indus waters.
The Pakistani commissioner said the delegation inspected the Baglihar dam, which was generating 150MW of power on the day due to low water flows in the river during the ongoing winter. "There we, under the decision of the neutral experts, had to see whether or not the operation of this plant was according to the project design. So after the visit, we found operation of the plant according to its design," he reportedly said. Prior to the visit, Pakistan had always raised objection on the design of the Baglihar Hydroelectric Plant.
The essence of the objections was that the project, as designed, would enable India to acquire potential to store excessive water and capability of greater control on waters of Chenab River than permissible according to the design criteria given in the IWT.
Shah said the construction work on Pakal Dul dam, which was earlier stopped, had resumed. "Though access roads had been constructed, civil work on the dam was yet to begin," he said. The commissioner added that no work had started on Lower Kalnai and Ratlay projects, as the contractor, who was mobilised earlier, had left the work.
The visit, according to Mehr Ali Shah, provided Pakistan an opportunity to devise its next strategies. "The observations and concerns noted by the Pakistani experts during the visit would not be made public before conveying these to their counterparts formally," he said.
Appreciating the Indian authorities for rendering full cooperation in carrying out the inspection of the projects by the Pakistani experts, Shah said though they (Indians) had planned their visits to various sites but they visited only the sites (up/down streams) that they desired. "They also provided us foolproof security," Shah said.
Full report at:
https://timesofindia.indiatimes.com/world/pakistan/indias-hydel-projects-inspection-successful-pakistan/articleshow/67811355.cms
--------
'Deal with PML-N, PPP': Rashid asks PM to take nation into confidence
Khalid Hasnain
February 03, 2019
LAHORE: Federal Minister for Railways Sheikh Rashid has asked Prime Minister Imran Khan to take the nation into confidence if any deal with the PML-N and the PPP is in the making through money.
"Today, I am making a big disclosure. I also hope that PM Imran Khan will not mind it. There are reports that these two parties — PML-N and PPP — are paying money for striking a deal with the government. If it is true, please take the nation into confidence," he said while speaking to the media at a press conference here at Railways Headquarters on Saturday.
He questioned the huge security cover, including the Rangers, being provided to PAC Chairman Shahbaz Sharif.
"I demand the chief of army staff immediately order withdrawal of the Rangers (personnel) deployed for Shahbaz's security. If not, then I should also be given Rangers security," he said.
"Giving such a huge security (cover) to accused Shahbaz, who is allegedly involved in 23 NAB cases, is sending a very negative message to the public at large," Sheikh Rashid alleged and added the Sharifs had looted money everywhere, including Qatar and Kuwait.
He claimed: "They didn't spare even Osama Bin Laden as they received money from him also. They received money from Osama when he was respectable to everyone."
Criticising the PPP, he said he would be with Bilawal Bhutto-Zardari if his long march would be against corruption.
The minister said the difference between the Sharifs and Zardari was that the Sharifs knew how to protect the money they had looted and Zardari used Falooday Wala and the deceased people in this regard. He said he had asked Naeemul Haq (not Imran Khan) for his appointment as PAC member.
"I told him that my presence in PAC was necessary since the people had voted us for getting revenge from thieves and recovering looted money from them. Finally, I replaced Riaz Fatyana in the PAC. But the speaker is yet to issue a notification in this regard," he said.
He said those who thought that I would do something wrong in the PAC were wrong.
"I know the Constitution and other procedures very well than others. Why are they worried about my induction into the PAC? Bring anyone to compete with me," he challenged his opponents.
He asked Shahbaz to quit the PAC chairmanship since he was an immoral PAC chairman.
Full report at:
https://www.dawn.com/news/1461455/deal-with-pml-n-ppp-rashid-asks-pm-to-take-nation-into-confidence
--------
Sahiwal incident: PM Imran to meet Punjab CM Buzdar to discuss JIT proceedings
February 3, 2019
LAHORE: Prime Minister (PM) Imran Khan on Sunday is expected to hold meetings with Punjab Chief Minister (CM) Usman Buzdar and Punjab Governor Chaudhry Sarwar to analyse the Joint Investigation Team's (JIT) proceedings in the Sahiwal tragedy.
According to Special Assistant to the PM on Media Iftikhar Durrani, "The meeting will decide whether or not to constitute a judicial commission to investigate into the Sahiwal shooting in which three family members and their friend were shot dead in an alleged encounter by the Counter-Terrorism Department (CTD)."
Durrani further said that "it was out of the question that someone would get a National Reconciliation Ordinance (NRO) – the controversial ordinance issued by the former president Pervez Musharraf on 5 October 2007".
"Sometimes, the government has to negotiate with the opposition for sustainability of the entire system," he further said.
Four people, including three members of a family, were killed in an alleged encounter in Sahiwal on January 19. CTD personnel said they had killed a local commander of Islamic State or Daesh and three others in the operation. However, eyewitnesses and three children, whose parents were killed, disputed the claim.
The incident sparked a national outcry and prompted Prime Minister Imran Khan to order an investigation into the killings.
According to details, a two-member bench, including the chief justice of LHC, will hear the petition.
In the petition, Jalil requested the court to nullify joint investigation team (JIT) formed to probe into the incident, stating that he is not expecting justice from it.
Punjab Chief Minister Usman Buzdar and Punjab Inspector General (IG) Amjad Javed Saleemi have been made respondents in the petition.
It is pertinent to mention here that the Punjab government has ruled out the possibility of formation of judicial commission with Buzdar saying that the government was satisfied with the "transparent" proceedings of the JIT.
The CM had said on Thursday the government might think about a judicial commission if it felt the JIT was not up to the task, adding that five detained Counter Terrorism Department (CTD) officials were already under investigation.
However, the families of the victims have been continuously demanding the formation of a judicial commission, maintaining that the findings of the JIT are "not satisfactory".
Earlier this week, the families of the victims appeared before the Senate Standing Committee on Interior and demanded a judicial inquiry into the incident, while the Senate committee rejected JIT's report on Sahiwal massacre.
Family members of those killed in the incident demanded the formation of a judicial commission to probe the killing and refer the case to military courts. They had also said that they are dissatisfied with the JIT investigating the incident.
"We are not satisfied with the JIT's investigation," the mother of Zeeshan, one of the victims, told the committee.
"The police that are investigating [the incident] are the ones who committed the killings," she had added, while requesting the prime minister to provide justice.
Full report at:
https://www.pakistantoday.com.pk/2019/02/03/sahiwal-incident-pm-imran-to-meet-punjab-cm-buzdar-to-discuss-jit-proceedings/
--------
PTI committed to treating rich and poor equally: Fawad
February 3, 2019
ISLAMABAD: Information Minister Fawad Chaudhry on Saturday said that the Pakistan Tehreek-e-Insaf (PTI) government will not be successful in its mission until and unless the same treatment is meted out to influential political leaders in jail as is to any common man.
Fawad, while addressing a public gathering in Gujranwala, cited the Sharif and Rafique brothers' examples to claim that the system treats the rich and the poor differently.
The minister said that both the sets of siblings, have been afforded "VIP treatment" of such kind during their incarceration that half the country could say: "Send me to jail too".
"The bitter truth is, the law is different for the rich and the poor," Fawad said vowing on behalf of the party to continue the struggle against injustice. "Pakistan Tehreek-e-Insaf's mission will not be successful until we have the same laws for everyone and the class system is abolished."
The outspoken information minister also questioned why Nawaz and Shehbaz Sharif were dissatisfied with the quality of healthcare considering they spent decades in power.
"Nawaz Sharif who now has to undergo treatment in Pakistan's hospitals is not satisfied with the facilities," he said. "You [Nawaz Sharif] were the prime minister for 30 years, your younger brother was chief minister and now you don't like the hospitals here?"
Fawad also defended the incumbent government's conduct as well as the accountability drive it has spearheaded since coming into power.
He claimed that the PTI government had inherited a virtually "bankrupt economy", and that the previous governments had taken 84 per cent of the loans the country has ever taken over the last 10 years alone.
"When we ask them where all that [loan] money went, they say that democracy is under threat," he said. "Their situation can be likened to when prayers are offered in jail. A murderer makes the prayer call, a dacoit leads the prayer and thieves line up behind him to pray.
In further criticism, the information minister said that money allotted for the welfare of the people was badly misused by the past rulers.
"Money allotted for the development of Larkana, leaves Karachi, but ends up being found in Dubai," he said. "Similarly, Punjab development funds leave Lahore, then turns up in London in the form of Avenfield apartments. These two parties have turned Pakistan into a joke."
Fawad also responded to criticism levelled towards the government for not providing subsidy to Hajj pilgrims this year.
"What have they left behind in the poor people's pockets that we will take from them to give a subsidy," he said.
Full report at:
https://www.pakistantoday.com.pk/2019/02/02/pti-committed-to-treating-rich-and-poor-equally-fawad/
--------
Zardari seeks media's support to 'overthrow govt'
February 3, 2019
Former president and Pakistan People's Party (PPP) Co-chairman Asif Ali Zardari on Saturday urged the media to support the opposition in its attempts to overthrow the Pakistan Tehreek-e-Insaf (PTI) government.
Addressing an all-parties conference on the Kashmir issue, the PPP leader pledged to address the various issues being faced by the country's news industry if the media supports the opposition's movement to remove the PTI administration.
He also said that Pakistan's political parties have always set aside their differences to come together for the Kashmiri cause. "Kashmir is in our DNA. It is an integral part of the Pakistani identity and we will never let Kashmir be separated from us."
The former president said Indian Prime Minister Narendra Modi must realise that Pakistan's stance on the Kashmir issue was not limited to any government's policy. "The [Pakistani] nation is united when it comes to the Kashmir cause and it will never abandon the people of Kashmir."
Zardari said Pakistan's efforts to resolve the Kashmir issue took serious blows during military dictatorships, however, the younger generations would pursue the matter till a fair resolution was achieved.
Full report at:
https://www.pakistantoday.com.pk/2019/02/02/zardari-seeks-medias-support-to-overthrow-govt/
--------
PTI MPA submits resolution in PA against construction in Kartarpur
February 3, 2019
LAHORE: Pakistan Tehreek-e-Insaf (PTI) MPA Momina Waheed on Saturday submitted a resolution in the Punjab Assembly Secretariat demanding that no construction be carried around the Gurdwara Darbar Sahib shrine in Kartarpur.
The women lawmaker states in the resolution that the shrine holds a special significance for the Sikh community. "Baba Guru Nanak plowed the fields of Kartarpur Gurdwara for 18 years. No construction should be carried out in the fields where he grew crops."
Earlier, on Jan 26, Foreign Minister Shah Mehmood Qureshi had said the government had prepared feasibility report of Kartarpur corridor project and it would spend Rs2 billion on it.
Addressing a public rally in Umerkot, Qureshi said the entire Sikh community was very happy over the opening of Kartarpur corridor and Pakistan had received an overwhelming response on this gesture from the entire world.
Pakistan on Jan 21 shared a draft agreement for facilitation of Sikh pilgrims with India through the Indian high commission in Islamabad.
The Foreign Office spokesperson said that the government had appointed Director General South Asia Dr Muhammad Faisal as the focal person on Kartarpur and requested that the government of India designate a focal person at its end.
He said that Pakistan also invited the government of India to urgently send a delegation to Islamabad to negotiate and finalise the agreement.
Full report at:
https://www.pakistantoday.com.pk/2019/02/02/pti-mpa-submits-resolution-in-pa-against-construction-in-kartarpur/
--------
Africa
Somalia: US airstrike kills 13 al-Shabaab militants
02.02.2019
At least 13 al-Shabaab fighters were killed in Somalia's lower Shabelle region on Friday, according to the U.S. Africa Command (AFRICOM).
The airstrike hit Gandershe village some 45 kilometers (27 miles) south of the Somali capital Mogadishu, AFRICOM said in a statement on Twitter on Saturday evening.
"To support the Federal Government of Somalia's continued efforts to degrade al-Shabaab, U.S. Africa Command conducted an airstrike targeting al-Shabaab fighters in the vicinity of Gandarshe, Lower Shebelle Region, Somalia, on February 1, 2019," the U.S. military statement said.
"U.S. Africa Command currently assesses this airstrike killed thirteen (13) militants. At this time, it was assessed no civilians were injured or killed in this airstrike," the statement added.
Adow Mohamed, Somali National Army (SNA) captain in lower Shebelle region confirmed the airstrike to Anadolu Agency over the phone.
On December 15 and 16, U.S. forces operating in Somalia had conducted six airstrikes near Gandershe which killed at least 62 al-Shabaab militants, who were preparing for an attack on a Somali government military base in the region, according to the U.S. Africa Command.
This airstrike comes three days after a U.S. airstrike that killed at least 24 al-Shabaab fighters in Shebeeley village of the central Hiran region.
https://www.aa.com.tr/en/africa/somalia-us-airstrike-kills-13-al-shabaab-militants/1382109
--------
Thousands protest in Sudan as death toll mounts
February 03, 2019
CAIRO: Thousands of residents poured out onto the streets of Sudan's eastern province of Kassala to denounce the death of a protester last week following demonstrations calling for the president's ouster, officials and activists said.
The protester, Ahmed al-Khair, was a 33-year-old school teacher who was detained last Thursday and pronounced dead in custody on Friday evening. Protests have gripped Sudan since Dec 19, starting initially over rising prices and shortages but quickly shifting to calls for the fall of autocratic President Omar al-Bashir.
Activists said al-Khair's death raises the toll of the protests to 53. An estimated 2,000 protesters have also since been wounded, many shot in the eye with birdshot and some losing limbs from live ammunition, according to the activists, who spoke on condition of anonymity for fear of reprisals.
The government's latest tally stands at 30 killed and about 400 wounded, but these figures have not been updated in days. The authorities refused to provide a cause of death to al-Khair's family, but his body, including his groin area, was covered in bruises, a relative of his said. There were also signs of rectal bleeding, according to a second relative, who said that the family intends to file charges against the police. They also spoke on condition of anonymity for fear of reprisals.
Al-Khair's funeral quickly turned into a protest, with thousands chanting: "We are all Ahmed!" and "just fall", the slogan and Twitter hashtag of the Dec 19 demonstrations.
Full report at:
https://www.dawn.com/news/1461531/thousands-protest-in-sudan-as-death-toll-mounts
--------
Iraq and Jordan reopen border crossing, boosting relations
2 February 2019
Iraq and Jordan have inaugurated a joint industrial area on the border between the neighboring countries.
The ceremony on the Iraq-Jordan border was attended by Iraqi Prime Minister Adel Abdul-Mahdi and his Jordanian counterpart Omar Razzaz.
Saturday's meeting was also attended by top officials as the former neighbors boost their relations following the defeat of ISIS, which controlled areas in Iraq bordering Jordan.
The border crossing was formally reopened on Saturday.
As part of the agreement between the two countries that was signed in late December, oil-rich Iraq will supply Jordan with 10,000 barrels a day at a lower price.
Full report at:
https://english.alarabiya.net/en/News/middle-east/2019/02/02/Iraq-and-Jordan-reopen-border-crossing-boosting-relations.html
--------
Sudanese teacher dies in detention following protests
2 February 2019
A Sudanese man died in detention after being arrested in connection with protests in eastern Sudan, family members said on Saturday.
The 36-year-old teacher was arrested from his home on Thursday after protests in Khashm al-Girba in eastern Sudan, the family members said.
According to family members, security officials said that the man died of poisoning. He had marks of beating on his body, they said. The funeral took place on Saturday.
Security officials did not immediately respond to requests for comment.
https://english.alarabiya.net/en/News/middle-east/2019/02/02/Sudanese-man-dies-in-detention-after-protests.html
--------
Jordan to host Yemen talks focusing on prisoner swap deal
2 February 2019
A spokesman for Jordan's Foreign Ministry says the country will host a round of UN-backed talks between the internationally recognized government of Yemen and the Houthi militias, about a prisoner swap deal next week.
Sufian al-Qudah said Saturday that Jordan agreed to host the Yemenis at the UN's request.
Yemen's four-year war pits the Iran-aligned Houthi militias against an internationally recognized government. In recent peace talks in Sweden, the sides agreed to a series of confidence-building measures, including an exchange of thousands of prisoners.
Implementation has been slow, marred by violence and violations by the Houthis.
Full report at:
https://english.alarabiya.net/en/News/gulf/2019/02/02/Jordan-to-host-Yemen-talks-concerning-prisoner-swap-deal.html
--------
At least four Ethiopian soldiers die in al-Shabaab blast
2 February 2019
At least four Ethiopian soldiers were killed in southern Somalia on Saturday in an al-Shabaab suicide bombing near their base, a security official and witnesses said.
The suicide bomber rammed a vehicle loaded with explosives into a checkpoint outside the base in Bardhere.
"We have been informed that at least four Ethiopian soldiers who were manning the checkpoint died in the blast," Muktar Abdulahi, a local security official, told AFP by telephone.
Several witnesses verified the attack.
"The blast was very heavy, and I saw the Ethiopian soldiers collecting some dead bodies after the blast. They closed the area and a military ambulance transported casualties to the base," said one witness, Ahmed Muhidin.
Al-Shabaab claimed responsibility for the attack in a statement, saying its fighters "carried out a martyrdom operation targeting the Ethiopian Christian army in Bardhere. The initial information we are getting indicates that the enemy lost 16 soldiers in the attack."
The Ethiopian armed forces operate as part of the 20,000-strong African Union peacekeeping mission in Somalia (AMISOM).
Bardhere, some 350 km west of the capital, is one of several bases in the southwest where it has troops deployed.
The al-Qaeda affiliated al-Shabaab was largely driven out of Mogadishu in 2011.
Full report at:
https://english.alarabiya.net/en/News/world/2019/02/02/At-least-four-Ethiopian-soldiers-die-in-al-Shabaab-blast.html
--------
URL: https://www.newageislam.com/islamic-world-news/visit-mosque-how-three-words/d/117632
New Age Islam, Islam Online, Islamic Website, African Muslim News, Arab World News, South Asia News, Indian Muslim News, World Muslim News, Women in Islam, Islamic Feminism, Arab Women, Women In Arab, Islamophobia in America, Muslim Women in West, Islam Women and Feminism