New Age Islam News Bureau
22 March 2017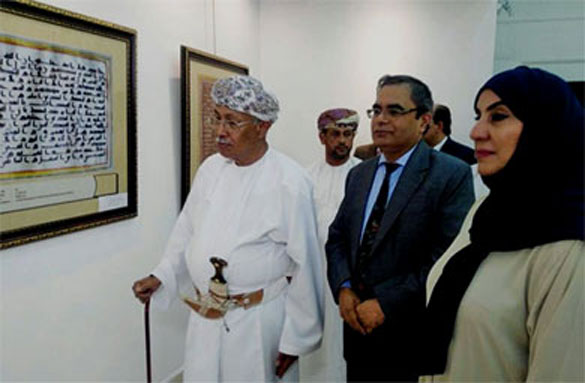 Abdul Aziz Bin Mohammed Al Rowas with Indian Ambassador Indra Mani Pandey view the display.
----------
• VHP-Run Vedic School in Allahabad Joins Hands with Islamic Scholars to Teach Students
• Indian Exhibition at Muscat Displays Over 40 Pieces of Islamic Calligraphy Work
• Sindh Govt Launches Project for Video Surveillance of Non-Muslims' Worship Places
• Bangladesh to Put Former Pakistan Army Officer On Trial for 1971 War Crimes
• Trump Effect: One Fifth of Muslims Planning To Leave US
India
• Community Leaders Ask Muslim Youths to Let Police Do Their Duty
• Jihadi Recruitment Saw 55% Jump after Wani
• Kerala: Violence in Kasargod after Madrasa Teacher Hacked To Death near Mosque
• India may use nuclear option first to pre-empt attack: expert
• Babri Masjid demolition case: SC adjourns hearing till tomorrow
• Ajmer blast case: Quantum of punishment on Wednesday
------
Pakistan
• '66pc Decline in Violence-Related Incidents since 2014'
• Musharraf offered me a deal in 2007, says Nawaz
• World Bank rules against Pakistan in Reko Diq case
• ASF foils suspected terror bid at Lahore airport
• Visas to Americans: PPP govt gave Haqqani carte blanche, says Aziz
------
South Asia
• Afghanistan Wants More U.S. Help in Fight against Taliban, Islamic State
• Noor says will soon decide to resign as Balkh governor
• Airstrike targets prominent Taliban leader's compound in Laghman
------
North America
• US Muslims and Jews Strengthen Bonds amid Acts of Bigotry
• UN Chief Antonio Guterres urges world to stand up against intolerance
• Syrian defector urges US President Donald Trump to stop 'machinery of death'
• Donald Trump tries to move past controversies, says he is keeping promises
• Donald Trump's daughter Ivanka gets White House office
• Guatemala: Two killed, nine wounded in attacks on police
• Donald Trump meets Iraqi PM Haider al-Abadi, discusses terrorism threat
• Twitter suspends over 636,000 accounts linked to 'terrorism'
• U.S. military launches investigation into alleged mosque strike in Syria
• Bias and Fear Are the Norm for Many Muslim Americans, Poll Finds
• Anti-Muslim Activist Says She Had a Meeting at the White House
• Muslim Brotherhood Spending Millions to Fight Terror Designation
• Donald Trump nominates Indian-American to top judicial post
------
Arab World
• Islamic State Weak in Iraq, Says Peshmerga General
• A Rattled Saudi Arabia Pivots for Support to South-East Asia
• Report: Hundreds of 9/11 victims suing Saudi Arabia
• King approves building Qur'an Oasis in Madinah
• Syrian Army Continues to Advance in Eastern Aleppo, Kills 25 Terrorists
• Syrian rebels launch second Damascus attack in three days
• Scores of Al-Nusra's Foreign Commanders Killed in Damascus
• Israeli Spy Drone Shot Down by Syrian Army in Quneitra
• Terrorists Start 2nd Phase of Offensives in Jobar: Syrian Army Repels All Attacks
• Iraqi forces near ISIL-prized mosque in western Mosul
• Islamic State captures Iraqi colonel 8 other officers in Mosul
------
Europe
• Russia Ready to Host Int'l Quran Contest for Muslim Students
• US and UK restrict electronics on flights from majority-Muslim countries
• 'Very strong bond': Mattis meets with NATO chief ahead of anti-ISIS summit
Le Pen Using Islam 'To Divide' France
------
Mideast
• Turkey Summons German Diplomat over BND Chief Remarks on Gülen
• Turkish EU Minister Slams Hahn of Acting like 'Colonial Governor'
• Norway Grants Asylum to Four Turkish NATO Military Officers, Military Attaché after Coup
• Attempt
• Turkey not convinced with Russian denial for military base in Afrin
• Turkey to sit and talk with EU after charter referendum: Erdoğan
• Merkel ally says Erdoğan 'not welcome' in Germany
• 'Germany is lying to us,' Turkish justice minister says
• Hundreds of thousands mark Nevruz in Turkey's southeast
• Netanyahu to Putin: Israeli airstrikes in Syria will continue
------
Southeast Asia
• Malaysia: New Center to Take Academic Approach against Terrorist Ideology
• Malaysia Mulls Naval Upgrades Amid IS Threat, South China Sea Standoff
• Indonesia: Earthquake hits Bali island, but no casualties
• China says significant drop in 'terror attacks', but threat remains high
------
Africa
• Cameroon Forcing Thousands of Refugees to Return to Boko Haram-Hit Nigeria: UN
• Somalia: Car Bomb near Presidential Palace Kills Four
• Five dead in Mogadishu bombing as PM unveils new lineup
• Nnamdi Kanu will never be tried by Sharia Law – IPOB
• Noise pollution: Oyo Assembly directs ministry to sanction Churches, Mosques
Compiled by New Age Islam News Bureau
URL: https://www.newageislam.com/islamic-world-news/new-age-islam-news-bureau/vhp-run-vedic-school-in-allahabad-joins-hands-with-islamic-scholars-to-teach-students/d/110491
--------
VHP-Run Vedic School In Allahabad Joins Hands With Islamic Scholars To Teach Students
Kamaljit Kaur Sandhu
March 22, 2017
A Vedic school in Allahabad being run by the fringe group Vishwa Hindu Parishad (VHP) is all set to undergo a 'virtual' metamorphosis with the help of a Muslim organisation.
Students at Maharshi Bhardwaj Ved Vedang Shikshan Kendrais will soon be taught by Islamic scholars as the school has joined hands with Gujarati businessman Zafar Sareshwala's educational project Taleem-o-Tarbiyat.
Acharya Pankaj Sharma, principal of the school, said, "Taleemo-Tarbiyat came up with the proposal to teach our scholars English, social science and computers. Though we teach our students in Sanskrit, we are open to the idea of Muslim scholars teaching our students in subjects which will enable them to have better understanding and perspective of life, making them more capable."
A Vedic school in Allahabad being run by the fringe group Vishwa Hindu Parishad (VHP) is all set to undergo a 'virtual' metamorphosis with the help of a Muslim organisation.
Students at Maharshi Bhardwaj Ved Vedang Shikshan Kendrais will soon be taught by Islamic scholars as the school has joined hands with Gujarati businessman Zafar Sareshwala's educational project Taleem-o-Tarbiyat.
Acharya Pankaj Sharma, principal of the school, said, "Taleemo-Tarbiyat came up with the proposal to teach our scholars English, social science and computers. Though we teach our students in Sanskrit, we are open to the idea of Muslim scholars teaching our students in subjects which will enable them to have better understanding and perspective of life, making them more capable."
http://indiatoday.intoday.in/story/vishwa-hindu-parishad-vedic-school-allahabad-islamic-scholars-taleem-o-tarbiyat/1/909783.html
------
Indian Exhibition at Muscat Displays Over 40 Pieces of Islamic Calligraphy Work
March 22, 2017
Muscat -More than 40 pieces of Islamic calligraphy work, artistically inscribed with selected verses from Q'uran, are on display at the Omani Society for Fine Arts.
The event aims to cultivate an interest in learning more about the Indo-Islamic calligraphy tradition. H E Indra Mani Pandey, Ambassador of India to Oman said, "Calligraphy has been an integral part of India's Islamic traditions. Calligraphy in India has evolved over centuries to acquire its own unique characteristics. It is hoped that the Indian Calligraphy Exhibition will enable people of Oman to become more aware of the history and development of calligraphy in India."
Among the exhibits is a facsimile of a rare 7th century manuscript of Q'uran attributed to Hazrat Ali (R A), written in Kufic script on parchment. The exhibition was earlier held at the Oman Avenues Mall late last year as part of the first-ever Festival of India in Oman and attracted a large number of visitors. The exhibition will remain open until March 25 from 9am to 1.30pm and 4.30pm to 8pm.
http://www.muscatdaily.com/Archive/Oman/Indian-exhibition-displays-over-40-pieces-of-Islamic-calligraphy-work-4zcj
------
Sindh govt launches project for video surveillance of non-Muslims' worship places
IMRAN AYUB
March 22nd, 2017
KARACHI: In the first project of its kind in the country for religious minorities, the Sindh government has started working on a plan to bring hundreds of worship places of non-Muslims under video surveillance across the province for their security and monitoring of their infrastructure, officials said on Tuesday.
The provincial government's project has surfaced almost a week after Prime Minister Nawaz Sharif had assured religious minorities in the country in general and in Sindh in particular of "equal access to progress and development".
"[Worship] places of four religious minorities — Christians, Hindus, Parsis and Sikhs — have been selected for the project," said Athar Baloch, deputy director at the IT ministry that has designed and launched the project officially named "installation of security surveillance cameras at worship places of minorities."
"There are hundreds of such places across the province and the plan is to bring all of them under video surveillance. For this, we are in the process of hiring an expert private company that would guide us in finalising the plan and its design. The project is expected to [be] completed within the next four months."
However, he said, several such places of worship situated in far-flung areas of the province were not visited by devotees anymore. According to initial planning, he said, such abandoned worship places would not be made part of the project.
Last week while addressing a function organised by his part's minority wing in connection with the Hindu festival of Holi in Karachi, Prime Minister Nawaz Sharif had said people of all faiths enjoyed equal rights according to the Constitution and no one would be allowed to create religious disharmony and instability in the country.
The PM's speech and then the Sindh government's initiative are believed to be moves from the two major parties before the general elections to win the hearts of thousands of non-Muslim citizens. But Dr Sikandar Ali Shoro, the special assistant to the chief minister on information, science and technology, told Dawn that the PPP had always been at the minorities' side when it came to their rights and justice.
"This is not a new project, as it was planned before the beginning of the financial year [2016-17]," he claimed.
https://www.dawn.com/news/1322095/sindh-govt-launches-project-for-video-surveillance-of-non-muslims-worship-places
------
Bangladesh to put former Pakistan army officer on trial for 1971 war crimes
March 21, 2017
A Bengali army officer, who sided with the Pakistani forces during the 1971 Bangladesh Liberation War, will be put on trial for committing crimes against humanity, becoming the first Pakistani army officer to face the charges. Coordinator of a special investigation cell on war crimes Mohammad Abdul Hannan on Tuesday said that the International Crimes Tribunal (ICT) finalised its investigation report on accused 75-year-old former Pakistani army Captain Mohammad Shahidullah. "We found his involvement in crimes like murder, confinement, torture and looting," Hannan told reporters. The ICT, during its investigation that continued from 11 October 2015 to 20 March 2017, could primarily prove three counts of charges against Shahidullah who been in jail since his arrest on August 2, 2016.
"He was posted in West Pakistan and on leave at his home… He reported to duty at Dhaka cantonment as the war broke out and (subsequently) committed monstrous crimes in Comilla district as he was transferred there," Hannan said. Shahidullah is the first Bengali former army officer to be put on trial for crimes against humanity but investigations were underway against several other Bengali army officers who took part in atrocities as members of Pakistan army in 1971.
Bangladesh launched the belated process of trying 1971 war criminals in 2010 while all those who were tried until now are civilians and mostly belonged to fundamentalist Jamaat-e-Islami, which was opposed to the independence. Six 1971 war crimes convicts, including five Jamaat leaders and one from the former prime minister Khaleda Zia's Bangladesh Nationalist Party, have been executed so far.
Three convicts were sentenced to "imprisonment until death" and two of them died in jail. Most Bengali military officers stationed in the then East Pakistan (now Bangladesh) revolted against Pakistan after the sudden crackdown on unarmed Bengali population in 1971 while several others fled West Pakistan to join the Liberation War. But 1971 war veterans and researchers said several Bengali officers were there who preferred to side with Pakistani troops and went to West Pakistan after laying down weapons along with the defeated Pakistan army.
http://indianexpress.com/article/world/bangladesh-to-put-former-pakistan-army-officer-on-trial-for-1971-war-crimes-4579528/
------
Trump effect: One fifth of Muslims planning to leave US
Almost half of Muslim children face bullying in schools
WASHINGTON: Faced with religious discrimination, airport screening and school bullying, one fifth of American Muslims have made plan to leave the country if it becomes necessary after the election of President Trump.
According to The American Muslim Poll 2017 despite their troubles, the Muslims in the United States are the religious group most satisfied with the nation's trajectory. The study published by the Institute for Social Policy and Understanding, a Muslim think-tank based in Washington shows that almost half of the Muslim children face bullying at schools and they're twice as likely to face additional screening at airports.
The survey found the Muslims and the Jews are most likely to express fear for their personal safety after the election of President Trump. The study showed both the Muslims and the Jews reported higher levels of fear and anxiety than other faith groups because of the election results, with 38 percent of the Muslims and 27 percent of the Jews expressing fear for their safety because of white supremacist groups. But the Muslim women are also more likely than men of their faith to report experiencing religious discrimination in the last year. One in five Muslim women said recent elections had caused them enough stress and anxiety to believe they need help of a mental professional.
However, the study found two in five Muslims report being satisfied with the way things are going in the US today, a higher percentage than any other major faith group or those who are not affiliated with a faith.
The survey involved interviews with 2,389 respondents in January of this year including the Muslims, the Jews, the Protestants, the Catholics and those who were not affiliated with a faith.
The survey found the Muslims are nearly twice as likely to report bullying among their school-age children as the Jewish Americans (42 percent to 23 percent), and four times as likely as the general public (10 percent). Of these incidents, one quarter involved a teacher or school official.
The Muslims are more than twice as likely (30 percent) as Jews (13 percent), the Catholics, and Protestants (11 percent) to say they've been stopped at the border for additional screening, the poll found. Most Muslims stopped say they were easily identified as a member of their faith group, compared with the Jews and none in other groups. The Muslims are the most likely faith community to report religious-based discrimination in the past year, the survey found, followed by the Jews.
The majority of nonwhite Muslims report some frequency of race-based discrimination in the last year. The American Muslims are the youngest faith community, with more than one-third younger than 30 years of age. The American Muslims are the most ethnically and racially diverse faith group with no single background garnering a majority.
Half of the Muslims were born in the United States, with immigration continuing to play a significant part in the American Muslims' stories. The Muslims are the most likely faith community to report low income despite the fact that the Muslims, the Protestants, and the Catholics have similar education levels, according to the poll. In large part, due to widespread dissatisfaction with the options presented to them, the American Muslims were the least likely group to vote (61 percent) or be registered to vote (68 percent).
The study shows the Muslim women are more likely than the Muslim men to achieve higher education (73 percent of women vs 57 percent of men with post-high school education or higher).
https://www.thenews.com.pk/print/193857-Almost-half-of-Muslim-children-face-bullying-in-schools
------
India
Community Leaders Ask Muslim Youths to Let Police Do Their Duty
Mar 22, 2017
MUMBAI: Disturbed over the violent reaction in Trombay against alleged insult to a holy shrine through social media, Muslim community leaders have cautioned youths against taking law into their hands. They have said that the youths should not have indulged in violence.
The leaders said that since the police had arrested the accused Arvind Chinva, who allegedly uploaded a morphed image of a Muslim holy site on his Facebook page, there was no reason to attack the policemen.
"Muslim youths should change their confrontational attitude. Why can't we see police as our protectors and not enemies? There was no scope for violence as the policemen had arrested the alleged culprit. Policemen work under extreme pressure and they should have been given enough time to bring the culprit to books," said educationist Dr M A Patankar.
Managing trustee of Mahim Dargarh Sohail Khandwani said that what happened at Cheeta Camp on Saturday night cannot be condoned. "Hurting religious sentiments is highly condemnable but Muslim youths should have allowed the law and order machinery to do its job. Respect for constitutional norms and restraint in expressing anger against alleged insult is needed," said Khandwani.
Shia scholar Maulana Zaheer Abbas Rizvi, while calling upon the police to act swiftly in cases which might cause conflagration, pulled up the community's youths to turn violent at little provocation. "Over two dozen have been arrested in the case. Some of the accused are minors. The administration must find out the main culprits and the innocents should not be harassed," said Maulana Rizvi. He also suggested a sustained counseling among the community's youths regarding respect for law and order.
http://timesofindia.indiatimes.com/city/mumbai/community-leaders-ask-muslim-youths-to-let-police-do-their-duty/articleshow/57763445.cms
------
Jihadi Recruitment Saw 55% Jump after Wani
Mar 22, 2017
Bharti Jain
NEW DELHI: As many as 88 youths joined militancy in Jammu & Kashmir in 2016, the highest since 2010, the government told the Lok Sabha on Tuesday. Violent protests in the Valley had peaked last year in the wake of killing of Hizbul Mujahideen leader Burhan Wani on July 8. Over 2,100 incidents were reported over a short span of three months from July to September 2016.
The figure of 88 Kashmiri youth opting for militancy last year marks a departure from the falling trend witnessed since 2014. In fact, the recruitment by terrorist groups in J&K last year was 55% higher than the levels witnessed in 2010, when stone-pelting protests caused a long spell of unrest in the Valley. In a written reply to a starred question in the Lok Sabha, Union minister of state for home Hansraj Gangaram Ahir said that as compared to 88 youth who joined militancy last year, a much lesser 66 chose the path of violence in 2015, 53 in 2014, just 16 in 2013, 21 in 2012, 23 in 2011and 54 in 2010.
Ahir said the J&K government was trying to wean away the state's youth from militancy with greater police-public engagement, sports tournaments and cultural events. Also, the government is offering attractive incentives to surren dered militants, apart from opening up avenues for employment of local youth through programmes such as `Udaan' and `Himayat', he said.
A key reason for J&K youth gravitating towards militancy , according to an intelligence officer, may be the local sentiment generated by the killing of Wani. TheHizb commander's Facebook posts were very popular among young and impressionable Kashmiris. His neutralisation in Anantnag on July 8 spurred a cycle of violence, with protests only getting worse after the counter-action by the forces saw many agitators, particularly minors, killed and injured by pellet guns.
As per data furnished on Tuesday in reply to another question in the Lok Sabha, 820 `law and order' incidents were reported in July 2016, the month Wani was killed, followed by 747 and 535 incidents in August and September, respectively. Interestingly, 2016 also saw a sharp increase in infiltration from Pakistan, with 371 attempts against 121in 2015, 222 in 2014, 277 in 2013, 264 in 2012 and 247 in 2011. Last year also saw the maximum number of successful attempts at 119.
Indian Army, You are doing very good job and whoever has joined militancy and involved in terrorist activities, kill them without any mercy and also please stop using pellet guns and please use REAL GUNS.
The government informed Parliament on Tuesday that I-T department conducted searches on 992 individuals and entities in the last two fiscal years and unearthed undisclosed income of Rs 21,454 crore.Minister of state for finance, Santosh Kumar Gangwar told the Rajya Sabha that "besides levy of taxes on total income of those persons whose assessments were completed during the last two years, the I-T department filed prosecution complaints in 1,221cases," adding, "2,220 compounding applications were received from offenders under the I-T Act."
http://timesofindia.indiatimes.com/india/jihadi-recruitment-saw-55-jump-after-wani/articleshow/57763342.cms
------
Kerala: Violence in Kasargod after Madarsa teacher hacked to death near mosque
March 22, 2017
A madarsa teacher was found killed with his throat slit near a mosque triggering violence in Kerala's Kasargod district. The local authorities have put prohibitory orders in the area to prevent situation from going out of control.
According to reports, Riyas Moulavi, 34, was hacked to death in his retiring room attached to a mosque at Choori in Kasaragod town. The incident took place late on Monday (March 21). The Indian Union Muslim League (IUML) had called a strike in the town on Tuesday in protest against the murder. The party also accused the police of not allowing people to participate in the funeral procession of the killed madarsa teacher.
http://indiatoday.intoday.in/story/kasargod-madarsa-teached-killed-kerala-iuml/1/909831.html
------
India may use nuclear option first to pre-empt attack: expert
March 22nd, 2017
WASHINGTON: There is increasing evidence that India could launch a pre-emptive nuclear strike to prevent Pakistan from using the option first, says an expert.
"India will not allow Pakistan to go first. And that India's opening salvo may not be conventional strikes trying to pick off just Nasr batteries in the theatre," Vipin Narang, an Indian-origin nuclear strategist from the prestigious Massachusetts Institute of Technology (MIT), told a seminar in Washington on Monday.
Nasr is a vehicle that Pakistan uses for carrying its tactical battlefield nuclear warheads.
India would launch "a full 'comprehensive counterforce strike' that attempts to completely disarm Pakistan of its nuclear weapons," Dr Narang said.
He explained that policy-makers in New Delhi decided to go for the nuclear option to ensure that "India does not have to engage in iterative tit-for-tat exchanges and expose its own cities to nuclear destruction".
Mr Narang said he was not basing assessment on fringe extreme voices such as those of Bharat Karnad or retired Indian Army officers frustrated by the lack of resolve they believe their government had shown in multiple provocations.
This assessment, he said, was based on what he learned from no less than a former Strategic Forces Command C-in-C Lt Gen B.S. Nagal and from the highly respected and influential former National Security Adviser Shivshankar Menon.
"We may be witnessing … a 'decoupling' of Indian nuclear strategy between China and Pakistan. The force requirements India needs to credibly threaten assured retaliation against China may allow it to pursue more aggressive strategies — such as escalation dominance or a 'splendid first strike'— against Pakistan," Dr Narang said.
The MIT expert argued that the conventional wisdom that a nuclear war in South Asia could start with a terrorist attack from Pakistan may no longer be valid.
The conventional wisdom envisages that a strong Indian reaction to a terrorist attack from Pakistan would lead to Islamabad using its tactical nuclear weapons to slow down the Indian offensive, Dr Narang explained.
"India then promises what most presume is massive counter-value retaliation against Pakistani cities, leaving aside how credible or incredible that might be. This is how nuclear first use would unfold in South Asia," he added.
But Dr Narang argued that this "conventional wisdom" might not be true any longer.
Speaking at the Carnegie International Nuclear Conference in Washington on Monday, he said that India was willing to reverse its stated no-first-use policy if it feared a nuclear attack was imminent. But a pre-emptive Indian strike, however, would target Pakistan's nuclear installations, not urban centres, he added.
But nuclear experts in Washington warned that a strike on nuclear installations could be equally devastating as it would wipe out the adjacent urban centres as well. The experts also pointed out that Pakistan was a thin strip of land where nuclear installations were not far from urban centres.
The mainstream Indian media — including some of its leading newspapers — prominently displayed Dr Narang's warnings on their websites. The Hindustan Times reported that Dr Narang told the conference "there is increasing evidence" to support his claim that "India will not allow Pakistan to go first".
https://www.dawn.com/news/1322079/india-may-use-nuclear-option-first-to-pre-empt-attack-expert
------
Babri Masjid demolition case: SC adjourns hearing till tomorrow
Mar 22, 2017
NEW DELHI: The Supreme Court on Wednesday adjourned the hearing of the conspiracy charges against Bharatiya Janata Party (BJP) leaders LK Advani, Murli Manohar Joshi, Uma Bharti matter till March 23.
Babri Demolition case: Supreme Court adjourns the matter till tomorrow
The apex court will now hear the Central Bureau of Investigation (CBI)'s plea against Allahabad High Court's order dropping criminal conspiracy charges against the BJP leaders in the case on Thursday.
There are two sets of cases - one against BJP veteran Advani and others who were on the dais at Ram Katha Kunj in Ayodhya on December 6, 1992 when the Babri mosque was demolished. The other case was against lakhs of 'karsevaks' (volunteers) who were in and around the disputed structure.
The CBI had chargesheeted Advani and 20 others under Sections 153A (promoting enmity between classes), 153B (imputations, assertions prejudicial to national integration) and 505 (false statements, rumours etc. circulated with the intent to cause mutiny or disturb public peace) of the Indian Penal Code (IPC).
justice delayed is justice denied. SC, Please do it fast and close it.
It had subsequently invoked charges under section 120B (criminal conspiracy) of IPC which was quashed by the special court whose decision was upheld by the high court.
http://timesofindia.indiatimes.com/india/babri-masjid-demolition-case-sc-to-decide-on-charges-against-advani-others/articleshow/57765364.cms
------
Ajmer blast case: Quantum of punishment on Wednesday
Mar 22, 2017
NEW DELHI: A special National Investigation Agency (NIA) court in Jaipur will on Wednesday pronounce the quantum of sentence in the Ajmer Dargah bomb blast case.
The court had on March 8 convicted Bhavesh Patel, Devendra Gupta and Sunil Joshi and acquitted others including Swami Aseemanand. Joshi has already died.
The conviction was made under Sections 120 (B) (criminal conspiracy), 295-A (deliberate and malicious acts, intended to outrage religious feelings of any class by insulting its religion or religious beliefs) of IPC, 3 / 4 of Explosive Substances Act and Sections 16 and 18 of Unlawful Activities (Prevention) Act (UAPA).
The blast on October 11, 2007 in the Dargah of Khawaja Moinuddin Chisti at the time of Roza Iftaar had left three pilgrims dead and 15 injured.
The case was handed over to the Rajasthan ATS and was later transferred to the National Investigation Agency which re-registered the case with the NIA police station in New Delhi on 6 April 2011.
saffronisation of justice nothing else...
There were as many as 149 witnesses in the case and 451 documents were examined. The NIA filed three supplementary chargesheets in the case.
http://timesofindia.indiatimes.com/india/ajmer-blast-case-quantum-of-punishment-on-wednesday/articleshow/57764289.cms
------
Pakistan
'66pc decline in violence-related incidents since 2014'
March 22nd, 2017
ISLAMABAD: Violence-related incidents declined in 2016 as compared to the year before, and casualties from violence were half the number of casualties in 2015, the Centre for Research and Security Studies (CRSS) annual security report revealed.
Released on Tuesday, the report recorded a 66pc fall in violence-related incidents since 2014, but noted that terrorist groups have changed their strategy for suicide attacks and instead of sending in one suicide bomber to a location, sent two.
It said militants, facing military operations and law enforcement, had begun to flee the county and had devised new strategies. The report said the targeting of geographical areas and population centres that were less protected was unprecedented, and militants also begun deploying a wider array of improvised explosive devices and suicide bombers despite strong resistance from security personnel.
"Karachi has seen the most improvement, with urban crime and target killings on the decline. Compared to 1,671 people killed in target killing incidents in 2013, 183 people lost their lives in 2016," report states.
However, the report noted that threats still exist and operate. For instance, the report said, sectarian violence has increased even if deaths resulting from it have fallen significantly.
The report also said that while many terror attacks are not categorised as sectarian violence, the motivations arise from mindsets influenced by religious hatred. It noted the surge in attacks on polio vaccination teams and the mob attack on an Ahmadi place of worship in Chakwal as examples of this trend.
According to the report, violence in Balochistan spiked while violence in Fata and Sindh fell considerably.
The report said the persistence of militancy in Balochistan and Khyber Pakhtunkhwa reflected a rapidly evolving militancy strategy and the difficulty for law enforcement authorities to adapt to the changes.
In Sindh, two suicide attacks were foiled by security guards while no such attacks were thwarted by security forces in Balochistan or KP. The report also noted an incident of extreme negligence in Mardan, where 11 'hardcore terrorists' escaped from police custody.
The new strategy in carrying out suicide attacks was a big reason for their successes, the report said. It said the multiple claims of violence by various militant outfits reflected the similarities in their approaches, and considering Islamic State or any other militant outfit to be more brutal or barbarous does not carry weight in view of the crimes they have committed.
The report also said Balochistan and Fata are two important regions in the country that continue to manifest extremism and insurgency in the form of armed conflict.
Throughout the country, nearly 2,068 suspects were arrested in 2016, some with known identities and groups.
The report said only 14 of them were apprehended in Fata, which raises a serious question about the prevailing law enforcement mechanism in the area. The report added that 349 militants were killed in the region.
The only changed observed so far in the government narrative, in the report, is the downgrading of militants from 'disgruntled brothers' to 'foreign agents funded by foreign intelligence agencies', particularly India.
The report argued that the narrative may be useful in hunting down 'hardcore' militants but may not be effective enough to change the mindset that gets average citizens riled up and leads to, in some cases, mob attacks.
It said long-term, softer strategies are needed to combat the root cause of terrorism, which is extremism itself.
https://www.dawn.com/news/1321995/66pc-decline-in-violence-related-incidents-since-2014
------
Musharraf offered me a deal in 2007, says Nawaz
March 22nd, 2017
SYED IRFAN RAZA
ISLAMABAD: Prime Minister Nawaz Sharif revealed on Tuesday that retired Gen Pervez Musharraf had offered him an "underhanded" deal to form a joint government in 2008.
Speaking at a meeting of the ruling Pakistan Muslim League-Nawaz (PML-N) parliamentary committee, the prime minister said: "Musharraf wanted a secret deal with me in 2007."
A source quoted the prime minister as saying that he did not believe in secret deals, which was why he was always blessed with success.
Ahmed Raza Kasuri disputes PM's claim; PML-N senators ask for development funds
"Musharraf offered me the deal directly, but I turned it down," the prime minister revealed for the first time.
PM Sharif said Gen Musharraf was willing to meet him and made several attempts to do so in the past.
"But I declined," the prime minister said.
He said that his family did not want to leave their motherland, but were forced into exile by the military dictator.
"We left the country in a miserable condition and were not allowed to return for a long time," he said.
The prime minister noted that the former president was now facing a similar fate and had left the country in disgrace.
"Now, Musharraf is willing to return to the country, but he cannot," he said.
The government of Nawaz Sharif was toppled by Gen Musharraf through a coup in 1999 and many members of the Sharif family, PM Sharif himself, were forced into exile in Saudi Arabia, where they remained until their return to Pakistan in Nov 2007.
However, PM Sharif's assertions were disputed by former Musharraf aide and All-Pakistan Muslim League member Ahmed Raza Kasuri. "I have been working with Gen Musharraf for a long time and I have never heard any such thing," he said.
Mr Kasuri said everyone knew that the Sharifs went abroad under an agreement for 10 years and there could be no question that Musharraf offered him a deal to form a joint government.
"It was, in fact, Nawaz Sharif who was begging to return to the country in 2007," he maintained.
Regarding Musharraf's own exile, he said his party chief went abroad after he was allowed to leave the country by the Sindh High Court and the Supreme Court. He said that while the former general left the country amid fanfare, the Sharifs escaped "like thieves".
"[The claim is] absolute rubbish and [a] bundle of lies, which has only been propagated for [the prime minister's] image-building that was badly affected due to his lies in the Panama scandal," Mr Kasuri concluded.
Meanwhile, other important issues were also discussed in the parliamentary committee meeting, including preparations for the 2018 general elections.
One of the members present complained that federal ministers did not meet party leaders and workers.
It was also proposed that senators should be given development funds along the lines of those received by members of the National Assembly so that they could also carry out development projects in their constituencies.
https://www.dawn.com/news/1322105/musharraf-offered-me-a-deal-in-2007-says-nawaz
------
World Bank rules against Pakistan in Reko Diq case
March 22, 2017
An arbitration tribunal of the World Bank's International Center for Settlement of Investment Disputes (ICSID) on Monday ruled against Pakistan in relation to the unlawful denial of a mining lease for the Reko Diq project in 2011.
The International Center for Settlement of Investment Disputes' (ICSID) verdict came after Tethyan Copper Company Limited (TCC), a joint venture between Antofagasta and Barrick, filed an arbitration claim against Pakistan for unlawfully denying a mining lease for the Reko Diq project.
"The decision by the ICSID tribunal rejected Pakistan's final defense against liability, and confirmed that Pakistan had violated several provisions of its bilateral investment treaty with Australia, where TCC is incorporated," Chilean mining company Antofagasta announced. However, the claims could not be independently verified.
World bank report: Pakistan among top 10 economies
In January, 2013, the Supreme Court had declared invalid the Reko Diq agreement – a lease for one of the world's richest deposits of gold and copper in Balochistan held by the TCC – observing that the agreement ran counter to the country's mineral development act and mining concession rules.
A three-judge bench of the apex court, headed by Chief Justice Iftikhar Muhammad Chaudhry, declared "not valid" the Chagai Hills Exploration Joint Venture Agreement (CHEJVA), the initial 1993 exploration agreement between the Balochistan government and Australian mining group BHP.
Indus waters treaty: World Bank president calls Dar
Tethyan Copper Company
Reko Diq is one of the world's richest deposits of gold and copper held by a Canadian-Chilean consortium that includes Vancouver-based giant Barrick Gold.
Barrick, the world's largest gold producer, and Chile's Antofagasta Minerals, each own a 37.5% share, as the Tethyan Copper Company, in the largest Foreign Direct Investment mining project in Pakistan.
Their plan was to build and operate a copper and gold open-pit mine at Reko Diq in the Chagai district of Balochistan.
https://tribune.com.pk/story/1362336/world-bank-rules-pakistan-reko-diq-case/
------
ASF foils suspected terror bid at Lahore airport
March 22, 2017
The Airport Security Force (ASF) on Wednesday foiled a suspected terror bid at Lahore's Allama Iqbal International Airport by recovering a cache of weapons from a car, Express News reported.
According to initial reports, ASF personnel stopped a vehicle at the airport check post, and while searching it, the officials discovered a large cache of weapons and ammunition hidden in the car. Following the incident, the weapons, along with the car and driver were handed over to the police.
Top police officials among 13 killed in Lahore suicide attack
Last month, at least 13 people — among them two senior police officials — were killed when a suicide bomber detonated the explosives strapped to his body in the midst of a crowd of protesters outside the Punjab Assembly.
The deadly bombing capped a bloody day as elsewhere in the country three paramilitary soldiers were killed in a roadside bomb attack, while two explosives experts died while defusing a bomb. A splinter group of the outlawed Tehreek-e-Taliban Pakistan, which has been routed from its stronghold in the tribal regions in a series of military operations, was quick to claim credit for the grisly violence at a protest rally in the Charing Cross area of Lahore.
https://tribune.com.pk/story/1362313/asf-foils-suspected-terror-bid-lahore-airport/
------
Visas to Americans: PPP govt gave Haqqani carte blanche, says Aziz
March 22, 2017
By Irfan Ghauri
ISLAMABAD: The PM's top aide on foreign affairs revealed on Tuesday that during the PPP's last government in 2010, the Ministry of Interior had empowered Pakistan's former ambassador to the US – Hussain Haqqani – to directly issue visa to Americans by bypassing security clearance.
"The Ministry of Interior through a letter dated July 16, 2010 allowed Haqqani to issue 'diplomatic' visas to Americans without referring their cases to the ministry for security agencies' clearance.
Haqqani admits role in US spy deployment in Pakistan
"After this special permission, a total of 2,487 such visas were issued to the Americans during the next six months," Adviser to Prime Minister on Foreign Affairs Sartaj Aziz told the Senate on Wednesday.
Aziz was giving his policy speech with regard to the controversy sparked by Haqqani's recent article published in The Washington Post on March 13.
In an opinion piece Haqqani admitted facilitating stationing of the US special operations and intelligence personnel in Pakistan and forging links that eventually allowed Washington to carry out its 2011 raid in Abbottabad to eliminate the former al Qaeda chief. The envoy also indicated that while Islamabad was 'officially kept out of the loop', the PPP-led government was aware of both the developments.
Aziz reiterated demand for a probe into the revelation through a parliamentary committee and said the government is ready to extend all possible help. Many senators both from the treasury and opposition supported the idea.
Last week, Defence Minister Khawaja Asif had also called Haqqani's article 'directly related to national security', 'a breach of national security at the highest level' and demanded an investigation.
Speaking on the floor of the house, Senator Rehman Malik – who was interior minister when this letter was written – defended the PPP government's action, saying the government was pursuing an existing policy started during former president General Pervez Musharraf's era.
"Haqqani had to continue the policies of Gen Musharraf's regime. Three former ambassadors – Dr Maliha Lodhi, Gen Jehangir Karamat and Javed Asharaf Qazi – had been doing so as Pakistan had made a commitment to track down Osama bin Laden.
"If all the ambassadors of that era are included in an investigation things will get clear," Malik added.
Senate Chairman Raza Rabbani observed that it should also be probed if Musharraf had allowed Americans to use cargo gate of the Benazir Bhutto International Airport to enter Pakistan without visas.
"By the time, the security agencies intervened, many Americans had already sneaked into Pakistan without visas, skipping the immigration and customs procedures," he added.
PPP winces hard at Haqqani's revelations
Speaking on his adjournment motion, the PML-N's Lt Gen (retd) Abdul Qayyum said the PPP government should have thought before appointing a controversial man like Haqqani as ambassador to US, given his [Haqqani's] track record 'which is full of venom' against country's security establishment.
Qayyum said roles of Haqqani, former prime minister Yousaf Raza Gilani and president Asif Ali Zardari as well as the foreign office and the interior ministry should be investigated. The PTI Senators – Azam Swati and Mohsin Aziz – also called for making Memogate commission report public.
The PPP's Farhatullah Babar, who is also spokesman to former president Asif Ali Zardari, came with a strong defence of the party and claimed that Haqqani did not make any new revelations in his article.
He said visas were issued after following a laid down procedure and they were not issued by Zardari or Gillani. "This question must also have been addressed by the Abbottabad Commission so why not make the commission report public to resolve once and for all to know how and who issued visas," he asked.
He said the real issue was to make the Abbottabad Commission report public. "But it will not be addressed until the civilians have an upper hand in policy formulation which is not the case as has been lamented by Sartaj Aziz himself in his articles and book," he added.
https://tribune.com.pk/story/1362107/visas-americans-ppp-govt-gave-haqqani-carte-blanche-says-aziz/
------
South Asia
Afghanistan Wants More U.S. Help in Fight Against Taliban, Islamic State
March 22, 2017
Washington (AP) -- Afghanistan wants the United States to send more forces to help meet shortfalls in the battle against the Taliban and the Islamic State group, the nation's top diplomat said Tuesday.
Foreign Minister Salahuddin Rabbani welcomed a recent call by U.S. Gen. John Nicholson, the top American commander in Afghanistan, for a few thousand more troops from the U.S. or other coalition partners to help break the stalemate in the war-torn country.
The Trump administration has not yet said if it will send more forces in response to Nicholson's comments. Some 8,400 U.S. troops are currently deployed in Afghanistan, performing counterterrorism operations against insurgents and training the Afghan army. The war is in its 16th year.
Citing a deadly attack this month on a military hospital in Kabul, Rabbani said Afghanistan needs U.S. help in addressing "military shortfalls," through increased training, ground and air capabilities, and reconnaissance and intelligence support. The attack was launched by IS with the Taliban.
"We stand confident that the new U.S. administration under President Trump will remain strategically engaged and continue its support," Rabbani said at the Atlantic Council think tank ahead of a gathering in Washington of the U.S.-led coalition against IS. He described Nicholson's call as "an appropriate decision considering the prevailing security challenges still facing us."
In a sign of how major powers are vying for influence in the region, Rabbani said Russia is planning a 12-nation conference on Afghanistan. The former Soviet Union engaged in a disastrous decade-long occupation of Afghanistan in the 1980s.
Rabbani said the U.S. had been invited but didn't know if it would attend. The State Department said it hasn't yet decided on its participation.
Rabbani said the discussions would follow up on six-nation talks held in mid-February involving China, Pakistan, Afghanistan, India and Iran. He said he did not think the Taliban would be invited.
In congressional testimony last month, Nicholson said Russia has been publicly legitimizing the Taliban and seeking to undermine the United States and NATO in Afghanistan.
Rabbani said Russia and Iran have both told Kabul they have been in contact with the Taliban to encourage a return to the negotiating table. They deny providing the Taliban material support.
Rabbani said terrorism and extremism must be combated through cooperation among governments. He said the Taliban wouldn't seek peace unless Pakistan cracked down on "terrorist safe havens" on its soil — a long-running source of bitterness between the neighboring countries.
https://www.bloomberg.com/news/articles/2017-03-21/afghanistan-supports-sending-more-us-forces
------
Noor says will soon decide to resign as Balkh governor
Tue Mar 21 2017
The provincial governor of the northern Balkh province Ata Mohammad Noor has said he will soon decided regarding his resignation as the governor of the province.
Noor described the motive behind his likely decision as the major political activities he has eyed for the future, including the upcoming elections.
Speaking a ceremony in Mazar-e-Sharif city on the eve of Nowruz, Noor thanked President Mohammad Ashraf Ghan for trusting him to once again assume charge as the governor of Balkh.
However, he said he has intentions to step into major political activities, emphasizing that the decision regarding his resignation will be taken once consulting with the elders, his political allies, and others close to him.
Noor was one of the main supporters of Abdullah Abdullah during the controversial presidential elections in 2014 and played a key role in both the first round of the elections and during the run-off elections.
However, he slammed Abdullah last week and apologized from his supporters for lobbying in his favor and supporting him during the elections.
Meanwhile, late in December last year, Noor said he is no more counting on decision making capabilities of Chief Executive Abdullah Abdullah.
He claimed that his lack of confidence on Abdullah has led to opening of direct talks with President Mohammad Ashraf Ghani.
http://www.khaama.com/noor-says-will-soon-decide-to-resign-as-balkh-governor-02440
------
Airstrike targets prominent Taliban leader's compound in Laghman
Mon Mar 20 2017
An airstrike was carried out on a hideout of a prominent Taliban leader in eastern Laghman province of Afghanistan.
The provincial government in a statement said the airstrike was carried out earlier today in the vicinity of Gul Aram located in Alingar district.
The statement further added that the militants have suffered casualties during the airstrike but the exact number has not been ascertained so far.
The airstrike was carried out by the Afghan Air Force, the statement said, adding that the Taliban leader whose hideout was hit has been identified as Nikmal.
According to the local officials, is a prominent Taliban leader who has involved in numerous terrorist related activities during the recent years.
Laghman has been among the relatively calm provinces since the fall of the Taliban regime in 2001 but the anti-government armed militant groups have increased their insurgency in some parts of the province during the recent years.
This comes as the officials earlier reported that a major attack plan by the Taliban militants to capture the government compound and other key institutions was thwarted by the security forces.
http://www.khaama.com/airstrike-targets-prominent-taliban-leaders-compound-in-laghman-02437
------
North America
US Muslims and Jews strengthen bonds amid acts of bigotry
By RACHEL ZOLL
Mar. 20, 2017
NEW YORK (AP) — They sat on either end of the congressmen's couch, one a Jewish healthcare executive whose parents fled Germany in 1936, the other the Kashmiri Muslim chairman of a well-known American furniture chain. The men, Stanley Bergman and Farooq Kathwari, came to draw attention to an outbreak of hate crimes. But Bergman and Kathwari hoped their joint appearance would also send a broader message: that U.S. Jews and Muslims could put aside differences and work together.
"What drove us was the growing prejudice that has emerged in the United States," Bergman said. "What starts small, from a historical point of view, often grows into something big."
The men lead the Muslim-Jewish Advisory Council, created last year by the American Jewish Committee and the Islamic Society of North America, amid a flowering of alliances between members of the two faiths. U.S. Muslim and Jewish groups have been trying for years to make common cause with mixed success, often derailed by deep divisions over Israel and the Palestinians.
But bigoted rhetoric and harassment targeting both religions since the presidential election has drawn people together. Jews have donated to repair mosques that were defaced or burned. Muslims raised money to repair vandalized Jewish cemeteries. Rabbis and imams marched together against President Donald Trump's travel ban targeting majority Muslim countries.
"I would never have thought I would see some people in conversation, or anywhere near each other. Then I saw people on Facebook standing next to each other at protests — Muslims and Jews," said Aziza Hasan, executive director of NewGround: A Muslim-Jewish Partnership for Change in Los Angeles, which has run community relationship-building programs for more than a decade.
Yet despite this surge of goodwill, questions remain about whether these new connections can endure. The sense of vulnerability Muslims and Jews share, and their need for allies at a difficult time, have not erased tensions that in the past have kept them apart.
"This is a start and we'll see how it goes," said Talat Othman, a financial industry executive and Muslim-Jewish Advisory Council member, who offered an Islamic prayer at the 2000 Republican National Convention. "We are hopeful."
Jews and Muslims comprise the two largest non-Christian faith groups in the United States and have a long history of trying to work together.
The chancellor of the Jewish Theological Seminary in New York, the flagship institution of Conservative Judaism, initiated a dialogue with Muslims in 1956, according to documents in the school's archive. Rabbi Jack Bemporad, a pioneer in Muslim-Jewish dialogue and founder the Center for Interreligious Understanding in New Jersey, said his efforts started in the 1970s when he led a Dallas synagogue and local imams started attending his weekly Bible classes.
Over the years, many initiatives on improving relations between the two faiths were organized internationally by governments and peace groups, while some American synagogues and mosques attempted to build friendships locally. Some progress was made, yet relations were often derailed when violence, war and policy disputes erupted in the Middle East.
In Los Angeles, Hasan said local discussions between Muslim and Jewish leaders would falter when participants from one faith would demand those of the other condemn an action in Israel and the Palestinian territories. "It would go back and forth, then eventually Jews asked Muslims to condemn something they couldn't so they walked away from the table," Hasan said.
Then came the Sept. 11 terrorist attacks, prompting a backlash against American Muslims, and efforts to create connections with Jews began moving "at warp speed," said Rabbi Burton Visotzky, a Jewish Theological Seminary scholar and a longtime leader in Muslim-Jewish cooperation. Visotzky's outreach has ranged from a 2008 global interfaith meeting convened by King Abdullah of Saudi Arabia to serving collard greens at a soup kitchen alongside members of a New York mosque.
Still, the deep divide over Israel and the Palestinians remained an obstacle. Some Jews and Muslims pledged to avoid any mention of the Mideast as they sought common ground. Others hit the issue up front, but their talks foundered. Yehuda Kurtzer, president of the Shalom Hartman Institute of North America, an educational organization with extensive interfaith programs, said U.S. Muslims and Jews, had become "proxy warriors" for conflicts thousands of miles away.
At the same time, advocates for building ties between the faiths regularly encountered skepticism or outright hostility from within their own communities. "Many Jews feel that Muslims around the world are a source of threat to Jews, then why be in dialogue?" Kurtzer said.
About six years ago, Bemporad organized a conference on Islamic and Jewish law, but the event was closed to the public, in part to avoid pushback against participants. "We had to break the ice somehow," Bemporad said. "We thought the way we did it, you could be free to say whatever you wanted."
He said religious leaders working on such projects are much more open now. Still, the growth of the boycott, divestment and sanctions movement against Israel and in support of the Palestinians has further complicated relations.
The movement, known as BDS, is decentralized and its supporters use different strategies, but many backers say interfaith dialogue with Zionists undermines the Palestinian cause. It has become common for American Jewish organizations to draw a hard line against working with backers of BDS — from any faith. Meanwhile, BDS activists consider it traitorous for Muslims to work with supporters of Israel.
This issue came to the fore over the Shalom Hartman Institute's Muslim Leadership Initiative, which brings American Muslims to Israel to study Judaism and Zionism. Kurtzer said the first year of the program was kept "completely under the radar." When the participants became known in 2014, Muslims who took part were accused of allowing themselves to be manipulated and violating BDS.
Among the participants was attorney Rabia Chaudry, a specialist in countering extremism and a longtime supporter of Palestinian rights. She acknowledged the risks from participating in the program, but said she did so hoping to find a new way forward. Last October, the Council of Islamic Organizations of Greater Chicago dropped plans to present her an achievement award because of her work with the Shalom Hartman Institute. Chaudry, now a member of the Muslim-Jewish Advisory Council, said she was not angry. "They felt terrible about it. They got even more criticism for rescinding it," she said.
Since Trump's election, members of both faiths seem more willing to set aside such differences as they work on civil rights and other issues, said Abdullah Antepli, who was the first Muslim chaplain at Duke University and is co-director of the Shalom Hartman Institute's Muslim Leadership Initiative.
It's impossible to know definitively whether harassment based on religion has increased. The FBI's most recent data on hate crimes is from 2015. Still, the last year or so has seen some dramatic examples of bigotry, including the waves of phoned-in bomb threats to Jewish Community Centers around the country. Mosques in Florida and Texas were recently set on fire, and authorities were investigating whether the suspected arsons could be considered hate crimes.
"It's particularly a Trump effect," Antepli said. "External forces make the Muslim and Jewish communities need each other's friendship."
When New York Arab-American activist and BDS supporter Linda Sarsour recently helped raise more than $150,000 for the damaged Jewish cemeteries, some Jews debated whether it would be ethical to accept the donation. But in a sign of changing attitudes, several mainstream Jewish leaders who had worked with her previously defended her.
This new dynamic was evident at a recent New York vigil organized by the Sisterhood of Salaam Shalom, a national organization that brings together Muslim and Jewish women. The gathering at the Jewish Theological Seminary was part of the organization's response to Trump's travel ban. At their vigil, they walked to the front of the room in pairs — a Muslim and a Jew — to offer readings and prayers in Arabic and Hebrew. After the ceremony, the women hugged and posed together for selfies.
"There's a sense of immediate rapport and connection," said Donna Cephas, a national board member of the Sisterhood, which has added dozens of chapters in the past year. "There is a significant yearning to be in community with people who stand for what we stand for."
http://bigstory.ap.org/article/22d0379304c5446985e27d55db71c7fe/us-muslims-and-jews-strengthen-bonds-amid-acts-bigotry
------
UN Chief Antonio Guterres urges world to stand up against intolerance
March 22, 2017
Antonio Guterres, UN chief Antonio Guterres, India, Pakistan, Kashmir, Narendra Modi, Kashmir crisis, Kashmir issue, Kashmir problem, UN Secretary-General Antonio Guterres, India news, Indian Express United Nations Secretary General Antonio Guterres.
UN Secretary-General Antonio Guterres on Tuesday urged the world to stand up against intolerance and build communities that recognise diversity not as a source of weakness, but a source of strength and richness. "In a time of upheaval and change, it is easy to paint vulnerable communities as the cause of problems… people are being targeted because of their race, nationality, ethnicity, religion or sexual orientation," Guterres said at an event at the UN General Assembly commemorating the International Day for the Elimination of Racial Discrimination, Xinhua reported.
The event was held here against the backdrop of rising discrimination and violence against those perceived as different. Highlighting the particular plight of migrants as well as those, especially women and girls, from minority communities who are often targeted as "scapegoats" and experience racial profiling by authorities, the secretary-general stressed the collective responsibility "to do better" and to protect human rights of all.
"We all have a role to play," he said. "After all, racial discrimination destabilizes societies, undermines democracies and erodes the legitimacy of governments." "By acting together to end discrimination, we can lift humanity as a whole," he said. In his remarks, the secretary-general also reminded that international law requires states to take effective actions to prevent and eliminate discrimination on all grounds and in all fields of civil, economic, political, social and cultural life.
"They must be vigilant and respond immediately and appropriately, including by prohibiting incitement to racial, national and religious hatred and ending racial profiling," he said, calling on politicians and leaders to speak up and counter hateful speech. "Let us stand up against intolerance and eliminate discrimination," he noted, "Let us join forces in our global campaign — Together for Respect, Safety and Dignity for all."
The International Day for the Elimination of Racial Discrimination, which falls on March 21, commemorates the killing of 69 unarmed protesters in 1960 in Sharpeville, South Africa, who were staging a peaceful protest against the discriminatory pass laws of the racist apartheid regime.
http://indianexpress.com/article/world/un-chief-antonio-guterres-urges-world-to-stand-up-against-intolerance-4579914/
------
Syrian defector urges US President Donald Trump to stop 'machinery of death'
March 22, 2017
Syria, Syrian defector, Donald Trump Syria, Syria photos of people tortured to death, Assad regime torture, defector Syria Trump, Trump criminality, White House Syria, World news U.S. President Donald Trump greets reporters as he arrives to meet with congressional Republicans at the U.S. Capitol in Washington, U.S. March 21, 2017. (Reuters/Jonathan Ernst/File)
The Syrian defector who smuggled out tens of thousands of photos of people allegedly tortured to death in Assad regime jails has urged U.S. President Donald Trump to stop the machinery of death. In an exclusive interview with CNN, the defector urged the U.S. President to stop what he calls the "criminality" taking place in Syria's government-run prisons.
"We have shown the killing and torture of so many of the Syrian people and you cannot give back the lives to those that have lost it. But we ask you, out of your humanity, to stop the machinery of death. We are asking to all the officials, to all the policy makers, to President Trump's White House, which we are hoping will do the right thing, we beg you to stop the machinery of death in Syria," said the Syrian defector.
Worked as a photographer for the Syrian military police in Damascus, the defector smuggled trove of photos.
At the time, a team of internationally renowned war crimes prosecutors and forensic experts who analyzed the photos found evidence of "systematic torture and killing" by Syrian President Bashar al-Assad's regime.
http://indianexpress.com/article/world/syrian-defector-urges-us-president-donald-trump-to-stop-machinery-of-death-4579900/
------
Donald Trump tries to move past controversies, says he is keeping promises
March 22, 2017
U.S. President Donald Trump delivers remarks at the National Republican Congressional Committee March Dinner in Washington, U.S., March 21, 2017. REUTERS/Carlos Barria
President Donald Trump argued on Tuesday that his 60 days in office have been a successful keeping of his campaign promises as he attempted to turn the page from a variety of controversies that have bedeviled his White House tenure. In a speech before the National Republican Congressional Committee, Trump sprinkled his remarks with jokes, mocked his critics and expressed optimism that a healthcare proposal he backs will a survive a close vote in the House of Representatives on Thursday.
"We're doing well," Trump said of his efforts to persuade lawmakers to vote for the legislation. "I think we're going to have some great surprises. I hope that it's all going to work out." Trump's first two months have been dominated by controversies from the firing of national security adviser Michael Flynn to tweets in which he accused his predecessor, Barack Obama, of wiretapping Trump Tower, a charge that FBI Director James Comey declared without foundation on Monday.
Trump's approval rating has sagged to 37 percent, according to a Gallup poll this week. But Trump looked at the sunny side in his speech, saying he has taken steps to strengthen the U.S. border with Mexico and is eager to launch into a tax overhaul and pursue a deal to fund infrastructure once he overhauls Obama's healthcare law.
He said his corporate tax effort would seek to clear the way for companies with profits overseas to bring back as much as $3 trillion to $5 trillion. "The American people gave us clear instructions. It's time to get busy, get to work and get the job done," Trump said. The event raised a record $30 million for the committees that help pay for Senate and House election campaigns, more than the $20 million brought in at the same event a year ago.
Trump made reference to a controversy that he has been embroiled in: his efforts to suspend temporarily people traveling from several Muslim-majority nations. His original Jan. 27 executive order applying to people from seven countries was blocked by federal judges. A subsequent rewritten version has been blocked as well. "The courts are not helping us, I have to be honest with you," Trump said. "It's ridiculous. Somebody said I should not criticize judges. Okay, I'll criticize judges."
http://indianexpress.com/article/world/donald-trump-tries-to-move-past-controversies-says-he-is-keeping-promises-4579886/
------
Donald Trump's daughter Ivanka gets White House office
The 35-year-old would have access to classified information.
March 21, 2017
donald trump, ivanka trump, donald trump news, trump news, white house, ivanka trump white house Ivanka Trump, daughter of US President Donald Trump, arrives at Trump Tower in New York. (AP Photo/ Evan Vucci, File)
President Donald Trump's high-profile daughter Ivanka has been given an office at the White House and she will also have access to classified information, according to an administration official. Ivanka's role will be to serve as Trump's "eyes and ears" while providing broad-ranging advice to the US President, her attorney was quoted as saying by Politico. But she will not have an official title or salary when she works in the West Wing – the hub of US executive power.
The official also confirmed media reports that the 35-year-old would have access to classified information. Ivanka, who has her own fashion brand, will be joining her husband Jared Kushner, a real estate developer, who is a senior adviser to the president. Ivanka Trump runs a fashion line named after her. But in an attempt to avoid conflicts of interests, she has handed day-to-day management of the firm to her top executive, Abigail Klem and has also set up a trust to provide oversight.
The couple's reported influence on the president has raised questions about possible conflicts of interests. It has also triggered debates whether there are clear boundaries between the Trump family's political and business activities. Since Trump's inauguration in January, Ivanka has been attending President Trump's meetings with world leaders, including Canadian Prime Minister Justin Trudeau and German Chancellor Angela Merkel.
http://indianexpress.com/article/world/donald-trumps-daughter-ivanka-gets-white-house-office-4579513/
------
Guatemala: Two killed, nine wounded in attacks on police
March 21, 2017
guatemala prison riot, guatemala city, guatemala prison, guatemala city police, prison riot, world news Policemen stand guard after a riot by underage inmates, outside the Correctional Center Stage 2, in San Jose Pinula, Guatemala. (Source: Reuters)
Two policemen were killed and eight wounded in attacks on police across Guatemala on Monday night, authorities said, hours after a bloody riot in a juvenile detention center was put down in the Central American nation.
A civilian was also injured in the attacks, according to authorities.
Eight attacks were carried out against police stations and patrol cars in the capital, Guatemala City, while another assault occurred in western Quetzaltenango department, authorities said.
The assaults in Guatemala City appeared to have been carried out by the Barrio 18 gang, one of two powerful rival gangs, a police spokesman in the capital said. Seven gang members were detained, the spokesman said.
Jailed Barrio 18 gang members rioted and took several guards hostage on Sunday to demand the return of 250 of the gang's members who had recently been transferred to another juvenile detention center. Authorities freed the guards on Monday and around 45 of those involved in the riots were awaiting charges.
Barrio 18 and its rival Mara Salvatrucha control entire city neighborhoods in El Salvador, Honduras and Guatemala.
Rising gang violence has made the three countries among the world's deadliest nations outside a war zone in terms of murder rates, U.N. refugee agency the UNHCR says, driving hundreds of thousands of people from their homes every year.
http://indianexpress.com/article/world/guatemala-two-killed-nine-wounded-in-attacks-on-police-4578755/
------
Donald Trump meets Iraqi PM Haider al-Abadi, discusses terrorism threat
March 21, 2017
donald trump, trump iraqi pm meet, iraq pm us visit, iraqi prime minister, haider al abadi, donald trump, white house, us president, united states, islamic state, IS, world news US President Donald Trump meets with Iraqi Prime Minister Haider al-Abadi at the White House. (REUTERS/Kevin Lamarque)
US President Donald Trump held his first meeting with visiting Iraqi Prime Minister Haider al-Abadi and expressed confidence in defeating the Islamic State (IS) terror group, according to a White House statement.
Trump hosted Abadi in the Oval Office on Monday to affirm America's support for Iraq in the fight against the IS, Xinhua news agency reported.
The two leaders agreed to pursue a long-term partnership to "decisively" root out terrorism and strengthen the Iraqi military and other key institutions, the statement said.
Recognising that terrorism cannot be defeated by military might alone, Trump and al-Abadi also agreed to promote a broad-based political and economic partnership between the two countries.
In coming months, the US and Iraqi leaders will hold consultations on steps to deepen commercial ties and promote investment, expand collaboration in the energy sector, and seek new opportunities for cultural and educational cooperation.
Monday's meeting comes as Iraqi forces continue to consolidate gains against the IS, particularly in the battle for Mosul, which has been under the IS control since June 2014.
After declaring the liberation of the eastern side of Mosul in January, Abadi announced the start of an offensive on February 19 to drive the militants out of the western side of the IS stronghold.
The meeting between Trump and Abadi also comes two days ahead of a key multinational meeting in Washington on fighting the IS.
US Secretary of State Rex Tillerson will host foreign ministers and senior officials from 68 nations and international organisations for a detailed discussion of priorities for the efforts against the IS.
http://indianexpress.com/article/world/donald-trump-meets-iraqi-pm-haider-al-abadi-discusses-terrorism-threat/
------
Twitter suspends over 636,000 accounts linked to 'terrorism'
March 22nd, 2017
WASHINGTON: Twitter said on Tuesday it suspended 376,890 accounts in the second half of 2016 for "promotion of terrorism," an increase of 60 per cent over the prior six-month period.
The latest suspensions bring the total number of blocked accounts to 636,248 from August 2015, when Twitter stepped up efforts to curb "violent extremism," the company announced as part of its latest transparency report.
The actions come with social networks under pressure from governments around the world to use technology tools to lock out jihadists and others who use the platforms to recruit and launch attacks.
Twitter said separately the number of government requests for user data rose seven percent from the prior six-month period, but affected 13 per cent fewer accounts.
For requests to remove content — from governments and others including copyright holders — the number of requests was up 13pc but the number of accounts fell 37pc.
Twitter announced that the FBI had informed the social network it was no longer under a "gag order" that prevented the disclosure of five cases involving "national security letters" — special requests from the US law enforcement agency in national security cases.
As a result, Twitter was able to inform the affected users of the FBI requests.
"As we continue to push for more transparency in how we can speak about national security requests, we will update this new section in future transparency reports," Twitter stated.
Twitter, which is pressured by certain governments to remove "hate speech," disclosed for the first time a partnership with a third-party research group called Lumen to catalog any information removed. Twitter said it began the agreement with Lumen in 2010.
"Unless we are prevented from doing so, when we withhold content in a certain country Twitter will continue to provide a copy of the request to Lumen so anyone can see what type of content was removed and who made the request," the company said.
https://www.dawn.com/news/1322114/twitter-suspends-over-636000-accounts-linked-to-terrorism
------
U.S. military launches investigation into alleged mosque strike in Syria
Mar 22, 2017
Washington D. C. [USA], Mar. 22 (ANI): The U.S. military has launched a formal investigation into last week's airstrike in northern Syria after locals reported that a mosque was struck and more than 40 people killed, the CNN reported citing two U.S. defense officials.
The Pentagon has for days rejected that a mosque was hit and that there were civilians.
The military's assessment hasn't changed, but the investigation will attempt to establish more definitively as to what exactly happened.
In the initial hours following the strike by US drones and aircraft, the Pentagon insisted that it hit only a building some 40 feet away from the mosque, where it said al Qaeda members were holding a meeting.
Two US defense officials confirmed that an investigation has been initiated by the Joint Special Operations Command, which conducted the mission. The investigation will eventually be reviewed by Gen. Joseph Votel, head of US Central Command, who oversees all military operations in the region.
Votel can either accept its findings or send it on for further review by military legal authorities, the officials said.
This is, however, not a criminal investigation. (ANI)
http://www.aninews.in/newsdetail-NA/MzA1Mjcx/u-s-military-launches-investigation-into-alleged-mosque-strike-in-syria.html
------
Bias And Fear Are The Norm For Many Muslim Americans, Poll Finds
22/03/2017
Religious discrimination is an ordinary occurrence for the majority of Muslim Americans, and President Donald Trump's election has spread fear throughout portions of the community, according to a nationwide poll released Tuesday.
The Institute for Social Policy and Understanding think tank surveyed 800 Muslims from Jan. 4 to 23 for a wide-ranging look at the particular struggles they face. The report, "American Muslim Poll 2017: Muslims at the Crossroads," compared their responses with those of people of other faiths and the U.S. population at large.
Sixty percent of Muslims reported personally experiencing religious discrimination in the past year, compared with 17 percent of the general population. Forty-two percent said their kids had experienced bullying in the previous year.
The new administration loomed large in Muslims' responses. More than a third said they feared for their own or their family's safety from hate groups in the wake of the election. A smaller number of Muslims said that since the election they had made preparations to leave the country if needed, changed their appearance to be less obvious as Muslim or signed up for a self-defense class.
A rash of hateful comments and actions directed at Muslims following the Nov. 8 presidential election has perpetuated that fear, Council on American-Islamic Relations spokeswoman Zainab Chaudry said at a panel announcing the report.
"We saw that taper off after the first couple weeks after the election," Chaudry said, but "the concern, the anxiety and fear, is still very real."
Trump's election has brought Islamophobia into the White House in the forms of the president's executive orders banning travelers from several Muslim-majority countries and the input of advisers who hold anti-Islamic views. Trump himself has said he thinks "Islam hates us" and repeated the debunked claim that he saw thousands of Muslims Americans celebrating after the Sept. 11, 2001, terrorist attacks.
"There's been more than 15 years of propaganda, miseducation campaigns, to convince the American public that Islam is inherently evil and violent and that Muslims should be associated with terrorism and fear in their communities," Charles Haynes, founding director of the Newseum Institute's Religious Freedom Center, said Tuesday.
"Even in the corridors of power now, this narrative, this propaganda which used to be on the fringe has moved into the center, and it's now mainstream," Haynes added.
Only 15 percent of Muslims favored Trump in the election, according to the survey. Just over half supported Democratic presidential nominee Hillary Clinton, and nearly a third didn't support either candidate.
Muslims are the most racially diverse religious group among those surveyed, according to ISPU, with no one race holding a majority. Half of American Muslims were born in other countries.
ISPU hopes its findings will give the public and policymakers a better understanding of a group often overlooked by pollsters and stereotyped by pundits.
Women wearing U.S. flag hijabs gather at an "I Am Muslim Too" rally in New York City last month.
While the experts discussing the report Tuesday constantly referred to the precarious situation for Muslims under Trump's administration, they also pointed to some bright spots, including a wave of support from allies and increased community activism. Nearly a fifth of Muslims reported getting involved with civic organizations for the first time after the election.
The political climate and Trump's executive orders targeting some Muslims have actually brought out the best of the community, Chaudry argued.
"We're seeing young folks step up to the podium," she said. "They're saying that we're not going to be silent bystanders. We're not going to allow our religion to be hijacked. We're going to make sure that we shape our own narrative."
For the institute's report, research firm SSRS surveyed 800 Muslims and 340 Jews by cell phone, landline and online panel. Triton Polling conducted a poll of the general public, interviewing 1,250 people by phone to examine the views of Protestants, Catholics and people who weren't affiliated with a religious group. The responses from the two separate surveys can be accurately compared because each captured a representative sample of its target populations, according to SSRS chief methodologist and executive vice president David Dutwin. The margin of error for the SSRS poll is plus or minus 5.1 percentage points for Muslim respondents and 6.5 percentage points for Jewish respondents, and the Triton poll included a margin of error of plus or minus 2.8 points.
http://www.huffingtonpost.in/entry/muslim-american-poll-discrimination_us_58d195e9e4b0f838c62d69e0
------
Anti-Muslim Activist Says She Had A Meeting At The White House
By Lauren Stephenson
March 21, 2017
A well-known anti-Muslim activist reportedly spent the day at the White House.
Brigitte Gabriel tweeted two photos of herself — including one in a meeting — at the White House on Tuesday. Gabriel founded ACT for America in 2007.
The group calls itself a "grassroots national security organization." But the Southern Poverty Law Center calls it the nation's "largest grassroots anti-Muslim group."
According to its website, ACT has 500,000 members with 1,000 chapters across the U.S. But the Southern Poverty Law Center says the group has fewer than 50 chapters that are active.
Gabriel has previously said, "If a Muslim who has — who is — a practicing Muslim who believes the word of the Quran to be the word of Allah, who abides by Islam, who goes to mosque and prays every Friday, who prays five times a day — this practicing Muslim, who believes in the teachings of the Quran, cannot be a loyal citizen of the United States of America."
In her 2008 book, Gabriel wrote, "It's not radical Islam. It's what Islam is at its core."
But Gabriel has since said she and members of ACT are only talking about "radical Islam."
She tweeted Monday night that she was preparing for a Tuesday meeting at the White House. Shortly after, advocacy groups like the Council on American-Islamic Relations called on the White House to cancel Gabriel's visit.
CAIR called ACT for America "one of the main sources of growing anti-Muslim bigotry in our nation."
White House officials told Buzzfeed and Talking Points Memo they didn't know about any meetings with Gabriel. The outlets followed up with the White House after Gabriel tweeted the photos Tuesday. But as of Tuesday evening, they hadn't received any confirmation of the visit.
http://www.newsy.com/stories/anti-muslim-activist-brigitte-gabriel-visited-white-house/
------
MUSLIM BROTHERHOOD SPENDING MILLIONS TO FIGHT TERROR DESIGNATION
Working with media team, lawyers, more to represent itself to Congress as legitimate
The Muslim Brotherhood is spending millions of dollars to lobby Washington to avoid being designated a terror organization, reports Joseph Farah's G2 Bulletin.
Confirming a WND report, the Middle East Media Research Institute found the Muslim Brotherhood has signed a contract with an American lobbying firm to spend $4.8 million "to help it establish ties with Trump administration officials."
There apparently is reason for the Brotherhood to believe lobbying is necessary.
"Already in November 2016, immediately after Donald Trump's victory in the U.S. presidential elections, the movement began preparing to counter U.S. moves to designate it terrorist," MEMRI said.
"The Egyptian Institute for Political and Strategic Studies, which belongs to the Brotherhood and operates from Turkey under the directorship of Amr Darrag, who served as minister of planning and international cooperation in the administration of former Egyptian president Mohamed Morsi, published a document by Dr. Badr Shafi'i on November 26 with recommendations for the movement on how to deal with America's intent to promote a terrorist designation of the MB," MEMRI reported.
"The recommendations include: Appointing elements within the movement to supervise these steps and make contact with experts on international relations; contacting politicians, clerics, and countries that could sympathize with the MB in order to improve its image in Congress; establishing a legal-media team and hold ties with members of Congress; hiring a U.S. law firm and public relations teams; and establishing a substantial Islamic lobby in the U.S., while strengthening ties with movements opposing Trump's policy."
The report said that during Trump's campaign, Middle East adviser Walid Phares repeatedly stated that the new president would support the passage of a bill designating the Brotherhood as a terrorist organization.
Sen. Ted Cruz, R-Texas, and Rep. Mario Diaz-Balart, R-Fla., introduced such a bill in 2015, and in January it was introduced again.
Cruz tweeted then he was: "Proud to introduce Muslim Brotherhood Terrorist Designation Act w @MarioDB. It's time to call the enemy by its name."
In response, the Brotherhood began "preparations to confront the bill and prevent its passage."
"Launching a widespread informational media campaign, including the hiring of U.S. lobbying and legal firms, outreach to the press in the U.S., and dissemination of informational content aimed at improving its image in the West, particularly in the U.S., the MB attempted to convey that it is not a terrorist organization," the report said.
The lobbying campaign has been opposed by the Egyptian regime, which believes the Brotherhood is a threat to the state.
The report said various articles have been published extolling the Brotherhood, and there are efforts "not only in Egypt but in 82 countries around the world … meant to prevent the decision."
The $4.8 million lobbying contract includes meetings with administration officials, publishing articles in American media and providing platforms for movement officials.
http://www.wnd.com/2017/03/muslim-brotherhood-spending-millions-to-fight-terror-designation/
------
Donald Trump nominates Indian-American to top judicial post
March 21, 2017
Amul Thapar, 47, is the first Indian-American to be nominated by Trump for a top judicial post.
An Indian-American legal luminary has been nominated by US President Donald Trump to a key judicial position on the powerful US court of appeals. Amul Thapar, 47, who in 2007 became the first South Asian Article III judge when he was appointed as a US District Judge for the Eastern District of Kentucky, is the first Indian-American to be nominated by Trump for a top judicial post yesterday. If confirmed by the Senate, Thapar will be part of the powerful US 6th Circuit Court of Appeals, which hears appeals from Kentucky, Tennessee, Ohio and Michigan.
Thapar was among the 20 judges whose names Trump had released during his presidential campaign as shortlisted candidates for his Supreme Court nominees. Senate Majority Leader Mitch McConnell applauded Trump for announcing his intent to nominate Thapar to serve on the Sixth Circuit Court of Appeals. "Throughout his already impressive career of public service, Amul has shown an incredible intellect and an unshakable dedication to the law," McConnell said.
"He has earned the respect of his colleagues, and I know that he will bring to the Sixth Circuit the same wisdom, fairness, and ability that he has shown on the District Court. President Trump made an outstanding choice and I look forward to the Senate's confirmation of Judge Thapar," the Senate Majority leader said in a statement. The South Asian Bar Association of North America (SABA) which is normally critical of Trump, lauded Trump for his intent.
"Judge Thapar is a respected and thoughtful jurist who has long served as role model for the South Asian and greater legal community," said Vichal Kumar, SABA president. "Despite being among the youngest judges in the federal judiciary, Judge Thapar quickly established a reputation as a top legal scholar among his peers. His nomination furthers SABA's mission of ensuring a judiciary that reflects the diversity of our country and we anticipate that his eminent qualifications will earn him a swift confirmation," Kumar said.
Prior to joining the bench, Thapar, winner of SABA's Pioneer Award, served as the US Attorney for the Eastern District of Kentucky from 2006-2007, where he was one of the first American Attorneys of South Asian descent. During that period, Thapar was appointed to the Attorney General's Advisory Committee (AGAC) and chaired the AGAC's Controlled Substances and Asset Forfeiture subcommittee. He also served on the Terrorism and National Security subcommittee, the Violent Crime subcommittee, and Child Exploitation working group.
http://indianexpress.com/article/world/donald-trump-nominates-indian-american-to-top-judicial-post-4578614/
------
Arab World
Islamic State weak in Iraq, says Peshmerga general
ISLAMIC STATE is a "very powerful terrorist organisation" but is now "weak in Iraq", a Peshmerga general has said.
Mon, Mar 20, 2017
Iraqi forces are pushing to retake the west of Mosul, Iraq's second biggest city, which was captured by the extremist group in 2014 and is their last major stronghold in the country.
Speaking through an interpreter at a Kurdish Zerevani forces camp in Bneswela, near Erbil, Brigadier General Yunis Mohamed Rashed said his troops have no mercy for ISIS fighters.
"Daesh is a very powerful terrorist organisation, they don't have humanity... they are monsters," he said.
"I have never seen such a thing as blowing themselves up, or cutting people's head off or cutting people's hand off.
"That is why we don't give them any mercy while we fight them, because against us they use everything - a lot of horrible things."
Alongside the threat of suicide bombers, he said improvised explosive devices (IEDs) left behind and disguised by the extremist group are also an issue.
"There is a lot of villages we have been controlling after Daesh left," he said.
An Iraqi special forces soldier checks men for explosive belts as they cross from Islamic State controlled part of Mosul to Iraqi forces controlled part of Mosul
"[In one] we were searching and found a lot of buildings that were booby trapped - like a blanket on the ground, once you step on it, boom, it goes off."
Daesh is a very powerful terrorist organisation, they don't have humanity... they are monsters
Brigadier General Yunis Mohamed Rashed
He said that if his forces have a week with little fighting, "they know that Daesh are attacking", but that they have "faith" and "believe" they will win the war.
"Daesh is very weak right now, especially in Iraq," he said. "When Daesh was near to us it created a lot of threat."
With the Iraqi army controlling the east of Mosul and "soon the West", he added: "The threat is far away."
Brigadier General Yunis Mohamed Rashed said his troops have no mercy for Islamic State fighters
"We always put in mind that they might be stronger at any time or weaker at any time," he said after a passing-out parade at the end of a British-run course in how to detect and defuse devices.
He said his forces have learnt a lot from training by coalition forces, including the British, and they are "very thankful for their service".
Sergeant Tariq Aziz Mohammed, from the Zerevani first company, was injured last year by an IED hidden in a tunnel while fighting IS.
Talking during a training session at a half-finished housing development called Tiger Town, he said he remembered a "boom" and next thing he woke up in hospital.
He sustained a broken back and concussion and now finds he struggles mentally, often having to sit alone in a calm place.
Speaking through an interpreter he said: "This training makes you more aware... we have experience and have been soldiers before... but this kind of training teaches you how to protect yourself properly."
He thanked British forces for their "hard work and hard efforts" in training.
He praised medical training for treating injuries on the front line, and said building-to-building operational skills they have learned are also "important".
He added: "A lot of Peshmerga have been Peshmerga for 25 years, but they don't know all the skills and drills they have to do. Now we have learnt it.
"The IED training is amazing for us, and we extremely need the training about the IEDs on how to protect ourselves and how to defuse it.
"That is the most important thing, I think, for the Peshmerga."
http://www.express.co.uk/news/world/781476/islamic-state-mosul-iraq-weak-isis-iraqi-troops
------
A rattled Saudi Arabia pivots for support to South-East Asia
21 March 2017
Capital cities across Asia spent the last month rolling out the red carpet for a rarely seen visitor: Saudi Arabia's ageing King Salman, accompanied by a hundreds-strong diplomatic entourage including senior princes, businessmen and ministers. Taking in Malaysia, Indonesia, Brunei, Japan, China and the Maldives, the king spent March leading a concerted effort to strengthen Saudi Arabia's commercial links with Asia's fast-growing economies.
The House of Saud doesn't usually go in for long state visits, and no Saudi king has visited Indonesia for half a century. So the fact that the Saudi king committed to a full month away in this part of the world speaks volumes about his government's mood after a series of strategic miscalculations.
Saudi rulers have always worried about the prospect of diplomatic isolation, and stronger relations with Asia are in some ways part of the usual agenda. But they've now become a lifeline with which to save the kingdom from its bad bets in the Middle East. Saudi Arabia's recent efforts to settle its incessant rivalry with Iran have not paid off, and after flooding the market with cheap oil and engineering a fall in the oil price to Iran's detriment, the Saudis are now themselves faced with a festering budget deficit, forcing them to slash spending on infrastructure and reduce civil servant perks to get finances under control.
Elsewhere, the devastating war in Yemen is exposing Saudi Arabia to both military pressure and severe international condemnation for the humanitarian catastrophe the campaign has caused. Recent decisions taken in Organisation of the Petroleum Exporting Countries (OPEC), meanwhile, forced Saudi Arabia to swallow a big hit on its oil production, suggesting that it can no longer afford an aggressive anti-Iran policy in Yemen without new allies and partners to shore it up.
In these squeezed times, South-East Asia's growing economies have much to offer to the Saudis.
Finance diplomacy
Historically, the pilgrimage from Asia to Islam's holy cities of Mecca and Medina has been an important revenue source for the kingdom's volatile budget, but King Salman's failing regional fortunes and financial problems have placed renewed impetus on moving the kingdom away from its traditional dependence on oil.
King Salman has found a receptive audience in the Asian capitals. Malaysia is already making a strong turn to the Saudi fold; in early 2016, it joined military exercises in northern Saudi territory involving around 150,000 soldiers, 2,540 warplanes, 20,000 tanks, and 460 helicopters. The exercise has been fuelling rumours that Malaysia might be swayed to join Saudi Arabia's military campaign in Yemen, which already benefits from the support of several other Muslim-majority states.
This is not a strange expectation. Personal relations between Prime Minister Najib Razak and the Saudi royal family are reported to be strong, and the Saudis played a key role in helping to save Razak's political career from a major scandal. By publicly confirming Razak's claim that an unaccounted US$681m in his bank accounts was a donation from the Saudi royal family, the Saudis helped to counter accusations that he had in fact siphoned the money from heavily indebted state investment fund 1MDB.
Economic opportunities abound. Upon arrival in Kuala Lumpur in late February, national oil and gas company Saudi Aramco signed a US$7 billion agreement with Malaysian oil company Petronas. The deal will pump Saudi investment into a Malaysian petrochemical project valued at US$27 billion, making Aramco the single largest investor in Malaysia. The deal is also expected to improve Malaysia's chances to compete in oil refining and energy storage, an industry currently monopolised by Singapore in South-East Asia.
Indonesia, too, hopes to attract billions of dollars in Saudi investment. The two countries have signed more than ten memorandums of understanding, building on cultural and religious projects, promoting educational exchange and intensifying trade. Together with Indonesia's Pertamina, Saudi Aramco has committed to expand Indonesia's biggest refinery in Java. The total value of the agreements stretches into the billions.
The Saudis are highly skilled in this sort of fast-paced "finance diplomacy". Like estranged family members coming home with presents, they bring in their wake large sums of money for development finance and the promise of several billions of dollars of investment opportunities for the relations they hope to cultivate.
https://uk.news.yahoo.com/rattled-saudi-arabia-pivots-support-100940650.html
------
Report: Hundreds of 9/11 victims suing Saudi Arabia
March 22, 2017
(AhlulBayt News Agency) - Hundreds of Americans affected by the September 11, 2001 terrorist attacks filed a lawsuit against Saudi Arabia over its alleged role in the incident, demanding reparations from the Saudi monarchy.
The lawsuit, which was filed in the federal court covering lower Manhattan, includes about 800 people injured in the 9/11 attack and those whose family members lost their lives in the atrocity.
The plaintiffs accused Saudis of providing funding and support to al-Qaeda terrorists, who they said, carried out the attacks.
The lawsuit claimed that at least three of the 9/11 hijackers had ties with al-Qaeda. "Saudi Arabia was duplicitous," it said.
"It presented a public face to the United States and other Western countries of a nation fighting al Qaeda and terrorism while at the same time, as detailed herein, Saudi government actors gave al-Qaeda substantial material support and resources."
In addition, the lawsuit also argued the September 11 attacks were not possible without the involvement of the Saudi royal family.
"As a result, the Kingdom of Saudi Arabia is liable to plaintiffs for all damages resulting in the injuries and deaths in September 11th Attacks," the suit said.
Of the 19 hijackers that allegedly carried out the 9/11 attacks, 15 were Saudi nationals and available evidence suggests some of them were linked to high-ranking Saudi officials.
The September 11 attacks, also known as the 9/11 attacks, were a series of strikes in the US which killed nearly 3,000 people and caused about $10 billion worth of property and infrastructure damage.
US officials assert that the attacks were carried out by al-Qaeda terrorists but many experts have raised questions about the official account. They believe that rogue elements within the US government orchestrated the 9/11 attacks in order to accelerate the US war machine and advance the Zionist agenda.
Analysts argue that Saudi Arabia only played a minor role in 9/11, but the operation was essentially carried out by Israeli and American intelligence agencies to destroy the seven countries in five years, that were enemies or threats to the Zionist regime.
http://en.abna24.com/news/america/report-hundreds-of-911-victims-suing-saudi-arabia_819240.html
------
King approves building Qur'an Oasis in Madinah
March 22, 2017 349 0
MADINAH — Custodian of the Two Holy Mosques King Salman approved the establishment of an iconic Qur'an Oasis project in Madinah.
This was announced by Prince Sultan Bin Salman, president of the Saudi Commission for Tourism and National Heritage (SCTH).
"The oasis will be an integrated world-class cultural and knowledge landmark that showcases everything pertaining to the holy book," he said.
The King also approved the allocation of 200,000 square meters of land along King Salman Road near Prince Muhammad International Airport to SCTA to implement the project in coordination with the Ministry of Islamic Affairs, Call and Guidance, Madinah mayoralty, Madinah Development Authority, and with the partnership of the private sector. Prince Sultan thanked the King for his approval to establish the historic project after four-year-long studies and designing.
An expert committee was formed in 2012 to carry out studies about the proposal presented by Prince Sultan following a royal decree. An international bid was invited for presenting the best designs for the project and the winning project was chosen by a jury.
The oasis will serve both academic and recreational purposes.
It will also display more than 3,000 rare manuscript copies of the holy book.
http://saudigazette.com.sa/saudi-arabia/king-approves-building-quran-oasis-madinah/
------
Syrian Army Continues to Advance in Eastern Aleppo, Kills 25 Terrorists
Tue Mar 21, 2017
TEHRAN (FNA)- The Syrian army forces continued military operations in the Eastern parts of Aleppo to liberate the ISIL-held regions and regained control of a new town.
The army units intensified operations to seize back control of Deir Hafer, and drove the Takfiri terrorists out of al-Qusayer town after heavy clashes with the ISIL militants.
A military source said that the army's operations in Eastern Aleppo which have started since two months ago will fiercely continue, and added that over 25 terrorists were killed during the recent operations near Deir Hafer.
In a relevant development on Monday, the army could retake full control of al-Sharimeh village and the nearby farms from the ISIL militants.
A military source said that tens of ISIL terrorists have fled the battleground in the region.
"Over 20 militants were killed during the army operations," he added.
On Sunday, the army had expanded the range of its advances near Deir Hafer and won back control of several villages.
The army units engaged in heavy clashes with the ISIL terrorists in Eastern Aleppo, and retook control of Ahmadiyeh village in the Northern parts of Deir Hafer.
They also seized back control of Um Tineh and al-Mabou'jeh in the Eastern and Western parts of Deir Hafer, respectively.
http://en.farsnews.com/newstext.aspx?nn=13960101000045
------
Syrian rebels launch second Damascus attack in three days
March 21, 2017
Syria, syria rebels, syria rebel attack, syria bombing, syria news, world news, indian express news A still image taken from a video uploaded on social media on March 20, 2017, shows fighters, said to be members of Ahrar Al Sham group, holding up their weapons and cheering, said to be in Damascus, Syria. (Source: Reuters)
Syrian rebels stormed a government-held area in northeastern Damascus on Tuesday for the second time in three days, sources on both sides said, pressing the boldest assault on the capital by opposition fighters in several years. The spokesman for one of the main insurgent groups involved in the attack told media the new offensive began at 5.00 am, targeting an area rebel fighters had seized from government control on Sunday before being forced to retreat.
A Syrian military source told media rebel fighters had entered the area, setting off a car bomb at the start of the attack. The source said a group of rebels that had entered the area had been encircled and were "being dealt with". The rebel groups have launched the assault from their Eastern Ghouta stronghold to the east of the capital. Government forces have escalated military operations against Eastern Ghouta in recent weeks, seeking to tighten a siege on the area. The rebel assault aims partly to relieve that pressure.
The fighting has focused around the Abassiyin area of the northeastern Jobar district, some 2 km east of the Old City walls, at a major road junction leading into the capital. A witness near the area heard explosions from around 5.00 am, followed by clashes and the sound of warplanes overhead.
Wael Alwan, the spokesman of rebel group Failaq al Rahman, told media: "We launched the new offensive and we restored all the points we withdrew from on Monday. We have fire control over the Abassiyin garages and began storming it." The Syrian military source said: "They entered a narrow pocket – the same area of the (previous) breach – and now this group is being dealt with."
BOMBARDMENT
The government says the attack is being carried out by fighters of the Nusra Front, a jihadist group that was al Qaeda's official affiliate in the Syrian war until it declared they had broken off ties last year. The Nusra Front is now part of an Islamist alliance called Tahrir al-Sham. The intensity of the Syrian army's counterattack had forced the rebels to retreat from most of the areas they captured in the first attack. The rebels have lost ground in the nearby areas of Qaboun and Barza.
A rebel commander said the Syrian army was intensifying its shelling on areas they had advanced in Jobar and towns across Eastern Ghouta. "The bombardment is on all fronts … there is no place that has not been hit … the regime has burnt the area by planes and missiles," said Abu Abdo a field commander from Failaq al Rahman brigade.
The Syrian government appears to be employing the same strategy it has used to force effective surrender deals on rebels elsewhere around the capital through escalated bombardment and siege tactics. Rebel fighters have been granted safe passage to insurgent-held areas of northern Syria under such agreements.
The British-based Syrian Observatory for Human Rights, which monitors the conflict, said at least 143 air raids were conducted by the Syrian army on rebel held eastern parts of Damascus, mostly targeting Jobar, since the rebels launched their offensive. President Bashar al-Assad and the Syrian army, along with allied Russian, Iranian and Shi'ite militia forces, have the upper hand in the war for western Syria, with a steady succession of military victories over the past 18 months.
For rebels, however, their first such large scale foray in over four years inside the capital has shown they are still able to wage offensive actions despite their string of defeats.
http://indianexpress.com/article/world/syrian-rebels-launch-second-damascus-attack-in-three-days-4579156/
------
Scores of Al-Nusra's Foreign Commanders Killed in Damascus
Tue Mar 21, 2017
TEHRAN (FNA)- The Syrian army forces inflicted heavy casualties on al-Nusra (Fatah al-Sham) Front terrorists, including their foreign commanders, in their operations to free the Northern parts of Jobar region in Damascus.
A military source said on Tuesday that the terrorists' massive attacks have been warded off, and added that during the Syrian soldiers' operations in Jobar region, several al-Nusra Front's foreign commanders were killed and their command centers were destroyed.
He added that the army units have liberated all regions in Northern Jobar which were occupied by the terrorists, and killed all militants in the area.
The source said that the situation in Jobar region has now normalized.
The Syrian army forces had on Monday pushed back the terrorists' massive offensive on their positions in the Northern parts of Jobar and laid siege on tens of militants in the region after launching a new military operation.
The Syrian soldiers could besiege a large number of terrorists who had attacked the army bases in Jobar, in the buildings near al-Ma'amel district.
The army had sent recruitments and military equipment to Jobar after the terrorists attacked the region from al-Qalamoun.
According to field sources, the army commanders have called on the besieged terrorists in al-Ma'amel district to lay down their arms and surrender to the government forces.
http://en.farsnews.com/newstext.aspx?nn=13960101000293
------
Israeli Spy Drone Shot Down by Syrian Army in Quneitra
Tue Mar 21, 2017
TEHRAN (FNA)- The Syrian army's air defense units shot down a spy drone belonging to the Israeli regime at midnight Monday after violating Syria's airspace in the Southern parts of the Southwestern province of Quneitra.
According to a statement released by the Syrian military, the Skylark reconnaissance drone was shot down over Samadaniyah Sharqiah, near the border town of al-Quneitra.
The Israeli army also confirmed that one of their reconnaissance drones has been shot down by the Syrian army in the late hours of Monday.
General Command of the Syrian Armed Forces said in a statement on Friday that the Syrian air defense shot down an Israeli warplane and hit another one after four aircraft breached the war-torn country's airspace.
"4 Israeli enemy aircraft penetrated our airspace at 2:40, this morning in the al-Bareij area across the Lebanese territory and targeted the military positions on the direction of Palmyra city East of Homs province," the armed forces' statement said, adding, "Our air defense system engaged and shot down an air plane in the occupied territories and hit another and forced the rest to flee."
"This desperate attempt and blatant aggression of the Zionist enemy, was a move to support terrorist group and raising their morale, and the disruption of the Syrian Arab Army victories in the face of terrorist organizations," the statement added.
"General Command of the Armed Forces affirms its determination to counter any attempt of the Zionist aggression on any part of the territory of the Syrian Arab Republic," the statement underscored.
Earlier on Friday, the Israeli military told Sputnik that its combat planes were targeted by missiles after they had attacked targets in Syria.
However, the incident allegedly did not result in any damages or casualties on the Israeli side, according to the source.
http://en.farsnews.com/newstext.aspx?nn=13960101000035
------
Terrorists Start 2nd Phase of Offensives in Jobar: Syrian Army Repels All Attacks
Tue Mar 21, 2017
TEHRAN (FNA)- The terrorist groups stationed in Eastern Ghouta of Damascus started the second phase of their offensives in Jobar region but the Syrian army forces warded off all their attacks.
Field sources said that heavy clashes erupted between the Syrian troops and al-Nusra (Fatah al-Sham) Front in the Northern parts of Jobar on Tuesday after two bomb-laden vehicles of the terrorists were targeted and detonated as they attempted to open their way into the power department and textile plants.
The army units could repulse the militants' attacks against the power department and al-Ma'amel (plants) region in Northern Jobar.
They could also besiege the Al-Nusra Front's affiliated terrorist groups who sought to infiltrate into al-Maqazel region in Northern Jobar.
Meantime, the Syrian air force launched airstrikes against the terrorists' supply routes in Arabayn, Zamalka and Harasta towards Jobar in Eastern Damascus and inflicted several casualties on militants.
The Syrian army's missile and artillery units also pounded the terrorists' gathering centers near the power department in Northern Jobar.
On Monday, a Syrian military source dismissed media reports claiming that the al-Nusra Front has occupied certain parts of al-Abbasiyeen square and the industrial region in Damascus.
"The army is in control of the regions that had been evacuated on Monday morning after it came under two suicide attacks by the militants, and the army troops have inflicted heavy loss and damage on the terrorists," the source said.
He added that the army forces have also regained control over al-Jobar region's power department and the buildings of the weaving company and Mercedes firm and repelled the terrorist groups' massive attacks.
Elaborating on the terrorists' recent offensive against the army positions in Damascus that failed, the source said that the attacks were headed by al-Nusra Front to open their way into the parking lots, al-Abbasiyeen square and the industrial region between al-Jobar and al-Qaboun districts and reopening the supply routes for the terrorists besieged in al-Jobar through al-Qaboun-Barzeh-Tishreen districts.
He underlined that the army's artillery and missile units, supported by the air force, could repulse the massive offensive, and killed and wounded a large number of terrorists.
Meantime, other field sources in the Eastern Ghouta of Damascus dismissed reports on the Syrian army's withdrawal from near Douma city.
The Syrian army forces had on Sunday warded off the terrorist groups' heavy offensives against their positions in Jobar region.
The army soldiers defused the terrorists' attempts in Jobar region who wanted to enter al-Abbasiyeen region's parking lots.
A field source said that the militants were first trying to open their way by suicide attacks and detonating two bomb-laden vehicles.
"After the cars exploded, heavy clashes erupted between the Syrian army and the terrorists of the al-Nusra Front who sought to carry out suicide attacks but they couldn't occupy the army's positions in the region," he added.
The source said that the Syrian fighter jets and missile and artillery units then heavily pounded the terrorists' centers and drove them out of the region.
http://en.farsnews.com/newstext.aspx?nn=13960101000253
------
Iraqi forces near ISIL-prized mosque in western Mosul
22/03/2017
Iraqi government forces are meeting fierce resistance from ISIL militants as they close in on western Mosul. Since the US-backed Iraqi troops retook the eastern part of the city in December the focus has been to narrow in on the Old City but the battle to defeat the jihadists is being complicated by the 600,000 civilians who remain in the area. Attempts to evacuate locals are being hampered by militant snipers.
#iraq. Trapped and under fire for an hour in west #mosul from ISIS snipers. #MosulOffensive
Government units are said to be edging towards the al-Nuri Mosque – that is where ISIL declared their caliphate in 2014.
"There are lots of snipers on top of the buildings in the Old City around the al-Nuri Mosque. We need to evacuate the families from inside as they using them as a shield when we are advancing on the mosque," said an Iraqi military spokesman.
The fighting has caused a humanitarian crisis. More than 350,000 have been displaced and the temporary camps are over flowing.
Ali Waadallah, a displaced Mosul resident said he had wanted to stay in one camp but had to leave as there were no tents. "They say there's no place in the other camp and that many are having to sleep on the streets."
Every week families are risking their lives to flee Mosul, Iraq http://www.unhcr.org/news/latest/2017/3/58cab1634/street-fighting-rages-mosul-residents-run-safety.html …
Civilians who have escaped the fighting are being bussed from camp to camp as the authorities try to find them shelter. A further concern is the number of civilian casualties. There is no precise toll but one prominent Iraqi politician claims the number could be as high as 3.500 since the attack on western Mosul began in mid February.
http://www.euronews.com/2017/03/22/iraqi-forces-near-isil-prized-mosque-in-western-mosul?utm_source=feedburner&utm_medium=feed&utm_campaign=Feed%3A+euronews%2Fen%2Fnews+%28euronews+-+news+-+en%29
------
Islamic State captures Iraqi colonel 8 other officers in Mosul
By Ken Hanly
Mosul - During fierce clashes in the Old City of Mosul early Monday Islamic State (IS) fighters captured an Iraqi police colonel and eight other officers as they ran out of ammunition according to an Iraqi Interior Ministry official.
The officers were captured about 3 in the morning in the Bab Jadid district in Mosul. The whereabouts of the officers is not known. The eastern half of the city has already been liberated but they are now battling in the Old City in western Mosul. The offensive on Mosul began about the middle of October last year and on western Mosul this February.The recent battles have been described in a Digital Journal article. Many thousands of civilians remain trapped in the area under IS control. The center of Old Mosul is home to the Al-Nuri mosque where IS leader Abu al_Baghdadi had declared a caliphate in territory controlled by the IS, in July of 2014. There are many narrow alleys in the area that military vehicles cannot enter. An extensive account of the Mosul offensive can be found here.
The Iraqi government now estimates that already 180,000 civilians have fled from Mosul. The government claims that there is enough room for 100,000 more at displacement camps. However, many refugees are having a difficult time finding accommodations. Iraqi Prime Minister Haider al-Abadi is in Washington meeting with US President Donald Trump and other officials. He was promised that US support would not only continue but will accelerate. Many terrorist attacks are launched outside of the main battle area. A suicide car bomber in Baghdad killed 23 and wounded 45 more.
As the battle reaches more densely populated areas airstrikes cause many civilian casualties. As an article notes:
Families fleeing Mosul in recent weeks have talked of high numbers of civilians killed by air strikes, and said that in many cases Islamic State fighters have already slipped away by the time the bombs hit.
'When the coalition see a sniper on a home, it's five or ten minutes before that house is hit,' Mohammed Mahmoud, a 40-year-old former police officer, told Reuters in another area of Mosul.
The appended video shows some of the cases where civilians were hit by bombing. The Islamic State fighters no doubt try to use the civilians as human shields. Snipers on civilian houses appear to be targeted by bombing attacks if the video is to be believed.
http://www.digitaljournal.com/news/world/islamic-state-captures-iraqi-colonel-8-other-officers-in-mosul/article/488474
------
Europe
Russia ready to host int'l Quran contest for Muslim students
March 22, 2017
(AhlulBayt News Agency) - An official with the Russian Council of Muftis said his country is ready to host the sixth edition of the International Quran Competition for Muslim Students.
Andar Galiov, the director of the council's international department, said that such a Quranic event could help promote university students' activities in Quranic fields like Quran memorization, recitation and concepts.
He said a proposal has been made to the Iranian Academics' Quranic Activities Organization (IAQAO) for holding the contest in Moscow or another Russian city and that talks about the issue are going on.
The sixth edition of the International Quran Competition for Muslim Students had been planned to be held in the northeastern Iranian city of Mashhad but was later called off due to interference with the programs of the Mashhad, 2017 Cultural Capital of Islamic World.
Galiov also hailed a recent memorandum of understanding (MoU) recently signed between the council and the IAQAO for cooperation in Quranic and Islamic fields, saying Russia welcomes enhancement of cooperation with Iran and other Muslim countries.
The MoU was signed in Moscow last week, during a trip to Russia by representatives of the Iranian Academic Center for Education, Culture and Research (ACECR) of which IAQAO is an affiliate.
http://en.abna24.com/news/europe/russia-ready-to-host-int%E2%80%99l-quran-contest-for-muslim-students_819242.html
------
US and UK restrict electronics on flights from majority-Muslim countries
22 MARCH 2017
Washington/London — The US and Britain on Tuesday imposed restrictions on carry-on electronic devices on planes coming from certain airports in Muslim-majority countries in the Middle East and North Africa in response to unspecified security threats.
The US Department of Homeland Security said passengers travelling from a specific list of airports could not bring into the main cabin devices larger than a mobile phone such as tablets, portable DVD players, laptops and cameras.
Instead, such items must be in checked baggage.
Although civil liberties groups raised concerns that US President Donald Trump was seeking another limit on movement after a travel ban from Muslim-majority countries was challenged in the courts, Britain took similar steps.
A spokesperson for British Prime Minister Theresa May said there would be curbs on electronic items in the cabin on flights from six countries in the Middle East. The foreign office said the measures would be implemented by March 25.
The moves were prompted by reports that militant groups wanted to smuggle explosive devices inside electronic gadgets.
The ban would continue for the "foreseeable future", a US government official said on Tuesday, adding that it was possible it could be extended to other airports and other countries.
White House spokesperson Sean Spicer declined to talk about the intelligence that prompted the new steps or explain why some countries were left off the list.
Senator Bill Nelson, a Florida Democrat, said he "spoke to the intelligence community over the weekend, and this is a real threat".
US officials say militant groups are known for innovative bomb designs, including embedding them inside computers.
Yemen-based al-Qaeda in the Arabian Peninsula (AQAP) also has boasted of one of the world's most feared bomb makers, Ibrahim Hassan al-Asiri.
French and Canadian officials said they were examining their arrangements but neither government was taking additional security measures at this stage.
The airports covered by the US restrictions are in Cairo; Istanbul; Kuwait City; Doha, Qatar; Casablanca, Morocco; Amman, Jordan; Riyadh and Jeddah, Saudi Arabia; and Dubai and Abu Dhabi in United Arab Emirates.
The affected airports were served by nine airlines that flew directly from those cities to the US about 50 times a day, senior government officials said.
The carriers — Royal Jordanian Airlines, Egypt Air, Turkish Airlines, Saudi Arabian Airlines, Kuwait Airways, Royal Air Maroc, Qatar Airways, Emirates and Etihad Airways — have until Friday to adopt the new policy, which took effect on Tuesday.
No US airlines were on the list because there are no direct flights on them between the US and the cited airports, officials said.
Britain said its restrictions would apply to direct flights from Turkey, Lebanon, Jordan, Egypt, Tunisia and Saudi Arabia.
The British regulations affect British Airways, easyJet, Jet2, Monarch, Thomas Cook, Thomson, Atlas-Global, Pegasus, EgyptAir, Royal Jordanian, Middle East Airlines, Saudia, Turkish Airlines and Tunisair.
IAG-owned British Airways advised customers departing from affected airports to arrive in good time at check-in.
Shares in IAG turned lower after the UK announcement, with easyJet also ending the day in negative territory.
Recent intelligence
A US government source said that while the restrictions arose from multiple reports of security threats, some recent intelligence had arrived that prompted the current alert.
US authorities believed there was a threat from plots similar to an incident last year in Somalia, where a bomb hidden in a laptop blew a hole in the side of a plane but failed to down it, another source said.
However, some experts questioned whether the limited ban could improve security and said it was complicated by aviation safety concerns about lithium-powered batteries used in many electronic items catching fire in the hold.
Some potentially affected said the ban was unfair.
"Security for some people, and other people none? It's not for everybody, right?" said Mohsen Ali, an Egyptian who spoke to Reuters TV at New York's John F Kennedy International Airport where he was waiting to meet a friend.
US officials said the decision had nothing to do with Trump's efforts to impose a travel ban on citizens of six majority-Muslim nations.
On March 6, Trump signed a revised executive order barring citizens from Iran, Libya, Syria, Somalia, Sudan and Yemen from traveling to the US for 90 days. Two federal judges have halted parts of the ban although Trump has vowed to appeal.
While Democrats have criticised Republican Trump's travel ban, Representative Adam Schiff, the top Democrat on the House Intelligence committee, said he backed the new precautions as "both necessary and proportional to the threat".
However, human rights group Amnesty International said the restrictions raised "serious concerns that this could be yet more bigotry disguised as policy".
http://www.businesslive.co.za/bd/world/europe/2017-03-22-us-and-uk-restrict-electronics-on-flights-from-majority-muslim-countries/
------
'Very strong bond': Mattis meets with NATO chief ahead of anti-ISIS summit
22 Mar, 2017
The trans-Atlantic relationship is "getting stronger," Defense Secretary James Mattis told NATO Secretary General Jens Stoltenberg, amid an ongoing dispute between the US and Germany over European military spending.
The White House announced Tuesday that President Donald Trump will attend a NATO summit on May 25 in Brussels.
"The President looks forward to meeting with his NATO counterparts to reaffirm our strong commitment to NATO, and to discuss issues critical to the alliance, especially allied responsibility-sharing and NATO's role in the fight against terrorism," the statement read.
Stoltenberg is scheduled to visit Trump at the White House on April 12, according to the statement.
Also Tuesday, the NATO secretary general arrived in Washington, DC ahead of the anti-ISIS coalition summit scheduled for Wednesday, and met with Mattis at the Pentagon.
"We have a very strong trans-Atlantic bond," Mattis said ahead of their meeting, according to the Pentagon press pool. "Relationships don't stay the same, they are always changing. In this case, the bond is getting stronger."
Stoltenberg thanked Mattis for "strong personal support and leadership" in the alliance.
Mattis, a retired Marine general who received a waiver from Congress in order to become President Donald Trump's defense secretary, noted that he had met with Stoltenberg twice already, in Brussels and in Munich.
"I was very much impressed by the increased unity I found during my visit with you and the resolve of the alliance," he said. "We had all hoped for a better future back 20 years ago, and some things haven't turned out the way we wish, so we have to address that reality."
Under Stoltenberg, NATO was evolving to "defend against aggression and respond to terrorist threats along the southern flanks along the Mediterranean and Turkey's border," Mattis also said. "I am confident that NATO will as always be one of the leaders as we deal with this threat."
The two leaders discussed expanding NATO's role in fighting terrorism and defeating Islamic State (IS, formerly ISIS/ISIL), as well as the ongoing NATO missions in Afghanistan and Kosovo, according to Pentagon spokesman Captain Jeff Davis.
While President Trump has voiced "strong support" for NATO since taking office, he has also pressed Washington's European allies hard on the commitment to increase their military spending made at the NATO 2014 summit in Wales. During his visit to Brussels last month, Mattis warned that the US could "moderate its commitment" if the allies failed to meet their obligations.
Only five of the 28 NATO countries currently spend the agreed rate of 2 percent of their GDP on the military. Trump pointed out that Germany is not one of them, after his meeting with Chancellor Angela Merkel last week.
The US "must be paid more for the powerful, and very expensive, defense it provides to Germany!" Trump tweeted.
German Defense Minister Ursula von der Leyen replied that it was unfair to link Germany's military expenditures only to NATO, as Berlin also spends money on UN peacekeeping missions, EU-run operations, and the international coalition against IS.
News that US Secretary of State Rex Tillerson will not attend the NATO ministerial meeting in April was quickly interpreted as another snub by the Trump administration, with Reuters reporting that Tillerson would be visiting Russia instead.
After Russian authorities said they were not aware of the visit as of yet, Reuters clarified that Tillerson will actually be attending the meeting between Trump and Chinese President Xi Jinping, scheduled for April 6-7.
https://www.rt.com/usa/381703-nato-washington-isis-meeting/
------
Le Pen Using Islam 'To Divide' France
22ND MAR 2017
Far-right leader slammed in first presidential candidate debate
FRANCE'S EU membership and immigration dominated a televised debate between the country's five presidential candidates on Monday night.
The call by fascist National Front (FN) leader Marine Le Pen for a referendum on withdrawal from the bloc came under attack by liberal independent Emmanuel Macron and conservative Republicans party candidate Francois Fillon.
Mr Fillon said a "Frexit" would "drag the country into social and economic chaos."
And Mr Macron claimed: "All those who said Brexit will be wonderful … ran away and hid." Ms Le Pen retorted that she would not be "the vice-chancellor of [German Chancellor Angela] Merkel" or "the salesperson for a multinational group.
"I want to be the president of the French Republic, truly," she said.
Mr Macron has replaced Mr Fillon as joint favourite with Ms Le Pen since the Republicans candidate was accused of giving his wife and children fake jobs as parliamentary assistants, in which they were allegedly paid for doing nothing.
The other candidates are Socialist Party leftwinger Benoit Hamon and Unsubmissive France movement leader Jean-Luc Melenchon, who has the Communist Party's support.
Mr Melenchon butted in as Ms Le Pen was calling for more French lessons in schools, saying: "How do you learn French, dear madam? By speaking it!"
The far-right candidate also vowed to close France's borders to immigrants, adding: "We can't count on Greece to deal with the flow."
She claimed that the current refugee crisis had crated an "explosive" security situation and measures were needed "to discourage immigration."
Ms Le Pen, who expelled her father and FN founder Jean Marie Le Pen from the party two years ago in a power struggle, has pledged to ban the wearing of visible religious symbols — including the hijab and the kippah — in public.
Mr Macron accused her of using Islam "to divide society," though also called for an "effective expulsion policy" for illegal immigrants.
Mr Fillon called for a different approach, saying: "We must close the incoming flows by using quotas set by parliament.
"This does not affect asylum-seekers but all other forms of immigration."
http://www.morningstaronline.co.uk/a-4f53-Le-Pen-using-Islam-to-divide-France#.WNJA-4GGPIU
------
Mideast
Turkey summons German diplomat over BND chief remarks on Gülen
March/22/2017
Turkey has summoned the German Embassy's Chargé D'Affairs to its Foreign Ministry in reaction to the German Federal Intelligence Service's (BND) statements that they have not been convinced the Fethullahist movement was behind the July 2016 coup attempt.
"All evidence consisting of detainees' statements, records of communication before and after the coup attempt and the FETÖ-linked civilians caught at Akıncılar air base lay forth the relationship between the putschists and FETÖ," the Turkish Foreign Ministry said in a statement late March 21.
Last weekend, BND head Bruno Kahl told Der Spiegel news magazine that Germany had yet to be convinced of the group's involvement in the coup attempt.
Ankara, however, insists the organization was behind the coup attempt, which resulted in 249 deaths.
EU Minister Ömer Çelik told private broadcaster Haber Türk that Kahl's statement indicated Germany would protect a group that Turkey - its NATO ally - considered a terrorist organization. He also said Kahl's comments were "strange," as intelligence chiefs usually avoided being under the spotlight.
[HH] Turkey slams Netherlands for PKK meeting
In a separate written statement late March 21, the Turkish Foreign Ministry slammed the Netherlands for allowing the outlawed Kurdistan Workers' Party (PKK) to hold a rally on the occasion of celebrating Nevruz.
The Nevruz festival, which marks the start of a new year, has been celebrated for more than 18 centuries across Anatolia, the Middle East and central Asia.
"It is unacceptable for the Netherlands to allow a terrorist organization to hold an event where slogans were made against a referendum to be held in our country," it said.
Relations between the Netherlands and Turkey deteriorated after Dutch authorities refused to allow Turkish ministers to campaign in the country for a "Yes" vote in the forthcoming constitutional referendum that would grant wide-ranging powers to President Recep Tayyip Erdoğan.
It accused the Dutch government of having "violated the agreements that regulate diplomatic and consular relations and the freedom of expression and assembly by preventing the Turkish community living in their lands from meeting with the Turkish authorities".
The ministry said the Netherlands, which, along with other EU members, recognizes the PKK as a terrorist group, but had allowed PKK sympathizers to use the group's symbols and pictures of its jailed leader Abdullah Öcalan at the event.
Meanwhile, German officials on March 18, allowed PKK supporters to march in Frankfurt with banners and flags despite a ban on the display of PKK symbols in public places.
Germany had also angered Ankara by canceling referendum campaign events planned by Turkish ministers and Erdoğan.
http://www.hurriyetdailynews.com/turkey-summons-german-diplomat-over-bnd-chief-remarks-on-gulen.aspx?pageID=238&nID=111098&NewsCatID=510
------
Turkish EU minister slams Hahn of acting like 'colonial governor'
HMarch/22/2017
EU Commissioner Johannes Hahn should stop acting like a "colonial governor" and instead mind his own business by enhancing the enlargement processes of candidate countries, Turkish EU Minister Ömer Çelik has said in response to Hahn's remarks that prospected constitutional changes in Turkey would make the country's accession to EU "unrealistic."
"It is not the EU's commissioner for enlargement who will decide whether Turkey will undergo a system change. He should not forget this: He is the enlargement commissioner of a union based on political values. He should not fancy himself as a colonial governor. I think he misunderstands his position," Çelik told daily Hürriyet in an interview on March 21.
Çelik's words came after Hahn told German media that the prospect of Turkey joining the EU is becoming "more and more unrealistic." He said he could not rule out that the EU may soon stop accession talks with Turkey and that a continuation of those talks was only possible if there are "substantial advances in the area of the rule of law." But the authoritarian course of President Recep Tayyip Erdoğan and the planned constitutional changes toward a presidential system represented "a departure from Europe," he added.
However, what Turkey and the EU are going through is a not crisis between the two sides but just a reflection of the crisis of values being witnessed inside the European continent, according to Çelik.
"European integration might have been possible by turning crises into opportunities in the past. This is the first time that they failed to turn the economic and migrant crises into opportunities," Çelik said, adding that the EU also failed to upgrade its political values in this period.
"The commissioner for enlargement and neighborhood policy cannot introduce any positive agenda with respect to his own domain. And this is not only about Turkey but also on Balkan countries. However, he is specifically producing anti-Turkey sentiment. I made these warnings again and again. This person is responsible for enlargement, but he brings his ideological prejudices against Turkey to the fore. And he acts like the commissioner responsible for preventing enlargement," he stated.
'Spokesperson for Austrian FM'
Recalling that Hahn was from Austria whose leaders are heavy Turkey-skeptics, Çelik accused the commissioner of acting like the spokesperson of the Austrian foreign minister, Sebastian Kurz. "He cannot repeat the views [on Turkey's membership] of Austria as the enlargement commissioner. He is not the spokesman of the Austrian foreign minister but he speaks like him. The statements of the Austrian Foreign Ministry are xenophobic and Islamophobic," he said.
Cutting accession talks with Turkey is not Hahn's business, Çelik said.
Hahn's reaction to the July 2016 coup attempt was also not appropriate, the minister said, underlining that his first statement was a replica of the members of the Fethullahist Terror Organization (FETÖ) who claimed that the government already had a detention list in their hands.
Hahn also cannot talk about Turkey's president in this fashion and cannot make statements that are not line with political ethics, the minister said. "I don't think he read the constitutional amendments and understood them."
"It's the Turkish people who will decide whether to vote 'yes' in the referendum. We won't accept such an intervention against our national will. These interventions are undemocratic and will distance them from European values. We are warning European progressives and democratic people. Let's protect Europe from this danger. This is necessary for Turkey's national interests and Europe's democratic future," he added.
http://www.hurriyetdailynews.com/turkish-eu-minister-slams-hahn-of-acting-like-colonial-governor.aspx?pageID=238&nID=111091&NewsCatID=510
------
Norway grants asylum to four Turkish NATO military officers, military attaché after coup attempt
March/22/2017
Four Turkish soldiers who were on duty at NATO headquarters, as well as a military attaché, have been granted asylum in Norway following their application after the July 2016 failed coup attempt.
http://www.hurriyetdailynews.com/norway-grants-asylum-to-four-turkish-nato-military-officers-military-attach-after-coup-attempt.aspx?pageID=238&nID=111096&NewsCatID=351
------
Turkey not convinced with Russian denial for military base in Afrin
March/22/2017
Russia's Defense Ministry has denied reports that Moscow is building a military base in Afrin, but Ankara is not convinced by Russia's comments on the matter, even as it has shied away from publicly responding to Moscow over its developing alliance with Syrian Kurds.
Russia did not inform Turkey about such a military deployment, a Turkish official told the Hürriyet Daily News. Turkish intelligence found out that a Russian convoy of four vehicles arrived in Afrin through the Menagh region to the south of Azez, according to the official.
Russian officials denied reports on March 20 that it was constructing a base in the area held by the People's Protection Units (YPG), saying it was constructing a center to foster reconciliation in Syria.
But the current peace monitoring centers, which were established at the Hmeimim air base in Syria for Russia and in Ankara for Turkey as part of a Dec. 30, 2016, cease-fire deal, are capable of monitoring the situation on the ground, another Turkish official told the Hürriyet Daily News, underlining that there were currently no clashes in Afrin requiring a monitoring mission.
Turkey has not yet established a cease-fire monitoring center in Syria due to security concerns, the official said.
The Russian deployment might be aimed at averting any clashes between Syrian opposition groups and the YPG's political wing, the Democratic Union Party (PYD), according to assessments in Ankara.
Turkey earlier expressed its unease to Moscow at the Russian military's cooperation with the YPG, the official said.
YPG: Russia setting up military base
Russia is setting up a military base in northwestern Syria in an agreement with the Syrian Kurdish YPG and will begin training YPG fighters as part of the fight against terrorism, the militia's spokesman said March 20.
Russian forces are present in the western-most Kurdish canton of Afrin "as a result of an agreement between our forces and the Russian army," YPG spokesman Redur Xelil announced in a published statement.
"The agreement was based on the framework of cooperation in the fight against terrorism and on the military training of our fighters by the Russian army. We have direct relations with Russia," Xelil said.
In the meantime, the Russian Defense Ministry denied reports that Moscow was building a military base in Afrin and that the agreement had included the training of combatants from Kurdish formations.
"There are no plans to deploy new [Syria] military bases on the territory of the Syrian Arab Republic," the statement said March 20.
"According to the Russian-Turkish agreements dated Dec. 30, 2016, the units of the Russian Center for Reconciliation of the Opposing Sides on the territory of Syria conduct 24-hour monitoring of the cease-fire. In order to prevent a violation of the cease-fire regime, a section of the Russian Center for Reconciliation of the Opposing Sides has been deployed in the contact area between detachment of the Kurdish militia and formations of the Free Syrian Army controlled by the Turkish party [near Afrin in Aleppo province]," the ministry said.
Russia has been improving its relations with the YPG despite the fact that Turkey is against any sort of collaboration with the Syrian Kurds as it sees the group as an offshoot of the outlawed Kurdistan Workers' Party (PKK).
Turkey opposes any form of participation by the PYD in the peace talks for Syrian crisis, but Moscow has expressed the need for the Syrian Kurds to participate in the Geneva and Astana talks. In a previous meeting in Astana, Russia proposed a Syrian constitution draft which envisages cultural autonomy for the Syrian Kurds.
Moreover, in early March, the Syrian Democratic Forces (SDF), a loose coalition consisting primarily of the YPG and an assortment of Sunni Arab, Turkmen, Yazidi and Assyrian ethnic militias, reached a deal with Russia to hand over some villages to the Syrian government to the west of Manbij in a bid to deter Turkey from attacking the city.
The YPG and its political affiliate, the PYD, aim to deepen their autonomy through the establishment of a federal government in northern Syria.
Afrin is of one of three cantons, along with Kobane and Cizre, which Syrian Kurds want to link, but their goal was thwarted last summer when Turkey launched the Euphrates Shield Operation, taking control of Jarablus and al-Bab.
http://www.hurriyetdailynews.com/turkey-not-convinced-with-russian-denial-for-military-base-in-afrin.aspx?pageID=238&nID=111078&NewsCatID=510
------
Turkey to sit and talk with EU after charter referendum: Erdoğan
March/21/2017
Turkey could review relations with Europe after the April 16 charter referendum following unprecedented tensions between Ankara and Brussels, Turkish President Recep Tayyip Erdoğan said March 21.
"Once April 16 is over, we will sit at the table. This cannot continue this way. We, as Turkey, will do what is necessary," he said in Ankara.
Turkey and Europe are at loggerheads with Ankara accusing some European countries such as Germany and the Netherlands of "Nazi methods" by banning the rallies of Turkish ministers ahead of the charter vote.
"We will ask for an account from the Netherlands of how brother Hüseyin Kurt was dragged on the ground," Erdoğan said, referring to a police intervention on demonstrators who were protesting a ban on rallies by Turkish politicians on March 11. Dutch police used water cannon and horses to break up the protests. Kurt was one of the protesters who faced police violence.
Turkey will no longer be threatened by the EU membership process, Erdoğan said, adding that from now on, it will not permit any Europeans on Turkish soil to carry out "spying" under various pretexts.
"The European Union process, the readmission agreement, this and that, from now on, you can't threaten us with these anymore," he said.
"This Europe, like before World War II, is a racist, fascist, cruel Europe... An anti-Muslim and anti-Turkish Europe," said.
On March 20, Deputy Prime Minister Numan Kurtulmuş said after a cabinet meeting that the comments were to ensure Europe "does not fall into the trap of fascism."
Erdoğan hit out at Chancellor Angela Merkel's calls for dual Turkish-German national Deniz Yucel, the Turkey correspondent of the German newspaper Die Welt, to be freed. Yücel was jailed last month and is awaiting trial on terror charges.
Erdoğan, who accused Yücel of being a "terror agent" and taking refuge with German consular officials for a month, said Merkel had asked for him to be allowed to leave Turkey during her February visit.
"Our judiciary is independent, the decision will be given by the judiciary," Erdoğan said he told the German leader.
http://www.hurriyetdailynews.com/turkey-to-sit-and-talk-with-eu-after-charter-referendum-erdogan.aspx?pageID=238&nID=111061&NewsCatID=510
------
Merkel ally says Erdoğan 'not welcome' in Germany
March/21/2017
President Recep Tayyip Erdoğan has crossed a line by comparing Berlin's government to the Nazis and is no longer welcome in Germany, a senior ally of Chancellor Angela Merkel said on March 21.
The rebuke from Volker Bouffier, vice chairman of Merkel's Christian Democratic Union (CDU) party, reflects growing exasperation over Erdoğan's assertions that Germany and other European powers were using Nazi tactics by banning Turkish political rallies in their territories.
"Enough is enough," said Bouffier, who is also premier of Hesse state where the financial capital Frankfurt is located. "Mr. Erdoğan and his government are not welcome in our country, and that must be now be understood," he told DLF radio.
German media have reported that Erdoğan plans to visit Germany this month to rally the estimated 1.4 eligible Turkish voters living here to support the April 16 referendum on constitutional amendments.
Bouffier said such a visit would create security problems.
"Someone who insults us in this way cannot expect that we will assemble thousands of police to protect him," he said.
Germany's government has said it has not received a formal request for a visit by Erdoğan.
http://www.hurriyetdailynews.com/merkel-ally-says-erdogan-not-welcome-in-germany.aspx?pageID=238&nID=111068&NewsCatID=351
------
'Germany is lying to us,' Turkish justice minister says
March/21/2017
Europeans are mocking Turkish people's intelligence, Justice Minister Bekir Bozdağ has said, criticizing Europe over the statements of German Federal Intelligence Service (BND) head Bruno Kahl, who said Turkey had failed to convince Berlin that Fethullah Gülen was behind the July 2016 coup attempt in Turkey.
"It is a mockery of Turkish people's intelligence," Bozdağ told state-run Anadolu Agency on March 21.
Kahl told German magazine Der Spiegel on March 18 that the Turkish government failed to convince them that Gülen was behind the coup attempt.
"Turkey has tried on different levels to convince us of that fact, but they have not succeeded," Kahl had said.
Bozdağ slammed Kahl, saying, "The person at the head of the German intelligence organization is lying to the German people, the Turkish people, and the whole world."
Reminded of the similar comments of the chairman of the United States House Permanent Select Committee on Intelligence, Devin Nunes, Bozdağ said he believed that both intelligence organizations "knows that Gülen is behind the coup without a doubt."
"So I have never been convinced that there is any hesitation in terms of the authorities of these countries that FETÖ is behind the coup, and I still do not have any hesitation," he said arguing that "FETÖ is producing and forcing the production of this propaganda."
"Perhaps because of the tensions between Germany and Turkey, they think they can harm Turkey with the help of voicing the views of FETÖ by standing beside it. It is not possible for Turkey to be harmed by that," he said.
"He is responding to Turkey's Nazi comments against Germany in his own way. But we are making those comments based on their own actions," he added.
Claiming that there were "hundreds of examples of solid evidence" that FETÖ had perpetrated the coup attempt, Bozdağ said the head of the intelligence agency "has been guided by the terrorist organizations, speaking their words, making statements with their prompting. It is utterly wrong."
Bozdağ added that the evidence on Gülen has also been submitted to U.S. authorities and that the "process between the Turkish and the U.S. judicial authorities continues in terms of procedure."
"We have conveyed the files including the demand of provisional arrest to the U.S. Department of Justice. They must pass it to the judicial authorities," Bozdağ said.
Bozdağ also held a phone conversation with the U.S. Attorney General Jeff Sessions late on March 21, reiterating Ankara's demand for temporary arrest and extradition of Gülen.
Turkey has long demanded the extradition of Gülen from the U.S. but has not yet received a positive response. The evidence provided by Turkey to the U.S. Department of Justice has reportedly not yet been transferred to the federal court which needs to examine Ankara's request, disturbing the Turkish government.
European countries taking sides with 'no' campaign
Bozdağ also evaluated the latest comments from European politicians who said a victory for the "yes" side in the April 16 referendum would harm EU-Turkey Relations.
Bozdağ regarded it as "a threat," saying, "They are taking sides with the 'no' vote."
"They are threatening the citizens who will vote 'yes' [in the referendum]. They say 'if you give a 'yes' vote, we will not admit you into Europe,'" he said, accusing European countries of supporting terrorism after alleged supporters of the outlawed Kurdistan Workers' Party (PKK) conducted a Newroz rally in Germany.
"I am asking whether the PKK is listed as a terrorist organization in Germany and the EU. It is listed as a terrorist organization. How, then, did the German government let the PKK and its followers conduct such a terrorist action?" he asked.
"This is also very clear evidence that whoever acts against Turkey is guarded by Western countries," he said.
http://www.hurriyetdailynews.com/germany-is-lying-to-us-turkish-justice-minister-says.aspx?pageID=238&nID=111056&NewsCatID=510
------
Hundreds of thousands mark Nevruz in Turkey's southeast
March/21/2017
Hundreds of thousands of people have marked Nevruz in the Bağlar district of the southeastern province of Diyarbakır along with other cities around Turkey and the region.
Long lines of cars were formed on the roads leading to the Nevruz area, prompting people to leave their cars and walk to the area.
At least 200,000 people gathered in the area and tight security measures were taken, while control points were set up in five different places. Around 5,000 police officers were on duty in the province. Police and bomb disposal teams searched the area before allowing people to enter. In addition, mine searches were carried out around the Nevruz Park.
The authorities only allowed posters saying "no" that were prepared as part of the campaign for the April 16 referendum that will decide whether the urrent parliamentary system should be shifted to an executive presidency.
During the celebrations, organizers asked participants to avoid chanting any slogans that were not determined by the organizing committee.
People danced to Kurdish music after the beginning of the celebrations, which were organized by the opposition Peoples' Democratic Party (HDP), the Democratic Regions Party (DBP) and the Democratic Society Congress (DTK).
More than 400 local and foreign journalists are following the celebrations in Diyarbakır.
A HDP lawmaker from the southeastern province of Şanlıurfa, Osman Baydemir, and the ousted co-mayor of the southeastern province of Mardin, Ahmet Türk, made speeches during the event.
"No one should doubt that we will win despite all the policies of oppression," Türk said.
During the celebrations, messages from HDP co-chairs Selahattin Demirtaş and Figen Yüksekdağ and DBP co-chair Sebahat Tuncel, who are under arrest, were read to the crowd.
"The fire of Nevruz is burning with joy despite all pressures and bans. We won't bow down in the face of the oppressor and oppression. We will protect the honor of our people everywhere and we will definitely win," read the message from Demirtaş and Yüksekdağ.
In addition to Diyarbakır, Nevruz was marked in 20 other provinces. One celebration was organized in Istanbul by the Istanbul Governor's Office with the participation of Gov. Vasip Şahin.
Also in Istanbul, thousands of people gathered in the Kartal district to mark Nevruz.
Celebrations were also held in the southeastern province of Hakkari with the participation of HDP Diyarbakır lawmaker Feleknas Uca and HDP lawmaker from the eastern province of Van, Lezgin Botan, and the eastern provinces of Ağrı and Muş.
Thousands of people also gathered in the southeastern province of Şırnak.
Meanwhile, the main opposition Republican People's Party (CHP) Istanbul lawmaker Sezgin Tanrıkulu made a legislative proposal for Nevruz to be made an official holiday.
Moreover, President Recep Tayyip Erdoğan released a statement for Nevruz, saying that the day is a symbol of fraternity, friendship and solidarity.
CHP lawmaker proposes Nevruz to be made official holiday
Main opposition Republican People's Party (CHP) Istanbul lawmaker Sezgin Tanrıkulu made a legislative proposal for Nevruz to be made an official holiday.
In his proposal submitted on March 20, Tanrıkulu said people living in the Middle East and the Mesopotamia region have been celebrating Nevruz with festivities for many centuries.
Saying that Nevruz means "new day," Tanrıkulu noted that it refers to people successfully emerging out of a struggle against nature and greeting spring after undergoing harsh winter weather.
http://www.hurriyetdailynews.com/hundreds-of-thousands-mark-nevruz-in-turkeys-southeast-.aspx?pageID=238&nID=111072&NewsCatID=341
------
Netanyahu to Putin: Israeli airstrikes in Syria will continue
22 Mar, 2017
Israeli Prime Minister Benjamin Netanyahu said that he has told Russian President Vladimir Putin that Israeli forces will continue airstrikes in Syria if they deem it necessary.
"If there is feasibility from an intelligence and military standpoint – we attack and so it will continue," Netanyahu said during a visit to China, adding that he had informed Putin of Israel's intentions.
According to the Jerusalem Post, the Israeli PM also dismissed reports that Russia was insisting that Israel cease its military operations on Syrian territory.
Russia's Foreign Ministry summoned the Israeli ambassador to Moscow, Gary Koren, to demand explanations for the airstrikes Israel conducted near the Syrian city of Palmyra on Friday morning. Israeli Defence Force (IDF) warplanes hit several targets near Palmyra, allegedly destroying advanced arms provided to the Lebanese militant movement Hezbollah.
Syria's air defense force fired anti-aircraft missiles at the Israeli planes as they were returning to base. Syrian media reported that one plane was downed, while Israel denied any losses.
Israel also said that it shot down one of the interceptor missiles with its Arrow long-range SAMs, which saw the first-ever use of the system in battle.
After the incident, Israeli Defense Minister Avigdor Lieberman threatened that "next time, if the Syrian aerial defense apparatus acts against our planes, we will destroy it."
In January, Damascus accused Tel Aviv of bombing the Mezzeh military airport west of the country's capital. The airport was rocked by multiple explosions, with ambulances rushing to the scene.
The IDF has violated Syrian air space on a number of occasions, even before the conflict broke out in the country back in 2011.
Possibly the most infamous incident occurred in 2007 when an alleged Israeli raid destroyed a suspected nuclear reactor in Syria's Deir ez-Zor governorate.
https://www.rt.com/news/381696-israel-syria-netanyahu-putin/
------
Southeast Asia
Malaysia: New Center to Take Academic Approach Against Terrorist Ideology
Hata Wahari
2017-03-21
Kuala Lumpur-A Saudi-backed anti-terrorism center to be set up in Malaysia will conduct research into and counter the ideology spread by extremist groups including the Islamic State (IS), Malaysian officials told BenarNews.
At the end of a visit to Malaysia by Saudi Arabia's king earlier this month, the two predominantly Muslim countries announced a joint agreement to set up the King Salman Center for International Peace, saying it would be up and running within three months.
The center is being set up through a partnership involving the Intellectual Warfare Center the Ministry of Defense in Saudi Arabia, the Security and Defense Center at Malaysia's Ministry of Defense, the Muslim World League and the Islamic Science University of Malaysia (USIM), officials from both countries said in a statement on March 1.
"The establishment of this center involves many things especially involving academics voicing their views on how we can stem the ideology of militants, mainly IS (the Islamic State) as a growing presence around the world, not only in Southeast Asia and the Middle East, but also an ideology that has spread across countries that do not have extremist Islamic groups," Asyraf Wajdi Dusuki, a deputy minister in the Prime Minister's Department who serves as the chairman of the center's committee, told BenarNews. "It takes into account how to attract militant groups to leave their extreme views and discuss achieving world peace without having to take up arms," Dusuki added.
The new center, whose price-tag has not been determined, is one of three counter-terrorism centers based in Malaysia, where authorities have warned of an emerging terrorist threat from recruitment of local youths by IS.
The country is home to an online counter-extremist messaging center overseen by the Royal Malaysia Police and the Southeast Asia Regional Center for Counter-Terrorism, operated under the Ministry of Foreign Affairs with assistance from the U.S. State Department.
The new center will be housed on the university's campus in Nilai, Negeri Sembilan, 45 km (28 miles) from central Kuala Lumpur, according to USIM Vice Chancellor Musa Ahmad.
"In recent years, we can see wars, conflicts and battles that have led to unstable and chaotic environments in Muslim countries. USIM would like to be among those who are on the frontline in sustaining peace and harmony throughout the world and to uphold the holy name of Islam and its ummah," Musa told BenarNews, using a term for the entire world's Muslim community.
Meeting with Muslim countries
The future center's mission will be to curb terrorism globally, and this challenge must be tackled urgently because the IS group is establishing a stronghold in the neighboring Philippines, Malaysian Defense Minister Hishammuddin Hussein said.
"The presence of the militant group based in the southern Philippines must be contained and the establishment of [the King Salman Center] will help curb militant groups from developing and recruiting the people of Malaysia and the countries of Southeast Asia as members of IS," Hishammuddin told BenarNews.
Fighting terrorism should not be limited to law enforcement and military operations, and governments should use extensive academic research as a tool in the war on terror, he added.
"[F]or the first time in history, five Islamic countries … have agreed to cooperate in various fields of defense and counter-terrorism initiatives, particularly to promote Islam as a true religion while eliminating negative perceptions of Islam," Asyraf Wajdi Dusuki said.
He was referring to Indonesia, Turkey, Pakistan and Qatar, whose representatives met Tuesday with Hishammuddin on the sidelines of an international aerospace and maritime show in Langkawi, Kedah state.
"God willing, all these countries will participate in the King Salman Center for International Peace initiative."
Analyst has doubts
The center will only reap the fruits of its labor if its concept is practiced in other Southeast Asia countries, said Azmi Hassan, a geo-political expert at the Universiti Teknologi Malaysia.
"Look at IS propaganda. It has a simple but extremely effective narrative, taking advantage of poor Muslims in Mindanao who were sidelined by Manila," he told BenarNews.
"That is why it is crucial that the center must work with local and regional organizations that would understand the plight of these people who have been influenced."
http://www.benarnews.org/english/news/malaysian/academic-center-03212017154948.html
------
Malaysia Mulls Naval Upgrades Amid IS Threat, South China Sea Standoff
March 20, 2017
KUALA LUMPUR — Malaysia is gunning for a revamp of its aging naval fleet, as countries in the region prepare to face threats from the influx of Islamic State (IS) militants fleeing Mosul, and from rising tensions in the South China Sea.
Defense spending in the Asia Pacific region is expected to hit $250 billion from 2016-20, IHS Janes Defence Weekly said in December, and Malaysia intends to improve on its capabilities alongside other states in the hotly contested South China Sea, even as its defense budget narrows.
Malaysia's navy aims to replace all 50 vessels in its aging fleet as the country cut its total defense budget by 12.7 percent to 15.1 billion ($3.41 billion) this year. That will be led by the procurement of four littoral mission ships (LMS) built in collaboration with China.
"The LMS are designed for many aspects of maritime security such as dealing with cross-border crime, piracy, anti-terrorism, and search and rescue operations," Malaysian navy chief Ahmad Kamarulzaman Ahmad Badaruddin told Reuters in an interview.
"These ships would be very capable of dealing with the threat posed by Daesh and other maritime security concerns," Kamarulzaman said, referring to the Arabic acronym for IS.
Malaysia is expected to formalize the LMS deal with China at the Langkawi International Maritime and Aerospace Exhibition (LIMA) this week to build four LMS and acquire the technology to construct more of the ships at home. The navy hopes this will enable them to obtain a total of 18 LMS.
Plans to acquire four LMS from China were first announced in November.
Over 500 exhibitors from 36 countries will parade their wares at this year's LIMA, which is held every two years on the northern duty-free island of Langkawi.
Kamarulzaman said they are also in the final stages of negotiations with French shipbuilder DCNS to launch a program to build the larger littoral combat ships (LCS), which he said should be formally announced in August or September this year.
The navy is also looking to acquire three new multi-role support ships (MRSS) and two more submarines to round off the fleet.
Competing needs
The naval buildup in the region comes as tensions rise in the South China Sea, where Beijing's creation of artificial islands has alarmed some Asian countries and stoked friction between China's navy and the U.S. air force.
China claims most of the South China Sea, through which $5 trillion in ship-borne trade passes every year. The Philippines, Vietnam, Malaysia, Taiwan and Brunei also have overlapping claims.
Under President Joko Widodo, Indonesia's total defense spending jumped around 26 percent, and last month Thailand's military government approved a 13.5 billion baht ($389.05 million) submarine deal with China after putting the purchase on hold last year.
Members of the Association of Southeast Asian Nations (ASEAN), however, need to share intelligence if they want their big-ticket buys to be of any use, said Shahriman Lockman, a senior analyst with the Kuala Lumpur-based Institute of Strategic and International Studies.
Shahriman said asset upgrades like Malaysia's LMS program are important, but stressed that such high-value procurements would end up sailing blindly without strong intelligence sharing among the 10 ASEAN members, supported by a wide network of surveillance equipment.
"We're talking military patrol aircraft, radars, drones ... and in bigger numbers. Quantity is a quality of its own. It doesn't make sense to aspire to top-of-the-range equipment but in small numbers," Shahriman said.
"Equipment that contributes to maritime domain awareness ought to be the priority for all. You can't fight what you can't see."
http://www.voanews.com/a/malaysia-naval-upgrades-islamic-state-threats-south-china-sea-standoff/3774062.html
------
Indonesia: Earthquake hits Bali island, but no casualties
March 22, 2017
South Korea, nuclear operator, nuclear reactors, nuclear power complex, south korea earthquake, world news Witnesses said many residents and tourists ran out of their homes and hotels toward higher ground. (Representational)
An earthquake has hit Indonesia's resort island of Bali, causing some panic among residents, but there were no immediate reports of damage or casualties. The United States Geological Survey said the magnitude 5.5 earthquake that struck at 7:10 a.m. Wednesday (23:10 GMT Tuesday) was centered 2 kilometers (1.4 miles) northeast of Banjar Pasekan, a town in the southeastern part of Bali, at a depth of 118 kilometers (74 miles).
Witnesses said many residents and tourists ran out of their homes and hotels toward higher ground, but the situation returned to normal after they received text messages saying the quake had no potential to trigger a tsunami. The Indonesian Meteorology, Climatology and Geophysics Agency measured the earthquake at 6.4 magnitude but said it would not cause a tsunami because the epicenter was so deep. Indonesia is prone to the seismic upheaval due to its location on the so-called Pacific Ring of Fire. In December 2004, a massive earthquake off Sumatra island triggered a tsunami that killed 230,000 people in a dozen countries.
http://indianexpress.com/article/world/indonesia-earthquake-hits-bali-island-but-no-casualties-4579882/
------
China says significant drop in 'terror attacks', but threat remains high
March 21, 2017
Representational image, Violent attacks involving or orchestrated by terrorist cells dropped in 2016, reported the official English-language China Daily newspaper
The number of violent attacks by "terrorist cells" in China has dropped due to increased security measures, state media reported on Tuesday, however it also cited experts as saying the level of attempted violence remains high.
China says it faces a serious threat from violent extremism, particularly in its western region of Xinjiang, where hundreds of people have been killed in recent years in unrest between mostly Muslim ethnic Uighurs and majority Han Chinese.
Officials say there is a campaign by separatists there who want to set up an independent state called East Turkestan. However, rights groups doubt the existence of a coherent militant group in Xinjiang and say Uighur anger at repressive Chinese policies is more to blame for the unrest.
"Violent attacks involving or orchestrated by terrorist cells" dropped in 2016, the official English-language China Daily newspaper reported, citing data from the Law Institute of the Chinese Academy of Social Sciences.
However, Li Wei, an anti-terrorism expert at the China Institutes of Contemporary International Relations, told the China Daily: "People should realise that more attacks have been foiled at the planning stage. We haven't seen a significant drop in the number of attempted attacks."
The figures were not made available by the academy, the paper said. It said many "terrorist suspects" were born in the 1980s and 1990s, and that many cells were formed among family members.
According to the paper, the academy also said the threat of such attacks "might become more serious since overseas terrorist groups now have stronger influence in China and the connection between domestic and foreign terrorist groups has grown deeper".
Late last month, Uighurs purportedly fighting with the Islamic State militant group in Iraq released a video threatening China and vowing to shed Chinese blood.
Diplomatic sources in Beijing say that violence occurs more regularly in Xinjiang than is reported by authorities.
Thousands of Chinese armed police have staged mass parades and rallies in Xinjiang in recent weeks, in what officials have called a "declaration of war" on militants and separatist forces.
Along with the show of force, authorities have rolled out tough measures, from helicopter patrols to hefty rewards for tips, and mandatory satellite tracking for some vehicles.
http://indianexpress.com/article/world/china-says-significant-drop-in-terror-attacks-but-threat-remains-high/
------
Africa
Cameroon forcing thousands of refugees to return to Boko Haram-hit Nigeria: UN
March 21, 2017
Cameroon, returning refugees, United Nations, nigerian refugees, Boko Haram afffected areas, United Nations, world news, indian express news United Nations (File Photo)
Cameroon is forcing thousands of Nigerian refugees uprooted by the jihadist group Boko Haram to go home against their will, despite a recent agreement between the countries to prevent forced returns, the United Nations said on Tuesday. Cameroonian soldiers have so far this year sent home more than 2,600 refugees against their wishes to villages in northeast Nigeria, where insecurity persists and access to basic services remains limited, the UN refugee agency (UNHCR) said.
The two countries and the UNHCR at the start of March signed an agreement stating that refugees residing in Cameroon who do not want to return to Nigeria will not be forced to do so. "But … the reality is forced returns have continued to happen," UNHCR spokesman Babar Baloch told a news briefing in Geneva, adding that some refugees in Cameroon had been forcefully returned to Nigeria as recently as last Friday.
Baloch said the returns were being carried out by the Cameroonian army, and that the UNHCR had expressed its concern to the government about a lack of control over the military. Cameroonian government officials were not immediately available for comment.
Boko Haram has killed some 15,000 people and forced more than two million to flee their homes during its seven-year campaign to carve out an Islamic state in northeast Nigeria. More than 85,000 Nigerian refugees reside in neighbouring Cameroon's Far North region, where the Islamist militants also launch attacks, often using female suicide bombers and children.
Young children and pregnant women are among the refugees who have been forcibly sent back to Nigeria by the Cameroonian army, with some families having being separated and mothers forced to leave their children behind in Cameroon, UNHCR said.
Most of the returnees are unable to go back to their homes due to the threat of Boko Haram, and are instead taken to Nigerian camps for the internally displaced, the agency said. A regional drive by the armies of Cameroon, Chad, Niger and Nigeria has recaptured much of the territory Boko Haram once held, but the militants have stepped up attacks in the Lake Chad region since the end of the rainy season in late 2016.
http://indianexpress.com/article/world/cameroon-forcing-thousands-of-refugees-to-return-to-boko-haram-hit-nigeria-un-4579537/
------
Somalia: Car bomb near presidential palace kills four
March 21, 2017
At least four people were killed on Tuesday when a car bomb exploded at a checkpoint less than a kilometre away from the presidential compound in Somalia's capital, Mogadishu, police said. Security officials at the scene told media the checkpoint was rammed by a car bomb driven by a suicide attacker, causing a blast outside a theatre. "At least four people, including government soldiers and civilians, died in the blast. Several others were injured," said Mohamed Hussein, a police officer.
"Casualty numbers may rise. There were pedestrians along the street at the time of the explosion," he told Reuters. The theatre is about 300 metres away from the heavily fortified compound known as Villa Somalia, which also houses other government agencies. It was not immediately clear who was responsible for the explosion. In the past, al Qaeda-linked al Shabaab has taken responsibility for blasts and gun attacks in the capital.
Al Shabaab has been able to carry out deadly bombings despite losing most of its territory to African Union peacekeepers supporting the Somali government. The group's insurgency aims to drive out the peacekeepers, topple Somalia's western-backed government and impose its strict version of Islam on the Horn of Africa state. Somalia swore in a new leader last month. Mohamed Abdullahi Mohamed has promised al Shabaab's fighters "a good life" if they surrender.
http://indianexpress.com/article/world/somalia-car-bomb-blast-near-presidential-palace-kills-four-mogadishu-blast-4579550/
------
Five dead in Mogadishu bombing as PM unveils new lineup
March 22nd, 2017
MOGADISHU: At least five people were killed when a minibus laden with explosives blew up in Mogadishu on Tuesday, just as the troubled country's new prime minister unveiled his government lineup.
The blast, the latest attack in the Somali capital believed to be the work of Al Qaeda linked Shabaab extremists, occurred at a checkpoint just 500 metres (yards) from the presidential palace.
"The vehicle was stopped at the checkpoint for security screening when it went off. At least five people were killed including security personnel and 10 others wounded," said Abdifatah Omar Halane, spokesman for the Mogadishu city administration.
"The blast was so huge, I saw smoke and dust all over the area," local resident Abdukadir Yusuf said.
"I was on top of my house not very far away from the area, it was near the theatre and close to the presidential palace." Somalia's new Prime Minister Hassan Ali Kheyre on Tuesday announced his new cabinet, made up of 26 ministers including six women, after almost a month of political bargaining.
https://www.dawn.com/news/1322118/five-dead-in-mogadishu-bombing-as-pm-unveils-new-lineup
------
Nnamdi Kanu will never be tried by Sharia Law – IPOB
March 22, 2017
The Indigenous Peo­ples of Biafra (IPOB) have warned against the trial of their leader, Nnamdi Kanu, under Sh­aria Law. The group said that since Kanu is a Christian,
the Federal High Court has no business citing any aspect of the Sharia Law in the his ongoing prosecution by the Federal Government.
IPOB accused Justice Binta Nyako of judicial som­ersault in ruling that Kanu and others would be tried secretly.
In a statement by its Me­dia and Publicity Secretary, Mr. Emma Powerful, IPOB alleged that: "Justice Nyako is biased and therefore should disqualify herself from handling the case; her withdrawal from the case has become imperative be­cause we do not have any confidence that our leader and others standing trial in the matter will ever get justice as far as she continues to handle the case."
"Her ruling on Monday proves to the entire world that the Nigerian govern­ment and Justice Binta Nya­ko are biased. The present government of the All Pro­gressives Congress (APC) should stop Islamising Ni­geria; this is important be­cause it is not only Muslims that are in Nigeria."
"We are disturbed at the type of judicial somer­sault we are seeing in Jus­tice Binta Nyako's court. How can the same judge who ruled against the se­cret trial of our leader now turn around and proclaim to allow the 'masquerades' to testify against our lead­er Mazi Nnamdi Kanu and others?"
"Are they trying to ap­ply Sharia Law in a matter that concerns a Christian? We are not going to allow the Sharia Law to prevail or be used in trying the Chris­tians in Nigeria. Nigerians should stand up now before it is too late to challenge this injustice being perpetrated against Kanu and others".
Justice Nyako had on Monday declared that the bail applications by Kanu's lawyer, Mr. Ifeanyi Ejiofor, would not stall the trial of the accused who is still be­ing prosecuted on her order predicated on the protection and shielding of witnesses.
"Nothing can change my order in the protection of the witnesses," she had said.
The judge thereafter asked if Ejiofor studied a part of the Sharia Law while in school, stressing that if he had done so, he would have learned more about the pro­tection of witnesses.
Justice Nyako added that Ejiofor would have also known that a woman's iden­tity is protected in court in the context of the Sharia Law.
She therefore held that the witnesses will wear masks and must not be fa­cially identified, else the court will divide itself with a non-transparent materi­al against public view. She added that as long as the wit­nesses are security agents, their identities will be pro­tected for the sake of the future, while non-security agents will be seen by mem­bers of the public.
"I am not ready to jeop­ardise the protection of the security operatives," she de­clared.
http://www.thebreakingtimes.com/nnamdi-kanu-will-never-be-tried-by-sharia-law-ipob/
------
Noise pollution: Oyo Assembly directs ministry to sanction Churches, Mosques
MARCH 21, 2017
Ibadan – The Oyo State House of Assembly has directed the state Ministry of Environment, Urban Development and Physical Planning to sanction Churches and Mosques that flout the Noise Pollution Law. The Speaker of the House, Mr Michael Adeyemo (APC/Ibarapa-East), gave the directive at the plenary on Tuesday. Mr Isaac Ishola, the Commissioner in charge of the ministry and his counterpart in the Ministry of Information, Culture and Tourism, Mr Toye Arulogun, had appeared before the House. The House had on Feb. 16, summoned the two commissioners over incessant noise pollution in the state. The speaker, who said he was impressed with the ministry's efforts to curb noise pollution, urged it to take serious action against people who attacked the enforcement officers. "Those guilty of such must be duly prosecuted and jailed; this should not be taken with levity. "How will they perform their jobs effectively, if they cannot enjoy the protection of the state," he said. Adeyemo said that since all avenues of dialogue and sensitisation had been explored but failed, the ministry should implement the laws by sanctioning and closing down any erring place of worship. " If you have invited a church since January, 2016 and it refused to honour the invitation and another one signed an undertaking since February, 2016 and has not complied, then seal them. "If some are complying and others are not, you are giving room for impunity,'' the speaker said. Ishola had earlier told the lawmakers at the plenary that Churches and Mosques contributed 70 per cent of noise pollution within Ibadan metropolis. He said that noise from the social gatherings only accounted for 10 per cent. "The telecommunications companies are not left out; they contribute about 10 per cent, while vehicular noise and generator noise constitute three and five per cent respectively," he said. Ishola said that in spite of the stakeholders' meetings with various representatives, the menace of noise pollution still persisted in the area. According to him, the ministry's officials that go out to enforce the Environmental Laws are either attacked physically or verbally threatened. Ishola said the defaulters that were invited to the ministry failed to honour the invitation. Arulogun, on his part, told the lawmakers that the Ministry of Information, Culture and Tourism had engaged in door-to-door enlightenment to sensitise people on the dangers of noise pollution.
http://www.vanguardngr.com/2017/03/noise-pollution-oyo-assembly-directs-ministry-sanction-churches-mosques/
------
URL: https://www.newageislam.com/islamic-world-news/new-age-islam-news-bureau/vhp-run-vedic-school-in-allahabad-joins-hands-with-islamic-scholars-to-teach-students/d/110491
New Age Islam, Islam Online, Islamic Website, African Muslim News, Arab World News, South Asia News, Indian Muslim News, World Muslim News, Women in Islam, Islamic Feminism, Arab Women, Women In Arab, Islamophobia in America, Muslim Women in West, Islam Women and Feminism