New Age Islam News Bureau
4 Oct 2019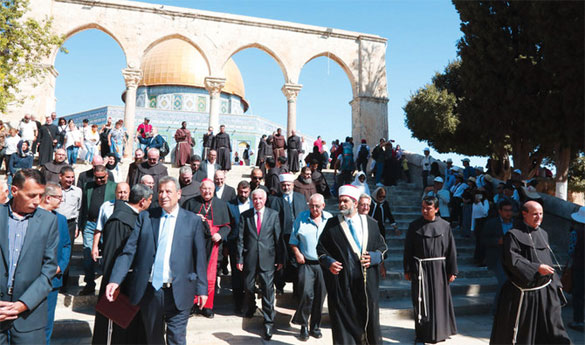 A Vatican delegation led by Cardinal Leonardo Sandri visits Al-Aqsa Mosque on Thursday. (Photo/Supplied)
--------
• UN Rapporteurs Urged To Uncover Israeli Crimes Against Palestinians
• UK Memorial Site Honours Martyred And Serving British-Muslim Soldiers
• Germany: Muslims Welcome Visitors On Open Mosque Day
• Taking On 'Islamophobia', Imran Khan Ignoring China's Muslim Oppression
• SC To Constitute Special Bench For Protection Of Minority Rights
• Ayodhya Dispute: Hindu Sides In SC Rebut Muslim Claims Over The Site
• Report Ranks Malaysia 23rd In Protecting Children From Sexual Exploitation
• Ilhan Omar Says Trump 'Terrified' Of Her 'Intersectionality' As A Woman, Immigrant, Muslim
• ISIS Fighters Find Refuge, Rebuild Networks In Northern Iraq, Kurdish Peshmerga Warn
• Afghanistan Security Adviser Says Hard-Line Taliban Members Defecting To ISIS, Merging With Al Qaeda
Mideast
• Vatican Visit To Al-Aqsa Celebrates Religious Coexistence
• UN Rapporteurs Urged To Uncover Israeli Crimes Against Palestinians
• Islamic State's money transfer network busted in Turkey
• Al Houthis changing demography of Yemeni capital
• Yemen: Houthis Continue to Blackmail Sanaa's Merchants
• Hezbollah deputy: Aggression won't be limited to Iran due to spread of US bases
• Iran's IRGC intelligence says it foiled plot to kill Quds Forces chief Soleimani
• Iran's Army unveils new tactical armored vehicles, smart robots
• Yemen minister slams Iran after Tehran admits support for Houthis
--------
Europe
• UK Memorial Site Honours Martyred And Serving British-Muslim Soldiers
• Germany: Muslims Welcome Visitors On Open Mosque Day
• In Spain, Summer Surveillance Triggers Alerts For Returning Jihadists
• New Video May Signal Dangerous Change For Neo-Nazi Terror Cell
• Muslim students build a space for Elon community
• Muslim inmate 'Boom Bat' Negrete files religious discrimination lawsuit against Trenton state prison officials
• Paris knife attacker who killed 4 in police headquarters had converted to Islam: report
• Israel's arbitrary airstrikes on Syrian territory lead to escalation in tensions: Russia FM
• EU hopes Iraq exercise utmost restraint amid protests
• Protesters in London demand justice for Khashoggi
• EU says there is an 'urgent need' to prevent migrants leaving Turkey
• Russia watching closely after Turkish move on Syria safety zone: Kremlin
--------
Pakistan
• Taking On 'Islamophobia', Imran Khan Ignoring China's Muslim Oppression
• SC To Constitute Special Bench For Protection Of Minority Rights
• Royal Aal al-Bayt Institute for Islamic Thought, Jordan Named Mufti Taqi Usmani Most Influential Muslim Personality In The World
• Pakistan must engage the European Parliament on Kashmir
• Pak foreign minister Qureshi loses cool when asked to name 58 countries supporting Islamabad on Kashmir issue
• NYT laments UN's lack of resolve, backs PM Imran's stance over Kashmir
• Pakistan wants peace, harmony in region: President Alvi
--------
India
• Ayodhya Dispute: Hindu Sides In SC Rebut Muslim Claims Over The Site
• Srinagar to Mumbai via Delhi: Agencies on high terror alert
• NIA probe links Pak terror groups to funds raised by Kashmiri separatists
• Bangladesh PM In India: Expresses 'Great Concern' Over NRC
• Manmohan To Be Part Of First 'Jatha' To Kartarpur Shrine
• Govt Indicates It Would Release Kashmir Leaders
• One civilian killed in ceasefire violation by Pakistan in Uri sector
• SC Stops Hindu Parties From Citing New Scriptural Proof
• 'Sab changa si?': Mehbooba Mufti tweets dig at Centre's development plank for J&K
• Ceasefire violations by Pakistan in Jammu and Kashmir at a 5-yr-high in 2019
• Four Hizbul Mujahideen terrorists held in Jammu and Kashmir's Kishtwar
• Sheikh Hasina calls for more Indian investments in Bangladesh
--------
Southeast Asia
• Report Ranks Malaysia 23rd In Protecting Children From Sexual Exploitation
• Muslim leaders must uphold people's trust, says Abang Johari
• Foreign minister: Govt monitoring India's #BoycottMalaysia trend on Twitter
• Indonesian couple fear sex-ban changes will make them criminals
• MWL, Indonesia to Build Museum on Islamic History in Jakarta
• Indonesian couple fear sex-ban changes will make them criminals
--------
North America
• Ilhan Omar Says Trump 'Terrified' Of Her 'Intersectionality' As A Woman, Immigrant, Muslim
• White Nationalist Coast Guard Lieutenant Likely To Plead Guilty In Domestic Terror Case
• Malian army families demand answers after deadly raids against soldiers
• US: Candlelight vigil held to remember Saudi journalist
--------
Arab World
• ISIS Fighters Find Refuge, Rebuild Networks In Northern Iraq, Kurdish Peshmerga Warn
• Thousands in bloody protests across Iraq, 31 dead
• Iraqi PM says ready to meet protesters, pledges change
• Bahraini regime summons Shia clergyman for questioning
• Khalid bin Salman: Tehran brazenly exploiting Yemen for its own interests
• Military intelligence kill IS leader, four aides in northern Iraq
• The only way to address Hezbollah is through Iran – not by targeting Lebanon
• Saudi Arabia begins trial of 45 ISIS-related terrorists
• Muallem vows to 'liberate every inch' of Syria from terrorists
• US continues to support SDF with delivery of new truckloads of weapons
• FM Cavusoglu casts doubt on joint plan with US in Syria
• Iraq declares curfew in Baghdad to protect residents
• How a Saudi initiative is making a difference to Yemeni lives
• OIC urges global coordination in tackling climate change, environment, water, energy and food challenges
• 173 civilians killed by land mines in Syria this year
--------
South Asia
• Afghanistan Security Adviser Says Hard-Line Taliban Members Defecting To ISIS, Merging With Al Qaeda
• Bin Laden's friend arrested in Bangladesh
• Myanmar Rejects Rohingya Refugee Visit to Rakhine to Inspect Conditions for Repatriation
• Pakistan and Taliban agree on the need for earliest resumption of peace process
• Airstrikes kill 18 Taliban militants in 6 provinces, destroy stolen Humvee
• 5 IS militants killed in drone strikes in E. Afghanistan
• Special Forces kill, detain 9 Taliban militants; destroy caches of weapons in 3 provinces
• Deadly airstrike targets a group of Taliban militants in Balkh province
--------
Africa
• Somali Commandos, U.S. Air Strike Repel Islamist Insurgent Attack
• Lobby firm paid $1 mln to push for jailed Tunisia presidential hopeful
• Libya's coast guard intercepts 102 Europe-bound migrants
• US re-opens embassy in Mogadishu after three decades
• Nigeria releases 25 children cleared of suspected ties with Boko Haram: UNICEF
• Somalia hopes to counter Al Shabaab with new education curriculum
• Malian government urges unity as number of troops killed in extremist attacks rises
Compiled by New Age Islam News Bureau
URL: https://www.newageislam.com/islamic-world-news/vati-visit-al-aqsa-celebrates/d/119913
--------
Vatican visit to Al-Aqsa celebrates religious coexistence
October 03, 2019
AMMAN: Palestinian and Jordanian officials praised the important visit on Thursday by the Vatican's cardinal for eastern churches Leonardo Sandri and Francesco Patton to Al-Aqsa Mosque.
The officials also praised the important position taken during the visit in support of coexistence and the Hashemite custodianship of Christian and Muslim holy places.
The Vatican's delegation was welcomed by the director-general of Jerusalem's Waqf department, Sheikh Azzam Khatib, members of the Waqf council and an assortment of Palestinian leaders.
A seven-point message reaffirmed the participants' attachment to the Omari pact, support for the Hashemite custodianship of King Abdullah over Muslim and Christian Holy Sites, rejection of attempts to change the status quo, regret for war periods which saw aggressions against holy places and innocent worshippers.
It stated that there is no alternative to the two-state solution with East Jerusalem as the capital of the Palestinian state in accordance with international law.
Wasfi Kailani, director of the Royal Hashemite Fund for the Restoration of Al-Aqsa, told Arab News that the Vatican visit was a historic meeting: "This high-level visit to Al-Aqsa and the words of solidarity and support is a true reflection of the 1,400 years of Muslim and Christian coexistence in the holy city of Jerusalem."
Kailani added that Muslims recognize the important role that the Franciscans have played in the Holy Land: "We are recognizing 800 years of the important role of the Franciscans, whose role in education and guarding holy places is appreciated."
Ramzi Khoury, head of the Palestinian Presidential Commission on Church Affairs, said that the visit is important and meaningful.
"We celebrate together with our fellow Palestinian Muslims the anniversary of the Custodians of the Holy who have played a crucial role in protecting holy places and in supporting the Christian presence in Palestine. The visit to Al-Aqsa has valuable meaning to the importance of Christian and Muslim coexistence in our homeland Palestine."
https://www.arabnews.com/node/1563726/middle-east
--------
UN rapporteurs urged to uncover Israeli crimes against Palestinians
Oct 3, 2019
Palestinian Foreign Minister Riyad Malki has called upon United Nations special rapporteurs to expose Israeli crimes committed against Palestinians especially in the wake of the severe torture of prisoner Samer al-Arbeed, who has been taken to hospital in a critical condition.
In letters sent to the Special Rapporteur on Torture, the Special Rapporteur on the Right to Health, the Working Group on Arbitrary Detention, the Special Rapporteur on Justice, and the Special Rapporteur on the State of Human Rights in the Occupied Palestinian Territory on Thursday, Malki briefed them on the suffering of the 44-year-old father of three, who is between life and death at Hadassah Medical Center in Jerusalem al-Quds.
The top Palestinian diplomat then urged the special rapporteurs to expose the Israeli crimes and to find mechanisms to hold accountable the Israeli officials responsible for Arbeed's torture, which was done in coordination with and through the endorsement of the Tel Aviv regime and Israeli courts.
Malki stressed that the Palestinian Ministry of Foreign Affairs and Expatriates has been contacting international human rights organization and UN bodies, including the International Committee of the Red Cross (ICRC), to demand their intervention and protection of Arbeed.
Addameer –الضمير
@Addameer
Samer al-A'reed, 44-year-old husband and father to two daughters and one son currently suffers from a serious health deterioration due to torture and ill-treatment during interrogations. Samer now is at Hadassah hospital. http://www.addameer.org/news/addameer-prisoner-samer-al-%E2%80%99rbeed-critical-health-situation-due-torture …
Addameer: Prisoner Samer al-A'rbeed in a Critical Health Situation due to Torture
Samer al-A'reed, 44-year-old husband and father to two daughters and one son currently suffers from a serious health deterioration due to torture and ill-treatment during interrogations. Samer now is...
addameer.org
25
2:46 PM - Sep 29, 2019
Twitter Ads info and privacy
57 people are talking about this
Palestinian human rights organization Addameer said on Sunday that Arbeed was arrested on September 25 after a special unit of the Israeli forces raided the central occupied West Bank city of Ramallah.
During the arrest, Samer was harshly beaten by Israeli forces using their guns. He was then taken to the Mascobiyya interrogation center in Jerusalem al-Quds and an order was issued immediately, banning him from meeting his lawyer.
The Palestinian man appeared in a court session the following day without his lawyer in attendance. Samer told the judge that he suffers from severe pain in his chest and that he cannot eat anything and throws up continually.
He was not transferred immediately to the hospital, and in fact his interrogation continued with torture and ill-treatment techniques.
Finally, Addameer's lawyer was informed on Saturday morning by a phone call from one of the interrogators at al-Mascobiyya that Samer had been transferred to Hadassah Medical Center.
The lawyer was also told that the Palestinian prisoner's health condition is critical, and that he is unconscious and dependent on the ventilator.
Samer had in fact been transferred to the hospital the previous day, though his family and lawyer were not informed until Saturday.
More than 7,000 Palestinians are reportedly held at Israeli jails. Hundreds of the inmates have apparently been incarcerated under the practice of administrative detention, a policy under which Palestinian inmates are kept in Israeli detention facilities without trial or charge.
Some Palestinian prisoners have been held in administrative detention for up to eleven years.
Palestinian inmates regularly stage hunger strikes in protest at the administrative detention policy and their harsh prison conditions in Israeli jails.
According to reports, at least 13 Palestinian lawmakers are currently imprisoned in Israeli detention facilities. Nine of them are being held without trial under administrative detention.
https://www.presstv.com/Detail/2019/10/03/607777/UN-rapporteurs-urged-to-uncover-Israeli-crimes-against-Palestinians
--------
UK memorial site honours martyred and serving British-Muslim soldiers
Murtaza Ali Shah
October 3, 2019
LONDON: The UK's National Memorial Arboretum recently brought together members of the British-Muslim communities and serving Muslim soldiers to remember those who have given their lives in the service of Britain.
The commemoration brought together some 200 Muslim youth, soldiers, and their families from counties across the UK for the tribute at the UK's centre of remembrance.
The service saw representation and attendance from Muslim veterans of the World War 2 (WW2), Sergeant (retd) Mohammed Hussain and General Officer Commanding (GOC) for London District, Major General Benjamin Bathurst.
Supported by the Armed Forces Muslim Association (AFMA), the commemoration built on the successes of last years' service, which was held at the World War 2 (WW1) Muslim Memorial in Woking, marking 100 years of the Armistice.
The unique event saw people delivering remembrance-related speeches and presentations followed by various activities and site visits and a commemoration service.
Major Naveed Muhammad, the Army's National Liaison Officer and the AFMA's former chair, said: "Engaging with British-Muslim communities in an intimate event allowed us to celebrate the service and sacrifice from our wider UK communities.
"It was heart-warming to hear that those who attended were vocal in their praise for the Armed Forces being supportive and inviting to military personnel.
"The Armed Forces are proud of the contribution of British-Muslims serving today alongside colleagues from many backgrounds.
"Through this commemoration, in showing our respect alongside local communities, we hope to inspire future generations of Muslim recruits as well as those of other faiths and none."
Imam Asim Hafiz commented: "It's important that we held a Service of Commemoration to honour and respect those who served for our country. We also wanted the event to reaffirm that being Muslim is absolutely compatible with military life.
"It is now more vital than ever that our Armed Forces represent the society we serve and this event allowed us to highlight the scale and history of contribution of British-Muslims to this country that goes much deeper than many realise."
https://www.thenews.com.pk/latest/535796-uk-memorial-site-honours-martyred-and-serving-british-muslim-soldiers
--------
Germany: Muslims welcome visitors on Open Mosque Day
Ayhan Simsek
03.10.2019
BERLIN
Mosques around Germany opened their doors to people of various faiths on Thursday to promote dialogue and dispel stereotypes associated with Muslims.
Cologne Central Mosque, Germany's largest mosque in the western city, was visited by several hundred visitors who had a chance to ask questions about Islam and traditions of Muslims.
DITIB, the Turkish-Muslim umbrella group which runs the mosque, offered guided tours for the visitors.
In Berlin's prominent Sehitlik Mosque, imams responded to questions by parents, who visited the mosque together with their children, to learn about the Islamic faith and culture, Muslim values and traditions.
Open Mosque Day, which takes place annually on the Day of German Unity, was organized by Germany's Muslim Coordination Council (KRM), a platform bringing together the largest Muslim organizations in the country.
An estimated 100,000 visitors were expected to participate this year in the events in more than 1,000 mosques across the country.
Germany, a country of over 81 million people, has the second-largest Muslim population in Western Europe after France.
Among the country's nearly 4.7 million Muslims, 3 million are of Turkish origin.
In recent years, the country has seen growing Islamophobia and hatred of migrants triggered by propaganda from far-right and populist parties.
https://www.aa.com.tr/en/europe/germany-muslims-welcome-visitors-on-open-mosque-day-/1601445
--------
Taking on 'Islamophobia', Imran Khan ignoring China's Muslim oppression
October 4, 2019
Pakistani Prime Minister Imran Khan's foreign-policy agenda carries a contradiction at its heart. Mr. Khan seeks to project himself as a global defender of Islam, but he won't utter a peep about one of the most egregious persecutions of Muslims: China's repression of Xinjiang's Uighurs and its project to Sinicize Islam.
In New York last week, Mr. Khan laid out his vision in a rambling 50-minute address to the United Nations General Assembly. He defended the right of Muslim women in the West to don the hijab. "A woman can take off her clothes in [some] countries, but she can't put on more clothes," he said. He declared that "there is no such thing as radical Islam," only "one Islam and that is the Islam we follow of Prophet Muhammad."
The prime minister blamed the rise of "Islamophobia" on some "people in the West who deliberately provoked this," in part by writing novels such as Salman Rushdie's "The Satanic Verses." He warned that "marginalizing Muslim communities" in Europe "leads to radicalization." He asked the West to treat the prophet "with sensitivity" akin to how it approaches the Holocaust.
Not surprisingly, Mr. Khan devoted much of his address to attacking India for its decision in August to revoke autonomy for Jammu and Kashmir, the country's only Muslim-majority state. He accused Indian troops of locking in Kashmiris like "animals" and warned of an impending bloodbath that could spiral into a nuclear conflict between India and Pakistan.
The prime minister will back his fervor with action. After a meeting with Turkish President Recep Tayyip Erdogan and Malaysian Prime Minister Mahathir Mohamad, Mr. Khan tweeted that the three Muslim-majority countries would set up a "BBC type English-language" television channel to highlight "Muslim issues" and "fight Islamophobia." Through this channel, the "issue of blasphemy would be properly contextualized" and "Muslims would be given a dedicated media presence."
Not everything that Mr. Khan says is unreasonable. You can question his florid rhetoric on Kashmir while acknowledging that India's heavy-handed actions there have caused needless suffering. And if Pakistan and its friends wish to stand up the world's most boring TV channel, who are we to complain?
Nevertheless, Mr. Khan's lecture to the West on how to treat its Muslim minorities is, to put it mildly, deeply hypocritical. He appears to expect Western nations to accommodate orthodox Muslim concerns by curtailing free speech and women's rights. But China's wholesale assault on Islam itself elicits only silence.
In Xinjiang province, China has diluted the Muslim majority by shipping in millions of Han Chinese migrants. Authorities have banned names they deem overly religious, including Muhammad, as well as "abnormal" beards and veils in public for women. Uighur Muslims face punishment for fasting during Ramadan. According to detainee reports, the friendly methods employed at Chinese re-education camps for Uighurs include forcing religious believers to consume pork and alcohol.
Outside Xinjiang, the Chinese Communist Party has launched a totalitarian program to Sinicize Islam. In many places, authorities prohibit mosques and Islamic organizations from running kindergartens or after-school programs. Ningxia province in north-central China has banned public displays of the Arabic script, including the word "halal." Along with neighboring Gansu province, Ningxia also bans the Muslim call to prayer. In Inner Mongolia, Henan and Ningxia, authorities have flattened domes and razed minarets to give mosques a more Chinese appearance.
Carved out of British India as a homeland for Muslims, Pakistan has long placed pan-Islamic causes—including the Palestinians, Bosnia and Kashmir—at the heart of its foreign policy. But when asked earlier this year by a reporter about the Uighurs, Mr. Khan claimed that he "doesn't know much" about the issue. At the Council on Foreign Relations in New York last month he said his nation's "special relationship" with China stops him from speaking about the Uighurs in public.
What explains this silence? First the obvious answer: Pakistan depends on China for diplomatic, military and economic support. In addition, "there's a kind of protest reflex in some parts of the Muslim world that focuses on the West," says Afshin Molavi, an expert on Middle East-Asia ties at Johns Hopkins University. "This reflex doesn't exist with China."
Unfortunately for Pakistan—and luckily for the rest of us—pan-Islamism appears to be fading. Hardly any Muslim country wants to risk angering China's touchy rulers by criticizing their policies. On Kashmir, Saudi Arabia and the United Arab Emirates, whose support Pakistan could once count on, now place economic ties with New Delhi above solidarity with Islamabad. Mr. Molavi likens pan-Islamism to a song on a "diplomatic Spotify playlist" that no longer plays well in places like Riyadh or Abu Dhabi.
This doesn't mean that Mr. Khan should stop speaking up on behalf of his coreligionists. But if he wants to be taken seriously, he ought to focus more on China's war on Islam and less on imaginary problems facing Muslims in the West.
https://www.business-standard.com/article/international/taking-on-islamophobia-imran-khan-ignoring-china-s-muslim-oppression-119100400169_1.html
--------
SC to constitute special bench for protection of minority rights
October 04, 2019
ISLAMABAD: The Supreme Court on Thursday decided to constitute a special bench for the implementation of its 2014 judgement on the protection of minority rights and promotion of a culture of religious and social tolerance.
Subsequently, a three-judge Supreme Court bench, headed by Justice Umar Ata Bandial, referred the matter to Chief Justice Asif Saeed Khosa for his consideration to constitute the implementation bench.
Read: A welcome judgement
The SC bench had taken up a case relating to the rights of minorities and asked the federal and provincial governments to furnish before the court monthly reports highlighting steps taken to ensure the rights of the minorities.
Additional Advocate General for Punjab Chaudhry Faisal Hussain represented the province.
In what was billed as a verdict that may correct the course of increasing intolerance, hate and bigotry in society, the Supreme Court had in 2014 directed the law enforcing agencies to promptly register criminal cases for desecrating the places of worship of minorities or on violation of any of their rights guaranteed under the law.
Authored by former chief justice Tassaduq Hussain Jillani, the verdict had ordered its court office to open a separate file to be placed before a three-judge bench for ensuring that the judgement was given effect to in letter and spirit. The bench will be free to entertain complaints or petitions related to violation of the fundamental rights of minorities in the country.
The verdict had asked the federal government to ensure that hate speech on social media was discouraged and delinquents were brought to justice.
The verdict had come on a suo motu initiated on the Sept 22, 2013 unfortunate Peshawar church bomb attack in which 81 persons died.
The 32-page judgement had also highlighted the need for promoting a culture of religious and social tolerance by developing appropriate curricula at the school and college levels, besides constituting a task force for developing a strategy of religious tolerance and establishing a special police force with professional training to protect the places of worship of minorities.
It asked for the constitution of a national council for minority rights which should be tasked with monitoring practical realisation of the rights and safeguards provided to the minorities under the Constitution and the law.
The council should also be mandated to frame policy recommendations for safeguarding and protecting minorities' rights by the federal and provincial governments.
The judgement was clear in directing the federal and provincial governments to ensure the enforcement of the policy directives regarding reservation of quota for minorities in all services.
Referring to the desecration of places of worship of minorities, the judgement had regretted that such incidents could be warded off if the authorities concerned had taken preventive measures at the appropriate time.
The inaction on the part of the law enforcement agencies was on account of the lack of proper understanding of the relevant law, the judgement had said.
The verdict had also regretted the general lack of awareness about the rights of minorities among the people and those entrusted with enforcement of law were also not fully sensitised to this issue either. "It needs to be reiterated that under the Constitution minorities have a special status," the verdict emphasised.
On Thursday, PTI leader Dr Ramesh Kumar Vankwani informed the apex court that none amongst the minorities had been appointed chairman of the Evacuee Trust Property Board, contrary to earlier directives of the court, adding that still 15 to 23 members of the ETPB were Muslim.
The court, however, told Dr Vankwani that being in the government he should have fulfilled the demands through the government.
During the hearing, Justice Bandial observed that the Kartarpur Corridor was a huge development, adding that everybody had the right to worship as per their religion.
https://www.dawn.com/news/1508878/sc-to-constitute-special-bench-for-protection-of-minority-rights
--------
Ayodhya dispute: Hindu sides in SC rebut Muslim claims over the site
Oct 3, 2019
NEW DELHI: Hindu parties asserted in the Supreme Court on Thursday that claims of the Muslim side over the 2.77-acre-land in the Ram Janambhoomi-Babri Masjid title dispute are belied from the excavated materials that suggest existence of a "massive structure" beneath the demolished mosque.
The counsel for deity Ram Lalla said the excavated materials are a "proof beyond doubt" about the existence of the structure beneath the demolished mosque in Ayodhya while rebutting the claim of Muslim parties about the existence of an Islamic structure.
The counsel stated that from the pillar bases, artefacts, circular shrine, intersecting brickbat walls found in excavation, an inference can be drawn that the massive structure was a temple and not any Islamic structure.
A five-judge Constitution bench headed by Chief Justice Ranjan Gogoi was told by Senior Advocate C S Vaidyanathan, appearing for deity Ram Lalla, that the contention of the Muslim parties about a structure beneath the disputed site being an idgah wall or an Islamic structure was not correct.
"First their case was that there was no structure at all. Secondly, they said it was an Islamic structure or an idgah wall. We say that it was a temple which was demolished and the pillar bases found during excavation also suggest to this effect," Vaidyanathan said in his rejoinder arguments.
"That there was a massive structure beneath is a proof beyond doubt," he said.
Senior advocate Rajeev Dhavan, appearing for Muslim parties, said that as per the Archaeological Survey of India (ASI) report there is no conclusive proof or findings of destruction of a temple.
"There is no finding in the ASI report that there was a destruction of a structure. There is no proof of destruction at all in the ASI report," he said.
Vaidyanathan told the bench, also comprising Justices S A Bobde, D Y Chandrachud, Ashok Bhushan and S Abdul Nazeer, that it is the case of Hindu parties that inference can be drawn from the excavated materials which include circular shrines, pillar bases, artefacts, intersecting brick bat walls and others that it was a temple.
"The walls found in the excavation are not ordinary walls. There is an indication of massive structure which was a public place. It was not a private residence. In the conclusion ASI has drawn, they have suggested existence of a massive structure and taking all this into account, it seems to be a nature of a temple," he said, adding that it was a place of significance for Hindus, who worshipped there for centuries.
At the outset, Vaidyanathan said that intersecting walls have inscriptions of some Shlokas and Makar Paranala which is considered as vehicle of Goddess Ganga.
"These are some features in the walls of a traditional Hindu temple built between 10 and 11th century," he said, adding that even the pillar bases found during excavation show that the claims of Muslim parties that it was an Islamic structure was only a conjecture. He said the reasonable inference drawn is that it is the faith and belief that there was a Hindu temple.
Interrupting Vaidyanathan, the bench said that faith and belief about the Hindus cannot be disputed but now in evidence, what is there to establish the existence of temple.
The 36th day of hearing also saw the top court restraining the Hindu parties from placing or relying on any new materials saying it won't allow at this stage to place any new evidences.
"Just because a five-judge Constitution bench is sitting you cannot bring any new materials at this stage. The constitution bench is hearing this case because of the importance and sensitivity of the matter," the bench told senior advocate P N Mishra, appearing for one of the Hindu parties, who tried to place some scriptures on record to suggest that Hindus used to worship the place as Lord Rama Janmsthan.
The bench restrained Mishra from placing any materials and curtailed his arguments asking another senior advocate Shushil Kumar Jain to continue his arguments.
Dhavan periodically raised objections when advocates for the Hindu parties tried to bring out some new facts and materials to counter the arguments of the opposing sides.
https://timesofindia.indiatimes.com/india/ayodhya-dispute-hindu-sides-in-sc-rebut-muslim-claims-over-the-site/articleshow/71427735.cms
--------
Report ranks Malaysia 23rd in protecting children from sexual exploitation
03 Oct 2019
KUALA LUMPUR, Oct 3 — Among 60 countries, Malaysia ranks 23rd in the Out of the Shadows Index which examines how countries are responding to the threat of sexual violence against children.
The report conducted by the Economist Intelligence Unit (EIU) shows, within South-east Asia, Malaysia with a total score of 54.5 is ahead of Cambodia and Indonesia with a score of 53.7 and 47.6 respectively, but behind the Philippines (56.7).
The first-edition report evaluated four different categories including environment, whereby Malaysia scored 64 out of 100, legal framework (68), government commitment and capacity (39) and engagement of industry, civil society and media (55).
Mark Kavenagh, Head of Research and Policy for ECPAT International, said Malaysia was considered as having a relatively stable and safe environment for children but there were specific and contextual factors that exacerbate children's vulnerability to sexual exploitation.
"This includes social norms and values, and a tradition of shame and silence around the topic of sex which can inhibit quality and practical sexual education and allow sexual abuse to occur unreported," he said at the report's launching event co-organised by ECPAT and End CSEC Network Malaysia, today.
Despite being a moderate Muslim nation, Kavenagh said Malaysia had been taking some conservative approaches that impact the progress on preventing and responding to child sexual abuse and exploitation, some of which contributes to the continued practice of child marriage.
Therefore, he said the country needs to improve its awareness training, as well as upgrading sexual and reproductive health education and gender-based attitudes on sexual exploitation of children.
The report also highlighted that Malaysia has adequate laws against offences such as child rape, purchasing sexual services from children, procuring children for sexual activities, trafficking children and grooming children online, which granted the country with 68 scores.
However, there is a lack of confidence in the efforts of law enforcement and the judicial system to implement and provide protection where Malaysia only scored 39, the lowest indicator among four categories.
On the efforts of industry, civil society and media, the report praised Malaysia's private sector for focusing predominantly on issues related to online child exploitation. However, beyond online, they don't seem committed against child trafficking for sexual purposes.
Also present at the event today were End CSEC Network Malaysia Chairperson Datuk Raj Abdul Karim, Suhakam Child Rights Commissioner Prof Datuk Noor Aziah Mohd Awal, Ministry of Women, Family and Community Development Under Secretary Chua Choon Hwa, Bukit Aman Sexual Women and Children's Crime Department deputy director-general ACP Choo Lily and Novotel Kuala Lumpur City Centre General Manager Susan Anthony.
On another development, Raj said there was a growing concern on the aspect of sexual exploitation of children during the tourism season especially during the upcoming Visit Malaysia 2020 next year, adding that more awareness is needed to protect the children.
"This is sort of recent phenomena that we bring out to the public to make them understand that we need safe and clean tourism, especially next year when we are having 2020 Visit Malaysia. The tourist that come in should be genuine, whether they are coming for professional reasons, travels or leisure or study.
"We want to bring more awareness that we need to protect our children during travel and tourism. So, we have to inform the travel agencies, airlines and all those in the industry of travel and tourism as well as the hotels," she said.
Meanwhile, on the enforcement to combat sexual exploitation, Choo said it should not be relied solely on the police.
"While we are trying to enforce and investigate those offences, there are some constraints that we have to face. Most of these offences are online-related, and we don't have legislation to mandate agencies such as telcos and communication commission to cooperate with us.
"We still have to go through the act of writing officially to these agencies for particular address, IP address, owner's phone number. It is actually time consuming, sometimes we have to wait for a month or more," she added. — Bernama
https://www.malaymail.com/news/malaysia/2019/10/03/report-ranks-malaysia-23rd-in-protecting-children-from-sexual-exploitation/1796925
--------
Ilhan Omar says Trump 'terrified' of her 'intersectionality' as a woman, immigrant, Muslim
Oct 04, 2019
She's a woman, she's an immigrant and she's Muslim -- and that "intersectionality" of identities has President Trump "terrified," U.S. Rep. Ilhan Omar, D-Minn., claimed in a television appearance Wednesday night.
Omar, a member of the "Squad" of far-left congressional Democrats, made the remarks on the late-night comedy show, "Full Frontal with Samantha Bee."
The freshman lawmaker, who came to the U.S. with her family from Somalia when she was a teenager, said she never imagined when she was a child that she would someday be part of an effort to impeach a U.S. president.
"A lot of people think we take joy in impeaching this president because we don't like him," Omar said. "But we take joy in making sure that when we say we're going to protect the rule of law, that the American people know that we are serious about that."
"I, however, am just always so happy when I think that Don Jr. is upset," host Samantha Bee told the congresswoman.
"That does slightly make me happy," Omar jokingly agreed.
While Omar often criticizes the president, she is also a frequent target of Trump's as well..
"Why do you think that the president focuses so much on you?" Bee asked.
"I think he is terrified by any women who are practicing 'Shine Theory,' who have each other's back," Omar responded, referring to a concept of mutual empowerment developed by American businesswoman Aminatou Sow and journalist Ann Friedman. "But for me, I think he is terrified at the fact that I sit on the intersectionality of many identities that he really despises: a woman, an immigrant, Muslim, refugee, and Punjabi in one beautiful package."
When asked how she felt about "perpetually being taken out of context" by her political opponents, Omar simply told Bee she "doesn't really care that much" about that because her critics "are just vilifying and dismissing my voice anyway."
"The fact that I live rent-free in their head doesn't mean they get to live rent-free in mine," Omar said.
She later expressed how she thinks "rehabilitation" is possible for "white supremacists" like White House adviser Stephen Miller, adding that they could "use some light, some love, some joy" in their lives.
Previously, Omar vowed in July that she would continue being President Trump's "nightmare," after Trump said that Omar and her Squad colleagues should "go back and help fix the totally broken and crime-infested places from which they came."
https://www.foxnews.com/entertainment/ilhan-omar-trump-hates-me-because-hes-is-terrified-of-my-intersectionality-as-a-woman-immigrant-muslim
--------
ISIS fighters find refuge, rebuild networks in northern Iraq, Kurdish peshmerga warn
By Seth J. Frantzman
October 2, 2019
MOUNT QARACHOGH, Iraq — The black-clad figures are barely visible through binoculars from atop this mountaintop lookout in northern Iraq.
One crouches near stagnant water at the end of a dry riverbed. His companion stands over him and then walks out of view beneath an escarpment, moving without any apparent fear of exposure.
From their position on top of the mountain, the Kurdish peshmerga, the renowned armed forces of the autonomous Kurdistan Regional Government, say Islamic State fighters are living in caves in the no man's land between Kurdish and Iraqi security forces on the plains below.
This area of northern Iraq includes disputed territories of the central government in Baghdad and the regional authorities in Irbil. It is in ungoverned spaces like this where Kurdish officials say ISIS is rebuilding its networks and running guns between clusters of caves to desert holdouts.
The development is troubling after the grinding struggle and sacrifice involved in rolling back the Islamic State group and its self-proclaimed "caliphate" in Iraq and Syria over the past three years.
President Trump has said the caliphate, which once covered a broad swath of territory and such major cities as Mosul and Fallujah, has been "decimated," but security analysts say the Islamic State has been scattered but not defeated and still claims the allegiance of thousands of fighters.
U.S. forces are advising and assisting the Iraqi security forces and Kurdish peshmerga to help root out the ISIS remnants. On Sept. 10, U.S. Air Force F-15s and F-35s dropped 80,000 pounds of bombs on an island that the allied coalition said was "infested" with ISIS.
"We're setting the conditions for our partner forces to continue bringing stability to the region," Air Force Maj. Gen. Eric Hill, commander of special operations for the Iraqi allied campaign, told reporters at the time. The goal, the general said, was to "disrupt [the Islamic State's] ability to hide in the thick vegetation."
The Pentagon is clearly concerned about a resurgence of the Islamic State, given Iraq's deeply unsettled political scene. Internal feuding among the Kurds and tensions between Irbil and Baghdad are complicating the mission, according to an inspector general's second-quarter 2019 report on the state of the Iraqi mission against the Islamic State.
"Deep-seated internal Kurdish political divisions and the Kurds' continuing dispute with Iraq's central government over a swath of disputed territory in northern Iraq rich in resources have allowed ISIS insurgents to exploit gaps between [Iraqi security forces] and peshmerga forces, which allows [the Islamic State] to regroup and plan attacks in the region," according to the inspector general's review.
The ISIS-controlled island was only 18 miles away from the Kurdish positions, a sign that the fight against the terrorist group is very much alive two years after Mosul was recaptured from ISIS. According to the local Kurdish commanders, Islamic State fighters are infiltrating Sunni Arab villages in the region and exploiting anger among local residents at the presence of Iranian-backed Shiite paramilitaries called Popular Mobilization Forces.
These forces were raised in 2014 by a fatwa from Iraqi Shiite leader Ayatollah Ali al-Sistani, and they became officially part of the Iraqi security forces in March 2018. But efforts to integrate them into the national armed forces away from their sectarian origins have faced hurdles, and there are fears that their heavy-handed tactics and checkpoints will alienate Sunni areas and produce more ISIS recruits.
Essential struggle
For the Kurdistan region, the importance of keeping ISIS defeated is essential. The region lost thousands fighting the extremists from 2014 to 2017 and has since struggled to keep itself free from terrorism.
But that also requires closer coordination between the largely autonomous Kurdish region and the national government in Baghdad, as well as with U.S. and coalition forces stationed in the country. In conversations with two KRG government ministers, a senior adviser and peshmerga generals and commanders, the multifaceted challenges of confronting ISIS today quickly become evident.
The peshmerga require more financial support from Baghdad for salaries, their commanders and officials say. They also need to continue reforms of integrating units, standardizing uniforms and creating an effective supply chain for small arms and other munitions. The Iraqi Constitution is supposed to guarantee this support, but long-standing tensions between Baghdad and Irbil make every part of training and arming the peshmerga a complex process.
Falah Mustafa, senior foreign policy adviser to KRG President Nechirvan Barzani, said in an interview that although the ISIS caliphate has been eliminated, the lure of the Islamic State's ideology still exists.
"There are groups reorganizing, and we need to work together with Baghdad and the U.S. and the coalition so ISIS will not reemerge," he said.
Mr. Mustafa said the challenge is not just military, but political and cultural as well. It means engaging with local communities so they see a future for themselves and are not alienated. The Kurdistan region is an island of security and prosperity, he said, and international support is essential in this difficult environment with terrorist threats. Mr. Barzani has said the region is committed to "protect and promote peace in our region and elsewhere."
Getting to the front lines with the Islamic State these days requires a drive of about one hour outside of Irbil to the desert and mountainous region overlooking the plains that frame the Tigris River. It is among communities in Hawija and the Hamreen mountains where ISIS support first arose.
The Kurdish commanders of the area, called Sector 6, control more than 90 miles of the front lines. ISIS generally operates in small groups and rarely assembles more than 150 men in a cell. But their control allows them to demand taxes from farmers and threaten those who don't pay.
For now, the anti-Islamic State coalition works closely with the Iraqi army and the peshmerga, but the division on the ground means challenges remain in coordinating the two forces and the territory that separates them. While the Kurdish peshmerga stand guard on their mountains, the Iraqi forces in the plains and desert below are monitoring ISIS.
An Iraqi army operation dubbed Will of Victory has entered its fifth phase. Through binoculars aimed at the ISIS figures coming out for water from their hideouts in caves, it is clear that these operations have a long way to go before victory can be declared.
https://www.washingtontimes.com/news/2019/oct/2/isis-make-iraq-resurgence-kurdish-peshmerga-warn/
--------
Afghanistan security adviser says hard-line Taliban members defecting to ISIS, merging with Al Qaeda
Oct 04, 2019
More than 18 years after U.S. forces entered Afghanistan and usurped the Taliban government from power, the country remains a patchwork of progress, pain, and bloodletting.
While the territorial dominance and perpetual attacks orchestrated by the Taliban remains at the forefront of the fragile nation's woes, the presence of other insurgent groups and blatant threats to U.S. interests also lurk in the periphery.
"Many Taliban commanders, hardliners that did not want to join the peace process. We had intelligence that showed they are going to join ISIS. That threat may increase over a period of time," Afghan National Security Adviser, Hamdullah Mohib, told Fox News on Tuesday. "For the time being, ISIS is not a strategic threat to us. We have been able to get rid of them in places they have taken hold. But if the peace process goes wrong and doesn't really integrate all of the Taliban, the hardliners may join ISIS, which is when it will become a strategic threat to us and our international partners."
Last month, President Trump abruptly canceled the year-long Doha talks after the death of an American soldier in a Taliban-executed bombing, throwing the future of the talks into disarray. Mohib said such a move was the right one and that the only way forward for the insurgent outfit was to sit down with the Kabul government – which they have bluntly refused to do – underscoring that all the progress made by the U.S delegation was not lost.
"Now we are in a very good place to begin real peace negotiations. It was not all a waste. I think there are parts we can salvage," he said, adding that they are analyzing what prevailed and what can be redeemed for future use.
But also a cause for concern is the notion not only of Taliban members aligning with ISIS, but they are also merging with Al Qaeda more than eight years since the death of its leader in a Navy SEAL raid.
President Trump also last month confirmed that Hamza bin Laden, the son of Usama bin Laden and an emerging Al Qaeda leader, had been killed in a U.S. counterterrorism operation. While the time and place of his death have not been confirmed, Mohib indicated it was "probably Pakistan" and marks an important feat in the fight against terrorism.
"Leadership matters in all of this. Symbolic leadership matters," he stressed. "But there is a blurred line between Al Qaeda and the Taliban now. They have been inter-marrying, they work together, their ideologies have merged. There is very little difference between the Taliban and Al Qaeda today."
One of the primary negotiation points between the U.S and the Taliban in the now-shuttered U.S-led peace process was that the Taliban was not to provide safe harbor to such groups that pose international security threats and threats to the U.S. homeland.
Yet in the face of a volatile security situation, incessant Taliban threats and widespread concerns of corruption and voter fraud, Afghanistan held its presidential elections on Saturday. Both front-runners – incumbent President Ashraf Ghani and his opponent, Chief Executive Abdullah Abdullah – were quick to claim victory. But the tabulated outcome will not be known for weeks.
"There cannot be fraud. There are multiple layers of verification. Everyone brings ID cars, and they are added to a list specific to a polling center. When you arrive, they check your sticker that it correlates with the name. Then there are fingerprints, and they take your picture and a picture of your ID card so you can't be a ghost voter," Mohib explained. "(All ballots) must arrive in Kabul before the electoral commission can even start counting."
A preliminary result is expected around October 19, with a final tally announced on November 7. The clear winner – of 13 candidates – must take more than 50 percent of the vote. Otherwise, the election will move to a runoff.
It marked the fourth time the country has gone to the polls to elect a president since the post-9/11 occupation, and according to Mohib, the most significant.
"In the past, the international community were the ones behind the elections. They paid for it, they held it, they encouraged Afghans to come out and vote and held the security. Now, it is the Afghan people who wanted the elections," he said. "It is the Afghan people who paid for the elections, secured the elections. The big shift is that Afghans believe in democracy, and it is no longer a process driven by our partners. It is an Afghan process for Afghans, by Afghans."
But the biggest victory of all was the apparent thwarting of hundreds of large-scale attacks.
"The Taliban said they would blow up polling stations and there will be civilian casualties. Fourteen suicide attacks were prevented on the night before the elections alone," Mohib noted. "On the day, (they) tried to launch 273 attacks, some did result in casualties in the case of security forces, but no civilians were harmed. I'm very proud of our security forces of being able to manage such a high-level of threats."
"We wanted to make sure the elections happened, and security was good, we focused on that and delivered on that," Mohib asserted.
Precise turnout numbers are unclear following reports that the Taliban sabotaged telecommunication towers in remote hamlets on Saturday in an attempt to hinder the process. However, early estimates pin turnout to just 2.5 million out of an eligible 9 million – a historic low in a country of some 35 million.
And what comes next in Afghanistan – a country that for decades has endured endless invasions, conflicts, rises and falls – is a game of guesses, hopes, and prayers.
"We have re-created our country out of the rubble in the last 20 years. There was literally nothing there. The man-made infrastructure was destroyed. We had no telephones left; there was no electricity, no hospitals, no schools. It became a ghost town," he added. "Now Kabul looks like any other capital. People are connected, culturally sophisticated, tech-savvy. That is the biggest progress in the world, and we have the U.S. to thank for that."
https://www.foxnews.com/world/afghanistan-national-security-adviser-taliban-isis-al-qaeda
--------
Mideast
Islamic State's money transfer network busted in Turkey
Fehim Tastekin
October 2, 2019
Turkey's Middle Eastern borders have always been porous and prone to smuggling and clandestine crossings. After the Syrian turmoil broke out in 2011, long-standing smuggling routes became supply channels for armed rebels, including the Islamic State (IS). Having lost control on the ground, IS may be unable to use the smuggling routes as before, but its cross-border dealings are far from over.
IS members, it turns out, have resorted to traditional methods of money transfer via exchange offices and jewelry companies they have set up in Syria and Turkey, called al-Haram, al-Hebo, al-Khalidi and Saksouk. On Sept. 19, the Turkish police detained 22 suspects accused of running transnational money-transfer networks for IS in simultaneous raids on 37 locations in eight provinces across the country.
The police operation, which focused on al-Haram in particular, followed the US Treasury's Sept. 10 announcement of counterterrorism sanctions on al-Haram, al-Khalidi, al-Hebo, Saksouk and individuals associated with those entities.
Al-Haram was set up as a company dealing in foreign exchange, trade and transport. It has opened branches in big Turkish cities such as Istanbul, Mersin, Gaziantep, Bursa, Sanliurfa, Antalya, Ankara, Izmir, Konya and Kayseri, as well as five districts in Hatay province, which borders Syria. The company has affiliates in Jordan, Lebanon, the Palestinian territories and Sudan.
Al-Hebo company, based in the Turkish cities of Gaziantep and Sanliurfa, has been active in the town of Tell Abyad, just across the border, and Raqqa, the former IS stronghold in Syria, as well as in Lebanon.
Al-Khalidi has offices in Mersin, Sanliurfa, Gaziantep, Bursa, Adana and Istanbul, including at the historical Grand Bazaar. The company has affiliates in Raqqa, Deir ez-Zor and Mayadin in Syria as well as in Erbil, the capital of Iraqi Kurdistan.
According to leaks from the police investigation published in Turkish media outlets, IS financiers have made swift money transfers to IS members, mostly in Syria, via front companies and exchange offices, using a computer program called "al-Haram" and passwords it creates on a daily basis. The transfers are conducted without the money actually moving, but the companies on the two sides settle accounts at regular intervals after multiple transfers. This is done through couriers who transport money illegally. Al-Haram is said to be used in 44 countries.
The method appears to have been developed in response to tightened security measures at borders and enhanced scrutiny over bank transactions.
Al-Monitor spoke with a former jeweler who has worked as a "field adviser" to humanitarian relief organizations at the Syrian border. He knows well how the money networks work, and said the transfer method used by IS and other armed groups is based on the traditional "hawala" method, long used by traders and smugglers. "The method has been widely utilized to escape the restrictions of the banking system, scrutiny and higher fees. It is based on trust," the source told Al-Monitor.
"Let's say you have merchandise brought in from Syria," he said. "You need to send the payment. An exchange office or company at the Grand Bazaar in Istanbul would have an affiliate or a business partner in Syria. You give the money to the company in Istanbul and the company informs its counterpart in Syria, and the recipient then collects his money there. Small commissions of 2-3% are being cut."
Debt between hawala dealers can be settled in various ways, the source said, explaining that the party who is owed money might ask for a cash transfer or, if convenient, request that the money be given to a third party to which it owes money. "This is a well-established system," he said. "It is like clockwork."
After the Syrian crisis erupted, armed groups "used to move bagfuls of money across the border before they discovered the hawala system," the source said. "In fact, international relief organizations used the same method. I witnessed such transfers several times at the Cilvegozu border crossing."
According to the source, "The eyes watching the border have multiplied in recent years. The intelligence services are well aware of what is going on and are watching closely." Stricter bank regulations and increased scrutiny by Turkey's Financial Crimes Investigation Board (MASAK) have also contributed to the resurgence of the hawala method, he noted.
As a result, commission rates have shot up to 20%, according to the source. He explained, "Traders used to pay [commissions of] 2% in the past. They would either pay for merchandise they bought or collect the payment of merchandise they sold. They were evading taxes and control, in addition to saving time. No doubt, there was also money laundering involved. The money of groups such as IS, however, is easy money. Hence, 20% cuts are not a problem for them."
Asked why IS would set up its own companies, the source said, "Working with such groups is a huge risk for traditional hawala dealers. They know they cannot evade the intelligence services. Still, there are many money grubbers out there trained [in the hawala system] and they easily hook up with the [armed] groups. But dealing with groups such as IS remains very dangerous for them as well, so IS might have opted to set up its own networks to avoid being uncovered."
Under Turkish law, entities other than banks are banned from wiring money.
Turkey adopted a law in 2013 in line with the provisions of the UN Convention on the Suppression of Financing of Terrorism, which led to tighter controls by MASAK. Public banks, which have been active in the trade with Syria, began to notify MASAK of all their transactions as well. Scrutiny over bank transactions in border regions has increased since 2014 amid international pressure on Turkey.
The measures, however, appear to have failed to completely stop IS associates from using the Turkish banking system. For instance, in February 2016, Washington reportedly issued warnings to three Turkish banks for allowing people linked to individuals on the UN sanctions list to open accounts and transfer money.
That the Turkish police operation against al-Haram came only after Washington's designations casts further doubt on whether control mechanisms are functioning properly.
Meanwhile, Turkey's state-run postal service, PTT, has opened branches that offer money transfer services in areas that came under Turkish control in the Euphrates Shield and Olive Branch operations in northern Syria. Officials say the PTT offices are used to pay the salaries of Turks serving in those areas and local police sponsored by Ankara as well as for money transfers by ordinary Syrians.
https://www.al-monitor.com/pulse/originals/2019/10/turkey-syria-isis-money-transfer-network-busted.html
--------
Al Houthis changing demography of Yemeni capital
October 03, 2019
Ramadan Al Sherbini
Cairo: Yemen's Iran-aligned Al Houthi extremists are seeking to carry out a demographic change in the capital Sana'a that has been under their control for about five years, a Yemeni newspaper has disclosed.
The militants' plan is based on bringing loyalists from the provinces of Hajjah in north-western Yemen, Saada in the far north, and Amran in the centre and re-settling them in Sana'a, independent online newspaper Aden Al Ghad said, citing local sources.
Al Houthi leaders have recently gone on a spree, buying plots of land and renting apartments in Sana'a at high prices, triggering a housing shortage in the city, according to the sources.
"Owners of land and apartments in Sana'a have taken advantage of the finances available to Al Houthis, who have plundered state revenues and imposed levies since their coup five years ago," one source said.
In late 2014, Al Houthis unseated Yemen's internationally recognised government and seized Sana'a, a city of around 1.9 million people.
In 2015, an Arab alliance led by the UAE and Saudi Arabia, intervened in Yemen in response to a request from the internationally-recognised government there after Al Houthis advanced on the southern city of Aden, the country's provisional capital.
Full report at:
https://gulfnews.com/world/gulf/yemen/al-houthis-changing-demography-of-yemeni-capital-1.66873381
--------
Yemen: Houthis Continue to Blackmail Sanaa's Merchants
3 October, 2019
The Houthi militias are once again targeting merchants and small shopkeepers in Sanaa by blackmailing and threatening them as well as illegally imposing huge sums of money on them under different pretexts.
Traders and shopkeepers in the capital told Asharq Al-Awsat that the coup militias raided earlier this week a number of barbershops, bakeries, and laundries and forced them to pay 20 percent of their income, claiming it was for "Khoms".
Traders confirmed that the armed militias stopped at their shops and threatened them in a humiliating manner in case they do not pay the required amount. They said Houthis even raided women's workplaces like hairdressers.
The merchants and shopkeepers reiterated their rejection of these continuing levies, demanding to end the militias' injustice.
They said, in separate interviews with Asharq Al-Awsat, that the illegal money deduction imposed by the militias are described as Khoms, war effort, taxes, or Zakat.
Also, the coup militias issued a new circular preventing merchants in Sanaa from using new editions of monetary categories issued by the Central Bank in Aden. Another circular required merchants to pay royalties and financial levies under the pretext of "food convoys to support the militia on fronts."
They threatened with shutting down the shop of any owner who fails to pay these amounts and violates the Houthi orders.
Many merchants and shopkeepers in Sanaa and other cities under insurgents' control have suffered from injustice, arbitrariness, and oppression.
Over the past four years, the group imposed several levies and royalties on a number of traders and street vendors in areas under its control through armed raids.
Speaking to Asharq Al-Awsat, local observers pointed out that the recent Houthi circular reveals the militias' intention to loot, once again, millions of riyals from banks and commercial companies in their areas of control under the pretext of dealing with the new monetary categories.
In turn, local economists emphasized the negative repercussions of the militia's actions, which worsens the citizens' suffering due to a lack of liquidity.
Economists, who spoke to Asharq Al-Awsat, condemned the continuous Houthi violations and crimes against merchants and the remaining private sector in Sanaa and other Yemeni cities under the group's control.
Full report at:
https://aawsat.com/english/home/article/1929371/yemen-houthis-continue-blackmail-sanaas-merchants
--------
Hezbollah deputy: Aggression won't be limited to Iran due to spread of US bases
3 October 2019
Lebanese Hezbollah's deputy secretary general said on Thursday that aggression on Iran will not be limited to the Islamic Republic, but will affect the whole region given "the proliferation of American bases and the existence of Israel."
In an interview with Qatar's Al Jazeera television, Naim Qassem said Saudi Arabia "is serving the US in its project against Iran," calling the Kingdom "an American tool" against Tehran.
"It is not true that Saudi Arabia is against Iran and gets help from the US. We have heard Trump's statements. He always asks for money and criticizes and objects to the performance of Saudi Arabia when it fails in the project [against Iran] and asks the US to give more than it had allocated. Hence, Saudi Arabia today is an American tool against Iran, not the other way around," said Qassem.
Qassem added that the US "usually leads its aggression under the name of a 'coalition,' which means all these forces gather to assault."
Full report at:
https://english.alarabiya.net/en/News/middle-east/2019/10/03/Hezbollah-deputy-says-aggression-won-t-be-limited-on-Iran-due-to-US-bases-proliferation.html
--------
Iran's IRGC intelligence says it foiled plot to kill Quds Forces chief Soleimani
3 October 2019
Iran's Islamic Revolutionary Guard Corps' (IRGC) intelligence service has foiled an assassination attempt on Qassem Soleimani, one of its senior commanders, the semi-official Fars news agency reported on Thursday.
Soleimani is the commander of the IRGC's Quds Force (IRGC - QF), responsible for promoting Iranian influence and carrying out attacks abroad. Soleimani has the rank of Major General in the IRGC.
The apparent plot against him was revealed by the head of the IRGC Intelligence Organization, Hossein Taeb, who claimed the plot was designed by "Israeli-Arab" intelligence services. The IRGC Intelligence Organisation is independent from and operates parallel to Iran's Ministry of Intelligence.
The plan was to assassinate Soleimani in a Shiite congregation hall during the Islamic month of Muharram in Iran's south-eastern Kerman province, in an attempt to start a sectarian war in the country, claimed Taeb.
All members of the assassination team have been arrested, he added.
The plan to assassinate Soleimani had been in the making for "several years," according to Taeb.
Taeb gave no further information at the time of writing.
The IRGC-QF was recently accused of plotting to attack Israel from Syria, where the IRGC-QF has been fighting alongside the regime of Bashar al-Assad and the Iran-backed terrorist organization Hezbollah.
Full report at:
https://english.alarabiya.net/en/News/middle-east/2019/10/03/Iran-s-IRGC-intelligence-says-it-foiled-plot-to-kill-Quds-Forces-chief-Soleimani.html
--------
Iran's Army unveils new tactical armored vehicles, smart robots
Oct 3, 2019
Iranian Army's Ground Forces has unveiled their newly-build military hardware, including bullet-proof tactical vehicles and smart robots.
The domestically-manufactured pieces of equipment were officially delivered to the relevant military forces during a ceremony on Thursday in the presence of Brigadier General Mohammad Hossein Dadras, the Army's second-in-command and Commander of the Iranian Army's Ground Forces Brigadier General Kioumars Heidari.
During the ceremony, Rouintan, a state-of-the-art bullet-proof personnel carrier was put on display. The lightweight vehicle enjoys high mobility in different battlegrounds.
A network-oriented smart robot dubbed Heidar 1 was also unveiled during the ceremony. The robot is capable of rotating 360 degrees, carrying loads, and detecting objects and obstacles.
The Army also displayed a hand-launched reconnaissance drone, named Farpad, which is equipped with autopilot and can take pictures round the clock.
Speaking at the ceremony, Dadras voiced Iran's preparedness in countering any threat against the Islamic Republic.
"What we are witnessing today is that the ground forces, with their capabilities, can respond to the enemies' threats" he said.
He censured the US's military presence in the West Asia region, saying that Muslims themselves can ensure the region's security through strengthening their unity.
Iran has recently made major breakthroughs in its defense sector and attained self-sufficiency in producing military equipment and hardware despite facing sanctions and Western economic pressure.
Full report at:
https://www.presstv.com/Detail/2019/10/03/607745/Iran-military-achievements-tactical-armored-vehicle-smart-robot
--------
Yemen minister slams Iran after Tehran admits support for Houthis
October 03, 2019
Yemen's Information Minister Muammar Al-Iryani slammed Iran on Wednesday for its support of the Houthis after Tehran admitted its backing of the militia.
The Yemeni official called on the international community to pressure the Iranian regime to stop all forms of support it provides to the Houthi militia and use it as a tool to target Saudi Arabia threaten international shipping lines.
"The Iranian regime controls the political and military decision and manages the [Houthi] militia to carry out its agenda and provides it with ballistic missiles, drones, weapons, experts in military industries, mines and improvised explosive devices," Al-Iryani said.
The minister's comments come shortly after Iran's Chief of Staff of the Iranian Armed Forces Major General Mohammad Hossein Bagheri admitted early this week that the Revolutionary Guards (IRGC) offer support to the Houthi militias in Yemen.
Full report at:
https://www.arabnews.com/node/1563501/middle-east
--------
Europe
In Spain, summer surveillance triggers alerts for returning jihadists
3 OCT 2019
Between mid-July and mid-September, Spanish police monitoring travel across the Strait of Gibraltar detected 46 individuals suspected of being returning jihadists, according to a European Commission report. Part of a border control effort dubbed Operation Minerva, the 46 anti-jihadist alerts did not result in any arrests as there were no existing warrants against the suspects.
As part of Operation Minerva, officers from the National Police and Civil Guard were deployed at Spain's busy seaports of Algeciras, Tarifa and Ceuta, a Spanish exclave city located on the northern coast of Africa. Law enforcement experts from 16 other EU states and observers from the United States were also present.
The European Commission report shows that for the nearly two months that Operation Minerva was in place, and during which time 1.7 million people returned to Europe in 372,000 vehicles, authorities found 220 undocumented migrants, recovered 21 stolen vehicles, confiscated 1,629 kilograms of drugs as well as weapons, and made over 480 arrests.
The report underscores that the operation also served to open new lines of investigation into terrorist activities, after officers detected 46 individuals suspected of being returning jihadists, known by the police as foreign terrorist fighters.
Although no arrests were made, surveillance measures were introduced in some cases. "Often, databases alert us to the fact that another country is requesting information about the arrival of a suspect, or even ask us to have him discreetly followed. Sometimes we are simply asked for all possible information on the individual, to either follow up or rule out any further action," explains a high-ranking counter-terrorism official. This source said that the 46 alerts were made because of information fed into shared databases by neighboring countries, not by Spain.
According to the counter-terrorism official, Operation Minerva triggered 53 alerts in 2018. "Among other goals, these operations aim to detect the movements of terrorists returning from combat zones following the defeat of the Islamic State," he notes.
Operation Neptune 2
Another European surveillance operation, Neptune 2, identified 12 other suspects, nine of whom were headed for Spain. This operation, which was coordinated by Interpol and supported by Spain, France, Italy, Morocco, Algeria and Tunisia, focused "on the threats posed by suspected foreign terrorist fighters potentially using maritime routes between North Africa and Southern Europe during the busy summer tourist season," according to a release by Frontex, the European border and coast guard agency.
During Operation Neptune 2, officers inspected passengers on ships, ferries and cruise liners departing or arriving at seven ports of the Western Mediterranean, including Alicante and Motril (Granada) in Spain.
"Officials carried out more than 1.2 million searches across Interpol's databases for stolen and lost travel documents, nominal data and stolen vehicles. These resulted in 31 active investigative leads, with more than 12 of these linked to the movement of terror suspects," said Frontex in a press release.
According to Spanish police sources, nine of these 12 individuals were headed for ports in Spain, but "they were not arrested because the countries that had sent in information about them had not issued arrest warrants."
https://elpais.com/elpais/2019/10/03/inenglish/1570087795_046765.html
--------
New Video May Signal Dangerous Change For Neo-Nazi Terror Cell
By Mack Lamoureux and Ben Makuch
Oct 2 2019
A neo-Nazi terror group under investigation by the FBI has released a propaganda video that one expert is calling "incredibly significant" and "essentially a declaration of war." This comes after the group has already been linked to five murders, and was named in an FBI investigation involving an alleged bomber in Las Vegas who stockpiled explosives and firearms for a planned attack on the city's Jewish and LGBTQ communities.
The video shows James Mason, the author of influential works that advocate for lone-wolf violence by white supremacists, joined by 12 masked men who are all members of Atomwaffen Division (AWD). In the video, Mason and a member of Atomwaffen declare the organization needs to act before law enforcement shuts them down. The International Centre for Counter-Terrorism described AWD in a recent paper on the group as a "small neo-Nazi terrorist organisation" that should be "treated as such."
"The group propagates some of the most vicious and hateful rhetoric ever seen among domestic extremist groups, and should they follow up on their threats, would wreak havoc on civilian life around the country," reads the paper.
The recent video, which is under two minutes in length and was posted on a new dark web site created for the group, shows Mason wearing an Atomwaffen armband. Mason and an Atomwaffen member speak about fighting back against "their enemies" before they're "put away," and the need to finance an unnamed endeavor. The video ends with the 12 members posing with Mason. At the end of the video, a binary code is briefly shown. The code translates to "select presentations to be presented to the public."
This video is notably less violent than previous Atomwaffen videos. Instead it showcases what Joshua Fisher-Birch, a research analyst at the Counter Extremism Project, described as a change in the group's approach to propaganda. Up until this point, the group has "mainly focused on recruitment through spreading their message and ideology and projecting the image of a radical underground organization," Fisher-Birch said. For example, the video the group uploaded in May featured them firing various weapons and burning flags. The new video is less a show of force and more focused on ideology—and, most importantly, is an urgent plea for action before the group faces further scrutiny.
The video comes at a time when law enforcement is finally beginning to take the current threat of far-right terror seriously. Fisher-Birch said the new video shows the group's "intention to enter a new violent phase" by acting before law enforcement acts. On top of that, one member in the video states the violence and tension "plaguing the system" are escalating. The group feeling like they're being cornered paired with the current political strife could be dangerous, said Fisher-Birch.
"Escalating conditions of violence and disorder are the exact type of situation that a group that follows Mason's book Siege hope for, because it can lead to the collapse of government institutions and control," said Fisher-Birch. "Based on the video, the group is indicating that they are choosing this moment to activate. The fact that they mention the need to finance their operations, and their new onion site indicate that the group is preparing for a long struggle."
Subcomandante X, an independent researcher of the far-right, is typically one of the first to report on the activities of extreme-right groups like Atomwaffen. Subcomandante X, who takes their name from a Zapatista spokesperson, told VICE this video is part of the groups going effort to reestablish itself after a dormant period. While the video is "calmer" than previous ones, they said it still exudes a sense of "anxiety and urgency."
"The very first thing the masked member talks about in the video is the group's 'chances to be left alone,' which 'skyrocket' by wielding the truth, as James Mason put it, as both a 'weapon' and a 'shield,'" said Subcomandante X. "The masked member also acknowledges that their enemies' mission to 'put us away' 'appears to be a 'more and more likely scenario.' It seems the group feels a great need to shake off the pressure they're feeling now from the state, antifascists, and the media."
"I don't want to imagine how they plan on doing that."
Both Subcomandante X and Fisher-Birch stated that the inclusion of Mason in the video, and the fact he wears an Atomwaffen armband, were a significant development. Mason is a 67-year-old neo-Nazi who has been in the movement since George Lincoln Rockwell, the founder of the American Nazi party. Mason's writings have been incredibly influential among this particular sect of neo-Nazis and advocate attacks to destabilize society. Mason recently released a statement in mid-September that seemed to attempt to distance himself from mass shootings and violent actions.
"Mason's work is revered by several neo-Nazi groups that aspire to commit acts of terrorism, but here he appears with the Atomwaffen Division itself and specifically endorses them and their recruitment drive," said Fisher-Birch.
Many online have indicated that they believe the upload to be in connection with a Trump tweet mentioning the Civil War, but Fisher-Birch believes there is another explanation. The upload comes on the birthday of Savitri Devi, an important figure for the ideology of Atomwaffen and Mason. Devi's teachings contain a bizarre mix of Nazism, environmentalism, and occultism, and she remains an immensely important figure of the extreme-right today.
Atomwaffen came to be in 2015 on the now-defunct far-right forum Iron March. They quickly gained infamy and currently have five deaths, which took place within eight months of each other, tied to their members. These include the murder of fellow members; the stabbing death of a gay, Jewish teen; and the murder of the parents of one member's girlfriend. Other members, or associated people, have faced charges in connection with foiled mass killings. The group was influential in its sphere inspiring several splinter groups.
Full report at:
https://www.vice.com/en_ca/article/ywa5qy/new-video-may-signal-dangerous-change-for-neo-nazi-terror-cell-atomwaffen
--------
Muslim students build a space for Elon community
By Marjorie Anne Foster
10/3/19
Despite reaching out to more than 30 students on Facebook, Noor Irshaidat lived alone her first two years at Elon University. Her profile clearly shows that she is Muslim and from Jordan, and to her, that felt like the reason she couldn't make connections.
Irshaidat is now the senior class president and serves on the President Student Leader Advisory Council. Additionally, Irshaidat is both a Leadership and Innovation Fellow, vice president of a business honor society, a group exercise instructor and the founder and president of the Elon Muslim Society. Her issues no longer entail finding connections with people but rather finding time to balance all of her relationships.
Irshaidat came to Elon in the midst of the 2016 U.S. presidential election.
According to the Federal Bureau of Investigation, that year saw an all-time high in hate crimes committed against Muslims in the U.S. Irshaidat not only saw that trend happening around her during her first weeks in the U.S., but also said that the environment made her uncomfortable talking about her national and religious identity.
"People thought people from my region were terrorists," Irshaidat said. "I was being asked by students all the time if I would be deported because of the travel ban. It was a scary time."
At that time, Irshaidat said she didn't know any other Muslims or Arabs at Elon. She spent her early days at Elon worrying that she, and students like her, might not be able to stay in the U.S., even if they had done nothing wrong.
"That's what a lot of students here were facing," she said. "And we didn't have others to talk about it with."
Sophomore Heeba Chergui, vice president of EMS, says she shared Irshaidat's sentiments of feeling out of place when coming onto Elon's campus.
On her first day of college, Chergui found herself sitting in a crowd of people who looked nothing like her. After attending Phoenix Fusion, a two-day event focused on diversity at Elon, Chergui realized, as she sat in her class of 30, that Elon's diversity initiative was not as widespread as she had imagined.
"I knew that Elon was a predominantly white institution," Chergui said. "But I never knew how alienating it would be to be the only person of color and Muslim in my classes."
For junior Alaa Suleiman, treasurer of EMS, the fact that there was no Muslim student group "blew her mind."
"I understand that we are the minority here," Suleiman said. "So, when I eventually met people my second semester that were like me, it was awesome."
Suleiman's first year at Elon felt more like home after connecting with Irshaidat and bonding over their Jordanian roots. For Suleiman, religion is an important element of her everyday life. It is not only prominent in her personal journey but also in her relationships with others.
"It's important for me to help eliminate some of the misconceptions people have about Islam," Suleiman said. This motivation has led her to invest in EMS and other initiatives to connect Muslim students and non-Muslims.
Similarly, Irshaidat carried the weight of wanting to educate others on cultures and religions different from their own. That weight motivated her to host a dinner for her friends where she cooked traditional food from her country.
"The first year I did a Jordanian dinner, I invited everyone I knew, which was only my hall," Irshaidat said. "With the more people I meet, the bigger it got."
Last spring, Irshaidat hosted more than 80 people for this meal. For her, this means people now think about Jordan and her religion with positive emotions, thinking about good food, hospitality and generosity. These are all characteristics she sees within her country, and she loves to see others having positive experiences, despite stereotypes they may have had prior.
Over the last year and a half, these three women have come together to create a student-run space for those who identify as Muslim. According to Irshaidat, the aim of this club is to increase Islam's presence on campus, raise awareness of traditions and answer any questions about the religion.
"Ultimately, I hope this club can highlight that we are all the same at the end of the day," Irshaidat said.
Since the club officially started last spring, Irshaidat said there has been great support from those who are Muslim and those who do not identify with the religion. However, this trend may not be reflective of attitudes toward Muslims in the U.S. in general.
According to a 2017 Pew Research survey, Muslims are rated at the bottom of favored religious groups in the U.S. Because Muslims in America are frequently the targets of media biases, students often come into college not wanting to associate with their religion because of fear and uncertainty.
The fall 2019 Registrar's Report states there are 13 Muslim students on campus. Shane Atkinson, the associate chaplain for Muslim life at Elon, thinks there could be many more.
Atkinson said he understands that fears and concerns play a part in the decisions students make to classify themselves as Muslim. As a result, Atkinson said he believes that students should never feel as if they have to be a part of a religious group on campus.
"I am aware that for some students, coming to college, from whatever their tradition may be, is an opportunity for them to step back and look at it more critically and to explore other traditions," Atkinson said. "I let the students know that I am here to support them, but I don't want anyone to think they are guilted into joining the Muslim student society."
Atkinson sees the need for a strong community where students can feel supported in their faith and able to have more opportunities to come together. But he recognizes that a lot of students are people of color and practice a religion that "gets a lot of bad press." Atkinson said he wants to respect student choices not to make their religion known on campus.
Irshaidat said she agrees that fear can deter students from identifying as Muslim, but hopes to offer opportunities and events to Muslim and non-Muslim students throughout the year.
The group plans to host three events throughout the semester. The first event is a biweekly Jumu'ah prayer in the Truitt Center followed by a grab-and-go food counter. Students are invited to participate or observe. The second event is a monthly speaker series where different topics within Islam will be discussed. Lastly, the group will hold "coffee hours" where students are invited to ask questions about Islam in exchange for free coffee.
Full report at:
https://www.elonnewsnetwork.com/article/2019/10/muslim-students-build-a-space-for-elon-community
--------
Muslim inmate 'Boom Bat' Negrete files religious discrimination lawsuit against Trenton state prison officials
Oct 04, 2019
Convicted murderer Jose "Boom Bat" Negrete, an inmate at New Jersey State Prison, alleges the Department of Corrections violated his constitutional right to practice his religion.
The once-proud Latin Kings gang boss killed Jeri Lynn Dotson in 2004, but now the 38-year-old Trenton state prisoner sports a long beard and says the state has subjected him to religious discrimination.
Negrete, a self-described Salafi Muslim, filed a lawsuit against several prison officials this summer alleging they had denied him access to a Quran, eliminated his Salafi education sessions, subjected him to a strip search and confiscated his religious materials.
He accuses the defendants of violating his civil rights, saying he was "participating in Salafiyyah classes teaching this creed and methodology" until the defendants "eliminated the classes, thereby denying Plaintiff the right to practice his religion in violation of the United States Constitution."
Negrete identifies himself as a "sincere, practicing, Salafi Muslim." Known as As-Salafiyyah or Salafism, this branch of Islam is a Sunni denomination most prominent in Saudi Arabia.
The Salafi path, according to Negrete, is the "Orthodox Creed and methodology version of Islam."
Certain terrorist groups, most notably ISIS, embrace the Salafi ideology. A U.S. Department of Homeland Security advisory task force in a 2007 report said: "The most significant terrorist threat to the homeland and to U.S. interests abroad today is a growing radical, extremist movement underpinned by a jihadist/Salafist ideology."
Negrete, 38, of Trenton, ordered a hitman to kill 23-year-old Jeri Lynn Dotson, a mother of two who died from a gunshot wound to the skull on Aug. 31, 2004. Negrete also ordered his underlings to murder Alex Ruiz, who survived a brutal attack.
Criminal background
The murder case against Negrete has been long and convoluted since his arrest on Feb. 28, 2005. His first trial ended with a hung jury in 2008; his second trial was scuttled before jury selection; his third trial ended in May 2009 with him getting convicted on counts of murder, attempted murder and conspiracy to commit murder but acquitted of second-degree possession of a weapon for an unlawful purpose and third-degree unlawful possession of a handgun.
The 2009 trial, however, was tainted by juror misconduct, so the Appellate Division of the New Jersey Superior Court in 2013 reversed the convictions and remanded the case back to Superior Court for new proceedings.
In another crack at State v. Negrete, a trial jury handed down a sweeping verdict on April 9, 2015, finding Negrete guilty of first-degree conspiracy to commit murder, first-degree criminal attempted murder and first-degree murder committed knowingly. A Superior Court judge sentenced the Latin Kings gang boss in June 2015 to life incarceration on the murder count and an additional 20 years of consecutive incarceration for the attempted murder conviction and ordered him to pay $5,170 in restitution.
Negrete appealed his 2015 convictions and sentence, arguing his heavy punishment was "unjustified" and that his trial was prejudicial against him because the jury had heard testimony alleging Negrete gave a revolver to a member of the Latin Kings despite the fact that Negrete was previously found not guilty of possession of a weapon for an unlawful purpose and unlawful possession of a handgun.
The Appellate Division considered Negrete's arguments but rejected them in a decision handed down April 22. The three-judge panel upheld Negrete's 2015 convictions and did not disturb his stiff prison sentence, life imprisonment plus 20 additional years of incarceration.
Civil complaint
Several months after losing his appeal, Negrete filed a civil action complaint against the state of New Jersey and the Department of Corrections. Other defendants named in his lawsuit include Bruce Davis, Craig Sears, Victor M. Lee and Jamal Elchebli.
Davis is the administrator of New Jersey State Prison in Trenton; Sears is the correctional police major of New Jersey State Prison; Lee is the chaplaincy services coordinator of the state Division of Program and Community Services under the Department of Corrections; and Elchebli served as supervisor of chaplaincy services at New Jersey State Prison.
In his complaint, Negrete gives detailed information regarding the background and tenets of his Salafi ideology. He refers to it as a "denomination" and alleges that the defendants "refuse to recognize As-Salafiyyah as a denomination."
Negrete acknowledges in his complaint that he's "presently an inmate at the New Jersey State Prison in Trenton, New Jersey," and he also acknowledges that he has been "incarcerated" for the last 15 years.
Negrete, however, does not acknowledge his status as a convicted murderer and does not mention his history of violence as a reputed Latin Kings gang boss. He also does not mention that the Salafi movement is embraced by certain terrorist groups and their apologists.
Other "Muslim brothers" locked up at New Jersey State Prison follow the Salafi doctrine, Negrete says in his complaint, showing he is not alone in wanting to freely practice Salafism behind bars.
On June 28, prison staff removed Negrete from the general population and placed him into a "highly secure lock down unit" and separated him from his Quran, he alleges in his lawsuit. The Quran is Islam's primary scripture, regarded as the uncorrupted word of Allah.
"The rogue and unlawful pattern and practice of misconduct at New Jersey State Prison not only betrays the public trust as civil servants," Negrete alleges, "but is also constitutionally offensive for it has fostered a culture of fear, abuse, and intimidation indicative of being violative of ones civil and constitutional rights."
Negrete demands a jury trial and seeks compensatory and punitive damages. He filed the complaint pro se in Mercer County Superior Court earlier this year but demands the court provide him with legal representation.
Full report at:
https://www.trentonian.com/news/muslim-inmate-boom-bat-negrete-files-religious-discrimination-lawsuit-against/article_fa89c61e-e629-11e9-8365-e7bee7bdf526.html
--------
Paris knife attacker who killed 4 in police headquarters had converted to Islam: report
By Jorge Fitz-Gibbon
October 3, 2019
The deranged employee who stabbed four people to death — including three cops — inside a Paris police headquarters had converted to Islam 18 months ago, according to a report.
The 45-year-old deaf IT worker — identified in media reports as Michael Harpon attacked three members of the police force's intelligence division Thursday inside two ground floor offices, then went into a stairwell and assaulted two women, French newspaper Le Parisien reported.
One of the women survived and underwent emergency surgery after the attacks. She was listed in critical condition.
The attacker was gunned down in a courtyard at the police facility by an officer described as a young "police trainee."
Harpon, a native of the island of Martinique, married in 2014, and he and his wife lived in a quite suburb north of Paris, according to Le Parisien.
Full report at:
https://nypost.com/2019/10/03/paris-knife-attacker-who-killed-4-in-police-headquarters-had-converted-to-islam-report/
--------
Israel's arbitrary airstrikes on Syrian territory lead to escalation in tensions: Russia FM
Oct 3, 2019
Russia's Foreign Minister Sergei Lavrov has lashed out at the Israeli regime for launching occasional airstrikes on the Syrian territory, noting that such strikes only lead to further escalation of tensions in the region.
Lavrov made the remarks in an interview with Asharq Al-Awsat, which was published on Thursday.
"Regarding arbitrary Israeli airstrikes on the Syrian territory, we have never concealed a negative attitude towards such actions that further destabilize the situation and could lead to an escalation," Russia's top diplomat said.
The Zionist regime launches airstrikes on the Syrian territory from time to time. Such aggressive moves are usually viewed as attempts to prop up terrorist groups suffering defeats at the hands of Syrian government forces.
Since 2016, the election of US President Donald Trump and his pro-Israeli decisions, including recognition of the "Israeli sovereignty" over the occupied Syrian territory of Golan Heights, have seemingly emboldened Tel Aviv to launch new aggression on the Arab country.
Elsewhere in his Thursday remarks, Lavrov commented on the potential of a confrontation between Iran and Israel in Syria, emphasizing that Syria should not become an arena for implementing external agendas.
"Syria should not become a platform for implementing plans or settling scores. The main task of all concerned forces must be to help restore peace to Syrian territory," he added.
The Russian Foreign Ministry announced in early June that Moscow takes serious issue with Israeli military aggression against Syria.
The ministry said in a statement that Russia was concerned about the aerial attacks launched by the occupying regime against Syria, adding that it believes the assaults could pose a threat to regional stability.
Last month, the Russian aviation publication Avia.Pro reported that the country's combat aircraft took off from Russia's Hmeimim air base in Syria's western coastal province of Latakia, "which resulted in the disruption of the Israeli attacks on the Syrian capital and its surroundings."
Full report at:
https://www.presstv.com/Detail/2019/10/03/607786/russia-foreign-minister-lavrov-syria-israel-airstrike
--------
EU hopes Iraq exercise utmost restraint amid protests
Diyar Guldogan
03.10.2019
The European Union on Thursday called on Iraq to exercise maximum restraint amid the ongoing protests.
"The EU expects the Iraqi security forces to exercise maximum restraint in the handling of the protests, and protesters to keep protests peaceful," the EU Commission said in a statement.
It said the statement issued by Iraqi Prime Minister Adel Abdul Mahdi which affirms the right to protest peacefully and freedom of expression while acknowledging the protestors' legitimate demands "goes in the right direction."
"The EU supports the launch of an investigation into the events, which needs to be credible and swift," it added.
The statement came after at least 21 people have been killed in anti-government protests across Iraq which began on Tuesday to demand improvement in living conditions and an end to corruption.
"The events in Iraq are further evidence of the urgency to meet the needs and aspirations of the Iraqi people, in particular through credible and effective economic reforms. The EU stands ready to support efforts in this regard," the EU said.
Security forces have opened fire on protesters to disperse them, causing mass casualties.
Iraqi authorities on Thursday imposed an indefinite curfew in Baghdad in a bid to quell the protests.
Full report at:
https://www.aa.com.tr/en/europe/eu-hopes-iraq-exercise-utmost-restraint-amid-protests/1601550
--------
Protesters in London demand justice for Khashoggi
Ahmet Gürhan Kartal
03.10.2019
LONDON
A group of protesters rallied in central London on Thursday, demanding justice for the murdered Saudi journalist Jamal Khashoggi, believed have been killed in Saudi consulate in Istanbul a year ago.
The protesters shouted slogans against the Saudi Crown Prince Mohammed bin Salman, who is widely accused of giving orders for the murder, that took place in the Saudi diplomatic mission on Oct. 2, 2018.
"Down down [Mohammed] bin Salman," and "Justice for Jamal Khashoggi," they shouted, while gathering in front of the National Gallery near Trafalgar Square.
Also carrying banners, some of which read the word "killer" on the prince's photograph, the group also used a blimp of bin Salman, which showed blood stains on him.
Khashoggi, a Saudi national and a columnist for The Washington Post, was killed and later his body was dismembered by a group of Saudi operatives in October 2018, shortly after he entered the consulate in Istanbul, to get a marriage certificate.
After weeks of denying involvement, Saudi Arabia admitted that Khashoggi had been killed at the consulate, but claimed that the royal family had no prior knowledge of a plot.
Full report at:
https://www.aa.com.tr/en/europe/protesters-in-london-demand-justice-for-khashoggi/1601542
--------
EU says there is an 'urgent need' to prevent migrants leaving Turkey
Oct 3, 2019
EU migration commissioner Dimitris Avramopoulos said on Thursday there was an urgent need to stop illegal departures from Turkey as Greece struggled to cope with a sharp rise in refugee arrivals.
"Irregular arrivals to Greece increased over the past weeks and months," Mr Avramopoulos said in Ankara, standing alongside the Turkish and German interior ministers.
"There is an urgent need to further strengthen the prevention and detection of irregular departures from Turkey."
The UN refugee agency announced on Tuesday that arrivals by sea from Turkey to Greece, mostly of Afghan and Syrian families, increased to 10,258 in September.
That represented the highest monthly total since the 2016 deal between Turkey and the EU to curb the flow of arrivals, the refugee agency said.
But Turkish Interior Minister, Suleyman Soylu, called on the EU to share the refugee burden as Ankara feared a new influx from Syria's Idlib province, near the border.
Turkey "has fulfilled its commitments" under the 2016 accord with the EU, Mr Soylu said.
"We expect Europe to be in the same frame."
He warned that the hostilities in Idlib could spark mass movement into Turkey, which is already home to 3.6 million Syrian refugees.
Mr Avramopoulos said he appreciated the work already done by Ankara.
"Our joint visit is proof of our continued co-operation with Turkey on managing migration together, as partners," he said.
German Interior Minister Horst Seehofer and Mr Avramopoulos are due to visit Greece on Friday.
Mr Seehofer said Europe was ready to help Turkey.
"Wherever we can make a contribution we are willing to do so," he said.
Full report at:
https://www.thenational.ae/world/europe/eu-says-there-is-an-urgent-need-to-prevent-migrants-leaving-turkey-1.919053
--------
Russia watching closely after Turkish move on Syria safety zone: Kremlin
OCTOBER 2, 2019
Turkish President Tayyip Erdogan said on Tuesday that Turkey had no choice but to act alone as too little progress had been made with the United States on forming a "safe zone", his most direct indication of a cross-border offensive.
Kremlin spokesman Dmitry Peskov told reporters in Moscow that Turkey had the right to defend itself, but that Syria's territorial integrity must be preserved.
https://www.reuters.com/article/us-syria-security-turkey-russia/russia-watching-closely-after-turkish-move-on-syria-safety-zone-kremlin-idUSKBN1WH1DB
--------
Pakistan
Royal Aal al-Bayt Institute for Islamic Thought, Jordan Named Mufti Taqi Usmani Most Influential Muslim Personality In The World
October 3, 2019
Renowned religious scholar from Pakistan, Mufti Muhammad Taqi Usmani, has been named on top of a list of 500 most influential Muslims in the world.
The list was published by the Royal Islamic Strategic Studies Center, an independent research entity affiliated with the Royal Aal al-Bayt Institute for Islamic Thought, Jordan.
Prime Minister Imran Khan, religious scholar Maulana Tariq Jameel, and religious preacher Maulana Nazur Rehman, are the other three Pakistanis featured in the top 50 of the 500 Most Influential Muslims in the world.
Mufti Taqi Usmani, who tops the list, is a leading scholar of Hadith, Islamic jurisprudence and Islamic finance. He is considered to be the founder of Islamic banking in Pakistan.
He has served as Judge of the Shari'at Appellate Bench of the Supreme Court of Pakistan from 1982 to May 2002. He specialises in Hadith, Islamic jurisprudence and financial matters.
PM Imran, featured as the 16th most influential Muslim personality globally, is a cricketer-turned politician who ascended to the most powerful office in Pakistan in 2018.
PM Imran led a massive movement against corruption and bad governance, stirring up support in the considerable youth population of Pakistan with promises of accountability and financial reform.
Maulana Tariq Jameel, who is number 36 on the list, is perhaps the most popular religious preacher in Pakistan.
The lectures of Maulana Jameel are usually based on self-purification and avoidance of violence, and the preacher, like PM Imran, is very popular with the young citizens of Pakistan.
Maulana Nazur Rahman, featured at the 50th number, is the fourth Amir of the Pakistani Tablighi Jamaat. He succeeded Haji Abdul-Wahhab who passed away in November 2018, aged 96.
Some Pakistanis with honorable mentions in the list include Professor Akbar Ahmed, religious scholar Sheikh Muhammad Ilyas Attar Qadri, Nobel laureate Malala Yousafzai, scholar Sheikh Tahir-ul-Qadri, Advocate Khawar Qureshi among a host of others.
According to the royal center, Supreme Leader of Iran Ayatollah Ali Khamenei is the second most influential Muslim after Mufti Usmani, with Saudi King Salman, and Crown Prince of Abu Dhabi Muhammad bin Zayed listed at numbers three and four respectively.
Turkish President Erdogan and Jordan King Abdullah II also featured in the top 10. The list has named American Congresswoman Rashida Talib as 'Woman of the Year', and PM Imran as the 'Man of the Year'.
https://www.thenews.com.pk/latest/535745-mufti-taqi-usmani-named-most-influential-muslim-personality-in-the-world
--------
Pakistan must engage the European Parliament on Kashmir
Khalid Hameed Farooqi
Oct 03 2019
The anti-Muslim discourse, loaded with Rashtriya Swayamsevak Sangh (RSS)/Nazi philosophy, often espoused by the Indian Prime Minister Narendra Modi's political party, is leading to an ideological alliance between the political right and the far-right in Europe.
The common grounds between Europe and India's rightwing political parties is hatred against Muslim and Islam. The right-wing in Europe targets Muslims communities to expand their political base and sharpen contradictions between Muslims and the local European population. Populist politicians, pursuing the policy of hatred in Europe, have had some success as well.
The philosophy of hate, and declaring Muslims communities responsible for Europe's troubles, provide the basis to fascists to build a grand narrative against the Kashmiris struggle for self-determination in India.
Modi's narrative concentrates on Islamic extremism and terrorism. This is an easy idea to sell because Europe has been a victim of terrorism, perpetrated in the name of Islam.
Recently, there has been a convergence of interests between BJP and right-wing parties, and groups in the European Parliament, where the far-right politicians have supported India's position on occupied Kashmir.
The far-right political group, named the Identity and Democracy Group, is the fifth largest group in the European parliament. It is made up of nine far-right European parties and takes up 73 seats in the parliament. These political parties do not hide their racist, fascist agenda and intention to eject Muslims and other minorities from Europe.
Earlier this month, a debate on Kashmir in the European Parliament's plenary session, in Strasbourg, demonstrated an ideological divide in the House. The European Parliament consists of eight political groups: three left, three right, one liberal and one non-aligned.
Despite the worst human rights situation in the disputed valley of Kashmir, and the acknowledgement by the UNHRC in two details reports in 2018-2019, the Identity and Democracy Group's members continue to endorse Modi's stance.
A member of the Indian diaspora community Nina Gill and Dinesh Dhamija have even criticised Pakistan for incorporating the territory of Gilgit-Baltistan and discriminating against minorities.
Geoffrey Van Orden, a former president of the Indian delegation in the European Parliament, has also fully supported India's action and revocation of Article 370 and 35, calling Indian occupied Kashmir a part of the Indian Union.
However, condemnations of human rights violation in Kashmir came from the left during the debate. The left-leaning groups called out Indian brutality and the use of excessive force against Kashmiris. Some members of the parliament also demanded that the lockdown, curfew, restriction be lifted immediately.
The former president of Romania said the situation in Kashmir was alarming, while Shaffaq Mohammed, a Kashmiri, demanded the Kashmiris be given the right to determine their own future.
In the end, an overwhelming majority of MEPs demanded that India lift the curfew, lockdown, restore essential services and resolve the Kashmir issue through negotiation.
What can Kashmiris do to convince the international community?
Kashmiris must engage the European legislature to help resolve the issue. Except for far rightwing MEPs, the majority is convinced that it is a purely a human rights issue in Kashmir.
Full report at:
https://www.geo.tv/latest/249831-pakistan-must-engage-the-european-parliament-on-kashmir
--------
Pak foreign minister Qureshi loses cool when asked to name 58 countries supporting Islamabad on Kashmir issue
Oct 4, 2019
ISLAMABAD: Pakistan foreign minister Shah Mehmood Qureshi lost his cool on being asked to name the 58 countries that Prime Minister Imran Khan commended for backing Islamabad on its stance on the Kashmir issue at the UNHRC.
During a talk show on Pakistan TV channel Express News, Qureshi was asked the question as he had repeatedly endorsed Khan's statement that 58 countries had supported Islamabad on the Kashmir issue, reported Sputnik news agency.
"On whose agenda are you working?"Khan snapped at talk show host Javed Chaudhry. "Are you going to tell me or decide which countries have or have not supported Pakistan at the UN?... You may write whatever you want!"
On being again pressed for endorsing Khan's comment on his own Twitter handle, Qureshi said, "No! No! Show me the tweet I have written, not what Prime Minister Khan has written. You have said my tweet... show that to me. I want my tweet."
Full report at:
https://timesofindia.indiatimes.com/world/pakistan/pak-foreign-minister-qureshi-loses-cool-when-asked-to-name-58-countries-supporting-islamabad-on-kashmir-issue/articleshow/71433472.cms
--------
NYT laments UN's lack of resolve, backs PM Imran's stance over Kashmir
October 3, 2019
The New York Times Editorial Board has supported Prime Minister Imran Khan's stance against India over Occupied Kashmir in its latest opinion titled "The U.N. Can't Ignore Kashmir Anymore".
The newspaper called the Pakistani leader a man on a mission at United Nations General Assembly and urged the UN Security Council to openly oppose Narendra Modi's brutal tightening of India's control on Kashmir.
"While Mr. Modi may think he can control this volatile conflict on his own, he almost certainly cannot," the NYT wrote.
The paper also deplored the United Nations' lack of resolve which it said is "a sad sign of the dysfunction in international diplomacy as American leadership declines and divisions among world powers grow," contends the editorial.
However, the editorial also cautioned that resting hopes on the United Nations seemed futile, given the approach it had taken on the Kashmir dispute in recent decades.
It also expressed a cynical view of the US President Trump who it said has offered to mediate but his warm relations with the increasingly autocratic Modi put doubts over him being an honest broker.
Full report at:
https://www.thenews.com.pk/latest/535776-nyt-laments-uns-lack-of-resolve-backs-pm-imrans-stance-over-kashmir
--------
Pakistan wants peace, harmony in region: President Alvi
Oct 04, 2019
LAHORE: President Arif Alvi on Thursday said that Pakistan is a peaceful country and its people wanted peace in the region, whereas hostile attitudes were being blatantly displayed on the other side of the border.
He was addressing the inaugural session of the 1st UHS International Dental Conference, organised by the University of Health Sciences at Expo Centre, here. President Alvi said that Pakistani people followed principles of peace and hospitality.
Congratulating the university on holding the conference, he said that more work was needed in the health sector, especially in dentistry in Pakistan. He urged dentists to spread awareness about dental hygiene and preventive measures in society, instead of only extending treatment of dental diseases.
"Your primary target should be addressing the issues before dental problems take root in a patient, as a little dental care can save people from contracting diseases," he added. He said that dentistry education was not a separate subject in Pakistan until the 1990s, but now several dental colleges were producing dentists every year.
He said that dentists and doctors should serve people at least for the first five or six years after their education. The president said that Prime Minister Imran Khan was an example of service to people, and that was why he was living a satisfying life.
Full report at:
https://www.pakistantoday.com.pk/2019/10/03/pakistan-wants-peace-harmony-in-region-president-alvi/
--------
India
Srinagar to Mumbai via Delhi: Agencies on high terror alert
by shameen
October 03, 2019
New Delhi: Phone intercepts from the Indo-Pak border, arms dropping by drones from across the border into Punjab last month, and Inter-Services Intelligence(ISI) chief Lt General Faiz Hameed's recent tour of Pakistan-occupied Kashmir, are three main reasons which prompted Indian security agencies to go on a high alert, particularly in Delhi, Mumbai, Punjab and Jammu and Kashmir.
Besides, intel inputs from US agencies have also alerted New Delhi of a possible ISI-sponsored terrorist attack in wake of abrogation of Jammu & Kashmir's special status guaranteed by Article 370.
Top sources in the Ministry of Home Affairs revealed that security arrangements have been tightened at all major airports, ports, vital installations, important government offices in Delhi, Mumbai and Bangalore.
Important premises including airports and railway stations in Punjab and Jammu and Kashmir were already put on alert after arms dropping by Pakistan through drones in Punjab in September. The National Investigation Agency (NIA) is coordinating with Punjab Police to unravel the conspiracy hatched by the ISI, using a splinter Khalistan terror outfit to execute the drone droppings.
The apparent terror threat seems to be a serious concern for the Prime Minister's Office (PMO). On Thursday, the Union Home Secretary, Director, Intelligence Bureau (IB) and and senior officials of the PMO had a brainstorming session, reviewing the steps taken by the states and central agencies to deal with the situation.
Sources in the MHA said that Home Minister Amit Shah has also been apprised of the measures taken at level of concerned states including Delhi Police. An IB alert earlier on Wednesday said that a highly trained module of terrorists of Jaish-e-Mohammed (JeM) has infiltrated into the national capital with an objective of launching sensational terror attacks during the ongoing festive seasons.
Subsequently, the Special Cell of the Delhi Police carried out raids at different locations and detained two suspects. The Delhi Police did not confirm about the detention or identities of the two suspects to IANS.
Meanwhile another report of IB says that more than 150 terrorists belonging to JeM and Lashkar-e-Taiba (LeT) have gathered near launching pads located inside Pakistani territory on the Line of Control bordering Poonch, Baramulla and Kupwara areas of Jammu and Kashmir.
ISI chief Lt General Faiz Hameed had last month toured PoK and held meetings with different outfits including JeM commanders. The report says on pressure of the ISI chief, JeM mastermind Masood Azhar was released from preventive custody despite being on the list of wanted global terrorists of the United Nations.
After Azhar's release, the Jaish cadres are in a pro-active mode, some of them had already infiltrated into Indian territory.
https://www.siasat.com/srinagar-mumbai-delhi-agencies-high-terror-alert-1647994/
--------
NIA probe links Pak terror groups to funds raised by Kashmiri separatists
Oct 04, 2019
Neeraj Chauhan
A National Investigation Agency (NIA) probe has found that top leaders of the All Parties Hurriyat Conference (APHC), the umbrella group of separatists in the Kashmir valley, raised funds through Pakistan-based terror groups, from trading across the Line of Control (LoC), and shell companies as well as hawala channels, two officials familiar with the findings said.
Proceeds from the import and export of Kashmir handloom goods were also used to fund terror and secessionist activities in the Valley in which the NIA has found the involvement of Hurriyat leaders, including Syed Ali Shah Geelani, Shabir Shah, Yasin Malik, Asiya Andrabi and Masarat Alam, among others, the two officials said. Some of the meetings on the fund raising efforts took place at the Pakistan high commission, the officials added.
The federal anti-terror probe agency is set to make these revelations in a charge sheet it will file soon against several separatist leaders, including Yasin, chief of the Jammu & Kashmir Liberation Front (JKLF); Shabir Shah, president of the Jammu and Kashmir Democratic Freedom Party; Andrabi, head of the Dukhtaran-e-Millat, a women's separatist group; Alam, general secretary of the Hurriyat; and businessman, Zahoor Ahmad Watali.
The charge sheet is being prepared at a time when restrictions have been clamped on public movement in parts of the Valley, and many separatist as well as mainstream politicians are under detention following the nullification of Article 370.
To be sure, the Pakistan high commission will find a mention only against the backdrop of the fact that the mission's premises were allowed to be used for holding some of the meetings where fund raising was discussed; none of its staff is mentioned as a suspect. The high commission had no response to a request for comment. This will be the third charge sheet filed by the NIA in its probe of terror funding. The previous two were filed last year.
To nail the Hurriyat leaders, NIA has procured their email correspondences as well as video footage, and TV interviews and public speeches available in the public domain as evidence. One of the statements used by NIA in the charge sheet is Yasin Malik claiming in a TV interview a few years ago that he had visited the Lashkar-e-Taiba camp in Murree in Pakistan-occupied Kashmir and addressed a cadre of the terrorist group.
One of the officials cited above told HT that the APHC had adopted a strategy of instigating people to engage in violence and to create a surcharged atmosphere in the Valley .
Separatist leaders, NIA has found, were working in a systematic and organised fashion on the instructions of their Pakistani handlers and set up a network of cadre at the village, block and district levels who praised terrorist activities, attended the funerals of slain terrorists and delivered hate speeches besides motivating youngsters to join militancy.
According to the official, NIA will allege in the charge sheet that Kashmiri people were repeatedly incited to observe strikes on non-existent issues and instigated to take part in unlawful activities such as stone pelting of security forces that threw normal life in the Valley out of gear.
The second official said, the Pakistan high commission organised functions and meetings in New Delhi in which Hurriyat leaders were invited and given instructions as well as funds. The separatists usually collected funds in the name of supporting the families of militants.
Full report at:
https://www.hindustantimes.com/india-news/nia-probe-links-pak-terror-groups-to-funds-raised-by-hurriyat-leaders/story-ki9FjGleyqYlRKS6ASnxOM.html
--------
Bangladesh PM in India: Expresses 'great concern' over NRC
by Safoora
October 04, 2019
Bangladesh Prime Minister Sheikh Hasina arrived in New Delhi on a four-day tour to attend the India Economic Summit of the World Economic Forum to strengthen relations between India and Bangladesh.
NRC- A Great Concern For Bangladesh
The ruling NDA-led-Bharatiya Janata Party (BJP) government has been pushing for implementation of the National Register of Citizens (NRC) which has become a matter of great concern for Bangladesh.
Dhaka plans to raise the issue of National Register of Citizens (NRC) during the talks.
However, when the two leaders met at the 74th session of the UN General Assembly (UNGA) in New York in September, Sheik Hasina "raised the NRC issue."
PM Modi has gave the assurance to his Bangladesh counterpart that the NRC would have "no impact on Bangladesh" and there was no need to be worried about it.
"It is their (India's) issue, let them handle it, so far, we don't need to be worried regarding the NRC issue," Bangladesh High Commissioner to India Syed Muazzem Ali asked for comments about India's National Register of Citizens (NRC) process.
There had been no official response from Dhaka despite the current Union home minister and BJP president Amit Shah had described Bangladeshi migrants as "termites" a year ago.
Top Agenda
Prime Minister Hasina may definitely discuss the Teesta river waters as well as Rohingyas apart from inking agreements in various sectors.
Likely To Sign Dozen MoUs
On the sidelines of the India Economic Forum meet, the two countries are likely to sign as many as seven to eight MoUs, mostly on the question of connectivity, cultural and technical cooperation, and trade and investment after the bilateral meeting of the two prime ministers.
Full report at:
https://www.siasat.com/bangladesh-pm-india-expresses-great-concern-over-nrc-1648334/
--------
Manmohan to be part of first 'jatha' to Kartarpur shrine
Oct 4, 2019
NEW DELHI/CHANDIGARH: Former PM Manmohan Singh and Punjab CM Amarinder Singh will lead the first group (jatha) of pilgrims to the Kartarpur shrine in Pakistan after the corridor connecting India to the Sikh religious site is opened next month.
The visit will mark a high profile start as the 'jatha' will include all elected representatives of Punjab, cutting across party lines. They will include MLAs and MPs and possibly some other senior leaders.
The Punjab CM's office had denied on Wednesday that Manmohan Singh was going in response to an invitation from Pakistan. "There is no question of me going (to Pakistan for Kartarpur Corridor opening) and I feel Manmohan Singh will not go as well," Amarinder Singh had said, emphasising that there was a difference between visiting Pakistan and going to the gurdwara through the corridor.
Punjab assembly has a representation of ruling Congress, Akali Dal and Aam Aadmi Party, while BJP is represented in Parliament from Punjab. Amarinder Singh made the announcement on Thursday after visiting the capital with Kartarpur on his agenda. He met President Ram Nath Kovind, PM Narendra Modi and former PM Singh. He invited them to the opening of the corridor, which coincides with the 550th Guru Purab celebrations.
Speaking to reporters, Amarinder Singh said Kovind and Modi had agreed to participate in the opening ceremony and the Guru Purab celebrations, and that modalities of their visit would be finalised after the Kartarpur Corridor opening programme was known.
He also sought the PM's intervention in facilitating "political clearance" for a special all-party 'jatha' to visit Nankana Sahib in Pakistan, the birthplace of Guru Nanak Dev.
Amarinder requested that a group of 21 people may be allowed to visit Nankana Sahib to organise a 'paath' on the 550th Prakash Purb from October 30 to November 3, and bring a Nagar Kirtan to Sultanpur Lodhi in Kapurthala district on November 4.
The state government will also hold an all-party meeting from on November 1 at Sultanpur Lodhi.
Full report at:
https://timesofindia.indiatimes.com/india/manmohan-to-be-part-of-first-jatha-to-kartarpur-shrine/articleshow/71431726.cms
--------
Govt indicates it would release Kashmir leaders
Oct 3, 2019
SRINAGAR: Political leaders in Kashmir who have been under detention for the last two months are likely to be released soon in a phased manner after a case-wise "analysis", Jammu & Kashmir governor's adviser said on Thursday.
Nearly 40 leaders, including former chief ministers Farooq Abdullah, Omar Abdullah and Mehbooba Mufti, have been detained after the Centre defanged Article 370 and scrapped Article 35A which gave special powers to the people of J&K.
However, sources said only middle-level leaders are likely to be released for the moment. The Abdullahs and Mufti are unlikely to be set free, sources added.
The government indicated that the leaders would be set free only after the administration was convinced that their release would not adversely affect the situation in the Valley. "Have hope. They (leaders) will be released one by one, after proper analysis of every individual and proper review," Farooq Khan, adviser to the governor, told newspersons in Jammu in response to a query.
The government's indication on release of political leaders came a day after leaders of non-BJP parties in the Jammu region had said that the administration had "lifted" restrictions imposed on them. However, Jammu divisional commissioner Sanjeev Verma said that the Jammu leaders were never detained and were free to participate in political activities. "We never restrained them... They were under self-imposed restriction," he said on Wednesday.
In another development, Kashmiri journalists belonging to various national as well as local media organisations sat on a dharna at Kashmir Press Club in Srinagar protesting against the communication blockade which entered the 60th day on Thursday. In a statement, the journalists demanded access to Internet and broadband services and mobile connectivity. "How long can the journalists of the Valley rely solely on official releases and occasional press briefings that have always been a one-way communication?" the journalists said in a statement.
Full report at:
https://timesofindia.indiatimes.com/india/govt-indicates-it-would-release-kashmir-leaders/articleshow/71430275.cms
--------
One civilian killed in ceasefire violation by Pakistan in Uri sector
Oct 3, 2019
SRINAGAR: One person was killed in Pakistani firing and shelling along the Line of Control (LoC) in Uri sector of Jammu and Kashmir following a ceasefire violation by Pakistani troops in north Kashmir's Baramulla district late Thursday afternoon.
The defence spokesman here said Pakistani troops resorted to unprovoked firing and shelling near Rustum post in Uri sector. He said one civilian was killed in the unprovoked firing by Pakistani troops. The dead civilian was yet to be identified, he added. Pakistani troops have been resorting to unprovoked firing to push in infiltrators ever since the nullification of Article 370 in August.
Full report at:
https://timesofindia.indiatimes.com/india/one-civilian-killed-in-ceasefire-violation-by-pakistan-in-uri-sector/articleshow/71430256.cms
--------
SC stops Hindu parties from citing new scriptural proof
Oct 4, 2019
NEW DELHI: The Supreme Court on Thursday barred Hindu parties from citing new scriptural evidence to back their claim for ownership of the 2.77 acre disputed Ram Janmabhoomi-Babri Masjid land in Ayodhya and said hearing on the appeals in the 70-year-old litigation would be an endless affair if parties cited new evidence at the appeal stage.
Sustaining senior advocate Rajeev Dhavan's objection on behalf of Muslim parties to chapters from 'Skanda Purana' being cited anew to give credence to Hindus' claim about deity status of Ram Janmasthan, a bench of Chief Justice Ranjan Gogoi and Justices S A Bobde, D Y Chandrachud, Ashok Bhushan and S Abdul Nazeer told Hindu parties, "If you cite new evidence, the other side would also be at liberty to cite fresh evidence in reply. Then it will be an endless affair. At this stage, we cannot consider anything that was not brought on record during trial of the title suits before the high court." CJI Gogoi reminded both sides that the case pertained to dispute over title suits and must be decided according to the Civil Procedure Code. "Just because the appeals are being heard by a five-judge bench, it does not become a constitution bench (dealing with an important constitutional issue) matter. A two-judge bench could have decided the issue."
CJI Gogoi had used his discretionary power under the Supreme Court Rules to constitute a five-judge bench to hear the Ayodhya land dispute case despite a three-judge bench last year rejecting repeated pleas of Muslim parties to refer the matter, touted as one of the most important cases in the history of India, to a five-judge bench. Justice Chandrachud echoed the CJI's view and said, "Scriptural evidence which was not tested during trial of suits by the HC cannot be placed before the SC during the first appeal. All that you (senior advocate P N Mishra for Hindu parties) are doing is citing Skanda Purana for the first time in the SC."
https://timesofindia.indiatimes.com/india/sc-stops-hindu-parties-from-citing-new-scriptural-proof/articleshow/71432216.cms
--------
'Sab changa si?': Mehbooba Mufti tweets dig at Centre's development plank for J&K
Oct 04, 2019
The Centre has "no moral authority" to talk about the development of Jammu and Kashmir, former chief minister Mehbooba Mufti's daughter tweeted on her behalf on Friday. "Economy on the brink of a recession. Sab changa si? (Everything all right?) A government that plunged the country into an economic crisis has no moral authority to invoke the deeply flawed development argument for J&K," Mehbooba Mufti's handle said, criticising the Centre for pushing the country to an economic crisis.
Mehbooba Mufti posted her tweet a day after Union home minister Amit Shah said Jammu and Kashmir will lead the country in terms of development over the next decade.
The Union minister also said the Centre's move in August to scrap Article 370, which gave a measure of autonomy to J&K and prevented non-residents from buying property there, will help eliminate terrorism and the ideologies that have spawned it.
Mehbooba Mufti
✔
@MehboobaMufti
Economy on the brink of a recession. Sab changa si?
A government that plunged the country into an economic crisis has no moral authority to invoke the deeply flawed development argument for J&K.
View image on Twitter
341
9:29 AM - Oct 4, 2019
Twitter Ads info and privacy
180 people are talking about this
Amit Shah, while flagging the second Vande Bharat Express, said the train was Prime Minister Narendra Modi's big gift for the region and that will bring development to the region and boost religious tourism.
The Twitter account of the Peoples Democratic Party (PDP) leader, who has been in detention since August 5, is being handled by her daughter Iltija since September 20.
Full report at:
https://www.hindustantimes.com/india-news/sab-changa-si-mehbooba-mufti-tweets-dig-at-centre-s-development-plank-for-j-k/story-anuH1iZJhdv5jONu8G6HfJ.html
--------
Ceasefire violations by Pakistan in Jammu and Kashmir at a 5-yr-high in 2019
Oct 04, 2019
Ceasefire violations by Pakistan from across the Line of Control (LoC) in Jammu and Kashmir witnessed a five-year high within the first nine months of the current year, defence sources said here.
According to the data collated by the Indian Army, Pakistan violated the ceasefire in Jammu and Kashmir 2,225 times till October 2, meaning that on an average, it violated the ceasefire eight times a day during this period.
Compared to this, the total number of ceasefire violations by Pakistan numbered 1,629 during the entire calendar year of 2018.
"Pakistan increased ceasefire violations this year following the Balakot air strikes in February and subsequently after special status was withdrawn to Jammu and Kashmir in August," a defence officer said.
The officer said the high number of ceasefire violations is linked to attempts by Pakistan to push terrorists into Jammu and Kashmir under the covering fire.
Intelligence reports have revealed that terrorists of Pakistan-based Jaish-e-Mohammed and Lashkar-e-Taiba have been kept in waiting along the LoC to be pushed into Indian territory, whenever they sense a chance.
Army sources said India has retaliated to each and every ceasefire violation befittingly. There have also been attempts by Pakistan to carry out Border Action Team (BAT) attacks on Indian positions at the LoC. A BAT team generally consists of Pakistani army commandos and terrorists.
In the last week of July, Indian troops had gunned down five BAT attackers near a forward post of the Keran sector in Jammu and Kashmir. Their bodies were not claimed by Pakistani troops.
Full report at:
https://www.hindustantimes.com/india-news/ceasefire-violations-by-pakistan-in-jammu-and-kashmir-at-a-5-yr-high-in-2019/story-yLImTF0XbcSH27kP0vysPP.html
--------
Four Hizbul Mujahideen terrorists held in Jammu and Kashmir's Kishtwar
Oct 04, 2019
Four overground workers of Hizbul Mujahideen (HM) terror outfit have been arrested in ongoing "search operation" in Jammu and Kashmir's Kishtwar district, officials said on Thursday.
With the Wednesday's arrests, terror network of Hizbul has been cracked and the operation to nab more people involved in revival of terrorism in twin districts of Doda-Kishtwar will go on, a senior police officer told PTI.
In all, the number of terrorists and their supporters arrested have gone up to 16 in the massive crackdown on terror network by the National Investigation Agency (NIA), the Army and the Police, he said.
Those arrested have been identified as Farooq Bhat, Manzoor Ganie, Masood and Noor Mohmmad Malik, officials said.
Police and NIA have picked up 45 people and question them in connection with terror network in Kishtwar and arrested 16 till now, they said.
After being declared terrorism-free over a decade ago, Kishtwar district was rocked by killings of four persons including a senior BJP leader and an RSS functionary and two weapons snatching incidents since November last year.
Full report at:
https://www.hindustantimes.com/india-news/four-hizbul-mujahideen-terrorists-held-in-jammu-and-kashmir-s-kishtwar/story-iNbvu6kY4mFX0FIM50FTIP.html
--------
Sheikh Hasina calls for more Indian investments in Bangladesh
by shameen
October 04, 2019
New Delhi: Prime Minister Sheikh Hasina on Thursday urged Indian investors to step up their investment in Bangladesh, saying her country "knows how to transform challenges into opportunities."
"It is the time for global investors, particularly Indian entrepreneurs, to invest in Bangladesh in areas like education, engineering, and artificial intelligence," the prime minister said at an interactive session of the World Economic Forum.
She added, "We do face challenges like any other country but we know how to transform challenges into opportunities."
The prime minister told the crowd gathered at the session that this year Bangladesh's economy noted a record high-growth of 8.13 per cent.
"We are close to achieving double-digit growth," she said while assuring further that agriculture is no longer subsistence farming. "We are second in jute, fourth largest in rice production and mangoes, and fifth in inland fisheries."
Hasina arrived earlier today on a four-day visit to India at the invitation of Prime Minister Narendra Modi, with an aim to further intensify bilateral relations between the two countries.
She is scheduled to participate as the chief guest at the India Economic Summit organised by the World Economic Forum (WEF) on October 3 and 4.
During the visit, the Bangladesh Prime Minister will call on President Ram Nath Kovind and hold bilateral discussions with Modi on October 5.
This will be Hasina's first visit to India since the completion of the elections in Bangladesh and India, a press statement from the Ministry of External Affairs (MEA) said.
"Apart from a number of agreements that are to be exchanged between the sides during the visit, the two Prime Ministers will also jointly inaugurate three bilateral projects via video link," the statement said.
On September 27, Hasina and Modi had met on the sidelines of the 73rd session of the UN General Assembly in New York where the two leaders reiterated their zero-tolerance approach against terrorism and violent extremism and noted that strong ties in the security sector had built trust and mutual confidence between the two countries.
During Hasina's visit to India, both countries are expected to review the Rohingya and Teesta river water sharing issues, apart from inking agreements in various sectors.
"Prime Minister Hasina and her Indian counterpart Narendra Modi may definitely discuss different issues, including the Teesta as well as Rohingyas," The Dhaka Tribune quoted Bangladesh High Commissioner to India, Syed Muazzem Ali, as saying.
On the sidelines of the India Economic Forum meet, the two countries are likely to sign a number of MoUs in different areas, including connectivity, culture, technical cooperation and trade and investment, Muazzem said.
Full report at:
https://www.siasat.com/sheikh-hasina-calls-more-indian-investments-bangladesh-1648066/
--------
Southeast Asia
Muslim leaders must uphold people's trust, says Abang Johari
03 Oct 2019
KUCHING, Oct 3 — Muslim leaders must uphold the trust given to them and administer the state with full responsibility, said Sarawak Chief Minister Datuk Patinggi Abang Johari Openg.
He said, as a Muslim leader, he had been taught to treat the people equally regardless of their religious beliefs.
"I have been entrusted to take care of the people in Sarawak... administering and lifting the dignity of the state are regarded as a form of ibadah (religious duty).
"If a leader has integrity and practises good governance, Insya Allah (God willing) our state will become a developed state by 2030," he said in his speech at the closing of a seminar on mosque and surau leadership here today.
As such, Abang Johari said the state government established the Unit for Other Religions or Unifor in 2017 as part of efforts to look after the needs and interests of non-Muslims in Sarawak. — Bernama
https://www.malaymail.com/news/malaysia/2019/10/03/muslim-leaders-must-uphold-peoples-trust-says-abang-johari/1796920
--------
Foreign minister: Govt monitoring India's #BoycottMalaysia trend on Twitter
03 Oct 2019
PUTRAJAYA, Oct 3 — Foreign Minister Datuk Saifuddin Abdullah said the government is monitoring the developments of the #BoycottMalaysia hashtag on Twitter started by social media users in India after Prime Minister Tun Dr Mahathir Mohamad spoke about the need to resolve the Jammu and Kashmir conflict in his speech during the 74th United Nations General Assembly, recently.
Saifuddin said the Indian government has not issued an official response on the boycott calls.
"We are following the hashtag very closely, and depending on the situation, we are ready to give an answer," Saifuddin said during a media engagement session at the ministry's complex here today.
However, the minister said he does not think it will escalate since social media trends tend to run their course quickly.
"As you know, on social media, hashtags and such have their own 'fever', so it most likely will burn out," Saifuddin said.
The hashtag #BoycottMalaysia has been trending on Twitter in India since Monday.
Users of the hashtag have been urging Indian citizens not to travel to Malaysia and complained about the government's interference in India's internal affairs.
Indian Army personnel numbering in the tens of thousands have been deployed in the region, disputed by India and Pakistan, with curfews imposed, political leaders arrested and disabling telecommunications and Internet services.
Full report at:
https://www.malaymail.com/news/malaysia/2019/10/03/foreign-minister-govt-monitoring-indias-boycottmalaysia-trend-on-twitter/1796914
--------
Indonesian couple fear sex-ban changes will make them criminals
October 4, 2019
TANGERANG: After 13 years of happily unmarried life that has brought them three children, one middle-aged Indonesian couple is worried.
Their relationship is neither legal nor official, and a controversial new penal code to be discussed in Indonesia's parliament could make them criminals by banning consensual sex outside marriage.
Although President Joko Widodo ordered parliament to delay a vote on the legal changes last month after street protests, Indonesians who could be affected are increasingly worried.
"If the government brings up the unofficial marriage issue again, it will be a problem and will burden our minds," said the husband, who works as a porter at a clothes market.
Both he and his wife declined to be named because of the sensitivity of the issue in the world's most populous Muslim-majority country, where conservatism has been on the rise.
The proposed revisions have raised fears in the tourism industry of the impact of a ban on extra-marital sex, and Australia has even issued a pre-emptive warning to citizens.
But millions of Indonesians living in unofficial relationships could be more likely targets.
Unmarried couples who "live together as a husband and wife" could face six months in jail or a maximum fine of 10 million rupiah (US$710), the equivalent of three months' salary for many Indonesians.
Like the couple who spoke to Reuters Video News, they are often in "Siri" marriages that are accepted from a religious perspective but have never been registered.
"The lawmakers assess it as adultery," said the wife, who works as a domestic helper. "(But) this is my responsibility to my God, in the eyes of the religion, or according to the religion, we have been officially united together."
Full report at:
https://www.freemalaysiatoday.com/category/world/2019/10/04/indonesian-couple-fear-sex-ban-changes-will-make-them-criminals/
--------
MWL, Indonesia to Build Museum on Islamic History in Jakarta
3 October, 2019
The Muslim World League (MWL) and the Indonesian government inked an agreement to establish the largest historical museum on the Prophet's biography and Islamic civilization in Jakarta.
The museum will be set up as a branch of its headquarters in Madinah, Saudi Arabia, which opened last month of Ramadan under the patronage of Prince Faisal bin Salman bin Abdulaziz, Governor of Madinah. The opening received international recognition and the MWL had requests from 24 countries, including Indonesia, to help establish branches.
MWL Secretary-General Sheikh Mohammed Al-Issa and Indonesia's Minister of Civil Service and Reform Dr. Safaruddin Campo signed an agreement in this regard in Jeddah.
When built, the museum is expected to cover an area of more than 100,000 square meters in the Jakarta suburb of Pioppo and will include conference halls and restaurants.
Issa said that approval was accorded for establishing the museum's branch in Jakarta in response to a request from the Indonesian government as the MWL attaches great importance to preserving the rich legacy of the Prophet's biography and Islamic civilization.
"Indonesia's capital Jakarta has become the first branch museum of the Madinah international museum. The museum will showcase the contents of the Prophet's biography and Islamic civilization, and will host multiple events, including debates and training sessions, as well as conferences, forums, and seminars," he said.
Full report at:
https://aawsat.com/english/home/article/1929551/mwl-indonesia-build-museum-islamic-history-jakarta
--------
Indonesian couple fear sex-ban changes will make them criminals
OCTOBER 4, 2019
Heru Asprihanto
TANGERANG, Indonesia (Reuters) - After 13 years of happily unmarried life that has brought them three children, one middle-aged Indonesian couple is worried.
Their relationship is neither legal nor official, and a controversial new penal code to be discussed in Indonesia's parliament could make them criminals by banning consensual sex outside marriage.
Although President Joko Widodo ordered parliament to delay a vote on the legal changes last month after street protests, Indonesians who could be affected are increasingly worried.
"If the government brings up the unofficial marriage issue again, it will be a problem and will burden our minds," said the husband, who works as a porter at a clothes market.
Both he and his wife declined to be named because of the sensitivity of the issue in the world's most populous Muslim-majority country, where conservatism has been on the rise.
The proposed revisions have raised fears in the tourism industry of the impact of a ban on extra-marital sex, and Australia has even issued a pre-emptive warning to citizens.
But millions of Indonesians living in unofficial relationships could be more likely targets.
Unmarried couples who "live together as a husband and wife" could face six months in jail or a maximum fine of 10 million rupiah ($710), the equivalent of three months' salary for many Indonesians.
Like the couple who spoke to Reuters Video News, they are often in "Siri" marriages that are accepted from a religious perspective but have never been registered.
"The lawmakers assess it as adultery," said the wife, who works as a domestic helper. "(But) this is my responsibility to my God, in the eyes of the religion, or according to the religion, we have been officially united together."
Full report at:
https://www.reuters.com/article/us-indonesia-politics-rights-sex/indonesian-couple-fear-sex-ban-changes-will-make-them-criminals-idUSKBN1WJ0BD
--------
North America
White Nationalist Coast Guard Lieutenant Likely To Plead Guilty In Domestic Terror Case
By Ryan J. Reilly
03/10/2019
Christopher Paul Hasson, a Coast Guard lieutenant who federal prosecutors called a "domestic terrorist" and accused of stockpiling weapons as part of a plot to "murder innocent civilians on a scale rarely seen in this country," will likely plead guilty in federal court in Maryland on Thursday.
The court docket in Hasson's case indicated that a rearraignment was scheduled for noon on Thursday. The news was first reported by The Washington Post, which quoted a spokeswoman for the U.S. Attorney's Office for the District of Maryland stating that rearraignment "in general" indicates that a defendant is changing their plea. Hasson had pleaded not guilty when he was first arraigned on the counts he is facing, so it now appears he plans to plead guilty when he appears in court.
Hasson's federal public defender did not immediately respond to HuffPost's request for comment.
The prosecution of Hasson ― who allegedly amassed an arsenal as he plotted to murder prominent Democrats and reporters ― demonstrated some of the issues federal officials run into in "challenging" domestic terrorism cases. Domestic terrorists have killed more Americans than terrorists associated with designated foreign terrorist organizations in recent years, but federal officials have much broader capabilities to target individuals who support foreign terrorist organizations.
Sometimes federal authorities send domestic terrorism cases to state authorities, who might have an applicable charge to deploy against an armed extremist threatening violence. Other times, federal prosecutors get creative with federal law. In Hasson's case, as well as a couple of other cases against potential violent extremists, federal prosecutors invoked a law that makes it illegal for addicts of controlled substances to possess weapons. A neo-Nazi based in D.C. who pleaded guilty to an addict in possession of a weapon charge was released on time served last month after spending about 10 months in jail.
A group of FBI agents have called on Congress to pass domestic terrorism legislation, and Rep. Adam Schiff (D-Calif) introduced such legislation in August, after a white supremacist committed a mass shooting in El Paso. But civil rights organizations have opposed such measures, and worry the federal government would use new domestic terrorism laws to improperly target fringe political groups.
The details of any potential plea deal with Hasson are unclear, but the case had appeared to be moving toward trial as of just last week, when Hasson's federal public defender asked the court to "prohibit the government from introducing evidence of Mr. Hasson's purported beliefs and associations."
https://www.huffingtonpost.in/entry/christopher-hasson-domestic-terrorists_n_5d94e913e4b02911e114ee37?ri18n=true
--------
Malian army families demand answers after deadly raids against soldiers
OCTOBER 3, 2019
BAMAKO (Reuters) - Hundreds of wives and children of Malian soldiers demonstrated on Wednesday in the capital Bamako, demanding information from the government after at least 25 soldiers were killed and 60 went missing in attacks by suspected jihadists.
The raids on Monday on two army camps in central Mali were among the deadliest this year against soldiers struggling to repel increasingly brazen attacks by militant groups, some with links to al Qaeda and Islamic State.
The roughly 300 protesters who gathered in front of a military base accused army chiefs of withholding needed resources from soldiers in the field. Some burned tyres, and one wore a t-shirt that read: "No to thieving generals."
"We have no news about our husbands," said one woman, who declined to be identified. "We learned that some are dead and others are missing, but we have received no clear information."
An army spokesman was not immediately available for comment.
"We demand that our soldiers be equipped in accordance with the mission assigned to them," said Amadou Dembele, the son of a soldier in Boulkessi, where one of Monday's attacks took place. "Otherwise we are going to resist any deployment of reinforcements."
Protests over military losses have destabilized Mali before. Renegade soldiers seized power in 2012 following protests over the government's handling of a Tuareg-led rebellion in the north.
The resulting political chaos helped precipitate the fall of the northern two-thirds of Mali to the rebels and allied Islamist militants.
Full report at:
https://www.reuters.com/article/us-mali-security/malian-army-families-demand-answers-after-deadly-raids-against-soldiers-idUSKBN1WH2EX
--------
US: Candlelight vigil held to remember Saudi journalist
Servet Gunerigok
03.10.2019
WASHINGTON
A candlelight vigil was held Wednesday in Washington, D.C. to mark the first anniversary of Saudi journalist Jamal Khashoggi's murder.
The vigil outside the Saudi embassy was organized by the Committee to Protect Journalists (CPJ) organization along with Reporters Without Borders, Pen America and Amnesty International, among others.
Speaking at the event, Courtney Radsch, the advocacy director for the CPJ, said the planned brutal execution happened because Khashoggi had been publicly critical of the Saudi regime.
"Now it has been a year since his murder and no one has been brought to justice," said Radsch, who criticized U.S. President Donald Trump over his inaction in the wake of the murder.
"Trump views Saudi Arabia and [Saudi Crown Prince] Mohammad bin Salman as two valuable business partners, and this inaction has sent a message to governments around the world that killing a journalist is acceptable. It is not," she said.
"We stand here tonight to recognize the loss of a great journalist and remind the world we will not rest until there is justice for his murder."
Rep. Jamie Raskin, a Maryland Democrat, called Khashoggi's killing "a political hit by a tyrant."
"People of the world will never forget the murder and who killed him," said Raskin.
Khashoggi, a U.S. resident and columnist for The Washington Post newspaper, was killed and dismembered on Oct. 2, 2018 after visiting the Saudi consulate in Istanbul, where he was making arrangements for his wedding.
The U.S. Central Intelligence Agency (CIA) assessed that bin Salman ordered Khashoggi's murder. UN expert Agnes Callamard has described his death as a "premeditated execution" and called for bin Salman and other high-ranking Saudis to be investigated.
Officials in Riyadh, who initially said Khashoggi had left the premises unharmed, said the journalist was killed in a rogue operation that did not involve bin Salman. Activists have called for accountability in Khashoggi's death.
Radsch said the public deserves to know the truth about Khashoggi's murder and governments around the world must know the murder of journalists will not go unpunished.
Full report at:
https://www.aa.com.tr/en/americas/us-candlelight-vigil-held-to-remember-saudi-journalist/1600688
--------
Arab World
Thousands in bloody protests across Iraq, 31 dead
October 4, 2019
Thousands of protesters clashed with riot police in Iraq's capital and across the south on Thursday, the third day of mass rallies that have left 31 dead.
Defying curfews, tear gas and live rounds, truckfuls of demonstrators gathered to vent anger over corruption, unemployment and poor services in the biggest challenge yet to Prime Minister Adel Abdel Mahdi.
In his first public address since protests began, the embattled premier made a televised speech early Friday as heavy gunfire rang out across Baghdad.
He described recent events as "the destruction of the state, the entire state", but refrained from directly responding to the protesters' demands.
Instead Abdel Mahdi defended his government's achievements and pledged a monthly stipend for families in need, while asking for time to implement a reform agenda promised last year.
Until now the leader has preferred to communicate by written statement, even as state media said he had met with unnamed protest leaders.
Hours earlier in Baghdad crowds swelled around the ministry for oil and industry, with demonstrators vowing to march to the capital's emblematic Tahrir Square.
"We'll keep going until the government falls," said 22-year-old Ali, an unemployed university graduate.
"I've got nothing but 250 lira ($0.20) in my pocket while government officials have millions," he told AFP.
Most demonstrators carried the Iraqi flag while others held banners bearing the name of Hussein, a revered figure in Shiite Islam.
Police and army troops used automatic weapons mounted on military vehicles to fire at the ground, the bullets ricocheting into the crowd.
Wounded protesters piled into small tuk-tuks to reach hospitals.
"Why do the police shoot at Iraqis like them? They suffer like us -- they should help and protect us," said protester Abu Jaafar.
The demonstrations have left 31 people dead, including two police officers, and more than 1,000 people have been wounded.
Anger boils over
Protests began Tuesday in Baghdad and spread across the mainly Shiite south. Several cities have imposed curfews but protesters have flooded the streets regardless.
Meanwhile the Kurdish northern regions and Sunni western provinces have remained relatively calm.
The grievances echo those of mass demonstrations in Iraq's south just over a year ago, prompted by a severe water shortage that caused a health crisis.
Since then, southern provinces have accused the central government of failing to address profound infrastructural gaps.
In particular, anger has boiled over at the staggering level of youth unemployment, which is around 25 percent or double the overall rate, according to the World Bank.
Tensions have been exacerbated by the closure of government offices and calls by firebrand cleric Moqtada al-Sadr for "a general strike".
Sadr was behind major protests in Baghdad in 2016 when his supporters stormed the city's Green Zone, home to some ministries and embassies.
His involvement appears much more limited this time, but if his followers join the protests en masse the rallies will likely balloon even further.
A signal is also anticipated from the country's top Shiite religious authority, Grand Ayatollah Ali Sistani, which could come in his weekly Friday sermon.
Over half of those killed in the last three days have been in the southern city of Nasiriyah, where seven protesters were shot dead and dozens wounded on Thursday alone.
'Draconian measures'
With internet access virtually shut off, demonstrators have struggled to communicate with each other or post footage of the latest clashes.
Approximately 75 percent of Iraq is "offline" after major network operators "intentionally restricted" access, according to monitor NetBlocks.
The United Nations, European Union and United Kingdom have all appealed for calm, while rights group Amnesty International slammed the response to protests.
"It is outrageous that Iraqi security forces time and again deal with protesters with such brutality using lethal and unnecessary force," said Amnesty's Lynn Maalouf.
She said the internet blackout was a "draconian measure... to silence protests away from cameras and the world's eyes".
The protests appear to be largely spontaneous and decentralised, using virtually no slogans or party insignia.
Instead, demonstrators have brandished posters demanding a "real country" and even pictures of an Iraqi general who was recently decommissioned after reported pressure by pro-Iran factions.
Several Iraqis said they received on Thursday text messages from Abdel Mahdi's office giving a number for a hotline that protesters could call to air their grievances.
Abdel Mahdi came to power in October 2018 as a consensus candidate after last year's mass demonstrations effectively ended his predecessor Haider al-Abadi's chances at a second term.
He pledged to reform inefficient institutions, eradicate corruption and fight unemployment -- unfulfilled promises that appear to have pushed protesters over the edge this week.
In his speech on Friday the premier insisted security forces were abiding by "international standards" in how they were dealing with protesters.
He had previously infuriated many by blaming the violence on "aggressors who... deliberately created casualties".
https://www.thejakartapost.com/news/2019/10/04/thousands-in-bloody-protests-across-iraq-31-dead.html
--------
Iraqi PM says ready to meet protesters, pledges change
Oct 4, 2019
Iraqi Prime Minister Adil Abdul-Mahdi has expressed regret that the ongoing protests in the country have become violent, saying he is ready to meet with the organizers to discuss their demands.
Speaking on Thursday night, the Iraqi prime minister said there was no "magic solution" to issues such as graft, unemployment and corruption but he would begin by passing a law for basic income for poor families.
During the televised address, which came as protesters across Iraq called for him to resign, Abdul-Mahdi asked the parliament, where his coalition is in majority, to give him support so he can reshuffle his cabinet to address people's demands.
The Iraqi premier said the protesters were "correct" to call for an end to corruption but that would only be achieved once the government is allowed to carry out its work.
Earlier on Thursday, Abdul-Mahdi's office issued a statement calling for dialogue.
The statement noted that he was prepared to meet with "representatives of peaceful demonstrators to consider their legitimate demands."
Several Iraqis said they had already received text messages from Abdul-Mahdi's office that included a hotline for them to call and air their grievances.
The Thursday protests were held in violation of a curfew that the premier had declared in several cities after holding an emergency meeting with members of the National Security Council.
Demonstrations erupted on Tuesday over unemployment and poor public services, with some protesters arguing that they deserve a better life since they are living in a country with some of the world's largest energy resources.
The protesters attempted to reach Tahrir Square, which has been sealed off by police along with a nearby bridge that leads to the Green Zone - an area where government offices and foreign embassies are located.
Police had to use stun grenades, rubber bullets and tear gas to disperse the demonstrators as they pushed to bypass the barriers. Casualties were reported in those clashes.
The Iraqi Interior and Health Ministries have said in statements that they regretted the violence which they blamed on "a group of rioters" who had infiltrated the protests.
Prominent Iraqi Shia cleric Muqtada al-Sadr has also called for an investigation into the clashes.
Full report at:
https://www.presstv.com/Detail/2019/10/04/607811/Iraq-Prime-Minister-Abdul-Mahdi-protests
--------
Bahraini regime summons Shia clergyman for questioning
Oct 3, 2019
Bahraini officials have summoned a Shia Muslim cleric for interrogation as the ruling Al Khalifah dynasty presses ahead with its heavy-handed crackdown and persecution of members of the religious community in the tiny Persian Gulf kingdom.
The Arabic-language Lualua television network reported on Thursday that Bahraini security forces had ordered Sheikh Abdulmohsen Mulla Atiya al-Jamri to appear for questioning at Hamad Town Police Station. The reason for the summons remains unknown.
Earlier, Bahraini forces had interrogated Sheikh Jamri for his fiery sermons in the run-up to Ashura, which marks the martyrdom anniversary of Imam Hussein (PBUH), the third Shia Imam and the grandson of Prophet Mohammad (PBUH).
Thousands of anti-regime protesters have held demonstrations in Bahrain on an almost daily basis ever since a popular uprising began in the country in mid-February 2011.
They are demanding that the Al Khalifah regime relinquish power and allow a just system representing all Bahrainis to be established. Manama has gone to great lengths to clamp down on any sign of dissent. On March 14, 2011, troops from Saudi Arabia and the United Arab Emirates were deployed to assist Bahrain in its crackdown.
Full report at:
https://www.presstv.com/Detail/2019/10/03/607794/Bahraini-regime-summons-Shia-clergyman-for-questioning
--------
Khalid bin Salman: Tehran brazenly exploiting Yemen for its own interests
4 October 2019
Saudi Arabia's Vice Minister of Defense, Prince Khalid bin Salman, called Iran's talk about a partial ceasefire in Yemen "a cheap trade" and an exploitation of the country and its people.
Prince Khalid bin Salman said in a series of tweets on Friday that the Iranian regime is "brazenly trying to exploit Yemen for its own interests."
"On the one hand, it [the Iranian regime] blames the Yemenis to evade responsibility for its terrorist acts. On the other, it undermines Yemenis by speaking on their behalf, saying that it is seeking peace in Yemen in a campaign of disinformation and lies," Prince Khalid tweeted.
"Iran's foreign minister is trying to defend the Iranian regime by blaming the attacks on Abqaiq and Khurais on the Yemenis in a cowardly manner, without regard to the security, safety, and stability of Yemen," he added, commenting on the Iranian Foreign Minister Mohammad Javad Zarif's interview with CNN.
"It is time for the Yemenis - all Yemenis - and we will be with them, to unite against the Iranian project of chaos, strife, and destruction, and to prioritize Yemen's interest and security and its people's safety, stability, and prosperity over any other interests," Prince Khalid bin Salman said.
Full report at:
https://english.alarabiya.net/en/News/gulf/2019/10/04/Khalid-bin-Salman-Tehran-brazenly-exploiting-Yemen-for-its-own-interests.html
--------
Military intelligence kill IS leader, four aides in northern Iraq
by Mohammed Ebraheem
Oct 2, 2019
Salahuddin (IraqiNews.com) – Iraqi military intelligence announced on Wednesday that a notorious leader of the Islamic State militant group and four of his aides were killed during a military operation in Salahuddin province, north of Iraq.
"Troops of the Iraqi Military Intelligence Directorate, in cooperation with the 88th brigade of the Popular Mobilization Forces and the Iraqi Air Force, carried out a military operation in Hamrin Mountains in Salahuddin, leaving an IS leader and four of his aides dead," Alghad Press quoted the directorate as saying in a press statement.
The IS leader was identified as Talib Garw al Azzawy, the directorate said.
The troops also destroyed nine terrorist hotbeds in the operation, added the statement.
Iraq declared the collapse of Islamic State's territorial influence in November 2017 with the recapture of Rawa, a city on Anbar's western borders with Syria, which was the group's last bastion in Iraq.
Full report at:
https://www.iraqinews.com/iraq-war/military-intelligence-kill-is-leader-four-aides-in-northern-iraq/
--------
The only way to address Hezbollah is through Iran – not by targeting Lebanon
Michael Young
Oct 2, 2019
These are difficult times politically and economically for Lebanon. More worryingly, the US appears to have abandoned prioritising stability in its approach to the country. The mood in Washington is shifting decisively towards raising the pressure, whatever the consequences.
Economically, Lebanon's financial situation is deteriorating, with the government and central bank barely managing to keep up a facade of stability. The Lebanese pound has long been pegged to the US dollar at a rate of $1 to LBP1,500 (about Dh3.65). However, in recent months the central bank has squeezed the purchase of dollars, to the extent that most commercial banks will only allow it in limited amounts, forcing those who need dollars to buy them from money-changers, who charge LBP1,600 (Dh3.9) to the dollar.
Officially, the fixed rate of LBP1,500 to the dollar still applies officially and the central bank will change at that rate for certain merchants in need of bigger amounts to pay for imported necessities. However, for the vast majority of Lebanese citizens who have to operate through money-changers, the value of the pound has effectively depreciated, exacerbated by the fact that many sellers are being charged in dollars by importers and driving up prices. To all intents and purposes, then, the pound is losing value, even as the government says it isn't.
Additionally, the Trump administration has begun sanctioning Lebanese banks it suspects of enabling Hezbollah financial activities. The most recent case was that of Jammal Trust Bank, which was sanctioned in August, leaving its owners with little choice but to liquidate the bank within a matter of weeks. There are reports that other Lebanese banks are on the radar of the US treasury department, although for now it seems the administration does not want to send the banking sector into freefall. Rather, the aim is to shock other banks into cutting all ties with Hezbollah.
This reflects a new mood in the US. Whereas in recent years, preserving Lebanon's stability was deemed to be of major importance, the attitude has shifted in Washington. On a recent trip to Lebanon, the US assistant secretary of state for near eastern affairs, David Schenker, warned that the Trump administration would "absolutely" target Hezbollah's allies in the country. There have also been unconfirmed reports that the Americans are making it more difficult for Lebanese citizens to get US visas.
All these moves have not come out of the blue. The US has repeatedly sent signals to Lebanon that state institutions, the army and politicians must sever relations with Hezbollah or risk the consequences. These threats have been largely ignored, to the extent that Lebanese President Michel Aoun and his son-in-law, foreign minister Gebran Bassil, as well as the cabinet, have adopted public positions supportive of Hezbollah. American patience with Lebanon is waning, but the US should be very careful of what it does next.
While Lebanon is acutely vulnerable to outside pressure, it is also weak enough that it could easily become a failed state if the political and economic heat is raised too high. There are those in America who believe a Lebanon in crisis, even in conflict, would turn Hezbollah's attention inwards, thereby protecting Israel. However, such an irresponsible approach disregards the suffering that would ensue and the possibility that a Lebanon in chaos would most likely reinforce Hezbollah, which has better means than others to fill the power vacuum.
The reality is that there is no easy way to weaken Hezbollah. The party's main backer is in Tehran and ultimately, the only way to address Hezbollah is through Iran. The illusion that one can change the party's behaviour by inflicting pain on Lebanese society is an illusion. All this would do is decisively weaken and impoverish society, large segments of whom oppose Hezbollah. It would also mean the party has no real opposition left able to resist its agenda. The baby would be thrown out with the bathwater.
That is not to absolve Lebanon's political class, which has been foolishly deaf to the sterner messages coming from Washington. Nor have the Lebanese paid any attention to the decisive change in attitude of Congress, where members are demanding accountability in exchange for US assistance, particularly to the army. Instead, they have smugly repeated that the Trump administration is keen to preserve Lebanon's stability when it is apparent this is no longer the case.
One astute analyst in Beirut made an important observation recently. He pointed out that a lot of the officials who had preserved the relationship with Lebanon, particularly at the Pentagon and the state department, have left office or are on their way out. Their replacements are far less committed to Lebanon than their predecessors were, and far less knowledgeable about the risks the country can pose. This lack of knowledge has meant that officials are more willing to be informed by agenda-driven US think tanks, many of which take a harder line on Lebanon.
Full report at:
https://www.thenational.ae/opinion/comment/the-only-way-to-address-hezbollah-is-through-iran-not-by-targeting-lebanon-1.918313
--------
Saudi Arabia begins trial of 45 ISIS-related terrorists
3 October 2019
Saudi Arabia's Specialized Criminal Court begun on Thursday the trial for a suspected terrorist cell consisting of 45 people accused of supporting ISIS and executing operations in Saudi Arabia.
The cell is accused of conducting operations including assassinating security officers, bombing three mosques, and attacking a security patrol.
The reported attacks led to the death of at least three civilians and 15 officials, including Brig. Kitab al-Hammadi from al-Quwaiiyah province's General Investigations Directorate, whose assassination was reportedly documented in an ISIS propaganda video.
Full report at:
https://english.alarabiya.net/en/News/gulf/2019/10/03/Saudi-Arabia-begins-trial-of-45-ISIS-related-terrorists.html
--------
Muallem vows to 'liberate every inch' of Syria from terrorists
Oct 3, 2019
Foreign Minister Walid al-Muallem says Syria is resolved to rid the entire Arab country of foreign-sponsored Takfiri militants.
In a recent interview with Lebanon-based al-Mayadeen television news network, the top Syrian diplomat said "every inch" of the Syrian territory will be liberated from terrorists very soon.
Al-Muallem said terrorists positioned in the country's northwestern province of Idlib had lost "numerous opportunities for the settlement of crisis" after they failed to honor a ceasefire and continued to target civilian neighborhoods.
His remarks came as Syria's army launched ground operations inside Idlib and adjacent areas which are under the control of foreign-backed terrorists.
Syria has stepped up its bombardment of militant hideouts in the northwest. Idlib, along the border with Turkey, is the last remaining bastion of foreign-backed terrorists.
The so-called National Front for the Liberation of Syria is the main Turkish-backed militant alliance in the Idlib region.
Hayat Tahrir al-Sham (HTS), a coalition of different terror outfits largely composed of al-Nusra Front, holds a large part of the province.
Muallem said that "despite the Syrian army's agreement to truce in Idlib and efforts exerted in this regard, Ankara has failed to fulfill its obligations."
The Syrian foreign minister also demanded an immediate withdrawal of American and Turkish forces from Syria's northeast.
US troops have long been providing Kurdish YPG militants with arms and training, calling them a key partner in the purported fight against Daesh. Many observers, however, see the support in the context of Washington's plans to carve out a foothold in the Arab country.
Such support has also angered Ankara which views YPG militants as a terrorist organization tied to Kurdistan Workers' Party (PKK) that has been waging a destructive war inside Turkey for decades.
Turkey seeks to establish a 32-kilometer (20-mile) safe zone in northern Syria, and has stressed that it wants the Kurdish militants cleared from the region.
The Syrian government, which is opposed to Turkish and US military activities on its soil, sees their presence as a violation of its sovereignty and territorial integrity as well as international law.
Observers say a US plan to set up a joint command center with Turkey to coordinate a so-called safe zone in Syria is aimed at blocking the Syrian army's advances on the battlefield against foreign-backed militants.
Al-Muallem said he expected the Turkish government to implement what was agreed upon in a series of agreements among the guarantor states which are Iran, Russia and Turkey in recent years.
"Turkey should choose either to be a neighboring state or a hostile state to Syria," he said.
Al-Muallem also chided Western states for refusing to take back its members of the Daesh terrorist group.
He called on the West to take responsibility for its nationals, including thousands of children of Daesh terrorists, who are stuck at a camp controlled by US-backed militants in northeast Syria.
"Western states have been encouraging the flow of terrorists to Syria as they have provided all the facilitation for them, and now after their defeat, they don't want them to return," he said.
Elsewhere, al-Muallem said Syria does not not accept any foreign interference in the work of a constitutional committee, which will include members of President Bashar al-Assad's government and foreign-sponsored opposition representatives.
Damascus maintains that the constitutional committee should be a purely Syrian affair to be decided by the Syrian people alone, without any foreign interference.
Full report at:
https://www.presstv.com/Detail/2019/10/03/607796/Syria-Muallem-Assad-US-Turkey-Daesh-Kurds
--------
US continues to support SDF with delivery of new truckloads of weapons
Oct 3, 2019
The United States' support for Kurdish-led militants from the so-called Syrian Democratic Forces (SDF) in the Arab country continues with the latest delivery of dozens of truckloads of weapons and military equipment.
Local and media sources, speaking on condition of anonymity, told Syria's official news agency SANA that the US convoy, comprised of various types of ammunition, military equipment and logistics, entered Syria's al-Jazirah region through the Semalka border crossing, which is a pontoon bridge across the Tigris.
The sources added that the trucks were observed early on Thursday while they were passing by Syria's northeastern city of Qamishli.
The trucks were apparently coming from the town of al-Malikiyah, which lies about 20 kilometers (12 miles) west of the Tigris River, and heading towards the northwestern sector of Syria's province of Hasakah, where SDF militants are active.
Back on September 26, a US convoy laden with munitions, armored vehicles and heavy military equipment entered Syria from northern Iraq through the Semalka border crossing to reinforce SDF militants in al-Jazirah region.
Also on Thursday, local sources told SANA that the US-led coalition purportedly fighting the Daesh Takfiri terrorist group had carried out an operation in the town of Markadah, and arrested in cooperation with SDF patrols a high-profile Daesh terrorist. The Takfiri militant was later released in return for money.
Civil and media sources, requesting anonymity, told SANA on September 22 that SDF militants had received 175 truckloads of weapons and munitions dispatched by the United States, irrespective of condemnation by Damascus of the "criminal and repressive" actions of the forces.
The sources added that the convoy came from northern Iraq through the Semalka border crossing to the militants' positions in provinces of Hasakah, Raqqah and Dayr al-Zawr.
On September 15, Syria's Ministry of Foreign Affairs and Expatriates, in identical letters sent to United Nations Secretary General Antonio Guterres and the rotating President of the UN Security Council Vasily Nebenzya, announced that SDF militants continue their terrorist and criminal measures against Syrians in Hasakah, Dayr al-Zawr, Raqqah and Aleppo.
The letters stated that the militants are backed by the United States and the US-led coalition purportedly fighting Daesh, who provide them with military, logistic, financial and political support.
"That goes in line with schemes being carried out by some states subservient to the United States and being concocted by the authorities of the Zionist regime (of Israel) in utter disregard of Security Council resolutions, which underline the sovereignty and territorial integrity of Syria and unity of its people," the letters read.
The Syrian ministry went on to say that not only do SDF militants take part in crimes being perpetrated by the US-led coalition against Syrian people, but they also kidnap, torture, murder and displace civilians.
The US has long been providing the SDF with arms and militant training, calling them a key partner in the purported fight against Daesh. Many observers, however, see the support in the context of Washington's plans to carve out a foothold in the Arab country.
Full report at:
https://www.presstv.com/Detail/2019/10/03/607787/US-continues-to-support-SDF-with-delivery-of-new-truckloads-of-weapons
--------
FM Cavusoglu casts doubt on joint plan with US in Syria
Oct 3, 2019
Turkey says it has doubts whether joints efforts with the United States to form a so-called safe zone in northeast Syria will ever produce the expected results.
Turkish Foreign Minister Mevlut Cavusoglu said Thursday Ankara was ready to launch a cross-border offensive to push back Kurdish YPG militants from border areas.
"We think this ongoing process with the United States will not take us to the point we desire. The information coming from the field proves this," he told national broadcaster A Haber.
"We must take steps to clear the terrorist organizations from our vicinity and return refugees there," he added.
Turkish Defense Minister Hulusi Akar also told state-run Anadolu news agency on Thursday that Ankara was dissatisfied with the lack of progress made over plans for the formation of the safe zone.
"Unfortunately, we are far behind our expectations regarding the establishment of a safe zone. We are patiently trying every way to solve the problem along our border with our allies," Akar said.
"As we have already mentioned before, we have completed our preparations in case of any possibility. Our plans are ready."
The remarks came two days after President Recep Tayyip Erdogan said Ankara's patience had run out and it had no choice but to act alone given the lack of progress made with the United States.
On August 7, Turkey and the US reached an agreement on the establishment of a joint operation center in the northern part of Syria after Ankara's threats to launch an operation against YPG militants and push them away from the Turkish border.
Erdogan had given the US until the end of September for concrete results on the development of a purported safe zone on Turkey's border with Syria.
Turkey views the YPG as the Syria branch of the homegrown Kurdistan Workers' Party (PKK) militant group, which has been seeking an autonomous Kurdish region in Turkey since 1984.
Turkey seeks to establish a 32-kilometer (20-mile) safe zone in northern Syria, and has stressed that it wants the YPG cleared from the region.
Full report at:
https://www.presstv.com/Detail/2019/10/03/607772/Turkey-Mevlut-Cavusoglu-safe-zone-Syria-YPG-US
--------
Iraq declares curfew in Baghdad to protect residents
Oct 3, 2019
Iraqi Prime Minister Adil Abdul-Mahdi has declared a curfew in the capital, Baghdad, until further notice as protests continue against alleged economic problems.
In a statement released on Thursday, Abdul-Mahdi said "all vehicles and individuals are totally forbidden to move" in Baghdad from 05:00 a.m. local time (02:00 GMT).
Travelers to and from the city's airport, and ambulances, government employees in hospitals and in electricity and water departments, as well as religious pilgrims are exempt from the curfew, the statement added.
It gave provincial governors discretion whether to announce curfews in their provinces.
Government stresses right to peaceful protest
Before announcing the curfew in Baghdad, the Iraqi premier held an emergency meeting with members of the National Security Council.
"The council stressed that appropriate measures should be taken to protect citizens and public and private properties," read a statement released by Abdul-Madhi's office on Wednesday, expressing the government's resolve to make all efforts "to meet the legitimate demands of the demonstrators."
The council further affirmed the demonstrators' "right to protest" and "freedom of expression..., but at the same time condemns the acts of vandalism that accompanied the protests."
Curfews had already been imposed in the Iraqi cities of Nasiriyah, Amarah, and Hilla.
Demonstrations erupted on Tuesday over what is said to be unemployment and poor public services.
On that day, the protesters attempted to reach Tahrir Square, which police had earlier sealed off along with a nearby bridge leading to the Green Zone, where government offices and foreign embassies are located.
Police threw stun grenades and fired rubber bullets and tear gas to disperse the demonstrators. Casualties were reported in those clashes.
In a joint statement, the Iraqi Interior and Health Ministries said they "regretted" the violence that accompanied the protests, blaming "a group of rioters" and calling for calm and restraint.
Interior Ministry spokesman Major General Saad Maan said, "Infiltrators were behind the violent acts in the protests."
Full report at:
https://www.presstv.com/Detail/2019/10/03/607735/Iraq-protests-Baghdad-curfew
--------
How a Saudi initiative is making a difference to Yemeni lives
RAY HANANIA
October 03, 2019
NEW YORK: Saudi Arabia gives billions of dollars in humanitarian aid to Yemen, but equally impactful is the effort the Kingdom is spearheading to rebuild roads, schools, hospitals and the private business sector in the Arabian Peninsula country.
The Saudi Development and Reconstruction Program for Yemen (SDRPY), supervised by Mohammed bin Saeed Al-Jaber, the Saudi ambassador to Yemen, not only gives financial aid for development in Yemen but also provides educational training and resources.
The SDRPY was established almost a year ago to work alongside the Yemeni government to devise and implement development projects in all areas affecting the daily lives of the Yemeni people, to facilitate recovery, create job opportunities, provide basic services and support the economy.
SDRPY, which partners with the King Salman Humanitarian Aid and Relief Center (KSRelief), was established by King Salman in 2015..
Last week, as heads of state, presidents, premiers and thousands of staff converged on the 74th session of the UN General Assembly (UNGA) in New York, officials of both Saudi humanitarian aid and development projects were on hand to explain exhibits in the lobby of the UN headquarters.
Randah Al-Hothali
Randah Al-Hothali said that hundreds of delegates and staff from many organizations were given a hands-on look into SDRPY's operations. The exhibition showcased the reconstruction of damaged hospitals, schools and farms using printed materials, video and virtual reality technology in a way that took each delegate on a personal tour of the projects.
"We cover seven different sectors: health, education, agriculture, fisheries, water and damns, transportation," Al-Hothali said of the development programs launched about one year ago.
"All these different sectors target the needs of Yemeni citizens."
SDRPY has delivered $180 million in oil derivatives to 64 power plants in all 10 government-controlled provinces of Yemen.
More than 68 projects are underway, offering support in seven vital sectors including health care, education, agriculture and fisheries, water, electricity, transport, and security and residential building construction.
"We also cover the energy sector, providing the oil derivatives that help pay the salaries of the teachers, the doctors and medical staff in Yemen," Al-Hothali said.
She said until the program started, Yemenis only had access to electricity for about two hours day.
"Thanks to the support they now have electricity 24 hours each day."
Al-Hothali said that the program provides greenhouses and tractors for agriculture and fisheries. "About 70 percent of the income of a Yemeni family is based on agriculture and fisheries," she said.
"So, by helping them and providing them with these tools, they are being enabled to provide for their families."
A big effort is also underway to provide education for the younger generation. "We printed out more than half a million textbooks and provided them with desks and tables. We want them to have access to education," she said.
Al-Hothali pointed to a photograph of a Yemeni child who held a textbook as if he were holding a weapon. She said that many children at a young age are forced by militias to take up weapons against the people of Yemen.
"The program is replacing those weapons with books and opportunities so that they have a future," Al-Hothali said. "The ambassador (Al-Jaber) said we are putting school textbooks in the hands of children in the place of weapons."
In addition to helping the youth return to schools and education, and families to strengthen their economic well-being, the program also targets Yemeni women, providing them with support and educational opportunities.
"We are providing them with school buses. In the culture of the Yemeni people, it is hard for them to allow their daughters to travel several miles to school," Al-Hothali said. "I met one girl who was 12 years old, who for the first time was able to begin her education by taking the buses to the schools," she said. "The buses provide safety and comfort for the families. Sometimes the simplest things have made the greatest impact."
Al-Hothali said that the SDRPY programs are being conducted across Yemen.
"One of the hospitals in Al-Jouf used to get 18,000 patients every month. But that hospital had been shut down and was not operating. The program provided them with modern medical equipment, thanks to which the hospital is operating again," Al-Hothali said.
"We are building new schools. You can see the fishermen in their boats. You can see the sellers in the markets. You can see all of these advances taking place today."
People interested in learning more about the SDRPY's projects in Yemen can go online at www.sdrpy.gov.sa.
The exhibition included virtual reality (VR) technology presentations highlighting SDRPY projects, videos of SDRPY operations, and an image gallery of Yemenis of all age groups who are benefiting from the program's development projects.
These projects have strengthened the Yemeni economy and created employment opportunities for the local workforce.
"The response from the delegates to the information that was provided here has been enthusiastic," Al-Hothali said. "They have been able to see firsthand what is being done by Saudi Arabia to help the people of Yemen."
Al-Jaber, the Saudi ambassador, reiterated Saudi Foreign Minister Dr. Ibrahim bin Abdulaziz Al-Assaf's announcement on the completion of its pledge of $500 million to the 2019 Yemen Humanitarian Response Plan (YHRP) at the UN donors' conference for Yemen, which took place on the sidelines of the UNGA meeting.
Al-Jaber said this was motivated by Saudi Arabia's commitment to do all it can to alleviate the suffering of the Yemeni people. This included, but was not limited to, improving the humanitarian situation in Yemen by supporting the UN in rendering assistance through its relief workers.
Ambassador Al-Jaber said that the money will supplement the joint Saudi-Emirati "Imdad" initiative to strengthen food security and nutrition in Yemen in the form of $500 million for the UN, announced in early 2019, as well as the $70 million provided jointly by the Kingdom and the UAE to cover teachers' salaries in Yemen in cooperation with UNICEF.
The Kingdom's contributions, the ambassador said, represented an extension of its efforts to support the Yemeni people and improve living standards through SDRPY projects and initiatives.
SDRPY projects improve essential services and economic opportunities in sectors including education, health, agriculture and fisheries, electricity, water, transportation, and residential and government building construction, Al-Jaber said.
Full report at:
https://www.arabnews.com/node/1563731/saudi-arabia
--------
OIC urges global coordination in tackling climate change, environment, water, energy and food challenges
October 03, 2019
The secretary-general of the Organization of Islamic Cooperation, Dr. Yousef Al-Othaimeen, has said that the challenges of environmental degradation, climate change, water, food and energy security require a coordinated national, regional and international response.
Al-Othaimeen made the comment during his opening remarks at the 8th Islamic Conference of Environment Ministers (ICEM) at the Islamic Educational, Scientific and Cultural Organization (ISESCO) headquarters in Rabat, Morocco, on Oct. 2-3.
He said that historically the contribution of OIC countries to greenhouse gas emissions and global warming had been negligible but these nations were among the most vulnerable to climate change.
Al-Othaimeen underscored the importance that OIC attaches to issues of environmental protection and energy security, given the challenges facing OIC countries due to population growth, depletion of resources, environmental degradation and climate change.
He reiterated the OIC's commitment to continue working with member states to identify and mobilize expertise and practical mechanisms, which are consistent with the political, economic and cultural objectives of these countries.
The 8th Ministerial Session, held under the patronage of King Mohammed VI and jointly chaired by the OIC and ISESCO, approved a number of proposals for increasing intra-OIC collaboration. These included the adoption of strategies to involve all stakeholders including scholars, and most importantly youth, in the protection of the environment and achievement of sustainable development.
Full report at:
https://www.arabnews.com/node/1563701/saudi-arabia
--------
173 civilians killed by land mines in Syria this year
October 03, 2019
BEIRUT: At least 173 civilians, including 41 children, have been killed in Syria by land mines and explosive remnants of war since the start of the year, a monitor said Thursday.
Syria's warring parties have all planted land mines in urban as well as rural areas since the conflict started in 2011.
Across the country, more than 10 million people live in areas contaminated by explosive hazards, the United Nations says.
"Since early 2019, 173 civilians, including 41 children, have been killed by land mines and explosive remnants of war," said the Syrian Observatory for Human Rights.
Of the victims, at least 40 have been killed while digging for truffles, the Britain-based monitor said.
"Every day civilians are losing their lives or being maimed for life due to land mines and unexploded ordnances," said the United Nations Office for the Coordination of Humanitarian Affairs (OCHA).
"It is estimated that 2 out of 3 survivors of an explosive hazard incident in Syria will sustain a life-long impairment," it added on Twitter.
The United Nations Mine Action Service (UNMAS) says land mine contamination "hampers" attempts to clear rubble and cultivate agricultural land.
It also poses a threat to children and obstructs the return of displaced Syrians to their hometowns and villages, UNMAS told AFP in August.
Full report at:
https://www.arabnews.com/node/1563526/middle-east
--------
South Asia
Bin Laden's friend arrested in Bangladesh
October 4, 2019
Law enforcing agencies in Bangladesh, working on a tip-off had arrested a man named Atiqullah Asadullah alias Zulfiqar, who was a friend of Al Qaeda kingpin Osama Bin Laden and was lately working with Pakistani espionage agency Inter Service Intelligence (ISI). He also was maintaining regular contacts with a number of officials of Pakistan Armed Forces. The two others arrested with Atiquallah were Muhammed Borhanuddin and Muhammed Nazimuddin.
The counter terrorism wing of Dhaka Metropolitan Police arrested Atiqullah, a top kingpin of banned jihadist outfit Harkat Ul Jihad al Islami (HUJI) and was having deeper connections with Al Qaeda kingpin Osama Bin Laden and Taliban leader Mullah Omar.
Though Atiqullah, along with some of his co-jihadists tried to flee the place, their bids had failed as the law enforcing agencies had heavily cordoned the entire area.
It was later learnt from various sources within the law enforcing agencies that during the past several months, local jihadist outfits such as Ansar Al Islam (affiliated with Al Qaeda), JMB, which is now affiliated with Islamic State (ISIS) and Hizb Ut Tahrir were trying to infiltrate within the Rohingya refugee camps in Bangladesh with the ulterior motive of radicalization and recruitment. These notorious jihadist outfits have been trying to use Rohingya refugees towards jihadist and destructive activities against India and Myanmar.
Security analysts say, the latest arrest of HUJI members from Dhaka clearly proved, jihadists can even hide inside Dhaka and secretly plot subversive or jihadist activities.
https://www.weeklyblitz.net/counterterrorism/bin-ladens-friend-arrested-in-bangladesh/
--------
Myanmar Rejects Rohingya Refugee Visit to Rakhine to Inspect Conditions for Repatriation
2019-10-03
Myanmar has rejected a Chinese offer to facilitate a visit by Rohingya refugees to its Rakhine state to investigate the situation there ahead of a possible repatriation from camps in Bangladesh, a senior Myanmar foreign ministry official confirmed Thursday.
Aung Ko, director general of the political affairs department at Myanmar's Ministry of Foreign Affairs, told the Myanmar Service of Radio Free Asia (RFA) that his government had never agreed to the offer and was waiting for Bangladesh to "allow" the refugees to return to the border, whereupon they would be accepted following individual assessments. BenarNews is affiliated with RFA.
"We never agreed to their suggestion, even though the media reported it as a formal proposal, and our position has not changed," he said, calling the offer "one-sided."
"We will stick to the bilateral agreement to accept returning refugees after they are assessed … We can't do anything, as the other side hasn't allowed the refugees to return yet. We have made all the necessary preparations for repatriation, but it will work only if we have the cooperation from the other side. The conditions are the same as before."
A day earlier, Bangladeshi Foreign Minister A.K. Abdul Momen told reporters in Dhaka that Myanmar's government had dismissed the proposal. It was originally floated by Li Jiming, China's new ambassador to Bangladesh, during talks with Rohingya refugees in Cox's Bazar last month.
According to Momen, the proposal was formally discussed during a meeting last week between Myanmar, Chinese and Bangladeshi delegates on the sidelines of the U.N. General Assembly in New York.
Aung Ko did not provide a reason for why Myanmar's government did not want a group of Rohingya refugees to visit Rakhine state or explain why this proposal was "one sided."
After last week's meeting in New York, Myanmar's Union Minister Kyaw Tin said his government was working with the Association of Southeast Asian Nations (ASEAN), the U.N., and partner nations "to implement the repatriation process," and that Myanmar, China, and Bangladesh had agreed to form a "working group" to address the situation.
More than 740,000 Rohingya fled to southeastern Bangladesh from Myanmar after government security forces launched a brutal crackdown in August 2017 in the wake of deadly attacks by Rohingya insurgents on police and army posts in Rakhine state. Various U.N. and international agencies and NGOs described the campaign as ethnic cleaning, if not genocidal.
Myanmar and Bangladesh have tried twice to repatriate Rohingya refugees who fled during the 2017 crackdown, but those efforts failed after no one showed up at the border for re-entry processing.
Most of the refugees have said that they would not return to Rakhine state unless the government could guarantee their safety, grant them citizenship, and allow them freedom of movement.
Plan to move Rohingya to island
In related news, a senior Bangladeshi official told BenarNews on Thursday that the government was hoping to begin relocating tens of thousands of Rohingya refugees from camps in southeastern Cox's Bazar district to a flood-prone island in the Bay of Bengal, starting this month.
"We have set a timeline to relocate 100,000 Rohingya refugees to Bhashan Char [island] by the end of October this year. Let us see whether we can do so," Enamur Rahman, the state minister in charge of disaster management and relief, told BenarNews.
During an inter-ministry meeting on Sept. 16, Rahman told participants that Prime Minister Sheikh Hasina had stressed "that we need to start the relocation" of 100,000 Rohingya refugees to Bhashan Char "by October 2019," according to a transcript.
The minister said that officials from the ministries of Disaster Management, Home Affairs and Foreign Affairs would meet again soon to review the progress of the relocation plan.
"Our preparations for the relocation as planned will go on. We will again ask for permission from the Prime Minister on the relocation to Bhashan Char," Rahman told Benar, adding that all necessary logistics and amenities would be ready by the middle of this month.
'No difference for us'
At the time of Ambassador Li's proposal last month about how China could facilitate a visit by Rohingya to Rakhine state, a Rohingya leader in Bangladesh named Mohammad Jasim told BenarNews that he and other members of the refugee community had given their consent.
But on Thursday, Mohammad Juharal, a Rohingya leader from the No. 20 Balukhali refugee camp, told RFA that he believed such an advance visit would "make no difference for us."
"[We have heard that] in Myanmar, there has been no progress or changes for the Rohingya who remained," he said, adding that "very few people want to participate in such a plan, because it won't change anything."
He said he was unaware of Myanmar having rejected the proposal, which the government of Bangladesh had encouraged the Rohingya to accept. But few refugees are interested, because "even those left in Rakhine state lack freedom of movement."
Aye Lwin, a Muslim leader in Myanmar said that if Myanmar's government was willing to consider the offer, the Rohingya refugees should accept.
Full report at:
https://www.benarnews.org/english/news/bengali/Rohingya-refugees-10032019181839.html
--------
Pakistan and Taliban agree on the need for earliest resumption of peace process
03 Oct 2019
The Ministry of Foreign Affairs of Pakistan has announced that the country's foreign minister Shah Mahmood Qureshi and political leaders of Taliban agreed on the need for earliest resumption of peace process.
According to a statement released by Foreign Ministry of Pakistan "Both sides agreed on the need for earliest resumption of the peace process."
The statement further added "Foreign Minister reiterated Pakistan's commitment and continued strong support for all efforts in this regard."
"It was emphasized that reduction of violence by all parties to the conflict was necessary to provide an enabling environment for resumption of the peace process at an early date," the statement added.
The visit by Taliban delegation to Islamabad takes place almost a month after the U.S. President Donald Trump called off peace talks with Taliban.
Full report at:
https://www.khaama.com/pakistan-and-taliban-agree-on-the-need-for-earliest-resumption-of-peace-process-04182/
--------
Airstrikes kill 18 Taliban militants in 6 provinces, destroy stolen Humvee
03 Oct 2019
A series of airstrikes killed at least 18 Taliban militants and destroyed a stolen Humvee Armored Personnel Carrier, the military officials said Thursday.
According to the officials, the security forces conducted the airstrikes in Kandahar, Helmand, Zabul, Farah, Logar and Ghazni provinces.
The officials further added that the 3 of the militants were killed in Arghandab of Kandahar, 3 others were killed in Nad Ali and Nahr-e Saraj districts of Helmand and 1 Taliban militant was killed and another one was wounded in Qalat district of Zabul.
Similarly, the airstrikes killed 7 Taliban fighters in Baraki district of Logar and 4 other militants in Giro district of Ghazni.
Full report at:
https://www.khaama.com/airstrikes-kill-18-taliban-militants-in-6-provinces-destroy-stolen-humvee-04181/
--------
5 IS militants killed in drone strikes in E. Afghanistan
Oct 02, 2019
JALALABAD, Afghanistan, Oct. 2 (Xinhua) -- At least five Islamic State (IS) militants have been killed in NATO-led coalition drone strikes in Afghanistan's eastern Nangarhar province, the provincial government said Wednesday.
"The coalition pilotless planes fired missiles on two militants' compounds in Wazir Tangai locality of Khogyani district on Tuesday, killing five IS militants," the government said in a statement.
Some weapons and ammunition belonging to militants were also destroyed, according to the statement.
Full report at:
http://www.xinhuanet.com/english/2019-10/02/c_138444089.htm
--------
Special Forces kill, detain 9 Taliban militants; destroy caches of weapons in 3 provinces
03 Oct 2019
The Afghan Special Forces killed 4 Taliban militants, arrested 5 others and destroyed caches of weapons during the operations in 3 provinces.
The military officials said Thursday the Special Forces killed a Taliban militant, arrested 4 others and destroyed a cache of weapons in Nahr-e Saraj district of Helmand.
According to the military officials, the Special Forces arrested another Taliban militant during an operation in Chak-e Wardak district of Wardak province.
Full report at:
https://www.khaama.com/special-forces-kill-detain-9-taliban-militants-destroy-caches-of-weapons-in-3-provinces-04179/
--------
Deadly airstrike targets a group of Taliban militants in Balkh province
03 Oct 2019
A deadly airstrike targeted a group of Taliban militants in northern Balkh province with preliminary reports indicating the airstrike inflicted heavy casualties on Taliban fighters.
The 209th Shaheen Corps said in a statement that the security forces conducted the precision airstrike in Asyab Sharaf Village in Chemtal district.
The statement further added that the airstrike killed 8 Taliban militants and wounded 5 others.
However, the 209th Shaheen Corps said the casualties' toll of Taliban militants may further rise as a result of the airstrike.
Full report at:
https://www.khaama.com/deadly-airstrike-targets-a-group-of-taliban-militants-in-balkh-province-04180/
--------
Africa
Somali commandos, U.S. air strike repel Islamist insurgent attack
Katharine Houreld
OCTOBER 2, 2019
NAIROBI (Reuters) - Cameras picked up the two white trucks carrying bombs and fighters through the bush towards Somalia's most secure military base, home to U.S. special forces, foreign trainers and the Somali special forces they mentor.
The alarm was raised. By the time the al Shabaab insurgents were a few hundred yards from the perimeter of Baledogle military airfield on Monday, Danaab - Somalia's elite commandos - were waiting, their trainers beside them.
One truck bomb detonated far from the perimeter fence. Eight attackers in uniforms jumped from the other, but Danaab soldiers gunned them down almost immediately, said a Somali security official.
Then the second truck was hit by a U.S. air strike. The explosion was captured on video footage provided to Reuters by two security experts.
Al Shabaab, an Islamist militant group, has launched a string of complex attacks in the past two months on Somali security forces, African Union peacekeepers and - on Monday - European Union and U.S. forces.
But local and international security officials dismissed Monday's attack on Baledogle - which followed a separate bomb attack on an Italian military convoy - as a high-profile stunt rather than a serious assault.
"This is a publicity stunt," said the Somali security official who provided details of the attack on condition of anonymity. "Baledogle military airfield is very highly defended. It's not easy (to attack). You can always try, but you will not succeed."
The attacks are unlikely to influence the commitment to training Somalia forces or a review of the U.S. military presence in Africa as it focuses attention on China and Russia, a U.S. defence official said.
There are usually between 6,000 and 7,000 U.S. troops in Africa, with about 6,500 there currently, the official said. Potential troop reductions do not include Somalia, now home to between 650 and 800 U.S. troops. The review is expected to be completed this month and will then go to the secretary of defence and chairman of the joint chiefs.
Despite persistent attacks, Somalia's international partners are more concerned with rising political tensions between the federal government and member states and reducing corruption among the Somali troops they are training to take over security responsibility from an African Union peacekeeping force.
Partners have struggled to cut graft in the Somali army by building a payroll system based on biometric data. In December 2017, the U.S. government suspended aid including food, fuel and stipends for around 18 months to units not directly supervised until accountability was strengthened.
ATTACK RAPIDLY OVER
The attacks came as Somali soldiers and African Union forces have been taking over villages in the Lower Shabelle region around the capital, Mogadishu. Some have been under insurgent control for 10 years, a security expert told Reuters. In response, al Shabaab is launching attacks on bases from the countryside.
Three Somalia-based security experts described Monday's attack as more of a bid to grab headlines than a concerted attack on Baledogle.
Ten fighters was far too few to attempt a serious assault on the heavily defended military base, said the Somali security source. The base is home to U.S. special forces, Somalia's Danaab and Washington D.C.-based Bancroft Global, which has a U.S. government contract to train Danaab. The Somali National News agency said the attack was over in 10 minutes.
"I don't think even they thought they would succeed," the Somali official said. "But there are a lot of military gains happening in Lower Shabelle and across the country... This is a way to show 'we are still here; we are still alive,' to get attention."
Photos provided to Reuters by two other Somalia-based security experts show a number of men dressed in camouflage uniforms sprawled in the dust or piled in the back of a pickup truck, their injuries consistent with gunshot wounds.
A pile of weapons recovered from the attackers included grenades, rocket-propelled grenades, light machine guns, Kalashnikov-style rifles and belt loads of ammunition. The attackers had also packed food supplies, including milk and apples.
After the attack, al Shabaab put out a statement saying they had killed 100 foreign soldiers and destroyed five aircraft, including drones and helicopters. They provided no evidence to support their claims.
SECURITY WORRIES
As al Shabaab attacks continue, Somalia's internal politics also are causing concern. There is deepening suspicion between states and the presidency, a long-running spat partly grounded in rivalries for access to international security funds and worsened by the federal government's perceived interference in regional elections.
In December, the government imprisoned Muktar Robow, a popular former al Shabaab commander who had defected and ran for the leadership in South West state. The arrest sparked protests, and when the United Nations protested over the use of deadly force to quell the demonstrations, Somalia expelled its envoy.
In August, Ahmed Madobe, leader of the southern Jubbaland region, was re-elected despite federal opposition. Neighbouring Kenya, involved in a spat over oil rights with Somalia, supported Madobe.
The bad blood between the government and regions means local security forces do not share intelligence with federal forces, one regional intelligence official told Reuters.
Local forces are often better-equipped than federal soldiers posted to the regions and often more successful at fighting al Shabaab in their home area, although the Danaab units - better- paid and better-trained than regular soldiers - are the elite.
https://af.reuters.com/article/topNews/idAFKBN1WH0O5-OZATP
--------
Lobby firm paid $1 mln to push for jailed Tunisia presidential hopeful
3 October 2019
The publication by US authorities of a $1-million international lobbying contract to promote a jailed frontrunner in Tunisia's presidential election has triggered an uproar in the North African country.
The US Justice Department published a copy of the deal with Canada-based Dickens and Maddison to lobby for imprisoned media mogul Nabil Karoui "in the United States, the Russian Federation, the United Nation... in order to attaining the Presidency of the Republic of Tunisia."
The one-year contract, dated August 19, far exceeds Tunisia's limits on campaign spending.
The document, first published by the Al Monitor news site, was inked three months after Karoui formalized his candidacy and just days before he was arrested on August 23 on charges of tax evasion and money laundering.
It is signed by the firms president Ari Ben Menashe - who describes himself as a former Israeli intelligence officer -- and pledges the company will "strive to arrange meetings with the Honourable Donald Trump" and Russian President Vladimir Putin.
The company will also work "to obtain material support for the push for the Presidency," the contract says.
It shows the company was paid an initial sum of $250,000, with the remaining $750,000 expected by mid-October.
Tunisia's electoral commission ISIE capped campaign spending at 1.7 million dinars ($630,000) for the first round of the presidential vote on September 15 and 1 million dinars in the lead-up to the final runoff on October 13.
Karoui came in second in the first round with 15.6 percent, behind independent law professor Kais Saied.
In the run-up to key legislative polls on October 6 and the final presidential vote a week later, the publication of the contract has sparked a firestorm on Tunisian social media pages.
Lawmaker Issam Chebbi called on "all institutions to fulfil their responsibilities", in a post directed at ISIE to enforce spending limits.
Several requests for Karoui's release to campaign fairly have been rejected by Tunisian courts.
Other Tunisian political leaders have hired international lobbyists, according to US justice department documents, but for smaller amounts.
The Islamist-inspired Ennahdha party works with several lobbyists.
The BCW consulting firm said in August that Ennahdha had paid it $7,500 for help in "contacting media and policymakers," including several state department officials.
Full report at:
https://english.alarabiya.net/en/News/north-africa/2019/10/03/Lobby-firm-paid-1-mln-to-push-for-jailed-Tunisia-presidential-hopeful-.html
--------
Libya's coast guard intercepts 102 Europe-bound migrants
4 October 2019
Libya's coast guard says it has intercepted more than 100 Europe-bound migrants off the country's Mediterranean coast.
Thursday's statement from spokesman Ayoub Gassim says a rubber boat with 102 African migrants, including three women and a child, was stopped on Tuesday near the capital, Tripoli.
Gassim says they were taken to a detention center in Khoms, around 120 kilometers (75 miles) east of Tripoli.
Libya has emerged as a major transit point for migrants fleeing war and poverty to Europe. In recent years, the European Union has partnered with the coast guard and other Libyan forces to try to stop the dangerous sea crossings.
Full report at:
https://english.alarabiya.net/en/News/north-africa/2019/10/04/Libya-s-coast-guard-intercepts-102-Europe-bound-migrants.html
--------
US re-opens embassy in Mogadishu after three decades
3 October 2019
The United States said Wednesday it had re-opened an embassy in Somalia's capital, 28 years after it was shut as the country plunged into civil war, highlighting warming ties between the two nations.
Washington closed its embassy during the 1991 overthrow of president Siad Barre's military regime which ushered in decades of chaos. However, diplomatic relations have strengthened in recent years.
"Today we reaffirm the relations between the American people and the Somali people, and our two nations," said Ambassador Donald Yamamoto in a statement.
"It is a significant and historic day that reflects Somalia's progress in recent years, and another step forward in regularizing US diplomatic engagement in Mogadishu since recognizing the federal government of Somalia in 2013."
A permanent diplomatic presence was established in Mogadishu in December 2018, however was operated out of Nairobi.
The country continues to be wracked by an insurgency, and al-Shabaab militants on Monday staged an attack on a military base that is a major launching site for US drone operations, as well as a European Union convoy.
US strikes in Somalia surged in April 2017, after President Donald Trump declared the south of the country an "area of active hostilities."
Full report at:
https://english.alarabiya.net/en/News/world/2019/10/03/Us-re-opens-embassy-in-Mogadishu-after-three-decades.html
--------
Nigeria releases 25 children cleared of suspected ties with Boko Haram: UNICEF
Oct 3, 2019
The Nigerian army has released 25 children after clearing them of suspected ties with terrorist groups in the country's restive northeast region, the United Nations Children's Fund (UNICEF) says.
Nigeria has fought an insurgency by militant group Boko Haram in northeastern states that has killed more than 30,000 people over the past decade. It is not clear how many children in total have been drawn into armed groups, including Boko Haram, or how they have been recruited.
UNICEF said 23 boys and two girls were released by the army and handed to authorities in Borno, the state worst affected by the insurgency.
The children would be given access to medical support, education and vocational training, the agency said.
The release comes against the backdrop of widely reported cases of young people being held captive in Nigeria in differing circumstances.
In May, a regional militia allied with government forces freed almost 900 children it had used in the war against insurgents.
Earlier this week, police in Lagos, the commercial capital, said they had freed 19 women and girls who had mostly been abducted and made pregnant by captors planning to sell their babies.
Ironside said UNICEF was working to ensure that all children affected by the conflict were reunited with their families.
Full report at:
https://www.presstv.com/Detail/2019/10/03/607775/Nigeria-Children-Boko-Haram
--------
Somalia hopes to counter Al Shabaab with new education curriculum
Oct 04, 2019
Somalia's government is implementing a new curriculum for primary and secondary school students, for the first time since the civil war broke out in 1991.
In the past, schools had to make do with whatever materials came to hand. More than 40 curricula were used across Somalia, creating a hodgepodge of competing education systems in a variety of languages, the government said.
Schools sourced textbooks from more than 10 countries during the civil war and English and Arabic replaced Somali as the language of instruction.
What has changed
Up to 2 million textbooks printed in Somali have been issued to pupils in most of Somalia since August and their schools have synchronised academic terms, the ministry of education said.
The new books cover English, Arabic, Somali, maths, Islamic studies, science, physical education, technology, and social studies.
"Students have coped well with the new curriculum because it is based on their religion, culture and vernacular," said Abdulkadir Mohamed Sheikh, a teacher at Banadir Zone School.
"This new syllabus is better than the old Kenyan syllabus, which was in English. The new curriculum is the best," Shuayb Muhidin said, a student at Banadir Zone School.
Religious education is particularly important, said State Minister of Higher Education And Culture Abdirahman Mohamed Abdulle. The al Qaeda-linked al Shabaab insurgency also regularly launches deadly bomb attacks in Somalia in a bid to impose its own strict version of Islamic law.
The government hopes the new textbooks will help counter their message.
Clerics helped the government train teachers in Islamic ethics and create a syllabus that "will produce students who are sound, who are free from terror ideology, moderate students who have Islamic knowledge as well as other subjects", Abdulle said.
However, challenges remain. Only 22% of Somalia's 30,000 teachers are certified, Abdulle said.
"The quality of students depends on the quality of the quality of teachers," he said.
Full report at:
http://www.africanews.com/2019/10/04/somalia-hopes-to-counter-al-shabaab-with-new-education-curriculum/
--------
Malian government urges unity as number of troops killed in extremist attacks rises
Oct 4, 2019
The death toll in two attacks this week on Malian military camps near the Burkina Faso border has risen to 38 soldiers, the Defence Minister said on Thursday, calling for unity.
"I am very proud of these paratroopers, who defended their positions," Ibrahima Dahirou Dembele said on national radio. "But unfortunately, today we buried 38 bodies."
The minister, speaking from Boulkessey, the scene of one of the attacks, said 33 missing soldiers were found alive, eight of whom were receiving treatment.
Mr Dembele did not say if any more were still missing.
An earlier death toll after the attacks on Monday and Tuesday put the number of fatalities at 25 troops, with dozens missing.
"In spite of this hard blow, we have to stick together," Mr Dembele said. "It's a tough, difficult fight. But in the face of this war, we have to remain united behind our leader."
Using heavily armed vehicles, the militants raided two military camps, at Boulkessy and Mondoro.
Fifteen militants were killed in the raids, the government said, which began early on Monday and took more than a day to quell.
The attacks were eventually subdued with the help of Malian special forces and foreign allies, including French warplanes and helicopters.
The militants made off with a large amount of weapons, ammunition and equipment.
Local media reported about 20 vehicles were captured, including some with mounted machineguns.
Three days of national mourning, declared by President Ibrahim Boubabcar Keita, began on Thursday.
Hundreds of angry youths and wives of soldiers demonstrated outside a military camp in the capital Bamako late on Wednesday, where protesters burnt tyres.
"We came here because the government is not telling the truth about the number of dead," one solder's wife told AFP.
"It's our husbands, the red berets, who are at Boulkessy."
Ali Dialite, 15, said: "My father is a soldier. He's at Boulkessy, and I haven't any news of him. They're lying to us. The army is under-equipped."
The losses come as a crushing blow to Mali's armed forces, which are flailing in the face of an extremist revolt that has spread from the arid north to its centre, an ethnically mixed and volatile region.
The operation is also a humiliation for the G5 Sahel anti-terrorist force of 5,000 men from five countries, and for France, which is committed to strengthening security in the fragile region.
Two army helicopters and about a dozen vehicles were burnt in the attack on Boulkessy, AFP reported.
The camp there, which included a Malian battalion that was part of the G5 Sahel, was destroyed.
The force's secretariat said the assailants were members of Ansarul Islam, militants accused of several attacks in northern Burkina Faso.
Militants lost control of northern Mali after the French military intervention, but regrouped as a mobile guerrilla force to carry out hit-and-run raids and mine attacks.
They also moved to the country's central region, where they have inflamed long-standing resentments between ethnic groups, analysts say.
Full report at:
https://www.thenational.ae/world/africa/malian-government-urges-unity-as-number-of-troops-killed-in-extremist-attacks-rises-1.919064
--------
URL: https://www.newageislam.com/islamic-world-news/vati-visit-al-aqsa-celebrates/d/119913
New Age Islam, Islam Online, Islamic Website, African Muslim News, Arab World News, South Asia News, Indian Muslim News, World Muslim News, Women in Islam, Islamic Feminism, Arab Women, Women In Arab, Islamophobia in America, Muslim Women in West, Islam Women and Feminism