New Age Islam News Bureau
27 Jun 2019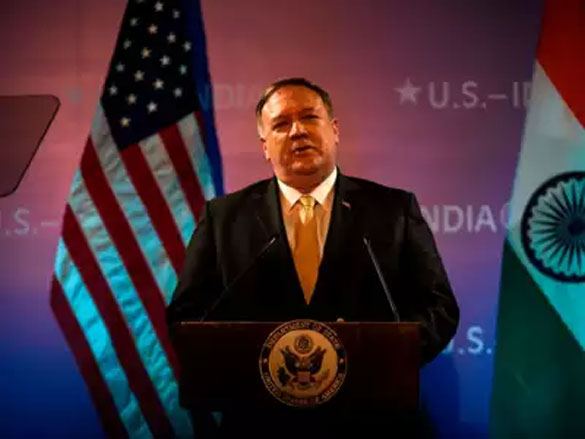 US secretary of state Michael Pompeo
---------
• US Secretary Of State Touches upon Religious Freedom, Says To India 'Let's Stand Up Together'
• Mob Lynching In Cultured Society Is Worst Crime; Majid Memon Asks PM "Do Muslims Have A Right To Live In India?"
• Myanmar Must Grant Citizenship to Rohingya: UN Official
• Explosives Sent to Paris in Iranian Diplomatic Packages
• Revolution Chemnitz: Right-Wing Group Charged With Terrorism
• Thailand Imposing Facial Recognition for Muslim-Majority South
• Islamic Scholar Al-Timimi's Terror Convictions Reviewed in Virginia
• US Denounces China's Justification of Uighur Re-Education Camps
• Saudi Arabia: Palestinian Initiative 'A Great Opportunity To Bring Prosperity And Opportunities'
• Turkey Refurbishes Historic South African Mosque
India
• US Secretary Of State Touches upon Religious Freedom, Says To India 'Let's Stand Up Together'
• Mob Lynching In Cultured Society Is Worst Crime; Majid Memon Asks PM "Do Muslims Have A Right To Live In India?"
• Community Fridge under 'Feed the Need' Initiative Inaugurated In Hyderabad
• Protests in Indian cities after Muslim man beaten to death
• NIA Recovers 2 Ieds from Bengaluru Drain, JMB Operative Arrested
• Militant with links to Al Qaeda affiliate killed in gunfight
• Pakistan terror expert is RAW chief, J&K specialist IB boss
• Government rules out intelligence failure in Pulwama attack
• Pakistan's Large-Scale Terrorism Industry Prevents It from Behaving Like 'Normal Neighbour': Jaishankar
• If someone is making 'gutter' comment', then why don't you give Muslims reservation?, Owaisi attacks PM Modi
--------
South Asia
• Myanmar Must Grant Citizenship to Rohingya: UN Official
• 57 Taliban Militants Including 10 Pakistanis Killed In Ghazni Clashes, Airstrikes
• ICC prosecutor seeks Bangladesh and Myanmar investigation
• 2 U.S. Soldiers Killed in Fierce Firefight in Afghanistan
• Taliban militants suffer heavy casualties in Special Forces raids in Uruzgan
• Special Forces kill 7 militants, destroy 135lbs of explosives, narcotics in Nimroz and Zabul
• 13 Taliban militants killed, detained in Special Forces raid in Sarobi of Kabul
--------
Europe
• Explosives Sent to Paris in Iranian Diplomatic Packages
• Revolution Chemnitz: Right-Wing Group Charged With Terrorism
• Cities can be 'antidote' to extremism, says London mayor
• Austrian Far-Right Leader Searched On Suspicion of Forming Terrorist Group with Christchurch Shooter
• Australia Rescues Children of Dead Islamic State Fighters
• EU mobilizes nearly $24M for Palestinian refugees
• Cat Gifs, Memes and Emojis: The Internet Culture of ISIS
• UN Asks Russia For Answers About Bombed Hospitals In Syria
--------
Southeast Asia
• Thailand Imposing Facial Recognition for Muslim-Majority South
• W. Sulawesi Warden Fired For Forcing Muslim Inmates To Read Quran
• Singaporean man detained under ISA for wanting to join ISIS; 2 others, including 62-year-old woman, on restriction orders
• Malaysia names task force members to probe 'sensitive' disappearances of pastor, Muslim activist
• Malaysia reopens probe into kidnapping of Shia activist, pastor
• Indonesian Muslim groups win Peace Prize backing
--------
North America
• Islamic Scholar Al-Timimi's Terror Convictions Reviewed in Virginia
• US Denounces China's Justification of Uighur Re-Education Camps
• Canada adds right-wing extremists to terrorist list
• 2020 Democrats pledge return to Iran nuclear deal if they beat Donald Trump
• Canada: Senators urge Rohingya action from government
• Hezbollah operating in Venezuela, Maduro's ex-security chief says
• Nicaragua arrests four men suspected of ties to Islamic State
• Canada's command of NATO mission in Iraq extended to late 2020
• New Pentagon chief confronts Turkey on NATO debut
• UAE says no proof Iran hit tankers in clear rebuttal to US-Saudi claims
• Trump rules out 'boots on the ground' in any Iran war
• War with Iran would 'not last very long', US President Trump says
--------
Arab World
• Saudi Arabia: Palestinian Initiative 'A Great Opportunity To Bring Prosperity And Opportunities'
• Saudi Arabia Announces Capture Of An ISIS Leader In Yemen In U.S.-Backed Raid
• Kurdish Official Calls for Stronger US Role in Syria after IS
• Bomb blast kills four Iraqi federal police officers: security sources
• Egypt says 7 policemen killed in Sinai jihadist attack
• Saudi forces intercept another Houthi drone headed towards a residential area
• Saudi Abha Airport Resumes Flights after Houthi Terror Attack
• Aleppo: Several Turkish Soldiers Killed, Injured in Kurdish Attacks in Afrin
• Yemen Vows to Keep Attacking Saudi Coalition till Riyadh Stops Aggression
• Syrian Army Reinforces Military Positions in Homs' Desert Region
• US-Backed SDF Dispatches Fresh Military Convoy to Deir Ezzur to Suppress Popular Uprising
• Rescue workers among eight killed in Syria air raids
• Oman says to open embassy in Palestinian territories
• Bahrain says wants 'peace, better relations' with Israel
• Lebanese govt., people against Trump's 'deal of century,' Hariri says
--------
Africa
• Turkey Refurbishes Historic South African Mosque
• Boko Haram Attacks Borno Again: Three Terrorists Killed, Two Soldiers Wounded
• Morocco dismantles "terror" cell, arrests 4 IS suspects
• Zakzaky in urgent need of medical treatment
• Libya's gov't forces say it recaptured Gharyan city
• Clashes renew between rival forces near Libya's Tripoli
--------
Mideast
• Netanyahu Presses Superpowers to Remove Iranian Forces from Syria
• 3 U.S. drone airstrikes kill 5 al-Qaida members in central Yemen
• Iran warns US of stronger reaction if its borders violated again
• Khamenei says Iran will not retreat in face of US sanctions and 'insults'
• Arab Coalition intercepts Houthi drone in Yemeni airspace targeting Saudi Arabia
• Empowering Palestinians means delivering on promises
--------
Pakistan
• Three suicide bombers killed as police foil terror bid in Loralai
• One killed as militants attack Pakistan police housing complex
• Opposition parties divided over en masse resignation from Parliament
• Firdous terms MPC bid to hide opposition leaders' corruption
• Pakistan announces fresh support for Palestinian refugees
Compiled by New Age Islam News Bureau
URL: https://www.newageislam.com/islamic-world-news/us-secretary-state-touches-upon/d/119010
--------
US Secretary Of State Touches upon Religious Freedom, Says To India 'Let's Stand Up Together'
Jun 27, 2019
NEW DELHI: Close on the heels of the standoff last week over a state department report on religious freedom in India, US secretary of state Michael Pompeo again touched upon the issue here and said the world would be worse off if religious rights were compromised.
"India is the birthplace of four major world religions," Pompeo said, addressing a gathering of senior diplomats and foreign policy wonks.
"Let's stand up together for religious freedom for all, let's speak out strongly together in favour of those rights for whenever we do compromise those rights, the world is worse off," he added.
Responding to the latest Report on International Religious Freedom published by the US state department, India had said it saw no locus standi for a foreign entity to pronounce on the state of "our citizens' constitutionally protected rights".
The government had said India was proud of its secular credentials, its status as the largest democracy and a pluralistic society with a long-standing commitment to tolerance and inclusion. That though was probably the only sour note in the speech by Pompeo who lauded international cooperation between the two countries and called for "new age ambition" in ties.
Pompeo said the US was pleased to see that Jaish-e-Muhammed chief Masood Azhar had been banned by the UNSC sanctions committee. Recalling Prime Minister Narendra Modi's call for a joint initiative against terrorism, he said it was similar to US President Donald Trump's call in Riyadh two years ago.
He said the US was aware that India's decision to stop importing oil from Iran was not without cost and that the US would ensure that India didn't face any crude shortage. Pompeo said the US was working to ensure that Iran and Venezuela behaved like normal countries.
India's decision to stop oil imports from Iran, and also to move away from Venezuelan crude, was cited as examples of significant cooperation between India and the US despite "nagging misconceptions" about bilateral ties.
Pompeo appreciated India's support to the US on numerous fronts, including the global campaign of pressure and diplomacy with North Korea. "You supported the global campaign of pressure and diplomacy with North Korea to encourage Chairman Kim Jong-un to go back to the bargaining table, and ultimately to achieve the final, fully verified denuclearisation of the Korean peninsula," he said.
Pompeo also appreciated India's decision to favour Israel's decision objecting to granting consultative status to a Palestinian group at the UN. "Recently, India voted against giving UN observer status to a Palestinian NGO tied to terror group Shahed, because rewarding terror groups is just wrong and both India and America know that," he said.
https://timesofindia.indiatimes.com/india/pompeo-touches-upon-religious-freedom-says-lets-stand-up-together/articleshow/69966277.cms
--------
Mob Lynching In Cultured Society Is Worst Crime; Majid Memon Asks PM "Do Muslims Have A Right To Live In India?"
Jun 26, 2019
The issue of Mob lynching and the death of innocent Muslims dominated the scene in Rajya Sabha on Tuesday. NCP MP of Rajya Sabha, Mr. Majid Memon attack the Govt. that such incidents are on the increase during its tenure. He asked the govt. that he wants to know 21 Crore Muslims who are living in a state of fear and terror, do they have any right to live in India?
He recalled that before addressing the members of Parliament, PM Modi had bowed his head before the Constitution and stressed that it is very essential to gain the confidence of the Muslims. He also said that with great humility, he is asking the PM Modi that how can the govt. gain the confidence of the Muslims when a Muslim youth like Tabrez Ansari is beaten up and forced to say "Jai Sri Ram" and "Jai Hanuman"?
He also asked whether the 21 crore Muslims are enjoying delight with dignity of living fearlessly? He questioned that whatever he witnessed during the past 5 years, was not seen ever before. For this reason, some of the judges of the Supreme Court had said "There is a danger caused for the Constitution".
Mr. Majid Memon told that lynching by the mob is the worst crime for a cultured society. Quoting Mr. Gulam Nabi Azad, Mr. Memon said that he had said that Jharkhand has been transformed into a factory wherein the Muslims and the Dalits are being attacked every week.
https://www.siasat.com/news/mob-lynching-cultured-society-worst-crime-majid-memon-asks-pm-do-muslims-have-right-live-india-1526758/
--------
Myanmar Must Grant Citizenship to Rohingya: UN Official
Jun 27, 2019
A top UN investigator says Myanmar must grant citizenship to Rohingya Muslims, who have fled genocide in the Buddhist-majority country and who are currently living squalidly in neighboring Bangladesh.
The Rohingya Muslims, who have lived in Myanmar for generations, are denied citizenship there and are branded illegal immigrants from Bangladesh, which likewise denies them citizenship.
Thousands of Rohingya Muslims were killed, injured, arbitrarily arrested, or raped by Myanmarese soldiers and Buddhist mobs mainly between November 2016 and August 2017 in what the UN has said was genocide. Some 800,000 other Rohingya survived only by fleeing to Bangladesh, where they live in cramped camps and face forced return.
Last year, a UN fact-finding mission said the campaign against the Rohingya was orchestrated with "genocidal intent."
"I have seen much brutality in the different parts of my career but the rape and forced eviction of the Rohingya shook me to my core," said Radhika Coomaraswamy, a member of that mission, on Wednesday.
She said statelessness was at the root of the "horrific" crisis.
"Before you force people to go back into Myanmar you must make sure the conditions are right and the Rohingyas will have... a clear pathway to citizenship," the UN official said. "The problem is their villages have been bulldozed — without a tree standing."
She was referring to a campaign of spoliation of evidence by the Myanmarese state to flatten the villages where the Rohingya were once concentrated.
Coomaraswamy also urged Myanmar's de facto leader, Aung San Suu Kyi, to "be the democrat she once told us she was."
Suu Kyi is a Nobel Peace Prize laureate long hailed by Western governments as a supposed democracy icon. But she has either remained silent on the atrocities against the Rohingya by the military and Buddhist mobs or has tacitly sided with the military.
Coomaraswamy was speaking at a global conference on statelessness in The Hague, where the plight of the Rohingya Muslims is in the spotlight.
"Statelessness is no longer the exception in the world — it has become endemic," she said.
https://www.presstv.com/Detail/2019/06/27/599536/Myanmar-Rohingya-Muslims-UN-official-grant-citizenship
--------
Explosives Sent to Paris in Iranian Diplomatic Packages
June 27, 2019
The explosives for a planned attack on an Iranian opposition group convention outside Paris were brought into the country in Iranian diplomatic packages sent on a civilian airliner.
This shocking new detail was revealed by an intelligence source quoted by Independent in Arabic, a British newspaper.
The attack, which was thwarted by European officials, was in motion and set to happen at the annual massive gathering of Iranian opposition supporters, a group in exile which seeks to end Shi'ite Muslim clerical rule in Iran.
The rally took place in June 2018 and was attended by thousands including President Trump's National Security Adviser John Bolton and former lawyer Rudy Giuliani as well as several former European and Arab ministers.
The intelligence sourced reported that diplomatic packages with half a ton of TATP explosives were check in on June 22, 2018 on a civilian Airbus plane from Tehran to Austria carrying 240 passengers.
French authorities foiled the plot, after arresting a Belgian couple of Iranian origin that was transporting the explosives to Paris.
The attack was to be carried out by an Iranian intelligence official, who had worked at the Iranian embassy in Austria since 2014. According to reports, he visited Tehran and received the explosives on June 20, 2018.
German authorities arrested the Iranian official.
The TATP, a home-made explosive made from chemicals, could have caused the plane to explode if it would have entered strong air pockets of air.
This method was used in a terrorist attack three years ago, when a terrorist sabotaged a Russian plane, mainly full of tourists, taking off from the Sharm el-Sheikh airport in Egypt killing 244 aboard.
Iran is known for using civilian aircrafts to transfer explosives, weapons, ballistic missiles and funds to its proxy terror group in Lebanon, Hezbollah, as well as to other groups.
https://clarionproject.org/explosives-sent-to-paris-in-iranian-diplomatic-packages/
--------
Revolution Chemnitz: Right-Wing Group Charged With Terrorism
25.06.2019
German prosecutors charged a right-wing group with terrorism offenses, officials confirmed on Tuesday.
Members of Revolution Chemnitz were alleged to have the formed the group in September with the intention of planning and carrying out terror attacks.
The charges were initially revealed by a collaboration between public broadcasters NDR, WDR and newspaper Süddeutsche Zeitung, and later confirmed by the federal prosecutor's office in Karlsruhe.
Members of the group had allegedly planned to orchestrate a civil-war-like rebellion in Berlin on October 2, 2018. Prosecutors based their charges partly on the use of chat logs found on the defendants' mobile phones.
Eight alleged members are being held in pre-trial custody and known to police as leaders in the right-wing extremist scene in the eastern city of Chemnitz, which was the scene of anti-immigrant protests last year.
The trial is expected to begin in the fall before the Higher Regional Court of Dresden.
False-flag attack planned
One of the accused reportedly admitted during interrogation that the action in Berlin was intended to "override laws," and that they wanted to make it appear that leftists were responsible for the planned actions.
The men, aged 21 to 31, allegedly lead the skinhead, hooligan and neo-Nazi scenes in the Chemnitz area.
They were arrested shortly after forming their alleged alliance.
aw/jm (dpa, AFP, epd)
https://www.dw.com/en/revolution-chemnitz-right-wing-group-charged-with-terrorism/a-49352436
--------
Thailand Imposing Facial Recognition for Muslim-Majority South
June 26, 2019
BANGKOK: An order for mobile phone users in Thailand's restive south to submit a photo of themselves for facial recognition purposes is causing uproar from opponents who see it as further curtailing the rights of the Muslim-majority population.
But an army spokesman on Wednesday defended the move, saying the facial identification scheme is needed to root out insurgents deploying mobile phone-detonated home-made bombs.
Thailand's three southernmost states – Yala, Pattani, and Narathiwat – have since 2004 been rife with conflict between Malay-Muslim rebels and the Buddhist-majority Thai state, which annexed the region around a century ago.
The tit-for-tat violence has claimed around 7,000 lives, mostly civilians of both faiths, and security forces have detained individuals suspected of being separatist rebels without warrants in the past.
Now telecoms companies are requiring all users of the region's 1.5 million mobile numbers to submit a photo of themselves for facial recognition purposes following orders from the army – a move that is drawing anger from rights groups as the deadline to register photos nears.
A military spokesman defended the move on Wednesday, saying it was necessary to identify perpetrators who use mobile phone reception to set off home-made bombs.
"In cases where the attacker uses a SIM card to detonate a bomb, we can trace the perpetrator," said Colonel Watcharakorn Onngon, deputy southern army spokesman.
Registration ends on Oct 31, and anyone who fails to submit their photo in the three southern provinces and four districts in neighbouring Songkhla province will have their mobile reception cut off, he said.
Junta leader-turned-premier Prayut Chan-O-Cha on Tuesday also said the scheme provides "evidence" about who the real owner of each SIM card is.
"People in the south are not complaining … they know it truly helps reduce violence," he said.
The Muslim-majority south and rights groups have long accused the Thai state of heavy-handed sweeps of the Malay-Muslim populations, raising tensions in communities who feel targeted in their homes.
Using such "flawed" facial recognition technology usually leads to "racial profiling and, in turn, wrongful arrests", according to a statement by rights group Cross Cultural Foundation Tuesday.
"The risks of racial discrimination may erode public trust in policing the region," it said.
While the rest of Thailand is not subjected to the same requirement of submitting photos, Watcharakorn said people with unregistered SIMs travelling to the three provinces will have no cell access.
https://www.freemalaysiatoday.com/category/world/2019/06/26/thailand-imposing-facial-recognition-for-muslim-majority-south/
--------
Islamic Scholar Al-Timimi's Terror Convictions Reviewed in Virginia
By Matthew Barakat 
June 25, 2019
FALLS CHURCH, Va. — A judge is considering tossing out parts of a 10-count conviction against an Islamic scholar serving life in prison for persuading some of his followers to travel overseas after the Sept. 11 attacks and try to join the Taliban.
The review in the case of Ali Al-Timimi of Fairfax comes after the Supreme Court on Monday struck down part of a federal law regulating crimes of violence as unconstitutionally vague.
U.S. District Judge Leonie Brinkema issued a show cause order Tuesday giving prosecutors 30 days to explain why she shouldn't overturn three of the 10 counts on which Al-Timimi was convicted at his 2005 trial.
Vacating those convictions would likely still leave a significant sentence on remaining counts, which include soliciting treason. But the life sentence would be unlikely to survive.
Al-Timimi was indicted in 2004, and prosecutors said the U.S.-born scholar — who had earned his doctorate in computational biology shortly before his arrest — enjoyed rock-star status among his small group of followers.
At a private gathering a few days after the Sept. 11 attacks, Al-Timimi told his followers that an apocalyptic battle between Muslims and the West loomed, and that Muslims were obliged to defend the Taliban if they had the ability to do so, according to trial testimony.
Several members did travel as far as Pakistan and received military training from a militant group called Lashkar-e-Taiba, but none ever actually joined the Taliban.
In the years leading up to Sept. 11, many members of the group had trained for potential holy war by playing paintball in the northern Virginia woods.
Roughly a dozen men were convicted and sentenced for their various roles in the paintball-jihad conspiracy. Several of those who were convicted received sentences of 25 years or more under the same "crime of violence" convictions implicated in Al-Timimi's case.
But the "crime of violence" statute has been under constitutional assault for several years, and several members of the paintball conspiracy have already been released from jail early as a result of previous court rulings.
The Supreme Court's 5-4 ruling Monday in U.S. v. Davis, though, directly affects Al-Timimi's case, according to his lawyer, Jonathan Turley.
The high court "has unequivocally invalidated the ... clause that formed the basis for Al-Timimi's convictions under Counts 1, 7, and 8," Turley wrote in a brief Monday urging the court to take action.
Justice Brett Kavanaugh, dissenting in the high court case, warned that the decision will likely result in thousands of inmates being released from prison earlier than their original sentence.
"The inmates who will be released early are not nonviolent offenders," he wrote. "They are not drug offenders. They are offenders who committed violent crimes with firearms, often brutally violent crime."
Though Al-Timimi never used a gun, he became eligible for prosecution under the crime-of-violence provision because some of those he exhorted to join the Taliban used firearms in their military training with Lashkar-e-Taiba.
Al-Timimi's case has been up and down through the appellate courts for much of the last 15 years. A broader challenge to his convictions is pending, claiming prosecutors failed to disclose before trial evidence that the government used a northern Virginia cleric named Anwar al-Awlaki as an informant, and that he tried unsuccessfully to lure Al-Timimi into illegal conduct as part of a government sting.
Al-Awlaki later left the U.S. and became a leader in al-Qaeda before he was killed in a U.S. drone strike.
Prosecutors have argued consistently that there is no evidence related to al-Awlaki to which Al-Timimi's lawyers would have been entitled.
https://www.washingtonpost.com/national/islamic-scholars-terror-convictions-reviewed-in-virginia/2019/06/25/13606b06-9761-11e9-9a16-dc551ea5a43b_story.html?noredirect&utm_term=.e38a71af5dbc
--------
US Denounces China's Justification of Uighur Re-Education Camps
By Lisa Schlein
June 25, 2019
GENEVA - The United States has condemned efforts by China at the U.N. Human Rights Council to justify its incarceration of a reported million Uighurs and other ethnic minorities in 're-education' camps in Xinjiang Province.
After introducing himself as an ethnic Uighur, the vice governor of Xinjiang province in China, painted an idyllic picture of life there. Aierken Tuniyazi told diplomats at the U.N. Human Rights Council that 25 million people, encompassing many ethnic groups and religions, lived in solidarity, harmony and mutual assistance.
He said people in Xinjiang are united as closely as the seeds of a pomegranate. He said China had lifted 2.3 million people out of poverty in the province. He said religious beliefs were protected by law and ethnic minority languages were taught in schools and widely used in social and public forums.
Despite the progress, he noted China was confronted by many challenges from ethnic separatism, terrorism and religious extremism. He said that has led to thousands of terrorist attacks, many deaths and immeasurable property damage. In the face of those threats, he said China has been forced to crack down on violent and terrorist crimes and take preventive measures. He spoke through an interpreter.
"By setting up vocational, education and training centers in accordance with the law, we aim to educate and save those who are influenced by religious extremism and committed minor legal offenses…The centers provide courses on the country's common language, legal knowledge and vocational skills and integrated de-radicalization throughout the entire education and training process," said Tuniyazi.
The United States called China's vice governor's remarks an embarrassment to the council. A statement issued by the U.S. Mission here in Geneva accused the council of once again granting a representative of one of the world's worst human rights abusers a platform for propaganda.
The U.S. expressed alarm at China's highly repressive campaign against the Uighurs and other ethnic groups in Xinjiang.
It accused the Chinese government of subjecting more than one million people in so-called re-education camps to torture, pervasive, high-tech surveillance, and measures to efface their cultural and religious identities.
https://www.voanews.com/east-asia-pacific/us-denounces-chinas-justification-uighur-re-education-camps
--------
Saudi Arabia: Palestinian Initiative 'A Great Opportunity To Bring Prosperity And Opportunities'
June 26, 2019
MANAMA: Saudi Arabia's Finance Minister Mohammed Al-Jadaan said Wednesday the Kingdom will support whatever economic plan will bring prosperity to the Palestinians.
Speaking on the second day of an international conference on a US initiative to improve the economic plight of Gaza and the West Bank, Al-Jadaan said he was "very, very optimistic" about the plan.
"The region is in desperate need of prosperity and hope and we and our colleagues share the view that whatever brings prosperity to this region, we will support it," he said, alongside US Treasury Secretary, Steven Mnuchin and the Bahraini and Emirati finance ministers.
"We have been a great supporter of Palestine for decades … so its not something we are going to shy away from and we will continue supporting the Palestinians," Al-Jadaan added.
The initiative was outlined by Donald Trump's senior advisor and son-in-law Jared Kushner on Tuesday as the conference in Bahrain got under way. The $50 billion economic formula would see investment in infrastructure, tourism and education.
Palestinian leaders have accused the plan of legitimising Israel's occupation of their territory and for being secondary to a political resolution to the conflict. But on the second day of the conference, both Arab and western political leaders, ministers and business chiefs discussed what needed to be done to make the plan work.
Al-Jadaan said the plan was a "great opportunity" and that there was a "significant international commitment" to support the people of Palestine to bring prosperity and opportunities.
"You need political commitment, you need clear transparency, you need predictability for the private sector to join, you need the rule of law … and you want to make sure that there is proper governance in place," he said.
The UAE's Minister of State for Financial Affairs Obaid Humaid Al-Tayer said "we should give this initiative a chance."
Earlier, Jared Kushner discussed the initiative with the former British prime minister Tony Blair, who insisted there still must be a two-state solution to the conflict. The White House has not said it backs the principle, and the political element of its plan has not yet been revealed.
"It's absolutely foolish to believe you can have economics without sound politics, but it's likewise completely futile to think politics will work without economics buttressing it," Blair told the gathering.
The foreign minister of Bahrain also reiterated the need for a two-state solution but said the plan was an "opportunity not to be missed".
"I think if we take this matter seriously it could be a very important game-changer," Sheikh Khalid bin Ahmed Al-Khalifa said.
In an earlier panel, Arab News Editor-in-Chief Faisal J. Abbas said the initiative "will definitely require a lot of work but it is definitely achievable."
Bahrain's Labor Market CEO Osama Al-Absi, told the panel, entitled Empowering the People, "we must look at how post-war economies were built" in order to make the plan work.
International Monetary Fund managing director, Christine Lagarde, said generating economic growth in conflict-riven countries can be a struggle.
The IMF puts unemployment at 30 percent in the West Bank and 50 percent in Gaza, which has suffered years of Israeli and Egyptian blockades and recent foreign aid cuts and sanctions by the Palestinian Authority, Hamas' rival in the Israeli-occupied West bank.
"Gaza right now is feeling a lot of pain because of bad leadership and the sanctions that have been imposed on them because of it," Kushner said. "So the question that (Hamas)leadership has to ask themselves is...do they hate their neighbour in Israel more than they love their citizens and their people?"
The 179 proposed infrastructure and business projects in the plan include a $5 billion transportation corridor to connect the West Bank and Gaza, which has been floated before and stalled for lack of underlying political or security agreements.
Palestinian businessman Ashraf Jabari, chairman of the Palestinian Business Network, told the gathering it is difficult to build an economy with a "siege and unstable situation".
"Frankly, we demand an independent Palestinian state on the territories occupied by Israel in 1967," said the businessman from Hebron who has co-founded a trade group to boost business between Palestinians and Israeli settlers."
Neither the Israeli nor Palestinian governments attended the Bahrain meeting, which takes place amid a years-long stalemate in other international efforts to resolve the conflict.
Senior Palestine Liberation Organisation official Hanan Ashrawi, speaking in Ramallah, said the Manama conference was "quite disingenuous".
"It is totally divorced from reality. The elephant in the room is the (Israeli) occupation itself," she said.
http://www.arabnews.com/node/1516531/middle-east
--------
Turkey Refurbishes Historic South African Mosque
Hassan Isilow
27.06.2019
The Turkish Cooperation and Coordination Agency (TIKA) has completed massive renovations at a historic mosque in Johannesburg's Soweto township.
"We were approached by leaders of the Soweto Mosque to assist in repairing its roof, but we decided to renovate the entire mosque," Mehmet Akif Sekerci, TIKA's coordinator in South Africa, told Anadolu Agency.
In 2002, the Soweto Mosque, located in the Dlamini area, was severely damaged when suspected right-wing extremists bombed an area close to it.
"We are very grateful to the Turkish government, which has refurbished our mosque, and the people of Soweto appreciate this very much," said Luqmaan Mogapi , head of communications at the mosque.
The mosque, which was built in 1984, has been home to many anti-apartheid activists, including the late President Nelson Mandela.
"The late Winnie Mandela was our guest of honor at the opening of this mosque in August 1986," said Mohapi.
He said many famous Muslims have visited the mosque, including the late legendary boxing champion Muhammad Ali.
The mosque has been decorated with Turkish calligraphy but also has unique South African art painted on its exterior.
TIKA said the South African art on the mosque's walls at the gate is meant to indigenize the mosque as being a natural part of the Soweto landscape.
According to Sekerci, the materials used to renovate the mosque were procured locally, with the exception of a few items imported from Turkey.
"I have interacted with some residents in the area, and they are very happy and appreciate the assistance from the Turkish government," said Lebohang Matsoso, an administrative assistant at TIKA's Pretoria office.
TIKA's assistant project coordinator for South Africa, Egemen Sener, said they are waiting for a delegation from Turkey that will come and officially open the mosque.
Despite being in operation in South Africa for just over a year, TIKA has undertaken several development projects in the country and the Southern Africa region at large.
Last year, the aid agency partnered with South African authorities to help refurbish orphanages, particularly those for children born with HIV/AIDS.
They also regularly distributed food aid during the Muslim holy month of Ramadan.
Since its founding in 1992, TIKA has been responsible for facilitating Turkey's official development assistance by providing help to developing countries.
TIKA currently is engaged in a variety of developmental cooperation activities in 150 countries through its 60 program coordination offices, including 20 in Africa.
Some of the projects it is tackling are in the fields of education, health, water and sanitation. Others include agricultural development, civil and economic infrastructure and restoration and tourism.
https://www.aa.com.tr/en/africa/turkey-refurbishes-historic-south-african-mosque/1516927
--------
India
Community Fridge under 'Feed the Need' initiative inaugurated in Hyderabad
Jun 27, 2019
Mohammed Hussain
Hyderabad: As a part of CSR Initiative Kalasha Fine Jewels supported the joint initiative of "Feed the Need" programme by GHMC. A 16th refrigerator Unit of Apple Fridge (Community Fridge) has been installed on Wednesday at a footpath in Banjara Hills Road no: 12.
Zonal Commissioner of GHMC Mohammed Musharraf Ali Faruqui said, "The objective of the initiative is to promote people donate the left-over food and keep in these refrigerators for the homeless and needy people. These refrigerators will be accessible to anyone who wishes to have a free meal at any time of the day." He adds.
https://www.siasat.com/news/community-fridge-under-feed-need-initiative-inaugurated-hyderabad-1527438/
--------
Protests in Indian cities after Muslim man beaten to death
by Bilal Kuchay
Jun 27, 2019
New Delhi, India - Protests were held in various parts of India on Wednesday following the lynching of a Muslim man, with people demanding an end to what they termed as "lynch terror".
Tabrez Ansari, 24, was beaten to death by a Hindu mob in Kharsawan district in eastern Indian state of Jharkhand on suspicion of theft, causing a public uproar.
Protests were planned in about 50 cities under the hashtag #JusticeForTabrez and IndiaAgainstLynchTerror. It was not clear how many cities participated in it.
Opposition Congress party leader Rahul Gandhi termed the lynching a "blot on humanity".
In the Indian capital, New Delhi, scores of people, including university students and activist, held a protest at Jantar Mantar close to the parliament house.
Holding placards and chanting slogans against the ruling Bharatiya Janata Paty (BJP) and Prime Minister Narendar Modi, the protesters demanded an end to the violence against Muslims.
"Violence against Muslims has to stop," said one of the speakers at the protest. "Government must understand that we will not tolerate this lynch terror anymore," he added.
Mobile phone videos, which went viral on social media, shows Ansari tied to a lamppost and beaten by a mob before police intervened and took him into the custody.
He was forced to shout "Jai Shri Ram" (Hail Lord Ram), a slogan increasingly used by Hindu far right groups. In the footage, Ansari is seen crying and pleading for mercy while being beaten with sticks and forced to repeat the chants.
Police took Ansari to hospital for treatment but four days after the June 18 incident. He was pronounced dead shortly after arrival at a local hospital.
Police have arrested at least 11 villagers over the grisly attack and two officers have been suspended from duty.
"It is a very scary situation for Muslims," Sana Maryam, a protester told Al Jazeera. She alleged that the perpetrators of the violence have enjoyed impunity.
Another protester named Fatima, a university student, said: "We the people of India have been living in peace and harmony since very long and we have not been hostile to each other but after the BJP government came to power things have changed."
"Efforts are being made to divide people on the name of religion so that they fight each other and the real issues is not talked about."
'Strictest possible punishment'
The public anger prompted Prime Minister Narendra Modi to make a comment in the parliament saying he was "pained" by the incident and called for "the strictest possible punishment to the accused".
However, he said that it was unfair on part of people to call the state of Jharkhand ruled by his BJP party, "a hub of lynching".
"The lynching in Jharkhand has pained me. It has saddened others too. But, some people in the Rajya Sabha (Upper House of Indian parliament) are calling Jharkhand a hub of lynching. Is this fair? Why are they insulting a state. None of us have the right to insult the state of Jharkhand," Modi said.
Kavita Krishnan, Secretary of the All India Progressive Women's Association, said: "People from Muslim community are being continuously targeted."
"In all most every case of lynching barring one or two people have been arrested but never prosecuted or convicted," she said.
Hate crimes against minorities, particularly Muslims have increased in the South Asian nation since Modi's Hindu nationalist BJP party came to power five years ago.
Dozens of Muslims have been attacked or lynched by Hindu mobs since 2014, in many cases over suspicion of cow slaughter which is banned in most Indian states, as Hindus consider cow a sacred animal.
According to data from the website Factchecker.in, which has been monitoring hate crimes in India, this is the 11th instance of hate crime this year.
Last year, the Supreme Court condemned "horrendous acts" of mob violence and asked the government to enact a new law to deal with an increase in incidents of lynchings.
'I want justice'
In all the cases of hate-crimes since 2009, the data indicates that in 59 percent cases the victims were Muslims and 28 percent of the incidents were related to alleged cattle theft or slaughter.
In its annual report on International Religious Freedom for 2019 released last week, US State Department said religious intolerance in India is growing under Modi's right-wing government.
The report said: "There were reports of religiously motivated killings, assaults, riots, discrimination, vandalism, and actions restricting the right of individuals to practice their religious beliefs."
"Authorities often failed to prosecute perpetrators of 'cow vigilante' attacks, which included killings, mob violence, and intimidation," it added.
New Delhi rejected the report, saying a foreign government had no right to pronounce on the state of Indian citizens' constitutionally protected rights.
Ansari's wife Shaishta Ansari told NDTV news channel that her husband was beaten so brutally because he was a Muslim. "My husband was my only support. Who will I live for now? I want justice."
Activists say that "it's an emergency situation" and the Indian government must act.
Full report at:
https://www.aljazeera.com/news/2019/06/protests-indian-cities-muslim-man-beaten-death-190627005534986.html
--------
NIA recovers 2 IEDs from Bengaluru drain, JMB operative arrested
Jun 27, 2019
The National Investigation Agency on Wednesday said that it has recovered two improvised explosive devices (IEDs) from a drain in Bengaluru on the disclosure of a Jamaat-ul-Mujahideen Bangladesh (JMB) operative, who was arrested on Tuesday.
The NIA has arrested Habibur Rehman Sheikh, wanted in the 2014 Burdwan blast case, from the Dodabalpur area of the Karnataka capital.
The official said the agency has sought help of the bomb disposal squad of Bengaluru Police to defuse the IEDs.
The official said the accused has also revealed his involvement in several instances of robberies committed in Bengaluru in 2018 in order to raise the fund for the activities of JMB.
According to NIA officials, Sheikh was a close associate of senior JMB leader Jahidul Islam alias Kausar and was associated with other JMB leaders such as Rahamatullah Sheikh and Moulana Yusuf.
He was named in a chargesheet filed by the NIA in the case in March, 2015 for his direct involvement in the conspiracy of the JMB to wage war against governments of India and Bangladesh.
The official said that Sheikh was an active member of JMB's Bolpur module in West Bengal and had attended a number of training camps conducted by the JMB.
At least two persons died and another was injured in a bomb explosion at a house in the Khagragarh locality of Burdwan on October 2, 2014.
The Bangladesh government banned the JMB in 2005, while India banned it in May this year.
Full report at:
https://www.hindustantimes.com/india-news/nia-recovers-2-ieds-from-bengaluru-drain-jmb-operative-arrested/story-jiixEbCnXPu80pkgPjF9JP.html
--------
Militant with links to Al Qaeda affiliate killed in gunfight
Jun 27, 2019
Security forces killed a militant suspected to belong to an Al Qaeda affiliate in a gunfight in Pulwama district's Tral on Wednesday, the Jammu and Kashmir police said.
In a statement, the police identified the slain militant as Shabir Ahmad Malik, who was a member of the Lashkar-e-Taiba (LeT) before joining Ansar Ghazwat ul Hind (AGH), the Al Qaeda affiliate.
"Malik was part of groups responsible for planning and executing terror attacks…," the statement said without elaborating.
It added that a case had been registered against Malik for "planning and making preparations for carrying out terror attacks in Jammu".
Malik is the fifth AGH militant to have been killed since Sunday. Four AGH militants, including the group's main recruiter, Showkat Mir, were killed in a firefight with security forces at Panzar in South Kashmir's Shopian district on Sunday.
Zakir Musa, 25, who formed the AGH after quitting home-grown militant group Hizbul Mujahideen in 2017, was killed on May 23 in a gun battle with security forces.
Almost half of AGH's around a dozen militants were killed in December 2018 in Pulwama district.
Full report at:
https://www.hindustantimes.com/india-news/militant-with-links-to-al-qaeda-affiliate-killed-in-gunfight/story-372lGbiNdQZw3rFjry5IxJ.html
--------
Pakistan terror expert is RAW chief, J&K specialist IB boss
Jun 27, 2019
NEW DELHI: The government on Wednesday appointed senior IPS officer Samant Kumar Goel, who brings with him years of expertise in counterterrorism, as chief of external intelligence agency RAW. Intelligence Bureau too got a new director in Arvind Kumar, currently special director in the agency, who has handled desks like Kashmir and Left-wing extremism over the years.
Goel, a 1984 batch IPS officer of Punjab cadre, and Kumar, from the same batch but belonging to Assam-Meghalaya cadre, succeed Anil Dhasmana and Rajiv Jain respectively. The incumbents were on six-month extensions after having completed their fixed two-year terms in December, 2018.
Goel and Kumar have a strong intelligence background, with the former having first served in RAW in 2001 and Kumar with IB since 1991. Goel brings to RAW his experience as a young member of Punjab 'supercop' K P S Gill's team that tackled Sikh militancy with an iron hand. As an intelligence officer specialising in counter-terrorism, he has in-depth knowledge about the origins and operations of Pakistan-based terror groups as well as global jihadi outfits like al-Qaida and Islamic State.
Goel has served foreign postings in London and Dubai. His anointment as the chief of RAW is being seen as a rebuttal of the allegations levelled by those considered close to former CBI director Alok Verma who had probed allegations of corruption against then CBI No.2 Rakesh Asthana, naming Goel in alleged attempts to influence the investigation.
Arvind Kumar, during his long stint in IB, handled various desks including Kashmir and Left-Wing extremism, besides serving in Delhi SIB in the early 2000s. He is highly regarded as an 'anchor' by senior IB cadres. His composure even in the face of storms is rated as his top strength. An officer said Kumar has spent much time planning operations and strategic moves in insurgency-hit areas of the north-east.
Kumar's ability to closely examine all facets of the need for and impact of Balakot strikes, as well as investigation into the Pulwama attack that identified local handlers like Sajjad Bhat, killed recently in an encounter with the forces in Anantnag, were the bedrock of IB's contribution to the entire operation.
Full report at:
https://timesofindia.indiatimes.com/india/pakistan-terror-expert-is-raw-chief-jk-specialist-ib-boss/articleshow/69966254.cms
--------
Government rules out intelligence failure in Pulwama attack
Jun 26, 2019
NEW DELHI: The Centre on Wednesday ruled out any intelligence failure in the Pulwama attack and said that the NIA has identified the conspirators and suicide attacker responsible for the February 14 terror strike in which 40 CRPF personnel were killed.
Replying to a question in the Rajya Sabha, Minister of State for Home Affairs G Kishan Reddy said that Jammu and Kashmir is affected by terrorism sponsored and supported from across the border for the last three decades.
"Owing to the policy of zero tolerance towards terrorism and sustained action against the terrorists by the security forces, a large number of terrorists have been neutralised during the past few years," he said.
When asked whether the reasons of the Pulwama terror attack was the failure of intelligence, Reddy replied in the negative.
"All agencies are working in a coordinated manner and the intelligence inputs are shared among various agencies on real time basis.
"The investigation by NIA into the Pulwama attack so far has resulted in identifying the conspirators, suicide attacker and the vehicle provider," the minister said.
The National Investigation Agency (NIA) on February 20 took over the probe into the February 14 terror attack in Pulwama from the Jammu and Kashmir police.
Tensions flared up between India and Pakistan after a suicide bomber of Pakistan-based Jaish-e-Muhammed (JeM) killed 40 CRPF personnel in Kashmir's Pulwama.
Full report at:
https://timesofindia.indiatimes.com/india/government-rules-out-intelligence-failure-in-pulwama-attack/articleshow/69963246.cms
--------
Pakistan's large-scale terrorism industry prevents it from behaving like 'normal neighbour': Jaishankar
Jun 26, 2019
LONDON: Pakistan's state-sponsored "large-scale industry of terrorism" prevents its government from behaving like a "normal neighbour", external affairs minister S Jaishankar said on Wednesday.
In a live video link from New Delhi to address the Leaders' Summit as part ofUK-India Week in Buckinghamshire+ near London, he called on countries like Britain to be more proactive in calling out nations that obstruct the international rules-based order because "a lot of what Pakistan is doing today, affects the rest of the world, including the UK".
"This kind of large-scale industry of terrorism, which is done with the blessing of the state because the state thinks it is an instrument against the neighbour ... it is increasingly unacceptable to India, and more and more countries are coming around to that view," he said, in response to a question about the political situation vis-à-vis Pakistan.
"I think a lot of the problem today is whether Pakistan is prepared to behave as a normal country and as a normal neighbour. I don't think anywhere in the world today, you will have a country which has an industry geared towards committing acts of terror," Jaishankar said.
The former diplomat-turned-minister highlighted that while India has offered Pakistan a Most Favoured Nation (MFN) status in favour of non-discriminatory trade, Pakistan has failed to reciprocate.
He said: "Connectivity is at the heart of South Asia but Pakistan is resisting connectivity concerning India. So, the challenge that I see is really if a country practises terrorism, denies normal trade, is obstructing connectivity, how can India work with such a country.
"It is not an easy challenge. We have struggled with it now for many, many years. It's not a challenge we can address alone, but also I think it is not a challenge we should be addressing alone".
The minister stressed that he does not have a "pessimistic view" and that nothing would please him more than to see good India-Pakistan relations, but "given the current situation, it is probably one of the hardest challenges we face".
Jaishankar said that the Indian government hopes for a stronger global consensus over the issue so that Pakistan can be "pressurised and persuaded" to do the right thing.
Full report at:
https://timesofindia.indiatimes.com/india/pakistans-large-scale-terrorism-industry-prevents-it-from-behaving-like-normal-neighbour-jaishankar/articleshow/69962810.cms
--------
If someone is making 'gutter' comment', then why don't you give Muslims reservation?, Owaisi attacks PM Modi
By Syed Qayam Ali
Jun 26, 2019
New Delhi: Targeting Prime Minister Narendra Modi for his comments on Muslims, All India Majlis-e-Ittehadul Muslimeen (AIMIM) chief Asaduddin Owaisi on Wednesday asked why the prime minister was not saying anything on the killing of Muslims in hate violence.
He also said if someone was making comments like let Muslims be in the gutter, then why was the prime minister not giving reservation to Muslims if he wants to uplift the community.
"The Prime Minister remembers Shah Bano. Didn't he remember Tabrez Ansari, Akhlaq and Pehlu Khan? Didn't he remember that his minister had garlanded the murderers of Alimuddin Ansari? If someone is making the 'gutter' comments, then why don't you (PM Modi) give reservation to Muslims in the name of backwardness?," Owaisi asked.
Owaisi was reacting to the Modi's speech in the Lok Sabha on Tuesday in which he had quoted a Congress minister's remarks at the time of the Shah Bano case judgement that 'upliftment of Muslims is not the responsibility of the Congress. If they want to lie in 'gutter', let them be'.
Blaming Modi for the fact that the BJP does not have Muslim MPs, Owaisi said, "No Muslim MPs come from your party and it is you, who is keeping them behind. There is a huge difference between what they say and their ideology."
Full report at:
https://www.siasat.com/news/if-someone-making-gutter-comment-then-why-dont-you-give-muslims-reservation-owaisi-attacks-pm-modi-1526806/
--------
South Asia
57 Taliban militants including 10 Pakistanis killed in Ghazni clashes, airstrikes
27 Jun 2019
The security forces killed 57 Taliban militants including 10 Pakistanis during the clashes in Ghazni.
The Ministry of Defense in a statement said the militants were killed in Deh Yak district.
The statement further added that the security forces also killed Rahmatullah Mobariz, the shadow district military chief of Taliban for Deh Yak.
Meanwhile, the governor's office of Ghazni in a statement said the security forces killed 59 Taliban militants and wounded 16 others.
The statement further added that the security forces also killed ten Pakistani nationals during the clashes.
Furthermore, the governor's office said three Taliban commanders Zahid, Hamas and Khanjari, all hailing from Pakistan were among those killed.
https://www.khaama.com/57-taliban-militants-including-10-pakistanis-killed-in-ghazni-clashes-airstrikes-03748/
--------
ICC prosecutor seeks Bangladesh and Myanmar investigation
26 June 2019
The prosecutor of the International Criminal Court on Wednesday moved closer to opening a full investigation into alleged crimes against the Rohingya people who were driven from Myanmar to Bangladesh.
Prosecutor Fatou Bensouda said in a statement she would ask judges for permission to investigate crimes that had "at least one element" in Bangladesh, which is a member of the ICC.
She added that her investigation would cover crimes that also took place "within the context of two waves of violence in Rakhine State on the territory of" Myanmar.
The war crimes court said in a separate statement it had assigned a three-judge panel to hear Bensouda's request.
If granted, the ICC would become the first international court to look into alleged atrocities against the Rohingya Muslim minority of Myanmar.
Although Myanmar is not a member of the court, the ICC in September determined it has jurisdiction over some crimes in the region when they had a cross-border nature, given that Bangladesh is a member.
"The Court has jurisdiction over the crime against humanity of deportation allegedly committed against members of the Rohingya people," it said in a September 2018 ruling. "The reason is that an element of this crime - the crossing of a border - took place on the territory of a State party (Bangladesh)."
The following day, Myanmar's government said it rejected the court's jurisdiction.
An independent UN fact-finding mission in August concluded that Myanmar's military carried out mass killings and gang rapes of Muslim Rohingya. Bensouda's office began a pre-investigation examination in the Bangladesh-Myanmar case last year, and a delegation from the court visited Bangladesh in March.
With 122 members, the UN-backed ICC is a court of last resort, only stepping in when member countries are found to be unwilling or unable to prosecute war crimes on their territory - or when a case is referred to it by the UN Security Council.
Full report at:
https://english.alarabiya.net/en/News/world/2019/06/26/ICC-prosecutor-seeks-Bangladesh-and-Myanmar-investigation.html
--------
2 U.S. Soldiers Killed in Fierce Firefight in Afghanistan
By Fahim Abed
June 26, 2019
KABUL, Afghanistan — Two United States soldiers were killed during a military operation in Afghanistan on Wednesday, bringing to nine the number of American military fatalities in the country this year.
The two, part of a Special Forces team, were killed by small-arms fire in southern Uruzgan province, American defense officials said. The soldiers were engaged in a fierce firefight with Taliban militants, with combatants only yards apart at one point, one of the defense officials said.
Earlier Wednesday, Zabihullah Mujahid, a Taliban spokesman, said the two service members had been killed in eastern Wardak Province. The reason for the difference in the reported location of the battle is unclear.
The deaths came just days before the resumption of talks between the Taliban and the United States. The new round is scheduled to start on Saturday in Doha, the Qatari capital.
Although the number of American troops in Afghanistan has dropped to about 14,000 — a small fraction of the more than 100,000 at the peak of the war — the American military has taken a more proactive role in helping Afghan forces.
The remaining American forces are helping the Afghan military defend its positions and have worked to deplete the Taliban through airstrikes and commando raids, partly to gain leverage at the negotiating table in Doha.
Secretary of State Mike Pompeo, in an unannounced visit to Kabul on Tuesday, reiterated that negotiating a political settlement to end the long war is a priority of the Trump administration.
"With so much going on in the world right now, it's sometimes easy to forget about America's commitment here to Afghanistan, but the world should know that the Trump administration has not forgotten, the American people have not forgotten," Mr. Pompeo said. "As President Trump has said, the hour has come for peace."
The latest deaths came two months after three American soldiers were killed in an explosion near Bagram Air Base in Parwan Province. And in March, two members of an American special forces unit and four Afghan special forces soldiers were killed during an operation on the outskirts of Kunduz.
In 2018, 13 American troops were killed in combat in Afghanistan, up from 11 in 2017.
Full report at:
https://www.nytimes.com/2019/06/26/world/asia/afghanistan-american-soldiers-killed.html
--------
Taliban militants suffer heavy casualties in Special Forces raids in Uruzgan
26 Jun 2019
The Special Forces killed seven Taliban militants during an operation in Uruzgan.
The informed military sources said Wednesday the militants were killed in Chorah district of Uruzgan.
Furthermore, the Special Forces arrested 7 Taliban militants during the same operation.
Meanwhile, the Special Operations Corps said the Special Forces killed 11 Taliban militants during a night raid in Gezab district of Uruzgan.
The Special Operations Corps also added that the Special Forces also wounded 6 Taliban militants during the same operation.
Full report at:
https://www.khaama.com/taliban-militants-suffer-heavy-casualties-in-special-forces-raids-in-uruzgan-03739/
--------
Special Forces kill 7 militants, destroy 135lbs of explosives, narcotics in Nimroz and Zabul
27 Jun 2019
The Afghan Special Forces killed 2 Taliban militants during an operation in Nimroz province.
The informed military officials said Wednesday that the Special Forces conducted in Khash Rod district of Zabul.
The officials further added that the Special Forces also destroyed 100lbs of explosives and 35lbs of illegal narcotics during the operation.
Full report at:
https://www.khaama.com/special-forces-kill-7-militants-destroy-135lbs-of-explosives-narcotics-in-nimroz-and-zabul-03747/
--------
13 Taliban militants killed, detained in Special Forces raid in Sarobi of Kabul
27 Jun 2019
The Afghan Special Forces conducted an operation in Kabul killing or detaining 13 Taliban militants.
The informed military sources said Thursday that the Special Forces killed 7 Taliban militants during the operation.
Furthermore, the Special Forces arrested 6 Taliban fighters during the same operation.
"Afghan Special Forces conducted an operation in Sarobi district killing 7 Taliban fighters and detaining 6 others," the officials said.
The Taliban militants have not commented regarding the operation so far.
The security situation in some parts of Sarobi district has deteriorated during the recent months.
Taliban militants are active in some parts of the district and often conduct terrorist related activities.
Full report at:
https://www.khaama.com/13-taliban-militants-killed-detained-in-special-forces-raid-in-sarobi-of-kabul-03746/
--------
Europe
Cities can be 'antidote' to extremism, says London mayor
JUNE 25, 2019
Adela Suliman
LONDON (Thomson Reuters Foundation) - Cities can provide an "antidote" to populism and extremism if they build bridges between their diverse communities, London's mayor said on Tuesday, as he met the leaders of other major European cities in the British capital.
From funding parenting classes to providing space for sports clubs, cities across Europe could foster integration and stem the social fractures that often lead to extremism, said Sadiq Khan, the first Muslim mayor of a European capital.
"We've seen a rise of nationalist, populist, nativist movements across Europe, indeed also in America. What's clear is that cities can be the antidote to this sort of extremism," Khan told the Thomson Reuters Foundation.
"If we're not careful, people can live in silos: rich, poor, old, young, black, white - so we need to make sure we have bridges between communities," he said on the sidelines of the European Union Capital City Mayors Summit in London.
Two-thirds of people in the world will be living in cities by 2050, according to United Nations estimates.
Khan was elected London mayor in 2016 on a manifesto pledge to tackle extremism, but has faced criticism on security following a spate of knife crimes.
In 2016 he appointed a deputy mayor for social integration to help forge better relationships across diverse neighborhoods, a first for London.
To help communities mix, cities must offer more genuinely affordable public housing and improve transport links to ensure jobs and city life are accessible for all, Khan said.
Amsterdam's first female mayor, Femke Halsema, said providing social opportunities such as better education and access to jobs could help tackle extremism.
Halsema is overseeing the creation of a network of women in neighborhoods across Amsterdam to offer "pragmatic" help to discover and root out extremism locally.
"I think women as the educators of youngsters are often the ears and eyes ... they can be a big help against the rise of extremism," she said.
However the mayor of Brussels, where 2016 attacks by the Islamic State killed 32 people, said it was a challenge to get diverse communities to integrate in growing cities.
"One of the roles of a mayor is building bridges in communities ... we know that it's not very easy," said Philippe Close. "It's a challenge, it's not a fight we can win in one or two years - it's for generations."
Molenbeek, a poor Brussels borough with a big Moroccan Muslim population, gained notoriety after an Islamic State cell based there mounted suicide attacks on Paris in November 2015 that killed 130 people.
Associates of that group attacked Brussels itself four months later, killing 32 people.
Khan said European cities had been "blighted" recently by extremist attacks from both the far right and so-called Islamist movements.
"It's really important we haven't got a situation where only the rich live in the center of cities and the poor live on outskirts - housing policy matters," he said.
https://www.reuters.com/article/us-europe-politics-cities/cities-can-be-antidote-to-extremism-says-london-mayor-idUSKCN1TQ29C
--------
Austrian far-right leader searched on suspicion of forming terrorist group with Christchurch shooter
Jason Wilson
26 Jun 2019
The Austrian identitarian leader, Martin Sellner, has been subjected to further searches by Austrian police in connection with the Christchurch shooter, according to Austrian media reports and videos on Sellner's own YouTube channel.
The investigation has also reportedly widened to include Sellner's US-based fiancee, Brittany Pettibone, and her own alleged connections with Australian far-right figure Blair Cottrell.
Austrian newspaper Die Presse reported on 18 June that two apartments in Vienna were searched by the prosecutor's office in Graz, which has been investigating Sellner's connections to the Australian, Brenton Tarrant, who is currently on trial for the murder of 51 people in Christchurch, New Zealand, in March.
In two German-language YouTube videos, Sellner offered his own account of the investigation. In the first, which he says was before an interview with police, Sellner says that police removed devices from his home, and that the reason was a "strong suspicion of forming a terrorist organisation with Brenton Tarrant".
In the second video, Sellner shows what he claims is an excerpt from the warrant police used in raiding his apartment. Visible on the warrant in German are prosecutors' reasons for carrying out the search, including "The Manifesto the Great Replacement", which was released by Tarrant, "the results of a financial analysis", and the suspicion that Sellner was cooperating with Tarrant in a terrorist and "structurally fascist" organisation.
Sellner was first connected with Tarrant after it emerged that the accused had made a €1,500 donation to Sellner's Identitarian organisation. Die Presse reported that prosecutors were looking for "accounting records" and evidence of further donations from Tarrant to Sellner.
Another newspaper, Der Standard, reported that the investigation had widened to include Sellner's "partner".
Sellner's fiancee, prominent far-right YouTuber and author Brittany Pettibone, announced on her own Twitter account on 18 June that she had been notified she was under investigation.
According to Pettibone, the reason was an interview she had done with Cottrell in January 2018. That interview is still available on "alt-tech" video platform, BitChute. In it she describes him as an "anti-Islam activist" and discusses his conviction under Victoria's Racial and Religious Tolerance Act after he publicised a lurid Mosque protest in Bendigo featuring a mock beheading.
Pettibone claimed that a second reason was that she received an email from a person she did not name asking if Sellner "could give advice to Blair Cottrell regarding building up the rightwing movement in Australia".
Sellner and Austrian prosecutors did not respond to requests for comment. When contacted, Brittany Pettibone declined to comment on the developments.
When asked if they were aware of investigations into a possible organisational connection between Tarrant and Sellner, New Zealand police said via email they were making "a large number enquiries, both across New Zealand and internationally" but they were "not in a position to go into specifics around those enquiries".
In March, Austrian authorities commenced their investigation of Sellner's connections with the Christchurch killer after it emerged that he had received a donation from Tarrant.
Last month, authorities revealed that contacts between the two men had been even more extensive, involving friendly email exchanges and an invitation by Sellner for Tarrant to join him in a beer or coffee if he ever came to Austria.
Sellner's immigration status in the US, where he had planned to marry Pettibone this summer, was changed following that disclosure, preventing him from entering the country.
Pettibone was the focus of controversy last month after she presented Sellner's case to a meeting of a local Republican party branch in Idaho, where she lives.
Sellner's Identitäre Bewegung Österreichs (IBÖ) is part of a larger far-right Identitarian movement with branches in most western European countries, North America and New Zealand.
Full report at:
https://www.theguardian.com/world/2019/jun/26/austrian-far-right-leader-searched-on-suspicion-of-forming-terrorist-group-with-christchurch-shooter
--------
Australia Rescues Children of Dead Islamic State Fighters
By Phil Mercer
June 25, 2019
SYDNEY - Australia has rescued the children and grandchildren of two dead Islamic State fighters from a Syrian refugee camp. The Australian prime minister Scott Morrison said they could not be held responsible for the "crimes of their parents."
For the three surviving children of the notorious Australian militant Kahled Sharrouf, the nightmare of Syria is over. They are now reported to be in Iraq and will be resettled in Australia within weeks.
They are said to be traumatized and in poor health. One has bullet wounds to her legs, while another, who's still a teenager, is expecting her third child. She was forced by her father to marry a jihadist when she was 13. Sharrouf took his family from Sydney to the Middle East in 2014.
He made headlines around the world, when he posed for a photograph in the city of Raqqa with his young son, who was holding a severed head. It's thought Sharrouf was killed in an airstrike two years ago.
He had previously been jailed in Australia for terrorism offenses and released in 2009. His Australian wife, Tara Nettleton, a convert to Islam, reportedly died of medical complications in Syria in 2015.
The Australian prime minister Scott Morrison says the couple's children deserve a fresh start.
"I mean the fact that you would take a child and put them in a conflict zone like this is despicable and I find it disgusting. But the children can't be held responsible for that," he said.
The children - aged between 2 and 18 - were removed from a camp in northern Syria by an aid agency working with Australia.
The group includes three orphans of another Australian militant, Yasin Rizvic. The rescue mission was THE first of its kind by a Western government. Concerns over security in Syria have so far deterred other countries, including Britain, Germany and the United States.
Full report at:
https://www.voanews.com/middle-east/australia-rescues-children-dead-islamic-state-fighters
--------
EU mobilizes nearly $24M for Palestinian refugees
Dilara Hamit
26.06.2019
The European Commission will donate an additional €21 million ($23.8 million) to the UN Relief and Works Agency for Palestinian Refugees (UNRWA), EU commissioner said on Wednesday.
Johannes Hahn, the EU commissioner for European neighborhood and enlargement policy, made the announcement at the UNRWA annual pledging conference which took place in New York.
Established in 1949, UNRWA delivers critical aid to Palestinian refugees in the Gaza Strip, the Israeli-occupied West Bank, Jordan, Lebanon and Syria.
The latest donation will add to the €82 million ($93.1million) that has already been paid this year.
Hahn said that the UNRWA is an essential provider of vital services to millions of Palestine refugees in the region.
"The EU's additional contribution is to ensure that millions of Palestine refugees continue to benefit from health services and education across the region," Hahn said.
According to the EU, since 1971, the strategic partnership between the EU and UNRWA has been based on the shared objective of supporting the human development, humanitarian and protection needs of Palestine refugees and to promoting stability in the Middle East.
For the past three years, the total contribution of the EU and its Member States combined reached approximately €1.4 billion ($1.59 billion).
Full report at:
https://www.aa.com.tr/en/europe/eu-mobilizes-nearly-24m-for-palestinian-refugees/1516404
--------
Cat gifs, memes and emojis: the internet culture of ISIS
Taylor Heyman
June 27, 2019
ISIS supporters on Telegram use emojis and memes to create their own internet subculture, mixing images related to death and violence with more widely popular themes such as cats, a researcher has found.
Chelsea Daymon, a terrorism researcher at the American University's School of Public Affairs, observed pro-ISIS groups on the encrypted messaging app for two months, and discovered members used emojis and gifs in their messaging.
Telegram has become a popular channel for extremists to communicate after crackdowns on terrorism on larger platforms such as Facebook and Twitter.
Features such as the ability to communicate without revealing a phone number and self-destruct timers on messages make it ideal for operating undetected, the Programme on Extremism at George Washington University reported this month.
"English-speaking ISIS supporters exploit Telegram's suite of features to communicate with like-minded supporters across the world, disseminate official and unofficial ISIS media, and provide instructional material for operations," wrote the report's authors, Bennett Clifford and Helen Powell.
"Research has shown that using emojis in posts or even texts, like we do every day, will help the reader understand the clarity," Ms Daymon told the Terrorism and Social Media Conference in Swansea.
"Emojis can actually speak for themselves within a post."
Online communities often use particular types of gifs and emojis to foster a sense of community. Beyonce fans post the bee emoji and fans of TV shows post gifs of their favourite moments.
"We all have our own culture, whether it's from a country you come from or a group we're in or a university we're a part of. Culture really forms a strong basis of identity," Ms Daymon said.
This is also true of pro-ISIS groups on Telegram, who use tools of the internet including gifs, memes and emojis to create a shared culture.
Popular choices include the obvious such as knife, bomb and explosion emojis, but also the palm tree, smiley face and a hand with the index finger pointing up.
Ms Daymon calls this last emoji the takbir finger – a symbol used in the real world by ISIS fighters to mean there is only one God.
She showed the audience screenshots of Telegram posts announcing attacks or new content channels with accompanying emojis.
Telegram has been criticised for not acting fast enough to identify and block ISIS and other extremist groups from its platform.
In February, the Counter Extremism Project said six years after the app's founding, it remained "a terrorists' platform of choice for the dissemination of online extremist content".
"The messaging application's public-facing and private components are essential in allowing extremists the ability to propagate themselves online," project researcher Joshua Fisher-Birch said.
"Telegram has for years faced criticism for the flagrant misuse of their platform, and the ease with which ISIS content is continuously found shows that they are not serious about dealing with the issue."
The company says it is taking action against terrorist groups. So far this month, it has banned 6,029 terrorist bots and channels.
But activity within secret groups is proving harder to curb and it sticks doggedly to free speech principles.
"While we do block terrorist bots and channels, we will not block anybody who peacefully expresses alternative opinions," the site's frequently asked questions section reads.
ISIS-supporting Twitter users are also fond of emojis, said Mohammed Al Darwish, a researcher from M&C Saatchi World Services.
Mr Al Darwish analysed 221 ISIS "fanboy" Twitter accounts disseminating a particular piece of propaganda over three days, amounting to 3,311 tweets.
Many of these contained emojis, he said, with directional arrows, fire, camera and laughing face emojis being popular choices.
Ms Daymon also discovered what she calls a "softer side" to the pro-ISIS groups on Telegram.
"There is a very huge theme of cats and chocolate," she said. "I mean, we all love cats and chocolate.
"And if you think about it, a lot of us tend to go to the internet for a silly cat videos and things. So why not ISIS supporters as well?"
But some of the groups with cat names or pictures contained gruesome pictures and gifs of violent acts such as beheadings.
The emojis and other tools used were to further the main themes of ISIS culture online, which Ms Daymon identified as brotherly love, glorifying fighters, victimhood and revenge, martyrdom, embracing terrorism and supporting the state of ISIS.
"Supporting the state has been a big thing, especially with the loss of territory," she said.
Full report at:
https://www.thenational.ae/world/europe/cat-gifs-memes-and-emojis-the-internet-culture-of-isis-1.879516
--------
UN Asks Russia For Answers About Bombed Hospitals In Syria
June 26, 2019
The United Nations humanitarian coordinator said on June 25 that he had asked Russia to provide details on how it was using the location coordinates of hospitals in Syria following a string of attacks on health-care facilities.
Coordinates of medical facilities are shared via the UN to the warring parties in Syria under a humanitarian deconfliction system with the aim of protecting them from attack.
Despite this mechanism, more than 23 hospitals have been hit by strikes since Russia-backed Syrian forces launched an offensive in the northwestern province of Idlib in late April, according to the UN.
Russia, which has given crucial support to Syrian President Bashar al-Assad throughout the conflict, has denied that the bombing campaign has targeted hospitals.
"I have written to the Russian Federation to request information as to how the details provided through the deconfliction mechanism are used," Mark Lowcock, the UN undersecretary-general for humanitarian affairs, told the Security Council.
In remarks via video link, Lowcock said he was "not sure" the system was fulfilling its role.
David Lillie, the executive director of the Syrian American Medical Society, told the council that doctors no longer trust the humanitarian deconfliction system, and urged an investigation into the attacks.
"They have fulfilled their part of the agreement at great risk to themselves, can this council not meet them halfway?" Lillie said.
The Syrian conflict, now in its ninth year, began with a government crackdown on protesters in March 2011. The war has killed more than 370,000 people and displaced millions.
Full report at:
https://www.rferl.org/a/un-asks-russia-for-answers-about-bombed-hospitals-in-syria/30020748.html
--------
Southeast Asia
W. Sulawesi warden fired for forcing Muslim inmates to read Quran
June 26, 2019
The Law and Human Rights Ministry has dismissed Polewali Mandar penitentiary warden Haryoto in West Sulawesi for making Muslim inmates read the Quran and memorize short chapters as part of a requirement for their release.
Following a riot that erupted in the penitentiary on Saturday, Haryoto told reporters that the clash had been started by an inmate who was angry about not being released because he could not read the Quran.
"[Reciting the Quran] is not a standard penitentiary procedure," the head of the Law and Human Rights Ministry's penitentiary division, Anwar, said on Tuesday as quoted by kompas.com.
The ministry said after a thorough investigation, it was found that the warden had violated standard procedure.
Previously, Law and Human Rights Minister Yasonna Laoly said that even though the warden had good intentions by encouraging Muslim inmates to read the Quran, his policy came at the expense of their freedom. (hol)
https://www.thejakartapost.com/news/2019/06/26/w-sulawesi-warden-fired-for-forcing-muslim-inmates-to-read-quran.html
--------
Singaporean man detained under ISA for wanting to join ISIS; 2 others, including 62-year-old woman, on restriction orders
JUN 25, 2019
SINGAPORE - A 40-year old Singaporean man, who wanted to travel to Syria to join terrorist group Islamic State in Iraq and Syria (ISIS), was detained under the Internal Security Act.
He was among three people picked up recently under the Act. The other two include a 62-year-old woman and a 39-year-old man, who have both been placed under restriction orders, which require them to undergo counselling and seek government approval before changing jobs or address, or going abroad, among other things.
The Ministry of Home Affairs said in a statement that Imran Mahmood, who is unemployed, was detained in January. His radicalisation began some time in 2013, when he started listening to the lectures of foreign religious preachers online, including those who preached about the imminent coming of the end-times, said MHA.
He became a strong supporter of the violent objectives and actions of ISIS, and by 2014 had wanted to live under the group's so-called caliphate in Syria and Iraq.
MHA said he looked into ways to get to Syria and was also willing to take up arms to defend or expand ISIS's territory.
He believed that he would achieve martyrdom if he died fighting for the terrorist group, added the ministry.
However, Imran started to question ISIS's legitimacy in 2017, when the group started to suffer territorial losses. But he did not denounce the group and "continued to believe that it was his religious duty to fight alongside any group trying to establish a rightful caliphate in Syria, and that his radical views were legitimate", said MHA.
He was also prepared to join militant and terrorist groups involved in the Syrian conflict, such as the Free Syrian Army and Hayat Tahrir Al-Sham, an Al-Qaeda aligned faction, added MHA.
Meanwhile, two Singaporeans were placed on restriction orders in March.
One of them, Rasidah Mazlan, 62, had been in contact with multiple foreigners suspected of involvement in terrorism-related activities, including individuals who had expressed support for ISIS. She is believed to be among the oldest people to have been dealt with under the ISA over terrorism-related issues.
The production assistant was issued with a restriction order in March this year, which requires her to undergo counselling and seek government approval before changing jobs or address, or going abroad, among other things. Investigations showed that her contacts with the foreign individuals were mainly driven by her deep sympathy for Muslims suffering in overseas conflicts, said the MHA.
"Her indiscriminate online activity rendered her vulnerable to adverse influence and recruitment by terrorist elements who pose a threat to Singapore," added MHA.
The other person placed on a restriction order in March was Mohamad Fairuz Junaidi, 39.
Investigations found that the deliveryman was influenced by ISIS's radical ideology and had considered travelling to Syria to join the terrorist group, said the MHA.
"Fairuz was emotionally affected by reports on the killing of Sunni Muslims in the Syrian civil war. He considered travelling to Syria to join ISIS and was prepared to take up arms and fight alongside ISIS. He believed that he would be a martyr if he died while doing so. He also refused to believe mainstream media reporting about ISIS's atrocities, and saw them as fabrications to discredit the terrorist group," added the ministry.
But he started to have doubts about ISIS' legitimacy in 2017 after he read negative reports about the group on Facebook and was also swayed by criticisms about the group, the MHA said. He will undergo counselling and rehabilitation.
The ministry also announced the release of four Singaporeans from detention with restrictions in March and June. The restriction order issued against another Singaporean was also allowed to lapse.
The four Singaporean ISA detainees had shown good progress in their rehabilitation and assessed to no longer pose a security threat that requires preventive detention, said MHA.
They include: Abd Rahim Abdul Rahman, 50, a former Jemaah Islamiyah member who was detained in March 2012; Asyrani Hussaini, 30, who was detained in March 2013 after he became self-radicalised and attempted to participate in the armed insurgency in southern Thailand; Syaikhah Izzah Zahrah Al Ansari, 24, who was detained in June 2017 after she became self-radicalised and wanted to go to Syria to join ISIS; and Muhammad Khairul Mohamed, 26, who became self-radicalised and was detained in June 2017 for wanting to undertake armed violence in Syria.
Abd Rahim's detention was suspended with a suspension direction in March, while Asyrani was released on a restriction order when his order of detention expired in March.
Meanwhile, Izzah and Khairul were both released on restriction orders when their orders of detention expired in June.
Separately, the restriction order issued against a 17-year-old Singaporean in June 2015 was allowed to lapse in June, after he showed good progress in his rehabilitation, said MHA.
Commenting on the latest detention and restriction orders on a Facebook post, Minister-in-charge of Muslim Affairs Masagos Zulkifli said: "These cases illustrate that there will always be those who are vulnerable to radicalisation and our vigilance against it is a continuing one."
He added that such arrests are "few and far in between" because the Islamic Religious Council of Singapore (Muis) and the authorities work closely together.
He also urged the Malay/Muslim community to help the four released detainees to reintegrate into society and to continue to look out and care for one another.
"We must not allow the actions of a misguided few to overshadow the achievements of our community. Our Malay/Muslim community stands united and strong with fellow Singaporeans to keep our nation safe and secure," he said.
Muis, in a statement, said: "The community rejects any notion of exclusivist and extremist teachings in our midst and are on guard against them."
The latest cases highlighted the continued threat of self-radicalisation, especially when people do not verify the information they access online and fall prey to radical propaganda that exploit geo-political conflicts to boost their appeal, Muis pointed out.
"Such dangers are still prevalent online, even after extremist groups are physically defeated," it said.
Muis added that it has stepped up both its online and offline engagements, such as the Asatizah Youth Network and publications such as the Contemporary Irsyad Series, which gives religious guidance on emerging issues.
Senior Parliamentary Secretary for Home Affairs Amrin Amin, in a Facebook post, said the release of the four detainees shows that timely intervention from the authorities and support from family and community are critical in helping to rehabilitate those who become radicalised.
He added of the three latest arrests: "I condemn their acts. They are a sobering reminder of the serious threats of radicalisation.
Full report at:
https://www.straitstimes.com/singapore/one-singaporean-detained-two-issued-with-restriction-orders-for-involvement-in-terrorism
--------
Malaysia names task force members to probe 'sensitive' disappearances of pastor, Muslim activist
JUN 26, 2019
Nadirah H. Rodzi
KUALA LUMPUR - Former High Court judge Abd Rahim Uda will lead a six-man task force to probe the findings by Malaysia's Human Rights Commission (Suhakam), which concluded that police's intelligence department was directly involved in the alleged enforced disappearances of a Christian pastor and a Muslim man suspected of spreading Shi'ite beliefs in the country.
Members of the task force were introduced on Wednesday (June 26) by Home Minister Muhyiddin Yassin, The Star online news reported.
"We at the ministry view the report in a serious manner as it throws serious allegations against the police to the extent that it has created a negative perception of the force who are entrusted to keep the peace," Tan Sri Muhyiddin was quoted as saying by Malay Mail online news on Wednesday (June 26).
"The task force will investigate whether the police Special Branch was indeed involved but of course, beyond that, we would also like to find the real truth on the whole thing," he told a news conference.
One of the missing men is Pastor Raymond Koh, the founder of Harapan Komuniti non-governmental organisation (NGO) and who has been accused of trying to convert Muslims.
He was believed to have been abducted by a group of men in Petaling Jaya on Feb 13, 2017, while on his way to a friend's house.
The other missing man is Mr Amri Che Mat, co-founder of Perlis Hope NGO.
The Muslim social activist went missing on Nov 24, 2016, after leaving his home in Kangar, Perlis at about 11.30pm.
The issue involving their disappearances is sensitive in Malaysia amid claims they were abducted by the authorities. The incidents also raised concerns about rising religious intolerance in Malaysia.
Islamic authorities in the country, which has a Sunni Muslim majority, bans the conversion of Malaysian Muslims to Christians or Shi'ism.
The previous Barisan Nasional government had stonewalled queries by family members on the whereabouts of Mr Koh and Mr Amri, or whether the government had a hand in their disappearances.
The Pakatan Harapan government's special task force was formed by the Cabinet last month.
This followed a verdict by Suhakam in April, after a year-long public inquiry, that the Special Branch police was likely behind their disappearances.
An enforced disappearance means the arrest, detention or abduction of a person by agents of the state, after which the person's fate or whereabouts are concealed.
The commission also found that both men were abducted victims due to their religious activities.
Mr Muhyiddin added that the task force will be given six months to complete its probe and submit a report, which then will be presented to the Cabinet for further action.
"I expect to get a report on their findings in six months, and leave it to them to determine who is to be called in the process of their investigation," the minister said.
Five other members of the task force are police's former director of legal department Mokhtar Mohd Noor; police's Integrity and Standards Compliance Department director Zamri Yahya; Enforcement Agency Integrity Commission director Muhammad Bukhari Ab Hamid; legal officer at the public prosecution division of the Attorney-General's Chambers Mohd Sophian Zakaria; and secretary at the Police Force Commission for the Home Affairs Ministry Mohd Russaini Idrus.
After the Suhakam findings were released, Prime Minister Mahathir Mohamad said then police chief Mohamad Fuzi Harun would be allowed to retire first before his successor is appointed to look into the allegations.
Meanwhile, the families of Mr Koh and Mr Amri have raised questions over the appointments of the six men in the taskforce.
The Koh family said in a statement that there were no women in the task force and that it does not reflect the multiracial composition of Malaysia, The Star daily reported.
The family said previous suggestions on the group's composition were not taken into account, such as including a member of the Bar Council, the Malaysian Anti-Corruption Commission and a representative from a non-governmental organisation.
Amri's wife, Norhayati Mohd Ariffin, also expressed her concern, with the task force comprising several senior policemen.
She noted that this will impact the independence and impartiality necessary for a credible investigation.
Full report at:
https://www.straitstimes.com/asia/se-asia/malaysia-names-task-force-members-to-probe-sensitive-disappearances-of-two-men
--------
Malaysia reopens probe into kidnapping of Shia activist, pastor
by Kate Mayberry
June 27, 2019
Putrajaya, Malaysia - Malaysia's government has set up a special taskforce to reinvestigate the kidnappings of two activists - Amri Che Mat and Raymond Koh - after the country's human rights commission blamed the police's intelligence branch for the abductions.
Home Affairs Minister Muhyiddin Yassin told reporters on Wednesday that the government established the taskforce because of the seriousness of the allegations raised by the commission, known as Suhakam.
"With this special taskforce, it is hoped that justice can be provided to all affected parties," the home ministry said in a statement.
Koh, a Christian pastor and activist, was kidnapped by masked men as he drove along a suburban Kuala Lumpur street on the morning of February 13, 2017.
The 62-year-old's abduction, captured on CCTV cameras, shocked the country. The outcry brought attention to the disappearance of Amri Che Mat, a Shia Muslim, who was kidnapped in the northern state of Perlis in November 2016. Mat, like Koh, worked with the poor and underprivileged.
After a public inquiry that took more than a year, Suhakam in April said the two men were "abducted by state agents, namely the Special Branch".
Both men were taken from their cars by a group of people in several vehicles and were targeted by the religious authorities and police over allegations of proselytizing before their disappearances, the commission said.
Islam is Malaysia's official religion, and while other faiths can be practised in "peace and harmony", attempting to convert someone from Islam is a criminal offence. The government only recognises Sunni Islam, with religious authorities labelling Shia teachings as "deviant".
The police have denied involvement in Koh and Amri's abductions, but Suhakam said the two men were victims of enforced disappearances and called for a special taskforce to reinvestigate their cases.
'Totally unacceptable'
It recommended the panel include independent investigators and exclude anyone connected to the E2 Division of the police's Special Branch, the religious authorities or to the police's initial investigation in to the abductions.
Muhyiddin said on Wednesday the six-member panel to reinvestigate the cases will be led by former High Court Judge Abdul Rahim Uda. It will also include Mokhtar Mohd Noor, a former director of the police's legal department, and Zamri Yahya, the director of the police's Integrity and Standards Compliance Department.
The minister did not share the panel's terms of reference or a proposed start date, but said the taskforce will be required to present its final report to the cabinet within six months from the time it starts its work.
Abdul Rahim, chairman of the taskforce, told reporters the panel would do its work "fairly".
However, the families of Koh and Amri expressed concern over the composition of the panel, noting Mokhtar had presented the final arguments on behalf of the police during Suhakam's inquiry.
Norhayati Mohd Ariffin, Amri's wife, said in a statement that while she and her daughters were glad the government was now "taking steps" to address the Suhakam inquiry's findings, they were concerned the panel's composition would affect "the independence and impartiality necessary for a credible investigation".
Susanna Liew, Koh's wife, and her three children, also pointed out the lack of women, ethnic minorities and members of civil society on the panel, despite Suhakam's recommendation the panel reflect Malaysia's multi-ethnic society.
"If a police officer who participated in the Suhakam hearing can be appointed into the taskforce then a lawyer from each of the families should also be appointed in order to ensure a balanced and fair approach to the investigation and the report to be submitted," the family said in a statement.
"We find this totally unacceptable and believe that in any part of the democratic civilised world, this would not happen."
'No integrity'
Koh's family also rejected Muhyiddin's decision to investigate Amri's case and delay the pastor's case. He blamed the move on the ongoing prosecution of a driver accused of trying to extort money from Koh's son in the wake of the kidnapping. Police have previously said that case was not linked to Koh's abduction.
Koh's family said the disappearances of both Koh and Amri should be investigated together given the similarities established by Suhakam.
Koh's abduction, captured on CCTV cameras, showed his vehicle being forced to the side of the road by a number of pick-up trucks and cars. A group of men in black balaclavas then took him away as others kept traffic at bay. In Amri's case, an eye witness said he saw three vehicles boxing in the activists' car on the night of his disappearance.
Meanwhile, others raised concern over the inclusion of an official from the police's integrity department on the investigative panel, noting the watchdog body had failed to act on Suhakam's findings or the families' complaints over police conduct.
"It's three months since the Suhakam report came out," said Rama Ramanathan, a human rights activist who is part of the Citizen Action Group on Enforced Disappearance.
"Even before that the police knew what the families were submitting and knew what the likely outcome would be, but this integrity office took no action. [It] has no integrity and in my opinion is a totally ineffective department."
Police interrogations in the immediate aftermath of Koh's disappearance focussed on allegations that he was trying to convert young Muslims to Christianity, Liew and her children told the inquiry.
Meanwhile, Norhayati found herself being asked repeatedly about whether her husband was attempting to spread Shia teachings.
As a result of the "serious anguish and suffering" caused by the police investigation, Norhayati submitted a compensation claim to the government at the end of last month, she said.
Full report at:
https://www.aljazeera.com/news/2019/06/malaysia-reopens-probe-kidnapping-shia-activist-pastor-190626120127985.html
--------
Indonesian Muslim groups win Peace Prize backing
June 27, 2019
The Noble Peace Prize Committee has been asked to consider awarding the coveted award to Indonesia's two main moderate Islamic groups.
The recommendation came at a recent cultural event in the Norwegian capital organized by the Peace Research Institute Oslo (PRIO) and the Indonesian embassy to introduce the two Islamic organizations — Nahdatul Ulama (NU) and Muhammadiyah — to the Norwegian people.
Both groups, which boast millions of members, were praised for their efforts in upholding religious tolerance and combating extremism.
Figures representing various religious organizations at the Oslo event suggested to members of the Nobel committee that they award the Peace Prize to the Islamic groups for their contribution in making Indonesia a home for people of all religions.
The call has received backing among religious leaders in Indonesia.
According to Jesuit Father Frans Magnis Suseno, a prominent figure in interreligious dialogue who attended the event, both groups have played key roles in preventing radical movements, such as Wahhabi and Hizb ut-Tahrir from the Middle East, from gaining a foothold in Indonesia.
"Because of their existence, Muslims as a majority [in Indonesia] have never been a threat to us minority groups," Indonesian newsportal Medcom.id quoted Father Suseno as saying.
"Their presence provides a sense of security and an assurance that the values of pluralism and tolerance will be maintained and grow in Indonesia," the priest said.
Reverand Gomar Gultom, general secretary of the Union of Churches in Indonesia said both organizations present a peaceful, accommodating, tolerant and moderate form of Islam.
"They portray an Islam that respects human rights values and democracy," he told ucanews.com.
Nyoman Udayana Sangging from the Association of Indonesian Hindu Dharma said both organizations deserve global recognition.
"Their commitment [to pluralism] is not doubted," he told ucanews.com, adding that both have protected Indonesia from threats posed by radical groups.
Catholic priest and social activist Father Antonius Benny Susetyo said the two organizations are good examples in how to demonstrate the inclusive nature of a religion, embracing and bringing peace to humankind.
"They are not only a good example for Indonesia, but also an inspiration for the whole world," said Father Susetyo.
Established in 1926, Nahdatul Ulama claims to be the largest Islamic organization in the world with 90 million members, while Muhammadiyah, established in 1912 has 50 million members.
Full report at:
https://www.ucanews.com/news/indonesian-muslim-groups-win-peace-prize-backing/85508
--------
North America
Canada adds right-wing extremists to terrorist list
Barry Ellsworth
26.06.2019
Two right-wing extremist organizations Wednesday were added by Canada to its list of terrorist groups.
Blood and Honour was characterized by the government as "an international neo-Nazi network whose ideology is derived from the National Socialist doctrine of Nazi Germany."
Combat 18 is part of Blood and Honour, its killing unit, as described on the Public Safety Canada website, that "has carried out violent actions, including murders and bombings."
Wednesday's announcement marks the first time that right-wing extremist groups have been added to the Canadian terrorist list.
"I'm hoping this is just the beginning and that there will be more, but it is a really good first start for Canada," said Bernie Farber, head of the Canadian Anti-Hate Network. He called the two groups "extremely violent neo-Nazi organizations."
Others were added as well to the list, including three Shia militant organizations that receive support from Iran.
Al-Ashtar Brigades aims to overthrow Bahrain's Sunni monarchy, while Harakat al-Sabireen has been active in the Gaza Strip for five years, the Canadian government said.
The other organization, Fatemiyoun Division, is fighting in Syria and is "comprised mainly of Afghan recruits from Iran and Afghanistan."
The Canadian Security Intelligence Service issued its annual report on Friday, characterizing right-wing extremism as "driven by hatred and fear" and its members are "a complex range of individuals, subcultures and online communities.
"These individuals and groups cultivate grievances on issues as varied as gender, race religion, sexual orientation and immigration."
With the addition of the five organizations, the Canadian terrorist list numbers about 59, including Daesh, Al Shabaab and the PKK.
https://www.aa.com.tr/en/americas/canada-adds-right-wing-extremists-to-terrorist-list/1516662
--------
2020 Democrats pledge return to Iran nuclear deal if they beat Donald Trump
Joyce Karam
June 27, 2019
Nine out of ten Democrats running for US President pledged on Wednesday to return to the Iran nuclear deal if they defeat Donald Trump.
In the first debate of the 2020 election season, the ten candidates who gathered in Miami offered a rebuke and reversal of Mr Trump's policies on immigration, health care, climate change and the economy. On the question of the recent escalating tensions with Iran, the majority of those on stage agreed that they would return to the joint comprehensive plan of action (JCPOA).
Candidates Elizabeth Warren, Amy Klobuchar, Bill de Blasio, Julian Castro, Tulsi Gabbard, Beto O'Rourke, Tim Ryan, Jay Inslee, and John Delaney all raised their hands when asked if they would return to the deal that Mr Trump withdrew from in May 2018.
Under the deal, agreed in 2015 between the US, UK, France, China, Russia and Germany, Iran was to limit its sensitive nuclear activities and allow in international inspections in return for the lifting of economic sanctions.
The deal has been put in jeopardy by the US withdrawal, and the imposition of further sanctions this week has led Iran to threaten to breach its uranium enrichment limits.
Senator Cory Booker was the only nominee on stage to refrain from making such a pledge. He said he would instead take the opportunity to "elevate a better deal".
Senator Klobuchar called the deal, signed by former President Barack Obama, "imperfect but a good deal for that period". She said she would improve the sunset clause – a provision that means a law will terminate after a fixed period — through negotiation, but criticised Mr Trump for his inability to bring forth a better deal.
"We can't conduct our foreign policy in a bathrobe at 5am in the morning," she said, in a dig at Mr Trump, arguing that US failures have given unlimited leverage to China and Russia.
Congresswoman Gabbard accused Mr Trump and his "chicken hawk cabinet" of taking the US "to the brink of war with Iran".
"I served in the Iraq war, which took over 4,000 of my brothers' and sisters' lives … a war with Iran would be far more devastating and costly than the Iraq war," she said.
Ms Gabbard went on to give her support for US plans to withdraw from Afghanistan, saying the Taliban "didn't attack us on 9/11 – Al Qaeda did". But Congressman Ryan disagreed, saying the US should keep its presence to counter the Taliban, which offered a safe haven to Al Qaeda in 2001.
When asked what the biggest national security threat currently is, the candidates' answers varied between China, climate change, nuclear proliferation, tension in the Middle East and Russia.
Both Mr Booker and Mr O'Rourke gave some answers in Spanish during the debate to appeal to Latino voters. Mr Booker said in Spanish that the US President "demonised immigrants".
Mr Castro, the only Latino candidate in the Democratic race, referenced the viral image of El Salvador migrants Óscar Martínez and his daughter Valeria, who were found drowned while attempting to cross the US border, saying that it is "heartbreaking".
Ms Warren, who is surging in the polls, was seen as the most dominant in the first half of the debate. But her ardent rivals, Joe Biden, Kamala Harris, Bernie Sanders, Pete Buttigieg and six others, will face off on a separate debate stage in Detroit on Thursday.
Mr Trump is on his way to Osaka, Japan, to participate in the G20 meeting. He attacked the first debate, calling it "boring", and attacked the TV channels for a short technical fault.
"MSNBC and NBC should be ashamed of themselves for having such a horrible technical breakdown in the middle of the debate. Truly unprofessional and only worthy of a FAKE NEWS Organization, which they are!" he tweeted.
Full report at:
https://www.thenational.ae/world/2020-democrats-pledge-return-to-iran-nuclear-deal-if-they-beat-donald-trump-1.879564
--------
Canada: Senators urge Rohingya action from government
Vakkas Dogantekin
26.06.2019
Thirty-four senators from the 105-seat Canada senate urged action on the ongoing genocide against the Rohingya Muslims in Myanmar by initiating proceedings before the International Court of Justice.
In a letter to Canadian foreign minister on Tuesday, the senators and civil society organizations cited a 2018 report from Bob Rae, Prime Minister Justin Trudeau's special envoy to Myanmar.
The report says "it is a fundamental tenet of Canada's foreign policy that those responsible for international crimes, including crimes against humanity and genocide, must be held responsible for those crimes."
Addressing Chrystia Freeland, the senators said they believe Canada, the first country in the world to call the situation a genocide, is in a position "to exercise strong and effective global leadership" on the neglected plight of Rohingyas.
According to Amnesty International, more than 750,000 Rohingya refugees, mostly women and children, have fled Myanmar and crossed into Bangladesh after Myanmar forces launched a crackdown on the minority Muslim community in August 2017, emerging the number of Rohingya refugees in Bangladesh above 1.2 million.
In September 2018 both the House of Commons and the Senate of Canada unanimously passed a motion recognizing the Rohingya situation as genocide.
Senators asked the government to reinforce Motion 476, a request from the All-Party Parliamentary Group, which calls for Canada to initiate legal proceedings before the International Court of Justice in regard to Myanmar's breach of the UN Convention on the Prevention and Punishment of Genocide.
Complaining about the lack of a solid progress or debate despite numerous attempts, they asked the government to pass the motion before the looming summer recess.
"With this open letter, we urge the Government of Canada to take the next step of invoking the Genocide Convention to hold Myanmar accountable, because it is both our moral and legal obligation to do so," said the letter.
Full report at:
https://www.aa.com.tr/en/americas/canada-senators-urge-rohingya-action-from-government/1516510
--------
Hezbollah operating in Venezuela, Maduro's ex-security chief says
June 27, 2019
The feared former head of Venezuelan strongman Nicolas Maduro's intelligence police has charged that the Lebanese terror group Hezbollah operates in the Latin American country with the protection of the government.
Gen. Manuel Ricardo Cristopher Figuera, who fled his homeland for Colombia and then the US after the failed April 30 uprising in the country, has been passing some of the Maduro regime's most closely held secrets to American officials.
In an interview with the Washington Post published Monday, he spoke of his disenchantment with the government he had once worked to protect.
"I never saw the country's situation and the government's corruption as closely as I did during my last six months," he said, the period when he ran the notorious SEBIN, or Bolivarian Intelligence Service, the regime's political security arm.
"I quickly realized that Maduro is the head of a criminal enterprise, with his own family involved," Figuera said.
Among the abuses: family members linked to the regime using their influence to buy and sell gold to the state for huge profits; support for terror groups like the Colombian ELN; and the deep influence that Cuba's Raoul Castro has over Maduro, both personally and through Cuban guards and advisers who surround the Venezuelan president.
And, Figuera added, he had seen intelligence reports that say the Lebanese terror group Hezbollah was operating in the capital Caracas, in nearby Maracay, and in the offshore island region of Nueva Esparta with the blessing of the Maduro government. The presence is "apparently geared toward illicit business activity to help fund operations in the Middle East," the Post reported.
Hezbollah has long been believed by Western intelligence agencies to be playing a significant role in the South American drug trade in order to help finance its military buildup in Lebanon and its infrastructure around the world, but Figuera's comments, cited only in brief in the Post interview, may be the highest-level admission about such activities from a former top official of a regime that supports the group.
A report earlier this month by Israeli researchers said Hezbollah personnel act as middlemen in the global drug route from South America to West Africa and from there to Europe, helping to move hundreds of tons of cocaine and other drugs through ports in Belgium and Germany — with only 5-10 percent of it being intercepted by law enforcement.
Also in June, the US and Argentina convened a two-day regional summit in Buenos Aires about the persistent Hezbollah threat in the Western Hemisphere. The summit held on June 11 and 12 came a month ahead of the 25th anniversary of the terrorist bombing of the AMIA Jewish center in the Argentine capital. The attack was carried out by a Hezbollah suicide bomber and orchestrated by Iran, the late Argentinian investigator Alberto Nisman established.
Law enforcement, prosecutors and financial practitioners attended the workshop, a State Department release said. They came from the two convening countries as well as Chile, Colombia, Panama, Paraguay and Peru.
"The workshop focused on Hezbollah's modus operandi globally and its terrorist and criminal infrastructure and activities in the Americas," the release said. "Participants discussed various techniques to constrain and counter the group's illicit activities, including the financial and law enforcement tools available to identify, investigate, and prosecute Hezbollah's global support and facilitation networks."
The summit was timed as part of the events that Argentina's government is planning to mark the anniversary of the blast on July 18, 1994, which killed 85 and injured more than 300.
The Mossad intelligence agency played a cat-and-mouse game with the Hezbollah terror group to stymie its efforts to establish explosives storehouses from Thailand to New York, an Israeli intelligence official confirmed earlier this month.
The largest cache, containing some three tons of ammonium nitrate, a key ingredient for some types of explosives, was found at four locations in north London, sites raided by the Metropolitan Police in September 2015. Other caches planted by Hezbollah cells were discovered in Cyprus, Thailand and as-yet unnamed European countries, according to reports.
Figuera, meanwhile, was one of a handful of Venezuelan officials placed under US sanctions for his role as head of a security service notorious for torture and the inhumane treatment meted out to political prisoners.
A former head of security for Maduro's mentor, former president Hugo Chavez, Figuera was thought to be one of the regime's true believers.
But his role in its excesses has led to profound regret, he said.
SEBIN's "Tomb," the prison for political prisoners under its Caracas headquarters, has long been accused of inhumane conditions that led to prisoner deaths and suicides — conditions meant to coerce confessions for political crimes.
"Look, if there's something I regret it's that I didn't free all the prisoners. Because there's a lot of people there who are kidnapped and who are there unfairly. And I owe those people, you know?"
Full report at:
https://www.timesofisrael.com/hezbollah-operating-in-venezuela-maduros-ex-security-chief-says/
--------
Nicaragua arrests four men suspected of ties to Islamic State
JUNE 26, 2019
Ismael Lopez
MANAGUA (Reuters) - Four men with suspected ties to the Islamic State militant group were captured on Tuesday by members of the Nicaraguan armed forces after entering the country illegally from Costa Rica, Nicaraguan police said.
The identities of three of the men matched those of suspects featured in an alert attributed to U.S. Homeland Security Investigations (HSI) warning that three possible terrorists had recently arrived in Central America.
In a statement, Nicaraguan police said two of the men were Egyptian nationals and the other two were Iraqi. The four were due to be deported back to Costa Rica, it added.
The Egyptians were named as Mohamed Ibrahim, 33, and Mahmoud Samy Eissa, 26, while the Iraqis were Ahmed Ghanim Mohamed Al Jubury, 41 and Mustafa Ali Mohamed Yaoob, 29.
The first three men were named in the HSI alert published by Mexican media on Monday, which identified them as possible members of Islamic State headed for the United States.
Questioned on the HSI alert on Tuesday, Mexican President Andres Manuel Lopez Obrador said his government was aware of the search for the suspects and was dealing with the matter.
U.S. Homeland Security officials could not immediately be reached for comment by Reuters.
The three men who featured in the HSI alert were registered in Costa Rica on June 9, according to the Nicaraguan statement. That date matched the information as the HSI statement.
The fourth suspect, Mohamed Yaoob, was registered in Costa Rica on June 13, the statement said.
The men entered Nicaragua through an unauthorized crossing point known as La Guasimada in the Cardenas municipality on the southwestern border with Costa Rica, Nicaraguan police said.
After arresting the men at around 10 a.m., the army handed them over to national police for investigation, whereupon they were taken to migration authorities for deportation via the Penas Blancas border crossing, the statement said.
Full report at:
https://www.reuters.com/article/us-nicaragua-security-isis/nicaragua-arrests-four-men-suspected-of-ties-to-islamic-state-idUSKCN1TQ345
--------
Canada's command of NATO mission in Iraq extended to late 2020
26 June 2019
Canada will continue to command a NATO mission in Iraq for a second year until November 2020, Defense Minister Harjit Sajjan announced Wednesday.
Brigadier-General Jennie Carignan, who will soon be promoted to the rank of major-general, is to take over the command this fall of some 580 NATO troops including 250 from Canada, and others from non-NATO partners such as Australia, Sweden, and Finland.
She has previously deployed to Bosnia-Herzegovina, the Golan Heights, and Afghanistan.
The non-combat, advisory, and training mission look to bolster Iraq's military and security capabilities, including in areas of medical aid, armored vehicle maintenance, countering improvised explosive devices and civil-military planning.
NATO's advisory activities are centered in Baghdad, while training is carried out at Iraqi military schools in the Baghdad area, Taji and Besmaya.
Full report at:
https://english.alarabiya.net/en/News/middle-east/2019/06/26/Canada-s-command-of-NATO-mission-in-Iraq-extended-to-late-2020-.html
--------
New Pentagon chief confronts Turkey on NATO debut
26 June 2019
President Donald Trump's pick for Pentagon chief plunged straight into business as he made his NATO debut Wednesday, confronting Turkey over its purchase of Russian air defense missiles.
Mark Esper, nominated as defense secretary last Friday, reiterated Washington's warning that buying the Russian S-400 missile system would mean it would be booted out of the US F-35 jet fighter program.
Making his first appearance at a meeting of NATO defense ministers, Esper had what a Pentagon spokesman described as a "frank and transparent" meeting with his Turkish counterpart Hulusi Akar.
The US and NATO are alarmed that Turkey may acquire the missiles, which are designed to shoot down planes like the F-35, America's new generation multi-role stealth fighter that Turkey also wants to buy.
But Turkey has so far rebuffed all efforts to persuade it to drop the deal, and President Recep Tayyip Erdogan insisted on Tuesday that delivery would take place in July.
"The two leaders had a frank and transparent discussion where Secretary Esper reiterated that Turkey's purchase of the Russian S-400 air and missile defense system is incompatible with the F-35 program and that Turkey will not be permitted to have both systems," Pentagon spokesman Jonathan Hoffman said.
Erdogan has said he will use his good relations with Trump to defuse tensions when they meet on the sidelines of the G20 summit in Osaka, Japan later this week.
But the US has set a July 31 deadline for Ankara to drop the purchase or face sanctions and expulsion from the F-35 program.
This would mean an end to Turkey's current plans to buy 100 F-35s and the loss of lucrative contracts to build parts of the jet.
Full report at:
https://english.alarabiya.net/en/News/world/2019/06/26/New-Pentagon-chief-confronts-Turkey-on-NATO-debut.html
--------
UAE says no proof Iran hit tankers in clear rebuttal to US-Saudi claims
Jun 26, 2019
The United Arab Emirates says there is no "clear, scientific and convincing" evidence to assign blame for the recent tanker attacks off its coast in the Sea of Oman, splitting with the United States and Saudi Arabia, which hold Iran responsible for the suspicious acts.
UAE Foreign Minister Sheikh Abdullah bin Zayed Al Nahyan said Wednesday that his country was not able to pin the attacks on any country because an investigation had failed to find enough proof.
"Honestly we can't point the blame at any country because we don't have evidence," bin Zayed said during a joint press conference with his Russian counterpart, Sergey Lavrov, in Moscow.
"If there is a country that has the evidence, then I'm convinced that the international community will listen to it. But we need to make sure the evidence is clear and precise and scientific and convincing for the international community," he added.
Last month, four tankers were subjected to what Abu Dhabi called "acts of sabotage" outside the tiny Persian Gulf sheikhdom's territorial waters near the Strait of Hormuz.
A joint investigation by the three countries concluded that a "state actor" was most likely behind the incident in May but stopped short of singling out any country.
Another pair of tankers -- one of them Japanese -- were attacked in the Sea of Oman earlier this month.
Bin Zayed's statements indicate the UAE's break from the official standpoint of the US and Saudi Arabia, both publicly blaming Iran for the two instances of tanker attacks without providing any evidence.
The claims by Riyadh and Washington come amid heightened tensions in the Persian Gulf region as a direct result of America's interventionist policies.
Tensions have been running high between the two countries since Trump's decision in May last year to abandon the 2015 Iran nuclear deal and reimpose sanctions on Tehran as part of a "maximum pressure" campaign aimed at forcing it to renegotiate a new deal that addresses its ballistic missile program and regional influence as well.
The US has also sent warships, bombers and additional troops to the region in the wake of the suspicious tanker attacks in the Sea of Oman, which it has similarly blamed on Iran without providing evidence.
Iran, however, has remained steadfast on its position. The Islamic Revolution Guards Corps shot down a US spy drone last week, prompting Trump to consider and quickly back out of retaliatory strikes.
Lavrov said that Moscow would try to persuade the US and Iran to start dialogue. Iran has made it clear that it would not negotiate with the US under pressure.
'UAE wants tensions to be dialed down'
The Emirati foreign minister said that he discussed the US-Iran tensions with Lavrov to see how the maritime routes can be kept open in the wake of such "subversive operations."
"Expanding international cooperation to protect ships in waterways was discussed," the UAE official said.
He asserted that the UAE did not want "more turbulence and ... more worries" in the region.
"We are in a region that is tense and important for the world and we don't want more tension," said Sheikh Abdullah.
The Emirati top diplomat said his country was still working with the US and other regional countries to build what he said was going to be a global coalition to protect oil shipping lanes in the region.
The remarks came a day after US Secretary of State Mike Pompeo set off on a tour of the Middle East, which included a stop in Abu Dhabi, to form a "global coalition" against Iran.
A senior State Department official said Monday that the US Navy was building a "proactive deterrence" program that would be funded by a coalition of nations that want to protect their oil tankers in the region.
Full report at:
https://www.presstv.com/Detail/2019/06/26/599507/UAE-tanker-attacks-bin-zayed-Iran-Sea-of-Oman
--------
Trump rules out 'boots on the ground' in any Iran war
Michael Hernandez
26.06.2019
WASHINGTON
President Donald Trump ruled out Wednesday the deployment of U.S. ground troops in any prospective war with Iran, vowing that any conflict with the rival would not take long to finish.
"I'm not talking about boots on the ground," Trump told Fox Business. "I'm just saying if something would happen, it wouldn't last very long."
The comments come a day after Trump issued a stark warning to Iran, saying any attack on a U.S. target would be met with an "overwhelming" response that includes the "obliteration" of at least some sites the U.S. would target in response.
Trump last week cancelled air strikes that were to be carried out following Iran's downing of a U.S. reconnaissance drone over concerns the strikes, which the president said would have killed 150 Iranians, would have been disproportionate.
Iran maintains the drone violated its airspace when it was targeted by a surface-to-air missile, a claim denied by Washington which says it was over international waters in the Strait of Hormuz.
Tensions have been rising between the U.S. and Iran since May 2018, when Washington unilaterally withdrew from a landmark 2015 nuclear deal between Tehran and the five permanent members of the UN Security Council plus Germany and the EU.
The U.S. has since embarked upon a diplomatic and economic campaign to put pressure on Iran in order to renegotiate the agreement, as well as other Iranian activities Washington considers to be "destabilizing."
As part of its campaign, the U.S. has re-imposed sanctions on exports of Iranian crude oil, which have nosedived the Iranian economy.
Attacks on six oil tankers in the Strait of Hormuz have further escalated tensions. The U.S. has sought to place blame for the mysterious attacks on Iran, a charge Iranian officials staunchly deny.
Full report at:
https://www.aa.com.tr/en/americas/trump-rules-out-boots-on-the-ground-in-any-iran-war/1516516
--------
War with Iran would 'not last very long', US President Trump says
June 27, 2019
A war between the US and Iran would "not last very long," US President Donald Trump said on Wednesday.
And Iraqi President Barham Salih urged both sides in the confrontation to "cool it down", saying his country did not want to be in the middle of another war in the Middle East.
The US is in a strong position if there were a military escalation, Mr Trump told Fox Business Network, saying he was not "talking boots on the ground".
Last week he ordered then cancelled air strikes against Iran in retaliation for shooting down a US drone over the Strait of Hormuz.
Mr Trump said he decided it was not a proportional response after hearing 150 Iranians could be killed.
Mr Salih warned of a "storm sweeping across the Middle East" on Wednesday, saying his country was in the middle of it.
"We certainly don't want to be embroiled in another war, another conflict on our territory," he told an audience at Chatham House.
"We haven't finished the last war. The war against terror has yet to be accomplished."
Iraq's position on the border of Iran is a weak spot for the US, because of the number of American oil companies operating there and its significant military ties.
On Wednesday, Iran warned it was one day away from breaching its commitments to the 2015 nuclear deal, which limits the quality and quantity of enriched uranium it can hold.
"The deadline of the Atomic Energy Organisation for passing the production of enriched uranium from the 300 kilogram border will end tomorrow," spokesman Behrouz Kamalvandi said.
"With the end of this deadline, the speed of enrichment will speed up."
The secretary of Iran's Supreme National Security Council said on Tuesday that Tehran would on July 7 take new steps to reduce its commitments under its nuclear deal with world powers.
In the UN Security Council, Iran was warned not to ignore its commitments in the deal.
A report by UN Secretary General Antonio Guterres presented to the Security Council on Wednesday said Tehran was continuing to meet its obligations, but he wanted all parties to refrain from action that could lead to miscalculation.
"Recent events in the Gulf are a reminder that we are at a critical juncture," said Rosemary DiCarlo, UN undersecretary general.
"As stated by the Secretary General in his briefing to the council on June 13, 'If there is one thing the world cannot afford, it is a major confrontation in the Gulf region'," Ms DiCarlo said.
But Joao Vale de Almeida, head of the EU delegation to the UN, said the accord was "the only tool available" to allow the international community to put limits on Iran's nuclear programme.
"That is why we continue to support it and are determined to implement it," Mr de Almeida said. "There is no credible alternative."
A statement by the six European countries on the council said that it regretted the latest American sanctions and the recent decision not to renew waivers that allowed some countries to buy oil and other goods from Iran.
But the statement also expressed alarm at Iran's regional activity and urged restraint.
Britain, France and Germany's ambassadors all said they regretted the US exit from the nuclear deal but that they could only keep the agreement alive if Iran continued to abide by it.
"As long as Iran remains in full compliance the UK will do everything it can to support the deal," said Britain's ambassador, Karen Pierce.
But Ms Pierce said she was "almost certain" that Iran's Islamic Revolutionary Guard Corps was behind recent attacks in the Gulf.
France's permanent representative to the UN, Francois Delattre, said the situation in the Gulf called for "pragmatism and cool-headedness".
Top Trump administration officials have been sent to Geneva, Jerusalem and Brussels to promote the US stance on Iran.
Acting US defence secretary Mark Esper flew to Brussels on Tuesday, his second day in the job, to persuade Nato allies to work with Washington on Iran sanctions and security in the Middle East.
But British Foreign Minister Jeremy Hunt said he could not envisage any situation where the UK would join a US-led war with Iran.
Also on Tuesday, Iranian President Hassan Rouhani said the "road to diplomacy" with the US was now permanently closed after sanctions imposed on Tehran's leaders by the US on Monday.
Full report at:
https://www.thenational.ae/world/war-with-iran-would-not-last-very-long-us-president-trump-says-1.879512
--------
Arab World
Saudi Arabia Announces Capture Of An ISIS Leader In Yemen In U.S.-Backed Raid
By Kareem Fahim and
Missy Ryan
June 25, 2019
ISTANBUL — Saudi Arabia said Tuesday that it had captured a man it identified as the leader of the Islamic State's Yemen branch during a raid this month on a house in southern Yemen, according to the official Saudi press agency.
U.S. Special Operations forces also took part in the raid, according to American officials who did not disclose the exact nature of U.S. participation.
The Islamic State branch rose to prominence about four years ago, at the beginning of Yemen's civil war, and is considered one of the militant group's smaller and less prominent franchises, with a few hundred fighters, according to a recent U.N. report.
Saudi special forces working with Yemeni counterparts captured the leader — identified by his nom de guerre, Abu Osama al-Muhajir — during a raid on the morning of June 3 in the eastern province of al-Mahra, according to a fact sheet on Muhajir that the Saudi government sent to journalists.
A U.S. official speaking on the condition of anonymity to discuss sensitive aspects of the operation said that Muhajir was captured in al-Ghaydah, the provincial capital, and that U.S. forces had supported the Saudi troops in an "advise and assist" role during an operation led by Saudi Arabia. The United States also provided intelligence for the operation, the official said.
The Saudi statement made no mention of a U.S. role in the capture.
Saudi troops are not known to have taken part in many U.S.-partnered anti-terrorism missions. In Yemen, the United States has mainly partnered in counterterrorism missions with troops from the United Arab Emirates. The UAE is also a member of a Saudi-led military coalition that has been fighting in Yemen since 2015.
The presence of an Islamic State affiliate in Yemen, far from the group's onetime strongholds in Iraq and Syria, has highlighted the far-reaching consequences of Yemen's years-long civil war. Tens of thousands of people have been killed during the conflict, which has split the country into sometimes feuding statelets and at times left swaths of Yemen effectively ungoverned, allowing militant groups to thrive.
The Islamic State's Yemen branch claimed high-profile attacks on civilians early in the war, but more recently it has been focused on battles against the rival al-Qaeda militant group in Yemen in the central province of al-Bayda, analysts said. The United States has carried out airstrikes against both groups.
Muhajir, the Islamic State leader reported captured in the raid, was born in 1988 and defected to the Islamic State from al-Qaeda in 2015, according to the Saudi fact sheet. A U.N. Security Council report in July 2018 said his real name was Muhammed Qanan al-Sayari. The report said the Islamic State affiliate had 250 to 500 members in Yemen and had focused its attacks on Yemeni and UAE targets.
A Security Council report in December said that Sayari was believed to have been killed and that the group had a "dwindling number of fighters in the whole of Yemen."
Saudi Arabia said that the house where he was captured was raided after "close surveillance proved the presence of the terror group's leader, and other elements, along with three women and three children." The women and children were not harmed, and there was no "collateral damage to civilians," the statement said. The assertion could not be independently confirmed.
Other leaders of the group, including the chief financial officer, were also captured, the Saudi government said.
https://www.washingtonpost.com/world/saudi-arabia-announces-capture-of-islamic-state-leader-in-yemen-in-us-backed-raid-backed/2019/06/25/79734ca2-976a-11e9-9a16-dc551ea5a43b_story.html?utm_term=.31a8cfa6a647
--------
Kurdish Official Calls for Stronger US Role in Syria After IS
By Nisan Ahmado
June 25, 2019
WASHINGTON - The United States should continue stabilizing areas recently liberated from the Islamic State (IS) terror group in Syria and use its leverage to push for a political settlement in the war-torn country, a Syrian Kurdish official said.
Sinam Mohamad, a political representative for the U.S.-backed Syrian Democratic Forces (SDF), a Kurdish-led military alliance, said now that the U.S. has helped defeat IS militarily, its Syria policy needs to reflect the new dynamics on the ground.
The U.S. "now should focus on mitigating tensions in the region and preventing new conflicts," Mohamad told VOA.
"Supporting the democratic project in northeastern Syria will be a turning point in the future of the country, which will help change the [Syrian] regime and establish a democratic system that is inclusive to all Syrians," she said.
Since 2014, the U.S has led an international coalition against IS. In March, the SDF declared victory over IS in its last stronghold in eastern Syria.
The U.S. has about 2,000 troops in the country. But U.S. President Donald Trump has decided to withdraw these forces from Syria, while keeping only 400 troops.
There are "voices in the Trump administration and in the U.S. Congress that are calling against this withdrawal and warned from its consequences in enabling the Russian and Iranian influence," Kurdish official Mohamad said.
Russia and Iran, two staunch supporters of the Syrian regime of President Bashar al-Assad, have a strong military presence in Syria since the beginning of the civil war in 2011.
US Congress letter
Last month, nearly 400 U.S. lawmakers, Republican and Democratic, sent a letter to President Trump urging him to remain engaged in the Syrian conflict.
The letter emphasized on protecting Israel's security, putting more pressure on Russia, Iran and Iranian proxies, and preventing terrorist groups from re-emerging in ungoverned territory in Syria.
"The conflict in Syria is complicated, and the potential solutions are not perfect, but our only choice is to advance policies that can stop the growing threats to U.S. interests, Israel, and regional security and stability," the letter said.
"This strategy requires American leadership," it added.
The Syrian regime opposes the American involvement in Syria, calling the presences of U.S. forces in parts of the country illegal.
Some analysts like Bassam Abu Abdullah, a Damascus-based political analyst and former professor of international relations at Damascus University, charge that U.S. policy in Syria solely focuses supporting Kurdish autonomy in Syria's northeast.
"The U.S. should look after its own interests instead of Israel's. This can be achieved by withdrawing its troops from Syria and allowing Syrians to decide their fate for themselves through local elections," Abu Abdullah told VOA.
He added that the battle on the ground will determine the course of the situation in Syria as Syrian regime troops are pushing to rid rebel groups from their last stronghold in Idlib province.
US engagement necessary
Some Syrian experts believe the U.S. involvement in any peace process in Syria is key to putting an end to Syria's civil war that has been raging since 2011.
Radwan Ziadeh, a senior fellow at Arab Center in Washington, said that a clear U.S. vision in Syria is essential to guarantee effective results.
"The Trump administration has to link the end of extremist groups in Syria with a political transition without al-Assad regime in Damascus," Ziadeh told VOA.
Since the beginning of the conflict, the U.S. has supported different peace initiatives, including multiple U.N.-sponsored, intra-Syrian talks in Geneva, that have yet to yield any significant outcomes.
Major disagreements among regional and international powers involved in the Syrian conflict have delayed the talks.
Mohammed al-Abdallah, the director of the Washington-based Syria Justice and Accountability Center, believes that the U.S. should take the lead to begin a "breakthrough in the political negotiations" in Syria.
"The U.S. needs to generate some trust and confidence in the political process that includes putting pressure to release detainees, stopping the military action in Idlib, and working toward stopping the expropriation of people's properties so people can return to their homes," al-Abdallah told VOA.
Full report at:
https://www.voanews.com/extremism-watch/kurdish-official-calls-stronger-us-role-syria-after
--------
Bomb blast kills four Iraqi federal police officers: security sources
JUNE 26, 2019
BAGHDAD (Reuters) - Four Iraqi federal police officers were killed on Tuesday after a bomb went off southwest of the oil-rich city of Kirkuk, two security sources told Reuters.
The blast took place near the village of Habat, which lies about 40 km (25 miles) southwest of Kirkuk, on the border between Rashad and Daquq districts.
There was no immediate claim of responsibility, but Islamic State militants are active in the area. Iraq declared victory over the group, which once held large swathes of the country, in December 2017.
But Islamic State has since switched to hit-and-run attacks aimed at undermining the Baghdad government.
Its fighters have regrouped in the Hemrin mountain range in the northeast, which extends from Diyala province, on the border with Iran, crossing northern Salahuddin province and southern Kirkuk.
Full report at:
https://www.reuters.com/article/us-iraq-security/bomb-blast-kills-four-iraqi-federal-police-officers-security-sources-idUSKCN1TQ2VQ
--------
Egypt says 7 policemen killed in Sinai jihadist attack
June 26, 2019
Cairo (AFP) - Seven police officers have been killed in a jihadist attack in restive North Sinai, Egypt's interior ministry said Wednesday.
The attack near the regional capital El-Arish targeted an "assembly centre" for police, according to the ministry.
Four assailants died "during clashes" following the attack, one when he detonated an explosives belt, it said.
North Sinai has long been a centre of insurgents and Egyptian authorities last year launched an offensive against the jihadists.
Hundreds of militants have been killed along with dozens of soldiers, according to official figures which cannot be verified as Sinai is largely cut off to journalists.
Egypt is currently on high alert as it hosts the Africa Cup of Nations, although none of the games are taking place in Sinai.
A month before the tournament kicked off, a tourist bus was hit by a roadside bomb near the famed pyramids of Giza.
A similar attack in December killed three Vietnamese holidaymakers and an Egyptian tour guide.
Full report at:
https://news.yahoo.com/egypt-says-7-policemen-killed-sinai-jihadist-attack-095744506.html
--------
Saudi forces intercept another Houthi drone headed towards a residential area
26 June 2019
Saudi Arabia's air defences intercepted another drone launched by the Houthis towards a residential area in Khamis Mushait on Tuesday night, the Saudi Press Agency (SPA) reported.
The spokesperson of the Saudi-led coalition Colonel Turki Al Maliki said that the Houthis were "trying to target civilian facilities and civilian objects in desperate and repeated attempts."
The latest strike comes after an attack by the Houthis on the Abha airport earlier this week killed one person and wounded 21 others.
"A terrorist attack by the Iran-backed Houthi militia targeted Abha airport, killing a Syrian resident and wounding 21 civilians," the coalition said in a statement.
Earlier this month, another Houthi missile strike on Abha airport wounded 26 people.
Read: Houthi missile attack on Saudi airport wounds 26
Saudi Arabia has been targeted by hundreds of missile attacks since entering the Yemen civil war in 2015 to support ousted President Abd-Rabbu Mansour Hadi against the Houthis.
Full report at:
https://gulfbusiness.com/saudi-forces-intercept-another-houthi-drone-headed-towards-residential-area/
--------
Saudi Abha Airport Resumes Flights after Houthi Terror Attack
25 June, 2019
Saudi Arabia's southern Abha Airport successfully rebooted both domestic and international flights only hours after being hit by a terror attack staged by Iran-backed Houthi militias based in neighboring Yemen.
In the drone assault, a Syrian national was killed and as many as 21 victims that included women and children from five different nationalities were injured.
Iranian Involvement
"The terrorist attack resulted in martyring a Syrian national and injuring seven civilians," Arab Coalition Spokesman Colonel Turki Al Maliki said in the post-attack press release.
He also revealed that the 21 injured included four Indian nationals, two Egyptians, 13 Saudis, and two Bangladeshis.
Maliki lambasted the Houthis incessant violation of international and humanitarian law and conventions when systematically targeting civilians and committing war crimes.
Houthis militias, for their part, claimed responsibility for the Abha airport attack in a news brief circulated by the group's affiliated media outlets. In the claim, Houthis said the assault was staged by Ababil-T drones, an Iranian multirole UAV.
Iranian weaponry used by Houthis, who continue to scale up terror operations against civilians, stands as evidence that the cleric-led Tehran regime is complicit in the coupists' human rights violations and breaches of international agreements and United Nations Security Council (UNSC) resolutions, namely 2216 and 2231.
Maliki, in his statement, confirmed that Saudi-led Arab Coalition forces will continue to ward off and respond to Houthi aggressions and terrorism. He also reiterated resolve to hold Houthi perpetrators directly involved in terror attacks accountable.
International Condemnation, Backlash
Each of the UAE, Kuwait, Bahrain, Egypt, Djibouti, Pakistan, US, France, and the UK has condemned the Houthi attack on Abha Airport, with former British PM Theresa May calling it a "reckless" attack.
US Ambassador to Saudi Arabia John Abizaid strongly condemned what he called the "cowardly attack" that targeted Abha International Airport.
The Yemeni government, for its part, condemned continued Houthi terrorism and deliberate targeting of civilians and public installations as a flagrant violation of all international norms and laws, particularly international humanitarian conventions.
Full report at:
https://aawsat.com/english/home/article/1783926/saudi-abha-airport-resumes-flights-after-houthi-terror-attack
--------
Aleppo: Several Turkish Soldiers Killed, Injured in Kurdish Attacks in Afrin
Jun 26, 2019
The Kurdish-language Hawar News website reported that the Kurdish Afrin Liberation forces pounded two areas under the control of the Turkish Army in the town of Jalbareh in Shirawa region in Afrin in Northwestern Aleppo, killing one Turkish soldier and injuring three others as well as destroying their military positions.
Meantime, at least five Turkey-backed terrorists were killed and wounded in three separate military operations by the Kurdish fighters against the Turkish Army and its allied militants in the towns of Afrin and Al-Bab in Northern Aleppo.
In a relevant development on Monday, media reports said that the "Ankara government is planning to build new military base in the Afrin region" in Northwestern Aleppo as the Turkish Army and its allied militants continue their measures to separate Afrin from the Aleppo province.
The terrorist group known as 'Olive Branch' affiliated to Ankara have cut over 1,000 trees in the town of Basfoun in Afrin region, the Xeber24 news website quoted local sources as saying.
The sources underlined that the trees have been destroyed with the aim to set up a new military base by Turkey in a vast area in the Basfoun town.
Meantime, the Hawar News pointed to Ankara's attempt to drive a wedge between Afrin and mainland Syria by constructing a wall around the region. The length of the wall in the towns of Marimin, Jalbareh and Kimar has exceeded 4 kilometers.
In a relevant development earlier in June, thousands of family members of Tahrir al-Sham al-Hay'at (the Levant Liberation Board or the Al-Nusra Front) terrorists had been sheltered in areas occupied by the Turkish army in Aleppo to replace the local population.
The Kurdish-language Hawar news quoted a special source as saying at the time that Ankara had transferred nearly 190,000 family members of Tahrir al-Sham terrorists from Idlib city to regions stretching from Afrin and E'zaz to the towns of al-Bab, Jarabulus and al-Ra'ei in Northern Aleppo.
It added that Ankara was attempting to expel the local population in Afrin in Northwestern Aleppo and seize their lands and properties, noting that the Turkish army has so far sheltered over 64,000 family members of the terrorists in this region's towns and villages.
Full report at:
https://en.farsnews.com/newstext.aspx?nn=13980405000746
--------
Yemen Vows to Keep Attacking Saudi Coalition till Riyadh Stops Aggression
Jun 26, 2019
"If the collation puts an end to its attacks, the Yemeni Army will stop its operations," al-Houthi said, adding that the recent attacks of the Yemeni Army on Saudi targets are in response to 5 years of Riyadh's continued attacks on the impoverished country.
He underlined that the drone and missile attacks by the Yemeni Army are not intended to further escalate tensions, adding that the attacks are the natural response to the Saudi-led aggressions and bombardments in the past 5 years.
"The real enemy is the one who keeps conducting operations even using internationally-prohibited weapons and we are just confronting their continuous attacks against our country," he highlighted, adding, "We keep resisting with whatever we have, and we, along with the defense ministry, respond to the Saudi-led attacks with appropriate operations at the right time."
Earlier, the Yemeni Army stopped its drone and missile attacks to support ceasefire efforts, but the Saudi-led coalition inferred that they have achieved a victory and [our] missiles and drone are run out, he said.
The Yemeni resistance figure went on recounting that when Yemeni defense officials found out that the Saudi-led coalition is keeping committing crimes with its aggressions, and reached the conclusions that honoring ceasefire is useless, they decided to restart operations to respond to attacks with available means.
"The coalition of aggressors is the side which is actively following the policy to lead the peace initiative into failure, and it has never contributed to this cause. For the sake of peace, we proposed a plan to halt drone and missile operations, our military operations in the sea, our military operations along the terrestrial borders all across the map of the Republic of Yemen, but they never took a step, and they just talk," he underlined, speaking to Lebanese journalist Najlaa Aboumerhi who hosted the program.
He totally rejected that Yemen received any help from Iran, adding that his country is ready to stop its military operations if the coalition stops its attacks against Yemenis, adding, "This is the best piece of evidence to attest that we are not in touch with Tehran. Because we are not undertaking measures for the helps, which the Saudi led coalition claims, we are receiving from Tehran, but for the reason that our nation is targeted by the coalition and its crimes."
"Yemen is not an arm for Iran, and if it was as they claim that Iran was an arm for Yemen, we would have never said that we were ready to stop attacks if the coalition stopped its attacks," the Yemeni resistance figure underscored.
Saudi Arabia has been striking Yemen since March 2015 to restore power to fugitive president Mansour Hadi, a close ally of Riyadh. The Saudi-led aggression has so far killed more than 20,000 Yemenis, including hundreds of women and children. Despite Riyadh's claims that it is bombing the positions of the Ansarullah fighters, Saudi bombers are flattening residential areas and civilian infrastructures.
Yemen is the world's largest humanitarian crisis with more than 22 million people in need and is seeing a spike in needs, fueled by ongoing conflict, a collapsing economy and diminished social services and livelihoods. The blockade on Yemen has smothered humanitarian deliveries of food and medicine to the import-dependent state.
The UN has repeatedly criticized the Saudi-UAE-led military coalition's bombing campaign and placed it on a blacklist of child rights violators last year.
Full report at:
https://en.farsnews.com/newstext.aspx?nn=13980405000760
--------
Syrian Army Reinforces Military Positions in Homs' Desert Region
Jun 26, 2019
The source pointed to the possibility of ISIL's increasing movements in Badiyeh region after the alleged operations by the US and its allied militants in Eastern Deir Ezzur, and said that the dispatch of military convoy by the ISIL has taken place to confront any possible attacks by the ISIL.
"The Syrian Army troops also engaged in fierce clashes with the ISIL terrorists in the surrounding areas of al-Koum in Badiyeh al-Sukhneh in Eastern Homs, killing a number of them," he added.
Meantime, the Syrian Army's artillery units and air forces also heavily pounded the ISIL's movements in Palmyra and al-Sukhneh Badiyeh and in the surrounding areas of T3 Station and al-Moayzeleh Dam up to borders with Deir Ezzur, destroying several terrorists' targets and killing a number of them.
In a relevant development earlier in June, the Arabic-language al-Mayadeen Television news network reported that the ISIL backed by the US troops stationed in al-Tanf region had heightened its movements against the Syrian Army in Eastern Badiyeh of Homs province.
Al-Mayadeen, meantime, pointed to the massive spread of terrorists in the surrounding areas of Jabal al-Bashri in Southeastern Raqqa and al-Dafineh in Southern Deir Ezzur and between Palmyra desert and Al-Sukhneh and the surrounding areas of al-Tanf in Eastern Homs, and said that the ISIL's movements have taken place in line with US' objectives to exert pressure on the Syrian Army and its allies in Syria.
Meantime, it is believed that about 2,000 terrorists are stationed in Eastern Badiyeh of Deir Ezzur.
In a relevant development in late May, the Arabic-language media outlets said that "the
US was supporting the terrorist groups' on the Syrian Army positions in Homs as the Syrian Army is conducting military operations to cleanse the ISIL's remnants from the Eastern Badiyeh in the province,.
The Syrian Army backed by Russian air force has reinforced its military points on the hills overlooking al-Aqirbat and al-Balas regions as well as their surrounding areas in Eastern Homs, the Arabic-language website of the Russian Sputnik News Agency quoted a Syrian Army battlefield commander in Eastern Homs as saying.
The source pointed to the Syrian Army's military operations to clean up the remaining ISIL terrorists in the Northeastern part of al-Aqirbat in Eastern Homs, and said the Syrian Army troops are preparing for new battle against the ISIL on the road leading to Deir Ezzur.
Meantime, another military source pointed to the ISIL's continued attacks on army positions in Eastern al-Sukhneh, and said that the US is supporting the ISIL terrorists with logistical aid and attacks on Army positions in T3 Station and roads along which army units' move.
Full report at:
https://en.farsnews.com/newstext.aspx?nn=13980405000640
--------
US-Backed SDF Dispatches Fresh Military Convoy to Deir Ezzur to Suppress Popular Uprising
Jun 26, 2019
Local sources in Deir Ezzur reported that the residents of the city of al-Basireh in Deir Ezzur held a public strike against the SDF's mistreatment of the people in Deir Ezzur.
The sources noted that the popular uprisings in Deir Ezzur heightened after the SDF conducted an armed robbery by using military vehicles.
The SDF sent a military convoy comprising 20 military vehicles and so-called anti-riot forces to crush the people in al-Basireh city.
Hasaka and Deir Ezzur provinces have been the scenes of large-scale protests over recent years concurrent with intensified tensions in SDF-controlled areas.
In a relevant development on Tuesday, the US Army forwarded hundreds of trucks containing military equipment to Hasaka despite Washington's declaration of end of the ISIL in Eastern Euphrates region.
The London-based pro-opposition Syrian Observatory for Human Rights (SOHR) reported that hundreds of trucks loaded with logistics and military support have arrived in areas under control of the SDF Hasaka province in Northeastern Syria from the US bases in Northern Iraq.
Full report at:
https://en.farsnews.com/newstext.aspx?nn=13980405000481
--------
Rescue workers among eight killed in Syria air raids
26 June 2019
Two rescuers were among eight civilians killed in Russian and regime airstrikes Wednesday on violence-plagued northwest Syria, a war monitor said, in the latest attack against relief workers in the region.
The two civil defense workers, known as the White Helmets, were killed after Russian air strikes hit their ambulance in the town of Khan Sheikhoun in Idlib province, the Syrian Observatory for Human Rights said.
The rescue group said a "double-tap attack" by Russian warplanes had "targeted" rescue workers repeatedly as they were evacuating injured civilians from the town. Five other volunteers were also wounded, the group said.
The latest attack came nearly one week after regime air strikes on an ambulance in the town of Maaret al-Numan killed three rescue workers. "The world continues to fail to protect us and other humanitarian workers," the group said in a statement on social media.
Six other civilians were killed Wednesday in a series of regime air strikes on several parts of the Idlib region, which is home to around three million people, the Britain-based war monitor said.
One more civilian succumbed to wounds sustained days ago during regime air strikes on Khan Sheikhoun, it said. In the north of nearby Hama province, militant rocket fire killed one girl on Wednesday, state news agency SANA said.
Idlib and parts of neighboring Hama, Aleppo and Latakia provinces were supposed to be protected by a buffer zone under a September agreement between Russia and Turkey.
But the region has come under increased bombardment by the regime and its Russian ally since former al-Qaeda affiliate Hayat Tahrir al-Sham seized most of the province at the start of the year.
Violence spiked in April, leaving more than 470 civilians dead, according to the Observatory.
Full report at:
https://english.alarabiya.net/en/News/middle-east/2019/06/26/Rescue-workers-among-eight-killed-in-Syria-air-raids.html
--------
Oman says to open embassy in Palestinian territories
26 June 2019
The Gulf state of Oman said on Wednesday that it has decided to open an embassy in the Palestinian territories in support of the Palestinian people.
"In continuation of Oman's support for the Palestinian people, the Sultanate of Oman has decided to open a diplomatic mission at the level of embassy in the State of Palestine," the foreign ministry said in a statement on Twitter.
The statement added that a delegation will be heading to the city of Ramallah in the West Bank to initiate the opening of the embassy.
Full report at:
https://english.alarabiya.net/en/News/gulf/2019/06/26/Oman-says-to-open-embassy-in-Palestinian-territories.html
--------
Bahrain says wants 'peace, better relations' with Israel
Jun 27, 2019
Bahrain takes the lid off its longtime secret dealings with Israel, with its foreign minister openly saying that the Manama regime wants "peace" and "better" relations with the occupying entity.
Foreign Minister Khalid bin Ahmed Al Khalifah of Bahrain made the remarks on Wednesday in an unprecedented interview with The Times of Israel on the sidelines of the Washington-sponsored Manama workshop on US President Donald Trump's highly-controversial Middle East deal.
The top Bahraini diplomat recognized Israel's "right to exietnce," saying the regime is "there to stay, of course."
"Who did we offer peace to [with] the [Arab] Peace Initiative?...We offered it to Israel," he said. "We want better relations with it, and we want peace with it."
The Arab initiative, which has been adopted by the Arab League, calls for the normalization of ties between Tel Aviv and Arab states in exchange for Israel's withdrawal from lands it occupied in the 1967 war, including the West Bank, East Jerusalem al-Quds and Syria's Golan Heights.
Khalifah also claimed that while Bahrain might be the only Arab country — besides Egypt and Jordan — to acknowledge Israel's existence, "we know our brothers in the region do believe in it" as well.
Israel has full diplomatic ties with only two Arab states, Egypt and Jordan, but latest reports suggest Tel Aviv has been working behind the scenes to establish formal contacts with other Arab countries such as Bahrain.
The Bahraini foreign minister further encouraged Israel to approach Arab leaders about the issues of concern regarding the "peace" proposal.
"Come and talk to us. Talk to us about it. Say, guys, you have a good initiative, but we have one thing that worries us," he said.
Khalifah also noted that Bahrain views the US-led workshop, which focused on the economic section of Trump's proposal on the Israeli-Palestinian conflict, as a possible "gamechanger" like the 1978 Israel-Egypt Camp David Accords.
"As much as Camp David 1 was a major gamechanger, after the visit of [fromer Egyptian] President Anwar Sadat [to Jerusalem al-Quds]— if this succeeds, and we build on it, and it attracts attention and momentum, this would be the second gamechanger," he said.
Khalifa stressed that although he has not yet seen the political part of Trump's plan, called the "deal of the century," but he was optimistic about it.
"We have to wait. I cannot talk about something that I don't know. But we hope that this political plan will also be attractive to everybody," he said.
All the Palestinian people have already rejected the deal and boycotted the related Bahrain event. The participants in the two-day meeting had ignored a Palestinian call to likewise boycott the workshop.
Speaking at the opening of the Bahrain workshop on Tuesday, Jared Kushner, Trump's son-in-law and senior adviser, argued that agreeing to an economic pathway forward was "a necessary precondition" for resolving the conflict.
Full report at:
https://www.presstv.com/Detail/2019/06/27/599538/Bahrain-Israel-Palestine
--------
Lebanese govt., people against Trump's 'deal of century,' Hariri says
Jun 26, 2019
Lebanese Prime Minister Saad Hariri has stressed his country's rejection of US President Donald Trump's controversial proposal for "peace" between the Israeli regime and Palestinians, dubbed "the deal of the century," stating all Lebanese government institutions and people from all walks of life are opposed to the plan.
"The government, parliament and all of Lebanon are against the deal of the century," Hariri said during a legislative session in the capital Beirut on Wednesday.
The remarks came a few days after Lebanon's Parliament Speaker Nabih Berri strongly condemned the much-touted American plan.
He said on Sunday that anyone who thought "waving billions of dollars" could get Lebanon to barter "over its principles" was mistaken.
Hezbollah resistance movement has already declared the United States' so-called Middle East peace plan a "historic crime" that must be stopped.
On Tuesday, thousands of Palestinian refugees staged a protest in a show of disdain from the Palestinian leadership for a US-led economic workshop in Bahrain.
In Beirut, demonstrators gathered outside the United Nations headquarters to voice concern as they waved Palestinian flags and carried banners.
Protesters at Ain al-Hilweh refugee camp in southern Lebanon held a separate demonstration.
The so-called "Peace to Prosperity" workshop opened in Bahrain on June 25 and will run through June 26.
The Palestinian leadership is boycotting the meeting, leading critics to question the credibility of the event.
The Palestinian Bar Association (PBA) plans to file a lawsuit against participants in the US-led conference in Manama.
Mashaal: Palestinians unanimously reject deal of century, Bahrain confab
Meanwhile, former chief of the political bureau of Palestinian Hamas resistance movement says the Palestinian nation entirely dismisses the so-called deal of the century and the US-sponsored summit in Bahrain.
Khaled Meshaal described the US-led initiative as "suspicious, poisonous and aimed at liquidating the Palestinian cause," affirming that "the Palestinian people are unanimous in rejecting the deal and will not allow it to take place."
"The deal of the century has no future and is doomed to failure, God willing. There are Palestinian constants and red lines our people are adherent to and they will not accept any bargaining over them," he said.
Meshaal also accused some Arab regimes of attempting to sell out Palestine which he described as "the Jewel of the Arabs" through accepting bribes.
Full report at:
https://www.presstv.com/Detail/2019/06/26/599493/Lebanese-govt-people-against-Trumps-deal-of-the-century-Hariri-says
--------
Africa
Boko Haram Attacks Borno Again: Three Terrorists Killed, Two Soldiers Wounded
JUN 25, 2019
At least seven people were killed including three terrorists while two soldiers sustained varying degrees of injuries when Boko Haram terrorist clashed with troops in Borno state Monday night, a security source said.
The attack happened in Mafa headquarters, Mafa local government area of Borno state around 1830hrs on Monday evening, killing a soldier and destroying many houses.
According to the security source both the attackers and troops recorded casualties, although the troops killed three terrorists and seized one of their utility vehicles and motorcycles.
"The troops response swiftly to the attackers, when attacking our troops in Mafa yesterday, they suffered some causality three bodies of attackers found and many of them fled with gun wounds. One Hilux van and two motorcycles were recovered by the troops. "Unfortunately three civilians and a soldier lost their lives and two soldiers were seriously wounded in the attacks. Two trucks belong troops was by the attackers," the source said.
Similarly, there was another attack at Kareto in Mobar local government area of the state, the gallant troops successfully repelled the attacks.
http://saharareporters.com/2019/06/25/boko-haram-attacks-borno-again-three-terrorists-killed-two-soldiers-wounded
--------
Morocco dismantles "terror" cell, arrests 4 IS suspects
2019-06-25
RABAT, June 25 (Xinhua) -- The Moroccan security services dismantled on Tuesday a "terrorist cell" linked to the Islamic State (IS) militant group in the region of El Haouz, near the city of Marrakech, and arrested four suspects.
"The suspects, aged between 25 and 40, have links to individuals operating abroad," said a statement of the Central Bureau of Judicial Investigation, Morocco's intelligence bureau.
The suspects aims at "preparing and carrying out terrorist schemes in Morocco through the use of explosive devices as part of the destructive agenda of IS," the statement added.
This security operation led to the discovery of a farm in the town of Ourika belonging to the family of one of the cell's members, the statement said.
Chemical residues, suspicious liquids, and equipment used in the manufacture of explosive devices were seized, the statement added.
Full report at:
http://www.xinhuanet.com/english/2019-06/25/c_138172953.htm
--------
Zakzaky in urgent need of medical treatment
Jun 26, 2019
The Islamic Movement in Nigeria has announced that details of medical investigations conducted on Sheikh Zakzaky have indicated that both the Muslim cleric and his wife have a medical emergency.
https://www.presstv.com/Detail/2019/06/26/599520/Zakzaky-in-urgent-need-of-medical-treatment
--------
Libya's gov't forces say it recaptured Gharyan city
Mustafa Dalei
26.06.2019
TRIPOLI
Libya's UN-recognized government on Wednesday said its armed forces have entirely recaptured the city of Gharyan, south of Tripoli, from rival forces, local media reported.
According to Libya's private Al-Ahrar broadcaster, the announcement was made by Col. Abdul Hakim Tanish, field commander in the UN-recognized government forces.
Citing other sources, the broadcaster reported the escape of Abdul Salam Al-Hassi, a main commander operating the forces loyal to Khalifa Haftar, along with a number of other members of his forces from the city.
Haftar's forces have so far been unsuccessful in seeking to capture Tripoli from the U.N.-recognized Government of National Accord in an offensive that began in April.
Nevertheless, his forces remain deployed in several areas around the capital.
Libya has remained beset by turmoil since 2011, when long-time ruler Muammar Gaddafi was ousted and killed in a NATO-backed uprising after four decades in power.
Full report at:
https://www.aa.com.tr/en/africa/libyas-govt-forces-say-it-recaptured-gharyan-city-/1516751
--------
Clashes renew between rival forces near Libya's Tripoli
Walid Abdullah
26.06.2019
TRIPOLI
Clashes renewed on Wednesday between forces of Libya's UN-recognized government and troops aligned with East Libya-based commander Khalifa Haftar near the capital Tripoli, according to a Libyan spokesman.
The fighting took place in Abu Shiba area near the city of Gharyan, south of Tripoli, which is held by Haftar's forces.
"Our forces managed to take control of Qawasim area and Abu Shiba agriculture project near Gharyan city," Major General Ahmed Abushahma, a spokesman for forces of the UN-recognized government, told the local Arraed television.
There was no comment from Haftar's forces on the claim.
Haftar's forces have so far been unsuccessful in seeking to capture Tripoli from the U.N.-recognized Government of National Accord in an offensive that began in April.
Nevertheless, his forces remain deployed in several areas around the capital.
Libya has remained beset by turmoil since 2011, when long-time ruler Muammar Gaddafi was ousted and killed in a NATO-backed uprising after four decades in power.
Full report at:
https://www.aa.com.tr/en/africa/clashes-renew-between-rival-forces-near-libyas-tripoli/1516389
--------
Mideast
Netanyahu Presses Superpowers to Remove Iranian Forces from Syria
By Isabel Kershner
June 25, 2019
JERUSALEM — Hosting an extraordinary meeting on Tuesday of the Russian, American and Israeli national security advisers, Prime Minister Benjamin Netanyahu of Israel pressed for ridding Syria of all foreign forces, in particular Iranians and their proxies across Israel's northern frontier.
With the eight-year Syrian civil war winding down, Mr. Netanyahu said, "I believe that there is a wider basis for cooperation between the three of us than many believe."
This meeting, he said, the first of national security advisers from all three countries, provides "a real opportunity" to advance stability in the region, "and particularly in Syria."
The meeting took place against the backdrop of spiraling tensions between the United States and Iran after Iran's downing last week of an American surveillance drone and Iran's threats to exceed the limits on its uranium supply set by the 2015 nuclear deal.
An immediate breakthrough on Syria or any other issue was unlikely at the meeting, given the complex and often competing interests of each of the participants. And missing from the room, of course, were any representatives from Iran, which has good relations with Russia and none with Israel or the United States.
But for Israel, hosting the tripartite discussions, and having its national security adviser participate on an equal footing, was regarded as an achievement in itself, enhancing the country's role in international diplomacy.
It provided a boost for Mr. Netanyahu as he battles on political and legal fronts, facing possible corruption charges and a second election in September because he failed to form a viable coalition after an April ballot.
"We didn't come with the expectation we were going to solve all the problems, or even most of them," said John R. Bolton, the American national security adviser. He spoke at a news conference after having met with his counterparts, the secretary of the Russian Security Council, Nikolai P. Patrushev, and the head of Israel's National Security Council, Meir Ben-Shabbat.
Pointing to what he described as Iranian involvement in other areas of the Middle East, including Lebanon, Iraq, Yemen and Afghanistan, Mr. Bolton said the gathering in Jerusalem "helps everyone understand what the various positions are and we'll go from there."
Mr. Bolton, Mr. Netanyahu and Mr. Patrushev also held a series of bilateral meetings. Mr. Bolton wrote on Twitter that in his meeting with Mr. Patrushev on Monday, they and their teams "covered Ukraine, arms control, Venezuela, and other issues."
Mr. Bolton said he hoped the meeting in Jerusalem, which he described as "historic," would help lay the foundation for the G-20 summit meeting taking place later this week in Osaka, Japan. There, he said, many of the same issues will be discussed, adding that President Trump was looking forward to meeting President Vladimir V. Putin of Russia.
Mr. Netanyahu, who maintains a close relationship with Mr. Putin, thanked the Russians for working closely with Israel on a mechanism that allows Israel to act in Syria to prevent the transfer of advanced weapons from Iran to the Hezbollah militia in Lebanon, while not putting Russian forces in harm's way.
Mr. Netanyahu said Israel had "acted hundreds of times" to prevent Iranian military entrenchment in Syria and the transfer of weapons, a reference to Israeli airstrikes in Syria carried out clandestinely.
Israel and Russia appear to have overcome a crisis last year, when Syrian forces accidentally shot down a Russian military plane after an Israeli airstrike on Syrian territory.
But American, Israeli and Russian interests in Syria still fundamentally differ. Russia and Iran helped President Bashar al-Assad of Syria gain the upper hand in a civil war that began in 2011.
"While we all want to see stability in Syria, some of us like the Assad regime more than others," said Eran Lerman, a former deputy director of Israel's National Security Council.
Mr. Lerman said the Russians "support him, we certainly do not and the Americans abhor him."
But there are now growing gaps between the Russians and the Iranians over the future of Syria. And at the end of the day, Mr. Lerman added: "There's a fact of life. The Assad regime has stabilized the situation in much of Syria."
Mr. Patrushev said that Moscow and Tehran were cooperating in the fight against terrorism.
"We have a mutual possibility to influence each other and we have an opportunity to listen to each other," he said.
"We understand Israel's concerns and we want the existing threats to be eliminated so that Israel's security be ensured," he said. "At the same time, we should remember that other regional states also have their national interests."
https://www.nytimes.com/2019/06/25/world/middleeast/netanyahu-bolton-russia-iran-syria.html
--------
3 U.S. drone airstrikes kill 5 al-Qaida members in central Yemen
2019-06-25
ADEN, Yemen, June 25 (Xinhua) -- At least five members of the Yemen-based al-Qaida branch were killed during airstrikes launched by a U.S. drone in the country's central province of al-Bayda, a security official told Xinhua on Tuesday.
Around three airstrikes targeted a gathering of al-Qaida militants in Dhi Naim district in the northwestern part of al-Bayda province late on Monday, leaving five militants killed, the local security source said on condition of anonymity.
Other security sources based in the province confirmed to Xinhua that "mid-level commanders of al-Qaida group died during the U.S. aerial bombardment."
The Yemen-based al-Qaida in the Arabian Peninsula (AQAP), which carries out sporadic attacks against the Yemeni forces in different areas of the country's southern regions, revealed no statement to confirm or deny the U.S. drone airstrikes.
The U.S. military has carried out several airstrikes against AQAP fighters in different provinces of the war-torn Arab country since U.S President Donald Trump approved expanded military operations against the group.
The expanded operations included intensified overnight airstrikes and ground military raids against the al-Qaida hideouts in the mountainous areas of al-Bayda and southeastern province of Shabwa.
Full report at:
http://www.xinhuanet.com/english/2019-06/25/c_138172653.htm
--------
Iran warns US of stronger reaction if its borders violated again
27 June 2019
Iran warned the United States on Thursday against violation of its borders, with parliament speaker Ali Larijani threatening a stronger reaction, a week after Tehran shot down an American drone that spiked tension between the two countries.
"The downing of their drone was a good experience for them to avoid any aggression against our borders," the semi-official Tasnim news agency quoted Larijani as saying.
"Iran's reaction will be stronger if they repeat their mistake of violating our borders."
Iran said the unmanned US aircraft was in its air space, which Washington denied. Trump ordered retaliatory air strikes but called them off at the last minute, later saying too many people would have died.
https://english.alarabiya.net/en/News/middle-east/2019/06/27/Iran-warns-US-of-stronger-reaction-if-its-borders-violated-again-.html
--------
Khamenei says Iran will not retreat in face of US sanctions and 'insults'
26 June 2019
Iran's Supreme Leader Ayatollah Ali Khamenei said on Wednesday that the Iranian nation will not retreat in the face of "cruel" US sanctions and "insults," days after Washington imposed sanctions on him and other top officials in the country.
"The most vicious officials of the (US) government accuse Iran and insult it. The Iranian nation will not give in and retreat in the face of such insults," Khamenei was quoted as saying by his official website.
Khamenei added that the US offer for negotiations is a deception.
US President Donald Trump has said he is willing to hold talks with the Islamic Republic.
"Negotiations are a deception for what they want. A weapon is in your hands and they don't dare come close. They say drop the weapon so I can do whatever I want with you. This is negotiation," Khamenei said.
On Monday, US President Donald Trump ordered "hard-hitting" financial sanctions on Iran's Supreme Leader Ayatollah Ali Khamenei, holding him "ultimately responsible" for Tehran's destabilizing activities.
"We will continue to increase pressure on Tehran," Trump said as he signed the order in the Oval Office. "Never can Iran have a nuclear weapon."
Full report at:
https://english.alarabiya.net/en/News/middle-east/2019/06/26/Iran-s-Khamenei-says-nation-will-not-retreat-in-face-of-US-sanctions-and-insults-.html
--------
Arab Coalition intercepts Houthi drone in Yemeni airspace targeting Saudi Arabia
27 June 2019
The spokesperson of the Arab Coalition said forces were able to intercept and down a drone in Yemeni airspace after it was launched by the Houthis north of Sanaa toward Saudi Arabia.
Arab Coalition spokesperson Col. Turki al-Maliki said that the interception of the drone took place at 10:20 pm local time.
"The Houthi terrorists continue to launch drones to carry out hostile and terrorist acts by targeting civilians and public facilities, and that none of their targets have been achieved. They have been destroyed and shot down," al-Maliki said in a statement carried out by Saudi Press Agency.
Full report at:
https://english.alarabiya.net/en/News/gulf/2019/06/27/Arab-Coalition-intercepts-Houthi-drone-in-Yemeni-airspace-targeting-Saudi-Arabia.html
--------
Empowering Palestinians means delivering on promises
RAY HANANIA
June 26, 2019
MANAMA: Jared Kushner's "Peace to Prosperity" plan, unveiled this week at a conference in Bahrain, sets ambitious goals, including doubling Palestine's gross domestic product and reducing its high unemployment rate to under 10 percent.
Unemployment is at 30 percent in the West Bank and 50 percent in the Gaza Strip, according to Christine Lagarde, managing director and chairman of the International Monetary Fund, who spoke at the conference.
Kushner's plan proposes investments of nearly $30 billion in the occupied Palestinian territories, and $20 billion in Lebanon, Egypt and Jordan.
But money alone will not be enough if people are not given opportunities to work and develop their own entrepreneurial skills, business leaders warned during a panel discussion entitled "Empowering the People."
Arab News Editor-in-Chief Faisal Abbas moderated the panel, which featured four distinguished business leaders: Osama Al-Absi, CEO of the Bahrain Labor Market Regulatory Authority; Amadou Diallo, DHL's CEO for the Middle East and Africa; Shiv Khemka, vice chairman of SUN Group Global; and Luis Alberto Moreno, president of the Inter-American Development Bank.
Abbas praised Kushner's "impressive and detailed" plan, but said "the political will must be there" for it to succeed.
Khemka said India has overcome similar challenges that Palestine faces, and "if the challenges can be overcome in India, they can be overcome anywhere."
He added: "In India, we have 1.3 billion people, so we need to create 1.3 million jobs per month for the next 30 years. We have extreme poverty and wealth. We have all kinds of conflicts and all kinds of issues. If you start off with the assumption that the political will is there, then I think there's no reason at all why this plan can't succeed."
Moreno said based on his visit to the West Bank, he believes that "the political will is present and can be nurtured" among Palestinians.
"A plan like this is only as good as the people who are willing to implement it," he added. "The more important thing, in any case, is the political will to get behind something where people will eventually really build the potential for developing their own country."
Al-Absi, who helped reduce Bahrain's unemployment rate from 17 percent to about 4 percent over 11 years, cautioned that the worst thing to do is to raise expectations and then not follow through.
"A pessimist is what an optimist calls a realist, and I'm a realist. It's doable, but you have to approach this with a lot of practicality," he said, describing Kushner's plan as "very ambitious."
Al-Absi added: "You're going to come up with … a peace plan and an economic plan. You're going to raise their (Palestinians') expectations. You have to prepare them, otherwise, this can all go south."
Diallo said: "How you create opportunity is by having leadership that has aspirations to change the way people live in their own communities."
He added: "That has to be done locally because it can't be done from outside. The people have to fight for that. I've seen that happen in Asia, in Pakistan, but also here in the region."
Full report at:
http://www.arabnews.com/node/1516731/middle-east
--------
Pakistan
Three suicide bombers killed as police foil terror bid in Loralai
Jun 27, 2019
QUETTA: At least one policeman was killed and four others injured when unidentified terrorists attacked the Police Lines area in Balochistan's Loralai, said Inter-Services Public Relations (ISPR) on Wednesday.
According to Balochistan Inspector General of Police (IGP) Mohsin Hassan Butt, three attackers, wearing suicide jackets, ambushed the main gate of the Police Lines area.
He said that "police and other law-enforcement agencies retaliated in a timely manner and managed to kill all three suicide bombers before they managed to enter the premises" at a time when policemen were busy taking their promotional examination.
According to the ISPR statement, at least three bombers attempted to target Police Lines in Loralai.
"The suicide bombers were effectively singled out by the police at the main gate. One suicide bomber was killed by a police guard at the entry point while two others managed to get inside the premises," the statement read.
"FC and police QRF [quick response force] immediately reached the site and cordoned the area off. In exchange of fire, one suicide bomber detonated his vest, while the other was killed by security forces. Police Head Constable Allah Nawaz was martyred in the exchange of fire."
Balochistan Chief Minister Jam Kamal Khan Alyani condemned the attack and expressed condolences over the death of the policeman.
"The police force fought bravely against the terrorists. The swift and effective action taken by the police today shows that our security agencies are well prepared [to counter any threats]," the chief minister said.
Balochistan —long been plagued by an insurgency and targetted killings – is reeling under a fresh wave of terrorism, as Baloch insurgents and other religious outfits have ratcheted up attacks in the restive province, targetting LEAs and minority Shias, respectively.
In May alone, the province faced at least five terror attacks, including an attack on non-native labourers working in Dera Murad Jamali.
On May 9 –the same day a blast had rocked Lahore— three people, including a tribal elder, were killed in Qila Abdullah blast.
On May 10, two miners and three Frontier Corps personnel were killed in an attack and a subsequent landmine blast in the Khost area of Harnai district.
On May 11, militants belonging to the Balochistan Liberation Army (BLA) stormed a five-star hotel in Gwadar, leaving five people, including a navy soldier, dead. The operation to clear the hotel took one day. The attack was targeted at Chinese investors allegedly present at the hotel.
On May 13, at least four policemen were killed and several others wounded after a bomb attack targeted their vehicles while they stood guard outside a mosque in Quetta.
On May 14, three labourers, reportedly from Sindh province, were killed in a targeted attack. No one claimed responsibility for the attacked.
In April, the province fared no better either, with two major blasts targeting law enforcers and minority Hazara community separately.
On April 12, at least 20 people were killed and 48 wounded by a powerful suicide blast apparently targeting the Hazara community at a crowded fruit market in Quetta.
A faction of the Taliban claimed the attack. The group said it collaborated with Lashkar-e-Jhangvi (LeJ), which has been behind numerous bloody attacks in Pakistan. There was no immediate confirmation from LeJ.
On the same day, two civilians were killed and 10 injured in the evening as an improvised explosive device (IED) had gone off when FC vehicle was passing through a market.
On April 18, at least 14 people were killed in an ambush on several buses travelling between Karachi and Gwadar in the remote Ormara area of Balochistan province on Thursday.
The attack which left at least 9 Pakistan Navy men dead after being identified through IDs was claimed by Baloch insurgents.
https://www.pakistantoday.com.pk/2019/06/26/atleast-1-policeman-martyred-4-injured-in-loralai-police-lines-attack/
--------
One killed as militants attack Pakistan police housing complex
JUNE 26, 2019
QUETTA, Pakistan (Reuters) - A police constable was killed and five people injured in Pakistan on Wednesday, following a gun battle with Taliban militants at a police housing and training complex, security officials said.
Three militants wearing suicide vests attempted to storm the complex in the restive southwestern province of Baluchistan when confronted by guards at the entrance.
"Police personnel deployed at the gate killed one of the suicide bombers," senior police officer Abdul Rehman Luni told Reuters.
"The other two blew themselves up inside the police complex," he said, adding that a senior constable was killed in the attack, and five wounded people were taken to hospital.
The attack was claimed by the Tehrik-e-Taliban Pakistan, also known as the Pakistani Taliban, in a statement sent to journalists.
Military cordoned off the area after the attack.
The walled complex comprises police residences and training facilities and is heavily guarded in a province where attacks on security officials are common.
Islamist militant groups and separatists fighting the central government are active in mineral-rich Baluchistan, with frequent attacks on gas and transport infrastructure and security posts.
Baluchistan's coastal city of Gwadar is a strategic port on the Arabian Sea that is being developed as part of the $60-billion China Pakistan Economic Corridor, part of China's Belt and Road infrastructure project.
Full report at:
https://www.reuters.com/article/us-pakistan-attack/one-killed-as-militants-attack-pakistan-police-housing-complex-idUSKCN1TR0ML
--------
Opposition parties divided over en masse resignation from Parliament
June 26, 2019
Zubair Qureshi
Islamabad: Differences marked the All Parties Conference (APC) of opposition parties convened by the Jamiat Ulema-e-Islam-Fazl (JUI-F) chief Fazlur Rehman here on Wednesday as the two major opposition parties — Pakistan Muslim League-Nawaz (PML-N) and the Pakistan People's Party (PPP) — disagreed on en masse resignation from parliament, a proposal by the JUI-F chief.
The APC attended by various political parties met to formulate a joint strategy and future course-of-action against the government.
While presiding over the session, Fazl put a suggestion before the meeting to resign from the assemblies, but the main opposition parties said resignations were not a solution to national issues.
Both PML-N and PPP said they would not be able to effectively push their stance outside parliament, adding that a joint strategy should be opted inside and outside the parliament against incumbent government.
Shahbaz Sharif, president of the PML-N and leader of the opposition in the National Assembly, however, expressed his resolve to block the PTI government's 'anti-people' budget on every forum.
"We are passing through the worst economic conditions and all of us need to join hands to stop the government's undemocratic measures," said Shahbaz Sharif.
Shahbaz Sharif participated in the APC along with a 14-member delegation, including PML-N senior vice president and former Prime Minister Shahid Khaqan Abbasi and vice president of the party and daughter of ex-PM Nawaz Sharif, Maryam Nawaz.
A five-member delegation of the Pakistan People's Party (PPP), under the leadership of the Chairman Bilawal Bhutto Zardari, comprising former premier Yousaf Raza Gillani, former chairmen of the Senate Raza Rabbani, Nayyar Bukhari, former Leader of the House in Senate Sherry Rehman and ex-Senator Farhatullah Babar also participated in the APC and opposed en masse resignation.
Qaumi Watan Party (QWP) chairman Aftab Ahmad Khan Sherpao, and delegations from Awami National Party (ANP) and JUI-F are also attending the APC.
The opposition parties' moot suffered a setback earlier as Balochistan National Party-Mengal (BNP-M) chief Akhtar Mengal decided to stay away from the APC. Mengal was called by Prime Minister Imran Khan to discuss various issues regarding Balochistan's development and six-point agenda agreed between the PTI and the BNP-M before the latter's joining the government.
Asfandyar Wal Khan President of the Awami National Party also participated the APC and suggested a single-point agenda to change Chairman of the Senate.
Meanwhile, Special Assistant to the Prime Minister on Information and Broadcasting Dr Firdous Ashiq Awan while reacting to APC convened by major opposition parties on Wednesday said the government did not face any threat from the opposition.
Full report at:
https://gulfnews.com/world/asia/pakistan/opposition-parties-divided-over-en-masse-resignation-from-parliament-1.64857084
--------
Firdous terms MPC bid to hide opposition leaders' corruption
Kalbe Ali
June 27, 2019
ISLAMABAD: Special Assistant to the Prime Minister on Information Dr Firdous Ashiq Awan has said the multi-party conference (MPC) organised by opposition parties was a last-ditch effort by them to provide cover to their corrupt past.
"The declaration issued after 10-hour-long meeting covers almost everything but there is no mention of eradicating corruption from the country," she said while addressing a press conference after the declaration of the MPC was issued.
The prime minister's special assistant described the MPC as a 'political Ruet-i-Hilal committee' headed by a cleric who was striving to "bring up the moon of power for the whole bunch".
"The strangest part of the MPC was that the parliamentarians met under the chairmanship of an unelected person who has been rejected by the people," she said. "[JUI-F chief] Maulana Fazlur Rehman is in panic as he is out of power and his conduct shows that he is only exploiting the name of the religion."
Dr Awan came down hard on the participants of the MPC, saying: "All these political gurus saw flaws in everything and were able to dig out the failures in the performance of national institutions but failed to discuss the issue of financial malpractices.
"They analysed everything but it was strange to see that there was no mention of the word 'corruption' in the whole declaration... They love this word; that is why they did not decry this word," Dr Awan added.
She also assailed the declaration for criticising the general elections of 2018, saying that the chief election commissioner and the members of the Election Commission of Pakistan were appointed by the previous PML-N government in consultation with the-then opposition parties, including the PPP.
"Now after 10 months they are claiming that the elections were rigged. Is the Sindh Assembly included in it also?" she asked.
She described the MPC as a failed event where the participants could not reach any conclusion or definite goal, except removal of the Senate chairman.
The special assistant said it was also clear that all the so-called political leaders were pushing their selfish agenda only. "Asfandyar Khan even stabbed the PPP in the back as it was this party that had helped elect the incumbent senate chairman," she said.
Continuing with her criticism of the opposition parties, Dr Awan said the main concern of the MPC was the commission of inquiry on public debt, the National Development Council, and representation of national defence institutions in these bodies.
"Whatever they are saying is only to please their patrons in India... It was just like what they say in a Punjabi proverb: say it to daughter and convey the message to daughter-in-law. These people were actually giving the message to their patrons abroad."
Dr Awan also hit out at PPP chairman Bilawal Bhutto-Zardari, describing him as a 'novice politician' and saying, "This country is not a toy for people like you."
She said, "Our national institutions are our assets and we must understand that the army is a highly organised and disciplined institution. They are involved with the government in uplift of the country and eradication of corruption from Pakistan."
Full report at:
https://www.dawn.com/news/1490680/firdous-terms-mpc-bid-to-hide-opposition-leaders-corruption
--------
Pakistan announces fresh support for Palestinian refugees
Jun 27, 2019
UNITED NATIONS: Pakistan reaffirmed its dedication to the Palestinian cause at the 2019 pledging conference for the cash-strapped UN agency that assists Palestinian refugees by announcing a fresh commitment of financial support.
"The international community must not fail the Palestinian people," Ambassador Maleeha Lodhi told the pledging event for the United Nations Relief and Works Agency for Palestine (UNRWA) held at UN headquarters in New York.
UNRWA ran into deep financial trouble more than a year ago when the Trump administration stopped US funding of UNRWA, and called for the agency to be dissolved, saying it was no longer justified 70 years after the start of the Israeli-Palestinian conflict and the creation of Israel.
"Today, I humbly ask all donors to maintain their support for UNRWA at last year's level," UN Secretary-General Antonio Guterres said as he opened the pledging conference.
"We know what is at risk: education for a half million children; 8 million health care visits a year; emergency relief for 1.5 million. In Gaza alone, one million Palestine refugees depend on UNRWA for food," he said.
Last year, UNRWA relied on extra money from member states and internal savings to cover a US $446 million budgetary gaps. This year it unveiled a budget of US $1.2 billion, unchanged from 2018.
Founded in 1949, UNRWA runs schools and provides health care for some five million Palestinian refugees in Jordan, Lebanon, Syria, the West Bank, and the Gaza Strip.
In her remarks, Ambassador Lodhi backed the UN chief's call, saying Pakistan would make a "voluntary contribution that is commensurate to the contribution we made to UNRWA, last year."
Full report at:
https://www.pakistantoday.com.pk/2019/06/26/pakistan-announces-fresh-support-for-palestinian-refugees/
--------
URL: https://www.newageislam.com/islamic-world-news/us-secretary-state-touches-upon/d/119010
New Age Islam, Islam Online, Islamic Website, African Muslim News, Arab World News, South Asia News, Indian Muslim News, World Muslim News, Women in Islam, Islamic Feminism, Arab Women, Women In Arab, Islamophobia in America, Muslim Women in West, Islam Women and Feminism