New Age Islam News Bureau
10 Jul 2020
• French Lawmakers Propose Muslim Brotherhood Ban, Measures To 'Combat Radical Islam'
• ''Bangladesh: Hindu Life Matters'' Campaign Gathers Steam
• Indonesian Politician's Anti-Virus Veil Policy Draws Fire
• Arab Coalition: World Should Hold Iran Responsible For Houthis' Malicious Activities
• Spokesman Rejects US "Lies" about Confiscation of Iranian Ship Carrying Arms to Yemen
• Haftar Even Rejected Moscow Peace Initiative: Libya
• Jamiat Ulema-e-Islam Fazl Chief Said World Is Fighting Against Covid-19, Pakistan Is Fighting Against Covid-18
• Mewat Court Gives Relief to Tablighi Jamaat Members, Asks Authorities To Send Them Back Safely
-----
North America
• US Sanctions on Chinese Officials Over 'Abuse' Of Muslims In Xinjiang
• US Claim of Deal with China Not in Iran's Interest 'Preposterous'
• Witnesses refute rumors about blast, power outage near Tehran
• UN report on General Soleimani's assassination draws US ire
--------
Europe
• French Lawmakers Propose Muslim Brotherhood Ban, Measures To 'Combat Radical Islam'
• Previously acquitted UK man convicted of terror attack plan
• 'Far-right terrorism biggest threat to German security'
• 'Negative trend in EU-Turkey relations must stop'
--------
South Asia
• ''Bangladesh: Hindu Life Matters'' Campaign Gathers Steam
• Afghanistan to release prisoners from Taliban list in push for talks
• Bangladesh refuses to move Rohingya refugees from flood-prone island to mainland
• Bangladesh Church urges peace after deadly violence in Chittagong hills
• Pakistani terrorist among 2 killed in Paktiya province of Afghanistan: MoD
• Suicide car bomb attack hits Afghan forces' check post in Wardak
--------
Southeast Asia
• Indonesian Politician's Anti-Virus Veil Policy Draws Fire
• More Than 30 Malaysian Civil Society Organisations Say They Are Standing In Solidarity With All Sexual Harassment Survivors
• Rights lawyer Eric Paulsen wins defamation suit against Muslim activist
• I won't bow down to blackmail, smear campaign, says prominent Muslim activist
--------
Arab world
• Arab Coalition: World Should Hold Iran Responsible ForHouthis' Malicious Activities
• Chemical weapons body condemns Syria for using sarin, chlorine on village in Hama
• US forces in Iraq carry out overnight strike on ISIS cell
• Egypt carries out military drill near Libya border
• 6 ISIL Terrorists Arrested by Hashd al-Sha'abi in Mosul
--------
Mideast
• Spokesman Rejects US "Lies" about Confiscation of Iranian Ship Carrying Arms to Yemen
• In second mishap in less than week, three dead as fireworks truck explodes in Turkey
• Explosion at Iran's Natanz nuclear site caused 'likely irreparable' damage: Report
• Syrian president: Iran-Syria military accord rooted in years of anti-terror cooperation
• Iran signs agreement to bolster Syria's air defense systems
• Yemeni government condemns Houthi sea lane violations
--------
Africa
• Haftar Even Rejected Moscow Peace Initiative: Libya
• Sudan's PM accepts resignation of six ministers: Statement
• Terrorists kill eight soldiers in Chad: Security sources
• Foreign meddling in Libya at unprecedented levels: UN chief
--------
Pakistan
• Jamiat Ulema-e-Islam Fazl Chief Said World Is Fighting Against Covid-19, Pakistan Is Fighting Against Covid-18
• Muslim World League delivers COVID-19 medical aid to Pakistan
• IMF predicts economic recovery in Pakistan next year
• US revokes permission for PIA to operate special direct flights
• ATC orders inquiry into illegal construction of mosque in Karachi
• PPP members, ministers clash in NA over KE affairs, JIT report
• Govt presents anti-domestic violence bill in NA
--------
India
• Mewat Court Gives Relief to Tablighi Jamaat Members, Asks Authorities To Send Them Back Safely
• Tablighi Jamaat Event: Delhi Court Grants Bail To 76 Foreigners From 8 Countries
• Tamil Nadu Police Arrest 86 For Spreading Hatred Against The Muslim Community, Linking Them With Covid-19
• CBI Court Orders to Trace Babri Mosque Demolition Case Accused
• Terrorists attack Army convoy in Kashmir; soldier, pedestrian injured
• 75 Pakistanis stranded in India due to Covid-19 return home via Wagah-Attari crossing
Compiled by New Age Islam News Bureau
URL: https://www.newageislam.com/islamic-world-news/us-sanctions-chinese-officials-abuse/d/122338
--------
US Sanctions on Chinese Officials Over 'Abuse' Of Muslims In Xinjiang
10 July 2020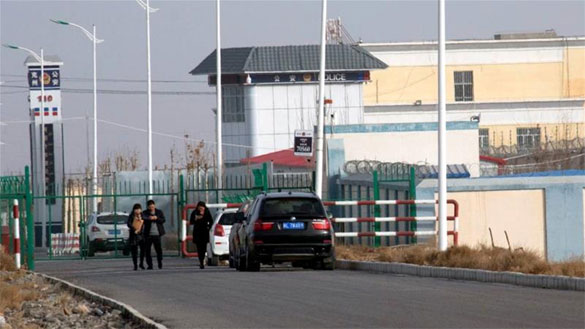 The United Nations estimates more than a million Muslims have been held in camps in China's Xinjiang region [File: Ng Han/The Associated Press]
-----
The US has announced sanctions against Chinese politicians who it says are responsible for human rights violations against Muslim minorities in Xinjiang.
China is accused of mass detentions, religious persecution and forced sterilisation of Uighurs and others.
The sanctions target the US-connected financial interests of regional Communist Party boss Chen Quanguo and three other officials.
China denies any mistreatment of Muslims in far-western Xinjiang.
Authorities there are thought to have detained about a million people in re-education camps in recent years. They say "vocational training" is needed to counter radicalism and separatism.
Mr Chen, who sits on the Chinese Communist Party's powerful Politburo, is the highest-ranking Chinese official ever to be hit by US sanctions, the Trump administration says. He is seen as the architect of Beijing's policies against minorities, and was previously in charge in Tibet.
The other officials targeted are Wang Mingshan, director of the Xinjiang Public Security Bureau; Zhu Hailun, a senior party member in Xinjiang, and former security official HuoLiujun.
It is now a crime in the US to conduct financial transactions with all of them, and they will have their US-based assets frozen.
HoweverMrHuo will not be subjected to visa restrictions that bar the others and their families from entering the US.
Sanctions have also been placed on the Xinjiang Public Security Bureau as a whole.
US Secretary of State Mike Pompeo said the US was acting against "horrific and systematic abuses" in the region.
"The United States will not stand idly by as the CCP [Chinese Communist Party] carries out human rights abuses targeting Uighurs, ethnic Kazakhs and members of other minority groups in Xinjiang," he said in a statement.
He said the US was also placing additional visa restrictions on other unnamed Communist Party officials believed to be responsible for abuses in Xinjiang. Their family members may also be subject to the restrictions.
Tensions between the US and China are already high over the coronavirus pandemic and China's decision to introduce a national security law in Hong Kong that has faced significant criticism from the West.
What is China doing in Xinjiang?
Rights groups say up to a million Muslims have been detained in high-security prison camps across Xinjiang province.
Last year, the BBC saw leaked documents that showed 15,000 people from southern Xinjiang were sent to the camps in one week alone.
The same documents showed inmates can be released only when they "understand deeply the illegal, criminal and dangerous nature of their past activity".
The Chinese authorities say the Uighurs are being educated in "vocational training centres" in order to combat violent religious extremism.
However evidence shows many are being detained for simply expressing their faith - for example, praying or wearing a veil - or for having overseas connections to places like Turkey.
Uighurs, who are mostly Muslim, are ethnically Turkic and make up about 45% of Xinjiang's population.
Last month a report by China scholar Adrian Zenz found China was forcing women in Xinjiang to be sterilised or fitted with contraceptive devices.
The report has prompted international calls for the United Nations to investigate.
https://www.bbc.com/news/world-us-canada-53355697
--------
French lawmakers propose Muslim Brotherhood ban, measures to 'combat radical Islam'
09 July 2020
French lawmakers have proposed banning clerics affiliated to the Muslim Brotherhood from preaching, as part of 44 propositions set out counter "Islamist" radicalization in the country, according to a government document obtained by French daily Le Figaro.
The report also suggests stricter laws for cultural associations, schools, and funds sent to organizations – particularly from abroad.
According to the proposals, cultural associations should be required to declare funds sent from abroad to increase transparency. Additionally, anyone who wants to benefit from subsidies from local authorities must "sign a charter demonstrating respect for the values of the Republic."
For all the latest headlines follow our Google News channel online or via the app
The senators urged for the creation of a database of home-schooled students and students in non-contract schools to verify the training of their teachers. Non-contract schools – or a school that doesn't have a contract with the government – are free to set their own curriculums.
The commission also underlined the necessity of knowing the identity of all employees in contact with minors, and to "extend the scope of administrative investigations to recruitment and assignment decisions."
"Radical Islamism is polymorphic, and it is found in all aspects of social life and tends to put in place a new social norm that is more prevalent than individually liberty," Le Figaro reported the document as saying.
The report, which Le Figaro shared the details of on Thursday, was the product of a Parliamentary commission comprised of around 30 senators that interviewed key stakeholders, researchers and politicians responsible to highlight the largest threats that face France.
The report discusses "the reality of Islamist radicalization in France and its repercussions on society."
"We pose a subject to society: all of France, except the west, is touched by radical Islam," said senator Jacqueline Eustache-Brinio. "Today, in France, people are placed under house arrest in the name of a religious norm. We don't have to accept this. It is now or never that we must react."
The 44 propositions relate to economic, education, social and cultural issues to help the country face the mounting issues and to "stop the preaching machine," Le Figaro wrote, quoting the report. The MPs behind the policy draft suggested better training on secularism and radical Islam for local elected representatives and for those who work in public administration.
"France, that is not an assembly of minorities, but rather is one nation, cannot have a doctrine of reasonable accommodation," the commission said.
Eustache-Brinio said she worries about the "spread of behavior that calls into question living alongside each other, and those that directly affect freedom of conscience, and equality between men and women and the rights of gay people."
"Beyond places of culture, we are witnessing in certain areas an Islamist ecosystem emerging where we live ourselves."
France has for years struggled to integrate Muslims into the country, with one of the most notable examples being the 2010 "burka ban" that was upheld in 2014 that prohibits women from wearing full-face veils.
In mid-2016, there were about 5.7 million Muslims in France, making up 8.8 percent of the country's population, according to Pew Research.
France has tried to create a French brand of Islam since the 1980s, the Atlantic reported in 2018.
Politicians from current President Emmanuel Macron to former President Francois Hollande have aimed to integrate the country's Muslim minority and fight extremism.
"Ironically, past attempts to codify a sort of French Islam—transforming Islam in France to an Islam of France—have been deeply entangled with French Muslims' countries of origin, especially Morocco, Algeria, and Turkey. In 2015, for example, then-President François Hollande signed a deal with the Moroccan monarchy to send French imams to a training institute in Rabat," The Atlantic article read.
https://english.alarabiya.net/en/News/world/2020/07/09/French-lawmakers-propose-Muslim-Brotherhood-ban-measures-to-combat-radical-Is.html
--------
''Bangladesh: Hindu Life Matters'' campaign gathers steam
09 JULY 2020
London, July 9 (IANS) The universal protest against the recent brutal killing of George Floyd, the black American in the US by the police has triggered off another protest-campaign in Bangladesh and the UK with the catchy slogan, ''Bangladesh: Hindu Life Matters! Stop religious minority persecution!.
The campaign is gaining momentum specially in the wake of the killing of a young Hindu man by the police in Kotalipara under Gopalganj district in Bangladesh on June 2.
According to a report published in the leading Bengali daily newspaper, Prothom Alo in Dhaka, the victim, Nikhil Talukder, 32, of Ramshil village was playing cards with three others, when Assistant Sub Inspector Shamim Uddin appeared on the scene and started beating them.
Three escaped but Nikhil could not. The police officer beat Nikhil mercilessly causing fractures in his backbones. He was admitted to the Barisal Sher-e-Bangla medical college hospital and when his situation worsened, he was moved to Dhaka Pangu hospital where he succumbed to his injuries.
DainikSamokal, another newspaper quoted his wife, ItiTalukder: "My husband did not do any crime, he was simply playing cards. Why did the police officer beat him to death in such an inhuman way. I demand punishment for this killing by the police."
ItiTalukder''s demand snowballed into a demand from Hindu minorities beyond Bangladesh borders.
Secular Bangladesh Movement UK, a London-based organisation led by a human rights activist, Pushpita Gupta, a British national of Bangladeshi origin has started a campaign against the issue of continuation of violence against the Hindu minorities in Bangladesh.
Attacks on religious minorities, especially Hindus, across Bangladesh is not a new phenomenon. It has been going on for many years, post-1975 with the killing of Bangabandhu Sheikh Mujibur Rahman, the father of the nation.
What is alarming, however, is that assaults on the Hindu community in different parts of Bangladesh has spiraled at an alarming rate even under the present government, which is assumed to be minority-friendly.
Politically influential perpetrators with connections to the ruling Awami League (AL), pro-BNP and pro-Jamaat carry out attacks, rape, abduction, land grabbing, temple vandalism, forced conversions etc. The victims do not dare file police cases fearing further harassment as the police often take the side of the perpetrators.
Incidents of illegally and forcibly evicting religious minorities from their ancestral homes, burning their houses and temples perhaps occur only in Bangladesh and Pakistan. Such atrocities against the Hindus have been continuing for long and what is worrying is that even during the Covid-19 crisis, such attacks are going on unabated.
Even during the present AL government, an organised anti-Hindu and anti-India propaganda is being fueled by fanatic Islamic preachers in the name of ''Wajjmahfil'' throughout the country, drawing huge numbers of followers on the social media. These radical Islamic groups including Hefazat Islam have become so powerful politically that the present government was forced to agree to their demands to take out ''secular'' texts from the school curriculum on the ground that those were anti-Islam.
This acerbic anti-Hindu and anti-India propaganda has peaked and is now clearly visible in Bangladesh. There have been countless infiltrations of Jamaat and BNP elements into the AL and its students front, Chattra League.
This has been possible due to active and passive consent/support of some central AL leaders, even ministers.
A voluntary organization Bidyanonda which came into prominence in the recent past due to its exemplary social work to help the poor, became the target of the Islamic fundamentalist groups. The founder Kishore Kumar Das received a series of threats and groups critical of Bidyanonda demanded that the organization be banned.
In the face of such vehement criticism and threats from Islamic groups, Das resigned, although some secular groups felt that he should not have succumbed to the demands of the fundamentalists.
Later, Das was coerced to issue a statement saying that Bidyanondo had nothing to do with Hinduism and above 80 per cent of its members are Muslims. He further said, the name of the organization had been chosen by the majority members of the organisation and the word Bidyanondo means ''Learn for Fun''.
That the Hindus are leaving Bangladesh for India and other countries is not unknown. The only reason behind this fact is that they do not feel safe in Bangladesh.
The voice of the secular group is very minuscule, and their voice is too feeble as they are also apprehensive of reprisal from Islamic groups and influential people in power.
Prime Minister Sheikh Hasina is sympathetic to the minorities and is aware of the problems, but there has been infiltration of radical elements into her party and government.
The Rohingya camps are being seen as breeding centres of crime, rape and more alarmingly, Islamic radicalization.
Recent attacks in Reading (UK) by a Nigerian Muslim killing three passers-by and seriously injuring two more in a park in Reading in UK testifies that threats from Islamic fundamentalists in Europe is far from over.
Similar attacks in other parts of Europe have also been witnessed.
Dutch police averted a ''serious terrorist attack'' in the Netherlands and arrested seven of the suspected men, all Muslim. The plan involved jackets packed with explosives and Kalashnikovs at an event and a car bomb elsewhere, according to the report.
In another incident, the Dutch police arrested a 24-year-old Syrian man on 16 June 2020 at a reception center for people seeking asylum in the country. The man was accused of involvement in a terrorist organization, and was taken into custody in Balk, a village in Friesland about 25 km west of Heerenveen. He is suspected to have taken part in the Islamic group Ahrar al-Sham in Syria in 2015 and 2016, according to police.
Ahrar al-Sham is not in the list of terrorist organization, as it does not operate outside Syria, according to a Dutch government Minister. These are only a few of many such incidents taking place in different parts of Europe, almost regularly.
The Muslim Brotherhood (MB), the purveyors of a totalitarian and oppressive ideology which seeks to unite Muslim society under its umbrella is expanding its influence in Europe. Its presence in countries like France and Belgium is very strong. The MB is working to influence political decision making in France by affecting Muslim communities and elected officials in municipal councils.
Though MB is viewed as a legitimate organization while it should not be forgotten that MB''s core principles go against the core values of Europe such as secularism and rights of sexual and religious minorities and hatred to other faiths what they term non-believers. MB is believed to also exert a sort of soft influence on local French officials through its people in the media and academia.
In another incident in Belgium, a police officer Mohamed S. from Schaarbeek was convicted by the Court of Appeal in Brussels last week for supplying secret information to terror suspect Yassine Atar. He was accused of passing on secret police information to Yassine Atar, brother of Oussama Atar, who is known as one of the key figures in the preparation of the March 2016 Brussels terror attacks.
These stray incidents show that violent extremism is far from over and there is no reason to be complacent that Europe is free from the threats of extreme violence. The threats are serious and there is an urgent need to draw the attention of the international community, especially European policy makers, governments and the civil society to the challenges and threats from violent extremism. And that could only be done by organizing conferences and demonstrations in different parts of Europe and holding discussions in different social media.
https://www.outlookindia.com/newsscroll/bangladesh-hindu-life-matters-campaign-gathers-steam/1890490
--------
Indonesian politician's anti-virus veil policy draws fire
10 July 2020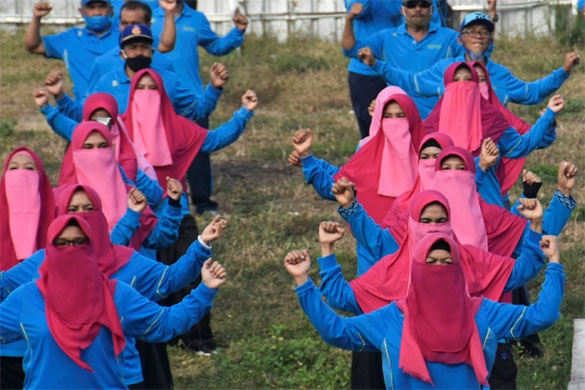 Female civil servants do morning exercises in Lombok, wearing veils instead of masks
-----
An Indonesian politician is under fire for ordering female civil servants to wear face veils once a week in what he defended as a bid to guard against the coronavirus.
But critics said the loose covering known as the niqab did not offer sufficient protection and it was another attempt to impose conservative dress codes on women in the world's biggest Muslim-majority nation.
Mohammad Suhaili Fadhil Thohir, the head of Central Lombok regency, next to the holiday island of Bali, said he made the order after government employees complained about wearing face masks during office calisthenics held outside every Friday -- Islam's holy day.
But Thohir denied any religious motivation for requiring the face veil, which is not worn by most women in Indonesia but is common in some Gulf nations.
"It is purely for COVID-19 prevention. This is not based on radical teachings or fanaticism," Thohir said, adding that there were no sanctions for ignoring his rule.
"To make sure civil servants cover their nose and mouth during the weekly exercise we asked them to wear veils."
The policy was announced last month. Male civil servants have to wear medical masks during the group exercises.
While the rule may only be mandatory on Fridays, many female employees wear veils in the local government office on other days, according to an AFP reporter.
About 90 percent of the nearly 4,000 women working for Central Lombok's government are Muslim.
Civil servant Yayuh, who like many Indonesians goes by one name, said she expected Central Lombok's policy would become mandatory during all work hours.
"But I don't mind as it's a way to learn about wearing appropriate clothes taught in Islam," she added.
- Calls for reversal -
The policy has raised eyebrows among rights groups.
"A mask needs to meet certain standards to prevent" infection, said Andy Yentriyani, a commissioner at the National Commission on Violence Against Women.
"The policy should be reviewed because it could threaten women's health rights."
Central Lombok has got off relatively lightly with the virus, with 117 confirmed cases and four deaths. Nationwide infections have officially topped 70,000.
Indonesia's long-held reputation for being relatively liberal has taken a hit in recent years as Muslim hardliners gain influence.
This week police in conservative Aceh province -- where wearing the hijab, which covers a woman's hair and neck, outside is mandatory -- censured a group of female cyclists over what authorities deemed inappropriate clothing: tight, long-sleeved pink tops and dark trousers.
Human Rights Watch researcher Andreas Harsono said the veil order was "obviously an extension" of a mandatory hijab regulation for Muslim girls in almost 300,000 public schools across the sprawling archipelago.
"Everyone should wear masks to protect themselves from the coronavirus, including civil servants, but a veil is not a mask," he said.
Female civil servants do morning exercises in Lombok, wearing veils instead of masks
Female civil servants do morning exercises in Lombok, wearing veils instead of masks, while men don masks behind them
https://au.news.yahoo.com/indonesian-politicians-anti-virus-veil-policy-draws-fire-070929453--spt.html
--------
Arab Coalition: World should hold Iran responsible for Houthis' malicious activities
09 July 2020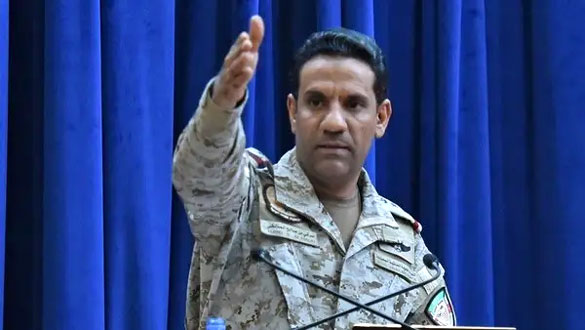 Arab Coalition spokesman Turki al-Malki. (File photo: AFP)
----
The international community should hold the Iranian regime responsible for the Houthi militia's two explosive-laden boats which were targeting maritime routes and the Arab Coalition destroyed, the coalition spokesman Turki al-Malki told Al Arabiya on Thursday.
The Arab Coalition had earlier announced that it targeted two Unmanned Surface Vehicles (USV) laden with explosives in the Red Sea and destroyed them six kilometers south of the Yemeni port of Salif.
For all the latest headlines follow our Google News channel online or via the app.
Al-Maliki added: "There has been a deliberate escalation recently in targeting maritime routes and civilians."
"Since the end of June… we've noticed the Houthi militias escalating their attempts to target civilians in Saudi Arabia, in Yemeni areas, and to threaten maritime routes and international trade. The important aspect here is that there is no doubt that the Iranian regime, the Iranian Revolutionary Guards Corps (IRGC) are dictating (orders for those attempts)."
"The (Houthi) militias do not have the power to make the decision to reach a political solution; they do not have the power to make the decision to sit down with the legitimate Yemeni government. The Iranian regime is the one benefitting from the continuation of those operations or the Yemeni crisis, which exacerbates the humanitarian situation inside Yemen," al-Maliki added.
He highlighted the UN report which determined that cruise missiles used in several attacks on oil facilities and an international airport in Saudi Arabia last year were of "Iranian origin," and stressed that it was time the international community held the Iranian regime responsible and accountable for backing the Houthis and Tehran's other malicious activities in the region.
The Arab Coalition intervened in Yemen in 2015 to support the internationally recognized government of Yemeni President Abd-Rabbu Mansour Hadi against the Iran-backed Houthis.
https://english.alarabiya.net/en/News/gulf/2020/07/09/Arab-Coalition-World-should-hold-Iran-responsible-for-Houthis-malicious-activities.html
--------
Spokesman Rejects US "Lies" about Confiscation of Iranian Ship Carrying Arms to Yemen
Jul 09, 2020
"Lying, accusing and spreading hatred are key elements of US foreign policy, specially in the current regime," Mousavi said on Thursday.
He described the US allegations as baseless, saying, "Americans who feel they have not succeeded in extending Iran's arms embargo in the international arena and the UN Security Council, are trying to use allegations and lies as an excuse to continue to exert maximum pressure and advance their vicious goals."
Mousavi said that the US and Saudi Arabia have imposed a five-year siege on the Yemeni people, killing thousands due to starvation and malnutrition, and added, "Instead of being held accountable for their crimes in Yemen, the two regimes are trying to absolve themselves of responsibility and accountability for their inhumane and criminal behavior by making baseless accusations against others."
Iran has in several occasions dismissed allegations about supplying weapons to Yemen's Ansarallah resistance group.
"All that glitters is not gold and any similar weapon is not necessarily an Iranian weapon," Mousavi said in February.
"Medicine and medical goods are sent to them (the Yemenis) with difficulty; then how could military equipment go through and sent to them?" he asked.
Mousavi said that the Yemeni nation has made astonishing progress in the military field and manufacturing weapons and military equipment after facing the Saudi-led aggression.
Saudi Arabia and a number of its regional allies launched a devastating campaign against Yemen in March 2015, with the goal of bringing the government of former president Abd Rabbuh Mansour Hadi back to power and crushing the Ansarallah movement.
The US-based Armed Conflict Location and Event Data Project (ACLED), a nonprofit conflict-research organization, estimates that the war has claimed more than 100,000 lives over the past nearly five years.
The UN says over 24 million Yemenis are in dire need of humanitarian aid, including 10 million suffering from extreme levels of hunger.
https://en.farsnews.ir/newstext.aspx?nn=13990419000605
--------
Haftar even rejected Moscow peace initiative: Libya
09.07.2020
Libya on Thursday reiterated its commitment to achieve peace, in remarks to Russia, pointing out to the Kremlin how warlord Khalifa Haftar has even rebuffed its own peace proposals.
In a press statement replying to comments by Russian Foreign Minister Sergey Lavrov, Libya's Foreign Ministry confirmed that the internationally recognized Government of National Accord (GNA) always sought to achieve a peaceful solution to the country's crisis.
Lavrov on Wednesday claimed the "Libyan government is unwilling to sign a cease-fire agreement and seeks a military solution."
"We remind the Russian foreign minister that the Russian-Turkish initiative was signed by the GNA in Moscow while Haftar refused to sign and departed [Moscow], putting Russia in an embarrassing position," the statement said.
Haftar on Jan. 14 refused to sign onto a Russian-Turkish initiative for a cease-fire and continued his offensive and failed attempt to capture the capital Tripoli.
The statement also confirmed that the GNA also welcomed the Berlin peace process efforts on Libya.
Since April 2019, Haftar's illegitimate forces have launched attacks on the Libyan capital of Tripoli and other parts of northwestern Libya, resulting in more than 1,000 deaths, including civilian women and children.
However, the Libyan government has recently achieved significant victories, pushing Haftar's forces out of Tripoli and the strategic city of Tarhuna.
Russia is one of the countries that have supported Haftar against Libya's legitimate government.
https://www.aa.com.tr/en/middle-east/haftar-even-rejected-moscow-peace-initiative-libya/1905371
--------
Jamiat Ulema-e-Islam Fazl Chief Said World Is Fighting Against Covid-19, Pakistan Is Fighting Against Covid-18
Zia Ur Rehman
July 10, 2020
KARACHI: Jamiat Ulema-e-Islam Fazl chief Maulana Fazlur Rehman Thursday said that the country has been put on the road to ruins, adding that the state institutions were not on the same page.
Speaking to the media after an All Parties Conference (APC), the JUI-F chief said that such was the condition of the country that no political entity was ready to run the government. He said that the matter was not of minus-one but the whole basket of eggs needed to be disposed of, adding that the world was fighting against COVID-19 but "we are fighting with Covid-18."
Earlier, the APC organised by the Jamiat Ulema-e-Islam-Fazl (JUI-F), Sindh, on Thursday rejected any change to the 18th Constitutional Amendment and cut in the provincial share in the National Financial Commission (NFC) Award. However, it agreed that the provinces should also devolve powers and funds further to the local government bodies in the cities.
Addressing a joint news conference after the APC, Jamiat Ulema-e-Islam-Fazl chief, Maulana Fazlur Rehman, remarked that the plans to change the NFC Award was a conspiracy to roll back the 18th Amendment and all political parties will jointly resist the government's move.
The conference was attended by Pakistan People's Party's central leader and former federal minister Sherry Rehman, PPP Sindh President Nisar Khuhro, the MuttahidaQaumi Movement-Pakistan's deputy convener Amir Khan, Sindh Minister Syed Nasir Hussain Shah, Jamiat Ulema Pakistan's leader Shah OwaisNoorani, Pakistan Muslim Leauge Nawaz Karachi President Salman Khan, Jamaat-e-Islami Sindh chief Muhammad Hussain Mehanti, Balochistan National Party Mengal's leader Jahanzaib Baloch, Pakistan Muslim League-Functional's leader Sardar Abdul Rahim, Awami National Party Sindh President Shahi Said, QaumiAwami Tehreek chief Ayaz Latif Palijo, Sindh TaraqiPasand Party chief Qadir Magsi, Nizam-e-Mustafa Party chief Alhaj Rafi, Pakistan Muslim League Quaid Sindh President Tariq Hasan, Sindh United Party's leader Roshan Abro, Islam Tehreek's leader Allama Nazir Abbas Taqvi, Pakhtunkhwa Milli Awami Party' Sindh chief Nazir Jan Lala, National Party's leader Taji Marri, Pak Sarzameen Party's leader Arshad Vohra, general secretary of JUI-F Abdul Ghafoor Haideri and his party colleagues Maulana Rashid Soormo and others.
A joint declaration adopted on the occasion said: "This government has no right to make changes in the immensely-important 18th Amendment. Such an effort would do away with the parliamentary and democratic spirit of the Constitution." The declaration also stressed that the technical board/non-statutory members of the 10th NFC should belong to the provinces concerned and should be nominated by the governor and provincial government in consultation with the opposition parties.
The declaration demanded that the provincial share in the 10th NFC Award should be increased by 57.5 percent in accordance with Section 160, sub-section 3-A of the Constitution and decrease in it would not be accepted. The meeting of Council of Common Interests (CCI) should be called after a time period of three months on a regular basis to resolve the constitutional issues between the Centre and the provinces, the declaration said.
The APC also condemned the sacking of workers from Pakistan Steel Mills and urged for a CCI meeting to resolve the issue. The conference also demanded to trace the missing persons. "We also demand that the process of illegal and unconstitutional arrests of people be stopped and those arrested should be recovered," the declaration said.
The conference also discussed the miseries of farmers owing to the massive locust attack on crops in the country and urged the government to announce a relief package for the affected farming community. The APC also demanded immediate implementation on mega projects under the China Pakistan Economic Corridor and said that all the provinces should equally benefit from the "game-changer' project.
The conference criticised the unilateral actions of the National Accountability Bureau (NAB) to suppress the media freedom and said the current government does not want to face criticism nor allow the media organization to work freely. The meeting also discussed in detail the situation arising due to the Covid-19 pandemic. It expressed serious concern over the non-serious steps taken to tackle the pandemic and alleviate miseries of the people as a result of the long lockdown.
The conference also discussed the suspension of the Pakistan International Airlines' permit to fly to the European Union countries due to the "allegation" of dubious licenses hurled by Aviation Minister Ghulam Sarwar and that sacking of workers and selling off the properties of the national carrier would not be accepted.
https://www.thenews.com.pk/print/684727-world-is-fighting-against-covid-19-we-are-fighting-against-covid-18-says-fazl
--------
Mewat Court Gives Relief To Tablighi Jamaat Members, Asks Authorities To Send Them Back Safely
Hitender Rao
Jul 09, 2020
Giving relief to 57 Muslim foreigners booked by Haryana Police for alleged malignant acts likely to spread infection of disease danger­ous to life during Covid lockdown and violations of the Foreigners Act, a sessions court in Mewat has upheld the decision of the trial court to strike down the charges slapped on the foreign nationals.
The Muslim foreign nationals were residents of Bangladesh, Indonesia, Thailand, Sri Lanka and South Africa.
The court of additional sessions judge, Mewat, Prashant Rana in its July 6 order said none of the accused knew that they had coronavirus infection.
"Their testing was conducted after the registration of the first information report (FIR). Even the investigating officer came to know about the infection of nine accused two days after the registration of FIR. Offences under sections 269 and 270 of the IPC were added merely on the basis of apprehensions and imaginations of the investigating officer," the court said, puncturing the police theory.
The judge held that all foreigners had valid passports and tourist visas. "There is no documentary evidence with the prosecution or any witness, who would say that the accused persons were holding Tablighi jamaat in any village. It does not amount to violation of any condition of their tourist visa. The accused had permission to visit India, travel across the country and stay here, in a legal manner, which they did. Hence, no offence under sections 14(B) and 14(C) of the Foreigners Act was made out," reads the order.
The court also asked the authorities to ensure safe return of the foreigners to their countries.
The case
The police had on April 2 booked 57 Muslim foreign nationals under sections 269, 270, 188, 120-B of the IPC and sections 14(b), 14(c) of the Foreigners Act.
The prosecution said these foreigners were propagating religious teachings in a 'Tablighi Jamaat' without visa permission. The prosecution said the foreigners could not produce permission for religious teaching and their passports were seized.
Nine of them were found to be coronavirus positive following their medico-legal examination. The accused though were not arrested being foreigners and from a particular religion, the prosecution said.
Trial court struck down all charges except one
The trial court, however, chargesheeted the accused for commission of offence under section 188 (disobedience to order duly promulgated by public servant) of the IPC and struck down the sections pertaining to negligent and malignant acts likely to spread infection of disease danger­ous to life and violations of the Foreigners Act.
The court on May 22 sentenced the accused to pay a fine of Rs 1,000 each for commission of offence under section 188 and directed the state to send them back to their respective countries.
Aggrieved by the trial court's orders of framing of charge under section 188, the Haryana government had filed a revision plea before the Mewat additional sessions judge, which was dismissed.
Box: Additional sessions judge's ruling
Foreign nationals have not done any act detrimental to the society or security of the nation
They are peace-loving tourists, visiting different parts including the masjids, which cannot be termed as violation of any statute
They were guests of the nation, who were granted permission to visit and travel by the embassy concerned and the ministry
https://www.hindustantimes.com/chandigarh/mewat-court-gives-relief-to-muslim-foreigners-asks-authorities-to-send-them-back-safely/story-G99Zv4aZ6PAcQtqGRBlWhI.html
--------
North America
US claim of deal with China not in Iran's interest 'preposterous'
09 July 2020
The Trump administration's Iran policy has been a colossal failure, as it has driven the Eurasian powers into each other's arms, an American writer and former professor has said.
Iranian Foreign Minister Mohammad Javad Zarif reportedly told Parliament last week that Iran and China were working on a 25-year trade agreement. China has said it will invest US$400 billion in the Iranian economy.
The US State Department and anti-Iran Farsi media outlets based outside Iran have denounced the possible deal between Iran and China that seeks to expand economic and strategic partnership between the two powers.
The US State Department went on to issue tweets in Farsi, comparing the potential Iran-China accord to the 1828 Treaty of Turkmenchay which was an agreement between Persia and the Russian Empire. By the treaty, Persia had to cede to Russia control of some areas in the South Caucasus.
Iran has rejected the criticism saying is it aimed at appeasing the enemies of the Islamic republic.
"Unfortunately, a destructive line of propaganda has been initiated and directed from outside Iran against the expansion of Iran's relations with neighbors and especially (with) China and Russia," Iranian president's chief of staff, Mahmoud Vaezi, said on Wednesday.
The senior official, a close aide to President Hassan Rouhani, said Iran is seeking to set up a roadmap for its future strategic ties with China, a move he said was absolutely normal under the current diplomatic practices.
E Michael Jones, the current editor of Culture Wars magazine, told Press TV on Thursday that the US claim that the potential deal with China is not in Iran's interest is "preposterous."
"And it's also an indication of what happens when you lose absolutely all leverage with a country because of your irrational behavior. To get back to the playbook, the original playbook for the Anglo American empire -- it's the Mackinder thesis, it was written in the early 20th century by Halford Mackinder, an Englishman. He said whoever controls the Eurasian landmass controls the world," he stated.
"The whole point of Anglo-American foreign policy has been to make sure that there is no collaboration between the countries that make up the Eurasian landmass," he added.
"Well, if that is the case and their foreign policy has been a colossal failure, because everything that especially the Trump administration has done over this last recent period of time is to drive the Eurasian powers into each other's arms. This is not simply true of China and Iran. It's also true of Germany and Russia," he noted.
"We have the Nord Stream pipeline, the second Nord Stream pipeline, which the United States tried to stop by sanctioning the company that was laying the pipe. And it just delayed it. This is the inevitable result of bad foreign policy on the part of the United States. And complaining about it is not going to change the issue here. Complaining about it, it just shows that the United States has lost all diplomatic leverage with the people it's trying to influence. This is only going to continue," he said.
"Talking about China's hegemonic intentions maybe, and natural resources, may be true of Africa. I just don't see it as true of Iran. If there's the only natural resource I can see is oil. And what exactly are the Iranians supposed to do if the United States is basically trying to prohibit all oil sales whatsoever? As soon as they as soon as Mike Pompeo reduced the goal to zero oil sales between Iran and the rest of the world, he set up the agreement with China. Is he that stupid? Is the United States playing checkers when the rest of the world is playing chess? It seems that way," he concluded.
https://www.presstv.com/Detail/2020/07/09/629264/US-claim-of-deal-with-China-not-in-Iran's-interest-%E2%80%98preposterous%E2%80%99
--------
Witnesses refute rumors about blast, power outage near Tehran
10 July 2020
Eyewitnesses have refuted rumors circulating across various news outlets and social media platforms about explosions and power outage in and near Tehran Province.
The rumors began surfacing early Friday local time, pointing to an explosion and a blackout in the province's Shahriar county.
Other rumors also alleged that the incidents had taken place in the town of Garmdarreh in Karaj county of Alborz province that neighbors Tehran.
The semi-official Fars news agency, however, ruled out the rumors on its official Telegram channel.
The channel posted video of locals affirming that they did not either know or hear about any such alleged incidents at those places.
Locals said on Twitter they had just heard three or four mortar-like sounds similar to firing of anti-aircraft weapons just after midnight.
The rumors and reports emerged in the wake of a number of incidents across the country, including an explosion last Thursday that hit the Natanz nuclear facility.
The blast at the nuclear site has been followed by an Israeli media campaign aiming to create the impression that Tel Aviv was behind the explosion.
On Wednesday, though, Nour News, an Iranian news outlet affiliated to the country's Supreme National Security Council (SNSC), the Islamic Republic's top security body, warned that the campaign could invite "serious risks" for the occupying regime.
The media fanfare seeks to "lend plausibility to Israel's role" in a series of recent incidents in Iran, including the blast at the Natanz site, the outlet said.
It, however, warned that the masterminds of the media campaign happened to ignore "Iran's new social platforms and political circumstances" that could bring about "imponderable reactions" for Israel in case of prolongation of the propaganda.
https://www.presstv.com/Detail/2020/07/10/629293/Iran-witnesses-refute-rumors-explosions-power-outage-Tehran
--------
UN report on General Soleimani's assassination draws US ire
09 July 2020
A conclusion by the United Nations (UN) that the US's assassination of Iranian commander Lieutenant General Qassem Soleimani was "unlawful" has drawn Washington's ire.
On Wednesday, US State Department spokeswoman Morgan Ortagus called the report in which the UN's top investigator of extrajudicial killings made the conclusion about the assassination of General Soleimani "tendentious and tedious."
"It takes a special kind of intellectual dishonesty to issue a report condemning the United States for acting in self-defense," Ortagus said, repeating a debunked US claim that it assassinated the Iranian general "in self-defense."
The assassination of General Soleimani, who was the commander of the Quds Force of Iran's Islamic Revolution Guards Corps (IRGC), was carried out with a US drone strike in Baghdad on January 3.
The Iranian general, and a top Iraqi commander who was also killed in the strike, enjoyed deep reverence among Muslim nations because of their endeavors in eliminating the Daesh terrorist group in the region, particularly in Iraq and Syria.
US President Donald Trump ordered the assassination.
Agnes Callamard, the UN's special rapporteur on extrajudicial, summary or arbitrary executions, concluded in a report on Tuesday that the assassination was in breach of international law.
Callamard stressed that the targeted killing "violated the UN Charter" and said her report would be presented to the UN Human Rights Council session in Geneva on Thursday.
The US withdrew from the council in 2018.
Ortagus, the spokeswoman for the US State Department, said the report "proves once again why America was right to leave the council."
Callamard said in her report that the assassination was the first known incident in which a country invoked "self-defense" as a justification for an attack against a public figure in the territory of a third country. And she said General Soleimani posed no threat to the lives of other people.
In response to the assassination, the IRGC fired volleys of ballistic missiles at a US airbase in Iraq on January 8. While Trump denied that the attack had caused any casualties, the US Defense Department said in an updated toll that at least 109 American soldiers received traumatic brain injuries in the attack.
After the assassination, Iraqi lawmakers approved a bill demanding the withdrawal of all foreign military forces from their country.
Iran has also issued an arrest warrant and asked Interpol for help in detaining the US president and several other US military and political leaders who were behind the assassination.
https://www.presstv.com/Detail/2020/07/09/629230/Iran-Qassem-Soleimani-UN-US-Ortagus
--------
Europe
Previously acquitted UK man convicted of terror attack plan
July 09, 2020
LONDON: A former Uber driver cleared of planning a terror attack at Buckingham Palace was on Thursday jailed for life after plotting a gun and knife rampage at London tourist sites.
Mohiussunnath Chowdhury was found guilty in February of planning to target popular attractions, including the annual gay Pride march last year using a gun, knife and van.
The 29-year-old was arrested before he could carry out the attack after he unknowingly revealed his plans to undercover police.
Covert officers posing as like-minded extremists befriended and monitored Chowdhury after a jury cleared him in December 2018 of slashing police with a sword outside Queen Elizabeth II's London residence.
Chowdhury, from Luton, north of London, had shouted "Allahu Akbar" (God is greater) during the incident, but convinced jurors he only wanted to be killed by police and had no intention to hurt anyone.
However, little more than a year later a separate subsequent trial found Chowdhury guilty of the new terror plans, after hearing he was driven by "dreams of martyrdom."
He began posting extremist messages online within a week of his release from prison, and bragged to undercover officers about deceiving the jury which had cleared him.
During a five-month surveillance operation, officers learned he was planning to attack attractions including the Madame Tussauds waxwork museum, an open-top sightseeing bus as well as the London Pride event.
He was arrested three days before the parade last year and sentenced at Woolwich Crown Court in southeast London.
Jailing for him life, with a minimum term of 25 years, judge Andrew Lees said he was satisfied Chowdhury was "dangerous" and posed "a significant risk to members of the public of serious harm."
"The danger that you present is ongoing, it's not possible to say when that danger will abate," he added.
https://www.arabnews.com/node/1702331/world
--------
'Far-right terrorism biggest threat to German security'
Oliver Towfigh Nia
09.07.2020
BERLIN
German Interior Minister Horst Seehofer warned on Thursday that right-wing extremism is "the greatest threat to security in Germany."
Presenting the annual domestic intelligence report at a press conference in Berlin, Seehofer pointed out that right-wing extremism, anti-Semitism, and racism were still the biggest threats to security.
He added that the numbers of crimes and violent-prone right-wing extremists have also continued to rise.
"Never before has a federal government identified this threat situation so clearly and unambiguously," the minister added.
Germany's domestic intelligence agency BfV said there were some 32,080 people in 2019 with "right-wing extremist potential" compared to 24,100 in the previous year.
Around 13,000 out of them were likely to commit violent crimes, according to the report.
Germany has witnessed growing racism and xenophobia in recent years, fueled by the propaganda of far-right, anti-Semitic, and anti-Muslim groups, including the main opposition party Alternative for Germany (AfD).
Last year, far-right extremists killed a pro-refugee politician in the central city of Kassel and attacked a synagogue in the eastern city of Halle, raising alarms over extreme right-wing terrorism in the country.
In February, a far-right extremist attacked two cafes in Hanau, killing nine people with migration background.
For years, the German government had been criticized by human rights groups for underestimating growing threat from right-wing extremists.
https://www.aa.com.tr/en/europe/far-right-terrorism-biggest-threat-to-german-security/1905114
--------
'Negative trend in EU-Turkey relations must stop'
Serife Cetin
09.07.2020
BRUSSELS
Negative trend in EU-Turkey relations must stop, EU foreign policy chief Josep Borrell said on Thursday.
Speaking at a European Parliament session called by the conservative European People's Party, Borrell said: "Turkey is an important partner, candidate country, and a NATO ally. The current negative trend in our relations needs to be stopped and reversed."
Borrell said he recently visited Turkey after visiting Greece and the Greek Cypriot administration, adding that "stability and security in the Mediterranean requires collective engagement."
Conflicts in Syria and Libya directly affecting the security and interests of EU in terms of terrorism, migration, and political stability in the region, he added.
Borrell said Turkey and EU have had some important disagreements over Syria, as EU members opposed Turkey's anti-terror operation Peace Spring in October 2019.
"Yet we must also knowledge where our interest coincide [with Turkey]. Turkey has been showing solidarity and generosity towards more than 3.5 million Syrian refugees, and has supplied cross border and humanitarian assistance," he stressed.
"In the eastern Mediterranean Turkey has been showing a warden assertiveness,"Borrell said, adding they are ready to work with Ankara for a political solution in Libya.
The high representative also stated that they are committed to implement UN arms embargo to Libya.
"Dynamics of retaliation does not make the Mediterranean a more secure and stable zone. This will only be achieved through dialogue and negotiations where discrepancies exist," he also said.
For his part, Nacho Sanchez Amor, the EU Parliament's Turkey rapporteur, said Turkey-EU relations have been through a difficult period.
He said there is a lack of trust that affects the basis of bilateral relations, adding that EU member states should stand with Greece and the Greek Cypriot administration.
Manfred Weber, chairman of the European People's Party, said they have called the session to raise their concerns about recent developments in the Mediterranean.
He said, problems between Turkey, Greece and the Greek Cypriot administration are not only affecting these countries but the whole European Union.
Weber argued that it is wrong to continue membership talks with Turkey under these conditions.
https://www.aa.com.tr/en/europe/-negative-trend-in-eu-turkey-relations-must-stop-/1905012
--------
South Asia
Afghanistan to release prisoners from Taliban list in push for talks
Jul 9, 2020
KABUL: Afghanistan is to release more Taliban prisoners in the hope of getting peace talks going, a government spokesman said on Thursday, after the insurgent group provided the government with a revised list of several hundred of their detainees.
Disagreement over about 600 prisoners from a total of 5,000 the Taliban want released has prevented the launch of US-brokered peace talks aimed at ending nearly 19 years of war since the Islamist militants were ousted.
While releases by both sides have taken place, the Afghan government has said it does not want to release some prisoners for security reasons and its Western allies also object to some of them being set free.
"They have given us another list, the release process will continue but direct talks should also start immediately," Javid Faisal, spokesman for the National Security Council, told Reuters.
The Taliban could not be reached for comment and it was not clear if they would be willing to start talks based on the release of the prisoners on the list.
The United States and the Taliban struck a landmark agreement in February on the withdrawal of U.S. forces in exchange for Taliban security guarantees.
As part of the pact, the Taliban agreed to open power-sharing talks with the U.S.-backed government.
But a senior government official said there was still no agreement on starting the talks.
"The government will start the process of release in the coming few days and will complete the release whether the Taliban agree or not," he said.
A diplomatic source said U.S. special envoy Zalmay Khalilzad, who has overseen the negotiations with the Taliban, has been pressing Taliban leaders to compromise on the prisoner issue and there were hopes the hurdle would be overcome.
"Momentum is such that it would not be possible for any side to back out," the source said.
https://timesofindia.indiatimes.com/world/south-asia/afghanistan-to-release-prisoners-from-taliban-list-in-push-for-talks/articleshow/76872077.cms
--------
Bangladesh refuses to move Rohingya refugees from flood-prone island to mainland
JUL 09, 2020
Hundreds of Rohingya refugees on a flood-prone island in the Bay of Bengal will not be allowed to leave unless they agree to return home, Bangladesh authorities said Thursday.
The 306 Rohingya Muslim from Myanmar were put on Bhashan Char island in April after being taken off two boats trying to traffic them to Malaysia.
Their plight has been taken up by the United Nations, an international rights group and community leaders, who want them moved to more established refugee camps on the mainland.
"They will stay at Bhasan Char until they are repatriated to Myanmar," Mohammed KhorshedAlam Khan, administrator for the district covering the island, told Agence France-Presse (AFP).
He said the refugees are well taken care of and have better facilities than in the overcrowded camps in Cox's Bazar where 700,000 Rohingya fled in 2017 to escape a Myanmar military clampdown.
In April, Bangladesh authorities said the Rohingya would be kept on the island in order to stop the spread of coronavirus in the sprawling refugee camps.
But Human Rights Watch (HRW) questioned that motivation and said the refugees were not being treated well.
"Bangladesh authorities are using the pandemic as an excuse to detain refugees on a spit of land in the middle of a churning monsoon sea while their families anxiously pray for their return," said Brad Adams, the organization's Asia representative.
He also asked why Bangladesh authorities were not giving aid workers access to the island settlement.
A Rohingya leader from the Cox's Bazar camps said relatives of those on the island wanted to hold talks with Bangladesh's refugee commissioner.
"We request the authorities to send our children to our families," said Mohib Ullah, head of the Arakan Rohingya Society for Peace and Human Rights, which lobbies for the Rohingya.
HRW said it had received reports that refugees on Bhashan Char had little freedom of movement or adequate access to food, safe water and medical care.
A government official involved with the case rejected the criticism but admitted some refugees wanted to be reunited with their families.
According to Amnesty International, more than 750,000 Rohingya refugees, mostly women and children, have fled Myanmar and crossed into Bangladesh after their country's forces launched a crackdown on the minority Muslim community in August 2017, pushing the number of persecuted people in Bangladesh above 1.2 million.
Since Aug. 25, 2017, nearly 24,000 Rohingya Muslims have been killed by Myanmar's state forces, according to a report by the Ontario International Development Agency (OIDA).
More than 34,000 Rohingya were also thrown into fires, while over 114,000 others were beaten, said the OIDA report, titled "Forced Migration of Rohingya: The Untold Experience."
Some 18,000 Rohingya women and girls were raped by Myanmar's army and police and over 115,000 Rohingya homes were burned down with 113,000 others vandalized, it added.
https://www.dailysabah.com/world/asia-pacific/bangladesh-refuses-to-move-rohingya-refugees-from-flood-prone-island-to-mainland
--------
Bangladesh Church urges peace after deadly violence in Chittagong hills
JUL 10, 2020
The Catholic Church has called for an end to political rivalry and deadly violence in the restive Chittagong Hill Tracts (CHT) region of Bangladesh, following the killing of several members of an ethnic political party.
Unknown gunmen opened fire in the house of a leader of the MN Larma rival faction of Parbatya Chattogram Jana Sanghati Samiti (PCJSS) in Bandarban district on July 7, killing six and critically injuring three.
Bandarban Superintendent of Police, Zerin Akhtar, said they are working to find out and arrest those behind the killings. The violence has spread panic among people in the area and authorities deployed police and soldiers on patrols, he added.
Armed rivalry among factions
The MN Larma splinter group is blaming PCJSS for the killings.
The CHT has been long troubled by a political and armed conflict between the government and the PCJSS and its armed wing, the Shanti Bahini, over the issue of autonomy and the land rights of the indigenous (Jumma) people, mainly the Chakma people.
Since the 1980s, the state-sponsored mass influx of Bengali Muslim settlers to change the demographic balance of the region led to communal tensions and violence.
In the last 22 years, more than 600 people have been killed in turf wars among the PCJSS, the MN Larma faction and two other local rival parties. Abductions and retaliatory assaults are not rare, with no one claiming responsibility.
Chittagong Church urges peace
The CHT, bordering India and Myanmar, is Bangladesh's only mountainous region and home to about 25 ethnic indigenous groups, mostly Buddhists and also some Christians. About two-thirds of the 32,000 Catholics hail from ethnic groups.
The CHT Regional Commission for Justice and Peace of the Chittagong Archdiocese has condemned this week's killings and called for an end to violence in the region. "Violence in the CHT spreads panic among priests who travel to villages under the surveillance of various political parties, and our people also live in fear. All kinds of violence must end and peace must be established," Father Albert Soren, the Commission coordinator told UCA News
He pointed out that the local Church has tried to bring the various rival groups and the government to talks but has met with little success.
SanjeebDrong, secretary of Bangladesh Indigenous Peoples Forum (BIPF), an ethnic rights group, also deplored the violence. An ethnic Garo Catholic, Drong called on the government to ensure the safety and security of citizens.
He blamed the unrest and violence in the region on the failure of the government to implement the 1997 CHT peace accord, unresolved land disputes between indigenous people and Bengali settlers, and divide-and-rule politics. (Source: UCANews)
https://www.vaticannews.va/en/church/news/2020-07/bangladesh-chittagong-archdiocese-killing-violence-peace.html
--------
Pakistani terrorist among 2 killed in Paktiya province of Afghanistan: MoD
10 Jul 2020
The Afghan National Defense and Security Forces killed a Pakistani terrorist and one of his accomplices during an operation in South-eastern Paktiya province.
The Ministry of Defense (MoD) in a statement said the security forces killed the terrorists during a raid in Samkanai district of Pakitya.
MoD also released the National Identity Card of the slain Pakistani terrorist who has been identified as Jawad Ali.
The anti-government armed militants including Taliban have not commented in this regard so far.
Paktiya is among the relatively volatile provinces in South-eastern parts of country, bordering the porous regions along Durand Line. Both Taliban and al Qaeda are active in some remote regions of the province.
https://www.khaama.com/pakistani-terrorist-among-2-killed-in-paktiya-province-of-afghanistan-mod-08949/
--------
Suicide car bomb attack hits Afghan forces' check post in Wardak
09 Jul 2020
A suicide bomber detonated a vehicle packed with explosives close to a security check post in central Maidan Wardak province of Afghanistan.
According to local officials, the incident took place earlier today in Sayedabad district of Wardak province.
MohibullahSharifzai, a spokesperson for the provincial government, said a suicide bomber detonated a Vehicle-borne Improvised Explosive Device closed to a security check post in Sheikhabad area of the district.
Sharifzai further added that the security forces identified the suicide bomber before he could reach his intended target and he blew the explosives up after coming under fire.
He also added that the explosion did not inflict casualties on security personnel but some properties located in the area were damaged.
The anti-government armed militants including Taliban have not commented in this regard so fa
https://www.khaama.com/suicide-car-bomb-attack-hits-afghan-forces-check-post-in-wardak-08947/
--------
Southeast Asia
More Than 30 Malaysian Civil Society Organisations Say They Are Standing In Solidarity With All Sexual Harassment Survivors
10 Jul 2020
BY ZURAIRI AR
KUALA LUMPUR, July 10 ― More than 30 local civil society organisations (CSO) say they are standing in solidarity with all sexual harassment survivors today, following allegations involving a senior director of think tank Islamic Renaissance Front (IRF) this week.
The groups, under a coalition called CSO Platform for Reform, said they are very concerned about the allegations and affirmed their zero tolerance of sexual harassment at the workplace.
"It could be imputed that organisations which knowingly allow or tolerate sexual harassment, including by failing to take immediate action, are, in fact, condoning or deemed complicit in allowing the perpetuation of this culture of harassment and violence.
"This is a watershed moment for us to transform organisational culture, take a stand in solidarity, provide the necessary platform for all those who do come forward and break the silence so that perpetrators are held to account," said the groups.
They also pledged to ensure that all of them have an effective sexual harassment policy in place, while committing towards creating a safe and conducive working environment for all in their respective organisations and within the larger movement.
They also reiterated the call by the Joint Action Group for Gender Equality (JAG) for these allegations to be taken seriously and for an independent investigation to be initiated by IRF and necessary action taken if the alleged perpetrator is found guilty.
"The findings from said investigation, on the other hand, should be made public by IRF in the interest of transparency and due process," they said.
"Confidentiality should also be maintained, and the alleged survivor be provided the necessary support as well as be protected from any form of intimidation or retaliation."
They also urged for quick and fair investigation when there is knowledge of such misconduct, even without any written or formal complaint, in addition to measures to prevent retaliation and any recurrence of the incidents.
The statement was undersigned by 33 groups including Bersih 2.0, Socialist Party of Malaysia, Suara Rakyat Malaysia, Association of Women Lawyers, Centre for Independent Journalism, Center to Combat Corruption & Cronyism, Justice for Sisters, and Women's Aid Organisation.
Yesterday, Malay Mail quoted three former members about the sexual harassment they allegedly faced from one of the think tank's directors, with one of them lodging a police report about the alleged sexual assault.
Malay Mail also spoke with four other activists involved with IRF over the past eight years, and three admitted hearing rumours and complaints of sexual impropriety during their time with the think tank, including two specific instances that cannot be verified yet.
In a reply to media organisations yesterday, the alleged perpetrator said he is a victim of a "concerted effort" to tarnish his name, and he welcomes the investigation since it would be an opportunity for him to clear his reputation.
Formed in 2009, IRF describes itself as a movement to empower youth and promote Muslim intellectual discourse, and has advanced local discourse involving Islam and the enforcement of Shariah laws in Malaysia through its events, talks and commentaries.
This comes as police said a 56-year-old activist and NGO leader had been apprehended yesterday for questioning in relation to a report lodged against him for alleged sexual harassment that happened in November last year.
The case is being investigated under Section 354 of the Penal Code for assault or use of criminal force to a person with intent to outrage modesty, and he has since been released on bail
On Tuesday, JAG urged lRF to initiate an independent investigation into the allegations after four of IRF activists publicly dissociated themselves from the group as long as the director remains.
https://www.malaymail.com/news/malaysia/2020/07/10/sexual-harassment-in-the-workplace-more-than-30-malaysian-civil-societies-c/1883189
--------
Rights lawyer Eric Paulsen wins defamation suit against Muslim activist
V Anbalagan
July 9, 2020
PUTRAJAYA: The Federal Court has affirmed a Court of Appeal ruling awarding human rights lawyer Eric Paulsen RM100,000 in damages in a defamation suit against a Muslim activist.
A three-member bench chaired by Chief Judge of Malaya Azahar Mohamed dismissed the leave to appeal application by Mohamed Hafiz Mohamed Nordin, saying the questions posed did not fulfil the requirements of Section 96 of the Courts of Judicature Act.
It also awarded Paulsen RM10,000 in costs.
Azahar was joined on the bench by Mohd Zawawi Salleh and Vernon Ong Lam Kiat.
Lawyers LatheefaKoya and Shahid Adli Kamarudin represented Paulsen while HaznalRezuaMerican appeared for Hafiz.
The Court of Appeal ruling on July 4, 2018 said Paulsen had proven all the elements required in his case.
Chief Justice Tengku Maimun Tuan Mat who chaired the three-member bench said Hafiz's statement was found to be defamatory in nature.
On July 27, 2017, High Court judge Zaki Abdul Wahab also said Paulsen, who was then the executive director of Lawyers for Liberty, had proven his case against Hafiz as the statement referred to him.
However, Zaki held that Paulsen failed to show that the statement uttered by the Pembela activist had lowered his standing in society or caused the public to view him in a negative light.
Paulsen's defamation suit started when Muslim rights group IkatanMuslimin Malaysia (Isma) sued him in 2015 for alleging that Isma was an "extremist" group.
Paulsen filed a counterclaim in October the same year against Isma and Hafiz for publishing an article, "Janganbiar Eric Paulsen bebastanpaperbicaraan" (Do not free Eric Paulsen without trial) on its website, implying that Paulsen was a liar and instigator.
Isma and Paulsen entered into a consent judgment in March 2016, with both parties agreeing to withdraw the main suit and counterclaim.
However, Paulsen's suit against Hafiz proceeded to trial as the activist did not agree to the terms of the settlement.
https://www.freemalaysiatoday.com/category/nation/2020/07/09/rights-lawyer-eric-paulsen-wins-defamation-suit-against-muslim-activist/
--------
I won't bow down to blackmail, smear campaign, says prominent Muslim activist
July 9, 2020
KUALA LUMPUR: A prominent Muslim activist has come out strongly to reject sexual accusations against him, saying certain individuals as well as organisations are seeking to destroy his reputation through "blackmail and an orchestrated smear campaign" through the media.
This comes hours after he gave his statement to the police over a report lodged by a 27-year-old man some five months ago, accusing him of groping and kissing him.
Speaking to FMT, the activist, who heads a vocal Islamic group, singled out a former assistant for the accusations, adding that an online news portal which published the claims by several former staffers would also be held accountable for defamation.
"I categorically deny this malicious accusation," he said, naming a former assistant he sued six years ago as the person behind the latest allegations of sexual assault against him.
It is understood that the man referred to had been investigated for criminal breach of trust over claims of misappropriating funds.
"I had also taken a civil suit against him in 2014 and he lost the case and was declared a bankrupt," the activist told FMT.
Checks with the Department of Insolvency confirmed the claim that the person, whose name FMT is withholding pending a response, has been declared a bankrupt in 2017.
Meanwhile, the activist questioned how a bankrupt could become a director of an organisation.
He said the man was bent on going on the offensive because "he has nothing to lose as a bankrupt".
He said he was also made aware of attempts to invoke a 'MeToo' campaign.
"That will not happen, because they are abusing the movement for their own selfish ends," he added, referring to the movement against sexual harassment where victims come out openly with allegations of sex crimes against them by prominent persons.
'Blackmail'
He said early this year, he was blackmailed by several individuals who wanted to take over his NGO's leadership, a Muslim movement with a progressive stance on contemporary Islamic issues.
"They gave me an ultimatum that I should step down or they would go to town with claims that I molested the trainee doctor."
He said the fact that the police report, lodged in February, was not followed up showed that there was no case.
"But when I didn't step down, they went to see the police with a group of NGO lawyers recently.
"Evidently, the complainant had no case until they decided to publicise the news to pressure the police to investigate," he added.
He said part of the campaign against him probably stemmed from his refusal to condemn French Muslim scholar Tariq Ramadan, who was charged with rape earlier this year.
This, he said, angered some activists.
"One group was angry at me for defending Tariq Ramadan, and then launched a concerted attack via Facebook on my credibility which was then accentuated by the media.
"That led the police to ask me to give a statement to them today," he told FMT.
He said he was happy that the police decided to investigate.
"I welcome any investigation because it will be an opportunity for me to clear my name," he said.
https://www.freemalaysiatoday.com/category/nation/2020/07/09/i-wont-bow-down-to-blackmail-smear-campaign-says-prominent-muslim-activist/
--------
Arab world
Chemical weapons body condemns Syria for using sarin, chlorine on village in Hama
09 July 2020
The executive branch of the world's chemical weapons watchdog on Thursday condemned the use of banned sarin and chlorine bombs by Syria's air force, but stopped short of taking direct action to penalize Damascus.
It followed a report in April by Organization for the Prohibition of Chemical Weapons investigators, which found that Syrian Sukhoi Su-22 military planes and a helicopter dropped the bombs on the village of Ltamenaha in the Hama region in March 2017.
Syria, which joined the OPCW in 2013 to avert military intervention by the United States over a previous chemical attack, has said it fully destroyed a stockpile of chemical weapons declared to the OPCW, but inspectors have found undeclared toxins and munitions during site visits.
In a vote of 29-3, a decision was adopted by the politically-divided 41-member Executive Council of the OPCW in The Hague. Nine countries abstained.
A stronger response to Syria's violation of the 1997 Chemical Weapons Convention could follow at the next meeting of the OPCW's full membership, the Conference of States Parties, which starts in late November.
"The Council ...condemned the use of chemical weapons as reported by the OPCW Investigation and Identification Team (IIT), which concluded that there are reasonable grounds to believe that the Syrian Arab Republic used chemical weapons in Ltamenah, Syria in March 2017."
For all the latest headlines follow our Google News channel online or via the app
It "establishes that the Syrian Arab Republic failed to declare and destroy all of its chemical weapons and chemical weapons production facilities," the decision said.
Along with its military ally Russia, Syria has repeatedly denied the use of chemical weapons in the civil war.
The OPCW council said it "expresses deep concern that the Syrian Arab Republic did not cooperate with, and provide access to, the IIT."
Thursday's decision gave Damascus 90 days to declare "the facilities where the chemical weapons, including precursors, munitions, and devices, used in the 24, 25, and 30 March 2017 attacks were developed, produced, stockpiled, and operationally stored for delivery."
In the event Damascus fails to meet the deadline, the council will recommend taking action limiting Syria's OPCW membership rights at the Conference of States Parties later this year. The CSP could also recommend reporting Syria to the UN Security Council.
https://english.alarabiya.net/en/News/middle-east/2020/07/09/Chemical-weapons-body-condemns-Syria-for-using-sarin-chlorine-on-village-in-Hama-.html
--------
US forces in Iraq carry out overnight strike on ISIS cell
09 July 2020
US coalition forces in Iraq carried out an airstrike last night on an ISIS complex in north and central Iraq in the town of Tuz Khurmatu at the request of Iraqi forces, Operation Inherent Resolve (OIR) Spokesman Col. Myles B. Caggins III told Al Arabiya.
Multiple airstrikes have been carried out in the area over the last few years as coalition forces continue to root ISIS out of the country.
"Our partnership with the Iraqi security forces remains strong," Caggins said, and Iraq is safer than "it has been in years."
"Iraqi security forces are better led, better trained and better equipped than they have been in many years. And there's a lot of hope for the future of Iraq," he continued.
Caggins spoke to Al Arabiya as the top US military figure Gen. Kenneth McKenzie, US Central Command Commander, visited Iraq on Tuesday where he met with Iraqi Prime Minister Mustafa al-Kadhimi.
McKenzie said he was confident that ongoing talks with Iraq will keep US military troops in the country. While there are still more than 5,200 US troops in Iraq, the US and Iraq began discussions last month over whether or not American troops should withdraw. Nearly two decades after the US-led invasion of Iraq, bilateral relations between the two countries hit new lows after the killing of Iran's Islamic Revolutionary Guard Corps Commander Qassem Soleimani, renewed issue to the presence of US troops.
While the Iraqi Parliament has urged US troops to withdraw, al-Kadhimi must weigh potential security gaps that would emerge if Iraqi forces are left to their own devices.
ABC News reported that McKenzie believes talks could result in a smaller US troop presence "as Iraqi get better at what they do." US forces have provided training to Iraqi soldiers to achieve this end for years.
Caggins said "It's going to take everybody working together to defeat terrorism, and to change the mindset of evildoers who are in this country." He continued that Iraq has taken recent action to arrest outlaws – referring to those associated with Iran-backed militias in the country – and he believes this will continue under new prime minister al-Kadhimi.
Read more: Iraq says 13 pro-Iran fighters arrested for anti-US rocket attacks: AFP
As al-Kadhimi came to power, he pledged to rein in the militias that are not under state control.
Coalition forces in Iraq have primarily sought to defeat ISIS, but Caggins said the Iraqi and US troops working alongside each other have the right to defend themselves.
"We help the Iraqi security forces defend diplomatic facilities and the bases that we use together. These attacks from rogue militia groups who operate outside of the Iraqi law are a deadly distraction from our mission to defeat Daesh," he said using another name for ISIS.
The US military spokesperson noted that the US and coalition do not own any of the Iraqi bases, but coalition troops live on the Iraqi bases, and they partner and work closely with the Iraqi security forces.
https://english.alarabiya.net/en/News/middle-east/2020/07/09/US-forces-in-Iraq-carry-out-overnight-strike-on-ISIS-cell.html
--------
Egypt carries out military drill near Libya border
July 10, 2020
The Egyptian Army carried out a military drill near the Libyan border called "Hasm 2020", the military said on Thursday.
The drill, which included Egypt's Armed Forces' land, maritime and air defence, was carried out over several days and was attended by the Minister of Defense and Military Production, Mohamed Zaki, and Army Chief of Staff, Mohamed Farid.
The military manoeuvre included involved multi-task aircrafts, including helicopters that use live ammunition.
"The exercises aim at eradicating elements of mercenaries, their gathering points, command centres as well as damaging all their logistics," Egypt's State Information Service said.
The drill came a day after the Turkish naval forces announced that they will carry out military exercises off the Libyan coast.
The Turkish Navy said the maneuvers – dubbed "Naftex" – and would take place off the Libyan coast and will include 17 warplanes and eight naval vessels.
https://www.arabnews.com/node/1702591/middle-east
--------
6 ISIL Terrorists Arrested by Hashd al-Sha'abi in Mosul
Jul 09, 2020
In a statement on Wednesday night, Iraq's Hashd al-Sha'abi said that its intelligence forces in collaboration with the special forces, managed to detect and arrest a six-member terrorist team in Mosul during a pre-emptive operation.
A senior commander of Hashd al-Sha'abi had warned in May that the ISIL terrorist group had been reinvigorated and activated again in a number of provinces in Iraq.
"The Americans and the ISIL terrorists are repeating the same scenario they played during the collapse of Mosul in 2014, in Babel, Salahuddin and Diyali provinces and they are attempting to distort security and stir instability in those regions," Qasim al-Ma'amouri, the commander of Hashd al-Shaabi's Division 26, was quoted by al-Ma'aloumeh as saying.
"We have intelligence showing that the terrorist group has resumed its activities in several Iraqi provinces, including Babel, with the US help," he added.
Al-Ma'amouri said that the ISIL members have again infiltrated Jorf al-Nasr and Northern Babel.
https://en.farsnews.ir/newstext.aspx?nn=13990419000378
--------
Mideast
In second mishap in less than week, three dead as fireworks truck explodes in Turkey
09 July 2020
Three people were killed when a fireworks-laden truck exploded in Turkey on Thursday -- the second such incident in less than a week, officials said.
The vehicle was carrying unexploded materials from a fireworks factory in the Black Sea province of Sakarya that was itself hit by a blast on Friday, killing six people and injuring over 100.
Television images showed white smoke rising from the scene of the latest incident in a mountainous area of the Adapazari district in Sakarya.
The interior ministry said three gendarmes were killed and six hurt in the blast which occurred as fireworks were being transferred ahead of a controlled detonation, the official Anadolu news agency reported.
For all the latest headlines follow our Google News channel online or via the app
Two of the dead were from the team in charge of disposing of the unexploded fireworks in a quarry.
Interior Minister Suleyman Soylu travelled to the scene, Anadolu reported.
Turkish officials launched an investigation into last Friday's incident, which was described by the government's disaster agency AFAD as an "industrial accident."
Local media reported that two owners of the factory were detained this week.
The HaberTurk broadcaster's website had reported that there had been previous explosions at the factory in 2009, 2011 and 2014, one of them fatal.
https://english.alarabiya.net/en/News/middle-east/2020/07/09/In-second-mishap-in-less-than-a-week-three-dead-as-fireworks-truck-explodes-in-Turke.html
--------
Explosion at Iran's Natanz nuclear site caused 'likely irreparable' damage: Report
09 July 2020
The explosion at Iran's Natanz nuclear site last week has caused "likely irreparable" damage to parts of the site, marking a "significant" setback to Tehran's aspirations to mass produce advanced centrifuges, according to a report by a US-based think tank.
Iran's Atomic Energy Organisation (AEOI) said last Thursday an accident had taken place at a construction site in the Natanz nuclear site in central Iran without causing casualties.
The damage has dealt a major blow to the Iranian nuclear facility and their ability to mass produce advanced centrifuges, but the authors of the report said the explosion is unlikely to affect Iran's near-term research and development of centrifuges at the nearby Natanz Pilot Fuel Enrichment Plant.
The Natanz uranium-enrichment site, much of which is underground, is one of several Iranian facilities monitored by inspectors of the International Atomic Energy Agency (IAEA), the UN nuclear watchdog.
High-resolution commercial satellite imagery shows that the Iran Centrifuge Assembly Center (ICAC) at Natanz has suffered "significant, extensive, and likely irreparable" damage to its main assembly hall section, a report by the Washington-based Institute for Science and International Security said.
"Based on the record of observable evidence provided by commercial satellite imagery, it is now readily discernible that the extent and severity of the structural damage was indeed significant, as Iran now admits," the report read.
Iran initially downplayed the incident withholding the true extent of the damage, but AEOI spokesman Behrouz Kamalvandi said on Sunday the "accident" caused "significant damage" that could slow the development of advanced centrifuges.
The damage at Natanz appears to have been caused by a "large single-point detonation" according to satellite imagery, the report said.
"That explosion, evidently causing or coinciding with a fire, may well have involved an explosives device," the report added.
Satellite imagery showed that a "major" explosion took place, destroying nearly three quarters of the main centrifuge assembly hall, the report said.
The northwest corner of the ICAC building, including a large portion of a brick-walled annex, was "completely obliterated," the report said.
"The visible damage is such that the entire building will likely have to be razed and rebuilt from scratch," the report said.
The incident at Natanz is a "significant" setback for the Iranian advanced gas centrifuge production and operations effort.
"Advanced centrifuge rotor assemblies are typically assembled in "clean rooms," an expensive-to-build environment free from dust and other contaminants. A 2018 video shows what appear to be clean rooms in this facility; rebuilding these clean rooms will inevitably add to the time and difficulty of replacing this facility," the authors wrote.
The building's construction began in 2012 and finished in 2018. Its replacement would take a year at the very least, the report said.
"Although the explosion and fire at the Iran Centrifuge Assembly Center does not eliminate Iran's ability to deploy advanced centrifuges … its destruction must be viewed as a major setback to Iran's ability to deploy advanced centrifuges on a mass scale for years to come," the report concluded.
https://english.alarabiya.net/en/News/middle-east/2020/07/09/Explosion-at-Iran-s-Natanz-nuclear-site-caused-likely-irreparable-damage-Report.html
--------
Syrian president: Iran-Syria military accord rooted in years of anti-terror cooperation
09 July 2020
Syria's President Bashar al-Assad says the recent military agreement signed by Damascus and Tehran is the result of years of cooperation in fighting against terrorism in the Arab country.
The Syrian president made the remarks in a meeting with the visiting Chairman of the Chiefs of Staff of the Iranian Armed Forces Major General Mohammad Baqeri in capital Damascus on Thursday, a statement by Syrian presidential office said.
"This agreement reflects the strategic level of relations between Iran and Syria and is the outcome of years of common measures and cooperation in the fight against terrorism in Syria," Assad said.
Baqeri, for his part, underlined "the importance of Iran's continued efforts aimed at boosting bilateral ties between the two friendly and brotherly nations in all fields."
The top Iranian military official also stressed that continued strengthening of bilateral ties is in the interests of Iran and Syria and that he supports it against any attempts to interfere in the domestic affairs of the two countries and damage their independent decision-making.
Major General Baqeri arrived in Damascus on Wednesday and signed a "comprehensive" agreement with Syrian Defense Minister Ali Abdullah Ayoub to strengthen military and defense cooperation.
The accord provides for the expansion of military and security cooperation and the continuation of coordination between the armed forces of the two countries.
The two sides also underlined the need for the withdrawal of foreign forces which have been "illegally" deployed to Syria in violation of international law and said the forces are the main obstacle to the complete cleansing of armed terrorist groups in some parts of the Arab country.
Iran and Syria have signed different military and defense cooperation over the past years.
The Islamic Republic commenced providing Syria with advisory military assistance after numerous countries, at the head of them the US and its Western and regional allies, began funding and arming militants and terrorists with the aim of deposing the Syrian president's government.
Although the Syrian government initially lost considerable expanses of territory to the Daesh Takfiri terrorist group and other terror outfits, the country rallied to retake the lost grounds and drive out terrorists from much of the country.
https://www.presstv.com/Detail/2020/07/09/629273/Iran-Syria-Assad-Baqeri-cooperation-defense-terrorists
--------
Iran signs agreement to bolster Syria's air defense systems
July 10, 2020
TEHRAN: Iran's military chief has signed an agreement with Syria's president to reinforce Syria's air defense systems as part of a military cooperation agreement, Iranian state TV reported Friday.
Gen. Mohammad Hossein Bagheri, chief of staff of Iran's armed forces, met with Syria President Bashar Assad during his second visit to Syria since 2019.
Assad said the agreement signed by both sides is the result of "years of cooperation for confronting terrorism" in Syria.
Bagheri said it "will improve the determination of the two nations to confront US pressures." He didn't elaborate.
US ally Israel has occasionally attacked Iranian forces in Syria that Iran says are there to support Syria's fight against rebel groups as part of the country's 9-year civil war.
Israel views Iranian entrenchment on its northern frontier as a red line, and it has repeatedly struck Iran-linked facilities and weapons convoys destined for Iran-backed militant group Hezbollah in Lebanon.
In a brief video aired on Iranian state TV, Assad is seen receiving Bagheri and his delegation.
In November, Israeli fighter jets hit multiple targets belonging to Iran's elite Quds force in Syria following rocket fire on the Israeli-controlled Golan Heights.
Iran, which rarely comments on Israeli strikes, is the No. 1 regional supporter of Assad while also supporting anti-Israel militant groups like Palestinian Hamas and Hezbollah.
https://www.arabnews.com/node/1702556/middle-east
--------
Yemeni government condemns Houthi sea lane violations
July 10, 2020
DUBAI: The Houthi militia's endangerment of international sea lanes in the Red Sea is a terroristic act, a Yemeni minister said.
This cowardly act shows the militia's literal application of Iran's orders to close off the Red Sea and Bab Al-Mandeb Strait to ships, Information Minister Muammar Al-Iryani said in a report from Saba New.
The Red Sea is one of the world's busiest shipping lanes, and is connected to the Gulf of Aden and Arabian Sea through the Bab El-Mandeb Strait, a chokepoint between the Horn of Africa and the Middle East being only 18 miles wide at its narrowest point.
The Saudi-led Arab coalition destroyed two explosive-laden Houthi boats near a Hodeidah port on Wednesday, highlighting the Houthis increasing threat to global shipping in the Red Sea.
Al-Iryani urged the international community to condemn the Iran-led militia's terroristic activities and to take a hard stance against Iran for its actions which threaten regional and international stability.
Meanwhile, a Houthi ballistic missile fired on civilian areas in Marib city on Wednesday injured three children and a woman.
"Firing ballistic missiles on civilians and into populated areas is a grave escalation and violation of the international resolutions and norms… it amounts to a war crime," Yemen's Ministry of Human Rights was quoted by Saba New in a report.
https://www.arabnews.com/node/1702541/middle-east
--------
Africa
Sudan's PM accepts resignation of six ministers: Statement
09 July 2020
Sudan's prime minister replaced the finance, foreign, energy and health ministers and three other senior cabinet post-holders on Thursday as part of a sweeping reshuffle, the government said.
For all the latest headlines follow our Google News channel online or via the app.
Authorities had said a reshuffle was coming, but few had expected the exit of Ibrahim al-Badawi, who as finance minister led efforts to steady Sudan's crisis-stricken economy and liaised with foreign donors.
The government said transitional Prime Minister Abdalla Hamdok had dismissed the health minister and accepted the resignation of Badawi and the others. It named interim replacements to lead all seven ministries.
Hamdok leads a government of technocrats under a 39-month power-sharing agreement between the military and civilian groups, following the removal of long-time President Omar al-Bashir last year.
Badawi's interim replacement will be Heba Ahmed Ali, a senior finance ministry official, the government statement said.
The reshuffle comes nine days after large street protests demanding faster and more comprehensive reforms from transitional authorities.
On the eve of the protests, Hamdok had promised to take a number of major decisions, without giving details. Earlier this week, he fired Sudan's police chief and his deputy, who were seen by pro-democracy groups as close to Bashir's regime.
https://english.alarabiya.net/en/News/middle-east/2020/07/09/Sudan-s-PM-accepts-resignation-of-six-ministers-Statement.html
--------
Terrorists kill eight soldiers in Chad: Security sources
09 July 2020
At least eight soldiers in western Chad were killed when their vehicle struck a landmine laid by suspected jihadists, security sources and a local official said Thursday.
The blast occurred on Wednesday at Kalam in the Lake Chad region, which has been battered by attacks from jihadists crossing from neighbouring Nigeria.
The sources, speaking on condition of anonymity, put the toll at eight or nine dead and between 11 and 21 wounded.
https://english.alarabiya.net/en/News/world/2020/07/09/Terrorists-kill-eight-soldiers-in-Chad-Security-sources.html
--------
Foreign meddling in Libya at unprecedented levels: UN chief
09 July 2020
The United Nations (UN) secretary-general warns that foreign interference in the conflict in Libya has reached "unprecedented" levels.
"The [Libyan] conflict has entered a new phase, with foreign interference reaching unprecedented levels, including in the delivery of sophisticated equipment and the number of mercenaries involved in the fighting," Secretary-General Antonio Guterres said in an address to a high-level virtual meeting of the UN Security Council on Wednesday.
He said both the delivery of weapons and the dispatch of proxy forces were in violation of a UN arms embargo on Libya.
Since 2014, two rival seats of power have emerged in Libya, namely the internationally-recognized government, known as the Government of National Accord (GNA), and another group based in the eastern city of Tobruk.
The latter camp is supported militarily by an array of rebel militia under the command of a former general named Khalifa Haftar.
The rebels receive support from the United Arab Emirates, Egypt, Russia, and Jordan. The GNA is backed by Turkey.
Foreign patrons on both sides are accused of sending in advanced weapons and proxies.
In the past couple of weeks, government forces have pushed the rebels as far back as the city of Sirte, on the Mediterranean coastline, where a major battle now looms. The government advances are believed to have come with crucial Turkish support.
Guterres said the "GNA units, with significant external support, continued their advance eastward, and are now 25 kilometers west of Sirte after two previous attempts to gain control of the city."
He expressed concern about the military buildup around Sirte.
Russia is accused of supporting Haftar in his bid to oust the GNA, but Russia's UN Ambassador VassilyNebenzia rejected the allegation in the same UNSC session on Wednesday.
"But we know about other countries' military personnel, including from those countries that accuse us, to be present on Libyan soil, East and West," Nebenzia said, calling on all countries with influence on the Libyan parties to push for a permanent ceasefire.
The UAE's Minister of State for Foreign Affairs Anwar Gargash also told the UNSC that there had been "roughly 10,000 Syrian mercenaries operating in Libya, approximately twice as many as there were six months ago."
Turkey is accused of sending those militants.
Guterres said that, between April and June this year, the UN mission in Libya had documented at least 102 civilians deaths and 254 civilians injuries, showing a 172 percent increase compared to the first quarter of the year.
He said there had also been at least 21 attacks on medical facilities, ambulances, and medical personnel in Libya.
International attempts to bring about peace between the warring sides in Libya have so far failed. The country first plunged into chaos in 2011, when a popular uprising and a NATO intervention led to the ouster of long-time dictator Muammar Gaddafi.
https://www.presstv.com/Detail/2020/07/09/629228/Libya-foreign-meddling-unprecedented-levels-UN-Guterres
--------
Pakistan
Muslim World League delivers COVID-19 medical aid to Pakistan
July 10, 2020
The Muslim World League (MWL) delivered a package of medical supplies and materials to the Pakistani government to aid in its fight against COVID-19.
Saudi Ambassador to Pakistan Nawaf bin Saeed Al-Malki and a number of officials attended the event in Islamabad. The supplies include EKG monitors, oxygen devices, ventilators, pulse oximeters, medicines and protective equipment.
Saad Al-Harthi, MWL regional director, said the project includes providing a package of medical supplies as a third stage in the fight against the outbreak. SPA Islamabad
https://www.arabnews.com/node/1702451/saudi-arabia
--------
IMF predicts economic recovery in Pakistan next year
Jul 10 2020
WASHINGTON: A gradual recovery in Pakistan is expected in the fiscal year 2021 as the country's economy reopens, says a report released by the Inter­natio­nal Monetary Fund (IMF).
The report — "Policy Act­ions Taken by Countries" – reviews various steps Pakis­tan has taken since March to deal with the Covid-19 crisis.
The IMF notes that the near-term economic outlook of the country has worsened notably, and growth is estimated at –0.4 per cent in FY 2020.
According to this report, since mid-April, the federal government, in coordination with the provinces, has been gradually easing lockdown arrangements, by allowing 'low-risk industries' to restart operation and 'small retail shops' to reopen with newly developed Standard Operating Procedures.
In addition, restrictions on domestic and international movements have been lifted and educational institutes are expected to restart on July 15. 'Selective' lockdown arrangements remain in place, through the closure of shops on weekends and the sealing of specific areas of high risk.
A relief package worth Rs1.2 trillion was annou­nced on March 24, which is now being implemented and will be pursued in the fiscal year 2020-21. The report then details various measures taken by both federal and provincial governments to ease the economic impact of this pandemic.
Key measures by the federal government: elimination of import duties on emergency health equipment; cash transfers to 6.2 million daily wage workers, cash transfers to more than 12m low-income families; accelerated tax refunds to the export industry, out of which 65pc have already been disbursed, and financial support to SMEs and the agriculture sector.
The report notes that the economic package also earmarks resources for an accelerated procurement of wheat, support for health and food supplies, an emergency contingency fund, and a transfer to the Nat­ional Disaster Management Authority for the purchase of Covid-19 related equipment.
The report also mentions the provision of tax incentives to the construction sector to address the acute employment needs generated by the lockdowns.
The provincial governments, according to this report, have been also implementing supportive fiscal measures, consisting of cash grants to the low-income households, tax relief and additional health spending.
https://www.dawn.com/news/1568043/imf-predicts-economic-recovery-in-pakistan-next-year
--------
US revokes permission for PIA to operate special direct flights
Qazi Hassan
Jul 10 2020
The United States transport authority has revoked the permission granted to the Pakistan International Airlines (PIA) to operate a number of special direct flights to the US, a spokesperson for the airline said on Thursday, as the fallout from the revelation of Pakistani pilots' alleged dubious licences continues.
The authorisation was revoked "due to recent events identified by the Pakistan Civil Aviation Authority that are of serious concern to aviation safety, specifically matters pertaining to the proper certification of certain Pakistani pilots", according to an email sent to PIA officials by a US-based law firm, seen by Dawn.com.
PIA spokesperson Abdullah Khan confirmed that the airline had been notified of the permission being withdrawn via email.
Related: Cry for PIA
The US Department of Transportation had in April granted PIA permission to operate 12 direct flights to the US to repatriate people stranded by the coronavirus pandemic. The airline had until now operated six of the flights to different US cities.
It was the first time that Pakistan's national flag carrier operated direct flights to the US.
"It is a setback for us," PIA spokesperson Abdullah Hafeez said in a statement to Dawn.com.
"However we are keeping very close coordination with US Department of Transportation and we sincerely hope that with the reformative process already underway, they will review their decision to revoke the permissions."
Following disclosure by federal Minister for Aviation Ghulam Sarwar Khan in parliament that 150 PIA pilots had 'dubious' licences, the European Union and British aviation authorities had barred the airline from flying to their airports for at least six months.
The aviation regulators of several other countries, meanwhile, have sought verification of credentials of Pakistani pilots and engineers working there.
The development comes as the federal government in recent days has tried to assuage concerns about Pakistani pilots, stating that an inquiry into the issuance of 'illegal' licences to 236 pilots between 2012 and 2018 was in progress.
A cabinet meeting was informed earlier this week that 28 pilots of PIA had been dismissed from service and 37 were suspended for allegedly having suspicious credentials. As many as 450 other PIA pilots had been cleared.
At a joint press conference last week, Maritime Affairs Minister Ali Haider Zaidi, Special Assistant to the Prime Minister on Accountability Barrister Shahzad Akbar and Information Minister Senator Shibli Faraz had stressed that the government was committed to ensuring merit and transparency in all national institutions.
The Pakistan Airlines Pilots Association (Palpa) has said that there are discrepancies in the government's list of pilots with licences deemed dubious and has demanded a judicial investigation.
https://www.dawn.com/news/1567996/us-revokes-permission-for-pia-to-operate-special-direct-flights
--------
ATC orders inquiry into illegal construction of mosque in Karachi
Jul 10 2020
KARACHI: An antiterrorism court on Thursday directed the director general of the Sindh Building Control Authority (SBCA) to hold an inquiry into illegal construction of a mosque and madressah in Surjani Town on a plot meant for a park.
The ATC-XII judge also expressed resentment on the deputy commissioner (West) for not checking the legal status of the mosque/madressah before taking it over in government custody and directed him to appear before the court along with a report on July 13.
The ATC also came down hard on the SBCA for allowing construction on government land and sought the names of the officers concerned who were posted in the area at that time from the SBCA DG and also asked him to file a report whether any action was taken when the plot in question was encroached upon.
The court was hearing a case registered against two suspects, affiliated with the madressah, for allegedly collecting funds and donations for a banned militant outfit.
The Counter Terrorism Department said in the charge sheet that the mosque and madressah were built on an amenity plot meant for a park in Maymarabad, Surjani Town.
The court questioned how the mosque/madressah was built without permission of the SBCA and all other utilities were provided to the illegally built madressah, adding that the government also appointed an administrator on such property and also paid salaries to the staff deputed at such mosque/madressah.
At the outset of the hearing, administrator for the madressah Musharraf Ali placed some documents on record which showed that the provincial government had taken over the madressah in pursuance of different notifications.
The court observed that before taking over the property in question, its legal status was not checked by the deputy commissioner concerned which was a great failure on his part since the same was constructed on land which was still the property of the Karachi Development Authority and not yet demarcated/allotted.
"Such process of deputy commissioner not only regularizes such illegal construction, but also financially burdened the exchequer", the court added.
While assisting the court, an assistant prosecutor general informed the ATC that according to Section 21 of the Societies Registration Act 1860, a mosque was to be registered and the procedure of registration of madressah was also available in Section 25 of the act.
He further submitted that according to the act, no utility connection would be provided without registration and said that by violating the law, all departments of public utilities, including SBCA, failed to discharge their official duties.
The CTD had booked Bashir, Mohammad Bin Shahzad and Rehan Ahmed under Section 11-N of the Anti-Terrorism Act, 1997 and contended that they were looking after the affairs of the mosque and madressah and collecting funds for the banned Jaish-i-Mohammad.
Although the CTD failed to arrest any of the suspects, they charge-sheeted Shahzad and Rehan under Section 512 of the criminal procedure code by claiming that they had collected sufficient evidence against both the suspects in their absence.
However, the CTD said that information about Bashir, including his residential address, could not be found.
https://www.dawn.com/news/1568035/atc-orders-inquiry-into-illegal-construction-of-mosque-in-karachi
--------
PPP members, ministers clash in NA over KE affairs, JIT report
Amir Wasim
Jul 10 2020
ISLAMABAD: The National Assembly on Thursday witne­ssed political skirmishes bet­ween the members of the opposition Pakistan Peoples Party (PPP) and federal ministers throughout the nearly three-hour-long proceedings during a discussion on the performance of K-Electric (KE) and National Electric Power Regulatory Authority (Nepra) in the wake of massive load-shedding and excessive billing in Karachi and over a controversy on the report of the Joint Investigation Team (JIT) on notorious Lyari gang leader Uzair Baloch.
The PPP leaders had verbal clash with Minister for Power Omar Ayub Khan and Minister for Planning and Development AsadUmer during a discussion on a calling attention notice regarding the unprecedented and unscheduled load-shedding in Karachi by the KE and failure of Nepra to take prompt action in this regard.
The opposition members reacted strongly when the two ministers started blaming the past two governments of the PPP and the PML-N for the miseries being faced by the people of Karachi due to lengthy hours of load-shedding during the hot and humid weather and amid coronavirus pandemic.
Members of the ruling Pakistan Tehreek-i-Insaf (PTI) and the MuttahidaQaumi Mov­e­ment (MQM), including fede­ral Minister for Information Technology AminulHaq, from Karachi also joined their voices with the protesting PPP members over the performance of the KE.
"The KE is a mafia and has become a state within the state," MrHaq said while calling for holding an investigation as to where the KE was making re-investments from billions of rupees it was collecting from the people of Karachi.
The minister said that the KE sometimes blamed the Pakistan State Oil, sometimes the gas company and often blamed rains for its poor performance. He said when they raised the issue with Prime Minister Imran Khan, they came to know that the KE was already being provided additional electricity from the national grid and gas from the Sui Southern Gas Company Limited.
The minister said that people of Karachi were suffering due to lengthy hours of load-shedding despite the fact that most of the shops and shopping centres were closed at 7pm.
MrHaq said the PTI members from Karachi had been staging protest outside the KE office for five days and now the MQM had decided to hold a protest sit-in outside the Parliament House in Islamabad on July 14.
A PTI MNA from Karachi, Fahim Siddiqui, regretted that the KE had not yet paid compensation to those 19 people who died in the city due to electric shocks in various incidents.
"The KE is called 'Killing Electric' by the people of Karachi," he said.
Mr Siddiqui alleged that the KE had sold copper wires and replaced them with aluminium wires. He called for auditing of the KE accounts.
Responding to the criticism on KE, Minister for Planning and Development AsadUmer said the lack of a proper power transmission and distribution system was the reason behind increased load-shedding in the metropolis and promised that the federal government would improve it in "record time".
"The work they [previous PPP and PML-N governments] did not do then is being done now," he said amid slogans by opposition members.
He said the opposition members had termed the KE a "criminal outfit", but took no action against it when they were in power. Power Minister Omar Ayub Khan said the 30mmcfd gas would be given from other cities to Karachi which would be used to produce 200 megawatts (mw) of electricity.
"We are giving 100mw from our national grid. It was the previous government's responsibility to make the system so we could give electricity through the national grid but they did not pay attention to it," Mr Khan said.
He said that KE had limited capacity to get electricity from the national grid and two new grid stations would be built in east and west of Karachi. He said that the Sindh member in Nepra was protecting the KE's interests.
PPP's Agha Rafiullah, ShaguftaJumani and Shazia Marri blasted the federal government for not taking any action against the KE, stating that the entire set-up including Nepra was under its control.
PPP's Raja Pervaiz Ashraf said the PTI government could not continue blaming previous governments for its own shortcomings. He was of the view that a newly-formed government could blame its predecessors for a few months after coming to power but not forever.
The session abruptly ended due to lack of quorum which was pointed out by the opposition after staging a walkout in protest over Deputy Speaker Qasim Suri's act of giving floor to Communications Minister Murad Saeed and allowing him to read out the alleged confessional statement of Lyari gangster Uzair Baloch in which he had admitted that he had been operating under the patronage of top PPP leadership, including former president Asif Ali Zardari.
As soon as the deputy speaker gave floor to Mr Saeed to respond to the earlier speech of PPP leader and former prime minister Raja Pervez Ashraf, who had alleged that Ports and Shipping Minister Ali Zaidi had read out a fake JIT report on the floor of the assembly during the previous session, the opposition members stood up and started raising anti-government slogans.
An angry PPP woman MNA NasibaChanna threw her headphone at the minister during his speech but missed the target.
The opposition members succeeded in preventing the minister from speaking by staging a walkout leaving behind PPP's Shahida Rehmani only to point out lack of quorum.
The deputy speaker first suspended the proceedings for 45 minutes and later adjourned the sitting till Friday morning.
https://www.dawn.com/news/1568076/ppp-members-ministers-clash-in-na-over-ke-affairs-jit-report
--------
Govt presents anti-domestic violence bill in NA
July 10, 2020
ISLAMABAD: Federal Minister for Human Rights Dr Shireen Mazari on Thursday presented the bill for Domestic Violence (Prevention and Protection) Act 2020 in the National Assembly with the aim to 'establish an effective system of protection, relief and rehabilitation of women, children, elders and any vulnerable persons against domestic violence'.
Introducing the bill, Mazari said that the act of domestic violence [if the offence committed does not fall under the Pakistan Penal Code] shall be punishable with imprisonment of maximum three years and minimum six months, depending on the gravity of the crime committed. According to the bill, if an offence falling under the PPC is committed in a domestic relationship, the crime shall be punishable as under the PPC.
A fine ranging from Rs20,000 to Rs100,000 would also be imposed on the perpetrator of domestic violence, that would be paid as compensation to the aggrieved person. In case of default in payment of fine, the perpetrator may be awarded three months imprisonment.
The bill, which also extends to Islamabad Capital Territory, defines domestic violence as 'all acts of physical, emotional, psychological, sexual and economic abuse committed by a respondent against women, children, vulnerable persons, or any other person with whom the respondent is or has been in a domestic relationship that causes fear, physical or psychological harm to the aggrieved person.'
It includes, but is not limited to, acts such as repeated exhibition of possessiveness or jealousy which lead to invasion of privacy, liberty, integrity and security, threats of divorce or second marriage on baseless accusations or infertility, wilful or negligent abandonment, stalking, harassment, or compelling the wife to cohabit with anybody other than the husband.
The bill also criminalises insults, ridicule, and false allegations on the character of a female member or any member of the shared household, as well as intentional deprivation of economic or financial resources or hindrance to access of such resources which the aggrieved person is entitled to under law.
According to the bill, the Ministry of Human Rights shall constitute a Protection Committee for the purpose of this Act within three months of the passage of the Act.
https://www.pakistantoday.com.pk/2020/07/09/govt-presents-anti-domestic-violence-bill-in-na/
--------
India
Tablighi Jamaat Event: Delhi Court Grants Bail To 76 Foreigners From 8 Countries
July 09, 2020
New Delhi: A Delhi court Thursday granted bail to 76 foreign nationals from 8 countries who were chargesheeted for attending the Delhi mosque event in Nizamuddin by allegedly violating visa conditions, indulging in missionary activities illegally and violating government guidelines, issued in the wake of COVID-19 outbreak.
Chief Metropolitan Magistrate Gurmohina Kaur granted the relief to the foreigners upon furnishing a personal bond of Rs 10,000 each.
The accused will file their plea bargain applications on Friday, said advocate Ashima Mandla, appearing for some of the foreign nationals.
Under plea bargain, the accused pleaded guilty to the offence praying for a lesser punishment. The Criminal Procedure of Code allows plea bargain for cases where the maximum punishment is imprisonment for seven years, where offences don't affect the socio-economic conditions of the society and when the offences are not committed against a woman or a child below 14 years.
During the hearing, all the foreign nationals were produced before the court through video conferencing.
The foreigners belong to Mali, Nigeria, Sri Lanka, Kenya, Djibouti, Tanzania, South Africa and Myanmar, said advocates Mandakini Singh, Fahim Khan and Ahmad Khan, appearing for the accused.
https://www.ndtv.com/india-news/delhi-mosque-event-court-grants-bail-to-76-foreigners-from-8-countries-2260076
--------
Tamil Nadu Police Arrest 86 For Spreading Hatred Against The Muslim Community, Linking Them With Covid-19
July 10, 2020
Chennai: The Tamil Nadu Additional Director General of Police V. Baskaran, has informed the Madras High Court that 86 people have been so far arrested in the state for spreading communal hatred against the Muslim community, linking them with Covid-19.
A division bench of Justice M MSundresh and Justice R Hemalatha is hearing a Public Interest Litigation (PIL) filed by ASA Umar Farooq seeking action on over 700 complaints filed in various police stations across the state but remained pending.
ASA Umar Farooq, through a writ petition prayed for a direction to the authorities concerned to stop the media and other agencies and individuals from communalizing Covid-19 issue.
In response, the DGP filed a counter affidavit before the division bench stating that so far there are 159 cases that have been registered against 356 people. Of them 86 have been arrested, the DGP said.
As per the report, Madurai tops the list with 19 cases followed by Erode (17) and Pudukottai (12). In Chennai, 8 FIRs are registered against eight accused.
The court after recording the submission has adjourned the hearing to July 13.
There was a wave of communal propaganda against the Muslims that began right after the news of the Tablighi Jamaat's congregation in New Delhi's linkages with the novel coronavirus was found.
India witnessed numerous incidents of attacks on Muslims across the country as a direct result of such a vicious campaign. The social media was awash with hate posts alleging that the coronavirus was a planned conspiracy by the Muslims.
Several Muslims became victims of such a malicious hate campaign and some Muslims selling fruits and vegetables were targeted and boycotted in some north India states.
In order to counter such propaganda, some Muslim organization in Tamil Nadu filed complaints in the police stations, identifying the hate mongers posting on online media or airing on broadcast media. There were 700 such complaints filed in Tamil Nadu.
In a welcome shift from the normal course. The response to this rising Islamophobia through the legal follow up has resulted in the arrest of 86 people in Tamil Nadu so far.
Similar campaign to fight anti-Muslim hate propaganda is taken up by some organizations in the southern Indian states as well. More such legal intervention is needed elsewhere in the country to reign in the hate mongers demonizing the proud Muslim community of India.
https://ummid.com/news/2020/july/10.07.2020/tn-police-arrest-86-for-spreading-hatred-against-muslims.html
--------
CBI Court Orders To Trace Babri Mosque Demolition Case Accused
July 09, 2020
Lucknow: A special CBI court hearing the Babri mosque demolition case on Thursday ordered to trace accused Om Prakash Pandey, who is said have become a monk years ago.
Mr Pandey is one of the 32 accused in case, whose hearing is being held on a day-to-day basis to conclude the trial by August 31, as directed by the Supreme Court.
The Babri Masjid was demolished in December 1992 by "karsevaks" who claimed that the mosque in Ayodhya was built on the site of an ancient Ram temple.
Earlier, Special Judge S K Yadav had issued a non-bailable warrant against Pandey.
The court was told that members of the Mr Pandey's family claimed that he had become a monk 25 years ago and they were not in contact with him.
The court was also told that Mr Pandey is said to have sometimes visited his guru's ashram in Allahabad and his brother said he would try to find him and let the court know in a week.
Taking all aspects into consideration, the court directed the CBI to inquire about the matter and furnish a report before it.
Meanwhile, no accused turned up before the court on Thursday to depose in the case.
An application was moved on behalf of accused Santosh Dubey that his wife was taken ill and he will appear before the court on July 13.
The court has already directed accused Pawan Kumar Pandey, a former legislator, to appear before it on Friday.
https://www.ndtv.com/india-news/cbi-court-orders-to-trace-babri-mosque-demolition-case-accused-2260145
--------
Terrorists attack Army convoy in Kashmir; soldier, pedestrian injured
Jul 9, 2020
SRINAGAR: A jawan and a pedestrian woman were injured when terrorists fired upon an Army ambulance, which was being escorted by a couple of Quick Reaction Team (QRT) vehicles, in Ladoo area of Awantipora in South Kashmir on Thursday evening.
Army spokesman Col Rajesh Kalia said an ambulance accompanied by QRT vehicles was fired upon by terrorists from near a mosque at Ladoo Mod around 6pm on Thursday, injuring a soldier, who was shifted to 92 base hospital. A pedestrian woman also sustained injuries in the cross fire. Both the injured are stable, Col Kalia said.
The injured woman was identified as 35-year-old Rafiq Bano. She was shifted to a nearby hospital from where she was discharged after receiving treatment, Kashmir range inspector general of police Vijay Kumar said.
Security forces have cordoned off the entire area to nab the attackers.
https://timesofindia.indiatimes.com/india/terrorists-attack-army-convoy-in-kashmir-soldier-pedestrian-injured/articleshow/76881267.cms
--------
75 Pakistanis stranded in India due to Covid-19 return home via Wagah-Attari crossing
Jul 09, 2020
Pakistan on Thursday repatriated 75 of its nationals who were stranded in India due to the Covid-19 pandemic through the Wagah-Attari land border crossing.
Since March 20, Pakistan has repatriated around 500 of its nationals who were stranded in various parts of India following the closure of the Wagah-Attari crossing as part of measures to prevent and control the spread of the coronavirus, said a statement from the Pakistan high commission.
The batch of 75 Pakistanis repatriated on Thursday included people who had been stranded because of the Covid-19 lockdown in cities such as Ahmedabad, Allahabad, Amritsar, Bareilly, Hoshangabad, Hyderababad, Indore, Jodhpur, Kanpur, Lucknow, Mumbai, Nagpur, Raipur, Saharanpur and Vellore.
The Pakistan high commission said it will continue to extend assistance to the remaining Pakistanis stranded in India to return home. The statement didn't say how many Pakistanis are still stranded in the country.
A total of 627 Indian nationals stranded in Pakistan because of the pandemic returned to the country via the Wagah-Attari crossing during June 25-27.
About 100 Indians are still in Pakistan and the government is in touch with Pakistani authorities and awaiting clearances to facilitate their return, external affairs ministry spokesperson Anurag Srivastava had said last week.
https://www.hindustantimes.com/india-news/75-pakistanis-stranded-in-india-due-to-covid-19-return-home-via-wagah-attari-crossing/story-QS7MZ9it1uIRnvAVtt09CL.html
--------
URL: https://www.newageislam.com/islamic-world-news/us-sanctions-chinese-officials-abuse/d/122338
New Age Islam, Islam Online, Islamic Website, African Muslim News, Arab World News, South Asia News, Indian Muslim News, World Muslim News, Women in Islam, Islamic Feminism, Arab Women, Women In Arab, Islamophobia in America, Muslim Women in West, Islam Women and Feminism