New Age Islam News Bureau
21 January 2021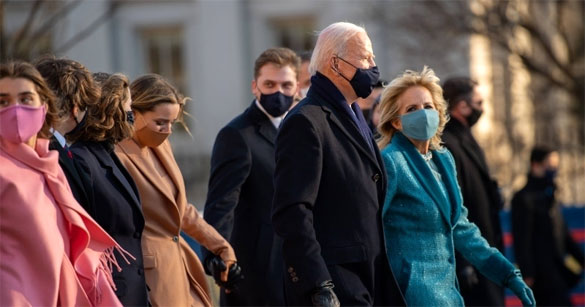 US President Joe Biden, First Lady Dr. Jill Biden and family walk the abbreviated parade route after Biden's inauguration on January 20. — AFP
------
• Haridwar Seer Community Seeks Strict Action Against Web Series 'Tandav' For Waging 'Cinema Jihad'
• Maulana Fazl ur Rehman Led Pakistan Right-Wing JUI-F Denied Permission To Hold Anti-Israel Rally In Karachi
• French Muslim Groups Deal Blow To Macron's Anti-Extremism Charter Dealing A Blow To A • Flagship Initiative Of President Emmanuel Macron
• Khashoggi 2?: Brother of Detained Saudi Activist, Loujain al-Hathloul, Accuses Riyadh of Trying to Murder Him
• Afghan VP Pushes For Execution Of Taliban Prisoners
• Indonesia's Islamic Body Deems Sinovac Vaccine 'Holy And Halal'
• Iranian Army Tests New Home-Made Electro-Optic System in Drills
North America
• US President Joe Biden Lifts Muslim Ban On His First Day In Office, Placed By His Predecessor Donald Trump
• White House says Biden will be discussing Iran with foreign allies
• We must end this uncivil war: Biden says amid political polarization, pandemic
• 12 National Guard Members Removed From Inauguration Duties Amid Extremist Threats
• US 'terrorist' designation of Yemen's Houthis comes into effect
• U.S. soldier accused of wanting to plot ISIS strike on 9/11 Memorial in New York City
• Lloyd Austin, Biden's nominee to lead Pentagon, vows to take on extremism in the military
• Alleged militia leader arrested, officials say, as FBI eyes extremist group suspects after Capitol riot
--------
India
• Haridwar Seer Community Seeks Strict Action Against Web Series 'Tandav' For Waging 'Cinema Jihad'
• Indian Village Cheers For Kamala Harris During Swearing-In As US Vice President
• 4 soldiers injured in Pak shelling in Akhnoor, but no infiltration bid: Army
• Rajasthan BJP MP Triggers Row, Says Terrorists, Khalistan Supporters Sitting At Farm Protest Sites
--------
Pakistan
• Maulana Fazl ur Rehman Led Pakistan Right-Wing JUI-F Denied Permission To Hold Anti-Israel Rally In Karachi
• Pakistan Urged The Media In Turkey To Play Their Role In Spotlighting Various Issues Related to Kashmir
• Foreign funding case against PTI to be decided on merit: CEC
• PM wants opposition to also face foreign funding trial
• Cardinal named head of Christian research center in Pakistan
• Another successful test of Shaheen-III carried out
• NAB gives clean chit to PML-Q leaders after closing last two inquiries
• PPP slams graft case against Murad, blames NAB for political vendetta
--------
Europe
• French Muslim Groups Deal Blow To Macron's Anti-Extremism Charter Dealing A Blow To A • Flagship Initiative Of President Emmanuel Macron
• Russia refuses Syria's use as an arena for an Iran-Israel confrontation: Lavrov
• Italy jails suspected al-Qaeda militant for terror activity in Syria, Iraq
• Macron rules out official apology or repentance for colonial abuses in Algeria
• Chechnya kills militant tied to ISIS, deadly Moscow attacks
• Violent German Far-Right Groups' Recruitment Aided By Lockdown Frustrations
--------
Arab World
• Khashoggi 2?: Brother of Detained Saudi Activist, Loujain al-Hathloul, Accuses Riyadh of Trying to Murder Him
• Baghdad market suicide bombing death toll rises to 13: Iraq police
• Syria's Assad has 'nowhere left to go,' can't escape Caesar Act: US envoy Rayburn
• Egypt foreign ministry says agreed with Qatar on resuming diplomatic relations
• Dubai-based airline FlyDubai launches daily flights to Qatar's capital Doha
• UAE signs deal with US to buy 50 F-35 jets and up to 18 drones: Report
• US President Trump lifts tariffs on aluminium imports from UAE
• Syria condemns US 'systematic looting' of its resources, oil in NE, calls for immediate withdrawal of occupation forces
--------
South Asia
• Afghan VP Pushes For Execution Of Taliban Prisoners
• Afghan Commandos 'Release Captives' From Taliban Prison
• Afghan government blames Taliban for stalling peace talks
• Taliban Suffer Casualties in Faryab, Uruzgan Provinces
--------
Southeast Asia
• Indonesia's Islamic Body Deems Sinovac Vaccine 'Holy And Halal'
• Poor Malaysian Woman Who Shoplifted Gets Visit By Police Who Give Her Food And Other Items
• Muhyiddin Urges Asean To Legislate Against Online Hate Speech, Threats Based On Race, • Gender, Sexual Orientation
• How COVID-19 Is Straining Human Rights in Thailand, Malaysia, Philippines
• Credit ratings agency Fitch's downgrading of Malaysia has been damning
• New Indonesian law empowers communities in anti-terror fight
--------
Mideast
• Iranian Army Tests New Home-Made Electro-Optic System in Drills
• Netanyahu urges President Biden to 'strengthen' US-Israel alliance
• Iran's Rouhani calls on US President-elect Biden to return to nuclear deal
• Palestinians react with outrage to Biden pick's al-Quds remarks
• Iran's Zarif: Unlawful US sanctions dealt blow to multilateralism
--------
Africa
• Libyans Agree To Hold Constitutional Referendum: Egypt
• Tunisians protest mass arrests in night-time clashes
• Over 40 Europe-bound migrants killed in shipwreck off Libya: UN
• Somali, U.S. forces kill 3 al-Shabab terrorists in southern region
• Violence create food crisis in northern Mozambique- WFP
Compiled by New Age Islam News Bureau
URL: https://www.newageislam.com/islamic-world-news/us-president-joe-biden-lifts/d/124118
--------
US President Joe Biden Lifts Muslim Ban On His First Day In Office, Placed By His Predecessor Donald Trump
Anwar Iqbal
January 21, 2021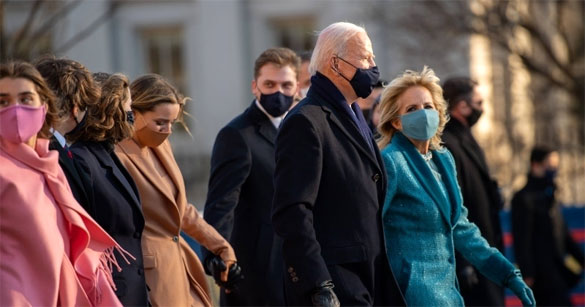 US President Joe Biden, First Lady Dr. Jill Biden and family walk the abbreviated parade route after Biden's inauguration on January 20. — AFP
------
In his first order after taking the oath of his office on Wednesday, US President Joe Biden removed the travel ban on some Muslim and African nations placed by his predecessor Donald Trump.
Biden returned to the White House late on Wednesday afternoon from the swearing-in ceremony, laying a wreath on the grave of the unknown soldier in Arlington and inspecting a parade.
And right away he started signing the orders that sweep aside Trump's pandemic response, and reverse his environmental agenda and anti-immigration policies. He also took steps to boost the American economy and promote ethnic and religious diversity across the nation.
In pictures: Top moments from the Biden-Harris swearing-in ceremony
In one afternoon, Biden signed 17 executive orders, memorandums and proclamations from the Oval Office, including orders to rejoin the Paris Climate Accord and end the Muslim ban.
In a tweet from the official Twitter account for the US president, Biden simply said: "We're back in the Paris Climate Agreement."
Meanwhile, Biden's point-man for fighting the pandemic, Jeff Zients, said the US would also rejoin the World Health Organisation, reversing his predecessor's decision. He added that top US expert Anthony Fauci would lead a delegation to the WHO executive board meeting on Thursday.
While efforts aimed at ending his legacy may hurt Trump, the coup de grâce came from a 22-year-old poet, Amanda Gorman whose words rekindled the hope for a better future in millions of hearts across the globe.
"We've seen a force that would shatter our nation rather than share it, would destroy our country if it meant delaying democracy, and this effort very nearly succeeded. But while democracy can be periodically delayed, it can never be permanently defeated," said Gorman while referring to the Jan 6 mob attack on the US capitol.
"For there is always light, if only we're brave enough to see it, if only we're brave enough to be it," said the young poet while reciting her poem "The Hill We Climb".
Gorman, the youngest person ever to recite a poem at a presidential inauguration, "delivered her piece with grace, the words it contained will resonate with people the world over: Today, tomorrow, and far into the future," the BBC commented.
In the poem, Gorman described herself as "a skinny black girl descended from slaves and raised by a single mother [who] can dream of becoming president, only to find herself reciting for one".
Every time it is recited, it will also remind people of the attack on the Capitol earlier in January, that former president Trump instigated, which almost derailed American democracy.
As Gorman finished her poem, four US presidents and first ladies, two former vice presidents and their spouses, dozens of lawmakers and scores of diplomats gave her a standing ovation, some struggling to hide their tears.
"Wasn't the Amanda Gorman poem just stunning?" asked Hillary Clinton in a tweet she posted along with a picture with the young poet. "She's promised to run for president in 2036 and I for one can't wait."
"With her strong and poignant words, Amanda Gorman reminds us of the power we each hold in upholding our democracy," wrote Michelle Obama. "Keep shining, Amanda! I can't wait to see what you do next!"
Biden, who spoke before Gorman, also offered hope and reassurance.
"We must end this uncivil war that pitches red versus blue, rural versus urban, conservative versus liberal," said President Biden while referring to the Jan 6 mob attack on the very building — the Capitol — where he took the oath of his office.
Biden also led a moment of silence for the lives lost to the Covid-19 pandemic.
"A once-in-a-century virus that silently stalks the country. It's taken as many lives in one year as America lost in all of World War II. Millions of jobs have been lost, hundreds of thousands of businesses closed," he said.
The 78-year-old politician made history as the oldest person to ever be elected as the American president. Momentous, as his swearing-in was, particularly after the attack on the US Capitol, the other oath, that of Vice President Kamala Harris, was even more significant.
She stepped into history as the first woman, the first African American and the first South Asian vice president of the United States. The oath was administered by Justice Sonia Sotomayor, the first Latin American judge of the US Supreme Court.
As Vice President Harris struggled to control her tears, her sister Maya did not. She broke into tears as Kamala said after the judge: "So, help me God."
The small crowd gathered for the inauguration included three former presidents — Bill Clinton, George W. Bush and Barack Obama. Former vice president Mike Pence represented the Trump administration after Trump decided not to see his successor take the office he occupied until Wednesday morning.
Pence received a warm applause as he walked onto the stage as the man who on Jan 6 ignored the orders of his boss to undo the results of the 2020 election for Trump to stay in power for four more years.
Another person who thwarted this attack on American democracy, Republican leader in the Senate Mitch McConnell, attended the inauguration as well. He also accompanied Biden to a church near the White House to pray.
A sea of flags, exactly 200,000, filled the National Mall from the stage to Lincoln Memorial, to remind people of those who lost their lives to the Covid-19 pandemic.
By Wednesday morning, the coronavirus death toll in America had crossed 400,000, which forced the organisers of the inaugural ceremony to issue an unusual appeal to the people, not to come.
Trump left the White House at 8:00am, four hours before the inauguration began. He flew to the Andrews air base on a helicopter, where he had arranged a full military send-off for himself.
Before leaving, he addressed a small crowd of his enthusiastic supporters, telling them that he will "come back soon," a promise he also made to the White House press corps before leaving for the airbase. But he did not explain what he meant.
In his speech, Trump underlined his achievements — the coronavirus vaccine, a booming economy and enhancing America's standing across the globe. But he did not even once mention his successor.
However, he did leave a goodwill message for Biden before leaving the White House.
Trump received a 21-gun salute before boarding Air Force One, the presidential plane, that took him to his home in Florida for the last time. Pence and other senior Republicans did not attend his send-off ceremony, although his daughter Ivanka and her husband Jared Kushner did.
Biden took the oath on a five-inch-thick Bible that has been in his family for 128 years, swearing to "preserve, protect and defend the Constitution".
"The ceremony on a chilly, breezy day with a smattering of snowflakes brought to a close the stormy and divisive four-year presidency of Trump," The New York Times commented.
After the oath, Biden drove to the Grave of the Unknown Soldier at the Arlington cemetery with the three former presidents and their spouses.
https://www.dawn.com/news/1602722/as-promised-biden-lifts-muslim-ban-on-his-first-day-in-office
--------
Haridwar Seer Community Seeks Strict Action Against Web Series 'Tandav' For Waging 'Cinema Jihad'
Jan 21, 2021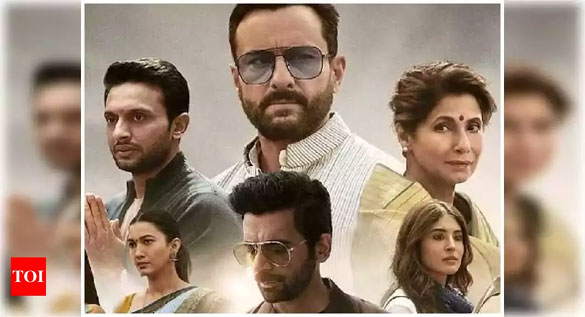 Haridwar: The seer community in Haridwar has demanded "strict action" against makers of web series 'Tandav' and rejected the apology offered by them for having hurt religious sentiments. The seers said they saw an "organised effort" by filmmakers to malign the Hindu community and termed the trend "cinema jihad". They added that they will put pressure on the government to "strictly regulate such attempts."
Mahant Narendra Giri, president of Akhil Bharatiya Akhada Parishad (ABAP), the apex body of seers representing the 13 Akhadas of the country, said that law should be made to regulate content on online platforms. "Filmmakers have no right to hurt the sentiments of a community. Law enforcement agencies should examine such content but unfortunately they, too, have been lax. We have asked the government to take action in the matter and make a law to censor content on online platforms," Giri said.
Mahant Vinod Giri of the Juna Akhada of Naga sanyasis said, "We will not tolerate 'cinema jihad' and do not accept the so-called apology from 'Tandav' makers."
Added Mahant Jasvinder Singh of the Nirmal Akhada: "Nothing less than (ban) that will satisfy us."
https://timesofindia.indiatimes.com/city/dehradun/haridwar-seers-seek-action-against-tandav-for-waging-cinema-jihad/articleshow/80371004.cms
--------
Maulana Fazl ur Rehman Led Pakistan Right-wing JUI-F Denied Permission To Hold Anti-Israel Rally In Karachi
Jan 21, 2021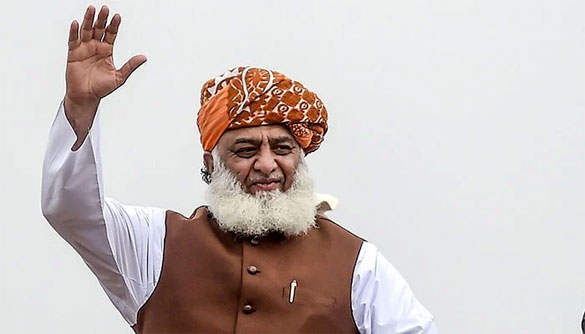 SCREENGRAB - Maulana Fazl ur Rehman
----
ISLAMABAD: The government in Pakistan's southern Sindh province refused on Wednesday to grant permission for an anti-Israel rally planned by the Maulana Fazl ur Rehman-led Jamiat-i-Ulema Islam-Fazl (JUI-F) party in the port city of Karachi.
The rightwing party had submitted a request for a no-objection certificate (NOC) on January 12 seeking permission from the office of the deputy commissioner of Karachi, East. The reason cited for refusal by the local administration was a ban on public gatherings under anti-coronavirus measures in the province.
Earlier this month, the JUI-F announced it would organise a million-man march and a gathering near the mausoleum of Muhammad Ali Jinnah in Karachi on January 21 to condemn Israel and any potential move to establish diplomatic relations with Tel Aviv.
On Monday the maulana had said at a press briefing that the anti-Israel rally would be attended by the anti-government alliance of 11 opposition parties, the Pakistan Democratic Movement (PDM).
According to media reports, the JUI-F leaders have been visiting seminaries in the city seeking support for the planned rally.
The anti-Israel narrative has a significant role in Pakistan's politics since the creation of the country. Following the recognition of Israel by the UAE and Bahrain, the possibility of Islamabad, too, offering recognition was widely discussed in Pakistani media. In November, Prime Minister Imran Khan had even stated that he was facing pressure from foreign leaders to recognise Israel. The political cost of normalisation of relations with Israel are quite high; Khan faced enormous criticism from political rivals over his statement.
Currently, opposition parties have been using this card effectively against Khan, dubbing him as Israel's agent pursuing Tel Aviv's agenda.
https://timesofindia.indiatimes.com/world/pakistan/pakistan-rightwing-jui-f-denied-permission-to-hold-anti-israel-rally-in-karachi/articleshow/80373867.cms
--------
French Muslim Groups Deal Blow To Macron's Anti-Extremism Charter Dealing A Blow To A Flagship Initiative Of President Emmanuel Macron
Jan 21, 2021
PARIS: Three Muslim groups refused on Wednesday to back an anti-extremism charter pushed by French officials following a spate of jihadist-inspired attacks, dealing a blow to a flagship initiative of President Emmanuel Macron's government.
The charter rejects "instrumentalising" Islam for political ends and affirms equality between men and women, while denouncing practices such as female circumcisions, forced marriages or "virginity certificates" for brides.
French Council of the Muslim Faith (CFCM), a body set up almost 20 years ago to enable dialogue between the government and the Muslim community, broadly welcomed the charter and five of its eight federations signed on Sunday.
However, the other three groups said on Wednesday they could not join their colleagues.
"We believe that certain passages and formulations in the text submitted are likely to weaken the bonds of trust between the Muslims of France and the nation," the three groups said in a statement.
"Furthermore, some statements are prejudicial to the honour of Muslims, with an accusatory and marginalising tone."
Macron had railed against the promotion of "political Islam" in France in November last year after a teacher was beheaded outside his school.
He had shown pupils cartoons of the prophet Mohammed as part of a free-speech lesson.
The attack prompted a crackdown against extremist mosques and Islamist associations, along with a vigorous defence of French secularism.
Macron said this week that the charter offered "a clarification of how the Muslim community is organised".
It will also provide a framework for a new National Council of Imams that will be responsible for vetting imams practising in the country.
The three groups -- two of which are Franco-Turkish organisations and the other which describes itself as a teaching and cultural group -- said they would be willing to sign up only after a "broad, democratic and participatory consultation".
"In order to adopt this charter, we must recognise ourselves in its content. It would not be useful to sign a text that our community cannot serenely accept," they wrote.
A government source said the groups' refusal would not weaken the process, adding that "the masks are coming off".
"An important clarification is being made," the source said.
"We see who is capable or not of signing a charter that simply recalls the values of the Republic and in particular the values of liberty and freedom of conscience."
https://timesofindia.indiatimes.com/world/europe/french-muslim-groups-deal-blow-to-macrons-anti-extremism-charter/articleshow/80378335.cms
--------
Khashoggi 2?: Brother of Detained Saudi Activist, Loujain al-Hathloul, Accuses Riyadh of Trying to Murder Him
2021-January-20
The activist accused the Saudi Embassy in Canada of trying to lure and liquidate him like Khashoggi, noting that he has recordings confirming the allegations.
"[Crown Prince] Mohammad bin Salman wants to punish the whole family, and the proof is that the Embassy in Canada and the Ministry of Foreign Affairs refuse to renew my passport," he said on his Twitter account.
Walid added that he has been told he must go to the embassy in person, while the process can be done remotely.
Alia, his sister, strongly deplored the Riyadh approach toward her family, stating that "this is not the mentality of a modern country that wants to build city for aliens - referring to the smart city The Line as a part of Saudi Vision 2030 project - this is the mentality of a farmowner".
Another sister, Lina, wrote on Twitter that they have "recordings of the calls in which the Saudi embassy tries to lure Walid to the embassy".
"Do we have to publish these calls in order for Saudi to renew my brother's passport in a legal way?" she threatened.
Responding to the Riyadh's effort to silence dissidents, Madawi al-Rasheed, the well-known human rights activist, stated, "The Saudi authorities are exercising collective punishment and increasing the number of asylum seekers around the world."
Political activis Bill Browder also reminded Khashoggi's fate after entering the Saudi Embassy in Turkey, and wrote on Twitter, "We all know what happens when they lure dissidents to their embassy."
The story came just days after a Saudi terrorism court sentenced Loujain, Walid's sister, to five years and eight months in prison on terrorism-related charges, despite international criticism of her detention and pressure to release the prominent women's rights activist. Loujain was kidnapped and detained in 2018.
This is not the first time Riyadh has attempted to murder its opponents. MbS has been accused of sending a hit-squad to Canada in order to kill a former Saudi intelligence official. The failed plan to kill Saad al-Jabri, an exiled former aide to former Saudi Crown Prince Mohammad bin Nayef, was soon after the murder of Khashoggi in Turkey, court documents filed in the US alleged.
In early October 2018, Khashoggi, a well-known journalist in the Arab world who also wrote opinion pieces for The Washington Post, was killed after he entered the Saudi consulate in Istanbul to obtain documents to marry his Turkish fiancee. His body was dismembered and never recovered. Riyadh eventually admitted the 59-year-old had been killed by Saudi agents in what it claims was an extradition operation gone wrong, but MbS has always denied any involvement or knowledge of the killing. CIA has concluded that the young crown prince personally ordered the killing of Khashoggi.
https://www.farsnews.ir/en/news/13991030000808/Khashggi-2-Brher-f-Deained-Sadi-Acivis-Accses-Riyadh-f-Trying-Mrder
--------
Afghan VP pushes for execution of Taliban prisoners
SAYED SALAHUDDIN
January 19, 2021
KABUL: Afghanistan's First Vice President Amrullah Saleh on Monday demanded the execution of Taliban prisoners as violence surges in the country in spite of US-sponsored talks between the government and the militants.
Under mounting US pressure and following months of delay, Kabul released last summer thousands of Taliban prisoners from its custody as part of the landmark accord between the group and Washington.
But now there has been a spike in arrests of suspected Taliban fighters linked with recent attacks.
"These arrests should be executed so that it becomes a lesson for others," Saleh told a routine security meeting in Kabul.
"The arrested like nightingales admit (to conducting attacks), but their all hope is that they will be freed one day without real punishment … any terrorist detainee should be executed."
Known as the staunchest anti-Taliban leader in government and consistently opposed to talks with the Taliban, Saleh said he would raise his demand for the executions in the High Council of the Judiciary. His spokesman, Rezwan Murad, said the first vice president has also shared his demand with President Ashraf Ghani.
"Currently, around 1,000 Taliban prisoners have been sentenced to capital punishment," Prison Administration spokesman in Kabul, Farhad Bayani, told Arab News.
"Such news is provoking, he wants to sabotage the process of talks," said Zabihullah Mujahid, a Taliban spokesman, when reached by Arab News for reaction to Saleh's push.
"We will severely take the revenge of any type of inhuman and cruel treatment of our prisoners."
The Afghan government was excluded from the US and Taliban deal signed last February in Doha, which as per the agreement is also hosting the current peace talks between Kabul and the insurgents.
In spite of the ongoing talks, violence has surged in Afghanistan and both the government and the Taliban accuse each other for its escalation.
Hundreds of civilians have lost their lives in the violence, which has displaced tens of thousands of people since the February deal, while Kabul has endured a resurgence in assassination attacks and magnet bombs.
Prior to Saleh, some residents and lawmakers also demanded the executions of Taliban members suspected of being behind major attacks. Heather Barr, interim co-director for Human Rights Watch, told Arab News: "Human Rights Watch opposes the use of the death penalty under all circumstances. It is a uniquely cruel and irreversible punishment and we are glad to see that there has been some global progress towards abolition of the death penalty."
She added: "Afghanistan has already seen so much violence and death and continues to experience this violence every day. There is an urgent need for accountability for the many human rights violations that have been inflicted during Afghanistan's many years of war, but executions will not bring the justice Afghans so badly need."
https://www.arabnews.com/node/1794856/world
--------
Indonesia's Islamic body deems Sinovac vaccine 'holy and halal'
1/20/2021
Indonesian Ulema Council, the country's top Islamic body, has deemed China's Sinovac COVID-19 vaccines permissible under Islamic law, giving a boost to the government as it prepares to start a mass vaccination program next week.
The council, known as MUI, announced on Friday that the vaccines developed by China's Sinovac Biotech are "holy and halal" after a meeting of its Halal Certification Commission. The decision comes on the same day as the archipelago nation registered its highest ever daily increase in COVID-19 cases, and could prove to be an important step in a country where religion has clashed with vaccination attempts in the past due to jabs often containing porcine content.
Indonesia reported 10,617 new cases on Friday, taking the cumulative total to 808,340 confirmed cases. This is the first time that the country has reported a daily increase above 10,000. There were 233 additional deaths reported, taking the total to 23,753.
The country has received 3 million vaccine doses from Sinovac, and as of Wednesday, 1.2 million doses had been distributed to 34 provinces. The government is planning to begin its mass vaccination program next Wednesday, starting with President Joko Widodo and then 1.3 million healthcare workers.
Unlike other countries that have begun vaccinating its vulnerable, elderly population first, Indonesia is prioritizing its working age population, or those in the 18 to 59 age group. The president is 59. Meanwhile, Vice President Ma'ruf Amin, who is 77 years old, will not be receiving the vaccination for now, according to his spokesperson.
The country's food and drugs agency will still need to give approval for emergency use of the drug for the vaccination program to begin. The health ministry has set a target of vaccinating 181 million of Indonesia's 270 million people in 12 months to reach herd immunity.
Health workers check boxes containing coronavirus vaccines developed by China's Sinovac Biotech after they arrived in Bali, Indonesia, Thursday, Jan. 7, 2021. © AP
The Islamic body said that it would not be able to issue a final fatwa — a religious edict — yet on the vaccine, as its safety, quality and efficacy would need to be checked by the food and drugs agency.
MUI will also need to decide whether to give halal status to vaccines other than Sinovac's, if and when they arrive in the country.
Indonesia has so far managed to secure 229 million doses of COVID-19 vaccines from Sinovac, Novavax and global vaccine program COVAX. It is in talks to secure 50 million doses each from AstraZeneca and Pfizer.
While Sinovac has already assured Bio Farma, Indonesia's state-owned drug maker in charge of distributing the shots, that they do not contain ingredients derived from pork, MUI's decision will reassure Indonesia's Muslims that accepting the jab means they are not running against their beliefs, and should make it easier for the government to run its vaccination program.
Indonesia has the largest Muslim population in the world, with 90% of its 270 million population adhering to Islam.
Whether or not vaccines adhere to Islamic teachings had been a source of controversy in the past, including in 2018, when MUI's local chapter in the Riau Islands asked the local health agency to postpone the national measles and rubella vaccination program, pending a halal certification.
Concern among the Muslim population spread, leading to low vaccination rates in some parts of the country. MUI then issued a fatwa that gave a mixed message; it deemed the MR vaccines used in the program as haram, or forbidden, as they contained porcine components, but that their use was permitted because so far there is no MR vaccine that is halal.
According to a local report at that time, MR vaccination rates outside of Java, Indonesia's most populous island, stood at around 66%, well below the coverage target of 95%. In Aceh, a province run on sharia law, the rate stood at just 8%.
In neighboring Malaysia, where the official religion is Islam, the country's health director-general previously said that it was not necessary for COVID-19 vaccines to be halal certified, but would be better if the manufacturers made them so.
https://menafn.com/1101464349/Indonesias-Islamic-body-deems-Sinovac-vaccine-holy-and-halal
--------
Iranian Army Tests New Home-Made Electro-Optic System in Drills
2021-January-20
The Army Ground Force tested the electro-optic system in real combat conditions against hypothetical enemy targets in the drills on Wednesday.
The Ground Force used the mobile electro-optic system on the second day of the drills in order to precisely monitor different areas and the wargames zone.
The system, which has been designed and built by experts in the Army Ground Force, can transmit images taken in pitch dark to all remote control and command centers.
It can also combine radar and optical data.
The Army Ground Force also employed an indigenous mobile Geographic Information System (GIS) during the drills to facilitate the control and command of operations and the preparation and production of various geographical data and operational maps.
The system provides the commanders with their essential requirements for controlling and commanding operations in remote and operational zones as well as training areas.
Meantime, during the second day of Eqtedar 99 drills, the drone unit of the Iranian Army Ground force used different drones, including the upgraded Mohajer drone, for reconnaissance operations to monitor the foreign vessels in international waters within the area of the wargames zone.
Also, Brigade 223 of the Ground Force carried out airborne and invasion operations along the coastal lines and returned to their bases by the Airborne Unit's helicopters rapidly.
Deputy Commander of the Iranian Army Ground Force and Spokesman of the Drills Brigadier General Kiomars Sharafi said on Wednesday that dissuading the enemies from making any threat to powerful Iran is the message of the massive Eqtedar 99 drills.
He reiterated that Iran's Army Ground Force is ready to respond to any threat and invasion of enemies against the country with its utmost power and in the shortest time possible.
He elaborated on the operations conducted on the first day of the large-scale drill, and added, "In the beginning of the military exercises, a large number of rapid action forces landed on the target positions from the sky in joint airborne operations and after deploying heavy equipment of the 55th Airborne Brigade, paratroopers destroyed the intended target using combat personnel carriers with the support of rocket launchers."
Rapid movement through transport planes of the Islamic Republic from distant places to the drills zone was the salient specification of this large-scale operation which was carried out by the forces of 55th Airborne Brigade of Iran's Army Ground Force with very precise planning and in the shortest time, he stated.
During the operations, divers from the 65th Special Forces Rapid Reaction Brigade infiltrated surface and subsurface positions through free fall and destroyed designated targets.
Following this operation, helicopters equipped with night vision systems, missiles, and rocket launchers as well as offensive artillery will carry out the planned operation in support of this operation, the brigadier general continued.
He pointed to the message of this large-scale drill, and added, "The message of Eqtedar 99 drills to friendly countries is peace and for enemies is that if there is aggression or threat in their minds, we will respond to any aggression with might and power and in the shortest possible time and will make them regret of their deeds."
The Iranian Army Ground Force started wargames, codenamed Eqtedar 99, in the country's Southeastern regions on Tuesday morning.
The drills are participated by the airborne units, special forces and rapid reaction brigades, and Army Chief Commander Major General Abdolrahim Mousavi, Army Ground Force Commander Brigadier General Kiomars Heidari and other senior military officials.
According to General Heidari, the offensive wargames will involve rapid reaction units and mobile and offense brigades.
He said the troops attending the drill will be receiving logistical and combat support from the Air Force and the Army Ground Force Airborne Division in the coastal areas.
General Heidari noted that the main purpose of the wargames is to evaluate the mobility and offense power of the rapid reaction brigades and corps and the mobile offense units of the Army Ground Force.
https://www.farsnews.ir/en/news/13991101000780/Iranian-Army-Tess-New-Hme-Made-Elecr-Opic-Sysem-in-Drills
--------
North America
White House says Biden will be discussing Iran with foreign allies
21 January 2021
The United States seeks to lengthen and strengthen the nuclear constraints on Iran through diplomacy and the issue will be part of President Joe Biden's early talks with foreign counterparts and allies, White House Press Secretary Jen Psaki said.
Biden has said that if Tehran resumed strict compliance with the 2015 nuclear agreement - under which Iran restrained its nuclear program in return for relief from economic sanctions - Washington would too.
"The president has made clear that he believes that through follow-on diplomacy, the United States seeks to lengthen and strengthen nuclear constraints on Iran and address other issues of concern. Iran must resume compliance with significant nuclear constraints under the deal in order for that to proceed," Psaki said in a briefing.
"We would expect that some of his earlier conversations with foreign counterparts and foreign leaders will be with partners and allies and you would certainly anticipate that this would be part of the discussions," Psaki added.
Former President Donald Trump abandoned the Iran nuclear deal in 2018 and Iran in return has gradually breached its key limits, building up its stockpile of low enriched uranium, enriching uranium to higher levels of purity and installing centrifuges in ways barred by the deal.
On Tuesday, Biden's nominee for secretary of state Antony Blinken said Washington did not face a quick decision on whether to rejoin the nuclear deal and the Democratic president would need to see what Iran actually did to resume complying with the pact.
https://english.alarabiya.net/en/News/middle-east/2021/01/21/White-House-says-Biden-will-be-discussing-Iran-with-foreign-allies
--------
We must end this uncivil war: Biden says amid political polarization, pandemic
21 January 2021
New US President Joe Biden has called for an end to "uncivil war" in the United States, offering a message of restoration to a deeply divided country reeling from political polarization, a battered economy and a raging coronavirus pandemic that has killed more than 400,000 Americans.
Biden called for a return to civic decency in an inaugural address marking the end of Trump's tumultuous four-year term.
"To overcome these challenges, to restore the soul and secure the future of America, requires so much more than words. It requires the most elusive of all things in a democracy: unity," Biden said after taking the oath of office.
"We must end this uncivil war that pits red against blue, rural versus urban, conservative versus liberal. We can do this - if we open our souls instead of hardening our hearts."
Saying there was "no time to waste," Biden, a Democrat, signed a slew of executive actions shortly after entering the White House on Wednesday afternoon to set a new course and overturn some of Trump's most controversial policies.
Biden also spoke forcefully about the January 6 Capitol siege when Trump backers breached the building, sending lawmakers fleeing for safety and leaving five dead.
The violence prompted the Democratic-controlled US House of Representatives to impeach Trump last week for an unprecedented second time, accusing him of "incitement of insurrection" after he asked his supporters to march on the building to press claims of election fraud.
"Here we stand, just days after a riotous mob thought they could use violence to silence the will of the people, to stop the work on our democracy, to drive us from this sacred ground," Biden said. "It did not happen; it will never happen. Not today, not tomorrow, not ever."
Biden assumes office as the country faces what his advisers have described as four compounding crises: the pandemic, the economic downturn, climate change and racial inequality.
"I pledge this to you: I will be a president for all Americans," he said. "And I promise you I will fight as hard for those who did not support me as for those who did."
The pandemic reached a pair of grim milestones on Trump's final full day in office, reaching 400,000 US deaths and 24 million infections - the highest of any country. Millions of Americans are out of work because of pandemic-related shutdowns and restrictions.
https://www.presstv.com/Detail/2021/01/21/643522/US
--------
12 National Guard Members Removed From Inauguration Duties Amid Extremist Threats
By Eric Schmitt and Helene Cooper
Jan. 19, 2021
WASHINGTON — Twelve National Guard members have been removed from duties related to the inauguration of President-elect Joseph R. Biden Jr., two of them for expressing anti-government sentiments, Defense Department officials said on Tuesday.
Two of the members were removed over texts and social media posts that made threatening comments toward political officials, Pentagon officials said. They declined to specify the exact nature of the threats.
"I will share that they were inappropriate," Gen. Daniel R. Hokanson, the chief of the National Guard Bureau, told reporters during a telephone briefing.
Two officials described the texts as broad in nature — not directed specifically at Mr. Biden or Vice President-elect Kamala Harris, but rather at lawmakers as a whole. One of the service members removed, the officials said, made a point of expressing support for President Trump in addition to making menacing comments.
General Hokanson said that one case was reported by the service member's chain of command and that the other was flagged through a tip to a hotline.
The other 10 National Guard members were removed for a wide variety of issues — criminal investigations, domestic abuse or outstanding complaints. All 12 members have been sent home, Pentagon officials said.
The announcement of the removals came as the Pentagon was intensifying efforts to identify and combat white supremacy and other far-right extremism in its ranks, and as federal investigators sought to determine how many military personnel and veterans joined the violent assault on the Capitol on Jan. 6. The effort seems intended to remove any members whose social media posts or past actions raise suspicion.
General Hokanson noted that the authorities were not taking any chances one day before the inauguration and as investigators have expressed concerns that some extremists may try to impersonate National Guard members by wearing military uniforms.
"At this point we don't have the time to run down every single piece of information," he said. "But there's enough information for us to determine to remove them from the Capitol."
General Hokanson and other Pentagon officials took pains to say that most National Guard members — volunteer citizen-soldiers — put their lives on the line at home and abroad to protect the United States and the Constitution.
Senator Jack Reed, Democrat of Rhode Island and the likely new chairman of the Armed Services Committee, said in a statement that the men and women of the National Guard "put their lives on hold to answer the call to service."
"They will defend the U.S. Capitol with their lives," he said, "and I trust them implicitly with mine."
The acting defense secretary, Christopher C. Miller, said on Sunday that the F.B.I. was helping the military vet more than 25,000 National Guard members being deployed to help protect the Capitol and areas in central Washington because of potential security concerns.
All military personnel, including those in the National Guard, undergo extensive background investigations and physical examinations, including assessments of tattoos. They are continuously monitored for indications that they are involved in extremist activity and receive training to identify others around them who could be "insider threats."
Pentagon and National Guard officials said on Tuesday that existing vetting procedures were sufficient to identify and weed out violators. "I don't see any current change in policies," General Hokanson said.
Lloyd J. Austin III, Mr. Biden's pick for defense secretary, acknowledged during his confirmation hearing on Tuesday that extremists in the military were a problem and said their removal would be a priority if the Senate confirmed him. "The job of the Department of Defense is to keep America safe from our enemies," he said. "But we can't do that if some of those enemies lie within our own ranks."
General Austin added later, "We can do a better job of screening the folks we bring in."
The F.B.I. investigation into the Capitol rampage, still in its very early stages, has identified at least six suspects with military links out of the more than 100 people who have been taken into federal custody or the larger number still under investigation. They include a retired Air Force lieutenant colonel from Texas, an Army officer from North Carolina and an Army reservist from New Jersey. Another person who served in the military was shot and killed in the assault.
The military's examination of its ranks is a turning point for the Pentagon, which has a history of downplaying the rise of white nationalism and right-wing activism, even as Germany and other countries are finding a deep strain embedded in their armed forces.
Federal officials are vetting thousands of National Guard members arriving to help secure the inauguration. Of the 25,000 Guard personnel who are in Washington, any who will be near Mr. Biden or Ms. Harris will receive additional background checks, a standard procedure to counter insider threats that was also taken before Mr. Trump's inauguration in 2017.
In addition to the National Guard members, the Pentagon plans to deploy about 2,750 active-duty personnel in support of the event. About 2,000 of them will perform ceremonial duties in military bands, color guards and a salute-gun battery, and serve as sentries and ushers.
The remaining 750 are members assigned to specialized units dealing with chemical, biological, nuclear or radiological threats; bomb squad technicians; medical personnel (including those conducting coronavirus testing in support of the attending physician of Congress); and logistics and communications support personnel.
Coast Guard helicopters and vessels will be in the air and nearby waterways.
Air Force fighter jets stationed at Joint Base Andrews in Maryland will be aloft over the region. The air space over the Capitol, the National Mall and the rest of the city will be even more restricted than usual, Pentagon officials said.
https://www.nytimes.com/2021/01/19/us/politics/national-guard-capitol-biden-inauguration.html?utm_source=iterable&utm_medium=email&utm_campaign=1918742_
--------
US 'terrorist' designation of Yemen's Houthis comes into effect
19 Jan 2021
A leading humanitarian aid group working in Yemen is once more raising alarm over the effects that the Trump administration's "terrorist" designation of Yemen's Houthi rebels will have on civilians in the war-torn country.
Just days before United States President Donald Trump was set to leave office, his administration announced plans to label the Houthis a "foreign terrorist organization" – effectively barring US citizens and entities from interacting financially with the group.
The designation came into effect on Tuesday, just as the US Treasury Department released details of limited licensing exemptions to the restrictions.
The department said licences would be available, among other things, to authorise "the official activities of the US government and certain international organizations, such as the United Nations and the International Committee of the Red Cross". It also said the export of agricultural commodities, medicine, and medical devices would be exempt.
But the Houthis control large swathes of territory in Yemen – and Joel Charny, executive director of Norwegian Refugee Council USA, told Al Jazeera on Monday that the licensing system "is not a panacea".
"The key is that material support is broadly defined," Charny said. "There's no licence … that provides cover for all types of support that might be provided to an organisation that controls territory the way the Ansar Allah movement [the Houthis] does in northern Yemen."
Chilling effect
For months, international aid groups providing much-needed aid to civilians hard hit by a devastating conflict in Yemen have warned that their work could be disrupted by the US designation of the Houthis – and urged the Trump administration not to do it.
But US Secretary of State Mike Pompeo on January 10 said the measure aimed "to hold Ansarallah accountable for its terrorist acts, including cross-border attacks threatening civilian populations, infrastructure, and commercial shipping".
The war in Yemen began in late 2014 when the Houthis seized control of much of the country, including Sanaa, the capital.
The conflict escalated in March 2015 when Saudi Arabia and the United Arab Emirates assembled a US-backed military coalition in an attempt to restore the government of President Abd-Rabbu Mansour Hadi.
Charny said the "terrorist" designation would hamper the work of humanitarians working in Houthi-controlled areas, as well as have a chilling effect on private companies bringing in critical supplies.
"This designation is going to put the fear of God in the private sector and food deliveries," Charny told Al Jazeera, explaining that Yemen imports 90 percent of its food.
"So if you're a shipowner in the Gulf or if you're a shipowner that's been working with the [World Food Programme] to carry food into Yemen, are you going to want to continue to do this under the threats that are posed by US sanctions?"
He also said it remained unclear whether banks would still be willing to transfer money to Yemen, or whether Yemenis abroad would be able to send money to their relatives inside the country, once the designation is enforced.
A United Nations spokesman also expressed ongoing concern on Tuesday about the consequences of the designation.
"Our concern from the beginning … is the impact on the commercial sector and that the vast majority of food and other basic supplies that come into Yemen comes in through the commercial sector," said Stephane Dujarric, as reported by Reuters.
'Day one' priority for Biden?
Human rights and humanitarian groups, as well as US lawmakers, are also urging incoming US President Joe Biden, who will be inaugurated on Wednesday, to rescind the designation.
The United Nations' humanitarian chief last week called for the US to reverse the decision, saying it could lead to "large-scale famine on a scale that we have not seen for nearly 40 years".
Biden's incoming national security adviser also recently slammed the move.
"Houthi commanders need to be held accountable, but designating the whole organization will only inflict more suffering on Yemeni people and impede diplomacy critical to end the war," Jake Sullivan tweeted on January 16.
Biden's nominee to be the next US Secretary of State, Antony Blinken, said during a Senate confirmation hearing on Tuesday that the incoming administration "would propose to review" the designation "immediately" to ensure it is "not impeding the provision of humanitarian assistance".
"At least on its surface, it [the designation] seems to achieve nothing particularly practical in advancing the efforts against the Houthis and to bring them back to the negotiating table, while making it even more difficult than it already is to provide humanitarian assistance to people who desperately need it," Blinken said.
Charny said he hoped Biden would overturn the Houthi designation on his first day in office because the longer the designation remains in force, the harder it will be to overturn and stave off its devastating effects.
"We're saying it's a day-one task," Charny said, "and believe me, the Biden administration has many of these."
https://www.aljazeera.com/news/2021/1/19/us-houthi-terrorist-designation-comes-into-effect?utm_source=iterable&utm_medium=email&utm_campaign=1918742_
--------
U.S. soldier accused of wanting to plot ISIS strike on 9/11 Memorial in New York City
Jan. 20, 2021
By Jonathan Dienst, Tom Winter and Elisha Fieldstadt
A U.S. soldier was arrested Tuesday for allegedly saying he wanted to help ISIS strike the 9/11 Memorial in New York City and attempting to help ISIS to target U.S. soldiers in the Middle East, according to senior law enforcement officials.
The officials say Cole James Bridges, 20, from Stow, Ohio, allegedly went into an online forum and chatted with a person he thought was with ISIS, but was in fact an FBI undercover agent.
Bridges is currently assigned to Fort Stewart in Georgia with the 3rd infantry division of the Army. He was arrested on charges of attempting to provide material support to a designated foreign terrorist organization and attempting to murder U.S. military service members. He faces up to 40 years in prison.
"When any Soldier attempts to provide sensitive or classified information to an adversary, it is a betrayal of the oath they swore to the United States and the duty owed to their fellow Soldiers," an Army spokesperson said in a statement.
A criminal complaint alleges that Bridges started "researching and consuming online propaganda promoting jihadists and their violent ideology" and expressing his support for ISIS on social media beginning in at least 2019. He joined the Army around September of that year.
In October, he started talking with an undercover FBI agent posing as an ISIS supporter in contact with ISIS fighters in the Middle East.
Bridges expressed his frustration with the Army and gave the undercover agent guidance for attacking U.S. soil, "including advice about potential targets in New York City, such as the 9/11 Memorial," according to a statement from the U.S. Attorney's Office in the Southern District of New York.
He also handed over U.S. Army training material and "guidance about military combat tactics, for use by ISIS," the statement said.
In December of 2020, Bridges started supplying the agent with instructions for ISIS fighters to attack U.S. forces in the Middle East. In one instance, he told the agent how to wire some ISIS buildings with explosives to kill U.S. troops, according to the statement. Bridges also "diagrammed specific military maneuvers intended to help ISIS fighters maximize the lethality of attacks on U.S."
Earlier this month, Bridges sent the agent a video of himself in body armor, standing in front of an ISIS flag and making a gesture symbolic of ISIS support.
Acting U.S. Attorney Audrey Strauss said in a statement, "Cole Bridges betrayed the oath he swore to defend the United States by attempting to provide ISIS with tactical military advice to ambush and kill his fellow service members. Our troops risk their lives for our country, but they should never face such peril at the hands of one of their own."
FBI Assistant Director William F. Sweeney Jr. said, "Bridges could have chosen a life of honorable service, but instead he traded it for the possibility of a lengthy prison sentence."
Attempts to reach a possible attorney for Bridges were unsuccessful Tuesday afternoon.
He is expected to appear in federal court in Georgia on Thursday.
https://www.nbcnews.com/news/us-news/u-s-soldier-accused-wanting-plot-isis-strike-9-11-n1254743?utm_source=iterable&utm_medium=email&utm_campaign=1918742_
--------
Lloyd Austin, Biden's nominee to lead Pentagon, vows to take on extremism in the military
By Missy Ryan and Paul Sonne
Jan. 20, 2021
Retired Gen. Lloyd J. Austin III vowed Tuesday to eradicate extremism in the ranks if confirmed as the next defense secretary, as the Pentagon struggles to address a growing internal threat in the wake of this month's riot at the U.S. Capitol.
"We can never take our hands off the wheel on this," Austin, who would become the country's first African American Pentagon chief, told lawmakers considering his nomination by President-elect Joe Biden. "This has no place in the military of the United States of America."
Austin, who before his 2016 retirement served as head of U.S. Central Command and previously commander of U.S. troops in Iraq, made reference to a consequential episode earlier in his career when, as a young officer in the 82nd Airborne Division, a network of skinhead soldiers was uncovered following the murder of an African American couple near the division's base.
Nearly two dozen soldiers were later found to have links to neo-Nazi or extremist groups. A distressing realization, Austin said, was that military leaders hadn't picked up on signs about the threat. "We just didn't know what to look for," he said.
Austin's reference to the 25-year-old incident signifies the urgency of the military's challenge today in identifying and addressing anti-government and racist currents, among the numerous issues he will face if he becomes Biden's Pentagon chief.
Austin, who since his retirement has stayed out of the political fray, will face a host of other challenges, including accelerating the effort to effectively compete against China, winding down insurgent wars, and repairing defense alliances strained by hostility from President Trump. He will also have to grapple with a flattened defense budget and improve morale among a Pentagon workforce buffeted by leadership upheaval.
Before any of that can occur, however, Austin must surmount an additional hurdle in the form of attaining a congressional waiver to a requirement that defense secretaries be out of the military for at least seven years.
After Trump's election in 2016, lawmakers voted to approve a waiver for Jim Mattis, another former commander who had been retired for less than seven years, as defense secretary — only the second time such an exception had been granted. But some Democrats voiced discomfort with the move, fretting that it would undermine the U.S. tradition of civilian control of the military.
"I know that being a member of the president's Cabinet — a political appointee — requires a different perspective and unique duties from a career in uniform," Austin said.
While several senators, including Tom Cotton (R-Ark.), Elizabeth Warren (D-Mass.) and Tammy Duckworth (D-Ill.), have said they would oppose granting Austin the waiver, which also needs the approval of the House of Representatives, Austin is expected to receive the dispensation and be confirmed.
Because a final confirmation vote is not expected until Friday at the earliest, David Norquist, currently deputy defense secretary, will serve as acting Pentagon chief until Austin is in place, a transition official said on the condition of anonymity to discuss internal plans.
How effectively Austin can transform into a political being after a long career in uniform remains to be seen. Trump's two confirmed defense secretaries, Mattis and Mark T. Esper, regularly sought to steer the military away from political fights but were sometimes criticized for appearing as if they remained in uniform themselves, citing the apolitical position of the military and "best military advice" despite their inherently political role.
Austin emphasized that he would surround himself by career civilians rather than former military officers, in contrast to Mattis, who filled many of the top-level civilian positions across the Pentagon with former uniformed officers.
Austin, 67, the son of a postal worker and a homemaker from Thomasville, Ga., comes under a renewed congressional spotlight after a career in which he repeatedly broke racial barriers at the department, including serving as the first Black officer to command an infantry division in combat, head Central Command and serve as vice chief of staff of the Army.
"There is kind of a sad commentary here, and that is: It shouldn't have taken us this long to get here. There should have been someone who preceded me," Austin said in a video released by the Biden campaign in which he described pioneering African American troops, including the Tuskegee Airmen and the Montford Point Marines. "My goal is not to be the last."
Austin spoke as the current Pentagon leaders promise to take on what they acknowledge is a serious problem with support for white nationalism and anti-government movements in the military community. The issue has come under renewed scrutiny after the Jan. 6 attempted insurrection at the Capitol, in which a pro-Trump mob including a number of current and former members of the military stormed Congress as lawmakers gathered to certify Biden's electoral win.
On Tuesday, officials said a dozen members of the massive National Guard force assembled to help secure Biden's inauguration had been removed from duty, at least several of whom were believed to have sympathies for anti-government groups.
Austin said that the military should more effectively screen recruits for extremist ties and that it can also make sure leaders across the department are attuned to what their subordinates are doing, reading and thinking to ensure that everyone is embracing the values of the U.S. military.
"I also think we need to do a better job of, once we have people on board, that we are paying attention to them, that we are creating the right kind of environment for them to live in and that they are embracing the values that we think are important in the military and the values that are important for this country," he said.
Austin is also likely to face ongoing scrutiny over his ties to the defense industry, including his position as a member of the board of directors of weapons manufacturer Raytheon, whose bombs have been linked to Saudi airstrikes on civilian sites in Yemen.
Warren pressed Austin on his membership on the boards of Raytheon and United Technologies after retiring from the military. Austin agreed to extend his recusal on matters involving Raytheon for four years and said he wouldn't serve on any defense contractor boards or become a lobbyist after leaving the Pentagon for a second time.
"Quite frankly, I'll be too old to sit on the board of a defense contractor after my service. I have no intent to be a lobbyist, as well," he said.
Warren thanked Austin for being willing to operate under more constraints than are currently required by law. "Going above and beyond what federal law requires, as you are doing here, sends a powerful message that you are working on behalf of the American people and no one else," Warren said.
Before retiring, Austin kept a lower public profile than other senior officers, declining to invite reporters to join his tours of the Middle East, as other Centcom commanders have done. That decision reduced public visibility into the activities of American troops operating in the region. In response to questions on the matter, Austin promised to conduct regular briefings and TV interviews and be open to the media as defense secretary.
https://www.washingtonpost.com/national-security/lloyd-austin-biden-defense-secretary-nominee-/2021/01/19/c23114f6-5a64-11eb-aaad-93988621dd28_story.html?utm_source=iterable&utm_medium=email&utm_campaign=1918742_
--------
Alleged militia leader arrested, officials say, as FBI eyes extremist group suspects after Capitol riot
Jan 20, 2021
An alleged militia leader was arrested Tuesday for being involved in the "planning and coordinating" of the Jan. 6 storming of the Capitol, as the FBI's hones its efforts on extremist groups suspected of being linked to the attack, court papers show.
Thomas Edward Caldwell is one of the multiple alleged militia members to be connected, so far, with the Capitol Hill insurrection. Federal investigators described the 65-year-old Virginia man as having a "leadership role" within a paramilitary group known as the Oath Keepers, according to an affidavit for Caldwell's arrest.
Oath Keepers ‒ identified in court papers as a "loosely organized collection of militia who believe that the federal government has been coopted (s.i.c.) by a shadowy conspiracy that is trying to strip American citizens of their rights" ‒ were seen in photographs on Capitol grounds on Jan. 6.
Investigators scoured Caldwell's Facebook page and found that Caldwell "was involved in planning and coordinating the January 6 breach," the affidavit states. Caldwell allegedly made arrangements for other Oath Keepers to stay in a Virginia hotel, reportedly writing on Facebook: "This is a good location and would allow us to hunt at night if we wanted to."
He references another alleged Oath Keepers leader's potential "call to arms," and adds: "This is one we are doing on our own," according to the affidavit.
Just hours after the insurrection, Caldwell purportedly wrote in a Facebook message: "Us storming the castle. Please share ... I am such an instigator!"
"Proud boys scuffled with cops and drove them inside to hide. Breached the doors. One guy made it all the way to the house floor, another to Pelosi's office," he wrote in a different missive. "A good time."
But his messages didn't stop there, according to authorities.
"We need to do this at the local level," he allegedly wrote in a second message less than a minute later. "We need to do this at the local level. Lets (s.i.c) storm the capitol in Ohio. Tell me when!"
Sources told Fox News he was charged with conspiracy to commit an offense against the U.S. government. Court papers show he was also charged with obstruction of an official proceeding; knowingly entering or remaining in any restricted building or grounds without lawful authority; and violent entry or disorderly conduct.
Caldwell is believed to be the first rioter hit with conspiracy charges. He could not be reached despite several attempts by Fox News.
Among the hundreds who stormed the Capitol on Jan. 6 were eight to 10 people wearing "paramilitary equipment" and clothing that identified them as members of the Oath Keepers, authorities said. They moved "in an organized and practiced fashion and force[d] their way to the front of the crowd gathered around a door to the U.S. Capitol," court papers state.
Watkins and Crowl, both from Ohio, are being held at a county jail in Dayton, after being arrested Monday. Federal documents identify them as members of the Ohio State Regular Militia, dues-paying members of the Oath Keepers.
Watkins, a 38-year-old self-described commanding officer of the Ohio State Regular Militia, posted video and comments on Jan. 6 on the Parler social media site, investigators said.
In one instance, she posted a picture of herself and included the caption, "Me before forcing entry into the Capitol Building."
Watkins also reportedly posted that entry was forced through the back door of the Capitol.
Crowl was identified in a New Yorker magazine article titled, "A Former Marine Stormed the Capitol as Part of a Far-Right Militia." He and Watkins were charged with entering a restricted building or grounds; violent entry or disorderly conduct, and obstruction of an official proceeding.
They are among more than 125 people arrested so far on charges related to the Jan. 6 violent insurrection, which led to the deaths of a Capitol police officer and four others.
https://www.foxnews.com/us/alleged-militia-leader-arrested-fbi-extremist-group-suspects-after-capitol-riot?utm_source=iterable&utm_medium=email&utm_campaign=1918742_
--------
India
Indian village cheers for Kamala Harris during swearing-in as US vice president
January 20, 2021
THULASENDRAPURAM, India: Residents of a tiny Indian village surrounded by rice paddies flocked to a Hindu temple, setting off firecrackers and praying and as they watched Kamala Harris, who has strong roots to the village, take her oath of office and become the US vice president on Wednesday.
Groups of women in bright saris and men wearing white dhoti pants watched the inauguration live as reporters broadcast the villager's celebrations to millions of Indians. The villagers chanted "Long live Kamala Harris" while holding portraits of her and blasted off fireworks the moment she took the oath.
Earlier, the villages adorned their temple with flowers, offering special prayers for Harris' success. Her maternal grandfather was born in the village of Thulasendrapuram, about 350 kilometers (215 miles) from the southern coastal city of Chennai
"We are feeling very proud that an Indian is being elected as the vice president of America," said teacher Anukampa Madhavasimhan.
At the prayer ceremony in Thulasendrapuram, the idol of Hindu deity Ayyanar, a form of Lord Shiva, was washed with milk and decked with flowers by a priest. Then the village reverberated with the sound firecrackers as people held up posters of Harris and clapped their hands.
Harris made history Wednesday as the first Black, South Asian and female US vice president and what made her special for the village is is her Indian heritage.
Harris' grandfather was born more than 100 years ago. Many decades later, he moved to Chennai, the capital of Tamil Nadu state. Harris' late mother was also born in India, before moving to the US to study at the University of California. She married a Jamaican man, and they named their daughter Kamala, a Sanskrit word for "lotus flower."
In several speeches, Harris has often spoken about her roots and how she was guided by the values of her Indian-born grandfather and mother.
So when Joe Biden and Harris triumphed in the US election last November, Thulasendrapuram became the center of attention in entire India. Local politicians flocked to the village and young children carrying placards with photos of Harris ran along the dusty roads.
Then and now, villagers set off firecrackers and distributed sweets and flowers as a religious offering.
Posters and banners of Harris from November still adorn walls in the village and many hope she ascends to the presidency in 2024. Biden has skirted questions about whether he will seek reelection or retire.
"For the next four years, if she supports India, she will be the president," said G Manikandan, who has followed Harris politically and whose shop proudly displays a wall calendar with pictures of Biden and Harris.
On Tuesday, an organization that promotes vegetarianism sent food packets for the village children as gifts to celebrate Harris' success.
In the capital New Delhi, there has been both excitement — and some concern — over Harris' ascend to the vice presidency.
Prime Minister Narendra Modi had invested in President Donald Trump, who visited India in February last year. Modi's many Hindu nationalist supporters also were upset with Harris when she expressed concern about Kashmir, the disputed Muslim-majority region whose statehood India's government revoked last year.
https://www.arabnews.com/node/1795836/world
--------
4 soldiers injured in Pak shelling in Akhnoor, but no infiltration bid: Army
JAN 20, 2021
Four soldiers were injured on the intervening night of Sunday and Monday when a Pakistani shell exploded in Akhnoor sector of Jammu district, the Army said Wednesday.
However, the Army denied reports in a section of the media that there was a major infiltration bid in the Keri Battal area in Akhnoor on the intervening night of Monday and Tuesday in which three militants were killed.
"There is no official version of an infiltration bid foiled in Akhnoor. Everyone is playing his own game. The army has not given any statement," Udhampur-based Defence spokesman Col Abhinav Navneet said referring to some media reports.
"It is true that four jawans were injured in a ceasefire violation. They were evacuated to Command Hospital in Udhampur and are stable. However, reports of an infiltration bid being foiled and three militants killed are not true," he said.
A police officer in Akhnoor also substantiated the army's claims and said that four soldiers were injured in a ceasefire violation when a two-inch mortar from across the Line of Control (LoC) exploded near them. "Our soldiers also retaliated to the enemy fire," he said.
The officer also said that he had no reports with him of a major infiltration bid being foiled and three militants killed in the firefight.
"Since no bodies have been recovered, how could we say that three militants have been gunned down?" he asked.
https://www.hindustantimes.com/india-news
--------
Rajasthan BJP MP triggers row, says terrorists, Khalistan supporters sitting at farm protest sites
January 20, 2021
A statement by BJP's Dausa MP Jaskaur Meena, where she is reportedly heard calling those protesting against the farm laws as 'terrorists' and those with 'Khalistani flags', has triggered a controversy with the Congress slamming the MP for her statement. However, the BJP tried to justify the issue by saying that her intention was not to call farmers as terrorists.
The official twitter handle of the Rajasthan Pradesh Congress Committee on Wednesday shared a video where Meena is seen giving the statement.
"Ab ye krishi kanoon ka hi dekh lijiye, ki atankwadi baithe hue hain, aur atankwadiyon ne AK-47 rakhi hui hai, Khalistan ka jhanda lagaya hua hai…(Now see these thing about the farm laws, that terrorists are sitting, and terrorists have A-47, have flags of Khalistan)," Meena is heard saying in the video.
"The people of Rajasthan are feeling ashamed for electing people such as Jaskaur Meena ji, who has such disgusting mindset as an MP, electing people like these as MLAs, like Madan Dilawar ji. The future as well as history won't forgive them," state Congress president and education minister Govind Singh Dotasra told reporters on Wednesday.
In an apparent reference to the Balakot strikes, Dotasra said that the BJP had won the elections owing to the valour of the Army.
Meena couldn't be reached on phone for her comments.
BJP MLA and spokesperson Ramlal Sharma said Meena's intention was not to call farmers as terrorists.
"Jaskaurji's intention was not to call farmers terrorists. What she meant was that some people who are demanding Khalistan or raising slogans of Khalistan zindabad and waving Khalistan flags have infiltrated inside the farmers' protests. Her intention was not to call farmers as terrorists. If the Congress was actually well-wishers of farmers, then it would have given relief to 7 lakh farmers in Rajasthan who are defaulters and are not getting loans. It would have restarted the subsidy started by our government," said Sharma.
Sharma said that the Haryana government is purchasing bajra at MSP and asked why the Rajasthan government is not doing so.
Earlier this month Rajasthan BJP MLA and the party's state general secretary Madan Dilawar had hit out against the farmers' protests against the three farm laws saying "so-called farmers" were enjoying dry fruits and chicken biryani and other luxuries at protest sites and that it was a conspiracy to spread bird flu.
https://indianexpress.com/article/india/rajasthan-bjp-mp-triggers-row-says-terrorists-khalistan-supporters-sitting-at-farm-protest-sites-7154965/
--------
Pakistan
Pakistan Urged The Media In Turkey To Play Their Role In Spotlighting Various Issues Related to Kashmir
Islamuddin Sajid
20.01.2021
Pakistan on Wednesday urged the media in Turkey to play their role in spotlighting various issues related to Kashmir and, in particular, the tales of "half-widows" and prisoners.
Addressing a ceremony in the capital Islamabad, Pakistan National Assembly Kashmir Committee Chairman Shehryar Afridi said his government is "employing modern media tools to protect the heritage of Kashmir."
"Pakistani and Turkish media should narrate the tales of half-widows and prisoners of conscience of Indian illegally occupied Jammu and Kashmir to world audiences," Afridi told the launch ceremony of the website "Turkey Urdu," which aims to bring the two countries closer.
Half-widow refers to Kashmiri women whose husbands have disappeared during the ongoing conflict in Kashmir. These women do not know if their husbands are dead or alive.
"Turkish media is available to Pakistan to present its good image abroad," Turkish Ambassador to Pakistan Mustafa Yurdakul said at the occasion.
"Building a narrative is important in today's world, but I believe that now we have many, many media that you can use to spread the true, genuine image of Pakistan around the world," Yurdakul said.
He urged the Pakistani pubic to watch Turkey's English-language channel TRT World and follow Anadolu Agency, Turkey's premier news provider.
"They are making very in-depth, correct analyses, putting everything in in the right perspective," the ambassador added.
"We have TRT Urdu, which is also available online, and we have Anadolu Agency's representation here in Pakistan. It is up to you and us to come up with a receptive narrative," he said.
'New soul to Muslim heroes'
Afridi, the committee head, said Turkish media has reduced "the influence of Western media on Muslim youth."
"It is unparalleled," he said, and added: "Turkish media has instilled a new soul to Muslim heroes."
Referring to popular Turkish TV series exports such as Dirilis Ertugrul and Yunus Emre, Afridi said Pakistan and Turkey will fight the "case of the revival of the Muslim ummah, and the future world will present the Pakistan-Turkey friendship as a model for world nations."
"The media's role in modern times has proved its utility," he said. "The way the Western world has used modern media tools to distort the image of Muslims proves this. They have distorted history through misusing media tools. This is why Prime Minister Imran Khan has been urging that the media be used to project the true image of Pakistan and the Muslim ummah."
He added: "Turk Lala is another project of Tekdin Films, and the Kashmir Committee is supporting this initiative."
Turki Lala, a series proposed by Turkey and Pakistan, will highlight the role of South Asian Muslims in the sub-continent during the Balkan Wars.
"We are projecting Kashmiri culture through all modern tools, including art, culture, and the performing arts. Humanity needs to be protected and promoted, and the Kashmir cause will be projected and promoted," he added.
Ambassador Yurdakul urged Pakistanis to make efforts to "boost economic, commercial and investment exchanges between the two countries."
"With better business conditions in Pakistan and a better understanding that Turkish companies working in this country are an important asset for Pakistan, I am sure more Turkish investors and entrepreneurs will come to this beautiful country," he said.
Disputed region
Kashmir, a Muslim-majority Himalayan region is held by India and Pakistan in parts and claimed both in full. A small sliver of Kashmir is also held by China.
Since they were partitioned in 1947, the two countries have fought three wars – in 1948, 1965 and 1971 – two of them over Kashmir.
Some Kashmiri groups in Jammu and Kashmir have been fighting against Indian rule for independence, or for unification with neighboring Pakistan.
According to several human rights groups, thousands of people have been killed in the conflict in the region since 1989.
https://www.aa.com.tr/en/asia-pacific/turkish-media-urged-to-keep-spotlight-on-kashmir-issue/2117363
--------
Foreign funding case against PTI to be decided on merit: CEC
Iftikhar A. Khan
January 21, 2021
ISLAMABAD: Chief Election Commissioner (CEC) Sikandar Sultan Raja on Wednesday assured the Pakistan Democratic Movement (PDM) that the foreign funding case against the Pakistan Tehreek-i-Insaf (PTI) would be decided on merit.
A PDM delegation, which called on the CEC, handed him a memorandum calling for an expeditious ruling in the case. The case has been pending before the Election Commission of Pakistan (ECP) for six years.
Talking to reporters after the meeting, Pakistan Muslim League-Nawaz's Secretary General Ahsan Iqbal and PDM Secretary General Raja Pervez Ashraf observed that a decision based on merit in the case would help restore the credibility of the ECP.
Mr Iqbal said the case was the biggest scandal in the country's political history. He said a political party not only obtained funds from prohibited sources, including foreign citizens and lobbies, but also indulged in money laundering. The PTI also flouted the US laws, he added.
ECP's scrutiny committee walks out of its own meeting
He said the PTI had now confessed to wrongdoing, but put the blame on its agents. He said under the contract law of Pakistan, the principal was responsible for the acts of the agents.
The PML-N leader threw down the gauntlet to Prime Minister Imran Khan over his accusation that the opposition was receiving funds from two foreign countries, asking him to either present proof to the Supreme Court and file a reference to put a ban on the parties concerned or to apologise to the nation.
Raja Pervez Ashraf said the failure to conduct fair and transparent elections was the basic reason for the problems confronting Pakistan.
He said the delay of six years in taking the case to its logical conclusion put a question mark on the entire system, noting that it was weakening democracy.
He said the ECP should decide the case at the earliest as all the evidence was available with it.
Meanwhile, the ECP's scrutiny committee auditing PTI's accounts on Wednesday set a new precedent when it walked out of its own meeting after questions were raised over credibility of the scrutiny process.
Sources told Dawn that in the last meeting of the scrutiny committee, petitioner Akbar S. Babar's lawyer Syed Ahmad Hassan Shah assisted by Badar Iqbal Chaudhary had demanded that the documents downloaded from the US Department of Justice about illegal funding from two companies registered under Imran Khan's written instructions should be authenticated as per August 27, 2020 instructions of the ECP.
The committee had in writing indicated that it would pass an order on Wednesday. However, instead of deciding the authenticity or otherwise of the US documents, the committee said the ECP would take a decision about the issue.
The petitioner's lawyer challenged the decision as without authenticating the documents the credibility of the scrutiny process would be questionable and remained an eyewash. He pointed out that the authenticating evidence or fact finding was the primary responsibility of the committee. He said how could anyone consider an audit of accounts transparent when all 23 PTI bank accounts that were mostly concealed from the ECP and were only revealed on SBP instructions were kept secret. Besides not a single bank statement of six PTI international bank statements had either been shared with the petitioner nor was he allowed to peruse the same.
He said no auditor worth a name would accept an audit where bank statements were concealed. He reiterated that the committee had failed to conduct transparent scrutiny by any standards and continued to stretch the process without any credibility.
The petitioner argued that the ECP's order of August 27, 2020, to authenticate each and every evidence, is not being followed by the committee. He said: "We have already expressed our serious reservations on the transparency of the scrutiny process through written statements filed on March 5, 2020 and August 13, 2020."
He said the scrutiny process would remain an eyewash as long as the committee did not follow ECP instructions of August 27, 2020, in letter and spirit.
Upon this, the committee members walked out of the meeting.
Talking to reporters later, Akbar S. Babar said the committee had repeatedly failed to conduct the scrutiny process in a transparent manner. He said when the committee admitted in writing that it could not share or allow perusal of the PTI bank statements by the petitioner what good could come out of it.
He said the only way forward was for the ECP to remand all the documents from the committee and conduct day-to-day hearings before the media and civil society to conclude the case.
Mr Babar said he had no confidence in the scrutiny committee.
According to the information gathered from scheduled banks by the ECP, the PTI was operating around two dozen bank accounts in different cities of the country, but only eight of them have been declared before the commission. The remaining bank accounts fall in the category of fake or illegal bank accounts as these have not been declared in PTI's annual audit reports submitted to the ECP as required under the law.
"The scrutiny is not transparent. The scrutiny committee has failed; it is not working properly," Mr Babar said.
"Why are the facts being hidden? Why is the illegal funding of PTI being kept secret? People want to know the truth. The ruling party has received large-scale funding from illegal sources," he claimed.
"The scrutiny committee's task is to examine the PTI's documents," the petitioner said, alleging that it had admitted to "being under pressure" from the ruling party.
"How can a scrutiny committee conduct a transparent investigation under pressure," Babar wondered.
https://www.dawn.com/news/1602672
--------
PM wants opposition to also face foreign funding trial
Dilawar Wazir
January 21, 2021
SOUTH WAZIRISTAN: Prime Minister Imran Khan has called for an open trial in the foreign funding case and challenged the leadership of all opposition parties who have been criticising the ruling Pakistan Tehreek-i-Insaf (PTI) for 'illegal funds collection' to face the proceedings too.
"Maulana Fazlur Rehman, Pakistan Peoples Party and Pakistan Muslim League-Nawaz leaders must also sit" and the proceedings be aired live, said PM Khan while speaking to journalists in South Waziristan on Wednesday.
He said sources of all the parties' funds should be made public. "I can put it to a challenge that PTI is the only political party that has been involved in political fundraising," he said, adding that it was the turn of opposition parties to disclose the sources of their funds.
The foreign funding case was filed by a founding member of the PTI in November 2014. As the case has not been decided for more than six years, the opposition parties have been staging protests and demanding the Election Commission of Pakistan to take action against the ruling party for its alleged involvement in illegal collection of foreign funding. The opposition's Pakistan Democratic Movement (PDM) convener Maulana Fazlur Rehman recently termed the foreign funding case "the biggest scandal in Pakistan's political history" whose central character, he said, was none other than PM Khan himself.
While addressing a selected gathering of elders in Wana, the prime minister said the PTI government brushed aside security concerns associated with the launch of 3G/4G service in the merged districts of former Fata. "Good news is that 3G/4G service will become operational [in the tribal areas] from today," he announced amid loud applause and slogans in his favour.
"Provision of 3G/4G network in Waziristan has been under discussion for the last one year, but security issues were major reasons behind delay in providing this facility. I spoke to security agencies. And Gen Bajwa and DG ISI Gen Faiz decided to provide 3G/4G internet service," he said.
The government had launched 3G/4G network in 2014, but the service was not extended to militancy-stricken tribal borderlands. The non-availability of the network was badly affecting different sectors especially education, banking and business. The demand for expanding 3G/4G service to the merged districts increased in the wake of Covid-19 pandemic, because students were unable to attend online classes. He said 3G/4G was crucial for education and development and that was genuine demand of the youth of the merged districts. He said the world had changed after mobile and internet services. But there was this concern that terrorists might use this facility that caused delay, he reiterated.
He said extremists were in power in India and a man who was involved in the massacre of thousands of Muslims in Gujarat about 17 years ago had become prime minister. He said that such extremists prime minister and government had never come into power in India in past 73 years. He said India was trying its best to create instability and fan terrorism in Pakistan and financing some groups. "India is making same tactics in Waziristan and instigating its youth against Pakistan too," he remarked, explaining that was the reason 3G/4G service had not been extended to tribal districts.
Terming poverty and unemployment major issues in the merged districts, Mr Khan said his government had focused on establishing schools, universities and colleges to impart technical education to youth of the area. "Youth is our strength and if the government impart them technical education then they will not only boost their families, areas but also the country. He said that unemployment was second major challenge after education.
He said that Waziristan was the most affected area among the tribal districts and the government would give top priority, adding that the government would give more loans to overcome unemployment. He said that the valiant tribesmen of Waziristan had fought against the British empire and also waged war in Kashmir. He assured the people of Waziristan that the government was fully committed towards working for their welfare.
He said climate of South Waziristan was suitable for growing olive trees and a survey had been carried out for planting olive trees next month. These trees would be handed over to the local communities.
"The philosophy of the present government was to uplift those people and areas that had been ignored in the past. He said that the Kamyab Jawan programme was beginning of the government's initiative to alleviate unemployment and poverty.
The PM also announced that the people of the region would receive health insurance that would entitle each card-holding family to get free medical treatment costing up to Rs600,000.
On the occasion, the PM distributed cheques among successful applicants of the Kamyab Jawan Loan Scheme. Governor Shah Farman, Chief Minister Mahmood Khan, federal minister for Kashmir Affairs and Gilgit-Baltistan Ali Ameen Gandapur and senior officials were present at the ceremony.
https://www.dawn.com/news/1602657
--------
Cardinal named head of Christian research center in Pakistan
Zahid Hussain
January 21, 2021
Cardinal Joseph Coutts, the archbishop of Karachi, has been appointed as the chairperson of a key Christian research and study center.
He is taking charge of the Christian Study Centre in Rawalpindi, said Father Nasir William, director of the Diocesan Commission for Rawalpindi and Islamabad.
"It's a big responsibility but since this prelate of the Catholic Church is well known for his experience and personal interest in the interfaith and ecumenical field, I would say he is the right man for the right place," Father William told UCA News.
Founded in 1967, the Christian Study Centre aims to work for peaceful coexistence, cooperation, better understanding and strong bonding between the Christian and Muslim communities and with people of other faiths.
Supported by both the Catholic and Protestant churches, it has been serving as an ecumenical institution for the study of Christian-Muslim relations.
Christian-Muslim dialogue has been the key component of the center since its establishment.
It is also running projects related to developing Christian theology in Pakistan, interfaith harmony and peace-building and human/minority rights.
In addition, it is carrying out research on the increased level of religious intolerance and violence worldwide as well as within Pakistan.
It works with partner organizations, religious leaders, opinion makers, lawyers, intellectuals, journalists, local administration, parliamentarians, women and youth.
The center aims to develop peaceful coexistence through collaborative efforts.
https://www.ucanews.com/news/cardinal-named-head-of-christian-research-center-in-pakistan/91088#
--------
Another successful test of Shaheen-III carried out
January 21, 2021
ISLAMABAD: Pakistan on Wednesday emphasised peaceful co-existence in the region as it conducted another test of surface-to-surface ballistic missile Shaheen-III, which is also the longest-range missile to have been developed in the country.
Chairman of the Joint Chiefs of Staff Committee Gen Nadeem Raza, who witnessed the test, said: "Pakistan desires peaceful co-existence in the region and its strategic capability is to deter any aggression against the sovereignty of Pakistan."
Shaheen-III is a surface-to-surface ballistic missile with a range of 2,750 kilometres, which makes it capable of reaching the farthest point in India's northeast and Andaman and Nicobar Islands.
It is solid-fuelled and equipped with Post-Separation Altitude Correction (PSAC) system. Solid fuel is suited for rapid response capabilities, while the PSAC feature provides it the ability to adjust the warhead trajectory for greater accuracy and evading anti-ballistic missile defence systems.
The missile was first tested in March 2015 and has yet not been operationally deployed.
"The test flight was aimed at revalidating various design and technical parameters of the weapon system," the Inter-Services Public Relations said. The successful flight test had its impact point in the Arabian Sea, it added.
An official separately said that "technical and operational parameters" were successfully validated.
India last year conducted about 17 tests, whereas Pakistan conducted only two.
"This test is part of Pakistan's resolve to maintain credible minimum deterrence. Pakistan maintains a policy of credible minimum deterrence and its deterrence posture is India-centric," the official said.
Director General of the Strategic Plans Di­vision Lt Gen Nadeem Zaki Manj, Com­mander of the Army Strategic Forces Com­mand Lt Gen Muhammad Ali, Chairman of the National Engineering and Scientific Com­mission Dr Raza Samar and other senior scientists and engineers also witnessed the test.
https://www.dawn.com/news/1602683/another-successful-test-of-shaheen-iii-carried-out
--------
NAB gives clean chit to PML-Q leaders after closing last two inquiries
Wajih Ahmad Sheikh | Zulqernain Tahir
January 21, 2021
LAHORE: The National Accountability Bureau (NAB) has closed 20-year old last two inquiries against the Chaudhrys of Gujrat for want of evidence.
The NAB told the Lahore High Court on Wednesday that two last inquiries pending for 20 years against PML-Q President Chaudhry Shujaat Hussain, Punjab Assembly Speaker Chaudhry Parvez Elahi, MNA Moonis Elahi and their family members had been closed because of 'lack of evidence'.
Recently, the NAB had closed inquiries against former premier Nawaz Sharif in the Lahore Development Authority plots allotment, Raiwind land expansion against Opposition Leader in National Assembly Shehbaz Sharif and the purchase of locomotives against former railways minister Khwaja Saad Rafique on similar grounds.
A NAB official told Dawn that the bureau had decided to close all those inquiries in which it did not have 'substantial evidence' against the suspects.
"We have been working hard to dispose of all the pending inquiries," he said and added that NAB chairman retired Justice Javed Iqbal had directed the provincial heads to conclude the inquiries pending for years as these are causing losses to the national exchequer.
NAB-Lahore Director General Shahzad Saleem also appeared before a two-judge bench when a deputy prosecutor filed a report about the closure of the inquiries -- assets beyond means against Mr Shujaat, Mr Elahi, Mr Moonis and their families -- and illegal appointments in local government departments against Parvez Elahi.
The prosecutor said the inquiries had been closed owing to a lack of "tangible evidence". In the light of the bureau's report, the bench comprising Justice Sadaqat Ali Khan and Justice Shehram Sarwar Chaudhry disposed of the petitions filed by the Chaudhry brothers wherein they alleged that the NAB had been used for 'political engineering'.
At the previous hearing of the petitions held on Dec 17, 2020, the bench had directed the NAB to conclude within four weeks the inquiries pending for the last 20 years against the leaders of the PML-Q, the ally of the Pakistan Tehreek-i-Insaf government.
The bench had asked DG Saleem as to how an investigation could be initiated against declared assets of a taxpayer. The bench had also asked the DG about the details of his own assets.
The PML-Q leaders had pleaded that all the inquiries against them had been recommended for closure by the investigating officers and the regional board of the NAB during 2017 and 2018. However, they said sitting chairman of the NAB, retired justice Javed Iqbal, approved reinvestigation and bifurcation of the inquiries against them after a period of 20 years.
They asked the court to set aside the authorisation of the inquiries and the order for their bifurcation passed by the NAB chairman for being unlawful.
The NAB had accused the PML-Q leaders of accumulating illegal assets during the period of 1985 to 2019.
Earlier, the NAB had closed two inquiries related to loan default and an 18-year-old LDA plots case against the Chaudhry brothers for want of evidence.
"The NAB investigators thoroughly investigated these allegations against the Chaudhry brothers and found them baseless. During the course of investigation, no incriminating material was found against them," the official said.
The Chaudhrys had appeared before the NAB Lahore and responded to its queries in these inquiries. The income beyond means case was instituted against them by retired Gen Pervez Musharraf in the early 2000s after coming to power in the wake of the military coup.
A PML-Q leader told Dawn that since these cases had been pending for two decades, the Chaudhrys had provided the required records to NAB's combined investigation teams probing the matter.
"Former NAB chairman retired Lt Gen Khalid Maqbool had conceded that there was nothing in these cases against them as these were instituted on political grounds," he said and added that even the Sharif brothers -- Nawaz and Shehbaz -- during 2008 and 2018 had resorted to every possible tactics against the Chaudhry brothers and got their all financial matters examined thoroughly just to settle a score but they failed in their designs.
https://www.dawn.com/news/1602628/nab-gives-clean-chit-to-pml-q-leaders-after-closing-last-two-inquiries
--------
PPP slams graft case against Murad, blames NAB for political vendetta
Imran Ayub
January 21, 2021
KARACHI: Just a day after the National Accountability Bureau filed a reference against the Sindh chief minister for alleged "misuse of authority", the province's ruling Pakistan Peoples Party (PPP) on Wednesday called it an attack on the elected provincial government while the opposition Pakistan Tehreek-i-Insaf demanded inclusion of CM's name on the Exit Control List (ECL).
The reaction from the government and opposition came in separate press conferences.
First came the PPP's presser in which key members of the Sindh cabinet termed the NAB reference against Chief Minister Syed Murad Ali Shah an attack on the democratically elected provincial government.
"You would see a consistency in NAB actions against elected representatives from Sindh [and] the PPP legislators," said Sindh Information Minister Syed Nasir Hussain Shah.
Accompanied by Education Minister Saeed Ghani and Law Adviser Murtaza Wahab, he said: "A reference was filed against a senator from Sindh, the Senate Deputy Chairman Saleem Mandviwalla and now the Sindh CM. It shows the state of panic the federal government is in and now it has decided to attack the Sindh government for political vendetta. The pace we witness of such actions after the Broadsheet scandal has exposed NAB completely."
The NAB reference accused the Sindh CM of using his influence and releasing funds for some power projects in violation of rules. The reference against the Sindh CM was filed by NAB's regional directorate of Rawalpindi.
PTI demands inclusion of Sindh chief minister's name on ECL
It alleges billions of rupees' irregularities in the Nooriabad Power Company and Sindh Transmission and Dispatch Company. Besides the CM, Abdul Ghani Majeed of Omni Group and 16 others have also been nominated accused in the reference. The Nooriabad Power Project was originally conceived by the Sindh government in 2012, but it could not materialise then due to "red-tapism and delays in regulatory approvals".
Minister Ghani questioned the performance of NAB when it came to investigations against the individuals associated with the PTI and "scandals of the federal government.
"The nation needs to know about NAB's performance on sugar, BRT, flour, LNG and other corruption scandals," he said. "It's not rocket science and every common Pakistani understands that it's not accountability but political victimisation. This should stop."
PTI presser
The opposition PTI came up with a different reaction. The key leader of the party and soon-to-be leader of the opposition in the Sindh Assembly Haleem Adil Sheikh demanded that the name of CM Shah be put on the ECL.
"The frontman of rulers of Sindh, Anwar Majeed, is involved in a tractor scam and he was also given subsidy of billions of rupees in Dadu Sugar Mills and Thatta Sugar Mills," he said while addressing a press conference along with party MPAs.
"These corrupt people also harmed the Sindh Bank and they are also involved in the Nooriabad power plant scam. A probe should also be conducted about the assets of Fiyaz Jatoi, whose family members include officers of up to grade-22. Their bank accounts should also be probed," he said.
He levelled the allegation of huge corruption in the Roshan Sindh Programme blaming PPP MPA Sharjeel Inam Memon for the alleged mega corruption.
"But here we see that the Sindh Assembly speaker has included his [Sharjeel Memon's] name in the Panel of Chairmen," said Mr Sheikh. "These corrupt rulers devoured Rs920 million in the name of castration of stray dogs. We want the names of every individual including Sindh CM on the ECL. Since 2007 the nation has been seeing that one man who owns the portfolio of finance is involved in all corruption in Sindh."
https://www.dawn.com/news/1602609/ppp-slams-graft-case-against-murad-blames-nab-for-political-vendetta
--------
Europe
Russia refuses Syria's use as an arena for an Iran-Israel confrontation: Lavrov
Rawad Taha
20 January 2021
Russia refuses the use of Syria as an arena for an Iranian-Israeli confrontation and it does not want to use Syrian land against Israel, said Russian Foreign Minister Sergey Lavrov.
"So, our dear Israeli colleagues, if you have facts that your state is facing threats from the Syrian territory, report the facts urgently and we will take every measure to neutralize the threat," Lavrov added.
Lavrov's comments came after Israel, with US support, launched the heaviest raids on Iranian and Syrian sites in northeastern Syria last Tuesday. Observers and international affairs experts have been monitoring Russia's work as a mediator between Syria and Israel in recent weeks. Sources have confirmed that Israeli army has been informing the Russians of airstrikes on Syria beforehand.
Lavrov said that Russia refuses that Syrian territories be used as a battle zone to settle regional conflicts.
Lavrov added that Russia will not "chase" US military out from Syria or engage in hostilities, but it does engage in a dialog with Washington.
"Yes, we have contacts with the US in the military - not because we recognize the legitimacy of their presence there, but simply because they have to act within certain boundaries," Lavrov added.
"We will not engage in hostilities, of course. But, since they are already there, we engage in a dialog on the so-called de-conflicting, in which we seek to ensure compliance with certain rules," he said in his remarks.
https://english.alarabiya.net/en/News/middle-east/2021/01/20/Russia-refuses-Syria-s-use-as-an-arena-for-an-Iran-Israel-confrontation-Lavrov
--------
Italy jails suspected al-Qaeda militant for terror activity in Syria, Iraq
20 January 2021
A 24-year-old Italian suspected of fighting in the Middle East since 2014 with al-Qaeda-affiliated groups was arrested in Turkey and jailed in Italy, police said on Wednesday.
The unnamed man, who had lived with his wife and their four children near the Syrian city of Idlib, agreed to hand himself over after being tracked down on accusations of terrorist activity in Syria and Iraq, police told a news conference.
"We managed to find him and bring him back to Italy ... we were also able to get his wife and children out of a crisis area," said Italy's anti-terrorism agency chief Diego Parente.
The man was transferred to the Turkish province of Hatay and then on to jail in Italy, while his family remain in Turkey. The hunt began on information from his parents in Switzerland, where he had lived and was radicalized, police said.
https://english.alarabiya.net/en/News/world/2021/01/20/Terrorism-Italy-jails-suspected-al-Qaeda-militant-for-terror-activity-in-Syria-Iraq
--------
Macron rules out official apology or repentance for colonial abuses in Algeria
20 January 2021
French President Emmanuel Macron has ruled out issuing an official apology for abuses in Algeria, his office said Wednesday, ahead of a major report on how France is facing up to its colonial past in the country.
There will "no repentance nor apologies" for the occupation of Algeria or the bloody eight-year war that ended 132 years of French rule, Macron's office said, adding that the French leader would instead undertake a number of "symbolic acts" aimed at promoting reconciliation.
The atrocities committed by both sides during the 1954-1962 Algerian war of independence continue to strain relations between the two countries six decades later.
Macron, the first president born after the colonial period, has gone further than any of his predecessors in recognizing French crimes in Algeria.
Later Wednesday, a historian commissioned by the president with assessing "the progress made by France on the memory of the colonization of Algeria and the Algerian war," will submit his findings.
Benjamin Stora's report is not however expected to recommend that France issue an apology but rather suggest ways of shedding light on one of the darker chapters of French history and propose ways of promoting healing.
The presidency said Macron would take part in three days of commemorations next year marking the 60th anniversary of the end of the Algerian war.
Each day will be dedicated to a different group that suffered in the conflict, presidential aides added.
https://english.alarabiya.net/en/News/world/2021/01/20/Macron-rules-out-official-apology-or-repentance-for-colonial-abuses-in-Algeria
--------
Chechnya kills militant tied to ISIS, deadly Moscow attacks
20 January 2021
Chechnya's leader Ramzan Kadyrov said Wednesday that police had killed Aslan Byutukayev, alleged leader of ISIS terrorist group in the volatile republic and mastermind of deadly attacks in Moscow.
Byutukayev, also known as Amir Khamzat, was designated in 2016 as a "global terrorist" by the US State Department, which said he had become an ISIS leader in June 2015.
The department also said Byutukayev was responsible for suicide bombings in Russia including the January 2011 attack on Moscow's Domodedovo airport that killed 35.
Kadyrov said Chechen police officers had killed Byutukayev and five militants associated with him who were on Russia's wanted list "on the spot."
"The bandit underground in the Chechen Republic is completely eradicated!" the leader of the North Caucasus region wrote on his Telegram channel alongside graphic images of bloodied corpses.
The militants had evaded pursuit twice before they were killed and he had personally taken part in the planning of the operation "long ago," Kadyrov added.
Russian President Vladimir Putin congratulated the Chechen leader on the operation in a phone call, Kremlin spokesman Dmitry Peskov told journalists Wednesday.
RIA Novosti news agency quoted Peskov as saying that all of the participants in the operation will receive state awards.
Chechnya has been under Kadyrov's tight control since he rose to power in the wake of two wars between Russian forces and separatists in the 1990s and early 2000s.
His regime has been widely condemned for persecuting rights activists and allegedly imprisoning and torturing opponents.
Kadyrov has occasionally given orders at the scene during counter-terrorism operations, which often end with the killing of the suspects rather than arrests.
https://english.alarabiya.net/en/News/world/2021/01/20/Chechnya-kills-militant-tied-to-ISIS-deadly-Moscow-attacks
--------
Violent German Far-Right Groups' Recruitment Aided By Lockdown Frustrations
By Jamie Dettmer
January 19, 2021
Violent far-right groups are using rising frustration with pandemic lockdowns in their recruitment efforts, German officials fear.
Germany's domestic intelligence agency is closely monitoring protesters of coronavirus restrictions, worried that the influence of militants, including Nazi admirers, ultranationalists and Holocaust deniers, is growing.
While Germany's far-right Alternative for Germany (AfD) has seen a precipitous slump in its poll ratings since the pandemic struck — the party was polling at just 9% of support last month — officials say violent right-wing extremists, united in their opposition to what they say are illegitimate curbs on freedom, are gaining a boost from the coronavirus and strengthening their mobilization around anti-government conspiratorial narratives.
"Actors within this movement largely see the COVID-19 pandemic as a chance to spread their ideology more widely and to reach a broader recruitment base," warned the Counter Extremism Project (CEP), a nonprofit nongovernmental organization headquartered in New York, in a lengthy report assessing threats posed by transnational violent right-wing extremism in Europe and the United States.
Previously, Germany's violent far-right agitators advanced themselves based largely on hostility to immigrants and Islam. Now, they are more focused on pandemic restrictions and coronavirus vaccines, warn analyst and officials.
In an increasingly networked, transnational violent far-right scene, German militants have been buoyed by this month's assault on the U.S. Congress.
"We are doubling down on our scrutinizing of groups and individuals on watch lists and adding to the lists — especially in the wake of the storming of the U.S. Congress," a German intelligence official told VOA in reference to the January 6 ransacking of the U.S. Capitol.
According to researchers, Germany accounts for a large proportion of European adherents of the QAnon conspiracy movement, which believes U.S. President Donald Trump has been waging a secret war against elite Satanists and pedophiles in government, business and the media. Q flags, which were on display January 6 in Washington, have also been spotted being unfurled at anti-lockdown protests in Germany.
Germany's Bundestag was targeted in August when several hundred protesters clambered over fencing ringing the Reichstag, the seat of Germany's national parliament, and ran toward the entrance, some waving the "Reichsflagge" — the black, white and red flag of the German Empire, colors later adopted by the Nazis. Police pushed the mob back.
Last month, officials in the southwestern Baden-Wuerttemberg region added the "Querdenken 711" group to a watch list, the state's Interior Ministry said.
"Legitimate protest against coronavirus restrictions is increasingly making way for a general hate against state and politics," Interior Minister Thomas Strobl told Reuters.
Strobl said violent right-wing actors are spreading false claims to incite hate against the state, making "absurd comparisons" with the Nazis, and minimizing the Holocaust.
Querdenken, which means lateral thinking, first emerged in Stuttgart and was started by IT entrepreneur Michael Ballweg. At first, it attracted an amorphous assortment of anti-establishment supporters. But violent far-right elements appear to have become more pronounced in the group, which has increasingly embraced the idea that the modern German state is illegitimate.
Last November, far-right influenced football hooligans latched on to a Querdenken rally in Leipzig, turning it violent. A planned Dresden anti-lockdown rally last month was advertised on extreme-right social media channels and called on "Hooligans, Nationalists and Ultras" to gather in Saxony state's capital for the demonstration.
"In Germany, violent XRW actors have joined demonstrations in large numbers organized by various groups protesting COVID-19-related restrictions and regulations," according to the CEP.
Critics of the AfD accuse the party of providing some political cover for coronavirus protesters, pointing to comments by their lawmakers in the Bundestag. Detlev Spangenberg, an AfD lawmaker from Saxony, noted this month, "We've had a lockdown since November, and the numbers are not going down." He added, "We are just saying that the collateral damage of lockdowns outweighs the benefits."
Last year, the German government banned four violent far-right groups, including the Wolfsbrigade 44, which wants to reestablish a Nazi government.
German authorities have been accused of being too slow, though, in cracking down on violent groups and not taking the threat they pose seriously enough. Political pressure mounted for action following a string of incidents in 2019, including the assassination of a local politician in Hesse and a synagogue attack in Halle.
https://www.voanews.com/europe/violent-german-far-right-groups-recruitment-aided-lockdown-frustrations?utm_source=iterable&utm_medium=email&utm_campaign=1918742_
--------
Arab World
Baghdad market suicide bombing death toll rises to 13: Iraq police
21 January 2021
A twin suicide bombing killed at least 13 people and wounded more than 30 in a Baghdad market on Thursday in the first such attack in years, security and medical sources said.
There was no immediate claim of responsibility for the attack. Suicide bombings have been rare in the Iraqi capital since the defeat of Islamic State in 2017. The last took place in January 2018.
The Iraqi military said two attackers wearing explosive vests blew themselves up among shoppers at a crowded market in Tayaran Square in central Baghdad, adding that several people had been killed.
An interior ministry spokesman told Reuters the death toll was at least 13, saying that number was expected to rise as some wounded were in critical condition.
Baghdad has witnessed almost no such attacks since Iraqi forces and a US-backed coalition drove the ISIS militant group from territory it controlled in Iraq in 2017.
The last deadly suicide blast in the Iraqi capital took place in January 2018, also at Tayaran Square, killing at least 27 people.
https://english.alarabiya.net/en/News/middle-east/2021/01/21/Three-killed-16-injured-in-Baghdad-market-suicide-bombing-Iraq-police
--------
Syria's Assad has 'nowhere left to go,' can't escape Caesar Act: US envoy Rayburn
Joseph Haboush
20 January 2021
Syrian President Bashar al-Assad and his regime "have nowhere left to go," the top US diplomat responsible for Syria under the Trump administration recently said.
"From Washington, we see clearly that the Assad regime cannot escape the pressure of the Caesar Act. Nor can it overcome its international isolation. My message to Damascus at the end of my tenure is this: you have nowhere left to go," Joel Rayburn tweeted shortly before his term ended at the US State Department.
Rayburn, also the former Deputy Assistant Secretary for Levant Affairs, said the Assad regime had "reached its limit."
"You have no choice but to accede to 2254," he added, referring to the UN Security Council resolution passed in 2015 that called for a ceasefire, political solution and transition in Syria.
In a separate video posted Wednesday - Rayburn's first as a private citizen following his time at the State Department - Rayburn said he would pray and hope that the Syrian people would experience "that same joy and pride in a peaceful transition of power."
Rayburn was speaking hours after US President Joe Biden took over the White House following his November victory against former President Donald Trump.
Civil war broke out in Syria in 2011 after protesters marched against the Assad regime. Russia, Iran and its proxies, including Lebanon's Hezbollah, stepped in to prop up the Assad regime.
The US has since imposed heavy sanctions against the regime and those who continue to support it politically or financially.
The Caesar Act, a part of the sanctions campaign, was signed into law under Trump and while Rayburn was at the State Department.
https://english.alarabiya.net/en/News/middle-east/2021/01/21/Syria-s-Assad-has-nowhere-to-left-go-can-t-escape-Caesar-Act-US-envoy-Rayburn
--------
Egypt foreign ministry says agreed with Qatar on resuming diplomatic relations
20 January 2021
Egypt has agreed to resume diplomatic relations with Qatar, the Egyptian foreign ministry said in a statement on Wednesday.
The move follows an agreement between Saudi Arabia, United Arab Emirates, Bahrain and Egypt earlier this month to end their boycott of Qatar -- a move taken in 2017 over allegations it supported terrorism, a charge that Doha denies.
"Arab Republic of Egypt and the State of Qatar exchanged, today, January 20, 2021, two official memoranda, in virtue of which the two countries agreed to resume diplomatic relations," a foreign ministry statement said.
Egypt reopened its airspace to Qatari flights on January 12 and flights between the two countries were resumed.
https://english.alarabiya.net/en/News/gulf/2021/01/20/Egypt-foreign-ministry-says-agreed-with-Qatar-on-resuming-diplomatic-relations-
--------
Dubai-based airline flydubai launches daily flights to Qatar's capital Doha
Reem Krimly
21 January 2021
Dubai's low-cost airline flydubai announced on Thursday its launch of two daily flights to Qatar's capital Doha starting January 26, according to the Dubai Media Office (DMO).
For all the latest headlines follow our Google News channel online or via the app.
"Flights to Doha will start from 26 January and to meet expected demand we are pleased to launch operations with a double daily service. We hope to be able to continue to grow the service," DMO quoted flydubai CEO Ghatih al-Ghaith as saying.
The flights will depart from Dubai International Airport to Doha's Hamad International Airport.
Last week, the UAE announced the reopening of all air, sea, and land borders with Qatar starting on January 9, official Emirati WAM News Agency reported.
The UAE had begun to end all measures taken against Qatar following the signing of the AlUla declaration at the Gulf Cooperation Council (GCC) Summit last week, said Under-Secretary of the UAE's Ministry of Foreign Affairs Khalid Abdullah Belhoul, according to WAM.
Flydubai's passenger experience has been "redesigned to enable travel in a safe environment that minimizes crew and passenger contact" amid the coronavirus pandemic, according to DMO.
"The airline has recently introduced an extended multi-risk travel insurance that includes COVID-19 cover to offer passengers greater piece of mind when traveling," DMO added.
A Qatar Airways plane arrived in Saudi Arabia's capital Riyadh from Doha on January 11, the first commercial flight between the two countries in three and a half years.
The move comes after the Kingdom and Qatar agreed to restore diplomatic and trade ties following a more than three-year dispute.
https://english.alarabiya.net/en/News/gulf/2021/01/21/Dubai-based-airline-flydubai-launches-daily-flights-to-Qatar-s-capital-Doha
--------
UAE signs deal with US to buy 50 F-35 jets and up to 18 drones: Report
20 January 2021
The United Arab Emirates has signed an agreement with the United States to purchase 50 F-35 jets and up to 18 armed drones, people familiar with the situation told Reuters on Wednesday.
Although the UAE and the United States were working to ink a deal before President Joseph Biden took office on Wednesday, the new president has said he will re-examine the agreements.
The UAE, one of Washington's closest Middle East allies, has long expressed interest in acquiring the stealthy F-35 jets made by Lockheed Martin and was promised a chance to buy them in a side deal when it agreed to normalize relations with Israel last August.
The US State Department and the UAE Embassy in Washington did not immediately respond to requests for comment.
One of the people said the agreement was signed about an hour before Biden was sworn into office. The document gave the United Arab Emirates the chance to accept the negotiated schedule and configuration of the jets while also making the purchase request official.
The UAE has had the paperwork for more than a week, the people said. The UAE and the United States had once hoped to have a deal in place in December, but the timing of jet deliveries, their cost, the technology packages and training associated with the deal extended negotiations, the people said.
The jets are a major component of a $23 billion sale of high-tech armaments from General Atomics, Lockheed Martin Corp and Raytheon Technologies Corp to the UAE announced this fall.
The UAE government also signed a separate agreement to buy up to 18 drones, the second-largest sale of US drones to a single country, the people said.
The final in-country delivery date for the F-35 jets could not immediately be confirmed, but the initial proposal sent to UAE said 2027, the people said.
https://english.alarabiya.net/en/News/gulf/2021/01/20/US-foreign-policy-UAE-signs-deal-with-US-to-buy-50-F-35-jets-and-up-to-18-drones-Report
--------
US President Trump lifts tariffs on aluminium imports from UAE
20 January 2021
Outgoing President Donald Trump on Wednesday said he would exempt the United Arab Emirates from a 10 percent tariff imposed on most aluminum imports in 2018, saying the two countries had reached a quota agreement that would restrict aluminum imports.
In a proclamation issued by the White House shortly before the inauguration of President-elect Joe Biden, Trump said the agreement was reached given the important security relationship that existed between the two countries.
UAE joins Argentina, Australia, Canada and Mexico, which have also been excluded from the aluminum tariffs.
Donald Trump left the White House on Wednesday for the final time as president.
Trump emerged from the building and strode across the South Lawn to board Marine One. He said, "It's been a great honor, the honor of a lifetime."
Trump left Washington just hours before Joe Biden takes the oath of office as the 46th president. It's the first time in more than a century that a sitting president has rejected the tradition of attending his successor's inauguration.
https://english.alarabiya.net/en/News/gulf/2021/01/20/US-President-Trump-lifts-tariffs-on-aluminum-imports-from-UAE
--------
Syria condemns US 'systematic looting' of its resources, oil in NE, calls for immediate withdrawal of occupation forces
20 January 2021
Damascus has strongly condemned the actions of US occupation forces in the country's northeast, saying they amount to a blatant violation of the Syrian sovereignty and territorial integrity, and a flagrant breach of international law.
In a letter addressed to the UN secretary general as well as president of the Security Council on Wednesday, Syria's Ministry of Foreign Affairs and Expatriates renewed the country's calls for an immediate and unconditional withdrawal of US forces from the territory.
It also expressed Damascus' "strong condemnation on the almost daily hostile practices of the US forces within the areas which they have occupied in … al-Jazira," Syria's official news agency (SANA) reported.
The ministry added that the US occupation forces continued their regular hostile measures in the area, including "systematic looting … of the Syrian resources, agricultural crops and oil from … al-Jazira, in addition to bringing in huge military reinforcement, logistic equipment, various kinds of weapons, tools and military vehicles from Iraq" to some of the US military bases in the countryside of al- Yaarubiyah town in Hasakah province via the al-Waleed crossing.
The ministry stressed that the aggressive movements have been done in defiance of "the UN Security Council Resolutions, which have always emphasized the necessity of respecting Syria's sovereignty, independence and territorial integrity," including Resolution 2254.
"Therefore, Syria, based on its respect for the international law and the UN Charter, calls for stopping the US' heinous aggressive practices and calls upon the international community to condemn the US movements and continued occupation of the Syrian lands and its imposition of the unilateral coercive economic measures with the aim of starving the Syrian people," the ministry asserted.
The ministry enumerated certain "aggressive" policies by the US that have destabilized Syria, including its support for "separatist movements" seeking Syria's breakup and its unwavering support for "extremist terrorists," adding that Washington also "worked on creating and managing chaos to hinder any political solution in Syria in serving the Zionist project and imposing hegemony on the countries of the region."
Warning that the continuation of the US policies will prolong instability in Syria, the ministry voiced the resolution of the Syrian people and army who have "achieved the bravest resilience and victories against the Takfiri terrorism" to end "all forms of US presence and its tools and agents in Syria" while helping establish control over all the Syrian territories, and preserve Syria's sovereignty, territorial integrity and unity.
It concluded by renewing Syria's call for an "immediate and unconditioned withdrawal of the US occupation forces and their allies from the Syrian territories."
Despite former US president Donald Trump's claims that the US kept some forces in Syria's northeast to "secure the oil," he has also declared his own interest in benefiting from the oil US troops were allegedly defending.
Back in November 2019, Trump said he expected the United States to benefit by millions of dollars per month from Syria's oil revenues while US troops remain in the country.
"We're keeping the oil, remember that. We want to keep the oil. Forty-five million dollars a month," he said at the time.
The Syrian government of President Bashar al-Assad has on numerous occasions condemned the US for stealing the country's oil in collaboration with Washington-backed militants, including the so-called Syrian Democratic Forces (SDF), stressing the need for the pullout of American occupation forces.
https://www.presstv.com/Detail/2021/01/20/643482/-Syria-US-forces-%E2%80%98systematic-looting-oil
--------
South Asia
Afghan Commandos 'Release Captives' From Taliban Prison
By Mohammad Haroon Alim
21 Jan 2021
Afghan security officials say the commando forces have carried out an operation on a Taliban's prison in Nahr-e Saraj district of Helmand province on Wednesday night.
Security officials stated, that in an operation carried out by the Afghan Commando forces on a Taliban prison in Nahr-e Saraj district of Helmand province.
At least 27 prisoners held in the captivity of the Taliban militants were released and freed during the Wednesday night operation.
Reports indicate Afghan commando forces seized a rocket, AK47, two radios, and other Taliban equipment used for planting IEDs.
One of the Taliban guards who had the duty to look after the prison was also killed during the night raid, the statement read.
Earlier, the Ministry of Defense in a post on their Facebook page said, that commando forces rescued at least 13 prisoners from the clutches of the Taliban.
The captured prisoners were rescued from a Taliban jail in the Washer district of Helmand province.
Commando operations backed by air support conducted a mission on Taliban controlled jail during the night.
The overnight mission forced the Taliban militants to flee to nearby villages.
Security officials told the media, that 13 people including a policeman were rescued from the grips of the Taliban during the operation.
The abductees were held by the Taliban for over a year and were being held inside the prison in a poor condition.
The freed Afghan citizens, including the policeman, have returned to their families.
https://www.khaama.com/afghan-commandos-release-captives-from-taliban-prison-445533/
--------
Afghan government blames Taliban for stalling peace talks
20 January 2021
Afghan authorities lambasted the Taliban Wednesday for failing to actively participate in peace talks seeking to end the country's long-running war.
Following months of deliberations and a first round that failed to achieve any major breakthrough, the Afghan government and Taliban are meeting again in Qatar -- but so far only discussing the agenda for round two.
"Unfortunately, the talks are going at a snail's pace," Waheed Omar, media adviser to President Ashraf Ghani told reporters.
"The Taliban have no clear vision. We see no changes in them."
Kabul is pushing for a permanent ceasefire and to protect governance arrangements in place since the ouster of the Taliban by a US-led invasion following the September 11, 2001 terror attacks.
But since the second round of talks began on January 6 in Doha there has been no significant announcement about how negotiations were proceeding.
The talks have been marred by a surge in violence, with a recent spate of high-profile killings of officials, judges, journalists and activists leaving the war-weary country reeling.
Omar said there was no plan to release more Taliban prisoners to help spur the talks along, saying the government's previous experience of releasing insurgents failed to reduce fighting.
"The Taliban not only did not reduce the violence, but they increased the violence," Omar said.
Before the start of the peace talks on September 12, authorities released more than 5,000 Taliban inmates as demanded by the group in a deal with Washington last year.
In return, the Taliban agreed to give some security guarantees and participate in peace talks aimed at ending the country's war.
Under the landmark deal signed last year, the US pledged to pull out all foreign forces from Afghanistan by May 2021.
Both the Taliban and the Afghan government are anxiously awaiting President-elect Joe Biden's inauguration and any new policy directions from the incoming administration.
https://english.alarabiya.net/en/News/world/2021/01/20/Afghan-government-blames-Taliban-for-stalling-peace-talks
--------
Taliban Suffer Casualties in Faryab, Uruzgan Provinces
By Mohammad Haroon Alim
21 Jan 2021
Security officials said in a statement on Thursday, that the Taliban had suffered heavy casualties in Faryab province.
Dozens of Taliban insurgents gathered on Wednesday in a location, the group planned and intended to attack Afghan security and defense forces in the center of Belchiragh district of the province, the statement added.
According to the statement, four Taliban insurgents were killed and two others were wounded in a joint operation conducted by ANDSF forces.
The ANDSF operation was also facilitated with Air support.
It is stated that during the ambush, with 20 motorbikes, one vehicle was completely wrecked, Afghan republic's security members seized 15 other motorbikes, weapons, and ammunition after the clashes.
No injuries were inflicted to the Afghan National Army.
This comes as seven Taliban members were killed and 7 others were wounded in the Gizab district of Uruzgan province on Wednesday.
Ministry of Defense tweeted, that additional 12 IEDs which were planted by the Taliban on Public roads were also discovered.
The IEDs were later defused and many innocent lives were saved.
https://www.khaama.com/taliban-suffer-casualties-in-faryab-uruzgan-provinces-4553377/
--------
Southeast Asia
Poor Malaysian Woman Who Shoplifted Gets Visit By Police Who Give Her Food And Other Items
Jan 21, 2021
KUALA LUMPUR (THE STAR/ASIA NEWS NETWORK)- Malaysian police on Thursday (Jan 21) turned up at the house of a mother of three who had shoplifted food items and anti-fever gel pads from a hypermarket.
But instead of being arrested, the men in blue, led by police chief for Petaling Jaya Nik Ezanee Mohd Faisal, gave the poor family a packet of rice, food items and other basic necessities, to cheers from the Malaysian public.
"The police report stated that the suspect was nabbed for stealing a roll of pandan cake, sausages and two packs of Kool Fever (gel pads) for her children," Assistant Commissioner Nik Ezanee said.
"I felt that I should go meet this suspect and ask why she did this. Because I believe that this person must be facing some problem to resort to this," he said.
The police went over to the hypermarket, asked about what she tried to take and bought the items for her, including the pads, said Mr Nik Ezanee.
He said the woman's son had a fever on Wednesday and was recovering well.
The woman, in her 30s, was caught by security guards at the hypermarket as she tried to leave without paying for some of the items.
"We spoke to her and found out that her husband works as an elevator maintenance technician. He currently does not have work which is why they are struggling to make ends meet," said Mr Nik Ezanee.
Police stamped "no further action" on the case and advised her to never resort to crime again.
"They are many channels that one can go through to get assistance. There are soup kitchens, non-governmental organisations and the Welfare Department as well as zakat aid (Muslim charity)," the senior policeman said.
"Even non-Muslims can ask for zakat aid," he said, adding that he also told her to visit the police station for help if she needed.
The move by the police received dozens of praises from the public on social media.
"Sometimes winning hearts are more effective than punishment," wrote one Dennis Leong on The Star's Facebook page.
https://www.straitstimes.com/asia/se-asia/poor-malaysian-woman-who-shoplifted-gets-visit-by-police-who-give-her-food-and-other
--------
Muhyiddin urges Asean to legislate against online hate speech, threats based on race, gender, sexual orientation
21 Jan 2021
BY JERRY CHOONG
PUTRAJAYA, Jan 21 — Prime Minister Tan Sri Muhyiddin Yassin has called on Asean member-states today to consider enacting laws against online hate speech and posts advocating violence and attacks on other users.
In his keynote address at the inaugural Asean Digital Ministers' Meeting (ADGMIN1) this morning, he said such legislation can be formed to compel digital platforms to remove or mete out punishment for any speech threatening others, even for their gender and sexual orientation.
"It can be verbal or physical, and includes but is not limited to harassment and threats against a person or persons based on their race, gender, religion, sexual orientation, disability or nationality," Muhyiddin said.
His remark for the region appears to contrast a stance taken by his own administration against Malaysia's gender and sexual minorities.
Just earlier this week, deputy religious affairs minister Ahmad Marzuk Shaary from PAS said the Perikatan Nasional administration is not ruling out the possibility of amending the Shariah Courts (Criminal Jurisdiction) Act 1965 or Act 355 to provide for heavier punishments on lesbian, gay, bisexual and transgender (LGBT) community.
Ahmad Marzuk claimed that the current sentence under the Act, which provides for a three year imprisonment, a fine of RM5,000 and six strokes of the cane, is perceived as not having much effect on such groups of individuals.
The prime minister also advocated that legislation be developed by Asean members to enhance data privacy and users' rights, which can be applicable to any digital entity practising in the region.
He said in doing so, digital platforms can be mandated to assume greater accountability, allowing them to be sued as long as they have control over their products.
Such legislation would also be crucial when it concerns security in cyberspace, thus necessitating a review of existing laws to accommodate new technologies and challenges.
"Technology has evolved at a rapid pace and with it the emergence of new cyber threats and new challenges. As such, there must be a mechanism to enable the existing laws to be applied in cyberspace and new laws be enacted if the need arises.
"Malaysia also recognises the cross-border nature of cyber crimes and the challenges in bringing cybercriminals to justice as this requires a coordinated and integrated regional approach," he said.
Muhyiddin also spoke of Malaysia being given the privilege to coordinate the development of the Asean Digital Masterplan 2025, which was launched at ADGMIN1.
"The masterplan aims to guide the development of the regional digital sector over the next five years, and incorporates efforts to support digital transformation for the traditional sectors, and to create a fair and competitive digital marketplace.
"It also builds a safe and reliable digital environment, creates intelligent digital citizens, realises Asean as an inclusive, sustainable and accessible digital ecosystem and, eventually, creates Asean as a competitive digital economy bloc," he said.
Muhyiddin added he is confident that ADGMIN1 will be able to strengthen the cooperation among Asean countries in developing a digital ecosystem as the backbone in their respective post Covid-19 development plans.
The prime minister touched on the importance of Asean working with the world's biggest economies including China, Japan, and the United States.
"These are also the most developed and sophisticated economies in the digital era. There may be differences and tensions across the Pacific between the United States and China, but we are happy to work with them all.
"In doing so we stand to gain from each of these partner countries. While we hope they can cooperate better together, we should also cooperate more with each one of them. By working through Asean Plus Three, we can promote digital engagements and encourage information and communications technology investments from China, Japan and South Korea," he said.
https://www.malaymail.com/news/malaysia/2021/01/21/muhyiddin-urges-asean-to-legislate-against-online-hate-speech-threats-based/1942613
--------
How COVID-19 Is Straining Human Rights in Thailand, Malaysia, Philippines
By Ralph Jennings
January 20, 2021
TAIPEI - Stay-home orders in the Philippines didn't work for lower-class people who rely on short term jobs for family income. They went out in 2020 despite the pandemic and despite the rules. Eventually tens of thousands were arrested and jailed in conditions that raise their risk of getting sick.
In Thailand, citizens worried about the pandemic's impact on their signature tourism and export industries have protested the government, even the king. Neighboring Malaysia has excluded migrants and refugees from COVID-19 relief programs.
These are just a few examples from Southeast Asia cited by international advocacy groups last year. They tell a broader story: COVID-19 outbreaks worsened human rights issues on much of the subcontinent.
Southeast Asia, made up of more than 650 million people spanning 11 countries, is dominated by young democracies that took strict action against COVID-19 last year while scrambling to reset fragile economies. Human rights took a hit, said Phil Robertson, deputy Asia director at the New York-based advocacy group Human Rights Watch.
"We continued to see the situation bump along the bottom in many of the countries in Southeast Asia," Robertson said. "And what happened with the COVID-19 pandemic is that it was like a real searchlight that highlighted inequalities and vulnerability of various different populations."
The pandemic allowed countries to "reinforce" existing policies and orders targeting dissidents, he added.
Malaysia, Myanmar, Thailand
Malaysia's effort to contain its COVID-19 had a "disproportionate impact on marginalized communities," Human Rights Watch said in a country report released last week. Migrants and refugees who had lost their jobs because of the outbreak were "excluded from government aid programs, and many were left unable to feed their families", the report says.
Of Malaysia's 31.5 million population, more than 3.5 million people are migrants and refugees.
Across the subcontinent in impoverished Myanmar, health services have missed "large parts of the population," especially in the countryside, the nonprofit international development group Asia Foundation says in an August 2020 briefing.
Some of these overlooked people are relying instead on armed rebel groups for aid, the foundation's report says. Healthcare focuses mainly on the dominant Bamar Buddhist rather than other groups, it adds. The country covers 135 ethnic groups, including the restive Muslim Rohingya population in the country's western regions.
Authorities in Singapore fostered anti-immigrant sentiment by isolating migrant workers who carried the coronavirus and feeding them "meals ready to eat," Robertson said.
A wave of protests in Thailand against the government took on COVID-19 overtones, too. Thailand had brought its coronavirus outbreak under control last year, with just 12,594 cases total to date, but some among the thousands of demonstrators who started gathering in July said bans on mass assembly -- including protests themselves -- were too strict.
Some people even criticized the king despite lèse-majesté laws that can land a critic in prison for 15 years for their comments, policy advisory body the International Crisis Group says.
"The sharpest economic shock since the 1997-1998 financial crisis will strain a society simmering with discontent and a political order designed to thwart popular political participation," the group said in an August report. Thailand faces a lack of international tourism and fallen demand for automotive exports.
More crackdowns in the Philippines
Philippine authorities added strict stay-at-home measures last year to other means of stopping antigovernment activity, rights groups and people in the country say.
Poorer people in Metro Manila go outside to beg for money or look for work if they have lost jobs due to business shutdowns. Some used to be fish vendors and drivers of jeepneys, a popular form of public transit, said Maria Ela Atienza, political science professor at the University of the Philippines Diliman. They risk getting detained, she said.
President Rodrigo Duterte, who is known for a deadly anti-drug crackdown since 2016, has told soldiers and neighborhood leaders to shoot "troublemakers" who protest during community quarantine, U.S.-based rights advocacy group Amnesty International said on its website in April. A "prevailing climate of impunity" increased killings of activists last year over political views, Amnesty International says.
"You have this very militaristic, traditional security-centered approach to the pandemic instead of having civilian scientists and experts leading the fight against the pandemic," Atienza said.
Police officers in charge of enforcing stay-at-home orders have committed "a lot of abuses," said Renato Reyes, secretary-general of the Manila-based Bagong Alyansang Makabayan alliance of leftist causes. Armed forces stepped up "counterinsurgency" attacks last year and targeted people suspected of supporting an armed communist movement, he said. An anti-terrorism act signed in July makes any attacks easier, rights groups say.
"Legal instruments, the lockdown, taking advantage of the pandemic and the increased counter-insurgency operations, all of these things contributed to the worsening and deterioration of the human rights situation in the country," Reyes said.
https://www.voanews.com/covid-19-pandemic/how-covid-19-straining-human-rights-thailand-malaysia-philippines
--------
Credit ratings agency Fitch's downgrading of Malaysia has been damning
21 Jan 2021
CANBERRA: Malaysia is in a quandary, desperately trying to figure out how to resolve political and economic questions.
The fragmentation of the Malaysian market for votes is at a point it has never before experienced.
In a country where ethnic politics have long dominated, there are the Malays, who are divided in at least five ways, and the Chinese, with at least three parties to choose from, and the Indians (who electorally carry much less weight) with three choices.
Then there is the increasingly vociferous East Malaysian segment, which is undecided as to whether to seek its fortunes by demanding increasing autonomy or by aligning with the dominant parties that succeed in controlling Peninsular Malaysia.
The divisions are not based on any clear grounds of economic ideology – or if there is, it is well hidden. The one party that has a distinct outlook is, of course, Parti Islam Se Malaysia (PAS), the national Islamic party, with the party that broke off from it being Parti Amanah Nasional, the National Trust Party.
The Parti Keadilan Rakyat (PKR) or People's Justice Party claims to be a reform-based party but has failed to elaborate and develop upon the nature of its reforms – PKR has neither articulated nor detailed its reform agenda.
The fuzzy characteristics of the parties do little to set them apart along definite lines.
This gives a great deal of flexibility to politicians, allowing them to explore innumerable permutations and combinations. In the absence of other separating planes, race and religion occupy a significant space, one that is perhaps given undue importance.
MUDDIED ECONOMIC WATERS
The economic sphere is no less muddy. The Malaysian economy has been grappling with the middle-income trap, the presence of a disproportionately large migrant force and the lack of adequate technological innovation and upgrading.
As much as these factors have been consuming policy debate at the macroeconomic level, other issues have been disturbing people, among them the question of affordable and convenient healthcare, affordable housing and high household debt.
Disturbing as these challenges are, the arrival of COVID-19 has only compounded the problems. Alongside the aggressive political jockeying, the pandemic has spelt uncertainty and a lack of direction, economically speaking.
This disturbing scenario has not gone unnoticed.
Recently, the credit ratings agency Fitch downgraded Malaysia to BBB+, only a few notches above that for junk bonds. The downgrade was, arguably, a result of the political uncertainties that abound.
A disappointed Finance Minister Tengku Zafrul responded by claiming Fitch had not given due recognition to the country's COVID-19 response efforts.
Yet the downgrade was mainly because of the shifting political ground and governance problems. There could not have been a more damning reason for the decision.
After all, most countries have been afflicted by the economic damage wrought by the panademic and have needed to resort to expansionary budgets with increased government debt.
All that would have been necessary for Malaysia to convince the ratings agencies would have been a sensible roadmap to get the country out of its fiscal deficit and high government debt, along with a commitment to return to a state of fiscal balance.
Either Malaysia failed to do this in adequate measure, or the ratings agencies judged the political climate to be an obstacle to achieving fiscal stability.
LONG TERM TROUBLES AHEAD
Even so, the downgrade is a temporary glitch. The Malaysian economy, in all likelihood, will recover in 2021 – provided the pandemic is under control.
The World Bank expects that the economy will record a growth rate of about 6 per cent, taking the country out of its fiscally distressing position.
There is concern that some investments have been going to neighbouring countries. Some of the investments that have been diverted away from the country have been viewed with concern, indicating possible investor aversion to Malaysia.
Samsung and Apple factories are going to Vietnam, Amazon is building its data centre in Indonesia, an electric car battery factory from China is setting up a factory in Indonesia, and so is Hyundai.
Yet the outlook on foreign direct investment (FDI) may be less negative. All political parties know that FDI is Malaysia's lifeline, and while the pressures of the times might take a toll on speed of responsiveness – slowing down approvals, for instance, with ministerial change priorities – those investors who have sunk their FDI in Malaysia will not pack up and leave, or at least they will not leave solely because of political uncertainties.
Undeniably, political stability is valuable. Prime Minister Muhyiddin Yassin has made clear the need for certainty, saying he wants to hold snap elections once the pandemic is over.
Nobody knows when that will be – parliament is suspended under emergency decree until at least August, while there is agitation whether this restriction should be lifted.
All of which means that the Malaysian economy will have to put up with economic uncertainty for a while longer.
Finding one's political self is not without cost.
https://www.channelnewsasia.com/news/commentary/malaysia-politics-uncertainty-covid-economy-13999904
--------
New Indonesian law empowers communities in anti-terror fight
JAN 20, 2021
Indonesia is pushing back against violent extremism by introducing a presidential regulation to let civil societies and communities receive empowerment training to help their neighbourhoods.
Aiming for a softer approach in countering terrorism, local communities would, for example, be trained to identify vital national infrastructure and other facilities around where they live that are prone to terrorist attacks.
Other programmes propose annual awards for young people who respond fastest against extremist threats.
The 122-page regulation also contains guidelines and action plans aimed at equipping communities to monitor and report any suspicious clues to prevent terrorism.
The "national action plan to prevent and mitigate violence-based extremism that lead to terrorism" follows years of deadly terror attacks in Indonesia by home-grown extremist groups.
The government, in explaining its rationale for the regulation, said: "The country's Constitution mandates the government to ensure that everyone is entitled to having the feeling of security and protection from the threat of fear.
"This regulation does not only target trigger factors, but also at building community resilience in general to fend off violence-based extremism that leans towards terrorism."
But some rights groups are worried that allowing community policing of extremism could lead to wrongful arrests and cause divisions in the communities targeted.
The regulation, signed on Jan 6 by President Joko Widodo, is expected to be the main reference point for relevant ministries and government agencies in their work in anti-extremism programmes.
Article 8 in the regulation stipulates that the relevant ministries, agencies, provincial and regency governments may work with communities to implement the action plans.
Indonesia saw its deadliest terrorist attack in 2002, with bombings by South-east Asia's terrorist group Jemaah Islamiah (JI) that killed 202 people in Bali.
JI, which is widely believed to be linked to Al-Qaeda, was considered to be responsible for several other attacks, including the JW Marriott Hotel bombing in Jakarta in 2003 that killed 12 people.
When JI stepped back, other extremist groups, such as Jamaah Ansharut Daulah (JAD) which has pledged allegiance to the Islamic State in Iraq and Syria, had stepped up local attacks.
In January 2016, JAD attacked the Jakarta city centre which led to an hours-long lockdown. Eight people died, including the four attackers, and 25 others were injured.
Ms Yenny Wahid, director of the moderate Muslim think-tank Wahid Foundation, has hailed the new presidential regulation, saying it would facilitate synergy between the government and civil societies in fighting extremism.
"Radicalism and terrorism cannot be dealt with only relying on security approach.
"Humanity, religion, education approaches are needed. Civil societies can play the best roles here. There are certain corners in the society that the government cannot enter," she said in a statement.
However, Mr Bonar Tigor Naipospos, deputy director of the Setara Institute rights group, said it is premature to involve the general public in the community policing of extremism.
He argued that the regulation does not provide a clear definition of extremism, making it open to interpretation, The Jakarta Post daily reported.
The newspaper also cited activists who cautioned that the regulation could lead to wrongful arrests and public divisions.
https://www.straitstimes.com/asia/se-asia/new-indonesian-law-empowers-communities-in-anti-terror-fight?utm_source=iterable&utm_medium=email&utm_campaign=1918742_
--------
Mideast
Netanyahu urges President Biden to 'strengthen' US-Israel alliance
20 January 2021
Israeli Prime Minister Benjamin Netanyahu on Wednesday urged new US President Joe Biden to "strengthen" a long-standing alliance between the two countries, partly to confront the "threat" posed by Iran.
"I look forward to working with you to further strengthen the US-Israel alliance, to continue expanding peace between Israel and the Arab world and to confront common challenges, chief among them the threat posed by Iran," Netanyahu said.
The Israeli leader was speaking in a video congratulating Biden moments after he was sworn in as US president, replacing Donald Trump.
Netanyahu, who has referred to Trump as the "best friend" Israel has had in the White House, noted Wednesday that he had "a warm personal friendship going back many decades" with Biden.
Islamist movement Hamas, which controls the Gaza Strip, said it was "not sorry" to see Trump depart, calling him "the world's main source and sponsor of oppression, violence and extremism" and partner in "Israeli aggression" against the Palestinians.
Biden "must correct the wrong historical path of American policy which is oppressing our people," and end policies aiming at "destroying the Palestinian cause," said Hamas spokesman Fawzi Barhoum.
The Palestinian presidency lashed out at Netanyahu, who on Sunday announced that Israel approved 780 new settler homes in the occupied West Bank, ahead of a March general election.
All Jewish settlements in the West Bank are regarded as illegal by much of the international community.
But Trump's administration, breaking with decades of US policy, declared in late 2019 that Washington no longer considered settlements as being in breach of international law.
"Netanyahu is welcoming Biden with settlements," said Nabil Abu Rudeina, a spokesman for Palestinian president Mahmud Abbas, on Wednesday.
"His only aim is to destroy the two-state solution."
Under Trump, the United States also recognized Jerusalem as Israel's "undivided" capital and moved its embassy there, sparking Palestinian outrage.
"We hope that the presence of Biden will be a chance to apply international law and resolve the conflict, establishing an independent Palestinian state and putting an end to the suffering of the Palestinian people," said Jibril Rajub, a senior official from Abbas' Fatah party.
Trump's administration also withdrew from the 2015 Iran nuclear deal and imposed tough new sanctions on the Islamic republic, Israel's arch foe.
Israel welcomed the moves and encouraged Europe to follow suit.
But Biden's nominee for Secretary of State, Antony Blinken, said Tuesday the incoming administration was ready to return to the deal as long as Iran respects its commitments.
Israel has also reached a series of normalization agreements with its Arab neighbors under the Trump administration.
https://english.alarabiya.net/en/News/middle-east/2021/01/21/Israel-relations-Netanyahu-urges-President-Biden-to-strengthen-US-Israel-alliance
--------
Iran's Rouhani calls on US President-elect Biden to return to nuclear deal
20 January 2021
Iranian President Hassan Rouhani urged US President-elect Joe Biden on Wednesday to return to a 2015 nuclear deal and lift crippling sanctions on the Islamic Republic.
Biden, who takes office on Wednesday, has said the United States will rejoin the pact that includes restrictions on Iran's nuclear work if Tehran resumes strict compliance.
"The ball is in the US court now. If Washington returns to Iran's 2015 nuclear deal, we will also fully respect our commitments under the pact," Rouhani said in a televised cabinet meeting.
"Today, we expect the incoming US administration to return to the rule of law and commit themselves, and if they can, in the next four years, to remove all the black spots of the previous four years," he said.
Tensions have grown between Tehran and Washington since 2018, when US President Donald Trump exited the deal between Iran and six world powers that sought to limit Tehran's nuclear program and prevent it developing atomic weapons. Washington reimposed sanctions that have crippled Iran's economy.
Iran, which denies ever seeking nuclear arms, retaliated to Trump's "maximum pressure" policy by gradually breaching accord. Tehran has repeatedly said it can quickly reverse those violations if US sanctions are removed.
Antony Blinken, Biden's choice for secretary of state, said on Tuesday the United States would not take a quick decision on whether to rejoin the pact.
"US President Donald Trump's political career is over today and his 'maximum pressure' policy on Iran has completely failed," Rouhani said. "Trump is dead but the nuclear deal is still alive."
https://english.alarabiya.net/en/News/middle-east/2021/01/20/Iran-nuclear-deal-Iran-s-Rouhani-calls-on-US-President-elect-Biden-to-return-to-nuclear-deal
--------
Palestinians react with outrage to Biden pick's al-Quds remarks
20 January 2021
Palestinian movements have reacted with outrage at remarks by US President Joe Biden's pick for secretary of state in support of the Israeli regime's claim to the holy occupied city of Jerusalem al-Quds.
"Yes and Yes," Antony Blinken said during a testimony on Tuesday after being asked, "Do you agree that Jerusalem is the capital of Israel and do you commit that the United States will keep our embassy in Jerusalem?"
Former President Donald Trump rolled out a hugely controversial Middle East plan early last year touted as the "Deal of the Century," under which he gave the Israeli regime huge concessions at the expense of the Palestinian people.
Those included recognizing al-Quds as the so-called exclusive capital of the occupying regime -- something Tel Aviv had been lobbying for throughout decades -- in spite of Palestinians' age-old demand that the city's eastern part serve as the capital of their future state. Trump also ordered relocation of the American embassy from Tel Aviv to the city.
Ever since the US's moves concerning al-Quds, Palestinians have stopped recognizing any intermediary role by Washington in the Palestinian-Israeli conflict.
The Gaza Strip-based Palestinian resistance movement of Hamas said Blinken's remarks ran counter to international laws and resolutions that recognize al-Quds as an occupied city. Spokesman Hazem Qassem called the comments "an affront to all Arab nations and states."
Islamic Jihad, Hamas' fellow Gaza-headquartered resistance group, also called the remarks "a slap on the face of all who have pinned their hopes on the US administration."
Spokesman Dawood Shihab said Blinken's position indicated the US's insistence on supporting the occupying regime and manipulate the truth. "All should know this that the US will never change. It is Palestinians [themselves], who should get rid of the occupation through long-term struggle and endeavor."
Meanwhile, Abdullah Abdullah, a senior official within the Palestinian Fatah movement that is based in the nearby occupied West Bank, where al-Quds is located, reminded that the US Congress had decided to call al-Quds the Israeli regime's capital back in 1995.
Trump only executed the decision and now his successor cannot reverse the congressional designation, he reminded. Abdullah, however, urged the incoming US administration to recognize East al-Quds as Palestine's capital and set up a consulate there so it can start diplomatic interactions with the Palestinians.
https://www.presstv.com/Detail/2021/01/20/643483/Palestine-United-States-Biden-Antony-Blinken-Jerusaelm-al-Quds-Israeli-regime
--------
Iran's Zarif: Unlawful US sanctions dealt blow to multilateralism
21 January 2021
Foreign Minister Mohammad Javad Zarif has once again slammed the US for turning its back on its obligations under the 2015 nuclear agreement, saying Washington has profoundly undermined multilateralism by imposing unlawful sanctions on others.
Speaking in a videoconference call with his Irish counterpart, Simon Coveney, on Wednesday, Zarif said Washington's unilateral sanctions, especially those imposed on other countries over the past few years, run counter to the UN Charter and international accords, and have dealt a blow to multilateralism.
He further expressed Iran's readiness to fully implement the nuclear deal — officially named the Joint Comprehensive Plan of Action (JCPOA) — if the United States lifts its sanctions against the Islamic Republic and returns to compliance with the multilateral agreement.
Iran had met all its obligations since the JCPOA took effect, Zarif said, adding that the country only started reducing its commitments under Article 36 of the accord since it was deprived of the pact's benefits following the unilateral US withdrawal and Europe's inability to live up to its obligations.
The JCPOA was signed in 2015 between Iran and six world states — namely the US, Germany, France, Britain, Russia and China — and ratified in the form of UN Security Council Resolution 2231.
However, the US under former president Donald Trump unilaterally pulled out of the JCPOA in May 2018 and reinstated the anti-Iran sanctions that had been lifted by the deal.
The Trump administration also targeted Iran with the so-called maximum pressure campaign, subjecting the nation to the "toughest ever" restrictive measures.
The fate of the JCPOA is now hanging in the balance after the European co-signatories — France, Britain and Germany — failed to counter the anti-Iran sanctions as required by the agreement, prompting Tehran to scale back parts of its commitments in retaliation.
Trump' successor, Joe Biden, has pledged to rejoin the accord if Iran returns to compliance.
On Tuesday, Biden's nominee for secretary of state Antony Blinken told the Senate Foreign Relations Committee that Washington did not face a quick decision on whether to rejoin the JCPOA, saying, "We are a long way from there."
The top Irish diplomat, for his part, told Zarif that his country considers the JCPOA an important achievement of multilateral diplomacy and intends to play an active role in preserving the accord, given its non-permanent membership of the Security Council and election as the Resolution 2231 facilitator.
He further described Trump's "maximum pressure" policy as unconstructive, saying it undermined diplomacy.
'Biden to discuss Iran with foreign partners'
In another development on Wednesday, White House Press Secretary Jen Psaki said Iran will be on the agenda for Biden's early talks with foreign counterparts and allies.
"The president has made clear that he believes that through follow-on diplomacy, the United States seeks to lengthen and strengthen nuclear constraints on Iran and address other issues of concern. Iran must resume compliance with significant nuclear constraints under the deal in order for that to proceed," she told a briefing.
"We would expect that some of his earlier conversations with foreign counterparts and foreign leaders will be with partners and allies and you would certainly anticipate that this would be part of the discussions."
Russia: New US approach towards JCPOA pragmatic
Meanwhile, Russia's Permanent Representative to the International Organizations in Vienna Mikhail Ulyanov said the new US attitude to the Iran nuclear deal is "quite businesslike and pragmatic which means that there are chances of getting ahead."
Speaking in a televised interview with Rossiya 24 news channel, he referred to a law, dubbed the Strategic Action Plan to Counter Sanctions, which has recently been approved by the Iranian Parliament (Majlis).
When asked about the potential timeframe of the US return to the JCPOA, Ulyanov replied, "We all urgently need that the first signs of normalization appear in February, since under the law recently passed by Iran's Majlis."
"Unless progress is made, as early as on February 21 Tehran is to terminate the appliance of the Additional Protocol and the Safeguards Agreement it signed with the IAEA, and that will dramatically reduce the chances of inspecting the state of affairs in Iran's nuclear program," he added.
https://www.presstv.com/Detail/2021/01/21/643520/Iran-Zarif-US-Biden-JCPOA
--------
Africa
Libyans agree to hold constitutional referendum: Egypt
20 January 2021
Libyan envoys at UN-backed talks in Egypt agreed Wednesday to hold a constitutional referendum before planned elections in the war-torn country later this year, Egypt's foreign ministry said.
Egypt "welcomes the agreement reached today between the Libyan parties in Hurghada in the framework of the constitutional process... and appreciates the efforts that led to the agreement to hold a referendum on the draft constitution in view of the Libyan elections scheduled for December 24, 2021," the ministry said in a statement.
New talks will be held in Egypt next month with a view to settling the "road map for the referendum and elections," it added.
Oil-rich Libya has been torn apart by civil war since the NATO-backed uprising that ousted former president Muammar Gaddafi in 2011, with an array of militias filling the vacuum and civilian bodies struggling to impose their authority.
The Government of National Accord (GNA) is based in the capital, while a House of Representatives which does not recognize the Tripoli administration is based in the east.
A fragile ceasefire between the two sides, agreed in Geneva last October, has largely held despite threats by eastern military general Khalifa Haftar to resume fighting.
In the Egyptian Red Sea resort of Hurghada, members of the commission drafting a future constitution met with delegations from the House of Representatives and the Tripoli-based High Council of State, which advises the GNA.
The meeting was held to "discuss the constitutional arrangements necessary for the holding of elections on December 24," according to the UN.
Libyans at UN-led talks in Tunisia in November agreed on the date for the elections.
Elected Libyan officials later called for a constitution to be approved prior to holding the polls, but did not challenge the election date.
A Moroccan diplomatic source told AFP on Wednesday that further talks between members of the House of Representatives and the High Council of State would be held Friday in the coastal town of Bouznika, south of the Moroccan capital Rabat.
The GNA said the negotiations would discuss appointments to the country's key institutions -- already the topic of discussion in Morocco in recent months -- such as the electoral commission, the central bank and the anti-corruption commission.
Libyan envoys at separate UN-backed talks in Geneva voted Tuesday to pass a mechanism to choose an interim executive to govern until the December elections, according to the UN, calling it a "significant step forward".
https://english.alarabiya.net/en/News/middle-east/2021/01/20/Libyans-agree-to-hold-constitutional-referendum-Egypt
--------
Tunisians protest mass arrests in nighttime clashes
21 January 2021
Tunisians protested Wednesday to demand the release of hundreds of young demonstrators arrested in several nights of disturbances, venting their anger also against the government's handling of a deepening social crisis.
Around 100 people rallied in Tunis and a similar number in the city of Sousse, in defiance of gatherings that have been forbidden by authorities following a recent surge in coronavirus cases.
"We want the detainees to be freed," the protesters cried in Sousse.
In Tunis, protesters -- many of them students -- shouted slogans from the country's 2011 revolution, including "freedom, work, national dignity", as they moved along the capital's arterial Habib Bourguiba Avenue.
The protests come as the economy is in free-fall, youth unemployment soars and anger rises against a political class that has shown itself incapable of pulling together for the nation -- gripes in sharpened focus as the country last week marked 10 years since the fall of dictator Zine El Abidine Ben Ali.
Prime Minister Hichem Mechichi acknowledged Tunisians' "legitimate" anger in a televised address Tuesday evening, but said violence was "unacceptable" and vowed to "confront it with the force of law".
Hundreds have been arrested since the nighttime clashes erupted on Friday, amid a four-day lockdown imposed the previous day, the date on which Ben Ali fled into exile in the early days of the Arab Spring. Many of those detained are minors.
https://english.alarabiya.net/en/News/north-africa/2021/01/21/Tunisians-protest-mass-arrests-in-nighttime-clashes-
--------
Over 40 Europe-bound migrants killed in shipwreck off Libya: UN
20 January 2021
A "tragic" shipwreck in the Mediterranean Sea off Libya's coast killed at least 43 migrants bound for Europe, the UN migration agency said Wednesday.
The International Organization for Migration said the shipwreck that took place a day earlier was the first maritime disaster in 2021 involving migrants seeking better lives in Europe.
The IOM said coastal security in Libya's western town of Zuwara rescued 10 migrants and brought them to shore. It said the dead were all men from Western African nations, according to survivors.
It said the boat left the western city of Zawiya early Tuesday and capsized a few hours later after its engine stopped working amid rough seas.
Libya, which descended into chaos following the 2011 uprising that toppled and killed longtime dictator Muammar Gaddafi, has emerged as a major transit point for African and Arab migrants fleeing war and poverty to Europe.
Most migrants make the perilous journey in ill-equipped and unsafe rubber boats.
https://english.alarabiya.net/en/News/world/2021/01/20/Over-40-Europe-bound-migrants-killed-in-shipwreck-off-Libya-UN
--------
Somali, U.S. forces kill 3 al-Shabab terrorists in southern region
2021-01-20
MOGADISHU, Jan. 19 (Xinhua) -- Somali and U.S. forces on Tuesday killed three al-Shabab terrorists in the latest two airstrikes targeting fighters of the extremist group in the southern region.
The U.S. Africa Command (Africom) said the strikes targeted the militants in the vicinities of Jamaame and Deb Scinnele of the southern part of the country.
"These strikes targeted known al-Shabaab leaders involved in IED facilitation, fighter training, and attack planning," Dagvin Anderson, Joint Task Force-Quartz commander, said in a statement.
Anderson said no civilians were injured or killed as a result of this operation which came as the allied forces intensified military operations against the al-Qaida allied terrorist group in the Horn of African nation.
"We are working closely with our Somali partners to support their operations against al-Shabab, protect their people, and provide governance," he added.
Somalia and partner forces have increased military raids into territory formerly controlled by al-Shabab after driving the insurgents out of Mogadishu in 2011.
The strikes have largely targeted al-Shabab figureheads based in southern Somalia where the group still maintains a strong grip in some regions. Enditem
http://www.xinhuanet.com/english/2021-01/20/c_139681733.htm?utm_source=iterable&utm_medium=email&utm_campaign=1918742_
--------
Violence create food crisis in northern Mozambique- WFP
JANUARY 19, 2021
GENEVA (Reuters) - Militant attacks that have forced hundreds of thousands of people to flee their homes in Mozambique's northern Cabo Delgado province have created a humanitarian crisis, the U.N. World Food Programme (WFP) said on Tuesday.
"What is happening is nothing short of a food security and nutritional crisis," WFP spokesman Tomson Phiri told a U.N. briefing. "This is a humanitarian disaster."
The attacks have forced 570,000 people to flee, Mozambique President Filipe Nyusi said last month, saying he would defeat insurgents who stepped up attacks since pledging loyalty to Islamic State last year.
Speaking ahead of a joint briefing by U.N. agencies on Wednesday, Phiri said there were limited supplies so the cost of food had soared, while access to water and sanitation was also impacted, as was education.
The insurgent group, Ahlu Sunnah Wa-Jama, staged its first attack in 2017. Known at first mainly for beheadings, the fighters declared allegiance to Islamic State in June 2019 and since then have increased attacks in scale and frequency.
https://www.reuters.com/article/us-mozambique-insurgency-food/violence-create-food-crisis-in-northern-mozambique-wfp-idUSKBN29O1C4?utm_source=iterable&utm_medium=email&utm_campaign=1918742_
--------
URL: https://www.newageislam.com/islamic-world-news/us-president-joe-biden-lifts/d/124118
New Age Islam, Islam Online, Islamic Website, African Muslim News, Arab World News, South Asia News, Indian Muslim News, World Muslim News, Women in Islam, Islamic Feminism, Arab Women, Women In Arab, Islamophobia in America, Muslim Women in West, Islam Women and Feminism