New Age Islam News Bureau
22 Apr 2017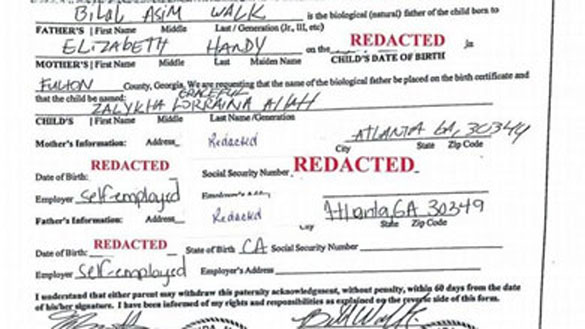 The parents had feared that without a birth certificate their daughter's US citizenship could be questioned
-----
• US Parents Win Right To Give Daughter Surname Allah
• Muslim Board's Campaign To Build Awareness On Triple Talaq Runs Out Of Steam
• Bangladesh Madrasa Education Board Goes Tough To Check Militancy
• Britain First Leader Slammed For Posting 'Video Of Muslims Rejoicing At The Paris Attacks' Which Was Actually A Cricket Celebration
• Mob Attacks Man In Chitral Accused Of Making 'Blasphemous Remarks'
North America
• US Parents Win Right To Give Daughter Surname Allah
• US States Could Now Back Trump's Muslim Ban
• Americans United And Allies In Court Today Arguing For Nationwide Block Of Muslim Ban 2.0
• Husband of US Muslim judge found dead in river challenges 'suicide' theory
• Labour group levels charges of union busting against Muslim rights organization
--------
India
• Muslim Board's Campaign To Build Awareness On Triple Talaq Runs Out Of Steam
• Muslim Outfit Seeks Law To Expose Fundamentalist Ideologies In Islam
• Uttar Pradesh: Six terror suspects handed over to family for de-radicalisation
• 2 Men Sentenced To 7 Years In Jail For Recruiting, Raising Funds For ISIS
• Police Halt Muslim Kar Sevaks From Entering The Shrine Of Ramjanamabhoomi In Ayodhya
--------
South Asia
• Bangladesh Madrasa Education Board Goes Tough To Check Militancy
• Over 50 Afghan troops killed in Taliban attack
• Bangladesh PM's Moves Toward Powerful Muslim Group Raises Eyebrows
• Taliban kill three soldiers at army HQ in northern Afghanistan
• NATO reaffirms support as deadly attack hit Afghan army corps in Balkh
• ISIS-K leader Hafiz Saeed's horse presented to the Afghan President
--------
Europe
• Britain First Leader Slammed For Posting 'Video Of Muslims Rejoicing At The Paris Attacks' Which Was Actually A Pakistani Cricket Celebration From 2009
• French Muslims Despondent After Champs Elysees Attack
• Police suspect greed not terror in Germany attack
• Fears shroud French election after new terror attack
• Gunman attacks regional Russian security service office, kills two
--------
Pakistan
• Mob Attacks Man In Chitral Accused Of Making 'Blasphemous Remarks'
• Christian Mom Sentenced To Hang For 'Insulting Islam' In Pakistan May Face Final Hearing
• Imam Rescues Blasphemy Accused From Mob
• 434 militants surrender in Balochistan
• Raheel Sharif Leaves For Saudi To Lead Islamic Military Alliance
--------
Mideast
• Israelis Hosted A Barbecue To Taunt Hunger-Striking Palestinian Prisoners
• Turkey Opposition Files Appeal Against Vote Result At Top Court
• Saudi Arabia: Iran wants to replicate Hezbollah model wherever possible
• Iran cleric urges live broadcast of presidential election debates
• US defies both letter, spirit of nuclear deal: Iran FM
• Russia, Iran, Turkey continuing joint work on Syria ceasefire: Lavrov
• Israeli warplanes attack Syrian army positions in Golan Heights
--------
Africa
• AQIM's Alliance in Mali: Prospects for Jihadist Pre-eminence in West Africa
• Somalia: Al-Shabaab Warns Against Western Education
• 'Methodist Church not happy with the way Islamic fanaticism is turning our nation into a war zone'
• One million displaced in DR Congo's Kasai due to violence: UN
--------
Arab World
• Syrian Fighter Jets Turn Eastern Damascus into Hell for Terrorists
• Syrian Army Continues Assault on ISIL, Al-Nusra in Homs
• Terrorists' Centers in Eastern Damascus Hit Hard in Syrian Armed Forces' Attacks
• Syria: More Civilians from Towns of Fua'a, Kafraya Arrive in Aleppo
• Terrorist Centres in Dara'a Damaged in Syrian Army Attacks
• Syrian Armed Forces Inflict Major Losses on ISIL in Deir Ezzur
• Homs: Terrorists Suffer Major Losses under Syrian Army's Heavy Fire
• US ground operation in Syria kills ISIS operative linked to Turkey club attack
--------
Southeast Asia
• Pence Tours Indonesian Mosque In Outreach To Muslims
• Malaysia: Leaders who insult Islam will lose like Jakarta's Ahok – Islamist party
• Blasphemy Blocks Re-Election of Indonesia's Only Christian Governor
• Ahok's Defeat Signifies Tough Road Ahead for Democratic and Tolerant Future
Compiled by New Age Islam News Bureau
URL: https://www.newageislam.com/islamic-world-news/us-parents-win-right-give/d/110869
--------
US Parents Win Right To Give Daughter Surname Allah
April 22, 2017
GEORGIA : Georgia officials have granted a couple's request to issue a birth certificate giving their toddler daughter the surname "Allah" after earlier refusing to do so because neither parent has that name, civil liberties advocates said on Thursday.
The American Civil Liberties Union, which brought a lawsuit, called the decision a victory for free expression, but a top official with the largest US Muslim advocacy group criticized the choice to use the word Allah.
ZalyKha Graceful Lorraina Allah, who will soon turn 2, was born in Atlanta to parents Elizabeth Handy and Bilal Walk, who waited about a year before seeking a birth certificate for the child.
While they had no difficulties obtaining birth certificates for their older children, ages 3 and 17, who also have the surname "Allah," a clerk for the Georgia Department of Health blocked the request for the youngest child.
Last month, the ACLU filed suit in state court against the leaders of the state department of health and the state office of vital records to compel them to allow the surname chosen by the parents, said Sean J. Young, legal director for the ACLU of Georgia.
Georgia law requires that clerks allow any name chosen by the parents as long as it is not provocative or offensive, Young said in a phone interview. The department relented on Friday, and the ACLU dropped the suit.
Nihad Awad, national director for the Council on American-Islamic Relations, said that while many people have names that are derivations of Allah, such as Abdullah, which means "servant of God," using "Allah" as a stand-alone surname was not culturally acceptable.
"You would never use just Allah. That would be considered very inappropriate," Awad said in a phone interview.
http://nation.com.pk/international/22-Apr-2017/us-parents-win-right-to-give-daughter-surname-allah
--------
Muslim board's campaign to build awareness on triple talaq runs out of steam
Apr 21, 2017
It was supposed to be a day of spreading awareness and starting discussions on triple talaq across thousands of mosques in India to prevent misuse of the controversial Islamic divorce practice.
Instead, the publicity campaign ran out of steam on its opening day with hardly any mention of triple talaq before Friday prayers across cities.
Clerics pinned the blame on the All India Muslim Personal Law Board (AIMPLB) that had announced the initiative, saying it didn't print and circulate a two-page booklet containing the code of conduct for Muslims on marriage and divorce.
The body had distributed the document with much fanfare during its executive committee meeting in Lucknow on April 16.
With the exception of one of Lucknow's 1,000-odd mosques, the controversial issue that has divided the country found no mention in any sermon. Even the revered Nadwa mosque, which can hold 5,000 worshippers and was packed on Friday, saw little discussion. "I usually make it a point to attend Friday prayers at this mosque. But I heard nothing about any code of conduct from the Imam," said Rehan Khan, owner of a furniture shop in Kaiserbagh locality.
Triple talaq – under which a Muslim man can divorce his wife by uttering the word "talaq" (divorce) thrice – has been thrust under the national spotlight after a number of women approached the Supreme Court to ban the ritual.
The government and Prime Minister Narendra Modi have come out strongly against the practice and called it anti-women. The AIMPLB has called for internal reform and discussions to stop misuse of the law.
In Delhi's iconic Jama Masjid, devotees said triple talaq found no mention during Friday prayers led by Shahi Imam, Syed Ahmed Bukhari.
"The Khutbas (seroms) are delivered in Arabic. Most of the people who offer prayers behind the Imam do not understand the language. I could not hear any mention of talaq in the khutba," said Mohd Zeeshan. The courtyard of the mosque can accommodate at least 20,000. While Shahi Imam was not available for a comment, his spokesperson Ammanullah Bukhari said there was no such mention in the sermons before prayers.
The board said the booklet couldn't be printed in time because of errors in text. "We have vetted the format only yesterday (Thursday). We are getting calls from our various state bodies and cities for the booklet," said board secretary Zafaryab Jilani.
He added that the document would be printed in a number of local languages and also distributed in the upcoming AIMPLB session at Bengaluru on April 29.
In the absence of the booklet, the discussion evoked little enthusiasm. In Jaipur, devotees who came to offer prayers at the Jama Masjid in Johari Bazaar were unaware of any AIMPLB directive. In his 25-minute sermon, the Imam only talked about the advantages of drinking cold water in the summer, according to a devotee, who attended the prayers.
"We are yet to receive the booklets," said Maulana Shafique Qasmi, the imam of Nakhoda masjid in Kolkata. The same was the response from another mosque in Rajabazar locality. "But I have got the directives on WhatsApp, and have circulated them among some people," said Maulana Shafique Qasmi .
In Patna, however, some clerics gave a brief talk on Muslim personal law. "We are going to start an awareness campus among the Muslims about Muslim personal law, what are the provisions related to marriage, talaq (divorce), rights of children," said Ahmed Ali Akhtar, convenor of Jamaat-e-Islami Hind, Bihar.
http://www.hindustantimes.com/india-news/muslim-board-s-campaign-to-build-awareness-on-triple-talaq-runs-out-of-steam/story-63emep95Mt9CRF4yF8qgCP.html
--------
Bangladesh Madrasa Education Board Goes Tough To Check Militancy
April 22, 2017
It also instructed the madrasa authorities go for administrative and departmental action immediately if any student is found linked to militancy
Bangladesh Madrasa Education Board (BMED) recently ordered the authorities of all Dakhil and Alim madrasas to launch a campaign in respective institutions and dormitories to check whether militant activities are being carried out there.
It also instructed the madrasa authorities go for administrative and departmental action immediately if any student is found linked to militancy.
Issuing a circular on April 17, the board also warned the madrasa authorities that exemplary legislative actions will be taken if books, journals or other publications related to militancy are found in any Islamic seminary and hostel.
All the madrasas were asked to report to respective local police stations and intelligence agencies if any student remains absent for 15 consecutive days.
Signed by BMED Registrar Professor Md Majibur Rahman, the circular, containing six points, was out corresponding with the decision of a weekly coordination meeting held at Prime Minister's Office on July 31 last year.
The education board also ordered the madrasa authorities to do anti-militancy counselling with teachers, students and guardians regularly to create awareness.
On August 10, 2016, BMED had issued such a circular, signed by its Chairman Professor AKM Saif Ullah, after the July 1 Gulshan terror attack.
A senior board official, requesting anonymity, said the latest circular was issued in the wake of a rise in militant activities across the country.
Meanwhile, on February 8, the madrasa education board also instructed all its affiliated institutions not to preserve or incorporate in curriculum any book, journal or write-ups that may radicalise the pupils.
http://www.dhakatribune.com/bangladesh/education/2017/04/22/madrasa-education-board-goes-tough-check-militancy/
--------
Britain First Leader Slammed For Posting 'Video Of Muslims Rejoicing At The Paris Attacks' Which Was Actually A Cricket Celebration
22 April 2017
The leader of Britain First has been slammed after posting a video that he falsely claimed was of Muslims celebrating last night's Paris terror attack.
Paul Golding tweeted a video this afternoon along with the caption 'Oh look, a crowd of 'moderate' Muslims celebrating the Paris terror attack in London.'
Mr Golding was swiftly met by a tirade of people who were up in arms about the tweet, with many believing he was trying to stir up Islamophobia.
It was, in fact, shot seven years ago and actually shows Pakistani cricket fans celebrating a victory of Sri Lanka.
It comes after Karim Cheurfi, 39, drove his silver Audi on to the Champs Elysee, the most famous street in the French capital, and 'targeted' officers using a Kalashnikov on Thursday night.
And scores of social media users were furious at Mr Golding over the tweet, believing he was trying to stir up Islamophobia.
One said: 'Paris isn't mention, no radicalised flags. Are you sure this isn't a cricket celebration? English passers-by are even being embraced?'
Another added: 'How you know that's what they're celebrating? There was a non Muslim woman in the crowd too. Have you taken this out of context?'
Last year, controversial Mr Golding infamously turned his back on Sadiq Khan as he gave his victory speech after being elected London's first Muslim mayor - but claimed he was not being racist.
Mr Golding, who was stood alongside the other candidates inside City Hall, was filmed gazing out the window as Mr Khan urged Londoners to come together.
Speaking at the time, he said: 'Racist? I didn't turn my back around because he's Asian, I turned my back on his because he's a vile man.
'The extreme left lunatic fringe of Labour have taken over with Corbyn.'
Then, in December, he was jailed for eight weeks for breaching a court order not to enter a mosque or encourage others to do so.
London's High Court heard that nine days after the injunction – which prohibited entering any mosque in England and Wales without prior invitation – was imposed in August this year, Golding drove four Britain First members to the Al-Manar Centre in Cardiff for a 'mosque invasion'.
Golding stayed outside and despite there being no violence, there was a verbal confrontation between his four colleagues and a mosque trustee.
Mr Golding has been approached for comment by MailOnline.
http://www.dailymail.co.uk/news/article-4433010/Britain-leader-posts-fake-Paris-celebration-video.html
--------
Mob attacks man in Chitral accused of making 'blasphemous remarks'
SIRAJUDDIN
April 22, 2017
A mob attacked a man and beat him brutally inside a mosque in Chitral after he was accused of uttering blasphemous remarks following Friday prayers.
The man, who is yet to be identified, is alleged to have pushed the imam of the mosque to allow him to speak after jummah prayers, a local present at the site told DawnNews. Eyewitnesses claim the man then uttered 'blasphemous remarks' amidst the prayer gathering.
As worshippers started beating the man, the mosque's imam, fearing for the man's life, handed him over to the police.
Police took the man to the local police station for his protection. They said they were trying to ascertain the man's mental health.
A First Information Report (FIR) has been filed against the man over charges of blasphemy and terrorism, Deputy Commissioner Chitral Shahab Yousafzai told DawnNews.
"The situation is under control now," Yousafzai said, adding that police is investigating the case.
"At the moment, I am not in a position to comment on the mental health of the man," Yousafzai said. "A team of doctors will file a detail report about his mental health," he said.
Mob reaches police station
Soon after the accused was shifted, the mob attacked and broke into the police station amid aerial firing and heavy tear gas shelling from the police. The firing resulted in power outages nearby as transmission lines were damaged by bullets.
The situation remained volatile, police said, while they attempted to cool the mob down and restore peace in the area.
The Frontier Constabulary also reached the police station to assist with maintaining law and order, a police official said, adding that "3,000 to 4,000 people" were still present outside the police station.
The district administration has called a meeting of the local ulema and officials to discuss the incident.
'Rule of law should prevail'
The incident comes days after a vigilante mob lynched 23-year-old Mardan university student Mashal Khan over allegations of blasphemy.
The brutal lynching, which occurred inside the premises of Abdul Wali Khan University, Mardan, had invited unanimous condemnation from the National Assembly.
Lawmakers and religious scholars alike repeatedly stressed after the Mashal case that mobs cannot be allowed to take the law into their own hands.
The also stressed that even if someone was accused of blasphemy, police should be allowed to follow due process and the case should be decided only in a court of law.
Pakistan Tehreek-i-Insaf chief Imran Khan had been particularly critical of the incident, describing it as "the law of the jungle".
Prime Minister Nawaz Sharif issued a strongly-worded condemnation of the incident two days later.
"The state will never tolerate those who take the law in their own hands," the premier had warned.
An investigation into Mashal's murder is on-going and arrests are being made.
https://www.dawn.com/news/1328360/mob-attacks-man-in-chitral-accused-of-making-blasphemous-remarks
--------
North America
US States Could Now Back Trump's Muslim Ban
April 22, 2017
Trump's January order was hastily implemented just days after his inauguration, leading to chaos and protests at airports and more than two dozen lawsuits.
President Donald Trump's travel ban on citizens of six Muslim-majority nations faces its second challenge at a U.S. appeals court next month, and this time more Republican states are backing the measure, while one Democratic state attorney general dropped out of the legal fight this week.
Some legal experts say the states' realignment could signal that the changes made last month to Trump's original executive order have strengthened the government's case.
Sixteen Democratic state attorneys general and the District of Colombia on Thursday filed a "friend of the court" brief backing Hawaii in its bid to block the March 6 executive order, which two federal judges put on hold before it could be implemented. Hawaii and other states argue the ban violates the U.S. Constitution because it discriminates against Muslims.
But Pennsylvania Attorney General Josh Shapiro, who opposed the original ban that Trump signed on Jan. 27, did not join Thursday's brief, which was filed in the 9th U.S. Circuit Court of Appeals in San Francisco. Shapiro declined to comment.
On the other side, Texas, which had been alone in its support for the original January order, has gained the support of 14 Republican states urging that the ban go forward in a legal brief filed on April 10. Those states back the government's argument that the president has wide authority to implement immigration policy and that the ban is needed to prevent terrorist attacks.
Trump's original ban, which the president said was needed for national security to head off attacks by Islamist militants, applied to seven Muslim-majority nations and indefinitely banned the entry of all refugees from Syria. It was revised and narrowed after a flurry of legal challenges.
"The second executive order was much more carefully written than the first. Maybe when various states analyzed it they weren't as interested as joining," said Stephen Yale-Loehr an immigration expert at Cornell University Law School. However, he said, "amicus briefs sometimes are filed for political reasons."
Some judges pay close attention to amicus briefs, while others disregard them.
The U.S. Department of Justice declined to comment.
Trump's January order was hastily implemented just days after his inauguration, leading to chaos and protests at airports and more than two dozen lawsuits. A federal judge in Seattle halted the order and the 9th circuit upheld that ruling.
The White House re-crafted the order to exclude legal permanent residents and removed Iraq from the list of targeted countries. Iran, Libya, Somalia, Sudan, Syria and Yemen are still included in the new order. The new ban also dropped language giving preference to refugees who are part of a persecuted religious minority in their country of citizenship.
http://www.telesurtv.net/english/news/US-States-Could-Now-Back-Trumps-Muslim-Ban-20170421-0028.html
--------
Americans United And Allies In Court Today Arguing For Nationwide Block Of Muslim Ban 2.0
Apr 21, 2017
This afternoon, Americans United and our allies will have our first opportunity to go before a judge in UMAA v. Trump – the federal lawsuit we filed against President Donald J. Trump's Muslim Ban 2.0.
U.S. District Judge Tanya S. Chutkan in Washington, D.C., will hear our request to put the ban on Muslim immigrants and visitors on hold nationwide while our case proceeds. Although federal judges in Maryland and Hawaii have already stopped the ban from being implemented thus far, a nationwide injunction in our case would insure that the American Muslim community won't be harmed regardless of what happens in the other lawsuits.
Americans United, Muslim Advocates, the Southern Poverty Law Center and the law firm Arnold & Porter Kaye Scholer filed UMAA v. Trump last month. We argue that Trump's second executive order, which bars immigrants and travelers from six Muslim-majority countries and imposes extreme vetting on Iraqi nationals, is the Muslim ban that Trump promised while campaigning for president and that he tried to implement with his first executive order, which was blocked by the federal courts.
Trump's Muslim ban is unconstitutional and un-American because it discriminates against Muslims based solely on their religion. It's a stark example of the government showing disfavor for one particular religion – a clear violation of the First Amendment's promise of religious freedom and neutrality.
UMAA v. Trump offers a unique perspective on how Trump's ban harms the Muslim community. UMAA, one of the plaintiffs, is the Universal Muslim Association of America – the largest organization of Shi'a Muslims in the United States. Shi'a Islam is uniquely affected by the Muslim ban because nearly all of its religious leaders live in Iran, Iraq and Syria. Since Iranian and Syrian nationals are banned by Trump's order and Iraqis are subject to extreme vetting, UMAA's members are cut off from worshiping and studying with their religious scholars.
The lawsuit also presents the harrowing circumstances of a Yemeni family granted asylum in the U.S. whose two young children are still stranded overseas. The Muslim ban prevents these children from coming to the U.S. – keeping them separated from their parents and at risk of returning to war-torn Yemen.
"This lawsuit proves that President Trump's Muslim ban isn't just unconstitutional, it's also cruel," AU Executive Director Barry Lynn said. "It divides families and keeps children from their parents, for no reason other than bias and prejudice against members of the Muslim faith."
This afternoon, AU and our allies will present to Judge Chutkan how UMAA and its members, the Yemeni family and others will face immediate harm if the Muslim ban is implemented.
During the same hearing, the judge will also hear arguments in a related case: Pars Equality Center v. Trump, which was originally filed in response to Trump's first Muslim ban. AU had filed a friend-of-the-court brief in support of Pars Equality, an organization that advocates for the Iranian-American community. The case since has been amended to address Trump's second Muslim ban.
Even as our case proceeds, AU remains involved in other lawsuits challenging the second Muslim ban. Today we were joined by the Southern Poverty Law Center; Bend the Arc: A Jewish Partnership for Justice; seven Christian faith leaders from Colorado, Florida, Minnesota and New York; and The Riverside Church in New York City in filing a friend-of-the-court brief in State of Hawaiʻi v. Trump. The clergy members note in the brief, "As Christian leaders, we are obligated to lead in matters of faith and to defend our freedom of religion from governmental intrusion. Among other concerns, the Executive Order risks being misunderstood as representing our faith, furthering the inaccurate and harmful narrative that America is a 'Christian Nation' – a message that we strongly reject."
State of Hawaiʻi v. Trump is the case in which U.S. District Judge Derrick K. Watson blocked Muslim Ban 2.0 just hours before it was to go into effect. The government has appealed Judge Watson's decision and the 9th Circuit Court of Appeals is expected to hear arguments on May 15.
Full report at:
https://www.au.org/blogs/wall-of-separation/americans-united-and-allies-in-court-today-arguing-for-nationwide-block-of
--------
Husband of US Muslim judge found dead in river challenges 'suicide' theory
21 April 2017
The husband of US judge Sheila Abdus-Salaam, who was found dead last week in a New York City river, has challenged reports of her apparent suicide.
Rev Gregory Jacobs joined police on Wednesday and dismissed the possibility that she may have taken her own life.
The 65-year-old judge was found dead in the Hudson River with no signs of foul play or criminality, police say.
Speaking about the theory of suicide, Jacobs wrote in a statement to NBC News, "These reports have frequently included unsubstantiated comments concerning my wife's possible mental and emotional state of mind at the time of her death."
"Those of us who loved Sheila and knew her well do not believe that these unfounded conclusions have any basis in reality."
Full report at:
https://english.alarabiya.net/en/News/world/2017/04/21/Husband-of-US-Muslim-judge-found-dead-in-river-challenges-suicide-theory.html
--------
Labour group levels charges of union busting against Muslim rights organization
April 21, 2017
The nation's largest Muslim advocacy organization has been hit with charges of union busting amid a row with a labor union attempting to organize its Washington, D.C., staff.
The Maryland-based Service Employees International Union Local 500 filed a charge of unfair labor practices against the Council on American-Islamic Relations -- alleging that the Islamic civil rights group denied union organizers access to the workplace, made threatening and coercive statements to workers ahead of a planned organizing vote and fired at least three employees for attempting to organize workers.
The charges -- which delayed the scheduled Monday workplace organizing vote by CAIR's staff scheduled -- were filed with the National Labor Relations Board, the United States main federal labor law enforcement agency. The filings were posted on the NLRB's website, but the actual complaint from the SEIU Local 500 has not been made public.
A spokesman for SEIU Local 500 told Fox News that the filing and the delay of the vote on Monday was necessary because of the atmosphere of "intimidation and fear" at CAIR.
"The vote was postponed because there is so much union busting going on over there that it is impossible to have a fair election," said SEIU Local 500 spokesman Christopher Honey. "The whole things seems totally antithetical to what they do with their work at CAIR."
In a statement provided to Fox News, CAIR called the charges leveled against the organization "meritless" and said it "strongly supports the organized labor movement." The communications director at CAIR, Ibrahim Hooper, did not answer Fox News' question of whether or not the organization supported its own workers unionizing and instead referred back to CAIR's statement.
"CAIR has remained neutral throughout this process and respects the free choice of employees," the statement said. "We look forward to the election going forward as soon as possible."
CAIR was formed in 1994 under the auspices of working to promote social, legal and political activism among Muslims in America. Over the years the group has had to fend off numerous charges that it is pursuing an Islamist agenda.
While SEIU Local 500 asserts that they filed charges and delayed the vote because of intimidation tactics on the part of CAIR management, Hooper implied that the union wanted a delay because they didn't have enough votes to actually unionize. If successful, SEIU Local 500 would represent between 17 and 20 non-management employees at CAIR's Washington D.C. office.
"The vote was not stopped by any action on our part," Hooper said. "There is only one reason I believe the union would want to delay the vote."
SEIU Local 500 attests that last October they begin the push to unionize after being approached by CAIR employees who told the union they had a majority of employees in support of going that route.
Full report at:
http://www.foxnews.com/us/2017/04/21/labor-group-levels-charges-union-busting-against-muslim-rights-organization.html
--------
India
Muslim Outfit Seeks Law To Expose Fundamentalist Ideologies In Islam
APRIL 22, 2017
Awareness drive to expose fundamentalist ideologies
Ithihadu Shubbanil Mujahideen (ISM), the youth wing of the Kerala Nadvathul Mujahideen (KNM), on Friday launched an awareness campaign to expose the fundamentalist ideologies that have given rise to 'pseudo spiritualism and superstition.'
The massive campaign from the north zone was launched from Thrikkarippur in the district on Friday against the backdrop of 17 youths, including women along with children, hailing from the town and nearby coastal village of Padanna, who went missing and were later confirmed to have joined the Islamic State (IS) during June and July last year. A similar campaign would be kicked off from Thiruvananthapuram on Saturday. A vehicle campaign with 200 permanent members from respective districts would culminate at Pattambi on April 30, ISM State president A.I. Abdul Majeed told The Hindu here.
Interactions
The participants in the campaign would hold interactions with various Muslim community leaders by visiting local 'Mahals' to expose the pseudo spiritual values and superstitions that have arisen from lack of in-depth knowledge about the values professed by various religions, Moulana Muhammed Shakib Assalafi, a renowned Islamic scholar, said, launching the campaign at Thrikaripur on Friday evening.
The ISM's main objective is to force the administration to formulate stringent and effective legislation to eradicate superstition as the present generation from the community is very often found misguided by lack of in-depth knowledge about the spirit of various religions, driving them to adopt extremist and fundamentalist values, he said.
The meeting was addressed, among others, by CPI(M) local MLA M. Rajagopalan, KNM State Secretary Zulfikar Ali and organising Secretary P.K. Zakaria.
http://www.thehindu.com/todays-paper/tp-national/tp-kerala/muslim-outfit-seeks-law-against-superstition/article18188062.ece
--------
Uttar Pradesh: Six terror suspects handed over to family for de-radicalisation
April 21, 2017
Six people detained in Uttar Pradesh on Thursday on suspicion of association with ISIS have been handed over their families to facilitate their "de-radicalisation", police said on Friday. "Six persons, who were detained interrogated in Noida have been handed over to their families. Legal action will be taken if any proof is found against them," a senior official of the UP's Anti-Terrorism Squad (ATS) told PTI.
"However, keeping in mind that they were being influenced by radical propaganda, management will be made with the help of their families for their de-radicalisation," the official said.
About the four others arrested, the officer said they will be produced in the court and their remand will be sought for interrogation.
The arrests were made in Mumbra (Maharashtra), Jalandhar (Punjab), Narkatiaganj (Bihar), and Bijnor and Muzaffarnagar (both in Uttar Pradesh) in a joint operation of the Delhi Police's Special Cell, the Anti-Terrorism Squads of UP and Maharashtra, and the police of Andhra Pradesh, Punjab and Bihar.
Full report at:
http://indianexpress.com/article/india/uttar-pradesh-six-terror-suspects-handed-over-to-family-for-de-radicalisation-4622930/
--------
2 men sentenced to 7 years in jail for recruiting, raising funds for ISIS
Apr 21, 2017
NEW DELHI: Special court today awarded seven-year jail term to two men+ after they pleaded guilty of criminally conspiring to raise funds and recruiting people for the terror outfit ISIS.
District judge Amar Nath convicted accused Azhar-ul- Islam (24) from Jammu and Kashmir and Mohammed Farhan Shaikh (25) from Maharashtra, following their U-turn more than a month after the court framed charges against them.
The accused had moved an application through advocate M S Khan saying they "are remorseful of the acts alleged against them. There is no prior criminal record against them and they want to join the mainstream and want to be productive for the society and want to rehabilitate themselves".
"The applicants are pleading guilty without any pressure, threat, coercion or undue influence," the plea had said.
The court had last month framed charges against both the accused and 36-year-old Adnan Hassan+ for allegedly hatching a criminal conspiracy to raise funds for the ISIS and recruiting people for the terror outfit. The trial against Hassan is continuing separately before the same court.
The court had framed the charges for alleged offences of criminal conspiracy under the IPC) and under provisions of the Unlawful Activities Prevention Act (UAPA).
The National Investigation Agency+ (NIA) had registered a case against the three accused on January 28 last year. They were arrested the next day on arrival here from Abu Dhabi.
According to the probe agency, Hassan and Shaikh had been frequently visiting the UAE in connection with jobs since 2008 and 2012 respectively, while Islam had gone to join them in the UAE in July, 2015.
Hassan was earlier allegedly affiliated to the Indian Mujahideen and later got inclined towards ISIS, it alleged.
The charge sheet filed by NIA had claimed that the accused persons, in connivance with other known and unknown associates, had hatched a criminal conspiracy to propagate the ideology, recruit persons, raise funds and facilitate the travel of those recruited to Syria to join the ISIS and further its activities.
The final report said that in furtherance of the conspiracy, the accused had created multiple email IDs, used multiple mobile numbers obtained from their associates from different countries, formed various online forums and groups on Facebook, WhatsApp, Kik, VKontakte, Viber and Skype, using the internet and invited and associated like-minded persons, residents of different countries.
"The accused had formed a terrorist gang and acted as a frontal group of the ISIS and incited, motivated, invited and facilitated people of different nationalities to leave their respective countries and travel to Syria to join, support and further activities of the ISIS," it alleged.
Full report at:
http://timesofindia.indiatimes.com/india/2-men-sentenced-to-7-years-in-jail-for-recruiting-raising-funds-for-isis/articleshow/58295911.cms
--------
Police Halt Muslim Kar Sevaks From Entering The Shrine Of Ramjanamabhoomi In Ayodhya
Apr 22, 2017
AYODHYA: Police refused to allow a group of people claiming to be Muslim Kar Sevaks from entering the shrine of Ramjanamabhoomi in Ayodhya. The group said they had come to help construct Ram temple at the disputed site.
The group of 20-25 under the banner of Rashtriya Muslim Morcha reached Ayodhya on Thursday with a truckload of bricks. SSP of Faizabad, Kuldeep Narain, said, "We took them to the police station and asked them to leave Ayodhya."
Full report at:
http://timesofindia.indiatimes.com/city/lucknow/police-halt-muslim-kar-sevaks/articleshow/58309452.cms
--------
South Asia
Over 50 Afghan troops killed in Taliban attack
April 22, 2017
MAZAR-I-SHARIF - "More than 50 Afghan soldiers have been killed" in a Taliban attack Friday on their base near the northern city of Mazar-i-Sharif, a US military spokesman told AFP.
The attack lasted several hours but was over by early evening, according to the spokesman, who wished to remain anonymous.
US General John Nicholson, commander of NATO's Resolute Support operation, said in a separate statement that the attack targeted "soldiers at prayer in a mosque and others in a dining facility" of the 209th Corps of the Afghan army. The general, who did not give a toll, praised "the Afghan commandos who brought today's atrocity to an end".
Afghan defence ministry spokesman General Dawlat Waziri said gunmen wearing Afghan army uniforms had launched the attack on the army compound on the outskirts of Mazar-i-Sharif, capital of Balkh province.
"In total, there were 10 attackers involved in the attack on the Afghan army corps. Seven of them were killed, two blew themselves up, and one was detained by Afghan forces," Waziri told AFP.
The Afghan general earlier gave a toll of eight soldiers killed and 11 wounded but said this would change.
Several military helicopters were hovering over the site and ambulances were evacuating the bodies of the victims, an AFP correspondent said.
In a statement the Taliban claimed responsibility for the operation.
The last major attack against a military site dates back to early March, a coordinated hours-long assault on the country's main military hospital in Kabul. Officials said around 50 people were killed in that attack, though credible sources said it was more than double that. That operation was claimed by the Islamic State group.
Reuters adds: The attack was launched near a mosque on the base in Mazar-i-Sharif, the capital of Balkh province, as soldiers were leaving Friday prayers, said army spokesman Nasratullah Jamshidi.
Six attackers in two military vehicles told guards at the gates that they were carrying wounded soldiers and urgently needed to enter, he said.
After killing at least eight soldiers and wounding 11 others with rocket-propelled grenades and guns, one attacker was killed and the other five arrested, Jamshidi said.
Another Afghan official, speaking on condition of anonymity as he was not authorised to speak publicly, said more than 20 soldiers had been killed and 50 wounded.
A number of German and other foreign soldiers are based in Mazar-i-Sharif, including about 70 who advise the corps headquarters as part of a NATO-led multinational mission to advise and train the Afghan security forces.
"To our knowledge, no Germans were affected. Nor were any other soldiers in the multinational force harmed," said a spokesman for the German Operations Command. The statement was echoed by American officials.
Taliban spokesman Zabihullah Mujahid said the attackers had set off an explosion, allowing suicide bombers with small arms to breach the base's defences. "Our fighters have inflicted heavy casualties on the Afghan army stationed there," he said.
The base is the headquarters for the Afghan National Army's 209th Corps, responsible for much of northern Afghanistan, including Kunduz province where there has been heavy fighting.
The NATO command in Kabul called the attack "murderous and reprehensible".
http://nation.com.pk/national/22-Apr-2017/over-50-afghan-troops-killed-in-taliban-attack
--------
Bangladesh PM's Moves Toward Powerful Muslim Group Raises Eyebrows
2017-04-21
Bangladesh's secular ruling party is trying to garner votes for upcoming elections through recent concessions to the hardline Hefazat-e-Islami group, according to the opposition and rights groups, but Prime Minister Sheikh Hasina insists she's not mixing religion with politics.
Hasina, who heads the Awami League, met with Hefazat chief Allama Shah Ahmed Shafi and hundreds of other representatives of the influential group at her residence last week, and virtually endorsed their call for removing a statue of a Greek goddess of justice that stands outside the nation's Supreme Court.
Hefazat and other conservative Muslim groups said the statue is unbefitting for predominantly Muslim Bangladesh and they have staged mass demonstrations against it, including one that drew thousands of people to the streets of Dhaka on Friday (see video below).
During the meeting with Hefazat on April 11, Hasina also assured them her government would recognize degrees from the thousands of Qwami madrassas – Islamic boarding schools – which the group runs, surprising secular groups who regard the move as another attempt at Islamization in Bangladesh, whose constitution guarantees secular rule. In addition, the prime minister agreed to make some changes to public school textbooks as demanded by Hefazat.
The decisions to side with Hefazat, which has called for gender-segregated workplaces and tough blasphemy laws, arose amid tensions between hardliners and secularists in Bangladesh.
The Awami League is forging a "compromise with the fundamentalists, conservative, anti-women and anti-liberation groups or with groups linked with them" to retain power, said Sultana Kamal a former adviser to a previous caretaker government, describing the recent moves by Hasina as "very unfortunate."
"This is a very inferior type of politics. This will put the Awami League in danger and they will create a debacle for the country," she told BenarNews.
Awami, the party that led pro-independence forces in the 1971 war against Pakistan, known here as the Liberation War, has taken a position against the people by making such concessions, Kamal suggested.
Khaleda Zia, Hasina's bitter political foe who leads the opposition Bangladesh Nationalist Party (BNP), has accused the prime minister of courting votes from hardline Muslim groups ahead of general election in 2019.
"Hasina has been mixing politics with religion," Zia said.
The PM shot back.
"I follow religious guidelines, but I do not mix politics with religion," Hasina said.
The prime minister denied that her decision to recognize the Qwami certificates was tied to upcoming elections.
PM defends action on madrassas
As many as 1.4 million, mostly poor, students attend some 70,000 Qwami madrassas in Bangladesh. Until now, the certificates issued by these non-formal schools have not much currency on the job market because they are not considered up to the standards of modern curriculum in public schools.
"Recognition of the Qwami madrassa certificate will bring jobs to lakhs [hundreds of thousands] of students. There is no politics in it," Hasina said.
Some leaders of her party commended this concession as a smart and practical one.
"Recognition of the Qwami Madrasa certificates is a good move. This is not meant for votes. What's wrong with it if this increases Awami League votes?" Col. Farid Khan, a member of the party's presidium, told BenarNews.
The leader of the Workers Party, an ally in the ruling bloc spearheaded by Awami, said such concessions toward conservative Muslim groups could backfire on Awami League by causing progressive members and voters to quit the party.
"An alliance with Hefazat would shrink the progressive forces and harm people's secular and democratic spirit," Rashed Khan Menon, the head of the Workers Party and civil aviation minister, told BenarNews, adding, "there should be a combined resistance against it."
Full report at:
http://www.benarnews.org/english/news/bengali/hasina-hefazat-04212017154204.html
--------
Taliban kill three soldiers at army HQ in northern Afghanistan
April 22, 2017
At least three Afghan army soldiers were killed and several wounded on Friday when Taliban gunmen attacked a military headquarters in northern Afghanistan, officials said.
The attack occurred near a mosque on the base in Mazar-i-Sharif, the capital of Balkh province, as soldiers were leaving Friday prayers, according to an army officer who asked not to be named as he was not authorized to speak publicly.
The Western-backed Afghan government is locked in a prolonged war with Taliban insurgents as well as other militant groups.
Taliban spokesman Zabihullah Mujahid said the fighters set off an explosion, allowing suicide bombers armed with small arms to breach the base.
"Our fighters have inflicted heavy casualties on the Afghan army stationed there," he said.
Another army officer reported that the attackers used military uniforms and vehicles to pass through three checkpoints before launching their attack.
The base is the headquarters for the Afghan National Army's 209th Corps, which covers most of northern Afghanistan, including Kunduz province where there has been heavy fighting recently.
A number of German and other foreign soldiers are based in Mazar-i-Sharif, including about 70 who advise the corps headquarters as part of a NATO-led multinational mission to advise and train the Afghan security forces.
German military says no German or international troops were involved in the attack.
Full report at:
http://nation.com.pk/international/21-Apr-2017/taliban-kills-three-soldiers-at-army-hq-in-northern-afghanistan
--------
NATO reaffirms support as deadly attack hit Afghan army corps in Balkh
Apr 22 2017
The North Atlantic Treaty Organization (NATO) reaffirmed support to the Afghan forces as a deadly attack ripped through the main army corps, the 209th Shaheen Corps, in northern Balkh province of Afghanisstan.
NATO Senior Civilian Representative Ambassador Zimmermann said "I strongly condemn today's barbaric attack against the 209th Afghan National Army Corps at Camp Shaheen, Balkh Province."
He said "The Afghan soldiers were cowardly slain by the Taliban as they prayed at a Mosque or took their meal at a dining facility."
"I would like to express my heartfelt condolences to the families and comrades of the fallen. I wish a quick recovery for those who were injured," he said, adding that "NATO stands with our Afghan friends and partners as they continue their fight against terrorism."
The Taliban militants group claimed responsibility behind the attack.
Although the exact number of casualties has not been ascertained so far there fears that more than 50 people have lost their lives or have been wounded in the attack.
Full report at:
http://www.khaama.com/nato-reaffirms-support-as-deadly-attack-hit-afghan-army-corps-in-balkh-02618
--------
ISIS-K leader Hafiz Saeed's horse presented to the Afghan President
Apr 21 2017
The personal horse of the Islamic State of Iraq and Syria Khurasan (ISIS-K) leader Hafiz Saeed was presented to President Mohammad Ashraf Ghani, days after the terror group received a major blow in an airstrike in eastern Nangarhar province of Afghanistan.
The horse was presented to President Ghani following a meeting organized in the President Palace, attended by several tribal elders, political figures, and other influential figures of Nangarhar.
The horse was reportedly captured by the security forces during the ongoing counter-terrorism operations in Nangarhar.
Both the Afghan and US forces based in Afghanistan are conducting regular operations to suppress the insurgency led by ISIS militants and other insurgent groups including Taliban.
The increased raids, usually involving drone strikes, by the US forces followed a broader role granted by the Obama administration earlier last year.
The broader role was granted amid concerns that the loyalists of the terror group are attempting to expand foothold in the country and turn the eastern Nangarhar province into a regional operational hub for its fighters.
However, the United States last Thursday launched a major airstrike against the terror group using the Mother of All Bombs, GBU-43 bomb to destroy the tunnels network and other hideouts of the terror group in Achin district.
Full report at:
http://www.khaama.com/isis-k-leader-hafiz-saeeds-horse-presented-to-the-afghan-president-02616
--------
Europe
French Muslims despondent after Champs Elysees attack
Shafik Mandhai
April 22, 2017
Paris, France - One of the largest Muslim places of worship in France, the Paris Grand Mosque, has the capacity to host about 5,000 people at any one time.
Still, by the time the imam had concluded his sermon on Friday, worshippers were taking up position to pray in any niche they could find.
The service contained a grim and increasingly frequent addendum: the condemnation of yet another attack carried of by a supporter of the Islamic State of Iraq and the Levant (ISIL, or ISIS) group.
"Some prejudiced people want to associate Islam with these actions," the imam said in Arabic: "But Islam is innocent of what happened."
He gave way to another member of the mosque administration, who read out a scathing statement condemning the perpetrator and paying tribute to the police officer slain in Thursday's attack on the capital's iconic Champs Elysees.
"The act profoundly shocks the Muslims of France, who pay tribute to the forces that give their lives to protect us," he said.
Located in the fifth arrondissement of Paris, the mosque was built in 1926 by the French state as a gift to the tens of thousands of Muslim soldiers from its colonies, who gave their lives fighting for the country in the First World War.
During the Second World War and the Nazi occupation of France, members of its administration helped some French Jews escape the Holocaust by producing falsified birth certificates for them, which said they were born as Muslims.
Slimane Nadour, the mosque's spokesperson, rued the new regularity of ISIL attacks in the country and the damage they caused to community relations.
"It's just horrifying, these attacks keep occurring," Nadour said, recalling the murder of a priest in the western Normandy region last July and the attack in Nice the same month that killed dozens.
"This is something that's becoming frequent now and it's terrible."
For Nadour, the attacks are not only morally abhorrent but deliberate attempts to create division between French Muslims and the wider community.
"The aim of these terrorists is to divide society and put Muslims against non-Muslims," he said, adding: "They've failed and they will fail again".
"The French people are aware that these people don't represent Islam and it's a small minority of Muslims who do things like this."
'These people are crazy'
Outside the mosque after the prayers had concluded, the feeling among the congregants was little different.
Untangling his bike from the rail against which it was rested, Kamal responded bluntly and with a palpable sense of despondency when asked how he felt about Thursday evening's attack.
"One more," he said, lamenting how easy it had become for ISIL sympathisers to carry out attacks:
"These people are crazy...they just step outside of their houses and if they don't have a weapon they'll use anything they can find to attack others."
As he spoke, men argued passionately about Middle Eastern politics, as street sellers tried to hawk prayer mats and worry beads.
Saleha, walking away from prayers with her children and elderly relatives, spoke briefly of her shock: "It's a disaster, this kind of killing is against our beliefs...our values are against what happened."
With the presidential election just days away, there were also fears that this could empower candidates who want harsher laws targeting the Muslim community.
Asma, a 23-year-old law student, said previous attacks had already created the perception that Muslims were a threat.
The latest, she said, would add to that feeling.
"There's already so much sentiment against Muslims, so this is going to exacerbate it further," she said.
As he pulled his bike away from the rail, Kamal echoed that viewpoint.
"Sunday is the first round of the election...the far right will be happy."
http://www.aljazeera.com/news/2017/04/french-muslims-paris-champs-elysees-attack-170421191712277.html
--------
Police suspect greed not terror in Germany attack
April 22, 2017
BERLIN : Police commandos on Friday arrested a German-Russian suspect behind a bomb attack on Borussia Dortmund's team bus, prosecutors said, indicating the motive was financial and not terror-related.
They said the man, identified only as 28-year-old Sergej W., was hoping to profit from a drop in the football team's share price as a result of last week's attack.
Three explosive devices went off in a hedge alongside the team bus on April 11, minutes after it left the squad's hotel heading for a Champions League quarter-final match at home against Monaco.
The blast shattered the bus windows, and Spanish international Marc Bartra, 26, broke his wrist. A motorcycle police officer suffered inner ear damage from the blast. "The accused is suspected of having carried out the attack on the team bus," prosecutors said after the elite GSG 9 police unit arrested the suspect at dawn in Tuebingen, near the southwestern city of Stuttgart.
"He is charged with attempted murder, setting off explosions and causing serious physical injury."
The suspect was staying in the same Dortmund hotel as the team, had a view of the scene where the bombs went off and had bought so-called put options on the team's shares on the day of the incident, prosecutors said.
These 15,000 options could have been sold at a pre-determined price by June 17, with a sharp fall in the share price promising a high profit.
"A significant drop in the price could have been expected if, as a result of the attack, players had been seriously injured or even killed," prosecutors said.
Sergej. W had allegedly taken out a loan of tens of thousands of euros to pay for the put options, most of which he purchased online from the IP address of the Hotel L'Arrivee, where the team was staying, prosecutors said.
He had reserved the room in mid-March for the periods April 9-13 and 16-20 - coinciding with the team's two scheduled matches against Monaco, though it was not yet clear at the time which one would be held in Dortmund.
He hoped to earn as much as 3.9 million euros ($4.2 million), the Bild newspaper reported.
Prosecution spokeswoman Frauke Koehler however said police financial experts were still calculating how much he could have hoped to gain.
"The suspect's profit would have grown the more the share of Borussia Dortmund fell," she said.
Koehler said there was "no indiction so far" of accomplices, but said investigators did not rule out that others were involved.
The three explosive devices, packed with metal pieces, were hidden along a 12-metre (40-foot) stretch of the hedge - two at ground level, with the third placed at a height of about one metre, prosecutors said.
The devices were remotely triggered, and shrapnel was found as far as 250 metres away.
Citing unnamed investigators, Bild said police believed the suspect was capable of building a remotely-triggered bomb, having won an educational award in electronics and engineering in 2005.
He had drawn attention at the hotel, reported Bild - first by insisting on a window room facing the front and then, in the pandemonium after the blasts, by calmly walking to its restaurant to order a steak.
Three purported claims of responsibility stating a radical Islamist motive were found at the scene, on paper bearing no fingerprints, prosecutors said, adding that Islamic studies experts had voiced "considerable doubts" about their authenticity.
An Iraqi man was taken into custody over a suspected Islamist link but was later cleared of involvement in the bus attack.
Full report at:
http://nation.com.pk/international/22-Apr-2017/police-suspect-greed-not-terror-in-germany-attack
--------
Fears shroud French election after new terror attack
April 22, 2017
PARIS - The killing of a policeman on Paris's Champs Elysees claimed by the Islamic State group rocked France's presidential race Friday with just two days to go before voting in the closest election for decades.
Bloodshed had long been feared ahead of Sunday's first round of the election after a string of attacks since 2015, and the shooting propelled the militant threat to the fore. A note praising Islamic State (IS) was found near the body of the 39-year-old French attacker, who shot dead one officer and wounded two others before being killed by police. The note bolstered IS's claim that the perpetrator, named as Karim Cheurfi, was one of its "fighters".
Far-right leader Marine Le Pen - who is locked in a tight four-way contest with centrist Emmanuel Macron, conservative Francois Fillon and Communist-backed firebrand Jean-Luc Melenchon - moved quickly to present herself as the toughest of the four on terrorism.
The 48-year-old National Front leader called for France to "immediately" take back control of its borders from the European Union and deport all foreigners on a terror watchlist.
"This war against us is ceaseless and merciless," she said in a sternly-worded address, accusing the Socialist government of a "cowardly" response to the threat. Fillon and Macron also hastily convened televised briefings, where they both vowed to protect the French.
"Some haven't taken the full measure of the evil," 63-year-old Fillon said, promising an "iron-fisted" approach.
Macron, a 39-year-old moderate whom other candidates have portrayed as inexperienced, warned against any attempts to use the attack for political gain.
"Let us not give into fear, let us not give into division," he said, telling voters he would be "unwavering in protecting you." The gunman drew up alongside a police van and fired at around 9:00 pm (1900 GMT) on Thursday, sending tourists and visitors to the world-renowned boulevard running for their lives.
After opening fire just a few hundred metres from the Arc de Triomphe monument, the gunman was shot dead while trying to flee on foot. A foreign tourist was slightly wounded by shrapnel.
A statement by IS's propaganda agency Amaq said the attacker was one of its "fighters", identifying him as "Abu Yussef the Belgian".
But French authorities named him as Karim Cheurfi, a Frenchman living in the Paris suburbs.
The IS claim raised initial concerns that a possible second attacker could be on the loose.
On Friday, French authorities said a man sought by Belgium police, who was suspected of having planned to travel to France on Thursday, had handed himself in at a police station in the Belgian city of Antwerp.
French interior ministry spokesman Pierre-Henry Brandet said it was "too early to say" if the man was linked to Thursday's shooting.
Cheurfi was known to anti-terror police, sources told AFP. He had been arrested in February on suspicion of plotting to kill police officers but released because of a lack of evidence. He had been convicted in 2005 of three counts of attempted murder, two involving police officers, sources said. Three people known to him were being questioned by police.
It was unclear how the election would be impacted by the shooting, which came days after two men were arrested in Marseille on suspicion of plotting an imminent attack.
The shooting follows a series of strikes around Europe in the last month, targeting Stockholm, London and the underground train system in Saint Petersburg.
Until now, surveys showed voters more concerned about unemployment and the economy than terrorism or security, though analysts warned this could change in the event of violence.
Macron and Le Pen had long led the presidential campaign but Melenchon and Fillon have closed in on them, with Fillon regaining some support lost to an expenses scandal.
Prime Minister Bernard Cazeneuve accused Le Pen of attempting to use the police killing for political gain, saying she was "seeking, as she does after every tragedy, to take advantage of it".
US President Donald Trump tweeted that the attack "will have a big effect" on the election.
Full report at:
http://nation.com.pk/international/22-Apr-2017/fears-shroud-french-election-after-new-terror-attack
--------
Gunman attacks regional Russian security service office, kills two
April 22, 2017
Russia's Federal Security Service said on Friday that a gunman had burst into one of its regional offices in the far east of the country and opened fire, killing one of its employees and a visitor.
The incident happened at an FSB office in the Khabarovsk region, which is close to China, and another visitor was injured in the attack. The FSB, the successor organization to the Soviet KGB, said the attacker had been killed.
"An unknown person entered the reception of the FSB's Khabarovsk regional branch and started shooting at people inside," the FSB said in a statement.
The FSB said the gunman was a local resident, born in 1999, who belonged to an unnamed nationalist group, the TASS news agency reported, citing an FSB official.
The visitor who was killed and the one who was injured were from former Soviet states outside Russia, according to the security service.
Full report at:
http://nation.com.pk/international/21-Apr-2017/gunman-attacks-regional-russian-security-service-office-kills-two
--------
Pakistan
Christian Mom Sentenced To Hang For 'Insulting Islam' In Pakistan May Face Final Hearing
April 21, 2017
Asia Bibi, the Christian mother of five in Pakistan who for seven years has been facing death by hanging for allegedly insulting Islam, could face her final Supreme Court hearing in June, her lawyer has said.
PERSECUTION OF CHRISTIANS IS A HUMAN RIGHTS ISSUE, SAYS PAKISTANI ARCHBISHOP
Saiful Malook, Bibi's lawyer, told Asia News in an interview on Thursday that "the request to reopen the hearing was submitted to the president of the Supreme Court of Pakistan last week."
He added: "The case continues to be postponed due to the problems of this country. We are in the midst of a continuing war between Islam and Kufr (infidels). But our hopes for her release are many."
As International Christian Concern noted, Bibi's case is one of "the most controversial blasphemy cases" in the world, with persecution watchdog groups calling it "the best example" of how blasphemy laws can be abused.
Bibi was accused by a group of female Muslim co-workers of insulting the Islamic prophet Muhammad back in 2009, and in 2010 was handed a death sentence despite pleading her innocence.
Since then she has been on death row and the subject of numerous campaigns from watchdog groups calling for her freedom. Her final appeal hearing was initially scheduled for Oct. 16, 2016, but the hearing was postponed after one of the judges pulled out of the case.
Groups such as ICC, and others, like Open Doors USA, have noted that Pakistan's blasphemy laws are often used to target Christians, who are a distinct minority in the country, and are used as a means to settle personal feuds.
http://www.foxnews.com/world/2017/04/21/christian-mom-sentenced-to-hang-for-insulting-islam-in-pakistan-may-face-final-hearing.html
--------
Imam rescues blasphemy accused from mob
April 22, 2017
CHITRAL - A man accused of blasphemy was beaten up inside a mosque in Chitral by a charged-up mob after Friday prayers before the imam saved his life and handed him over to the police.
It was the third blasphemy-related incident in the country this month, after a student was beaten to death by a lynch mob and a faith healer was shot dead.
Security officials in Chitral fired tear gas and live rounds on the mob, injuring eight protesters, after they attacked the local police headquarters and demanded that alleged blasphemer Rashid Ahmed be made available for mob justice.
"We told them that Ahmed will be examined medically and if he was found mentally fit then he will be tried under the blasphemy law, but the mob was not satisfied," said local police chief Akbar Ali Shah.
Shah said he had asked for army assistance to help control the crowds, but a Reuters correspondent at the scene said soldiers had yet to arrive.
However, Frontier Constabulary jawans arrived at the police station to assist the police in quelling the situation, as an estimated 3,000-4,000 people had gathered outside the police station.
Witnesses said that Ahmed entered the local mosque asking to make an important announcement, then declared himself a messiah and said that he would lead his followers to paradise.
The angry congregation then turned violent and attacked Ahmed, who Shah said appeared to be suffering from mental illness. He suffered a beating, but police said his injuries were not life-threatening.
The government has been vocal on the issue of blasphemy, with Prime Minister Nawaz Sharif issuing an order last month for the removal of blasphemous content online and saying anyone who posted it should face "strict punishment under the law".
Police are investigating over 20 students and some faculty members in connection with the killing of Mashal Khan, the student who was beaten to death on April 13 in an attack that shocked the country.
Full report at:
http://nation.com.pk/national/22-Apr-2017/imam-rescues-blasphemy-accused-from-mob
--------
434 militants surrender in Balochistan
SYED ALI SHAH
April 22, 2017
As part of political reconciliation in Balochistan, 434 militants surrendered to the authorities on Friday evening.
The militants belonged to various banned organisations, including Baloch Republican Army (BRA), Baloch Liberation Army (BLA) and other groups. The militants were allegedly involved in attacks on government installations in Quetta, Dera Bugti, Sui and other parts of the province.
"Innocent people have been used and elements instigating them were living abroad," said Chief Minister Balochistan Nawab Sanaullah Zehri.
"Innocent people were martyred at the behest of elements who are the slaves of RAW and no compromise would be made over the writ of the government," added the chief minister.
Commander Southern Command Lieutenant General Amir Riaz on the occasion said that Pakistan cannot be weakened.
"Anyone laying down their arms would be welcomed," added Riaz.
"We were deceived," said Sher Mohammad, a key commander of the proscribed BLA, while Dur Khan Baloch, another key commander, said they will "no longer fight for the Indians".
A senior provincial official said so far over 1500 militants have surrendered.
"More Ferraris would surrender before the authorities in the days to come, said Balochistan government spokesperson Anwarul Haq Kakar.
The surrender ceremony was attended by senior military and civilians leaders.
Full report at:
https://www.dawn.com/news/1328362/434-militants-surrender-in-balochistan
--------
Raheel Sharif Leaves For Saudi To Lead Islamic Military Alliance
21 Apr 2017
Pakistan's former army chief Gen Raheel Sharif left for Riyadh on Friday to head a 41-nation Islamic military alliance after getting the government's approval, Defence Minister Khawaja Asif said amidst concerns about the Saudi-led grouping.
Asif told Geo News that Sharif had been "given permission to head the military alliance after completion of all legal formalities and requirements" by the federal government. Media reports suggested that the 60-year-old former chief of army staff was granted approval to serve as head of the alliance for three years.
A military source, while speaking to Dawn.com, said approval for Sharif's departure had also been granted by General Headquarters Rawalpindi according to established procedures. Sharif, who has army chief for three years till his retirement on November 29, 2016, left for Riyadh today on a special aircraft and was accompanied by his wife and mother.
It was not immediately clear if the government had discussed its decision with opposition parties, which recently expressed serious misgivings regarding the issue in light of the possibility that the alliance may be used against Iran, Dawn reported. The news also seemed to go against what the defence minister himself had assured Parliament of on April 13, the report said.
Asif had informed the house that the Saudi government would hold a grand meeting in May, where it would unveil the alliance's Terms of Reference (ToR). "Prime Minister Nawaz Sharif and former COAS Gen Raheel Sharif will attend the event," he had said.
He had further said that the former COAS would formally apply for a No Objection Certificate after the ToR was made public. He also said that the ToR and the aims and objectives of the alliance would be presented to Parliament before a formal decision would be made on whether Pakistan should become a part of it or not.
The 41-nation armed coalition was initially proposed as a platform for security cooperation among Muslim countries and included provisions for training, equipment and troops, and the involvement of religious scholars for devising a counter- terrorism narrative.
Since news of the alliance first surfaced, there have been concerns in Pakistan about its nature and how it may affect a pre-existing parliamentary resolution on Yemen passed unanimously by lawmakers calling for "neutrality in the conflict" in 2015.
On April 13, Asif had told the National Assembly: "We will stick to our prerogative when it comes to Yemen, and the agreement we have will remain binding."
Pakistan Tehreek-i-Insaf's (PTI) Shireen Mazari had raised concerns, saying that a military alliance cannot be a solution to terrorism. The PTI urged the government to determine the nature and purpose of the alliance and make its Terms of Reference clear. Recently, in a meeting at GHQ in Rawalpindi, Chief of Army Staff Gen Qamar Javed Bajwa had assured Iranian Ambassador Mehdi Honardoost that Pak-Iran ties would "remain unaffected by recent developments".
Full report at:
http://www.dnaindia.com/world/report-gen-sharif-leaves-for-saudi-to-lead-islamic-military-alliance-2410864
--------
Mideast
Israelis hosted a barbecue to taunt hunger-striking Palestinian prisoners
21 April 2017
Members of Israeli far right party Ichud Leumi (National Union) taunted Palestinian detainees who are currently on hunger strike by hosting a barbecue outside Ofer Prison in the West Bank.
The right-wing Israelis set up tables and cooked a variety of meats, serving it for free to passersby.
The Palestinian detainees, led by popular leader Marwan Barghouti, launched their hunger strike on Monday to press demands for better medical services and access to telephones.
Several dozen Palestinian protesters clashed with Israeli forces Thursday outside a prison north of Jerusalem where detainees are on the hunger strike. Palestinian prisoners have mounted repeated hunger strikes, but rarely on such a scale.
The strike coincides with Palestinian Prisoners Day, which is annually marked on the 17th of April, a month dedicated to Palestinian prisoners.
https://english.alarabiya.net/en/News/middle-east/2017/04/21/Israelis-hosted-a-barbeque-to-taunt-hunger-striking-Palestinian-prisoners.html
--------
Turkey opposition files appeal against vote result at top court
Apr 21, 2017
Turkey's main opposition party has filed an appeal at the country's highest administrative court against the result of the recent referendum that expanded President Tayyip Erdogan's powers.
In the Sunday referendum, the "Yes" campaign won over 51 percent of the vote, while the "No" campaign gained nearly 49 percent.
The Republican People's Party's (CHP) lawyer Atilla Kart formally submitted the petition with the Council of State on Friday afternoon over the last-minute decision by the High Electoral Board (YSK) to accept unstamped ballots as valid.
The news comes after Turkey's highest electoral authority, the YSK, on Wednesday rejected an appeal, which had been made by the main opposition parties over allegations of vote-rigging.
Kart told reporters that the move was not "just for the 'No' voters" but for the protection of all voters' legal rights.
The lawyer added that there were also 'No' voters among the unstamped ballot envelopes that the YSK accepted, describing the situation as "complete lawlessness."
Earlier, CHP's deputy leader, Bulent Tezcan, said the party would file a case urging the annulment of the YSK's decision to allow the rule change.
He had earlier called for the outcome of the referendum not to be finalized until the case was concluded. The results are expected to be confirmed on April 27 or 28.
"Whether citizens said 'Yes' or 'No', we will continue our legal fight until the end to protect the rights of the 49 million citizens who voted," Tezcan said.
Turkish Prime Minister Binali Yildirim slammed the moves as "futile" and said there was "no point in wasting more of everyone's time."
Yildirim told reporters in Ankara that it was "not the democratic way to go to court, to make complaints to fix the people's decision."
He added that the CHP and others had the right to challenge but "there was nothing we could say about using this."
Full report at:
http://www.presstv.ir/Detail/2017/04/21/518940/Turkey-opposition-appeal-referendum-court
--------
Saudi Arabia: Iran wants to replicate Hezbollah model wherever possible
21 April 2017
Abdullah al-Maalami the Saudi Permanent Representative in the United Nations, said that Iran supports sectarian militias and tries to replicate the Hezbollah model wherever it gets an opportunity.
Maalami also stressed that Saudi Arabia is ready to participate in any international efforts to eliminate terrorism.
He added that the criminal regimes in Iran and Syria are trying to take advantage of Palestinian cause, highlighting that the way to peace is ending the occupation and establishing an independent Palestinian state as per the 1967 borders.
Iran's 'destructive activities'
Meanwhile, the US called on the International Security Council on Thursday to minimize the focus on the Israeli-Palestinian conflict and to give priority to the devastating activities of Iran in the Middle East.
US Ambassador Nicky Hayley described Iran as the "main cause" of conflicts in the Middle East, pledging to work with Washington's partners to demand that Iran comply with UN resolutions.
Hayley spoke about Iran's support for Bashar al-Assad, supplying it with weapons, training militias in Iraq, and supporting Hezbollah in Lebanon, describing the activities as destabilizing.
Full report at:
https://english.alarabiya.net/en/News/middle-east/2017/04/21/Saudi-Arabia-Iran-wants-to-replicate-Hezbollah-model-where-possible.html
--------
Iran cleric urges live broadcast of presidential election debates
Apr 21, 2017
A top Iranian cleric has called for the live televised broadcast of the forthcoming presidential election debates, saying the measure would boost the nation's insight and knowledge about the candidates.
The live broadcast of the debates among the presidential candidates would be "one of the best ways" to enhance the Iranians' awareness and help them identify the best hopeful, Ayatollah Mohammad Ali Movahedi Kermani said in an address to worshipers at the weekly Friday prayers in the Iranian capital.
The senior cleric made the remarks after Iran's Election Campaign Monitoring Committee decided on Thursday to call off the live broadcast of debates and to cover the debates in recorded version instead.
The decision has drawn widespread criticism among Iranian officials and people.
Head of the Islamic Republic of Iran Broadcasting Abdolali Ali-Askari expressed hope that the committee would understand the nation's expectations from the Islamic Republic of Iran Broadcasting (IRIB) and make a revision of the decision.
Elsewhere in his remarks, Movahedi Kermani asked for a high turnout in the May 19 election, which he described as "a difficult test."
"Through its massive turnout in the elections, [the Iranian nation] must prove that the Islamic establishment is strong and enjoys the backing of its people," the cleric said.
He added that Iranians should prove their political awareness by electing the most appropriate candidate.
He also called on the candidates to avoid making promises that they would fail to carry out.
Full report at:
http://www.presstv.ir/Detail/2017/04/21/518898/Iran-Friday-Prayers-Mohammad-Ali-Movahedi-Kermani-presidential-election-debates
--------
US defies both letter, spirit of nuclear deal: Iran FM
Apr 21, 2017
Iranian Foreign Minister Mohammad Javad Zarif has slammed the United States' defiance to honor its obligations under the spirit and letter of the landmark 2015 nuclear agreement signed between Iran and the P5+1 group of countries.
"We'll see if US prepared to live up to letter of the JCPOA (the nuclear deal, known as the Joint Comprehensive Plan of Action) let alone [its] spirit. So far, it has defied both" Zarif said on his official Twitter account on Friday.
"Should I use my highlighter again?" he asked, referring to his tweet that highlighted a part of the JCPOA text about the parties' commitments.
Zarif made the comments after US Secretary of State Rex Tillerson said on Tuesday that Iran is sticking to the terms of the JCPOA. However, he accused Iran of supporting terrorism and questioned whether sanctions should keep being lifted.
He said US President Donald Trump's administration was reviewing the lifting of sanctions against Iran, leveling the allegation that Tehran remains a sponsor of terrorism.
In similar comments, Trump also later accused Iran of "not living up to the spirit" of the 2015 nuclear agreement.
Iran and the five permanent members of the United Nations Security Council -- the United States, Britain, France, China and Russia -- plus Germany signed the JCPOA on July 14, 2015 and started implementing it on January 16, 2016.
Full report at:
http://www.presstv.ir/Detail/2017/04/21/518916/Iran-US-Mohammad-Javad-Zarif-JCPOA-Twitter
--------
Russia, Iran, Turkey continuing joint work on Syria ceasefire: Lavrov
Apr 22, 2017
Russian Foreign Minister Sergei Lavrov says Moscow, Tehran, and Ankara are continuing cooperation on consolidating a nation-wide ceasefire in Syria, adding that the trio are working on joint mechanisms to punish those violating the truce.
Lavrov made the remarks at a news conference following a meeting of the Council of Foreign Ministers of the Shanghai Cooperation Organization in the Kazakh capital, Astana, on Friday.
Facilitated by Russia, Iran, and Turkey, the ceasefire took effect between Syria's warring parties last December.
The three guarantor states have also mediated three rounds of peace negotiations between the Syrian government and opposition groups in Astana since the beginning of 2017. The fourth round is scheduled for May 3 and 4.
Russia is using the Astana process to strengthen the ceasefire regime, Lavrov said, adding, "Together with Turkey and Iran, we are developing joint mechanisms, which will not only register the violations of ceasefire agreements, but will also be able to respond to these violations, exert pressure on the violators."
The Astana talks helped kick-start a series of peace talks for Syria that had been going on under the auspices of the United Nations (UN) but that had stalled for almost a year.
A preparatory meeting of experts from Russia, Iran and Turkey was held in the Iranian capital, Tehran, on April 18 and 19.
Following the meeting, the Iranian Foreign Ministry said in a press communiqué that the experts had discussed draft documents including those pertaining to the ceasefire regime and its implementation as well as those regarding the exchange of detainees and abductees.
"A delegation of experts from the UN joined the trilateral meetings as observers, bringing in invaluable expertise and technical assistance," it read, adding that all participants in the Tehran meeting had agreed to hold the next expert-level meeting on May 2, one day before the Astana talks.
The talks are aimed at bringing an end to the foreign-backed militancy in Syria, which began in March 2011.
The Syrian army has been conducting a major operation to rid the country of militant outfits. Iran and Russia are allied to the elected Syrian government, while Turkey supports armed anti-Damascus groups.
Full report at:
http://www.presstv.ir/Detail/2017/04/22/518965/Russia-Lavrov-Syria-cooperation-Iran-Turkey-Astana-talks-experts-meeting
--------
Israeli warplanes attack Syrian army positions in Golan Heights
Apr 21, 2017
Israeli warplanes have once again launched an attack against Syria's Golan Heights after mortar fire from the Arab country landed in an open area in the occupied Syrian territory.
The official Syrian Arab News Agency (SANA), citing unnamed military sources, said Israeli fighter jets had fired two missiles at a military position in the vicinity of Khan Arnabah town in the countryside of Quneitra, the capital city of southwestern Quneitra province, at about 18:45 p.m. local time on Friday, causing material damage.
The Israeli military also confirmed the aggression in a statement, saying the attack was conducted shortly after three mortar shells allegedly fired from Syria hit an open area in the northern occupied Golan Heights.
The statement, however, added that the projectiles had caused no injuries or damage, and they were likely not intentional, but a spillover from the Syrian war.
Meanwhile, Syria's state-run television, while confirming the Israeli airstrike, said that such desperate attempts would not dissuade the Syrian army from continuing to crush the terror groups that act as Israel's proxy in the region.
The border separating Syria and the Israeli-occupied part of the Golan Heights has been tense since foreign-backed militancy gripped the Arab country in 2011, claiming the lives of hundreds of thousands of people so far.
Back in April 2015, Israeli Prime Minister Benjamin Netanyahu officially admitted for the first time that the regime's military had conducted strikes in Syrian territory.
During the past few years, Israel has frequently attacked military targets in Syria in what is considered as an attempt to prop up terrorist groups that have been suffering heavy defeats at the hands of the Syrian military.
Damascus says Israel and its Western and regional allies are aiding Takfiri terrorist groups operating inside the Arab country, while the regime's military carries out such sporadic strikes against Syrian government forces. The Israeli regime has even set up field hospitals to treat wounded militants evacuated from Syria.
Full report at:
http://www.presstv.ir/Detail/2017/04/21/518943/Syria-Israel-Golan-Heights-mortar-airstrike-Quneitra
--------
Africa
AQIM's Alliance in Mali: Prospects for Jihadist Pre-eminence in West Africa
By: Jacob Zenn
April 21, 2017
Trends in the two main theaters of jihadist activity in West Africa have moved in al-Qaeda's favor in recent months. In the Mali/Sahel region, the formation of a new alliance has consolidated al-Qaeda's position as the preeminent jihadist force in the region, while in Nigeria/Lake Chad, the faction of Boko Haram loyal to Islamic State (IS) — known formally as West Africa Province — has stayed relatively quiet and even shown continued signs of an ideological and logistical disconnect from its parent organization.
With the IS leadership currently in too much disarray in Libya and too distracted in Syria to consistently focus on West Africa, it is unlikely IS will be able to compete in the long-term with al-Qaeda for supremacy over jihadist groups in West Africa. Instead, al-Qaeda's strategy of "localization" — which it has employed to a greater or lesser extent successfully in theaters such as Syria and Yemen — is likely to see al-Qaeda in the Islamic Maghreb (AQIM) gaining increasing prominence as jihadism in West Africa becomes both more local and more diffuse.
The establishment of the new alliance, Jamaat Nusrat al-Islam wal-Muslimin (JNIM, Group of Supporters of Islam and Muslims), in Mali in March 2017 sees al-Qaeda's "localization" strategy at its most effective. It also demonstrates how adaptable al-Qaeda can be. The group can continue to exist in the region as an umbrella organization, accepting new members and groups tied to it by interpersonal and strategic bonds, while making open affiliation with IS and the massacre of civilians redlines for membership. Al-Qaeda Alliance in Mali: JNIM
When the al-Qaeda affiliate Jabhat al-Nusra merged with Syrian rebel groups to become (or at least appear to become) a more locally rooted organization and reduce its al-Qaeda "branding," it did so with the approval of a Syria-based deputy of al-Qaeda leader Ayman al-Zawahiri. The al-Qaeda leader himself would have rejected such a merger because many of the groups with which Jabhat al-Nusra merged were too secular or outwardly nationalist for al-Zawahiri's liking. An al-Qaeda insider has revealed that Jabhat al-Nusra's localization in Syria was nonetheless consistent with al-Qaeda's overall philosophy, but this specific merger represented an "organizational dispute" with al-Qaeda leadership that, once undertaken, could not be reversed. As a consequence, al-Qaeda's leadership has subsequently accepted it (s04.justpaste.it, April 4).
In direct contrast, the formation of JNIM in Mali was welcomed wholeheartedly by AQIM leader Abdelmalek Droukdel and al-Qaeda's General Command, including al-Zawahiri (justpaste.it/14k9a, March 17).
The new alliance brings together leaders of multiple ethnic groups, including: Ag Ghaly, the ethnically Tuareg leader of Ansar Dine who is the overall leader of JNIM; Muhammed Kufa, the ethnically Fulani leader of Ansar Dine sub-affiliate Katiba Macina; Yahia Abu al-Hamam, the ethnically Algerian Arab leader of AQIM's Sahara Region; the AQIM Islamic law judge Abou Abderrahman al-Senhadji, who is ethnically Berber; and al-Hasan al-Ansari, a Malian Tangara Arab (referring to his clan's Mauritanian ancestry) who is the deputy leader of al-Mourabitun (al-Masra #42, March 6).
This allows al-Qaeda to portray itself as a pan-Islamic movement unconstrained by tribalism, something particularly important in the context of AQIM's earlier bias in favor Algerian Arabs.
The inclusion of Kufa's Katiba Macina group — the name Macina is a reference to a historic Fulani Islamic emirate of central Mali — is a particular boon. Kufa was a leader of the Movement for Unity and Jihad in West Africa (MUJWA) in 2013 when the group controlled parts of northern Mali and began shifting toward central Mali. By bringing him into the JNIM alliance, AQIM can consolidate its presence among Fulanis in central Mali where in previous years it has had limited operations.
The group has so far seen one setback — a key "sub-faction" that had been expected to join JNIM's orbit, the relatively new Burkina Faso-based Ansaroul Islam, has openly criticized it. Ansaroul Islam's leader, Mallam Dicko, may suspect JNIM chief Ag Ghaly is an Algerian agent, or be unimpressed by his Salafist credentials, especially considering Dicko appears to be an even more radical Salafi-jihadist than AQIM members (Alakhbar.info, April 16).
Given Ansaroul Islam's increasingly high level of operations and impact in a part of the Sahel that formerly experienced almost no jihadist activity, it is likely the group has backing from a larger entity (Lemonde.fr, April 9). Burkina Faso says the group's supporters are members of the former government deposed in a coup in 2016, but it is also possible that the IS faction in northern Burkina Faso under Abu Walid al-Sahrawi, who was also a MUJWA leader, is working with it (Aib.bf, March 24). Indeed, pro-IS channels on social media have announced that a new pledge of allegiance to IS "from the Sahel" will be forthcoming, although they have not identified Ansaroul Islam by name. Al-Qaeda supporters dismiss the reports as a "myth" intended to embellish IS' strength in the Sahel.
Strengthened Position in Northern Mali
The emergence of JNIM comes as Mali is attempting to implement the Algiers Accord of 2015, a peace deal agreed between the government and armed groups in northern Mali. AQIM's sustained attacks — or, since March 2017, JNIM's attacks — undermine the Malian people's confidence in the agreement. Moreover, JNIM can portray itself as an indigenously rooted alternative if the new regional government's attempts at bringing together various former rebels fails (Liberation.fr, March 3). Ag Ghaly, familiar with Mali's political terrain from his former life as a Malian diplomat in Saudi Arabia, which is where he developed his Salafist worldview, can be expected to exploit any failure in the Algiers Accord's implementation.
The JNIM alliance represents the most effective employment of al-Qaeda's localization strategy and puts a nail in the coffin of IS' hopes to grow its own network in West Africa, even if Ansaroul Islam announces a pledge to IS caliph Abubakr al-Baghdadi.
IS can still count as loyal the faction of Abu Walid al-Sahrawi, whose pledge of allegiance to al-Baghdadi was aired by IS in October 2016, as well as that of another former MUJWA commander, Hamadou Kheiry. But al-Sahrawi has been quiet for several months, and Kheiry has done little since announcing his loyalty to IS in 2015.
Both factions would seem to benefit from Ansaroul Islam joining IS, although it is unclear what financial or other benefits they could offer Dicko's group. It may therefore be the case that a link with Ansaroul Islam is mostly ideological, albeit IS propaganda support could significantly upgrade Ansaroul Islam from the platform it currently uses — Facebook. There could also be a latent MUJWA connection, given that Dicko too is a former member.
Islamic State's Faltering West Africa Network
Further south in the Nigeria/Lake Chad region, IS has a more effective operational presence, but has seen limited success on the propaganda and ideological end. Its West Africa Province — the Abu Musab al-Barnawi-led faction of Boko Haram — is still loyal to al-Baghdadi, but has issued only a single video since Abu Musab al-Barnawi deposed Abubakr Shekau as leader in August 2016. Even then, that video's narrative was tailored more toward contextualizing events in Nigeria in order to encourage IS sectarian narratives in Syria and Iraq, rather than inspire jihadists in Nigeria or the Lake Chad region (the video portrayed Iranian and Shia influence in Nigeria, for example) (archive.org, February 13).
While some West Africa Province propaganda photos released by IS have shown its hisba (sharia enforcement) patrols in villages around Lake Chad, West Africa Province's de-facto reign over territories it has held in northern Borno State since 2014 has otherwise rarely been featured in IS propaganda. Indeed, this may be because West Africa Province is barely governing its territory. Unlike IS, which enforces its social provisions, West Africa Province allows the population in areas it controls to live with little interference, as long as they avoid collaborating with the Nigerian government (Naji.com, March 28).
In addition to the apparent disconnect between West Africa Province and the IS media apparatus, which likely reflects a broader disconnect to IS leadership, the group also appears to be coordinating with various cells in Nigeria that are or were part of Ansaru, the now operationally dormant al-Qaeda sub-group in Nigeria.
Such coordination would be unlikely if these Ansaru members believed West Africa Province was behaving toward the population in the same way IS does in Syria and Iraq. Indeed, evidence from conversations between West Africa Province leaders suggests the main area where West Africa Province does respect IS orders is the kidnapping of women, including the Chibok schoolgirls (Sahara Reporters, August 5, 2016).
West Africa Province leaders claim al-Baghdadi has permitted them to take captive only Christian women, not Muslims, even if the Muslim women are "apostates" who participate in democracy. Shekau, by contrast, considers any apostate — whether Muslim or Christian — to be deserving of enslavement and does not trust the West Africa Province leaders' claims about relaying al-Baghdadi's orders on the issue of slavery. In all other respects, West Africa Province appears not to take orders from IS on day-to-day affairs.
Developments in Kogi State
The West Africa Province-Ansaru relationship can be seen most prominently in developments in Nigeria's Kogi State, which, like virtually all states south of Abuja, has been largely free from attacks since the start of the insurgency in 2009. There have, however, been a small number of notable incidents that show Ansaru is the main group to have a presence there, including:
an ambush by Ansaru in late 2012 on Mali-bound Nigerian troops before the French-led intervention that ousted AQIM, MUJWA and Ansar Dine from northern Mali commenced in 2013 (Vanguard, January 20, 2013);
the arrest of Ansaru leader Khalid al-Barnawi in April 2016 (Vanguard, December 28, 2016); and
a series of raids on bomb-making factories and prison breaks in 2012-2013, although these were not claimed by Ansaru or any other faction (Leadership, April 6, 2012).
Kogi State came back into the spotlight in February 2017 when the Nigerian government reported that a Kogi-based group called the Muslim Brotherhood — with no apparent relation to the Egypt-founded global Islamist group of the same name — had sent fighters for training with IS in Libya.
Some of these fighters are now returning to Nigeria. In February, members of the new group attacked police stations in Okehi, Kogi State, killing two people (thecable.ng, February 10; Premium Times, February 10).
A possible explanation for this Kogi State-Libya nexus is that the Salafist extremist cells that have reportedly been brewing in Kogi for years have finally connected with a broader umbrella jihadist movement, such as IS (Newsrescue.com, October 28, 2015).
It may also be the case that Ansaru cells in Kogi have grown impatient with the operational dormancy of Ansaru, left the group to form the Muslim Brotherhood and then traveled to Libya with West Africa Province's support (al-Risalah, January 10). The overlap between the Muslim Brotherhood sending fighters to Libya and Ansaru can be seen in reports from the Nigerian security forces in northwestern Nigeria, where Ansaru was formed in 2011, that say at least two Ansaru cells there have been sending fighters to train with IS in Libya (Thenewsnigeria.com.ng, August 22, 2016; Premium Times; February 9, 2016).
While some Nigerians traveled to Libya independently to fight with IS, West Africa Province has likely facilitated others — at least five men and one child have featured in IS propaganda in Libya, and several Nigerian women have been recorded as married to IS fighters.
The reason for this coordination is that West Africa Province, Ansaru and presumably the Muslim Brotherhood share a common ideology, history (West Africa Province's key leaders were former Ansaru members), area of operations and strategic objectives in Nigeria that make experience and training in Libya mutually beneficial. The West Africa Province-planned attack on the U.S. and UK embassies, for example, which was exposed in April, reflects the long-standing "far enemy" targets of Ansaru (Vanguard, April 12).
In sum, the new Muslim Brotherhood group is likely related to Ansaru and both the Muslim Brotherhood and Ansaru may be cooperating with West Africa Province for mutual gain, regardless of their affiliations.
The State of Play for JAS
Boko Haram's faction under the leadership of Abubakr Shekau — known as Jamaat Ahlisunnah Liddaawati Wal-Jihad (JAS) — is neither affiliated to al-Qaeda nor IS and is operating independently but keeping a hand extended to IS.
It still claims to be an Islamic State in West Africa and issues video footage with IS branding, even though its films are not made or promoted by IS, and Shekau still declares al-Baghdadi to be the caliph. That aside, West Africa Province (and mainstream Muslims more generally) criticize JAS for its killing of Muslims civilians who Shekau deems to be "apostates" for not joining his group.
JAS has been engaged in a new narrative campaign targeting Nigeria's Salafists and Ansaru sympathizers. JAS argues that Nigeria's largest Islamic group, the Salafist/Wahhabist Izala movement, was wrong to have ultimately rejected the preaching of Boko Haram founder Muhammed Yusuf, whose blood JAS says "is valuable to us, more valuable than the blood of all Nigerians, all Nigerians, starting from [Nigerian President Muhammadu] Buhari, his aides, ministers, judges, military and everyone" (Youtube, April 3).
At the same time, JAS has reaffirmed its commitment to Yusuf's successor, Shekau, who JAS describes as "the strong, courageous one, feared by the West, who is now the biggest threat to Nigeria." Two other recent JAS videos have focused specifically on JAS attacks in Cameroon. They also, for the first time in JAS' media output, highlighted French-speaking fighters, suggesting Shekau is trying to break out of his isolation by targeting Nigerian Salafist/Wahhabist and Cameroonians (Youtube, April 1; Vanguard, February 27).
Despite JAS's "outreach," West Africa Province's Abu Musab al-Barnawi — along with his close allies Mamman Nur and Abu Fatima, both of whom used to operate with Ansaru — continues to criticize Shekau's killing of fellow Muslims (Sahara Reporters, August 5, 2016). This criticism, which is the same as that al-Qaeda levies against IS, suggests there are ideological differences between the leaders of West Africa Province and the leadership of IS, even if for the time being West Africa Province's belief in the legitimacy of al-Baghdadi's position as IS caliph supersedes these differences.
Ansaru, for its part, is leaderless and largely inactive operationally, even if its members or former members still engage in jihadist activities. Some supporters still post on Facebook and criticize Shekau. Historically, Ansaru criticized Shekau not only for his killing of Muslims civilians and his bizarre mannerisms — such as a "crotch-scratching" incident during his video claiming the bombing of the Grand Mosque in Kano in November 2014 – but also his apparent heterodoxy (al-Hiddaya, February 10, 2015). For example, Ansaru supporters in a video posted on Facebook declared Shekau as an apostate for saying that Jesus Christ was not born through the word of God (Zalunci Haram, April 1).
Maintaining Preeminence in West Africa
The jihadist landscape of West Africa is prone to shifting alliances. To maintain its pre-eminence in the region, al-Qaeda will attempt to keep the newly formed JNIM clear of IS infiltration and JNIM is unlikely to openly cooperate with any IS-affiliated group.
In the long-term, if West Africa Province withdraws its support for IS — especially if al-Baghdadi dies, or IS loses its territory and there are doubts over the legitimacy of the caliphate — then JNIM could be further strengthened. An IS collapse could see West Africa Province, together with former Ansaru members and Muslim Brotherhood members, re-integrate into al-Qaeda structures and ultimately join JNIM.
Issues such as Ansaroul Islam's current rejection of JNIM are manageable for JNIM. It seems unlikely that even if the Burkina Faso-based group pledges allegiance to IS it can overshadow JNIM's operational tempo, even if allied with the other IS factions operating around Burkina Faso.
In Nigeria, JAS is unlikely to re-integrate into al-Qaeda structures unless Shekau is killed. But even that scenario is not so difficult to imagine — an assassination could come at the hands of West Africa Province or by former Ansaru members who tend to know the location of his hideouts. Shekau now refuses to meet with West Africa Province leaders for fear they will plant a tracking device on him (Vanguard, February 24).
The best-case scenario for JNIM — and as such for al-Qaeda — would be if al-Baghdadi dies, the IS caliphate folds and Shekau is killed. In that situation, it would not be inconceivable that JNIM could pull a newly united West Africa Province, JAS, Ansaru and the Muslim Brotherhood into the JNIM fold, likely under new names.
In such a case, Ansroul Islam or any other pro-IS leaning factions would be left marginal and obsolete, and would likely eventually fall into JNIM's orbit.
https://jamestown.org/program/aqims-alliance-mali-prospects-jihadist-preeminence-west-africa/
--------
Somalia: Al-Shabaab Warns Against Western Education
21 APRIL 2017
By Mohamed Olad Hassan
Somalia's al-Shabab militants are threatening to punish parents who send their children to Western-style schools and universities.
In a 26-minute audio recording aired by Radio Andalus, al-Shabab's mouthpiece in Somalia, group spokesman Ali Dhere said Western-style schools serve the interests of what he called "infidels" and aim to pull children away from Islam.
"There are secular and non-Islamic schools and universities in our country, which serve to provide our youth with education that leads them to simply fall into the trap of their enemy and convert to their religions," Ali Dhere said. "They make you love their behaviors, religion and history and hide the history of Islam."
He warned that anyone involved in such schools, including teachers and parents, will face repercussions.
"We warn those involved in teaching our children and youth the non-Islamic education to avoid [it], otherwise face the consequence," said Ali Dhere.
Government's reaction
Somalia's government quickly denounced the statement.
"We condemn the statement and it only depicts the most ugly face and cruelty of al-Shabab against Somali people," said Somalia's information minister, Abdurahman Omar Osman.
School administrators contacted by VOA's Somali service declined to comment on the statement, fearing reprisals.
Over its 11-year existence, al-Shabab has often moved to shut down non-Islamic schools and replace them with schools that teach a strongly religious curriculum.
The group, which wants to impose a strict version of Sharia in Somalia, has also banned watching movies and soccer.
Years of war and lawlessness have cost nearly two generations of Somali children access to consistent education. According to a Somali government report last year, the country has some of the world's lowest student enrollment rates.
The report said only 30 percent of Somalia's children attend primary schools, and only 26 percent receive a secondary education.
Full report at:
http://allafrica.com/stories/201704210584.html
--------
'Methodist Church not happy with the way Islamic fanaticism is turning our nation into a war zone'
APRIL 21, 2017
Awka – The Prelate, Methodist Church Nigeria, His Eminence, Samuel Uche, has commended the Federal Government's fight against corruption, saying that the anti-graft war yielding dividends just as he said that the Methodist Church Nigeria is not happy with the way Islamic fanaticism is turning our nation into a war zone The Methodist leader gave the commendation in an address to the 15th Annual Diocesan Synod of the church in Awka on Friday. Uche, however, called for more transparency and truthfulness among officials charged prosecuting the war. "Nobody should be treated with kid's gloves anymore by government: Soon, Jesus will deliver Nigeria out of the hands of economic saboteurs who have held us captive for so long,'' he said. He thanked God that Nigeria still experienced a form of relative peace in most parts of the country in spite of the challenging situations. "As a living faith, Methodist Church Nigeria is not happy with the way Islamic fanaticism is turning our nation into a war zone. "Some people in the higher echelons of society are using the religion of Islam to demonise Nigeria and place us under the siege of darkness. "I know that when the Muslims say `Asallam Ale-kum' it means peace be unto you. "This statement implies that Islam is a religion that promotes peace. "But unfortunately, some depraved elements, have continued to use this religion of peace as a means of attacking our nation, in the form of Boko Haram and Fulani Herdsmen,'' the prelate said. He called on God to deliver Nigeria from the sieges of Boko Haram, marauding Fulani herdsmen and other militant groups in the West, East and Niger Delta regions. "Those found to be fanatical in Christianity and Islam should not be treated with kid's gloves,'' he said. He urged government not to fold its hands in the wake of the attacks on Christians but defend her citizens and also respect the secularity of the Nigerian state. "When government respects our secularity, issues like insecurity, ethnic and religious fanaticisms will gradually vanish from our land,'' he said.
Full report at:
http://www.vanguardngr.com/2017/04/methodist-church-not-happy-way-islamic-fanaticism-turning-nation-war-zone/
--------
One million displaced in DR Congo's Kasai due to violence: UN
Apr 21, 2017
Deadly violence between government forces and tribal militias in DR Congo's central Kasai region has forced more than a million people from their homes over the past eight months, the UN said Friday.
The fighting erupted after government troops last August killed tribal chief Jean Pierre Mpandi, also known as Kamwina Nsapu, who had launched an uprising against President Joseph Kabila.
Yvon Edoumou of the UN's Office for the Coordination of Humanitarian Affairs (OCHA) said it had registered 1.09 million internally displaced people in the region as of April 1.
Violence in other areas of the country, including the North and South Kivu provinces, has forced an additional two million to flee their homes, he told AFP.
"These people are mainly fleeing clashes between the FARDC (DR Congo's armed forces) and armed groups, or between armed groups," he said, adding that about 40 local and international aid groups were helping to cope with the crisis.
The UN has accused the Nsapu rebellion of using child soldiers and committing several atrocities, while also denouncing the disproportionate use of force by the military.
Full report at:
http://www.presstv.ir/Detail/2017/04/21/518910/Congo-UN-violence-crisis-FARDC-Joseph-Kabila-Kivu-province
--------
Arab World
Syrian Fighter Jets Turn Eastern Damascus into Hell for Terrorists
Apr 21, 2017
The army aircraft targeted several times the positions of Jeish al-Islam in the town of Mesraba, while other fighter jets pounded terrorists' stronghold South of the town of Douma, killing and wounding a number of militants.
The warplanes further conducted heavy airstrikes on terrorists' concentration centers in a region between al-Shifouniyeh and Mesraba four times.
In the meantime, the gathering centers of Al-Nusra Front (also known as Fatah al-Sham Front or the Levant Liberation Board) in al-Qaboun district were badly hit in the army's missile attacks.
Reports said on Thursday that the army units heavily clashed with the terrorists in the Northeastern parts of al-Qaboun and drove them out of several farms and residential blocks.
They also attacked the al-Nusra Front's positions in al-Qaboun district and its supply routes in Jobar, killing several terrorists.
http://en.farsnews.com/newstext.aspx?nn=13960201000701
--------
Syrian Army Continues Assault on ISIL, Al-Nusra in Homs
Apr 21, 2017
The army's artillery and missile units shelled the positions of Al-Nusra in the villages of Deir Foul and al-Sa'an al-Aswad in Northern Homs.
In the meantime, the army soldiers continued their attacks on ISIL's concentration center in Badiyeh (desert) of Palmyra (Tadmur) in Eastern Homs.
The country's air force also bombed ISIL's movements and centers in the town of al-Sukhnah and near the town of Arak and in Southern Badiyeh of Palmyra, inflicting several casualties on the terrorists.
Reports said earlier today that the Army's artillery and missile units launched massive shelling on the positions of Al-Nusra Front in nine different regions, inflicting major losses on the terrorists.
The artillery and missile units pounded Al-Nusra's movements and defense lines East of Palmyra (Tadmur) city, in Mahasa, East of the town of al-Quaryatayn, in the towns and villages of al-Ameriyeh, Um Sharshouh, al-Sa'an al-Aswad, Deir Foul and Tal (hill) Abu al-Sanasel in Eastern and Northern and Southwestern Homs, killing tens of militants and destroying their vehicles and equipment.
Full report at:
http://en.farsnews.com/newstext.aspx?nn=13960201000708
--------
Terrorists' Centers in Eastern Damascus Hit Hard in Syrian Armed Forces' Attacks
Apr 21, 2017
The army aircraft bombed heavily terrorists' strongholds behind the Sports Stadium close to the town of Douma in Eastern Damascus.
The warplanes also raided terrorists' concentration centers in a region between Douma and the town of Harasta in two attacks.
The artillery and missile units also shelled the positions and movements of Al-Nusra Front (also known as Fatah al-Sham Front or the Levant Liberation Board) in al-Qaboun district North-East of Damascus, killing or wounding a number of terrorists.
Relevant reports said on Thursday that the army, supported by the air force, continued military operations against Al-Nusra Front in Eastern Damascus and won control of several points in al-Qaboun district.
Full report at:
http://en.farsnews.com/newstext.aspx?nn=13960201000476
--------
Syria: More Civilians from Towns of Fua'a, Kafraya Arrive in Aleppo
Apr 21, 2017
The sources said 15 buses carrying a large number civilians of the towns of Fua'a and Kafraya that are under the siege of the militants arrived in government-controlled regions in Aleppo.
The sources went on to say that in return five buses that were carrying gunmen and their family members and had left the towns of al-Zabadani and Madhaya in Western Damascus have arrived in al-Rashedeen region in the Western outskirts of Aleppo city.
They added that 36 buses have thus far gone to Aleppo and nine other buses are to transfer the residents of Fua'a and Kafraya.
The sources further said that 15 buses have so far transferred gunmen and their family members from al-Zabadani and Madhaya, while three more buses have just left the two towns.
Local sources confirmed on Wednesday that a sum of 3,000 civilians were evacuated from Fua'a and Kafraya to safe regions under the control of the pro-government forces.
The sources said that 3,000 civilians left Fua'a and Kafraya are under the siege of militants in the second phase of an evacuation deal with the government that also includes transfer of thousands of militants and their family members from the four towns in Damascus province that were under the army siege.
Full report at:
http://en.farsnews.com/newstext.aspx?nn=13960201000416
--------
Terrorist Centres in Dara'a Damaged in Syrian Army Attacks
Apr 21, 2017
Al-Nusra's concentration centers and movements came under heavy fire of the artillery and missile units in the neighborhoods of al-Sibeh, al-Karak, al-Bajabjah, al-Arbaeen, al-Bahar, al-Badou, Tariq Saad (way to dam), al-Busra square and also in Dara'a al-Mahatta Central district.
Sources in the city confirmed that a large number of terrorists were killed and a number of their vehicles and positions were damaged in the attacks.
Field sources reported on Thursday that the army forces repelled an offensive of the al-Nusra Front (also known as Fatah al-Sham Front or the Levant Liberation Board) on several military points in Dara'a, killing a terrorist field commander.
The Syrian soldiers also engaged in heavy clashes with the al-Nusra terrorists who had launched another attack on army positions in al-Manshiyeh district in Dara'a and warded off their offensive.
Full report at:
http://en.farsnews.com/newstext.aspx?nn=13960201000208
--------
Syrian Armed Forces Inflict Major Losses on ISIL in Deir Ezzur
Apr 21, 2017
The artillery and missile units pounded ISIL's movements and concentration centers in areas surrounding Regiment 137th base, Deir Ezzur's airbase and in al-Maqaber (cemetery) region, killing 8 terrorists and destroying a machinegun-equipped position and a large volume of ammunition.
The warplanes, meantime, carried out repeated attacks on ISIL's gathering centers near Tamin Brigade base, al-Ma'amel region, al-Makbat region and in al-Thardah mountain in the Southern countryside of Deir Ezzur city, killing or injuring a number of terrorists.
Local sources reported that the army soldiers warded off ISIL's offensive on pro-government forces' positions in Deir Ezzur's airbase from its Southern direction and Tamin Brigade, killing and wounding several militants.
Also, the army's artillery and missile units opened heavy fire at ISIL's positions in regions around Regiment 137 base on Monday, killing 14 terrorists and wounding several others.
Two military vehicles of ISIL were destroyed in the attack too.
In the meantime, the army aircraft carried out several combat flights over ISIL's centers in areas surrounding al-Tamin Brigade base and al-Ma'amel region South of Deir Ezzur airbase, killing or wounding a number of terrorists.
Full report at:
http://en.farsnews.com/newstext.aspx?nn=13960201000183
--------
Homs: Terrorists Suffer Major Losses under Syrian Army's Heavy Fire
Apr 21, 2017
The artillery and missile units pounded Al-Nusra's movements and defense lines East of Palmyra (Tadmur) city, in Mahasa, East of the town of al-Quaryatayn, in the towns and villages of al-Ameriyeh, Um Sharshouh, al-Sa'an al-Aswad, Deir Foul and Tal (hill) Abu al-Sanasel in Eastern and Northern and Southwestern Homs, killing tens of militants and destroying their vehicles and equipment.
Also, two command posts and an arms and ammunition depot of the terrorists were destroyed in the attacks.
In relevant developments in the province on Thursday, the army units engaged in clashes with the ISIL terrorists who had attacked several military points from Ibn Arsan and Saniyat al-Mazibeleh regions and Sawaneh al-Mahseh mountain and al-Quaryatayn dam in Eastern Homs, and repelled their attack after killing and wounding several terrorists.
The army soldiers also attacked ISIL's positions in the Eastern parts of al-Quaryatayn, inflicting tolls and damages on the militants.
Meantime, the Syrian army could shoot down a drone belonging to the terrorists in the village of Western Salam in Eastern Homs.
Also, the al-Nusra Front (also known as Fatah al-Sham Front or the Levant Liberation Board) positions in al-Sa'an al-Aswad, al-Talaqiyat farm, al-Qantou and al-Ameriyeh regions were attacked by the Syrian army forces.
Full report at:
http://en.farsnews.com/newstext.aspx?nn=13960201000165
--------
US ground operation in Syria kills ISIS operative linked to Turkey club attack
22 April 2017
The United States disclosed on Friday a secret military ground operation that killed an ISIS operative seen as a close associate of leader Abu Bakr al-Baghdadi and linked to an attack on a Turkish nightclub that left 39 people dead.
Abdurakhmon Uzbeki, who was believed to be from Uzbekistan, was killed during the ground assault near Mayadin, Syria, on April 6, said Colonel John Thomas, a spokesman for the U.S. military's Central Command.
"It was a ground operation. I think that's all we're willing to say about that," Thomas said, declining further comment. He specified that Uzbeki did not die in an airstrike.
Thomas said Uzbeki helped facilitate the attack on the exclusive Istanbul nightclub Reina in Istanbul on New Year's Eve. ISIS claimed credit for the attack, saying it was revenge for Turkish military involvement in Syria.
The attacker opened fire with an automatic rifle, throwing stun grenades to allow himself to reload and shooting the wounded on the ground. Among those killed in the attack were Turks and visitors from several Arab nations, India and Canada.
Full report at:
https://english.alarabiya.net/en/News/middle-east/2017/04/22/US-raid-in-Syria-kills-top-Baghdadi-aide-linked-to-Turkey-club-attack-.html
--------
Southeast Asia
Pence tours Indonesian mosque in outreach to Muslims
April 22, 2017
JAKARTA: US Vice President Mike Pence on Thursday (Apr 20) toured the biggest mosque in Muslim-majority Indonesia during a visit seen as a highly symbolic gesture from an administration that has been accused of stoking Islamophobia.
After kicking off his stop in the world's most populous Muslim-majority country by praising its moderate Islam as "an inspiration", he visited Istiqlal Mosque, whose vast white dome towers over downtown Jakarta.
He slipped off his shoes before being guided around the mosque, which is also the biggest in Southeast Asia, accompanied by his wife and two daughters in headscarves, as well as Istiqlal's grand imam.
His visit represents the most high-profile outreach to Muslims by the Donald Trump administration since the brash billionaire came to office and echoes a similar trip by Barack and Michelle Obama in 2010.
Since becoming president almost 100 days ago, Trump has hosted leaders from majority-Muslim Jordan, Iraq, Saudi Arabia and Egypt.
But his administration has also tried to ban travellers from several Muslim-majority nations, citing concerns about terrorism - an effort currently being challenged in US courts.
As a presidential candidate, Trump often appeared to flirt with the far right as he railed against "radical Islamic terrorism".
But Pence struck a starkly different tone during his visit to Indonesia, which has often been praised as a successful Muslim democracy where most practise a moderate form of Islam and coexist peacefully with substantial religious minorities.
"Indonesia's tradition of moderate Islam is frankly an inspiration to the world and we commend you and your people," he said after talks with President Joko Widodo at the presidential palace in Jakarta. "In your nation as in mine, religion unifies, it doesn't divide."
TOLERANT ISLAM UNDER THREAT
Pence is currently on a tour of South Korea, Japan, Indonesia and Australia that is aimed at smoothing some of the rougher edges of Trump's rhetoric.
In South Korea and Japan, Pence played down protectionist declarations of "America first" and reaffirmed US treaty commitments to the security of the two countries as tensions rise over Pyongyang's nuclear programme.
After meeting with representatives of the Association of Southeast Asian Nation's at the regional bloc's headquarters in Jakarta on Thursday, Pence announced Trump would attend three summits in Asia in November, a further sign that his administration is seeking to reassure regional allies.
He will attend the US-ASEAN and East Asia summits in the Philippines and a gathering of the Asia-Pacific Economic Cooperation group in Vietnam.
At the mosque in Jakarta, Pence and his family also toured the cavernous main prayer room - which was empty during his visit but fills up with tens of thousands of worshippers during key dates in the Muslim calendar - and admired the towering dome.
A man showed the US leader how he beats a carved drum next to the courtyard, a local addition to the traditional call to prayer.
Pence then held an interfaith dialogue behind closed doors with representatives of the Christian, Buddhist, Confucian, Hindu and Muslim faiths.
The vice president's upbeat tone about Indonesian Islam contrasts with growing concerns inside the country that the traditionally inclusive brand of the religion is under threat from hardliners and a trend towards conservatism.
On Wednesday Jakarta's Christian governor Basuki Tjahaja Purnama was defeated in a run-off election to lead the capital by a Muslim challenger who was accused of pandering to hardliners to win votes.
Purnama, known by his nickname Ahok, lost after his once-unassailable lead in opinion polls was dented when he was put on trial for blasphemy in a case criticised as politically motivated.
Following his poll loss, he looks set to escape jail after prosecutors recommended in a court hearing Thursday that he be given only probation.
Pence's Muslim outreach in Indonesia, where 90 per cent of the 255 million inhabitants are followers of the faith, has been welcomed locally but it is unlikely to be enough to assuage fears that the Trump administration is anti-Islam.
"President Trump's hostile pronouncements on Islam and Muslims have done considerable damage to his reputation in the Islamic world. It would take more than a visit to repair the damage," said Fawaz Gerges, an expert on the Middle East and Islam at the London School of Economics.
After his talks with Widodo, Pence also said the US was committed to building a stronger defence partnership to combat terrorism, and guaranteeing freedom of navigation in the South China Sea, where Indonesian and Chinese vessels have recently clashed.
http://www.channelnewsasia.com/news/asiapacific/pence-tours-indonesian-mosque-in-outreach-to-muslims-8753848
--------
Malaysia: Leaders who insult Islam will lose like Jakarta's Ahok – Islamist party
By A. Azim Idris
21st April 2017
The defeat of Jakarta's Christian and ethnic Chinese governor Basuki "Ahok" Tjahaja Purnama this week showed politicians would not be elected if they insulted Islam, says a leader of a Malaysian opposition Islamist party.
Malaysia's Pan-Islamic Party (PAS) information Chief Nasrudin Hassan said similar to Indonesia, Muslim voters in Malaysia would step up to reject anyone who demeans the religion, reports the Malay Mail Online.
Nasrudin's remarks came amid a contentious national debate on PAS move to table a Private Member's Bill in Parliament that would impose harsher penalties under the country's Syariah code.
Among other controversial measures, the changes would introduce up to 100 lashes and lengthy prison terms for moral offences, and a further law on unilateral religious conversions of children.
"This success clearly shows a signal of Islam's uprising there. When you insult Islam, don't think Muslims will not act by rejecting you as a leader. The Jakarta election has proven it," Nasrudin was quoted as saying in a statement.
"Now, the same spirit is spreading among Muslims in Malaysia. The issue of amending Act 355 and Act 164 will open the eyes of citizens here to see who are foes and friends when it comes to fighting for Islam."
In the coming months, lawmakers will debate a controversial bill known as "Hadi's Bill", to amend Act 355 of the Syariah Courts (Criminal Jurisdiction) Act 1965. This proposes harsher punishments to replace current sentences that have long been implemented under the civil system.
Traditionally, Malaysia's Syariah courts focused on family and marital affairs, and handing out minor fines amounting to no more than around USD$1,000 or relatively light prison sentences for moral offences, which were rarely enforced.
The religious courts are restricted to imposing punishments of up to three years' jail, a RM5,000 fine or whipping of no more than six strokes — also referred to in the country as the "3-5-6" penalties — for offences against Islam.
However, if passed, the Bill would grant additionally punitive powers to the Syariah courts and allow its judges to impose up to a hundred lashes, RM100,000 fines (USD$21,000) and 30-year jail sentences on Muslims convicted of the same moral offences and other victimless crimes.
Save for the death penalty, the amendments will be enshrined under state jurisdiction in the Federal Constitution, which is the supreme law of the land.
Examples of punishable crimes under the proposed amendments include pre-marital sex, alcohol consumption, failure to attend Friday prayers or fast during Ramadhan.
Amid a backdrop of rising Islamic sentiments and fractured race relations, PAS, an Islamist opposition party which is working closely with traditional rivals and ruling United Malays National Organisation (Umno), is closer to realising its decades-long pursuit of enforcing strict Islamic Syariah laws for criminal offences, threatening to worsen religious ties in an oft-polarised multiracial nation.
Ahok was unofficially defeated by former Indonesian education minister Anies Baswedan, who rode on a wave of anti-Ahok sentiment spurred by the incumbent's comments regarding Al Maidah 51 – a Quranic verse which deals with whether Muslims can elect a non-Muslim.
Following the comments, Ahok faced charges under Indonesia's blasphemy laws which could see him be sent to prison.
The defeat came after a religiously charged campaign that cast shadow over Indonesia's international reputation for practising a tolerant form of Islam.
Anies won with 58 percent of the votes versus 42 percent for Ahok, based on an unofficial "quick count" by Indikator Politik. Other pollsters showed similar results. The election commission will announce official results in early May.
Full report at:
https://asiancorrespondent.com/2017/04/malaysian-islamist-party-says-leaders-who-insult-islam-will-jakartas-ahok/#eGRXmUu3WdPRsfuV.97
--------
Blasphemy Blocks Re-Election of Indonesia's Only Christian Governor
4/21/2017
The blasphemy charges that cost Indonesia's top Christian politician his re-election race won't send him to jail.
Just a day after Basuki Purnama—popularly known as Ahok—conceded the runoff for governor of Jakarta, prosecutors recommended a light sentence of two years probation instead of the maximum penalty of five years in prison.
Ahok, a double minority in the archipelago as a Christian and as an Indonesian citizen who is ethnically Chinese, secured approval ratings as high as 70 percent in the capital region during his campaign. But when the anti-corruption crusader was accused of distorting a Qur'an teaching to convince the nation's overwhelming Muslim majority to vote for a Christian, public opinion shifted dramatically.
Ahok repeatedly denied the claims as a translation error, and accused Indonesia's hardline Muslim groups of coordinating an attack against him. He ultimately conceded Wednesday's election, trailing in the polls by less than 10 percentage points.
But Christians' prayers were answered the following day, when government prosecutors decided to end the trial against him, CBN reported. The official sentencing ruling will come in early May.
"Ahok is very positive. He says that everything is in God's hands and that everything has a purpose," said Lucille Talusan, CBN's Indonesia correspondent. "Even if he is under trial for what is happening in his life, he believes that one day God is going to bring him back to his calling. The first thing in his heart is to serve his people in Indonesia."
The 50-year-old still sees a future for himself in Indonesian politics and hopes to be president. Indonesia still hasn't ever directly elected a non-Muslim leader; Ahok moved up from deputy governor when Jakarta's former governor, Joko Widodo, won the nation's presidency.
Ahok's defeat and the tone of the campaign, with opposing groups constantly using his faith and ethnicity against him, betrayed Indonesia's reputation for moderate Islam and religious tolerance. (For example, CT reported on a recent Jakarta conference where hundreds of Muslim leaders denounced extremism and pledged to protect Christian minorities.) While hardline groups paraded in Jarkarta streets with banners depicting Ahok behind bars, Nahdlatul Ulama, the country's largest Muslim organization, has wished the Christian governor well.
Though the winning candidate, Anies Baswedan, did not directly engage in the racist and Islamist rhetoric, he did continue to court votes from the clerics and mosques who did. His victory is seen as a reflection of their growing influence and a shift among Indonesian Muslims. The CBN correspondent pointed out that Anies, the country's former education minister, also had corruption allegations levied against him during the campaign.
Many saw this runoff as a low point for modern politics in Indonesia, but US Vice President Mike Pence still gave the country a glowing review during his visit this week.
"As the largest majority Muslim country, Indonesia's tradition of modern Islam, frankly, is the inspiration to the world," he said in a CNN report. "We commend you and your people. In your nation as in mine, religion unifies—it doesn't divide. It gives us hope for a brighter future. And we're all grateful for the great inspiration that Indonesia provides for the world."
Full report at:
http://www.christianitytoday.com/gleanings/2017/april/ahok-indonesia-christian-governor-jakarta-blasphemy.html
--------
Ahok's Defeat Signifies Tough Road Ahead for Democratic and Tolerant Future
April 22, 2017
Jakarta. Incumbent Jakarta Governor Basuki "Ahok" Tjahaja Purnama's defeat at the hands of rival candidate Anies Baswedan in Wednesday's (19/04) runoff election raised alarms among many observers that the country's young democracy still has a long way to go in combating religious and ethnic discrimination.
However, the capital was calm in the evening after the nail-biting election, defusing fears among some residents that mass gatherings or rallies would consume city streets during and in the wake of Wednesday's vote. Investors seemed relieved as well, as the country's benchmark stock index dropped only slightly on Thursday, with businessmen observing that risks or uncertainties in Indonesian markets were largely dispelled due to the peaceful election turnout.
Indeed, more relief came the day following the vote, as state prosecutors pushed for reduced charges in a blasphemy case against Jakarta's first ethnic Chinese and Christian leader in the post-Suharto era.
However, rhetoric and methods used by politicians in defeating Ahok have nevertheless raised concerns among local and foreign political observers concerned about the future for democracy in the world's largest Muslim-majority nation.
Stigma
Poet and senior journalist Goenawan Mohamad wrote a comment on his official Facebook account analyzing what the defeat of Ahok – an outspoken governor who often drew ire from his political opponents – could mean for the path ahead.
"Ahok has lost; this has now been settled by the 2017 regional election. All that noise surrounding it will soon become history. Many are relieved — either because Anies has won, or because the campaign, poisoned with hate that shattered many friendships, has finally passed," said the former editor-in-chief of investigative magazine Tempo.
"But I hope one thing will not be forgotten. Ahok has entered the arena bound in fetters and labeled as 'a blasphemer.' He can move and talk, but he is not entirely free. His achievements as the region's head, which have been acknowledged by many and made him unparalleled, are now almost no longer seen or heard of."
"The use of the label against Ahok is probably the most successful stigmatization technique in the history of Indonesian politics. A stigma derived from slander. He did not insult Islam, but the charge had been continuously repeated. If you repeat a lie often enough, it becomes 'the truth,' the Nazi's propaganda chief used to say. We hear it at mosques, in social media, in everyday conversations; the allegation has been turned into a conviction," Goenawan said.
"Now Ahok is tried by the court, charged under the anti-blasphemy law that was produced by the New Order regime — a law with unclear provisions, unclear even on who has the right to represent the religion that had been insulted. As a result of it, Ahok has been treated unjustly in three ways: through slander, by being presumed guilty before the court's verdict and by being tried under a dubious law."
"It is hypocritical to pretend to recognize this injustice while cheering his immutable political defeat. Ahok has lost, he may even be sentenced in a court process informed by mass pressure. The truth may also lose — as it is wont to do in this 'post-truth' era," Goenawan said.
Identity politics
Concerns over the future of democracy in the Southeast Asian country were shared by foreign observers as well.
Reuters reported on Thursday that international rating agency Fitch said in a statement previous religious tensions during the Jakarta gubernatorial election could resurface in the run-up to the country's next presidential race in 2019.
"The early results of the tense Jakarta elections seem to suggest that religious factors could play an increasingly significant role in future Indonesian elections," the statement said, as cited by Reuters.
Three mass rallies against Ahok were led by hardline Muslim groups in the campaign period before Wednesday's vote, threatening to erode the country's longstanding tradition of practicing a moderate form of Islam.
However, the rating agency still acknowledged Indonesia's recent progress, explaining that the country has made "substantial" strides in improving good governance over the past two decades. The country's democratic electoral processes, the statement said, are still intact.
Still, experts and academics around the world say that religious and ethnic discrimination should be expected to play a greater role in future elections if the government and high-ranking Muslim figures do not take significant steps to promote tolerance.
"Going forward, the politics of religion is going to be a potent force," Keith Loveard, an analyst at Jakarta-based Concord Consulting and an author of books about Indonesian politics, told Reuters in a report on Wednesday.
According to Loveard, some residents may have been reluctant to vote for Ahok due to worries of "five more years of protests on the streets by Muslim hardliners."
Muhammad Najib Azca, a professor of social and political sciences at Gadjah Mada University in Yogyakarta, viewed religious and ethnic intolerance as a driving factor in the election's outcome.
"What happened in Jakarta was an anomaly. Ahok and Djarot were unable to translate their high approval rating [...] into real political support," Najib told the Jakarta Globe in a phone interview on Wednesday evening.
"There were variables beyond public approval ratings, including strong undertones of religious-based identity politics," he added.
Najib argued that identity politics has become a main force in driving public opinion, even in the face of successful governance programs directed by Ahok. "This intervening variable has affected voters through a very sophisticated and elaborate political process."
Ian Wilson, a lecturer in politics and security studies and a Research Fellow at Murdoch University's Asia Research Center, said – in an article published by newmandala.org – Wednesday's results will most likely have a lasting impact on national politics for years to come.
"Judging from national and international headlines, Jakarta's gubernatorial election on April 19 represents not just a major turning point for the nation's capital and city of 12 million, but potentially for the entire country," he wrote.
"The alarmist tone is largely due to the unsettling direction campaigning has taken over the past eight months, that has seen any possible substantive policy debates over how to best tackle Jakarta's complex infrastructural, economic and social problems subsumed by sectarian identity politics."
Economic inequality
Wilson, whose research touches on the political economy of gangs, organized crime and violence in Indonesia, went on to say that: "While the campaigns present, at one level of analysis, a stark contrast between 'diversity' on the one hand and sectarian populism on the other, a shared point of commonality is the respective silence regarding a significant shaping force in Jakarta, and arguably the election: rising levels of economic inequality."
He pointed to data from the country's Bureau of Statistics – which shows a steady increase in levels of economic inequality in Jakarta – that reflects a broader trend that has been sweeping the nation over the past decade.
"The country's much-heralded economic growth has been marked by growing concentrations of that wealth in the hands of a few, and a stagnation if not deterioration in the standard of living of a vast majority of Indonesians," he said.
Wilson also pointed to a 2017 Oxfam report on the widening wealth gap in Indonesia, in which "inequality has been driven by a combination of 'market fundamentalism,' high concentrations of land ownership," and the fact that Indonesia registered the second lowest rate of tax collection in Southeast Asia.
"The poor and precarious bear the most drastic and damaging impacts of economic inequality, though in a densely populated megacity like Jakarta, it is felt by all social and economic classes — albeit in often vastly different ways and with a range of social and political consequences," he said.
Wilson continued, "For Jakarta's upper middle classes the desire for security, lifestyle and convenience — together with the push by developers for profitable all-inclusive developments — has meant increasingly self-imposed spatial separation from other social and economic groups within gated estates, apartments towers, shopping malls and private vehicles."
"Once a city of economically mixed neighborhoods, large parts of the city are spatially divided by class and ethnicity. This can be seen in the city's north, where remaining kampung sit in uneasy tension alongside luxury apartments and gated communities," Wilson said.
Old political and business elites emerge
For President Joko "Jokowi" Widodo, Wednesday's outcome poses a new challenge of rising Islamism and the renewed influence of Indonesia's old political and business elites in the public sphere, according to a Reuters report on Wednesday.
Many old guard figures have shown support for Anies during the election campaign, including moguls Aburizal Bakrie, Hashim Djojohadikusumo and Hary Tanoesoedibjo and retired general and failed 2014 presidential candidate Prabowo Subianto. All were prominent businessmen or military officers linked to the three-decade authoritarian regime of Suharto before his ouster in 1998.
Reconciliation
While Jakarta remains hampered by a dizzying array of social and political hurdles, scholar Komaruddin Hidayat, dean of Syarif Hidayatullah State Islamic University in Banten, Jakarta, called on city residents to eliminate any racial, religious or ethnic intolerance.
"We should eliminate the notion of majority and minority, and the government should establish a way to bridge any gaps through the improvement of people's welfare," Komaruddin told the Jakarta Globe in a phone interview.
Full report at:
http://jakartaglobe.id/news/ahoks-defeat-signifies-tough-road-ahead-democratic-tolerant-future/
--------
URL: https://www.newageislam.com/islamic-world-news/us-parents-win-right-give/d/110869
New Age Islam, Islam Online, Islamic Website, African Muslim News, Arab World News, South Asia News, Indian Muslim News, World Muslim News, Women in Islam, Islamic Feminism, Arab Women, Women In Arab, Islamophobia in America, Muslim Women in West, Islam Women and Feminism