New Age Islam News Bureau
18 Sept 2017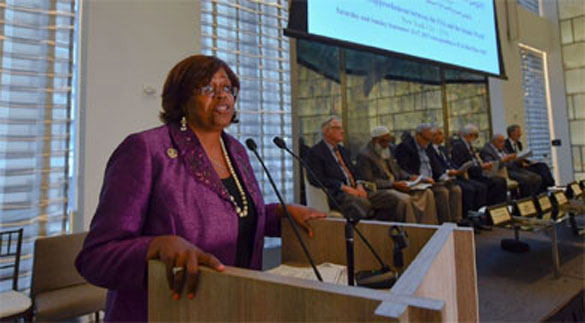 - Former US Ambassador-at-Large for International Religious Freedom: Susan Cook. (SPA) The conference began on Saturday uniting scholars from both sides under a forum titled "Civilizational Communication between the United States and the Islamic World".
----
• US-Muslim Interfaith Dialogue Conference Unites 450 Scholars
• Buddhists to Rohingya: Leave, or We Will Kill You All
• Rat Poison Mixed in Water at Madrassa Run by Hamid Ansari's Wife?
• Muslim Scholars Were Also Target Of UP IS Cell: NIA
• JI Chief Calls for Unity among Clerics to Bring Islamic System
• Iraq VP Warns Against 'Second Israel' In Kurdistan
North America
• US-Muslim Interfaith Dialogue Conference Unites 450 Scholars
• US-Muslim Ties 'Can Defeat Forces of Evil'
• The Canadian politician who could teach Americans a lesson in love
• Trump's UK visit still on despite terror tweets
• Acid attack on US students in France 'not seen as act of terror'
• Muslims in US town take out rally in support of Rohingya
• US, Russian top diplomats discuss Syria in New York
• Canada gives additional $2.55 million to help Rohingya
--------
South Asia
• Buddhists to Rohingya: Leave, or We Will Kill You All
• High Stakes in Myanmar As Suu Kyi Set To Break Silence Over Rohingya Crisis
• US should work with countries having influence on Taliban: Asif
• Logar youths show defiance to Kabul stadium attack in an unprecedented way
• Explosion in Khost city mobile phone market leaves several dead, wounded
--------
India
• Rat Poison Mixed in Water at Madrassa Run by Hamid Ansari's Wife?
• Muslim Scholars Were Also Target Of UP IS Cell: NIA
• Masood Azhar Will Be Pursued Until Justice Is Met: Syed Akbaruddin, Indian Diplomat
• Hizbul Blames Zakir Musa for 'Helping Forces Kill Kashmiris'
• Rohingya Muslims in India: How can India deport 40,000 'illegal' refugees to Myanmar when it can't even deport 11?
• Meaningless to talk to Pak until it stops aiding terrorism: Rajnath Singh
--------
Pakistan
• JI Chief Calls for Unity among Clerics To Bring Islamic System
• JuD Makes Its Presence Felt In Lahore's NA-120
• Human Rights abuses rise in Pakistan
• Teachers next on PTI hit list, claims JUI-F chief
• Pakistani children, youths risking lives for better opportunities in Europe: Unicef
• COAS, Iranian military chief urge end to Rohingya violence
• HEC devising mechanism to curb intolerance, extremism in varsities
--------
Arab World
• Iraq VP Warns Against 'Second Israel' In Kurdistan
• Certain Western States Still Back Terror Groups In Syria: Assad
• Syria Army, Allies Cut Daesh's Main Supply Line in Dayr Al-Zawr
• UN chief: Northern Iraq vote would detract from ISIS fight
• Tension Covers Idlib as More Terrorists, Commanders Defect Al-Nusra
• Qatar 'offering to trade body of Israeli soldier' for American-Jewish support
• Barzani meets with Saudi minister ahead of Kurdish referendum
• Bahrain's king denounces boycott of Israel, says citizens free to visit Israel
• Booby trap explosion kills eight at school in Iraqi village
• UN plans to help Iraq bring Daesh criminals to justice
--------
Mideast
• Hamas Dissolves Gaza Government and Agrees To National Unity Talks with Fatah
• Turkey's Erdogan, Iraq's Abadi to Discuss Planned Kurdistan Referendum
• Iran's Nuclear Deal Faces Tough Scrutiny At United Nations Talks
• Yemen soldier murders 3 Qaeda detainees
--------
Southeast Asia
• Students Sent Home from Indonesian Islamic School Linked To Child Fighters
• President Jokowi: Indonesia Will Not Remain Silent on Global Muslim Issues
• Najib forgot 'Islamophobic' Trump's Muslim ban, says Latheefa
• Myanmar: Some Malaysians in midst of engaging in 'jihad'
• Religious school tiff may have started at futsal court, says teacher
--------
Africa
• Interfaith Seeks Peace among Muslims, Christians in Nigeria
• Somali book fair offers respite from bombs
• Libyan coastguards turn back more than 1,000 migrants
• Kenya opposition urges reform of electoral commission
• 9 killed in fighting between Somali police, military
--------
Europe
• Britain Lowers Threat Level after Second Arrest over London Attack
• Rohingya refugees in UK demand end to 'slaughter'
• Germany seeks to restrict economic ties with Turkey: Merkel
Compiled by New Age Islam News Bureau
URL: https://www.newageislam.com/islamic-world-news/us-muslim-interfaith-dialogue-conference/d/112568
--------
US-Muslim interfaith dialogue conference unites 450 scholars
17 September 2017
The World Muslim League (MWL) hosted a conference in New York city focusing on the cultural communication between the United States and the Islamic World with the participation of the United Nations and the presence of 450 scholars and thinkers representing 56 countries.
The conference began on Saturday uniting scholars from both sides under a forum titled "Civilizational Communication between the United States and the Islamic World".
The Secretary-General of the Muslim World League Sheikh Dr. Mohammed bin Abdul-Karim Al-Issa said in his speech during the opening ceremony on Saturday that the civilized communication between the Islamic world and the United States has a long history of exchange and cooperation of humanitarian, knowledge, economic and political subjects.
"This distinguished civilized relationship over the years has revealed the grave error of the "Clash of Civilizations" theory that was based on stirring up hatred and racism and erecting imaginary barriers," Al-Issa said.
"But what is important is our understanding of the need for co-existence and cooperation in the light of this understanding to serve not just mutual interests, but to also serve all humanity, to promote social peace and intellectual security and to defeat evil, while enshrining the concepts of righteousness, charity, all without religious, sectarian, ethnic, political, intellectual or other distinction," Al-Issa added.
For his part, Secretary-General for the World Council of Religious Leaders Dr. Bawa Jain said that the "process requires moving from a stage of accepting the other to one respecting the other".
"People of the Islamic and American nations are united in the fight to defeat forces of evil," said Dr. William F. Vendley, UN Secretary General of the World Council of Religious Leaders.
Abdallah Bin Bayyah, a Mauritanian professor of Islamic studies at the King Abdul Aziz University in Jeddah, said that the values of Islam are consistent with the US Constitution and that Saudi Arabia holds all the human and religious values that qualify it to lead the Islamic world.
Also attending the conference was Sheikh Abdulrahman al-Sudais, the imam of the Grand mosque in Mecca and the President of the General Presidency for the Affairs of the Two Holy Mosques.
From New York city, Sudais called for the dissemination of a culture of communication to promote the values of justice and equality among human beings.
The Secretary General of the Organization of Islamic Cooperation (OIC), Dr. Yousif bin Ahmed Al-Othaimeen, also spoke at the conference and said: "We need a comprehensive approach to dialogue between America and Islamic peoples and focus on common factors."
Dr. Al-Issa said that an imbalance in the function of consciousness and thinking has caused humanity many tragedies and that the MWL carries on its global humanitarian mission in which it "calls for communication, understanding and rapprochement to serve mutual interests and serve humanity as a whole".
Among the key delegates at the conference included:
- Secretary General of the MWL: Sheikh Dr. Mohammed bin Abdul Karim Al-Issa.
- Secretary General of the World Council of Religious Leaders of the United Nations: Dr. William F. Vendley
- Secretary-General for the World Council of Religious Leaders: Dr. Bawa Jain
- Senior Vice President for Spiritual Development at Liberty University: Dr. David Nasser
- Secretary General of the Forum for the Promotion of Peace in Muslim Societies: Dr. Mohammed Bin Matar Al Kaabi
- Deputy of Al Azhar Al Sharif: Dr. Abbas Shoman
- Secretary General of the Organization of Islamic Cooperation: Dr. Yousif bin Ahmed Al-Othaimeen
- Former US Ambassador-at-Large for International Religious Freedom: Susan Cook.
https://english.alarabiya.net/en/features/2017/09/17/US-Muslim-interfaith-dialogue-conference-unites-450-scholars.html
--------
Buddhists to Rohingya: Leave, or We Will Kill You All
Sep 17, 2017
Thousands of Rohingya Muslims in northwestern Myanmar are pleading for safe passage from two remote villages besieged by Buddhist extremists.
Media reports said the situation was particularly dire in the village of Ah Nauk Pyin and the nearby Naung Pin Gyi, where any escape route to neighboring Bangladesh is long and arduous.
Maung Maung, a Rohingya official in Ah Nauk Pyin, said the villagers were resigned to leaving, but authorities had not responded to their requests for security. "We'll starve soon and they're threatening to burn down our houses," he told Reuters by telephone. "We're terrified."
Another Rohingya, who asked not to be named, said extremist Buddhists came to the same village and chanted, "Leave, or we will kill you all."
Elsewhere in his remarks, Maung Maung, said he had called Myanmar's police at least 30 times to report threats against his village.
On September 13, the Rohingya official said he had received a call from a Rakhine villager he knew. "Leave tomorrow or we'll come and burn down all your houses," the man on the phone had said. When the Rohingya official protested that they had no means to escape, the man replied, "That's not our problem."
Maung Maung also said the village elders had sent a letter to Rathedaung authorities on September 7, asking to be moved to "another place". They had yet to receive a response, he said.
On August 31, Myanmar's police convened a roadside meeting between the two villages. Rohingya residents who attended the meeting said that instead of addressing the Rohingya complaints, the Rakhine officials delivered an ultimatum.
"They said they didn't want any Muslims in the region and we should leave immediately," said the Rohingya resident of Ah Nauk Pyin who requested anonymity.
Ah Nauk Pyin sits on a mangrove-fringed peninsula in Rathedaung, one of three townships in Rakhine state. The villagers say they have no boats to leave the volatile region.
Until three weeks ago, there were 21 Rohingya Muslim villages in Rathedaung, along with three camps for Muslims displaced by the previous wave of violence.
Sixteen of those villages and all three camps have since been emptied and in many cases burnt.
Human rights monitors say Rathedaung's five surviving Rohingya villages and their thousands of inhabitants are encircled by Rakhine Buddhists.
Since 2012, the Rohingya have been too scared to leave the village or till their land, surviving mainly on monthly deliveries from the World Food Program (WFP).
The recent violence halted those deliveries after the WFP pulled out most of its staff and suspended operations in the region after August 25.
Residents in the two Rohingya villages said they could no longer venture out to fish or buy food from Buddhist traders, and were running low on food and medicines.
Since October 2016, Myanmar's government has laid a siege to the western state of Rakhine, where the Rohingya Muslims are concentrated. There, horrific violence, including killing, rape and torching property, has been taking place against the minority Muslims, according to reports and eyewitnesses.
The attacks have seen a sharp rise since August 25 after dozens of police and border outposts in Rakhine came under attack purportedly by a group claiming to be the defenders of the Rohingya. The alleged assaults were launched in response to a government clampdown in the area, where over a million Rohingya are based.
Rohingya Muslims fleeing violence and persecution in their home country of Myanmar continue to arrive in Bangladesh. Refugees are waiting for handout from aid agencies since they lack food, clean water and shelter. Locals say many of the Rohingya refugees are also sick and wounded. Thousands of the displaced people have been stranded or left without enough food for weeks.
The United Nations says so far more than 400,000 desperate Rohingya Muslims have fled the violence in Myanmar and crossed into neighboring Bangladesh.
Myanmar's government denies full citizenship to the Rohingya, branding them illegal immigrants from Bangladesh. Dhaka, in turn, regards the desperate refugees as Myanmarese and harshly pushes them back. The Rohingya, however, track their ancestors many generations back in Myanmar.
http://www.presstv.ir/Detail/2017/09/17/535518/Myanmar-Rohingya-Muslims
--------
Rat poison mixed in water at madrassa run by Hamid Ansari's wife?
Anuja Jaiswal
Sep 18, 2017
AGRA: In an incident which former Vice President Hamid Ansari's wife, Salma Ansari, called "shocking and scary", some unidentified men allegedly mixed rat poison in the water supply of Madrassa Chacha Nehru in Aligarh that houses 4,000 children. The institution located in the heart of the city is run by Al Noor Charitable Society which Ansari's wife heads. Police have lodged an FIR in the case under IPC sections 328 (causing hurt by means of poison) and 506 (criminal intimidation) and are on the lookout for two unidentified persons.
Chairperson of the society, Salma Ansari, told TOI that she was shocked to learn about the incident and asked the madrassa warden to file a police complaint. "Following the incident, we have decided to install CCTV cameras in the 18-year-old charitable institution which has 4000 students on its rolls," she said.
Aligarh senior superintendent of police Rajesh Pandey said, "Fortunately, a student spotted the miscreants and alerted the warden. We have collected water samples which will be sent to forensic science laboratory (FSL) for tests on Saturday." Giving details of the incident, madrassa warden Junaid Siddiqui said, "One of our students, Mohammad Afzal, who stays in the hostel, went to drink water from a common water tap on Friday evening. He spotted two men mixing some tablets in the tank. When he asked them what they were doing, the other suspect, who was sitting on the madrassa's fence with a country-made pistol, threatened him to keep quiet."
After the duo left, the student picked up the rat poison wrapper left behind by them and alerted the warden. "The water supply area was immediately cordoned off. And students were asked to drink water from other tanks in the premises," the warden told TOI. Chief medical officer at Aligarh's J N Medical College, Dr Ehtisham Ahmad, said that though rat poison can't prove fatal to human beings until it is mixed with an anticoagulant (substance that prevents or reduces coagulation of blood), it could have made the students sick. "A lot, however, would depend on the quantity of rat poison mixed in the water," he added.
Hamid Ansari had faced a flak from several BJP leaders, including current VP Venkaiah Naidu, after Ansari, in the last days of his tenure, said Muslims in India were experiencing "a feeling of unease, a sense of insecurity is creeping in". PM Narendra Modi, too, had reacted to it saying Ansari would "be free" to act, talk and work in accordance with his "basic political ideology and instinct" after his tenure ended.
http://timesofindia.indiatimes.com/india/rat-poison-mixed-in-water-at-up-madrassa-housing-4000-kids/articleshow/60724962.cms
--------
Muslim scholars were also target of UP IS cell: NIA
Sep 18, 2017
LUCKNOW: The Lucknow module of the Islamic State (IS) terror group, which allegedly carried out the Ujjain-Bhopal train blast on March 7, had Muslim scholars from Shia, Barelvi and Deobandi sects on their hit list. These revelations have been made in the chargesheet against members of the module submitted by National Investigation Agency (NIA) before a Lucknow court on August 31.
TOI is in possession of a copy of the chargesheet in which the names of two senior clerics, who were on the hit list, have been blacked out for security reasons. While seven members of the module were arrested after the blast, one Saifullah was killed in an encounter on March 8.
NIA has attached with the chargesheet a hand-written note recovered from the hideout of the IS members in Thakurganj in Lucknow where Saifullah was killed.
"Investigation has established that the accused IS persons conspired to carry out terrorist activities in India and planned for targetting Muslim scholars of other sects, Shia, Barelvi, Deobandi, within India," says the chargesheet. The chargesheet also reveals the module had several Sufi shrines, including Dewa Sharif in Barabanki, on its target. NIA said the module religiously followed the Wahabi doctrine of Sunni Islam that regards Muslims who do not agree with its interpretations as infidels or apostates. "The material recovered from their possession is not just sophisticated arms and ammunition or explosive substances. There are videos, photographs, literature and discourse recordings that suggest how badly they wanted to take on the scholars of the community who opposed the idea of Caliphate," said an NIA officer.
The chargesheet hints that the module, led by Atif Muzaffar, had frequent arguments with scholars at its programme called Darsh in Kanpur. "Investigation has established that accused Atif Muzaffar used to pose provocative questions on IS, jihad and Hizrat (migration) to the speakers... There were arguments between Muzaffar and the scholars, including one Intezar Ali, on the topic of jihad, suicide bombing, Sharia and the Caliphate," it says.
http://timesofindia.indiatimes.com/india/muslim-scholars-were-also-target-of-up-is-cell-nia/articleshow/60725061.cms
--------
JI chief calls for unity among clerics to bring Islamic system
18-Sep-17
KARACHI: Jamaat-e-Islami (JI) chief Sirajul Haq has said that a socio-political system based on the teachings of Holy Prophet (PBUH) is the only way forward for the country.
Addressing the 'Ittehad-e-Umaat Convention' jointly organised by the Jamiat Ittehad Ulema and the JI Karachi, the JI chief stressed the need of unity among clerics to launch massive struggle to bring Islamic system to the country. Talking about the political issues in the country, he said that majority of institutions had been manipulated by the corrupt ruling regimes. "The institutions of accountability have been collapsed," he said, adding that the National Accountability Bureau chairman should be appointed by the higher judiciary, instead of politicians. Referring to the NA-120 by-election, Siraj said that it was 'selection instead of election'. He said that electoral process could be influenced with the help of money but hearts of people could only be won through solid character. He criticised the international community as well as the Muslim block for their "apathy" to the plight of Rohingya Muslims in Myanmar.
http://dailytimes.com.pk/pakistan/18-Sep-17/ji-chief-calls-for-unity-among-clerics-to-bring-islamic-system
--------
Iraq VP warns against 'second Israel' in Kurdistan
Sep 18, 2017
BAGHDAD (AFP): An Iraqi vice president warned Sunday that Baghdad would not tolerate the creation of "a second Israel" after the Jewish state became the only country to support a planned Kurdish independence referendum in northern Iraq.
The leaders of autonomous Iraqi Kurdistan must "call off the (September 25) referendum that is contrary to the constitution and does not serve the general interests of the Iraqi people, not even the particular interests of the Kurds", said Vice President Nuri al-Maliki.
"We will not allow the creation of a second Israel in the north of Iraq," Maliki, a Shiite former prime minister, said at a meeting with US ambassador Douglas Silliman, in a statement released by the vice president's office.
A country set up on a religious or ethnic base, like the Jewish state established in 1948, would not be acceptable, Maliki said. He warned that an independence vote would have "dangerous consequences for the security, sovereignty and unity of Iraq", and called for dialogue between Baghdad and the Kurdish Regional Government in the northern city of Arbil.
As opposed to Muslim countries in the region as well as the United States and Western allies, Israel has come out in apparent support of the referendum. On Tuesday, Israeli Prime Minister Benjamin Netanyahu backed the Kurds' aspirations for a state of their own, without specifically referring to the autonomous Kurdish region in northern Iraq.
"While Israel rejects terror in any form, it supports the legitimate efforts of the Kurdish people to attain a state of its own," a statement from his office said.
An Israeli flag was flown alongside Kurdish flags at a rally in Arbil on Friday in support of the referendum. The United Nations has urged Iraqi Kurdish leader Massud Barzani to drop plans for the controversial referendum and enter internationally-backed talks with Baghdad aimed at reaching a negotiated deal within three years.
http://nation.com.pk/international/18-Sep-2017/iraq-vp-warns-against-second-israel-in-kurdistan
--------
North America
US-Muslim ties 'can defeat forces of evil'
18 September 2017
NEW YORK: Strengthening ties between the US and the Muslim world will guarantee the defeat of evil forces, a major conference on cultural communication was told on Sunday.
Dr. William Vendley, secretary-general of Religions for Peace International, a multi-religious coalition, said the relationship between the US and the Muslim world stemmed from the desire of both to help the human family.
Great civilizations, such the Islamic and American civilizations, were based on great religions, Vendley told the two-day conference in New York organized by the Muslim World League.
In his opening remarks on Saturday, MWL Secretary-General Mohammed bin Abdulkarim Al-Issa said cultural communication between the Muslim world and the US had a long history of exchange and cooperation. This showed that the "Clash of Civilizations" theory was based on hate and racism.
Civilized coexistence between cultures need not be based on believing in each other's point view, he said, but it was important to believe in diversity.
The secretary-general of the World Council of Religious Leaders, Bawa Jain, compared the situation of Muslims in the US to that of the black community in the 1960s. He said the number of Muslims in the US was projected to exceed 50 million by 2050, so there should be mutual understanding between them and other American communities. Jain said the time had come to move from simply accepting others to the stage of respecting them.
Dr. David Nasser, senior vice president for spiritual development at Liberty University in Lynchburg, Virginia, said his Christian university promoted tolerance and openness among students and encouraged them to communicate with Muslims in the US, who were also committed to religious principles that called for development and prosperity.
The chairman of the General Authority of Islamic Affairs and Endowments in the UAE, Dr. Mohammed Al Kaabi, said Muslims believed cultural communication with the US should be based on the shared principles of Islam and the American constitution, which respect freedom, democracy and human rights.
Abdallah Bin Bayyah, president of the Forum for Promoting Peace in Muslim Societies, said American-Islamic relations were based on the principles of mercy, wisdom, interest and justice, which represented the essence of coexistence.
The conference was attended by 450 delegates from religious, cultural and political groups in the Muslim and non-Muslim world. It concluded on Sunday.
http://www.arabnews.com/node/1162861/world
--------
The Canadian politician who could teach Americans a lesson in love
By Dean Obeidallah
September 11, 2017
"When is your Shariah going to end? ... We know you are in bed with the Muslim Brotherhood!" an irate white woman screamed in the face of a brown-skinned politician at his town hall meeting on Wednesday night.
Sixteen years after 9/11, bigoted remarks like these against Muslims -- or even those perceived to be Muslim -- have become disturbingly commonplace. And our President, who during his campaign openly attacked Muslims with false claims -- that "thousands" of Muslim Americans cheered in New Jersey on 9/11, for example -- isn't helping matters.
In the case of this incident, the politician who was subject to this barrage of anti-Muslim comments, Jagmeet Singh, is not even Muslim. Singh, who is running to be the head of the New Democratic Party, one of Canada's political parties, could've simply told the heckler, "I'm not a Muslim. I'm a Sikh." But he didn't. Nor did he respond by screaming at the heckler or publicly dismissing her as a bigot.
Instead, Singh chose love. While the woman shouted anti-Muslim slurs, Singh asked the audience, "What do we believe in?" He paused for a moment, then together with the audience said: "Love and courage." He added, "We don't want hatred to ruin a positive event, so let's show people how we treat people with love."
In a time when political disagreements often escalate into heated debates that threaten to tear our nation apart, Singh showed us all a different, more constructive approach.
But Singh didn't stop there. He calmly and sincerely told the heckler, "we welcome you. We love you. We support you." "Everyone in this room loves you ... this room is filled with people who are loving," he soon added. The crowd then applauded in support. Faced with this showing of love, the heckler eventually stormed out.
Singh's actions and words echoed those of Martin Luther King Jr. "Hate cannot drive out hate; only love can do that," King famously said. Despite the threat this woman may have posed to Singh, he remained calm and kind. At no time did he show fear, anger or even condescension to the woman reciting bigoted talking points.
And, after the incident, Singh put out a statement explaining why he did not clarify that he was not Muslim. Singh's words are potentially even more moving than his reaction at the town hall. "My response to Islamophobia has never been 'I'm not Muslim,'" he wrote. "It has always been and will be that 'hate is wrong.'"
"Once allowed to grow, hate doesn't pick and choose, it spreads like fire," he added.
As a Muslim, I can't thank Singh enough for refusing to simply take the easy way out by responding, "I'm not Muslim." And he had every right to do just that. Since 9/11, it's been challenging and even deadly to be a Sikh in North America because anti-Muslim actors have multiple times mistakenly taken Sikhs for Muslims.
In the days after 9/11, the first person reportedly killed in the anti-Muslim backlash was actually a Sikh man, Balbir Singh Sodhi, who was working at his Mesa, Arizona, gas station when he was shot and killed. The gunman told the police upon his arrest, "I stand for America all the way."
But that wasn't the last incident. Sikh places of worship -- known as gurudwaras -- have been defaced with hateful graffiti. And in 2012, a white supremacist murdered six Sikhs at a gurudwara in Wisconsin.
But hate doesn't stop at the US-Canada border. In Singh's Canada, Sikh places of worship have also been defaced, including an incident in December when racist language and swastikas were spray-painted on the walls of a gurudwara in Calgary.
Yet Singh -- and his many supporters in that room -- chose not to sink to the level of one bigot. Sikh concluded his statement with words that apply both in his home country of Canada as well as in Trump's America. "It's important that we stand united against all forms of hate," he said. "It takes love to understand that we're all in this together."
Full report at:
http://edition.cnn.com/2017/09/11/opinions/love-trump-hate-opinion-obeidallah/index.html
--------
Trump's UK visit still on despite terror tweets
Sep 18, 2017
WASHINGTON - British Prime Minister Theresa May has insisted a long-awaited state visit by Donald Trump will go ahead as planned despite a diplomatic spat triggered by the US president's comments after a terror attack in London.
Speaking to ABC News from Downing Street in an interview that aired Sunday, she added that London was in talks with internet giants Google and Facebook about "doing more" to assist authorities in tracking extremists using the web to plan attacks, an issue she said she would take up at the UN General Assembly next week. After an explosion in the London subway early Friday injured more than 20 people, Trump on Twitter blamed "sick and demented people who were in the sights of Scotland Yard." Britons expressed outrage at the president's suggestion that British authorities had advance knowledge about the attackers. May herself told journalists Friday that "I never think it's helpful for anybody to speculate on what is an ongoing investigation."
Trump's keenness to underline a series of attacks in Britain has led to repeated outcry across the Atlantic that has helped indefinitely delay his much-vaunted state visit.
But in her ABC interview, May made clear the planned visit is still on. "Her Majesty the Queen issued the invitation," she said. "The president has accepted it. It's just a question of getting dates to -- and sorting out the logistics."
May said the point of the historic "special relationship" between the two countries was that "when we do disagree we're able to say so -- and pretty bluntly." As an example, she cited the sharp differences over the Paris climate change agreement. "I've made very clear I was dismayed when America decided to pull out of that," she said, adding that she hoped the US administration would be "able to find a way for America to come back into the agreement."
After reports that some European officials believed the US might return to the agreement, the White House said Saturday that it would do so only if it could negotiate more favorable terms.
May also emphasized the need to block terrorists from using the internet for planning attacks and "for the spread of extremism, of hatred, of propaganda."
She said British authorities were working with internet giants like Facebook and Google "about doing more."
Those companies and others, including YouTube and Twitter, have formed a Global Internet Forum to Combat Terrorism, working with governments and other groups.
Full report at:
http://nation.com.pk/international/18-Sep-2017/trump-s-uk-visit-still-on-despite-terror-tweets
--------
Acid attack on US students in France 'not seen as act of terror'
Sep 18, 2017
French police say an acid attack that injured four American college students in Marseille is not being treated as a terrorist assault.
The four female students were sprayed in the face with acid on Sunday at a train station in the southern French port city of Marseille by a 41-year-old woman, who was quickly detained by police officials.
The victims were all junior students studying abroad, three of them at Boston College's Paris program.
In a statement later in the day, Massachusetts-based Boston College quoted French police as saying that the assailant was a "disturbed" woman, and that the attack was not thought at this point to be terror-related.
The four, identified as Courtney Siverling, Charlotte Kaufman, Michelle Krug and Kelsey Kosten, were treated at a hospital for burns, the statement said.
"It appears that the students are fine, considering the circumstances, though they may require additional treatment for burns," Nick Gozik, who directs Boston College's Office of International Programs. "We have been in contact with the students and their parents and remain in touch with French officials and the US Embassy regarding the incident."
A spokeswoman for the Marseille prosecutor's office told The Associated Press on condition of anonymity that the suspect did not make any extremist threats or declarations during the attack. The source said there were no obvious indications that the woman's actions were terror-related.
The source, however, said two of the victims were "slightly injured," while the other two received treatment for shock.
A source familiar with the investigation said the suspect had a history of mental problems, with no apparent past connections to extremism.
Local newspaper La Provence also reported that the assailant made no attempt to escape the site of the attack.
Over the past years, France has been hit by a series of attacks by individuals suffering from mental disorders as well as extremist acts of violence, claimed by Takfiri terror groups based in the Middle East.
Full report at:
http://www.presstv.ir/Detail/2017/09/18/535543/France-Acid-Attack-US-Students
--------
Muslims in US town take out rally in support of Rohingya
Raja Zahid
September 18, 2017
DALLAS: A coalition of local organizations on Sunday took out a rally to protest violence against Rohingya Muslims in Myanmar.
The rally that was organized by Dallas/Fort Worth chapter of the Council of American Islamic Relations (CAIR-DFW, and Houston community organization organized a rally called for an end to the violence and ethnic cleansing of Rohingya.
Hundreds of people holding placards and chanting slogans against the Myanmar authorities attended the rally.
"We call on elected officials to intervene and demand Myanmar government put an end to the violence and allow immediate relief to reach the Rohingya Muslims," said one of the organizers.
Full report at:
https://www.thenews.com.pk/latest/230778-Muslims-in-US-town-take-out-rally-in-support-of-Rohingya
--------
US, Russian top diplomats discuss Syria in New York
18 September 2017
U.S. Secretary of State Rex Tillerson and his Russian counterpart Sergey Lavrov met on Sunday on the sidelines of the United Nations General Assembly and discussed civil war-torn Syria.
State Department spokeswoman Heather Nauert said in a statement that Tillerson and Lavrov "recommitted to deconflicting military operations in Syria, reducing the violence and creating the conditions for the Geneva process to move forward (…)".
Syria has been locked in a vicious civil war since early 2011, when the Bashar al-Assad regime cracked down on pro-democracy protests. Since then, more than 250,000 people have been killed and in excess of 10 million displaced, according to the UN.
Earlier this week, Turkish and Russian diplomatic officials said that the parties at the Syrian peace talks in Kazakhstan agreed on the boundaries of the final de-escalation zone in northern Idlib province.
Full report at:
http://www.worldbulletin.net/america-canada/194088/us-russian-top-diplomats-discuss-syria-in-new-york
--------
Canada gives additional $2.55 million to help Rohingya
16 September 2017
The Canadian government has announced an extra CAN$2.55 million in immediate funding to help Rohingya refugees fleeing persecution in Myanmar, Canadian media reported Friday.
The money comes after the United Nations issued an urgent plea for humanitarian aid for about 400,000 Rohingya Muslims who have fled to neighboring Bangladesh since Myanmar forces engaged in late August in what UN Human Rights Chief Zeid Ra'ad al-Hussein calls a "textbook example of ethnic cleansing".
It also follows a phone conversation Wednesday between Canadian Prime Minister Justin Trudeau and Myanmar leader Aung San Suu Kyi, in which Trudeau expressed "deep concerns" over the persecution of Rohingya, a minority in the Buddhist country.
The prime minister's words were echoed in a statement from Canada's Internal Development Minister Marie-Claude Bibeau.
"Canada remains deeply concerned about the violence in Rakhine State and the displacement of more than 375,000 people into Bangladesh since late August," Bibeau said. "The support Canada is announcing today will help partners provide life-giving assistance to people fleeing violence."
The money, to be given to the UN for distribution to aid agencies, will target those refugees least able to cope with the upheaval -- women, new mothers and children under five.
Canada earlier committed CAN$6.63 million in funding for those in desperate straits in Myanmar -- formerly called Burma -- and Bangladesh.
The additional CAN$2.55 million from Canada follows the announcement of $4.3 million in aid by the European Commission this week. The UN has issued a plea for US$77 million.
While the Myanmar military said it is only targeting Rohingya insurgents, al-Hussein scoffed at the statement, saying satellite images clearly showed the military burning Rohingya villages.
The 400,000 who have fled Myanmar since the crackdown began Aug. 25 are in addition to similar numbers already in Bangladesh.
The refugees are fleeing a fresh security operation in which Myanmar forces and Buddhist mobs have killed men, women and children, looted homes and torched Rohingya villages. According to Bangladesh, around 3,000 Rohingya have been killed in the crackdown.
Turkey has been at the forefront of providing aid to Rohingya refugees and President Recep Tayyip Erdogan has said he will raise the issue at the UN.
The Rohingya, described by the UN as the world's most persecuted people, have faced heightened fears of attack since dozens were killed in communal violence in 2012.
Last October, following attacks on border posts in Rakhine's Maungdaw district, security forces launched a five-month crackdown in which, according to Rohingya groups, around 400 people were killed.
Full report at:
http://www.worldbulletin.net/america-canada/194033/frances-hurricane-hit-st-martin-on-guard-for-health-threats
--------
South Asia
High stakes in Myanmar as Suu Kyi set to break silence over Rohingya crisis
18-Sep-17
RAKHINE: As Rakhine state burns and Rohingya flee, Aung San Suu Kyi is preparing to address Myanmar on the crisis for the first time, a high wire act seeking to soothe global outrage without baiting an army that is again showing its teeth.
Suu Kyi took office last year as Myanmar's first civilian leader after 50 years of junta rule.
She has since focused her energy on the delicate political dance between her civilian government and the generals who still hold many of the levers of power.
On Tuesday, the Nobel laureate will give the biggest speech of her time in office.
The nationally-televised turn will break a near silence since the ulcerous ethnic and religious hatreds in western Rakhine state erupted into killings on August 25, sending 400,000 Muslim minority Rohingya fleeing into Bangladesh.
Some 30,000 ethnic Rakhine Buddhists and Hindus have also been internally displaced.
In an interview with the BBC, United Nations (UN) Secretary General Antonio Guterres said the stakes were high for Tuesday's speech, calling it a 'last chance' to stop the unfolding humanitarian calamity.
"If she does not reverse the situation now, then I think the tragedy will be absolutely horrible, and unfortunately then I don't see how this can be reversed in the future," he said.
The latest violence was sparked by Rohingya militants' alleged raids on 30 police posts in Rakhine state.
The UN calls the army fightback a 'textbook example of ethnic cleansing' with villages set ablaze to drive Rohingya civilians out.
Many abroad are puzzled as to how rights can be flagrantly denied to a specific group by a people who once nobly demanded their own in the face of a junta.
Suu Kyi's televised address, likely at least in part to be in English, comes ahead of a meeting at the UN General Assembly in which Myanmar is expected to be hammered over the crisis.
But analysts say her power to stay the military is limited, and her response thus far indicates she is choosing the lesser of two evils. "She's signalling that her chief priority is the relationship between the government and military and that the pogrom (massacre) is secondary to that," Francis Wade, author of 'Myanmar's Enemy Within: Buddhist Violence and the Making of the Muslim 'Other", said.
"This obviously raises questions about the quality of leadership she seeks to bring, but also that the political game in Myanmar is worth the sacrifice of entire communities."
Suu Kyi's National League for Democracy (NLD) swept the board when the military permitted elections in 2015.
Before they loosened their chokehold on power, the generals wrote themselves into the constitution, embedding their political future with a bloc of legislative seats and total control over security.
Over the last two years, Suu Kyi's gradualism, and her refusal to upset the organisation that kept her under house arrest for almost two decades, has seen the sprouting of the first green shoots of the rule of law in Myanmar.
But the eruption of violence in Rakhine and the pressure from the outside world for her to 'do something about it' risks upsetting that balance, all the more in a country where the majority of the population shares the military's view that Rohingya Muslims, whom it disparagingly calls 'Bengalis', are interlopers bent on taking land and resources from Buddhists.
A leader who bends too far to international will could lose the support of the people she governs.
In these circumstances, observers say, it is not hard to imagine another coup by an army that always used national security concerns to justify its iron-fisted rule.
From the ashes of Rakhine, commander-and-chief Min Aung Hlaing is emerging as an unexpectedly popular figure, defying deep mistrust of the military.
He has successfully pitched his once reviled institution as the defender of Myanmar's territorial sovereignty and the Buddhist faith against 'extremist Bengali terrorists' through Facebook and Twitter.
On Saturday, his Facebook feed repeated the widely-held domestic view that the Rohingya have 'never been an ethnic group in Myanmar'. With the army flexing its muscles, Suu Kyi's next steps have become increasingly treacherous.
http://dailytimes.com.pk/world/18-Sep-17/high-stakes-in-myanmar-as-suu-kyi-set-to-break-silence-over-rohingya-crisis
--------
US should work with countries having influence on Taliban: Asif
Sep 17 2017
Pakistan's foreign minister Khwajah Asif has said the United State should work with the countries having influence on Taliban in a bid to open door for peace talks and end the conflict in Afghanistan.
Reaffirming Islamabad's stance against militaristic approach to Afghanistan issue, Asif told The Wall Street Journal in Islamabad that the new approach through military means represents the failed policy of the previous US administration.
Asif further added that the Obama administration could not achieve peace and stability by deploying forces almost eight times more than what is planned now.
He said the only solution for the violence to be ended in Afghanistan is peace talks, insisting that Washington should work with the countries having influence on Taliban to resume negotiations which he believes can be arranged if Washington work with the countries.
This come as pressures on the rise on Islamabad since President Donald Trump announced the new strategy of the United States for Afghanistan and Washington as he strongly criticized Pakistan for remaining reckless regarding the terror sanctuaries threatening Afghanistan and the region.
The Afghan and US officials have long been criticizing Islamabad for remaining reckless to act against the Taliban and Haqqani terrorist network sanctuaries as they claim that the leadership councils of the two groups are based in the key cities of Pakistan from where they plan and coordinate attacks in Afghanistan, including some of the deadly attacks on US forces.
Full report at:
http://www.khaama.com/us-should-work-with-countries-having-influence-on-taliban-asif-03464
--------
Logar youths show defiance to Kabul stadium attack in an unprecedented way
Sep 17 2017
Hundreds of youths from central Logar province gathered and marched towards capital Kabul to express their defiance towards the terrorist attack near the Kabul cricket stadium in the city which took place last week.
The youths from Logar province stated their rally from the province earlier today and arrived in dozens of vehicles in the city to support their native team in the ongoing Shpageeza cricket league.
The move was an apparent gesture of defiance to the terrorist groups who were attempting to sabotage the ongoing domestic cricket league in the country.
The show of defiance by Logar youths was widely welcomed across the country, specifically in the social media, where the subscribers largely took part to hail their move.
The loyalists of the Islamic State of Iraq and Syria (ISIS) terrorist in Afghanistan have claimed the responsibility for the attack near the stadium in Kabul, claiming that the suicide bomber targeted the intelligence personnel.
The officials are saying that three people including a security guard lost their lives in the attack and six others were wounded.
The attack briefly resulted into the suspension of an ongoing cricket match in a cricket stadium located in the vicinity of the incident area.
The Taliban militants group had earlier denied the involvement of the group in the attack.
Full report at:
http://www.khaama.com/logar-youths-show-defiance-to-kabul-stadium-attack-in-an-unprecedented-way-03463
--------
Explosion in Khost city mobile phone market leaves several dead, wounded
Sep 17 2017
Around eighteen people were killed or wounded after an explosion ripped through a mobile phone market in southeastern Khost province of Afghanistan.
According to the local officials, the incident took place around noon time in the provincial Khost city.
Provincial police chief Faizullah Ghairat confirmed the incident but put the death toll to one person while confirming ten others were wounded in the explosion.
However, the provincial public health officials said at least four people were killed and thirteen others were wounded in the incident.
In the meantime, provincial police chief said the incident took place after explosives planted inside the market went off.
It is yet not clear who was the target of the explosion and no individual or group has claimed responsibility behind the attack yet.
Khost is among the relatively peaceful provinces in southeastern parts of the country but the anti-government armed militant groups have recently increased their insurgency activities in this province.
Full report at:
http://www.khaama.com/explosion-in-khost-city-mobile-phone-market-leaves-several-dead-wounded-03462
--------
India
Masood Azhar Will Be Pursued Until Justice Is Met: Syed Akbaruddin, Indian Diplomat
Sep 17, 2017
NEW YORK: Hoping that the UN would soon designate Masood Azhar as a terrorist, a top Indian diplomat has said that New Delhi will not sit idle till the Pakistan-based Jaish-e-Mohammed terrorist is brought to justice.
India has identified Azhar as the mastermind of the Pathankot terror attack on January 2, 2016. It has also blamed his brother Rauf and five others for carrying out the attack in which seven Indian soldiers were killed along with all the six terrorists.
"If I were to use a term, the matter is what we would call in judicial terms sub-judice. Currently the matter is with a UN committee. We hope that the committee will be able to fulfill its role in designating Masood Azhar who we have tried for quite some time but have not succeeded yet," India's Permanent Representative to the UN Syed Akbaruddin said here.
"However, we would like to make it very clear, we will pursue Masood Azhar so that the ends of justice are met," he said yesterday at a news conference in response to a question on India's effort towards terrorist designation of Azhar, which has repeatedly been blocked by China.
China in August extended by three months its technical hold on the US, France and UK-backed proposal to designate the Pathankot attack mastermind as a global terrorist by the UN.
If China would not have extended the technical hold last month, Azhar would have automatically been designated under the UN as a terrorist.
A veto-wielding permanent member of the Security Council, China has repeatedly blocked India's move to put a ban on the Jaish-e-Mohammed chief under the Al-Qaeda Sanctions Committee of the Council. JeM has already been in the banned list.
Last year in March, China was the sole member in the 15-nation UN organ to put a hold on India's application with all other 14 members of the Council supporting New Delhi's bid to place Azhar on the 1267 sanctions list that would subject him to an assets freeze and travel ban.
"He (Azhar) may try to delay this, but the inevitable will happen. So be certain about it. The clock is ticking for him. He will be pursued until justice is met," Akbaruddin said.
When a reporter asked what are China's objections to British-backed proposal to list Azhar as a designated terrorist by the UN, he said, "You should ask them."
The three-month validity of the current technical hold is expiring on November 2.
http://timesofindia.indiatimes.com/india/clock-ticking-for-masood-azhar-he-will-brought-to-justice-syed-akbaruddin/articleshow/60719892.cms
--------
Hizbul blames Zakir Musa for 'helping forces kill Kashmiris'
M Saleem Pandit
Sep 18, 2017
SRINAGAR: The streets of Shopian are splashed with posters bearing Hizbul Mujahideen stamp blaming al-Qaida-appointed head of Kashmir jihad, Zakir Musa+ , for "helping Indian forces kill Kashmiris" and asking people to "chase him to death", while also describing him as an "Indian agent".
Written in Urdu, with Musa's picture displayed prominently, the posters claim that the former Hizb terrorist got many "innocents killed by Indian tyrants in lieu of huge money". "This traitor is creating different outfits in league with the government. Initially, he was part of Hizb and thereafter, he joined hands with the government of India. He even termed Hurriyat wrong. Therefore, wherever you find him, kill him," the posters said.
Zakir Rashid Bhat, alias Zakir Musa, 23, had left Hizbul Mujahideen as its head in May this year after the outfit criticised him for threatening Hurriyat separatists with "public hanging" for calling Kashmir a "political problem". Al- Qaida's propaganda channel had, in July this year, announced that Musa will head Kashmir-based operations+ of the terror outfit.
Qaida's online propaganda channel, the Global Islamic Media Front, had said, "After the heroic martyrdom of mujahid Burhan Wani, the jihad in Kashmir has entered a stage of awakening, as the Muslim Nation of Kashmir is committed to carry the flag of jihad... for this goal, a new movement of jihad has been founded by the companions of martyr Burhan Wani under the leadership of mujahid Zakir Musa."
Full report at:
http://timesofindia.indiatimes.com/india/hizbul-blames-zakir-musa-for-helping-forces-kill-kashmiris/articleshow/60725318.cms
--------
Rohingya Muslims in India: How can India deport 40,000 'illegal' refugees to Myanmar when it can't even deport 11?
Sep, 18 2017
Imphal: The Indian government might be keen to send the Rohingya Muslims packing to Myanmar but its consistent failure in deporting 11 of them, who have been languishing in Manipur jails for years, shows it's easier said than done.
According to various aid agencies, about 40,000 Rohingya Muslims are living in India since fleeing their homeland of Myanmar in the wake of violence. This community has been living in the country's Rakhine state since 8th century but the government does not consider them citizens. They live in poverty and are denied most basic of human rights, like education and freedom to marry, to name two. Myanmar's latest "security operation", which the world leaders have called genocide and ethnic cleansing, is forcing them to seek asylum in other nations yet again.
Terming them illegal immigrants, a drain on the country's resources and a security threat, the Indian government has categorically said it seeks to deport all the Rohingyas. On the other hand, it has failed to deport 11 Rohingya refugees over the past five years after Myanmar refused to accept them as its citizens.
A prison official from Manipur, which shares a porous border with Myanmar, spoke to Firstpost on the condition of anonymity and said that the authorities concerned in the state have tried many a time to deport the 11 refugees. All of them were arrested on the charges of entering India without valid documents.
The official said deporting is a cumbersome process and requires the involvement of Union Home Ministry and the cooperation of the Myanmar government. With the latter consistently refusing repatriation, the refugees find themselves stuck in Indian jails.
The prison official said the authorities are more than willing to release the Rohingya prisoners but refrain from doing so out of caution. He said there are concerns that people might assault or even kill these immigrants.
Frantic efforts, worth nothing
Reportedly, five Rohingya Muslims who were lodged at Sajiwa Central Jail in Manipur's capital Imphal were repatriated in 2015. Fearing a similar fate — since living in Myanmar is risking death for this minority — nine Rohingya Muslims who are also lodged in the central jail filed a petition in the high court on 8 February, 2016.
About that time, the United Nations High Commissioner for Refugees, New Delhi, wrote a letter to the joint secretary of Union home ministry, seeking access to Myanmar nationals lodged in Manipur's central jail. The letter also made a case for completing the process of determining their refugee status and releasing them.
However, during the hearing on 1 February this year, their advocate Meihoubam Rakesh learnt from the government counsel that the petitioners have filed an application to the Manipur home ministry's principal secretary, seeking their repatriation. A little more than two weeks later, their case was disposed off. The court directed the principal secretary to consult with the ministry of external affairs and take a call on deporting the refugees within six weeks.
Speaking with Firstpost, Rakesh expressed surprise at the inexplicable development and said he did all in his might.
The prison official said they are still awaiting instructions from the Union Home Ministry on what to do with the foreign nationals lodged in the central jail. He informed that response to their paperwork from Myanmar comes in the language and script used in the south-east Asian country and the authorities here have to take the help of the jailed refugees to make sense of it.
Prisoners of fate
Three Rohingya Muslims were arrested on 29 January, 2012, near Indo-Myanmar border from Manipur's Churachandpur district on the charges of entering the country without valid documents. Four days later, six more Rohingya men were arrested in the district. On July 30, the chief judicial magistrate of Churachandpur convicted all nine of them and sentenced them to six months of simple imprisonment under Section 14 of The Foreigners Act, 1946. As they had been in jail all this while, they had already served their prison term by the time the verdict was announced.
More than five years have passed but they still remain behind bars. Similarly, two other Rohingya Muslims were convicted and sent to Sajiwa Central Jail in August 2013 and January 2014. While one is still an undertrial, the other's jail sentence finished three years ago. Altogether, 19 Myanmar nationals are lodged in the central jail in Imphal. A Bangladeshis is also behind bars despite all of them having finished their jail term long ago.
Firstpost tried contacting the jailed Rohingya Muslims, but the tedious process of seeking approval from multiple high-level agencies thwarted the attempt.
SM Jalal Sheikh, the president of All Manipur Muslim Organisations' Co-ordinating Committee, said the crisis in Myanmar and Indian government's response to it are unfortunate. He said India accommodated the Tibetans during the Chinese invasion and settled them in Dharamsala but is now being a mute spectator as thousands of innocent people are being massacred in another neighbouring country.
Full report at:
http://www.firstpost.com/india/rohingya-muslims-in-india-how-can-india-deport-40000-illegal-refugees-to-myanmar-when-it-cant-even-deport-11-4054169.html
--------
Meaningless to talk to Pak until it stops aiding terrorism: Rajnath Singh
Sep 17, 2017
NIZAMABAD: Union Home Minister Rajnath Singh on Sunday ruled out talks with Pakistan until it stops aiding cross-border terrorism aimed at destabilising India.
Speaking at a public meeting here as part of Telangana Liberation Day celebrations, Singh said India has a policy of maintaining cordial relations with neighbours.
"Some people suggest that we should engage in dialogue with Pakistan. I would like to say that we are ready to talk to anyone. But Pakistan is unable to understand this thing, till Pakistan does not stop its attempts to destabilise and weaken India by encouraging cross-border terrorism, holdings talks with it has no meaning."
He also referred to the oath-taking ceremony of the Modi government in 2014, when premiers of all neighbouring countries, including Pakistan, were invited.
"The idea was that we wanted to build good relations with all of them. We invited them not just for shaking hands, but to maintain cordial relations," the home minister said.
The government is determined to stop all sorts of destabilising activities in the country, he said, and alleged that Pakistan is violating ceasefire agreements.
"It started sending terrorists into our country. It violates ceasefire agreements. I want to assure you that we will end terrorism, extremism and Naxalism too," he asserted.
The situation on the border has changed as India began giving befitting reply to the enemy, which has "set an example in country's history", Singh said.
Recalling an incident where five Indian civilians were killed in cross-border firing by Pakistan, the home minister said he had a conversation with a top official of the Border Security Force in 2014 where he asked the official to act tough on intruders and Pakistan's anti-India activities.
"I told the BSF DG not to show 'white flag' (signal for talks) next time but give them a befitting reply."
Singh also cautioned people against those trying to divide the country on the basis of community, caste and language.
"Today, the (Telangana) Liberation Day, we have to take a pledge that we will ensure that the country will not be divided on the lines of community, caste and language. Those who try to weaken the country are anti-national forces. I want to assure you that no power in the world can weaken India," he said.
The period between August 15, 1947 and September 17, 1948 was "a black chapter in the Indian history" as some parts (of present-day Telangana, Maharashtra and Karnataka) remained under Nizam's rule even after India's Independence, he said.
While Sardar Vallabhbhai Patel achieved political unification of the country, Dr. B R Ambedkar achieved social and constitutional unity, he said.
He said the BJP-led NDA government has zero tolerance for corruption and there was not a single such allegation against it.
He also hailed Prime Minister Modi as a pro-poor leader.
The people of the country would never forget September 17 as it happens to be Modi's birthday, and also the day when this region was liberated (from the Nizam rule, in 1948), he said.
Speaking at the event, Minister of State for Home Affairs Hansraj Ahir paid tribute to Sardar Patel, saying that because of him Telangana was merged into the Indian union.
"The Congress and TRS never gave importance to this day. But we will give it importance. This is our duty. There is no politics in this. PM Narendra Modi has also conveyed his wishes to you on this day," Ahir said.
Former Union Minister and BJP leader Bandaru Dattatreya, BJP national general secretary Muralidhar Rao and state party president K Laxman also spoke.
Full report at:
http://timesofindia.indiatimes.com/india/meaningless-to-talk-to-pak-until-it-stops-aiding-terrorism-rajnath-singh/articleshow/60722233.cms
--------
Pakistan
JuD makes its presence felt in Lahore's NA-120
Zulqernain Tahir
September 18, 2017
LAHORE: Azhar Ali of Mohni Road on Sunday was a little surprised over Jamaatud Dawa-backed candidate's polling camp matching the PML-N and PTI's in terms of size and presence of activists.
"I have been actively participating in election activities for the last two decades or so from the platform of PML-N. During the period, PML-N, PPP, Jamaat-i-Islami and recently PTI set up camps in almost all polling stations of a constituency. But this time, not just me, but almost everyone saw a strong presence of JuD men on election day which is a little surprising for us," said Ali, who was all praise for his leadership for giving him a job 18 years ago.
JuD-backed Sheikh Yaqoob contested as an independent candidate. He wanted to contest from the platform of Milli Muslim League – the new political face of JuD - launched just before the NA-120 by-poll, but the Election Commission of Pakistan has not registered it as a political party yet.
A visit to the constituency by Dawn showed that several polling stations of mainstream parties such as PPP and JI wore a deserted look, but the JuD camps were buzzing - a sight never witnessed in past elections. However, voters were hardly seen heading to its camps.
Workers of the JuD and its charity wing Falah-i-Insaniat Foundation appeared enthusiastic, hoping their candidate would put up an impressive show laying a strong foundation for Hafiz Saeed's party for the 2018 general elections.
"We are here to stay in the political field. The response we got during the campaign for Mr Yaqoob is promising. People want a party that talks about making Pakistan strong against its enemies and at the same time help them in solving their basic livelihood problems," Abdul Wajid of JuD told Dawn on Mohni Road.
Though he admitted that most of their vote bank in 2013 and before had supported the PML-N candidates across the country, but now since they had launched their own political party, they would field candidates in most constituencies.
A young JuD activist Zaid bin Abbas at the Mozang polling camp took credit for distributing free food in the area which he said other parties usually never did in a constituency.
"We are known for our social work, especially in Balochistan. We also provided free medical facility through our mobile dispensaries in NA-120 giving a choice to the people that they can look up to someone else other than the conventional political parties," Abbas said.
Azhar Ali said he and other locals listened to the "ideology" of JuD activists patiently but did not promise to give vote to its candidate.
https://www.dawn.com/news/1358437/jud-makes-its-presence-felt-in-lahores-na-120
--------
Human Rights abuses rise in Pakistan
Jaibans Singh
September 18, 2017
A seminar on "Human Rights abuses in Pakistan" was organised by the Nehru Memorial Museum and Library in collaboration with Asian-Eurasian Human Rights Forum on June, 22.
The areas addressed were disappearance of minorities from the demographics of the country; persecution of minority communities like the Sikhs, Hindus and Christians and particularly non-Sunni Muslim communities like Shias and Ahmadiyas; genocide being perpetrated on the Baloch people; marginalisation of the Sindhi population and human rights violations in Pakistan administered Jammu and Kashmir.
A number of domain experts were invited to give their views on the subject. While speaking about persecution of the Ahmadiyas in Pakistan, Shiraz Ahmad, Additional Executive Director of the Ahmadiya Muslim Jamaat, India, said that Ahmadiyas were declared non-Muslim in 1974 by the government of Zulfikar Ali Bhutto and were further deprived through an Anti-Ahmadiya Ordinance in 1984 promulgated by the military dictator, General Zia-ul-Haq. Sections 298-B and 298-C of the Pakistan Panel Code debars Ahmadiyas from calling their place of worship a Masjid, there have been instances where the police has torn down minarets of an Amadiya place of worship because they resembled a Mosque.
Shiraz Ahmed elaborated that Ahmadiyas vote as non-Muslims and are denied equitable job opportunities. There are severe restrictions to their entry in professional institutions which hampers their right to education. Restrictions have been imposed on the production of Ahmadiya literature.
Marginalisation of the Ahmadiyas by the state itself has encouraged the militants and extremist elements towards targeting the community with violence. Many Ahmadiyas have been and continue to be murdered in cold blood by religious extremists while their religious places are desecrated and destroyed. Hundreds of Ahmadiyas have been charged under the draconian Blasphemy Law of the state and sentenced to long imprisonment and even death.
In a telling criticism of the Government of Pakistan Shiraz Ahmed commented, "Pakistan's concept of Sharia has nothing to do with Islam."
Pakistan is home to about six lakh Shiite Hazara Muslims mainly in Quetta, Balochistan. This hapless community is being specifically targeted by terrorist groups like Lashkar-e-Jhangvi and Sipah-e-Sabah.
Shia Muslims across Pakistan and especially in the occupied areas of Gilgit-Baltistan have been subjected to massacres and bombings of religious places/ religious congregations, economic deprivation, curbs on right and liberties etc.
Severe restrictions on freedom of speech are in place in Gilgit-Baltistan. Journalists face prosecution for speaking against the government and many local publications have been banned.
Pakistani parliament has given extraordinary power to law enforcement agencies in Gilgit-Baltistan which are used to suppress the Shia population of the region. The authorities can detain anyone without due process of law, engage in electronic surveillance, conduct search and seizures, and use military force wherever deemed necessary.
As a result, freedom fighters and activists are being subjected to arbitrary arrests, torture and deaths in custody under the country's anti-terrorism laws. Local leaders such as Baba Jan, Iftikhar Hussain, Mumtaz Nagri, Qayum Balawar, Tahir Ali and DJ Mathal are facing terrorism charges for demanding the just rights for their people and for challenging Pakistani rule.
While speaking about the persecution of the Shia community, Ashok Behuria, senior fellow IDSA said that, in Quetta, said that Hazara Shias are being attacked due to their relation with Iran and the blame is being put on India.
Sajjad Hussain, a journalist and social activist from Kargil while speaking about the extrajudicial killing of nationalists in Gilgit-Baltistan noted that innocent people there are being framed under Schedule 4 of the Anti-terrorist Act even as actual terrorists create mayhem from the newly constructed Mosques and Madarasas.
It may be recollected that on February, 12, 2012, 12 militants dressed in military fatigues segregated 18 Shias travelling in a bus and killed them in cold blood; again on April, 3, 2012 in Chilas, Gilgit-Baltistan, a convoy of buses was stopped, Shias were segregated and killed, the figures being quoted range from 20 to 60 while many are reported missing.
Nobody has, till date, been booked for the serial genocides of 2012. In fact, the Pakistani state (Government and army) made a strong effort to block the information from Pakistan as well as the international community.
At the time of partition, Pakistan had 11 to 12 percent Hindu/Sikh population. When considered in terms of the existing population levels of the country, the present strength of the Hindu/Sikh community should be around one crore fifty lakhs; on ground it is a miniscule thirty lakhs which is barely 1.5 percent of the population. One crore thirty lakh people have vanished in thin air.
Zulfiqar Shah, formerly associated with the Institute for Social Movement, Hyderabad (Sindh) said that the Hindus of Sindh have been divided into the high caste and schedule caste categories in order to marginalise their strength as a political entity even as an attempt is being made to change the demographic pattern by settlement of Punjabis in the province. There is open harassment and sexual exploitation of the minority communities replete with disappearances of its members.
The vision of the creator of Pakistan, Muhammad Ali Jinnah, was of a nation that would adopt secularism to accommodate its historically multi-religious and culturally diverse population.
A lot has changed since then; Pakistan is determined to exist as an Islamic State comprising only of Sunni Muslims. The unwritten policy to attain this objective is to exterminate the minorities through terror attacks and pogroms or force them to migrate, mainly towards India. Stringent laws that suppress the minorities are being passed and applied with regularity. The government and other institutions make the right noises about protection of minority rights that helps keep international scrutiny at bay but on ground there is a conspiracy to finish them in totality. In short, Pakistan has been carrying out the most insidious ethnic cleansing over the last six decades right under the eyes of the world.
Full report at:
http://brighterkashmir.com/human-rights-abuses-rise-in-pakistan/
--------
Teachers next on PTI hit list, claims JUI-F chief
By Ghulam Akbar
September 18, 2017
LAKKI MARWAT: Pakistan Tehreek-e-Insaf (PTI) now wants to target teachers and their job security. Before this, they tried to bring about the imam registration process, so they could gain a stronghold over madrassas and introduce western plans. Jamiat Ulema-e-Islam-Fazl (JUI-F) will never allow these things to happen, said JUI-F chief Fazlur Rehman while addressing his party's executive committee in Lakki Marwat district on Sunday.
"The PTI government wants to introduce a patronage system in the education department, which we completely oppose and have asked the teaching community to stand firmly for their rights, so that they may secure bright futures for themselves and coming generations," said Rehman.
ESED finalises plans to use results of 5th grade assessment
He added that 9/11 was an American conspiracy against the Muslims of Pakistan and Afghanistan, while former president Pervez Musharraf was to blame as he succumbed to western pressure.
"We have always been wary of America and their presence in the region, as it does nothing more than disrupts peace and stability. Through various tactics, the west keeps bringing the war to Pakistan and we too will stand by the soldiers of the Pakistan Army to protect our homeland," said Rehman.
Clarifying his stance on supporting Pakistan Muslim League- Nawaz (PML-N), he said that his support was not with ousted premier Nawaz Sharif but in fact with the true spirit of democracy, which Imran Khan and his 'Jewish lobby' want to crush by causing political unrest in the country.
K-P moves to end discrepancies in teachers' salaries
Full report at:
https://tribune.com.pk/story/1509267/teachers-next-pti-hit-list-claims-jui-f-chief/
--------
Pakistani children, youths risking lives for better opportunities in Europe: Unicef
Anwar Iqbal
September 18, 2017
WASHINGTON: An overwhelming majority of young people using the risky Eastern Mediterranean route for better opportunities in Europe come from Afghanistan, followed by Pakistan and Syria, according to a Unicef survey released this week.
Out of the 4,811 children and youths between the ages of 14 and 25, interviewed for this survey, 44 per cent were Afghans, 17pc Pakistanis, 15pc Syrians and 6pc were Iraqis.
Others on the list were mostly from the Middle East while it was learnt that one per cent of Bangladeshis also use the same route.
Those who use the Central Mediterranean route are more evenly divided: 15pc Nigerians, 11pc from Gambia, 10pc from Guinea and 7pc from Bangladesh, followed by mostly other Sub-Saharan nations.
Pakistan is second on the list of host countries, as it shelters 1.4 million refugees who are mostly Afghans. Turkey tops the list with nearly three million refugees, mostly Syrians.
Nearly 17pc of children and young adults who use these dangerous routes to reach Europe are from Pakistan. Out of which only one per cent are females, 99pc males, nine per cent have no education while 26pc have primary education and 59pc have secondary education. Those with higher education are only 5pc.
About 46pc of Pakistani children and youth reach Europe in less than three months while 27pc take between three and six months to reach.
Around 27pc take more than six months to reach Europe.
One per cent of Pakistani travellers spent less than $1,000 on this journey while 44pc spent between $1,000 and $2,500 while 38pc spent between $2,500 and $5,000 and 16pc spent $5000 or more.
One per cent of Pakistanis did not say how much they spent on this journey.
As many as 89pc Pakistanis said they faced physical and financial exploitation during the journey while 11pc said they did not.
Harrowing journeys
These findings come from a new Unicef and Inter­national Organisation for Migration (IOM) report titled 'Harrowing Journeys: Children and Youth on the move'.
The study focuses on those who cross the Mediterranean Sea to reach Europe. Some of the world's most dangerous migration routes cross the Mediterranean Sea, but it remains a popular path to a better life for migrants and refugees from Africa, the Middle East and Asia.
The surveyors interviewed respondents aged 14 to 24 and listed them by the country of origin. It shows that Afghans and Pakistanis mostly use the eastern Mediterranean route.
The study shows that up to three quarters of children and youth face abuse, exploitation and trafficking on these migration routes. Some are more vulnerable than others: those travelling alone, those with low levels of education and those undertaking longer journeys. Most vulnerable of all are those who come from sub-Saharan Africa.
Their journeys took them through Turkey, where many stayed for some time before moving on to Europe. Germany was most often cited as the intended destination.
Escape from war, conflict or violence was the primary motivation behind their decisions to leave their countries of origin. Only about a third of adolescents and just under half of youth cited economic reasons.
Afghan adolescents and youth reported high rates of exploitation, primarily in Turkey or Bulgaria, followed by Iran.
While Afghans have long reported mistreatment and second-class status in Iran and Pakistan, the high levels of exploitation they report in Bulgaria and Turkey indicate continued vulnerability throughout their journey.
Afghans on the move have documented their harrowing experiences via social media, posting about violence and abuse by police — including shootings — and by civilians in Bulgaria, Hungary, Iran and Turkey.
Research has shown that such experiences in transit on top of the trauma of armed conflict back home contribute to mental health problems that persist long after the journey is over.
Other findings
Overall, 12pc females and 88pc of children and youths use the Mediterra­nean route to reach Europe. Out of this, 15pc have no education, 27pc have primary education, 50pc have secondary education and only 7pc have higher education.
Around 47pc of travellers take three months or less to reach Europe while 23pc take three to six months and 30pc take more than six months.
Full report at:
https://www.dawn.com/news/1358388/pakistani-children-youths-risking-lives-for-better-opportunities-in-europe-unicef
--------
COAS, Iranian military chief urge end to Rohingya violence
18-Sep-17
TEHRAN: Chief of Army Staff General Qamar Javed Bajwa and Chief of Staff of the Iranian Armed Forces Major General Mohammad Hossein Baqeri have expressed concern over the ongoing Rohingya Muslim crisis in Myanmar, calling for Muslim world action to help end the plight of the Muslim minority.
In a telephone conversation on Sunday, the two top generals discussed ways to enhance cooperation between the two countries' armed forces to help the Rohingya Muslims in Myanmar.
They also called on the Muslim world to do more and help stop the "unfavourable" and "inhumane" treatment of the Rohingya community in the Southeast Asian country.
According to a Iranian news agency, Baqeri and Bajwa said that military and non-military organisations of Muslim countries could mobilise their forces and facilities to speed up the dispatch of humanitarian relief to the persecuted Muslims in Myanmar.
The Rohingya Muslims in Myanmar have long faced severe discrimination and were the targets of violence in 2012 that killed hundreds and drove about 140,000 people from their homes to camps for the internally displaced.
On September 12, the UN refugee agency said the number of Rohingya Muslim refugees that have fled recent violence in Myanmar had spiked to about 370,000.
Earlier, the UN top human rights official accused Myanmar of carrying out "a textbook example of ethnic cleansing" against Rohingya Muslims.
Full report at:
http://dailytimes.com.pk/pakistan/18-Sep-17/coas-iranian-military-chief-urge-end-to-rohingya-violence
--------
HEC devising mechanism to curb intolerance, extremism in varsities
September 18, 2017
Islamabad - The Higher Education Commission (HEC) has decided to devise a comprehensive policy for eliminating increasing incidents of terrorism, extremism, and intolerance in the higher educational institutions of the country.
The HEC has planned to establish "Directorate of Students" within the universities in which the challenges being faced by the students and staff would be registered, analyzed and resolved." Sources told APP here Sunday that the aim behind the establishment of these directorates was to keep students away from the negative approach by involving them in extracurricular activities. After the confirmed reports of few students' involvement in terrorist activities, HEC has issued a letter to the country wide universities to take concrete measures for the elimination of the menace from respective institutions. It has also been decided by the HEC that sports activities would be declared compulsory in the universities to stop students from the intolerance and extremism. The students would be encouraged to participate in the extracurricular activities besides the education, the sources added. The inter-university Olympics would be conducted from the next years and a special budget from Public Sector Development Programme (PSDP) would also be allocated for the cause.
The international teams of different sports would be invited in the country to conduct tournaments at university-level. In this regard, the sources said that the campuses of different games would be established at the area, national and international level aiming at to send the teams abroad for competition. By engaging the students in healthy activities, they would be able to keep them away from negative activities, the sources added.
http://nation.com.pk/islamabad/18-Sep-2017/hec-devising-mechanism-to-curb-intolerance-extremism-in-varsities
'We will kill you all' - Rohingya villagers in Myanmar beg for safe passage
Thousands of Rohingya Muslims in violence-racked northwest Myanmar are pleading with authorities for safe passage from two remote villages that are cut off by hostile Buddhists and running short of food.
"We're terrified," Maung Maung, a Rohingya official at Ah Nauk Pyin village, told Reuters by telephone. "We'll starve soon and they're threatening to burn down our houses."
Another Rohingya contacted by Reuters, who asked not to be named, said ethnic Rakhine Buddhists came to the same village and shouted, "Leave, or we will kill you all."
Fragile relations between Ah Nauk Pyin and its Rakhine neighbors were shattered on Aug. 25, when deadly attacks by Rohingya militants in Rakhine State prompted a ferocious response from Myanmar's security forces.
At least 430,000 Rohingya have since fled into neighboring Bangladesh to evade what the United Nations has called a "textbook example of ethnic cleansing".
About a million Rohingya lived in Rakhine State until the recent violence. Most face draconian travel restrictions and are denied citizenship in a country where many Buddhists regard them as illegal immigrants from Bangladesh.
Tin Maung Swe, secretary of the Rakhine State government, told Reuters he was working closely with the Rathedaung authorities, and had received no information about the Rohingya villagers' plea for safe passage.
"There is nothing to be concerned about," he said when asked about local tensions. "Southern Rathedaung is completely safe."
National police spokesman Myo Thu Soe said he also had no information about the Rohingya villages but that he would look into the matter.
Asked to comment, a spokeswoman for the U.S. State Department's East Asia Bureau made no reference to the situation in the villages, but said the United States was calling "urgently" for Myanmar's security forces "to act in accordance with the rule of law and to stop the violence and displacement suffered by individuals from all communities."
"Tens of thousands of people reportedly lack adequate food, water, and shelter in northern Rakhine State," spokeswoman Katina Adams said. "The government should act immediately to assist them."
Adams said Patrick Murphy, the U.S. deputy assistant secretary of state for East Asia, would reiterate grave U.S. concern about the situation in Rakhine when he meets senior officials in Myanmar this week.
Britain is to host a ministerial meeting on Monday on the sidelines of the annual U.N. General Assembly in New York to discuss the situation in Rakhine.
NO BOATS
Ah Nauk Pyin sits on a mangrove-fringed peninsula in Rathedaung, one of three townships in northern Rakhine State. The villagers say they have no boats.
Until three weeks ago, there were 21 Muslim villages in Rathedaung, along with three camps for Muslims displaced by previous bouts of religious violence. Sixteen of those villages and all three camps have since been emptied and in many cases burnt, forcing an estimated 28,000 Rohingya to flee.
Rathedaung's five surviving Rohingya villages and their 8,000 or so inhabitants are encircled by Rakhine Buddhists and acutely vulnerable, say human rights monitors.
The situation is particularly dire in Ah Nauk Pyin and nearby Naung Pin Gyi, where any escape route to Bangladesh is long, arduous, and sometimes blocked by hostile Rakhine neighbors.
Maung Maung, the Rohingya official, said the villagers were resigned to leaving but the authorities had not responded to their requests for security. At night, he said, villagers had heard distant gunfire.
"It's better they go somewhere else," said Thein Aung, a Rathedaung official, who dismissed Rohingya allegations that Rakhines were threatening them.
Only two of the Aug. 25 attacks by the Arakan Rohingya Salvation Army (ARSA) took place in Rathedaung. But the township was already a tinderbox of religious tension, with ARSA citing the mistreatment of Rohingya there as one justification for its offensive.
In late July, Rakhine residents of a large, mixed village in northern Rathedaung corraled hundreds of Rohingya inside their neighborhood, blocking access to food and water.
A similar pattern is repeating itself in southern Rathedaung, with local Rakhine citing possible ARSA infiltration as a reason for ejecting the last remaining Rohingya.
'ANOTHER PLACE'
Maung Maung said he had called the police at least 30 times to report threats against his village.
On Sept. 13, he said, he got a call from a Rakhine villager he knew. "Leave tomorrow or we'll come and burn down all your houses," said the man, according to a recording Maung Maung gave to Reuters.
When Maung Maung protested that they had no means to escape, the man replied: "That's not our problem."
On Aug. 31, the police convened a roadside meeting between two villages, attended by seven Rohingya from Ah Nauk Pyin and 14 Rakhine officials from the surrounding villages.
Instead of addressing the Rohingya complaints, said Maung Maung and two other Rohingya who attended the meeting, the Rakhine officials delivered an ultimatum.
"They said they didn't want any Muslims in the region and we should leave immediately," said the Rohingya resident of Ah Nauk Pyin who requested anonymity.
The Rohingya agreed, said Maung Maung, but only if the authorities provided security.
He showed Reuters a letter that the village elders had sent to the Rathedaung authorities on Sept. 7, asking to be moved to "another place". They had yet to receive a response, he said.
VIOLENT HISTORY
Relations between the two communities deteriorated in 2012, when religious unrest in Rakhine State killed nearly 200 people and made 140,000 homeless, most of them Rohingya. Scores of houses in Ah Nauk Pyin were torched.
Since then, said villagers, Rohingya have been too scared to leave the village or till their land, surviving mainly on monthly deliveries from the World Food Programme (WFP). The recent violence halted those deliveries.
The WFP pulled out most staff and suspended operations in the region after Aug. 25.
Residents in the area's two Rohingya villages said they could no longer venture out to fish or buy food from Rakhine traders, and were running low on food and medicines.
Maung Maung said the local police told the Rohingya to stay in their villages and not to worry because "nothing would happen," he said.
But the nearest police station had only half a dozen or so officers, he said, and could not do much if Ah Nauk Pyin was attacked.
A few minutes' walk away, at the Rakhine village of Shwe Long Tin, residents were also on edge, said its leader, Khin Tun Aye.
They had also heard gunfire at night, he said, and were guarding the village around the clock with machetes and slingshots in case the Rohingya attacked with ARSA's help.
"We're also terrified," he said.
Full report at:
http://nation.com.pk/international/18-Sep-2017/we-will-kill-you-all-rohingya-villagers-in-myanmar-beg-for-safe-passage
--------
Arab World
Certain Western states still back terror groups in Syria: Assad
Sep 17, 2017
Syrian President Bashar al-Assad says "certain Western countries" still support, directly or indirectly, terrorist organizations and groups in Syria despite the fact that this wrong policy has already backfired on their governments and people.
The Syrian president made the comments in a meeting with an Italian parliamentary delegation headed by Mario Romani, a member of the Senate of the Republic, in the capital Damascus on Sunday, Syria's official news agency, SANA, reported.
President Assad said such visits by the European delegations to Syria, with the aim of getting acquainted with the facts on the ground, could play a significant role in raising the awareness of the Western public opinion about the realities of the crisis in Syria and expose the lies told by the Western mass media in this regard.
The Italian delegation had visited a number of areas in Syria in an attempt to obtain firsthand experience of what the situation was like in the war-torn country before meeting with the Syrian president.
Assad said such awareness-raising steps taken by the international community could pave the way for lifting the economic siege that has increased the suffering of the Syrian nation and negatively affected their livelihood. The Syrian president also described the embargo imposed on his country by "certain superpowers," to be in blatant violation of international and humanitarian laws.
The Italian delegation, for its part, expressed solidarity with the Syrian people in their war against foreign-sponsored terrorism, acknowledging that the militancy in the Arab country had started to affect a number of European states by posing a real threat to the security, safety and future of their citizens.
Members of the visiting Italian delegation also asserted that they would spare no effort to convey the realities of the crisis in Syria back to the European country and to the rest of the continent.
Earlier in the day, Syrian Foreign Minister Walid al-Muallem met with the Italian delegation, stressing that his country would continue fighting terrorism until the entire Syria was cleared of terrorists. The top diplomat also stated that his country supported all efforts to find a political solution to the crisis through dialogue among the Syrians without any external interference.
Different foreign-backed terrorist groups have been wreaking havoc in Syria since 2011. The Damascus government has repeatedly blamed certain foreign countries for the spread of the devastating militancy.
The government controls main urban centers in the west of the country and has recaptured much of the eastern parts of Syria from Takfiri terrorists in recent months.
Syrian forces managed to reach Dayr al-Zawr's provincial capital of the same name, which lies on the western bank of the Euphrates River, earlier this month, breaking a nearly three-year-old siege by Daesh terrorist group on government-held parts of the city.
On September 12, Lieutenant General Aleksandr Lapin, the Russian chief of staff in Syria, announced that Damascus was in control of 85 percent of the Arab country's territories. He added that Syrian forces must now purge terrorists from the country's remaining 15 percent, which amounts to 27,000 square kilometers.
http://www.presstv.ir/Detail/2017/09/17/535505/Syria-Assad-Italy-Daesh-Europe-West-sanctions-terrorism
--------
Syria Army, allies cut Daesh's main supply line in Dayr al-Zawr
Sep 17, 2017
The Syrian Army and its allies have cut Daesh's main supply line in the northeastern city of Dayr al-Zawr.
The victory came after the combined forces pushed the Takfiri terror group out of the al-Jafra district on the western bank of the Euphrates River in the city, Syrian military sources said.
The London-based so-called Syrian Observatory for Human Rights confirmed the conquest, and said the forces had also retaken control of a number of villages near the city's air base overnight.
A Syrian source said Daesh terrorists could now only escape across the river.
"They have no outlet except crossing the Euphrates towards the eastern bank and fleeing towards the desert, or (the towns of) al-Bukamal and al-Mayadin," the source said.
The terror outfit started its campaign of bloodshed and destruction against the Arab country in 2014, taking over vast swathes of territory. It, however, was forced out of much of its turf a year later against Army advances, which have been backed by Russian aerial support, Lebanese Shia fighters, and Iranian military advisory assistance.
Earlier this month, the Syria Army and its allies broke a nearly three-year-old Daesh siege on government-held parts of the provincial capital.
As the combined forces began building on their gains, the so-called Syrian Democratic Forces (SDF), a US-backed group of mostly Kurdish militants, said it was also launching an attack on the province from Euphrates' eastern side.
A commander with the SDF, Ahmed Abu Khawla, said on Friday that the group would not "allow" the Syrian forces to get to the eastern bank of the river.
Russia, however, said Syrian government forces had crossed the Euphrates in their push to liberate the province from Daesh, ignoring a warning by the ragtag group.
Full report at:
http://www.presstv.ir/Detail/2017/09/17/535468/Syria-Daesh-Dayr-alZawr
--------
UN chief: Northern Iraq vote would detract from ISIS fight
18 September 2017
United Nations Secretary-General Antonio Guterres warned on Sunday that a planned Sept. 25 independence referendum in Iraq's semi-autonomous Kurdish region "would detract from the need to defeat" ISIS and to reconstruct regained territories.
"The Secretary-General respects the sovereignty, territorial integrity and unity of Iraq and considers that all outstanding issues between the federal Government and the Kurdistan Regional Government should be resolved through structured dialogue and constructive compromise," UN spokesman Stephane Dujarric said in a statement.
"The Secretary-General calls upon the leaders across Iraq to approach this matter with patience and restraint," he said.
https://english.alarabiya.net/en/News/middle-east/2017/09/18/UN-chief-Northern-Iraq-vote-would-detract-from-ISIS-fight.html
--------
Tension Covers Idlib as More Terrorists, Commanders Defect Al-Nusra
Sep 17, 2017
The websites reported that Al-Nusra has dispatched several military columns towards Jeish al-Ahrar terrorist group's bases in the towns of Banesh and Taftnaz in Northeastern Idlib after the latter announced that it has defected the Al-Nusra.
In the meantime, Al-Nusra has started capturing previous members of the Free Syrian Arm and Ahrar al-Sham in the regions and towns in the North and North-West of the province near the border with Turkey.
The Al-Nusra has put its forces on alert after rising tensions and defections in the province.
Relevant reports said on Thursday that one of the largest terrorist groups in Idlib defected Al-Nusra as widening rifts and tensions among commanders.
Jeish al-Ahrar terrorist group led by Abu Saleh Tahan declared in a statement on Thursday that it defected Tahrir ah-Sham in Idlib.
The statement added that Jeish al-Ahrar decided to leave its bonds with Al-Nusra after audio files leaked in recent days disclosed widening rifts among the commanders of the Al-Nusra Front.
Full report at:
http://en.farsnews.com/newstext.aspx?nn=13960626000968
--------
Qatar 'offering to trade body of Israeli soldier' for American-Jewish support
18 September 2017
A recently published report has claimed that Qatari Emir Sheikh Tamim bin Hamad al-Thani will seek to hold meetings with Jewish leaders in the United States.
The Forbes report said that the Emir aims to gain the leaders' support, amid Qatar's ongoing rift with four Arab states, through handing over the body of an Israeli officer that Hamas killed in 2014.
The Emir is currently in New York to attend the United Nations General Assembly.
Bargaining chip
According to the writer, Richard Miniter, some leaders of American-Jewish non-profits said that Qatar is using Lt. Hadar Goldin's body as a "bargaining chip" to communicate with Jewish-American groups, three years after his murder.
Hamas admitted to killing the Israeli army's lieutenant after he infiltrated a tunnel in the Gaza Strip in 2014. The movement usually retains the bodies of Israeli military in exchange for its own captives.
Miniter added that some American-Jewish leaders received a tacit message saying that their meeting with the Qatari Emir may result in recovering 23-year-old Goldin's body. It may also reveal the fate of a missing Israeli soldier, they added.
Speaking to Miniter, Jewish Rabbi Shmuley Boteach said he funded an advertising campaign against Qatar. Boteach is deemed as one of America's "most influential rabbis," according to US magazine Newsweek.
Opposition
Boteach revealed that an opposition exists amid American-Jewish groups and is trying to communicate with Doha. Despite the latter being involved in killing Israeli soldiers through supporting Hamas, he added.
"It is a shameful episode for our community when those who fund the murder of Jews in Israel are being embraced by Jews in the United States," said the Rabbi.
Boteach also noted that he received a word of warning claiming that his advertising campaign would go to waste since Hamas, under Qatari pressure, is expected to hand over the bodies of Israeli officers.
The Rabbi explained that he ordered for "full-page New York Times ads to make it clear to all who agreed to whitewash the terror-stained hands of the emir would be condoning murder."
Desperate Qatar
The report also quoted Boteach saying that the attempts to organize meetings between the Qatari Emir and some American-Jewish groups shows Qatar's desperation.
He noted that the Qatar Emir usually meets with the heads of states and governments, while considering other parties inferior – as such meeting with non-profit groups is an example of a "come-down from his high horse."
Miniter said that the diplomatic and economic strain on Qatar has worked. This is linked to Saudi Arabia, the United Arab Emirates, Bahrain and Egypt cutting ties with the country.
Full report at:
https://english.alarabiya.net/en/News/gulf/2017/09/18/Qatar-offering-to-trade-body-of-dead-Israeli-for-meetings-with-Jews.html
--------
Barzani meets with Saudi minister ahead of Kurdish referendum
17 September 2017
Kurdish leader Massoud Barzani recieved Saudi Minister of State for Gulf Affairs Thamer al-Sabhan on Saturday as part of a Saudi offer of mediation between Erbil and Baghdad.
Tensions between both sides have recently erupted in the wake of an upcoming referendum on independence announced by the Kurdish leadership.
Sabhan, the former Saudi's ambassador to Iraq, also conveyed greetings from Saudi's King Salman to the role of the Kurdistan Peshmerga forces and Kurdish people, a Kurdish statement said.
Barzani said Erbil has not closed the door of dialogue on anyone and, on behalf of the people of the Kurdistan Region, thanked the stance and consideration of King Salman.
Barzani emphasized the significance of the historical relations between Erbil and Riyadh.
Last week, Barzani vowed to press ahead with a referendum on Kurdish independence on Sept. 25 despite a vote by Iraq's parliament to reject the move.
Earlier the parliament in Baghdad authorized the prime minister to "take all measures" to preserve Iraq's unity. Kurdish lawmakers walked out of the session before the vote and issued statements rejecting the decision.
Western powers fear a plebiscite in Iraq's semi-autonomous Kurdish region - including the oil-rich city of Kirkuk - could ignite conflict with the central government in Baghdad and divert attention from the war against ISIS militants.
Full report at:
https://english.alarabiya.net/en/News/gulf/2017/09/17/Barzani-meets-with-Saudi-minister-ahead-of-Kurdish-referendum.html
--------
Bahrain's king denounces boycott of Israel, says citizens free to visit Israel
Sep 18, 2017
Bahrain's king Hamad bin Isa Al Khalifah has called for an end to the Arab boycott of Israel, days after the Israeli premier said relations with the Arab world were better than any other time.
According to Israeli media, King Hamad's made the remarks at an event hosted by pro-Israeli group Simon Wiesenthal Center in Los Angeles, calling for diplomatic ties to be established with the Israeli regime.
King Hamad also told Simon Wiesenthal Center director Rabbi Abraham Cooper that Bahraini citizens are free to visit Israel as they please. His stance on Israel was welcomed by the Israeli center's director who hailed the monarch as "ahead of the pack and smart."
"If I had to predict, I would tell you that the Arab world's relationship with the state of Israel is going to dramatically change... This is a dinner tonight that's hosted by a Jewish organization that no one will say is not so pro-Israel," Cooper added. Cooper and his partner Marvin Hier met with King Hamed at the center and discussed the opening of a museum for religious tolerance in Bahrain's capital Manama towards the end of the year.
The change of stance comes weeks after Israeli Prime Minister Benjamin Netanyahu described relations with the Arab world better than any other time.
"What's happening now with the Arab bloc states has never before happened in our history – even when we signed agreements," said Netanyahu. "What we have now is greater than anything else during any other period in Israel's history."
Last week, reports emerged that a secret meeting was held between a leading Saudi royal and senior Israeli officials in Tel Aviv, and in June, leaked emails of the UAE's ambassador to the US Yousef al-Otaiba's suggested that Abu Dhabi had established secret links with pro-Israel think-tank Foundation for Defense of Democracies (FDD).
Last year, a video of a ceremony to mark the Jewish Hanukkah holiday hosted by Bahrain circulated on social media, showing Bahraini men in local kaffiyeh attire attending the party and dancing with Orthodox Jews. The video prompted condemnation from the Palestinian movement Hamas that urged Bahrain to end the move towards normalizing ties with Israel.
About 600,000 Israelis live in over 230 illegal settlements built since the 1967 occupation of the Palestinian territories of the West Bank and East Jerusalem al-Quds. Tel Aviv has defied international calls to stop its construction activities on the occupied Palestinian territories.
The regime has accused rights groups of contributing to the worldwide anti-Israeli Boycott, Divestment, and Sanctions (BDS) movement. The BDS was initiated in 2005 by over 170 Palestinian organizations that were pushing for "various forms of boycott against Israel until it meets its obligations under international law."
The boycott of Israel was adopted by the Arab League and its member states and bars all relations between Arab nations and Israel.
Thousands of volunteers worldwide have joined the BDS to help promote the Palestinian cause of ending Israeli occupation and oppression. Those include international trade unions, NGOs, initiatives, academic and business societies, trade unions, and cultural figures.
Full report at:
http://www.presstv.ir/Detail/2017/09/18/535530/Bahrain-king-Israel-friend
--------
Booby trap explosion kills eight at school in Iraqi village
Sep 17, 2017
Eight tribal fighters of an Iraqi paramilitary unit have been killed in a booby trap blast near the northern city of Mosul.
Jabbar al-Maamuri, a commander of Iraq's tribal fighters, said on Sunday that the attack was carried out at a school in the village of Majarine, which is located 20 kilometers (12 miles) west of Mosul.
More than a dozen others were injured. The school was being used as a training center and it had been booby-trapped by the Daesh Takfiri terrorists, the commander said.
The village was retaken from Daesh in early July as Iraqi forces closed in on Mosul.
The Sunday explosion is the latest example of dangers left behind by the retreating Daesh terrorists.
In another such deadly incident in newly recaptured areas, six members with the paramilitary troops of Hashd al-Sha'abi were killed on Saturday in Akashat in the western province of Anbar.
In July, Iraqi Prime Minister Haider al-Abadi formally declared victory over Daesh in Mosul, which served as the terrorists' main urban stronghold in the conflict-ridden Arab country.
In the run-up to Mosul's liberation, Iraqi army soldiers and volunteer fighters from the Popular Mobilization Units had made sweeping gains against Daesh since launching the operation on October 17, 2016.
The city, located some 400 kilometers (250 miles) north of the capital Baghdad, fell to Daesh in June 2014.
Full report at:
http://www.presstv.ir/Detail/2017/09/17/535499/Iraq-Mosul-booby-trap
--------
UN plans to help Iraq bring Daesh criminals to justice
Sep 17, 2017
The United Nations Security Council is drawing up a resolution that will authorize UN investigators to help Iraq collect evidence to prosecute Daesh terrorists for committing war crimes in the Arab country.
A diplomat, who requested anonymity, said on Saturday that the Security Council hoped to put the resolution to the vote next Thursday.
The draft resolution tasks UN Secretary General Antonio Guterres with setting up an investigative team in order to assist Iraq in keeping evidence "that may amount to war crimes, crimes against humanity and genocide" by Daesh.
British Ambassador to the UN Matthew Rycroft confirmed a few months ago that the resolution was meant to help Iraq "with the difficult but crucial challenge of preserving the huge amount of evidence of Daesh crimes committed on Iraqi territory."
Iraqi Foreign Minister Ibrahim al-Jaafari also said last month in a letter addressed to the UN chief that the government in Baghdad was working on the draft Security Council resolution.
"The crimes committed by the Daesh terrorist organization against civilians and destruction of infrastructure and archaeological sites in Iraq are crimes against humanity, which makes it important to bring its perpetrators from Daesh terrorist gangs to justice, in accordance (with) the Iraqi law," the letter read.
Daesh unleashed a campaign of death and destruction in Iraq in 2014, seizing Mosul and declaring it as its so-called "capital" in the Middle Eastern state.
Iraqi army soldiers and allied fighters have been leading a major campaign to rid the country of the Takfiri elements.
Full report at:
http://www.presstv.ir/Detail/2017/09/17/535457/UN-Iraq-Daesh
--------
Mideast
Hamas dissolves Gaza government and agrees to national unity talks with Fatah
17 September 2017
Hamas said on Sunday it would do away with a body seen as an alternative government in the Gaza Strip in a step towards reconciliation with rival Fatah following discussions with Egypt.
Hamas, the Palestinian Islamist movement that runs the Gaza Strip, also said it was ready for talks with Palestinian president Mahmoud Abbas's Fatah on forming a unity government and holding elections.
In a statement, Hamas said it was "responding to the generous Egyptian efforts, which reflect the Egyptian desire to end the split and achieve reconciliation, and based on our desire to achieve national unity."
Egypt recently invited top Hamas officials to Cairo for reconciliation discussions, and last week, Abbas sent a delegation of representatives to Egypt as well.
Despite Sunday's announcement, any reconciliation deal faces many obstacles. The deal was not clear whether Hamas is ready to place its security forces under Abbas' control - a key sticking point that has scuttled past reconciliation attempts. There also was no comment from Abbas' government.
It also was not immediately clear how Egypt's latest effort aligns with its previous tacit support for a separate Gaza power-sharing deal between Hamas and Mohammed Dahlan, an exiled former Abbas aide-turned-rival.
In Sunday's statement, Hamas spoke of the "dissolution" of what is known as the administrative committee, which was seen as a rival government to Abbas's administration.
Hamas formed the committee in March, and since then Abbas has sought to put further pressure on the Islamist movement, reducing electricity payments for the Gaza Strip among other measures.
Hamas has run Gaza since 2007, having seized it in a near civil war from Fatah following a dispute over parliamentary elections won by the Islamist movement.
The Gaza Strip has faced deteriorating humanitarian conditions, with a severe electricity crisis and a lack of clean water, among other issues.
It has been under an Israeli blockade for around a decade, while its border with Egypt has also remained largely closed in recent years.
The coastal enclave of some two million people also has one of the world's highest unemployment rates.
Facing those conditions, Hamas has turned to Egypt for assistance, particularly involving fuel to produce power.
Israel and Palestinian militants in Gaza, including Hamas, have fought three wars since 2008.
UN officials have called for the blockade to be lifted, but Israel says it is necessary to stop Hamas from obtaining weapons or materials that could be used to make them.
Last month, the Gaza head of Hamas, Yahya al-Sinwar, said the movement had increased its military capabilities thanks to newly improved relations with Iran, Israel's arch-enemy.
https://english.alarabiya.net/en/News/middle-east/2017/09/17/Hamas-dissolves-Gaza-government-and-agrees-to-talks-with-Fatah.html
--------
Turkey's Erdogan, Iraq's Abadi to discuss planned Kurdistan referendum
Sep 17, 2017
Turkish President Recep Tayyip Erdogan has said that he will discuss with the Iraqi Prime Minister Haider al-Abadi a controversial plan in the Arab country's autonomous Kurdistan region for holding a referendum of independence on September 25.
"We will have a meeting with Mr Abadi in the United States, and from what we can see our goal is the same. Our goal is not dividing Iraq," said Erdogan on Sunday before departing for New York to attend the United Nations General Assembly where he would meet the Iraqi leader.
Erdogan, who has on several occasions called on the Kurdistan Regional Government (KRG) to postpone the referendum, said Ankara and Baghdad shared the same view regarding the vote.
He said Turkey would announce its official position on the referendum after September 22 when the Turkish government holds national security council and cabinet meetings before the usual schedule. That comes after Turkish Prime Minister Binali Yildirim said Kurdistan's referendum of independence was now an issue of national security for Turkey and the country would take any necessary steps.
KRG leader Massoud Barzani has ignored increasing international calls for scrapping or delaying the vote and said on Friday that the referendum would go ahead as planned. Erdogan then criticized Barzani and said the decision to not postpone the vote was "very wrong."
Turkey is home to the largest population of Kurds, an estimated 20 million people, and authorities fear the formation of an independent Kurdistan in northern Iraq would provoke similar separatist sentiments along Turkey's southern border, where Kurds mostly live.
The KRG and Turkey have maintained warm relations over the past years and that has come against the backdrop of tensions between Ankara and Baghdad. The Iraqi government has on several occasions lambasted Turkey for allowing the KRG to sell its oil via the country to the world markets.
Full report at:
http://www.presstv.ir/Detail/2017/09/17/535509/Turkey-Iraq-Kurdistan-vote
--------
Iran's nuclear deal faces tough scrutiny at United Nations talks
18 September 2017
The 2015 nuclear deal between Iran and world powers faces a stern test at the United Nations this week as Europeans try to persuade a skeptical Trump administration to keep it, while Israel lobbies to turn up the pressure on its regional rival.
U.S. President Donald Trump, who must make a decision by mid-October that could undermine the agreement, repeated on Thursday his long-held view that Iran was violating "the spirit" of the deal under which Tehran got sanctions relief in return for curbing its nuclear program.
The Republican president has called the agreement, struck under his Democratic predecessor, Barack Obama, "the worst deal ever negotiated."
The prospect of Washington reneging on the agreement has worried some of the key U.S. allies that helped negotiate it, especially as the world grapples with another nuclear crisis, North Korea's nuclear and ballistic missile development.
"We all share U.S. concerns about Iran's destabilizing role in the region, but by mixing everything up, we risk losing everything," said a senior European diplomat, who was part of the 18-month negotiation process that led to the accord.
Trump must decide in October whether to certify that Iran is complying with the agreement, known as the Joint Comprehensive Plan of Action (JCPOA). If he does not, Congress has 60 days to decide whether to reimpose sanctions waived under the deal.
Iran's Supreme Leader Ayatollah Ali Khamenei warned on Sunday that Tehran would react strongly to any "wrong move" by Washington on the nuclear deal.
At the U.N. General Assembly on Monday, Trump meets Israeli Prime Minister Benjamin Netanyahu followed by French President Emmanuel Macron, who like Trump, is making his inaugural appearance at the annual gathering of world leaders.
Both have very different messages to deliver.
"Our position is straightforward. This is a bad deal. Either fix it — or cancel it. This is Israel's position," Netanyahu said in Argentina last Tuesday as he toured Latin America.
Israeli officials said he would also relay concerns over what Israel describes as Tehran's growing military entrenchment in Syria and its post-civil war role in that country.
Full report at:
https://english.alarabiya.net/en/News/middle-east/2017/09/18/Iran-s-2015-nuclear-deal-faces-tough-scrutiny-at-United-Nations-talks.html
--------
Yemen soldier murders 3 Qaeda detainees
Sep 18, 2017
ADEN : A young soldier participating in operations against Al-Qaeda in Yemen has murdered three jihadist detainees who confessed to killing his colonel father, a security source said on Sunday. The soldier -- a member of Yemen's government intelligence services -- carried out the killings "suddenly and without the consent of his colleagues" during an interrogation on Saturday, the source said.
According to the source, the soldier's colleagues were "angered" by the killings, but he did not face repercussions. Tribal leaders confirmed the revenge killings to AFP. The jihadist detainees were captured during a military operation last week in the district of Wadea in Abyan province, a stronghold of Al-Qaeda in southern Yemen. The soldier's colonel father, whose name was not disclosed for security reasons, was assassinated in Wadea early last month. Yemeni forces backed by a Saudi-led coalition on Thursday managed to drive Al-Qaeda militants from Wadea, which is symbolic as the birthplace of President Abedrabbo Mansour Hadi.
Full report at:
http://nation.com.pk/international/18-Sep-2017/yemen-soldier-murders-3-qaeda-detainees
--------
Southeast Asia
Students sent home from Indonesian Islamic school linked to child fighters
SEPTEMBER 17, 2017
JAKARTA (Reuters) - Students at an Islamic school that Indonesian authorities have linked to Islamic State returned home after villagers nearby demanded its closure, a school spokesman said on Sunday.
A Reuters investigation published this month found at least eight staff and four students from the Ibnu Mas'ud school in Sukajaya, West Java either traveled or tried to travel to Syria to join the jihadist group between 2013 and 2016.
Spokesman Jumadi told Reuters the school was empty after the local police chief said failure to comply with the closure demands would lead to a "big demonstration" by residents from five surrounding districts.
The school denies it supports IS, or any other militant groups. It also says it does not advocate a violent or extreme version of Islam.
Jumadi, who goes by only one name, said the police warning prompted the school to call parents to pick up the roughly 250 students.
Police could not be immediately reached for comment.
One of the four students, Hatf Saiful Rasul, left for Syria when he was 11 and died fighting with IS a year later in September 2016. His father, imprisoned militant Syaiful Anam, wrote that his son was inspired to travel by teachers and students of the school who had joined IS.
During the school's decade of operation in Depok, outside Jakarta, and then at Sukajaya, at least another 18 people with links to it have been convicted or are now under arrest for militant plots and attacks in Indonesia, Reuters reported. They include former students, teachers, parents, founders and donors.
During its investigation, Reuters reviewed court documents, deeds of entitlement and interrogation reports, and interviewed counter-terrorism police, donors and former militants.
MEMORIZING THE KORAN
School head Agus Purwoko told reporters last week it only taught pupils "how to read and memorize the Koran."
"So Ibnu Mas'ud, in a way, is a childcare. There are also parents who send their kids here because they are divorcing, going to jail, or facing other problems."
Sukajaya village chief Wahyudin Sumardi told Reuters in July that residents had been concerned about activities at the school for years.
Local resentment ignited when a member of the school's staff allegedly burned a red and white banner in the village celebrating Indonesia's Independence Day on Aug. 17.
Irate residents rallied outside the school, according to police, village chief Wahyudin and school spokesman Jumadi.
Jumadi agreed the next day to move or close the school in a month. But school head Agus and some rights activists said he signed documents under duress and the school should not be closed on the basis of minor damage to patriotic bunting.
"We asked the police to prevent the mass protesters taking the law into their own hands and to separate the activities of the children from allegations of involvement in terrorism," said Usman Hamid, director of Amnesty International Indonesia.
Hamid said the school's closure would increase the students' chances of being radicalized.
http://www.reuters.com/article/us-myanmar-rohingya-exclusive/exclusive-we-will-kill-you-all-rohingya-villagers-in-myanmar-beg-for-safe-passage-idUSKCN1BS0PH
--------
President Jokowi: Indonesia Will Not Remain Silent on Global Muslim Issues
17 September 2017
SOLO, NETRALNEWS.COM - President Joko 'Jokowi' Widodo has stressed that the Indonesian nation will not remain silent on Muslim matters around the globe, and will assist in seeking solutions to the problems of Muslims in various countries.
"We also never stand idly by the problems that occur to Muslims in Muslim countries because we hold the constitutional mandate that we are obliged to maintain world order based on independence, eternal peace and social justice," said President Jokowi at Stadium Manahan Solo, Central Java, on Sunday (9/17/2017).
The President, along with People's Consultative Assembly (MPR) Chairperson Zulkifli Hasan, Minister of Cabinet Secretary Pratikno, Central Java Governor Ganjar Pranowo and other officials attended the third National Gathering on Al-Quran Interpretation themed "Knitting Diversity, Strengthening NKRI".
"Indeed, the fact is that Palestine is not yet free, while wars and conflicts affect Syria, Iraq, Yemen, and Libya, as well as Afghanistan that has not fully recovered.We are obliged to contribute to provide solutions to actualize world peace, and provide solutions for the interests of Muslims in the world, "added the President.
President pointed out that in 2016, Indonesia has opened an honorary embassy in Ramallah, Palestine.
"At the request of Palestinian President Mahmoud Abbas, Indonesia held an extraordinary summit on Al-Quds Al-Sharif Palestine in Jakarta in 2016. "This was one of our activities that many have forgotten among Muslim countries," said the President.
Furthermore, in Afghanistan, Indonesia has also built an Islamic Center for the education of children there.
"We are also building an Indonesian mosque in Kabul in 2016. Soon we invite the Afghan clerics to Indonesia to learn from each other, sharing each other to build Islam rahmatan lil alamin (Islam as a religion that brings mercy and prosperity).
December also, first lady Rula Ghani, wife of Afghan President will visit Indonesia. Insha Allah to discuss the program of women and children, "said the President.
The three are related to Rohingya ethnic issues in Rakhine State, Myanmar.
"Our stance is that the violence in Rakhine State should be stopped immediately, that is our firm stance, I am sending the foreign minister to come not once twice to meet Aung San Suu Kyi and Myanmar military so that violence can be stopped," said President.
In January-February 2017, Indonesia has sent ten containers worth of medicine and food.
"Last week we sent 4 Hercules aircraft carrying blanket, food and other medicines to our relatives who fled on the border of Myanmar and Bangladesh.
Full report at:
http://www.en.netralnews.com/news/international/read/11426/president.jokowi.indonesia.will.not.remain.silent.on.global.muslim.issues
--------
Najib forgot 'Islamophobic' Trump's Muslim ban, says Latheefa
September 18, 2017
PETALING JAYA: PKR's Latheefa Koya has questioned Prime Minister Najib Razak's claim of friendship with US President Donald Trump, whom she has described as "the most Islamophobic US president in American history".
In a statement today, she said it was surprising that Najib was "so inordinately proud" of his friendship with Trump, and asked if the prime minister had forgotten about "Trump's infamous 'Muslim ban'".
"There has been a 91% increase in hate crimes against Muslims under Trump's presidency. Did Najib express concern on this to his 'friend' Trump?"
The "Muslim ban" of which she spoke was likely the temporary travel ban which bars citizens of Yemen and five other Muslim-majority countries with no "bona fide" connections to the US from travelling there.
It was blocked by lower courts before being partially reinstated by the Supreme Court in June.
In a ruling earlier this month, the 9th US Circuit Court of Appeals said grandparents, aunts, uncles and cousins of legal US residents would be exempt from the travel ban.
Latheefa said Trump had repeatedly shown "zealous support" for Israel and contempt for the cause of Palestinians.
"He has given support for shifting Israel's capital to Jerusalem, which is an act of extreme provocation to the Muslim world.
"Did Najib speak up for the Palestinians to his 'friend' Trump?
"These are the matters which concern Malaysia and its people, which were never raised by Najib when given a chance."
If the prime minister had done so, she said, he would have returned to a "genuine hero's welcome".
"We may be a small nation, but we have always stood up for what is right in the international arena."
She also reiterated criticism of Najib's commitment of "huge amounts of taxpayers' money and EPF money" to the US economy, pointing out that he had returned without obtaining any reciprocal investment by the US.
"Is it something very impressive to take our money and invest it overseas? No foreign economy, including the US, would turn down such a gift on a silver platter.
Full report at:
http://www.freemalaysiatoday.com/category/nation/2017/09/18/latheefa-has-najib-forgotten-about-trumps-muslim-ban/
--------
Myanmar: Some Malaysians in midst of engaging in 'jihad'
September 17, 2017
MELAKA: The police have confirmed that some Malaysians, supported by the Daesh (Islamic State) militant group, are in the midst of engaging in 'jihad' in Myanmar to fight against the government there on behalf of the oppressed Rohingya Muslim minority community in Rakhine State.
Bukit Aman Special Branch Counter-Terrorism Division (E8) Assistant Director Ayob Khan Mydin Pitchay said the Rohingya conflict was being used as the key weapon by the IS to influence and recruit new members to engage in terrorism.
He said the widespread sharing of images on social media of the oppressed Rohingya people in the region was to evoke sympathy and help the IS lure new members.
"Moreover, we do have intelligence information about the possibility of Indonesians involved in militant activities in their country," he told reporters after the launch of the 'ISIS Threat to Youth Awareness Seminar' here today.
The event was officiated by Melaka Chief Minister Idris Haron. Also present was State Youth and Heritage Development Deputy Exco Norpipah Abdol.
Commenting further, Ayob Khan said Myanmar's proximity to Malaysia pushed IS militants to act in Rakhine. Myanmar is closer to Malaysia than Syria and the southern Philippines where the conflict is ongoing, and was therefore being used as another option for 'jihad'.
Although the recruiting of terrorists to Rakhine was still in the early stages, police were gathering information, which included the detention of a 38-year-old man from Melaka on Sept 10, he said.
Based on intelligence information, the suspect, a cendol seller, was nabbed on suspicion of actively promoting IS militancy by printing and distributing the group's flag as well as planning to join the IS in the Philippines and Rakhine.
In a related development, Ayob Khan said the recruitment of new members was ongoing despite the head of IS in Southeast Asia, Muhamad Wanndy Mohamad Jedi, from Melaka, being killed in a drone attack in Raqaa, Syria at the end of April.
He said four Malaysians were still in Syria, and believed to be actively recruiting Malaysians besides constantly looking for opportunities and places to attack if security slackened.
Meanwhile, Idris said all Village Development and Security Committees as well as local authorities in the state were urged to monitor developments in their area to curb the spread of any IS militant activity.
Full report at:
http://www.freemalaysiatoday.com/category/nation/2017/09/17/myanmar-some-malaysians-in-midst-of-engaging-in-jihad/
--------
Religious school tiff may have started at futsal court, says teacher
BY KENNETH TEE
September 18, 2017
KUALA LUMPUR, Sept 18 — The students at the Darul Quran Ittifaqiyah Tahfiz Centre could have crossed paths with the suspects during a routine sporting activity.
Teacher Mohd Ridzuan Suhaimi said the students were only allowed to leave the premises on Mondays and Wednesdays to play futsal at a court about 200m from the school.
"They are given 45 minutes to play sports nearby, from 6pm to 6.45pm. Otherwise, they would be confined to the school compound," he told Malay Mail.
"So this was probably when the students would have had a tiff with the suspects. Things could have escalated from there."
School principal Mohd Zahid Mahmood said it was common for children of the same age to mock each other.
"It is normal. Disagreements among them could have led to some of them having grudges against others," he said.
Such encounters among the teenagers, however, did not escalate to physical confrontations as there were no complaints lodged.
Mohd Zahid also said the school would resume its operation at a nearby building as early as next month.
"The new building is being renovated and we will obtain a certificate of fitness from the Fire and Rescue Department before commencing classes," he said.
Mohd Zahid said the centre was now left with 18 students between the ages of 13 and 17.
He declined to answer when asked why the school operated without a fire safety plan approved by the Fire and Rescue Department.
Yesterday, as police investigations continued, three uniformed and one plainclothes policeman entered the school's compound at about 4pm.
Full report at:
http://www.themalaymailonline.com/malaysia/article/religious-school-tiff-may-have-started-at-futsal-court-says-teacher#ccrIWoEXR5fhPZvv.97
--------
Africa
Interfaith seeks peace among Muslims, Christians in Nigeria
Sep 17 2017
The International Centre for Interfaith, Peace and Harmony (ICIPH) at the weekend said it will mobilize religious leaders in the northern states to promote peace and harmony among Muslims and Christian in Nigeria.
The Co-Coordinator of the centre, Reverend Venerable Mallam made this known at a stakeholders forum and first year anniversary of the centre in Kaduna.
According to him, religious leaders are key to ensuring lasting peace in the country; saying they have a crucial role to play in ensuring religious harmony among Christians and Muslims in the country. This effort he said was part of the centre's goal of promoting healing, reconciliation and peaceful coexistence among Nigerians; noting that this goal cannot be achieved without fostering inter-religious partnership and sensitizing communities on the need for peaceful co-existence.
"The religious leaders will therefore use their existing platforms to propagate the message of peace and tolerance," he said.
At a consultative forum with 40 leaders of Jama'atu Nasril Islam (JNI) and Christian Council of Nigeria (CCN) from the 19 northern states and Federal Capital Territory earlier organized by the centre, another Co-coordinator of the centre, Muhammad Mai disclosed that the centre has from 2016 to date trained 55 youths as peace ambassadors to promote peaceful co-existence at the grassroots in Kaduna and Plateau states.
While he explained that 12 Christians and 12 Muslims were trained in Kaduna state, he stated that 31 were trained from both religions in Plateau state.
The trained youths, he said, are always at the centre of crisis in the country and must be involved in the peace building process.
He further mentioned that ICIPH has also empowered 600 men and women in Yobe and Borno states with some amount of money to help ease their pains.
Also speaking, the General Secretary of Christian Council of Nigeria and Co-Secretary of ICIPH, Dr. Yusuf I. Wushishi explained that the centre came about as a response to the previous and current crises especially in northern Nigeria while he urged Nigerians to learn to accommodate one another and do away with sentiments.
In his speech, the General Secretary of JNI, Dr. Khalid Aliyu described the programme as a means for non-Muslims to understand what Islam is all about and vice versa as well as to show some form of humanitarian support to one another in times of need. He urged Nigerians to learnt to respect one another's religion and belief.
The centre, which is an initiative of JNI and CCN with support from World Council of Church and Bin Talal of Jordan, Prince Ghazi Muhammad was inaugurated in August last year with its head office in Kaduna.
https://www.dailytrust.com.ng/news/islamic-forum/interfaith-seeks-peace-among-muslims-christians-in-nigeria/214738.html
--------
Somali book fair offers respite from bombs
Sep 18, 2017
MOGADISHU (Reuters) - Long associated with pirates, famine and bombs, Somalia showed a different face to the world this week as it welcomed foreign writers for the first time to its annual book fair.
The event took place for the third time in the scarred seaside capital Mogadishu, but until now security was too precarious for overseas authors to take part.
Their participation is a sign that things are changing as government troops, backed by African Union peacekeepers, claw back territory from Islamist insurgents in the Horn of Africa country.
Still, there were 60 guards on duty on Friday outside the hotel where the book fair was taking place, as well as plainclothes security inside.
"In 2015, authors were afraid, but now security has improved," said organizer Mohamed Diini. "But authors are not yet brave (enough) to write or present books on the chaos of the country."
Somalia has been riven by civil war since 1991, when clan-based warlords overthrew a dictator and then turned on each other. Although the Islamist al Shabaab militia was pushed out of the capital in 2011, it continues to mount almost daily bomb attacks and assassinations.
That didn't stop 31 authors, including a Rwandan, three Kenyans and a British doctoral student, from presenting their books, Diini said.
Fartumo Kusow, a Somali-Canadian fiction writer who holds dual nationality, made her first trip home in 27 years.
"It's like the country has been hit by an earthquake. No building is where it is meant to be," she said sadly. "The landscape by the sea is different."
Her novel, "The Tale of a Boon's Wife", tells a story that reverberates across cultures: a love affair forbidden by powerful clans. It was published in Canada by Second Story Press, she said, but only after she had received 104 rejection slips.
Rwandan author Dominik Alonga said she came to the book fair out of solidarity - like Somalia, her tiny east African nation is also inextricably associated with past violence.
"When you hear Rwanda, you think 'genocide'. So I write about culture to show the sympathetic and the good side of life," she said.
Abdirahman Ali Mohamed, 21, is an accountancy student from Mogadishu who works as a waiter between classes. His book, "A Country whose Citizens Migrate", tells the story of an ordinary life in a failed state.
"I was born after central government collapsed and during a civil war. So writing in my own mother tongue was a pain in the neck because I did not get a good teacher who could teach Somali literature," he said with a grin.
Full report at:
http://nation.com.pk/international/17-Sep-2017/somali-book-fair-offers-respite-from-bombs
--------
Libyan coastguards turn back more than 1,000 migrants
16 September 2017
Libyan coastguard vessels intercepted 1,074 migrants during an intensive day of operations west of the capital Tripoli on Saturday, a spokesman said.
There has been a sharp drop in migrant crossings between Libya and Italy since July, largely attributed to armed groups around the smuggling hubs of Sabratha and Zawiya blocking departures.
However, some boats have still been leaving from the area, where a number of different smuggling groups operate. Smugglers generally pack migrants into flimsy inflatable boats that are later picked up by international vessels and taken to Italy.
Those trying to cross early on Saturday were intercepted by coastguards from Zawiya, about 45 km west of Tripoli, said Ayoub Qassem, a coastguard spokesman.
"The coastal guards of Zawiya refinery rescued 1,074 illegal migrants on board more than eight boats," Qassem said. He said the migrants were from sub-Saharan African and Arab countries and had left from Sabratha and the nearby Talil and Wadi areas.
Main gateway
Crossings from Libya spiked in 2014, and since last year the North African country has been the main gateway for migrants trying to reach Europe. Some 600,000 have crossed the central Mediterranean since 2014.
The EU and Italy have been providing support for Libya's coastguards to enable them to intercept more migrants, a strategy that has been criticized by human rights groups.
Full report at:
https://english.alarabiya.net/en/News/north-africa/2017/09/16/Libyan-coastguards-turn-back-more-than-1-000-migrants-.html
--------
Kenya opposition urges reform of electoral commission
Sep 17, 2017
Kenya's opposition leader Raila Odinga Sunday said the coalition he leads will hold nationwide campaigns to urge reforms of the electoral commission before the fresh presidential elections next month.
Odinga has maintained that the electoral commission must be reformed or he will not participate in the new election ordered by the Supreme Court when it nullified President Uhuru Kenyatta's re-election in August. One of the reforms he wants is the removal of a dozen top officials he accuses of electoral fraud. The electoral commission has set Oct 17 for the repeat election.
Those who perpetrated illegalities and irregularities in the nullified election remain in place, "claiming readiness to conduct another election," Odinga told thousands of supporters at a rally.
"We are ready to go for elections, even tomorrow, but we will not go to elections with a compromised electoral commission," Odinga said. Odinga accused the electoral commission of working with Kenyatta's Jubilee party to rig the elections.
"IEBC (the electoral commission) and Jubilee are partners in crime," said Odinga. "The two need each other. If Jubilee is in power, it will protect the co-conspirators and fraudsters in IEBC. Those IEBC officials have every reason to protect Jubilee as their only source of protection."
Kenyatta has said the electoral commission should not be changed and he even warned the judiciary from interfering.
Other changes that Odinga wants include disqualifying a French firm, OT-Morpho, from supplying equipment to transmit results, claiming that only two of more than 40,000 kits were used to transmit the nullified election results and that staff from the company may be complicit in electoral fraud. Odinga also said the Al Ghurair printing firm should be blacklisted from supplying ballot papers because the Supreme Court found that some of the forms it printed that were used to transmit presidential results lacked security features such as serial numbers and water marks which were meant to prevent rigging.
Full report at:
http://www.presstv.ir/Detail/2017/09/17/535497/Kenya-Odinga-Supreme-Court-election-Kenyatta-judiciary-fraud
--------
9 killed in fighting between Somali police, military
Sep 16, 2017
Fighting between the military and police backed by intelligence forces killed nine people in the Somali capital on Saturday, police said.
"It seems they mistook the Somali national army for (clan) militias. The death toll is nine people including a civilian," Major Abdullahi Hussein, a police officer, told Reuters.
He said the fighting occurred because police were wrongly informed that there were armed militias in the area.
"Accidents happen," he said.
Somalia has been riven by civil war since 1991, when clan-based warlords overthrew a dictator then turned against each other.
The weak UN-backed government is now battling an extremist insurgency, but many members of its security forces are badly trained and coordination is poor.
"Last night security forces (the police and intelligence) besieged us and then opened fire. We defended ourselves and chased the so-called security forces after hours of fighting today. We lost two soldiers and a wife of my colleague," Major Nur Osman, a military officer, told Reuters on Saturday.
"The land belongs to the military, it houses the families of soldiers. However, the security forces were trying to force us off the land," he said.
Residents said the fighting was terrifying.
"We were awoken last night ... by gunfire ... We took our babies on our shoulders and fled," resident Mohamed Idle told Reuters.
In a separate incident on Saturday, extremist insurgents briefly entered the town of El Wak in Gedo region, southern Somalia, near the border with Kenya.
"A few soldiers were in El Wak and they left in the morning for tactical practice. Many al-Shabab fighters advanced," Captain Ibrahim Ali, a military officer, told Reuters.
Full report at:
http://www.presstv.ir/Detail/2017/09/16/535388/Somali-police-military-fight-alShabab-militants-Gedo-intelligence
--------
Europe
Britain lowers threat level after second arrest over London attack
Sep 18, 2017
LONDON - Britain downgraded its terrorism threat level to severe from critical on Sunday, after police made a second arrest in their investigations over the bombing of a London Underground train.
"The Joint Terrorist Analysis Centre, which reviews the threat level that the UK is under, have decided to lower that level from critical to severe," Home Secretary Amber Rudd said in a televised statement. Police said earlier Sunday that a 21-year-old man, who has not been identified, was detained late Saturday in Hounslow, on the western rim of the capital. A search was underway on Sunday in Stanwell, a few miles (kilometres) west of Hounslow, in connection with the arrest, police said. Officers had arrested earlier Saturday an 18-year-old man over Friday's "bucket bomb" attack at the Parsons Green Underground station, which injured 30 people, and said they were hunting for more suspects.
Rudd said the police were trying to find out how the man was "radicalised". The bomb went off in a packed carriage and although the device is thought to have malfunctioned, it still caused a large explosion followed by what witnesses said was a fireball.
It was Britain's fifth terror attack in six months, a series that has claimed 35 lives. The Islamic State group claimed responsibility for Friday's explosion. The first arrest on Saturday took place at the Dover ferry terminal, a main link to Europe. A "number of items" were recovered during the operation and the man is now in custody in London, officers said.
Police also raided a home in Sunbury, a town west of London on Saturday. Local residents quoted in British media said the owners of the house were elderly foster parents. Britain's terror threat, which was raised to critical on Friday evening, was brought back down to severe on Sunday. "Severe still means that an attack is highly likely so I would urge everybody to continue to be vigilant but not alarmed," Rudd said.
Soldiers who had been deployed to guard key sites across the country in order to free up police officers on the streets "will return to their original positions" during the next few days, Rudd said. The critical warning had last been used after the deadly suicide bombing at a pop concert in the northwestern city of Manchester in May, for which IS also claimed responsibility. But Rudd voiced doubt over the IS claim that it was behind Friday's bombing.
"It is inevitable that so-called Islamic State or Daesh will try to claim responsibility but we have no evidence to suggest that yet," she told the BBC.
Rudd had earlier dismissed as "pure speculation" US President Donald Trump's claim, made Friday on Twitter, that a "loser terrorist" behind the attack was known to Scotland Yard. The tweet had already drawn a terse rebuke from Prime Minister Theresa May, who said: "I never think it's helpful for anybody to speculate on what is an ongoing investigation."
In another security scare on Sunday, a London-bound British Airways flight was evacuated at Paris's Charles de Gaulle airport after a false bomb alert. The improvised device at Parsons Green, a quiet and well-off residential district, failed to detonate fully. But the blast inflicted flash burns on passengers, and prompted dozens of others to flee in panic.
Twitter user @Rrigs posted pictures of a white bucket smouldering on the train and described how a "fireball flew down carriage and we just jumped out open door". The bucket, which was inside a frozen food bag, looked like the type used by builders, and there appeared to be cables coming from it. Louis Hather, 21, had been travelling to work and was three carriages down from where the explosion took place. "I could smell the burning. Like when you burn plastic," he told AFP.
He was trampled on as panicking passengers stampeded out of the station, leaving him with a badly cut and bruised leg. The bomb's remnants were examined by forensic scientists but no further details were released. Several victims were taken to hospital, though health authorities said none were in a life-threatening condition.
http://nation.com.pk/international/18-Sep-2017/britain-lowers-threat-level-after-second-arrest-over-london-attack
--------
Rohingya refugees in UK demand end to 'slaughter'
Sep 17, 2017
Rohingya Muslims living in the UK have called on the British government to help stop Myanmar's ongoing "ethnic cleansing" against the religious minority.
Speaking to Sky News on Sunday, some of the 300 Rohingyas that are settled in Bradford as part of a UN rescue effort describe the tragedy that their close relatives were going through in their homeland.
Rape and "slaughter" in the Myanmar's army's hands were part of the bitter fate awaiting the Rohingyas, they said.
"I have quite sharp images of what those people are going through now. I feel really devastated and guilty because now even though I'm in a country where I have free will I've not been able to... give them the help that I'm getting," said an 18-year-old student who left behind his grandparents.
The refugees said since Rohingyas were denied basic rights such as owning mobile phones, it was impossible for them to contact their family members.
Meanwhile, Deen Mohammed Noori, with the Arakan Rohingya Organization in Bradford, said it was time Myanmar's de facto leader Aung San Suu Kyi took action and ended the persecution.
Myanmar's security forces have long been attacking Rohingyas and torching their villages since October 2016, in a bid to push them out of the western state of Rakhine. The attacks have been intensified since August 25, Suu Ky ignoring international demands to call off the operation.
Thousands of Rohingyas have already fled their homeland to take refuge in Bangladesh. Many people have been killed during the perilous boat journeys on the Naf River, which separates the two neighboring countries.
Amnesty International said Thursday that satellite imagery showed Suu Kyi's government had torched over 80 Rohingya villages as part of a "scorched earth" strategy.
According to the rights group, Myanmar's armed forces had even notified people in some Rohingya villages that they were going to burn their homes to the ground.
Eyewitnesses told Amnesty that the soldiers first burned the houses and then randomly shot and stabbed people who were trying to flee.
Full report at:
http://www.presstv.ir/Detail/2017/09/17/535491/UK-Rohingya-Bradford-Myanmar-Suu-Kyi
--------
Germany seeks to restrict economic ties with Turkey: Merkel
Sep 16, 2017
Chancellor Angela Merkel says Berlin plans to restrict its business with Ankara in an attempt to pressure the Turkish government to release German citizens imprisoned in the country over political reasons.
"We will have to further cut back our joint economic cooperation with Turkey and scrutinize projects," Merkel said in a Saturday interview with the Passauer Neue Presse newspaper in response to a question about how to secure the release of 12 German detainees in Turkey.
On Tuesday, Merkel also said that Germany would restrict some arms sales to Turkey.
Ties between Turkey and Germany have been strained over a host of issues since the 2016 failed coup against the government in Ankara. Berlin has been critical of Ankara's post-coup crackdown and the arrest of German citizens, while Turkey accuses the European country of harboring "terrorist" organizations, which are against Turkish President Recep Tayyip Erdogan.
The two countries have also clashed over Germany's alleged support for Kurdish opponents of the Turkish government and its opposition against a controversial referendum in Turkey in April, which gave Erdogan new sweeping powers. German authorities at the time prevented some pro-Erdogan campaigns in the country, a move that infuriated the Turkish president.
Germany is home to some three million ethnic Turks. The country allowed in the Turks in the 1960s and 1970s as part of its massive post-war "guest worker" program. Following the recent tensions, however, Turkey and Germany have both issued travel alerts for their citizens, each advising their nationals to take precautionary measures if they plan to visit the other country.
Erdogan has urged German Turks to boycott the main parties in Germany's election on September 24. According to surveys, Merkel's conservative party is expected to win the election and secure a fourth term in office.
On September 5, Merkel pledged to push EU members to consider suspending or ending Turkey's accession talks, saying Ankara had been abandoning the rule of law.
Turkey has been trying to become a member of the European Union since the 1960s. Formal EU accession talks began in 2005, but the process has been plagued by problems. The EU has opened 16 out of the 35 chapters required for Turkey to join the 28-nation bloc, but only one of them has so far been concluded.
Full report at:
http://www.presstv.ir/Detail/2017/09/16/535371/Turkey-Germany-Merkel-Erdogan
--------
URL: https://www.newageislam.com/islamic-world-news/us-muslim-interfaith-dialogue-conference/d/112568
New Age Islam, Islam Online, Islamic Website, African Muslim News, Arab World News, South Asia News, Indian Muslim News, World Muslim News, Women in Islam, Islamic Feminism, Arab Women, Women In Arab, Islamophobia in America, Muslim Women in West, Islam Women and Feminism